| | |
| --- | --- |
| | INTERNATIONAL HISTORY |
YEAR: 2020
Outbreak of COVID 19 (CoronaVirus) worldwide following its initial detection in Wuhan, China (December 2019). WHO declared a pandemic on 11 March 2020; worldwide deaths pass 1 million mark end of September

Donald Trump was acquitted of both impeachment charges on 5 February 2020

Bush Fires raged throughout Australian states especially NSW and Victoria causing death and destruction (peaking December 2019 –January 2020

Two Ammonium nitrate explosions in Beirut kill over 220 people, injure thousands and severely damage the port early August 2020

7 November 2020 Joe Biden elected 46th President of the United States, defeating incumbent President Donald Trump


Credit: Peter Craig
YEAR: 2019
China land a robotic space probe on the dark side of the moon

Japan's Emperor Akihito abdicated in April 2019 making way for his son Naruhito to succeed him

April 15, Notre Dame Cathedral in Paris caught fire destroying the spire and most of the roof of the beloved 850-year-old cathedral

Anti-Government protests began in Hong Kong in June against a bill to allow the extradition of people to mainland China to stand trial. Although withdrawn in September, clashes continued

British PM Theresa May resigned over Brexit, succeeded by Boris Johnson

Donald Trump only third US President to stand trial on impeachment charges (18 December 2019)

Wildfires destroyed much of the Amazon Basin rainforest


Credit: Peter Craig
YEAR: 2018
Historic summit meeting between North and South Korea in April. Meeting of North Korean leader Kim Jong-un in Singapore in June with Donald Trump

Wildfires ravaged California

#MeToo movement implemented

Royal wedding of Prince Harry and Meghan Markle

Twelve boys and their football coach are successfully rescued from the flooded Tham Luang Nang Non cave in Thailand, following a 17 day ordeal

Hurricane Michael, the first Category five hurricanes to hit the United States since 1992, caused more than 50 deaths and $25 billion in damages on Florida's Gulf Coast


Credit: Peter Craig
YEAR: 2017
Donald Trump officially sworn in as 45th President of the United States

North Korea launched a ballistic missile over Japan

Gunman Stephen Paddock shots 58 dead and wounds more than 500 at 91 Harvest Music Festival in Las Vegas, the deadliest mass shooting in recent American history

Major Hurricanes (Harvey, Irma and Maria) struck Texas, Florida and Puerto Rico respectively over five devastating weeks


Credit: Peter Craig
YEAR: 2017
HISTORICAL OVERVIEW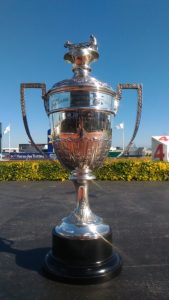 The Bendigo Harness Racing Club's "Lords Raceway"grandstand is home to an impressive collection of harness racing history and memorabilia. The library under the grandstand houses a collection of driver's silks, walls with photos of champions, entire trophy collection of Mother Courage, sulkies, newspaper articles dating back to the 1880s, race programmes, books, presentation rugs and vinyl recordings of old race calls.
Of particular interest to the New ZealandMetropolitan Trotting Club (NZMTC) which celebrates its 114th running of the New Zealand Cup in 2017 is the trophy won by Adelaide Direct, the winner of the 1917 New Zealand Cup.
Thanks to Bendigo Harness Racing Club's Racing and Marketing Manager Brendan Baker and Leigh Graham from the Harness Racing Training School,Adelaide Direct's NZ Cup took a trip back to make an appearance at the 2017 NZ Cup carnival, specifically displayed at the NZ Cup cocktail function held at Addington's Spectators Bar and Bistro on Sunday 12 November and NZ Cup day Tuesday 14 November.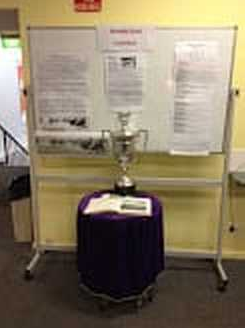 1917 NZ Cup won by Adelaide Direct on display at Bendigo HRC on 20 May 2015.
The Bendigo boys (but not the 1917 NZ Cup) attended the NRM Breeders Cup Eve Awards at Armstrong Prestige's car dealer showrooms and the 1917 NZ Cup was to make an appearance at Ashburton's Cup Week race meeting on Thursday 16 November.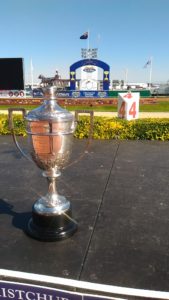 Adelaide Directis the first and only mare among five Australian winners of New Zealand harness racing's premier event, New Zealand Trotting Cup held at Addington Raceway by NZMTC and first competed for in 1904 (other Australian winners : 1983 Steel Jaw, 1987 My Lightning Blue, 2006 and 2007 Flashing Red [although trained at thetime by Tim Butt] and 2015 Arden Rooney).
The Bendigo district mare, Adelaide Direct was foaled in 1906 from the imported stallion Directway (Direct/Electway; great grandson of Dictator) and an unnamed mare from Honest Harry (also sire of Honest Kate, dam of Robert Derby, sire of Lawn Derby)owned by Parker's Plains (Baringhup near Maldon) horseman Stan Lewis.
Directway imported from USA as a two year old in 1902,was the winner of four races from seven starts in Victoria. The best of many imports that stood at Robert Matchett's Adelaide Hill Stud at Huntly on the outskirts of Bendigo (Directway, All Style – 70 winners, Tennessee Direct – 59 winners, Direct Argot – 27 winners, Rex Derby – 8 winners from one season at stud). Bob Crowe set up the large breeding farm for Matchett at Adelaide Hill remaining as stud master for more than 20 years. Matchett died in 1928 and the stud business was subsequently wound up.
Directway left 193 winners, with Adelaide Direct his top performer together with Glide Away (winner of 23 races including 13 at Richmond, Otahuhu/Dunedin Cups) and leading stayer Direct Home (Sydney Thousand). Several of his daughters bred on with descendants leaving ID Pacing winners Evicus (dam by Directway), Gentleman John (grand dam by Directway) and Minuteman/Single Direct (third dam by Directway).
Adelaide Direct was initially raced by Lewis together with James Kennedy for whom she scored her first win at Marong in November 1911, followed by two wins on the same day at Charlton. Frank Ridley then trained her from his Fitzroy stable, with Adelaide Direct being successful at country meetings as well as at Richmond, the major Melbourne track before being returned to Lewis. Adelaide Direct started in the inaugural Melbourne Thousand held at Richmond on 16 November 1911 which was won by Delavan Chimes (60 yards) in saddle from Royal Sovereign and Lively Bells in harness.
Leading New Zealand trainer Manny Edwards, at the time training in Australia leased the mare in 1914 bringing her to New Zealand where she raced for the following five seasons. Her 58NZ starts included victories in the 1914/5 season in the NZMTC Royal (1 mile, 2:15 3/5) and Stewards Hcp's (1¼m, 2:46 4/5) and Auckland Trotting Club's Premier Hcp (1¼m, 2:46 4/5). Her three third placings came at Addington (2) and New Brighton meetings. Season's record of : 9 : 3 – 0 -3, £607 (12th highest stake earner).
Adelaide Direct did not record any wins in the 1915/6 season being unplaced in 1915 NZ Cup won by Country Belle and NZFFA while her two placings were recorded at Plumpton Park (Canterbury Park TC, second) and ForburyPark (third). She had a return of just £48½ for her efforts from ten starts for just the two placings.
The 1916/7 season was somewhat more productive for Adelaide Direct with twenty starts yielding two victories and seven placings for stakes of £587½. Her victories consisted of an Australasian record time trial (1 mile, 2:06 2/5TT) at Alexandra Park and victory on the same day in the Auckland Trotting Club's Ranfurly Hcp (1¼m, 2:46 3/5). Placings included at NMZTC meetings, seconds in International/Hornby Hcps, thirds in National Cup/Easter/Metropolitan Hcps; third in New Brighton Hcp and second in Park Hcp at Forbury Park. Among her unplaced efforts were NZFFA having broken at the starting point in a field of seven won by Admiral Wood; off 96 yards behind in Auckland Cup also won by Admiral Wood; Dunedin Cup. Adelaide Direct did not start in the 1916 NZ Cup.
The crowning glory of Adelaide Direct's time in New Zealand came in the 1917/8 season with victory in the 1917 New Zealand Cup at Addington as a ten year old (seven seconds handicap). She defeated 1916 winner Cathedral Chimes (four seconds; Auckland Cup, NZFFA) by four lengths with another champion horse in Author Dillon (three seconds; 1918 NZ Cup, three NZFFA's) third. Her time of 4:27 4/5 was a new New Zealand race winning record.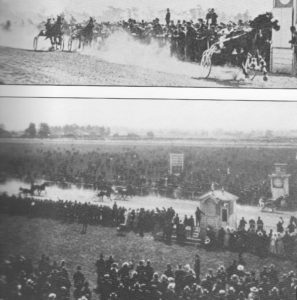 Adelaide Direct's 1917 NZ Cup victory
1917 NZ Trotting Cup, 2 miles, 2,500sovereigns and Silver Cup (1,500 sovs to winner, 500 sovs second, 300 sovs third, 200 sovs fourth) –
ADELAIDE DIRECT, owner/trainer/driver Manny Edwards, New Brighton, 7 seconds
Cathedral Chimes, dr James Bryce, 4 seconds
Author Dillon, dr Ben Jarden, 3 seconds
Agathos, dr A Hendricksen, 7 seconds
4 lengths, neck, neck; 4:27 4/5 NZ record; £8 18s 6d for win (field of 14)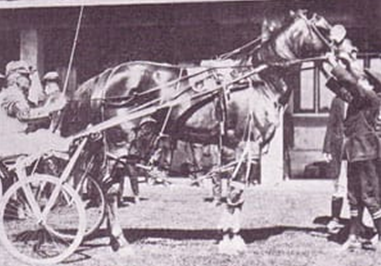 NZ Cup presentation
Overall Adelaide Direct's season consisted of thirteen starts for her solitary but most important victory, two seconds and a third for stakes of £1,652, second leading stake earner of year. Her seconds came in NZMTC August Hcp and New Brighton's Summer Hcp while she ran third in NZFFA behind Cathedral Chimes and Author Dillon when attempting an all the way win. Her unplaced efforts often from lengthy marks included Dunedin Cup (132 yards) and feature races at Addington and Plumpton Park.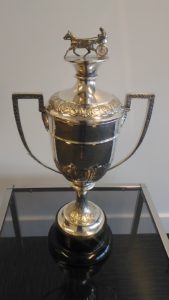 Adelaide Direct's final season in New Zealand (1918/9) saw her start on six occasions for two second placings. She finished second to Author Dillon with Cathedral Chimes third in the NZFFA – two lengths, six lengths with the only other starter Admiral Wood beaten off. She was again second in her final NZ start in the New Brighton club's Summer Hcp. Unplaced in the NZ Cup won by Author Dillon where she failed to show any dash (although ran second two days later in NZFFA) plus Christchurch and Recovery Hcps at the Cup carnival as well as Canterbury Park's Champion Hcp. Adelaide Direct's final season earnings in NZ were £134 from six starts for two seconds.
Note : the number of times Adelaide Direct, Cathedral Chimes and Author Dillon feature in first three positions in major NZ races over period of three seasons (1915/6 – 1918/9).
Whilst in New Zealand, Adelaide Direct successfully broke Country Belle's Australasian 1 mile record (2:07 1/5) during the Auckland Christmas carnival of 1916. On Saturday 30 December 1916 at Alexandra Park she time trialled the mile in 2:06 2/5, a record that stood until beaten by Our Thorpe on 6 September 1918 at Addington (2:06 1/5). Her time was also a NZ Pacers and NZ Pacing Mares record. This meant that at the time of her NZ Cup victory, she held both the one and two mile New Zealand records.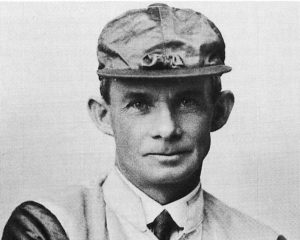 Manny Edwards
Manny Edwards her Kaiapoi owner/trainer/driver in NZ, drove his first winner aged seventeen before going onto have a brilliant harness racing career. His brother Bert drove the inaugural NZ Cup winner Monte Carlo to victory in 1904. This and Manny's 1917 victory with Adelaide Direct were the Edwards family's only NZ Cup successes. Manny's sons Dil and Stan were prominent horsemen as was grandson Murray Edwards.
Adelaide Direct was returned to Baringhup where she was bred from, her descendants breeding on. She left Dillon Bell mare Adelaide Dillon (1920, 2:21.2) when first bred from who was the third dam of Countess Melua (2:19.0) whose two unraced fillies in Fair Oaks (dam of McIvor Creed, 2:10.2, $1,560) and Nina Joys (dam of El Nina and Le Joy, 2:11.0, $1,241) bred on.
McIvor Creed produced Pascinelle, a 1:59.7 ($91,276) winning gelding by Dales Gift who won the inaugural VICSS – 3c and Geelong Guineas in the early 1980's. El Nina was dam of Galavation (2:07.9, $6,266) who in turn left Howzat (2:01.7, $13,020) the dam of However, a 1:59.5 gelded son of The Unicorn who won George Crawford Tribute at three in early 2000's and Narrogin Cup.
Le Joy, was dam of Old Clyde (2:08.9, $5,052, Port Augusta Derby) and Gay Apache (2:01.0, $2,801) dam of winners in Western Apache (Kinney Hanover, 1:58,2, $180,385, WASS/Golden Slipper – 2, Summer Gift, South West Derby); Apache Sunrise (Kinney Hanover, 2:00.7, $118,693, WA Gold Bracelet – 2f); Shannine (Chill Factor, 2:00.0, $27,493).

Apache Sunrise is the dam of the most recent winner from Adelaide Direct's family in Apache Cruiser (Grinfromeartoear/Gay Apache gelding,p2 1:59.0 at first start at Pinjarra in July 2013, $20,015, two WA wins) who recorded his second win at Northam in WA in January2017. Adelaide Direct has been the foundation mare of at least eight generations of winningdescendants.

Classic Families lists her major victories as shown below :

ADELAIDE DIRECT – (1906f Directway/Honest Harry mare), 2:06.4TT, $6,058 (£3,029) NZ earnings only; 58 NZ starts for six wins, eight seconds and nine thirds :
Credit: Peter Craig
YEAR: 2016
A gunman claiming allegiance to the Islamic State opens fire at a gay nightclub in Orlando, Florida, killing 49 people and injuring 53 others.

The United Kingdom votes positively in a referendum to leave the European Union

Nice truck attack - 86 people are killed and more than 400 others injured in a truck attack in Nice, France, during Bastille Day celebrations

A 6.2 earthquake hits central Italy, killing 299 people.


Credit: Peter Craig
YEAR: 2015
Five former Soviet countries form the Eurasian Economic Union.

Charlie Hebdo shooting in Paris.

Boko Haram perpetrates a massacre of over 2000 people in Baga, Nigeria, and allies itself with ISIS.

Al-Shabaab perpetrates a a mass shooting in Kenya, killing 148.

Houthis overthrow the government in Yemen, triggering a military response by Saudi Arabia.

A series of earthquakes in the Himalayas kills over 10,000 people.

ISIS claims responsibility for the Kobanî massacre in Syria, the Sousse attacks in Tunisia, a mosque bombing in Kuwait, the Suruç bombing in Turkey, multiple bombings in both Beirut and Paris, and inspires a shooting in San Bernardino, California.

Turkey and Russia intervene in the Syrian Civil War.

The heads of China and Taiwan meet for the first time, while the United States and Cuba resume diplomatic relations.

195 nations agree to lower carbon emissions.

Liquid water is found on Mars.

First close-up images of Ceres and Pluto.

Credit: 2015 INTERNATIONAL EVENTS
YEAR: 2014
The worst Ebola virus epidemic in recorded history begins in West Africa, to date infecting more than 20,000 people and killing more than 7,000.

Euromaidan protest in Ukraine sparks a revolution and the overthrow of Viktor Yanukovych, leading to Russia's annexation of Crimea and the War in Donbass.

Malaysia Airlines Flight 370 and Indonesia AirAsia Flight 8501 disappear mid-flight, while Malaysia Airlines Flight 17 is shot down over Ukraine and Air Algérie Flight 5017 crashes in Mali.

King Juan Carlos I of Spain abdicates; his son becomes King Felipe VI.

Tehrik-i-Taliban Pakistan kill over 130 students in Pakistan.

Israel launches an assault on the Gaza Strip in response to tit-for-tat murder-kidnappings, leading to the deaths of 71 Israelis and 2100 Palestinians.

ISIS begins its offensive in northern Iraq, leading to intervention in Iraq and Syria by a US-led coalition. Second Libyan Civil War begins.

The Rosetta spacecraft's Philae probe becomes the first to successfully land on a comet.
YEAR: 2013
2013: The French military intervenes in the Northern Mali conflict.

Chelyabinsk meteor.

Pope Benedict XVI resigns and Pope Francis becomes Pope.

Terrorist attacks occur in Boston and Nairobi.

Edward Snowden releases classified documents concerning mass surveillance by the NSA.

President of Egypt Mohamed Morsi is deposed by the military in a coup d'état.

Croatia becomes a member of the European Union.

A chemical attack in Ghouta, Syria is blamed on President Bashar al-Assad.

Typhoon Haiyan kills nearly 6150 people in the Philippines and Vietnam.

Deaths of Hugo Chávez, Nelson Mandela and Margaret Thatcher.

Uruguay becomes the first country to fully legalise cannabis.
YEAR: 2012
Benghazi attack leads to the death of US ambassador J. Christopher Stevens.

The Higgs boson is discovered.

Hurricane Sandy kills 209 people in North America, while Typhoon Bopha kills over 1,600 in the Philippines.

Skydiver Felix Baumgartner becomes the first person to break the sound barrier without a vehicle.

UN Climate Change Conference agrees to extend the Kyoto Protocol until 2020. .