| | |
| --- | --- |
| | INTERNATIONAL HISTORY |

Osama bin Laden founds Al Qaida.

The North Sea oil rig, Piper Alpha, catches fire and collapses killing 167 of the 225 on board.

December 22 - Pan Am Flight 103 crashed on to the small town of Locherbie, in Scotland. The crash which was the result of a terrorist bomb killed a total of 270 passengers, crew and villagers.


| | |
| --- | --- |
| | LOCAL HISTORY |

November 12 - Richard Hadlee takes his 374th test wicket at Bangalore, India setting a new world record.

Lotto introduced to NZ.

Construction begins on Christchurch's highest building, the 76.3m Price Waterhouse block.

Patricia Cooligan becomes the city's first woman District Court judge.

Credit: Ch-Ch City Libraries


| | |
| --- | --- |
| | RACING HISTORY |

LES WOODS

Harness racing lost a good friend with the sudden death last week of Mr Les Woods. Aged 66, Mr Woods died on Thursday morning at his Halswell home in Christchurch.

Mr Woods was elected to the NZ Trotting Conference in 1979, being heavily involved in the cadet scheme, the equine research foundation, and standing in for a few months as Conference treasurer.

A Justice of the Peace, Mr Woods was a past President of the Banks Peninsula Trotting Club, has served as an appeal judge on Conference tribunals, was president of the national association of rodeo riders, and for many years held office on the local county council.

Mr Woods was a retired Motukarara farmer who bred most of the horses he raced, among them That's Incredible, Seltreb, Madam Holiday, Fly Boyden Fly, Trebles, Master Jim and Ashwood King.

He is survived by his wife Margaret, a son and three daughters.

Credit: HRWeekly 10Feb88


| | |
| --- | --- |
| | RACING HISTORY |

ROY MCKENZIE

Besides being his first, Argentina's win at the Manawatu meeting last week might also mark a notable last.

It gave prominent owner, breeder and occasional driver Roy McKenzie his third winning drive for the season. And as Roy retires from racing this season now that he has turned 65, the win behind Argentina could be the last of his career. He doesn't see many more opportunities for himself on the track, other than the two-day Wellington meeting over Queen's Birthday weekend.

If there is another win to come, it will mean he will egual his best for the season, when he won four with Arania Scott. Roy has been driving for 33 years.

Since driving Scottish Command to win a 3-year-old race at Hutt Park - "it was the only time I drove him" - he reckons on having driven about 50 winners. "I only drove the lower end of the team. It keeps your hand in and I particularly liked the trotters," he said. He drove at Addington's Easter meeting some years ago, finishing fourth with Highland Countess in the NZ Trotting Stakes,

Credit: Mike Grainger writing in HRWeekly 7Apr88


| | |
| --- | --- |
| | RACING HISTORY BUILDINGS & FACILITIES |

PAVILION

The Pavillion opened at the Canterbury Park TC's meeting on October 5, 1988.

The Pavillion replaced the marquee at the top of the straight, which had been used for the previous three years by sponsors and firms. The marquee had proved extremely popular, but strong winds had caused such damage that a permanent construction was necessary.

"The new variety is most impressive," said Trevor Davis, the Secretary-Manager of Addington Raceway. "Two walls are made completely of glass, so people don't have to go out onto the platform to watch a race. It has facilities that are designed for the function market. It can be hired out, just like Twiggers," he said.

The first sponsor to hire The Pavilion was the Merivale Mall.

Credit: NZ HRWeekly 5Oct88


| | |
| --- | --- |
| | RACING HISTORY PRESIDENTS: NZMTC |

C S THOMAS

E C Powell writing in NZ Trotting Calendar 29May57

What manner of man is the president-elect of the NZ Trotting Conference, Mr Charles Stewart Thomas, retired barrister and solicitor of the headquarters of trotting, Christchurch? Is he sagacious? Is he juridical? Is he energetic? Does he know trotting? Has he contributed more than most men to the sport of trotting? Is he a hail-fellow-well-met? Has he the manner to foregather with the high and the lowly? Has he courage to face and deal with any issue? Has he ideas for the future conduct of trotting? Has he business capacity? Has he earned respect among his fellows?

To each and every question relating to C S Thomas, the answer can be faithfully and sincerely given in the affirmative.

The sport may consider itself fortunate that now that he has retired after 41 years of tremendous pressure in his legal capacity and on the rewards he fully earned, Charles Thomas has, after 18 months of retirement, accepted nomination for the presidency of the Conference. That he has not been opposed by a nomination from any club in the country is a ready-made and unsolicited testimonial to him.

If any person should know Mr Thomas, I should. It was a small boy, 9in shorter than I am now, and in short pants, that I became his message boy well nigh 40 years ago. What manner of man is he? After one week in his office, he called me in and said: "Powell, you appear to be an honest boy. Here are the keys. Open up the office, the strongroom and all the boxes in the morning." And when I went to a newspaper office, of which he was a director, to make a hestitating step into journalism, he gave me a recommendation when E C Huie, managing-editor of 'The Sun' telephoned him. We have been friends ever since.

"Now I'll be able to give my time to my outside interests, which I have wanted to do for so many years," he told me when he walked out of the office of one of the most prosperous legal businesses in NZ at Chrismas 1955. He had built up the business by sheer grinding work, plus uncommon ability. He was not only a great advocate - perhaps in his early days, second only to Alfred Charles Hanlon, KC of Dunedin - but a highly skilled practitioner in ever branch of law. As his practice grew, so did he grow. In both criminal and civil law cases, he was notably successful. Always a fighter, he advised his clients on many occasions to go to appeal. And he lost only two cases he took to the Court of Appeal - an institution where judges themselves argue with the brothers as well as with counsel to get views and law to solve the knottiest of legal problems. But before to much - and it be well said critically too little, because of space - is said about the career of Mr Thomas at the bar and in his office in Hereford Street - let us examine his record as a man, a sportsman.

What has he done for trotting?

Without doubt, the greatest thing he has done for trotting, also racing, and the general sporting public of NZ was to devise the TAB scheme now operating so successfully. When the Royal Commission on Gaming and Racing toured the country, he accompanied it as counsel for the Trotting Conference. The bookmakers - pardon, the Sportsmen's Association - made a strong case foe their licensing. He had the answer. He had prepared the off-course betting system now known as the TAB, and which has greatly benefitted the clubs and the sports of trotting and racing and has given considerable satisfaction to the public.

The Commission accepted the scheme. It operates today almost in the form in which it was planned by Mr Thomas. It is not a perfect scheme yet. The time lags between investments and races is far too long. 'This and the next' has not been introduced. Doubles on races on different days, such as the NZ Cup and the Trotting Cup, are not provided. The punter with funds from a winning bet cannot operate on those funds on a Saturday.

If one immediate good result will arise from his election to the presidency of the Trotting Conference, it is that he will be chairman of the Board of the TAB every alternate year by virtue of his office. And being a sporting man, I will now lay anybody the price of one flagon of beer that Mr Thomas, as a member of the TAB Board and every second year as chairman, will work with a will to expand the scheme, to the satisfaction of both clubs and sportsmen. His ideas did not run out when he propounded a workable off-course betting scheme.

And as its president for seven years the NZ Metropolitan Trotting Club made notable advances when he was in office. Everything he did aimed to popularise trotting. Addington had its hey-days when he was president. Although a Scot, he has none of the nationalistic cautiousness. He believes that a day at the trots should be a gala event, with flags flying everywhere, bands playing, pipers blowing hard, the crowd having enjoyment and the best-class of horses racing.

He has raced two pacers, Scholarship and Oxford Scholar. His partner was Mr Allan Matson, a former president of the Conference, and they were a happy pair, whether Scholarship won or petered out after clearing to the front with a round to go. But it was not as an owner but as an administrator that Mr Thomas contributed so much to trotting. As in his profession of law, he had boundless energy. He also had the natural gift to grasp facts, to weigh them as a judge would, to give wise judgement, fair and honest. Although his bag was loaded with briefs for the defence of accused men or for claims amonting to thousands, he would be at Addington during the week any time he was called on to give his opinion or decision. He was a distinguished president of the Metropolitan club.

As a lawyer, he has appeared in many cases as counsel for the Trotting Conference (and the former Association) and his judicial capacity has been recognised by the Racing Conference appointing him as an appeal judge. Learned in the law, he is also learned in the ways of men. A case which created Dominion-wide interest in which he appeared was that in the Supreme Court at Dunedin to determine the ownership of that good galloper, Queen of Song, who won the Wellington Cup, and the Riverton Cup and the Great Autumn Handicap within four days, and races in Australia.

So when the Conference faces the revision of the rules it will be fortunate in having him as its president. And when it comes to the carrying out of those rules, or interpretation of the existing rules, he will doubtless bring to bear his profound knowledge, his anxiety for the protection of the accused and for the complete presentation of the case for and against, and, last and above all, that justice be done to all. To his high office, he will also bring his business acumen. He has also the distinction of being the only lawyer in NZ to be retained as sole counsel for insurance companies in any one centre to handle all cases for the 'insurance pool' which grew into a business of magnitude. Many compliments were paid by counsel for claimants on his conduct when cases reached the courts or were settled by negotiation. He was a director of several companies and when he was in law, running his own office was itself no small undertaking.

His sporting activities have not been confined to trotting. He was a notable athlete in his younger days. He was for two years senior athletic champion of Christ's College, was in the college first fifteen in rugby and in the eights for shooting and gymnastics. He was a Canterbury champion for all distances from 100 yards to one mile and just before the outbreak of World War I he represented NZ at the British and Scottish athletic championships. For years he was a boxing judge and also a member of the Canterbury Swimming Centre. He was official starter at athletic meetings for many years.

Probably without comparison in NZ for the holding of an office is his presidency of the Canterbury Caledonian Society. He has been president for 42 years and his driving force was responsible for the building many years ago now, of the Caledonian Hall in Kilmore Street. He founded, and is still patron of, the NZ Pipe Bands' and Pipers' and Dancers' Associations. He introduced the pipes to Addington, and a meeting without the skirling would sound strangely quiet and commercial.

Already established as a pleader, Mr Thomas was counsel for Whitta, a Christchurch tobacconist, who about 1919 or 1920, was charged with carrying on the business of a bookmaker. The case had national interest, because a number of men who had wagered with Whitta, and they included a bank clerk and others in all walks of life, were also placed on trial. The senior counsel was the late Mr Saul Soloman, KC of Dunedin. Whitta was found guilty and imprisoned and spent his last days in Sydney. The Whitta case appears for all time in the law journalsas the law on bookmaking.

The Whitta case went to trial some years after Mr Thomas had taken his first case in the Supreme Court. His client was an Australian pickpocket, named Walker - pickpockets and confidence men were frequently before the Courts in those days - who arrived in NZ with a few shillings in his pocket and had £4000 in the bank on the day at the Riccarton races, when a punter, feeling a hand in his hip pocket, seized the intruding wrist. The wrist was Walker's. The fee for the defence was agreed on and Walker sportingly offered to double it if Mr Thomas secured his acquittal. The jury had no hesitation in finding Walker guilty, but the pickpocket was so happy with the case put up for him - "You are better than I thought you would be," he told his counsel - that he paid the double fee before he went to Lyttelton gaol.

Of the numerous persons on murder charges for whom Mr Thomas appeared, only one was convicted on the major charge. And then Mr Thomas, by assiduous work, saved him from the gallows. He was Matthews, who shot a constable at Timaru. Because of Matthews's well-known connections in Invercargill, Matthews's total disregard for human life and the insanity plea advanced by Mr Thomas, the trial created tremendous interest throughout NZ. It goes down in crime annals, Mr Thomas was convinced that Matthews was insane. When Matthews was found guilty, his counsel immediately appealed to the Executive Council, which decides whether the death penalty shall be carried out, a commission was set up and the finding was that Matthews was insane. Matthews was mad. He twice escaped from Seacliffe Mental Hospital and even 35 years ago his mental condition had deteriorated gravely. I believe he is still in the hospital, guarded 24 hours of the day.

Then there was the famous case of a murder charge against a man named Boakes, a taxi-driver of Christchurch, the alleged victim being a girl. She was found dead at Burwood. Mr Thomas secured his acquittal. He was also successful some years later in his defence of a man named Mayo, charged with murdering a man with poisoned chocolates. Perhaps the greatest criminal case in which he appeared was that of a charge of murder against a man named Mouatt. The allegation was that Mouatt had dismembered his wife at their St Martins home and destroyed the bones in the grate. Mouatt was found guilty of manslaughter and sentanced to a long term of imprisonment. On his release, he called at Mr Thomas's office to collect several wooden statues which he had left with his lawyer but did not call on his counsel. Mr Thomas has not seen Mr Mouatt or heard of him to this day. Mr Thomas maintains that the bones produced at the trial were not those of Mrs Mouatt and that Mouatt could not have destroyed the bones in a grate.

All these cases entailed laborious research and days of study. Mr Thomas has given to all his other activities the same diligence and thoroughness. After nearly 60 days of evidence, he worked day and night preparing his case for the insurance companies in the celebrated Ballantyne fire inquiry - 41 perished - of nine years ago. It took him three days to present his submissions. His work was a feature of the inquiry. He worried about the fee he should charge. He had no need to. He had earned every penny.

This is the man, who in August, will become the head of the trotting sport in NZ. To clubs, officials, trainers, drivers, owners and the public, I must say, in the words of Tommy Trinder, "You lucky people."

-o0o-

Harness Racing lost a figurehead with the death in Christchurch last week of Mr Charles Stewart Thomas. One of the great administrators of his time, Mr Thomas was 99. He was a notable criminal lawyer, an excellent athlete who represented NZ, and a devoted supporter of harness racing.

He was elected to the committee of the NZ Metropolitan Trotting Cup in 1938, and became vice-president from 1940 to 1945. He was president of the club from 1945 to 1952. From 1952 to 1970, Mr Thomas served as treasurer of the club. In 1957, as president of the NZ Trotting Conference, he proposed a plan for off-course betting before the Royal Commission on Gambling and Racing. This was later adopted by the Commission as the concept for today's Totalisator Agency Board.

One of those who knew Mr Thomas well was Mr Des Parker, Secretary of the Metropolitan club from 1951 to 1979. "He contributed a lot to trotting; he was deeply involved," said Mr Parker. "He was a fine man. You just couldn't fault him. He was a very strong member of the team for a long time," he said. Mr Thomas was elected a life member of the Metropolitan club in 1952 on his retirement from presidency. He was the 32nd life member of the club; the first being Mr H Mace in 1901.

As an owner, Mr Thomas raced the good pacer Scholarship in partnership with Mr Allan Matson. A son of Grattan Loyal and Oxford Queen, Scholarship won seven races in the late 1940's, firstly from Dick Humphrey's stables, then while trained by E Rinaldi and W J Coates and driven by Wes Butt. His last win was in the Hornby Handicap on Show Day at Addington in 1948 when he defeated Lady Averil and Commander Scott. Highland Fling, Chamfer, Captain Sandy and Gay Piper were other winners that day.

-o0o-

Under the heading of "Athletics" in the NZ REFEREE of 19th August 1914 it was reported that

"C S Thomas, the Dominion half-mile champion, ran third in his heat in the A A A Championships at Stamford Bridge when, by breaking the standard time, he won a bronze medal."

NZMTC: Historical Notes compiled by D C Parker

Credit: HRWeekly 13Apr88


| | |
| --- | --- |
| | RACING HISTORY JUDGES |

GEOFF BRUHNS

Don't think Judge Geoff Bruhns gets it easy on racenights at Addington. He will say that his time in the judge's box can be most demanding.

Arriving on-course at least an hour before the first race, the former Prne Gould Guiness deer representative begins his routine by marking the scratchings in his racebook. Geoff then goes up to the judge's box situated at the southern end of the steward's stand and runs through the names of the night's 10 races, in case of any tricky pronunciations. Geoff also checks his Tridex intercom system - which he uses for contacting Totalisator Control and the semaphore board - and his video equipment. After a meal in "Twiggers" with either his assistant Ernie Fuchs or commentator Reon Murtha, Geoff's time for quick but deadly accurate decision-making begins.

Geoff, Ernie and the other assistant, Brent Tweedie, watch each race intently, during which Ernie activates the lap bell from a small switch underneath their wooden bench. As the horses cross the finishing line, Geoff notes down the numbers of the first five home. If it's close for any placing, he replays the last 10 metres on the television between his feet, as a check for his visual call only. If a horse's number is obscured, Geoff will use the trainer's colours to determine what horses are in the call. "While Reon is still talking I call for a photo for first, and any other placing that warrants it," Geoff says. By "call" he means he speaks through a hole in the metal pipe that connects the judge's box with the photographer's room. The photographer acknowledges, and within seconds the required prints are sent down through that pipe.

Just before Geoff announces his initial call to the public, he radios that call through to both the semaphore board and tote control - hence the preliminary dividends that appear on the televisions moments after the race. Confirming his judgement by use of the photos, Geoff relays them, as well as the margins he quickly works out, live on-course.

"I always ask for a photo for first because off that I can work out the time using a lined grid," he said. "When the first horse hits the finishing line it breaks a laser beam which stops the timing of the race. The photos of the first four placings have a decreasing scale of time running across the top of them, and from the photos we can determine each individual time by lining them up with the scale," he said.

During this time, Brent has determined the finishing order of the whole field, not an easy task by any means. Geoff can check this if need be from a 25cm-long strip which most of the time contains the whole field. The strip is in minute form, but he has a lighted madnifying glass at his disposal as well.

After every detail is decided, Geoff goes to the office in the drivers' room and writes the first five placings in the club's official book. "I always place one more horse than a stake is paid to, just in case of a disqualification. If everything goes smoothly, I can have up to 20 minutes to fill in between races, but that doesn't happen often," he said.

Geoff, who will be starting his fifth year as judge at Addington next month, has also been the Riccarton judge for over 10 years. "I judge on colours at Riccarton because I know them better there, I work by numbers at Addington. And the only other difference is that I have to placethe first six home at Riccarton," he said.

Geoff used to be part of a 10-strong syndicate that raced the pacer Money Order. Because it is illegal to have ownership in a horse in such a position, Geoff pulled out of the syndicate a month before he took over at Addington. Money Order won it's one and only race just two months later.


Credit: John Robinson writing in HRWeekly 20Jul88


| | |
| --- | --- |
| | RACING HISTORY PEOPLE |

HAROLD "CHAPPY" FISKEN

Memories of Dominion Handicaps run over 60 years will flood back for the now 78-year-old Harold "Chappy" Fisken when on Saturday night he sits at his home at Pukekohe, watching on TV the 77th running of this prestigious event.

Many outstanding trotters have won this time-honoured feature, but few among them would measure up to the mighty American-bred horse Peterwah, raced, trained and driven by "Chappy's" father, the late Robert Fisken, to win in 1926 from 72 yards behind. The Dominion was run the same day as the NZ Cup that year, and, according to newspaper reports of that meeting, although the Cup winner Ahuriri was repeating his victory of the year before, the large crowd was ever bit as generous with its applause of Peterwah's outstanding success.

Bob Fisken - all the way from Gisborne - had become a star harness horseman on the NZ scene. On earlier southern forays, he had won the 1921 Dominion Handicap with Wild Lad and the 1924 NZ Trotting Stakes at Forbury Park with Peterwah, while in 1927 he was to win the NZ Sapling Stakes at Ashburton with Petewah's daughter Enawah.

As he recalls those halcyon days when he was just a lad, a sparkle returns to "Chappys" eyes. It is typical of the man that he retains his zest for living, despite the loss of his son David in an auto accident in Mexico about eight years ago, a stroke then rendered him almost totally paralysed 18 months ago and the death of his wife earlier this year.

As he shuffles on a stick around the silos, crushing machines and conveyor belts of the thriving animal food processing plant that has been his primary vocation for a good many years, he quips: "You'd never think I was for three years Poverty Bay and Hawkes Bay champion runner over a mile and three miles, would you? But I'm coming right; you should have seen me a while ago. I guess I haven't got much more time to go, but I'll get better before I get worse," he insists, adding: "I haven't had a licence to drive a car for a few years, but I've still got my trotting trainer's licence. I've got a couple of old nags out there in the paddock, and I'm causing a bit of havoc threatening to put them back in work." The "nags" are the trotting geldings Zakariah (winner of 6 and now noe 14) and Go Hi (a now-white13-year-old with two wins to his credit).

"Chappy's" father, greatly successful as a stock agent and meat exporter and uncrowned king of the trotting sport at its peak in Poverty Bay, was ruined by the Great Depression of the 1930's. That experience made "Chappy" ever careful not to let his love of horses undermine more reliable means of survival. From small beginnings, he built his food-supply business at Pukekohe into one that last year topped $8 million in sales. "Not bad for an operation with a staff of six and no sign on the gate," he proudly observes. "That figure could be much higher, but you can get too big and go under. We just service Pukekohe and Takanini in the main - it's all I want to handle." "Chappy's"interest in harness racing these days is mainly in the process of Iwanago, a useful Nat Lobell four-year-old pacer being prepared at the Pukekohe centre by his son-in-law Barry Lockyer (formerly associated with the outstanding trotter Highland Flight).

Robert Fisken was a legend in his time in the days when Poverty Bay was one of NZ's strongest trotting strongholds and produced another great horseman in Tom Roe, winner of the 1920 Dominion Handicap with Gold Boy. Fisken fought hard to offset his area's isolation by subsidising by 50% the return rail fares for horses from around NZ to entice them to his local meetings. "Bill Lowe used to come from as far away as Ashburton recalls "Chappy". At one of the last Poverty Bay meetings, in 1926, he had Trampfast (who was to win the Dominion Handicap in 1934) and the pacer Carbine Direct both in the Poverty Bay Cup. Dad drove Carbine Direct for him, and won it, while Trampfast was unplaced."

"Chappy" was 11 when in 1921 his father won his first Dominion Handicap with Wild Lad. A gelding from the Wildwood horse Wildmoor from a Rothschild mare Miss Vera, he came off 12 yards to bolt in by six lengths. The following year, Bob Fisken accompanied Free Holmes and J D Piper to America in search of standardbred speed. Holmes' acquistions on that trip were Estella Amos (who left champion pacer Indianapolis and outstanding matron Tondeleyo) and Rey de Oro (who became a three-time champion NZ sire).

Fisken secured as yearlings Peterwah and Real Guy, the pair costing him a total of £500 landed in Gisborne. Re-sold to Albert Hendricksen, Real Guy, a Guy Axworthy horse, raced only twice, winning one of those starts at Auckland, before siring 69 winners and also becoming a successful broodmare sire.

Peterwah was by Etawah, in his time champion world two-year-old trotting colt with a 2:19½ mark on the half-mile, and Transylvania winner at four in a world record for three heats of 2:03¼, 2:03½, and 2:03½. Janeva, the dam of Peterwah, was by the immortal progenitor Peter The Great. Over 11 seasons, Peterwah had 12 wins between Auckland and Dunedin. In winning the 1928 August Handicap at Addington from 24 yards behind he beat a capacity field of good-class pacers in 4:23 4/5, a world trotting mark for two miles from a stand. Hailed at this point as the greatest trotter NZ had seen, he was the last of his gait before Scotch Tar (1982) to contest the NZ Cup, finishing unplaced in the 1828 event.

Peterwah once won from 228 yards behind at a Poverty Bay meeting. "He was handicapped out of trotting races, and had to compete against the best pacers," recalls "Chappy". Mixing his racing with limited stud opportunities before his owner was forced to sell him with the bulk of his big string of horses to Australia, Peterwah sired 22 NZ winners and a further 21 in Australia. One of these was Enawah, who added 11 other victories to her Sapling Stakes win. Another, Captain Bolt, became "Chappy's" first good horse, winning him four races before being sold to Mrs E A Berryman and becoming an even bigger success under Cecil Donald.

On moving to Rotorua and marrying, "Chappy" gave trotting away for long years, breaking 180 acres into a sheep and cattle farm, and freeholding a plush house on five acres overlooking the lake. "When someone gave me £6000 for it in the 50s, I thought I was made," he said. "It was re-sold for £65,000 and then £102,000 before we changed to dollars and I suppose it would be worth something like half a million dollars now."

One of the horses bought by Hawera trotting stalwart Alex Corrigan when the Fiskens sold up was Robert Earl. This son of Wrack and the Logan Pointer mare Ivy Pointer became a successful sire; and a free service given to him by Corrigan bought "Chappy" back into the sport. "I can't remember what the horse was that I bred, but I was into it again, and since then have always pottered around with a horse or two," he says. Apart from Zakariah, "Chappy's" best winners have included trotters Final Star, Five Star and Pukepoto and pacer Faux Pas. "I even got to Addington once, when I took a trotter Knighthood that I trained for an old bloke up this way after winning at Hutt Park with him; but we didn't get any money down there," he said.

"I reckon, however, that I made it a a sire. My son David, about four years before he was killed, finished 10th in the Boston Marathon." The trophy to mark that worthy accomplishment by David takes pride of place over everything else in the Fisken household.




Credit: Ron Bisman writing in HRWeekly 16Nov88


| | |
| --- | --- |
| | RACING HISTORY PEOPLE |

JACK CARMICHAEL

Jack Andrew Carmichael, who retires this season from driving, was born in Wanganui 65 years ago. His father Andrew and brother Alf were freezing workers who trained horses they owned themselves. Among their winners when Jack was a boy were Kraal, Harvest Boy and Silver Black (later trained in Hamilton).

In 1939, Jack went to the Exhibition at Wellington. With £60 in his pocket from shearing, he was "well off". "It was a hell of a lot in those days," he said. He carried on to Christchurch, where he got lodgings with Dave Bennett and a job working in the stable of Wes Butt. "I was there for twelve years. I used to ride Mankind in his saddle work, and rode him when he ran second to Gold Bar at Addington in 2:4.

"In those days we did a lot of travelling, all by train. It was nothing for us to take 12 to 14 horses to the Coast. But travel was cheap then, and the meals and board didn't seem to cost anything. You'd find, too, that all the owners would be there to watch them race," he said. His first success came with Dawn Grattan at the Westland Trotting Club's meeting on March 21, 1942, and a significant win in that period was taking the Greymouth Cup with Direct Medium.

After marrying Dorothy, Jack bought a farm, where he grew potatoes, then raised pigs and milked 30 cows. He liked the farming life, but agreed to train Coronet Lass and Monopat (dam of Micron and bred by Des Grice) for Ted Graham. Two horses soon became four and then a team, with Tekapo Queen, Gold Globe (by Johnny Globe)who won six races in the early 60s, followed by Dorstan, Bonny Rachel, Rocky Star, Chequer Board, Hindu Star, Precocious, Globe Bay and Worth Seein'.

"Precocious was a great old stayer - she'd just keep going, but I think Globe Bay was the best I had. He was a lot better than what people thought. He was a very nervy horse and early on he was stood down for breaking in a race. He was always a bit funny when he looked like being squeezed up and his form leading up to the Cup, the year he won, was a bit patchy. Rauka Lad was the horse they were writing up. I remember there was a bit of a skirmish up front with a round to go. I had to pull him down to the inside and then take him back out. Any other time he would have broken, but this time he just cruised round. He was always going well," he said.

His one regret as a trainer was losing Worth Seein', a daughter of Johnny Globe and Fifth Brigade, the dam of Berkleigh. She got to c4 and then went down with a liver complaint and died. She would have been a top trotter," he said.

For many years Jack was on the committee of the Trainers and Drivers Association and was there during the campaign for a losing driving fee. The trainer of 330 winners has noticed a change of driving standards and tactics over the years. "It used to be a bit easier because you'd be driving against the same fellows. There are a lot of different ones against you now, and there is a lot of different types of driving," he said.

Jack has also noticed a change in the style of training. There was a time, he recalled, when there would be no rush to investigate the speed of the yearlings and 2-year-olds. "It's not a bad thing, starting on the young ones earlier, but I still think waiting for them would be better. I know with Micron we didn't do much with him until he was four and he just about went straight through to Cup class," he said. "I'm inclined to think there is too much emphasis placed on 2-year-old racing. People still like to see the older horses, like Lord Module and Robalan race. They like the name horses," he said.

With the game nearly up, Jack intends to keep training for another 12 months. "I might retire then. I don't know if I want to keep training horses," he said. Like most others in his era, Jack used to admire Maurice Holmes when he was on the track, but has detected a slip in such considerations in recent times. "Life's changed. The younger ones used to look up to the older ones; nowdays they wouldn't give two hoots," he said.

-o0o-

Jack Carmichael was No.1 driver for Prebbleton trainer Des Grice ever since Bob Young died. "He has always been a very competent horseman," said Grice. "I think he's one of the best tactical drivers in the country. He would be in the same class as Maurice Holmes and Bob Young. The biggest problem was getting the information out of him after the race; he was good the next day," he said.

Credit: Mike Grainger writing in HRWeekly 13Jul88


| | |
| --- | --- |
| | RACING HISTORY INTERDOMINIONS |

1988 SYDNEY- OUR MAESTRO
The fickleness of harness racing and its crowning glory, the Inter Dominions, were again perfectly illustrated at Harold Park, Sydney in 1988. Vin Knight had desperately tried to win an Inter Dominion on eight previous occasions, the previous seven years in succession. Along with his father Bob they combined to provide two finalists from their Kilmore stable. Victory went to one of them Our Maestro in the hands of John Binskin while Vin's drive, the favourite Bag Limit finished last.



| | |
| --- | --- |
| | RACING HISTORY HORSES |

GREAT RACES: LUXURY LINER WAS ALL HEART - LITERALLY

The 1988 NZ Cup could not boast the depth of quality which most others could, but as a 'two-horse war' it was second to none and it showcased and splendidly capped the illustrious career of the greatest stayer of modern times.

The season had started out promising much, but one by one the likes of open class pacers in Ben, Bionic Chance, Emcee, Freightman, Metal Mickey, Rolls Hanover, Rostreiver Hanover, Sir Alba and Sossy dropped out of the picture for one reason or another.

The brilliant Bionic Chance was the one that hurt the most, being very much a Cup winning prospect but a 'last minute' defection - she fractured a pastern during her last workout two days prior to the race. She had won the Hannon that year and would attempt comebacks, but not win another race. And when the dust had settled, 1986 Cup winner Master Mood or Skipper Dale, third in the previous two years, had not raced up to their best form either.

The Cup in 1988 was in fact a sign of things to come, that is the price that would be paid at the 'other end' for poring money into juvenile racing. Billbob, Trident, Bionic Chance, Tuapeka Knight, Hammer and Honkin Vision had been Sires' Stakes 2yo Final winners at that point, while Slugger, Nardinski, Alba's Reign, Race Ruler, Godfrey, Tight Connection and Honkin Vision were winners of the Juvenile Championship within the same timeframe.

Of those fine young performers, only Bionic Chance and Tight Connection made any impression at all on the open class ranks, and even then they were sporadic and fleeting glimpses, and not a lot has changed either. People are drawn to racing and the track by horses they grow to admire, or 'champions.' The promise of a fast buck might entice a bit of investment in the breeding sector, but it does not pull people through the turnstiles, or generate turnover, which is horse racing's lifeblood. People will talk for days about Bonecrusher, Grey Way or Show Gate, or Lord Module and Lyell Creek, but how many could name a Magic Millions winner.

Anyway, Luxury Liner was one of those horses we grew to admire and November 8, 1988, would be his day. He had been runner-up the previous two years, running into one on the day that was just a bit faster (Master Mood) or tougher (Lightning Blue), but one thing would be for sure this time - he would not be a run short.

Luxury Liner had won the previous season's NZ Free-For-All, Auckland Cup (by five lengths), Easter Cup and Inter-Island Challenge Stakes along with an Inter-Dominion heat in Sydney. The four Group 1s and $585,234 in stakes that season saw him voted Horse of the Year, and his form in the spring of his 7-year-old season had also been exemplary, with a Cambridge track record for 2600m mobile of 3:13.5 (MR 1:59.7) indicating he was as good if not better than ever.

Standing in his way was a 10m handicap - the previous Cup winner from any mark had been Humphrey from six yards two decades earlier - and another Vin Knight special in (Our) Maestro, who had won that year's Inter-Dominion at Harold Park as a 4-year-old, but got in off the front as mobiles didn't count for handicaps at that point. Maestro had won 27 of 35 races and was coming off a win in the Maryborough Cup, where he started from 30 metres in downing Quite Famous, Jim O'Sullivan's 'second string' 8-year-old Cup contender when a 6-year-old (My) Lightning Blue was in a bit of a form slump.

Gina Rosa was a 6-year-old and the best mare around at the time, and she was favoured to place at least after a stout third behind Master Mood in the Ashburton Flying Stakes, while a 5-year-old Speedy Cheval was also at the top of his game, having beaten Skipper Dale and Master Mood at Forbury Park and been second at Kaikoura for new trainer Peter Ryder and owner Ron Annear. Outside the aforementioned, the only other starter given a chance was Lord Lenny, who was in good form that season for Owen Purdon with two wins at Alexandra Park over Luxury Liner.

Despite flight delays which saw the Vitorian pair arrive on the Monday morning prior to Tuesday's Cup, Knight and O'Sullivan were both "brimming with confidence." Knight had worked Maestro prior to the Kilmore Cup at that track over two miles in a 2:00 mile rate, last mile in 1:57 and half in 56, and the 5-year-old son of Gaines Minbar, bought as an unraced 2-year-old from Bryce Buchanan in Southland, had already been handed a Miracle Mile invitation. Quite Famous had also won over $500,000 and his 40 wins had included a Consolation of the 1987 Inter-Dominions at Addington after not being right in the heats. He had gone on a winning spree in the interim and O'Sullivan was sure he was "better than ever." Quite Famous was a good horse, but he was not up to being driven on a big track like Lightning Blue, a distinction he was far from alone in of course.

THE RACE
Several lead changes through the first mile meant that this Cup was not going to be one for the faint-hearted. Skipper Dale showed out first before Gina Rosa, Lord Lenny and Elmer Gantry took over in quick succession, and then the 'battleships' Luxury Liner and Master Mood arrived to ensure there would be no breathers during the remaining mile either. All the while Knight sat in midfield on the outer like a black cat - about to pounce. No sooner had Luxury Liner found the front with Master Mood in close attendance a lap out, than Quite Famous attacked three-wide.

Lord Lenny was the first to feel this relentless pressure in the backstraight, allowing a by now struggling Master Mood to drop onto the fence. At precisely the same point at the 600m, Knight unleashed Maestro and he whistled by Quite Famous four-wide and at such speed that his momentum carried him to a length lead over Luxury Liner turning for home. But Knight had gone for the doctor 200 metres too soon and just as Maestro started to battle at the furlong, an unflustered Tony Herlihy went for Luxury Liner. "When Maestro went past me I was still confident," said Herlihy later. "I had not hit him and didn't think it would be hard to win - just tougher. He is a tremendous stayer and you have got to wind him up."

Luxury Liner came clear to win by almost two lengths in the end, and as if the spectacle had not been enough, an applauding crowd was stunned into silence when the time was posted. Luxury Liner had recorded 4:00.4 when the previous race record had been Lightning Blue's 4:05.1 and the National record 4:04.8, set by Luxury Liner in winning the Thames Cup from 30 metres two years earlier. Four minutes for two miles from a stand was just not heard of, it had not even been contemplated as possible, even on a fine, still Christchurch day with $375,000 at stake ($400,000 for the first time from 1989).

Luxury Liner was a top horse at any time for several seasons, but over the extreme distance he 'grew another leg' and became a great horse, and pretty much unbeatable on his day. When he won a second Auckland Cup seven weeks later, from 15 metres in 4:03.8, it took his 3200m record to 10 starts for seven wins and three seconds - those defeats coming in two NZ Cups and a Franklin Cup from 30m.

The NZ Cup had made Luxury Liner the first millionaire racing in NZ alone, joining Cardigan Bay along with Bonecrusher, Empire Rose and Poetic Prince as millionaire racehorses bred in New Zealand. When retired after one start as a spring 9-year-old, Luxury Liner had won 37 of 86 races and $1,721,984, when Master Mood was the next highest stake-winning NZ-bred standardbred in Australasia with $806,925.

In the aftermath, Knight blamed the journey over for his horse being beaten, rather than conceding his drive and a better horse may have had more to do with it. "He went a bit too quick when he went. He put a good length on Luxury Liner, then came back to me. My horse stopped. He had a couple of hard runs before he came over and then had a fourteen-hour trip. He didn't feel all that good in his prelim...he felt like an old cow." Skipper Dale's driver Pat O'Reilly jnr summed up the thoughts of the remaining drivers when he said..."It was too much for him - the speed they were going."

For 30-year-old Herlihy, previously unplaced twice with Comedy Lad and second the year before - Brent Mangos was Luxury Liner's regular pilot until the start of his 6-year-old season - Luxury Liner was the first of three NZ Cups within six years. He would also score with the Purdon-trained millionaires in Christopher Vance(91) and Chokin(93), while his seven Auckland Cups to date is one more than Peter Wolfenden.

Luxury Liner was by Mercedes, one of the first sons of Meadow Skipper imported Down Under, and from the Meadow Al (Adios) mare Miranda Belle, whose fourth dam was the 1911 NZ Cup winner Lady Clare. Mercedes was not a commercial success, but his good progeny were renowned for their toughness. Gaelic Skipper, who finished in a dead-heat for fifth with Frangelico behind Luxury Liner in the '88 Cup after both were at the rear inside the last lap, was the next best pacer sired by Mercedes and also a grand stayer, as was his trotter Idle Scott. The latter won races from age four until 13, 45 and $573,081 in all, including a Rowe Cup and the NZ Trotting FFA in race record time a few days after Luxury Liner's Cup success.

That Luxury Liner had a great heart was never in doubt, but when tested he set another record of sorts. Dr Cliff Irvine pioneered heart scores in the 50s, and when he tested Light Brigade aged 23 in 1960, his score of 146 remained the standard until Luxury Liner came along with his 148.


Credit: Frank Marrion writing in HRWeekly 26Jul06


| | |
| --- | --- |
| | RACING HISTORY HORSES |

EASTON LIGHT

Easton Light, one of NZ's outstanding trotters of all time, had to be put down last week after developing a ruptured intestine. He was rising 24.

Bruce Running who drove him to all but 3 of his 36 wins, said the tough old gelding had enjoyed good health and the run of the family's 11 hectare Ardmore property from the time he retired from the tracks as a 13-year-old until starting to deteriorate a fortnight back. "We got the vet to him as soon as he got crook, but he couldn't be saved," said Bruce. "He was a good, honest horse with so much ability. Mum and I are really going to miss him." Bruce added that Easton Light had come in handy while he was breaking in young horses of his own in recent times. "He used to give them a bit of a tune-up and show them how to get into it," he added.

Bruce and "Sparky" - as he nick-named him because of his high-spiritedness - teamed from the start of the now 6-year-old gelding's second campaign. That season (1970/71), from 14 starts, they gained four wins, three seconds and two thirds.

In 1971/72 at seven, Easton Light had his first Dominion Handicap tilt at Addington, and after being forced to race very wide was a gallant third to Precocious and Merrin. Injured in the 1971 Rowe Cup, he was patched up to run top trotter Johnny Gee to a whisker at Manawatu in March 1972, but soon after, on veterinary advice, had to be taken right out of racing.

The following season, Easton Light comfortably won the Dominion Handicap from Precocious, and with six wins in all was top trotter of that term. At nine, Easton Light raced brilliantly for eight wins to be again the nation's top trotter. Forced wide from 15m in the Dominion, he was third to Philemon and Bachelor Tom, then easily won the NZ Free-For-All from Bachelor Tom and Philemon. Other good wins were in the National Trotting Handicap in Auckland (in 4:16 for 3200m)and NZ Trotting Championship at Addington at Easter (4:17.9).

At 10 Easton Light for the third straight year was the nation's top trotting stake-earner, and the peak performance of his career came as the tough old gelding joined the short list of dual Dominion Handicap winners, scoring by 4 1/2 lengths from 30 metres in 4:13.1, easily a record. In the Rowe Cup, from 40m, he ran winner Robyn Evander to a neck. His six wins and 11 minor placings at this age made him, with $90,875, easily the richest trotting winner in Australasia.

Again at 11, Easton Light hogged the trotters' scene. From 40m in the Dominion Handicap, he had a shocking run and pulled a flat tyre the last mile to finish a gallant second, sandwiched between the winner Hal Good and third-placed Cee Ar in a head and half-head finish. Then, in finally winning the Rowe Cup (from 40m), he capped record unparalleled in the history of Australasia. After his epic Rowe Cup win on his own stamping ground at Alexandra Park, a crowd of 10,000 rose and cheered, clapped and whistled him to the echo. Easton Light's six wins and four placings from 14 starts at 11 pushed his earnings to $120,445.

Troubled by a recurring back ailment, Easton Light, after gaining only a few minor placings from 15 starts at 12, was "retired." But he reappeared at 13, winning the Benson & Hedges Challenge Stakes at Auckland in October so well that another Dominion Handicap tilt - his seventh - was 'on'. From 40m in his final Dominion bid , he got up for fourth, some five lengths from winner Nigel Craig, who clocked 4:15.6 from the front. Sadly, Easton Light was relegated from that gallant placing for breaking stride right on the line. He had raced his heart out that day, and was finally done. After three more fruitless starts, he was retired for good. His final race was his seventh Rowe Cup bid in May 1978 - won, incidentally, by his talented stablemate Rich Hill. Eric Running was struck by a truck and killed while droving sheep on the road in South Auckland in September 1979.

In 167 starts over 10 seasons, Easton Light gained 36 wins (13 at Alexandra Park, eight at Addington, five at Hutt Park) and 76 placings for $132,370.

Few better trotters have looked through a bridle.


Credit: Ron Bisman writing in HRWeekly 20Apr88


| | |
| --- | --- |
| | RACING HISTORY FEATURE RACE COMMENT |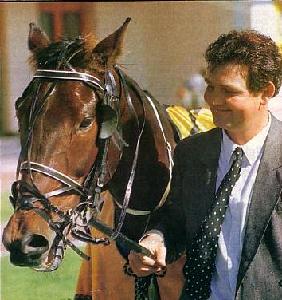 Millionaire Luxury Liner & co-trainer Barry Purdon

1988 DB DRAUGHT NZ TROTTING CUP

The Year Book and the papers of the time will faithfully detail the 4:00.4 world record set by Luxury Liner in the 1988 DB Draught NZ Cup at Addington.

Unfortunately, they will not be able to reproduce the magnificent picture of Maestro emerging from the pack to put great pressure on Luxury Liner. Nor will they be able to describe the crescendo of noise and excitement once they realised that this was going to be Luxury Liner's day after all.

"Yes, you could say Addington owed one to Luxury," said driver Tony Herlihy after the race. This comment referred to the fact that Luxury Liner had finished second in two previous Cups and second in the Inter-Dominion Grand Final.

Herlihy, refreshingly modest in the glow of crushing victory, said he had "hoped to be there by the half. Everything was looking for a bit of a breather when we went. I didn't know what time we would go, though I knew he was capable of 4:02. I remember they were talking of going four minutes when Preux Chevalier came out for the Cup, but they only went 4:11. All I knew this time is that they'd gone hard." The scene till then had been one frantic whirl of attacks and counter attacks, no respites, no time to take hold and have a breather.

Skipper Dale showed out, but the lead then swapped; Gina Rosa taking them through the 2500 metres; Lord Lenny the 2200 metres; Elmer Gantry at the 1800 metres, and then the battleships came round - Luxury Liner and Master Mood. All the time Vin Knight sat with Maestro, watched, waiting like a black cat, ready to pounce. Speedy Cheval was up ahead, perfectly placed by young Peter Ryder, and Jack Smolenski had Gina Rosa in the third line.

Near the 600 metres, Knight flew out of his corner with Maestro, rushing with stinging speed at Luxury Liner and Master Mood. The momento of his sprint carried him quickly to Luxury Liner and past; so convincingly that one nearly weakened, put the glasses down and declared..."another Aussie win".

But Luxury Liner had no mind to surrender to the Australian-trained, New Zealand export; he became a stern peak in the way of the invader. As Maestro found the heat of the fight too strong, Luxury Liner made 'Rally' the cry to lift the Cup, salvage NZ pride, and join the millionaire club - with Bonecrusher, Empire Rose, Poetic Prince and Cardigan Bay.

Behind Maestro and Speedy Cheval came Gina Rosa and the dead-heaters Gaelic Skipper and Frangelico, who being last at the 1000 metres, really had no right to finish as close as she did. Asked if he was worried about second berth when Maestro came past, Herlihy said: "I hadn't gone for him. He's a tremendous stayer and you've got to wind him up."

Other comments:
Vinny Knight (Maestro): "He went a bit too quick when he went. He put a good length on Luxury Liner, then came back to me. My horse stopped. He had a couple of hard runs before he came over and then had a 14-hour trip. He didn't feel all that good in his prelim...he felt like an old cow."
Peter Ryder (Speedy Cheval): "He went to the best of his ability and had every chanc. He was flat round the corner but kept coming back at them."
Pat O'Reilly Jnr (Skipper Dale): "It was too much for him, the speed they were going."


Credit: Mike Grainger writing in HR Weekly


| | |
| --- | --- |
| | RACING HISTORY FEATURE RACE COMMENT |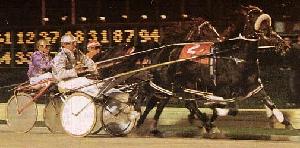 Julie Vance finishes strongly to win the Oaks

1988 NEVELE R STUD NZ OAKS

History repeated itself when the sturdy Vance Hanover three-year-old Julie Vance outclassed the country's best fillies in the $45,000 Nevele R Stud NZ Oaks. Julie Vance followed the path of 1986 winner Free's Best almost exactly.

Like Julie Vance, Free's Best had virtually no lead up form, and her connections opted for a mobile trial just two days before the big event. Free's Best won the trial, and also went the last mile of the workout only fractions away from Julie Vance's 2:01.6 which she recorded in winning the C1 & Faster mobile pace at Addington last Wednesday. So with that little bit of history on her side, together with up-to-the-minute care and attention from driver Mark Purdon and her host Jim Dalgety, Julie Vance paraded before the event as fit as she'd ever been. "She's a great staying filly," said Purdon after she stopped the clock in a brilliant 3:16.84 and left the likes of Debbie's Chance, Scapa Chip and Regal Guest struggling in her wake.

The win was even more special for Purdon because it was his first at Addington; two thirds and two fourths in the recent drivers' series and Julie Vance's ninth in the DB Fillies Final being his only other drives.

Purdon said the filly, which had been troubled by a niggling back complaint for most of the season, really thrived during her stay at Jim Dalgety's property. "She's been sore off and on for a long time. She's never really been 100% fit," he said. "Jim's been great though. We've had her work with a galloping pacemaker because Miss Ardmore hasn't been quite right, and Jim's been really good with her. He had everything we needed. A lot of people were saying the trial on Wednesday would have taken the edge off her, but it just topped her off nicely. For her to go 3:19 (mobile 2600) in the trial and then come out and do 3:16 in the Oaks was terrific," he said.

Julie Vance's Oaks win was her second major fillies title in as many seasons. She defeated the best two-year-olds around in the Caduceus Club Classic series last term.


Credit: John Robinson writing in HR Weekly


| | |
| --- | --- |
| | RACING HISTORY FEATURE RACE COMMENT |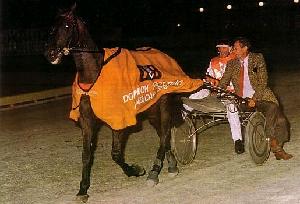 John Langdon, Trevor Allingham & Landora's Pride

1988 DB DOMINION TROTTING HANDICAP

It was a case of the 'old girls' showing them how in the DB Dominion Trotting Handicap when Landora's Pride and Tussle headed the field home.

The nine-year-old Landora's Pride once again continued the outstanding run of success her sire Game Pride has achieved in trotting events in New Zealand when she powered home from the rear to snatch victory. It appeared that with 600m to run that Landora's Pride was once again going to have luck against her in the prestigious event as she was back on the rail at the rear of the 14-horse field. Regular driver John Langdon, who was shooting for his first win in the big trot, eased her back and took off around the outside rounding the home turn.

Meanwhile, Tussle was once again doing a grand job in front, holding off all challengers, but she could not hold out the powerful finish of the much travelled Pukekohe visitor. "She's amazing; she just keeps giving more," said a delighted Langdon. "After her run on Show Day I knew she wasn't a hundred per cent, but she finished fourth and she did well to finish there considering. Trevor's (trainer Trevor Allingham) been working on her since and he could not have had her better. She suffers from tying up, and things like that don't make his job any easier," he said.

For Langdon, the win continued an outstanding run of success with trotters, having won the Inter-Dominion Final with Castleton's Pride, two Rowe Cups (Jenner and Landora's Pride) and having also been associated with the fine trotters Best Bet and Petite Evander. "I've had some good horses along the way, but ever since I was a kid I wanted to win this race," said Langdon.

It proved to be third time lucky for Landora's Pride as this was her third attempt at winning the race, having finished third and fourth in previous runnings. She has now amassed stake earnings of $439,592 for her Pukekohe owners Trevor and Judy Allingham from 104 starts for 30 wins and 29 placings. Allingham moved to Pukekohe eight-years-ago, and around that time purchased the Goodland mare Landora, with her Game Pride foal from Oxford horseman John Burrows for $3,000. The filly foal was Landora's Pride.


Credit: Steve Wilson writing in HR Weekly


| | |
| --- | --- |
| | RACING HISTORY FEATURE RACE COMMENT |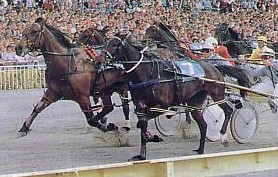 Tax Credit (outer) beats Luxury Liner to win the FFA

1988 AIR NEW ZEALAND NZ FREE-FOR-ALL

Tax Credit, originally balloted out in the New Zealand Cup, then wiped out at the start after getting back into the field, silenced his knockers by brilliantly nosing out his illustrious stablemate Luxury Liner in the $100,000 Air New Zealand Free-For-All.

The son of the Scotland-line American stallion Sir Dalrae started at 56-to-1 - false odds considering there was an excuse for the only real lapse in his lead-up form. Sir Dalrae was also responsible for the 50-to-1 winner on Cup Day - the Waikouaiti trotter, Francis Dalrae. Coincidentally, Tax Credit is raced by Colin and Mrs Pat Harvey, of Dunedin, and Francis Dalrae was formerly trained and is regularly driven by another Dunedinite, Alec Hastie, from whom Harvey took over his current bread delivery contract.

First leasing and then purchasing Tax Credit from Otama breeder Colin Baynes, Harvey trained him for his first six wins and then entrusted him to the Purdons. Right through, the big gelding's form has been solid, and his win on Friday took his career record to 13 victories, four seconds and four thirds from 36 starts for $198,515.

The Cup Day disaster began when, just prior to the start, he had to have his sulky changed. It stirred him up, and when the tapes were released he swung sideways and ruined whatever chance he had, finishing last. Before and after that episode Tax Credit worked brilliantly, and after Mark Purdon speared him into the early lead he was able to enjoy a perfect trail from the point where Luxury Liner moved past him to take over ending the first 600m. Tony Herlihy dictated the play from there, turning a solid pace into a torrid 56.6 sprint from the 800m. It was too much for thr opposition - except Tax Credit, who came off his back to grab him on the line.

Speedy Cheval followed his Cup third with another fine effort for a similar berth, a short length back, after being awkwardly placed five back on the rails until working out 600m from home. Maestro, who from his bad draw passed the stands with a round to go with only one behind him, was forced to race very wide outside Speedy Cheval's wheel to make his ground. Although two and a quarter lengths from third he again showed his class. An agitated Vin Knight insisted that had Maestro been given a fair go he would have won.

Colin Baynes, who was quick to congratulate the Harveys after the Free-For-All, is breeding from Tax Credit's dam, a Dancer George mare Taxi Dancer, who was injured as a youngster. Baynes who makes no secret of the fact that he let Tax Credit go to the Harveys "because we had too many three-year-olds and he was the worst mannered and wanted some individual attention," has a two-year-old brother by Surmo Hanover to Tax Credit named Star Credit and a yearling by Del Cavallo from the mare, who is in foal again.


Credit: Ron Bisman writing in HR Weekly


| | |
| --- | --- |
| | RACING HISTORY FEATURE RACE COMMENT |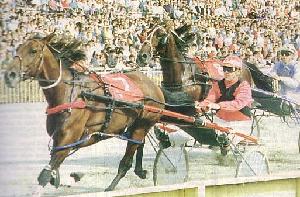 Dillon Dale defeats Godfrey in the 1988 Derby

1988 JOHN BRANDON NZ DERBY

Much as predicted, Dillon Dean defeated Godfrey in the $150,000 John Brandon New Zealand Derby.

He confirmed his rating as New Zealand's best three-year-old with a win by more than two lengths in the classic and in a time that was a race record. Godfrey had his chance and tried hard, but didn't have a hope of trimming much off Dillon Dean's lead over the last 300 metres. "He went a bit rough on the corner. That cost him two lengths, but the other horse was too good. He usually goes better the Auckland way round. He doesn't wear a murphy like he had to here," said driver Tony Herlihy.

After being steadied during the early rush for positions, Dillon Dean was taken to the front by Maurice McKendry near the 2100 metres. McKendry had it the way he wanted from there, allowing Dillon Dean to run his last mile in 2:01.2, and his last 800m in 58.5. Gidfrey ran on gamely, followed wider out, by the two Taranaki colts, Joker Man and Reba Lord, neither of whom had it easy over the last lap.

This was Dillon Dean's 12th win from 20 starts, and the $97,500 first prize took his earnings to $318,650.

Credit: Harness Racing Weekly