YEAR: 1963
CARDIGAN BAY AT THE 1963 CUP CARNIVAL

Hind-sight, if you like but, in retrospect, it is doubtful if Cardigan Bay, even in his defeat of Bret Hanover, 1:58 3/5, in the Pace of the Century at Yonkers Raceway in 1966, was any better than he was at the NZ Cup Carnival in 1963. Over the four days he made a four-in-a-row clean sweep of the NZ Cup, the NZ Free-For-All, the Ollivier Handicap and the Alan Matson Handicap.

Here is what appeared in the Calendar dated November 27, 1963: CARDY COULD BREAK EVERY RECORD IN THE BOOK.

Cardigan Bay's fantastic time of 2:59 4/5 for the last mile and a half in the Allan Matson Handicap at the Addington Raceway on Wednesday night, November 20, is not only 3 3/5 seconds inside the world record (unofficial of course) for the distance jointly held by the American pacers Stephan Smith(1961) and Royal Rick(1962) - it is also the first time in world harness history that two-minute speed has been sustained by any horse beyond a mile and a quarter - and Cardigan Bay also ran his last mile in 2:00 flat. The mile and a quarter record is held by Irvin Paul, who bettered two-minute speed when he registered 2:29 3/5 in a race at Westbury, New York, last year.

Just what 'Cardy'(as the Auckland public have nicknamed him) would be capable of under trial conditions from a flying start with a galloping pacemaker defies the imagination - no matter what the distance. Nothing he met at Addington could give him any hint of competition - particularly when he paced his dazzling 3:18 1/5 for a mile and five furlongs and lowered False Step's world record by nearly 3 seconds. His nett time (4½ seconds deducted for his handicap of 54 yards) in a mile rating of 2:02 from a standing start (the world mile record from a standing start in Johnny Globe's 2:01 1/5).

The world record for a mile and a half still stands to the credit of Greyhound, the 'grey ghost' of tremendous stride who trotted 3:02½ as a 5-year-old at Indianapolis away back in 1937. No pacer of world class, to the writer's knowledge, has ever been sent against time for the distance, and there are also very few mile and a half races in the USA in any season except when 'international' events are staged. Other world records for main distances not alredy referred to in this article are Adios Bulter's mile in 1:54 3/5 (since lowered to 1:53 3/5 by Bret Hanover) and Greyhound's two miles in 4:06, both made against time.

Long since, the trotting scribes ran out of superlatives to fit Cardigan Bay's feats. Suffice it to say he is the greatest horse the Calendar writers have ever seen, that his Allan Matson Handicap performance was unbelievable when the time was first announced, ie, the most outstanding performance it has ever been our good fortune to see: that Cardigan Bay is the 'most' - that nothing in the world today, in our view, could match his incredible, searing brilliance and utterly dependable racing qualities. It is not altogether his record time and the unbelief that attended his post-to-post mile and a half figures that rocked us: it was the bewildering ease with which he shook off anything that resembled a challenge once he had zoomed past his fields as though they were tied to the hub-rail.

A tribute too, for Peter Wolfenden, Cardigan Bay's 28-year-old trainer-driver who is just as imperturbable and consistent and reliable as the prodigious steed he handles with such consummate skill and mastery. Here, then, is another affinity between man and beast that may well rank with the immortal horse lore of truth and legend of the past, the uncanny mutual understanding that has produced the incomparable combination that alone made the NZ Cup Carnival and Addington Raceway's inaugural night an unqualified sporting success. There were other good performances over the meeting, especially among the trotters, but all were mere ripples compared with the four-in-a-row clean sweep of the Pacing Powerhouse from Pakuranga and Peter the Phantom of the same address.


Credit: 'Ribbomwood' writing in NZ Trotting Calendar 25Sep68
YEAR: 1963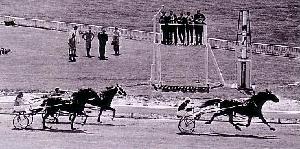 Cardigan Bay winning the 1963 Cup from 54yds

GREAT RACES: CARDY - ONE IN A MILLION

Picking the highlight of Cardigan Bay's career is like trying to pick the greatest cricket catch of all time - if there were 10 people on a judging panel one would no doubt get 10 different opinions.

But 1963 was the year of Cardigan Bay like no other before or after and the Auckland Cup was his crowning glory. Among other things he had won the Inter-Dominion in Wayville and the NZ Cup from 54 yards, when the entire field outside of Oreti (12yds), started from the front. To become the first horse to win an Inter-Dominion, New Zealand and Auckland Cup in the one calendar year,'Cardy'would be faced with a 78-yard handicap.

A few of the locals were let into the race off the front along with Jar Ar, but Cardigan Bay's presence had compressed most of the rest into the 12-yard handicap and they included a "young champion" in 4-year-old Tactile along with King Hal, Sun Chief, Urrall, Vandeford and the bonny, gallant wee mare Robin Dundee, who chased him home at Addington. Behind them were Robin Dundee's fine older half-brother Dundee on 18 yards and Gentry, still going strong as a 10-year-old, off 36 yards. The enormity of the task seemed over-whelming even for Cardigan Bay, and over 26,000 people packed Alexandra Park to cheer him on.

The 'Trotting Calendar' in previewing the event said..."Cardigan Bay's task of giving starts ranging up to 78 yards in this year's Auckland Cup would be a Herculean one by any yardstick of the past, but this pre-eminent pacer has so completely demolished all previous concepts of what the limit to pacing speed and stamina might be that he is assured of favouritism at Epsom on December 27. His superlative performances to win the New Zealand Cup from 54 yards; his world record of 3:18 1/5 for 13 furlongs in the Allan Matson Handicap; and his torrent of speed to outclass the free-for-all field have placed him on a public pedestal usually reserved for Olympic stars."

To set the scene further, Cardigan Bay had joined Peter Wolfenden as a late 4-year-old, having won three straight races and five in total for Mataura trainer Dave Todd and his brother Sandy. He had won twice at three, but failed to pay a dividend on five occasions - a good sale would have to wait until Todd and his driver Ken Balloch had knocked the edges off. This was achieved in the next season when Cardigan Bay was racing with a hefty price tag of £2500.

Prominent administrator Arthur Nicoll would have bought him but for an investment in Australia collapsing at the time, and Gentry's owner/trainer Bob Barry was more than interested but considered him too dear, and waited until he was beaten in the hope he could get him cheaper. However, Cardigan Bay so impressed in taking out the Renown Handicap at Forbury Park in April, 1961, that Auckland snooker hall proprietor and well established 'bookie' Merv Deans successfully bid £2000 with two £250 contingencies. Dean had been flush with success after purchasing from the Todds a Hal Tryax gelding named Motif, who had won for him at Claudelands at 40-to-one, and then when placed with a young horseman in Wolfenden, had won again at Stratford on April 15.

Placed in the name of Dean's wife Audrey, Cardigan Bay came into Wolfenden's life when he was 26 and at a time when the track was being remodelled. When the track became available again in the new season, Cardigan Bay "breezed" a half in 59 in work and led Wolfenden to declare "driving something else and then him is like stepping from a Morris Minor into a Jaguar."

A big and powerfully-built but ultimately plain bay, Cardigan Bay romped unbeaten through Auckland meetings in September and October and arrived at the 1961 NZ Cup Meeting unbeaten in seven races, easily accounting for the Final Handicap on Cup Day and Scottish Command and Smokeaway in the NZ Free-For-All, the day the granstand burned to the ground in the background. When he bolted away with the Auckland Cup by five lengths soon after, it was his 10th straight win, equalling a record established by War Buoy 40 years earlier.

Cardigan Bay had not actually travelled well to Addington and Wolfenden was then against taking him all the way to Perth for the Inter-Dominions, but Dean had other ideas and placed him under the guidance of NSW horseman Bill Wilkins. Handicapped on 12 yards with only the brilliant NSW horse James Scott behind him in the Championship, Cardigan Bay easily won on the first two nights as did James Scott, and a clash in the two-mile third round heat and the Final were eagerly anticipated. It was not to be though, as in a training mishap, Cardigan Bay crashed to the ground back at the stables and landed on a concrete curb, completely displacing his near-hind hip. About the same time, Audrey Dean went into hospital for an operation and received news of the death of a relative, and Wolfenden was kicked in the face by a horse, requiring surgery that put him on the sidelines for several months.

Negotiations had already been taking place to have Cardigan Bay competing in that year's Yonkers International Series, but it seemed his career could be over. Placed in a sling and lovingly cared for by Perth trainer Ted Greig, a month later Cardigan Bay was walking without pain, although with a noticable limp. Four months after the disaster he was shipped home, and in September at Alexandra Park he successfully resumed from 36 yards over 13 furlongs.

Unplaced when favourite from 24 yards in Lordship's 1962 NZ Cup, when the slushy conditions hindered his by now less-than-perfect pacing action, Cardigan Bay also had to take a backseat to the brilliant 4-year-old in the NZ Free-For-All, but won the Matson and Smithson FFAs. He then came up two lengths short of Ces Donald's speedy but erratic Dandy Briar in the Auckland Cup after giving him a 48-yard start, but added the Champion Handicap and another race in Auckland before heading to Adelaide and the Inter-Dominions.

The saucer-like two and a half furlong Wayville circuit did not suit Cardigan Bay's ambling action and there were incidents aplenty during the rounds of heats, one of which put Wolfenden on the deck during the third night. But ironically in the Final, Cardigan Bay had moved around the field from 24 yards and had a clear track starting the last lap when Idle Raider faltered and wiped out most of the field, and he went on to down Dusty Miller and Waitaki Hanover handsomely.

Marty Tananbaum was again on-hand to witness this, but could not persuade any of his fellow Americans to fork out the equivalent of $70,000 for a "7-year-old gelging with a suspect hip." Continuing his Australian campaign under Wilkins, Cardigan Bay won a race in Melbourne and four more a Harold Park, where he was also second from 48 yards to Waitaki Hanover in the Lord Mayor's Cup, before returning home to rest up for his 1963 NZ Cup Meeting assault and demolition.

First Cardigan Bay would be at Addington in August for the National Meeting, downing Samantha (12yds) and Lordship (18yds) in the mile and a quarter Lightning Handicap from 30 yards, and dead-heating for first with Junior Royal (Fr) in the National Handicap after starting from 42 yards. A week later at Hutt Park on the way home, Cardigan Bay easily won the Roydon Lodge FFA over Samantha and Junior Royal, and the Prsident's Handicap from 36 yards over Master Alan more easily by five lengths, and for good measure he time-trialled at Cambridge's new five-furlong track and equalled Caduceus' Australasian mile record of 1:57 3/5.

From 54 yards in the Cup, Cardigan Bay conceded favouritism to the Alf Bourne-trained and Maurice Holmes-driven 4-year-old Vanderford, a son of Great Evander, who had won seven of eight races that spring including the Ashburton Flying Stakes and Hannon. Holmes had Vanderford bowling along in front most of the way, but when Cardigan Bay received a good cart into the race by Oreti over he last lap, he pounced and won easily by a couple of lengths over Robin Dundee and Master Alan.

Another FFA proved a mere formality, and then to ceebrate the introduction of night racing at Addington a £500 bonus was offered if False Step's NZ record of 3:21 could be broken in the Allan Matson, which was worth half that of the Cup at £3500. In other words, £500 was serious money some 40 years ago. Fron 54 yards and with four others on 12 yards in the 15 horse field, Cardigan Bay romped home by almost four lengths in 3:18 1/5 - he was three-wide for practically the entire race and timed over the last two laps (mile and a half) in under three minutes - and added the Ollivier from 60 yards in 3:20 3/5 on the final night for good measure.

Realising what a drawcard Cardigan Bay would be, the Wellington TC offered £600 to break the mile record, and on a cold and blustery night Cardy scorched round the four and a half furlong track in 1:56 1/5. Wolfenden claimed that but for the windy conditions, Cardigan Bay would had threatened Adios Butler's world record of 1:54 3/5 set at The Red Mile on 1960.

On to the big night in Auckland, and time when the Handicapper has all but brought Cardigan Bay's Down Under career to a close - all but. While there may have been cause for optimism given his form, 78 yards was a monumental task when the best horses in the country are at least 66 yards ahead of you.

Cardigan Bay made his usual swift beginning though and bided his time at the tail of the big field until he commenced his run around the field from the 1200m - or about the point when the crescendo began. He forged to the lead in the backstraight, but he was being stalked by Tactile, handy all the way and now tracking Cardigan Bay into line. Tactile drew up, but Cardy would not be denied and went on to win by half a length like the champion he was.

It was heart-stoppingly spectacular stuff and C E Craig, writing for the 'Calendar' on the night, said "the thunderous ovation received has never been equalled at Epsom or probably on any other trotting course. All eyes were on him from start to finish, and when they accelerated at the three furlongs, racing around the field to be first in line for the judge it was just an uproar, and continued until they returned to the enclosure. "As President Mr Bridgens said in his Cup presentation: 'What can I say? You people have already said it for me'." The scenes would be repeated to some extent on the nights of the 1974 and 2005 Inter-Dominions in Auckland - just add about 50 metres to what was asked of Young Quinn and Elsu and double the crowd.

A few weeks later Cardigan Bay won his last New Zealand start, taking out the two-mile Pezaro Memorial from 60 yards by a length over frontmarker Jay Ar. On to the Inter-Dominions around the three-furlong Melbourne Showgrounds, and on-hand to see Cardigan Bay thread his way through 11 rivals from 36 yards to win on the first night was Tananbaum again, but this time with a special guest - Stanley Dancer. Needing no more prodding, Dancer offered US$100,000 (about £36,000) and agreed to return Cardigan Bay home at his own expense, while Tananbaum threw in a $30,000 specially chartered flight to New York.

Out of luck in the Inter-Dom Final won by Minuteman in all-the-way fashion, Cardigan Bay departed these shores having won 43 races with nine seconds from 67 starts - £36,477 in New Zealand and £24,940 in Australia.

Taking delivery of Cardigan Bay when he landed in New York in March, 1964, Dancer told reporters: "I got him cheap - $900,000 cheap. This one's worth a million." Just how prophetic was that comment?


Credit: Frank Marrion writing in HRWeekly 21Jun06

YEAR: 1963

1963 ALLAN MATSON HANDICAP

Cardigan Bay's fantastic time of 2:59.8 for the last mile and a half of the Allan Matson Handicap at the Addington Raceway on Wednesday night, November 20, is not only 3.6sec inside the world race record (unofficial of course) for the distance held jointly by the American pacers Stephan Smith (1961) and Royal Rick (1962) - it is also the first time in world harness history that two-minute speed has been sustained by any horse beyond a mile and a quarter - and Cardigan Bay also ran his last mile in 2:00 flat.

The mile and a quarter record is held by Irvin Paul, who bettered two-minute speed when he registered 2:29.6 in a race at Westbury, New York, last year. Just what 'Cardy' (as the Auckland public have nicknamed him) would be capable of under trial conditions from a flying start with a galloping pacemaker defies the imagination - no matter what the distance. Nothing he met at Addington could give him any hint of competition - particularly when he paced his dazzling 3:18.2 for a mile and five furlongs and lowered False Step's world record by nearly 3secs. His nett time (4.5secs deducted for his handicap of 54 yards) is a mile rating of 2:02 from a standing start (the world mile record from a standing start is Johnny Globe's 2:01.2).

The world record for a mile and a half still stands to the credit of Greyhound, the 'grey ghost' of tremendous stride who trotted 3:02.5 as a five-year-old at Indianapolis away back in 1937. No pacer of world class, to the writers knowledge, has ever been set against time for the distance, and there is also very few mile and a half races in the USA in any season except when 'international' events are staged. Other world records for main distances not already referred to in this article are Adios Butler's mile in 1:54.6 and Greyhound's two miles in 4:06, both made against time.

Long since the trotting scribes ran out of superlatives to fit Cardigan Bay's outstanding feats. Suffice it to say he is the greatest horse the Calendar writers have ever seen, that his Allan Matson Handicap performance was unbelievable when the time was first announced, i.e., THE most outstanding performance it has ever been our good fortune to see: that Cardigan Bay is the 'MOST' - that nothing in the world today, in our view, could match his incredible, searing brilliance and utterly dependable racing qualities. It was not altogether his record time and the unbeliefthat attended his post-to-post mile and a half time which rocked us: it was the bewildering ease with which he shook of anything that resembled a challenge once he had zoomed past his fields as though they were tied to the hub-rail.

A tribute, too, for Peter Wolfenden, Cardigan Bay's 28-year-old trainer-driver who is just as imperturbable and consistent and reliable as the prodigious steed he handles with such consumate skill and mastery. Here, then, is another affinity between man and beast that may well rank with the immortal horse lore of truth and legend of the past, the uncanny mutual understanding that had produced the incomparable combination that alone made the New Zealand Cup Carnival and Addington Raceway's Inaugural Night an unqualified sporting success. There were other good performances over the meeting, especially among the trotters, but all were mere ripples compared with the fout-in-a-row clean sweep of the Pacing Powerhouse from Pakuranga and Peter the Phantom of the same address.

Credit: NZ Trotting Calendar 27Nov63

YEAR: 19631963 NZ TROTTING CUP

"He will have to achieve the impossible to give Vanderford 54 yards start today," declared a seasoned racegoer after examining the track, the favourite, and the backmarker during the New Zealand Cup preliminary at Addington on Tuesday. And the totalisator investments affirmed that our seasoned racegoer was not alone in his dictum. But nothing tickles the palate of the dedicated racegoer - any brand or vintage of racegoer - more than the achievement of the 'impossible' and the warm ovation for Cardigan Bay had already broken out when he took command with two furlongs to go.

Cardigan Bay performed the 'impossible' in irreproachable style - he even exceeded all the highest estimates of his ability and duribility in the fourth fastest Cup in history - Johnny Globe 4:07.6, False Step 4:09, Highland Fling 4:10.6, Cardigan Bay 4:11.2. He reduced all his opponents of any consequence to a struggling, straggling band with surprising rapidity, even for him. This phase of his and Peter Wolfenden's strategy occurred suddenly and unexpectedly - with three furlongs to go. One moment Vanderford was still striding confidently out in front; the next was a complete metamorphosis, with Cardigan Bay taking every advantage of a trail behind the streaking Oreti on the outer, and Vanderford rapidly losing his grip of the situation down on the hub rail. The race was as good as won from that stage. Cardigan Bay, doing it the hard way, nearly three wide, got his head in front at the two furlongs, and his only effective challenger, Robin Dundee, came no closer than two lengths and a half to him in the race from the home turn.

Vanderford's first mile in 2:11.2 was not sensational, due to his slowing down the pace from a 2:07 clip to a 2:15 clip in the second half-mile. Neither was the time for the first mile and a half, 3:17, out of the way for horses of Cup class, and this no doubt was a life-saver for Cardigan Bay, already at least 24 yards closer to the leaders than at the outset. Cardigan Bay was privately timed from post to post in 4:09.6, his first half in 61, mile in 2:06.2, mile and a quarter in 2:38.8, and mile and a half in 3:10.6. So it will be readily gleaned that he tramped his last half mile in 59.6 secs and the last mile in 2.03.4.

A rather surprising third favourite, Sun Chief beat only two horses home - his youthful spring excellence has given way to autumn mediocrity. He is only a shadow of the horse who finished second in the NZ Cup of 1960. Robin Dundee was produced in rare fettle by veteran trainer J Walsh - nothing looked better - and she came home much more resolutely than any of the minor place-fillers. It was a brave showing on the part of this pocket-edition pacer.

Doctor Dan, Grouse, Oreti and King Hal were all a little slow away, and Dandy Briar broke. Vanderford tangled for a few strides but lost very little ground. Blue Prince was first to show out from Sun Chief, Urrall, Master Alan, Vanderford and Robin Dundee, with two lengths to King Hal, Doctor Dan, Oreti and Cardigan Bay last. At the end of two furlongs Vanderford had taken over, and he was followed past the stands by Blue Prince, Sun Chief, Urrall, Robin Dundee, Master Alan, King Hal, Doctor Dan, Oreti, Dandy Briar and Cardigan Bay, still at the rear. Most of the field were racing in pairs by now. There was little change till approached the three furlongs, where Oreti moved up to Vanderford, and Cardigan Bay was beginning to improve from the back in the direct path of Oreti.

Soon after, Vanderford gave way to Oreti, and Cardigan Bay, continuing his run, was in front at the two furlongs. He led into the straight and, shaken up, held his advantage to beat Robin Dundee by two lengths and a half. Robin Dundee finished strongly to beat Master Alan by a head. Two lengths back came Oreti, followed by Doctor Dan, the weakening Vanderford, King Hal, Urrall, Dandy Briar, Sun Chief, Blue Prince and Grouse last.

Cardigan Bay has now won 35 races and £48,447 in stakes and trophies. He shares with War Buoy the best winning sequence for a harness horse in the Dominion - 10. He is the first horse ever to win a New Zealand Cup and an Inter-Dominion Championship, a 'double' that eluded such greats as Highland Fling, Caduceus, Johnny Globe and False Step - one way or the other. He holds the New Zealand and Australian mile record, 1:57.6, jointly with Caduceus. He is one of the most perfect pacing 'machines' ever seen in this country - reliable, brilliant, and a renowned stayer or unflinching courage. Only two horses have won the Cup from longer marks than Cardigan Bay's 54 yards: Harold Logan and Highland Fling both won from 60 yards.

An odds-on favourite, Vanderford carried £3697 for a win on-course and £8976 off-course; for a place he carried £3580 10s on-course and £4003 off-course. Cardigan Bay, second favourite, earned £1488 10s for a win on-course and £3197 off-course; his place totals were £1666 10s on-course and £3681 off-course. The betting totals on the Cup were slightly down on last year: on-course total was £24,147 10s, compared with £24,828 10s last year; and the off-course figure was £35,930, against £36,176 last year. The on-course total for the day was £192,254, a substantial increase on the £183,633 10s handled last year; but the off-course figures showed a corresponding decrease - this year's total was £180,714 15s, against £188,535 last year. The attendance this year, 18,500, was almost the same as last year.

The result was a triumph for the Southland sire Hal Tryax (imp), who sired the first and second horses, Cardigan Bay and Robin Dundee. Colwyn Bay, the dam of Cardigan Bay, recently produced a filly foal, a full sister to the Cup winner, and there is also an older filly of the same breeding. Colwyn Bay was a brilliant pacer herself, but unsoundness cut short her racing career. She is by Josedale Dictator (imp) from Pleasure Bay, by Quite Sure (imp) from Helen's Bay, by Guy Parrish (imp) from Gold Patch, by Geo M Patchen.

Cardigan Bay was bred was developed by the Mataura trainer, D Todd. He was raced by D Todd's brother, Mr A Todd, of Mataura, who sold him to Mrs Deans. Mrs Deans related how she had decided to buy a pacer and that she and her husband had followed closely the newspaper comments made on the form and performances of Cardigan Bay. "We were quite certain that Cardigan Bay would be the horse we would buy - we had never seen him - and when we read there were some northern inquiries for him, we decided there and then to buy him before anyone else did," she said. The champion cost Mrs Dean £2500 after contingencies had been met.

Cardigan Bay's mixed fortune at the 1962 Inter-Dominion Championship in Perth is too widely known to require repetition here. His recovery will always rank as a miracle of racing. He made no mistakes about the 1963 series - his form was 'bang on' and he outclassed the opposition he met in Suoth Australia.

Describing the race as "one of the great Cups, and one of the best fields for many years" the president of the NZ Metropolitan Trotting Club, Mr J K Davidson, congratulated the owner and trainer-driver on a "magnificent performance in which the result was under control some distance from home." After Mrs Davidson decorated Cardigan Bay with a garland of flowers, Mrs Dean replied. She paid a warm tribute to P T Wolfenden for his "careful training and skilful driving" and also thanked "Noel Bennett, who has so capably looked after the horse.




Credit: 'Ribbonwood' writing in NZ Trotting Calendar

YEAR: 1965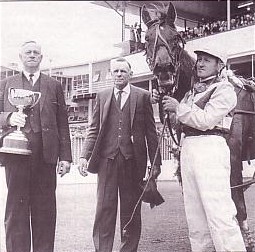 Lofty Shaw, Jack Baker, Garry Dillon & Peter Wolfenden

1965 NZ TROTTING CUP

Adroitly shepherded through a traffic hazard just after negotiating the home turn, Garry Dillon decisively outstayed the favourite Robin Dundee in the NZ Cup at Addington Raceway.

Crack northern reinsman Peter Wolfenden had the winner in front from barrier rise, he took the trail behind Danny's Pal with about seven furlongs covered, and thereafter he stayed on the fence in the path of the pilot until he got the green light in the run home - he actually edged his way to the outer and had gathered in Robin Dundee half-way down the running.

Garry Dillon had three lengths to spare as he passed the post, too decisive a result to warrant any reaching for the excuse book. However, there were the usual casualties. Gay Robin looked as unlucky as anything. He showed a torrent of speed to finish fourth after striking trouble and going into a prolonged break with only a furlong and a half covered - this lapse cost him about a dozen lengths and he was less than five lengths from the winner at the finish. Orbiter fared little better in the battle of tactics than he did a year ago (when he was second to Cairnbrae) but on this occasion his chance got completely extinguised when he got squeezed back with less than three furlongs to go. He was running a fairly close eighth at the time. Jacobite also made a remarkable recovery to come third, because he misfired as badly as anything at the start and still had at least a dozen of the field to mow down with half the race to run.

Lochgair, Avante and Gay Reel were others to tangle at the start, and Garry Dillon's early attendants were Idaho, Robin Dundee, Orbiter, Danny's Pal, Pancho Boy and Garcon D'Or. Garry Dillon was a clear leader with a mile and a quarter to go, but then Danny's Pal rushed up to take over, and with six furlongs left he had Garry Dillon, Idaho, Avante, Robin Dundee and Tactile as his nearest pursuers. Cairnbrae made a short-lived spurt wide out going along the back the last time, but the one who really 'got cracking' as the field crossed the top was Robin Dundee - she was in full cry on the home bend and soon had Danny's Pal and Idaho in trouble, but no sooner had she drawn clear than Garry Dillon made his sweep well out on the track and Robin Dundee had no answer to his perfectly timed onslaught.

Robin Dundee was a length and a half in front of Jacobite, who was a head better than Gay Robin, and Idaho was the same distance back fifth. Danny's Pal, Lordship, Van Rebeck, Orbiter, Tactile, Avante, Pancho Boy, Garcon D'Or, Lochgair, Gay Reel and Cairnbrae followed in the order named.

P T Wolfenden, interviewed after the race, said he thought he was the only one with a chance of beating Robin Dundee from the home turn if he could get clear, "and I managed to." D J Townley, driver of Jacobite, thought he was "a certainty beaten." He lost fully 36 yards at the start.

Garry Dillon is raced on lease by Messrs E B S Grey and J H Shaw from his Southland breeder, Mrs E M Kirk. A seven-year-old bay gelding by Garrison Hanover(imp), who is now close to the top of the sires' list for the current season. Garry Dillon is out of Regina Dillon, by Dillon Hall out of Regina Pointer, by Logan Sun out of Regina de Oro, by Copa de Oro from Regina, a famous foundation mare whose descendants include Native Chief, Logan Chief, Grand Mogul and a host of other class performers; but this was the first New Zealand Cup winner from the family.

Garry Dillon has now won 12 races and £11,042 5s, including Tuesday's £100 gold Cup. The cup was presented by the Minister of Internal Affairs (Mr D Seath). Robin Dundee's stake-winnings have reached £23,055, plus around £5000 in Australia.

Despite a showery, gloomy morning, the attendance was good, 17,482 compared with 18,000 last year. The weather cleared after the second race. The on-course betting on the Cup was £27,353, an increase of £4850 on last year; the off-course Cup total, £36,842, was £1829 up on last year. The totalisator, on-course, handled £230,015 (including £23,644 10s on the double) compared with £216,064 10s last year. The off-course total was £211,674 15s (including £104,503 5s on the double), compared with £196,592 10s last year.

On a sticky track the time was relatively slow - 4:22.4 for the winner. Sectional times were: Half-mile 64.8; Mile 2:12.8; Mile and a half 3:19.8.

J P Baker, who trains Garry Dillon at Morrinsville, Auckland, told of Garry Dillon's arrival at Addington as late as last Friday following a 600-mile trip by float after a flight from Auckland had to be cancelled. Baker would have driven Garry Dillon himself but for meeting with an accident in recent weeks which injured his ribs and broke his collar-bone. Baker gives unstinted credit to veteran Cambridge trainer C G Lee for his assistance in the training of Garry Dillon in recent weeks, and also his care of the horse on his trying float trip south.

P T Wolfenden was driving his second NZ Cup winner in the last three years - he drove Cardigan Bay in 1963 when, incidentally, Robin Dundee was also second to him.

Credit: 'Ribbonwood' writing in NZ Trotting Calendar

YEAR: 1968CARDIGAN BAY

"He's done it!"

This simple exclamation conveys more than a Poet Laureate could write to pay tribute to our one and only Cardigan Bay, the first millionaire standardbred in all light-harness history; bred at Chimes Lodge, Mataura, Southland, by D (for Davey) Todd, sold to Mrs Audrey Dean for $5000, for whom he won a fortune and was sold for a fortune; and went on to amass (overall) ten-fold the price the American syndicate paid for him.

Cardigan Bay, the seemingly indistructable pacer now in his 13th year to NZ time (he would have been 12 on August 1 last if he remained here) has already more than Tennyson's Brook - he has not only gone on for ever - he has become a worthy offspring of Old Father Thames as well!

With only three years of racing on American tracks under his belt, the durable gelding has already proved a star of stars. From coast to coast, he became recognised as a 'personality.' His duels with some of the all time greats of pacing have gone into the harness racing archives as some of the greatest races ever witnessed in the history of the sport. In 1964, he took part in three thrilling races with the speedy Overtrick, beating him only once, but two of the races were so close it took the judges several minutes to seperate the horses in the photo-finish picture. Appropriately, the two races were named after a pacing immortal, Dan Patch.

Again in 1966, another young rival, the speediest pacer ever, Bret Hanover, was the opposition. In their first meeting, 'The Pace of the Century' at Yonkers Raceway, a crowd of 36,795, which bet a season's record handle for all tracks of $2,802,745, saw Cardigan Bay beat the great Bret by a length. Bret came back to whip Cardigan Bay in subsequent races but it is that first meeting in 'The Pace of the Century' that fans still talk about.

Last year at Windsor, Ontario, for example, on March 8, despite a 22 degree temperature, he broke all kinds of records in winning the Provincial Cup Pace. Other Windsor track records racked up by Cardigan Bay were: 1) Most money bet on a horse, 2) Most money bet on a single race, 3) Most money bet on a programme, and 4) Record crowd.

It is a tribute to the training ability of Davey Todd, Peter Wolfenden and Stanley Dancer that this aged gamester kept going so long and tirelessly. He broke the two-minute mile mark many times and holds all-time track records of 1:57 2/5 for the mile at Hollywood Park, California, and 1:58 1/5 at Yonkers Raceway. He scored victories in practically every important event available to free-for-allers in America. In NZ and Australia Cardigan Bay, at least in the eyes of th present generation, replaced the legendary thoroughbred Phar Lap as the greatest equine hero Down Under.

Purchased by Stanley Dancer in 1964 for $100,000, Cardigan Bay had to end his American racing career at the close of 1969 according to an agreement Dancer signed with the previous owner, Mrs Audrey Dean of Auckland. A clause in the the contract stipulated that "Dancer will ship Cardigan Bay at his own expense back to Mrs Dean when he is retired from racing, but no later than the age of 13 years." Actually, the purchase price was $100,025.70. The $25.70 was a service charge levied by a Melbourne bank for handling the transfer of funds to Mrs Dean's account in Auckland. Add to this the shipping costs of Cardigan Bay, plus a six months quarantine in England, would be about $106,025.70. For this investment, Cardy has returned to his owners, Irving W Berkemeyer and the Cardigan Stable the bonanza of over $825,000. His grand total is $1,000,671.

The saga of our Cardigan Bay began at Chimes Lodge, a training and breeding farm at Mataura. Davey Todd, a veteran trainer, had a considerable reputation for having a knack with problem horses. With his brother Sandy, Todd runs Chimes Lodge. Cardigan Bay was gelded while a weanling, a common practice with the Todd Brothers. Cardigan Bay did not race as a 2-year-old. He started only eight times as a 3-year-old, winning twice and finishing second once. He was campaigned lightly again at four, and this was largely because he was laid aside for three months at the height of the season because of a cold. In four outings, he won three times and finished second on the other occasion. One of these races, incidentally, was in saddle on January 11, 1960. Cardigan Bay finished second. This was one of the last races in saddle in the harness sport in NZ. At the conclusion of his 4-year-old season he was sold for $5000 to Mrs Audrey D Dean of Auckland.

Today, an observer can tour NZ and literally meet hundreds of horsemen who claim that they could have bought Cardigan Bay but didn't act quickly enough to grasp the opportunity. It was ever thus. In most of his subsequent engagements, while owned by Mrs Dean, Cardigan Bay was trained and driven by Peter Wolfenden, one of the top reinsmen in NZ. Martin Tananbaum, president of Yonkers Raceway, who pioneered the International Pace in 1960, first held discussions in Perth about inviting the gelding to the International Pace held annually at Yonkers Raceway. The Inter-Dominion Grand Finals were about three days off and it appeared certain that every attendance and betting record at Gloucester Park, Perth, would be toppled when the exciting Cardigan Bay raced for the Inter-Dominion Championships.

At Cannington track, a training oval some six miles outside Perth, Cardigan Bay was put through a light jogging session by a groom attached to the stable of Billy Wilkins, who was 'standing in' for Peter Wolfenden as trainer-driver at the time. As the lad dismounted and held the reins lightly, one of the sulky wheels suddenly crumbled and collapsed, some say due to a flat tyre. The usually easy-going Cardigan Bay was startled and bolted from the grounds through an open gate dragging the damaged cart behind him. He headed, terror stricken, for his stall. Before anyone could could flag the great animal down it was too late. He had crashed his right hip severely against one of the walls tearing his flesh open to the bone and it looked as though a merciful end, at the hands of a veterinarian, was the only future for Cardigan Bay. As a matter of fact, one story current at the time was that if Cardigan Bay had been insured, he would have been destroyed there and then.

Most of the credit, according to Australian and NZ sources, for the miraculous recovery of Cardigan Bay should go to a Perth trainer named Ted Greig. He insisted the horse could be saved and arranged for special slings and contrivances to shift the weight off the injured member. The damaged hip was actually six inches lower than the other. Greig once told newsmen: "I know you'll think me silly but Cardigan Bay was almost human. He never kicked or nipped me, or anyone else and he had lots of brains. Somehow he knew he was badly hurt by his accident and so he rested for a long time, until he himself knew he had the strength to move. When I took him out to graze," Greig related, "he was very unsteady and I had to brace my body against his so he could lean on me. I'll never know how really big his heart is," concluded Greig.

Cardigan Bay was out for four months and when he went back to light training his pronounced limp was easily visible. Nevertheless, by the time the Inter-Dominions of 1963 rolled around in February, Cardigan Bay was ready. On hand at Adelaide again was president Martin Tananbaum of Yonkers Raceway with a firm invitation to Mrs Dean to bring the horse to the 1963 International. On the first night of the Inter-Dominion Championships Tananbaum met Mrs Dean and her husband, Merv, near Cardigan Bay's stall. "Mr Tananbaum," said Mr Dean, "speaking for my wife, anyone can have the horse beginning right now for £25,000 sterling ($70,000 American currency), I mean" continued the husband, "starting tonight all the purse money goes to the man who buys him."

That night, after the races, the overseas telephone operator from Adelaide was kept busy as the Yonkers track president realised that only through a purchaser could he hope to obtain the services of this obviously great horse. He had no luck after contacting several of the leading standardbred owners in America. The conversations all raged along the same lines. "Seventy thousand dollars for a 7-year-old gelding. What's the matter, Marty, are you nuts or something?" Had any of the men contacted by Tananbaum, taken his advice they would have immediately reaped a return of $30,000 from the Inter-Dominions against their $70,000 outlay.

With Peter Wolfenden back in the sulky, the year 1963 was undoubtedly a most remarkable season for Cardigan Bay. He won the Inter-Dominions after four gruelling heats. In the first qualifying heat, which he won, a horse put a foot through his wheel that almost unseated Wolfenden. Cardigan Bay also won the second qualifier easily but in the third he was unable to avoid a three-horse pile-up and somersaulted over the fallen horses. Wolfenden was hurled from the sulky onto the track. Even the Final was not without incident. Handicapped from 24 yards back,Cardigan Bay got up to the field but on the final turn was forced very wide by another pile up yet finished strongly enough to win setting a track record at Adelaide, South Australia.

That same year, 1963, Cardigan Bay also became the first horse to win both the Inter-Dominion Championships and the NZ Cup in the same year, a feat which had eluded such great horses as Caduceus, False Step, Johnny Globe and Highland Fling. He won several more classics in his native NZ and as his reputation grew so did the crowds. A record 26,107 turned out for the Auckland Cup in which he beat the field from a back mark of 78 yards. Cardigan Bay continued to break attendance and track records from handicap marks of 30, 42, 60 and 78 yards in various races. In December, 1963, at Hutt Park, he paced against time in a blazing record of 1:56 1/5(the fastest mile of his entire career) to round out a most remarkable year for a horse whose racing days had been declared finished by veterinary surgeons the previous year, and his 1:56 1/5 is still the Australian and NZ record.

The news of the last performance of Cardigan Bay was by January, 1964, well-known to most horsemen in American harness racing circles, but the alert Dancer, it appears, was first to act. He contacted some friends in Australia and NZ who confirmed that Cardigan Bay was indeed as good as the press clippings indicated. When Martin Tananbaum, made plans to attend the Inter-Dominion Championships in Melbourne, to invite horses to the 1964 International Pace, Stanley Dancer asked if he could accompany the Yonkers boss and try to purchase Cardigan Bay. Tananbaum himself, although he was to make a third attempt to invite Mrs Dean, went with little hope of collaring the fabulous gelding. Transportation plans were changed as Dancer and one of his owners, Dr Thomas Siciliano, embarked on the trip Down Under with Tananbaum.

Instead of heading directly for Melbourne a six-hour stop-over was arranged at Auckland, the home of the Deans. In the modest brick house, over traditional tea, scones and biscuits, Dancer bid $90,000 for Cardigan Bay. Mrs Dean said that her price was now $140,000, double that of a year previous. It was agreed after some preliminary discussions that they would continue their talks after Dancer had a chance to see Cardigan Bay train and perform in Melbourne. Strict orders were given that Dancer could not test-drive the swift pacer. It was a "look but don't touch" edict.

In Melbourne, one Thursday morning, before the first heat of the Inter-Dominions, scheduled two days later, Dancer saw Cardigan Bay in only one work-out. He turned to the group around him and said: "He's mine if I can buy him. I'll give her $100,000 for him." Later, in an automobile heading back to his hotel, Dancer was asked how he could make a judgement to spend so vast an amount of money after only one work-out. Dancer revealed that he was impressed with Cardigan Bay's stamina, and the way he had shrugged off an unbelievable work-load in only one week of training sold him on the gelding. That and, of course, the 1:56 1/5 mile he had paced on the small track with a heavy sulky at Wellington the previous December. Stanley said: "When I saw him work on that Thursday morning he paced an easy mile in 2:20 and then when Peter Wolfenden blew him out he did the mile in 2:03 3/5." The secret to Dancer's decision was the fact that Peter Wolfenden in conversation had revealed that on this same morning he had jogged Cardigan Bay some 17 miles. His jogging schedule seemed to run between 17 and 20 miles at least four days a week, plus a mile or more of hard work every day.

When on the following Saturday night Cardigan Bay threaded his way from a 36-yard handicap through a 12-horse field to win for fun by four lengths Dancer was determined more than ever to acquire Cardigan Bay for his syndicate, which was headed by Irving W Berkemeyer who also owned another great gelding - the trotter Su Mac Lad. Negotiations began early the following Sunday morning, Dancer was scheduled to leave for the United States at 3pm. The deal appeared to be at a standstill at the $100,000 mark until Dancer, remembering the many cups and trophies, and other momentos, back in Mrs Dean's living room in Auckland, sensed the deep devotion and affection she had for Cardigan Bay, promised to ship the horse back to her at his own expense when the gelding's racing days were ended. A hurried, hand-written agreement was drawn up, signed and witnessed, and Dancer was on the plane headed back to America with minutes to spare.

The rest is now history, and already two journalists, one in NZ, the other in America, are planning to write books about him. And he has, perhaps, also been NZ's greatest ambassador. The men in Parliament must have ideas along these lines, because it has been mooted that his feat will be marked by the issue of a special stamp in NZ. Trotting interests have made representations to the Department of Internal Affairs and to the Postmaster-General(Mr Scott), who has shown interest in the idea.

Cardigan Bay was by Hal Tryax(imp), 3, 2:00, from Colwyn Bay(4:25 for two miles), by Josedale Dictator(imp) from Pleasure Bay, by Quite Sure(imp) from Helen's Bay, by Guy Parrish(imp) from Gold Patch, by Geo M Patchen. Gold Patch, foaled at Green Island, Otago, was out of Trilby, who was claimed to have been a thoroughbred and is probably the same Trilby who appears in Vol II of the NZ (thoroughbred) Stud Book. That Trilby was by Torpedo from Christina, by Javelin from Cascade, by Sledmere. Trilby was apparently of little account on the racetrack, but some of her relatives were good - one in particular her full-brother, Torpina, won three times in a row as a 3-year-old, including a hurdle race at Riccarton. Torpedo, sire of Trilby, was by the famous imported sire Musket, sire of the immortal galloper Carbine, winner of the Melbourne Cup as a 5-year-old in 1890 carrying 10st 5lb, still the highest weight ever carried to victory in one of the world's greatest races. Carbine later went to England and became an outstanding stud success. Torpedo himself was a capable racehorse. In the 1890-91 season he won his first seven races on end and later on in the same season he won four more on end.



Credit: NZ Trotting Calendar 18Sep68

YEAR: 1970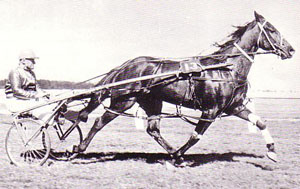 James & J A Donaldson

1970 NZ TROTTING CUP

James, the little black iron horse from Tinwald, gave his owner-trainer, Jim Donaldson, the greatest of all pleasures with a magnificent stamina-loaded performance to win the $25,000 New Zealand Trotting Cup at Addington on a glorious Tuesday afternoon.

The manner in which he won and fought of the likes of True Averil and Stella Frost at the furlong scotched once and for all the frequently expressed view that James was no good "down here." In that final and bitter quarter James never flinched an inch, and the huge crowd that jostled into every vantage point in sight thrilled to one of the grandest finishes ever witnessed.

Before going on it must be mentioned that while James won with sheer grit and courage, Manaroa must be classed as being desperately unlucky not to have won. His break after pacing for the first few strides must have cost him a good 60 or 70 yards and one private clocker had him giving the leaders eight seconds on settling down. One watch tabbed him with gross time equivalent to 4:03 - to storm home within half a length of the winner after losing so much makes his effort astonishing to say the least.

Still thats racing - the Cup has gone to James and his wandering owner who entered the light harness sport 15 years ago. Jim, who must have been close to slipping into the roaring forties at the time, decided to have an interest in trotting after the success his brother, Hugh, had with a grey mare called Quite Contrary. His first horse was La Valla and then came horses like Dresden Blue, one of the Dominion's greatest trotters in Control, Tarseal and Rockin Robin. And ever since La Valla, every horse he has raced has won races.

Then in 1959 he arranged to go down to Gore where a dispersal sale of Mr J H Peterson's racing stock was being held. Up for sale was Responsive, an Attack mare who had already won five races and been 19 times placed, but at 275 guineas bidding stopped and she was passed in. A short time later Jim bought her for 300 guineas, and she carried on for him to win another four races including a Methven Cup, earn a total of $11,715 in stakes and compete unsuccessfully in the 1960 NZ Cup. Unfortunately, Responsive's stud career was a brief one, and James is her only progeny. Her first foal, a colt by Thurber Frost, died, her second foal was James, and 12 months later she died before foaling to Thurber Frost.

It would be hard to find a tougher piece of horse than James anywhere in the country. Up he comes week after week and from 109 all time starts has pocketed $45,425 which makes him second only to Chequer Board in total stake money won amongst all horses still racing.

Responsive was sired by Attack, a quality black horse by Light Brigade and a very good racehorse. Attack reached NZ Cup class and at one stage won eight races in succession. He gained further fame some seasons ago when his son First Variety sired the Inter-Dominion Grand Final winner, First Lee. Attack has been at stud in Australia for some years and has about 50 individual winners to his credit. Responsive was out of Russley Girl, by Grattan Loyal from Ecstatic, by Jack Potts from Ecstacy, by Logan Pointer, and thus claims three of the strongest pacing strains New Zealand has had. Responsive was the best winner left by Russley Girl, who also left Australian winners in Leyoro, L'Etoile, and others in On Probation, Russley Song and Russley Boy.

The race was soon underway with Stella Frost, James, Intrepid and Co Pilot comprising the front group, while Monsignor, Manaroa and Upper Class failed to keep their gait and Rhinegolde and Radiant Globe were slow. Shortly after the start Wipe Out and True Averil broke. For a few furlongs it was a bit ragged with James in command for a while, but he was challenged by Lords who quickly took over and led them into the last mile. James had the run with Stella Frost on his back and then we saw Co Pilot, Intrepid on the fence, Chequer Board, Garcon Roux, Radiant Globe, Wipe Out, Cuddle Doon,Leading Light, True Averil just beginning a dab three wide, Rhinegolde and Manaroa. Upon reaching the half some cards were starting to be played. James had run up and passed Lords with True Averil pressing on from Stella Frost, Radiant Globe, Intrepid, Co Pilot, Garcon Roux, Rhinegolde, Leading Light and Cuddle Doon, with Manaroa still appearing miles out of his crease.

On sweeping into line five had broken away from the bunch and True Averil was the first to tackle James with Stella Frost coming out and Intrepid not being able to produce anything extra. James fended them off with stout heart and then came Manaroa's whirlwind sprint down the fence that nine times out of ten would have won any race in the world. What a finish it was. Stella Frost was beaten in the battle for the $15,000 by a neck with Manaroa a head back, half a length to True Averil and then came Radiant Globe, Leading Light, Intrepid, Garcon Roux, Wipe Out, Chequer Board, Monsignor, Upper Class, Cuddle Doon, Co Pilot, Rhinegolde and Lords - last.

There was no loitering this year - unlike last year's contest - and the winner finished racing after 4:11.2. The first quarter was passed after 32.4, with the first half taking 64.2 and the six furlongs in 1:35.8. The first mile came up in 2:07.5, the mile and a quarter in 2:40.4, the mile and a half in 3:10.6, the mile and three-quarters in 3:41, and so the last mile was run in 3:03.3. Only those on course could appreciate the speed of the rabbit's run (Manaroa), but his last mile must have been cut out in close to two minute time or even better.

Few of the drivers had much to report after the event, although Derek Jones said he was "tickled pink" with Leading Light's great race for sixth. Before signing off one must commend Peter Wolfenden for the masterly way he handled James in winning his third New Zealand Cup. His tactics and terrific driving intuition played no small part in the success of James. Previously "Wolfie" had won with Cardigan Bay in 1963 and Garry Dillon in 1965. Generally the race lived up to everybody's expectations and the finish was as exciting as one could have ever thought possible. There were some disappointments including Intrepid's failure to do better than a plodder's seventh, Rhinegolde's 15th and Monsignor's 11th. On the other hand Radiant Globe, Leading Light and True Averil, the first three to arrive behind the placegetters, all ran solid races and appear likely to collect some of the cash prizes during the meeting.

Credit: Mike Grainger writing in NZ Trotting Calendar

YEAR: 1977

1977 NZ DERBY STAKES

The mastery of Peter Wolfenden brought about defeat for Glide Time and victory for Motu Prince in the 1977 $25,000 NZ Derby. In a race dominated prior to the start by Lord Module and Glide Time, Motu Prince's victory came as something of an upset, but it was thoroughly deserved in spite of this.

In a race marred by several minor incidents which detracted from the race as a spectacle, Wolfenden gave the son of Armbro Del a perfect trip, and it was this that proved the decisive factor over the last 200 metres.

Bob Cameron made sure the pace was on all the way and when glide Time scorched to the front 700 metres from home, he never backed off the pace at all. Wolfenden sent Motu Prince after Glide Time at that stage and turning for home, these two were the only ones in it with a winning chance. Glide Time responded gamely to a hard drive, but Wolfenden, keeping Motu Prince perfectly balanced as he pulled him out to challenge, got the most out of Mr G F Timperley's colt who went on to win by two lengths. Motu Prince's time of 3:21.1 was a new Derby record for the 2600 metres, and only .1 of a second outside Noodlum's New Zealand three-year-old record for the distance.

Timely Robin, outsider but two in the capacity field, ran on strongly for third but was four lengths back, three-quarters of a length clear of the pacemaker Quick Barry. Jayex made ground for fifth three-quarters of a length back with a similar margin to Hanover Don and two lengths to Lord Module, the favourite.

Lord Module, racing in a special plate suggested to Ces Devine by visiting American Del Miller to protect a bad quarter crack, was in trouble right from the start. He missed away slightly and then Devine could not release one of Lord Module's hopple shorteners until the 1900 metres. Lord Module was running on well at the finish, and did remarkably well to finish so close in such a fast run race. Third favourite Montini Bromac broke at the start and never got in contention again while Roydon Scott, the fifth favourite, also missed away.

For Wolfenden, trainer Maurice Flaws and owner Mr G F Timperley, it was their first Derby success and in spite of the failure of the three favourites, one which nobody could begrudge them. For Wolfenden, it ended a notable New Zealand Cup carnival, giving him the NZ Cup-NZ Derby double.

Credit: The Editor, NZ Trotting Calendar

YEAR: 1977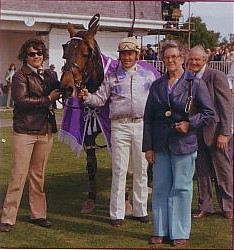 Connections with Sole Command

1977 NZ TROTTING CUP

New Zealand-bred stallions compiled an outstanding record on the first two days of the New Zealand Cup carnival at Addington last week, spearheaded by the dual New Zealand Cup winner, Lordship. Lordship sired four individual winners on the first two days including double-winner Lord Septimus, and New Zealand-bred stallions produced the winners of seven races on the first day and four on the second day. Among the winners sired by New Zealand stallions were $75,000 New Zealand Cup winner Sole Command and Dominion Trotting Hahdicap winner Nigel Craig.

Sole Command, one of only two New Zealand-bred runners in the event, outstayed four-year-old Greg Robinson by half a neck as the North Island challengers clearly outstayed their southern rivals. The artistry of top reinsman Peter Wolfenden behind the consistent Sole Command was largely responsible for the Scottish Command - Single Charm six-year-old's victory over Greg Robinson, who never stopped trying to overhaul the winner in the run home.

Raced by Mrs M I and Mr B J Walker and co-trainer Roy Purdon, Sole Command was fifth favourite in the 11 horse field dominated by Balgove. Balgove put the pressure on his rivals from the 800 metres and had a handy lead starting the home run, but he was done with soon after and Sole Command was the first to head him off. Sole Command went on to beat Greg Robinson by half a neck with Wee Win storming home late to cut Balgove out of third. Last year's winner Stanley Rio proved that the handicapped horses these days have very little chance of getting into a Cup finish as he battled into fifth but was well beaten. Palestine, tiring pacemaker In Or Out, and Captain Harcourt were next home.

Credit: New Zealand Trotting Calendar

YEAR: 1979CHRISTCHURCH - RONDEL
The 1979 Inter Dominion Championships staged at Addington will best be remembered for the phenomenal finishing burst that gave victory in the Trotters Grand Final to South Canterbury's No Response and Peter Wolfenden's masterful drive to take the Pacers Grand Final with the lightly fancied Auckland campaigner Rondel which edged out Sapling.