YEAR: 1976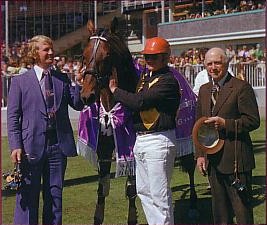 Wayne Francis, Stanley Rio, John & George Noble

1976 NZ TROTTING CUP

George Noble, for many years one of New Zealand's leading trainers, experienced his greatest moment in trotting when Stanley Rio won the 1976 New Zealand Cup at Addington

Seventy-six-year-old Noble, born in Australia, has prepared many of New Zealand's top pacers in his long career, but no victory gave him more pleasure than to receive the Cup from NZ Metropolitan Trotting Club president, Eugene McDermott. George Noble races Stanley Rio in partnership with Christchurch farmer and businessman Wayne Francis, and his son John Noble, who drove Stanley Rio to his convincing two and three quarters lengths victory over Captain Harcourt and Fronto Prontezza.

For young Tasmanian Kay Rainbird, it was a nostalgic moment as she sat in the stand to watch the horse she bred with her father, win New Zealand's premier standardbred event. Kay bred Stanley Rio in Launceston in partnership with her father, but on his death, the colt had to be sold to help pay death duties. The Nevele Golfer - Rio Fleur youngster was purchased by Bob and John McArdle of the International Thoroughbred Agency, Melbourne, and they in turn sold Stanley Rio to Wayne Francis and John Noble. Wayne and John then offered a third share in the colt to Gearge Noble.

Stanley Rio did his early two-year-old racing in Australia, where he was successful once at Ballarat, before he was brought to New Zealand where he entered George's stable at Roydon Lodge. As a three-year-old last season, he maintained solid improvement throughout the year and was rated good enough by the partnership to send back to Australia to contest big events there. He won the Southern Cross Stakes, a heat of the New South Wales Derby before receiving a shocking run in the final, a minor race, and then went to Brisbane in June for the Queensland Derby, won the previous year by Noodlum. After winning a heat of this classic, he did not get the best of runs in the final and failed to make it two in a row for New Zealand.

He came through a solid preparation for this year's Cup, already qualified for the event, and showed he was at peak form with a win and an unlucky fourth at Auckland last month. The odds against a New Zealand Cup are always high, for not many even reach Cup class, but Stanley Rio was following in the footsteps of such great four-year-olds as Lookaway and Lordship, the only others of his age group to win the Cup.

The race was robbed of a lot of interest when the top North Island hope Final Curtain backed away just as the tapes were released. He, Master Dean and Lunar Chance, who drifted at the start when trying to avoid the breakers in front of him were out of contention virtually from the start. Stanley Rio bounced out best from Palestine, Fronto Prontezza, Eclipse, Speedy Guest, Captain Harcourt and Mighty Gay, then there was a gap back to Wee Win, who led the straggling remainder. Palestine, Forto Prontezza, Speedy Guest, Mighty Gay, Captain Harcourt all had turns at the front until Eclipse dashed to the lead at the 1200 metres. Stanley Rio, who had been pushed back on the inner, had worked off the rails in the meantime and was well placed in the fourth line on the outer starting the last 800 metres.

He moved three wide to avoid Mighty Gay, who was making no further forward progress, at the 600 metres and though sixth at the top of the straight, he was handy to lodge his challenge. Once asked to go, Stanley Rio soon put the issue beyond doubt and only had to be reminded of his obligations to go to the line nearly three lengths clear of Captain Harcourt. Captain Harcourt looked to be held up for a stride or two behind Eclipse at the top of the straight, but he never looked like bridging the gap to Stanley Rio. Fort Prontezza, who was shuffled back as the lead changed, made a strong bid from the top of the straight where he was seventh, to take third, only half a head fron Captain Harcourt.

Speedy Guest, who had the task of getting a run inside both Eclipse and Captain Harcourt, was nearly two lengths back fourth. He looked as though he could have played a more important part in the finish had he got clear earlier, though he too would have been hard pressed to catch the winner. Final Curtain staged a remarkable run for fifth two lengths back just ahead of Eclipse, Mighty Gay, the well beaten Lunar Chance and Palestine.

Stanley Rio's time for the 3200 metres was not a fast one, 4:11.5, but there is no doubting the Cup went to a very worthy winner.

Credit: Tony Williams writing in the NZ Trotguide

YEAR: 1976

1976 NZ FREE-FOR-ALL

The ease with which Master Dean won the NZ Free-For-All makes one wonder what might have been the outcome had he not ruined his chances at the start of the Cup.

The Honest Master stallion had no hope in the big event after his duffer's start but from the second line of the mobile in the sprint he gave his opponents no chance only Final Curtain worrying him at all in the latter stages. The power of the Prebbleton-trained horse showed to reach the front with a round to go did not augur well for his opponents and sure enough he went to the line strongly in the comparatively slow time of 2:30.3.

It was also a tribute to the skill of Mike De Filippi in his rating of Master Dean at the front and most certainly a tribute to the horse's trainer Alec Purdon. Alec had given Master Dean an intriguing preparation for the Cup which consisted of only one race. Although there was plenty of comment about this some experienced observers murmured appreciatively that this was a 'old time' Cup preparation when this sort of programme was more common. Purdon did it extremely well, for Master Dean looked like a million dollars on Cup Day. But the training schedule was not to finish the way Master Dean's connection's had hoped. But he made up for it in the Free-For-All - partly anyway - and will be an early favourite for the Matson Free-For-All and the Stars Travel Mile.

A horse with an enviable record as a sprinter Master Dean has now won 12 races and nearly $43,000 in prize-money. But he can stay too and he has one of the best two mile times of all the Cup class horses. Master Dean has always looked an ideal type for North America but owner Noel Borlase has refused all offers to date. On the other hand he has stud potential in this country.

Final Curtain was not well served in the running - he also drew the second line - but Barry Purdon had him up to challenge at the right time. Forto Prontezza, the early leader, didn't have the best of runs at the business end and just held the fast finishing Stanley Rio. Captain Harcourt was a disappointing fifth after enjoying a good run though he did have to go hard in the first quarter (cut out in a tick under 29 seconds) which might have taken the edge off him. He doesn't seem to quite have the brilliance he showed last Autumn on this trip. Palestine really only plugged while Lunar Chance had to improve wide from hear the back and this took the edge off him. None of the others really looked in it, some preferring more ground but Ripper's Delight was expected to go better.

Credit: David McCarthy writing in NZ Trotguide

YEAR: 1977

BRISBANE - STANLEY RIO
1977 winner, Stanley Rio was bred in Tasmania, while his veteran trainer George Noble and his son John, who did the driving, moved from New South Wales to settle in New Zealand in 1941. They were able to secure shares in the brilliant pacer through Christchurch property developer Wayne Francis, who bought the colt as a 2yo on the advice of his Tasmanian born partner in Nevele R Stud, Bob McArdle.