YEAR: 1991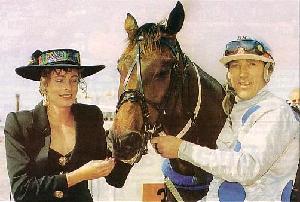 Katrina Purdon, Chrisopher Vance & Tony Herlihy

1991 DB DRAUGHT NZ TROTTING CUP

Christopher Vance won the 1991 DB Draught NZ Cup with a surprisingly good race that simply reflected the big-race temperament and experience of Tony Herlihy.

While Starship made a flyer from wide out, and Master Musician didn't waste any time, Herlihy had some lucky breaks getting Christopher Vance through from the second line and was soon seventh and improving. There were some who made a mess of the start, notably Defoe which was no surprise on his recent behaviour and Blossom Lady, who went away safely but then lost stride.

By the time they caught up, which wasn't long because the pace was so tediously slow, Herlihy had worked Christopher Vance into the trailing spot behind outsider Surmo Way. Robert Dunn had Master Musician buried on the rails behind Clancy and in front of Lord Magic, while Mark Purdon had no complaints with the lie of the land as he tracked up Christopher Vance. The Bru Czar was back on the outer, and with him were Two Under, Stratum and Insctcha.

Once the lines were set, there was no change. The Bru Czar or Two Under may have been expected to make a move on the first lap, even at the mile, but they stayed where they were. It was obvious with a lap to run, with a sprint home certain to develop, that the front bunch had it made. Any hope of a spectacle was right out the window.

Gary Hillier stepped on the gas with The Bru Czar passing the 800 metres, and Mark Hanover came out to force him three wide only to gallop and lose all chance at the 600 metres. In the meantime, Dunn had Master Musician moving sweetly inside The Bru Czar and right behind Christopher Vance, who was now three wide at the 400 metres and closing hard. What apparently happened then, according to stewards, was interference caused by The Bru Czar which forced Master Musician onto Clancy's wheel and into a break.

This had gone on behind Surmo Way, who has bravely passed Starhip and taken, briefly, a narrow lead. But the favourite quickly had his say, and ran ahead to beat Clancy, The Bru Czar (later relegated to 13th), the game Surmo Way and the stablemates Insutcha and Mark Hanover.

The race was a pressing bore.

Many who thought it was a tame affair when Neroship won the Cup in 1990 now consider that event quite exciting. Said one regular enthusiast:"At least in that there were five lead changes. In this one the horse that led out, led into the straight, and they all sat back on a 2:05 first mile.

Credit: Mike Grainger writing in HR Weekly

YEAR: 1991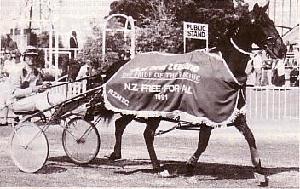 Christopher Vance parades after the win

1991 AIR NEW ZEALAND NZ FREE-FOR-ALL

Christopher Vance and Chokin gave Tony Herlihy further armchair drives as they followed up their NZ Cup and Sires' Stakes Final victories of three days earlier by accounting for the Air New Zealand Free-For-All and Coupland Bakeries Three-Year-Old Stakes with similar consummate ease.

Christopher Vance trailed The Bru Czar in the Free-For-All, Herlihy taking a calculated risk that the good Kumeu pacer would move out in the straight as he had noticed him doing in his races. It paid off. When The Bru Czar veered away from the hub rail in answering the game of the parked-out Surmo Way, Christopher Vance was quickly through on the inner and on to victory by a length in 2:26.8 for the mobile 2000m.

A 1:58.2 rate, this was nevertheless well outside Armalight's race and New Zealand mark of 2:23.5, established a decade ago. But, as with Chokin, Chrisopher Vance won with much in hand. It took his record to 41 starts, 20 wins, 10 seconds and 4 thirds for $843,720.

The Bru Czar held second by a nose from Surmo Way, with Clancy a strong finisher from the rear into fourth, a length and a quarter back.


Credit: Ron Bisman writing in HR Weekly

YEAR: 1991

The Clevedon based training partnership of Roy and Barry Purdon created Cup history by having four starters in the Cup. They repeated this feat the in the following two years. In 1991 the four horses were the winner Christopher Vance (Driven by Tony (AG) Herlihy), Insutcha (James (JP) Stormont) which finished 4th, Mark Hanover (Mark Purdon)5th and Two Under (Barry Purdon) 8th.