YEAR: 2019
Patience was rewarded and the winner's podium overflowed with happy owners when Chase Auckland sprinted to victory in the New Zealand Free-For-All at Addington yesterday.

Driver Tim Williams helped the All Stars pacer get group 1 rewards for his consistent spring when securing a perfect run in the trial that set up the 5yr-old's win.

The win meant the Addington Birdcage was again flooded with jubilant owners as the large Alabar Racing Syndicate celebrated their pacer's first win in an open class group 1 feature.

Syndicate manager, Ivan Behrnes, poured praise on Williams after the race and not just for his cool and calm drive.

The reinsman has been instrumental in helping Chase Auckland developing in to a genuine open class force, Behrnes said.

"He can be a bit of a handful, as you could see after the race, but he has been really in the zone in his races this season."

"It is a credit to Tim, you can often see them just going around in the prelim on his own, keeping him relaxed."

"They have really got a great combination since he has become his regular driver."

A patient approach from his trainers has also been key to Chase Auckland developing from one-time age group star to top line Grand Circuit performer.

All Stars trainers Mark Purdon and Natalie Rasmussen did not rush the horse after he suffered a muscle problem that set his 4yr-old season back.

"Mark and Natalie kept saying be patient, he wasn't ready for these kind of races last year, it was too soon for him," Behrnes said.

"But this season everything has gone perfectly and he has looked a picture."

"He has had a fantastic build up, he has looked a picture and we were hopeful he could develop in to a stayer."

"He has always had the speed, which you could see again today."

Many expected Chase Auckland to blast off the arm and easily slot in to the trail behind the likely leader, Classie Brigade.

That was not the case when the newly relaxed Chase Auckland was too chilled out behind the mobile and did not display the blazing gate speed he has in the past.

"I was back off the gate - It's the first time he has raced from behind the mobile this season," Williams said.

"But it just shows how quick out the others were."

Despite the early moves not playing out as expected, Chase Auckland and Williams still landed in the trail behind Classie Brigade.

In a complete turnaround in race fortunes from the New Zealand Cup, the breaks went Chase Auckland's way when they went against his stablemates in the New Zealand Free-For-All.

Spankem was unable to take the lead from Classie Brigade and Cruz Bromac went roughly, losing a handy spot.




An overflowing winners podium after Chase Auckland's FFA win

On Tuesday, Chase Auckland copped the bad luck in Cruz Bromac's New Zealand Cup.

The pacer was forced to make his run wide on the track after two of his rivals started stopping quickly in front of him.

The Auckland Reactor gelding charged home pacing the fastest closing 400m and 200m sectional times of the great 3200m race. The Alabar Racing Syndicate were left wondering what might have been after having to settle for fourth placing.

"We were so disappointed on cup day, he was in a excellent spot and Tim drove him tremendously," Behrnes said.

"He was ready to go today after running the fastest sectionals in the cup."

"It was a huge thrill."

Classie Brigade, who also came out of the New Zealand Cup with a hard luck story held second in the New Zealand Free-For-All, a length from Chase Auckland.

Cruz Bromac recovered from his early gallop to produce a huge performance to run third.


Credit: Johnny Turner, Harness Link Media, 15 Nov 2019; Reprinted with permission of HRNZ
YEAR: 2019
The most unlikely New Zealand Cup of champion trainer Mark Purdon's career meant so much more because he didn't drive the winner.

Purdon provided the training quinella in the $750,000 New Zealand Cup at Addington yesterday but had to settle for second as a driver, as Cruz Bromac surged past his drive Spankem in the last 50m.

But for Purdon the win means as much if not more than if he had clung on to win the race himself because of the man in the sulky behind Cruz Bromac.

Blair Orange has won the last two national driver's premierships but to any Canterbury harness racing driver, the New Zealand Cup is the holy grail and Purdon was thrilled to provide his former protege with the chance to get his hands on it.

Orange was a long-time employee of Purdon's famous All Stars barn and a close personal friend of Purdon, who has stuck by him in the toughest of times.

He originally wasn't in the frame to drive Cruz Bromac, who divides his time between Victoria and New Zealand. But through a series of events, including other horses being injured and other drivers being unavailable, Orange got his Cup with an inch-perfect display.

"I am thrilled for Blair," said Purdon.

"He did a great job when he worked for us and has been very successful since he left.

"So to be able to give him the drive on a Cup winner is immensley satisfying for us. He is a good guy and he deserves it." Orange sure did after the drive he pulled off, firstly managing to negotiate the standing start safely with Cruz Bromac, who only rejoined the All Stars three weeks ago after spending the whole year in Victoria. They don't have standing starts in Victoria any more so that first mini win was crucial.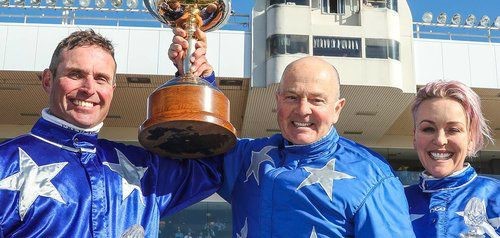 Once safely away he has to wrest the lead off Classie Brigade and that could have left him vulnerable as Cruz Bromac is probably best known as a sprinter but the sedate Cup speed of 3:56.9 and the inches Orange saved around the marker pegs proved the difference.

He grabbed Spankem, who had worked to the lead at the 1400m mark late and only by a neck, with Classie Brigade slightly luckless when forced to change ground in the home straight in third just ahead of Chase Auckland. Defending champion Thefixer was a battling fifth.

There was great irony in Orange partnering Cruz Bromac to win as he had only driven him in public once before.

That was when he failed to even qualify him in an early trial when Cruz Bromac was trained by Mark Jones before being sold to Australian interests and then coming back across this side of the Tasman to join the All Stars last year.

He won the NZ Free-For-All then and could return to that race this Friday and now looms as a major contender for the Inter Dominions which begin at Alexandra Park in 16 days.

Cruz Bromac's win yesterday ticked him just over $1million in stakes and suggests the Australians could have a far greater role to play in the Inter Dominions than would have been expected even a few weeks ago.

The horse who beat him in the Victoria Cup three starts ago in Bling It On is being set for the Auckland series while local stars like Self Assured have fallen by the wayside and while Cruz Bromac is officially trained here he will be very much claimed by the Australians as one of their's come the Inters.

For Purdon it was his seventh New Zealand Cup training success as he continues to pen new pages in the record books with no end in sight.

But that wasn't why he was smiling last night. He was beaming because of what he had done for a friend.


Credit: Harnesslink Media, 13 Nov 2019, Michael Guerin
YEAR: 2019
An old-fashioned workload produced a new best version of Habibi Inta in the $300,000 Dominion at Addington yesterday.

And after his graphic demolition job in our richest trot the big stallion has thrown down the gauntlet to his rivals in the Inter Dominion Trotting series which starts at Alexandra Park in 13 days.

Habibi Inta made the most of a perfect Blair Orange drive and the early gallop of favourite Oscar Bonavena to bolt away with the group one, giving Orange the dream double of Cup week after his New Zealand Cup on Tuesday.

Already a group one winner at the Harness Jewels two seasons ago, Habibi Inta went to a whole new level yesterday and that was after some tough love from trainer extraordinaire Paul Nairn.

"After he won at Kaikoura last week I kept the work right up to him," explains Nairn.

"I knew he would have to be fit, really fit for the 3200m and he handled the work beautifully.

"I thought he could win because he was so fit but I'll be honest, I didn't think he could do that."
 It was a career statement win from Habibi Inta as he sat off the hot speed set by Marcola and jogged past him at the top of the straight.

It was a dramatic reversal of their previous clash at Ashburton when Marcoola thrashed him by 13 lengths, showing how the right horse on the day wins the group ones this season.

Nairn will now bring the big, muscular six-year-old to Auckland for an Inter Dominion where some of his key rivals have question marks hanging over their heads.

Aussie raider Tough Monarch was a brave second yesterday capping a great week while veteran Monty Python surged into third while Marcoola was out of gas at the top of the straight.

Another Australian visitor in McLovin suffered a case of the thumps but should be good to go for the Inters, a series Oscar Bonavena will miss.

The latter was slightly checked into a gallop after 400m when horses galloped both inside and outside, leaving trainer-driver Mark Purdon enormously disappointed as he tailed off. Punters didn't enjoy it much either.

But Purdon bounced back two races later when Chase Auckland made the most of the trail-passing lane run to win the $200,000 NZ Free-For-All.

A brave and luckless fourth in the NZ Cup three days earlier, Chase Auckland got all the luck this time as he was destined to be three back on the inside but Cruz Bromac galloped when heading to the lead, which left Classie Brigade in front and Chase Auckland in the luxury spot.

All the main players from the F-F-A will head to the Inter Dominions where they will be met by a fresh wave of Australians.



Credit: Harnesslink Media, 16 Nov 2019, Michael Guerin
YEAR: 2017
Another day another harness racing record on the lightening fast Addington surface.

This time it was Ultimate Machete who won this years Woodlands NZ Free For All by blazing around the Addington track in a 1-51.9 mile rate.

In doing so Ultimate Machete reclaimed a record he also once held this time last year.

The 4yo by Bettor's Delight trimmed 0.4 of a second off the old 1950m mobile record set only a few days earlier by stable mate Chase Auckland in the NRM Sires Stakes Final.

Ultimate Machete had to be the best to win the race, after sitting parked for the whole way and then wearing down the leader Tiger Tara in the shadows of the post.

Driver Natalie Rasmussen wasn't worried about sitting parked saying after the race "I was happy to be there. He is so tough and is best rolling along so it suits him. I could see Jacks legend was just starting to battle and I was still traveling. A great effort"

Tiger Tara was game in defeat after leading for most of the way for driver Todd McCarthy. He pinged to the lead from the start and kept up a steady tempo but was beaten by a tougher horse on the day. Jacks Legend was only a nose back in third after trailing all the way.

Amazingly the last seven times a New Zealand record has been broken over the 1950m mobile distance, they have all been broken by a horse trained by the Purdon/Rasmussen All Stars Stable.

1950m New Zealand Record history.

| | | | |
| --- | --- | --- | --- |
| Ultimate Machete | 17/11/2017 | Addington Raceway | 2-15.7 |
| Chase Auckland | 14/11/2017 | Addington Raceway | 2-16.1 |
| The Devils Own | 12/05/2017 | Addington Raceway | 2-16.3 |
| Lazarus | 11/11/2016 | Addington Raceway | 2-16.3 |
| Ultimate Machete | 08/11/2016 | Addington Raceway | 2-16.5 |
| Have Faith In Me | 11/11/2014 | Addington Raceway | 2-17.3 |
| Auckland Reactor | 10/11/2009 | Addington Raceway | 2-17.8 |
Credit: Harnesslink Media, November 2017
YEAR: 2017
Potential superstar Chase Auckland has won this years NRM Sires Stakes Final in record time and emulated the deeds of his father Auckland Reactor by winning the race at his fifth start to remain unbeaten on the racetrack.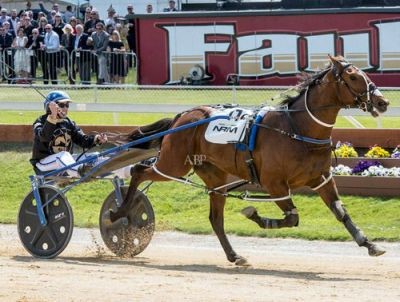 Ashlea Brennan Photography

In what was arguably the best Sires Stakes field to date, Chase Auckland capitalised on a perfect run behind the pace maker King Of Swing, before darting up the passing lane in the straight and winning as he liked for driver Natalie Rasmussen.

The time was an unbelievable 2-16.1 for the 1950m mobile which took 0.2 of a second off the old New Zealand record previously held jointly by stablemates The Devils Own and Lazarus.

His sire Auckland Reactor also won the sires stakes final on his fifth start and in 2009 he also once held the New Zealand record for the 1950m distance, which back then was 2-17.8

Natalie Rasmussen said on the All Stars website, "What I really respect about him is how he has taken each step up so well. Because they have been big steps"

"He was thrown in the deep end. He had to race against experienced horses who had done a lot of things at two and he hadn't but every question I have asked of him he has answered"

It was just five weeks ago that Chase Auckland's future was uncertain, as he had to be scratched from the third Sires Stakes Heat after getting cast in his box at home the day before the race.

History now shows that the speedy gelding went on to qualify for the final after winning the fourth qualifying heat and then yesterday he produced a magical result for the large group of owners in the Alabar Racing syndicate, many of whom were on track to witness the record breaking win.

Credit: Harnesslink Media, November 2017