YEAR: 2017
NZ CUP MARES AND PROGENY

Do you know the name of the only mare to win a NZ Cup and produce a winner of the NZ Cup??

Hint : amazing as it may seem and almost certainly never likely to happen again, her foal also won the Dominion Trotting Handicap. Look it up and if still unsure, see the answer and story in next week's article.

Sixteen mares (Reta Peter, Haughty both twice) have won the NZ Cup on eighteen occasions (up to 2016) with ten mares that started in the NZ Cup having left NZ Cup runners. They are :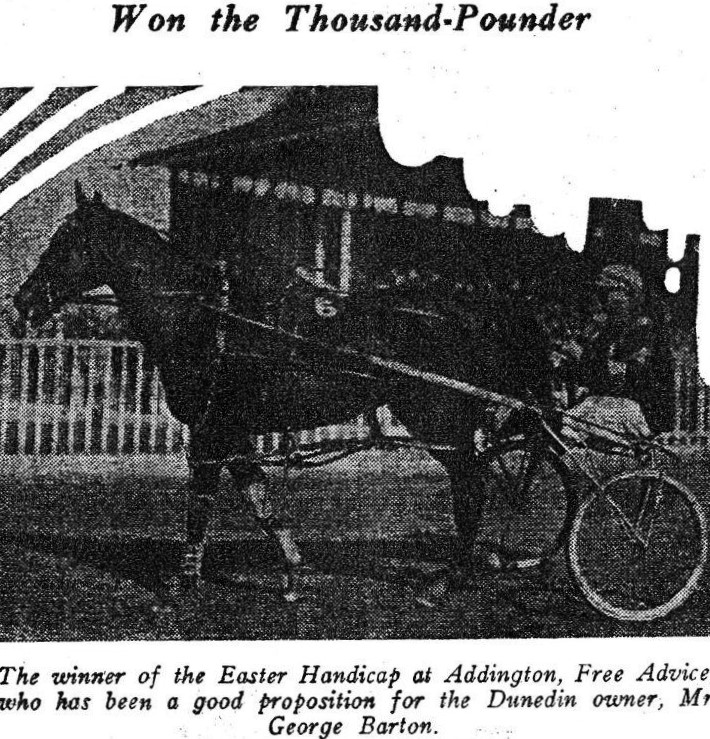 Free Advice (1924 Blue Mountain King/Intaglio), 2:09.6, £5,903½; family of Pride Of Lincoln (N1).

NZ Cup progeny : Horsepower (1940, 1944); Pacing Power (1943, 1944)

Free Advice was the winner of a NZ Cup (qualifying division) before running third for Bill Tomkinson to Harold Logan in the 1931 NZ Cup, also finishing third to Harold Logan in the NZFFA run later the same week. Earlier the same year she had won the Easter Hcp (now Easter Cup) at Addington and held the NZ mares record for 1¼ miles at 2:41 1/5. Unplaced in the Cups of 1932 and 1933 and later becoming an outstanding broodmare, one of only two to have more than one of their progeny start in NZ Cup (other being Tactics). The dam of Horsepower, a GN Derby winner, unplaced in the Cups of 1940 and 1944 before moving to Western Australia where he won the 1945 Stratton Cup and full brother Pacing Power, winner of NZ Derby and NZFFA at Addington as well as placing third in both the 1943 and 1944 NZ Cups.

Free Advice is the grand dam of Auckland Cup winner Thelma Globe (fourth 1955 NZ Cup); third dam of the equal third oldest NZ Cup winner Invicta, eleven years old when winning in 1961; fourth dam of Australian speedster Rip Van Winkle (QLD/NSW Derbies, Aust Pacing Championship); fifth dam of Interdominion Pacing champion Welcome Advice (VIC Derby), GN Derby winners Bolton Byrd (Auckland Cup) and Melton Monarch (Messenger), and foundation matron to many other fine horses.

Rocks Ahead (1929 Happy Voyage/First Water), 2:08.4, £3,311; family of Red Diamond (N3).

NZ Cup progeny : Navigate (1947, 1948, 1950)

Rocks Ahead was bred by Derek Jones from the Southland foundation mare First Water. Unplaced in both the 1938 and 1939 NZ Cups while holding the Southland mile record of 2:06 1/5 set at Winton. Rocks Ahead left Barrier Reef, winner of the 1951 Dominion Hcp and an ID Trotters heat in 1951 at Addington; Navigate her NZ Cup progeny was unplaced in the Cups of 1947, 1948 and 1950 (Hannon Memorial, Ollivier FFA) and Rendezvous, grand dam of the 1971 gelding Rondel who won the 1979 Pacing Grand Final at Addington. Rondel's other major successes included the 1977 Franklin/Thames Cups and a 1979 ID Pacing heat. Rendezvous' filly Dismiss (grand dam Rocks Ahead) was the foundation mare for Chin Bing Foon (Luk and Onn Chin's father) from whom a considerable number of successful horses have been bred and raced by the Chin family over the past 60 years. Dismiss left Dispense (ID Trotters heat) and Disband (ID Pacers heat and third to dead heaters Jay Ar/Robin Dundee in 1965 Grand Final).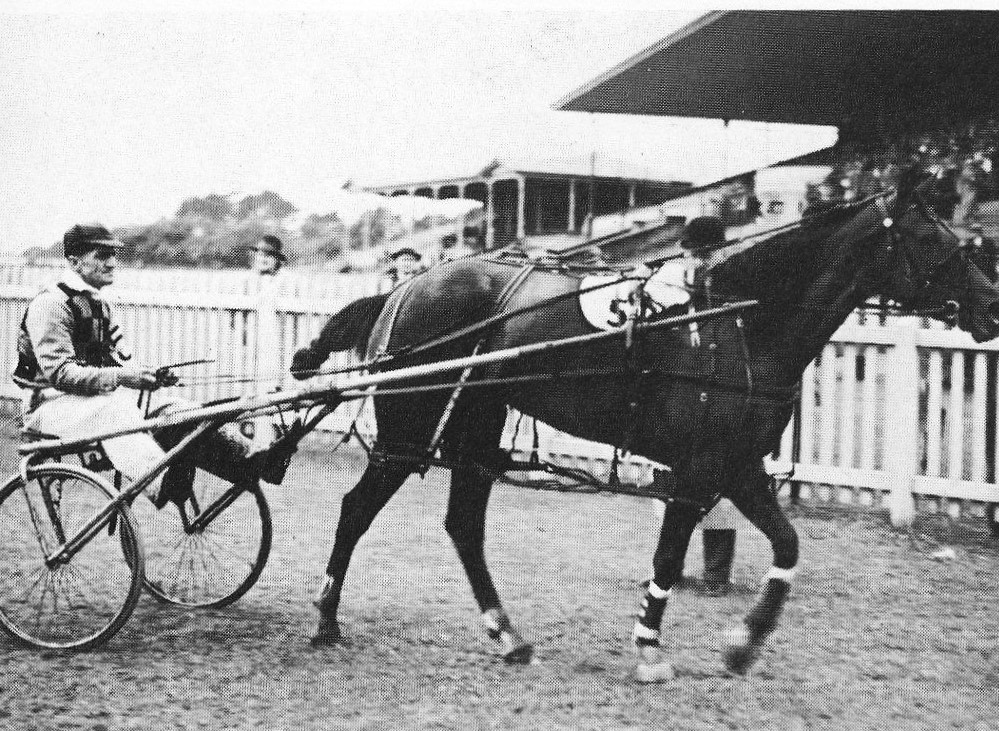 Parisienne (1933 Rey De Oro/Yenot), 2:07.8, £6.766; family of Bessie B (N2).

NZ Cup progeny : La Mignon (1957, 1958)

Parisienne was bred by George McMillan, Remuera being the winner of sixteen races, 2:07.8; $13,532; including NZ/GN Derbies, 1938 Interdominion Pacing Champion (on points and winner of three heats). Competing in three Cups with fifth in Lucky Jack's second Cup in 1939 her best return, eighth in 1938 and not in the first ten home in 1940.

Parisienne the dam of ten foals for six winners, one of her foals was a NZ Cup runner, La Mignon, third in 1957 to Lookaway for Doug Mangos and sixth in 1958. As a broodmare La Mignon left brilliant pacer Garcon Roux (GN/NSW Derbies, Auckland Cup), being the second three-year-old to qualify for NZ Cup after Tactile. The grandson of Parisienne's first Cup run in 1969 resulted in his being part of an incident in which he fell. One horse was pulled up and two others lost their drivers (first past post Stella Frost being disqualified as a result of this incident). Garcon Roux finished eighth in both 1970 and 1971.

Another of Parisienne's foals was the unraced Mary Wootton, dam of Scottish Command (third in 1961 NZ Cup, winner of Auckland Cup; sire of NZ Cup winners Sole Command 1977 and Trusty Scot 1978; Scottish Charm second 1972 to Globe Bay and eighth 1973, Trevira third 1979 to Lord Module and eighth 1980, Bellas Command and Hundred Pipers both unplaced in 1972). Mary Wootton was the third dam of Roydon Glen (GN Derby, Messenger, Auckland Cup, Pan Am Mile, Harness Horse of Year, sire of champion trotter Lyell Creek) who finished third to outsider Borana in 1985 NZ Cup and Roydon Scott (Wellington Cup) unplaced in 1980.

Molly Direct (1933 Jack Potts/Real Girl), 2:09.9, £2,585; family of Jessie B (N9). NZ Cup progeny : Globe Direct (1949, 1950) Molly Direct had the one start in the 1941 NZ Cup won by Josedale Grattan finishing eighth, having won ten races for Bill Lowe. Globe Direct was her best performed foal, winning a heat of Interdominions at Melbourne in 1950 and finishing a head behind Captain Sandy in the Grand Final. His two NZ Cup starts were in 1949 finishing fourth to Loyal Nurse and pulled up in the 1950 edition while he held the NZ record for 1½ miles of 3:09 2/5.

Molly Direct was grand dam of Ted Lowe's first NZ Cup winner Cairnbrae in 1964 (second was Humphrey in 1968) among a considerable number of worthwhile family members descending from her – Sir Alba, Cosmic Under Fire, Cosmic Ice, West Street, Wing Commander, Firm Offer and Dundas were among them.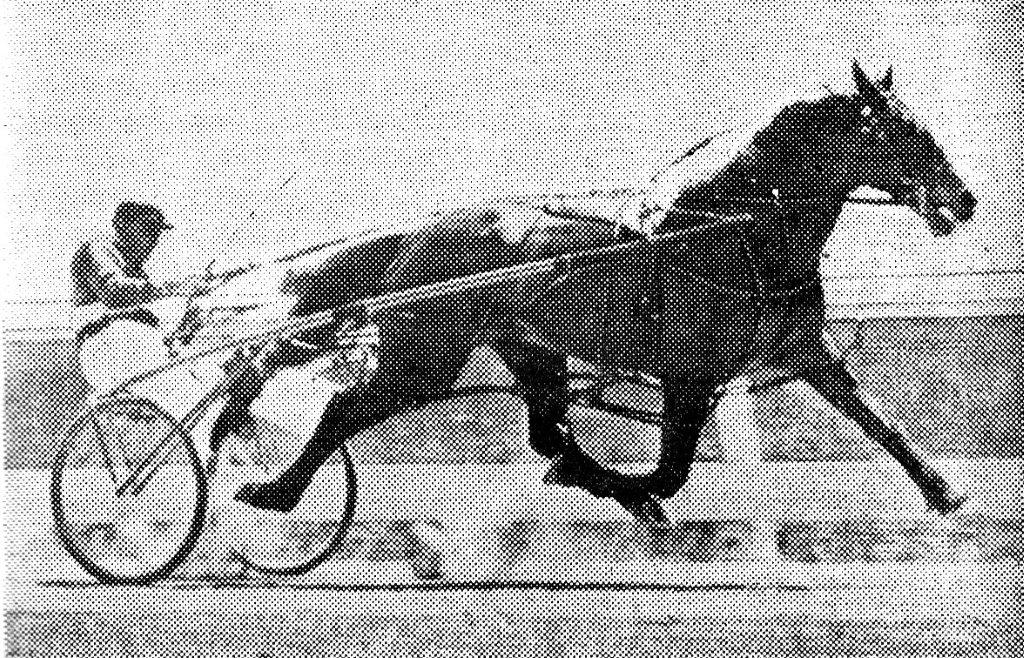 Haughty (1935 Nelson Derby/Regal Voyage), 1:59.6TT, £13,105½; family of Miss Kate (N12).

NZ Cup progeny : Brahman (1957)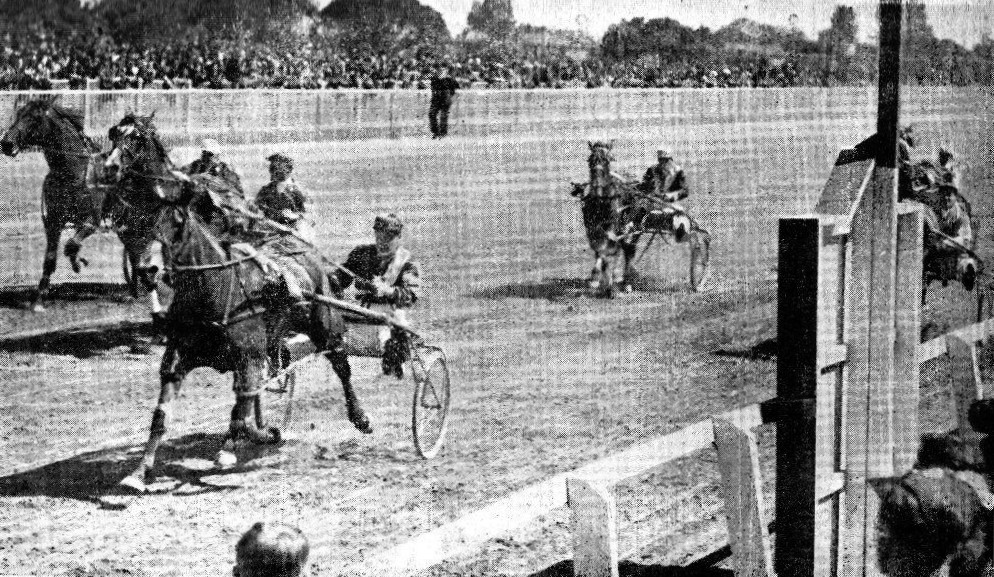 Haughty's 1942 NZ Cup

Haughty shares the mares record for the number of NZ Cup starts with Blossom Lady – six in total for a record two victories (record shared with Reta Peter), a third and unplaced on three occasions. Haughty's two wins came at her first two Cup starts in 1942 (front, defeating Loyal Rey) in a world record 4:13.8 and 1943 (36yds, defeating Countless in another record time of 4:13.6) when 4/3 in betting both years. She ran fifth in 1944, pulled up in 1945 after suffering interference on the home turn, third to Integrity in 1946 and last in Highland Fling's first Cup victory in 1947, all off long marks (36 – 60 yards behind).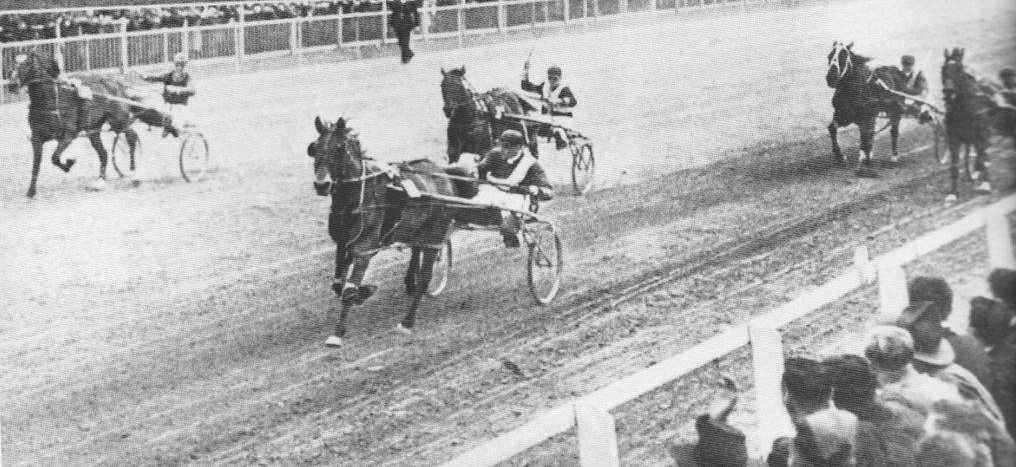 Haughty's 1943 NZ Cup

Haughty became the first mare in Australasia to pace a mile in under two minutes, achieved during the Cup meeting of 1944 recording a time of 1:59 3/5, just the third time the two minute barrier had been beaten in the Southern Hemisphere – Lawn Derby 1938 (1:59 2/5), Gold Bar 1942 (1:59 3/5), all of them being time trials.




Haughty's TT

Haughty finished with eighteen victories and twenty four placings from 74 starts, £13,105½. In addition to her two NZ Cup victories, she won major races in NZFFA, dead heating with Turco (also second to Gold Bar) and Easter Hcp. Haughty and Gold Bar staged a match race at the Patriotic meeting at Addington in March 1943 with the mare winning in a then NZ record mares time of 2:00 2/5 for the mile. These two great adversaries produced the first mating between two minute performers in the Southern Hemisphere when Gold Bar sired and Haughty was the dam of Brahman (sire of 110 winners) and fifth dam of two million dollar winner Shakamaker (ten Group Ones including Interdominion Pacing Final). Brahman was Haughty's NZ Cup runner but he finished last in Lookaway's 1957 NZ Cup victory.

Shadow Maid (1937 Red Shadow/Homelass), 2:07.4, £7,156; family of Homelass (N208).

NZ Cup progeny : Gay Robin (1965)

Shadow Maid started on three occasions in the NZ Cups of 1943, 1944 and 1945. She finished last in 1943 and sixth in Bronze Eagle's 1944 Cup victory. As an eight year old, she was prepared for her 1945 Cup run by Ces Devine and went into the race having been unplaced in her previous 27 starts (20 for Devine) since finishing second in 1943/44 season. Shadow Maid ran third in Gold Bar's 1945 NZ Cup admittedly thirteen lengths behind the winner but ten lengths ahead of fourth placed Countless. She was the rank outsider of the field (12/12).

Shadow Maid has earlier won the 1943 Auckland Cup (tr : Scotty Bryce, dr : Jimmy Bryce) which assisted her in being second behind Haughty in the stakes won list for 1942/3 season (£2,410).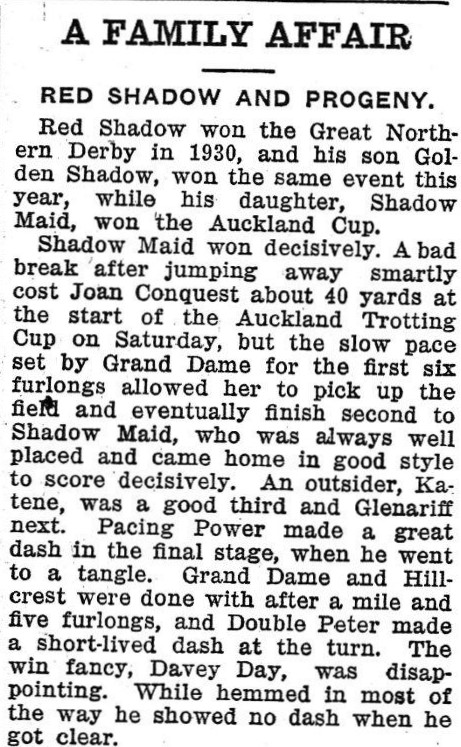 Shadow Maid AK Cup

Her best foal Gay Robin (ID heat, Ashburton Flying Stakes) finished fourth to Garry Dillon in the 1964 NZ Cup. Shadow Maid was also grand dam of good trotter Hal Good (Dominion Hcp) and Gay Rose (Rangiora Cup).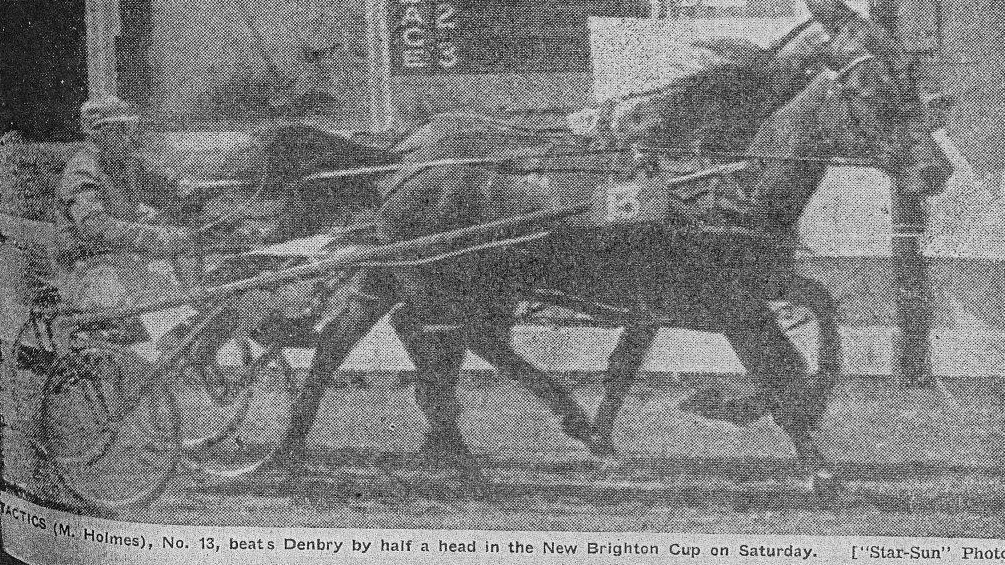 Tactics

Tactics (1946 Light Brigade/Nell Grattan), 2:07.6, £6,427½; family of Red Diamond (N3).

NZ Cup progeny : Deft (1964), Tactile (1965)

Tactics ran in Adorian's 1953 NZ Cup finishing last after starting third favourite for Maurice Holmes. Bracketed with Vedette (Stan Edwards) who finished fifth, Tactics broke at the start and collided with Johnny Globe costing him 60 yards (started off 24 yds) and Johnny Globe was only beaten a length by Adorian. Tactics was the winner of 11 races including a New Brighton Cup.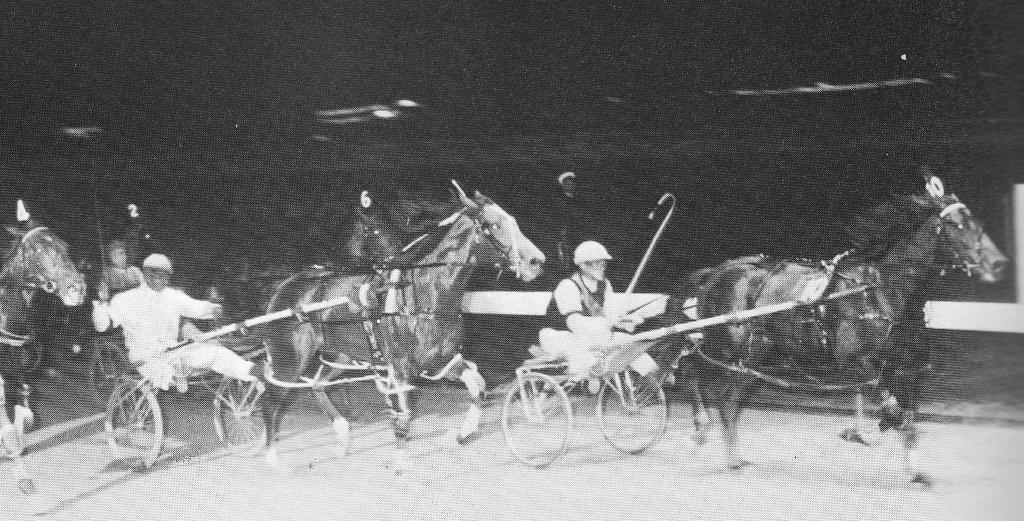 Tactile, Robert Cameron, Melbourne ID's 1964, third night

Tactics is one of only two mares to have had two different progeny run in NZ Cups – Free Advice being the other mare (other mares had same progeny run in two or three Cups e.g. Rocks Ahead with Navigate). First, Deft finished eighth in Cairnbrae's 1964 NZ Cup win. Secondly, Derby king Tactile (GN/NZ/NSW/VIC/SA) ran tenth to Gary Dillon in 1965 NZ Cup, before being a winner in North America and later sire in NZ of top class performers in Norton, Ryal Pont and WA Derby winner Tac Warrior.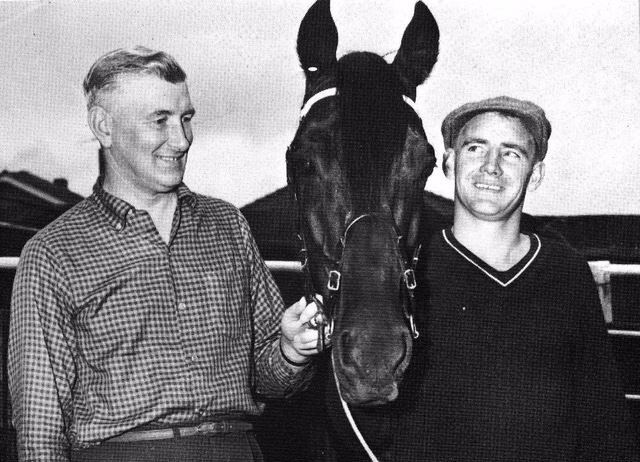 Jim Dynes, Tactile, Robert Cameron

Tactics was a very productive broodmare and other family members descending from her include Blacks A Fake (6th dam), Burrell, Fancy Wishes, Just Ella, Its Ella, Tact Boyden to name just a few,





Queen Ngaio

Queen Ngaio (1954 Light Brigade/Heather Globe), 2:06.0, £7,980; family of Moonbeam (N36).

NZ Cup progeny : Trio (1980, 1981)

Queen Ngaio competed in 1961 NZ Cup won by Invicta, finishing in sixth position. She won races at open class pacing level prior to her breeding exploits where Trio was her star performer. Trio finished second last to Hands Down in 1980 and sixth in Armalight's 1981 NZ Cup success. Trio won the NZ Two Year Old Championship, paced 1:55.2US and earned stakes of $265,707. Queen Ngaio also left Waratah, sire of ID third place getter Miss Pert and Reassurance third dam of All Hart (1:52.0US, $435,328, NZ Two Year Old Championship, GN Derby).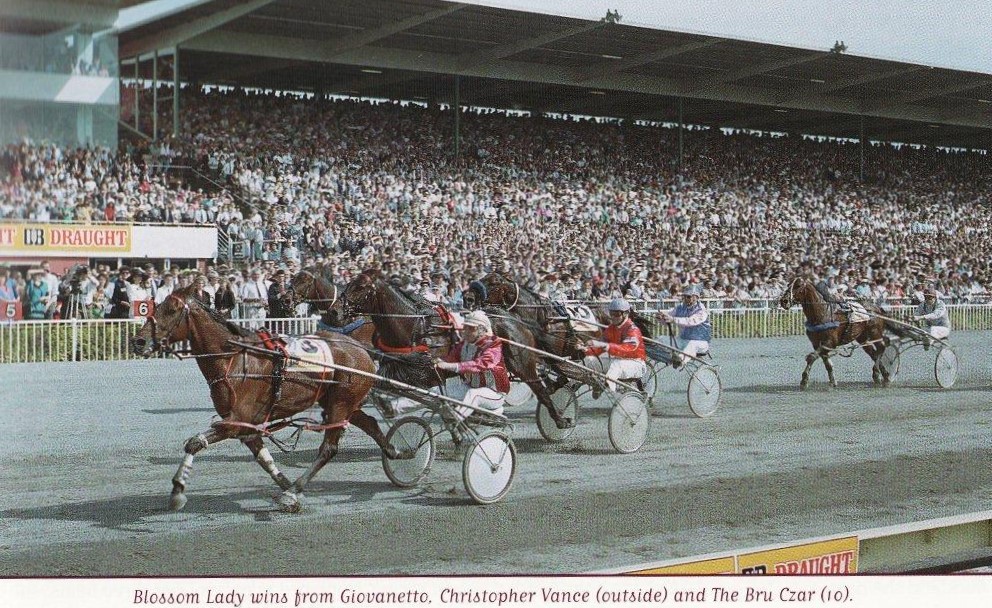 Blossom Lady 1992 NZ Cup

Blossom Lady (1984 Farm Timer/Lumber Lady), 1:56.0, $1,334,808; family of Fashion Queen (N69). NZ Cup progeny : Mister DG (2003, 2004) Blossom Lady, bred by Ashburton mates Bob Davison and Bill Cook was raced by the twelve strong Polly Syndicate headed by former HRNZ Chairman Ralph Kermode. Blossom Lady was the fifth NZ millionaire and first mare among the first ten millionaires in Australasia. Her 131 NZ starts NZ produced 36 victories (six for Stephen Doody, 30 for Derek Jones), 29 placings for earnings of $879,605. Her six Australian campaigns produced seven victories and nine placings from 24 starts. Career stats were : 155 : 43 – 20 – 18, $1,334,808, 1:56.0 with Anthony Butt driving her to twenty seven victories in NZ, seven in Australia with others to record wins being Stephen Doody (5), Derek Jones and son Peter two each.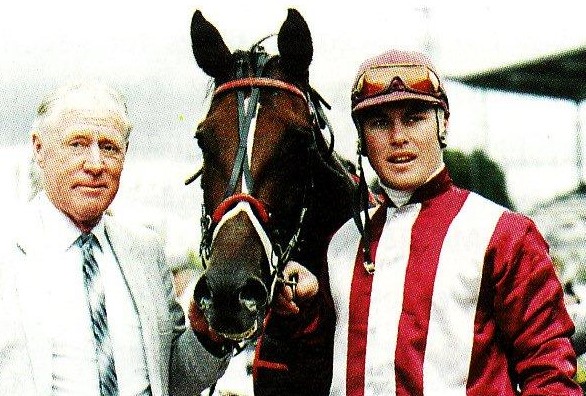 Derek Jones, Bloss, Anthony Butt

She held national records for a mare at 1 mile mobile 1:56.0 (1:56.5 AUS), 2000m stand 2:33.5, 2400m mobile 2:57.0, 2600m stand 3:15.8/3:14.9 (also overall national record), 3200m stand 4:03.3.

Her six NZ Group One's were all at Addington (NZ Cup/FFA, Easter Cup, 3 NZ Standardbred Breeders Stakes) with a further two at Moonee Valley (two Hunter Cups). Eleven of her twenty two Group race wins were at Addington (above plus three Premier Mares Championships, Interdominion heat, Alan Matson (Monsanto) FFA). Her remaining group race wins being Hannon Memorial (twice), Ashburton Flying Stakes, Interdominion Consolation (Alexandra Park), Interdominion heats (two Moonee Valley/Harold Park, Alexandra Park).

Blossom Lady's signature NZ victory came in the 1992 NZ Cup defeating Giovanetto and Christopher Vance by 1¼l and 1 length in a time of 4:05.0/2:03.1. She also ran in NZ Cups of 1990 (fifth), 1991 (thirteenth), 1993 (fourth), 1994 (fifth) and 1995 (sixth). She recorded seven victories at the extreme distance of 3200m (three at Addington – NZ Cup, Easter Cup, DB Draught Hcp), Ashburton Cup/DB Draught Hcp and two Hunter Cups.

Blossom Lady's first foal, son Mister DG (Camtastic), won twenty races (14 NZ/6 AUS), $795,749, 1:55.9 (Cambridge Classic, SBS/Heller FFA, Popular Arm FFA, Hunter/Cranbourne Cups, Hannon Memorial, Nobilio, Casey Classic, ID's [two heats, Consolation], Waikato Flying Mile) and he was Blossom Lady's lone starter in NZ Cup's won by Just An Excuse in 2003 (eleventh) and 2004 (fourth).

An inductee into both NZ Trotting Hall of Fame and Addington Harness Hall of Fame, Blossom Lady died on 18 May 2004.

Other mares that have started in NZ Cups and who influenced future NZ Cups and Cup winners include :

Norice (1898 Charles Derby/Naulahka), 2:20.0, $1,852; family of Dairy Maid (U30). Second to Monte Carlo in the inaugural NZ Cup (1904), dam of Nelson Derby, sire of Haughty (Norice's granddaughter) who won two NZ Cups (1942, 1943) and was the first mare in Australasia under two minutes (see earlier). Norice's other direct descendants have included Cup winners in Camelot (1984, fifth dam), Iraklis (1997, eighth dam) and dual winner Monkey King (2009, 2010, eighth dam). In addition, she is third dam of 1929 NZ Cup heat winner Kingcraft (started in NZ Cups of 1929, 1931 second to Harold Logan, 1932, 1933); seventh dam of Starship, second to Neroship in 1990 NZ Cup (1989, eighth; 1991, ninth); Giovanetto, second to Blossom Lady in 1992 NZ Cup and third to Chokin (1993); Holmes DG, second to Homin Hosed 1999 NZ Cup, fourth to Kyms Girl (2001), fourth to Gracious Knight (2002), tenth (2000), thirteenth (2003); eighth dam of Ermis, twelfth in 1995 NZ Cup, Anvils Star, second to Il Vicolo in 1996 NZ Cup (eighth 1996; eleventh 1998), Brabham, fourth to Christian Cullen in 1998 NZ Cup (fourth 1995, fifth 1997).

Imperial Polly (1900 Prince Imperial/Polly (Hood), 2:44.4, $2,093; family of Hoods Polly (N8). She started unsuccessfully on three occasions in NZ Cups of 1909, 1910 and 1911. A couple of NZ Cup winners trace back to Imperial Polly starting with Gold Bar in 1945 (third dam, fourth in 1942 and 1943; unplaced 1941, 1944 [sire of Cup runners Brahman, Congo Song, Bartender] and Lord Module winner in 1979 (fifth dam, fifth in 1978, unplaced in 1980) while 1989 winner Inky Lord (unplaced 1990) is a member of Hoods Polly family.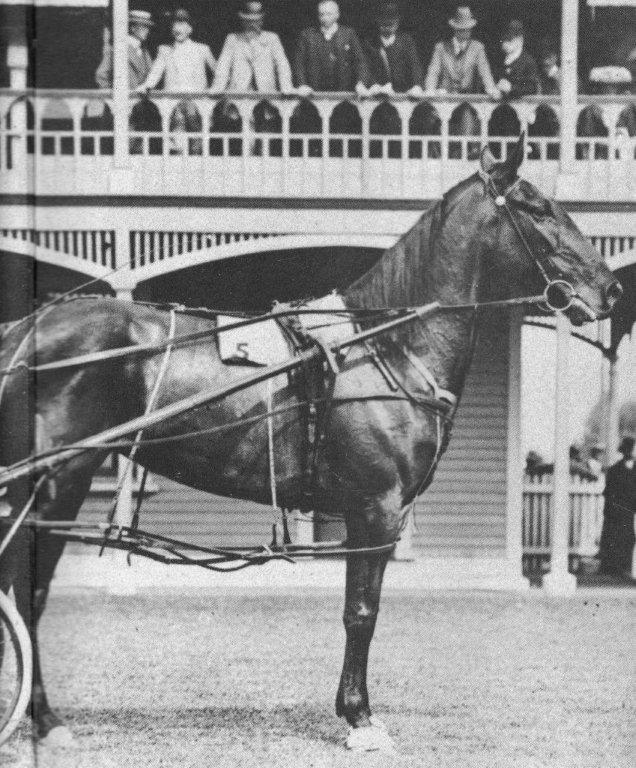 Lady Clare 1911 NZ Cup winner

Lady Clare (1904 Lady Clare/unknown), 2:19.0, $2,940; family of Lady Clare (N41). Lady Clare was the second female winner of the NZ Cup in 1911 (Marian 1907 first), owned by WE Clinton, trained by James Tasker and driven by Jack Brankin, she had earlier raced in the 1910 edition. The Cup was the last of Lady Clare's seven victories spread over eight seasons. Her direct descendants both won NZ Cup's in millionaires Luxury Liner (1988, fifth dam) and Christopher Vance (1991, sixth dam) representing two of the finest pacers seen in NZ, both trained from the Roy and Barry Purdon stables.

Win Soon (1908 King Child/Topsy (thor), 2:15.5, $3,486; family of Topsy (N7). The winner of the 1914 NZ Cup Win Soon was owned by Stevenson and McMath, trained and driven by Andy Pringle. Like the two earlier mares to win the NZ Cup, she led from start to finish. Win Soon was grand dam of Lady Averil, third in 1949 and fourth in 1950 NZ Cups. NZ Cup winners True Averil (1971, grand dam Lady Averil) and Lunar Chance (1975) both boast Win Soon as their fourth dam.

Country Belle (1908 Wildmoor/Bonnie Belle), 2:07.2TT, $7,404; family of Bonnie Belle (N5). The winner of 1915 NZ Cup and second in 1914 to Win Soon, was by Wildmoor (Wildwood) from Bonnie Belle, by Lincoln Yet (half-brother to Thelma) out of an Arab mare. Her breeder/owner was Bill Morland of Rakaia, she was trained and driven by Albert Hendricksen who had won 1912 NZ Cup with Albert H. Country Belle was grand dam of Fallacy, sire of one of three triple NZ Cup winners in False Step (1958, 1958, 1960) and Chamfer, winner of 1950 NZ Cup (unplaced 1951). Country Belle's three-quarter sister Curfew Belle was dam of Belle Logan, dam of Logan Derby, the sire of Johnny Globe, NZ Cup winner in 1954.

Van Glory (1968 Van Dieman/Malabella); 1:59.6, $37,050; family of Krinas dam (N30). Van Glory ran eighth in Robalan's 1974 Cup and is the grand dam of glamour mare Under Cover Lover (1:51.4US, $864,923), winner in NZ, Australia and North America. Under Cover Lover ran in two NZ Cups finishing eighth to Homin Hosed in 1999 and fourth to Yulestar in 2000.





Armalight

Armalight (1976 Timely Knight/Ar Miss), 1:55.4, $279,560); family of Lady Antrim (N31). The impressive winner of 1981 NZ Cup and second to Bonnies Chance in 1982, she is the fifth dam of Ohoka Punter who ran seventh to Arden Rooney in 2015 NZ Cup.

Kates First (1993 Holmes Hanover/Pleasant Franco), 1:57.2, $624,023; family of Pride Of Lincoln (N1). An Auckland Cup winner, Kates First ran fifth to her half-brother millionaire Christian Cullen in 1998 Cup and fourth to Homin Hosed in 1999.

Christian Cullen sired 2005 NZ Cup winner Mainland Banner, only four year old mare to have won the Cup, whose half brother Titan Banner finished third to Lazarus in the 2016 NZ Cup.

Have you ascertained who is the only mare to win a NZ Cup and produce a winner of the NZ Cup?? If not and to confirm your answer, see details in next week's article.

Peter Craig

6 November 2017

Credit: Peter Craig