YEAR: 2017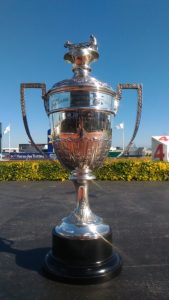 The Bendigo Harness Racing Club's "Lords Raceway"grandstand is home to an impressive collection of harness racing history and memorabilia. The library under the grandstand houses a collection of driver's silks, walls with photos of champions, entire trophy collection of Mother Courage, sulkies, newspaper articles dating back to the 1880s, race programmes, books, presentation rugs and vinyl recordings of old race calls.
Of particular interest to the New ZealandMetropolitan Trotting Club (NZMTC) which celebrates its 114th running of the New Zealand Cup in 2017 is the trophy won by Adelaide Direct, the winner of the 1917 New Zealand Cup.
Thanks to Bendigo Harness Racing Club's Racing and Marketing Manager Brendan Baker and Leigh Graham from the Harness Racing Training School,Adelaide Direct's NZ Cup took a trip back to make an appearance at the 2017 NZ Cup carnival, specifically displayed at the NZ Cup cocktail function held at Addington's Spectators Bar and Bistro on Sunday 12 November and NZ Cup day Tuesday 14 November.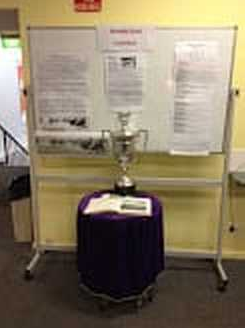 1917 NZ Cup won by Adelaide Direct on display at Bendigo HRC on 20 May 2015.
The Bendigo boys (but not the 1917 NZ Cup) attended the NRM Breeders Cup Eve Awards at Armstrong Prestige's car dealer showrooms and the 1917 NZ Cup was to make an appearance at Ashburton's Cup Week race meeting on Thursday 16 November.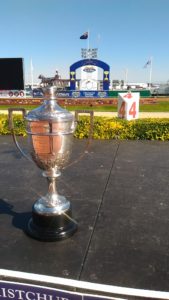 Adelaide Directis the first and only mare among five Australian winners of New Zealand harness racing's premier event, New Zealand Trotting Cup held at Addington Raceway by NZMTC and first competed for in 1904 (other Australian winners : 1983 Steel Jaw, 1987 My Lightning Blue, 2006 and 2007 Flashing Red [although trained at thetime by Tim Butt] and 2015 Arden Rooney).
The Bendigo district mare, Adelaide Direct was foaled in 1906 from the imported stallion Directway (Direct/Electway; great grandson of Dictator) and an unnamed mare from Honest Harry (also sire of Honest Kate, dam of Robert Derby, sire of Lawn Derby)owned by Parker's Plains (Baringhup near Maldon) horseman Stan Lewis.
Directway imported from USA as a two year old in 1902,was the winner of four races from seven starts in Victoria. The best of many imports that stood at Robert Matchett's Adelaide Hill Stud at Huntly on the outskirts of Bendigo (Directway, All Style – 70 winners, Tennessee Direct – 59 winners, Direct Argot – 27 winners, Rex Derby – 8 winners from one season at stud). Bob Crowe set up the large breeding farm for Matchett at Adelaide Hill remaining as stud master for more than 20 years. Matchett died in 1928 and the stud business was subsequently wound up.
Directway left 193 winners, with Adelaide Direct his top performer together with Glide Away (winner of 23 races including 13 at Richmond, Otahuhu/Dunedin Cups) and leading stayer Direct Home (Sydney Thousand). Several of his daughters bred on with descendants leaving ID Pacing winners Evicus (dam by Directway), Gentleman John (grand dam by Directway) and Minuteman/Single Direct (third dam by Directway).
Adelaide Direct was initially raced by Lewis together with James Kennedy for whom she scored her first win at Marong in November 1911, followed by two wins on the same day at Charlton. Frank Ridley then trained her from his Fitzroy stable, with Adelaide Direct being successful at country meetings as well as at Richmond, the major Melbourne track before being returned to Lewis. Adelaide Direct started in the inaugural Melbourne Thousand held at Richmond on 16 November 1911 which was won by Delavan Chimes (60 yards) in saddle from Royal Sovereign and Lively Bells in harness.
Leading New Zealand trainer Manny Edwards, at the time training in Australia leased the mare in 1914 bringing her to New Zealand where she raced for the following five seasons. Her 58NZ starts included victories in the 1914/5 season in the NZMTC Royal (1 mile, 2:15 3/5) and Stewards Hcp's (1¼m, 2:46 4/5) and Auckland Trotting Club's Premier Hcp (1¼m, 2:46 4/5). Her three third placings came at Addington (2) and New Brighton meetings. Season's record of : 9 : 3 – 0 -3, £607 (12th highest stake earner).
Adelaide Direct did not record any wins in the 1915/6 season being unplaced in 1915 NZ Cup won by Country Belle and NZFFA while her two placings were recorded at Plumpton Park (Canterbury Park TC, second) and ForburyPark (third). She had a return of just £48½ for her efforts from ten starts for just the two placings.
The 1916/7 season was somewhat more productive for Adelaide Direct with twenty starts yielding two victories and seven placings for stakes of £587½. Her victories consisted of an Australasian record time trial (1 mile, 2:06 2/5TT) at Alexandra Park and victory on the same day in the Auckland Trotting Club's Ranfurly Hcp (1¼m, 2:46 3/5). Placings included at NMZTC meetings, seconds in International/Hornby Hcps, thirds in National Cup/Easter/Metropolitan Hcps; third in New Brighton Hcp and second in Park Hcp at Forbury Park. Among her unplaced efforts were NZFFA having broken at the starting point in a field of seven won by Admiral Wood; off 96 yards behind in Auckland Cup also won by Admiral Wood; Dunedin Cup. Adelaide Direct did not start in the 1916 NZ Cup.
The crowning glory of Adelaide Direct's time in New Zealand came in the 1917/8 season with victory in the 1917 New Zealand Cup at Addington as a ten year old (seven seconds handicap). She defeated 1916 winner Cathedral Chimes (four seconds; Auckland Cup, NZFFA) by four lengths with another champion horse in Author Dillon (three seconds; 1918 NZ Cup, three NZFFA's) third. Her time of 4:27 4/5 was a new New Zealand race winning record.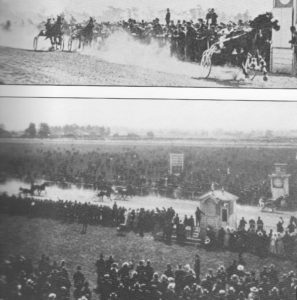 Adelaide Direct's 1917 NZ Cup victory
1917 NZ Trotting Cup, 2 miles, 2,500sovereigns and Silver Cup (1,500 sovs to winner, 500 sovs second, 300 sovs third, 200 sovs fourth) –
ADELAIDE DIRECT, owner/trainer/driver Manny Edwards, New Brighton, 7 seconds
Cathedral Chimes, dr James Bryce, 4 seconds
Author Dillon, dr Ben Jarden, 3 seconds
Agathos, dr A Hendricksen, 7 seconds
4 lengths, neck, neck; 4:27 4/5 NZ record; £8 18s 6d for win (field of 14)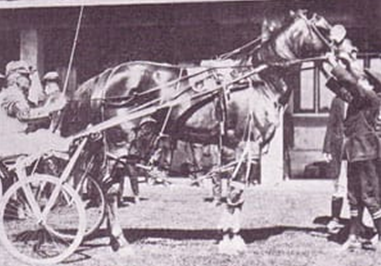 NZ Cup presentation
Overall Adelaide Direct's season consisted of thirteen starts for her solitary but most important victory, two seconds and a third for stakes of £1,652, second leading stake earner of year. Her seconds came in NZMTC August Hcp and New Brighton's Summer Hcp while she ran third in NZFFA behind Cathedral Chimes and Author Dillon when attempting an all the way win. Her unplaced efforts often from lengthy marks included Dunedin Cup (132 yards) and feature races at Addington and Plumpton Park.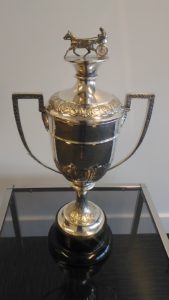 Adelaide Direct's final season in New Zealand (1918/9) saw her start on six occasions for two second placings. She finished second to Author Dillon with Cathedral Chimes third in the NZFFA – two lengths, six lengths with the only other starter Admiral Wood beaten off. She was again second in her final NZ start in the New Brighton club's Summer Hcp. Unplaced in the NZ Cup won by Author Dillon where she failed to show any dash (although ran second two days later in NZFFA) plus Christchurch and Recovery Hcps at the Cup carnival as well as Canterbury Park's Champion Hcp. Adelaide Direct's final season earnings in NZ were £134 from six starts for two seconds.
Note : the number of times Adelaide Direct, Cathedral Chimes and Author Dillon feature in first three positions in major NZ races over period of three seasons (1915/6 – 1918/9).
Whilst in New Zealand, Adelaide Direct successfully broke Country Belle's Australasian 1 mile record (2:07 1/5) during the Auckland Christmas carnival of 1916. On Saturday 30 December 1916 at Alexandra Park she time trialled the mile in 2:06 2/5, a record that stood until beaten by Our Thorpe on 6 September 1918 at Addington (2:06 1/5). Her time was also a NZ Pacers and NZ Pacing Mares record. This meant that at the time of her NZ Cup victory, she held both the one and two mile New Zealand records.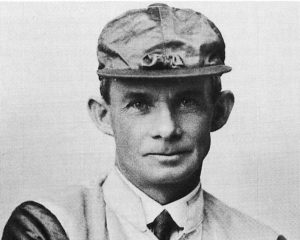 Manny Edwards
Manny Edwards her Kaiapoi owner/trainer/driver in NZ, drove his first winner aged seventeen before going onto have a brilliant harness racing career. His brother Bert drove the inaugural NZ Cup winner Monte Carlo to victory in 1904. This and Manny's 1917 victory with Adelaide Direct were the Edwards family's only NZ Cup successes. Manny's sons Dil and Stan were prominent horsemen as was grandson Murray Edwards.
Adelaide Direct was returned to Baringhup where she was bred from, her descendants breeding on. She left Dillon Bell mare Adelaide Dillon (1920, 2:21.2) when first bred from who was the third dam of Countess Melua (2:19.0) whose two unraced fillies in Fair Oaks (dam of McIvor Creed, 2:10.2, $1,560) and Nina Joys (dam of El Nina and Le Joy, 2:11.0, $1,241) bred on.
McIvor Creed produced Pascinelle, a 1:59.7 ($91,276) winning gelding by Dales Gift who won the inaugural VICSS – 3c and Geelong Guineas in the early 1980's. El Nina was dam of Galavation (2:07.9, $6,266) who in turn left Howzat (2:01.7, $13,020) the dam of However, a 1:59.5 gelded son of The Unicorn who won George Crawford Tribute at three in early 2000's and Narrogin Cup.
Le Joy, was dam of Old Clyde (2:08.9, $5,052, Port Augusta Derby) and Gay Apache (2:01.0, $2,801) dam of winners in Western Apache (Kinney Hanover, 1:58,2, $180,385, WASS/Golden Slipper – 2, Summer Gift, South West Derby); Apache Sunrise (Kinney Hanover, 2:00.7, $118,693, WA Gold Bracelet – 2f); Shannine (Chill Factor, 2:00.0, $27,493).

Apache Sunrise is the dam of the most recent winner from Adelaide Direct's family in Apache Cruiser (Grinfromeartoear/Gay Apache gelding,p2 1:59.0 at first start at Pinjarra in July 2013, $20,015, two WA wins) who recorded his second win at Northam in WA in January2017. Adelaide Direct has been the foundation mare of at least eight generations of winningdescendants.

Classic Families lists her major victories as shown below :

ADELAIDE DIRECT – (1906f Directway/Honest Harry mare), 2:06.4TT, $6,058 (£3,029) NZ earnings only; 58 NZ starts for six wins, eight seconds and nine thirds :
Credit: Peter Craig
YEAR: 1899
NEW ZEALAND METROPOLITAN TROTTING CLUB

At a meeting of the Committee of the Lancaster Park Amateur Trotting Club held on 9th May, 1899 consideration was given to the purchase of 35 acres of the Twigger's estate adjoining the Canterbury A & P Association Showgrounds at Addington for the purpose of preparing a Trotting track with facilities. The Trustees of the property, however, declined to sell for Trotting purposes but subsequently put it up to auction and a 21 year lease was knocked down to the President of the Lancaster Park Amateur Trotting Club at a price below the amount that the Clubs were prepared to go. At a meeting of the Club held on 19th May, 1899 the President's action in purchasing the lease. At the winding up of the Twiggers Estate the ownership of the land was transferred to the Charitable Aid Board and the Hospital Board.
At a meeting of the committee of the Lancaster Park Trotting Club it was decided to have plans prepared for the necessary grand stands, buildings and fencing on the grounds at Addington. It was also decided to instruct a surveyor to lay out a five furlong track, and to call for tenders at once for the work. The committee decided to change the name of the club to the New Zealand Metropolitan Trotting Club.
The New Zealand Metropolitan Trotting Club conducted its inaugural meeting at the Addington Racecourse, now known as Addington Raceway, on Monday 6th November, 1899.
This followed the amalgamation of the Lancaster Park Trotting Club (previously raced at Lancaster Park) and the Canterbury Trotting Club (previously raced at the A&P Grounds next door).

RICCARTON PROPERTY
In 1918 the Club approached the owners with a proposal to purchase the Addington property as the then current lease had only seven years to run however this proposal was unsuccessful.
In 1919 Metropolitan Trotting Club had effected the purchase of a large area of land in the Riccarton district covering some eighty seven acres at a cost of £21,000. The new site comprised seventy acres previously owned by Mr T W J Shand, seven acres by Mr W Robinson and two smaller blocks of six acres. The property fronted Riccarton, Blenheim and Wharenui Roads.
In 1935 the land was disposed of to the Government to be used for State Housing

CANTERBURY PARK TROTTING CLUB
The Canterbury Park Trotting Club traces its origins to the Plumpton Park Club, which raced on a 74 acre course at Sockburn centred on the present Air Force Museum. The early history of the club was fairly chequered and, for three seasons, it went into recess.

On Feb 2, 1884 the CANTERBURY TIMES advertised the "inaugural" meeting of the Plumpton Park Racing Club would be held on March 11, 1884. The Club ran five meetings in the 1884-5 season.
An article appearing in the NEW ZEALAND REFEREE of 7th September 1922 reported that it had been announced that as a result of negotiations between the NZ Metropolitan and Canterbury Park Trotting Clubs the latter body would transfer its operations from Sockburn to Addington and take over the course when the Club moved to its Riccarton property. The article stated that on sentimental grounds some people would regret the departure of the Canterbury Park Trotting Club from the Course with which it was for so long associated both under its present name and under its former title of the Plumpton Park Trotting Club, the name chosen when the Club was established. The article further said that the property had had a long connection with sport of various kinds and had been used for coursing and galloping as well as trotting. When the Club was renamed the Canterbury Park Trotting Club a new era began at Sockburn and it quickly established itself as one of the most flourishing institutions in the Dominion. Its solid financial position had been a striking testimony to the efficiency of its management.
Following the passing of Notices of Motion by the Members of Canterbury Park and Metropolitan Trotting Clubs in April 1952, the body originally known as Addington Trotting Course Ltd was established to control the Course. Back in March 1953 the capital of Addington Trotting Course Ltd was increased from £36,111 to £225,357 NZMTC holding 156,016 £1 shares or nine thirteenths of the share capital, while Canterbury Park held 69,341 shares. The 9/13 and 4/13 basis related to the number of Racedays each Club conducted.

NEW BRIGHTON TROTTING CLUB
By the 1880s arrangements had been made for the running of horse races at New Brighton. But the venue was not the Queen Elizabeth II Park site - it was the beach. The beach racing club ran under very primitive conditions, an exceptionally high tide would delay the start of proceedings, and it was sometimes quite dark before the last event was concluded.

Eventually the beach was abandoned, Tom Free, licensee of the Bower Hotel, having laid out a 3/4 mile course at the Queen Elizabeth II Park property. There was then a mixed trotting and racing programme, and the first race on the site was held in 1886. At first conditions were only marginally better than on the foreshore. The judge had to carry out his duties from atop a beer barrel. And the grass having not yet consolidated the sandy soil, the latter could "wander at its own sweet will, and the majority of the visitors retuned to town half hidden in a canopy of dust." But worst of all was the mountainous sand-hill which stood in the centre of the paddock.
The New Brighton Club did not exist in those early days and was not formed until about 1890. For some time before that the New Brighton Racing Club held trotting meetings and mixed galloping and trotting meetings on the course. The New Brighton Trotting Club did not hold its first meeting until 1895, when £190 was paid in stakes and totalisator turnover amounted to £1648. The property was at that time owned by Mr Henry Mace, who with the club's first president (Mr H McIlwraith) and secretary (Mr A I Rattray) first gained Government recognition of trotting through the old NZ Trotting Association, which had been formed in Christchurch in 1888.
The New Brighton body weathered the depression years of the 1930's very well indeed, and although it was forced to give up its popular course during World War II and for some years afterwards.
In October 1962 the members of the New Brighton Trotting Club endorsed their Committee's recommendation that shares in Addington Trotting Course Ltd be purchased, that the Club race at Addington and that Day and/or Night Meetings be held. The Club purchased sufficient shares to hold 4/17ths of the Capital, and they paid 4/17ths of the cost of the lighting installation.
The New Brighton track was sold to the Christchurch City Council in 1963 and the last meeting was held in September 1963.

FIRES
Over the years there have several major fires at Addington. In 1916 on Cup Day, the almost new Stewards and Members Stand burned to the ground. In September 1926 the Public Stand burned down. After the last race on Show Day 1953 the old Public Stand (replaced by the Twiggers Stand) was destroyed. Perhaps the most famous fire was on Show Day 1961 immediately prior to the running of the last race – the NZ Free-For-All. This race continued while the stand was ablaze, the crowd watched the race and cheered Cardigan Bay home, before turning their attention to the fire.

GOLD CUP
The present gold cup presented to the winner of the NZ Cup was first presented in 1956. At the time of purchase it was insured for £850.

TWIGGERS STAND
Opened on Cup Day 1960

NIGHT TROTTING
Introduced on the first night of the 1963 Cup Meeting

ADMINISTRATION OFFICE
The administration office was transferred the central city to Addington in 1966. The building on the corner of Oxford Terrace and Armagh Street for over 40 years was sold at auction for £38,500

CATERING
In September 1985 a lease was signed to relocate P Burke & Co to Addington. Burke's had been catering at Addington since 1900.

LAND PURCHASE
1987

METROPLITAN STAND
Opened in April 1990 as a cost of $7.6m

AMALGAMATION
In 1998 the NZ Metropolitan TC, Canterbury Park TC and the New Brighton TC amalgamated under the name of the NZ Metropolitan Trotting Club.

NEW STABLING BLOCK
Opened on 15 May 2009 at a cost of $7m

EARTHQUAKES
2010 & 2011