YEAR: 2017
FUND RAISING

Punters are being asked to kick the smoking habit for the first time in Addington Raceway's 118 year history on Friday night (8 Sept).

The home of the NZ Metropolitan Trotting Club will host what is thought to be the first ever smokefree harness racing meeting in New Zealand. Addington's bold initiative comes just a week after the smokefree Daffodil Raceday at Hastings on Saturday. That was believed to be the first smokefree thoroughbred race meeting in New Zealand.

Friday's meeting will be the first harness racing leg of the Daffodil Racedays - a joint venture between the New Zealand Racing Board(NZRB), New Zealand Thoroughbred Racing(NZTR) and Harness Racing New Zealand(HRNZ) to raise money and awareness for the cancer society.

Addington's acting chief executive Brian Thompson said the decision to go smokefree for the night was a no brainer that required little to no discussion. "It's a great way to show support for the Cancer Society," he said. Initial feedback has been positive but there will be no heavy handed enforcement for those who do light up.Anyone found smoking by 'Smokefree Stipendiary Stewards' at Addington, will be asked to make a donation to the Cancer Society for their breach of the smokefree rule.

Thompson was confident the smokefree policy will be supported and his optimism will be further boosted by the results from the Hastings experiment. Hawkes Bay Racing chief executive Andrew Castles said reaction to the smokefree policy at Hastings on Tarzino Trophy day had been positive. He did not receive any complaints or negative comments. "Our on-course turnover was up 30% on last year and that was on a cold wet day," he said.

Addington will look to form a partnership with the Cancer Society and has chosen it to be one of their charities of choice in the lead up to Cup Week. The smokefree race night coincides with the release of 1000 Dexter Dunn bobbleheads.

The bobbleheads are in recognition of Dunn becoming the youngest driver to achieve 2000 wins on New Zealand soil and the profits from the sale of the bobbleheads will go to the Cancer Society.

The Cancer Society is a non-government organisation totally reliant on community support and donations. Elizabeth Chesterman, chief executive of the Cancer Society's Canterbury-West Coast Division was delighted Addington had chosen to go smokefree for the evening and said it recognised the importance of the Cancer Society's goal to make New Zealand Smokefree by 2025. on

Credit: The Press 8 September 2017
YEAR: 2017
NZ CUP MARES AND PROGENY

Do you know the name of the only mare to win a NZ Cup and produce a winner of the NZ Cup??

Hint : amazing as it may seem and almost certainly never likely to happen again, her foal also won the Dominion Trotting Handicap. Look it up and if still unsure, see the answer and story in next week's article.

Sixteen mares (Reta Peter, Haughty both twice) have won the NZ Cup on eighteen occasions (up to 2016) with ten mares that started in the NZ Cup having left NZ Cup runners. They are :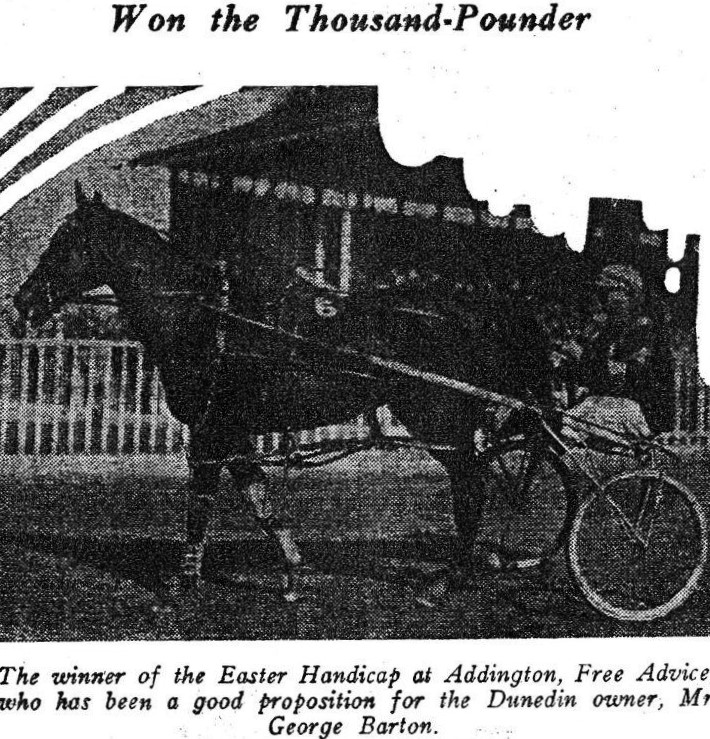 Free Advice (1924 Blue Mountain King/Intaglio), 2:09.6, £5,903½; family of Pride Of Lincoln (N1).

NZ Cup progeny : Horsepower (1940, 1944); Pacing Power (1943, 1944)

Free Advice was the winner of a NZ Cup (qualifying division) before running third for Bill Tomkinson to Harold Logan in the 1931 NZ Cup, also finishing third to Harold Logan in the NZFFA run later the same week. Earlier the same year she had won the Easter Hcp (now Easter Cup) at Addington and held the NZ mares record for 1¼ miles at 2:41 1/5. Unplaced in the Cups of 1932 and 1933 and later becoming an outstanding broodmare, one of only two to have more than one of their progeny start in NZ Cup (other being Tactics). The dam of Horsepower, a GN Derby winner, unplaced in the Cups of 1940 and 1944 before moving to Western Australia where he won the 1945 Stratton Cup and full brother Pacing Power, winner of NZ Derby and NZFFA at Addington as well as placing third in both the 1943 and 1944 NZ Cups.

Free Advice is the grand dam of Auckland Cup winner Thelma Globe (fourth 1955 NZ Cup); third dam of the equal third oldest NZ Cup winner Invicta, eleven years old when winning in 1961; fourth dam of Australian speedster Rip Van Winkle (QLD/NSW Derbies, Aust Pacing Championship); fifth dam of Interdominion Pacing champion Welcome Advice (VIC Derby), GN Derby winners Bolton Byrd (Auckland Cup) and Melton Monarch (Messenger), and foundation matron to many other fine horses.

Rocks Ahead (1929 Happy Voyage/First Water), 2:08.4, £3,311; family of Red Diamond (N3).

NZ Cup progeny : Navigate (1947, 1948, 1950)

Rocks Ahead was bred by Derek Jones from the Southland foundation mare First Water. Unplaced in both the 1938 and 1939 NZ Cups while holding the Southland mile record of 2:06 1/5 set at Winton. Rocks Ahead left Barrier Reef, winner of the 1951 Dominion Hcp and an ID Trotters heat in 1951 at Addington; Navigate her NZ Cup progeny was unplaced in the Cups of 1947, 1948 and 1950 (Hannon Memorial, Ollivier FFA) and Rendezvous, grand dam of the 1971 gelding Rondel who won the 1979 Pacing Grand Final at Addington. Rondel's other major successes included the 1977 Franklin/Thames Cups and a 1979 ID Pacing heat. Rendezvous' filly Dismiss (grand dam Rocks Ahead) was the foundation mare for Chin Bing Foon (Luk and Onn Chin's father) from whom a considerable number of successful horses have been bred and raced by the Chin family over the past 60 years. Dismiss left Dispense (ID Trotters heat) and Disband (ID Pacers heat and third to dead heaters Jay Ar/Robin Dundee in 1965 Grand Final).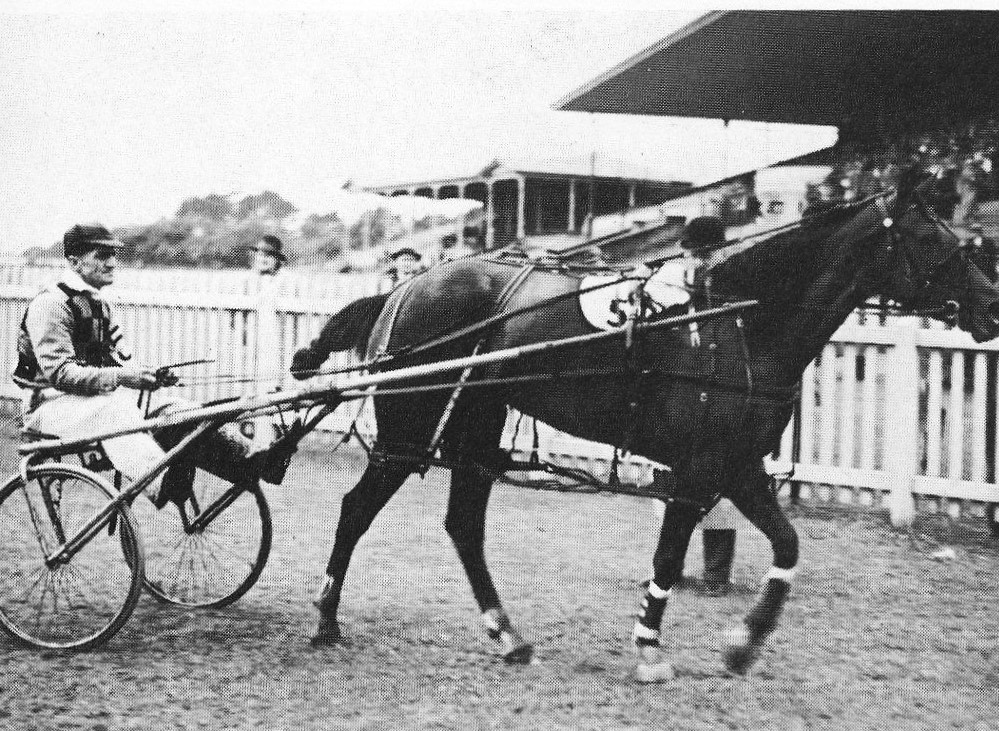 Parisienne (1933 Rey De Oro/Yenot), 2:07.8, £6.766; family of Bessie B (N2).

NZ Cup progeny : La Mignon (1957, 1958)

Parisienne was bred by George McMillan, Remuera being the winner of sixteen races, 2:07.8; $13,532; including NZ/GN Derbies, 1938 Interdominion Pacing Champion (on points and winner of three heats). Competing in three Cups with fifth in Lucky Jack's second Cup in 1939 her best return, eighth in 1938 and not in the first ten home in 1940.

Parisienne the dam of ten foals for six winners, one of her foals was a NZ Cup runner, La Mignon, third in 1957 to Lookaway for Doug Mangos and sixth in 1958. As a broodmare La Mignon left brilliant pacer Garcon Roux (GN/NSW Derbies, Auckland Cup), being the second three-year-old to qualify for NZ Cup after Tactile. The grandson of Parisienne's first Cup run in 1969 resulted in his being part of an incident in which he fell. One horse was pulled up and two others lost their drivers (first past post Stella Frost being disqualified as a result of this incident). Garcon Roux finished eighth in both 1970 and 1971.

Another of Parisienne's foals was the unraced Mary Wootton, dam of Scottish Command (third in 1961 NZ Cup, winner of Auckland Cup; sire of NZ Cup winners Sole Command 1977 and Trusty Scot 1978; Scottish Charm second 1972 to Globe Bay and eighth 1973, Trevira third 1979 to Lord Module and eighth 1980, Bellas Command and Hundred Pipers both unplaced in 1972). Mary Wootton was the third dam of Roydon Glen (GN Derby, Messenger, Auckland Cup, Pan Am Mile, Harness Horse of Year, sire of champion trotter Lyell Creek) who finished third to outsider Borana in 1985 NZ Cup and Roydon Scott (Wellington Cup) unplaced in 1980.

Molly Direct (1933 Jack Potts/Real Girl), 2:09.9, £2,585; family of Jessie B (N9). NZ Cup progeny : Globe Direct (1949, 1950) Molly Direct had the one start in the 1941 NZ Cup won by Josedale Grattan finishing eighth, having won ten races for Bill Lowe. Globe Direct was her best performed foal, winning a heat of Interdominions at Melbourne in 1950 and finishing a head behind Captain Sandy in the Grand Final. His two NZ Cup starts were in 1949 finishing fourth to Loyal Nurse and pulled up in the 1950 edition while he held the NZ record for 1½ miles of 3:09 2/5.

Molly Direct was grand dam of Ted Lowe's first NZ Cup winner Cairnbrae in 1964 (second was Humphrey in 1968) among a considerable number of worthwhile family members descending from her – Sir Alba, Cosmic Under Fire, Cosmic Ice, West Street, Wing Commander, Firm Offer and Dundas were among them.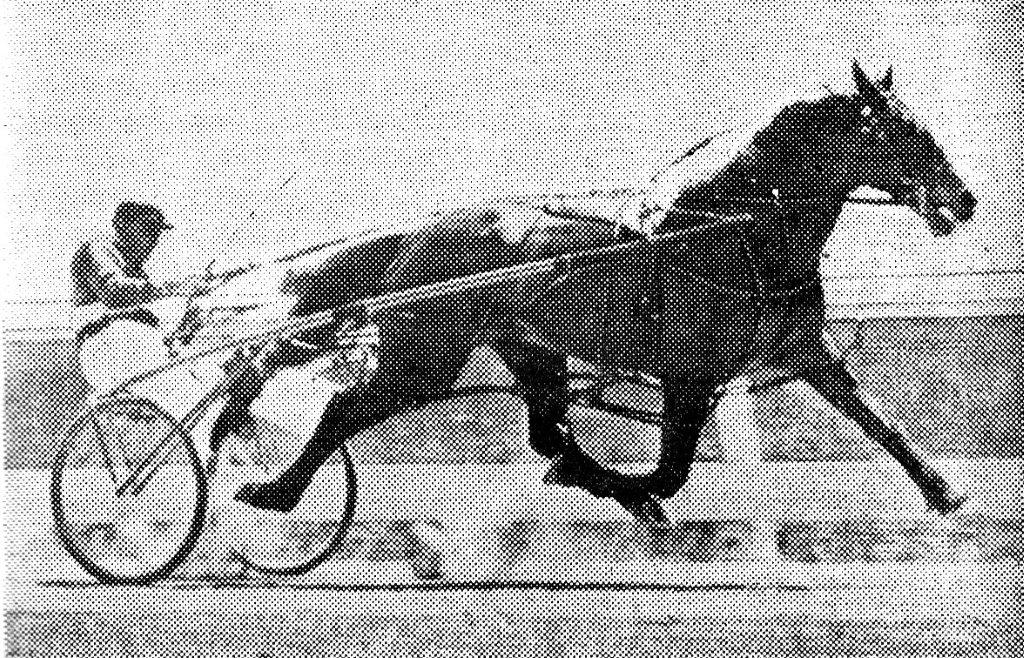 Haughty (1935 Nelson Derby/Regal Voyage), 1:59.6TT, £13,105½; family of Miss Kate (N12).

NZ Cup progeny : Brahman (1957)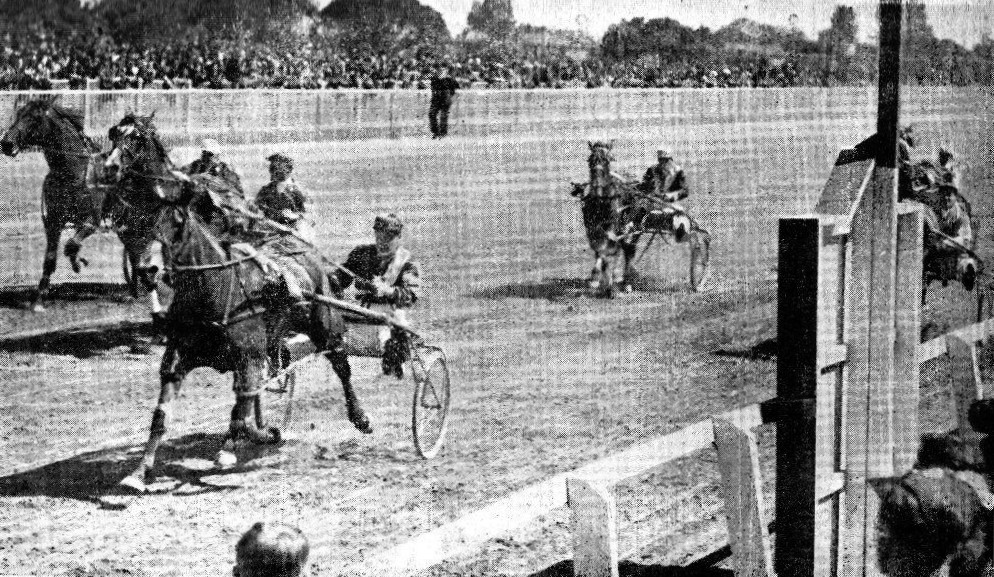 Haughty's 1942 NZ Cup

Haughty shares the mares record for the number of NZ Cup starts with Blossom Lady – six in total for a record two victories (record shared with Reta Peter), a third and unplaced on three occasions. Haughty's two wins came at her first two Cup starts in 1942 (front, defeating Loyal Rey) in a world record 4:13.8 and 1943 (36yds, defeating Countless in another record time of 4:13.6) when 4/3 in betting both years. She ran fifth in 1944, pulled up in 1945 after suffering interference on the home turn, third to Integrity in 1946 and last in Highland Fling's first Cup victory in 1947, all off long marks (36 – 60 yards behind).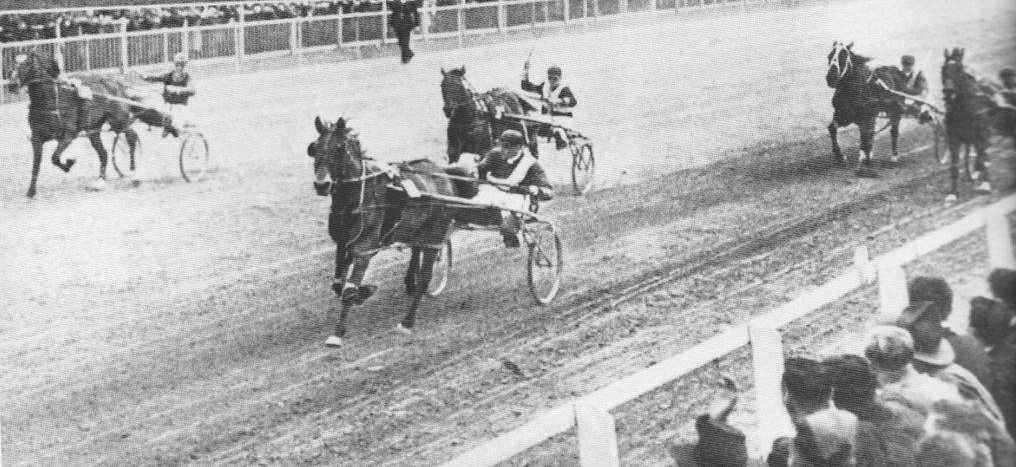 Haughty's 1943 NZ Cup

Haughty became the first mare in Australasia to pace a mile in under two minutes, achieved during the Cup meeting of 1944 recording a time of 1:59 3/5, just the third time the two minute barrier had been beaten in the Southern Hemisphere – Lawn Derby 1938 (1:59 2/5), Gold Bar 1942 (1:59 3/5), all of them being time trials.




Haughty's TT

Haughty finished with eighteen victories and twenty four placings from 74 starts, £13,105½. In addition to her two NZ Cup victories, she won major races in NZFFA, dead heating with Turco (also second to Gold Bar) and Easter Hcp. Haughty and Gold Bar staged a match race at the Patriotic meeting at Addington in March 1943 with the mare winning in a then NZ record mares time of 2:00 2/5 for the mile. These two great adversaries produced the first mating between two minute performers in the Southern Hemisphere when Gold Bar sired and Haughty was the dam of Brahman (sire of 110 winners) and fifth dam of two million dollar winner Shakamaker (ten Group Ones including Interdominion Pacing Final). Brahman was Haughty's NZ Cup runner but he finished last in Lookaway's 1957 NZ Cup victory.

Shadow Maid (1937 Red Shadow/Homelass), 2:07.4, £7,156; family of Homelass (N208).

NZ Cup progeny : Gay Robin (1965)

Shadow Maid started on three occasions in the NZ Cups of 1943, 1944 and 1945. She finished last in 1943 and sixth in Bronze Eagle's 1944 Cup victory. As an eight year old, she was prepared for her 1945 Cup run by Ces Devine and went into the race having been unplaced in her previous 27 starts (20 for Devine) since finishing second in 1943/44 season. Shadow Maid ran third in Gold Bar's 1945 NZ Cup admittedly thirteen lengths behind the winner but ten lengths ahead of fourth placed Countless. She was the rank outsider of the field (12/12).

Shadow Maid has earlier won the 1943 Auckland Cup (tr : Scotty Bryce, dr : Jimmy Bryce) which assisted her in being second behind Haughty in the stakes won list for 1942/3 season (£2,410).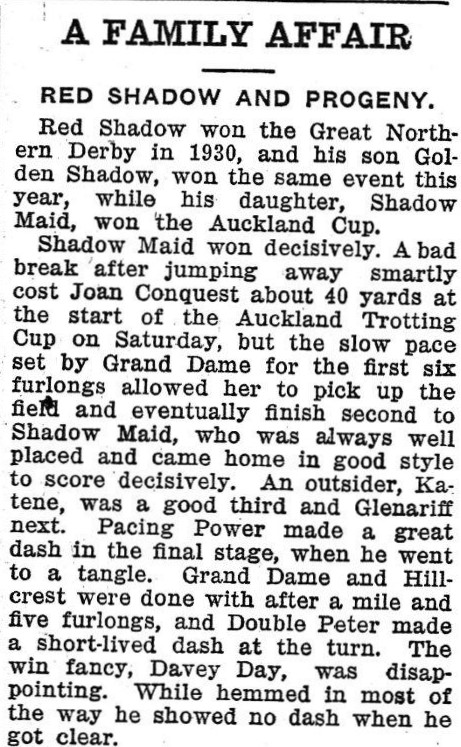 Shadow Maid AK Cup

Her best foal Gay Robin (ID heat, Ashburton Flying Stakes) finished fourth to Garry Dillon in the 1964 NZ Cup. Shadow Maid was also grand dam of good trotter Hal Good (Dominion Hcp) and Gay Rose (Rangiora Cup).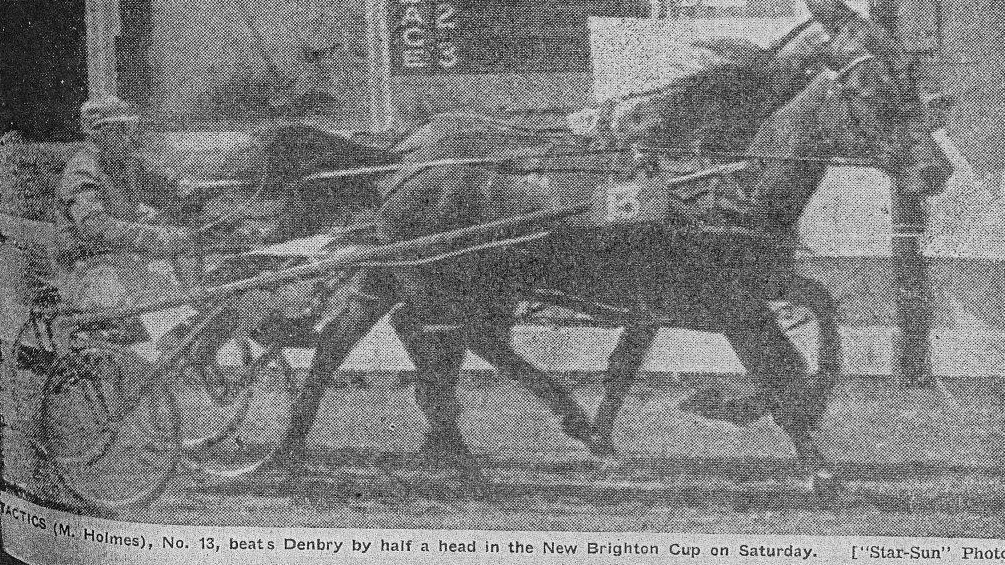 Tactics

Tactics (1946 Light Brigade/Nell Grattan), 2:07.6, £6,427½; family of Red Diamond (N3).

NZ Cup progeny : Deft (1964), Tactile (1965)

Tactics ran in Adorian's 1953 NZ Cup finishing last after starting third favourite for Maurice Holmes. Bracketed with Vedette (Stan Edwards) who finished fifth, Tactics broke at the start and collided with Johnny Globe costing him 60 yards (started off 24 yds) and Johnny Globe was only beaten a length by Adorian. Tactics was the winner of 11 races including a New Brighton Cup.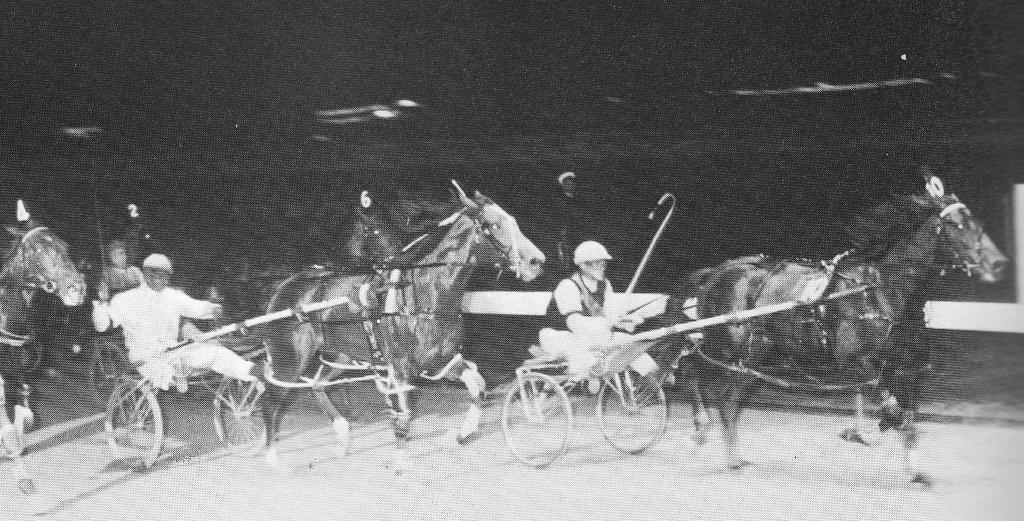 Tactile, Robert Cameron, Melbourne ID's 1964, third night

Tactics is one of only two mares to have had two different progeny run in NZ Cups – Free Advice being the other mare (other mares had same progeny run in two or three Cups e.g. Rocks Ahead with Navigate). First, Deft finished eighth in Cairnbrae's 1964 NZ Cup win. Secondly, Derby king Tactile (GN/NZ/NSW/VIC/SA) ran tenth to Gary Dillon in 1965 NZ Cup, before being a winner in North America and later sire in NZ of top class performers in Norton, Ryal Pont and WA Derby winner Tac Warrior.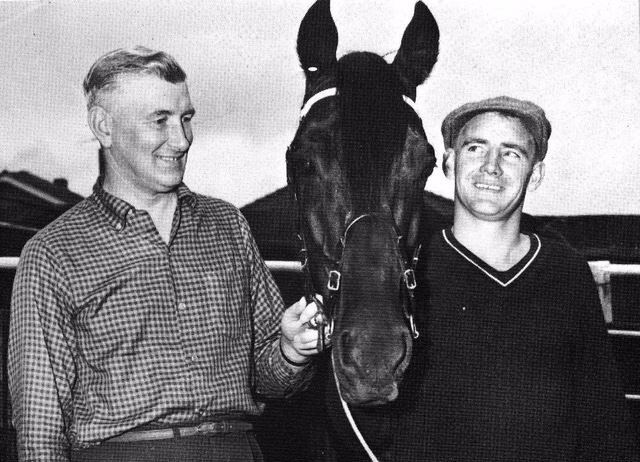 Jim Dynes, Tactile, Robert Cameron

Tactics was a very productive broodmare and other family members descending from her include Blacks A Fake (6th dam), Burrell, Fancy Wishes, Just Ella, Its Ella, Tact Boyden to name just a few,





Queen Ngaio

Queen Ngaio (1954 Light Brigade/Heather Globe), 2:06.0, £7,980; family of Moonbeam (N36).

NZ Cup progeny : Trio (1980, 1981)

Queen Ngaio competed in 1961 NZ Cup won by Invicta, finishing in sixth position. She won races at open class pacing level prior to her breeding exploits where Trio was her star performer. Trio finished second last to Hands Down in 1980 and sixth in Armalight's 1981 NZ Cup success. Trio won the NZ Two Year Old Championship, paced 1:55.2US and earned stakes of $265,707. Queen Ngaio also left Waratah, sire of ID third place getter Miss Pert and Reassurance third dam of All Hart (1:52.0US, $435,328, NZ Two Year Old Championship, GN Derby).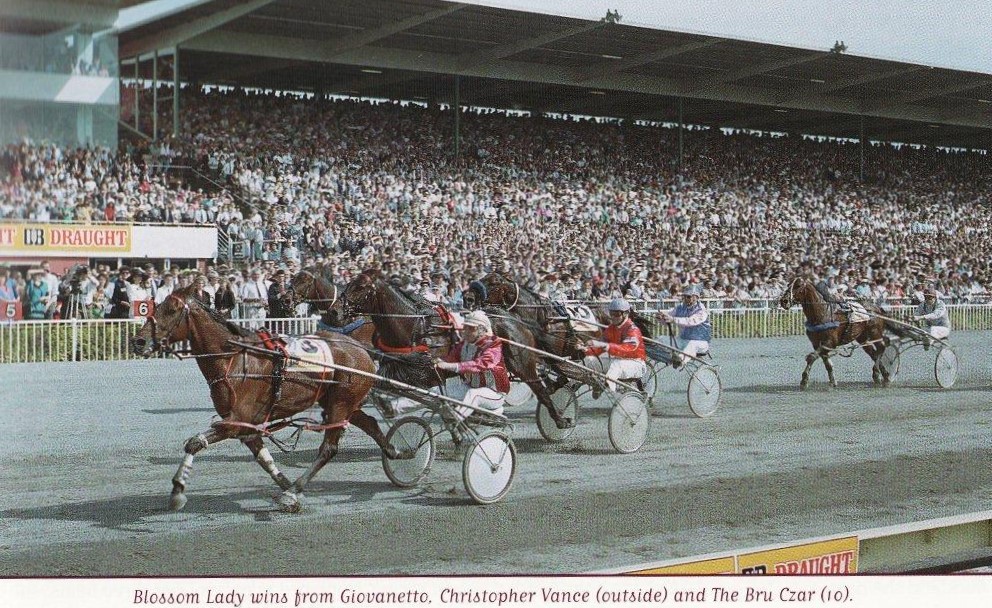 Blossom Lady 1992 NZ Cup

Blossom Lady (1984 Farm Timer/Lumber Lady), 1:56.0, $1,334,808; family of Fashion Queen (N69). NZ Cup progeny : Mister DG (2003, 2004) Blossom Lady, bred by Ashburton mates Bob Davison and Bill Cook was raced by the twelve strong Polly Syndicate headed by former HRNZ Chairman Ralph Kermode. Blossom Lady was the fifth NZ millionaire and first mare among the first ten millionaires in Australasia. Her 131 NZ starts NZ produced 36 victories (six for Stephen Doody, 30 for Derek Jones), 29 placings for earnings of $879,605. Her six Australian campaigns produced seven victories and nine placings from 24 starts. Career stats were : 155 : 43 – 20 – 18, $1,334,808, 1:56.0 with Anthony Butt driving her to twenty seven victories in NZ, seven in Australia with others to record wins being Stephen Doody (5), Derek Jones and son Peter two each.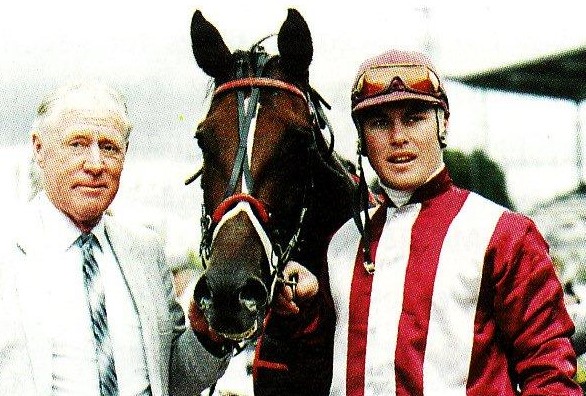 Derek Jones, Bloss, Anthony Butt

She held national records for a mare at 1 mile mobile 1:56.0 (1:56.5 AUS), 2000m stand 2:33.5, 2400m mobile 2:57.0, 2600m stand 3:15.8/3:14.9 (also overall national record), 3200m stand 4:03.3.

Her six NZ Group One's were all at Addington (NZ Cup/FFA, Easter Cup, 3 NZ Standardbred Breeders Stakes) with a further two at Moonee Valley (two Hunter Cups). Eleven of her twenty two Group race wins were at Addington (above plus three Premier Mares Championships, Interdominion heat, Alan Matson (Monsanto) FFA). Her remaining group race wins being Hannon Memorial (twice), Ashburton Flying Stakes, Interdominion Consolation (Alexandra Park), Interdominion heats (two Moonee Valley/Harold Park, Alexandra Park).

Blossom Lady's signature NZ victory came in the 1992 NZ Cup defeating Giovanetto and Christopher Vance by 1¼l and 1 length in a time of 4:05.0/2:03.1. She also ran in NZ Cups of 1990 (fifth), 1991 (thirteenth), 1993 (fourth), 1994 (fifth) and 1995 (sixth). She recorded seven victories at the extreme distance of 3200m (three at Addington – NZ Cup, Easter Cup, DB Draught Hcp), Ashburton Cup/DB Draught Hcp and two Hunter Cups.

Blossom Lady's first foal, son Mister DG (Camtastic), won twenty races (14 NZ/6 AUS), $795,749, 1:55.9 (Cambridge Classic, SBS/Heller FFA, Popular Arm FFA, Hunter/Cranbourne Cups, Hannon Memorial, Nobilio, Casey Classic, ID's [two heats, Consolation], Waikato Flying Mile) and he was Blossom Lady's lone starter in NZ Cup's won by Just An Excuse in 2003 (eleventh) and 2004 (fourth).

An inductee into both NZ Trotting Hall of Fame and Addington Harness Hall of Fame, Blossom Lady died on 18 May 2004.

Other mares that have started in NZ Cups and who influenced future NZ Cups and Cup winners include :

Norice (1898 Charles Derby/Naulahka), 2:20.0, $1,852; family of Dairy Maid (U30). Second to Monte Carlo in the inaugural NZ Cup (1904), dam of Nelson Derby, sire of Haughty (Norice's granddaughter) who won two NZ Cups (1942, 1943) and was the first mare in Australasia under two minutes (see earlier). Norice's other direct descendants have included Cup winners in Camelot (1984, fifth dam), Iraklis (1997, eighth dam) and dual winner Monkey King (2009, 2010, eighth dam). In addition, she is third dam of 1929 NZ Cup heat winner Kingcraft (started in NZ Cups of 1929, 1931 second to Harold Logan, 1932, 1933); seventh dam of Starship, second to Neroship in 1990 NZ Cup (1989, eighth; 1991, ninth); Giovanetto, second to Blossom Lady in 1992 NZ Cup and third to Chokin (1993); Holmes DG, second to Homin Hosed 1999 NZ Cup, fourth to Kyms Girl (2001), fourth to Gracious Knight (2002), tenth (2000), thirteenth (2003); eighth dam of Ermis, twelfth in 1995 NZ Cup, Anvils Star, second to Il Vicolo in 1996 NZ Cup (eighth 1996; eleventh 1998), Brabham, fourth to Christian Cullen in 1998 NZ Cup (fourth 1995, fifth 1997).

Imperial Polly (1900 Prince Imperial/Polly (Hood), 2:44.4, $2,093; family of Hoods Polly (N8). She started unsuccessfully on three occasions in NZ Cups of 1909, 1910 and 1911. A couple of NZ Cup winners trace back to Imperial Polly starting with Gold Bar in 1945 (third dam, fourth in 1942 and 1943; unplaced 1941, 1944 [sire of Cup runners Brahman, Congo Song, Bartender] and Lord Module winner in 1979 (fifth dam, fifth in 1978, unplaced in 1980) while 1989 winner Inky Lord (unplaced 1990) is a member of Hoods Polly family.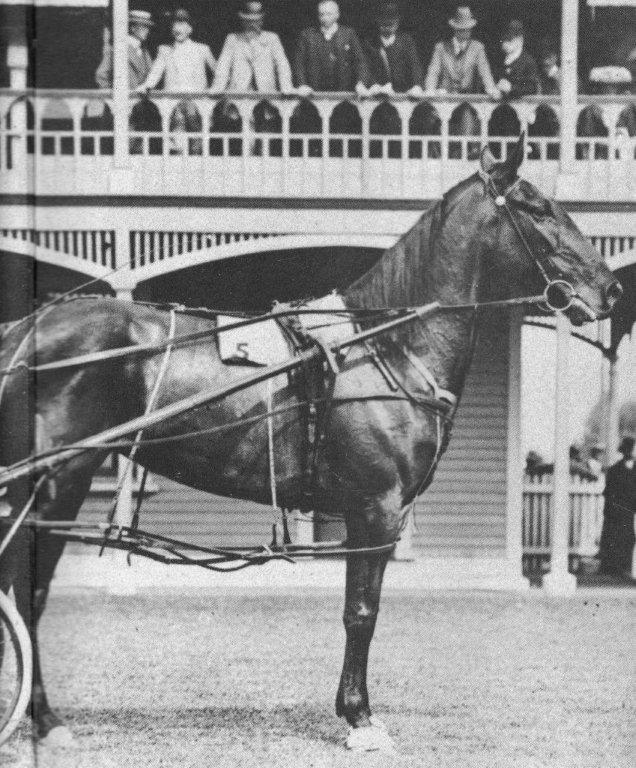 Lady Clare 1911 NZ Cup winner

Lady Clare (1904 Lady Clare/unknown), 2:19.0, $2,940; family of Lady Clare (N41). Lady Clare was the second female winner of the NZ Cup in 1911 (Marian 1907 first), owned by WE Clinton, trained by James Tasker and driven by Jack Brankin, she had earlier raced in the 1910 edition. The Cup was the last of Lady Clare's seven victories spread over eight seasons. Her direct descendants both won NZ Cup's in millionaires Luxury Liner (1988, fifth dam) and Christopher Vance (1991, sixth dam) representing two of the finest pacers seen in NZ, both trained from the Roy and Barry Purdon stables.

Win Soon (1908 King Child/Topsy (thor), 2:15.5, $3,486; family of Topsy (N7). The winner of the 1914 NZ Cup Win Soon was owned by Stevenson and McMath, trained and driven by Andy Pringle. Like the two earlier mares to win the NZ Cup, she led from start to finish. Win Soon was grand dam of Lady Averil, third in 1949 and fourth in 1950 NZ Cups. NZ Cup winners True Averil (1971, grand dam Lady Averil) and Lunar Chance (1975) both boast Win Soon as their fourth dam.

Country Belle (1908 Wildmoor/Bonnie Belle), 2:07.2TT, $7,404; family of Bonnie Belle (N5). The winner of 1915 NZ Cup and second in 1914 to Win Soon, was by Wildmoor (Wildwood) from Bonnie Belle, by Lincoln Yet (half-brother to Thelma) out of an Arab mare. Her breeder/owner was Bill Morland of Rakaia, she was trained and driven by Albert Hendricksen who had won 1912 NZ Cup with Albert H. Country Belle was grand dam of Fallacy, sire of one of three triple NZ Cup winners in False Step (1958, 1958, 1960) and Chamfer, winner of 1950 NZ Cup (unplaced 1951). Country Belle's three-quarter sister Curfew Belle was dam of Belle Logan, dam of Logan Derby, the sire of Johnny Globe, NZ Cup winner in 1954.

Van Glory (1968 Van Dieman/Malabella); 1:59.6, $37,050; family of Krinas dam (N30). Van Glory ran eighth in Robalan's 1974 Cup and is the grand dam of glamour mare Under Cover Lover (1:51.4US, $864,923), winner in NZ, Australia and North America. Under Cover Lover ran in two NZ Cups finishing eighth to Homin Hosed in 1999 and fourth to Yulestar in 2000.





Armalight

Armalight (1976 Timely Knight/Ar Miss), 1:55.4, $279,560); family of Lady Antrim (N31). The impressive winner of 1981 NZ Cup and second to Bonnies Chance in 1982, she is the fifth dam of Ohoka Punter who ran seventh to Arden Rooney in 2015 NZ Cup.

Kates First (1993 Holmes Hanover/Pleasant Franco), 1:57.2, $624,023; family of Pride Of Lincoln (N1). An Auckland Cup winner, Kates First ran fifth to her half-brother millionaire Christian Cullen in 1998 Cup and fourth to Homin Hosed in 1999.

Christian Cullen sired 2005 NZ Cup winner Mainland Banner, only four year old mare to have won the Cup, whose half brother Titan Banner finished third to Lazarus in the 2016 NZ Cup.

Have you ascertained who is the only mare to win a NZ Cup and produce a winner of the NZ Cup?? If not and to confirm your answer, see details in next week's article.

Peter Craig

6 November 2017

Credit: Peter Craig
YEAR: 2017
NZ CUP WINNING MARE AND WINNING PROGENY

Last week we posed the question "Do you know the name of the only mare to win a NZ Cup and produce a winner of the NZ Cup??"

A clue was given that her foal also won the Dominion Trotting Handicap. Still stumped??

Answer to question : the only mare to have won the NZ Cup and whose subsequent foal won a NZ Cup was Trix Pointer. Her foal and subsequent NZ Cup and Dominion Hcp winner was Wrackler.

Trix Pointer (1914 Demonio/Bally Pointer), 2:09.4, £7,411¾; family of Fanny Fern by Blind Tuckahoe (U302)

Six year old Trix Pointer won the 1919 New Zealand Cup from a six second handicap in her first start in the event by four lengths defeating Moneymaker and Matchlight. Her time for the two mile journey was 4:30.0 for Upper Riccarton trainer/driver Free Holmes and owner WH (Bill) Norton. The fifth favourite paid £7 6s for the win.





Trix Pointer 1919 NZ Cup

Her four subsequent NZ Cup starts began with her being unplaced in 1920 in Reta Peter's initial Cup win, fifth in Reta Peter's second Cup victory in 1921 (on protest, Sherwood relegated from first), sixth in 1922 to Agathos and again sixth in 1923 to Great Hope.

The all American bred mare was purchased by Free Holmes during one of his North American trips (other purchases made in 1915 apart from Trix Pointer were Bonilene, Logan Pointer; in 1922 Rey de Oro; in 1930 Grattan Loyal, Frank Worthy). Her sire Demonio was by Charles Derby, the sire of outstanding mare Norice who finished second to Monte Carlo in the inaugural 1904 Cup. Demonio was a Strathmore line stallion, just four removes from Hambletonian himself. Trix Pointer's dam Bally Pointer was by Star Pointer, the first ever two minute pacer.

Trix Pointer's NZ Cup victory assured her of leading stakes earner status in the 1919/1920 season with earnings of £2,635; Bill Norton was leading owner with £3,135 while Free Holmes was runner up in the trainers premiership with 22 wins to James Bryce's 28½ and fifth on the drivers premiership with 16 victories (Eugene McDermott 34½).Free Holmes holds a unique record with Roy Berry** as the only persons to have driven a NZ Trotting Cup winner and ridden a NZ Galloping Cup winner at Riccarton (Manton, 1888). His successes as a jockey included Canterbury Cup, Grand National Hurdles and Great Northern Hurdles/Steeplechase double. As a thoroughbred trainer, success included victories in Auckland Cup and NZ St Leger.

** NZ Galloping Cup (1913 Snapps), NZ Trotting Cup (1937 and 1939 trained/drove Lucky Jack to victory and in 1944 trained winner Bronze Eagle).

Free Holmes was just as productive on a personal note, with all three sons (Freeman [FG], Maurice and Allan) associated with NZ Cup successes – Wrackler (1930, dr : Maurice Holmes), Harold Logan (1932, dr : Allan Holmes), Gold Bar (1945, tr/dr : Allan Holmes), Chamfer (1950, tr/dr : Maurice Holmes), Adorian (1953, tr/dr : FG Holmes), Lookaway (1957, tr/dr : Maurice Holmes).

Trix Pointer recorded success in 13 races for total earnings of £7,411¾, 2:09.4 (among first twelve 2:10 performers in NZ in 1922/23). Apart from her NZ Cup victory, major races won included at Addington NZFFA, Lightning/National Cup/High Class/Christchurch Hcps and Winter Oats Hcp at Forbury Park. She established national mare's records over various distances, including all comers record 2:08 3/5 for mile when placed third to Ena Bell at Addington in 1921.

Among her eight foals were seven winners; her noted male progeny apart from Wrackler (see below) was 1935 Wrack colt Aldershot. He won the Canterbury Juvenile Stakes at two, Wellington Stakes and NZ Derby at three (2:13.0, £1,731). Stamboul (1934 Frank Worthy gelding) was the winner of two races at four.

Trix Pointer's daughters (all by Wrack except Festivity by Rey de Oro) included :

[only a selection of better performed family horses possible under each of Trix Pointer's daughters]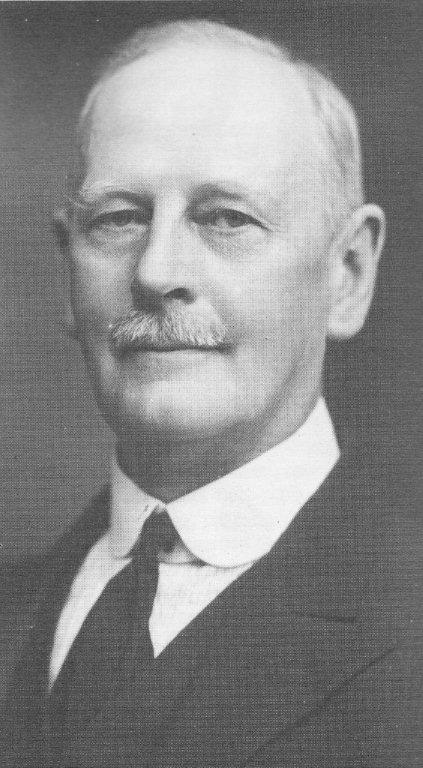 Harry (HF) Nicholl

Arethusa (1927), winner of Sapling Stakes (NZ Two Year Old filly record of 3:25 3/5 for 1½ miles), NZ Derby (double for owner Harry Nicoll, trainer Dan Warren and driver Maurice Holmes on same day Wrackler won 1930 NZ Cup), Henry Mace Memorial, Methven Cup, Ritchie and Park Hcps for Harry (HF) Nicoll, £3,505, 2:09.4 (among first 2:10 performers in NZ in 1933/34). Arethusa was dam of several fillies that continue to breed on with Eva Sophnally (1:55.3, Ashburton F&M Mile) being the most recent example. Arethusa was grand dam of leading trotter Ordeal (T1:59.3US, Dominion Hcp, Rowe Cup, USA Californian Trot); third dam of Cute Van (TAS Pacing Championship) and Elbejay (QLD Derby); fifth dam of Ryans Day (SA Cup).

Raclaim (1928), £990, T2:13.6, dam of Acclamation (NZ Trotting Stakes at three, four/five, Dominion Hcp, fourth dam of Top Evander [VIC Trotters Derby], Alley Brown [dam of Cameron Hanover, 1:52.4US; grand dam of Easton Alliance 1:49,0US, Vanlo Yorker WA Pacing Cup]; sixth dam of good juvenile pacer Joker Man), Guilane, dam of Interdominion Trotting Grand Final winner Yamamoto, third dam of Lady Netty [1:55.0US], fourth dam of Master Bomber [Ordeal Trotting Cup, Summer Trotting FFA]), Rewa Scott (Rowe Cup, dam of Our Own [Three Year Old NZ Trotting Stakes]; grand dam of Geffin [Three Year Old NZ Trotting Stakes, ID Trot Final/2 heats], Dupreez [ID Trot heat], Hilton Adios [Aust Trotting Championship heat], Hilton Bear [ID Trot heat] and fourth dam of Megalite (SA Trotters Derby), Doonholme, amongst numerous progeny

dam of Pebbles [Ashburton Cup]
grand dam of

Humphrey [NZ/Kaikoura Cups, Barton Memorial, ID heat]

Seattle (dam of Nostradamus [Messenger], Scimitar [1:54.0US], Alliage [dam of Neroship, NZ/Auckland Cups, Flying Mile; third dam of Sweet Talking Man, NZSS – 2c; fourth dam of Gomeo Romeo, Taylor Mile/Waikato Flying Mile]

Local Lie, NZ Oaks

third dam of Doubter [QLD Derby]

fourth dam of Next Bonus [NSW Breeders Plate – 2], Golden Flyin [VIC Queen of the Pacific], Larrakeyah Lady [VICSS – 4m, AUST Broodmare of Year, dam of
Safe and Sound [APG – 3c, VICSS – 4h, SA Cup, AUST Pacing Championship, Hunter Cup]

third dam of Beauty Secret [ VIC Oaks], Major Secret [NSW Derby, VICSS – 2c]

fifth dam of Star Bonus [1:50.1US], By My Side [VICSS – 4h], Fabrication [VICSS – 3T]

sixth dam of Mindful [VICSS – 3f], Lovelist [Breeders Crown – 4m]

seventh dam of Brailos Pass (SA Derby), Rocknroll Magic [VICSS/Breeders Crown – 3f].


Ochitree (1931), fourth dam of New Law [NZ Derby], sixth dam of Premium Kiwi [VICSS – 2T], seventh dam of Scoleala [1:50.3US].

Mistral (1932), dam of Chinook [Greymouth Cup], grand dam of Fri [National Trot] and Urrall [Kaikoura Cup], fifth dam of Versary [1:49.4US], sixth dam of Tupelo Rose [Caduceus Club Fillies, NZ Two tear Old Championship, VIC/AUS/QLD/GN Oaks, Nevele R Fillies, Messenger, 1:51.2US, grand dam of Little Brown Jug heat winner Resistance Futile, 1:49.1].

Festivity (1937), winner of Methven Cup, £1,536½, 2:13.1, dam of Affiliate (Manawatu/Wanganui Cups); her daughters bred on including Scotch Melody dam of Game Pointer (NZ Trotting Championship, Dunedin Trotting Cup) and Camilla, grand dam of Charles Nero (1:53.3US) and Frisco Frost (SA Cup).

Trix Pointer was inducted into the NZ Trotting Hall of Fame.

Wrackler (1925 Wrack/Trix Pointer), 2:08.4, £8,655; family of Fanny Fern by Blind Tuckahoe (U302)

One of the earlier examples of a very successful dual gaited horse, Wrackler is the only foal of a New Zealand Cup winner (Trix Pointer) to win the New Zealand Cup (1930) and later the leading trotting race the Dominion Hcp (1932). In his first NZ Cup start, five year old Wrackler started from the 12 yard mark – in fact all 12 yard mark horses filled the first four places in the Cup. Wrackler defeated Author Jinks by four lengths with a similar margin back to Jewel Pointer with Kohara in fourth place. There were only eight starters in the 1930 NZ Cup (first four placegetters in each heat/division of NZ Cup) with Wrackler covering the two mile distance in 4:24.2 (5 seconds quicker than his dam) for trainer Don Warren, twenty two year old driver "The Maestro" Maurice Holmes, the first of his three winning Cup drives and Ashburton owner Harry Nicoll, then President of NZ Trotting Conference. Wrackler, the favourite paid £2 16s 6d for the win. He was to finish third in the NZ Free-for-All to King Pointer beaten a head and a head later in the Cup carnival.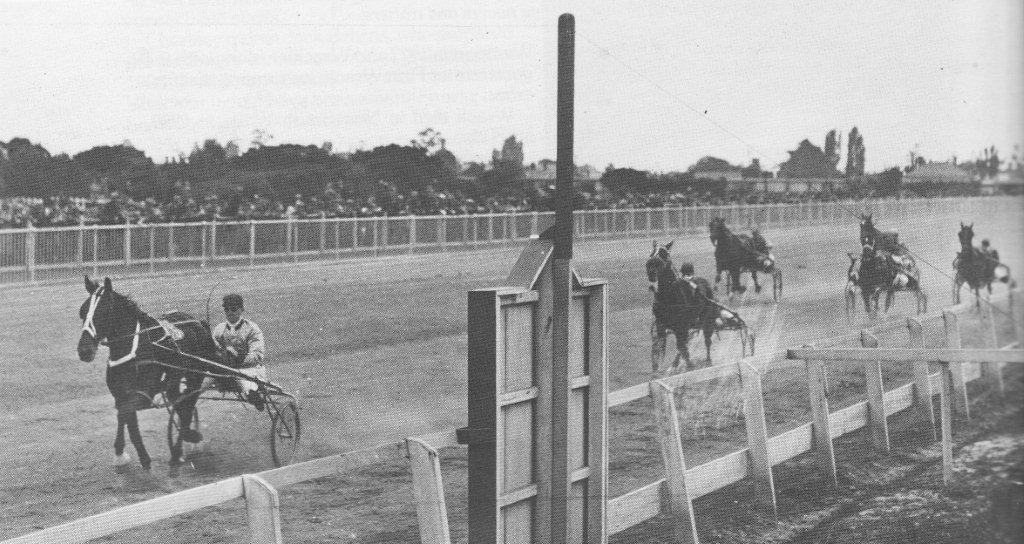 Wrackler 1930 NZ Cup

His two subsequent NZ Cup performances saw him finish fourth in a seven horse field in 1931 in Harold Logan's first Cup win and unplaced in 1933.

Wrackler was a product of Harry Nicoll's United States stallion import Wrack (Peter The Great/The Colorado Belle), Happy Medium line stallion (four removes from Hambletonian), over Trix Pointer, making him all American bred. Wrackler was Trix Pointer's first foal and one of Wrack's first crop of foals.

Wrack was a free legged pacer in North America racing successfully for three years on the Grand Circuit prior to arriving at Nicoll's Durbar Lodge Stud, Ashburton as a seven year old in 1924. Wrack a leading stallion in his day, siring 173 winners and leading sire on stakes for three consecutive seasons (1932/3, 1933/4, 1934/5) plus leading broodmare sire based on winners (three times) and stakes once.

His stock aside from Trix Pointer family above included NZ Cup winners Indianapolis (first three time winner, GN Derby, Auckland Cup, NZFFA, sire)/Bronze Eagle, NZ Derby winners Ciro/Imperial Jade, GN Derby winner Tempest, Dominion Hcp winners Peggotty/Sea Gift. Wrack was broodmare sire of Vedette (ID Pacing Final, NZFFA), Fair Isle/Recruit (Dominion Hcp), Turco (NZFFA), Perpetua (NZ Oaks), Indomitable/Recruit twice/Fair Isle/Scotleigh (Rowe Cup). He stood two seasons in Australia after landing there as an older horse purchased by Edgar Tatlow standing a season in Tasmania before being purchased by Ray Lawlor for Windsor Stud, NSW, where he died in 1939 without siring another foal.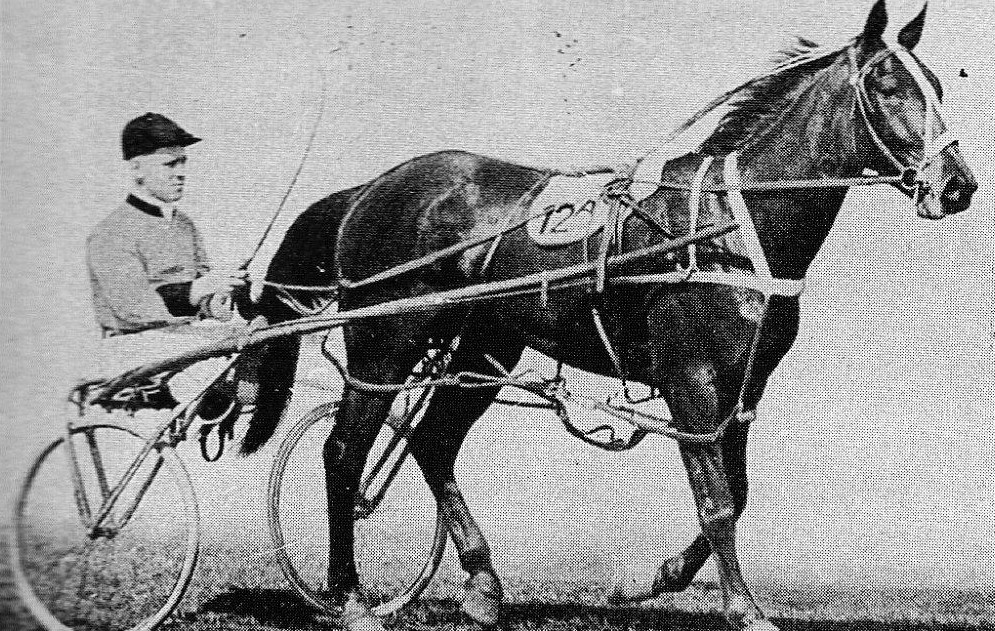 Wrackler GN Derby Maurice Holmes

Wrackler commenced racing as a pacer at two from the stable of Ashburton trainer Don Warren who died several years later although Wrackler was still racing. His preparation was taken over by Jack Behrns who turned him into a top trotter. At two, Wrackler recorded two thirds, which included one in the Sapling Stakes to Sonoma Child. As a three year old Wrackler won on five occasions, three of them in the hands of Maurice Holmes (GN/NZ Derbies, Oamaru Presidents Hcp), although Don Warren drove him in his first ever win in the Rakaia Hcp at Ashburton and a mile event (2:16 1/5) at Forbury Park.

Wrackler again won five races pacing as a four year old from his eleven starts (third highest seasonal stake earner), again winning the Rakaia Hcp at Ashburton this time off 84 yards, three wins at Alexandra Park (Ranfurly/Spring/Alexandra Hcps) and the NZ Trotting Gold Cup at Hutt Park (750 sovereigns).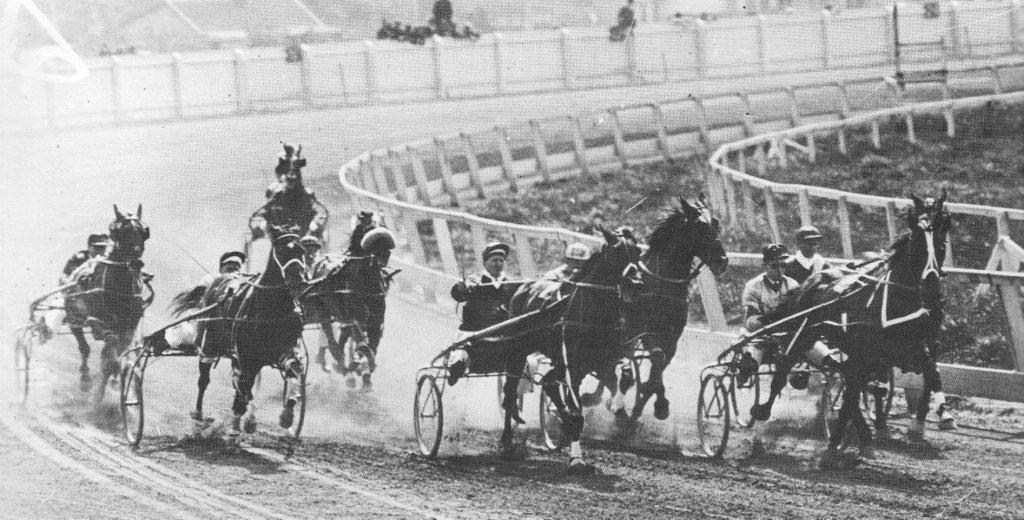 Home turn 1930 Cup heat, Wrackler leads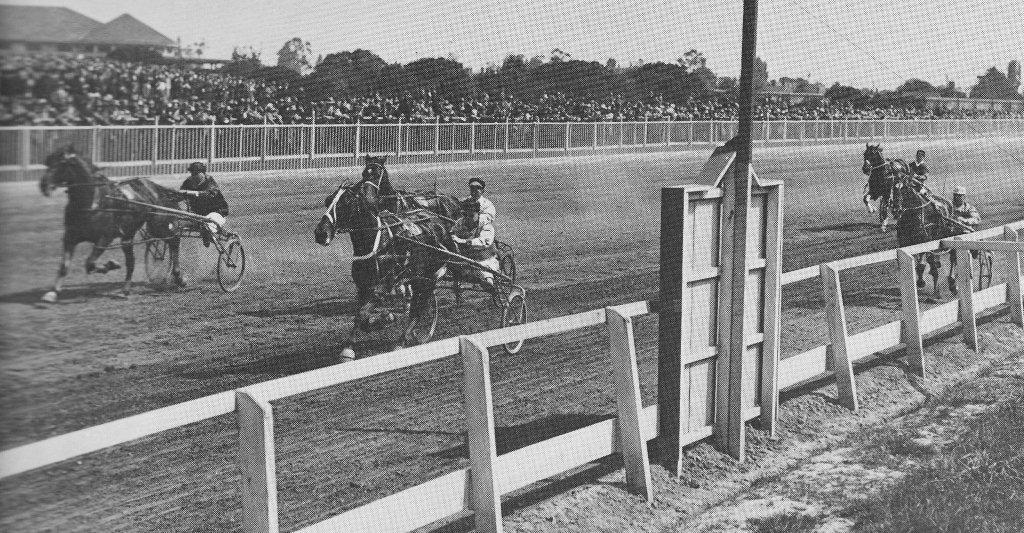 Finish 1930 Cup heat, Wrackler wins

In his five year old season, Wrackler won the NZ Cup Trial at Hutt Park, the second division and final of the 1930 NZ Cup at Addington (see above). His three wins from ten starts again placed him third highest seasonal stake earner. Placed fourth off 60 yards in that seasons Auckland Cup won by Carmel. At six in the 1931/2 season, Wrackler placed second in his NZ Cup heat to Free Advice, fourth to Harold Logan in NZ Cup final and was unplaced from 84 yards to Royal Silk in the Auckland Cup.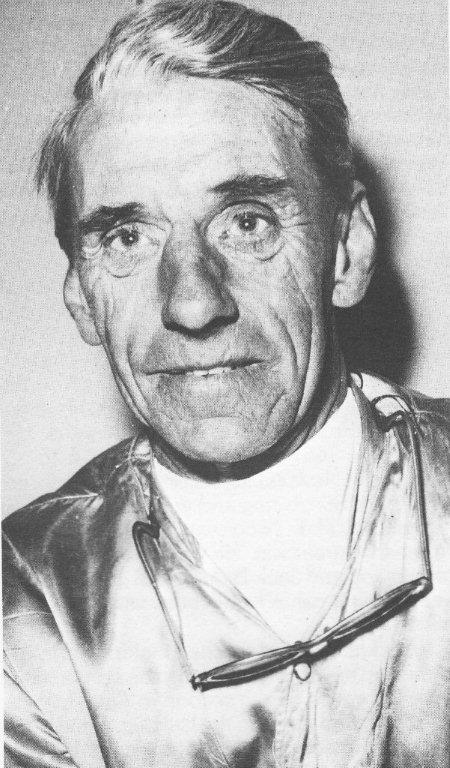 Jack Behrns

It was following his unsuccessful Auckland Cup campaign and Don Warren's death that Wrackler first switched to the trotting gait when Jack Behrns, an employee at Durbar Lodge took over as private trainer for Harry Nicoll. His first start as a trotter yielded a second off 48 yards to White Satin in the Summer Hcp at Addington at the end of March 1932. Mixing gaits with several unplaced starts as a pacer, Wrackler recorded his first win as a trotter beating the pacers over two miles at a special relief meeting (depression years) at Addington in July 1932 (Owners and Breeders Hcp, T4:29 3/5).

As a seven year old, Maurice Holmes handled Wrackler in his Dominion Hcp success in November 1932, winning by two lengths in a time of T4:26 1/5 for the two miles from his 60 yard handicap. Second off 120 yards to Todd Lanzia in the two mile Sockburn Hcp on the second day of the Cup meeting, rounding off his NZ Cup meeting campaign with a NZ and world record time for 1½m (pacing or trotting) when second off 84 yards to Arctotis in the Middleton Hcp (T3:15 4/5, first mile T2:08 2/5). Five unplaced efforts against the pacers followed before his last win for Jack Behrns and Maurice Holmes in the five horse International Trotting Championship match race (Addington, February 1933). This 1½m race was run from a flying start and won in T3:18.0 (other starters were Todd Lanzia, Peterwah, Olive Nelson, Stanley T). Wrackler was leading trotting stake earner for 1932/3 season with earnings of £795.

At eight this was the start of Wrackler losing all semblance of form going unplaced from thirteen starts. At nine he failed in five attempts and at ten his nine starts brought no return. However, as an eleven year old from the Winchmore (Ashburton) stable of Leicester (LA) Maidens he ran second to Norma Bingen in early August at Addington before two days later recording his seventeenth and final win in the Addington Hcp, Off 60 yards, he beat top trotting mare Sea Gift (Dominion Hcp) by 1½ lengths in T3:20 3/5 (1½m). Wrackler finished third to Norma Bingen in the 1936 Dominion Hcp together with a couple of further placings before being retired after his third twelve year old start, unplaced in the August 1937 Federal Hcp at Addington (Kings Play). He did race (unofficial) once more at a patriotic gymkhana in the Ashburton district from 96 yards behind but to no avail.

His career stats showed 113 starts : 17 wins (13 pacing/4 trotting), 2:08.4/T2:12.0, £8,655. Wrackler was inducted into the NZ Trotting Hall of Fame.

To date Wrackler holds the unique position in NZ harness racing, and one unlikely to ever be threatened, as the only horse to have won both the NZ Cup (pacing) and Dominion Hcp (trotting), our two premier races. In addition, his dam Trix Pointer remains the only NZ Cup winning mare to have left a NZ Cup winner.

Peter Craig
10 November 2017

YEAR: 2016

MATCH RACING

In the earliest days of trotting in NZ, match races proved popular tests of speed and stamina as well as the avenue for gambling. Most tests were run over the distance of three miles although several were often of greater length - journeys of ten to twelve miles with a minimum weight limit of eleven stone. An example of this was a race run from Dunstan to Cromwell approximately 12 miles over hill and down dale on a rough road.

As early as 1864 match races were being held in South Canterbury where local champion cob Tommy(H Waldon) had won six races by mid 1865. Match races were popular in the area with distance events being run from Makikihi to Waimate(approx. 19kms) and Washdyke to Temuka(approx. 15kms). Wagers of amounts as large as £100 were placed. In 1868 a match for £200 a side was held on the Silverstream course near Dunedin between Flora Temple(E Pritchard) and Tommy(Horace Basting). Both owners rode their steeds in a race won by Flora Temple in a time of 9 minutes 39 seconds.

In the 1870s in the Wanganui area, a 16 mile race from Oroua Bridge to the Club Hotel Palmerston North and back was contested by Millie trained and ridden by Tom Hammond from York Farm near Marton. Hammond had predicted that Millie could run the journey in under one hour. Millie, of unknown pedigree, ran the 16 miles in 55½ minutes with Ron Bisman remarking in Salute To Trotting that 'Hammond...made good time. Arriving in Marton, he quaffed a shandy and pressed on'.

In Christchurch in the mid 1870s, a 12 mile race on Yaldhurst Road for £200 a side, took place between Black Boy(rider J Hamilton, breeder Mr Deans of Homebush) who trotted the distance in 36 minutes easily accounting for Hammond's Millie(now owned/trained by Frank Evans of Bulls and hotelkeeper of Rutland Hotel, Wanganui). It was stated that the straps on a breastplate cutting into her shoulder was the cause of Millie's defeat. She later raced in wagon with Marmion and also served in the Marton coach.

Another match race took place between W Kirkwood's Our Pony and Jenny(B Hale) between the Heathcote Bridge to the Caversham Hotel(later King George) on the corner of Madras Street and Ferry Road, Christchurch. Our Pony won by 200 yards earning an unknown but large stake. Subsequently taken to Dunedin, Our Pony(rider W Thompson) competed at Tahuna Park over three miles on the second day of 1881 Dunedin Jockey Club's Cup meeting for a £200 a side purse against Native Cat. Our Pony, won easily by 5 seconds(rider W Thompson, stockman for mercantile firm) from Native Cat(scr) ridden by Harry Goodman in 8 minutes 30 seconds. Match races remained popular with another taking place between Mr Harry Murfitt's Drain Road and Mr Core's Polly at Rangiora for £75 a side. On Lincoln Road, Christchurch(close to current Addington Raceway site), a match between Mr Archie Muir's Dick and champion mare Doctor's Maid was won by Dick by two chains.

A good example of a match race was held at Forbury Park on Monday 30 November 1885, the second day of Dunedin Jockey Club's spring meeting. This was also believed to be the South Island's first trotting race in harness(as opposed to saddle). The race over 3 miles for £50 a side was between Mr A Drake's Dot off scratch and Mr G Smith's Constance receiving 300 yards start. The Otago Daily Times of 1 December 1885 reported:
"Mr Drake's pony - a pretty little thing with splendid action - settled down to trot in earnest after about half a mile had been gone, and had made up 100 yards of the concession at the end of the first mile. Constance was trotting steadily, but continued to lose ground at a great rate in the second mile, and in coming round to the stand again Dot passed her, this virtually finished the race. Mr Drake pulled in his little mare during the third mile, but trotted away again in the straight a very comfortable winner."

The journey had been covered in 12 minutes 33½ seconds, a full 4 minutes 25 seconds slower than Tommy had recorded to win the handicap trotting race on the first day of the meeting on Saturday 28 November. This possibly says as much about the carts used, heavy. high wheeled, bone shaking contraptions with steel wheels, as it does about the superiority of Mr Drake's pony(with acknowledgement to the unpublished history of trotting at Forbury Park).

A New Zealand record for trotters was established during a match race between Wildwood and Prince Imperial at New Brighton on 24 September 1896. Wildwood recorded a time of T2:24.2/5TT. In his time he had been known to trot a half mile in 1:06.2/5 on Henry Mace's track at New Brighton(eventually purchased by New Brighton Trotting Club).

FRITZ v RIBBONWOOD:
Fritz, the great Australian trotter was by Vancleve from Fraulein, dam also of very good performers Freda, Franz, Frederick, The Heir and Prinz. Fritz is best remembered in NZ for a series of match races against Ribbonwood(Wildwood/Dolly) conducted on the first day of the NZMTC's three-day Easter carnival on Saturday 11 April 1903. It was one of the biggest attractions for trotting attracting interest both locally and throughout Australia. Dave Price, Ribbonwood's owner/trainer/driver issued a challenge to race any horse Australasia-wide for £500 a side, best three of five heats over a mile with each side putting up £500 or 1000 sovereigns in total for the match race. The NZMTC put up a £100 gold cup or the cash if Ribbonwood's 2:11.2/5 Australasian record was bettered. A full copy of the match race conditions agreed between Dave Price(Ribbonwood) and John Arthur Buckland through his agent Claude Piper(Fritz) can be found in Karl Scott's "Pillars of Harness Horsedom".

The crowds flocked in from all over the country - by steamer from Wellington and special excursion trains from throughout the South Island. There were many attendees also from Australia. The crowd included the country's Premier, the Right Hon. Richard John Seddon, numerous public figures and representatives of the Canterbury Jockey Club.

Matching a 4yo black NZ pacing stallion against a then 12yo bay Australian trotting gelding was likely to lead to only one result especially as Buckland had little time to ready Fritz for the match race. So it proved, before a crowd of 11,000, age won out as Ribbonwood comfortably outshone Fritz over 3 heats in mile times of 2:14.1/5, 2:13.0 and 2:10.0(new NZ record). The NZMTC then put up £100 if Ribbonwood could beat 2:10. A week later on day three of the Easter meeting, Ribbonwood lowered his NZ record to 2:09.0TT, a time which stood until beaten by his son King Cole(2:08.3/5TT) in August 1911. It is worth noting that the Addington track in those days was just under five furlongs in circumference without the banking or surface it had in latter years.

It must be acknowledged that both Fritz and Ribbonwood were great horses, superior to others of their day. Fritz was undisputed champion of Australia up until the time of the match race while Ribbonwood was the up and coming dominant horse in the Dominion. Fritz was past his best at the time of the challenge but Buckland, a true sportsman, took up the challenge although knowing the advantage lay with the younger horse. Fritz was reported by Buckland to have been working private trial miles in 2:06.0 at home but that was not to be the case when it mattered.

NATIVE CHIEF v GREAT BINGEN:
This flying one-mile exhibition match race was held at NZMTC's summer meeting on 11th February 1928 at Addington. Following five false starts, Native Chief(Logan Pointer/Regina De Or)driven by Jack Kennerley led throughout to defeat Great Bingen(Drum Withers) by three lengths in a time of 2:04.1/5 with thew first half in a minute(NZ record was Acron's 2:03.3/5 set in 1924).

KORO PETER v FIRST WRACK:
A match race between 2yo trotters was unheard of until Wednesday 27 June 1928 when the Auckland Trotting Club scheduled the 2yo Trotters' Challenge Stakes(175 sovs of which 25 sovs went to the loser), a race between the gelding Koro Peter(Peter Moko/Koro Ena) and filly First Wrack(Wracker/Pearlchild) over 1¼m. They were the first 2yo trotters to show any sort of form for many years. Koro Peter(owner/trainer/driver T Cooper) had won the Introductory Hcp(1½m) over a large all age field(23 starters) by 1½ lengths(T3:54.2/5) at Cambridge's annual meeting on 5 May 1928.

He was immediately sold for £500 to Mrs I E Sweetapple, who became one of Jack Shaw's major Auckland owners. First Wrack, bred and owned by Harry Nicoll had finished third in open company(as a 2yo against 22 other starters) in the Allenton Hcp(1½m) at Asnburton on 21 April 1928(winner Author Thorpe in T3:43.2/5). The totalisator fielded on the event with Koro Peter favourite for the North/South battle.

In Ron Bisman's Harness Heroes, Jack Shaw recalls, "It was a terrible day. The going was fetlock deep in slush, and the two horses had to frighten thousands of seagulls off the track as they went along. These birds frightened First Wrack more than they did Koro Peter, and Koro Peter managed to win after a great struggle all the way up the straight."

Koro Peter, driven by Jack Shaw beat First Wrack(Dan Warren) by 2½ lengths in T3:34.2/5. Koro Peter was sold after the match race to G McMillan for £1,000 and subsequently performed well from Roy Berry's Yaldhurst stable(leading stake earning trotter 1930). First Wrack also became a top class trotter(Sockburn/Middleton Hcp Trots).

INTERNATIONAL CHAMPIONSHIP TROTTERS MATCH:
This match race was held at a NZMTC meeting at Addington on 4 February 1933 for a stake of 200 sovereigns to the winner. The 1½ flying start event was won by Durbar Lodge's Wrackler(tr: Jack Behrns, dr: Maurace Holmes) by 1½ lengths in a time of 3:18.0. The placegetters were Olive Nelson(2nd), Todd Lanzia(3rd), Stanley T(4th) with Peterwah the other starter.

WALLA WALLA v REST
Without doubt the most star-studded match race series ever undertaken in NZ was held in the autumn of 1934. The NZMTC made arrangements for Australian champion and glamour pacer Walla Walla(1922 Globe Derby/Princess Winona) to contest a series of seven match races held throughout the country involving Harold Logan(1922 Logan Pointer/Ivy Cole), Red Shadow(1927 Travis Axworthy/Our Aggie), Roi L'Or(1923 Rey De Oro/Gold Queen), Jewel Pointer(1921 Logan Pointer/Jewel Chimes), Lindberg(1925 Author Dillon/Taruna Mary), Impromptu(1926 Pedro Promptu/Petrova) and Auburn Lad(1924 Globe Derby/Velocity) among others. These contests were enthusiastically received by the racing public with even track work of invited horses creating great interest weeks before the clashes.

Red Shadow was installed as favourite for these races with the first invitation race run over a mile(£500) on opening day of Addington's Easter carnival(Saturday 31 March 1934). Walla Walla (dr: Billy McKay, Owner: L S Martin) before a crowd of 22,000 began very fast setting a new world's best time from a standing start of 2:04.1/5 narrowly beating Harold Logan by a neck with Red Shadow in third place three lengths away. Walla Walla did not acclimatise well and was not seen at his best during the remainder of the match race series. Harold Logan was to the fore in the remaining six races beginning with Addington's second day of the Easter carnival(Wednesday, 4 April). Walla Walla put his foot through Jewel Pointer's cart and sidelined his chances with a mile to run, leaving Harold Logan(driven throughout the series by Maurice Holmes for owner E F C Hinds) to pace a slow 3:16.2/5 for 1½m(£500) winning by ¾ length from Red Shadow, Lindbergh and Jewel Pointer.

At Auckland's Autumn meeting (Saturday 28 April), Harold Logan led throughout to win again over 1¼m(£300) by 1¼ lengths on a soft track from Walla Walla, his stablemate Auburn Lad, Red Shadow and Jewel Pointer in 2:45.2/5. At the Northland club's annual meeting held at Alexandra Park(Monday, 30 April), C Moran's Impromptu(dr: Jack Shaw) defeated Red Shadow by a short neck with Harold Logan third after drifting off the rails at a vital stage. They were followed in by Auburn Lad, Lindbergh and Worthy Light in the 1¼m(£200) journey on a muddy track in 2:42.2/5. Walla Walla did not start.

Next it was Forbury Park's turn(Wednesday 9 May) where the muddy Track was so bad horses were required to race in the middle of the track. Harold Logan beat Walla Walla(the only starters) who had set a strong early pace by half a length over 1 mile(£250) in 2:13.1/5. Moving onto Oamaru three days later(Saturday 12 May) Harold Logan prevailed over 1¼m(£300 plus trophy) from Red Shadow, Walla Walla and Roi L'Or in a time of 2:43.1/5. The final match race in the series was held a week later at Wellington's Hutt Park(Saturday 19 May) where Harold Logan recorded his fifth win in the seven race series, this time over 1¼m(£250) in 2:42.0 by a short neck from Impromptu, Red Shadow, Walla Walla, Auburn Lad, Lindbergh and Glenrossie. It was later revealed that Walla Walla had been suffering from a severe cold.

VAN DERBY v LAWN DERBY:
A match race between descendants of Ribbonwood(grandsire of their dam Roselawn) in half brothers Van Derby(Globe Derby/Roselawn) and Lawn Derby(Robert Derby/Roselawn) for £200 appearance money took place on Alexandra Park's then, six furlong grass track during the 1938 Christmas carnival(Saturday 31 December 1938, third day). Van Derby trained and driven by F J(Wizard)Smith outlasted Lawn Derby(Jack O'Shea) by half a length in an Australasian grass track flying mile record of 2:01.1/5(half 1:00.3/5). This time equalled Indianapolis's dirt track record, which had been the best in Australasia until Lawn Derby's 1:59.2/5 at Addington in November 1938, the first time 2 minutes had been bettered outside North America. Van Derby later time trialled at Epsom, Alexandra Park in 2:00.2/5(11 February, 1939). The achievements of these two champion pacers alone would merit their own story.

GOLD BAR v HAUGHTY:
At a special Patriotic meeting held at Addington on 27 March 1943 to raise funds for the war effort, Haughty(dr: Ossie Hooper) and Gold Bar(dr: Free Holmes) raced over a mile. Their battle saw Haughty prevail by two lengths in a new Australasian mares record of 2:00.2/5. Both horses established mile records of 1:59. 3/5TT - Gold Bar on 2 January 1942, second Australasian horse under two minutes after Lawn Derby and Haughty the third under two minutes on 11 November 1944, a NZ and Australasian mares record. They were the winners of three NZ Cups between in the mid 1940s(Haughty two, Gold Bar one).

JOHNNY GLOBE v OTHERS:
At Timaru on 7 March 1953 Johnny Globe took on several other superstars of the early fifties in Van Dieman, Burns Night, Vedette and Soangetaha over one mile. Between them, they were the winners of 2 NZ/GN derbies, 2 NZ Cups, 3 NZFFA's, 2 Auckland Cups and an InterDominion Grand Final. Johnny Globe prevailed on the grass in 2:04.2/5(first quarter in 30 seconds, half in 1:02.2/5) from Van Dieman and Vedette. To see screen footage of the even, google 'Timaru Harness Nostalgia' and enjoy.

PETITE EVANDER v NIGEL CRAIG:
Petite Evander was ready to fly out to North America so a match race was organised at Alexandra Park to take place at the Thames Club's meeting on 26 March 1977. In the preceeding month, Nigel Craig(Bevan Heron) had become Australasia's first sub two-minute trotter when he time trialled in T1:58.8 at Addington on 19 February 1977. Just three weeks later, Frank Weaver's Petite Evander(driven by John Langdon) became the first Australasian female trotter to break two minutes with her T1:59.8TT at Alexandra Park on 12 March 1977. The match race proved farcical with Nigel Craig dawdling through his first half in 1:06, three-quarters in 1:40.9 before sprinting home the last quarter in 29.9 winning by a half head in a ridiculously slow T2:10.8 for such quality trotters. This would appear to be the last match race held in NZ.


Credit: Peter Craig writing in Harnessed April/May 2016

YEAR: 2011

AIR TRAVEL IN 1930's

It was the 1930s when Addington earlybirds were "buzzed" by a low-flying plane swooping across the course, with big waves from two passengers.

By 11am, one passenger, Ces Donald, was back at Addington to drive trotter Stand By in the first race. Stand By won, and Donald became the first horseman to drive at Auckland's Alexandra Park on one day and at Addington in Christchurch the next.

Among his Addington runners was the appropriately named Lindbergh in the feature race. Donald was anxious to drive his horses at both venues, and be in Christchurch to arrange entries for the meeting's last day. However, the conventional route - an overnight train to Wellington and the ferry to Christchurch that night - made that impossible.

Donald left Alexandra Park at 5.30pm and caught the Limited Express to Wellington at 7pm. He had arranged for the guard to rouse him and his travelling companion, Fred Kidd, so they could leave the train at Feilding about 6am.

A prominent pilot, Captain McGregor, had flown to Feilding from Christchurch the previous day. Donald and Kidd boarded the plane about 7.30am and the flight to Christchurch was uneventful. Donald was at Addington before 11am.

"It was my first trip in an aeroplane and there was no problems," Donald said at the time. "I did not do it just to drive Lindbergh. I have a lot of horses here and they need my attention."

"A lot of horses" was right. By 1937, he had 161 horses in his care in an era when 10 comprised a large stable.

However, the flight was not the only first for Donald. He started training in 1922, and 50 years later became the first trainer in any code to win 1000 races.

Credit: David McCarthy writing in The Press 7 Jan 2011

YEAR: 2010

The major 5.1 magnitude aftershock in Christchurch this morning at 7.49am has led to the abandonment of tomorrow nights (Thursday) Harness Meeting at Addington Raceway.

The decision to abandon the meeting was made by the Club in conjunction with HRNZ officials.

Addington Raceway CEO, Shane Gloury, explained. "Everybody here worked so hard to get the place ready to go after the weekend, but this mornings' aftershock put us back to where we were after the first quake.

"There is a range of issues that necessitated the abandonment. There is damage in many of our major rooms in the Metropolitan Stand – we've had ceiling tiles and light fittings that have collapsed and have been strewn across the floor, TV's that have been destroyed, broken glassware and crockery and our lift has also been damaged. Many of the rooms are a mess.

"We also have the Welfare Centre at the Raceway in the Twiggers Stand There were 280 people that stayed here last night and that number is expected to swell after this morning's aftershock which means that the Welfare Centre will require use of more rooms and facilities here over the next 48 hours. The Drivers' Rooms and First Aid areas are also currently being used as a quarantine facility for those that are ill.

"Engineers inspected our building structures this morning not only to ensure the safety of those in the Welfare Centre, but also the other buildings that we use on race night. On a positive note there has been no structural damage to any of our buildings and the racetrack, lighting towers and stables all appear to be fine."

"When you consider that tomorrow night's racemeeting was to be at night, the wider obligation we now have to the community in respect of the Welfare Centre and the fact that aftershocks could occur during the racemeeting which could potentially threaten the health and safety of patrons, participants and workers, the decision became easy. There's just too much risk involved to allow us to proceed with the racemeeting tomorrow night."

All events scheduled at Addington Raceway through until Sunday 12 September have been cancelled including two greyhound race meetings and the Great NZ Craft Show. Addington expects next Monday's trials to be conducted as planned and that harness racing will resume next Friday night for the feature Avon City Ford/Ordeal Cup meeting.


Credit: Shane Gloury

YEAR: 2006

Friday, 21 April 2006 saw the publication of the last issue of the Friday Flash. As the name suggests the "Flash" was a weekly paper that covered all the weekend galloping, harness (and later) greyhound race meetings, track work and trials form and articles of general interest to followers of racing.

When it was first published on 22 June 1956, the "Flash" was confined to racing information, but over recent years, in an effort to bolster the paper's appeal, was expanded to cover a wide range of sports.

Over the years the "Flash" had been the source of much valuable information for both the punters and those with an interest in racing. Its demise will be sorely felt.

Credit: C G Steele

YEAR: 1980

INTRODUCTION OF CLAIMING RACES

The Waikato club championed the cause of claiming races, which made their NZ debut at the Claudelands track on November 12 after the usual hoo-haa which greets anything new in trotting. Toronui who ran second last behind Regal Classic, was bought by Kevin Holmes for $7500 and has since won races in North America. Manurewa was claimed for $6000 at the Waikato club's next claimer in December and went on to win at Alexandra Park in May. The December claimer was won by Soanai Chief, a massive gelding, who won the Waikato's third claimer in March. There was also a claimer at the Northland meeting in February but again no horses changed hands.

Addington's sole claimer was a fizzer, with no horses being sold, but there was plenty of publicity after the race, won by ofter controversial gelding Scholar on November 18, a mobile 2000m event worth $2500, penalty free (except for maidens) with no restrictions, attracted 14 starters with punters investing only $44,105 in win and place bets.

The favourite Flaxton, valued at $10,000 by his connections, ran ninth. Scholar (Bob Negus), valued at $10,000 but out of the money in four lead-up events, won effortlessly, paying $6.05, earning the wrath of the crowd which gave the gelding one of the worst receptions accorded any winner at Addington. Negus was most upset by the demonstration. He maintained Scholar, a c3 pacer looked a good thing on paper before the race as most of his opposition were maidens or c1 pacers. Whatever the reasons, Scholar's claimer was the last at head-quarters.

Credit: DB Trotting Annual 1981

YEAR: 1979RECORD PLACE DIVIDEND?

Divvies don't often come better than this, if ever...pictured is Royal Victory whom we believe paid a record place price away back in 1950.

Trained by F F Scott (seen here in the cart) who was granted the first trainer's licence in Nelson in 1916, and driven by K Purdon, Royal Victory was beaten half a head and three lengths at the Marlborough Trotting Club's meeting in January that year.

And the record price? A mere £112/19/6...that is $225.95 these days.

Credit: Graham Ingram writing in NZ Trotting Calendar 28Aug79

YEAR: 1979HEROES ON COURSE

Every boys dream...to meet a genuine war hero. And it is twice the pleasure for Gary Argyle, Simon Philip and Campbell Lochhead as they shake hands with two Victoria Cross winners, Charles Upham (VC and bar) and Jack Hinton, seen here with Mid-Canterbury trotting identity Colin McLaughlin (right) at the Ashburton races the other day. Mr Upham owns the broodmare Lansdowne, named after his Parnassus, North Canterbury property, and Mr Hinton, from Auckland, races Special Fella in partnership.

NOTE: The road that runs through the Addington property from Whiteleigh Avenue to Wrights Road is named "Jack Hinton Drive" in recognition of Mr Hinton.

Credit: NZ Trotting Calendar 9Oct79