| | |
| --- | --- |
| | INTERNATIONAL HISTORY |

China land a robotic space probe on the dark side of the moon

Japan's Emperor Akihito abdicated in April 2019 making way for his son Naruhito to succeed him

April 15, Notre Dame Cathedral in Paris caught fire destroying the spire and most of the roof of the beloved 850-year-old cathedral

Anti-Government protests began in Hong Kong in June against a bill to allow the extradition of people to mainland China to stand trial. Although withdrawn in September, clashes continued

British PM Theresa May resigned over Brexit, succeeded by Boris Johnson

Donald Trump only third US President to stand trial on impeachment charges (18 December 2019)

Wildfires destroyed much of the Amazon Basin rainforest


Credit: Peter Craig


| | |
| --- | --- |
| | LOCAL HISTORY |

February/March – Wildfires in Nelson cause thousands to evacuate their homes

15 March - Fifty people are killed and 49 wounded when a far-right gunman attacks worshippers in two mosques in Christchurch

1 June – Harness Jewels held at Addington Raceway for first time

22 October – The Skycity Convention Centre catches fire while still under construction, causing significant disruption in the Auckland CBD.

9 December – eruption of the active volcano White Island (Whakaari), killing 21 persons at the scene or subsequently of burns of internal injuries


Credit: Peter Craig


| | |
| --- | --- |
| | RACING HISTORY HORSES |

Patience was rewarded and the winner's podium overflowed with happy owners when Chase Auckland sprinted to victory in the New Zealand Free-For-All at Addington yesterday.

Driver Tim Williams helped the All Stars pacer get group 1 rewards for his consistent spring when securing a perfect run in the trial that set up the 5yr-old's win.

The win meant the Addington Birdcage was again flooded with jubilant owners as the large Alabar Racing Syndicate celebrated their pacer's first win in an open class group 1 feature.

Syndicate manager, Ivan Behrnes, poured praise on Williams after the race and not just for his cool and calm drive.

The reinsman has been instrumental in helping Chase Auckland developing in to a genuine open class force, Behrnes said.

"He can be a bit of a handful, as you could see after the race, but he has been really in the zone in his races this season."

"It is a credit to Tim, you can often see them just going around in the prelim on his own, keeping him relaxed."

"They have really got a great combination since he has become his regular driver."

A patient approach from his trainers has also been key to Chase Auckland developing from one-time age group star to top line Grand Circuit performer.

All Stars trainers Mark Purdon and Natalie Rasmussen did not rush the horse after he suffered a muscle problem that set his 4yr-old season back.

"Mark and Natalie kept saying be patient, he wasn't ready for these kind of races last year, it was too soon for him," Behrnes said.

"But this season everything has gone perfectly and he has looked a picture."

"He has had a fantastic build up, he has looked a picture and we were hopeful he could develop in to a stayer."

"He has always had the speed, which you could see again today."

Many expected Chase Auckland to blast off the arm and easily slot in to the trail behind the likely leader, Classie Brigade.

That was not the case when the newly relaxed Chase Auckland was too chilled out behind the mobile and did not display the blazing gate speed he has in the past.

"I was back off the gate - It's the first time he has raced from behind the mobile this season," Williams said.

"But it just shows how quick out the others were."

Despite the early moves not playing out as expected, Chase Auckland and Williams still landed in the trail behind Classie Brigade.

In a complete turnaround in race fortunes from the New Zealand Cup, the breaks went Chase Auckland's way when they went against his stablemates in the New Zealand Free-For-All.

Spankem was unable to take the lead from Classie Brigade and Cruz Bromac went roughly, losing a handy spot.




An overflowing winners podium after Chase Auckland's FFA win

On Tuesday, Chase Auckland copped the bad luck in Cruz Bromac's New Zealand Cup.

The pacer was forced to make his run wide on the track after two of his rivals started stopping quickly in front of him.

The Auckland Reactor gelding charged home pacing the fastest closing 400m and 200m sectional times of the great 3200m race. The Alabar Racing Syndicate were left wondering what might have been after having to settle for fourth placing.

"We were so disappointed on cup day, he was in a excellent spot and Tim drove him tremendously," Behrnes said.

"He was ready to go today after running the fastest sectionals in the cup."

"It was a huge thrill."

Classie Brigade, who also came out of the New Zealand Cup with a hard luck story held second in the New Zealand Free-For-All, a length from Chase Auckland.

Cruz Bromac recovered from his early gallop to produce a huge performance to run third.


Credit: Johnny Turner, Harness Link Media, 15 Nov 2019; Reprinted with permission of HRNZ


| | |
| --- | --- |
| | RACING HISTORY HORSES |

The most unlikely New Zealand Cup of champion trainer Mark Purdon's career meant so much more because he didn't drive the winner.

Purdon provided the training quinella in the $750,000 New Zealand Cup at Addington yesterday but had to settle for second as a driver, as Cruz Bromac surged past his drive Spankem in the last 50m.

But for Purdon the win means as much if not more than if he had clung on to win the race himself because of the man in the sulky behind Cruz Bromac.

Blair Orange has won the last two national driver's premierships but to any Canterbury harness racing driver, the New Zealand Cup is the holy grail and Purdon was thrilled to provide his former protege with the chance to get his hands on it.

Orange was a long-time employee of Purdon's famous All Stars barn and a close personal friend of Purdon, who has stuck by him in the toughest of times.

He originally wasn't in the frame to drive Cruz Bromac, who divides his time between Victoria and New Zealand. But through a series of events, including other horses being injured and other drivers being unavailable, Orange got his Cup with an inch-perfect display.

"I am thrilled for Blair," said Purdon.

"He did a great job when he worked for us and has been very successful since he left.

"So to be able to give him the drive on a Cup winner is immensley satisfying for us. He is a good guy and he deserves it." Orange sure did after the drive he pulled off, firstly managing to negotiate the standing start safely with Cruz Bromac, who only rejoined the All Stars three weeks ago after spending the whole year in Victoria. They don't have standing starts in Victoria any more so that first mini win was crucial.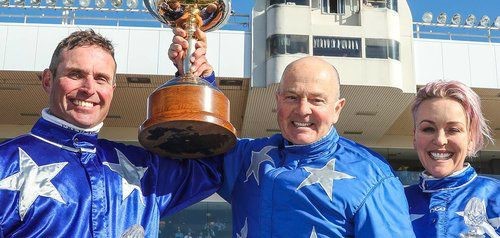 Once safely away he has to wrest the lead off Classie Brigade and that could have left him vulnerable as Cruz Bromac is probably best known as a sprinter but the sedate Cup speed of 3:56.9 and the inches Orange saved around the marker pegs proved the difference.

He grabbed Spankem, who had worked to the lead at the 1400m mark late and only by a neck, with Classie Brigade slightly luckless when forced to change ground in the home straight in third just ahead of Chase Auckland. Defending champion Thefixer was a battling fifth.

There was great irony in Orange partnering Cruz Bromac to win as he had only driven him in public once before.

That was when he failed to even qualify him in an early trial when Cruz Bromac was trained by Mark Jones before being sold to Australian interests and then coming back across this side of the Tasman to join the All Stars last year.

He won the NZ Free-For-All then and could return to that race this Friday and now looms as a major contender for the Inter Dominions which begin at Alexandra Park in 16 days.

Cruz Bromac's win yesterday ticked him just over $1million in stakes and suggests the Australians could have a far greater role to play in the Inter Dominions than would have been expected even a few weeks ago.

The horse who beat him in the Victoria Cup three starts ago in Bling It On is being set for the Auckland series while local stars like Self Assured have fallen by the wayside and while Cruz Bromac is officially trained here he will be very much claimed by the Australians as one of their's come the Inters.

For Purdon it was his seventh New Zealand Cup training success as he continues to pen new pages in the record books with no end in sight.

But that wasn't why he was smiling last night. He was beaming because of what he had done for a friend.


Credit: Harnesslink Media, 13 Nov 2019, Michael Guerin


| | |
| --- | --- |
| | RACING HISTORY HORSES |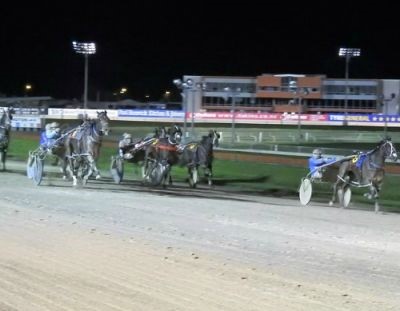 It is a harness racing truth that you don't second guess people in harness racing with the names of Mark Purdon and Natalie Rasmussen.

If you were a doubter you would not have been after Friday night at Addington.

They produced an incredible training feat to win the 3200m Easter Cup with Turn It Up. Probably Mark can take the credit for concluding after his recent Rangiora trial that he could win a race of that calibre first up in two months. Even in the new age of open class racing where stars rise and fall much faster than they used to it was an extraordinary feat to win his second 3200m G1 at just his 11th start.

Mark never lacked confidence in the move after Rangiora.

"He hasn't raced for a while but he is a very athletic type and while he wasn't racing he was doing conditioning work up north before coming down to us so I don't think it is beyond him"

Admittedly, after Mark used him early to take the lead and then trailed, Turn It Up was stretched to hold out A G White Sox but in a 3.58 and change in a charge through the slush it was still a great effort.

But, to be fair the New Zealand Cup winner, Thefixer, lost no caste in defeat.

He renewed memories of the (good?) old days of handicap racing. Starting from behind the front line means at some stage you have to go around the field. Turn It Up got rid of that early to reach the lead but Spankem and Thefixer weren't going to manage that .

Thefixer moved around and sat parked then Spankem took over that role so Thefixer would have run about the same time as the winner,

Not to forget Elle Mac went a great race too under the radar perhaps.

The Turn It Up is a fairy story in most respects likely to be a pointer to the 2019 New Zealand Cup. Mark selected him in Australia largely for his treasued friend Neil Pilcher and the ghost of that special man, with the trademark sly grin, surely hovered over Addington on Friday.

It was typical of Mark and Natalie they had handed a share in the horse to Neil's brother Lee

Credit: Harnesslink Media, 6 Apr 2019, Courtesy of All Stars Stables


| | |
| --- | --- |
| | RACING HISTORY HORSES |

An old-fashioned workload produced a new best version of Habibi Inta in the $300,000 Dominion at Addington yesterday.

And after his graphic demolition job in our richest trot the big stallion has thrown down the gauntlet to his rivals in the Inter Dominion Trotting series which starts at Alexandra Park in 13 days.

Habibi Inta made the most of a perfect Blair Orange drive and the early gallop of favourite Oscar Bonavena to bolt away with the group one, giving Orange the dream double of Cup week after his New Zealand Cup on Tuesday.

Already a group one winner at the Harness Jewels two seasons ago, Habibi Inta went to a whole new level yesterday and that was after some tough love from trainer extraordinaire Paul Nairn.

"After he won at Kaikoura last week I kept the work right up to him," explains Nairn.

"I knew he would have to be fit, really fit for the 3200m and he handled the work beautifully.

"I thought he could win because he was so fit but I'll be honest, I didn't think he could do that."
 It was a career statement win from Habibi Inta as he sat off the hot speed set by Marcola and jogged past him at the top of the straight.

It was a dramatic reversal of their previous clash at Ashburton when Marcoola thrashed him by 13 lengths, showing how the right horse on the day wins the group ones this season.

Nairn will now bring the big, muscular six-year-old to Auckland for an Inter Dominion where some of his key rivals have question marks hanging over their heads.

Aussie raider Tough Monarch was a brave second yesterday capping a great week while veteran Monty Python surged into third while Marcoola was out of gas at the top of the straight.

Another Australian visitor in McLovin suffered a case of the thumps but should be good to go for the Inters, a series Oscar Bonavena will miss.

The latter was slightly checked into a gallop after 400m when horses galloped both inside and outside, leaving trainer-driver Mark Purdon enormously disappointed as he tailed off. Punters didn't enjoy it much either.

But Purdon bounced back two races later when Chase Auckland made the most of the trail-passing lane run to win the $200,000 NZ Free-For-All.

A brave and luckless fourth in the NZ Cup three days earlier, Chase Auckland got all the luck this time as he was destined to be three back on the inside but Cruz Bromac galloped when heading to the lead, which left Classie Brigade in front and Chase Auckland in the luxury spot.

All the main players from the F-F-A will head to the Inter Dominions where they will be met by a fresh wave of Australians.



Credit: Harnesslink Media, 16 Nov 2019, Michael Guerin


| | |
| --- | --- |
| | RACING HISTORY HORSES |

The NZ Oaks was won easily in the end but it might well have been won at the beginning.

Natalie, in superb form with three Group wins from three drives, thought so when she was able to swing in from three wide and get in front of Belle of Montana.

But her decision to improve in the middle stages to take the front while the sectionals were a little relaxed was the key to an easy win.

"She felt good and I though I will be off and make the ones most likely work to beat her. She never really felt like she would be beaten in the run home. A great filly and she was on her game tonight"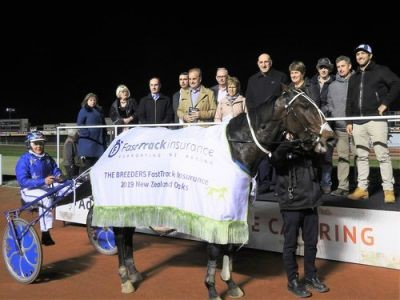 The win heightened the 3yo Filly of the Year award contest which Belle of Montana looked to have a lead after the Nevele R last week. Now it is likely to come down to the Harness Jewels in two weeks.

Princess Tiffany ran close 3.08 for the 2600m breaking by close to a second the record set by Spanish Armada two years ago. She continued a great run for owners Phil and Margaret Creighton and Braeden and Caroline Whitelock who separately set new records on the night.

One aspect of that was that the Whitelocks Kayla Marie completed a "double second" chasing Belle of Montana home in the Nevele R Final and Princess Tiffany in the NZ Oaks.

Bubbled Up again looked a little off her peak finishing midfield after having enjoyed a nice run


Credit: Harnesslink Media, 18 May 2019; Courtesy of All Stars Racing Stables


| | |
| --- | --- |
| | RACING HISTORY HORSES |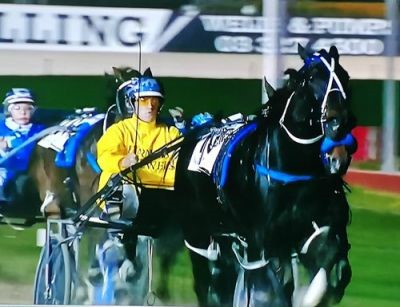 Belle Of Montana continued her Australian winning form by beating the best harness racing 3yo fillies New Zealand had to offer when winning the $134,400 Gr1 Nevele R Fillies Series Final at Addington tonight.

Run at a hectic pace the fillies final was ideally set up for the Barry Purdon trained Belle Of Montana (Bettor's Delight - Lady Cullen).

While the leaders were duelling hard early, driver Zachary Butcher was giving Belle Of Montana a beautiful run on the outer and when the leaders started to battle at the 400m Butcher quickly pounced with Belle Of Montana.

She flew home down the middle of the track to win by half a length and beat Kayla Marie who had tracked her into the race at the turn. There was a further 4lengths away to race favourite Princess Tiffany in third.

A buzzing Zachary Butcher got a big thrill out of the win.

"To be honest that was one of the biggest thrills I have had in a long time," he said after the race.

"Sitting on a filly as good as this one and to be where she was with a lap to go aginst good horses and the way she rounded them up, that was pretty awesome," he said.

The leaders ran their first 800m of the race in a tick over 55 seconds.

"That was always going to suit her, she always comes home good off the speed and thats her style," Butcher said.

"She is as quick as any horse I have driven and when they went that hard early and we got a good drag into it, I still had a good handful of her. I thought then, we are a good show here and she put paid to them.

"She is getting better and better and is learning to race and is so relaxed and will never overdo herself. When you ask her to go there is always more in the tank," he said.

Belle Of Montana who has now won 8 of her 10 lifetime starts ran the 1980m mobile in a new 3yo fillies New Zealand record time of 2-20.5 which equates to a mile rate of 1-54.1

Next up for the Bettor's Delight filly is the Gr1 $150,000 New Zealand Oaks next Friday before heading on to the Harness Jewels on the 1st June.

Currently Belle Of Montana has a stranglehold on the No1 position on top of the 3yo Diamond Harness Jewels Leaderboard with double the stakes of the second placed Best Western.


Credit: Harnesslink Media, 11 May 2019


| | |
| --- | --- |
| | RACING HISTORY HORSES |

Popular Canterbury reinsman Bob Butt scored the first New Zealand Group 1 win of his career when Lotamuscle downed hot favourite Enhance Your Calm in a thrilling finish to the New Zealand Trotting Derby.

Enhance Your Calm looked to have the 2600m feature in safe keeping before the Paul Nairn-trained three-year-old dashed at him to put his nose in front right on the line.

The victory was the second Group 1 win of Butt's career, following his 2015 Australasian Breeders Crown win with Conon Bridge.

Notching his first on home soil in a classic race meant Butt was sporting his well-known cheeky grin after the race.

"I have always wanted to win one - to do it in a Derby is a big thrill," he said.

One of Butt's first thoughts following his milestone win was to critique his own recent steers.

Lotamuscle's flying late finish has them convinced the reinsman is giving the horse a cold shot at the leaders, may be the key to him showing his best.

It is the exact same tactic that has seen Lotamuscle win the two biggest three-year-old trots of the season so far – the Hambletonian Classic and the Derby.

"I have probably driven him wrong; because he is a nice horse, I have been putting him handy.

"But twice I have driven him with a sit and he has bolted in – in this race and in the Hambletonian."

While Butt is a novice at winning Group 1 trots, it was a familiar feeling for master trainer, Paul Nairn.

Butt was almost in awe of the maestro's pinpoint training to have Lotamuscle set for Derby glory.

"He is just unreal."

The Derby looked in the bag for the red-hot favourite, Enhance Your Calm, when he pinched a two-length break on the field after leading throughout.

Butt said even he was doubtful his horse was going to pick up the leader.

At that stage, he was more confident of running down the third placegetter, Tricky Ric and driver Joshua Dickie.

"I knew I was going to run second easy. I could see Josh battling away.

"But, with the way Enhance Your Calm won last week I wasn't sure.

"But my horse just chased him."

Though he was not offering any excuses, Enhance Your Calm's co-trainer and driver, Mark Purdon, confirmed what many of the horse's backers would have suspected.

The horse simply did not lift quickly enough once Lotamuscle started coming at him.

Tricky Ric held third, five lengths ahead of One Apollo.

The fourth placegetter went a big race, after being one of the only horses to make a midrace move to sit parked.


Credit: NZ Harness News, 6 Apr 2019; Johnny Turner


| | |
| --- | --- |
| | RACING HISTORY HORSES |

The Aussies have sent shockwaves through the Australasian trotting ranks with a dominant one-two in today's Commodore Airport Hotel Free For All.

Tough Monarch led all-the-way to salute in the $100,000 Group 1 in track record time, with Rickie Alchin's New South Wales trotter narrowly holding off fast-finishing Victorian McLovin, who was a clear second for Andy and Kate Gath.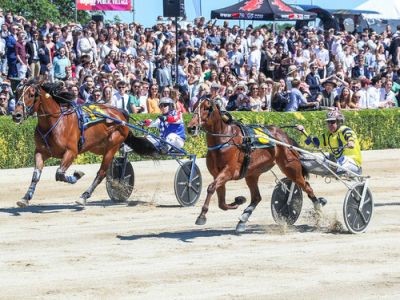 Winning reinsman Anthony Butt, who arrived on track only minutes before the big race owing to a delayed flight, said he "could feel (McLovin) coming up the straight" but held on to win narrowly.

"It's a big thing for an Aussie horse to win a Group 1 over here, it doesn't happen very often," Butt said. "Good on them for giving it a go and getting the result.

"(Tough Monarch) has come on in leaps and bounds the last 12 months. Big credit to Rickie, he's handled it beautifully and I'm very lucky to be on it."

The result will only further fuel speculation, revealed pre-race by Adam Hamilton, that McLovin's on-again off-again tilt at the forthcoming Inter Dominion may be back on again. More is expected to be known at weeks end, Hamilton said on the Sky Racing Active coverage.

For the victor, the win is enormous reward for Alchin, who invested great patience into Tough Monarch.

Starting his life in Queensland, the young colt looked set to be a case of a talented horse who went off the rails, having been considered unsuitable for racing due to his headstrong nature.

That was until talented young trainer Alchin broke the horse in.

Tough Monarch then went to Dennis Wilson, who had trained the trotter's mother in the latter part of her career, but two or three preps later and he had done all he could to little avail.

"I had always had in the back of my mind that I'd like to have a go with him if the opportunity ever came up," Alchin said. "Make no mistake, when I broke him in he was very difficult to handle, but you just couldn't get to the bottom of him on the track, he was so strong.

"I said to Dennis (Wilson) that if he ever had enough that I wouldn't mind trying him out and that's how it all sort of unfolded."

Almost four years later, the horse that was once destined for the scrap heap in an international Group 1 winner.

Credit: Hanresslink Media, 12 Noc 2019; HRV Trots Media


| | |
| --- | --- |
| | RACING HISTORY HORSES |

Tough staying trotter Speeding Spur went back to back in the Gr1 $90,000 NZ Trotting Championships tonight by leading all the way and proving too strong at the finish for harness racing driver Josh Dickie.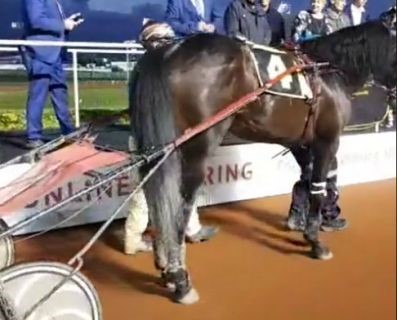 In last years edition of the race Speeding Spur led and stuck his nose out at the right time to win narrowly and this year was a repeat of that with the Pegasus Spur horse lasting by a neck from a game Sundees Son who broke late when challlenging him close to the line.

An emotional Josh Dickie gave credit to the horses toughness after the race,

"This horses courage is unbelievable really," he said.

"We have had a bit of an up and down campaign since winning the Free For All here during Cup Week.

"I was quite happy to just pull back last week and let him run home, but tonight we wanted to lead up and let him dictate like he likes to do.

"Dad and I had confidence in him and he has backed that up tonight," he said

Speeding Spur trotted the 2600m mobile in a slick 3-17.9 in the wet conditions with a last 800m in 58 seconds with a closing 400m in 29.6 seconds.

Credit: Harnesslink Media, 5 Apr 2019


| | |
| --- | --- |
| | RACING HISTORY HORSES |

"It seems surreal -but its actually real" -that sum up by Mike Woodlock co-owner of One Change with Trevor Casey and All Stars, seemed to sum up the remarkable rise of the two year old with his five for five win in the $170,000 Sires Stakes Final at Addington.

As for Trevor tears came to his eyes as he remembered his long time partner, the late Neil Pilcher, an original owner of the youngster after he was passed in as a yearling for $20,000

Bought post sale by the stable for $30,000, Neil's share was taken up by All Stars on his death and Mike, a retired teacher at St Andrews College who helps out at All Stars, was offered a share. He had previously raced a horse successfully with "Pilch".

As chief admirer and handler Ashleigh said "the dream continues" after One Change, looking headed by Flying Even Bettor close to the post kicked back to win.

Natalie had given him the run of the race but said afterward it went "nothing like I expected"

"I didn't know how much gate speed he had because he hasn't be used out of the gate previously. But he had it and we got the break.

I wasn't sure we'd won. Flying Even Bettor, which went a terrific race came back at us and I wasn't confident at all"

One Change has now won over $200,000 not a bad return on his yearling price.

He now heads to the Jewels and possibly the Breeders Crown in August if all goes well in the interim.

"He's done nothing wrong and shown he has the early speed as well" Mark said

"Smooth Deal was disappointing and he will come out of the Jewels on that run. He is going backwards when he should be going forward"

His recovery rate raised questions as well, Natalie said later.




Credit: Harnesslink Media, 18 May 2019; courtesy of All Stars Racing Stables


| | |
| --- | --- |
| | RACING HISTORY HORSES |

Dream About Me further cemented her status as the queen of New Zealand harness racing with a crushing win in the Group 1 New Zealand Standardbred Breeders Stakes at Addington on Friday night.

The Mark Purdon and Natalie Rasmussen-trained millionaire ran her rivals in to the deck to claim her eighth top level title in the $100,000 feature.

The win sealed an incredible evening for the wonder mare's owners, Aucklanders Charles Roberts and Paul and Mary Kenny.

The father, daughter and son-in-law also enjoyed success at Alexandra Park when Adore Me's first foal, Sweet On Me, won her debut.

The blueblood two-year-old filly registered the second New Zealand victory for sire, Sweet Lou, who stands at Roberts' Woodlands Stud.

The stallion's first New Zealand win came earlier in the night, when the Purdon and Rasmussen-trained two-year-old, Virgil, scored in maiden company.

Paul Kenny said his family's success at both ends of the country made for an incredible evening.

"It was a big deal for us with Sweet Lou, we have invested a lot in the Southern Hemisphere rights for Sweet Lou and to have a colt and a filly win tonight, on the eve of the yearling sales, is just enormous for us through our connection with Woodlands.

"It is a big celebration all around."

Kenny said his camp were hopeful, but not overly confident, about Dream About Me's chances of turning around her below-par effort at Addington in the Premier Mares Championship at Addington two weeks ago.

"I think knowing the horse – and we had a talk to Mark and Natalie and we had a talk to Tim after she last raced – we were hopeful.

"It was great to see her do that at Addington."

The Kennys shared their good fortune by donating $500 to Harness Racing New Zealand's teal campaign after Dream About Me's win.

Driver Tim Williams made Dream About Me's rivals work to beat her when applying pressure in the back straight the final time.

And they were simply not up to the task.

"Especially over 2600m tonight, I wanted to make sure that I had everyone off the bridle at the 500.

"And credit to the horse, she was able to do it.

"She was out of the early burn and she was able to catch her breath early and work in to the race nicely and she was good enough to take advantage."

While Williams and Dream About Me were about to ramp up the pressure from the half-mile, her stablemate Elle Mac was dropping out of contention.

The hot favourite produced the shock of the race when struggling to keep up when starting the last lap of the race.

Driver Natalie Rasmussen was forced to ease Elle Mac out of contention after the tube of one of her sulky wheels came off its rim.

Stewards found that was caused by Dream About Me hitting the wheel, when racing fiercely earlier in the race.

The win was Williams' 13th at Group 1 level and fourth with Dream About Me over a period of nearly four years.

Williams was quite clear about how he rates the star mare's impact on his career after their win.

"I think other than my family, she might be the next love of my life."

Visiting Auckland mare Step Up ran on better than any other horse back in the field to run second to Dream About Me.

Enchantee took inside runs to grab third.

Credit: NZ Harness News, 16 Feb 2019


| | |
| --- | --- |
| | RACING HISTORY HORSES |

11 Group One wins in a career of 41 races is honour enough. Being in the first 5 in 37 of them and never finishing further back than 6th when she completed a race wasn't bad either. And lets not forget those those 12 wins in a row from start one which had the harness world ga-ga.

Dream About Me was certainly something special.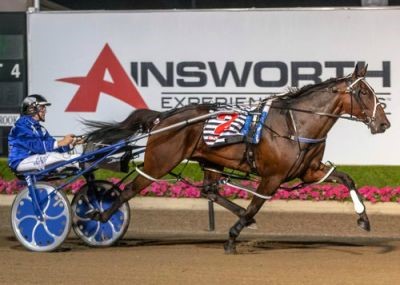 Her first start and win was in a Sires Stakes heat at two and three starts later she won the Sires Stakes Final and then the Harness Jewels Diamond.

She then went to Australia and was unbeaten there at two culminating in the Breeders Crown for fillies. She went back in the summer and won her first four starts went down to Tell Me Tales in 1.49.3 in the Robin Dundee before winning the NSW Oaks. She did not get back to Australia until this year when she lost her only race in Australia (1.49.3 mile behind Tell Me Tales) before winning the Ladyship.

Three campaigns in Australia and the three leading female Group Ones, one for each trip. Not bad.

If it wasn't for Adore Me's 1.47.7 win in the Ladyship Mile in 2015 that champion mare would have to bow to her "cousin" on the Australian front. Adore Me had to settle for second in the Ladyship Mile (to Vansumic in 1.51) on her first trip to Australia and won the G2 Brian Hancock leading into her success in that race in 2015.

Dream About Me was well underdone when her winning streak was ended by Golden Goddess on her return from Australia but she won the Nevele R Final at her next start, added the NZ Oaks next start and was then cruelly beaten in the Harness Jewels flying home from a woeful draw for third

After a warm up win at Ashburton at four she easily won the Junior Free for All on Cup Day before being set for the Auckland Cup. A four year old mare winning a 3200m staying race in 3.55.4 is something you don't see every season, maybe not even every decade.

"Splendour" went through a bad patch after that. Foot trouble ended an Australian campaign before it began and continued to plague her so that it was not until October she resumed now with Tim Williams

She took time to hit her straps but was always in for the fight and when you are going down to Lazarus by half a neck in the Ashburton Flying Stakes you are doing something right.

But nothing went right on Cup Day. Drawn on the second line and stopped in her tracks at the start she took no part. Ok so beating Lazarus was going to be a challenge but she was ready for the run of her life.

After being fourth in the Free for All she was hit by more problems and was not seen on the tracks again until the following August,

Beaten twice by Thefixer, she took out the time honoured Hannon Memorial and was beaten a mere head by Eamon Maguire who had a superior run before ensuring her strength as a stayer was in play in the NZ Cup going down very late to Thefixer (trail) and Tiger Tara a head and half a length from the winner.

She posted a double at the Auckland Cup meeting including the Queen of Hearts which gained her an automatic start in the Ladyship but was well below her best in the Auckland Cup where the time of 4.03 was eight seconds slower than her winning time the previous year.

But she went out on a high. The champion mare of New Zealand with her Standardbred Breeders win at Addington and champion mare of Australia with the Ladyship. It was a hell of a farewell.

Dream About Me was a 1.50.1 miler and a 3.55.4 "two miler" . Just off of Adore Me (1.47.7 and 3.54.6) but not far off. $1.2m compared to Adore Me's $1.67m.

But really even being compared to Adore Me is as high a tribute to a mare in modern times you could find.

Splendour was at her best in tough staying races rather than those of outright speed. It may be no coincidence her worst race in recent times was the Auckland Cup which was just a sprint home .She was resilient, coming back twice from major setbacks mostly to do with her feet which were of unusual design. Her limbs were as sound as a bell.

Dream About Me was never the glamour mare Adore Me was. Because she was just so sheer bloody efficient in her work and in her races, utterly dependable, always giving her best, never quite demanding or hitting the headlines she so often deserved.

But her power when others were fading, her determination when others were wavering, her resilience when others might have limped into the history books and that glorious finale -the lioness at the head of the tribe- those are things we will never forget.



Credit: Harnesslink Media, 7 March 2019, courtesy of All Stars Racing Stables


| | |
| --- | --- |
| | RACING HISTORY HARNESS JEWELS |

ELLE MAC: 4 B m Bettor's Delight – Goodlookinggirl

OWNER: Mrs J L Feiss

BREEDER: Breckon Farms

TIME: 2:25.6 Mile Rate: 1-58.3 Last 800m: 60.6 Last 400m: 29.6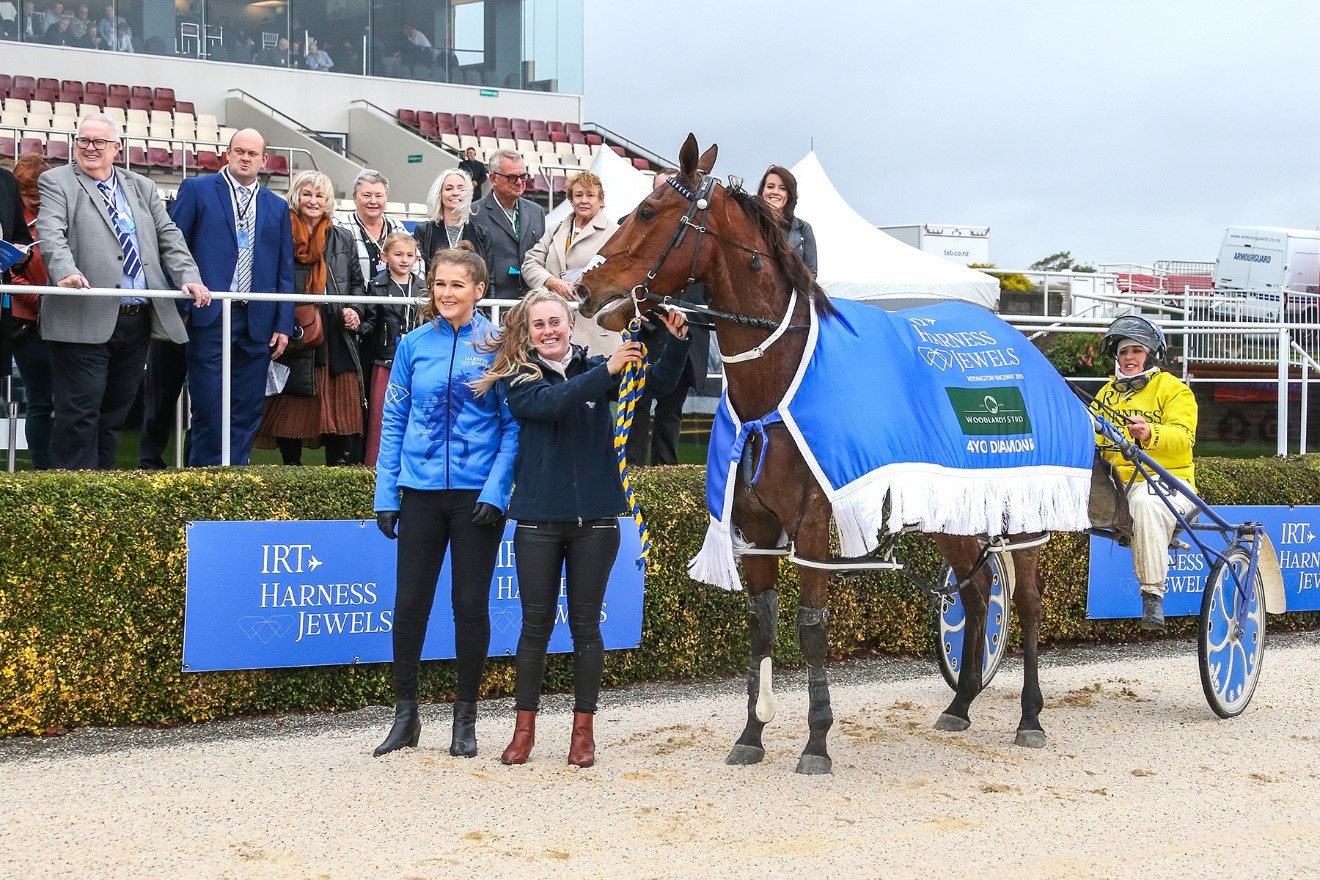 There is a heck of a lot of pedigree behind the winner of this year's Four-Year-Old Diamond winner Elle Mac. Not the least that she was reared on the fine pastures of Breckon Farm at Ohaupo.

But the daughter of Bettor's Delight is an example of some advanced genetics being the great granddaughter of imported American mare, Princess Nandina.

"Princess Nandina is by Able Bye Bye who was available to New Zealand breeders for 5 years, in his case from 1974, and the result was just 124 live foals. Able Bye Bye's pedigree was to die for. He was the son of Bye Bye Byrd (therefore grandson of Poplar Byrd) and his dam was Adioo Time (by Adios from On Time, who is a daughter of Volomite and the great mare Nedda Guy). Bye Bye Byrd's dam is Adieu, the full sister to Adios." (Quote from Bee Pears Blog, B4breeding.com)

The great grandmother of Lazarus, Tabella Beth was also by Able Bye Bye which is obviously the maternal family for Stars and Stripes, Light and Sound etc showcasing Able Bye Bye's long reaching influence in our New Zealand pedigrees, which is once again being introduced through the stallion Sweet Lou.

Princess Nandina's journey here to New Zealand is a fascinating one and intertwines some astute North Island breeders and new bloodlines.

Elle Mac's grandmother Twice As Good was purchased by Steve Phillips in in the late 80's as a yearling at the National Bloodstock sale.

"It was back in National Bloodstock days and at that time they were buying stallions and mares from the Unites States. She was bought here with a foal from memory," said Phillips.

"She was put in foal to Butler BG which I think was her first foal in New Zealand, and put the resulting filly into one of the National Bloodstock sales, which were relatively new and controversial at the time.

"I ended up buying Twice As Good at that sale from memory for around $30,000. Prices were fairly reasonable," said Phillips. She was a blueblood in pedigree being a half-sister to 1987 USA Three-Year-Old Filly of the Year in Pacific who was by a son of Bret Hanover in Seahawk Hanover. Pacific took a mark of 1:53 in her Breeders Crown victory with career stakes of $871,550.

"The fact that she was a half-sister to Pacific, who had done such a huge job over in the States made her quite attractive as a breeding prospect. We were looking to acquire a few mares as we had only bits and pieces at that stage, but we wanted something that was well-bred and that's why she was bought," said Phillips.

Twice As Good didn't race until she was a mare due to some injury issues, but she was good enough to run in the money 13 times from 32 starts.

"She had a few soundness issues. When we had her in training as a two-year old she had a bone chip in her hind leg that had to be removed. As a three-year-old she was about to go to the races when we found another chip in the other back leg. We took that out as well, so it wasn't really until as a four-year-old she made it to the races.

"She ended up winning about five races in a row including a New Zealand record for 1700m. It was pretty quick back in those days being a 1:56.5 mile rate," he said.

At stud, Twice As Good has been responsible for a wonderful tail line of some serious pacers.

Miss Streisand 2015 (F A2) by A Rocknroll Dance - 1:53.0 $112,940

Into The Fire 2002 (F A2) by Presidential Ball - . [1]
- Prosthesis 2013 (G A2) by Rocknroll Hanover - T1:59.0 $46,003

Mark Dennis 2008 (G A2) by Bettors Delight - 1:53.9 $302,198

St Barts 2003 (M A2) by Island Fantasy - 1:57.0 $162,506

Trelise 2001 (F A2) by Holmes Hanover - 1:58.7 $19,231 [1]
- Im Twice The Delight 2011 (F A2) by Bettors Delight - 1:52.3, $67,832

Twice As Fine 1997 (F A2) by New York Motoring - . [1]
- Pacific Warrior 2007 (G A2) by Pacific Rocket - 1:54.8 $343,41

Twice As Great 2005 (F A2) by Artiscape - Pacer $150 [2]
- Duplicated 2014 (G A2) by Somebeachsomewhere - 1:49.2US $159,369
- Strawberry Courage 2010 (G A2) by Courage Under Fire - 1:54.1 $115,509

Twice As Hot 1999 (F A2) by In The Pocket - 1:59.6 $53,580 [4]
- Flaming Flutter 2009 (M A2) by Bettors Delight - 1:53.0 $771,635
- Mister Whittaker 2011 (G A2) by Somebeachsomewhere - 1:54.9 $38,566
- Two Times Bettor 2015 (F A2) by Bettors Delight -1:53.6, $74,630
- When Youre Hot 2007 (F A2) by McArdle - . [1]

Waitfornoone 2000 (F A2) by Albert Albert - 1:55.7 $201,804 [2]
- Luis Alberto 2013 (G A2) by Bettors Delight - 1:54.8 $141,285
- Windinherhair 2008 (F A2) by Bettors Delight – 1:54.6, $140,476

"She did a huge job and mainly with fillies. When we decided we had enough fillies to continue from that line we put her in the sales and Rod Croon purchased her.

"Waitfornoone was by far the best one, there were a couple of others who were okay and bred on quite well.

Waitfornoone bred on and left Four-Year-Old Diamond runner up Windinherhair who was beaten a small margin by Elusive Chick in 2013. She is also the mother of In The Shadows who was good enough to run third in what is now Elle Mac's Four Year Old Diamond.

Ken Breckon had long admired the family and decided the time was right to get into it on his own accord. I had also followed the family right back from when Steve Phillips was developing it," said Breckon.

"First of all, I bought Goodlookinggirl at the Sales which was quite funny, because I ended up paying a lot more then I should have.

"Mark Purdon had asked me if I wanted to buy her and I told him I did. Unbeknown to me, we ended up bidding against each other which would have left Rod Croon feeling delighted. I think we paid around $60,000.

"She only raced around four times from memory and Mark Purdon felt she was going to go in a suspensory and her pedigree was such that we decided to breed from her very early.

Goodlookinggirl was lightly raced and won once from five starts.

"Not long after she retired we ended up purchasing her mother Twice As Good off Rod Croon who was having a bit of a dispersal at the time. We got a couple of foals from her before she was retired also.

"It's a very very good family, particularly of fillies," said Breckon.

"We nearly ended up retaining Elle Mac, she got caught in the fence and did superficial damage before the sales so she was in the ring on Sales Day with a bandage from the knee down.

"We didn't get a lot for her. We were going through a time where we needed cash for the farm and if we had our time again we wouldn't of let her go obviously.

"But as I have learnt from Sandy Yardley, its often not the price but the home they go too that matters most. With Jean Feiss buying her, I remember saying to Karen she was going to be well-looked after, and six Group Ones later, the rest is history," he said.

Once Elle Mac found the top in the Four year Old Diamond she was always going to be very tough to roll.

She retires with $600,000 in stakes and would have added the three year old Filly of the Year title to her two year old filly of the year credit had it not been for the boom Australian filly, Shez All Rock.

"Goodlookingirl is still in good shape and is back in foal to Bettor's Delight, so you might ask why we would need to buy back into her. We did so well with the Art Major half-brother last year selling for $190,000 but the mother is getting on a bit.

"There is nothing better I believe then having a Group One winning mare. That is part of our ethos now in terms of trying to acquire as many of them as we can. The cost to do that today is starting to get a wee bit prohibitive unless you race them yourself.

"You've got the studs doing the same to give their own stallions a chance which is raising the value of the mares, look at what Alabar did with Nike Franco recently bringing her back.

The studs have realized a lot of the buyers and breeders will sit on their hands and wait for a stallion to be proven. The studs can't afford to wait and have to give them the best possible chance and you only need to look at what Woodlands have done with Sweet Lou.

As a champion daughter of Bettor's Delight, Elle Mac has a multitude of options available to her with the likes of Art Major & Sweet Lou being some obvious choices, but Breckon looks set to roll the dice on last year's North American Two-Year-Old siring sensation.

"It's a pretty hard call but I think at this stage I might go outside the square a little bit and have a go at Captaintreacherous," said Breckon.

Crossing the boom sire with an unbelievable pedigree over an already heavily American pedigree in Elle Mac's would be a salivating prospect for many breeding buffs.
Whatever the future holds, it's a family worth keeping an eye on.

Credit : Brad Reid


Credit: NZ Breeders Association : Breeders Weekly 7 June 2019


| | |
| --- | --- |
| | RACING HISTORY HARNESS JEWELS |

BOLT FOR BRILLIANCE:2 Br g Muscle Hill - Toomuch To Do

OWNERS: Mrs S Herlihy, D I Donaldson, P J Hailes, S H Mathews

BREEDER: Brad Reid

TIME: 2:30.2 Mile Rate: 2-02.0 Last 800m: 60.7 Last 400m: 28.6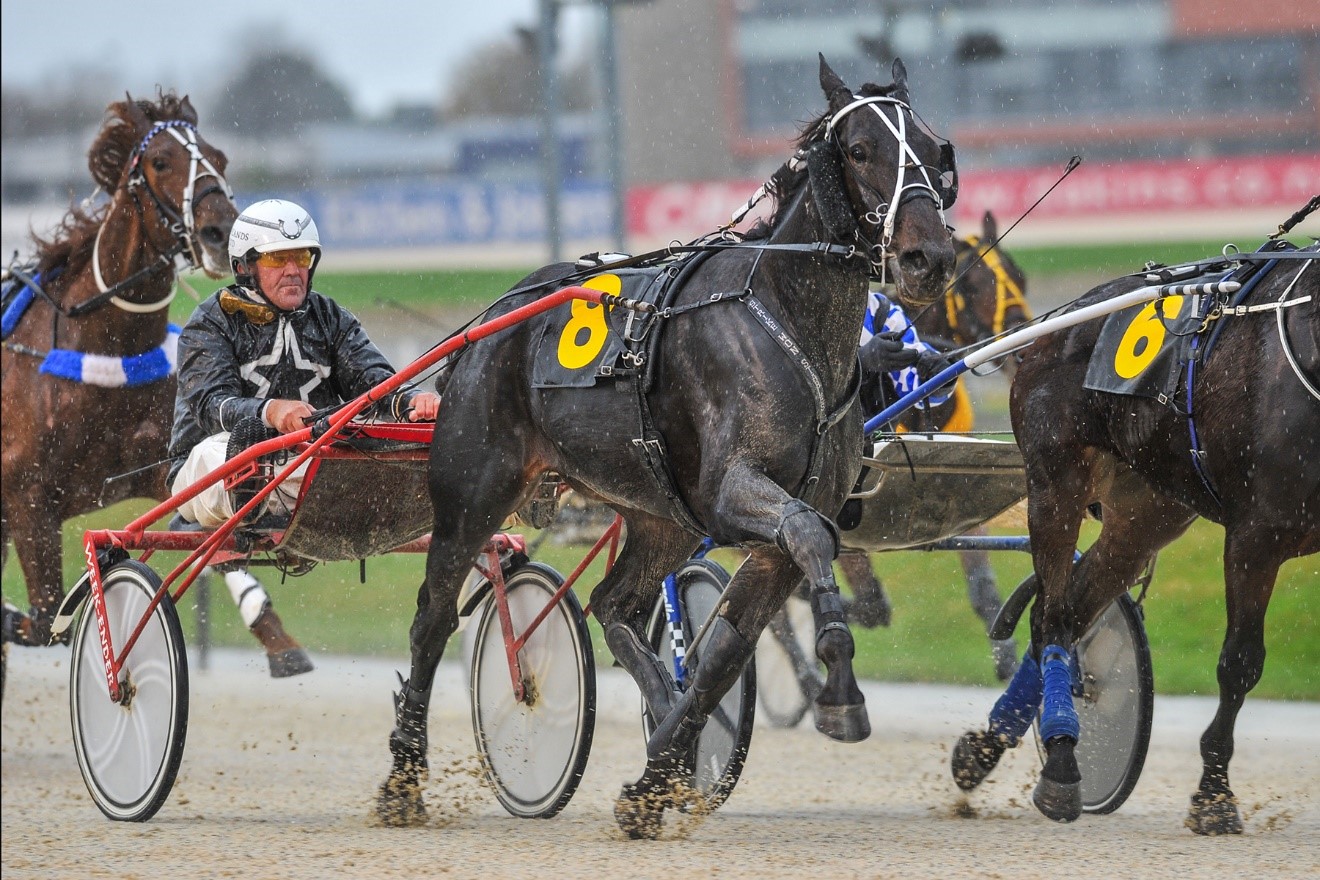 It would be fair to say that the breeding career of the top trotting mare Toomuch To Do has been quite the rollercoaster ride for all those concerned.

As a winner of 11 races including a G2 Canterbury Park Trotting Cup and an Inter-Dominion heat in Auckland, where she downed an 11-year-old Lyell Creek, Toomuch To Do went to stud with understandably high expectations.

Her Christchurch breeder-owner Simon Philip certainly did everything right by her in breeding two filly foals by Sundon and then two colts by Love You, but only one of them raced and none won.

One of the Love You colts died at an early age of a twisted bowel. The other three were all found wanting it would seem, and neither filly was used or wanted at stud.

So this rollercoaster ride had 'crashed and burned' and a very disappointed Philip wanted out.

"This was all in the wake of the earthquakes which had badly affected my business (Baker Boys) and I couldn't afford to keep pouring money down that drain, or the horses," said Philip.

"So I was looking to sell Toomuch To Do, but in the end I wound up swapping her for a service fee to The Pres, which I never used.

"Philip had bred one more foal in a filly by Revenue and wound up effectively giving her away. She was later on sold for $4000 on The Horse Trader.

Philip had signed Toomuch To Do over to Patrick Halpenny, a Christchurch fellow, now a Perth based air traffic controller, having a brief flirt with the game who then sold her in foal to The Pres to Tracey Healy.

This happened at the silent auction organised by Noel Kennard at Addington Raceway and Healy paid just $600 for her. "Bruce Hutton had the two Love You colts and when he got crook, he asked me to try one of them as he was a bit too much of a handful for his stablehands," said Healy.

"It was the first Love You and the second one had died as a yearling.

"He had a really nice way of going and I liked him a lot, but you could tell he wasn't happy about something, and it turned out to be arthritis.

"I could also recall Bruce telling me that the second Sundon filly could have been alright, but that she never really got tried, so the mare had had some bad luck with most of her foals and I had some sympathy for her.

"I got a colt by The Pres and he's just had 18 months out as a result of severed tendons, but I've started on him again.

"So on the face of it, things weren't looking too flash for Toomuch To Do as a broodmare – that is until that Revenue filly showed up as Hey Yo and put Jack Harrington on the map.

Healy would go through some difficult times after buying Toomuch To Do and left her empty for a year before leasing her to Brad Reid of the NZSBA.

He bred Toomuch To Do to Muscle Hill to get Bolt For Brilliance, a $30,000 sale for him at the Premier and the upset winner of the 2YO Ruby at the Jewels.

So suddenly Toomuch To Do is not only the dam of an open class trotting mare who is Group 1 placed, but also the dam of a Group 1 winning two-year-old trotter with a big future, and people are coveting what fillies she has and might have.

Healy would subsequently lease the mare to Harrington for two years and he's bred a yearling colt and a weanling filly each by Peak, while Healy has gone in with friend Tony Wederell in putting Toomuch To Do in foal to Creatine, and now finds herself hoping and praying for a filly herself next season.

All this from a 21-year-old mare that nobody really wanted until Hey Yo showed up and won her debut at Addington just a few years ago.

"I simply couldn't afford to breed from her myself for quite a while," said Healy.

"I had a run of 11 horses which amounted to nothing and most of them were mine, and they all cost money to feed and work.

"Then last year I got knocked over by a horse and woke up in hospital two days later with a fractured skull.

"I'm lucky to be alive and between me and the few horses I'm working, we're all cot cases.

"This was going to be Toomuch To Do's last foal, but we might have to rethink that now."

Reid is now basking in the glory of being the breeder of a Group 1 winner with the very first horse he's bred, and sold at the sales.

He has mixed feelings about selling him now, but it had to be done at the time, with others in the pipeline.

"When I got this job I'd go along to the races and see the thrills that other people were experiencing, and I had to get involved," said Reid.

"I thought about breeding Toomuch To Do to sires like Pegasus Spur and Skyvalley, but I could recall Tracey saying that if she won Lotto, she'd love to cross Toomuch To Do with Muscles Yankee.

"Then I was talking to Gavin Smith one day and he said why would you breed to that old horse for 9k when you can breed to his best son for not much more ($12,500).

"You couldn't get a booking to Muscle Hill, but Bruce (Hutton) had one he wasn't going to use and we negotiated with Peter O'Rourke getting the booking transferred.

"Hey Yo qualified the same week that Toomuch To Do was bred to Muscle Hill and then about a fortnight out from the yearling sales, she finished third in the Great Southern Star.

"If it hadn't been for her, I probably wouldn't have bothered putting the colt in the sales.

"Then Trent (sales preparer Yesberg) went to the trouble of drawing Tony Herlihy's attention to the colt.

"So it was like a case of coming from nowhere to a place where all the stars came into alignment.

"Or all's well that ends well.

Credit: Frank Marrion


| | |
| --- | --- |
| | RACING HISTORY HARNESS JEWELS |

ONE CHANGE: 2 B c Bettor's Delight – Changedown

OWNERS: Allstars Racing Stables Limited, M R Woodlock, T G Casey

BREEDERS: Rob Carr and Don Kirkbride

TIME: 2:26.3 Mile Rate: 1-58.8 Last 800m: 58.7 Last 400m: 28.2

Rob Carr and Don Kirkbride hit the jackpot as breeders when they acquired Chokin's well-performed sister Chaanger as a 12-year-old broodmare and her first foal for them was Changeover.

It was purely a coincidence when Geoff Small bought him at Karaka for $28,000 for an Auckland TC syndicate which Carr was charged with managing, and had the pleasure of watching him win 29 races and over $2.4m.

Those wins included a $1.2m New Zealand Cup in record time, the New Zealand and Northern Derbys and 3YO and 4YO Emeralds at the Jewels.




"Geoff did ask the question whether or not there was going to be a conflict of interest with Rob managing the (ATC Trot 2006) syndicate, but it was put to the then club president Steve Stockman and he gave it the all clear," recalls Kirkbride.

"It was just a bummer that having been in the two previous syndicates, we opted out of having shares in the third one, although we still had the kick of being the breeders.

"Carr and Kirkbride would breed another 11 foals from Chaanger and five of them won, including good sorts in Change Gear (9 NZ wins, US1.52.8), Change Time (7 NZ wins, 1.56.2) and Change Stride (4 NZ & 21 Aus wins, $316,000, US1.51.6).

The now rising 29-year-old Chaanger was retired a few years ago after producing a staggering 19 foals and she remains in fine fettle in Kirkbride's care.

"I had 50 acres at Ardmore up until 7-8 years ago, but now I'm down to four acres following a marriage break up.

"Rob had a lovely property at Karaka where we prepared the yearlings, but he moved to Cambridge a couple of years ago and for the last four years the yearlings have been done at Breckon Farms.

"So we have been winding our breeding operation down for one reason or another, but One Change has put a spring in our steps again.

" In the wake of Changeover, many of Chaanger's foals were sold for good money at Karaka, with Change Stride making $90,000 in 2013.

Carr and Kirkbride would retain two fillies from Chaanger in Changedown, an unraced daughter of Falcon Seelster, and the very last foal in Super Change, a daughter of Mach Three who won a race at Cambridge and was then promptly retired. Super Change is now in foal to Art Major.

Changedown had been tracking in just an average manner, so much so that she had been entered in the Mixed Sale at Karaka this year while in foal to Art Major, before being withdrawn. One could assume that was because Carr and Kirkbridge had got wind of how good her two-year-old son in One Change was going to be, but "funnily enough, that wasn't the reason at all.

""Rob had done an exercise on costings and worked out that based on an $8000-$10,000 stud fee, the cost of breeding a yearling and getting it to Karaka was between $25,000-$27.000.

"We could do it a lot cheaper when we had our own properties and were preparing them, but that hasn't been the case in recent times and it costs a lot more up here than in the South Island.

"Changedown's first five yearlings had been selling for between $42,500 and $17,000 and basically we were just treading water with her.

"But we had to withdraw her from the sale because a foot issue came to light and the long term prognosis is not good.

"I don't know a lot about the problem but I think it's called White Line Disease a form of laminitis.

"A lot has changed since that sale of course – One Change is unbeaten in his five races to date and will be 2YO Pacer of the Year having won the Sales race, Sires Stakes and now the 2YO Emerald at the Jewels.

That has been an even bigger change for Carr and Kirkbride, as about six months ago, Mark Purdon mistakenly informed them that One Change had been put down.

"We believed that for about a fortnight then one day Rob rang to say that Mark had got the wrong horse and we might have to rename him Jesus.

"Purdon wasn't overly impressed with One Change last year, but like a lot of the Bettor's Delight's, he has never stopped improving and just refuses to be beaten.

The irony in all this is that Carr and Kirkbridge only reluctantly bred Changedown to Bettor's Delight and One Change remains her only foal by him during eight seasons at stud.

The service was actually a free return after they lost another mare while in foal to Bettor's Delight, and Changedown was the best if not the only option for it at the time.

"We were among the first to use Bettor's Delight, but after four foals by him, two were midgets.

"They were from Chaanger and Dancingonmoonlight and they weren't any good.

"Changedown was a smallish mare as well and we figured we would be tempting fate with Bettor's Delight.

"One Change was on the small side and initially he was passed in for 26k.

"Trevor Casey wandered along later however and agreed to take him for the reserve of $30,000 along with Neil Pilcher.

When the latter passed away last year, his share went to the All Stars Stable and part-time stablehand Mike Woodlock, a retired school teacher.

Changedown had been an embryo transfer because Chaanger had gotten to foaling late and one way of getting a mare 'back on track' is an ET rather than leaving them empty for a year.

She had failed to measure up in training with Geoff Small and most of her foals were on the small side and not up to much either.

Her first foal in the Christian Cullen filly Schnucki Putzi, which is German for Sweetie Pie, was sold for $18,000 and went unraced.

She is now owned by Dave Kennedy and her first foal is a weanling filly by A Rocknroll Dance.

Second foal Unchanged was a Mach Three filly and she was also on the small side, although Mark Purdon signed for her at $30,000 and she proved a smart juvenile as Renske B.

She was placed at Group 1 level for Hazel van Opzeeland and she has produced a weanling filly by Highview Tommy, himself a smallish son of Bettor's Delight.

Then came a filly by Rocknroll Hanover in Ready Change, who was bought by Terry Chmiel for $42,500, but who went unraced.

She is now owned by Donna Williamson and the four-year-old was bred to Vincent this season.

Changedown then produced a fourth straight filly in La Vitesse, a daughter of Well Said who was bought by Rob Lawson for $17,000.

She raced eight times here without threatening and was sold to Australia in January, winning a race at Port Pirie last month.

One Change was Changedown's first colt and he has turned things right around obviously.

It just remains to be seen if he can go on and prove to be a Chokin and Changeover, but one couldn't ask for anymore at this stage.

Changedown subsequently produced another filly by Somebeachsomewhere, but the filly had to be put down after cracking a stifle as an early yearling.

Carr and Kirkbride now have to decide what to do with a weanling filly by Betting Line called Star Change, a three-quarter sister to One Change.

Normally she would have been run through the sales like the rest of them. Carr and Kirkbride are getting on a bit these days. Kirkbride is leaning towards keeping the filly and Carr is probably going to concur.

"Don might be 74 now but I'm only 67 and I'm still interested in future broodmares," said Carr after another session at the gym this week.

"I do really rate Betting Line and with the uncertainty surrounding Changedown, we probably should be looking at an insurance policy."

Credit: Frank Marrion


| | |
| --- | --- |
| | RACING HISTORY HARNESS JEWELS |

TICKLE ME PINK:2015 3 B f Muscle Hill - Luby Ann

OWNERS: Breckon Farms-The Perfect Ten Syndicate

BREEDER: Breckon Farms Ltd

TIME: 2:29 Mile Rate: 2-01.6 Last 800m: 60.3 Last 400m: 28.8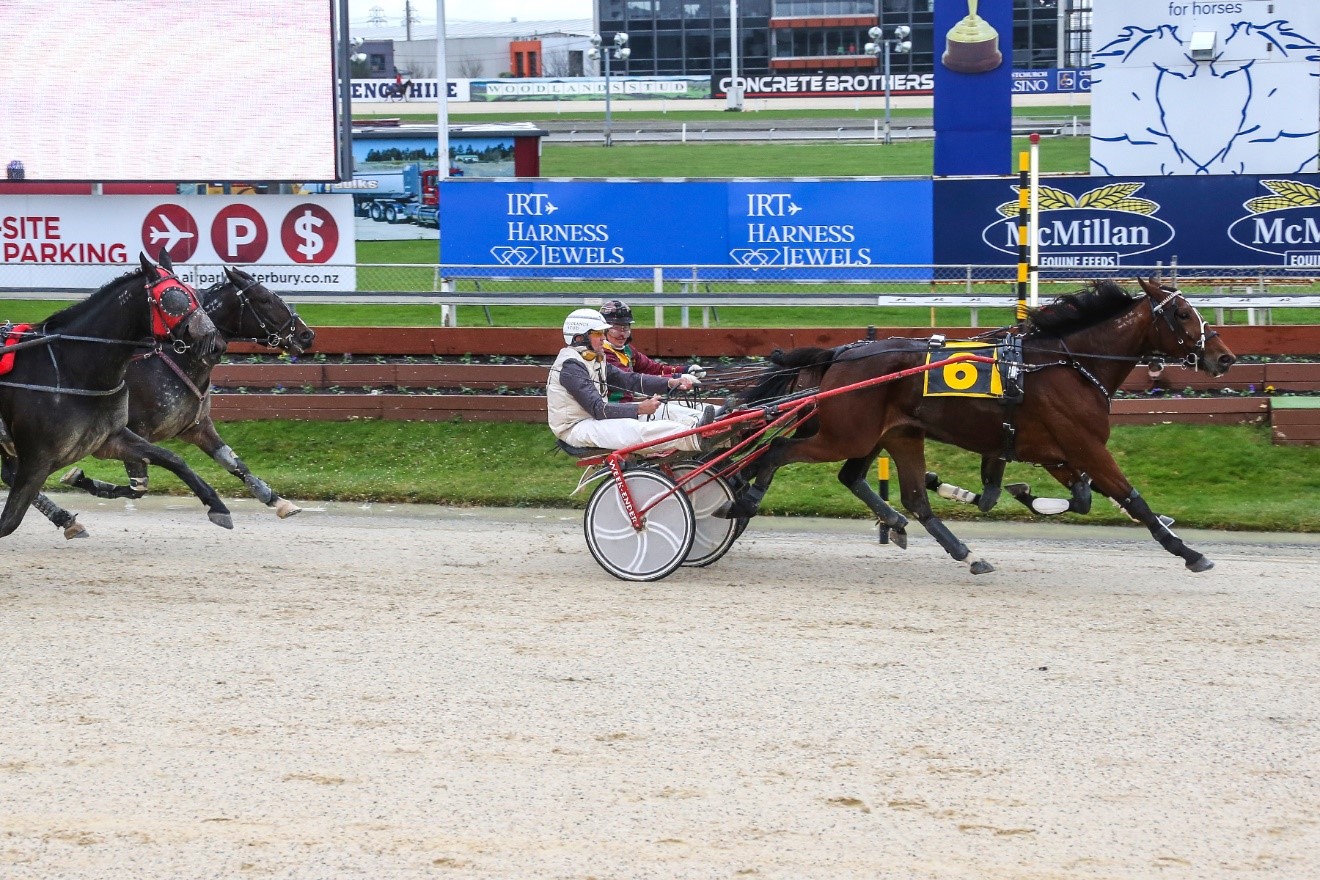 There aren't many New Zealander's that put more into the game than Ken & Karen Breckon.

The Auckland couple have spent the last two decades putting themselves into the position of being able to enjoy the fruits of their labour.

Saturdays win in the Three Year Old Ruby with Tickle Me Pink would have to rate right up there for the couple who up until a few months ago must have wondered whether the winner of four of her first five starts back at the races.

"She probably shouldn't have gone to Australia, "said Ken Breckon.

"Tony trialled her a week out from travelling where she was beaten in a pretty good time. He had a quiet word with me saying he was a bit disappointed in her.

"He took her home and had a look at the time she went and said maybe he was being a bit harsh on her, but if we had our time again she would never have left as Tony was probably on to something.

"The flight tipped her the wrong way, and when she got there the weight really started to fall off her. She was off her food and raced way below par," he said.

She ran fifth in the time-honoured Redwood Classic before managing a third placing in a heat for the Breeders Crown, but on her New Zealand form, were races she should have been winning.

"She didn't get beat by much but Tony was beside himself, she had lost another 20 kilos and even though she had qualified for the Breeders Crown final and was still a big show he told me he wanted to send her home which is what we did," said Breckon.

"She made it home and began to deteriorate even more, and Tony was quite emotional about it. We thought with the weight she was losing and the speed she was losing it that she had cancer or something horrific.

"It ended up being a very bad blood infection. She had abbesses on both front feet and luckily Noel Power and our staff did and incredible job round the clock monitoring her and her feet. It was a real slow road to recovery.

That long slow road to recovery just made the taste of success even sweeter when Tickle Me Pink returned to the track.

In late April she sat parked and beat a strong crop of male trotters in the Group 2 Sires Stakes Trotting Championships. She did so fresh up without a race under her belt since the failed Breeders Crown mission in August last year.

"It blew us away, Tony expected a good run and she had trialled well in the lead up, but going against some hardened colts we could never have expected that.

"Tony said if she ran in the first five he would be happy. She just has this big ticker and keeps going, she's beautifully mannered, has an incredible gait and she can get off the gate where she avoids a lot of the early skirmishes in those trotting races.

"Nothing worries her, she's foolproof. She just knuckles down and keeps going," he said.

Tickle Me Pink beat the boys again two weeks later when winning the Northern Guineas, once again staving off the New Zealand Derby winner, Lotamuscle. She was far too good for her own sex a week later in the Northern Trotting Oaks, telling the camp she was more than primed for a run at the Jewels.

Remarkably she wasn't on the leader board a month out from the race, only to end up qualifying third in stakemoney earned.

Tickle Me Pink was looking to become only the fourth filly to win the Three Year Old Ruby, with Pocaro, Sunny Ruby and Donegal Bettorgretch having blazed the trail before her.

The odds were significantly against her. Where the pacing fillies & mares are given a plethora of Group One racing opportunities against their own sex, the trotting fillies and mares don't have a single race in their own to speak of.

Only eight trotting fillies have saluted in the 26 Two & Three Year Old Ruby's and only one mare from thirteen attempts in the 4YO Ruby.

Tickle Me Pink becomes just the 18th filly or mare to win a Group One race in the last 10 years. That is from 118 Group One trotting races being carded showing just how hard it is for our trotting girls to win black type, but they also have to compete against the males.

Tickle Me Pink left the arm of the mobile on even terms with the blueblood Australian visitor in All Cashed Up (the first progeny of French champion sire Ready Cash to ever race in New Zealand).

The daughter of Muscle Hill's job was aided when firstly Enhance Your Calm made a mistake 100m after the dispatch, and then again when the son of Ready Cash galloped after finding the front before she did.

Tony Herlihy and Tickle Me Pink outlasted them for a further mile to be a head in front of them at the finish, only to have to survive a protest from the second place finisher.

"I was feeling sick. I'd had a small punt on her, but I felt more so for the syndicate and the members involved. I get really nervous for the others involved and for me it's the thrill of seeing them get a win, and some of them are first-time owners.

"I thought gosh, to lose this race on a Group One Day, on a Jewels Day which is the second biggest day on the racing calendar it would have been bloody terrible. Initially we thought it was into the favourite who had galloped, but when you hear its second into first from the Winning Owners Bar, it wasn't nice.

"We got the result and it capped off a huge day. For what she overcame and to get a Group One under her belt is just huge for the horse herself and a remarkable three or four months.

In overcoming the odds, she isn't short on breeding.

She is by North America's leading trotting sire Muscle Hill from the imported American mare, Luby Ann who was acquired from Bill and Jean Feiss.

Breckon acquired Luby Ann in 2011 when the Feiss' were having a clearance of their broodmares and were turning their focus to buying pacing colts at the sales, which has gone rather well for them.

Luby Ann's first foal was last season's Three Year Old Trotting Filly of the Year, Luby Lou. She burst onto the scene as a late three year old having suffered a bad injury at two. She recovered to win the Southland Trotting Oaks, New Zealand Trotting Oaks and a New Zealand Derby before missing her whole four-year-old season due to ongoing injury concerns.

Luby Lou is the first foal from the Andover Hall mare Luby Ann and is raced on lease by Breckon Farms' Six of the Best Syndicate

Tickle Me Pink, who is the second and only other live foal is raced by The Perfect Ten Syndicate.

A somewhat surprising aspect of all this was that Luby Ann doesn't belong to particularly strong or well-known American trotting families.

Luby Ann is from Luby (1.54.4), a good trotting filly by Donerail who won a Delvin Miller Memorial at three and who is also the dam of Lubbock (1.53.1, $293,000) and Lutetium (1.52.4, $420,000), but there isn't anything else of any note in that maternal line for a long time.

Luby Ann was a four-year-old when she began racing and was a nice enough mare, winning four races over the next 12 months, with two at Cambridge and one at Ashburton over Stent when he was on the way up as a four-year-old, and the last of them in Auckland.

Luby Lou and Tickle Me Pink are probably just examples where it is the immediate family and pedigree that is really only relevant.

In these two bluebloods we have fillies by Muscle Hill from a handy enough mare by Andover Hall whose dam was a top youngster in America, and who is perhaps starting a family all of her own.

Muscle Hill over an Andover Hall is also responsible for 81% foals to starters in North America, and is hailed as this generation's trotting 'Golden Cross". The average earnings for those foals is north of $80,000 with 32% of them being sub 1:55 and the same percentile being $100k earners.

The good news for Luby Lou fans is that she is not far from resuming back into work and with fingers crossed be prominent in some of the feature Open Class trotting features next season, adding some much needed depth.

How do the full sisters stack up on ability against each other? Would be silly not to ask the owner!

"They are both foolproof in their gait even though Luby Lou broke at Ashburton on a horrible day in the Hambletonian. Something blew over the track that caught her eye causing her to go off stride. They just trot," said Breckon.

"Whether Tickle Me Pink has the sheer speed of her sister, I don't know. I think Luby Lou might be quicker. Talking to Tony, he thinks due to her illness, it probably affected her development physically.

"If you look at her today she is still quite weak and is why he wanted her tipped out. In saying that, is there a lot between them? Not really, as Tony said, give her another six months and she has fully grown into her body and she might be anything," he said.

"The way the syndicate is its interesting. We usually retire them at four and being mares there isn't a great deal for them past their three-year old season as they're racing the boys every week. Tony is beside himself, he said this mare won't be retiring, she'll be Open Class even if I have to hide her from you," laughed Breckon.

Unfortunately, Luby Ann has not had a foal since Tickle Me Pink, having been unable to carry them full-term.

An embryo transfer to Love You was tried last season but she missed at that as well.

Thankfully for Breckon she is safely back in foal to new Woodlands sire and son of Muscle Hill, What The Hill.

And thankfully for us trotting fans, the wait over winter will be well worth it to see the Jewels winner and her full sister back out on the track in the near future.

Credit: Brad Reid


| | |
| --- | --- |
| | RACING HISTORY HARNESS JEWELS |

BELLE OF MONTANA:3 Br f Bettor's Delight - Lady Cullen

OWNER: Montana Park Pty Ltd

BREEDER: Rod Croon

TIME: 2:25.1 Mile Rate: 1-57.9 Last 800m: 58.0 Last 400m: 27.4




The Three-Year-Old Diamond was hyped as a match-race between two serious pacing fillies, and the crowd in attendance was treated to the match race they were told all week in the build-up.

Belle of Montana and Princess Tiffany had raced on four previous occasions with the New Zealand Oaks victory a fortnight earlier being the only time Tiffany had got the better of the Barry Purdon trained filly.

Earlier in the season, Tiffany had not quite been at her best and may have had excuses.

With the ace draw and back to a shorter distance, Belle Of Montana had a few things in her favour, but many felt the slushy track might detract from her lethal sprint and play into the staying prowess of the Mark Purdon trained filly.

As it turned out, Belle as she is known was able to keep the lead, hand up to the Oaks winner and run past her up the lane, albeit by a freckle, with a withering burst of speed over the last 100m.

The daughter of Bettor's Delight is regally bred on the Bettor's/Cullen cross from a daughter of Andress Blue Chip in Lady Cullen.

Andress Blue Chip knows a thing or two about producing champion fillies with Belle Of Montana being from a half-sister to the champion Carabella, who claimed a three-year-old Diamond for herself when she swept all before her in the 2011 season.

Belle of Montana's breeder Rod Croon acquired Lady Cullen from Robert Famularo having been acutely aware of her pedigree and the speed she had shown in her limited career on the race track.

"I did a deal with Robert Famularo who had the breed and being a half-sister to Carabella I thought she would make a nice prospect.

"I knew she had a lot of speed because I remember Steven Reid saying she was quick," said Croon.

Her former owner Robert Famularo echoed those sentiments remembering unsolicited quotes from trainers who as he details, had no rhyme nor reason to pump up his tyres or that of the mare.

"She went in the suspensory originally and we think she did it on the float to the races at Auckland," said Famularo.

"It was a real shame as Steven Reid told me she was the fastest horse he ever sat behind, and at that time he was training the likes of Monkey King and Bailey's Dream which tells you something.

"We brought her back slowly and she was just about ready to make a return to racing. Brendan Hill had her at his stage and he made the comment he thought she had the ability to win her first seven races in a row.

Carabella was the first live foal after Lady Cullen so Brendan Hill would have been expecting a bit of ability, but got all that and more from the daughter of Bettor's Delight.

Andress Blue Chip, unraced, is the mother of both and is an imported American mare by Artsplace.

Andress Blue Chip's half-sister Athena Blue Chip was by Goalie Jeff (Cam Fella) and she was good enough to win three stakes races at both two and three and earn $457,118 in stakes as well as setting a lifetime mark of 1:50.3.
Andress Blue Chip has an Artsplace daughter of her own in New Zealand under the ownership of Bruce Carter and Ross Johnson in Saddle Ridge. She has been a fine producer in her own right as the mother of The Bucket List, Extreme Machine & the smart mare Somethingaboutmary.

Lady Cullen had not been injecting any of that lethal speed into her foals with her first three live foals including a full brother and sister only able to win 4 races among them.

Since Belle of Montana, she has had only the Somebeachsomewhere filly who qualified as a two year old this season for Mark Jones and is in the ownership of Famularo amongst others.

"Lady Cullen died a few days after foaling down south which was unfortunate, it must have been a rupture somewhere," said Famularo. She is survived however by her multiple Group One winning daughter and soon to be anointed three-year-old Filly of the Year, who Croon remembers well having still been hands on with his involvement in preparing yearlings for the sales at his previous property.

"She was quite a striking looker, she was black yearling but was quite a timid horse.

She was never the boss in the paddock but she had a presence about her. I sold her at the sales for $40,000," said Croon.

Croon is no longer involved in the breeding industry he gave three decades of service too, citing the sale of his farm as the main reason as he no longer had the ability to be hands on with the stock he enjoyed so much.

"I'm totally out of it at the moment, I needed to have a breather after 30 years breeding horses but I will be back at the yearling sales in a couple of years I imagine to have another go.

"I certainly still get a thrill in seeing horses I bred win big races as they are few and far between. That was my first breeding winner of a Jewels.

"Belle Of Montana actually beat the last horse I still had an ownership interest in called Big On Personality. We have sold her since but when Belle beat her, I realized how good she was.

Croon has had a distinguished career as Chairman and log term committee member of the ATC and more recently HRNZ's appointee to the soon to be refocused NZ Racing Board, under its new name of Racing Industry Transition Agency. Rod's term on the board will come to an end with the Minister taking the power to make all future appointments.

"It's been good to be on the Board but there have been some frustrating times as well. Politics had gotten in the way a bit towards the end with race fields legislation getting delayed which was annoying, but it is what it is I suppose.

"We've just signed on a new CEO at the Auckland Trotting Club. Our current President is retiring from the ATC in October which will probably see me step into that role for two years and then that will likely be the end of my involvement from an administration level also", said Croon.


| | |
| --- | --- |
| | RACING HISTORY HARNESS JEWELS |

TURN IT UP:4 Br g Courage Under Fire - O Narutac Bella

OWNERS: J A Gibbs MNZM, L Pilcher, Mark Purdon, Mrs A Gibbs

BREEDERS: B C Edward, Mrs V A Edward

TIME: 2:22.6 Mile Rate: 1-55.8 Last 800m: 58.1 Last 400m: 27.5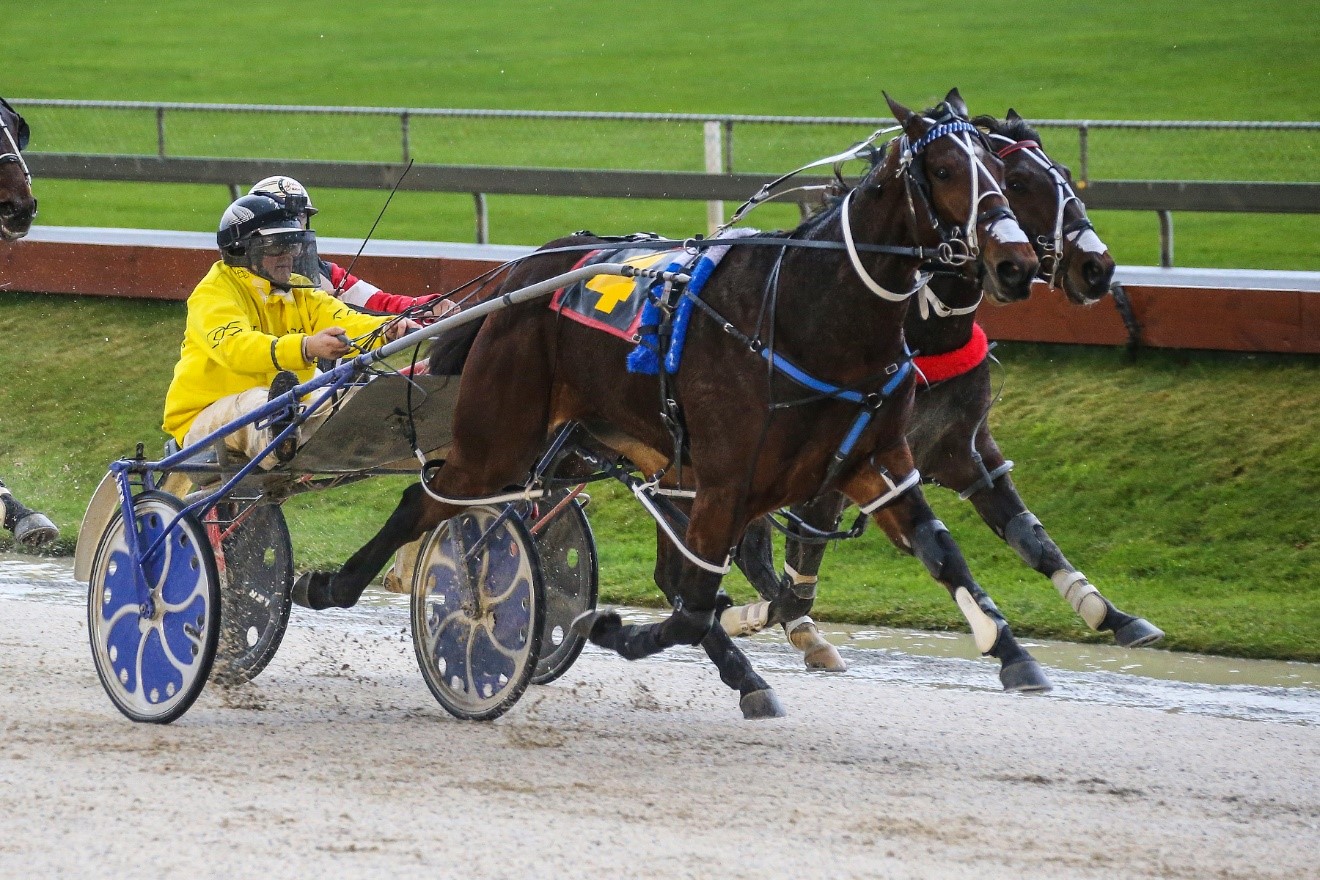 20"I certainly still get a thrill in seeing horses I bred win big races as they are few and far between. That was my first breeding winner of a Jewels. "Belle Of Montana actually beat the last horse I still had an ownership interest in called Big On Personality. We have sold her since but when Belle beat her, I realized how good she was. Croon has had a distinguished career as Chairman and long term committee member of the ATC and more recently HRNZ's appointee to the soon to be refocused NZ Racing Board, under its new name of Racing Industry Transition Agency. Rod's term on the board will come to an end with the Minister taking the power to make all future appointments. "It's been good to be on the Board but there have been some frustrating times as well. Politics had gotten in the way a bit towards the end with race fields legislation getting delayed which was annoying, but it is what it is I suppose. "We've just signed on a new CEO at the Auckland Trotting Club. Our current President is retiring from the ATC in October which will probably see me step into that role for two years and then that will likely be the end of my involvement from an administration level also," said Croon.

Credit: Brad Reid


| | |
| --- | --- |
| | RACING HISTORY HARNESS JEWELS |

SUNDEES SON:4 B g Majestic Son - Stardon (by Sundon)

OWNERS: Colin and Nancy Hair

BREEDER: Colin Hair

TIME: 2:25.3 Mile Rate: 1-58.0 Last 800m: 57.5 Last 400m: 28.7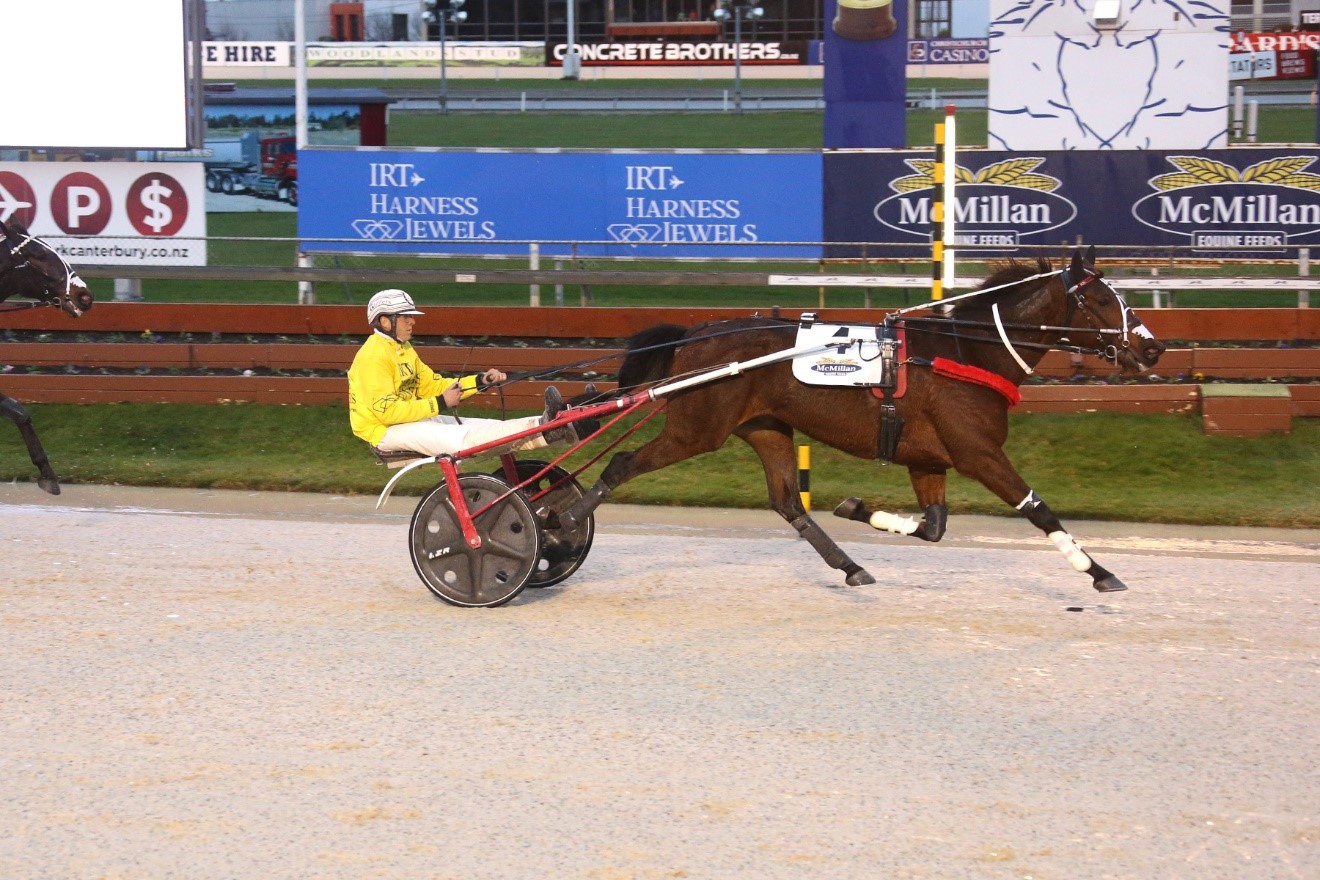 What was meant to be one of the most mouth-watering clashes of day turned into a demolition of some very good four-year-olds, thanks to the most un-assuming low flying missile from Woodend Beach.

You could be forgiven for thinking Sundees Son wears hopples, such is the blistering speed at which he generally does things, although for a while back there he did wear half hopples.

The problem has never been his motor, as much as it has been about his temperament.

The son of Majestic Son has found his groove and is clearly a trotter in the zone, having just won three Group One trotting races in a row.

The path to potential Trotter of the Year fairy-tale hasn't been without it's bumps, but I'm not sure Colin & Nancy Hair would have it any other way when they look back and reflect on the journey.

It was in 1996 that Hair bought the broodmare Chiquita Dee at the Christchurch Mixed Sale for $1600 and embarked on this course.

"I'd tried a number of pacers for a start and I would have to say they were totally unsuccessful," said Hair.

"Then when I thought I'd have a go at the trotters, one of my first attempts was winding up as the under bidder on Solar Fire.

"Around the same time I looked at buying Shaq Attaq as a yearling, but the vet put me off.

"He wound up with Paul Nairn and proved to be a good horse too.

"While I might have been unlucky back then, it encouraged me that I was on the right track, so I then decided to take the long and winding road of breeding them.

"Placed in a brief career, Chiquita Dee was by Pernod Eden from a half-sister to the fine trotting mare Thriller Dee, and her first two foals would prove useful sorts in Kaimata Echo (5 NZ wins, by Jive Talk II) and Top Chief (3 NZ wins, by Top Trotter).

Jive Talk II was a son of Speedy Scot who proved of no consequence and Kaimata Echo was his best performer, while Top Trotter was only marginally better.

Chiquita Dee had missed to Elma's Lad that season but had another Top Trotter colt at foot at the sale, although he proved to be a "niller".

"His only claim to fame was killing three of my daughter's pet lambs.

"Hair sent Chiquita Dee straight to Sundon however and got Stardon, the best performer for him with three wins until Uncas came along.

Stardon's first four foals were by Earl, Monkey Bones and The Pres and didn't amount to much, and Hair admits he was at a crossroads with Stardon until Sundees Son began putting his hand up two seasons ago.

Hair had been breeding from the family for over 20 years and before Sundees Son, no previous foal for him has even looked like going early.

"It was unexpected having any horse as a two-year-old because to date the family haven't shown anything at an early age. That could be as much to do with my previous trainer Bevan Heron who was probably more of the view that you give trotters time, put them in a paddock until they are three or four and then try them.

"With John Dunn it was more of a case of breaking them earlier and if they show a bit then just push on with them," said Hair.

Hair also credits the foundations for Sundees Son being laid by the talented horseman, Ross Houghton.

"It was actually Ross who did all the early work with Sunny, he was a fairly difficult and headstrong and problems getting him out on to the track at the Dunn's where he would typically have to be lead out,"" laughed Hair.

Sundees Son is by Majestic Son, who was a top juvenile himself, winning over $500,000 at that age in Ontario, and he has well and truly shown an ability to sire early speed, with top youngsters before in Daenerys Targaryen, Majestic Time, One Over Da Moon, Prince Fearless, Enhance Your Calm, Wanna Play and Im Stately and Illawong Helios in Australia.

Majestic Son didn't have the pedigree to suggest as much, outside of a dam that was line-bred 2x3 to Speedy Crown, but individual performance is a more reliable guide to siring ability anyway.

Put that ability over a mare by Sundon, a freak in his own right and one that has always had a noted 'speed factor', and there's the recipe for success.

Sundees Son came back at three with a bang providing Colin & Nancy with a Cup Week in 2017 they won't forget in a hurry.

Having done his chips 100m after the start, he gave Ruthless Kayla the better part of 100m start before coming around to sit outside her and grind her down for a breath-taking victory.

"That was really quite unbelievable, and what John would say is that while he tried to hunt him out early to catch the field, the move that Sunny made with 600m to go was all the horse. It was Sunny that decided he would go then, and that was probably the first of the performances he made where it was quite hard to believe what he had done," he said.

Not to be outdone, another Hair trotter Woodstone who announced himself two days later at Ashburton, coming from five deep on the markers to win a 1-2 win trot.

"That was a bit unexpected as well, at that stage he was a fairly weak looking animal and very difficult to keep condition on him.

You see while Sundees Son has shown all sorts of ability throughout his burgeoning career, there was a while where you could have been forgiven in thinking it was Woodstone who would wind up being the better horse.

Woodstone took the incredible step from racing at Ashburton in a 1-2 win trot, to lining up 366 days later as one of the favoured runners for the Dominion!

Woodstone is a five-year-old gelding by The Pres out of the Monarchy mare, Gemstone. Gemstone is out of the Pernod Eden mare, Ikantry, who was a half-sister to Africa, and also Niamey who has gone on to produce the Group One winner and producer, Pocaro.

"I saw Ikantry over at Bevan Heron's stable to be broken into saddle by Kayleen McCormick. She was quite a nice mare and having known the breed quite well, I had a chat to Ernie Knight. She was back at his place by then and went out to a paddock on Old West Coast Road and brought her back home.

"I bred one foal from her and got Gemstone," he said. As Woodstone was beginning to figure the game out, Hair must have been wondering whether Sundees Son wanted to be there at all with his Three-Year-Old campaign seemingly going down the gurgler. A combination of the mistakes that haunted him at two, with an opposition that appeared to have taken the leap forward in their progression at three seeing him only run in the money twice from nine starts.

"The belief was as much as anything that it wasn't anything permanent with him, he would get his head around being a racehorse. At this stage Craig Edmonds started doing a lot of work with him in teaching him to be a racehorse.

"He would put him in the cart and walk him round a lot, take him down the beach and just try to get his head to switch on," he said.

As Sundees Son star dipped, Woodstone's was once again dramatically on the rise.

A trip to the satellite stable at Auckland proved to be the making of the horse, with three big wins in the space of a month in a manner that had trotting fans sitting up and taking notice. It wasn't just the quality of field he was beating, but the manner in which he was doing it, showing he had become just as tractable as he was speedy.

"The main reason for sending Woodstone up there was actually just to chase the dollars. He ended up winning those three races in a row and just missed out on Jewels qualification. As to who was the better, I honestly never really considered who might be better. Sunny has always been special to me being out of my first ever winner Stardon, but those runs of Woody's were a pleasant surprise," said Hair.

I bumped into R J Dunn prior to the Three-Year-Old Ruby at Cambridge and thought I'd ask him the question as to whether he thought Woodstone had usurped Sundees Son for ability.

He didn't hesitate to tell me Sundees Son was the better horse. We didn't have time to go into detail, but it was said with such confidence I didn't hesitate to throw a cheeky each way bet on the son of Majestic Son.

Sure enough, he galloped off the gate. Only this time he put in the kind of performance he had been promising his whole career thus far. As while he was Group 1 placed in the Northern Trotting Derby, this was the best performance of the season losing 100m at the start and to run into fifth some 8 lengths off the winner.

"We went there with reasonable expectations, we knew the Purdon's had some very nice horses in. But we knew that on his day he would be capable. At that stage we really just wanted him to trot all the way, but as he did as a two-year-old he did as a three-year-old," said Hair.

Sundees Son joined his talented stable mate at Alexandra Park for the remainder of the season and gained a much needed confidence boost winning a fortnight after the Jewels.

"The decision to push on through the winter was just around teaching him to be a professional race horse, with no aim other than to get him settled and balanced into his regime.

As good as his confidence booster was, Sundees Son was beaten by none other than Woodstone at his next attempt at The Park after getting stuck behind a tiring leader and getting going a wee bit late.

Their final race for the 17/18 year Sundees Son was able to turn the tables on Woodstone, flashing past him for a fast finishing second behind Lovely Bundy, but it had been a year which raised more questions than answers.

They both resumed in the 18/19 season in style, but again it was Woodstone who was stealing the limelight. As impressive as Sundees Son was winning at Ashburton fresh up at four, Woodstone now had 100 rating points and found himself taking on a field of Dominion Handicap hopefuls.

Woodstone galloped at despatch in the Ashburton Flying Mile with Ross Houghton advising that he was striking the own sulky. That was quickly forgotten when he sat parked outside what was basically the Dominion field and put paid to them with ease. The way he put that field away was unexpected. When you look at the relative depth and the strength of the Auckland crop he was racing against compared to the Dominion nominees, it was day and night in terms of quality," said Hair.

The stage was set for Cup Week and the Dunn camp decided to line Woodstone up in the NZ Trotting Free For All on Cup Day.

Woodstone was gallant in defeat working hard to find the death from barrier eight and remaining there running Speeding Spur to a head on a New Zealand Record for the 1980m trip.

"That was a huge thrill. John will say on reflection he probably should have won that race. I don't hold those views, but John has a fairly good idea of what he is doing and thinks if he had of put it to Speeding Spur a bit earlier he could have beaten him. If you look closely, Speeding Spur was done on the Line and close to being in a pace.

"To think how far he had come from bursting up the inside at Ashburton a year earlier to running a second in a Group One, and at that stage it was my best ever credit as an owner/breeder.

"The Dominion Handicap didn't go his way. He galloped at the start and tacked on, but when he was improving and coming back into the race he was bowled over by Harriet of Mot.

Just as quickly as Woodstone's star had risen had it quickly come to an end suffering a season ending injury.

"There was no real sign of any injury and we sent him north for the Auckland Cup meeting trot races with the aim of the Rowe Cup later in the year. The boys up there had worked him one morning, shod him, and put him away for the night. When they returned the next day to get him out of the box the horse could hardly walk.

"After a visit to Matamata, they never actually never found what was wrong with him but told us to treat it like a hairline fracture of a sesamoid. He has had a good six months out and now back into work for another shot at the races over Cup Week," said Hair.

Lucky for Colin & Nancy and to the same extent the Dunn's, they had another trotter big on ability to persevere with, Sundees Son.

His four year-old season had started the same way his two and three year old seasons did. With breathtaking victories, this one at Ashburton where he scorched home in 26.2 to easily account for an intermediate field of trotters.

Sundees Son then smashed another good field of square gaiters before appearing to lose confidence after a couple of indiscretions over Cup Week.

He galloped when leading on Cup Day with Winterfell laying down the gauntlet on his outside and did the same on Show Day a few days later when challenged by Missandei.

This was now beginning to become a habit, and a heart-breaking one at that.

"It's just hard to sort of get your head around, you sit up there in the stands and watch and don't like to sort of even breath or shout. It is hard to come to grips with. There is nothing wrong with the horse, he isn't sore anywhere, it is just somewhere in his head. I remember after one of those performances having a long chat with Nancy about what we should do.

"If you look at the brains trust that is actually there with Ross, Craig, John & Robert as well as being down at the beach with Greg Hope and David Butt also, they are not found wanting as a resource when it comes to knowledge and skills.

"The one piece of gear that was the turning point in Sunny's season turned out to be putting two poles on him. It was John's idea, it's something that is quite common in the States and it worked the oracle in balancing him up and stopping him from hanging," said Hair

The first time the two poles went on Sundees Son, he brained a FFA field to the tune of seven lengths with the millionaire Speeding Spur his closest rival.

Although Speeding Spur would turn the tables in the Fred Memorial beating Sundees Son by a neck, there was an initial decision that the horse would not be sent to Auckland for the Rowe Cup.

"We hummed and hawed, but after a few days of deliberating John and I decided why not. He had been there before and it was made easier with the fact Robert has a stable up there. We thought we would give it a go.

First up the Anzac Cup demolition.

"The thing about that race is when he looped the field down the back straight, the speed he showed was that of a pacer. I met someone from the club that night who said he had never seen a trotter show that much speed going around a field.

"As much as he is a speed horse, Robert has always said he was a better stayer which some people might have found hard to believe. We had the issue that he was unruly from a stand and at some stage he was going to have to go around them again.

"It was just utterly unbelievable, the emotions that you have. It was an unbelievable moment with what he achieved. The Auckland Trotting Club were tremendous in how they looked after us and I cannot speak highly enough of them.

"We had a hard time working out how to get the Rowe Cup back to Christchurch. It was way too big to fit in the luggage and we were advised to take it on as carry on. Someone came up to myself and Ken Ford who we were at the airport with and asked what we had won. Ken told them it was a Mr New Zealand contest, and I didn't stick around to see any of the reactions,' laughed Hair.

In winning the two feature Group Ones, Sundees Son had come from nowhere to win the Australasian Grand Circuit for trotters, staving off the Australian mare Dance Craze to do so.

Capping off an incredible year, Sundees Son backed up from an incredible trial a week earlier to break his own New Zealand record in the Four Year Old Ruby on a track that was rated as slushy.

"I have to confess that I watched the race again last night and if you remove all the hype and the fact my horse won a Group One, it was actually a rather boring race," he joked.

Incredible he could describe the horse that once had more tricks than El Grego the magician as boring, but such is the incredible turn around in fortunes for the four-year old.

"It is funny as things go around in a circle, as Sundees Son is my first Group One winner out of my first winner and was trained by Bevan Heron. He was actually the person driving the victory lap in the horse and carriage for the winners after Sundees Son won the Jewels," said Hair.

Now that's a metaphor for coming full circle in a story that has had its many ups and downs, but culminated in a day and a season that the Nancy and Colin will never forget.

On the wall at home with the photos and trophies Colin has this quote from Roy McKenzie "In the breeding and racing game you need to believe in dreams, some dreams come true!"

Credit: Brad Reid


| | |
| --- | --- |
| | RACING HISTORY HARNESS JEWELS |

JESSIE DUKE:3 B c Bettor's Delight – Daisy Dundee (by In The Pocket)

OWNERS: Mrs J L Feiss, W R Feiss

BREEDER: Woodlands Stud (NZ) Ltd

TIME: 2:24.8 Mile Rate: 1-57.6 Last 800m: 57.5 Last 400m: 28.2




Leading into the 2019 Harness Jewels, ten of the previous twelve three-year-old Emerald winners had been secured at a Yearling Sale whether here or overseas.

It makes sense in some regards, with the best genetics on offer to the open market.

A mature type which has been well fed and raised will be considered an essential ingredient but another important point to remember will be the family.

Sires can make a difference but families generally run true to form. In other words unless the family has a history of producing early speed, it is unlikely to start producing top juveniles out of turn.

There are exceptions to every rule, particularly when it comes to breeding and racing horses, but the buyers will be playing the odds in their favour when selecting colts from pedigrees with established juvenile form at Group race level.

The winner of this year's Three Year Old Emerald was the top priced lot at the 2017 Sales when catching the keen eye of Jean Feiss and selling for $220,000.

He was a colt with a pedigree of early speed if ever there was one, but more on that later.

His win capped an interesting year for his Breeder Woodlands Stud who have been kicking goals in all facets of their business model.

Woodlands' head, Andrew Grierson says the road that led the stud to breed Jesse Duke was paved with a bit of good fortune.

"The dam, Daisy Dundee, was one of a few that we got off Sarah Crawford a few years back.

"We took these mares over to help them out of a bind and it turned out to be a win-win for both parties.

"There was a bit of risk there, but we liked the pedigrees of them and, as it turned out, Jesse Duke was in the first batch of foals we bred from them.

"Daisy Dundee was rather underwhelming on the track, winning four of 40 starts, the final one being a $4,250 race at Gore for Bruce Negus.

But what she did have in her favour was her father – In The Pocket – and the fact she descended from an impressive maternal line that had produced the likes of Courage Under Fire, Smokey Lonesome, Harley Earl, Texas Terror in the previous 20 years.

Her mum is Adios Dream, a former stakes-winning two-year-old who retired prematurely due to injury halfway through her three-year-old term.

"We were attracted to her because of that, knowing what a great filly the dam was as a young horse.

"So, she went in our system, which is meticulous and leaves them wanting for nothing.

"But Daisy Dundee has proved to be a shy breeder since Jesse Duke, producing just the one foals since, a weanling colt.

"He's a lovely type and we'll be putting him through the sales next year.

"Unfortunately, Daisy Dundee is a mare that gets in foal but then loses the odd pregnancy.

"I think she's safely in foal again this season, but if it happens again we may have to look at an embryo transfer.

"Woodlands hit 'pay dirt' when the 'big three' of yearling sale buyers all wanted Jesse Duke, who at that stage was just a Bettor's Delight out of an unheralded mare that had left one live foal from five servings.

"He was a really nice horse at sale time, and as we all know, Jean Feiss is a pretty good judge.

"Jean was all over him, as were John Street and Emilio Rosati.

"That makes for the perfect storm in the sale ring and he ended up going for a whopping $220,000.

"We were astounded at the time, and it's fair to say we were more than happy to have owned the mare after that.

"But it's all swings and roundabouts.

"They don't all turn out like that; some we buy end up being no good.

"We just have the numbers that inevitably there will be good horses come out of our draft.

"Grierson makes a point of noting that Woodlands Stud offering 13 colts at the 2017 Karaka yearling sale, and they have turned out to be quite the bunch on the race track.

Joining Jesse Duke was last year's 2YO Colt of the Year, Another Masterpiece, this season's dual Derby placegetter Supreme Dominator, plus the good performers Double Rocket, Make Way, Stars Tonight, Kolovos, Infatuation and recent impressive qualifier, Montana Lad.

"Looking at what those horses have done, it's just amazing.

"When you do what we do – buy stallions, buy mares, breed them, raise them and then prepare them for the sales, you are very invested in the progeny and you take a keen interest in who buys them, who trains them and how they turn out as race horses.

"Success is the name of the game and getting a crop like that only reinforces what we are trying to achieve.

"And we're in it for the long haul.

"As noted above, Jesse Duke's granddam was Adios Dream, a half-sister to the dam of Courage Under Fire, perhaps the greatest youngster of them all.

He swept through everything as a two and three-year-old and wasn't beaten until taking on the Inter Dominions as a four-year-old at start number 25.

Courage Under Fire was an In The Pocket brother to another really good juvenile in Advance Attack, who won his first seven races including the Cardigan Bay, Sapling and Welcome Stakes that later went in to stand at stud in Perth.

Adios Dream produced other smart juvenile performers in Smokey Lonesome (by In The Pocket) and Ransom Olds (Artsplace) along with the Christian Cullen dam of Quite A Delight (Diamond Classic 2yo Fillies Heat at Gloucester Park) and Millie Sampson (1.56.1, 8 NZ wins).

Adios Dream was also a half-sister to another top filly in OK Deb, a juvenile winner of debut and six races at three and now the grandam of Delightful Memphis along with a good horse in Harley Earl.

Throw in other smart youngsters such as Cyclone Kate, Cyclone Prince, Chattanoogachoochoo, Passion Stride (3, 1.56.2), Three Of The Best (2, 1.54), Scruncher, High Octane (38 Aus wins, $425,000) and Buy Chevron Direct along with Texas Terror (24 Aus wins, $263,000), and it can be seen that this has been probably the best early speed family in the Stud Book.

Where it all came from is a bit a mystery, however.
The Direct Scooter sire line has certainly played a big part but that hardly explains everything.

It really began with Deborah Dundee, a mare by the unraced Dundee Adios (Adios Butler-Robin Dundee) from Loving, by Aksarben from Venus, by Gold Bar from Queen Wrack, by Wrack.

That pedigree hardly gave a hint of things to come and accordingly, Deborah Dundee won three races after starting out as a five-year-old.

Advance Debra, the dam of Courage Under Fire and Advance Attack, was a daughter of Vance Hanover who won the Sires Stakes 2yo Fillies Championship on debut for Wayne Ross.

Later filly foals from Deborah Dundee in OK Deb and Jessica Rose were by OK Bye and Adios Dream was by Caprock, a son of Jate Lobell who was not exactly renowned for producing early speed despite having a pedigree and race record which suggested he should have.

One wouldn't have been surprised if one of these daughters of Deborah Dundee proved a source of early speed, but for several of them to do so was quite the revelation.

One can only suggest that it was the combination of a mare with a very stout pedigree, 'clicking' with a later generation of speed sires to produce outcrosses which consistently worked.

Or just one of those things that happens in breeding that can't really be explained or forecast.

Credit: Garrick Knight


| | |
| --- | --- |
| | RACING HISTORY HARNESS JEWELS |

TURN IT UP:4 Br g Courage Under Fire - O Narutac Bella

OWNERS: J A Gibbs MNZM, L Pilcher, Mark Purdon, Mrs A Gibbs

BREEDERS: B C Edward, Mrs V A Edward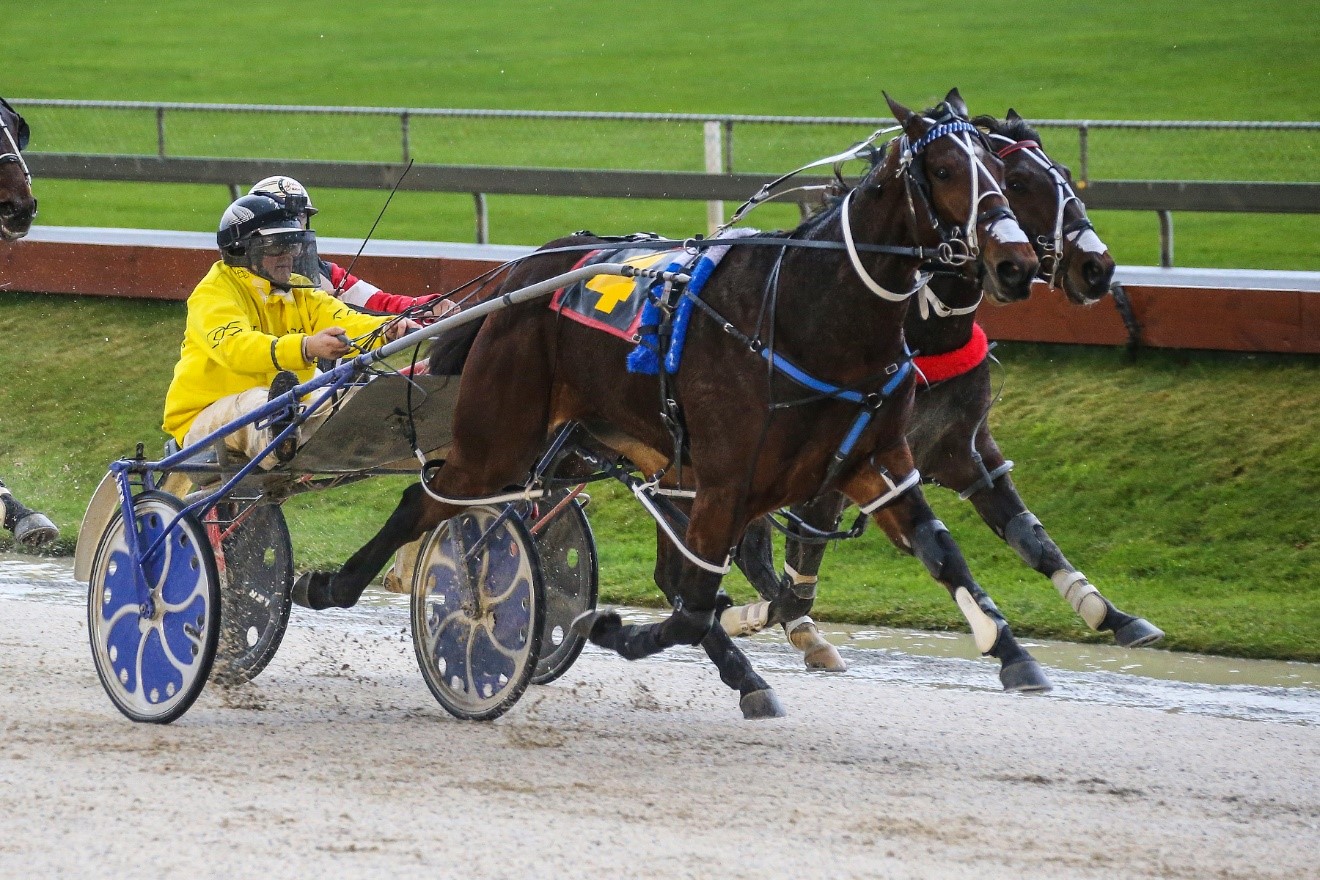 On paper, the Four-Year-Old Emerald looked a race where Turn It Up, only had to turn up, and that would be all that was needed.

When he blasted to the top off the mobile, it was nothing more than an armchair drive for his co/trainer Mark Purdon.

Turn It Up may have thought he had come along way after leaving Melbourne as a $28,000 APG Sales Purchase in 2016 then simply arriving at the All Stars Rolleston base in Canterbury.

However he started the 2018/19 season a Rating 73 and finds himself the pre-nom favourite for the 2019 New Zealand Cup.

The son of Courage Under Fire has been a revelation this season winning the Franklin Cup, Auckland Cup, Cambridge Flying Mile and Easter Cup, with his only blemishes if you could call them that, coming at the hands of some highly credentialed stablemates.

Turn It Up was bred by Bruce and Vicki Edward of Durham Park in Victoria. For those unfamiliar with Durham Park, you won't be unfamiliar with some of his Honour Roll.


| | | |
| --- | --- | --- |
| HORSE | PRIZE MONEY | WINS |
| PETACULAR | $454,083 | 19 |
| HEAVENS TREND | $385,683 | 21 |
| BARIMAH | $384,374 | 26 |
| IDEAL FOR REAL | $324,600 | 13 |
| TURN IT UP | $338,500 | 9 |
| STARS ALIGN | $233,930 | 15 |
| RED VEE HANOVER | $179,716 | 20 |
| DOUBLE YOUR BET US | $177,737 | 15 |
| ONEONTHEWOOD | $173,720 | 24 |
| KUALOA | $227,940 | 10 |


Durham Park was established in 2006 by the Edward's on an undulating, sheltered 400 acre property at Durham Lead, 30 minutes south east of Ballarat. The stud is a commercial breeding operation, currently with 28 highly credentialed broodmares, including 12 mares imported from the US, and five from New Zealand.

Vicki and Bruce's involvement in standardbreds started out similar to how a lot of new participants are involved with to harness racing over the last decade.

"We were introduced through some friends really, we started out in a syndicate, leased a few horses and had a really good time doing it. We took it from there," said Edwards.

The journey has seen the Edward's pick up multiple Group Races across the ditch, but none possibly as smart as the Four Year Old Emerald winner.

Turn It Up is the third foal and fourth winner from O Narutac Bella (US1.51.2, 11 wins, $154,000), an imported American-bred mare by Western Ideal.

"Breeding O Narurtac Bella to Courage Under Fire was me really just saying to myself you have this fairly unique Northern Hemisphere pedigree here, let's have a crack at one of our own stallions and see what happens. That's the level of the science involved with his mating if I'm being honest.

"Everybody loved Courage Under Fire. The mare had the size and the speed and he had the heart I think " said Bruce.

"Turn It Up was a little bit different from the time he was born. He always looked very tall, was very leggy and come sales time he was a bit of a stand out.

While Turn It Up is the best performed from O Narurtac Bella, she has been a fine producer since arriving in Australia for the Edwards.

"The mare has been a terrific for us. We imported her from U.S and I was actually talking to her previous owner the other day. At the time he had three or four mares for sale and she wasn't one of them. I negotiated a deal with the ones he wanted to sell on the basis I would buy them if she was included. He really didn't want to sell her as she was a family favourite of theirs, but ultimately she wound up coming here.

"She was in foal to Bettor's Delight but being born here in April, she was very young and always on the back foot a bit. The 2011 Bettors Delight filly was named Illawong Bella and would win two races from 19 starts, and has since had a colt by Rock N Roll Heaven for her owners.

The second foal is the good Art Major filly Perfect Sense (Aus1.55.5, 9 Aus wins, $143,000). She was second in the APG Final for two-year-old fillies at Menangle two years ago and also second to Petacular in a Vicbred Final at Melton that season.

Petacular has been one of the top fillies in Australia in recent seasons and like Turn It Up, the daughter of Somebeachsomewhere was bred by Durham Park and is from an imported Western Ideal mare in Ideal Priority.

The fourth foal by Mach Three is only O Narurtac Bella's second colt, but hasn't shown much with only a second placing from eight starts.

The fifth foal is a full sister to Perfect Sense, by Art Major and if her two-year-old season is anything to go by, has inherited a lot of the family ability. Treasure capped her season with a Group 2 feature win to take her to four wins from five.

The element of interest with the pedigree of O Narutac Bella, as she was bred on a
Western Ideal-Life Sign cross and they belong to the same maternal line, or the quite outstanding family established by Adora, a top filly in the 1950s by Adios.
Western Ideal and Life Sign emanate from the sisters Angel Hair and Ambiguity respectively, they being by Bret Hanover from K Nora, by Knight Dream from Adora.

Also Life Sign and Western Ideal's dam Leah Almahurst were both by Abercrombie, giving O Narutac Bella a 3x3 reverse sex cross to him on top of being from the same maternal line.

We have touched on these sort of possibilities in the past with American Ideal also being a son of Western Ideal and from a half-sister to Life Sign, or a good example of a Rasmussen.

Edward hasn't tried the American Ideal option as yet, but that could be interesting particularly if one got a filly and then bred away from three crosses to the same maternal line.

O Narutac Bella was bred by Yankeeland Farms and whether there was any intention on their part is not known, nor whether the Western Ideal-Life Sign cross was even beneficial in the overall scheme of things, but one can certainly say it wasn't detrimental in any way.

The immediate family of O Narutac Bella has actually been very ordinary, although her grandam Yankee Velvet was a half-sister to Lovin Yankee (1.53, $256,000), the dam of five 100k plus performers, and also Arizona Yankee, the dam of Toucam Sam (1.49.2, $615,000).

The fact that the dam and grandam of O Narutac Bella produced very little, suggests the double up may well have given this line a boost.

What we do know is that Western Ideal was a big horse and while he also generally produces big horses, they are also often blessed with early speed and natural ability.

Life Sign was not known for siring early speed in keeping with his sire Abercrombie, with Artsplace being an exception to the rule. However, a mare bred on such a cross appeals as a suitable consort for a small horse and a sire such as Courage Under Fire.

Edward has three Western Ideal broodmares in his band of 28, and admits to having a fond opinion of the sire, particularly as a broodmare sire.

"In deciding to be a breeder, you have to start somewhere. I am a bit of a student of bloodlines and there is just not a lot of Western Ideal mares around. I think there are only 5 or 6 of them around Australia and we've just had tremendous success with them.

"Clearly O Narurtac Bella, and also Ideal Priority who left Petacular they're very big roomy mares and they cross well with a lot of the well performed stallions," he said.

Turn It Up marked the 16th Group One credit for his late sire, Courage Under Fire. He joins Smolda as the second winner of an Emerald for his sire and adds to the very fine list of Group One winning progeny: Pembrook Benny, Sleepy Tripp, Choise Achiever, Courage To Rule, Lanercost, Lancome, Glengowan, Carlas Pixel & Secret Potion his other G1 credits.

Those looking to rush over to the APG sales and snap up a sibling to the current Cup Fave will have to wait some time.

"The mare missed last year but is back in foal this season to boom sire Captaintreacherous," said Edward.

Credit: Brad Reid


| | |
| --- | --- |
| | RACING HISTORY HARNESS JEWELS |

SWEET ON ME:2 B f Sweet Lou - Adore Me

OWNERS: Paul & Mary Kenny, Charlie Roberts

BREEDER: Charlie Roberts

TIME: 2:24.7 Mile Rate: 1-57.5 Last 800m: 57.4 Last 400m: 27.6

Sweet On Me was able to emulate the deeds of her mother in winning herself a Diamond.

In doing so she became just the second ever progeny of a former Jewels winner to win a Jewel of their own.

Pocaro and Missandei were the first to reach this remarkable milestone, meaning Sweet On Me and her champion mother can lay claim to being the first pacing duo to achieve the feat.

Paul Kenny, son in law of the legendary Charlie Roberts was in awe of the daughter of Sweet Lou.

"This is the stuff of dreams, for it to happen so quickly from Adore Me's first foal is just so wonderful, particularly for Charles. I personally believe this is the bravest horse he has ever bred," said Kenny.

"When the filly started racing, you dream about what might be, but to have a season like this fulfilled every dream.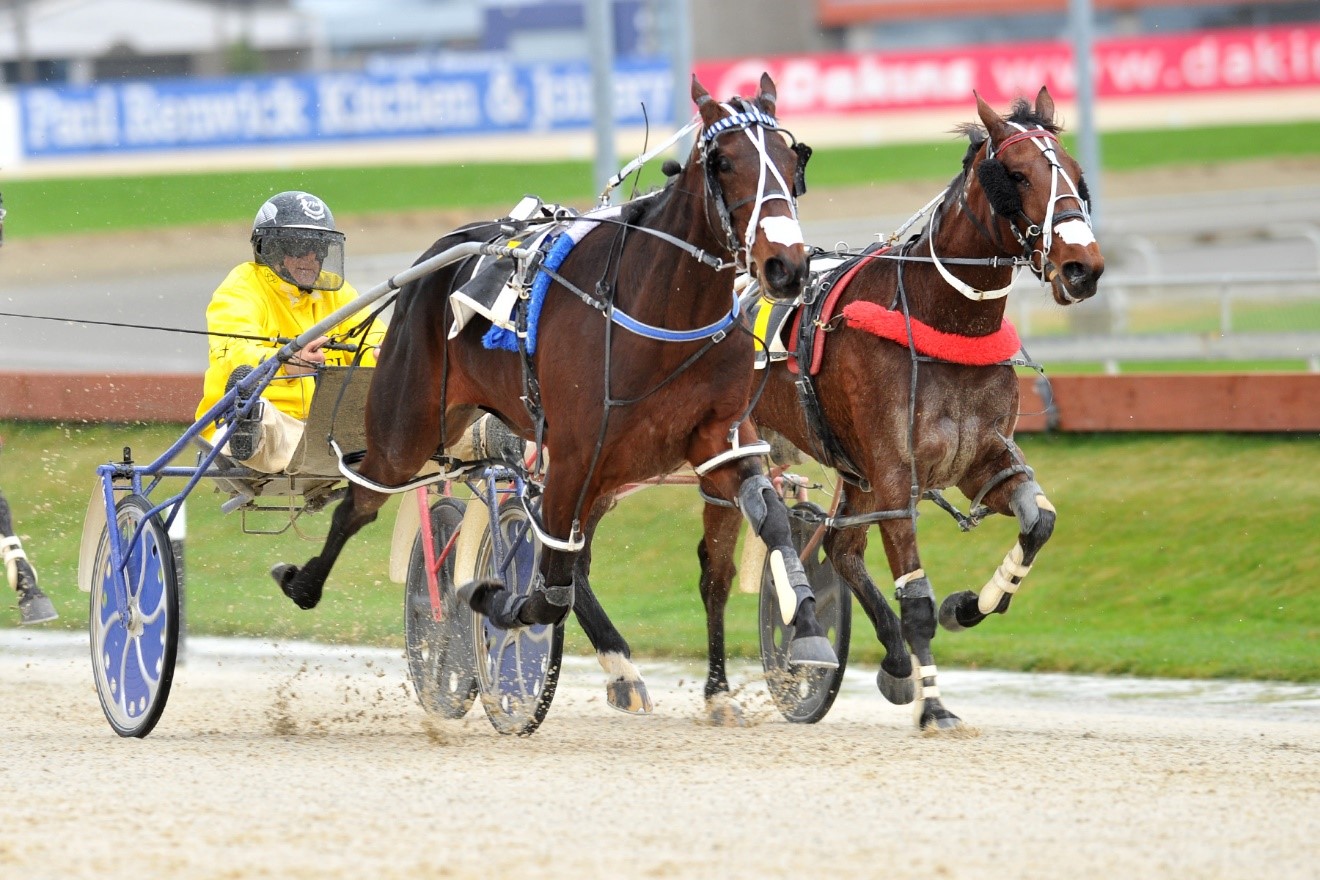 ""Mark and I texted backwards and forwards this morning on a couple of things, and my comment to him was it was all credit to them as horsemen and women and to Charles' breeding knowledge.

"Bad health means Charles is no longer able to travel on raceday, but you can bet your bottom dollar he was glued to his TV watching as alluded to by Paul post-race in his interview. Adore Me's exploits need little introduction having capped her resume with a New Zealand Cup among her twelve Group One wins here and in Australia.

It was a performance across the ditch however that confirmed her as the greatest female pacer ever produced in New Zealand.

She became the fastest mare in the world . . . yes, the world-breaking a record set by Somwherovrarainbow at Pocono Downs in the US in 2014 at 1:48 with a record-breaking 1:47.7 victory in the Cordina Chicken Farms Ladyship Mile, smashing the Australasian record of Smoken Up's record by eight-tenths of a second also.

Initial plans for Adore Me to be served by Christian Cullen were halted by fertility issues, and Plan B was put into action, giving new stallion on the books Sweet Lou a date with destiny.

"When we talked about our next stallion at Woodlands, we wanted a stallion that was high class, and fast. Sweet Loumet that criteria in that he was a fast juvenile as well as an aged horse. He met all the criteria."

"His female line crossed well with Bettor's Delight, and we recognized the reality that a lot the mares he was going to get, certainly the ones that we were going to be sending were going to be by Bettor's Delight also."

"We decided between Mary, Charles and I that out of loyalty to Ian Dobson and particularly Christian Cullen as a proven horse, we would give him at least one go. We had come to realise his fertility the previous season wasn't particularly good, and when she didn't hold the first-time round, it made it easy to send him to Sweet Lou."

"It was a big call to go to what was a first season sire, but she was one that we had a lot of confidence in and had spent a lot of money to secure, so we were very happy to back up our judgement by sending our best mare.

"How much of the successful mating is to do with the sire as much as it is to do with the mother is impossible to gauge. We know the dam brings 50% of the genetics to the table, however Sweet Lou has been off to a fantastic start in Australasia as well as North America.

Sweet Lou has had a fantastic 25% foals to qualifiers in New Zealand with three individual winners from nine starters to sit second behind Bettor's Delight on the two-year-old sires list of stake earnings.

His pedigree is such that he is an outcross for almost any broodmare in the country.

While we are becoming more familiar with him as a sire, it is interesting to look at the below excerpt from Bee Pears B4breeding.com blog (which we all miss!) about him.

The top half of his pedigree

Sweet Lou. He's from the Artsplace siring line, which is currently really only represented commercially here by Art Major and Sportswriter, with Grinfromeartoear and his sons in minor supporting role. Interestingly with Sweet Lou the Artsplace sire line is coming via Artiscape who is a sire we tried lightly and couldn't relate to much in New Zealand (a bit better in Australia and still commercial in North America) in spite of him having a pedigree that would have suited our mares. At the time I think many breeders found the smaller lighter types he often produced just not what buyers wanted, regardless of their potential ability, and we quickly lost the faith.

The immediate sire of Sweet Lou is Yankee Cruiser who is even less familiar to us – he was a very consistent race performer finishing on the board in 26 of 35 career starts, winning $1,150,123. He established his lifetime mark of 1:49.3s in winning the $1 million North America Cup. But he was probably one of those very good performers that was slightly off the radar downunder. Sweet Lou and the filly Darena Hanover are by far his best performers to date, but he's no slug in his Ohio siring barn. He had two yearlings in the very recent Lexington Sale, a colt who sold for a good $42,000 and a filly who went for just $10,000. Yankee Cruiser's damsire is Jate Lobell whose presence as an "engine room" damsire is now almost a requirement of top pedigrees, and back further in Yankee Cruiser's maternal line the presence of Poplar Byrd, who also pops up in the pedigree of Artiscape.

The bottom half of his pedigree

So now a look at Sweet Lou's maternal line – it is one of those that has a good foundation and seems to be getting better, but it still flies well below the highly commercial, well known families and branches like Golden Miss, K Nora, Romola Hal, Breath O Spring et al. On his damsire line the mares all have really good records for their day, not spectacular perhaps, but solid times and really good earnings. Starting with his damsire line – his dam Sweet Future is a Falcon's Future mare. So he brings the familiar Falcon Seelster elements in here, but Falcon Future's damline has not really kicked on apart from his great-grandam Dell

Siskiyou's daughter Gogo Playtime, who turned out to also be the great-grandam of No Nukes and TMI. Many other branches have been a lot weaker. Of course if you go back further than Dell Siskiyou, you see Falcon Future's maternal line is the family of Roya McKinney/Princess Royal and then Estabella and Jessie Pepper.

Sweet Lou's grandam Sweet Darhlin was a well-performed race filly by Nero. Again, Nero is not a sire that we find much in our siring line or mare's lines these days. Yet he brings a lot to the party, including another dose of Poplar Byrd and a strong liking for Adios blood. By the by, there is a branch of Nero's family that we do know well, and that is through his half-sister Skipper's Romance. Amongst the descendants in New Zealand are the families of Smooth Ice (dam of Classy Filly) and also Sokys Legend (dam of Bit Of A Legend). Nero was pretty much an outcross sire himself, the two closest double ups were a 4×4 to Volomite and 4×4 to Billy Direct. One of his sons, Nero's B B stood here as a sire for 5 years from 1984 and left over 600 live foals, some of the best being Bee Bee Cee, Neroship, Nevermore and Nutwood. But would I see Nero's B B being relevant to which mare I put to Sweet Lou? To be honest its quite a long bow to draw.

Sweet Lou's great-grandam Fly Fly Darhlin is a daughter of Fly Fly Byrd who is a siring son of Poplar Byrd. Yes, that's the fourth link to Poplar Byrd in Sweet Lou's pedigree.

The strength in Sweet Lou's pedigree is undoubtedly his maternal line.

His half-brother by Bettor's Delight won over $2,000,000 in stakes.

His half-sister, Sweet Lady Jane (Somebeachsomewhere) has left the stakes winning filly Youaremycandygirl by American ideal.

His other half-sister Sweet Paprika by Artiscape has left last seasons boom two-year-old in Captain Crunch (Captaintreacherous) who was good enough to pace 1:49 as a juvenile and win the Breeders Crown. Enough to see him crowned Two-Year-old of the Year.
His first run back at three was run in 1:48 with the plugs still in on a slushy track which suggests if he continues on his current projection, he could well be Captaintreacherous' first son at stud next season.

Sweet Lou himself was good enough to finish third in money earned in his juvenile season in North America and is the sire of nine $100,000 earners. 45 already in 1:55 or better.

The best of his progeny in America like Sweet On Me is a filly in Warawee Ubeaut who is out of the Apaches Fame mare Great Memories. She was the fastest two-year-old pacer in North America last season winning filly of the year after her impressive Breeders Crown victory took her stakes earnings to north of $650,000.

Sweet Lou is known for stamping his progeny with a blaze, however while Sweet On Me failed to inherit this trait she has definitely inherited his juvenile speed, remembering Adore Me never raced at two herself.

"Adore Me has been the perfect mother, she has been great in raising all of her foals thus far," said Kenny.

"Sweet On Me was a beautiful looking individual, very striking and in many ways the spitting image of her mother.

"As much Adore Me was a freak on the track, the deeds of great race mares have not always transpired to the breeding barn.

Delightful Lady couldn't get in foal from four attempts spanning seven seasons.

Bonnies Chance had two to the races from eight live foals for a single race win as a broodmare.

Armalight wasn't much better from her 10 foals but did produce the tail lines of millionaire Ohoka Punter.

Hilarious Guest only had four to the races from 15 foals.

Time will tell whether Adore Me will be more of a Blossom Lady than Mainland Banner in the broodmare barn, but given her pedigree and strength of the maternal family developed by Charles Roberts, you would have to think that Sweet On Me is far from a flash in a pan, particularly given the current yearling filly is said to be better.

"We are not getting ahead of ourselves there," said Kenny.

"We know in racing that a lot of things can happen and Mary and I, as well as Mark and his team like to take things one day at a time," he said.

Not a bad adage given the hiccups that can occur with breeding standardbreds. Something the Kenny's had to endure recently when the DNA sample for the Somebeachsomewhere weanling from Adore Me returned quite the surprise.

"The DNA came back that Somebeachsomewhere was not the father, and that we would have to do quite an advanced test to see who the sire could in fact be. The foal is gorgeous and that helped keep the tensions down, but looking at the head it was the spitting image of Captaintreacherous in his photographs.

"The tests returned he was in fact the father. It's quite fortunate because at the time, he was in a very dangerous year being his third season at stud but fortunately it has all worked out for the best," said Kenny.

While a Somebeachsomewhere filly would have been great given his sudden passing last season, it's hardly a bad outcome highlighting where the fortunes are right now.

"We are just blessed to be enjoying this wonderful ride," said Kenny.

And if the rumours are true about Adore Me's second foal, Darling Me, that ride might get a whole lot sweeter.

Credit: Brad Reid