| | |
| --- | --- |
| | INTERNATIONAL HISTORY HISTORICAL OVERVIEW |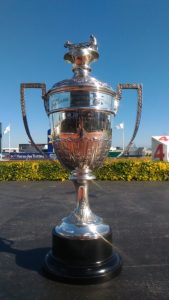 The Bendigo Harness Racing Club's "Lords Raceway"grandstand is home to an impressive collection of harness racing history and memorabilia. The library under the grandstand houses a collection of driver's silks, walls with photos of champions, entire trophy collection of Mother Courage, sulkies, newspaper articles dating back to the 1880s, race programmes, books, presentation rugs and vinyl recordings of old race calls.
Of particular interest to the New ZealandMetropolitan Trotting Club (NZMTC) which celebrates its 114th running of the New Zealand Cup in 2017 is the trophy won by Adelaide Direct, the winner of the 1917 New Zealand Cup.
Thanks to Bendigo Harness Racing Club's Racing and Marketing Manager Brendan Baker and Leigh Graham from the Harness Racing Training School,Adelaide Direct's NZ Cup took a trip back to make an appearance at the 2017 NZ Cup carnival, specifically displayed at the NZ Cup cocktail function held at Addington's Spectators Bar and Bistro on Sunday 12 November and NZ Cup day Tuesday 14 November.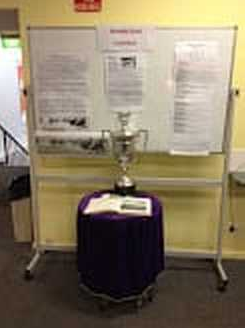 1917 NZ Cup won by Adelaide Direct on display at Bendigo HRC on 20 May 2015.
The Bendigo boys (but not the 1917 NZ Cup) attended the NRM Breeders Cup Eve Awards at Armstrong Prestige's car dealer showrooms and the 1917 NZ Cup was to make an appearance at Ashburton's Cup Week race meeting on Thursday 16 November.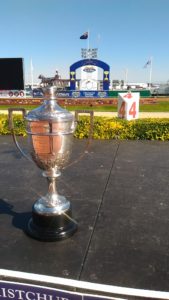 Adelaide Directis the first and only mare among five Australian winners of New Zealand harness racing's premier event, New Zealand Trotting Cup held at Addington Raceway by NZMTC and first competed for in 1904 (other Australian winners : 1983 Steel Jaw, 1987 My Lightning Blue, 2006 and 2007 Flashing Red [although trained at thetime by Tim Butt] and 2015 Arden Rooney).
The Bendigo district mare, Adelaide Direct was foaled in 1906 from the imported stallion Directway (Direct/Electway; great grandson of Dictator) and an unnamed mare from Honest Harry (also sire of Honest Kate, dam of Robert Derby, sire of Lawn Derby)owned by Parker's Plains (Baringhup near Maldon) horseman Stan Lewis.
Directway imported from USA as a two year old in 1902,was the winner of four races from seven starts in Victoria. The best of many imports that stood at Robert Matchett's Adelaide Hill Stud at Huntly on the outskirts of Bendigo (Directway, All Style – 70 winners, Tennessee Direct – 59 winners, Direct Argot – 27 winners, Rex Derby – 8 winners from one season at stud). Bob Crowe set up the large breeding farm for Matchett at Adelaide Hill remaining as stud master for more than 20 years. Matchett died in 1928 and the stud business was subsequently wound up.
Directway left 193 winners, with Adelaide Direct his top performer together with Glide Away (winner of 23 races including 13 at Richmond, Otahuhu/Dunedin Cups) and leading stayer Direct Home (Sydney Thousand). Several of his daughters bred on with descendants leaving ID Pacing winners Evicus (dam by Directway), Gentleman John (grand dam by Directway) and Minuteman/Single Direct (third dam by Directway).
Adelaide Direct was initially raced by Lewis together with James Kennedy for whom she scored her first win at Marong in November 1911, followed by two wins on the same day at Charlton. Frank Ridley then trained her from his Fitzroy stable, with Adelaide Direct being successful at country meetings as well as at Richmond, the major Melbourne track before being returned to Lewis. Adelaide Direct started in the inaugural Melbourne Thousand held at Richmond on 16 November 1911 which was won by Delavan Chimes (60 yards) in saddle from Royal Sovereign and Lively Bells in harness.
Leading New Zealand trainer Manny Edwards, at the time training in Australia leased the mare in 1914 bringing her to New Zealand where she raced for the following five seasons. Her 58NZ starts included victories in the 1914/5 season in the NZMTC Royal (1 mile, 2:15 3/5) and Stewards Hcp's (1¼m, 2:46 4/5) and Auckland Trotting Club's Premier Hcp (1¼m, 2:46 4/5). Her three third placings came at Addington (2) and New Brighton meetings. Season's record of : 9 : 3 – 0 -3, £607 (12th highest stake earner).
Adelaide Direct did not record any wins in the 1915/6 season being unplaced in 1915 NZ Cup won by Country Belle and NZFFA while her two placings were recorded at Plumpton Park (Canterbury Park TC, second) and ForburyPark (third). She had a return of just £48½ for her efforts from ten starts for just the two placings.
The 1916/7 season was somewhat more productive for Adelaide Direct with twenty starts yielding two victories and seven placings for stakes of £587½. Her victories consisted of an Australasian record time trial (1 mile, 2:06 2/5TT) at Alexandra Park and victory on the same day in the Auckland Trotting Club's Ranfurly Hcp (1¼m, 2:46 3/5). Placings included at NMZTC meetings, seconds in International/Hornby Hcps, thirds in National Cup/Easter/Metropolitan Hcps; third in New Brighton Hcp and second in Park Hcp at Forbury Park. Among her unplaced efforts were NZFFA having broken at the starting point in a field of seven won by Admiral Wood; off 96 yards behind in Auckland Cup also won by Admiral Wood; Dunedin Cup. Adelaide Direct did not start in the 1916 NZ Cup.
The crowning glory of Adelaide Direct's time in New Zealand came in the 1917/8 season with victory in the 1917 New Zealand Cup at Addington as a ten year old (seven seconds handicap). She defeated 1916 winner Cathedral Chimes (four seconds; Auckland Cup, NZFFA) by four lengths with another champion horse in Author Dillon (three seconds; 1918 NZ Cup, three NZFFA's) third. Her time of 4:27 4/5 was a new New Zealand race winning record.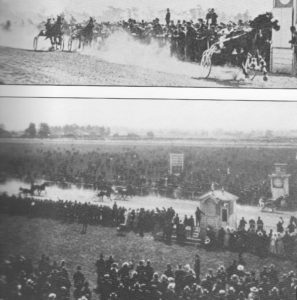 Adelaide Direct's 1917 NZ Cup victory
1917 NZ Trotting Cup, 2 miles, 2,500sovereigns and Silver Cup (1,500 sovs to winner, 500 sovs second, 300 sovs third, 200 sovs fourth) –
ADELAIDE DIRECT, owner/trainer/driver Manny Edwards, New Brighton, 7 seconds
Cathedral Chimes, dr James Bryce, 4 seconds
Author Dillon, dr Ben Jarden, 3 seconds
Agathos, dr A Hendricksen, 7 seconds
4 lengths, neck, neck; 4:27 4/5 NZ record; £8 18s 6d for win (field of 14)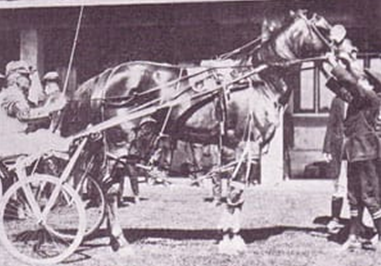 NZ Cup presentation
Overall Adelaide Direct's season consisted of thirteen starts for her solitary but most important victory, two seconds and a third for stakes of £1,652, second leading stake earner of year. Her seconds came in NZMTC August Hcp and New Brighton's Summer Hcp while she ran third in NZFFA behind Cathedral Chimes and Author Dillon when attempting an all the way win. Her unplaced efforts often from lengthy marks included Dunedin Cup (132 yards) and feature races at Addington and Plumpton Park.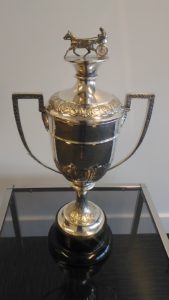 Adelaide Direct's final season in New Zealand (1918/9) saw her start on six occasions for two second placings. She finished second to Author Dillon with Cathedral Chimes third in the NZFFA – two lengths, six lengths with the only other starter Admiral Wood beaten off. She was again second in her final NZ start in the New Brighton club's Summer Hcp. Unplaced in the NZ Cup won by Author Dillon where she failed to show any dash (although ran second two days later in NZFFA) plus Christchurch and Recovery Hcps at the Cup carnival as well as Canterbury Park's Champion Hcp. Adelaide Direct's final season earnings in NZ were £134 from six starts for two seconds.
Note : the number of times Adelaide Direct, Cathedral Chimes and Author Dillon feature in first three positions in major NZ races over period of three seasons (1915/6 – 1918/9).
Whilst in New Zealand, Adelaide Direct successfully broke Country Belle's Australasian 1 mile record (2:07 1/5) during the Auckland Christmas carnival of 1916. On Saturday 30 December 1916 at Alexandra Park she time trialled the mile in 2:06 2/5, a record that stood until beaten by Our Thorpe on 6 September 1918 at Addington (2:06 1/5). Her time was also a NZ Pacers and NZ Pacing Mares record. This meant that at the time of her NZ Cup victory, she held both the one and two mile New Zealand records.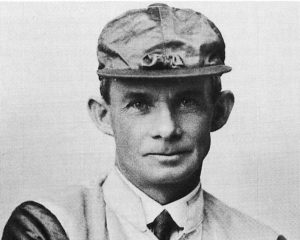 Manny Edwards
Manny Edwards her Kaiapoi owner/trainer/driver in NZ, drove his first winner aged seventeen before going onto have a brilliant harness racing career. His brother Bert drove the inaugural NZ Cup winner Monte Carlo to victory in 1904. This and Manny's 1917 victory with Adelaide Direct were the Edwards family's only NZ Cup successes. Manny's sons Dil and Stan were prominent horsemen as was grandson Murray Edwards.
Adelaide Direct was returned to Baringhup where she was bred from, her descendants breeding on. She left Dillon Bell mare Adelaide Dillon (1920, 2:21.2) when first bred from who was the third dam of Countess Melua (2:19.0) whose two unraced fillies in Fair Oaks (dam of McIvor Creed, 2:10.2, $1,560) and Nina Joys (dam of El Nina and Le Joy, 2:11.0, $1,241) bred on.
McIvor Creed produced Pascinelle, a 1:59.7 ($91,276) winning gelding by Dales Gift who won the inaugural VICSS – 3c and Geelong Guineas in the early 1980's. El Nina was dam of Galavation (2:07.9, $6,266) who in turn left Howzat (2:01.7, $13,020) the dam of However, a 1:59.5 gelded son of The Unicorn who won George Crawford Tribute at three in early 2000's and Narrogin Cup.
Le Joy, was dam of Old Clyde (2:08.9, $5,052, Port Augusta Derby) and Gay Apache (2:01.0, $2,801) dam of winners in Western Apache (Kinney Hanover, 1:58,2, $180,385, WASS/Golden Slipper – 2, Summer Gift, South West Derby); Apache Sunrise (Kinney Hanover, 2:00.7, $118,693, WA Gold Bracelet – 2f); Shannine (Chill Factor, 2:00.0, $27,493).

Apache Sunrise is the dam of the most recent winner from Adelaide Direct's family in Apache Cruiser (Grinfromeartoear/Gay Apache gelding,p2 1:59.0 at first start at Pinjarra in July 2013, $20,015, two WA wins) who recorded his second win at Northam in WA in January2017. Adelaide Direct has been the foundation mare of at least eight generations of winningdescendants.

Classic Families lists her major victories as shown below :

ADELAIDE DIRECT – (1906f Directway/Honest Harry mare), 2:06.4TT, $6,058 (£3,029) NZ earnings only; 58 NZ starts for six wins, eight seconds and nine thirds :
Credit: Peter Craig
| | |
| --- | --- |
| | RACING HISTORY PEOPLE |

Twelve-time New Zealand training premiership winner Mark Purdon had achieved just about everything imaginable in harness racing. But at Addington on a moderate Thursday card this evening, he hit another career milestone, joining his father, Roy, and brother, Barry, as the only trainers to have accumulated 2000 training wins in New Zealand.

"It was a real thrill," Mark said after guiding Bettor Trix to victory. He co-races Bettor Trix with Vi Hancock, wife of Inter Dominion kingpin trainer, Sydney's Brian Hancock.

"Both Roy and Barry would be thrilled, too," he said.
Roy and Barry Purdon won 17 premierships in partnership from 1978 until 1995. Barry then won two premierships on his own account, while Roy earlier won four on his own account, the first in 1971.

Mark, now 53, has a laugh when asked whether he has any immediate thoughts of slowing down. "Yes, I do have thoughts of taking things a bit easier. Maybe, in two years, when I turn 55 things might change as I would like to think my sons Nathan and Michael could carry on and do a bit more," he said.

He has dominated the sport in this country for most of the new millennium, and latterly also in Australia. Of the 2000 wins, 908 came on a solo basis, 558 in partnership with Grant Payne from 2007-12 and, latterly, 534 with Rasmussen since mid-2013.

As far as a career highlight, Purdon can't single out any one feat as being bigger than the others.

"You always focus on the most recent because they are the most vivid in your memory, but I've been so lucky to have had so many top horses further back like Pride Of Petite (dual 1996-97 Inter Dominion Trot champ), Il Vicolo (dual 1995/96 NZ Cup winner) and Young Rufus (2002 Auckland Cup winner). "There are so many."

He is currently riding the crest of a wave with training partner Natalie Rasmussen with reigning NZ Harness Horse Of The Year, Lazarus. A 10-length winner of last year's New Zealand Cup in record time, Lazarus again leads at least four leading hopes from the stable for this year's $800,000 Christchurch Casino New Zealand Cup on November 14.

The landmark came after Purdon eased Bettor Trix to take a one-out trail over the last 1200m behind stablemate Major Hippie. She raced clear to win comfortably in a quick 1:56.6 mile-rate (1950m), while Major Hippie tired to run ninth. Bettor Trix is now unbeaten in two race starts and is eligible for the upcoming Alabar Sires Stakes 3YO Fillies Series.

The All Stars stable were also to the fore in the only other race they had starters in on Thursday. They ran the quinella with two three-year-old debutantes, Tennyson Bromac and Ohanzee, in a maiden event. This time it was Natalie Rasmussen to the fore as the winning driver with Tennyson Bromac, a colt by Bettor's Delight getting the decision. Tennyson Bromac pressed to the front with a lap to run, taking over from stablemate Ohanzee, driven by Purdon.

The pair had the finish to themselves with Tennyson Bromac holding by a head in a 1:58 rate (1950m), with favourite Bright Diamond, who led early, then eased three back for trainer Gavin Smith, finishing on for third.

"They both haven't done a lot yet," said Purdon.

Twelve-time New Zealand training premiership winner Mark Purdon had achieved just about everything imaginable in harness racing.


Credit: NZ Harness News - 13 October 2017


| | |
| --- | --- |
| | RACING HISTORY PEOPLE |

Master reinsman Colin DeFilippi wasted no time landing his 2000th NZ driving win at Addington on Friday, September 8.

In his first drive for the night, he produced a customary magical drive on Izmok, a horse he co-owns and co-trains with wife Julie, to reach the milestone.

The same horse had provided DeFilippi with his 1999th at Addington on August 18, when he also positioned him perfectly behind the leaders before edging past them in the run home.

DeFilippi became the sixth New Zealand driver to join the 2000m club, joining Tony Herlihy, Maurice McKendry, Ricky May, David Butcher and Dexter Dunn, the latter becoming the youngest at Addington on July 8.

He displayed a rare show of emotion with a controlled salute at the finish.

The first of many to offer their congratulations to the popular Canterbury reinsman was former employee Sam Ottley, driving runner-up Michelle, 200 metres after the finish.

DeFilippi was welcomed back to happy scenes at the presentation area by wife and training partner, Julie, daughter Mandy, and long-time family friend, Kerryn Corbett.

He knew the milestone would come but it had proven elusive in recent weeks.

DeFilippi, who turned 65 in May, followed in the footsteps of his brother Michael, also a very successful reinsman, who drove over 1161 winners before officially retiring from race-driving four years ago.

Colin gained his first driving win behind Brother Eden, trained by his father Rod, in a one-win pace at Greymouth 43 years ago.

He says race-driving had changed over the years.

"Now you have got to be up there because they don't come back to you like they used to," said DeFilippi.

He achieved the lifetime ambition of every driver by winning the 2001 New Zealand Cup with top mare Kym's Girl, who he co-trained with wife Julie.

"You always want to win a New Zealand Cup but it's just one race," he said.

"Courage Under Fire (former champion two and three-year-old pacer, trained by good friend Bruce Negus) was very good because he lasted two years (being unbeaten for his first 24 starts and winning a record six Derbys)."

"Going to Australia with Stent (2015 Australasian Grand Circuit trot champion he co-trains) then coming home to win the Rowe Cup was pretty good too."

"And Our Mana, even though he didn't win a New Zealand Cup, he ran second in it twice and was a good horse to have when I was getting started," he said.

He won the NZ Drivers Premiership in 2006 with 121 wins, 22 years after a premiership second to Peter Wolfenden, and has regularly featured among the top 10 on the drivers premiership.

DeFilippi, who has driven five winners on a single programme on three occasions, finished second to Belgian Christophe Martens in the 2007 World Drivers Championship, when held in Australasia.

He is an inductee in both the New Zealand Trotting Hall of Fame and Addington Harness Hall of Fame


Credit: NZ Harness News writing in The Press


| | |
| --- | --- |
| | RACING HISTORY PEOPLE |

BOB NEGUS - Trainer-Driver

Bob Negus, one of a rare group of harness drivers to win both the New Zealand Cup and the New Zealand Free-For-All, with champion mare Armalight in 1981, died from cancer in Christchurch on Saturday. He was 89.

Trainer son Bruce, also associated with a champion pacer, training Courage Under Fire in the late 1990's, said his father had still been driving a tractor until the final two weeks of his life. "His mind was still pretty sharp," Bruce said. "He was good about it. He had all his affairs in order."

Bob Negus cleverly out-drove his rivals with Armalight to win the 1981 New Zealand Cup. After being left parked out, he didn't force the issue, knowing his mainrivals were back in the field. He ulitised Armalight's speed inside the final 800m, leaving their rivals flat-footed. Armailght was in a class of her own, winning by seven lengths and paying $27.

Three days later, Armalight, trained by Brent Smith, made international headlines with a world record win in the New Zealand Free-For-All. Bob Negus let her run freely in front over the mobile 2000m, winning as she liked by three lengths in an astonishing 2:23.5, at the time an unheardof mile rate of 1:55.4. He had driven Armalight in her first four wins and was back at the helm when helping Smith with the mare's preparation during her stellar five-year-old season. He also drove her to win the 1982 Kaikoura Cup and run second, off a 10m handicap toanother top mare of the era in Bonnie's Chance in the 1982 New Zealand Cup.

Good friend, former Nevele R Stud founder and Bromac Lodge proprietor Bob McArdle, was saddened by his passing. "He was one of the most talented New Zealand horsemen that has ever been," said McArdle. "The guy did amazing things without having the best bred horses. God knows what he would have done had he had the best ones."

A skilled trainer and driver with his own horses, Negus trained first at Springston and then at Broadfield. His biggest win as an owner-trainer was with Willie Win in the 1972 New Zealand Derby at Addington, in the hands of NZ's champion driver of the time, in "The Maestro", the late Maurice Holmes. After breaking and losing 30m early, his performance to recover and win in a then NZ-record time for a three-year-old was sensational. He won going away from Kotare Scott, with subsequent top pacer Young Quinn, who beaten him into second in the NZ Sapling Stakes at two, finishing fifth. Willie Win later ran second to Speedy Guest that season in the 1973 Great Northern Derby. By Good Chase, Willie Win also won the 1972 Methven 2YO Stakes in the hands of the trainer and retired winning eight of 33 starts.

Negus also owned and trained Willie Win's younger half-sister Glint to win the 1955 New Zealand Oaks and the 1956 Ashburton Cup, both driven by Holmes. She won 10 of 38 starts. Glint's first foal, Bruce (named after his son) won seven, while another of her foals in La Romolaonly won once, but left six winners including eight-race winners for other trainers in Bardolino and Winning Note, and Early Riser (four), the latter leaving a feature Victorian El Dorado winner of the 1980s, First Glimpse, for Invercargill trainer Wayne Adams.

Captain Jura, secured off Balclutha trainer Len Tilson, was another Ashburton Cup winner raced by Negus, and driven by the late Doodey Townley in 1975. It was a Negus-trained quinella, with the trainer driving Willie Win to finish second. Negus also trained the quinella in the 1972 NZ Welcome Stakes for two-year-olds at Addington with another smart youngster in Hardcraft, who beat close relative Willie Win.

Hardcraft, driven by the late Derek Jones in the Welcome Stakes, was also by Good Chase, but from Gleam, a one-win daughter of Willie Win's half-sister Glister(Whipster-Spangle), who won five. Negus bred, owned and trained Hardcraft, who won five of only 16 starts and at three won the 1973 Queens birthday Stakes at Ashburton, when driven by Maurice Holmes.

Negus also bred, owned, trained and drove Glint's son Patchy to win the 1962 NZ Golden Slipper Stakes, formerly a feature two-year-old event on the NZ Harness calendar. He had his share of success in country cups, being the owner and trainer of 1963 Waimate Cup winner Flynn, and 1967 Kurow Cup winner Bronze Lad, both in the hands of Maurice Holmes, and 1969 Geraldine Cup winner Kran, which Negus drove himself.

Legacy, who won four, was another useful pacer for him in the early 1970s, while he also won three with his namesake Robert Henry (Out To Win-Gilt), before the latter was exported to North America in 1982. He also did a good job after securing one-win pacer Piper McCardy, converting him to trotting and winning seven races as an aged trotter before retiring him as an 11-year-old in 2001.

Bob Negus also had a support role in the career of subsequent world champion driver and now successful trainer Mark Jones. He employed him when Jones was on his way to becoming NZ's top junior driver.

"In his last week he had a session playing with a jazz player as it was always something he wanted to do, which was nice," McArdle said.

Negus died 80 days after his daughter, Robyn Garrett, who also died from cancer. He is survived by sons, Bruce and Keith, and daughters Christine and Gail Dolamore

Credit: NZ Harness News appeard in The Press 5/9/2017


| | |
| --- | --- |
| | RACING HISTORY MESCELLANY |

FUND RAISING

Punters are being asked to kick the smoking habit for the first time in Addington Raceway's 118 year history on Friday night (8 Sept).

The home of the NZ Metropolitan Trotting Club will host what is thought to be the first ever smokefree harness racing meeting in New Zealand. Addington's bold initiative comes just a week after the smokefree Daffodil Raceday at Hastings on Saturday. That was believed to be the first smokefree thoroughbred race meeting in New Zealand.

Friday's meeting will be the first harness racing leg of the Daffodil Racedays - a joint venture between the New Zealand Racing Board(NZRB), New Zealand Thoroughbred Racing(NZTR) and Harness Racing New Zealand(HRNZ) to raise money and awareness for the cancer society.

Addington's acting chief executive Brian Thompson said the decision to go smokefree for the night was a no brainer that required little to no discussion. "It's a great way to show support for the Cancer Society," he said. Initial feedback has been positive but there will be no heavy handed enforcement for those who do light up.Anyone found smoking by 'Smokefree Stipendiary Stewards' at Addington, will be asked to make a donation to the Cancer Society for their breach of the smokefree rule.

Thompson was confident the smokefree policy will be supported and his optimism will be further boosted by the results from the Hastings experiment. Hawkes Bay Racing chief executive Andrew Castles said reaction to the smokefree policy at Hastings on Tarzino Trophy day had been positive. He did not receive any complaints or negative comments. "Our on-course turnover was up 30% on last year and that was on a cold wet day," he said.

Addington will look to form a partnership with the Cancer Society and has chosen it to be one of their charities of choice in the lead up to Cup Week. The smokefree race night coincides with the release of 1000 Dexter Dunn bobbleheads.

The bobbleheads are in recognition of Dunn becoming the youngest driver to achieve 2000 wins on New Zealand soil and the profits from the sale of the bobbleheads will go to the Cancer Society.

The Cancer Society is a non-government organisation totally reliant on community support and donations. Elizabeth Chesterman, chief executive of the Cancer Society's Canterbury-West Coast Division was delighted Addington had chosen to go smokefree for the evening and said it recognised the importance of the Cancer Society's goal to make New Zealand Smokefree by 2025. on

Credit: The Press 8 September 2017


| | |
| --- | --- |
| | RACING HISTORY MESCELLANY |
Do you know the name of the only mare to win a NZ Cup and produce a winner of the NZ Cup??
Hint : amazing as it may seem and almost certainly never likely to happen again, her foal also won the Dominion Trotting Handicap. Look it up and if still unsure, see the answer and story in next week's article.
Sixteen mares (Reta Peter, Haughty both twice) have won the NZ Cup on eighteen occasions (up to 2016) with ten mares that started in the NZ Cup having left NZ Cup runners. They are :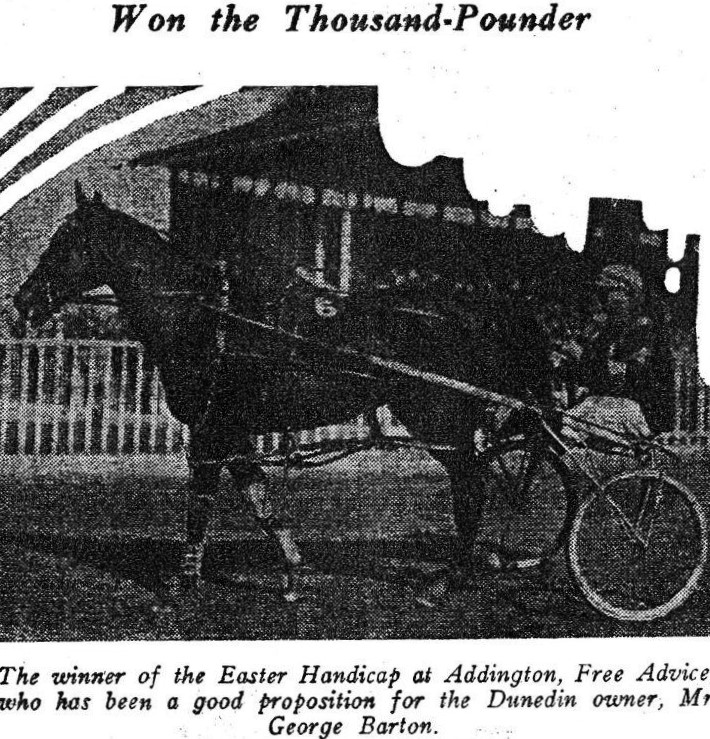 Free Advice
Free Advice (1924 Blue Mountain King/Intaglio), 2:09.6, £5,903½; family of Pride Of Lincoln (N1).
NZ Cup progeny : Horsepower (1940, 1944); Pacing Power (1943, 1944)
Free Advice was the winner of a NZ Cup (qualifying division) before running third for Bill Tomkinson to Harold Logan in the 1931 NZ Cup, also finishing third to Harold Logan in the NZFFA run later the same week. Earlier the same year she had won the Easter Hcp (now Easter Cup) at Addington and held the NZ mares record for 1¼ miles at 2:41 1/5. Unplaced in the Cups of 1932 and 1933 and later becoming an outstanding broodmare, one of only two to have more than one of their progeny start in NZ Cup (other being Tactics). The dam of Horsepower, a GN Derby winner, unplaced in the Cups of 1940 and 1944 before moving to Western Australia where he won the 1945 Stratton Cup and full brother Pacing Power, winner of NZ Derby and NZFFA at Addington as well as placing third in both the 1943 and 1944 NZ Cups.
Free Advice is the grand dam of Auckland Cup winner Thelma Globe (fourth 1955 NZ Cup); third dam of the equal third oldest NZ Cup winner Invicta, eleven years old when winning in 1961; fourth dam of Australian speedster Rip Van Winkle (QLD/NSW Derbies, Aust Pacing Championship); fifth dam of Interdominion Pacing champion Welcome Advice (VIC Derby), GN Derby winners Bolton Byrd (Auckland Cup) and Melton Monarch (Messenger), and foundation matron to many other fine horses.
Rocks Ahead (1929 Happy Voyage/First Water), 2:08.4, £3,311; family of Red Diamond (N3).
NZ Cup progeny : Navigate (1947, 1948, 1950)
Rocks Ahead was bred by Derek Jones from the Southland foundation mare First Water. Unplaced in both the 1938 and 1939 NZ Cups while holding the Southland mile record of 2:06 1/5 set at Winton. Rocks Ahead left Barrier Reef, winner of the 1951 Dominion Hcp and an ID Trotters heat in 1951 at Addington; Navigate her NZ Cup progeny was unplaced in the Cups of 1947, 1948 and 1950 (Hannon Memorial, Ollivier FFA) and Rendezvous, grand dam of the 1971 gelding Rondel who won the 1979 Pacing Grand Final at Addington. Rondel's other major successes included the 1977 Franklin/Thames Cups and a 1979 ID Pacing heat. Rendezvous' filly Dismiss (grand dam Rocks Ahead) was the foundation mare for Chin Bing Foon (Luk and Onn Chin's father) from whom a considerable number of successful horses have been bred and raced by the Chin family over the past 60 years. Dismiss left Dispense (ID Trotters heat) and Disband (ID Pacers heat and third to dead heaters Jay Ar/Robin Dundee in 1965 Grand Final).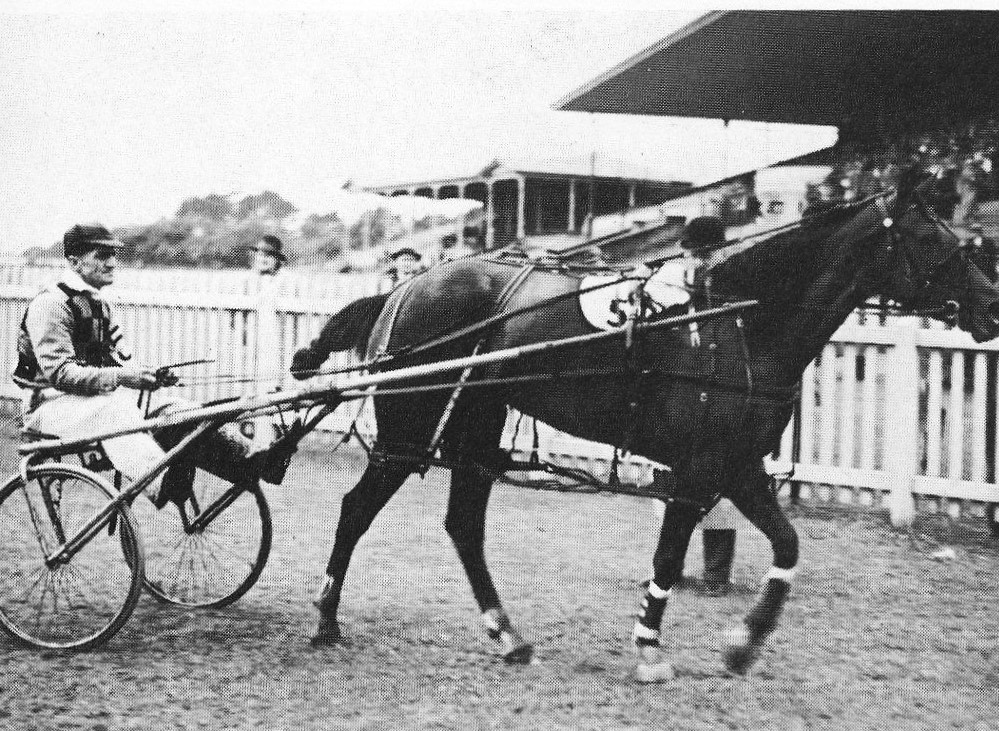 Parisienne
Parisienne (1933 Rey De Oro/Yenot), 2:07.8, £6.766; family of Bessie B (N2).
NZ Cup progeny : La Mignon (1957, 1958)
Parisienne was bred by George McMillan, Remuera being the winner of sixteen races, 2:07.8; $13,532; including NZ/GN Derbies, 1938 Interdominion Pacing Champion (on points and winner of three heats). Competing in three Cups with fifth in Lucky Jack's second Cup in 1939 her best return, eighth in 1938 and not in the first ten home in 1940.
Parisienne the dam of ten foals for six winners, one of her foals was a NZ Cup runner, La Mignon, third in 1957 to Lookaway for Doug Mangos and sixth in 1958. As a broodmare La Mignon left brilliant pacer Garcon Roux (GN/NSW Derbies, Auckland Cup), being the second three-year-old to qualify for NZ Cup after Tactile. The grandson of Parisienne's first Cup run in 1969 resulted in his being part of an incident in which he fell. One horse was pulled up and two others lost their drivers (first past post Stella Frost being disqualified as a result of this incident). Garcon Roux finished eighth in both 1970 and 1971.
Another of Parisienne's foals was the unraced Mary Wootton, dam of Scottish Command (third in 1961 NZ Cup, winner of Auckland Cup; sire of NZ Cup winners Sole Command 1977 and Trusty Scot 1978; Scottish Charm second 1972 to Globe Bay and eighth 1973, Trevira third 1979 to Lord Module and eighth 1980, Bellas Command and Hundred Pipers both unplaced in 1972). Mary Wootton was the third dam of Roydon Glen (GN Derby, Messenger, Auckland Cup, Pan Am Mile, Harness Horse of Year, sire of champion trotter Lyell Creek) who finished third to outsider Borana in 1985 NZ Cup and Roydon Scott (Wellington Cup) unplaced in 1980.
Molly Direct (1933 Jack Potts/Real Girl), 2:09.9, £2,585; family of Jessie B (N9).
NZ Cup progeny : Globe Direct (1949, 1950)
Molly Direct had the one start in the 1941 NZ Cup won by Josedale Grattan finishing eighth, having won ten races for Bill Lowe. Globe Direct was her best performed foal, winning a heat of Interdominions at Melbourne in 1950 and finishing a head behind Captain Sandy in the Grand Final. His two NZ Cup starts were in 1949 finishing fourth to Loyal Nurse and pulled up in the 1950 edition while he held the NZ record for 1½ miles of 3:09 2/5.
Molly Direct was grand dam of Ted Lowe's first NZ Cup winner Cairnbrae in 1964 (second was Humphrey in 1968) among a considerable number of worthwhile family members descending from her – Sir Alba, Cosmic Under Fire, Cosmic Ice, West Street, Wing Commander, Firm Offer and Dundas were among them.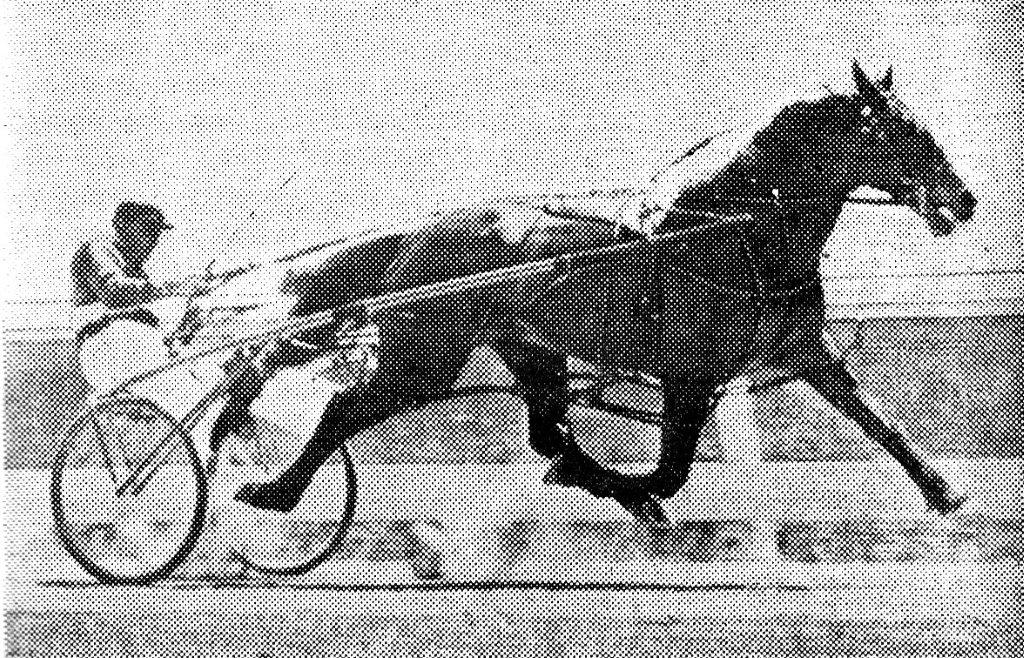 Haughty
Haughty (1935 Nelson Derby/Regal Voyage), 1:59.6TT, £13,105½; family of Miss Kate (N12).
NZ Cup progeny : Brahman (1957)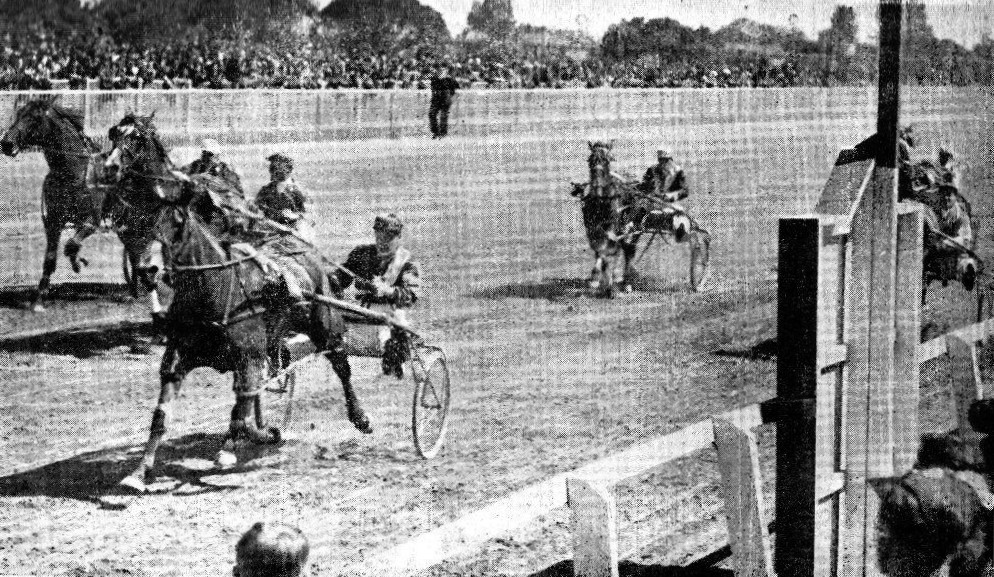 Haughty's 1942 NZ Cup
Haughty shares the mares record for the number of NZ Cup starts with Blossom Lady – six in total for a record two victories (record shared with Reta Peter), a third and unplaced on three occasions. Haughty's two wins came at her first two Cup starts in 1942 (front, defeating Loyal Rey) in a world record 4:13.8 and 1943 (36yds, defeating Countless in another record time of 4:13.6) when 4/3 in betting both years. She ran fifth in 1944, pulled up in 1945 after suffering interference on the home turn, third to Integrity in 1946 and last in Highland Fling's first Cup victory in 1947, all off long marks (36 – 60 yards behind)..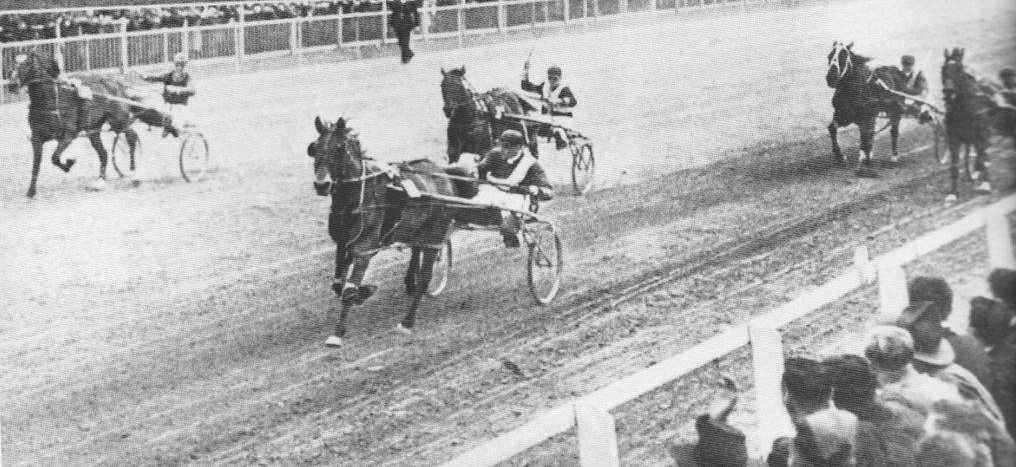 Haughty's 1943 NZ Cup
Haughty became the first mare in Australasia to pace a mile in under two minutes, achieved during the Cup meeting of 1944 recording a time of 1:59 3/5, just the third time the two minute barrier had been beaten in the Southern Hemisphere – Lawn Derby 1938 (1:59 2/5), Gold Bar 1942 (1:59 3/5), all of them being time trials.
Haughty's TT
Haughty finished with eighteen victories and twenty four placings from 74 starts, £13,105½. In addition to her two NZ Cup victories, she won major races in NZFFA, dead heating with Turco (also second to Gold Bar) and Easter Hcp. Haughty and Gold Bar staged a match race at the Patriotic meeting at Addington in March 1943 with the mare winning in a then NZ record mares time of 2:00 2/5 for the mile. These two great adversaries produced the first mating between two minute performers in the Southern Hemisphere when Gold Bar sired and Haughty was the dam of Brahman (sire of 110 winners) and fifth dam of two million dollar winner Shakamaker (ten Group Ones including Interdominion Pacing Final). Brahman was Haughty's NZ Cup runner but he finished last in Lookaway's 1957 NZ Cup victory.
Shadow Maid (1937 Red Shadow/Homelass), 2:07.4, £7,156; family of Homelass (N208).
NZ Cup progeny : Gay Robin (1965)
Shadow Maid started on three occasions in the NZ Cups of 1943, 1944 and 1945. She finished last in 1943 and sixth in Bronze Eagle's 1944 Cup victory. As an eight year old, she was prepared for her 1945 Cup run by Ces Devine and went into the race having been unplaced in her previous 27 starts (20 for Devine) since finishing second in 1943/44 season. Shadow Maid ran third in Gold Bar's 1945 NZ Cup admittedly thirteen lengths behind the winner but ten lengths ahead of fourth placed Countless. She was the rank outsider of the field (12/12).
Shadow Maid has earlier won the 1943 Auckland Cup (tr : Scotty Bryce, dr : Jimmy Bryce) which assisted her in being second behind Haughty in the stakes won list for 1942/3 season (£2,410).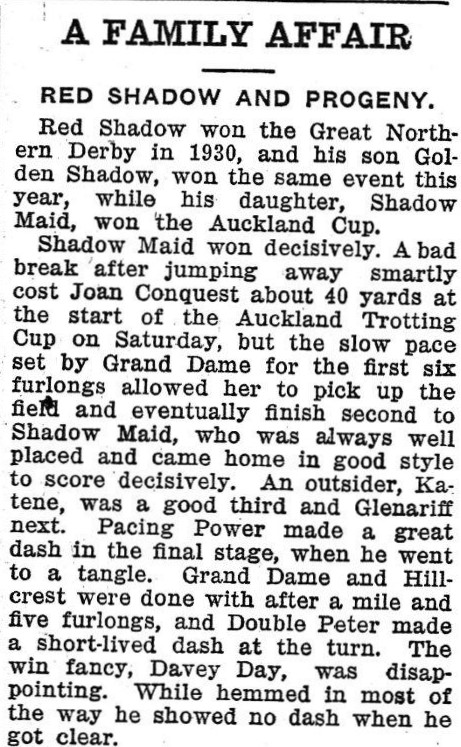 Shadow Maid AK Cup
Her best foal Gay Robin (ID heat, Ashburton Flying Stakes) finished fourth to Garry Dillon in the 1964 NZ Cup. Shadow Maid was also grand dam of good trotter Hal Good (Dominion Hcp) and Gay Rose (Rangiora Cup).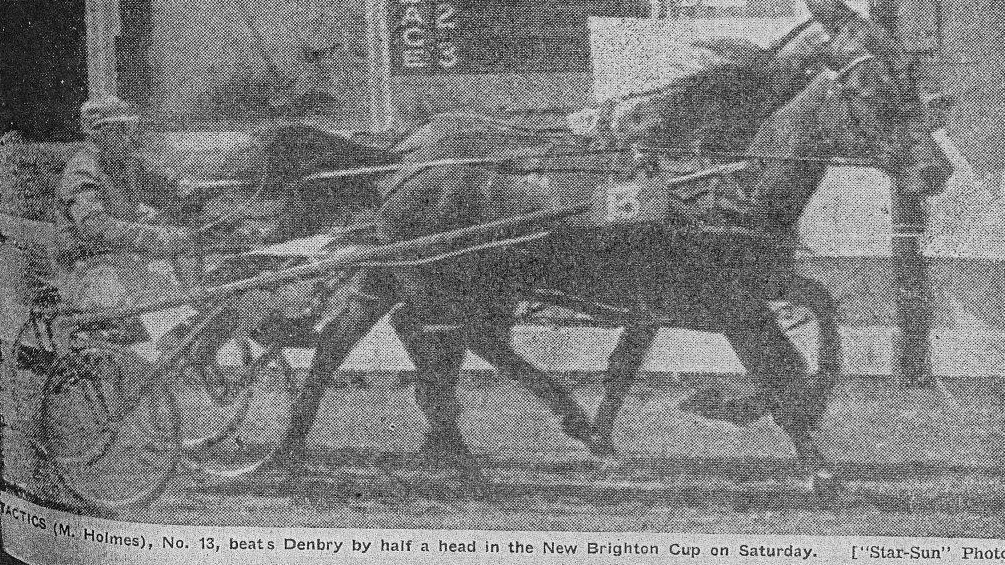 Tactics
Tactics (1946 Light Brigade/Nell Grattan), 2:07.6, £6,427½; family of Red Diamond (N3).
NZ Cup progeny : Deft (1964), Tactile (1965)
Tactics ran in Adorian's 1953 NZ Cup finishing last after starting third favourite for Maurice Holmes. Bracketed with Vedette (Stan Edwards) who finished fifth, Tactics broke at the start and collided with Johnny Globe costing him 60 yards (started off 24 yds) and Johnny Globe was only beaten a length by Adorian. Tactics was the winner of 11 races including a New Brighton Cup.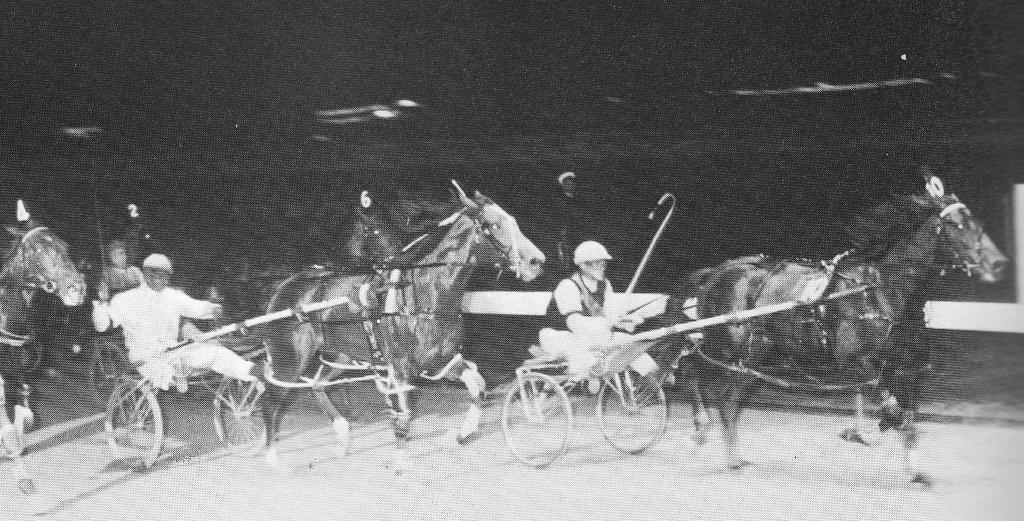 Tactile, Robert Cameron, Melbourne ID's 1964, third night
Tactics is one of only two mares to have had two different progeny run in NZ Cups – Free Advice being the other mare (other mares had same progeny run in two or three Cups e.g. Rocks Ahead with Navigate). First, Deft finished eighth in Cairnbrae's 1964 NZ Cup win. Secondly, Derby king Tactile (GN/NZ/NSW/VIC/SA) ran tenth to Gary Dillon in 1965 NZ Cup, before being a winner in North America and later sire in NZ of top class performers in Norton, Ryal Pont and WA Derby winner Tac Warrior.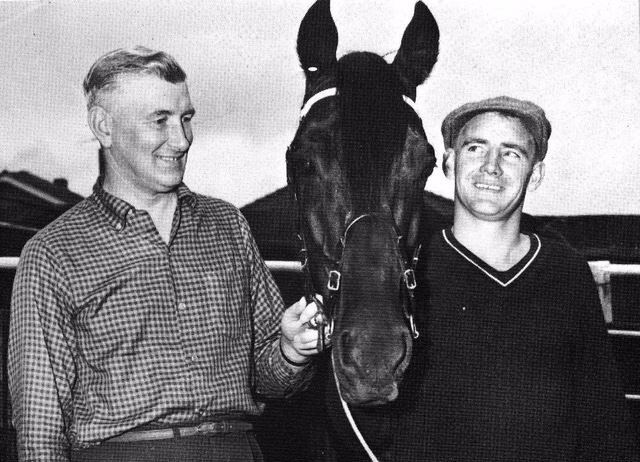 Jim Dynes, Tactile, Robert Cameron
Tactics was a very productive broodmare and other family members descending from her include Blacks A Fake (6th dam), Burrell, Fancy Wishes, Just Ella, Its Ella, Tact Boyden to name just a few,

Queen Ngaio
Queen Ngaio (1954 Light Brigade/Heather Globe), 2:06.0, £7,980; family of Moonbeam (N36).
NZ Cup progeny : Trio (1980, 1981)
Queen Ngaio competed in 1961 NZ Cup won by Invicta, finishing in sixth position. She won races at open class pacing level prior to her breeding exploits where Trio was her star performer. Trio finished second last to Hands Down in 1980 and sixth in Armalight's 1981 NZ Cup success. Trio won the NZ Two Year Old Championship, paced 1:55.2US and earned stakes of $265,707. Queen Ngaio also left Waratah, sire of ID third place getter Miss Pert and Reassurance third dam of All Hart (1:52.0US, $435,328, NZ Two Year Old Championship, GN Derby).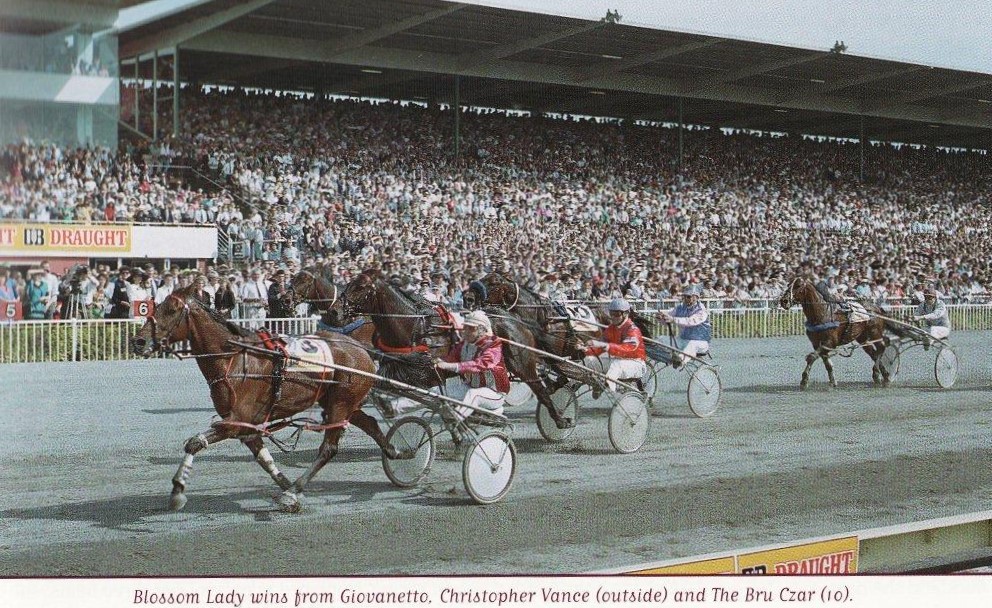 Blossom Lady 1992 NZ Cup
Blossom Lady (1984 Farm Timer/Lumber Lady), 1:56.0, $1,334,808; family of Fashion Queen (N69).
NZ Cup progeny : Mister DG (2003, 2004)
Blossom Lady, bred by Ashburton mates Bob Davison and Bill Cook was raced by the twelve strong Polly Syndicate headed by former HRNZ Chairman Ralph Kermode.
Blossom Lady was the fifth NZ millionaire and first mare among the first ten millionaires in Australasia. Her 131 NZ starts NZ produced 36 victories (six for Stephen Doody, 30 for Derek Jones), 29 placings for earnings of $879,605. Her six Australian campaigns produced seven victories and nine placings from 24 starts. Career stats were : 155 : 43 – 20 – 18, $1,334,808, 1:56.0 with Anthony Butt driving her to twenty seven victories in NZ, seven in Australia with others to record wins being Stephen Doody (5), Derek Jones and son Peter two each.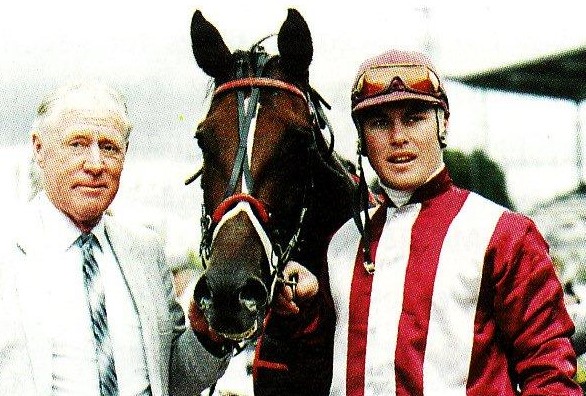 Derek Jones, Bloss, Anthony Butt
She held national records for a mare at 1 mile mobile 1:56.0 (1:56.5 AUS), 2000m stand 2:33.5, 2400m mobile 2:57.0, 2600m stand 3:15.8/3:14.9 (also overall national record), 3200m stand 4:03.3.
Her six NZ Group One's were all at Addington (NZ Cup/FFA, Easter Cup, 3 NZ Standardbred Breeders Stakes) with a further two at Moonee Valley (two Hunter Cups). Eleven of her twenty two Group race wins were at Addington (above plus three Premier Mares Championships, Interdominion heat, Alan Matson (Monsanto) FFA). Her remaining group race wins being Hannon Memorial (twice), Ashburton Flying Stakes, Interdominion Consolation (Alexandra Park), Interdominion heats (two Moonee Valley/Harold Park, Alexandra Park).
Blossom Lady's signature NZ victory came in the 1992 NZ Cup defeating Giovanetto and Christopher Vance by 1¼l and 1 length in a time of 4:05.0/2:03.1. She also ran in NZ Cups of 1990 (fifth), 1991 (thirteenth), 1993 (fourth), 1994 (fifth) and 1995 (sixth). She recorded seven victories at the extreme distance of 3200m (three at Addington – NZ Cup, Easter Cup, DB Draught Hcp), Ashburton Cup/DB Draught Hcp and two Hunter Cups.
Blossom Lady's first foal, son Mister DG (Camtastic), won twenty races (14 NZ/6 AUS), $795,749, 1:55.9 (Cambridge Classic, SBS/Heller FFA, Popular Arm FFA, Hunter/Cranbourne Cups, Hannon Memorial, Nobilio, Casey Classic, ID's [two heats, Consolation], Waikato Flying Mile) and he was Blossom Lady's lone starter in NZ Cup's won by Just An Excuse in 2003 (eleventh) and 2004 (fourth).
An inductee into both NZ Trotting Hall of Fame and Addington Harness Hall of Fame, Blossom Lady died on 18 May 2004.
Other mares that have started in NZ Cups and who influenced future NZ Cups and Cup winners include :
Norice (1898 Charles Derby/Naulahka), 2:20.0, $1,852; family of Dairy Maid (U30). Second to Monte Carlo in the inaugural NZ Cup (1904), dam of Nelson Derby, sire of Haughty (Norice's granddaughter) who won two NZ Cups (1942, 1943) and was the first mare in Australasia under two minutes (see earlier). Norice's other direct descendants have included Cup winners in Camelot (1984, fifth dam), Iraklis (1997, eighth dam) and dual winner Monkey King (2009, 2010, eighth dam). In addition, she is third dam of 1929 NZ Cup heat winner Kingcraft (started in NZ Cups of 1929, 1931 second to Harold Logan, 1932, 1933); seventh dam of Starship, second to Neroship in 1990 NZ Cup (1989, eighth; 1991, ninth); Giovanetto, second to Blossom Lady in 1992 NZ Cup and third to Chokin (1993); Holmes DG, second to Homin Hosed 1999 NZ Cup, fourth to Kyms Girl (2001), fourth to Gracious Knight (2002), tenth (2000), thirteenth (2003); eighth dam of Ermis, twelfth in 1995 NZ Cup, Anvils Star, second to Il Vicolo in 1996 NZ Cup (eighth 1996; eleventh 1998), Brabham, fourth to Christian Cullen in 1998 NZ Cup (fourth 1995, fifth 1997).
Imperial Polly (1900 Prince Imperial/Polly (Hood), 2:44.4, $2,093; family of Hoods Polly (N8). She started unsuccessfully on three occasions in NZ Cups of 1909, 1910 and 1911. A couple of NZ Cup winners trace back to Imperial Polly starting with Gold Bar in 1945 (third dam, fourth in 1942 and 1943; unplaced 1941, 1944 [sire of Cup runners Brahman, Congo Song, Bartender] and Lord Module winner in 1979 (fifth dam, fifth in 1978, unplaced in 1980) while 1989 winner Inky Lord (unplaced 1990) is a member of Hoods Polly family.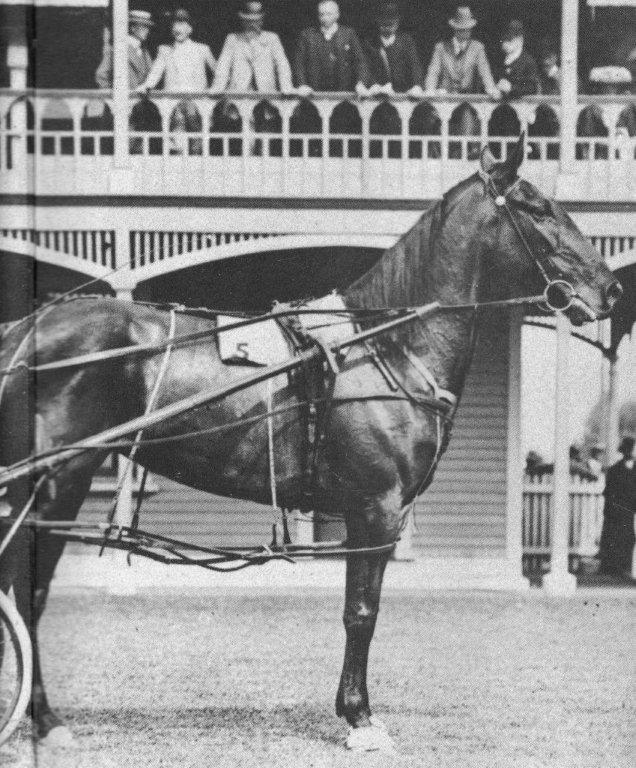 Lady Clare 1911 NZ Cup winner
Lady Clare (1904 Lady Clare/unknown), 2:19.0, $2,940; family of Lady Clare (N41). Lady Clare was the second female winner of the NZ Cup in 1911 (Marian 1907 first), owned by WE Clinton, trained by James Tasker and driven by Jack Brankin, she had earlier raced in the 1910 edition. The Cup was the last of Lady Clare's seven victories spread over eight seasons. Her direct descendants both won NZ Cup's in millionaires Luxury Liner (1988, fifth dam) and Christopher Vance (1991, sixth dam) representing two of the finest pacers seen in NZ, both trained from the Roy and Barry Purdon stables.
Win Soon (1908 King Child/Topsy (thor), 2:15.5, $3,486; family of Topsy (N7). The winner of the 1914 NZ Cup Win Soon was owned by Stevenson and McMath, trained and driven by Andy Pringle. Like the two earlier mares to win the NZ Cup, she led from start to finish. Win Soon was grand dam of Lady Averil, third in 1949 and fourth in 1950 NZ Cups. NZ Cup winners True Averil (1971, grand dam Lady Averil) and Lunar Chance (1975) both boast Win Soon as their fourth dam.
Country Belle (1908 Wildmoor/Bonnie Belle), 2:07.2TT, $7,404; family of Bonnie Belle (N5). The winner of 1915 NZ Cup and second in 1914 to Win Soon, was by Wildmoor (Wildwood) from Bonnie Belle, by Lincoln Yet (half-brother to Thelma) out of an Arab mare. Her breeder/owner was Bill Morland of Rakaia, she was trained and driven by Albert Hendricksen who had won 1912 NZ Cup with Albert H. Country Belle was grand dam of Fallacy, sire of one of three triple NZ Cup winners in False Step (1958, 1958, 1960) and Chamfer, winner of 1950 NZ Cup (unplaced 1951). Country Belle's three-quarter sister Curfew Belle was dam of Belle Logan, dam of Logan Derby, the sire of Johnny Globe, NZ Cup winner in 1954.
Van Glory (1968 Van Dieman/Malabella); 1:59.6, $37,050; family of Krinas dam (N30). Van Glory ran eighth in Robalan's 1974 Cup and is the grand dam of glamour mare Under Cover Lover (1:51.4US, $864,923), winner in NZ, Australia and North America. Under Cover Lover ran in two NZ Cups finishing eighth to Homin Hosed in 1999 and fourth to Yulestar in 2000.

Armalight
Armalight (1976 Timely Knight/Ar Miss), 1:55.4, $279,560); family of Lady Antrim (N31). The impressive winner of 1981 NZ Cup and second to Bonnies Chance in 1982, she is the fifth dam of Ohoka Punter who ran seventh to Arden Rooney in 2015 NZ Cup.
Kates First (1993 Holmes Hanover/Pleasant Franco), 1:57.2, $624,023; family of Pride Of Lincoln (N1). An Auckland Cup winner, Kates First ran fifth to her half-brother millionaire Christian Cullen in 1998 Cup and fourth to Homin Hosed in 1999.
Christian Cullen sired 2005 NZ Cup winner Mainland Banner, only four year old mare to have won the Cup, whose half brother Titan Banner finished third to Lazarus in the 2016 NZ Cup.
Have you ascertained who is the only mare to win a NZ Cup and produce a winner of the NZ Cup?? If not and to confirm your answer, see details in next week's article.
Peter Craig
6 November 2017
Credit: Peter Craig
| | |
| --- | --- |
| | RACING HISTORY MESCELLANY |
Last week we posed the question "Do you know the name of the only mare to win a NZ Cup and produce a winner of the NZ Cup??"
A clue was given that her foal also won the Dominion Trotting Handicap. Still stumped??
Answer to question : the only mare to have won the NZ Cup and whose subsequent foal won a NZ Cup was Trix Pointer. Her foal and subsequent NZ Cup and Dominion Hcp winner was Wrackler.
Trix Pointer (1914 Demonio/Bally Pointer), 2:09.4, £7,411¾; family of Fanny Fern by Blind Tuckahoe (U302)
Six year old Trix Pointer won the 1919 New Zealand Cup from a six second handicap in her first start in the event by four lengths defeating Moneymaker and Matchlight. Her time for the two mile journey was 4:30.0 for Upper Riccarton trainer/driver Free Holmes and owner WH (Bill) Norton. The fifth favourite paid £7 6s for the win.

Trix Pointer 1919 NZ Cup




Her four subsequent NZ Cup starts began with her being unplaced in 1920 in Reta Peter's initial Cup win, fifth in Reta Peter's second Cup victory in 1921 (on protest, Sherwood relegated from first), sixth in 1922 to Agathos and again sixth in 1923 to Great Hope.




The all American bred mare was purchased by Free Holmes during one of his North American trips (other purchases made in 1915 apart from Trix Pointer were Bonilene, Logan Pointer; in 1922 Rey de Oro; in 1930 Grattan Loyal, Frank Worthy). Her sire Demonio was by Charles Derby, the sire of outstanding mare Norice who finished second to Monte Carlo in the inaugural 1904 Cup. Demonio was a Strathmore line stallion, just four removes from Hambletonian himself. Trix Pointer's dam Bally Pointer was by Star Pointer, the first ever two minute pacer.




Trix Pointer's NZ Cup victory assured her of leading stakes earner status in the 1919/1920 season with earnings of £2,635; Bill Norton was leading owner with £3,135 while Free Holmes was runner up in the trainers premiership with 22 wins to James Bryce's 28½ and fifth on the drivers premiership with 16 victories (Eugene McDermott 34½).Free Holmes holds a unique record with Roy Berry** as the only persons to have driven a NZ Trotting Cup winner and ridden a NZ Galloping Cup winner at Riccarton (Manton, 1888). His successes as a jockey included Canterbury Cup, Grand National Hurdles and Great Northern Hurdles/Steeplechase double. As a thoroughbred trainer, success included victories in Auckland Cup and NZ St Leger.




** NZ Galloping Cup (1913 Snapps), NZ Trotting Cup (1937 and 1939 trained/drove Lucky Jack to victory and in 1944 trained winner Bronze Eagle).




Free Holmes was just as productive on a personal note, with all three sons (Freeman [FG], Maurice and Allan) associated with NZ Cup successes – Wrackler (1930, dr : Maurice Holmes), Harold Logan (1932, dr : Allan Holmes), Gold Bar (1945, tr/dr : Allan Holmes), Chamfer (1950, tr/dr : Maurice Holmes), Adorian (1953, tr/dr : FG Holmes), Lookaway (1957, tr/dr : Maurice Holmes).




Trix Pointer recorded success in 13 races for total earnings of £7,411¾, 2:09.4 (among first twelve 2:10 performers in NZ in 1922/23). Apart from her NZ Cup victory, major races won included at Addington NZFFA, Lightning/National Cup/High Class/Christchurch Hcps and Winter Oats Hcp at Forbury Park. She established national mare's records over various distances, including all comers record 2:08 3/5 for mile when placed third to Ena Bell at Addington in 1921.




Among her eight foals were seven winners; her noted male progeny apart from Wrackler (see below) was 1935 Wrack colt Aldershot. He won the Canterbury Juvenile Stakes at two, Wellington Stakes and NZ Derby at three (2:13.0, £1,731). Stamboul (1934 Frank Worthy gelding) was the winner of two races at four.




Trix Pointer's daughters (all by Wrack except Festivity by Rey de Oro) included :


[only a selection of better performed family horses possible under each of Trix Pointer's daughters]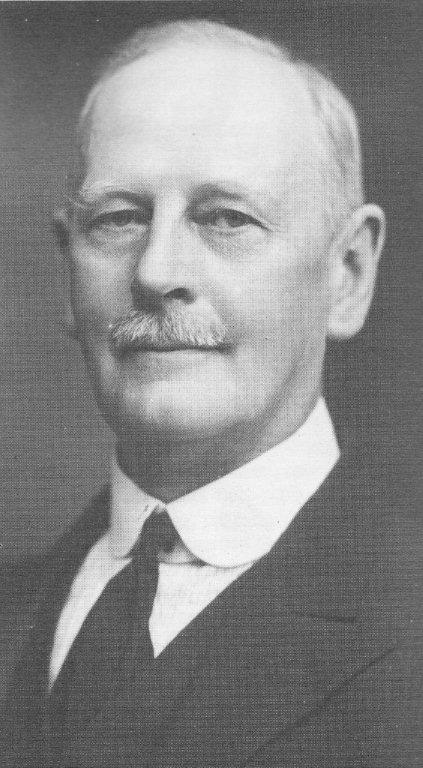 Harry (HF) Nicholl
Arethusa (1927), winner of Sapling Stakes (NZ Two Year Old filly record of 3:25 3/5 for 1½ miles), NZ Derby (double for owner Harry Nicoll, trainer Dan Warren and driver Maurice Holmes on same day Wrackler won 1930 NZ Cup), Henry Mace Memorial, Methven Cup, Ritchie and Park Hcps for Harry (HF) Nicoll, £3,505, 2:09.4 (among first 2:10 performers in NZ in 1933/34). Arethusa was dam of several fillies that continue to breed on with Eva Sophnally (1:55.3, Ashburton F&M Mile) being the most recent example. Arethusa was grand dam of leading trotter Ordeal (T1:59.3US, Dominion Hcp, Rowe Cup, USA Californian Trot); third dam of Cute Van (TAS Pacing Championship) and Elbejay (QLD Derby); fifth dam of Ryans Day (SA Cup).


Raclaim (1928), £990, T2:13.6, dam of Acclamation (NZ Trotting Stakes at three, four/five, Dominion Hcp, fourth dam of Top Evander [VIC Trotters Derby], Alley Brown [dam of Cameron Hanover, 1:52.4US; grand dam of Easton Alliance 1:49,0US, Vanlo Yorker WA Pacing Cup]; sixth dam of good juvenile pacer Joker Man), Guilane, dam of Interdominion Trotting Grand Final winner Yamamoto, third dam of Lady Netty [1:55.0US], fourth dam of Master Bomber [Ordeal Trotting Cup, Summer Trotting FFA]), Rewa Scott (Rowe Cup, dam of Our Own [Three Year Old NZ Trotting Stakes]; grand dam of Geffin [Three Year Old NZ Trotting Stakes, ID Trot Final/2 heats], Dupreez [ID Trot heat], Hilton Adios [Aust Trotting Championship heat], Hilton Bear [ID Trot heat] and fourth dam of Megalite (SA Trotters Derby), Doonholme, amongst numerous progeny


dam of Pebbles [Ashburton Cup]


grand dam of




Humphrey [NZ/Kaikoura Cups, Barton Memorial, ID heat]


Seattle (dam of Nostradamus [Messenger], Scimitar [1:54.0US], Alliage [dam of Neroship, NZ/Auckland Cups, Flying Mile; third dam of Sweet Talking Man, NZSS – 2c; fourth dam of Gomeo Romeo, Taylor Mile/Waikato Flying Mile]


Local Lie, NZ Oaks




third dam of Doubter [QLD Derby]


fourth dam of Next Bonus [NSW Breeders Plate – 2], Golden Flyin [VIC Queen of the Pacific], Larrakeyah Lady [VICSS – 4m, AUST Broodmare of Year, dam of




Safe and Sound [APG – 3c, VICSS – 4h, SA Cup, AUST Pacing Championship, Hunter Cup]


third dam of Beauty Secret [ VIC Oaks], Major Secret [NSW Derby, VICSS – 2c]




fifth dam of Star Bonus [1:50.1US], By My Side [VICSS – 4h], Fabrication [VICSS – 3T]


sixth dam of Mindful [VICSS – 3f], Lovelist [Breeders Crown – 4m]


seventh dam of Brailos Pass (SA Derby), Rocknroll Magic [VICSS/Breeders Crown – 3f].


Ochitree (1931), fourth dam of New Law [NZ Derby], sixth dam of Premium Kiwi [VICSS – 2T], seventh dam of Scoleala [1:50.3US].
Mistral (1932), dam of Chinook [Greymouth Cup], grand dam of Fri [National Trot] and Urrall [Kaikoura Cup], fifth dam of Versary [1:49.4US], sixth dam of Tupelo Rose [Caduceus Club Fillies, NZ Two tear Old Championship, VIC/AUS/QLD/GN Oaks, Nevele R Fillies, Messenger, 1:51.2US, grand dam of Little Brown Jug heat winner Resistance Futile, 1:49.1].
Festivity (1937), winner of Methven Cup, £1,536½, 2:13.1, dam of Affiliate (Manawatu/Wanganui Cups); her daughters bred on including Scotch Melody dam of Game Pointer (NZ Trotting Championship, Dunedin Trotting Cup) and Camilla, grand dam of Charles Nero (1:53.3US) and Frisco Frost (SA Cup).
Trix Pointer was inducted into the NZ Trotting Hall of Fame.
Wrackler (1925 Wrack/Trix Pointer), 2:08.4, £8,655; family of Fanny Fern by Blind Tuckahoe (U302)
One of the earlier examples of a very successful dual gaited horse, Wrackler is the only foal of a New Zealand Cup winner (Trix Pointer) to win the New Zealand Cup (1930) and later the leading trotting race the Dominion Hcp (1932). In his first NZ Cup start, five year old Wrackler started from the 12 yard mark – in fact all 12 yard mark horses filled the first four places in the Cup. Wrackler defeated Author Jinks by four lengths with a similar margin back to Jewel Pointer with Kohara in fourth place. There were only eight starters in the 1930 NZ Cup (first four placegetters in each heat/division of NZ Cup) with Wrackler covering the two mile distance in 4:24.2 (5 seconds quicker than his dam) for trainer Don Warren, twenty two year old driver "The Maestro" Maurice Holmes, the first of his three winning Cup drives and Ashburton owner Harry Nicoll, then President of NZ Trotting Conference. Wrackler, the favourite paid £2 16s 6d for the win. He was to finish third in the NZ Free-for-All to King Pointer beaten a head and a head later in the Cup carnival.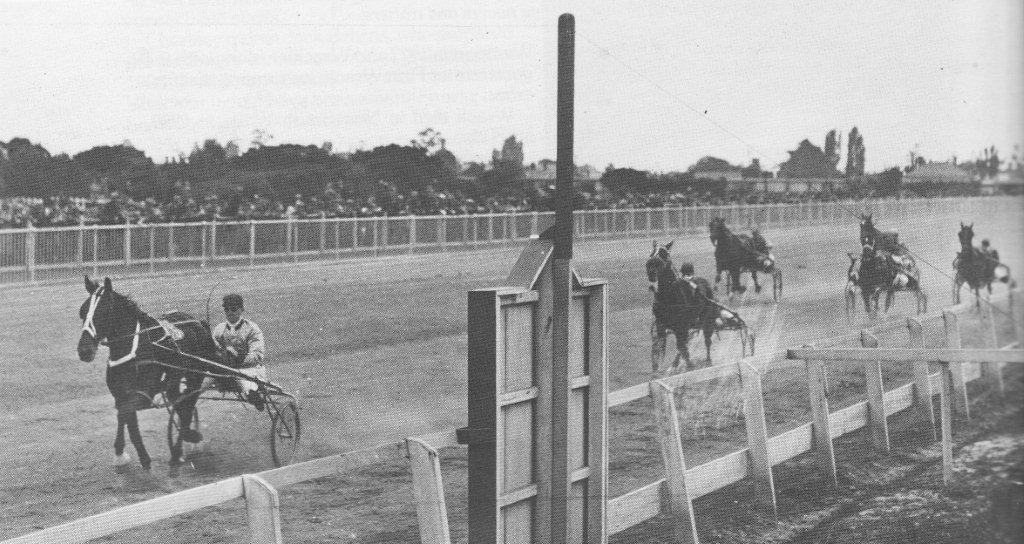 Wrackler 1930 NZ Cup
His two subsequent NZ Cup performances saw him finish fourth in a seven horse field in 1931 in Harold Logan's first Cup win and unplaced in 1933.
Wrackler was a product of Harry Nicoll's United States stallion import Wrack (Peter The Great/The Colorado Belle), Happy Medium line stallion (four removes from Hambletonian), over Trix Pointer, making him all American bred. Wrackler was Trix Pointer's first foal and one of Wrack's first crop of foals.
Wrack was a free legged pacer in North America racing successfully for three years on the Grand Circuit prior to arriving at Nicoll's Durbar Lodge Stud, Ashburton as a seven year old in 1924. Wrack a leading stallion in his day, siring 173 winners and leading sire on stakes for three consecutive seasons (1932/3, 1933/4, 1934/5) plus leading broodmare sire based on winners (three times) and stakes once.
His stock aside from Trix Pointer family above included NZ Cup winners Indianapolis (first three time winner, GN Derby, Auckland Cup, NZFFA, sire)/Bronze Eagle, NZ Derby winners Ciro/Imperial Jade, GN Derby winner Tempest, Dominion Hcp winners Peggotty/Sea Gift. Wrack was broodmare sire of Vedette (ID Pacing Final, NZFFA), Fair Isle/Recruit (Dominion Hcp), Turco (NZFFA), Perpetua (NZ Oaks), Indomitable/Recruit twice/Fair Isle/Scotleigh (Rowe Cup). He stood two seasons in Australia after landing there as an older horse purchased by Edgar Tatlow standing a season in Tasmania before being purchased by Ray Lawlor for Windsor Stud, NSW, where he died in 1939 without siring another foal.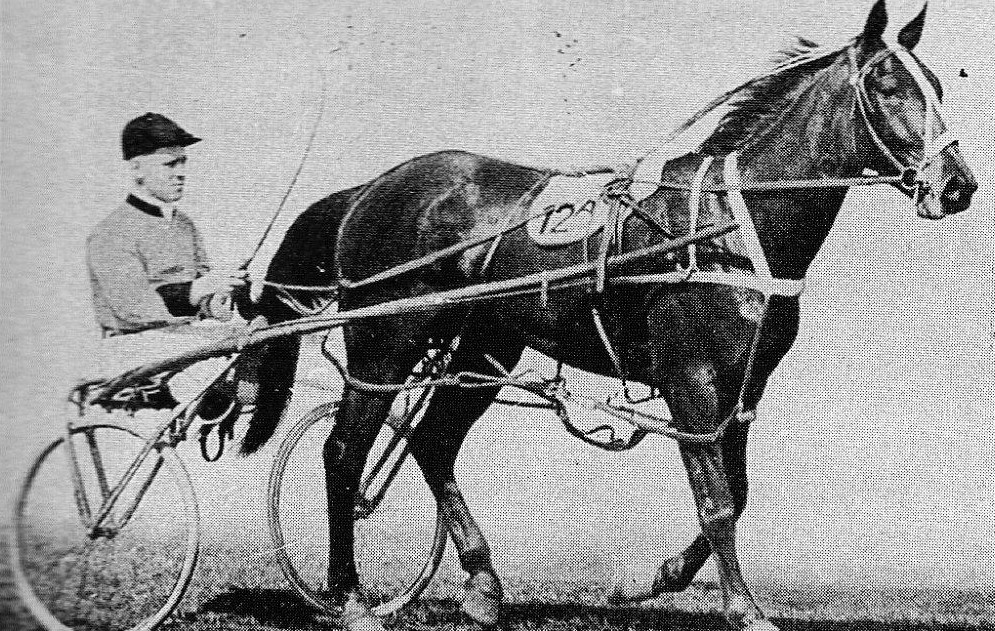 Wrackler GN Derby Maurice Holmes
Wrackler commenced racing as a pacer at two from the stable of Ashburton trainer Don Warren who died several years later although Wrackler was still racing. His preparation was taken over by Jack Behrns who turned him into a top trotter. At two, Wrackler recorded two thirds, which included one in the Sapling Stakes to Sonoma Child. As a three year old Wrackler won on five occasions, three of them in the hands of Maurice Holmes (GN/NZ Derbies, Oamaru Presidents Hcp), although Don Warren drove him in his first ever win in the Rakaia Hcp at Ashburton and a mile event (2:16 1/5) at Forbury Park.
Wrackler again won five races pacing as a four year old from his eleven starts (third highest seasonal stake earner), again winning the Rakaia Hcp at Ashburton this time off 84 yards, three wins at Alexandra Park (Ranfurly/Spring/Alexandra Hcps) and the NZ Trotting Gold Cup at Hutt Park (750 sovereigns).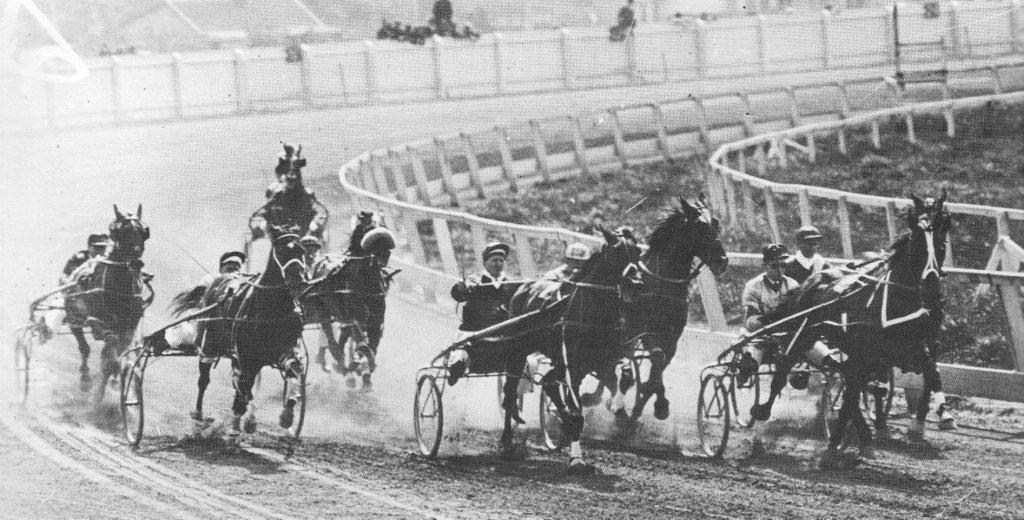 A) Home turn 1930 Cup heat, Wrackler leads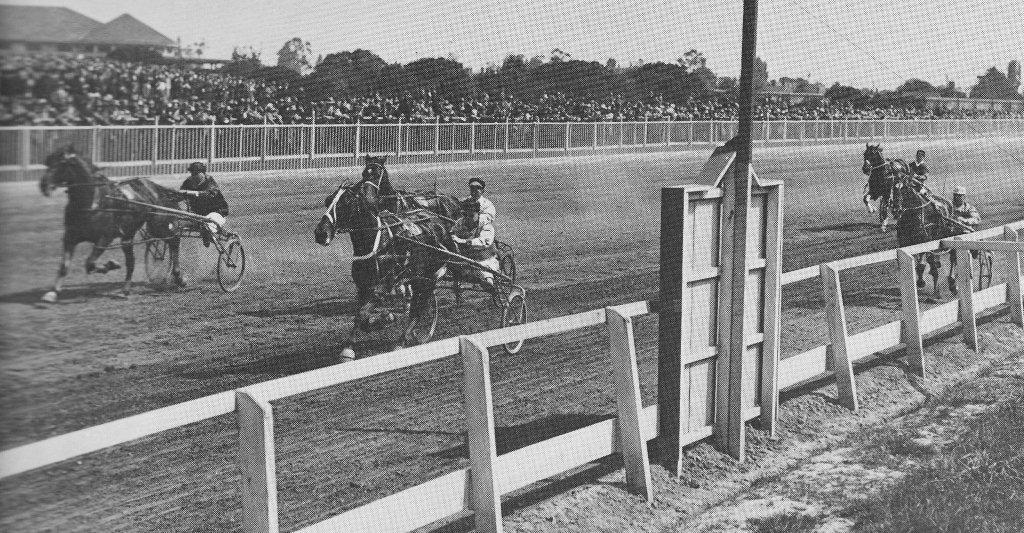 B) Finish 1930 Cup heat, Wrackler wins
In his five year old season, Wrackler won the NZ Cup Trial at Hutt Park, the second division and final of the 1930 NZ Cup at Addington (see above). His three wins from ten starts again placed him third highest seasonal stake earner. Placed fourth off 60 yards in that seasons Auckland Cup won by Carmel. At six in the 1931/2 season, Wrackler placed second in his NZ Cup heat to Free Advice, fourth to Harold Logan in NZ Cup final and was unplaced from 84 yards to Royal Silk in the Auckland Cup.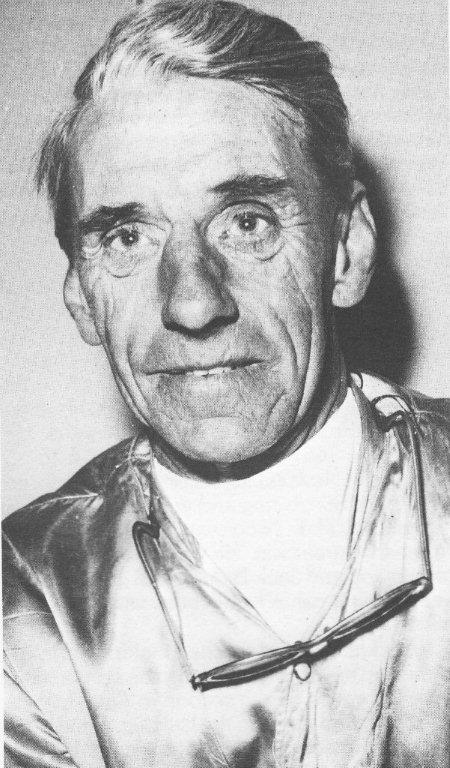 Jack Behrns
It was following his unsuccessful Auckland Cup campaign and Don Warren's death that Wrackler first switched to the trotting gait when Jack Behrns, an employee at Durbar Lodge took over as private trainer for Harry Nicoll. His first start as a trotter yielded a second off 48 yards to White Satin in the Summer Hcp at Addington at the end of March 1932. Mixing gaits with several unplaced starts as a pacer, Wrackler recorded his first win as a trotter beating the pacers over two miles at a special relief meeting (depression years) at Addington in July 1932 (Owners and Breeders Hcp, T4:29 3/5).
As a seven year old, Maurice Holmes handled Wrackler in his Dominion Hcp success in November 1932, winning by two lengths in a time of T4:26 1/5 for the two miles from his 60 yard handicap. Second off 120 yards to Todd Lanzia in the two mile Sockburn Hcp on the second day of the Cup meeting, rounding off his NZ Cup meeting campaign with a NZ and world record time for 1½m (pacing or trotting) when second off 84 yards to Arctotis in the Middleton Hcp (T3:15 4/5, first mile T2:08 2/5). Five unplaced efforts against the pacers followed before his last win for Jack Behrns and Maurice Holmes in the five horse International Trotting Championship match race (Addington, February 1933). This 1½m race was run from a flying start and won in T3:18.0 (other starters were Todd Lanzia, Peterwah, Olive Nelson, Stanley T). Wrackler was leading trotting stake earner for 1932/3 season with earnings of £795.
At eight this was the start of Wrackler losing all semblance of form going unplaced from thirteen starts. At nine he failed in five attempts and at ten his nine starts brought no return. However, as an eleven year old from the Winchmore (Ashburton) stable of Leicester (LA) Maidens he ran second to Norma Bingen in early August at Addington before two days later recording his seventeenth and final win in the Addington Hcp, Off 60 yards, he beat top trotting mare Sea Gift (Dominion Hcp) by 1½ lengths in T3:20 3/5 (1½m). Wrackler finished third to Norma Bingen in the 1936 Dominion Hcp together with a couple of further placings before being retired after his third twelve year old start, unplaced in the August 1937 Federal Hcp at Addington (Kings Play). He did race (unofficial) once more at a patriotic gymkhana in the Ashburton district from 96 yards behind but to no avail.
His career stats showed 113 starts : 17 wins (13 pacing/4 trotting), 2:08.4/T2:12.0, £8,655. Wrackler was inducted into the NZ Trotting Hall of Fame.
To date Wrackler holds the unique position in NZ harness racing, and one unlikely to ever be threatened, as the only horse to have won both the NZ Cup (pacing) and Dominion Hcp (trotting), our two premier races. In addition, his dam Trix Pointer remains the only NZ Cup winning mare to have left a NZ Cup winner.
Peter Craig
10 November 2017
| | |
| --- | --- |
| | RACING HISTORY HORSES |

COURAGE UNDER FIRE

One of New Zealand's most popular ever pacers Courage Under Fire has passed away with a record that may never be matched. The tiny pacing hero turned stallion died in Australia yesterday where he was standing at Yirribee Stud in New South Wales. He would have turned 22 on Tuesday.

While he was a very commercial stallion who sired recently-retired Inter Dominion champion Smolda, it was as the Mighty Mouse of pacing that Courage Under Fire will be best remembered. He won his first 24 starts, being unbeaten at two and three, that classic season including a record six Derby victories.

It is doubtful any galloper would ever have contested six Derbys and very few harness horses probably have either, let alone winning them all. So this rarest of places in racing history would seem to be Courage Under Fire's alone forever.

The Derbys were part of a 41-win career from 56 starts that saw him amass $1,551,941 in stakes after starting his career in New Zealand with Bruce Negus and then being transferred to champion NSW trainer Brian Hancock after a sensational failure in the 2000Inter Dominion in Melbourne. Courage Under Fire suffered his first defeat in a heat of that series, prompting Moonee Valley commentator Dan Milecki to yell "the world must be ending' as Kyema Kid surged past Courage Under Fire.

While the world survived, Courage Under Fire's career plateaued by his earlier standards and he was never as dominant as an older horse, winning a series of good races but never one of the great ones. He was narrowly beaten in both the Miracle Mile and Victoria Cup and fourth in an Inter Dominion Final but picked up Grand Circuit races like the South Australia Cup, Queensland Pacing Champs and Australian Pacing Champs.

He came back to the pack because while he was a pacing machine at three he never got much stronger or faster, forever looking a fast teenager racing grown men. But as a three-year-old he captured the racing - and some non-racing - public's imagination in a golden era that also saw Christian Cullen and Lyell Creek draw huge fan bases. The other two were better older horses, albeit all too briefly in Christian Cullen's case , but Courage Under Fire's size endeared him to race fans, his little legs whirling like a cartoon character when he was at full speed.

Off the track he was a little softy. "He loved people and was the lovliest little horse to have around," says original trainer Negus. "He had so many fans and when little kids came up to him to pat him, which happened all the time, he would lower his head down so they could get to him. Once, when Brian Hancock was training him, they couldn't find Brian's six-year-old granddaughter and they were all panicking. They couldn't believe it when they found her in Courage's paddock and she was patting him as he nuzzled her. This was when he was a seven-year-old stallion, he was just such a gentleman"

So did training a racing icon change Negus's career or even life? "If definitely helped my career because we had a lot of good horses, many for his owner Greg Brodie after Courage left the stables. But it also changed my life. I met so many people and was once asked to speak at a racing awards dinner because I was the guy who trained Courage Under Fire. I met my wife Colleen at that function, so I owe Courage more than he would ever have known."

****

Standing at only a tick over 14 hands, the little stallion certainly had a huge heart and left a lasting impact on the Australasian breeding industry where few colonial stallions have been able too.

Upon retirement he was the sire of 434 NZ Bred winners, he was also the sire of-

*7 NZ Group One winners: Secret Potion, Lancôme, Smolda & Pembrook Benny.
*16 NZ Group Two Winners
*14 Group Three Winners
*6 NZ Listed Winners

His legacy will now be in those of his daughters who are already breeding on his guts and determination, with the outstanding mare Arms of an Angel being out of a daughter of Courage.

Credit: Michael Guerin writing in Breeding Matters July 2017


| | |
| --- | --- |
| | RACING HISTORY RACING PUBLICATIONS |

HARNESS SCRIBES AND SEVEN OF THEIR PAPER STEEDS

Everything changes so it is said (though sometimes "and nothing changes at all" is an added proviso) and few things have altered over more than a century of racing publications. They start, they thrive and than they die - onlt for replacements more suited to the times to spring to life.

Some regard this as a weakness when it is a strength. Adapting new ideas is an essential for any business. So we thought we would say goodbye to Harnessed by recalling the valiant and successful attempts to market harness racing in previous eras. And especially the talented scribes who rode the publishing waves.

As you will see many survive long after their flagships eventually sank.

THE NEW ZEALAND REFEREE

The first publication to dedicate space to trotting it was a weekly founded in 1884 which later became the Office Calendar for both racing codes. The Christchurch Press bought it in 1891 to merge with its Weekly Press and it stasyed that way until the middle of the 1920's when i shifted base to Wellington. It "died" after a lengthy illness in 1939.

One of the main suppliers of copy in it's heyday was Fred Thomas (writing as "Templar") a breeding and racing expert who also produced the first volume of the Trotting Stud Book in 1905, All of this was incredibly difficult then. He was still contributing features on the sport into the 1950's.

Another standout was a contributor and later editor, John Olliver, whose cricketing family was closely connected with the founding of trotting in Christchurch. His early death accelerated the end of the Referee era.

Some early trotting writers were men of influence. W G Garrard was a rugby test referee and a leading cricket journalist on first name terms with some of the greats of that game. He was still supplying season statistics to the Trotting Calendar shortly before his death in 1944. Thomas Davey, another early trotting scribe, was a Member of Parliament and also Mayor of Christchurch.

THE TROTTING ANNUAL

Moa Publications discovered a mini goldminein the 1970's producing hard-backed, easy to read reviews of the season in several different sports. The Trotting Annual, sponsored for many years by Bominion Breweries, kicked off in 1972 with Auckland Star identity Ron Bisman as editor and contributions fron Norman Pierce, Mike Grainger and even Lord Langford who led a movement to make the sport popular in England.

The Annual was on most harness fan's wish list for Xmas for many years and sets were carefully collected and stored. Some still are. Dave Cannan, a highly regarded harness writer for the Christchurch Star and author of Unhoppled Heros, was a remarkable compiler of statistics and took over the editorship in 1981 with Don Wright the man from the south along with Otago's Taylor Strong and northerner Leo George among those adding support. He handed over to Jeff Scott, later trotting editor of the Christchurch Press ans now a website editor, in 1985.

Bisman returned in 1990 as public interest started to waneand Moa the exited. With Alan Meadows (Meadowset Graphics), Bisman produced a colourful 1994 edition and then a handsomevolume in 1998 with the highlights of intervening years. But it failed to sell and the game was over. In its time however, the "Annual" was hot property and the volumes remain a great source of ststistical information today. Televised racing and video recording however, started a terminal bleeding that could not be stopped.

THE TROTTING CALENDAR

A pubilication called Racing and Trotting Digest briefly carried industry essentials (programmes) through the 1930's until a frustrated Trotting Conference established the New Zealand Trotting Calendar in 1938 under contract with top journalist Karl Scott and his brother Wattie. They produced and printed the paper and Charlie Craig (NZ Herald) and his successor Pat Naden were among contributors along with southerner Norm Pierce. Harry Jarden was another leading trotting journalist in Christchurch at that time and also a member of a famous racing family.

Karl Scott, a man of many talents, was the first to write a book in this country specifically on harness racing back in 1949 (Pillars of Harness Horsedom) though he later claimed he made more from his rural activities than from printing publications.

The Calendar was a rather simple volume of limited pages full of official notices and annoted results. Meetings were covered, an economical easy to read "pithy pars" style popular in that era covering a meeting with many titbits rather than a lengthy article. It was only sold to the public from a few outlets. In later years it broughtin new blood like Ron Bisman and Mike Grainger but the focus remained very much on the needs of industry participants.

THE TROTGUIDE

The Trotguide was a controversial move in the early 1970's with the familiar aim of widening the appeal of the industry publication. It involved the "Calendar" to Lower Hutt where it was produced under its new title by INL Print, publishers of the Friday Flash, NZ Racing Calendar, Turf Digest and the once very popular monthly Hoof Beats which was also seeking a new audience. It also now produced the Year Book of results a printing contract previously held by the Scotts. HRNZ discontinued that many years ago.

Tony Williams was the chief Canterbury contributor with enthusiasts such as Peter Larkin, Shelley Caldwell etc among the freelance supporters. The decision to move the publication caused resentment in Canterbury with a suggestion the Conference Executive at the time had been overly swayed by northern interests. The experiment was not a success from several points of view and especially the ill feeling which followed it from Christchurch.

THE NZ TROTTING CALENDAR(2)

In 1977 the Trotting Conference negotiated a contract with Tony Williams to edit the weekly publication in Christchurch with the proviso it regained its old title of the Calendar - reflecting earlier tensions. The venture, with Frank Marrion as a long time assistant, proved a success and especially from an advertising perspective, classier presentation along with lively content. Williams also reprinted the early Stud Books. Richard Turnbull provided a lot of northern content.

The arrangement lasted nine years but again there was not complete happiness in the camp when it ended. Terms could not be agreed. The advertising growth William had achieved was a major attraction and HRNZ decided to "bring the Calendar home".

THE HARNESS RACING WEEKLY

The new publication, under the editorship of Marrion and with pro-active former daily newspaper reporter Matt Conway among a livewire team, made another attempt to widen the market, publishing late in the week with full race day coverage to match the big boys along with hard hitting stories. Ther HRW was a competitor production-wise but again it didn't make the progress hoped for and so distribution costs, the cause for many closures over the years, became prohibitive.

Marrion left in 1987 for a breeding industry position (he would return later) and eventually Mike Grainger was appointed editor and Michael Guerin continued the tradition of NZ Herald contributions from the north. Michele Harris later became another important cog in the wheel and laterly Katie McNamara and Stacey Markham (nowMedia Manager) assisted among others the same general content was retained but in reduced form with earlier deadlines and lower costs. Printed by the Ashburton Guardian for many years if rarely, if ever, went over budget.

The Weekly remained a popular read for fans until, again because of increasing costs, the decision was made to move to a monthly under the editorship of Matt Markham with input from Michelle Harris, Courtney Clarke and Stacey Markham in 2015. It was a professional publication and gained strong reviews but there were practical disadvantages. Mainly, however, the "Weekly" proved too strong a tradition to erase and is niw due to return.

THE DAILIES

Newspapers increased their coverage of racing before and following World War II as a result of growth in the industry never since matched. 25 years ago city newspapers had full racing departments and a staff of at least six, sometimes with three reporters covering one code on race day before computers took over much of the routine work.

Even smaller provincial papers (Timaru Herald etc)had a specialist racing winter. Few papers now even carry full time specialist racing writers in what is a dramatically different working canvas. The wheel has gone full circle but the dailies retain somewhat basic coverage and fields.

Geoff Yule(The Press) and Pat Naden(NZ Herald) served 37 years and 35 years respectively as harness editors until the late 1980's, Yule being the first Kiwi daily journalist to cover an Australian InterDominion for a daily.

Bisman was ever present and Pierce and Wright spent similar stints in Southland and Strong in Otago. A number of their pupils moved on to greater things. Ron Bisman was an instition at the Auckland Star and also wrote several books, including a biography of Cardigan Bay and the momumental Salute to Trotting. With Taylor Strong he also wrote a history of the InterDominions.

A number of scribes from 30 years ago are still active in some way but the era of the full time specialist writer is almost over. Ironically many early trotting writers were known as "sporting writers" reflecting how they needed to cover more than one area to gain work. John Ollivier in the Referee, for example, covered trotting topics but was also the theatre critic for the paper.

THE OTHER WEEKLIES

Two of the best-known - the Friday Flash and the Truth were hugely popular at their peak but neither survive, though industry support helps The Informant and Turf Digest to carry on the Flash traditions.

Truth had a comprehensive racing coverage pushing controversy and more colourful writing as its point of difference. At its peak it sold 200,000 copies but gradually declined as "sensational" subjects (divorce; sex crimes) previously avoided by leading dailies, became part of the mainstream reporting. Truth demanded controversy and colour and woe betide the reporter who tried to avoid it. Some of its anonymous form par writers used codes(one, using a par such as "Good Day finding it difficult to regain form" actually meant to be on Good Day next start).

Its most notable modern editor was Ray O'Connor who balanced the news and the controversy fairly. In some ways Truth was a victim of its own success as vastly improved structures and systems removed a lot of controversy from harness racing.

The Friday Flash reached a Cup Week print peak of 35,000 in the 1970's but was down to around 3000 at the time of its demise in 2006. Those numbers are about on par with leading current publications. It offered superior previews and trial form as well as trackwork to punters along with a dash of colour and newsy columns. Des Coppins is most remembered among the editors and was followed by colurful Aucklander Bob Lovett who increased trotting content but unhappily, not sales.

The Sunday papers featured racing with full time staff writers for many years but none now employ them. When Barry Lichter took charge of the Sunday Star Times harness coverage increased even it proved a two edged sword for some of the more sensitive in the game. Again blanket television coveragemade even Sunday's news seem out of date.

THE INTERNET

Harness racing was quick to adapt to the computer age dating back to the 1980's and has continued to provide most of what fans and professionals need in the modern age. Victor Rolton(HRNZ) has been an industry leader in that field and Colin Steele od Addington Raceway has placed thousands of stories from times past on the Addington Raceway Timeline.

Frank Marrion posted another first with his online only news and tipping site Harness Express which eliminated distribution costs and pointed the way to the future.

Leading players also established their own sites carrying stable or industry news. This has been a challenge for commercially printed and sold news and form guides though "holding on to the page" still strongly appeals especially to older readers.

CHANGING TIMES

Early racing reporters wrote stories in longhand, had to use public transport and needed to be good handlers of pigeons to send the race results. The Press building demolished in the 2011 eathquake still had a Pigeon Loft which was used until the 1940's. Before the mid 1930's reporters could be and often were expected to work 100 hours a week if required and $10 was a princely weekly wage without overtime. Most were "stringers" working part time for the paper. In newspaper offices younger writers had to wait their turn to get a story published and much of their work was less interesting, largely involving preparation work for fields.

Technology revolutionised the profession through the 1990's computers, televised races, fax machines, then internet, emails and social media made everyone a potential critic on racing. Modern reporters needed to be more versatile using radio and tv interests either part of their contract or a pathway to the future. In the print media heyday no reporter dare take a job on radio. It was the competition.

As we said. Everything changes. But then maybe, as we also said, nothing really changes at all.


Credit: David McCarthy writing in Harnessed July 2017