| | |
| --- | --- |
| | INTERNATIONAL HISTORY |

10 MAR - The 2011 Yunnan earthquake was a 5.4 magnitude earthquake that occurred on March 10, 2011, at 12:58 CST with its epicenter in Yingjiang County, Yunnan, People's Republic of China, near the Burmese border.[2] At least 25 people died and 250 were injured with 134 in serious condition

11 MAR - The 2011 Sendai earthquake and tsunami was a 9.0 MW megathrust earthquake off the coast of Japan that occurred at 14:46 JST on 11 March 2011. The epicenter was reported to be 130 kilometers (81 mi) off the east coast of the Oshika Peninsula, Tôhoku, with the hypocenter at a depth of 24.4 km (15.2 mi).

The earthquake triggered tsunami warnings and evacuations from Japan's Pacific coast and at least 20 countries, including the entire Pacific coast of North America and South America.The earthquake created tsunami waves of up to 10 meters (33 ft) that struck Japan, with smaller waves in many other countries, with a significant surge and damage as far away as Chile. In Japan, the waves are reported to have travelled up to 10 km (6 mi) inland. The Japanese National Police Agency has officially confirmed 1,597[3] deaths, 1,923[3] injuries, and 1,481[3] people missing across sixteen prefectures, but estimated numbers are far higher.

The estimates of the Sendai earthquake's magnitude made it the most powerful earthquake to hit Japan and one of the five most powerful earthquakes in the world overall since modern record-keeping began in 1900

Arab Spring: revolutions in Tunisia, Egypt and Libya follow, as well as uprisings in Yemen and Bahrain, and protests in several other Arab countries.

Syrian civil war begins.

Deaths of Osama bin Laden, Muammar Gaddafi, and Kim Jong-Il.

World population reaches 7 billion.

Floods in Pakistan, Thailand and the Philippines kill roughly 2500 people.


| | |
| --- | --- |
| | LOCAL HISTORY |

23 October: All Blacks win the Rugby World Cup defeating France in the final at Eden Park.

26 November: The fifth National Government, with John Key as Prime Minister, re-elected with a reduced majority to a second term


| | |
| --- | --- |
| | LOCAL HISTORY |

22 FEB - February Christchurch aftershock struck at 12.51pm The earthquake was centred 2 kilometres (1.2 mi) west of Lyttelton, and 10 kilometres (6 mi) south-east of the centre of Christchurch. It followed nearly six months after the magnitude 7.1 4 September 2010 Canterbury earthquake, which caused significant damage to Christchurch and the central Canterbury region, but no direct fatalities.

The earthquake caused widespread damage across Christchurch, especially in the central city and eastern suburbs, with damage exacerbated by buildings and infrastructure already being weakened by the 4 September 2010 earthquake and its aftershocks. Significant liquefaction affected the eastern suburbs, producing around 400,000 tonnes of silt. The earthquake was reported to be felt across the South Island and the lower and central North Island.

In total, 181 people were killed in the earthquake, making the earthquake the second-deadliest natural disaster recorded in New Zealand (after the 1931 Hawke's Bay earthquake), and fourth-deadliest disaster of any kind recorded in New Zealand. Nationals from more than 20 countries were among the victims. The Government declared a state of national emergency, which stayed in force until 30 April 2011.


Credit: Christchurch Earthquake Website


| | |
| --- | --- |
| | RACING HISTORY FACILITIES |

CHRISTCHURCH UNABLE TO HOST INTER-DOMINIONS

As this issue of the 'Weekly' was busy winging its way around the countryside to land in your mailboxes, members of the Inter-Dominion Events Committee were holding a telephone conference to discuss the staging of this month's Championships. And it's pretty much a 'given' that they will not be run in Canterbury, either at Addington or Ashurton, and will thus move to Auckland.

Like many areas of Christchurch, Addington Raceway did not escape the wrath of last week's devasting 6.3 magnitude earthquake. Earlier this week, Addington Raceway's CEO Shane Gloury said these damages were "the least of my worries" as paramount discussions over the staging of the Inter-Dominions continued.

"Overall the Raceway came through the earthquake not too bad," Gloury said. "The damage is similar to last time (September 4 earthquake) but more extensive, and it's only really the top floor of the main stand that got hit. The track suffered some damage, with hairline cracks, but it was fairly minor."

Racemeetings scheduled for tomorrow night (Thursday) and Sunday could not proceed and were transferred to Rangiora. "There's issues with the glass windows on Level Three plus the structural integrity of the public stand, because the Structural Engineer still hasn't given us the 'all-clear' yet," Gloury said on Monday.

In the bigger picture though, the damages to Addington Raceway were quickly fixable and not the reason why it simply wouldn't be right to hold this season's Inter-Dominions there. Obviously the likely shift to Auckland has serious ramifications for the numerous sponsors involved, who will struggle to get any 'local' value out of the money they've put up so far, not to mention the virtual nightmare of all horses, owners and attendees having to alter travel plans to the other end of the country.

Gloury said there's the argument that the Series is not for another few weeks, and by then Christchurch will be in need of an event like this to lift spirits and morale - but acknowledged that on the other hand, would carry on and running it be in Christchurch's best interests, given the likely drain on resources of the city and the state of essential services which might not be anywhere near back to normal by then.

Credit: John Robinson writing in HR Weekly 2March 2011


| | |
| --- | --- |
| | RACING HISTORY SECRETARIES & EXECUTIVE STAFF |

DEAN McKENZIE

Dean McKenzie is not sure how long he will be at his latest racing posting as Chief Executive at Addington Raceway but he can be supremely confident it will be longer than the first position he held in racing, at the Avondale Jockey Club in 1989.

"I was in accountancy in Invercargill when I applied for a position there in the late 1980s when night racing was being held there. I packed everything I owned into my Mazda 323 and off I went. I had been there a week or so and the boss called me in to tell me the bank was fore-closing the club and it looked like it was all over." In fact McKenzie stayed longer at the behest of the Racing Board and then it was back to Invercargill and a fresh start as general manager of Southland Racing. A member of a prominent Southland sporting and racing family, McKenzie was never in much doubt about what he wanted to do. "I applied for the Riverton Racing Club Secretaryship when I was 21 and got down to the last two. Doug Stuart got the job but they asked me to become a Steward of the club instead so I felt I had offered something."

McKenzie's big break in racing administration came in 1994 when Wellington Racing Club Chief Executive, John Cameron offered him an accountancy position with the club. When Cameron moved to Australia a year later, McKenzie stepped up to the role. "I was there just over four years. I learned a lot and enjoyed the experience."

However McKenzie was always looking to the future. He moved to the United States after being accepted for a year-long Masters Degree in Sports Administration and Facility Management at Ohio University in Athens. The course covered all sports but McKenzie got to see a lot of big race meetings there, including the harness racing icon event the Little Brown Jug and racing at the Red Mile. "My costs had partly been met by the Racing Board. Rick Bettle was the Chief Executive then and for the next two years I did contract work for the Board," McKenzie recalled. "A lot of things went down in that era. Few people remember now but we broadcast our racing into the United States 10 years ago. We introduced the newspaper form which has become the norm now, Radio Trackside came on stream. Things were moving."

McKenzie's move to Christchurch came when putting his sport administrative learning curve into action as Chief Executive of Jade Stadium Ltd. He managed the former Lancaster Park complex for about four years. "It was a major challenge no doubt about that, but I had great staff and a Board to help me. We had some huge promotions. The Lions test of 2005 was one of the biggest sporting events we had had in Christchurch and we also branched into entertainment. Meat Loaf had a big concert there, the Tigers came over to play the Warriors. It had the same core attributes from an organisational viewpoint as the biggest racedays but with extras and the devil was in the detail. I think a lot of people forget that about the size of New Zealand Cup days and the like. The skillset is the same and the planning is so much greater than anyone can appreciate. There was probably greater security at Jade and that was the pressure."

McKenzie's next move in 2006 as Jade reorganised was joining Estorest, a sports management company he had already an interest in as a partner. The company was founded by Bruce Sharrock and Craig Innes as professional sports gained momentum and professional sportsmen needed agents. "They were based largely in the north and were looking for a Canterbury presence and I wanted to live in Christchurch. My parents had moved here by then and my two sons were well established at schools here.

McKenzie had built up a relationship with the Sharrock family of Waitara during his time at Avondale. "I used to go down to the Taranaki to boost entries. We were getting more support from down there than locally. Bob Sharrock (Bruce's father) was a great supporter and I had some great times down there. The business association grew out of that." The good times included racing the highly successful racehorse Go Thenaki trained by Allan Sharrok.

Now McKenzie faces a different sort of challenge and he is playing a dead bat to any speculation on what it might bring until his innings is established.

Might Addington Raceway have to face a move in the medium term? "The truth is nobody is sure just what is going to happen here in the next few years. But Addington as an area is going to do well and to me that means the present track will expose harness racing to a greater audience. I want to make the most of that."

What will replace the public stand? "There are a lot of decisions to be made. I think it is pretty obvious we are not going to see another big stand but what form any replacement will take I can't say because nothing is decided."

The earthquake has been a boon for Addington? "As I said, Addington has done well generally. The proceeds from the stand insurance will help our situation. Our Twiggers stand is fully occupied as business premises and our business park is booming with more plans in mind. There are winners and losers in any situation like this but there are challenges for us too."

What about that four-year cycle among jobs. A pattern he intends to follow? "My view is that if you haven't done something after four years you are probably not going to do it. But that doesn't mean you can't go on doing it. I know a lot of top administrators who have been in the job a long time and still do a great job. Tim Mills at Riccarton, for example."

How about the change of code? I have had a few pacers in my time but not with much success. But I have been a keen punter and a regular at Addington. One thing I can say is that I know the place well from a customer point of view and that is a starting point."

The new position does come at some personal and professional cost. McKenzie was this year appointed to an executive position on the Board of New Zealand Thoroughbred Racing, and had been keen to retain that position but the pospect caused consternation in some circles. There is nothing in the rules which stopped him from carrying on but he decided at the weekend to resign.

Credit: David McCarthy writing in The Press 26 Nov 2011


| | |
| --- | --- |
| | RACING HISTORY CARETAKERS |

ADDINGTON GROUNDS CREW

Ask Joh Denton how long he has been track manager at Addington Raceway and he will tell you he began the year Bee Bee Cee won the New Zealand Cup. That was 1994. In between there have been many special Addington memories for Denton including Kym's Girl, who was trained by Colin and Julie De Filippi, John's sister, and driven by Colin, winning the New Zealand Cup in 2001.

Christian Cullen's 1998 NZ Cup win was also special because his driver, Danny Campbell, had his first job in a stable working for Denton, a former licenced trainer and driver who is the son of highly respected elder statesman of harness racing in Canterbury, Bill Denton. There have also been exciting times watching other stars such as Courage Under Fire, Lyell Creek, Elsu and Monkey King fly around Addington.

Managing the grounds of such a large and complex facility is a big job. However, Denton is also Track and Venue Inspector for every harness racing track in New Zealand which means a lot of travelling for him. He loves his job and says he is lucky to have such dedicated staff working with him at Addington including Rudd Wilson, Allan Maslin and Chris Pearce. Denton's son, Jeff, also helps out at the races assisting with track work. "We work as a team to make sure everything looks spic and span," Denton said. "This is our life."

Addington CEO Shane Gloury said Denton and his ground staff team were great to work with and he was "very pleased with the results they have achieved. They are hard working and take tremendous pride in their work and the grounds here at Addington." he said. Denton said the men in his team were also experienced horsemen which was a big advantage at the races, especially if there was an accident because it meant they were able to help the crash crew when necessary.

The sense of pride they all have in their work is on show at every Addington race meeting but never more so than during the New Zealand Cup carnival. Every year at this time Denton and his team work especially hard to make sure Addington is looking her absolute best for New Zealand's premier harness racing event.

However, this year even more effort has been required after 12 months of turmoil, caused by three devastating earthquakes and thousands of smaller quakes, and aftershocks, ripped the heart out of Christchurch, flattening much of the CBD, causing horrific damage as well elsewhere in Canterbury and leaving 182 people dead after the February 22 quake.

Addington Raceway escaped with only minor damage after the first earthquake on September 4 last year, and even became a refuge centre for some time for many people with badly damaged homes. However, far worse damage was to come during the later quakes resulting in the much awaited Addington Inter-Dominions having to be transferred to Auckland in March, a severe blow to the South Island harness racing community and the Christchurch economy.

Gloury said that after the February 22 earthquake, seven race meetings, including three Inter-Dominion fixtures, were either abandoned or transferred to other venues. This was because of damage to buildings, and the track, including hairline cracks, liquefaction, and gouging after the main water pipeline cracked three times. The in August another two meetings had to be abandoned due to heavy snow. The public grandstand has also had to be demolished, after being damaged beyond repair, and has been replaced with marquees and portable seating for Cup Day. The February 22 quake was "pretty frightening for everyone," Denton said, "but fortunately nobody was hurt at the raceway". He was on the tractor watering the track that day when the quake struck. "I looked over at the main stand and could see the windows moving."

Although Denton had a long list of things still to do before Cup Day when I visited last week, there was no signs of pressure and he was looking forward to the big day. "I believe it will be a great Cup and people will really enjoy the week out. The Cup field itself is looking exciting, particularly with Smoken Up now coming and Auckland Reactor back." The big, roomy Addington track was "one of the fairest" in New Zealand, Denton said. "You can be anywhere in the field and still have a winning chance."

Gloury said he was hoping for around 24,000 racegoers on Cup Day. "While we expect that number, visitors from the North Island and Australia may be down due to concerns over the earthquakes in Christchurch, with so many events lost from Canterbury we expect Cantabrians to get right behind Cup Day which will be the biggest event in Christchurch in 2011," he said.

While earthquakes, aftershocks and heavy snow have provided trying times for everyone in Canterbury during the last twelve months, the popularity of the Addington Raceway Events Centre is proving a silver lining in the dark eathquake clouds that have hammered the region. Now the New Zealand Cup Carnival, something everyone looks forward to in harness racing, is almost here again. A big thanks to all the hardworking team at Addington Raceway for making it happen.

Credit: Shelley Caldwell writing in HRWeekly 3 Nov 2011


| | |
| --- | --- |
| | RACING HISTORY PEOPLE |

NEIL ESCOTT

The February 1 launch of the new Racing Integrity Unit coincides with the first day of retirement for Neill Escott. Harness Racing's First Man of Integrity has his last day as Chief Stipendiary Steward at the Oamaru meeting on Sunday week. He spoke of 37 years as a stipendiary steward with Weekly Editor, Mike Grainger.

STARTING OUT
"I was looking for a change of lifestyle. At the time I was working as a Stock and Station Agent. I had two young kids and I was leaving home before they were up and getting home when they'd gone to bed. I saw that the NZ Trotting Conference, as it was then, was advertising two positions and one was for a Trainee Stipendiary Steward. I went through a series of interviews and got the job.

I came under the wing of L.A. Butterfield, and the other full-time stipe in Christchurch at the time was Les Purvis. Our deputies were Doug Watts, Laurie Mahoney and Errol Williams. I was very fortunate starting off with Butterfield, who carted me everywhere. He told me to sit in a corner, say nothing, and keep my ears and eyes open. He was very experienced, confident and he would administer justice fairly. It was important to have the ability to read a race. You either had it, or you didn't. Fortunately, I had it. There were a number of things that gave you that confidence, and knowing the the colours was just one of them. When I started, race filming was just in it's infancy, and Roy Kennard was in the process of refining it and taking it to where it is today.

STEWARDS THEN
After L.A. Butterfield came Harry Fryer, who was Senior Stipendiary Steward, and then Peter Mackenzie took over. I did a lot of meetings in Southland with Peter, and I had no trouble with him. He could be arrogant, I know, and I know many did not see eye to eye with him, but he did have a heart. He was an excellent race-reader and a good steward, and he loved his golf and squash, and he did so much work establishing the Gore squash courts that the building was named after him.

Michael Carrigg came next - a Queenslander from Rockhampton. It was obvious that those who made this decision did not think there was anyone here capable of handling those duties. At the time I was not considered suitable for the position. You have to take those things on the chin, but it's fair to say I was disappointed I was not appointed then. I took over after he died.

STEWARDS NOW
We are so fortunate today that we have a growing number of stewards who have been out on the track and have that experience. It's something like 'employ a thief to catch a thief'. It's harder with filming for anyone to beat the system, but you get to know by body language if someone is telling porkies or being on target with the truth. But even with the film, there are people who throw up a smokescreen for the JCA, and put up too many excuses.

CHANGES
Raceday filming and laptops. I recall when all reports were hand-written. The employment of former licenceholders who have on-track experience has been a new and successful change. Clubs giving junior drivers increased opportunities has been a great step forward forward and the standard of race driving - with the exception of amateurs - has improved dramatically. There are no longer many charges that come under the serious category, and that's a result of more trials and workouts as well as racemeetings.

On the demerit side, I still think the JCA is a big expense for clubs and needs fine-tuning. I don't agree with the JCA taking the line of asking a driver or trainer if they are in a position to pay a fine. The penalty should fit the offence and there should be no choice. You don't get asked what you'd like if you get a traffic notice, so why here? I also think it's wrong there can be no appeal on raceday placings. There should be an avenue by which aggrieved owners can appeal those decisions.

FIASCOS
Well, the worst day of my life, ever, was at Methven. Everyone remembers it.
To start with, there was a power failure early in the day. It meant that there was no payout of winning tickets that had been sold. So the meeting was put back 10 minutes. The club's Tote Steward then decided to go to lunch without telling anyone and he hadn't passed this information on to the Starter. I was in the room when I heard Reon Murtha on the speaker saying the Starter was bringing them into line. This would have been the fourth race. I went out to see what was going on. And before I could do anything, they were off. I thought the best thing to do would be to go out on the track and stay close to the gate and wave the drivers down...bring them in like Pied Piper and they'd all follow... Some stopped, some didn't. Of course, the tote was still open, and wasn't closed until they were halfway home. After that it rained...poured down. One fiasco after another. They decided to rerun the race after the last. I think eight went round again. (For the record: the T.S. Harrison-Nevele R Three-Year-Old Stakes was won by Beaudiene Bolta - John Hay - from Megatrend and All The Rage. Eight started after 12 were scratched, including the original winner, Twilight Time).
I got home feeling gutted. Mackenzie was down south and phoned and asked what was going on. But the first to call was the galloping stipe Bruce Craik who offered his commiserations, and then a few weeks later much the same thing happened to him. And just to keep the wound open, I started getting some odd presents in the mail box...white gloves, stop signs and loud hailers...good fun.

One inguiry that still disturbs me was the Hoppy's Jet one at Oamaru. The horse was just beaten on the first day after coming with a late run. Michael De Filippi drove him as he always did, and that's how it suited the horse. After viewing replays of the race, the committee of the day did not lay charges. On the second day, the horse was in a race for junior drivers, and he went straight to the front for Paul Hampton and won. I had strong support for the decision I had taken, and I'd been told action by some trainers and drivers would be considered if the matter went further. I had always been against clubs having penalty-free races for junior drivers on the second day of a meeting, and soon after that change was made.

We were at Nelson for one meeting, when Dennis O'Reilly asked where Make To Royce was. The horses had left the birdcage and were round at the start, and just about to come into line. Carrigg asked me what we should do, and I said use the common-sense rule - scratch it. It was plain to see the horse wasn't there. Then Ian Cameron came up the shute with the horse, saw what was happening, then turned around and went back. It was a bit embarrassing, being owned by an Executive member, as it was.

On another occasion, I was at Wesport and Roy Craddock was the Starter and he was having a hard job getting Tufty Boy to line up. He was rearing and plunging and needed an oxygen mask each time he came up for air. Craddock then called out if anyone had a rope. A rope was duly presented and four big men pulled the horse into line. When they left, Tufty Boy took the rope with him, and it dragged behind him for the entire race.

Another Coast incident was at Reefton when the Starter saw the balloon go up, and saw it come down and let the horses go. The balloon was a kerosene drum full of concrete. What happened was the rope that took the drum up broke, crashed and broke a chap's collar bone. It could have been worse.

MEMORABLE PERFORMANCES
Final Decision in the New Zealand Cup and Lord Module in the Matson will go down in history as two of the greatest efforts we've seen. Steel Jaw's huge win in the NZ Cup and then the death of his owner in the birdcage after the race was memorable. Two of the best trotters I've seen were No Response and Nigel Craig and of the modern-day horses, Monkey King. And I'd have to mention the time trial by Mount Eden at Addington after Charlie Anderson had to grade the track after the last race. So much has changed. Years ago, you wouldn't see a 2-year-old until the Sapling Stakes in June, and now there are four or five 2-year-old heats at many of the trial meetings. Just recently, I think we inspected eight 2-year-olds ond day just from one stable."

Escott, a man of 100 cliches, said he retired thankful of the assistance and help of the majority of clubs and licenceholders. He served under 10 Board Chairmen - Dick Rolfe, Dewar Robertshaw, George Cruickshank, Sir James Barnes, Jack Phillips, Max Bowden, Ralph Kermode, Jim Wakefield, John Penney and Pat O'Brien and four General Managers - John Rowley, Ian Mill, Mark Todd and Edward Rennell. "I always admired Jack Phillips. He'd always speak to the staff...very human, down to earth...never changed.

If I had one wish it would be to see a common approach to rules and regulations between New Zealand and Australia. I participate in the annual meeting of stipendiary stewards between the two countries and everyone wants to do their own thing. If there was more consistency, people would know where they stand. It's not like that now. Probably the highlight of my career is when I've been given the opportunity to put my views, on behalf of the New Zealand industry, to the Annual Meeting of Chief Stipendiary Stewards in Australia. But to get changes is like pushing rope uphill."



Credit: Mike Grainger writing in HRWeekly 19 Jan 2011


| | |
| --- | --- |
| | RACING HISTORY PEOPLE |

HENRY SKINNER

There was standing room only om Monday at the funeral service for harness racing identity Henry Skinner who died in Invercargill on June 20, aged 78. He was described in the many tributes as a no fuss horseman with great judgement and practical skills. This was backed by his results.

In a driving career spanning 45 years, from his first drive in the 1956-57 season to his last in the 2000-01 term, Skinner reined the winners of 717 races. Among his major successes were the 1979 Auckland Cup with Sapling, the New Zealand Messenger Stakes in 1976 and 1978 with Forto Prontezza and Sapling, the 1989 New Zealand 2-Year-Old Championship with Honkin Vision and the 1989 Dominion Handicap with Tobago.

He also suffered some near misses suc as when Hi Foyle came up against Young Quinn in the 1975 Inter-Dominion Final, or when Sapling was nutted in both the 1978 New Zealand Cup and the Inter-Dominion Final, or when No Return got clear too late in the 1993 New Zealand Derby. In addition to those second placings in major races, he came close in another New Zealand Cup when Forto Prontezza, a pacer he also trained, came third.

Prior to his entry into harness racing, Skinner had been an apprentice jockey and won his first race at Tapanui in 1948 as a 15-year-old. Among his key wins were the 1949 Invercargill Gold Cup on Gunther, carrying seven stone seven pounds (47.75 kgs) and consecutive Great Western Steeplchases aboard The Denbigh in 1951 and 1952, the latest carrying 11 stone one pound (70.5 kgs). Not long after that, increasing weight led to him swapping saddles for sulkies.

Although it took him 12 seasons to reach his first 100 winners, those were in days when harness racing dates in the south were limited, as were the number of races each day. He topped 30 in a season for the first time with 38 wins in the 1973-74 term and another eight times later. His best tally, of 39, came in 1986-87.

Skinner's solo training career began in 1960 but he netted just the on win in his first term. By the time it ended in 2007, his tally was 327 wins. In addition, a successful five-term partnership with Allan Devery - from 1987 - yielded another 76 wins. Honkin Vision, who won both the 1989 2-year-old Sires' Stakes Final and the 3-year-old version six months later, was their biggest winner.

Skinner was carried into the service to the 1965 Herman's Hermits hit 'I'm Henery the Eigth, I Am' and his daughter Tracey Laker recalled the times he would ring and sing the song down the phone line to her to report on a successful day at the races. She also remembered going to races with him in the days when parking attendants were required, and spoke of the lack of success the white coated brigade had when trying to change her father's parking habits.

Peter Davis, who worked for him for about six years, spoke of the ongoing Skinner influence. Some of the routines he followed, such as when mouthing, Davis said, have stuck with him to this day.

Skinner's casket was draped with the red and white colours he wore so prominently for many years. He is survived by two daughters, Tracey, and Vicky Popham, and five grand-children Morgan, Nic, Georgia, Meg and Flynn.

Credit: Mac Henry writing in HRWeekly 29Jun11


| | |
| --- | --- |
| | RACING HISTORY PEOPLE |

ALEX MILNE

Trail-blazing trainer Alex Milne, considered an expert with young horses, died in Gore, aged 90.

On Boxing Day, 1974, he produced Parlez Vous at Ashburton to beat the champion Noodlum, the first horse to do so. Six days later, at Addington on New Year's Day, he did it again. The race was the E F Mercer Flying Mile and he became the first three-year-old to clock a race winning time of 2.00 (in NZ). Race driver Alex Milne junior recalled it was Parlez Vous's fifth win in a row. Nine months earlier, Parlez Vous had won the New Zealand Kindergarten Stakes with Henry Skinner in the sulky.

In 1978, Matai Dreamer - driven by Milne junior - won the same race after breaking early and giving the field a massive start. Matai Dreamer and then Armbro Wings won Great Northern Derbies in 1979 and 1980. New Zealand 3YO of the Year, Matai Dreamer was named by Milne junior as probably the best of his late father's many winners.

In 1977, Milne had prepared Almac to win the Kindergarten Stakes, prior to selling him to Australia. According to Milne junior however, the Australians came early, paid for him and wanted their own driver, Eddie Sim, to take the reins. "The Australians brought their own hopples. It was the first time we'd seen shorteners, but when they measured them against the ones he had been wearing they couldn't get them long enough. They went ahead and used them, he ran third." Almac was renamed Black Irish in Australia and went on to have a distinguished career including victory in the Queensland Derby.

Milne junior said that when his father weaned, he kept the foals in all winter, mouthed them and drove then in a sulky as weanlings. "He said that if you get them doing work, they'll eat better. He didn't put them in a sulky very much, he seemed to know just how often to do it."

Milne also had then driven differently on raceday. "When I started driving, you used to sprint early, back off and then sprint home," Milne junior said. "When Dad took young horses to Canterbury his way was to make a mid-race move and at the 800m, put the pressure on to take the sprint out of them. They were conditioned to do that."

One of a family of nine, Milne's mother died when he was four and his father when he was 14. He was brought up by locals in the community and became a cheese maker at the local dairy factory. Another chapter in his life saw him take a team of horses to Walter Peak Station on the banks of Lake Wakatipu where he ploughed over 200 acres of land. It is believed the exercise took about two years and was instrumental in developing his equine expertise.

Married before the war, Milne returned from service in 1947 and immediately went sheep farming near Edendale. He had a family of four daughters and three sons. One of them, Ewen Milne, now of Christchurch, drove and trained for a time while Alex Milne junior continues to do both at Edendale. Grandson Nigel drives successfully in Australia. Such were the demands of farm and family that Milne was in his 40s before he took up training. Cover On was his first winner. He later took it to Wellington to race and then sell.

In the 1964-65 season he ha five wins, four of them with Van Patch who was the first of a significant number of winners who secured four or winners for him. Inclded were Matai Chip, Matai Blue Chip, Matai Bret, Monarque, Maai Moon Beam, Matai Gogi, Matai Skipper and Arden Bay (runner up in the New Zealand Derby). Another was Watbro who started in the New Zealand Cup, led up but was run down.

Camsplace Alec, the winner of two as a juvenile (1996-97 season), five at three and four at four, was the last winner trained by Milne. Raced by him in partnership with Balfour studmaster Allen Jones, Camsplace Alec was then transfered to Brian Hancock in New South Wales and won another 33 times. Matai BBC (Nevele R Series heat winner, 17wins in Australia) and Matai Princess (Southland Oaks heat winner) were the last horses he raced. The 1978-79 season, with 23 wins, was Milne's best and he was Southland's leading trainer that year.

Credit: Mac Henry writing in HRWeekly 3Aud2011


| | |
| --- | --- |
| | RACING HISTORY PEOPLE |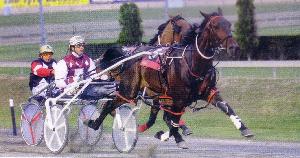 Spero Denario takes Dexter's tally to 100 for the season

DEXTER DUNN

Dexter Dunn achieved yet another record at Addington last Friday night.

It wasn't the five wins he had on the 11-race card, nor the fact that four of them were in a row, and he's not the first driver to win back-to-back Premier Mare's Championships either.

No, the latest milestone that harness racing's whiz kid added to his burgeoning CV was for reaching 100 wins in a season in the quickest time: 174 days to be exact, 24 less than the previous record of Maurice McKendry's set in 1988/89. Remarkably, Dunn wasn't even born at the time - he came into the world about seven and a half months later. Dunn had been 'knocking' at this record for a while, driving his 100th winner one day too late two seasons ago and over-shooting the cut-off by nearly a fortnight last term.

But he was always looking likely to claim it this time round, because there was no brief stint across the Tasman in August for the likes of the Breeders' Crown so he was here and chipping away at the target much sooner. "I never set out to break records," Dunn says,"if it happens, it happens."

The fact is that he just does though, and after a rollicking start and a plethora of winners it's looking likely that he could top the 200 mark again in 2010/11. He'll be away overseas for most of July when he represents New Zealand at the World Driving Championships, but at his current rate he'll probably have put the double-tonne behind him before he hops on the plane.

In fact, the only records really left for Dunn to break now are his own ones.

Credit: John Robinson writing in HRWeekly 26Jan11


| | |
| --- | --- |
| | RACING HISTORY PEOPLE |

DUAL GAITED TRAINERS

It seem slightly traitorous to some that high profile harness trainers are casting their eyes over the thoroughbred industry to extent their interests.

The way the gallops are going, you would have to wonder why? But when people of the calibre of Barry Purdon and Natalie Rasmussen announce they are increasing their commitment to the galloping code, and supporting acts like Todd Mitchell and Brian Court have already taken the plunge, it seems a trend in the making. If so, it is one old enough to have grey hairs.

A century ago, one of New Zealand's leading harness trainers was the Palmerston North-based Lou Robertson, a superb horseman though inclined to test the patience of officialdom with some of his adventures. He left New Zealand for Australia when bookmakers were banned here (1910); became a top harness trainer in Melbourne, but switched to gallopers at the request of his owners. He won the 1915 Caulfield Cup (and again as late as 1949) and after that trained several turf stars until the remarkable year of 1935 when he won the Cox Plate, the Melbourne Cup, the VRC Derby and the VRC Oaks in a matter of weeks. Lou was ludicrously superstitious but never regretted his journey to the 'dark side' from harness.

Dave Price of the same era was the man who spied the freak pacing mare Princess on the road to Ashburton in the 1880s and turned her into a goldmine on both sides of the Tasman. When he was disqualified for life for pulling Princess in Australia he toured in a circus with her doing riding tricks. He developed our first genuine Addington superstar, Ribbonwood, and travelled to America to buy the famous foundation mare, Norice.

The banning of bookmakers hastened Price's permanent exit to Australia when he switched to thoroughbreds in Sydney in 1922. His list of top horses would fill this column. He was famous enough to have his racing memoirs published in a series in a top Sydney newspaper - and he had plenty of stories to tell, especially about his New Zealand career.

In the 1920s an Australian trainer, Peter Riddle, set up a trotting stable in Domain Terrace at Addington and soon had remarkable success. He returned home, took up with gallopers, and owned and trained a fabulous horse called Shannon which later set world records in America.

Bill Tomkinson (for his son Jim), Ces Donald, and Jimmy Bryce (for his daughter Rona) were among prominent trainers of the 1930s to have gallopers (at least ones which were supposed to do that), while that remarkable horseman 'Dil' Edwards was winning the best races at Addington and top races at Riccarton at the same time from his Yaldhurst stable.

Jack Shaw was a famous dual-gaited trainer, having the champion trotting mare of the 1930s in Worthy Queen and the champion galloper of the 1950s in Beaumaris. Claude Fairman, who trained the famous pacing mare, Blue Mist, used to help out with Shaw's gallopers. Lately of course, Graeme Rogerson has been trying a similar change in reverse - as Freeman Holmes did more than 100 years ago.

Graeme has found it a challenge, as is any training enterprise, but is a hard man to beat. History suggests Barry, Natalie and company will be well up to the task doing it the other way round.

Credit: David McCarthy writing in HRWeekly 26Jan11


| | |
| --- | --- |
| | RACING HISTORY PEOPLE |

GAVIN HAMPTON

Your father, Joe, had racehorses. Were you always going to make a career with them?

No way. I actually started working in town as an office boy but I got a bit sick of that.We had always had ponies to ride to school at East Eyreton where Dad had a farm. Anyway I was helping out at home. Dad went to the races at Ashburton one day and came home and said he had found a job for me. It was working for F J Smith in Auckland (Takanini), so I packed up and off I went.

F J Smith? He was the Englishman who had been in America and was a champion trainer always immaculately dressed?

Yes, he had a lot of success here. He was a top horseman and he knew all the latest things they were doing in America. I was there for about 18 months.

I suppose since he was one for appearances everything had to be spot on?

My word! We had two horses each to look after. There were 19 of us working twenty horses most of the time and we lived in a house there at Takanini. Each day you had to have all the gear hanging up outside the stable and he would inspect that and the horses.

A tough test?

He used to have a white silk handkerchief. He would rub it over the horse's rump and hold it up to the light. It had to be clean or you had to do it over again. He would do the same with the gear, giving it a dust test. The included the horse's covers. We had to wash and scrub them every day. He was a stickler for that. He also had a big collection of treatments he gave to the horses. If you ever went near there you were soon told to get back to work. He died not that long after I left there.

You came home?

Yes, I was training a couple at East Eyreton. Then Dad sold the farm and I moved out to Belfast. I was at George Ashby's for a while and then at Kent Smith's stables next to the Belfast hotel.

A tough start?

I started training for £2 10 shillings a week. But you could get a bag of chaff for five shillings and oats were cheap so it wasn't too bad. The top trainer charged up to £5.

I remember you had a good horse called Masterpiece soon after. How did that happen?

He was a Southland horse and Herbie Booth owned and trained him. I got to know him at Forbury when the meetings were spread over a week. At the end of it he offered me Masterpiece. He had won about four races then and that took him out of the Southland racing classes.

A good horse to work with?

A stallion but a lovely horse to do anything with. We won a lot of good races against the top horses an hell, they were good then. He won a free-for-all beating Vedette, but I never got him to the NZ Cup. He broke down in a suspensory ligament before the race. We bred mares to him. He later left Master Alan, which was a top wee horsepeople will remember.

What was it like for a young guy with a top horse then?

Well, it wasn't all easy. A leading trainer I wont name went all the way to Invercargill to try and get it off me. He told Herbie I didn't know what I was doing and h would do a better job. Herbie turned around at th end and said the horse was at Gavin Hampton's and he was staying there. In fact he sent me up other horses including a trotter called Ecosse which won a lot of races. Herbie died near the end of Masterpiece's career, but his son kept the horses with us.

Ecosse, another stallion. He was by U Scott? What was he like?

Yes, by U Scott, a little weed and a dirty little bugger. You just couldn't trust him. I remember I sent him over to Lyttelton one day to go to Wellington. In those days they used to hoist them onto the boat. When I go to the boat there was a hell of a scene. Horses bandaged everywhere. He was next to Johnny Globe who was a lovely quiet horse and had attacked him and everything else he could get at. I didn't have many mates on that ship.

What had been your first winner?

Rowan McCoy, which Dad bred and owned. A good trotter on her day.

What was the story behind Signal Light that you drove in the 1951 Inter-Dominion trotting final?

Dad had a rabbiting contract in Hakataramea and that required horse. He used to go to the Tattersalls Horse Bazaar in town to get them and that was where all our best racehorses came from when he decided to breed from a few of them. Suda Bay, the dam of Signal Light was one of them. She later left Court Matial for my father. He bought another one, Margaret Logan, which was to start a line for us. They were only going for hack prices.

Did Signal Light have his chance in the Inter-Dominion?

Yes, and I thought it had it won. Then Gay Belwin came along and took it off us in the last few strides. Signal Light won a Trotting Stakes and he was placed in a lot of the biggest races. There were terrific horses to race against then. I especially remember Dictation. He held all the records. He was one of the best trotters I have ever seen if not the best.

Court Martial. He made a big impression, especially as a sire?

He was a good stayer as a racehorse but he was a terrific stallion. He left horses like Moon Boy, lots of top liners. Dad stood him at stud in Riccarton on Hawthornden Road.

A big operation?

Not with old Court Martial. He was a dream. they'd walk him into a paddock of mares and he would just stand there while they tested the mares and palpated them. They'd call him over , he would do the job, then start eating grass. Nothing ever bothered that old horse. He was 35 when he died.

After Masterpiece, Signal Light etc, your next headliner was Radiant Globe. What can you tell us about him?

He was the best horse I trained. Right from the first time I put him in the cart he was special. He gave us a lot of thrills and the two biggest disappointments of my racing life.

How did you get him?

I really only had him to break in initially. Graham Holmes suggested they give it to me. Bob White, who was then a barman in Blenheim - he later had his own pubs - had bred him from a mare he bought from Westport for about $100. She didn't have a lot of breeding. John Hart had a share in him with Bob. As I said I liked him right from the start and they let me go on training him. He was better than anything else I handled.

What were the disappointments?

A New Zealand Cup and an Interdominion. You don't get many bigger disappointments than those two in our game.

Which Cup was that?

1971. He was second to True Averil whom he had beaten in the New Brighton Cup not long before. He was the favourite and he should have won it.

What happened?

I was in front. He was happy there. He could start to pull if you tried to do too much with him. Anyway, we were going along sweet as a nut when Robalan came around. They wanted to lead and there was some noise going on and my horse started to pull. It cost him the race.

Still second though.

When Robalan wouldn't go away I let my horse run clear of the field. He was only going to pull his way into the ground otherwise. We had a big break on them at the turn and it was only in the last few strides True Averil got him.

What happened at the Inter-Dominion?

They wouldn't let him into the final because he had missed the first round of the heats. That was the year Mount Eden didn't make the final either. Radiant Globe was going terrific that year but he had a muscle problem just before the heats started and we couldn't risk him like that. He got enough points in two rounds to get into the finals but they wouldn't let him start. He won his consolation heat by half the straight and went faster than they went in the final. He'd have won that too if he had got a go.

A kind horse?

Just a lovely horse to do anything with. Kids could ride him no trouble. A bit of an actor too. His only bad habit was that he liked to pull battens out of fences. I got a long piece of polythene pipe about 20ft long and gave him that to distract him. He loved that. He would stand on his hind feet and swing it around like a circus pony. The papers came out and took photos of him in action.

You ended up taking him to America?

Yeah. It wasn't a great result. When I first got there I had him at a farm, riding him and doing pacework with him. They thought it was a novelty riding a free-for-all pacer, but I did a lot of it with him. He thrived out there but Del Insko, who had charge of him, wanted him in town to step up his work. He didn't take a lot of work and he didn't show his best up there. In the end he broke down.

Wendy Dawn was a good filly you raced?

Yes, I bred her by Johnny Globe, like Radiant Globe was. Her mother (Meadowbrook) was from Rose Logan which Dad had bred from. She showed me quite a bit early on but when it came to race time I just couldn't get a start with her anywhere. Not many trials then and a lot less races. So I entered her in the New Zealand Derby for her first race. A bit daring then.

How did she go?

She ran fourth, pretty good first up. It was Tactile's year. Her second start was in the NZ Oaks and she won that.

What a career start. What happened next?

Not a lot to be honest. She was smart but she never really got any better. She was also a bit disappointing at stud. She left Tilringer which was useful, but not a lot else.

You did a lot of freelance driving later?

Yes, I had some good clients. Swannee Smith gave me drives on Gay Lyric when he was going well earlier on and Starbeam was another I got a drive on. Jim Curragh had Kind Nature and others and I drove Sassenach and Stampede. Lucky Boy was another and Alandria which Jim Winter trained. I drove Philemon earlier on. Paul did very well in his own right as a driver. He was probably better than me.

How did you get on Stampede?

Mainly through Andrew Sellars. I had driven horses for his father earlier. Alan Devery was training him and said "who is Gavin Hampton?" Andrew said to him he would soon find out because I would be driving him. We did alright together.

What are the horses which live in your memory over the years?

Lordship, Johnny Globe, Cardigan Bay. I mentioned Dictation last time and there was a great trotter in the 1940s called Certissimus who was just beautiful to watch. He died young. Radiant Globe is the horse of my own I will always rate right up there.

Credit: Interview with David McCarthy in The Press 19Feb 2011


| | |
| --- | --- |
| | RACING HISTORY PEOPLE |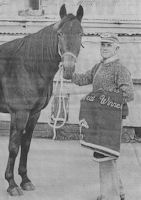 Jack with Yankee Loch

JACK CARMICHAEL

Old habits die hard in the harness racing game so it is just as well that age is no barrier to success.

Ask former top trainer Jack Carmichael, of Templeton. He recently renewed his licence 71 years after he first went racing and soon revealed that old skills also die hard, producing his own Flaming Frieda, driven by Ian Cameron, to win at Timaru.

"It was just circumstances, really," says the modest veteran of well over 700 wins. "I retired a few years ago (2005) and handed in my licence so I wouldn't be tempted to take on a horse. I didn't believe in just going on for the sake of it. I was going to breed from a mare I had, Frieda Holmes, and sell the foals as yearlings." He first foal fetched $9000 and the next one $20,000. Then "Hoagy" as he is widely known (after the composer of the famous song Stardust) was unhappy with the $9000 offered for the third foal, Flaming Frieda, and took her home.

"I had her here and was working her along and, well, with the cost of training fees today I thought I might as well do it all myself. I was getting up at the same time and pottering around with them anyway. I never changed my routine really, everything was here and I didn't think I had forgotten how."

Carmichael's career is steeped in trotting tradition. He began by riding in saddle races on the West Coast in 1940, including the noted saddle pacer, Mankind, a minor legend of the era. Jack drove his first winner, Dawn Grattan, at Hokitika in 1942. "I was related to Wes Butt (whose property was known as Mankind Lodge) who had a big team then and worked with him. I was in the army at the time. We were sleeping under the public stand at Riccarton and training there. I managed to get weekend leave to go over and drive and it was hard to get in those days." Those were the days when it took 12 hours for the average equine rail trip to the West Coast, after which horses campaigned there for weeks at a time, giving rise to the quip "trained on the train". "You certainly didn't do much with them between races. They often raced twice on the same day and with the travelling that was about it."

Carmichael went on to star in much bigger arenas. He trained and drove the 1973 New Zealand Cup winner Globe Bay for Christchurch garage proprietor Stan Wheatley, who bought his dam after her half-sister, which he owned, was "nobbled" at a Hutt Park meeting. Coronet Lass started Jack off in the training ranks after years of working with Butt and farming. Chequer Board, Glen Moira, the erratic but brilliant Micron, and Astralight were among his many stars, but his record in Inter-Dominion trotting finals with Precocious(1975) and Yankee Loch(1989) were special highlights.

The aptly named Precocious had an unusual career. When she was a two-year-old, an unnamed colt jumped the fence and put her in foal. The resulting filly, appropriately named Over Fence, was not only a good winner but later left a high class trotter in Precocious Lad. "I only trained Precocious at odd times. Bob Mitchell had her at the 1973 Inter-Dominion and I went over to drive her. We were off the back mark and it wasn't going to be easy. An old bloke there took me aside and told me the locals would make things tough for me in the final but I should remember that stewards might give me a 'holiday' but they wouldn't take the race off me. Sure enough, one driver in particular tried to push me off the track for a whole round. I gave as good as I got, remembering that advice, and won the race. There was a long enquiry but the old bloke was right. They gave me a month's suspension but we kept the race. The other driver, Bert Alley, became a good mate of mine."

It was experience against the tough Australian drivers which paved the way for the second Inter-Dominion triumph with Yankee Loch in 1989, also held across the Tasman. "I had a good mare called Kate's Return. She frustrated me until I found out she loved going to the front. When I went over to Australia they just attacked me all the way and ruined her chance. So when Yankee Loch's turn came and I knew he would race best in front, I rang an Australian driver, Jim O'Sullivan, who had won big races at Addington at that time and asked him to drive him in the series. Jim went to the front and they didn't attack him like they would have if it had been a Kiwi driver. Yankee Loch beat the hot favourite, True Roman."

Jim Curtin drove Yankee Loch in New Zealand to win several major races. But Ian Cameron is the "stable driver" at the moment. "When you go to the trials, fellows like Jim are either away at the races or booked up. Ian has always driven quite well in my opinion and he helped me out when I went to workouts. He's done nothing wrong."

Jack bears no grudges against Australians, incidentally. His wife, Dorothy, comes from there and they have had a long and successful marriage. Besides his work with horses, Jack put in years of administration with the Owners and Trainers Association running trial meetings at Addington. He is one of the select few elected to Addington's Hall of Fame.

So are there any more champions in the pipeline? "No, I wouldn't say that. Flaming Frieda (by Courage Under Fire) is a little bit better than average. She went through a bad spell when I had to tie her up to do much with her but it was Jim Dalgety who reminded me that perseverance was the key to success. She can do more yet and I have some Badlands Hanover youngsters out of the mare. I have tried one of them (Harvest Boy) and when he lined up I even put a fiver on him because I think he will be alright, but he needs a bit of time."

Time is something Jack Carmichael feels he still has plenty of. "I've been lucky but I notice a lot of horsemen seem to live to a good age. I think the early-to-rise and early-to-bed might have something to do with it."

Jack, 88, this year and the oldest professional trainer in the country, is still fascinated by horses after 75 years working with them. By any standards, the career of a genuine stayer.

Credit: David McCarthy writing in The Press 2 July 2011


| | |
| --- | --- |
| | RACING HISTORY PEOPLE |

GLENIS STEVENS

When Glenis Stevens left her home for the last time on Friday, November 25, her husband, trainer Mike Stevens, would normally have been in the car with her. After 46 years of marriage Glenis and Mike were rarely apart. "We were inseparable," Mike said. "Everything we did, we loved doing it together." Even shopping, which Glenis loved, but Mike didn't, was done together.
However, that day he was flat out making hay at their 87 acre training property near Ashworths Beach in North Canterbury.

So Glenis headed off alone on the trip to collect their granddaughter, Courtney, aged 10, from the North New Brighton School, then return to the farm before attending a family party at daughter Jo's home in New Brighton to celebrate grandson Hayden's 14th birthday.

A short time later tragedy struck when Glenis was involved in a head-on car crash on State Highway 1, near Waikuku. She died at the crash scene, only a few kilometres from her home. She was 66. The driver of the other vehicle suffered minor injuries and was taken to Christchurch Hospital.

Mike and Glenis met at the Waimairi Surf Life Saving Club, when she was 15 and he 18. It wasn't love at first sight Mike said, but it was love after their first kiss. Five years later they married and in 1967 set up a panel-beating business in New Brighton. They raised three daughters, Jo, Toni and Anita, and have three grandchildren, Courtney, Hayden and Wade.

Mike also became a Christchurch City Councillor for six years in 1989. Unfortunately Mike and Glenis' business was damaged in the September 4, 2010 earthquake, but repairs enabled them to carry on. However, after far more serious damage, sustained during the February 22 quake earlier this year, the building was unable to be repaired and they decided to close their business down.

They shared many interests including swimming, surf lifesaving, whitebaiting, playing cards, rugby and racing standardbreds, most of which Mike trained. Aithough West Melton trainer, Robert Anderson, a good friend for many years, has also trained a few for them and he has Mike's four-win trotter Dragons Den, in work at the moment.

Over the years Mike and Glenis owned many nice horses, including Glenroydon (10 wins), Shantahlia Image (7 wins), Placid Bill (5 wins), Simon's Sister (5 wins), Hayden John (3 wins), Sunny Ilsa (2 wins), Paul Patch (3 wins) and the present race team, Su El (1 win), Dragons Den (4 wins) and Tomsincharge (1 win). They also owned the former top trotting mare Ilsa Voss for a time, breeding three foals from her, Isla Hanover, Top Voss and Magic Choice (4 wins). "We have been lucky to have had so many good horses," Mike said.

However their favourite was Smooth Dominion, which was the rank outsider but ran a close second for driver Robert Anderson in the 1997 NZ Cup won by Iraklis. "He would have to be our favourite because he was the best," Mike said. The excitement of having a runner in the New Zealand Cup was magnified many times over for Glenis and Mike with such a close run to the finish and only half a head between Iraklis and Smooth Dominion on the line.

After the race they were interviewed by Sheldon Murtha for Trackside. He asked them how it felt to watch their horse run so close in the big race? Unfortunately they couldn't answer his question, because they hadn't seen the finish. The excitement of the race, and Glenis's unique, exuberant cheering style, caused her to faint right at the crucial time, and so they missed Smooth Dominion's finest moment. "She dropped like a stone," Mike said. Later, in true Stevens style, they celebrated with a 'Smooth Dominion ran second in the NZ Cup party' which was a big success.

Glenis and Mike travelled to many racetracks around New Zealand together with their horses. A trip to Kaikoura in October this year brought a win for them with outsider Su El, who was last on the turn but stormed home to rock the tote paying $111.40 and $20.20. Mike said they also enjoyed taking horses to the West Coast during the Christmas holiday circuit there. "It is a great place the Coast, and the Coasters make it special," he said. "We loved going there."

Although they hadn't had the right horse to campaign on the Coast circuit for the last two or three years, Mike and Glenis had been hoping to take Su El there this year. A trip has not yet been ruled out. If the Elsu-Made To Order mare can win another race before the Westport meeting she would be eligible for the Westport Cup, a race Glenis would have loved to see her win.

A celebration of Glenis's life was held at the Sefton Hall in North Canterbury on December 1, with a big crowd of about 500 family and friends attending, and many of them wishing to give oral tributes. "There were that many people who wanted to speak we went for nearly two and a half hours, but if everyone who wanted to speak had done so it would have been much longer," Mike said. "It was a real credit to who she was. Everybody loved her because she was so happy."

Mike said he asked people to donate money to the North New Brighton School Swimming Pool Club, to repair earthquake damage done to the pool, instead of buying flowers. Mike's father attended the school, so did he and his three daughters, and now his grandchildren also go to school there. More than $6000 has already been donated in Glenis's honour for the project.

Credit: Shelley Caldwell writing in HRWeekly 21Dec11


| | |
| --- | --- |
| | RACING HISTORY MESCELLANY |

AIR TRAVEL IN 1930's

It was the 1930s when Addington earlybirds were "buzzed" by a low-flying plane swooping across the course, with big waves from two passengers.

By 11am, one passenger, Ces Donald, was back at Addington to drive trotter Stand By in the first race. Stand By won, and Donald became the first horseman to drive at Auckland's Alexandra Park on one day and at Addington in Christchurch the next.

Among his Addington runners was the appropriately named Lindbergh in the feature race. Donald was anxious to drive his horses at both venues, and be in Christchurch to arrange entries for the meeting's last day. However, the conventional route - an overnight train to Wellington and the ferry to Christchurch that night - made that impossible.

Donald left Alexandra Park at 5.30pm and caught the Limited Express to Wellington at 7pm. He had arranged for the guard to rouse him and his travelling companion, Fred Kidd, so they could leave the train at Feilding about 6am.

A prominent pilot, Captain McGregor, had flown to Feilding from Christchurch the previous day. Donald and Kidd boarded the plane about 7.30am and the flight to Christchurch was uneventful. Donald was at Addington before 11am.

"It was my first trip in an aeroplane and there was no problems," Donald said at the time. "I did not do it just to drive Lindbergh. I have a lot of horses here and they need my attention."

"A lot of horses" was right. By 1937, he had 161 horses in his care in an era when 10 comprised a large stable.

However, the flight was not the only first for Donald. He started training in 1922, and 50 years later became the first trainer in any code to win 1000 races.

Credit: David McCarthy writing in The Press 7 Jan 2011


| | |
| --- | --- |
| | RACING HISTORY INTERDOMINIONS |

The New Zealand Metropolitan Trotting Club (The Met) announced today that the 2011 Christchurch Casino Inter Dominion Championships would be run by The Met at Alexandra Park in Auckland on Friday 25 March, Friday 1 April and the Grand Final Meeting on Friday 8th April.

In announcing the change, Chairman David Rankin advised that a key consideration for The Met was the safety of patrons and staff at the Addington Raceway venue in Christchurch. "An Engineer's report on key building structures at Addington received yesterday reveals that our large Public Stand has some structural issues which cannot be addressed in the short time frame available. Similarly the Metropolitan Stand (Members) needs to have some glazing repairs and there is some non structural damage to end infill panels which need to be replaced for safety reasons. The glazing is expected to be completed by 25 March and the infill panels can be shored up temporarily to allow use of this stand. However, we are working within a tight time frame for which the risk of completion is too great. The older Twiggers Stand and the new stables are not affected."

"The transfer to Auckland will to a large degree mitigate our financial losses. The Auckland Trotting Club, not wanting to take advantage of our plight are allowing us to be there as a "tenant club" with no rental and contributing other net revenues to us as their way of supporting harness racing in Canterbury and the financial turmoil the earthquakes have created for us in Christchurch. We are gratified by their generous support. Harness Racing New Zealand has been hugely supportive in ensuring the Inter Dominions will be a success financially for The Met and we are extremely grateful to CEO Edward Rennell and his Board.

Practically, there was no other decision available to us, but nevertheless we feel strongly for the Canterbury Trainers, drivers, owners, our members and the Public who were looking forward to this event in Christchurch and gave us every encouragement to continue at all costs."

"Also, we cannot ignore the Christchurch Community which is reeling as a result of the major Earthquake on 22 February and it seems inappropriate for us to hold a Harness Racing Carnival at a time when so many people are suffering. We appreciate the Minister for Civil Defence (and also Minister for Racing) John Carter and the Christchurch City Council were not prepared to direct us to not hold the event, despite the fact they doubted whether the Christchurch infrastructure could cope."

The Met CEO, Shane Gloury said he was "absolutely gutted" he and his team could not deliver the Inter Dominions to Christchurch people and the local industry. "Our team at The Met have been working hard over the last two years to have the very best horses from Australia and New Zealand race in Canterbury as part of a magnificent Carnival. Unfortunately we are not able to showcase this product in Canterbury due to the events of the past 8 days. However we will still be able to conduct a great Carnival up in Auckland."

Over 50% of the horses nominated for the Series are trained in Canterbury and Gloury said that he was conscious of the additional costs associated with campaigning horses in the North Island for a two week period that were not originally budgeted for. "We are looking to ameliorating that in some way, but don't have much in the resource department to achieve what we would like to do" he added.

"The Met has had two very tough years financially and the financial implications of the business downturn and the earthquakes have needed careful management" said Rankin.

"We understand there are those from outside of Christchurch that would have liked to attend an Inter Dominion Series in Christchurch, but are fearful following the recent earthquakes."

Other feature races that were due to be run as part of the Inter Dominion Carnival in Christchurch will not be transferred to Auckland but will be run in Canterbury at later dates to be announced over the next few days.

The Met will be making necessary arrangements with sponsors, supporters, tour groups, members, industry participants and others over the next few days to ensure that a successful outcome and bumper Inter Dominion Carnival is conducted in Auckland between 25 March and 8 April.



Credit: Shane Gloury 2 Mar 2011


| | |
| --- | --- |
| | RACING HISTORY HORSES |

DEATH OF FALCON SEELSTER

Nevele R Stud said goodbye to one of its favourite sons when Falcon Seelster was put down on Friday.

A former great racehorse and then champion sire, Falcon Seelster was 30 and in failing health. Stud General Manager Peter O'Rourke said it was a matter of ending his discomfort. "We'd hoped that there was a chance he could brighten up with the warmer weather, but that wasn't happening. He couldn't get up three days in a row, and then he couldn't get down to rest. We didn't want to see him suffer," he said.

Falcon Seelster was bought by Bob McArdle and Wayne Francis from Castleton Farms in 1995. He was a superior performer on the track, capping his career with a world record 1.51 mile on Jug Day and earning more than $US1m. For the start of his stud career, Falcon Seelster was a shuttle stallion until his status as an EVA Shedder prevented him from returning for good until 2003.

"With Holmes Hanover gone, it's the end of an era," said O'Rourke.

As a sire, Falcon Seelster surpassed his ability on the track with a galaxy of great performers - 11 Australasian Group 1 winners Elsu, $2m; The Falcon Strike, $1.2m; Howard Bromac, Seelster Sam, All Hart, Franco Seguel, De Lovely, Franco Jonquill, Seel N Print, Coburg and New York Fashion. Six of those horses were Derby winners, and two - Elsu and The Falcon Strike - were Australasian Grand Circuit champions.

He has sired eight in 1.50, including Attorney General, 1.48.4, Allstar Blue Jean, 1.48.8, Franco Catapult, 1.49.4, and Ross The Boss, 1.50. He has sired 108 Australasian winners of more than $100,000, 720 Australasian bred winners, and 88 in 1.55 or better. Seven have won more than $1m including Nevele R Stud sire, McArdle ($2.4m).

All told, his stock has won more than $110m.

Falcon Seelster is making his mark as an exceptional broodmare sire, his daughters having left Bondy, Laurella, Fiery Falcon, Franco Emirate, Fly Like An Eagle, Millwood Meg, Ohoka Arizona, Veste, Mr Yankee, In The Force, Rona Lorraine, Im Mark Antony, Mach And Me and Lilac Stride - all Group 1 Winners - plus Franco Jamar and Pembrook Benny.

He has 32 yearlings, 61 mares due to foal, and his frozen semen is available.

Credit: Mike Grainger writing in HRWeekly 21 Sept 2011


| | |
| --- | --- |
| | RACING HISTORY FEATURE RACE COMMENT |

Young harness racing star Terror To Love stepped onto the track at Addington Raceway tonight considered by many as a boy in a man's world. But for those who ever doubted the talented four year old was deserved of his place at the elite level just yet, they were given a true heads-up with a stunning performance to win tonight's Group 3 Glenferrie Farm Canterbury Classic.

Left three wide without cover for the last 600m, the son of Western Terror collared a parked Smiling Shard at the top of the straight before holding all at bay to book himself a place in November's Christchurch Casino New Zealand Trotting Cup. Trained at West Melton by the father and son partnership of Graham and Paul Court and driven by Jimmy Curtin, Terror To Love looks every-bit deserved of his place in the big league, co-trainer Paul Court glowing in his praise for his stable star.

"He's just getting better and better all the time, he's improved so much from last season and seems to back-up so well from his races. It's real exciting times for all the connections and just so satisfying for us all. When you have one of your horses perform like that at the highest level it's very rewarding, and in particular for all the staff who put the hard yards in everyday," Court enthused.

The win came as little surprise to those who knew the horse best, but as Paul Court explains, they're under no illusions as to the task ahead. "At that level you really need a little bit of luck, and he got none last week. I timed him to run his last 800 in 55.1 and 400 in 26.6, and he got no money. He's got the most speed of any horse I've sat behind, it's instant, and he's tough as well. Yes we're definitely going for the NZ Cup, it's just a matter of how we get there," Court says.

The win was just reward for long time stable client Terry McDonald who has invested so much in harness racing over the years. There would be no one that would deserve the win more than Terry in our most famous race on that second Tuesday in November.

There were few excuses for the beaten brigade, although Smiling Shard was a brave second, just a length in arrears of the winner after being parked from the mile. He continues to improve with every run. Highview Tommy was an improvers third while Power Of Tara stuck gamely for fourth after trying to lead over the final lap. The winner's time was 3.12.7, home in 56.5 and 26.6. Terror To Love has now won 11 races from just 24 starts and over $214,000 in stake earnings.


Credit: Ged Mooar 17 Oct 2011


| | |
| --- | --- |
| | RACING HISTORY FEATURE RACE COMMENT |

For any harness racing fans who had forgotten just how good Auckland Reactor was they were given a fresh reminder at the New Zealand Metropolitan Trotting Club's meeting held at Addington Raceway tonight (Friday).

The brilliant son of Mach Three stepped perfectly in the Avon City Ford Cup (2600m stand) for co-trainer Mark Purdon who settled the entire handy on the outer for the most part of the race, before coming with a well-timed finishing burst to grab the Cran Dalgety trained pair of Smiling Shard and Bettor's Strike short of the line.

It was a superb fresh-up performance by Auckland Reactor and the win guaranteed him a start November's Christchurch Casino New Zealand Trotting Cup. For the connections the results was undeniably satisfying, but for trainers Mark Purdon and Grant Payne, it was the horse's stand-start manners that were given the biggest seel of approval.

"He stepped perfectly to be honest, we could have run into trouble shortly after the start but he managed to dodge a few, to his credit the horse handled it beautifully," said Mark Purdon.

With a three wide train developing a lap from home, Purdon was forced to sit, wait and hope for a run over the concluding stages. His wish was grant 300 out, the brilliant pacer unleashing a whirlwind finish to snatch victory from a game Smiling Shard. "I didn't want to give him a hard run first-up and wanted him to be running on at the finish apposed to getting tired, so it was a logical choice to sit and wait," says Purdon.

Auckland Reactor appeared settled and relaxed throughout, a far cry from his previous start, where six months earlier he pulled himself into the ground during the running of the Trillian Trust Auckland Cup, eventually dropping out to finish second last.

"He travelled good tonight and never really got right on the steel until the last 500, when I pulled him out he felt terrific and just kept on coming," Purdon said.

It was certainly refreshing to see the Auckland Reactor race with such kindness and tractability, allowing Purdon the freedom of choice when comes to how he chooses to drive the talented pacer. And while he ticked all the right boxes in tonight's feature, and seems destined for a date with the New Zealand Cup, the same can't be said for Franco Emirate who completely muffed the start, driver Jim Curtin getting too far back to even consider a pursuit.

The big son of Christian Cullen will be causing the connections some unhealthy headaches as the attempt to rectify the horse's inability to step cleanly. West Melton trainer Cran Dalgety will come away well satisfied with Smiling Shard, who still looked a little pretty, and Bettor's Strike. Both horses performed with distinction.

Perhaps the run of the race could be bestowed upon champion pacer Monkey King, who after being slow away, made up tremendous ground in the straight and looks right on song for a NZ Cup three-peat. Four year old Terror To Love was given no chance after driver Anthony Butt dropped his guard at the 900 and was humped four wide, the son of Western Terror was then sent via the cape turning for home and finished a meritorious seventh.

The winning time for Auckland Reactor was 3.15.9, home in 55.8 and 28.4. It was the seven year old's 27th win from just 38 starts.

Bring on the Christchurch Casino New Zealand Trotting Cup on November 8 at Addington Raceway.


Credit: Ged Mooar 3 Oct 2011


| | |
| --- | --- |
| | RACING HISTORY FEATURE RACE COMMENT |

2011 KAHDON 4YO TROTTERS CHAMPIONSHIP

For practical reasons, Gay McClymont chose to watch her race at Addington on Saturday from the rooftop of the new stabling area. It was certainly an occasion for the Gore trainer, being the first time a horse in her colours had started at Christchurch Headquarters, but on the tote her trotter Larix wasn't given much of a show and McClymont wasn't about to argue. "I knew we weren't going to be needed in the birdcage after the race, so I thought we may as well watch from a spot closer to where she'd be coming back in," McClymont said.

From her head-on vantage point McClymont could see Larix had put herself in the finish, but it wasn't until a few moments later when course commentator Mark McNamara confirmed it that the reality sank in. "That was a huge thrill," she said. "You take a win wherever you can get it but to win one at Addington is certainly a buzz."

McClymont and her husband Nick didn't have much time to celebrate their victory in the $25,000 Group 3 Kahdon Four-Year-Old Trotters Championship, because as soon as they were finished in the swabbing box they loaded Larix onto the float and began the journey home. "It doesn't take long to come back to earth when you've got a farm," she said. "We've got hay on the ground, and we've managed to get some of it in but there's still half a paddock to do. It's rained a lot down there lately, and every time the hay starts to dry out enough it'll pour again; it's very frustrating."

The McClymonts live in Gore and own a 200 acre sheep farm at Whiterig about three kilometres away. At peak there's up to 900 ewes and 200 hoggets to manage, but as Nick is a full-time tanker driver for Fonterra, Gay does most of the work herself. "I've always said that the farm has to come first and the horses second, because the farm is what pays the bills," she said. "Things have had to change a little bit this season though." That's because Larix has really put McClymont on the map during 2010/11, winning four of her 10 outings. She's been a 'hit or miss' type of trotter ever since her career began last March though, evidenced by her record of six victories from 16 starts in total but not a single placing amongst them.

McClymont and her mum Rae Given bred Larix themselves. The 4-year-old Safely Kept mare is out of Tamarix, who they also bred, and McClymont trained her in the last four of her five victories. "Brendon McLellan helped me with Tamarix early on," she recalled. "And she actually started out as a great pacer - running a quarter in twenty-six at the Gore workouts one day; we thought we had an Oaks filly. But she never tried an inch once she got to the races, so in frustration I stopped in the middle of training one day and threw the hopples away. She had a few issues and took a bit to get organised, and at one stage when we were busy with lambing I gave her to Brendon."

Tamarix ironically won her first race while boarding at McLellan's, and the same thing happened with Larix too. McClymont broke her wrist badly in a shearing accident and was in plaster for a year, so her good friends Geoff and Judy Knight took Larix into their care and she qualified and won her first two races from the couple's stable. "I don't think Geoff was too happy about giving her back in the end," she smiled. "She was lovely to break in and is lovely to work with, but she's got her funny wee ways too. She just got into her head that she couldn't get round corners. When she's good she's very very good, but when she's bad she's horrid. And once she gallops she's usually history. I mean, she's had sixteen starts but you couldn't say she's had sixteen races. I do very little on the track with her now. Our farm's a very rolling property, so for work she goes up hill and down dale. One day she might see a rabbit, and the next it'll be a duck. I just take her around the sheep and stop at all the gates as we go through them, and she's not near as silly as she used to be."

Another component in the equation is Larix's driver Nathan Williamson. "He's fantastic with her," she says. "I wouldn't have a horse if it wasn't for Nathan, because he's looked after her beautifully and taught her all the way through. She knows him really well, and seems to relax for him. He's had big wraps on her right from the dayhe drove her in qualifying, too."

So did Larix's trainer get any of the $50 dividend on Saturday? "I actually don't bet. I've always maintained that if I put money on a horse it'd be the quickest way to stop it. You might wonder 'what if' when they pay what she did, but you don't regret it when you see them gallop away."

McClymont's career tally is now sitting one short of double figures. Larix has won four for her since October last year; Tamarix recorded the same amount of victories between early 2001 and March 2002, and for her first training win you have to go back to March 1995 when Saperfluous scored at a hometown meeting in Gore. All of her wins have been trotters, but that's just coincidental. She did actually win a pacing race with Luigi in 1999, but "they took it off me for him moving one cart width out down the straight, and I'm still sour about it to this day".

McClymont bought the farm at Whiterig off her parents, and her mother still lives there. Of course it's famous for sending forth a great pacer in years gone by as well, because McClymont's late father Lionel Given co-bred, co-owned and trained none other than Sapling. "we soon got used to travelling up and down the country with a horse like him," McClymont remembered fondly. "It was Dad's partner (in Sapling) George Cruickshank that actually got me started in the eighties when he gave me a share in the broodmare Spruce, who was a half-sister to Sapling."

One of the best horses McClymont ever bred was Spruce's Double Century gelding Try A Fluke, who was sold to Australia after a couple of starts and ended up winning a Hunter Cup. With the 'highs' has come the 'lows' too though, because both Larix's half-sisters were lost within two weeks of each other to colic and twisted bowels in 2007. "The next one out of Tamarix is a 2-year-old Sundon, who was born on my son Graham and his wife Vicky's wedding day so I gave them a half-share in him as a present. He's the first colt I've bred since Dad died in 2004, so I've named him Given. She foaled a Sundon colt on Christmas night, and has gone to Monarchy."

In addition to being a farmer, and affectionately calling herself "a hick from the sticks" who trains a horse of two, McClymont is on the committee of her local club and was even President for a three-year term at the turn of the century when Gore celebrated it's centenary.

Credit: John Robinson writing in HRWeekly 9Feb2011


| | |
| --- | --- |
| | RACING HISTORY FEATURE RACE COMMENT |

2011 UNITED FISHERIES LTD SUMMER CUP

De Lovely had her first test against the open class pacers on Saturday at Addington and passed with flying colours.

Trailing all the way on a moderate tempo, De Lovely always looked like she would have the last say up the passing lane in the $25,000 United Fisheries Ltd Summer Cup - and so it proved, the Falcon Seelster mare zipping past the pacemaker Monkey King and Highview Tommy to win with something in hand.

"Monkey King was probably still a run short," conceded driver David Butcher. "I mean, you look in the book and Monkey King's won $3.4 million - at $580,000-odd, we're way behind. The only speed in the race came when Hghview Tommy loomed up at th 100m mark and had a look, that was it."

Butcher justified his driving tactics at De Lovely's previous start when she couldn't beat the mares, saying "I thought I could sit last and still pick them up. You've got to remember that it was her first start for five weeks. But they're not machines. Horses are so hard to manage sometimes, and the team at Wigram Lodge have obviously done a good job with her in the interim. She's beautiful to sit behind, because she's got such a lovely gait."

Trainer Ian Small and De Lovely's connections are pretty much adopting a 'take it as it comes' approach to the remainder of the season, because there's plenty of races like the Harness Jewels at Ashburton and Taylor Mile/Messenger in Auckland at her disposal without even thinking about the trans-Tasman battle at Addington which starts next month. "Inter-Dominions? We'll see," Butcher said. "We thought she'd have about eight races this season, and she's already had six."

Credit: John Robinson writing in HRWeekly 9Feb2011


| | |
| --- | --- |
| | RACING HISTORY FEATURE RACE COMMENT |

2011 UNITED FISHERIES LTD TROTTING FREE-FOR-ALL

Master Bomber was back in the winners' circle on Saturday at Addington when taking out the Group 3 United Fisheries Ltd Trotting FFA. With two wins under his belt this season, the Armbro Invasion-gelding closed as second favourite behind Dr Hook in the $25,000 race.

Master Bomber was one of the fastest off the gate with trainer-driver Gerard O'Reilly electing to head straight to the front for the 1950m trot. From there he was untouchable. Heading for home he charged in front of the field. Idid It Myway tried hard to cut him down, but could not close in fast enough, with Master Bomber winning by a length. Idid It Myway was second by a neck over stablemate Dr Hook, who had run on very well.

Master Bomber is owned by Hubert Christey and is now into his third season of racing. Saturday's win was his first Group race and 10th lifetime win from 41 starts which includes this seasons' Listed Ordeal Cup. The seven-year-old has earned $125,540 from these starts.


Credit: Harness Racing Website


| | |
| --- | --- |
| | RACING HISTORY FEATURE RACE COMMENT |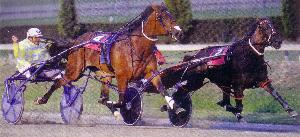 De Lovely (inner) beating Nearea Franco

2011 PGG WRIGHTSON NZ BREEDERS STAKES

Red-hot favourites usually win by more than a pencil line. So De Lovely gave those who backed her into $1.20 plenty of reasons to panic as she scraped home by the barest of margins at Addington on Friday night.

But don't blame De Lovely - point the finger at Nearea Franco, because she and Craig Thornley did such a sterling job of pacemaking in the $80,000 Group 1 PGG Wrightson NZ Breeders Stakes that they almost stole the unstealable. After all, just under a week earlier De Lovely had zoomed past the winner of our last two New Zealand Cups and won under a hold by nearly two lengths. Six days later she needed a good couple of cuts with the whip from David Butcher to nab Nearea Franco on the line. And only just got there.

The two great mares were clearly superior to their eight other rivals, proved in no uncertain terms by the seven and a half length margin back to Lancome in third place after torrid final sectionals of 56.2 and 27.5. But for De Lovely it'll go down as another victory in her brilliant career, the 15th time she's saluted in 24 appearances, good for nearly $650,000 in stakes for the Les Girls No.2 Syndicate who bred and race the 4-year-old daughter of Falcon Seelster and Copper Beach.

De Lovely's only defeat in 12 starts since May last year came in the Group 2 Premier Mares Championship on January 21, her third to Beaudiene Bad Babe that night denying her the chance to join Kiwi Ingenuity(2009), It's Ella(2007), Mainland Banner(2006), Coburg(2004), Kym's Girl(2000), Lento(1996), Blossom Lady(1993 & 1991), Gina Rosa(1989) and Bionic Chance(1988) on the coveted list of those who have won the two big Addington mares' features in the same season.



Credit: John Rpbinson writing in HRWeekly 16Feb 2011


| | |
| --- | --- |
| | RACING HISTORY FEATURE RACE COMMENT |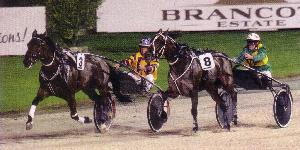 Let Me Thru (3) beats Sovereignty (8)

2011 TRACKSIDE CHANNEL - INTER-DOMINION TROTTERS (Heat 2)

An hour or so after Chris Lang was still puzzling over a very off day for Sundon's Gift, stablemate Let Me Thru continued his dazzling form by winning the Second Heat. He has the edge over the opposition at present. He made a winning fist of leading and holding off Sovereignty by a neck, and he won on Auckland Cup night from Sovereignty by a little less than that after sitting parked.

Driver Chris Lang jnr said he was even better coming off a sit. "But he can do it anyway; lead, sit parked, or come off the pace. He doesn't do a thing wrong. We can't find a fault with him," he said. Lang's the one to talk about that. He has won nine straight on the big 5-year-old. His imposing record is 18 wins and three placings from 25 starts. I'm always confident he will run well wherever he is in the running. He could have started racing fiercely tonight after being revved up getting to the lead, so I just let the reins go and he backed off," he said.

Lang has seen enough of Sovereignty to know how hard he is to beat. "He wouldn't want to draw fourteen in the Final and Sovereignty to draw somewhere good on the front."

There was much to like about the run of Stylish Monarch, who was parked early and trailed later, and Master Bomber who came into it with a tidy burst. Stylish Monarch blew heavily after the race. "He'll be one of the big improvers," said driver, Ricky May. "He takes a lot of work, and the more racing he gets, the better he gets." Stylish Monarch has not won on the track from six attempts, but the breakthrough is anytime soon.

Lets Get Serious went for a gallop after 600 metres and Musgrove did the same 600 metres from the finish.

Credit: Mike Grainger writing in HRWeekly 30Mar2011


| | |
| --- | --- |
| | RACING HISTORY FEATURE RACE COMMENT |

2011 ALABAR INTER-DOMINION PACERS (Heat 1)

Smoken Up had little more than a good blow-out, running the 2700m mobile close on six seconds slower than it took Themightyquinn to beat Washakie in the Second Heat. Once Luke McCarthy parked Mr Feelgood, the others could do little more than sit and hope, and that's what they did.

The sprint home took Smoken Up 55.7 and the quarter 26, which effectively ended the contest. Villagem did hugely well to make ground for third, and Captain Peacock ran out of the pack and made the placing close. Justice left the course thinking how easy it had been. "I was waiting for something to happen, but nothing did. It would have been a pain if Auckland Reactor was in it, and that made it easier."

Justice said he had been particular in his preparation of running the horse the Auckland way. "I've given him lots of training ... the wrong way. I thought nothing would beat him the way he worked before this. Even Themightyquinn would be lucky to come home as quick as we did tonight. He's in the right frame of mind for this - both of us are. What's so special about this horse is that he doesn't know how to not try. Sokyola was the same. They just don't like other horses going past them." Justice has been home and returned. "I flew back to Adelaide on Saturday for my son Robert's wedding, and came back on Sunday."

Lisa Miles, the trainer/driver of Villagem and on her first visit to NZ, was pleased with his third. "He's not as seasoned as some, so he was always going to benefit from the race. From where he was, Lance was never going to hammer the horse."

Monkey King finished in the pack, running on late like most of the others. Ricky May didn't beat about the bushes. "I had my chance to pop out and I didn't. It was a negative drive. I knew I'd made a mistake." Trainer Benny Hill wasn't that concerned. "He's pulled up super - I'm happy."

Brent Mangos finished a place ahead - in fifth, with Franco Jamar. "I've never known a Heat to go so slow," he said.



Credit: Mike Grainger writing in HRWeekly 30Mar2011


| | |
| --- | --- |
| | RACING HISTORY FEATURE RACE COMMENT |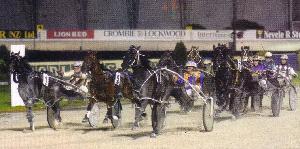 Themightyquinn (outer) from Washakie(5) and Choise Achiever(1)

2011 SEW EURODRIVE INTER-DOMINION PACERS (Heat 2)

The only difference to the finish in this Heat to the first one was that the Australians ran 1,2 and 4, rather than 1,2 and 3. Choise Achiever was the lone New Zealand placegetter, beaten a half-head for second. The only Australian horse to miss a first three finish was Blacks A Fake, and it so happened that he's probably run best of them all.

With Washakie running on springs in front, and Choise Achiever just as keen in behind, Blacks A Fake ran easily in the open. They were all fodder for Themightyquinn once Gary Hall jnr dropped him to the trail. They sped home in 54.6, which again gave the chasing bunch no show. The first four around the corner held their places.

"My horse was a bit fresh, because I have been easy on him, and Themightyquinn has a brilliant burst," said Luke McCarthy, the driver of Washakie. Choise Achiever looked comfortable with the big step up, running strongly in the trail and anxious to do more. "That's the first time I've used him off the gate, and he made the lead easily," said Anthony Butt.

Given the same run that won him the Auckland Cup, Themightyquinn was in his element. Hall's main occupation after finding the back of Blacks A Fake was choosing the time to set him loose. The slush from the wet track made it difficult. "I had to pull my goggles down on the corner. I couldn't see how much ground we had to make up," he said. "It's good that he's doing it in the wet, because he hasn't been that good in it at home."

Hall said it had been easier for Themightyquinn back in Perth where the opposition did not have the depth that he is facing here. "But the horse is as well as he has ever been. I couldn't be happier. He's coming through these runs so well, because he's not being used up. At home, he's in a walk-in, walk-out box, but here he goes into a paddock at 9 or 10 o'clock, and stays out till 4." Hall does not have to worry about how much grass he eats. "He's not a guts, and has room for lunch. He does manage himself very well, like all good athletes."

But Hall knows the sunny days can turn cloudy at any time. "There are a lot of variables to consider. Smoken Up, Blacks A Fake, the others, all need different trips. The barrier draw will have a lot to do with it," he said.

Credit: Mike Grainger writing in HRWeekly 30Mar2011


| | |
| --- | --- |
| | RACING HISTORY FEATURE RACE COMMENT |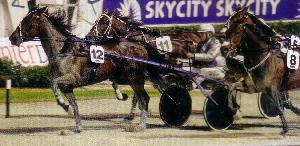 Raydon(12) wins from Stylish Monarch(8) & Sovereignty(11)

2011 GARRARDS HORSE & HOUND INTER-DOMINION TROTTERS (Heat 3)

There was never much doubt Raydon would again find the form that made him a star at four. He hasn't travelled all that badly in the meantime, but it's still been 15 months since he last won - and that was at Alexandra Park on December 18, 2009.

Following that and before the Rowe Cup a year ago, he hurt a hock that meant a spell of more than three months. He didn't race for nine months. It's been a trail of redemption in the meantime, a trip that co-trainer Barry Purdon knew would eventually have a pleasing outcome. It could be as close as a day or two away. He has emerged from a solid block of form with the ultimate turnaround - a strong win over Stylish Monarch who roared past the tiring Sovereignty inside the last 20 metres.

Raydon had looked sharp in his Heat the week before, and that came after an encouraging third on Auckland Cup night behind Let Me Thru. Purdon was ready for it. "He looked really good twelve months ago, but it's taken him a while to adjust to the new standard," he said. "There's been no pressure on him. We've just taken him quietly. We always felt it would happen, and it has. He has just stepped up a level."

Stylish Monarch made the transition from middle class to upper class without quite the form hiatus that affected Raydon. He has won 15 races, or roughly 40% of his starts, and he rarely finishes out of the money. He has got better with each run at the meeting so far; a third, and a rattling good finish for second after being near last with a lap to run. Again, he recovered as if there was another three or four lengths of benefit to come.

Maurice McKendry said the false start put a keen edge to Sovereignty. "He pulled a wee bit, but I was quite happy with him," he said.

First night winner Dr Hook got back and was buried from the outset, and he ran on without turning heads. "We were there to get some money, but it just didn't turn out our way," said trainer Paul Nairn.



Credit: Mike Grainger writing in HR Weekly 6Apr2011


| | |
| --- | --- |
| | RACING HISTORY FEATURE RACE COMMENT |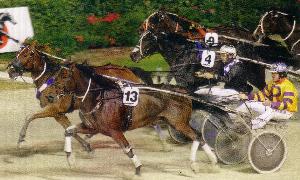 Let Me Thru(13) from Springbank Richard(inner), I Can Doosit(4) & Danny Cash(9)

2011 NEW ZEALAND HERALD INTER-DOMINION TROTTERS (Heat 4)

The kindling stick form of Let Me Thru continued at Alexandra Park last Friday night. But instead of doing it in front, instead of running parked or sitting close with cover, Let Me Thru used blinding speed from the back.

He had one behind him with a lap to run and began the run home giving I Can Doosit an enormous start. Springbank Richard was back with him, but a place or two ahead. They set out after I Can Doosit, who had taken the lead off the tiring Annicka on the corner. "I thought we'd run into third or fourth," said driver Chris Lang jnr. "I didn't even ask him to go. What he did up the straight ... that's the best feeling I've had in harness racing. The more we ask him to do, the more he can do," he said.

Lang, who was fined $250 for not having Let Me Thru on the gate at dispatch, said he felt for Nathan Williamson and Springbank Richard after the horse was sent to the outside for causing a false start and then having to travel wide on the mobile for another lap. "That was tough for him," he said. Lang said he would like to say the draw doesn't matter for the Final, but added that it would play a part.

Williamson knows what it can mean. He went from barrier two to the outside of the gate, which cost him the prospect of a better position. "He was a bit keen on the gate," he said. "Who knows, that might have been better for him. I was held up and it cost me a bit of ground in the straight, but Let Me Thru came from behind me."

I Can Doosit is making pleasing progress at the right time and he's shaping as good as any of the chasing pack. "He didn't have it easy, and hit the wall halfway down the straight," said driver, Mark Purdon.

Danny Cash ran better but Master Bomber didn't and made the Final with a battling sixth. Trainer Gerard O'Reilly said a hoof problem and the change of location had given him one problem and then another.

Credit: Mike Grainger writing in HR Weekly 6Apr2011


| | |
| --- | --- |
| | RACING HISTORY FEATURE RACE COMMENT |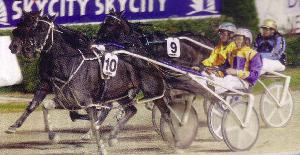 Themightyquinn(10) swamps Mr Feelgood & Monkey King(9)

2011 NEVELE R INTER-DOMINION PACERS (Heat 3)

If winning came down to looks, Themightyquinn wouldn't win much. Gary Hall jnr smiles at that. "Everone can pick out Blacks A Fake and Mr Feelgood. With this guy, they just walk straight past."

If winning had something to do with presentation, manners and articulation, Gary Hall jnr would be up there with Lance Justice. Both can run up a few good quotes, and driving great horses gives them plenty of practice. They've been doing all the talking in the barn at Alexandra Park so far.

Hall was applauded after his post-race comments immediately after the race last Friday. "It will be a long week," he said. "Dad has come over, but he's said he's only come to watch." That's gone down well. Hall jnr said he was a little concerned coming into the series, saying the pressure of training the horse without his father there "was a bit of a worry. But he is a very easy horse to train, and great for letting you know when he's right."

Themightyquinn has been right for months, but never quite in the zone of fitness and contentment that he's in right now. "I don't have the words to describe how fast he is going here. I do know it's a great asset to have. From where we were, I thought we would be lucky to pick up Monkey King, so his finish did surprise me. I didn't think he could go faster than what he has, but maybe now he is. We think he's better now than what he was for the Auckland Cup, and he could be a better horse for the Final."

While the Perth people went home and slept well, those in the Monkey King camp were tossing and turning. "He's not steering right," said driver Ricky May. "He doesn't feel good on any of the corners, and it's taking too much out of him. I've got to take hold of him too keep him off the markers. "We've got some issues." May said he was well aware of the punch that Themightyquinn brings to the fight. "I know what he can do; I drove him often enough. One time, Monkey King used to have the same speed that Themightyquinn is using now."



Credit: Mike Grainger writing in HR Weekly 6Apr2011


| | |
| --- | --- |
| | RACING HISTORY FEATURE RACE COMMENT |

2011 MAGNESS BENROW/ PANASONIC INTER-DOMINION PACERS (Heat 4)

There is not a horse to match Smoken Up for brutal, gloves off, pound for pound slugging. Lance Justice decided at Alexandra Park last Friday night that if anyone had forgotten, it was time for a stern reminder. "I thought I'd give a message to the opposition - we're going good."

Smoken Up held out Washakie for the lead. Smiling Shard was put in the hunt, sitting parked for more than a lap and Blacks A Fake dropped back but again looked on target with another bold finish. Justice opened the throttle before the 500m and Smoken Up broke away and soon cleared out.

"He's got Sunday and Monday off, that's why I gave him this," said Justice. "He needed a good hit out. I'll have to change the bearings on the cart - they were 'smoken'. I've never had him going better. I don't think Themightyquinn could do that, going that speed, but I wouldn't like him within two or three lengths of me, so it will come down to the draw," he said. Justice said it would make people "take a breath and think what he can do".

Justice recalled that he always wanted a horse by Tinted Cloud ... "I don't know why. I looked at a few and then saw a tape of this one. I told the guys that if they wanted him, don't make an offer, pay what they want. I'd only had him three weeks when I told Adam (Hamilton) I had something special ... a horse who could be very good. The same people had Smooth Crusa, and it was soon Smooth who? But he's always had a bad hitch that I've trained him out of; but even tonight, when he got a bit crowded, you can feel it."

Smiling Shard had to front up and he did, though the Australian mountain has doubled in size with six making the cut. "He went huge," said driver Dexter Dunn. "We were all done at the quarter, but I'm rapt in the way he's kept at it. We'll need a good draw and a decent run - that's our only chance because the Australian horses are that good."

Credit: Mike Grainger writing in HRWeekly 6Apr2011


| | |
| --- | --- |
| | RACING HISTORY FEATURE RACE COMMENT |

2011 SKYCITY INTER-DOMINION PACING GRAND FINAL

The $800,000 Skycity Inter-Dominion Pacing Grand Final was a clinical triumph for the powerful Australian contingent. Had it not been for the courageous effort of nuggetty little Smiling Shard, it would have been a first four finish. The best endeavours of the Kiwi team could not match the grinding pressure that is the Australian calling card. In the end, it was not even close, even amongst the visitors.

Smoken Up was never really put to the test by Themightyquinn and won by three-quarters of a length. In the same manner Themightyquinn was unchallenged for second, but Blacks A Fake was in a squeeze for third, and only got there by a neck from Smiling Shard. Mr Feelgood was a luckless fifth and a good margin ahead of the second bunch.

Natalie Rasmussen pretty much determined the pattern of the race, sending Blacks A Fake on a fast move out of the gate. Luke McCarthy, who had moved Mr Feelgood on the first lap to sit parked, expected her to stay there, so he'd be covered when Lance Justice came up with Smoken Up. Much to McCarthy's alarm, Rasmussen let Justice go by. "She said she was going to hold up." McCarthy was disgruntled. "He's no sitter. I should have gone on myself," he said.

Having Blacks A Fake and Mr Feelgood where he wanted them, and knowing Themightyquinn had not travelled up, Justice didn't have much on his mind. "I drove him a bit quiet early, used a bit of patience," he said. "I knew I had a bit of grunt left in the straight. I was waiting and holding him. I saw Themightyquinn run out of steam alongside me. He got to my girth and then I knew I had it."

Justice said winning races at this level was the pinnacle of being a trainer. "The horse came into this series with only one race in two months, so his fitness was always going to get better. He can race the way he does because of the way in which I manage him between them. But he doesn't get beaten in a dog-fight. He'll be dead on his feet and keep trying. There was no need for that this time."

There has barely been a bump in his career since Canterbury standardbred agent Paul Davies arranged the sale for $60,000 after sending Justice a video of the horse. "He had a paddock accident once when he tore a muscle in his back and missed the Miracle Mile. That's been it."

An 8-year-old by the In The Pocket horse Tinted Cloud, Smoken Up is very much a one-man horse. "He's always a pleasure to work," said Justice. "I've got to be pretty crook or away somewhere if I don't work him every day. If they're good enough to take away you should go with them. I always like to make sure they're happy. He's called 'Trigger', after the horse Roy Rogers had. When I call him, he comes. And I think he must hold some sort of record for the number of apples he eats."

The key players in the ownership are Alex Kay and Peter Gadsby, who race Smoken Up with Kay's son Ryan, Danny Locastro, Vince MacDonald, Michael Van Rens and Allan Bonney. They won over $400,000 with Smooth Crusa, who was trained for them by Paul Fitzpatrick, and then engaged Justice after being impressed with his management of the ageless star, Sokyola.

Having top horses is nothing new for Kay and Gadsby, Kay having a share in the big West Australian winner The Falcon Strike, and Gadsby with Miracle Mile winner and $1.2 million earner, Double Identity.

Smoken Up has long since topped their commendable earnings, having now won 47 races and more than $2,6m.

Credit: Mike Grainger writing in HRWeekly 13Apr2011


| | |
| --- | --- |
| | RACING HISTORY FEATURE RACE COMMENT |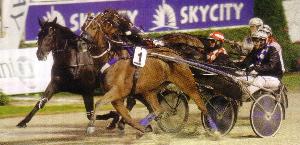 Dr Hook (inner) holds out Springbank Richard (1)

2011 GLENFERRIE FARM INTER-DOMINION TROTTERS (Heat 1)

Dr Hook was the winner, leading throughout for Jimmy Curtin, Springbank Richard was the best of seconds, and Beat The Monarch was a chirpy third at long odds after trailing.

Raydon, I Can Doosit and the Swedish mare Annicka all ran well enough to expect at least more of the same this week, but not everyone was happy. Chris Lang was back at the drawing board after Sundon's Gift ran well below his best, even taking a tough trip into account. "No matter how you look at it, that was a bad run," he said. Sundon's Gift was parked, and started losing ground before the turn. Lang said the horse should have stayed on better than he did, in spite of the run he had.

Further up, there were good reports, especially from Mark Purdon and Anthony Butt. "I'm very happy with him," said Purdon, of I Can Doosit, who added that Auckland Reactor had resumed work with the intention of racing again soon. "He did a bit of work early, and had the run he needed."

Butt was just as upbeat with Annicka, and expects her to be a formidable threat this week, when trainer Jorgen Westholm will take over. "She got held up on the corner behind Sundon's Gift and wanted to hang a bit when we came out. She found the line well, and she went to the end of the back straight before I could pull her up."

Phil Williamson was a man on more of a mission with Springbank Richard, whose form had been patchy at best and a worry at worst. The race would give him a bead on just wherehis form sat - and it did. From three-deep, Springbank Richard flashed into second, which carried the message Williamson was after. "It was just the run we wanted. He's a very nice horse when he's on his game. If he's as good late on as he was tonight, he's got a real chance in the Final," he said.

Paul Nairn had Dr Hook in grand shape and still expects him to get better. "He has only raced once since the Cup Meeting, and he's always happier racing right-handed," he said. Asked whether three races in a fortnight might be a hurdle for the 5-year-old, Nairn said: "I'm sure he's done it before ... on the Coast, three races in five days. I know he will be a stronger horse in a year or two, but he's fit and there's no point in being here if your not. As far as being good enough, he'll answer that question."

Credit: Mike Grainger writing in HRWeekly 30Mar11


| | |
| --- | --- |
| | RACING HISTORY FEATURE RACE COMMENT |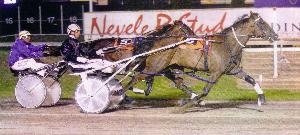 Beaudiene Bad Babe outfinishes Lancome

2011 CADUCEUS CLUB OF CANTERBURY PREMIER MARE'S CHAMPIONSHIP

"If we're ever going to beat her, tonight's the night." Those were the exact words of trainer Murray Brown, moments before he and every other trainer faced the daunting task of tackling a rampant De Lovely in the $40,000 Premier Mare's Championship at Addington on Friday.

Brown's confidence heading into the Group 2 event with Beaudiene Bad Babe stemmed from a couple of things - primarily the way his mare seemed in the days prior, and the fact that he thought she was closing the gap on De Lovely in the two times they'd met.

"She beat us twice in December, but we got more than a couple of lengths closer to her the second time," Brown said. "De Lovely hadn't raced since then (December 17), whereas we'd come home and run those two thirds down south behind Stunin Cullen. And 'Babe' was just so well this week...she was fair kickin' the box down at Spreydon Lodge, and I hadn't seen her like that since last year."

Brown received another reason to think 'maybe' from the unlikeliest of sources on Friday: Geoff Small himself. "Geoff wished us luck on the way past our stall. I said to him that we'd be hard pressed to beat his mare though, because you can never head out there thinking you're going to win against a horse like De Lovely. But his reply was that 'we've got to get beat sometime'."

Brown didn't think much more of the passing comment as he headed out to find a spot in the stand. What he and the rest of us witnessed in the Caduceus Club of Canterbury sponsored event were two contrasting drives...Dexter Dunn at his brilliant best when he rolled to the top and took control with Beaudiene Bad Babe a lap out, and David Butcher producing something at the other end of the popularity scale in the eyes of punters when he sat and waited for far too long.

"It was another great drive from Dex," Brown said afterwards. "I saw him look around at the 600 metre mark and cut for it; I knew then that De Lovely was too far back, and wouldn't be able to catch us. She's one of those horses who really knows where the winning post is. She just surges and keeps kicking that last fifty metres."

Southland's pride and joy has now won 22 races from 41 appearances and just keeps marching on, her stakes tally having tipped over the $400,000 mark and not looking like stopping any day soon. Friday's victory was the Badlands Hanover-Beaudiene Babe 5-year-old mare's forth Group race success, and more importantly it gave her coveted back-to-back titles.

"You just can't explain the thrill that something like this gives you," Brown said. "I didn't mind in the least that all the hype was around De Lovely leading up to this, because it took the pressure off me. But you never get moments like these...to win this race two times in a row is just incredible. It's tingles down the spine stuff."

Brown has stuck to the same programme with Beaudiene Bad Babe every year, believing that a three-month spell at the start of each new season's campaign is an integral part of her overall success. Even that couldn't allow for Mother Nature throwing in her 'two cents worth' this season though..."She's taken longer to come up this time. And I admit that she probably got away from us after her latest trip north. Having had an easy two days at Gareth Dixon's after she finished racing in Auckland, and then a three-day trip home, she put on a bit of weight."

Brown and the Estate of Peter Ryan that race Beaudiene Bad Babe have resisted the lure of the New Zealand Cup until now, but that'll all change come November because the likeable Southland trainer believes she's finally ready for such a test. "The Cup has to be in our minds now," he said. "And she's paid up for the Inter-Dominions, because we've got to have a go when they're at home. We're not the best horse in it by any means, but she'll have to draw well one day and might just surprise a few."

Credit: John Robinson writing in HRWeekly 26Jan11


| | |
| --- | --- |
| | RACING HISTORY FEATURE RACE COMMENT |

2011 MAURICE HOLMES VASE

Power Of Tara was simply a class above his rivals last Friday night in the season's opening Cup build up race. Power Of Tara and Bondy shared favouritism and when Bondy found the lead early he looked to be holding all the cards. Power Of Tara worked up handy and found the lead going into the final lap and it still looked to be advantage Bondy.

When the whips cracked in the home straight though only Power Of Tara responded. Bondy didn't quicken from the trail and was nosed out of second by Mr Chrome who did well from third on the markers.

Power Of Tara had cashed in on his trouble-free build-up and cemented a spot in the Cup via automatic qualification for the win. He will look to enhance his Cup claims further this Sunday in the PGG Wrightson Hannon Memorial.



Credit: HRNZ Website


| | |
| --- | --- |
| | RACING HISTORY FEATURE RACE COMMENT |

2011 ANTHONY SHEARER/ PINK BATTS ORDEAL TROTTING CUP

The often underrated Musgrove was a tenacious winner of the Listed Ordeal Cup at Addington last Friday night. He won the race at the expense of his more-favoured stablemate Dr Hook, who was third and not as sharp as he was in winning in a slick 2.01.7 mile rate for 2600m a week earlier.

Musgrove has an excellent record - 15 wins and $140,000 from 69 starts - but he has been a devilishly hard horse to follow. His intermediate seasons were notorious for his patchy starting manner, but that's now pretty much the way it used to be. He ended his last campaign on a winning note, and started his present one off the same way, beating Burano on August 26. He was then beaten by Dr Hook a week before the Ordeal, although there wasn't a lot in it. In view of that, Musgrove shouldn't have been discarded in the betting the way he was - $15 was more than enough for a seasoned horse in such enthusiastic form.

Driven by ex-trainer David Butt, Musgrove worked up and took the lead off Dr Hook at the 1400m. A hard horse to head on most days, Musgrove called the shots from there and held off Clover Don, who was quick at the end and ran him to three-quarters of a length. "His manners have let him down in the past," said trainer Paul Nairn.

The chestnut is raced by "Bolty" Paterson, who bought out the previous owners in the horse a year ago. There was no rush to make excuses for Dr Hook, who was a little flat trying to find two lengths in the run in.

Nairn is seldom without a good reserve bench, and he has one: Idid It Myway is jogging and due back, he has a 2-year-old from Inspire he likes, and No Boundaries, a 3-year-old by Pegasus Spur from Time Of Reckoning, is a name to remember.

Credit: Mike Grainger writing in HRWeekly 21 Sep2011


| | |
| --- | --- |
| | RACING HISTORY FEATURE RACE COMMENT |

2011 RICOH FREE-FOR-ALL

Paul Davies, the bloodstock agent who buys horses for Otago owner, Russell Nieper, remembers the day Jim Curtin trialled Franco Enirate at Addington. "He came back laughing," Davies remembers. "He said he had just driven the fastest quarter he had ever trialled a horse there and he had trialled a lot of horses. He thought he was a bargain even though the price was substantial," Davies said.

The Nieper, Davies, Curtin triumverate have been a force in harness racing for several years since the retired Otago supermarket owner first contacted the agent. "It was a ring out of the blue. Russell said he had raced a lot of horses and a lot of slow ones and was looking for a new direction."

Highview Badlands, a substantial yearling purchase, was among the first, a winner of the West Coast bonus and nine in all which Davies had recommended to Nieper. Quick Reflection and Radar Installed are among several Nieper successes buying tried horses. "Russell was happy to go that way instead of breeding and it is my job to sort them out. Franco Emirate became available after he had won one race. The price was substantial but it has proven worthwhile. Russell is a great owner and client. He lets Jimmy make the racing decisions and he backs my judgement in buying horses, some of them for very good money. You can hardly do better than working with somebody like that."

Nieper started out racing horses with colourful southern personalities such as Noel Crighton and Murray Hamilton and said he had his share of success with both. "Young Pointer was placed in a Rowe Cup and now I have got into gallopers with Murray as he moved into them and I have a share in Kid Columbus which won the Grand National Hurdles at Riccarton this year. I have had a good association with those blokes." Only a week before Franco Emirate's triumph at Addington the Nieper/ Curtin team was posting a double at a modest Manawatu meeting with Hokonui Ben.

Jim Curtin is always a man to take one step at a time. To drive another horse to win the New Zealand Cup when he could have been driving his own - and possibly could have won all going well - is a rare feat but the product of some astute thinking. "It wasn't just the starts. The standing starts showed me he was a little immature for those big races at this stage. We will see how he goes in the free-for-all on Friday before I get down to details about what happens next. The Miracle Mile might be a possibility but ideally I would like to go over later for races like the Victoria Cup."

Franco Emirate never gave his $1.50 backers any cause for concern while Mark Purdon and Grant Payne's All Stars stable produced the next three home, headed by Ohoka Dallas in the hands of Colin De Filippi.

On a more important note, Jim's wife Sandy noted that when Franco Emirate wins a race with a rug as a trophy it is invariably red. "I'm glad. I like red and he looks good in it. If he goes to Australia he will certainly be wearing a red rug."



Credit: David McCarthy writing in HRWeekly 10 Nov 2011


| | |
| --- | --- |
| | RACING HISTORY FEATURE RACE COMMENT |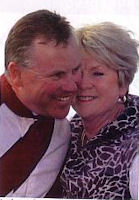 Anthony and mother Jenny Butt

2011 HELLERS DOMINION TROT

Vulcan continues to rise above the expectations of trainer Tim Butt. Only five, Vulcan should have the best years ahead of him, and that may still be the case.

His record, however, is already hugely impressive - 11 wins from 35 starts, and four of those are Group 1s. After Harness Jewels wins at three and four, the third came when he squeaked home in the NZ Trotting Free-For-All on Cup Day and the fourth came with a bonny finish to overhaul Dr Hook in the $200,000 Hellers Dominion Trot three days later.

This really is a massive achievement, and one that Butt has not seen coming - at least not this soon. He has often played down where Vulcan should be, suggesting he's a year away from really being competitive amongst the older horses. As can be seen, Vulcan is ahead of the plan. While his Cup Day was close, he made no bones about winning the Dominion, giving Anthony Butt his 9th success in the race and brother Tim his 8th as a trainer.

Anthony has also won with Lyell Creek (3), Take A Moment (3), Simon Katz and Mountbatten, like Vulcan, by Earl. Tim gave Vulcan a chance of winning, as long as it turned into a hard grind. "I was hoping the Cup Day run gave him the seasoning he needed," said Tim. "It helped when I Can Doosit, Sovereignty and Raydon lost ground, and Stylish Monarch wasn't there. But he's always been above average, and he has the attitude and he's tough. He isn't like Mountbatten, who had more raw speed, and isn't the champion the others were."



Credit: Mike Grainger writing in HRWeekly 16Nov2011


| | |
| --- | --- |
| | RACING HISTORY FEATURE RACE COMMENT |

2011 WOODLANDS NEW ZEALAND FREE-FOR-ALL

Lance Justice can look back on November as being bad but not awful. While the Inter-Dominion Pacing Grand Final is a loss in waiting, the Victorian trainer still left New Zealand and the Cup carnival with enough to be cheery about. Smoken Up followed his game New Zealand Cup second with a better effort to beat Franco Emirate in the Woodlands New Zealand Free-For-All, ending the gloomy possibility that he could have been placed but beaten in every Addington start.

Before the relief and happiness that brought, Justice had sent home the promising 3-year-old Mark Dennis and Discrimination, a lucky find in Southland. Discrimination could be the mirror image that Justice thought might happen but never would. He is an unraced 4-year-old gelding by Tinted Cloud and the tenth foal from the Vance Hanover mare, Disbar. The half-brother to big winner Disprove (11 wins) was bred by Michael House, and sold to Justice clients by Tony Barron, who qualified the horse in April.

"He reminds me of 'Trigger' in every way - his looks, his manner, the way he hangs; everything about him is so similar," said Justice. "He's going to win heaps of races. And he's four. You know you can't do anything with Tinted Clouds until they're that age."

After his free-for-all win over New Zealand's best except Terror To Love, Smoken Up is obviously still a long way off letting his star fade. "Now that he's nine, I thought it would only be a matter of time when he started on the downhill slide. I'm not sure he's ready for that yet," he said. "He was a totally different horse today than he was for the Cup. He had 18 hours in transit on his way here and he just stood there when I painted his feet on Cup morning. On Friday he was all over me, pushing and playing. And in the prelim I knew he wanted to be there - he never lets a horse go past him in the warm-up, and that's what he was like. He was just so much sharper."

Justice knows that great success and pleasure from it is not an everlasting condition. "I had a call from the owner of Sokyola a fortnight or so back wanting to know why I didn't take on the New Zealand Cup with the horse. Well, as we know, Sokyola was a Sydney horse and won two Miracle Miles. That was his race. And with Smoken Up, he's learn't to travel. It was not put to me all that lightly."

Credit: Mike Grainger writing in HRWeekly 16Nov2011


| | |
| --- | --- |
| | RACING HISTORY FEATURE RACE COMMENT |

2011 CHRISTCHURCH CASINO NEW ZEALAND TROTTING CUP

Greatness has come early for Terror To Love - and for Paul Court as well. As the partner with his father Graham, Court has prepared the winner of the Christchurch Casino New Zealand Cup in just his fourth season as a trainer. And Terror To Love has won the jewel in the harness racing crown at just his 26th start.

In the euphoria of the occasion, Paul still the feet of his long legs on the ground. "Dad has had a lifetime in the game and has done the hard yards. He's had a lot of nice horses, but you're fortunate to get one like this, with so much speed and the stamina to go with it. I'm a bit of a passenger, but I really appreciate the hard work that goes into it," said the 32-year-old, who plans to return and set up a stable in Canada next year. Paul did the hard yards of his own, usheredup by his father to follow the Prime Minister John Key, address th huge crowd and accept the trophy that went to the winning trainers.

Terror To Love, a Western Terror 4-year-old bred by Terry McDonald from the Live Or Die mare Love To Live, was recognised as a young talent as an early 2-year-old and confirmed it by winning the Sapling Stakes in that season. He could have been the best of his age at three, and possibly was, but he had dreadful luck in some of thne classics especially the Northern Derby. When the curtain came down on his 3-year-old campaign, Graham considered his immediate future and aimed high. "He always had this high speed, and he could stay as well. It seemed to me that there were really no standouts as far as the Cup was concerned, and some of them had been in that class for a while. I'd had some nice horses, bu nothing like this, and nine out of ten of the good ones I'd had, had been sold."

Court told owner McDonald of his plan. McDonald was pleased to hear it, but he'd heard them before. Only a year ago, he was sitting pretty with one of the race favourites, Stunin Cullen, only to be disappointed. He'd been in the game long enough to know more failures than success. McDonald had met Court through a cousin while he was in Dunedin, and he's lost count of the horses he's had in the stable. He says dozens and dozens, but that could be on the very light side.

In any event, Terror To Love is the special horse that has taken them from endless hope to a pinnacle few make. Court gave McDonald words of confidence the day before the race, pleasing McDonald with the odds he'd got when the market opened. They were probably on the same page when they saw the horse track Smiling Shard up in the middle stage, only to see him slide back as others made hopeful runs. "It was lovely for a while, but I thought we might be in a bit of a bother when he started getting back," said Court.

On the track, Curtin was thinking much the same. "I'd had a good run, and then we were back to where we came from, and I could see going down the back they were a wee way ahead of me. It's not too often I come that wide on the corner, but he was up to it."

Smoken Up was a fading second, again finding 3200m a journey too far after leading Rangataua Ray for two laps, and only held second by a nose from Highview Tommy who was equal last with Smiling Shard at the 600m.

McDonald, who also bred Michael's Magic, the grandam of Terror To Love by Michael Jonathan, has younger half-sisters to Terror To Love by Artsplace, Christian Cullen and Mach Three and the mare is due to foal to Somebeachsomewhere.

Credit: Mike Grainger writing in HRWeekly 10Nov11


| | |
| --- | --- |
| | RACING HISTORY FEATURE RACE COMMENT |

2011 NEW ZEALAND SIRES' STAKES 3YO FINAL

Cup Day was like a day of redemptions in some respects. Last year, Terry McDonald had the favourite for the Cup in Stunin Cullen, but the former Sires' Stakes 3yo Final winner disappointed and is now on the sidelines with a fractured knee. This year, McDonald won with Terror To Love. Last year, Jim and Dr Susan Wakefield had the favourite for the Sires' Stakes in Empyrean. That Christian Cullen colt had won seven straight and was getting a good trip home from the back of Gold Ace when he galloped at the 400m. This year, the Wakefields won with Texican.

For trainer Cran Dalgety, who won a Sires' Stakes 2yo Final a few years ago with Smiling Shard, this was also his first win in the 3yo Final. "Jim really deserved this after spending a lot of money at the yearling sales over the years," said Dalgety. "We bought this fellow at a time when we were just looking for Bettor's Delight colts from In The Pocket mares. He was a bit over budget, but we got him and I figured we would deal with the consequences later," he added. Dalgety had a budget of $40,000, but he paid $70,000 for the first foal from the good mare Bury My Heart at Karaka.

Dalgety wasn't getting too excited about Texican until he gave him a shot at the last Sires' Stakes 2yo heat at Alexandra Park on Inter-Dominion Final night in April. Fifth on debut a week earlier at Rangiora, Texican downed Chancellor Cullen that night and Dalgety began to think "he might be okay". Second in last season's Sales race soon after to Western Cullen, Texican was out of luck in the Sires' Stakes 2yo Final, but his form ha been exemplary this time in.

He was a big second to Smiling Star in the Sires Stakes heat at Forbury Park when resuming, and won the penultimate heat at Addington. One of five heat winners to draw the last five barrier positions for the final, while Chancellor Cullen drew worse on the outside of the front row, Texican was soon in the three wide train and went to the death passing the 1000m, before Dexter Dunn handed up to Mark Dennis. A quarter down the back in 27.7 had left the pacemaker Chancellor Cullen vulnerable in the run home after an early burn, and Dunn angled Texican into the clear late to have the last say over the hard charging Ideal Scott, with Smling Star a game third in a battling finish. Besotted, like Ideal Scott a son of American Ideal, finished strongly for fourth as Mark Dennis and Lets Elope also beat home the fading Chancellor Cullen. The last quarter in 30.1 had been about the slowest in a 1:56 mile rate as Dunn also won his first Sires' Stakes Final on Cup Day.

If the day was supposed to be some sort of celebration after all the hardship experienced by Christchurch folk over the last year or so, few would have deserved to party more than the 78-year-old Jim Wakefield. "I had five properties in Christchurch and four of them have been written off," said Wakefield. "Luckily we had one left to live in at Rangiora. We had London Pride and London Express as Sires' Stakes horsesback in the late 90s, but nothing until Empyrean," he added.

Empyrean, who has been through a "colty stage", has been showing signs of getting back to his best this season, although he was disappointing two races after Texican's success, as was Bettor's Strike in the Cup for the Wakefields. But nothing mattered much after the Sires' Stakes. This was the Wakefields first Group One success since Dalgety produced Sparks A Flyin to win the Fillies Final at Addington 10 years ago.

Credit: Frank Marrion writing in HRWeekly 10Nov11


| | |
| --- | --- |
| | RACING HISTORY FEATURE RACE COMMENT |

2011 NEW ZEALAND TROTTING FREE-FOR-ALL

Vulcan's win in the New Zealand Trotting Free-For-All might have been something of a farewell of sorts for driver Anthony Butt but most would view it as a reinforcement of a fine tradition. Vulcan, dual Harness Jewels champion, 4yo Trotter Of The Year in a voting clean sweep, is typical of the development of trotting talent which has been a speciality of the Butt brothers, Tim and Anthony for so many years. You hardly need to mention Take A Moment and the great Lyall Creek but there have been many more.

A touch of genius one might say in this case since Epona, the dam of Vulcan, is a sister to the trotter of that name which won 24 races and over $200,000 for Jennifer Butt and Don McKenzie who have bred from this family for several years, as Jenny's late husband Murray had previously. Abundant, the dam of Genius and Epona, was from First Prize, an enigmatic but highly talented trotter for Jennifer's father, Derek, a man whose Expertise with trotters himself went back to stars of the 1950's starting with Barrier Reef.

Tim Butt is not going into the Dominion Handicap with the same sort of confidence he has had in some years. "Ideally he is a year away. In fact I would probably not have run him today if horses like I Can Doo had paid up. But I suppose he is here and he is well and if he stays that way he can take his chance." The Dominion Handicap is almost in danger of being renamed the Butt Family Stakes. Anthony has won eight of them and seven have been trained by Tim. It is one hell of a tradition.

Tradition is something Anthony will break when he moves on a semi-permanent basis to Sydney on Staurday where stable stars such as Raglan are already in great form. He was the first to qualify for a start in the Miracle Mile beating Mr Feelgood in the Newcastle Mile. "I will basically be there full time until April perhaps coming back for some big races. You have to give it your best shot and we are hoping to build up a big team there over the next few months," Anthony said. "Quite a lot of New Zealand horses come in well under the handicapping system there. We have Trojan for example. He won nine here and is an M0 in Sydney. I think we will get plenty of support when people realise what is on offer there."

If Anthony, left parked with Vulcan for long enough to claim a well deserved win, was happy with another Group win on Cup Day (2003 is the only Cup Tuesday this century he has not driven a winner) Ricky May was not so happy with Stylish Monarch. "He just lost it after that false start," Ricky said. "The gate closed quite quickly and it seemed to spook him. He didn't recover. I didn't think I would get him up to the gate the second time and he just never got it together after that. He has never done anything like that with me before. Usually nothing bothers him."

Credit: David McCarthy writing in H R Weekly 10Nov11


| | |
| --- | --- |
| | RACING HISTORY FEATURE RACE COMMENT |

2011 DREAM WITH ME INTER-DOMINION TROTTERS GRAND FINAL

Ken Breckon couldn't believe his luck - flying back from Melbourne last week on a seat in row 13. He'd gone over from Auckland a few days earlier sitting in row 13. Here he was, 13 years since his entry into harness racing after buying a filly by Butler B G from Sandy Yarndley. And here he is, at Alexandra Park, watching I Can Doosit start from gate 13 in the $250,000 Dream With Me Inter-Dominion Trotting Grand Final.

The outcome was a stunning Kiwi triumph over the Australian star Let Me Thru, with Stylish Monarch closing on them well but too late for third and Raydon was fourth after a tough ride in the open for much of the last lap.

Breckon is one of the young pillars of the industry, and only the pressure of his booming Hydroflow business has forced him to step down from the vice-presidency of the Auckland Trotting Club. But his breeding and racing activities through the purchase three years ago of the iconic Yarndley Farms nursery are multipling by the month. "We've got twenty-three of our own mares and I'd like to have fifty, and they'll be at the top of the market," he said. "In the past we've sold three or four yearlings at the Sales, but we're getting to the commercial level now and next year we should be offering ten."

As well, he's a champion supporter of local stables, with Mark Purdon and Grant Payne training three, Steven Reid five, Tony Herlihy some, and syndicate horses with them and Geoff Small.

Breckon will be the first to say it hasn't always been as smooth sailing as it is now. Losing his brother Peter from a sudden heart attack at the age of 43 eight years ago gave him the impetus to extend his interests when it could have worked in reverse. "We'd always been racing people. My father and my grandfather were keen on the punting side. Our work took us into the farming community, where we'd meet stock and station agents and retired farmers and they all had horses. Peter probably had a bigger desire than me to get started. He was a good talker and got me across the line, and we went and bought the yearling that was Megaera through the late Leo George."

I Can Doosit is an early product of Breckon's enterprise. He is from Sheezadoosie, a good trotting mare by Chiola Hanover who won seven races and is the dam of a 3-year-old sister to I Can Doosit. Like the runner-up, Let Me Thru, he's achieved stunning results at a young age. Both are only five, and both are magnificent types by Muscles Yankee. "We've had our up and downs this Summer, and Mark's been under pressure with the horse," he said. "From a layman's point of view, he's done a huge job to peak him on a very short campaign."

Part of the chorus were his sons, 9-year-old Andrew and 11-year-old George. "I encourage them to come. When we bring them to the races our horses win - or win more often. The folk here say if they were theirs, they'd be here every week." Breckon is confident of his growing committment to harness racing. "It's going through a lull, but it will bounce back. The future is globalisation. You can see it here with the number of people here tonight, and horse not only from Australia but Sweden. And the sponsors of the next Inter-Dominions are a firm from Sweden."

Breckon is going that way himself. With a staff of over 100, he has expanded into Australia and Fiji, and there are five full-time on the farm. He has plans to spend $2 million on the farm, including a new house and room for guests.

Breckon was never too certain of victory, even when I Can Doosit appeared to clain Let Me Thru with some finality. Let Me Thru was a thorny fighter, and rallied from being passed and being down half a length 50 metres out to close again and miss by a neck. Chris Lang jnr knew Maurice McKendry would give up the lead on Sovereignty when he came looking. "He's not silly," he said. "Springbank Richard brought himself undone racing outside us like that. It may have been why we lost by a neck and the other horse won by a neck. My horse felt good in the warm-up. When we got to the front, I thought 'good luck' to the others if they can run him down. I always felt he was a show of winning down the straight. Next year he'll be bigger and better."

The win was another training triumph for Grant Payne and Mark Purdon, who had their moments when I Can Doosit was patchy during a successful three-race, two-win Melbourne campaign in February. "I didn't expect to beat the Aussie horse, and my horse has never raced that well doing it tough," said Purdon. "It worked out well because Raydon took us right to the corner, but Let Me Thru kept on fighting."

Stylish Monarch went from early leader to second behind Sovereignty and then three-deep when Let Me Thru took over. "I had to use him a bit early and I was in two minds whether to come out when I couold have," said Ricky May. "He's going super."

Credit: Mike Grainger writing in HRWeekly 13Apr2011


| | |
| --- | --- |
| | RACING HISTORY FEATURE RACE COMMENT |

2011 ARTHUR D RILEY & CO LTD INTER-DOMINION TROTTERS CONSOLATION

It might turn out to be the most important Consolation win in Inter-Dominion history. Because while most of the support races at Alexandra Park last Friday night will soon fade from memory, Annicka's victory in the Trotters Consolation could hopefully be the start of a true internationalization of our open class trotting races. The brave mare became the first Swedish-trained horse to win a race in the Southern Hemisphere when she used her gate speed to secure a perfect trip and down the second tier trotters last Friday night.

It was only a $30,000 race and her winning stake probably wouldn't have paid her team's accommodation bills and flights, let alone the massive expense of getting the mare herself to New Zealand. But the scenes in the winner's circle after the race confirmed this was far bigger than just one win. This race was a genuine history-making event, the first time a horse from trotting-rich Scandinavia has campaigned with any success in this part of the world.

Annicka's win meant more to her connections than money, because after setting out with a dream they had to endure a dissappointing start to the Inter-Dominions as the mare struggled to find her best form. There are dozens of things that can go wrong with any horse, many more once you start putting her on a plane to the other side of the world. Annicka obviously picked up her share and trainer Jorgen Westholm struggled last week with the mare's shoeing, her diet and even the bedding in her stable.

But all was forgotten soon after she hit the line. Westholm, rated in the top 10 in Sweden, was swamped with Swedish wellwishers who were beaming at seeing one of their own victorious in such a foreign land. They had travelled a long way to see her in hopefully the Grand Final but winning is winning, even in a Consolation, and their joy was contagious.

Annicka will now stay on for the Trotting Champs at Addington next week and then return to Alexandra Park for the Rowe Cup on May 6. And Westholm says she can only get better. "You guys definitely haven't seen the best of her yet," he told the 'Weekly'. "She is way better than what she has shown and we have had a few problems, some of which we haven't sorted out yet. But she was good enough tonight, and this was a very special win for us."

But already the lanky Swede says he is thinking of what horse to bring down next to contest whatever series ends up replacing the Inter-Dominion Trotting Champs, or indeed if it remains but separate from the Pacing Series. "I have some other good horses we would love to bring down here. But they will need to be good because the horses here are good, the standard is good."

Those words, and the ones Westholm, Klaus Koch and his friends will spread when they return home will be critical. While we are a pacing-dominated industry in this part of the world, true internationalization of the industry is only possible with the best trotters. And there is enough goodwill among some administrators and big owners to suggest we could see more Scandinavian trotters wooed down under. If one of the best was to come and even win a major race, the ripples of interest could become waves.

On face value the money invested in getting horses like Annicka to the carnival seems a lot, especially when the industry and the NZ Metropolitan Trotting Club in particular, are struggling. But an industry-wide push in the next decade could open doors which were knocked on by Annicka last Friday night. Which is why we owe Klaus Koch, Jorgen Westholm, travelling trainer Lisa Mannberg, the connections of the mare, and Annicka herself a big thank you.

Credit: Michael Guerin writing in HRWeekly 13Apr2011


| | |
| --- | --- |
| | RACING HISTORY FEATURE RACE COMMENT |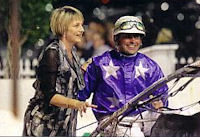 Part-owner Hazel van Opzeeland & Blair Orange

2011 NRM (NZ) INTER-DOMINION PACERS CONSOLATION

Two of Mark Purdon's pacing stars could be bound for careers in Australia next season. That was Purdon's feeling after Highview Tommy bounced back to winning form in the Inter-Dominion Consolation last Friday night.

The stallion made the most of a perfect drive from Blair Orange to round up hot favourite Captain Joy then hold out Raglan in the $44,750 event. It was his first real show of form during his northern campaign, and Purdon thinks an increased workload last week may have aided the former Harness Jewels winner. "He had been working well at home but disappointing on race night," said Purdon. "I was wondering whether, being a stallion and a bit older now, I had been a bit too kind to him so I really stepped up his work last week. The fact he won didn't surprise me because he had felt good."

Purdon says like a lot of older stallions, Highview Tommy may have become cunning and know what races he can and can't win. "The other night he would have got to the top of the straight and been feeling good and he tried, whereas sometimes in races recently he probably couldn't win at the same stage and didn't put in. That sometimes happens with stallions, and that is one reason I think he might be better suited in Australia next season. He might have better racing opportunities there, but I don't think his owners would ever sell him."

Purdon says Australia is the most likely home for Auckland Reactor next season since the star is not suited by the standing start racing which prevails in New Zealand pre-Christmas. "I think we have to look at the big races in Australia and it will be up to his owners to decide how they, or we, go about that."



Credit: Michael Guerin writing in HRWeekly 13Apr2011


| | |
| --- | --- |
| | RACING HISTORY FEATURE RACE COMMENT |

2011 DREAM WITH ME STABLES NZ TROTTER'S TRUST NZ TROTTING OAKS

"Dad, do you really want a trotter?"
"Yes, Michelle," he said to his daughter. "I want to buy a trotter before I give up."

Jim McDonald was 80 then, and along with his grand-daughter Olivia, did a search of the PGG Wrightson catalogue a year ago to find one he liked. He settled on a filly by CR Commando from In De Fence, a mare by Sundon and paid Invercargill's Don McRae $15,500 for her.

"I didn't see her before she came into the ring, and then got Matt Bowden to break her in before I gave her to Mark Jones. It wasn't long before Mark got back to me and said we had something worthwhile."

The filly had won two of her five starts and with experience, speed and manners, she easily found the front in the Group 3 Dream With Me Stables NZ Trotter's Trust NZ Trotting Oaks at Addington last Saturday. It was a lead that Brookside Filly couldn't put a dent in, with Brawlinwiththe boyz showing her old spark but beaten into third by more than four lengths.

While Commander Jewel is the first trotter McDonald has raced, its not the first he's owned; that was the smart mare Racey Tracey. "But I put her in foal to Sundon and lost her and the foal," he recalled.

Commander Jewel has won just short of $25,000 and has joined the chasing bunch behind Paramount Geegee in the 3-year-old Ruby of the Harness Jewels.


Credit: Mike Grainger writing in HRWeekly 18 May 2011


| | |
| --- | --- |
| | RACING HISTORY FEATURE RACE COMMENT |

2011 SEELITE WINDOWS & DOORS SIRES' STAKES 2YO TROTTER'S CHAMPIONSHIP

The Group 2 Seelite Windows & Doors Sires' Stakes 2YO Trotter's Championship was won in a cavalier manner by Flying Isa.

Remarkably, after starting from the second line, Robbie Holmes found himself in front with the favourite after less than 100 metres, and he had little more to do than steer him round the oval. All Shook Up stayed on his back to run a firm but fading second, and Duke Of The Moment was a close third.

Flying Isa is raced by an enthusiastic group from Hamilton and Cambridge arranged by his trainer John Dickie. One of them is Jonathon Hope, who operates a major veterinary clinic in the Waikato, mainly for a galloping clientele that includes Sir Patrick Hogan. "I've done John's work for thirty years, and he's always held Pegusus Spur in the highest regard. His thinking was that over Sundon mares he would have a great influence," said Hope.

Flying Isa is bred that way, as is Paramount Geegee.

Hope has also joined a syndicate in the lease of a Pegusus Spur yearling owned by Woodlands Stud from a grand-daughter of Sundon. "Jack and Jo Davies, who are also in Flying Isa with us, bought his sister for $27,000 at this year's Sales," he said.

Credit: Mike Grainger writing in HRWeekly 18 May 2011


| | |
| --- | --- |
| | RACING HISTORY FEATURE RACE COMMENT |

2011 VERO 3YO FLYING STAKES

There was a bonus of dramatic proportions for those lucky enough to be at Addington on the loveliest of Autumn days last Saturday.

They saw the wickedly talented Carabella wave goodbye to 12 others in the Nevele R Fillies Final, they again watched Flying Isa dominate the trotting 2-year-olds and record his fourth successive win, but none came with the back-of-the-bunch brilliance that catapulted Western Cullen to a dashing win in the PGG Wrightson Sales Series Open Division Final. But in reality that was no more than a stunning sideshow.

The main act came from two 3-year-olds in the Group 2 Vero Flying Stakes, usually the warm-up to the New Zealand Derby. It was a surprise to get a finish this good, but Gold Ace and Terror To Love made the race an unforgettable exhibition of spirited comptition.

They started the home run with Gold Ace moving powerfully past the others, the hunting Terror To Love clearing his back to challenge on the right. They ran past the empty public grandstand where 20 years ago young and old would have paid for the privilege of seeing a fascinating tussle between the pair. The bay horse, closer to black than brown, soon narrowed the gap and levelled.

Gold Ace was ready for him, rallied, and fought him long and hard. That was just when it seemed Terror To Love had managed to get the better of him. By now the heat of the battle had less than a second to run. Gold Ace had it...then he might've. And soon doubt. Terror To Love had pushed right on the line. Close? This was a measure in millimetres.

No-one knew it moreso than Mark McNamara, who in the commentary box gamely went for a dead-heat. These are cheeky calls, but heroic when they come off. This one did. Unseperable. Two truly great horses sharing the triumph. Peter Ferguson, the driver of Gold Ace, used a comfortable cliché when he said it was "great for racing". And that was the truth of it.

Jim Curtin eased Terror To Love in the early rush to find the back of Gold Ace. Ferguson was out well and tracked along with the trail on the outer. Curtin was poised to pounce. Gold Ace had the advantage of being in front, Terror To Love the challenge of getting past. "The race was always set up by what they did in the Derby," said Ferguson. He agreed that Terror To Love headed Gold Ace. "I always knew he was there, right behind us. And when he went past, I thought we would run a nice second. Then, inside the last fifty metres, I felt him lift. It was going to be close. And even when it's very close you usually have half an idea who has won, but this time I had none, and neither did Jimmy." Curtin thought the same. "I hope I'd got past him, and I thought I was going to beat him, but horses like that are just so hard to get past."

The pair will meet again in the Harness Jewels at Ashburton where both want front line draws and will run smart time if they do.

Gold Ace, another siring triumph for Bettor's Delight, had missed at least five days work with a leg injury after his NZ Derby win. Trainer Steven Reid was concerned that any longer would have made him worried, but the recovery happened in good time.

The result was one of those occasions that made an Autumn day at Addington one to treasure. Thanks to Terror To Love and Gold Ace, there's no doubt about that.

Credit: Mike Grainger writing in HRWeekly 18 May 2011


| | |
| --- | --- |
| | RACING HISTORY FEATURE RACE COMMENT |

2011 AVON CITY FORD NZ WELCOME STAKES

There's very little consolation for having to scratch the favourite out of a Group 1 event at Addington. Apart from winning the race with your second-stringer, of course.

Such was the predicament that Cran Dalgaty found himself in on Saturday night at Addington...just hours after breaking the news to one set of owners that Raging Bull wasn't right to take part in the NZ Welcome Stakes, Dalgety was receiving handshakes from another when Orl Black held on to win the Avon City Ford-sponsored thriller.

Not that stable client Ross Stanbury minded either way, because he's listed in the ownership of both juveniles - racing the unbeaten Raging Bull in partnership with Trevor Inwood and Haleem David, and joining Pete, Debbie and Patricia Smith together with Clive and Rona McKay as the bill-payers for Orl Black.

"There's nothing seriously wrong with Raging Bull," Dalgety confirmed. "You just get a lot of little coughs and colds amongst the team when the Winter snaps start coming at this time of year. We had a few wee health issues with Orl Black recently too. But he's over his, whereas Raging Bull's still coming through some."

Orl Black was faced with the widest draw over 1950 metres on Saturday night, and Dalgety says he and his number one reinsman Dexter Dunn discussed how best to tackle barrier eight. "It wasn't really the plan to lead," he said. "From out there you can either roll forward and hope that you don't spend too much petrol getting handy, or pull back to last - but if you do the latter you lose all momentum and can't kick -start again. So I said to Dex, you just make the call fifty metres before release."

If anything, Orl Black made Dunn's decision for him as they speared forward at a great rate from wide out, and once in front they did enough to beat a game Alberto Contador after that rival had eyeballed them for the last half-mile. "He's quite an authoritative little competitor, so he probably wanted to roll the gate anyway," Dalgety continued. "And because he's got a lot of speed, he made crossing them look easier than it was. But it was probably the winning of the race, as he got to set up his own terms in front. You can never head into a Group 1 race feeling cocky, because eight out of them out there are as good as each other, but his work this week had been awesome again."

Purchased 'on spec' from Day Two of last year's Premier Sale for $52,000, Orl Black is an In The Pocket colt out of Cracker Kate, a winless Holmes Hanover daughter of Pleasant Franco; this makes him a three-quarter brother to Christian Cullen and Julius Caesar, amongst others. Nowdays the 'golden cross' seems to be Bettor's Delights out of In The Pocket mares," Dalgety says. "But it always used to be In The Pockets out of Holmes mares. And I've had a good run with the In The Pockets; I bought him because of his stature, he looked like he'd make a 2-year-old. Everything he wins from here on in is a bonus," Dalgety added, referring to the fact that Orl Black's $45,025 cheque for first on Saturday night took his earnings to over $65,000 in five starts.

Dalgety's Kentuckiana Lodge had another runner in the Welcome Stakes on Saturday - Texican, who staged a mammoth performance for sixth after being caught three-wide without cover for the entire journey, with his driver Mark Jones stating afterwards that "he would've run third had I been able to steer him".

All three 2-year-olds have the same programme for the next couple of months...the Sales Series Open Final on May 14, the Sires' Stakes Final a week later, and the Harness Jewels 2YO Emerald at Ashburton in early June. "Orl Black has run third in a heat of the Sires' Stakes, which I'd like to think would get him into the Final, but we'll start in the last heat if we have to," Dalgety said. "He's more in the mould of an early runner, whereas Raging Bull is quite big in stature, and doesn't look like a natural 2-year-old. That's why we think he's a wee bit special, and he feels like he's got a bit of stamina too. Texican is about a month behind the other two in foundation, but ability-wise he's shown that he's not a million miles behind them. And Mark is quite confident about him as well. There doesn't seem to ba a standout amongst the youngsters this year yet, eveyone's having their turn."

Credit: John Robinson writing in HRWeekly 28 April 2011


| | |
| --- | --- |
| | RACING HISTORY FEATURE RACE COMMENT |

2011 GARRY THOMPSON/ FRED SHAW NZ TROTTING CHAMPIONSHIP

Stylish Monarch turned the tables on Inter-Dominion hero I Can Doosit when the pair met again in last Saturday night's $80,000 Garry Thompson/ Fred Shaw NZ Trotting Championship at Addington.

Stylish Monarch blazed to the front from his wide draw in the 2600m Group 1 event, and in all fairness I Can Doosit had every chance to run him down after receiving an economical trip on the outer. But when it came to the crunch, I Can Doosit couldn't, falling short by half a head as the clock stopped at 3:16.4.

"It's developing into a pretty good rivalry," said Stylish Monarch's trainer Murray Tapper. "And there isn't much between them. I Can Doosit's probably got a bit more acceleration, but my horse is a touch more consistent. If you look at the big three trotting races over the last year - the Rowe Cup, the Dominion Handicap and the Inter-Dominion Final - he's won one of them and been placed in the other two; no other horse has been in the finish of all three. His consistency is unbelievable."

Saturday's victory gave Stylish Monarch back-to-back wins in the NZ Trotting Championship for Tapper and the gelding's owner Anne Patterson, having won the corresponding event in early April last year when he defeated Braig and I Can Doosit in the slightly quicker time of 3:15.9. "I think he could go 3:14 if you asked him to," Tapper said. "And I said to Ricky (May) afterwards that it looked like I Can Doosit had headed him up the straight, but he said our horse was still working up to top speed."

Once the field for Saturday night's event was finalised, Tapper compared it to a line-up of rugby players. "There was a lot of Division One players, but really only two or three All Blacks," he said. "And because I reckoned we had the best horse in it, I thought we should drive him like it; not necessarily lead, but get ahead of most of them. Any wins a good win, and any Group 1 win is special - so is this horse I think."

Stylish Monarch is set to return north now for the Rowe Cup on Friday week, an event he'll go into without another lead-up race but that doesn't worry his trainer. Following that, the Monarchy gelding will have a three to four-week spell as the first focus for the new season centres around defending his Dominion Handicap title in November.

Then the small-time Timaru trainer with a big-time horse will break new ground and head to Australia with his star trotter - something he would've never imagined himself doing before Stylish Monarch came along. "Prior to him, I never had a horse good enough to even take to the North Island, let alone across the Tasman," Tapper said. "But he loves travelling as much as I do, and you always know he's going to do his best. Ninety-nine percent of the time, he'll trot all the way too."



Credit: John Robinson writing in HRWeekly 28Apr2011


| | |
| --- | --- |
| | RACING HISTORY FEATURE RACE COMMENT |

2011 SOUTHERN DEMOLITION & SALVAGE NZ DERBY

Steven Reid has never thought of himself as superstitious. But when it comes to his horse Gold Ace, all the signs suggest he's wrong.

Take an occasion back in early February for example. reid was across the Tasman compaigning Gold Ace in the Victorian Derby Series at Melton's Tabcorp Park. On the day of the Final, he and his wife Wendy entered one of the malls in Melbourne looking for a spot to stop for lunch when all of a sudden they came across a big, bold billboard advertising the 'Sushi Sushi' chain of food outlets. Reid says it stood out like a beacon, and right then and there he got the premonition that a horse with the same name would triumph that night. His hunch came true.

Fast forward to last Saturday, and Reid awoke from an early afternoon snooze on the couch of his Addington motel to hear the last few seconds of a galloping event at Riverton beaming from the television. "...and Hill Of Gold is going to run away and score..." went the dulcet tones of commentator Dave McDonald. 'Hey', he thought at the time, 'that's the same name as the mother of our bloke - that has to be an omen for tonight'. Not wanting to tempt fate before the race, Reid only told a select few about what he hoped would be an uncanny coincidence.

As the field for the $200,000 Southern Demolition & Salvage NZ Derby took their positions behind the mobile, Reid glanced across the track at the semaphore board to see Gold Ace had closed at $5.80 on the tote. Knowing that the Bettor's Delight colt was over a respiratory infection that caused him to run a below-par sixth in Sushi Sushi's Victorian Derby Final - the same health scare that saw him also struggle into sixth a month later in the Northern Derby Prelude once back home, forcing his withdrawal from the Alexandra Park Final - the Pukekohe trainer regretted not opening his wallet, if only for a split second.

"I was very confident," he said. "But I only said it privately to a couple of people. I've never backed him yet, not once - not even when he won at Cambridge and paid thirteens. So I didn't want to start changing things now." Superstition or not, Reid got the result he longed for when Gold Ace won his home stretch battle with the favourite Terror To Love and edged clear near the line. The latter had gotten to the lead early from a similar second-row draw, while Gold Ace and driver Peter Ferguson dodged trouble at the start and joined the three-wide train starting the last lap, ranging up outside him before the 800m pole.

"The first part of the race definitely panned out well for us," Reid said, referring to the early gallop of Empyrean which checked Major Mark and saw the Purdon/Payne runner stuck wide without cover for the last half. Had that not happened, it definitely would've been a three-way slog up the home straight."

Prior to this season, Reid had never trained the winner of a 3YO Sires' Stakes Final or NZ Deby; now Gold Ace has given him both. "I've run second in the race twice," he said, remembering Monkey King's nose defeat to Pay Me Christian in 2006 and Bailey's Dream going under by a length to Badlands Bute a year earlier. What makes it more special is having my wife and our kids Matthew (18) and Isabella (13) here tonight, because they haven't all been down since I ran second with Monkey in the NZ Cup. But just having this horse right again is a big buzz as well. When we arrived tonight h was pushing Simon (McMullan) all over the place and half-pie trying to take off, yet when we put him in his stall he went to sleep."

Following the $40,000 Group 2 Flying Stakes and the Harness Jewels Emerald in early June, Reid says he'll more than likely take Gold Ace across the Tasman for the Breeders' Crown and then give him a "massive break" - leaving his 4-year-old resumption as late as 2012. "This horse's improvement between two and three has been immense. At two he was a notch below the good ones but at three he's lifted to what is possibly the best. Don't get me wrong, I think Terror To Love is a great horse - and because the two remaining races they'll meet in are sprints, it's going to come down to the draws. If Terror To Love draws well and we don't, we probably can't beat him. And Vice Versa if it's the other way round. What would make it interesting is if we both draw bad."

Another hunch? Only time will tell...

Credit: John Robinson writing in HRWeekly 28Apr2011


| | |
| --- | --- |
| | RACING HISTORY FEATURE RACE COMMENT |

2011 NEVELE R FILLIES' FINAL

Benny Hill is quietly changing the emphasis of his operation. He says a new training regime is being developed, with the focus on two and 3-year-olds.

He has not raced a 2-year-old this season, resisting the temptation to try an outstanding prospect of that age by Christian Cullen. "He's a horse called Beach Bunny and he's from a Fake Left mare (PK Bunny), and just went woosh when he qualified at Rangiora a week ago. He could be anything, and if we were offered $100,000 we wouldn't take it."

This is a sign of a change in direction for Hill and Cavalla Bloodstock, because next season they will be racing juveniles that they haven't in the past. "We're going to up the ante, and ask more of our young horses. This season we've tried eleven 2-year-olds, but we've also broken in twenty-four yearlings, and while some of them have gone, there will be a lot more available to be tried earlier."

Beach Bunny could have started the process, but Hill has been protective and put him out. He has enough on his plate in the meantime, with Saturday winners Carabella, Power Of Tara and Ultimate Player back at Addington on Friday night, along with Timeless Perfection. He will have three the following week, and then onto the Jewels with Carabella.

Hill made a clean sweep with his three runners on Premier raceday at Addington last Saturday, with Carabella leading the charge by setting a New Zealand record in the $140,000 Nevele R Fillies Series. She ran 2:19.7, which was a handsome improvement on the old mark of 2:21.3 held by Joyfuljoy. Tatijana Bromac, a smart filly, made a sharp sprint from the back for second, and Donegal Delight was a tough third after doing it hard in the open for a lap. Still, nothing could match Carabella, who was full of beans in the barn. "I hadn't seen her so lively before the race," said driver Ricky May, "and she was so keen in the prelim."

Hill knew she was very fresh. "She hadn't raced for six weeks, and I'd given her only the one trial. She'd been going through a growing period, and it was really happening when she ran second at Rangiora. She was a little sore, in areas where gallopers would call it shin soreness. Don't get me wrong, she was there and right to race. But it has settled down since then, and she is just getting that much stronger. And she is going to be better for the run and tighter for the Oaks," said Hill.

As well as May knows Carabella, he was still astonished she found the gas to put a few lengths on the pack at the corner. "She had been worked on a bit, and I thought she might battle when we turned in, but away she went and then knocked off near the end

Credit: Mike Grainger writing in HRWeekly 18May2011


| | |
| --- | --- |
| | RACING HISTORY FEATURE RACE COMMENT |

2011 PGG WRIGHTSON NZ YEARLING SALES SERIES 2YO OPEN

Western Cullen, a Sales buy-back and later sold privately in the Spring to the Poli brothers, Paul and Tony, from Perth, won the $250,000 PGG Wrightson NZ Yearling Sales Series 2YO Open from a tough Texican on Stauday.

Blair Orange gave him a tonne of time to settle from the second line while Orl Black sped out and ran hard. After being parked, Texican went past and gallantly established a break. In the meantime, Western Cullen had come from a cover in midfield, and was unleashing a torrid sprint. He swept past to win in dashing style, with Texican unchallenged by the trailing Franco Hemmingway for second.

Western Cullen is the first foal from the outstanding juvenile Western Dream - by Badlands Hanover and the winner of $336,361 - and he was taken home by his breeder Vin Devery when bidding in the ring stopped at $37,500. "We weren't even square at that," he said. "I knew he was a nice horse, but at that stage of his development he was not as well put together as some of the other Cullens were," he said. It didn't take long before the colt made the right steps. "He did progress well, and after he qualified I turned him out," said Devery.

Through the work of a local agent and Western Australian trainer Ross Oliveiri, Western Cullen was sold and joined the team of Mark Purdon and Grant Payne after his spell.

Western Dream is in foal to Mach Three after missing to him last season.





Credit: Mike Grainger writing in HRWeekly 18May2011


| | |
| --- | --- |
| | RACING HISTORY FEATURE RACE COMMENT |

2011 NEVELE R - WAYNE FRANCIS MEMORIAL NZ OAKS

Carabella's winning crusade continued at Addington last Friday. She came from a tricky marble for an easy win in the Group 1 Nevele R - Wayne Francis Memorial New Zealand Oaks. The best of the opposition were Donegal Delight and Miss Moonlite, but they were unable to make a competition of it.

Carabella won by more than two lengths, with driver Ricky May declaring to Dexter Dunn on pulling up she was the best horse he'd driven. If he's firm on that point, it puts such remarkable horses as Mainland Banner, Iraklis, Monkey King, Inky Lord and Christian Cullen in the shade.

After the race, there were some memorable claims made, besides the one of May's. Robert Famularo, the principal of Cavalla Bloodstock, said: "She's our own Black Caviar and we love her. She is a champion and she brings a tear to my eye." Her trainer Benny Hill said: "I thought it would be tough for her, from that draw, but Ricky's got another eleven out of ten for the drive."

May took her back off the gate and improved before the last lap. He took cover briefly and then was out and in the clear from the 800m. He sent Carabella ahead and past the tiring Miss Elsie before the turn, and left the others to fight for the minors.

As expected, Carabella was tighter this week than she was when winning the week before. "She had the night in the paddock last Saturday, Sunday off and ran a quiet mile and a half on the Wednesday," Hill said. "It's an exciting occasion and she gives us a lot of pride. She is something special and there is a lot of attachment from all of us." May said he knew she would be better for the Oaks. "She'll go whenever you want."

Famularo says Hill is the kingpin behind the success and general contentment among the staff and horses. "Everyone feeds off Benny," he says. He is a good leader and involves everyone. We have some great people with us, and it wouldn't be the same fun without them. And we really want to keep the story going. Her buddy is Monkey King. He's her best mate...and she's a Diva, and she knows it."

While the short-term target is the Harness Jewels, there are greater challenges on the horizon. "I don't think we will go to Australia for the Winter, but I know the boys have talked about the New Zealand Cup when she's five."

Andress Blue Chip, the dam of Carabella, was served by Christian Cullen this season.

Credit: Mike Grainger writing in HRWeekly 25May2011


| | |
| --- | --- |
| | RACING HISTORY FEATURE RACE COMMENT |

2011 SEELITE WINDOWS & DOORS NEW ZEALAND TROTTING DERBY

Woodlands Stud had another huge night to remember at Addington last week. Stud stars Bettor's Delight claims New Zealand Oaks winner Carabella and Pegasus Spur is the sire of Seelite Windows & Doors New Zealand Trotting Derby winner, Paramount Geegee.

Paramount Geegee dominated in the same manner as Carabella did. He will be a hot favourite to win the 3YO Ruby at Ashburton on Saturday week, seeking redemption after running fifth in the Cambridge 2YO edition a year ago.

Trainer John Dickie said he probably paid too much for him as a yearling, although it's never been an issue. He had seen the horse in a Studholme Park brochure, and asked Robbie Holmes to look at the horse and bid on him. His dam Paramount Star won seven and Dickie trained her, and he always maintained she could have won more.

"When I first saw him, he was as good as the picture - a big horse. I had no owners at the time, and the bidding seemed to hang between fouteen and fifteen thousand, then Rogie (Graeme Rogerson) threw in a bid for $25,000. And away it went, and I'm paying $61,000."

From 17 starts, Paramount Geegee has won 13 races and has raced his earnings past $400,000, with grand prospects of taking it well over $500,000 before the seasons over. He has suffered from sore feet, but the addition of pads has fixed that. "It's been a blessing in disguise having him down here, working on the beach," said Dickie.

Paramount Star has fillies to come by Love You and Majestic Son.

Credit: Mike Grainger writing in HRWeekly 25May2011


| | |
| --- | --- |
| | RACING HISTORY FEATURE RACE COMMENT |

2011 GARRARD'S SIRES' STAKES 2YO FINAL

The Group 1 $180,000 Garrard's Sires' Stakes Series Final was a feather in the young siring cap of the Life Sign horse, Real Desire. One of his first crop in NZ is Lets Elope, a surprise but convincing winner in the 2YO feature over Western Cullen at Addington last Friday night.

Lets Elope had not been further back than fourth in five starts, but a wide draw on the front line of the gate and some minor health concerns leading into the race had put trainer Frank Cooney on the back foot. "I know Frank was not happy with him for quite a few days and almost scratched him," said his wife, Anne. "It was only the twenty-four hours before the race that he turned the corner and he was happy with him," she said.

Cooney gave him a good run in midfield on the outer, while Western Cullen had no luck early and Orl Black went rough and broke. He ranged up on the corner, and the immediate dangers were the Ken Barron-trained trio of Chancellor Cullen, Midnight Dylan and Franco Hemmingway who all travelled well with cover. But Lets Elope laid down the law, pushing on strongly, and Western Cullen arrived well but too late to make an issue of the finish.

Lets Elope is half-owned by Anne, along with regular stable clients, Peter Haslam and Warren Outtrim. He was bred by the Cooneys from Alta Vista, a Soky's Atom mare they bought as a maiden from Geoff Small's stable. "She did a good job for us, and could be ratty, but she won a race and that was a bonus," she said. Her first foal, by Dream Away, was Belle Vista who went to Barry Purdon's stable and won four, and the open class pacer Five Star Anvil was next.

With no strong choice of a stallion for Alta Vista three years ago, they went along to an open day to see what Alabar had. "We liked Real Desire as soon as we saw him in the flesh; big jowls - an old fashioned head. And because we train as well as sell, sometimes we can take a little more risk with our breeding.

Like the others from the mare, Lets Elope was heading for the Sales and was in the catalogue. "But then Frank started grizzling that he didn't have a good one to train, so we pulled him out well in advance," said Anne.
What they liked about him was his strong temperament. "He gave the mare a hard time. He was stroppy, but had attitude."

And soon they could see he had the natural speed to be a chance as a 2YO. Trying them at that stage and racing them at two and three was nothing new for Frank. "Kurahaupo Eden was very smart, so was Areeba and Aqua Blast won a heat of the Sires' Stakes. But we don't race them unless they're natural."

This year the Cooneys sold a sister to Five Star Anvil to Gareth Dixon, which came after "a rough week". "The mare left a lovely colt foal by Mach Three who had a wrye mouth. That was tragic and a big loss. Within a day or two of that we also put down our old labrador Grace and Tammy, the old cat."

Alta Vista is the dam of a yearling filly by McArdle, and this year the Cooneys are hoping for a filly by Bettor's Delight.

Credit: Mike Grainger writing in HRWeekly 25May2011