| | |
| --- | --- |
| | INTERNATIONAL HISTORY |

All 33 miners trapped for 10 weeks in the San José Mine in Copiapó, Chile, are rescued

David Cameron becomes Prime Minister of the United Kingdom.

Benigno Aquino III is elected as the 15th President of the Philippines.

A 7.0 magnitude earthquake in Haiti kills 230,000.

The threat of Greece defaulting on its debts triggers the European sovereign debt crisis and Ireland's financial crisis.

The largest oil spill in US history occurs in the Gulf of Mexico.

Arab Spring triggered by self-immolation of Mohamed Bouazizi on December 17,

10 April the President of Poland, Lech Kaczyñski, is among 96 killed when their airplane crashes in Smolensk.


| | |
| --- | --- |
| | LOCAL HISTORY |

Sept 4 - At 4.35am an earthquake measuring 7.1 on the richter scale struck the greater Canterbury area. There was widespread property damage but no lives were lost. There were numerous aftershocks.

Oct 1 - GST increased from 12.5% to 15%

Nov 18 - A gas explosion in the Pike River coalmine between Reefton and Greymouth, traps 31 miners underground. 2 miners who were making their way into the mine walk out. Poisonous gas frustrates any rescue attempt and on Wednesday 25 Nov a further explosion extinguishes all hope of rescuing the remining 29 miners.

Dec 26 - A swarm of more than 32 shallow aftershocks, many centred directly under the city, occurred throughout the day beginning with a 4.2 jolt at 2:07am. The largest of these, with a magnitude of 4.9, at a depth of 12 km below Opawa was felt very strongly and caused further damage to at least 20 buildings, the closure of the central city, and cut power to more than 40,000 for some time.


| | |
| --- | --- |
| | RACING HISTORY BUILDINGS & FACILITIES |

ADDINGTON ABANDONMENT SHOCK

The Addington Raceway surface has been one of the most durable and consistent in the world over the last 30 years. For the first time in decades a meeting was called off (after the sixth race)at Addington Raceway last Friday night due to the state of the track after a day of rough weather.

Traditionally, the Addington track has remarkable drying and absorption qualities but on Friday night things were different. The writing was on the wall early when a false start was declared in the 2YO Non-Tote Trot due to the mobile gate being unable to gain satisfactory traction to clear the field at dispatch. Rolling starts ensued but the rain kept falling.

The track was awash, with drivers getting unusually muddy and visibility back in the fields being very limited. A meeting of senior horseman, Stipendiary Stewards and Addington officials after Race 6 resulted in the meeting being abandoned.

Addington Raceway CEO, Shane Gloury, offers a rundown of events. "Basically, it came down to abnormal and unusual rainfall that reacted differently with the track than the rain we are used to. We had two inches of swirling, misty drizzle that sat on top of the track rather than draining through it and down the surface toward the inside.

"There was talk that the track was 'conditioned' earlier in the day and week. That wasn't the case. Our track manager John Denton prepared the track as if it was going to rain on race day. "Obviously, since last Friday night we're looking at ways to ensure this doesn't happen again."

The Met club hasn't shirked its obligation to owners over the abandonment, either. Connections of horses that did not get a run in races seven to 10 on Friday night, that haven't already received a travel subsidy, will be compensated $100 per horse.

The Caduceus Club Mares' Championship, for which Kiwi Ingenuity was hot favourite will now be run six days after the Breeders Stakes on February 18 and will coincide with the final day of the National Yearling Sales.

Credit: HRNZ 25Jan10


| | |
| --- | --- |
| | RACING HISTORY SECRETARIES & EXECUTIVE STAFF |

TONY LYE: ADDINGTON RACING MANAGER

Tony Lye will be the first to admit he was the last of the rubber, pen and pencil men at Addington Raceway. After putting up stout resistance, he eventually made friends with the computer – well, sort of. But when the time came a fortnight back to give it one last click, there wasn't much sorrow either way.

There are some old habits and patterns that come after doing much the same job for 36 years, and Lye knew he had them. For more than 20 years he was the efficient and super steady Racing Manager for the NZ Metropolitan Trotting Club, but tough times for the club has caused work casualties and Lye is one of them.

He is sad to leave a responsible job that he's been very good at and widely respected in. "It's fair to say that I think I'm going before my time" – he's 60 – "but that's the card I've been dealt," he said.

Lye had the manual aspect of taking nominations and drawing up the fields down to a fine art, "but the computer changed it all. I was slow to react – I was a pencil, pen and rubber man. Why should I change? This is the way I've always done it. So it's true to say I did resist it."

This area is just one of many that Lye has seen change dramatically. What else?

"The development of Raceway land around the track, the building of the Westpac Centre, the new stabling complex, and the loss of the huge carparks which we needed for most of the meetings when we had fewer of them years ago. When you think of it, Addington Raceway was once the closest farm to the centre of the city"

Lye said when he started there were about 20 meetings a year between the three clubs – the Met, Canterbury Park and New Brighton – and a staff of eight.

"We had a card for every horse, about two hundred and fifty of them. All the details were typed in – owner, breeder, trainer, age, colours, and when a colt became a gelding we would pick the card out and turn the 'c' into a 'g'. There was also a card with the last starts of each horse, and we would choose the fields from the form on the cards. Back then a raceday was a big day"

Cup Day was always the biggest day of the year, and Lye said it was never a difficult one if the preparations were properly made. "You'd hold your breath that everything went well, but it did because everyone stepped up."

Lye has difficulty accepting the situation where some of the country clubs can pay higher stakes than a similar class at Addington. "That's completely wrong. It should be an incentive for any owner or trainer to race at a metropolitan meeting and race for more money. I know quite a few like to take their picnics to other tracks, but it's not as hard to win at Addington as it used to be. It's an anomaly that is not right."

Lye has seen handicapping systems come and go. This current one seems to be the flavour they want, and the concessions are a big part of it."

Redundancy means something new ahead of him. I won't miss the repetition, but I'll miss going to the races, the day-to-day activity of the office, and the good staff they have there."


Credit: Mike Grainger writing in HRWeekly 7Apr2010


| | |
| --- | --- |
| | RACING HISTORY CARETAKERS |

ALAN MASLIN

On Saturday night at the NZ Harness Racing Awards, Allan Maslin was named the 2010 ICE Bloodstock Unsung Hero.

Allan has worked at Addington Raceway for the past 18 years as the Addington Course Caretaker. Born and raised in Gore, Allan has had a lifetime interest in racing. He worked for trainer Ted Winsloe at Gore in his younger days although becoming a jockey wasn't for Allan with weight quickly catching up with him in his developing years.

A cabinetmaker by trade, Allan moved to Christchurch as a young man and worked in this trade for many years. In 1992, an opportunity arose for Allan to become the Course Caretaker at Addington, an opportunity that he jumped at given his interest in racing. In the ensuing 18 years he has provided fantastic service to Addington Raceway.

Nothing ever fazes him no matter what the task or the situation that confronts him. He never complains no matter how difficult or dirty the task or the odd hours that at times are associated with his job. He is up early most mornings to open the gates to the Raceway at 5.30am. He churns through the various jobs: maintenance, plumbing, carpentry and other repair work that is required at Addington and is back on site to close the gates at the end of each night, which sometimes can be after midnight when a racemeeting or function takes place.

Allan was largely responsible for getting the stables completed and operational in 2009 after problems were encountered with the building contractor towards the end of the Stables Project. He was also instrumental in performing the interior work for the Garrards shop that operates on site at Addington and also built the new winning owners bar that opened recently. Allan plays a very important role in the lead up to Cup Day each year getting much of the temporary infrastructure in place to ensure that Cup Day runs successfully.

Allan attends all race meetings at Addington and is always on hand to fix any problems that may arise during the meeting. Whatever he does, he does with a smile and nothing is too big or too small or a burden to him.

Credit: HRNZ Website


| | |
| --- | --- |
| | RACING HISTORY PEOPLE |

PHIL COULSON

Phil Coulson, the man who caused the biggest sensation of all Interdominion Pacing Championship upsets at Addington in 1971, died this month. He protested to the last his innocence of the subsequent charges which earned him an unprecedented disqualification of seven years.

The Perth trainer-driver stole the Interdominion final with Junior's Image, suddenly rushing clear with 600m to run - a rare winning tactic at Addington - leaving his rivals flat-footed. He held on by a neck from Stella Frost to win the $26,000 first prize. Five days later it was announced the horse had a positive to caffeine and some months later it was disqualified along with Coulson.

Even in New Zealand there was disquiet over the case and Coulson's friends still point to his professionalism as the major argument against his conviction. "He was an absolutely meticulous horseman," recalls a Christchurch friend, Robert McArdle. "Everything in Phil's stables was immaculate, spotless. When he came to Addington he bought the horse a new feed bin because he didn't approve of Addington's ones and when the horse fretted a little over the trip he bought some pot plants and hung them around his stall. He could never have been sloppy enough to do what was claimed."

Coulson was no "wild west" horseman like some from his home state. He had won the 1967 Interdominion with Binshaw (his favourite horse) and only Frank and Fred Kersley won more driving and training premierships in Perth. He reined over 1000 winners and was an inaugural member of the West Australia Hall of Fame. He was the West Australian Sportsman of the Year in 1966.

"When a search was made of his stable area after the swab there were traces of the caffeine everywhere. As they said at the time it looked as though it had been sprinkled with a salt shaker. Nobody who knew how Phil operated would accept it could have been like that," McArdle said. McArdle and Aussie Eddie Sims had an option on Junior's Image going into the Interdominion and sold him to American Dunkin Donuts founder Bill Rosenberg, for whom he was a good winner.

Richard Trembath, a long time editor of the Australian Trotting Weekly, was another who never accepted the Junior's Image positive test. A good friend of Coulson, in 1978 he conducted a thorough investigation into the affair which he now describes as "a scandalous miscarriage of justice". The two-page feature which resulted helped earn him the annual Coulter Award for the best harness article of the year in Australia. "Phil always believed he had been set up. Some things I found out were disturbing. For example, the amount of caffeine found in the horse was very small. You could have got as much performance boost as from a cup of tea. A leading New Zealand horse won a Derby about the same time, returned only a slightly smaller dose, and the penalty? The trainer was fined $300 and the horse kept the race. One person on the committee (the hearing lasted three days) later admitted he nodded off listening to the evidence. There were a lot of question marks over the case and there still are."

Junior's Image would have been the first Australian-trained horse to win an Interdominion in New Zealand had he held the race. There were suggestions that agitation from people whose reputations might be affected by that played a role in the severe penalty handed down. "In the 40 years I covered Interdominions, Phil's drive was the best I saw from a tactical point of view," Trembath said. "In a single move he won the race. I am not saying Phil was a saint, but he would not have done some things with horses that were marginal, because the competition is such that most horsemen do at some time or another. But I would stake my life he would never have done it the way it was made out with the caffeine everywhere. It was just not his way. As a person he was a fine bloke. I was proud to call him a friend. He always assured me he had done nothing wrong with Junior's Image even years later when it didn't matter. But mud sticks and it is a shame many people over there only remember him because of the Junior's Image case."

Coulson, 77 when he died of cancer, served several years of his disqualification working on a crayfish boat off Perth in which he had an interest. Junior's Image was in fact the least able of many stars he either trained or drove. Coulson was credited by outstanding dual-gaited Perth horseman, Fred Kersley, as an "inspiation to my career".

Among the great horses Coulson trained, drove or both, were Village Kid, Gammalite and the mighty Pure Steel. His drive on Pure Steel in a famous match race with Satinover in Perth, when he used the champion's great stamina to wear down his brilliant rival, which had won 29 races in a row, was a highlight. Another was his drive on Village Kid to beat hot favourite Preux Chevalier in the West Australian Cup. The cup was Perth's equivalent of the New Zealand Cup and a race for which he prepared a record seven winners. Coulson was also credited with changing the style of racing in Perth with his introduction of the two and three-wide train and putting pressure on from the front after years of single file racing.

In spite of the Junior's Image affair, he was a popular personality and a hit with the media during his short stay in Christchurch. Some attempt was made by friends of Coulson here to review the case. Transcripts and evidence was gathered but it came to nothing. Coulson later said he did not fight the case personally (he stayed in Perth) because a story appeared in the Christchurch media before the evidence was heard. It said if he was not found guilty all the clubs in New Zealand would be up for the costs. So he was never going to get a fair hearing from then on.

Whatever the truth of that assertion and whatever the truth of the Junior's Image affair, the rest of Coulson's career proved he was indeed one of Australia's great harness horsemen.

Credit: David McCarthy writing in The Press 17 July 2010


| | |
| --- | --- |
| | RACING HISTORY PEOPLE |

CLIFF IRVINE

It seems odd that one honoured with such a long list of degrees and awards for outstanding work in several fields of equine medicine as Professor Cliff Irvine should rate his proudest thrill as winning the 1986 Dominion Handicap at Addington with Tussle. But it sums up the complxity of a rare personality - someone able to discuss the most involved aspects of equine reproduction at any university forum in the world, and yet just as happy chatting about training his horses with people who never went to secodary school.

Irvine died recently, soon after his 90th birthday. He was Emeritus Professor of Veterinary Science at Lincoln University, a Doctor of Science (Otago) - the highest award in his field in New Zealand - and had honorary doctorates from Massey and Sydney universities among a host of other national and international awards, including the Bledisloe Medal from Lincoln University. He had an insatiable appetite for research but he never lived in an ivory tower.

Born in Dunedin in 1920, Clifford Hugh Greenfield Irvine, never one to bow to authority, left Otago Boys' High School at 15 after a dispute over the justification for a punishment he received. He later had similar problems in a brief Army stint. He started several unlikely careers from journalist to night porter, before going to Otago University to qualify for a veterinary surgeon course then available only in Sydney. He played for the champion Otago senior rugby team, Southern, on the wing.

Irvine used proceeds from training horses both in Dunedin and Sydney to finance his university days and his first winner, Carnavon, was in 1940. He set up a veterinary practise in Invercargill, catering for large and small animals at seperate surgeries, a novelty then. The biggest challenges were operating on badly gored pig dogs. He used a novel operational technique to save the career of the subsequent Grand National Steeplechase winner, Capet, for Bill Hazlett.

He married Fay Curtis, whose father Ross, was a racing trainer. The couple had a son, Guy, later killed in a road accident, and a daughter, Penny. An illness he contracted from working with cows caused Irvine to be hospitalised for six months, during which he taught himself several new skills including knitting.

A highly competent practical 'vet', Irvine nonetheless always had an affinity for research and he was appointed as a lecturer to the then Lincoln College in 1966. He had already made his mark as a trainer and driver. Light Mood, for which he paid a substantial sum (over £500) as a youngster won nine races, two of them at New Zealand Cup meetings, but he had as much satisfaction with his success with 1957 New Zealand Cup winner Lookaway, which had not won for 16 months when Irvine took him over. At that time he was heavily involved in research into the effect of the thyroid gland on horses, research which was to lead to major advances in treating racehorses. Lookaway restored to form was one example.

Irvine's research into reproductive endocrinology was world class, though he liked to recall that his first boss at Lincoln, Dr Bob Burns, would not allow him to experiment with horses at Lincoln until after a visit by Queen Elizabeth in 1977. She discussed the problems of getting some mares in foal with Irvine and later at lunch with Burns mentioned his obvious need for horses to work with. They were soon permitted and he ended up with 25, including two stallions. One of the mares was Kimmer, by his former star, Light Mood.

In 1977 he was invited to lecture at Texas A and M University and returned with his second wife Sue Alexander, a student at the college at the time and who was to prove a close professional associate and devoted nurse. For many years Irvine was the consultant for both Harness Racing New Zealand and New Zealand Thoroughbred Racing. He defused the bicarbonate controversy which threatened to tear harness racing apart in thw 1990s as large doses of "milkshakes" turned mice into lions on the track.

After much trial and error, Irvine developed the world's first accurate bicarbonate test and set permissable levels of use. His approach in drug cases was always purely scientific. He allowed the use of heptaminol when it was banned elsewhere and held strong, and at times contrary, views on the effects of cattle steriods and EPO under race conditions. He was an international expert in several areas of drugs and their influence on racing horses. His research into reproduction, however, was a greater boon on the local industry front.

In the 1980s the Irvine name became famous in another arena. The trotting mare, Tussle, which he had bred from Kimmer and which showed little early promise, blossomed into one of the best mares produced in New Zealand and became the first to win the Rowe Cup, Dominion Handicap and the Interdominion Trotting Final, the three biggest trotting races in Australasia - a feat subsequently equalled only by Lyell Creek.

Typically, Irvine gave a lot of the creditfor identifying an emerging star to one of his laboratory assistants, Leone Gason, who later married Tussle's regular driver, Peter Jones. It was a remarkable story. Tussle, small, weedy and testy, was bound for a career in the Lincoln experimental band until Gason, then her only fan, got her going as a five-year-old. Various trainers had success with her when her owner was otherwise engaged but she won most of her big races for the Irvine stable, Sally Marks succeeding Gason as the mare's minder. Tussle won 38 races.

When she won the Rowe Cup she was the first horseIrvine had raced in Auckland since Lookaway had won there in 1960. As a 12-year-old Tussle beat Tyrone Scotty and other stars in the Quinns Fashion Free-For-All at Addington on Cup Day in national record time. Tussle died in 2007 aged 34. In 2002 her daughter, Bristle, becam Irvine's 100th winner as an owner.

Cliff Irvine was dcritically injured in a car accident in 2000, suffering a broken pelvis, serious head injuries and a fractured breast bone and knee. He was little more than semi-conscious for three months and in hospital for five. He set himself the seemingly impossible goal of getting back in the sulky with one of his trotters and just managed to achieve it. But the days of the highly competitive tennis matches at his Halswell home (opponents claimed cracks in the court surface were never repaired because the host knew exactly how to hit into them in tight situations) and some aspects of his work were ended.

However, he developed a strong interest in the effect of heavy use of soy bean preparations in infants which had been promoted as preventing later illness. When his contrary view caused a severe international reaction among proponents his conclusions were unaffected.

The ONZM award in 2000 for services to veterinary science was a thrill which came close to equalling the Dominion Handicap and also served as a stimulus to recover sufficiently from his injuries to travel for the presentation.

Irvine never believed in wasting time and urged a similar attitude to family members and his many successful students, some of whom, notably Margaret Evans, have gained international prominence of their own in the veterinary research field. "Television and some other things we like doing were wasting time. But he was never an angry person. I cannot remember ever seeing him lose his temper even in the most difficult situation," Panny Irvine recalled.

Sue Irvine remembers a man of great determination who "never gave up", even when recovering from his critical injuries, but accepted reverses with aplomb. "He set very high standards in his research, as you would expect, and you worked hard with him. But he was never flustered when things went wrong or one of us did something wrong. He had the true scientific gifts of concentrating on the main focus."



Credit: David McCarthy writing in The Press July 2010


| | |
| --- | --- |
| | RACING HISTORY PEOPLE |

DOUG MANGOS

Doug Mangos, who started life in Buller, became a prominent figure in Canterbury and New Zealand harness racing over many years, chiefly through his long association with the famous George Noble stable at Roydon Lodge, Yaldhurst. He talks to David McCarthy.

I suppose with a name like yours you must have spent some time in Lyell. That is where the Mangos name came from?
I was there until I was seven. There are actually about three main branches of the Mangos family in the country, one of them from Timaru and they are distant relations. My parents were storekeepers and moved to Inangahua when I was just a youngster.

Where did the horses start?
There was a fellow at Inanguhua, Plugger(W E) Taylor who had the butcher's shop and had a few horses. I remember Battle Flight was one. I used to do a bit with them, lead them into the birdcage and that sort of stuff. The local publican bought a horse called Elation for one and sixpence about that time and won four races with it. I was 14 when I came over to Christchurch. I wasn't doing a lot at school - I didn't go often enough for that - and in the end they thought I was better off out of it. I went to Roydon Lodge soon after that. (Wife) Eileen had a brother working there and he got me a job.

You stayed a long time?
Nearly 35 years. It was actually the only job I ever had, working for George Noble. I loved every day of it. Wouldn't swap a day.

But you must have thought of going out on your own for bigger rewards?
No, I didn't, at least not seriously. With the travelling we did to Auckland I looked at those trips as three paid holidays a year for a start. No, I was quite happy and George was such a great horseman and boss you never got tired of learning from listening to him. He liked good listeners and I think he thought I was one.

You seem to have finished up all right anyway?
After I left Noble's I used to race a few, usually of my own, and look to sell them. We've done alright over the years. One of the first was a nice trotter called Isa Rangi which we raced with Bill Prendeville. She was pretty good. We beat Ilsa Voss twice. Anyway we agreed her price was $15,000. Then Les Purdon rang up and wanted to buy her. I was a bit cheeky, because I knew Les well, and reckoned we couldn't sell under $25,000. "I don't know about that but I could do $20,000," Les said. Anyway we got the 25 which was a big bonus. We bought this house with what we got from Isa Rangi. It won a few in America.

Was it hard work at Roydon Lodge?
We started at 6 o'clock and got £3 a week. There were 15 horses in full work then but it wasn't as simple as that. The boss used to double heat them all the time so actually it was just like working 30.

Double heat. What was that?
We would work them, not fast, over 2000m, bring them back, take the carts off and rub them down, then later on go out and work another heat brushing home the last bit. It made for a long day.

Was it long before you got a raceday drive?
A couple or three years I suppose. It was good to get a drive. Every one was a week's wages so the competition was keen. I drove Highland Air to win at Forbury Park when he qualified for the New Zealand Cup. I had run a second in a probationary race with Wha' Hae. But my first drive at Addington was on Royal Minstrel which had dead-heated in the New Zealand Derby (with Single Medoro in 1954). He all but fell going into the back straight. It wasn't a great start but we made up for it over the years.

You must have been a very young bloke then when you had your first New Zealand Cup drive?
Yes, on La Mignon the year Lookaway won (1957). She ran third. I think the first three were all by Light Brigade. The boss drove Highland Air (it was the first year of Cup runners for Roy McKenzie after his father's death). There was quite a go after the race.

What can you tell?
We got a nice run and got home well. I was quite pleased with myself. The next thing the chief stipe, Fred Beer, was calling me into the room and there was talk about us being put out.

What was that about?
They reckoned I had checked Roy Butterick on Roy Grattan and Beer gave me a speech. He said to me,"This is a very good race with a big stake that people spend a long time getting ready for. Every horse should have an equal chance of winning this race. I don't think you gave Mr Butterick an equal chance."

How did you get out of that?
I just said,"Well, I don't think Mr Butterick has done too badly out of it". Beer, an arrogant bloke, said pretty sharply,"What do you mean by that Mangos?" So I told him.

Which was?
Soon after the start General Sandy shot away to the front and Lookaway, which could be tricky at the start - Maurice Holmes could be a genius at getting them away - came up but Bob Young on General Sandy wasn't giving it away. Roy Butterick was in the trail and I heard Maurice call to him, "There's £500 for you to pull back". Butterick did and Lookaway got the run of the race. They just walked around and sprinted home and you couldn't have beaten him. The Cup was worth £7500 but £500 was a good payday in those days. I said that nobody was doing anything about that, while I didn't even know what I was supposed to have done.

What did Beer say to that?
"You can go now, Mangos," was all he said.

-o0o-

The Press 23Jan10

Roydon Lodge had some great horses over the years and you got the chance to drive a lot of them. Which ones do you remember most?
We had some terrific seasons, but we had some bad ones, too. I remember one season we only won one race with 15 horses, which was right out of character. It is hard to remember all the good ones. Sounds silly, but there were a lot of them. Roydon Roux was one I had a bit of luck with in Australia.

Roydon Roux? She was a champion young horse which had a sad end.
I think she won seven as a two-year-old and, at three, she won the Great Northern Derby for me, beating Bachelor Star and Van Glory. It was then that we took her to Autralia. She was out of La Mignon and so was Garcon Roux.

What happened there?
She won the Wraith Memorial Series, which was a big go then in Sydney. She was hot favourite in a leadup, but knuckled over at the start and I had to drive her back. She ran second. When the final came around, the winner of the leadup had drawn in and was the favourite. Before the race, I was taken into the stipes' room. They wanted to know how I was going to drive her.

And?
"The best I can." I said, but they wanteed to know more than that, so I said I would try to get to the lead and, if I couldn't, I would sit outside the leader and I'd beat him anyway. They seemed happy with that. I sat her out and she just bolted in and broke a record. I wasn't too popular on the lap of honour. A few empty cans came my way and they booed. Funny thing was that though she had won all those races, they dodn't count for handicapping and she wasn't actually eligible to run at Harold Park in the classes.

The news was not so good after that?
She broke a pastern bone; just shattered it, running around that little showgrounds track in Melbourne. She couldn't be saved.

Garcon Roux had a big reputation?
The old boss (Noble)thought he was one of the very best. I drove him in a time trial at Bankstown in Sydney and there was a bit of drama. When we started off, there was some bloke crouched under the inside rail taking a photo and the horse balked. He went his furlong(200m) in 16 seconds and ran the mile in 2:01.2. That was some performance.

Jay Ar was one of your favourites, I suppose?
He won a trial at Ashburton one day and even the old boss was amazed at the time. "He couldn't have done that," he kept saying. I can't remember now just what the time was, because the trial was over six furlongs(1200m), which was very unusual, even then. Whatever it was, it was a record.

He dead-heated in an InterDominion Final, of course.
I didn't drive him in that series - the boss did - but I won a lot of races with him, especially in Auckland. He just got beaten in the Auckland Cup by Lordship just before the Interdominion. He was a bit of a nervy horse whe he got out on the track...he wasn't quite as good from a stand because of that. But, gee, he was good. He was in a 3200m free-for-all one day and Garcon D'or had drawn out and we had drawn in. The boss said to me,"You might as well lead till the other one comes around." Jar Ar was off and gone. We haven't seen the other horse yet.

Wasn't there a story over his low heart score?
Taking heart scores had just come in here and a few were very keen on them. The experts seemed to think a horse had to have a high heart score to produce top runs in the best company and Jay Ar was a bit below average. But there's a few stories about those early scores.

Such as?
A lot of the top trainers were sceptical of them. The boss was one of them. Allen McKay came down from Wellington and did the heart scores over quite a few years. When he first came, we were under instructions not to identify the horses, and we mixed them up a bit in the queue. One horse came out at 123 and they were all excited about it. The next time he came, he kept asking when Jay Ar was coming, and when we told him, he couldn't believe his read, which was about 100 then. I think he thought he was the 123 one, originally. Jay Ar won about $100,000 and the horse which was 123 won a small race somewhere in the Central Districts. It was all quite experimental here then and scores could vary a lot. This one showed that judging a horse just on its heart score was a ticket to trouble.

Samantha was another good one you drove?
Yes, I won a Wellington Cup with her - she won two of them - and beat Lordship just. I learnt a big lesson from George over that.

Which was?
Well, I won the race and when I got home everyone was very happy and the boss congratulated me on my drive. A couple of days later, though, I got a call to go up to the house. When I got there, George, who had a special way of telling you things, started talking about the Wellington Cup and how Samantha was the best-gaited horse in the race. It was just as well, he said, otherwise she wouldn't have beaten Lordship.

What was that about?
Well, there was no video or anything in those days. But during the week, in the paper, they published a photo of the finish. I had my left hand high in the air holding the reins and I was weilding the whip with the other one. George wasn't impressed. He didn't think he could go on putting me on top horses if I was going to throw everything at them like that. I knew without him actually saying it that I was getting a good dressing down. I never forgot it. There was no more of that.

You didn't do so much driving later on, but it wasn't because of things like that?
The main reason was that John(George Noble's son) decided to work full time with the horses. In those earlier years, John was a mechanic in town and wasn't able to drive them much of the time. When he came into it, naturally, I was going to miss out, but it didn't persuade me to leave. I was quite happy.

-o0o-

The Press 6Feb2010

General Frost was a brilliant young horse you drove?
Gee, he was good. He won the first Juvenile Championship in Auckland. It was a great effort because he was hopeless right-handed. We had a problem about what to do going into the race.

What did you do?
The old boss (George Noble) gave me unusual instructions. He said not to drive the horse around final bends no matter where he was. He wanted me to just let him find his own way; that even if he lost a lot of ground he would still be too good. Well, he lost a good bit of ground on the bends all right but he picked them up and dropped them in the straight. Won easy. He had incredible speed, General Frost. It was a shame he went in the wind. They couldn't do anything about it.

You had a lot of big moments at Alexandra Park?
I won my biggest trophy there - the one I value the most. it is the only one I have really kept. I was the leading driver at the 1968 Interdominion Championship at Auckland. I actually tied with Peter Wolfenden and Kevin Newnam(Sydney) so I was in pretty good company. They decided there would be a toss and George stood in for me. I reckoned I had always had a bit of luck with the toss and George did the right thing. It was an odd man out toss. The first two came up heads all round and then one head and two tails. It was quite an honour when you consider the opposition.

Julie Hanover. I think Andrew Cunningham and their wives raced her. Did you handle her much?
I should have won an Auckland Cup with her. A really top mare. She was usually foolproof but that night she missed away. She ran fourth to Allakasam. John (Noble) usually drove he but he was on a holiday. However, I still blamed myself. It was a terrific effort. She raced for Martin Tannenbaum who organised all the international races at Yonkers at the time when she went up to America. She raced well there and left some good stock. Vista Abbey was another one and I won with Arania (New Zealand's first mare to beat two minutes in a race) off 36 yards up in Auckland on day. She was phenomenal when she was right.

You drove quite a few outside horses at that time too. I hadn't realised you handled Holy Hal. He had been a terrific young horse?
He was older when I first came across him. They had brought him up from Southland for the Auckland Cup. They said he could break down at any time and Kenny Balloch wanted to come up and drive him in the cup so,"Would I be happy to drive him in the lead-ups under those conditions?" I knew he was a smart horse and leapt at the chance. They were hard-case blokes those Southlanders.

How?
They came to me after we'd done the final feeds one night and asked if I minded giving him an extra feed before I left. I said,"why, you have given him his tea? Yes, they said but they wanted to give him a bit of his breakfast in case they were late in the morning! I think they were going out for a big night. Anyway, the horse dodn't mind.

He had had problems as I remember it. What was his form like then?
Sensational. He was a moral beaten in the Auckland Cup. I couldn't believe it. He won both nights I drove him and I thought he was a good thing in the cup.

What happened?
They had reintroduced lap times. Every time they came round Holy Hal was not just in front but well clear. He was six lengths in front one round. He still ran third. I could have cried.

Did you get another chance with him?
Yes, and we proved a point. We had a chat about the Cambridge Flying Mile and I was to drive him in that. They didn't like it when he drew out but I told them he would still win. Sure enough, outside draw and all, he bolted in. Many people never realised how good Haly Hal was.

Did your success at Alexandra Park bring many extra drives?
Yes, quite a few. One of the more unusual was Merv Dean whose wife, Audrey, owned Cardigan Bay. Merv ran a billiard saloon. He was a big guy and y the standards of those days a huge punter but a really top bloke with it. He started flying me up to Auckland just to drive one horse and it was a lucrative operation for a while there. One time I drove down here during the day and caught the plane to Auckland to drive one for him. Merv met me at the airport and gave me five hundred and he had the colours for me to put on on the way. The horse won. It was Great Return which won a few down here. He gave me another five hundred after that and paid all the expenses. We had a great strike rate for a while there.

You probably liked a bet youself. Any huge collects?
I learned after a while it was quite hard. A lot of people have learned that. I did put 100 each way on La Mignan as a four year old. She had been working so well and she won. I remember going to Forbury one night with Ohio which George trained. It was pouring early in the night and Jimmy Walsh had a horse in earlier in the nightthat we knew loved it like that and it won. The rain stopped and the track improved so it wouldn't bother Ohio with his problem, and he won.

Ohio. He was a top horse?
He would had been but he was tubed. Horses that couldn't breathe properly then, they opened up a breathing passage through the chest - they called it tubing - and put a stopper in it which they took out for the race. It was not uncommon then though I think he might have been one of the last allowed to race. The trouble was you had to be very careful on the wet grit and sand tracks because of the danger of the tube getting blocked and the poor buggers would run out of breath. The boss tried ever sort of gauze over the tube to make sure it was kept clear but we weren't going to risk any tragedies and he had to be retired because of it.

Credit: David McCarthy writing in The Press 16Jan2010


| | |
| --- | --- |
| | RACING HISTORY PEOPLE |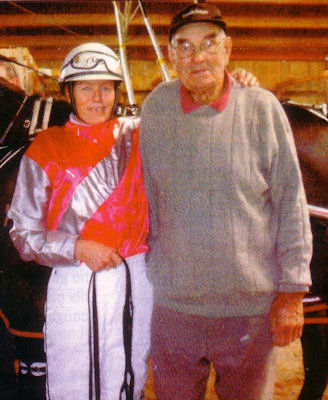 Eric Ryan and daughter Maree Price

ERIC RYAN

The funeral of Eric Ryan was held at Addington Raceway last Thursday, and it was clearly obvious from the hundreds of people in attendance that he was a much-loved and very well-respected man who touched many lives during his 84 years.

Eric was a unique character in every sence of the word. In his heyday he stood six foot four and weighed 18 stone, and anyone that ever met him for the first time would be greeted with a typical "gidday there, how are ya?" - his raspy voice sounding like it boomed down for a great height as he thrust forward one of his massive hands to shake yours.

Spend time around Eric and you'd soon learn that his language was 'colourful' to say the least, with some of the words he used on a regular basis being unprintable in a publication like this, but look past that and it was easy to find the heart and soul of a man who was a real 'people person' - one who would bend over backwards to help out a stranger without a second thought.

Born in Little River in the Summer of 1925, Eric was the eldest of seven children and went to live with his grandparents at the age of four. As he grew up, the saying 'Jack of many trades, master of none' was never one that befitted Eric - as he would try his hand at many an occupation over the years, and his attention to detail saw him successful at almost anything.

He was an extremely hard worker, a trait that he displayed right from the word go, and by the time he turned eight he was hand-milking a herd of cows before school and would take the milk to the factory by horse and cart. The jobs he held at various stages of his life are too many to list, but they include: working a draught horse team on a farm after he left school at the age of 14; employment on a cattle farm while he saved to buy his own horse; driving trucks for long periods at a time; shearing; carting timber; shovelling coal, and draining Lake Forsyth.

Eric bought his first farm in Puaha Valley at the age of 21, booking up 100 ewes and eight cows to Pyne Gould Guinness but paying the debt back within a year through nothing else but hard work. He also ran the Little River Butchery Shop for a couple of decades, slaughtering all his own meat, and his family soon acquired a taste for offal because Eric wasn't one to waste anything.

He brought up eight children and four stepchildren over the years, but he never got fully into horses later in life - an interest which grew from attending gymkhanas on Sundays. His first training and driving success came behind Francis John at Hutt Park on his 44th birthday in November 1969, and then saluted again three races later that night when driving John Peel.

There were many successful racehorses to come out of the Eric Ryan barn though, and after moving to Motukarara for 15 years he had a briefer stint living in Greenpark before settling into his last property at Waimate in 1996.

Some of the horses he enjoyed numerous victories with were Atlee, Jerlin's Choice, Vaguely Innocent, Shylock, Avon Spark, Viva Remero, Advanced Fibre, Always Smile, the tough mares Waitara and Sidi Rezegh, Haughty Choice, Big Idea, Royal Delivery, Commanche, Ungava, Leanne's Pride, Wish Me Luck, Up To You and Nuclear Byrd to name but a few - the latter being notable for the fact that at one stage he held the NZ Mile Record for a 4-year-old or older male pacer after winning in 1:54.1 at Winton in December 1997.

He stood stallions at various times when training out of Aran Lodge at Motukarara, the likes of Worthy Del, Kiwi Kid, Red John and Hunting Song, and he also developed a reputation for resurrecting the careers of horses that were considered 'lost causes'. His best results as a breeder came from the mare Synthetic, who left six winners. Eric could talk for hours about the grim and entertaining incidents that made him such a huge personality in harness racing, and the stories were as big as himself. He was a straight shooter though, and said it like he saw it; you always knew where you stood with Eric.

Eric was a foundation member of the Motukarara Trotting Association, served on the committees of the Standardbred Breeders Association, OTB Assn, Akaroa TC and Banks Peninsula TC, and even served a term as President with the latter for a time.

There was many a funny story or fond recollection being relived by those attending his funeral last week, but no account of the life of Eric Ryan could ever do him justice because memories of the great man stretch far and wide and will remain with people forever.

Eric outlived two of his sons, Norm and Graham. He is survived by another son Johnny, daughters Maree, Daphne, Rosalie, Vicki and Colleen, stepson Terry, stepdaughters Sandra, Sharon and Donna, 35 grandchildren, 30 great-grandchildren, and even some great-great-grandchildren.

Credit: John Robinson writing in HRWeekly 28Apr2010


| | |
| --- | --- |
| | RACING HISTORY PEOPLE |

DAVE CARVILLE

Hundreds of people attended the funeral service of Dave Carville which was held at Addington Raceway last Saturday afternoon. Dave died suddenly of a heart attack four days earlier, his wife Katie at his side. He was 55.

His passing came as a huge shock to all in the industry, because Dave was loved, respected and admired by everybody who knew him - whether on a personal or professional level, or both. He was as passionate about his family as he was about everything else that he adored and/or took part in...his land and his horses, harness racing in general, his and Katie's multi-faceted company International Cargo Express and subsequently ICE Bloodstock, his many friends, monthly card nights with the lads, and his not-so-occasional punts on races at the TAB.

Born in 1954, Dave grew up on a farm on the outskirts of Christchurch with sister Linda and brothers Barry and Allan. During his latter school years at Papanui High he played basketball, got involved in life saving, developed an interest in racing pigeons and there would always be a love for horses simmering away in the background too. After leaving school his work graduated from paper run to employment in the office of Blue Star Port Line. He eventually became the Office Manager before progressing on to manage LEP in the South Island, then forming his own business, International Cargo Express, in 1992.

The first horse Dave owned was called Genesis, a colt by Out To Win that he raced with a couple of mates, who won five races at two including the NZ Sapling Stakes; a race at three, and another four as a 4-year-old including the Rangiora Cup before he was sold overseas. Needless to say, he was hooked on the game from then onwards.

He and Katie continued to develop ICE, and today it is one of the largest freight-forwarding companies in New Zealand - one that was also instrumental in providing direct flights between here and Australia so that racehorses can get across the Tasman and back again much more easier; hence re-igniting true trans-tasman rivalry between our greatest horses, like in last year's NZ Cup.

Through their two branches of ICE plus the subsidiary companies ICE Perishables and ICE Bloodstock, Dave and Katie were always keen to keep supporting harness racing and putting money back into the game, as their sponsorship of various races, Addington Raceway's passing lane and ultimately our Annual Awards Function showed. Their generosity didn't stop there though, with other things they supported ranging from many local sports teams to a child in need of life-saving operation.

Over the years the Carvilles became just as devoted about breeding their own rachorses, and today there are numerous harness equines carrying the 'Ohoka'(colts and geldings) or 'Millwood'(fillies and mares) tags as part of their name - many of them highly successful. The couple's crowning glory in this respect was Ohoka Arizona, the 2006/7 2YO Pacer of the Year who won five of his eight starts as a juvenile including three Group events. Recently embarking on another campaign, Ohoka Arizona has won seven of 16 appearances and nearly $260,000 to date and has also been popular at stud, his first crop of foals being due any day soon. At last count Dave and Katie's list of weanlings, racehorses and broodmares numbered about 100, with 30 more foals expected on the ground in the next couple of months. Understandably, these will be downsized over the next year or so.

Dave is survived by his wife Katie and children Adam, Libby, Ashley and Paige - all of whom gave very emotional 'farewell' speeches to their father at last weekend's funeral. In a fitting finale to the service, a hearse carried Dave's casket and followed Ohoka Arizona for a couple of laps around Addington Raceway.

Credit: HRWeekly 29 Sep 2010


| | |
| --- | --- |
| | RACING HISTORY PEOPLE |

PETER RENNELL

Peter Rennell rarely missed a race meeting at Addington Raceway and was renowned as the unofficial keeper of times and class records. Within seconds of a new class record being established on the track, Rennell would appear in the Press Room with past and present time details.

Rennell, who died age 82 last week, was a Life Member of the NZ Metropolitan Trotting Club, but he was foremost a Canterbury Park man and served on the club's committee until retiring in 1996. Earlier, he was involved in the administration of the Akaroa and Amberley clubs while they ran equalisator meetings.

He started work in the registration department of the NZ Trotting Conference, before going to Wrightsons and National Mortgage and Agencies. From 1975 to 1981 he was the New Zealand representative for Parramatta Livestock. Paul Davies, who worked with Rennell from 1970 until he left Wrightson-NMA, said he was "a great man for detail, compiling catalogues and keeping records to an exceptionally high standard. And he had a strong following amongst yearling sales breeders and vendors, assisting many in upgrading their stock."

Along with his wife Bev, he was a member of the Met Syndicate that raced the top pacer, Likmesiah. Rennell was the father of Harness Racing New Zealand's CEO, Edward Rennell.

Credit: HRWeekly 29 Sept 2010


| | |
| --- | --- |
| | RACING HISTORY PEOPLE |

DAVID BUTT

It was a race full of mixed emotions for harness racing horseman David Butt at Addington Raceway tonight (Friday) when he drove Ohoka Arizona to win race one at the New Zealand Metropolitan Trotting Club's meeting.

The North Canterbury trainer/driver completed a chapter in his life securing 1000 driving wins, but it was a solemn David Butt afterwards who's only thoughts were with the owners of Ohoka Arizona, Katie and the late Dave Carville. "It's really nice for Katie tonight and I wasn't really thinking about the 1000 wins at all," Butt said.

At a time when all the connections were clearly reflecting on the loss of Dave Carville, Butt was still able to display the lighter jovial side to his personality when questioned on his achievement, a smile through the pain perhaps. Does semi-retirement beckon? "Im not semi-retired or thinking about it, but Bobs (Butt) sending me that way," he said.


Credit: Steve Dolan writing on harnesslink.com


| | |
| --- | --- |
| | RACING HISTORY PEOPLE |

ALLAN DUNN

The death occurred last Friday of Allan Dunn, who passed away peacefully at the age of 86 after battling ill health for the last couple of years.

Originally from the West Coast, Allan moved to Christchurch many years ago and bought the Granada Coffee Lounge. Although not knowing much about coffee or even a fan of it himself, Allan nevertheless took his shop to new heights and was even one of the first people in the country to import an Italian espresso machine.

In the early 60s Allan then moved to Wellington where he and his good mate Max Williams bought the Taita Hotel in Lower Hutt, close to Trentham, befriending many high-profile thoroughbred breeders, owners, trainers and jockeys as a result. Allan and Max developed an accommodation complex onsite and their mottos were simple - make their guests' stays comfortable, enjoyable and memorable - and business for them boomed.

"Any time there were races or the yearling sales on, if there wasn't enough room at the Taita then some of them overflowed to the house," remembers Allan's son Robert. "I think at one stage they were selling up to 8000 half-gees of beer a week, which was some sort of record."

It's not surprising then that Allan's first foray into horse ownership was in the 'other' code, with he and Max racing the likes of Shantung and Suttle on lease from Pirongia Stud - which won "about twenty-five races" between then - and they also bred the good winner Pelican Brief.

Allan sold the hotel in 1975 and retired at an early age, shifting his family to Chrischurch and buying the 30 acre property at West Melton where his sons Robert and Geoff and grandsons John and Dexter still operate out of to this day.

Through Max's friendship with the late Alf Bourne the two mates switched codes and raced the Ashburton Cup winner Reffluent, and the numerous other good harness horses that Allan was involved with over the years included the likes of Late Lustre, Bound To Be, Affluent and Rapid Surge. "No champions, just a lot of nice horses who won a good handful of races each," Robert said, adding that his father had the distinction of racing horses successfully in New Zealand, Australia and North America. "He also imported the stallion Tiger Wave, and raced a few handy horses by him that won four of five as well."

Allan never trained or drove in an official capacity himself, but every day up until he took sick a couple of years ago he would be at the stables to help out first thing in the morning, and he'd be one of the last to leave. "He'd work like a tiger, seven days a week; a workaholic," Robert says affectionately. "For much of his life he had a very bad back and knees, but he never moaned about it. He just loved horses - and he'd put you to shame with some of the care he'd show towards them sometimes."

Allan of course was very proud of his sons' and grandsons' success in the sport, and he'd follow their progress closely as well as the developments of other stable employees such as Shaun Thompson and Tim Williams, the latter being Max's grandson.

"He loved his sport and his racing, and he'd be the worst one-eyed Cantabrian of all time," Robert says. "Especially rugby...whether it be the Canterbury team, the All Blacks, Andrew Mehrtens, Richie McCaw or Dan Carter - none of them could ever do a thing wrong in this opinion. Get him started and you'd have to leave the room."

Allan is survived by his wife Kath, their children Robert, Geoff, Kevin, Brian and Margaret, plus seven grandchildren and two great-grandchildren.

Credit: HRWeekly 24Nov10


| | |
| --- | --- |
| | RACING HISTORY PEOPLE |

LEICESTER BROSNAN

Leicester Brosnan died least week, less than a month out from his 84th birthday.

Together with his brother Ken, 87, Brosnan was responsible for breeding numerous harness horses which went on to be successful either at stud or on the racetrack. Almost all of them trace back to their foundation mare Star Lady, by Smooth Fella out of Brenda Lee, who won five races herself but reached even greater heights at stud through her progeny and her many daughters and granddaughters which bred on as well.

The first horse that the Brosnan brothers ever bred was Queen Ngaio, a Light Brigade mare that stemmed from their late father John 'Jack' Brosnan winning a free service to the sire in a raffle.

Before retiring to Rangiora, Leicester lived on the family farm at the nearby township of Fernside all his working life. It was a property which started out at 400 acres but grew to almost double that, the centre of focus being mainly sheep and crop farming.

Although the brothers never raced many horses themselves, Ken's son Alister says his father and uncle got more enjoyment out of seeing the horses they'd bred go on and be successful for others, and that by leasing them it was also a way of keeping costs to a minimum. "They were thrilled when Star Lady won a broodmare award a couple of years ago," Alister said. "She's still here on the farm and in good health," he added about the now 31-year-old mare, "she's in a paddock with a couple of others and is still the boss."

About 18 months ago, Alister and his sisters - Pamela Brosnan, Janet Marsh and Dianna Palmer - together with their father Ken decided to try and continue the dynasty by forming Brosnan Standardbreds. They're breeding from a "mixture" of half a dozen or so mares , and the combined amount of stack and broodmares is well into the 20s.

Credit: HR Weekly: 24Nov10


| | |
| --- | --- |
| | RACING HISTORY PEOPLE |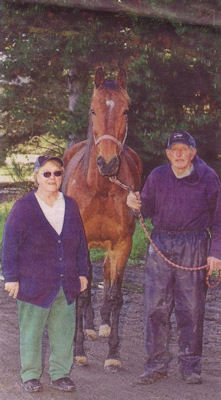 Bev & Stan Moore with Fake Chance

STAN MOORE

After the dust and grime of the city, Stan Moore's Rangiora property is a stark contrast. I feel like I am looking at a biscuit tin lid. Birds twitter so loudly from dense green hedges it is almost overwhelming. Walking to lift the latch on his fence - the type where the crescent of metal has to be lifted, a wide gate opened and then the metal returned to its nook - the only sound, aside from the birds, is the noise we make crunching on gravel. Hearing the gate hinge creak, Suzy, a boisterous bundle of white fur, greets us at the door, loudly yapping and running in circles.

Bev Moore is in the kitchen. We had trouble navigating the rural letterbox system and are 20 minutes late. Stan couldn't hang around lollygagging waiting for us to arrive. "Oh, look, Stan's just down with the horses. He's only been gone about quarter of a hour," Bev says, drying her hands on a tea towel. "He said,'I have to go and do those horses'. He is down there, I'm sure of it. Unless he's hiked off on me. We just had our 50th wedding anniversary, so I don't think he will leave me now." She points to a block of stables a short distance away while Suzy jumps about our feet, barking. "Suzy, that's enough of that! She loves meeting people but she's too overpowering."

Suzy escorts us to the gate and runs around in circles barking, only becoming silent once our feet are once more crunching the gravel down towards the stables and still regarding us with baleful eyes.

My brother trains horses. His name's Phillip, but most people in the industry know him as Prop. Stan does and, as racing people are often prone to do almost without thinking, offers me the breeding of horses he thinks Prop had something to do with - their dam (mother), sire(father) and relevant wins. Prop had a lot to do with the notable horse Lyall Creek, and through his association with the Butt family, has had his share of Cup Day excitement. I've seen stables with salubrious fittings, ones equipped with hi-tech swimming pools and showering systems that look like Club Med for horses.
Stan's boxes may be vintage and feature more than their fair share of cooing pigeons and their droppings, but they're immaculately mucked out and the five horses eyeing us while we chat look beautifully cared-for.

Stan and Bev have lived on the property for 44 years, after spending the first six years of married life farming and milking cows. "Not too bad a spot here," Stan says reflectively. "Keep out of the wind and you're all right. It's a cold wind, that easterly."

For the first time, Stan's eyes smile as he proudly introduces his horse Fake Chance, a nine-year-old gelding by Fake Left. "I'm going to give him a jog. I'm going to swing him on behind on the lead. He needs a bit of loosening up after a trip up and back to Kaikoura yesterday. Two and a half hours there, and two and a half hours back, and then a race. It's a big day out. He never got in to the race at all, got submerged at the start, stuck on the second row and never got a run from there on in." Fake Chance, otherwise known as Herbie, as if to illustrate Stan's point, stretched a hind leg like an old man getting out of a chair.

When we visit it is Tuesday, exactly a week before Cup Day, and Stan is unsure if Herbie's going to get a start. To give you an idea of where Herbie sits in the scheme of the NZ Trotting Cup, fixed odds for favourite Monkey King are at $3.50. Herbie's adds are $81. "We're hanging in there for the Cup, there's four of us hanging in. We don't have a start as yet, do we Herbie? There's four horses vying for two spots at the moment. That's how close we are to getting in or getting out."

He doesn't care if he wins the Cup or not, all he wants is to have a horse in the race field. And when I asked him who will get his bet on Cup Day, he replies: "Stunin Cullen." Still, having Herbie in the top race would be a nice birthday present for Stan who turns 74 on November 16. "We tried last year and missed out. We're just not quite up there when those real good ones get the advantage, they're just that little bit slicker. It's the staying side of things where Herbie can figure."

Should Herbie get a start, Stan has no plan of attack for the race. "I'll just keep training the horse and keep him up to it. It's a tough race. I have others in work at the moment. One's qualified and the other one's not. Herbie is it and he's nine years old, he's not going to go forever." Two horses geared up and waiting to go for a jog are tied to a post. One is resting a hind leg, and looks like a woman of certain disposition leaning against a bar.

Stan and Bev bred Herbie themselves. His granddam, Debbie's Chance, won six races. "She's our other good horse." Our conversation is interrupted by two yearlings pawing the gate next to us with their front hooves and Stan strides off, grabbing a small stick wedged into the corrugated iron fence next to the paddock. It is clearly stored there fo this purpose. He waves it in the air above him, and the two cheeky horses inch backwards with their ears pricked.

In preparation for the Cup - a race that lasts mere minutes - Herbie has been in work since winter. Stan gets up before the sparrows each morning to take him for a jog or fast work on the beach, because it's good for his legs. Herbie's that is. "He's been in work since winter time. Normally they don't start quite as early as he did. We took the option we might try and win some money then rather than now. It's harder to win it now and compete against these other horses."

Stan takes Herbie's cover off to reveal a glossy coat. Together we try to get Herbie to pose while photographer Dean Kozanic smilingly makes a comment about never working with children and animals. Stan makes clicking noises with his tongue. Herbie presses his nuzzle into Stan's chest for a pat. Grabbing a lead, Stan decides to take Herbie out of the box so we can get a better shot. Herbie whinnies gently and stretches his hind leg again. He lifts his head up quickly, almost whacking Stan. "Herbert!" Stan says sharply.

Do horses need to load up on carbs before a big race like their human counterparts? To keep him in good nick for racing, Herbie gets "five kilograms of Golden grain mix from Ashburton, chaff, hay, that sort of thing. It's formulated for horses, all you've got to give them so they say; well, according to the packet. Herbie looks well on it."

To date, the race win that has brought Stan the most pride was a hometown one. Earlier this year, Herbie, driven by Mark Purdon, claimed the $50,000 Rangiora Equine Services Rangiora Classic. "The only cup we've won is the Rangiora one. We got a photo of Herbie with the cup on the wall. We wanted to get one of those photos for years but it never happened, now he's up on the wall. It's a nice photo. Monkey King was in the race that day, he finished down the track."

Part of the attraction of harness racing for many is that while you can do everything you possibly can, essentially anything can happen in a race, and luck plays almost as big a part as preparation. Outside chances can romp home and make dreams come true in just a few minutes. Borana did it in 1985. "A sudden downpour can change everything. It's all down to on the day, anything can happen."

Like everyone else, Stan gets dressed up to go to Cup Day, and having a horse in the Cup field is something he's dreamt of, and worked towards, for decades. "I've been doing this for 50 years and to get one in the Cup, never mind winning it, just getting in the Cup field, that's enough for me. If I don't get in, well, too bad. At the end of the day, you can't always get the horse to get there, can ya? Hopefully he can grow another leg on Cup Day and do something with it."

Herbie does the horse equivalent of a sigh and looks at Stan with big brown eyes. No pressure, Herbie, no pressure.

Credit: Vicki Anderson writing in The Press 6Nov2010


| | |
| --- | --- |
| | RACING HISTORY PEOPLE |

DENIS NYHAN

Your first (Cup) win was behind Lordship in 1962. You were young then. Did any nerves affect you on the big day?

Well, you can't afford to be nervous. There is too much going on. Lordship had worked brilliantly leading up to the Cup and Russell Cooper had just crafted a beautifully built new Bryant cart which we had. It had shorter shafts. We tried it on Lordshipon the Sunday and he was fine. Everthing went well until Cup morning.

And?

We were out doing stud work (with Johnny Globe) on a lovely morning and then it started to bucket down. We just didn't know how he would handle it. That affected the confidence. As I remember it we got a beautiful run in the one-one and he handled th wet well.

He beat the great Cardigan Bay twice at that meeting but he didn't line up against him in 1963.

He galloped in the Free-For-All in 1962 but then still beat Cardy. I mean they were great horses at that time. But on the last day he felt "noddy" warming up for the first time. He developed needle splints and he hardly raced in 1963-64.

He won the Cup again in 1966, a long time apart and he gave the others a 42-yard start. He must have been a good beginner.

He was a marvel, really. In between all that trouble he still won all the best races (45 wins). As an older horse he could get on the toe at the start. One day he broke a crossbar on the cart kicking it. But when they said "go" he was off like a rocket. That day I started him out in the middle of the track, a big help if you were on a handicap because you were on your own and could angle him straight to the rail and make up the ground. I think we actually led for most of the last round that day.

What made him special to drive?

High Speed. Lordy had unbelievable acceleration. He could circle a field of top class horses - and I mean real top class horses like Robin Dundee and company - in a furlong (200m) and it just gave you an extra dimension in the race. He was also a clever horse on his feet. Very manoeuvrable in a field. A dream horse really.

Who did you model your driving style on?

Bob Young was a driver who always appealed to me. He balanced his horses up so well and he always looked in control. But there were a lot of genuinely great horsemen about then. And I learned a lot when I worked for Eddie Cobb in America.

Such as?

There wer those great horsemen operating therethen too, legendary fellas. Delvin Miller, Cobb, Stanley Dancer, John Simpson. Clint Hodgins was my special favourite. He was a big man, tall, always ice cool and alwaysseemed beautifully balanced in a cart so his size didn't seem to matter. They had two real champions then, Adios Butler who was more of a speed horse, and Bye Bye Byrd, more of a stayer. I saw Clint win a big race on Bye Bye Byrd with a great drive one night. I used to think then wouldn't it be great one day to be good enough to drive great horses like that. I never forgot it.

Robalan paced free-legged of course. There were hardly any free-legged pacers then. It must have been a gamble to take the hopples off.

Not really on looking back. At home we used to work Johnny Globe and Lordship free-legged and they were fine. They were just better with hopples on raceday. Robalan was better without them. He was a beautiful pacer actually. He won a lot of races on the smaller tracks, Hutt Park and Forbury. He could use his speed just as much as on the big ones.

He had a lot of tries before he won the Cup. Why was that?

Well,one year another driver spent all his time looking after me instead of trying to win on his own horse, but basically he wasn't really a two mile(3200) horse. Robalan had phenomenal speed over short distances, probably even faster than Lordy. When he won the Stars Travel Miracle Mile he drew the outside and just blew them away pace and ran world records. He could be a bit keen in his races wanting to use his speed, so while he could stay alright in a two mile race he could take a bit out of himself. We never worked him hard at home to keep him relaxed.

Like what?

My wife Denise (a daughter of great trotting trainer, Bill Doyle, for whom Denis drove Wipe Outin two Cups) did a lot of work and travelling with him, but I don't think from memory he ever worked faster than 4:50 for two miles before a Cup.

Only just before he won in 1974 he collapsed dramatically in a trial. What caused that?

We never found out. They went all over him but he just came right on his own, not long before the race. In the actual Cup Trial he was as good as ever.

So what are the secrets to driving a Cup winner. Does the thought of winning affect your tactics?

You don't think of winning. It is a mistake if you do. You go through processes aimed at getting the best result and that's all you can plan for. Even when you've done everything right you still need a bit of luck on your side. Winning is the best outcome but only one. And while it is like driving any other race, in theory it isn't really because of what is at stake.

Processes?

Knowing every other horse, how it races, the driver's style, checking the colours are still the same in the prelim. Working out where the best horses might be, the ones which will give you a run into the race. That is very important, following the right horse, things like that. You also have to stay cool and have disipline, like Clint Hodgins.

Disipline?

Some drivers change their styles in big races. You never saw the top American drivers do that. They adapted to each horse but they drove in their established style. You can get into trouble doing somethingfancy and different. The same spot in the field can be the best place to be and the worst.

You alway carry a watch. How important are sectional times?

Most important of all. A really good horse can feel like he is going easily when in fact he is running terrific sectionals and they can run themselves out in a big staying race without the driver being fully aware of it. You've seen them on Cup Day. You need to check that it is not happening to you. You can't make a decision on a watch but you can checkthat the ones you are making are right

Any unusual things you did?

Funny thing, I always make a point of studyingthe first race of the day. It was a trotting racebut it was over the Cup distance. I liked to see if they were going at high speed and then checking it off against the times. It gave me a feel for what the Cup might be like. The tempo of the race is everything.

It all sounds like hard work. Did you always get the right answers?

Even if youy are doing everything right you can't afford for something to go wrong at vital stages of the race. That is where the luck comes in. You always need some of it.

Credit: David McCarthy writing in The Press 6Nov2010


| | |
| --- | --- |
| | RACING HISTORY PEOPLE |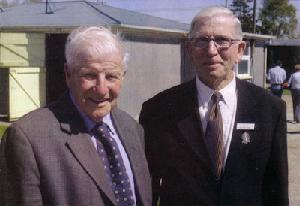 Keith & Bevan Grice

GRICE BROTHERS INFLUENCE

Keith and Bevan Grice have been breeding from the family of Captain Peacock for 51 years.

Captain Peacock (Live Or Die-Enchanting) won the NZ Derby in April and is engaged in the 3-Year-Old Emerald at Cambridge on Saturday. The Grices also bred Ima Gold Digger (Sundon-Janetta's Pride), a leading contender for the 4-Year-Old trotters section.

Phil Kennard, a Christchurch part-owner of Captain Peacock, is also in the ownership of Major Mark, a contender for the 2-Year-Old Emerald. Kennard is in the GAPMAD Syndicat who race Captain Peacock in partnership with the brothers Grant Ball, of Christchurch and Darren Ball, of Sydney, and Warren Wyllie and Richard Boon, of Christchurch, from the Ladbrooks stable of Dean Taylor. Mark Jones is the driver of Captain Peacock. Others in the GAPMAD Syndicate are Michael and Gerard Dawson, of Oamaru, Alister Strachan, of Oamaru, Angela Mowbray of Methven and Des Aitcheson, of Oamaru.

Captain Peacock is the first foal of Enchanting who won her first start when trained by Taylor and driven by Jones. That was a race for 3-Year-Olds at Motukarara in December 2003. Grant Ball was in the ownership of Enchanting (Sands A Flyin-Go Anna), who was put to stud after being unplaced in a further five starts. "She was badly conformed," recalled Taylor.

He had become involved with the family when he trained her dam, Go Anna, to win four races in the mid-1990s. Go Anna died in 2003 after leaving four foals. She left another filly, Lancashire Witch (by Tinted Cloud), the winner of three races. Go Anna was by Dancing Master from Kerry Khan, by Noodlum from Lady Barbara, by Lordship from Barbara Del, by Armbro Del from Coo Doo, by Morano from Lady Dimp, a Nelson Derby mare the Grice brothers began breeding from in 1959.

They bought her from their cousin, Len Grice. Their uncle, Jack Grice, owned and trained the 1952 NZ Derby winner, Rupee. Another uncle, Ben, owned and trained Haughty, winner of the NZ Cup in 1942 and 43. Lordship won the NZ Derby in 1961 and Noodlum won the race in 1974.

Coo Doo won the 1971 Welcome Stakes, and other big winners from this equine family include Palestine and Derby, who won nine races in succession in the early 1980s. "Winning the Derby is our finest hour," Keith (84) said. Bevan is 79. "We have always felt that with good stallions and good trainers this family would reach the top. We cannot speak too highly of Dean Taylor," he said. "Breeding horses is our hobby, and we have been at it ince we left school."

Credit: Taylor Strong writing in HRWeekly 2June2010


| | |
| --- | --- |
| | RACING HISTORY PEOPLE |

HERBIE MOASE

Herbie Moase, who died recently at the age of 97, was part-owner, trainer and driver of the top trotter, Inflammable. His partner in the horse was Frank Bebbington, whose father Reg employed Moase when he was farming and training in Mid-Canterbury.

"He was a naturally good horseman," recalled Frank. "He came back from the war and bought a farm, and I'm sure Peter Wolfenden started off with him. Later on I remember having a few beers with him at his 'local' and by the end of it he'd somehow got Inflammable off me while I kept Royal Armour. They were both top trotters about the same time."

Moase won seven races with the son of Stormyway and Flame, the last of them at Auckland in 1971 over Easton Light, Flagon Wagon and Cavil - the same day Bebbington won at the Cheviot meeting with Baffle Girl.

"Inflammable had the ability to open yard gates. He was stabled at Otaki for a meeting, it might have been Hutt Park, when Herbie heard that eight horses were loose in the town. Inflammable had got out, and went round and opened the others."

Credit: HR Weekly 15 Dec 2010


| | |
| --- | --- |
| | RACING HISTORY PEOPLE |

NEILL ESCOTT

Neil Escott, Harness Racing New Zealand's Chief Stipendiary Steward, has announced his retirement. This will take effect from January 32, 2011.

Escott began his career with the NZ Trotting Conference in 1973 as a trainee stipendiary steward. He progressed through the stipendiary ranks and was appointed Chief Stipendiary Steward for harness racing in 1999.

In announcing his retirement, Escott said "It has been a pleasure to work in the harness racing industry. Over thirty-seven years I have met and dealt with some wonderful people and thoroughly enjoyed providing a contribution to maintaining the public's confidence in harness racing. I have particularly enjoyed working with the dedicated staff of HRNZ, in particular my fellow stipendiary stewards and racecourse inspectors.

"During my time I have seen considerable change in the structure of harness racing and the judicial systems within. I am confident with HRNZ's judicial staff that the industry will continue to be well served in the future."

Credit: HR Weekly 15 Dec 2010


| | |
| --- | --- |
| | RACING HISTORY MESCELLANY |

The major 5.1 magnitude aftershock in Christchurch this morning at 7.49am has led to the abandonment of tomorrow nights (Thursday) Harness Meeting at Addington Raceway.

The decision to abandon the meeting was made by the Club in conjunction with HRNZ officials.

Addington Raceway CEO, Shane Gloury, explained. "Everybody here worked so hard to get the place ready to go after the weekend, but this mornings' aftershock put us back to where we were after the first quake.

"There is a range of issues that necessitated the abandonment. There is damage in many of our major rooms in the Metropolitan Stand – we've had ceiling tiles and light fittings that have collapsed and have been strewn across the floor, TV's that have been destroyed, broken glassware and crockery and our lift has also been damaged. Many of the rooms are a mess.

"We also have the Welfare Centre at the Raceway in the Twiggers Stand There were 280 people that stayed here last night and that number is expected to swell after this morning's aftershock which means that the Welfare Centre will require use of more rooms and facilities here over the next 48 hours. The Drivers' Rooms and First Aid areas are also currently being used as a quarantine facility for those that are ill.

"Engineers inspected our building structures this morning not only to ensure the safety of those in the Welfare Centre, but also the other buildings that we use on race night. On a positive note there has been no structural damage to any of our buildings and the racetrack, lighting towers and stables all appear to be fine."

"When you consider that tomorrow night's racemeeting was to be at night, the wider obligation we now have to the community in respect of the Welfare Centre and the fact that aftershocks could occur during the racemeeting which could potentially threaten the health and safety of patrons, participants and workers, the decision became easy. There's just too much risk involved to allow us to proceed with the racemeeting tomorrow night."

All events scheduled at Addington Raceway through until Sunday 12 September have been cancelled including two greyhound race meetings and the Great NZ Craft Show. Addington expects next Monday's trials to be conducted as planned and that harness racing will resume next Friday night for the feature Avon City Ford/Ordeal Cup meeting.


Credit: Shane Gloury


| | |
| --- | --- |
| | RACING HISTORY INTERDOMINIONS |

2010 INTERDOMINION SERIES

In a departure from tradition the Series will be held at three venues. Harold Park on Friday 19 February, Newcastle Saturday 27 February and the Finals at Menangle on Sunday 7 March


| | |
| --- | --- |
| | RACING HISTORY HORSES |

2010 AVON CITY FORD (NEW BRIGHTON) CUP

Tim Butt has the high ground as the preliminaries take place for the bigger hurdles ahead. He has won three major paces in the last month, starting with Stunin Cullen, continuing with Raglan, and then again after a classy repeat by Stunin Cullen in the Listed Avon City Ford New Brighton Cup at Addington last Friday night.

This was a sublime performance by Stunin Cullen, who has two priceless talents: brilliant acceleration, and a quick step off the mark. Driver Anthony Butt used both in the Cup, his manners gave him a flying start, and his speed to race off to an early lead and again clear them on the corner.

Monkey King, who was second at that stage after a slow start and a big run to sit parked at the 800m, was never a serious challenger in the straight and driver Ricky May knew it, choosing to drop in behind Stunin Cullen at the 300m. He was a strong second, holding off Raglan, who edged Bondy out of third.

Stunin Cullen is close enough to being the early favourite for the Christchurch Casino New Zealand Cup, though that might change when Monkey King makes the improvement that is coming. Whether Stinin Cullen has the stamina to complement his speed is a question that he will answer before too long. "I've said all along that he has more speed than any other horse I've driven, but he'll never be Flashing Red tough," said Anthony. "He's a lot more relaxed. I was reluctant to make mid-race moves with him before because of his breathing difficulties, but I wouldn't be now," he said.

Brother Tim knows that speed alone will not be enough to win at times, and says "there are other ways of winning races". This season, Stunin Cullen has achieved his two wins in front, but his second in between wins to Raglan, showed that he was even more lethal coming from off the pace. He says the horse will have an easy time for a week or two and probably have two more races before the NZ Cup.

The return of the stablemates Monkey King and Power Of Tara produced runs much as expected, Monkey King slow off and indicating a lack of match fitness near the end, and Power Of Tara pleasing although 10 lengths off the winner. Trainer Benny Hill was more than satisfied.

Credit: Mike Grainger writing in HRWeekly 22Sept 2010


| | |
| --- | --- |
| | RACING HISTORY HORSES |

IN THE POCKET

In The Pocket, the stallion bred by Brittany Farms in the USA who came to New Zealand in 1993 and revolutionised our harness racing breed has died. The outstanding son of Direct Scooter and Black Jade who won $1,537,473 on the race track in the US pacing 1.53.8 as a two-year-old, was put down at Wai Eyre Farm in North Canterbury and is buried there.

In The Pocket (23) leaves behind an outstanding number of top horses to carry on his legacy in New Zealand including siring sensations Christian Cullen, who set four New Zealand records and won 22 races including the the New Zealand Cup, and the pocket rocket, Courage Under Fire, who won 34 races including 6 Derbys.

But it doesn't stop there. In The Pocket is also the sire of many, many more standouts including Changeover, Winforu, Tribute, Bella's Boy, Light And Sound, London Legend, and London Pride, aswell as the speed queens Tupelo Rose and Under Cover Lover.

He is the sire of more than 600 winners in New Zealand and Australia with combined total earnings of more than $26,500,000. While in North America he has also been and an outstanding siring success with such standouts as Sanabelle Island (1.50.8 $1,660,526 57 US wins) and Crew Cut Zach (p4 1.51.4f $1,006,055, 53 US wins) sired by him.

Voted stallion of the Year in 1998/99 and 2003/2004 In The Pocket, stood at Woodlands Stud, near Clevedon in Auckland, for many years before being purchased by Ian Dobson in September 2005 to stand alongside his most famous son Christian Cullen at Wai Eyre.

The In The Pocket Syndicate was formed with Darryl Brown, of Wai Eyre Farm, and another prominent Canterbury owner, Noel Kennard, joining Dobson in the ownership of In The Pocket .

Brown said he had a small share in the stallion. It was a sad day for the stud to have to put In The Pocket down. The stallion was 23 and had left a very strong legacy of horses.

Noel Kennard said it was "incredible to be involved with such a fantastic individual."

"He has revolutionised our breed. If it wasn't for him we wouldn't have Christian Cullen, or Courage Under Fire, or any of Cullen's many outstanding sons. In The Pocket was a stunning individual," Kennard said.

-o0o-

Frank Marrion writing in HRWeekly 8Sep2010

In The Pocket may have passed away early last month, but his legacy is going to be inestimable.

The best sire New Zealand has seen in modern times since Smooth Fella and Vance Hanover, and only to be surpassed by the success of a son, In The Pocket will live long as a sire of commercially successful sires in Christian Cullen and Courage Under Fire and now quite possibly Changeover. But his influence and contribution to the New Zealand breeding industry is going to extend well beyond that.

The first shuttle sire to step foot in this part of the world when he arrived in 1993, In The Pocket brought refinement, gait and speed to a broodmare population which in many ways was still old fashioned and often course insofar as types. New Zealand's broodmare population was brought up to speed so to speak by a class horse, but even more important was the outcross factor that In The Pocket brought to the table.

At the time when the pacing population around the world was becoming saturated with Hal Dale and Meadow Skipper blood, as a son of Direct Scooter and a Tar Heel mare, In The Pocket proved the perfect foil - he could be said to be the right horse in the right place at the right time for New Zealand. Now New Zealand has a significant proportion of broodmares by In The Pocket, Christian Cullen and Courage Under Fire among others - a much higher percentage than anywhere else in the world anyway - and is brilliantly set up to take advantage of the next round or stage of leading sires or high-profile pacng prospects straight off the track.

The value of outcross blood in a broodmare population cannot be underestimated, so thanks to In The Pocket, New Zealand breeders both individually and collectively have a lot to thank him for. The best present example of this can be observed in Bettor's Delight, a sire with no less than 16 crosses to Hal Dale who was crying out for outcross blood in his mares, and sure enough he has crossed brilliantly with In The Pocket and Christian Cullen mares. It is the speed factor of the Direct Scooter and In The Pocket sire line which is proving so effective and complimentary to the toughness that a sire such as Bettor's Delight from the Cam Fella line can offer.

There was nothing fashionable about In The Pocket's pedigree when he hit the ground in February of 1987, but he was a top class juvenile who won over $1.5m by the end of his 3-year-old season, being second only in performance that year to Horse of the Year Beach Towel. Lou Guida was involved in his ownership then, before George Shaw bought him for stud duties in America. In The Pocket initially stood for two years at Walnut Hall in New York before moving to Winbak Farm in Maryland, a State which allowed him to shuttle, while later he also stood in Ohio.

Before settling into a more permanent home at Woodlands Stud and then at Wai-Eyre in his twilight years, In The Pocket also stood at Vance Lodge in Auckland, at Lantana Lodge and the Stallion Station at West Melton, while also doing a stint at Alabar in Victoria. We can therefore count nine individual farms he frequented during his stud career which spanned two decades, with eight of those years spent doing time in both hemispheres. In The Pocket didn't always get a lot of favours in his life, but it would be fair to say that he has been good - and he was always a lovely horse to be around - to all those who came into contact with him in some form or another.

While he didn't make it as a sire in America without the support of a big stud or syndication after being placed outside of the major breeding States, In The Pocket was an immediate success in New Zealand. Christian Cullen and Under Cover Lover came from his first crop, and they were quickly followed up by Courage Under Fire, Classy Filly and Tupelo Rose among others. Star youngsters such as Light And Sound, Bella's Boy, Lennon, Advance Attack and Tribute would follow before Changeover would prove a crowning glory. The success of Christian Cullen and Courage Under Fire as racehorses and as sires is entirely another story.

In The Pocket's record presently shows about 660 New Zealand-bred winners from 1300-odd foals for a winner-to-foals percentage above 50, when 40 percent is an accepted success rate, while he has another 27 Australian-bred winners from the handful of foals he produced each year there. And his North American stats show 537 winners of over $50m, with 169 six-figure winners headed by the super mare Sanabelle Island ($1.6m). In New Zealand, he was a two-time winner of the Sires' Premiership and among the leading sires every year for the 12 consecutive seasons between his first crop racing as 2-year-olds and last season, when declining foal numbers saw him dip out of the Top 10 for the first time. As a broodmare sire he already has well over 200 New-Zealand-bred winners, headed by Bettor's Strike and Tintin In America

It was five years ago now that Ian Dobson along with Noel Kennard and Wai-Eyre studmaster Daryl Brown purchased In The Pocket for what was then a record price, and he settled into a peaceful semi-retirement in North Canterbury alongside his super sire son. There was always a question mark over In The Pocket's fertility, which was probably not all that surprising in his latter years after what he had been through as a shuttle horse, but his last crop will be five yearlings from a book of 29 mares. He has three fillies entered for next year's Sales, but no further foals after four mares came up empty last season.

Brown says the decision to put In The Pocket down a month ago was not a difficult one when he suffered "quite a bad bout of colic. We could have operated to save him, but he was already retired and had had a good innings."

Thus when most sires are looking forward to a new season at stud, In The Pocket has gone to the great breeding barn in the sky, safe in the knowledge that he will be remembered for a very, very long time.



Credit: Shelley Caldwell writing in Harnesslink


| | |
| --- | --- |
| | RACING HISTORY HORSES |

KIWI INGENUITY

Grand racemare Kiwi Ingenuity has almost certainly finished her racing career. Trainer Robbie Holmes all but confirmed the retirement after she cut her off-side tendon sheath at the back of her fetlock joint near the finish of the Christchurch Casino New Zealand Cup at Addington on Tuesday.

The cut was "very deep" said Holmes. "It's been stitched and she will stay for a week at the Canterbury Equine Clinic," he said.

While Holmes has left the door ajar in case there is a longshot change in plan, part-owner Hamish Scott said the decision was "ninety-nine percent. She's done a wonderful job, and her career from here is really as a broodmare." Holmes said racing her again wasn't really a risk worth taking. She had a tenative booking to Art Major a year ago, so I'm pretty sure that's what will happen now."

Holmes was confident of running into a place in the Cup until she started going "slightly rough" halfway up the passing lane. "I thought I'd run a hole the way we were going. She paced the last bend very nicely, then went rough for no reason at all. She got organised, and then did it again." Holmes said she caused the injury with her second break.

Kiwi Ingenuity won 11 of her 27 starts, and with 8 placings earned $523,200. Her notable wins included the Southland Oaks, the Group 1 Wayne Francis Memorial New Zealand Oaks, the Pelorus Classic, the Group 2 Caduceus Premier Mares Classic, the Group 1 PGG Wrightson Breeders' Stakes, the 4YO Diamond at the Harness Jewels in 1:52.1 and the Group 1 Rosslands Queen Of Hearts at Alexandra Park after her fourth in the Miracle Mile behind Monkey King, Smoken Up and Karloo Mick.

Credit: Mike Grainger writing in HRWeekly 11Nov2010


| | |
| --- | --- |
| | RACING HISTORY FEATURE RACE COMMENT |

2010 ANTHONY SHEARER/PINK BATTS ORDEAL TROTTING CUP

Master Bomber's win in last Friday's (September 17) Ordeal Trotting Cup (Listed) was just the tonic for harness racing owner Hubert Christey. Gerard O'Reilly married Christey's daughter Jane and now trains the seven year old. Christey suffered a stroke just over two months ago, and with on-going complications the 79 year old has only just been released from hospital.

"Yes he's been through a tough time lately and it was a real pick me up," said Gerard O'Reilly. Master Bomber himself has been the focus of an ongoing problem for O'Reilly also, with a quarter crack the original reason the Rakaia trainer attained the son of Armbro Invasion.
"The father-in-law did a great job and won seven races with him, but he had a nasty quarter-crack and we've had him since December. Kerry (O'Reilly) tried hard to get it right but it just wasn't working so we were forced to tip him out," O'Reilly says. A six week break that included the addition of a bar shoe, constant tubbing and bathing in bluestone (copper sulphate) helped the Bomber make a full recovery from the debilitating ailment.

Master Bomber received a solid build-up this time in with several workouts and trials stripping him fit for the Ordeal. After dropping into the 1-1 early O'Reilly popped in front of the three wide train at the 1400 to get handy again. Forced back in the field turning in, Master Bomber still had plenty of work to do. Leader Ray looked to have stolen a break at the top of the straight but it was to be short lived as Leighton Hest, Roydon Flash and finally Master Bomber made their final assaults, the big Bomber diving late to grab the leading duo in the shadows of the post, beating Leighton Hest by a half head. In a tight finish Roydon Flash was only a head away in third.

The win was just what the doctor ordered for Hubert Christey, it is hoped the long-time harness racing patron will make a full recovery, we wish him all the best. Master Bomber will now be aimed towards a start in the Banks Peninsula Trotting Cup at Motukarara on October 3. "He's won on the track before and should be better for the run the other night," O'Reilly said.

Master Bomber has now won eight of 33 starts and has been placed on 10 occasions with stake earnings of $84,000.


Credit: Steve Dolan writing in Harnesslink


| | |
| --- | --- |
| | RACING HISTORY FEATURE RACE COMMENT |

Late last month Cavalla Bloodstock bought Power Of Tara off the group of owners that had enjoyed much success with the big Live Or Die gelding. It didn't take Power Of Tara long to register his first win for his new owner either. Just three weeks on he was winning the Blue Jean Cuisine Winter Cup and doing so at lucrative odds of $25.

2010 BLUE JEAN CUISINE WINTER CUP

Stephen McNally took the reins of the fourth-string Brendon Hill runner in the 3200m contest on Friday night. Bailey's Dream, Harley Earl and Tennis Ball were all more favoured than their stablemate but getting up to the 3200m generally sees the big horse come into his own. This was the case on Friday night when a patient drive by McNally paid dividends with a late burst that gained a narrow win.

Rangataua Ray got closest to Power Of Tara -the pair combining for a $187 quinella. Nominal favourites Bailey's Dream and Bettors Strike could only manage third and fourth respectively. The pair effectively cancelling each other in the running, which left it open for a swooper to upset.

The former Group 1 winner, Power Of Tara, is now likely to tick over before a tilt that the spring cups that culminate in the Christchurch Casino NZ Cup on November's second Tuesday.


Credit: HRNZ Website


| | |
| --- | --- |
| | RACING HISTORY FEATURE RACE COMMENT |

2010 GARRARD'S NZ SIRES' STAKES 2YO FINAL

Major Mark did not have long at home to recover after his brave win over his stablemate Le Sol in the Garrard's Sires' Stakes 2-Year-Old Final at Addington last Friday night. He was on the road with Russley Rascal at 6.30am on Sunday morning, stopping overnight at Bulls and joining the Pukekohe team late on Monday. Nine others of the Mark Purdon/Grant Payne team left on Tuesday, where the assignment is the Harness Jewels at Cambridge on Saturday week.

On form and money-won, Major Mark heads the field, but it could be argued he has competition in all other aspects. The Muskeg Express was a nose and a long neck from winning the Final, having made it near impossible to win after breaking soon after the start and settling back. He was at ther back of the bunch at the 800m, and produced a finish from there that was as good as the winner's. His rewards to date are meagre compared with his enormous potential, a last start eighth behind Thumpem which should have been a win, and a brave fourth behind Major Mark the time before.

In any event, this again was not his night, but it was Major Mark's, and he more than made amends for a performance behind Thumpem that was not typical of what he'd done the start before. "He just got on one rein in that race," said Purdon. "I got (vet) Bill Bishop to go over him, and there was really nothing he could find, other than he is growing and developing. It was pretty much an all-round performance, and he must have run his quarter down the back in better than 28.7. It was a tough effort, but he had showed me that in the Young Gun series. From the run he had, I really thought Le Sol should have beaten him, even by half a length. He wasn't stopping, but he was battling near the end."

-o0o-

HRNZ website

Major Mark got his big win in the Garrards NZ Sires Stakes Final last Friday but much of the post race chat on-course surrounded the deeds of The Muskeg Express.

Major Mark was super-game in edging out his stablemate Le Sol for the victory but the effort of The Muskeg Express to place third after an early break was surely one of the runs of the season.

The race evolved through many changes. After The Muskeg Express's early mistake that saw him drift back to the rear of the field Thumpem took control of the race, looking towards a rich double. The moves didn't come until midrace. Ransom Olds was parked and the three-wide line was carried up by Ohoka's Bondy.

Nothing changed until Major Mark and Mark Purdon lit the fuse down the back straight the last time. In a scintillating burst Major Mark arrived outside Thumpem with 600 metres to run. Anthony Butt and The Muskeg Express had to get going too. Five lengths behind Major Mark but making ground they trudged around the field inside the last 600 metres. Butt well aware that a placing outside of the first five and there was no Harness Jewels start for The Muskeg.

Entering the home straight the Purdon paid sorted themselves out from the rest of the field. Le Sol on the inner, Major Mark out wide. By the barest of margins Major Mark claimed the win. Just a couple of pixels back was Le Sol and a hard charging The Muskeg Express was third.

The drama wasn't over there though. The Muskeg Express then had to stave off an enquiry into his early break. With stewards satisfied no rules were breached placings were duly authorised.

As little as two weeks ago punters could have got as much as $41 for the Muskeg Express to win the Harness Jewels. Following his blown win in the PGG Wrightson the odds crashed into $8. Following last week's herculean third $3.50 is all punters can get before the barrier draws come out on Friday.

The Sires Stakes win was Major Mark's sixth this season and in his career. The $101,200 first prize money took total earnings past $280,000. Friday's win was Group 1 number two following on the heels of his Welcome Stakes win last month.

Credit: Mike Grainger writing in HRWeekly 26May2010


| | |
| --- | --- |
| | RACING HISTORY FEATURE RACE COMMENT |

2010 WAYNE FRANCIS MEMORIAL NZ OAKS

De Lovely showed talents her mother didn't whe she slayed the best fillies in town at Addington last Friday night. She sped away from 13 others in the $125,000 Wayne Francis Memorial New Zealand Oaks, cracking the New Zealand record of 3:11.8 set by Pullover Brown by running the 2600 mobile in 3:10.9.

This was a steamy mile rate of 1:58.1, and driver David Butcher said there was "no real let-up" in the tempo of the race from the start. Butcher was up and gone from the second line soon after the start, with the pace set at various times by the stablemates Meredith Maguire, then Secret Potion and from the 800m by Lancome.

Butcher had De Lovely tucked in within three lengths of the leader at that stage, and most were starting to feel the pinch turning in. De Lovely descended on them so quickly that she was level, past and clear inside 50 metres. "Her mother" - Copper Beach, who won the Oaks in 2004 - "couldn't have done that," said Butcher. "She could wind up and keep going, but this filly is better gaited and has more sheer speed. She could be as quick as anything I've driven, and that puts her up there with TinTin In America."

Butcher has noticed a new dimension to her growing abilities, and after a quiet race last week he wasn't afraid to see if she had it. "I asked a bit more of her tonight, and she stepped up a notch."

The race was also a triumph for the rising 29-year-old Falcon Seelster, who has had a long and remarkable influence as a sire in Australasia. Nevele R purchased the horse in 1995, and he has been notable for endless numbers of top performers, 269 who have gone 2.00 or better. As a broodmare sire, the exciting Franco Emirate is from the Falcon Seelster mare Elisit Franco, who won three of sixteen starts and is the dam of a yearling colt by Live Or Die.

-o0o-

HRNZ Website

It was another classic David Butcher drive and another Geoff Small New Zealand Oaks. De Lovely burst away from her rivals in New Zealand Record time last Friday night to give Small his fourth win in the Group 1 feature.

The pace was on from the outside with Suidelike Meisie firstly then Meredith Maguire leading. Butcher was first to move from the midfield on De Lovely and once Secret Potion had found the front he ended up lobbing the one-one for the ride home. Lancome made a dashing move to lead down the back straight the last time but life didn't change for De Lovely and Butcher until he showed her clear air rounding the home bend.

De Lovely burst out of the one-one like a cannon and quickly put the race beyond doubt. Lancome fought well and the remaining minors were battled out between Meredith Maguire, Royal Cee Cee and Secret Potion.

De Lovely pulled together a nice link with her win also. The Wayne Francis Memorial NZ Oaks was won by a daughter of Falcon Seelster, a stallion Francis was instrumental in bringing to our shores in the mid nineties.

The crowning glory of De Lovely's win was the New Zealand record she posted. 3.10.9 clipped 0.9 of a second of another Small Oaks winner's time, Pullover Brown, in 2003.


Credit: Mike Grainger writing in HRWeekly 26May2010


| | |
| --- | --- |
| | RACING HISTORY FEATURE RACE COMMENT |

2010 RENT-A-LOO CANTERBURY PARK TROTTING CUP

Paul Nairn is harness racing's most talented trainer of trotters in this country and last Friday night (October 16) the Leeston horseman picked up yet another group victory. Dr Hook made it seven wins from 18 starts, when in the hands of David Butt the son of Dr Ronerail kept many of the country's best squaregaiters at bay, winning the Group Three Canterbury Park Trotting Cup.

It was a typically fluent trotting performance in those famous colours that once belonged to the great Jack Litten and Caduceus.

Anthony Butt found the front very early on with Ray before conceding the lead to cousin David on board the loose favourite. The move posted Stylish Monarch three deep and desperately in need of a clear run in the home straight, but with slick sectionals of 57.7 and 28.6 it was left to Master Bomber to breach the gap, eventually falling short by a neck with Stylish Monarch closing well for third. With the race being run over 2600m this year, the first time since 1986, it wasn't hard for the winner to eclipse Basil Dean's former record of 3.22.4 set back in 1984, Dr Hook stopping the clock in 3.17.9.

David Butt has struck up a solid relationship with Dr Hook after replacing Jim Curtin. "It was a bit of shame for Jim really that he had that wrist problem," says Paul Nairn. "Jim was getting on good with the horse and he's just starting to become a bit more solid, but David's doing a good job with him now and will continue to drive him for as long as he wants." Butt and Nairn have combined to collect some pretty hefty ransoms over the years, Call Me Now, Above The Stars and Stig, as well as Kahdon have all won group one races with Butt in the sulky.

Nairn is loath to compare Dr Hook to any of the other great or even talented trotters he has trained in the past, preferring to let them simply perform to their merits. "I just train them and try to have them as good as I can get them, I don't make to many comparisons and leave it up to the horse to do his thing," Nairn said. A close relation to champion trotter Stig, Dr Hook will now head to Ashburton on Monday for the Trotters Flying Mile on a track that Nairn believe will suit the five year old. "The big track will be perfect for him, he'll get around the bends nicely and he's raced well over a mile before."



Credit: Steve Dolan writing in harnesslink.com 19 Oct 2010


| | |
| --- | --- |
| | RACING HISTORY FEATURE RACE COMMENT |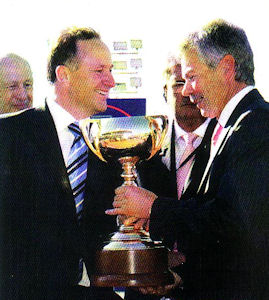 Prime Minister John Key making presentation to Robert Famularo

2010 CHRISTCHURCH CASINO NEW ZEALAND CUP

Not everyone had given up on Monkey King. Benny Hill hadn't, nor Ricky May, or 'the Addman' - farrier Adam White, and not the Famularo family. And when Hill heard the noise of the crowd when May brought Monkey King onto the track for the Christchurch Casino New Zealand Cup, he knew they were not alone. The Monkey faithful were back at Addington. It came again when May took Monkey King level with Smoken Up on the corner of the Cup, and the rumble became a roar when Monkey King drew clear.

For the little black horse, it was his second Cup win. It was easier than last year's when he held out Bettor's Strike by a neck. This time it was decisive, by a length and a half. It was slower than last year because of a stiff easterly wind. And again it came from a show of patience, calculation and confidence by May.

Instead of being off and around in the early stages, he waited. Rather than moving in the middle stages, when he could have, he waited. It was not until the last lap, when others had been and gone, that he made his solo run at the front. At the 800m he was second, in easy striking distance outside Smoken Up and Stunin Cullen, with Sleepy Tripp, Bondy and Kiwi Ingenuity nearby.

Turning in, Monkey King soon got down to business. May knew Monkey King could stay better than Smoken Up. He'd seen it happen before - at 5.20pm-ish at Addington this time last year. And he suspected Stunin Cullen had run along too keenly to have a kick at the end. That's when he knew he had another New Zealand Cup on a 'C V' that is already bulging with Cups, Trophies, Group wins, headlines and simply great drives. As simple as it was, this was one of them.

"I was pretty confident at the corner," said May. "Stunin Cullen had over-raced, but I was still expecting him to come at me, and I was going better than Smoken Up. I sent him at the two hundred. I was pretty happy early on because he got past four or five at the start. And that wind was a bit strong so I was happy to wait a bit. I waited until they went as slow as they did. And Benny has done just a big job to peak him at the right time."

Benny's done it before, and this occasion again emphasised how well he does it. "The racing he had this time was planned," Hill said. "The time he went away he won, and twice since then he didn't. At home, I kept an eye on his weight. I like to see their heads down, but I don't feed big." Hill had a racing weight of 430kg in mind for him, and he knew he was within an ounce of it when he "had a little blow" after a solid run in the Cup Trial. "I knew we were back...I knew we were right on track," he said. "It's just a guideline, one tool I have for getting him where I want him." Another is whether Monkey King has the shakes or not. "He's not in the zone if he does."

While Hill and his staff at Dancinonmoonlight Farm knew they had Monkey King just where they wanted him, they knew it was over to the Cup King to handle the start, where within a second or two he could win it as easily as he could lose it. "I just kept him jogging, keeping his mind active," said May. "He loves Addington and loves two miles. For what he's done - two New Zealand Cups, an Auckland Cup, running 1.50, winning the Miracle Mile - he's got to be the best. And one of his best runs was when he was beaten into fourth in the Victoria Cup."

Hill is wary of Monkey King when he is well, as he has been this past week or so. "He can be a little shit at home. He tried to take a nip out of one of our girls the other day and it wasn't feed-up time. And it can be more than a nip. But it's not something you'd want to knock out of him. It's part of his character."

While Hill was over the moon with the Cup win of Monkey King, he was quick to rate the run of Power Of Tara, who rattled into fourth after being near last at the corner. He qualified as an unlucky runner after losing his place inside the last 1000 metres. "I really love the horse and he has settled into out barn so well since he arrived. He has been getting home so well in his races, and is just a neat wee horse. Stephen (McNally) has done a great job with him," he said.



Credit: Mike Grainger writing in HRWeekly 11Nov 2010


| | |
| --- | --- |
| | RACING HISTORY FEATURE RACE COMMENT |

2010 SEELITE WINDOWS & DOORS NZ TROTTING FREE-FOR-ALL

Ima Gold Digger threw the cat among the pigeons for tomorrow's Dominion when he bolted away with the Group 1 NZ Trotting FFA in national record time at Addington on Tuesday. With the likes of Leighton Hest, Stylish Monarch, One Over Kenny, Master Bomber and the speedster King Charlie all handily drawn on the front line, and the most money of all still coming for Raydon, this race looked too big an ask for Ima Gold Digger from the outside of the second line. But the way things unfolded with a hectic tempo up front, the event actually panned out pretty well for him.

Ima Gold Digger saved energy early by settling well back and Todd Mitchell had him in the three-wide train with cover starting the last lap. Ima Gold Digger was thus a fresh horse when the leading division were beginning to get the stitch, and he bounded clear early in the run home to score by four and a half lengths in the end. The improving Idid It Myway, from the outside of the front line, finished best of the rest, shading Stylish Monarch, Master Bomber, Raydon and Leighton Hest.

But there could be no excuses - Ima Gold Digger had circled the field and trotted the 2600m mobile in 3:13.3, a 1:59.6 mile rate and almost a second inside Romper Stomper's race and New Zealand record of 3:14.2 set three years ago. This was not a day particularly conducive to fast times either, with a blustery easterly making things difficult both on and off the track. What Ima Gold Digger also did is prove his previous 1:56.7 mile win at Ashburton over Dr Hook was no aberration either.

The 5-year-old Sundon gelding has been with Michelle Wallace at Waiuku since January, but he has been with her husband Bernie Hackett at David and Catherine Butt's Woodend Beach stables since the start of October. Wallis joined in for Cup Day, but co-owner and previous trainer Allan Georgeson was absent because "the crowd was too big". Georgeson's wife Lorraine and daugther-in-law Jan were on-hand to accept the spoils.

"He has thrived since being down here, but I think the recent improvement is simply about the fact that he is maturing all the time," said Hackett. "He could get a bit nervy at times before, but he is a much more relaxed horse now. And I daresay we'll see Allan here on Friday now," he added.

Ima Gold Digger, the fourth Group race winner from the broodmare gem Janetta's Pride, following on from prior Sundon foals in Dependable, Jo Anne and Shirley Temple, was of course the outstanding 3-year-old of his season. He won the NZ Trotting Derby, Sires' Stakes and Great Northern Trotting Derby in consecutive starts before coming up short when third at the Jewels, and then resumed in the Trotting FFA won by Speculate last year.

By January he was with Wallis and Hackett in order to get enough 'points' for the Jewels at Cambridge, but he ran into I Can Doosit and Dr Hook there. "He was third or fourth best 4-year-old last season, but he's come back much stronger this time in. After this week we'll take him back home for Christmas racing in Auckland, and then I guess we'll be back here for the Inters."

Glamour mare One Over Kenny got things right on this occasion, but still disappointed in dropping away badly in the run home. "She is over last season's quarter crack problems, but she might still have some other foot issues," said owner Lex Williams. "But her main problem today was the simple fact that she hasn't had the racing to be going any records, and now we have a very short turnaround to the Dominion," he added.

With Springbank Richard, Dr Hook, I Can Doosit and Sovereignty entering the fray for that, and Ima Gold Digger no longer underestimated, the $200,000 Dominion is looking an enthralling and wide open contest.

Credit: Frank Marrion writing in HRWeekly 11Nov2010


| | |
| --- | --- |
| | RACING HISTORY FEATURE RACE COMMENT |

2010 NRM NEW ZEALAND SIRES' STAKES 3YO FINAL

Moments after winning the $180,000 Group 1 NRM Sires' Stakes Final at Addington on Tuesday, Stephen Reid still couldn't believe it. "I've got the good horse," said the trainer of Gold Ace, adding "finally" to the end of his sentence. "At times in the past I've had people say to me that I've got a real good one, and it hasn't turned out that way. But now I have - and I think I'm due. This is the best moment for me, ever!"

Reidman had every right to be wallowing in disbelief following the event, because the way the race panned out Gold Ace had no right to win it. Drawn the outside of the front line, driver Peter Ferguson had little option but to ease back as firstly Delight Brigade and then Hands Christian led. The latter was literally 'getting away with murder' in front, so at the winning post with a lap to travel Ferguson thought enough was enough and brought the three-wide train forward.

Gold Ace was stuck out there without cover from that point onwards, and on a day when 10 of the 12 winners either led or trailed, his task into a stiff breeze looked forlorn. But there was still plenty of fight in the Bettor's Delight colt's belly as the field swung for home, and he powered down centre track to nab Hands Christian right on the line.

"I thought we were no hope," Reid said. "Having to drop back from that draw, we needed them to go hard up front so we could finish over the top of them. But I was listening to the quarters as they unfolded, and when the first was thirty-one followed by a thirty down the back, I didn't give him a chance."

What made Gold Ace's victory all the more sweeter for Reid is the fact that he and his wife Wendy own 37.5 percent of him. "We put our nuts on the line to buy him," Reid said, casting his mind back to June and July when he and former training partner Graeme Rogerson were about to go their seperate ways. "I didn't want to be paying training fees for the horse to be somewhere else, that didn't make any sense. Rogey and I bought him at the Sales and put a few other people into the ownership with us, but he didn't want to buy us out and initially we didn't want to take his share either. It was all really amicable, but it went backwards and forwards for months."

Deep down inside, something was tellig Reid not to let this one go. "I had a gut feeling he was a good one," Reid said, pointing out that at the time Gold Ace had made seven appearances for just one win. "I picked him out on type as a yearling. He was out of a lightly-raced In The Pocket mare, and I liked the Bettor's Delights too. And he was just a notch below them at two; even when he won the Sales Series Consolation down here in May he was still immature. We've sold a lot of horses over the years, but I said to Wendy...maybe we take a punt with this one and hang onto it. Because if we turn him out, and he lifts, we might just have one that's up to the real good ones. I think it's safe to say that he's lifted."

Joining the couple in the ownership of Gold Ace are Auckland construction company owner Michael Ng, who's raced harness horses since 1997 and "this is the best one, by far"; the colt's breeder Derek Moore who's been in him all the way through; and the Moore-managed D D Syndicate, a group of 10 North Island enthusiasts that Reid says he's indebted to Gold Ace's breeder for organising when the need arose.

From here the programme for Gold Ace in undecided, apart from the main target being the 3-year-old Sales Series Pace at the end of next month. "There's so many big races for them at three, you've got to be a bit careful," Reid said. "If I manage him right, I think that as a 5-year-old he could not only be a Cup horse - but win a really big race. And it gets a bit fuzzy in the tummy when you realise you could own thirty-seven and a half percent of a star."

One thing's for sure, nothing could pry Gold Ace's driver from the sulky from here on in. "I asked Reidman at the start of the season whether he had any 3-year-olds, and told him to put me on the best one," Ferguson said with a smile. "I thought his first-up run for third was average; then he went better when he won at Cambridge, but when he won again at Auckland on October 22 he fair-dinkum caned them and never left second gear. That gave me a lot of confidence for today - and Reidman does too, because he's so enthusiastic about this horse. I've got a lot of respect for him. He's always been a good trainer, always. All he's needed is some horses to show it."

Ferguson said it was great to get back into the 'Group 1 zone', believing it was May last year with Flying Pocketlands when he last won one, and before that you had to go back to the days of Mi Muchacho. He'd pretty confident that Cup Day's Group 1 won't be Gold Ace's last, either. "This horse just doesn't know anything yet - wait until he does!"

Credit: John Robinson writing in HRWeekly 11Nov2010


| | |
| --- | --- |
| | RACING HISTORY FEATURE RACE COMMENT |

2010 FIRESTONE FREE-FOR-ALL MOBILE PACE

Nearea Franco is about to become a mum, but you wouldn't be able to tell just by looking at her. That's because her McArdle baby was transferred to a surrogate mare, who's due to foal sometime soon. And Nearea Franco celebrated her pending parenthood in the best possible fashion when she won the $40,000 Group 3 Firestone Free-For-All at Addington on Cup Day.

The mare's trainer Steven McRae described her return to form as "a long hard battle", but to see the Nearea Franco of old turn up and win as she liked on Tuesday, it's a war that McRae's obviously winning. The staff at Spreydon Lodge have had to climb not one but two mountains over the last 12 months as they strived to get their stable star back...first there was the cracked pastern she was diagnosed with just before the big mares' races in January this year, then in late August she developed what McRae says was a "pipe corn" in her near-side front hoof.

"The pastern problem had been niggling her for a long time, so it was good to finally diagnose what was troubling her and fix it," he said. "Craig Thornley always maintained that she'd never felt as good as she did when she won the Jewels back in May 2008; when the pressure went on, she didn't respond. So we knew there had to be something wrong with her. For a big horse she's got a lot of speed, but she hadn't shown it for a long time."

Safely through her recovery from the operation where screws were inserted, McRae then plotted a course for the New Zealand Cup and had Nearea Franco at the trialling stage by the start of the season. "It was after she trialled in late August that she developed the corn," he said. "And it took a long time to dig it out; Derek Jones and Grant Nyhan deserve a lot of credit for all the work they did with her. We lost three weeks because of it, though. The NZ Cup had been the main aim ever since the start of the season, because we missed away in it last year and never had a chance. But I've got too much respect for the race and the others in it to line up with just one run under her belt."

That one run was at Kaikoura in their Cup, a race which she'd won last year, and her eighth mightn't have looked any good on paper but McRae took a lot of heart from the performance. "I was rapt with her run up there. She couldn't get around the last bend, and lost momentum. Then after she got balanced and came again she got squeezed up and galloped near the post. So the run was better than it looked. The bends didn't worry her the previous year because she was in front and close to the marker pegs."

McRae confirms that the 'r' word (retirement) did come up for dicussion while Nearea Franco's career was delayed by setbacks, and it basically came down to her being given 'one more chance'. "When they took her embryo out it was about a week before she was diagnosed with the cracked pastern, so if it'd happened seven days earlier she probably would've been retired there and then. It's funny how things happen like that."

"I reackon she's as good as we've ever had her, this season. She's a happy horse, and doesn't shake all the time she's at the races anymore, and she never used to be able to hold condition either but she's really big and strong now. Probably all of that relates to the niggly pastern problem she had."

Initially McRae wasn't going to line up in Friday's Free-For-All, but post-race on Tuesday he was still toying with the idea. "I thought that three runs in ten days might've been a bit tough this early in the season, but she didn't have a hard run today and seemed to win it pretty easy so we'll keep our options open," he said.

"She'll still be served again sometime in December, and all going well will race right through to the Inter-Dominions. She's definitely going to be a hard horse to replace. It's great for the staff to have a nice horse at the races, because they get a big kick out of it. We've all enjoyed the ride though, and it's something you never take for granted either because you never know when it's going to end."

Credit: John Robinson writing in HRWeekly 11Nov2010


| | |
| --- | --- |
| | RACING HISTORY FEATURE RACE COMMENT |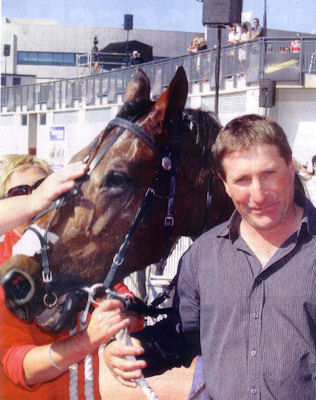 Murray Tapper & Stylish Monarch

2010 HELLER'S DOMINION TROT

Sitting amongst the crowd at Addington to watch Monkey King capture his second consecutive NZ Cup last Tuesday, Murray Tapper hoped it wasn't the only big two-mile event that Ricky May would win during the week.
Three sleeps later, those wishes came true when May extracted Stylish monarch off a tight spot three-deep on the fence and urged him to a narrow victory in the $200,000 Group 1 Heller's Dominion Trot.

"Stylish Monarch's whole season so far has been aimed at this race today," Tapper said afterwards, knowing that every other trainer in the race would've felt the same. "And it means a lot to a guy like me. We're just a little stable from Timaru, and don't have a big team of horses or thousands of dollars to spend at the Sales. For anybody with trotters, this is our New Zealand Cup and it's pretty surreal to think we've won it."

With 11 wins and 10 placings from his 27 appearances prior to the start of this season, his 'CV' already including a Group 1 victory and runner-up prize in the most recent Rowe Cup, Stylish Monarch had all the right credentials to win at his first crack at a Dominion.

Raced by Anne Patterson, the son of Monarchy went 'bang' first-up for 2010/11 when he won at Addington early last month, looking a lot more advanced than when he resumed at the same time last year, but if anything the 7-year-old them seemed a notch below his own high standards when running third at his next three outings - appearing to have every chance to finish closer each time.

Even the public's support reflected this last Friday...a horse that had gone out favourite more often than not was suddenly showing double figures. "He probably should've finished a length closer at Kaikoura," Tapper reflected. "Ricky said he was just cruising in front. But he was looking at all the seasgulls and everything else that was going on that day, and didn't seem to knuckle into it when it mattered - perhaps he thought there was another lap to go. I specifically lined him up at Kaikoura because he was still big in condition, and thought the trip there and back plus his race would've been like having two races together."

"Then on Cup Day here, seeing his race live I thought he should've run second at least. But after watching the replay I changed my mind, because he was held up down the back straight and again at the two hundred. So I was always happy leading into this race, never disappointed."

Arriving on-course last Friday, Tapper thought 'I've got a show here', noting that the Dominion field didn't boast a champion like Lyell Creek or Take A Moment but nevertheless was "one of the strongest fields overall for a long, long time". And the icing on the cake was Stylish Monarch walking away with a NZ Record next to his name, his time of 4:02.9 slicing more than two and a half seconds off the previous mark held by Take A Moment. "It's nice to have that (the record), but it wouldn't have worried me if they went 4:10." Tapper claims. "It proves that he can do the times, but I suppose we've always known that."

For now, Stylish Monarch is having an easy week as Tapper plans his next assault. "I think he deserves it, doesn't he? Not too much of an easy time though, otherwise he'll get too bulky on me. We're looking to go north sometime next month."

Tapper has been training full-time now for about five seasons, and has 14 in work. He paid tribute to his brother Kim for helping with the team, and also made special mention of Samantha Ottley who's been "a vital part of the operation" for three years. The heights that Stylish Monarch is reaching are a world away from the 18 seasons Tapper spent as a freezing worker.

"I was getting too many horses around me, and too many people were asking to train one for them. So I thought we'd give it a go; if it didn't work out, I could always go back and get another job. But we've survived, that's the main thing. Everybody dreams of getting a horse like this, you just never think you're going to."

Now that a Dominion has been added to his trotter's list of accolades, Tapper says everything else from here on in is a bonus. "Whatever happens we're going to have a great season. There's the three biggies isn't there...this, the Inter-Doms and the Rowe Cup. The first one's in the bag now, so let's see if we can go and get another."

Credit: John Robinson writing in HR Weekly 17Nov2010


| | |
| --- | --- |
| | RACING HISTORY FEATURE RACE COMMENT |

2010 WOODLANDS NEW ZEALAND FREE-FOR-ALL

Prior to Cup Week this year, Monkey King was like a lot of other horses in the record books of the elite.

He'd won a New Zealand Cup, and a Free-For-All, but put himself in pretty select company by doing both in the one season last year - not to mention adding an Auckland Cup and the Miracle Mile to his Horse of the Year season of 2009/10. But now he's claimed a piece of history that may never be repeated again, because he's done the 'double-double'.

Monkey King's dual Cup Week successes in consecutive years are an amazing achievement, and no amount of accolades that he's received or praise he's been showered with in the interim are unbefitting to the little black pacer from Dancingonmoonlight Farm who's known affectionately as 'Sam'. Quite simply, he's turned out to be one of the greatest pacers this country's ever produced. If not the greatest.

Sam's trainer Benny Hill admitted to being "pretty nervous" on the morning of Show Day this time around. "The Cup was a bit different because we'd been there and done it already, but after winning that and having a chance to do the double again, that's when I felt it," he said. "We were pretty happy to do it once, and never dreamed that we could repeat last year. I suppose I put the pressure on myself though - that's part of my job."

Hill thought Monkey King might've been a sitting duck in front in the $200,000 Group 1 Woodlands NZ Free-For-All, but in the end he didn't need reminding that it's usually his pacer that zooms home past the opposition - not the other way round.

For the 8-year-old's now regular driver Ricky May, who's partnered Monkey King in 23 of his 38 career victories and tallied up nearly $2.7 million in stakes while sitting behind him, he never stops being astonished. "I don't know where he gets all his 'muscle' from,"May said, shaking his head as Monkey King was led away for a wash after the Free-For-All. "He's a very clever little horse. He dropped the bit down the back today when Lance (Justice, on Smoken Up) was up alongside him. I almost had to scrub him up - but he just knew it wasn't time to get serious yet. Round the home turn when Lance stared yelling at his horse, that's when Monkey grabbed the bit again and took off."

May was the star driver on the big stage during Addington's glamour carnival, as he also won the Dominion with Stylish Monarch and snared a unique double of his own. "It's been an unbelievable week. You can never not be confident with Monkey, but he needed everything to go his way to win the Cup; in the end it didn't, but he still won."

May will join forces with Monkey King again at the end of next week, when they'll be shooting for their second consecutive Miracle Mile title across the Tasman. With what we've just witnessed over Cup Week, who says they can't put another one of those in the 'CV' again as well?

Looking way down the track to next year's Cup carnival in Christchurch, Hill says all going well he'll be back again with Sam - which means the rest of us could be reaching for those record book one more time. Australia might well have their Inter-Dominion freal Blacks A Fake - but we've got the 'Monkey'. "Age will catch up with him someday," Hill says matter-of-factly. It's just a case of looking after him. But we'll be trying, for sure."

Credit: John Robinson writing in HRWeekly 17Nov2010


| | |
| --- | --- |
| | RACING HISTORY FEATURE RACE COMMENT |

2010 LONE STAR BAR & CAFE 4YO TROTTERS CHAMPIONSHIP

Because numbers are thin at the top end, I Can Doosit will line up in the Group 1 NZ Trotting Championship at Addington this Friday night. That's half the reason why, the other is the horse's undeniable talent - which was on display again in no uncertain terms when I Can Doosit waltzed away with last Saturday's $25,000 Lone Star Bar & Cafe 4-Year-Old Trotters Championship. The son of Muscles Yankee joined in and breezed on by near the business end of the 2600m Group 3 event, putting away his stablemate Pocaro and the rampant pacemaker McCready with ease as he won in a super quick 3.18.

Co-trainer Mark Purdon wasn't in the sulky this time, the reins instead being handed to Blair Orange as Purdon sat behind Pocaro, and he got to experience I Can Doosit's continuing dominance from another perspective. This was win number eight from just 12 starts and the fifth in succession for I Can Doosit, who was having his first look around Addington after a northern assault that saw him burst onto the trotting scene.

"There's been real improvement in him over the last eight to ten weeks," Purdon said, not meaning to state the obvious. "And there's some very nice horses in that intermediate grade in Auckland, but at his last start before returning south I was just so impressed with how he picked them up inside the last one hundred and fifty metres. He's a very, very promising type."

I Can Doosit is the third foal of Chiola Hanover mare Sheezadoosie, following in the footsteps of Continentaldoosie (1 win) and his highly regarded year-older full-brother Sno's Big Boy (11 wins to date). Purdon knows the breed well too, because he trained Sheezadoosie throughout her career and drove her in all but one of her seven victories. "She was never a naturally-gaited trotter," he recalled. "She's got better as she got older, but she was never fool-proof and wasn't one of those horses you could throw the reins at. So she did pretty well to get as far as she did."

Purdon considers himself "very lucky" to have I Can Doosit in the stable. The gelding was bred by Ken Breckon's company Breckon Bloodstock Ltd and is owned by a syndicate he manages called Breckon Bloodstock, and if I Can Doosit hadn't been a late withdrawal from the Sales as a youngster he could have well been doing all his winning for someone else. "He got hurt, doing significant damage to the tendons around the fetlock in a hind leg after being caught in a fence," Purdon said. "I had inspected him at Yarndley Farms leading up to the Sales, and he was a real standout. There's no doubt that he would have been a $100,000 yearling had he not got injured."

I Can Doosit began his career at Winton less than a year ago, running third on debut before winning at Oamaru and then Timaru during May. "He just scraped into the Jewels, but if anything he was on the way 'down' again because he'd done a lot in a short time. Tony (Herlihy) drove him for us that day, and he said the horse wanted to do it but just couldn't handle himself over a mile. Pocaro was way above him at that stage; he's really closed the gap now."

Purdon has both trained and sat behind some star trotters in his time, and even though he knows I Can Doosit's not quite up there yet, he says the 4-year-old's not far away. "He's such a great stayer, that's his forte, and I think his performance and time last week reflects that he's ready for the next level. You can do anything with him - go to the front or sit parked; he's a real nice horse. And we haven't ruled out this year's Rowe Cup with him either."

Credit: John Robinson writing in HRWeekly 8Apr10


| | |
| --- | --- |
| | RACING HISTORY FEATURE RACE COMMENT |

2010 STALLION STATION EASTER CUP

Those who backed the winner of last year's NZ Derby would have probably cleaned up again in the Easter Cup on Saturday night. Because the same horse won both.

Sleepy Tripp emerged as a genuine open class force when he took out this year's $80,000 Stallion Station-sponsored Group 1, overcoming a lengthy enough early gallop to sprint past the more favoured trio of Baileys Dream, Bettor's Strike and Second Wind late in the piece.

It was a rare Easter time double and one achieved as quickly as possible by the son of Courage Under Fire, coming just 12 months since he was on top of the 3-year-old tree after his Derby victory, but it signalled that Sleepy Tripp has now furnished into the horse he promised to be all along.

Co-trainer/driver Mark Purdon didn't think it would be him doing the saluting at the end of the 3200m feature though. "I thought he'd blown it," Purdon said, referring to Sleepy Tripp's uncharacteristic early mistake. "Especially since he was so far from them once he settled. I know Bettor's Strike and Baileys Dream were still behind us when we got going, but we were giving the early leaders a fair start. And we were lucky the way the race panned out after that, getting the one-one behind Bettor's Strike for the last lap and a bit when Bailey crossed to the front."

By his own high standards, Sleepy Tripp had been slightly below his best in the weeks leading up to his first real test in the 'big time'. "His form had slipped," admitted Purdon, citing the race at Cambridge in January where he was beaten into fifth behind Tintin In America as being a point where the head-scratching began. I knew what my expectations of him were, and he wasn't living up to them. The night he ran second to Crystal Star at Forbury, Blair (Orange) said he probably should have won. But he must've picked up a bit of a bug in Auckland, and we've treated him three times since he returned home. Bill (Bishop) is very, very accurate in the blood tests he does, and there was just something lingering in the background. So we just did what we could, and I knew that in time his own system would fix whatever was troubling him. Prior to Invercargill was the first time there were signs his blood was coming right, and this week I could just tell by the way he was in the coat and eye that he was near his best again."

Raced by his Pleasant Point breeders Terry and Adrienne Taylor, Sleepy Tripp has now won 11 of his 25 starts and last Saturday night's victory tipped him over $520,000 in stakes. Three of those victories have been at Group level, with two 1's and a 2 in the cabinet so far, and Sleepy Tripp will give the couple every chance of adding to that when he heads north again shortly for the Taylor Mile and Messenger double-header followed by the Harness Jewels. "He's a lot stronger to sit behind now," said Purdon, comparing Sleepy Tripp this term to what he was like at three. And I'm really looking forward to next season with him, especially since the Inter-Dominions are here too."

Credit: John Robinson writing in HRWeekly 8Apr10


| | |
| --- | --- |
| | RACING HISTORY FEATURE RACE COMMENT |

2010 CHRISTIAN CULLEN NZ DERBY

Sixteen years ago, Dean Taylor blew his first chance to win the New Zealand Derby. He confessed to a training mistake after Rare Chance, a brilliant winner over Payson's Moneymaker on the first night of the John Brandon series, was beaten a head by Gingerman after Taylor scratched him from the middle night sprint.

"I made a blue. I was too light on him in between. I wasn't going to do that again. So I took this horse to Motukarara for a solid workout the weekend after the Flying Stakes. I made sure he went into the Derby ready to race."

Given the perfect trip behind the pacemaker Sir Lincoln, Captain Peacock shot up the passing lane with such a slick pick-up that the result of the $250,000 Christian Cullen New zealand Derby was all over apart from the margins and minor placings. He won by a length and three-quarters from the outsider Franco Jamar who tracked him throughout, and the favourite Russley Rascal had a chequered trip on his way to a luckless third. Winning driver Mark Jones was quick to tell taylor the margin could have been a lot more had the pair been interested in making something of it. It was not a fast Derby - 3:14.1 is unremarkable.

Not all were as fortunate with the voyage as Captain Peacock was. After sitting second early and midfield a lap out, Russley Rascal had more ahead of him than behind at the 800m, the horse buried by the three-wide line. From this difficult situation, he was blocked in the straight, and then finding room wide out, flew past the chasing bunch. Smiling Shard, another well-backed runner, was bottled up in the line behind Kotare Mach and Courage To Rule and pretty much was still caught up in that situation at the finish. The pacemaker Sir Lincoln offered little resistance in the run home. "Had he been right, he should have been in the finish," said driver Maurice McKendry.

Captain Peacock is by Live Or Die, the sire of Taylor's other Group 1 winner Waipawa Lad, and one of Taylor's pet sires. "There's no key to training them really. A lot of my owners don't have the money to buy or breed Christian Cullens, and they can fit in here. And I have always had a close connection with Nevele R. Four wealings have just arrived, and there are more to come."

He has also had a happy association with prominent mid-Canterbury breeders Keith and Bevan Grice, who bred Captain Peacock from Enchanting, a Sands A Flyin mare who had one start for a win against the 3-year-old colts and geldings on the grass at Motukarara. "She was going to go sore, so that's all the racing she did. She was out of Go Anna (who won four), and I tried another Sands A Flyin from her but he was no good."

Captain Peacock arrived as a yearling, and the ownership gradually took shape, with Grant Bull, a Merivale coffee shop proprietor who was a partner in Enchanted, being pivotal in putting the group together. The six-member GAPMAD Syndicate is predominantly from Oamaru, managed by Alistair Strachan, and includes Phil Kennard, a partner in the Welcome Stakes winner, Major Mark.

Taylor was in no hurry with the horse, although there was a time in the Spring when he had no say in the matter. He qualified at two, then cracked a pastern when he returned. "It was not bad, only needed one screw - so three weeks in a box, three weeks in a yard and he was set to go again." As he often does, Taylor takes a working holiday with two or three young horses at the Blenheim meeting in January, and that's where Captain Peacock made his debut. From barrier 10 both days, he returned home an unlucky maiden. "It backfired on us," he said. "But I remember Mark telling me after the first time he drove him - 'when I pulled the ear plugs, I don't know who got the biggest shock, me or the horse'." Captain the won his next four starts, and Kennard asked Taylor if the Derby was an option. His times said it was, and a flashing late run for fifth in the Flying Stakes convinced them.

Taylor enjoys the limelight, as long as it's low key and he can stand at the back. Driving was never his forte, though he was in the cart early enough, starting as a 10-year-old behind a "big Robert Dillon" for his uncle and nextdoor neighbour, Alec Purdon. These were the days of Double Cross, Highland Fortress and Lucrative, and later Master Dean, Game Way, Thurber Command and Master Leon, and the driving was done by Doug Watts and then Michael De Filippi. Taylor played club rugby for Prebbleton and Premiership league as a high-class prop for Hornby, and his clients today are rich in football heritage.

To make ends meet when he started at the breaking-in level, he ran a paper round, and recalled winning his first race with Lumber Scott - also his first starter - in a two mile maiden race at Westport. He has seldom been without a good horse since, with mutual loyalty between himself and Mark Jones being a key factor in the success of them both. More recently, with the sporting interests of his children Hamish and Victoria playing a bigger part in their weeks, Taylor has been through the stable, selling and retiring those in need of it. "It was my choice. It was a quiet time. We didn't have to go anywhere and a lot more younger ones were in the stable."

For Captain Peacock, his campaign will probably continue in Southland where Taylor is thinking of giving him a Supremacy heat, and the Jewels is further ahead. For Taylor, the respect for his horses continues with his owners. "Some, like Alan and Colin Greaves, have had a horse of two with me from the day I started." They are not alone in appreciating the quiet achievements of a modest man.

Credit: Mike Grainger writing in HRWeekly 14Arr10


| | |
| --- | --- |
| | RACING HISTORY FEATURE RACE COMMENT |

2010 STALLION STATION NZ WELCOME STAKES

Week after week, Mark Purdon gets to sit behind some serious horseflesh. And for that reason, the uneducated amongst us might think it's 'easy' for him to drive as many winners as he does - and that he doesn't have to bring much to the table himself. But even the harshest armchair critic couldn't help but be impressed by the role Purdon played in winning the $80,000 Stallion Station NZ Welcome Stakes at Addington last Friday night, because it was a display of sheer split-second brilliance.

Purdon was on the hot favourite Major Mark, and after drawing the inside of the second row in the Group 1 feature he could forsee two things happening...firstly that the horse he followed out, Amazing Art, would lead; and secondly, his driver Robbie Holmes would more than likely take a trail behind something soon afterwards, leaving Major Mark three-deep and needing luck. It's what any rival would have done in the same situation, and it is exactly how things went over the early stages - Amazing Art handed up to Night Of The Stars as the field turned into the straight the first time, and Purdon was suddenly in a precarious position, his chances of winning the 1950m left in fate's hands.

Unbeknown to most though, Purdon was actually more concerned about holding his position on the back of Amazing Art. "On two previous occasions when I'd asked him to run early he'd gone rocky. I didn't want us to be any further back," he said. Safely through that hurdle, Purdon had no choice but to sit and play the waiting game as the race unfolded; 400 metres from home, he knew he was in trouble. "Everything else around me was flat," he said. But my fella was still in third gear. even as far back as that I didn't think we'd get a run."

Sticking to 'Plan A' and following Amazing Art into the passing lane, Purdon's one remaining hope was that his talented rival might ease out just enough to allow him and Major Mark through. That he did, inside the final 100 metres, but no sooner had Purdon pushed the accelerator on his Art Major colt in tight quarters when the unthinkable happened - Art Major's sulky wheel jammed inside Amazing Art's. It should have been enough to give the latter a well-constructed victory in the Welcome Stakes, but somehow Purdon managed to drag the horse back, unhook the sulky wheels and then extract one last-ditch lunge to snatch victory right on the line.

In his typically reserved manner, Purdon opted to praise his horse rather than pat himself on the back. "Amazing," he said, adding that he thought the winning post was coming up too soon. "I've never driven one that's been able to pick himself up and dive like that. Even as far as four hundred metres out, if you lock wheels or lose momentum for any reason, normally that's it."

If anything, Major Mark's performance on Friday was an indication that he had turned the corner again and reclaimed his title as the season's top 2-year-old. After all, this is the same horse that trailled in the Sapling Stakes at Ashburton on February 13 yet couldn't get near the eventual winner Terror To Love, finishing nearly three lengths away in third place. "He obviously just wasn't a hundred percent on the day," Purdon said, not being able to put it down to anything else. "One of his owners said to me at the time that he didn't seem to have his usual shine in his coat or that sparkle in his eye. And I see him every day, so I suppose it was a bit harder for me to notice any difference."

"Tonight was his most tradesman-like performance so far though, because he just didn't do a thing wrong out there. Obviously he's one of the best 2-year-olds we've had. There's just an 'X-factor' about him. He's got a brilliant turn of foot, but is also a really great stayer. He's got the all-round game."

Purdon's and Grant Payne's stable has been in sparkling form over the last couple of weeks. On the first night of the Easter Cup Carnival they won races with Russley Rascal, I Can Doosit and Sleepy Tripp, the last Friday they won five more - Addington wins by Major Mark, Emma Hamilton and Pocaro being matched by further victories at Alexandra Park with Lancome and Joyfuljoy.

Credit: John Robinson writing in HRWeekly 14Apr10


| | |
| --- | --- |
| | RACING HISTORY FEATURE RACE COMMENT |

2010 DREAM WITH ME STABLE/ NZ TROTTERS TRUST NZ TROTTING OAKS

Mark Purdon is enjoying a real purple patch of form with the progeny of former top trotting racemares at the moment. On the first night of the Easter Cup carnival 10 days ago, his and training partner Grant Payne's representative I Can Doosit took out the Group 3 Four-Year-Old Trotters Championship at Addington. I Can Doosit is a son of the seven win mare Sheezadoosie, and last Friday night Purdon took major honours again in another Group 3, the $25,000 Dream With Me Stable/ NZ Trotters Trust NZ Trotting Oaks - this time with Emma Hamilton, a daughter of Miss Whiplash, who won on 13 occasions.

Friday's event was notable also for the fact that hot favourite Shezoneoftheboyz experienced defeat for the first time, breaking and losing all chance after 400 metres as she jostled for a position, and then repeating the misdemeanour swinging for home. Purdon himself had "a couple of hairy moments" early, Emma Hamilton threatening to bobble soon after the mobile was released. "She's not perfect yet," he said. "And I had to hang on to her until she got balanced up; once we'd gone three hundred metres we were alright though."

Drawn the second row Shezoneoftheboyz couldn't be in the picture early but Purdon always expected her to show up at some stage. She never did. "I had a couple of looks, and I could see Davy (Butt, driving Kahdon) but not the other filly. So I knew something must've happened to her. They were the two to beat." Wheeling past the 400m mark, Purdon had Emma Hamilton outside the leader Dixie Commando and poured the pressure on, and afterwards he said the Earl filly felt strong and was "doing it well within herself." At the finish Emma Hamilton had a length and a half to spare over Kahdon, with smaller margins back to Continental Auto and Dixie Commando, the latter doing a sterling job to stick on so well considering she's a maiden that was making her third appearance.

For Emma Hamilton, this was win number three from five starts, and now with just under $26,000 in stake earnings she is guaranteed a start in the Harness Jewels at Cambridge. Raced by Purdon and his wife Vicki together with the filly's breeders Tony and Anne Parker, the same couple that bred and raced Auckland Reactor initially, Emma Hamilton started her career in the North Island. Fifth on debut in January, she put together stylish back-to-back victories at Alexandra Park during February but then wrecked the formline with an early break next time out at Invercargill last month. "She's young and still learning, and it was just one of those occasions where she lost balance after trying to hold her spot early," Purdon said. Given a run against the pacers at the trials after that, specifically to get experience behind the mobile, Emma Hamilton "really impressed" he co-trainer/driver when finishing second to Born Again Cameo.

Her immediate programme from here is in the north again now, and she left yesterday (Tuesday) bound for familiar surrondings at the northern branch of Purdon and Payne's All Star Stables. "Before the Jewels, she'll line up over the Rowe Cup Meeting and then start in the Great Northern Derby," said Purdon, who has no qualms about taking on the 'boys' of the 3-year-old trotting ranks. "Considering what Shezoneoftheboyz and Kahdon have also done so far, the girls look a bit stronger this season. Emma Hamilton is tall and athletic-looking, but she's still not physically strong as yet. And I've always said to Tony (Parker)that if we look after her this year she could furnish into a really nice horse later on. One of her greatest attributes is her attitude; even when things got a bit dicey early on in the Oaks, she tried really hard to stay on her feet."

Credit: John Robinson writing in HRWeekly 14Apr10


| | |
| --- | --- |
| | RACING HISTORY FEATURE RACE COMMENT |

2010 GARRY THOMPSON/ FRED SHAW NZ TROTTING CHAMPIONSHIP

Within a day or two, Stylish Monarch will be on his way to Richard Brosnan's place. Murray Tapper has sent him north with Samantha Ottley, and the next time he sees him will probably be on May 7, the night of the Rowe Cup. "Richard has won more races than I'll ever train," said Tapper. "Depending on what happens, I'll have no need to go up until the day of the race," he said.

Tapper trains New Zealand's best current trotter from Pleasant Point, inland from Timaru and just minutes from where Brosnan became one of New Zealand's training icons. He will be caretaking the new top dog because that is where Stylish Monarch is, following his decisive win over Braig and the rising star I Can Doosit in the $80,000 Gary Thompson/ Fred Shaw NZ Trotting Championship last Friday night.

While Stylish Monarch set his own terms in front after starting from the pole, the best of the opposition thinned itself out - Musgrove galloped early, I Can Doosit lost ground and got well back, and Springbank Richard returned with the offside tyre off it's rim. The school of open class trotters has gradually become alarmingly light and Stylish Monarch is suddenly out of the intermediate grade, in the best and at the top of it.

For one quite so young and yet to leave home, it will be a new experience and he will face a formidable challenge with the arrival at the Rowe Cup carnival of the much-travelled Australian star, Sundon's Gift. Tapper said Stylish Monarch - the winner of 11 of his 23 starts - will have three starts in Auckland.

This rapid rise to the top for Stylish Monarch does not surprise Tapper, who just four years ago left the safety of regular pay at the freezing works to take on the more chancey one of a horse trainer. He was not moving into new ground. His father Peter was training in Gore when he won the 1958 New Brighton Cup with East Dome. The family later moved to Pleasant Point where Peter ran a drapery shop and trained a small team. One of them was Family Fun, who had one start before joining Clem Scott's stable and winning six races.

His son was keen. He drove at the annual gymkhana around the local golf course, and recalled the visits of Manaroa and No Response. Murray was employed in his youth by Eric Ryan, Terry McMillan and David Gaffaney, and recalled that Ryan won 18 races in one season while he was there and Viva Remero was one of the many nice horses he had at the time. His first driving win was with Time Bandit at Waikouaiti, and the first of his eight training wins with the classy trotter Syndication was at Roxburgh. Then Zesty showed up and won five. "It was about then that a number of people asked if I would train a horse for them, so after being at the Works for eighteen years, I left."

In reality the career change was not as good as it looks now. "I had a horror start, for the first couple of seasons. I was going terrible. The horses had a virus, and I was wondering why I had left the Works." But Domination, who has won seven, came to the party and the arrival of Stylish Monarch soon put paid to any lingering thoughts like that. "Right from the start he was a proper professional, and he just has the ringcraft."

Tapper and driver Ricky May - who won four races on the night - were a little concerned how he would perform from one off the mobile, so for a lap of the prelim May sat him on the gate. Braig tried hard up the passing lane and for a moment, near the eighty metres, gave the look of one about to succeed. But Stylish Monarch was pulling away at the finish.

Former stablemate Duplication, now in Canada, was a good sale out of the stable, and younger ones showing promise are a 2-year-old brother to Jasmyn's Gift and a Monarchy close relation to Stylish Monarch.

Credit: Mike Grainger writing in HRWeekly 14Apr10


| | |
| --- | --- |
| | RACING HISTORY FEATURE RACE COMMENT |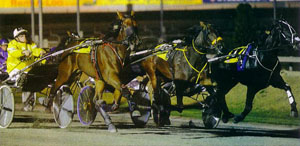 Paramount Geegee on outer

2010 GLENFERRIESTUD NEW ZEALAND TROTTING STAKES

It was well inside the final 100 metres before Paramount Geegee stamped his authority on the finish of the Group 3 GlenferrieStud NZ Trotting Stakes last week. Until a fair way up the straight, Dolly Would and Latheronwheel were game and tireless, with the favourite busy getting level before finally edging past.

Driver Peter Davis, standing in for Robbie Holmes who was in Blenheim and on the sideline for another month following concussion, confirmed the view that there was never a danger of defeat. "There was more there," he said. "He did it very well."

It was the sixth unbeaten start for the big bay son of Pegasus Spur, who is trained at Cambridge by John Dickie but has been based at Leithfield, where Holmes trains. He was bought as a yearling for $26,000 by Dickie, who trained his dam Paramount Star to win seven in a short career. "He was a natural right from the start, and for a big horse was very light on his feet. He qualified on his own at Cambridge, but when I saw that all the money and most of the racing was down here, I sent him to Robbie," said Dickie.

Paramount Geegee had not raced for six weeks, but Dickie had no fear that he wasn't ready for the task at Addington. "He'd had a week off, but I did not think he was short, but you often wonder whether you've been a bit easy. He'll still benefit from it," he said.

Dickie said he was looking "for an edge" when he removed the nearside pole and overcheck from his gear. "His mother never wore an overcheck." Paramount Geegee has the Sires' Stakes Final on Saturday week, the Harness Jewels back on his home track after that, and there is the opportunity to race in the Breeders' Crown later on.

Dickie, who works a team of 11, returned to the yearling sales this year to invest in another son of Pegasus Spur, but the outlay was significantly more - $61,000. "He's exactly the same - a big bay with the same attitude. We fell in love with him as soon as he came out of the box, we honestly did. He's the same horse all over again."

The opposition to Paramount Geegee is not far behind. The young trotters by Artsplace, Sundon, Monarchy, Dream Vacation and Continentalman were all in the hunt and made a fine finish to it.

Credit: Mike Grainger writing in HRWeekly 5May10


| | |
| --- | --- |
| | RACING HISTORY FEATURE RACE COMMENT |

2010 PGG WRIGHTSON YEARLING SALES SERIES 2YO OPEN FINAL

Sixty metres from the finish of the PGG Wrightson Yearling Sales Series 2yo Open Final at Addington on Saturday, The Muskeg Express's Queensland owners had a $160,000 cheque coming their way. That's about the point where The Muskeg Express put paid to the leader Thumpem after eyeballing him for most of the last 1000 metres. With no other horse finishing fast enough to fight for the biggest slice, the Tim Butt-trained colt started to edge clear and had the $300,000 Listed event in the bag.

Then something unbelievable happened - The Muskeg Express suddenly forgot how to pace and rolled into a gallop, disappearing back through the pack at a rate of knots; unfortunately for his owners, he discovered the easiest way to exchange a six-figure payout for one of an 'also ran' worth little more than $3600.

"We'll take it," said Thumpem's trainer/driver Ken Barron on returning, sporting a wry smile. Barron freely admits that he got lucky, but it would be harsh to begrudge him this piece of good fortune when he got smacked with so much of the opposite kind five days earlier. He was at the Addington workouts on Monday to give Thumpem's stablemate Major Obsession his last decent hit-out prior to the Sales Series Final, but the horse didn't even make it round to the start. Major Obsession faltered and crashed to the deck at the end of his prelim, dying where he lay from a suspected burst aorta. "Absolutely gutting," Barron said, describing the ordeal. "He hadn't won a race yet, but he was the best of my 2-year-olds early on; the others just caught up to him. That started our week about as low as you could get."

Thankfully Barron had something to smile about by the time last week was over, because not only did Thumpem win, but Still Coughin also signalled his 'arrival' when he beat the Cup horses in a free-for-all.

The Sale Series Final was the first of the three 'big ones' for the 2-year-olds - this Friday night's $200,000 Sires' Stakes Final at Addington and next month's $200,000 Harness Jewels Emerald in Cambridge being the others - so with a total of $700,000 on the line at this time of the year it's no wonder that Barron has been gearing his horses towards it all season.

Most of Thumpem's career had been in the north thus far, and he'd certainly been clocking up the 'frequent flyer miles' as he went back and forth for things like the Young Guns Heats and Final, Sales Graduate and the last Sires' Stakes Heat. Not that his long-time stable clients Grant Dickey and Ed and Carolyn Wardwell will be complaining though, because the carefully mapped out programme has seen their In The Pocket colt compile a record of eight starts for three wins, three placings and over $232,000 in earnings.

The trio bought Thumpem late on the NZ Premier Sale's second day for $66,000, and behind The Muskeg Express ($155,000), Cullen Bromac ($150,000) and their other horse The Cotton Club ($80,000) he was the fourth-dearest of those that lined up on Saturday; now, the colt's won more than double those three put together.

Ironically, Cullen Bromac was Barron's and his trio of owners number one choice pre-Sales, and they went all the way to $135,000 trying to get him in Auckland before exiting the bidding duel. Needless to say, they're pretty happy about how things have turned out. "Thumpem's got great manners and a great attitude," Barron says, "and he really lifts on raceday."

-o0o-

Trainer/driver Ken Barron caused a major upset on Saturday when winning the $300,000 PGG Wrightson NZ Yearling Sales Series Final with outsider Thumpem. The two-year-old In The Pocket colt lined up against the likes of hot favourite Major Mark and unbeaten Aussie raider, Cullen Bromac. However this did not faze the juvenile who ended the week for Barron on a high after losing his stablemate, Major Obsession, earlier in the week.

Thumpem began well from his wide front-row barrier draw and was in the lead after 800 metres of the 1950 metre pace. Second favourite Cullen Bromac broke within this early stage and continued to pace roughly, changing the face of the race. The Muskeg Express was soon sitting outside of Thumpem and applying the pressure. Along the back straight, Le Sol and River Black were sent three-wide and toward the front.

Thumpem led the field onto the home straight but soon The Muskeg Express had kicked and nudged out in front. It looked to be all over until 60 metres to run when The Muskeg Express broke for no apparent reason leaving Thumpem to charge on down to the line. He won the Listed race with half-a-length over Le Sol who held out large outsider River Black, by a nose. Finishing in fourth was the race favourite, Major Mark. With two outsiders finishing in the first three, the trifecta was a massive $22,029 while there were no surprises that the First4 was not struck.

Owned by Grant Dickey and Carolyn & Edward Wardwell, Thumpem has now earned $232,874 from his eight starts which now includes three wins and three placings. As none of the PGG Wrightson series' earnings count, Thumpem remains second on the Harness Jewels 2YO Emerald behind Major Mark. However both look set to go head-to-head again in the $200,000 Garrard's Sires' Stakes Series Final, this Friday night at Addington.

Later on in the day, Ken Barron was back in the winner's circle when Still Coughin outran race favourites, Bettor's Strike and Baileys Dream, in the Susan and Jim Wakefield Mobile Pace. The now nine-win gelding (six for handicapping purposes) is currently eighth on the Harness Jewels 4YO Emerald which sees Tintin in America currently as $2.00 fixed odds favourite at the TAB.

Earlier in the day trainers Graeme Rogerson and Steven Reid won the PGG Wrightson NZ Yearling Sales Series Consolation with second favourite, Gold Ace. Half-a-head back in third was Mabrook and Arden's Southee one-and-a-half lengths back in third.

Credit: John Robinson writing in HRWeekly 19May10


| | |
| --- | --- |
| | RACING HISTORY FEATURE RACE COMMENT |

2010 NEVELE R FILLIES FINAL

Off track, Secret Potion was hansomely served by those in the Black Type categories: the trainers - Mark Purdon and Grant Payne ; the breeder - Brian West; the owner - Studholme Bloodstock Ltd, and the sire - Courage Under Fire.

On track for the Nevele R Fillies Final, there were other matters to think about. The wide front-line draw was one, and the driver was not a familiar name at Addington. Two years ago, Nicole Molander had not been as busy on the track as she was about to be. She had won two Group 1 races with Gotta Go Cullen, but that was back in 2006 and there had been some slow days between then and now. In the 2007/8 season she won six races. Her Blonde Type profile did not glitter like the others, but that's been changing.

It started with a phonecall that led to employment with Mark Purdon and Grant Payne, and running their northern base with Jordan Compain. It brought her in touch a year ago with Secret Potion, and with a confident and aggressive drive it brought her another Group 1 success over stablmates Meredith Maguire and Lancome in the $150,000 Nevele R Fillies Final at Addington last Saturday. She caught the back of Meredith Maguire, who followed up Lancome, sat parked from the 800m outside Royal Cee Cee, and then sparked again when she had to. Lancome was unlucky, Molander was not.

Tall and slim, Molander had also won some Group 2s with Una Bromac and Gotta Go Cullen and Listed races with Sue Dreamer and Collectable. And now Secret Potion, with not one but two Group 1 wins, has given the former Christchurch girl a career with great scope and potential. Back further, Molander was schooled at the very best academies. After early work for Wayne Ross, she joined Jack Smolenski. "He was the person who guided me, and opened doors for me later."

The first one came when Smolenski had most of his horses turned out, and he was able to place Molander, or Thorn as she was then, with Barry Purdon. "Three months there and I was the only girl." After that, she worked for Dave and Clare McGowan and part-time for Steve Hunt. She was then told that Mark had some horses coming up and he might need some help. "I thought, I couldn't work for him...I was scared." Not quite scared enough to say no, and soon she was caring for Auckland Reactor and Highview Tommy at Barry's for the stable, and soon there were six of Angela Purdon's as well. "Now we have fourteen in the barn at Pukekohe and we're looking at expanding with another one."

Molander is the first to admit how lucky she has been, with another early highlight being the driver in the Inter-Dominions of the trotter, Lanson. More recently, as senior trainer in the north for Purdon and Payne, Molander has had opportunities she never thought would happen. "I'm so thankful. It's not that easy for girls in this game. There are quite a few in Australia, but it is hard here and there aren't many of us.

Molander was surrounded by her family after the race. "A day like this pulls at your heartstrings. All the family is here: Dean and our daughter Ella, my parents Peter and Claire Thorn, my sister Amanda, and my uncle Murray Thorn is here from Australia. It's just awesome where I am. The family is just a huge part of it. I don't get down here that often, and they're all here. Having another one will not stop me." As she is expecting, Molander's last day driving for some months will be on Jewels Day at Cambridge.

In the meantime, her 150th driving win is one racing memory the Molander and Thorn families will treasure forever.

-o0o-

With five runners in the Group 1 Nevele R Fillies Series Final, it was no surprise that trainers Mark Purdon and Grant Payne were going to make their presence felt. However what did surprise many, was that the first three over the line all came from All Stars stables and that none were the race favourite.

As the 1950 metre pace began, Aziza sprinted through to the lead before Royal Cee Cee took over, shuffling the race favourite, De Lovely, deep on the markers. The Purdon and Payne runners sat toward the tail of the field from their wide draws until Lancome moved three-wide with a lap to run as stablemates Meredith Maguire and Secret Potion followed behind her. From here the race belonged to the Canterbury-based trainers.

Turning for home it was Secret Potion in front and with 150 metres to run the Purdon and Payne runners kicked it up a notch. Secret Potion charged ahead with Meredith Maguire chasing her down, but Secret Potion and driver Nicole Molander were just too strong. She claimed her second Group 1 race with half-a-length to spare over Meredith Maguire with Purdon in the sulky. Third in, by half-a-neck, was fast-finishing Lancome with driver Blair Orange.

Secret Potion has had a wonderful debut season with seven wins and three placings from her 14 starts. Her stakes have reached $236,474 for Studholme Bloodstock Ltd, who also own Lancome. The $80,000 won from Saturday has seen Secret Potion take over from Meredith Maguire as the Harness Jewels 3YO Diamond leader. Only one last major race remains for the three-year-old fillies until the Jewels fields are selected, the Group 1 NZ Oaks this coming Friday.

Earlier in the day trainer Geoff Small took out the Nevele R Fillies Series Consolation with Indulge. With David Butcher in the sulky, Indulge held out the race favourite, Flying Pocketlands, by a nose. Indulge is currently ninth on the 3YO Diamond leader board.


Credit: Mike Grainger writing in HRWeekly 19May2010


| | |
| --- | --- |
| | RACING HISTORY FEATURE RACE COMMENT |

2010 SEELITE WINDOWS & DOORS SIRES' STAKES 2YO TROTTERS CHAMPIONSHIP

The winner of last Saturday's Sires' Stakes 2yo Trotters Championship could have been anybodys for a mere $800. And her six-win mother was even thrown in on the deal. That is how much Kylie Ree cost he original owner - and even though the Monarchy filly has changed hands a couple of times since for bigger amounts, she is still looking a pretty astute purchase now that her stakes tally has just shot past the $35,000 mark.

Kylie Ree (in utero) and her dam Nerokilo were snapped up at the PGG Wrightson Autumn Broodmare & All Age Sale this time three years ago by my father, retired West Melton plumber, Peter Robinson. Dad and my late grandfather Joe had had a long association with other members of Nerokilo's family during their many years of dabbling as breeders and owners, enjoying success with the likes of Ann Lord (1 win) and her daughter Ann Locarno (3 wins), so when Nerokilo went through the ring and had the added bonus of being in foal to a stallion he quite liked, Dad didn't need much convincing to put his finger up and take her home.

Nerokilo soon gave birth to a beautiful filly, but at that stage Dad had another horse in work so he decided to cut down on numbers; in walked nearby neighbour Maree Price and her son Shane, who took the mare and foal package off his hands when the latter was just three months old. "I really liked the look of her," Price said of the Monarchy filly, which she started weaning straight away. "She had a really nice head, and a great way of walking."

Price took such a shine to her new acquisition that she actually named the filly after another of her children, Kylie Maree - Kylie Ree being the slightly shortened version that she used to call her now 32-year-old daughter when she was a toddler. It wasn't long before the well-respected horsewoman had good news to pass on to her kids.

"I started breaking her in at eight months, and from 'Day One' I gave her ten out of ten with three plusses," Price said. "She was a lot like Pocaro, but even more fluent in her gait. I spent an awful lot of time with her, and some days we'd get lost for ages just walking around the roads. Sometimes you just get a 'feel' for horses, and really connect with them; that's what happened with her and I."

Like most baby trotters when they first start out, Kylie Ree took a couple of appearances to transform the promise she was showing at home into something on the racetrack. The filly's first decent cheque was a third at outing number five, and then a reluctant but realistic Price sold her on soon afterwards. "Shane was getting out of the game, because he was about to marry his fiancé Justine and move to Australia," she said. "It had cost us a bit of money to get to that stage, and you can't exactly train them for free either."

Kylie Ree's new owner is Brian McCully, who Price had first gotten to know when he purchased Eric's Legend out of her stable. Eric's Legend was initially transferred to Robert Dunn's barn before ending up with Mark Purdon and Grant Payne, and Kylie Ree went straight in the latter duo's direction. "You couldn't wish for her to go to a better stable," she said. "Mark's a super trainer, and he is so dedicated - he eats, sleeps and breathes horses."

First-up from her new base, Kylie Ree ran very cheeky second when she dived late along the marker line to push Springbank Sam close, then she made up a heap of lost early ground when finishing just under five lengths from Paramount Geegee next time out. Drawn the inside of the second line on Saturday for the Seelite Windows & Doors-sponsored Group 2 event, Purdon didn't think he could beat the favourite before the race and his mind didn't change during it - despite an economical one-one possie. "I thought second was going to be our lot," he said. "But then Paramount Geegee started to struggle over the last bit, and we got past him. Maree had done a great job with this horse, and since she joined our stable it's just been a case of putting on the finishing touches really. She's a very solid trotter, and is well-mannered."

Although unable to be on-course to witness Kylie Ree's first victory, which was sweetened even more by the fact that she established a new NZ Record in the process, few would've been yelling louder than Price. "Yeah, I was cheering her on big-time," she said. "I've always believed she'd be one of the best 2-year-olds in the country, and she'll only get better with age too because she's a Monarchy. I have to admit there were a few tears in the eyes on Saturday; not only because I know how good she is, but she is also a horse that Dad (Eric Ryan) took an interest in and watched all along. He'd have been looking down on us, I reckon."

-o0o-

Unbeaten Paramount Geegee was going for her seventh consecutive win on Saturday at Addington, however trainers Mark Purdon and Grant Payne upset the party with their maiden runner, Kylie Ree. The $55,000 Seelite Windows & Doors Sires' Stakes Trot Championship was the eighth start for the Monarchy filly and with Purdon at the reins, she finally gained her first win, and a Group 2 one at that.

Paramount Gee Gee was the best to begin and was the leader from the beginning through to the home straight. With a lap to run, Kylie Ree had followed Springbank Sam up on the three-wide train to sit in the one-one. As they turned for home she was still in the one-one and ready to pounce.

Heading for home it became a three-horse race with Paramount Gee Gee, Kylie Ree down the outside and Latheronwheel on the passing lane. Purdon was determined to make it two Group wins in a row on Premier Day at Addington and had soon put Kylie Ree in top gear. She trotted on ahead of the competition to claim her first win, one-and-three-quarters-of-a-length in front of the race favourite. Only a neck separated Paramount Gee Gee and Latheronwheel in third, with over four lengths back to the next runner in, Springbank Sam. Kylie Ree's winning time of 2.27.5 has beaten Jo Anne's 2001 2YO filiies NZ Record by 0.1 of a second.

Kylie Ree is owned by Brian McCully and was trained by Maree Price until March. The $32,292 winning stake has placed Kylie Ree just $1,155 shy of leader Paramount Gee Gee on the 2YO Ruby Harness Jewel.


Credit: John Robinson writing in HRWeekly 19May2010


| | |
| --- | --- |
| | RACING HISTORY FEATURE RACE COMMENT |

2010 UNITED FISHERIES SUMMER CUP

Baileys Dream has had a monkey on his back for years. Niggly little problems here, injury-enforced layoffs there - there has been plenty to keep him away from a lot of big races, and keep his connections frustrated at the same time.

The latest in a long list of bumps in the road was the keyhole surgery Baileys Dream needed to remove cartilage in a knee after he went sore in the build-up to last year's NZ Cup. On top of everything else, it meant he had been away from the racetrack for more than 13 months when trainer 'Benny' Hill finally loaded him on a float again last Saturday.

Quite literally he had a monkey on his back then, too...Monkey King sat behind him in the trail for the last 1900 metres of the Listed $75,000 United Fisheries Ltd Summer Cup, and at the business end Baileys Dream all-but staved off the finishing punch that his stablemate is famous for.

"Halfway down I didn't think they'd get him," said Hill, who was just as chuffed about Baileys Dream's performance as he was about the winner's. "He only knocked up the last twenty metres. And if he'd have had a couple of runs in him, I don't think even Monkey could've got past him."

Hill knows the enormity of such a statement; after all, this is the reigning NZ Cup/NZ Free-For-All/Miracle Mile champion we are talking about here - so it proves that he rates Baileys Dream little, if any, inferior to Monkey King. "I'm probably a bit biased, but if a sound and race-fit Bailey had had the same trips as Monkey did in those three big ones, I reckon he could've won them too. I honestly do."

The only thing spoiling the perfect comeback party for Hill's two pacers on Saturday was Ohoka Dallas, who got shuffled back after being parked early and zoomed home late for a very eye-catching second. A length and a neck separated the three horses at the finish, and Hill walked away knowing that his two were right where he wanted them as the Inter-Dominions draw nearer.

"Monkey was pretty good to go, and because of his following he was more or less expected to win. Which he did, and that was great. But I'm stoked about how Bailey went. He's still a bit big and was probably only about ninety percent, so the run will really tighten him up. And Todd (Mitchell) was pretty happy with him too."

Hill says Monkey King and Baileys Dream are "completely different horses to train", and the latter takes a lot of work. "I didn't miss a beat with him, giving him a serious workout or trial programme of Saturday- Saturday- Wednesday- Saturday prior to his resumption. But you've got to be conscious of keeping him sound too, because you're just as likely to go out there in the morning and find he's sore somewhere. That's what things have been like with him a lot of the time. I know he's eight now, but he's a young eight when you consider how many starts he's had (62). And he's sound at the moment."

Baileys Dream and Monkey King will fly direct to Sydney this time next week where they will be boarding with Hill's good mate Darren Hancock in a township called Pheasant's Nest, which is about an hour and a bit from the city. Two days later the first round of Inter-Dom Heats get underway at Harold Park, then it is onto Newcastle the following Saturday for round two, and Grand Final Day is at Menangle on Sunday, March 7.

"We'll want to be firing and getting points early," says Hill, adding that it is pretty special to be taking across not one but two great horses for such a series.

Monkey King has assumed the role of pinup horse for the industry in this country - mainly because of his emphatic deeds during November, but partly also due to the sub-standard exit from the stage made by Auckland Reactor. At the time when we really needed another hero, the little black rocket from Dancingonmoonlight Farm has filled the void beautifully.

Even last Saturday's racemeeting was dubbed 'The Day Of The Monkey', and his trainer says it's an honour to be part of it all. "It's a really neat feeling. Imagine if he pulled off the Inter-Dominion as well - it'd go dowm in history as one of the greatest seasons ever, and he'd be loved even more. And why couldn't he?"

Credit: John Robinson writing in HRWeekly 10Feb10


| | |
| --- | --- |
| | RACING HISTORY FEATURE RACE COMMENT |

2010 UNITED FISHERIES LTD TROTTING FFA

Something very rare happened at Addington on Saturday.

Stylish Monarch won - and paid double figures. This is the horse that usually lines up showing around the $2 mark, thanks to a super-consistent career where he has finished further back than third only 5 times in 21 starts.

Saturday was the son of Monarchy's first real test in the 'big time', and that combined with a tricky second-row draw saw him overlooked in pre-race calculations. After a gem of a drive from Ricky May though, the 6-year-old punched home best to win the $40,000 United Fisheries Ltd Trotting Free-For-All.

"Most of the time he's pretty lazy during the prelim, but today he was really onto it," an impressed May said afterwards. "And usually the good ones have got something wrong with them or some little quirk, but he's foolproof. He's a really nice horse."

It was a stellar moment for Stylish Monarch's trainer Murray Tapper too, winning the biggest race of his training career. "He's the best I've trained, for certain," Tapper said. "And I've had some nice horses before, but nothing like him."

Stylish Monarch is making a habit of taking his owner Anne Patterson and trainer to new heights..he was the first horse to win when the new stabling facility at Addington was opened last May, he won Tapper a race on Cup Day in November, and now he has got a Free-For-All which contained a few prized scalps to his name.

Things aren't going to stop there though, because Tapper's convinced that Stylish Monarch's ready to target one of the biggest cherries of them all - May's Rowe Cup in Auckland. "I've never taken one out of the South Island, I normally head south," Tapper said with a smile. "But he's just a real professional horse. He's got a 'couldn't care less' attitude and the all-round game. He's the sort of horse you dream of, really."

There is one trait that Tapper wishes his star trotter didn't have though, and that is an extreme love of water. "Him and his mate Domination are buggers for playing in it," he says. "You'll go out to the paddock, and if there's any water to be found - sure enough, they'll be splashing around in it. I don't have concrete troughs any more because he has already smashed a couple of those, and he puts his foot right through the plastic ones. So you've just got to be really careful and keep an eye on them."

That responsibility will be David Gaffaney's for the next wee while, as Tapper says he is going to leave Stylish Monarch with the Rangiora horseman for now. "David's going to jog him around the roads and take him to the beach. He will probably have another couple of runs before heading north, and I'd like him to have one or two up there before the Rowe Cup too."





Credit: John Robinson writing in HRWeekly 10Feb10


| | |
| --- | --- |
| | RACING HISTORY FEATURE RACE COMMENT |

2010 PGG WRIGHTSON NZ BREEDERS STAKES

Trevor Proctor and his partner Diane Dynes enjoyed their greatest moment in harness racing when Tact Lizzie romped away with the $80,000 PGG Wrightson NZ Breeders Stakes at Addington last Friday night.

Tact Lizzie didn't just get a suck along behind the pace, sneak up the passing lane and fall in to win by a nose - which you would almost expect when such a time-honoured Group 1 event was won by a $64 outsider. No. She started from the outside of the second row, looped the field with 1000 metres to go, and literally ran her opposition into the ground!

And the icing on the cake? Her winning time of 3 09.4, which represented a stunning mile rate of 1 57.2 for the 2600m mobile and even wiped a name like Mainland Banner from the record books in the process. Moments don't get much better than that. "This is our biggest thrill by a long shot," Proctor said afterwards, "I'm still shaking."

Friday's field probably wasn't the greatest Breeders Stakes line-up possible, with top mares like Kiwi Ingenuity, Lauraella and Special Ops all absent for one reason or another, but any thoughts of the event being 'easier' to win this year soon went out the window when Tact Lizzie drew saddlecloth 14. Even Proctor was almost conceding defeat as he found a spot in the stand. "Pretty much," he said. "From there (14) we'd have been pleased if she finished in the top half of the field, and thought that if she even ran a place it would have been more than what we could ask for."

Tact Lizzie had other ideas, and forever etched her name onto one of Addington's most sought-after trophies for the mares. Proctor admits that it took him a long time to work out a training regime that suits the now 10-win mare, and it is one that goes against the grain. "Hard work," he says. "You hate doing it, but it's just how she is - she loves it. And you can't give her much time off either, because she tends to tie up real bad."

Tact Lizzie is a 5-year-old daughter of Christian Cullen and the New York Motoring mare Tact Hayley. She was bred by Diane's father the late Derek Dynes, and belongs to his tough old Southland breed that has sent forth numerous good horses over the decades. After Derek's passing a couple of years ago, Tact Lizzie is now raced by Diane's mother Bessie.

Proctor has been involved in the sport ever since he moved from Invercargill to Winton in the early 1990's, and worked for Derek initially. "I'm a painter and decoratorby trade - training's just a part-time thing for me," he said. "We've only got the two racehorses; her and Tact Aunty, plus a couple of 3-year-old fillies who qualified recently."

Tact Aunty is the same age as Tact Lizzie, is also by Christian Cullen, and being out of Flash Tactics she belongs to the same family; he and Tact Lizzie have the same fifth dam, Tactics. Flash Tactics was more than capable on the track herself, winning eight times from Derek's stable and finishing in the money behind Flight South (third, NZ Premier Mares' Championship) and Kym's Girl (second, NZ Standardbred Breeders' Stakes) this time nine years ago.

The Premier Mares' Championship tomorrow (Thursday)at Addington is where Tact Lizzie could head next, although Proctor is going to leave making the decision about starting until after he gave her a jog on Sunday. "The 1950 metres probably won't suit her, she's more of a distance horse," he said. "She doesn't give you a great turn of foot, but she does cover the groud deceptively well. And she could be in foal, too. We got her served by McArdle before she came up to stay here at Laurence Hanrahan's, and the vet says she feels like it but he couldn't find the embryo on her scan."

Friday's stunning victory was also the pinnacle to date in the career of driver Stephen McNally.

Tact Lizzie's regular pilot Jonny Cox couldn't get a flight to Christchurch later than 2.00pm that afternoon, and was already committed to six drives at Winton where he thought he had one or two good chances, so Hanrahan went looking for a replacement.

"Laurence rung me last night, and I jumped at the chance," McNally said, adding that the only other time he had sat behind the mare was in last year's Hororata Cup when she missed away. "Driving in races like this is always more of a thrill than normally, because they're Group 1s and go down in the history books - and you're up against nice horses. I knew we were going fast out there, but it didn't quite feel like 3.09. It was a nice wedding present," he said.

McNally will marry his fiancée Rebecca Odering at a chapel in Prebbleton this Saturday, in front of some 200 guests. He and Rebecca have just built a house on the Motukarara property of his parents, opposite the racecourse, and with 10 in work he has got a nice number of horses around him plus he has kept busy doing farrier work as well. "Dad's working for me now."


Credit: John Robinson writing in HRWeekly 17Feb10


| | |
| --- | --- |
| | RACING HISTORY FEATURE RACE COMMENT |

2010 CADUCEUS CLUB of CANTERBURY NZ PREMIER MARES CHAMPIONSHIP

After a disappointing seventh in the previous week's NZ Breeders Stakes, southerner Beaudiene Bad Babe was back in form on Thursday night at Addington with a win in the Group 2 Caduceus Club of Canterbury Premier Mares Championship. Despite her result in the Group 1 Breeders Stakes, the Murray Brown-trained mare began as warm favourite in an almost identical field which included record-breaking Tact Lizzie.

Drawing barrier two, driver Dexter Dunn elected to ease her quietly out from the gate as the runners outside of Beaudiene Bad Babe sped to the early lead. For the first 750 metres she sat fifth until Tact Lizzie made her move. With a lap to run, Tact Lizzie surged to the front with Beaudiene Bad Babe moving to sit parked.

Tact Lizzie led them into the straight, however her huge run last week started to show as she tired. Dunn took advantage of this and kicked Beaudiene Bad Babe into top gear. She sped to the lead as her opponents tried to chase her down. But her lead was too big and she finished three-quarters-of-a-length in front of Trigirl Brigade. A close finish saw current Diamond Harness Jewels leader Crystal Star, finish in third by a nose.

The Invercargill-based four-year-old now sits on 16 lifetime wins from her 30 starts. During her three seasons of racing, she has earned $207,752 in stakes which include two Group 2 wins.

Credit: Harness Racing New Zealand


| | |
| --- | --- |
| | RACING HISTORY FEATURE RACE COMMENT |

2010 PAUL & PAULINE RENWICK NZ TROTTING DERBY

She is one of the most exciting trotting fillies seen in years, and she is still yet to taste defeat after another sparkling performance at Addington last Friday night.

Shezoneoftheboyz has been a real 'find' this season, and last week she showed just how good she is when she won the $80,000 Paul & Pauline Renwick NZ Trotting Derby. The Group 1 event went against the run of play as it unfolded, and those who backed Shezoneoftheboyz into a $1.50 favourite wouldn't have liked seeing her three-deep when the field started the last lap. She improved one position when the trailling Kahdon edged into the running line nearing the home bend though, and once straightened at the top of the straight she burst through along the passing lane to win going away.

It was an emphatic way to register win number five from as many outings, and the icing on the cake for the daughter of Brylin Boyz was her time for the 2600m event - 3.17.7, which smashed the existing NZ Record for a 3-year-old trotting filly by nearly two and a half seconds!

It was also an occasion that Mark Jones will never forget either, because Shezoneoftheboyz gave him his first Group 1 victory as a trainer on the very same day that he turned 31. "I probably drove her a bit negatively if anything," Jones said afterwards, talking about his decision to take a trail behind Kahdon after 500 metres. "I knew the 2600m would find a few out though. But if I didn't train her myself I probably would not have handed up, because she's good enough to lead all the way."

Although appearing cool, calm and collected on the outside, Jones admitted to feeling a fair amount of stress that most would not have known about. "I had quite a few nerves leading up to this event," he said. "But you take pride in training your horses, and it is a bit different when you've got the hot favourite heading into a Group 1. The staff know I've been on edge lately."

Jones's association with Shezonoftheboyz has been fairytale stuff right from the word go. Formerly trained by Neil Munro, Jones first drove the filly at the trials last August when she had her first run back, and within a fortnight they had won two qualifying heats together - one by 47 lengths, the other by 17, and she earned her 'ticket' with the latter performance. "She won it really easily, going a tick over 3.11 on a cold day at Ashburton and home in twenty-eight. Not many do that," he said.

Australian horseman Craig Demmler was negotiating the filly's sale at that stage, having flown across the Tasman to drive her himself, and bigger slices of Shezonoftheboyz became available as time went by. "The initial owners were originally selling only a half share, and I had a syndicate jacked up to buy it. But it fell through; they will be regretting it now. Then about six weeks later she was for sale outright, and Craig got Peter to take her."

Peter is Peter Chambers, a Victorian who Jones has had dealings with before through Alexis which was sold to him out of his stable. Chambers is also the owner of the now 4-year-old trotter Jumanji Franco, and Shezoneoftheboyz will soon try to achieve what the former couldn't when running fourth to Pocaro at Ashburton at the end of May last year. "He just wants to win the Jewels," Jones says. "I have only met him twice - when Shezoneoftheboyz won at Ashburton in February, and again tonight; he flew over from Jakarta especially." The Harness Jewels are at Cambridge this year, and Chambers will have two right royal chances of winning a Ruby now that the Joanne Burrows-trained Jumanji Franco has found her best form again and won her last three on end.

It's Shezoneoftheboyz that will be one of the star attractions at this year's carnival though, and Jones can't speak highly enough of the filly, although you would be hard-pressed picking that it is the same horse if you saw her in training. "She wouldn't beat a maiden at home," he said. "She's a terrible trackworker. Take her off the place though, and she'll run a quarter in twenty-seven no trouble - round home, she never breaks thirty-four. But she's just the perfect racehorse. She's got high speed, and is very tough. And she's got this unbelievable attitude - she puts her head down and just doesn't want to get beat. To look at her she's got this amazing way of going, an effortless gait. Potentially she could be a very good open class trotter, and that's what I've said to Peter all along. So we're going to look after her."

Credit: John Robinson writing in HRWeekly 31Mar10


| | |
| --- | --- |
| | RACING HISTORY FEATURE RACE COMMENT |

2010 VERO THREE-YEAR-OLD FLYING STAKES

The Mark Purdon and Grant Payne-trained Kotare Mach won his fifth race this season in the Vero 3YO Flying Stakes. The Mach Three colt has had a topsy-turvy season where he has either confidently won, or over-raced for a non-placing. However with two consecutive wins, the latest being a Group 2, Kotare Mach looks to be back on track.

Race favourite, Kotare Mach, quickly left the gates with Purdon at the reins to move toward the lead, before Sir Lincoln crossed him to take control out front. The pace was slow before the pressure came and Sir Lincoln quickened, whilst Purdon sat quietly in the trail.

Heading for home, Purdon sped Kotare Mach up as they charged through on the passing lane. Sir Lincoln looked to have a hold over the favourite before a surge from Kotare Mach saw him nudge out in front and take over the lead. Kotare Mach crossed the line with one-and-a-quarter lengths to spare over Sir Lincoln, making it a Mach Three quinella. Five Star Anvil finished half-a-head back in third.

Friday's win was Kotare Mach's second Group victory, with his first being the Group 1 2009 NZ Welcome Stakes. In his two seasons of racing, the three-year-old colt has won eight of his 16 starts and $151,460 in stakes for Kotare Downs Ltd. Next on the cards for Kotare Mach will no doubt be the Christian Cullen NZ Derby, which Purdon and Payne have won the last two years.


Credit: HRNZ


| | |
| --- | --- |
| | RACING HISTORY FEATURE RACE COMMENT |

2010 PAUL RENWICK KITCHEN & JOINERY CENTRE FREE-FOR-ALL

Baileys Dream was back in the winners circle on Friday night, for the first time since October 2008. The Brendon Hill-trained eight-year-old has had a steady return to racing since an injury put him out for a year. Since returning in February he had not won a race, however he had placed second twice behind Monkey King. Without his multiple Group 1 winning stablemate present, Baileys Dream stepped up for victory in the Group 3 Paul Renwick Kitchen & Joinery FFA at Addington.

Starting from barrier three, Hill sent Baileys Dream straight to the lead and this is where he stayed until the very end of the 2600 metre pace. Bettor's Strike moved to sit outside of him with a lap to run with Second Wind sitting in the one-one. Baileys Dream continued to cruise out in front with sluggish sectionals, until they turned for home.

Charging toward the line, Hill sent Baileys Dream into top gear. The challengers began chasing and although they got close, they could not reach 'Big Bad Bailey'. Second Wind got the closest as he finished only half-a-head back in second with Bettor's Strike a neck back in third.

Eight-year-old Baileys Dream is into his seventh season of racing. Over his lifetime he has earned over $1.2million for Cavalla Bloodstock Ltd from his 67 starts. This includes 23 wins and 25 placings across NZ and Australia. The Dream Away gelding has an impressive Group race record with eight wins and 17 placings and looks set to be another dominant force for the remainder of this season's Group racing.

Credit: HRNZ