| | |
| --- | --- |
| | INTERNATIONAL HISTORY |

February 7 : Bushfires fanned by gale force winds in Victoria kill 173 people and cause massive damage in the worst natural disaster in Australia's history.

September 29: An 8.1 magnitude submarine earthquake near the Samoan Islands generated a tsunami which caused substantial damage and loss of life (119) in Samoa, American Samoa and Tonga. Scientists determined that the waves measured 14 metres (46 feet) at their highest in the Samoan coast.


| | |
| --- | --- |
| | LOCAL HISTORY |

July 15: The Fiordland earthquake was magnitude 7.8 and struck at 6.22pm. The earthquake was centred in the remote region of Fiordland. It was the largest New Zealand earthquake since the 1931 Hawkes Bay earthquake, which also had a magnitude of 7.8. It was felt throughout the South Island, and in the lower North Island as far as New Plymouth. No injuries or fatalities were reported, and it caused only minor property damage.


| | |
| --- | --- |
| | RACING HISTORY BUILDINGS & FACILITIES |

NEW STABLE BLOCK OPENING 15 MAY 09

The new stabling complex at Addington Raceway, nestled in front and to the side of the Twiggers Stand, was opened to wide acclaim last Friday night.

The occasion was attended by senior administrators, club officials, horsemen and in the absence of the Minister of Racing, John Carter, who was detained in Wellington, the opening was performed by Pat O'Brien, the Chairman of Harness Racing New Zealand. From there on and throughout the night, there was heavy traffic through the building, all with favourable comment on the facility that is bright, roomy, quiet and convenient.

David Rankin, Chairman of the NZ Metropolitan Trotting Club, said the $7m state of the art complex "is without peer in the Southern Hemisphere. For decades our horsemen and women have operated from open facilities at the far end of the track in all kinds of weather, and have dreamed of the day they would get fully enclosed stables. As from today, all this changes. With the stables being so close to the Stewards' Stand, we will have a significantly enhanced team environment for owners, trainers, drivers, stipendiary stewards, vets, Addington staff, Board and Committee."

He said Addington is the most utilised track in New Zealand, with 57 racemeetings, 24 trials and workout meetings programmed for the next 12 months, in addition to about 73 greyhound meetings. Rankin said there may be some who question the financial wisdom of building them at all. "My answer to any critics is this: the location of the stables here has not only brought our stakeholders closer together, but left the old stabling area available for further development." He said there was over two hectares that can be redeveloped for club use and into income producing assets in a similar manner to the two-thirds share the club has in the joint venture along the back straight.

Rankin said there has been no detrimental affect on racing stakes as a result of increased costs for the stables. "The building of the new facility has not been without its share of challenges. The tight timeframe - between starting after the 2007 NZ Cup and having the roof deck finished in time for use a year later - meant that additional costs had to be incurred in meeting the conditions of Council which were not known at the start of construction. Then, in January 2009, the main building contractor experienced financial problems, ceased work, and was subsequently placed in liquidation."

The finished product is a high-quality complex of 156 stalls. The club is seeking sponsorship of each stall, which will be recognised by a plaque. They cost $500 for three years, or $3,000 for life. Already, one third have been sold.

Rankin said there are more plans ahead, including artificial grass on the stables deck, an upgrade of the ground floor of the Members stand, an upgrade of the area in front of the Public stand, modernising and landscaping the carparking and drive areas, and redevelopment of the Twiggers and Public stands.

Rankin acknowledged the work and efforts of numerous people and companies, including project managers, contractors, horsemen, staff and in particular the club's late Chairman John Penney who was a key instigator in the project.

Credit: Mike Grainger writing in HR Weekly 20May09


| | |
| --- | --- |
| | RACING HISTORY SECRETARIES & EXECUTIVE STAFF |

SHANE GLOURY

There is plenty to like about Addington raceway as it is, but if new chief executive Shane Gloury has his way things will be a lot better.

New initiatives and better services for the average race goer are at the top of the former Victorian's list, and plans can be expected to be put in motion in the near future.

Gloury, while not coming from an immediate racing background, has always had a strong interest in the industry, especially the harness side of affairs.

"I got the bug pretty quick," Gloury said. "My uncle used to train a few horses and I used to go along with him, and the interest sort of grew from there really."

So with a passion for harness racing coupled with a qualification as a chartered accountant, a job opportunity at Harness Racing Victoria as an accountant was the perfect job.

From there Gloury moved his way up the ladder working in various roles before landing the position in charge of the strategic planning side of business.

"I was pretty much two-I-C to John Anderson there. The job covered a wide range of different things involving looking after the smaller country clubs around Victoria."

Now after nearly four weeks in his role at Addington Raceway, Gloury is looking forward to putting a few plans in motion to add further kudos to an already successful venue.

"Addington is regarded as the premier racing centre in both New Zealand and Australia, but as is the case with most things there is still plenty of potential for improvements."

Gloury spoke passionately about his desire to make the already very successful New Zealand Trotting Cup Day an even bigger event.

That would mean trying to ensure that the best horses in Australasia were at Addington on the second Tuesday of November.

"That's my plan ultimately. New Zealand Cup day is a great day, but I want to be able to take it to the next level and have the best of New Zealand's horses racing against the best of Australia's, and get a bit of rivalry back into the game between the two."

Using his contacts from his time in Australia, Gloury has already tossed the idea around with a few of the Australian trainers, and there appeared to be some keen interest.

"It could mean that we may have to look at some alternative options in the travel side of it, especially the long float ride from Auckland to Christchurch. It's nothing serious yet but it's definitely something that I want to develop."

Ad Feedback And despite only having been in the job a short time, Gloury said he had been warmly welcomed by the industry.

"Everyone has been pretty helpful and supportive, I am trying to be as open as I possibly can about changes and opportunities as well which I think has helped."



Credit: Matt Markham writing in THE PRESS 20Apr09


| | |
| --- | --- |
| | RACING HISTORY PEOPLE |

PERCY CHEW LEE

Percy Chew Lee has the distinction of being New Zealand's first licensed Chinese trainer.

Born in Top Gon village, Canton, China in 1911, Percy's family emigrated to NZ shortly after. Percy began market gardening as a young man, armed with a shovel, rake and three horses for ploughing, harrowing and grubbing.

Within a couple of years, he was suppyling as far as Invercargill with fresh vegetables, and his farm was producing 4-5000 bales of hay, as well as farming pigs and cattle. He also supplied tons of tomatoes for sauce making to supply soldiers overseas during World War II.

Percy's interest in racehorses was kindled by Free Holmes who suggested that, with his small stature, he would make a good jockey. However it was to Harness Racing he turned after working horses for Jimmy Bryce.

Percy's first horse was Chinese Gold, a rogue horse who went on to win races after responding to Percy's regime of putting it in harness and pulling the weight of a clod crusher over his fields.

He bought Marino Maid for £300, quite a sum for those days. Colin McDonald drove her to win her first two starts at Westport. Marino Maid won two Westport Cups in a row with Percy's son Paul doing the driving, and won 7 races all told. Her daughter Amerino also won seven races before being sold to the USA.

Other horses to have won for Percy are Zager, Boy Logan, Astron, Astrodome and Gay Return, who won several races after being bought from a dispersal sale. He continues his involvement, at the age of 97, with harness racing by having an interest in the rising three-year-old Cullen's Party.

A successful wrestler, and champion cyclist, Percy won the South Island 50 mile Road Race by a distance of 2 miles, and rode his bike from Christchurch to Auckland (and return) to propose marriage to Alice, to whom he is still married. Their large family consists of 6 boys, 3 girls, 21 grandchildren, 9 great grandchildren and includes 15 university graduates. His family own more than 100 hectares of land within 5km of Christchurch city in the Cashmere Valley.

In 2007, Percy was awarded the Queens Service Medal for his services to the community, and his contribution to NZ's Chinese community.

Credit: M Gallagher


| | |
| --- | --- |
| | RACING HISTORY PEOPLE |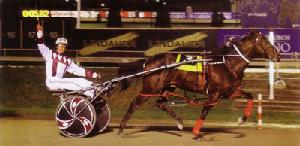 Smiling Shard is Dexter's drive to achieve the 200th season win.

DEXTER DUNN 200 WINS FOR SEASON

By now, it's old news. Everyone in harness racing knows that Dexter Dunn created history last Friday night at Addington when he drove his 200th winner for the season.

Television channels, radio stations, newspapers and magazines the length and breadth of the country have dedicated airtime and space to record the fact that it is the first time any driver or jockey has amassed such a total - and as it arrives in your mailbox five days later, the 'Weekly' can't tell you anything that you haven't already read, heard, spoken about over the dinner table or raised a glass to at your local pub.

That's all thanks to the media coverage in little ol' New Zealand, and imagine how far and wide the news would have spread to other parts of the world...definitely Australia, America too most probably, and perhaps even Europe.

Forget the bigger picture for a minute though, and let's concentrate on a slightly smaller but more important one closer to home: thanks to the deeds of a gifted teenager who possesses an unrelenting desire to succeed, the biggest winner out of all this will be harness racing itself.

Long gone are the days when sports were just sport, they are businesses now. And to continue to function and hold their market share, not only do they have to maintain their existing clietele and all-important sponsors - they have to keep attracting new blood in both areas as well. Golf's status symbol is Tiger Woods, tennis is blessed with an almost unbeatable Roger Frederer; it's not out of place to mention one Dexter Dunn in the same breath.

And that is why a guy like Dex is one of the best advertisements that harness racing in New Zealand could ever wish for, because the spin-offs from the hype and publicity he generates is immeasurable. There are the young children who think Dex is cool and want to grow up like him...the teenagers coming through our cadet scheme who have something to aspire to...the $1 each-way folks who will open the purse simply because 'D Dunn' is listed as the driver...and the large punters who aren't afraid to unload because they know he is one of the best reinsmen out there.

On one hand Dexter has to be generating much-needed turnover, and on the other he's giving tomorrow's participants the incentive to get involved - that is two very crucial bases covered. So we should be proud of what he has achieved, and salute him as a true champion amidst his much older peers.

It was somewhat fitting that Dexter achieved his milestone on home soil at Addington last Friday, and not at Cambridge the night before, because it meant he was able to share the occasion with friends and family at the same time as he humbly accepted a special presentation from the NZMTC.

"None of it would have ever been possible without the support of Mum and Dad, Cran and Chrissie, the staff at Kentuckiana Lodge, and not to mention all the trainers and owners that put me on their horses during the season," the 19-year-old said, adding that there were just too many people to thank. "And it was great to get the two hundred on Shard, because he is my favourite horse."

-o0o-

STATISTICS

1263 starts, 204 wins, 139 seconds, 120 thirds.
$1,951,274 in stakes.

Dexter set new New Zealand records for both the highest number of starts and the greatest number of wins. The previous harness racing record: 161 wins, Maurice McKendry, 1988/89 season. Thoroughbred racing record: 197 wins, Lisa Cropp, 2004/5 season.

Dunn's most successful track was Addington, with over a quarter of his wins coming there. 371 drives, 56 wins, 45 seconds, 32 thirds. Oamaru's grass track provided him with his best UDR of 0.4861, with three wins from one meeting. For more than one meeting at a track, Cambridge was his best with a UDR of 0.3987.

The most winning drives Dunn had for a trainer were for his employer, Cran Dalgety: 281 starts together, 62 wins, 45 seconds, 32 thirds and UDR 0.3476. With 20 or more starts for a trainer, Dunn's best record was for his father, Robert. 29 starts, 5 wins, 4 seconds, 6 thirds, UDR 0.3947.

Following the Dalgety and Dunn success, it comes as no surprise that Dunn's most successful horse partnerships were with Dalgety runners. Six wins - Smiling Shard, Band On The Run, Diomedes.

Six times this season Dunn won four or more races at one meeting. His best day, however, came in Dunedin in mid-July as the coundown to 200 was on: Forbury Park, July 14, 2009: 8 starts, 6 wins, 1 second. Five of those wins came in consecutive races.

Dunn won two Group One races during the season, both with Smiling Shard. The stakes from those two races, the Garrard's Sires Stakes 2yo Final and the 2yo Emerald Jewels Final, helped push Dunn's overall stakes for the season to $1,951,274l.

There is only one record that eluded Dexter by only 24 hours this season - the fastest to 100 wins, set by McKendry on February 14, 1989. Dunn reached 100 wins this season on 15 February.

Credit: John Robinson writing in NZHR Weekly 29July 2009


| | |
| --- | --- |
| | RACING HISTORY PEOPLE |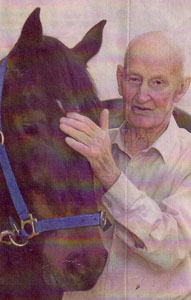 Don Nyhan with Livingston Road

DON NYHAN

The death occurred in Christchurch last Sunday of Don Nyhan. Aged 99, Nyhan gained fame and respect for developing two champions - Johnny Globe and Lordship. After long and successful years on the track, they became premier sires.

Johnny Globe was champion sire four times from 1969/70 to 1972/73, and Lordship headed the list in 1979/80, and followed that by leading the broodmare list on four occasions.

Don bought Johnny Globe as a foal for his late wife Doris for £50 from the horse's Pahiatua breeder, F E Ward. He had trained his dam Sandfast for Ward, and knew she had ability after a time trial over a mile in 2.10 at Hutt Park as a 2-year-old. Johnny Globe became a crowd favourite, winning the 1954 NZ Cup from 48 yards in 4.07 3/5, which was a world record. He retired with 34 wins from 99 starts, 15 of them free-for-alls, and four world records. He was given an official farewell at Addington in December, 1956.

From the stately Globe Derby Lodge, Nyhan produced Lordship to follow in his footsteps. He won 45 races from 137 starts, and his stake earnings of $115,190 were easily a record for a thoroughbred or standardbred. He won two NZ Cups, 16 free-for-alls, and among his stock was the great Lord Module.

Among many other fine performers he trained were Dresden Lady, Gold Flight, Vagas, Au Fait, Lords and Koarakau.

-o0o-

DAVID McCARTHY writing in The Press 31Oct09

Obituaries of leading horsemen often rely on lists. Lists of races won, top horses trained, trophies on the mantlepiece. After 80 years working with horses however, Don Nyhan, who died in Christchurch last week in his 100th year, was always associated with just two names - Johnny Globe and Lordship.

The two most popular pacers to grace Addington in the last six decades, their reputation was partly a reflection of the values of the of the Nyhan family itself and the esteem they earned from the racing public. Nyhan and Doris, his late wife and best friend of 70 years, were ornaments of the trotting world in its peak years, respectively racing Johnny Globe and Lordship.

Modest winners, gracious losers, their focus unaffected by success, their chief enjoyment was the friends they made in racing. They loved their horses, valued their family and devoted their lives to both. No breath of scandal ever touched the horses housed at the immaculate Globe Lodge in Templeton. The Addington public clutching their precious 10 shillings each way ticket knew they would at least get a run for their money from the horses in the black, pink-crossed sashes and sleeves, black cap.

Don Nyhan was born in Petone, the son of Dan, a successful horse trainer from Ireland, and was raised in surrounding districts. In Wellington he met Doris, the attractive and stylish daughter of family friends who had never been to a race meeting. They were married a few years later. Within a short time Doris was driving the team in fast work while Don rose at 1.30am each day for his milk round before his day's work horse training. Even in recent years few birds were singing when Don Nyhan arrived at the stables and 8pm could count as a late night for the couple. They shifted to Canterbury in 1948, first to West Melton and later Templeton.

Visiting a client returning to England one Sunday in the late 1940s, Nyhan was offered a colt from a mare which he had trained. He later described him as "a mean-looking little coot with a poor coat who had been in swamps too long". When asked about his value he replied "nothing". Doris liked him though, and emptied her fur-coat fund to take him home for £50. The colt, Johnny Globe was to pay for a lot of fur coats, winning 34 races, an unprecedented 15 free-for-alls, and a stakes-earning record of all codes in New Zealand at a time when a Cup win could buy a farm.

His win in the 1954 NZ Cup in world record time was one of the most exciting in the long history of the race. Two years before he had pulled up as a distressed favourite. For a few dramatic minutes he hovered close to death and "you could literally see the life draining from him" an eye-witness related. An emergency high-risk dose of adrenalin restored the blood flow and within 24 hours he was back to normal. As horse stories go, Seabiscuit had nothing on Johnny Globe.

After the 1954 Cup, fans on the inside of the course rushed the track amidst unforgettable scenes of affection for the great horse. Others were cheered after big races, but only Johnny Globe was cheered and applauded before them. Partly because of his head harness, the dapper little champion appeared to nod to the public in appreciation and the natural showman soon learned the ploy for further applause.

"John" as he was known, was only not human in that he could not speak, according to Don Nyhan. Even as an older stallion he allowed children to ride him bareback without complaint, and when Doris spent up to two hours at a time bathing his troublesome feet, he would rest his head on her shoulder while she read her book. When Johnny Globe made his farewell appearance, thousands sang 'When Johnny Comes Marching Home' and club president Allan Matson expressed the hope "he will leave one as good as himself".

Retired to stud at Globe Lodge and with barely 10 mares booked to him in his first year because of a bias against New Zealand-bred stallions, he fulfilled that dream by producing Lordship, bred by Doris Nyhan. Twice winner of the NZ Cup and with 45 wins in all, he was an even greater stud success than Johnny Globe had been.

Don Nyhan trained many other top horses - all with a story - yet the father and son champions dominate memories of his achievements. He worked them hard in the old fashioned way but treated them with great respect.

A noted raconter, his stories of older days in racing never varied in the telling. He had to miss the departure of so many contemporaries in recent years but kept good health until near the end. His older son, Barry, ran the Globe Lodge breeding operation and the younger, Denis, set on the path to success by being given the drive on Lordship as a youth, was to later win his own NZ Cup with Robalan.

Don Nyhan took the one big opportunity life gave him and turned it into a small industry. That he did that without any loss to his reputation or friendships in a tough business was a true measure of his long life.

Credit: Mike Grainger writing in HRWeekly 29Oct09


| | |
| --- | --- |
| | RACING HISTORY PEOPLE |

JOHN SHAW

John Shaw, who died at the weekend, was a highly-respected Canterbury veterinarian and a pioneer in equine reproduction medicine. He was 70.

He graduated with a BVSc from Sydney University in 1963, and followed that by gaining an MACVSc in equine medicine and surgery. After his graduation he spent several months with the legendary Dr Percy Sykes, who was associated with Tommy Smith's stable.

In 1964, he joined Dr Bob Mackay, and a mixed practice with an emphasis on horses became Mackay, Shaw and Murfitt when Corin Murfitt joined in 1967. This practice developed one of NZ's first equine hospital surgical facilities and when it moved to Prebbleton, John established a stud and semen station.

He served as one of the official veterinarians at Addington and Riccarton for many years.

According to Murfitt, he was a compulsive worker with a high standard of professional ethics; fearless - he often became injured in the course of his duties - and was a reputable horseman. He held a trainers' licence and was successful with Pumpkin.

He was acknowledged by the equine veterinary profession when awarded the Brian Goulden Medal in 2005 for his contribution to the profession, especially for his developmental work with frozen semen transportation and artificial insemination.

John also specialised in pre-purchase examinations for America and Australia. He stood both thoroughbreds and standardbreds at his stud farm, prepared stock for sale and ran a very successful veterinary practice.

He was president of the Equine Branch of the NZVA for three years in the late 1970s.

-o0o-

David McCarthy writing in The Press 7Nov09

Prominent and popular Christchurch veterinary surgeon John Shaw had a rare ability to relate with equal ease to animals he treated and the people who cared for them. He died recently aged 70.

Born in Christchurch in 1939, Shaw's early ambition was to emulate the training and driving feats of his father Jack, an industry leader and pioneer in galloping and trotting.

Shaw was tall and rangy, unsuited to driving and riding racehorses. At St Andrew's College he was a noted high jumper. Fellow student and friend Peter Cordner said boys would gather just to watch the long-legged Shaw train for the event. He claimed a Canterbury title and record and second place in a national championship. He also played rugby in the first XV. He was awarded an athletics blue by Sydney University, where he trained and worked as a veterinary surgeon.

Returning home, he helped build the Mackay, Shaw and Murfitt partnership, with which he was associated for 30 years. Much of his work was with horse breeding and care, although he had an equal interest in and skill with smaller animals.

Shaw and wife Heather, whom he married in 1964, later set up their own establishment, first at Yaldhurst, where he trained standardbreds with some success and introduced Canterbury's first dedicated equine operation facility. Later he moved to Prebbleton and established a virtual potpourri of veterinary science, reflecting his widespread equine interests, innovative thinking, and inquiring mind. The project encompassed thoroughbred and warm blood stallions, pre-training, and the first commercial importing of frozen semen for standardbred stallions from the United States, as well as a thrivivg small animals practice.

"Gentleman John" Shaw's devotion to all aspects of his profession, interest in his clientele and long hours made it work. He became nmore interested in thoroughbreds later in life, importing stallions from England (Depot), France (Le Paillard and Sumayr) and Australia (Tuscany Flyer), all of which had success. Another innovation was to breed his own mares to these stallions and syndicate the foals among local enthusiasts, a time-consuming operation he handled with aplomb. Once he had established the viability of any project, his thoughts invariaby turned to a new one, rather than restricting his vision to the commercial potential of previous ones.

To the wider public, he was best known for his "open all hours" approach to animal care. His family remember him working to help distressed cats and dogs in his dressing gown. Christmas Day festivities were frequently interrupted for emergency surgery. His expertise was matched by fearlessness with animals, born of empathy with them. "Where others would take precautions when treating the broodmares, John often didn't have time and had complete faith in the intentions of the animals he was working with," a studmaster said. He was known also for his generosity - his charges often only an approximate assessment of the cost of time and materials.

Shaw was a much loved father of a family of four. They have special memories of forays to West Coast trotting meetings over the holidays with a home-trained horse. He conducted his five-year battle with cancer with quiet resolve and dignity. When unable to leave his bed he gained special pleasure when his most successful homebred racehorse, Oxford Aunt, was brought to his window so he could see she was safely in foal to carry on her line.

Credit: Mike Grainger writing in HRWeekly 29Oct09


| | |
| --- | --- |
| | RACING HISTORY PEOPLE |


W P WALSH

W P Walsh is associated with 1950s Westport trotter, Durban Chief. But there was a lot more to Billy Walsh's career than that. He tells David McCarthy about some of the highlights of nearly 70 years with horses.

There was a family connection with racing when you were young?
My father, Claude, was a butcher in Westport and often trained a horse or two for a hobby, sometimes for other people. That is the way I have worked too, really. I took over the management of the butchery for Oxnams of Murchison from dad and later we took it over ourselves. Horses were a sideline, but I have had a tremendous amount of pleasure doing it that way.

Deliver the meat with horses?
Dad had but it was mostly bikes in my time. When petrol rationing came in after the war it started people coming to the shop instead. I remember dad having to get special coupons to go up the Buller Gorge every couple of weeks just to buy stock. We had up to 26 staff at one time, but now only wholesale. We were the first shop in Westport to sell pre-packed meat and it was a turning point for us.

How?
We could see the supermarkets coming and were looking to hold our own. Stan Payne was an Englishman who had developed the prepak for Auckland firms and in Christchurch. We saw it with Jack Ferguson in Greymouth and took it on. Later we bought a supermarket and sold a lot of meat through that. It became a Fresh Choice and in the end we accepted an offer we couldn't refuse for it. We have only sold wholesale since then.

When did the racing come in?
My first winner was Sea Pirate at Westport(1952). Dad trained him. We had got him for £200. He had been a good horse as a youngster. I think he was placed in the Sapling Stakes. He won his first three starts that season but he had been useful before that. We had a good horse in King Bruce about the same time. He was raced by Jimmy McDonald from Ngakawau. He had broken him in and he was a good horse for us.

What was it like driving against the Canterbury reinsmen? You and your horses would not have had much practice before the meetings?
In those days there were a lot of trainers operating in Westport. Barney White was my best man when I married Gloria and still comes around for a chat. Len Pascoe was a great driver. Frank Watson from Reefton, he won six races one day there; Keith Powell - quite a few of us. We would have our own little trials on Sunday mornings. We held our own alright. I found the visiting drivers pretty fair. Fortunately, Maurice Holmes didn't come up this way much.

Other early winners?
Queen Jess won for us a Westport. She was another of Jimmy McDonald's horses. And I won one for George Shand one day at Blenheim which was a bit unexpected.

How so?
It was the second string. George was driving Sam Scott which Sam Woods owned. My horse, Bar None, was a brilliant beginner, but gee he could pull. Well, in this particular race there were two false starts but Bar None began like a bullet each time. Man, he pulled, but he was always clear of them.

I see one day when you were driving, Colin Berkett had a horse called Cabot which won a race and went out and won the next one. Do you remeber that?
Not offhand but I remember Leo Berkett winning successive races one day with one horse; one of them pacing and one of them trotting. I think it was with Toushay.

Durban Chief. He was a bit of a cult horse in his time. How did you become associated with him?
He was bred by Mrs Bill Craddock (wife of the West Coast cartage operator) and Bert Woodcock trained him. There were quite a few people with an interest in him. He was leased originally and then bought. I drove him in a lot of his work but it was dad who really set him on the road to fame.

How?
They were trying to get him to pace and he was proving a bit of a handful. Dad watched him one day and said he thought the horse was wanting to trot and they should try them at that.

Had you driven at Addington much before him. Were you nervous?
I hadn't driven there before Durban Chief. You worry that you will do something wrong in a big race like that but I liked driving at Addington. All those good drivers. It made it easier in some ways.

He won two Dominion Handicaps. Did one stand out ahead of the other?
Well, he got the first one on a protest. Recruit was first past the post but he was in a gallop and was relegated to third. I think they put him up to second on appeal. The day of the appeal was one of my most memorable days in racing.

How come?
Maurice Holmes and I were giving evidence and we had to wait in a seperate room. We were there on our own for about an hour and I have never learned more in a shorter time about racing than on that day. A great man, Maurice. People liked him and when he was on a likely winner he got a few breaks from other drivers because of who he was.

The second Dominion?
It sounds like a skite, but it was easy. He was off 36 yards and everything went to plan. I think he won by eight lengths. He should have gone through unbeaten on all four days. He won three and ran second in the Worthy Queen Handicap and he should have won that. It was my fault. He set some great records too. Dictation held all the records then but Durban Chief matched them.

What became of him?
Noel Simpson leased him and he went to America. Before that I took him to Auckland and he won a race there leading up to the Rowe Cup. He won 32 races in America. He was the first New Zealand trotter to run in an International Series up there and measured up to the good ones. When he retired he used to pull a gig for an old couple who looked after him. He deserved it. He was a lovely old horse.

Easy to drive?
The thing with Durban Chief was that he never wanted to do anything wrong on or off the track. He was great to do anything with around the stable and once he was trotting right he was super smooth, no putting in short or long ones or doing something funny. He just wanted to do it right. In a 2600m race at Addington he would take a while to get fluent. Maybe by the time he got to the showgrounds bend he was right and that would be that. He had a wonderful sprint at the end of his races. The day he won the Dominion he just ran away from them and they were pretty good trotters about then. You could only wish they were all like him.

A horse to have a bet on maybe?
Yes, probably, but I had learned my lesson about punting before he came along.

You did a lot of freelance driving. It could not have all been plain sailing?
There was one time when a Canterbury trainer put me on at Westport. We did everything right and won and he was absolutely furious. He had not said anything beforehand about what he wanted. He wasn't happy when I brought it back but then went around town telling everyone I had "had a go" on my own while he had not backed it.

What could you do about that?
Well, I did talk to the stipe Len Betterfield and I said I thought it was a bit tough being talked about like that. Len had a lot of experience. He came back to me and said "Any trainer who has to ride a bike around Christchurch hasn't amounted to much" and we left it at that. I rated Butterfield far ahead of his predecessor.

You drove quite a lot for "Super" Shrives of Reefton. Super could be a bit fiery too?
Super could get wound up but we never had a cross word. I remember driving Steel Lady for him once at Nelson and he told me he had let the hopples out eight holes. I said that seemed a bit extreme but he said it would be alright. Well, she just couldn't find her gait and never paced well. The second day he took the hopples up six holes and she won. Repus Bob was a trotter I won a couple with him for Super too.

You drove, trained or owned other good ones?
I was always a seller and most of the good ones went early. Cedar Kiwi ran a first and a second in two starts and went to America. We had a full brother who was better but was a heartbreak. He was always sore and we spelled him more than once but he always went wrong. The Deputy we sold after he qualified and Johnny Tapp won a lot of races with him in Australia. On of the best horses we had was Hurry On which my father (Claude) raced with Jack Clayton. He won on Show Day at Addington(1964) and was a bit unlucky not to win on Cup Day as well. I drove Remlap three times for three wins. Johnny Gilbert won a Westport Cup. Faberge I won several races with for Brian Woodcock. It is not easy to remember them all now. Chesterfield which I drove for Ransley Reid, won a race at Addington and caused a stir at Omoto one day.

In what way?
Well, I went down there just to drive Chesterfield. I didn't find out until I got there that he was out and then I was offered the drive on Doctor Jim not long before the race. I went to see the stipes and there was a bit of talk but I was allowed to drive him and he won. Some punters were not impressed because those off course didn't know I was driving it.

Cecil Devine hired you one day?
Yes, that was for a mare he sent over called Daisy D'oro. I remember him telling me that when he first came to Westport (in the 1940s) at the old Mill Road track he slept the previous night in the grandstand. He went a long way from there. He told me to check out Daist D'oro with Bob Young on raceday because he had driven her. Bob didn't muck around. He just told me she was a "stinking little b...." and he was dead right there.

You also drove Golden Rule quite a lot?
Yes, but I wasn't on her when she won the Champion Stakes at Ashburton because that meeting clashed with Westport. My father had a racing share in her with Jack Reedy at that stage. I took her up north where she won the Masterton Cup. It's been a great family. She was a lovely mare to handle.

Mister Gregory?
Yes, we sent him over to Denis Nyhan later which we did in those days with the better ones to cut the travelling down. He won the Timaru Cup for Denis and I am pretty sure he set a track record doing it.

I guess with your opportunities you never had a big tally of winners in a season?
I think 11 was the best and it wouldn't have been with that many drives, maybe 30 or 40. As I said it was a hobby rather than a business proposition for us. We'd buy a horse at the sales most years looking to sell on. Aveross Seelster we had some fun with. Craig Thornley and Jackie Burrows did a lot of the work with him. We sold him to Perth for very good money and I got a shock when my boys told me one night Aveross Seelster was arriving back in the morning.

What was the story?
My wife Gloria had died and I was a bit down. I took a long time to get over it. He hadn't done well in Perth. The boys tracked him down, bought him back, and he turned up at home to give me a bit of a lift I suppose.He went a big race for second up but didn't do much after that. He broke a leg out in the paddock one night.

Now the next generation is taking an interest?
Yes, one of my sons, Graeme, and his wife, Karina, have gone into breeding for the sales here. Actually the only horse I have in work now is a Christian Cullen filly they are retaining for breeding. They have done pretty well so far. It is not an easy business breeding to sell.

Christian Cullen. Where did he rate with you among the greatest you have seen?
Right up there. One of the really great ones. But Highland Fling has always been my favourite. I saw him race quite a few times. You never forget a horse that could do what he did.

You are now 80 and seem to be keeping well?
I had a brain bleed a while ago which kept me in hospital for a few weeks but it seems all right.

It hardly seems worthwhile asking if you have any regrets?
No way. I have met a lot of great people in trotting. A lot of great people. I still follow the game as closely as I always have. It's been an important part of my life.

Credit: David McCarthy writing in The Press 5 & 12Dec09


| | |
| --- | --- |
| | RACING HISTORY PEOPLE |

DOUG McCORMICK

Doug McCormick, 80, became the oldest reinsman to drive a winner when he partnered Perfect For Us at Westport on December 26.

The Ashburton horseman races Perfect For Us with his daughter, Susan Roulston. They bred the mare. Perfect For Us traces to Silver Wood, who gave Doug his first win as an owner and trainer at Oamaru 56 years ago.

Credit: NZHRWeekly 13 Jan 2009


| | |
| --- | --- |
| | RACING HISTORY PEOPLE |

JACK SMOLENSKI

In July last year, harness racing's "horseman's horseman", Jack Smolenski, 73, was struck down by a brain haemorrhage at Addington Raceway, just before he was to drive in a race, and, at one stage, he was given up for dead. He talks to David McCarthy.

Our Princess Royal's win at Methven (this month) would have been a tonic for you?
Yes, she had disappointed me at Motukarara. I had a good talk to young Sam (grandson Sam Smolenski)and he did everything right on the day.

He doesn't have a bad teacher.
He doesnt tell fibs. He is straight-up and so am I. After one of her races when I thought she might have done a bit too much, he said maybe she just wasn't good enough and I said "b....., you can't sprint twice in a race - at least with what I feed them - and you have to remember that. You can go to the front, but you can't sprint again to fight them off and still come home fast." He is doing well, he can be very patient. You have to be careful with fillies. They can go off quickly if they have to do a bit too much in a race when you expect they might improve.

How hard is it not being able to go out and do it yourself?
Bloody terrible. I miss it badly. I am still hoping to get back into the cart, even if it is not raceday.

Did you have any warning of your illness?
Funnily enough, I had had a headache the day before. It was unusual, because I hardly ever got headaches. I took the horse (Xativa) to Addington, but started to feel crook not long before the race. Barry and Sue Morris were with me and they got some asprin. I was still off-colour, but determined to drive. Sue said in the end "you are not driving". I collapsed not long after that. If it wasn't for her, I wouldn't be here now.

Dying on the track would have been awful.
I think in my time three drivers died out there. I was driving in a race at Ashburton one day when I saw one of them collapse and die, and I thought what a terrible way to go. It could easily have happened to me.

You went very close to death anyway. Did you know much about it?
I was in and out and then there was the operation and there was a family meeting. I was sort of aware what had happened, but not really with it.

You seem fairly mobile in your scooter?
I have had my moments. I had a few falls out of the first one, which had bigger wheels. One was going too fast and then I would reach over to pick something up and over I would go. It was always on my left side and hip, which was the worst. This one has smaller wheels and is more stable.

What therapy do you still have?
(Daughter) Joanne takes me swimming twice a week. She is a tough taskmaster too. Gives me plenty of orders and makes sure I am doing it properly. It is about half an hour each time. It helps. The water is nice and warm, too.

What sort of swimmer were you?
I could dog-paddle a width of the old tepid baths, and I think I won a race dog-paddling a width when I was a kid at school. I couldn't swim at all.

You go back a long way in trotting Jack, and you had a great career. It all started with Tom Gunning at Temuka?
I went there in school holidays and I started working there on Christmas Day, 1949. My auntie, Nellie, was married to Tom Gunning. She used to take me to the races when I was a kid and she raced some top horses herself. One of them was Gay Heritage. I wasn't too popular with Tom over him.

How come?
I had been there a while and had only jogged or walked horses. I hadn't done anything with them at speed. I walked them so much it's a wonder my legs weren't worn down to my knees. That and lugging big water buckets for 30 horses at a time. Anyway, this morning Tom was getting Gay Heritage ready for the Sapling Stakes (June) and he got me to drive the galloping pacemaker.

There was drama?
In those days they put sawdust on the track so it could be used in the winter. Anyway I set off in front of Gay Heritage. The pacemaker picked up the sawdust on his hoof, it compacted, and then it flew off into my face. It went down my throat and Tom was yelling at me to keep the pace even. When we pulled up he was abusing me - Tom could go off at times - while I was just coughing and spluttering trying to get sawdust out of my system. Gay Heritage turned out a very good horse.

Leicester Tatterson was there then and told a few stories about you. Any comment?
I had a beer with him one day and told him when my turn came I would tell a few of my own. One of those I remember was one hot day when an owner who had a pub in Timaru came and had two bottles of beer in a paper bag for the staff. Somebody reckoned I was giving them cheek - I didn't think I was - and rubbed my face in the dirt.

You weren't standing for that?
I got a stone and threw it at the beer. I hit bottle plumb and because it was so warm, froth spurted everywhere. I just started running. They caught me eventually. We used to give the horses this awful smelling stuff as a kidney treatment after a race or work and I got some of that in the mouth. I am sure it was Tatt actually. It smelt horrible and tasted worse. I can still see that froth from the beer and the looks on their faces.

You got your revenge?
One day we had to take some feed up to a horse on the top of the hill. We put it in a sulky, Leicester hopped on and made me pull it up the hill. When we were coming down he was urging me to go faster and faster. In the end I hit a knee or something, but anyway I went down, dropped the shafts and they jammed into the ground. I looked up and saw Leicester sailing through the air. He didn't see the joke. He got me back.

How?
We had a good trotter called Will Cary and four of us went out one night to catch it. We only had a lead and the others said I should hop on his back and ride him back. I didn't want to do that because my tailbone used to give me hell from too much riding. I had just got on when Tatt slapped the horse over the arse and off he went. I was heading straight for a hedge at top speed when I bailed out.

Much later came your New Zealand Cup winner Arapaho. Peaking a horse for a big race like that on the day, is it luck, skill, or something you can learn?
It's mostly experience. On Cup Day with Arapaho I didn't just set the horse to be at his peak, but myself, too. I really worked to make sure everything was right for both of us. I think that's important.

You added the Auckland Cup?
We went to the front, which didn't really suit him, but Young Quinn was in front and I knew he wouldn't want to be there and would let me go. Arapaho was a great stayer. Down the back I threw in a half in about 57 to take some of the sprint out of him, and it worked out. He couldn't catch me.

-o0o-
Part 2 The Press 1 Jan 2010

Jack, you started training from Reg Cutin's place, got into the limelight driving Rocky Star for Ivan Schwamm and then struck the training jackpot from your own place in Templeton. What was the key to that sensational team which gave you the record premierships in the 1970s?
I worked them on a heat system. it was not too different from what we did at Devine's, but I had my own way of it. It was not like the interval training, which came later, with horses going flat out and resting in between. I would work them over a mile and a quarter (2000m) at a 2:30 rate. There were no big sprints home. They seemed to love it. We had a great run. But after a few big seasons it didn't work as well.

Why was that?
I came round to thinking that those earlier horses had been in other stables and had done the groundwork before I got them. They thrived on the heat system and I stuck to it. But I had to go back to standard training hoppled work with horses which hadn't had a lot of experience, and buildup. I worked the two-year-olds over mile heats but sort of on the same system. One of my best fillies, Seaswift Franco, was an example of what I mean.

How so?
I got her up for the filly races that season (1991) but in the really big ones she didn't finish off like I would have liked. I thought enough of her to set her for the Great Northern Derby. Not many fillies I have trained would take the colts on (Mel's Boy and Nardin's Byrd had both won the Derby previously for the stable) but I thought she was good enough. Anyway the day before I put her on the plane tp Auckland I worked her the heats and then sprinted from the 800m. She ran that in 58 and I told the boys there wasn't a horse around which would beat her that week. As it happened she got wiped out in the Derby and never had a chance. But that was how I stepped it up sometimes with the good ones later on to give them an edge.

You won the Messenger with OK Royal a few years later?
There was a story in that one. Passing lanes were just coming in and I had been against them down here and pretty strong about it. Anyway they had one at Alexandra Park. When I was doing my preliminary I had a look at the pasing lane and thought, gee that's wide enough for two horses. In the race I got to be three back on the rail which was not the best place to be but I was confident I could get a run, that lane was so wide. Sure enough the horse trailing in front of us took the lane and I was able to squeeze up inside and win it. I heard some bloke say 'he won't be able to show his face at Addington now he's won the Messenger in a passing lane'. I never became a great fan of them but you just have to adapt.

Mel's Boy was a horse which maybe never lived up to all his early promise?
He was a good horse but he had some odd habits. The worst one was that he would some days just pull up on the track and refuse to work. You couldn't budge him. You don't often strike one that determined.

You were quite a long time with Cecil Devine. Was that in the 1950s when Thunder, False Step and all those top horses were there?
Yes. I did two stints with Cecil covering a lot of those years. You mentioned Raft before. I remember Cecil setting up a punt on him in a maiden and he asked me if I wanted to come in with him

I bet you didn't say 'no'?
I drove him when he qualified at Rangiora. Cecil wanted him to qualify but did not want him to win but I think he did anyway. He told me when I came back that when the right day came he was going to have a good go on Raft and did I want to be in? Of course I said 'yes'. I drove him at Motukarara and he finished down the track. Cecil was a bit critical that I let him do it all a bit too easy. Anyway he was going to Orari one day not long after and he told me today was the day and how much did I want on? I said £10 each way. To tell you how much that was I was getting £10 a week as stable foreman.

A happy ending?
A bit of drama. First the float was late getting away - I think Jim Bell was driving it - which always put Cecil on edge. Marie and I had not long been married and risking two weeks' wages on a horse was not Marie's idea of fun. She was glued to the radio because you could only just hear the race. Raft missed away but he won. Then the dividend came over as £2/5/-. It had seemed a lot of risk for that. I pointed out to Cecil the next day he had been paying £17 at Motukarara but he didn't say anything. There was less racing then and you had to make the most of your chances.

Was your training, particularly of young horses, modelled on his?
Not with youngsters. The trainer I tried to follow there was George Noble. He was a great trainer but especially with young horses. He used to work them over a mile and in heats. His young horses were always well educated. They'd stand up, they'd step and they could take a position. With older horses I suppose Devine's methods were where I started but even he changed. I always thought that if he had trained Lord Module like he trained False Step, Lord Module's career would have been a lot different.

Credit: David McCarthy writing in The Press 19Dec2009


| | |
| --- | --- |
| | RACING HISTORY PEOPLE |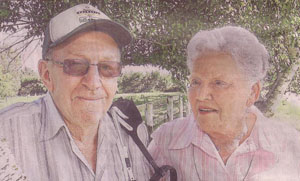 Frank & Shirley Bebbington

FRANK BEBBINGTON

The Bebbington family has been involved with trotting horses for almost a century. Frank Bebbington's still training horses in his seventh decade and talks to David McCarthy about his experiences.

It was your grandfather who started it all off?
Yes, his name was Frank too and my father, Reg, trained as well. The other Frank had a good mare called Manuka which was a sister to (pacing champion of the Victorian ere) Ribbonwood. But he passed her on and a foal, I think, to Maurice McTigue and Frank McKendry. The filly, Ivy Mac, was a foundation mare for Maurice. It was where his best horse, Tactician, came from.

You and your dad trained a good one in Robert Medoro?
The Jamisons were next door to Dad. They had that very good breed but this one had a club foot and when a possible sale fell through we got him. He was by Medoro, a stallion we liked. He had been breed in Italy but was of all-American blood. In those days you couldn't bring a stallion in from America and he was one way round it. He was trotting bred, though actually most of the good horses he left were pacers. We had him at home trying to get his feet right. I don't think he raced until he was seven and ended up beating Snow Globe in the Hambletonian which was the big Easter trot in those days.

What about your first winner?
It was the first horse I trained and he came along exactly at the right time in 1960. I raced him with Gordon Cartwright who used to be my barber then. He bred him. His name was Whipaway and he won at Motukarara the same week Shirley and I were married. What we got out of it paid for the wedding, the honeymoon, the lot. I bred from a half-sister called Iron Maiden. She was a good mare and left some good horses including Avalon Globe who sired a grand trotter we raced called Globe Tour.

You seem to favour trotters?
It is just the way it has worked out really, but I must say I enjoy developing a good trotter. I did my own shoeing and it was a big part of it. You can't condemn a trotting horse if it lacks early speed, especially if it has got breeding. Sooner or later something will come of it, if it has the pedigree. In the old days the trotters were horses too slow on the pace, and some of those old trainers took six months to get them just to trot. It is a lot different now.

Some people say the ones now are not as tough?
I suppose it is right but you have to remember they are not trained to be tough like they used to be. Maurice McTigue, Ossie Hooper, Billy Doyle and those blokes did a lot of road work with their horses. Paul Nairn is still doing it but the roads around here now are too risky. Ted Lowe used to jog his pacers for half an hour before he fast worked them. People don't have time for that any more.

How did you get Globe Tour?
Though a friend mine from Murchison, Dave Oxnam. He gave me some young horses to take home from Nelson one day and educate. They were pretty rough and getting them home was an achievement but they turned out alright. He was breeding from a horse called Protector there.

Protector became famous when horses like Nigel Craig were racing but came from nowhere.
A bloke called Charlie McHugh who was basically a car dealer was sort of behind him. He was unusual in that they had him running with the mares when he was two and he had stock racing before he did. He had ability but by then he wasn't interested in racing by the time he got there, only the mares around the track and (stipe) Len Butterfield wanted him out of it. Dave Oxnam had a remarkable piece of luck to get some of his best rachorses.

Like?
He was breeding thoroughbreds and when it was suggested he switch to trotters he wanted to know where to get some mares from. He was sent to Joe Hampton at Upper Riccarton for a couple, but Joe said he had sent them to the knackery the day before. It was the weekend and Joe said Dave might be able to get them there before the gun was fired. He just made it. They were waiting in the paddock. He took the two mares home and bred them to Protector in Murchison where he was a butcher and a farmer. One, Propetre, left the champion trotter Nigel Craig which set the mile record and the other Shendi Lass, left one of the best trotters we ever had in Royal Armour. She left some other good ones too. Trafalgar was a really good trotter she left. He was well known up Nelson way. A great staying horse.

I see Globe Tour won seven races one season at four?
A grand wee trotter. He went in the wind. I think it ran in the family because Royal Armour did the same. We operated on them but it was much harder to get it to work then.

Your daughter, Lynne, drove Globe Tour?
Lynne did everything with him. She broke him in, shod him, drove him, the lot. Then she got married to Andrew Neal. She had her photo taken in her wedding dress with him before she went to the church. Jim Ferguson got up at the wedding and told Andrew he was not only getting a lovely wife but an expert blacksmith.

You also stood stallions and one of them was Mercedes. That must have been a challenge?
He was a brute. Ted Lowe was in Ashburton hospital when the news came out we were going to stand him. He told the nurse to leave the bed next to him vacant because soon after Mercedes arrived Frank Bebbington would be needing it.

I remember seeing him in Auckland and he was a man-eater. How did you survive?
He had killed a bloke in America and he would have done here with half a chance. We heard the stories from up north where Ted Hooper had him. They told me he always had to have two headstalls on. If there was only one somebody would cop it. We couldn't get a headstall on him. You couldn't handle him. In the end we shot darts into him but it didn't seem to make any difference.

What was the solution?
We built a race right outside his stall. You had to have those sort of things to get anywhere. When he ran into the race we blocked it and tried to get a headstall on him from above where he couldn't get at us. We still had the darts as well. He always had to have someone on a pole either side when you could catch him. Gary Argyle was working for us then. I don't think I have ever seen anybody get over a big rail as fast as he did one day when Mercedes was going to eat him.

Was he a success?
Well of course he left Luxury Liner up north who was a great horse otherwise I suppose nobody would have bothered. We used natural service with him - you had no chance collecting semen for AI - and the first mare he served left twins. I thought that summed it up really.

Best horse you have seen?
Johnny Globe was a favourite of mine. I know everyone says that but he was for me. Mount Eden was a horse with terrific speed. He was the fastest I have seen.




Credit: David McCarthy writing in The Press 7Nov09


| | |
| --- | --- |
| | RACING HISTORY PEOPLE |

PETER YEATMAN

I suppose as your father was a trainer you were always going to go into the game?
The old man worked as a foreman for old Free Holmes for many years and took his stars like Trix Pointer when they went to Auckland. He was later a trainer and he also rode in saddle races. In fact, he fell off the famous saddle pacer Mankind when he was winning one day and I got sick of hearing about that. But no, I wasn't really interested in the horses and I went to the races one day when I was about 19 and I got hooked into it.

What was your next step?
My first job was with Cecil Devine, and I was there quite a while. We had our moments and at one stage parted on bad terms but it was the best thing which ever happened to me. I learned so much there. He was a master trainer.

Which era were you there?
False Step, Thunder and Teryman were there then. They were all good horses to handle. It was a bit of a breeze when you look back on it from the horses to handle viewpoint but it wasn't so good when the Van Diemans came into work.

The problem?
Cecil stood Van Dieman (with which he won the 1951 New Zealand Cup) at stud on the property - we did the stud work as well - but they weren't nice horses. They were spooky and nervous and jumped out of their gear with any excuse. I remember I was working up a horse called Van Rush. He was a four-year-old before we got him to pace right. I used to drive him around behind in the hoppled work. One day Cecil told me I could pull him out and try him at the end. Well, he just ran past all of them. I never got to drive him again. I think he won his first four or five races.

Stablehands worked long hours in those days?
We worked 6½ days. We fed up at lunchtime on Sunday and had the rest of the day off. But I was living in a whare on the place and virtually had to stay round to keep an eye on the horses. We used to do the oats too. We'd get up at five and have the horses finished by nine and then we would spend all day harvesting and often go back after tea. Jack Smolenski was there then. I told him I'd worked out that the contractors were getting five bob an hour and knocking off at five and we went on and were getting a shilling an hour. But we really didn't mind that much. I didn't do much outside the horses anyway.

What about the work schedule with the horses?
You had to have your own stopwatch. Everything Cecil did was based on the watch. You would be told to run your first half in maybe 1:15, and given all the other sectionals to do in great detail, and there was a problem if you didn't get it right. It was down to a fine art.

Cecil had a reputation for being a bit of a character to work for?
He was very thorough down to the last detail and he was down on any of us drinking. In fact, we parted ways later on when he was told I had been drinking at the races. I hadn't been and I resented that. Cecil used to go to town every Friday and we had to do our usual full brushing down twice a day. He put double covers on his horses and we had to take both off and do it properly. Just in case we were tempted to cheat a bit when he was away he would put some straw between the covers. If they weren't disturbed when he checked after coming home, which meant you had only done half the job, you were in bother.

Did you have a better offer when you left?
Well, not really, but Cecil and I had a disagreement one time when I was mowing the lawn for him and he was on about drinking again. I sort of quipped that I had just got the mower out of the shed and there had been a few empty bottles of his in there. I was sacked on the spot. When I walked away Cecil wanted to know where I was going. I said: "Well, you sacked me." And he replied: "Yes, but not until you have finished the lawn." He was a character. I went back there for a while later and we got on alright.

Reg Curtin has always been a great mate of yours. Was it around then you met?
Yes, it was a bit unusual then. There was a lot of feeling between the Devine and Litten stables over False Step, and Reg worked for Jack Litten. Some people took it all pretty seriously but Reg and I didn't let it bother us. He has been a great friend. We have had a lot of fun over the years. Mind you I never resisted sorting him out on the track when it counted.

You then went to Ron Kerr. What was the reason for that?
Ron was a specialist at breaking in horses and curing problem horses, especially gallopers. I had not had that sort of experience. He was a great stockman and had a good pacer then, Mighty Loyal, but mostly he was educating them.

What sort of problems did the gallopers have?
We used to get the ones who were rebels and bad buckers who couldn't be controlled. Ron used to put a pack saddle on them, hook half a bag of chaff on both sides and let them go bucking in the yard. When they got tired of doing that we would get on them and after a while they got the message.

Did you go out on your own them?
No. I had just got married and was working night shifts and started helping Jim Dalgety when he was at Templeton opposite Don Nyhan's. After a year I went fulltime with Jim. We had quite a lot of success. I mean, I was the third driver in the stable but I drove five winners in that first season and I was the equal leading probationary driver. There were only 12 races for probationary drivers all over the South Island in those days.

How long were you there?
Quite a while. Later Jim moved out to West Melton and went into the breeding game. We were finding our way in the early days we didn't tag the mares which was fine if we were both there every day in the breeding season, but if you had been away and others had arrived, things could get tricky. Fortunately, we got it right virtually all the time. But I wanted to work more with racehorses and set up on my own.

Where?
Jack Parsons had a place in Yaldhurst just opposite where Allan Holmes trained. I worked the night shift and trained a horse for Jack for the rent. He had leased a horse called Local Star to Hec Jardin and I got that to train. It was my first winner (1965). I used to pre-train too and Derek Jones was a great supporter of me at that stage.

Any of his top ones?
I broke Leading Light in for Derek and told him I thought it was well above average. Derek said: "All right, send him over." But he lined him up at Methven first up and broke up with the money on. Derek said to me: "Peter, even though he broke I think you overrated that horse." He sent it down south and didn't go to drive it himself. It won by 20 lengths and, of course, ended up winning an Auckland Cup (1969) for Derek and Jack Grant. Great speed horse. Jack Parsons had his sire, Local Light.

In those days three training wins seemed a good season, five a top one and anything else sensational for many trainers. How did you survive?
Local Jen was leased to me by Jack Parsons and she won five good stakes for us. Then I won quite a few races with Morris Pal which Mike and Colin De Filippi's father, Rod, raced with me. Yes, there weren't many racing opportunities then especially for the slower ones unless you went to the Coast and I used to take horses to Hawera to get starts and form for them. Some are back doing that now but it was real bad in the 1980s down here. You had to qualify and then win a trial to have a show of a start at popular meetings.

What sort of money did it cost to train a horse with you?
Five pounds ($10) a week when I started. Some were charging £7 but you had to give a discount to get any horses. Remember there were no driving fees paid then if you trained the horse as well. That is why when I was starting out there were no professional drivers outside Doug Watts. Even Maurice Holmes had to train as well. Most drove their own and if you didn't drive, it was hard to get any horses because of the extra expense for owners.

Kata Hoiho I remember as one of your best horses. Didn't he have thoroughbred blood in him?
Yes, his mother (Our Helen) was by a galloper (Prince Bobby) but I didn't know a lot about his breeding. He came from the Coast (bred by the Moynihan family of Hokitika) and Neil Edge got hold of him. He won what is now the West Coast bonus (Westport Cup, Westport second-day feature and Reefton Cup) as a three-year-old. Unfortunately, they didn't have it then. We had a bit of luck with galloping blood. Neil raced Te Aro Boy, which was out of a mare which Jim Dalgety had bred from a thoroughbred cross, and he went alright.

What happened to Kata Hoiho?
He ran second in the Hororata Cup at three then won the Methven Cup early in his four-year-old season. We sold him in America after that.

Any luck?
Funny thing, I took a flight of horses over to America later with Reg (Curtin) and met the top American men who trained and drove him, Billy O'Donnell and Jerry Silverman. They told me he was the best Kiwi horse they had handled up until then and he qualified in 1:57 with his head on his chest. But he broke down before he could race and never came back.

You seemed to do well in staying races. Any particular reason?
I think we won 11 provincial cups at 3200m on both sides of the Alps. The Methven and Hororata Cups on the grass, all those sort of races. I have never had more than 10 racehorses in work. I used to think the staying races were a bit easier to win than the sprints, especially down in the grades. A lot of the time they weren't run at a lot of speed which helped the lesser horse. In the shorter trips it tested just their speed. I remember taking Flying Home to Hawera and we won a 3200m from a mobile gate in 4:40 on a good track.

What was the secret of success on the West Coast tracks? You seemed to concentrate on that circuit.
Yes, we were always going over there, even to the gallops meetings where they had two trots. At that time you could get a lot of starts with an out-of-form horse because the fields were not usually full. You could end up having two starts on each of the two days at Westport, two more at Reefton and then there were three days at Greymouth to follow. Everything had it's chance to earn some money. You had to back them as well and you knew all the form. All you had to worry about was first starters, they could fool you. You could pinch an advantage at times, especially at the start. I had a horse called Pussy Foot which drew the second line 11 times in 14 starts in the trots at gallop meetings over there and never started from the second line once. You could usually find a space on the front if you timed it right.

And the driving?
That was another thing. The good horses didn't go over there so a lot of the top drivers didn't go either. You were driving against a lot of owner-trainers and amateurs and the professionals had a wee bit more in their favour. The front was still the safest place to be. And mind you, we could come unstuck too.

Example?
I started Colin McLauchlan off in the trotting game. He had had a horse with (Cecil) Devine which I got to work up, and then he started coming out and working the horses and he got into the game in a big way later. I leased Miss Frost for him and she won four races in 10 days. Colin was a fitness fanatic himself and it worked for him. He died just recently in his 80s and none of his immediate family had lived past 60. Anyway, I had a horse of his at Greymouth one day and it was paying about $60s. Colin liked a bet, I liked the horse and he went and put $100 on the nose.

Bad result?
You wouldn't believe it, I miscounted the rounds. I made my usual move at Greymouth which was down the back and I was cruising. Then I realised I had gone a round too soon. If there was a track that could fool you like that it was Victoria Park. Anyway, we ended up finishing fourth. Colin put another hundred on it the second day and it won. But it paid less than $2 and Colin actually lost money on the deal. He took it pretty well.

Did the stipes take any action?
Yes, I copped a fine from Len Butterfield and it had a follow up. A short time later John Bennett did the same thing with David Frost at Timaru but he held on to win. Butterfield told him he had fined a bloke the other day for it and he was going to have to fine him too even though he won. I think he got $150. John always blamed me for him getting a big hit in the pocket.

Reverting to Kata Hoiho, I suppose the export market growth became your main focus?
Yes, it was a great boon. but horses can surprise you sometimes.

Like?
I had a horse once for the connections of Holy Hal. Arthur Idiens was in it too. It could only run 2400m in 3:38 when I got it going, but I thought it had a bit of potential. Anyway, they wanted to finish with it. I said I would train it for a month for nothing and pay all the disposal costs if it didn't get any better. It fell over the next day and hurt itself a bit, but by the end of the month I felt it was worth going on with. However they had had enough. I bought him for $50 and sold him later to America for $5000, which was good money then. I didn't feel all that good about it but I had done all I could for them. I made sure I never sold duds to America.

Montini Royal was a good winner for you. Did Reg Curtin talk you into breeding to Montini Bromac?
Yes, he went on about it. Reg trained Martini Bromac and he always thought the world of him. Anyway, I sent a mare to him and Martini Royal won the Timaru Nursery Stakes and the Stan Andrews Stakes when that was a big two-year-old race at Addington. I handed the reins over to Jimmy Curtin then. He won over 3200m more than once as a three-year-old, including the Hororata Cup and later won the Methven Cup. He could run 4:08 but as a four-year-old he just had trouble being quite up with the ones he could beat at three.

Anything wrong with him?
No. To be honest, that blue magic stuff was around then. A lot of publicity was about the big stables, but there were quite a few smaller trainers using it. You could work out who. I always had a suspicion that was a cause. He worked as good as ever at home.

Pauls Express was another good performer?
A remarkably consistent horse. I remember they used to hold up the record of Rupee who was in the money in 23 of his first 25 starts. Well, Pauls Express did that too but didn't win as many. He wasn't top class but very honest.

Have you raced a horse with Reg Curtin?
No. We raced a dog together trained bu Ray Adcock who started off in trotting and it won ten races. Genuine Ace it was called. And I did Reg and Les Lisle a favour with a mare called Redundant.

How?
It wasn't going much and I think Jimmy (Curtin)thought she was shooting material. Reg and Les had bred her. Anyway, I won a couple of races with her and she has been a gun broodmare. She has left at least seven winners and we have had Muscle Machine and Rosie J out of her ourselves. My son Robert (who races Les Lisle with Roddy Curtin)has been breeding from her.

You had some fun on the road at times?
There was the time Reg reckoned I killed a lady at Addington.

Surely not?
I was driving Brase for Allan Holmes there one day and it won a good age-group race and paid over $100. A lady in the stand who had backed it got so excited she dropped dead from a heart attack. Reg said it was obviously my fault.

Best horse you have seen?
Close finish between Cardigan Bay and Christian Cullen. They were the best of my era.

How do you view harness racing today?
They have got most things right, especially the handicapping system and the free starts. It is far better. Pat O'Brien (Chairman Harness Racing New Zealand) is a friend of mine but I think he is doing the right things

Credit: David McCarthy writing in The Press 12May2009


| | |
| --- | --- |
| | RACING HISTORY PEOPLE |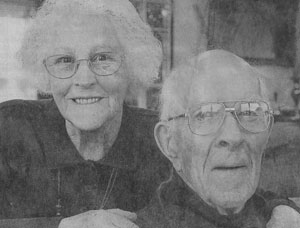 Beverley & Kevin Ryder

KEVIN RYDER

Inchbonnie is not known as a source of many familiar racing names. Did you have a family connection to start you off?
No, in fact my mother was a bit horrified about me doing too much with horses. I graduated through the usual steps of walking, getting a pony, then getting a horse.

How?
Well I used to go down to Jim Walsh's stables at Omoto and cadge a few rides, but I soon realised I was the wrong build for a jockey, which had been my dream. I used to help out at Owen Quinlan's trotting stables and then I got my first trotter, Emmett Grattan. The local priest, Father Daly, named him, but he was useless. The first drive, we ran a long last at Omoto. Another fellow who had horses there then was Jim Stewart, who had a brewery. The original one was over in Cobden and they wanted the land for the bridge and the road, so they built him a new one. He had trained Silver Ring when it was one of the best horses in the country. He got him after the original owner was murdered at the Racecourse Hotel. He was tied up with the man's wife's family.

Where to from there?
I used to get chaff over in Canterbury and got to know Jack Litten well. He said he had a horse for me, but when a stablegirl took me down to look at it, it had a huge knee and didn't look any good to me. Then Mrs Litten rang to say it was at Aylesbury and about to get on the train. It was too late to say no again. Fortunately, the horse which arrived looked nothing like the horse I saw in the paddock. I never worked that out.

How good was this one?
It had been tried up north and was no good there. When Jim Steel, a local owner, heard about it he told Jack Litten "that bludger will never win a race - in fact, I will bet you a case of whiskey she doesn't. She was called Helen Patch my first winner.

Did Jack get the whiskey?
That was a laugh. It never arrived over and after a while Jack asked Jim Steel if it was ever coming. Jim told him he had given the case to Allan Holmes to deliver after a race meeting over there. Allan didn't mind a whiskey. Jack never saw any of it.

And Helen Patch?
She won at Westport off 36 yards. She started eight times in 10 days and she was only once unplaced. I sold her to a dairy farmer, Mr Moynihan. He bred a galloper by Prince Mahal, a stallion I stood at Inchbonnie, called Prince Bobby and he mated her to Helen Patch. the result was Our Helen the dam of Kata Hoiho.

When did you start standing thoroughbred stallions?
I was always interested and I saw Red Jester advertised in the racing calendar for a two-year lease and took him on.

He was a good racehorse and sire?
Yes he did a good job. But he was a mongrel of a horse to handle while breeding. He basically didn't like serving mares. He would come out of the stall all business and then drop his head and start eating grass. He left some very good horses though like Wester and others. I will say one thing for him. When he was on the job, he got them in foal first time.

Such as?
Joe Robinson from Kumara was at a sale of Dinny O'Connor's at Templeton one day and bought a three-quarter sister to Phar Lap called Enticing. Joe wanted me to serve it with Red Jester and then send her on to him. But Dinny rang me up and asked if the mare was at my place. He said there was no point in trying to breed from her. She hadn't had a foal in years. Veterinary experts had been over her and she couldn't breed again. Joe said to go ahead anyway and old Red Jester got her in foal first pop.

How come?
There were veterinary surgeons around then who were not properly qualified but were allowed to operate as vets. Anyway, one of them had told me that with some mares which couldn't get in foal a trick was to gallop them around the paddock until they were sweating up and then serve them. Leo Crimmins was with me then and did it with old Enticing. It wasn't pretty to watch but it worked. Then you wouldn't believe it she got into a drain and died. They cut the foal out, but it died too.

What sort of mares did a horse like Red Jester get?
You would be surprised how many mares from good families were on the Coast. The owners didn't do much research on them. Those horses George Walton took up from the Coast when he shifted, and out came horses like Commanding and Castlerae. I had a funny experience with a mare with a bit of breeding called Fickle Jade?

Like?
George Lockington of Reefton owned her and sent her to Red Jester. We were travelling through Reefton on one of those really hot days they can have and stopped for an ice-cream. George came up and insisted we look at this filly. Well, you should have seen it. It was in a spare section and they were feeding it bread. George's brother was a baker. It was a yearling but it looked like a weanling. Looked a hopeless case. You never know in racing. She grew up to be Reefton Gold and won eight races.

What became of the mare?
That was another story. She was well-bred but George's daughter used to ride her around and he wouldn't sell her. Then his daughter came over to boarding school in Christchurch and he told me he would sell her but he wanted $100. I paid that pretty quick but I had trouble passing her on to Jack Litten. At that time he was bringing Aristoi into the country and was collecting mares.

Did he take this one?
I told Jack I had a good mare for him which I had bought for $100 but he said he wasn't interested in $100 mares. He wanted $5000 to $6000 mares. I convinced him she was worth a go and after a chapter of incidents he got one foal he sold for $80,000 and another for $70,000 to Hong Kong, so he didn't do badly.

The incident?
I was over in Christchurch then and Jack had a free service to We Don't Know that he wanted to use, but I thought she should go down south to Kurdistan. I put her on a truck down there but then there was a dust-up because Kurdistan already had a full book and they were going to send her back. Jack and Bill Hazlett were mates and they got it sorted but Jack was still going on about We Don't Know. It was the Kurdistan he sold for big money and, of course, We Don't Know was a flop.

You also stood Prince Mahal at stud at Inchbonnie?
Yes we had him two seasons. He dropped dead one day. He had been quite a good racehorse, especially in the wet at Trentham. He was foaled here but his dam was served in England and we got him for £250. He left quite a few useful horse but nothing outstanding. About then I had a Knights Romance mare called Gay Defender I bought for £5 out of Jim Walsh's stable and I lined her up at Omoto one day. The jockey came up to me after the race and said: "Kevin, do yourself a favour. Never put a bridle on this mare again." Eric Johnson bought a daughter of her off me and bred some good horses, including Khush Mahal.

Any trotting stallions there?
Yes, I had Allegiance. I bought him from Vic Leeming. He was closely related to Unite and had ability, but he broke down before he could race. That was the problem with his stock too. Some of them could run but they were unsound. Bay Prince was a good one for us.

Was there any money in standing stallions over there?
No, not a lot. But we never had a bad debt all the time we did it. I remember an old bloke came up to me one day and said: "Mr Ryder, I want to breed my mare to Red Jester but I haven't got the money. If you serve her with him I will pay you when I can." Well, it took about 12 months with £10 here and £5 there (the fee was £65) but he paid in full.

Was transport a problem?
Down in South Westland they used to complain about the travelling costs, so I built a truck and trailer especially to carry seven or eight mares and I would pick them up for nothing. One day a police car stopped me and said I was breaking the law. You were not supposed to compete with the railways then. I went to a lawyer and her told me as long as I was not charging I was not breaking the law. Sure enough, the next time I leave home there is a cop car stopping me telling me I was going to be charged. I showed him the lawyer's letter. He never bothered me again.

Then you moved to Christchurch?
Yes. I worked with Jack Litten and then Clarrie Rhodes, and then I did a bit of training and then got into buying horses and taking them to America to train them up and sell them.

-o0o-

David McCarthy interview: The Press 30June2009

Just before we move from the West Coast what about Master Conclusion?
I got him when we were in the North Island on holiday. He cost me $100. He'd done a bit up north but he didn't show me anything for a while. He came to it all of a sudden. He ran second twice in one day at Reefton, then he won twice in one day at Kumara just a few days later. It was 2000m the first time and 1400m the second. That would be pretty rare. That was on the Saturday and he missed at Hokitika two days later. The next month he ran third on the first day at Hokitika and beat Totara Lad on the second day. I started him again later in the day anf he ran third. He then ran two placings at Westport still running out his nominations. Then there was a bolt from the blue.

What?
Horty Lorigan the stipendiary steward in Wellington who was doing the curcuit, rang and told me he had scratched Master Conclusion at Greymouth. He said he had been out of hack classes at Westport he reckoned. Then a racecourse inspector came down. He interrogated me as if I was in a prisoner of war camp and told me I would probably get 12 months disqualification over the whole business.

What happened?
Tommy Dudley (Totara Flat) had the Turf Registers. The horse was in them as winning two races for Eric Ropiha, but the bloke who sold it to me had mentioned that the horse had been disqualified from one of the wins. Apparently a part-owner still held a jockey licence which was illegal. Sure enough when I looked in the errors and alterations in the Register from the previous year there was the disqualification. It still showed as a win in the results.

And the Racing Conference didn't know?
The whole thing was a disgrace. When I contacted the Conference Secretary (1961) to point out the error he refused to even speak to me. "You are going to be charged and I cannot talk to you," he said. When they found out they had not even checked their own records properly there wasn't any apology at all, even though the horse had been denied a start in a race for which he was eligible.

That put you off gallopers?
Not really. I had another useful horse called Haast which won races running out nominations. He broke a track record at Hokitika. I remember when he finally got into open class and he was going to drop to the minimum weight I said to Frank Skelton that he would be hard to beat now. Frank said: "Kevin, that horse does not have the class to run in open company no matter what weight he has got. Highweights are his go." He was right. I set him up for a highweight at Riccarton. He was three lengths clear and well down the straight when he broke down.

When did you move to Canterbury?
Late in 1963. I was looking at standing thoroughbred stallions but on closer inspection it wasn't such a good idea. We bought a place in Clarkville. It had a long road frontage. A bloke came along and wanted to buy a piece of it to grow strawberries and was prepared to pay £500 an acre. Too good to turn down. Then another one arrived wanting to buy a block. In the end we sold the lot in blocks. We were in Kaiapoi for a while, had some land in Tai Tapu and then went to Ryans Road where we put down a track but we finally settled in Templeton. The only thing on the property was the house. We built all the rest. We loved it there. I set up public training for a couple of years. But I didn't suit training for other people. I couldn't believe some of the things they can do.

That was when America became the focus?
I went to America as a groom on a horse plane with a few other blokes and had a good look round there. The plan was to buy horses in Australia and New Zealand, take them up there and trial or race them to sell. You could only stay six months on a visa. We didn't have a winter for five years after that. We would go up in Autumn here and be back in November.

Did it start well?
Yes and no. We were at Montecello the first year. If you didn't qualify an older horse in two tries they were banned for life so you had to be careful. We took five horses up on the first trip and sold them all. An early good one for us was Johnny Fling. He won a race at Blenheim and we bought him for $1500. A guy I met up there was Eve Barejuon who operated out of Montreal. He offered to take Johnny Fling and said he would pay me the $20,000 I wanted when the horse had won $30,000. I agreed and he was as good as his word. Actually the horse won over $150,000 all up. It was not all good but next year we went to Saratoga and things went well there.

What was the best of the early horses?
Boyfriend. He was a good horse here and I rang Frank Oliver just to see if he might be for sale. He said he would sell him but he wanted big money. I waited with baited breath and Frank said he would not take less than $10,000. I was expecting $40,000. We sold him to some owners of Herve Filion's and he was the best horse at the Brandywine track one year. We got the $40,000 for him up there. We sold one to Jimmy Dancer for $10,000 we had bought here for $2000. Stanley Dancer came over and went over this horse for an hour. You'd think it was a $10m horse. He turned out all right too.

Herve Filion was the famous driver them. How did you find him?
Yes, he won 10 or 11,000 races. His brother Gille we knew pretty well. He had a wooden leg but was a good driver. Herve invited us over for dinner one night. He was a funny little bloke. He couldn't sit still, always had to be doing something or giving instructions to his wife.

Other deals you remember?
Brown Bazil was a funny horse. I bought him in West Australia from Trevor Warwick and he was a free-for-all horse there. But when I got him up to America he couldn't run a mile in 2:10. I was baffled. There was nothing wrong with him. In the end I risked him in a qualifier. He went straight to the front and won in 2:03. When I lined him up in a race he did the same and I got $20,000 for him. He just couldn't work time at home on his own.

Did you race many?
I got quite keen on it at one stage and had to remind myself what the plan was. We really only raced them until we could get the price we set but the racing up there was tempting when you were winning.

Your son, Chris is now a leading trainer there. How did that come about?
The family travelled up with us often to the States. All the boys have done well with horses. Chris came to it a different way. He was always a worker. He did some unusual things. He was a woman's hairdresser for a while. He was always keen on the horses though. He used to go on the hunts here and once rode around the steeple course at Riccarton. It wasn't a race but the manager gave him the ok to try it.

Was it through you he got going in New Jersey?
No, not really. His wife, Nicola, worked for Ernst and Young and was posted to New York for two years. He was helping out a couple on their lifestyle block. They owned 17 sandwich bars in New York but were not into racing. Chris got his hands on one horse to train at Freehold part time for $3000 and the couple put up $1000 to be partners. Chris won enough races with the horse to get to the Meadowlands and it all went from there.

Some readers may not realise how well he has done?
He has won a lot of big races. McArdle won millions and of course is doing well at stud here. Art Major, the leading sire in America now was another of his big winners. He has reached the top and the competition is tough. But he owns a block of land in Templeton so maybe one day he will be back.

How did you find racing in America?
I was most impressed. Very professional, everything ran on time and by the rules. Our racing here at the time was Mickey Mouse by comparison. They could bend the little rules for you. As I said if you trialled a horse twice and it didn't qualify the horse was out for ever. I let a potential owner's driver handle a horse they were going to buy in a qualifier and he murdered it. The stewards insisted to me it had been checked so that trial didn't count. The only checks had come from the driver.

But some of the deals must have been difficult?
They could be tough. I remember once we had a horse going so well it was a $100,000 sale. It was a big deal. The vet failed the horse on sidebones which were little growths which never bothered any horse. The buyer wrote out the cheque anyway. Johnny Chapman, a leading horseman, was doing the deal. We were up in Prince Edward Island where harness racing is strong having a look around when Bev rang and said the cheque had bounced. Strangely the guy who wrote the cheque was with me there. When I told him he just said: "I wondered when you were going to ask me about that cheque." We didn't get all the money but we got most of it. Guys like Stanley Dancer only dealt in bank cheques buying and selling.

-o0o-

David McCarthy interview: The Press 7July09

You had a number of top horses in later years and one of the best was Tempest Tiger. How did you come by her?
George Beal had her up at Kaiapoi and for sale. I trialled her at $8000. There was a lot I liked but one or two question marks. I decided to have a thinkabout it. A couple of days later I made an offer, but found I wa only third in line! Luck went my way.

How?
An American was first in line to trial her. He didn't like chestnuts and wouldn't have been interested if he had known what colour she was. Then Paul Davies had a client interested but he didn't like her either so she came to us.

I remember her breaking a New Zealand record when she qualified, which was sensational then. Did she surprise you?
I knew she was pretty good but we couldn't get starts with her. It was ridiculously tough getting a start in those days. Even after she broke a record qualifying she was eliminated from a Timaru meeting. Jack (Smolenski)drove her that day and from then on, which was bad luck for my son Gavan.

How come?
He was supposed to drive her in the trial but couldn't make it in time. Once Jack had done what he did I could hardly change again. Gavan was not that happy for a while (another of Kevin's sons, Peter, later married Jack's daughter, Joanne).

She was by Tiger Wave and probably the best of them?
She was up to the very best and of course she won the Messenger with Jack in the cart - the first mare to do it. She held the mile record for a mare at 1:58.5. She really only had one full season. Funnily enough I had another Tiger Wave filly at the same time that was pretty smart called Tiger Maid. Both of them were out of Tempest Hanover mares and it started a stampede.

How?
Tempest Hanover was a well-bred horse and popular early on but he wasn't very successful. When breeders saw the cross with Tiger Wave, Tempest Hanover mares from all over the country went to him. One float operator told me he carted 40 of them from Southland alone the next season. I kept track of most of them and I don't think any of them won a race.

What happened to Tempest Tiger?
She was never fully sound and she broke down behind. The first foal I bred from her was the worst horse I ever trained, but later I got Franco Tiger, who was the best horse I ever trained.

You didn't breed him?
No, I had sold the mare in foal to El Patron to Wayne Francis in one of those Spreydon Lodge syndicates. One day Wayne rang me up and he said he had two horses he wanted me to take on trial for a month at $10,000 each to buy or send them back. I used to prefer to keep horses a few days and fully assess them. One was Tempest Tiger's foal. I quite liked him as a horse but he didn't do much and he had obviously been a problem to someone. Because he was her foal I gave him a bit more time than I might have otherwise. Wayne was in China at the time so I sent the other one home and then decided to take a chance on this one. Sentiment really, I suppose. I regretted it the next day.

Why?
He was lame. I thought, "I have just blown 10 grand", but he came right. When I changed his gear and shoeing and put him in company he really blossomed in his training and he won five races for me. I sold him well to Australia and he was a sensation in Australia - he won a Miracle Mile and was Grand Circuit Champion. He won over $1m. Until a few years ago he used to lead the Miracle Mile field out each year.

What about other sales to Australia?
There was some funny ones. Paka Punch was one. A chap I knew brought him along for me to trial, telling me it was pretty good. I don't think I ever had a horse who hung like him. Lisa Daly was working with us then. When you got him around a bend on our (800m) track you headed straight to the outside to line him up for the next one. But he ran a half in 57.4 for me like that. I had a feeling about him and bought him for $6000. A pole and a pricker and some shoeing changes worked wonders. He always hung a bit but after we sold him for $50,000 to West Australia he won races on a 600m track at Fremantle there and was also highly successful in town.

What were your criteria buying horses?
I bought a few youngsters out of the paddock, but I was never a big fan of yearling sales. I did buy Lady's Rule out of the ring for Robert Dunn, who won an Oaks with her, but the figures tell me there are a lot of traps in sale buying. I always trialled the older horses on my 800m track, which tells you a lot about their gait. You tried to work out what they might win in Australia or America to put a value on them. People have some weird ways of valuing their horse. But there is a lot of guesswork with some of them. You could get a feeling about a horse, especially one you thought you could sort out.

Other Australian sales?
Cloudy Range was a good one. I had a client in Tasmania who wanted a Noodlum colt. I took a while to get around to it and in the end I put an ad in the Trotting Calendar. I was staggered at the response. I had no idea there were so many Noodlums around. Even Freeman Holmes (who co-owned Noodlum) had eight or nine colts in a paddock he rang me about. There were some others which were a bit different.

Like?
I went to see one lady who had a horse for sale over Dunsandel way. I didn't like it at all. It hadn't been well done, and was an average type at best. When I asked her what she wanted she told me the price was $120,000! I hardly knew what to say. I thought to myself it would be a dear horse at $5000. We bought Cloudy Range from Reg Stockdale on his looks and he turned out tops.

There were a lot of good ones we don't have the space to talk about.
By my count a few years ago six Derby and six Oaks winners. Horses like Via Vista, Tac Warrior, Smooth Dave, Tempo Cavalla and Gliding Princess were a few. I sold a few gallopers too. One of them, McAlfie, gave Kingston Town a fright one day in Perth.

You wrote an entertaining autobiography, 'From Go To Whoa'. What brought that about?
Well really it was Alan Dunn who caused it. I was laid up one time and so was he and he was around one day and told me he was going to fill in his time by writing a book. After he had gone, Bev said, "Why don't you write a book?" So I did and it didn't take that long, but the real work started after that.

Marketing?
Well, getting it printed, which we sorted out, but when I took it around the shops I got a mixed reception. I was lucky at Whitcoulls. The chief buyer was out for lunch and her deputy told me they weren't interested in that sort of book. As I was leaving the boss came back, flicked through the book, and offered to stock some. It sold for $19.95 and the cost was around $12 so it wasn't a trip to a fortune. I used to carry a few boxes of them in the boot and wherever I was I would stop at bookshops and offer them some.

You were also a bit of a stirrer about things in administration.
I think I joined the Owners and Trainers back in the 1930s and was president at one time. I spent years trying to get the industry represented on the Harness Executive and it came, but much later. I had a few run-ins with officialdom. As I have said, the executives in those days were a law unto themselves.

You seem to be wearing well.
I am 86 and have my moments. A funny thing...one of the worst injuries I got was jumping over a fence at Inchbonnie one day. I did the knee and when I looked down the foot was at an awful angle. I told Bev to grab hold of the foot, pull it and twist it. She said, "I'm not doing that," but she did in the end. I have never had any trouble with that knee since.

Credit: David McCarthy writing in The Press 23 June 2009


| | |
| --- | --- |
| | RACING HISTORY PEOPLE |

R A (DICK) PRENDERGAST

There seem to be quite a few Prendergasts in southern racing. How did you all get into it?
Dad had a garage in Hyde with a bit of land attached and there were six boys in the family. Four of them had a go with racehorses. Dad raced Wildwood Chief out of Wes Butt's stable and he won the Sapling Stakes and nearly won the Derby. He drowned in a pool after he was sold to Australia, or that is what they said. We always had horses around and got up teams for the picnic meeting circuit back in the 1940s and 50s. I had a horse with Wes for a while called Top Tally as a two-year-old. I still have the bills. Four pounds ($8) a week fees, two pounds for shoeing and two pounds to float a horse to Kaikoura.

Were there trotters at the picnics?
Gallopers too. I rode the gallopers as well and Tony also later took up training them. Every little town like Naseby and Dunstan had their picnic meetings and their Cup races. We won all of them at one time or another. I actually won the last raceday saddle trot run at Oamaru on Roman Scott, who was by Highland Fling. He was trained by Davey Todd who had Cardigan Bay - he had got beaten in his only saddle trot. I took out an amateur trainer licence in 1956 and won my first race with Tessa, a Direct Heir mare. I moved to Palmerston and had a farm there which I ran in combination with shearing.

You were pretty good on the board?
I could shear around 340 in an eight-hour day. That was right up with the guns then.

Good money?
You used to get five pounds two and sixpence ($10.25) a 100 then. Now it is about $120 a 100 but of course everything has changed.

What made you give it up?
I got TB and had to. The trouble was the farm was not really viable without the shearing so I sold up and moved to Oamaru. I got more serious with the training then, though I had a lot of back trouble after a race accident.

What happened?
There had been a smash on the first round and a couple of drivers were still on the track. When we came around again the ambulance went right across in front of us thinking it was protecting those two, but three or four horses ran into it. I ended up landing on the shaft of another cart. They told me it was bruised and I drove home sore, but it was a lot worse than that. I got used to it, like you get used to the wife, and I could still shoe horses. But it always gave me trouble. Not like the wife.

When did the bigger world get to take notice of your horses?
We ended up setting up next to the Oamaru track and built a house there. I got to know Colin Campbell who has that Moccasin breed which did so well (stars like One Over Kenny, Leighton Hest, Springbank Richard, and earlier Stylish Major and Le Chant). It was funny because Moccasin herself was a pacer by Indianapolis, who had won three New Zealand Cups pacing. Anyway, Colin and I worked in together for 28 years and while down there I had Robbie Hest for him among others. I drove him to win the Trotting Stakes and he had a lot of speed. But he was a hard pulling horse and it found him out over a distance.

Of course some of the stars from that family are now with Phil Williamson. He worked for you?
Yes, and one season when I was out with my back, he drove nine winners in a season, which was tops for a junior driver then. Phil was a real natural with horses. We were standing Depreez at stud then, though he didn't do much good, and some of the mares were a handful. Phil had a special way with them. He could catch them when nobody else could. Later on, I had some really good boys like Mike Heenan, Greg Tait, Graham Ward and Carl Markham. Terry Chmiel started off with me, too, when he was at school.

What other horses were going well then?
Hajano was a very good pacer and so was his half-brother Johnny Baslbo. We sold him to America for something like $50,000, which was good money them. Israel did a good job for us at Addington in the early 80s. He was unbeaten at the Cup meeting (three wins)which was a very rare thing in the intermediate trots.

Why shift to Chertsey?
Partly family reasons. There didn't seem to be a big future for kids in Oamaru. So we bought Slim Dykeman's place which had a new barn, built another house and lckily we got away to a great start there.

Like?
The first three horses that went out the gate all won. Light Foyle won about nine for us pacing in the end. We took a truckload to Nelson and had a great innings there. The Simon Katz came along.

Your best?
Not the fastest but he won over $300,000 and took me a lot of places I hadn't been. He just never went a bad race. Our Eftpos card, I call him. You took him along and he got you some money.

A natural?
Yes, but weak. I told the owners early on he would take a lot of time and thankfully they gave it to me. He had one start at four and maybe five of six at five. He won a Dominion and a Trotting Free-For-All and did what Israel had done, winning three at the Cup meeting. He ran second in a Rowe Cup and third in an Interdominion after getting skittled on the first lap.

Your son in law, Anthony Butt, took over the driving?
I did all the driving for a while, but the horse got a bit blase about it and used to have me on a bit. Someone fresh made the difference.

Did he take a lot of work?
No, he was good winded. We did a lot of road work with him. He was a lovely natural trotter, sound as a bell. He was by a pacer, Noble Lord, and from an Eagle Armbro mare and they weren't much. Just shows you. We used three-ounce galloping plates on him all round. Kerry O'Reilly did a lot of our shoeing. He was a legend at it. We never found out if Simon Katz could pace because he never had the hopples on him.

What became of him?
Funny, he died of cancer not long after he retired. He had what was diagnosed as a virus and we turned him out in the back of Hawarden. My son picked him up on Christmas Eve and as soon as he got him home told me he was a sick horse. He was gone in no time.

Yet not the fastest trotter you trained. Who was that?
Hickory Stick. He was a nine-year-old when we got him and he had been up in the hills for two years after breaking down in the tendon. Stuart Sutherland had had him and I was actually in the chapel at Stuart's funeral when I remembered he had told me it was the fastest horse he had had. When I got home I rang up the owner, Bruce McIlraith, to see what had happened to him and he was just about to go into work. We won five with him and some top races like the Banks Peninsula and Canterbury Park Cups.

Any horses which you rated highly we didn't get to see?
There was one called Skipper Dean. He was a trotter by Master Dean but was too unsound to go far with. He could have been anything.

You spent a lot of time in administration?
I was one of the founding members of the Oamaru Owners Trainers and Breeders back in the 1950s, which is still going, and it went from there. It could be tough in those days. If you had a licence you couldn't be a member of a club. When I first got a driving licence I was only allowed to drive in Central Otago and south of the Clutha. Waikouaiti was about half an hour away and I couldn't drive there! I put a lot of years into the Horseman's Association and am pleased to say it has a much greater standing with officialdom than it had when I started.

What was the best horse you have seen?
Highland Fling. They used to bring him down to Forbury when we were kids going to the races with Dad. If there had been hopple shorteners and ear plugs around in those days he could have been anything. I was a big Noodlum fan possibly because I bred one from him we sold on for $30,000. That helps your regard for any horse.

You trained mainly trotters. Was that by choice?
It didn't really matter to me. You do get identified as a trotting specialist when you have a few of them, bu we had some top pacers too.

Did good owners make the difference to you as a trainer?
I always say one third paid by return mail, one third paid on the 20th and one third didn't. It is tough on a professional trainer who has to carry that last third with his own money for another month.

Any regrets?
Possibly only that I never worked in a professional stable.It would have made things easier when I was picking it up. I was 42 before I had my first drive at Addington. That doesn't make it easy. But overall I would do nearly all the same things over again.

Credit: David McCarthy writing in The Press 16 June 09


| | |
| --- | --- |
| | RACING HISTORY PEOPLE |

BILL DENTON

Bill Denton's grandfather (also Bill) ran the popular Triggs and Denton leather and harness store in central Christchurch in the 19th century. Both Denton's son, John, racecourse manager at Addington Raceway, and daughter Julie De Filippi, who trains with her husband Colin, are ensuring the horse tradition continues. Bill Denton, at 78 a gentleman of racing, talks to David McCarthy about his own era.

Were you always going to live with horses?
Well, my grandfather was president of the New Brighton Trotting Club at one stage but my father, Lionel, went into the pub business. I think he was the youngest ever licensed in Canterbury. He had the Kirwee and Kaiapoi hotels and the Mitre and Canterbury at Lyttleton. He bought a small property (15ha) on Russley Road, next to where Mark Purdon was. Maurice Holmes was there then. After I left Boy's High I did a couple of years working in Sargoods warehouse, but the horses were what I wanted to do.

Was the place meant for training?
Breeding. Standardbred stallions were hard to get then. You couldn't get permits to bring them from America because of the dollar restrictions. We had Medoro for three or four years. He was an American-bred, but Noel Simpson had brought him in from Italy which beat the system. We had some thoroughbred stallions too. Cassock (sire of Great Sensation) and Newton Pippin. But they were fill-ins until we could get out own trotting stallion. There was just a row of boxes there then. Peter Jones trained gallopers there later, but we had to sell for a railway from Hornby to the Styx planned there. They are still talking about it. So we moved to a bigger place in Pound Road.

Maurice Holmes is a legend. How did you find him?
He was my hero. Kids have heroes playing football or other sports but mine was always Maurice. I wasn't the only one either. I got quite close to him. I would get through the fence and help out there every chance I got, jogging horses and that. He would tell you what to do but in a different way. He would say "I wouldn't do that if I were you" or "I would just do such and such if it was me", but you got the message.

Garrison Hanover was the stallion you were most closely associated with. How did you get him?
Jack Shaw had a commission to go to America to buy Flying Song for Clem Scott, and Dad went with him. The permit situation had eased by then. Dad was advised by Jim Harrison, of the United States Trotting Association, who wrote that great book on training standardbreds. He recommended Garrison Hanover.

Why?
He was by Billy Direct, who was all the rage then and fairly well-bred. Because of that he got a good reception right from the start. There was no AI (artificial insemination) in the first few years. It came in later. We would do 75 to 80 mares most seasons. Bob McKay helped out with the AI. He had studied it in America and was right up with the play.

Was success instant?
More or less. From his first crop came Sally Boy. We never saw the best of him but he showed a lot of ability as a young horse and we were sort of right after that.

Good horse to handle?
A lovely horse. Not very big - about 15 hands - but kind. Anybody could do anything with him. He left some great horses (Cardinal Garrison, Apres Ski, Game Adios, Garry Dillon, Waitaki Hanover, Dandy Biar, etc). Near the end of his life when we shifted to Tai Tapu, I served a few mares with him for friends and we had to build up a mound for him to do the job. He took it all in his stride.

And the "Russley" fillies and mares started there?
Yes, and now one (Russley Song) features in the line of Auckland Reactor.

Why shift from Pound Road?
We had two blocks there and they were not connected. It was always a disadvantage. I bought land at Tai Tapu. I had had my eye on it for quite a few years because it seemed to handle rain well and I bought it when it became available. It was bigger and well-situated and we moved everthing there in the late 1970s. It was good, but I would have to say horses did not do as well there as they did at Yaldhurst. The ground is a bit colder and wetter, and it affects them.

Did you have other stallions?
My word. We had an exchange deal for a time with Clem Scott and stood Flying Song (the sire of Russley Song) for a while. Lumber Dream. He was getting the overflow from mares who couldnot get into Garrison for quite a while. He was a top sire. He was a free-legged pacer, which was unusual then, and he left a champion free-legged horse in Robalan. He was sent out by Marty Tannenbaum of Yonkers Raceway, who had a lot to do with the International series they had in the 1960s. Marty struck problems and the horses were sold up. I think Clarrie Rhodes got Lumber Dream for $2000.

Brad Hanover?
An Adios horse. I remember when he got off the plane the first thing I saw was white ankles and stockings. I thought 'what have we got here?' He looked like a Hereford. He was a fertile horse but not easily aroused, which made things difficult. He left Brad Adios early on. The Adios horses did better in Australia than here. I thought they weren't tough enough for our racing. Tony Abell had him later.

Later you had Honkin Andy?
John Lischner, Paul Davies and I went to America to look for a horse. About that time Good Chase had had one stud season here and done exceptionally well. I think he got 19 winners from 21 foals. Then he had gone to America to race and whenhe came back, his stock were not nearly as good. We all suspected that some of what he was fed over there had been a factor. So we were looking for a lightly raced horse which had not been messed around with. He had only had about five starts Honkin Andy and had run 1:58. I think he cost us about $100,000.

What did you make of his stud career?
He left some very fast, very good horses (Honkin Vision, Really Honkin) but in the end I rated him a disappointment. He was the first Albatross stallion to come to New Zealand too.

You have had some big training and driving moments with Superior Chance. I think he chased Armalight home in that Free-For-All when she smashed all the records and her record stood for years. How did you get him?
He was a free-legged horse which Tom Leitch, who lived nearby and worked for me at times, owned. Superior Chance took a lot of sorting out - he could kick believe me - and I tried various things before we got it right. He used to choke-down easily. In races like the Free-For-All, he wore not one tongue-tie but two and various other bits and pieces. He collapsed and died one day on our track. We were doing an easy 3200m. He was a bit wobbly when I pulled him up, then he just collapsed.

You have developed a bit of a lean over he years. How bad was the back problem?
It is better now than it has been. I just couldn't straighten the spine and spent a long time sleeping on Bib Softees. It was inoperable, being caused by joints in the spine. Exercises have helped me a lot in recent years. I had to give up the horses in the end because of it. I had trouble getting in and out of the cart and they told me I would be in a wheelchair if I damaged it any more. One day I fell getting out of the cart and that was that. We sold up the horses and moved to Halswell. John carried on for a while but wanted to do something else. He does the track at Addington and does a good job too. Ray McNally had quite a lot of success as a junior driver with us too.

Have you missed it?
Well I go to Colin and Julie's most mornings now and jog a team and have done a bit of fast-work without problems. I got a great thrill when they won the Cup with Kym's Girl. I had quite a lot to do with her build-up and actually got a bigger thrill than anybody. A really super little mare.

Looking at young drivers making their way over the years, do you often think of (grandson) Darren?
(Darren De Filippi, a highly promising horseman, was killed in a road accident beyond his control returning from the Orari races some years ago).
It was a terrible thing. Young Darren was such a great person. You have to accept what life serves up but it was very tough for a very long time. Yes, he is always with us.

I suppose Maurice Holmes was the best you saw?
Yes, but the standard was high in that era. F G Holmes, Gladdy McKendry, Bob Young, great drivers to watch. Now we have Dexter Dunn rewriting the record books. What a great young driver he is.

Best horse you have seen?
Johnny Globe. For what he was and what he did and the people (Don and Doris Nyhan) who were associated with him. They were lovely people and he was a great hero in his time.

The breeding game. Has it changed a lot over the years?
Yes. Not always for the good. Greed has come into the game now, I'm afraid. For us it was a good living for three of four months hard work and you were grateful for it. You did a lot of the work yourself. Anybody can stand a stallion now. The vets are there all the time, doing most of the work and some horses serve ridiculously large numbers of mares because of that technology. A lot of the personal touch has gone.

And the famous colours now you don't have any horses?
They have found a good home. I said to Mandy (De Filippi, granddaughter) one day recently she might like to have them and she lept at the chance. So they will be around.

Credit: David McCarthy writing in The Press 17 March 09


| | |
| --- | --- |
| | RACING HISTORY PEOPLE |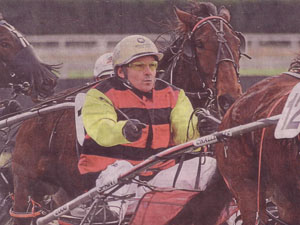 Ricky May's 2000th winner

RICKY MAY

There was no whip fourish, just a sly smile of satisfaction on the face of Ricky May as he drove Tara Royale to his 2000th success at Rangiora yesterday. May's modest demeanour suggested it was just another race, but the win put his name in New Zealand harness-racing record books.

In a career that has seen the Methven reinsman win nearly every major race in New Zealand and Australia, May became only the third New Zealand harness-racing driver to reach the 2000-win mark, joining driving legends Maurice McKendry and Tony Herlihy.

Racegoers got their first look at Ricky May successes at the Geraldine racecourse on November 27, 1976, when he drove Ruling River to victory. The horse went on to win another seven races with May in the sulky. "She was owned by my grandmother (Anne May)," May said. "I was in the one-one early, but got shuffled back a wee bit. It was a pretty tight finish, but we won the race, and that was the start of things, really. She got me going."

In a time when it was tough for a junior driver to get a break in the game, May managed 20 wins in his first four seasons in the sulky. The real fun began when May teamed up with fellow Mid-Cantabrian Brian Saunders. The pair quickly struck up a training-driving partnership with an impressive strike rate that started with Miss Bromac, which won the Greymouth Cup.

Miss Bromac incidentally gave May his first New Zealand Cup win in the form of her son Inky Lord, which, to this day, is one of the most talked-about New Zealand Cup victories in the 105 runnings of the great harness race. Inky Lord appeared to be wiped out with 500 metres left to run, but made a remarkable comeback to win. "It's hard to name what was exactly my best moment, but your fist NZ Cup win is always special," May said. "He (Inky Lord) gave me some of my best moments in the game, but he also gave me some of my worst." A year after his breathtaking victory in the Cup, Inky Lord looked on song to make it two from two, before suffering a heart attack after the Cup Trial a week before the big race. "He felt awesome that day, too. It was gut-wrenching," May said. "I really think he could have won back-to-back Cups."

Two more New Zealand Cup victories were on the cards for May with Iraklis in 1997 and then Mainland Banner in 2005. "Mainland Banner would get the greatest performance of any horse that I have ever driven. She started out having her first start on Boxing Day, and 11 months later she won the NZ Cup, as well as nearly all of the major fillies races in between."

Renowned as one of the most patient drivers in racing, May early on based his driving style on Mike De Filippi and Peter Jones who were leading drivers at the time of his introduction to the game. It was that patience that earned May major respect from his peers, opponents and critics alike, although nowdays May sees it as something that cannot always be emulated. "Brian (Saunders) liked his horses driven quietly, so that fitted in with the way I liked to drive. You can't do it so much these days, just with the way that things have changed, but it still comes in handy every now and then." it was fitting then that May's 2000th winner came courtesy of just such a drive on Tara Royale yesterday.

The Dave Thompson-trained runner was given the prefect run by May, and when asked to give at the top of the straight, the Live Or Die filly gave plenty and cleared away for victory by three-quarters of a length. "It's a pretty big relief to finally get there actually. I drove Vita Man to win the Ashburton Flying Stakes in 1982 for Ray Anicich, who owns Tara Royale, so that makes it all the more special. He's pretty over the moon about it, too.

So the main question is where to now? May isn't too sure, but leaving the driving ranks isn't on the cards yet. I'll keep on going. I have been pretty lucky in having both trainers and owners who have been loyal to me and stuck with me throughout the years, and they will soon let me know when I'm not driving any good. "I haven't won an Interdominion or an Auckland Cup, but I am not too worried. If Monkey King was to come back next season as good as when he finished this one, he could get me one of them; he was fair flying before he went for a spell."

Three thousand wins paints a picture of a long road ahead, but it only took a matter of hours for May to get win number 2001 when Eisenhower crossed the line first later in the day yesterday, so who knows? Anything could be possible.

Credit: Matt Markham writing in The Press 29 June 2009


| | |
| --- | --- |
| | RACING HISTORY INTERDOMINIONS |

2009 INTERDOMINION SERIES

The carnival was held for the first time on the Gold Coast. It was originally allocated to Albion Park in Brisbane but safety concerns with the stand lead to the series being transferred. The Pacers Final was won by Mr Feelgood from a gallant Blacks A Fake going for an unprecidented fourth final in a row. The Trotters Final was won by Sundons Gift.


| | |
| --- | --- |
| | RACING HISTORY HORSES |

FIERY FALCON DIES

Fiery Falcon lost his battle with colitis last week, and died on Thursday night.

Suffering from a condition that can be caused by stress and is also known as 'travel sickness' or 'scours', the result of which is chronic dehydration, Fiery Falcon showed amazing resolve against an affliction that normally claims it's victims within 24-48 hours. He lasted for 10 days.

Raced by the estate of Sir Roy McKenzie together with Colin and Rona McKay, Phil and Glenys Kennard and Michele House, Fiery Falcon returned to the latter's property for the last two days of his life. "Both jugular veins had collapsed at that stage, which meant he couldn't pump blood around his body," said Michael House. "We tubed him when he first came home and he actually started to look good, but then his head began to swell up with blood and we couldn't get a tube up his nose to fix it," added House, who was with Fiery Falcon when he died.

The 5-year-old son of Mach Three and Falcon's Guest raced 34 times for his group of owners and was a super-consistent performer, winning on 10 occasions and being placed a further 20 times. Amongst those were Group 1 victories in the 2yo Sires' Stakes Final and Woodlands Northern Derby at three, the 3yo Harness Emerald at Cambridge last year, and up until recently he held the NZ record for a 4yo and older pacer over 2600 metres from a stand (3:13.5).

"It was a real shame," House said. "I just wanted to see him make old bones, and I reckon he could've competed with most horses. But Michele gave him a nice burial here, so he's got a place to spend the rest of his days."

Credit: John Robinson writing in HRWeekly 14 Oct 2009


| | |
| --- | --- |
| | RACING HISTORY HORSES |

MASTER MOOD

Last Thursday was a sad day for the Williams and Wong families when Master Mood (Rick), their champion pacer of 1980s, passed away.

Master Mood had spent his retirement years in the best of conditions and health at Tall Tree Stud and had reached the grand old age of 28. Unfortunately in recent months he had developed a sinus infection which proved to be very difficult to treat.

Master Mood was without peer during the 1985/86 and 86/87 seasons and was voted Harness Horse of the Year on two consecutive occasions. "A highlight of his career was winning the Miracle Mile in Sydney in 1986, beating Aussie champs Village Kid and Lightning Blue. That season he also won the NZ Cup and the Auckland Cup - not a bad effort for a horse who was only the size of a pony but had the heart of a lion," said trainer/driver and part-owner Kevin Williams.

Master Mood won the New Zealand Cup at Addington and Miracle Mile at Harold Park, Sydney, in 1986. His time of 1:56.1 in the Miracle Mile was a race record that stood for four years. He won the 1987 Auckland Cup and the 1986 NZ Free-For-All. Master Mood won nine races in a row as a 4-year-old in the 1985/86 season. his wins included the Wellington Cup, Forbury Park Four-Year-Old Championship and Lion Red Mile in Auckland.

Master Mood became the first sub-2.00 2-year-old pacer in Australia and New Zealand when he won the Final of the Sires' Stakes series at Washdyke in 1:59.5 in 1984. He won six races including the New Zealand Kindergarten Stakes, Timaru Nursery Stakes and Te Awamutu Juvenile Pace at two.

Master Mood raced 96 times for 27 wins and 21 placings, for stakes of $806,925. Master Mood gave a tremendous amount of pleasure, not only to his owners but his strapper at the time, Dave Anderson, and many family friends who followed him on his travels. Master Mood is buried on the front lawn at Tall Tree Stud.

Credit: HR Weekly 29Oct09


| | |
| --- | --- |
| | RACING HISTORY HORSES |

2009 AVON CITY FORD (NEW BRIGHTON) CUP

There was a total of 45 hopefuls all wanting a spot in November's NZ Cup when nominations closed last Tuesday, and on Friday one of them had guaranteed himself a place in the $1 million thriller. His name is Bondy, and he booked his spot after producing a punishing finish to win the $25,000 Avon City Ford New Brighton Cup at Addington.

The lure of the listed event is not so much the $13,630 winner's cheque, it's the assurance that whoever takes it out will make the Cup field regardless. So once again it drew a classy line-up, but Bondy pretty much gave them all a start and a beating.

After settling back from his wide draw on the front line, the son of Live Or Die trucked around the field to sit parked and straight away got cover from Mr Feelgood starting the last lap. Within a furlong he was three-back on the outer, and despite the pace quickening appreciably down the back straight as you would expect, co-trainer/driver David Butt was able to leave his mounting run until the home turn when the horses fanned around the bend. Momentarily left flat-footed, the strapping pacer balanced on straightening and threw himself into the fight, powering home to get the nod in a nose/nose/half-length finish over Bettor's Strike, Nearea Franco and Mr Feelgood.

For starters it proved in no uncertain terms that Bondy is not just a 'one trick pony', a tag which some might have wanted to pin on him because he has won a lot of his races from the front; his other two appearances this season being no exception. And secondly, it really changed nothing in the overall picture of those jostling for NZ Cup positions - Bondy probably would have made the field anyway, because prior to winning on Friday night he had put together a formline of 11211 since June. So his win just made it that little bit harder for the other 44 horses fighting for the 14 remaining spots.

This year's nominations must have Addington officials licking their lips in anticipation ... equine superstar Auckland Reactor, reigning Inter-Dominion champion Mr Feelgood, defending Cup winner Changeover - not to mention a staggering six expressions of interest from across the Tasman, including three-time Inter-Dominion hero Blacks A Fake and other Australian topliners like Karloo Mick, Smoken Up, Be Good Johnny and Lombo Pocket Watch. If most of the Aussies make the trip it will be like an Inter-Dominion Grand Final; in fact, you have only got to look at the sort of horses who end up missing out to see how good the field really is. Bondy will be right there amongst the action on November 10, and a typically reserved David Butt says the 8-year-old is not without a chance. "He's going to be competitive with the right run," Butt said. "His manners will put him in the race for starters."

Bondy's had one go at the Cup before, two years ago, running sixth behind Flashing Red. "But that was when he'd only just gotten to Cup class after winning the Kaikoura Cup," Butt said, adding that the enforced layoff Bondy had to have between March last year and May this year after cracking a bone in his back foot could have been a blessing in a way. He has taken a long time to fill out into his big frame," he said.

The plan for Bondy from here on in is a busy one, as his trainers intend to line the gelding up in most of the lead-up races - starting with the Hannon Memorial this Sunday, and then the Ashburton Flying Stakes or Kaikoura Cup.



Credit: John Robinson writing in HR Weekly 23 Sept 2009


| | |
| --- | --- |
| | RACING HISTORY HORSES |

2009 NRM SIRES' STAKES 2YO TROTTERS CHAMPIONSHIP

Nobody saw it coming, but the unthinkable happened last weekend when The Fiery Ginga got beaten. Twice. Rampant and infallible since February, the country's leading 2-year-old trotter is all of a sudden suggesting that perhaps there is a chink in his armour - turning his head to the side and galloping behind the gate. He did it shortly after the start of the NRM Sires' Stakes Trotters Championship at Addington on Saturday, and then repeated the misdemeanour 21 hours later in the slush at Timaru. For many though, The Fiery Ginga's performance to be beaten a nostril at Addington was one of the greatest they have ever seen; memorable not only for how much ground the baby trotter lost and later made up, but also for the mission he was asked to undertake.

In the end he came up an inch short of pulling off a miracle, but it would be remiss to take anything away from the combined deeds of trainer Phil Burrows and driver Jamie Keast who won the $60,000 Group 2 event from the outside of the second row with a maiden filly. Keast was at his brilliant best, keeping Coninental Auto balanced and out of the paths of three early breakers before settling her at the tail of the field on the outer. When The Fiery Ginga caught the pack at the 800m and took off a moment later, Keast set his filly alight and sizzled around the bunch three-wide, all the while being flanked by the favourite who was emptying his tank a cart-width wider.

By the time the home turn loomed Continental Auto seemed to have shaken off The Fiery Ginga, but it was only a temporary respite because the latter charged at her again down the straight, and Keast extracted one last ounce of energy from the Continentalman filly to get her there by a nose.

Back at the stables afterwards, Burrows savoured his first Group race victory as a trainer. "Gee she had to show a bit of nickel today," he said. "We'd actually been a bit worried about her in the last month or so, because she'd started a wee habit of breaking for no reason. But she's so well gaited, and because she very rarely gallops she just didn't know what to do and how to get back into a trot. It's just an experience thing," he said.

Part of the revised game plan for Continental Auto's assignment on Saturday included putting a hood on her for the first time, and taking her out onto the track for a bowl-around an hour before her event. Burrows was hoping it would take the edge off her and hence help her concentrate more, but if anything he says it made her "a little bit agitated" the second time round.

Bred by Mike Gourdie and Michael House, the Continentalman- Auto Bank filly was leased to Burrows initially but recently bought outright by Rangiora enthusiasts Ronnie and Maree Dawe. Burrows has trained from their property in Fernside since last September, and because it was built from scratch - "new track, new fences, stables, the lot" - he feels very thankful to be associated with the couple.

"Ronnie and Maree only got into the game in the last five years through knowing Wayne Ross," Burrows said. "They originally owned The Big Mach who was sold to Tim Butt and BG Three who went to Australia, and got the bug after that. Continental Auto was actually supposed to go through the Sales, but was really lean and tall at the time so Mike pulled her out. I broke her in after he leased her to me, and always liked the way she moved. She's out of a daughter of Indette, so there's a bit of blood there, and I thought with some feeding up she might turn out alright.

Credit: John Robinsin writing in HRWeekly 13May09


| | |
| --- | --- |
| | RACING HISTORY FEATURE RACE COMMENT |

2009 GARRARD'S NZ SIRES STAKES 2YO FINAL

Size, or the lack of it, didn't count for much as Smiling Shard had his day in the sun at Addington last Friday night.

Part of the Dalgety-Dunn dynamo, Smiling Shard was safe and sharp, leading for the last lap of the $200,000 Garrard's Sires' Stakes Final before putting a spring in his step from the top of the straight to win by more than five lengths. Courage To Rule was a solid second, followed by Stormy Sirocco, and Beaudiene Christian got the best of a battle with stablemate Limited Edition to run forth, nearly 15 lengths from the winner. The hot favourite Kotare Mach was unable to make the lead and, irritated by the grit in his face, started throwing his head when third after 400 metres, scrambled and broke. He caught up, made a flying visit forward to almost join Smiling Shard in the lead at the 600m, but that was where the big run ended.

For Cran Dalgety and Dexter Dunn, it was a memorable way to mark the opening of the new $7m stabling complex, and it came with more than a side salad, because Living Proof, Lightning Raider and Bubba Ho Tep won as well. Earlier in the night, Dalgety had been praising the efforts of Living Proof, Diomedes and Almost Ambition, all nice 3-year-olds who had gone near the cut but not made it for the Harness Jewels. As good as his team is, he said he was missing a good Stakes horse. Within the hour, Smiling Shard had put that to rights, the Group 1 win worth more than $100,000. And there is more to come. He has the $200,000 Harness Jewels in a fortnight, and the Breeders' Crown is more on the agenda than off it.

Dalgety still thinks he is lucky to be where he is with the horse, knowing he didn't operate at the Sales in quite the professional manner he would do normally. "I was up at Karaka and the first I saw of him was in the ring. He was on the small side, but he looked mature for his age. To me, it looked as if he had a bit of backbone, and I thought he was the type that would suit the Earlybird Series in the north. They guaranteed five Heats worth $30,000, and running them no matter what the numbers were, so that was a super incentive."

While that was all well and good, Dalgety went home with a spec buy costing $41,000. "No owners and going to a good home. And I had to push Grinfromeartoear because Mr Feelgood hadn't won the Inter-Dominion then." It wasn't hard, with Cran's wife Chrissy holding a share, and the others being taken by Peter Gorman, Alan Vernel and Alistair Rooney. In the case of Rooney, he was keen to mix and make friends with a new crowd, and Smiling Shard has given him wonderful opportunities to do that. "It's been great," Rooney said. "We go down and give him a pat before he races and again when he finishes. Cran and Dexter are more than professional, and tonight we've met the colt's breeders, Mark and Debbie Smith."

With two wins and seven minor placings, Smiling Shard has been what Dalgety says "filling out the numbers" in the big races. That was before, and now he's not. He showed that as well as being a thoroughly genuine competitor in town hall company, he can have his day as the best of them as often as the others.

Although Dalgety is closing fast on his record number of wins last season - 62 and he has 50 now - he has raced past his stakes tally; $666,000 this season, whereas last season his stable won $571,000.

Credit: Mike Grainger writing in HR Weekly 20May09


| | |
| --- | --- |
| | RACING HISTORY FEATURE RACE COMMENT |

2009 NEVELE R - WAYNE FRANCIS MEMORIAL NZ OAKS

It was a double dose of Group 1 success for Lauraella at Addington this month. A week after winning the Nevele R Fillies Final, in which it was said she was short of her best, Lauraella ran off with the $150,000 Nevele R - Wayne Francis Memorial Oaks. There was a late flurry for second and third, with Alexis arriving just in time to peg back Imagine Me and Arden's Darlin was a clear fourth.

David Butcher gave Lauraella time to settle, midfield on the outer, and he sent her up with cover and made the lead comfortably at the 1600m. Events unfolded pretty much as expected from there, with little change until the second tier of favourites emerged in the run home to sort out the minors.

Lauraella, by Christian Cullen, has the probability of a repeat win in the Harness Jewels in less than a fortnight, and the possibility of the Breeders Crown after that. Sandy Yarndley, on behalf of the Hardwood Breeding Syndicate, says there has been no commitment to anything after the Jewels, but he knows there is nothing of importance for the 4-year-old mares until much later in the season.

Trainer Geoff Small is also cautious about thinking any further than the Jewels. "It's a long season for 3-year-old fillies, if you go to the Crown, but they do get a break after that." Small has done it before, winning three Oaks and the Crown with Pullover Brown, the only filly who could match what Laurella has done.

The double won by Lauraella has also been achieved by One Dream, Western Dream, Kate's First, Under Cover Lover, Robyn's Treasure, Tigerish and Smooth Performer in the last 25 years.

Credit: Mike Grainger writing in HR Weekly 20 May 09


| | |
| --- | --- |
| | RACING HISTORY FEATURE RACE COMMENT |

2009 ANTHONY SHEARER-BESTWOOD/PINK BATTS ORDEAL TROTTING CUP

Nathan Williamson says Springbank Richard feels like his old self again this season. Well, to be more precise, - his 'young' self.

Williamson set Springbank Richard alight nearing the home turn in last Friday night's $25,000 Anthony Shearer-Bestwood/Pink Batts Ordeal Trotting Cup at Addington, and the pair rushed on by Speculate who had led from the get-go. The latter had pinged along at a near record pace in front, and to her credit Speculate came back at Springbank Richard to be only half a length away at the line. But this was to be another sought-after trotting title that went the way of 'Team Williamson'.

And 21-year-old Nathan was understandably beaming about Springbank Richard's performance; not only because the gelding won, but more importantly how he felt in doing it. "He's like his old self again," Williamson said. "Her felt like it last week to, even though he was a bit fresh that night." That was the night Springbank Richard clipped a wheel with 1500 metres to run, breaking and losing all chance in his first start of the season. Stipendiary stewards slapped Williamson with a $350 fine for careless driving, but the young man took it on the chin because he knew there were more positives to be taken from the bigger picture.

"He was actually touching a wheel that night, and over-racing. In his action her throws his back leg out a long way anyway, and because he has grown a bit it just meant we needed to make his cart slightly longer. He sweated up quite badly, but the trip up here and everything did him the world of good."

Williamson believes Springbank Richard "needed" the year of hard racing in the top grade that he had last season, plus he needed time to grow. "As a three and 4-year-old, he was better than the ones he was racing up against. And he used to be about a $1.10 favourite most starts, so it was a case of 'go to the front and don't get unlucky'. But now they are all as good as each other, so he has to race in the field. I'm pretty excited about him this year actually."

Despite agreeing with his son that there was "a lot to be said for having a season of hard racing", Williamson's father Phil considers that they "made a mistake" with the son of Sundon last season - not having him ready enough, early enough. He's more forward at the same stage this time in," Phil said. "And that was the plan, because they brought the Dominion forward; he had a much shorter spell, only five weeks. From here we might look at the Banks Peninsula Cup with him, because it is a race we have never won before - if he's good enough we'll be in it; if he's not, we won't. One Over Kenny's got to come down yet, and there's a lot of other good horses out there ... take Speculate for example, she went fantastic tonight. She's shown that she's a very special horse."

FOOTNOTE: Had she managed to hold out Springbank Richard in the Ordeal Cup, Speculate would have set a NZ Record. The official time of 3:14.8 that she recorded in finishing second would have sliced three-tenths of a second off the existing mares mark over 2600 mobile - which, ironically, is held by Springbank Richard's former stablemate, Jasmyn's Gift, who set it when winning the 2005 Ordeal Cup. Springbank Richard went close to the geldings' and entires' mark himself, his 3:14.7 being just half a second slower than Romper Stomper's record set in the NZ Trotting Free-For-All on Show Day, 2007.

Credit: John Robinson writing in HRWeekly 23 Sep 09


| | |
| --- | --- |
| | RACING HISTORY FEATURE RACE COMMENT |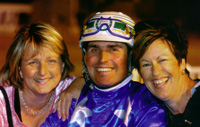 Part-owners Hazel Van Opzeeland & Glenys Kennard celebrate with Blair Orange

2009 AVON CITY FORD SUPERSTARS CHAMPIONSHIP

Highview Tommy picked a hard race to kick off his 4-year-old season in - the $40,000 Group 2 Avon City Ford Superstars Championship - and he won it the hard way too, sitting parked for the last lap and winning in the hands of Blair Orange. The Bettor's Delight entire found plenty when it counted though, and went within half a second of his own stablemate Fiery Falcon's national record when he scored in 3.13.9.

"Blair reckons he seems to be trying a lot harder this time in, and is more enthusiastic," part-trainer Mark Purdon said. "He now does a lot of his work with 'Mack' (Auckland Reactor) though, and he really has to work to stay with him. It's lifted him."

Highview Tommy's 3-year-old season (19 starts for 4 wins and 9 placings) was slightly less consistent than his 2-year-old term (9 starts for 4 wins and 5 placings), and his trainers were more than happy with how he performed. "Their 3-year-old season is always a little bit different because new horses come on the scene - horses like Stunin Cullen and Sleepy Tripp, which he never raced against at two. He had a couple of bloody tough races early on last season too, which might've taken their toll later."

Highview Tommy wasn't considered for the Cup at this stage of his career, but Purdon says it is only a matter of time before he is. "No, he can climb the ladder and earn his spot," he said. "He's got a wee way to go yet. The Junior Free-For-All on Cup Day is a nice race to aim him at, and then possibly the NZ Free-For-All on Show Day. I'm not saying that that is what he's going to do, because he is only a five-win horse at this stage. He'll get to Cup class eventually though, for sure."

Credit: John Robinson writing in HRWeekly 7 Oct 2009


| | |
| --- | --- |
| | RACING HISTORY FEATURE RACE COMMENT |

2009 SEARELLS CHARTERED ACCOUNTANTS CLASSIC

Anyone who knows anything about Chinese astrology will point out that 2009 is not the 'Year of the Monkey'. here in New Zealand though, we might just have to re-write the script - this could well turn out to be the year when one particular monkey is crowned king after all.

Monkey King has looked devastating in his two outings so far this season. In the Hannon Memorial at Oamaru he shook off pre-race nerves to produce a run that was every bit as good as the winner's, then last Friday night at Addington he put in a faultless performance to score in national record time.

The $25,000 Searells Chartered Accountants Classic was unique in a way, because there were question marks hovering over both the first two favourites as punters waited anxiously to see if they would step away cleanly. Auckland Reactor made a complete mess of the start, as many had feared, but Monkey King found his hopples beautifully and landed mid-pack. From there driver Ricky May had options aplenty, and after making his run around the field he cleverly slipped 'Sam' into the trail behind Mr Feelgood when Report For Duty dropped out down the back; they were always going to have the last say up the passing lane.

"He just needed that race at Oamaru to settle him down," said Monkey King's trainer 'Benny' Hill, who was pretty sure deep down that his pacer wouldn't gallop off the mark like he did first-up. "He was a bit nervy and shaking when I was gearing him up before the Hannon, but tonight I was a lot happier with him...he was in the zone."

Hill exuded a lot of confidence about Monkey King's chances during his Trackside interview prior to the race last Friday - despite the presence of the two-time Horse of the Year. "Tonight wasn't about beating Auckland Reactor." he said. "It was more about getting away cleanly, going well, and looking forward to the Cup. Auckland Reactor's only one horse, there are thirteen others out there that you have got to worry about as well. No, we will just do our thing and he can do his - and we'll see what happens when they meet."

Hill can feel assured that Monkey King's NZ Cup preparation is falling into place nicely, and would dearly love to be humbly accepting handshakes from all and sundry sometime late afternoon on November 10. "I suppose this really could be his year," he said. "He has run second in the Cup before (2007), and we'll just forget about last season because he was crook. He went huge when he won the Easter Cup in April, running 3:58, and afterwards Robert (Famularo, owner) and I knew that that is the level we needed to have him at come November. Right at the moment, he is very close to it, and from now on it is just a case of keeping him happy and picking the right races. He's really starting to hit his straps though, and I reckon he's racing better than ever. He's a neat little fella, and he's shown that he's a force to be reckoned with."

The monkey is one of a dozen animals that symbolize the 12-year cycle of the Chinese Zodiac; the last time that it was the 'Year of the Monkey' was back in 2004, and the next one isn't until 2016. Monkey King's sire Sands A Flyin was born during a 'Year of the Monkey', as was the 7-year-old's grandam Sukuntala. Monkey King himself was foaled in the most recent 'Year of the Horse', 2002. And what a terrific wee horse he turned out to be...

Credit: John Robinson writing in HRWeekly 7 Oct 2009


| | |
| --- | --- |
| | RACING HISTORY FEATURE RACE COMMENT |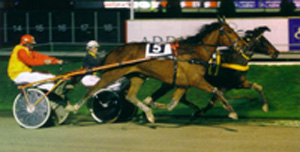 The Fat Controller (inner) beating Speculate

DAKIN GROUP OF COMPANIES CANTERBURY PARK TROTTING CUP

The Fat Controller had his turn in charge when he carried the day in a tight finish to the $25,000 Dakin Group of Companies Canterbury Park Trotting Cup last Friday night.

The minor surprise of the race was the second placing of the hot favourite Speculate, but with only a nose between them there was as much honour in defeat as there was in victory. Justin Smith took Speculate from midfield at the 1500m to give The Fat Controller cover at the 1200m. This was a run made to order for The Fat Controller, who has a 200 metre sprint to match the best of them. Along the passing lane, he made quick progress to draw level and then gain a slight edge. He needed every bit of it, for Speculate rallied strongly and almost took the lead back.

The Fat Controller has won nine of his 38 starts and a tick over $100,000 for breeders Martine and Phillip Iggo, and Phillip has the modest opinion that he is one of the good trotters but not one of the best. This season, there is very little between the good and the best, and The Fat Controller doesn't need to roll his sleeves up much further to be considered more favourably. His big chance is coming.

He will race in the Trotter's Trust Mile next at Ashburton on Labour Day where Iggo is expecting something fast. "To be honest, this is the race I've had in mind for him for the last twelve months. It's a race really worth having a crack at, and with his speed he could run a very quick mile. I am talking better than 1:57, probably closer to 1:56 if it all went his way. He can run a very quick quarter, and he was suited by how it went for him tonight."

While Iggo has major races at the NZ Cup Meeting in mind for The Fat Controller after that, he is baffled by the new programming of the feature trots at the meeting. "What they have done in bringing the Dominion forward, to race just three days after the free-for-all, is unreasonable. I don't think they have considered the horses at all, even if they are all in the same boat. It might work for other horses, racing from a mobile and then a 3200m stand. I don't think it will suit my horse, but it is a lot of money so I suppose we will be there."

Credit: Mike Grainger writing in HR Weekly 14 Oct 2009


| | |
| --- | --- |
| | RACING HISTORY FEATURE RACE COMMENT |

2009 CADUCEUS CLUB OF CANTERBURY NZ PREMIER MARES CHAMPIONSHIP

If you didn't think "wow" after Kiwi Ingenuity's win in the Pelorus Classic at Waterlea, the word would've almost certainly popped into mind when she demolished the Premier Mares Championship field at Addington last Friday night. Because, quite simply, Kiwi Ingenuity was breathtaking.

Keen out of the gate despite her wide draw, as was the case at Blenheim, the Christian Cullen mare was finally given her head by trainer/driver Robbie Holmes rounding the bend into the front straight the first time. She exploded forward in search of the lead, with arch-rival Nearea Franco matching strides with her on her inside; by the time the pair had crossed to the marker pegs starting the last lap, Kiwi Ingenuity had won the battle for the lead. Everyone knew she had spent some serious petrol getting there though...such exertion has to take its toll eventually, so she'll come back to the field for sure.

No, not this girl. If anything Kiwi Ingenuity pushed the pedal down further along the back straight, and when Holmes pulled the plugs at the 350m mark he felt the mare surge yet again. Nearea Franco and the chasing pack never looked like bridging the gap in the run to the line, and at the post Kiwi Ingenuity was nearly two lengths clear as the clock stopped at a blistering 2:20.9 - a 1:56 mile rate over 1950 metres. The $50,000 Group 2 Caduceus Club of Canterbury event had been 'over' a long way from the finish.

"At Waterlea, I was just a passenger down the back - and it was the same again tonight," said Holmes, who's in awe of the mare himself. "She was a nice 3-year-old, but she has just got so big in the chest this time in...almost like a stallion. And she's just an amazing, free-wheeling front-runner," he said, remembering back to how the Southland Oaks and NZ Oaks last season were both won in such fashion. "She would sprint for a half if you asked her to, and probably cover it in fifty-four or fifty-five."

Bred by Hamish Scott, Dr Kim Lawson and their company Equine Investments Ltd, they are joined in the ownership of Kiwi Ingenuity by close friend Abby Smith. The 4-year-old mare's now won them over $213,000, the return from seven victories and four placings in 13 appearances. An enviable record in itself, it is even more menacing considering she has drawn the 'ace' only once - and all her other marbles have been seven or worse.

"I'm really pleased for Hamish," Holmes said. "Because he is a breeder, and only a breeder really. They had a few offers for this mare early on, but he's always been a 'keeper'; it's like she is part of the family.

Credit: John Robinson writing in HRWeekly 28Jan09


| | |
| --- | --- |
| | RACING HISTORY FEATURE RACE COMMENT |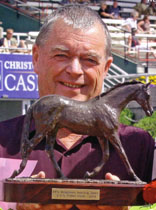 Sandy Yarndley with the trophy won by Lauraella

2009 PGG WRIGHTSON NZ YEARLING SALES FINAL

Lauraella is clearly the best 3-year-old filly in New Zealand at present. They weren't all there to test her at Addington last week, but she was impressive enough to beat the good ones that were there for the recognition to be made.

Arden's Darlin and Rona Lorraine tried hard and were close enough at the finish of the $175,000 PGG Wrightson NZ Yearling Sales Final, but Lauraella was well in charge from the time David Butcher took her to the front at the 800m. She was able to make her own rules and run hard from there, which is the way she likes it.

"When she won the Jewels last year she hadn't won a race before that because that was the first race run to suit her," said trainer Geoff Small. "She always had speed and had been a nice stayer in the making. It's going to be a long hard year for her...you have to feel sorry for 3-year-old fillies, what you ask of them."

Big assignments ahead for Lauraella are the North Island Oaks, the Nevele R Stud Fillies Final, the New Zealand Oaks and Harness Jewels, which gives her the potential to win about $500,000 this season.

Lauraella is a rangy daughter of Christian Cullen from the winning mare Black Maire raced by the Hardwood Breeding Syndicate, comprising Jan and Sandy Yarndley and Max and Judith Hunter, who have been racing horses together for 22 years.

A top filly is nothing new for Small, but he says he's lacked a really good one since the run he had with Pullover Brown, Classical and Copper Beach, all Group 1 winners at three.

Credit: Mike Grainger writing in HRWeekly 4Feb09


| | |
| --- | --- |
| | RACING HISTORY FEATURE RACE COMMENT |

2009 UNITED FISHERIES TROTTING FFA

Stig achieved something he'd never done before when he won at Addington on Saturday. He set a NZ Record.

The undisputed star of trotting in Australasia has now blessed us with 13 victories to date, but he seemed to lift the bar even higher again in the $75,000 United Fisheries Free-For-All because he literally gave his rivals a start and a beating.

Nearly four lengths out of position on the outside of the second line when the mobile pulled away, Stig was dangerously giving some talented types even more of an advantage than he needed to. And over the sprint trip of 1950 metres, the task ahead could've very easily turned into 'mission impossible' after such a tardy beginning.

But this is Stig we're talking about - and like he's done numerous times before, the great horse just got down to business and produced an unbelievable performance. Narrowly avoiding two breakers early, the son of Armbro Invasion was never closer in than three-wide all the way around the bend into the straight the first time. Soon afterwards he had cover behind Sovereignty, and by the time the 800m pole came and went he had crossed over to be up outside the new leader King Charlie.

Rounding the home bend it was obvious that he was travelling sweeter than anything else, and down the straight driver David Butt did little more than flick Stig with the whip as he checked inside and out for dangers. There were none really, and at the line he had the fast-finishing Springbank Richard covered by a neck. Then gasps emanated from the small on-course crowd as Stig's time was announced...2:22.7, a scintillating mile rate of 1:57.7, and more importantly it meant that he had smashed a full 2.2 seconds off the existing national make held by Castleton's Mission.

Afterwards, trainer Paul Nairn admitted that Stig even surprises him sometimes. "It's just his will to win - he overcomes things," Nairn said. "I knew myself that he was no cert today, drawn where he was over the sprint trip, and it wasn't a great start he got. I don't know what happened there; Davey just said he got too far back and couldn't make up the ground. It's not the first time he has done that though (surprised me), he's just such a great stayer."

Nairn always had last Saturday's Listed event in the back of his mind for Stig, but only if he pleased him in training. "He had a three-week break after the Dominion, and has been in work about six weeks since, and if he wasn't up to this today I wouldn't have been worried. But when I worked him last Friday he seemed fit, and I thought he was ready to compete."

"There is a chance I will go north to Auckland now for the Cup Meeting, and will have to make a decision on that in the next week or so. The main problem with that is the young ones I've got at home, but I suppose I could also take up the likes of Red and Brite N Up to make the trip worthwhile."

Nairn says a couple of the youngsters he has in work "could make 2-year-olds," including a sister to De Gaulle named Mamselle who's "a nice wee trotter" and Landora's Pearl (Earl- Landora's Image) who "trots along a bit too".

Credit: John Robinson writin in HRWeekly 4Feb09


| | |
| --- | --- |
| | RACING HISTORY FEATURE RACE COMMENT |

2009 PGG WRIGHTSON NZ BREEDERS STAKES

It was exhilarating watching Kiwi Ingenuity leap clear of the chasing pack at the 300 metres in last Friday night's $100,000 PGG Wrightson NZ Breeder's Stakes. It was a clinical demolition of a high-class field of mares, for she won by four lengths which is a handsome margin in any company.

It was also amazing in some ways because she had not been quite herself before and after her win and loss at Ashburton, which was only a fortnight before this more important target. Even on Monday of last week, she had mucus round her nose which told trainer Robbie Holmes that there was a little to worry about but not much. "To be perfectly honest, when I took her out of the barn the day after Ashburton, there were signs she had a cold coming on. So we pulled some blood and the results of that told us she'd had an infection and was getting over it. There were no other signs. She always eats well and her work was great, and she always rehydrates herself. In the paddock, she just drops her head and relaxes."

The form of Kiwi Ingenuity has been picture-perfect this season - five starts for five first finishes, only to lose the one at Ashburton in the Enguiry Room. Holmes thinks he was hard-done by there. Otherwise, the score this season is 100%, with Holmes saying the strength she has developed between the end of her last campaign and the start of this has been the key to her tremendous step up.

"This time in, it has just been continuous improvement, and she has been peaking with every run. It has become pretty exciting, and the things she's done mean she doesn't have to prove anything. I wouldn't be afraid of taking her to Auckland, because she actually steers better that way round, but that won't be happening. And people ask us when will we be meeting Auckland Reactor, and I can't see that happening either, not for a while."

In the meantime, Kiwi Ingenuity is having a rest, with only the Harness Jewels being of interest for the rest of the season. She can have a month off, and have a race or two before then, or what she needs." Further from that, Holmes says it's unknown. "Hamish (Scott) is a breeder, and he doesn't like his mares to be over-raced. She is likely to do some racing next season, but to what extent we don't know. Hamish has three others in work, and there are three to come in, and one is a Falcon Seelster 2-year-old half sister to Kiwi Ingenuity who is big but I really like her."

And Holmes is clearly keen to get Kiwi Fantasy back, a horse he has a lot of time for. "It's a very nice team. Romper Stomper is due in, and Indy Village and CC's Mademoiselle are coming up nicely."

For the star of his success, Holmes owes it to Simon Pavlovich, a good friend, good horseman, and now living a good way away in Western Australia. "We worked together in a camping ground in Queensland fifteen years or so ago, and it was Simon who introduced me to Hamish. He started with a share in Kiwi Express, and it has gone from there."

Credit: Mike Grainger writing in HRWeekly 18Feb09


| | |
| --- | --- |
| | RACING HISTORY FEATURE RACE COMMENT |

2009 FIRST SOVEREIGN TRUST 3YO FLYING STAKES

First called upon to fill a seat due to sheer weight of numbers, Jimmy Curtin has again been handed the reins behind Sleepy Tripp for this Friday night's NZ Derby.

Curtin has teamed up with the Courage Under Fire gelding twice so far...in the Sires' Stakes Final on Cup Day last November (when trainers Mark Purdon and Grant Payne sent forth nearly a quarter of the field), finishing ninth - and again last week at Addington, where Sleepy Tripp produced a jaw-dropping performance to win the 3YO Flying Stakes from the parked position after the last 800 metres sizzled by in 54.8.

The Inter-Dominion suspension of Purdon has necessitated a need for Curtin's services once more, and he is the right man for the job. He couldn't recall how many times he has driven in the Group 1 feature race to date, but was quick to add that he had "never looked like winning it" in the past. Things are totally different this time around. "He went super last week," Curtin said of Sleepy Tripp's latest victory and final sectionals.

"I knew we were doin' a bit, especially over that last half, because he was a little flat until I pulled the plugs turning for home - and then he kicked again. The distance of the Derby should suit him; there's no doubt that he has got speed and can stay as well, so he has got a few things going for him. But it's a pretty good field too, and of course it all depends on the draw and what sort of luck he gets in the running."

Luck - all of it bad - kept Sleepy Tripp from being a major player in the finish of the 1950m Sires' Stakes Final earlier this season, but the extra three and a half furlongs of Friday night's contest should ensure that every contender gets their chance. "He never got into the race that day," Curtin said, thinking back to November. "He was a victim of circumstances really though, and was now show at all."



Credit: John Robinson writing in HR Weekly 1 Apr2009


| | |
| --- | --- |
| | RACING HISTORY FEATURE RACE COMMENT |

2009 PAUL & PAULINE RENWICK NZ TROTTING DERBY

As breeders, Keith and Bevan Grice virtually own the NZ Trotting Derby. The Ashburton-based brothers have bred the winners of four of the last nine Derbies: Dependable in 2001, Shirley Temple (2007), Doctor Mickey last year and now Ima Gold Digger, who took out Friday night's Paul and Pauline Renwick-sponsored Group 1 with another powerhouse display of square-gaiting.

The Grice's affinity with the prestigious event is all thanks to Janetta's Pride, and the continuous stream of winners she's left to Sundon. Three of the aforementioned quartet share the same set of parents, while the 'odd one out' Doctor Mickey is a son of their full-sister Jo Anne - which all signifies quite an amazing 'nick'.

Making the occasion even more memorable last Friday night was the fact that it was also Bevan's birthday. "Yes, somebody said that - I was trying to forget about it," quipped the sprightly 78-year-old. "But this is a great thrill, and the best birthday present I've had in years. To think that the mare's now left three Derby winners and the dam of another one - it's unheard of. We have been breeding for some sixty-four years, ever since we were at school, and something like this just blows you away. I couldn't believe Ima Gold Digger's time either; that's the sort of time the pacers do."

Ima Gold Digger won this year's 2600m mobile Derby in 3 17.4, slicing nearly two full seconds off the previous NZ Record held by Flame Up which had stood since the latter set it in the very same event a decade ago. It was Ima Gold Digger's third national mark this term, and will safely secure him the 3-Year-Old Trotter of the Year title come August.

What amazes the Grices even more about Janetta's Pride and her Sundon stock is that they bred two full-sisters to the same stallion, numerous times, and "never got anything". "That's the funny thing about breeding though," Bevan said. "We first sent Janetta's Pride to Pernod Eden, and then Chiola Hanover, but the foals came to nothing. Then she just clicked with Sundon. Vivian Leigh was another by Sundon out of her that had talent too. Lindsay Kerslake was one of the last to train her, and he reckoned none of his pacers could match her for speed. She just couldn't get near the barrier."

Following on fron Ima Gold Digger is Spin Doctor, a 2-year-old full-brother, and Rugged Cross, a yearling full-sister, but the stream of Sundon foals out of the Gee Whizz II matron comes to a halt after that. A couple of seasons ago Janetta's Pride was covered "two or three times" by her favourite stallion but didn't 'take', so she went to Monarchy instead - and last year she missed again to the son of Arndon, and is currently carrying a Thanksgiving foal. "Her Monarchy filly is a yearling, and steps around the paddock as good as anything you'll see," Grice enthused. "So we will be getting her broken in early, like we do with most of our horses."

As for Janetta's Pride, she is now 20 but showing no signs of needing to slow down. She juggles between her two owners' properties, depending on wherever the best paddock is at the time. No prizes for guessing whose court she'll be visiting again next breeding season. "I think she was sixteen when she foaled Ima Gold Digger," Grice said. "But I have maintained for years...if you're breeding from an older mare, they've got to be in a nice paddock on their own with good pasture. Otherwise they tend to compete with the younger mares for feed, and end up not nourishing the foetus."

Although it's their success with trotters that puts the Grices in the spotlight, they breed from just as many pacing mares as well; their hoppled heroes in recent times include the likes of Indian Giver, Wiltshire, Parasite, Pretty Dollybird and this season's Kindergarten Stakes winner El Nino. "We put thirteen mares to stud last year," Grice said, adding that they've bred more at times in the past. There's about a dozen other mares out in the paddock which are all in foal as well, but we're in partnership with Michael House on those ones. It's a hobby for us, and we breed to lease. Everybody's got to have a hobby, whatever walk of life they're from - because if you don't, you'll die of boredom."

Credit: John Robinson writing in HR Weekly 1Apr09


| | |
| --- | --- |
| | RACING HISTORY FEATURE RACE COMMENT |

2009 CHRISTIAN CULLEN NZ DERBY

When it comes to Sleepy Tripp, not much has changed in three years. As a foal he was almost impossible to catch in the paddock, and these days his rivals on the racetrack have trouble getting near him too. That sheer tenacity was again on display at Addington last Friday night, when Sleepy Tripp kept all challengers at bay and won the $300,000 Christian Cullen NZ Derby.

Bred and raced by Pleasant Point's Terry and Adrienne Taylor, Sleepy Tripp was providing the couple with one of their most cherished moments in life when he took out the Group 1 event last night. So they must shudder at the thought that they could have easily sold him early on. "He was a little bugger," Terry recalled. "He would always keep at least an arm's length away from you, his mother was the same. Of the four horses we bred that year, I remember thinking he would be the first to go."

The Taylors had been dairy farmers in the Bay of Islands and Whangarei for 30 years, where they also had a Jersey Stud. Shifting south at the turn of the century in search of cooler weather, they originally settled in Oamaru before purchasing a 350 acre beef farm at Pleasant Point in 2001. They opted for a lifestyle change soon afterwards though, selling off the bulk of their new property but leaving themselves with enough land (50 acres) to run a few cattle, build a new home, and pursue one last passion which had been only a dream up until that point - breeding racehorses.

"Adrienne had been my 'right-hand man' on the farm all those years," Taylor said with a smile. "And you can get a bit sick of it (the lifestyle) after a while. We are both in our seventies, so we decided we may as well sell up and enjoy ourselves."

Terry and Adrienne have always enjoyed going to the races, and when living up north they tried to get along to Alexandra Park "whenever we had the time". Now that chance to breed some horses had finally arrived, they were going to need some broodmares, so Terry started attending Mixed Sales and picked up the odd mare here and there. Admittedly knowing very little about harness bloodlines, the Taylors stuck to the basics and what they remembered from three decades of dairy farming - plus the advice of a learned friend: that producing quality stock was "ten percent breeding and ninety percent feeding".

Some good luck never goes amiss either though, and in this regard you would almost think that the Taylors were blessed with the 'Midas' touch, because just about every one of the of the dozen or so horses they have bred since they began has either won or been sold overseas - and their good fortune started right from the word go.

One of the first mares they purchased was Sleepy Tripp's dam Fancy Fitch, outlaying $1200 to secure the daughter of Fitch II and Happy Widow from a mixed sale when she was in foal to Mystical Shark. "There's a bit of a long story about her," Terry said. "When she came home from the stud after giving birth, she had the wrong foal on her; there had been some sort of mix up in the paddock, and the foals must've swapped mothers. The horse turned out to be Franco Smoothie (Holmes Hanover-Smooth Performer), and he won a couple of races for us before we sold him to the States. The Mystical Shark foal out of Fancy Fitch never even made it to the trials, and actually ended up dying."

The Taylors then bred Fancy Fitch to Live Or Die and she produced Dead Or Alive, who won races at two, three and four here before they sold him to Australia in May last year. Waiting in the wings at the same stage was Fancy Fitch's then 2-year-old by Courage Under Fire, the Taylors choosing to stick with Nevele R because "they'd been good to us", and he was named after the famous American speedway driver Sleepy Tripp.

Broken-in by Maree Price, she had thought enough enough of Sleepy Tripp early on to suggest that the Taylors go straight to the top and ask Mark Purdon to train him, and after joining the roster at All Stars Stables he had caused a few headaches there as well. "He was a bit silly," Purdon said. "He'd shown a bit of speed at two, but he wasn't coping mentally with the work as we were stepping him up. He was too fierce, and just wanted to run all the time. He'd rear up at the start on occasions too - just hypo, really." Purdon and training partner Grant Payne had pretty much ironed out Sleepy Tripp's idiosyncrasies by the time he debuted at Addington towards the end of October last year, and after being sent out a red-hot $1.60 favourite he won with a leg in the air despite being three-wide and parked throughout.

So emphatic was the victory, even a reinsman the ilk of Mark Purdon was left reaching for superlatives. "He really impressed me that night," Purdon said. "It wasn't just a good maiden win. Tim (Butt) had lined up one with a bit of a reputation, but we'd sat outside him and beat him easily. I thought then that he'd be able to step up to the better 3-year-olds."

Such a display of raw ability hadn't gone unnoticed by the talent scouts out there either, and within days Purdon was on the phone to the Taylors with the news of a six-figure proposition. "Mark rang and said he'd received a big offer," Terry said. "But we didn't need the money, and I remember thinking that if someone else thought he was that good - we may as well keep him." Neither his trainers or his connections could've predicted a NZ Derby victory within six months though, but Purdon is now adamant that Sleepy Tripp's going all the way to the top. "He's gone to another level again. He's just got that 'all-rounder' quality, and definitely looks like a Cup horse in the making."

Sleepy Tripp's now won eight of his 12 appearances and nearly $390,000. After the icing on the cake last Friday night, the Taylors have yet to come back to earth. "It's a huge thrill for us," Terry said. "Some people try for years to breed a horse like this; we definitelty didn't think it would happen so soon."

Credit: John Robinson writing in HR Weekly 8 Apr09


| | |
| --- | --- |
| | RACING HISTORY FEATURE RACE COMMENT |

2009 NZ TROTTERS TRUST NZ TROTTING OAKS

Despite the myriad of training successes they have enjoyed, something still manages to keep Mark Purdon and his training cohort Grant Payne guessing. Her name's Pocaro. The Sundon filly enjoyed being back against her own gender again in last Friday night's NZ Trotting Oaks at Addington, and after getting around from her unruly draw to lead the 1950 metre Group 3 event, she clung gamely to the task to hold out a spirited bid from Jumanji Franco. Both horses broke late in the piece, and Purdon was left scratching his head about the winner's performance.

"On her training this week I thought she would've won for fun," he said afterwards. But it was a better showing from her, because at least she (almost) got around in one piece." As a 2-year-old Pocaro had one speed - full bore. She's calmed down a bit in that regard this season, but has still got a tendency to voer-race early, which is why her trainers placed her on the unruly in a bid to curb that enthusiasm.

As Pocaro has shown throughout her career though, when she's good she's very good, but the trouble in more recent times has been her breaking during the running. All Stars Stables has left no stone unturned trying to get to the bottom of the problem, with Purdon saying that she has undergone extensive examinations on numerous occasions with her vet Bill Bishop, also having her joints injected and even having a chiropractor look over her. But he still believes that the Sundon filly may be sore somewhere. "Sher would be a great candidate for that treatment where they pump a blue dye through a horse's system and it shows up all the hot spots. I think it's something I'll have to talk about with the owners."

Pocaro is raced by Trevor Casey, Jim and Tim Wheelan, Stephen Ward and Shane Hausler, and so far she has won the quintet over $85,000 - the result of seven victories from 13 outings, two of the Group 3s. "She is a very strong trotter, with a lot of speed," Purdon enthused. "We will go up north with her now, for three races. She thrives on trips away, and has won up there before so she could well be safer the Auckland way around."

Credit: John Robinson writing in HR Weekly 8Apr09


| | |
| --- | --- |
| | RACING HISTORY FEATURE RACE COMMENT |

2009 GARRY THOMPSON/ FRED SHAW SOLICITORS NZ TROTTING CHAMPIONSHIP

One Over Kenny won the 29th race of her career when she took out the $100,000 Garry Thompson/ Fred Shaw Solicitors NZ Trotting Championship at Addington last Friday night. The great mare led for the last half of the 2600m mobile event, and after reeling off a 57.9 half she won it ever so easily by nearly a length in 3.16.7. Amazingly, it was her fifth Group 1 victory on New Zealand soil.

"It just shows you how good Stig is," trainer/driver Tony Herilhy said afterwards, referring to how dominant the latter had been over his mare in their last two clashes this year. "You never like to see good horses injured, but we were just pleased to be there (Addington) ourselves and we'll take it."

It was also satisying for Herlihy because it proved the One Over Kenny was back to her best again after a 'failed' Inter-Dominion campaign across the Tasman, which he put down to her being sick and not being "half the horse" she normally is. "She definitely seems to have come up a lot stronger this time as well," he said.

Herlihy used to believe that One Over Kenny trotted better the Auckland way round, but she has had a Murphy Blind added to her armoury since the Flying Stakes victory at Cambridge on January 2 and now he is not so sure there is any difference at all.

The 7-year-old Sundon mare will be shooting for victory number 30 when she steps out again in Auckland a week before the Rowe Cup, and then it is onto the big one itself as she attempts to emulate her win of two years ago.

Credit: John Robinson writing in HR Weekly 8Apr09


| | |
| --- | --- |
| | RACING HISTORY FEATURE RACE COMMENT |

2009 FIRST SOVEREIGN TRUST 4YO TROTTERS CHAMPIONSHIP

Two of the Phil Williamson stable's rising stars were on display at Addington last Friday night, one with half as many legs as the other. First there is Leighton Hest, a Dream Vacation 4-year-old who ran third first-up this season and has now won his last six in a row. And the other up-and-comer is the young chap who sits behind him, 18-year-old Matthew Williamson.

The duo combined to record their biggest wins to date when Leigthon Hest took out the $30,000 First Sovereign Trust 4YO Trotters Championship last week, running along in front to score more easily than the half-length margin suggested.

"He's pretty good," said Matthew, who was beaming after his first Group victory. "He's a great stayer, but he's got speed as well. I wanted to keep him running and take a bit of the sprint out of the rest of them. He's just lazy, and pulled up halfway down the straight when there wasn't any other horses round him."

Williamson didn't have much else on his mind other than rugby when he attended Waitaki Boys in Oamaru, but there was little doubt in his mind what he wanted to do once he left school. His parents already had one son (Nathan) choose harness racing as his career, did they really want another? "Mum probably didn't, but Dad needed helpers. And I love it. I wanted to try and get to fifteen wins as quick as I could this season, so I could drive in the big races - like this one."

Nathan has already established himself as a talented reinsman, and when he joined the Kirk Larsen stable at the start of the season there was a space for Matthew in their parent's barn. Plenty of friendly rivalry goes on between the two brothers too. "He's usually the first to tell me if I have a shocker," Matthew said with a smile. "And he's a wee bit too big to give a bit of ribbing back too - I just normally give him a touch-up on the way past."

Understandably, parents Phil and Bev are very proud of the start that their second son has made. "I'm delighted with him, winning a Group race in his first season of driving," Phil said. "Nathan did the same. But, it's not through any tuition from me. All we want is that they do what they want to - kids have got to have their own passion for things. We never forced them to come down to the stables, they did that on their own accord; both Nathan and Matthew started getting interested on a day-to-day basis by the time they'd reached high school."

There are two more Williamson protégés waiting in the wings...daughter Jasmyn, who is 16 and keen but more likely to stick to riding ponies rather than driving harness horses, and youngest son Bradley, a 14-year-old who's "looking very capable" and a "natural talent" like his brothers before him.

As for Leighton Hest, the chief of the Williamson stable says he's been a bit of a surprise to them all. "He's stepped up, for sure. At home he's not a horse that shows you what he does at the races, put it that way. But going from being a maiden to winning a Group 3 in one campaign is a pretty good effort. It's hard to put a big rap on a horse when they win against the lower grades, but after this there's no doubt he's going to the top. He's got the all-round game...an enormous desire to win, and when he knocked off tonight like he did - that's the sign of a really good horse. He's definitely exciting us."

It is amazing to think that yet another top-line trotter is emerging from the Williamson stable, especially when the list is already a long one. Humbly, Phil puts it down to basics. "It's a kindness thing. And a love of horses - a passion for them. When you love them, and treat them kindly, if they're any good they're going to reward you."

The rewards could keep coming thick and fast from Leighton Hest, with his next main target being the Jewels. "We'll give him a freshen up now, and possibly one or two races before the big one at Ashburton in May. We've got to be a wee bit careful though, because it's been a long season for him. He'll be okay from behind the mobile, even though he hasn't had one yet, and the mile should suit too."



Credit: John Robinson writing in HR Weekly 1Apr09


| | |
| --- | --- |
| | RACING HISTORY FEATURE RACE COMMENT |

2009 BROMAC LODGE NZ WELCOME STAKES

Since then and until now, it has been a long time between good horses for Tony and Gay Abell. The space has been occupied by one or two handy horses prefixed with 'Kotare' but none as classy as the first one.

Nearly 40 years ago, the Abells struck it rich with Kotare Legend, a horse they bred. The son of Fallacy won 14 of his 56 races while trained by Leicester Tatterson, but none of them in three light racing campaigns after he turned five and ended at seven with Gary Hillier. He had a bumper season at three, winning nine races but not a Derby, and finishing ninth on the all-time money list that season behind Arapaho, Robalan, Young Quinn, Easton Light, Koarakau, Noodlum, Bachelor Tom and Speedy Guest. It was hard to find one half as good after that, although the ill-fated Kotare Testament went close to doing so.

But Abell had many more strings to his bow and harness racing, to its benefit, found them out. He waited longer than most to become a member of the NZ Metropolitan Trotting Club. "There was a waiting list when I wanted to join, and I gave John Osborne a cheque - which he discovered in a trouser pocket eighteen months later." After serving as a steward and then as a committeeman, he went on to become President of the Club and these were good years. He was Chairman of the Inter-Dominion Harness Racing Council - now defunct - and he was Chairman of the NZ Sires' Stakes Board - all posts that took a man of merit to handle. These were front-line jobs, and Abell said it was nothing for him to be in and out of town three times a week.

He still holds his AI ticket, and it's probably true to say that no-one has had it longer. "Back then, I stood Bay Foyle, Brad Hanover, Estes Minbar and Dominion Hanover, and when AI came in that was pretty much the end of it for back-yard breeders. It was time to give up. It was work for the vets, but I asked Cliff Irvine why it couldn't be done by others, and Cliff said there was no reason at all why not. So I went on the first AI course, and being an 'A' followed by a 'b' my name was the first on the list, and I was the first to get a certificate. I still do it now, for my mares and a few who are nearby."

One of them is Extra B G, the dam of Kotare Mach, a 2-year-old colt by Mach Three. In winning the $100,000 Bromac Lodge NZ Welcome Stakes at Addington last Saturday with crushing ease against moderate opposition, Kotare Mach has signalled that the Abells have one with the talent that could match what Kotare Legend did. It would also be a just reward for the countless hours and effort that Abell has given to harness racing as a distinguished administrator. As sponsor Bob McArdle said: "One can't measure the influence Tony has had on the industry, and I know we will be seeing a lot more of this horse in these circumstances."

The Abells bred Kotare Mach, but it was the late Peter Andrews, who followed Tony as the Chairman of the Met, who started the ball rolling. He bought Tanisa Vance as a yearling at Auckland although the official owners when she first went to stud were Graham Heenan, Keith Miles and Graeme Hawkins. "I can recall how tiny Tanisa Vance was, and she was tried and was no good, so they bred her to Pathfinder," said Abell. "I remember the foal was a thin, terrible looking thing, and they asked me to look after her. The mare was in foal to Butler B G, so I also reared and weaned the filly she had, and it was broken in and tried but didn't race."

In the meantime, Abell had leased Tanisa Vance and bred two from her - the smart Kotare Jaeger by Andrel who won eight, and Kotare Jay, and Jane Moody used her later to breed Ross The Boss. Having taken over the Butler B G filly, named Extra B G in return for looking after her, Abell sent her to Camtastic, Falcon Seelster and Presidential Ball for filly foals, Armbro Operative - to whom she left a capable horse in Kotare Jago - and a filly by Village Jasper before he settled on Mach Three. "Extra B G was from a strong family and she was a good size herself. She hadn't had many colts, just one in fact, and I really like Mach Three from the start. I actually had a booking, but when they put the fee up from $6000 to $8000 I didn't take it up. Then, we were up at Auckland for the final night of the Inter-Dominions, and Mach Three was advertised at a special rate of $6000 just for that night. I booked in Extra B G then."

The mare left a brown colt and if Abell didn't know he had something a little extra then, the figuring came soon enough. "He was a little bull, always strong and capable. I liked him right from the start and I told this to my neighbour, Dennis Bennett. And he looked bigger than he's turned out to be. I thought he might be half a hand taller than what he is." Abell broke him and did all the early work with him. "As is my habit, with anything I think a bit of I send to Mark Smolenski for evaluation. He usually has them for a month. He got very excited about him, and of course that didn't surprise me."

"He was just a happy, easy-going horse. And my question to Mark was 'will we qualify him?" He did that well enough; Dexter Dunn driving him for Smolenski in a qualifer he won by 11 lengths on November 1 at Ashburton. There was talk of big money for him after that. "We had three approaches before he raced, and the answer to each of them was no. We really breed horses to sell and shouldn't fall in love with them, but with this one we did. Mark suggested even then, before he raced, that Mark Purdon should have him, but we were happy to leave him where he was for his first start. He got a rough run in that, and a punctured tyre, so we left him there for the Sapling Stakes and Mark took him after that."

From three starts for Purdon and Payne, Kotare Mach has won three, setting a New Zealand record over 1700m at Invercargill, a win in a Sires' Stakes Heat and then his wholesale destruction of the Welcome Stakes field. From the sidelines, and being a horseman himself, Abell had mixed feelings of losing his young star. "He looked forward to his work every day, and I do miss him. But I suspected he could be a bit special, and I knew I had to give him up. My only hope is that I get him home to look after at some time, but then I might not."

Always enthusiastic, Abell is not slowing down at 74, and is handling six yearlings. Extra B G has a filly foal at foot by Live Or Die and her next mating will be back to Mach Three in 2010. They will all carry the 'Kotare' moniker, but it will be 'Mach' who should continue the legend.







Credit: Mike Grainger writing in HR Weekly 16Apr09


| | |
| --- | --- |
| | RACING HISTORY FEATURE RACE COMMENT |

2009 STALLION STATION EASTER CUP

Monkey King ended his campaign on a high note by winning the Stallion Station Easter Cup from All Tiger.

The 3200m took Monkey King 3.58.2 and with a length and three-quarter margin it suggested that he could have gone quicker had it been required.

He won the race last year in 4.01.8. He 25 wins and 16 minor placings have yielded $1,151,013.

Photo caption: Royal smiles...Sara Famularo,'Benny' Hill and Ricky May enjoyed it when Monkey King reigned at Addington again on Saturday night, winning his second consequtive Easter Cup in a brilliant 3.58.2.

Credit: Mike Grainger writing in HR Weekly 16Apr09


| | |
| --- | --- |
| | RACING HISTORY FEATURE RACE COMMENT |

2009 CRT McMILLANS EQUINE FEEDS NZ TROTTING STAKES

At home, Alan and Fiona Clark have a boxed set of Harness Jewels colours with Castletonian's name on them. They are a memento of the trotters deeds last season, when Castletonian was the leading 2-year-old stake-earner by the time he raced for a Harness Ruby at Cambridge, and they are just a special as the Sires' Stakes trophy he won to put him on top of the list.

Later this year the couple have to clear some more space, as a set belonging to stablemate The Fiery Ginga will be following suit; the latter put things beyond doubt in this respect with another faultless display to win last Friday's Group 3 NZ Trotting Stakes at Addington. It was the seventh victory in a row for The Fiery Ginga, and it was achieved with a 'take no prisoners' attitude when Alan let him run hard out of the gate. "I thought Kowhai Ford was our main danger in the race, and I wanted to put some pressure on him early," Clark said of his rival, who had gotten to the lead first after drawing closer in. "The Fiery Ginga can really pour it on around the bends, whereas at this stage a lot of other 2-year-olds can't."

Confident in his own trotter being foolproof, Clark had wrested the lead with The Fiery Ginga soon afterwards, at which stage Kowhai Ford rolled into a gallop that went close to costing him third in the Stipes' room later on. In fact, stewards were kept pretty busy scribbling down names early on, as eight of The Fiery Ginga's 12 rivals in the event either broke in the score-up, at the release or in the first 400 metres.

Clear and cruising throughout, none of them were ever going to get near the $2.50 favourite. "That might put some of the 'knockers' back in their place," Clark said, referring to a couple of outside opinions that "the wheels had to fall off sometime" because The Fiery Ginga had been 'up' since August and qualified a month later. "People don't think that 2-year-olds can race right through the season, but they can - you have just got to get their shoeing and conditioning right. And I know this fella took nine starts before he won one, but all of his earlier races were about sorting him out, and him learning to be a racehorse."

It's hard to condemn a horse that, since clearing maidens, has now won seven in a row. And if anything The Fiery Ginga looks to be getting better rather than going backwards, which is what Clark expected all along. "I always knew he would," the Mosgiel horseman said. "I remember thinking a wee while ago that if there was a better 2-year-old out there, he'd have to be phenomenal. The Fiery Ginga's got tremendous stamina, and he will keed stepping up time and time again. He is a very light horse at the moment, but once he strengthens up as a 3-year-old he'll be able to carry his speed even further. He's a super horse to train; he's like a lamb to work with, and he'll always come back for more."

Next on the plate for the son of CR Commando is this Saturday's Sires' Stakes Trotters Championship, the race that Castletonian won last year, and Clark believs The Fiery Ginga "could be slightly better" for it than he was last Friday night. Following that, he might even line his three 2-year-olds up at Phar Lap Raceway 24 hours later - "on the way home" - something he knows is likely to also raise a few eyebrows.

"He'll handle it easy," Clark said. "Horses train harder than they race. Like the other night...he only sprinted for four hundred metres at the start, and again for four hundred metres at the finish. I do a lot of interval training at home. It pushes the horses to very high speeds, but it doesn't tax their bodies or cause them to get fatigued. A lot of people can't believe it, but I've already got three yearlings at home that can all run miles in 2.10 or 2.12; they'll all qualify in August. I like a challenge, and like to do things that other people perhaps haven't done."

Safely through Saturday and Sunday, The Fiery Ginga will set course for Ashburton and the Jewels, where with his gate-speed and faultless ringcraft he'll be a torrent to try and head off. "Not that I'll be going out there to set records, he is there to win - not go a time. But I think he's a 1:57 horse," Clark said.

Credit: John Robinson writing in HRWeekly 6May09


| | |
| --- | --- |
| | RACING HISTORY FEATURE RACE COMMENT |

2009 NEVELE R FILLIES SERIES FINAL

A year ago, the connections of Lauraella had a nervous couple of weeks leading into the Harness Jewels at Cambridge. Because there were two massive hurdles to overcome, and one of them was out of their hands altogether...firstly, could the filly earn enough money to make the cut-off for the 2YO Diamond field - and furthermore, even if she did, could Mother Nature play her part and install enough power and balance into the lanky filly's frame in time to make her competitive. after all, Lauraella hadn't even won a race at this stage.

In the end the two mountains became molehills; Lauraella's third in the Sires' Stakes Fillies Championship on May 2 lifted her to eighth in the Jewels rankings, and then she went out there and romped away with the 2YO Diamond in NZ record time. Twelve months on, and it's a vastly different picture in many respects: Lauraella has hardly been beaten as a 3YO, and her earnings that count ($323,224) are nearly double that of her nearest rival Joyfuljoy, placing her at the top of the tree.

After her domination continued in the $150,000 Nevele R Fillies Series Final at Addington last Saturday, this year's Diamond looks hers to lose. "She's a brilliant retirement present," says Sandy Yarndley, adding the he and wife Jan are getting a big kick out of "following her everywhere". The couple began scaling down their mammouth involvement in the industry a couple of years ago when selling off most of their farm at Ohaupo to Ken Breckon. Sandy says they have still got shares in quite a few mares, but these days life is all about enjoyment. "I used to fit 'play' around work commitments, now it's the other way around," he smiled.
"I'm playing a lot more tennis, and we also bought a house at Thornton Bay on the road to the Coromandel; you catch snapper off the beach there."

Lauraella is raced by the Yarndleys together with Max and Judith Hunter, under the banner of the Hardwood Breeding Syndicate - named for the fact that the filly's dam Black Maire is named after "a type of hard wood." "We've known Max and Judy for about twenty-three years," Yarndley continued. "They'd raced the odd galloper before, and had been involved in quite a few syndicates with us too. So a few seasons back we offered them the chance to join us in this venture, and now we're all having a hell of a lot of fun."

Black Maire was a Falcon Seelster filly out of the Vance Hanover-Black Watch mare Corbie that won the Yarndleys four races and nearly $40,000. Having captured half of her 18 appearances and nearly $540,000 to date, second foal Lauraella has far exceeded all expectations. "And to think we were one bid away from letting her go at the Sales," Yarndley recalled. "I said to Pynes that if she reaches $80,000 - sell her; she'd gotten to seventy-five, and the next bid would've been eighty. Barrie Rattray from Tasmania was the underbidder, and I even went up to him afterwards and asked if he wanted to take her for the price we were after. But she was a real gangly thing by the time the Sales came around that year, and in the ring she didn't look half as good as she had three or four weeks earlier. Even last year, she was over sixteen hands when we turned her out as a 2YO after the Jewels - so she's always been a big girl."

Buoyed by the fact that Lauraella ended her first season by winning the Jewels at Cambridge, the Yarndleys and the Hunters also took a lot of heart from trainer Geoff Small's opinion. "Geoff always said that she'd need time," he said, knowing that what Lauraella achieved this season is still 'pinch yourself' stuff. A couple of months ago he even said to me how much she reminded him of Mainland Banner. For all his differences, I can't speak highly enough of Geoff and what he and the staff have done for this filly. And David (Butcher) is such a cool driver too."

With a lifetime involvement in harness racing, the Yarndleys are no strangers to success and have raced plenty of good fillies in the past. But it's Lauraella who is taking them to another level, and the juggernaut doesn't look like stopping anytime soon. "We've had horses like Hot Shoe Shuffle and Coburg, but they always seemed to run into one that was better. This year, I think we've got the one that's better."



Credit: John Robinson writing in HRWeekly 13May09


| | |
| --- | --- |
| | RACING HISTORY FEATURE RACE COMMENT |

2009 PGG WRIGHTSON NZ YEARLING SALES SERIES 2YO FINAL

Doug Gale had his eye on one particular horse when he stood ringside at Karaka last year. At that stage the colt's name was Star Vista, but more important to Gale was the youngster's mum and dad - not to mention the end result that he believed such a cross would produce.

"I wanted a McArdle colt out of a Soky's Stom mare," Gale said. "I've got my ideas about breeding, and the theory is a bit too long to explain in a wee story like this, but I just thought that as far as McArdle was concerned - this was the most likely way to get a very nice horse." Gale hadn't been to see Star Vista at preparer Frank Cooney's place prior to the Sale, but after liking the colt in the Parade he also ticked a lot of Gale's boxes afterwards when he took a closer look. "He fitted all the criteria...he had looks, type, attitude; it wasn't a hard decision. We budgeted for $25,000, and he cost a little bit more at $31,000 but I don't think Graham's regretting it now."

Graham is Graham Beirne, a long time client of Gale's who, as is usually the case, later changed the name of his purchase that he now races in partnership with Gale's wife Wendy. Now known as Five Star Anvil, the 2-year-old tore away with the richest plumb of the season when taking out last Saturday's $300,000 PGG Wrightson Yearling Sales Series Final at Addington.

It was the colt's third win from nine outings thus far, and with over $215,000 already banked Five Star Anvil is looking an auspicious purchase - especially when his Helensville trainer considers anything he does this season to be a bonus. "Body-wise, he's just not a natural 2-year-old," Gale claims. "He hasn't matured or developed as quick as I thought he would. To look at him, not much has changed since he was a yearling."

"He wasn't the best gaited horse early on either, and still isn't. But he's relaxed, has got a considerable amount of speed, and can stay. In fact, if you'd have asked me a month ago what his forte was I would've said it was more his staying ability than speed - but I think he's actually started to develop a bit of the latter. Plus he's only just learning to race, now. You still have to ask him to run, but in time he will figure out what it's all about."

Five Star Anvil went through a patch soon after Christmas when his health wasn't at its best, and Gale believes he is still not 'tip-top' yet. "He got some sort of virus and his blood wasn't right at all - probably only about eighty percent," he said. "I've been testing him since January, and just before he won the Sires' Stakes Heat at Addington was the first sign of any improvement. He's been able to handle it though, and we've been careful with him. But he's still not perfect, and he probably won't be until these last two events are out of the way and he gets the chance to have a decent spell. He's okay though; I just keep an eye on his blood and make sure it doesn't deteriorate in any way."

Two more targets remain for Five Star Anvil this season...the Sires' Stakes Final at Addington this Friday night, and the Jewels at Ashburton a fortnight later. "Because of his gait he tends to get a bit rocky on the bends at Alexandra Park, so Addington suits him a bit better and Ashburton should too. Kotare Mach is obviously going to be the hardest to beat - I haven't seen him even look like being pressured yet. With no bad luck my guy can compete with anything else, so I just hope that he can step up one more little notch. He won't mind how quick they go though."

Credit: John Robinson writing in HRWeekly 13 May09


| | |
| --- | --- |
| | RACING HISTORY FEATURE RACE COMMENT |

2009 CHRISTCHURCH CASINO NZ TROTTING CUP

Robert Famularo didn't mind who knew - he was emotional before the running of the $1m Christchurch Casino New Zealand Cup at Addington Raceway.

After it was over, he had the immense pleasure of reporting the news to everyone. Because minutes after he stopped crying listening to the National Anthem, Monkey King brought a new wave of tearful joy by winning the Cup with a swooping run wide out on the track. "I was crying before the race and I cried after it."

That was after Monkey King, which he races with his wife Kerry and daughters Sara and Michelle under the Cavalla Bloodstock banner, had delivered the killer blow to the Aussie hopes, Smoken Up and Karloo Mick. No sooner had he done that when Bettor's Strike whistled out of the pack, slipping between the weakening Karloo Mick and a tiring but trying Kiwi Ingenuity, to close quickly and run him to a neck.

Famularo knew that if one horse deserved a reward at this high level, it was Monkey King. "It would have been a travesty if he endeed his career without a triumph such as this." Monkey King had gone close before, beaten a whisker by Flashing Red two years ago. Last Year, it was more of the same for Cavalla, beaten with Baileys Dream by Changeover. "It's been a difficult two years, coming to this one. I made a real effort to stay calm and collected. I love Monkey King and I'm so proud of him."

In fact, Famularo cast his passion net much further, praising his pivotal pair, trainer Benny Hill and driver Ricky May. "I can't underestimate the great strength that Benny brings to our operation. He loves these animals and so does Ricky. What's so wonderful about Ricky is that we are always presented with a racehorse each time when he gets back."

Famularo, who inherited his interest in racing from his father who liked a bet and his involvement from a successful company in the building industry, bought his first horse 30 years ago and has expanded to create a boutique breeding and racing establishment in North Canterbury. Monkey King came as a $20,000 purchase by initial trainer Steven Reid from the Premier Yearling Sales, and Famularo later bought his sire, Sands A Flyin.

Famularo is the first to admit that Hill and May have greater responsibilities than he has. "I can afford to be detached, and balance emotion with the objective. They must finish the business." In that respect, he has his horses in kind and clever hands. But Famularo has his eye on wider targets. "There has got to be another challenge. Whatever it is, we have got a long way to go."

Unlike the quiet and retiring Famularo, it is a flamboyant ambition but one they could well achieve.

-o0o-

BENNY HILL'S SUDDEN RISE TO THE TOP

Benny Hill has arrived in harness racing's fast lane quicker than he thought. Not so long ago, he was a loyal offsider for Steven Reid, then a training partner. But less than two years ago, when Reid threw in with Graeme Rogerson, Hill was left with the pleasant burden of looking after Monkey King, Baileys Dream, Harley Earl and some others with tidy connections.

Hill had done six years as a junior with Reid and had schooled well. "Four years ago my life changed. My wife and I split up. It was a big move to come south, and certainly a bit nerve-wracking. When I took over Dancingonmoonlight, it was really an extension of what I had already been doing," he said.

Having driven Monkey King in 2006 and in every start over the past 18 months, May was already part of the team. His patient style appeared to suit Monkey King, who has a lightning sprint but was always toey at the start. At the Met's Easter Meeting, Monkey King looked more like the professional racehorse he promised to be. "From that time onwards, you could notice a change. The stands were still a concern, but not the major worry they were."

Hill was so happy with the horse that he said he could do nothing more to improve him. Midway through the afternoon, he left the course with fellow trainer Laurence Hanrahan for a raspberry and coke. "But I was relaxed. It was only when I heard the National Anthem that I got a bit nervous."

Hill said May gave Monkey King a drive that suited the horse. "It was perfect. I just hand him the reins. But he comes and gets to know our horses, and he came up and drove four at the workouts for us last week: his job, not mine."

For Hill, Monkey King has now raced 10 times for seven wins and two seconds.

-o0o-

RICKY MAY WINS FOURTH NZ CUP

Super-cool Ricky May has become one of only two to drive the winners of four New Zealand Cups. He won with Monkey King on Tuesday, which followed those of Inky Lord, Iraklis and Mainland Banner. Todd Mitchell has won four, with Just An Excuse(twice), Homin Hosed and Gracious Knight, and they are both one behind the great Cecil Devine whose five wins were with False Step(three), Van Dieman and Thunder.

May's first hurdle was to get Monkey King off the mark, and he stood slightly ahead of Awesome Armbro to be on the safe side. He was away in good order, but settled well back while Pembrook Benny set off hard and Karloo Mick carried it on, and so did Smoken Up. So the Australians ran to the mile one and two, Pembrook Benny placed nicely three-back, while Washakie and Mr Feelgood were at times parked.

With a lap to run, Power Of Tara moved round, bringing up Kiwi Ingenuity and Monkey King caught the back of her. Near the 500 metres, Kiwi Ingenuity made her move, circling wide. May could see Smoken Up and Karloo Mick lower on the track, working hard, and the worring signs of Pembrook Benny looking strong behind them. "I was still back a bit on the bend, and I didn't know whether we'd be able to pick them up or not. I'd had a good run till then, but felt they were running along a bit - what time did we go? I could have sat longer, but I could see that Robbie (Holmes) was a bit flat and I looked up and saw the others were further ahead than I thought."

This is what Monkey King loves best - to spring from cover, a chase and a hard sprint. It was a Tua-type blow. Just when he had done that, Dexter Dunn found a gap for Bettor's Strike between Karloo Mick and Kiwi Ingenuity, which appeared to incovenience the mare when Karloo Mick ran out. Driver Greg Bennett was later fines $500 for it. "I've never been so excited," May said. "I'm so rapt for the horse. He's never had the accolades he has deserved."

Like Hill, May said he saw the change in Monkey King start six months ago. "He's great over two miles, and he is really quite versitile. Inky Lord was one-dimensional, in that he had to sprint. Iraklis was a bit like that, and Mainland Banner was tough but did not have the speed that he has."

May was later fined $500 for overuse of the whip and Lance Justice, the driver of Smoken Up, was fined the same for the same offence.

Credit: Mike Grainger writing in HRWeekly 12Nov09


| | |
| --- | --- |
| | RACING HISTORY FEATURE RACE COMMENT |

2009 SEELITE WINDOWS & DOORS NZ TROTTING FREE-FOR-ALL

Justin Smith read the draw and knew it would be tough. A second-line draw in the $100,000 New Zealand Trotting Free-For-All was not what he wanted for Speculate.

But Speculate is nothing if not tough, and she was convincing in the face of fast finishes from Real Deal Yankee and Running On Time. It is fair to say it was not a vintage field, with Stig, One Over Kenny and Ray on the sideline, and Springfield Richard avoiding the perils of a hard race with the endurance of the 3200m Dominion following so close.

Smith would pefer more than three days between the contests too, but the prize on Tuesday was big enough to be there. Smith trains Speculate with his mother Lynn, who said the mare is particularly fond of her pony mate, Flicka. "She can be a bit of a bad eater, and won't eat unless Flick is there."

The club presentation to Lynn and her husband Gerry was appropriately made by Met committeeman Bruce Hutton, whose family has been connected with the family of Lynn's father Bill Doyle for as long as they can remember. "I know Bruce used to babysit Justin, and at one time or another all of the six Hutton boys would have worked for Bill."

The progress Speculate has made in less tha six months, from a one-win trotter in June to possible favourite for the Dominion, is one they say has been beyond their wildest dreams. Keen breeders, the Smiths have welcomed their first foal of the season, a colt by Lookslikeatrooper from the Chiola Hanover mare, I'm Returning. The breeding is not one that will be repeated. Lookslikeatrooper is Speculate's massive son by CR Commando who was gelded after serving just the one mare, and who will soon embark on a racing career of his own.

Credit: Mike Grainger writing in HRWeekly 12Nov09


| | |
| --- | --- |
| | RACING HISTORY FEATURE RACE COMMENT |

2009 NRM SIRES' STAKES 3YO FINAL

Cup Day's NRM Sires' Stakes Final featured three sons of Mach Three, and in the end it was the least-favoured of the trio that tore away with victory in the $200,000 Group 1 thriller.

Most eyes were firmly fixed on hot favourite Kotare Mach who sped out and led easily early, but there were worrying signs coming into the straight the first time when Mark Purdon was leaning back in the sulky, trying gamely to restrain the over-racing colt. A lap later the exertion took its toll, and Kotare Mach started to falter around the home bend just as his rivals were throwing themselves into the fight. Bursting on the scene down centre track was Sir Lincoln, and he ran away to win the star-studded event by three and a half lengths.

"He's a bloody champion," said trainer Ray Green afterwards. "This is the best horse I've ever trained. He's got a beautiful action, and a huge motor - he's the real deal, this horse. And he hasn't just won today, he has been clearly superior to them. He has surprised me even, I knew he was good, but..."

Anyone whose spent a bit of time around Green will know that he is not one to talk up his horses. No, the likeable Huapai horseman is happy just to go about his business taking the good with the bad. So when he starts making the sort of statements he has about Sir Lincoln, it is clearly evident that this is a pretty serious animal we are talking about.

And you couldn't take anything away from the colt's performance on Tuesday...he started from the outside of the second row; got stirred up by the false start and according to driver Maurice McKendry "pulled hard most of the way"; hardly saw what the marker line looked like during his first trip to Addington, yet ran away and hid near the finish - all in a mile rate close to 1.55.

"You can see why I have got a bit of confidence when talking about him," says the 64-year-old. "I wasn't holding my breath that he would win today, though. Everyone was saying that Kotare Mach would lead and just run away with it, so I was almost resigned to the fact that we were just down here for the ride. But you never really know what you are up against. And it is like everyone else out there today - they didn't know what we were like either. I knew if he had to work, he would do the business."

The first hurdle for Sir Lincoln to overcome was his horror draw, something which Green took on the chin. "We always draw the outside of the second line - it seems to be a North Island thing," he said with a smile. "I remember one time we brought two horses down here, and they drew the outside of both lines."

Raced by John Street's and Graeme Blackburn's company Lincoln Farms Ltd, Sir Lincoln is a bit different to the norm because he was bred by the partners, not bought at the Sales. And Green says the colt showed something virtually from 'Day One', adding it was "pretty obvious early on that he stood out amongst the ones being broken in."

Sir Lincoln has returned home now for a week off while the next plan of attack is decided upon. "We will be chasing every feature race there is," Green said, adding that he would like to win the Victorian Derby with him. "This horse has got the potential to be a sire, so you have got to win those sort of races to enhance that."

There is one aspect which Sir Licoln's trip south will improve him in too, and that is being away from home. "He was born on the farm, and had never spent a night off the place in his life before coming down here. We are at Ken Barron's, which is always a great place to stay, and he was a wee bit unsettled to begin with; he has got several mates at home, and was probably missing them. So Ken loaned me a little Courage Under Fire 3-year-old (Cruz Control, known as 'Sparky' around the stable) - we packed him up alongside Sir Lincoln and he was fine after that."

Credit: John Robinson writing in HRWeekly 12Nov09


| | |
| --- | --- |
| | RACING HISTORY FEATURE RACE COMMENT |

2009 FIRESTONE - SOUTHERN DEMOLITION & SALVAGE FREE-FOR-ALL

Auckland Reactor wasn't in the main event but he definitely proved a star attraction, running away with the 1950m Junior Free-For-All in an outstanding time of 2 17.8

The scary thing is he could have gone quicker than the 1 53.7 mile rate he clocked, had any of his rivals been able to get closer than five lengths away and make some sort of race of it. Purdon wasn't exactly out there to set any records either, and Auckland Reactor crossed the line with plenty in the tank.

"It's like when you are driving a really nice car on the open road, and you glance down at the speedo and realise you are going a lot faster than you thought," said Purdon, almost in disbelief himself of the Mach Three pacer's time. "He was really revelling out there today and enjoying his work. He felt good at the 1000 metre mark and it just carried on from there. You have got to compliment the guys responsible for the track - it was just fantastic."

Credit: John Robinson writing in HRWeekly 12Nov09


| | |
| --- | --- |
| | RACING HISTORY FEATURE RACE COMMENT |

2009 HELLER'S SMALLGOODS DOMINION

Phil Williamson left his stable star at home on Cup Day, knowing full well that there was an even bigger cherry to bite into three days later. In the end the decision proved a masterstroke, and Springbank Richard won last Friday's $250,000 Group 1 Heller's Smallgoods Dominion at Addington with an emphatic performance.

It must have been a pretty hard call to bypass the NZ Trotting Free-For-All on Tuesday, especially when you train the best trotter in commission at the moment and he is at the top of his game. But Williamson had a plan and he stuck to his guns, casting aside the lure of a $56,000 cheque in preference for one worth nearly three times as much - not to mention the kudos that went with it.

"I felt it was like having a test match before a test," the Oamaru horseman said, justifying his reasoning. "If I started him in the Free-For-All, it was just going to come down to how he would recover in the two days afterwards. And I don't think he would have. He still might have been able to do the two, but the risk was there. I knew that I could do the work with the horse leading into the race, hopefully having him as good as I could get him on the day."

More prevalent in the back of Williamson's mind was the fact that his family had never tasted success in the 'NZ Cup of Trotting' - which is remarkable in itself, because over the years 'Team Williamson' have won almost every major square-gaiter's race that there is on the calendar. But not the Dominion, and that made him even more focussed. "It's a very difficult race to win," he says. "We have been placed in it that many times, and you only get one chance a year - that made me even more determined to try and win it this season. I don't know how Tim (Butt) has managed to do it so many times. I even joked with him before the race today, saying we were halfway there because he wasn't in it. But no it was something that we hadn't achieved, and now that we are on that list I can go to my grave happy," he said with a smile.

Of all the major trotting events up for grabs each season, the Dominion really stands head and shoulders above the rest because it's list of past winners is like a veritable 'who's who' of the sport in this country's history. In the last dozen or so seasons alone you can reel of the likes of Merinai, Cedar Fella, Lyell Creek(three times),Take A Moment(three times), Martina H, Pompallier, Whatsundermykilt, Mountbatten and most recently Stig - and now Springbank Richard has nestled himself amongst the greats.

It was some effort too, because after being four-wide for a big part of the early running the son of Sundon pushed forward to be parked and later took the lead, exertion which should have meant he was a sitting duck for a horse such as Sovereignty that was enjoying a cosy run on his back. The two favourites engaged in a ding-dong battle up the home straight, and Springbank Richard's margin of half a head on the line probably didn't do the stayer's effort justice.

"When we were wide around the first bend, he was wanting to rip and tear even then," said driver Nathan Williamson afterwards. "I was happy to sit there - he wasn't and that was the only thing I was really worried about, him getting too keen and over-racing. One of his earplugs came out at about the six hundred metre mark, and when I pulled the other one on the home bend he still had a kick."

Williamson Snr says the plan for Springbank Richard from here is a couple of trips across the Tasman. "We may go to Australia now for the Trotting Grand Prix (December 4) and the Bill Collins Mile a week later, then come home and go back across in January for the Inter-Dominions," Phil said. "That is if I can get the right flights. He doesn't mind travelling, it is just that he frets for home when he is away and loses a lot of weight on a trip."

Credit: John Robinson writing in HRWeekly 18Nov09


| | |
| --- | --- |
| | RACING HISTORY FEATURE RACE COMMENT |

2009 WOODLANDS NEW ZEALAND FREE-FOR-ALL

Monkey King became the 28th horse in our sport's history to achieve the notable NZ Cup/NZ Free-For-All double in the same season when he produced another brilliant display at Addington on Show Day.

It was typical Monkey King-like stuff: sitting off the pace, waiting like a sniper to pick off his opposition one by one. For when it comes to having the last say, few can pack a punch bigger than the Monkey's, and if anything his win in the $250,000 Group 1 Woodlands Free-For-All on Friday was even easier than the Cup victory three days earlier.

"Far out," said trainer 'Benny' Hill afterwards, pausing to reflect on the enormity of his pacer's performances during Cup Week. Hill and the rest of Monkey King's connections were understandably still buzzing from Cup Day. 'Sam' iced the cake for them, but his victory was even sweeter because it also included the prize scalp of Auckland Reactor.

Like Auckland Reactor's other four rivals, Hill knew they were going to have to be good after watching the champ romp around Addington in record time on Cup Day. "We sort of didn't want to be too negative heading into this race," he said. We thought we would run second to him, plus there was an element of hope that Monkey would win if things went his way. I know that Monkey couldn't have done what the Reactor did on Cup Day - running a 1:53 mile rate like that, and doing it easy. Horses have their purple patches though, and this is his week. Our aim is to have him this well again next year, and try and come back and do it all again. In the meantime, we will just enjoy this moment while we can."

If there were any doubts about heading across the Tasman for the Miracle Mile, they disappeared in the space of two and a half minutes on Friday. "We were probably already going anyway, but today has sealed it," Hill said. "And if anything, that race in Aussie should be even more set up for him ...a lovely big track, and eight nice horses in the race that should ensure that the pace is true. He is a real neat little athlete, and he's different to most horses in that he is only 430kgs compared to the norm of around 530. But it's just the way he conducts himself and looks after himself - he's not hard work."

Hill kept a close eye on Monkey King in the days following his epic Cup victory, saying that despite the lure of another big carrot on their back doorstep, the pacer would not have been there if he hadn't come through it with anything less than flying colours. "The other four I had in all had a bit of a cough after their runs today. But when I took Monkey for a pick of grass this morning he let out a squeal and tried to front-foot me a couple of times - so I knew he was right, the little bugger."

There was plenty of controversy surrounding last Friday's Woodlands Free-For-All, with other talking points being the driving tactics of Phil Butcher but more importantly the shock defeat of Auckland Reactor. Not one person could take anything away from the little black rocket from Dancingonmoonlight Farm though...this was his time, and Cup Week in 2009 will forever be remembered as the 'Year Of The Monkey."

Credit: John Robinson writing in HRWeekly 18Nov09