| | |
| --- | --- |
| | INTERNATIONAL HISTORY |

2 May - Cyclone Nargis made landfall causing Myanmar's (also known as Burma) deadliest natural disaster with at least 34,273 fatalities and a further 27,838 still missing. Exact details are sketchy as relief efforts were hampered for political reasons by Myanmar's military leaders.

12 May - On Monday May 12 at 2.28 local time an earthquake of magnitude 7.9/8.0 hit approximately 90km North-east of Chegdu, the provincial capital of Shichuan in the Poples Republic of China. As of May 31, the death toll was 68,467 in Shichuan with a further 17,000 people missing and 354,045 injured.

24 October - "Bloody Friday" saw many of the world's stock exhange experienced the worst decline in their history, with drops of around 10% in most indicies.


| | |
| --- | --- |
| | LOCAL HISTORY |

11 January - Sir Edmund Hillary dies

April - The Trans-Tasman ANZ Netball Championship Begins

27 November: (28 November NZ Time.) XL Airways Germany A320 Flight 888T, an aeroplane owned by Air New Zealand crashes in the Mediterranean Sea off the south coast of France, killing all seven on board, 5 of whom are New Zealanders.

Helen Clark is named Administrator of the United Nations Development Programme (UNDP), ranking third in the UN office.


| | |
| --- | --- |
| | RACING HISTORY SECRETARIES & EXECUTIVE STAFF |

MIKE GODBER

David McCarthy writing in ChCh Press 20 Oct 2008

After 19 years as Chief Executive at Addington Raceway, Mike Godber is leaving next month to take the helm at Queensland Harness. What does he expect, and what does he believe his Addington leagacy to be? He talks to Dave McCarthy.

Your move is something of a surprise. Maybe it had something to do with an upcoming 20th anniversary in the job?

Well, we have often talked about doing something different, and with our youngest child in the last year of school there was a feeling if we did not do it now we might just drift on. Then the Queensland people contacted me in August. We had had a week and a half of rain and it was 5deg. Maybe they got me at a weak moment.

How is the set-up there going to differ from here?

They have combined the state and club administration over there. My job is the equivalent of chief executive of Harness Racing New Zealand, and also the club racing side. There are about 30 staff doing club and executive work. Th board has only four members and they are all appointed by the minister. The seem to me to be ideal people to work with.

How does it compere in size with New Zealand?

Surprisingly close. There are about the same number of permits, but the stakes are lower - maybe $12 million to $13 million total. There are only three tracks. Albion Park races Tuesday afternoon and Saturday night, Redcliffe on Wednesday night and Parklands on Thursday afternoon and Friday night. So five meetings every week. While the stakes are lower, the horses race more often and stay competitive in their grade.

The Albion Park grandstand has been condemned. What sort of challenge will that represent?

The Inter-Dominions have been shifted to Parklands. I am not worried about that. Parklands(on the Gold Coast) has really good facilities in terms of space. They have a big boy's toys-type day and handle 60,000 people. But clearly there will be rebuilding of some sort at Albion Park.

What are some of the major differences you expect to deal with?

In Canterbury, harness racing is a significant activity employing a lot of people, but the economics of the area limit growth. In Queensland, harness is not so popular, but even in slower times the economy is much stronger there.

What major changes would you point to at Addington in your time?

There are only three buildings which were there when I arrived still standing(office block, public stand, Twiggers Stand), and there have been big innovations such as the Westpac stadium, the office building complex across the back and now the new stable area. The stewards stand was being built as I arrived.

There have been some rumours the new stables are behind schedule and over budget. Comment?

Neither is true. Some people have been confused maybe that we borrowed $5.7m from the Racing Board and the actual cost is $6.2m. But that was the financial plan from the start. We managed to advance purchase a lot of the steel involved, which has turned out a wise move with the way the price has gone recently. It is on track time-wise. Our biggest worry has been getting compliance to allow public use of stage one, which means using the roof on Cup week. We have signed off on that.

Some people always claim Addington would be better sold up for the big money and a track built further out, as has happened in Sydney and Melbourne. Can you see that day ever coming?

Frankly, no. Everything we have done in my time in developing the property for secondary income has been from the approach that it will not compromise the racing. I think some of the values placed on the land are more notional than real. Besides, it would only probably become residential with a park. The importance of being in a central place and part of the city is crucial for days like the New Zealand Cup. You are never going to get that sort of atmosphere going to West Melton and the night meetings would have a similar loss. We got the Wespac staduim because of the opportunities in terms of access and parking at Addington had over other proposed venues such as near what is now the AMI Stadium.

There must have been some things which have happened which have affected your enthusiasm for the job.

Yes, I would say there is less involvement at club level now, and you do not control your own destiny to the same extent. We cannot even decide what times the races will run, we have more trouble keeping track of what is going on and generally have less and less say.

Galloping has introduced a guaranteed payments system for smaller clubs. Harness does not have that. Which would you prefer?

I am not a fan of guaranteed payment days. I see galloping clubs running races at a loss they would not have run a few years ago when they had to balance their own books, and I cannot see that being good in the long term. Ours is a turnover-based payment system and I think it is better.

Some critics say Addington has put money into business developments better put into stakes. Any comment on that?

Yes, but it won't be popular. I think clubs are putting too much money in stakes. We are paying between 93% and 106% of racing income on stakes, depending on the measure. When we developed the business park at the back of the track in partnership, we had to borrow money to come up with our share for something which will give back income over a long term. If we were able to fund that out of our income, it would have put us in a much stronger position. In racing we tend not to look at the long-term economics, and I think each code is the same. But people are passionate about the game, and that is the way we do it.

Any thoughts on how you would like your era to be remembered?

I recall years ago Robert Muldoon being asked what he would like his legacy to be, and he said, "To leave the country in no worse state than I found it". I thought that was a bit lame. I would like to think we have the place in better shape than when I came, but I hasten to add that there were several chief executives before me who did great things for the development of Addington.

Are club administrators harder to attract now?

Yes, and it is the same everywhere. Even when board members are paid for their efforts it is a big task for someone with their own business interests. Retired professionals, like (the late) John Penney was, for example, provide most of the leadership.

What will you miss most?

Cup week and the build up to it. It is huge for a place the size of Christchurch getting over 20,000 people on the day. There is nothing else like it in Australasia for harness racing.

Will the economic situation affect this year's event?

Not significantly. We could be a little down on corporate numbers and some of them might like to keep a lower profile if they are in financial structures, but the signs are all good so far. Our betting is now tracking up to last year's levels.

-o0o-

Katie McKone writing in The Star 22 Oct 2008

Where were you born and where did you grow up?

I was born in Hastings and grew up there until I was 18 when I went to Massey University in Palmerston North. Hawkes Bay was a great place to grow up, with a climate very similar to Canterbury.

Can you give a rundown on your career to date? Have you always been involved in Harness Racing?

Racing has always been a passion and I have always worked in the industry, but to start with, my interest was thoroughbreds rather than harness. This was because in Hawkes Bay there was no harness racing when I grew up. I worked for the New Zealand Racing Authority through to 1989 when I came to Addington, apart from a short secondment to the TAB when they were introducing the Jetbet on-course computer betting system in the early 1980's.

The much-anticipated Cup Week is looming - this must be a stressful, albeit exciting, time for you. Are you expecting a big turn-out this year?

I find Cup Week more exciting than stressful. That comes from the fact that I have great staff who I have complete confidence in and who know what they are doing. We are expecting another big turn-out this year - Lindauer Lawn has already sold out and corporate sales are also going well.

What can punters and race-goers expect in 2008? Any new additions to the events calendar or the facilities?

A number of changes have been made for Cup 2008, including a significant increase in the number of totes(from 193 to 215). There will be more entertainment in the fashion marquee, and of course the Lindauer Lawn now has an upstairs and downstairs, and better access to the Twigger's Stand with the new stable block roof area being used for the first time.

This will be your last Cup Week while at the helm of Addington Raceway before taking up your new role in Queensland. Are you sad to leave and what memories will you be taking with you?

I will miss the hype of Cup Week but it is time to move on. The main memories are the people you meet and friends you make, not only during Cup Week, but inside and outside the industry. A memory will always be the buzz of excitment in the air throughout the whole day.

How did the job come about in Queensland and what does it involve?

It entails being CEO for all Harness Racing in Queensland - that covers the regulatory functions as well as the commercial and betting side of the operations. I received a phone call in August to see if I would be interested in applying for the position. It was five degrees at the time and had been raining for a week, so Queensland did have some appeal.

What is your favourite part of Cup Week?

Arriving on the course at 6am on Cup Day and seeing everything perfectly set out and knowing that all the planning and effort was worth it. Then 7.20pm on Show Day when we run our last race for the week and we can all relax.

What has been the most memorable New Zealand Cup win and performance from a horse over the Cup meeting?

Luxury Liner's win over Our Maestro, the Australian visitor, in 1988. Our Maestro burst past Luxury Liner at the top of the straight, but Luxury Liner drew him back in with a wonderful stayer's run, not unlike Flashing Red catching Monkey King last year. The performance over the Cup meeting would be Blossom Lady winning the Cup and Free-For-All in 1992 and Flashing Red's two Cups in 2006 and 2007.

What has been your favourite horse to have raced at Addington and why?

Blossom Lady. She always did her best and was an Addington crowd favourite.

If you could trade jobs with anyone for a day, who would it be and why?

All Black coach - we all think we can do a better job, don't we?


| | |
| --- | --- |
| | RACING HISTORY SECRETARIES & EXECUTIVE STAFF |

SHANE GLOURY

Shane Cloury has been appointed to the position of Chief Executive of Addington Raceway Ltd (including the NZ Metropolitan Trotting Club Inc).

Gloury is a qualified chartered accountant and is presently the General Manager - Strategic Planning and Development, for Harness Racing Victoria. He has previously held the positions of General Manager Business, Assistant Manager Finance and Financial/Management Accountant over a period of 10 years.

"We are delighted to appoint someone of such high calibre with not only the experience in the racing industry, but also in finance and business development," said David Rankin, Chairman of Addington Raceway Ltd and NZMTC.

"We believe his skills in strategic planning, marketing and development of the business case for the new Melton racing and entertainment facility, which will become the home of harness racing in Victoria next year, will all be of great benefit as we seek to further enhance and develop Addington Raceway.

Credit: HRWeekly 3Dec08


| | |
| --- | --- |
| | RACING HISTORY PEOPLE |

IAN STARKEY

Ian Starkey has been racing horses for over 50 years, but he enjoyed probably his best week in all that time earlier this month. It began when Wee Jill romped away with her maiden at the Methven meeting at 33-to-1, and ended when her half brother Awesome Imace got up to record his 11th win the Listed Ordeal Trotting Cup at Addington five days later.

Starkey has sold the latter to clients of co-trainer and driver Phillippa Wakelin, but he was always going to retain the Sundon mare Wee Jill for breeding, to continue a line which began with the purchase of her third dam Not Surprise at the National Yearling Sales in 1973. Starkey, now farming cattle at Cust after a lifetime as a builder, can recall his first horse back in 1956. "I was having a beer with Gavin Hampton, and he said he knew of a horse that was for sale and that I should go and buy it," recalls Starkey. "So I did and she had four starts for two wins and two thirds in Wellington, although we weren't trying very hard on the first day. I thought the game was easy after that," he added. That horse was called Wakeful, a daughter of the Springfield Globe horse Super Globe. Starkey would breed a few filly foals from Wakeful in the 60s but none amounted to anything.

Another useful performer for Starkey during that time was Ewtor - a name because "Everything Would Turn Out Right." He would provide Bryce Buchanan with his first winning drive at the time when he was working for Jack Carmichael. Starkey got "matey" with Buchanan through Ewtor and when Buchanan went south to train just out of Invercargill, Starkey sent him Not Surprise "to help him along." "I had no intention of buying anything that day (at the National Sales), and I was just standing there chatting to a fellow when this ugly looking thing (Not Surprise) came into the ring. I'd always liked long, skinny horses for some reason, rather than short, fat ones."

Not Surprise was a filly by the double-gaited performer Hodgen's Surprise, a pacer by the trotter Hodgen, who sired the great trotter No Response but mostly handy pacers such as Trevor Hodgen, Bluegum Surprise and Lady Hodgen. The breeder and vendors of Not Surprise had been Cliff and Joan Cummings of Lawrence, who within a few years would be very much to the fore at the Sales with the progeny of Sakuntala. "Mrs Cummings was always later giving me an earful about not having any condition on Not Surprise, but it never mattered what you did, she was always just a lean, long skinny bitch. As I said that's the way I like my horses for some reason, but these days I still seem to get a lot of short, fat ones, probably from breeding to Game Pride (though Not Surprise's daughter Daphs Pride)."

Not Surprise certainly had a pedigree of more than passing interest. She was the second foal from Daphleen, by Fallacy from Overdrive, by Whipster (by Quite Sure) from Lucky Sweet, by Lucky Jack from Correct, by Wrack from Precision, by St Swithin. Correct was a half-sister to the outstanding Logan Pointer broodmare Ayr, who produced top pacers and/or sires in Springfield Globe, Our Globe, Van Ayr and Cloudy Range. Correct produced Jack's Son (NZ Champion 3YO Stakes), while Overdrive was the NZ Oaks-winning dam of the great Australian pacer Lucky Creed. Lady Val was a sister to Overdrive who was the grandam of Dominion Handicap winner Armbro Lady, who was sold to America never to be heard of again, while Flakey Jake (12 NZ wins) and Tamra Nightingale (17 Aus wins) also belong to this branch of the family as does a smart young pacer in Captain Padero. Good mares Fern Glen and Hawera along with Maheer Lord also trace to Lucky Sweet, while also emanating from Daphleen is Johnny Be Cool (8 NZ wins, US1:49.8).

Not Surprise would win half a dozen races as a trotter over three or for seasons for Starkey and Buchanan, on each occasion on grass tracks and during the day. "She could be quite brilliant on the grass, and later I realised she was not so good at night, where she couldn't beat the same horses she had hammered during the day. That was probably because she simply liked the grass tracks, because they had a bit of give and somthing she could get her toes into."

The first foal from Not Surprise was Daphs Pride, who had five wins and numerous placings over three of four seasons from the stable of Frank Bennett, although Buchanan drove her in her last win at Ascot Park. Not Surprise left a winning brother a year later in Game Trail, but things went downhill from that point. An Alias Armbro filly had "an attitude problem" and Starkey doesn't tolerate them, while then he tried breeding a pacer by Smooth Fella, but the resulting filly in Rough only "belted a knee" and he has even less time for them. One more foal in a colt by Corsica Almahurst followed, but he had "no bottom", and Not Surprise died a few years ago at the age of 32 having left her fifth and last foal at the age of 18.

Starkey was breeding from Daphs Pride instead during the 90s and her first three foals raced, although the first in A Boy did not win in 17 attempts as a 7-year-old after finishing third at Westport on debut for Hampton. He "turned out to be a cheat" and did not change much when tried the same season by Pat O'Brien and Bernie Hackett. Awesome Lass, a daughter of the Speedy Crown horse Stakhanovite, was the second foal fron Daphs Pride and "she probably had a bit too much faith in her own ability". She qualified at her first attempt and then went "straight to the races" for trainer Jamie Keast, finishing a close fifth on debut at Addington. A few weeks later she won her second race at Addington by four lengths, but a week after that she was involved in a smash on the same course and was hurt. "She was always sore after that. We even gave her a year off, but she could never be worked much and was never the same. I decided to breed from her though because I liked her attitude - she hated other horses but she was great with humans."

The year after foaling Awesome Lass, Daphs Pride produced Chiola Sam to Chiola Hanover and Starkey is sure he has been the best horse from the family even allowing for Awesome Imace. He won four races in good time for Hampton, but "hurt his back getting carted sideways by a breaking horse and was never really the same afterwards." Chiola Sam managed another win at Rangiora before eventually being sold to America, where he trotted to a record of 1:57.

Daphs Pride had five more foals, all fillies, but only Hanger Pride (by Straphanger) amounted to anything, winning twice from Ian Cameron's stable before also being sold to America where she has taken a record of 1:59.8. "She had her good and bad days, but the rest of the foals had only bad days." Those other filly foals were by Pernod Eden, Chiola Hanover, Chiola Cola and Bryin Boyz.

Awesome Lass's first foal was a Chiola Cola filly in 2000 called Awesome Cola, and this is where Starkey struck up a racing association with Wakelin and her partner Stephen Noble. Starkey, 78, had known Wakelin for many years, even before she spent time in Australia, and had built her stables at Oxford. "I've been farming now for twenty years, but I had been a builder by trade up until about five years ago. I got too old to be swinging around roofs." Wakelin had taken a fancy to Awesome Cola in the paddock and leased her for stable clients. She qualified as an early 4-year-old, but then "didn't improve a yard. We thought she had a crook back, but it turned out she had cracked her pelvis at some stage and it had healed by itself, so how she qualified was amazing enough."

When that lease didn't work out, Starkey offered the same connections the lease of Awesome Lass's third foal and first colt - Awesome Imace. That consistent son of Brylin Boyz has now raced 44 times for his 11 wins and $129,000, after first winning the NZ Sires' Stakes as a 2-year-old at Addington over Galleons Assassin, Day Of Reckoning and Mountbatten. The following season he split Houdini Star and Mountbatten in the Sires' Stakes in Auckland before finishing third to him in the Great Northern Trotting Derby. He has won three races each season since, from 30 races in all, but as a now 6-year-old who is a grandson of Balanced Image, his best seasons are probably ahead of him.

In between those foals, Awesome Lass had a filly by Sundon in Sun Lass who had two races before being sold to Australia, where she won four of her first nine starts. Awesome Lass's fourth foal is the Sundon colt Sun Lad, a very smart 3-year-old a couple of seasons ago who won the Sires' Stakes in Auckland over Holiday Lover and King Charlie and who was only beaten a nose by Sprinbank Richard in the Harness Jewels at Ashburton. He has had a good spell since a light campaign as a 4-year-old last season where he won at the Amberley meeting in January. "He would have been back in work by now, except Philippa's track has been under water. Awesome Imace had done a bit before that happened, so he has been working around the roads in the meantime."

Wee Jill followed from Awesome Lass, and she is going to be the daughter that Starkey breeds from one day to carry on the line. "She might race at Addington (this Week), but I'm not sure how she'll go yet settling in a field if she has to - she has the Sundon streak. I was quite happy to see her in the open and then leading at Methven as I figured that would help her get around without making a mistake, but I wasn't sure whether she was forward enough to see it out."

Awesome Lass has since left two sisters to Awesome Imace. The first in 3-year-old Awesome I Am was bought by Wakelin's parents Ken and Barbara as a yearling, while they have also leased the 2-year-old Awesome That's Me but without a right of purchase as Starkey might like to breed from her as well. "I had a lot of people asking to buy Awesome I Am after Awesome Imace won the Sires' Stakes, so in the end I decided to put her in the Yearling Sales and let them fight over her. But a week before the nominations were due, Ken came to me with an offer and I accepted because I did want Philippa to train her." Awesome I Am raced seven times as a juvenile without making much impression, and Starkey would like to see more patience taken with Awesome That's Me.

Awesome Lass is now 16 and is only being bred every second season - she had a year off but is now back in foal to Sundon. That is pretty much it these days for Starkey, outside of a mare he was given a few years ago by Doug McCormick in Perfect Whiz because "he had too many." A racewinning mare by Gee Whiz II, whose first foal is Perfect Hold (8 NZ wins), Perfect Whiz has left a 2-year-old filly by Brylin Boyz called Needs Luck and is in foal to Muscleman because "I liked his grandam (Enthuse)." In the meantime though it will be the "short, fat one" in Wee Jill and her open class half-brother in Awesome Imace who will be keeping Starkey amused and reflecting on that day he took a fancy to the "long, skinny one."



Credit: Frank Marrion writing in HRWeekly 17Sep08


| | |
| --- | --- |
| | RACING HISTORY PEOPLE |

ROBIN CORCORAN MNZM

The death occurred last week of Robin Corcoran, a respected harness racing administrator for many years at the highest level.

He was appointed a Steward of the NZ Metropolitan Trotting Club in 1975, and joined the committee in 1977, where he remained during the amalgamation of the three clubs in 1998, until retiring in 2002. He was treasurer fron 1983 to 1994, a Director of Addington Raceway from 1984 to 1998, and Chairman fron 1995 to 1998.

He was heavily involved in the developments at Addington Raceway, including the Stewards' Stand and the negotiations with the Council over the Westpac Centre development. He initially chaired the Raceway's joint venture company NCC(NZ) Ltd, which managed the Westpac Centre, Convention Centre and Town Hall for the Council from 1996 to 2006.

He was on the Executive of Harness Racing New Zealand from 1987 to 1997, on which he served as Treasurer and Vice-Chairman.

-o0o-

Mike Crean writing in the Press 29 Nov 2008

Robin Corcoran's understanding of Maori land law was unequalled in the South Island. For more than 50 years, the Kaiapoi based solicitor handled complicated and sometimes acrimonious issues of land tenure for local Maori. He won huge regard among Maori, and was seen as an authority by the legal profession.

Corocoran's death three weeks ago, aged 79, prompted a flow of tributes from Ngai Tahu. Many referred to him as their poa (grandfather). The award of Member of the NZ Order of Merit, in 1996, recognised not only Corcoran's work in Maori land law, but also his services to the Catholic Church and harness racing. He continued to work as a legal consultant for years later, and his advice was still sought by other law firms until recent weeks.

After his education at Kaiapoi's convent school and St Bede's College in Christchurch, and completing law studies at the University of Canterbury, Corcoran qualified as a lawyer in 1952 and joined his father's firm in Kaiapoi. He took over the firm after his father's death. By then, he was married to Ursula Baker, was living in Christchurch and was raising a family of seven. However, he continued to work mainly from Kaiapoi, visiting the firm's Christchurch branch office only one day a week.

Fellow North Canterbury lawyer John Brandts-Giesen says Corcoran had "a real understanding of Maori land law" long before it became fashionable. "Robin served Ngai Tahu well," Brandts-Geisen says. Many prominent iwi members "beat their way to his door. He had a large following of loyal clients who valued his judgement and skill." Corcoran's standing was indicated with his appointment to the committee that drew up rules for the Maori Land Court.

Three of Corcoran's children became lawyers. One, Anthony, says his father's service to clients involved pastoral care as much as legal advice. He gave sound guidance on all sorts of matters. His practice was based on common sense, trust and integrity delivered with impeccable manners. "He held himself to the highest standards. He never did what was populist, but what was right," Anthony says.

Brandts-Gieson says the key to Corcoran's success was that "he knew enough law to be sound, but not too much to be arcane". His advise was "direct", drawing on a full and varied life. "He was a good ally, but an awkward and often implacable opponent." His full and varied life was reflected in his holding office on many committees and exectives.

From the day he left school, in 1946, he was active in the St Bede's Old Boy's Association. He served two terms as president and two as chairman. Elected chairman of the college's board of proprietors in the late 1970's, he steered the college through it's integration with the state-school system and was heavily involved in the development programmes. He gave similar service to the former Sacred Heart College. His voluntary work for these and other Catholic schools led to his work as a financial and legal adviser to the Christchurch Catholic Diocese.

A long-time interest in trotting landed Corcoran in the thick of the controversial amalgamation of small Canterbury Trotting Clubs. Beginning as a steward, committee member and treasurer of the NZ Metropolitan Trotting Club at Addington, he became chairman of the board of Addington Raceway and vice-chaiman of Harness Racing NZ. Raceway former chief executive Mike Godber says Corcoran promoted necessary changes in the industry, demanding increased efficiency and the amalgamation of small clubs.

As chairman of Addington Raceway, Corcoran negotiated with the Christchurch City Council for the building of the Westpac Centre on raceway land. He was appointed by the Thai venue management company NCC as chairman of its joint-venture company managing the Westpac Centre and the Christchurch Town Hall and Convention Centre. Godber say's Corcoran's "ability to forge relationships and his gift for relating to people" gave him such standing that NCC felt "he had to be chairman".

Corcoran was a life member of the Canterbury Club, Kaiapoi Golf Club, Kaiapoi Workingmen's Club, St Bede's Old Boy's Association and New Zealand Metropolitan Trotting Club. Son Anthony and daughter Clare say he was a busy man, but always put family and faith first. Home was a happy place, with many visitors and frequent parties. Ursula Corcoran says her husband never sought leadership roles, but many people asked him to help and he never said no.

Anthony Robin Thomas Corcoran, born Christchurch, August 17, 1929; died Christchurch, November 6, 2008. Survived by wife Ursula, daughters Mary Alice, Brigid, Clare and Judith, sons Michael, Matthew and Anthony, and 12 grandchildren.


Credit: HRWeekly 13Nov08


| | |
| --- | --- |
| | RACING HISTORY PEOPLE |

COLIN McLACHLAN

Colin McLachlan was 85 when he died in Christchurch last week.

A former footwear manufactuter, McLachlan had notable success with Mighty Me, the winner of two Derbies and voted NZ 3-year-old of the Year in the 1982/83 season.

Mighty Me, by Out To Win from Believe Me, won 11 races and was 18 times placed for stakes of $141,125.

Other good horses he trained at Yaldhurst were Waylynne (Timaru Cup), Flying Home (Winton Cup), General Demand, Scottish Chief, San Sebastian, Mighty Tuft and Flying Tempest.

Credit: HRWeekly 13Nov08


| | |
| --- | --- |
| | RACING HISTORY PEOPLE |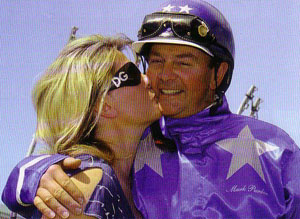 Mark receives congratulations from wife Vicki

MARK PURDON

Mark Purdon became the 16th New Zealand reinsman to notch up 1000 wins when he steered Doctor Mickey to victory at Ashburton on Labour Day. And just as quickly he began chipping away at the next 1000 when he proceeded to salute on Imagine Me, Auckland Reactor and Ohoka Utah on what was yet another stella day for his and training partner Grant Payne's Rolleston stable.

As a son of legendary horseman Roy Purdon and younger brother to Barry, it's hardly surprising that Mark longed to follow in the same footsteps and make harness racing his career as well. "I never thought about anything else," he said, recalling his childhood days. "One of my earliest recollections is sitting on the jogger with Uncle Sandy when I was about ten, and at the age of twelve I used to brush Sole Command every day after I came home from school. He was a wonderful horse, I really loved him. Besides, I was only average at school anyway...just there making up the numbers," he smiled.

Purdon gained his first win behind Dark And Dusty at the 'red clay' Northland circuit in February 1982, and within a couple of seasons he was soon compiling large totals on a regular basis. His best tally is the 75 winners he drove in 1988/89 and he went close again with 74 five years later; twice he's topped a million dollars in earnings during a season. "I get a kick out of any win really, but I suppose the prestigious races do mean a bit more to you," he said.

On the big days is where Purdon seems at his brilliant best, and there's no end to the amount of Group races he's racked up so far...110 of them in fact, including two NZ Cups, an Auckland Cup, an Inter-Dominion Pacing and Trotting Final, numerous age group Classics with both fillies and colts - not to mention the NZ Derby, a race which he's made his 'own' having partnered eight winners of the event since his first with Mark Roy in 1993.

Of all the 16 illustrious horsemen in this country's 1000-win Club though, Purdon is second to none when it comes to his amazing UDR, which highlights his strike rate. Currently at .4952 this season, it's at its highest yet. "I've been lucky with the sort of horses we've had over the years, because there's usually a lot of depth in the team," he said. "Plus your staff play a big part with the preparation of them all. But the UDR is something I'm conscious of, because you know that you've got a lot of following with the punter out there. So there's a certain pride involved, and you are always trying to do your best."




Credit: John Robinson writing in HRWeekly 30Oct08


| | |
| --- | --- |
| | RACING HISTORY PEOPLE |

CYRIL WHITE

A lot has changed in the world since Cyril White was born during New Zealand Cup Week in 1918. When Lucky Jack won his first Cup in 1937, White was working as a 'cowboy' at Arthur Nicoll's Durbar Lodge in Ashburton, which meant he was more often tending to and milking the cows.

"Gordon Stewart was the Manager at Durbar Lodge then, and Wrack was nearly finished (as a sire)," recalls White. "I used to ride the hunters as pacemakers and we'd get very strong arms from spending hours on dry brushing the horses. In those days the streets were paved with grass," he added.

Wrack's famous son and three-time Cup winner Indianapolis was unplaced from 72 yards in 1937, as Lucky Jack won for trainer/driver Roy Berry and Ashburton breeder/owner Bill Lowe, but the 18 year-old White was too busy working in a woolshed at Middleton to be anywhere near Addington.

Cyril White will turn 90 on Tuesday, November 11, which also happens to be Cup Day, and life today revolves around waiting for his 'meals on wheels' and the nearest he will get to Addington this year is his Trackside channel. He was hoping to get to Ashburton on Monday to see the 'new wonder horse' Auckland Reactor, but mention the name Purdon to Cyril White and he asks after Roy and whether he is still 'about' too.

White would also do stints with such famous horsemen as Manny 'Dil' Edwards at Yaldhurst and 'F J' Smith in Auckland before the war, and set up stables in Ashburton when he got back from "four years and a fortnight" away fighting in North Africa and Italy for the 8th Army. A horseman with a reputation for his 'old school' methods which most often worked and a skill if not cunning to win when the time was right, White was still training well into his 70s and in the 1989/90 season, when he won a couple of races with the Noodlum mare Willsee. The first of those was a Methven around Cup Week in 1989 when Willsee scored at long odds for local identity Dave Lemon with his son John driving.

Before that there were wins with trotters Reign Hi and Baywood along with pacing mare Opening Night at Methven, and White has fond memories of a good trotting mare in the early 80s called Cathy Crockett who won six races and had a lot of placings along the way. The daughter of Crockett won five races in the early part for White, the last of those at Addington and at good odds, before she raced from various other stables for over two years without showing any form at all. White then got her back as a 9-year-old, and at Ashburton on Boxing Day in 1986 she won the feature class five trot downing Novander at odds of 14-to-one. she was raced by her breeder Les Moore, a long-time supporter of the stable. "She was a funny old thing - early on she would jump everything in sight, but you always had to give her her head." There are stories about how it helped when Cyril allowed the sulky wheels to run freely enough too though.

That same day at Ashburton, the class three trot was won by Pat O'Reilly jnr and Tyron Scottie, a horse that White lined up a couple of times the previous season after converting him to trotting for Ashburton owners Alan and Ian Neumann. Tyron Scottie was a Noodlum gelding who had been bought as a pacer at the yearling sales for $4000. He had been broken in by Allan Dunn and "made to pace" by Gordon Middleton, and White spotted him trotting while being jogged on a lead around the roads one day. "His legs had been cut where the hopples went, and I said to the owners I think I can make a trotter out of him. After starting him a few times, I told them that the horse was going to travel, and I was getting a bit past all that." Tyron Scottie was winning his fourth race that season from his six starts for O'Reilly, and would win 21 races and about $300,000 in all.

Shortly before that, White had raced a talented pacer called Rock On, who won five races for him including a Kurow Cup. A Dancers Boy gelding, Rock On won the Oamaru Juvenile Stakes on debut and as an early 3-year-old at Ashburton, when White was 60, he also drove him to win his second start that season at odds of 12-to-one. White's last win as a driver was with Rock On as a 4-year-old at Addington at 21-to-one downing Carnival King, a good sort trained by the late Pat O'Reilly snr, along with Captain Clive and Seafield Hanover. White bred Rock On from Widow Grattan, by Widower Scott from Nimble Grattan, a Josedale Grattan mare who had been a handy trotter for him back in the 50s.

Josedale Grattan, who won the 1941 New Zealand Cup for F J Smith, had been "a real gentleman of a horse" during White's time with the renowned Welsh horseman. "We used to go to a few dances with widows (from the war) and they could be quite nimble, and that's how Rock On got his name," laughed White.

Life wasn't much fun though when White was a lad and working around various farms and stables before volunteering for the war. He didn't always have a lot to do with the horses in those days, outside of riding work and cleaning up afterwards. Top horses like Josedale Grattan, Van Derby, Ironside and King's Warrior made an impression during his time with Smith though. Van Derby was a beautiful horse and F J thought he would win the Cup with him, but something went wrong. King's Warrior and Ironside started in the Cup before Josedale Grattan, an American-bred horse which Smith had bought and imported as a 2-year-old, ran away from Gold Bar in 1941. F J was very meticulous in everything he did, and caused a bit of a fuss as a driver because he wore gloves. He would give the horses a body wash with methylated spirits - he would never put a hot horse under cold water. Mind you, we often didn't have a hose and running water anyway."

One horse he does remember very well back then was Tonioro, who won a trot during a galloping meeting at Ashburton in May 1940, during his time working for the Vivian brothers at 'Shands Track'. He had been set to win by Lester Maidens and paid fourteen pounds, and I had 'ten bob' on him and that paid for my new teeth. I had them done in stages as I could pay for it."

"In those days we were still learning to drink, which could be quite handy at such times. A schooner (45oz) of beer would cost sixpence, and there would be a lot of them. Now a jug costs seven dollars - it's just as well I don't need much."

White can also well recall in those pre-War years taking care of horses such as the good George Barton-owned mare Santa Fe and Bittersweet on trips to the West Coast, and how often the bridges would get washed out and they'd have to walk them for miles for dry lodgings at night.

White was 21 when he signed up for the War and 22 when he found himself "going back and forth across the desert with Rommel. You didn't think much about the situation then because it was just a way of life, and you got on with it. They were pretty clever though at turning you into a soldier inside of three months." White spent most of his time in the infantry and in Africa, but never got further than Italy during "the last push". "We won through in Africa eventually because Montgowery was a mate of Churchill and he got the equipment he needed. "Freyberg didn't get that, and at the end of the day it was just aboutwho had the most guns and gas."

White lost a lot of mates, but the only time he was hurt if was his "own silly fault. We had taken over a position from the Brits and they had dug the trenches about six foot deep. I was sitting up there one day when a couple of shells came over and landed about fifty feet away. I thought I'd better slip down out of the way, but it was a lot deeper than I was used to and my knee blew up like a balloon. I reckon they must have been coalminers." Towards the end of the war in Italy, White can recall the trotting meetings at Trieste where Tom Gunning also figured, and "mule racing just below (Monte) Cassino."

When White got home in 1945 he set up his own stables in Ashburton, and married Olive McDowell, who went into a Home about five years ago. "Like a lot of lads in my time, I thought I might become a jockey, but I was too big-boned. I kept riding for most of my life and actually had a (galloping) licence for a time (in the 50s) as well after the War. But I saw one lady come off and get hurt quite badly, and that put me off riding very much. I preferred to drive the trotters after that."

Apart from his own mare Nimble Grattan, there were good ones like the Quite Sure entire Super Note and the Light Brigade mare Tronso for Bill and Ray Jamison. White "had to give up" Tronso about a month beforev she won the Dominion for Colin Berkett, who he says would "short change" horses by not jogging them enough. He also recalls about the stock of Quite Sure that "they were quite flighty and too thin-skinned to wear hopples".

White obviously has a lifetime of stories to tell, all of which would in some way be colourful, but one that sticks in his mind was a trip to Nelson in the late 50s with a nice team of horses in Nimble Grattan, Our Bridget and Stylish Petro. "We had been at one pub and then had a bit of trouble getting past (the pub at) Leithfield. We got past Kaikoura and one fellow was snoring away, and the driver hadn't realised something had come adrift from the truck - every time we went around a corner, something wasn't right. Eventually we pulled up and realised we had lost a wheel. One fellow caught a ride to Blenheim with the wheel to get it fixed, but by the time he got back we had sorted something else out. Anyway, by the time we got to the track, the races had begun and we just unloaded Our Bridget and she went out and won."

White actually (offically) trained and drove Our Bridget and Stylish Petro to win early on the first dat of the meeting. Our Bridget didn't win later that same day,but she did win again at good odds on the second day. Nimble Grattan didn't win on that trip and had to wait until a few seasons later when she was a 7-year-old and won three races. The first of those was at Kaikoura and the second was a Ashburton, when White drove her to upset Ahumai and Wes Butt and pay £64. She would later win in Auckland from another stable, before White got her back as a well-out-of-form 11-year-old and he won with her again at a Hororata meeting paying £16.

They could be "tough old birds" in those days, and it seems "they don't make horses the way they used to".
Needless to say, the game has changed and there aren't many Cyril Whites left about either.




Credit: Frank Marrion writing in HRWeekly 6Nov08


| | |
| --- | --- |
| | RACING HISTORY PEOPLE |

DICK CASKEY

Dick Caskey was never afraid to race his horses. A good example was Torle, a smart mare by Able Bye Bye who had 46 starts in the 1978-79 season. She won six races.

Tortuff was another busy campaigner, racing 127 times and gaining her solitary win at Gore when having her 119th start. He won four races with Torpast, and eight with the dual-gaited Armbrowood who raced 162 times.

By far his best, however, was Bambi, a big horse by Forward from Ikawai who won 11 races. In 1971, he beat Merrin and Tony Bear in the Worthy Queen Handicap, and twice he won the West Coast Trotting Stakes - from Mighty Chief and Deodatus, and Able Adios and Fri a year later.

A quiet, retiring person, Caskey died last week in Timaru at the age of 78. He was a keen supporter and willing traveller to meetings throughout the South Island.

Credit: Mike Grainger writing in HRWeekly 23Jan08


| | |
| --- | --- |
| | RACING HISTORY PEOPLE |

DENISE BOURNE

Denise Bourne died suddenly on Monday after a short illness, aged 59.

The daughter of former top trainer Alf 'Ginger' Bourne, Denise was a passionate follower of harness racing who was a forthright and a sound thinker.

She drove and trained, but her interests in more recent times were breeding and racing Ernestlordrutherford, which she did in partnership with her husband, Doug Martin. Previous winners for her were Understudy and Underworld, and she had young stock by Falson Seelster, Courage Under Fire, Live Or Die and McArdle at various stages.

"She was really starting to enjoy it. We'd had three foals this season, and she had much to look forward to," Doug said.

Denise is survived by Doug and two sons.

-o0o-

IN MEMORIAM - appeared in HRWeekly 13 Feb08

Thank you for taking the time to provide an obituary for Denise Bourne last week.

Although Denise had only minor success at training and driving, she remained passionate about her involvement as an owner and breeder and was immensely proud of the achievements of her father, the late Alf Bourne.

We are humbled that black armbands were worn for race nine at Forbury Park last Friday and wish to thank all the trainers, drivers and the Trackside Presenter and race commentator for the dignified manner in which they paid tribute to Denise. That the trainer, driver and Ernestlordrutherford himself combined for a tear-jerking win concluded what was obviously an emotional week for our family.

Those who knew Denise will remember her as never being afraid to have her say, and we believe her parting remarks to all participants in the industry would have been along the following lines...celebrate your wins, however minor; put the disappointments behind you, and most importantly, enjoy competing fiercely but with integrity and respect for your competitors and the rules governing the industry.

Doug Martin, Denise's sons Ross and David, brother Maurice Bourne, sister Sandra Radford and their families.

Credit: NRWeekly 7Feb08


| | |
| --- | --- |
| | RACING HISTORY PEOPLE |

JOHN PENNEY

John Penney was one of harness racing's most respected and able administrators. His death on Saturday after a brief illness was a sad start to Jewels Day at Cambridge.

He was dignified and industrious, taking on demanding responsibilities at the highest level. He died as Chairman of Harness Racing New Zealand, Chairman of the NZ Metropolitan Trotting Club and Chairman of the International Trotting Association. "This was a huge burden for anyone," said former HRNZ Chairman, Jim Wakefield. He said many delegates believed the International Trotting Conference held in Christchurch, and chaired by Penney last November, was the best since its inception.

Penney attended St Andrews College, and Canterbury University, and it was his intention when graduating with a BA in 1956 to become a school teacher. Instead, he joined Lane Walker Rudkin as a management trainee, where he remained until his retirement in 1989. During more than 40 years with the company, Penney became Manager of the dyehouse and knitting divisions and later became General Manager of Argyle Fabrics, a position he held for over 15 years. He had the ability to create fabrics to fill gaps in the marketplace identified by his sales people. He was instrumental in providing his division with the most modern equipment available.

Horses came before his turn at administration, with the importation with Sam Ballantyne of the successful sire Plat du Jour and Nardins Byrd, and he won five races with the smart Jersey Hanover mare, Hanover Reine, which Ballantyne trained. He won two races at the 1987 Inter-Dominions at Addington, and four in total, with Maitre, which he raced in partnership with Australian racing journalist Richard Trembath from Derek Jones's stable. More recent winners were Caliph, who won four races, Nepthys, who won two, and Chivalrous, the winner of four races in 2006. All were from Kheba, a Plat du Jour mare he bred from Hanover Reine.

He became a steward of Canterbury Park in the mid-1980s, and when he first heard of the role, he used his dry humour to say that he thought it was a job taking the drinks around. He joined the committee in 1990, became Treasurer, and was one of two club representatives on the Board of Addington Raceway. He pushed hard for the amalgamation of the three Addington clubs, and when that occurred he was one of the inaugural directors and joint-Chairman with Barry Cotton. From 2004/05 to the time of his death he was Chaiman of the Metropolitan club. "He was a joy to work with," said club CEO, Mike Godber. "He had high standards, but you always knew where you were with him."

Penney joined the Executive of HRNZ as the Metropolitan club's representative in 1999, and was completing his fifth year as Chairman. "He was a good strategic thinker," said Wakefield. "He was a quiet achiever who had great leadership skills. He was unfailingly courteous and diplomatic. In the ten years I worked with him, he never once lost his temper. Harness racing is worse off without him."

Penney is survived by his wife Audrey and family.

-o0o-

Mike Grainger writing in HRWeekly 13Aug2008

The Oustanding Contribution to Harness Racing Award (sponsored by Jardine Bloodstock) - an award that is given only when appropriate - was made posthumously to John Penney at the Annual Awards Dinner in Auckland last Saturday.

It was received by his widow Audrey after a presentation by Executive member, Jim Wakefield. He said John had an outstanding record as an administrator, with strong principles and high standards. He was known for his modesty, understanding and loyalty to his staff and company. He had great days at Lane Walker Rudkin and became a respected leader in the textile industry in New Zealand. His interest in harness racing started when Haughty won the New Zealand Cup in 1943, and developed strongly after his company sponsored the Hip Hi stakes for lady drivers in 1970.

After his retirement in 1990, he became more involved, his days as a starters assistant being followed by steward and committee roles at Canterbury Park and as Co-Chairman of the NZ Metropolitan Trotting Club after the three-club merger from 2004 to 2008. As well, he was in the unique position of being Chairman of HRNZ between 2003 and 2008 and Chairman of the International Trotting Association in 2006-2008

As Chaiman of the Met he saw huge improvements to the track and racing operation, increased stakes, the development of the new stabling area, the introduction of the Harness Jewels and it was his private hope for a New Zealand Cup worth $1m.

He valued integrity above all else, and Wakefield said the problems associated in particular with 'Blue Magic' took its toll. "He was unfailingly courteous, polite, a stategic thinker and had immense leadership qualities. He was a successful breeder, often with his good friend Sam Ballantyne, and would visit his mares on a daily basis. John was an example to all harness racing administrators - a true icon of the harness racing code."



Credit: Mike Grainger writing in HRWeekly 5Jun08


| | |
| --- | --- |
| | RACING HISTORY PEOPLE |

BARRY COTTON

Through his enthusiastic interest in harness racing and golf, Barry Cotton was well-known and widely respected in sporting circles in Canterbury and further afield.

A big man, with a personality to match, Cotton died in Christchurch on Monday after a short illness. He was born on September 30, 1939, attended St Andrew's College, and was President of the Old Boys' Association in 1984. He was a Queen's Scout, a keen and low handicap golfer at the Russley Club, and was non-playing captain of the Canterbury golf team in the mid-90s.

He played a leading role in the production of live racing from Addington on CTV, and then assisted with the establishment of SKY's Trackside channel.

In 1966 he became a member of the NZ Metropolitan Trotting Club, a steward in 1983, joined the committee in 1988, Vice-President in 1994, and was joint Chairman of the amalgamated three clubs with the late John Penney from 1998 to 2004.

In 1990, he sponsored the Big Softie Inter-Dominion Trotting Championship won by Real Force with his Barda Furniture company, was a foundation member of the Caduceus Club of Canterbury, and received the MNZM for his services to golf and harness racing.

Among his numerous winners, most of whom he raced with his wife Julie and good friends Maurice and Shirley O'Leary, were Moon Princess(6 wins), Xanadu, Toliver Twist(8), Light Buffy(6), Midnight Moon(5) and Perfect Atom(4).

Mike Godber, Chief Executive of the club, said Cotton had a leadership role during the time of change when the three clubs merged. "He was an exceptional mine host whose long-term involvement in racing and golf gave him a very wide circle of friends. Barry's outgoing personality and jovial nature will be missed on the Canterbury harness racing scene," he said.

He is survived by his wife Julie, children Ann-Marie and Matt, and four grandchildren.

Credit: Mike Grainger writing in HRWeekly 30July08


| | |
| --- | --- |
| | RACING HISTORY PEOPLE |

PETER COWAN

The death occurred last Wednesday of Leeston horseman Peter Cowan. He was 62. Cowan died of a heart attack caused by acute stress response after being kicked in the ribs by a weanling early that morning.

Originally from Mosgiel, Cowan and his wife Vicki moved to Canterbury four years ago. The former dairy farmer had had a long involvement in the sport, tracing right back to when he and the late Andy Laidlaw bought Witchlight at a sale, whose descendants like Orbell, Lento and Bella Chip enjoyed great success.

First licensed as a trainer in the 1990/1 season, Cowan got underway in this respect when Orbison scored at Forbury Park on April 9, 1991. Licensed as a driver from the 1997/8 season onwards, Cowan's first victory in the sulky came behind Executive Lady at Invercargill on September 7, 1997.

In total Cowan drove 13 winners, and trained the winners of 67 races. The best from his stable were Flying Sands(11 wins), Trotupastorm(eight to date), Joe Boy and Tartan's Blue Chip(six each),and Classic Kojak(five), and notably, 14 of the 21 horses he trained to victory went on to record multiple successes from his barn.

Vicki said the support from the harness racing community had been "just fantastic". Cowan is survived by his wife Vicki, their son Thomas, and four sons from a previous marriage.

Credit: HRWeekly 30Apr08


| | |
| --- | --- |
| | RACING HISTORY PEOPLE |

ALASTER McDONALD

Alaster McDonald held a lifetime interest in harness racing. He was an administrator at the highest level, a breeder, owner and regular racegoer.

He was steward of the New Brighton Trotting Club as it was then from 1965 to 1985, and a member of the committee from 1972 to 1998 when the club then amalgamated with the Canterbury Park TC and the NZ Metropolitan TC

He was Vice-President of New Brighton from 1981 to 1982, and President from 1984 to 1987. He was a Director of Addington Raceway from 1987 to 1998.

Alaster followed a family tradition at New Brighton; his father Alex was President from 1958 to 1961. He was on the Executive of Harness Racing NZ, and raced gallopers as well as standardbreds.

Survived by his wife Vonnie, Alaster was 78.

Credit: HRWeekly 5Mar2008


| | |
| --- | --- |
| | RACING HISTORY INTERDOMINIONS |

2008 INTERDOMINION SERIES

The Interdominions of 2008 were held at the Mooney Valley track in Melbourne and for the third year in a row Blacks A Fake won the Pacers Final. The Trotters Final was won by Galleons Sunset


| | |
| --- | --- |
| | RACING HISTORY HORSES |

SLY FLYIN

Michelle Wallis's tears said it all.

As Sly Flyin hobbled off the track gingerly after the Nufarm Free-For-All last Friday, his trainer knew the grand old man of NZ pacing had run his last race. But she wasn't crying for opportunities lost, or for the fact old Sly was feeling his old legs. After all, Sly has spent a lifetime feeling his legs. Wallis's anguish was that such a great horse will almost certainly end his career at the back of a field at the start of Auckland racing's biggest week.

That is not the ideal way for a warrior like Sly Flyin to bow out. He should have been winning something great, breakng into the millionaire's club with wonderful things being said about him on TV and written about him in newspapers. Instead, this may have to do. "If he is finished I hate seeing him go out like this," said Wallis. "He was like my best mate."

Sly Flyin deserved better than he ever got. If there is a God of racing, he is a cruel one to put such a giant heart in a body supported by such troubled legs. It is so long ago now, six years to be exact that Sly Flyin should have won a Sires' Stakes and who knows how many Derbys. You can forget that he might have started favourite in a Miracle Mile but for breaking down a few days before. And that it took Elsu at his greatest to deny him an Inter-Dominion. Let alone those amazing Easter Cup efforts, or just how many times he must have paced 3200m in 4.00 but got little to show for it.

If he goes into retirement he does so as one of the greatest pacers of the modern era not to earn $1 million, falling just under $100,000 short. But he will go to the paddock with a special place in the hearts, and minds, of those who knew what he overcame. After all, this is a horse Tony Herlihy rated as one of the best pacers he ever drove. Think about that for a second.

But maybe, just maybe, this was the right way for Sly Flyin to end his career. Trying his heart out, against the best in the business, until something broke. Only this time, it looks like it can't be fixed. Goodbye old man. You have earned your rest.

Footnote: Sly Flyin raced every season from 2 to 9. The most starts he had in a season was 16, at 5. His best season was at 8 when he won $225,446.

For The Record: Starts: 82, wins: 29, placings: 18, stakes: $911,689.

Credit: Michael Guerin writing in HRWeekly 5Mar2008


| | |
| --- | --- |
| | RACING HISTORY FEATURE RACE COMMENT |

2008 NEVELE R STAKES

It might be a tad too soon for the 'C word', but the 'F word' certainly got mentioned more than a few times after the running of the Group 3 Nevele R Stakes on the card of the Cheviot HRC meeting at Addington on Sunday. 'Freak', I mean, because the winning performance of Hemisphere was exactly that - freakish! And only time will tell whether she achieves 'Champion' status one day, because it's a little bit harder to be dubbed that, but no-one could doubt that she's already started down the right path.

In a display of pure ground-devouring speed, Hemisphere started her run from near last on the home turn, coasted up to the leaders in second gear and simply breezed on by. The effort was franked by driver John Hay's comments afterwards... "I was surprised how quickly she got around them," he said. "She reached the lead within a couple of bounds, and then knocked off."

Hemisphere is the pride and joy of her 53-year-old Invercargill owner/breeder John Higgins, a neighbour of the filly's trainer Murray Brown. Higgins reckons he's raced "about a hundred" horses over the years, on both sides of the Tasman, and is starting to concede that his latest winner could easily be his best yet.

Hemisphere is an all-Nevele R product, being by Badlands Hanover from the OK Bye mare Trans Tasman, the latter a half-sister to the likes of Caps Off, Glencoe MacDonald and Badlands Bute that Higgens bred after Danny Boyle lent him Te Phyno for a year. "Trans Tasman was mad, and never raced," said Higgins, who has been a life insurance broker for 35 years. "And Hemisphere was striking as a filly, nothing worried her. She was real quiet early, but was always first to the gate and first in line for her feed." That might go some way towards explaining Hemisphere's stature now, because for a 2-year-old she is tall and built like a tank. She's not really quiet anymore either, as hand-in-hand with her size is an apparent fondness for lashing out with those powerful back legs.

Higgins, Hay and Brown are obviously all good mates, and he jokes about the time he came close to selling his star filly. "John was down our way one day, and I asked him if he wanted to take Hemisphere home with him and put her in the Ready-To-Run," Higgins recalled. "And he said 'nah, I can't be bothered - keep her and race her yourself."

Now you get the feeling that even good money couldn't pry the filly from Higgins's grasp, and he humbly thanks a lot of people for the position he finds himself in today..."Maurice Kerr for the way he broke her in; Ray Faithful for the second prep; Murray and his wife Marilyn of course, and 'Archie' Armour for the way he's looked after her in her early trials and workouts - he always thought that she was a Group 1 filly. You don't like to get too carried away, but after what she has done to date it's hard not to get excited," Higgins said. Hemisphere will stay at Hay's in the meantime and then head north for next month's Caduceus Club Classic, followed by the Sires' Stakes Fillies Series and ultimately the Harness Jewels.

It hasn't all been positive for Higgins though, because he recently lost Hemisphere's yearling full-brother at the breaking-in stage when he died of a suspected heart attack. Also the dam of an as-yet-to-be-sighted 4-year-old Caprock mare and the 3-year-old Safely Kept gelding Pontificate who has had one start for a fourth, Trans Tasman was given a year off after her second Badlands Hanover and is in foal to Courage Under Fire.




Credit: John Robinson writing in HRWeekly 12Mar08


| | |
| --- | --- |
| | RACING HISTORY FEATURE RACE COMMENT |

2008 PGG WRIGHTSON NZ YEARLING SALES SERIES TROTTERS FINAL

Clive and Rona McKay are enjoying an unprecedented run of success at the moment. Since early last month, the horses they either co-own or race outright have won no less than 13 times, and this was capped when the only two that they had at Addington last Thursday night - Absolute Magic and De Gaulle - both saluted the judge again. Absolute Magic has now won his last four straight, De Gaulle his last two; added to Fiery Falcon's four-race winning streak, Sir Clive who is unbeaten in two starts and Rona Lorraine, we're talking about one hell of a purple patch.

And they're not just any old race wins either...a Group 1, two Group 3s, a fillies Graduette and most recently the (Listed) PGG Wrightson NZ Yearling Sales Series Trotters Final. These winning cheques alone add up to just under $242,000 - not bad coin over six weeks of racing! No-one could justifably begrudge the McKays their success though, because they spend a fortune supporting the industry that the love. For instance, just last month they outlaid a mammoth $220,000 for one of the yearlings they bought at the Sales.

Like most of their horses, this is where they sourced De Gaulle from too, and trainer Michael House says he can't take any credit for it himself. "Clive picked him out, it was all his doing," House said. "And I said 'but he's by Continentalman...', and Clive said 'no, I'm buying it!'. He was taken by his bloodlines - being by a son of Malabar Maple and Continentalvictory, from a mare by Sundon out of Tussle. He said you'll never see that many great horses so close up in a pedigree."

De Gaulle's opening campaign as a 2-year-old was nothing startling, with one runner-up prize being nestled amongst two 'pulled-up' performances, but this season the colt has gone from strength to strength. He was left in front on the first day at Nelson in January and bowled along to score well, and this month we've seen him produce huge finishing bursts to win at Forbury and now Addington.

"That's been the plan with him," House said. "We took him to Nelson for a trip away, and put him in standing start races to get him mannered up. And he hadn't lost a pound since coming home from Forbury. Mr Reliable I call him. Although in saying that, he trained terrible during the week and even made a break when I was working him. You couldn't have had him tonight on that, but it just goes to show how much of a professional he is. He's not a very sound horse, and has lots of little problems all the time, but he'll come right I think."

On De Gaulle's plate for the remainder of the season is the NZ Trotting Derby, the Sires' Stakes and the Harness Jewels, after which he will stay in Auckland and possibly even cross the Tasman. "Clive and Rona are wanting to spread their horses far and wide," House said. "Plus they like taking trips away to go and watch them race as well. So we might lose De Gaulle to the Langs at some stage."




Credit: John Robinson writing in HRWeekly 19Mar08


| | |
| --- | --- |
| | RACING HISTORY FEATURE RACE COMMENT |

2008 PAUL RENWICK KITCHEN & JOINERY FFA

Baileys Dream stamped himself as the horse to beat in Friday night's Easter Cup with his win over the pacemaker Classic Cullen, Awesome Armbro and stablemate Monkey King at Addington five days ago.

Baileys Dream was last on settling in the $50,000 Paul Renwick Kitchen & Joinery Free-For-All, and despite having to sit parked for the last lap the powerful Dream Away gelding showed unrelenting tenacity to score in a sizzling 3:11.6 for the Group 3 2600m mobile.

Gone were the childish tendencies that cost him victory in both his Auckland Cup campaign runs - the real 'Bailey' showed up this time. "That's the best way to drive him...don't do much early, and then mooch around to get on the pace," said trainer Stephen Reid, who was in the sulky for just the second time in Baileys Dream's 52 start career. "With him, it's not about the trip; it's about him being happy, and he definitely was out there tonight."

Baileys Dream seems to thrive on his southern sojourns, as eight of his 10 wins in the last two seasons have been achieved in Canterbury. The 6-year-old has now won 21 in total, netting over $820,000 in stakes.

Credit: John Robinson writing in HR Weekly 27Mar08


| | |
| --- | --- |
| | RACING HISTORY FEATURE RACE COMMENT |

2008 KONAMI CANTERBURY REGIONAL COUNTRY CUPS CHAMPIONSHIP.

The six owners of Special Ops have a very simple way of making decisions when it comes to the mare. They vote, and the majority rules.

Recently the Haymakers Syndicate had the opportunity to send Special Ops to America with Ray Sharpe, and because it was the most important conundrum that the close group of friends had ever been faced with, everyone had to be in favour or she'd be staying home. As it turned out the final count was 4-2 for her to go, hence she didn't, so a couple of them might be feeling smug about the Armbro Operative mare's stylish victory in the $35,000 Konami Canterbury Regional Country Cups Championship at Addington on Saturday night.

In the back of everyone's mind was Special Ops's form, which trainer Ross Rennie says was totally opposite to what it appeared like on paper. "She's just been having so much bad luck," Rennie said. "And that's basically why they pulled the plug - because she's been racing so well." If anything Special Ops was slightly over the odds when returning $5.20 on Saturday, because a fortnight earlier she had sat outside Bondy for the last lap and been beaten a nose by the Cup class pacer; you don't do that without having immense ability.

The misfortune Rennie refers to stems right back to the Methven Cup won by Baileys Dream in October, which Special Ops was scratched from at the last minute. "I had her going as good as this back then," Rennie claims. "But then she got a foot abscess two days out from the race, it was like a big bulge around her off-front hoof. She'd had them before, but usually they come right a couple of days later; this time it took ages." At that stage Special Ops was nominated for the NZ Cup, but she missed all of Cup Week and the mares' race on the last night and didn't resume until the Methven Green Mile in December. Even then bad luck stayed with her, as a clod of dirt hit her in the face and she galloped out of contention.

Special Ops's form since has been consistent without much luck in the running, so the fact that things are finally going her way again has been welcomed by Rennie and the syndicate. "I suppose we could have a look at the Easter Cup, I just don't know yet. She's the sort of horse that loves the 3200 though - I wish there was a race over three miles because I know she'd be right there. We'll target the Rangiora Classic at the end of April, and then tip her out for a spell. She'll definitely be going to stud this year."

Rennie says Special Ops is a hard horse to get along with, a trait she inherited from her late mother Middle Legacy, and for that reason he wanted to make a special mention of his right-hand-man John Kemp. "John's been with me for six or seven years, and drives Special Ops in all her trackwork," he said. "He was at the beach with her this week, then again on Thursday when she had a hit-out at Rangiora, and he gave me the big 'thumbs up' for her race tonight. He's a big part of her success," Rennie said.



Credit: John Robinson writing in HRWeekly 27Mar08


| | |
| --- | --- |
| | RACING HISTORY FEATURE RACE COMMENT |

2008 FIRST SOVEREIGN TRUST 4YO TROTTER'S CHAMPIONSHIP

Springbank Richard booked his ticket for the Harness Jewels in Cambridge with a brilliant win at Addington last Saturday night.

It was the second start and second win for the son of Sundon in his 4-year-old season, which, for him, only got going earlier this month. That meant he was in 'catch up' mode for a place on the Jewels leaderboard, but his winning cheque of $27,315 from Saturday's First Sovereign Trust 4YO Trotters Championship has now put him well into the 'safe' zone. And what a victory it was, because Springbank Richard was used twice to get to the parked position and yet he made a star-studded field look second-rate when he forged away on the turn and won comfortably.

"He's so easy to drive," says Nathan Williamson. "It's almost a case of don't be unlucky, and that's it. He was fair bolting on the turn tonight, and I could've put a couple of lengths on them; he tends to wait for the opposition a bit. He's definitely the best horse I've driven."

Prior to his winning resumption at Invercargill three weeks ago, Springbank Richard was last seen romping away with the Victoria Derby way back in July. His late start to 2007/08 is all part of the master plan, one where trainer Phil Williamson is looking much further down the track. "We wanted to give him as light a season as possible, because he's a lean, mean machine," Williamson said. "And as he gets stronger, we hope he'll keep getting better. We've just got to man-manage him from here. I mean, you could get carried away and start in a race like the Rowe Cup - but why would you do that and risk undoing him, whereas if you wait then you can start him in it five years in a row."

As firmly as his feet are on the ground, Williamson can't help but be excited about the horse that's now won his last six outings - and eight from nine since joining the stable. "Horses like this are born, they're not made," he said. "And he could be something special for sure."

Williamson said Springbank Richard will have an easy time before the Jewels now, with at least one more run somewhere on the cards, and then the star 4-year-old could even go north early for a race at Cambridge or Alexandra Park - "for a look around the place. I think the Jewels is going to be very much about the draws," he warned.

Credit: John Robinson writing in HRWeekly 27Mar08


| | |
| --- | --- |
| | RACING HISTORY FEATURE RACE COMMENT |

2008 FIRST SOVEREIGN TRUST 3YO FLYING STAKES

Ian Dobson and the Met people may as well drop the NZ Derby trophy off to Mark Purdon now. It's near enough to as good as won by Auckland Reactor, and the believers are now well and truly in the majority.

But first, there are formalities to attend to, and that means Auckland Reactor must perform as he did in winning the First Sovereign Trust Flying Stakes at Addington in devastating style last Friday night. His cruel disposal of seven other good 3-year-olds made it crystal-clear that none of then are in his class, or even close to it. He beat Justa Tiger by seven lengths and his stablemate Fiery Falcon by a fraction more. It was a beating of big proportions, and the $200,000 Christian Cullen-sponsored Classic has the look of an open and shut case.

Phillip Kennard, one of the co-owners of Fiery Falcon, put on a brave front by saying how he was looking forward to a better draw and trying to stick within four or five lengths of Auckland Reactor and see what difference that would make. He took comfort in seeing Fiery Falcon finish within eight lengths of Auckland Reactor after perhaps, at best, being 10 lengths from him at one stage. Hope for better might be one thing, but getting it quite another.

While Auckland Reactor looked as fresh at the end as he did at the start, he didn't win the contest without some push and shove. Purdon ran him hard out of the gate, and then Gavin Smith pressed up with Cullen's Legacy to see if the lead was available. He was hard to settle from there and, committed to attack, ran keenly alongside Auckland Reactor for 800 metres, until dropping off and finishing 15 lengths behind. "I had an idea where he might finish up," said Purdon. "After going hard early, and then attacked, I was a bit surprised my horse had as much left as he did," he said.

This was Auckland Reactor's ninth successive win, which puts him in easy reach of equalling and bettering the record of Purdon's previous 3-year-old star Il Vicolo, who won 11 in succession at that age. Auckland Reactor can make it 13, if he wins the Derby, Southern Supremacy Final, the Harness Jewels and a lead-up race to that. Purdon says he's "potentially the best" horse he's had. "When he came down from the north he was just a horse, and well behind the other yearlings at the same stage. I gave him six weeks work, but he was nothing remarkable at the time. There was no pressure on him because he wasn't paid up for anything. I liked him, without there being anything special about him."

When he was back in again at two, Purdon said there was still nothing to mark him out. "We had Fiery Falcon, Ohoka Arizona and Steve McQueen, all nice horse, but they'd also done a lot more. It was not until I'd taken him to a couple of workouts, where he ran second and third, that he started to impress me. Both times I thought he could have gone past the others if I'd asked him to. Off the place, it seemed as if he would step up." And when he qualified "stylishly", he became a "nice" horse, and Purdon then had the Sires' Stakes in the "back of my mind. That was a great performance, winning that, but he is a better horse now."

If Purdon and co-trainer Grant Payne had worries from time to time about his condition, they don't have them now. "He's the biggest eater on the place," Purdon said. "I recently saw a picture of Mach Three (his sire) after he won a race at the same age, and from the neck back you'd say they were identical." Between the Group 2 win of last week and the Group 1 he goes for this week, Auckland Reactor had a solo run on Monday and worked with company on Wednesday. It seems Purdon is cautious with what he does with him. "I could work him hard and he can be a good trackworker."

After Auckland Reactor and Fiery Falcon, the Mach Threes at All Star Stables almost run out. He doesn't have a 2-year-old, and his only yearling is the colt from Russley Friction bought at the Australasian Classic by Neil Pilcher and Bill Grice.

Credit: Mike Grainger writing in HRWeekly 2Apr08


| | |
| --- | --- |
| | RACING HISTORY FEATURE RACE COMMENT |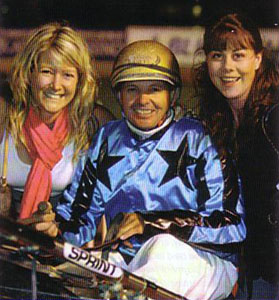 Justine Fisher, Ricky May & Sara Famularo celebrate the win

2008 GEORGE CALVERT CLEANING EASTER CUP

Bailey Dream first one week, Monkey King the next. That has been the Easter efforts at Addington for the lethal Steven Reid-Ricky May-Benny Hill combination.

They won the $150,000 George Calvert Cleaning Easter Cup at Addington last Friday night with Monkey King, Baileys Dream running a close third behind Classic Cullen after winning the lead-up race the week before, and the same Cup two years ago. It was May's fourth win from eight drives with Monkey King, and Reid said he will stay on the horse, he has won eight from 16 with Baileys Dream.

After the race, Reid spent as much time in the Judicial Room as he had done on the track, firstly losing a charge of half-carting early in the race that cost him $300, then successfully explaining his reasons for not using the whip on Baileys Dream when it got tight near the end. "He doesn't appreciate it," explained Reid to the stewards. He clamps his tail, and if anything will go slower rather than quicker. It made no difference to the result, but as I take a whip they'd like to see me do something with it like having it under his tail or hitting the shaft." He'll get the chance because both Baileys Dream and Monkey King have two races ahead of them next month; at Addington on April 11, and a $50,000 one at Rangiora a fortnight later.

Monkey King didn't make it easy for himself by missing the start by possibly as much as 30 metres, May saying he was put off by Awesome Armbro's behaviour ahead of him. He moved forward and got cover in the middle stages behind Classic Cullen and Baileys Dream, and bombed them both with his usual powerful pounce. He ran the 3200m in a sterling 4.01.8.

Reid only needs Monecito to keep his record moving and he'll have three runners in next season's NZ Cup. But reinforcements are light on the ground after that, and his possibilities for the Harness Jewels will not keep him busy. "Ohoka Moon has not come up quite as good as I would have liked, but I'm confident Sno's Big Boy will be in well, and so will Montecito. I'm a bit luke-warm on Anescape; he might be a back-door entry. I know a bit about the Cambridge track, and draws for those races will be critical. But Anescape's got the potential to be an Open Class horse."

Reid says his 2-year-olds and yearling numbers could mean a short-term gap in the ranks. "We've got five home-bred yearlings and bought four from the Sales, so all up there'll be nine. But we've got twenty-five foals on the ground, so there will be a lot of young horses to look forward to," he said.



Credit: Mike Grainger writing in HRWeekly 2Apr08


| | |
| --- | --- |
| | RACING HISTORY FEATURE RACE COMMENT |

2008 THE TRAVEL PRACTICE NZ TROTTING DERBY

Ashburton brothers Keith and Bevan Grice are building a super affinity with the NZ Trotting Derby. As breeders they've won it three times already this decade...with Dependable (trained by Mark Purdon) in 2001; Shirley Temple (Paul Nairn) last season, and now Doctor Mickey (Purdon & Grant Payne), who peeled off Sovereignty's back and edged past him to snatch victory in the Travel Practice-sponsored event on Friday night. All three talented trotters are about as closely related as you can get - Dependable was by Sundon out of Janetta's Pride, so is Shirley Temple, and Doctor Mickey is the first foal out of the pair's full-sister Jo Anne.

Allan and Lorraine Georgeson have been associated with the breed for many years too, initially through Dependable but most notably with Jo Anne, and the latter provided the couple with a whole host of fond memories after showing brilliance from 'Day One'. Jo Anne won 12 races in all, still hold three national records, and if there's one regret it's that she never went as far as expected after capturing seven of her 10 starts as a 2-year-old. "She gave us our best moments in the game," Allan recalls. "She was so dominant. When you went to the races, you knew you were going to win - probably by lengths, and in a good time too."

Jo Anne was raced on lease from the Grice brothers, and the Georgesons have been accorded the same luxury now that she's at stud. "We get the first right of refusal on her foals," Geogeson said. "They usually get snapped up pretty quickly if we don't, but the Grices are very fair and men of their word. "I thought Jo Anne would just have to leave a Derby winner, or a horse of some class, and if she didn't then maybe I should give up."

By Dr Ronerail, Doctor Mickey seemed to have lost his early reputation and wasn't given much hope in last Friday night's NZ Derby, having been landed with saddlecloth 13 when the 'big four' all drew the front line and posssessing nowhere near the same credentials; even Georgeson admits that he thought the horse "couldn't win", and hence didn't have a dime on him. "So it was a wee bit of a surprise - but a great thrill," he said afterwards. "He's always shown ability, but didn't have the manners to go with it. The mobile starts certainly help, because he's mad from a stand."

Having been broken in and educated by Mark Smolenski, Doctor Mickey joined the Purdon/Payne stable prior to his third start this time last year, and they've been listed as his 'official' trainers ever since. The gelding's gone home to the Georgeson's at various stages too though, and it hasn't been easy getting him up to where he is today. "He's just not as natural as the others, and has actually curbed both his hocks in the last couple of months," Georgeson said. "But we've all put in out tuppence worth...Lee (son) who used to take him swimming, Stephen Evans who works for us in the mornings, Tommy Behrns, and the vet Corrine Hills deserves a lot of credit for pinpointing a major problem with him. "I got her to look over him when she was down from Auckland one day, and she reckoned his knees were sore, meaning he was standing underneath himself in behind and putting strain on his hocks. So we did some remedial work on them, and put on some Back On Track boot which work a treat."

Georgeson's a licenceholder himself, but his involvement with horses has been scaled down somewhat since late last year when he needed an operation to remove a benign tumour on his brain. Left with a degree of facial palsy, recovery has been a very long and slow process but he's quick to add "well, I'm alive" and that he's gradually starting to get around the property as much as he ever did. So Doctor Mickey's Group 1 victory on Friday night was a much-welcomed boost for a family that's experienced their fair share of tribulations lately. Perhaps there could be more in store too, because plans for a North Island raid are on the table. "It'd be nice to get one more of the big ones," Georgeson said, not in any way meaning to sound greedy. "I don't think we're better than any of the other 3-year-olds, but perhaps showed that he's as good as them."

Credit: John Robinson writing in HRWeekly 2Apr08


| | |
| --- | --- |
| | RACING HISTORY FEATURE RACE COMMENT |

2008 CHRISTIAN CULLEN NZ DERBY

In any other year, Georgetown would be hailed for his great victory in the NZ Derby. In any other year, he'd have a NZ record to show for it as well. But he's done neither, and this is not any other year.

This is 2008 - a bad year for good 3-year-olds. And Georgetown is a very good 3-year-old. He's not alone. Fiery Falcon, Absolute Magic, Mattnamara's Band, Justa Tiger, Passion N Glory and Goldie Blue also broke Holmes D G's 3:11.1 record in the $200,000 Christian Cullen NZ Derby, running the 2600m mobile in 3:11 or better. It was not good enough.

The winner won by three lengths and ran 3:09.4. He ran his last 800 metres in 55.8. His mile rate was 1:57.2. That's Auckland Reactor for you. Ten straight wins - the Southern Supremacy Stakes Final shaping as another scalp on April 26, and the Harness Jewels a month later. Again, Auckland Reactor raised the bar too high. He didn't lead as he did in the Flying Stakes the week before, he didn't come from last as he did when he won the Sires' Stakes in November. This was another dimension; no rush out of the gate, instead eased by Mark Purdon to a settling spot near the back. At the 1600m, he set off three wide, joining Georgetown at the 1250m, then taking over a lap out. He looked strong; Purdon said he felt it.

Full credit to Georgetown. Maybe still down a notch on his fitness, he tried hard to stay with Auckland Reactor when Purdon called for more at the top of the straight. But the quarry was off and gone, and as he ended with another hard-running quarter, the only unknown factors awaiting answers were time and margin. Barron knew he was part of both, running along at a bustling speed for the first lap, then being best of the chasers at the end of the second. "I don't know if one more race would have made any difference to my horse. He was four kgs below my goal weight for him. Maybe if he was there, I might have tried to park Mark, but basically we were running for second," he said. "We were travelling well until the 400 metres. Auckland Reactor put three lengths on us at the corner, and we couldn't get it back, though it didn't get any more." With stablemate Mattnamaras Band running home as well as Absolute Magic, Barron is now considering the New South Wales Derby on Anzac Day for both horses.

By Mach Three, Auckland Reactor is raced by his breeders, Auckland vet Tony Parker and his wife Anne, who bred him from the Soky's Atom mare Atomic Lass. He is her 11th foal. The Parkers finished second with Hunka Hickling in the Derby Stars And Stripes won, and second with Sharp And Telford, who was kicked by his stablemate and eventual winner The Court Owl the day before the race. They have many hopes waiting in the wings, with foals this season by Bettor's Delight, McArdle, Artesian, Live Or Die, and Dream Away, plus yearlings by Mach Three, Continentalman, Badlands Hanover, Earl, Grinfromeartoear and Malabar Maple.

Credit: Mike Grainger writing in HRWeekly 9Apr08


| | |
| --- | --- |
| | RACING HISTORY FEATURE RACE COMMENT |

2008 NZ TROTTERS TRUST NZ TROTTING OAKS

When Graham and Virginia Williams bred their Nero's BB mare Second Guess to Armbro Invasion, it was going to be the last one. The mechanic at the Cust garage and his wife had not bred a winner, and they thought it was time to stop.

The foal they bred had been hurt, almost put down, but a neighbour took it on lease and later bought him for $1000. That was Major Decision, the winner of 17 races and $349,000, still racing at 13, and for the Williams "the turning point". Since then they have bred one or two foals every season, either from Second Guess or Lady Attewell, an unraced dual-gaited mare by Meadow Roydon.

None of them had been winners in 17 years, until a dramatic change in their fortunes in the $35,000 NZ Trotters Trust NZ Trotting Oaks at Addington last Friday night. They won it with Lady Eskay, Lady Attewell's filly by Safely Kept. Lady Eskay had done nothing in 11 starts to suggest she would be much of a worry for the favourites and form horses, and in any event she was meant to be pacing.

Four years ago, the couple won a service offered by Alabar at a breeders' night to either D M Dilinger or Safely Kept. They chose the latter, and bred a dark brown, energetic little thing who was a handful to break in. Her trainer Brent Lilley says she was "fiery". She never paced; and Lilley never tried her. But he liked her enough to take a share in racing her. She could trot, and to keep on top of her, Lilley kept her busy.

"She had growing pains, and little niggling problems, but I always had some time for her, even though there's not much of her. Brent Borcoskie did a great job with her in her lead-up races, but the owners felt that in a race like this they wanted someone who was out in these type of races more often. That's why Mark drove her." And, as he did with Doctor Mickey the week before when he caused an upset in the NZ Trotters' Derby, Purdon played a waiting game, buried three-deep in this case behind Gladys Emanuel and Darby Doll. He punctured the tyre of Gladys Emanuel as he eased into the open after With Intent broke on the corner, then caught Darby Doll and Gladys Emanuel and ran past them to win by half a length and half a head.

Graham Williams owes his start in harness racing to a friendship he had with Waru Taumanu, then "doing the boxes" for Denis Nyhan when Nyhan had one of the best stables in the country. "I remember leading two horses down to a paddock one day and thought 'I've got a NZ Cup winner on one side, and a Dominion Handicap winner on the other - Robalan and Hal Good."

They have more young ones to come, and they're pleased about that. One is a 2-year-old brother to Major Decision, and the other is a yearling filly by Armbro Operative from Lady Attewell. Now they have the Jewels ahead of them with Lady Eskay, though Lilley is making no commitment about that right now. Both Second Guess and Lady Attewell are getting on, one 20 and the other 16. Until recently, the Williams may not have been anxiuos to replace them, but a Group 3 winner has taken the guesswork out of that.

Credit: Mike Grainger writing in HRWeekly 9Apr08


| | |
| --- | --- |
| | RACING HISTORY FEATURE RACE COMMENT |

2008 GARRY THOMPSON/ FRED SHAW NZ TROTTING CHAMPIONSHIP

In just 23 starts, Mountbatten has climbed to the top of the trotting ranks in New Zealand. He has won eight races, and more than $200,000. He has won two Group 1s, the Dominion Handicap and the $100,000 Garry Thompson/ Fred Shaw NZ Trotting Championship at Addington last Friday.

Considering he won a one-win front from ten metres behind at the start of the season, Mountbatten's elevation has been remarkable. He followed the Dominion with three races over Christmas at Auckland and Cambridge, and his second to Idid It Myway on the first night of the Met's Easter meeting was his first race for two and a half months. Tim Butt, who trains him with Phil Anderson, was a little concerned when he was beaten by Awesome Imace and Houdini Star the next week, so there was no day off for him last week. "He's a very athletic horse. He's got a big Sundon motor and he's a lot better that what people think," Butt said.

Anthony Butt reached the front with him at the 2000 metres, and he gradually pulled well clear of the others to beat Galleons Assassin by three lengths, who had a long neck on Lotsa Speed, Mountbatten's stablemate and possibly a big mover in waiting in the open class ranks. Idid It Myway broke at the 1000 metres when trying to improve.

Credit: HRWeekly 9Apr08


| | |
| --- | --- |
| | RACING HISTORY FEATURE RACE COMMENT |

2008 BROMAC LODGE NZ WELCOME STAKES

Although Sir Clive's winning streak came to an end on Friday, the consolation for the Mark Purdon/ Grant Payne stable was that it was inflicted by another of their representatives.

Bettor's Delight colt Highview Tommy and Blair Orange snatched a late victory off his stablemate in the $100,000 Group 1 Bromac Lodge NZ Welcome Stakes at Addington. Both were huge runs, and Purdon says there's little between the two youngsters. "On ability, they're very comparable," he said. "Every run of Highview Tommy's has been a great one when you analyse it...on debut in Auckland he was three-deep and rattled home for third, beaten a head and a neck, and then second-up he was three-wide from the 700m and went down by a neck in NZ record time."

Earlier in the season Purdon

Credit: John Robinson writing in HRWeekly 16Apr08


| | |
| --- | --- |
| | RACING HISTORY FEATURE RACE COMMENT |

2008 NRM NZ 2YO TROTTING STAKES

Steve McRae warned she was good. And he was right, we just hadn't seen the full extent of Jumanji Franco's talent until she won the $30,000 NRM NZ 2YO Trotting Stakes at Addington last Friday night.

Despite working hard from a wide marble to eventually hit the front, Jumanji Franco had plenty in reserve when the challengers came calling at the end, needing little more than a chirp up from driver Craig Thornley to score by a length and a half. It was the third outing and first victory for the daughter of CR Commando, and afterwards Thornley paid tribute to McRae for getting her to peak at the most important stage of the season. "Steve's timed her preparation to perfection - just like he did with Jacanti Franco," Thornley said, referring to this time last year when Jumanji Franco's year older half-sister took out the NRM Sires' Stakes 2yo Trotters Championship at start number two.

That event is this Saturday, and now the pair's dam Jaguar Franco has a very real chance of a noteworthy back-to-back double. "Her blood wasn't right during the week, so if anything she should improve," Thornley claimed. "She's got a lovely way of going, this filly. And it's better when they eyeball her, because she concentrates then; otherwise she's looking all round the place."

McRae hasn't trained many trotters in his time, and after the "freakish ability" Jacanti Franco showed he thought he'd never get another one as good. Seems he was wrong about that, but he's not complaining. "Jumanji's a completely different type to Jacanti," McRae said, meaning not only their builds. "Jacanti had a few tricks, and didn't like the grit in her face for a start. But Jumanji's never galloped at home in her life. The best thing about Jumanji is probably her gait. She's very light on her feet, and everything's very effortless to her. You'd hardly get excited about her in training, because she just flops about on a loose rein - but she's a real professional," he said.

The dogs were barking about Jumanji Franco at a very early stage though, and the filly was sold for a six-figure sum to Victorian enthusiast Peter Chambers before she'd even qualified. "That's how much we thought of her," McRae said. "I've never met the guy actually. He's a mate of Ted Demmler's, and that's where Jumanji will be heading after the Jewels. It'll be a shame to loose her, but that's the nature of our business I suppose; it's happened before, and it'll happen again." McRae says that with the Jewels these days its a big enough season for baby trotters, and given a decent three to four-month spell after Cambridge Jumanji Franco should come back "a really nice horse at three".

As for Jacanti Franco, who's by Continentalman, she's all but recovered from her tendon injury and should be back in work towards the end of June. "Hopefully she'll resume sometime in Spring. We'll see if we can make up for lost time, and win some stakes so we can target the Jewels with her next year," McRae said.




Credit: John Robinson writing in HRWeekly 7May08


| | |
| --- | --- |
| | RACING HISTORY FEATURE RACE COMMENT |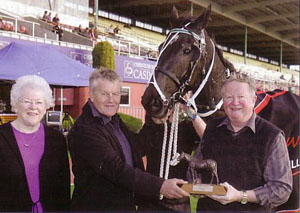 Brian & Trish Fraser with Wayne Adams (centre) and Badlands Jewel

2008 NEVELE R FILLIES SERIES FINAL

Wayne Adams knows how much things can change in less than a minute. Because, 500 metres from home in the $150,000 Nevele R Fillies Series Final at Addington on Saturday, he was starting to think his trek north from Invercargill had been a wasted trip.

Badlands Jewel had only one other filly behind her at that stage, and then when a skirmish unfolded around the last bend, his heart sank even further as he conceded "oh well, that's it". But wait...two acts of sheer brilliance later - the first by driver Mark Jones to avoid the melee, and the second by Badlands Jewel to balance up and power home - and Adams had to pinch himself, because he'd just trained his first Group 1 winner! "That was unbelievable," Adams said. "After how the race had panned out, if she'd have got up to run third or fourth I would have been happy. What a huge thrill."

Badlands Jewel is about as 'Nevele R' as you can get. She's by Badlands Hanover out of a Holmes Hanover mare Holmes Dream, who in turn is a daughter of the great producer Port Melody who has been responsible for a plethora of winners in recent years. Oamaru enthusiast Brian Fraser races Badlands Jewel on lease from the stud, having an option on the filly until the end of her 5-year-old season. Fraser's association with Adams began more than a decade ago through the horse Brilliant Butler, whose last of six wins was achieved from the Adams stable when he took out the 1998 Waikouaiti Cup.

"Brian raced Brilliant Butler with the late Pat Heffernan," Adams said. "After Pat died I trained a couple more for him that weren't much, and then Brian sent me Bold Cruiser who was a real nice horse. It sort of grew from there, and he has been a great owner to have." Adams trained Bold Cruiser to win seven here before he was sold across the Tasman, where the son of Live Or Die has continued on his winning way. Badlands Jewel is Bold Cruiser's half-sister, and there is every indication that she could go a long way further. "Right from day one she had a bit of the 'X factor' about her," Adams says. "She won a couple of workouts, and I just liked the way she was very relaxed about everything. She's a big filly, so I was never expecting too much of her at this age."

That all changed once Badlands Jewel got to the races though, because within the space of a month she was unbeaten in four appearances. "She was very impressive at Omakau first up. Mark drove her that day, and wanted to stay with her for the big fillies races later on. And then at her second outing she drew seventeen in a 2700m stand, but bolted in by three lengths in 3.26 - I knew then that she was a real staying type of filly. She had a fortnight out after those four wins, and when she came back she wasn't as sharp for a few weeks. But when I worked her around Ascot Park with a galloping pacemaker last Monday, she just dropped her bum and flattened out really well. I thought we pretty much had her right again."

Still, four wins in the south is a long way from the cauldron of a Nevele R Fillies Final at Addington, and Adams wanted to believe that he had every right to bring her north. "Deep down inside, I always thought she was as good as the rest of them," he said. "Even Mark told me not to be scared of anyone. And I actually think she'll be better this week over the longer distance, although it'll be a real good field again."

Adams is no stranger to Addington, having campaigned the likes of First Glimpse, John Albert, Happy Chip, Atitagain, White Star Sam, Bold Cruiser and more recently Weka Lass there over the years. Even on Sunday he said the realisation of his first Group 1 victory was still sinking in, and he's also been humbled by the amount of congratulatory wishes he has received. "The phone's been red hot," he says. "I haven't trained many 3-year-old fillies at all really, and I've probably never had one as good as this."

After this Friday night's NZ Oaks its full steam ahead to Cambridge for the Jewels, although there is one thing that worries him. "She hasn't got a lot of gatespeed. But then again she could develop some in time, because she's never really been asked. She's actually been growing a lot in the last three or four months too - upwards, not outwards."

Adams says last Saturday's victory was his proudest moment in the sport, with the only other one that comes close being First Glimpse's win in the Oceania El Dorado Final in Melbourne 17 years ago, although that occasion was also tinged with a great deal of sadness. Adams stayed with the late Vinny Knight for five weeks during his Australian sojourn in 1991, and Knight was in the sulky when First Glimpse took out the Aus$270,000 event. First Glimpse turned out to be the last horse that the great Australian ever partnered in a race though, as two days later he was found dead after committing suicide.




Credit: John Robinson writing in HRWeekly 14 May08


| | |
| --- | --- |
| | RACING HISTORY FEATURE RACE COMMENT |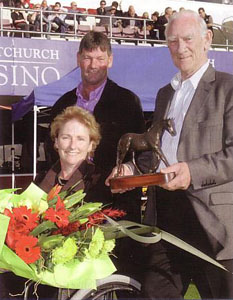 Terry McDonald and his daughter Janine McCann

2008 PGG WRIGHTSON NZ YEARLING SALES SERIES 2YO OPEN

Nigel McGrath had as much right to be in the foreground as he did in the background after the dashing win by Stunin Cullen in the $220,000 PGG Wrightson NZ Yearling Sales Series 2-year-old Open last week.

It was McGrath who bought the Christian Cullen colt for $56,000 as a yearling for his mother Annette and Ann Seaton, and it was McGrath who put the value on him when Terry McDonald and Eddie Griffin came calling with their cheque last month. It was good business all round, sellers early winners and buyers not much later for Stunin Cullen collected $117,000 for his win over Tintin In America and Highview Tommy. Stunin Cullen is now with Phil Anderson and Tim Butt; Butt saying while it needed courage to buy, it also needed courage to sell. "He came with a perfect attitude," he said. "Nigel had done him well."

While the other fancied horses drew poorly in the race, Stunin Cullen did not. He was out smartly from gate two, led strongly, and had plenty in reserve. Tintin In America made a forward run on the back of Highview Tommy a lap from home, was second at the 1000m, got cover, then closed the gap without making an issue of it. From behind Tintin In America, Highview Tommy did the same. He won by a length and a half, and the margins back to fourth were greater.

McDonald, whose brother Ken raced big winner Master Musician and is now supporting galloping trainers on the Gold Coast, has an impressive ownership portfolio that includes Charles Bronson and Comebackmach, along with more than 30 others aged three or younger. He was also a partner in the ill-fated Tuherbs, who won the Easter Cup and Welcome Stakes. "Before Tuherbs, he used to dabble in some cheaper ones. I talked him up for this one," said Butt.

An added bonus for McDonald was sharing the occasion with the company of his daughter, Janine, aged 45, who suffers from multiple sclerosis, but was out for the day from Burwood Hospital after treatment. McDonald made various tributes after the race, but this was the one that counted most.

Credit: Mike Grainger writing in HRWeekly14 May 08


| | |
| --- | --- |
| | RACING HISTORY FEATURE RACE COMMENT |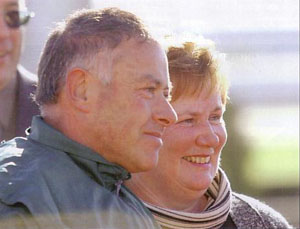 Alan and Fiona Clark

2008 NRM SIRES STAKES 2YO TROTTERS CHAMPIONSHIP

From where he was at the 500m, a furlong from the front, Alan Clark could only hope Castletonian was a force in the finish of the $60,000 NRM Sires Stakes 2yo Trotters Championship at Addington. To what extent he didn't know, and he was cheered when Kevin Townley joined him and went past with Dream Machine and wished good luck. He considered Townley might have had a better view of who was where than he did.

By the time he reached the finish in last place with stablemate The Statistican, Castletonian was being turned by driver Colin De Filippi after a surprise win in the Group 2 trot from Gimli and Outmuscle. He was not inconvenienced by the mistake hot favourite Jumanji Franco made in front after 700m, the one Merckx made at the start, and the gallop Pocaro made when making a fair challenge at the 100m. It was deliverance for a horse with no frills, came with no sharp speed, who was simply safe and steady, and was there without the fanfare and fuss of a big stable.

Castletonian is raced by Fiona Clark and her husband Alan, a retired school teacher from Mosgiel, who do the hard yards from "a nice set-up" as a little team of their own. Alan works Castletonian by himself, relying on trials and raceday starts to top off his preparation and give him the edge he doesn't quite get at home. Fiona used to drive fast work, but a spill here and there has pretty much meant her main drive now is in the ute with the jog team. Clark is renowned for his enthusiasm in sending his trotters - because that's all he trains - into action at the earliest opportunity. "I like to get the mileage into them," he said. Constar, a current NZ record holder as a 2-year-old, was a good example. She's now retired, and the foal she'll have to Sundon will be sold.

Castletonian, by Continentalman and the second foal from the four-win mare Anna Castleton, was bought as a yearling for $6500 off Barry Ward, who has since sold the mare to Lex and Heather Williams. "I just liked the way he moved," said Clark. "Sometimes I don't know what I'm looking for, but he appealed because although he was big he wasn't heavy boned. I gave him a show as long as the pace was on. I knew he would keep on trotting when some of the others didn't."

De Filippi, who will retain the drive in the Ruby and wear the yellow jersey at the end of the month, drove the horse to suit his abilities; as he did later in the day when producing the classy Idid It Myway on the fresh side to arrive with a brilliant burst in the main trot.

Clark also has the Breeders Crown in mind for Castletonian, but in the meantime he is selling three yearlings this week at the Mixed Age Sale. "I sold Solana last year to Sydney and Solar Flare to Noel Shinn, and he's done well with Armed Guard from me. I've got eight yearlings in work, and one by CR Commando would drop-kick Castletonian. I've also got a nice one by Monarchy who can run a quarter in thirty, and I'll be keeping both of them. Our four weanlings are by Continentalman and Monarchy, and we have got five mares in foal to Thanksgiving."

Like many with Cambridge in mind, Clark is on the road this week. Fiona and Vicki Cowan left on Wednesday with Castletonian and Trotupastorm. With the untimely death of the Clark's good friend Peter Cowan, it's been a memorable week for good reasons and sad.

Credit: Mike Grainger writing in HRWeekly 14 May 08


| | |
| --- | --- |
| | RACING HISTORY FEATURE RACE COMMENT |

2008 WAYNE FRANCIS MEMORIAL NZ OAKS

Robbie Holmes chanced his arm with an aggressive drive in the $150,000 Wayne Francis Memorial NZ Oaks. He made his run at the mile with Kiwi Ingenuity, following up stablemate Neat Treat, to sit second at the 1200m.

But he didn't stop there. On he went with the filly, serving it up to pacemaker Badlands Jewel and Mark Jones at the 1000m, and to his surprise he was allowed to cross and lead at the 800m. "I didn't really think Mark would hand up," he said. Not that Holmes thought it would matter much if he did or didn't. "She was jogging when she got there," he said.

Up in the stand, big Hamish Scott and his co-owner and partner Dr Kim Lawson could see hope turn to promise, and by the time Kiwi Ingenuity struck out for home at the 400m it had a look of reality. Holmes knew Kiwi Ingenuity had come to stay the course. Badlands Jewel was one of the first to throw it in, and none of the other favourites came into it as they should have. Angela's Dream closed strongly for second, and so did Natal Franco, making it a trifecta from the second line.

Holmes in very much Mr Busy, with frequent trips to Southland and places in between, and he has a team of 40 in work. Kiwi Ingenuity started her career on one such trip, racing at Nelson in January, where she had two starts and was unlucky. "I've had her right from the start, and she was a big girl then, and is 16.2h now. Early on there wasn't much of her, and although she started to show something in the summer, I had no plans for her."

But Hamish had. He wanted to win the Southland Oaks with the filly they'd bred, and Kiwi Ingenuity did that. "She just started to step up; her work kept getting better," Holmes said. They pressed on, her Southland win followed by a plucky third in the Nevele R Stud Fillies Final behind Badlands Jewel and Fight Fire With Fire. In the week leading up to the Oaks, the filly didn't take a backward step. Holmes was as confident as common sense would allow. "It was funny during the week when Graham" - Graham Pearson, the driver of Neat Feat - "said he'd probably keep me out when I came round." Pearson didn't have much say in that, however unlikely it might have been.

Kiwi Ingenuity was Holmes's first Oaks runner, and his second Group I training win, the other being with Romper Stomper in the NZ Trotting Free-For-All. Earlier driving ones have been with Lew Driver's pair, The Reckoning and Gretamaro.

This weekend, Holmes heads north to Cambridge with the daughter of Christian Cullen and her regular travelling companion Toscarni, who will race on Tuesday night. He will have higher hopes of success in this year's Jewels than he did with his lone drive in last year's extravaganza, which was Riverboat Royce.



Credit: Mike Grainger writing in HRWeekly 21May08


| | |
| --- | --- |
| | RACING HISTORY FEATURE RACE COMMENT |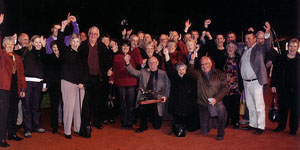 Some of Tintin's Team

2008 NEVELE R - GARRARD'S NZ SIRES' STAKES 2YO FINAL

The country's top juvenile pacers have now got a little bit more than just money to race for at Cambridge in 10 days time. Because the 2-year-old Pacer of the Year title will go on the line there, too.

It's been a season void of a real standout amongst the babies, with major race honours being evenly shared between heroes like Sir Clive, Highview Tommy, Stunin Cullen and now Tintin In America - who brilliantly won last Friday night's $200,000 Nevele R/Garrard's Sires' Stakes Series Final.

Aided by a classic big-race drive from David Butcher, Tintin In America occupied four different positions in the Group 1 event before pouncing from the last of them - the one-one - and surging clear to win in NZ record time. Boasting a super mile rate of 1.55.9, Tintin In America's latest victory sent out a clear warning that his preparation for Cambridge has been timed to perfection by trainer Geoff Small. And it suggested that although his bid for the 2-Year-Old Pacer of the Year crown is a late one, it's a very good one nonetheless.

Raced by the newest of the seemingly unstoppable ATC Trot syndicates, this the 2008 version. Tintin In America is a McArdle colt out of Zenterfold that Small specifically went to the Sales to get, with the syndicate in mind. "we owned half the mother," Small said, outlining how he and his wife Aria go 'foal about' with Beryl Pears now that Zenterfold is retired. Butcher actually described the In The Pocket mare as "Spastic fast, with no brains", saying she could run flat out the whole way and be competitive over a mile, but nothing longer.

So having bred her and trained her, Small needed no encouragement to line up ringside as the first of Zenterfold's progeny went under the hammer. Although, the syndicate's 'budget' of $30,000 got left behind somewhat when he had to go to $42,500 to secure Tintin In America - something he took a bit of a 'ribbing' for to start with, but you won't find any of the members complaining about it now. "He's just a nice, strog colt," Small said of Tintin In America. "He's got to mature a bitto be a racehorse yet, and I'd like it if he camp up another half hand or so."

Slightly more enthusiastic about singing Tintin In America's praises was Jeff Whittaker, who's providing a home away from home for the striking McArdle colt over the last six weeks or so. "I've worked a few with a galloping pacemaker before, but I've never seen a horse with as much sharp speed as him," Whittaker said. "And I mean even more than Changeover...we brought Tintin here to Addington one day, and I don't want to say what he ran a furlong in but it was phenomenal. And the other thing about him is he's lovely with it...a great gaited horse, lovely around the farm - a real pleasure to look after."

Cambridge is now the next target for Tintin In America, but missing from the large group of supporters there will be Brad

Credit: John Robinson writing in HRWeekly 21May08


| | |
| --- | --- |
| | RACING HISTORY FEATURE RACE COMMENT |

PGG WRIGHTSON NZ YEARLING SALES 3YO FILLIES PACE

It might have looked a close call for Lizzie Maguire in the $130,000 PGG Wrightson NZ Yearling Sales Series Fillies Pace last Friday night, but one who knows says she was more than a half-head and shoulders above the others. Her performance to sit parked for the last lap and dig deep to hold off trailing snipers CC's Mademoiselle and Susie Maguire drew praise from Peter Ferguson. As the driver, he knew that Lizzie would pull out all stops if the occasion called for it. And this one did.

Attacked by Susie on the inner and CC's Mademoiselle on the outer, Lizzie fought them off and although the margin might have suggested a strained and unconvincing win, Ferguson said it was not. "She was going away at the end. She went a little bit fresh and got keen down the back, and then sprinted strongly over the last 300 metres. With Gareth's horses you know they are fit and they're not out there unless they are a chance. He is very professional, and the welfare of the horses comes first," he said.

As Gareth Dixon, Lizzie's trainer has gone beyond the ranks of up-and-comers for a place amongst the elite. "I've got to get the results and win races at this level," said Dixon. "Kerry" - whose daughter Helen races Lizzie Maguire - "is a big investor. He's a very big owner and spent more than $300,000 at the Sales last week...two Cullens, two McArdles, a Presidential Ball...wins like this are important," he said.

There was clear evidence again of the professionalism Ferguson speaks of by the manner in which Dixon has monitored Lizzie's career. He would have given her a quick holiday after winning the Jewels and had her racing for spring rewards. Instead, with his eye on the horse and mind on later objectives, he put her aside for 10 weeks. "We would not have been able to do these big races now, go on to the Jewels and perhaps have a longer season if she didn't have the longer break then. She's very relaxed and there is still some improvement to come," he said.

In only her fourth start, and her first since late December, CC's Mademoiselle has emerged as a player at the top level, and Susie Maguire was also a game contestant in the finish, edging past the pacemaker, Fight Fire With Fire.

Credit: Mike Grainger writing in HRWeekly 20Feb08


| | |
| --- | --- |
| | RACING HISTORY FEATURE RACE COMMENT |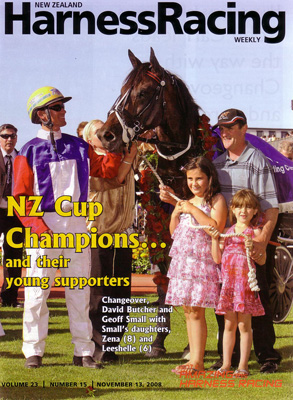 The Weekly Celebrates

2008 CHRISTCHURCH CASINO NZ TROTTING CUP

It took a record to lower the colours of Baileys Dream in the $1.2 million Christchurch Casino New Zealand Cup.

On a hot, balmy Christchurch day, it took a champion to clip Flashing Red's barely broken-in old mark by 1.4 seconds, and end the race pulling away. Only Changeover could do it, and it came matched with great glee and tears and shouts of joy as the ATC Trot 2006 Syndicate tumbled into the Addington birdcage for their million dollar moments.

Trainer Geoff Small, not a big man, was buried in the human scrum for many minutes as folks from all parts of New Zealand swamped him with hugs and big paw pats. It was a dream for them all, no less for Small who had gone close before in the race, with Changeover last year and Elsu before that. But it didn't start out that way, not this particular start.

The race in fact started six minutes late. Ohoka Rebel was in a mood and wouldn't line up and delayed the start as he did at Oamaru. Held up after looking a chance to go away at one stage, Gotta Go Cullen also lost focus, swung round and buckled a wheel. He was sent to the outside to join Ohoka Rebel, and from there he made a poor start. He wasn't alone in that, Monkey King and Changeover doing the same to a lesser extent, which was familiar for one but strange for the other.

Those that got on with the job were Likmesiah, Report For Duty who soon led, Special Ops, Ohoka Rebel and Waipawa Lad. From midfield Tribute was first on the move, followed by Changeover, Baileys Dream, Gotta Go Cullen and Monkey King. Changeover went on and led at the 1400m, passed by Baileys Dream, which left Monkey King doing it hard.

Baileys Dream was in superb order, ready for the race of his life and running it deceptively fast, and he took Changeover to the passing lane and past it. Once David Butcher gave him a look at those syndicate faces in the distance calling him home, Changeover opened up. He gave Baileys Dream no respect as he glided by to a monster win by nearly two lengths. Baileys Dream did enough to win the race, but driver Todd Mitchell could see all the lycra in the world wasn't in the rescue package when Changeover was into the attack so smartly. Report For Duty was a solid third, after being given a perfect trip, and Special Ops stormed home from five places deep to fourth and $54,130.

Butcher said he was surprised at the speed of the race because he didn't think they were travelling quite as quick as that. "It was the track. They've just made a superb job of it," he said. He wasn't the only one with words of praise for the state of it, because there were others making the same point. But he had other matters on his mind before that. "Missing away for a few strides wasn't a huge worry. I didn't want to be in the early fireworks, but I suppose what was happening earlier got to him a bit in the end. The only thing when you hand up is that who you hand up to doesn't fall back on you later on," he said. With Bailey strumming the high high notes, Butcher had no fear of that. "We had a better run than what we had last year, and he was just cruising at the half."

Butcher, aged 44, said he gave Changeover "a couple" when he got down into the passing lane, not wanting to lose the advantage of it as he'd done in the Sires' Stakes Final two races earlier when Highview Tommy denied Tintin in America full access to it for 50 metres. "And I knew Baileys Dream had to get tired." A man with a comedy touch, Butcher was pleased about the special victory but unsentimental as well. "Horses make their own mark. They do their job; I do mine."

Monkey King, the second favourite, ran last but if a last can be good, this one was. He finished 12.7 lengths from the winner and his time of 3:58.7 was better than the 3:59.1 he ran last year when nosed out by Flashing Red.

-o0o-

The easy part for Rob Carr is to fill his ATC syndicates. The hard part will be to get anywhere near the galloping and still growing success of the 7th one formed, the ATC 2006 Syndicate. It's once bright and now dazzling light is Changeover, winner of the $1.2 million Christchurch Casino NZ Cup at Addington, and worth a gross $650,000 to them. Added to the $1,237,154 already won by the entire, it has become more than pocketmoney for the 74 owners of the 50 syndicate shares.

Carr says it's the ultimate dream. "I need someone to pinch me because I just can't believe it," he said. Carr had plenty to thank when he received the Cup, notably Steve Stockman who he said had the initiative to get the syndicates going. "In the last eleven years, we have won 118 races and our estimated return is $3 million, and I'm sure we can build on it," he said.

Carr was surronded by scenes of jubilation, high-fives and power hugs as the many syndicators welcomed back their heroes after a journey that was quick, decisive and powerful. He explained again the folksy story behind the buying and selling of Changeover. Along with Don Kirkbride, Carr had bred the horse by In The Pocket from Chaangerr and offered the horse for sale at Karaka. He was also buying for the syndicate, at least Small was, and he told Small - presumably to appear neutral - he would do better to buy something other than the one he was selling. "But of course Geoff didn't listen to me. He said he couldn't buy a better horse for the money, which was $28,000."

Small has turned the horse into a goldmine, and it is far from done. He admits, for one thing, that the campaign is going a lot better than it was this time last year. "We were on the back foot before Ashburton; it's not something I told David about at the time. It was a hiccup, and it had an effect on his preparation, but there have been no hold-ups at all this time. It would have been my fault if he hadn't performed well today," he said.

Small didn't give it much thought when he missed away. He just stepped on the wrong foot. I was happy he was back in the field. It's a marathon race. He is a wonderful horse, and horses like that deserve what they do, and what is said about them." While Small said it was a race he wanted to win since seeing Robalan in 1974, he added that it had lost a bit of focus for him. I've sort of let it go a little bit; it's not everything," he said.

It is no surprise Small knows what it takes to win a NZ Cup, having been in the same yard as the grand master Ben Grice, who won successive Cups in the 1940s with Haughty. Small was a long way from being under the Grice eye then, but he was when he worked for Ben's son Des at Prebbleton before he moved to Patumahoe 25 years ago at the age of 21, and is eager to say they taught him a great amount of what he knows now.

And while Small waits for Changeover to point them in the next direction, Carr is on a downhill slope filling the next ATC syndicate - the 11th. "We had difficulty one year selling shares, but what Changeover's done has certainly helped. We have got names for the next one already," he said. With Changeover certain to pass $2m (presently $1,887,154) within the next start or two, Carr will probably have his next one signed and settled soon. The best of them so far have all been trained by Small - Changeover, Awesome Armbro and Tintin In America.



Credit: Mike Grainger writing in HRWeekly 13Nov08


| | |
| --- | --- |
| | RACING HISTORY FEATURE RACE COMMENT |

2008 NRM NZ SIRES' STAKES 3YO FINAL

Scrap metal dealer Terry McDonald once took a punt on Tuherbs, and he opened the wallet again earlier this year to buy Stunin Cullen. One of those horses won him nine races including an Easter Cup and over $200,000 before injury shortened his life; the other sailed right past that figure with a sensational victory in the NRM Sires' Stakes Final at Addington on Cup Day.

"I've bought a couple of good ones over the years - and a couple of bad ones," said a humble McDonald, who has never been afraid to take a chance on a horse with the right credentials. "We had to put Tuherbs down after he tore ligaments off a hock, and this horse was basically a replacement."

McDonald raced Tuherbs in partnership with his good friend Eddie Griffin, and it is the same story with Stunin Cullen too, although the latter wasn't able to be there on Tuesday to accept the trophy. "Eddie's got bad legs and can't travel much," McDonald revealed. "He is retired now, but he used to be a partner with me in business; we have probably raced horses together since the seventies."

Stunin Cullen is by Christian Cullen out of Vicario, a Soky's Atom half sister to duel NZ Cup winner Il Vicolo. Bred by Sandy and Jan Yarndley, the colt went through the ring at last year's Australasian Classic in Auckland where he was knocked down to Nigel McGrath for $65,000. He was unbeaten at the trials when he changed hands last April and joined the stable of Tim Butt and Phil Anderson, and now he has won five of his seven raceday appearances.

"We were actually at a Caduceus Club function when we first found out about him," Butt said. "So we rang Nige straight away. He had always liked the horse, it was just too early to tell how far he would go. We trialled him and bought him within a couple of days. And it was a big risk, but you have just got to go to work and away you go."

Stunin Cullen started his career with great gusto, winning a Sires' Stakes Heat on debut and making it two-for-two in the Yearling Sales Series 2YO Open, then inexperience shone through a week later in the Sires' Stakes Final. "He just bolted out of the gate that night, running his first half in something like fifty-five," Butt recalled. "He has always had that speed, and now he has moulded into a very nice horse. Sometimes when you work him at home, you wonder how any of the other 3-year-olds could be as good as him. We certainly haven't trained any youngsters of his calibre before." So he is really special? "I think so. Of course we are not talking anything like Auckland Reactor though. I mean, he went around and sat parked in this race last year and blew them away...today, our guy's had a cushy run and just won."

It was yet another clever big-race drive from Butt's brother Anthony, who must have been itching to use Stunin Cullen's ample gate speed but instead elected to mooch out and then managed to secure a cosy one-one spot. From there, with a record pace being set up front by Highview Tommy, Stunin Cullen was always going to have the last say. "This is one of the few times Ants and I have actually talked tactics before a race," Butt continued. "But he asked me what I thought, and I said it's a long season ahead."

This was reiterated by Anthony in his post-race interview, when he said that he "agonised all week" over what to do - knowing the colt had terrific gate speed, but not wanting to use him at both ends. In the end it could not have turned out better, and Stunin Cullen walked away with the NRM Sires' Stakes trophy and a national record next to his name.

His time of 2:18.3 for the 1950m mobile event is the fastest by any horse of any age, in this country's history. Wiping a full two seconds off Changeover's previous mark set in the same event two years ago, it was also nearly two seconds better than Awesome Armbro's all-age record over the distance. Plus it represented a staggering mile rate of 1:54.1, crediting sire Christian Cullen with his 20th sub-1:55 performer. "Phenomenal," said McDonald as the time was announced. "That'll be good for his stud career later on - if I'm still around to see it."


Credit: John Robinson writing in HRWeekly 13Nov08


| | |
| --- | --- |
| | RACING HISTORY FEATURE RACE COMMENT |

2008 BALLANTYNES TROT

Club syndicates acquiring yearlings at the Sales by trainers selecting them from the middle market is a concept that has proved an outstanding success, and another chapter was written in that story when Roydon Flash took out the featured Ballantynes Trot on New Zealand Cup Day at Addington. A good and consistent sort who is "always a chance," Roydon Flash recorded his ninth win on Tuesday, and along with 13 seconds from his 49 starts to date the 6-year-old son of S J's Photo has now won around $120,000.

Anthony Butt gave the gelding a lovely trip on the outer and he outgunned Braig and the brave pacemaking mare Marie Wishes close to home. Roydon Flash will now back up in Friday's $100,000 NZ Trotting FFA and the $300,000 Dominion Handicap on Friday week. "He might as well race on Friday - that will save me having to work him," said co-trainer Tim Butt. "The trotters don't actually look overly strong at the moment so this could be a very good meeting for him," he added.

Tuesday was already good enough for most of the many people involved in the Met Three Syndicate, which purchased three horses out of the 2004 Premier Sale. The three leading trainers from Addington the previous season have got to do the honours at each sale in recent years, and that year Ken Barron sorted out Willie Five 0, who managed a win at Addington a couple of years ago. Cran Dalgety had selected Analyst, a smart youngster who won a Sires' Stakes 2YO Silver at Addington and started in the Sires' Stakes 3YO Final won by Pay Me Christian. The Presidential Ball colt won four races and $54,000 before he was sold to America.

The syndicates had started out with Met One, which had three winners including a good sort in Pocket Game (4 NZ wins, $64,000) for Barron. Met Two went even better however with New Zealand Derby winner and unlucky Cup runner Likmesiah (13 NZ wins, $424,000) along with Danger Sign (7 NZ wins, $59,000). Met Four races rising star Texas Hold Em, who was second later on Tuesday, along with Jack Jack Attack who has managed half a dozen placings to date. Met Five has three 2-year-olds by Christian Cullen and McArdle and a brother to Sovereignty, while Met Co-Syndicate Manager Blair Cartwright says they are likely to "go again" next year with the amount of interest about. "We normally have a syndicate every second year, but the next one is half full already and we haven't even put it to the existing syndicate members yet," said Cartwright. "It is the horse which make it so successful and easy - I call Roydon Flash out little Eftpos machine," he added.

It was Tim Butt who instigated buying a trotter when the syndicates had previously sought pacers. "Most pacers win a race or two and they have reached their mark, but if you can get a decent trotter, they can go on racing and winning for years," said Butt. "Roydon Flash might not be able to beat the good trotters, but he is still pretty good. He has speed and he can stay so he is always a chance," he added.

Butt recalls that he looked at four colts by S J's Photo in the 2004 Sale and wound up with the last of them for his budgeted $25,000. "He was actually the smallest one of them, but he was out of a Simon Roydon half-sister to Sundon and he had no faults. I don't think the others did any good." The others were Lightscameraction, who won a two-horse Breeders' Crown event as a 2-year-old, and who is still trying to win another race in Australia, along with Kyvalley Mirage (8 Aus wins, $34,775) and Locophoto, who raced without winning.

Once through the Cup Meeting, Roydon Flash will either go to Auckland for Christmas racing or to Victoria, but either way he is heading for the Inter-Dominions.

Credit: Frank Marrion writing in HRWeekly 13Nov08


| | |
| --- | --- |
| | RACING HISTORY FEATURE RACE COMMENT |

2008 FIRESTONE - SOUTHERN DEMOLITION & SALVAGE LTD FREE-FOR-ALL

As a race it wasn't much of a spectacle. In fact for Auckland Reactor, Tuesday's $50,000 Firestone - Southern Demolition & Salvage Ltd FFA was no more than a light workout and one of the co-sponsors provided for an appropriate analogy. But the big crowd gave the unbeaten superstar a rousing reception anyway, and now the harness racing world awaits a 'clash of titans' in Friday's $300,000 Woodlands New Zealand Free-For-All.

That will be Auckland Reactor's first true test against older horses outside his own age group, but Mark Purdon has no doubt he is up to them. There have been the usual doubters that the son of Mach Three could take the step up from 3-year-old racing and improve enough to take on and beat the best older horses in the land as a 4-year-old. Purdon has not been one of them, and the form on Tuesday of Fiery Falcon, last season's second best 3-year-old, was a pretty good indicator. Another was the way he went to the line in last week's Cup Trial at Addington after working up to sit outside Monkey King and Changeover from the half as they sped home in 26.3.

This was the first time Auckland Reactor has been beaten anywhere in his career, but there is no money or glory in trials. Whether Auckland Reactor wins on Friday will have a bit to do with where he draws and just who does or doesn't back up from the Cup, but just safely through that engagement, he is almost certainly heading for the Miracle Mile later this month and staying for the Victoria Cup on December 20. "The (NSW) club rang me recently to see if I was interested in going, because someone had told them I wasn't," said Purdon. "But we would have to seriously consider it if he comes through the FFA okay. The only real problem with it is he can't get home again until the end of December, so we might as well take in the Victoria Cup as well," he added.

Much of the future from that point - getting home - will depend on what has gone on in the recent past, but one thing Auckland Reactor won't be doing is both the Auckland Cup and the Inter-Dominions. On Tuesday, Purdon was unaware that the proposed $1m World Cup at Menangle had been called off - if it ever even got off the ground that is - but there are nice 4-year-old races in Auckland such as the Taylor Mile and Messenger to compliment the earlier Auckland Cup. Beyond that, America is beckoning probably as much as Australia.

Auckland Reactor is owned by a small syndicate which includes Peter Heffering of Tara Hills Stud in Ontario and Jerry Silva one of the big owners in North America, and if he is to one day have prospects as a shuttle sire, he needs to prove himself as a racehorse in America. Such a mission is viewed by Purdon not so much as a challenge, but an ambition, and an Auckland Reactor at the height of his career is just the horse to achieve it. It will also be remembered that it was Purdon who was not adverse to trekking halfway around the world to take on the best trotters in Europe with Pride Of Petite in the Elitlopp back in the mid-90s.

Auckland Reactor sped out and sped home "on his own" to win on Tuesday in a 'pedestrian' 1.58 mile rate. "He went out of the gate on his own and he finished as he liked - he felt so good I didn't even have to worry about pulling the ear plugs." The half and quarter went by in dazzling sectionals of 54.8 and 26.3, but this was Auckland Reactor still in second gear. He won easing down by a flattering length and a quarter from Presido, who chased him around to show some sort of form, but he hasn't won a good-class race since Kaikoura three years ago. Good mares Artishake, Time To Fly and Letitia Franco had another good race among themselves further afield, but all eyes were on 'the unbeaten one'.

So far so good - now there are just the expectations to maintain.



Credit: Frank Marrion writing in HRWeekly 13Nov08


| | |
| --- | --- |
| | RACING HISTORY FEATURE RACE COMMENT |

2008 FIRST SOVEREIGN TRUST NZ TROTTERS FREE-FOR-ALL

If Stig lost any mana having an off-day at Kaikoura, it was forgotten and forgiven as he won it back with a handsome win in the $100,000 First Sovereign Trust NZ Trotting Free-For-All at Addington on Friday. Idid It Myway came with his customary strong, late run for second, heading off Roydon Flash and Awesome Imace.

The effort suggested that Stig is near enough to a good thing in the $300,000 Heller Tasty Dominion Handicap. He was unforgiving when he resumed after a long break to win a stand over 3200m at Addington; he was brilliant winning next over a mile at Ashburton, and then the real Stig stood down from what he normally does at Kaikoura, a track that can be tricky for some.

Trainer Paul Nairn said he probably didn't like the track there being "shifty", but perhaps more telling was that he was "annoyed" the day before by his stablemate Day Of Reckoning who was in season. In any event, he was a box of birds getting back home, and if Nairn wasn't "overly confident" on Show Day, he has a right to be now.

Safely through this week's mission, Stig will have a small operation to remove a stitch that has caused a wee weeping bump above the offside hind foreleg after he broke a sesamoid a year ago. "For some reason the stitch hasn't dissolved," said Nairn, "we will get it out soon."

Stig, of course, still has some way to go to match and better the feats of Call Me Now, Above The Stars and some of the other top trotters Nairn has trained, but it shouldn't be long before he is there and gone past. "This horse is still getting there," said Nairn. "Call Me Now ran 4.05 and still holds the New Zealand record for 2000 metres." Beyond this meeting, Nairn is taking his time. "I'm happy to leave the page open after this. He will most likely spell, have a month or so off, and then get ready for the Rowe Cup."

Stig is raced by Tim and Andrea Butt, Ross Thomas, of Christchurch, and Jim Boyd, of Hamilton, whose musical talents in the birdcage did not reach the same high notes that Stig did on the track. Butt originally tried to syndicate Stig as a yearling with 12 shares at $5000 each, but when only two were taken up, they were left with 10.

Springbank Richard was eight lengths from Stig, and driver Nathan Williamson said he'd be driving him differently in the Dominion, hoping he will settle better. "We knew it would take him a few starts to find his feet in this grade. I would like to drive him cold, and see what he can do with one run at them."




Credit: Mike Grainger writing in HRWeekly 19Nov08


| | |
| --- | --- |
| | RACING HISTORY FEATURE RACE COMMENT |

2008 WOODLANDS NEW ZEALAND FREE-FOR-ALL

Look out Australia, he is on his way! Auckland Reactor flies out next Monday bound for Sydney and the Miracle Mile on November 28.

The Mach Three entire was simply sensational in the $300,000 Woodlands NZ Free-For-All at Addington on Show Day, and afterwards co-trainer/driver Mark Purdon confirmed that the next target with the unbeaten freak is a raid across the Tasman. Harold Park officials visited All Stars Stables this time last week to issue an invitation to Auckland Reactor's connections, and although he accepted, Purdon still wanted him to "perform" a couple of days later.

And that he did, dishing out a hiding to the Cup winner Changeover and six other hapless rivals as his unrelenting rampage continued. Purdon elected to stay out of the early rush for positions in the Free-For-All, tactics which he decided upon as late as the morning of the event. "My first intention was to go out, but I didn't realise that Monkey King and Baileys Dream had been scratched until I arrived on-course, and that changed the complexion of the race," he said. "After that my main focus was to keep him off the fence, and things pretty much panned out like I had envisaged they would."

With Changeover bowling along in front, Purdon wanted Auckland Reactor up outside him as the 800m peg loomed. The two stallions matched motors down the back, that next quarter zipping by in a lightning 26.6, and then turning for home Purdon asked Auckland Reactor to stretch out. Feeling the whip for the first time since the Sires' Stakes Final a year earlier, the great horse found energy reserves that others couldn't and actually pulled away near the finish, winning by nearly two lengths.

Auckland Reactor stopped the clock at an amazing 2:21.8 for the 2000m speed test, a 1:54 mile rate, and considering the overall time it was simply stunning that he had been able to produce a final quarter of 27.8 into the teeth of a strong Easterly wind. Auckland Reactor had already claimed the quickest last half on record at Addington three days earlier when he coasted to a 54.8 split in front; this time he was parked outside the Cup winner, but lowered it again by nearly a full half-second.

So did it feel like they were going that fast? "It never does with him," said Purdon, who is in awe of the pacer himself. "I reckon if that race had been run on Cup Day, he'd have probably gone a second and a half quicker." Purdon also gave a rarely seen flourish as he crossed the line...it was a signal of satisfaction for a mission accomplished, because he admits that there is always a bit of pressure to be felt with a horse that carries so much of the public's money.

So now Australia beckons, and Purdon will travel north by road with the champ this Saturday and accompany him on his journey across the Tasman. "It is a bit of a shame that the Miracle Mile's not being run at Menangle, because that's a track he would have really loved. But around Harold Park it is a races that is pretty much decided by the draw, so we will just keep our fingers crossed for a favourable marble," he said, adding that he would like to draw "one to four."

Purdon is no stranger to the Miracle Mile arena, having run an unlucky fourth with Young Rufus and seconds behind Il Vicolo(twice) and Jack Cade. Auckland Reactor's just that little bit more special than all them, though. "They never ran the sort of times that he seems to be able to, week after week," he said. "I mean, when he went 3:09 in the Derby - that was unheard of. It's like he is ahead of his time."

And he says there is a combination of factors that make Auckland Reactor the horse he is. "Number one is his will to win. Plus he has got a great temperament and gait, he just glides along. It's like driving a BMW. He is the perfect gentleman around home, too. Like any stallion, he'll let out a squeal every now and then, but the only time you really hear from him is feed-up time."

After the Miracle Mile, Auckland Reactor will tackle the Victoria Cup on December 20 and then Purdon says he would like to get him home again. "We will just evaluate thigs as we go after that, I don't think we have to start making any other plans at this stage. But it is exciting to be going over there with him. The Miracle Mile's on of the few races that has eluded us so far...that, and a Dominion," he smiled. Fans of Stig, rest easy. Auckland Reactor might be able to do a lot of things, but he can't trot.

-o0o-

Mike Grainger writing in HRWeekly 19Nov08

I wasn't around when bikes and buses brought huge crowds to see Harold Logan at Addington Raceway, though some think I was, nor when Johnny Globe was in demand. They were the halcyon days for racing when the competition for entertainment was not what it is today.

There have been good numbers watching other great horses since then, but times have changed; there are no turnstiles, no queues, it needs more than just a great horse to make the appeal great horses once did. Salvation is at hand - because now we have one. Auckland Reactor. 'Mac' to those who know him best.

Those who feared the winning bubble would burst whe Auckland Reactor took on the all-round game of Changeover in the Woodlands NZ Free-For-All at Addington on Show Day were devastatingly wrong. Auckland Reactor handled the older horses, in fact toyed with them, as he hoisted a new time for the distance. His time of 2:21.8 surpassed the old record held by Waipawa Lad by 0.2 sec.

Auckland Reactor gave notice to the heights he was heading when he demolished the Sires' Stakes Final at Addington at the Cup Meeting a year ago. It's been a steady sure-footed climb since, and topped superbly by what he did to Awesome Armbro and Changeover and five others on a hot, blustery Show Day afternoon. Fortunately there were a goodly number of others there to see it. The stands were near to full, there was a buzz of anticipation before the race, and the noise built to a deafening level near the 200 metres when Mark Purdon asked him questions he had never been asked before. The plugs were out and the whip was used, and Auckland Reactor put on full power to pull away.

There was a rush to the fence to see him back by those wanting to check the width of Purdon's smile. They knew the occasion was special, perhaps in the knowledge they had not seen one as good, and probably won't again. Auckland Reactor caps were thrown into the crowd - 200 of them - and you had to be lucky to get one, and most were not.

Watching it all was New Zealand manager John Curtin, a five percent owner of the horse who had not been to Addington since Golden Reign's win in the 1995 Inter-Dominion Grand Final. "I didn't think we had a show early on, but this is not a normal horse. I had goosebumps, and it wasn't because of the weather. Doing what he did at his first time against the best shows he is something special; it's scary - there's an 'X factor' about him. Maybe Mark didn't know how good he is - maybe he knew - we all know now."

Curtin said he was "in awe" of the operation at the Purdon and Payne stables. "I thought there would be horses everywhere, and people rushing about, but it's not like that. Everything is so relaxed. It's wonderful for New Zealand. If you were a horse, it is the only place you would want to be." Curtin is much-travelled and can speak with authority on worldwide aspects of harness racing. "There is not a barn in North America that would compare with what they have," he said.

The programme for Auckland Reactor is now settled, in the meantime, at least, and no-one's looking any further than that. "He will go to the Miracle Mile and then the Victoria Cup," said Curtin. "Mark will make a decision after that. The people who own him are wonderful and they are right behind whatever Mark does. It's my impression that he won't be going to America until the year after next, and Mark will go right through with him, wherever it is."

Curtin said Purdon was with him when they saw American star Somebeachsomewhere - also by Mach Three - get beaten for the first time. "They all get beaten, but to me, this was his greatest triumph," he said.

For Auckland Reactor, the next big crowds will be in Australia, and perhaps they will come to see him in the same numbers as what they have done here. They will miss something very special if they don't.




Credit: John Robinson writing in HRWeekly 19Nov08


| | |
| --- | --- |
| | RACING HISTORY FEATURE RACE COMMENT |

2008 HELLER TASTY DOMINION

Once upon a time, Paul Nairn took a horse to the Coast and couldn't win a maiden with him. The trotter raced with aplomb on both days at Westport and then again at Reefton, but still it was three months before he cleared the ranks of beginners; hardly anything to get excited about. Today, he's square-gaiting's latest superstar - the new benchmark that all other top trotters have to aspire to.

Such has been the meteoric rise of a 6-year-old that is known simply as Stig. "I wasn't even sure he would make a horse to begin with," Nairn recalled. "And when I first got him I didn't think much at all about what sort of potential he had - I was just trying to see what he could do. He only qualified a couple of weeks before he went to the Coast, and he was always a bit awkward in his gait so you couldn't let him go or he would break. And because of that I started to worry I was teaching him not to try. But he was always a willing horse that would do what you wanted him to."

Stig continued his dominance with another emphatic victory at Addington last Friday night, his fourth from five outings this term, and as far as trotting events go it was as big as they come - the $300,000 Heller Tasty Dominion. Things didn't pan out for the Armbro Invasion gelding during the running though, and driver David Butt even admitted afterwards that he thought they were in trouble with a lap to run.

At that stage he and Stig were last on the outside and stuck in a three-wide train that was going nowhere, a situation that Butt counteracted by launching the gelding four-wide down the back straight. Horse and pilot were still fair coasting around the home bend though, despite the exertion, and they sailed down the home straight to win comfortably in the end by nearly a length in close to record time.

"This is a big thrill," Nairn said. "Because it is a special event, with a lot of history attached." The Leeston trainer has been to the top of the Dominion tree before, having also won the event back in 1995 with Call Me Now, but he stops short of drawing any similarities between the two great trotters. "It's hard to compare horses from different eras," he said. "But Call Me Now was a real good stayer, and so is this bloke."

Nairn wasn't entirely happy with the way Stig was trotting leading up to last week's Dominion, which gives the horse's performance even more notoriety. "He has never been a perfect-gaited trotter, but compared to what he was like as a 4-year-old he is a lot better this season. It's hard to have them dead right all the time."

-o0o-

The winner of 12 races and over $406,000 will now have a month out, and Nairn says Stig's next main target is the Rowe Cup in May. During his spell, Stig will have a nagging area near his off-hind fetlock attended to. Some stitches haven't dissolved like they should have following the operation Stig had to remove a piece of sesamoid bone, and Nairn says it's little more than a "pimple-like" superficial wound that weeps from time to time and hasn't affected his ability to perform whatsoever.

He does thank his lucky stars when thinking about the last time Stig had to have an enforced latoff though. "He fractured his sesamoid, and could have very easily been history," he said. "But sometimes things go right, and sometimes they don't. Take Inspire for example, she was working as good a Stig but then broke a pastern in training a couple of months ago. She is in foal to Sundon, but I would like to have another go with her. That's the plan anyway."

Nairn is one of harness racing's greatest trainers, and his effort in producing Stig to win the Canterbury Park Trotting Cup first-up this season - the horse's first appearance for nearly a year - was a truly remarkable feat. yet he is almost 'embarrassed' by any moment in the spotlight, preferring instead to extol the virtues of either the horse or whoever's sitting behind them on racenight rather than take any credit himself.

With a horse of Stig's quality in the stable though, speeches on the victory dias are something that he might just have to get used to. "He has got all the right ingredients," Nairn said, answering the question about whether Stig could be one of the sport's all-time greats. "He's pretty relaxed and doesn't pull in his races, and he can make his own luck. Plus he can stay, and he has got enough speed. So he has got a bit going for him, for sure."

Strangely enough, Nairn has never trained a pacing winner. "The first horse I ever took to the races was a pacer, one that belonged to my grandfather called Spanish Lace. But I've got one at home at the moment that I reckon could win a couple. "She is four and named Carlo's Call, and is actually by Call Me Now - out of a mare that could pace and trot."


Credit: John Robinson writing in HRWeekly 26Nov08


| | |
| --- | --- |
| | RACING HISTORY FEATURE RACE COMMENT |

CADUCEUS CLUB OF CANTERBURY NZ PREMIER MARES CHAMPIONSHIP

It's Ella saved the best 'til last. The last 50 metres of her event on Friday night, that is; the last 50 metres of her racetrack career.

Because it was that precise moment - after four years of being in training, dozens of miles along the beach, countless hours in the pool, and 53 trips to the races - that her troublesome near-side front leg said 'enough is enough'. Ricky May said he felt It's Ella wobble a quarter of a furlong from home...despite the fact that Foreal was still in hot pursuit, and not to mention the energy-sapping run she'd had to endure, It's Ella gritted her teeth and stayed in her gait to the line.

It's almost like she knew where the finish was too, as once she'd passed the post she let go and rolled into a gallop. Maybe it was because her owners were there to see her, perhaps she wanted to prove for one last time that she could start from a horror draw and still beat the best mares in commission; whichever, it was a performance that personified courage in every sense of the word.

On this occasion It's Ella didn't just blast out and take the lead like many would've expected. There were a couple drawn closer in than had their own plans and gunned out early, so much so that even main danger Foreal was beaten in the jostle for prominent positions, and It's Ella hadn't been any better off than three-wide before finally crossing to the pilot seat with a lap to travel. Foreal and Anthony Butt had kept her out there when May hade his move in front of the grandstand, actions which Butt had to justify to the stipes afterwards, so It's Ella had used a heck of a lot of petrol getting to the front.

At break-neck speed, with Foreal now beautifully slotted in the trail her and a dickey leg that was about to falter, It's Ella should've been a sitting duck. Should've been, but wasn't. "Frig she went good," May said as he hopped out of the cart, shaking his head in disbelief. "She just did that on her ear, and look at her - she's not even blowing."

The pair had been greeted back by trainers David and Catherine Butt, and although thrilled with the victory their concerns now rested solely on It's Ella's condition. She'd visibly been favouring the leg on her way back from the birdcage, and when David asked her to be walked briskly to the wash so he could see for himself, It's Ella was definitely tender and dipped even more noticeably in her action. "Yep, she's finished I'd say," Butt lamented. "The ol' leg's worn out. She's got a low bow in her leg, below the fetlock, which is one of the worst places they can go in the tendon. It's an injury she's had for a while and it flared up again, but she's one of those amazing mares who doesnt feel pain. It had gotten worse though, and she'd been pulling up sore - we've only swum her for the last fortnight."

Raced by Jim and Irene Holland together with Megan McLellan, wife of the mare's former trainer Brendon, It's Ella was spelled due to injury this time last year after taking out both of the big mares races at Addington. Sighted again in October, she managed another 11 outings in her comeback and took her win tally from 13 to 16 for nearly $300,000 in stakemoney. It was always the plan to retire her for good after this Friday'd NZ Breeders Stakes anyway, being in foal to Falcon Seelter - it's just become nesessary a week ahead of schedule.

So it's finally over for the super Washington VC mare. There's a saying that first impressions last, and It's Ella certainly made a decent one when winning on debut at Ascot Park in February three years ago. But for mine it's her last race that'll stick with me, because that is the night when It's Ella overcame all sorts of adversities to go out on the highest of notes. And had it not been for a freakish performance of Nick Off Holme on Cup Day, It's Ella would've been taking a national record with her...

Credit: John Robinson writing in HRWeekly 30Jan08


| | |
| --- | --- |
| | RACING HISTORY FEATURE RACE COMMENT |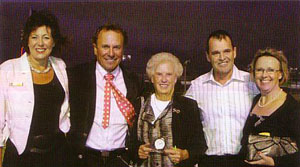 Rosie & Robert Dunn, Rose Dakin and Scott & Barbara Plant

PGG WRIGHTSON NZ BREEDERS STAKES

Robert Dunn was right and he was wrong. He believed the night would come when Time To Fly would beat the best mares in the country; he also believed it would not be this year.

He could see One Dream, It's Ella and Foreal ahead of her, and perhaps even some others, and being five, he thought she would be ready for it at six. Within a week it had all changed. One Dream and It's Ella were absent, Foreal was so-so, and with young whiz Dexter Dunn able to pull tricks out of the air, Time To Fly was in the reckoning for the $100,000 Group 1 PGG Wrightson NZ Breeder's Stakes at Addington. Not that many thought so. Even after her gallant and close second to Port Courage the previous week, she was unwanted by the public, who must have been thinking along the same lines as her trainer.

But last Friday night, Time To Fly was hard and ready, and all Dexter had to do was put her on the pace and keep her strong at the end of it. The race was not easy for Smoke N Mirrors or Foreal, who both went for the lead early on, and Smoke N Mirrors had to work hard on two occasions to keep it. Foreal was in and out before settling in midfield, but she had done a bit of work by then. Time To Fly came forward with a lap to go, where Dexter settled her and hoped she had some grunt left when it got tough. At the 600 metres, he pulled the winkers, and Time To Fly kept working generously from there.

It was Dexter's 49th win for the season and his first Group 1. Earlier in the night, he had come up with a gem of a drive behind Wild Storm, who started from the outside of the front line in a stand, led after 300 metres, trailed the favourite Absolute Magic, and with the light, delicate coaxing that trademarks Dexter's style, the horse was encouraged to stay in the fight and eventually prevail by a nose. That is what Time To Fly did, but she had more of a margin on Smoke N Mirrors, and her stablemate Luckisaladytonight, who was last at the 800 metres and ran home strongly.

Time To Fly was bred by Graeme Iggo, by Sands A Flyin from Limuru, an unraced Oblivion II mare from the family of Petro Star. Iggo also bred Limuru, and sold her after breeding Time To Fly to Bill Hickey and Gwenyth Smith, who have bred colts from her by Armbro Operative, Presidential Ball and Badlands Hanover and this season she was due to Washington VC.

Robert bought Time To Fly for Scott Plant and 78-year-old Rose Dakin after she won a 2-year-old trial at Ashburton for Polly Cleave. Plant is also in harness racing in a big way, with five mares at stud including Molly Darling, Abbeybell and Sav Blanc For Mee. He also has a yearling filly by Grinfromeartoear with Dunn, and Dakin is one of 10 racing Bahama Breeze, a 2-year-old filly by Christian Cullen in the stable.

While Time To Fly looks the lady on the track, she is not so lovely at home, where Robert is the only one who drives her. "She can get a bit snotty. She came with funny traits, and she's kept them. I work her in block blinds all the time, because she could just turn round and work the other way, and I always work her in front. I just keep her away from the others in case she does something silly." he said.



Credit: Mike Grainger writing in HRWeekly 7Feb08


| | |
| --- | --- |
| | RACING HISTORY COMPETITIONS |

2008 MAURICE HOLMES MEMORIAL TROPHY WON BY DEXTER DUNN

Dexter (18 years) was first licenced in the 2005/06 as a Trials Driver and in 2006/07 as a fully licenced driver with a Junior Licence.

His early involvement was with father Robert Dunn also having a period in Victoria with leading trainer Andy Gath and he is currently working for Cran Dalgety.

The Maurice Holmes Trophy relates to all Junior Driver races conducted by the NZMTC Club at Addington and Dexter has won this award convincingly with 24 points from fellow Junior Shane Walkinshaw with 18 points.

However his greatest achievement has been winning the NZ Drivers Premiership as a Junior Driver in his first full season, a feat never achieved previously. He drove two Group 1 winners during that time namely Time To Fly and Rona Lorraine.

Final Points Standings were as follows :-

Dexter Dunn 24 points
Shane Walkinshaw 18 points
Nathan Williamson 15 points

In addition to the Trophy which he hols for the year, Dexter has received, courtesy of New Zealand Metropolitan Trotting Club, a return trip to Australia with spending money plus $500 worth of clothing.


Credit: Tony Lye