| | |
| --- | --- |
| | INTERNATIONAL HISTORY |

20 October - South Africa defeats England in the Rugby World Cup 2007 final in Stade de France, Paris. The All Blacks were knocked out in the quarter-finals by France.


| | |
| --- | --- |
| | LOCAL HISTORY |

1 April - Severe Flodding in Northland results in millions of dollars worth of damage.

May: Freeview is launched, providing free-to-air digital television.

1 July: KiwiSaver retirement savings scheme introduced.

2 July - Corporal Bill Apiata of the SAS is awarded the Victoria Cross for bravery under fire in Afghanistan. This is the first time a Victoria Cross has been awarded to a New Zealander since World War II.

20 December - A 6.8 magnitude earthquake causes significant damage and one death when it strikes Gisborne

David Bain's final Privy Council appeal results in the quashing of his convictions for the murder of his family. A re-trail is ordered by the Solicitor-General of New Zealand.



| | |
| --- | --- |
| | RACING HISTORY BUILDINGS & FACILITIES |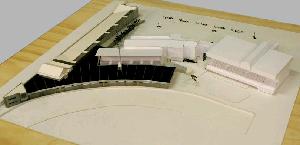 A model of the proposed complex


The NZ Metropolitan Trotting Club has received word from the NZ Racing Board approving funds for a new stabling area at Addington Raceway. This was received by the club's Chief Executive Officer, Mike Godber, on Monday.

The L-shaped complex will run along the front of the Twiggers Stand as far as the old Showgrounds boundary, and the right towards Lincoln Road. It means the Lindauer Lawn will be raised, the Pavillion removed and rebuilt once the stabling area has been constructed.

Godber said the work would not start until after the NZ Cup meeting in November. "But there is a lot of work that will happen between now and then, starting with resouce consents, permits, tenders and much else," he said.

Godber said the Club had been assisted with their planning by licenceholders Anthony Butt and Dave Anderson, and it would have room for 160 horses. "It is 5000 square metres, so it is a huge building," said Godber. The front section, in front of the stand, will cater for 70 horses, and there will be 70 in the Showgrounds wing. Provision has been made for the greyhound kennels on the Showgrounds bend. There will be a 1.2 metre walkway between the track and the front of the stand stabling area. As well as a swabbing area and washes, there is a 'secure' area for 15 horses.

The Lindauer lawn will not have grass as it has at present. That has to go, but exactly what will take its place is uncertain. "It could be artificial grass, or it could be a coloured rubber surface. That's something we will have to face later," he said.

The float park will shift to an area close to the stables, somewhere between the back of the Twiggers Stand and the Raceway offices. For the Cup Meeting, where parking is sold in that area, the floats will be quartered in the showgrounds.



Credit: Mike Grainger writing in HRWeekly 27Jun07


| | |
| --- | --- |
| | RACING HISTORY SECRETARIES & EXECUTIVE STAFF |

John Rowley, a highly respected administrator for some 32 years, passed away last week at the age of 83.

After initially being employed at the then NZ Trotting Conference as the Accountant, Rowley was appointed Secretary in 1960 and later the Chief Executive Officer before retiring in 1985. During his tenure he was instrumental in bringing many changes to the NZ racing industry. In the early 60s he was part of a group that formed the TAB as we know it today, while identification of horses by way of freeze branding, artificial insemination, judicial procedures, public relations and computerisation were other innovations he oversaw.

Rowley represented NZ at World Trotting Conference and is the only person to have held the office of Secretary General twice, continuing in this role after his retirement. During his 32 years, Rowley made many great friends, including Gordon Blaxall who was the Conference Treasurer. Many a problem was solved by the two of them over a gin or two in the boardroom at the end of the day.

He commenced his career as an office boy with the Christchurch importing and wholesale firm of Fairbairn Wright during WWII. After the war he joined the Registrar's Office of the Canterbury University, from where he went to a small firm making ties and later managed the factory. He then joined the Canterbury Manufacturers Association where he managed an 'Industries Fair' and from where he learned of a vacancy in 'trotting'. After seven years of club administration, Rowley was offered the job of the Trotting Conference Accountant.

In honour of his retirement, a testimonial dinner was held and attended by racing dignitaries from all three racing codes and members of parliament. Retirement wasn't to last long however. A new organisation was set up in the early 1980s to administer age group racing, and Rowley had been instrumental in the approval of Sires' Stakes racing. In August 1988, he was asked to join the NZ Sires' Stakes Board and in 1993 he was elected Chairman, a position he held till he resigned in 1997.

-o0o-

NZ Trotting Calendar 13Aug85

Thirty-two years of harness racing administration came to an end when John Rowley retired as Chief Executive Officer of the NZ Trotting Conference on July 31.

Fittingly, leading racing administrators - harness, thoroughbred and greyhound - joined with distinguished guests in farewelling John at a Testimonial Dinner in Christchurch on the very evening of his retirement. It was during that "Farewell Speech" at that dinner, and at a later interview, that John Rowley revealed some of his thoughts on the Industry - "I must call it that now" - which he has served so diligently.

John Rowley did not come into harness racing administration dedicated to the cause at an early age - it was a circuitous route which saw him occupy the most powerful chair in professional administration in NZ trotting. He commenced his career as an office boy with the Christchurch importing and wholesale firm of Fairbairn Wright during the Second World War, leaving briefly to complete three months basic army training. Though he returned to Fairbairn Wright after basic training, he did not last long there, volunteering for the Royal NZ Navy and going off to fight the war as an Ordinary Seaman. John did most of his sea training aboard the British cruiser HMS Dauntless, which was based in Scotland, but he was not to remain an Ordinary Seaman for long. He ended his 18 months' service as a Sub-Lieutenant aboard the minesweeper, or Bird class Corvette as they were known, HMNZS Tui, based in Auckland.

Returning to Fairbairn Wrights after the war, John filled the post of costing clerk. But greener pastures beckoned and he joined the Registrars Office of the Canterbury University. A "change of hierarchy" saw John leaving the University and going to work for a young firm called Corinthian Ties "Where I learned to make ties and manage a factory". Unfortunately, the factory fell on hard times - "There was a depression at the time" - and John joined the Canterbury Manufacturers' Association, where he managed an Industries Fair.

It was through meeting some members of the Manufacturers' Association who were involved in trotting - "In particular Ces Peate" - that he heard of the vacancy which became available in trotting administration with the death of Harold Goggin - who was then secretary of the three Christchurch trotting clubs. "I applied for the job and got it, and I've been in trotting ever since," John said.

John was understudy to Des Parker, who was promoted to take the late Harold Goggin's job, and stayed for seven years. The break with club administration came after seven years when he was seconded to run a three night meeting at Hutt Park when the Wellington Trortting Club was suddenly left without a secretary. "I went in there cold, right from scratch and had to run a three night meeting. At the end of that meeting, I was offered the job as secretary of the Wellington Trotting Club. At the same time, the job of Conference accountant became vacant and as my wife Shirley had no desire to go to Wellington, I applied for the job with the Conference and got it. "So I moved upstairs," John said, referring to the fact that in those days, the Conference and the three Christchurch trotting clubs shared the same office building in Oxford Terrace.

Rather unusually, John was born, raised, educated (Christchurch West High School and Christ's College) and completed his entire working life in Christchurch. He married soon after the war and fathered three children, two girls, Belinda and Melanie who both followed nursing careers, and a son, Simon, who now manages Dalgety Crown in Rakaia.

John was with the Conference just over twelve months before the then secretary, W H (Bill) Larcombe, retired, and John was appointed to his position in 1961. Encumbent president then was Charles Thomas, a leading Christchurch criminal lawyer, a former prsident of the NZ Metropolitan Trotting Club and a prominent figure in the Scottish Society. Stories of Charlie Thomas abound in trotting - "Many of them true" - according to John. "He was a man dedicated to the job. There wasn't a day when he didn't come into the office." Charles Thomas was the first of seven presidents John was to serve under, Bill Roche succeeded him, then being followed by Dick Rolfe, Arthur Nicoll, George Cruickshank, Sir James Barnes and the present encumbent, Dewar Robertshaw.

Twenty four years as the top professional administrator in the country sees a lot of change, and John Rowley has played a major part in that change. "I would have to say the major changes have been in the area of horse identification - freeze branding - the creation of the International Trotting Association, artificial insemination, the changes in judicial procedures, and the vital area of public relations," John said. "You know, people seem loath to give gredit where it is due, but we actually led the world in the introduction of freeze branding and only now are the Racing Conference looking at doing it."

"The International Conferences are considered in some quarters to be just jaunts, but people don't realise that is was because of the creation of the International Trotting Association, and the contacts and personal trust built up by these meetings, that we got the NZ standardbred accepted overseas. You know, we had a terrific battle with the Americans to get our mares accepted into their Stud Book as standardbreds. What that would have meant, of course, if we had not been successful, is that the progeny of mares like Robin Dundee would not have been recognised as standardbred by the Americans, and she of course left world record holder Genghis Khan. I also like to think NZ can contribute to these International Conferences. It has been said we get very little out of them, but I prefer to think that we are not only looking to get something out - which we do - but we can put something back as well," he said.

John may have finished as CEO of the NZ Trotting Conference, but he is still busy as Secretary General of the International Trotting Association which holds it's next biennial conference in Brisbane in October, which will coincide with the World Driver's Championship. NZ Trotting Conference president Dewar Robertshaw will succeed USTA president Joe McLoone as chairman of the ITA in Brisbane. John admits the current system of having a floating secretariat for the ITA is not the ideal one, and feels a permanent secretariat based in one country would achieve a great deal more. "Let's face it, everone at the Conference is busy when they return home, and there is the danger that the follow up, which is so important, gets put to one side. With a permanent secretary that would not happen, and the International Trotting Association could be of so much more value to everyone."

Concern for human rights and natural justice have led to changes in the judicial system in recent years, particularly in cases involving investigations by the racecourse inspectors. "One of the biggest changes relates to the work done by the racecourse inspectors, which used to be, in the old days, referred to the full executive with recommendations. In due course, the executive would adjudicate on the case. Today, the only person to see the reports is the CEO of the Conderence, and it is he, normally after taking legal advice, who decides whether or not charges will be preferred. All the executive now know about the situation is that they have to set up a panel to hear the charges, and they don't know anything about the matter until they sit down to hear the case. That is natural justice, and, in my view, is the correct procedure," John said.

Hand in hand with judicial control, in John's view, goes the integrity of harness racing. "Over the past three decades, we have become a force to be reckoned with, and during that time what we have tried to show is the integrity of harness racing. "I'm a firm believer that you can spend all the money in the world in advertising and promotion, and provide the best facilities in the world, but if your patrons, particularly the new ones, have any suspicion of dishonesty, then you have lost them for ever."

Closer co-operation between the Racing and Trotting Conferences and Greyhound administrators is a pleasing development, but John reports it was not always the case. "In the good old days, a small sub-committee of the Trotting Conference would appear before the Racing Conference executive in what used to be called a Combined Committee Meeting, where the odds were about 14 to 4. We would be summoned into the room like small boys going before the headmaster and we would be asked what our problems were. These would be discussed, we would be given a drink, then sent on our way after about an hour. Today of course we have got equal representation at Combined Conference level, where we discuss all matters pertaining to racing, and together make representations to the Racing Authority, the Minister and I think the system works very well. I think it is indicative of the progress we have made and the mark we have made in the industry. There is no doubt we have all had our problems, many of the inter-code, and will continue to do so. However, I believe we should all genuinely acknowledge that we are all members one of another, and whoever deliberately attempts, for whatever reason, to sabotage the efforts or reputation of it's co-partners in reality damages his own code, and weakens, if you like, the strength of the whole chain of racing's continued progress. I would also add that the same applies within harness racing. Destructive criticism of sabotage within the industry only harms us all."

Credit: HRWeekly 19Sep07


| | |
| --- | --- |
| | RACING HISTORY PEOPLE |

The tributes have been flowing for Sir Roy McKenzie since his passing and it is worth noting that most of them have not had much to do with his quite considerable standardbred interests and endeavours.

It is his extensive contributions to the community, by way of both charity and time and in very much a hands on manner, along with his gentlemanly and principled conduct generally over many years that have won the most praise and admiration. Either aspect of McKenzie's life provide for ample material to fill a book, and in fact they have, but this is a harness racing publication so in this instance we will just reflect on his contributions and influence in that sphere.

McKenzie was still a young man in his early thirties when he effectively took over Roydon Lodge with the passing of his father in 1955. The original Roydon Lodge was established as a standardbred nursery in 1928 and following the importation of Light Brigade and U Scott for racing and breeding purposes during the depression years, it grew to become the longest running and most successful standardbred stud farm outside of Walnut Hall in America. Roydon Lodge will be celebrating its 80th anniversary next year, and while Sir Roy had scaled back his involvement in more recent years and left day-to-day operations to son-in-law Keith Gibson, he could reflect on over half a century of history at the helm.

The ill-fated Captain Adios was the first sire imported by McKenzie in 1956 and the likes of Scottish Hanover and Thurber Frost would soon follow and be joined by U Scott's son Scottish Command as successful sires at Roydon Lodge. In 1978 and the year of Roydon Lodge's 50th anniversary, Scottish Command was leading sire over Scottish Hanover with his progeny headed by NZ Cup winner Sole Command, and when Adio Star was judged the 10th Broodmare of the Year, she was the eighth by a Roydon Lodge sire. Others would follow such as Desilu and Black Watch and the influence of Roydon Lodge imports, with Light Brigade and U Scott in particular, is simply inestimable.

Game Pride and Smooth Fella kept Roydon Lodge very much to the fore during the 80s and more recently, Sundon has been McKenzie's crowning glory. Just recently he was named NZ Stallion of the Year for the third time in the last five seasons. Sundon came to be after McKenzie had gone looking for mares to breed to his world champion Arndon (3,TT1.54), a son of Arnie Almahurst and the Super Bowl mare Roydon Gal that he had bred and raced in America with Del Miller. Arndon fell from favour at stud during the Speedy Crown 'onslaught', but he did sire another world champion and significant siring son in Pine Chip (4,TT1.51).

Sungait Song actually came with a colt foal at foot by Arndon and back in foal to him - she was carrying Sundon at that point - and McKenzie bred her back again before sending the package to NZ in 1987. The foals on either side of Sundon were Arnsong (t,8NZ wins) and Roydon Arnie(t,9NZ wins). Despite being a late foal, Sundon was a horse 'born ahead of his time' from the moment he stepped on a racetrack as a January 4 2-year-old, still two months shy of his second birthday. He would not be beaten in 14 races over the next 14 months, and win 18 of his 19 starts, and he would also single-handedly advance trotting breeding in NZ by 'quantum leaps'.

Arania, a daughter of U Scott and the second foal bred by Roydon Lodge from the Gold Bar mare Local Gold in 1956, was a grand racemare in NZ and in the early 60s she was among those to 'blaze a trail' when she accompanied False Step and the Australian champion Apmat to America for the 1961 International Series in New York. Later that year under Billy Haughton's guidance, Arania time trialled at The Red Mile in 1.57 to become the fourth fastest female ever and only a tick behind Her Ladyship, Dottie's Pick and trotter Rosalind. Arania won a NZ Oaks and would produce an Oaks winner in Hurrania, and the family would lead to the likes of the Christian Cullen-Personality Plus colt which sold for $200,000 at this year's sales, while Roydon Dream, a mare who descended from one of Roydon Lodge's foundation broodmares in Parisienne, would be a Broodmare of the Year. Acquired as a broodmare in 1945 on the advice of George Noble, Parisienne would for Roydon Lodge produce the likes of Mary Wootton (dam of Scottish Command) and the top mare La Mignon, a daughter of Light Brigade who to Thurber Frost produced the brilliant Garcon Roux, the first 3-year-old to break 2:00 in Australasia when he time trialled at Hutt Park in 1:59.6 in 1969. Garcon Roux was the winner of the inaugural Horse of the Year Award as a 3-year-old, and daughters of Thurber Frost in Bonnie Frost (as a 3-year-old) and Stella Frost would be next in line and followed by his son Wag in 1973.

Roydon Dream's eight winners included open class pacer Roydon Scott and Roydon Glen, a Horse of the Year as a 4-year-old in a season when he was unbeaten in 12 races for trainer-driver Fred Fletcher including the Auckland Cup and Messenger. The would also be the source of McKenzie's biggest disappointments in the game when they failed to win a NZ Cup after countless earlier attempts. For Roydon Lodge these dated back to Great Bingen, who was second way back in 1925 and who was quite clearly the winner in 1928, only to be placed second by the judge behind his brother Peter Bingen.

Roydon Scott was the pre post favourite in 1979 and 1980, but went amiss on each occasion, while Roydon Glen started the favourite in 1985 along with Preux Chevalier and was plain unlucky and a certainty beaten behind Borana. Preux Chevalier, like Roydon Dream by Lumber Dream, was from the Roydon Lodge mare Heather Frost, a daughter of Thurber Frost also tracing to Parisienne.

Roydon Glen would prove an abject failure at stud, but he did sire NZ's greatest trotter Lyell Creek. Those NZ Cup disappointments would rival the biggest in the game for McKenzie along with the demise of harness racing at Hutt Park, for which he donated Roydon Glen's Auckland Cup winning stake in order to glass in the public grandstand. Such generosity was no stranger to Sir Roy McKenzie.

The McKenzie family originally came from Ullapool on the north-west coast of Scotland and John Robert was born in Melbourne in August, 1876. As one of seven children life was not easy, and he left school at the age of 13 to do odd jobs which included newspaper deliveries. This led to buying a bicycle and later cycle racing where he won several trophies. McKenzie also encountered horses on a small farm of an uncle and this experience was put to good use when the Boer War broke out in 1899 and where he served for two years with the Victorian Bushmen's Regiment. In those days enlisted men were required to take their own horses and after securing one from his uncle, his experiences in South Africa deepened his love for them. On one occasion he was unseated when his horse took fright at gunfire, but the horse returned to be remounted and carried McKenzie to safety. Later his horse was killed and McKenzie was invalided home with a leg injury in 1901.

While convalescing McKenzie worked at times in a store and this led to plans to start up his own shop. In 1905, along with his 16-year-old sister Ella, they had saved £100 and opened up their own fancy-goods store in Collingwood, and within 12 months they had started a second in Richmond. In 1908 their main competitor, Edmonds Ltd, offered to buy them out which included an agreement to take possession in one month. McKenzie immediately organised an extensive closing down sale and before long they were virtually buying stock at the back door to sell at the front. A further offer from Edmonds to close within the week was declined.

Another condition of the sale however was that McKenzie was not allowed to set up the same line of business around Melbourne, and after setting up stores in Tasmania and Sydney, a decision was reached in 1909 to move to NZ after a tour using motor cycles. At the time there were no such things as fancy-goods stores in NZ and in 1910 the first of what became a chain opened in Dunedin. Before long a Head Office was required in Wellington and in 1918, the 42-year-old McKenzie married Miss Ann May Wrigley and they settled in Rawhiti Terrace. Their first son Don was born in 1920 and Roy followed 18 months later.

The 1920s were hectic years for 'JR', as he became affectionately known by friends and colleagues, and after observing a department store while on an overseas trip, within two years his 22 fancy goods stores had been closed down and 22 department stores had opened. During the 30s it was the largest organisation of its kind in NZ and in 1936 McKenzies (NZ) Ltd became a public company with further expansion taking place to 33 stores until the outbreak of the war.

1941 marked the year however when Don, having gained his 'wings' as a pilot in the Royal NZ Air Force, was lost over the sea near Marlborough only days before being posted. JR searched the area for days in vain and it was many weeks before he took an interest in anything. It was only after considerable effort from his wife, George Noble and Rotarian friends that he started working with horses again and he gradually recovered. He would gain great satisfaction from breaking in his youngsters and handing them over to Noble to be trained as 2-year-olds.

It had been in the early 20s when McKenzie had first taken up an interest in standardbreds and the second horse he purchased for good money was a young colt by the name of Great Bingen, a son of Nelson Bingen and the imported Peter The Great mare Berthabell who had been bred at Akaroa by Etienne Le Lievre. Great Bingen, raced with good friend Dan Glaville, became a champion and by 1926 McKenzie had purchased 100 acres with an old homestead at Yaldhurst and would name it Roydon Lodge after his sons. It was in 1928 when McKenzie moved his family to just outside Christchurch.

With the stores already well established and with a view to semi retirement, McKenzie planned to breed on a large scale and handle his own youngsters as a way of relaxing. During the 1930s and while on two business trips to America, JR purchased a few mares which included Airflow and Spangled Maiden and two young colts which were to prove two of the most influential sires at stud in Australasia ever - Light Brigade and U Scott. Airflow was a fine trotting mare and won nine races and she was the dam of top performers Aerial Scott (1948 Inter-Dominion in Auckland), Flight Commander, Highland Air (1957 Auckland Cup), Red Emperor and Slipstream (14 wins), but she only left one filly to breed on and the family died out in NZ, while Spangled Maiden proved the grandam of great Australian filly Argent and Inter-Dominion winner (for Sir Roy) Jar Ar and established a fine family all round.

Esprit, Slapfast and Widow Volo were other mares imported in those early years who contributed towards making Roydon Lodge the foremost standardbred nursery in this part of the world. And these were just some of the standardbred legacies which Sir John left to his son, with a Trust which was established in 1940 and which enabled one third of the dividends from McKenzies (NZ) Ltd to be distributed to various charities just another.

Sir Roy had casual acquaintances with the family horses while growing up and at school at Timaru Boys High, but in 1941 any of those interests went on the back burner when he went to Otago University to study accounting. There he played cricket and rugby and developed a love of tramping and skiing, which led to captaining the NZ team to the Winter Olympics in Oslo in 1952, although a broken bone kept him from competing, along with a successful ascent of the Matterhorn. He also enjoyed photography and playing tennis and the tramping led to a close involvement with the Outward Bound Trust as a patron. Over the years he was an active Rotarian and also gave significant support to many other charities, including Women's Refuge, Birthright, the Deaf Decade Trust, the hospice movement and the Nga Manu Native Reserve Trust. He was instrumental in setting up NZ's first hospice with Te Omanga in Lower Hutt, where he was later admitted as a patient.

In 1989 he was knighted for his services to the community and education, and was made a member of the NZ Order of Merit, while he held an Honorary Doctorate of Commerce from Victoria University and of Literature from Massey. In 1990, Sir Roy initiated Philanthrophy NZ, a regular meeting for a wide range of charitable groups. He was passionate about philanthrophy, but preferred to be as a "community volunteer".

McKenzie was in training with the army when his brother was lost late in 1941, and later he transferred to the Air Force and did training in Canada before going on to England to serve in a Bomber Command squadron for the last six months of the war. Upon returning from England, McKenzie completed his accounting studies and in 1948 he joined the family firm. Within a few months he was then reluctantly on his way back to England however to gain further work experience, and while on the ship he met Shirley Howard and they married six months later. Returning to NZ at the end of 1949, McKenzie worked at the company's head office in Wellington as Executive Director for the next 20 years.

His first horse had actually been Scottish Air, a daughter of U Scott and the first foal from Airflow who won five races in a row at one point. However, this was when Sir Roy was 'underage' and she was not in his name. George Noble had been appointed by Sir John as his private trainer and the studmaster at Roydon Lodge in 1941. It was no doubt one of his best decisions and Noble would guide the overall operation until 1969. Noble had come fron NSW where he had trained to be an architect, but when work proved difficult to find during the Depression, he had turned his attention back to horses and become the leading horseman in the state. McKenzie, knighted in 1949, had selected Noble after recognising his ability with the anvil. With the blood of Light Brigade and U Scott and those imported mares to work on, Noble had Sir John at the head of the owners' list on three occasions and following his death at the age of 79 in 1955 after taking ill while on a voyage to England, Sir Roy was the leading owner for seven consecutive years.

From the early 50s and into the 60s, Noble built up a stable which included top performers in Adioway, Arania, Bonheur, Commander Scott, Flight Commander, Garcon D'Or, Garcon Roux, General Frost, Golden Hero, Highland Air, Highland Kilt, Jay Ar, La Mignon, Red Emperor, Royal Minstrel, Roydon Roux, Samantha, Scotch Paree, Slipstream and Valencia. When Roydon Lodge was moved to 150 acres at Templeton in 1970, Fred Fletcher also took over the training after earlier being in charge of the studmaster duties. It was during the 60s that Roydon Lodge suffered some crippling blows. The first of these was the loss of Captain Adios after only three seasons at stud, while U Scott and Light Brigade soon followed in 1962 and 1964 respectively as did Thurber Frost in 1968 at the age of 14.

Noble also reached the compulsory retirement age of 65 as a driver, and those duties were assumed by Doug Mangos and Noble's son John. Noble had driven 1944 NZ Cup winner Bronze Eagle for trainer Roy Berry and continued to train a small team at Yalhurst in his twilight years during the 70s. His career was capped by preparing the 4-year-old Stanley Rio to win the 1976 NZ Cup and later at the meeting, Rustic Zephyr to win the NZ Derby, both driven by John. Rustic Zephyr was by Armbro Hurricane, one of the sires at Roydon Lodge in the early years at Templeton along with Scottish Hanover, Tarport Coulter and Keystone Way. Stanley Rio also won the Inter-Dominion in Brisbane that season and Noble won the NZ Racing Personality of the Year Award.

In 1947, a visitor to the Wellington office had made a good impression on McKenzie and he would play a leading role in his future involvement with standardbreds in the city and the region. McKenzie would set up his own training facilities near Hutt Park within a couple of years upon returning and Jack Hunter would oversee the operation. As a young man in his late 20s, McKenzie was not inclined to listen to the advice of his father and his first standardbred purchase was a horse called Rocky Reef. A brother to top trotter Barrier Reef, Rocky Reef was a pacer with a known problem for knee knocking, but McKenzie and Hunter set him for a race on the big grass track at Wanganui and he prevailed by a neck, and won two more races as a trotter before being sold to Australia. Roaming was another early winner for the partnership with a double on the same day at Awapuni, when later found to be quite heavily in foal.

The association led to Hunter training full time from a 30 acre property at Moonshine in Upper Hutt, from where he won the Trainers' Premiership in 1964 with 31 wins, while three years later he won the title again with 33 wins while training in partnership with son Charlie. Jack had been assisted in this time by sons Charlie, Kevin and Ian. Charlie was the oldest and after experience as an accountant in a textile firm and undertaking an engineering course in Australia, he had decided in 1958 to rejoin his father in Upper Hutt and work with horses full-time. In 1967 and in the same season where they won the premiership together, Jack and Charlie won nine of 17 races over a two day meeting at Wanganui, with Charlie driving eight including a record five on the second day. Jack had to retire that year with health problems and Charlie won the premiership on his own account the next season with 35 wins, when McKenzie's Golden Sands and Dominion Handicap winner French Pass were stable stars. The latter also won the National Trot in Auckland and the Taranaki Cup beating pacers from 18 yards.

George Noble won the premiership the next year, while in 1971 Charlie Hunter made the important decision to move to the more central location of Cambridge. Seven acres were leased near the Cambridge track while Hunter set up his own property so he could train professionally. It was during the early 70s that Hunter built up the Central Standardbred Agency with Brian Meale and was handed the training of a rising star from Southland - Young Quinn. Hunter would have to watch from the grandstand after an accident on the opening night of the 1974 Inter-Dominions at Alexandra Park, as protege John Langdon drove Young Quinn to triumph in the Pacing Final after earlier winning the Trotting Final with Sir Roy's Castleton's Pride. Young Quinn was by U Scott's fine son Young Charles and would make Hunter a star on the international stage in America.

Another top trotter trained by Hunter for Sir Roy was Geffin, who won the NZ Trotting Stakes and the 1971 Inter-Dominion at Addington when a 4-year-old. Geffin had gone into that series as a six-win horse and won two heats, while he won five straight races afterwards before unsoundness ended his all too short career. Hunter rates Geffin as easily the best trotter he has trained or driven.

The best horse trained by Jack for McKenzie was Scottish Command, who won 16 races including the 1959 Auckland Cup from 60 yards when driven by Ian. Jack Hunter took Scottich Command to America in 1962, but he only raced fairly before returning to stand at Roydon Lodge. McKenzie would be on hand most Saturdays at Upper Hutt to drive work, but the Hunters were surprised the day he informed them he had procured a licence to drive on raceday. It was Scottish Conmmand who would provide him with his first wins at Hutt Park when a 3-year-old. Driving was an important aspect of Sir Roy's involvement, particularly the trotters, and he would win about 50 races over the years. This pleasure was without ever affecting the chances of Hunter's sons or later his trainer Martin Lees, as McKenzie would usually buy his own horses to drive in his own colours of white with a cerise sash. Towards the end of being allowed to drive, Game Yank was a useful trotter for him with three wins, while his last win in March, 1988, came at Manawatu with Argentina, a son of Game Pride who had been purchased out of Owen Quinla's stable.

Charlie Hunter has very fond memories growing up with Sir Roy around. "He was a very special man. He was absolutely loyal to and supportive of this staff and gave people like myself and brother Ian every opportunity by having us do the stable driving right from the beginning - in effect we learned to drive on his horses," said Hunter. "Roy was initially my employer, but since then I have regarded him as a mentor over the years and was especially grateful to be able to regard him as a dear friend throughout my adult life. He was a lovely man who will be sadly missed," he added.

Sir Roy's last big win came as a part-owner when Fiery Falcon won the NZ Sires' Stakes 2yo Final at Addington in May, while his last outright win was with the Fred Fletcher-trained mare Dear Diedre at Addington in July.

FOOTNOTES: In 1998, Sir Roy published his memoirs in a book entitled Footprint - Harnessing an Inheritance into a Legacy. In 2004 a short film was made about his life called Giving It All Away. One of his three sons, John, is today the chairman of the J R McKenzie Trust.

-o0o-

Tony Williams writing in NZ Trotting Calendar 29Mar83

Roy McKenzie sits in his Rangitira Ltd offices in Wellington's James Cook Hotel building talking horses - or more particularly his Roydon Lodge Stud horses. Two weeks later, he is named Trotting Personality of the Year by the NZ Standardbred Breeders' Association at their prestigious Dinner of the Year in Auckland. The following week, the NZ Trotting Hall of Fame chips in with its Trotting Celebrity of the Year Award. For the man who has guided the destiny of one of NZ's premier standardbred nurseries since the death of the stud's founder - Roy's father Sir John in 1955 - such awards are recognition of the contribution he has made to harness racing in this country.

Such is Roy's involvement and commitment to trotting, he actually took the time out to write and publish, in 1978, his tribute to all his father set out to achieve. That book - "The Roydon Heritage-50 Years of Breeding and Harness Racing" - was written to commemorate the 50th anniversary of the founding of Roydon Lodge Stud, then based at Yaldhurst. Now, because of Roy's decision that to operate successfully the stud had to stand four stallions, and to do that needed more ground, Roydon Lodge occupies 150 acres at Templeton, with a further 150 acres at Springston where the stud mares are grazed.

The past few years have been satisfying ones for Roy - last year his American-bred trotter Arndon, under the guidance of long time friend Del Miller, became the world's fastest ever with a 1:54 time trial at Lexington. He has seen Smooth Fella, a stallion he imported in partnership with Central Standardbred Agency directors Brian Meale and Charlie Hunter, quickly rise to a prominent place among the country's stud horses. And he has retired another outstanding stallion, Scottish Hanover, knowing that he was another Roydon Lodge stallion to make an everlasting mark on the NZ breeding scene.

Roydon Lodge is a name which has long been synonymous with success on the NZ breeding scene. A roll call of stallions reflects the influence it has had. Names like Great Bingen, the first stallion to stand in the stud's name, U Scott, Light Brigade, Captain Adios, Thurber Frost, Scottish Command, Scottish Hanover, Armbro Hurricane, Game Pride and Smooth Fella, to name but a few. Their past and present influence on NZ breeding has been, and will continue to be, felt for generations.

But even with sires like this gracing the record books at Roydon Lodge, even now, Roy McKenzie is heading the stud on a slightly different tack. Rather than try and import ready made stallions for stud - "It's getting too dear over there" - Roy's latest thinking represents a change of policy for Roydon Lodge. Now, he is setting out on the time consuming - though obviously more satisfying - policy of spending more time in making horses he believes to be stallion prospects. Evidence of this line of thinking can be found at Roydon Lodge already, where, alongside established stallions Smooth Fella and Game Pride, stand the horses of the future. They are Roydon Albatross, a son of Albatross from the Adios Butler mare Poppy Butler, and Yankee Reb. Roy purchased Poppy Butler in foal to Albatross from Del Miller and the resultant foal in NZ was Roydon Albatross. Roydon Albatross did not start racing in NZ until relatively late in his 3-year-old career because he was a very late foal by NZ standards, being foaled to American time, yet won three out of four starts after failing first time up. At four, he raced only nine times for two more wins, including a Nelson Cup in track record time of 4:16, for 3200 metres on the grass, and two placings.

Roy hopes Yankee Reb will be the eventual successor to Game Pride, the leading sire of trotters in NZ for the past two seasons and heading for his third season in that position. Yankee Reb is by the Speedy Scot stallion Speedy Crown (1:57.2) out of Brazen Yankee, a mare by Hickory Pride out of Hoot Yankee. Hickory Pride is by Star's Pride while Hoot Yankee is by Hoot Mon. Rich in trotting blood, Yankee Reb represents Roy's interest in the breed, an interest enflamed even further by the preformances of Arndon, whom Roy bred himself.

Another Roydon Lodge stallion, Meddlesome (Bret Hanover-Medley Hanover), is to stand at Tony Milina's property for the next two seasons after two terms in Central Otago, while at Mangaroa in the Hutt Valley, where Martin Lees looks after the Roydon Lodge training establishment there, Dreamover (Scottish Hanover-Roydon Dream), a brother to the brilliant but ill-fated racehorse Roydon Scott, is to stand the coming season. Dreamover was originally destined for sale to America, but developed a couple of problems when being trained by Ian Hunter at Morrinsville prior to his departure. "We decided to bring him home then, and, though he may race again, there is enough support around here for him to get 20 mares," Roy said.

Alongside Dreamover at Mangaroa will be the trotting stallion Game Shooter, who up until now has stood in the Manawatu. Game Shooter (Game Pride-Shooting High, by Sharpshooter, by Worthy Boy) received limited patronage in the Manawatu, but, according to Roy, has left some magnificent foals. "Those that have his foals are delighted with them, so he should get around 20 mares," he said. A smart racehorse himself, Game Shooter won six races against some useful trotters.

While it is unlikely Roy McKenzie will be buying stallion prospects in the United States on any scale in the future, this does not mean the end of imported stallions at Roydon Lodge, for in recent years he has been steadily expanding his breeding interests in the United States. "You are looking at paying a lot of money to import a top stallion now, and $200,000 is about the most you can contemplate paying these days with the stud fees that can be charged. Therefore, we now have a situation where we will be trying to make our stallions rather than buy them ready made." Such a policy, Roy admits, is assisted by having a stallion like Smooth Fella in the barn, but it is one he would have been pursuing even without that advantage. "Having an in demand stallion like Smooth Fella has helped to the extent that he can 'support' the other stallions," Roy said. "Even so, Roydon Lodge is run at a profit - we paid a bit of tax this year - and this is the way the operation is geared to run, with or without Smooth Fella."

Smooth Fella is to stand two more seasons at Roydon Lodge before returning to the North Island, where he stood his first season at stud. "He will probably go back to Peter McMillan at Yankee Lodge, Matamata," Roy said. "He has been in such demand - though we have kept him to around 120 mares - that we have had to restrict a little the number of mares we could take to the other stallions. This summer was a particularly dry one, of course, which made it a little more difficult."

Roy McKenzie takes a great delight in all aspects of trotting and later that night, at Wellington's Hutt Park, took the reins behind Milford Merroney, a trotter trained for him by Martin Lees. "Yes, I like driving, but don't get many opportunities." One such opportunity he grabbed with both hands was to win a race at Morrinsville that carried a $50 trophy. That trophy was donated by veteran Auckland horseman George Stubbs in 1972 "to help the battler" in trotting. While Roy McKenzie could hardly be described a battler in just about any other form of endeavour, he later wrote to George Stubbs explaining that the trophy meant a lot to him, as he considered himself to be a battler as far as driving goes.

It took Roy McKenzie 177 pages in his book to detail the history of Roydon Lodge and the stud's achievments. Those two recent awards are payment in small part for the part Roy has had in filling those 177 pages.

Credit: Frank Marrion writing in HRWeekly 12Sep07


| | |
| --- | --- |
| | RACING HISTORY PEOPLE |

Bob Porteous died suddenly last weekend, aged 82.

He will be remembered most recently as the breeder and owner of Last Link, a 10-year-old son of Sundon that he also trained up until the start of last month before the horse was transferred to Nigel McGrath's stable. Last Link has won 12 races to date, most of them as a four and five-year-old and one every season since.

He also raced and trained Last Link's dam, the Game Pride mare Game Jill, and from one season of racing as a 5-year-old she won three of her 16 starts. Porteous also trained Last Link's full-sister Sunworthy to win three races.

Bob and his wife Jill bred and raced a lot of winners over the years, and probably enjoyed the most success with the progeny of unraced Smooth Fella mare Joyella, from who they bred the winners Dark Shadow, Filibuster, Guinea Stamp, Joyella's Girl, Noodlum's Fella and Noodlum's Joy.

He is survived by his wife Jill, and a host of children, grandchildren and great-grandchildren.

Credit: HRWeekly 17Oct07


| | |
| --- | --- |
| | RACING HISTORY PEOPLE |

Hop grower and harness racing owner, breeder and trainer, Joe Hill was big in both.

His recent death marked the end of a long, rewarding career in the Nelson district in which his activities were awarded with national honours. For his services to racing and the hop industry, he was awarded an OBE. He became a Paul Harris Fellow for his services to Rotary and he was awarded the Order of the Hop - the highest honour that can be bestowed from the world hop industry.

He joined the trotting club in Nelson in 1951, ans over a 20-year period he was either President, Vice-President or immediate Past President. He was elected a life member of both the Nelson Harness Racing Club and the Nelson Jockey Club. He opened the members' stand in 1958, was instrumental in the building of Redwood Hall, and was President when the club bought land and a house adjacent to Richmond Park.

He raced numerous horses, the first being the galloper Fairhall Lad, in partnership with his wife, Nana Jean, followed by Desert Cloud and Sovereign Cloud, and the pacers Polita, Daring Dancer, False Fella, Thunder Boy, Gold Boots, living Lady, Turf Lord, Joe Allan and Royalty. His best horse was Blue Chip Rock, which won the 2004 Easter Cup at Addington.

Hill made many friends in the harness racing industry, hosting parties at their Gladstone Road home over race weekends, and he shared a long friendship with the late Ted Lowe

Credit: Mike Grainger writing in HRWeekly 9May07


| | |
| --- | --- |
| | RACING HISTORY PEOPLE |

WALLY IRELAND

The death occurred on June 23 of Wally Ireland, a prominent and successful North Canterbury harness racing identity. He was 85.

A saddler and saw doctor, Ireland worked for Vic Alborn and Cecil Devine and drove Maori Home to win the NZ Free-For-All in 1951.

In 1965 he bought Heathmount with Bernie Stratford, and the bred Classiebawn, the winner of 10 races including the NZ Standardbred Breeders Stakes in 1978.

Classiebawn produced nine winners from 10 foals; Mark Ireland winning seven with Montrose, and Michael Stratford, Brenie's son, winning eight with Stonechrubie.

Credit: HRWeekly 4July07


| | |
| --- | --- |
| | RACING HISTORY PEOPLE |

As a trainer of Dominion Handicap winner Simon Katz, Dick Prendergast is remembered more for his talents with a trotter. He had so many of them. In a 10-year period, between 1985/6 and 1994/5, his horses won more than $1 million. For someone who did not turn to training as a career until he was 42, it's a proud record.

Now he's 76. He has two artificial knees. He has three vertebrae fused together in his spine. He has a stent in his heart. He says the rest of his body is nearly "knackered." So his decision the other week to retire from training "was easily made."

For me, I had the good fortune to deal with a mind that was in better shape than the body. When Dick said he would make a few notes, I did not expect a neatly handwritten script that would save countless hours of research. So many good horses would have gone without mention had his memory not been as sharp as it is.

His official start is 1956 when he became licenced, but historically its earlier than that because his father, Bill, who had a carrying business, won the Sapling Stakes with Wildwood Chief for Wes Butt. Dick was 28 when he trained and drove his first winner. From Hyde, he took his Direct Heir mare Tessa to the Cromwell meeting in March 1959, where she beat Spree, driven by his brother, Mick.

In 1963, he moved to Palmerston, where he worked as shearer, truck driver, contract fencer and farmer, and held an amateur trainer's and driver's licence. When health problems became an issue, he sold the farm, brought 60 acres opposite the Oamaru Racecourse, built a house and stables and started breaking-in horses.

The next step was to a racing team, and he soon had one, with Israel an early star. By Crockett, and owned by Dave Cuttance, Israel won seven races, went through the 1981 NZ Cup meeting unbeaten in the intermediate grade, and won a prize for doing that. At the same time, he had the good pacer Hajano, by Jersey Hanover, who won eight, and his half-brother Johnny Balbo, who won four. "Johnny Balbo was sold to the US for $50,000 - big money thirty years ago," he said.

By this stage, Prendergast was in the game for keeps and, deciding there was too much travelling from Oamaru and aware of work opportunities needed for the family, moved to Chertsey where he bought Slim Dykman's stable. "We did so with some trepidation about breaking into the ranks of Canterbury trainers, but our first three out of the gate - Bay Sun, Major Hest and Johnny Balbo - all won."

This, he said, was the start of a "golden era". He worked 25, and had three on the staff. The pin-up boy was undoubtedly Simon Katz, a handsome son of Noble Lord and the Eagle Armbro mare, Carly Tryax, who rose above his pedigree. Prendergast drove him to win the first 12 of his 18 wins, then son-in-law Anthony Butt took over and won the NZ Trotting Free-For-All and the Domnion Handicap in 1987, and Simon Katz won the same prize Israel did six years earlier. His placings included a second in the Rowe Cup, third in the Inter-Dominion Grand Final at Moonee Valley, and his stakes topped $300,000. Within a year Simon Katz was dead from cancer.

Good trotters followed a top one, among them Zola's Pride(8 wins), Robbie Hest(8, including the NZ Trotting Stakes), Springfield Yankee(8), Whizzing By(8, including the NZ Trotting Stakes and Dunedin Cup), and Worthy Adios. Double Stitch won six, and he says Hickory Stick was the fastest he had. "This horse came from Stuart Sutherland as an open class trotter who had broken down and had not raced in eighteen months. In the space of twelve months for me, he won five races, including the Banks Peninsula Cup, the Ordeal Cup and the Canterbury Park Trotting Cup."

Although trotters were always the stable flavour, smart pacers were there, too. Light Foyle won nine before being sold to the US where he won another 30, General McArthur won four before breaking down, free-legged Bay Loch won four, and Eddie Ray won four. A special project was The Coaster, a son of Soky's Atom who was a good pacer for Brian Kerr and won six. Starting off as a maiden trotter, The Coaster won another six at that gait. Others of note were Weston Gee, Weston Bo, Light Buffy and Geena Hest.

"I made a profession from a hobby, and because I got a lot of trotters, it was a brand that stuck. There will always be horses that disappoint you, but others will give you great memories. I think I drove alright. If it was spasmodic, it was not so much me driving a bad race but driving a bad horse." As a driver, he especially treasures winning the Ordeal Cup and the Canterbury Park Cup with Simon Katz, the Trotting Stakes with Robbie Hest and Whizzing By, finishing second in the Dullard Cup with Simon Katz, and winning one of the last saddle races in NZ on Roman Scot for Davey Todd.

He had an excellent strike-rate with developing young horsemen, with Phil Williamson, Graham Ward, Michael Heenan, Greg Tait, and Carl Markham training under his wing, and Kerry O'Reilly, Anthony Butt and his wife Leonie invaluable in other areas. He was a keen and able administrator, serving more than 40 years on various OTB committees, and horsemen's associations.

With no more feed-ups to do, yards to clean and boxes to muck out, 'noms' to think of, track to grade and truck to run, Prendergast has time to do things a man of his vintage should happily retire to. "It's time to watch progress of our many friends, and particularly of my grandson Chris Butt" - who is working for Tim Butt and Phil Anderson - "who will soon have his trials licence, and his sister Kimberley who is doing very well in the pony club."

-o0o-

Hard knocks are part of being a driver, and Prendergast had his share.

The worst was at Invercargill about 30 years ago when he was driving Kimrock. There was trouble at the start and a couple of drivers were tipped out. The rest set off. In the meantime, the ambulance went to th rescue and was parked in the middle of the track. It was there when Kimrock came round and hit it. Prendergast was tossed into the air, and landed heavily.

He drove his float home afterwards, and Leonie recalls she had to carry him inside. That was in January, but it was not until November that he had surgery on his back, and it was another six months before he was near right again. "It had an affect on his life," she said. "He's never really been a hundred percent free of pain since."




Credit: Mike Grainger writing in HRWeekly 31Oct07


| | |
| --- | --- |
| | RACING HISTORY PEOPLE |

The passing of Doris Nyhan last week brought back memories of a truly fairytale chapter in NZ light harness history.

Doris, who had been in private care in recent years with failing sight, would have been 95 next month, but she is survived by husband of 70-odd years Don, 97, and sons Barry 70 and Denis 68. Barry's son Grant has a young daughter, but whether the Nyhan name in harness racing continues beyond the sons and daughters of Barry and Denis remains to be seen. Grant drove a bit in his younger days but is no longer actively involved in the game, while Kim is a licenceholder at Motukarara and has the maiden Spiderman racing at the moment, and Margot is well established as a trainer with partner Peter Davis, but has no children.

Whatever the future holds in that respect, the Nyhans will be forever associated with two of the greatest names to have graced the sport - Johnny Globe and Lordship. As per usual, luck played a large part in the purchase of the first, but Doris owned Lordship after borrowing the U Scott mare Ladyship from the Haslett family and breeding her to Johnny Globe, at a time when the champion pacer was hardly getting a mare in his initial years at stud.

Johnny Globe would be leading sire in NZ for four consecutive years in the early 70s however, and Lordship would continue in the same vein and make the Nyhans' Globe Lodge at Templeton an influential and successful nursery for over three decades and through the 90s. Denis drove Lordship to win 45 races including two NZ Cups before becoming a successful trainer in his own right, with another champion Robalan among others, while Barry managed Globe Lodge for much of Lordship's many years at stud.

Doris was born in Petone to German immigrants, George and Louise Hublitz. "George managed the Gear (freezing) Works at Petone, and I'd say that's where Doris got much of her business acumen from," said Denis. "She was a very well-organised and strong-willed person, and provided the structure to the partnership, which allowed Dad to concentrate on being a horseman without worrying about the peripheral concerns. She provided the backbone of the family and the whole show - she was a quiet achiever while us fellows got the limelight. Behind the scenes she could work with horses as easily as she could give us orders. When it came to raising us, fair to say she was a very no nonsense mother, but she was also very fair," he added.

Don was the son of trainer Dan Nyhan, who won the 1909 Auckland Cup with his own horse Havoc and drove the 1913 winner Jewel Chimes. As a young man Don was working hard to get ahead at Ashurst in the Manawatu in the 1930s when he met Doris and married her in 1936. They soon had two sons, and to 'make ends meet' as a horse trainer Don would get up at 1.30am and do a milk run around Lower Hutt before training the horses at Hutt Park. Doris had no experience with horses when they met, but would often also make the journey to Hutt Park, which would involve her driving the horses over a narrow bridge 'with no sides'.

Their first big break came when Pahiatua breeder F E Ward gave Nyhan a horse to train called Gold Flight. He was a son of Rey de Oro and Slapfast, a mare who had taken a yearling record in America of 2.22 1/4 in 1925 and had been imported soon after by Sir John McKenzie. Slapfast never grew and proved of little account however, and McKenzie sold her for a princely 12 guineas and she wound up with Ward, who had a bad back and needed a driving horse to get around as opposed to a motor vehicle.

After having some success with Slapfast at shows, and given her imported pedigree, Ward was encouraged to breed her to the successful sire Rey de Oro, who had moved to a Central Districts stud in his twilight years. "Gold Flight was a really good, fine looking horse and won around £3000 which was a lot of money during the war years," recalls Denis. Long-time NZ Trotting Calendar editor Karl Scott had been the agent in selling Slapfast to Ward, and subsequently held the little-known sire Sandydale on lease for a season at stud. After persuading Ward to send his mare to Sandydale, Slapfast produced a filly Sandfast which showed Nyhan a promising mile in 2.10 as as 2-year-old in 1942.

Nyhan decided she was worth putting aside to strengthen, but she got out of her paddock and into a nearby swamp, and was discovered buried in a bog up to her neck. After enlisting the help of some boys to get a rope around Sandfast she was saved, but she was never the same after the strain, and she was retired after one unforgettable race. Sandfast first had a colt by the Jack Potts horse Conflagrate, but she killed that one, before producing a colt by the supremely tough Globe Derby horse Logan Derby, who had also moved into the area to stand at stud not long after retiring from a long and grand racing career.

When Ward's wife passed away and he decided to return to his homeland of England, he offered the Logan Derby-Sandfast colt to the Nyhans. Don was not at all impressed with the pot-bellied and worm ridden weanling though, and also in the back of his mind was a desire to move his family to a new property in Canterbury. Out of sentimentality spurred by Gold Flight, Doris decided to hand over £50 she had been saving towards a fur coat, or "so the story goes, according to Don".

Intending to build the colt up with a view to selling and recouping the outlay, Don had a change of heart when he broke the colt in at 10 months and he showed him a half mile in a remarkable 66. The Nyhans had moved to Templeton by the time Johnny Globe won the 1950 Timaru Nursery 2YO Stakes, and the rest as they say is history. While troubled by his feet for much of his career, the legacy of standing around in swampy ground as a foal, Johnny Globe careered away with the NZ and Great Northern Derbys and almost tore off the NZ Cup the next season, at a time when only two other 4-year-olds had even attempted the race, some three decades prior. Johnny Globe was the leading stakewinner that season though with 8 wins and over £9000, and the stake for his close second to Van Dieman in the £7500 Cup alone was more than enough to build a good house.

Starting a hot favourite for the Cup the next year, Johnny Globe collapsed soon after the start and almost died, while the next year he was a certainty beaten when second to Adorian after losing 60 yards in an early skirmish. Having his fourth attempt as a 7-year-old in 1954, little 'Johnny' was given little chance from 48 yards with the likes of the brilliant Rupee off the front, but he would not be denied this day and returned to scenes never before or since witnessed at Addington. At the time wrote 'Ribbonwood' ..."World record pacing figures of 4.07 3/5 were returned by the indomitable dynamo of character and courage, Johnny Globe, in wrestling NZ Cup honours from Young Charles and Rupee after the most scorching and thrilling stayers' epic in harness racing the world over. And his trainer/driver, D G Nyhan, richly deserved all the compliments and congratulations showered upon him. Nyhan had come in for some trenchant criticism of his driving of Johnny Globe in some of his past races. Whether it was all merited is of no moment now. On Tuesday, Don's handling of 'Johnny' was in every sense a masterpiece: the perfect understanding and harmony between horse and driver was an inspiration."

Johnny Globe would retire as a 9-year-old as the winner of 34 races (including a record 15 FFAs) from 99 starts and £42,887, a record for a standardbred or thoroughbred raced solely in NZ. He was officially farewelled at Addington in December, 1956, when a huge crowd emotionally cheered and sang as a band played 'When Johnny Comes Marching Home'.

And as if one champion in a lifetime was not enough, not long after he sired another for the Nyhans in Lordship, who through the 60s would win two NZ Cups and rewrite many of his sire's records, including stakemoney and FFA races won. "Johnny Globe was not a very fashionably bred horse at the time - he suffered the prejudice against 'colonial-breds' even though his grandam was imported. He got four mares in his first season and sired (top 2YO and aged trotter) Au Fait and half a dozen mares in his second. But after siring Lordship and then when Adios came along, he started to earn some respect."

Sandydale was by Abbedale, the sire of Hal Dale, in turn the sire of Adios and grandsire of Meadow Skipper, while Logan Derby was by Globe Derby from a Logan Pointer mare and would sire other great pacers and trotters in spite of suffering similar prejudices at stud both here and in Australia. "He was really a horse born ahead of his time, and then you threw a U Scott mare into the picture to get Lordship, and it didn't really get any better. That's when horses were horses - I don't care what people say about the breed today."

Nyhan also recalls how easy it would have been for his Mother to sell Lordship to Australia "for colossal money" after he'd won his first race - the Welcome Stakes. There was a Captain Taylor buying up every good horse going at the time and he offered £6000, which would have been enough to buy the biggest and flashest house in Christchurch. Later there were lots of offers to go to Australia and America for that matter, but Lordship never left the country, because of her the best interests of the horse and the family came first."

Credit: Frank Marrion writing in HRWeekly 11Jul07


| | |
| --- | --- |
| | RACING HISTORY PEOPLE |

Russell Carter was 84 when he died last week.

An enthusiastic trainer/driver from his Springston farm, Carter's pride and joy was Miss Pert, a mare by Waratah he won nine races with. The biggest was the 1979 New Brighton Cup when she defeated Main Star and Timely Robin.

He drove her in all her wins, and her Inter-Dominion Heat second to Wee Win, but was not in the sulky for her Grand Final third to Rondel and Sapling, giving it instead to Jack Carmichael.

Earlier, he won eight races with Our Smokey, a son of Smokey Hanover who started with Felix Newfield but won his races for Carter. He drove Peterson's Pride to win her first two races for Trevor Mounce, and won two races with the ill-fated Sooties Delight, a Stand Together grand-daughter of Miss Pert's trained for him by Murray Edmonds.

Credit: Mike Grainger writing in HRWeekly 9May07


| | |
| --- | --- |
| | RACING HISTORY PEOPLE |

S D EDGE

Steve Edge was involved in all aspects of harness racing, and did so at the highest level.

He was on the Executive of Harness Racing NZ as the representative of the Standardbred Breeders' Association, and supported the Motukarara Workouts Association and Banks Peninsula Trotting Club. He was also a long time member and committeeman of the Canterbury Trotting Owners Association, at one stage being the Vice-President.

He drove Invicta, raced by his father-in-law Les Duff, to beat Patchwork and Scottish Command in the 1961 NZ Cup, and stood at stud the seven win Lordship horse, Light Lord.

Aged 76, Edge was a colourful character and contributed to harness racing in a huge way over a long period.

-o0o-

Farm politics was a passion for Little River farmer Steve Edge. His efforts in advocacy, campaining and lobbying for changes in primary industries brought benefits for many people in the wider farming community. The large gathering from throughout Australasia who attended his funeral was testament to this.

While he was at the forefront of reforms in the meat and wool industries, he was especially proud to represent the 'real grass-root farmers'. He believed in influencing change 'from the ground up, rather than the top down'. This approach brought him a strong following among farmers, which translated into high polling for places on various boards. Edge received a Community Service and Commitment to the Farming Industry Award, recognising his outstanding work in the Bank Peninsula district over many years. He served on many farmer boards and committees and was active also in community, racing and sports groups.

Speakers at his funeral talked of Edge as a man of the people who was not afraid to speak his mind. He stood up for what he believed in, at any cost, and fought for those he believed did not get a fair deal or were less fortunate. He was a man of integrity, honesty and passion. He was hard-working, dedicated and wise. He could be volatile but he enjoyed life and people, his friends and his family. He was interested in those around him and their achievements, and therefore commanded their love and respect. He worked single-mindedly for whatever cause or project needed his assistance - and there were many over the years - the speakers recalled.

Edge was born in Gore, the fourth of eight children. The family shifted to Canterbury, first to Belfast, then to Lincoln and then on to Te Pirita. The family was always associated with the land and stock - sheep, horses, cattle, cropping. Edge became an astute stockman with a tremendous work ethic. After a short time at high school in Ashburton, he left to work on the family farm. He then worked as a shearer all over the South Island. With his younger brother, Ralph, he headed for what would now be called their OE, although he liked to call it his university training. The brothers worked in coal and gold mining, on oil rigs and in shearing sheds. The fought in boxing rings. The worked building roads and major monuments, the Flying Doctor Monument north of Tennant Creek in the Northern Territory being one project. All sorts of occupations were undertaken with zest to make a quid. They developed a special bond with the Aboriginal people and on the frequent trips taken back in recent years, this association and respect were still evident.

Returning to New Zealand after eight years, Edge met and later married, Kathleen Duff, of Dunedin. Around this time he was training a small team of standardbred horses at Rakaia, and it was from this base that many winners came, of special note being the unsound pacer Invicta. Edge trained and drove the 11 year old to win the 1961 New Zealand Trotting Cup. The morning Edge died, he had been busy on the farm with broodmares from the same family as Invicta. As his funeral service ended Dave Clarkson's commentary of the 1961 NZ Cup was played and, as the pall-bearers arrived at the hearse with the coffin, draped with a sheepskin, his racing colours and his battered old hat, Invicta crossed the finishing line.

Edge moved his family to their much-loved farm, Waikoko, in 1970. This property consisted of beautiful hills and valleys nestled between Little River and Kaituna on Banks Peninsula. One of his legacies there is a forestry block which he planted, thinned, pruned and sprayed almost single-handedly, on a rugged 25-hectare piece of hill-block unsuitable for other uses.

Edge overcame many serious illnesses and diseases over the years, but attempting to fight a fire on his farm proved too much for him. He managed to get the local fire brigade, back-up engines and other services called out, and they eventually controlled the blaze, but they arrived too late to save him.

A colourful and vibrant character, he died as he had lived, with action all around him, on the farm that he cherished.

Stephen Desmond Edge, born Gore, July 2, 1931, died Waikoko, December 21, 2007. Survived by wife Kathleen, daughter Lesley, sons David and Murray and four grandchildren.

Credit: NZHRWeekly: 9Jan2008


| | |
| --- | --- |
| | RACING HISTORY PEOPLE |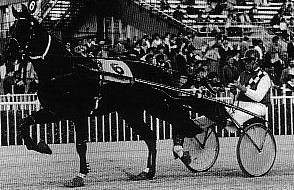 Malcolm Gillum driving Kiltie Boy

The sudden death of Malcolm Gillum occurred in Rakaia last week. Aged 66, he died in the garden after returning from his regular morning walk with his dog.

Gillum was a Templeton trainer whose notable horses were Kiltie Boy and Harvey Wilson, both as young trotters. By Scotch Abbe, and owned by Gillum, Harvey Wilson did not race beyond his 3-year-old career, when he raced 10 times and won six races in succession. He won twice at Hutt Park, followed by the NZ Trotting Stakes in which he was driven by Jack Smolenski to beat Isa Rangi by seven and a half lengths, and then the Rosso Antico Stakes when Gillum handled him to beat Pompano Prince and Gold Horizon.

Kilty Boy, a chestnut entire by Gerry Mir, arrived four years later and raced from two to five, racing 41 times for eight wins and 17 placings. He won three times at three, and three from only seven starts at five. His major wins were over Twinkle and Viva Remero at Addington in 1981, and an open class one from Regal Flyer and Game Pointer the same year. Kiltie Boy went to stud where he sired three winners, notably Happy Highlander, who became the dam of star trotters Glenbogle and Whatsundermykilt.

Gillum was part-owner of the handy First Lord mare Looking Forward, who won her first two races out of Reg Curtin's stable, and four after Gillum took her over himself. He was co-breeder of the good Jamie Hanover mare Bridget O'Flyn, and possibly his last winner was Two Shillelagh.

After leaving Templeton, Gillum trained for some years at Omakau before settling in Rakaia about six years ago. As an administrator, Gillum was a willing worker for licenceholders, serving on the committee of the NZ Trainers' and Drivers' Association and for some years as National President.

Credit: Mike Grainger writing in HRWeekly 14Feb07


| | |
| --- | --- |
| | RACING HISTORY PEOPLE |

Barney Tisdall, who died recently at the age of 83, bred, owned and trained Idolmite a grand pacing winner in the late 1970s and early '80s.

Tisdall was called Barney by the doctor who delivered him on the family farm, Ngapuna, at Middlemarch. The name stuck, although he was registered as Trevor by his parents.

Tisdall served in World War 2 in Italy and Japan from 1944 to 1946.

He married Audrey Matheson in 1948, which led to his interest in standardbreds. Her father, Alec, raced the useful pacer Colours Flying out of the Templeton stable of Derek Jones.

Tisdall secured an owner/trainer licence in the 1970/71 season when he won with Petermite at Wyndham. The Hundred Proof gelding had won a race at Greymouth the previous season when trained by Pat O'Reilly and driven by Kerry O'Reilly. Tisdall stepped up his training activities when he shifted to Dunback in 1976. Idolmite was the star. Others he prepared included Dannymite (seven wins), Tom Pepper (8), Willie Mite (4) and Skip Master (4). Tom Pepper won the 1979 Waikouaiti Cup at Oamaru from a 30m handicap.

Tisdall bred Idolmite from a mating of Local Light and Lady Maling, who was loaned to him by Bob Cleave, of Oamaru, in return for grazing stock on his Dunback property. Lady Maling died in 1975, the year after she foaled Idolmite. Her cold foal by Armbro Del also died.

Tisdall, in a generous gesture, leased Idolmite back to Cleave and Bill Carling, of Waikouaiti. She won three races as a 4-year-old when trained by Cleave, who was forced to relinquish the lease when he injured his back. Tisdall took over training Idolmite and she won her next four starts. She wound up the season (1977/78) with eight wins. Colin De Filippi drove Idolmite in her last win that season, beginning an association that netted nine wins. Her record, on retirement, was 17 wins and 32 placings from 81 starts for $110,495 in stakes.

Credit: HR Weekly 31Jan07


| | |
| --- | --- |
| | RACING HISTORY PEOPLE |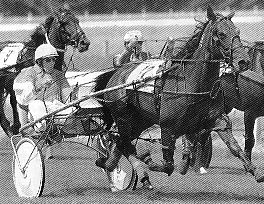 John Burgess and Grant's Wish winning at Motukarara.

John Burgess, 79, has broken his own record as the oldest reinsman to drive a winner in NZ. Burgess drove Grant's Wish to win a maiden trot at Motukarara on Monday, 29th January.

Burgess became the oldest reinsman to drive a winner in NZ when he partnered Katie May, a half-sister to Grant's Wish, to win races at Methven and Waimate late in 2005 as a 78-year-old. Burgess is also the trainer, breeder and part-owner of Grant's Wish. The Brookside horseman races the 5-year-old mare with the estate of his wife, Shirley, who died three and a half years ago. "I met Shirley when I was 14, bike riding and running. It took me a while to get over her death," Burgess said. "The horses have helped me cope."

Grant's Wish is the fifth trotting winner Burgess has bred from La Finale. The others were Peter Dylan (5 wins), Star Blaze (3) and John's Buddy (2). La Finale (Beau Nonantais-Tutahi When) won a race at Oamaru in December 1989 for Burgess at odds of 53-to-one. The runner up was Night Allowance, who won the Inter-Dominion Trotting Final in Auckland four years later.

Burgess has been involved with trotters for 56 years. He trained and drove his first winner, Winter Star, at Methven in April 1970. He stood down from driving at the end of the 1992/93 season when a rule stipulated a retirement age of 65. He made a comeback seven years later when the rule was changed. He has since driven 13 winners. "Paul Nairn (the noted trainer of trotters) talked me into getting my licence back," Burgess said. Burgess lives close to the Nairn stable.

Burgess assists his son Graeme on a property raising pigs and a few cattle. He is no stranger to long hours of work. He held down employment at a meat processing plant and a cardboard factory for 20 years, working between 14 and 16 hours a day. He began teaching himself the rudiments of training standardbreds. He was helped by trainers Don Nyhan and Derek Jones. "I learned most working part-time for Bill Doyle for eight years," Burgess said.

Grant's Wish traces to Passive, an outstanding broodmare for Doyle. The U Scott mare left eight winners from nine foals. Her progeny included When, winner of 18 races including the 1962 NZ Trotting Free-For-All. Her brother (also by Light Brigade) Asia Minor won 15 races including the 1967 NZ Trotting Championship. Passive (U Scott-Violet Wrack) also left Wipe Out, winner of 10 races as a pacer in the late 1960s. Doyle passed the trotter Ready Money to Burgess in 1983 after the gelding had been through the hands of several trainers. Burgess won five races with the son of Nevele Gourmet and Big Spender. He has also won five races with Silver Crown.

Credit: Tayler Strong writing in HRWeekly 31Jan07


| | |
| --- | --- |
| | RACING HISTORY PEOPLE |

HUGH STEVENS

Harness racing, and in particular Addington Raceway, lost a friend with the recent passing of Mr Hugh Stevens.

A steward and committeeman for the NZ Metropolitan TC for over 20 years, Hugh had various roles within the Club but will be remembered as being the Club Surgeon for almost his entire tenure. Hugh shared in the ownership of a number of horses in both codes with his pride and joy being the first horse he raced, Margaret Dale.

Off the track Hugh was widely recognised as a skillful surgeon with special ability in the orthopaedic area. He travelled the world, visiting many countries as an examiner for the orthopaedic specialist qualifications.

Hugh was a strong supporter of Canterbury and All Black rugby, attending almost every match at Jade Stadium.

Hugh is survived by his wife Narie, his children and grandchildren.

Credit: Met Newsletter Feb07


| | |
| --- | --- |
| | RACING HISTORY PEOPLE |

The World Drivers' Chamionship may have been won and lost on a scratching. Belgium's Christophe Martens took the title, but only after a twist that left NZ's Colin De Filippi in a hard place to come back from. After 16 races, De Filippi started the last night and the final four heats on 147 points, the same as Martens.

On arriving at Addington last Friday night, Martens was disturbed to learn that his drive in the last heat - Wokeupthismorning - was out and his new drive Hunters Cloud would run for the second time that night. Martens knew he could come off badly, and said so. "It was unfair. It doesn't happen with out horses in Europe. It was the only time in my life, when I might be in this position," he said.

Following his concerns, Hunters Cloud was withdrawn. Without a drive Martens was given the points median of five - eliminating the faint possibility of more had the horse run, and the cruel probability of less. This took him to a score of 180, and a nervous 10 minutes waiting to see if De Filippi could snatch victory from near the door of defeat with Whythehellnot. All he had to do was run first or second and hope Whythehellnot was up to it.

In the meantime, Martens finally settled on watching the race in the drivers' room, maintaining he took in the whole race, rather than his sole focus being on the kiwi colours. "It was awful, the wait; very long moments. Not so good here, but fortunately I'd won three races one night in Australia," he said.

With the Championship still a live issue, the last race was something of a drama. Until the 400m, De Filippi was looking good. But when push came to shove, Whythehellnot did not rise to the occasion, battling away up the straight to finish fourth after having every chance. The race was won by the consistent Awesome Deal, driven perfectly by the Finn Antti Teivainen.

Martens, aged 37, is Belgium's first world champion. He drives more in France, where he said hrness racing is thriving, rather than Belgium where it is "going down". Like the other European drivers, he had not driven a pacer before.

De Filippi said he enjoyed the experience and the drivers set a high standard. "I don't think there was anything in any race that caused a problem," he said. De Filippi returned from his final drive with a broad smile for his lively and boisterous fan club that said 'close, and a lot of fun.'

CHAMPIONSHIP POINTS

Christophe Martens (Belgium) 180, Colin De Filippi (NZ) 177, Bjorn Goop (Sweden) 158, Kerryn Manning (Australia) 143, Antti Teivainen (Finland) 129, Andy Miller (USA) 117, Eirik Hoitomt (Norway) 112, Gilles Barrieau (Canada) 104, Hugo Landeweg (Netherlands) 102, Veiko TamJarv (Estonia) 87



Credit: Mike Grainger writing in HR Weekly 15Nov07


| | |
| --- | --- |
| | RACING HISTORY INTERDOMINIONS |

2007 INTERDOMINION SERIES

The carnival was held in Adelaide. Once again the Pacers Final was won by Blacks A Fake and th Trotters final was won by Uncle Petricka.


| | |
| --- | --- |
| | RACING HISTORY HORSES |

The remarkable little trotting mare Tussle passed away on November 1 aged 31. She had been in retirement for several years at the Halswell property of her 85-year-old breeder/owner/trainer Dr Cliff Irvine, for whom she won 36 races and $534,325 in NZ plus two Inter-Dominion heats in Australia. Her tallies for races and stakes won were records which will stand for a trotting mare in NZ and were achieved 20 years ago after only winning her first race as a 6-year-old at her 12th attempt.

After winning the Rowe in 1985 and Dominion in 1986, Tussle's crowning glory came in 1987 when she swept unbeaten through the Inter-Dominions at Addington. That was as a 10-year-old and Tussle would win three races in her last season of racing as a 12-year-old, the penultimate one being a 15 to one upset of Tyron Scottie and a top field in a FFA on NZ Cup day in 1988 where she set a 2000m standing start national record of 2:33.8. She would finish second to Landora's Pride in the Dominion and then win her last race at Alexandra Park the following month in the Rhodes Memorial Flying Mile when odds on.

A year later she would produce her first foal in the Game Pride colt Wrestle, who qualified but went unraced. After starting stallion life as the teaser at Nevele R Stud, the diminutive Wrestle has been lightly patronised at stud over the years and sired seven winners (from 30-odd foals of racing age) including the good sorts Down For The Count, Monaro Miss and Jack The Capricorn. Minor winners in Throttle and Topple followed before Tussle produced Bristle, a Britewell colt who won eight races in NZ and another in Australia.

Tussle's sixth and last foal and her only filly was Scuffle in 1998, a daughter of Sundon who was unraced and whose first foal is De Gaulle, a Continentalman colt sold at the Premier Sale of $20,000. Bill Bishop has Scuffle's next foal in a colt by Armbro Invasion, while Tussle's 'lifetime caretaker' Sally Marks has just broken in a yearling filly by Continentalman called Mamselle for Irvine.

By Tuft, Tussle was one of 12 foals and six winners Irvine bred from the unraced Kimmer, whose sire Light Mood was a good pacer for Irvine winning nine races in the late 50s.

Credit: Frank Marrion writing in HR Weekly 15Nov07


| | |
| --- | --- |
| | RACING HISTORY HORSES |

Former top pacer Iraklis has been put down.

Owner Kypros and Mary Kotzikas said the decision was based on veterinary advice after it appeared he had been suffering from an undiagnosed hearty problem.

Iralkis was a great racehorse, winning 22 of his 51 starts, and more than $1 million in stakes.

He won his first three for trainer Robert Cameron, and after that his successful drivers were the late Danny Campbell and Ricky May. He produced a towering performance to win the Free-For-All on Show Day as a 4-year-old in 1996, won the Miracle Mile, and just held out Smooth Dominion to win the 1997 NZ Cup.

At stud, he was not the giant he was on the racetrack. To date he has 251 foals, and 34 individual winners, the best of thembeing Irak Attack(6 wins), Posh Lavra(5), Phevos(4), and Rakalees(4). His first crop of 73 foals was his biggest, and he has two mares in foal this season.

Credit: Mike Grainger writing in HRWeekly 3Oct07


| | |
| --- | --- |
| | RACING HISTORY FEATURE RACE COMMENT |


Mark Purdon and Grant Payne enjoyed three wins last Friday at Addington, with the top performer Classic Cullen producing the third. His win in the Group 3 Fitness Canterbury Classic ensured the big gelding a spot in the Christchurch Casino NZ Trotting Cup.

Starting well, Classic Cullen settled mid-field while warhorse Flashing Red worked forward to take up the lead and set a solid pace. With 600 metres to go driver Mark Purdon made his move with the talented pacer, in a driving finish Classic Cullen won by a neck over a luckless Waipawa Lad for second with Bondy impressing in third position.

Last year's NZ Cup winner Flashing Red settled for fifth place. Classic Cullen is now at odds of $5.50 second favourite behind Changeover to win the cup.

Credit: HRNZ


| | |
| --- | --- |
| | RACING HISTORY FEATURE RACE COMMENT |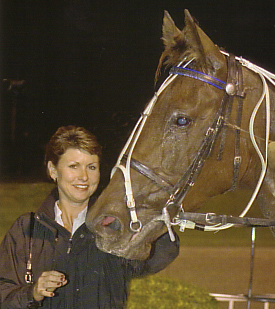 It's Ella with co-trainer Catherine Butt

It's Ella used petrol early to gain the lead before handing up to stablemate Gail Devers. The latter assumed control throughout the 1950m and soon it came down to a battle of the Butt team in the Group Two race.

Gail Devers fought bravely after setting the terms but soon succumbed to It's Ella despite setting up a blistering final 400m of 27 seconds, who went on to win by one length impressively. Tosti Girl filled third place five lengths from the winner.

In officially slushy conditions the 1950m mobile was completed in 2.25.3, with a mile rate of 1.59.8 and final 800m in 58.1 seconds.

A five-year-old Southland mare, It's Ella has gone from strength to strength over the past seven months, winning seven races and over $130,000.

Owned by breeders Irene and James Holland, and wife of the original trainer Brendon McLellan, Megan McLellan. It was decided to place It's Ella with top trainers David and Catherine Butt for their mare's Canterbury campaigns.

In her Addington debut she ran a stout third to Chief Red Cloud, before turning the tables on him a month later. She then showed she was ready for a New Zealand Cup tilt when performing strongly without much luck in the Hannon Memorial and Fitness Canterbury Classic – then placed third to Flashing Red and Mainland Banner in a world record time at Ashburton.

But it was her gallant third in the $500,000 New Zealand Trotting Cup to the Australian duo Flashing Red and Cobbity Classic that cemented It's Ella's position in the open ranks.


Credit: Harness Racing New Zealand


| | |
| --- | --- |
| | RACING HISTORY FEATURE RACE COMMENT |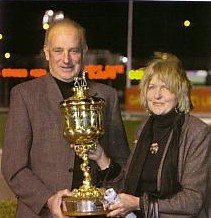 Gerry & LynnSmith with the Ordeal Cup

The quite relentless Some Direction show at Addington continued on it's merry way last week when the 10-year-old mare dominated the $20,000 Ordeal Trotting Cup.

In what was her 138th race and the commencement of her eighth season of racing, Some Direction stepped it out like a 2-year-old to win the time honoured and attractive trophy at her fourth attempt - she was sixth in 2004 and third for the last two years. It was the daughter of Sundon's 24th win, while with 18 seconds and 17 thirds and numerous other cheques she has now won $274,000 with no signs of slowing down.
Some Direction is now only two races away from being a centurion at Addington, where she has now recorded 15 wins and become seemingly an almost permanent fixture in recent years. Her first six wins came at Ashburton (two), Washdyke (two), Oamaru and Forbury Park, but 15 have come at headquarters.

Some Direction will next attempt to further her quite extraordinary Addington record in the $30,000 Canterbury Park Trotting Cup in about a month, a race she won last year by coming off 10 metres to down Rowe Cup winner Inspire. The Banks Peninsula Trotting Cup also beckons, although Lynn Smitt is not sure whether she likes grass tracks as much as Addington. "She has never really excelled on grass, but she hasn't raced much on them either," said Smith. One has to in fact go back almost five years to November, 2002, for the last time Some Direction raced on a grass track, when an unlucky fourth at Orari when assessed as a four-win horse, while the only other time she has raced on the grass was when second and beaten a nose at Motukarara the previous February.

Whether Some Direction tackles that Cup or not will be a sidelight though to her main mission of NZ Cup Week and the Dominion on the final night, where she was a close fifth last year. Three years ago on NZ Cup Day she recorded perhaps her best performance when she downed Whatsundermykilt and the open class trotters in the Christchurch Casino Trot, sitting parked but winning in what is still a national record of 3:17.8 for 2600m from a stand and at odds of 76-to-one.

Smith, who races Some Direction with husband Gerry and son Justin and trains her with the latter in what is very much a family affair, downplayed her latest performance by pointing out that she was "lucky striking a field with a few of the stars missing", but she deserves every reward she gets just for perseverance and consistency. Her main rivals in stablemates Lord Burghley and Rhythm Of The Night are already sick of the sight of Some Direction, and they had pretty much conceded the Ordeal Cup to her before the race began last week. It was left to a spirited bid by Sundon entire Diedre Don to make a race of it, but his task of sitting outside the mare after circling the field a lap out was a forlorn one. Some Direction had been given an easy lead from the 2000m and Justin Smith merely had to turn the wick up over the last 800m in 58.6.

After Some Direction's form had got a little indifferent towards the end of her last campaign and some thoughts had turned to a possible retirement this year, such considerations have well and truly been put on the back burner for now. "Her form did drop away a bit and we weren't too sure what was going on, outside of having a bit of a cold for a while. We had expected her to go very well in her last race last season, but when Justin pulled her out there was nothing there. So we turned her out for a month and a bit earlier than usual, and wondered whether we might be pulling the stumps on her racing career this year."

Some Direction responded to that notion by winning two trials as easily as her raceday resumption. Smith is unsure what has given Some Direction such a degree of longevity, but notes the French sire of her dam as a likely source of toughness. Gekoj was probably the best of the four French trotting sires imported by Oddvar Andersen back in the early 80s, and was propably unlucky to be lost after just four seasons at stud. He sired about 100 foals and 19 winners outside of the great David Moss along with Look (9 wins) included good sorts in Cocokoj (5 NZ wins), Diamond Trail (7 NZ wins), Drott Moss (13 NZ wins, $111,685), French Warrior (4 NZ wins, US1:57.3) and Koy's Game (5 NZ wins). His mares have also poduced several fine performers, most notably Stig outside of Look's Now Another Look and Some Direction, while Take A Moment was from a mare by another French sire in Jet d'Emeraude.

Gekoj certainly had an impressive pedigree of French siring greats and Look has now produced eight winners from her first eight foals, after Speculate won at Ashburton by downing Desert Victory. That sister to Some Direction and the third of four foals bred by the Smiths from Look - Lynn takes turns with her sisters Helen Pope and Denise Nyhan - produced a CR Commando colt two years ago and was then brought back into work. "She goes pretty good actually, but we've just had another problem with her and I'm not too sure where her future lies at the moment."

Having had a good experience with Gekoj, Smith is looking favourably upon new French sire Love You should it come to that (breeding) with either Some Direction or Speculate this season. Then there is just the small matter of Some Direction's grandam being Someday, a good trotting mare by Light Brigade from Passive (U Scott) who also produced the splendid About Now (25 wins).

Smith also notes that while Some Direction has done a lot of racing, she has not done much travelling due to being a "picky eater" when away and she has hardly been stressed much either. "The focus has always been about just keeping her happy - she seems to be a lot happier in the float than in the paddock anyway."


Credit: Frank Marrion writing in HRWeekly 19Sep07


| | |
| --- | --- |
| | RACING HISTORY FEATURE RACE COMMENT |

For his connections, and an ever-increasing army of fans, Changeover's victory in last Friday night's $50,000 First Sovereign Superstars Championship was just what the doctor ordered. To trainer Geoff Small it provided confirmation that his stable star is right on target for the NZ Cup; for the fans, it was some justification for backing him into a very short $2.20 for the big event in less than five weeks time.

But last Friday's Group 2 event was an event that Changeover simply had to win. Not only because it was a field lacking both numbers and, to be fair, horses anywhere near the class of Changeover. And not only because it completely fell into the champ's lap: sitting three-deep as the field raced in single file and not even needing to move until the home bend. Because if your the one to beat on Cup Day when you take on the country's best pacers, you would want to trounce a field like that - which he did, in typical Changeover fashion.

And in the end, the Superstars turned into little more than a racenight trial with a $32,355 cheque attached. Understandably, Small bottled a lot of positives from Changeover's latest visit to Addington. "It was the first time he'd had a standing start, and he handled it well," Small said afterwards. "The challenge will be getting away with a group of horses around him." Small says he originally intended to kick Changeover's season in the north before trekking to Christchurch, but upon learning that the maximum handicap his horse could be given in the Superstars was only 20 metres, the schedule changed. "He was pretty close to the trial stage anyway," he said, "the Spring Cup up here was just a week too early for him."

And so the campaign's underway again, even though it's only seven weeks since Changeover won the Breeders' Crown Final across the Tasman. An appearance there was supposed to take this year's NZ Cup out of the equation, but those plans have changed as well. "I suppose we're trying to be 'smarty-bums'," Small confesses. "He had a long year as a 3-year-old. And even though we gave him a couple of easy weeks after coming back from Australia, he probably hasn't had the opportunity to have a break, grow big and strong and come back. But I'm not worried about it at the moment, because the racing doesn't appear to be taking anything out of him. It might catch up with him one day though."

From here Changeover heads to Ashburton for the Flying Stakes, and Small intends to top off his preparation for the big one with a start in the Cup Trial. Happy with where his fitness levels are at, he says it's just a case of keeping Changeover ticking over in the meantime and then giving him a 'tidy-up' run closer to the two events.

Ashburton will be the first real acid test for the In The Pocket entire, and will prove one way or the other whether he'll step up to the top league or not. Judging by early markets, a lot of people think he will. "I've just got to ignore the fact that he's favourite, and focus on Ashburton and then the Cup," Small said. "If I start worrying about that side of things then I'm not doing the horse any favours. But yes it will be a big ask for him. It's a bit like the young fellas playing sport - quite often when they step up to the top grade they get their arse kicked for a while. He's got seven or eight really good ones to beat. And they're strong horses they don't roll over. On the surface it appears that he is up to it - we're not really going to know until we get there."


Credit: John Robinson writing in HRWeekly 10Oct07


| | |
| --- | --- |
| | RACING HISTORY FEATURE RACE COMMENT |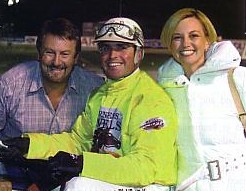 Dave & Katie Carville celebrate with Blair Orange

Prominent Canterbury breeder-owners Dave and Katie Carville gained their first Group One success on Friday night at Addington Raceway when their charge Ohoka Arizona was successful in the New Zealand Welcome Stakes. Elected the best Purdon chance by punters, Ohoka Arizona started second-favourite behind Mattnamara's Band and returned a juicy winning dividend of $4.50 for his efforts.

The Harness Jewels leader (Ohoka Arizona) had to overcome barrier 14 over the 1950m journey, launching his claim with 900m to go by challenging stablemate and pacemaker Fiery Falcon. The two Mark Purdon representatives fought like cat and dog in the home straight as Fiery Falcon came from the trail to attack Ohoka Arizona in a final attempt for success.

At the finish a just half-length separated the two as Blair Orange and Ohoka Arizona buried their main rival with ease in the end. Race favourite Mattnamara's Band fought stoutly for third 1 ¼ lengths away after racing hard in the middle stages.

Ohoka Arizona recorded a winning time of 2.23.4 in freezing conditions, posting a mile rate of 1.58.3 and his final 800m in 58.3. Not only was the Group One success special to the Carville's, but it was just driver Blair Orange's second Group One win of his career. The first coming behind Jay's Debut in the Juvenile Championship.

It was a big night for owners Dave and Katie Carville - alias Mr and Mrs No1 enthusiasts - whose first Group 1 win it was. There contribution to harness racing as breeders, owners and sponsors is more than what can be adequately said here. The Carvilles bred Ohoka Arizona from sending Millwood Krystal to Christian Cullen. Millwood Krystal, by Falcon Seelster, won two races, and is from the direct line of top mares Lancia and Valencia. "I have to thank Wayne Francis for getting into this breed, and have to thank my barber Harry Webber for insisting I use Christian Cullen, and I apologise for coming here in jeans; from the draw I just didn't think we would be up here," Carville said.

Credit: Harness Racing NZ


| | |
| --- | --- |
| | RACING HISTORY FEATURE RACE COMMENT |

Flashing Red had to run a NZ record over 3200m to win the $750,000 2007 Christchurch Casino NZ Cup last Tuesday.

Written off as a pale portrait of the horse he was when he carried all before him last spring, Flashing Red overcame a 15m handicap and 14 others in a punishing, grinding, desparate drive to the finish. He was beaten at the 100m; had seen young star Monkey King go past, and then, briefly his stablemate Tribute. This was as near as Flashing Red was going to get and everyone was proud of him. But old horses just don't go away, not when they're great and have done it before, and not when their name is Flashing Red.

With more determination than most have ever seen, Flashing Red must have sensed that Monkey King hadn't finished with the king-hit he needed. Not even gradually, he closed up again, and 20 metres from the finish he was slowly widening the margin to win a magnificent race.

Was there disbelief? Almost. Was there astonishment? Yes. Was there acknowledgement for the greatest staying effort ever seen in the Cup? Yes, yes.

Flashing Red got there the hard way. He made a fair beginning, passing the breakers Foreal, Awesome Armbro and It's Ella. Changeover had made a fast start, and led until David Butcher gave way to Classic Cullen two laps out. This left Baileys Dream parked out, Roman Gladiator inside him, and Sly Flyin on his back. For the first mile, Anthony Butt sat at the back with Tribute and Monkey King. It was quick enough, so there was no hurry to get moving. Just before the 100m, he knew it was time to go. He rattled up Flashing Red. They set off, and Tribute followed, and Monkey King followed Tribute.

They made good, steady progress, and Flashing Red was as strong of any of them on the corner, outside Baileys Dream and Classic Cullen, who were both spent or getting near it, and look! Monkey King has joined in and looking sharp. Sly Flyin is also in the picture, and so is Changeover but he's in a spot of bother behind the tiring Classic Cullen.

With 25,000 people makng noises of some sorts, Monkey King appeared at the 100m as if he had the race by the collar. Stephen Reid, his driver, must have thought so. Had it been anything other than Flashing Red, he certainly would have got away with it. But no-one tangles with Flashing Red at the end of 3200 metres in a record 3:57.8 and has his nose in front at the end of it. Ask Monkey King. He Knows.

-o0o-

The Cup Flashing Red won as an old horse last year will stay where it is. As an older horse this year, he bucked the odds, silenced the young pretenders, and produced what must be the greatest staying performance seen anywhere, anytime. Could any horse have climbed the harness racing mountain from ground-zero that Flashing Red faced this season, as a 10-year-old? And when his campaign seemed as good as gone, could Tim Butt and Phil Anderson and Anthony Butt then pick him up from the canvas and turn him into the 4:00.3 two-mile mauler he was a year ago? When everything said they couldn't, they did.

His win over Monkey King at Addington last Tuesday was certainly a five-star, must-see wonderment. The old dog-over the hill, a handicap to overcome, no longer the mighty marathon cruiser he used to be; little leg ailments - much to much on his plate really. Tim Butt never dropped his guard that far. He was keener on his stablemate Tribute, never on Foreal, but he kept safe and coy with Flashing Red, saying there might be one big race in him somewhere. He never said it would be the $750,000 2007 Christchurch Casino NZ Cup, and only 50 metres from the finish did he know for sure that it was.

Unlike last year, when Flashing Red was more or less invincible and went into the Cup with three successive wins, this campaign and build-up had never reached any glitzy heights. Tim said it was almost as if there were two different horses. He was thrilled when he started his build-up to the Cup again, pretty much quickly on target with his second in the Avon City Ford Cup to Baileys Dream, but the run took the edge off him. He had three further races, and appeared to slip with each of them. Not only was the prospect of winning a second Cup fading by the week, but there was the daunting challenge after his fading sixth at Ashburton of not knowing for sure what was needed to turn him round, if indeed it could be done.

Butt could see it wasn't the same as what it was the previous year. He knew they had to do something different when it was taking him so long to recover from his races. "He was fit enough, we knew that, so we focused on eliminating anything that might have worried him. We took him to the beach for his training. We'd had a little problem with a front joint, we thought he might have had ulcers. We were really going into unchartered territory with him, but we've always had faith." With a new battle plan underway, and deciding that going into the Cup fresh was the only chance they had, they anxiously monitored his revitalisation programme. "In the last seven days, you could see the change," he said. "And for his last hopple, he worked super. I still thought we might have been coming a week too late."

When he assessed the race, Butt saw a few pluses. "He was off fifteen metres, but that didn't worry me. I thought that two miles might negate that handicap. He has shown before that he rises to the occasion in these big races. And I thought he was old last year at nine, and here he is at ten. I wasn't as confident as I was last year, but I felt he'd still go a cheeky race." Deep down, he suspected Flashing Red might prove him wrong, as he had done before. "I could see Ants was very patient with him over that final mile, and then he had to go when he did. In the end, you've just got to do it. You still know that when they get older, you can't go to the well every week." This was a day in the week when the well was full. "I was yelling for him; I knew Monkey King might come to the end of it."

While Anderson and the Butts will see the end of Flashing Red's NZ racing career on Friday, it will also signal the start of another because there is a plan to return him next season to stand at stud in the South Island. Former trainer and part-owner Stuart Hunter said he would compete next month in the Victoria Cup and other Grand Circuit races in Australia, and his Cup win has already gained him a semi-final start in the new version of the Inter-Dominions

Hunter always enjoys recalling the manner in which he and part-owner Norm Jenkins came by Flashing Red. "He was racing down in Tasmania and bought by Barrie Rattray for $20,000. He was quoted to me at $40,000, which I was told was far too much. Nothing happened for a number of months, but I was still keen and eventually said I was going to go down and if I liked him I'd pay the price. It was an awful day and he was running in mud, but I thought he had some try in him. He always wanted to give you something more. So I paid the $40,000. He can run four twenty-eight quarters, and that can break their hearts." Hunter said he was so much better racing on the bigger tracks in NZ. "He'll race in a fifty-five inch hopple back home, and here he can go in a sixty-one inch. He's exceptional like that, and can stay a lot better."

Jenkins, natually enough, is happy to leave it to those who know best. "They're the experts; I just listen to what they say. I couldn't believe it. I didn't expect him to fight back when he was headed."

Of course, that's exactly what Tim did expect. "He rates right up there with Hands Down and Blossom Lady as the great stayers I've seen. Fortunately I can do what I like without pressure, and that only comes with experience. He was down and out, and he came back."

Back to win another Cup - now that takes a special kind of greatness.

Credit: Mike Grainger writing in HRWeekly 15Nov07


| | |
| --- | --- |
| | RACING HISTORY FEATURE RACE COMMENT |

Auckland Reactor has always had quite a reputation, but even Mark Purdon was a little shell-shocked by his superlative performance to win Tuesday's $200,000 NRM Sires' Stakes Final at Addington.

Not really tested against the cream of his crop before, and saddled with the outside of the front line in a 1950m affair that was always going to be a torrid and seemingly even encounter, Auckland Reactor went back to last early in a strung out field passing the mile before circling them with cover from the 1400m to range up outside his more favoured stablemate Ohoka Arizona down the track. But just when he could have been expected to battle in the circumstances, Auckland Reactor went into overdrive and exploded away to put the result beyond doubt a furlong from home.

The Mach Three colt was clear by almost two lengths in the end from another son of Mach Three in Fiery Falcon, a last quarter off the front in 27.5 for an overall rate of 1.57 leaving no excuses or chances.

"I could see Blair (Orange on Ohoka Arizona) was gone on the turn, and I was really only worried about Benny Mac on my back," said Purdon. "But he had done a bit of work to get round them as well," he added. It was left to Fiery Falcon to lodge a late challenge, but he never looked like troubling the winner. Colin De Filippi had performed a minor miracle at the start to get Fiery Falcon over from barrier eight and into the one-one in the early piece, but had lost such a prominent position in the running. It was still a performance which confirmed that last season's Sires' Stakes 2YO Final winner is again going to be a major factor this term however, and a pleasing result considering he only made this Final by literally the skin of his teeth in the last heat.

But it was the performance from the unbeaten Auckland Reactor which suggested he is a class above his contemporaries and a superstar in the making which had most buzzing. Purdon knew he was good, but not that good. "He has always shown the promise, but it's a long way from winning a maiden race at Washdyke (less than two months ago) to winning the Sires' Stakes. "That is a big ask, and it was a big effort. He doesn't look much, and we've been patient while trying to build him up. It's only in the last few weeks that he has started to do well and put some condition on. But he has come on lately and improved from week to week."

Purdon said Auckland Reactor, bred and raced by Auckland's Tony Parker, and the 11th foal from the Soky's Atom mare Atomic Lass, would now go for another break and "come back for the Derbys. We'll look at the Southern Supremacy Series as well next year, as that's quite a nice race now too."

Purdon's decision to drive Auckland Reactor could in no way be interpreted as a sign of confidence over any of the other five 3-year-olds from his stable that made the Final. "Blair has driven Ohoka Arizona right from the start, and I didn't want to take Colin off the other horse as he has got on so well with him. It's just the way things have worked out." Auckland Reactor only just downed Steve McQueen by a head in the Sires' Stakes Heat at Forbury Park, but he wasn't all that happy in the wet conditions. The colt felt a lot better bolting in over older but lesser company at Kaikoura and had "trained on" since then.

Ohoka Arizona, last season's top-ranked juvenile and impressive when resuming in the first heat at Addington five weeks ago, was beaten on his merits and is obviously not right. "He had every chance and wasn't good enough today," said Orange. "It's a wee bit dissappointing really," he added.

Ohoka Utah was even more dissappointing considering he trailed and dropped away to beat only Reklaw's Boy home.

Credit: Frank Marrion writing in HRWeekly 15Nov07


| | |
| --- | --- |
| | RACING HISTORY FEATURE RACE COMMENT |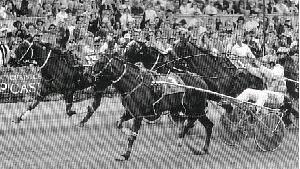 Nick Off Holme (outer) beating Days Of Courage

Not much has gone right for Nick Off Holme this season. Unable to pay a dividend in three starts when racing luck had been against her, her connections were left 'quite gutted' when she failed to gain a NZ Cup start.

Just to rub salt into the wounds, Nick Off Holme was saddled with the outside of the second line for the $50,000 Firestone Free-For-All over a 1950 sprint journey on Cup Day, which was probably going to be short of her best should the race develop into not much more than the usual sprint for home. The situation did not seem to have changed much either as late in the piece as the field streaming past the 600m, where Nick Off Holme and regular pilot Stephen McNally had only Woodlea Life behind them and a seemigly impossible task before them. But racing is a funny game and this event had actually panned out just perfectly for such a dour stayer as Nick Off Holme, the 6-year-old Holmes Hanover mare.

The pace up front had been frenetic, and anyone who had engaged in it was starting to feel the pinch as they raced inside the furlong. Game 4-year-old Days Of Courage was proving the gamest of them all, but Nick Off Holme descended on him from the clouds and delivered the knockout blow right on the post. In scoring by a nose with a challenge that had been timed down to perfection by a thousandth, Nick Off Holmes posted an all-comers' national 1950m record of 2:19.8, a mile rate of 1:55.3 which will be of immense long-term value to her breeding career.

Changeover's 2:20.3 (MR 1:55.7) from last year's Sires' Stakes will remain as the 3-year-old record, and Rameses and Winforu can still lay claim to being the equal fastest older male pacers in 2:30.s, but Nick Off Holme is now the fastest of them all and obliterated the mares' record of 2:21.3 held by Flying Sands, set in a lower-class race on Show Day five years ago. "I thought they'd got away a wee bit on me, but I knew they'd gone hard and she would run home strongly," said McNally. "But I didn't think she could make up that much ground," he added. McNally also drove Rameses in his record on Show Day two years ago, but outside of Ella Powell's NZ Trotting Oaks last year, this was the biggest win of McNally's eight-year driving career.

Trainer Paul Kerr agreed that Nick Off Holme's Group 3 success was of some consolation and of benefit to her broodmare value, but still would have liked to have seen her in the Cup for principal Christchurch owner Rusty Smith, who races her with Oamaru's David Owens and Dunedin's Bob Shaw after securing her at the 2003 Australasian Classic Sale for $17,000. "Owners dont get too many chances to start in the Cup, and it would have been nice for Rusty to have been there," said Kerr. "And I think on what she has done in the past, she probably deserved to be there too. The races this season before today had just been going against her - she was having to do the work to make them," he added. Given that Nick Off Holme had won more races and stakes (10 wins and $125,317) than Cup starter Keeprightondreaming and could claim two fourths in her three preceding races compared with his one fourth, admittedly in the Kaikoura Cup, a pretty good case could have been made.

Nick Off Holme is now the winner of 11 races and $152,632, which also includes miles at Ashburton in 1:56 and 1:56.7 and a Cup Week double at Addington two seasons ago, and all things being equal she will get her Cup start next year before she begins her broodmare career. There had been no consideration given to the latter this year. "The plan this season was always to have a go at everything, particularly the big mares' races again. She will now be set for the Queen Of The Pacific in Auckland and then come back here in the New Year."

Nick Off Holme has been third in the last two NZ Standardbred Breeders' Stakes to It's Ella and Mainland Banner after being fourth and fifth in the Premier Mares' Championship the week before, while at last year's Cup Meeting she was second to Mainland Banner and pushed her to go a mares' record of 3:09.7 for the 2600m mobile. "She's been a bit unlucky to be born the same year as Mainland Banner and Foreal, but perhaps this will be her season.

Credit: Frank Marrion writing in HR Weekly 15Nov07


| | |
| --- | --- |
| | RACING HISTORY FEATURE RACE COMMENT |

A break by the hot favourite Stig and a monster upset in record time by Romper Stomper in the $75,000 First Sovereign Trust NZ Trotting Free-For-All on Show Day has put a puzzle on the face of the Dominion Handicap this week.

Stig will still be favourite, but Our Sunny Whiz, who did not run on Show Day and Houdini Star and Mountbatten who did, are right in the mix in a race that is now wide open. It may not suit Romper Stomper, in spite of his obvious ability at the top level and his dashing late passing lane run to catch Houdini Star and Mountbatten. Romper Stomper had done his case no good by galloping on the grass at Motukarara and doing the same on Cup Day, but there was good form just behind that when he rattled home for third in the Canterbury Park Cup behind Whatsundermykilt.

Trainer Robbie Holmes did not rate him out of it. He made a couple of gear changes and thought the mobile would be the key to it. He settled him three-deep, behind Mountbatten and the early leader Rhythm Of The Night, and kept making ground on Mountbatten after Braig had retired from a bitter war between the 700m and 400m. "I saw Ants (Anthony Butt and Mountbatten) tiring and my horse just kept digging," he said.

For Holmes, this was his first Group 1 training success. The 8-year-old by Armbro Invasion is raced by Phil Sherley, a Hamilton insurance agent, and John Dickie, who trained the horse and won a heat of the Inter-Dominions last year, and then decided that his best chance with the horse was putting him on the beach. "It's been a real challenge," said Holmes,"but I love training trotters, and I've got half-a-dozen in work and they're all either racing or not far off it."

Hougini Star was a neck off winning and a short head in front of Mountbatten, and there was a gap to Petite Sunset who doesn't need much improvement to join the elite group.

Credit: Mike Grainger writing in HR Weekly 21Nov07


| | |
| --- | --- |
| | RACING HISTORY FEATURE RACE COMMENT |

2007 THE SOUTHERN TRUST DOMINION TROTTING HANDICAP

Having already trained the winners of six Dominion Handicaps, it's hard to imagine Tim Butt feeling like he was in unfamiliar territory this year.

The Dominion is a race that Tim and his brother Anthony have virtually 'owned' during the last decade, because they won it half a dozen times in a row from 1999-2005. but when Tim took his place in the Addington stand 12 nights ago, ready to watch it all unfold once again, he knew that things had been different in the build-up. Missing was the hype surrounding his stable's representative, the public's focus aimed squarely in other directions; unlike the champions Lyell Creek and Take A Moment before him, Mountbatten wasn't weighed down with a tonne of expectation. The son of Earl didn't own a trotting crown yet, so there was nothing to defend.

A little over four minutes later, that'd all changed. "We got got bit of a kick out of this one," Tim said, comparing Mountbatten's victory to his previous Dominion titles. "Lyell wasn't quite the favourite when he won it the first time, and Take A Moment was third in the betting when he won his first Dominion...all the other times the two of them were red-hot. So their wins were a relief more than anything."

To take home a seventh Dominion Handicap trophy within the space of nine seasons truly is a remarkable achievement by Premier Stables and its three wise men - Tim, 'Ants' and Phil ('Prop') Anderson, who's been part of the team for many years and official co-trainer for the last two. Even more sweeter is the fact that they snared both big plums from this year's Cup carnival, with Mountbatten's victory coming hard on the heels of a mind-blowing performance by Flashing Red. We'd barely finished shaking our heads in disbelief when Mountbatten re-delivered the message, loud and clear: these guys are masters when it comes to setting horses for the big events.

Its quite amazing to think that Mountbatten started the season as a one-win horse, yet 12 weeks later he tears away with the 'NZ Cup of Trotting'. But Tim says he had the Dominion in the back of his mind pretty early on. "I first started to think about it when he won his second start this term, by eight lengths. Obviously none of the big guns were there, but he beat a couple of handy ones in 3.22 - and I timed him to run some bloddy good sectionals that night too. It reminded me just how far ahead of them he was."

Tim says that when mapping out a programme leading up to the Cup Meeting, with a trotter like Mountbatten he'd normally "wait" and kick him off in the four-win grade on Cup Day - which gives them the chance to start on each day of the carnival, and win three races. It's a formula that's proved successful in the past...Take A Moment(three wins in 2000 and two wins in '01), Sonofthedon(two wins and a second in '02), Genius(two wins in '05) and Moment Of Truth(a win and two seconds last year) each putting in three appearances at the meeting. "But I suggested to Mountbatten's owners that I thought we should try and win what we can and dominate," Tim said.

"When he won at Ashburton on Labour weekend he had a hard run, but did it with a leg in the air. And his sectioals that day (56.9 and 27.5) showed that he's got that 'X Factor' as far as speed goes. Then at Kaikoura, I wasn't worried about the fact that he broke because it was it was all about the trip up there. He's a highly-strung horse and can be a bit flighty - most times at home we have to warm him up on the lead with a galloping pacemaker. So Kaikoura was good for him because he saw all the crowds, and stood all day in his box there next to the track where he got to see every race. He's settled down a bit since then."

Next stop was the NZ Trotting Free-For-All on Show Day, a race that Tim admits he set him for. With a two week break from the racetrack since Kaikoura - "a freshener after he'd hardened up" - Mountbatten was right where his trainers wanted him. "He was ready to go," Tim said. "And I was rapt with his run, because it was only in the last thirty metres that they got him. He'd come out of the gate, and eventually gotten to the lead with a lap to go - so he'd sprinted three times before he turned for home." Mountbatten came within half a length of victory in this, his first real test against the big boys, and they'd gone so fast that the eventual winner Romper Stomper shaved a tenth of a second off the national record held by none other than Lyell Creek - the one he set in the very same event three years earlier.

In hindsight it was the ideal 'top off' for Mountbatten's assault on the Dominion a week later, an occasion where, yet again, Anthony would produce a drive that was out of this world. Making a safe enough beginning to land in the one-one for the first mile, Mountbatten lost the cover soon afterwards and Anthony then thought briefly about having a go for the lead himself. The three-wide train had started moving by then though so he opted against it, and their position became more and more precarious as the race got older. Nearing the home turn they were back in the middle and surrounded by horses inside and out...was Anthony going to be able to find some room? You bet! Once balanced as he straightened for home, Mountbatten was set alight by his pilot and they pierced through a gap so small that it didn't even exist. The 5-year-old flattened out beautifully, and Dominion Handicap number seven was in the bag! "Winning these sorts of races isn't about having the best horse," Tim said. "Because in all fairness, horse like One Over Kenny and Stig if he'd started are probably better than him at this stage of his career. It's a case of having them right on the right day."

Talking of days, one that Tim will never forget in the occasion when he first laid eyes on Mountbatten at John 'Coaster' Howe's property some four years ago. He was just a yearling at the time, having not long been broken in, and I went to trial him," Tim said. "Some of the boys were there, standing near a bend of the track by a gate laughing and carrying on. When Mountbatten came around the corner he shied at them, and the next thing I know we're heading inwards, down over a bit of a bank and onto another track, but he never missed a beat, and kept trotting the whole way; most young horses would've had a gallop for sure. I bought him right there and then."

Tim didn't have any trouble rounding up a group to race the precocious youngster, and by the time he made his debut as a 2-year-old in April 2005 Mountbatten was owned by Pete Darby, Bev Hickman, Kevin Schmack and the five-member Foxtrot Syndicate, a group comprising of Graham and Shona Stoddart along with Alister, Ross and Raewyn McCutcheon.

The son of Earl and Sundon mare Sunvette never missed a cheque in his first two seasons, starting 10 times for two wins, two seconds, three thirds, two fourths and a fifth. Then a bump in the road... "He went lame," Tim said. "So we boxed him for two months, and he spent another couple of months in a paddock after that, but when we started on him again he got really sore. In the end he had two screws put into his pastern and was away from the racetrack for more than a year; the injury's not serious, we've just got to hope that he doesn't develop arthritis in it in the future."

That future's looking pretty rosy too, with a fully fit and race-hardened Mountbatten currently on top of his game. He will go north later this month for three races, and then Tim will float the idea about crossing the Tasman. "See, he'll get ten metres in the Rowe Cup now," he said. "But he could also target races like the Dullard Cup and then the Inter-Dominions. I reckon he'd be great in Aussie, because they are good front-runners tracks and he's got that real zip to go past them and take the lead."

So Cup Week in Christchurch has come and gone for another season. Quite simply, this year's carnival belonged to the Butt brothers, their right-hand man 'Prop', and the team at Premier Stables. Their NZ Cup/ Dominion Handicap double was unprecedented - and it might be a long time until we ever see it happen again, if at all.

Tim isn't one to bask in glory, but as a professional he gains a lot of satisfaction from 'a job well done'. Like most people that excel in their chosen field, he's got where he is today through sheer hard work. Yet, he hasn't forgotten that things were pretty humble in the beginning either..."We probably battled for ten years, buying cheap horses from down south and trying to get owners," he said. "We're quite pro-active though, and aren't afraid to get out there and have a crack. Early on we didn't have the resources or quality stock, and back in the year 2000 when we bought fifty acres where we are now, we started from scratch. I work hard on getting horses and owners, because that's where my next Flashing Red's coming from."

If anything, this year's results at the Cup carnival reflect the stable's main focus. "Our forte is Grand Curcuit horses," he said. "And ours always improve from year to year, that's our style of training - we're looking at the long-term picture. Take Goldie Blue for example...he finished third in this season's Sires' Stakes Silver at Ashburton, so at the moment he's probably only just in the top fifteen 3-year-olds going around. But you just wait - in two years time, he'll be one of the top three in that same group. I think a lot of him."

Credit: John Robinson writing in HRWeekly 5Dec07


| | |
| --- | --- |
| | RACING HISTORY FEATURE RACE COMMENT |

Age has not dulled the racing spark of two old campaigners.

If anything, Whatsundermykilt and Some Direction have raced into action this season already near top form again, and in fact they're winning earlier than the did last season. Some Direction first won last season on October 13 - in the Canterbury Park Trotting Cup - but this season she's won a month earlier. And for Whatsundermykilt it's come a week earlier; last season it was in the Flying Mile at the expense of Allegro Agitato.

The pair, with more than 220 starts between them, are 9 and 10 respectively, which means they've done a lot of hard yards. And they've won a lot of money - something like $600,000 between them. No wonder they had to give starts to all but Pompallier in the Giannis Pita Bread Canterbury Park Trotting Cup at Addington last Friday night.

Between them, they made a great finish of it: Whatsundermykilt hauling in Some Direction after giving the mare at least six lengths start at the 600m, and covering much ground to get to her. Some Direction had been sent to the front at the 1600m by Justin Smith. It was an enterprising move and would have paid off had Whatsundermykilt not carried such a sustained run for as long as he did. The break she pinched 150m out looked the winning of the race, but Shane Wilkinshaw had other ideas as he set Whatsundermykilt after her.

"He had to be brilliant," he said. "The mare made it hard for us, and I thought we had too much to do. It hadn't been easy getting round. Lord Burghley, in front of us, was hanging, and we went from four-wide at the 600m to five-wide turning in. It was a big run," he said.

Credit: Mike Grainger writing in HRWeekly 17Oct07


| | |
| --- | --- |
| | RACING HISTORY FEATURE RACE COMMENT |

Bruce Hutton enjoyed one of his finest moments as a trainer when his stable representatives ran first and third in the $25,000 Ballantynes Handicap Trot at Addington on Cup Day. Hutton only had two horses in on the day, and he almost walked away with the perfect result when Lord Burghley led all the way and Rhythm Of The Night made ground stylishly late for third. "Getting a quinella on Cup Day is something that I really would have liked - just that blimmin' North Islander got in the way," Hutton joked afterwards.

That 'North Islander' was Our Sunny Whiz, who, in her first look around Addington, galloped on the Showgrounds bend when challenging for the front early yet staged a mammoth recovery afterwards to go under by a head. "No matter how good you are, it just goes to show that you can't come off your home ground and dominate - especially against the Canterbury boys," Hutton said. "That was a terrific effort by Our Sunny Whiz after breaking, but she did get a pretty good run afterwards and Rhythm Of The Night dragged her into it."

You could tell that the Greendale trainer had been quietly confident about both his horses' chances in the event too, an attitude that belied their ninth and tenth favouritism on the tote. "The media and public have overlooked them," he said. "To tell how a horse has performed, you've got to look at the whole race. I mean, Rhythm Of The Night took two lengths off Houdini Star the last time they raced here, and all they (the media) could talk about was how good Houdini Star went." That was back at the start of the month, when Rhythm Of The Night ran fourth behind Genius, and having scored the start prior he was taking some pretty good form into Cup Day's race.

Lord Burghley was a different kettle of fish in that department though, his formline reading 006 after starting the season off with a third and a win. "He had bad luck at Motukara, then stood on a shoe after that - we've been battling to get him right ever since," Hutton said. "He hung real bad here at Addington two starts back, even though he showed some speed that night, and it's just been a case of a lot of hard work being put in by my partner Vicky and the guy Troy that works for us. "We use a product called Equipak on their feet, which is really good because it takes all the shock out of them. Lord Burghley's been on it for the last fortnight, and Rhythm Of The Night can't race without it."

Hutton says his latest winner will be staying home on Show Day while Rhythm Of The Night takes on the NZ Trotting FFA field, then both sets of his maroon and grey colours will be donned again in the Dominion. "Rhythm Of The Night normally gives them fifty metres start and then has to go round them, so the mobile's going to suit him. And if he draws good, then who knows. I think both horses have earned the right to be there."

Credit: John Robinson writing in HRWeekly


| | |
| --- | --- |
| | RACING HISTORY FEATURE RACE COMMENT |

Ronnie Coute owed his connections that one.

Victory in Thursday night's $70,000 PGG Wrightson NZ Yearling Sales Series 3YO Trot at Addington made up for last season, because in the 2-year-old equivalent the son of Sundon had the race won but rolled into a gallop short of the post and was relegated to second.

"He's a wee bit dumb, and that night he got to the front and just didn't know what to do," trainer/ driver Murray Edmonds recalled. "We were happy to get some of it though - better that than none at all. And we couldn't really complain, because as a 2-year-old he won over $12,000 - and hadn't even qualified!"

"Mobiles suit some horses, but not him. Once you get through that first fifty metres though he's okay, and lovely to drive. I even considered putting him on the unruly last week,but it's just too much of a disadvantage over 1950 metres."

On Ronnie Coute's agenda this season is the Derby, and he's paid up for the Sires' Stakes.

He's a hard case, and keeps you on your toes," Edmonds said. "Because he's as quiet as a lamb in his box, but the instant you bring him out and turn him round to put the cart on, he's all over the place - he won't stand still. But if they've got a bit of ability you put up with these sort of things."

Ronnie Coute is by Sundon, bred by Phillip and Martine Iggo and is owned in Motueka by Eric Inwood

Credit: John Robinson writing in HRWeekly 21Mar07


| | |
| --- | --- |
| | RACING HISTORY FEATURE RACE COMMENT |

Pompallier & Jack Smolenski win from Some Direction

The late scratching of Play On through injury before he went on to the track and a punctured tyre Allegro Agitato had to pull for 2000 metres may have been factors in the final domination Pompallier had in the Group 1 $75,000 Fred Shaw & Garry Thompson NZ Trotting Championship at Addington.

Then again, the manner in which Pompallier won and ran the mobile 2600m in 3:17.7, could have made an argument for him winning in any event. Certainly he was impressive, as he was winning the Dominion Handicap in 2005 in the hands of Colin De Filippi. Trainer Richard Brosnan came and watched that time, but he didn't last week, sending the horse to Jack Smolenski and checking on his progress and supervising his training every second day. It was possibly a chat of things in general because Smolenski, now 73, has been round a few good horses in his time, and his record in the big-time is more than bedtime reading.

Pompallier was sent south after running second to Braig on Auckland Cup Night. Brosnan thought he was near his best again, and told Smolenski that. "Richard said he was getting back to where he was, and he felt good in the work he did for me," he said.

Smolenski drove him with confidence, sending him on a stayer's run from the 1200m that took him alongside pacemaker Cracker Nova at the 700m. He pressed on, gradually at first, and then with a clear lead as he turned in. The chasers were not chasing well at this stage. Some Direction was holding her place, but Allegro Agitato and Cracker Nova were battling, and Idle Wishes was finding the others out with a stout, late run that would take her into fourth. Pompallier's 3:17.7 and mile rate of 2:02.3 was still well short of Lyell Creek's NZ record of 3:14.3. Pompallier is now back home, another 9-year-old with a feature trot to his credit this season.

He gave Sundon the race trifecta, a result the great sire also achieved two races later in the NZ Trotting Derby.

A champion driver, and still one of the best, Smolenski has driven more top trotters than trained. With Al Mundy, who won his first race for C G Haugh and six for 'Ginger' Bourne, Smolenski won the Ordeal Cup from Mighty Dollar and Black Frost and three other races. He recalled driving Game Paul when he was favourite for the Dominion Handicap, and thought he was unlucky running second to Tussle with Melvander in an Inter-Dominion Grand Final. He did well with Johnny Fling, and finished second in a Dominion Handicap with Rosie O'Grady. His call-up for more of the Easter race specials at Addington will continue this week when he handles Gimme A Break in the Easter Cup. This is a big ask for the young horse, especially when ageless warriors like Sly Flyin show no sign of leaving the front line. Put Jack Smolenski in that category, too.

Credit: Mike Grainger writing in HRWeekly 4Apr07


| | |
| --- | --- |
| | RACING HISTORY FEATURE RACE COMMENT |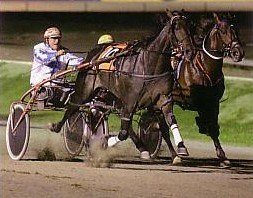 Sly Flyin & David Butt charge past Winforu

"Amazing" is one way of describing Sly Flyin's win at Addington on Friday night. "Just unbelievable" are the words that caretaker-trainer Michelle Wallis chose.
Whichever way you look at it though, Sly Flyin's victory in the Group 3 Paul Renwick Kitchen & Joinery Centre Free-For-All proved that there's still life in those aged legs yet. A lot of life.



Credit: John Robinson writing in HRWeekly 4Apr07


| | |
| --- | --- |
| | RACING HISTORY FEATURE RACE COMMENT |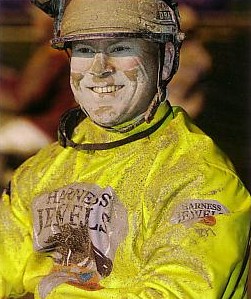 Anthony Butt after the 2007 Easter Cup

Tuherbs isn't likely to be seen in any other colour but yellow for the next eight weeks. They are the specially designed silks worn by the Tour Leaders in this year's inaugural Harness Jewels Series, and Tuherbs made it all-but certain that his will be staying with him when he brilliantly won the Group 1 George Calvert Cleaning Easter Cup at Addington on Saturday night.

It was also a superlative drive from his yellow-jersey wearing pilot Anthony Butt, because after settling three-deep early he made a split-second decision to ease Tuherbs off and into the one-one when the chance presented itself as the field wheeled into the straight for the second-to-last time. Movers were coming around thick and fast at that stage, but instead of getting caught Butt managed to hop onto the back of Sly Flyin as he shot forward 600 metres out and then tracked him all the way to the home bend. Once straightened, Tuherbs powered through the slush and pulled away from a blanket finish behind him involveing Likmesiah, Classic Line, Highview Badlands and Sly Flyin, who all finished within a half a length of each other.

The night belonged to the Live Or Die gelding though, and his 3200m victory was completed in a very quick 4:03.9; once again, another big-race plan came to fruition for master trainers Tim Butt and Phil Anderson. "This race has been a long term aim ever since about Cup time when he was getting through the grades," Anderson said afterwards. "He's a good stand-start horse, so it's always been in the pipeline. And he's kept stepping up, hasn't he."

Tuherbs has always been a pacer that's promised lots, being twice a winner and twice placed from four juvenile starts, but then his career went off the boil at three when he remained winless from five outings, the last two of them across the Tasman. The training partners at Premier Stables never panicked though, and remained unfazed after the fruitless Australian campaign. You can sense that Tuherb's form this season - seven wins from 13 starts - was more or less predicted, even expected. "He's always been more in the mould of a Cup horse than a young star," Anderson continued. "It's just because of the way his mind and body was - he was too big and gangly. And in the early days he was just running on ability, now he's getting there on ability combined with the right frame. The trips away play a big part in that. We like to give all our good horses one...they go away boys and come back men."

Coming up for Tuherbs in the next few weeks is the Noel J Taylor Mile/ NZ Messenger double in Auckland on April 27 and May 4 respectively, both of which will suit a versatile type like Tuherbs, and then it's full steam ahead for the $200,000 Harness Emerald at Ashburton on June 2. Anderson says that the time of year for the latter event doesn't suggest it'll produce produce a super fast mile, but he knows thathis and Butt's representative is capable of one just the same. "He's already gone a quick time there," Anderson said, remembering the three and three-quarter length romp in 1:54.7 that Tuherbs achieved last October. "H rolled along in front that day, which he likes to do. But he has always had that speed, and now he can stay a bit too," he added with a wry grin.

From the Fitch II mare Futurist and bred by Roydon Lodge Stud, Tuherbs was bought out of the Dave Anderson stable by Terry McDonald and his good mate Eddie Griffin before he had even raced. It was a punt that paid off for McDonald - who's not afraid of having one - because Tuherbs won his debut when he contested the NZ Welcome Stakes at Addington and beat home Pay Me Christian that night. The gelding has now won nine of his 22 starts, and netted over $210,000 in stakemoney.

McDonald is a long-time supporter of the industry, having raced many horses from the Graham Court stable and also sponsored events via his company Resource Recycling Ltd. Saturday night finished in style for him when Bad All Over led all the way and won the last eventon the programme in the hands of Court's son Paul. A 3 year old by Badlands Hanover out of the Live Or Die mare Love To Live, the gelding was bred and is raced by McDonald and has now put together four victories in 11 starts.



Credit: John Robinson writing in HRWeekly 12Apr07


| | |
| --- | --- |
| | RACING HISTORY FEATURE RACE COMMENT |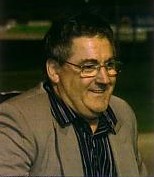 Trainer Dale Cameron

Dale Cameron left nothing to chance when he sent Gold Star south for the NZ Trotting Oaks. The filly waved goodbye to her Patumahoe home a little over a month ago, destined for Canterbury and pre-arranged board with Terry and Ricky May in Methven. What she had in tow took up more room than Gold Star herself...

"She came with a heck of a lot of feed," Terry said, recalling the day that Gold Star stepped off the float. "There must have been six different brews, all made up ready. I don't think there would be a horse in NZ that's better fed than her; full credit to Dale though," he said. But wait, there was more - Gold Star also came with her own manual. "Dale had written out pages and pages of instructions about her feed and training," May smiled. "And there was another half page on her shoeing. We stuck to the rules with her feed, but the rest of it went pretty much out the window. Dale's very thorough," he laughed.

Having already raced twice in the north, Gold Star's southern sojourn began with a start at Addington early last month where she ran home attractively for sixth behind Trotupastorm. She was then well backed at Methven when finishing second, the renewed interest emanating from her sparkling workout at the same course in the days prior.

And then it was on to last Saturday night's $35,000 Group 3 event sponsored by the NZ Trotters Trust, where Gold Star scored a narrow but impressive victory over Jazmin Alicia to tear away with the race that Cameron had started setting her for months ago. "From the day she qualified," Cameron said, remembering when he first put the plan in place. "It was at Pukekohe at the end of January, she'd had two runs leading into the qualifier and shown a better trotting style and speed each time. Todd MacFarlane drove her for me that day, and when handing him the reins I said I was setting her for the Oaks in Christchurch. When he came back in afterwards he said 'you're on target'."

Gold Star won her qualifying heat that day by five and a half lengths. She carried on the form to win her debut at Manawatu before running seventh at Wanganui - her last start before heading south - but the latter performance didn't faze her trainer. "Manawatu was all about the experience and a trip away, in preparation for Christchurch," Cameron said. "I didn't read too much into the next-up run because it was on grass and only a couple of days later, so in hindsight she hadn't had enough recovery time. Winning the Oaks here at Addington is indeed a great thrill. I've got to give special thanks to my vet John Ewen and physiotherapist Rachael Phillips, because they have both played a big part in this."

Raced by the Jacko Shiu-managed Happy Valley Syndicate and good friend Jack Poppleton, Gold Star has a busy schedule ahead of her...the NRM Sires' Stakes Trotters Championship and PGG Wrightson Great Northern Trotting Derby at Alexandra Park on April 27 and May 4 respectively, the Cambridge Trotting Stakes on May 17, and then a return to Canterbury for the 3yo Harness Ruby at Ashburton.

"She's real tough this filly - as tough as the colts," Cameron said. "And by the time she's five, I reckon she'll be ready for the Inter-Dominions. We have knocked back considerable offers so far. But the fact is the Syndicate bred her themselves, and they'll get as much fun from racing her foals as they are out of racing her."

Credit: John Robinson writing in HRWeekly 12Apr07


| | |
| --- | --- |
| | RACING HISTORY FEATURE RACE COMMENT |

The win by Jacanti Franco in the $60,000 NRM Sires' Stakes 2YO Trotters Championship as Addington was not the only first in the race. Just as important were the facts that Steven McRae had trained his first Group winner, and that Continentalman had sired his first as well.

All three were notable in other ways: it was only the second start for Jacanti Franco but she's obviously picked up her game quickly; Continentalman has only two crops on the track; and the only other trotter McRae remembers at Spreydon Lodge was Franco Habit, onr John Hay won with when he was private trainer 10 years ago.

"It was a big thrill," said McRae, who has been in his present role at Spreydon for three years but on the payroll for 13. Because of Spreydon's focus on sales moreso than racing, he doesn't get too many opportunities at high stakes like this, but he predicted the possibility of it a year ago. "I remember having dinner with the owners, and they asked mr who was the next young horse we could expect something special from. They got a shock when I told them there was a yearling trotting filly by Continentalman who could be the one to watch for. She broke in as good as any we had last year. She was fast, and showed ability from 'Day One'. It's the only Continentalman I've had and there's no more I can see coming at present," he said.

And while the conservative McRae is looking forward to starting her in the Harness Jewels, he said he was just as keen on seeing her end this campaign because she wanted a break.

Jacanti Franco is from Jaguar Franco, a Sundon mare who was sold at a reduction sale a year ago. She is the dam of a yearling filly by C R Commando, and is owned in Christchurch by Dave Still.

Credit: Mike Grainger writing in HR Weekly 16May07


| | |
| --- | --- |
| | RACING HISTORY FEATURE RACE COMMENT |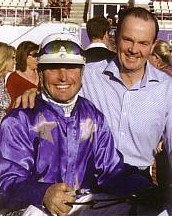 Blair Orange & Mark Purdon

Trainer Mark Purdon kept a little secret from Blair Orange leading into last Saturday's $200,000 PGG Wrightson Sales Series Pace at Addington. And minutes after driving Steve McQueen to win the equal richest 2-year-old race of the season, Orange was glad his boss hadn't told him all the facts.

Just three days before the win, Purdon, who couldn't drive in the race because he was suspended, had taken Steve McQueen to Addington for a private workout. the son of Artiscape whizzed his last 800m in just over 56 seconds during that workout, suggesting to Purdon he was back to the form that saw him dominate the juvenile events at the Auckland Cup carnival. But Orange was none the wiser as he rolled onto the track on Saturday afternoon. "Mark didn't tell me until after the race," said Orange. "I guess he didn't want me to get too carried away and out-drive him, so it worked out well. I suppose that's why he's the boss."

As it was, Orange sooled Steve McQueen off the gate and then trailed Roburascal, who rolled along at a solid clip that took mid-race challengers out of the equation. At the top of the straight there were only two winning chances, and Steve McQueen used the passing lane for a copybook victory over the leader, with Fiery Falcon just holding out Absolute Magic for third.

Both Orange and Purdon had been perplexed by Steve McQueen's mixed form since he returned from Auckland but never doubted his ability. Yet, ironically, the gelding is only Orange's third choice juvenile drive in the stable. He also drives top-ranked youngster Ohoka Arizona, who was ineligible for last Saturday's race, while he wanted to partner Fiery Falcon last week. "To be honest that was my first choice but the owners decided to go with Colin (De Filippi), so this really is a lucky win. Not that I thought there was much between them, but Steve McQueen hasn't been one of my drives before. I knew how good he was though, and it was just a matter of him showing his best and getting a little luck."

Credit: Michael Guerin writing in HRWeekly 16May07


| | |
| --- | --- |
| | RACING HISTORY FEATURE RACE COMMENT |

Dave McGowan doesn't care if he's fragile and gets weepy when One Dream wins. He's past caring what other people think. And he's been told by the people who matter most - his wife Clare, driver Frank Cooney and owner Jill Smolenski - to stop the worry and start enjoying watching the champion filly race. And now, he is.

He couldn't remember a day at the races he enjoyed so much as he did at Addington last Saturday - not because One Dream won the $125,000 Nevele R Fillies Final like the trooper she is, but because he'd gone to the races and gone without the pressure. Before, he carried it inside like a friend who wouldn't leave. "As she kept winning, I felt the pressure more and more. No-one else did. It was just me, putting the pressure on myself. I was being growled at to enjoy what she was doing."

And then, One Dream was beaten in the Northern Oaks by a dropped whip and Running On Faith. "I was just waiting for the bubble to burst. I was a mess after that, not because she lost, but because it was over. I was not enjoying going to the races - I was so scared. And I thought 'Ooo, whats happening here?' The good thing was that it brought everything back into perspective for me."

With some relief from that, McGowan was able to sit back and analyse how One Dream had been racing, and he knew she wasn't quite playing the game. "She wasn't hitting the line like I knew she should. So I gave it some thought and decided to work her in half blinds. I had no need to do it, but she was being a bit casual and I knew she needed a wee tune-up." They went on last Tuesday, but not for her work on Thursday, as McGowan considered they had done what he intended. He was right. "I pulled her out on Thursday, to see if it had made any difference. Well, holy sh... I wasn't ready for it, and lost control for a short time," he said.

That was the horse that took the unflappable Cooney to a convincing win over Belletti in the Group 1 feature. "I've driven some good fillies, like Alta Serena and Oaxaca Lass, but they couldn't do what this filly can do," Cooney said. "My own belief is that she's better coming off the back of one, and she's better racing this way round," he said.

A sensitive and gentle man, McGowan had more pleasing moments to come after the race. "Frank and I were taking her back to the box, and each driver of the next race we passed on the track called out their congratulations to us. It makes you feel good about yourself, and you could tell they love to see a great horse win. She's such a sweet horse... no ears back, no swishy tail. And she gets so excited when she goes out to fast work. At home, we'll either go left to the jog track or right when we go to our fast work track. She gets that spring in her stride when we turn right and she knows what's happening," he said.

McGowan made his start in Canterbury with Brian Gliddon, when he had Frosty Lobell and Alias Armbro, followed by time with Murray Hamilton and Peter Robinson, and his first training winner was Fergie's Rocket who won eight for J X Ferguson. He doesn't think the success he's had with One Dream has been a huge success for business, but a documentary on 'The Racing Show' brought him Sue Dreamer, Alta Sirocco and Nicky Hanover. "They've all come with their little problems, but that's where Clare is so good in helping them thinking it through. I really think Sue Dreamer is the fastest horse over a furlong I've sat behind, and I think there is a lot more in her."

Another key to the success of the team is stable driver Nicole Molander. "She's there every morning, and she comes back and tells us things that only we know about. She gives you all this information, and it's all about caring for your horse and making a difference," he said.

McGowan is well aware of where he's heading with One Dream, and the program from here is simple and laid out - as it was when they started. "It's easy to plan for her, because the races are programmed. She races this week in the Oaks, then the Harness Jewels, a heat of the Breeders' Crown at Cambridge at the end of July, a semi-final, then the final, and then it's a spell for two months. Very limited mileage really, because Jill has said she does not want a tired broodmare." So nice for them too, knowing they have a half-sister by In The Pocket waiting in the wings to take her place. "And she knows what life's about. She has that same attitude and quiet aggression that One Dream has," he said.

So, has McGowan really shaken the pressure off? "On Sunday I had a lovely time taking Mum out for Mother's Day, and on Saturday night we celebrated and I had two gins. That was the first time I'd done that since Ballarat." Perhaps he has.

In the meantime, Smolenski has Fraser - her maiden name - Island, a half-brother by Island Fantasy, to look forward to, while their dam Solitaire will be going to Christian Cullen next season.


Credit: Mike Grainger writing in HRWeekly 16May07


| | |
| --- | --- |
| | RACING HISTORY FEATURE RACE COMMENT |

Top trainer Mark Purdon has three of four top qualifiers Ohoka Arizona, Fiery Falcon and Steve McQueen for the $200,000 Harness Jewels 2YO Emerald at Ashburton on Saturday week.

Fiery Falcon, syndicated for $200,000 only hours after being passed for that amount at last year's Ready To Run 2YO Sale, rewarded his connections at Addington last Friday.

The Mach Three gelding had his big payday in the $175,000 Garrards NZ Sires' Stakes Final at Addington.

He was given every chance in the trail by Colin De Filippi behind stablemate Ohoka Arizona (Blair Orange), who led after 600 metres from a wide gate.

Fiery Falcon had the last say along the sprint lane, scoring by half a length in a 1:58.1 rate (1950m), the leaders running their last 800m in 57.6s.

Outsider Reklaw's Boy finished along the markers from four back to snatch third, ahead of another late finisher in Bettor's Strike.

Fiery Falcon, initially bought by West Melton horseman Michael House for $5500 at last year's NZ Premier Yearling Sale, showed extraordinary speed when trialled leading up to the Ready To Run.

House set up a syndicate including Wellington owner Sir Roy McKenzie, and stable clients, Philip and Glenys Kennard, and Clive and Rona McKay, along with House's wife Michele, to race Fiery Falcon.

House suggested the gelding be sent to premier trainer Mark Purdon, whose record with the gelding now stands at six starts for two wins, two seconds and two thirds, for $143,845.


Credit: Harness Racing NZ


| | |
| --- | --- |
| | RACING HISTORY FEATURE RACE COMMENT |

Short in name and short in stature, but Spicey is a big-time girl who caused a minor upset in the $150,000 PGG Wrightson NZ Yearling Sales Series Pace at Addington last Friday night. She was not expected to be a match for Top Tempo, but there was hope after she worked well with blinkers back on during the week that she would account for most of the others.

The winner of four races - not as many as Top Tempo, but more than the remainder - Spicey was given a patient run back in midfield, and behind Top Tempo for much of the last lap. Top Tempo raced ahead near the 500m and forged to a clear lead turning in, but halfway down the straight, there was still much to do and she had little left to do it with. Given the benefit of a well-timed finish, Spicey picked her off easily, and Belletti finished strongly at the end to take second.

Spicey was sold by Shard Farm of Invercargill at the Premier Sale for $30,000 to 'Weekly' writer Mick Guerin, one of four he bought at the Sales that year, and a day after he stopped at $150,000 to buy Mombassa at Auckland. Two of the others he later sold at the 2005 Ready To Run Sale, and the other was Ten CC. With Spicey, he bought in Jeanine Browne, Suzanne Herlihy and Steve and Jill Stockman, and their return in less than a year has been over $150,000.

Guerin liked the filly so much he went back last year and bought her brother, who is shaping up well for Herlihy without looking a prospect this season. Guerin has never made a noise about Spicey, in spite of the tidy job she has done. "She's not in the top three fillies in the country, in my opinion," he said. "She's a lovely little rat, and she's never got much bigger than she was when we bought her. It's not the money that's been so good about this, but the people I'm with. They're very good friends, and they all contribute to harness racing in so many ways - far more than me."

Guerin said Tony Herlihy, her trainer, was the key to it all. "He has this strange ability to do the right thing at the right time. I don't know what it is, but it worked for Spicey."

Guerin, a Trackside presenter, was quickly back hosting the Franklin meeting just minutes after being an exuberant audience at Alexandra Park. "It was a huge buzz. I had to go outside, and take a deep breath before going back on. It was the first time I found it hard to concentrate, and I really don't know what I was saying for ten minutes," he said .

Credit: Mike Grainger writing in HRWeekly 21Feb07


| | |
| --- | --- |
| | RACING HISTORY FEATURE RACE COMMENT |

Changeover winning from Top Tempo

Changeover has the Christian Cullen NZ Derby on Friday night at his mercy.

It would need a heap of imagination to think of it in any other way on the strength of his efficient demolition of seven others in the First Sovereign Trust Flying Stakes at Addington last week. He was in front after 500 metres, and with arch rival Gotta Go Cullen parked wide early and then having it hard outside him later, it was pretty much a race as expected. But while Gotta Go Cullen faded from the picture smartly from the 400m, Top Tempo again looked sharp with a bold finish for second, and Montecito held on well after being in the trail, although he was more than three lengths from Changeover when it was over.

Both trainer Geoff Small and driver David Butcher claim there is still some improvement to come, ever though a trial before the Flying Stakes made a big difference. Butcher said he did it easily enough, and was surprised to hear how quick the horse had gone down the back when he considered he got it 'soft'. "I think that will tighten him up just nicely," he said.

He has not written off Gotta Go Cullen as a threat in the Derby. "He had the hardest run of all, and it could be different this week," he said. He concedes the opposition is not as strong as it might have been, but says there is still quality in the ranks. "With Lombo Pocketwatch and Fergiemack not there, it is weaker than it could have been," he said.



Credit: Mike Grainger writing in HRWeekly


| | |
| --- | --- |
| | RACING HISTORY FEATURE RACE COMMENT |

Dennis Smolenski is a lucky man. His charming wife Jill is one of harness racing's elite ladies - and she is the proud owner of a horse. Sometimes, that can be a tricky area. Not quite up to the mark, attachments, things like that. But this is One Dream. And Jill is particularly attached to her, and Dennis is happily attached to them both. So he should. She is more than up to the mark, adding the Group 1 Wayne Francis Memorial NZ Oaks to her Nevele R Fillies win of the week before at Addington last Friday.

And while it gave Jill another reason to bless her good luck, she was thinking the win meant more to Dennis than it did to her. "It was a race Dennis was really keen to win. He'd gone close before with Gina Marie and Gina Rosa, and knows how special Oaks wins are," she said.

For driver Frank Cooney it was just another day at the office, more or less. He reported faithfully that she felt sharper than she did in the Nevele R Final, and thought she looked a bit brighter in the coat. He said he had nothing to worry about - other than an early hic-cup when a hopple shortener pin got stuck - and it was just a matter "of not doing the wrong thing". He was not surprised the lead did not come to him immediately. "I had an inkling one or two might come out better than us, and it was nice to get that cover until we got to the back," he said.

Jill was again the epitome of graciousness, so thrilled that so many friends and family came to join her and share the success. "And we're so looking forward to Ashburton because my sister Rhonda and her family are coming up from Outram and they've never seen One Dream before." They are one of many who have written, phoned, faxed and texted Jill with nice words about One Dream. "They've come from all over really, but some are from people who we have never heard of. It's incedible really where that interest comes from," she said.

Jill has spent a lifetime in harness racing, joining Ross Dynes after leaving James Hargest School in Invercargill when he had Berry Hanover and other stallions of National Bloodstock's. She moved to Hamish Hunter's, where she was licenced and won a race with Ryal Avenger, and then went back to Dynes before taking up a Marcus Oldham Scholarship. This was in Geelong, for a year, which she said was 'brilliant'.

She went to Sandy Yarndley's on returning, then suffered a broken back after being kicked by a horse. Her next move was to Almahurst Farm, where Max Bowden stood Knight And Deigh and Oblivion II, and where she got her A I ticket. Then on to Roydon Lodge, Prebbleton Farm, Wai-Eyre Farm, Studholme Park and Woodlands Stud.

It was a career move that has taken her and Dennis to caring for broodmares, foals and yearlings owned by Stonewall Stud and Rod Croon. "It was time to step back, and work without the deadlines of managing a stud," she said. "We have about forty-five mares, and this season we had twenty-four foals and they're coming in every fortnight for handling. So there could be that many we will be preparing for the yearling sales."

Jill and Dennis have three mares of their own, including Solitaire, the dam of One Dream. They also have a half share in Maggicolo, an Il Vicolo-Regal Guest mare in foal to Red River Hanover, and with Clare McGowan a half share in Corzanello, a Totally Ruthless-Rear Window mare in foal to Western Terror.

The Smolenskis will eventually return to Canterbury, but Jill says "we are happy where we are and will do that only when we're ready. We're passionate about the industry. We have dreamed about having a lovely filly, but One Dream has exceeded it." And Dennis says she's deserved it. "She's brought thousands of foals into the world - it's nice that she's got one of her own."

Behind One Dream came Running On Faith, a bold finisher, and Smoke N Mirrors who flew the gate and trailed the leader.





Credit: Mike Grainger writing in HRWeekly 23May07


| | |
| --- | --- |
| | RACING HISTORY FEATURE RACE COMMENT |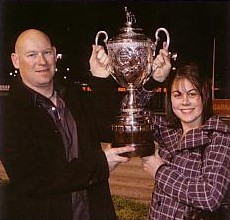 Brendon Hill & Robert Famularo's daughter Sara

Baileys Dream won the first battle in the NZ Cup countdown after an enthralling contest during the $20,000 Avon City Ford New Brighton Cup at Addington last week, but Flashing Red confirmed it is going to be another long suffering war for his rivals before he's finished.

In race number 166, and attempting to make it a Cups double on the night for 10-year-olds after Some Direction had dominated the Ordeal Trotting Cup in her 138th start, Flashing Red drove to the front 1300m from home and a burner down the back in 27.4 had most struggling just to keep up. But Baileys Dream was still keen and indeed relishing the chase, and he came again up the passing lane to have Flashing Red covered quite easily in the end by a neck in a searching 3:11.7, a mile rate of 1:58.6 in cool and breezy conditions.

The last mile had breezed by in 1:55.8 and it will be a scary thought that the remarkable Flashing Red, off the back of one easy workout at Ashburton a fortnight ago, can only be expected to improve with the run. Ricky May for one remains in awe of the unfashionably-bred stallion, when he is one of those who will be most concerned by him. A year ago it was Flashing Red who effectively 'gutted' Mainland Banner when he fought back to down her in the Ashburton Flying Stakes in a world record of 1:57.3 mile rate for 2400m stand, prompting May to comment "he is like a disease - one that won't go away".

May knows that Baileys Dream may have got the better of Flashing Red on this occasion, when the draw enabled him to win a tactical battle of wits, but also that it will be entirely a different day whenever he comes up against him again from a stand and/or over two miles. "We got the drop on him and got to him pretty easy, but he just doesn't give up - he is just an amazing horse," said May. "Baileys Dream felt terrific and I had no idea we'd gone that quick overall (3:11), but I can see we are going to need to be at peak and have things going in our favour at any time (to beat Flashing Red)," he added.

What also remains to be seen is whether May is doing battle with Flashing Red behind Baileys Dream or Mainland Banner come Cup Day, and it could be quite late in the piece before anyone knows. Mainland Banner is almost certain to resume at Ashburton and be driven by May, and Baileys Dream is just as certain to be bypassing that race. "We definitely won't be going there - we don't see it as being a good race for him," said caretaker-trainer Brendon 'Benny' Hill. "A hard race at that point doesn't suit and the Hannon and Methven Cup are looking far more attractive options along with a final lead-up race at Addington," he added. The latter could either be a race on November 2 and 11 days before the Cup, or the Cup Trial, but the "hard yards" would have been done by then anyway.

"It's a bit difficult for the owners and trainers and I don't want to upset anybody either," said May. "The mare is going to have to come back very well and it's not going to be easy. You can't ask Baileys Dream to do anything more than he's doing either. In some ways you kind of hope the decision might be taken out of your hands, but I guess we'll just have to make a call when the time comes if we have to," he added. It does appear though that if May decides to handle Mainland Banner in the Cup again, where she will be back on the front line, that the Baileys Dream drive will go back to Todd Mitchell. That being the case, for Hill's part, he would hope that Mitchell "doesn't go into the Cup cold" and has a drive beforehand. That might seem to suggest that May might have to make a decision before November 1, regardless of whether Baileys Dream and Mainland Banner are both engaged in the November 2 race at Addington or not.

What May does know though is that Baileys Dream is "that fit and well he is jumping out of his skin, and that the credit must go to Brendon. He was very keen and actually wanted to over race when I handed up tp Flashing Red - that's why he was getting his head round a bit - although much of that was simply because Anthony (Butt) was driving to get past us. I'm sure the time off has been a blessing in disguise as I think he's probably going through a few growing pains. With no more problems, I can only see him improving with the racing because it will just serve to settle him."

What Hill knows is that from now on Baileys Dream will only be racing from stands, which will be as much about getting him off the unruly list as keeping him settled. "We've been told hat he will have to race himself off the unruly line, and we definitely want to get him off it as well. "He went away in the Cup last year from the unruly mark, but he has to learn the (standing start) game and be on level terms if he wants to win."

Hill says that missing the Flying Stakes has little to do with that being the track where he almost certainly hurt himself in an accident in a workout at the start of the year. "We were following horses at the start and there was a lot of dust. I was blinded and he couldn't see much either, and he paniked and knuckled over. We carried on to win the heat, but a couple of days later he was swollen and sore."

Hill said last Friday that Baileys Dream was bright and appeared to have come through the New Brighton Cup in great shape. "I'll still weigh him on Sunday though and keep an eye on that. Their weight can't tell you everything but it can tell you something. Every race now will be a stepping stone and a learning curve towards having him spot on for the Cup.

Credit: Frank Marrion writing in HRWeekly 19Sep07


| | |
| --- | --- |
| | RACING HISTORY FEATURE RACE COMMENT |

There were some big winners from the 2007 Chirstchurch Casino NZ Free-For-All, for instance: it was Dean Taylor's first Group 1 success; Waipawa Lad ran the mobile 200m in 2:22, which smashed the NZ record of 2:22.9 set by Yulestar in 2002; it gave sire Live Or Die his fourth winner on Show Day (others being Stay N Alive, Mark Antony and Runnin Outa Excuses); it was Mark Jones's third winner for the day, and while two were achieved with a supreme level of confidence in the abilities of Roburascal and Trotupastorm, the win with Waipawa Lad came from calculated brilliance.

Waipawa Lad was not one of the favourites, not after he had run ninth in the NZ Trotting Cup three days earlier; his 4:01 wasn't in the ballpark. That didn't faze Jones much. He had won 13 races with Waipawa Lad, and all but one had been sprints. He was third in the Free-For-All last year. Taylor gave owners Ron and Colin Bennett encouragement. "Dean said if we're ever going to win a Free-For-All, this will be it," said Ron.

In the form he was in, Jones could chance his arm and get away with it. And this is what he would do. Waipawa Lad flew the gate and made Baileys Dream work hard to lead him. Close-up Changeover had a tough run in the open, and further back, Monkey King had a tougher one three-wide without cover. Neither figured later, Changeover running ninth, five lengths from the winner, and Monkey King was a place and half a length behind him.

The owners of Waipawa Lad are retired Taranaki dairy farmers who now live in Christchurch. They had never raced a horse before until they bought Waipawa Lad as a weanling for $7500 from Nevele R Stud. Ron had met Taylor during the 2000 Inter-Dominions in Brisbane. "I used to bet on his horses, so I went up to him and asked him how you got started in getting a horse. I said I didn't have any money, so Dean said well we'd have to get something cheap. After a few months he phoned me up and said I'd better get to Nevele R because they were selling ones that had just been weaned. There was a paddock full of them, but I got it down to four or five and then just two. I was looking for one with big ears and a bit of room under the jaw and a wide nostril. Dean had to go to a funeral, so he just left me there," he said.

The one Ron left behind was Brownie Points, who did a job but not to the level Waipawa Lad has. Waipawa Lad is the first horse the Bennetts have raced, but now they have another and the reports are encouraging. "The stud phoned us and asked if we'd like to buy Waipawa Lad's half-brother by Red River Hanover for $15,000. We have done that, and we're told he's better than Waipawa Lad when he was at the same stage," he said.

Credit: Mike Grainger writing in HRWeekly 21Nov07


| | |
| --- | --- |
| | RACING HISTORY FEATURE RACE COMMENT |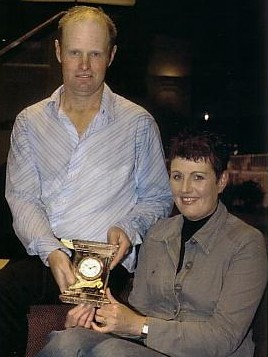 Megan & Brendon McLellan

News that It's Ella has been retired might be a tad premature. Former trainer Brendon McLellan, whose wife Megan co-owns the mare, says there is actually a chance of It's Ella returning next year to defend the two Addington titles that she won so brilliantly over the last two Friday nights.

"We haven't ruled it out," McLellan said. "She is definitely out for the rest of the season, and she will be served early in the Spring. But if something were to happen, like, she didn't get in foal, we might bring her up for those mares' races again. Either way we will know closer to the time, and we will let her tell us," he said.

If last Friday's $100,000 PGG Wrightson NZ Breeders Stakes does end up being the last time we see It's Ella on the racetrack though, what a way it was to go out! Just like she did a week earlier, It's Ella displayed her customary ability to get out of the gate and push forward to secure a handy spot, yet she still had enough in reserve to sprint again and get away from her opposition. And if it was her swansong, It's Ella ended her career in exactly the same way as she started it - with a win.

It was late in January two years ago when a little Washington VC-Just Ella 3-year-old filly made her first official trial appearance, at Gore, romping away with her qualifier to win by three lengths. Coming home in 58.9 that day, she recorded 2:49.9 for the 2200 stand, nearly nine seconds inside the required time! Seven days later she debuted at Invercargill, winning by an equally impressive margin and in quick time again; It's Ella had announced he arrival.

"Yeah, then she ran into Mainland Banner at her second start and finished fourth," McLellan said with a smile, adding that it was "quite a good crop of 3-year-old fillies that year. She had always shown ability but didn't do too much as a 2-year-old, we didn't ask her to. And she only won a couple of races in that first season, she was always just in behind the good ones. But she had niggling problems all the way through though too, and jarred up a lot, and we had to keep backing off her every three or four starts."

Counteracting these ongoing problems was the main reason why the McLellans put in a swimming pool this time last year, and then the decision to transfer It's Ella to David and Catherine Butt soon afterwards - where she'd have access to a pool, the beach, and more racing opportunities - proved a masterstroke, and was the turning point in the mare's career. In 16 starts from her new home, It's Ella recorded five wins, five placings and just over $167,000 in stakes - more than 72% of her total career earnings. And there were many Group race highlights...third in the Ashburton Flying Stakes, third in the NZ Cup and second to Waitfornoone in the Queen of Hearts in Auckland, not to mention finishing her current campaign with a Group 2/ Group 1 double at Addington.

In total, the Washingto VC mare won 13 of her 42 starts, and in all fairness she should also earn the title of Aged Pacing Mare for 2006/07. "Her performance in the Cup was definitely the biggest highlight at the time," McLellan said. "It was a dream result; for us, it was like winning it. And then to win both these mares races...wow, it's amazing."

Although retirement wasn't really talked about, It's Ella's connections knew the broodmare paddock had been drawing ever nearer since her second in the Queen of Hearts. "She won a trial when she first got to Auckland but pulled up a bit lame after it, so we knew she wasn't at her best for the event," McLellan said. "Her problems flared up after that race; basically, she has been a day-to-day proposition ever since. She seemed to be fine when she returned to Canterbury, but the other night Ricky (May) said she felt a bit scratchy on the way back from the birdcage. And she was lame when we put her on the float."

While one door may be closing, another one is definitely ajar, and the McLellans and co-owners Jim and Irene Holland have something just as special to look forward to. Their association with the retired Mokoreta couple stems back to when McLellan was just starting out. Boyden's Beau (5 wins) was the first he trained for them, and others since have included Anna Patron (5 wins) and her half-sister Shania Patron (7 wins, $178,000). "Jimmy and I have been breeding from about three mares together for a few years, Shania Patron was one of our first," McLellan said. "Unfortunately we had to put It's Ella's mother (Just Ella) down, but we are pretty excited about what lies ahead. I think it's natural to get more of an attachment to the foals if you have had so much to do with the mare - especially one like her. And we are not sure what stallion she will go to yet, but it will definitely be a commercial one."

Credit: John Robinson writing in HRWeekly 8Feb07


| | |
| --- | --- |
| | RACING HISTORY FEATURE RACE COMMENT |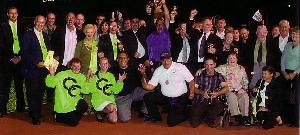 The Changeover Support Team celebrates

It's official - the industry has a new champion.

If there was possibly any doubt about Changeover's status before the NZ Derby last Friday night, a little over three minutes later there was none left whatsovever as he destroyed his rivals. Not the best field ever assembled for the time honoured event, granted, but Changeover made them look even more 'second rate' with a superlative performance.

The In The Pocket colt worked hard to hold the lead early, kept up a sizzling tempo throughout, and then pulled away at the finish to win with ease by two and a half lengths in 3:11.8. It was victory number 11 in a 20-start career, he's earned over $650,000 in stakes now, and there is not a 3-year-old in Australasia that can get near him - all qualities that befit a champion. But Changeover's trainer Geoff Small isn't quite ready to label him that; not yet anyway. "I hope he is," the typically reserved horseman said. "It's a bit early for me to start saying that though. He's just an all-round nice horse...good around the stable, and good on the track."

Small knows a thing or two about training champions, having also put the finishing touches on Elsu during his illustrious career. But you won't get him to draw comparisons between the two pacers, other than Changeover's achieved more during the early stages of his career. And Small's "hopeful" that one day Changeover might even be able to bring home about the only big-race trophy that is not in the cabinet, a NZ Cup.

Changeover could even tackle the event as early as next season, but not if he goes to Australia for the Breeder's Crown. A start in the latter is still to be decided, and in the meantime there's a possible trip across the Tasman prior to the Harness Jewels. "We'll start in a Prelude of the NSW Derby on April 20, but only if we can fly out of Christchurch," Small said. "That will all be decided this week, if not, we'll just stay in Canterbury and go for the Jewels. He is eligible for the Breeder's Crown, but it is a long season too. We'll let the horse tell us, and if he's still bucking and kicking after the Jewels then we will look at the Crown for sure."

What is scary is Small's opinion of where Changeover will go from here, ability-wise. "He's a bit older and stronger at three than he was at two, and you'd have to assume he'd carry on his merry way. We've got a bit of work to do this season yet though, with other big races to target. But I'd expect him to get even stronger as a 4-year-old."

Friday night's NZ Derby was also a triumph for Small's right-hand man David Butcher. It's an association that first started with the horse All Hart, and it's been formidable ever since. The job that Small does off-track is completed with equally as much aplomb by Butcher on it, yet he's quick to unload the credit. "Geoff's such a good trainer - he's meticulous," Butcher says. "He puts hours and hours in, and he does the numbers. The key is getting the horses 'up' at the right time; and Geoff's super at it."

Butcher was also the raceday pilot behind Elsu of course, and doesn't want to talk about him and Changeover in the same sentence either. "No I don't want to compare them - because they're individuals, and I'd rather keep them apart. Changeover was always going to improve, and you'd like to think that he'd be as dominant next season too because the same horses follow you through. The thing about him is that he does everything easy in himself, and that makes it a little bit harder on the others."

In talking about his pre-race thoughts about the Derby on Friday night, Butcher says he didn't have a 'Plan B' in case Changeover was beaten out of the gate; quite simply, he wanted to lead. "When your horse is that good, you don't leave anything to chance," he said.

Credit: John Robinson writing in HRWeekly 4April07


| | |
| --- | --- |
| | RACING HISTORY COMPETITIONS |

2007 MAURICE HOLMES MEMORIAL AWARD WON BY NATHAN WILLIAMSON


Nathan (19 years) was first licenced in the 2004/05 season and is employed by his father Phil Williamson. He had his first totalisator drive in March 2005 at Oamaru and since that time has established himself as not only a very competent Junior Driver but is also excelling as a free lance driver as well.

His biggest success last season was driving Jasmyn's Gift to win the Group 1 NZ Trotting Free-For-All on Show Day.

The Maurice Holmes Memorial Junior Driver Trophy applies to all Junior Driver races conducted at Addington during the season and Nathan through some consistent efforts has pipped his good friend and rival Gavin Smith in the race for the title. It is ironical that Gavin pipped Nathan in the past seasons NZ Junior Drivers Championship which encompasses all Junior Driver races throughout NZ.

Final Points Standings were as follows :-

Nathan Williamson 20 points
Gavin Smith 19 points
Sam Smolenski 13 points

In addition to the Trophy, Nathan received, courtesy of New Zealand Metropolitan Trotting Club, a return trip to Australia with spending money plus $500 worth of clothing.



Credit: Tony Lye