| | |
| --- | --- |
| | INTERNATIONAL HISTORY |

February 15 - You Tube launched in the US.

August 29 - Hurricane Katrina devastates southern states of the USA

October 8 - A massive (7.6) earthquake in Northern Pakistan and Kasmir devastates an area the size of New Zealand killing an estimated 75,000 people, injuring 100,000 and leaving 3.5m homeless.


| | |
| --- | --- |
| | LOCAL HISTORY |

August 13 - David Lange was New Zealand's youngest 20th-century prime minister. Renowned for his sharp wit and oratory, he is best remembered as the leader of the fourth Labour government from 1984 to 1989.

The new Christchurch Women's Hospital opens.

The Crusaders win the last Super 12 competition before it is expanded to 14 teams.

Measures designed to counter the smog are introduced.

The Kate Valley landfill is operational.

Credit: Ch-Ch City Libraries


| | |
| --- | --- |
| | RACING HISTORY |

January 6: Kaikoura TC holds a race meeting at Addington.
February 24: Reefton TC holds a race meeting at Addington to replace its meeting abandoned on December 30 2004.
November 18: Mainland Banner becomes the first 4 year old mare to win the NZ Cup.


| | |
| --- | --- |
| | RACING HISTORY |
Lyell Creek's farewell at Alexandra Park

Respect comes on many levels.

A great horse might be worthy of a very public farewell, like Lyell Creek was granted at Alexandra Park last Friday (6 May 2005). A truly great one, a people's champion, may even be so important to his industry that the TAB will cancel a race and make a 10 minute window on Trackside just so people can watch that farewell. And the rarest of horses may be good enough to convince the Auckland Trotting Club to change one of their premier public areas from being the Lordship Lounge to the Lyell Creek Lounge, as they did last Friday.

But when you are the best, the only $3 million standardbred ever born in Australasia, you deserve something even more special than that. And Lyell Creek has been offered that something special, the highest honour the ATC can bestow on a horse. "We want him to be buried here one day," said ATC President Sid Holloway.

Now that doesn't sound like a lot of fun for Lyell, who considering his longevity on the racetrack probably has desires to live another 20 years. But when he is eventually called to the great barn in the sky the ATC want Lyell Creek's remains to be buried at Alexandra Park alongside perhaps the only NZ standardbred who can be mentioned in the same breath: Cardigan Bay.

"We would one day love to honour Lyell Creek by building a memorial to him here alongside Cardigan Bay, so our two greatest harness horses can be side by side. We have made that offer to his connections as well."

Whether Lyell Creek eventually joins Cardigan Bay is hopefully a question for decades from now, but what is sure is that we won't see his like again for a long time.

How can we expect to see another pacing-bred son of a siring flop go on to become our richest ever trotter? Or even begin to believe a horse who never raced in the age groups could one day take on the best in the world and become a 1:51 trotter? To expect any horse in the future to be able to overcome a 55m handicap in a Group 1 race or win our two biggest trots after spending three years out of the country would be farcical. So don't bother waiting for another Lyell. He ain't coming.

All we can do is remember a remarkable last six years.

Years that contained two enormous winning streaks, three Dominions and three Rowe Cups, the richest ever Inter-Dominion Trot Final, and one of Addington's greatest ever upsets. We can remember how amazed we all were when Lyell Creek became our first millionaire trotter, then doubled that, and depending on what exchange rates you use, tripled it. We can remember the rarity of seeing a horse on the network news, a standardbred being partially syndicated while he was still racing. What about the dramas of owner Graham Bruton, who started at the bottom, rocketed to the top, crashed to the bottom again but then still, came out a long way on top. And how about those winter Sunday mornings watching Lyell taking on the best live on Trackside from the Meadowlands, racing that opened our eyes and filled out racing pages.

But most importantly of all, Lyell gave us hope. To every owner of a battling baby trotter who doesn't look capable of making it, to every breeder who can't afford to go to Christian Cullen or Muscles Yankee. To those who battle and dream, Lyell Creek is the hero harness racing needed.

His is a story so incredible somebody should write a book about it. The only problem is, watching Lyell walk of Alexandra Park for the final time last Friday night, his story is almost to good to be true.



Credit: Michael Guerin writing in HR Weekly


| | |
| --- | --- |
| | RACING HISTORY PEOPLE |

MURRAY BUTT - Horseman

Canterbury's close-knit harness racing industry farewelled one of its favourite sons on Saturday. Murray Butt's public funeral was held at the Templeton Community Centre, near Christchurch, at 12noon. Butt, aged 59, died suddenly and unexpectedly at his Templeton property, Oriole Lodge, on Tuesday 6 December.

The Canterbury harness racing community was rocked by the sad and unscheduled circumstances of his passing. Many are struggling to come to grips with his untimely death. Acclaimed as a modest and unassuming personality, he invariably created the impression he wanted to get along well with as many people as possible. He was very good at it.

A warm humoured and agreeable individual, he shunned conflict and criticism and invariably demonstrated acceptable gentlemanly ways that endeared him to all he knew. He was once described by a respected contemporary as "unflappable and always the same.''

His marriage to Jennifer Jones, a daughter of industry legend Derek Jones MNZM, in April 1965 was to forge an alliance of two of Canterbury's famous sporting and harness racing families that has exerted profound influences on the growth and recognition of the industry in New Zealand.

All three of their sons, Tim, Anthony and Roddy have enjoyed huge success and their only daughter Chrissie is married to prominent trainer Cran Dalgety. It would be superfluous to list the prolific feats with horses of their three sons who are industry household names.

But a special spot, of course, will always be reserved for the likes of champion trotters Lyell Creek and Take A Moment and pacers Mister D G, Happy Asset and Blossom Lady (trained by Derek Jones) and Justaboyden and Judicial who were major Perth winners for Roddy. Anthony was regular driver of Blossom Lady (two A G Hunter Cups and a NZ Cup).Anthony and Roddy were the first drivers to win dual Australasian Junior Driving Championships.

Murray Butt was a son of the late Wes Butt, New Zealand's leading trainer on seven occasions between 1945 and 1962. Wes also topped the national drivers' premiership in 1945-46 and 1952-53. Murray's father-in-law Derek Jones twice won the trainers' premiership in 1965 and 1969 in partnership with Jack Grant (late) and is one of only three New Zealand trainers to top 1000 wins (1011), the others being Cecil Donald (late) and Roy Purdon. Murray's brother Robin of Preston Farm, West Melton, was also a household name in harness racing as the trainer and/or driver of Locarno (Miracle Mile), Camelot (NZ Cup) and classic winner City Rogue. Murray's nephew David Butt (son of Robin) topped the 2003-2004 trainers' premiership in partnership with his wife Catherine.

Murray first met his wife Jennifer at Templeton Primary School before Murray spent the 1960-62 period as a boarder at St Andrews College in Christchurch. "And, when I came out of St Andrews, there was Jenny waiting for me," Murray recently quipped to the writer. The young couple got away to a flying start in life with the winnings of champion filly Golden Oriole who was raced by Murray and trained by his father. After she won her first race, Murray exercised a right of purchase (450 pounds) on the filly he leased from Jim Dalgety. Golden Oriole won about £9000 at a time when a pound was a pound and was later sold to clients of USA horseman Eddie Cobb for the equivalent of about $40,000 as a 5-Year-Old. Golden Oriole won 10 races in New Zealand and was champion 2-Year-Old of her year when she won the NZ Sapling Stakes, one of four straight wins in that campaign.The daughter of Local Light won the Great Northern Derby at three. Murray's father Wes was not only the trainer but also the "Responsible Person'' in terms of ownership legalities as Murray was technically too young to assume any ownership role. Golden Oriole was no slug in open ranks before her sale overseas. She beat the mighty Lordship in a feature Addington sprint.

Funds from Golden Oriole's sale to USA assisted Murray and his wife to set up the Oriole Stud that they operated during the years 1968-1983. Sires they stood at the property included Good Time Eden, Tartan Hanover, Gentry, Scrappy Wave, Crockett, Pacific Hanover, Leading Light and Valerian. Dual gaited Crockett, sire of standouts Bronze Trail and Sprockett, was probably the pick of the sires they stood.

Murray gained his first success as a trainer with Countaway on January 10, 1973. He actually prepared a small team of six horses while mixing stud duties with that pursuit. Game Nian (eight wins) was a capable trotter for him. As a driver, he posted two notable wins with talented pacer Golden Moose in the Kaikoura Cup and the 1985 NZ Firestone FFA, the second leg of the TAB double on Cup Day. His brother in law Peter Jones won the first leg, the NZ Cup, with outsider Borana.

Murray was a former president of the NZ Harness Racing Trainers and Drivers' Association that he represented for three years at HRNZ Executive level before standing down three years ago. He was also the president of the Canterbury branch for five years (1990-1995). Murray Butt enjoyed helping his son Tim at his showplace training establishment where he also took a close interest in horses part owned by his wife Jennifer in trotters Genius and Lotsa Speed this season and another grand trotter in Noam in 2001 and 2002. Noam later raced with distinction when sold overseas. Viewfinder, Keep Up, Night Hawk, Peeping Tom, Success, Marmoose and Roimata Lad were only some winners Murray trained earlier in his career. The Sniper, Red Tip Governor, Cracker Nova, All Talk, Bizness, Bolaz and Bestoranum were a handful of useful outside drives he was associated with. Murray Butt and his wife enjoyed several overseas trips to follow the success of their sons.

The couple eventually subdivided half of their original 100 acre block of land and they bought the late Wes Butt's 16-acre Mankind Lodge complex at Templeton where the couple built a 20-bay all weather golf driving range in 1995. They operated the venture themselves for a year before leasing it out.

Murray and Jenny Butt were seemingly inseparable companions at Canterbury harness racing fixtures and also at Auckland and overseas raceways. They derived much genuine pride in the success of their children in harness racing and invariably accepted it modestly and graciously. The couple's numerous grandchildren were also a source of much warmth and enjoyment. Murray and Jenny Butt's combined act will be difficult to follow.

Credit: Don Wright


| | |
| --- | --- |
| | RACING HISTORY PEOPLE |

GEORGE SHAND - Trainer & Driver

George Shand had his last drive on the unplaced Eastwood Jaunty in the Green Mile at Methven on Sunday. "I just haven't been too good health-wise and decided to stand down," Shand said.

He trained and drove Eastwood Jaunty to win the inaugural Green Mile in 2000. The gelding has contested the six Green Miles. He finished second to Bruzem in 2001 and third to Oaxaca Lass and Niobium in 2002. Eastwood Jaunty has won 13 races including the 2003 Methven Cup.

Shand, who turns 76 on Friday, drove 373 winners including Satyr who won the main race, the McCloy Memorial Handicap, at Methven in 1960. He drove his first winner, Lochella, at Wanganui in October, 1951. Lochella was trained by his father-in-law, Peter Gallagher.

"One of the highlights was winning the Ashburton Flying Stakes with Mighty Gay. I always had a soft spot for the horse," Shand said. "Another was winning a race in Australia (at Mildura) with Eastwood Jaunty."

Mighty Gay won the Flying Stakes in 1976. Shand trained and drove Borana to win the Forbury and Oamaru Juvenile Stakes in the early 1980s.

Credit: Tayler Strong writing in HRWeekly 14Dec05


| | |
| --- | --- |
| | RACING HISTORY INTERDOMINIONS |

2005 INTERDOMINION SERIES

The carnival was held at Alexandra Park in Auckland. The Pacers Final was won by Elsu and the Trotters Final by Play On.


| | |
| --- | --- |
| | RACING HISTORY FEATURE RACE COMMENT |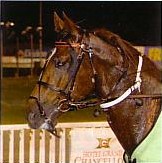 Badlands Bute

The list of credits behind the win of Badlands Bute in the $100,000 Christian Cullen New Zealand Derby at Addington is long and versatile.

To start with, there is Danny Boyle, the bustling PR operator for Nevele R Stud who bred the colt in partnership with his brother-in-law Ron Stewart and Tim Mills, Chief Executive of the Canterbury Jockey Club. Next comes Badlands Hanover, the sire they matched with their Nero's B B mare Te Phyno, to leave Badlands Bute.

He is seen at the 2003 Inter-Dominion Yearling Sale by John Street and Graeme Blackburn, principals of Lincoln Farms Ltd, who paid the trio $33,000. They then graciously leave him in the care of Ray Green and Robert Mitchell after Ray Norton retired, when they could have easily taken the hand of caution by sending the promising youngster to a stable of greater renown. And it was wrapped up by a steady drive from Tony Herlihy, who knew the key to Badlands Bute winning depended upon the use of his lethal sprint inside the last 200 metres.

Badlands Bute is one of Badlands Hanover's first crop and was, in fact, his first siring success in New Zealand, winning at two in February last year. He was a Norton horse at first, and it was no secret he was one of the best amongst the yearlings handled at the time. The retirement of Norton turned the spotlight on Mitchell and Green, two of the 'boys' who suddenly had the job of making decisions, not taking them. With the exception in particular of Attorney General, Street and Blackburn said the rest of the team was theirs and the operation was over to them. Were they lucky to keep Badlands Bute? "We kept him hidden, but we all knew how good he was. We really wanted to keep this particular horse. We said they would do us a favour if he stayed, and they honoured that," said Green.

Both were well experienced horsemen. Mitchell had been a Norton 'lad' since 1978, and Green was working with horses when he was 17 and recalled being with Peter Wolfenden at the time he had Cardigan Bay. "I was his best boy," Green says.

In any event, they welcomed the chance to manage Lincoln Farm's classy team when the opportunity came, and with two derbies won already - Badlands Bute having also taken the Great Northern - they can feel well satisfied at being put to the test, and passing it. They have a team of 30, the oldest being four, and 10 of them yearlings. Nine of them came from the PGG sales, including three by Badlands Hanover, two by Presidential Ball and two by Artiscape. "Our operation is heavily subsidised. We have six on the staff - Shane Smith, John and Bruce Bedwell, Terry Fletcher, Ned Jelicich and Paul Curran, who will be heading back to Canada soon. It's a luxury, the way we do it. I know Ray would be very proud of both of us," Green said.

Badlands Bute, whose next start will be in the New South Wales Derby - where runner-up Baileys Dream is also heading - gave the partners mild concern when Herlihy began the last lap three-deep, following Baileys Dream and Ewie Duncan. "I was a bit worried that we'd cooked our goose at that point. But then he's deadly with a late sprint. That's his forte," he said.

Credit: Mike Grainger writing in the NZHR Weekly


| | |
| --- | --- |
| | RACING HISTORY FEATURE RACE COMMENT |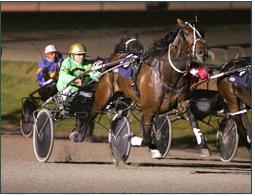 Mainland Banner & Ricky May head for the judge

There was an incredible amount of hype leading into last Friday night's $100,000 Wayne Francis Memorial NZ Oaks, as it was the first showdown between the undefeated Mainland Banner and arch rival Foreal, herself winner of 13 from 16 starts.

When Foreal drew two and Mainland Banner landed 15, the odds seemed very much in the former's favour. But with the horse drawing inside Foreal being an emergency for the event, her automatic scratching moved Foreal into one and changed the whole complexion of the race. Driver Anthony Butt no longer had options, needing to secure the lead no matter what to avoid him and Foreal getting buried back on the fence. And he had three goes at it too...firstly at the start when Robyn Blue matched them for early speed, once again soon afterwards after that rival had crossed them, and a third time down the back straight when he pulled out of the trail behind Nick Off Holme. The latter had zipped around with purpose just before the bell and been allowed to go to the front, but the damage to Foreal had been done by then; a lead time of 1:13, Mainland Banner sitting back in the pack having not spent a penny, surely it was only a matter of time before she pounced.

Back where he and Mainland Banner were sitting, Ricky May knew that part of the plan was working - but some parts of it weren't, either. He'd thought two or three times about moving but nothing pulled out to give Mainland Banner cover on the way round, so in the end he hooked out starting the last lap and got stuck behind a runner that was sitting three-wide and going no-where. Playing the waiting game as long as he could, May finally decided it was time to go wider passing the 600m mark, and with a slap of the reins Mainland Banner inched forward. Rounding the turn she was fair travelling, and in the twinkling of an eye she simply changed down a gear and zoomed away. Molly Darling burst out of the pack to get within a length and a quarter, but nothing was going to deny Mainland Banner her moment and she stopped the clock in a breathtaking 1:58.8 mile rate.

She might float like a butterfly, but she certainly stings like a bee. Afterwards, May could do little more than shake his head. "She just did that herself," he said. "She had absolutely no favours out there tonight; I knew by the time we settled down we were going to be twenty lengths off them, and we were. But she's such a stunning filly - she's just so good that anyone could drive her." May then went on to say things that no-one thought they'd hear any driver admit... "She feels better than her father, and I know that's a big call. But she feels better-gaited than Christian Cullen, because he used to go a bit rough at times. She wears a sixty-three inch hopple, no shorteners and no knee boots... she's just the most nicely-gaited horse you could ever drive. And that run won't knock her either. If anything she'll come back better next week."

'Next week' is this Friday night's $100,000 Nevele R Fillies' Final, and after such a performance Mainland Banner will be all the rage to extend her unbeaten streak to eight.

There in the background, as he was throughout the night last week, will be former owner Ian Sowden. Sowden is the Ashburton horseman who purchased Mainland Banner off Dennis and Dianne Moore at the Premier Yearling Sale before on-selling her to Ian Dobson 21 months later. And even though he no longer owns the vehicle, he's never stopped enjoying the ride. "She's still a part of me," he said. "I've never missed being on-course when she races, and I spent all night down at the box with her tonight. I remember when she won at Invercargill, they had to come and find me to get her to pass urine. They'd been trying for over an hour, but after I got there she did it within a couple of minutes. No, I'm just getting a hell of a kick out of seeing her race."

Sowden says despite the fact that he sold Mainland Banner last November, he "could write a book" about the filly. The opening chapter would undoubtedly be about how he'd never intended to buy her in the first place, showing up at the Sales with his eye on something else. "That was a Spirit of Zeus colt, but I didn't like it when I saw it. I'd brought the horse float with me, so I thought I may as well take something home in it. And then this Christian Cullen filly came into the ring. She was nice and wide in front and had big ears, and they'd been hammering away at $5,000 for ages before I put my finger up and got her for $7,000.

Sowden showed remarkable patience with Mainland Banner early on, taking her back to the workouts again and again for more and more practise. "Right from the first day I put her in the cart she was clever, and relaxed. It was quite incredible," he said. "She's one of those horses that just kept improving every day - you never had to go back and do anything all over again."

It's all been quite a ride since trainer Robert Dunn took over as well...an unofficial record at the trials; seven starts without even looking like getting beaten; $111,824 in the bank so far. "She's very exciting," he said. Dunn says that last week's clash between Mainland Banner and Foreal obviously caught the public's imagination very early on. "I don't think I've ever trained a horse leading up to a race where there's been so much hype from such a long way out. I mean, during Master Musician's era there were like eight millionaires. And the only other time I've experienced that one-on-one hype was when he took on (and beat) Jack Morris in the Victoria Cup."

Dunn says he wasn't "cock-a-hoop" confident leading into last Friday's event, having immense respect for Foreal among others, but despite where she drew he also knew what his filly was capable of. "All those times when you see horses run fifty-five halves, they're only at top speed for about fifty metres of that; this filly can carry that speed for a lot, lot longer. I think she could be a freak," he said.

Credit: John Robinson writing in the NZHR Weekly


| | |
| --- | --- |
| | RACING HISTORY FEATURE RACE COMMENT |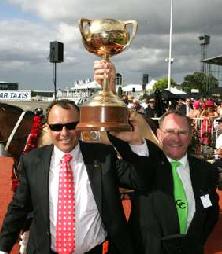 Robert Dunn & Ian Dobson celebrate

No-one told Mainland Banner the magnitude of the mission. If they did, she didn't hear. No-one told her she was a girl in a male domain. Not being sexist, she didn't care. No-one told her she was running further than she had before. Knowing she could just keep on keeping on, she knew it wouldn't matter. And, with the magnificent Christchurch Casino sign beckoning in the distance and just 20 seconds away, Mainland Banner hoisted full sail and let rip.

She quickly collared the uncomfortable Mi Muchacho who was holding on by heart alone, and put a goodbye break on the bunch. Wider out, Just An Excuse worked home strongly after settling handy at the 1600m, beaten for second by Alta Serena, who dashed home after being held up to a minor extent on the turn. Then came Bobs Blue Boy.

How did Mainland Banner become the youngest mare to win the $400,000 Christchurch Casino New Zealand Trotting Cup? No-one better to give us a match report than driver, Ricky May. "I was a wee bit nervous before the race, because of all the hype she was getting. All New Zealand must have been talking about it. But the good thing was that Robert (Dunn) left the race completely to me. She was a wee bit keen in the preliminary, and didn't make that good a beginning. It must have cost her two or three lengths, and she felt like she didn't quite know what to do. She just wasn't concentrating."

May, who had won the race with Inky Lord in 1989, and Iraklis in 1997, settled her five places back on the outer, with the early line ahead being Likmesiah, Jackson Browne, Bobs Blue Boy and Howard Bromac. He sat until the day-trippers had gone round, and left on his own just before the mile. He didn't hurry and none came after them.

"I had to chase her up to get round them." Before the post a lap out, he was second and happy. "I knew she could win sitting parked from there. On the corner I still had a good hold on her, and when she heard the other horse start coming on the outside, I could feel her surge again," he said. The curtain fell with Mainland Banner home by a length and a quarter in 4:04. She wrecked the hopes of the sprinters by running her last quarter in 26.9.

May was in head shaking form after getting the job done. "It was a great training feat...she's phenomenal...she's an incredible horse...there are no words to describe it, and she still doesn't know how to race." And to his credit, he openly wondered about the target when he first heard about it. "I wasn't that keen on it when I first knew that it was on. I'd seen Happy Sunrise go through the same thing when he'd just a few more starts, and he didn't handle it. I knew she could do it, but I thought it was just a year too soon," he said.

With the game plan underway, May put his weight behind it. If he needed comfort, it came last week when down-the-road trainer Cran Dalgety told him Mainland Banner worked "sensationally" on his track. No-one told her Ricky May knew then that she could complete the mission.


Credit: Mike Grainger writing in HR Weekly


| | |
| --- | --- |
| | RACING HISTORY FEATURE RACE COMMENT |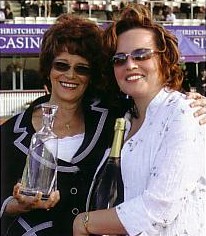 Howard Bromac's proud owners Lynette Philpott and Michelle Larsen

Howard Bromac has finally got his name on a Group 1 trophy. His nose was sticking out the most in a blanket finish on Show Day's Lindauer NZ Free-For-All, and it was an anxious but memorable way to give his two Australian co-owners their first win at Addington. Trained and driven by Kirk Larsen, Howard Bromac is raced by his wife Michelle in partnership with Lynette Philpott and her nephew David Hardie, who hail from Cronulla, two avid supporters of the sport in their country.

"I first got into harness racing when I was young, but then had a break for about thirty years," said Philpott. "We'd have interests in about forty horses now," she said. Philpott is heavily involved in the day-to-day runnings of the building and investment company Slingsby Holdings, a role she stepped into following the death of her father. She regularly sponsors races at Harold Park, and also Bulli, where during February every year two $50,000 events for 2-year-olds called the Lindon Huntley Little Memorials are raced in honour of her late father.

Philpott first got to know the Larsens through Tahonga's Hanover, who was sold to her from Kirk's stable in 1997. "He won us twelve races, and gave my mum Edith so much pleasure," she said. "Kirk and Michelle came over to Australia not long after that, and we've just clicked ever since."

Philpott continued to purchase horses from New Zealand, with the next one being Howard Bromac's older full brother Harvey Bromac, the first foal of Holmes Hanover mare Honour Bromac. Harvey Bromac won a dozen races as well, which seems to be a pertinent number because Howard Bromac was registering the 12th win of his career in the Free-For-All. Subsequent foals from Honour Bromac, all bred by Nevele R's Bob McArdle, are heading in the same direction too. Live Or Die 3-year-old Huntley Bromac has already been shipped across, and Larsen says the next one - Mystical Shark 2-year-old Hallelujah Bromac - is "quite a nice horse". Others that Philpott has bought from the same source include Hardly Matters, Clint Westwood and Albert Einstein, which have all won their fair share of races, so it is no surprise she's quickly growing a soft spot fo Kiwi-bred horses.

For Larsen, the FFA victory was also his first taste of Group 1 glory, but by Sunday he was almost downplaying the achievment with his 'back to business as usual' approach. "The horse deserved one," he said. "He probably lacks a bit of brilliance, but he got the run to suit - doing no work on a hot pace; he can always give you that good quarter when things pan out that way. And he really dug deep that last fifty metres."

Howard Bromac's connections weren't issued an invitation to the Miracle Mile, which is traditionally the case following the Free-For-All every year; that's quite remarkable considering his Australian owners throw a great deal of money into sponsorship at Harold Park, too. So without it even being an option, Larsen will continue with his original plan of the Auckland Cup, Hunter Cup and Inter-Dominions as the main targets for his stable star. "There's so many big races coming up for him, and even if he only did the same as last year (win one race) I'd be happy. And he's still only six, so if he stays soung there's no reason why we shouldn't be looking to line up again in the Cup next year," he said.

Credit: John Robinson writing in HR Weekly


| | |
| --- | --- |
| | RACING HISTORY FEATURE RACE COMMENT |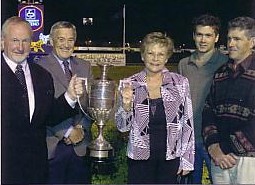 Meredith Wilson presents the Cup to Margaret Gibson

Pompallier has the high ground as New Zealand's best trotter after a handsome win in the $100,000 Southern Trust Dominion Handicap.

But there in one getting the same view. Jasmyn's Gift ran the race of her life to finish third, behind Major Decision, after a break that cost her 50 or 60 metres but probably more. She would have given Pompallier an awful scare had she stepped and been part of the bunch. She caught them at the 1800m, and went forward almost immediately.

Colin De Filippi, who had replaced Brosnan in the sulky at the suggestion of the owners, was well placed four-back on the outer, but left that cover and took the lead off Major Decision at he 1200m. From there, Pompallier was on a winning rein. Jasmyn's Gift produced not the run of the race but the run of the meeting. But ability is little comfort without manners, and they stood to Pompallier and Major Decision.

Brosnan was not dismayed when the decision was made by part-owners Margaret Gibson and his wife Julija after Pompallier's Show Day sixth to see if De Filippi would handle the horse. He needed to be released from Paris Metro, which John Parsons happily agreed to. Brosnan and De Filippi have combined before, De Filippi winning with Trojan while Brosnan was still in South Canterbury and with Gee Sixty Eight since he's been in the north. The Brosnans, Margaret and her husband Noel have been neighbours for many years, the Gibsons having bought the adjacent property when they originally settled at Ardmore.

Pompallier was bred by the Brosnans after buying Armbro Gold, who was one of a number of horses advertised by John Curtin in a dispersal sale. She was a winning Armbro Del mare from the family of Local Light, and she'd been breeding by the time the Brosnans got her. "I'd had a good run with Castle Derg, Kilat and Jenlight who were all by Local Light, so that was a factor. And as she was related to Best Bets, who was a very good trotter for Eddie Cowie," he said.

Sent to Tricky Dick, Armbro Gold left Baltic Flight, the dam of Inter-Dominion Grand Final winner, Baltic Eagle, which the Brosnans sold after two starts for a fourth and a first. Since leaving Pompallier to Sundon, Armbro Gold has left him a sister, seven years younger, and is grazing at Carl Middleton's. She is 27 and perhaps past breeding successfully again, but Brosnan said "we might give her one more go".

Brosnan says Pompallier is an easy horse to work with, but he's "useless" if he gets fired up. "I always work him on his own. It's a privilege to have a horse like this. Along with No Response, he's the best horse I've had," he said.


Credit: Mike Grainger writing in HR Weekly


| | |
| --- | --- |
| | RACING HISTORY FEATURE RACE COMMENT |
The connections of Pay Me Christian

Pay Me Christian stamped himself as the best 3-year-old in commission with a brilliant win in the $150,000 NRM Race13 Sires' Stakes Final at Addington on Cup Day.

Pay Me Christian drew nicely at four in the Sires' Stakes Final, and most of those that sent him out hot favourite would have expected him to use his gate speed and go straight to the front, but it was well into the event before driver David Butt got serious about it; it was a pre-race plan that fell into place.

"David and I did talk about it," Kerr said. "We knew there was going to be a lot of speed early, because there were about three horses which were going to try and get the trail behind him. So we just decided to stay out of that early rush and then push forward, and David drove him beautifully. He had to be a real good horse to win it today. And I was just so pleased for him, because he had one or two knockers."

He's not getting all stirred up or being silly when he goes out on the track anymore," Kerr continued. "He's settled down now, and he is starting to develop into his body too. Pay Me Christian's identical to his old man, in that he's got such natural high speed. And he possesses all the same characteristics as his grand-dam Pay Me Back, who was a super,super mare...beautiful gait, high speed, great in the wind, and can stay all day."

Bred by Mark Paget, Paul Mahoney, Gerald Dwyer and Barrie Rose, who own his dam Pay Me Tu, Pay Me Christian was bought back through the sale ring and then Martin Boyce and Terry McCormick joined the quartet in the ownership.

Credit: John Robinson writing in HRWeekly 10Nov05


| | |
| --- | --- |
| | RACING HISTORY FEATURE RACE COMMENT |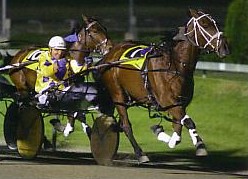 White Arrow & Wayne Higgs race toward the Nobilo

The day after winning the Nobilo, Wayne Higgs was taking time to think about it. White Arrow's surprise win in the Group 2 sprint has opened doors previously closed, and Higgs is set to go inside. "I'm pretty thrilled," he said. "We are talking the NZ Cup, the Auckland Cup, the Hunter Cup and the Inter-Dominions. And I'm just the man to travel."

White Arrow made full use of his inside draw and a trailing trip behind Flying Sands to work up the passing lane at Addington and take last week's feature off London Legend. Higgs thought the winning margin - a half-length - could have been more. "He was just winding up at the end because I had two or three goes at pulling the cord to take out his ear plugs. He is a long horse in the cart, and it took me thirty or forty metres before they came out. It is a wee thing we need to get sorted out," he said

Higgs has always championed the merits of White Arrow. This season he has been calling him "a monster," which in the context of what Higgs means is a horse who has come of age and could do something awesome. "I guess a lot of people might look upon him as another Borana or Smooth Dominion; it's up to him. But he is a very good stayer. He won the Nelson Cup by six of seven lengths, and when he won the Marlborough Cup he had a very tough trip and a speed duel, ran the 3000 metres in 4:05 and still kept giving. And while others might be better from the mobile, he has speed from a stand."

White Arrow, a 6-year-old bay by Sands A Flyin, has not had the smooth preparation Higgs had planned to give him but the wheels are back on now. "We missed a workout and the Avon City Cup when he got kicked and it was quite serious. We were chasing our tail after that, and he was down a bit after racing at Oamaru and then at Addington four days later. He didn't eat up the night after that, but he cleaned up after the Nobilo and is one happy horse."

If Higgs had one question going into the Nobilo it was how White Arrow would address the mobile start. "I was concerned because he had never won from a mobile before. But I was able to give him two laps at three-quarter pace for his preliminary. I could not have done that with him six months ago. From a training perspective, that was the winning of the race."

Credit: mike Grainger writing in HRWeekly 10Oct05


| | |
| --- | --- |
| | RACING HISTORY FEATURE RACE COMMENT |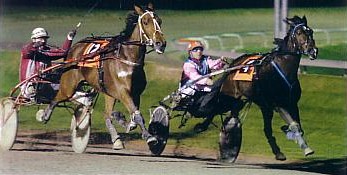 Aramid (inner) catches Cracker Nova

Ken Ford turned 57 last Wednesday, and the next night one of the stars of his small racing team delivered his own version of a present by winning at Addington. And it was a decent present too - victory in the $20,000 Ordeal Trotting Cup.

Aramid sat parked during the early rush for positions before Jimmy Curtin pushed him to the front nearing the 2000 metre mark, taking a trail behind Cracker Nova soon afterwards. From there the big Grant Our Wishes gelding had the best sit, all he had to do was lift himself at the business end, and Curtin timed their lunge to perfection.

The victory was win number 10 for Aramid, but just his third in the last two years, ending a frustrating run of poor form that have given his connections plenty of headaches. "We knew something wasn't right with him, but for a while just couldn't pinpoint what it was," Ford said. "There was trouble with his near-side leg, but he wasn't lame or swollen so it wasn't obvious. In the end Dave Senior scanned the leg and found he had a small tear in the suspensory - just the size of a matchstick head. Dave said that we could either push on and it would be alright, and he would probably win another race, or we could spell him and probably win a heap more."

That was last December. Aramid went out for a six-month spell soon afterwards, and the build-up to his two runs this campaign was long and methodical. "I felt for a while he was coming good," Ford continued. "He's just got some tightening up to do yet. He is fit, he just needs that sharpness back again.

Now a 6-year-old, Aramid is raced by Ford and his daughter Amanda Tomlinson, who's not too proud to admit that he is her favourite - or to give him some 'yell' at the end of a race either.

Credit: John Robinson writing in HRWeekly 21Sep05


| | |
| --- | --- |
| | RACING HISTORY FEATURE RACE COMMENT |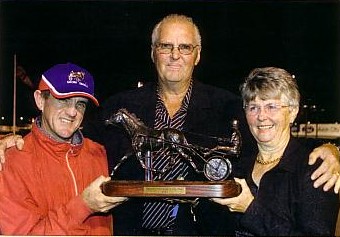 Geoff Small, Kevin Warneford & Alison Eagle

Kevin Warneford's got a favourite number, and a lucky pair of underpants. The number is five, the underpants are lime green, and both were worn at Addington last Friday night - one by his horse, one by him. But whether luck had anthing to do with it or not, Warneford enjoyed his greatest moment in harness racing when Ambro The Thug won the $150,000 Garrard's Sires' Stakes Two-Year-Old Final.

Sent out third favourite but paying over $12 due to the presence of both Tuherbs and Pay Me Christian, Ambro The Thug was kept out of the early rush for positions by driver David Butcher and settled three-wide in midfield. He lost his cover at the 1400m point when Looksaflyer crossed to the parked position outside Tuherbs, so pushed forward himself, bringing up Pay Me Christian who returned the favour and gifted him the one-one over the final 900 metres.

The race couldn't have panned out better after that, because the two hotshots eyeballed each other with enough pace to stop anything else creeping forward. Having sat there marking time, Ambro The Thug got the 'let's go' signal turning for home when Butcher peeled out to set off in pursuit of Tuherbs. The Armbro Operative juvenile picked up his more illustrious rival comfortably, and if anything was pulling away at the finish to win by nearly a length.

Accepting the trophy from Garrard's representative Natalie Gameson as he was about to make his victory speech, Warneford muttered something else first... "You see that? It's already got my number on it." And he was right. Ambro The Thug had worn saddlecloth five, the very same number carved on the side of the horse that features in the Sires' Stakes trophy. A omen? Maybe. But funnily enough, four days earlier Warneford had actually dreamt that Ambro The Thug would land that barrier position behind the mobile. "Yes, he woke up on the Tuesday morning and remarked that we were going to draw five," said Alison Eagle, Warneford's partner of 11 years. "When I asked him how he knew that he answered ...'because I dreamt it'. Later that day Kevin was feeding the horses while I looked up on the computer, and when I went down to tell him what we'd drawn he said 'you see - I told you so'."

And what about those lucky underpants, where do they come into it? "Well," Eagle sighed, rolling her eyes. "The night that 'Bro' won his first race, Kevin had, by chance, a pair of lime green jocks on. So because things had suddenly gone right and our horse turned his formline around, Kevin thought that they might be lucky ones. "He had them on again the next time 'Bro' raced, and he won again. So now they get washed and folded up and put right at the back of his draw - and don't get worn until the day 'Bro' races."

Credit: John Robinson writing in HRWeekly 25May05


| | |
| --- | --- |
| | RACING HISTORY FEATURE RACE COMMENT |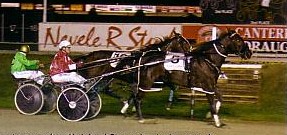 Molly Darling upsets Mainland Banner

Christian Cullen's complete dominance of the 3-year-old filly features at Addington continued last Friday night when he sired the first three home in the $100,000 Nevele R Stud Series Final.

Molly Darling simply out-toughed the favourite Mainland Banner, and did it on her merits too, being left three wide and parked outside her over the last 800 metres before crossing the finish line half a length clear in a brilliant 1:57.8 mile rate. Absolutely Brilliant speared between runners late in the piece to grab third, albeit six lengths away, and for good measure Christian Cullen's only other representative in the Group 1 event (Kamwood Cully) ran fifth.

Molly Darling's part-owner, trainer and driver Brent Mangos was actually quite humble afterwards, having inflicted the first defeat on Mainland Banner in her eight-start career. "Horses just can't keep winning all the time," he said. "So someone's got to beat them; I'm just lucky that on this occasion it was me. But when Molly Darling's right, she's very, very good. In fact I don't think there is anything between her, Mainland Banner and Foreal," he said.

For Mangos it has been a long, hard road to get Molly Darling back to where she is now, but even if the fickle harness racing public seemed to lose faith, he didn't. The hiccups started after Molly Darling's trip to Sydney in February for the NSW Oaks Prelude and Final, which were the filly's first racetrack appearances since she won the Breeders' Crown Final in Bendigo last August. "Going to Sydney gutted her," he said. "She was probably only eighty percent ready when she went, and afer two big trips and the heat over there she had lost a lot of weight by the time she got home. "So I just backed off, and didn't rush her. That is why I missed the Great Northern Oaks and Sires' Stakes heats - so that we could specifically target these two events in Christchurch. I think she turned the corner the night she won in Auckland prior to coming down for the Oaks, because although she didn't beat much that night she felt like she was starting to come right. And I didn't do a lot with her in the week leading up to the Nevele R Final, but she'd felt good all week at Catherine and David Butt's and never left an oat. I wish the Oaks was next week now, because she just feels that good again."

Molly Darling is raced by Mangos in partnership with Scott Plant, Warren Oliver and Brian Hewes. You couldn't meet a more enthusiastic bunch of horse owners, but over the next few months there are some serious decisions to be made with regards to Molly Darling's future. After a fillies' and mares' event in Auckland on June 10, Molly Darling will either stay here for a heat of the Breeders' Crown on July 15 or cross the Tasman for the Australian Oaks. "Those two races are on the same night," Mangos said. "After that we may well send her to America, and lease her to someone over there for eighteen months or so. It's just that there is not a lot for her here as a 4-year-old mare. She might measure up to the good ones as a five or 6-year-old, but in the meantime she could win a lot of money in the States - and come home with a quick mile time. "It's all about keeping her happy, because if horses are happy they go good - especially mares."

Credit: John Robinson writing in HRWeekly 25May05


| | |
| --- | --- |
| | RACING HISTORY FEATURE RACE COMMENT |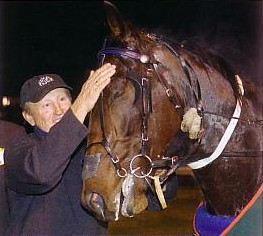 Lew Driver & The Reckoning

Lew Driver is very much his own man. He trains on the edge of convention. But his methods work, as The Reckoning showed when winning the $200,000 Sales Series Pace at Addington last Friday night.

The Reckoning was the busiest horse in the race. He had raced 12 times this season, being once to Auckland and three times to Invercargill. He never missed a float ride. "He's only had three straight days off since February last year," said Driver, who settled in West Melton from the North Island in February, 2003. Driver moved south as an extremely successful businessman and trainer who had done splendidly with "other people's cast-offs. I had won all the cups in the north - Hawera, Northland, Waikato, Hawkes Bay, Rotorua - except the Auckland Cup and I had been second in that, and Gaelic Skipper was runner-up in the Inter-Dominion Grand Final. My horses had won over a million, and one season I trained thirty-three winners".

That was before he became heavily involved in the hotel industry. "It wasn't until I came south, and with only a half interest in a hotel, that I decided to spend some real money," he said. For $84,000, he bought Presido at the Ready To Run Sale, claimed Chief to give him a racehorse, and chose 10 yearlings at the PGG Sales. The Reckoning, a son of Presidential Ball, was one of them, and he cost $20,000.

Along with his stablemates Gretamaro, Fleet Magic and Gaelic Annie, The Reckoning was ready and waiting for the juvenile racing to begin, and he was fully educated and conditioned with trial racing when it came. He ran second at his first three starts, to Live To Reign (twice) and The Adman before winning a race at Ascot Park at his sixth start.

Although well pleased with his lead-up form, Driver lost what confidence he had when he saw The Reckoning starting from the outside of the second line. "I had seen how it affected Presido when he drew badly in both Derbies, and I went along for the night a bit scruffy. I just didn't expect to be there. I saw him at the winning post, and then I lost him down the back, though I knew he was in the middle of them somewhere. It was a real thrill to win it, because it is the first big stake I have relly won - $107,000 is quiet a lot.

Driver does not train pretty. "I do what every trainer does, feed them three times a day, but they don't have to work much at home if they're racing or going to the trials. I feed them NRM Race13, and they have jumped out of the ground since they have been on that. They don't get boxed, and there are no shelters - just double rugged in a paddock - a bit like the Aussie galloper, Vo Rogue. And the only time they get washed down is after a race or a workout. They get towelled down, their legs get iced and I rub Staysound into them every day. It is very cooling and tightens them up. They are just my own thoughts and how I do it," he said.

Presido is having a working holiday with Mark Smolenski - who Driver says brought him into the "modern world" with feeding and other suggestions - and in due back in the stable next week. The plan is to take him to Australia for the Breeders' Crown, and The Reckoning will probably go too, after he races in the Juvenile Championship in Auckland.



Credit: Mike Grainger writing in HRWeekly 18May05


| | |
| --- | --- |
| | RACING HISTORY FEATURE RACE COMMENT |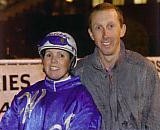 Phillippa Wakelin & Steve Noble.

Three rugby mates have Steve Noble to thank for their win by Awesome Imace in the Group 2 $35,000 NRM Sires' Stakes 2-Year-Old Championship at Addington last Friday night. "Come and have a look at him, Steve said to us," recalled part-owner Mike Moore. "Front on, he looks just like Sir Castleton. After this, I believe everything Steve says now," he said.

Still, it wasn't all plain sailing after a hiccup last week when he galloped at his previous start, behind Brite Speed, when third in the running. This was after two false starts, which left Noble and his training partner Phillippa Wakelin in two minds whether lining him up so soon after it was in the best interests of the horse. But Awesome Imace had a strong week. "He's so laid back, nothing fazes him," said Wakelin.

The journey for the pair was a pleasure, sitting behind the pacemaker and favourite, Mountbatten. "I knew he could outsprint them from there," she said. Galleons Assassin attacked with a bold run from the turn, and appeared to have the race in hand 100 metres out. But Awesome Imace came with the speed Wakelin knew he had and turned the tables quickly inside the final 50 metres.

"We just needed our luck to change," said Wakelin, who weaned the colt for breeder Ian Starkey, and Noble arranged the lease with a right of purchase for himself, Moore, Stephen Hill and Alistair McLay.

Wakelin has had a thorough background in harness racing, especially with trotters, starting with Erin Crawford, where she spent three years, followed by four years with Ian Cameron. She drove five winners as a junior driver, then went to Brisbane, winning 30 races while employed by Stuart Hunter. On her return, with Noble, she worked for Mike Berger, then did yearling preparation for Merv Neill, and before establishing their own stable at Oxford, spent five years at Wai-Eyre Farm. They have two racehorses in their team of 12, plus three nearly due at the workouts.

Awesome Imace is the first winner in New Zealand sired by the Balanced Image horse Brylin Boyz and is from Awesome Lass, a Straphanger mare who won once from seven starts and got hurt. He is the third foal, and the first two have qualified, and there are two by Sundon to follow. Starkey was on-hand for the win, and recalled racing the grandam Not Surprise, a Hodgen's Surprise mare who won seven races for Bryce Buchanan. Starkey raced a number of horses from Gavin Hampton's stable, including Chiola Sam, the winner of five, and Wakfield - his first winner - in 1956.

Credit: Mike Grainger writing in HRWeekly 18May05


| | |
| --- | --- |
| | RACING HISTORY FEATURE RACE COMMENT |

Jasmyn's Gift outfinishes stablemate Allegro Agitato

When you're hot, you're hot. Words fronm the hottie himself, Phil Williamson. And it is true, the man is the latest Little Lucifer.

Having won the NZ Trotting Oaks at Addington last month, Williamson returned last Friday night for the sequel to the appetiser, not only winning the Group 1 $50,000 Tyco Electonics/ Ralph, Thompson, Shaw & Thompson NZ Trotting Championship with Jasmyn's Gift but running second with her stablemate, Allegro Agitato. For Williamson, who has had many special moments this season, this was the best of them. "It would be my biggest thrill in racing," he said. "I have had some good tutors along the way, and you don't lower the colours of Tim Butt often in these types of races," he said.

In this case, he was surprised the Jasmyn's Gift would do it, rather than the more fancied and better-performed Allegro Agitato. "She has shocked a few, including me," he said. This was the supreme test for Jasmyn's Gift, a 5-year-old Sundon mare whose assignment was by far her biggest to date. "She went outstanding. To be honest, I had my reservations about her because there have been a lot of little things she hadn't done before. When we took the lead (off Allegro Agitato) Tony (Herlihy) could see how well we were going. She has never been one to fold up, but I couldn't believe the way she pricked her ears and strode away in the straight," he said.

Jasmyn's Gift entered the record books on two counts, the other being her mobile 2600m mobile time of 3:15.9 which bettered the 3:15.9 she set on February 18 when she defeated Some Direction and Marie Wishes. This performance has now put the Rowe Cup on her agenda, although Williamson knows the assignment will not be an easy one. "She has never raced that way round, and that was a factor against the Australian horses when they were in Auckland last month. It can take racing to handle that. But on the way she raced tonight, I have got to pursue that way of thinking," he said.

Jasmyn's Gift is from Ilona Del, a Speedy Summit mare from Del May who Williamson drove to win a race at Waimate for Polly Cleave. She was owned then by Allan Elderton who bred the top class trotter Directorship from Del May, and gave Williamson the mare to breed two foals. One was Iona Whiz, who won a race at Winton and after being sold went through to good company in Australia. Ilona Del, owned now by Clive and Rona McKay, has since left progeny to Holdonmyheart.

While Phil and his wife Bev were disappointed that their son Nathan was not on track to see the mare's big win, they were quick to give him credit. "He has done a lot of work with her, and has kept saying she is as good as Allegro Agitato."

Credit: Mike Grainger writing in HRWeekly


| | |
| --- | --- |
| | RACING HISTORY FEATURE RACE COMMENT |

Not so long ago Tony Dickinson couldn't even give Heard A Whisper away, but today she is becoming a broodmare that money can't buy. Heard A Whisper has risen to fame through the deeds of her second foal, Alta Serena, brilliant winner of last Friday night's $100,000 George Calvert Cleaning Easter Cup at Addington in near record time.

The victory was Alta Serena's 17th from only 38 starts, and took her over $360,000 in stake earnings. As long as trainers 'Bunty' Hughes and John Green can keep her sound there should be a lot more where that came from, which is all quite in contrast to the fact that she is out of a mare that no-one wanted.

By Smooth Fella out of Tawhai Sandy, Heard A Whisper was bred by Dickinson and some friends to put through the Sales. But she cut a leg and had to be withdrawn, so they raced her themselves. "Heard A Whisper won two for us, then after we leased her to Chris Insley she won another one for him," Dickinson recalled. "She was a fast mare too, but she could only do it at one end."

It was about this time when Dickinson
decided to convert his passion for harness racing into a boutique operation and formed his own company, Alta Breeding Ltd. He bought out his partners in Heard A Whisper, bred three foals, and then tried to give the mare away. "Her first was a Soky's Atom filly (Whisper Atom), but she was so small I ended up selling her cheaply to Chris and she never raced - he is breeding from her though," Dickinson said. "Then I put Heard A Whisper to Fake Left (Alta Serena), because he was flying in Queensland at the time and I thought if he could do that sort of job in Australia over their mares he should be able to do just as well here. And the third one I bred was a Sands A Flyin, who was a magnificent colt but he contracted the Wobbler Syndrome and had to be put down."

Three foals down, only Alta Serena actually making it to the Sale ring and attracted just $4500 at that - it's no wonder Dickinson wanted Heard A Whisper's space in the barn to be taken up by something else. "I tried to get rid of her," he admits. "I advertised her in a couple of papers, even rang a couple of studs to see if I could swap her for a service. But there were no takers. In the end, Woodlands put her in foal to Lislea for me. Then when Alta Serena jumped out of the ground as 2-year-old, well, everyone wanted to know about her."



Credit: John Robinson writing in HRWeekly 13Apr06


| | |
| --- | --- |
| | RACING HISTORY FEATURE RACE COMMENT |

Tuherbs is too strong for Pay Me Christian

Terry McDonald has never been afraid of having a bit of a flutter on the tote, and last Friday night a punt of a different kind paid big dividends for him when Tuherbs won the $50,000 NZ Welcome Stakes at Addington.

Tuherbs was bred by Roydon Lodge Stud, and the Live Or Die-Futurist gelding did all his early education under the guidance of part-owner/trainer Dave Anderson, but on Friday he made his debutin the colours of Tim Butt after being bought by McDonald and his good mate Eddie Griffin a little over a month ago. "We have people looking around for horses for us all the time, and it was actually Mark Jones that spotted Tuherbs at the trials one day," Butt said. "We trialled him once, at Dave's, and knew he had a six-figure price tag - but that is the going rate for a good, young horse these days."

In between times Butt had put the proposition to McDonald, who had raced the likes of Show Cruiser and Life Goes Bye from the stable in the past. "Tim mentioned that the asking price was fairly high, but I left it to his judgement to decide whether he was worth it or not," McDonald said. "He believed Tuherbs was, so then I rang Eddie and he nearly fainted, but he said he would get the money together somehow."

In business and as friends McDonald and Griffin go back a long way, 30 years in fact. Originally they were partners in the Acme Metal & Drum Company, McDonald managing the Christchurch branch and Griffin overseeing the Dunedin one. The picture changed about seven years ago when McDonald amalgamated with McIvor Metals to form Resource Recycling Ltd and Griffin went out on his own, but they have remained great mates and continued to race the odd horse together. One of those was In The Way, who ran second to Giovanetto in the 1991 Welcome Stakes, so Tuherbs did his bit to settle the score by going one better last Friday night.

He had to be good to do it too, because apart from a second-row draw over the 1950 metre sprint trip he had the red hot favourite Pay Me Christian standing in his way as well. Tuherbs and driver Anthony Butt tracked Pay Me Christian with every stride, settling behind him after the start and then following him three-wide and into the race over the last lap. Gaps appeared between the pair when Pay Me Christian took off at the 600 metre mark just as Tuherbs got humped four-wide, but once around the final bend he was soon idling in behind his main rival once again and waiting to pounce. Butt went to pass at the furlong, but then had to suddenly grab hold of Tuherbs and steer him wider when Pay Me Christian baulked for the second time and went sideways. Unfazed by the loss of momentum, Tuherbs straightened, gathered himself and zoomed on past the favourite, winning virtually untouched by one and a half lengths in a 1:58 mile rate.

"He is a lovely horse," Tim enthused afterwards. "He has got a great temperament, and settled in right from day one after we got him; Dave deserves a lot of credit for what the horse did tonight. "And the thing about Tuherbs is that he probably doesn't really know what he is doing yet. We will target a Sires' Stakes Heat with him in a fortnight, hopefully the Final after that, and then that will be it for the season."

For McDonald, winning the Welcome Stakes was one of his most enjoyable moments in the 40 years he has owned and raced horses. His involvement has never been more in-depth than it is right now either, because he is breeding from seven mares and the total head count across the board is well into the 30s. The latest to join the list is the dam of Tuherbs, Fitch II mare Futurist, who he bought for "a steal" when outlaying $6500 for her at the Roydon Lodge Sale earlier the same day. She is in foal to Julius Caesar, and after such an emphatic debut performance by Tuherbs she too looks like a punt that is going to pay off.

Credit: John Robinson writing in HRWeekly 13Apr05


| | |
| --- | --- |
| | RACING HISTORY FEATURE RACE COMMENT |

After his game second placing behind Elsu in the InterDominon Grand Final, Sly Flyin had everything in his favour to take out the $30,000 Group 2 Frucor Beverages Free-For-All on Friday night.

Starting a warm favourite, Sly Flyin and Tony Herlihy proved that patience is a virtue in the running. As predicted the early speed came from Jagged Account (barrier 2) and Sly Flyin (barrier 4), Jagged Account held out the early lead from the inside draw leaving Sly Flyin sitting parked. After 800m Herlihy decided to release the brakes on the fav, zooming to the lead only to be headed off soon after by Young Rufus - thus giving Sly Flyin a dream trip in the trail. Entering the home straight Sly Flyin zipped past the tiring Young Rufus and skipped home to win easily by a length from a game Hexus and a brave Bobs Blue Boy who sat parked for the last portion of the race.

Sly Flyin ran the 2600m in 3:13.7, the 800m in 58.3 and the 400m in 28.3. Remarkably it was his 17th win from 48 starts and has boosted his earnings to over $500,000. The performance now puts Sly Flyin as an early favourite for next week's Easter Cup.

Credit: Harness Racing NZ


| | |
| --- | --- |
| | RACING HISTORY FEATURE RACE COMMENT |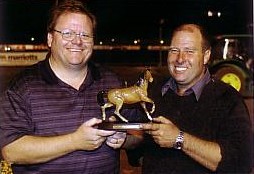 Michael Taranto & Bruce Hutton

Michael Taranto's faith in the NZ breeding industry was vindicated when Rhythm Of The Night won him the $70,000 PGG NZ Yearling Sales Series Trot at Addington last Friday night.

Taranto hails from Hallam in Central Melbourne, where he manages the aluminium company Seelite Windows & Doors. He started the business with his father Vin in the early 1980's, and then took over the reins himself when Vin retired nine years ago. "It's booming," Taranto said, proudly. "There were three of us when it started, and now we employ fifty people. It's the sort of job which gives me the time and money to get involved in harness racing."

Taranto's dedication to his work almost cost him the chance to even be on-course at Addington last Friday. He was booked on a 9:00am flight that morning but had to re-schedule, even though he had been at the office since 3:00am. "Being the end of the month I had to finish all the invoicing and get everthing done before I flew out. It soon became clear that I wasn't going to make my flight though, and I was lucky enough to be able to change my ticket and finally get on a plane at eleven."

Taranto arrived at Christchurch just hours before Rhythm Of The Night's event, and the Sundon gelding that he races in partnership with trainer Bruce Hutton made the hectic rush all worthwhile by showing great tenacity to wear down the pacemaking Power In Motion near the line. "I'm a walking billboard for the New Zealand breeding industry, believe me," Taranto said afterwards. "The quality of your stock at the yearling sales here is far superior to anything back home. Plus, you have got such lush paddocks; we have had no rain in Melbourne for three years - we have to install tanks and pump the water in, that is very hard on young horses."

Taranto met Hutton a couple of years ago when buying 'tried' horses, and their friendship has grown to the point today where he has now got eight or nine in-foal mares and another dozen or more yearlings and racehorses stabled at Hutton's property. The numbers are similar back home in Melbourne, where his horese are all trained by Matthew Garth. "You couldn't find a more hard-working or honest toiler," Taranto said, praising Hutton. "He may not have the same flamboyance as other trainers, but as a horseman he will do me every time. My involvement in horses is still pretty much in it's infancy, but this is what we do it for.

Taranto is also involved in the administration of harness racing as well, being Vice-President of the Cranbourne HRC, Chairman of the Breeders' Crown committee, and a member of Harness Racing Victoria's stategic planning committee for 'V3'.




Credit: John Robinson writing in HRWeekly 6Apr05


| | |
| --- | --- |
| | RACING HISTORY FEATURE RACE COMMENT |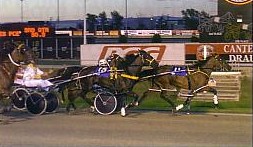 Life Of Luxury holds out Saxon Lass

Life Of Luxury knocked the favourites off after starting from a second-line draw in the $130,000 Pyne Gould Guinness NZ Yearling Sales Fillies Pace at Addington last Friday night.

She was aided by an astute piece of calculated driving by Mark Jones, which allowed her to win with the authority in which she did. Attsa Nice, the early leader, tracked the winner for the last lap, and had her chance to close the gap in the straight but this didn't happen. She was unable to get past Saxon Lass, a Make A Deal filly who had no luck and missed cover yet lasted pluckily for a clear second. Star of The Ball was put out of commission when she galloped in tight quarters when on the move from the back near the 500 metres.

Life Of Luxury was a cheapie at the Premier Sale two years ago, selected by Malcolm Gillies for just $9000. Gillies has had a long association with the Grice brothers, Bevan and Keith, and he was interested as soon as he saw she traced back to Coo Doo, and such big winners as Barbara Del, Anzus, Stereo Light, Palestine, Columnist and Finest Hour. "She had a Logan Derby nose. There was 'Grice' written all over her," he said. His interest was complete when he saw she was by Live Or Die, sire of Tidal Franco, a big winner he bought at the sales the previous year. "Then we went back last year and bought her brother, Grice, for $26,000, and he has qualified."

Joining Gillies in the ownership are his wife Diana, Andrew Grant, Colleen Breen, Mary Corboy, of Hamilton, Ian Watson and his mother, Margaret. "The common thread was all of us being involved with Dean's stable," he said. Life Of Luxury is trained at Ladbrooks by Dean Taylor, whose other stable star at present is Waipawa Lad, also by Live Or Die. "I have to say the sire has been good to us," he said. Lavish Franco is a Soky's Atom mare from Lady Barbara, by Lordship. She was bred by Spreydon Lodge, and is owned by Roydon Lodge Stud Ltd, the breeders of Life Of Luxury.

Credit: Mike Grainger writing in HRWeekly 23Feb05


| | |
| --- | --- |
| | RACING HISTORY FEATURE RACE COMMENT |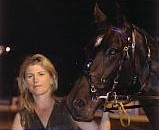 Vicki Purdon & Advance Attack

Advance Attack, a full brother to Courage Under Fire, won the race by half a neck from Ewie Duncan, with a further five and a half lengths to Here Lies a Dream.

Owned by the Estate of J H Seaton, Advance Attack was trained and driven by Mark Purdon.


| | |
| --- | --- |
| | RACING HISTORY FEATURE RACE COMMENT |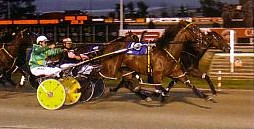 Lady Toddy lasts to beat Alta Serena

Lady Toddy was all but written off when she drew the cruel number nine marble in the $100,000 NZ Standardbred Breeders' Stakes sprint at Addington last Friday night.

It was a fair call, for neither of the two choices available to trainer Ken Barron made any appeal. One was to ease and go back and hope to hook a ride in the three-wide train over the last lap, or take the enormously risky gamble of pressing on from the start and slip in with cover. This wasn't going to be a drive for the faint-hearted, and Barron knew it and said it. "I told Rodney (O'Neill, the stable foreman) that I couldn't go back if I wanted a fair chance of winning."

Not many try this trick, and those who do it are usually remembered for going on a perilous journey that ends badly. Barron is not one of them. Within 400 metres, Barron had snuggled in to trail Tibetan Lass, on the outer. Coburg held the front, Imagine That had gone three-deep, favourites Armbro Innocence and Alta Serena had taken their only choice and stayed back, and Barron pinched himself to see if it was true.

Even with 1000 metres to run, the back markers had hardly moved, leaving Lady Toddy with a trip she has seldom had this season. She stayed under cover until just before the turn and, in her usual determined style, came out hard and strong. At one stage, halfway down the straight, she might have got a length on the other chances, and while that may have painted a pretty picture then, it started to look less than enough 50 metres out.

Wide on the track Alta Serena started to carve the margin back, slowly at first but with mighty chunks near the end. The post came just soon enough for Lady Toddy. Had it been a few metres more this may not have been the case, Alta Serena's effort was huge, Lady Toddy has long been an Addington favourite and deserved her win.



Credit: Mike Grainger writing in HRWeekly 9Feb05


| | |
| --- | --- |
| | RACING HISTORY FEATURE RACE COMMENT |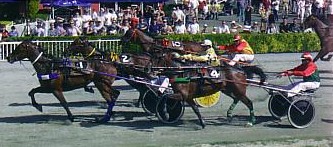 Allegro Agitato wins the FFA from Play On, Major Decision & Some Direction

Justin Smith and Craig Thornley know that Ricky May is the form runner of the NZ Cup carnival. They also know he is on a good thing to add the Group 1 trot to his Group 1 Pace.

May won the NZ Cup with Mainland Banner last week and is cheerily placed with Allegro Agitato to win Friday Night's $100,000 Dominion Handicap. The Sundon mare is likely to be favourite after leading throughout and holding off Play On and the trailing Major Decision in the $50,000 NZ Free-For-All on Show Day.

Smith finished fourth in the race with Some Direction, less than a length and a half from Allegro Agitato, and Thornley ran second with Play On who closed quickly. "She had no luck whatsoever," said Smith. "She is racing as good as ever, but her form doesn't show it. The rest of them are all that even," he said.

Thornley thinks trainer Peter Lamb has Play On ready to strike again. "He feels just like he did before he won the Inter-Dominion Grand Final," he said.

Credit: Mike Grainger writing in HRWeekly 16Nov05


| | |
| --- | --- |
| | RACING HISTORY FEATURE RACE COMMENT |

Toomuch To Do & Blair Orange

There are more rich pickings ahead for the West Melton stablemates Toomuch To Do and Ado's Invasion. Only Prince Sundon separated them from running the quinella in the $30,000 Giannis Pita Bread Canterbury Park Trotting Cup at Addington last Friday night.

Driver Blair Orange said Toomuch To Do was "very stiff" the week before when 10th to Diedre Don, and Ado's Invasion was on the way up after an improver's fifth in the same race. Both are seasoned campaigners, and both have won 11 races, although Toomuch To Do is still behind in stakes. "She is better in her gait this season," said trainer Mike Austin, which is exactly what John Hay is saying about Prince Sundon, who is eight and the same age.

Austin said Toomuch To Do is "flat beating a maiden" in her work at home, but a huge performance to win a heat of the Inter-Dominions last season showed she is up to the best on her day. "She drew fifteen in the Grand Final," said Austin, who added that she has just kept getting better each season.

Ado's Invasion didn't start racing until he was four, missed much of last season because of a tendon injury, and has never been any great shakes over two miles. "That is the best he has gone," said Austin


Credit: Mike Grainger writing in HRWeekly 19Oct 05


| | |
| --- | --- |
| | RACING HISTORY FEATURE RACE COMMENT |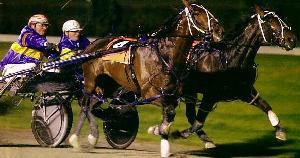 Pay Me Christian beating Alta Sirocco

Within a week or two, classy stablemates Pay Me Christian and Alta Sirocco will be settled in new quarters. Along with Nick Off Holme and other members of Paul Kerr's team, they are on the move fron West Melton to Marshlands, on the other side of Christchurch.

For the past 18 months, Kerr has been in residence at Preston Farm, where Robin Butt trains and his father-in-law Jack Litten did before that. Now it awaits the imminent arrival of the dozers and dump trucks that will turn it into a residential area.

Kerr will re-settle on the property of Wayne Higgs, where he says there is ample room for the two of them. "There are two lovely tracks and we both have our own barns. It is a training set-up designed for two stables, there is security and I'm looking forward to it," he said.

Kerr has another reason to consider the change so favourably. "We are only eight minutes from Spencer Park Beach. This is a great bonus. When I trained a Waikouaiti, I would train all the team on the beach between races, and I think the colts will benefit from that," he said.

This, and the near certainty of having the two favourites for the $150,000 NRM Sires' Stakes Final on Cup Day, gives Kerr a pretty exciting calendar. "It's certainly the best classic team I've had, but the racing team while we were at Waikouaiti got up to twenty," he said.

Pay Me Christian, who led throughout to beat Alta Sirocco by a neck in the ICE Bloodstock Rising Stars 3YO Championship, is off to Forbury Park this week to book his place for the final which would appear to be a formality. He will then have a breather before the Final. Alta Sirocco, who has won a heat of the Series, is already on his break and won't race again, outside of a trial, until the Final.

Credit: Mike Grainger writing in HRWeekly 12Oct05


| | |
| --- | --- |
| | RACING HISTORY FEATURE RACE COMMENT |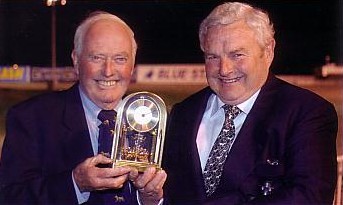 Tom (left) & Ossie Hickman with the Derby Trophy

If you live in Taimate and noticed that things are somewhat quiet around your neck of the woods last Friday night, there was a good reason for it. Because the way that a large crowd of people jumped to their feet and screamed Tozzie home in the NZ Trotting Derby at Addington, you would have thought that half the town was there.

Tozzie is raced by 77-year-old Tom Hickman and his nephew Ossie Hickman, hence the gelding's name. They both own large farms in Taimate, a township near Ward and about half an hour south of Blenheim which has been home to several branches of their family ever since their ancestors first settled there over a century ago.

'Large' would be a way to describe the support crew in attendance on Friday night too, because together with their wives Aileen and Mary, most of their 12 children and a host of other friends and relatives from both Taimate and Christchurch, there were 30-odd people in the birdcage to savour the victory. And boy had he done them all proud!

Tozzie started off the unruly in the 2600 metre mobile event and trainer/driver Pat O'Reilly took hold of him right from the start, so much so that the 3-year-old was still last and four lengths off the back of the bunch as they wheeled by the mile peg. Coming past the winning post with a lap to go Tozzie had begun his run three-wide, with cover, and then O'Reilly managed to nestle him in one place closer to the fence when George Castleton broke at the 700m mark; but it was only briefly, and with a handful of horse he sent him up three-wide again and challenging round the last turn. Tozzie surged to the front inside the last furlong, and even though Jazz Legend looked a threat late in the piece, at no stage did O'Reilly ask him for what was in the tank and they powered to the line strongly.

Just for good measure, and despite the cold and drizzly conditions, Tozzie had stopped the clock just three tenths of a second outside the national record. "This is just unbelievable," Tom said afterwards. "I have been racing horses with Pat for thirty years. We love to come to Addington, and we have always wanted to win here. And now to win a Group 1, well, it is just a bloody great thrill."

By Sundon, Tozzie is the first foal of Jacnnan, a Gee Whiz II mare that scored her only win from 14 attempts at the corresponding meeting at Addington seven years ago. That was Hickman's first winner at Addington, and Tozzie is his second. Jacnnan was out of Taimate Charm, who was by Noodlum out of Miss Charming, the resulting foal of Hickman's first Sales purchase - the Stormyway mare Stormy Star, who he bought in-foal to Prince Charming. Jacnnan was the only one of the aforementioned mares that ever qualified, but Tom has stayed loyal to the breed and all the horses he has ever raced belong to it. "It is a great buzz to have bred all the way through to get Tozzie," he said. "We always wanted a straight-out trotter. After putting Miss Charming to Noodlum to get Taimate Charm, we put her to Gee Whiz II to get Jacnnan and then Jacnnan to Sundon. We have got a 2-year-old full-sister to Tozzie at home, called Tozzie's Sister, and the next one out of Jacnnan is an Earl filly. And she is back in foal to Sundon again," he said.

Last Friday's victory was Tozzie's third on end. all three performances are in total contrast to his first campaign, back in January, when he had three goes in standing start races and broke every time. "You wouldn't know it but he is perfect at home - I can't fault him," O'Reilly said. "On raceday he trots away with them, but then he just tries to go too quick. He is a bugger for throwing his head up when the grit hits him in the face too, because he doesn't like it. But he will come out of those things. A month ago I had never even thought of the Derby. And I only threw him in that race a week ago just to see how he would go behind the mobile, and put him on the unruly."

So what has made the difference between Tozzie now, and Tozzie we saw at the start of the year? "I just put him on the float every time it went out the gate," O'Reilly answered. "He wasn't starting, but if we were off to the trials or the races he was on the float too. And I mucked around a bit with him at the trials - even when he went away with them I would keep him back in the field just to get him used to the grit."

Despite being loathe to put a label on horses and predict how far they will go, O'Reilly can't help but admit that Tozzie has got all sorts of potential. "He had natural ability from day one," he said. "He was very good-gaited and had a bit of quick speed too. But I am not a great believer in starting 2-year-old trotters, I don't care how good they are. He is not fool-proof yet either though. Like, he could just as easily go out there next start and break. But the thing about him is that he felt just so strong the other night, despite the start he gave them and what time they went. So to answer your question about how good he is...I don't know."

Credit: John Robinson writing in HRWeekly 13Apr05


| | |
| --- | --- |
| | RACING HISTORY FEATURE RACE COMMENT |

For a horse with 'bad' written all over him, Bad Leroy certainly went against his namesake by winning the $40,000 PGG Southern Graduate at Addington on Friday night.

Driven patiently by Todd Mitchell, Bad Leroy settled back early in the race allowing the favourite Analyst take over control easily from barrier two. In a race that saw many changes in face, the southern visitor Beaudine Terminator zipped around the field to take over in the hands of Tony Herlihy – only to hand up meters later to the determined challenge from The Reckoning and Robbie Holmes.

The pace proving too hot for some of the starters, there looked to be only four horses with a chance approaching the home turn. The Reckoning was running strong out in front, Bad Leroy was still there after sitting parked for the last lap and Analyst was poised and ready to pounce behind them. Easily hitting the front Bad Leroy looked to have the race sewn up with 200m left, however a gallant Racy Rocket weaved through the field from near the rear of the field to zip within a head of the winner at the line. Holding on strongly to run third was the Sapling Stakes runner up The Reckoning. The favourite Analyst ran fourth 1 ½ lengths from the winner.

Bad Leroy is a son of Badlands Hanover out of Royal Chanel and is trained by Steven Reid of Pukekohe. His lifetime record now stands at 7 starts for 2 wins, 3 placings for a bankroll of $35,741. His regular driver Todd Mitchell was pleased with the victory, and feels the horse is a strong enough chance to make his presence felt at this week's meeting.

Credit: Harness Racing NZ


| | |
| --- | --- |
| | RACING HISTORY FEATURE RACE COMMENT |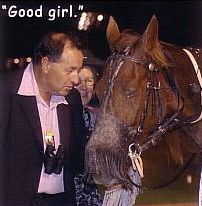 One Over Kenny & her pleased owners

Phil Williamson made a bold career call a couple of years ago when he quit a nightshift job and a small team. With his son Nathen, now 16, keen to live the life, and a very able lieutenant in his wife Bev, Williamson decided to train full-time.

He has increased the stable to 13, which is a comfortable number, and one he knows he can manage with time to attend to the little things. With it has come more success than they gave thought to, including a heat of the Inter-Dominions with Allegro Agitato and success by One Over Kenny in the $30,000 NZ Trotters' Trust Trotting Oaks at Addington last Saturday night.
The win by One Over Kenny was pretty much in keeping with Williamson's professionalism and knowledge of what he needed to win the race. "Phil said a year ago that we would win the Oaks with this filly," said Bev.

A chestnut filly by Sundon from Frances Jay Bee, the winner of six, a half-sister to big winner One Under Kenny (11 wins), and half-sister to One Kenny (17), One Over Kenny showed off her class with a stayer's run that started at the 1200m when Williamson sent her round the field. She was as strong as an ox in the run in, beating Petite Sunset by a length. Now Williamson will step her up a notch by running her in the $50,000 NZ Trotting Derby on Friday week, and he expects her to be no less competitive in that company.

One Over Kenny is raced by Heather and Lex Williams, formerly of Waimate where they had a farm, and now in Oamaru where they operate a movie theatre. New clients of the stable, they bought her as a yearling for $23,000, and returned to this year's Premier Sale where Williamson bought them a brother to Lord's Invasion, the young winner of two of his three starts.

Williamson has been a shining light in the North Otago area since winning 16 races with the first horse he trained, Role Model. He then won seven with Cockie, by Chiola Hanover, who won on Cup Day at Addington. This season he has trained 23 winners, quite a margin ahead of his previous best which was 14.

Credit: Mike Grainger writing in HRWeekly 31Mar05


| | |
| --- | --- |
| | RACING HISTORY FEATURE RACE COMMENT |

West Melton trainer Robert Dunn had mixed feelings on hearing he had won the $40,000 Wyatt & Wilson Print Superstars Championship with Mainland Banner at Addington last Friday night, 20 minutes after the race was run.

Mainland Banner was promoted to first in the Stewards' room following the disqualification of Dudinka's Cullen for racing inside the markers for approximately 90 metres. He knocked down six of them on his way to running past Mainland Banner, Baileys Dream and Presido and winning the race by a length. This was his first start since trainer Tim Butt had bought him for leviathan Perth owner, Neven Botica.

Mainland Banner gave Dudinka's Cullen a 20m start, and had no favours in the early part of the race although she began well without being quickly away. She had a smother in the middle stages and after some pushing and shoving on the final bend, unleashing a strong finish from there.

This has left driver Ricky May in the interesting position of having two possible drives in the NZ Cup, with London Legend, who resumes in the Nobilo this week, as the other. "I'm really happy with her. I knew she would step okay from the start and she did, but got sqeezed a bit. We have got a meeting planned this week to see where we go from here," he said.

Credit: Mike Grainger writing in HRWeekly 12Oct05


| | |
| --- | --- |
| | RACING HISTORY FEATURE RACE COMMENT |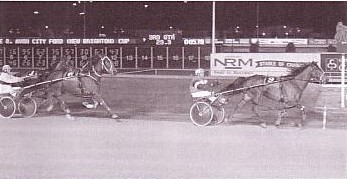 Harnetts Creek clear & cruising.

Harnetts Creek showed that he will be a serious open class force this year when he resumed at Addington last Thursday night.

Eased back early from his wide draw in the $20,000 Avon City Ford Cup, Harnetts Creek and pilot Anthony Butt got around the field at about the only time the speed backed off, surging to the front with about 1200 metres to run. The pace was back on again from then onwards though, and Butt said Harnetts Creek was 'fair travelling' turning for home before pulling clear to win by more that two lengths. The Soky's Atom gelding's time of 3:14.7 for the 2600 metre event was stunning considering the cool and drizzly conditions, and it had a real stamp of arrogance about it.

"I thought the draw might have beaten him tonight," trainer John Parsons said afterwards. "He's always been not too bad fresh, and even though he is eight years old now, I reckon he is better this time in than ever before."

Parsons says that Butt being in Harnetts Creek's sulky last week was a sign of things to come this season. Blair (Orange) was pretty much committed to Mark Purdon's team now that he is out, so that's why we asked Anthony. I think his driving style suits the horse, too."

Harnetts Creek has now won 11 of his 46 starts, and even though last season was his first real taste of the 'big time', Parsons is hopeful that the pace can acquit himself even better this term. "When he ran fifth in the Inter-Dominion Final it was like the worst of an unlucky season," he said. "Then we gave him one more start in the Easter Cup, but in hindsight we should have knocked off before that because he raced like a tired horse. So he had a month out, and I just jogged him up through the winter and gave him a long, slow build-up. He has had one trial and two work-outs prior to tonight, and Anthony said he felt sharper in the latest of those - he will sharpen up more after this run too."

On Harnetts Creek's programme leading up to the NZ Cup is the Hannon Memorial and Flying Stakes, with his trainer saying that he will "take in everything" because he both needs it and thrives on it.

Well known for his success in the galloping world too, Parsons enjoys the challenge of training horses in both codes. "Gallopers wouldn't take a quarter of the work that pacers do. But I do enjoy it, because you can just potter around with them and you are not as reliant on staff either," he said.

Credit: John Robinson writing in HRWeekly 21Sep05


| | |
| --- | --- |
| | RACING HISTORY FEATURE RACE COMMENT |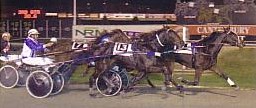 Galleons Assassin beating Lady Segil

Surprisingly, Mark Purdon is only training one trotter. But it is a good one, and he proved that in no uncertain terms when winning last Friday night's $25,000 Group 2 NRM NZ Two-year-old Trotting Stakes at Addington.

Galleons Assassin was registering the first victory of his four start career last week, but a simple glance at his bloodlines hints that there is a lot more in store. He is an Earl gelding out of the Chiola Hanover mare Rob The Nest, who has taken her career to even greater heights than her six wins on the track by leaving one good horse after another.

All bred by either Neil Munro or Gary Allen singularly or in partnership, Rob The Nest's foals of racing age are: Sonofthedon, a Sundon gelding who recorded seven wins and four seconds from his 11 starts and looked a superstar in the making before injury brought about his demise; Thedonsson, a full-brother who has raced 28 times for six wins, seven placings and nearly $97,000 in earnings thus far; Charlotte Galleon, yet another Sundon, qualified and lightly-raced with only four starts to date; Whosinthenest, a 3-year-old Armbro Invasion filly who has been placed from the same amount of appearances; and now Galleons Assassin.

"I think everyone's forgotten about me with trotters," quipped Purdon, on his return to the stabling area last week. The Yalhurst trainer specifically went to last year's PGG Premier Yearling Sale with the intention of taking home a trotter, and top of the shopping list was Galleons Assassin. "Yes, he is the one I picked out; I liked him on type," Purdon said. "What the mare had already left spoke for itself - Earl was the only factor we didn't know anything about." Family friend Fred Tong was keen on the idea too, and when he asked Purdon what he thought they would have to pay the answer was "up to thirty-five"; he was spot on, for $35,000 was exactly what the yearling was knocked down to them at.

"Mark Smolenski broke him in for us and he was nothing special, just one of the pack. But every time he has gone off the place he has just improved that much. He is very solid, but I think his attitude would be his biggest asset. And he is a bit better-sized compared to Sonofthedon and The donsson, because they were both big horses."

Additional things that Purdon tried with Galleons Assassin include a course of Altitude Training and regular trips to the beach, both of which have aided the gelding's development. "He is one of the few that I take to the beach," he said. "Early on he was a bit inclined to touch or hitch in behind, that is why I knew the straight-line work would help him. He doesn't need to now though, because he is fool-proof."

Credit: John Robinson writing in HRWeekly 1Jun05


| | |
| --- | --- |
| | RACING HISTORY FEATURE RACE COMMENT |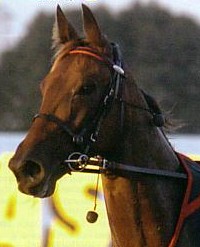 Armbro Innocence

Armbro Innocence owned by Mrs K L Butt & Enzed Farm won the 2005 running of the Pyne Gould Guiness Premier Mares Championship. She won by three quarters of a length from Alta Serena with a further neck back to Lady Toddy in third place. The winner was trained by Tim Butt and driven by Mark Jones.

Credit: Colin Steele NZMTC