| | |
| --- | --- |
| | INTERNATIONAL HISTORY |

1 September: Chechen Commandos stormed a school in the southern Russian town of Beslan, Northern Ossetia taking almost 1,200 students and faculty hostage. They used weapons and explosives that had been hidden under the gym floor by Chechen detainees during recent renovations. The standoff lasted for 2 days, when the school was stormed by Russian special operation troops. The official death toll is 336, with hundreds wounded.

26 December: A tsunami generated by a 9.3 magnitude earthquake off the northern tip of Sumatra killed in excess of 300,000 people in Indonesia, Thailand, India, Malaysia, Sri Lanka & East Africa.


| | |
| --- | --- |
| | LOCAL HISTORY |

May - Government sparks intense debate over proposed bill to nationalise the sea bed. Maori protesters contend bill would infringe ancestral rights. Government survives no-confidence vote.

The Return of the King, the last film in the Lord of the Rings trilogy produced in NZ and directed by Peter Jackson scoops the Academy Awards winning 11, among others Best Director, Best Picture, Best Costume Design and Best Adapted Screenplay.

The Southern Alps claim 13 lives during the climbing season.

NZ wins three golds at the Athens Olympic Games.

National Party leader Don Brash sparks debate over race relations with his Orewa speech; an anti-racism rally was held in central Ch-Ch.


| | |
| --- | --- |
| | RACING HISTORY PRESIDENTS: NZMTC |

Barry Cotton is stepping down from his position as Chairman of the NZ Metropolitan Trotting Club, and will address club members for the last time at their AGM.

"I have always had a philosophy that when a job is done, don't recycle," Cotton said. "I had my time, and now it's someone else's turn to step into the role. The Club is in good hands, because there is a good core there, and we have got new blood coming onto the committee and there are some astute businessmen amongst them."

Cotton has been a member of the Met for nearly 40 years, and has been involved in the administration of harness racing for the last two decades. He was Co-Chairman of the club for two years following the merger of the New Brighton, Canterbury Park and NZ Metropolitan clubs into one body, and he spent the last four years as Chairman. "It has been a great Journey," he says. "The committee has been very supportive, as has my wife Julie who hasn't missed a beat."

Cotton said he was honoured to be part of the team that handled the merger of the clubs, adding that it was done very efficiently and at no cost to the industry, and one of the most rewarding things for him during his time in office was the club's success with sponsorship. I think it is second to none. We started from scratch in the old days, and the amount of sponsorship we have attracted to the club and maintained since, is a tribute to all concerned. And of course you can't replace things like Cup Days and the Inter-Dominions, and last year's Cup was especially significant because of it being the club's centenary year. It was a great reunion and a tremendous occasion for all."

Cotton turns 65 at the end of this month, and although leaving his last remaining administration role in harness racing he has no intention of retiring business-wise. No yet anyway. "I have got some lovely little grandchildren that I want to spend time with, and we have got a few young horses with Maurice O'Leary that maybe I will finally get the chance to go and see how they are coming along."

Credit: John Robinson writing in HRWeekly 22Sep04


| | |
| --- | --- |
| | RACING HISTORY PEOPLE |

The death of Des Grice earlier this month ended three generations where the Grice name was synonymous with breeding, owning and training.

He was born in 1924, served during the Second World War in Fiji, and returned to work on the family farm at Winslow. Together with his father Ben, he moved to Prebbleton in 1951, where they stood Brahman at stud, followed by Lopez Hanover, Bandit, World Skipper, Cardshark and Melvin's Strike.

He trained such good pacers as Smokey Lopez, Ceremonial, Petro Star, Courtier, Deference; Royal Lopez, Glamour and Jonboy Star, who all won the Sapling Stakes, and the NZ Oaks Winners Have Care (driven by Bob Young) and Ruling Lobell (Denis Nyhan).

"Des drove a bit, but when Rona (whom he married) saw him for the first time and he nearly fell out of the cart, she suggested he shouldn't drive again," recalled his daughter, Anne Phillips. "They always had a top young horse, and Des was very proud when Have Care won the Oaks as an outsider," she said.

Later he employed Jeff Whittaker and Geoff Small, and when he stopped training, he gained great pleasure following their training careers.

Twenty years ago, he changed direction after he felt harness racing was not able to sustain the business they had. He sub-divided their property and Anne said he was "challeged by skills" needed to do this.

He is survived by Rona, his sons Roger and David, and daughters Anne Phillips and Judy Ingram.


Credit: Mike Grainger writing in HRWeekly 24Nov04


| | |
| --- | --- |
| | RACING HISTORY PEOPLE |

The 'Blue Magic' inquiry took another sad and sickening twist on Monday morning when John Seaton was found dead at his country home. Aged 55, in recent years, Seaton had grown in stature as an owner and a buyer.

After kindling his interest with modest success on the provincial tracks of Canterbury, Seaton stepped up a cog with the purchase of Il Vicolo for $23,000 as a yearling at Karaka in 1992, and he had been buying in the top bracket ever since. His name was synonymous with big spending at the yearling sales, major wins at major meetings, and forging a formidable partnership with his No.1 trainer and driver, Mark Purdon. Together, they took sure aim at the classics and the cups with colts from the most distinguished pedigress.

A dealer in every sense, Seaton revelled in the cagey science of auction bidding. He was a hard man to head when he set his sights on a prospect in the ring. Purdon was his faithful ally and confidante, and he valued their relationship both as a friend and professionally. "He was one in a million," he said. "It was a partnership that was probably meant to be. He had a big impact on my career. And it probably developed more as it went on."

Purdon said Seaton loved his 2-year-olds, and he would organise their yearling sale tour before the sales to inspect up to 75% of the offering. He said this one would be "a tough trying week. But I have got other clients and other horses, and it will have to go on," he said.

Mike De Filippi was a trainer for Seaton in an era before the scale grew with Purdon, and he raced the good horse Delegation with Seaton's wife Ann. "He came here with a horse when my brother Colin went north. He was very supportive and loved his horses. We never had any trouble, and he liked to celebrate a win with a jug of beer afterwards."

Roy Purdon, who watched Seaton nurture the careers od Mark and his son-in-law Tony Herlihy, was devastated when told by his son of Seaton's death. "I was shocked. I spoke to John on Sunday. It is just so hard to believe. He was so much fun to be with. I know he was devastated when he learnt of the charges Harness Racing New Zealand were bringing against him and when they came. It took the glamour off Addington's big day, and it is very sad for trotting." Purdon said he definitely thought it would have some sort of affect on harness racing. "I think Mark has been very strong through this. I wish I could see a better outlook for it all, but it is just too gut-wretching," he said.

Il Vicolo was Seaton's ticket to fame and fortune. But there were plenty of others, and his tally of wins has passed 250. Il Vicolo won two NZ Cups, in 1995 and 1996. He won the Sires' Stakes Final at two and three, the Great Northern and NZ Derbies, the Rising Stars Championship, the NZ FFA, and he sired Jack Cade, who for Seaton also won the NZ Derby, a Sires'Stakes Final, and the NZ FFA.

Seaton enjoyed racing his horses with friends, notably Tim Vince, and they shared notable victories with Cool Hand Like (Noel Taylor Mile), a Sires' Stakes Final (Light And Sound), and the Cardigan Bay Stakes (Jack Cade and Lennon). He decided to race Advance Attack, the brother to Courage Under Fire, himself, and his wins included the Cardigan Bay Stakes, Sapling Stakes and Welcome Stakes

His other big winners included Beatem, Bella's Boy, Born Again Christian, Flashing Sword, Hindover, Horizon, Kotare Testament, Ohara, Perfect Seelster, Raptorial, So Cool, Tricky Vic, Ulrich and Willow Chip. His ownership included 41 horse aged 4 or younger, including 2-year-olds by In The Pocket, Soky's Atom, Il Vicolo, Presidential Ball, Rustler Hanover, Badlands Hanover and Artiscape.

The cause of Seaton's death will now rest with the coroner. He leaves his wife Ann, and daughter Ann-Marie. He also leaves a stable of horses - young ones with great potential he couldn't live to see - a state of the art training establishment, boots that are really beyond the size of anyone in harness racing to fill, an engaging smile that made you smile back, and a dreaded horror of being called to the microphone.

John Seaton will be sorely missed in harness racing. But sadly, John will miss it so much more.



Credit: Mike Grainger writing in HRWeekly 17Nov04


| | |
| --- | --- |
| | RACING HISTORY INTERDOMINIONS |

Only centimetres seperated the first four home, with Jofess piping The Falcon Strike, Sokyola and Mister D G, the leading points scorer in the heats. Jofess won the race at the barrier draw when he landed the ace and driver Darren Hancock was able to hold out all challengers in the short run to the first turn. All the heats, the final and consolation, were won in sub 2:00 mile rates, with the final cut out in 1:58.7 (mobile 2544m).


| | |
| --- | --- |
| | RACING HISTORY INTERDOMINIONS |

2004 INTERDOMINION SERIES

This series was held at Glouster Park in Perth. The Pacers Final was won by Jofess and the Trotters Final by Sumthingaboutmaori


| | |
| --- | --- |
| | RACING HISTORY HORSES |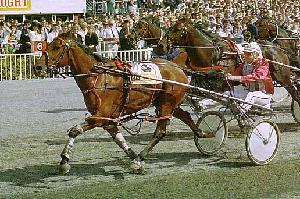 Blossom Lady winning her Cup in 1992

The passing of Blossom Lady last week would have meant different things to many different people.

For her countless fans around Australasia, an admiration earned mostly by sheer guts and determination, it would have rekindled memories of a truly marvellous racing career, the nature of which we are unlikely to ever see the likes of again.

For the Polly Syndicate's Manager Ralph Kermode it was like the last chapter in a book, but if irony and coincidence play any part in the racing scheme of things, it won't be the end of the story. Because the same day that the fateful news came from Canterbury, Blossom Lady's last foal arrived home at Kermode's Palmerston North property. Thus there was the end of an era, but also a beginning. Finding an appropriate name for a filly by Live Or Die while retaining the 'Bloss' or 'Bloom' theme under such circumstances is the task presently ahead for the Polly Syndicate.

For all the Kermode family's friends in the syndicate - Bob and Barbara Williams, Ian and Jenny Smith, Ross and Adrienne Kennedy and the late Pat Foley and his wife Mary - Blossom Lady was their first standardbred.

Kermode was in a reflective mood last week, recalling the events which led to a horse of a lifetime. "I was interested in a filly by a commercial sire from a nice family, but just being a poor school teacher at the time, couldn't afford to get one at the yearling sales," said Kermode. "So I had advertised for such a weanling in the 'Calendar' and had about fifty phonecalls, mostly from the South Island, and they all reckoned they had the best family in NZ. I arranged to go to about a dozen properties while in Canterbury over a Queen's Birthday weekend, and was at the Ashburton trots on the Monday. When I got home, (wife) Judy said a fellow from Ashburton called Bill Cook had been calling all weekend, and that I had better ring him - Bill was rather gruff. So I did, and when I said who it was he said 'where the hell have you been ?' - that was the first thing Bill ever said to me."

All this led to Kermode buying a filly by El Patron from Lumber Lady, and subsequent "pestering" about her year older half-sister by Farm Timer. "Farm Timer didn't exactly fit my criteria for commercial - I'd hardly heard of him - but Bill wouldn't let it go, so in the end I agreed to lease her and beat him down to a right of purchase of $5500 within six months."

Blossom Lady soon showed sufficient promise and speed for that option to be exercised - more ability than the unraced Paleface Lady anyway - and Kermode knew he had "something" when she began her career as a 3-year-old. "She didn't like to get involved in races - she would just hang around at the back and pace roughly. Then one night at Hutt Park, Stephen (Doody) was at the back at the half and let her go and she went past them in a hundred metres. Then she hit the bend again and she just about finished up in the tide at Petone."

Progress was not rapid however, and it would be another couple of years before there was a realisation that Blossom Lady was a lot more than something. This was at Ashburton during a Queen's Birthday weekend again. "On the first day she finished second to Clancy and on tape you can see Peter (Jones) still trying to pull the ear plugs after the finish. He came back and said 'who put those (bl....) ear plugs in?'" On the second day, Blossom Lady streeted Millie's Brother and company over 3200m in 4:03.8, which bettered Delightful Lady's national record for mares by two seconds.

That was just the start of the highlights and memories of course. From that point, between the ages of six and 11, she would win another 35 races and $1.3m. The New Zealand Cup was special, and her second Hunter Cup was "bloody amazing". That night she served it up to Golden Reign in front and "brained them" - running 3280m from a 30 metre handicap in a staggering 2:00.6 mile rate after being three-wide in the open for much of the race. "Anthony (Butt) came back and said she could have gone round again - she was just unbeatable that night."

Kermode also singled out an Easter Cup where she "took it" to Chokin at the height of his powers before going down fighting, and the Palmerstonian Classic from 90 metres before a big hometown crowd as other memorable moments. The biggest disappointment was the Inter-Dominion at Addington, where she was "carved up" at the 600m mark. A heat of that Championship as a 10-year-old would be her last win, and her first foal would be Mister D G, whose career has followed an amazingly similar path.

There is another 'beginning and end' aspect to all this as well. Since Blossom Lady's foal was fostered at one month, she has been cared for by Ohoka veterinary couple Bruce Taylor and Margaret Evans. Last week, Kermode recounted the story that was told to him during Blossom Lady's career by Jim Dalgety, who stood Farm Timer, the horse to naturally service Lumber Lady. "Apparently Lumber Lady was such a bag that Jim had to used a twitch on both ears as well as her lip, and even then he doubted the horse had got the job done. It was Margaret who would come around and palpate the mares, and Lumber Lady was among them one day. Whe Magaret said that 'there was a nice foal in there', Jim said 'that can't be - she has been too much trouble'."

Dalgety's reaction to this surprise was something to the effect that..."the mare had been that much trouble, that the foal would either be worth nothing and knocking on the head, or a champion." It wasn't the first or the last time Dalgety was right of course, but the essence of the story is the fact that Evans was there in the beginning, and the end.



Credit: Frank Marrion writing in HRWeekly 26May04


| | |
| --- | --- |
| | RACING HISTORY HORSES |

A Young Rufus but not the original was the competitor at Addington last week. Had it been the Young Rufus of old, he would not have scrambled home like a handy 'C sixer' ahead of Clifford Jasper in a kind race for him last Thursday. His margin should have reflected the great horse he is - or was. Indicating he had lost interest in being a racehorse, he got home by a neck.

With a booking to leave for Auckland, and then on to Melbourne, trainer Mark Purdon was immediately faced with the choice of retirement on a high note or a campaign that carried a high risk of ending on a sad one. "I would not like to take him to Australia and for people to see him finish down the track," said Purdon.

As it was, the winner of the Auckland Cup by nearly eight lengths a year ago and last season's Pacer of the Year was all-out to win a five-win front off 20 metres with just a flicker of the old flame. Purdon said it was pleasing for Young Rufus to end his career on a winning note and top $900,000 in stakes.

Up in the trainers' stand, Grant Payne, his attendant since Purdon had shifted south, was "disappointed." "I expected him to win by three or four lengths. In his last hopple before the race, he had worked as well or better than ever before. When he got to the races, all he could think about was the breeding barn. When he came back to the boxes, he was pretty fresh - you wouldn't have thought he had had a race," he said.

Payne said he had enjoyed the travelling that came with caring for a great horse. "Five times to Australia, everywhere here. He was a great mannered horse, and liked company. He never really liked being by himself."

Payne's devotion to the stallion played a part in his remarkable recovery from a life-threatening operation to mend a twisted bowel on the eve of the Inter-Dominions at Addington last year. For three nights, he slept outside his box as Young Rufus tettered between life and death. "I never really thought he was going to die, but Bill Bishop said to me later he put the chance of survival at thirty percent."

Payne said the Auckland Cup win was his most compelling performance. "He was one fit horse for that. I don't think any horse in the world would have beaten him that night," he said. "No matter how quick you were going with him, you knew that you were on something special. But he would always hang a little. You would straighten him, and he'd just hang the other way."

Pyne said Young Rufus was always a pleasure to parade. "He was a show horse. You would finish grooming him and stand back and look at him, and you couldn't help thinking how good he looked. He was one of those horses that you'd walk out, and people who didn't know him would ask 'What's that horse?'"

Bishop, who performed the operation to save Young Rufus, said the horse was not affected physically by his experience. "He got back all his old habits. It is hard to evaluate whether the operation had any lasting affect. It is fair to say the expectations on the track were high. But how he looked and how he raced did not co-relate," he said.

In the meantime, Young Rufus is having a few days swimming to keep himself in trim.

Credit: Mike Grainger writing in HRWeekly 28Jan04


| | |
| --- | --- |
| | RACING HISTORY HORSES |

Last weekend marked the end of an era for Roydon Lodge Stud with the death of Smooth Fella.

The son of Most Happy Fella was a flagship stallion for the Christchurch-based stud during the 1980s, and it was a solemn moment for all when he slipped away peacefully in his yard on Saturday afternoon.

"I think it is sad when any great horse like this dies," said Roydon Lodge Stud's Director Keith Gibson. "I would not say his death was expected, but we knew he was nearing the end and he hadn't served any mares for a number of seasons. He'd had a long life for such an active stallion, and a great one."

Smooth Fella made an indelible impact on the harness racing industry in this country. At last count he was the sire of 793 NZ-bred winners (787 pacers and six trotters), with 235 in 2:00, and damsire of 687 NZ-bred winners (681 pacers - 231 in 2:00; and eight trotters - one in 2:00).

Smooth Fella is the sire of 16 1:55 pacers, the fastest of them being Skip (1:51.8), Commander Paul (1:52.4) and Rainbow Fella (1:53). He is also the damsire of 57 to break this mark, the top three in this respect being Silky Pockets (nee Birthday Boy, 1:51.2), Just A Butler (1:51.4) and Valiant Heart (1:51.4).

Without question Smooth Fella's greatest son was Roydon Glen (22 wins, $463,244), who later would sire champion trotter Lyell Creek, and Smooth Fella himself also left other successful sires in former champion juvenile Tuapeka Knight, Slugger and more recently Ermis.

Smooth Fella was the leading sire of 2-year-old pacers four times, with his first three crops in 1980/81, 1981/82 and 1982/83, and then again in 1986/87; he was leading sire of 3-year-old pacers once, in the 1983/84 season; he was the leading sire of pacers once, in the 1984/85 season; and he topped the broodmare sires' list twice, in 1997/98 and then again in 2001/02. Remarkably, he is currently the leading broodmare sire for this season.

Smooth Fella had not served a mare since the 2000/01 season, but in his time at stud in NZ he covered a total of 2314 mares for 1733 live foals.

He was 31 years old at the time of his death.

Credit: John Robinson writing in HRWeekly 14Jan04


| | |
| --- | --- |
| | RACING HISTORY FEATURE RACE COMMENT |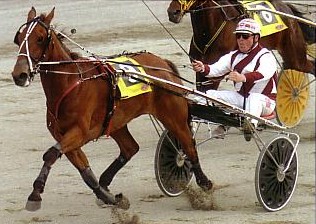 Lyell Creek has the FFA in safe keeping

Lyell Creek is obviously not as old as people think he is. He made short work of younger bones in the Porter Group Hyundai Construction Equipment NZ Trotting Free-For-All at Addington last Friday, sending his 11-year-old legs humming over 2600m at record speed.

The 11 others, all of younger vintage, saw him disappear down the straight, followed by Sumthingaboutmaori, who chased him gamely. For most of them it was more of the same. This was his 55th win, a number which still takes some comprehening. He ran the trip in 3:14.3, which clipped 0.1 off the old mark shared by Last Sunset and Major Decision. This, too, takes thinking about. It might suggest that he is as good, or better, than he has been.

Trainer Tim Butt shakes his head at the thought of it. "He is not the horse he was. Today, the race panned out for him. Some of the others, like Allegro Agitato, were taken on and had hard runs. This was run to suit him," he said.

As good as it was, Butt is anxious to keep the performance in perspective. "If they go 4:05, he can win the Dominion, but not if they run 4:10. In the last three weeks his work has been great. He enjoys life around the stables, looks forward to his work, but we will still have to space his races. The Friday one was designed to top him off for the Dominion," he said.

Butt said it was fantastic hearing the Addington crowd give Lyell Creek such an ovation after his win. "They respect him, and I think they can see he has got that will to win, just like Sunline showed," he said

Credit: Mike Grainger writing in HRWeekly 17Nov04


| | |
| --- | --- |
| | RACING HISTORY FEATURE RACE COMMENT |

When Robin Swain bought Roman Gladiator at the Premier Yearling Sale 33 months ago, he had ever intention of breaking the colt in, getting him running along, and selling him. Well that was the plan anyway.

After all, the Christian Cullen son out of Assisi was a spur of the moment purchase; Swain had ventured up from his home in Knapdale specifically to buy a particular filly, and when that plan went out the window he found himself lifting a finger later in the day so that he could at least take something home.

Placed in the name of Swain's wife Amanda and their good friends Peter and Marie Neil, from Sydney, Roman Gladiator sailed through his early education without a hitch and was soon at the races, winning his 2-year-old debut impressively during March 2003. The Swains didn't need to hunt for buyers, they came knocking themselves. "I remember Robin telling me on the phone that we had had an offer for $50,000," recalled Peter. "Well I turned that down, but then he won his second start as well and we got another offer, this time for $300,000." Swain rang his co-owner again. "Robin said to me...'half of $300,000 is a house'. And I replied...'well, half of a million is two and a half houses'."

The Neils had been friends of the Swains for quite a few years, ever since they first bought a horse off the called Oneinamillion, and Peter's faith that Roman Gladiator would indeed develop into something special one day - and thus should be hung on to - was installed by Swain himself. "It was just the way I had heard Robin talk about the horse early on," he continued. "He believed that Roman Gladiator was the best horse he had ever sat behind, and that as far as speed goes he had never driven a horse as fast. So I thought, well this is what we all dream about. I said to Robin that if we sell him, all I'm going to do is go and look for another horse like him to buy. As far I could see, we already had the horse.

History shows that Neil was indeed justified in trying to talk his partner around. When Roman Gladiator captured the Sires' Stakes Final at Addington this time last year, it was his sixth win from 11 starts. And the ride didn't stop there...victories at Ascot Park, Forbury Park and Winton earlier this year followed, and then Roman Gladiator gave his Sydney connections their greatest thrill in racing when he captured a Prelude and the Final of the New South Wales Derby in May at their 'local' track, Harold Park.

Roman Gladiator went out for a spell after that, and after winning his resumption at Addington last month with a super effort after pulling fiercely in the trail for the entire event, he was back at Addington two days ago to take out the $30,000 Firestone Direct Free-For-All with a brilliant late surge. The Neils were there too, coming across the Tasman especially to see their pride and joy on his big day. "It certainly beats listening to his races over the phone, which we have had to do a few times," Peter said. "It is not ideal, but it beats not knowing how he has gone though. We knew it was going to be a test for him today, and thought that Lennon was going to be a big danger, so to beat him was a great thrill."

Credit: John Robinson writing in HRWeekly 11Nov04


| | |
| --- | --- |
| | RACING HISTORY FEATURE RACE COMMENT |

If there has been any criticism of Sundon's progeny at all, it has been their lack of success at Group 1 level as aged trotters, a fact that could perhaps be attributed to their preference for sprinting as opposed to staying.

It was ironic therefore that when the dust had settled on Cup Day, Belle Galleon had won the two-mile intermediate trot and another Sundon mare in Some Direction had out-stayed the open class trotters in the Christchurch Casino Handicap.

Sent off as the rank outsider at odds of 75-to-one, despite a strong win in lesser company at Ashburton two starts prior, Some Direction overcame sitting parked for the last 2000 metres and proved too strong for the pacemaking Whatsundermykilt and Sundon's Luck, who had sat on her back. With Sumthingaboutmaori and Castleton's Mission having traffic problems back in the field, and the last mile going by in 2:00.6 (58.9, 29.1), the race sat up perfectly for Some Direction.

It was a "career high-light" for reinsman Justin Smith, who co-owns and co-trains the 7-year-old with his mother Lynn near Rakaia. Some Direction has been a great money spinner for them. this was her 77th start since she began racing as a 3-year-old a little under four years ago, and her 13th win along with 21 seconds and thirds took her stakes to the verge of $100,000. "We are not doing anything different - she needs the right sort of run and she hasn't had a lot of luck in her racing," said Justin. "She was racing well at this time last year up until the Cup Meeting, and then went off, probably because of the breeding season. So we only gave her a brief break at the end of last season with a view to having her back racing early this season," he added

The Smith's will now go into next week's Dominion with a little more confidence than they would have otherwise. It is a race which is starting to look like the winner is going to be a stayer off the front anyway. "I think she can go 4:08, so we'll just have to see if anyone can go quicker."

Credit: Frank Marrion writing in HRWeekly 11Nov04


| | |
| --- | --- |
| | RACING HISTORY FEATURE RACE COMMENT |
Tim Butt, Joan & Peter Cocks savour the moment

A horse that Peter Cocks bought simply because he wanted his Sundon yearling to have a paddock mate ended up giving him and his wife Joan their greatest thrill in harness racing at Addington on Cup Day.

Now 66, Cocks has been racing horses for 35 years. He had hardly ever raced a 2-year-old during that time, nor had he ever had a runner in a Sires' Stakes Final, but Tribute has surpassed both of these hurdles and on Tuesday he iced the cake with a super victory in the $150,000 NRM-sponsored Group 1 event.

"I won't tell you what I paid for him, because I never do that, but he wasn't cheap considering he was only supposed to be a paddock mate," Cocks joked, remembering back to the reason why he bought Tribute in the first place. "We were going to put him through the sale ring after that, and he was all set to be entered and sent away to start being prepared when we decided to keep him. "I think Joan fell in love with him," he said. Probably in the back of his mind also was the fact that of the seven or eight horses he has bought from the sales, Cocks is yet to enjoy a win from any of them. "I think the best I have had was a qualifier. But you never know, it's just bad luck I suppose."

Placed in Tim Butt's stable, Tribute made his debut as a juvenile earlier this year when running a close second at Addington, and then he went down south to Wyndham nine days later and made everyone sit up and take notice of him when he became the first 2-year-old pacer to break 1:55 in NZ. "That was a shock - Tim wasn't expecting much more than a top five finish that day," Cocks said. "Even today we were thinking that fourth would be our lot, because there were a few nice horses in there and some of them have been beating him in the lead-up races; anything better than that was going to be a bonus."

And a 'bonus' is certainly what Tribute's connections got on Tuesday, because after being tucked away sweetly behind Marika, who set a red-hot pace, Tribute dived through at the business end and took out the 1950 metre event in a sizzling 1:56 mile rate. Cocks and his wife are "always" on-course when one of their horses is racing, and in the past they have been on-hand to enjoy such moments as a Trotting Stakes victory by Whizzing By and nine wins apiece by the likes of Eastnor Lad and Greenidge. The latter also started in the New Zealand Cup one year for them as well, finishing 10th behind Bee Bee Cee in 1994.

"This is certainly the biggest win we have ever had, and it is a great thrill," said Cocks, who started up his own hot water cylinder manufacturing company 40 years ago and is still suppling a strong niche market today. "We have got a factory in Bromley and employ ten staff - I must be due to retire soon though," he smiled.

Afterwards, the In The Pocket-Going Royce's trainer spoke very philosophically about the one victory that he and brother Anthony managed to grab on an action-packed Cup Day. "Tribute is a very nice little horse, who is seasoned, and he got the trip and did the business today," Butt said. "Luck probably went our way a bit out there, because there were a couple of very nice horses in that race. But he is a good horse to work with, and he has got a great constitution - he is the perfect racehorse, really. Where he goes from here is up to him now; he will either go on and mature or he will level out, it remains to be seen."



Credit: John Robinson writing in HRWeekly 11Nov04


| | |
| --- | --- |
| | RACING HISTORY FEATURE RACE COMMENT |

Mister D G justified his favouritism in the $25,000 Nobilo, winning from Light And Sound and Scorching.

Coming on top of his Hannon Memorial win, and with more room for improvement still likely, Mister D G is emerging as the horse to beat in the Canterbury Draught New Zealand Cup.

Lady Toddy was a game and close fourth, less than two lengths from the winner, and the Australian Mont Denver Gold finished strongly, about a length further back.

Credit: Mike Grainger writing in HRWeekly 20Oct04


| | |
| --- | --- |
| | RACING HISTORY FEATURE RACE COMMENT |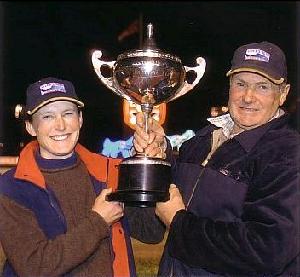 Amanda Tomlinson & Ken Ford share the spoils

Ken Ford is taking a softly-softly approach with Aramid this season. He knows it is a tall order to expect the 5-year-old trotter to attend every big event, and he has already declared he won't be there. "He won't be going to Ashburton; no mobiles. I don't want to bustle him. Kaikoura might be next," he said.

Ford is aware that Aramid has been busy for one so young, and intends to give him a quieter season. "He rushed along very quickly when he started. It was perhaps a bit much for him. Now, he is looking a bit stronger on the front end."

Already he has started off his new campaign with a bang, a solid start for seventh at Motukarara followed by a tremendously good run to beat Zirinovsky in the Giannis Pita Bread Canterbury Park Trotting Cup at Addington last Friday night. He did some ground at the start, tracked up Castleton's Mission over the last lap, sat three-wide from the 800m, then ran clear when Jimmy Curtin told him there was some business to do in the straight.

It was Aramid at his best, and at his best he is very much in the top handful of trotters in New Zealand. "I was a wee bit confident before the race," said Ford. "He has never worked better; he's never been better round the place," he said. Ford said he was pleased with the way Aramid came through the race. He ate up everything and jogged up the next day. It was something I used to do as a rugby player, when I played sixteen years of senior rugby in Kaikoura. I had always have a quiet run the next day to get any soreness out of the body," he said.

Ford and his daughter Amanda Tomlinson, who part-owns Aramid, know what it takes to keep the level up. Tomlinson was a New Zealand 200 metre sprint champion on the track, and played for the New Zealand women's rugby team. Aramid couldn't be in better hands.

Credit: Mike Grainger writing in HRWeekly 13Oct04


| | |
| --- | --- |
| | RACING HISTORY FEATURE RACE COMMENT |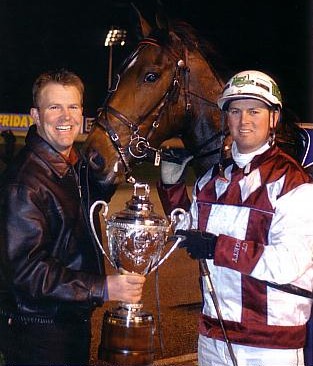 Cran Dalgety, Scorching & Mark Jones

Scorching never released his grip on the Avon City Ford New Brighton Cup at Addington last week. He won so well that his surprisingly short odds were in fact no surprise at all. He won like "a good thing", and from as far out as the 500 metres he appeared no less than that.

His margin was decisive - by a length and a half from Young Rufus, who is on the verge of becoming a major player at the top level again. The drive was a corker by Mark Jones, who slipped him clear before the corner. "From the draw, we thought we could dominate the top end," said trainer Cran Dalgety, "and he was pretty forward. I said to Mark that I would rather them be chasing us rather than us chasing them."

During the week, Dalgety used the training track of his father Jim to work Scorching and London Legend, and said London Legend was a bit strong for his stablemate. "They trained as good as each other. London Legend has a bit more speed than Scorching, so it was a good yardstick," he said.

Dalgety has no doubts that Scorching will be a match for "the big boys, but he might not quite win the deposit on the next yacht. But he is a horse who can always go five lengths better than what I think he will go," he said. That being the case, Scorching won't be out of place in the Hannon Memorial, where he goes next, or in the Flying Stakes at Ashburton after that.

Dalgety said the bonus from winning the New Brighton Cup was the automatic invitation to start in the Canterbury Draught New Zealand in November, and he has now set himself on the Cup trail. "I would love to be there, with him in his Sunday-best. He ran 4:06 or 4:07 when he won at Blenheim as a 3-year-old, so I think he would get the trip alright," he said.

Credit: Mike Grainger writing in HRWeekly 22Sep04


| | |
| --- | --- |
| | RACING HISTORY FEATURE RACE COMMENT |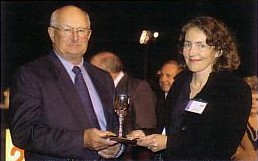 Graeme Nairn receives the trophy from Michelle Baird, Stud Manager, Roydon Lodge

The $25,000 Roydon Lodge NZ Two-Year-Old Trotting Stakes was won impressively by Hoops, one of only two fillies in the 13-horse field. Away quickly and soon in front for driver David Butt, Hoops went to the line strongly, beating Damian Carlos (by Sundon) by three lengths, followed in by On My Way (by Armbro Invasion) and Love Hate Revenge (by Holdonmyheart).

Hoops comes from an impeccable trotting nursery, that of Paul Nairn. His father Graeme is one of her owners, along with himself, Peter Willman and Tony Smith. She is by Above The Stars, who won 23 of his 52 starts, from Wintersport, a Game Pride mare from the family of Tussle, who had one win from 33 starts. Hoops is her second foal, and her third will be one to Call Me Now in the spring.

Above The Stars has sired 81 live foals, 26 of them the year Hoops was born. Since then he has served books of 22,21 and 16. Hoops is one of fourindividual winners by Above The Stars, preceded by Strassman (2 wins), Nicol Star and Alpha Centauri (2).

Nairn has a remarkable UDR record. Only three times in the past 20 years has it been below .2000, and on eight occasions he has had it above .3000.

Credit: Mike Grainger writing in HRWeekly 26May04


| | |
| --- | --- |
| | RACING HISTORY FEATURE RACE COMMENT |
Turkana winning the Nevele R Fillies Final from Imagine That

Trainers Bruce Negus and Craig Parsons had their thinking caps on after Turkana ran sixth under difficulties in the NZ Oaks 10 days ago. They had a week to chew the fat over her inability to relax in the running, and what their options were for the $100,000 Nevele R Fillies' Final. Between the pair, they agreed on changing her bit and arranging for Cavalier Products to make a removeable hood that blocked out not 80% of the noise, but 100%.

The result was a sweet-moving Turkana sitting behind the pacemaker Imagine That, and making use of the passing lane to win the Group 1 mobile by two lengths. Negus said Turkana was helped by the fact Imagine That had been 'roughed up' in front by Xmas Joy, Shamrock Girl and Pascale Bromac in the middle stages, that left the favourite vulnerable near the end.

Negus said he "made an error" when he chose to use a pulling bit on the filly the week before. "I panicked a bit when I saw the draw she had in the Oaks. After that, I went back to the snaffle bit she had been in beforehand. And it was Craig's idea to put this type of hood on her. He is a quiet achiever and his input into this filly has been terrific. They have also worked well together because she was a handful at the start," he said. Negus had a moment's worry during the week when he thought her work was sluggish. "I didn't know whether she was off colour or it was just the way she was working in the hood. She felt lethargic, so in some ways I was mildly surprised with what she has done."

Turkana was bred by Graeme Iggo, and was broken in by Maree Price who is in the process of breaking in and gaitingthe 40 yearlings on the Negus' books. At the time she was educating Turkana, she also had Imagine That on the go. "She said to us, these will both be Group 1 winning fillies. We dismissed that, but she put it in writing and stuck to her guns. That is when Greg Brodie bought her, and we gave her a couple of months out just to make sure she got rid of any aches and pains," he said. "At one stage she had three starts in eight days and won then all. I have never done that to a filly before, but I knew we had to win at least three to have a chance to start in these races," he said.

A filly of good size by Christian Cullen - who also sired third placegetter Christiansheritage - Turkana is from Kisumu, who held the NZ record for a 2-year-old over 2000m when she won the Sires' Stakes Championship for fillies in 1992.

Negus has had many great horses, notably Courage Under Fire, Ginger Man, Franco Hat Trick and One Way Traffic, but Turkana is already the best filly. "Caps Off won the Oaks and she was a tradesman, but this filly will make Cup class. "I can see she has got a fifty-five half in her," he said.

Credit: Mike Grainger writing in HRWeekly 19May04


| | |
| --- | --- |
| | RACING HISTORY FEATURE RACE COMMENT |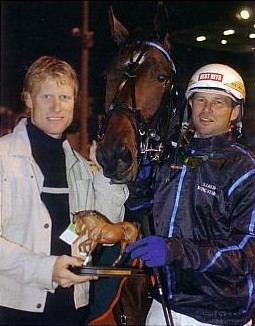 Steven Reid, Baileys Dream & Todd Mitchell

Baileys Dream burst the winning bubble of the unbeaten Advance Attack in the $200,000 Pyne Gould Guinness NZ Yealing Sales Open Pace.

He did so with a remarkable effort in which he twice fought off the attempts of Advance Attack to lead. Advance Attack was on the back foot and tiring on the corner, passed by his stablemate Mighty Cullen. Baileys Dream kept rolling and extended his lead down the straight to win in the manner of something special.

"He beat Winforu in a workout at Pukekohe before he came down here," said driver Todd Mitchell. "I gave him two taps on the corner and he kicked again. He is the type of horse who can sustain his speed for a long time," he said.

Baileys Dream is a first-season son of the Woodland Stud-based stallion Dream Away, by Artsplace, and cost Robert Fumularo $40,000 as a yearling. Bought for him by leading trainer Steven Reid, Baileys Dream is a half-brother to Cup class mare Black Eyed Bailey. They are from the Smooth Fella mare Black Eyed Susan, who went five years without a foal between leaving OK Bailey in 1996 and Baileys Dream. She is also the dam of a yearling colt by Christian Cullen and was served last season by Pacific Rocket.



Credit: Mike Grainger writing in HRWeekly 12May04


| | |
| --- | --- |
| | RACING HISTORY FEATURE RACE COMMENT |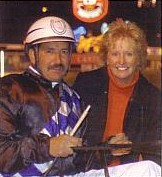 Phil & Bev Williamson

As well as being a popular, good, all-round guy, Phil Williamson can train a trotter - and he can drive them, too. He won the New Zealand Trotting Championship, when it was a Group 2 race, a few years ago with the pacing-bred Role Model. He won it again at Addington last Saturday night with the impeccably-bred trotting mare, Allegro Agitato.

The win came at the minor expense of Ado's Invasion, who had his chance and closed the margin to a neck, and the major expense of the globe-trotting veteran, Lyell Creek, who found the question of relentless speed too hard to answer. That is where Williamson had placed Allegro Agitato, in front and humming. She had blotted her copybook the week before when breaking and running eighth in a stand behind Major Decision. "She can lose it, and I think she just freaked out when she saw Aramid doing things wrong," he said.

The Sundon mare drew wide but was quick enough to cross them, while Lyell Creek was a shade off them. Driver Anthony Butt had him off the markers and sitting fifth on the outer after 400 metres. "I didn't really want Lyell Creek to come up when he did, but we got cracking them. She got up on the steel, and I could see him start to get a bit tired before the corner," he said. No surprise in that, Allegro Agitato ran the 2600m trip in 3:16.1, which was two seconds quicker than Sunny Action's NZ record for a mare of 3:18.1.

Remarkably, Allegro Agitato has won her nine races and $90,000 from just 20 starts, in 20 months. "But she was special right from the start. Even well before she raced she showed potential. She had class," he said. Williamson is still mindful of her dodgy little ways. "I just hope her head stays the right way round," he said, as he considered her trip to Alexandra Park for two races, the first this Friday night and the other, the Rowe Cup, a fortnight later. "She is a good stayer, but is pretty fast too. What I am really looking forward to with her is the Flying Mile at Ashburton in the spring. I am sure she could run some sort of time if she got the right draw on the front," he said.

Allegro Agitato is raced by Michael and Roni Lauren of Oamaru, who bred the mare, Michael's brother Dennis, Pip Gerard of Hamilton, and Williamson. Her dam is Chiola's Lass, the winner of 10 races, and NZ 3-Year-Old Trotter of the Year in the 1990/91 season.



Credit: Mike Grainger writing in HRWeekly 15Apr04


| | |
| --- | --- |
| | RACING HISTORY FEATURE RACE COMMENT |
Advance Attack (outer) & Marika fight out the finish

There were any number of side issues during and following the Ferrymead Restaurant & Bars NZ Welcome Stakes. The race was won by Advance Attack, the In The Pocket brother to Courage Under Fire owned by John Seaton and trained by Mark Purdon.

The colt had no luck in the early settling of places, but had moved by the 800m and had joined Marika soon after. They cut away from the others in the straight, and it appeared Marika had the measure of Advance Attack 50 metres out.

Circumstances changed dramatically from there. Ricky May, the driver of Marika, lost his whip after it tangled with a back hopple. Then, just as Advance Attack levelled up near the line, Marika appeared to turn his head to the left, which may have been the slim difference there was between the pair at the end. "My horse is very genuine," said Purdon. "He is only little, but he has a big heart, just like his brother."

Credit: Mike Grainger writing in HRWeekly 7Apr04


| | |
| --- | --- |
| | RACING HISTORY FEATURE RACE COMMENT |

Zuri winning the 2004 Trotting Derby

Zuri matched looks with performance with a superior showing in the $50,000 Christchurch Casino NZ Trotting Derby.

After drawing one, he kept the lead and held off the trailing Apache Blue Jean by a length and a half. Hurricane Flyer ran a safe third after a similar trip on the outer behind Sun Watch. It was Zuri's 10th start and seventh win. He was beaten once at two by Diedre Don, and twice this season finished fourth behind aged horses.

The chestnut son of Grant Our Wishes has won his last five on the trot, and will soon go north for excellent opportunities against those of his own age later this month. Trained by Ken Ford, Zuri was driven by Mark Jones who said it was never hard for him. "He is a grand stayer." His dam Midnight Saga, by Yankee Jolter, has also left good performers Bede ans Aramid. She lost her foal by Sugarcane Hanover last season and died not long after. Waiting in the wings are a yearling and a weanling out of her, both by Armbro Invasion.



Credit: Harness Racing Weekly 7Apr04


| | |
| --- | --- |
| | RACING HISTORY FEATURE RACE COMMENT |
Campbell McJorrow

There could have been no greater tonic for Mary Wych than Winforu's victory in the $50,000 Nobilo 3-Year-Old Flying Stakes at Addington. Winforu is raced by Wych together with her partner, Campbell McJorrow, who says to breed a group winner was always a lifelong ambition of hers. Winforu's achieved that twice now, having won the Group 1 Great Northern Derby in December and now this latest event, a Group 2.

Domiciled in Otahuhu, Auckland, McJorrow was on-course at Addington to witness the victory, and within seconds of their horse's super performance he was on the phone to his loved one to share the delight with her. Sadly, celebrating Winforu's special moments in this unusual way is just something that the couple have had to live with in recent times, because Wych has been hospitalised ever since she suffered a severe stroke in July, 2001. After initially battling through other complications including pneumonia, Wych has impaired speech and still finds it extremely difficult to walk and is basically wheelchair-bound, so her trips to the racetrack are confined to local meetings at best. And this week she had the first of three scheduled operations to try and rectify a perforated bowel, totally unrelated to her stroke, so the victory by Winforu could not have come at a better time.

"Mary's stroke was so bad that initially it was wondered whether she would survive at all, and she spent a very long time in the Intensive Care Unit at Middlemore Hospital," McJorrow said. "But she came through that, and for the last twelve months she has had her own room at the Laura Ferguson rehabilitation Trust in Auckland, which is only about a kilometre away from Alexandra Park. She has seen three or four of his wins at the Park, and one of them at Cambridge, which she gets a great thrill out of. Obviously she is not able to travel to Christchurch, though. I tend to follow the horse around the country, amd Mary wants me to be there even if she can't," he said.

McJorrow (48) and Wych (56) have been together for 17 years. They met in Auckland when Wych went for a job interview at the company where McJorrow was the Managing Director; 'Cupid' fired a couple of arrows, and the rest, as the saying goes, is history. A trained auditor, Wych handled the secretarial side of McJorrow's businesses "brilliantly" prior to having to step aside when she suffered the stroke.

"I developed an interest in horses as a child, because I grew up in a two-story house in Ashburton and could look across the road and see them thundering around the racecourse," McJorrow said. "We had the Bebbingtons and the Lochheads as neighbours, so there was always plenty of opportunities to have rides in the sulky. Mary and I have raced a couple of horses, being involved in the likes of Bonanza Magic from Geoff Small's stable and Justa Toff, Just An Icon and Lover Boy with John Lischner and Ken Barron, but we always thought we would like to breed one or two. We were determined that they were going to be by In The Pocket. Mary wanted to do the pedigree research, and to her credit she spent weeks and weeks and put a lot of effort into finding a couple of suitable mares."

The couple borrowed Kamwood Byrd to breed Winforus, who was sold to America after a couple of placings here, and Beheliem to get Winforu. Feeling like proud, new parents they were there to see Winforu at the property of the mare's owners Steve and Ann Phillips the day he was born. "He was quite unlucky as a 2-year-old, because he got a really bad eye injury after getting caught in a fence and at one stage he had the vet attending to him three times a day. Then he went to Christchurch for the big juvenile events he got mud fever, not in one foot but in all four. It sort of set him back a bit, that is why I believe his win this season in the Great Northern Derby was good for him psychologically. Geoff says he is a lovely horse to have around the place and train, and I think he knows when he does well."

McJorrow has worked in the food industry ever since leaving university and has always been interested in desserts. Looking for 'the big smoke' he moved himself from Marlborough to Auckland and started up two companies that deal with food manufacturing, importing and exporting, and apart from distributing extensively nationwide these companies have now grown to the point where they export to 14 countries and import from five. The products are primarily dessert-related and frozen, and include the likes of pavlovas, gateaus, bavarios, cheesecakes, crepes and savoury burritos and tortillas.

Winforu's victory in the Flying Stakes was as 'sweet' as McJorrow's desserts, and he is hopeful of another bold showing in the NZ Derby. He will be there of course, and Mary will be cheering from her bedside at the other end of the country. "She has got her own television, and a few of the doctors and nurses were crowded around her bed the other night to watch the race. Apparently they all had a great time, because some of them had backed him as well. The staff at Laura Ferguson have been really great to us. Mary has got lots of framed photos on the walls and she loves the ribbons and rugs. Her pride and joy is the dress rug that Winforu got for his Great Northern Derby win - it is on her bed ever night. "The horse's latest outing really was a win for Mary," he said. "I hope that things like this can give her that will to live and that reason to get better, and show her that there is in fact a whole other world outside of hospital life."

Credit: John Robinson writing in HRWeekly 31Mar04


| | |
| --- | --- |
| | RACING HISTORY FEATURE RACE COMMENT |

It was good to see Ian and Jocelyn Cameron pick up another nice race at Addington. The Fernside couple have been involved in harness racing for years, remaining dedicated to a sport that they love.

Two decades ago, seeing Ian's orange and brown stars silks lead the field home first was a common occurance, and he hit a real purple patch of form when in the mid-1980's he won over 20 races per season a few times in a row. Double figures were achieved again four times during the early 1990s, but lately the pickings have been slim, although not a season has gone by where Cameron hasn't bagged at least a couple of wins.

The tally for 2003/04 is now sitting on four after Ginas Brightest took out the $18,000 NZ Trotters' Trust Trotting Oaks last week, and she did it the hard way. Slow away from her wide draw in the 1950 metre mobile event, Cameron had her up outside the leader Tracy's Dream with a lap to travel and poured the pressure on, eventually pulling away from that runner and then holding out the late charge of Kahola.

"I am enjoying the game more now than I ever have," Cameron said afterwards. "I'm working eight, and it is the best team I have had around me for years." Cameron outlined the importance, for them, of his wife having a full-time occupation in addition to harness racing, because with her being the head teacher at their local kindergarten it enables them to manage their involvement in the sport.

It is quite an involvement too, because apart from the racehorses, they have been breeding for the yearling sales for nearly a decade, putting "the odd one" through the ring, and this year have seven mares in foal. One of those is their latest winner's dam, Rangitawa Gina. "Gary Allen and I bred Ginas Brightest, but he wanted out of the breed so Jocelyn and I leased his half share and also bought the mare off him. Her first foal was Debbie Galleon, who has won two, and the next was a full-sister to Ginas Brightest that Glenys Buchanan qualified nicely and then on-sold (now with Jeff Whittaker). We have got an Armbro Invasion 2-year-old filly which broke in nice, and she is in foal to Monarchy."

By Britewell, Ginas Brightest's career started last year when she qualified as a 2-year-old at Rangiora in July. "I was working her with the older horses, and she was going alright, so I decided to give her a start and she ran third in a mobile at Addington behind Time Of Reckoning. She broke from a stand next start, so she went out for a good five months spell and only came in when we got back from the Coast after Christmas. "She is good-gaited, and so tough - a run like the other night doesn't worry her. It was nice to win a race like that too...we had a bit of luck for a change," he said.

Credit: John Robinson writing in HRWeekly 24Mar04


| | |
| --- | --- |
| | RACING HISTORY FEATURE RACE COMMENT |

Tidal Franco, the biggest winner in the field for the $120,000 NZ Yearling Sales Series Pace, was not the big certainty that she may have appeared under analysis. She had won the most races - three - she had won the most money - $86,932 - and the draw - one - was hardly a matter for complaint. And once she led and had it pretty much her own way, the Live Or Die filly seemed to have Addington's feature at her mercy.

It was not until That's Life Lavra came out of the pack after turning in that Tidal Franco looked vulnerable. That's Life Lavra came in for the kill less than 100 metres out, and with the formidable Tony Herlihy weilding the brush, swept past Tidal Franco to win by half a neck. there was a gap to the others, headed by Asabella.

That's Life Lavra is a Life Sign filly from Expressive Moves, an unraced mare by Nihilator owned in Victoria by Andrew McNair. She was bought for $24,000 by Kypros and Mary Kotzikas and placed with Robert Cameron, where she stayed until joining Herlihy's team for Christmas racing at Auckland. "She raced good there and ran fourth in the Oaks, without being quite up to Dudinka's Star," said Herlihy. "But she has come a long way in just five starts and I am sure she will go on with it," he said. Herlihy gave himself a winning chance some way from the finish. "I was travelling better than the favourite on the turn," he said

Credit: Mike Grainger writing in HRWeekly 18Feb04


| | |
| --- | --- |
| | RACING HISTORY FEATURE RACE COMMENT |

Anyone backing one to beat Coburg in Friday night's $100,000 NZ Standardbred Breeders' Stakes will do so at their peril. The winner of the PGG Premier Mares Championship "has done terrific" says trainer Mike Berger. "I took Coburg out on Monday to bowl round free-legged, but she was that frisky I had to bring her back in and put the hopples on," he said.

Berger said that while Coburg is a stronger horse than she was last season, she was not quite up to Pullover Brown and Alta Serena, he says the good draw could make all the difference over the sprint. "But both her and Hot Shoe Shuffle have thrived since being down here. Hot Shoe Shuffle won't need to improve much to beat Coburg if the draw goes her way," he said. Neither work together, as Berger finds they get too competitive and go too hard if they do. "They are better on their own. I tend to take them along quietly and tighten up the bolts later on," he said.

Coburg had the run last week that Pullover Brown had slipped into until Fake The Moment broke. After they had skirted her, Pullover Brown was on the back of Coburg who was following the parked Hot Shoe Shuffle. She is the new drive of Peter Ferguson, who said after her first night win: "I am not scared of anything next week."

Those in the Coburg syndicate are Dr Ray Thomson, who is the majority shareholder, HRNZ Executive Member Ray O'Connor and his wife Christine, who are also in the syndicate that races Hot Shoe Shuffle, Jan and Sandy Yarndley, and Barry, Matthew, Evelyn and Jill Gordon. According to Barry, Ray Thomson inspected a number of the Yarndley fillies that were being offered at the PGG sales before settling on Coburg. "I think she cost us $30,000, but we were prepared to go higher," said Gordon. "Ray is very particular in what characteristics he looks for. He is very good. We will be looking again this year, but won't be buying for the sake of it," he said.

Of those beaten runners, none impressed more than Don't Tell Kate who cut many lengths off the leaders after being near last at the 400 metres.

Credit: Mike Grainger writing in HRWeekly 28Jan04


| | |
| --- | --- |
| | RACING HISTORY FEATURE RACE COMMENT |

2004 SIRES' STAKES 2YO FINAL

Having gone within a lip of being the fastest 2-year-old in New Zealand's history, and doing everything but lower the colours of Advance Attack at his latest outing, no one could say the Marika did not deserve to win a big one this season. And at last Friday night the Presidential Ball colt got his due reward when he and regular pilot Ricky May took out the $150,000 Garrard's Sires' Stakes Final.

May was in stellar form all evening, driving five winners in total. On the few occasions he didn't come back at the head of the field May was watching and taking notes, and in the end that helped him snare the night's biggest prize. "Not many leaders had won tonight," he said, remembering his thoughts as he hopped into Marika's sulky for the Group 1 event. "We had to use our handy draw and go to the front, but I knew once there, we were going to be taken on because Advance Attack and Bailey's Dream were always going to come around."

May was still in two minds whether to try and lead all the way as the field gathered speed behind the mobile, and in the end the decision he was leaving right up to the last minute was made for him - by Anthony Butt. May took Marika to the front easily, and then Butt pushed on from his wide draw with purpose and May took a trail. It was the winning of the race. Butt's drive Tribute pinged along in front, and as predicted the moves soon came from the back, with Advance Attack and then Baileys Dream making their way around the field.

May sat patiently, waiting for his chance and knowing that his main rivals were using up vital reserves of energy; Tribute dragged him and Marika all the way to the passing lane and he rallied his colt for the charge to the line, eventually winning the home straight battle by half a neck after the last quarter flew by in 27.7. "It was our turn tonight," May said afterwards. "Marika's a pretty versatile horse, and he has got great manners for a 2-year-old. You can do anything with him."

Credit: John Robinson writing in HRWeekly 19May04


| | |
| --- | --- |
| | RACING HISTORY FEATURE RACE COMMENT |
Thanksgiving holds out Jazz Legend

2004 SIRES' STAKES 2YO TROTTERS CHAMPIONSHIP

When Tommy Behrns heard the bang of the hammer after he had put in a bid for $31,000 on Lot 71 yearling at the Inter-Dominion Sale last year, he said to himself "I'm crazy". A seller of horses, one who had never raced a 2-year-old trotter before, and with not an owner for the colt in sight, Behrns knew he was playing a dangerous game. "But I truly liked the horse. I had picked him on conformation, and just got carried away at the time," he said.

His sire was the fast Speedy Crown horse King Conch and his mother was the superbly-bred but elderly Diedre Hanover, who died last week, and was offered by trotting enthusiasts Gary Allen and Trevor Casey. Diedre Hanover had also left good winners Sunny Florida, Diedre's Girl, Arnover and Roysimon, and to come was this season's Great Northern Trotting Derby winner, Hurricane Flyer.

With the damage done, Behrns went to the Dellaca brothers, Richard and John, Brendon Richards and Paul Young, and sold them each a fifth. "It wasn't easy putting it all together - I'd be telling a lie if I said otherwise," he said. But Thanksgiving soon took the weight off his sholders. "He just trotted from from day one. He didn't take any making," he said.

Still big and overgrown, Thanksgiving won his first two starts, then made an early break and ran last behind Damian Carlos at Addington last month. Driven by Jim Curtin, Thanksgiving swept up out wide near the 600m in the $35,000 NRM Sires' Stakes Championship and soon had Hoops covered. Jazz Legend, by Holdonmyheart, made a spirited run in the straight, and failed by only a head to reverse the result.

Credit: Mike Grainger writing in HRWeekly


| | |
| --- | --- |
| | RACING HISTORY FEATURE RACE COMMENT |

2004 EASTER CUP

Mid Canterbury driver Ricky May, unlucky not to win the Welcome Stakes with Marika, and less than a length from winning the NZ Derby with Spring Alot, had the misfortune out of the way by the time the last of Addington's Easter Meeting features came up for decision.

He drove a 'purla' in the George Calvert Cleaning Easter Cup behind Blue Chip Rock, a new recruit to the tough grade. Having only his 22nd start, Blue Chip Rock led and forced Maheer Lord to work hard to head him a lap out. The Tony Herlihy drive was no pushover and fought with great heart as May took the passing lane with Blue Chip Rock. With the drop on Maheer Lord, Blue Chip Rock steadily hauled him in, and won in the end by half a head.

He is owned by George Hill, aged 54, and trained for him by his father Joe, at Waimea West, near Nelson. While Joe was there, and made a fine speech which included thanks to the Broadfield trainer Michael De Filippi where Blue Chip Rock was stabled, he did not see the race himself. That came later when he was able to sit within a metre or so of a large television set which satisfied his failing sight.

Blue Chip Rock is a 5-year-old by Caprock from Bonny Blue Chip, an unraced mare by Bo Scots Blue Chip from Gay Hunting, by Lordship.

Credit: Mike Grainger writing in HRWeekly 15Apr04


| | |
| --- | --- |
| | RACING HISTORY FEATURE RACE COMMENT |

2004 WYATT & WILSON PRINT SUPERSTARS 4YO CHAMPIONSHIP

The Wyatt & Wilson Print Superstars 4yo Championship again lived up to its billing as one of the most exhilarating races on the Addington calendar. The 2004 edition was no exception with another uppercut for the favourites, dashing moves that backfired, a tight finish, and a race that again tripped the backmarkers.

It all made for great theatre, and marvellous action, and the hero in the end was the unsung, quiet achiever, Chris Riley. In his favour was a quick start from a front line draw and busy midrace activity by Likmesiah, Born Again Christian, Lennon and Waipawa Lad that eventually brought them to heel.

Colin De Filippi had Chris Riley second early, behind Jimmy Kelly, but lost his place as Born Again Christian went forward. There was more push and bustle from the 1200 metres, then Mark Jones suddenly shot off at great speed with Waipawa Lad that took him to a clear lead near the 600 metres. The winning post was still a small monument in the distance when Waipawa Lad started to buckle and battle 200m out. The boys in blue had arrived back on the scene by then, but Lennon, Born Again Christian and their tiring stablemate had a new enforcer with them, De Filippi hunting up with Chris Riley. He came with a rattling good run that took him past Lennon by a neck, with a neck back to Born Again Christian. "Waipawa Lad opened them up for me. That really made it for us," said De Filippi. Mark Purdon said the sprint by Waipawa Lad "took the punch out of" Born Again Christian.

Chris Riley is raced by the Southern Men Syndicate - Murray Stuart, Warren Hamilton, Robin Jenkins, Noel Costello, Clark McLean, John Davis, Richard Hall, Robert Davis, Rod Moffat and Chris Widdon who had asked De Filippi to find them a suitable horse. De Filippi cautioned them to be patient. "I kept in touch with them until I drove Chris Riley at Blenheim and liked him. I drove him again at Greymouth, and thought then that he was the horse for them," he said. De Filippi, who trains the son of Christian Cullen in partnership with his wife Julie and is also a member of the syndicate, knew he was putting the horse in at the deep end. "I didn't really expect him to beat them tonight," he said.

Previous surprise winners of the race include Anvilanunoit ($27), Glen Lustre ($77), Lucky Boy ($19), Pathfinder ($41), Defoe ($22) and The Orator ($18).

Credit: Mike Grainger writing in HRWeekly 13Oct04


| | |
| --- | --- |
| | RACING HISTORY FEATURE RACE COMMENT |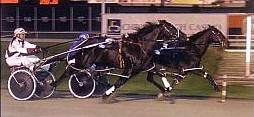 Advance Attack outfinishes Tribute

2004 INTERNATIONAL CARGO EXPRESS RISING STARS 3YO CHAMPIONSHIP

Advance Attack, the little brother to Courage Under Fire who is trained and driven by Mark Purdon for John Seaton, gamely closed on Tribute to win the $30,000 International Cargo Express Rising Stars Championship.

He had finished a close second the week before to Presido in a Sires' Stakes heat, but improved sufficiently to take the higher ground in the pecking order for the time being.

Presido was parked mostly, and dropped off Tribute by two and a half lengths at the end.

Credit: Mike Grainger writing in HRWeekly 13Oct04


| | |
| --- | --- |
| | RACING HISTORY FEATURE RACE COMMENT |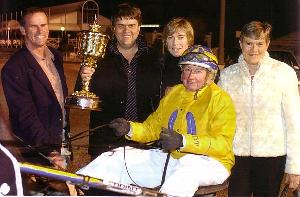 Sundon's Luck's connections with the Ordeal Cup

2004 ANTHONY SHEARER LTD/ PINK BATTS ORDEAL TROTTING CUP

Anyone thinking about life in the city only needs to talk to Kevin Townley. He is likely to champion the merits of a town and country lifestyle. Now confortably settled in suburban Christchurch, Townley travels each day to Ohoka - a 30 minute trip - where he has a team of eight. He formerly trained at Weedons, but is using the training property of Wayne Ross, who is also working the same number.

Townley has a racing team of one - Sundon's Luck - but six of the others are young trotters, and three of them will soon be tested to see if they have classic potential. It's a track Townley has been down many times before, and Sundon's Luck has been and done it. Now six, Sundon's Luck has been out of sorts since a stella season at three, when he won six races including two Group 1s and a Group 2, and his win in the Anthony Shearer/ Pink Batts Ordeal Trotting Cup at Addington last week indicated the change might be suiting him, too.

"He hasn't trotted like that since he was three," said Townley. "He could be getting back to that form; I'm hoping so," he said, after the gelding stole up inside hot favourite Sonofthedon and worried the win out of him. Lyell Creek carried his 11 years lightly, and was a gallant third, hinting at rich improvement to come.

Townley has not exactly had it easy training Sundon's Luck, after "he packed up racing at Auckland". When he returned to training at four, the horse was all at sea, and raced only five times before being set aside again. "The spell actually did nothing for him, when he came back in at five. He came back in like he went out," he said.

Townley wasn't working on "little niggles" alone. Bill Bishop, an authoritative Christchurch equine vet and part-owner of the horse with his wife Helen and Ben and Karen Calder, was also on the job. Sundon's Luck was well enough to race last season at five, and win three races, but Townley said he did it "under sufferance". "In the end we think it was a fetlock problem, and it looks to be cured," he said.

Townley, who says he has "no complaints" about his left hand that was badly crushed in an accident last season, will not be surprised if Sundon's Luck remains competitive at the highest level. "I'm not saying he's any better than any of the others, but he is a great little racehorse."

Credit: Mike Grainger writing in HRWeekly 22Sep04


| | |
| --- | --- |
| | RACING HISTORY FEATURE RACE COMMENT |

2004 MACH THREE NZ STANDARDBRED BREEDERS STAKES

This time last year, Coburg had only just cleared maiden ranks. The Falcon Seelster mare got 'on the board' with a win at Alexandra Park on January 30, beating Pacing Grace by a nose to end a string of minor placings. Sure, there had been cheques arriving in the mail after all bar one of her first nine starts, but finally the Coburg Syndicate that raced her received one that had a bit of weight about it. And her trainer Mike Berger breathed a sigh of relief.

"When she was racing as a two and 3-year-old I remember telling the syndicate not to lose any sleep," Berger said. "Coburg always felt like she had the goods. And even though she had taken so long to win a race, I thought she was going to be something special one day." Twelve months later, that day is here.

Coburg is now the hottest mare in the country, and last Friday she completed the second leg of the 'double' when she won the $100,000 Mach Three NZ Standardbred Breeders' Stakes at Addington in devasting fashion. It was an even more dominant display than the week before when she had taken out the PGG Premier Mares' Championship, and it stamped her as a lady of real class.

A one and three-quarter length victory that could have been more, a 1:56.8 mile rate for the 1950 metre trip and near record time, and a chegue for almost $62,000... what a difference a year can make. Driver Peter Ferguson said he was 80 per cent confident when he steered Coburg onto the track for her warm-up, and by the time the race was underway and they had passed the 1000 metre mark he was "a hundred and ten percent". "She felt enormous," he said. "After we got a good run through to settle three-back, all I had to do was wait; if they came around, I was going. It wouldn't have mattered where she was in the running."

Ferguson has sat behind his fair share of good mares before, none better than Kate's First. "Coburg and Kate are actually similar types of horses," he said. "I don't like to compare different horses from different eras, and Coburg has got a long way to go to match Kate's deeds because she won an Auckland Cup, but it is their adaptability - they can race anywhere in the field. Coburg gives you a lot of confidence as a driver. If you get caught out wide or have to do a bit of workto get a possie, most horses will tire on you, but with Coburg you know that she will pull you through at the other end."

Ferguson has been in Coburg's sulky for the last six appearances following a suggestion by syndicate member Barry Gordon that he would suit the mare. The move has been well worth it, with four wins, a second and an unlucky eighth the tally for the new partnership so far. Both driver and trainer agree that there is no easy path ahead for Coburg from here, and just what her career entails for the remainder of the season is yet to be decided. "It could be hard work chasing the big 4-year-old races now, but I suppose you have really got to because there is nothing much else for her," Ferguson said. "Yeah, she's going to start running out of opportunities," Berger said. "We might even look at Australia, and see what races there are for her over there. She has probably done enough to secure her broodmare career though."



Credit: John Robinson writing in HRWeekly 4Feb04


| | |
| --- | --- |
| | RACING HISTORY FEATURE RACE COMMENT |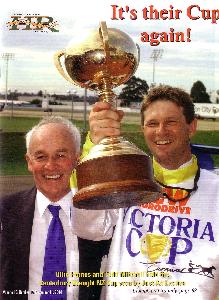 The cover of the Weekly says it all !

2004 CANTERBURY DRAUGHT NZ TROTTING CUP

Cup Day was a cocktail of triumph and tragedy for Ollie and Irene Haines at Addington on Tuesday. Minutes after watching Just An Excuse give Elsu a repeat beating in the Canterbury Draught New Zealand Cup, the Haines's learned their good friend Graham Higgins had died in the stand nearby.
Higgins was a member of the Cambridge Harness Racing Club, President of the club from 1986 to 1989, and was part of the support team behind Just An Excuse. Ollie, visibly shaken by the death of his old friend, took some consolation on hearing that he'd died calling out 'Go Mitch'.
It was all part of a turbulent ride the Haines's have had since winning the New Zealand Cup with Just An Excuse last year when he was a warm favourite. Through one reason and another, Just An Excuse had fallen from favour, and Ollie sat on the sidelines as trainer Robert Mitchell used all his professional skills to put the jigsaw back in place.
The time he spent on the horse was unbelievable. "He has virtually lived with the horse for the past six weeks. "Back and forth to vets, tooth men and farriers. "I'm sure if he'd been in a big stable he wouldn't be here now," he said. There was a chewing problem that some attention to his teeth fixed. There was a jarring up problem to his club foot that some special cushioning to his sole fixed. And then there was the abortive mission to Ashburton, which nearly unfixed their whole campaign.
"We were gutted after Ashburton," said Haines. "It didn't seem fair; we wanted a rewind. "It wasn't the fact we didn't win there, but the fact he didn't take any part in it." But Haines didn't lose faith in Mitchell, nor in the horse. He chided the media for doing so. "I don't know why you fellas wrote him off," he said.
Ironically, the Haines's had been associated with the Butcher stable for 13 years, before Mitchell was given the horse after he'd been tried by Cambridge trainer, Brent Donnelly. The Haines's had dozens of horses at the time, but five years ago Ollie stuck to a principle and culled more than 30. One of those he couldn't quit was My Excuse, a Smooth Fella mare and her Live Or Die colt foal.
The foal was Just An Excuse and the culling was successful, because only My Excuse and a Camtastic-Another Excuse 3-year-old remains. Ollie still takes time to bless his Addington luck.
"I've only raced two horses here, and they've won five Group races.
Just An Excuse has won two Cups and the Superstars, and Smooth Performer won the Oaks and the DB Fillies Final," he said. And while Todd calls Addington his second home, the Haines's don't mind the place either. They could, however, do without the emotion and high drama that came with their visit this time.


Credit: Mike Grainger writing in the HR Weekly


| | |
| --- | --- |
| | RACING HISTORY FEATURE RACE COMMENT |

2004 SOUTHERN TRUST DOMINION TROTTING HANDICAP

It's all been said before, but it needs to be said again - how much of a equine wonder is Lyell Creek? A champion, a freak, a marvel, great, phenomenal, amazing. They've all been trotted out to desperately describe the feats no other horse has done. Like this report, however, they don't adequately cover his stature as a world class icon.

The horse is 11 - though he could be going on seven. He has been to places most of us only see on the map. He has footed it with the best, and his reputation is legendary. After winning millions, he returned home, and if he wanted it, honourable retirement.

'Lyell' obviously had other ideas. He settled happily into stable life again at Premier Stables, and with the exception of one or two minor hic-cups, he has dominated the ranks of open class trotters in New Zealand. He ran a corker first-up for the season, when his ill-fated stablemate Sonofthedon won, then showed his intolerance of being bustled early with a mulish display on the grass at Motukarara. With others sharing the load in front on Cup Day, Lyell Creek was in his element and showed it with a stylish win over Sumthingaboutmaori.

Would he do the same 10 days later in the $100,000 Southern Trust Dominion Handicap, off 10 metres?

'Lyell' made his intensions known quickly, with such a speedy beginning that had him sixth or seventh, on the outer, after 300 metres. From there, driver Anthony Butt had the race at his mercy. He had Castleton's Mission two places behind him, he'd probably seen Allegro Agitato in a gallop, and he had the classy Australian Sumthingaboutmaori inside him, four deep. He only had to press the button at some time near the corner to turn 'Lyell' loose and set the crowd alight. It all came together swimmingly well, and while Castleton's Mission looked more like his old self with a solid charge from the back, Lyell Creek was on his way to another Dominion win.

"He is just so superior to the others," said Butt, who said his failure back at Motukarara was due to being 'off colour'. "He had a little break, and he's been so healthy since then," he said.

To match his own talent as a horseman, Butt has never been short of a great horse to keep him at the top of the top level. "Blossom Lady - she was the first, Happy Asset and Take A Moment, and now more of 'Lyell'. I mean, to win 16 Group 1 races like he has is unreal. Take A Moment is a great horse, but 'Lyell' is amazing. He's one of those horses you'll never see again."

For the record, it was Butt's sixth successive win in the Dominion Handicap, and it was brother Tim's sixth successive training win. Some record!


Credit: Mike Grainger writing in NZHR Weekly


| | |
| --- | --- |
| | RACING HISTORY FEATURE RACE COMMENT |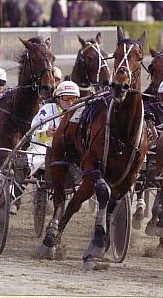 Just An Excuse on the way to victory

2004 LINDAUER NZ FREE-FOR-ALL

They said he couldn't do it. No way, not on his chequered preparation. And not with a rampant Elsu and race-hardened Mister D G staring him down as he stood sanwiched between them at the start. Nope. Almost unbelievably, Just An Excuse somehow slipped from favour from last week's Canterbury Draught NZ Trotting Cup...dropped by some of the very same people that basked in his glory just 12 short months ago.

They were wrong. Three days later it happened all over again. In spite of his emphatic Cup victory, Just An Excuse still had his doubters when he stepped onto Addington for the $100,000 Lindauer NZ Free-For-All. There were those that thought he couldn't possibly sit outside a pacemaker like Mister D G and beat him - which was how most pre-race calculations saw the event unfolding. But they were wrong again. Whatever excuses these particular people came up with for the two "biggies" over Cup week, in the end they were just that - excuses; Just An Excuse proved that you can never underestimate the ability of a good horse to lift when it matters most. Especially a great one.

Unlike most, Just An Excuse's driver Todd Mitchell didn't have a pre-race script for how he was going to attack the Free-For-All. "A 'Plan A'? No. If you head out onto the track with one of those, usually you end up looking for a 'Plan B'," Mitchell said. "Once Mister D G went to the lead I didn't want him to get too far in front; when I saw Mark and Young Rufus coming, it was time to go." Just An Excuse lobbed up alondside Mister D G as the field started the last lap, and when the positions were unchanged turning for home the pair set down to a titanic home straight struggle. "I was quite happy to sit out there, he's won most of his races sitting parked," Mitchell continued. "In fact, he's probably better sitting parked than anything. He is good coming from behind though, because at the trials he's run quarters in twenty-six and just cruised them. We still haven't seen him have to do that yet."

Just An Excuse is now back at home in Raglan and enjoying a couple of days off after losing a bit of weight and tucking up a bit more than normal from his trip. For trainer Robert Mitchell, this has given him the chance to reflect on what has been a truly magnificent Cup carnival. "Never in a hundred years did I think that we'd get to live that feeling all over again," he says, in reference to Just An Excuse's back-to-back Cup victories. "Last year it was pretty much plain sailing leading into the Cup, but this time we've had to work really hard. We just had so many little problems, what with him jarring up and then not eating, and you couldn't call Ashburton a run. It was just a case of working our way through it. So I suppose this year's Cup is more special to me. And then to top it off by winning the Free-For-All, well, that is just something else again. If you count the Cup Trial 'Lordie's' had three good runs in the space of nine days, which really says a lot for the horse because he showed his true grit after such a chequered preparation."

Mitchell says he and the horse's owners still have to decide where they'll head next with the star Live Or Die pacer, with the choices coming down to either the Victoria Cup in Melbourne on December 18, or the Auckland Cup at Alexandra Park on New Year's Eve.

Just An Excuse is the first horse for six years to capture the highly sought after NZ Cup/ NZ Free-For-All double, and the 27th horse to achieve the feat since it was first done in 1918 by Author Dillon. The others were Peter Bingen (1928), Harold Logan (31), Red Shadow (33), Indianapolis (35), Josedale Grattan (41), Highland Fling (48), Johnny Globe (54), Lookaway (57), False Step (60), Lordship (62), Cardigan Bay (63), Robalan (74), Lunar Chance (75), Trusty Scott (78), Lord Module (79), Hands Down (80), Armalight (81), Bonnie's Chance (82), Master Mood (86), Christopher Vance (91), Blossom Lady (92), Chokin (93), Bee Bee Cee (94), Il Vicolo (95) and Christian Cullen (98).

Credit: John Robinson writing in NZHR Weekly


| | |
| --- | --- |
| | RACING HISTORY FEATURE RACE COMMENT |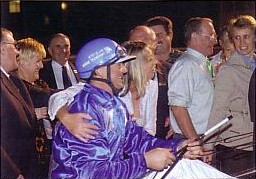 Mark Purdon & some of the Syndicate members

2004 LION FOUNDATION NZ DERBY

Australia might have an Inter-Dominion 'King' in the form of Brian Hancock, but we've got one of our own too. His name is Mark Purdon, and the race he's become synonomous with is the New Zealand Derby. Purdon won the star-studded 3-year-old event for a staggering seventh time when he and Likmesiah flashed home to nab Winforu on the post last Friday night.

Purdon's Derby dominance began in 1993 when he partnered Mark Roy, and has been followed by Il Vicolo (1995), The Court Owl (1996), Bogan Fella (1997), Young Rufus (2001) and Jack Cade (2002),not to mention the 'furore' over Hunka Hickling when he was beaten a head by a wayward Stars And Stripes in the year 2000.

This year the task ahead looked almost insurmountable, firstly because Likmesiah with saddlecloth 15 had one of the worst draws compared to the guns he was up against. And the picture wasn't any rosier turning for home, because Winforu was about to slip down into the pasing lane having enjoyed a dream sit behind the leader, and Likmesiah was just getting balanced around faltering runners as he prepared to charge for the line.

But as he so often does, Purdon proved that at no time - especially in the big races - can you underestimate those blue silks with the silver stars. "I thought that his draw could turn out to be not too bad a one, because there was always going to be a lot of speed early," Purdon said. "It just depended on how the race panned out, and whether we were going to have to cover too much extra ground. Turning for home I was wondering how wide we were going to have to come, because Colin (De Filippi, driving Roman Gladiator) was going nowhere."

A furlong from home Likmesiah exploded out of the pack, and it quickly became clear that Winforu was going to have a fight on his hands. Purdon timed his pacer's run with the sort of precision that would make your heart sink if you were connected to Winforu, and after some anxious moments it was confirmed that Likmesiah had indeed got to the line first. "He just knows how to sprint like that, because that's the way we teach them at home," Purdon added.

The $100,000 Lion Foundation sponsored Group 1 event was yet another triumph for Likmesiah's sire Christian Cullen. He was responsible for four of the 14 entrants, all being from his first crop, and they included hot favourite Roman Gladiator (10th), V For (8th) and the desperately unlucky C C Mee (7th). Christian Cullen's principal owner Ian Dobson was one of he first to congratulate the Met Two Syndicate members. "I was thrilled for them," Dodson said. "Especially that syndicate though, because I've become fairly involved with some of the members with having a couple of my own horses out at Mark's. I didn't think Likmesiah could do it turning for home, but I think he even surprises Mark because he seems to grow another leg on racenight. The Cullens have got that will to win, all the trainers are saying that to me."

Fifty people will tell you there's no more fun than racing a horse as part of a syndicate. Better if the horse can win, and huge smiles when it's a race like the New Zealand Derby. Most syndicates are made up of people who can't quite afford to race a horse on their own. Or, even if they can, prefer the friendship and fellowship it provides. These are the sort of people who made a lump sum payment of $1,620 and put in $100 a month to join the NZ Metropolitan Trotting Club organised, Met Two Syndicate two years ago. They bought three horses. One of them was Likmesiah, who won $60,800 with his trademark late burst to win the New Zealand Derby. His total earnings are $205,517 - a handsome profit from the $15,000 he cost on Mark Purdon's bid as a yearling.

Credit: John Robinson writing in NZHR Weekly


| | |
| --- | --- |
| | RACING HISTORY FEATURE RACE COMMENT |
Connections of Copper Beach with the Oaks trophy

2004 WAYNE FRANCIS MEMORIAL NZ OAKS

When it comes to winning Group races with young horses in this era, few do as well and none do better than Geoff Small. He has a piercing accuracy to zero in on such events, and that's what he did with Copper Beach in the $100,000 Wayne Francis Memorial NZ Oaks.

Not among the hot fancies, not even among the warm ones, yet Copper Beach raced under her odds to win the classic by nearly two lengths from That's Life Lavra who came from the back with Imagine That. Neither got the sweet trip David Butcher gave Copper Beach.

He dreamed of a run behind Petousa just off the pace an got it. Princess Alberta made it a race for the stayers, and those around her gradually dropped off, with the exception of Copper Beach. She was full of chirp when she came off Petousa's back on the corner, and quickly turned it into a clear advantage.

"She was cruising it when I came into the corner," said Butcher. "She's always been a nice filly, and she's got a bit of bottom to her like some of the other Beach Towels in Geoff's team. And it's the first decent run she's had for a while."

Copper Beach is raced by the Les Girls No.2 Syndicate, which includes Edith Margison, from Manurewa, Annette Hudson (Pukekohe), Sharn Riley (Papakura), Joyce Walters (Waiuku), Geoff's wife Aria, and Helen Hobson from Christchurch. They bred Elsu as well as Copper Beach, who is from a Payson's Brother half-sister to the dam of Elsu. The mare Les Payzen Star has also left a 2-year-old filly by Holmes Hanover and a yearling colt by Dream Away, and was served this season by Falcon Seelster.

Credit: Mike Grainger writing in NZHR Weekly