| | |
| --- | --- |
| | INTERNATIONAL HISTORY |

Terrorists strike for the first time in Bali, killing 202.


| | |
| --- | --- |
| | LOCAL HISTORY |

The Queen vists.

The Helen Clark led Labour party becomes the minority government in coalition with Jim Anderton's Progressive Party and with the support from the Greens and United Future.

Kiwibank opens.

Double-amputee Mark Inglis climbs Mount Cook.

Crusaders win their fourth Super 12 title.


| | |
| --- | --- |
| | RACING HISTORY |

THE CUP CARNIVAL
The training partnership of Mike Berger and Warren Rich produced Gracious Knight and Facta Non Verba to run the first stable Quinella (1st & 2nd)in the history of the Cup.
In addition, both horses were sired by the former champion juvenile Tuapeka Knight.

In the NZ Free-For-All on Show Day Yulestar driven by Peter (PN) Jones registered a stunning performance to win from the previous year's winner Young Rufus and Stars And Stripes. Yulestar's time for the mobile 2000 metres of 2:22.9 (Mile Rate of 1:54.9) broke Armalight's world record of 2:23.9 which had stood for 21 years.

Earlier on Show Day Take A Moment won the Trotters Free-For-All

Credit: The Cup: Bernie Wood


| | |
| --- | --- |
| | RACING HISTORY PEOPLE |

JACK HARTLEY

Jack Hartley rarely missed a meeting at Addington Raceway. Neither did his wife Nola, and invariably they would arrive well in time for the first race, and sit in the same area, directly opposite the winning post.

Jack's last appointment at the track was on Tuesday, where he was farewelled by a large crowd after his sudden death last week.

Few would have served the administration for as long. He became a steward of the New Brighton Harness Racing Club in 1956, served on the committee between 1964 and 1998, was President from 1970-73, Treasurer from 1976 to 1998, and was a Life Member of the Club. For many years, he was a director of Addington Raceway.

Nola recalled that he took her to Addington long before they were married. For 16 years, Jack was involved in Yonkers Breeding, and was manager of the syndicate that raced the grand pacer, Defoe. At the time of his death, he was breeding from the broodmare Stage Talent, and he had an Armbro Operative yearling colt named Why Dream It.

Remembered as a straight-talker with firm opinions, Jack was 76.

Credit: Mike Grainger writing in HRWeekly 2Oct02


| | |
| --- | --- |
| | RACING HISTORY PEOPLE |

PETER MACKENZIE

Peter Mackenzie, a former Chief Stipendiary Steward for Harness Racing New Zealand, died on Friday after falling into the Lindis River in Central Otago. He was swept down-stream after police said he appeared to lose his balance and tumble five metres into the swollen river. Aged 66, Mackenzie was on his way from Clyde to Christchurch with a friend when he requested a comfort stop. His body was found three hours later, snagged on a submerged tree. A coroner's inquest will be held into his death.

Mackenzie joined Harness Racing New Zealand as a trainee stipendiary steward and handicapper in 1962. He moved from Gore when he became Chief Stipendiary in 1985, on the retirement of Len Butterfield, and retired in 1995. His position was taken by Michael Carrig, who died suddenly four years ago.

Mackenzie was a champion squash player, winning the national junior title three times. The squash courts in Gore are named the Mackenzie Courts in his honour. He was Chairman of the Mataura Licensing Trust for four years, from 1980, having been elected to the Board in 1977.

Neil Escott, the present Chief Stipendary Steward, said he was "forthright and competitive" whether it was to do with sport or racing. "He never liked to finish second," he said.

Escott said Mackenzie was held in high regard by the majority of licenceholders. "Some on the fringe may have had cause to feel his never-back-down attitude, but he never held a grudge. I remember one case he dealt with up north, and he told this person to change some gear because the horse would not be allowed on the track if he did not. 'Who the hell are you?' was the response. 'Everyone knows me,' said Mackenzie,'I am the Chief Stipe.''I don't' said the trainer. Well he got a penalty for misconduct, but later that night they had a cup of tea together, and did so whenever they met after that," Escott said.

In recent years, Mackenzie did not keep good health, but he was a keen member of the local bowling club and was treasurer for a syndicate racing a galloper out of Kerry Verner's stable. One of those in the syndicate is former galloping trainer, Ray Pankhurst, a part-owner of Cup Class pacer, Panky's Pacer. "I saw him just before he left," said Pankhurst, "and the last thing he said to me was Panky's Pacer would win the Hannon Memorial." (Which it did!)

Mackenzie was a stickler for correctness and protocol. Anyone using a capital K in Mackenzie soon learnt the error of their ways, and never made the mistake again.


Credit: Mike Grainger writing in HRWeekly 25Sep02


| | |
| --- | --- |
| | RACING HISTORY PEOPLE |

SAM WOODS

Sam Woods, who bred and raced the good winners Pointer Hanover, About Time and Glentohi, died recently at his Gleniti (near Timaru) farm at the age of 82.

Woods bred the trotters Pointer Hanover and About Time and pacer Glentohi from Worthy Scott, who left 11 individual winners from 16 foals. Woods inherited Worthy Scott from his late father Andy in 1963 after she had left two foals. The unraced daughter of Worthy Monarch and Daisy Scott was carrying a foal by Johnny Globe. The foal was named Conclusion, who gave Woods his first win at the Kurow meeting in 1968. Glentohi and his half-brother Glenwood were both sold to the United States and carried on to good form. Other winners out of Worthy Scott included Worthy Gentry, Fallax, Obstinate and Inverter. Her last winner was Gleniti, who she foaled in 1978 at the age of 22.

Woods raced the progeny of Worthy Scott with George Shand, the Washdyke horseman. Shand said the partnership had over 100 wins. Pointer Hanover won the 1979 Canterbury Park Trotting Cup. The partners achieved an unusual double on the first day of the Westport Jockey Club meeting in October, 1964. They won with the galloper Waitohi and pacer Bar None on the same programme. Shand trained both horses and drove Bar None. Waitohi won twice on the second day of the meeting. Eddie Low rode her each time.

Woods is survived by his wife Margaret, and sons John and Andrew.

Credit: HRWeekly 13Feb2002


| | |
| --- | --- |
| | RACING HISTORY PEOPLE |

COLIN MCDONALD

Colin McDonald, who died last month after a long illness, campaigned horses with great success in Australia. His widow Joyce recalls that at one stage he was away from his Canterbury base for seven months. "He went there dozens of times, to Sydney and Melbourne, and he won a lot of races," she said.

The son of a saddler, McDonald started his career in that domain, but soon had horses of his own, and one of them was Scottish Light. Trained for him by Colin Berkett, Scottish Light ran in the NZ Cup the year it was wet when Lordship won.

In 1964, he won the Rowe Cup with Dreaming from the stablemates Our Luck and Our Eileen, while Receptive was another good trotter he had about this time. Three years later, in 1967, he won the Great Northern Derby with Cardinal Garrison, who was driven by Bob Young.

He had considerable success with the stock of Garrison Hanover, and one of them Hakim won 10 races, including the 1970 Methven Cup when he was driven by Doody Townley. In the same race McDonald drove Van Rover, a good horse who ran fourth.

Other good horses he raced were Mackworth - his first winner - Sockeye, the trotter Southern Knight, Hazy Days, Ripolet, Belmont Lad, Royal Belmont, Southern Melody, Kotare Hunter, Kotare Sterling, Gregory Jones (1969 NSW Sires' Stakes) and Regal Belmont(NSW Australian 4yo Championship Final, NSW Viscount Australian Pacing Championship heat).

He was renowned for turning his horses out in magnificent order.

Aged 74 at the time of his death, he is survived by his wife Joyce, and sons Garry and Robert.



Credit: HRWeekly 6Feb2002


| | |
| --- | --- |
| | RACING HISTORY PEOPLE |

CHARLIE ELLIOTT

Charlie Elliott, a prominent breeder/owner, administrator and benefactor in harness racing over a long period, died late last week after a long illness. He was 74.

A farmer at Morrinsville before moving last year to Hamilton, Elloitt was President of the Morrinsville T C for eight years and spent the best part of 20 years on the Executive of Harness Racing NZ, including a period as the North-Island Vice-President. He also had stints on the then Racing Authority and TAB board.

Elliott sponsored the Futurity Final for 3 and 4 year olds, which will be staged at Cambridge this Friday night for a $40,000 stake, and was instrumental in establishing the Elliott Room at Alexandra Park.

Elliott had considerable success as an owner in breeding from the Garrison Hanover mare Vice Reign, who was named the 1985 Broodmare of the Year when her son Alba's Reign won the NZ Juvenile Championship and was voted that season's 2yo Pacer of the Year. As a 3yo, Alba's Reign won the NZ Derby and was runner-up in the Great Northern Derby and NZ Sires' Stakes Final. In all, Alba's Reign won 19 races and $315,124, while other top pacers raced by Elliott were grandsons of Vice Reign in Supreme Ruler and Skipper's Reign.

Elliott is survived by wife Dawn, sons Graeme, David and Bryce and five grandchildren - Paul, Jaimie,Sheree, Shane and Vance.



Credit: HRWeekly 9Jan2002


| | |
| --- | --- |
| | RACING HISTORY PEOPLE |

FREEMAN HOLMES

Closure on another chapter in the colourful history of the Holmes family came last week with the passing of Freeman. He was a grandson of 'the Grand Old Man of Trotting' Free Holmes and a son of 'F.G', who won the 1953 NZ Cup with Adorian to emulate the feat of his father.

Old Free's many unique distinctions included riding Manton to win the 1888 NZ Cup at Riccarton and training and driving Trix Pointer to win the 1919 NZ Cup at Addington. A filly he imported a few years earlier after his first trip to America along with Logan Pointer and Bonilene, Trix Pointer is the only Cup winner to become the dam of a Cup winner - her first foal Wrackler.

Freeman did not manage to win the Cup himself, but could so easily have done so had the sensational Noodlum not gone amiss on the eve of the 1975 edition. Troubled by strained ligaments in a leg from midway through his 3-year-old campaign, Noodlum had as a 4-year-old chased eventual Cup winner Lunar Chance home in the Louisson and National Handicaps before brilliantly winning the Laing at Addington after being well back and eight wide turning in. The Ashburton Flying Stakes and Canterbury Park 4yo Flying Mile, from Trevino, In Or Out and Cyclone Lad, followed but a week out from the big event Noodlum broke down at the trials. Blistered and patched up on a limited preparation, Noodlum reappeared five weeks later to win the National Flying Pace over what was the Auckland Cup field. However, thirds in the Auckland and Wellington Cups were not the real Noodlum and with his value at stud assured, he was retired to Holmes' The Manor at Ellersmere to begin another highly successful aspect of his career.

Noodlum, a rich, dark liver chestnut by Bachelor Hanover from the top racemare Deft, had earlier been the focus of much attention from the general public when he went on a tour as a 2-year-old and it became common knowledge that he was named after Rob Muldoon in reverse. He was bred and raced by Mrs Ann Wilson, an ardent admirer of Muldoon who considered the Prime Minister the "most deft person I know."

Noodlum was so precocious that Holmes took him north to win the first juvenile race of the season, the Morrinsville Stakes in September, and by the end of the term he had won a record 12 races fron 15 starts. Along the way he swept the Welcome and Sapling Stakes and NZ Juvenile Championship by eight lengths in record time. There was also the infamous crash when well clear nearing the finish at Forbury Park, where he attempted to jump a head number and lost a few teeth. From that point however, Noodlum strung together a record 15 consecutive wins - his last seven at two and first eight at three - bettering the previous record of 10 held by Cardigan Bay, War Buoy and Young Quinn.

Freeman was also his regular pilot at three following the compulsory retirement of his uncle Maurice that year and Noodlum had qualified for the NZ Cup in August when no other 3-year-old had achieved that feat before the race was run. Tumbling records and wide winning margins were the highlight of that spring and his dominating performance in the NZ Derby from Commissioner on the final night of the Cup Meeting was his eighth win for the season. It as his 23rd career win fron 26 starts.

Then the unthinkable happened when he was out of the money in the North Canterbury Stakes after a shocking passage and beaten by Commissioner in the Champion Stakes at Ashburton and Parlez Vous in the Mercer Mile at Addington. This was the point where his leg condition worsened, but on limited training Holmes had him back later in the season to win the Russley Stakes by seven lengths and a heat and the final of the Queensland Derby, on the latter occasion stunning the locals after conceding a 50m start.

Noodlum went to stud after 28 months of racing in which he raced 42 times for 28 wins, six seconds, two thirds and a fourth. He was well received right from the start when stood for the 'horsemens' fee of $500 and in a 14 year career at stud averaged covering 147 mares a season. In all he produced 1286 live foals for 385 winners (30%), among them two time Horse of the Year Master Mood, Race Ruler, Laser Lad, Miss Clevedon, Speedy Cheval, Young Eden and trotters Tyrone Scottie, Lenin and Cracker. His broodmares have to date produced over 430 winners, notably Lyell Creek, Il Vicolo, Homin Hosed, Mark Hanover, Mark Roy, Fraggle Rock and Sundowner Bay.

Considering his pedigree, it was perhaps surprising that Holmes was not to the fore much earlier than the 1970s. However, he was for many years first and foremost a farmer at Oxford, and had got the commentating bug after being selected as an 11-year-old from many applicants to read a daily junior news bulletin on Christchurch's 3ZB radio station. This led to 25 years of professional race calling at meetings from Oamaru to Wellington, and as a paid official of clubs he was unable to race a horse or hold a licence to train one. However, during this time he bred horses and those that raced were in the name of his wife Peggy and trained by his father after Holmes gave them their early education. Among them were good sorts in Commonwealth, Forward Star, Adulate and Bedazzle.

The transition to horses full time came in 1969 when he bought a property at Ellersmere and set it up as a stud. Named The Manor after a good galloper he raced from John Parsons' stable, Holmes stood the likes of Play Bill, Mark Lobell and Jersey Hanover and ultimately Noodlum. He was also training and driving a small team and not long to appear on the scene was the fine pacer Armbro Free, followed by good trotters in Edis Nova, Wadestown and Picotee, the grandam of Sundowner Bay. The last winner of note he trained was Gavotte, a daughter of Noodlum.

Derek Jones, who delivered the eulogy at the funeral, described Holmes as simply "a great all round horseman and a real good bloke. He did everything well, but everyone who knew him will remember him for his generosity," said Jones. He was a top studmaster, but what really impressed me was his knowledge of breeding in both standardbreds and thoroughbreds. He had an exceptional memory for families and detail." he said.

Those thoughts were reiterated by another longtime friend in Jim Dalgety, who raced a good filly from Noodlum's family in Fancy Wishes. "It was amazing when he was race calling, both trotters and gallopers, how as soon as there was a winner he could tell you all about the family for three or four generations," said Dalgety. "He had a photographic memory for all things actually. He just loved stock in general and took great joy in showing off his black angus cattle. And he got a Diploma in Wool Classing and was into that side of things, as well as growing crops like chaff, oats and barley," he added.

Dalgety also recalled with fondness the day Holmes, who "loved to entertain," pulled out a video which had every Melbourne Cup since 1926. "This went on for hours, but boy did we see some good horses. Freeman didn't have much quality of life in his later years, but no one ever heard him complain."

Credit: Frank Marrion writing in HRWeekly 09Oct02


| | |
| --- | --- |
| | RACING HISTORY PEOPLE |

TED GRAHAM

For as long as Arthur Pash can recall, Ted Graham was a regular with himself, Alan McKinnel and Pat Cross at the same table on racenight at Addington. There was little doubt that Ted was the oldest on track, because he was 87 when they checked in to meet as usual the Friday before last. The night came and went, with three at the table instead of four, and the next day they learnt of his death.

Graham's first horse was Coronet Lass, a mare by Van Logan who had won races previously from the stables of Hughie Donaldson and Hec Henderson. She was first trained for him by Lance Heron, and Dave McGregor drove her to win a race at Addington, but she was with Jack Carmichael when she finished third to Au Fait and Dianthus Girl in the Dominion Handicap. Carmichael recalls that Graham was his first owner when he started out as a public trainer. At the time he was in two minds whether to go training, and says he told Graham to "wait a few days" while he thought about it.

By far his best horse was Micron, a son of Lordship he raced in partnership with Doug Goslin, who reached open class and ran unplaced in the NZ Cup the year Lunar Chance won. Micron also won a heat of the Inter-Dominions in 1975. He won four races at four, four at five, and three at six, one being the Kaikoura Cup after he lost 60 metres at the start. He later stood at stud. Others Graham raced were Cardigan Lass, Hindu Star, Coronet Peak and Monopat.

Graham was a prominent Canterbury administrator. He served on the committee of the Canterbury Owners' Association for many years, was president for more than a decade, and later became patron.

Credit: Mike Grainger writing in HRWeekly 15May02


| | |
| --- | --- |
| | RACING HISTORY PEOPLE |

BILL FARRELL

Bill Farrell, the South Canterbury farmer who bred the brilliant pacer Happy Sunrise, died last week aged 82.

He was a versatile and knowledgeable horseman who trained, drove and bred standardbreds for more than 20 years, many in partnership with Graham Trist.

It was Trist who got him started, and together they bred the winners Winning Choice, Meesha(2.06), top youngster Winning Glimpse(2.03), Haughty Choice and Hunter Hanover(2.06) from the Bachelor Hanover mare Bachelor's Choice, and two winners from the Johnny Globe mare, Apollo Globe. All told they bred 14 horses, and nine of them were winners.

Later, he stood Steven Stock at the stud, and among the mares he had assembled for the horse to serve was Happy Gift, by Johnny Kawa.

In due course, he found himself with too many horses, and he told Trist on Sunday afternoon that he was sending some to a dispersal sale at Ashburton. Trist told him he wouldn't get much for them, and he was right - the Steven Stock-Happy Gift 2-year-old was sold to Brian Saunders for $350. Happy Sunrise went on to win more than $100,000 and take a mork of 1:57.8.

Credit: Mike Grainger writing in HRWeekly 6Jun02


| | |
| --- | --- |
| | RACING HISTORY INTERDOMINIONS |

SYDNEY- SMOOTH SATIN
Kiwis stayed away in their droves from the Sydney Inter-Doms but it didnít stop the top horses putting on a regal show. The cream quickly rose to the top during the heats with Shakamaker, Courage Under Fire, Stars And Stripes and Smooth Satin winning all 10 heats between them. The final was billed as a Courage Under Fire-Shakamaker match race but as is so often the case, these donít eventuate. Smooth Satin stole the show and the ĎBathurst Bulletí won for his trainer/driver Steve Turnbull. The win rekindled memories of another Bathurst great Hondo Grattan who won back-to-back Inter-Doms for Turnbullís father Tony in the early 70s.



| | |
| --- | --- |
| | RACING HISTORY HORSES |

COURAGE UNDER FIRE

Courage Under Fire's contribution to harness racing was far greater than 41 career wins, a string of feature race titles and almost $1.5 million in stakes.

Affectionately known as "Mighty Mouse" in Australia and "The Pocket Rocket" in New Zealand, Courage Under Fire alone took harness racing to the wider sporting world with his 24-race winning streak. It was common-place to see some big thoroughbred names making a special trip to the trots just to watch the pint-sized people-puller strut his stuff. Cricketing heroes Mark Waugh and Ricky Ponting were also huge fans of the pacer.

Courage Under Fire first captured my imagination on Christchurch Show Day in November, 1998, when he overcame a torrid run to beat NZ's best 3-year-olds. It was a performance of a champion. In the nine months that followed, the son of In The Pocket proved himself one of, if not the best 3-year-old Australasia has seen with a record-breaking six Derby wins.

The best win of his career came at Moonee Valley on July 10, 1999. It was the Australian Derby and local star Shakamaker was at the top of his game. What was supposed to be a thrilling contest turned into one of the most emphatic and memorable wins in the history of Moonee Valley. In a stunning display of sustained speed, Courage Under Fire simply ran his rivals ragged. His 1:56.5 mile rate for 2540m not only destroyed the track record, but also bettered the world mark.

Another of his stellar performances came at the Gold Coast just weeks before the Australian Derby, when the colt came as close as I have ever seen to a horse winning by the length of the straight. The official margin was 48.75m and the time for the mile a sizzling 1:54.9. Racecaller Dan Mielicki superbly captured the moment of Courage Under Fire's first defeat - at Moonee Valley in January 2000 - with the words: "The world must be ending."

As dramatic as it sounded, Mielicki's call was closer to the mark than even he realised at the time. Life went on, but Courage Under Fire was never quite the same. Gone was that invincibility, that intimidating presence that terrorised his rivals. Trainer Bruce Negus handed the reins to Brian Hancock in a headline-grabbing stable change. Hancock was always in a no-win situation. Everbody expected Courage Under Fire to dominate the Grand Curcuit and nothing short of that would surffice. The truth is, Courage Under Fire, by the lofty standards of his youth, was a disappointment in the big league.

But, as Hancock said this week, if you forget his deeds at two and three and just judged him on his Grand Curcuit form, he "did a damn good job." He won three Grand Curcuit events, contested three Inter-Dominion finals and won six Inter heats. Racing against horses that dwarfed him, every race as an older horse was a war for Courage Under Fire. He was one of the most appropriately named horses we have ever seen.

My memories of Courage Under Fire will be as much about the huge crowds that surrounded his stall for a glimpse, as they will for his fantastic deeds on the track. He was a people-pleaser and I was pleased to have followed his career from start to finish. Farewell, little fella.


Credit: Adam Hamilton writing in HRWeekly 18Sep02


| | |
| --- | --- |
| | RACING HISTORY HORSES |

MONKEY KING - Bargain Buy

MONKEY KING(2002) $20,000 39 wins $3.48m

$20,000 might not seem like much of a bargain but balance it against stakes won and it looks a steal. What is more, just one more bid around the ring and Steven Reid and Robert Famularo's dream would have been someone else's triumph.

After looking a smart but not a great pacer, one night 'The Monkey' produced a phenomenal last quarter in a race at Addington, and from then on it was a trail of riches. It took him a while to nail a New Zealand Cup with his pioneering of the modern 'bike' in this country but in the end he did it all.

Steven Reid later recalled that $20,000 was the last bid. Robert had that as his limit(a fairly sensible one in those years) and one more call from the rival buyer would have nailed one of the greatest earners of modern times. I wonder if someone still wakes up at night thinking about that.

Credit: David McCarthy writing in Harnessed May 2016


| | |
| --- | --- |
| | RACING HISTORY HORSES |

BIONIC STAR

"She was as game as any horse I ever sat behind." Those were the sentiments of Bob Cameron last week upon learning that grand race and broodmare Bionic Star had died aged 26. Cameron was the regular reinsman of Bionic Star, who recorded eight wins and seven seconds from just 23 starts in a career restricted by unsoundness. "She had the ups and downs due to tendon problems, but she certainly had plenty of ability on the rest." A race that remains vivid for Cameron was the Waikouaiti Cup, a fourth consecutive win in the Spring of 1979.

Bionic Star was bred to be royalty, being by Bachelor Hanover from Broodmare of the Year, Adio Star, dam of 10 winners including the Derby winners Bachelor Star, Main Adios, Main Star and Game Adios. She didn't disappoint at stud either, her second foal being the quite outstanding racemare Bionic Chance, who proved more than a match for the colts on many occasions. Bionic Chance is the only filly to have won the NZ Sires' Stakes 2YO Final and almost undid Race Ruler's Triple Crown aspirations in the NZ Derby. The following season she showed an astonishing display of speed to win the NZ Standardbred Breeders Stakes over Gina Rosa, Frangelico, Michele Bromac and Victoria Star. Also among Bionic Star's first three foals were Bionic Raider(6 wins) and Pacelbel(4 wins), while her remaining seven foals all qualified, with six to race and three winning.

Credit: Frank Marrion writing in HRWeekly 20Mar02


| | |
| --- | --- |
| | RACING HISTORY FEATURE RACE COMMENT |

2002 RYDGES CHRISTCHURCH HANDICAP TROT

Popular Melbourne racecaller Dan Mielicki had made seven trips to New Zealand to see Waihemo Hanger race 13 times prior to this week and only once watched him win, in last year's Ordeal Cup. It was becoming something of an ordeal and Mielicki said on Tuesday that he had discussed with Mark Purdon whether he should stay away this week and not jinx his talented trotter. "He has usually had a gallop when I have been here," said Mielicki. "But Mark said it might be an idea to be here, although we did chat about whether to enter him at Addington or Riccarton," he added. Purdon was just kidding though and had every reason to feel the 7-year-old would be on his best behaviour.

After a sound third in his season's debut in the Ordeal Cup to Dependable and Take A Moment and an unlucky fourth when in tight quarters for much of the run home in the Flying Mile at Ashburton on Labour Day, Waihemo Hanger was a dominant figure in the $20,000 Rydges Christchurch Trot despite having just a head to spare from longshot Ado's Invasion with Gold, Dependable and Special Force next home having had their chances. It was the Straphanger gelding's 11th win from 38 starts and took his earnings into six figures.

Waihemo Hanger has been handled with aplomb this season by Purdon employee Blair Orange and will form a powerful two pronged attack on the remaining Group One features at the meeting with Mark handling mountain Gold. Mielicki and co-owner Terry Henderson are certain to be there again tomorrow for the $50,000 NZ Trotting FFA, where Take A Moment will also join the fray in what will be a dress rehearsal for next week's $100,000 Dominion. They will then head home, but hope to be back for a successful hit and run trip on the final night.

Mielicki, who began race calling at the age of eight as a gimmick and was employed full-time as a sports jounalist at the age of 16 by Channel 10, has been the voice of Mooney Valley for many years and prior to this year - the broadcast went to a rival TV channel - had called the 14 previous Melbourne Cups. It was Mark Purdon and Buster Hanover's win in an Australasian trotting Championship at Mooney Valley which inspired Mielicki to approach Purdon about finding him a nice trotter. "It took 12 months before I heard from Mark again, but I had no problem following his advice, even when he had found a no-name and he was a cheapy at $15,000. Don't ask me what he liked about him, but you have to like Mark's eye for picking them don't you. He never gave us any false hopes, but did always maintain he would be right when he matured mentally and to just be patient. Some people probably think that because Terry (co-owner of Chokin among others) and I have a high profile in the public eye, that we had paid a lot for him as a going horse, but we are just like everyone else looking for a good horse."

It took another year for Purdon to round Waihemo Hanger into shape and produce him on raceday, but that was a winning debut and he won four of his nine starts that season and was into open class the next year as a 5-year-old. It hasn't been plain sailing, but since the departure of Lyell Creek, Waihemo Hanger has often proved he is as good as any around when doing things right.

Credit: Frank Marrion writing in HRWeekly


| | |
| --- | --- |
| | RACING HISTORY FEATURE RACE COMMENT |

2002 THE NOBILO FREE-FOR-ALL

Ken Barron wasn't sure if he had won two Group races in a night before. He gave himself a fair chance of winning two of the four, not so much with Stars And Stripes but Roland John, who fell to places short of doing so in the Superstars, and with Dependable. Not for the first time, he was caught out by Stars And Stripes.

He was wrong thinking the horse would be a run short in the Nobilo, though his thinking may have been coloured by the disadvantage of being on the back of one of the lesser-performed horses. As it happened, a poor draw on paper turned into a winning lottery ticket, as many on the front line eased back and within 400 metres Barron had Stars And Stripes away from the inside line and on the back of the favourite Cool Hand Luke. It was a sweet trip home from there. In a powerful burst inside the last 200m, Stars And Stripes answered the one-short suspicion as quickly as it was asked, levelling quickly with Cool Hand Luke and drawing clear to win well.

Two trial runs had brought Stars And Stripes to this level, finishing with a 56.1 half in one and in the 58s in the other. "We had a good platform to work on this time," said Barron, "unlike what he had in Sydney for the Inter-Dominions when he was the victim of a poor preparation." Stars And Stripes started like a bomb in that series, but a skinny foundation and poor draws eventually found him out.

Barron should not have been as surprised as he was that Stars And Stripes should win fresh-up. His record before this was four wins from seven starts, clearly an indication of his capability in this condition. The big question now for Barron and his training partner John Lischner as they begin the final push towards a start in the Canterbury Draught New Zealand Cup is what to do with Stars And Stripes from here. They are aware of the danger of doing too much, and the fine line of leaving him a bit soft. And with Stars And Stripes, getting it right is crucial. "It was a month between his win in the NZ Derby and the New South Wales Derby, and we did that by design," said Barron.

Stars And Stripes is three years older now, and quite possibly may only race once more - at Ashburton - before the Cup, as the connections are not keen on Kaikoura. City Rogue moved into the Cup picture with an improver's third, Kym's Girl also found the line well, but Makati Galahad showed no sign of the form that made him a big player last spring.



Credit: Mike Grainger writing in HRWeekly 09Oct02


| | |
| --- | --- |
| | RACING HISTORY FEATURE RACE COMMENT |

2002 WYATT AND WILSON PRINT SUPERSTARS 4YO CHAMPIONSHIP

Just An Excuse kept his unbeaten winning record when he set up a race record to win the Wyatt and Wilson Print Superstars 4yo Championship. He thumped 12 others, giving all but Muscle Machine a start, and recorded 3:15.1 for the 2600 stand. The previous best for the race was Defoe's 3:15.8, followed by Christopher Vance and Hoppy's Jet who both went 3:16.6.

Just An Excuse is raced by his breeders Ollie and Irene Haines; Ollie, a former HRNZ Executive member whose last trip to race a horse at Addington was 11 years earlier with the classy filly, Smooth Performer. He has culled his stock considerably since then, and Just An Excuse made his arrival when only a few were left.

A 4-year-old by Live Or Die, Just An Excuse is trained by Robert Mitchell who said the horse "has been a bit of a revelation. He has never ceased to amaze us, and he's come along when I was looking to cut back a bit. I haven't had a horse who has done what this guy has done," he said. Mitchell has been behind enough good ones to know where Just An Excuse stands, including the open class Court Martial pacer Hoover, Rain Girl and Royal Consent.

The only concern Mitchell had was the gap of three weeks between races, and what effect the trip away from home would have on him. "He was quiet for a couple of days, then started kicking his bucket in the yard, so he handled it okay," he said.

Just An Excuse is the sixth foal from My Excuse, a Smooth Fella mare, who has since left a Make A Deal filly, now two, and a yearling filly, also by Live Or Die.

Credit: Mike Grainger writing HRWeekly 09Oct02


| | |
| --- | --- |
| | RACING HISTORY FEATURE RACE COMMENT |

2002 PGG YEARLING SALES 2YO SERIES FINAL

Light And Sound's rivals had their best chance to put an end to the brilliant colt's winning streak at Addington last Friday night, but they probably didn't even know it.

Light And Sound was justifiably a red hot favourite for the biggest race of his career, the $194,000 PGG Yearling Sales Series Final, and he duly obliged by breaking his own national record. But afterwards, trainer/driver Mark Purdon revealed that he wasn't as happy as he could have been leading into the event. "Because it was such a big race, I decided to get him blood-tested at the start of the week," Purdon said.

"The results came back showing he was lacking in iron, and that his white cell count was at the top end of normal. Then on the Wednesday he didn't work that good. A southerly came up while he was out on the track, which we thought might have been part of the reason, but he didn't feel like his old self. And later in the day he developed a slight cough. "Purdon kept close tabs on his champion 2-year-old over the next couple of days, and history now shows that they didn't have much to worry about.

As always with the consummate professional though, the welfare of his horse came first and he says he would not have hesitated to scratch Light And Sound if he had thought it necessary. Having compiled a record of eight starts for a first-up second and seven straight victories, Light And Sound has netted his owners $222,885. He should add the biggest slice of this Friday night's $150,000 Sires' Stakes Final to that, and then it is the spelling paddock for the In The Pocket colt. Purdon is still deliberating over the decision to geld Light And Sounds between seasons. "I am still in two minds about it. He has matured a lot in that respect recently."

Credit: John Robinson writing in HRWeekly 08May02


| | |
| --- | --- |
| | RACING HISTORY FEATURE RACE COMMENT |

2002 PGG NZ YEARLING SALES 3YO TROT

Auckland pie man Roger Bond has an appetite for winning big races at Addington. His first big one was the Pyne Gould Guinness NZ Yearling Sales 3-year-old Trot last Friday night with Tony H, and he hopes there will be a repeat of it in the $50,000 Trotting Derby this week.
There is no certainty of that because Sundon's Luck is the fresh face in the ranks and a shiney one at that. He gave Tony H a serious test, and only failed by a neck.

Tony H had not raced since Ashburton earlier last month, and indeed, had not been off the place for a trials of workout tightener. So trainer Tremain Thorby pretty much expected something as close as this. He will certainly be a lot sharper for Sundon's Luck this week, and Bond and his partner Shirley will again make the trip from Auckland to watch him perform.

Bond settled in New Zealand from Sheffield 32 years ago, when he was 13. After being in Timaru for a start he moved to Christchurch where he became the manager of a rental car firm. His early visits to the races were mainly social, and enjoying the pleasure of watching two greats, Noodlum at Addington, and the galloper Grey Way at Riccarton.

On shifting to Auckland, he was introduced to Colin Kennedy, whose wife Karen is Shirley's cousin. This is when the horse thing started to get serious. The Kennedys suggested that Bond share the ownership in a couple of horses they had starting up, Lord Graceland and Shardon's Star. "It has been great. We have had a huge amount of fun," he said. Bond also had a share in the club syndicate that raced Matai Mackenzie, Parisian Falcon and Moschino.

Two years ago, they stepped up a cog. Deciding that there were opportunities going begging in the Sales Series for trotters - "there was a lot of money available and the prices for trotters were less than half what you had to pay for a pacer," said Bond - they combined with Kennedy and radio host Peter Earley to impliment the plan. "We had wanted to get five," he said, "but finished up with three."

They bought William Edward, Crystal Bella, who has since been sold, and a Sundon colt from a Chiola Hanover mare - the same cross as Sundon's Luck - for $6500. This was Tony H, who is unbeaten in his last four starts, and has won over $60,000. "He has been a natural," said Bond. "He has matured a lot and become a lot more settled and Tremain is a good trainer and very thorough.

Credit: Mike Grainger writing in HRWeekly 27Mar02


| | |
| --- | --- |
| | RACING HISTORY FEATURE RACE COMMENT |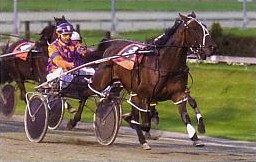 Shortys Girl & Allan Beck burst clear

2002 CADUCEUS CLUB OF CANTERBURY NZ STANDARDBRED BREEDERS STAKES

Graham and Moira Bell have experienced both sides of the coin when it comes to harness racing. And, oddly enough, both their greatest and saddest moments relate to the same four-legged individual.

About a decade ago the Bells bought the Kentucky mare Spygirl off Curtin's Farms, who was in foal to Soky's Atom at the time. The resulting foal was Soky's Girl, and from 25 visits to the track she managed to win them one race and $4525. "She had a tonne of zip," Graham recalled. "But she got a virus early on in her career and never really got over it," he lamented.

Retired to stud, Soky's Girl's first foal was the New York Motoring filly Shorty's Girl, and while they waited for her to grow old enough to race they continued to send Soky's Girl to different stallions. "We have had nothing but bad luck breeding from her," Bell continued. "She lost a few foals, came home not in foal a couple of times, but then one year she took to In The Pocket and gave birth to a beautiful colt. Last season we were just getting ready to wean him when he died of colitis; that would be the biggest dissappointment we have had to experience."

Last Friday night at Addington, luck tossed the Roslyn Bush couple a moment they will remember for all the right reasons when Shortys Girl blitzed a quality field of mares in the $75,000 Caduceus Club of Canterbury NZ Standardbred Breeders Stakes. Beautifully positioned on the outside with cover by trainer/driver Allan Beck, Shortys Girl made a mockery of her suggested inexperience when she shot away from the opposition in the straight.

From just the 13 starts, Shortys Girl has now won seven and is yet to come home without a cheque, banking $88,000. "I thought this race might have been a year too soon for her," Beck said afterwards. "She was held up when she finished fourth in the Oaks here last season, but she went 3:16 that night so I thought then that she would have a future. She has got a good engine, and a bit of speed," he said.

Back home in Invercargill over the weekend, the Bells were still buzzing from what was just their second visit to Addington Raceway. "The whole trip has been an amazing experience," Graham said. "We can't thank Allan and his partner Jo Geering enough for their dedication to the horses." The Bells, who are "in their sixties" haven't started thinking about retirement just yet. The have farmed sheep and beef on a 550-acre property in Roslyn Bush for most of their lives, but have been cutting the size of the farm down in recent years as they prepare to move to a smaller and more manageable property in Lochiel, south of Winton.

There will always be plenty of room for the horses though, and there are a few ...broodmares Spygirl, Soky's Girl, Kanegold and Browngate Happy, some 4-year-olds, a couple of 2-year-olds and two yearlings. "We like to have a bit to do with getting the horses up and running before passing them onto the likes of Allan or Tony (Barron)," Graham said. "Our neighbour Angus Mawdsley is great help, and we work them up over Winter time. We are great believers in handling the horses at a young age, and start leading them as soon as they come back from the stud on their mothers. It can make all the difference, they really respond to you," he said.




Credit: John Robinson writing in HRWeekly 06Feb02


| | |
| --- | --- |
| | RACING HISTORY FEATURE RACE COMMENT |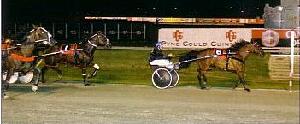 Champagne Party clear of Mirity.

2002 PYNE GOULD GUINNESS PREMIER MARES PACE

Champagne Party caused an upset win in the Pyne Gould Guinness Premier Mares Pace at Addington, but it may have not been much of a surprise to those aware of her record with Mark Purdon.

Until the Premier, she had raced 25 times, and Purdon had driven her in three of them. The result: one win at Addington and two thirds. Now, it is two wins and two thirds, and possibly a chance to improve on that when they contest the Standardbred Breeders Stakes.

Purdon says the Soky's Atom mare has done well since her win, and he said the syndicate may well leave her with him until the Easter meeting at Addington.

She could well encounter stiffer opposition this week. Shania Patron, who finished third and in particular Kym's Girl who was fourth, are expected to offer spirited competition with that race behind them.

Credit: Mike Grainger writing in HRWeekly 30Jan02


| | |
| --- | --- |
| | RACING HISTORY FEATURE RACE COMMENT |

2002 INTERNATIONAL CARGO EXPRESS RISING STARS 3YO CHAMPIONSHIP

It appears Jim and Susan Wakefield have another good 'London' horse. 'Legend' is the lastest, a worthy addition by the look of it to their earlier forebearers, London Pride and London Express, who under the guidance of Cran Dalgety won eight and seven races respectively.

Although London Legend has only won the one race, he has claims to be in their company, for his opening account came in the Group 2 International Cargo Express Rising Stars Championship.

On the face of it, London Legend was on a cheeky assignment. But Dalgety didn't see it quite that way. "If you had looked at the horse's stats, he had a case. He ran a half in 55.8 at Forbury when he finished second, then ran a two minute rate at his next start there which was quicker than what Russian Road went on the same night. As far as speed goes, he would be in the top bracket with some of the others I have had," he said.

It wasn't always like that, and it was fortunate that he found a mate in Dalgety. "He had no idea how to pace," he said. "But he had such a kind attitude, and he always wanted to help. For a start, he would just pace in spurts, fifty to a hundred metres, but he could pace it very quick. London Pride was very similar. It was also a period where you didn't want to encourage the owners out because his legs were chaffed and blown up. "We tried him over three campaigns, and the day he qualified at Ashburton he ran a quarter in 26.5. What we knew then was that he had speed, but we had no idea on what he was like for stamina," he said.

London Legend was one of the Studholme Park draft at the Yearling Sales, and was bought by the Wakefields for $22,000. Dalgety pushed hard to get him. "I had to twist Jim's arm on this one. He had the same grandam as Classy Filly" - a big winner for Dalgety - "and I have always liked his maternal family," he said.

In their pre-race plans, Dalgety and driver Mark Jones thought they would get a passing lane shot if Franco Eruption led as they thought he would from gate one. That didn't happen, and they were forced to come from the back brought into the finish on the back of Russian Road, who finished second.

"We will make the late payment now for the Sires' Stakes Series and run in the heat at Addington this week," he said.

Credit: Mike Grainger writing in HRWeekly 09Oct02


| | |
| --- | --- |
| | RACING HISTORY FEATURE RACE COMMENT |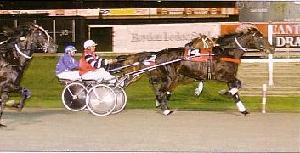 Just Incredible beats Solar Active & Lord Clive

2002 ROYDON LODGE STUD NZ 2YO TROTTING STAKES

Winning a race at Addington isn't easy. It is even harder when you are an erratic baby trotter who is starting from the unruly mark against a form-packed field. Throw in the fact that you cause a false start when your bit breaks and you are lucky to be brought to a halt at all, then in the re-run you are never any closer to the fence than three-wide for the first 1000 metres. And the icing on the cake ...an hour-long enquiry to determine that you didn't interfere with one of your rivals. This is hardly a recipe for success, especially when you are trying to win a race like the NZ Trotting Stakes. To beat such odds, you have to be just incredible. And that is exactly what this trotter is.

Just Incredible overcame hurdles that seemed insurmountable when he won the Roydon Lodge-sponsored Group 2 event at Addington. Turning for home he was three lengths off the leaders and battling, and he would have been forgiven for feeling the pinch after such a tough trip. But Just Incredible would not be denied, and he picked himself up off the canvas and shot through a gap that was hardly big enough to score by half a length.

The leggy Sundon gelding is trained by Michael House, who also had the co-favourite Lord Clive in the event, which he drove himself. Colin De Filippi was called in to handle Just Incredible on this occasion, and House was regretting even asking him after what transpired on the night. "Just Incredible wears a straight rubber bit. It is the same one that Mighty Khan wore, and it has just been hanging up on the wall ever since," House said. "In his lead-up races he had been bleeding from the mouth, so we changed from a steel bit to the rubber one and got Bill Beck to do a lot of surgery on him a few days out from the Trotting Stakes. Bill pulled a dozen caps, some baby teeth and one bad wolf tooth, so it was quite an extensive operation. For some reason Just Incredible's bit broke in the run-up, and I saw him come through the middle of us. You have just got no control over the horse when this happens, and I really felt for Colin; it's a terrible feeling - you are left with a split second decision whether to hang on, or bail out. Somehow Colin managed to get him behind the mobile barrier, and that brought him to a halt."

Fitted with a replacement bit and bridle, Just Incredible and his rivals wheeled up behind the mobile for a second time. Despite the scare, House was still confident that his other runner could win. "I have always thought that Just Incredible is the best horse in this bunch of 2-year-olds," House continued. "All he needed to do was trot and he would prove it. I told Colin earlier in the week not to drive him pretty, and don't feel sorry for him. Even if he felt silly, I said to him that he could sit in the middle of the track and still win. He is such a great stayer. He has got speed - not just greased lightning speed - but there is not a horse in his grade that I would be scared to sit outside," House said.

Just Incredible is raced by the Mike Gourdie managed Trotting New Zealand Syndicate. Six of the members chipped in to buy the son of Sundon and Last Lord mare Princess Della (two wins) at the Yearling Sales, securing her for $10,000, and leased him back to the syndicate. Following on from their success with Castleton's Mission, Just Incredible is a part of the same plan that House and the syndicate members have... targeting good stakemoney for minimal out-lay. "We just can't compete with the likes of Mark Purdon, who takes home ten great pacing colts from the sales at an average of $40,000 apiece," House said. "But with trotters it is different. For less than half as much you can get yourself a good one, and you can make a big ripple in a little pool. And with trotters, the more you try, the more you get out of them. Trotting in this country is still in it's infancy, but there is so much action for a good horse. I mean, Just Incredible's owners turned down a $50,000 offer for him after his very first trial, and there has been other offers since."

Last Friday's was a bitter-sweet moment for House, despite the fact that he also ran third with Lord Clive in the event. From the promising first crop of the Valley Victory stallion Holdonmyheart, one of three stallions which House stands on behalf of principal owners Clive and Rona McKay, to win the Trotting Stakes with Lord Clive would have been the fairy-tale result. "Lord Clive probably should have won with the trip he had, and fifty metres out I thought he was going to," House said. "But I blame myself for that, because he has been up for too long. The aches and pains in his hocks just took its toll near the finish. I probably wrecked his chances by trying to prove a point at the trials earlier on, and all I can do now is look back and reflect on what might have been."




Credit: John Robinson writing in HRWeekly 22May02


| | |
| --- | --- |
| | RACING HISTORY FEATURE RACE COMMENT |

2002 NEVELE R FILLIES FINAL

The Nevele R Fillies Final last Friday night was open to all-comers when the favourite Elect To Live ran out of steam at the top of the straight.

This unexpected development was a surprise invitation to the others, and it was not one of the favourites but Whanau who emerged with the commitment to get home first. It was not by much, half a head to be official, and 10 metres out it appeared as though Angela Jane had edged past. And she had; driver Mark Purdon was sure of it. But over the next 10 metres, Whanau won it back, and caused a huge upset.

The same filly had run well below her best in the New Zealand Oaks the previous week. Trainer Henry Skinner put it down to the fact she pulled hard, but in case he had missed something he got Robert Cameron to handle her when she fast-worked on the Wednesday before the race. Skinner really wasn't in the best shape because he had the flu, but Cameron reported that she worked as well as he would have liked. "I thought she was okay for the Oaks," said Skinner, "but she didn't get the best of runs. But I was dissappointed about where she finished. I had her blood done after that, and everything was right there," he said. On reflection, he thought she had had some bad luck in some of her previous races. In one, she made a break at the start, and when she was due for another she had to miss it because of a cold. It meant she had to do some catching up on what she had missed at the trials.

As good as she went on the night, Whanau also had the benefit of a splendid drive by Peter Jones who was also as good as anyone on the night. He put Lento's daughter into a nice place, midfield on the outer, then caught the back of Hot Blooded Woman who was making some headway forward at the 700 metre mark. It took her far enough for her to strike out on her own near the 500 metres, and Whanau moved into it at a quicker rate than Elect To Live who was moving back. She was not alone because Goodnight Aveross was again showing a lot of cheek and Angela Jane had made her own ground from the back and was chasing hard. Whanau stuck to her guns to give sire Sands A Flyin his second successive winner of the race, following that of Sparks A Flyin last year.

Skinner, who trains a small team at Branxholme and made his name with some wonderful horses such as Sapling, Sure Mart, Forto Prontezza and No Return, races the filly with his wife Karen and the horse's co-breeder, Alex McDonald. McDonald trained and part-owned Lento, (MR 1:56.4, 2000m), with Lorraine Coutts. She was sold last September, in foal to Dream Away, to Robert Famularo's Cavalla Breeding. Lento is also the dam of a 2-year-old by Sir Vancelot, owned by Keith and Lorraine Coutts, who bred Whanau in partnership with McDonald.



Credit: Mike Grainger writing in HRWeekly 15May02


| | |
| --- | --- |
| | RACING HISTORY FEATURE RACE COMMENT |

2002 GEORGE CALVERT CLEANING EASTER CUP

'The Wizard' alias Todd Mitchell, was at his spell binding best behind Gracious Knight at Addington last Saturday night. He mesmerised rival drivers with a heady brew of front-running tactics. There were signs a lap out when Gracious Knight had not been questioned for the lead that some would be caught out, and near the 600m Mitchell knew it. He didn't think there was a horse close enough who could give him a start and turn in a better final quarter. "I was just jogging turning for home," he said.

By this stage, the stayers who had been hoping for 4:00, or content with 4:02 for the 3200n were out of the hunt. Gracious Knight was getting it over in a tick under 4:07, and it was Mitchell's clever dictation of the pace that saw him win it without a fight. He was more than two lengths ahead of Pic Me Pockets who came out of the pack strongly, and Panky's Pacer did the same to run third.

It was Mitchell's third Easter Cup win in four years, following that of Facta Non Verba last year and Homin Hosed two years before that. Facta Non Verba, a stablemate of the winner's, ran a sterling race for fifth after missing the start by at least six lengths but probably much more. "We were standing just three or four seconds too long, waiting for Annie's Boy," said driver Robbie Holmes.

Gracious Knight is a son of Tuapeka Knight, and now the winner of 10 races from just 23 starts. His record is more compelling because his placings include seconds in the Messenger behind Tupelo Rose and third to Holmes D G in the Auckland Cup. It has not been plain sailing for Warren Rich, who trains in partnership with Mike Berger. Gracious Knight is one of 20 Rich has in work at Pukekohe, and Berger has as many at Morrinsville. Rich said Gracious Knight took a while to gait up, but this season he has had muscular problems that Syd Weatherly treated for a start and now Clare McGowan is handling it. "She comes once every two weeks on average," he said, "and he does swimming as well."

Rich who was born in Christchurch and worked for Mike Nicholas, Barry Purdon, Jeff Crouth and Brian Hughes before partnering Berger, said the Auckland Cup was not originally in the plan but the Easter Cup at Addington always was. "The Auckland Cup seemed to make all the difference to him. It gave him a lift round the stables and in his trackwork," he said. Rich said that 95% of his stable, including Gracious Knight, is owned by the Happy Valley Syndicate. There are three in Hong Kong, and two in New Zealand, one of them being Jacko Shiu, whose acceptance speech of the George Calvert trophy was more memorable than the race itself. It was a humble, gratifying response that brought favourable comment from every quarter. And he has more good prospects ahead. Rich says the syndicate has a 3-year-old half-sister by Road Machine to Graciuos Knight that "I like very much."

Credit: Mike Grainger writing in HRWeekly 04Apr02


| | |
| --- | --- |
| | RACING HISTORY FEATURE RACE COMMENT |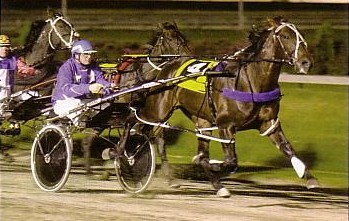 Light And Sound & Mark Purdon

2002 FERRYMEAD RESTAURANT & BARS NZ WELCOME STAKES

Mark Purdon has chased around a few brilliant In The Pockets in his time. Like a lot of trainers and drivers, he was on the receiving end of the good old fashioned hidings that Under Cover Lover, Christian Cullen and Courage Under Fire dished out, and it took a while before he could join the party with one of his own.

"I probably had about six or eight In The Pockets when I trained up north, and they were pretty much all flops," he said. "Ouch was a good horse, but he had been already 'made' by Geoff Small when we got him. Apart from him there wasn't much to speak of. That was just bad luck though; you only had to look at what horses like Christian Cullen and Courage Under Fire could do to know that In The Pocket left stock of extreme quality."

Purdon has finally got himself one now. The tide turned when John and Ann Seaton, Tim Vince and his partner Janine Browne parted with $55,000 to buy Light And Sound at the Yearling Sales this time last season. After being narrowly beaten on debut in December, the In The Pocket half-brother to Stars And Stripes has strung together five sensational victories, the latest of them in the Ferrymead Restaurant & Bars NZ Welecome Stakes.

Using his speed to work to the front early, Light And Sound never looked out of second gear, and he only needed a sharp sprint home in 57.9 and 27.9 to hold nearest challenger Russian Road at bay. There was nothing awe-inspiring about Light And Sound's overall time for the 1950 metre event, but it was hard not to be impressed with the way he went about his business.

Harness racing fans have grown accustomed to the superlatives that follow Light And Sound around now, so probably the freshest news on Saturday night was the mention of plans to geld the 2-year-old. "It is a hard call to make," Purdon said. "If he was in America, there would have probably been a contract out on him by now, by someone trying to secure his siring future. I am surprised no-one has contacted his owners about that. In my heart I would love to keep him a colt, but I am a racehorse trainer and I have got to advise what is in the best interests of the horse."

The subject of gelding Light And Sound surfaced after his trip north to Alexandra Park for his debut. "He is just too colty, and he behaved very immaturely when we went to Auckland in December. He got his leg over a fence while he was being stabled in Pukekohe, and although he is paddocked on his own he did the same thing back here at home prior to the Sapling Stakes at Ashburton. He is actually a lovely colt, but he gets very dominant around other horses. It happens though, when you get horses at their peak and they are feeling good, that is when they get dynamic. That is why we have not travelled again with him. If he is on a float or a plane around other horses he is the sort that would kick out; you could end up having a puffy joint and then it would take a couple of days before you could work him again. But I have no concerns at all that he wouldn't come back after being gelded, because he is such an athlete," Purdon said.

Plans to geld Light And Sound will be shelved for the meantime though, as focus now switches to his two remaining missions this season...the PGG Yearling Sales Series Open on May 3, and the Garrard's Sires' Stakes Final a week later. "He has got a lot of brilliance, this horse. If they took him on in a race he could pace his last mile in 1:56. He is special."


Credit: John Robinson writing in HRWeekly 04Apr02


| | |
| --- | --- |
| | RACING HISTORY FEATURE RACE COMMENT |

2002 TYCO ELECTRONICS/ RALPH THOMPSON SHAW & THOMPSON NZ TROTTING CHAMPIONSHIP

Light And Sound's victory on Saturday night was the beginning of a Group Race rampage for his trainer/ driver, as Purdon also went on to win the NZ Trotting Championship with Waihemo Hanger and the NZ Derby with Jack Cade.

A fortnight ago, Waihemo Hanger looked back to his old tricks when he broke in the home straight when travelling easily enough behind the winner Jay Bee Ar. But after a sparkling trial win mid-week and the addition of a boring pole on his near-side, Waihemo Hanger trotted sweetly around the Addington bends while up forcing the issue and held too many guns for Dependable and the fast-finishing Hutzpah.

Credit: John Robinson writing in HRWeekly 04Apr02


| | |
| --- | --- |
| | RACING HISTORY FEATURE RACE COMMENT |

2002 SBS BANKING LIKE IT SHOULD BE/ HELLER SMALLGOODS FREE-FOR-ALL

Has David Butcher ever driven better? Regardless of whether he has or not, he can claim to be in superb form.

After driving 33-to-one shot Purr Along to victory at Alexandra Park on Thursday night, he was a Addington the next night, to settle a score with Disprove. The son of Camelon had raced without luck on either of the first two days at the Cup Meeting.

Again Butcher found him in fine fettle. He was quite relaxed about sitting in the open over the last lap of the SBS Banking Like It Should Be/ Heller Smallgoods Free-For-All, and he responded generously in the straight to win by two lengths from Mister D G, with a tiring Stars And Stripes all-out to hold third from Eastwood Jaunty.

Possibly in the best form of his career just now, and with an obvious liking for he big Addington track, Disprove went a super time for the 2600m mobile, taking 3:10.7. His programme now includes the Auckland Cup meeting, which trainer Nicky Chilcott is doing with some reluctance. "He is so much better going this way round, but what can you do? We can't really be sitting at home with a horse like him when that is going on," she said.

Chilcott again said how touch and go it was to have Disprove at the meeting. "I panicked early on. I was really worried about him. To be honest, I really wasn't that keen on coming south," she said. She chanced her arm on the environment at David and Catherine Butt's where she thought the beach work would be the tonic he needed. "Back home, he walks in the water, and that is about it," she said.

While the Auckland carnival is on the agenda, and that is about all, Melbourne is a firm one. "The Hunter Cup and the Victoria Cup are definitely on for us," said the pacer's part-owner, Wellington real estate agent Louis Newman, who races the horse with taxi driver Tony Jack and Lyn Jacobsen.

"They have had a lot of trouble with him, and twice he nearly died," said Newman. "Nicky has been superb with him, and David has given a lot of advice as well," he said. Newman was generous in his praise for Peter Jones, who gave the horse one race "then advised us to have him trained up north."

"It was just luck that I stumbled on him," said Chilcott.

Credit: Mike Grainger writing in HRWeekly 27Nov02


| | |
| --- | --- |
| | RACING HISTORY FEATURE RACE COMMENT |

2002 BONE MARROW TRANSPLANT TRUST NZ TROTTING FREE-FOR-ALL

After a so-so innings on Cup Day, Butt Brothers Inc. were back in business at Addington on Show Day.

Take A Moment surprised no-one with a typical tradesman like effort to win the Bone Marrow Transplant Trust NZ Trotting Free-For-All from Frugal Echo.

The Butts have always thought Take A Moment would have a season when he dominates, and there is every sign that he is about to do this. "He's at the peak of his career, and it was really effortless, what he did today," Tim said.

He has a busy time ahead, with Friday's Dominion followed by a trip to Moonee Valley for the Bill Collins Mile on December 7, the $100,000 Grand Prix a week later, back for the Auckland carnival and possibly a mile at Cambridge in early January. Then, a week or so to freshen and then prepare for the Inter-Dominions at Addington.

Credit: Mike Grainger writin in HRWeekly 20Nov02


| | |
| --- | --- |
| | RACING HISTORY FEATURE RACE COMMENT |

2002 NRM SIRES' STAKES SERIES FINAL

A lap from home in the NRM Sires'Stakes Final, Jamie MacKinnon's heart skipped a beat. He had just watched his horse Maheer Lord work around to the front at the 1300 metre mark, but all of a sudden his mind flashed back to a very similar occasion on Cup Day two years ago. Back then, Kliklite did exactly the same thing... pressing forward to lead the NZ Cup field coming into the straight for the second-to-last time; seconds later disaster struck though, and Kliklite broke down in the very same spot, never to be seen on a racetrack again.

MacKinnon fought off the deja vu feelings, and Maheer Lord stayed in front to fight off the stern challenges of Allstar Blue Jean and Champagne Princess, taking out the Sires' Stakes Final in brilliant fashion. Now unbeaten in six starts, Maheer Lord's performance to win the 1950m mobile event in such quick time considering the conditions was one of the highlights of Cup Day 2002.

By Holmes Hanover, the 3-year-old gelding is out of the New York Motoring mare Fern Glen, who won ten races. Maheer Lord was bred by charismatic enthusiast Monty Baker, who races him in partnership with MacKinnon. "Everybody knows Monty," the latter said smiling. "We have raced horses together for years. The first was Blazing Spirit, after I became a member of the Top Of The Line Syndicate which Monty manages. She won five, and another one we had was Ideal Franco. After we had to retire Kliklite I told Monty I would always be interested in racing another 'nice' horse with him," MacKinnon said.

Aged 46, MacKinnon travels quite a bit with his main occupation, which is buying movie copyrights for companies such as Civic Video. Earlier this year he was in the United States on business when the phone rang, and it was Baker on the line. "I think I have got one that is alright," Baker told his friend. "Monty asked if I wanted to ring Tony (Herlihy) and ask him about Maheer Lord, but I told him that wasn't necessary because his judgement was good enough."

Back home in time to see Maheer Lord qualify around Pukekohe at the end of June, MacKinnon joined Baker in the ownership of the gelding soon afterwards. Having won his qualifier and every other trial since, Maheer Lord is yet to be beaten on the track, and his perfect six-for-six record on raceday has taken his earnings to $102,725. "I like racing horses with Monty," MacKinnon continued. "We get along really well, and we have had a bit of luck which always helps."

Credit: John Robinson writing in HRWeekly 14Nov02


| | |
| --- | --- |
| | RACING HISTORY FEATURE RACE COMMENT |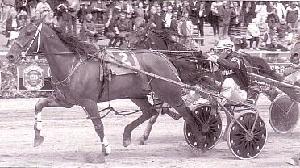 OK Ulisee and Andrew Suddaby

2002 FIRESTONE DIRECT JUNIOR FREE-FOR-ALL

Brent Lilley's year just keeps getting better. Just eight months ago he landed the biggest achievement of his training career when Game Bid took out the Inter-Dominion Trotters' Grand Final at Sydney.

Earlier this week Lilley was back to chase big-race glory again, this time with OK Ulisee in the $25,000 Firestone Direct Junior Free-For-All at Addington. Even more less-fancied against his opposition than Game Bid was back in March, OK Ulisee mirrored the effort of his former stablemate and beat them fair and square.

Masterfully driven by Lilley's new right-hand-man Andrew Suddaby, OK Ulisee was held back out of the gate instead of being asked to use the explosive speed he possesses, the plan having been chosen by Lilley and Suddaby in pre-race discussions leading up to Cup Day. "Andrew and I sat down and talked about how the race would unfold, and we thought that Ants (Anthony Butt) was more than likely going to try and hold the lead inside us on Lavros Harrier. There was no use trying to take him on early," Lilley reflected. "So we were better settling on the outside." The plan worked a treat, and after getting an economical trip OK Ulisee had plenty of gas to punch away from his opposition when it counted.

The occasion marked the launch of Lilley's new colours, those being the black and yellow silks of Tranz Rail, who are the 26-year-old's new sponsor. "Having a sponsor is something a bit different, because not a lot of people have got that sort of thing yet," Lilley continued. "It came about from a mate of mine, Scott Sutton, who used to work for Dad as a stablehand about ten years ago. Soon after that he got a job with Tranz Rail, based in Christchurch, and has worked his way up to Account Manager now. It's really great that we could win the first time the colours were worn." OK Ulisee is one of the first horses raced by 66-year-old Bill Smith, a taxi driver for the Christchurch company First Direct and former next door neighbour of Lilley's before he re-established himself in Leithfield six months ago.

Freshened since a fast-closing second to Mister D G a month ago, OK Ulisee had an outing at last week's Cup Trials and finished last in a field of four behind Niobium; Lilley was rapt in the run. "It always takes one to bring him right," he said of the 6-year-old OK Bye gelding. "I put him in the trail knowing he would need it, and hoped he would go about 3:20. They went 3:14, so he just blew out. But I knew he would be firing on all cylinders today."

OK Ulisee put himself amongst some pretty elite company with his victory in the Junior Free-For-All, with past winners including the likes of Young Rufus, Iraklis and Yulestar to name a few. While conceding that he is probably not one of them, Lilley isn't afraid to set his sights a little higher still. "Next year's Inter-Dominions have been the big plan with him all along; I know his owner has turned down some pretty good money for him," he said. "A series like that should really suit him, because they race a week apart and he can back up. He raced three times in ten days at the Cup Meeting last year, recording a win and two seconds. He has got gate speed too, which is very important in a series like that.

Credit: John Robinson writing in HRWeekly 14Nov02


| | |
| --- | --- |
| | RACING HISTORY FEATURE RACE COMMENT |

2002 GIANNIS PITA BREAD CANTERBURY PARK TROTTING CUP

Dependable was fresh when he accounted for Take A Moment in the Giannis Pita Bread Canterbury Park Trotting Cup.

Trainer Allan Georgeson said he had been "ready sometimes" to make a speech after a race by Dependable, "but I didn't think I would be making one tonight, not when he was first-up over two miles."

And it never entered his mind when Dependable went close to elimination after Play On broke at the top of the straight. Sent after Take A Moment, Dependable made it in good time, with Waihemo Hanger running on late for third.

"He can sprint as well as a pacer," said Georgeson.



Credit: Mike Grainger writing in HRWeekly 09Oct02


| | |
| --- | --- |
| | RACING HISTORY FEATURE RACE COMMENT |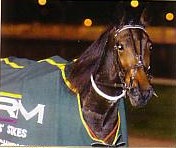 T K Victor

2002 NRM SIRES' STAKES 2YO TROTTERS CHAMPIONSHIP

Good manners, the best trip of all, and a determined stayer's finish brought T K Victor a Group 2 win in the NRM Sires' Stakes Trotters Championship for 2-year-olds at Addington last week.

The son of Simon Roydon is trained by Dale Cameron, but he has been in the care of Brent Lilley while he has been in the south. "He is only a pony, but you have to sit behind to fall in love with him," said Lilley, who met Cameron and drove a few horses for him while he was employed by Barry Purdon a few years ago. "He had never been to the beach before he got here," he said. T K Victor was driven to perfection by David Butt, who also won the race in 1998 with Special Branch and the year after that with Shine.

T K Victor was bred by Robert Tapp and Patricia Johnson, who bought his dam Bonnie Quine empty at a broodmare and weanling sale three years ago for $500. "We had seen her race at Cambridge," recalled Tapp, "so we knew she had ability. The first consort that came to mind over Sundon and all others was Simon Roydon, simply because it was a similar cross to Continentalvictory, who won the Hambletonian in the States, but it also crossed one of the best trotting families in Arndon's family with a doubling up of Star's Pride."

Tapp has bred numerous winners, including Cee Eye Bee, T K Swift, T K Dancer, Steel Dawn and El Sirocco, and preparing to race later this season are T K Blackjack and T K Stellar. Bonny Quine is also the dam of a yearling colt by Straphanger and was served this season by Above The Stars.

Credit: Mike Grainger writing in HRWeekly 08May02


| | |
| --- | --- |
| | RACING HISTORY FEATURE RACE COMMENT |

2002 CHRISTCHURCH CASINO NZ TROTTING DERBY

Two months ago, Kevin Townley didn't have a 3-year-old trotter. There was one in his stable called Sundon's Luck, but in no way was he reliable, and when Townley floated him home from Ashburton after the Hambletonian in February he knew he had some serious sorting out to do. "He had a gallop that day, just like he had done on debut at Addington," Townley recalled. "I was getting pretty worried at that stage, and remember thinking 'gee, I still don't have a 3-year-old trotter yet'."

Townley has compiled a super record with trotters over the years, especially in the younger age group ranks, but his hopes that Sundon's Luck would follow in the footsteps of such greats as Solar Fire and Sunning were diminishing day by day. It was a long-term plan that he had mapped out for Sundon's Luck ever since the horse had arrived on his property as a yearling, and he could see it was coming unstuck.

Bred by trotting stalwarts Trevor and Vera Allingham, Sudon's Luck went under the hammer at Karaka in the Autumn of 2000. Townley wasn't flying north for the Sales, but he was keen on the son of Sundon and Chiola's Luck all the same. "I thought he was the pick of the catalogue because of his breeding," Townley said. "Ben Calder (of Johnson's Oysters) was interested in buying a trotter at that stage too, so, knowing my vet Bill Bishop was going to go up for the Sales, I said to Ben...'why don't we just get Bill to look at Sundon's Luck for us, and save ourselves the trip'. "Bill loved him, and got him for $16,000."

Placed in the ownership of Calder, Bishop and their respective wives Karen and Helen, Sundon's Luck was soon in the care of his new trainer. It wasn't long before Townley had news for the foursome - some good, some bad. "He was up and running at two and had the ability, but not the brain." Townley said. "He just wasn't settled, and was very hyperactive. And he was too competitive; every time I put him alongside another horse he would go a hundred miles an hour trying to beat it, and fly to bits. All we could do was put him out for a good spell, and hope he would have the brain when he came back at three."

Sundon's Luck finally made it to the racetrack at the beginning of February this year. His trainer/driver took the necessary precautions by placing him on the unruly, but he galloped. Strike one. Then the 3-year-old went to Ashburton for the Hambletonian, and galloped again. Strike Two. Just when he thought he was going to strike out, Townley put bat on ball and hit a homer. Sundon's Luck sat in the one-one at Addington on March 8, and burst clear of his opposition to win with his ears pricked. Then a fortnight later at the same venue he gave leader Tony H a head start of some 20 metres, worked round to sit outside him for the last half, and ran him to a neck. And last Saturday night, in the event that meant more to Townley than any of them so far, Sundon's Luck jogged home to win the $50,000 Christchurch Casino NZ Trotting Derby.

"Practice, practice and more practice," the Weedons horseman said, explaining how he turned Sundon's Luck around. I just kept changing things, and trying new things. Putting two poles on him has helped because that has got his steering perfect. But it is just a fluke that we got him right in time for all the big trots, so we are lucky in that respect."

Townley doesn't hide the fact that he thinks a lot of his latest winner. "He is very good," he said. "He has got better in every start since his first win, and on Saturday he went round the field on his own and led for more than the last lap. You don't see many do that. Solar Fire was a brilliant filly, but Sundon's Luck is different again because he is more of a stayer. That doesn't mean he hasn't got speed though, because that day at Ashburton he would have trotted his mile in well under two minutes once he finally got going. He has got a big motor. I have timed him to run his last quarter at Rangiora trials in 27 and a bit - and he never tires. What more could you ask for in a horse?"

The latest news that Townley has for Sundon's Luck's owners is to make travel arrangements. "Yes, we will have a go for the big money now. He will go to Auckland for the Trotters Championship and the Rosso Antico later this month, and then all going well we will head to Australia for the Holmfield, the Victorian Derby and the New South Wales Derby. I am still not ready to bring him off the unruly and line him up off the front yet. But the day I do, look out, because they won't see which way they went."


Credit: John Robinson writing in HRWeekly 04Apr02


| | |
| --- | --- |
| | RACING HISTORY FEATURE RACE COMMENT |

2002 PGG YEARLING SALES SERIES 3YO FILLIES

If you think Hot Shoe Suffle is good now, just wait until she grows into her massive frame. That is the warning from Hot Shoe Suffle's co-trainer Mike Berger, who believes the best is still to from the towering 16.3-hand filly. "She was big at two, so I hoped she would fill out this season but she hasn't; she has been growing up, not out," Berger said. "I think she could develop into an awesome mare at four and five. And when she does finally fill out - look out!"

Strong words indeed, but Berger had every reason to be bullish about Hot Shoe Shuffle after her performance in the $106,700 PGG Yearling Sales Series Fillies Pace. Aided by a masterful drive by regular pilot David Butcher, Hot Shoe Shuffle shifted out of the trail starting the last lap and secured the one-one behind fellow Falcon Seelster filly Angela Jane, who had circled the field three wide. From there they always had the drop on their biggest danger. To her credit Angela Jane forced the issued around the top bend and momentarily skipped a length or two clear, but she couldn't hold out Hot Shoe Shuffle's finishing punch near the line.

The victory was Hot Shoe Shuffle's eighth from 16 starts, and together with four seconds she has now netted her owners over $180,000. This is a super return on the $13,000 that the Hot Shoe Shuffle Breeding Syndicate parted with to buy her from the sales, and her record is even more impressive considering that Friday night was the first time in her career that she had drawn inside seven.

Winning the PGG Sales Series Pace was also some consolation for missing two big fillies' races at the Auckland Cup Carnival, the Ladyship Stakes and the Great Northern Oaks. "I found her one day with some grazing on a back leg, so she must have kicked through a fence or something," Berger said. "She was in work at the time, and it took ages for the bruising to come down. Most owners might have wanted to start in those races regardless, but her's were quite happy to bypass them. "They are a great syndicate to train for. It made my job a lot easier. It's hard enough getting a nice horse, let alone pushing her into races she is not ready for."

Two races that remain on Hot Shoe Shuffle's programme for the season are the Wayne Francis Memorial Oaks on May 3 and the Nevele R Fillies Final a week later. "She will go home and have a wee break now, and then we might tackle another heat of the Nevele R Series.

"One of he owners lives in Brisbane so there is a possibility she could go to Australia later in the season - it is only an option at this stage though. Being a lightly-framed filly it is easy to over-work her, it's just a matter of getting your timing right. Her best attribute would be her tremendous will to win. Even at home when she is jogging she has just got to get in front of any other horses that are with her."

Credit: John Robinson writing in HRWeekly 20Feb02


| | |
| --- | --- |
| | RACING HISTORY FEATURE RACE COMMENT |

2002 GARRARD'S SIRES' STAKES 2YO FINAL

John Seaton loves the thrill of buying and selling. We are not just talking horses here either. In fact, they are one of the last commodities he lets go these days. John deals mainly in sheep and cattle; throw in some property and the various blocks of land that he has bought and then sub-divided over the years, and you will have almost every reason why John is one of the wealthiest men in the harness racing industry.

It all started quite humbly in the little town of Darfield, north of Christchurch, where John was born and raised on his family's 80 acre farm. John loved running and rugby as a youngster, but neither interest was greater than his dislike for school so he turned his back on education at the age of 15. He worked around home, picking potatoes and doing stock work for 12 months, and it was about this time when he had his first taste of dealing. "I bought and sold ponies," he recalled. "And I loved it. I was probably turning over about thirty to forty ponies a year, and making between fifteen and twenty pounds on each one." At 16 John landed a job driving trucks and trailers for Wilson's Motors in Halkett, carting stock, hay and grain to and from various properties around Canterbury. "We had brand new trucks to drive and I really enjoyed those days," he said. "I used to deliver grain to John Noble's where I also met Doug Mangos and Malcolm Shinn who I had been to school with, and at times I would stop and watch the horses working around the track."

Having caught the harness racing bug, John was just 18 when he first took himself along to the Yearling Sales at the Showgrounds, determined to go home with a horse. "I had mamaged to save a bit of money at that stage, so I bought a little Armbro Del colt called Delbrae for five hundred pounds. I was only earning about twenty pounds a week in those days, so it was a lot of money to spend. "I was still there when a guy called Charlie Winter came up to me later in the day and asked to buy Delbrae off me, but I told him he wasn't for sale. Charlie had missed the Sales and was really keen on the colt, he offered me twice as much as I had paid for him. I couldn't turn that down."

John quickly cottoned-on that there was money to be made here. The following year he went back to the Sales and bought himself two more, both of which he on-sold within a month and made nearly a four-figure profit on each, and then 12 months later he was back to put his finger up again, this time to secure Command Castle who later gave him his first win as an owner when successful at Oamaru. Command Castle was later sold overseas for a five-figure sum.

John married Ann at the age of 26, bought the family farm off his parents the same year and left the transport business to grow crops. Not long after he sold that to buy a 900 acre on in Aylesbury, and he went into raising sheep and cattle on a large scale. "It just got bigger and bigger," John said. "We were turning over anything up to 400,000 sheep a year; those were the good days back then - and they still are. These days I will be at the sales two or three days a week, and it's great because I have made a lot of friends. The good thing about this sort of stock is that you can buy them one day, and sell them the next. I have been doing it for thirty years and I love the thrill of it; I love dealing," he reiterated.

As far as the racehorses were concerned, John kept trying to find one that would win him an event worth over $10,000. When Il Vicolo came along, he never looked back. "The return is a lot different with horses," he said. "I mean, you could buy twelve at the Sales and never hear of six of them. I have really enjoyed racing horses with the likes of Colin and Mike (De Filippi), Tony (Herlihy) and Mark (Purdon). They are what has made my racing days really terrific for me."

John's name has become synonymous with the rich Yearling Sales Series Finals in recent years, having won 2-year-old editions with Il Vicolo, Jack Cade and Light And Sound, and 3-year-old editions with Il Vicolo, Falcon's Blue Jean, Perfect Seelster and Jack Cade. And that is not to mention his growing list of successes in the Sires' Stakes Series and other major age group races. The run continued at Addington when the brilliant Light And Sound ended his season with his eighth consecutive victory, taking out the Garrard's Sires' Stakes 2-Year-old Final in devastating fashion.

All these successes don't come without a price though. "We will start looking at colts six weeks before the Sales. And if there is two hundred and fifty in, we would see more than two hundred of them ourselves. It's quite tiring, but you have to do your homework. I am really lucky having Mark because not only does he put the work in, he is also such a good judge. It's so good to have a trainer that can make 2-year-olds."

People might think that John Seaston can go to the Sales and buy himself anything he wants, but that is not the case. Even he is a realist. "Some of them are too dear, even for me. In the days when you paid $25,000 for a horse, that was a good investment.these days, if you pay $70,000 to $100,000 for one, you might not get out of it. I have probably bought about ten at each of the last two sales, and that is too many. I would like to buy more, but you can't keep them all."


Credit: John Robinson writing in HRWeekly 15May02


| | |
| --- | --- |
| | RACING HISTORY FEATURE RACE COMMENT |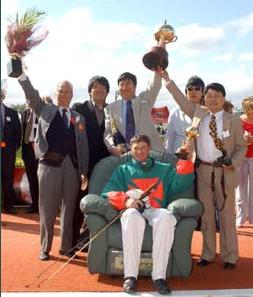 The Happy Valley Synd & Todd Mitchell

2002 CANTERBURY DRAUGHT NZ TROTTING CUP

The history of the Canterbury Draught NZ Cup took a twist of its own with a double quinella at Addington.
Who would have suspected that Tuapeka Knight, once a brilliant juvenile, would sire not only the winner but the second horse too. And by a strange coincidence both horses are prepared by the same trainers.

The winner, with a devastating sprint, was Gracious Knight, driven by 'The Wizard', Todd Mitchell. He overpowered his stablemate Facta Non Verba, who appeared to have done enough to win the race when he slipped clear by more than two lenghts on the corner.
He had set the pace from the 2000m, battling into the teeth of a cold southerly. Meantime, Gracious Knight was hiding with cover at the back. Mitchell was gambling on one killer-blow at the end, hoping there would be little resistance when Gracious Knight produced his dynamic last furlong burst. There was clear evidence that Mitchell still had a handful of horse near the 500m, and he knew Facta Non Verba would have his work cut out after what he had done.

"It was a bit tight at the start when Young Rufus broke, but we got through alright," said Mitchell. "I was in two minds whether to come out when Anthony went up with Young Rufus, and I was a bit lucky later when Franco Heir was pushed out down the back. He still paced a bit funny in patches, and was even a bit hitchy round the last bend." he said.

Mitchell praised the dedication and ability of Warren Rich, a young man of only 29 who trains the horse in partnership with Mike Berger. "It's great for Warren," said Mitchell. "He set him for this. He never says anything much, but after he worked on Saturday he told me he was spot on. And the last four hundred metres of a race is always the best for him." he said.

Mitchell has a wonderful knack of being associated with great horses who win big races, notably the NZ Cup three years ago with Homin Hosed - who nearly won it again for him last year - more recently Superstars winner, Just An Excuse, and Easter Cups with Facta Non Verba and Gracious Knight.

Facta Non Verba, who won the Easter Cup as a five year old, failed to win a race in a light NZ campaign at six and returned to win all three races at Addington last season, gave a generous showing in front. His beginning was sharp enough to have him third behind Pocket Me and Stars And Stripes after 400m, and then he was taken up by Robbie Holmes to lead from the 2000m. Ken Barron took Stars And Stripes to sit parked at the 1600m. He got cover soon after from Yulestar, but general movement after that forced him into a situation of near hopelessness by the time they turned in. He ran fifth, two places behind Holmes D G, who made a big run forward with Young Rufus, and Shorty's Girl, who ran a cheeky race and finished with will over the last 250m.

While the result was a rare siring quinella in the race, it was not the first but maybe the second. In 1928, the brothers Peter Bingen and Great Bingen, by Nelson Bingen from Berthabell, ran first and second, with half a length between them. They were not trained by the same trainer.


Credit: Mike Grainger writing in HR Weekly


| | |
| --- | --- |
| | RACING HISTORY FEATURE RACE COMMENT |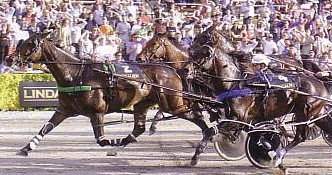 Yulestar defeating Young Rufus in the 2002 NZFFA

2002 LINDAUER NZ FREE-FOR-ALL

Lorraine Nolan didn't know what she was going to do if Yulestar went another shocker in Friday's Lindauer NZ Free-For-All at Addington. She even dreaded having to think about it. Going back a month or two, the pacer she co-owns and trains with her husband Ron had looked right on target for Cup Week when he resumed with a victory at Alexandra Park. But things went downhill from there.

Yulestar hadn't raced up to expectations when seventh in the North Shore Stakes on October 11; he was again slightly disappointing when fourth after sitting parked in the Kaikoura Cup because "he should've kicked on a bit better", and then the 8-year-old produced one of his worst performances of his star-studded career when seventh in last Tuesday's New Zealand Cup after having every chance to win it.

At a time when Yulestar should've been peaking, he was going the other way. "It was so frustrating," Nolan said. "He was just too well to be performing like that. Everything appeared to be a-okay, and leading into the Cup he'd looked and trained the best he had all season. Ron and I were really apprehensive about the Free-For-All, because if Yulestar didn't race any better we were thinking...'what are we going to do?'" The Nolans didn't change much between Cup Day and Show Day; they couldn't, because time wasn't on their side. They "kicked a few things around", opting to put half-winkers on their pride and joy in the hope it might wake him up a bit, and off came the figure eight. So when the couple sat down to watch Yulestar score up behind the mobile in the Lindauer, they didn't have any cards left to play.

As it turned out, Yulestar must've decided he had already put his connections through enough heartache. It was time to show them that he still had what it takes. Slotted beautifully into the one-one, Yulestar sped along with the field as the event unfolded at record pace. Down the back straight the Nolans noticed him flicking his ears around, a sign that on any other day would mean Yulestar was happy and ready to pounce, But he'd done exactly the same thing in the Cup three days earlier so they couldn't afford to read too much into it. Rolling out of his cosy spot as he turned for home, Yulestar responded to the stern 'reminders' from his driver Peter Jones and levelled up alongside pacemaker Young Rufus, pulling clear at the finish to win by a length in the sensational time of 2:22.9

Caught up in the melee that goes with winning such a big event, Lorraine made her way down to the birdcage and was surrounded by family, friends, officials and the media. Ron knew he wouldn't see her for a while, but that's okay; that was her 'job'. Preferring to stay in the background, like he always does, Ron slipped quietly out of the limelight and took Yulestar back to the stables for a well-earned wash. "Even though he paid nearly twenty dollars, I can't believe how the crowd responded to him when he came back,"Ron said. "It was amazing. It's something I'll remember forever," he added, choking back a tear. Judging by this rare show of emotion, it was obvious that Yulestar's Free-For-All victory meant just as much to the Nolans as his Cup win two years ago. "No, this is more special than the Cup itself," Ron pointed out. "What with the bad press he'd been getting and the fact that a lot of people had written him off, this really means a lot. We've had the utmost faith in our horse throughout, and at no stage did we ever think of retiring him."

Peter Jones didn't look like he had just won the Lindauer NZ Free-For-All when Yulestar towed him back to the stables. In fact, he didn't seem happy at all. That's because he was in pain, and it showed. Stepping gingerly out of the sulky as Ron Nolan tied Yulestar up, Jones could only say one thing..."He got me a beauty." The reason for Jones's lack of a smile became quite clear once he rolled down his sock, for there on the inside of his right ankle was a glistening welt the size of a tennis ball. From the expression on his face, you could tell that it hurt. Like he is prone to do Yulestar had lashed out with one of his back legs; this time, he had caught Jones napping. He felt the thud of pain just as he was steering Yulestar into th birdcage following his victory in the Free-For-All. This was after Yulestar narrowly missed with his swipe at course interviewer Greg O'Connor when returning to scale, and ironically it happened just as Jones was warning everyone one else to watch out too. If there's anything Yulestar's connections don't like about their pacer, this would be it. The towering 8-year-old gelding starts throwing punches the minute you slip off his rug and begin to gear him up, and his little act is 10 times worse once he's been out there and had a run around. The Nolans are used to it by now, and know to stay alert round their pride and joy at these particular times, but an unsuspecting cameraman learnt the hard way two years ago when getting too close to Yulestar after he won the New Zealand Cup. Knocked off his feet with one swift blow, he ended up spending two days in hospital.

Jones can't say he has been lucky anymore. Doing well to grin and bear it through the myriad of congratulatory handshakes, kisses and photographs that he was met with in the birdcage, Jones was really feeling the throbbing after the long ride back to the stables down Queens Drive. "He was probably getting me back for hitting him so much," he muttered, finally managing a smile.

Jones was entitled to ask for every last ounce of effort out of Yulestar in the Lindauer though. He too has had to wear the pressure of the Hawera Hurricane's indifferent form, moreso than people probably realise. So having put the pacer in a positionto win the Free-For-All, he was determined to finish the job. Right from the word go it was a truly masterful drive by the 47-year-old reinsman, who would've well aware of the speedthat was all around Yulestar as the lined up in gate two.

Pic Me Pockets, Young Rufus and Disprove all left the mobile humming in the $100,000 Group 1 feature. Jones did not panic during the early rush, sitting quietly behid the trio and staying on the outside of Holmes D G to keep off the fence, then into the first bend he hunted up inside Disprove to force him and David Butcher to cross to the parked position. Pic Me Pockets had gone to the top and then handed over to race favourite Young Rufus, Yulestar slipped beautifully into the one-one sit. The pace was a cracker, and Jones had no need to change anything as Young Rufus led the field along at a breathtaking rate. Nearing the home turn Jones knew they had gone some time; he also knew that Yulestar felt better than he had three days earlier too. He eased the pacer into the clear once they rolled around the last bend, and after sensing that he was balanced Jones hit the turbo button and thet set sail for the line. Passing the 150 metre mark Yulestar was reaching top speed; 100 metres out the levelled with the gallant pace-maker who just would not lie down, and 50 metres from the finish the pair hit the front and started to draw away.

"He was the Yulestar of old today," Jones said. "You had to be disappointed with his run in the Cup. Everything worked out perfect for him, but when I pulled him out he just melted. Idon't really know if the half-winkers helped or not, but he was a hundred percent today."

Credit: John Robinson writing in NZHR Weekly


| | |
| --- | --- |
| | RACING HISTORY FEATURE RACE COMMENT |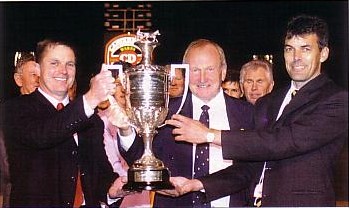 The post race presentation

2002 WILSON'S TAB & SPORTS BAR DOMINION TROTTING HANDICAP

Two perfect preparations. Two super racenight performances. In the end, two fairytale endings emerged from last Friday night's $100,000 Wilson's TAB & Sports Bar Dominion Handicap.

For the second time in the Group 1 events 91-year history, two great trotters crossed the finish line locked together, inseparable. Hot favourite Take A Moment and up-and-coming star Martina H shared this year's honours, mirroring the result of 1944's Dominion when Lady Scot and Will Cary deadheated.

Both Take A Moment and Martina H charged into the race with purpose rounding the final bend; the former sat back after starting off a 10 metre handicap and made one run at them, the latter followed him around the last corner having been handier earlier in the race before getting shuffled back. Martina H's co-trainer/ driver Derek Balle didn't have much hope of anything better than second at this stage. "But then she really started to flatten out half-way down the straight," he said, proud as punch with what his Sundon mare had achieved. "This time next year we might run past him."

Events like the Dominion and next March's Inter-Dominions had been more or less earmarked for Martina H for quite some time, all she had to do was prove she was ready. Balle says the mare's ability to pass her first open class assignment with flying colours was due mainly to the time she spent "learning the ropes" amongst the middle-graders in Auckland. Now five, Martina H proved she was ready alright. And the most exciting part is that Balle and training partner Steve Clarke both believe the best is yet to come from her. "She's still six months away from that," Clarke said.

Training the winner of a Dominion Handicap at Addington is a far cry from being Store Manager at a McDonalds restaurant in Auckland, but that is exactly where Clarke has come from. And you could not drag him back there now. "McDonalds was good, but it was getting monotonous; I'd been there since before I left school," he recalled. Clarke got to know Balle when he had a horse in his stable six years ago. Stylish Soky was "a rabbit" that never turned out any good, but nevertheless the pacer sparked Clarke's interest enough that he soon left his McDonalds outlet to start working for Balle. A couple of years later Clarke went to America for four seasons, getting jobs with the likes of New Jersey trainers Ross Croghan and Mark Harder for a couple of years apiece. He says it was invaluable experience, and taught him a lot. "Sure, they only have mile racing, but over there they are really big on keeping their horses on the fresh side. Derek never worked his horses too hard anyway, but I know we do not work them as hard as we used to." Clarke liked America so much that not so long ago he was even thinking about moving back there for another stint. He's pretty glad he didn't. "Yep, you can't beat that," the 25-year-old said, referring to winning such a big event in his first year as a trainer.

Gracious in sharing Dominion Handicap glory was Take A Moment's trainer Tim Butt, who had nothing but praise for both horses after the event. "That was a great run from the mare," he said. Deadheating is just the same as winning - it doesn't take any gloss off it, put it that way. I actually had a look at the photo finish print. The judge, Ernie Fuchs, says that on a bright sunny day they can get it down to one/two-thousandth of a second; tonight they got it down to one/thirteen-hundredth - and the horses were still even at that."

Overlooked in the drama that surrounded the deadheat was the fact that Butt has now trained the winners of the last four Dominion Handicaps - Lyell Creek twice and Take A Moment twice - which is a sensational feat.

Because of his lead-up form, Take A Moment was sent out the shortest-priced favourite in the event's history. Butt never expected his trotter to dominate like he had earlier in the carnival though. "It's always a bit harder when you start off a ten-metre handicap, or fifteen metres like he did in last year's Rowe Cup, because once you settle you are forty metres from the leader. And he was working the whole race, so it was a pretty good effort under the circumstances. Take A Moment's win on Show Day was undoubtedly the best run of his career. But that is his pet distance, and the mobile suits him because they go harder early. In the Dominion, the leaders ran their first mile in 2:09, and when they only do that it brings the whole field into it."

Take A Moment is now in Auckland, awaiting a flight across the Tasman to contest the Bill Collins Mile, Grand Prix (formerly called the Dullard Cup) and National Trot.

Martina H's connections are still tossing up between the Auckland carnival and Melbourne, but if not before the two great trotters will meet again in next year's Inter-Dominions in Christchurch.


Credit: John Robinson writing in the NZHR Weekly


| | |
| --- | --- |
| | RACING HISTORY FEATURE RACE COMMENT |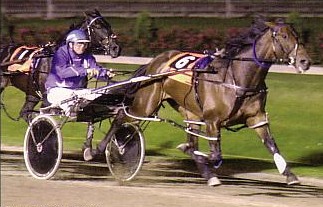 Jack Cade & Mark Purdon

2002 SMOKEFREE NZ DERBY

Mark Purdon says Jack Cade could not have won the Smokefree New Zealand Derby had it not been for the regular amount of swimming he's done in the last six weeks. Not only that, he doubts whether he would have even started in Addington's Group 1 feature.

For months, Jack Cade has been in the pool, firstly at the Riccarton galloping track, then at Cran Dalgety's. While Jack Cade was on the road here and there, Purdon was installing his own $60,000 pool and, six weeks ago, Jack Cade was in it.

Since then, the young star has done more of his training off the track than on it. Had these facilities not been available to the same extent, the cracks in Jack Cade's physical armour would have appeared earlier and with dire consequences. To explain this, we are back in the Spring and stable foreman Grant Payne is back off the track at Yaldhurst, and telling Purdon that the horse hasn't felt right warming up. "He was just at the trials stage, and he was a little sore before racing in September. Bill Bishop x-rayed him in the fetlock joints. Nothing showed, but he gave him an injection that would last for three months. I knew as we went along that he was not getting any better, but it was not getting any worse," he said.

By the time he got to Auckland for the Great Northern Derby, Jack Cade was showing the same signs again, and this time an x-ray was more forthcoming. There was a bone chip in a fetlock joint annoying him. Since then, his programme has been carefully monitored to get to the Derby, and perhaps a race or two on either side of it. This has happened, and there's a 3-year-old race at Auckland this month to conclude a campain that has been hugely successful and wonderfully managed. The operation will mean Jack Cade must be boxed for three months, and with the March-April Inter-Dominions being his primary target next season, there is nothing to rush for an little will be seen of him in the Spring.

In line with his Nobilo win the week before in similar company, Jack Cade did not have much more than a good workout to win it. Predictably he led, and just as predictibly, he got it pretty easy once he was there. "He could have gone three twelve, even better, if he had to," said Purdon. When Paul Kerr's horse dropped off at the quarter, he pricked his ears. I knew there was more petrol in the tank if I needed it. He's a bit better than good. He's a great horse. I don't think Vic (Il Vicolo) would be any better. There is a lot of bottom to this horse. Once we get his joints tidied up and he has a good spell, I think he will be a very good 4-year-old," he said.

A gallant second was Hot Shoe Shuffle, the only filly in the race, and a stablemate of Gracious Knight who was to win the Easter Cup just an hour or so later.

The son of the 1995 Derby winner Il Vicolo, who is owned by Purdon in partnership with John Seaton, has won 9 of his 19 starts, been second or third in eight others, and has stakes of $446,179. As well as winning the Derby, Purdon won two other Group races, the Welcome Stakes with Light And Sound and the Trotting Championship with Waihemo Hanger, another who has been the beneficiary of the Purdon pool. To win three Group races in a night is a remarkable achievement by a superb horseman, and while it is very rare it is not unique. In 1992, Roy and Barry Purdon achieved the same result at the Met's Easter meeting, winning tjhe Welcome Stakes with Hitchcock from stablemates Mark Roy and Mister Wolf Blass; the Easter Cup with Insutcha from stablemates Christopher Vance and Two Under, and the Derby with Kiwi Scooter.

Credit: Mike Grainger writing in NZHR Weekly


| | |
| --- | --- |
| | RACING HISTORY FEATURE RACE COMMENT |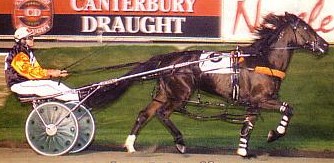 Elect To Live the winner of the 2002 NZ Oaks

2002 WAYNE FRANCIS MEMORIAL NZ OAKS

Running a New Zealand fillies' record to win the Wayne Francis Memorial New Zealand Oaks was just another day at the office for Elect To Live.

Once she reached the front, just 600m after the start of the race, few got even close enough to pick up the scent. She was always a clear leader, out by four lengths, sometimes five. At the finish, Goodnight Aveross had narrowed it down to a length and a quarter, and at the end Elect To Live had set a new mark of 3:13 for a 2600m mobile for 3-year-old fillies. The time is one that is achieved by only remarkable athletes, horses like Kate's First who had the record before Elect To Live. Trainer/driver Neil Brady said: "There wasn't much left, but she could have kept on going."

Mark Jones, the driver of Goodnight Aveross, said he wasn't surprised Brady would drive with supreme aggression. "He told me at Motukarara the week before,'you will have to be good to keep up.'"His lead was a wee bit exaggerated by me staying back, but I also knew my filly would stay," said Jones, who led the chasing bunch.

This was Elect To Live's 19th win from 27 starts in New Zealand, and her stake earnings have passed $500,000. To pass it off as a remarkable achievment is a gross understatement. Brady has been a genius and Elect To Live is proof of it.

Here is a sample of some respected opinions...

Bob Negus, who won the Oaks with Glint in 1955: "I wouldn't have thought he'd get away with it, going out and driving like that. He gets them to start. I haven't seen a filly as good as that, especially with the speed she has. She's a fantastic filly, to do all the travelling she's done, and Brady's a magic fellow to manage it. I was proud of what Glint did. She got me out of poverty lane. She set a record on the grass at New Brighton, and was beaten a nose by False Step in the Derby. There have been some very good fillies, especially that Grice breed, horses like Glamour and Riviera who a beautiful looking mare, and I think Elect To Live is from the same family."

John Butcher, trainer of 1991 Oaks winner, Smooth Performer: "She's the best horse I've seen win the Oaks. Hilarious Guest won the Oaks and beat the colts in the Derby, but this horse is incredible and I don't see much else in her class. You've got to hand it to Brady, he's done a wonderful job with her."

Maurice McKendry, who drove Iman to win the Oaks in 1995: "What she's done is unbelievable, and Brady has taken training to a new level. I don't think Iman could have stood it, done what she's done. Was I surprised that Brady would take her out like that? No, not really. That's where he likes to be, and his horses are trained for it. He knows they have to close on him, and it's hard for them when you've got the best stayer. The 2600 metres finds them out. It will be interesting over the shorter distance this week, because one of two have said they were unlucky. We'll see..."

Paul Davies, Canterbury Standardbred agent: "She's number one, without a doubt. The best filly ever, in my mind. Under Cover Lover was very good, so was Tupelo Rose, and Hilarious Guest beat the colts, and Jack Smolenski and the Purdons have had many good ones, but I haven't seen one as good as this. She's left the one-one, and cleared out. We were told Oaxaca Lass was special. She was off her game, but even at her best she wouldn't have beaten this filly. She's travelled to Sydney and Tasmania, and won in both places. At this time of year, other trainers are bringing their horses to their peak, but she's gone up another notch."

Lindsay Turner, trainer of Tigerish who won the Oaks 11 years ago: She's a true racehorse. To win it so easily after a hard campaign - and she's got eight starts or so still to come - shows how tough she is. And she did it all on her own. She deserves to win the Triple Crown and I hope she does. Some of the others appeared to be a bit disappointing, but you take it away from what she has done."

Credit: Mike Grainger writing in NZHR Weekly