| | |
| --- | --- |
| | INTERNATIONAL HISTORY |

11 Sept - The attacks on the World Trade Centre in New York and the Pentagon in Washington DC were the most ambitious and shocking terrorist strikes ever perpetrated. Two planes were flown into the twin towers of the World Trade Centre, one into the Pentagon and the fourth which is believed to be destined for the Presidential retreat at Camp David never reached its target because of the actions of a group of passengers. The official death toll of 3,044 included passengers, crew, hijackers but most casualties were in the World Trade Centre. The "9/11" attacks produced a vigorous reaction from the US which virtually declared war on all terrorists worldwide and on those countries suspected of aiding them.

War is waged in Afghanistan.

22 Oct - Apple releases the Ipod


| | |
| --- | --- |
| | LOCAL HISTORY |

October - Government rescues Air New Zealand 12 years after it was privatised and takes an 83% share in the carrier.

The Canterbury museum seeks funds for redevelopment.

Anika Moa leads the charge of Kiwi music; Hayley Westenra signs an international recording deal.

Royal Commission on Genetic Modification recommends proceeding with caution.


| | |
| --- | --- |
| | RACING HISTORY |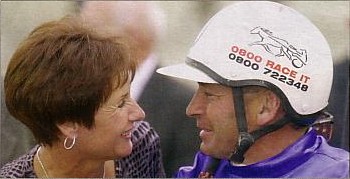 Colin & Julie De Filippi celebrate

Colin & Julie De Filippi become the first husband and wife team to train the winner of the NZ Cup (Kym's Girl) and in doing so Julie became only the second woman to train the Cup winner. The first was Lorraine Nolan with Yulestar the previous year.


| | |
| --- | --- |
| | RACING HISTORY INTERDOMINIONS |

BRISBANE - YULESTAR
It had been decades since we had cracked it on Aussie soil but Yulestar did it. He turned around fair form in the heats to smash the Inter-Dominion Grand Final field and the Aussie hearts. After three minor placings in the heats Yulestar was clearly behind the Championship stars of Atitagain, Shakamaker and Courage Under Fire in the betting but Yulestar produced a world record shattering run to break the hoodoo.



| | |
| --- | --- |
| | RACING HISTORY FEATURE RACE COMMENT |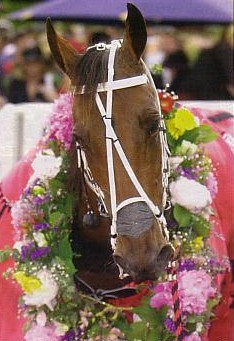 Kym's Girl

2001 CANTERBURY DRAUGHT NZ TROTTING CUP

The day before winning the Canterbury Draught NZ Cup, Colin De Filippi made a comment in the media that he would not be afraid to lead in the race with Kym's Girl.
"It wouldn't worry me if I lead throughout," he said.

This was a surprising declaration about a mare whose trademark has been a late and lethal sprint - one that won her the Hannon Memorial at Oamaru three starts ago, the same one that took her into the money at long odds behind Yulestar and Bogan Fella in last year's Cup. But through a conspiracy of events during the running, Kym's Girl didn't get to see the front until it counted - at the finish. And she was there first - the glory girl bred on the wrong side of the sticks. A daughter of Man Around Town, a siring "cheapie" who has done a wonderful job since making his mark with the Grand Circuit performer, Kiwi John.

It was also a major triumph for Colin and Julie De Filippi, a couple who stoically overcame a tragic treble of family setbacks that included the death of their son Darren and illnesses that affected Colin and their daughter, Mandy. Their middle name may well be modesty, for they have always taken success without fuss or fanfare.

Colin has seen many great drivers go through their careers without driving a NZ Cup winner, and after numerous placings from 18 drives he might even have put himself in amongst them. "I've run three seconds - two with Our Mana and one with Dillon Dean - and a couple of thirds and I think two fourths in the race. I've never driven a favourite, and when I look back I don't think I could have done my drives any better. With Dillon Dean, I thought I'd driven the perfect race, and I'm tipped out by Inky Lord. But when I looked back to see what he had done, he deserved it," he said.

This time, De Filippi had given some thought to leading, but this idea went straight to the cellar when Kym's Girl settled off the pace set by Atitagain but still nicely in the race. "I wasn't happy with a round to go, and I thought this isn't going to plan."

At this stage of the race, Atitagain was still in front. Flight South was still sitting sweetly in the trail, but their were some big moves from the back. Holmes D G, who had been slow and lost 20 metres, was up there, so was Yulestar and Makati Gallahad who had been busy on the front end throughout.

Where was Kym's Girl while all this activity was going on? Well back, in fact in the last four at the 1000m, and tracking a battler up in Cigar. "I wasn't happy, but we got to the quarter and I thought we'd get a bit of it,"said De Filippi. It was more than a bit as Kym's Girl closed on Holmes D G. She tugged the Addington heartstrings as she swept alongside. Pedigree was out for the count as she bombed the big horse and went to the line for a gracious and popular win. The old hands came in next. Homin Hosed, who struggled to regain his form after an injury following his win in the race two years ago, looked sharp as he fought on for second, followed by last year's winner Yulestar whose luck was out after moving up at the 2000m, and Holmes D G.


Credit: Mike Grainger writing in the HR Weekly


| | |
| --- | --- |
| | RACING HISTORY FEATURE RACE COMMENT |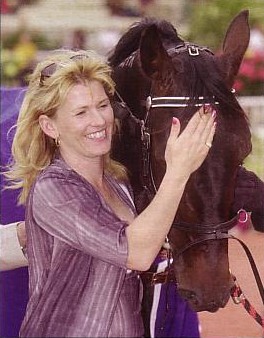 Vicki Purdon with Young Rufus after the FFA

2001 AIR NEW ZEALAND NZ FREE-FOR-ALL

Young Rufus earned a ticket to contest the Miracle Mile in Sydney, but he won't be going. Harness Racing's latest budding star was officially issued with an invitation to the event after his sensational victory in the $100,000 Air New Zealand Free-For-All at Addington on Show Day. But trainer Mark Purdon says at this stage of the pacer's season it was not in his best interests to trek across the Tasman, where four of his six owners live. "He's done a big job this week, winning those two races," Purdon said. "And if we went over there we'd have to keep him up, plus there's all the travelling with a float trip to Auckland and a flight to Sydney. I just thought we are doing the best by the horse to decline to offer."

Young Rufus's elevation to centre stage this season has been sudden but not totally unexpected, although his trainer/driver is slightly surprised. "He has always been a nice horse, but I never expected him to rise to this level so soon," Purdon continued. "The night he finished sixth first-up at Alexandra Park he was supposed to be in a 4-year-old race that never got of the ground, so he ended up racing against his own class and they went 2:42.5 (2200 metres), home in 55. He probably wasn't ready for that. But after he came back from Auckland he went super one day at the trials, beating a couple of nice horses including Kym's Girl, and I thought then that he may have just turned the corner."

To Ashburton on Labour Weekend and Young Rufus scored impressively there, so impressively in fact that Purdon thought he could have almost won the Flying Stakes earlier that afternoon had he got the run that stablemate Bogan Fella did in the event. Purdon kept his feet firmly on the ground though, and come the minor Free-For-All on Cup Day he had some reservations very late in the piece. "When we were walking around at the start I looked at the other horses in the race and thought 'gee, I hope I'm not being too tough on him here'. But he put up a huge preformance that day, and it looked even better when I watched the replay of the race later that night. You just don't see horses do what he did."

Nominated for Show Day's Air New Zealand FFA just so Purdon had the option up his sleeve, Young Rufus showed no ill-effects from his tough Cup Day outing so he started him in it. And what the young pretender did to his older more experienced rivals was simply outstanding.

Having just his 19th raceday appearance, Young Rufus eventually got to the lead, ran them along, and still kept enough gas in the tank to kick with the best of them in the home straight. "In front was the place I wanted to be," Purdon confirmed afterwards. "Kym's Girl was the horse to beat, because the Cup winner generally is in the Free-For-All, and you can count on Colin (De Filippi) to be timing his run to perfection. I looked round turning for home because I thought 'she'll be turning up here very shortly'. But when you run your last quarter in 27.7 in front and on the fence like he did, it makes it hard for the rest,"Purdon said.

Credit: John Robinson writing in NZHR Weekly


| | |
| --- | --- |
| | RACING HISTORY FEATURE RACE COMMENT |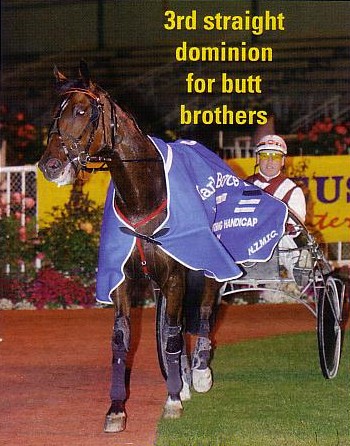 Take A Moment and Anthony Butt

2001 CLARKE BOYCE LAWYERS DOMINION TROTTING HANDICAP

A lap from home, Tim Butt didn't like it. His runner Take A Moment was halfway through a move around the field; Last Sunset had not spent a lot of gas in front and Mountain Gold looked even fresher in the trail. "I didn't think he had much chance," Butt said. "I could see he was going to have to sit parked over the last thousand metres. Outside two good horses that had done nothing, that probably would've been enough."

Then the unthinkable happened. Last Sunset galloped and came back onto Mountain Gold. Both horses chances were extinguished in the blink of an eye - not to mention others who were up handy but had to take evasive action; out wide and out of trouble, Take A Moment trotted around to the front and then made the race his by reeling off a last half of 57.8 seconds. "I think God had ten each way on Take A Moment tonight," said Butt in his usual jovial manner, still shaking his head at what had unfolded.

All joking aside, it was a magnificent effort by Tim and his brother Anthony to get Take A Moment ready for this big assignment. "A few people had written him off a bit, but I suppose that's understandable after his disappointing run on Show Day," Butt continued. "Still, he was the only one off ten metres tonight and people forget that. His coat was not good at all on Saturday after last week's run, so we just concentrated on keeping him fresh and well within himself. We gave him a bowl around the day before the Dominion and it was only then when I thought he was starting to come back. I still thought it was possibly a week to soon for him though."

Butt said it was a special feeling to win three Dominion Handicaps in a row. Looking through the list of big trotting races that he's won with Lyell Creek and Take A Moment you would almost think that pressure wouldn't play a part, but funnily enough it's the Dominion that has tested Butt the most. "When Lyell Creek won it two years ado he was still on his way up, and he was meeting Mountain Gold for the first time. Then the following season Lyell had been beaten on Show Day after galloping, so the pressure was on to fix that. And this year we were playing catch up with Take A Moment. You can never take these big races for granted," he said.

Amazingly, Take A Moment has won an Inter-Dominion Grand Final and a Dominion Handicap, and has only had 25 starts. "He's still a year away from being able to handle the tough runs against the gun horses week in and week out. He's not thriving on it yet, but he's got the potential to in another twelve months time."


Credit: John Robinson writing in NZHR Weekly


| | |
| --- | --- |
| | RACING HISTORY FEATURE RACE COMMENT |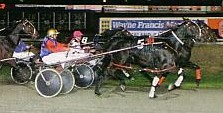 Shania Patron winning the Oaks from Sands A Flyin

2001 WAYNE FRANCIS MEMORIAL NZ OAKS

Cran Dalgety stood patiently, waiting for the call. He had just watched the Wayne Francis Memorial NZ Oaks from in front of the public stand and like everyone his eyes were glued to the finish line as Sparks A Flyin and Shania Patron crossed it locked together.

You could tell Dalgety's instinct was worrying him; he knew what the judge's findings were going to be even before they barked across the loud speaker. "Favourites don't have a great record in this event," he muttered, shaking his head as he turned and walked away. He was right. But he wasn't feeling hard done by. Sparks A Flyin had gone to the front starting the last mile, pinged along at a super clip, and in the end done everything but win. Bombed late by a flying Shania Patron, a nose was the difference between Dalgety staying to give a victory speech, or heading back to the stables to un-gear a runner-up.

The man who did step up to the microphone was Shania Patron's driver Ricky May, and quite rightly so too because he and his parents Terry and Pat had looked after the Holmes Hanover filly since her fourth in the Southland Oaks on April 8. Shania Patron's first-up effort from her temporary base a week earlier was much better than the '0' in her formline reflected, and last Friday night her telling late strides were even bigger still and she thoroughly deserved her victory. "You just can't have them right all the time," Terry said shrugging off the suggestion that Shania Patron hadn't been at her best in recent weeks. She's a horrible track worker, we even ran her with Pure Adrenalin last week just to spark her up a bit."

Shania Patron is raced by Jim and Irene Holland, of Mokoreta Valley near Wyndham, together with the filly's trainer Brendon McLellan and his wife Megan. None of the quartet were on-course for the victory. "I asked Brendon if he was going to come up for the race, but he just said 'no, you'll do the job'," May continued. Jim and Irene are lovely old people, and we've trained horses for them for years; there has been so many of them I've lost count. One of their first winners with us was Adios Adieu, and the others include Young Beau, Elderberry and Some Legacy, who won the DB Fillies Final in 1990."

The McLellans dedicated Shania Patron's victory to Brendon's late mother Marlene, who died a month ago today (Wednesday) after a brief battle with cancer. "She got a lot of enjoyment out of following Shania Patron, so yes, this win is definitely for her," Brendon said. "I know her formline has not been the best lately, but she's been letting herself down. She's had a few niggly problems like over-racing and hanging during her events, and that has been enough to make the difference. Just in the last month I reckon she's come back to her old self again."

McLellan says he can't remember when there was ever a better crop of 3-year-old fillies, and that the results in races like the Oaks and this week's Nevele R Fillies Final come down to luck in the running. "Shania Patron was always going to have a broodmare career, winning a race like this is the icing on the cake." he said.


Credit: John Robinson writing in NZHR Weekly


| | |
| --- | --- |
| | RACING HISTORY FEATURE RACE COMMENT |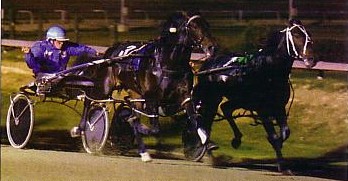 Young Rufus & City Rogue (inner) at the end of the Derby

2001 SMOKEFREE NZ DERBY

Looking back, David Butt knows he could not have done it better. He gave City Rogue every possible chance to win the $100,000 Smokefree New Zealand Derby, and he ran second. He should have won. And he would have had there not been a man named Mark Purdon in the race.

Butt was visiting Purdon country when he set off to win the Derby at Addington. The history of the race, in which Purdon has been the star player in recent years, might have been far from his mind when he led out and then eased when Purdon and Young Rufus took the lead with 2000m to run. On the corner, when he sent City Rogue into the passing lane, it was still not an issue. "I'd done everything right," he said. And he had.

For the first time in many starts, City Rogue had been given a good draw and a good run. He deserved to win a good race, and he was looking it in the face. It appeared a safe prediction that with a trip like this he would gather in Young Rufus, whose form and well-being had been under scrutiny. There was none of this fear in the City Rogue camp; they had been bullish on his health and form all week. Indeed, for much of the trip to the finish, City Rogue narrowed the gap but not with the resolve and hard crunch that was needed. Butt was to discover very quickly that this was not the Young Rufus of the lead-up a week before. This was not the same performer who had run a meek eigth behind Country Ways and six places back from City Rogue, and whose class was on notice. In a few days, Purdon had turned him into a tiger.

Butt knew before most that the 'Derby Man' was back in town. "I knew some way out that I wasn't getting to him like I should," he said. And neither he did, for Young Rufus won without a strain on the eye in the end, though the margin was just a half-head. Country Ways ran the race of a good horse, third, challenging four-wide on the corner.

The Purdon legacy on the Derby is almost a copyright. He has won the classic with Mark Roy (1993), Il Vicolo (1995), The Court Owl (1996) and Bogan Fella (1997). Mark Roy was by Soky's Atom, and so is Young Rufus, who is owned by the Let's Party Syndicate, a group of six members from Australia and New Zealand. A brother to the Free-For-All pacer Captain Rufus, Young Rufus has always been rated highly by Purdon. He was on fire with some brilliant races at the Cup meeting in November, but did not return well for his racing after a break. "He has always shown a lot of potential. We had him checked out on the Tuesday before the race and soundness-wise he was fine. The next day I got Fred Fletcher to go over him, and he found him to be quite sore at the base of the neck, and also in the muscular area in his hind quarters. He felt good when I worked him on the Friday, and I just felt all week that he was turning the corner," he said.

In spite of wearing a pole, Young Rufus still lost ground on the bends, especially the one near the 1000m on the last lap. When called up for real determination in the straight, Young Rufus was ready for it.

Credit: Mike Grainger writing in HRNZ Weekly


| | |
| --- | --- |
| | RACING HISTORY FEATURE RACE COMMENT |

2001 AVON CITY FORD MOBILE

Barry Purdon had one eye on the road and one ear on the radio as he drove into Addington Raceway last Friday afternoon. With the second wave of his stable's Show Day runners in tow, Purdon was just arriving when Lord Vicolo contested the $25,000 Avon City Ford Mobile. To him his 3-year-old's victory sounded good, but it looked even better.

As expected, Tricky Vic sped out from the ace and led, with Lord Vicolo following him through from his second-line draw to settle in the trail. Punters who patted themselves on the back for their 'brilliant' pre-race deduction were soon biting their fingernails though, because at the 1800m point Croker pressed to the lead before he too handed up, to Galleons Treasure, leaving Lord Vicolo snookered four-deep. Driver Tony Herlihy managed to work off the tight spot passing the 1000m pole, but nothing carted Lord Vicolo into the race all the way down the back straight and come the home turn it was time to move. With big strides he powered down the stretch, picking up the leaders in grand style as he hit the line a half-neck in front. Lord Vicolo's time for the 2600m mobile event was a super 3:12.5. "I wish you wouldn't make me so nervous like that," quipped Purdon to Herlihy as he greeted them back at the stabling area.

It was a continuation of some superb for for the striking black son of Il Vicolo, who narrowly failed to capture the Sires' Stakes Final three days earlier after winning his previous three outings. "Brains," Purdon said, casting an adoring eye over his gelding as he helped to ungear him, the one-word sentence typifying every-thing he liked about Lord Vicolo. "He has always been a nice horse. He was the best yearling I had a couple of years ago; he could run a half in 60 around my track - and that is good. But he got a real bad cold late that season and never really got over it."

Finishing fourth on debut in December last year, Lord Vicolo won next-up at Alexandra Park before his 2-year-old season came to an abrupt halt after he finished fourth to Jack Cade at Cambridge. "He stood on a shoe and tripped up during a workout so we had to stop with him. It has been a blessing in disguise though because during his spell he grew a lot and really blossomed," Purdon said.

Having won two trials prior to resuming this season, Lord Vicolo was expected to resume on a bold note at Cambridge in September where he finished fourth in Elect To Live's 1:55.5 mile. "I was a little bit disappointed with that run, but Tony came back in and said that he hit the wheels of his cart and panicked. So now he races in the same cart that Pic Me Pockets and Mountain Gold use, a Challenger quick hitch sulky - but on the longest setting. He has got an enormous stride," Purdon said. Lord Vicolo's sire was the same in this respect. Il Vicolo used a sulky that had to be made especially for him which was about three inches longer.

"I will take him home now and give him a freshen-up before the Great Northern Derby," Purdon said. "Australia is a possibility later on , at this stage we will look at everything. On what he has done today I would expect him to go a long way."

Lord Vicolo is raced by Purdon and Kevin Riseley, who owns a chain of panelbeating shops in Melbourne. Riseley managed to fly across for the gelding's race on Cup Day, but work commitments dragged him home again before Show day's event.


Credit: John Robinson writing in HRWeekly 21Nov01


| | |
| --- | --- |
| | RACING HISTORY FEATURE RACE COMMENT |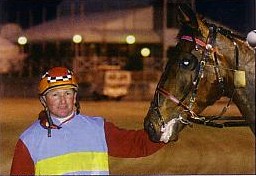 Robbie Holmes & Facta Non Verba

2001 SBS BANKING LIKE IT SHOULD BE/ HELLER SMALLGOODS FREE-FOR-ALL

Mike Berger will never forget last week. On a positive note he won races with Black Maire at Alexandra Park and Facta Non Verba at Addington, but sadly he also lost his father Geoff who died after a long battle with cancer. "He had been quite ill so it was expected, but it still hits you a bit when it happens," Berger said.

Geoff,76, had been a regular around his son's stable since he retired and moved from South Auckland to Morrinsville almost a decade ago. "He quickly made himself 'head boy'," Berger recalled fondly. "He loved the horses non-stop, and as soon as the fields came out he would be booking his seat on the truck no matter where the meeting was. Facta Non Verba was his all-time favourite, and I think the old fella was pushing him over the line when he won at Addington the other night."

Facta Non Verba's victory in the SBS/ Heller Smallgoods Fre-For-All turned around a luckless fortnight that the pacer had had in Christchurch. After looking sensational at the Cup Trials he never got much of a go in the big one when settling on the rails, then in Show Day's Free-For-All it was much of the same when he settled three then four deep.

Berger says that all the credit for this latest win has to go to Robbie and Carla Holmes, who Facta Non Verba was stabled with, and his employee Charles Te Tomo. "Charles really looked after him, and it was such a shame that he missed out on the horse's moment of glory. He had stayed with Facta Non Verba since he had gone south, but when we were getting busy back home and I needed him to come back he did so without a second thought. Charles is absolutely dedicated, and he is the sort of guy I'd trust with my life," Berger said.

Facta Non Verba has had two campaigns in Australia since July last year, winning six of his 13 starts across the Tasman, and Berger says that over Winter this is where the pacer's future lies. "His latest trip wasn't hugely successful, but we actually gained a lot out of it because a vet named Peter Hill talked us into trying a specific shoe on him and it has worked wonders. It is a three-quarter shoe with a bar across, which is a bit of an old-fashioned idea, but it doesn't put any pressure on his heel at all. I am just so pleased for Facta Non Verba because he is such a great personality; when you walk into the barn every morning he will call out to you. In this business you are not supposed to have favourites, but having been through as much as we have with this horse it is hard not to be attached to him," Berger said.

Robbie Holmes said driving Facta Non Verba to victory in the Free-For-All was the highlight of his career. "He is a front-runner. He went so well in the Cup trial in the lead and I wanted to get there at some stage tonight," he said. Berger said Holmes would be 'thanked' for looking after Facta Non Verba by being offered the drive on him in the upcoming Franklin and Auckland Cups.

Credit: John Robinson writing in HRWeekly 28Nov01


| | |
| --- | --- |
| | RACING HISTORY FEATURE RACE COMMENT |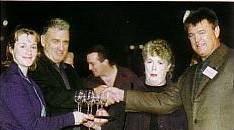 Keith Gibson presents the trophy

2001 ROYDON LODGE STUD NZ 2YO TROTTING STAKES

Jo Anne was swift and sure-footed and greatly superior to 11 others in the Roydon Lodge Stud NZ 2yo Trotting Stakes. She was trotting poetry from start to finish and won by half a length short of ten in 2:29.1 for the mobile 1950m.

Northerner Tony H who surprisingly defeated her a fortnight earlier by half a length was never a factor this time after taking too long to start trotting.

Driver Ken Barron was glowing in his praise. "Initially, I compared her with Gees Pride, but she is really a step above that. She has a beautiful gait and has got speed, too. I have not driven one as good at this age before," he said.

Jo Anne is trained at Templeton by Mark Smolenski for Allan, Lorraine and Anya Georgeson. She is by Sundon from Janetta's Pride, a Gee Whiz II mare owned by Keith and Bevan Grice and more recently the dam of a yearling filly by Britewell, a weanling filly by Sundon, and she was served by Sundon last season.

Credit: Harness Racing Weekly 23May01


| | |
| --- | --- |
| | RACING HISTORY FEATURE RACE COMMENT |

Dependable beating stablmate All Action Son

2001 CHRISTCHURCH CASINO NZ TROTTING STAKES

Dependable might have been the name of the horse that won the Christchurch Casino NZ Trotting Stakes, but it was 'Mr Dependable' sitting in the sulky behind him.

These days, harness racing has to work awfully hard for every last betting dollar it can get out of the public's pockets, so people like Mark Purdon are what the industry needs and they do it proud; punters know that by backing a Purdon runner they not only get a run for their money, more often than not they are in the money. And that is important.

For those living on the inside of the fishbowl, Purdon's results set the standard for everyone else to aspire to. Since beginning training in the 1995/96 season he has put his name on almost every Group Race trophy there is, but surprisingly, the NZ Trotting Stakes wasn't one of them. Purdon changed that on Saturday night.

Using Dependable's gate speed to hold the lead from their ideal draw, Purdon kept his trotter pinging along like a well-oiled machine and they never looked in danger of defeat. Dependable's time of 3:21.8 was well outside Flame Up's New Zealand record for the distance, but it was fast enough to give Purdon his first victory on 'home' soil since relocating from the North Island. The victory was also notch number 79 in the belt that will win him his second consecutive trainer's premiership, and it wrapped up the 3YO Trotter of the Year title for Dependable.

"He is a lovely horse, and he is very quiet in his work," Purdon says. "I am really enjoying working with him, because when you do things to try and help him he tries to help himself too. We had a couple of wee problems to sort out when he first arrived up in Auckland. To get him to trot better that way round we replaced his bar shoes in behind with pacing shoes that had weight on the outside," he said.

Talking of weight, the strapping son of Sundon looked even bigger and stronger on Saturday and his trainer/driver agreed, believing he was carrying more condition than ever before. Understandably, Purdon is excited about Dependable's potential. "Apart from Pride Of Petite, I have never had a trotter that works as good as him at home. He will go to the spelling paddock for a couple of months now. There are other big 3-year-old races in Australia but they are not until July, which can bugger up your season a bit." Some of the aims Purdon has for Dependable next season include teaching him to relax in the field, because he has done a lot of racing from in front to this point, and giving him experience from standing starts.


Credit: John Robinson writing in HRWeekly 19Apr01


| | |
| --- | --- |
| | RACING HISTORY FEATURE RACE COMMENT |

2001 HIH INSURANCE NZ WELCOME STAKES

The old firm is back with another speed merchant; Negus and De Filippi. Another smart brown colt, not quite another Courage Under Fire, but the talk is something not far short of it.

While he may have lacked the swashbuckling brilliance of Courage Under Fire when he won the race three years ago, there was a clinical touch to the manner in which Sly Flyin despatched the field in the NZ Welcome Stakes. De Filippi is yet to say go: and by not doing so this may have flattered the efforts of All Hart and Franco Trubrooke who ran second and third.

Sly Flyin is not an easy horse to drive; and he is no easier to train. If he had his own way, he wouldn't train at all. He is a notoriously poor track-worker. "He wouldn't beat a maidener at home," said Negus. "That is why we have to take him to the trials each week, so he will do the work," he said. But the problems don't end there. He has the annoying habit of pulling a plate just about every time he gets off the float, and he did this when he arrived on the track before the race - and again when he got home. "I had to get Brian Wilson, the blacksmith, to re-plate him, and it's a worry when you have to do this just before the start," said Negus.

Once Negus has finished with him, the next one to worry about him is De Filippi. Said Negus: "There is always a fifty percent chance of him galloping in the score-up. He was just lucky the horse outside him galloped and gave him a bit more room on the gate. He gets a bit claustrophobic and over that first four hundred metres after the start he is still a risk. It is just that he wants to get on with it. He is more hyperactive than nervous," he said.

Sly Flyin was left a little wide early on, soon had cover on the outer, but De Filippi didn't stay there long. He was in front a round out, slowed the pace, and didn't ask for anything special to win the race in comfort. "Once in front, he is a hard horse to get past," he said. A colt by Sands A Flyin from a Soky's Atom mare, and raced by principal Negus client Greg Brodie, Sly Flyin may be gelded after the Sires' Stakes Final next month. Negus is near enough to deciding on this before he is put aside.

While there is speculation about the quality and potential of Sly Flyin, and the tendency to compare him with Courade Under Fire, Negus has his own opinion. "Courage Under Fire was a champion, and this one is a really, really good horse. He can run a half in 55, whereas Courage could do it in 54. I honestly think he is less than five lengths behind Courage Under Fire at the same stage. Sly Flyin is going to be a very good free-for-aller. But I might be wrong; he might do more."


Credit: Mike Grainger writing in HRWeekly 19Apr01


| | |
| --- | --- |
| | RACING HISTORY FEATURE RACE COMMENT |

2001 GEORGE CALVERT CLEANING EASTER CUP

There were plenty of reasons why Nicky Chilcott couldn't win the Easter Cup. Firstly, he representative was Disprove, a mere C6 pacer up against ten others who, between them, had won every major Cup that exists on the Australasian calendar. Secondly, Disprove had endured a horror trip south, being stranded on the wharf at Wellington after leaving Bulls at 4:30am on Wednesday morning, two days out from the race, and not arriving in Christchurch until 7:30pm that night. And lastly, Nicky didn't have anywhere near the same big-race experience as the Purdons, the Butts and the De Filippis; the biggest event she had ever won was the $25,000 Country Cups Championship with Disprove at Alexandra Park just a week earlier.

Nicky was a bit out of her league, wasn't she?

Definitely not. History will show that in the 2001 Easter Cup Disprove defied all the odds, giving her trainer the biggest thrill of her life. Despite an uncharacteristic break at the start, he and his under-rated driver David Butcher managed to secure the one-one over the last lap after moving around the field starting the last mile. From there they pounced and left everybody else to it, winning the two-mile event in a pedestrian 4:10.7 which was embarrassing for the sit-sprinters behind them.

"I will treasure this for ever," Nicky said afterwards, still sporting a glazed look of disbelief on her face. No-one probably deserved the victory more than her though, because while every trainer works hard to get their horses to the post, Nicky works twice as hard. "It is a tough industry to get ahead in whether you are male or female, but being a woman you sort of have to prove yourself that much more," she said. "It has it's positives and negatives though. Egos do come into it - some guys don't want their horses trained by a female - but then again there's the owners that prefer their horses having a woman's touch."

And there is the "huge hours" that seem to go hand in hand with the job. Nicky rises at 5:00am every morning, seven days a week, and at the end of the day when she has checked the horses, mucked out the boxes and done some bookwork, it's rarely before 11:00pm when she puts herself to bed again. This is a heck of a lot of dedication, especially from someone who has had to pick herself up and start again after breaking her back in a horrific race smash. "Some people only see the glamour side of harness racing," she says. "But it's hard, and there is not a lot of money in it. If I had have been working for the money I would have been out of the game a long time ago. No, I am in it for the love of the game. I am very passionate about my horses and I love them."

Nicky says she got the right break at the right time when first starting out, because a couple of friends wanted to race a horse and that is all the encouragement she needed. Waharoa put her on the map - she trained him for the last six of his 10 victories - and he was followed by Shredder, who won all but one of his 11 races in Nicky's tangerine and white silks. Yet to complete her fourth full season, Nicky has notched up 78 victories already, 22 of them in this term alone - all at an excellent UDR rating of .3876.

Placing variety at the top of her priority list, she strives to give her horses as much of it as possible, going from swimming one day to trackwork the next, roadwork on another occasion and even a ride under saddle at the end of the week. Nicky spends a lot of time at Raglan Beach, one hour's drive from where her horses are stabled out the back of the Cambridge Raceway, and they seem to thrive on it. So much so, that she has quickly gained a 'Warren Stapleton-like reputation for rejuvenating broken-down horses. "You are lucky in some respects, because when you get horses from other trainers you have got nothing to lose. It's very satisfying winning races with them though."

Nicky says there are so many people to thank for making her Easter Cup victory possible, including her long list of helpers, Disprove's owners Lou Newman and Tony Jack for their faith in her and their horse, Colin and Julie De Filippi for their hospitality, and David Butcher for yet another masterful drive. "I love driving, and drive most of mine, but some horses just suit certain drivers better and Disprove is one of those.

"Where a lot of horses I get are broken down or sore I have had none of these problems with him, touch wood, it has mainly been a head thing. It hasn't been easy.


Credit: John Robinson writing in HRWeekly 11Apr01


| | |
| --- | --- |
| | RACING HISTORY FEATURE RACE COMMENT |

2001 NEWSTALK ZB 3YO FLYING STAKES

Colin Baynes reckons he had half the Knapdale neighbour-hood at his place last Friday night. They crowded round his television set to watch Country Ways contest the Newstalk ZB 3YO Flying Stakes, and by nine o'clock they had plenty to cheer about after the Camtastic gelding downed the guns in his first Addington test.

Country Ways has got another test this Saturday night - the Smokefree NZ Derby - but this time his proud owner and trainer will be there in person to see him race. "I have never had a runner in the Derby we don't normally push our younger horses," Barnes says. "But I suppose if you are not in, you can't win."

This philosophical attitude stems from the fact the Baynes has, finally, got a 3-year-old good enough to be 'in' a race like the Derby. Clancy, Debbie's Boy, Gentle Miss and Sapper, who won the Supremacy Stakes, have all been good 3-year-olds that Baynes has owned and trained, but in fact the southern region has not been that happy a hunting ground for him. "We have had our views on how good Country Ways is all along, and on Friday he went out there and showed us what he could do with the absence of bad luck."

Baynes was referring to his pacer's two previous outings, at Invercargill and Winton, where he had finished second and fourth respectively. "It is not that he'd had bad luck, just that he had not had much good luck on those occasions," he said. "He was not disgraced the day he finished second, because he did a lot of work to loop the field and he was pushed around on a track which is not very big. He got beaten by a horse that had a better trip on the day and I was quite happy with his performance. "Then he finished fourth in the Supremacy Stakes last week, when they sprinted home in something like 56 seconds off the front. As Colin (De Filippi) put it, even if you make a yard on the leaders under those conditions you are doing well." This brought an end to the five-race winning streak Country Ways had achieved in the space of three months, and Baynes was actually pleased about it. "He'd had so little experience before winning those races. Even the best get beaten, so the sooner we got that out of the road the better."

Swaying Baynes and his training partner Robin Swain's decision to send Country Ways north was a phone call from the Club, mentioning that they were short on numbers. So Baynes himself rang Colin De Filippi, a man he had known for a long time and always respected, and asked if he would mind looking after a boarder for a couple of weeks. "Robin and I have got a team of our own to work; you can't run all over the country and still look after the ones at home," he said, adding that his talented pacer's condition and fitness is due entirely to Swain's care of and attention to the horse.

"Country Ways left here at 8.30am Tuesday morning and arrived at Colin and Julie's at 4.30pm that afternoon. We didn't know how he would go being away from home for the first time, but Colin rang us on Thursday saying he had settled in well and we were tickled pink." Regardless of the result this Saturday night, Country Ways will be turned out for a spell afterwards.

Victory in the NZ Derby would be another feather in the cap of his owner though, a man who has given more than his fair share to the sport. Now 79 and still "sound of wind and limb," Baynes spent 17 years on the Conference between the late 1970s and early 1990s and thoroughly enjoyed the administration side of harness racing. He doesn't miss a meeting close to home, and still gets in the cart to jog the team too. In short, he loves the game, and he admits it proudly. "I can remember back in the early thirties, rushing home from Brydone Primary School as fast as I could (in bare feet) to spread the newspaper out on the kitchen table and find out about the match racing between Harold Logan and Walla Walla. Harold Logan was New Zealand's champion at the time, and Walla Walla was the Aystralian champion. I was anxious to learn the result; Walla Walla won the first one, and Harold Logan won the next two."

As for Country Ways' chance in this weeks Derby, Baynes is remaining philosophical about that too. "The horse can't read the paper, so he doesn't know what he is up against - he goes out there and does what he has to. "He's a tough wee fella, and he is getting better every day."

FOOTNOTE: Country Ways is named after a tourist shop on the corner of Gloucester and Colombo Streets in Christchurch, which is owned by Baynes and managed by his daughter Donna.



Credit: John Robinson writing in HRWeekly 11Apr01


| | |
| --- | --- |
| | RACING HISTORY FEATURE RACE COMMENT |

2001 CADUCEUS CLUB OF CANTY NZ STANDARDBRED BREEDERS STAKES

Colin De Filippi had been thinking about it all week. Thinking about how he was going to turn the tables on Flight South. After all, he and his wife Julie had lined Kym's Girl up in the NZ Premier Mares Championship knowing she was at the top of her game; they didn't expect to win, but they did not expect her to get beaten the way she did either. Fully respecting that Kym's Girl only deserved second prize that night, De Filippi wanted a different result in the Caduceus Club of Canterbury NZ Standardbred Breeders Stakes.

The first part of the plan fell into place when Kym's Girl drew two and Flight South five, but he kept quiet about how he was going to play it on the night and even those closest to him did not know. In the end, history will show it to be just another classic 'CJ' drive. Flash Tactics and Ricky May speared away from their 'ace' draw so quickly that it gave De Filippi and Kym's Girl all three options...Take a trail, sit parked and wait for cover, or push forward. When nothing came around De Filippi opted for the latter, probably smiling that he had not needed to use too much petrol getting there. From in front the race was theirs for the controlling, and when De Filippi took a sneaky peek around with 800 metres to run he could see he had Flight South right where he wanted her - last. A furlong later Flight South was inching forward ominously with cover like she had done the previous week, but De Filippi still had a handful of his own mare and wasn't going to be outsprinted this time. He asked Kym's Girl to go rounding the home bend and they stole the show; last half in 56.6, quarter in 27.4, I'll take this one thanks. "The race was always going to come down to a battle of tactics, especially when it dropped down to a nine horse field," De Filippi said afterwards.

It was Bill Denton, the stable's most respected employee, that planted the seed in his son-in-law's mind about taking Kym's Girl to the front, because he had driven the mare that way in lead-up work and said she had felt good being there. "She had been tried that way in races before without much success, but she is stronger this season and we have been trying to teach her to find the line," De Filippi said.

Apart from co-training the fourth mare in history to win back-to-back Breeders Stakes, joining Lento (1995,1996), Blossom Lady (1991,1992,1993)and Bonnie's Chance (1982,1983,1984), De Filippi also had the satisfaction of proving a point about his mare's ability after finishing second the previous week. "I heard someone say this year's Breeders Stakes field was weaker than past years, but when you have got an Auckland Cup winner, a Hannon Memorial winner and a previous winner of the event it can't be all that weak. Kym's Girl would definitely rate up with the best mares I have driven; horses like Idolmite, Quiet Touch and Adio Routine," he said.

Kym's Girl was entrusted to the De Filippi stable by her owners David Miller, Bill Marra and Graeme Trist. She developed unsoundness in a hoof following her game run for third in last years' NZ Cup, and it was thought that having access to a pool would help her training and she has responded well to it. Kym's Girl will start once more before the Easter Cup, after which she will have a spell and be aimed again at the NZ Cup.

Credit: John Robinson writing in HRWeekly 21Mar01


| | |
| --- | --- |
| | RACING HISTORY FEATURE RACE COMMENT |

2001 PGG YEARLING SALES SERIES 3YO FILLIES PACE

Had you been around West Melton trainer Geoff Dunn in the hour or so before the $90,000 PGG Yearling Sales Series Fillies Pace, he might have given you the nudge for race roughie My Party Doll. On her C8 assessment, Like An Atom looked fairly safe, although there had been a health scare which appeared to be behind her after a mobile win at Cambridge eight days earlier.

My Party Doll was one of a bunch of well-bred maidens with a pedigree to swim for, but on the face of it in mainly with hope and luck. That was pretty much the thoughts of most punters who sent her out the 10th choice in a field of 13, but Dunn wasn't one of them. "When I came onto the course, I told my brother Robert that I thought she would win. He must have thought I was a real wally," he said. Whether Robert thought he was a wally or not, Geoff was the one planning the celebrations afterwards, saying it was the first time he had been able to race the filly without her being in season. "And she had worked huge on Wednesday, running a furlong in 12.6," he said.

Dunn has a catelogue of reasons why My Party Doll had not won a race in her six previous starts, because she has always trained at the level of a good horse. "As a 2-year-old, she blitzed a field in a trial at Addington, and at her first-start at the races she was a dead-cert beaten. She had won four of her five trials this time in before getting to the races and ran a cracking second first-up. She didn't go as good as I expected after that, but in three of those runs she was in season," he said.

Driven with great patience by stable driver Gerard O'Reilly, My Party Doll came into the attack with Kamwood Gal and Mischievous Minx and finally outstayed the northern Holmes Hanover fillies. The shareholders in My Party Doll are Bob and Jenny Sandford who paid $24,000 for the filly, from the family of Cup class pacers Chief Command and Indecision, and gave Dunn a half-share to train her. "I made a decision to go this way because 'til Bob and Jenny came along I had had a lot of middle of the road horses," he said.

Dunn knows he is lucky to have them and the bounce is returned because the Sandfords are Labrador-loyal and have often proclaimed the under-rated talents of Dunn and O'Reilly. As well as breeding as they continue to do, the Sandfords are enthusiastic buyers of yearlings and they pitch most of their bids at the middle to high commercial stock. An example is the $34,000 they spent to buy Agios Nikolaos, which has now returned them more than $40,000, although he was outworried by the much improved Mehrtens in the previous race. "I still think he will be the best horse I have had," said Dunn of Agios Nikolaos. "He is still growing and will get there eventually."

By his own admission, Dunn has battled in the rung under the top echelon of trainers, being with them one memorable season when he was fourth on the premiership with 27 wins. It didn't do him any good. "You know, I never got a new client. That was not a good sign." The Sandfords were with him soon after and now the partnership accounts for more than half the horses Dunn trains. He says: "I would be doing something else now if it wasn't for Bob."

Dunn was a late starter getting a job in the industry, and he was 20 before he was on the payroll with his brother. Before that he had a smorgasbord of employment opportunities that he says "you wouldn't want to know about." At that time, the thought of seven days a week, as many hours as you liked, didn't sit too well with him. Until Mighty Molecule came along and won eight, his best winners were his "middle roaders" such as Sir Striker, Miss Franco, Hydro Lad and Last Dream. My Party Doll is now in a class of her own, and is taking Dunn with her. The Sandfords have seen to that.

Credit: Mike Grainger writing in HRWeekly 21Feb01


| | |
| --- | --- |
| | RACING HISTORY FEATURE RACE COMMENT |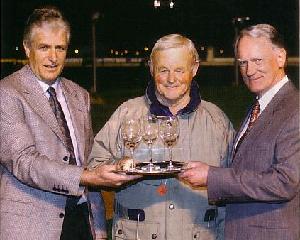 Peter O'Rourke,Robert Reid & Bob McArdle

2001 NEVELE R SUPERSTARS 4YO CHAMPIONSHIP

In the past, the Nevele R Superstars 4-Year-Old Championship has been won by some great horses. This year's edition may not have contained any names of the calibre of a Roydon Glen, a New Age Man or a Christian Cullen, but it took a truly superstar performance by Alert Motoring to win the event.

Alert Motoring scrambled away from his 10-metre handicap when the tapes were released, taking what seemed an age to settle into stride. When he finally did, he had added at least another 50 metres to the task. Back home in Clevedon, trainer Barry Purdon all-but wrote him off; on course part-owner Robert Reid shook his head and thought his horse couldn't do it; in the sulky, driver Tony Herlihy tried not to think about it. "Ricky May and Camero were a long way in front of us when we finally settled," Herlihy commented afterwards, signifying the enormity of Alert Motoring's performance.

Having gradually made up their lost ground and settled three-back on the outer, Herlihy and Alert Motoring unleashed with 700m to run and whistled up outside leader Final Ridge. They mastered him and forged clear soon after straightening for home, then had enough gritty determination to hold out the fast finish of an unlucky Camero. "The fact that he was having his first standing start was a worry tonight, but he had been alright at home," Herlihy continued. "It is all there though. He has got the potential to go a long way - always has. There is just a few things to iron out, as you can see."

Purdon was equally ready to lay praise on Alert Motoring, but as his trainer he also deserves a lot of the kudos for bringing the New York Motoring gelding back from relative obscurity to now loom as a major force amongst this season's 4-year-olds. After capturing his 2-year-old debut in July last year, Alert Motoring went on to win his five 3-year-old starts before a serious lung infection caused his connections to send him to the spelling paddock for the rest of the season. "I remember one of his wins at Cambridge where he recorded 1:58.9 fo a mile - he could have done anything that night," Purdon said. "He has always had a bit of class to him, this horse, I was keen to start him in the Derbies before he got crook. Alert Motoring has got a nice attitude, and is a nice horse to work with. He is back home again now, and his main targets this season will be the big 4-year-old races after Christmas."

Alert Motoring is raced by th Robert Reid Syndicate, comprising of Robert, Janice, Peter, Raymond and Tony Reid, and Susan Douglas. Robert Reid has enjoyed great success in the Superstars Championship, having been a part-owner also of previous winners Christopher Vance (1990) and Mark Roy (1993).


Credit: John Robinson writing in HRWeekly 12Sep01


| | |
| --- | --- |
| | RACING HISTORY FEATURE RACE COMMENT |

HAMAL INDUSTRIES/ RALPH THOMPSON SHAW & THOMPSON NZ TROTTING CHAMPIONSHIP

Major Decision, trained at Rangiora by part-owner Joe Clementson was first past the post in the Hamal Industries/ Ralph Thompson Shaw & Thompson NZ Trotting Championship but was subsequently disqualified after returning a positive swab.

As a result of this the race was awarded to the second horse across the line, Take A Moment (Anthony Butt), with Hutzpah (Colin De Filippi) being promoted to second and Jay Bee Ar (Tony Herlihy) third.

Credit: Colin Steele


| | |
| --- | --- |
| | RACING HISTORY FEATURE RACE COMMENT |

2001 NRM SIRES' STAKES 3YO FINAL

It was 4.00pm Saturday when John Seaton got the call. A committee member of the Metropolitan Trotting Club was on the line, with news that Sly Flyin was out of Cup Day's NRM Sires' Stakes Final.

Until the shocking news broke almost everyone thought that the $81,000 winner's cheque had Sly Flyin's name written all over it. But not Seaton. "He was definitely the horse to beat, no doubt. It would have been a different race though, because from where he was he would have had to do work too," he said. "I rang Colin (De Filippi) on the Monday night because I felt sorry for the horse and his connections. I know what it's like to have a horse break down on you; Cool Hand Luke's just one example."

When the big day dawned, Seaton's own representative Jack Cade took the weight of the public's money and he carried it all the way to the post and home with a herculean performance in the Group 1 feature. Parked for the entire journey, Jack Cade gritted his teeth as the last half went by in a sensational 55.7 seconds and he got there by a neck from Lord Vicolo. That lethal combo of Seaton and Mark Purdon had done it again. "This is such a huge thrill," Seaton said afterwards. "To win this race with Il Vicolo and them come back and win it again with one of his sons is just brilliant."

It was indeed a magic result for Il Vicolo, who sired the quinella in the season's first major 3-year-old event with two horses from his very first crop. It wasn't far away from being the perfect fairytale either ...the other by Il Vicolo in the race was Tricky Vic, incidentally bred by Seaton, who met trouble during the running and could have finished a lot closer. Seaton says he doesn't have second thoughts about selling the Vance Hanover stallion that took him to dizzy heights when winning back-to-back NZ Cups in 1995 and 1996. "I didn't like the stud business, it is not me," he said. "I just love watching my horses run. And I knew that with Charlie Roberts and Andrew Grierson he was going to a good home. I don't think people realise just how good Il Vicolo was at two, three, four and five."

Seaton was always keen to get his hands on some of Il Vicolo's progeny, and at the first available opportunity Jack Cade was picked out by his right-hand-man Mark Purdon at the Karaka Sales. The gelding from Smooth Fella mare Janet Blue Chip cost them $30,000; he has now pocketed over $228,000. As for Jack Cade's immediate plans, Seaton says "that's up to Mark."


Credit: John Robinson writing in HRWeekly 15Nov01


| | |
| --- | --- |
| | RACING HISTORY FEATURE RACE COMMENT |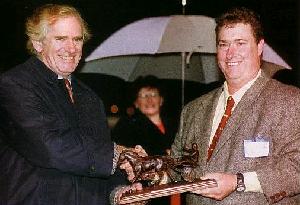 Greg Brodie receives the trophy from Daren Garrard

2001 GARRARD'S SIRES' STAKES 2YO FINAL.

It is not time for Bruce Negus to say 'move over Courage.' There is no real danger of that. However, it seems certain that he will speak of Sly Flyin in the next breath.

Putting sentiment aside, Sly Flyin has Closed quickly on the achievements of the great Courage Under Fire, who Negus developed into a young champion, and there was fresh evidence of his endless stamina and stubborn determination following his powerful win in the $150,000 Garrard's Sires' Stakes Final on a slushy track at Addington.

The Greg Brodie-owned and Colin De Filippi-driven colt won with the same stamp of authority that Courage Under Fire issued in his year. Tricky Vic made a valiant attempt from back in the field on what was pretty much a front-runner's night to finish second; Hardly Matters had a good trip and made good use of it to get third and All Hart was fourth after sticking on well following a tough trip.

For Sly Flyin, it's a seven-week break, and the declaration of another career when his racing career has finished. Negus was more or less committed to geld Sly Flyin at the end of his campaign, and said so. "Courage was perfect in this respect. Anyone could give him a pat and show him some affection. He liked that. This fellow is a little more aggressive, and could bowl you over without being nasty at all. But I promised him he would stay a colt if he won. Gelding him, by the look of it, couldn't make him go any better," he said.

In the cold light of day, the run was exceptional, because there was some difficulty for him when a hopple shortener became stuck. It meant that he had one of 53 inches on one side and 56 inches on the other. "That is why Colin had to force the issue when he did. He is a short coupled horse but it would not have been comfortable for him. Colin's drive was very astute. He drove to the horse's strengths. In the last four or five years, Colin has just got better and better. He really is top class," he said.

The quality of Sly Flyin's win was not a revelation, and Negus no longer is afraid to give him the kudos he has deserved. "His trial a week earlier at Motukarara in 2:41.8 for 2200m did surprise me, but then he has improved many lengths since his Welcome Stakes win last months. He was not distressed, and it is hard to describe how well he did that. He is a great stayer, and to be honest I don't know how good he is. He could be a super horse, but here we have rated him a second behind Courage in all departments at this stage. Up till now, I have hesitated to say that he is up with him, but I think he has earned that right now. In a tight finish, he will win nine times out of ten," he said.

With his boyish tendencies needing to be ironed out at the start of his campaign, Negus went to a couple of senior horsemen for advice, his father Bob, and Doug Mangos. Through his time with George and John Noble, Mangos was an old hand with young horses, and won nine successive races at two with the brilliant filly, Roydon Roux. As a result of their wisdom, Negus worked Sly Flyin every day in the cart, for weeks on end.

Sly Flyin is a 15.2-hand son of Sands A Flyin, who achieved a remarkable and honourable double when his iron-willed daughter Sparks A Flyin won the Group 1 Nevele R Fillies Final on the card - in the same willing manner. Brodie bought Sly Flyin for a six-figure sum on the recommendation of Greg Payne. "I recall Greg saying after just his fourth hopple, 'here is a $100,000 horse'," said Negus. That was in September.

Credit: Mike Grainger writing in HRWeekly 16May01


| | |
| --- | --- |
| | RACING HISTORY FEATURE RACE COMMENT |

2001 NRM SIRES' STAKES 2YO TROTTERS CHAMPIONSHIP

Tony H scooted home along the passing lane to down hotpot Jo Anne and win the $20,000 NRM Sires' Stakes 2yo Trotters Championship. Not only did Tony H give Jo Anne her second taste of defeat, he also wiped a second and a half off her older brother Dependable's national record by trotting the 1950m mobile journey in a quick 2:27.1

The whole race had an eerie deja vu feel to it, because just four weeks earlier the blue and white silks of Balle and his training partner Ian Small were seen coming from exactly the same position when Sunease flew home to grab Castleton's Mission in the shadows of the post. He too was considered by most to be 'a certainty' that night.

"You had to respect Jo Anne, but I never considered her to be a past-the-post," driver Mark Jones said afterwards. "Tony H broke early the week before, but he did trot home nicely after that and I always thought we would be a show if we led early and trailed. This horse has got a lovely attitude," he said.

Credit: John Robinson writing in HRWeekly 09May01


| | |
| --- | --- |
| | RACING HISTORY FEATURE RACE COMMENT |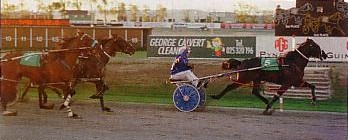 Croker winning the Southern Graduate

2001 PGG NZ YEARLING SALES SOUTHERN GRADUATE

Had a certain buyer put his finger up for one more $500 bid on Croker at the Sales last year, he would now be holding his hand out for a $13,750 cheque. That is how much the Falcon Seelster-Take My Arm colt won after taking out the PGG Yearling Sales Southern Graduate.

Croker ended up being a buy-back for his vendors John and Maurice McDermott when he reached $15,500 in the ring - $500 short of what the brothers were prepared to let him go for. The pair even turned down a subsequent offer on the day, but they are looking the winners now because Croker is going to target the Welcome Stakes this Saturday night before a heat and hopefully the Final of the Sires' Stakes Series.

Trained by Colin and Julie De Filippi, and now part-owned by Colin in partnership with the McDermotts, Croker ended a long drought for both brothers, especially John, by winning on Friday. Maurice last tasted success with Kedell at Rangiora in February 1999, and before that with Kedell's dam Scintilla at Addington in 1993, but John hadn't known that winning feeling since Olympic Medal scored at Addington back in October 1984.

A former employee of the Bank of New Zealand who specialised in rural finance for two decades, John also spent 18 years on the committee of the NZ Metropolitan Trotting Club and was the Club's representative on the Sires' Stakes Board for six years. Taking a break from both roles when the three Addington clubs amalgamated, John also had a change of tack following the passing of his father Eugene in October 1998 and joined his brother to run the 200-hectare family farm in Halswell, where they milk a town supply herd of cattle. A Past-President of the NZMTC, Eugene McDermott was well-known for co-breeding the fine pacer Robalan, and he was also the son of Eugene Snr who suffered a heart attack while driving Colonel Grattan in the 1939 NZ Cup.

The mare that got John himself started was Olga Korbut, a Lordship half-sister to Noodlum that he was given a half share in in return for grazing horses on the farm. Taken to C6 by trainer Freeman Holmes, Olga Korbut ran second in the 1975 NZ Welcome Stakes to Fancy Fred before going on to capture her last five races that season. "It has been a battle trying to continue her breed," McDermott said. "She only had the five foals and all but one were colts; I spent a lot of money trying to breed her by embryo transfer."

Since taking over the farm, McDermott is breeding from four mares - Scintilla, Vault (Olga Korbut's filly), Croker's dam, Take My Arm and Shining Cloud. "Kevin Townley trained Take My Arm for us. She went amiss a week before she was due to go to the Qualifying trials, but he thought she would be worth breeding from though. "She has a late colt foal at foot by Caprock, and was served by Il Vicolo." Take My Arm's first three foals are Boston, Barney Bear and Croker.

"He is a bit of a character, ducking out like he has done a couple of times," McDermott said of his latest winner. "Colin has always rated him though, and when a horseman like him says that, you take notice."



Credit: John Robinson writing in HRWeekly 11Apr01


| | |
| --- | --- |
| | RACING HISTORY FEATURE RACE COMMENT |

2001 PGG YEARLING SALES SERIES 3YO TROT

On paper, Sunease had cost the least and won the least leading into the PGG Yearling Sales Series Trot. But in less than two and a half minutes, he made a mockery of those two statistics and carried away the biggest slice of the $40,000 prize.

Driven by co-trainer Derek Balle, Sunease sat patiently in the trail as All Action Son and hot-favourite Castleton's Mission undid themselves in front. When the time came for Balle and his gelding to get serious rounding the home bend, they picked up their rivals with big strides and won convincingly. Sunease's time of 2:28.1 equalled Godsun's 3-year-old colts and geldings mark set in April last year.

Raced by Balle's parents Ken and Dawn along with Paul Tenwolde and Euan Lawrie, Sunease cost the quartet only $6000 when purchased at the Sales. None of the four were on-course to witness the victory, but they all showed up at the Balle and Ian Small stable in Pukekohe
the next morning, understandably bubbling about the performance. Small accepted that Castleton's Mission was the standout in the race, but he didn't think it was going to be a benefit for him. "All Sunease had to do was trot all the way and I thought he would win, especially the way he had worked the previous Sunday," Small said.

Small and Balle are in their first full season as training partners, and their combination is working well as there have been 15 victories from the stable so far this term. "Sunease was pretty smart right from the start," Small continued. "He was a really big yearling when he was broken in, and was head-strong with it. We took him to Christchurch as a two-year-old but he was experiencing growing pains and didn't trot that good. Turned out and gelded, he is really starting to fill into his big frame now."

Commenting on Sunease's turn of foot, Small believes the gelding has got a lot more high speed than Martina H, who is also 3-year-old trotter that has been in sparkling form for the royal blue and white silks this season. "Martina H is a nice sort that goes out there and does the job properly, but I still think Sunease would be quicker than her. He has always had a good gear - it is just been a case of getting his head around this racing game."

Both trotters will fly the Balle/Small flag in the NZ Trotting Stakes this Saturday night, and then they are off to Melbourne to chase more of the riches on offer in their age group. "From what I hear, Sunease was jumping out of his skin the next morning, so he should go well again this week," Small said.


Credit: John Robinson writing in HRWeekly 11Apr01


| | |
| --- | --- |
| | RACING HISTORY FEATURE RACE COMMENT |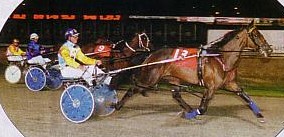 Flight South outfinishes Kym's Girl and Flash Tactics

2001 PGG NZ PREMIER MARES CHAMPIONSHIP

It is hard to recall the last time Kym's Girl was caught from behind. She was on one of her trademark blistering runs when she was overtaken surprisingly by Flight South with 100 metres to run.

Surprisingly, too, because it was no contest. Flight South went by in a few thumping strides, winning the $25,000 Pyne Gould Guinness NZ Premier Mares Championship by an increasing margin in a fast 2:21 for the mobile 1950m, which was a 1:56.3 mile rate. This was 0.7 seconds faster than Adio Routine's NZ mares' record, or would have been had there not been a cruel collapse of the electronic timing system; so no record because the timing was a human clocking and thus unofficial.

That bad or sad business aside, Flight South was awesome and it bodes well for further success in the Caduceus Club-sponsored Standardbred Breeders' Stakes on Thursday night. There should be some confidence about this because astute trainer Andrew Neal thinks there is a handsome improvement to come and she will be close to unbeatable of he is even half right.

Neal says Flight South "proved a point" by her win. The point he had in mind was removing the general suspicion that her Auckland Cup upset win as a C7 from off the ballot was the result of a rare failure on the part of others. Neal has never thought of it that way, always maintaining that she had competed against the same horses with credibility. In two starts since her Auckland Cup win, Flight South was out of the money, and Neal blames himself for one of the two, and knows they may have given volume to those still in doubt of her class. "They were both non events. One was a free-for-all at Alexandra Park where they walked and sprinted home, and the other was a bad drive by me at Cambridge. I put too much thought into it and made a tactical error," he said.

In the latest confirmation of her class, Flight South raced with a nasal strip, as she did for the first time in the Auckland Cup. It keeps the nostrils open, and helps their recovery after a race," he said. Flight South has the Inter-Dominions in Brisbane to follow the Breeders' Stakes, and Neal is serious about her chances. "I got 100 to 1 before her race tonight. I don't think she will be at anything like that now,"he said.

Neal says Pacific South, the dam of Flight South, is in foal to the In The Pocket horse, Tinted Cloud, and he took one of the few opportunities left to stock up on the Direct Flights by spending $4800 on a colt by the deceased horse from Joyella at the Yearling Sales in Christchurch last week. In the meantime, Flight South is at Motukarara where she is enjoying working on the grass track.

Credit: Mike Grainger writing in HRWeekly 14Mar01


| | |
| --- | --- |
| | RACING HISTORY FEATURE RACE COMMENT |

2001 AIR NEW ZEALAND TROTTING FREE-FOR-ALL

Last Sunset was devastating in winning the $50,000 Air New Zealand Trotting Free-For-All by a head from Waihemo Hanger in 3:14.4, nipping nearly a second off Basil Deans's 3:15.3 he ran in the NZ Trotting Championship at Addington in 1984, and from all accounts he is not quite trotting to the satisfaction of trainer Tony Herlihy.

In light of this information and considering the enormous effort of Waihemo Hanger, the others will need to be on full alert to head him off.

Tim Butt won't know for sure until Friday night if he has Take A Moment as fit and well as he would like. What he does know is that he will need to be 100% fit if he is to beat Last Sunset in the Clark Boyce Lawyers $100,000 Dominion Handicap at Addington. In neither of his Cup Carnival runs has Take A Moment been right on his game. It wasn't obvious on Cup Day when he won off a 20m handicap, but it was on Show Day as he laboured home in the free-for-all.

Is there a problem with Take A Moment? Yes, there is. Not major, nothing in fact that might not be repaired and warrant-of-fitnessed in good time for the race. Take A Moment had a corn removed from his near-side foot last Wednesday, the day after his win over Special Force and Major decision.

Credit: mike Grainger writing in HRWeekly 21Nov01


| | |
| --- | --- |
| | RACING HISTORY FEATURE RACE COMMENT |

2001 FIRESTONE FIREHAWK TZ100 FREE-FOR-ALL

Angela Jane? First. Young Rufus? First also. Jack Cade? He won. Dependable? Yep, him too.

The hardest time to win a race at Addington is on Cup Day, but Mark Purdon made it look easy when he saluted the judge four times with members of his team. Excluding the Cup, Canterbury's adopted son was the star of the show. And while hard to single out any one performance it was the run of Young Rufus in the $25,000 Firestone Firehawk TZ100 Pace that left most people shaking their heads in disbelief.

Never seeing the fence at any stage during his race, Young Rufus was three-wide with-out cover throughout and even had the cheek to change gear and skip clear turning for home. This minor free-for-all on Cup Day has often been a stepping stone to stardom for some great pacers, and in recent years the likes of Iraklis and Yulestar have both won it and then come out the following season and won the New Zealand Cup.

Knowing only too well that Young Rufus was getting mentioned in the same sentence as some Town Hall company, Purdon had no hesitation saying that he expected him to go on to bigger and brighter things. "He is a great horse. You can just put him in the race at any stage. There is a bit of class about him," he said.

On the programme for Young Rufus this season are the major 4-year-old events, and next year's Inter-Dominions. It is only 12 months since this horse got beaten narrowly in the Sires' Stakes Final by Franco Heir, and just look at him now. "His main problem as a 3-year-old was steering problems," Purdon said. "I put a pole on his off-side and he used to run away from it, so we had to take it off. It is back on again now, without a pricker, and because he has matured a bit he seems fine with it."

Credit: John Robinson writing in HRWeekly 15Nov01


| | |
| --- | --- |
| | RACING HISTORY FEATURE RACE COMMENT |

2001 NOBILO FREE-FOR-ALL

As a NZ Cup contender, Pic Me Pockets was always on the list but nowhere near the top. After all, some 22 open class horses and last year's Auckland Cup winner Flight South are chasing those 15 spots on Cup Day, and prior to last Friday's meeting at Addington Pic Me Pockets still needed two wins to join them. He only needs one now.

The In The Pocket 6-year-old beat home a star -studded field in the $25,000 Nobilo Pace - albeit after enjoying the trail - and showed what he was capable of against the big boys. It was a welcome return to form for the same horse that won last year's Messenger and Franklin Cup.

Credit: John Robinson writing in HRWeekly 17Oct01


| | |
| --- | --- |
| | RACING HISTORY FEATURE RACE COMMENT |

2001 AVON CITY FORD NEW BRIGHTON CUP

It was not a pretty win by Makati Galahad in the Avon City Ford New Brighton Cup. He got home in the end, rising to the occasion just when Annie's Boy appeared to be doing enough to slip past. The rallying call was typical of the horse who has been beaten only twice in 12 starts from Fred Fletcher's team at Addington; he has won the others.

For most of the race, and all but the first 600 metres or so, Makati Galahad led. Once there, it seemed as if it was a matter of what the winning margin would be, few thought it would be a tight call, with only half a head in it. "He doesn't take a lot out of himself," said driver John Hay. "He never feels very good, but he has certainly got more respect. He is such a great stayer, yet he came home in 56.4 the other night. The two miles of the Cup will suit," he said. Hay says the time will soon come when he will have to drive him in behind. "The only reason we haven't is because it is working well with him the way it is," he said.

Hay has driven in three New Zealand Cups, and been placed in two of them, finishing second with Just Royce to Il Vicolo and third with Franco Enforce behind Christian Cullen. His unplaced drive was Debbie's Boy.

Fletcher has a simple programme in mind for Makatai Galahad as the Cup gradually comes into focus. "He will race wherever there are suitable races for him, if the money's up he will run," he said. "It will be nice to get a couple of standing starts into him. He loves Addington, so we will keep coming back. The owner has never been to Addington to see him race, but I pick he will make it up for the cup," he said


Credit: Mike Grainger writing in HRWeekly 12Sep01


| | |
| --- | --- |
| | RACING HISTORY FEATURE RACE COMMENT |

2001 NEVELE R FILLIES FINAL

"From the gutter to the throne."

The racetrack Joan of Arc in Sparks A Flyin, now the heroine of nine wins from 12 starts including the $100,000 Nevele R Fillies Final, and once the despair of trainer Cran Dalgety whose words these are. Once again, the filly of peasant stock showed that pedigree is little more than a paper passport with a command performance against the best fillies of her age.

Although beaten the week before in the Oaks by Shania Patron, there was more confidence in the camp with just a week between the races that she would turn the tables. "She was a bit sharper for this one," said driver Mark Jones. "There is not many that come from behind her and beat her. In a fight, she is too good," he said. Jones went out with the intention Sparks A Flyin would put these qualities on the line. She was never headed after a gentle first 600m before taking over at the 1400m and then running the race he planned. Kamwood Gal held second after a nice trail behind the winner, while A Little More Magic made strong headway to close on the pair quite noticeably.

Looking back, Dalgety can honestly say Sparks A Flyin was a trainer's nightmare. Anyone less professional would have said goodbye and good something to her long ago. Under duress, and with many a mild curse, Dalgety endured her irascibility and put aside personal embarrassment and indignity. He recalls taking her to a trial at Rangiora when she not only decided not to race but refused to leave the track. The only way she left was after Dalgety removed the cart and harness. Next time away from home, she didn't want to join the others on the mobile gate, so Dalgety ran 50 metres, holding her head, just to help her out. She ran and qualified, but Dalgety said he didn't get excited because he had some recovery of his own to do.

What made him so loyal to such a rascal?

"When Jim and Susan (Wakefield) bought her, it was mainly because we liked her. She was something of an underdog, and she only cost $11,000. But she was a handful to break-in, and in the end she just had to leave the property. She would try to run out of the gate, and if there was something to do wrong, she would do it. At this stage, we decided to give her the benefit of the doubt and Steve Hale took her away for a couple of months. He gave her one on one, and worked her round the roads in a big gig. This was a big turning point for her. It was an experiment rather than a yes or a no. Although she was anti everyone, she came back ninety-five percent better. What I liked about her was that even if you disiplined her hard, she would never sulk. She'd come back to you. Defeat wasn't part of her," he said.

The next learning curve in the life of hard knocks came when he sent Sparks A Flyin to a North Canterbury farm for a spell as a late 2-year-old. "She was with cows, and being treated like one. She got a lot of benefit from that, too," he said. There has been no stopping the progress Sparks A Flyin has made this season, moreso over the past six months.

"It was not until she had won her third race that I thought she was something better than average. That's when I stood to attention. I could see she was a horse that kept coming back for more. But there is nothing extra for her. Everything has to be simple. We now know what she wants," he said. In terms of training achievements go, Dalgety rates this at the top. "The odds were against us. From where we were, to where we are, is definitely remarkable," he said.

Credit: Mike Grainger writing in HRWeekly 16May01


| | |
| --- | --- |
| | RACING HISTORY FEATURE RACE COMMENT |

2001 PGG YEARLING SALES 2YO SERIES OPEN

Everyone has a favourite horse. Mark Purdon's will always be Il Vicolo, the brilliant son of Vance Hanover which helped put him on the map when he launched his training career in the 1995/96 season.

Beaten only three times at two and never at three, Il Vicolo won 31 races in total and his back-to-back New Zealand Cup victories in 1995 and 1996 sit highest on the shelf of Purdon's fondest memories. And now that he is winning races with Il Vicolo's progeny, it is the next best thing. Purdon guided Jack Cade to an all-the-way victory in the PGG Yearling Sales Series Open, an event Il Vicolo himself won seven years earlier.

The win has pushed Jack Cade's dad into second on the list of leading sires of juveniles (by dollars won) for the season, which is no mean feat considering this is his first crop. Jack Cade (three wins), Tricky Vic (two) and Lord Vicolo (one) have been the main contributors, vindicating Purdon's faith that he would make it as a stallion. He and principal owner John Seaton specifically went to the Sales last year with the intention of bringing two or three home, and there was something about Jack Cade that stood out. "I liked him on type, and there was a lot of quality about him," Purdon recalled. "Il Vicolo did not have many in the sales, but they were all nice types and I think his average reflected that."

Jack Cade stamped himself as top 2-year-old material right from the word so this season, winning first up at Alexandra Park in a sensational 1:57.5 mile rate over 1700 metres. He has only been out of the money once in six starts since, when an unlucky fifth in the Welcome Stakes, and although not offering excuses Purdon says the gelding hasn't been a hundred percent lately. "He has had an on-going respiratory infection since about February," he said. "It is not a common one, and he has had a cough and a slight nasal discharge. Bill Bishop has been treating him and we are getting on top of it now. He has been a bit brighter in the coat lately."

Just last week Purdon and Seaton sold Il Vicolo to Woodlands Stud. There has been a great deal of interest in the stallion after his first season results, and Purdon says letting him go was one of the hardest decisions he ever had to make. "He had a lot of sentimental value to me. During his first two seasons at stud I used to bring him home and jog him through the winter. It was just a bit of a change for him. He was always a lazy trackworker but he loved it, and he loved being back in the same box that he had when he was racing. We didn't get him back last year because we were just too busy with the horses; I was quite looking forward to having him around again this year."

It is ironic that Purdon signed on the dotted line only a matter of hours before a son of Il Vicolo he trains won the richest 2-year-old event of the season, but he says that is just the way it goes. "There was never o lot of money in owning a stallion in his early days; when you are striving to get numbers on the ground you have to do deals here and there. "But winning the race again with one of his progeny is a great feeling, and I am pleased for the new owners too because it is a nice start for them."

Purdon has not retained any breeding rights to Il Vicolo, saying he is busy enough with the racing team as it is. He has only got one broodmare - Super Smooth, the dam of Scuse Me - but there is a possibility she could visit the Vance Hanover stallion when the time comes next season. Apart from two Il Vicolo fillies bought from the same sale as Jack Cade, Purdon has a yearling gelding by the sire that is showing promise and he also bought another one privately this season.

Credit: John Robinson writing in HRWeekly 09May01