| | |
| --- | --- |
| | INTERNATIONAL HISTORY |

Pete Sampras wins a record seventh Wimbleton title.

25 /july - An Air France concorde supersonic aircraft with 109 on board crashes, killing all on board and 4 on the ground.


| | |
| --- | --- |
| | LOCAL HISTORY |

Team NZ successfully defends the America's Cup, making it the only country to do so other than the USA.

Canterbury celebrates it's 150th anniversary.

The Ch-Ch Bus Xchange opens.




| | |
| --- | --- |
| | RACING HISTORY |

THE CUP
Lorraine Nolan,from Hawera, became the first woman to train a Cup winner when Yulestar won in race and NZ record time of 3:59.1.

Credit: The Cup: Bernie Wood


| | |
| --- | --- |
| | RACING HISTORY BUILDINGS & FACILITIES |
Looking back towards the home turn

PASSING LANE

The new, two-sulky passing lane will be in use for the first time at Addington on Friday night, 10th March 2000.

As a result of this, the track has been resurveyed with all starting positions altered by half a metre. An addition is a black and white sighter mark, which gives the drivers something to aim at.

"If the horsemen don't like it, we can take it out. That is no problem," said Mike Godber, the Metropolitan's Chief Executive Officer. He said the width of the lane is three metres, allowing room for two horses, and 250 metres of the track have been dedicated to the change.

This is the second introduction of the passing lane at Addington. It was tried for one meeting, in September 18 months ago

REVIEW:- Mike Grainger writing in HRWeekly 29Mar00

After just two meetings and 20 races, there are problems with the new passing lane at Addington Raceway. Driver have expressed their concern to Raceway officials. The officials agree, and promise to get it right. They will start with a meeting tomorrow between representatives of the Trainers and Drivers Association, Raceway directors and track engineers.

The issue for the drivers is not so much the passing lane but the camber of the bend and the transition leading into it. John Lischner, president of the trainers and Drivers Association, said the drivers considered Addington the best track in the world "but at present it is not. We thought they had two options, to take the passing lane in, which would have been the expensive way, or come out. This would have meant an alteration to the camber and taking the transition further down the track, to near the 2600m start. But we are not satisfied the camber on the corner into the staight is correct yet. We see good-driving horses lugging down on that corner and horses on the inside hitting the poles," he said.

Senior drivers Ken Barron and Kevin Townley insist the bend must be fixed. "It is going to be a real problem if it is left the way it is when the big races come round at Easter," said Barron. "I am very disappointed in it. You have to physically steer them round the top corner rather than allowing the horse to follow the natural contour and the transition finishes too quickly. It is similar to the one used for half a meeting about eighteen months ago. Anthony Butt said at a meeting we had with the Addington officials that if it is going to be done, do it right," he said.

Kevin Townley said: "It is not what we asked for; it's not right. We are having to drag horses up the camber and many on the inside are hitting the last pole," he said.

Mike Godber, Chief Executive Officer of Addington Raceway, says "I'm not happy with it. I know we have got a problem and it's got to be sorted out.I believe we have the best track and there is no compromise on that. We have got to maintain that standard."

Godber said officials had taken a number of comments from drivers to assist them rectify areas of concern. "Anthony Butt said the horses three and four wide on the corner were tightening those further down and that seems to be an accurate assessment of what is happening. The camber angle drops away too quickly.It should be able to be fixed," he said.

If it is not, Lischner said the likely alternative would be running the Easter meeting without the passing lane. Chief Stipendary Steward Neil Escott said: "I go along with the thoughts of the horsemen. Something will need to be done, especially with the Easter racing coming up. It would be unjust on the horsemen after raising the matter otherwise," he said.


Credit: Mike Grainger writing in HRWeekly 8Mar00


| | |
| --- | --- |
| | RACING HISTORY PEOPLE |

DAVID WATKINS

The death occurred last Sunday of David Watkins, a horse owner and committee member of the NZ Metropolitan Trotting Club. He was 58.

Watkins was also a steward for the New Brighton HRC from 1991 to 1993, being on the committee of that Club from 1993 until the merger of the three Addington Clubs two years ago.

Watkins had raced a handful of horses, and enjoyed success with the Butler B G filly Art Review who won one of her six NZ starts as a two year old in February, 1995.



Credit: NZ HRWeekly 28June00


| | |
| --- | --- |
| | RACING HISTORY PEOPLE |

REG STOCKDALE

Reg Stockdale, who died suddenly last week aged 68, was seldom without a good horse in his Yaldhurst stable. He never went to a big team, always turned his horses out in top order, and was renowned for his attention to detail.

His first good horse was Gentry, although he was six and near the end of his career by the time he came into Stockdale's care. He won 13 races in the previous two seasons for Peter Stewart, who trained him for Bob Barry, but Stockdale won first-up with him at Auckland where he was off 48yds and beat Lucky Briton and Gaelic Prince.

He was followed by Blue Prince, who raced initially out of Davey Todd's stable and was driven by Ken Balloch before being bought by Barry. Based at Mangere then, Stockdale won five races with Blue Prince as a 5-year-old including the Allan Matson Handicap from Sun Chief and Aldora. He was still at Mangere when he won the New Zealand Derby for Barry with Student Prince, who defeated King Hal, Jay Ar and Flying Note. On the same day, False Step came from 48yds to beat Lookaway (30) and Sun Chief (12) in the Allan Matson and Moon Boy won the NZ Trotting Free-For-All from Ordeal and Au Fait.

Stewart Hanover, a roan by Garrison Hanover, won eight races in three seasons during the early 60's, and his place in the higher grades was taken by Bramble Hall, a dark brown gelding by Flying Song. Bramble Hall won 10 races, mostly driven by his former employer Maurice Holmes, who knew the big horse performed best when saved for a short, sharp sprint at the end. His major win was the Canterbury Park Free-For-All, a walk-up start which he won from Thurber Scott and Torrent.

In 1971, Stockdale won the New Zealand Oaks with the Garrison Hanover filly Shalimar who upset the favourites and beat Gay Hal and Candy Frost. That night, George Shand won with the big trotter Bambi, Doug Watts won with General Idea, Gavin Hampton won the New Brighton Cup with Radiant Globe who was off 30m, and Felix Newfield won with Blak Label.

Other good horses he trained were the trotter Southern Comfort, Lemrac, who upset one night in the wet at Addington and later ran 1:54 in the US, and Canis Minor, a big winner later in his career for Trevor Thomas.

Eulogies to the former President of the NZ Trainers' and Drivers' Association were given by Derek Jones, Jim Dalgety and Stockdale's son-in-law, Peter Jones. Stockdale is survived by his daughter Lois, son Graham, and grandchildren Phillippa and Mark Jones, Natasha and Jessica Stockdale.


Credit: Mike Grainger writing in HRWeekly 10May00


| | |
| --- | --- |
| | RACING HISTORY PEOPLE |

RON CAMPION

The death occured recently of Addington identity, Ron Campion. He was 80.

Ron was a well known figure over the years, often seen driving his horses down the roads on his way to work them at Addington.

Ron worked for the late Allan Holmes, and was a nephew of the late J S Shaw, of Vodka fame. He was recognised at being a dab hand for breaking in a young horse. In latter years Ron's most prominent horse was a trotter, Billy Joel, successful at the Wellington and local country area tracks.

Credit: NZ HRWeekly 5Jul00


| | |
| --- | --- |
| | RACING HISTORY PEOPLE |

NORM BROWNE

The death occured recently of Norm Browne, aged 93, who won a race this time last year with Storm Signal at Motukarara.

Browne, who trained his first winner more than 60 years ago, was a noticable identity in the Yaldhurst area, where he worked as a blacksmith for many years. He recalled shoeing some great horses, notably Precaution, Gold Bar, Aksarben and Adorian, drove against Maurice Holmes and worked for Sir John McKenzie.

A farrier inspector at Riccarton, Rangiora and other provincial tracks in Canterbury, Browne usually had a couple of horses in work, the best of them being the useful Dark Signal.

Credit: NZ HRWeekly 3May00


| | |
| --- | --- |
| | RACING HISTORY PEOPLE |

BOB YOUNG

The late Bob Young is widely regarded as the finest reinsman seen in this country not to win a Drivers' Premiership or a NZ Cup.

He went very close in both, finishing second in the Premiership six times and with Patchwork in the 1961 NZ Cup, he was just as surprised as everyone else when an 11-year-old Invicta and Steve Edge nabbed him by a neck.

Towards the end of his driving career in the 1965/66 season, Young was comfortably clear of Peter Wolfenden, Maurice Holmes and Derek Jones when in February at Addington he was involved in a spectacular smash approaching the home turn and broke his arm. Donald Dundee, a half-brother to Robin Dundee who already had a reputation for being a bad horse to be following, was leading when he suddenly propped and went down. Horses and carts went flying in all directions and among them were Young and Bar None. Le Whip, at almost 40 to one and last at the half for Owen Quinlan, was left with just a driverless horse in front of him. Donald Dundee was on the next transport to America.

Young's forte however was trotters and there were no better hands in the business. He was the leading driver of trotters in a season six times. Not a tall man and slight of build, Young was never seen hanging out of the back of a sulky.

He had a golden patch in the decade between 1945-55 when he won the first two Inter-Dominion Trotting Finals with Aerial Scott (48 in Auckland) and Gay Belwin (51 in Christchurch), four Rowe Cups with Aerial Scott (46), Single Task (49), Gay Belwin (50) and Indomitable (52), a Dominion with Acclaimation (49) and three NZ Trotting Free-For-Alls with Aerial Scott (47,48) and Single Task (50), not to mention the Sapling Stakes, Great Northern Derby and New Brighton Cup twice and the NZ Derby, Auckland Cup, NZFFA and Champion Stakes.

Records are sketchy prior to the 1940s, but one can accurately estimate that Young drove around 750 winners when forced to retire in 1971 along with Bill Doyle, Jack Litten and Doug Watts. The last meeting of that season was at Addington in June where Watts won the Canterbury Park Winter Cup with Smokey Express and Young won the following event, the Canterbury Juvenile Stakes, with Mark Gentry. Young was favourite to win the final event with Fortunate, but came up a head short of Crystal John and Derek Jones.

Young was an ambitious young Scotsman when he arrived from Glasgow, aged 23 in 1929, at the invitation of Sir John McKenzie's private trainer Bobby Dunn. He was none too pleased when his initial duties culminated in carting oats, but his desire to be a driver was realised when he was entrusted with a team to the West Coast curcuit over Christmas that year. Whether this was his first drive is uncertain, but Loretta Napoleon won her debut for him in the Progress Handicap at the Westport Meeting. On the second day, he also won a saddle event with Royal Iroquois.

Young could see the sport was booming and wasn't long writing to his father, Jim, who arrived in due course with another son in Jim junior and eight horses. All of them were to win races, with Stanley T and Sandy N going through to the best classes. Stanley T was a lovely big chestnut trotter who won his first four races in the 1930/31 season with Jim junior at the helm. However, Young would later reflect that his older brother had never really wanted to leave Scotland and he was soon on the boat back home. Young drove Stanley T to win the Stewards' Handicap from 60 yards at the August meeting at Addington the next season, while 12 months later they won the same race from the backmark of 96 yards. Stanley T was however a tricky customer who more often than not let his supporters down.

The skill Young displayed in getting him away on the fresh side on those occasions was an early sign of what was to come. Prebbleton horseman Jack Grant, who worked for the Youngs while still at school in the 1940s, recalls one particular occasion in the 1960s with the notorious trotter Break Through. Arthur Pratt's Light Brigade stallion was one of those horses who when he trotted he won, but most often he didn't. Break Through was having a bad patch when Young was engaged to handle him in the 1967 NZ Trotting Championship at Addington. "As they lined up, Bob had him facing the stand and when told to swing him around, he said just leave me here," said Grant. When the tapes flew, Young quietly swung Break Through around and off he trotted like a toff, leading all the way to beat the hot favourite Mighty Chief by two lengths at 22 to one. Break Through had not started in the first night heats so raced in the Consolation on Easter Cup Day and did exactly the same thing in a time four seconds faster than Final winner Asia Minor. Bob always maintained you should never rush a trotter early on, particularly around the Showgrounds bend at Addington. He said it was better to lose a few lengths getting settled than trying to get handy."

Grant, who in partnership with Derek Jones was one of the leading trainers at that point, well recalls his early days with the Youngs. Grant, back home last week after a lengthy stay in hospital, would help work the horses before school, riding one with two on the lead, then after school had 18 yards to clean. "I will never forget one day I'd finished the yards and had walked inside to listen to a race. Jimmy said to me what are you listening to the race for - have you had a bet? I said no and he said well don't worry about the race, go and clean the yards. I said I've done them. And he said well go and do them again - you'll have less to do tomorrow then."

Another early memory was a Coast meeting where Young was trailling the field with a trotter. Pretending he had broken some gear, Young began yelling "I'm bolting - I can't hold him.""They all moved to the outside, and Bob trotted up the fence to win," said Grant.

Grant says Bob Young was a lot like his father - quiet and tough, but fair. On one occasion, Bob had been away in Auckland and had asked a couple of the stable boys to keep his lawn mowed. They didn't do it because they felt it wasn't part of the job. When Bob got back he said 'is that right,' and sacked them. But whenever we were away on trips he would pull you to one side and ask if you had any money. He would give you a quid - which was a lot in those days - just on the quiet. And there was always a good sling when we won."

Jim and Bob Young initially set up stables close to the Addington track - about where the TAB administration building is now - along with the likes of Vic Alborn and Freeman Holmes. They then moved to Hillmorton where the High School is today.

Hughie Greenhorn, whose father Dave knew the Youngs in Scotland and was already a prominent horseman when Bob first arrived here, was closely associated with the stable and well recalls buying a King Cobra mare Carntyne off them for £10. "We set her for a race at Greymouth and had a decent go at the double." Greenhorn bought a house near Addington in Wrights Road as a result. Greenhorn recalls that towards the end when the horses were in Jim's name, it was Bob doing most of the work. "Jimmy did all the wheeling and dealing, although Bob was a lot more cunning than most thought."

Jim Young died in 1955 and Bob took over the training, but a string of outstanding trotters had done their dash by then. Bob Young continued with the stables, but preferred just to drive as "there wasn't any money in training."

In Grant's early days - before a stint with Maurice McTigue and a partnership with Derek Jones - the likes of Reg Stockdale, Claude Baker and Kevin Murray were also employed in the stable. "He didn't say much for quite a while and when he did, you understand him half the time. If you didn't speak to him, he wouldn't speak to you. But once he got to know you, and he liked you, you were away. He never drank, but he smoked a bit until his later years. There was this fellow called Wally Gracie who had all the 'Edition' horses and he smoked like a train. Whenever Bob was in a race and was turning around afterwards to come back to the birdcage, Wally would put two smokes in his mouth and light them. Bob would walk into the driver's room with his mouth open and Wally would stick one in. He was very business-like. He would just do his thing and then go home, when the rest of us would hang around. He wasn't a terribly funny fellow - rather down to earth - but he had a sense of humour of his own."

Grant recalls another time where Young appeared to have a race won when a horse slipped up the fence and Just beat him. "There was this fellow in the old members stand going crook at him. Bob went looking for him and when he found him, he gave him a bloody good barrel. He said he didn't mind if someone did it from the public stand, but a member should know better."

Grant says he felt a little sorry for Bob Young towards the end. After many years where several well-known horsemen trained at Addington and at least 100 horses were trained there everyday, in the end Young was often a lone figure with a couple of horses. "He must have thought was it really worth it. He really did not say much, but he was very bitter when they took his licence off him - it was such a shame really and so stupid. You had all those household names like Young, Litten, Doyle, Watts, Holmes and Devine - people would bet on the names instead of the horses - that seemed to disappear over-night because of the compulsory retirement age."

"Most of the top trainers over the years like them had sons or grandons to pass things onto and were quite happy to step aside and give them a go. Like Derek (Jones) did for Peter and he now does for Mark. Bob didn't have that. He had a son in Robert, but I recall the day that Bob said to him to 'head away into town and get a job as he wasn't cut out for this caper'."

Young almost always spent his afternoons in his beloved rose garden in Fendalton, but Grant says without fail he never ever missed a day feeding a horse. "Then one morning he rang a friend and asked him to feed up because he wasn't feeling too well. He died later that day."

-o0o-

Bob Young married Vere in 1943 after meeting her in the Milky Way milkbar, a regular haunt after a movie, or later, the races. He is survived by son Robert (Wellington), daughters in Diane (Christchurch), Margaret (Sydney) and Janice (London) and five grandchildren, whom he particularly enjoyed in later years says Diane.



Credit: Frank Marrion writing in HRWeekly 28Jun00


| | |
| --- | --- |
| | RACING HISTORY PEOPLE |

CES DONALD

Ces Donald was among the rare breed who became a legend in his own lifetime.

When he trained his 1000th winner in NZ - Forest King at Addington in February, 1972 - he was the first horseman to reach that milestone and in thoroughbred circles, it is a feat only matched in recent years by Rex Cochrane. To put this achievement into perspective, one has to appreciate that when Donald was in his prime in the 1930s and 40s, there were approximately 50 meetings per season, plus the odd races held at galloping meetings, and often eight races per meeting. Even towards the end of his career in the 1960s there were still only about 120 meetings a year with nine races - it was the early 1970s when licences began to be despatched like the Allies were dropping 'windows' along with bombs over Germany in WWII.

The most successful trainer in modern times is Roy Purdon, who joined Donald in the 1000 Club in 1985 when the majority of his winners came after a 15 year period when well over 200 meetings a season were the norm. This is not obviously in anyway meant to belittle Purdon, who when he retired in partnership with son Barry in 1995 had moved on to a staggering 2021 wins.

When Donald won his ninth Trainer's Premiership in 1963, he bettered the record held by James Bryce, whose eight titles were in the formative years of trotting. Purdon won three and tied for another on his own account, and another 17 along with Barry. A more appropriate yardstick is perhaps Derek Jones, who has now been training for about the same length of time as Donald's career. A two time Premiership winner with Jack Grant, Jones is presently sitting on 977 wins.

Donald's story is the stuff that books are made of - the names that passed through his famous Belfast stables read almost like a who's who of trotting annals - and one cannot do it full justice here, but we will attempt a condensed form.

Born in the Heathcote Valley, near Christchurch, to Joseph and Florence Donald, who emigrated from the Gurnsey Islands in the English Channel, Donald was practically riding bareback before he could walk. First taking out a licence in April, 1922, Donald had his first win as a trainer/driver later that year when the trotter Mangoutu won at Addington. A Galindo mare, Mangoutu had won twice in five seasons and had not won in 18 months when as a 10-year-old, Donald took her over and produced her to win the two mile Seaview Handicap from 36 yards by four lengths as eighth favourite. She won another five races for Donald, including the Forbury Park T C feature, the Dominion Handicap, from 72 yards.

In his first full season of training, Donald also won the Greymouth and Westport Cups and the 500 sov. Liverpool Handicap at Addington with Harbour Light, a son of Wildwood Junior who had been around the traps prior to Donald buying him for himself. People were already starting to sit up and take notice, but half way through the 1924/5 season, Donald was suspended from driving for 12 months when Wharepiana, after winning at Ashburton by five lengths, staged a dramatic form reversal at the Forbury Park Summer meeting. The Hal Zolock filly had failed to show up on the first day, but won easily on the second and was disqualified.

After serving his time, Donald bounced back in dramatic fashion when the newcomers to his stable in the 1926/7 season included the imported American pacer Jack Potts and the Author Dillon mare Auditress, both from other stables. They were to prove a decisive turning point in the young Donald's career in more ways than one - not the least of which was later combining to produce the NZ Cup winner Marlene.

Despite being troubled by unsoundness, Jack Potts proved a top class pacer. At the 1927 Auckland TC Summer carnival, he was beaten a head by dual NZ Cup winner Ahuriri (both off 36 yards) in the Auckland Cup and won the President's Handicap from 60 yards, beating among others Jewel Pointer, Peterwah, Kohara and Sheik. Line-bred to two of Hambletonian's famous sons in Dictator and George Wilkes, the aristocratic Jack Potts, who was owned by Alex Anderson after arriving as a 2-year-old, did however have a fair degree of non-Hambletonian blood in his pedigree, such as the 'Clays' and 'Hals.'

With five crops racing, Jack Potts was leading sire in 1938 and occupied that position for nine consecutive seasons, only being dethroned by the arrival of U Scott and Dillon Hall. Jack Potts sire numerous Cup class and classic winners, among them Inter-Dominion champions Emulous (48) and Pot Black (38), NZ Cup winners Lucky Jack (37,39) and Marlene (40), NZ FFA winners Pacing Power (NZ Derby), Indian Clipper, Knave of Diamonds, Fine Art and Clockwork, Sapling Stakes winners Frisco Lady, Twos Loose (NZ Derby) and Sir Julian, Horsepower (GN Derby) and further NZ Derby winners in Gamble and Air Marshall. His daughters were to produce the likes of Van Dieman, Tactician, Thelma Globe, Lady Belmer, Patchwork, Thunder, Rupee and Young Charles.

Many of the fine performers sired by Jack Potts came from Donald's spacious and immaculate 30 acre property at Belfast - now a wasteland situated between the Styx River bridge and the Pentland subdivision. Donald would later relate how Jack Potts initially stood in the Depression years at £7 and many breeders would pay the fee off at a pound a time when they could afford it. Even when leading sire he still only stood for 25 guineas and it was only towards the end that he commanded an appropriate fee. He was never really rushed by breeders at any stage.

Donald's stables were into top gear by 1930, the year he first won the Trainers' Premiership with a record 45 wins, and over the next decade he occupied that position seven times. Among the horses who reached the very best classes, or close to it, during this period, were Plutus (17 wins, Inter-Dom Heat), Lindberg (14 wins, NZ Cup division), Kempton (Dominion, Rowe), Royal Silk, Carmel (Auckland Cup),Bessie Logan (NZ Cup trial), Sir Guy (11 wins), Writer (Dominion), Great Way, Accountant, Baron Bingen, Blaydon, Brook Pointer, Clockwork, Dilnon, Ferry Post, First Flight, Grand Canyon (Australasian Hcp), Morning Sun, Night Beam, Quality, Pearl Logan, Pluto, Real Light, Ron, St George, Sir Author, Village Guy and Blondie, the latter a distinctive cream pacer.

Tonic, Stand By, Tan John (Dominion), Ambition, Biworthy (2nd Dominion), John Mauritius, Wahnooka and Mr Penalty were all high class trotters. Wahnooka, among many who arrived from other stables with little apparent future, had looked promising as a pacer, but was a notorious knee knocker. Donald discovered his trotting ability however and won 13 races with him - shod as a pacer. The trotter Captain Bolt and the pacing filly De La Paix were fondly remembered by Donald for their ability, but who failed to realise their ability. Captain Bolt, who won eight and would have won many more if he had been at all reliable, beat the champion mare Sea Gift in a match race, while De La Paix was considered better than Marlene before she contracted strangles.

Along with Jack Potts in the 1930s, Donald also stood his son Gamble, the imported sires in Lusty Volo and Calumet Axworth and the thoroughbred Airway at Belfast and at the height of his breeding activities the broodmare band numbered around 90. Dabbling with the odd galloper, Donald owned and trained along with others Crash, a sprint record holder at Riccarton for a time. Donald had also seen the potential in dairy farming in the 1930s and purchased a rundown sheep and cattle station at Bullock Hill near Okuku which he transformed into a showplace holding. He made various sizeable investments in this area - some of which were to practically bankrupt him on occasions over the years - and at one point controlled over 3000 acres of farm land. He was a regular at the Addington sale yards with truckloads of fat cattle and in later years also ran a pig farm.

Donald was very much a three meals a day man, a philosophy he took to the stables. "Meat three times a day" for the men and "the best of oats," crushed on the premises, for the horses. "If you don't feed them, they can't work" was a well known quote. Donald would also later relate that horses were not treated "as a mob." "They are all individuals. They are all different. Some want to be alone. Some go haywire if they are left alone. Each one is handled with understanding, no matter how nervous, or mad, or bad it may be when it first arrives here. None of the head lads or stable boys are allowed to hit a horse. We don't molly-coddle them, of course, but the rough stuff is out. Firmness, by all means; cruelty never. I only allow three horses to each lad."

If the 1930s were pretty much a Donald benefit, he showed no signs of slowing down in the following decade. In fact, it began with perhaps his finest training feat. Marlene, who had won the Auckland Cup the previous season, had for all intents and purposes broken down after winning twice at the Met's August meeting and had not raced for three months going into the 1940 NZ Cup. Noticeably lame prior to the race, and afterwards, she won in a ding-dong struggle with Dusky Sound over the closing stages with Donald's brother Ron at the helm. Ron Donald was generally regarded as a better driver than his brother - in fact a quite brilliant all-round horseman - but his light was to fade as he lost his battle with the bottle. Marlene only raced a handful of further times without winning and then only left three named foals. Donald also won the Free-For-All with Plutus and the Dominion with Tan John, beating Captain Bolt, while Superior Rank and Repeal were also successful at the meeting.

Soon after, Donald produced the brilliant trotter Rangefinder, whom he believed was 2:00 material at a time when pacers had only just achieved the feat. The son of Frank Worthy beat the best trotters around and on one occasion easily accounted for a field of 23 pacers in the mile and a quarter Strowan Handicap at Addington. Bayard was just a pony pacer and well past his prime when he entered the stable, but Donald gave him such a new lease on life that he finished third from 12 yards in the 1942 NZ Cup when Haughty went a record 4:12 4/5 off the front. Steel Grey was a superb grey trotter that arrived from Auckland late in his career who won the 1946 NZ Trotting FFA for Donald, while Checkmate was a top pacer in the late 40s with 11 wins.

In the early 50s, Ben Grice's brilliant Brahman joined the team as a late 3-year-old and Donald won 10 times with him, including a defeat of Caduceus in the two mile Ollivier Handicap at the 1956 NZ Cup meeting, before he broke a sesamoid the following year on the eve of the Cup, a race Donald was sure he would win. After one of his bad patches in the 1957/58 season where he registered just one win, Donald bounced back with a number of good sorts, none better than the Southland mare Lady Shona. She won 10 races and finished fourth in the 1959 NZ Cup behind False Step, Gentry and Caduceus. Not far away were Falsehood (Dunedin Cup), King Hal, Dandy Briar (Auckland Cup over Cardigan Bay), Gildirect, Urrall and Cairnbrae (NZ Cup), all Cup class pacers for him around the same time and who often formed a formidable bracket - sometimes five of six of them in the same race.

Donald had three starters in the 1964 NZ Cup and opted to drive Ted Lowe's 8-year-old U Scott gelding Cairnbrae himself. After taking over at the mile, they left the likes of Orbiter, Lordship and Vanderford in their wake. In the latter part of the 1960s, the brothers Chief Command (NZ FFA) and Indecision -"who was twice the horse if he'd had any legs"- and Rauka Lad (New Brighton Cup) also raced and beat the best.

While he won with Cairnbrae, Donald was a rare sight in the sulky towards the end, preferring to employ the likes of Doug Watts, Doody Townley, Derek Jones and - when he could - Maurice Holmes. His last driving win was On Probation in April, 1966 - a horse he owned - and appropriately it was the Farewell Handicap at Hawera. He was for many years a keen supporter of the Club and a great friend of Club stalwart Alex Corrigan. Almost to the day, On Probation's win came 44 years after he first took out a licence.

It was in October, 1963, that Donald approached a youthful Bob Nyhan, who was engaged to his daughter Pat, and would marry her the following year, to become his stable foreman and No.1 driver. Ron Donald had long since departed and Kevin Holmes had left to set up his own stable. "Some of the owners had been complaining about having a different driver every week," recalls Nyhan, who had been briefly training on his own account after a stint with Jack Litten. While Nyhan jumped at the chance, he has some mixed emotions about that part of his life.

"Ces had always loved the challenge of a gamble, but towards the end, he really had a passion about stitching up the bookies. there were times when they came unstuck rather badly, and a lesser person might have given the game away, but he always bounced back. There were some horses that had been pulled up that often, when you asked them to go or hit them, they didn't know what to do. I well recall one day - I used to have a bet myself in those days - that I had got a mate to put the money on this horse I was driving, as I was sure it would win. When I arrived in the birdcage, Ces says to me 'you are not to win today'." Asked what he did, Nyhan said "I always did what I was told. You couldn't ask the outside drivers like Holmes and so forth not to try, so I always got the one that wasn't supposed to win. It didn't exactly help my career much at that point," said Nyhan.

Nyhan recalls Donald as being a terrific host, but he never once saw him drunk. "Often, it was when we had lost that he would shout all the boys after the races - and there were six or seven of them. He figured though that when we had won, there was no need to." Then there were the infamous boot parties in the carpark after the races. "Ben Grice, who was a great mate of Ces, often arrived full of gin and Ces would give him water because he didn't know the difference."

Nyhan says that a lot of Donald's horses had unsoundness problems due to the nature of his training track. "It was very fertile ground, but with any rain it became very puggy and hard on the legs. "I recall at times putting a truckload of sawdust on the track four to five times a day for a week just to give it a bit of binding. There was one day where out of 40 horses that were in work, I had to put bandages on 28 of them."

"He was ahead of his time though and was always experimenting with different types of feed. A lot of horses joined the stable that were not known to be very good stayers, but Ces was a great believer in feeding them glucose and they became good stayers. Long before swimming pools were thought of, Ces would stand a lot of horses in cold water. We always used to wash then in buckets of warm water - Ces said to me one day 'would you like a cold shower in the middle of winter?' He was the only one in those days too who would water the track in summer. He did not believe in automation though. Even when walking machines came along, he still preferred to have the staff walk the horses to cool off. I said to him one day that you could save a lot of money on staff with a walker and he just said don't be lazy."

Donald was still training when, literally, he was on his last legs - he had crook hips and was a familiar sight at the track with his walking sticks. A few weeks before he died in August, 1973, he had been told by his doctor that he would had to go into hospital for at least three weeks for complete rest. He only stayed a week - "he wanted to die at home."

Ces Donald presented himself to most, including his family and staff, as being gruff and difficult to approach. But Nyhan says he was amazed at the number of people who said to him at Donald's funeral how much he had helped them. "If someone was short, he had given them money, or if it was a young fellow trying to get started, he had given them gear and equipment. He did untold good for lots of people, but he never wanted anybody to know about it."


Credit: Frank Marrion writing in HRWeekly 5Jul00


| | |
| --- | --- |
| | RACING HISTORY INTERDOMINIONS |

MELBOURNE - SHAKAMAKER
The year 2000 saw Harness Racing Victoria turn the Inter-Dominions on their head. The new format was a drastic change away from the equine battle that was always the case and turned in to something completely different. The end result though was spectacular with great racing over the month of the series. Shakamaker took all the short cuts through the series and with the aid of a cool drive by John Justice took out the final over a star-studded field.



| | |
| --- | --- |
| | RACING HISTORY FEATURE RACE COMMENT |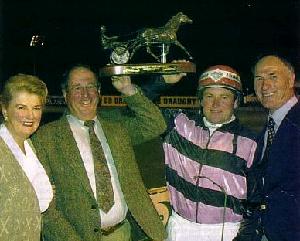 The winners connections

2000 SMOKEFREE NZ DERBY

Rumpole of the Bailey came to Addington in the disguise of Ken Barron on Easter Saturday. The portly courtroom advocate swabbed wig and gown for silk and sash as the result of the Smokefree New Zealand Derby went to the judiciary for a ruling. Besides Barron, the principals before the bench were Stipendary Steward Steve Mulcay who instigated the inquiry, Maurice McKendry, driver of Hunka Hickling who failed by a nose to beat Stars And Stripes in the classic, and Roger Sandford, Chairman of the Judicial Control panel. What developed in the room started a few minutes earlier on the track when Stars And Stripes appeared to check Hunka Hickling 50m or 60m short of the post.

But we'll just rewind at this point and place the horses about 20 seconds out from the 'offence.' From last at the 1200m, Stars And Stripes had circled the field three wide with cover from Rap, and was straightening five carts wide and about to be let down by Barron. Closer in and further back, McKendry was finding room for Hunka Hickling down on the passing lane. Within sight of the post, and clear of the others, and under a very hard drive, Stars And Stripes lost his compass and lurched across the track until he corrected himself in the passing lane area. By this time, Hunka Hickling was cutting into the same area at a fair bat and McKendry drew the ear plugs as he closed. With Stars And Stripes clear of him by at least two lengths, McKendry had to take a quick hold, considering the speed of his run, give him the right rein to steer round Stars And Stripes and wind up from there. He failed by a nose and within seconds Mulcay was on the button to have a look at it.

With the parties assembled, the first look at the side-ons, head-ons and back views of the incident did not bode well for the defence. Barron could see it was going to be no push-over. When asked how much he was affected by Stars And Stripes, McKendry did some hand signals. "No, tell us how much," said Sandford. "Three or four strides, I think. I'd say half a length. It's cost me going for him sooner." John Lischner, the trainer of Stars And Stripes who represented the owners, said: "The horse exploded clear and far too early for the others. To be dead honest, I don't agree with Mr McKendry."

Barron explained to the panel that by the time he had got down to the passing lane: "I believe my horse was two lengths clear of Hunka Hickling. I don't feel I impeded him. Mr McKendry had the entire straight to come through." Twenty minutes had passed by this stage and Sandford went to wrap it up. "If I could..." "Have you got more evidence, Mr Barron? Do you want the film again? Get up and show me," said Sandford. Barron did, and he would say later this was the turning point of the case. He went to his feet and asked for the film to be stopped just where McKendry was taking the check. "See here, where I'm this much in front. This is where I've come from. You can see I'm always in the clear." "I see your point, Mr Barron. That will do us," said Sandford.

In the time it takes to leave the room and return, Sandford was back and dismissed the charge. McKendry was disappointed. "We got a definite check, you could see that, but that's the way it goes." Later, Barron would say that revisiting the film at the conclusion of the inquiry was the turning point. "I felt it wasn't illustrated enough earlier. I had to show again how far clear he was of Hunka Hickling when he got down there," he said.

Barron admitted that Stars And Stripes went past the leaders with more acceleration than he expected. "I thought it might have taken fifty or eighty metres to do the job, but he got past them in three strides. I either over-rated the others he was passing or under-rated what he can do with a finish like that. I don't know what you think, but I reckon he could have won by five lengths had he run it straight," he said. Barron said he thought the tendancy of Stars And Stripes to race in a vague direction on his own may be a trait of stock sired by New York Motoring. He recalled that Master Musician, by the same horse, did the same when he ran clear in the New Zealand Cup only to be collared by Bee Bee Cee.

Now the biggest stake earner in New Zealand this season, ahead of Lyell Creek and Homin Hosed, Stars And Stripes has one more race this season, the New South Wales Derby at Harold Park at the end of May.

The best of those behind Hunka Hickling was Handoverbid, a stablemate of the winner, who led in the middle stages and then trailed Written In The Stars.

Credit: Mike Grainger writing in HRNZ Weekly


| | |
| --- | --- |
| | RACING HISTORY FEATURE RACE COMMENT |

2000 HYDROFLOW FILLIES SERIES(FINAL)

By now, Tupelo Rose will be back home in Melbourne. On Saturday she was in Auckland, on Friday she was in Christchurch, winning the Hydroflow Fillies Series Final from Dancingonmoonlight and Caps Off at Addington, and on Monday trainer Ted Demmler was unsure whether she would havejust one more Oaks start this season or two.

"It all depends on her," he said. "She can have two, bu it has been a big season for her. She is not jaded. That's not the right word. But it is probably true to say that she has come back to the other fillies more than they have come up to her," he said.

Demmler blamed himself and his drive for the defeat of Tupelo Rose in the New Zealand Oaks the week before. "I was disappointed she got beaten in that race," he said. "If you get one on your back that is going well and if you get one or two niggling at you along the way, as happened in the Oaks, it makes you go a bit sooner than you would like to. On Friday night, the second and third horses both came off nice runs, but I felt at the end that my filly could have drawn away," he said.

Demmler said he was pleased with the manner in which Tupelo Rose had recovered from her Hydroflow win. "She has pulled up as if she hasn't been around. Her handler is more buggered than she is. She just loves racing, enjoys her work at home and has a wonderful constitution," he said. Demmler said he had no plans for her next season, but said the Inter-Dominions "and races like that" were out.

Demmler trains Tupelo Rose for Gordon Banks and Marc Hanover, of New York, and John Curtin, of New Zealand, who bought her from Andrew Gannell and partners for approximately $A300,000. "I haven't met her American owners," said Demmler,"but I was surprised Andrew sold her. Banks and Hanover, partners with George Shaw in the stallion Presidential Ball, were keen to align themselves with the industry while in New Zealand at Easter and told Curtin to "buy them the best filly." She has since raced six times for them, winning five and finishing a close second in the other.

"Marc and Gordon have heard ever race she has been in, and can't speak highly enough of Ted's professionalism and the way he operates," Curtin said. "They plan to leave her down here, and she will go to Presidential Ball eventually. Their plan is to re-invest down here, and they have made a great start," he said.

As it turned out, the three principals in the finish of the Oaks were the same three in the finish of the Hydroflow.


Credit: Mike Grainger writing in HRWeekly 17May00


| | |
| --- | --- |
| | RACING HISTORY FEATURE RACE COMMENT |

2000 FIRESTONE FIREHAWK TZ100 FREE-FOR-ALL

We are unlikely to see Agua Caliente ever race from a stand again. But Glen Wolfenden will settle for that.

This time last year he tried desperately to settle Agua Caliente during the seemingly endless delay to the start of 1999's NZ Cup, and at the end of the event he had a horse with only three legs. "He tore all the cartilage in his ankle that day, and he was that lame and that sore when he came off the track I didn't think he would ever race again," Wolfenden recalled. "The course vet worked all night on him. But he is a lot sounder and a lot happier this time round, and after he paced a half in 55 seconds at the trials the other day I knew he was about as good as we could get him."

Wolfenden wasn't wrong. He and Agua Caliente tagged onto the back of Stars And Stripes in the minor Free-For-All on Cup Day, and those that were waiting for the Lischner runner's sprint soon saw that there was something else with an even bigger turbo boost. Agua Caliente was timed to run his last quarter in 26.2 seconds. "And he knocked off once he got to the front, he's a bugger for doing that," Wolfenden continued. I didn't want to use him out of the gate because the big free-for-all is only three days away - that is our main target this year. Stands really are a waste of time for him, even today with all the hype he nearly wouldn't go out onto the track at all before his race. I am just glad that the public got a chance to see what he can do. This horse has been through hell - but he keeps coming back."


Credit: John Robinson writing in HRWeekly 16Nov00


| | |
| --- | --- |
| | RACING HISTORY FEATURE RACE COMMENT |

2000 INTERNATIONAL CARGO EXPRESS RISING STARS 3YO CHAMPIONSHIP

Age has dimmed Robin Butt's athletic prowess somewhat. The West Melton trainer took to the Queen's Drive fence near the birdcage at Addington Raceway with the intent of an Olympic high jumper, but the execution of the leap suggested he was not quite medal material. Butt watched a clinical performance by City Rogue to beat Niobium in the $30,000 International Cargo Express Rising Stars 3-Year-Old Championship from the public stand, and took the short cut to the winner's circle.

City Rogue trailed Niobium and said goodbye with a sharp burst of speed at the 200m that quickly put the result beyond doubt. Within 10 minutes, Butt was more concerned with the run on Niobium who is not in the class of Niobium but certainly more competitive than he showed in this race. "He should have been a bit sharper," Butt told driver Anthony Butt. "By the look of it, I have been a bit light on him this week. He has had four races in four weeks, so perhaps I was too kind on him," he said.

The winner of two races, more than $25,000 and still a maiden, Niobium will race at Kaikoura before the Sires' Stakes Final at the NZ Cup meeting next month. City Rogue, the winner of five of his eight starts, will stick to the trials. As far as type goes, City Rogue looks as good as he is. He has height and a good deep brown colour, strength and conformation, and presence without making an issue of it. Butt says he is an easy horse to work with. "The two of them are great mates. They have always been together," he said.

Over the years, Butt has trained some great horses and many good ones. Two of the best were Miracle Mile winner Locarno and NZ Cup winner Camelot, and they were followed by Anzus, Finest Hour, Wood Chip and others in the middle grades. "City Rogue is up with the best I have trained, and potentially as good as Locarno and Camelot," he said. In recent times, Butt has cut his team down to a size that he can pretty much manage on his own.

David Butt, Robin's son and driver of City Rogue, says he has never driven a 3-year-old as good. "No, nothing in his class," he said. So, now we await with interest...the clash of City Rogue with crack northerner Matai Mackenzie...and the hurdling form of one of the great horsemen.

Credit: Mike Grainger writing in HRWeekly 18Oct00


| | |
| --- | --- |
| | RACING HISTORY FEATURE RACE COMMENT |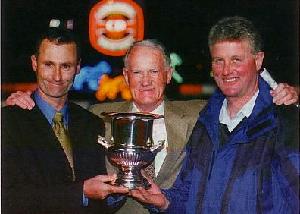 Keith Shadbolt, Bob McArdle & Dean Taylor

2000 NEVELE R SUPERSTARS 4YO CHAMPIONSHIP

Dean Taylor experienced one of his most exciting moments in harness racing when Bruzem won the Nevele R Stud Superstars Championship at Addington. "Rare Touch finished second in the NZ Derby (to Ginger Man) was a huge thrill, as was Black Eyed Bailey's Ashburton Cup win, but this is certainly equal to them," he said.

Taylor has always thought highly of the Holmes Hanover gelding. He and Bruzem's owner Keith Shadbolt began this season intending to concentrate on the 4-year-old Sires' Stakes Series, but when the Superstars event fitted into the overall plan they decided to tackle it as well. "I had my reservations, but I knew if he made a clean beginning then he wouldn't be made a fool of," Taylor said.

Unbeaten in four starts prior, no-one told Bruzem how good his opposition were so he just went out there and did what he knew best. After beginning swiftly he and pilot Mark Jones went straight to the front and controlled the race; a last 800m split of 56.4 put his opposition to bed. "I knew at the half that we would be hard to beat because we had been left alone in front," Jones said afterwards. "Bruzem's as good as any horse I have driven that is coming up through the grades."

A lovely horse to look at in the way he holds himself on the track, Taylor says Bruzem has got a nature to match - but it wasn't always that way. "When I broke him in as a late yearling he was a dirty bugger and would just lean all over you," Taylor recalled. "But instead of taking a hard approach I went with him, and let him have his own way for a while. If I'd have fought him he would have just fought me, but he eventually came to it."

Bruzem's bid for Sires' Stakes supremacy as a 4-year-old is a sort of consolation for last year, because he had to miss the series due to injury. "Not long after his debut at Forbury Park last August he developed a little bit of filling in a fetlock, so we turned him out on the hills at Kaituna Valley for six months. I wanted to bring him back thin, because I knew he would put muscle on if I jogged and fed him through the winter. He was in a 500 acre paddock with five other horses, and it is a pretty rugged block of land that is uphill all the way. He was pretty pleased to see me when I went to get him," Taylor said.

Credit: John Robinson writing in HRWeekly 20Sep00


| | |
| --- | --- |
| | RACING HISTORY FEATURE RACE COMMENT |

2000 AIR NEW ZEALAND SIRES' STAKES 2YO FILLIES CHAMPIONSHIP

Jim Holland thought he would "go up" to see Shania Patron race in the Air New Zealand Sires' Stakes Fillies Championship at Addington. But from his farm in the deep south, 17km out of Wyndham, he thought against it when he saw she had drawn the outside of the front line. He admits that he is not as agile as he once was, and that was a reason, too. "I am coming up 82 in July and my legs have packed up."

So he settled for Trackside and that would have been fine had it not been for the fog that came in thick and fast a race earlier, and made much of it a blur. But Jim had a good look at her in the straight, where she came with a determined finish for Ricky May - who considered the outside barrier a 20 metre handicap - from three-wide in the middle line to cruise past the plucky Tiger Turner and English Elegance.

By Holmes Hanover, the sire also of Tiger Turner, Shania Patron is a sister to the former grand 3-year-old No Return who won two legs of the John Brandon triple crown in the early 90's. She is raced by Jim, his wife Irene, and Brendan McLellan, who trains her and helps Jim look after his four mares and young stock. Jim sent four mares to the stud this season, but suspects three of them may not be in foal. Shania Patron is one of three fillies left by Patroness, an El Patron mare who died before her time after a kick in the ribs broke a blood vessel. Her last two foals were fillies - Shania Patron and a sister McLellan has in work at present.

Jim has been racing and breeding horses for more than 30 years, his best being his first, Adios Adieu, who won 11. The first horse he bred was Refluent, by Quiet Water, who won six from the stable of 'Ginger' Bourne. He sold a Holmes Hanover-Some Legacy colt at this year's yearling sales for $34,000.

From the time 34-year-old McLellan started training, he has had a horse of the Hollands'. The first was Boyden's Beau, who came from Terry May's stable after he had gone sore, and won five. He trained Anna Patron, by Armbro Raven from Patroness, and she won five before being sold and taking a 1:55 mark in America. And while Shania Patron has claims to being the best he has trained, that honour still rests with the speedy Happy Patron who won the sprint leg of the John Brandon series in 1989.

There is a strong chance that will change soon. The owners have already knocked back a six-figure offer, and McLellan says Shania Patron is still improving. "This race had always been at the back of my mind," he said, "and she is just got better with each start. We will probably look at the Caduceus Classic now in June 9, and make a late payment ($7500) for that," he said.

McLellan works a team of 14 and says the win has come at an ideal time. "I get married in July, so it is a big thrill to win a race like this," he said.

Credit: Mike Grainger writing in HRWeekly 31 May00


| | |
| --- | --- |
| | RACING HISTORY FEATURE RACE COMMENT |

2000 CHRISTCHURCH CASINO NZ TROTTING STAKES

Freak filly Enthusiast is on a mission to put together the most lucrative 3-year-old trotting campaign ever and it seems only a train can stop her after she again demoralised her opponents in the $25,000 Christchurch Casino NZ Trotting Stakes.

The Chiola Hanover chestnut, also last season's 2yo Trotting Stakes winner, has cleaned up this year's Hambletonian Classic by five lengths in 1:59.5, Sires' Stakes Championship, Rosso Antica by five lengths and the 3yo Trotting Stakes by five and a half lengths and now embarks on an Australian campaign where probably another five feature trots are at her mercy. She could conceivably win nine 3-year-old features this season and 10 in total by the end of age group racing. And the record of sorts she will be chasing is one shared by former stablemate Above The Stars, who five seasons ago won every feature available to him in Australasia - six.

In 1996/97, Galleon's Paradise won six feature 3-year-old trots, but neither the Trotting Stakes or Rosso Antico. Enthusiast gets the opportunity to set new standards because she is a filly and has a race like the Victoria Oaks at her disposal, but that fact makes the feat all the more remarkable. Fillies are not supposed to be better than colts, but Enthusiast can already lay claim to being as good if not better than any young trotter seen in this part of the world.

Trainer Paul Nairn and driver David Butt are of course in the perfect position to compare and both agree that while Above The Stars and Enthusiast are "as good as it gets," the filly is the better racehorse. "Above The Stars could be difficult to drive, but Enthusiast is perfectly mannered," said Butt. "She does everthing right and relaxes off the bit, and the further they go, the more she loves it," he added.

So when did Nairn begin to think he might have something special - another one that is after the likes of Above The Stars, Call Me Now, Last Game, Marvin, Shine, Special Branch and potentially Shaq Attaq? "I guess when she won the Trotting Stakes last year and ran her last mile in 2:02. Being by Chiola Hanover, I figured she should improve with age. But it is always in the back of your mind whether they will take that next step up. Even now when you work her at home you wouldn't think she was anything special, but she is such a terrific wee stayer."

That Enthusiast has taken each step would be an understatement and it has been little breaks in between little assignments where she has taken giant leaps. After winning a maiden first up for the season nicely at Motukarara, failing at Addington and winning a C1 at Forbury Park, Enthusiast had three weeks off and six weeks to get ready for a trip to the Coast over Christmas in what was her first real trip away from home. After winning at Westport and Reefton, she had 10 days off before winning at Washdyke and Ashburton and launching her Auckland assault. Five days R&R followed that trip before Saturday's success, where like the Rosso Antico she again made her move to the death in mid-race, applied the pressure from the half and with a shake of the reins at the furlong, said goodbye. Her 3:20.4, last 800m in 60, bettered Sunny Action's filly record by .5 of a second and was her third national record despite being merely in cruise control.

Enthusiast is now having another week off before heading to Australia for the Victoria Oaks on May 20, followed by the Holmfield, Victoria Derby and probably the NSW and SA Derbys. "We will sit down and work things out now, but that is a two month trip and we might look at leaving her with another trainer like Graeme Lang, Robert Cameron or Ted Demmler." However, Nairn notes that Demmler is presently raving about a 3-year-old trotter of his own in Truscott Steel and that would seem the least likely of the options.

So how does Nairn do it - so many good trotters in such a short space of time and at such a good strike rate - one might ask. The right breeding and owners play a large part, but so does an education from a past master in Jack Litten and simple hard work. Nairn does all the early work himself, including the driving until he is satisfied they are "properly organised" for the big time - at which point he hands over the reins to Butt. He drove Enthusiast until three starts ago. Once they are ready, Nairn says driving is one less thing he has to worry about.

Enthusiast, the first foal fron Enthuse, a Gee Whiz II mare who won once from just three starts, is raced by her breeders - Nairn and his father Graeme, Gywnn Thomson and the Red And White Syndicate, each party having quarter share. The latter comprises five members - Auckland's Don Stewart, Christchurch's Michael Chin and Leeston's Paul Johnstone and Colin and Noel Lowery. Enthuse, a half sister to Sundowner Bay and good sorts in Marvin and Rainbow Bay, and whose third dam is the fine trotting mare Dianthus Girl, has since produced a 3-year-old colt by Call Me Now in Call Me Later, a yearling colt by the same sire in Crunch and a filly by Sundon. She is back in foal to Chiola Hanover and will be returning to that veteran sire this year.

Credit: Frank Marrion writing in HRWeekly 27Apr00


| | |
| --- | --- |
| | RACING HISTORY FEATURE RACE COMMENT |

2000 NEWSTALK ZB 3YO FLYING STAKES

The picture regarding this week's NZ Derby is a little fuzzier after the running of the last lead up in the $50,000 Newstalk ZB Flying Stakes. When most thought Stars And Stripes' main opposition would come in the form of either Falcon's Blue Jean or Mike's Pal, another Purdon-trained obstacle has emerged in Hunka Hickling.

And while his background comes from mainly loose class racing, Hunka Hickling and Maurice McKendry showed they will pose plenty of problems in the blue ribbon event after sitting three wide and in the open over the last lap, outside Mike's Pal and Stars And Stripes, before upsetting them in a thrilling finish.

McKendry, driving the Miles McCool gelding for the first time, was as surprsed as anyone by Hunka Hickling getting his nose in front of a game Mike's Pal, who came back from being half a neck in arrears of Stars And Stripes at the furlong only to lose the race in the photo. "He had been going good races, but I didn't know much about him," said McKendry. "But I will be liking him even more if he can keep doing that," he added.

Hunka Hickling, trained by Mark Purdon for his breeders Tony and Mrs Ann Parker, will be out to go one better for that combination's Sharp And Telford's second in the 1996 Derby behind The Court Owl. Sharp And Telford, a half-brother to Hunka Hickling's dam Wishing, by Soky's Atom, went on to win an Auckland Cup before a tendon injury prematurely curtailed his career, while the Parkers also enjoyed good success with Purdon and Stevies before selling him for good money last year.

Purdon and the connections of Mike's Pal and Stars And Stripes know that this week's race will be another story however. Purdon, who has won four recent Derbies with Mark Roy, Il Vicolo, The Court Owl and Bogan Fella, will team up with Falcon's Blue Jean and was far from disconsolate with that gelding's ninth last week. "Nothing was making up much ground from the rear in the sprint home and being his first run for three weeks, he will be much sharper for the race," said Purdon.

Tony Herlihy was also quite happy with Mike's Pal foe trainer Barry Purdon, who has himself trained Derby winners in Kiwi Scooter, Ginger Man and Holmes DG in recent years. "That was the first time he has led up I think and he wasn't too sure what it was all about," said Herlihy. "Stars And Stripes got half a neck up on us before he figured it out and he has come back really well," he added.

"It is a little disappointing, but we are quite happy with the ball in our court." Those were the sentiments of Stars And Stripes trainer John Lischner and they were echoed by driver Ken Barron. "About the only time he has been beaten has been on a slow pace, and it is highly unlikely the Derby will be slow," said Lischner. They have gotten away with a quarter in 35 tonight, but that won't happen gain," he added. Lischner was referring to the fact that Hunka Hickling recorded 2:27.3 for the 1950m trip, the leaders dashing in from the 400m in better than 27 seconds in a time which was over six seconds slower than Happy Asset two races later in the Nobilo Wines.

Credit: Frank Marrion writing in HRWeekly 19Apr00


| | |
| --- | --- |
| | RACING HISTORY FEATURE RACE COMMENT |

2000 PGG NZ PREMIER MARES CHAMPIONSHIP

A tactical decision by Colin De Filippi to outsprint Hawera rather than outstay her was the turning point in the win by Kym's Girl in the NZ Premier Mares Championship.

A renowned fast-finisher coming off the back of horses, Kym's Girl was up for a stayer's run - which she had managed so well on the track a fortnight earlier. Given the chance of a breather on Hawera's back briefly in the straight, instead of sustaining a hard push wider out, De Filippi took it. Gambling on Kym's Girl still being sharp enough to deliver her sting from cover, De Filippi brought her out at the 100m. The operation was skilfull, the timing was precision-perfect, and Kym's Girl cut it fine but made it by a nose.

Owners Dave Miller, Graham Trist and Bill Marra were again lavish in their credits for the driver. "Colin has been a huge help in getting Kym's Girl to where she is. He has driven her in 11 of her 12 wins and in most of her other races, but when things haven't gone her way he has never knocked her around. She has always been able to come back and pick her form up again," said Trist.

Miller is a pig farmer and small-time trainer, though he is keen to be out of the pigs and more into training. Besides Kym's Girl and C1 pacer Afella's Joy, he is working a sister to Afella's Joy, and 2-year-olds by Motu Mister Smooth and Man Araound Town. "Dave deserves as much credit," said Trist. "He gives her a slow build-up over the winter and has her at peak for Cup Day," he said.

By their own admission, the partners operate at the lower end of the market, and Miller won his first two races with Cosby, a son of Lord Module. He has no stock by the high-flying sires in his stable, and he has a share in four foals this season by the sire of Kym's Girl, Man Around Town. The partners are on good terms with studmaster and historian Jim Dalgety, who predicted when the mare was C4 she would make Cup class. He also beat the drum for Man Around Town, sending a number of mares to him this season including Happy Hazel, 1:57.6, the Vance Hanover mare, Vancellini Queen, and Koau Dream (Knowing Bret-Daisy Charles).

Credit: Mike Grainger writing in HRWeekly 15Mar00


| | |
| --- | --- |
| | RACING HISTORY FEATURE RACE COMMENT |

2000 PGG YEARLING SALES SERIES 3YO FILLIES PACE

The $96,500 Pyne Gould Guinness Sales Series Pace had an ironic twist to it. First home in the 3-year-old fillies event was Ciccio Star, who is raced by the Ciccio Breeding Syndicate; last home was Belle Matao, who is part-owned by Phil Creighton. Creighton was supposed to be part of Ciccio Star's syndicate, but on the morning of that the two fillies went under the hammer at Karaka he pulled out, wanting to buy one on his own.

"We had marked down four that we wanted to bid on - Belle Matao, Ciccio Star and two others," recalled Sandy Yarndley. Yarndley and his wife Jan bred Ciccio Star themselves, and jumped at the chance to be involved in a syndicate, regardless of which horse they ended up buying. "After Phil pulled out the group couldn't afford to bid on Belle Matao, and Phil bought her by himself. She was the dearest of the four of them; the one we bought, Ciccio Star, was the cheapest," he said.

Knocked down to them for $23,000, Ciccio Star took her earnings to $91,893 when she shot out of the trail to snatch victory. It was a great thrill for the Ciccio Breeding Syndicate, which also consists of the Yarndley's son Scott; retired Dunedin resident Jim Pattison; Auckland's Max Hunter, who handled the bidding on Sale day; Chris and Shona Quinlan, of Te Awamutu, and Helen McPherson of Hamilton.

Trained by Barry Purdon, Ciccio Star showed ability from an early age. "Mike Berger broke her in, and liked her enough to think she would make a 2-year-old, so we pressed on," Purdon said. "She did alright at that age, winning two and running a couple of nice seconds, but then she was a little disappointing when she came back at the start of this season. She is pretty competative at home, so I changed her work around a bit and it seems to have helped," he said.

Both Purdon and Ciccio Star's reinsman Tony Herlihy agreed that the filly's performance to finish second at Alexandra Park late last month was a turning point. "She did a bit of work to get around them and lead that night, and was only beaten a nose by Glenburn Comet," Herlihy said. "Then she came out a week later and beat a nice field of C1s, that was a good effort too," he said.

Having won four of her 15 starts, Ciccio Star will now be aimed at a heat of the Hydroflow series, hopefully qualifying for the Final at Addington on May 12.

Credit: John Robinson writing in HRWeekly 23Feb00


| | |
| --- | --- |
| | RACING HISTORY FEATURE RACE COMMENT |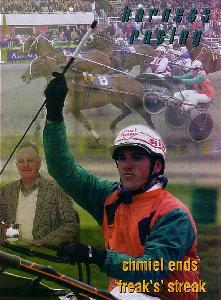 The Weekly celebrates Sunny Action's win

2000 AIR NEW ZEALAND TROTTING FREE-FOR-ALL

There is no doubt in Terry Chmiel's mind. He says Lyell Creek's number was up in the Air New Zealand Trotting Free-For-All whether he kept trotting or not. "Halfway up the straight, I thought I would catch him," said Chmiel. "Lyell didn't seem to be trotting all that good when he came out of the trail," he said.

The success of Sunny Action and a shrewd drive by Chmiel was overshadowed by the stunning defeat of Lyell Creek, who was aiming for his 21st successive win. The cries of "Lyell, Lyell" from the public stand became a muted hush when the champion broke stride when looking vulnerable just half a length clear of Sunny Action with 50 metres to go.

In spite of her first-day form when she was beaten by McGrady, Sunny Action was not expected to bother Lyell Creek and some of the other fancies. But no-one reckoned on the favourite having an off-day and the growing confidence and judgement of young Chmiel. "We were lucky to get the run we did in the finish. I couldn't believe how lucky we were, dropping back, and then finished three-deep and behind Lyell Creek. She is a sit and sprinter, so this was ideal for her, and I mean we were sitting on the back of Lyell Creek. I knew we were following the right horse and that 'Ants'(driver Anthony Butt) would find a run for us.' There has been speculation since that second may have been as good as Sunny Action could have expected had Lyell Creek stayed down, but Chmiel doesn't see it that way. "When I saw 'Ants' tap him on the back, I felt pretty certain she would get there."

This was Chmiel's first Group race win. He has only driven in two of such status before, both behind Penny Lane in the Standardbred Breeders' Stakes. He has battled away in junior ranks without big-name stables to call on, and is thankful of the loyalty shown by Kevin Fairbairn and Steve Hammar in particular. He was lucky picking up the drive on Sunny Action. He recalls being at the trials when Jim Dalgety asked him to drive a couple. That may have been the end of it had regular stable driver Jimmy Curtin not made prior commitments at the Forbury Park meeting last month. Chmiel was called up to drive Sunny Action and Hi Connie, and the drives have remained.


Credit: Mike Grainger writing in HRWeekly 22Nov00


| | |
| --- | --- |
| | RACING HISTORY FEATURE RACE COMMENT |

2000 NRM SIRES' STAKES 3YO FINAL

John Hay had a bit to talk about at Addington on Tuesday. Prior to the NRM Sires' Stakes Final he had a quick chat to Franco Heir's owner Bob Proberts; just past the finish line he turned to acknowledge Tony Herlihy and Young Rufus alongside him, and returning to the birdcage he looked skywards and said a few silent words.

So just what did he have to say? "Bob came down to the stall before the race, asking me how Franco Heir would go. I said that he felt as good as Franco Enforce did the day he won the Sires' Stakes Final, and that Franco Heir was a better stayer," Hay reiterated. "I told Tony how much of a thrill it was to win the race - but only after we had crossed the line ahead of him. And then to Wayne I said 'that's for you'." On the track, Franco Heir had done all the talking for him.

Settling second last from his wide draw, the Holmes Hanover gelding was asked to move as the field wheeled around the Showgrounds bend, and he zoomed up to join pacemaker City Rogue who had done a power of work to get there. "I was waiting for Tony to go on Young Rufus; I thought he was the one to beat," Hay said. "He ended up following us around, then I think he got a bit held up when Niobium shifted into the three-wide line. I wanted to get up to the death seat with 800 metres to go, that was the plan; they had gone really hard early too, which played into my blokes hands. I honestly wasn't happy with him up until about six days ago. After arriving from Australiahe had got a cold and had a nasal discharge, but since that trial at Rangiora last week he has improved out of sight. His coat had picked up, everything had picked up; he worked unreal at the weekend. But it was hard to know how much work to put into him after he came back from Australia and he's still a big dummy so he should improve yet."

For Franco Heir's Australian owner, simply having a horse like him is a dream come true. Proberts first learnt about the 3-year-old from a newspaper article after his first-up win at Ashburton. He asked his trainer Noel Alexander to make inquiries, who in turn rang the horses connections in New Zealand, but the original message they got back was that Franco Heir was not for sale. "I remember thinking...'a kiwi horse that is not for sale? It must be a good one'," Proberts said. "I was hell bent on getting him after that. I have been to yearling sales in Sydney, Victoria and New Zealand and bought 12 horses in the past year; I wanted a good one, but suddenly I didn't want to wait. We started at a lot lower price than what he eventually sold for, but I can acknowledge now that he was a cheap horse," Proberts said.

Franco Heir is raced by the Dalcom Corporation Ltd, a finance and investment company that Proberts is the Managing Director. The 54-year-old and his "better half" Di own a 130 acre horse farm in a town called Coldstream in the Yarra Valley, and just up the road is another 100 acre property that is in the process of becoming their first vineyard.


Credit: John Robinson writing in HRWeekly 16Nov00


| | |
| --- | --- |
| | RACING HISTORY FEATURE RACE COMMENT |

2000 RYDGES CHRISTCHURCH HANDICAP TROT

Three weeks ago, Warren Stapleton gave himself no chance of having a horse in next week's Dominion. Cedar Fella had just broken down again, and this time he was definitely being retired for good, and McGrady, the latest open class trotter recruited as a crock to the Mid-Canterbury stable, was not looking much of a prospect either.

That all changed in a very short space of time this week when McGrady, "half trained" to finish second to One Kenny at Forbury Park in his first outing for Stapleton last month, had an outing at the Methven trials last Saturday and finished a hard held fourth off 40m. "The winner went a track record 3:31 for the 2600m and we were just jogging," said Stapleton.

While that may have appeared a mere form of encouragement for most, it was enough for Stapleton to be one of a handful of significant supporters of McGrady on the tote when the injury-plagued 9-year-old gelding - the veteran of just 49 starts now - took out the feature trot on Cup Day with plenty of authority at odds of 60 to one.

With Ricky May commited to Pure Adrenalin, Mark Jones was at the helm when McGrady began best from wide out, handed up to One Kenny with a lap to go, and spurted clear up the passing lane. Sunny Action, the outsider bar one, tracked McGrady throughout and got within three-quarters of a length, while odds-on Sundon's Way was in a gap of almost three lengths, like stablemate Buster Hanover finding a handicap in a fast-run race too much to overcome.

"He looked and felt super in his prelim and it wasn't really a surprise to me at all when he won," said Jones. "They got up to his wheel in the straight and then he put his head down and took off," he added. McGrady is "chronically unsound" and has been with Stapleton for about six months - "he even broke down again on me in another place. I have had him almost ready three times - he wasn't right for Forbury Park - but I had to give him a run somewhere," said Stapleton. "He will go straight into the Dominion now, but I am not about to go beating my drum for that or make any promises he won't break down again. But he has finished second in a Rowe, beaten a neck by Merinai, and fourth in the Dominion to Cedar Fella beaten less than a length. He has been an absolute heartbreak horse but he is very brave," he added.

McGrady, a son of Merinai's sire Tuff Choice who has now won nine races and $113,000, is raced by Auckland's Ken and Mrs Diana Hosgood and the estate of breeder Joan File. He is one of just two foals from Highland Lass, a daughter of Lordship, the maternal sire also of Yulestar. McGrady belongs to a family noted for many fine pacers, but his third dam Bonny Venture was a U Scott half-sister to 1948 Dominion winner Great Venture.

He was previously trained by Bruce File, for whom he last won at Cambridge in July, 1999. "I am really pleased for the owners - everytime Ken would ring I would have somthing wrong to tell him. I have no doubt they will be down here next week now."

Credit: Frank Marrion writing in HRWeekly 16Nov00


| | |
| --- | --- |
| | RACING HISTORY FEATURE RACE COMMENT |

2000 GIANNIS PITA BREAD CANTERBURY PARK TROTTING CUP

Lyell Creek added another '1' to his formline with a powerful burst in the straight to beat the stablemates Buster Hanover and Sundon's Way in the Giannis Pita Bread Canterbury Park Trotting Cup.

The trotting champion made a lightning beginning from 35m, was given a trailing run just off the pace by Anthony Butt, and then showed his strength to race clear. Buster Hanover, a breaker, ran second, passing his stablemate Sundon's Way, with pacemaker One Kenny tiring to fourth.

The picture shows driver and part-owner Anthony Butt, part-owner Graham Bruton and tainer Tim Butt. Their youthful supporters are 8-year-old James Butt, son of David and Catherine Butt, and Christopher Butt, son of Anthony and Karen.

Lyell Creek's next start is in the $25,000 Ashburton Trust Trotter's Flying Mile on Labour Day where he is expected to open out and run a time of near 1:55.

Credit: Harness Racing Weekly


| | |
| --- | --- |
| | RACING HISTORY FEATURE RACE COMMENT |

2000 NOBILO WINES LTD

An advertisement in the 'Weekly' has given Russell Beardsley, Colin Hay and Bill Eggleton seats they never thought they would have. In the area that says 'Owners Only' that is where they will be. It will be Cup Day at Addington, the race will be the Canterbury Draught NZ Cup, and the three old rugby mates from the Pioneer club in Gore will be there as a result of that $30 spend.

Some time before that they had met Ashburton trainer Laurence Hanrahan, and they had asked Hanrahan to find them a horse. The three of them had been in and out of horses since forming a syndicate with other Pioneer boys in 1976, and by the time they got to Hanrahan, seven had dropped out. Two of them had been in banks and Hay was in the construction business. Beardsley was in Ashburton after achieving his aim of retiring when he was 50.

In any event, Hanrahan found them a gelding by Oblivion II which obviously had some extra appeal as he was by the same sire as Hanrahan's flagship horse, New Age Man, who was unbeaten in 13 starts, and said they should "give it a go." This was little more than two years ago, and when The Tough Nut ran 2400m in 3:01 and a half in 56 before he qualified they knew they were on to something. Other than a slight hitch in his form a year ago, The Tough Nut has handled every class with comfort. Last November, The Tough Nut started a winning sequence of eight, and the partners recall Hanrahan telling them: "I have changed his feed, his work and his gear; something has worked but I'm not sure what and I'm not changing."

He has now raced just 30 times and won 14, the latest at Addington last Friday night when he accounted for Ouch and six Cup nominees in the 1950m Nobilo Wines. He trailed Happy Asset, who left the gate at speed and led as he has done before over this trip, and Kym's Girl was behind and Ouch was further back with Annie's Boy. The Tough Nut was the first danger to Happy Asset and gradually got the better of him. Wider out, Ouch - who has since been treated for a corn problem - got cracking late and finished strongly to grab second a nose back. Kym's Girl was third, looking unlucky, but again putting herself in the frame for a prize of some note over Cup Week. The time is running out for Ouch who has three more chances to qualify for the Cup, but it appears up to the challenge. OK Oskar, who was sent to the outside of the gate, Tartan Lady and Seafield Raider have some form to find.

Credit: Mike Grainger writing in HRWeekly 18Oct00


| | |
| --- | --- |
| | RACING HISTORY FEATURE RACE COMMENT |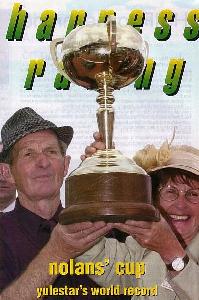 Lorraine & Ron Nolan pose with the Cup

2000 CANTERBURY DRAUGHT NZ TROTTING CUP

They are said to be a very decent couple - and smart horse people. Put in a driver who has emerged from the shadows of the best and a pretty fair horse and the picture of a formidable combination is complete.

Good enough to set a World Record, a step up from Bogan Fella who tried so hard to go the last round when he was behind on points; in the end the victory was so comprehensive that nothing came back feeling hard done-by.

This was Hawera's day, the day the country folk came to town with a big brown horse who would have been a movie star had he been human. And with them the Cambridge float driver who at one stage gave harness racing away when the going was too tough.

Standing on the edge, where he likes it, away from the hugging and kissing and tears that go with the winning of a Canterbury Draught NZ Cup, stood Ron Nolan, a slight and modest man looking younger than his 67 years. On the podium, with officials, sponsors and media and handling it with her usual passion was his wife, trainer and astute horsewoman, Lorraine.

Shawsy, or Tony Shaw, who went by the book and went to the front with the best stayer in the field, was still in the sulky, warning the descending multitude of various bodies to stand back because Yulestar was keen to give something a good solid boot. The warning came too late for one poor cameraman who lurched out of the ring after a thud that obviously found a home. "He's like that," said Shaw. "Just keep clear of him." Had she been near at the time Lorraine would have said the same. "He got Ron, and he got Tim Butt and someone working for Robert Cameron whe he was at Mooney Valley last year. It's part of his personality. He gets an adrenalin rush, but he was really quite civilised today."

As it turned out, and as many predicted after his win in the Flying Stakes at Ashburton last month, Yulestar was like a battleship amongst cruisers and river tugs. Between then and his excellent Kaikoura second, the flame of favouritism seemed to flicker a bit, and he went to the start sharing the role with Holmes D G and Bogan Fella.

Bogan Fella and Yulestar left the tapes smartly and got through to nice positions early while others got flustered and missed away, and Bogan Fella had a spell in the lead before the race was two minutes old and Yulestar did the same. "I had no plan but if they settled and slakened off, I'd go," said Shaw. "I sat down beforehand and picked where I would get the best run through. When I came round, Mark was happy to let me go. I had a bit of a scare when Kliklite broke early on. With a round to go he was just jogging."

Jogging! At world record speed - 3:59.1.

On the corner, Bogan Fella was all out to keep on the back of the big country boy who could pass for a thoroughbred without a push. There was nothing else in sight except space, and there was plenty of that. Kym's Girl cut into it with some spirit on reaching the passing lane. She had some reminders to give out because many had forgotten how much she likes the Cup meeting. She ran up to Bogan Fella as if she had just joined in but then it dawned on her, too, that this was a fast hike and she'd done her share of it. And just when the placings were almost in the frame, Under Cover Lover came with a whistle and shout and had fair claim to think she should have finished closer. She was near last at the 800m and it was well into the straight before she could pop out and sprint home. Happy Asset who followed Chloe Hanover out was fourth and trailing over the last lap, was held up on the corner and had a gallop at the 150m when looking a real place chance.

Late that night, the Nolans settled back to see the race again with another grand couple who had done the same nearly half a century earlier. Their hosts while in Christchurch are Don and Doris Nyhan, both in their 80's, who won the Cup in 1954 with Johnny Globe and twice after that with Lordship.

The Nolans bought Yulestar when he was a yearling for $9,000. Ron admits he didn't know anything about the sire Cameleon but considered the mare Victoria Star, a good racemare by Lordship, an asset in the pedigree. They were new to harness racing, having been in gallopers for 40 years. "We thought it was time to buy a colt. The first horse we had was Joyful Fella. He won a trot but was hopeless." Their Cameleon colt, born on Christmas Day and named Yulestar because of it, showed immediate promise but was big and needed time. In the course of his programme at three, the Nolans arrived at Trentham for a meeting on the grass. "Thats where he had a terrible fall when Maurice McKendry was driving him. I stood in the middle of the track at Trentham and said to Ron 'that's the end of our dream'. I'd seen it in slow motion and I thought he'd broken his neck. He was last to get up. It was just a miracle he was alright, and he was; there was nothing he had to worry about." But it did open the door for Shaw. McKendry elected to to drive a horse for Sean McCaffrey when Yulestar raced two starts later at New Plymouth, and Shaw was put up, and he's stayed.

By his own score, Shaw is not in the class of McKendry or Tony Herlihy. He has his own float business based in Cambridge. His public relation skills are excellent. "The game is easy when you've got the right horse. I think I was the fourth to get on the horse, after Tony, Maurice and Colin Butler."

Shaw started out with the late Bob Mitchell, then his son Robert, Brian O'Meara and Clive Herbert. "It was a good apprenticeship. Then, about seven years ago, I went overseas for three years, just around Europe and England. I don't regret doing that. My career wasn't going anywhere at the time. I thought if I worked hard, I would get back."

For Shaw, winning the Cup "is the ultimate. I've tried to leave the champion tag off him, but to me, thats what he is."

Shawsy is a champ, too. He thought of his Dad Russell who was somewhere in the crowd. And he thought of his old mentor Jack Baker who got his career going. "He's about 90 and virtually blind. I'm sure he would be listening to the race." And hear this Jack, no one could have done it better.


Credit: Mike Grainger writing in the HR Weekly


| | |
| --- | --- |
| | RACING HISTORY FEATURE RACE COMMENT |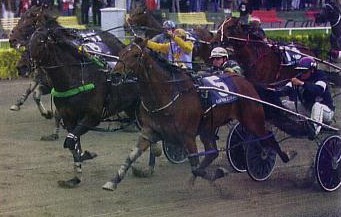 Agua Caliente beats Yulestar in the FFA

2000 AIR NEW ZEALAND NZ FREE-FOR-ALL

Poppy Short was too far away to hear the crowd roar for Agua Caliente as he sprinted best to win the Air New Zealand Free-For-All at Addington. Still at home in Waiuku, she was doing enough yelling of her own. And having lept off the couch as Agua Caliente hit the line, the first to get a hug at her end of the country was her faithful dog Butch, who must have wondered what all the fuss was about.

Poppy chose to stay away from the glamour of Cup Week in Christchurch. Like a lot of people, she's not at all comfortable with flying, which is quite understandable considering two of her brothers were killed in plane crashes during World War II and she almost lost a third brother the same way. She has never got on an aeroplane, and never will. "But I like being able to sit at home and watch the races by myself," she says, "it gives me time to think."

With 24 wins already, Agua Caliente has provided Poppy and her daughters, Donna Woods and Susan Short, with plenty of happy moments. Sadly, every one of those victories "wrenches" with memories of Poppy's late husband Don, who died four years ago next February.

Winning last Friday's Free-For-All was something special though. "It was just Brilliant," the 69-year-old continued. "Peter and Glen (Wolfenden) are such wonderful horsemen and Glen's such a great driver. Agua Caliente's like one of the family, and they love the horse too so they always do the best by him."

It was a classic drive from Glen on the occasion, because he picked that the Cup winner Yulestar would press forward from his wide draw so he wanted to be in front early and waiting for him. "I could not have wished for a better run," Wolfenden admitted. "I had to wake my bloke up a bit out of the gate, then once Yulestar came around I knew he wouldn't give the lead away. People think Agua Caliente is only a sit-sprinter, but the way he worked at both ends today and the time he went proves that he can grind it out."

Despite a cold day and rain affected surface, Agua Caliente won the Free-For-All in 2:24.7, a 1:56.4 mile rate and less than half a second outside Iraklis' national mark set on Cup day four years ago.

Credit: John Robinson writing in NZHR Weekly


| | |
| --- | --- |
| | RACING HISTORY FEATURE RACE COMMENT |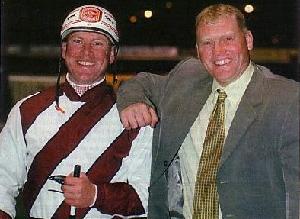 The Dominion winning combination

2000 COUPLAND'S BAKERIES DOMINION TROTTING HANDICAP

Tim Butt iced the cake that was his Cup meeting by winning four races at Addington on Dominion night. The West Melton trainer took out all three trots on the programme, including the Dominion Handicap, and the pacers' Free-For-All, bringing his total haul over the four days of racing to seven.

Contributing to Butt's best-ever showing at the meeting were Take A Moment (three wins), Lyell Creek, Happy Asset, Pocket Me and Eastnor Lad, but in years to come it will only be remembered as the time when Lyell Creek got beaten. That is why the great trotter (unjustly) had a point to prove on Friday.

The speed was on right from the word go in the Dominion, and big Lyell didn't start his move around the field until inside the mile, eventually taking the lead from McGrady with a lap to run. He was still coasting at the finish, taking out the coveted two-mile event on a cold night in a tick over 4:06. "There was a bit of apprehension beforehand, but, just like the week before, I couldn't fault him going into the race," Butt said. "And he won it easy, Ants didn't really let him go in case he did something stupid."

Having successfully defended his Dominion Handicap title, that could be the last Addington fans see of Lyell Creek. "He now heads to Auckland for a discretionary handicap on December 15, followed by a 2700m mobile Free-For-All a week later - which he'll probably draw one in," Butt quipped. "There's a mile even at Cambridge for him on January 3, then he heads off to Melbourne for the Dullard Cup and the Australasian Trotters' Championship. "Lyell needs racing every week now, he's getting smart and a bit above himself, so it will do him good," he said.

Credit: John Robinson writing in NZHR Weekly


| | |
| --- | --- |
| | RACING HISTORY FEATURE RACE COMMENT |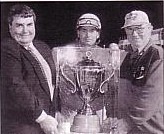 Trevor Casey, Colin DeFilippi & Bruce Negus with their trophy

2000 WAYNE FRANCIS MEMORIAL NZ OAKS

Bruce Negus and Colin De Filippi are mates. And like most friends, they have had the odd difference of opinion. Their most recent one was over Caps Off, and had it not been for De Filippi's insistance the filly could have won the $75,000 Wayne Francis Memorial New Zealand Oaks for someone other than owner Trevor Casey. "I told Trevor to sell her six weeks ago," Negus admitted. "This was before and after she won at Rangiora. Colin and I had a healthy debate; he believed she was getting better and should be given the chance to improve over the next couple of seasons. But she passed the vet and was all but sold to America - the only reason she stayed is because the money didn't come," Negus said.

De Filippi must have had a wry smile as he got the best out of Caps Off to down hot pot Tupelo Rose. It was yet another masterful drive by the Ladbrooks reinsman. With Shivna, Dancingonmoonlight, Pocket Queen and Ciccio Star drawn inside him there was no shortage of early speed, but after Shivna broke De Filippi managed to get Caps Off to the front and then waited for Tupelo Rose to come round and take over. From there the pair had the best seat in the house. Tupelo Rose stacked the field up and tried to outsprint her opposition; Caps Off was equal to the task and nabbed her illustrious rival in the shadows of the post after she ran out under pressure. "She's very fast out of the gate, if she needs to be," Negus continued. "But she's a frail little thing, and she's been a bit timid and a bit weak so we've been a bit scared to use that speed. Lately she has become stronger though and Colin and I have had more confidence that she can do things."

Despite being confident that Caps Off was improving, Negus said they never envisaged her beating such a quality field of fillies. "It wasn't expected," he said. "The run was fortuitous, but in saying that she is a very determined little cookie and she deserved the win. She can follow a hot pace all day. They have got home in 56.5 tonight but she stuck to her guns. Being by Caprock out of a Nero's B B mare she is all Nevele R bred too, so it was quite fitting that she should win a race named after Wayne Francis."

Bred by Nevele R's Danny Boyle, his brother-in-law Ross Stewart and Canterbury Jockey Club's C.E.O. Tim Mills, Caps Off was first sighted by Casey when she had a workout round Addington Raceway as a yearling in July, 1998. Pacing a mile in 2:08, home in 59.4 and 28.4, the co-proprietor of Inter-Island Horse Transport bought her on the spot. Despite another horse of his, Africa, finishing second in two Inter-Dominion Trotting Grand Finals, Caps Off gave him his biggest harness racing thrill.

"Trevor's been a very good owner for the industry, and me in particular," Negus said. "Caps Off has been a bit of a heartache for him. She's put both her back legs through the fence at different times, and she must have kicked at least half a dozen people without warning. She has won five of her 11 starts though, which is pretty good considering she has been unlucky several times or only 80% fit on other occasions. She is a bossy and fearless little thing around home, and can be a real mole. She will try to get other horses to communicate with her, and once they come near she'll swing round and lash out at them. Lately that mean streak seems to have disappeared, because she has taken on Thunder Atom as a paddock mate and seems to be a lot happier since."

Credit: John Robinson writing in NZHR Weekly


| | |
| --- | --- |
| | RACING HISTORY FEATURE RACE COMMENT |

2000 ANTHONY SHEARER LTD/ PINK BATTS ORDEAL TROTTING CUP

WOW! That is one way to describe Lyell Creek's Ordeal Trotting Cup win. Here is another...four and three wide early before changing down a gear to take the lead after 600 metres, sped along, coasted clear.

What Lyell Creek did when resuming on friday night left everyone shaking their heads in disbelief. On a cold night he went head-first into a stiff easterly three times, yet he still managed to trot his 2600m mobile event in 3:16.5 - and threw in a final 800 metre split of 27.5 for good measure. But wait, there is more...he absolutely jogged it!

All this just goes to show that Lyell Creek has returned as good as, if not better than, last season, and it is no wonder trainer Tim Butt found it hard to hold back a smile after the event. "You always know what he is capable of," Butt said, realising the enormity of Lyell Creek's performance at this early stage of the season. "He is the sort of horse that no matter what he does, it doesn't surprise you. And he has trotted so much sweeter tonight, that was the most pleasing part for me. We put new shoes on him in front, just a bit of fine-tuning, and they are a little bit lighter and a bit squarer in the toe. In the past he has always trotted best when his shoes were almost worn out," he said.

Despite drawing wide last Friday, Butt and his brother Anthony had a pre-race plan to press forward. "With Europe and America in mind, we are conscious of him not losing any ground at the start of a mobile race. At this stage we don't want him to become a gate hummer either though, he will end up chasing it all the time otherwise. Just seeing the way he came through his event tonight stands him in good stead for Sweden too, because he will have to race twice in a day over there. He looks like he could go out there and do it again."

Last year, Lyell Creek's connections tackled some minor races along the way but their main focus was on the bigger picture... firstly the Dominion Handicap; mainly the Inter-Dominion Final, and lastly the Rowe Cup. Some of his races were lead-up events to the main goals, so even though he won them, in a way we would not have been worried if he didn't," Butt said. "Like that Cup Day run when he beat One Kenny...that brought him on another ten to twenty percent for the Dominion Handicap and the next time we worked him he was just a different horse.

"And then there was the Dullard Cup. That was still a month away from the Inter-Dominion Final so he was not much more than about eighty percent fit. That night he was four and three-wide before sitting parked, he dished it up to Special Force, skipped clear on the turn and held on, breaking the track record by two seconds. Some people said that he fell in to win, but in the context of what stage his preparation was at it was a huge run," Butt said.

This season things are only slightly different; 'Team Lyell Creek' are still concentrating on the bigger picture, but they are pretty keen on keeping the trotter's winning streak in tact too. After last Friday, this now stands at 17.

During the week leading up to Lyell Creek's resumption, Anthony Butt purchased a quarter share in the gelding off owner Graham Bruton. "We had talked about this fo 12 months," Bruton said. "I offered Ants a share in Lyell Creek because I thought if he was going to be spending all that time with the horse overseas he may as well be bringing in a bit more than his five percent as a driver."


Credit: John Robinson writing in HRWeekly 20Sep00


| | |
| --- | --- |
| | RACING HISTORY FEATURE RACE COMMENT |

2000 ROYDON LODGE STUD NZ TROTTING STAKES

Allan Georgeson finally knows what it's like to be on the other side of the fence. He and his wife Laraine and their friend Robert Rendel have been thrown into the spotlight as the owners of the top trotter Dependable. With the success comes a fair amount of pressure too, but that is a problem Georgeson doesn't mind having to live with.

"The night he broke in the NRM Trotters Championship Laraine and I were at Addington, and a crowd of people in front of us cheered when they saw him go up in the air. We have all started horses in races where you might hope the hot favourite breaks up, because that gives you more of a chance. I know what that is like," he said.

That infamous night back on May 5 has been Dependable's only glitch though, and last Friday he secured his first major title when winning the $25,000 Roydon Lodge NZ Trotting Stakes. "This is a race I really wanted to win," Georgeson claimed. "Camelot Chief contested the event for us back in 1990. I thought he was good enough to win it but he had a bit of bad luck and finished second to Born To Trot, so it was nice to come back with another one and win the event. Everybody strives for that good horse. This time, we might finally have one."

Bred by Keith and Bevan Grice, Dependable was leased to the Georgesons and Rendel when just six months old. Educated by Mark Smolenski, Allan says his Sundon gelding started to show that something special right from the word go. "Mark told me in June last year that Dependable was going to be extra," he said. "He spent 12 months - hours and hours every day - making this horse and if anyone deserves a big pat on the back it is Mark. We owe a huge debt of gratitude to him."

Dependable's trainer Fred Fletcher says that everything the gelding is doing, he's doing it easy. "He is just getting better and better," Fletcher said. "He can run, and he is such a good stayer, and what I also like about him is his heart rate is so good. He's such a big fellow though and at some stage they need to have a break. He could really have a huge 3-year-old year next season."


Credit: John Robinson writing in HRWeekly 24May00


| | |
| --- | --- |
| | RACING HISTORY FEATURE RACE COMMENT |

2000 CIVIC VIDEO SIRES' STAKES SERIES No.17 (FINAL)

The ATC Trot 2000 Syndicate's fairytale season finished with a flourish when Matai Mackenzie won the $144,000 Civic Video NZ Sires' Stakes Final at Addington. In what Syndication Manager Rob Carr described as a dream come true, Matai Mackenzie put the lid on a remarkable 1999/2000 term by collecting their biggest cheque yet - $86,400 and a Group 1 victory to boot.

It was a fitting result for the Auckland Trotting Club, who deserve all the credit they get for developing such a simple but so effective form of horse ownership which has introduced hundreds of new faces into the sport of harness racing. The club's three 50-share syndicates are the brainchild of Vice-President Steve Stockman, and the results from their first season of racing are nothing short of astonishing.

The Trot 2000 Syndicate, the second one up and running, bought Matai Mackenzie, Parisian Falcon and Moschino for a total of $74,000 from last year's sales. All 2-year-olds, to date they have collectively had 17 starts for seven wins, eight placings and $272,535; Moschino having not made it to the racetrack yet.

The 1999/2000 term has also been the first for the Club's first syndicate, Trotpower, whose three 3-year-olds Perspicuous, Highview Nero and Midnight Rumpus didn't race at two but have netted seven wins, six placings and $28,396 from 20 appearances on the track. The trio cost $62,000 at the previous year's sales.

And syndicate number three, Trot 2001, is half a dozen places away from being full. Their purchases from the sales earlier this year were Dirt Rider (c Falcon Seelster-Chiavari, $20,000)and being trained by John and David Butcher; Bing (c Soky's Atom-Dispron, $27,000) in Barry Purdon's barn; and Chocks Away (c Soky's Atom-Take Wing, $20,000 Geoff Small.

"This year has really been unbelievable," Carr said. "The syndicate members at Addington on Friday night were just fizzing, there was so much fun and excitement - and that is what this game is all about. The success of the syndicates is due mainly to the formula; three top trainers get to select a yearling of their choice from the sales, and there is three horses in each syndicate as well."

Carr paid tribute to a masterful drive by Tony Herlihy. Many probably thought the ace reinsman would look for a sit from his wide draw, but instead he speared Matai Mackenzie out to reach the front early and waited for Hero to come round. "He can really come out of the gate if I ask him to," Herlihy confirmed. "It was a good effort, because he did a bit to get that handy sit early but still had enough to run down Hero at the finish. Hero had beaten us fair and square the previous week, when my bloke took a while to wind up; I don't think there is much between the two and City Rogue," he said.

Herlihy said Matai Mackenze's greatest attributes were his gait and attitude. "He is such a relaxed bugger; he is a natural racehorse. Given a bit of a break now he should come back a real nice racehorse next season.

Credit: John Robinson writing in HRWeekly 17May00


| | |
| --- | --- |
| | RACING HISTORY FEATURE RACE COMMENT |

2000 PGG NZ YEARLING SALES SERIES 2YO (OPEN)

Some say luck has nothing to do with success; Wayne Ross begs to differ. Ross has continued to churn out champion after champion in recent years, but he shrugs off his success with these horses by saying luck has played a part in each of them. "I have just tried to reach a niche, and be regarded as a trainer of good young stock," he said.

Ross reached a pinnacle last year when he won 14 2-year-old races with his two fillies Tupelo Rose and Adios Dream, a feat which has never been achieved before. "The breed is the key," he says, adding that so is having owners that are prepared to buy into top bloodlines. "The spin off from having horses like Courage Under Fire and Tupelo Rose go through your stable is you end up being offered a better style of horse. And that is lucky," he said.

Ross might consider himself fortunate to be training his latest exciting juvenile Hero, but that eventuated moreso because of a good reputation than good fortune. Ross was at last year's Karaka Sales when his phone rang, and on the other end was a guy he had never met before called Bruno Papa. Papa wanted Ross's opinion of the In The Pocket-Alba Belle colt that was Lot 68, and Ross reported back that he looked like a nice type. After Hero went through the ring and was knocked down for $50,000, Ross received another call from Papa, who told him to take Hero home because he had bought him and wanted Ross to train the colt.

Now a gelding and raced in the name of Papa's wife Maria, Hero won his third race in five starts when leading from end to end in the $155,730 PGG Yearling Sales Series Open. An afterwards Ross used that 'luck' word again, saying that everything the 2-year-old wins this season is a bonus. "It is just his size," Ross continued. "At this stage he is like a big, overgrown kid and so unco-ordinated. He is a very proud horse though, and he holds himself very well. He has got a beautiful pacing action and that is why he looksl ike he is going in slow motion out there. He wears a 62-inch hopple, and that is big for a 2-year-old; I have never had a young horse go in a hopple that long before."

Ross has already had his share of 'fun' during Hero's brief career, with occasions like the gelding's debut at Motukarara when he lay down on the track still firmly etched in the memory. "He just didn't want to be there that day," Ross recalled. "But we had no option. I needed him to get some raceday form and he did that by finishing fourth. He won the Yearling Sales Graduate next start, but after that his blood was off and he pulled a flat tyre all the way in the Sires' Stakes heat at Addington. "He has been a bit difficult to train and a bit wayward, but all the time he is becoming more and more settled and more professional in his approach."

Ross believes Hero will let down into a magnificent individual in time. "I think he will be a good juvenile that ends up going all the way," he said. "He is not a natural 2-year-old, and lightly raced at three I think he will be an even better 4-year-old. He is dying to grow into his big frame, and after the Sires' Stakews Final he will be going out for a spell." The Ohoka horseman says this week's event will be an even harder task, with the draw once again playing a critical role. "Kevin (Townley, driver) said tonight was the best he has paced and the best he has driven yet. His blood still wasn't completely right either, so I think he will be even better again this week.

While only Bruno Papa was on-course to witness Hero's Yearling Sales Series victory, both he and Maria will be back again for this week's event. The couple manage a large cafe-type restaurant in Melbourne called The Fisherman's Bakehouse, which caters for over 200 people in a single sitting.

Credit: John Robinson writing in HRWeekly 10May00


| | |
| --- | --- |
| | RACING HISTORY FEATURE RACE COMMENT |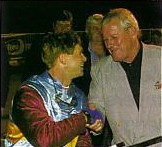 George Calvert congratulates Todd Mitchell

2000 GEORGE CALVERT CLEANING EASTER CUP

Young Cambridge reinsman Todd Mitchell is Addington's un-disputed Cup's King after winning his third Group One on the course in the past year. Mitchell, a fine advertisement for harness racing with not only his enthusiasm, won last year's Easter and New Zealand Cups with Homin Hosed, and will more than likely get the chance to repeat that double with this year's $100,000 George Calvert Cleaning Easter Cup winner Fact Non Verba.

Mitchell could have had a difficult decision to make in November, but Homin Hosed will not be around after a recent diagnosis for a foot problem which put him in a paddock for three months and on the sideline for at least six. Facta Non Verba also has a foot problem, but has for some time and it is unlikely to stop him in the near future. Rather he is now likely to head to Brisbane for features such as the Winter Cup. Facta Non Verba's problem is akin to a quarter crack and while he was quite sore last week, it is not as serious.

The Tuapeka Knight gelding, who has been staying with Nigel McGrath in recent weeks, had a wedge fitted to the heel of the foot and while not 100% last Saturday and feeling it on the home turn, he was much happier than the previous week. "The sting being out of the track helped a lot," said Mitchell.

The 5-year-old has certainly come a long way in a short time since he began Mitchell's association with trainers Mike Berger and Warren Rich by winning his debut at Cambridge at odds of 34 to one 22 months ago, 33 starts, 11 wins, 16 placings and $148,325 to be precise. "There didn't appear to be anything out of the ordinary about him then," said Mitchell.

Facta Non Verba, impressive in his Addington debut earlier this month, obviously has the equipment now to be a factor in November. From barrier one, he began best and Mitchell made race favourite The Tough Nut work overtime for the lead - a tactic which ultimately may well have decided the outcome. With the first mile passed in a leisurely 2:08 and the pace poured on from the 800m, those beyond the leading division had no chance. Happy Asset, not happy with the tempo and up to sit in the open from 1500m, was brave, but Facta Non Verba used his speed and the passing lane to score by a length in 4:08.2, the slowest Easter Cup since Microscopic's 4:10.1 in 1989. Under Cover Lover, after pulling for much of the race, ripped into her work in fine style late in the piece to shade The Tough Nut for third.


Credit: Frank Marrion writing in HRWeekly 27Apr00


| | |
| --- | --- |
| | RACING HISTORY FEATURE RACE COMMENT |

2000 PYNE GOULD GUINNESS NZ YEARLING SALES 3YO TROT

Godsun picked a fine time to break through for his maiden success when he took out the $50,000 PGG NZ Yearling Sales 3yo Trot.

In what was a virtual replay of their previous clash on the course, except in the reverse order, Godsun and Colin De Filippi staved off the game challenge of Flip Flop to pocket almost $27,000 plus trophies in his seventh raceday start. And the success was fully deserved after Godsun had sat parked outside Cambridge visitor Classic Wizzer Dee before going on to score by a neck in 2:28.1, which bettered Sunning's national record by over a second.

It was by far the biggest payday for Ashburton trainer Tony Soal, who races the Chiola Hanover chestnut with Neil Scott, a semi retired Ashburton sheep farmer, and a long way from the day when the latter watched the gelding get passed in at the sales for $2500. "I had gone to the sales with no intention of buying a horse," recalls Scott. "This fellow caught my eye, but I thought he would go for over $10,000. When he was passed in, I went back to Ian (Cameron, vendor) on the second day and asked if he had been sold," he added. When Cameron said no, business was quickly done.

For Soal, who has been training on his own account for about 10 years after working for Pat O'Reilly, this was his biggest moment in what is a belated career. His previous best horse was the trotter Alias Al, who won seven without threatening open class. "I have not had a lot to work with and certainly 'no big money men' until Neil came along," said Soal with a grin. However, Soal's training rates have kept him ticking over with owners to a point where he has not ony Godsun, but at least another dozen in work to keep him busy.

For Scott, Godsun also provided him with his biggest thrill, although he can claim a 1/25th share in the NZ Cup won by Soundoration at Riccarton a few years ago. More recently, Soal and Scott have had some measure of success with two previous yearling sale purchases in Motu Mister Fame and Ado's Lucky Dip, but in Godsun they have much to look forward to after last week had looked rather grim. "You would not have given two bob for him the way he worked on Monday," said Soal. "He has had a skin problem, but I changed his feed, and he worked a lot better on Wednesday," he added.

Soal said he always believed Godsun had the potential to be a very good horse and it was just a matter of time. "He has always had the speed, it was just a matter of getting his head right. Early on, we had a trotter by Sundon which looked by far the better, but this fellow has really put it together just lately. He will line up in the Trotting Stakes now, but I will probably send him for a spell after that. He needs more time and I don't think you will see the best of him for another six months yet. The Sundon horse is at home in a paddock right now, but I guess it is time to bring him back in now," said Soal.

Godsun proved the first leg of a notable treble for the inform De Filippi. Before long, De Filippi had also won the fourth heat of the Civic Video Sires' Stakes Series with Miami Beach and expertly used the passing lane to have Special Force home with ease in the $30,000 NZ Trotting Championship in what was his first win since Europe.



Credit: Frank Marrion writing in HRWeekly 19Apr00


| | |
| --- | --- |
| | RACING HISTORY FEATURE RACE COMMENT |

Kym's Girl wins from Under Cover Lover

2000 CANTERBURY DRAUGHT NZ STANDARDBRED BREEDERS STAKES

Last Friday's feature at Addington once again belonged to Kym's Girl and her driver Colin De Filippi. The dynamic duo continuously make the headlines with their well-timed finishes, but Friday's sizzling late burst to nab runaway leader Under Cover Lover in the $75,000 Canterbury Draught NZ Standardbred Breeders Stakes could not have been scripted better in the movies.

Settling three wide on the outer, Kym's Girl sat there until the home turn when she was asked to move - and even that was a lot earlier than De Filippi wanted. "I had to get around Joan's Gift, and I was a bit worried about Hawera on our backs but she didn't stick with us," De Filippi said. "Under Cover Lover had a few lengths on us with 100m to go, and I wasn't overly confident about picking her up because she is a very good mare. But when I saw Anthony (Butt) look round I thought we had a show."

Trained by David Miller at Motukarara, Kym's Girl has now won 13 from 42, for stakes of just under $150,000. She will be kept for the Easter Cup, then go out for a spell as her connections look towards November's NZ Cup. She is by the Towner's Big Guy stallion Man Around Town, who really has made the most of limited opportunities at stud here. Man Around Town has left two winners from his first crop of only seven foals (now 6-year-olds), including Kiwi John (Aus 1:57.3, $200,000); Kym's Girl (13 wins) and All Around (7) are two of four winners from a second crop of nine foals (5yos); one of Man Around Town's three 4-year-olds is a winner, and he has only for 3-year-olds on the ground. Since 1992/93 Man Around Town has served books of 15, 14, 11, 12, 25, 24, 45 and 52 this season.

Credit: John Robinson writing in HRWeekly22Mar00


| | |
| --- | --- |
| | RACING HISTORY FEATURE RACE COMMENT |

2000 NRM SIRES' STAKES 2YO TROTTERS CHAMPIONSHIP.

Almost everyone expected a son of Sundon to win the $20,000 NRM Sires' Stakes Trotters Championship...and one did. But instead of it being the $1.20 hot favourite Dependable, home bowled the $61.85 shot Castleton's Mission.

Castleton's Mission is raced by the 30-member Trotting NZ Syndicate, and the half of them that were there on the night were still in shock some hours later at what their trotter had achieved. "We are just so amazed at the turnaround of this horse in the last couple of weeks," said syndicate manager Mike Gourdie. "This really is a dream come true."

Like his name suggests, Castleton's Mission belongs to the same family as Sir Castleton - his dam Castleton's Dream is a three-quarter sister-in-blood to the former trotting superstar. The gelding was purchased at the sales from Impact Bloodstock's Ron Burrell, and within half an hour Gourdie and trainer Michael House were getting reassurance that they had made a wise choice. "Ron came up to us and said that Castleton's Mission was a very nice horse, and that he really didn't want to sell him," Gourdie recalled. "And once he found out that he was going to be raced by a syndicate, he wanted a share right there and then. Ron was so sure that Castleton's Mission would win races, and pledged that if he didn't I could go around to his place and have any horse out of the paddock I wanted. In the birdcage after Friday's race he said it was a hell of a way to get off a bet."

For Castleton's Mission to even line up last Friday was a mission in itself. Broken in by 'Coaster' Howe, the gelding showed ability virtually from day one. Set for the four main baby trotting races, Castleton's Mission broke in both his lead-up non-tote races during April and was still well down the preference list for last week's event. "It came down to getting him qualified before the acceptances closed, to give him a chance of getting a start," Gourdie said. "So the only opportunity was to trek him down to Oamaru last Sunday. And after a three and a half float trip either way, Michael rang with the good news saying he had won his trial and qualified."

In getting a start in the NRM Trotter's Championship, Castleton's Mission gave the Trotting NZ Syndicate a handy-second stringer. They also race the Sundon-Pleasant Evening gelding Evening Dash, bought at the same sales on their behalf for $12,000 by Weedons trainer/driver Kevin Townley. "Evening Dash had won a mile trial at Ashburton, and ran second to Sun Del in a non-tote here at Addington. With him drawn two and Castleton's Mission put on the unruly after Michael asked him to be, we obviously thought that Dash was going to be our best chance. And we knew they were both up against it with the reputation Dependable had," Gourdie said.

Up against it, but not without a show was the attitude that the syndicate members took into the race. Their hopes for Evening Dash were shattered soon after the start when he broke, but then so did the favourite, losing even more ground. It was left to Castleton's Mission. Five lengths behind the mobile as the field was released, Castleton's Mission was sent around the field passing the 1000m mark and drew up alongside leader Glowing Gold with 700m to run. Second favourite Sun Del was always going sweetly in the trail, but Gourdie's eyes were glued on Castleton's Mission as the leading trio swung for home. "I started to shake," he said. "It was just how the whole race had unfolded. Not only was he suddenly in with a realistic chance, I knew he was good enough. With what we had gone through to get him here tonight, it really was a farytale ending."

Making the result even sweeter for the syndicate was Castleton's Mission's time - his 2:30.2 shaved 0.2 seconds off Dependable's NZ Record set on April 27 when Castleton's Mission finished 58 lengths behind him.

The Trotting NZ Syndicate is the sixth syndicate set up by Gourdie's company Regency Standardbred Syndication since he kicked off two years ago. Their members hail from Christchurch, Wellington, Cambridge, Hamilton, Taranaki and Auckland, one in Australia and four in Japan.

Credit: John Robinson writing in HRWeekly 10May00


| | |
| --- | --- |
| | RACING HISTORY FEATURE RACE COMMENT |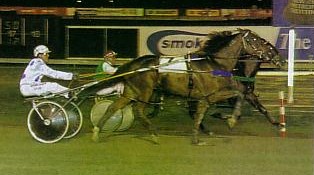 Matai Mackenzie (outer) collars City Rogue

2000 HIH INSURANCE WELCOME STAKES

Don't say a word against City Rogue after he was overhauled in the last stride by Matai Mackenzie in the HIH Insurance Welcome Stakes. After being in front and left clear in the straight, City Rogue was doing little more than racing himself over the last 200 metres.

Near the end, he started to lose focus, and was oblivious to the challenge from Matai Mackenzie coming wide on the track. And while driver David Butt did his best to keep his mind on it, Matai Mackenzie had more purpose to his finish and won the Group 2 by a nose. "He wanders round a bit by himself. I was frightened to go for him too soon," he said. Lack of experience and losing his competition so soon was the difference between first and second, but a fair reflection on where they stood amongst the others; Niobium, the third horse home and City Rogue's stablemate, was more than four lengths behind them.

Matai Mackenzie is one of the much publicised and highly successful horses bought as a yearling and raced by the ATC Trot 2000 Syndicate. He is trained by Barry Purdon who selected him at Karaka and made a 2-year-old of him when every feature of him suggested he would not be available until he was three. "He was big as a yearling and right from the start he came along nicely. He could really scoot a good half. I cut him when he started growing quite a bit and I have always gone quietly with him. He has just got better and better," he said.

In just six starts, Matai Mackenzie has topped $100,000 and with two bigger races than the Welcome coming up this month, it is quite possible he could double his earnings before the winter. Purdon said his only concern had been with a heel infection that had affected all his feet. "It was quite bad and Katrina (Purdon) bathed them twice a day until they came right," He said. At 16 hands, Matai Mackenzie is perhaps the tallest 2-year-old Purdon has raced and the great Chokin is the only one he said who would fit he same category. "I have spaced his races and he has enjoyed it. Being so tall and lean, he doesn't carry a lot of weight, so I don't work him too hard," he said.

Matai Mackenzie is by Jaguar Spur, who has been relatively inconspicuous on the siring lists, met with little patronage at the stud in Australia and is likely to return here next season. Purdon has had a few of them, and one of them is a filly who he thinks is okay.
One of the syndicates organised by the ATC also has a Soky's Atom filly from Mary Morris, Purdon bought for them at Christchurch for $14,000.

Of the 50 or so in the syndicate which races Matai Mackenzie, six or seven were at Addington to see him, but 30 are expected for his race on May 5 and another 30 the following week. Syndicate member Steve Stockman said efficient management of the syndicate was a key to its success. "When the bank gets up to $10,000, the members automatically get a payment of $200. The last cheque they were paid was $800. They each get a monthly newsletter of three or four pages, there is a weekly update and an 0800 number, and the latest syndicates are seventy per cent full," he said.


Credit: Mike Grainger writing in HRWeekly 27Apr00


| | |
| --- | --- |
| | CLUB HISTORY BUILDINGS & FACILITIES |

WINNING POST REVAMP

A new neon winning post was launched at Addington on Friday 15th September, 2000.

NZMTC Chairman of Racing, Barry Cotton, said that the new design would become an icon and instantly signal to both on and off-course punters that they were at Addington. "This unigue finishing post encapsulates the fun and excitment of harness racing at its best," said Cotton. "With all but two of our meetings being run at night, this colourful and innovative feature will be a real standout."

The new design is also a key branding exercise for Canterbury Draught, who wanted to establish a long-term branding opportunity for their red and black logo whe it became NZMTC's major sponsor. "By incorporating our logo into this unique and exciting finishing post, we can feature our brand to on and off-course punters," said South Island Regional Director, David Barley. "We also highlight that we are red and black - Canterbury!

The winning post features three horse/ sulky/ driver outlines, in white, yellow and electric blue, and immediately after each race these display the numbers of the horses filling the first three placings. The electronic software used is a World first, designed specifically for this sign.



Credit: Harness Racing Weekly 20Sep00