| | |
| --- | --- |
| | INTERNATIONAL HISTORY |

March 20 Swiss Bertran Piccard and British Brian Jones made the first round-the-world hot air balloon flight.


| | |
| --- | --- |
| | LOCAL HISTORY |

Labour's Helen Clark becomes New Zealand's first elected woman Prime Minister, in coalition with the Alliance and Green Parties. The Greens enter Parliament for the first time with seven seats.

The All Blacks are defeated 43-31 by France in the semi-final of the Rugby World Cup

The much vaunted Y2K computer bug, which was feared would cause chaos throughout the world, turned out to be a non event when not one fault was reported worldwide.

The Orbiter bus service begins.

Protestors delay the state banquet for Chinese President Jiang Zemin.

US President Bill Clinton visits NZ.

The legal drinking age is lowered from twenty to eighteen.

Sian Elias becomes NZ's first woman Chief Justice

Credit: Ch-Ch City Libraries


| | |
| --- | --- |
| | RACING HISTORY PEOPLE |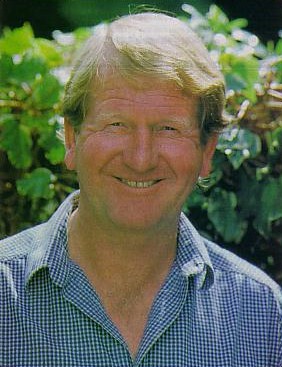 Wayne Francis 1943-1999

WAYNE FRANCIS 1943-1999

The 'Franco' name will be a lasting legacy to the huge contribution Wayne Francis made to the harness racing industry in New Zealand.

His death from cancer, at the age of 56, in the early hours of Monday morning, came well before its time. Even as his health deteriorated in recent months, Francis kept in contact with his racing interests and continued business dealings until the last few weeks. "Just a fortnight ago we were discussing the offer on a horse for $18,000," said Peter O'Rourke, who managed the sale of young horses from Spryeydon Lodge. "Wayne said 'see if we can get $20,000,' After knowing him for 30 years, he was a hard man but fair. His word was his bond. He was a straight-shooter who didn't like others who weren't," he said.

Francis developed Spreydon Lodge into a state of the art training facility, where trainer John Hay prepares young horses to race and for sale. "Each year, he would send in 40 to 50 yearlings, and process them from there. Spreydon Lodge always made a profit. He knew the problems of the industry, but never complained," he said. O'Rourke said Francis was very interested "on a daily basis. He kept close contact with what was happening up until the last week or so. He gained immense satisfaction from coming into the stable and being up with what was going on," he said.

Well before the introduction of the Franco name, Francis had formed a partnership with Bob McArdle that started with the importation of the stallion Nevele Romeo in 1972 and the establishment of Nevele R Stud a year later. "We set out in 1973 to develop a showplace stud, and through years of persistency this has come about," said McArdle. "There have been a lot of highs and lows in that time, but to survive 27 years shows the amount of respect we had for each other...an association between a Canterbury farmer and a Tasmanian trader. One of the biggest thrills I had was selling Wayne, and George and John Noble Stanley Rio as a 2-year-old for $25,000. He was the best horse Wayne raced, and the only one I sold him personally. And if I had one disappointment, it was that Wayne would never make a presentation at the races the stud sponsored. I said once that the only way I could get Wayne to do this would be for me to win the Oaks, so he would have to make the presentation, but he has got out of that," he said.

Nevele R Stud has stood approximately 25 stallions, including last season's leading sire, Holmes Hanover, along with Soky's Atom, Live Or Die, Caprock, Falcon Seelster and OK Bye. Francis was involved in the purchase of them all, and in the negotiations of a new stallion the stud hopes to acquire for the coming season. "The stud has continued an upward spiral since we started," said McArdle. "I know Wayne would want it to continue on in that way," he said.

Aside from Stanley Rio, who won the New Zealand Cup and an Inter-Dominion Grand Final, Francis was represented by the top-liners Franco Enforce (1:50), Smart Son (1:49.6), There's A Franco and Nostradamus. He was a steward of the New Brighton Harness Racing Club while in his early 20s, and was involved in the formation of the New Zealand Sires' Stakes Board in the early 80s. "He has been Treasurer of the Board right through, and the success of it has in many ways been due to Wayne's financial ability," said Secretary, Doreen Graham.

Outside of racing Francis was a major land developer. He loved his outdoor pursuits; especially wild game hunting and fishing. And one of his regular companions was 'Bessy,' his rottweiler who would ride on the back of his pick-up. "He would call in every day, pick up his mail and have a chat," said Hay. "Bessy was always with him. We had a pretty hard task, what we were doing, but we always got on pretty well," he said.

Wayne is survived by his wife Debbie, and daughter, Helena.


Credit: Mike Grainger writing in HRWeekly 30Jun99


| | |
| --- | --- |
| | RACING HISTORY PEOPLE |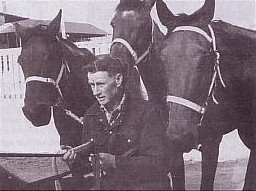 Ted Sunckell...pictured at Forbury in 1967

TED SUNCKELL

Harness racing in this country is built on the foundation of farm boys like Ted Sunckell. They grew up with horses because their parents needed them to work the fields.

Going back to the days when Ted was a lad, horses were also the method of transportation, communication, getting to school, and racing along the country roads. When he was 15, he took his father's horse Miss Locander from Waiau to the Blenhiem races. This was a two-day trip, and by the time Miss Locander reached Blenhiem she was muscle sore and didn't race well. On the third day of the meeting, obviously recovered, she bolted in and paid £80 to win. On the way home, Ted and visiting trainers from Wellington would stop at the Clarence Reserve cookhouse for a feed and sleep under the stars.

His interest in racing took him into the stables and a job with Addington trainer Drum Withers when he was 17. His first horse came later, when he paid £200 for Tatsydale at a Tattersalls auction in Christchurch. She was bred in Southland by Cliff Irvine, and driven by Vic Alborn won six races, and finished fourth in the Dominion Handicap behind Dictation, Ripcord and Single Task. This was the day when Maida Dillon paid £257/12/6 to win, Johnny Globe beat Vivanti in the Derby and the free-for-all was won by Parawa Derby from Cargo Song and Gay Knight.

From Tatsydale and U Scott, Ted bred Welburn, a tidy little trotter before being sold to Australia. He lost form in the confines of a smaller establishment but found it again after being given away and relocated into the paddock-training environment he enjoyed with Ted. Parados was a smart pacer from Tatsydale trained by Stan Edwards, and other horses from the family were Tatsy Brigade, Song Key, High Note, Gay Tune, El Red and Tatsy Star. Gay Tune ran third in the Trotting Stakes, and at stud left Gay Marlene, who made her name as the dam of Thriller Dee, 1:57.8, and the winner of 24 races. In more recent years, he had his horses trained by Jack Carmichael, Felix Newfield, and his association with Don Nyhan and Globe Derby was more than 30 years.

When it was time to give up the farm, Ted did not give up the horses. He won a race at the Akaroa meeting in 1989 with Star Act, and scored with High Note at Reefton in 1993. Even when frail, he kept working a horse and a cold winter night still brought him into Addington where he could watch a few races. He once said to his son Jim: "When my time comes, I'd like to let go the reins and just fall out the back of the cart."

He says: "He had a Clever Innocence mare in work, and he'd arrive down about 9am to work it. It was hairy watching this. I don't know how he had the strength to do it. Once she took off and did five laps with him. He had one hand on the reins and on hand on the shaft, hanging on."

This season, Ted did not renew his licence. When he died last month at the age of 93, he had run a longer race than most.


Credit: Mike Grainger writing in HRWeekly 6Oct99


| | |
| --- | --- |
| | RACING HISTORY PEOPLE |

DAVE MORRIS

The death occurred of Dave Morris, an unassuming, generous benefactor of the harness racing industry in th South Island.

Aged 63, Morris died suddenly during his annual whitebaiting campaign in south Westland two days before the NZ Cup at Addington.

He was a keen racegoer, sponsor and owner, and always patronised trainers in the locality of his hotel. For many years he supported the Trainers and Drivers Association with its annual Cup Calcutta. As a publican, he was a good friend of all those in the Racing industry.

He raced many horses, without ever getting a top one, including Lively Vance, Jenover, Are You Envious; he had a soft spot for Clever Turk, and his first winner Bon Coeur was trained for him by Keith Purdon.

His funeral was held in the birdcage at Addington Raceway.

Credit: NZ HRWeekly 17Nov99


| | |
| --- | --- |
| | RACING HISTORY PEOPLE |

DOODY TOWNLEY

One of New Zealand's most successful and esteemed horsemen died at the weekend.

Doody Townley, who drove 21 Group 1 winners and more than 700 others, was 73 when he passed away on Sunday in Ashburton Hospital. He retired at the end of the 1990 season while the 65 compulsory retirement rule was still operative. By anyone's standard Townley was in the handful that made the very top - and stayed there.

He won Group 1 races in the '50s; he was still winning them in the '80s. He was admired for his ability to handle the trotter. Wes Butt, who drove in the same era as Townley, said:"He was one of the best drivers NZ ever had. He was just first class and he excelled with the trotter. It's a sort of a test, driving a trotter. Doody would sit quiet, get them balanced and hold them together."

Although he drove such great pacers as Stella Frost, Rupee, Tactile, Sun Chief and Jacobite, he was happiest handling a trotter. "With a trotter, you're not worrying about luck in the running. To keep trotting is the big thing," Doody said. "I actually think you have won if they trot all the way. It's better to run last and trot all the way. In a sense that's an accomplishment."

Put on the spot when he retired to recall his most memorable race, he chose the 1965 Easter Cup at Addington he won with Jacobite. "I will never forget that race. I came round the bend with about a quarter mile to run. We had just disposed of the others when I see ahead of me Robin Dundee and Lordship. They were two champions ... who'd imagine we would peg those two back. He was a tough horse, Jacobite, and he did it."

Rather than go for a favourite amongst so many fine horses he drove, Townley preferred to respect them all. "It is hard to single out those good horses," he would say. "They all had that bit extra. Bagshaw, for instance, was a good trotter. He won the big trots at Ashburton when they had free-for-alls for the good horses, but nothing historical. Showdown was a good stayer I drove for Billy Doyle, and I suppose the win by Stella Frost in the Auckland Cup was a great thrill."

His major wins included two Auckland Cups, NZ Cup, two Inter-Dominion Pacers' Grand Finals, two Inter-Dominion Trotters' Grand Finals, Rowe Cup, Dullard Cup, Dominion Handicap, two NZ Derbys, two Great Northern Derbys, two NZ FFA's, Easter Cup, seven Champion Stakes, two NZ Trotting FFA's, two Ashburton Cups, four Sapling Stakes, four Welcome Stakes and too many others to list.

At the time of his retirement at the end of the 1989-90 season Townley admitted to some favouritism in driving the trotter. "Oh, yes; I prefer driving a trotter. With a pacer, it's more a case of placing a horse in a race. With a trotter, you are not worrying about luck in the running. To keep trotting is the big thing. I actually think you've won if they trot all the way. It's better to run last and trot all the way. In a sense, that's an accomplishment."

Townley was recognised as a master with the trotter and enjoyed nothing better than driving them; 'Doody' was an artist getting them balanced and in their gait. He had a little lean forward, reminiscent of the great Maurice Holmes.

An absolute professional, always impeccably neat, Townley was the son of a trainer. He was born on June 25, 1925, one of 10 children, had his first drive behind the trotter Walter Jingle at Ashburton on Boxing Day, 1944, and finished down the track behind Betty Maxegin, who he was later to train and win five races in a row with. "I even took her to Auckland to race in the Inter-Dominions, but she was confused racing the other way round and wasn't worth tuppence." He first win was behind Tara's Hall at the Waimate gallops. "She was out of a mare by Vanity Hall, bred by Arthur Nicholl, and my father traied the horse," he recalled.

At the age of 22, after working for his late brother Bob and helping the family turn sheep pens into horse yards on their new Tinwald property the week his father finished second with Dusky Sound to Marlene in the NZ Cup, he began training himself. During the war, when petrol was scarce, the horses went to the races by train. "I remember walking them down the back roads and getting the train at Waimate. They'd go down the night before." And there was nothing, he said, like the road trip to Nelson which now takes the float eight hours but then, via Blenheim, took 17 hours without a stop.

Besides the speedy Betty Maxegin, 'Doody' won good races with Frank Scott, a U Scott trotter; Cleome, Frontier, and Bashaw, by Josedale Dictator, who was "never the same" after being hit by a car.

His first "great opportunity" as a driver came when Jack Grice asked him to handle Rupee. "He was the first good horse I drove...a real natural. He won all the classics, and I remember the first time I got beaten with him. I was following a horse I used to train; I think it was Brave Company, which Colin Berkett had. I was three back on the outer when he just stopped in front of me. I then had to go four wide, and by then Bob Young had shook his hook with Excelsa and I couldn't catch him."

In recent years, he has retired in Ashburton. Suffering from emphysema, he had given up working horses but remained in good health until being hospitalised about a month ago.

Credit: Mike Grainger writing in HRWeekly 31Mar99


| | |
| --- | --- |
| | RACING HISTORY INTERDOMINIONS |

AUCKLAND - OUR SIR VANCEALOT
Defending again Our Sir Vancelot proved what a champion he was when he emerged through three average runs in the heats to take his game to the next level in the final and make it an unprecedented three Inter-Dominions in a row. The pre-post favourite for the series Christian Cullen was sensationally scratched the day after winning his first-round heat win. Only hours after this the new favourite Agua Caliente suffered the same fate. Our Sir Vancelot gradually improved through the series and a tactically perfect drive from Brian Hancock saw Our Sir Vancelot home once again.


| | |
| --- | --- |
| | RACING HISTORY HORSES |

NO RESPONSE

No Response, the 1978/79 NZ Harness Horse of the Year, died last week. No Response, who turned 28 last Sunday, was in retirement on the property at Kerrytown where he was trained by Richard Brosnan for breeder Fred Black, of St Kilda and formerly Pleasant Point. The property is leased by Brosnan to David Gaffaney.

An electrifying run from the rear of the field at the 600m carried No Response to a two-length win in the Inter-Dominion Trotting Championship Grand Final at Addington in 1979. The Hodgen's Surprise-Cordsworth gelding had won his heats on the first two nights. He won the NZ Trotting Championship on the fourth day to post 10 successive wins and 12 fron 16 starts as a 7-year-old.

His achievments earned him the Horse of the Year title. His other major wins that season were the Benson and Hedges Stakes and NZ National Trot at Alexandra Park. No Response did not win in six starts as a 8-year-old but he came back at nine to win the J Rowe Memorial Cup at Alexandra Park, the NZ Trotting Championship and three other races.

No Response began his racing career at Waikouaiti in October 1977 as a 6-year-old when unplaced. He was then trained by Black and won at his next start at Orari. He won his next start for Black at Washdyke and then transferred to Brosnan, who was his regular driver. "I remember most of his wins, but one of his best efforts was his win in a free-for-all at Timaru before he went to Australia in 1981," said Black, who is 89. He won a heat of the Australasian Trotting Championship at Moonee Valley in 1981 from five starts in Australia.

He was retired after the Rowe Cup with a record of 24 wins and 21 placings from 60 starts for $135,128 in stakes.

Black won four races with Cordsworth (by speedy trotter Ripcord), the dam of No Response. He had been given First Axworth, the dam of Cordsworth, by a friend, Dave Hansen of Palmerston North.

Credit: Taylor Strong writing in HRWeekly 11Aug99


| | |
| --- | --- |
| | RACING HISTORY FEATURE RACE COMMENT |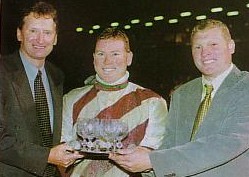 Graham Bruton, Anthony & Tim Butt

1999 COUPLAND'S BAKERIES DOMINION TROTTING HANDICAP

West Melton trainer Tim Butt captured the biggest victory of his career when Lyell Creek demolished the $100,000 Coupland's Bakeries Dominion Trotting Handicap field at Addington. The 31-year-old West Melton horseman has been a consistent achiever amongst the training ranks, notching 20-plus win totals in each of his last five seasons. And now he looks set to take centre stage in the cauldron of next year's Inter-Dominion Trotting Championship in Melbourne. Thanks to Lyell Creek.

Dubbed affectionately by Butt and his brother Anthony as 'Creek the freak', trotting's latest sensation really is one out of the blue. This time 12 months ago he had only just made his debut, finishing fifth in a maiden at Kaikoura, and he was bought by Graham Bruton after winning his next start on January 4. Lyell Creek won first-up for the Butts at Motukarara later the same month, then at Addington early in February he stood on the mark and took no part, eventually being pulled up. Two wins in the space of three days at Trentham followed, but after returning home Lyell Creek took ill. "He got this niggly little virus and was quite crook for a long while," Tim recalled. "The virus was resistant to a couple of types of antibiotics that we tried, and in the end we took a swab out of his lung to find out how to kill it."

Lyell Creek resumed in August, knocking his opposition aside like tenpins. He stretched his winning streak to five prior to the Banks Peninsula Trotting Cup, and treated that field with arrogance as well. If people were not starting to sit up and take notice by then, they certainly were after the geldings Cup Day run, because that was one of the greatest staying performances ever seen at Addington.

So Lyell Creek went into the Dominion with the picket fence formline intact, but on the score of experience he really had no right lining up in such an event. After all, it is the New Zealand Cup of trotting, a race for our most hardened and elite square-gaiters; with only 11 starts under his belt, Lyell Creek was a baby in an adult's world. No-one told him that. Beginning like only he does, Lyell Creek bounded away for his customary two strides and came down trotting. Anthony Butt held onto him until they were around the first bend, then he asked the 6-year-old to find the lead. That is where Lyell Creek loves it and it shows. Two laps later he was still there, and he embarrassed his more experienced rivals when jogging home by more than two lengths.

"We were not originally going to start him in the Dominion," his trainer said afterwards. "All along we were targetting the Inter-Dominions because of the stakemoney, and we felt that his best chance in them was to be off the front. But going by his run on Cup Day and tonight's performance, he's probably good enough to win it off 20 metres," Butt said.

Lyell Creek now heads to Auckland for the two major trotting events on their carnival, and then it's off to Melbourne. Butt is extremely excited about the trotters prospects across the Tasman, and why wouldn't he be. "The handicaps for the Inter-Dominions come out on December 1, so regardless of what he does after that he can't be re-handicapped," he said. "In a lot of ways Lyell Creek is still learning to be a racehorse - he shakes and shivers in his stall before a race so he should be more settled once he gets over that. He is a perfect beginner though, and Ants hasn't turned the stick on him yet. The trips up north and overseas are going to do him the world of good."

Credit: John Robinson writing in NZHR Weekly


| | |
| --- | --- |
| | RACING HISTORY FEATURE RACE COMMENT |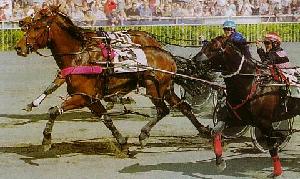 Stars And Stripes defeats Falcon's Blue Jean & London Express

1999 NRM SIRES' STAKES 3YO FINAL

The finish to Cup Day's $150,000 NRM Sires' Stakes Final was full of stars and stripes. The horse by that name was there in the photo, but so were the colours - John Lischner's pink and black stripes, and Mark Purdon's royal blue with grey stars.

There have been numerous titanic battles between the two great horsmen, in training premierships as well as individual races, and Tuesday's 3-year-old event was no exception. This time it was Lischner's representative that got the biggest plum, Stars And Stripes holding gamely to the lead that Purdon's runner Falcon's Blue Jean ate into with a big home straight finish. Lischner had three horses in the Final, which is a unique achievement in itself. Outside of them filling the quinella or trifecta, probably his biggest wish was for the result that eventuated - winning, with Purdon's horse second.

"He is the best mate I've got in the industry," Lischner said afterwards. "We even baby sat his house when he was away on his honeymoon, and when we sent Emcee up north in the late-80s that gave him his first drive on a Cup class horse," he recalled. Talking of Emcee, he ran second in Megatrend's Sires' Stakes Final, and it is something he will never forget.
"With Stars And Stripes we had the perfect draw, and we got the perfect run - this is just one of those moments that you will always treasure."

There were a few anxious moments for the country's leading trainer though; right-hand-man and driver Ken Barron sat patiently three-back on the outer before making his move 600 metres out, and the New York Motoring gelding quickly zipped up to the leaders. "He was in front within a matter of strides, and I thought he had got to the lead too easy and too soon. I was hoping he wouldn't knock off once he was in front - he has done it in the past and it has cost him races. We have tried him in front at home and he is just no good, so Ken has had to change his style a bit when he drives this one," Lischner said, smiling.

The Ashburton horseman has never shelved his opinion of Stars And Stripes, freely admitting that he is the best that has been through the stable since Tartan Clansman. That former top pacer won nine races and was in the money 21 out of 27 times but never reached open class, so why the big wrap? "He set a New Zealand 2200m record in the wet at Alexandra Park, and four months later in the Superstars Final here at Addington he lost at least 70 metres at the start and still beat Master Musician - and that was in the wet too. I haven't seen too many horses do that."

Credit: John Robinson writing in HRWeekly 11Nov99


| | |
| --- | --- |
| | RACING HISTORY FEATURE RACE COMMENT |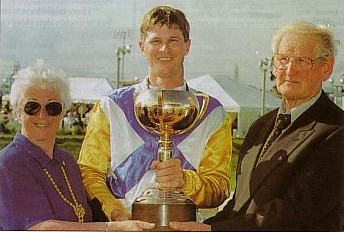 The Maceys with driver Todd Mitchell

1999 DB DRAUGHT NZ TROTTING CUP

A medley of incidents and accidents before the start added spark to the DB Draught NZ Trotting Cup at Addington on Tuesday.

The signs were there but hard to read when Ritchi reared in the birdcage as the horses left for the barrier. Once at the start, and when all was in readiness, Ritchie performed again, this time rearing backwards and buckling his sulky shafts. Driver David Butcher was lucky to be unhurt and he deserved a medal for holding on and saving what might have been a minor disaster. It was bad enough as it was. Club veterinary surgeon Cliff McGrouther was then despatched to the start to see if Ritchie was in the right health to start. He was, though Steven Reid, his co-trainer with Tremain Thorby, thought the prudent course might have been to scratch him considering the drama he'd been through.

The second attempt to line up was better but not good. Happy Asset nearly went through the strand and had to be taken out and put in line again. No sooner had he stood up again, and they were off, but not with Agua Caliente. Under Cover Lover was a clear leader and Ritchie was with her after 300 metres when starter Jack Mulcay whistled them back for a false start. Chief Stipe Neil Escott was soon in contact with Mulcay: "What's happening over there?" "Agua Caliente was side on," reported Mulcay.

Meantime, in the engine room, Racing Manager Tony Lye is reopening the tote, checking the start time of a North Island galloping race, and thinking the delay might mean a bigger handle. Nearly 20 minutes have gone since start time, and the field is still in the starters hands.

HRNZ Executive Member Charlie Hunter, who has seen his fair share of Cups, goes past: "Ever seen anything like this before?" CEO Mike Godber sees some relief in the situation. Sweating in his tails, he is able to remove his top hat and mop the brow. "I won't look. Just tell me if they're all away," he says.

At the third attempt, the field is despatched as one, with Under Cover Lover again leading out from Kate's First and Holmes D G. At this point, Barry Purdon, still thinking he had a lucky break over the false start when Holmes D G made a match-losing gallop, drives the favourite forward to lead. This was predictable. In the last five or six years, the Cup favourites have always led over the last mile and most of them for much more. This is the place for the best horse to be, and Purdon was happy to be there. Agua Caliente was back and Homin Hosed parked. No change, except for a plucky run by Bogan Fella who came up to be second with a lap to run. But still no pressure, and no time to talk of.

The race almost had a fairy-tale look on the corner. 'A driving win for Barry at his ninth attempt ...or was it 10?' 'A very worthy consolation prize for beleagured All Black coach John Hart who arrived home from England at 5am that morning.' 'The favourite delivers in the end.' And the picture developed with some certainty like this from the 400m to the 300m and the 200m, even the 100m where Bogan Fella finally let go. But shapes change and Purdon was somewhat dismayed a few strides later when he saw a head appear outside of Bogan Fella and coming at quite a rattle. "I couldn't see the horse, just a head. I thought it was Denis Wilson's horse," he said. The danger was greater than that. Homin Hosed.

Addington has been good country in the past for Holmes D G. It's also been the land of plenty for Homin Hosed. In two starts, he hasn't been beaten at Addington. At 3200m, his record at Addington is perfect. After looking so convincing for so long up the straight, Holmes D G lingered for just a fraction near the post. Purdon knew it. "I thought there might have been half a head in it," he said. There was a nose, and Homin Hosed still has a perfect record at Addington.

Time is critical but margins win races. 4:04.3 is the official time for Homin Hosed and Holmes D G in the DB Draught NZ Trotting Cup. In the space of less than a tenth of a second, when small fortunes can be won and lost, Homin Hosed nailed the victory in the very last stride. The difference was huge: $209,000 instead of $69,910, honourable mention in the record books, fame and fortune by a nose.

It was a Holmes Hanover quinella in the DB Draught NZ Cup, a North Island 1,2,3,4 with Bogan Fella third and Kate's First fourth - a tight finish after a tame race.

The winners are modest, retiring people. The Maceys, Bryan and his wife Marilyn, are 66 and 65. Instead of doing less at their age, they are doing more; Bryan busy with six horses besides Homin Hosed, Marilyn managing an educational trust. When it came to say thanks for so much to so many at the end of the race, it was Marilyn who took charge. "I don't think Bryan could say anything at the moment." Clutching the Cup, she said:"We've never been here on Cup Day before. It was going to be a wonderful day for us, even without winning," she said. After thanking the club, the sponsors, their driver Todd Mitchell, Marilyn said:"And I must thank the trainer. I am only a part-owner but I must say it's our most memorable moment." Later Bryan did have his say: "I can't really describe how I feel at the moment."

All agree, Homin Hosed has never run a bad race. He won his first race in modest company at Manawatu. "Peter Stephens loaned us Miss Piggy, a Noodlum mare, and one of the chaps from Pyne Gould Guinness said we couldn't go wrong sending her to Holmes Hanover," he recalled. Miss Piggy was from Halter Prize, by Mark Lobell, from the Lucky Hanover mare Lucky Lea, who earlier left the useful winners Hanover Heels and Halter Hal. Previously, she had been to Happy Cat, Slugger and Cheshire, none of which figured in the same commercial street as Holmes.

Macey, a retired vet, put his foot in the water as a trainer in the 80s when he bred an raced Royal Pandora, a mare by Royal Scotchman. "When she won her first start and then her second I thought how good it was. But then she never won another race." Then, he came up with the smart pacer Single Cee, by Crockett and from the same family as Homin Hosed, who won nine before going to the States.

With Homin Hosed, Macey has seldom had much to worry about. He had a little problem with a corn after Kaikoura but it was hardly worth a mention. If there was an issue, it might have been bringing Homin Hosed to the hard racing trim Macey wanted. Working at home, without the choice of companions a big stable can offer, Macey had to take what he could get. "He's a lazy horse at home and needed that run at Kaikoura. He's so tough, and he just relaxes," he said.

Homin Hosed will now embark on assignments equally challenging. He will race in the Miracle Mile if invited - "We will accept an invitation although he's not really a miler" - and then to Melbourne for the Inter-Dominions.

In Macey's care at home are a 2-year-old half-sister to Homin Hosed by Sundon, a yearling half-sister by Il Vicolo, and Miss Piggy is booked to In The Pocket this season.

Thrilled with the support of his local community, Macey acknowledged this by using the colours of Waikato on his pacer's breastplate. He also knows the value of sponsors. One of the first to shake his hand on winning the Cup was George Calvert, who sponsored the Easter Cup Homin Hosed won at Addington on his last trip. "He wrote me a great letter after it. He's one of the best," said Calvert as he congratulated Macey.

Credit: Mike Grainger writing in the HR Weekly


| | |
| --- | --- |
| | RACING HISTORY FEATURE RACE COMMENT |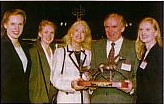 The Brodie family

1999 SMOKEFREE NZ DERBY

Greg Brodie would agree that he took some short-cuts before making his fortune. He was a varsity drop-out and "lived on the punt" when he was still a teenager. He went to the best schools, mixed with lads from the class of landed gentry, and enjoyed the visits of ace race commentator Johnny Tapp when he'd call into the family hotel in Sydney and talk horses with his father, Cleitis.

Brodie soon learned that while short-cuts might have put him on the track to becoming a wealthy man, they did not prevent disasters on the way to finding good racehorses. Ten years ago, through the help of Martin Herbert and Bruce Negus, he was in the market buying horses in the range of $20,000 to $40,000. "They were running-along horses who hadn't done much for me," he recalled.

Then came the call that led Brodie into the arena of spending bigger money on a better prospect. "It was Bruce on the phone, and he said to me 'I've got one to make up for the others.' That was Ginger Man and he won over half a million and now I've got 30 foals by him."
Others of quality followed Jillbo, Franco Hat Trick, Bridge Hanover and One Way Traffic. As good as they have been, Negus did his best day's work for the Queenslander when he bought him a black 2-year-old colt by In The Pocket, a bit on the smallish side, in the spring of 1997. This was Courage Under Fire, Brodie's signature horse, the winner of the Smokefree New Zealand Derby and before that 16 consecutive races. He has won $721,000, and is an icon of the New Zealand harness racing industry. Soon, he will be off to Australia, for three derbies, and possibly four if Negus decides to add Perth to the itinerary of New South Wales on May 14, Queensland on July 3 and the Australian on July 10.

Brodie is a quiet, unassuming man who bought his wife Grietha and their three daughters Deahnne, Raquel and Yasmin to Christchurch to see the horse he had been telling them about. He was the only child of a suburban publican. In hindsight, he was surprised he didn't start off with a galloper because the parents of many of his classmates had farming ties and thoroughbred origins. His first horse, leased at 17, was Jam Raider, who never won a race. "During those times I lived off the punt, everything was off the punt. I dropped out of varsity, went into accountancy for seven years, then into real estate. Fouteen years ago I left Sydney and went up to the Gold Coast. It was a lifestyle thing,"

After the setback with Jam Raider, his first decent horse was Cam Raider, who won 12 races out of Cyril Caffyn's stable. In partnership with his father who also raced Cam Raider, they bought Bell Byrd from Jim Dalgety. "We paid ten thousand pounds which was a lot of money at the time but she was a very good mare and won us the Golden Easter Egg in Sydney before dying from a twisted bowel. Since then, Brodie's hobby has mushroomed to the stage where he now owns horses in Perth with Ross Olivieri, Brisbane with Vic Frost, Melbourne with Mark Peace, and with Barry Purdon and Bruce Negus in New Zealand. After seeing his 30 foals by Ginger Man during his Derby trip, Brodie says his hobby "is out of control."

He also says his policy of buying up and running young horses - he has never been a breeder - is laced with pitfalls and problems. "I have rarely bought at yearling sales, in fact I can recall only buying one. By doing it this way, it reduces the risk because you know what you are buying. But even after trialling them, vet examinations, opinion and price, the success rate is only twenty five percent. I would like to think it is fifty percent," he said. To qualify that, Brodie said the purchase of Courage Under Fire should not be considered in isolation. I bought six 2-year-olds at that time, and Courage Under Fire was not the dearest. Klim was dearer and he has won one. Congo Direct was a good juvenile in Australia last season but he is not worth two bob this season. Another was Mr Focus. I think he's won, but the others are no good."

Brodie, who used to build shopping centres and now manages the ones he owns, recalls that in the past Negus has done all the groundwork and developing of his young horses, and they have gone to Purdon when Negus has said it is time to go. "I gave Bruce the choice of keeping Klim or Courage Under Fire. I suppose it could have gone the other way."

Brodie says the stakes won by Courage Under Fire have also been a "fantastic earner" for his breeders, Neville Cockcroft, Patricia Inkpen and the estate of Ossie Cockcroft who died aged 83, just two days before the Derby. Under the sale agreement they earn 10% of what Courage Under Fire wins from Group 1 races and Sales Series Finals. "We actually offered a lower figure, but Wayne Ross, his trainer then, was keen for us to get him and this was one of the ways for doing so. It was a real smart move for them." From his perspective, Brodie is concerned about the long term future of harness racing. He fears there are too few young people getting hands-on contact, and he notices no less than anyone else the scarcity of young people at the tracks.

Courage Under Fire took 3:15.9 to win the 2600m Derby, the slowest in four years, since Il Vicolo ran 3:17.4. He ran his last mile in 1:57.7, final 800m in 56.2 and last quarter in 27.4. Trainer Bruce Negus, always refreshingly honest, said: "You really have to be a bad trainer not to win with him. This race was too slow to be hard on him. He does make it look easy," he said. Negus says the only hard race he's had was on Show Day at Addington when Stevies ran him close. In the meantime, Stevies hasn't made the slipstream. Colonel Anvil came out of the trail to run second, followed by Waitaki Warrior and Stevies.

Credit: Mike Grainger writing in NZHR Weekly