| | |
| --- | --- |
| | INTERNATIONAL HISTORY |

Work on the International Space Station begins.


| | |
| --- | --- |
| | LOCAL HISTORY |

Auckland CBD was hit by a power breakdown that lasted for over a month and results in an enquiry into the supplier Mercury Energy.

The Black Ferns, NZ woman's rugby team win the world championship title.

Addington Prison closes.

Lancaster Park is renamed Jade Stadium.

Gerry Moore replaces Vicki Buck as mayor.

The Paralmpic Swimming Championships are held at QE2


| | |
| --- | --- |
| | RACING HISTORY PEOPLE |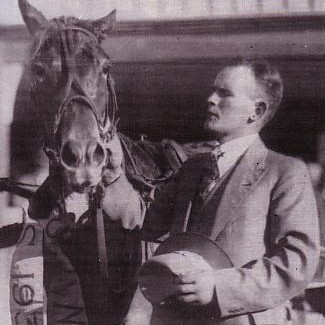 Colin McLaughlin with Silver De Oro after the 1931 Sapling Stakes

COLIN McLAUGHLIN

Colin McLaughlin has never been one to complain. When the golden run by the carriers of the Royal Stewart tartan were over, Colin enjoyed his racing no less. When moderates Dainty Dish and Meadow Pam carried the flag in place of Manaroa, Allakasam, Royal Ascot, Nimble Yankee and Manawaru - who between them won 75 races in NZ - Colin didn't rush to recall how racing used to be.

But he complained to me. "I've never stopped working, but in the last month I haven't done a thing. I haven't felt like it. I've had a fairly big operation. I'm 80 in July. I hope I get there.

Colin is not as fit and well as he would like to be. He put great discomfort behind him on the day of the Hororata trots so he could see Rosy Score race at Ashburton. Physical problems have not diminished Colin's alert mind, nor his ability to succinctly give his opinion on any matter in the harness racing industry.

Two events this season, quite insignificant in themselves, have disclosed the long arm of Colin's estate in harness racing. The first was the death of Allakasam, the daughter of Fallacy and Sedate who won the McLaughlins 18 races, including the 1967 Auckland Cup, the Hannon Memorial, the New Brighton Cup and the Easter Cup. And the second was the accomplishment of exhibiting the best-presented colt - by Kanturk from Morose - at the yearling sale conducted by Pyne Gould Guinnes in January and the runner-up, one by Preux Chevalier from Alleviate.

But Colin's involvement in racing was mobile long before Allakasam. He was the strapper for Silver De Oro, winner of the Sapling Stakes in 1931, and to Blair Athol, a good Rey De Oro horse who went on to run third in Lucky Jack's NZ Cup when trained by Dick Humphreys. In 1932 he had his first horse, Llewellyn's Pride. A son of Llewellyn, Llewellyn's Pride won his first race at Motukara in 1934. Colin said he paid more than £100 in winning the Wairewa Trot. He was 16/17 in the betting, but the Year Book of the day recorded favouritism but not dividends.

At the time of this success for the young man and for a further seven years, the family farmed at Halswell, on ground leased by the Travis Cancer Research Company. In 1939, when the lease expired, Colin moved to Mount Hutt. The same year, Colin moved in the direction that within two or three generations was going to yield remarkable results on the racetracks of New Zealand and Australia.

"I was able to lease Straight from Eugene McDermott's father. She was a nice pacer, by Jack Potts. She only won the one race. That was in 1939 when the war broke out. I was told she was mad when I leased her but I liked her and later bought the freehold of her. That was the taprootof this family. The best thing I ever did in my life was taking Straight to be mated with Young Bob. I was looking for Globe Derby blood. Young Bob was by Robert Derby, by Springfield Globe, who was by Globe Derby."

Young Bob and Straight gave him Sedate, who produced the grand racemare Allakasam, and two special broodmares, Morsel (by Fallacy) and Flying Mile (by Flying Song). The best of Allakasam's progeny were Allspice (by Estes Minbar) who won eight races, and Jaunty Hanover (by Jersey Hanover) whose eight wins included the Methven Cup and the Queen's Birthday Stakes. She is also the dam of Colarno (by Locarno), who on March 11 gave Wellington OTB committeeman Ron Stechman his first success as a trainer.

The winner of four races, Morsel left Nimble Yankee, the winner of 11 races including the 1977 Pan Am Mile and Royal Ascot, whose crowning achievement was winning the Auckland Cup; his placings were in such events as three Derbies, the Miracle Mile, Inter-Dominion heats and an Inter-Dominion Grand Final. Morsel also left Morose, the dam of Colin's latest racing interest, Rosy Score.

Flying Mile left Manawaru and Manaroa, two outstanding pacers sired by Prince Charming. Like Royal Ascot, Manaroa won 18 races, but he picked up the greater part of his earnings from placings in such feature races as the Inter-Dominion Grand Final, the Auckland and NZ Cups and the Miracle Mile. "I sent Flying Mile to Morano because his staying ability appealed to me. Manaroa and Morano were two of a kind; they both had the same failing of being able to begin," said Colin.

Manawaru and Royal Ascot were by Prince Charming, a son of Springfield Globe who won a few races for Mr E E Johnson of Irwell. "He was out of a mare I used to race and he had a lovely disposition. It was the Globe Derby blood I wanted. I thought I'd get him for £100, but I was able to buy him for 70 quineas," he said. "I just did my own mares, and a few for some mates. There wasn't really a mug amongst them. The point about all of mine was that I didn't has to put a boot on them. Where they got their good gait from I've never worked out; it might have been through Lawn Derby...he was poetry in motion."

Sitting back in the sun, totally impatient with his inactivity, Colin reflected on some other aspects of his harness racing world..."I'm disappointed with the results I've had to high-bred American stallions. I've been to seven and the results have been minimal...I had faith in Regal Yankee. He gave me Nimble Yankee and Jaunty Hanover and they both measured up...I had a soft spot for Manaroa. If they had had three mile races he would have won them all. You just had to wait until he got his legs going...I've never missed a Cup since 1923, when Great Hope won...I mucked around; I still maintain they were half-trained horses.

The death occurred early in February 1998 of Colin McLaughlin.

Credit: Mike Grainger writing in HRWeekly 22Mar89


| | |
| --- | --- |
| | RACING HISTORY PEOPLE |

DAPHNE RHODES

Daphne Rhodes died in Christchurch Hospital last Tuesday, aged 93. Mrs Rhodes (nee Holmes) was the daughter of Freeman Holmes, making her the youngest sister in one of the most famous racing families in NZ.

Freeman Holmes was the first person to ride and drive the winner of the galloping and harness racing New Zealand Cups, teaming with Manton in 1887 and Trix Pointer in 1919. Mrs Rhodes' brother Maurice is considered to be one of the greatest reinsman to ever sit in a sulky, while other brothers in Alan and Freeman junior were also outstanding trainer/drivers.

Marrying the late Clarrie Rhodes in 1929, Mrs Rhodes raced many successful horses with her husband, although they were always in his name. Among the best were Lookaway, who became the first 4-year-old to win the NZ Cup when successful in 1957; True Averil, who won the Cup in 1971; Safety Pin, Best Bet and Free's Best.

The Holmes family is renowned for ite longevity. Freeman was still riding gallopers in his 80s and lived until he was 95, while another brother lived until he was 94. Mrs Rhodes' brother Maurice Holmes is the last remaining sibling; he is in his 90s and lives in Christchurch.

Mrs Rhodes is survived by her five children - Mary (Dawson), Gerald, Freeman, Peter and Alan


Credit: HRWeekly 21Jan98


| | |
| --- | --- |
| | RACING HISTORY PEOPLE |

LEICESTER ROPER

The death occured recently of Leicester Roper, aged 67, who was associated with many fine horses as a trainer, breeder and studmaster.

Early in his career, he was employed by Clarrie Rhodes to train Safe Return, Lookaway, Prince, Anne Peterson and Mighty Brigade. As an owner, his best horse was False Idea, a half-brother to Dryhan Lea, a smart son of Lumber Dream Jack Litten trained to win four races in the early 70s.

Dryham Lea was raced by Lance Pearce, and after his retirement, Leicester stood him at stud where he left the useful pacers Give And Take (5 wins), Logan Dryham (6), Thornlea (5), Flat Tack and Locality. His best broodmare credit has been Stand By (1:52.2).

Credit: HRWeekly 6May98


| | |
| --- | --- |
| | RACING HISTORY PEOPLE |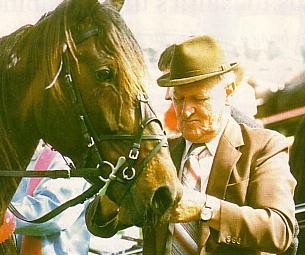 Alister Kerslake

ALISTER KERSLAKE

Alister Kerslake, who had been in ill-health over recent months, died at his Methven home on Monday.

Aged 73, Kerslake was a straight shooter who made a name for himself as a breeder, owner and trainer, and over the years prepared some of the country's notable drivers and trainers. Champion driver Maurice McKendry, Phil Williamson, Ian Cameron and his son Lindsay all did their apprenticeship under Kerslake.

But it was his ability and knack of setting young horses for big races and winning them that set him apart from most others. He won the 1971 NZ Derby with Bachelor Star, the 1975 NZ Derby with Main Adios, the Great Northern Derby three years later with Main Star, and the 1979 NZ Derby with Game Adios. All were out of the Captain Adios-Loyal Guest mare Adio Star who won the Broodmare of the Year in the 1977-78 season.

Kerslake was born in Rakaia, starting off riding trackwork for the local butcher, Bill Black, later for Dill Edwards, and also for Wally Tatterson. As a lad, he took the Tatterson-trained Emulous into the birdcage for the New Zealand Cup. His early working life was at the Railways, then as a butcher in Methven, before doing what he had always wanted to do, work with horses.

That came in 1968, though he had started a lot earlier, winning five races with Lady Knight, and others with Burns Night in the 50s. On shifting to Highbank, his first winners were Loyal Adios and True Forbes, he sold New Guest who became the dam of the outstanding racemare Hilarious Guest, and near the end of his career he raced Bionic Chance, a cracker filly who he maintained should have won a Derby. Bionic Chance won the NZ Standardbred Breeders Stakes, 17 other races and $323,630 in stakes.

Kerslake trained more than 180 winners. They were all well bred, well trained, and he always used top drivers. He stood three of the horses he trained at stud, Adios Bachelor, Main Star and Bionic Adios; Main Adios and Bachelor Star were sent to Australia.

When interviewed just recently, Kerslake said: "Horses were everything to me. They were my life from the time I could run around. I was always around them and I always wanted something to do with them.

Credit: Mike Grainger writing in HRWeekly 27May98


| | |
| --- | --- |
| | RACING HISTORY PEOPLE |

TOM NYHAN

The death occurred recently of Tommy Nyhan, who was 90 and father of former top line driver, Bobby Nyhan.

Although he didn't reach the heights of some members of the Nyhan family, Tommy was notable in certain areas of horsemanship. He grew up in the Woodville area and made his mark as a show rider and very good trackwork rider for some of the top galloping stables. One of the horses he handled while in the area was Watcher, a smart Grattan Loyal mare who became the fourth dam of Master Musician.

He moved to Christchurch, worked for Jack Kennerly, handled the great Harold Logan in trackwork, and he ran a dairy shop until he could afford to buy the Weedons stable of Noel Berkett. Two of the best horses he trained were Tribal Song, a stallion who could have gone further than he did, and Bound To Be. He never had a big team. Those he turned out were always in picture book condition.

"He was a real old style trainer," recalled Bobby. "It was an important thing in his life to prepare a horse and have it looking special." He took the same pride in himself. He always wore a tie, and few could match the polish Tommy put on his shoes.

Credit: Mike Grainger writing in HRWeekly 16Sep98


| | |
| --- | --- |
| | RACING HISTORY PEOPLE |

Maurice Holmes 1909-1998

MAURICE HOLMES (OBE) 1909-1998

It was appropriate that Maurice Holmes OBE made headlines when he died last week. He was pictured on the front page of "The Press" in Christchurch with a short story that said goodbye to one of harness racing's all-time greats. A true champion, a driver of supreme ability, honoured by the Queen, twice voted NZ's Racing Personality of the Year, the first harness horseman to drive 1000 winners...a famous Canterbury boy; the tribute was no less than he deserved.

He went, in fact, closer to 2000, with a total of 1666 - a staggering number considering the opportunities when Maurice started out were half what they are now - and his biggest score of 93 came in his very last season, when he was 65, still in peak form and a competitor to fear. He died aged 89, at his Christchurch suburban home where he lived with his wife Elsa, who predeceased him five days earlier, and Paul, his son and loyal companion.

His record in many aspects is beyond compare. He was champion driver on 19 occasions, winning the premiership for the first time when he was 20. Few classics went past his reach, and some of them he won many times. The New Zealand Derby was one of them. He won this blue ribbon feature 12 times, with Wrackler, Arethusa, Circo, Aldershot, Imperial Jade, Scottish Lady, Free Fight, Congo Song, Royal Minstrel, Tobacco Road, Student Prince and Willie Win.

Student Prince was trained by Reg Stockdale, who spent nine years with Holmes when he trained such wonderful horses as Vedette, Chamfer, Globe Direct, Te Maru, Attack, Tactics, Lauder Hall, Walnut Hall, Scottish Hall and First Victory. "He was terrific to work with," said Stockdale. "We never had a cross word, and I didn't take a day off in nine years, only because I didn't want to. He said he learnt everything from his father. Free told him to drive for third. The idea was you would come with the last run and you would end up winning."

Stockdale was still with Holmes when he moved stables, from Russley Road to Yaldhurst, and the great horses continued until the end of the 50s...Lookaway, Dancing Years, Finestra, Robert Dillon, Recruit, Ruth Again, Super Royal, Black Douglas, Loyal Cis and Papatawa. Recalling how meticulous Maurice was, he said: "One day after we had worked the horses, Maurice raked the yard and drive and had it spot on. Then a man came in, driving an old truck, on to Maurice's neat and manicured yard. He said he was selling apples. Well, he went out quicker than he came in, and never sold an apple."

Stockdale who used Holmes to drive his good horses such as Bramble Hall, Jilaire, Blue Prince and Stewart Hanover, said he always drove to save ground and won many races at Addington "sitting on the fence." He could sum up a horse quickly. You would be training one for six months, and he'd drive it once round the track and tell you more than what you would know yourself. "He was a real Professional...never smoked and didn't drink, and no visitors were allowed the night before raceday...that was always an early night."

Stackdale said he knew when to hit a horse and when not to, and was good at pushing out during a race. "I remember being in a race at Ashburton when Maurice looked across at the guy outside him and asked how he was going. The fellow said 'by the time I looked round to tell him I was three wide.'"

Maurice was a modest man, with a dry sense of humour and a quick wit. Stockdale relates this story: "A fellow engaged Maurice to drive a horse he had driven many times himself without running a place. When he brought the horse into the birdcage, he proceeded to tell Maurice how he thought the horse should be driven, and as he walked away, said 'You know Morrie, she has never been hit.' To which Maurice replied, 'Well, she hasn't got long to wait.'" On another occasion, when an owner thanked him for a winning drive, Maurice replied: "We fed our rooster on thanks and it died."

In later years, Maurice raced many horses in partnership with Bernie Wilks. When old age started to finish better, Paul was able to drive his father to work his horses, and take him to trials and race meetings. "I know this was of great comfort to him," said Stockdale.

The other eulogy at his funeral, attended by many harness racing notables including Peter Wolfenden, Roy Purdon and Jim Smith, was given by Derek Jones who with Soangetaha was one of the last overtaken when Maurice brought Vedette wheeling out of the pack, dangerously late, to win the 1951 Inter-Dominion Grand Final. Jones, who said he wouldn't have been surprised to read in the paper one day that Maurice had died and the funeral had been held, thanked the family for giving the racing fraternity the chance to pay their respects. 'You had to be out on the track to appreciate his uncanny ability. He was fearless, he had hands like a BBC pianist and an electric brain. He had a super sense of pace, anticipation beyond description and his stance in the sulky was balanced perfection. "If you gave him the reins he would ask you what the horse does wrong, and say he would find out the rest on the way."

Jones said Maurice was never one for ceremony, and when asked to say a few words after winning a big race would invariably reply: "I think I've done my part. Thanks." "The day he drove his 1000th winner was an exception. He gave a wonderful speech. He could rise to the occasion when it was demanded," said Jones. He also acknowledged his remarkable gift of being able to get horses away safely from a standing start. "This is illustrated by the number of Derbys he won. They were in the old days, over a mile and a half, where the start at Addington was on the bend going out of the front straight. He always managed to get round that corner better than most," he said.

Canterbury trainer Bob Negus was one of many who turned to Maurice when the big money was up. He used him to win the 1955 New Zealand Oaks with Glint. "He gave tremendous advice," said Negus. "I was hard up in those days and I told him I had the chance to sell her. Maurice asked how much. He said to take the money would be the wrong thing to do, best for you to hold on to her. I mean, he could have bought her himself. That advice was worth thousands to me, but then he did that many times," he said. Negus said Maurice approached every drive with the same level of commitment, whether it was a Cup horse or a maiden. "It was so important to him, to get the best out of it. He always made suggestions to improve the performance of a horse in a very kind way. You had to listen very carefully to what he was telling you, and what he said would always be right."

According to Freeman Holmes, Maurice told him many times Vedette was the best horse he handled. "And I would say that his drive to win the Grand Final with Vedette was the best I have seen. He was three or four back on the fence. Soangetaha had gone clear, but Maurice got through that last bit and won. He would say you can't go through gaps if they are not there, but this was a really superb drive. He won seven races with Noodlum in his last season when there looked to be a chance that he could drive 100 winners, and he rated Noodlum the best young horse he drove. The thing with Maurice is that he could be in midfield, or further back, and he would know where everyone was. You never really knew when he would attack," he said.

Morrie was very much 'the maestro' from the time he started. His first win was at Addington in August 1925, riding Bonny Logan to win the one-mile Lightning Handicap, for saddle horses, by three lengths. He was 16, and he was 17 when he won the 1926 Auckland Cup with Talaro. At 20, he was New Zealand's champion driver.

One of eight children - four boys and four girls - Maurice was born into a family of racing blood as pure as it gets. He father Free won the 1888 New Zealand Cup on Manton, turned to harness racing and won the 1919 New Zealand Cup with the American import Trix Pointer, and in 1936, at the age of 65, won the Inter-Dominion Grand Final in Perth with Evicus.

In his first season of driving, the 1925-26 season, Maurice drove five winners, and 30 the first season he topped the premiership. The first of his three New Zealand Cup winners was Wrackler and the same day Maurice won the New Zealand Derby with his stablemate and younger sister, Arethusa. Wrackler was the first foal fron Trix Pointer, and two seasons later won the Dominion Handicap off 60 yards when trained as a trotter by Jack Behrns.

In the 40s, Maurice turned to training, and in the 1949-50 season, topped the premiership. He won the NZ Cup again in 1950 with Chamfer, a horse who had to be covered for one, short, sharp sprint. No-one could do this as well as Maurice. In the same year, Vedette joined the stable. Formerly trained by Jack Litten, Vedette was especially prepared for the Addington Inter-Dominions, and earned favouritism with a handsome win in his third heat, over two miles. From all accounts, the Final was a cracker, and Maurice had to be the great architect he was during the race to find space with a horse in hand. His third NZ Cup came in 1957 with Lookaway, a 4-year-old bred and raced by his brother-in-law, Clarry Rhodes.

Besides the Cup and the Derby, Maurice won the Auckland Cup (Talaro and Robin Dundee), the Great Northern Derby (Wrackler, Chamfer, Tutta Tryax), Rowe Cup (Recruit -twice, Ordeal), New Zealand Oaks (Glint, Petro Star, Earl Marie), Dominion Handicap (Recruit, Wrackler, Fair Isle), NZ Free-For-All (Harold Logan, Vedette, Lookaway, Robin Dundee), NZ Trotting Stakes (Acclamation, Alight, Court Out, Winterlight, Spark Gap), NZ Golden Slipper Stakes (Adroit, Rossini, Fidelio), Miracle Mile (Wag), and Sapling Stakes (Arethusa, Slavonic, Tobacco Road).

His last day at the office was at Alexandra Park on July 20, 1974. From eight drives, he won four of them, including his final one with the trotter Transmitter Sound. The Club marked the occasion by taking Maurice on a lap of the track in an open tourer, and drivers gave him a whips-held-high guard of honour.

In retirement, at an age when many had flagged it away, Maurice still maintained an active interest in harness racing, training his last winner when he was 80, and he had Apollo at the races when he was 86.

He was associated with wonderful horses that many of us did not see. He may well have had his last headline in the paper, but in old photographs, on the list of past winners, in the gallery of fame, Maurice Holmes will be a name that will last forever.

We thank you Morrie. As a horseman, you were someone special.

-o0o-

NZ Trotguide 25Jul74

A man who has been at the top of his profession over a span of 44 years has had his last drive. He is Maurice Holmes whose accomplishments as a horseman have made him a household name in NZ.

Holmes is by far the most successful reinsman in the history of trotting in this country dating back to the 1860s. He has driven 1666 winners and amassed $2,054,555 in stake money over the last 49 years. His skill has earned him the title 'Maestro' - a word usually reserved for an eminent conductor, composer or teacher of music. Maurice Holmes is considered to be in a class of his own.

Holmes has topped the national drivers' premiership 17 times and he is currently leading the list with a record number of wins before he retires from race driving under the Rules of Trotting. He has driven 93 winners since August, 1973 bettering his record total of last season. Holmes set the previous single season records of 67(1954/5) and 52(1949/50). His 52 wins in the 1949/50 season eclipsed the record set 16 years previously by the late Fred Smith who drove 51 winners in the 1933/34 season. Holmes also drove 67 winners in the 1959/60 season.

Holmes has driven the winners of practically every major race in NZ and trained winners of two Inter-Dominion Grand Finals, the premier light harness event in Australia & NZ. He trained and drove Pot Luck to win the Inter-Dominion Final at Addington in 1938 and was also successful at the Christchurch course with Vedette in the 1951 final. Oldtimers still rave about Holmes extracting Vedette from a seemingly hopeless position a furlong (200 metres) short of the winning post. It was described by one trotting fan: "Vedette, by some freak of fortune, virtually threaded his way through the eye of a needle and them sprouted wings."

Holmes has driven the winner of NZ's top handicap harness race, the NZ Cup on three occasions. The first was with Wrackler in 1930 at the age of 21. He also trained his two other winners, Chamfer(1950) and Lookaway(1957). Holmes has established a record without parallel in a single race in NZ by driving 12 winners of the NZ Derby - Wrackler(1928), Arethusa(1930), Ciro(1931), Aldershot(1938), Imperial Jade(1939), Scottish Lady(1942), Free Fight(1946), Congo Song(1947), Royal Minstrel(1954), Tobacco Road(1957), Student Prince(1960) and Willie Win(1972). He also trained Aldershot, Imperial Jade, Scottish Lady, Free Fight and Tobacco Road.

Holmes has also been in the top bracket as a trainer, heading the national premiership in the 1949/50 season with 30 wins. Other important wins for him as a trainer included the NZ Free-For-All with Vedette and Lookaway, NZ Sapling Stakes with Arethusa and Tobacco Road and NZ Golden Slipper Stakes with Adroit, Rossini and Fidelio. He bred and raced the last two in partnership. Holmes has also had success in Australia as a trainer-driver with Tobacco Road as a 3-year-old.

The announcement that Holmes will drive a horse immediately invites special attention from trotting fans and in many cases sends them rushing to bet on that particular horse. Holmes's ability as a reinsman was summed up by the noted trotting writer Karl Scott (now retired) in the November, 1960 edition of the NZ Trotting Calendar: "Maurice Holmes is an 'out and out' natural" and his knack of anticipating the moves of other drivers and horses in races borders on the uncanny. Horses race kindly for him, even notoriously hard pullers. Holmes is not keen on the use of hand grips on reins and this is sufficient testimony to his ability to handle the hardest puller with confidence. It is noticeable that if horses are inclined to want to make their own rules by tear-away tactics, Maurice is ofter seen allowing them to have their own way for a short while but they generally finish nicely tucked in behind something else and racing the way they should."
He is also a master at educating and gaiting young horses and invariably has a 2-year-old to the fore in the early part of the season.

The name Holmes has been associated with Trotting on a highly successful basis since the early days of the sport in NZ. Maurice is son of Free, affectionately known as the "Grand Old Man" of trotting. Free rode gallopers on the flat, over hurdles and steeples and was a trainer and owner of thoroughbreds. Free rode his first winner at Ashburton at the age of 12 about 1883 as a five-stone lad. His wins as a jockey included the 1888 NZ Cup on Manton; 1894 Grand National Hurdles on Liberator and a Great Northern Steeple on the same horse. His training successes including an Auckland Cup and he had Vascoe, leading stake earner in the 1903/4 season. Free had great success in the sister sport. He trained and drove Evicus, the grand champion at the inaugral Inter-Dominion at Perth in 1936, drove the 1919 NZ Cup winner, Trix Pointer and won the 1935 Auckland Cup with Graham Direct.

Maurice is the second son of Free, who also had four daughters, one of whom is married to Mr C L Rhodes, who has major holdings in the standardbred industry. Maurice's brothers, Freeman (eldest), and Allan also made their marks as horsemen while another, Walter was the right-hand man for his father. Freeman figured as the owner-trainer-driver of the 1953 NZ Cup winner, Adorian and trained Graham Direct for his 1935 Auckland Cup win. He trained and drove two NZ Derby winners - Bonny Bridge(1943) and Daphne de Oro(1927) and four NZ Sapling Stake winners - Richore(1926), Sonoma Child(1928), Captain Morant(1942) and Forward(1951).

Allan Holmes is best remembered for Gold Bar, who put up great exhibitions of speed and ran his rivals off their feet in the 1945 NZ Cup. He also drove Harold Logan in his second NZ Cup win from 60 yards in 1932. Today a third generation of Holmes's is continuing the family tradition for top horsemanship with Freeman L, Graham, Kevin and Colin, nephews of Maurice. Graham has driven the classic winner, Buccaneer(1953 NZ Sapling Stakes) and developed the Cup class pacer Co Pilot. Kevin, who also drove a NZ Derby winner Leroy(1968), is a prominent trainer at Cambridge and Colin has also had success. Freeman L figures as the trainer and part-owner of this year's star 2-year-old Noodlum and the fine 4-year-old trotter Edis Nova.

Maurice Holmes attended Riccarton Primary School. He began driving work at the age of 11 and was full time in the stable at high school age. Maurice was soon licenced as a reinsman but for a short time had his licence revoked on the grounds that he was too young. He had his first engagement in a race at Ashburton on Boxing Day, 1923. The horse Energetic, fell so it could be said that he started his career at ground level. Holmes maintained his association with Energetic's trainer G H Murfitt of Rangiora. Murfitt, the oldest licenced trainer in NZ was on hand when a presentation was made to Holmes by the Ashburton Club last month to mark his retirement. Holmes drove Life Bouy for Mr Murfitt that day but was unplaced.

Holmes had his first placing behind Wonder Why who finished third from 60 yards in the Governor's Handicap at Addington on November 14, 1924. He had his first win on Bonny Logan in a saddle event at Addington on August 17, 1925 at the age of 16. A description of the race in a Christchurch newspaper the following day read: "The winner was well and patiently handled by the young horseman, Maurice Holmes, whose first win it was. With the good judgement and coolness he showed, he will be heard of later." Maurice was considered a top rider whe saddle races were in vogue. His first win in a sulky event was behind Talaro at Auckland on December 23, 1926. Five days later he gained his first 'big' win with Talaro in the Auckland Cup. A free-lance driver in the early days of his career, Holmes first topped the drivers' premiership in the 1930/31 season with 35 wins and repeated the feat the following season.

He took up training in the depression years of the early 30s. It was a case of making a living with driving fees dropping from £3 to £1 and the chance of only five drives a week. Holmes retired from public training in 1959 though he still prepares a few horses for himself. He trained Strauss, a winner at Addington earlier this season and has about 450 wins on his record as a trainer.

Holmes achieved the $1 million mark in stake earnings when he reined Damian to success in the Le Lievre Handicap at the NZ Metropolitan meeting on November 21, 1959. He achieved $2 million when Waipounamu ran second in the Spreydon Handicap at Addington on March 30, 1974. Holmes hoisted his 1000th winning drive behind Rustic Lad, in the Final Handicap, last race of the NZ Metropolitan Trotting Club's Cup Day programme on November 8, 1960. His reply at the presentation to the thousands of fans who had been on tenderhooks: "I'm sorry to have kept you waiting. It would have suited me much better five races ago." He was referring to the NZ Cup in which he was beaten into third place with Lookaway. Holmes gained win number 1500 at Oamaru on October 23, 1972, when Macamba won the Cecil Hore Memorial Handicap.

Holmes cut down on travelling much further afield than Canterbury in the late 1960s after topping the drivers premiership for five consecutive seasons between 1961/2 and 1965/66 with totals of 54-50-60-45-48. Consequently his tallies dropped away though he still remained high on the national list each season. Last season(1972/73), urged on by his wife, Elsa, and 17-year-old son, Paul, Maurice revisited some of his old haunts in quest of the record. His brilliance as a reinsman did the rest. He drove a winner on 54 of the 62 days or nights he had an engagement and piloted at least one winner on 24 consecutive days or nights between December 23, 1972 and March 24, 1973.

To emphasise his skill he landed five winners - Wag, Robin's Sister, Armbro Jodie, Strauss and Great Time at the NZ Metropolitan meeting on March 7, 1973. Holmes had twice previously driven five winners on one programme at Forbury Park. He was successful with Jenny Dillon, Walnut Jimmy, Te Maru (twice) and Lady Inchape on October 13, 1951 when he also gained seconds with First Victor and Scottish Nurse. The other occasion was on February 5, 1955, when he piloted Recruit, Trueco, Belle Renarde, Sure Phoebe and Secure.

At the presentation to Holmes when he drove his 68th winner for 1972/3 - Grizzly Bear at Addington on April 7, 1973 - thus eclipsing his old record of 67, NZ Trotting Conference President, Dick Rolfe, said: "The Holmes family have shaped the destinies of NZ trotting and 1973 will go down as Maurice Holmes' finest year."

Another feat for Holmes was to train and drive the winners of both divisions of a race. The event was the Waiwera Handicap won by County Clare and Valola at the Banks Peninsula Racing Club's meeting on March 2, 1946. Holmes won the only other light harness event on that programme with County Clare.

Maurice has a remarkably clean record as race driver. He had his first suspension for 18 years when given a one day penalty for causing interference at the Morrinsville meeting an April 2, 1974. The previous time he was outed for a month when found guilty of causing interference as the driver of Super Royal which finished second to Loyal Cis in the Author Dillon Handicap at Addington on November 8, 1956.

Among his big wins in 1972/3 were the $16,500 Stars Travel Miracle Mile with Wag (who set a national record of 1:57 2-5); NZ Derby (Willie Win); Champagne Mile Final (Tonton Macoute); Bridgens Memorial and Stewards Free-For-All (Jason McCord).

It is fitting that Maurice should be associated this season with Noodlum (trained by his nephew, Freeman) as the colt rewrote the record book for a 2-year-old by winning 12 races and $23,162.50. Freeman drove Noodlum to win five of his first eight starts then offered the drive to Maurice to help in his quest to top the drivers' premiership in his last season. Maurice obliged by piloting Noodlum to seven straight wins including the triple crown of 2-year-old racing - the NZ Sapling Stakes, Juvenile Championship and Welcome Stakes.

Maurice has had his share of spills; enough to rule him out when he volunteered for the Second World War. At 65 years of age, Holmes is driving with the acumen of men many years his junior. His nerve has never wavered. Another remarkable feat he has achieved in his final season, is driving a winner at 18 of the 20 tracks where he has attended his last meeting. This he proved at Alexandra Park last Saturday in his final day of driving when he drove four winners, two seconds and a third. It was a remarkable achievement and showed him to be the 'Maestro' to the end.

Credit: Mike Grainger writing in HRWeekly 15Jul98


| | |
| --- | --- |
| | RACING HISTORY INTERDOMINIONS |

HOBART - OUR SIR VANCEALOT
Hot off the back of a strong win in the previous Inter-Dominion series Our Sir Vancelot pulled out the necessary when it really counted to win consecutive Inter-Dominions. There was much controversy surrounding the venue for this Inter-Dom but Brian Hancock didnít mind.


| | |
| --- | --- |
| | RACING HISTORY HORSES |

WAIPOUNAMU

Waipounamu, winner of 17 races trotting in the 1970s, has been put down at the age of 29.

"The winters were getting harder on him with his bad arthritis," Bill Sutherland, a son of Waipounamu's late owner Gordon Sutherland, said. Waipounamu had been running at Riverdale, where Gordon Sutherland farmed.

"He (Waipounamu) was a bit of a character. 'Old Jack', as we called him, was still jumping the odd gate to get into a better paddock until a couple of years ago." The jumping habit was a characteristic of Waipounamu when he was in the Duntroon stable of the late Stewart Sutherland, a brother of Gordon.

The Aksarben-Tataus gelding, bred by Stewart, was 11 when he recorded his final win, the 1980 Canterbury Park Trotting Cup with Jack Smolenski the driver. Inter-Dominion winners Hano Direct and No Response were among the beaten division.

Waipounamu had his first win as a 4-year-old at the 50th jubilee meeting of the Wyndham Trotting Club in March, 1973. He won each season he raced, except as a 9-year-old. He was retired in 1980 with a record of 203 starts for 17 wins and 73 placings for $72,075 in stakes.

His other good wins were the NZ National Trot at Alexandra Park, Ordeal Cup at Addington and the Banks Peninsula Cup. He ran second to Ritch Hill in the 1978 Rowe Cup in Auckland and he filled a similar placing behind Maori's Idol in a heat on the Inter-Dominion at Moonee Valley in 1978.

Credit: NZ HRWeekly 17Jun98


| | |
| --- | --- |
| | RACING HISTORY FEATURE RACE COMMENT |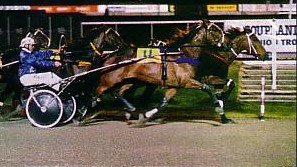 Cedar Fella holds out Sundon's Way

1998 COUPLAND'S BAKERIES DOMINION TROTTING HANDICAP

Warren Stapleton once told his family if he ever won the Dominion Handicap, he'd retire. By his own admission, Stapleton's "a trotting man" and winning the Dominion is his New Zealand Cup; winning it has always been his dream. "I've watched many, many Dominions, and it was always frustrating not to have a horse there," he said.

There had been times when he did though...Highwood twice, October Pride and Cedar Fella last year. "Highwood was plagued by asthma and arthritis and was never right at Cup time; October Pride just couldn't function at the top level, and Cedar Fella was sick when he lined up in it last season and broke out of sheer frustration. In him I always knew I had the horse to do it if I could ever get him right."

This year, the Rakaia trainer took a gamble, opting to bypass Show Day's Free-For-All to have Cedar Fella "fresh" for the Dominion. The plan almost came unstuck 10 days before the event. "I noticed a change in his disposition and attitude, and he was starting to show the same symptoms as he did last year. It's got something to do with getting extra protein from the seed heads in the grass. I had his blood tested, and it was slipping - I was sick in the stomach. But I caught it early, treated him myself, and kept him off the grass. Thankfully, he got over it very quickly."

Stapleton was uncharacteristically on edge before the $100,000 Coupland's Bakeries Dominion Trotting Handicap. "I knew this was my best chance of winning the race," he said. "I can normally take a fair bit of pressure but I was nervous in anticipation. I was trying something new having him fresh for an event like this, and when I saw Knight Pistol and Mark Purdon's trio parade before the race that is when the worry started - there were some great horses out there. "Ricky (May) knew how much this event meant to me, but I said 'just get him out there and get him round, don't worry about the race.'"

Making his normal swift beginning in the 3200 test, Cedar Fella was heading for the lead before the first turn. McGrady came round at a serious speed soon after, so May let him go then quickly pulled the big horse out of the trail to head round to the front again. It was one of those instinctive decisions, made in a split second, and it was a beauty! Cedar Fella called all the shots from then on. The Son Of Afella gelding trotted the first half of his last mile in 60.6, came home in 61 and 29.7, and was giving everything he could when his massive head hit the finish line first.

"I am absolutely thrilled - this is the pinnacle of my career," Stapleton said. "Ricky drove him superbly, he's so cool under pressure. To win at that level with a sound horse is hard enough. Cedar Fella has always been terribly unsound, he really deserved to win a Group 1 event. People don't realise just how good this horse is. I don't rate myself in the top echelon of trainers; a win like this is good for the 'wee man.' it just proves that if you have a dream and hang in there long enough, it can come true."

Stapleton once told his family that if he ever won the Dominion Handicap, he would retire. His wife Wendy, daughters Kylie and Simone and son Dean were on-course to see him do that last Friday. But there's been no further mention of retirement; when Saturday dawned Stapleton was where he is every morning - out amongst his horses.

Credit: John Robinson writing in NZHR Weekly


| | |
| --- | --- |
| | RACING HISTORY FEATURE RACE COMMENT |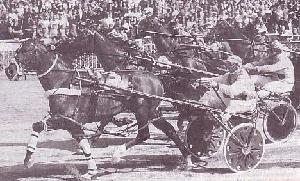 Christian Cullen winning the NZFFA from Holmes D G

1998 AIR NEW ZEALAND NZ FREE-FOR-ALL

Holmes D G followed the path of Iraklis when finding Christian Cullen unbeatable at Addington on Show Day. A game and courageous run by Holmes D G was recognised but it failed to bring success in the Air New Zealand Free-For-All.

Out first from the 2 gate, Christian Cullen set all the pace and Holmes D G was left doing the hard yards - as driver Barry Purdon suspected he would - outside him. Christian Cullen then sped in from the 800m in 54.4, the fastest official last half recorded in a race in New Zealand, and Holmes D G didn't let go, finishing only half a length back. The underrated Happy Asset finished strongly from near last on the outside to be three quarters of a length back.

Trainer Brian O'Meara now has his sights set on the Miracle Mile, over 1760 metres, the race he was withdrawn from by the Harold Park club stewards last year. He believes Christian Cullen could handle the trip in a 1:52-1:53 mile rate. "After that, we will step back and look at things from there," he said. O'Meara has always maintained how good Christian Cullen is if he is allowed "to roll along". "And people didn't know how tough he is. He loves his work, too, although he was a little tired after Tuesday's Cup," he said.

Christian Cullen and Iraklis are New Zealand's only Miracle Mile contestants at this stage, though Anvil's Star could earn a place if he wins one of two Quantas Springs at Harold Park. Holmes D G was invited, but will not be going. O'Meara is hoping to fly Christian Cullen to Sydney next Wednesday. Iraklis, who missed the Free-For-All, is there now, having left on Sunday.

Credit: Mike Grainger writing in NZHR Weekly


| | |
| --- | --- |
| | RACING HISTORY FEATURE RACE COMMENT |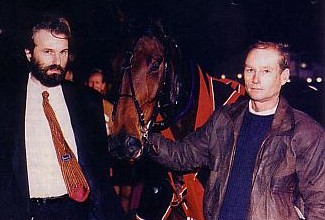 Jerry Tulley, Under Cover Lover and Graham Pearson after the win

1998 NEVELE R STUD NZ OAKS

Only Tartan Lady was a match for Under Cover Lover in the Nevele R Stud New Zealand Oaks. Third placed Golden Charm was more than four lengths behind Tartan Lady who failed by a short neck to win the classic.

Although Tartan Lady picked up $12,000 instead of the $37,500 that went the way of Under Cover Lover, she did win on points. While Under Cover Lover spent most of the race in the clubhouse, Tartan Lady was busy in the field, parked second for the last lap. She got the better of pacemaker Natural Talker at the 100m, and during that operation, driver Anthony Butt was tacking across her back with Under Cover Lover. Quite late as it turned out, Under Cover Lover quickly levelled but little more, for a narrow but convincing win.

The only daughter of In The Pocket in the race, Under Cover Lover is raced by Jerry Tulley and Graham Pearson who will be on the road again after her Hydroflow Final on Friday night. She is expected in Bribane early in June to contest the heats of the Queensland Oaks, then down to Victoria for the heats of the $150,000 El Dorado Series in Mid July.

After that, a campaign in America. Pearson is serious about this, and so far Under Cover Lover has done nothing to put the trip in jeopardy. In February, Pearson booked in with the Bluegrass Staking Service, an organisation which selects suitable staking races and ensures payments are made when they fall due. So far Pearson and Tulley have spent $20,000 on races Bluegrass have Under Cover Lover staked for. This does not include the Breeders Crown later in the year which would mean a supplementary payment of $45,000.

After years of night work at the University to feed his hope of eventually doing his horses full-time, Pearson made the break two years ago. He was among the first to support In The Pocket, sending four mares when he first stood in New Zealand, yet Under Cover Lover is the only one he has. Of the first four he bred, one was sold to Australian trainer Ray Matthews, another to Michael House, and Catattack, a winner for John Lischner, was the other. The mares he sent next season did not produce live foals, and the following season the progeny from Vain Franco and Ice Queen, both by In The Pocket, were sold at the sales. His five weanlings this season are by Jaguar Spur, Soky's Atom, Safely Kept (2) and a half sister to Under Cover Lover by What's Next. This season, Tully has Vain Franco in foal to Armbro Operative, and Pearson has two in foal to Holmes Hanover and one to Safely Kept.

Credit: Mike Grainger writing in NZHR Weekly


| | |
| --- | --- |
| | RACING HISTORY FEATURE RACE COMMENT |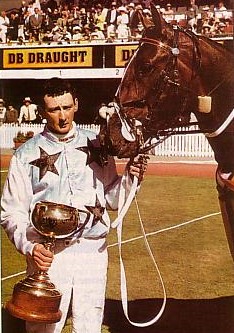 Dan Campbell & Christian Cullen

1998 DB DRAUGHT NZ TROTTING CUP

If you'd seen Dan Campbell on Tuesday, you'd think it could've been a day at the Sunday Trials. Not a hint of a smile gave the show away. Not a wink or a blink to the waiting nation. Later, efficient, practical, calculated comments. Nothing to suggest this occasion was a beat up from any other. But it was.

Aged 26 and with the physique of a jockey, Campbell was the coolest dude on course after winning the $350,000 DB Draught NZ Cup with the Michael Jackson of the track, Christian Cullen.

What the pair lacked in ringcraft and experience they made up for in brilliance, verve and total faith in each other. As Tony Abell, the President of the Metropolitan Trotting Club, said later: "Christian Cullen was always going to be the one to beat. It was stamped so clearly, so indelibly in the lead-up racing. It is a huge thrill for a horse of such inexperience to win a race like this."

Like trainer Brian O'Meara and part-owner Ian Dobson, Campbell had no doubts that Christian Cullen had the stamina to stay the trip as well as the best and better than most. Speedy horses such as Master Musician, Our Maestro and many others have failed when hurt turns to pain in the final gasps of two mile at Addington. Christian Cullen was not one of them, neither was Iraklis who refused to give up the chase. But Campbell was honest: "No he'd had enough by the time he'd got to the post. I thought he would have to do the work he did, but when, I didn't know. He was pretty lucky the way it turned out, because I was able to give him a good breather once I got to the front. Breather! Not for the others. Christian Cullen flew the 3200m in 4:00.4, which equalled the race record shared by Luxury Liner and Il Vicolo.

He clipped along in front, with dainty, feathery steps, but all of them quick and bold. He had Iraklis outside him for much of the last lap and Roymark and Franco Enforce behind him. On the corner, where the levels of class were apparent, it was down to just the two, the old champ equalled by 10 metres and the new one.

Ricky May, who had won the race on Iraklis the year before, knew what he was up against. "We were going as good as Christian Cullen was going, but the ten metre handicap was the difference. I thought for one wee minute on the turn that we had him but then he kicked on." Trainer Robert Cameron had the evidence on his watch, halves, quarters, sectionals, telling figures ... his 3200m in 3:57.5, final 2400m in 3:00, last half in 59.7, final quarter in 28.41. Good enough to beat 13 but not number 8, the dashing bay with the regal carriage.

The Wayne Francis owned pair Franco Enforce and There's A Franco were third and fourth. Both had nice runs near the pace and did the best they could. The others simply did not get close enough for long enough to breath on the leaders.

Many of last year's supporters of Iraklis had seen the new bright light and moved onto Christian Cullen, backing him down to less than double the money to win. They were everyone's quinella when the pedigree kings drew swords 300 metres out. That was when May thought he had his name on it. Briefly, as he said. Still Iraklis was a game and gallant rival. He didn't give ground; he didn't make it. He gave the crowd a finish they'd come to see. It was not a classic finish of its type; more a matter of two great horses showing the way to 13 good ones. The margins were a length and a quarter and seven lengths.

Just past the post, I could've sworn I saw Dan Campbell smile.

Christian Cullen, almost in the mould of a spaceage horse being by super sire In The Pocket, gave part-owner Ian Dodson something to sing about afer winning the Cup on Tuesday. Dobson, who said he had a "nice collect" on futures betting, arranged for brother Andy to compose a tune and write the lyrics for a song about Christian Cullen. The result of this effort was sung by John Grenell in the birdcage after the presentation of the Cup. It says "Cullen, Cullen, Cullen" quite a bit which is pretty much the way songs go these days, but it is safe to say the issue might only be found in selected libraries.

Dobson was always bullish on Christian Cullen, from the time he asked Brian O'Meara to train for him. Letting the O'Meara eye do the finding, Dobson paid $15,000 to Paul Bielby for a three-quarter share in Christian Cullen as a yearling, was sent back to buy the other quarter for the same amount, then watched O'Meara nuture his vast potential. O'Meara has not let Dobson down. The horse is little more than a neophyte, earning $724,925 from only 20 starts.

Christian Cullen becomes the sixth 4-year-old to win the Cup, following Lookaway (1957), Lordship (1962), Stanley Rio (1972), Inky Lord (1982) and Il Vicolo (1995). "I have found the pressure very hard, yet I've always been confident in the horse, in Brian, and in Danny. I felt the pressure come off after the Flying Stakes, and now what he has done today has silenced a few critics," he said.

Dobson was born on the wrong side of the tracks during the Depression years. He was reared by foster parents who gave him a wonderful life. He was prudent during his early working years, telling his wife Doreen to resist the big spend; she could fill her wardrobe with fine things if she wanted to later on. It was not until he was 47 that he took the cover off the jam jar - he once bought a factory making jam covers - and bought his first horse. Later on, he stepped into the fast lane, outlaying big money for the galloper Royal Creation who won a million, and since then he's been sitting in the Merc.

He was thrilled that their daughter Lyn Umar was able to join them, flying in from Auckland the night before, and he has always welcomed the company of those genuine harness racing enthusiasts. He was just as keen telling everyone afterwards that the Christian Cullen - Iraklis quinella was good for racing.

We'll sing to that, Dobbie.

Credit: Mike Grainger writing in the HR Weekly


| | |
| --- | --- |
| | RACING HISTORY FEATURE RACE COMMENT |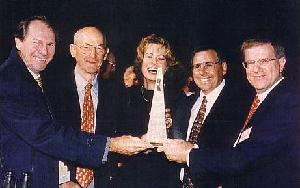 The Second Five Syndicate with the Derby trophy

1998 SMOKEFREE NZ DERBY

Before the Smokefree New Zealand Derby much of the talk was who would run second to Holmes D G. In reality, that is exactly what happened. Holmes D G took the lead off Motoring Anvil after 600 metres, proceeded to run it hard, and kept the squeeze on. Totally dominant from the time of Christian Cullen's exit, Holmes D G forged clear at the turn, leaving the others to scrap and scrape for the minor money. Annie's Boy was the only chaser to charge with any real dignity, finishing from the back and very late for second. From last, where he must have been eight lengths from Holmes D G at on stage the gap was less than three lengths.

Holmes D G ran the 2600m in 3:11.1, a New Zealand record which would have raised a sweat even on Christian Cullen. He gave trainer Barry Purdon his third Derby win, coming after Kiwi Scooter in 1992 and Ginger Man in 1994. As good as they were Purdon rates Holmes D G a bit above them. 'I think he's better...the perfect racehorse really. Kiwi Scooter was a great stayer. I mean he won the Derby sitting parked for the last mile. Ginger Man had the speed, but wasn't tough," he said.

A 3-year-old half-brother to Giovanetto, a Cup horse and now at stud in Southland, Holmes D G was bred and trained initially by Murray Gray. He was from Bella Ragazza, a mare Gray claims is the worst horse he has ever trained. "She didn't want to be a racehorse, and I probably would not have bred from her but my partners did," he said. Besides leaving two outstanding horses and a useful one in Economizza, Bella Ragazza is the dam of a yearling colt by Soky's Atom, and is not in foal this season. She has left eight foals, all colts.

Holmes D G raced once for Gray, running second in a race at Forbury Park to Enter Hurry Zone. One of those impressed with this performance was Invercargill trainer and former Purdon employee, Tony Barron. As it happened, prominent Australian owner Terry Henderson also heard about the horse and arrived on the scene much the same time as David Sixton, John Hart, John Ede and Katrina Purdon. Four became five, in fact the Second Five Syndicate, which is already well into the black after buying Holmes D G for a sum just over $100,000. His earnings, from ten which include the Great Northern and Victorian Derbys, have how topped $300,000. All three classics have been won in identical manner, in front, rolling along at a good clip, but always in control. "He felt strong all the way," reported Purdon. "He really felt as though he was enjoying it," he said. Purdon said Holmes D G would have one more race this season, the $A100,000 New South Wales Derby on May 8, and then be given a spell.

While the Second Five Syndicate is only just over a year old, the principals have been Purdon clients for 12 years. They started with Volarco, a son of Vance Hanover and Via Volare who won a couple before being sold and racing in Australia. Next came Kenwood Don, a useful winner and sold after winning five from eight. They stepped up a notch for their next purchase, spending big money at the time for Montana Vance. He didn't let them down, getting to Cup class. They purchased The Sweeper before the biggest score of them all, Holmes D G. As owners, and enthusiasts of harness racing, Purdon rates them A1. "The good thing about them is the support they give. There's always an entourage. They all went to Australia, to watch them in the Derby, and they are here with all their families tonight," he said.

The syndicate also has a Falcon Seelster yearling filly they bought at the sales, while Henderson expects a big run from his galloper Doreimus in Saturday's Sydney Cup.

Credit: HRNZ Weekly


| | |
| --- | --- |
| | RACING HISTORY FEATURE RACE COMMENT |

GREAT RACES: 98 NZ CUP

Great races usually involve more than a superlative performance from one horse, and by the time the 1998 NZ Cup rolled around, there were only two horses on everybody's lips - the 'defending champion' Iraklis in the red, white and blue corner and an upstart young challenger in Christian Cullen in the light blue and white one. They had met for the first time in the Ashburton Flying Stakes, where Christian Cullen had delivered a telling blow, but the injury-troubled star still had to make it to the post and there were many rating the great stayer Iraklis just as big a chance, even with a 10m handicap.

Brilliant northerner Agua Caliente, winner of the Taylor Mile/Messenger double the year before, had gone amiss with a breathing issue in mid-October, but the likes of such quality performers in Anvil's Star, Anvil Vance, Brabham, Franco Enforce, Kate's First, Surprise Package and There's A Franco hardly raised a mention, such was the hype around the 'favs'.

Anvil's Star was a 7-year-old and in his last campaign in NZ, having already won over $400,000. He was beaten less than a length when Il Vicolo won his second NZ Cup, and a fourth at Kaikoura where he was beaten a head and two noses showed he was still a force to be reckoned with. Anvil Vance was a year-younger son of Vance Hanover who had also won over $400,000 for trainer Barry Purdon. He had been placed twice in both the Auckland and NZ Cups and won that year's Easter Cup in 4:04 over Happy Asset and Franco Enforce.

Brabham was an 8-year-old winner of over $600,000 and also coming to the end of his career for Mark Purdon. He had been beaten a head by Kate's First in the previous season's Auckland Cup, and a devastating finish to win the North Shore City Stakes by three lengths in a NZ record 3:20.3 (MR1:59.3 for 2700m stand) showed he was in as good a shape as ever. Franco Enforce was a 5-year-old and had won nine of his 16 races starting the season. He had won the Sires Stakes Final by a nose over Franco Hat Trick and Lavros Star in a 1:57.5 mile rate in his third lifetime start, and was beaten a nose in Bogan Fella's NZ Derby before winning the Queensland/Australian Derby double in grand style. Resuming the previous February with three wins at Addington before a third in the Easter Cup, there was little fuss for Franco Enforce to qualify for the Cup with wins at Motukarara and Addington going into Ashburton. A sound fifth there didn't hurt his Cup prospects at all, although the 'OK Bye factor'was soon to rear its ugly head.

Kate's First was also a 5-year-old and the splendid stayer had won the NZ Oaks in 3:13.1 and as a 4-year-old the Auckland Cup in 4:01.2, both records. Surprise Package was starting to get a bit long in the tooth as a 7-year-old, but had won that year's Hunter Cup when 10 of the 14 starters were either NZ-bred or trained, or both, and banked over $700,000. He had only resumed at Kailoura, so was a bit of an unknown package going into the Cup, but class always has and had to be respected.

There's A Franco was a 6-year-old and had won 11 of 24 races starting that season, having missed her 4-year-old term through an injury. She had been placed in four races going into Ashburton, where she was a close and solid sixth, and as one of four mares starting in the Cup that year, also gave them a high card in a strong hand. Holmes D G, the winner of four Derbys the previous season, had been brilliant when resuming in the Kumeu Stakes in late October, but Barry Purdon opted to bypass the Cup and wait for a return bout with Christian Cullen in the FFA.

Thus, while Agua Caliente and Holmes D G were not there to challenge for the north, and there was the usual amount of 'padding' to make up a full field, it can be seen that this was a good Cup field, even without Christian Cullen and Iraklis.

Iraklis had been Horse of the Year as a 4-year-old after blowing away Brabham in the Junior FFA and NZ Free-For-All, where he also dealt to the dual Cup winner Il Vicolo, before winning the Miracle Mile in a race record 1:54.2 and finishing third in the Inter-Dominion at Globe Derby Park. The previous season he had again been unbeatable in the spring, winning twice at Addington, the Hannon and Ashburton Flying Stakes before winning the Cup, although the half-head over rank out-sider Smooth Dominion was a bit scary for those who had made him the odds-on favourite and shortest price winner in the history of the event. On the comeback trail as a 6-year-old after going amiss the previous December, Iraklis had looked just as good again in romping away in good company at Addington and again winning the Hannon inpressively, and a pending first showdown with Christian Cullen loomed at Ashburton.

Iraklis had opened the $2.75 favourite with Fixed Odds for the Cup and Christian Cullen was at $4.75, but a lot was about to change. There was a nagging doubt that the In The Pocket entire would both remain sound and take the next step to Cup class, given that he had already twice gone amiss on the eve of Group 1 assignments.

He had looked a budding superstar from the time he won his first two races as a juvenile - the first such race in the South Island at the Cup meeting in November by five lengths and a 2600m M0 stand in January by six in 3:18.6. The Welcome Stakes and PGG Sales race proved mere formalities, but after getting a knock to a tendon in the week leading up to the latter, a week later he had to be withdrawn from his Sires' Stakes heat and the rest of the season. In the spring he won the Rising Stars, but was beaten in his other four races going into the Sires' Stakes. Christian Cullen was too strong for Holmes D G on that occasion however, and on the final night of the meeting, against mostly open class horses, he convincingly downed Anvil's Star and Brabham in the $100,000 Round Up 1950.

That controversial late withdrawal from the Miracle Mile over a supposedly contaminated swab when Chokin had already found the task as a 3-year-old so overwhelming and an unlucky third in the Great Northern Derby followed, and then Christian Cullen was on the sidelines again when the NZ Derby was run and also won by Holmes D G, who would be 3yo Pacer of the Year by virtue of also accounting for the Victoria and NSW Derbys. Resuming in August with two wins over Good Mate in intermediate company from a handicap and the Superstars from 20 metres, set the stage for Christian Cullen's first clash with Iraklis.

Adding fuel to the fire in the pre-race hype - it was pretty much the Cup field - was the fact that Ricky May had opted off Christian Cullen after winning the Sires' Stakes, in light of the pending clash with Iraklis in the Miracle Mile. The drive went to O'Meara's 25-year-old stable foreman Danny Campbell, who had earlier worked for Cameron and been the regular driver of Iraklis going into the 1996 Cup Meeting, only to be replaced by May. May could hardly be blamed for being faithful to the horse who had won the Miracle Mile and NZ Cup, but now Christian Cullen was coming back to haunt him. There must also have been a nagging doubt in the back of his mind that Christian Cullen would not be around for long at all. In the decade prior, O'Meara had had a host of top pacers including Naval Officer, Really Honkin, Trident, Tuapeka Knight, Bold Sharvid, Tight Connection, Reba Lord, Hey Jude and Spirit of Zeus, and for one reason or another, none had made it to the start of a NZ Cup.

When the dust had settled at Ashburton though, any doubts remaining existed in the minds of Campbell's rival drivers to the effect of 'how on earth are we going to beat this horse?'. May was the first to move and had Iraklis in front passing the winning post the first time, but stalking them were Campbell and Christian Cullen and they smoked past soon after. Campbell stacked them up a bit on the turn and Christian Cullen sprinted them home; try as he might, Iraklis could make no impression at all. Christian Cullen had been timed over his last mile in 1:53.5 (58.4, 55.1) and finished 2/10ths of a second outside Master Musician's national record of 2:57.8, set in winning a Kaikoura Cup from 15 metres. He hadn't raced for seven weeks and O'Meara believed the run would improve him.

And as if that was not enough, Christian Cullen trialled over 2400m at Ashburton a week before the Cup and beat There's A Franco and Iraklis by six lengths in an unbelievable 2:56.8 - a mile rate of 1:58.5 from a stand. The stage was thus set for not just a two-horse race, but a two-horse war.

THE RACE
'Cullen' had firmed in favour dramatically with the 'bookies,' but Cameron and May were not lying down even though Iraklis would have to concede 10 metres - the two miles of the Cup tended to be a great leveller and Iraklis was a great stayer. May was happy with his drive without being overly confident, but O'Meara and Campbell were quite bullish. Anvil Vance, third at Ashburton after following the first two around and never leaving the fence, and Tony Herlihy were the third choice but at double figure odds, ahead of Brabham, Kate's First, Franco Enforce, Anvil's Star, There's A Franco and Surprise Package - the rest were just there to get in the way.

As the big Cup Day crowd began to fill every vantage point in the stands, the growing 'hum' from anticipation and chatter increased exponentially as the race approached, and then before you knew it they were off! Roymark and Franco Enforce showed out early and as they settled, Christian Cullen was well back but Campbell was about to seize a three-wide cart into the race, and Iraklis had only the wayward Aussie visitor Hilarity Lobell behind him.

'Cullen' was in command shortly after the first lap had been covered at the 1900m, and when Campbell then eased the speed a bit, around came Iraklis to sit at his wheel for the last lap - this was what the people had come to see. Seemingly jogging down the back, Christian Cullen dropped Roymark passing the 400m and Iraklis dropped on to his back, hoping for a slingshot late in the piece. Iraklis was travelling well and May briefly entertained the idea of upsetting his nemesis and the $1.90 shot, but Christian Cullen "kicked on" and never really looked in danger of defeat.

Just as at Ashburton, Iraklis could get to Christian Cullen's wheel but no more, and the margin was again a length and a quarter. If there had been a mid-race breather it hadn't been for long - Christian Cullen's 4:00.4 equalling Luxury Liner and Il Vicolo's race and track record. Iraklis had gone terrific and was gallant, being timed post to post around the field in 3:57.5 as they came home in 28, but the 10m and Christian Cullen were the big difference as they finished seven lengths clear of Franco Enforce and There's A Franco.

For Christian Cullen it was his 14th win from 20 starts, and he was of course just just getting started. Soon to follow and fall were the Free-For-All over Holmes D G; that spine-tingling Miracle Mile and a magnificent Auckland Cup performance in 3:59.7 in what was a memorable two months. Christian Cullen would go amiss again that season after winning on the first night of the Auckland Inter-Dominions, but it had been an unbeaten and glorious 12-start campaign and he would be an overwhelming choice for Horse of the Year in a season where Courage Under Fire remained unbeaten in 22 races and won six Derbys.

That year was in fact the beginning of the end of Christian Cullen's racing career, but all that really meant was that it would signal the start of an equally if not more sensational one at stud.


Credit: Frank Marrion writing in HRWeekly 2Aug06