| | |
| --- | --- |
| | INTERNATIONAL HISTORY |

In 1993 and 1994 the East African countries of Rwanda and Burundi were ravaged by one of the worst genocides in African history as tribal war flared between the Tutsi and Hutu peoples.


| | |
| --- | --- |
| | LOCAL HISTORY |

National party, led by Jim Bolger, narrowly wins election. Referendum introduces MMP.

The number of those 'seeking jobs' reaches 280,000, the highest since the 1930s.

Former National Cabinet Minister Winston Peters forms the New Zealand First Party.

A new Ch-Ch railway station is built.

Peter Ellis is found guilty and sentenced to 10 years in prison.

Gary Ball dies on Mount Everest.

John Britten announces a tramway and shop development connecting Worcester and Gloucester streets.

Speed cameras are used on Ch-Ch roads.



| | |
| --- | --- |
| | RACING HISTORY PEOPLE |

BILL CUNINGHAM

The death occured on Christchurch on Sunday of Bill Cuningham, a distinguished harness racing administrator.

His abilities and service to the industry were honoured with a special tribute by Peter Andrews, president of the NZ Metropolitan Trotting Club at the club's annual meeting on Monday night.

Mr Andrews said Bill had become a member of the Metropolitan club in 1960, Canterbury Park the same year and New Brighton in 1963. He became a steward of Canterbury Park in 1962, joined ths committee in 1965, became vice-president in 1973, president in 1976, treasurer in 1979, a life-member in 1979, and an honorary steward in 1991.

Mr Cuningham was a director of Addington Raceway from 1979 to 1990, and was on the TAB board from 1987 to 1992. "He loved his racing," said Syd Cordner, 81 this month, and a former president of the Canterbury Park club, "and he liked a bet...bet on anything. And of course he was a very able solicitor and administrator," he said.

Bill is survived by his wife Margaret.

Credit: NZ HRWeekly 17Jul93


| | |
| --- | --- |
| | RACING HISTORY PEOPLE |

'DINNY' MORLAND

The death occurred last Friday of Dennis (Dinny) Morland, aged 75, a former licenceholder and harness racing enthusiast. Morland became prominent through the deeds of Bon Ton, a chestnut horse he bred by sending Noble Reta to Light Brigade in the early 50s.

Bon Ton was a brilliant juvenile, winning his first three starts - the 1956 Canterbury Park Juvenile Stakes from Golden Hero, the Timaru Nursery Stakes by seven lengths from Overdrive, and the NZ Welcome Stakes from Overdrive and Finestra.

He won four as a 3-year-old, including the T S Harrison Stakes at Methven off 36 yards from Lookaway, the NZ Derby from Lookaway and Dignus, and the Champion Stakes at Ashburton. He failed to win at four, beat Showdown and Golden Chimes in the Henry Mace Handicap at Addington at five, and paid £15 in winning the Methven Cup from Fourth Edition as a 6-year-old. He was disqualified from that win after returning a positive swab.

Morland also had some success with Bon Deed, also from Noble Reta, and Golden Splendour

Credit: NZ HRWeekly 8Sep93


| | |
| --- | --- |
| | RACING HISTORY PEOPLE |

CYRIL AITKEN

Cyril Aitken, a life member of the New Brighton Harness Racing Club, and the Metropolitan and Canterbury Park Trotting Clubs, died recently. Aged 79, Mr Aitken raced horses for 25 years, firstly from the stable of Jim Winter, and then from Mike De Filippi's.

He won races with Winter Son, Whenuanui, Hira Pita who won a Greymouth Cup; Shoreline, Sure Winner (5 wins), In The Pink (4 wins) and Evadyar. His latest interest was in the trotter Rainbow Bay, who is having tendon problems and is spelling for at least a year.

Credit: NZ HRWeekly 12May93


| | |
| --- | --- |
| | RACING HISTORY PEOPLE |

JACK HEWITT

John William (Jack) Hewitt, who died in Invercargill on Monday, aged 76, became a household name in harness racing as the owner of champion racemare Robin Dundee in the 1960s.

Robin Dundee, who was trained by the late Jack Walsh of Gore, was actually bred by owner Hewitt's late Gore relations by marriage, Myra and Bob Ritchie, who virtually gifted the Hal Tryax-Cherry Blossom filly to him. The favour was extended to Mr Hewitt in return for his generosity in grazing Cherry Blossom free of charge for the Ritchie's on his Mataura Island farm.

Robin Dundee (1:59) won $229,272 in NZ, Australia and USA. She was the first pacer to better 2:00 in a race in Australia when she won the 1967 Craven Filter Miracle Mile at Harold Park, Sydney. Bob Cameron reined her in that feature win. Maurice Holmes drove the mare in many of her earlier NZ races.

Having her first race start, Robin Dundee served notice of her exceptional ability when she won the Southland Stakes by 16 lengths at Invercargill on October 29, 1960. She was reined by Charlie Franks, then attached to trainer Walsh's operation. They again triumphed in their next outing, the 1961 NZ Oaks at Addington. Robin Dundee won 33 other races outright and shared the major honours with Jay Ar in the 1965 Inter-Dominion Pacing Grand Final at Forbury Park with 'Doody' Townley at the reins. The NZ Free-For-All and Auckland Cup were feature wins for her that year.

Robin Dundee was three times runner-up in the NZ Cup - to Cardigan Bay (1963), Garry Dillon (1965) and Lordship (1966). Blossom Lady, her close relation from the Fashion Queen (by Bellfashion) taproot, won last year's NZ Cup. After her demanding career and when her powers may have been waning, Robin Dundee still won further races in North America for the late Eddie Cob, of Adios Butler fame, who part-owned her there. Easily Robin Dundee's best son was Genghis Khan (1:51.8), a world champion son of Meadow Skipper, subsequently a fine sire who has also stood in Australia.

Born in Palmerston North in 1917 and the second of six children, Mr Hewitt shifted to Winton with his family as a child, being educated there before spending two and a half years at Southland Technical College. Mr Hewitt later settled on and developed a 550-acre farm at Mataura Island and on September 5, 1946, married Joan Ritchie, who died six years ago. In 1975, Mr Hewitt sold his farm and shifted to a 14-acre section on the corner of Mill and Findlay Roads on the outskirts of Invercargill.

Credit: Don Wright writing in HRWeekly 13Oct93


| | |
| --- | --- |
| | RACING HISTORY PEOPLE |

ARTHUR IDIENS

Arthur Idiens, a former committeeman of the New Brighton Harness Racing Club and member of the Canterbury OTB, died in Christchurch last week. Mr Idiens, who had been ill for some time, was aged 62.

He raced, bred and sold many horses, his first good one being Jillinda, who he bought at a dispersal sale after she had won three races as a pacer. Trained by Max Miller, Jillinda won a further seven races, all as a trotter, including the Ordeal Cup.

Jack Carmichael trained many of his horses, notably Astro Blue who he bought off Phil Williams; Winning Double, the winner of two races before being sold to the US; El Guago, a smart youngster who ran second in the NZ Derby; Alvarez, a lower grade winner later sold to Australia, and Johnny Rondo

His current racing interest was Rhythm Lord, a recent qualifier by Lordship, being trained by Pat O'Reilly jun.

Credit: NZ HRWeekly 28Apr93


| | |
| --- | --- |
| | RACING HISTORY PEOPLE |

JOHN OSBORNE

The death occured last week of John Osborne, a former committeeman of the NZ Metropolitan Trotting Club and a prominent South Island breeder and owner.

Mr Osborne was particularly prominent in the 70s, sharing the ownership with the late Maurice Vermeulen and Jack Smolenski in the high-class mare, Royal Belmer. Trained by Smolenski, who was a partner in all his horses, Royal Belmer won 12 races including the 1973 Standardbred Breeders Stakes. Royal Belmer left Sovereign, who won the 1978 NZ Derby. Others he raced were Harvest Gold (9 wins), Imperial Guest (Golden Slipper Stakes), Regal Guest, who won two heats of the DB series, and Regent Guest.

Mr Osborne and Smolenski were partners for more than 25 years. "We never had a cross word. I left the breeding to him, and he left the training to me. He was a very good owner," said Smolenski. "His big disappointment was losing a colt foal this season by Butler B G from New Guest," he said.

Aged 61, Mr Osborne was involved in the fashion business. He had a stroke two weeks ago, and died suddenly in Christchurch last Tuesday. At the time of his death, Mr Osborne was breeding from 10 mares, and had numerous yearlings, 2-year-olds and older horses with Smolenski.

Credit: NZ HRWeekly 15Dec93


| | |
| --- | --- |
| | RACING HISTORY INTERDOMINIONS |

BRISBANE - JACK MORRIS
Jack Morris, virtually unknown anywhere else but in Western Australia before finishing third in the Miracle Mile, was a worthy winner of the 1993 Inter Dominion. His trainer, Sean Harvey because of incurring his second six-month suspension within a nine-month period, was unable to drive his representative in the series. Rod Chambers was entrusted to handle the horse and they proved the toast of Australasia. Blossom Lady ran third for the second year on end.



| | |
| --- | --- |
| | RACING HISTORY HORSES |

SCUSE ME - Classic Winner Producing Mare

Scuse Me(1993 BGs Bunny-Super Smooth), USA family of Nora by Glencoe; 1:53.5, $126,841, 8 wins; 15 foals, 12 to race, 12 winners. Breeder and breeder of all her foals: Charles(CJ) Roberts.

Scuse Me is without doubt the mare of the moment - the hottest breeding proposition in NZ. Over the past couple of decades, the immediate family includes horses of the calibre of Christen Me, Adore Me, Have Faith In Me, Dream About Me, Imagine Me, Hands Christian to name a few. Woodlands Stud supremo Charles Roberts is prominent as breeder of Scuse Me as well as being involved in the breeding/ownership of a number of the family offspring.

Her sire, BGs Bunny, only stood the one season in NZ at Woodlands Stud serving 245 mares(161 live foals) before dying from a heart attack in September 1993. A grandson of Meadow Skipper and a top siring son of Albatross, BGs Bunny won 12 of his 26 two/three starts. He sired over 1,000 winners in USA with a number of his colts standing at stud in NZ(ill-fated Butler BG who also died from a heart attack in September 1993; McKinzie Almahurst; Allwin Steady; power Bunny). His broodmare sire record ranks him highly amongst the all-time greats - Precious Bunny, Tooter Scooter, Armbro Operative, Cams Card Shark, The Falcon Strike and stallions that stood in NZ at one time in WRH, OK Bye and Cams Trickster. BGs Bunny's major NZ credits all flow from Scuse Me.

Scuse Me's dam Super Smooth, unraced dam of 15 foals(five by embryo transplant, two to race both winners), 7 to race for 7 winners, four of whom won in NZ before having successful Australian careers. Other than Scuse Me, her progeny included Tricky Woman(3 wins, 1:56.2 at Winton), Vicalo(3 NZ wins/5 AUS wins, 4 wins at Albion Park), Il Casino(winner in NZ/14 WA wins, four at Gloucester Park), Supabet(4nZ wins/10 Qld wins, 8 at Albion Park, 1:53.8). Fallacy mare Gold Heritage's (granddam of Super Smooth), daughter Remit left dual Australian Broodmare of the Year Fiscal Miss(dam of Whitbys Miss Penny [da of Ima Spicey Lombo], Ace of Whitby, Whitby Timer, Whitbys Merit(dam of Montana Anna)-the Whitby clan.

Whilst known as the USA family of Nora by Glencoe, from a NZ perspective this is the family of Childe Harold mare Moonbeam(foaled in NSW in 1889) whose third dam is Nora. Moonbeam's dam Gracie was exported in foal to Australia from North America. Moonbeam left Don Cleve (successful sire/ damsire of AK Cup winner Blue Mountain King), breeding on through her filly Daybreak, winner of Henry Mace Memorial and Recovery Hcp at Addington. It was from Daybreak's filly Daisy Pointer that latter day NZ winners from this family eventuate(Daisy Scott to Dasy Gold to Gold Heritage). Major descendants apart from those tracing to Scuse Me include Quincey, Sir Joe, Pointer Hanover, Josephine Bret, Onedin Supreme, Bondy, Maximan.

The first foal of Super Smooth, Scuse Me won 8 of her 25 starts. Her race career commenced as a late 2yo with a second placing from 2 starts. At three, she was third in her second start in the Ladyship Stakes (won by Kates First), before recording her first win in a fillies maiden at Addington. She followed this with a forth in NZSS 3yof before winning three races at Alexandra Park including the GN Oaks and two Hydroflow Fillies heats. A win at Cambridge and then at Addington concluded her wins for the season(6) before finishing fifth in the NZ Oaks and seventh in the Hydroflow final. At four, Scuse Me, commenced with a win at Cambridge in an Elliott Futurity Stakes heat, several placings(thirds in Elliott Futurity final, GN Breeders 4yo Stakes) prior to her major CV credit, the Taylor Mile. In this she established the NZR of 1:53.5 for a mile, still an Alexandra Park mile record and equal fastest MR at Auckland(with Besotted, 1:53.5, 1700m). A fourth a week later in the Messenger was her final dividend-bearing place. Scuse Me has to date had 12 foals to race for 12 winners. She achieved breeding glory being named 2013 Broodmare of Year and receiving NZSBA Broodmare of Excellence Award.

Scuse Me's male progeny include:

Have Faith In Me, 2014/5 3yo colt/gelding pacer of year(7 victories in 11 3yo starts) is the first 3yo to achieve four Group One victories in a season: NZSS 3yoc(1:53.2, 1950), GN & NZ Derbies, Harness Jewels(1:52.5, 1 mile) together with the Flying Stakes and the listed 3yo Yearling Sales Series final. At four, he won first up in the Group Three Junior FFA(sponsored by Fahey Fence Hire) on NZ Cup Day, arrogantly winning in near NZ record time of 3:07.6/1:56.0(2600m). His performance to finish third in the Franklin Cup after conservatively losing 100m at the start and running unofficial sectionals of 2:53.7(last 1½m), last mile in 1:54.1, half in 55.1 and quarter in 27.0, to go down by 2¾l in a 2:00 mile rate(2700m stand)was exceptional. The heir apparent in waiting then maintained his faultless group One records when recording his fifth Group One success in the second running of the 2015 Auckland Cup on New Years Eve(2014/5 season Cup run in March 2015 won by Christen Me). Starting from the unruly position, he began well and toughed out the 3200m journey to record his biggest win to date. At the beginning of January 2016, his record stood at 18:10-3-1, $712,279.

Megabucks, winner of 5 from 17 starts in NZ(Te Awamutu Cup, Alexandra Park 4 wins). In North America, winner of 7 recording 1:49.3US(Colonial Downs).

Toledo, seven-race winner in NZ with 4 as a 3yo(Alexandra Park[3], Cambridge), 2 at four(Alexandra Park, NZYSS Aged Pace at Kaikoura) and 1 victory at five at Alexandra Park before his export to Australia. He won his first start at Bathurst, his only placing in 7 starts over two years in Australia.

It is however Scuse Me's fillies that have taken prominence including:

Adore Me, outstanding champion filly and race mare, retired winner of 26 from 36 starts, $1.6m, 1:47.7(p3, 1:52.4), 12 Group Ones, 5 Group Two, 3 Group Three victories and placed in seven Group Ones(unplaced on only three occasions. At three, won 11 of 12 starts including the Ladyship Stakes, NZSS-3f(heat & final), GN & NZ Oaks, Nevele R Fillies(heat & final), Jewels-3f, plus additional wins at Auckland and Addington(2) with her only defeat being second in GN Derby after drawing the outside of the second row. She was the 3yo filly of her year. At four, she was the winner of 8 of 12 starts including the Junior FFA on Cup Day, GN Breeders Stakes, Queen of Hearts, Premier Mares Championship, NZ Standardbred Breeders Stakes, the Easter Cup, 4yo Jewels and an additional win at Addington plus seconds in the AK Cup, NSW Ladyship Mile and third in the Taylor Mile. At five, Adore M was the winner of 7 from 12 starts the NZ Cup, Ashburton Flying Stakes, GN Breeders Stakes, Queen of Hearts, Waikato Flying Mile(NZ mares mile record 1:51.6), Brian Hancock Cup, Ladyship Mile(Australasian record 1:47.7); 2nd NZFFA, Ak Cup and third in the Victoria Cup. She retired after fracturing a sesamoid bone when faltering briefly in the run home during her close second to her close relation Christen Me in the 2015 Auckland Cup. Adore Me was Aged Mare of the Year as both a 4 & 5yo.

Imagine Me, fine race mare, winner of 9 including 6 at three. She won her first 2 starts at Ashburton and Addington, followed by NZSS 3yof heat at Addington(3rd in the final), Nevele R Fillies heat at Forbury Park(2nd & 3rd in the Addington heats, 3rd in the final), AUS Breeders Crown heat at Addington-walkover; 5th in the semi-final and 3rd final)plus second in the 3yof Jewels and thirds in the Ladyship Stakes, GN & NZ Oaks. At four she was a winner at Alexandra Park on three occasions including the NI Breeders Stakes and third in the 4yo mares Jewels. Imagine Me had four 5yo starts for four fourths all at Alexandra Park including the GN Breeders Stakes and the Queen of Hearts before being retired (dam of a qualifier).

La Filou, Alexandra Park winner, dam of three winners including The Dip, 14 AUS wins(VIC VHRSC(MHRC) Cup at three, TAS Guineas.

Splendid Dreams, sub two-minute winner at first start(3yo), subsequently winning 2 of 6 starts. Proving to be a sensational broodmare carrying on from her mother Scuse Me, dam of:

. Christen Me, $2m+, 29 wins, 1:49.1, two-time Australasian Grand Circuit champion, multiple group winner(Hondo Grattan Sprint, Chariots of Fire, Superstars, Taylor Mile, Messenger, 4yo Jewels Emerald, New Briughton, Hunter, Bendigo, Victoria, Auckland and Easter Cups, Canterbury Classic, National Hcp, Maurice Holmes Vase twice, NZFFA, & Miracle Mile) plus Group One placed seconds in the Miracle Mile, Ballarat & Cranbourne Cups and thirds in the NZ & Victoria Cups.

Hands Christian, Easter Cup, Cambridge Futurity, International Cargo Express FFA, Paleface Adios Sprint, seconds in the NZSS & the 3yo Jewels and third in the 3yo NZYSS, 1:52.5

Dream About Me, 2014/5 NZ 2yo filly Pacer of the Year, unbeaten in 5 NZ starts at 2 and 3 Australian starts; Delightful Lady Classic 2f, 2f NZSS(p2, 1:54.9), Harness Jewels(NZ Record 1:53.3) and winner in Australiaof 2f Breeders Crown(1:57).

Splendid Deal, unraced dam of:
. Maxim, 5 wins including NZSS 2c, and VIC Derby heat & final.
. Splendour, 8 wins including Gold Coast Oaks(2nd Queensland Oaks), Nevele R heat.

Minor winners from Scuse Me - Coca Vicola(winner): Pardin Me(NZ winner, 10 WA/1 GP): Abide With Me(4 wins): Idolise Me(3 NZ wins, 1 Australia): Ohoka Jett(winner)

Credit: Peter Craig writing in Harnessed Feb 2016


| | |
| --- | --- |
| | RACING HISTORY HORSES |

GOOD CHASE

Successful racehorse and sire Good Chase was humanely put down the Thursday before last at Rosewood Stud, Annat, age having finally caught up with him. "He was rising 29," said Dennis Watson, who drove the good son of Light Brigade, owned and trained by his father, the late Oscar Watson, to his 9 NZ wins. "He served a couple of mares this past year and got one of them in foal, but just recently he had been having difficulty breathing and getting up on his feet."

From a prolific winner-producing line nurtured over the years by the Watsons and widely recognised as the "Rosewood family", Good Chase was from the unraced U Scott-Rosewood mare Torlesse. Like Rosewood before her, Torlesse left a string of winners.

Rosewood, by the Jack Potts horse Gamble (winner of the 1934 NZ Derby and second to Lucky Jack in the 1937 NZ Cup), was unraced. She was one of only two filly foals bred by Oscar Watson from Peggywood, an unraced non-standardbred daughter of 1909 and 1910 NZ Cups winner Wildwood Junior. Lady Ngaio, Rosewood's full-sister, was trained at Yaldhurst by Basil Lynskey for Oscar Watson to win six races in the 1940s, but died before she could be bred from.

Oscar offered Good Chase as a yearling in the 1964 National Sale. The Reid brothers, Leo and Robert, of Waiuku, were about to buy him on the recommendation of the late Jack Shaw - a renowned judge of horseflesh - but shied off when Shaw detected a filling in one of the colts legs. The Reids instead paid 1000 guineas for the Garrison Hanover-Miranda Scott filly, which, as Miranda Bay, founded them an outstanding line of winners headed by Luxury Liner ($1.7m) and Christopher Vance ($1.5m).

When bidding ceased at 950 guineas on Good Chase, Watson, who wanted at least 1000 guineas for him, took him home. Good Chase became the top youngster of his day, winning eight races at two and three, including the Welcome Stakes and NZ Derby, then one of two starts at four, the National Handicap. At this point, with earnings of $13,330, Good Chase was secured in a lease arrangement by prominent American breeder-owner Allan Leavitt.

In America, Good Chase measured up to the best. He was placed in all three races of the 1970 International Pace Series at Yonkers Raceway, while his victories included the Provincial Cup in Canada and Dan Patch Aged Pace in New York. An injury to a leg, that necessitated an operation, forced Good Chase's retirement, and - with a career record of 37 starts for 25 wins, five seconds and two thirds - he returned to NZ to stand for Dennis and brother John with a full book in 1973.

Before he had left NZ for the States, Good Chase had served 20 odd mares, from which there were 11 winners. These include Willie Win (NZ Derby), Hardcraft (Welcome Stakes)and other excellent performers in Big Chase (Cambridge Gold Cup), Free Chase (placed third in the NZ Derby)and James Hadley (a big winner in America). Not able to duplicate that initial success with his first small crop, Good Chase quickly fell from favour, and over the past decade served very few mares. His daughters have bred on, among them being Millie's Choice, dam of the outstanding duo Smooth Millie and Millie's Brother.

"Good Chase was like a Rolls Royce to drive," recalls Dennis. "He actually died on the anniversary of Dad's death, which we did not realise until after he was put down. It's as if the old fellow might have him back again."

Credit: Ron Bisman writing in HRWeekly 26May93


| | |
| --- | --- |
| | RACING HISTORY HORSES |

SCOTCH TAR

The death on a Hororata farm last week of Scotch Tar rekindled memories of a trotter ranked with the all-time greats. For the past three years, Scotch Tar has been cared for by Alf Phillips, and he died suddenly , aged 20.

Scotch Tar won 29 races - two Dominion Handicaps, the Dunedin Cup, the Worthy Queen Handicap, two NZ Trotting Free-For-Alls, the Ordeal Cup, a heat of the Inter-Dominions, and two Benson and Hedges Challenge Stakes. He had a versatile career, racing against pacers, setting records, and putting up some huge performances against such stars of the day as No Response, Stormy Morn, About Now, Game Way, Even Speed and Thriller Dee.

He as trained throughout his career by 'Slim' Dykman, now living in Australia, who handled him in 15 of his wins. Robert Cameron drove him in his first 10, and Peter Wolfenden in the others. Cameron was his first trainer, having bought the Tarport Coulter-Scotch Penny colt as a yearling from Sir Roy McKenzie. Scotch Penny is notable for her offspring in the case of Scotch Tar, and also for being the galloping prompter in a time trial by Garcon Roux at Hutt Park but being too slow to keep up.

The best Scotch Tar could do for Cameron in his early training was making a quarter in 36. "I wasn't getting on with him, so I put him in a dispersal sale at Ashburton and Slim bought him for $1000," said Cameron. Dykman gelded him, and the pair soon struck a chord, and Cameron was in the cart when Scotch Tar made a winning debut at Methven in September, 1977. The combination won five races that season, and five the next, including the Dominion Handicap as a 5-year-old from Spartan Prince and Framalda in NZ record time of 4:11.6 for 3200m.

Cameron and Dykman had a parting of the ways at this time, after Dykman questioned the manner in which Cameron had driven the horse. "Scotch Tar was a great competitor, but I have always said that David Moss is a better horse. He is a nice driving horse, settles and doesn't pull. But Scotch Tar was tough, and got better as he went along. In the Dominion, he was on one rein, and was beaten on the corner. But he kept trotting, kept going, and wasn't beaten in the end. And he had remarkable speed. When he raced in the Free-For-All over 2000 metres at the Cup meeting against Hands Down, he led out and went over his first quarter in 27 (26.8 in fact)," he said. In that race, Scotch Tar led for the first 1600 metres, which took him 1:57.4, until he folded over the last 200 metres.

Scotch Tar also won the Dominion Handicap as a 7-year-old from Stormy Morn and Game Way. He won once from nine starts as an 8-year-old, and he defeated Sir Castleton and Dryden Lobell in one of his two wins from seven starts as a 9-year-old.

Scotch Tar's last public appearance was at the Ashburton Trotting Club's centennial meeting in 1990. Kevin McRae prepared him for the meeting and was astonished to find that after just two weeks he covered a half in 1:05. "I'm pretty lucky if a good maiden can run a half on my track in three," he said. Once the centennial was over, Scotch Tar's final resting place was at Hororata, where his company were young horses of similar calling.

Credit: Mike Grainger writing in HRWeekly 8Dec93


| | |
| --- | --- |
| | RACING HISTORY FEATURE RACE COMMENT |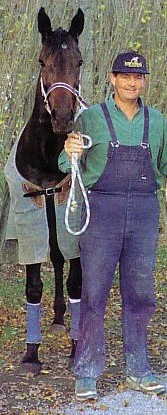 Pacific Flight & Barry Purdon relax

1993 NEVELE R STUD NZ OAKS

Mark Purdon, well established now as one of New Zealand's most accomplished drivers, won the Group 1 Nevele R Stud New Zealand Oaks with the Purdon stable's second string.

The popular choice was the Roy and Barry Purdon-trained c7 pacer This Time Franco, but even under the steerage of Tony Herlihy her performance was not quite good enough to hold out her c4 stablemate, Pacific Flight. Herlihy, in fact, knew the game was up before the last turn. He had made his move with This Time Franco, a grand staying filly, with a lap to run, and was up second, on good terms with himself, getting past the 600 metres. "When I got to the 500 metres, I thought there is only one horse which could beat me from here," Herlihy said, referring to Pacific Flight. "I looked round, and saw Mark there, just waiting."

Pacific Flight settled at the back, and was last at the 2000 metres, though she was clearly impatient and anxious to get handier. This came later, when This Time Franco improved, and Vee Mee gave Pacific Flight a sweet ride forward. Purdon attacked before the corner and, given licence to show her tremendous sprinting ability, Pacific Flight quickly drew up to This Time Franco. But the favourite didn't go down without a fight, and when it looked as though Pacific Flight would go on to win by half a length, or even more, This Time Franco buckled down and kept the pressure on though Purdon didn't own up to any doubts himself. "I always felt I had Tony covered," he said.

This was Purdon's second win in the Oaks, his first being in 1988 with Julie Vance, a black Vance Hanover filly. He said Pacific Flight had always been "a natural. A a 2-year-old, when she won four races, she was always first out of the gate. She has got so much high speed, more than Julie Vance had. She is just keen and green," he said.

Pacific Flight is from Significant, an unraced daughter of Out To Win and the grand racemare Black Watch. Owned by Roy Purdon and Gordon Robertson, Significant did not race because of soreness as a 3-year-old, but she impressed Roy. "She was a lovely free-legged pacer," he recalled. As a broodmare, Significant has been a gem, leaving a top class pacer in The Unicorn and National Image; her youngest is a yearling sister to Pacific Flight.

Lento was a gallant third, making a sharp run forward passing the 1600 metres to get handy, and cover, and making solid headway again at the end. "She went to the line real good, but if anything we got out just a bit late," said driver Robert Cameron. Last turning in, the lightly-raced Belle Amie passed 11 from there to finish fourth, ahead of Arma Class, Vee Mee and Lauder Madam.

This was Mark's second major success at Addington this year. He won the John Brandon New Zealand Derby, also Group 1, with Mark Roy last month.

Credit: Mike Grainger writing in HRWeekly 12May93


| | |
| --- | --- |
| | RACING HISTORY FEATURE RACE COMMENT |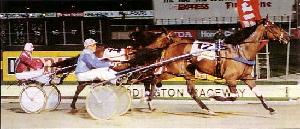 Chokin is too strong for Blossom Lady

1993 DB DRAUGHT EASTER CUP

A good crowd, an exciting race, a finish which had everyone on their feet and a performance to marvel at. Those were the ingredients that made the 1993 DB Draught Easter Cup one of the more memorable races seen at Addington in recent years. From the time the 'guns' - Blossom Lady, Christopher Vance and Chokin - came into the race with sweeping runs in the middle stages, it was obvious something special was about to happen.

Anthony Butt took Blossom Lady into the lead with 1500m to run, forcing Christopher Vance to sit parked, while Chokin was fortunate to drop into the one-one after tracking then around when Mac Magpie was unable to match the torrid tempo. The pace had been merry from the outset but Blossom Lady wound things up another notch. Obviously at the top of her game at present, Blossom Lady attempted to grind her rivals into submission and had Christopher Vance struggling a long way out.

But the big threat was always going to be Chokin, who despite an early mistake which added to his 15m handicap, received a relatively economical passage over the last mile. 'The Bloss' skipped clear on the corner and for a moment it appeared she might have enough of a break to win the Cup for the second time. But Chokin, a star half her age and also at the top of his form, was not to be denied and got up in the dying stages to win going away by a length.

It was an enormous performance by the Vance Hanover gelding, and there was just as much merit in the run of Blossom Lady. The heat was really only on up front from the mile, but Chokin was timed over his last 2400m in 2:57, 2000m in 2:24.3, 1600m in 1:56 and 800 in 56.6, completing the 3200m journey in 4:03.

Only Insutcha, last year's winner of the event in 4:02.4, has paced a faster two mile trip at night and on this occasion a chilly wind made conditions less than conducive to fast times. "I didn't want to have to chase him up with the whip unless I had too, and I didn't," said driver Tony Herlihy.

The 10m runners, Sogo, Two Under and Butler's First, were next in a gap of three and a half lengths, really only in a race for the third cheque, while Christopher Vance faded to ninth and disappointed trainer-driver Barry Purdon. While the 6-year-old winner of over $1.5m is obviously badly disadvantaged by handicap racing, he is still not the force he was at four and five in open class racing. "He had a tough run but a horse of his class should have finished closer than that. We will have to get the vet to have a look at him," said Purdon.

Credit: Frank Marrion writing in HRWeekly 7Apr93


| | |
| --- | --- |
| | RACING HISTORY FEATURE RACE COMMENT |

David Moss & Maurice McKendry easily

1993 FIRESTONE FIREHAWK NZ TROTTING CHAMPIONSHIP

Southland owned trotters finished 1,2,3 in the $25,000 Firestone Firehawk NZ Trotting Championship. Victory went to David Moss, which had finished second in the Inter-Dominion Grand Final at his previous start, from the Purdon-trained stablemates, Diamond Field and Night Allowance.

Though trained at Winton by part-owner John Cox, David Moss has been under the care of Clive Herbert, who brought the big horse south. Cox will race him at Forbury Park this week, and then send him back to Herbert, who will prepare him for the Rowe Cup and then keep him in the stable.

Once Maurice McKendry had David Moss purring along in front, and after Night Allowance had made a costly mistake back in the field near the 1900 metres, the race soon took shape. McKendry gave David Moss more rein at the 800 metres and immediately felt good about it. "When Night Allowance came up at the 700, I saw Barry had pulled the plugs. I thought then he must have done a bit," he said. In the end, the main opposition came from the ultra-consistent Diamond Field, which came fast but not in time to make an issue of the finish.

After a stylish start to his career, David Moss went through a bad patch a year or so ago, but regular saliva tests have made the difference to his health and his form. "He seems to be getting better all the time," said McKendry. Said Cox: "The testing showed that he was a little crook in the kidneys and liver. I think he may have been affected by some sprays. They have been a great help."

Credit: Mike Grainger writing in HRWeekly 15Apr93


| | |
| --- | --- |
| | RACING HISTORY FEATURE RACE COMMENT |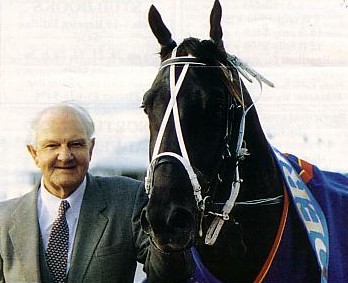 Roy Purdon and Mark Roy

1993 JOHN BRANDON 30 NZ DERBY

A 'rough one' put in by Southland star No return cost him dearly in the John Brandon 30 NZ Derby, but in the end the success of Mark Roy was thoroughly deserved.

"He has thrown a shoe at some stage...probably at the start when he went a bit rough," trainer-driver Henry Skinner lamented later. Beaten out of the gate from the pole, No Return, the dominating favourite going for the Triple Crown, settled three back on the fence and never had an opportunity to get out until after they swung for home. While he flew once into the clear, Mark Roy had a winning break and held him out by a short neck. "I would have been quite happy to keep the front, but it didn't work out that way," said Skinner.

It was shade of deja vu for Skinner, who in 1990 won the first two legs with Honkin Vision. Honkin Vision also went into the Derby a hot favourite, but after attempting to lead all the way, the constant attentions of the Purdon-trained runners in The Unicorn, Mark Hanover and Christopher Vance, saw him fade to fifth. Ironically, that event was the only previous occasion Mark Purdon, the successful driver on Saturday, had driven in the race. He drove Mark Roy's half-brother Mark Hanover, the horse he would win the Auckland Inter-Dominion with the following year, into fourth on that occasion.

The Purdons had three runners engaged also this year, with 28-year-old Mark renewing his association with Mark Roy the previous Saturday after seven weeks on the sideline with a broken arm, a legacy of the sales series smash in mid-February. Elder brother Barry again took the reins on Hitchcock, while Tony Herlihy guided Mister Wolf Blass.

Back early from the outside of the second line, Mark Roy was on the move in the middle stages, following Mark Craig around when the tempo increased noticeably passing the mile. Trapped without cover three wide from the 1400m, Mark Roy was still able to dash clear in the run home and had enough in reserve to fend off the late claim of No Return. He paced the mobile 2600m in 3:16.2, last 800m in 58.4 and 400m in 28. "It might have looked like a tough run, but he relaxed nicely out there. It is better to have them that way than fighting you," said Mark.

Mark had been in charge of Diamond Field and Mister Wolf Blass at Jim Dalgety's West Melton property during their stay, with Barry looking after the bulk of the team at Jeff Whittakers. Mark Roy has in recent weeks been troubled by quarter cracks, but the use of bar shoes and constant treatment has enabled him to keep racing. The Derby was his seventh win from 23 starts, and along with 11 placings, took Mark Roy's stakes talley on to $163,000. Like Mark Hanover, Mark Roy is raced by co-trainer Roy Purdon, Robert and Mrs Janet Reid and the Lorna Reid Syndicate. "Robert was down for the first two nights but did not come back for the Derby. He had no luck at all on the earlier nights," Mark said.

For Roy and Barry it was their second Derby in a row, having won the race last year with Kiwi Scooter. Roy watched the race from the public grandstand and would have done so alone had an old friend in Derek Jones not spotted him. "Roy came over and stood beside me when we won the NZ Cup with Hands Down," recalled Jones. "He wasn't going to bother coming down to the birdcage, but I set the pace for him," he added.

Miss Clevedon, whose first three foals are Mark Hanover (US1:53.4, winner of over $700,000 in NZ), Roy's Advice (2:00.3, 2 NZ wins) and Mark Roy, unfortunately died in 1991 after foaling a colt by New York Motoring. In between those foals, the Noodlum mare left a Vance Hanover filly, now three, which has not shown the same ability as her relatives to this stage. She is however the only filly left by the former open class mare. "Mark Hanover was brilliant right from the start, while this fellow has steadily improved all along," said Mark.

Bee Bee Cee, the second of three Southland-trained runners, enjoyed the trail behind Hitchcock and stuck on well for third in a gap of four lengths. He shaded Mark Craig and Franco's Chef, who both battled well after improving in the middle stages.

Credit: Frank Marrion writing in HRWeekly 15Apr93


| | |
| --- | --- |
| | RACING HISTORY FEATURE RACE COMMENT |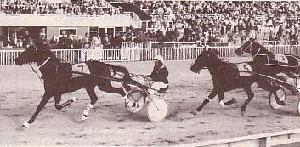 Dick Prendergast & Whizzing By collect the spoils

1993 LINWOOD CITY PHARMACY NZ TROTTING STAKES

Gee Whiz II had an answer to the stock of Chiola Hanover which dominated the field for the Linwood City Pharmacy NZ Trotting Stakes. His sole representative was Whizzing By, whose short career has been notable for its solidness and determination.

Raced by Peter Cocks, Doug Goslin and Dennis Smith, Whizzing By is trained at Ashburton by Dick Prendergast, who won the race in 1988 with Robbie Hest.

He came into the race with winning form on the grass at Methven, though this was not enough to give him favouritism. Prendergast placed him in midfield, brought him into the attack at the 400 metres , which he did with pleasure, and he went to the line strongly from there.

His dam is Single Event, a Tuft mare bred by Cocks. She has a rich trotting pedigree, being from Fair Court, by Court Martial from Tat Scott, by U Scott. Bred by Ted Sunckell, Tat Scott left three open-class trotters - Fair Play, Merrin and Topeka, and Belenciaga, a daughter by Goodland, left First Grade, an outstanding trotter by Gerry Mir.

There was quite a delay to the posting of the official result. Various disqualifications meant that Fitzroy Thugs, who finished 6th, was promoted three placings to run third; others who benefitted were Princess Della, Gianni and Lancaster Pride.

Credit: Mike Grainger writing in HRWeekly 15Apr93


| | |
| --- | --- |
| | RACING HISTORY FEATURE RACE COMMENT |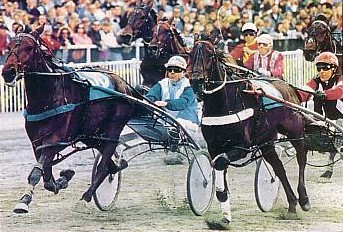 Chokin outlasts Master Musician in the Free-For-All.

1993 AIR NEW ZEALAND NZ FREE-FOR-ALL

The scratching of stablemate Two Under on the morning of the race was a significant factor in Chokin joining a long line of NZ Cup/Free-For-All double winners. Two Under's late withdrawal with a stone bruise meant Chokin was the only second line starter, allowing Tony Herlihy the choice of which horse to follow from the mobile.

Herlihy was well aware that Tigerish, from barrier three, had plenty of gate speed and a brief chat prior to the race with James Stormont confirmed their intentions. Pre-race predictions that Chokin would follow out Giovanetto from the pole and wind up at best three back on the fence in the early part proved totally unfounded as Chokin scored up behind Tigerish and received a charmed run through to the one-one behind his biggest threat Master Musician. From that point the result was never in doubt, although Master Musician fought tenaciously to the line to lose by a long neck. "That's the way it goes. They are both great horses and if the runs had been reversed on both days, so would the results," reflected Robert Dunn afterwards. "Maybe we'll have better luck in the Miracle Mile," he added.

Like the NZ Cup, the Air New Zealand sponsored Free-For-All was a relatively tame affair. Both Herlihy and Dunn were surprised they had run the journey in 2:25.9, with the final half in 56.2 and quarter in 26.8. "It didn't really feel that quick and I didn't push things much because I felt our only chance of beating Chokin was to outsprint him from the furlong," said Dunn. However those plans went awry when he was left alone in front at the 450m by the galloping Tigerish, who upset the chances of Giovanetto and Sogo. The latter was a surprise early favourite for the race due to an All-Up bet. "I saw her prick her ears at something on the track and then she tried to jump it," said Stormont. The Stipendiary Stewards later comfirmed it was a lost whip.

Master Musician and Chokin then engaged in a classic stretch duel, with the latter always holding a norrow advantage - Herlihy quiet and confident in the silky. They were out by three lengths at the finish fron Christopher Vance, who had tracked Chokin, with half a head to Giovanetto. Blossom Lady was next in, valiantly trying to make ground three wide from the 800m after settling towards the rear. Two unlucky races during the week netted her connections $17,000.

Chokin's double was worth $230,000 and took his earnings close to $800,000, the result of 23 wins in 35 starts. The 5-year-old Vance Hanover gelding remains unbeaten in nine starts at Addington.

Credit: Frank Marrion writing in HR Weekly


| | |
| --- | --- |
| | RACING HISTORY FEATURE RACE COMMENT |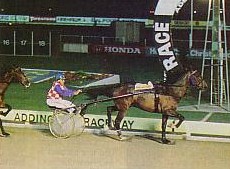 David Moss convincingly wins the 1993 Dominion

1993 DB DRAUGHT DOMINION TROTTING HANDICAP

For Captain Odvaar Andersen, a trip around the world to watch his horse race for 12 seconds past four minutes at Addington was worth it. Especially when the horse was the $100,000 DB Draught Dominion Handicap, especially as he had never seen the horse win a race before, and moreso because he bred the horse from a stallion he imported from France 11 years ago. All this made the win by David Moss a poignant moment. The joy was shared by part-owners, the family of the late Harry Cox, whose son John has trained the horse for much of his illustrious career, though the training this season has been handled astutely by Robert Cameron.

David Moss was a warm favourite for the race, mainly on the strength of his second on Show Day behind Diamond Field. This looked the perfect tightener. He had, before that, won on the track, and his trial work had been all quality. From 10 metres behind, Cameron said he had not expected to be in front, where he was and stayed from the 2100 metres. "But I thought once I was getting round that I would use his ability. I wasn't too sure when Tony Herlihy came at me with Diamond Field after turning in just how much he had left, but he kicked again at the furlong and got there well," he said. David Moss has a record to match his impressive size. His win in the Dominion was his 19th from 57 starts, and took his earnings past $250,000.

Captain Andersen, aged 68, is now living in retirement in Oslo. He settled in New Zealand in 1966 after his appointment as consulate-general for Norway. He met the Cox family through an introduction from Peter Mills, then with the old stock firm of National Mortgage, during a visit to meet some shipping agents in Invercargill. His first acquisition was a pacing filly that neither he nor John Cox recall. But he later decided there were benefits for the New Zealand breeding industry to use the European trotters he so admired.

In the late 70's and early 80's he brought out four French stallions - Beau Nonantias (2:04.7), Gekoj (2:02.5), Iguassou (2:09.5) and Jet d'Emeraude (1:59.2) and the Norwegian horse Inter Du Pas (2:07.3). Gekoj was probably by far the best of them as a sire. He stood four seasons in Mid-Canterbury and left 83 live foals - 17 of them winners - before his death at the age of 19. In his first season at the stud he served Proud Countess, a mare by Hickory Pride that Captain Andersen had bought off Sir Roy McKenzie. Proud Countess was born in 1970, had her first foal in 1972 - to Pompano Flash in America - and was imported to New Zealand in 1974. Gekoj also sired Drott Moss, who tried twice to win the Dominion for Captain Andersen. The seafarer still has close relations to David Moss and Drott Moss in New Zealand. He is breeding from a sister to David Moss who has been served this season by Armbro Invasion. He is standing at stud in Southland Dahl Moss, a 9-year-old son of Gekoj and the Light Brigade mare, Jeepers Creepers. And he has Erling Moss, a 4-year-old three-quarter brother by Dahl Moss to Drott Moss he intends to race in Europe "if he is good enough."

The enthusiasm Captain Andersen retains for New Zealand, and its breeding industry, is mirrored in his plan now underway to stand the Super Bowl stallion Taylored Way with Cox next season. The winner of $250,000, Taylored Way is out of a Speedy Scot mare and took a 1:59 mark. He is 11 and served 30 mares this past stud season in America. "I think he is an ideal type to cross with some of the mares with French blood in New Zealand, and the three I have by Gekoj," he said. To illustrate his truly international interests, Captain Andersen in 1980 bought Robyn Tudor, a Tudor Hanover half-sister to Diamond Field from Grant Sim, and sent her to Norway where she is now breeding.

Game Paul made his contribution to give the result an overseas flavour by running third for his Australian owners, ahead of Idle Scott and Falstaff, the latter running the race of his life by finishing fifth after beginning the last 1000 metres with 10 in front of him. He tracked Diamond Field on his burst forward near the 800 metres, but found a torrid last half - which took David Moss 58.7 - just a little too hot to handle.


Credit: Mike Grainger writing in HR Weekly


| | |
| --- | --- |
| | RACING HISTORY FEATURE RACE COMMENT |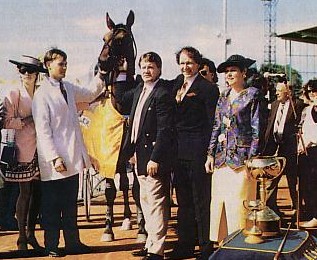 The Cup presentation to the connections of Chokin

1993 DB DRAUGHT NZ TROTTING CUP

The real hero of the 1993 DB Draught NZ Cup finished at the back of the pack, driving one of the beaten runners. While Chokin dished up a serving of his best form to win the great race, Barry Purdon was a little too far back to observe the end of it. He came in 10th with Christopher Vance, who paid the price for a super fast beginning which left him parked in a race which really developed into a dash home from the 800 metres.
But it was Purdon who has been the key player in a fascinating tale of a brilliant 2-year-old who was put through the gauntlet at three, recovered from serious injury at four, and made the comeback complete at five by winning the Cup.

Well, almost complete, because he is almost certainly going to Sydney for the Miracle Mile later in the month, and if any race owes him something it is the Mile. In that race two years ago, as somthing of a new boy at the game, Chokin had a crack at Australasia's best and took an awful tumble when pressured hard during the race. There was much speculation beforehand, and more afterwards as the young star fell from grace. He had been trained by Roy and Barry Purdon for a glorious 3-year-old career, and on the night of the Mile moved to Bob Knight's stable. The Pacers Australia Syndicate was keen to run him in the race. So was Knight who by this stage had a share in him. Purdon was not.

After the Miracle, Chokin eventually returned to racing, winning the South Australian Derby and a heat of the Victorian one. But then he suffered a tendon injury to his near foreleg that put him out of the Victoria Derby. Chokin went out for a long spell after the operation, and the syndicate took time out to consider its next move.

In September, to the syndicate's credit, they sent the horse back to Roy and Barry Purdon. "When we took the horse away, Roy and Barry willingly let the horse go to another trainer," said syndicate manager Terry Henderson. "And then, when he recovered, they were only too happy to take him back," he said. "You can put it down to Barry's skills. He got to know the horse. He can be a bit piggie. Bob was very keen on starting in the Miracle Mile, and so were most of the syndicate. That was the worst day in my life in harness racing, but today, winning the Cup, is the pinnacle. It is a great sense of enjoyment, and this win is dedicated to Barry," he said.

Partners with the syndicate in Chokin are two Melbourne men, and Aucklander Bert de Boer. Like Henderson, Barry agrees that Chokin is "a bit of a one-man band horse. You have to pamper him, but he doesn't like a lot of fuss. In some ways, he has to be treated a bit like a stallion," he said.

Chokin was trained for a start by Brian Hughes, and after winning for of his five starts as a 2-year-old for Pam Hughes and Sue Meadows was sold and went to the Purdons where he remained unbeaten in eight starts before going to Sydney. "That was a bad experience in Sydney, for us and the horse," recalled Barry. "It was sad to see it, and Christopher Vance won the race. I guess he's old enough to handle it now," he commented.

With a formline this season of 1740, it was hard to know whether Chokin was on a winning course for the Cup, although there was little doubt in the mind of the public who backed him strongly. "He was a wee bit disappointing at Kaikoura; there's no point in saying otherwise. I thought he'd done the work, but perhaps the turns and the pole made him a bit unsettled. I backed off him a bit after that, and then he did work terrific on the Sunday before. It was as good a work as anything I've done with him," he said.

Chokin gave Tony Herlihy his third win in the race, following that of Luxury Liner in 1988 and Christopher Vance two years ago in 1991.

Chokin has now raced 34 times for 22 wins and five minor placings for stakes of around $730,000. He is racing testimony to the skills of great trainers, a great driver and what has been a great comeback to the top level.

Master Musician was a game second, being unofficially timed to run his last 800 metres in 54.6. Giovanetto and Blossom Lady came next.



Credit: Mike Grainger writing in the HR Weekly