| | |
| --- | --- |
| | LOCAL HISTORY |

August 28 - Cantabrians awoke to find their region blanketed in snow. 'The Big Snow', as the 1992 storm came to be known, was the region's worst for 30 years, killing more than a million sheep and costing farmers $40 million.

Skier Annelise Coberger wins a silver medal at the Winter Olympics.

The Gondola is inaugurated.

Four Civic Creche staff are arrested in a child-abuse case.




| | |
| --- | --- |
| | RACING HISTORY |

The four Roy & Barry Purdon trained horses finished 3rd (Christopher Vance), 5th (Insutcha), 6th (Two Under) and 10th (Sogo) behind the Addington idol, Blossom Lady.

The official count of the Cup-day crowd at Addington was 18,822, compared with 18,477 the previous year.

On-Course betting of $2,058,117 was up $64,539. Off-Course betting of $2,532,955 was down $254,441.

A good humoured crowd enjoyed a wide range of entertainment during the long intervals between races. After an early-risers' champagne breakfast set the scene on a day favoured by warm, dry weather, popular attractions included a lucky ticket competition, police-dog and police-horse displays, the opening heat of the Trans-Tasman Axemen's Challenge and a variety of performances by the Face People Theatre Company and other musical artists.

Credit: NZ Harness Racing Weekly 12Nov92


| | |
| --- | --- |
| | RACING HISTORY BUILDINGS & FACILITIES |

HOSPITALITY SUITES UNDERWAY

Work started this week on the construction of seven corporate hospitality suites at Addington Raceway. The completion date of the suites, on level three of the Twiggers Stand, is in late October. It will coincide with the refurbishing of the Gallery, which is the betting and bar area on the top floor of the stand.

According to Mr Mike Godber, Chief Executive Officer, the idea of corporate suites or private boxes at Addington, has been under consideration for quite a while. The total development of the area, says Mr Godber, will cost about $500,000.

The hire cost of a suite will vary, depending on the time of the year or the popularity of a particular race meeting. Six of them will accommodate 20 people and the other will hold 40. Already, two suites have been sold for the entire 1992-93 season. The suites will be built incorporating the best features from those in use at Lancaster Park and Riccarton. "There is a untapped market in this area," Mr Godber said.

Seven rows of seating from the top of the Twiggers Stand have been removed to provide space for the new extension.


Credit: Mike Grainger writing in HRWeekly 10Jun92


| | |
| --- | --- |
| | RACING HISTORY PEOPLE |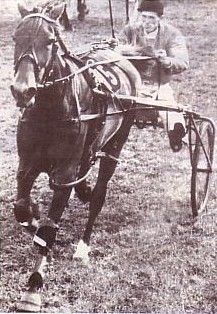 Driving Farlena to win the 1951 Cheviot Cup

ALBERT FAIRBAIRN

The death occurred recently of Albert Fairbairn, a prominent Canterbury trainer in the 40s and 50s. He was 80. Albert was employed by two trainers, Dick Humphreys and Roy Berry, before setting up his own stable at Hornby.

His most notable win was in the 1949 NZ Sapling Stakes with Farlena, a King Cobra-Quite Evident filly raced by his brother Ossie, and later to win the Cheviot Cup.

Mont dÓr was one of his first winners, winning three in the 1937-38 season, and he trained and drove Scapa Flow to win the Nelson Trotting Cup. He drove Margin - later to win the Dominion Handicap for George Cameron - in his early wins, Quite Evident to win four in one season, and he bred, owned and trained Jackie Guy, by Jack Potts, to win nine races.

His last winner was Arneb, a son of Stormyway trained by Ossie, which paid £67/10/- winning at Motukarara in 1965. Ossie said: "Arneb, Margin, Mont dÓr, Punctual and Appreciate all paid big divvys when they won. That was our wages. It was the only way we could get any money then."

Albert was the uncle of Doyleston trainer Kevin Fairbairn.

Credit: NZ HRWeekly 29Jul92


| | |
| --- | --- |
| | RACING HISTORY PEOPLE |

MAURICE McTIGUE

Maurice McTigue, who died at Ashburton aged 85, was, in his heyday, NZ trotting's leading owner-trainer, with a remarkable strike-rate for a one-man band.

An electrician early in life, McTigue in the early 1930s bred Waress, a filly by dual Auckland Cup winner Man o' War from Ivy Mac, a little mare whose dam Manuka (a straightout trotter) was a sister to champion pacer of the turn of the century, Ribbonwood. A staying type, Waress won five races, and, with her and other good performers in Fine Art, Morello and the dual-gaited Dark Hazard, McTigue burst into trotting's headlines in the '30s. Morello in 1938 gave McTigue a winning debut in the NZ Cup.

Waress produced a line of winners for McTigue, all by Jack Potts. The best of these, Plunder Bar, won 12 races and was twice second in the NZ Cup. Other good performers from Waress were Indigo and Vimy Ridge. Putting unraced Jack Potts mare Berengaria, the first foal of Waress, to Springfield Globe, McTigue bred Tactician.

Racing until he was 13, Tactician won 20 races, highlighted by his victory over Johnny Globe in the 1955 Inter-Dominion Final in Auckland. In beating False Step and Local Light in the Rattray Stakes at Addington in 1957 in 1:59 4/5, Tactician recorded the first sub-2:00 race mile outside America.

The first president of the Mid-Canterbury OTB Association and a past-president of the Methven Trotting Club, McTigue was survived by five children, including National Government Minister Maurice McTigue.

-1993 TAB Harness Racing Annual-

-o0o-

M C(Maurice)McTigue, a prominent Methven harness racing identity, the first President of the Mid-Canterbury OTB Association, and a past President of the Methven Trotting Club, died last week, aged 85.

Mr McTigue, a former electrician and the father of the present Minister of State-owned Enterprises, gained his biggest triumph in 1955 when he won the Inter-Dominion Grand Final with Tactician. He bred Tactician from Springfield Globe, winner of the 1939 Inter-Dominion Grand Final and Berengaria, the first foal from his good Man O'War mare, Waress (9 wins).

Tactician did not race until he was four, and won his first two, at Hawera. Mr McTigue was against racing horses at two, after he saw Plunder Bar beaten on a heavy track in the Sapling Stakes at Ashburton. Plunder Bar, which he bred from Waress, later became a top horse and won 12 races, but it took him 12 months before he was properly right again.

Long before Tactician came along, Mr McTigue had struck in the big races, winning the 1938 NZ Cup driving Morello. Tactician raced until he was 13, won 20 races, became the first outside the US to better 2:00 for a mile in a race and earned more than £25,000.

Among the other fine horses he raced were Loyal Rey (12wins), Great Divide (11), Precious Metal, Maharaj, Black Surprise, Indigo (8), King's Play, Messala, Kubla Khan (8), Golden Fleece (9), Grand Canal, Genghis Khan, Fine Art (14), Dark Hazard (11), Play On, West Point, Peter Polo, Royal Worthy and Loyal Friend.

Always active around his farm, Mr McTigue enjoyed a game of billiards and a beer at the 'local' until a year ago when he was hurt in a car accident.

Credit: NZ HRWeekly 2Sep92


| | |
| --- | --- |
| | RACING HISTORY PEOPLE |

J X FERGUSON

Few have bred as many winners as J X Ferguson, a prominent Banks Peninsula farmer who continued the Le Lievre family destiny in harness racing. His death recently, at the age of 83, has ended a long association with the sport that began with his grandfather, Etienne Le Lievre. For most of his life Jack lived in Akaroa, but unwilling in his latter years to tackle the hill climb home after a night at Addington, he shifted to a smaller holding at Greenpark.

Mr Ferguson quickly made his mark as a breeder, sending the Man O' War mare Polka Dot to Light Brigade. This mating produced the dual Auckland Cups winner Soangetaha, and to U Scott, Polka Dot left Prince Polka, which won the Auckland Cup in 1955 when trained by Noel Berkett.

An introduction through Soangetaha's trainer Derek Jones to Andy Carmichael forged a friendship that lasted for many years. Mr Carmichael bought many of the horses Jack bred, including Prince Polka, and they were partners in Good Admiral, which won 18 including the 1971 NZ Trotting Stakes, the Reta Peter Handicap and the Challenge Stakes at Alexandra Park.

Jack bought Mischievous, and sent her to U Scott. She left Desiree, the cornerstone of John Butcher's wonderful 'ias' family - notably Abdias, Tobias and Samarias - and Desilu, the dam of the great racemare Delightful Lady. He bred Inter-Dominion Trotting Grand Final winner Precocious from Johnny Globe and Dauphine; Petite Polly, the 1987/88 Victorian Broodmare of the Year; Girl Brigade, which was Southland Broodmare of the Year; and Dels Dream.

A family member recalls that Jack regularly bred from 12 to 15 mares, and was a loyal patron at Roydon Lodge when Sandy Green was studmaster. He sold many he bred through the sales, but in more recent years he raced them, from the stables of Noel Berkett, Jack Smolenski and Peter Robertson.

His favourite was perhaps Jayex, a colt by Nevele Romeo from Eblouir which won the NZ Champion Stakes and a heat of the Sires' Stakes in a short career. With Glamour Chief, he ran second in the NZ Derby, and Melvander, which was the last he raced, won the NZ Trotting Fee-For-All and finished second in the Inter-Dominion Grand Final. "I think the sudden death of Melvander probably knocked him," recalls the spokesperson.

A keen sportsman and a harness racing enthusiast from his earier days, J X Ferguson bred more than 100 winners. He is survived by his wife Maisie, son Peter, and daughters Jill and Lyndsay.

Credit: NZ HRWeekly 10Jun92


| | |
| --- | --- |
| | RACING HISTORY PEOPLE |

CHARLIE PATEMAN

Charlie Pateman, who died in Blenheim age 93, was an owner of standardbreds and thoroughbreds, widely known throughout NZ and Australia. Highly successful as a hard-working caterer and hotelier, first in Timaru and then for long years in Blenheim, Mr Pateman raced numerous gallopers, pacers and trotters on both sides of the Tasman, some of them in his own direct interests and many more out on lease. His best gallopers were Ray Ribbon (who beat all but Rising Fast in the 1955 Caulfield Cup and won the Williamstown Cup) and Lady Christine (who cost him 400 guineas as a yearling and was the top 2-year-old of 1946-47).

Mr Pateman initially owned Mankind, but let that good pacer slip through his hands to subsequently bring Wes Butt into prominence in the game in the early 1940s. In 1967 Mr Pateman sold the trotter French Pass after his first win to Wellingtonian Roy McKenzie, for whom he won a string of races including the Dominion Handicap of that year and beat all but Stylish Major in the 1968 Inter-Dominion Grand Final in Auckland.

Mr Pateman also bred and raced a smart pacer in the mid-1970s, Grosvenor Lord. One of the shareholders with Noel Simpson in the founding of Prestatyn Raceway in Wales, which opened in 1963, Mr Pateman served as judge among other official capacities and with Simpson worked hard but in vain to get harness racing off the lower rung in the United Kingdom.

Credit: 1993 TAB Harness Racing Annual


| | |
| --- | --- |
| | RACING HISTORY PEOPLE |

JIM DALGETY Snr

Jim Dalgety, who died at Oamaru after a short illness, operated the Belmedia Stud at Kakanui, where he farmed from 1942. His first racing venture was Vanity Scott, a daughter of U Scott and Tara's Hall whom he bought as a 2-year-old for 210 guineas in 1955. She won him nine races and left the winners Kimargo, Master Key, Golden Vanity and Yankee Scott.

Other good winners trained by Mr Dalgety included Spangle's Gold, Jack Ruler, Butler Hanover, Lakeda, Fielder and Lord Paso. His most recent winner was Guiding Boy at Forbury Park in 1990. A vendor at the national yearling sales for many years from the early 1950s, he bred a host of winners, including Chief Command, Indecision, Living Doll, Lord Paso, Star Stranger and Jack Ruler, all from Queen's Coronet. Mr Dalgety stood the stallion Jack Chance in the mid-1970s

His sons Jim (Lantana Lodge, West Melton) and Don (Shardon Stud, Kakanui) both established their own standardbred studs after assisting their father.

Credit: 1993 TAB Harness Racing Annual


| | |
| --- | --- |
| | RACING HISTORY PEOPLE |

GORDON McHERRON

Gordon McHerron, a prominent and popular harness racing administrator, died suddenly in Christchurch last Sunday.

Aged 78, Mr McHerron was active in the New Brighton Harness Racing Club. He became a steward in 1965, joined the committee in 1971, was elected vice-president in 1979, and served as president from 1981 to 1984. He was elected a life member and honorary steward after that.

He was part-owner of the pacer Destrier, which won two races last season, but fared better in the early 60s with the pacers Bazax and Royal Brittania. He raced then both with Stan Andrews. Royal Brittania won three races while trained for them by Peter Wolfenden, having done well in Canterbury before going north, and Bazax, after winning from Bill Denton's stable, won three more from Wolfenden's stable.

Credit: NZ HRWeekly 4Mar92


| | |
| --- | --- |
| | RACING HISTORY PEOPLE |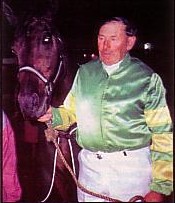 Stewart Sutherland and Hickory Stick

STEWART SUTHERLAND

North Otago trainer and popular identity Stewart Sutherland died on Monday after a short illness. Aged 64, Sutherland passed away almost a year after winning the feature trot at the Forbury Park Trotting Club's meeting with Hickory Stick.

Sutherland was a good man with a trotter, his best win being the Canterbury Park Trotting Cup with Waipounamu, a son of Aksarben. He fared well with Aksarben stock because Screws Loose was an open class daughter of the sire, and finishing second in the Rowe Cup. Screws Loose won eight races, her major one being the Greymouth Trotting Stakes in 1975, but she won at least two at Addington and in one of them defeated Castleton's Pride.

A big man, Sutherland started off as a musterer and later became the private trainer for Bill McCone, a past president of the Oamaru Harness Racing Club. Sutherland was a steward of the club. Young Atlas and Hazel Grattan were notable winners from the stable, but his best performer was probably Frown, a son of Dillon Hall. Racing in the late 50s Frown won 11 races, four of them at Forbury Park, where he won the Flying Handicap from Arania, Sun Chief and Thunder. His only win at Addington was as an 8-year-old when he took the New Year Handicap, but he was still going at 10, and finished fourth in the Lightning Handicap to Cardigan Bay, Samantha and Lordship.

Only A Rose (6 wins), Tintern Pride (3) and Black Moss (3) were some of the more recent winners, and Dodge City was handled by his daughter Karen to win the night Hickory Stick won the Forbury Park feature. All told, Sutherland trained 262 winners, his best totals were 19 in 1975/6 and 17 in 1959/60. He drove 190 winners.

He is survived by his wife Colleen, son Roger and daughters Karen and Jan Meikle.

Credit: NZ HRWeekly 29Apr92


| | |
| --- | --- |
| | RACING HISTORY INTERDOMINIONS |

MELBOURNE - WESTBURN GRANT
Enabled only by the wonders of modern science to even be competing, 6yo stallion Westburn Grant and 51 year old New South Wales trainer Vic Frost teamed for a triumph in the $400,000 1992 Final in Melbourne. Those closest to this brilliant horse and his master were almost overcome with emotion. Westburn Grant had undergone expert surgery to pin a shattered pastern following a training accident in Perth in January 1991.
Best of the Kiwis was Blossom Lady, who ran third.


| | |
| --- | --- |
| | RACING HISTORY HORSES |

VANCE HANOVER

Vance Hanover who died suddenly aged 17 at Vance Lodge in South Auckland on Saturday morning at the peak of his mercurial career was a sensational sire. There was no other way to describe him.

The nuggety, unraced stallion - the first son of world champion pacer and sire Albatross to be made available to NZ breeders - rocketed to a pre-eminence that could one day see him heralded as the Hambletonian 10 or the Meadow Skipper of the standardbred industry in this country.

Vance Hanover sired winners from mares of the lowliest credentials to forge himself an initial popularity that led him to attracting record numbers of matrons, eventually including the most fashionable. He shattered all previous records for mares covered, local individual winners and wins and seasonal stakemoney won by his stock. With 10 crops on the tracks, he is well on his way to dominating the sires' premiership for the fifth straight season. The quality of his representatives, who will no doubt dominate our racing for some seasons to come, embraced speed, stamina, versatility and durability, while both his sons and daughters demonstrated these assets and there were already signs that his sons and daughters would breed on successfully.

Helen Andrews, wife of Vance Lodge co-director Eric Andrews, found Vance Hanover dead in his paddock around 8.30 on Saturday morning, some 45 minutes after he had served a mare. "He had served all but three of the 115 mares booked to him here, while down at Templeton, where Kevin Williams has been inseminating South Island mares booked to him, there were about 20 to go of some 120," said Vance Lodge studmaster Fraser Kirk.

Williams confirmed that six mares were inseminated with Saturday's final collection from Vance Hanover. "There will only be about 20 mares miss out, although there are a few mares who have only been inseminated once that we have our fingers crossed for, and these include some good ones, like Bella Regazza, the dam of Giovanetto," said Williams. "We had 70 positives, and I think there will be about 80 booked here get in foal."

Vance Hanover was insured by Andrews and Graham Brown, co-directors of Vance Lodge. Said Kirk: "I thought he would live until he was 30. He was unraced and so strong, and his legs were unmarked. What the future holds now I just don't know." Said Williams: "It is such a shock. We had it teed up beautifully, allowing more than 100 South Island breeders access to him, and everything was working like clockwork. At least we pioneered this semen transportation in New Zealand, and proved that, beyond doubt, it is both viable and successful."

Vance Hanover was the 1975 foal of the Best Of All mare Valentine Hanover, who was from a prized Tar Heel mare Valentine Day. On this good breeding and his own impressive conformation, famed Hanover Shoe Farms in Pennsylvania sold him for $85,000 as a yearling. As an un-raced 2-year-old, he cracked a sesamoid. His trainer, Vernon Dancer, wanted to bring him back into work when the fracture mended, but Vance Hanover's owner indicated she didn't want the horse to race.

He was purchased for New Zealand by Aucklander Noel Taylor and Southland breeding expert Norm Pierce, who first leased him and then, a year later, sold him to the late Dave Jessop. Offered first in 1979 by Jessop at the bargain fee of $400 - to attract as many mares as possible and set his new Placid Lodge base at Waiuku on firm footing - Vance Hanover attracted big numbers of mares, albeit very few of them that could be described as other than nondescript.

While Vance Hanover's earliest sons and daughters showed excellent potential (he was leading sire of 2-year-olds with his secod crop in 1983/84), Jessop kept the fee down at $500. In 1984 he got an amazing total of 402 mares to him - definitely a NZ record and possibly a world best. At this point, Jessop, in ill health, reluctantly let Vance Hanover go to a consortium headed by North Shore accountant Graham Brown, in a deal that put the stallion's value at something close to $1m.

Vance Hanover moved a few kilometres up the road to the newly established Vance Lodge at Waiau Pa on the southern shores of the Manukau Harbour. His fee was hiked to $2000, and, with Trevor Payne his studmaster, his book there in 1985 was 347 mares. It was in this year that, for the first time, a good number of class matrons met up with him, his book including some 50 mares sent from the South Island. To Vance Hanover's everlasting credit, from the many mares booked to him in his earliest years of duty who had not produced anything of account, even to fashionable sires, he achieved an excellent strike-rate of winners to foals.

Vance Hanover was in 1986 re-negotiated to stand at Ivan Pavlovich's plush new Great Northern Bloodstock nursery at Te Aroha, in a deal that put his value close to $2m. With his fee eventually set at $6000, he covered 130 mares there in 1986, after which Pavlovich decided to let him go, by popular demand, to be available to South Island mares at his newly-leased and refurbished stud, Poplar Lane Lodge, Ashburton. At Poplar Lane in 1987, Vance Hanover, at a basic $6000 plus GST, took care of 243 bookings.

In topping the sires' list in 1987/88 for the first time, with only six crops on the tracks (and these virtually all in North Island stables), Vance Hanover set new figures for sire earnings in a season of $1,323,129 and a record number of individual winners during the term - 66. He had 139 starters for the season, who won 156 races in total, including 96 at Alexandra Park. Vance Hanover had burst into the top spot as a result of a remarkable season for his progeny across the spectrum of age-groups and classes. In 1988/89, Vance Hanover eclipsed his previous record total with two months of the term to run, and by season's end his representatives had amassed a whopping $1.62m. His 87 individual winners was another record, and also their 190 wins. In this season he served 264 mares.

Despite Vance Hanover's great work for Great Northern Bloodstock, the Te Aroha showplace was one of several major new North Island stud operations placed in receivership in 1989. Unable to meet the drip-feed financial commitments to hang on to Vance Hanover, Pavlovich was forced to return him to his former owners. Vance Lodge co-directors Graham Brown and Eric Andrews announced the stallion would be set up permanently back at Waiau Pa. With Fraser Kirk giving up training horses to become studmaster, he would cover some 220 mares per season (per medium of AI) with a basic fee of $5000.

The now 15-year-old, for the third straight season, broke records, his progeny winning 220 races and $2,182,441 in NZ. In 1990/91, Vance Hanover for the fourth straight year emerged as premier NZ sire. This time his 231 starters won a total of 173 races in NZ for $2,152,039 - just short of his 1989/90 record.

Pre-empting the official decision in July 1991 by Conference to allow fresh or chilled transported semen, Vance Lodge struck a deal with Kevin (Master Mood) Williams, master of Tall Tree Stud Farm at Templeton, announcing in June that semen for Vance Hanover would be sent south for use on mares agisted at Williams's property. Acknowledging the difficult economy, Vance Lodge dropped Vance Hanover's basic fee to $4000. Other notable stud farm operators protested the arrangement before themselves seeing the light and setting up similar inter-island semen transport for their stallions.

In the current season to date, Vance Hanover's progeny in NZ are well on the way to putting their sire on top for the fifth straight year, almost certainly with another record stake tally. Way out in front on the sires' list once more, he boasts the winners of 71 races and $1.1m - more than three times the amount won by the stock of his closest rival, Smooth Fella.


Credit: Ron Bisman writing in HRWeekly 15Jan92


| | |
| --- | --- |
| | RACING HISTORY FEATURE RACE COMMENT |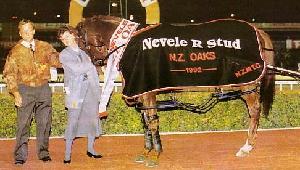 Lindsay & Pam Turner pose with Oaks winner Tigerish

1992 NEVELE R STUD NZ OAKS

Tigerish, the youngest in the field, and the only chestnut, had too many guns for Rarity and 12 others in the $45,000 Nevele R Stud New Zealand Oaks. Such was her dominance that she looks a good thing to extend her Autumn record at Addington by winning the $135,000 DB Draught Fillies Final, especially from an ideal spot on the front line of the gate.

There was no surprise about last week's result, even though Rarity narrowed the margin back with a lightning burst to a length at the end. Tigerish squandered a wide break half-way along the straight through her little habit of easing up when close to the wire. "She pulled up a bit on me," reported driver James Stormont later. "My plan was simply to follow Rarity out. Once I got to the front I thought I might have got attacked but 3:17 for the trip (2600m mobile) kept them busy," he said. Trainer Lindsay Turner wasn't surprised to see her dodge some of the workload when there was still a bit of business to do. "She will be as lazy as anything if you let her, and it's the same with her work at home," he said. The fastest for the race has been Adina Bebe's 3:16 set in 1989, and the only others under 3:17 have been Young Eden and Julie Vance.

Turner, aged 36, has spent most of his life in the retail industry, employed for 15 years in Australia by Coles-Myer, and more recently in New Zealand as sales manager for FDC in Manakau City. The ability of Tigerish to earn Lindsay and his wife Pam around $240,000 in 14 months has been one of the reasons he has left the shop counter and concentrated on handling horses. They now have two small properties at Pukekohe,one for the agistment of stock, and the other where they have built a new barn to prepare yearlings for sale and wean foals. One horse that won't be in the barn is Tigerish, which is entirely paddock-trained.

Safely through Saturday's classic, Tigerish - a $2,000 buy at the 1990 International Yearling Sale - will be booked on a suitable flight to Brisbane for the Queensland and Australian Derbies, both in July. In the Oaks, the second line draw posed no problems for Tigerish, though it did for Pay Me Back, which broke and lost all chance when Delkedra - later relegated to fifth - upset her. This time she has drawn 11 but will start from the front - as will Pay Me Back - and wise heads won't be needed to reckon that Stormont will steer for the lead. If that is the case, and the others batten down the hatches, Smooth Performer's race record of 2:27.8 will be safe for another year. On Friday night Tigerish will have four fresh rivals against her: Kurahaupo Pride, Amenable, Nicola Mary and Tuapeka Dancer, which fill the places left by Kinski, Chicaboo, Lady's Day, Russley Fancy and Maude's Gift. Her main rivals, going on the Oaks form, will be Rarity and Cut The Cake, which suffered a hard run and took it well, and two Vance Hanover fillies that missed a start in the Oaks, Tuapeka Dancer and Kurahaupo Pride.


Credit: Mike Grainger writing in HR Weekly


| | |
| --- | --- |
| | RACING HISTORY FEATURE RACE COMMENT |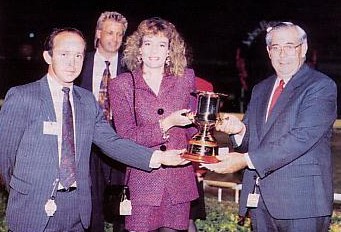 Katrina Purdon receives the Derby trophy

1992 JOHN BRANDON 30 NZ DERBY

Kiwi Scooter was rugged the winner of the $150,000 John Brandon 30 New Zealand Derby. Australian visitor Lotsnlots again found the Roy and Barry Purdon - trained gelding superior but ran gamely for second, and the filly Tigerish put up a run that would have won 99 out of 100 races for a gaining third.

The 3:13.6 for the mobile 2600 was the third fastest Derby run - behind Master Musician's 3:13.5 and Winning Blue Chip's 3:12.2 - which was the type of race Kiwi Scooter wanted. Barry Purdon has always promoted staying power as Kiwi Scooter's best weapon and the hectic pace set by Clever Legend and Jimmy Curtin could not have suited him more.

While not the quickest out, the son of Direct Scooter left the gate at good speed and kept handy for the first 400 metres. Some early sprints, including a blinder from Lotsnlots near the 1900 metres, forced him back in the field, and near the 1400m Purdon decided to employ the grinding tactics that worked so well in his win the previous week. "He can get out of the gate quick, but it seems better to settle him. He doesn't run out of gas that way," said Barry. On the corner as Lotsnlots tried to apprehend him, Kiwi Scooter pulled away, and went on to win in very convincing fashion.

Tigerish, all class, came from far back for a close third to win $15,000 and Harmers Choice, while looking an unlucky fourth was apparently not because driver David Butcher said he doubted whether the horse was capable of finishing any closer. Master Blaster a worthy third on the middle night, was taken back from the gate at the start, and was never in the hunt afterwards.

Kiwi Scooter was not an easy horse to handle early in his career, though Barry did not connect it with the fact he had one testicle. "I thought he was a rig. When his other testicle came down, his attitude seemed to improve," he said.

Kiwi Scooter, now starting a spell from racing, is on c8, the same mark as Tigerish. Barry said it was "ridiculous" that after just two seasons of racing and about 20 starts each, both horses would go into open class racing. "It's tough on them. There should be a limit on how farthey can go at this age, say c7 for the colts and c6for a filly," he said.

Credit: Mike Grainger writing in HR Weekly


| | |
| --- | --- |
| | RACING HISTORY FEATURE RACE COMMENT |

Giovanetto beats Master Musician & Blossom Lady

1992 MONSANTO FREE-FOR-ALL

"I only wish it had been the Cup," was driver Jack Smolenski's comment following Giovanetto's impressive win in the Monsanto Free-For-All. The 4-year-old Fitch II entire gained some compensation, having beaten all but Blossom Lady in the NZ Cup on the course 11 days earlier. Smolenski had experienced more bad luck just two races earlier when Rosie O'Grady failed by a nose to overhaul Directorship in the Dominion Handicap.

With the field reduced to seven runners following the late withdrawals of Remote's Dream and Anvil Lad, Giovanetto's chances were made somewhat easier coming in to six behind the mobile. He made the most of this and after beginning like a bullet, was eased to trail Blossom Lady with 1700m to run. With Master Musician moving forward to challenge the leader at the 800, it seemed the favoured trio would battle out the finish and so it proved.

Master Musician quickly headed Blossom Lady in the run home, but, not to be denied, Giovanetto, the least favoured of the three, stormed home along the fence to win by a length in 3:18.2."He felt good tonight ans I was able to make use of his gate speed to get to the front. I thought if I backed off a bit in the lead, Blossom Lady would challenge me early, and we got a good run through in the straight," Smolenski said. Runner-up Master Musician was not disgraced, turning in his best effort at the meeting, while third placed Blossom Lady "had her chance" according to driver Anthony Butt.



Credit: Greg Heller writing in HR Weekly 25Nov92


| | |
| --- | --- |
| | RACING HISTORY FEATURE RACE COMMENT |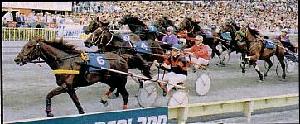 Staka Pride winning the Air NZ FFA on Show Day

1992 AIR NEW ZEALAND NATIONAL TROTTING FREE-FOR-ALL

It was Show Day for the mares at Addington. Blossom Lady, Pay Me Back led the charge, and Staka Pride set a record, taking 0.3 seconds off Glenfield Girl's mobile 2600m for a trotting mare in winning the Air New Zealand National Trotting Free-For-All in 3:18.7.

Staka Pride had finished third after a promotion on Cup Day, getting through quickly from the second line to trail. She didn't finish with any punch but held her ground. This time as usual, she flew out of the gate, led, and saved herself in the trail when passed by Hickory Stick near the 1800 metres. This time, she had a real kick at the finish when the gap came along the rail, forging through, racing ahead, and winning by a length.

The improvement was pretty much expected by driver Leo O'Reilly, whose previous biggest win was the 4-year-old championships at Forbury Park with Regal Maina, and her Waimate trainer Keith Coutts. "She goes much better with her races close together," said Leo, the regular driver this past year, taking over from Allister Scott, now in Australia. "We wanted to pick on a young driver and one we could help," said Keith, who races the hardy Stakhanovite mare with his wife Lorraine. "What we liked about Leo is that he is very patient, and you can come away still with a horse for another day," he said.

Leo, aged 30, has won three behind her. He has a team of 12 in work at Rakaia, headed by the capable Innovate. Others he expects to make the grade a Payson's Brother 3-year-old filly, a Noodlum half-sister to c1 pacer Stater, and a Fitch II half-sister to Innovate.

Coutts has four in work, including Staka Pride's 5-year-old brother, Reddington. Staka Pride was bred by National Bloodstock, and Coutts, who stood Stakhanovite at the stud, raced her on lease until he exercised his right of purchase after her 2:04 mile win at Ashburton as a 3-year-old. Staka Pride had been winning at an average of $1000 per start but her $21,875 prize has now put her past the $100,000 mark from 83 starts.

For Staka Pride to have a chance of winning Saturday night's Dominion Handicap, her connections know she won't be able to rough it the way William Dee and Ceddie can. "As long as she doesn't have to do any work, she will be all right," said Keith.

Hickory Stick was a sound second, ahead of Rosie O'Grady, which raced on the outside line near the pace and stuck to it well. Ceddie was again the rugged customer, finishing fourth after sitting out wide in the open for the last lap. The favourite William Dee galloped at the start, but trotted to the satisfaction of trainer John Langdon once he settled, and Game Paul ran 13th, putting in his best work when it was as good as over.

Credit: Mikr Grainger writing in HRWeekly 18Nov92


| | |
| --- | --- |
| | RACING HISTORY FEATURE RACE COMMENT |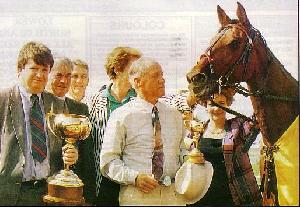 Derek Jones, the Polly Synd & Blossom Lady

1992 NEW ZEALAND TROTTING CUP

Cheered to the echo by loyal Canterbury fans, Blossom Lady made it a case of "third time lucky" as she stormed to victory over Southland's Giavanetto and the hapless Auckland favourite Christopher Vance in Tuesday's $300,000 DB Draught New Zealand Cup.

Trained by popular Templeton horseman Derek Jones, who in 1980 produced winner Hands Down (driven by son Peter) and driven a treat by Jones' grandson Anthony Butt, Blossom Lady, though owned in the Central Districts, has long been the darling of the Addington fans.

"I am shaking so much. I feel as if I'm going to faint." It was one of those days, temperatures into the 20's, thousands of people in their best costumes, and husband out on the track in those famous maroon and grey stripes. But it was just seconds after the Cup, and Karen Butt had more reason than anyone to feel it was much more than another Cup Day. As members of the Polly Syndicate brushed aside tears of joy waiting for Blossom Lady to return to a huge home crowd reception, Karen said: "I was wondering if it was going to be one of those races for Anthony. I know he is only young, but he has had six or seven goes in it...and she just deserved one of these big ones."

Anthony handled the race and the questions with the professional approach one has come to expect from him. Even his wife had to wait for her celebratory kiss until he had satisfied the media with his commentary on the event. For the first time in the past three years, Anthony did not have the pressure he had been under in previous years when Blossom Lady was one of the favourites. He noticed the change, he said. Two years ago, he has sat back on an easy pace and rattled home late for fifth, and last year when third favourite, she broke at the start and beat only one.

This time, Blossom Lady had been campaigned with what seemed a slightly unorthodox campaign by Templeton trainer Derek Jones, who raced her in Auckland in late winter and then gave her three starts in Queensland. She picked up a virus and returned home. In her four starts since resuming, Blossom Lady has raced well without winning, though Anthony was never despondent. "She has certainly lost some of her quick speed, but I felt she has been getting better and better. I gave her an outside chance beforehand," he said.

Although Anthony termed it a "funny sort of race," it unfolded into his lap. He settled the stable favourite into the midfield on the inner, and angled her off the fence when Its Motor Power herbed to the front passing the 1900m. He was left in clear air briefly until Master Musician gave him cover, and started to fancy his chances when he got cover again, near the 1200m.

"Everything went to plan. I was lucky when Master Musician came round to give me cover, and she came away in the end. It feels terrific...nothing better...a lifetime dream. She is a big favourite with the crowd." And she is a big favourite with Anthony. Before the Cup, Premiership and Blossom Lady had both won him 14 races. 'The Bloss' chose her moment well to edge ahead.

Christopher Vance cantered off from the 15m back mark, and, to the dismay of the multitude who had installed him a $2.50 shot, galloped and added at least another 30m to his handicap. Victorian visitor It's Motor Power was another off stride in the early rush, and he wound up out the back, just ahead of Christopher Vance - but not for very long.

Giovanetto made the early play for Jack Smolenski, who was happy to take a trail when Jim O'Sullivan swept up and around and into the lead with It's Motor Power 1800m from home. Immediately, Barry Purdon sooled Sogo from just off the pace into the lead. Anthony Butt moved Blossom Lady, who had been handy on the inner, out and around, and after being briefly parked she got a perfect 1-1 sit as Master Musician improved to sit parked on Sogo's wheel. Smolenski had now angled Giovanetto out to track Blossom Lady. It's Motor Power held the trail, followed on the rail by Millie's Brother and The Bru Czar, with the last four two Under, Insutcha, Lawn Boy and Christopher Vance.

The first mile had required 2:04.6, and as the speed went on down the back, positions stayed virtually the same. Smolenski was first to make his move - something he said afterward he perhaps should not have done. Blossom Lady went with Giovanetto and the pair sorted themselves out, with the 8-year-old mare, showing the experience of many tough battles, edging ahead of her 4-year-old challenger and beat him to the wire by a length and a quarter.

Christopher Vance, reserved by Tony Herlihy for one run at them from 500m out, powering down the outer for third, a length away. The Bru Czar headed the others, battling on after clearing traffic, followed in by Insutcha, Two Under, Millie's Brother, Master Musician, Lawn Boy, Sogo and It's Motor Power.

With Blossom Lady clocking 4:05 and the leaders covering their final 800m in 58.4, Christopher Vance was timed his last mile in 1:58, 800m in 56.7 and 400 in 27.1.

Credit: Mike Grainger writing in HRWeekly 12Nov92


| | |
| --- | --- |
| | RACING HISTORY FEATURE RACE COMMENT |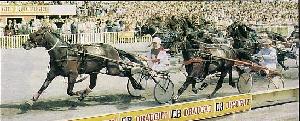 Laud holds out Supreme Power & Mark Roy

1992 ANZ BANK SIRES' STAKES FINAL

Laud and Supreme Power easily turned back the challenge of seven North Islanders and one New Zealand bred Australian to quinella the $175,000 ANZ Bank Sires' Stakes Final. The race did not produce the excitement or close competition one might have expected from top of the range students.

Once Laud was able to creep over the first panel in 30.8, the others put the shutters up and allowed the favourite to control every step from there. Except for a brief surge near the 1300m when Swift Edition ran forward to sit in the breeze, Laud had it all his own way.

Trainer Cran Dalgety and driver Peter Jones thought there would be more interest in the lead out of the gate, and they were surprised when there wasn't. "I did not anticipate being in front, but it gave me a bit of confidence when we got there. I thought I would take advantage of it," said Jones. Both Dalgety and Jones thought they would be beaten for that by Supreme Power, which still began well and received a sweet trip in the trail.

A son of Andrel and the winning Mark Lobell mare Karara Lass, Laud has raced only five times and won four of them. He is raced by Allan Helleur, of North Harbour, and his brother Larry, of Christchurch. They bought Karara Lass as a yearling from Motukarara breeder Mike Fenton, although they made the initial contact to buy a colt of the same age.

Allan raced General Armbro with success some years ago, and Larry honed his interest in harness racing working for Alec Purdon in 1954, the year Alec won the Easter Cup with Onward and during the time he trained Poranui.

Neither are greatly keen on campaigning the horse in Australia. Both say the "welfare of the horse comes first."

Credit: Mike Grainger writing in HRWeekly 12Nov92


| | |
| --- | --- |
| | RACING HISTORY FEATURE RACE COMMENT |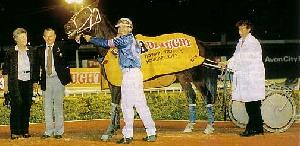 Post-race celebration

1992 DB DRAUGHT DOMINION TROTTING HANDICAP

There was nothing in Directorship's 'CV' to predict he could topple the leading candidates from their seats in the DB Draught Dominion Handicap. The veteran of 106 starts had galloped on Cup Day after being upset by the tape, and performed streets below what he can do when 12th of 14 on Show Day.

Off 10m behind, and in such bleak form, there was little to indicate that trainer Gary Smith would engineer a sudden change to make him so competitive eight days later. For one thing, Smith was back home at Pukekohe. And even driver Tony Herlihy wasn't fussed about returning south. He had left the colours in Christchurch, not expecting to use them again at the meeting.

As he normally does, Smith left the horse in the care of Brian Kerr at West Melton. Both top men, Smith knew his horse. "Brian, who really did a great job with him, thought he was a bit short. I thought he had done a bit much," said Smith. So they decided to give him an easy week - a blow out on Thursday and a look at the scenery around the quiet country roads near the Kerr stable on the other days.

While Smith admitted that he didn't expect Directorship to win the Dominion, he was not surprised the stable favourite made a better fist of it than he did on the earlier days. "The tape hit the fence on the first day, so he might have had an excuse then, but on Friday he just had one of those days. He can have them. He was fit enough. It might sound funny, but on those hot, stinking days, like it was at Addington, he is not so good. He had two days off after that, and I thought he would go better racing on a cooler night," he said.

Having only his second drive in the Dominion - his other was Empire Lobell - Herlihy went to bat, and picked his way through the field until latching onto Ceddie's back, which was off to attack near the 1200 metres. When Ceddie got over near the 900 metres, Directorship was pounding on further out, and Herlihy, like his transport, started to enjoy the cool night air. "He sort of hesitated early, but started to feel good once he got outside them. Over the last mile he certainly felt better," he said.

In as close a finish as you could get, Directorship and tough little Taranaki mare Rosie O'Grady slugged it out over the last 100 metres, with Staka Pride making the most of a sweet run three deep behind Happy Tom and William Dee to finish a game third. First to congratulate the ace was Maurice McKendry, who was told in the kindest way by Herlihy that McKendry had "got off the quinella." McKendry drove Rosie O'Grady to win on Cup Day, and after winning the Rowe Cup last season with Directorship turned down the drive this season to stay with Aspiring Lass.

A 9-year-old son of Lordship, Directorship has been one of the great campaigners, starting off winning five races for Ian Cameron and three with Charlie Hunter before Smith took him over. "I took him over as a 4-year-old. He has had some problems with his joints, but he is no problem to train. He doesn't need that hard drilling work any more," said Smith. Now the winner of $438,198 from 30 wins and 27 placings, Directorship will be given a few days off before getting ready for the Auckland meeting.


Credit: Mike Grainger writing in HRWeekly 25Nov92