| | |
| --- | --- |
| | INTERNATIONAL HISTORY |

Until 1991 South Africa practised apartheid whereby people of different races were separated by law.

The First Gulf War breaks out.

Civil War breaks out in Yugoslavia.


| | |
| --- | --- |
| | LOCAL HISTORY |

The council starts planning for the redevelopment of the Square.

Worcester Boulevard is revamped.


| | |
| --- | --- |
| | RACING HISTORY |

The Clevedon based training partnership of Roy and Barry Purdon created Cup history by having four starters in the Cup. They repeated this feat the in the following two years. In 1991 the four horses were the winner Christopher Vance (Driven by Tony (AG) Herlihy), Insutcha (James (JP) Stormont) which finished 4th, Mark Hanover (Mark Purdon)5th and Two Under (Barry Purdon) 8th.


| | |
| --- | --- |
| | RACING HISTORY PEOPLE |

'TOM' ANNETT

Often the first person you encounter at Addington when you arrive for the races will be wearing a white coat.

Chances are regular racegoers at Addington over the years will have run into Gerald 'Tom' Annett, a veteran of the officials with over 45 years continuous service from 1945 when he started at New Brighton. In that time he has missed only "two or three" meetings. The next longest serving are Albie Keen and David Lyttle who have been working 34 years. Tom has progressed from being a carpark attendant to an inspector of the "men in white".

He is usually the first to arrive at Addington, motoring sedately around on his red motorcycle to open up all the gates for the influx of floats and private cars. Over the years Tom, now in his early 70s, has worked at most of the country tracks around Canterbury and has also served at Riccarton for 35 years, including attending the royal box when Queen Elizabeth was in residence. When he started out a couple of pounds were his reward, now he takes home nearly $70, extra money the likeable pensioner finds invaluable.

His interest in horses came from his father Tom, a leading saddle trot trainer and rider in the early 1900s. Annett Snr, who trained for Bill Lowe at Ashburton, was a highly respected horseman. Among his more notable achievments were taking out the Westport Cup three times in succession from 1904-6 with Federation, Juanita and Maid Of Perth. He was once described by master trainer Jack McLennan as the finest horseman he had seen, his best performers including Bush Ranger and Submarine.

At Kumara he trained and rode Pilot to win after conceding 105 seconds start and later developed the outstanding trotter Trampfast (by Logan Pointer) who was blind in his left eye. Lowe bought him from Annett and he went on to win 14 races, including three against the pacers for Roy Berry. His crowning achievement was in the 1934 Dominion Handicap when aged 14 years.

Unlike his father, Tom Jnr, one of 14 children (eight boys and six girls) has never owned or trained a harness horse. His sport was cycling and seven Annett brothers once took part in the Annett Handicap at English Park. They were regular competitors in the Waimate to Christchurch race and Tom still cycles regularly.

The spirit amongst his workmates at Addington has always been high. "There have been some real characters and I have made a lot of jolly good mates who are still friends today." He has never had any trouble with the men under his control thanks to what he describes as having "the right attitude" and describes the four Addington Raceway secretaries he has worked under as "very fine bosses." The days of parking over 2000 cars in regimented lines at the course are over but raceday is still busy.

"Some of the public have gotten a bit stroppy at times but you have got to humour them. You get nowhere by jumping on them." Being a vigilant chap while checking tickets in the Member's Stand he has noticed some people taking tickets out to friends and spiriting them in. "They usually back down when you have them on about it though and I've had no real trouble. The young people these days are very good towards us."

He has noticed that thefts from cars are on the increase and any trouble is referred to the police or higher ranking officials. He recalled a Mr Pocock, an old boss, driving a horse and cart in from Kirwee. "He carried a stick and sometmes used to thump a car with it to direct them. You would leave a bit of a dent if you did it these days." A year ago at Motukarara he was jokingly asked to remove a stubborn oppossum from the observation tower at the course. The lung bursting climb to the platform was declined and the intruder was eventually ousted from his perch, shimmying down the long ladder at a great rate of knots.

But it is the people he has met who stick in his mind. "The owners and trainers are some of the nicest jokers you'd ever want to meet. They are a lovely mob and I've never met a dud one yet. Ask them to do anything and they will do it."

And the great champions of the past bring a spark to his eyes. "Johnny Globe's NZ Cup (1954) was the best I've seen but I remember Gold Bar winning in 1945 when there were 32,000 people on course. The big fire in 1961 also sticks in my mind. We were told to get out of the stand quick but there was a guy who worked for the fire brigade who tried to fight it. The flames were getting around behind him and it took a policeman to carry him out."

Tom retired from the Post Office 10 years ago after 18 years service. Before that he worked in a flour mill for 20 years and is now happily settled in his Riccarton flat with wife Joan, a farmer's daughter from Dunsandel who he met through cycling. An avid armchair sports fan he is confident the All Blacks will retain the World Cup and follows the sporting careers of his four grandchildren closely.

His work at Addington and Riccarton will continue while he is fit. After 45 years he still enjoys the mteship and meeting new people. Next time you meet a man in white remember Tom Annett. Their contribution is rarely acknowledged but without him and hundreds like him the smooth running of racedays would be impossible.

Credit: Gary Birkett writing in HRWeekly 28Aug91


| | |
| --- | --- |
| | RACING HISTORY PEOPLE |

VINNY KNIGHT

There seems no sense to make of the tragic death of Vincent John ("Vinny") Knight. Dashing, dark and handsome, Vinny was an Australian harness racing celebrity.

He took off as a young rebel in his teens, but he learned his lessons quickly. At a young age, only 36, there was little he hadn't achieved. Hard work, natural ability, a competitive spirit and a desire to succeed quickly took him beyond the pack.

In the early 1980's, he became well-known through the wonderful efforts of Popular Alm. He would say of 'Poppy'..."He made good horses, real good horses, look like idiots. He had everything. He had freak ability. He was a aristocrat when he walked onto the track. Everybody was proud just to look at the horse - 'there is Poplular Alm, isn't he a great horse'- and he looked a good horse. He had everything. If he had been a human being, everybody would have flocked all over him. He was just a beautiful horse, I have never had one better than him, and never will."

After that his success rate flourished. For the past three seasons Knight has driven horses that have totalled more than $1 million in stakes. He has driven more than 700 winners in Melbourne: no-one's done that before. He has won 18 Inter-Dominion heats; he has been leading Melbourne reinsman five times. The great horses he has driven include Jane Ellen, Sinbad Bay, Smooth Falcon, Our Maestro, Jodie's Babe, Alpine Fella, Panyan, Thor Lobell, Koala Knight, Rockleigh Victory, Allan Grant and Almeta Boy.

Off the track, he was deeply affected by the death of his mother Aileen, and the booing of Bag Limit after his sensational win in the 1988 Winfield Cup upset him. "She was a very proud lady. She just loved to go and watch me drive. After Mum died, it was probably the hardest time of my life," he told Bob Cain in the Trotting Weekly.

Knight was hurt by the crowd demonstration after he had spent hours getting Bag Limit to the post for the Cup. "When you work with horses seven days a week, it upsets you when they start booing after the race. They might have been booing me, but I could see them booing 'Baggie.' He didn't deserve that. he tried his guts out every time he went to Moonee Valley. He didn't deserve any boos. I feel for my horses; I love 'em."

Speculation and rumour will persist on other pressures that surrounded his life in the fast lane, for no doubt he had them. Vinny was extremely popular. Whenever he was in New Zealand, he was often attended by a clutch of stable followers and fans. In some ways, Vinny was to the harness racing industry what film star James Dean was to the American youth in the early 1950's.

Such image-makers are few and far between. Like all larger-than-life personalities taken in their prime, Vinny wasn't here long enough.

Credit: Mike Grainger writing in HRWeekly 17Apr91


| | |
| --- | --- |
| | RACING HISTORY PEOPLE |

ALF BOURNE

The death occurred at the weekend of the successful trainer and sportsman, Alf Bourne.

Widely known as 'Ginger', Bourne was a jockey, boxer and footballer. He was in his prime in the 1930s, playing breakaway for the Canterbury rugby team, and in 1933 he beat Bill Pascoe to take the NZ heavyweight boxing title. He was a loyal Merivale man, coaching the senior team and later became a life member.

He spent more than 50 years training horses, including many that reached top class. Waitaki Hanover, who won the Hunter Cup in Melbourne, the Auckland Cup, the Rotorua Cup, the Flying Handicap and the Summer Cup in Sydney, was one of the best. He had a soft spot for Mister Chips because he used to get homesick and cheer up as soon as he returned home, and with the ill-fated Vanderford he won 11.

After winning four races for Don Hayes, Vanderford joined Bourne's stable, and won six in succession at the start of his 4-year-old campaign, notably the Methven Cup off 48yds, the Laing Handicap from Rustic Lad and Flying Blue, the Flying Stakes at Ashburton from Robin Dundee and Cardigan Bay, and the Hannon Memorial. He was the beaten favourite in the NZ Cup won by Cardigan Bay. He was never so good at five, where his only win was at Forbury Park.

Vantage, Larnie Scott, Doctor Scott and the speedy trotter Al Mundy were among other good horses he trained.

Aged 81 at the time of his death, Bourne continued to follow sport, especially rugby which he loved so much, during his retirement.

Credit: Mike Grainger writing in HRWeekly 9Oct91


| | |
| --- | --- |
| | RACING HISTORY PEOPLE |

SIR HENRY KELLIHER

Though he maintained a very low profile in horse racing, Auckland brewery baron and philanthropist Sir Henry Kelliher, who died recently aged 95, was an enthusiastic and sporadically successful breeder of standardbreds and thoroughbreds.

Sir Henry will probably be remembered best in harness racing for giving Aucklander Mrs Audrey Dean's champion pacer Cardigan Bay a luxurious retirement at his island paradise, Puketutu, in the Manukau Harbour. From Match 1970 until Cardigan Bay died aged 31 in March 1988, Sir Henry doted over the internationally famous gelding, who attracted thousands of tourists from around the world to see in the flesh the first pacer to win a million dollars. "I think he must be the most photographed horse in the world," Sir Henry would often proudly say.

But Sir Henry's involvement in the standardbred sport went much deeper. His crowning achievement was to rank as the breeder of 1979 Inter-Dominion Grand Champion pacer Rondel, who was imported to NZ in embryo inside the Light Brigade mare Light Rendez. From the noted First Water family, Light Rendez had been bought in Australia on Sir Henry's behalf by Noel Simpson, and covered by the Simpson-imported American stallion Berra Hanover.

Mary Hall, a Dillon Hall mare bought from Canterbury as a breeding proposition by Sir Henry, produced a fine winner in Monsignor for Whenuapai trainer Ray Norton, while Magli, Mary Hall's 1953 foal by Loreto, left Terraton, a classic winning filly for Noel Taylor.

One of the best trotters produced in NZ, Easton Light, owes his place in immortality to Sir Henry's generosity. It was in the late 1950s when Dennis, son of Eric and Thelma Running, who were farming at East Tamaki, developed a nervous disorder that led to double pneumonia and other complications. Following hospitalisation and almost nine months in a recuperative home, Dennis returned home to mend further. To get him interested in moving around and out in the open air, Eric decided to get him a pony.

After Eric approached Puketutu stud master Jack Bainbridge, it was reasoned a pony might be too frisky. The upshot was that Sir Henry gave the Runnings an eight-year-old gelding with a deformed foot named Graham Logan, whom he had bred from a Black Globe mare, Indian Globe. Graham Logan had been tried on lease by Auckland trainer Horry Keogan and, after registering just one third placing in 14 attempts, returned to Puketutu Island with no future in sight.

When Dennis Running tired of his pet, his father, who had learned the rudiments of training horses when a freezing worker with the late Jack Brophy at Timaru in the 'forties', decided to have a go at training Graham Logan to win a race. Taking Graham Logan to the races as a 10-year-old in 1962/63, Running won three trotting races with him. It led to Eric carrying on in the game and eventually winning fame and fortune with Easton Light, NZ's biggest trotting winner to this time with 36 victories, including two Dominion Handicaps and a Rowe Cup, for $132,370.

As a thoroughbred breeder, Sir Henry earned distinction through Mister Pompous, the good Canterbury galloper of the early 1970s, while several Puketutu-based stud stallions to make an impression on New Zealand and Australia racing were headed by Ivory Hunter.

Long-term patron of the Auckland Trotting Owners, Trainers and Breeders' Association and the first patron and a grand supporter of the NZ Trotting Hall of Fame, and an occasional sponsor of juvenile pacing events in Auckland, Sir Henry refrained from racing horses in his own right.

For a non-owner, he possessed a remarkable command of bloodlines, while, probably from his early days as a third generation child of a Central Otago farming family, he had a love of horses that shone through whenever he escorted guests around the paddocks and stables of the lush Puketutu Island that was his home for half a century.


Credit: Ron Bisman writing in HRWeekly


| | |
| --- | --- |
| | RACING HISTORY PEOPLE |

E A CLARK

The death occurred in Christchurch last week of Euan Albert ("Tom") Clark, who farmed and trained at Greenpark for many years. Aged 70, Tom died after a short illness.

His first good horse was Logan Count, a son of Court Martial, who won the Dominion Handicap at Addington in the hands of his brother Leicester, just three years after taking out a licence.

Except for Call Me Sir and Firm Offer, one of the top trotters of her day, the Clark horses all carried "Logan" as a prefix or suffix. The best of them were Logan Lea, the winner of nine races who took a record of 1:59.8 in North America, and Logan Dryham, whose six wins included the Mercer Mile and the Lion Brown 3-Year-Old Final At Addington. Along with Logan's Byrd, US1:58.6, they were from Logan Cheval, a Court Martial-Beverley's Song mare bred by Tom in 1968.

Firm Offer, a Honkin Andy mare, was 4-Year-Old Trotter of the Year, and ran third in the 1986 Rowe Cup to Mairo Sultan and Landora's Pride. His last winner was Dryham Logan, who won a maiden graduation final at Addington last July in the hands of his son and training partner, Barry.

Tom is also survived by his wife Linda and daughter Dianne, who shared his interest in harness racing.

Credit: HRWeekly 10Apr91


| | |
| --- | --- |
| | RACING HISTORY PEOPLE |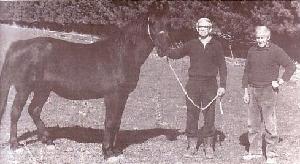 Bevan & Keith Grice with Coo Doo

BEVAN & KEITH GRICE

Advancing years have cut down the wine, women and song for Bevan and Keith Grice but they are still very much involved with the breeding of top racehorses.

"It used to be wine, women, song and races - now it's only races," joked Bevan, who at 60 is four years younger than Keith. They were prominent at the recent Methven autumn meeting when two Grice bred horses, Alice In Wonderland and Escoffier, took the TAB double with highly impressive victories.

The brothers have 2000 acres for sheep, crops, deer and horses between them at Seafield, 20km northeast of Ashburton, a property steeped in harness racing tradition. The family influence goes back to the early settlers of the late 1800's. Their grandfather George Grice began the family involvement, making a name for himself as a saddle trot rider, once winning five races from eight at a Timaru meeting. The three sons of George to keep the name going were Jack, Ben and Robert - father of Bevan and Keith.

Robert earned a degree of fame in the local paper at the age of 12 when he was tagged "the gamest punter ever" after selling his pigeons and putting all the money on a horse which paid 12 sovereigns. He started breeding standardbreds as a sideline to sheep and among his mares was the third dam of dual NZ Cup winner Haughty. He then sold his horses to Ben and Jack during the depression but encouraged his sons to get started in horses when they left school. They learned a lot fron Uncle Jack, a renowned trainer, often visiting him on a Friday afternoon with some cold beers and chatting to him for hours on end about horses.

Their first mare came from cousin Len Grice - a 15-year-old former race winner called Agent, a daughter of Great Northern Derby and 1925 Auckland Cup winner Nelson Derby (by Nelson Bingen). Agent was from the now famous foundation mare Mavis Wood (2:17.2, 2 wins). By Rodgewood, she was the dam of eight winners. From Agent the Grices bred their first winner in Sayonara who won her only race by saying goodbye to the field at Rangiora when driven by Doody Townley. Agent's only other foal was the capable Desmond's Pride mare Shiann, who won five when leased to Stan Kirby of Southland. Shiann established a small but successful winning branch to Mavis Wood's extensive family of over 72 winner-producing mares by featuring among others as the grandam of the 1971 Canterbury Park Trotting Cup winner Dingle Bay (8 wins).

After initial success the winners dropped off and the brothers culled their horses. Nine were sent on their way with Shiann remaining. She proved a shy breeder, producing only three foals, so they secured another of Mavis Wood's descendants in the unraced Marquisite (by Marco Polo). Success was immediate and she left four winners, the best being Garrison Hanover pacer Khandallah (6 wins).

They then obtained Lady Dimp from Jack Reid. She was a full sister to both Agent and Laurene Wood, thus becoming the third line to Mavis Wood's family that they bred from. It proved an inspired choice. She left Bronze Falcon (4 wins) and the outstanding broodmares Coo Doo and Arrest. Both were injured as youngsters and never raced with Coo Doo walking sideways for two months, advice being to put her down. Luckily the brothers didn't take that advice for the black mare had a career which really put them on the map.

From 1967 Coo Doo (by Morano), left 18 consecutive foals, believed to be a world record. They stopped breeding from her in 1986 and the rising 31 year-old is still enjoying her well earned retirement. "She'll probably outlive us both," said Keith. "We went out to put a winter cover on her the other day and couldn't get near her." He said her offspring and those tracing to her had won 170 races.

From those initial 18 foals came a number of leading racehorses and top producing daughters including Barbara Del (9 wins), the dam of Ruthless (9 wins), MacDoon (3 wins), Lady Rana (3 wins), and Rarest (1 win to date). Coo Doo also left the tough and durable Palestine (18 wins), Stereo Light (6 wins), Doctor Finlay (2 wins), Pamelene (2 wins), Columnist (7 wins), Neptune (3 wins), Kiss And Coo (4 wins),and Finest Hour (5 wins, 1:55US). Her unraced Armbro Del daughter Anna Pavlova is the dam of Derby (11 wins), Bahrein (5 wins, 1:53.3US) and Cuddle Me Doo (5 wins).

Arrest (Court Martial-Lady Dimp) had also made a notable impact. Armbro Hurricane pacer Cyclone Lad (9 wins) has been their best winner and was rated by his breeders as being up with the fastest they have bred. Her daughter Star Del (by Armbro Del) has made headlines in recent weeks. He first foal to the races was brilliant Mark Lobell filly Karena, who won seven. She is the dam of Alice In Wonderland (6 wins), Peeping Tom (3 wins) and Wandering Eyes (3 wins). Star Del also left open class trotter Cracker (10 wins) and Jenny Benny (5 wins).

The partnership has an ever expanding number of well bred mares being carefully nurtured in readiness for foaling and mating. Twenty mares are on the property this season, 12 being in foal to Soky's Atom including Star Del while Anna Pavlova has a filly foal by Soky's Atom but missed to Butler B G. They have high hopes for a number of their younger mares, notably Zola, a half sister to Escoffier, Cuddle Me Doo, Kiss And Coo, Jenny Benny (named after the wife of studmaster Neville Benny) and Folie Bergere.

The brothers have nothing but praise for all the Canterbury studs they have dealt with over the last 45 years. Both Bevan and Keith are very particular about maintaining good horse-clean paddocks and carefully avoid overstocking. "Good natural feed is essential for broodmares and foals. We usually run only two or three mares to 25 acres, feeding out good lucerne hay in winter along with regular drenching," said Bevan. All paddocks for the horses are linked with wide access lanes and excellent shelter belts help provide top conditions. Weaning of foals is carried out in May when they are taught to lead and tie up while later in the year Prebbleton horseman Dean Taylor in entrusted with their breaking in and gaiting before leasing out to selected owners and trainers.

Both are impressed with the standard of stallions on offer in this country. "National Bloodstock and Dave Philips in particular, deserve a pat on the back for importing stallions like Apollo's Way, New York Motoring, F Troop, Rashad, Butler B G and Soky's Atom - who we think has more going for him than any other stallion imported to NZ," said Bevan. "His emphasis when selecting sires on their soundness, conformation, speed and breeding is very important to us. To prove the point we bought shares in F Troop and Soky's Atom. I can see NZ eventually matching the Americans in time."

The brothers would love to breed the winner of such events as the DB Fillies Final (they have won two heats with Cuddle Me Doo and Karena) and an Inter-Dominion Final. They also dabble in thoroughbred breeding including the Dunedin Gold Cup runner-up last week Free Of Error and Village Guy (5 wins).

But it is the breeding and racing of standardbreds that keeps them bubbling. Their day at Methven summed up their dedication to harness racing, with Escoffier and Alice In Wonderland adding further proof that they have made an enormous impact on breeding in this country.

Given the time they have put in over the past 45 years, few would begrudge that success.

Credit: Gary Birkett writing in HRWeekly 1May91


| | |
| --- | --- |
| | RACING HISTORY PEOPLE |

LEN BUTTERFIELD

You can still find Len Butterfield at the races. Not in splendid isolation as he used to be, because 12 years have gone by since he retired from the solitary job as chief stipendiary steward with the Harness Racing Conference.

As much as anything else in his twilight years, he enjoys getting on the track and meeting the people who love their horses. He arrives with the same tall and regal bearing, and a hat always a hat, which used to be compulsory gear for Conference stewards.

At 77, racing is just one of his retirement interests. He plays his golf at the upmarket Russley club, where he says his handicap is "very competitive," he has his bowls and he likes to get into the garden.

No different to most industry people, he likes hearing the latest story on what's going on; for instance..."this bicarbonate business, interesting to see how that goes...In my mind if anyone returns a positive, and this is what this is, then out they go." Since his retirement at the age of 65, Butterfield often reflects on the changes in the conditions and demands of a stipes job. "It's luxury compared with what it was like when I started, with Fred Beer."

Butterfield was 32 when he took the position as a stipendiary steward. He knew all about horses. He rode work at Addington, where his father, Arthur, was a prominent trainer, winning big races with such good horses as Acron, Agathos, Glenelg and Lady Scott; Agathos won the NZ Cup in 1924.

He was a natural sportsman, shining especially at cricket, representing New Zealand, though he has been a success at anything he has taken up. He was first employed in the plumbing trade, which he didn't like, and then joined the New Zealand Trotting Association as a deputy stipendiary steward, joining Beer and Jack Shaw. In those days, there was a lot of travel, in trains and buses, and the odd plane ride. We would go down to Oamaru on the day before the races, and catch the express on the way back, getting into the station about 8pm.

"And when we went to the Coast to do the trots on a galloping day, I would catch the 2:20am railcar on Saturday morning, which got us in about 7am that morning. Then I would be on the 6pm railcar back, which got in at about 11pm. When we went to Westport, we'd get off at Stillwater, have breakfast at the railway station, and wait for an hour and a half for the railcar up from Ross." The Coast trips were a test of stamina. On one trip, by car on the gravel road, the fog was so thick over the Pass that Conference handicapper Arthur Neilson was sent forward on foot with a torch to see where they were going.

Another 'luxury' he didn't have for many years was a race film. "In my day there was no camera, so I had to become an expert in race reading. You had to depend on evidence, and you had to know if anyone was telling lies. The drivers often tried to look after one another. I'd get to know their colours. I'd have my book, pencil and glasses and I wouldn't take my eyes off the race while I was writing something down. These days, if they miss anything during the race they can soon check up by watching the film."

The NZ Cup won and lost by Stella Frost was a case when there was no official film, though there was an unofficial one he was able to make use of. "'Doody' Townley had eased off the fence, and some of the horses behind had been squeezed up. If there was a fall someone had caused it. It was a serious matter, and eventually the horse was put out. At the inquiry it was like getting blood out of a stone. Much later, when I spoke to the Balclutha OTB, I stayed with Len Tilson, he owned Stella Frost; it was nice of him to ask me to stay with him."

A stipendiary steward can be a lonely job, though Butterfield said the responsibility never worried him. "The Devine-Litten whipping case in 1957 was the biggest I had, and I was the only one to see it start. The funny thing was the patrol steward didn't see it. I said to him 'that is bloody lovely, you should not be out there if you can't see.' I never really found out who moved first; I suspect what happened but you could never prove it. George Noble, who was right behind them, was swinging both ways so I had no evidence. The difficulty was that I had to do it on my own. It went on to late in the night, and the phone at home never stopped ringing."

Butterfield said he found most trainers and drivers took their penalties well. "Ted Lowe got two years on a positive, shook hands later and said 'you've got a job to do.' Cecil Donald was the same. I disqualified a horse of his from the Timaru Cup - I think it was Chief Command - and he appealed. He told the late Peter Mahon that he had to win the case because I was taking thousands of dollars off him and I had to be straightened out. I always admired old Donald. He would have 20 to 30 horses in work, three stallions, cattle and a dairy farm, and he'd be up and on the phone at 5am getting business done."

Butterfield has a deep admiration for some of the top horses that raced when he was younger, particularly Highland Fling. "I've seen nothing faster. He'd go from last to first in a furlong and a half." He had great respect for the likes of Young Charles, Johnny Globe, Chamfer, Soangetaha and Vedette who all raced in the same era. "You had to admire those horses when you look back. Take Acron. He ran a mile at Addington in 1924 in 2:03.6, he never pulled a wide sulky, went on the clay and was never near the fence. Tracks these days can make horses better than they are. As far as grass tracks went, New Brighton was the best in New Zealand; it was like a lawn."

Butterfield sat on many swabbing cases, and made a study of drugs and how they affect horses. "We don't want people in the game if they're corrupt. I remember having a case once where a horse has returned a positive to caffeine, and the trainer said the horse had drunk a lot of tea. So I went round there one morning and he offered me a cup of tea. I said I wouldn't have one but we'll make one for the horse. Well, he wasn't too keen about that, but we filled up a bucket and took it out to him. He just snorted and wouldn't touch it. The chap got two years."

Like everyone else with the welfare of the industry at heart, he sees the decline in attendances as a worry, and like everyone else, knows the lack of good handicappers is caused by huge stakes now available for two and three-year-olds. "It is common to try those young horses out to see if they can win that money and there are so many more trials for these horse. It's easy to burn them out." He has no answer to why crowds aren't as big as they used to be. "There were top horses at the Easter meeting at Addington, but there wasn't a big crowd. Why is it?"

Still with his good health, Len Butterfield will continue to show a fatherly interest in the family sport.

Credit: Mike Grainger writing in HRWeekly 8May91


| | |
| --- | --- |
| | RACING HISTORY PEOPLE |

ERIC RYAN

Eric Ryan thought he would be driving next season. He told Jeff Rohloff on his last trip to Hutt Park that he had another year to go and he'd be back with a team of horses.

The way Eric knew it, he had been born in 1927, and didn't retire until the end of thw 1991-92 season. When the official word through that Eric was in fact a year older than he thought - that he was 65, not 64 - he bought a birth certificate to see just how old he was. "It flattened me when it hit me," he said in his raspy way. He was dead keen to do a few more laps on the track at Hutt Park, for one last trip down memory lane, because it was the scene of his first driving success. Francis John was between the shafts for his first win on November 5, 1969, his birthday, and he followed that up three races later winning with John Peel.

Eric could talk for hours on the grim and entertaining incidents that have made him such a huge personality in harness racing. The stories he tells are as big as himself, and note that Eric is 18 stone and 6'4". Like his size, the stories are tall, but real. He has been in the wars with officialdom, notably the long, costly and bitter battle with the Harness Racing Conference on a corrupt practice charge following the selection of a maiden field at an Akaroa meeting, and once he made banner headlines in a sports paper when he was buying up cheap horse and selling them for pet meat. He said at the time: "I reckon I'm doing the industry a good turn. There are so many horses around that can't get starts."

Nothing annoys him more in harness racing than inconsistent penalties from the stipendiary stewards, and he doesn't mind saying so: Eric has always been a straight talker. One episode he puts ahead of the rest was at Greymouth where he was racing Big Idea, not an easy horse to handle, off the unruly mark and 10 behind. "He flew off the mark and I got him into the one-one. It was the best run I have ever had in a race. The thing I'm following was hanging something bad, so I gave it plenty of room when I come out and we run a beautiful second. "And we lost it...got put out...because they reckoned the horse in the open galloped and I'd interfered with it. Through that, I lost the horse; he won his next start and was sold to America. That really hurt me."

He was also disappointed in the months of hard work he put into the c2 pacer Pelorus Jack, and failed to get a start. Ellen, Eric's wife, then played a tape, showing the son of Byebye Bill in handsome form beating Charming George in a trial at Addington three years ago. "He won five trials," recalled Eric, "but didn't get a start for seven months, the whole time I had him." He was sold, and went to Australia. The next tape Ellen played showed Pelorus Jack in Sydney, where he took a record of "1:58.7. "I don't know what else I had to do with him here," he said.

Eric has always been a 'battler's' man. He has bred, trained and won with horses with no good commercial connections. He started as a shearer and later bought the butcher shop at Little River, where he was born. When the shop closed for the day, he would start working the horses, usually about 6pm. They would gallop four miles up the hill at the back of the shop and walk home. "We had no young ones. They were old horses and cast-offs."

Eric soon had a remarkable reputation of buying horses for the price of a ride in the float, and for standing at stud horses who otherwise would have been lucky to find a home. Few of his horses ever had much in the way of social standing. "I bought Eone Navarre at the 'Swamp' (hotel) one night for a shilling, and he won two for us at Greymouth."

Eric has a library of tales about horses he bought cheaply, horses he bred from obscure or unfashionable pedigrees to win races, and horses with little bent manners he straightened out. One of the first he bred and gaited, and perhaps his best horse, was Atlee. Driven mainly by Steve Edge, Atlee won seven races in seven months, including two in one day at Nelson and the Cheviot Cup when Jack Smolenski handled him. Eric said he was a great front runner. He was bred by Spring Jinks, who Eric stood at stud, from Synthetic, by Protector he bought from Bob Negus for £5. Spring Jinks sired only three foals - Atlee, Two Bob and Polly Jinks - and they all won. Synthetic served Eric well, leaving six winners. While Atlee was the best he raced, Eric always maintained he had a better one that didn't race. This was Yonder Chief, which he owned with Jim Dalgety and sold the day he qualified. He went to the US and took a record of 1:52.

He rarely brought a favourite home. Polly Creed once paid $111.80 and Limbala - "she loved to sit in the death" - returned $55.60 when second in a division race at Motukarara.

His best season was in 1980-81 when he drove 13 winners and trained 18. Expeditions away from home were part of the Ryan campaigns. "We'd go away for weeks at a time. On one trip up north we were away eight weeks and won 11 races," he said. "I really appreciated going to Auckland for the first time, and winning two races on the opening night with Avon Spark and Viva Remero. They won 11 races between them and Viva Remero beat Jenner in the Rosso Antico." Among his other winners have been Advanced Fibre, Always Smile, the tough mares Waitara and Sidi Rezegh, Haughty Choice, Big Idea (Taranaki Cup), Royal Delivery (Marlborough Cup), Commanche, Ungava, Leanne's Pride, Wish Me Luck, Up To You, and the most recent, Jerlin's Choice in the last Reefton Cup.

"I love driving, I train them, I know them. I took me 10 years to get a licence. I had a gutsful by the time I got it, but it came eventually, and I have had some good horses. A man of my size is not so good to a horse if a track is wet, but it's all right if a track is reasonable. I know Jerlin's Choice pulls me no trouble at all and he is only a little horse."

Off the track, Eric did what he could for harness racing. He was a foundation member of the Motukarara Trotting Association, served on the committee of the Standardbred Breeders Association, the NZ Owners, Trainers and Breeders Association, the Akaroa Trotting Club, and the Banks Peninsula Trotting Club. He has a paddock full of young horses, by rather unpopular sires such as Kiwi Kid, Worthy Del and Byebye Bill, to be tried, but it is a job he is just not up to at present. An operation last April to replace a hip joint has left him on a crutch and Ellen is doing most of the stable work. For Eric the driving days are over, even if he would like to think it's a year too soon.


Credit: Mike Grainger writing in HRWeekly 17Jul91


| | |
| --- | --- |
| | RACING HISTORY PEOPLE |

BILL BECK

When it comes to the care of his teeth Bill Beck prefers to let MacLeans freshmint and the toothbrush do the job - he is not a big fan of the dentists chair and hasn't faced the drill for many years. But when it comes to the horse dentistry business which he took over four years ago when his son Peter departed for Austalia it is another story.

The 50-year-old works seven days a week most of the year around the harness and galloping stables of the South Island and his unusual trade also takes him to the Feilding stables of Maurice Campbell every three months. "People give me some bloody strange looks when
I tell them I'm a horses dentist. A lot say they have never heard of the job."

Bill packs a bag of tools into his Pontiac Le Mans which include a wide range of rasps, tweezers and teeth pulling devices. When visiting a stable he checks the teeth of each horse and generally pulls out caps from those aged between 2 and a half and 4 and a half and files down sharp teeth. Horses have no nerves in their teeth apart fron their wolf teeth and rarely need tranquilising. Generally it takes between 10 and 20 minutes to do each horse depending on the state of it's teeth and the facilities available.

Most racing stables get their teams checked every six months and Bill is on the road a great deal. It is well known that horses with bad teeth don't race kindly. He recalled a recent case when a young trotter had been going along well but suddenly started hanging and breaking for no apparent reason. Bill was called in and ended up pulling eight teeth with the horse recovering quickly and qualifing two weeks later.

Still working a team of six thoroughbreds at Riccarton, Bill's schedule last week was pretty typical. On Monday he was attending to ponies and hacks at Rangiora, Tuesday at Riccarton, Wednesday at the Mid-Canterbury stables of Jim Ferguson and Mike Heenan, Thursday at Tim Butt's West Melton stable, Friday back to Ashburton to galloping stables, Saturday out to Oxford for more ponies and hacks and the same at Leeston on Sunday.

"You don't get much time off. When Peter (who is working as a horse dentist based in Newcastle) went to Australia I was just filling in until he got back and I never expected to get so busy. I learned the trade from him and Jimmy Tomkinson but like anything the more you do the more you know."



Credit: Gary Birkett writing in HRWeekly 17Jul91


| | |
| --- | --- |
| | RACING HISTORY PEOPLE |

GAVIN HAMPTON

This month marks the end of driving for Gavin Hampton, now aged 65. Having driven 250 winners since being first licenced in the 1946-47 season, he retires thinking how fortunate he was to train two of them. Near the start of his career, in 1952 and 53, he had Masterpiece and 29 years ago it was the handsome stallion, Radiant Globe.

He wouldn't separate the two on ability, though Masterpiece won him 6 and Radiant Globe 22. "The best was never seen of Masterpiece. I got him when he had won five and he won me six, including four on end. He had great speed. You could bring him into the straight about seventh or eighth and he would produce a brilliant finish; he was a better horse if you held him up."

An unsound son of Light Brigade, Masterpiece started his trot for Hampton by winning at Hutt Park, where he beat Inglewood, and then defeated First Victory at Addington. He went to Ashburton on Boxing Day, winning from Tribal Song and Tiberius, and brought up his fourth successive win in the Au Revoir Handicap at Addington from Vedette, Zulu and Dragoman. His sixth and final win of his career came the same season at Addington, where he won from Lauder Hall, Petite Yvonne and Maida Dillon.

"Radiant Globe was a lovely horse, a great horse to have round the place, and the kids could get on and ride him. You knew he was always going to do his best for you."

Hampton's best driving tally was in the 1970-71 season when he won 21 and Radiant Globe gave him eight of them, including the Greymouth Cup from Barrhill and Jacquinot Bay, and the New Brighton Cup from True Averil and Barrhill. It was also the season of his greatest disappointment. "The 1971 Inter-Dominions were at Addington, and he couldn't start on the first night because he got tied up. On the second night he ran fourth and he won on the third night with a faster rate than any of the other three winners (Stella Frost, Manaroa and Rain Again). He missed out on a start in the Final by one point." To illustrate the good prospect he would have been in the Final, Radiant Globe won the 13 furlong Consolation from Globe Bay by more than six lengths in 3:27, after Stella Frost took 3:38 2/5 in the Grand Final. "I was lucky to get a horse like that," he said.

Hampton's first job was at Takanini at F J Smith's Village Farm. It was a top stable, including at the time Josedale Dictator and Volo Senwood. You had to pick up all you learned, but it was different than what it is these days. He had 11 boys on the staff and they each had two horses to look after and they were strapped for an hour and a quarter every day. "It was three months before I got my first day off, and six months before I was allowed in the cart," he said.

His first winning drive was after he had returned south, to where his father Joe was training at East Eyreton in North Canterbury. "My father wasn't very pleased about it. I drove Rowan McCoy at Greymouth, where it was usual to have two starts in the day. In the first of them, when he was paying £100 to win, I miscounted the number of rounds, and got him going to run fourth. I won with him later in the day, but he was hot favourite then," he said.

He gained a professional licence in 1950 and moved to Belfast, where Masterpiece - later the sire of top pacer Master Alan - and the U Scott trotter Ecosse joined the team. Cara Nelson was another good winner at the time, and in the early 60s he produced Wendy Dawn to win the NZ Oaks and the Nelson Cup, and Belmartial to win the NZ Trotting Stakes. In 1966, he moved to Weedons, where he trained and drove such good winners as Glen Bell, Final Donn, Pineship, Grovenor Globe, and Radiant General who won the 1975 Golden Slipper Stakes.

His driving successes included the Westport Cup behind Slick Chick, the Superstars Final with Lucky Boy, the NZ Free-For-All with Radiant Globe, feature races with Stampede and Zabadak, and the Canterbury Park Cup behind Philemon.

Hampton has noticed great changes in the style of driving in recent years. "It used to be stereotyped, but now it's all hustle and bustle. People are going for the money and they seem to under more pressure. When I first started you would follow someone who would show you how to get the gaps, like Maurice Holmes. I had my first drives for the season at Nelson last month and I couldn't get over it. I would think I'd be going alright, in a good position, then I'd find myself out the back. It's a different ballgame now," he said.

For many years a committeeman on the Trainers and Drivers Association, Hampton considers the Conference could have involved more professional men in some of its decision-making, and worries about the little protection for cadets after they leave the scheme. "It seems too easy to get a licence, and this must have an effect on the future of the young ones."

"The cost and pressure doesn't make harness racing as enjoyable as it used to be," he said. Hampton, whose last driving success was in the 1987-88 season, did not have his first drives this season until the recent Nelson meeting. He leased Parklane for the curcuit, and hopes to end his career driving the same horse at Addington - the scene of his most memorable wins.


Credit: Mike Grainger writing in HRWeekly 3Jul91


| | |
| --- | --- |
| | RACING HISTORY INTERDOMINIONS |

AUCKLAND - MARK HANOVER
In many ways, Mark Hanover's win in the 1991 Auckland Inter Dominion came as a highlight for Roy Purdon's illustrious career. He part owned the horse and trained him along with his son Barry. The horse was named after another son, Mark who drove him to victory. For good measure the stable provided the quinella with Christopher Vance being driven by Roy's son in law, Tony Herlihy.



| | |
| --- | --- |
| | RACING HISTORY HORSES |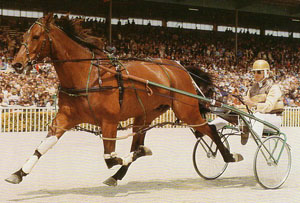 Young Quinn parades at Addington

YOUNG QUINN

Young Quinn (1:55 and $759,000), the winner of 59 races in New Zealand, Australia and North America, had to be humanely destroyed at Ota Creek, Eastern Southland, last Friday, aged 22. Old age crept up on the great gelding, who was being troubled by the onset of arthritis. Rather than see him suffer, owners Bud and Des Baynes had him put down by a veterinarian.

Young Quinn's passing deprives harness racing of one of its favourite sons. Southlanders will be quick to acknowledge he was bred and developed in their province, but the Young Charles gelding was also a great favourite in Auckland and Waikato where he was trained and raced from Charlie Hunter's Cambridge quarters. He had only two other trainers - Bud Baynes and Clem Scott. Jim Doherty served as his American caretaker trainer for a period and said Young Quinn was the finest horse he handled.

North Americans also took him to their hearts, the secretaries of harness racing clubs overwhelmingly voting him 1976 Aged Pacer of the Year. And Sydney harness racing fans marvelled at his 1975 Miracle Mile triumph from the extreme outside draw on the half mile track. He arrived in Sydney only the day before and many stated he could not win from the outside slot.

Young Quinn, a champion in the true sense, often overcame the odds, such was his class and courage. He also mastered the extreme outside draw in his 1976 American Pacing Classic triumph at Hollywood Park, California. Opposing horseman, the legendary Billy Haughton, said 'Quinn' could not win, because of the draw. For the very same reason, Haughton scratched his own representative and rival, who had drawn one closer in than Young Quinn. Reined by the great Joe O'Brien, who outfoxed his rivals, Young Quinn drove straight to the front, then trailed, and pulled out late to win.

Young Quinn often looked an equine man among boys, such was his commanding stature and presence. He stood 16.1 hands high and electrocardiographs revealed an exceptional heart score of 138, which might account in some degree for his stamina, hardiness and ability to recover. Young Quinn was once warmly dubbed the worlds fastest knee knocker. He brushed his front knees and, for that reason, generally preferred the bigger racing strips with more gradual bends.

All racing scribes are sometimes guilty of abusing the term champion. It can be an occupational hazard. After all, it is only natural to become a little carried away with outstanding horses. But nobody could deny 'Quinn' the dubbing of champion. Seasoned horsemen and critics rightly point out that Young Quinn had his record indelibly carved on the international slate. He met and mastered the best on three continents.

Young Quinn grappled with several crack pacers during the mid and late 1970s on the hectic USA Free-For-All circuit. After all, his foes, Nero, Handle With Care, Peter Lobell, Rambling Willie, Tarport Hap, Nickawupas Leroy, Sir Delrae and others were integral components of that highly competitive scene. 'So was Quinn'. "Simply, he was a brilliant and genuine free-for-aller in the top bracket...that is one thing I will always treasure about him," Des Baynes recalled of his star.

Des and his father Bud claim his 1972 NZ Sapling Stakes and 1975 Inter-Dominion Grand Final triumphs were arguably his greatest wins in this country. He was stopped in his tracks in the early stages of the Sapling Stakes, having only two behind him at the mile. Bob Cameron's clever horsemanship played a big part in his remaining on his feet and in the Sapling contest. He also lost ground early in the 1975 Grand Final, but charged to a memorable victory in the then youthful hands of John Langdon, substituting for his tutor Charlie Hunter.

Champions attract many accolades, but very few have a track named after them. The Wyndham Harness Racing Club's 1460 metre strip in the famed Lower Mataura Valley, a birthplace of champions, is named the Young Quinn Raceway. That honour will always serve as a tangible reminder of his champion qualities and popularity. Young Quinn actually bowed out of the public limelight when paraded with other greats at Addington on Cup Day, 1985. The Baynes men certainly played their part in parading him at other venues for his fans to admire.

But for recurring problems with check ligaments, Young Quinn would have probably won over $1 million. But his connections did not want to run the risk of racing him too much and breaking him down. Young Quinn's fourth in Delightful Lady's 1980 Auckland Cup was one of his finest efforts. That was his second start as a 10-year-old on his return to NZ from North America.

The winner of the 1974 edition of the race, he was retired to live out his days in peace after the 1980 Auckland Cup. He always lived out his retirement off the fat of the land on the lush Baynes property at Ota Creek. Genuine horsemen feel for their favourites. Bud Baynes demonstrated that to the very last. While burying the great gelding, he took every precaution to do things properly. He was still mindful of the fact that he didn't want to do anything that might 'hurt' the old horse when he was laying him to rest. Young Quinn certainly commanded respect to the very last. He always will.


Credit: Don Wright writing in HRWeekly 20Nov91


| | |
| --- | --- |
| | RACING HISTORY HORSES |

INKY LORD

Dynamic, charismatic, electrifying, courageous - these four words sum up the qualities which made Inky Lord one of the most popular horses ever to grace the tracks of New Zealand.

It is now seven days since the Adington faithful watched, in stunned disbelief, as desperate attempts were made to revive Inky Lord after he collapsed following the New Zealand Cup trial at Addington. And, having hand-timed Inky Lord throughout the trial myself, I found it hard to believe a horse who had just completed his task so well could - barely seconds later - have life snatched away. A post-mortem revealed Inky Lord suffered a ruptured aorta. There was no way the horse could be saved.

Inky Lord was a vibrant source of enjoyment for his legion of fans, as well as the people who bred, reared, owned, trained and drove him throughout his memorable career. Earlier this week, the Saunders family of Mid-Canterbury were still coming to terms with the death. Methven farmer Gavin Saunders bred Inky Lord. And during the early days of Inky Lord's life, Saunders, his wife Sheryn and members of his family, fought to save the colt after he was unable to latch onto the teats of his dam, the El Patron mare Miss Bromac.

"It is still hard to accept he is gone," said Gavin on Monday. "He was one in a million. If I bred another million horses in my lifetime I'd never get another Inky Lord. I knew he had a following, but I didn't know how great until we started to receive phone calls from people all over the country. Some of them were very moving. It was also a pity it happened at Addington. If he had injured himself in a paddock it might have been a bit easier to take. Had he been a gelding or mare it still would have been painful, but being a colt Inky Lord had so much to offer the industry. For him to die at such a young age was tragic. I went to Brian's on Sunday to pick up some hay. I walked past box No.9 and it was empty. That's when it really struck home."

Inky Lord was trained by Gavin's brother, Brian. After a number of setbacks last season, Inky Lord had responded to Brian's expertise this term and seemed to be right on target to reproduce top form. When he died, it was five days short of two years since Inky Lord had grabbed the public's attention and earned a place in the nation's folklore with his breathtaking triumph in the 1989 New Zealand Cup. Inky Lord fought-back from a severe check with 450m to run, to snatch victory from Dillon Dean short of the post.

Methven horseman Ricky May drove Inky Lord in all but one of his races. Understandably, May was extremely distressed after Inky Lord's death, but one had to admire the man's professionalism afterwards. He continued to drive through the rest of the night's programme and went close to winning the very next race, behind Kumbuk. May did score later on behind the smart two-year-old Tricky Bachelor.

Inky Lord raced 50 times for stake-earnings of $756,740, the result of 21 wins and 16 minor placings. Eleven of the wins were at Addington.

Credit: Tony Clifford


| | |
| --- | --- |
| | RACING HISTORY FEATURE RACE COMMENT |
Master Musician and Robert Dunn win the Derby

1991 JOHN BRANDON 30 NZ DERBY

Master Musician had to be the outstanding horse he is to resist the earnest efforts of Impressionist, Sogo and Tartan Clansman in the John Brandon 30 NZ Derby. And Stabilizer might have joined them, too, had David Butcher chosen to leave Mac Magpie's back in the early stages of the race rather than later, when the others were splitting up the prizes.

Impressionist was forced to work a little hard until he got to the lead at the 2000 metres. At that stage, Master Musician, who was able to follow Cadillac Jack forward, was fourth, trailing sweetly on the outer, and Tartan Clansman was behind him. Stabilizer, who was second at the 2300m, was four deep and 7th at the 2000m. Just as he did on the middle night, Robert Dunn put Master Musician into open country near the 750m. He joined the attack before the corner and fought his way clear. His pursuers weren't easy to shake off. Tartan Clansman tried hard to stick with him, Impressionist didn't submit without a fight, and Sogo emerged to battle past the pair right at the end and ran Master Musician to a short length.

It took Master Musician 3:13.5 to complete the mobile 2600m, and only Winning Blue Chip, who won the Derby last year in 3:12.2, has gone faster among those of his age. A son of New York Motoring, bought for $37,000 at the International Sale, Master Musician is raced by Ken McDonald and Eugene Storck, who are scrap metal dealers, and Dunn. Outside of his $500,000 won on bonuses, Master Musician has now earned $772,414, the result of 14 wins and a third from 16 starts.

As he did on the second night, Mr McDonald paid tribute to veterinarian Dr Peter Gillespie who has monitored the health of his young champion so carefully these past few weeks. Said Dunn: "He has a tie-up problem and he seems to pick up a virus so easily. The checks Peter has been able to give him have been vital."

Dunn, aged 36, said the win had been a great thrill, and rivalled that of National Glory in the Sires' Stakes Final. "We've really had so many over the last two or three years, it's hard to choose," he said.

Credit: Mike Grainger writing in HR Weekly


| | |
| --- | --- |
| | RACING HISTORY FEATURE RACE COMMENT |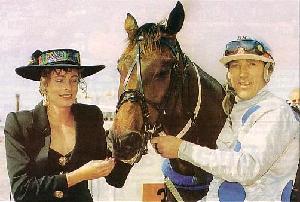 Katrina Purdon, Chrisopher Vance & Tony Herlihy

1991 DB DRAUGHT NZ TROTTING CUP

Christopher Vance won the 1991 DB Draught NZ Cup with a surprisingly good race that simply reflected the big-race temperament and experience of Tony Herlihy.

While Starship made a flyer from wide out, and Master Musician didn't waste any time, Herlihy had some lucky breaks getting Christopher Vance through from the second line and was soon seventh and improving. There were some who made a mess of the start, notably Defoe which was no surprise on his recent behaviour and Blossom Lady, who went away safely but then lost stride.

By the time they caught up, which wasn't long because the pace was so tediously slow, Herlihy had worked Christopher Vance into the trailing spot behind outsider Surmo Way. Robert Dunn had Master Musician buried on the rails behind Clancy and in front of Lord Magic, while Mark Purdon had no complaints with the lie of the land as he tracked up Christopher Vance. The Bru Czar was back on the outer, and with him were Two Under, Stratum and Insctcha.

Once the lines were set, there was no change. The Bru Czar or Two Under may have been expected to make a move on the first lap, even at the mile, but they stayed where they were. It was obvious with a lap to run, with a sprint home certain to develop, that the front bunch had it made. Any hope of a spectacle was right out the window.

Gary Hillier stepped on the gas with The Bru Czar passing the 800 metres, and Mark Hanover came out to force him three wide only to gallop and lose all chance at the 600 metres. In the meantime, Dunn had Master Musician moving sweetly inside The Bru Czar and right behind Christopher Vance, who was now three wide at the 400 metres and closing hard. What apparently happened then, according to stewards, was interference caused by The Bru Czar which forced Master Musician onto Clancy's wheel and into a break.

This had gone on behind Surmo Way, who has bravely passed Starhip and taken, briefly, a narrow lead. But the favourite quickly had his say, and ran ahead to beat Clancy, The Bru Czar (later relegated to 13th), the game Surmo Way and the stablemates Insutcha and Mark Hanover.

The race was a pressing bore.

Many who thought it was a tame affair when Neroship won the Cup in 1990 now consider that event quite exciting. Said one regular enthusiast:"At least in that there were five lead changes. In this one the horse that led out, led into the straight, and they all sat back on a 2:05 first mile.

Credit: Mike Grainger writing in HR Weekly


| | |
| --- | --- |
| | RACING HISTORY FEATURE RACE COMMENT |
The connections pose with William Dee.

1991 TV3 NETWORK DOMINION TROTTING HANDICAP

Having won a New Zealand Cup, an Auckland Cup, an Inter-Dominion Pacing Grand Final and an Inter-Dominion Trotting Grand Final, John Langdon had no summits to climb. The record book is not the best guide of such events, however, because Langdon knew he had another big one left. "One of my ambitions long before I started out in my training career was to win a Dominion Handicap. I have always loved trotters. It's a skilful job getting a trotter right. To win a Dominion, I feel I've really achieved something as a trainer," he said.

Langdon reached that special peak with William Dee, the Canterbury-bred 7-year-old son of 1979 Dominion Handicap winner Alias Armbro who raced like a Panzer tank and didn't stop for anyone. Langdon drove him hard, the way William Dee likes it. He was a little concerned racing over the first 800 metres that his charge wasn't as sharp as he should have felt, but further on he started to feel better. After being caught a little wide early, then pressed on and reached the front 1700m out, where they stayed, winning in the end by a length and a half from Gee Du Jour, who ran right up to her best form. The rain was a blessing too. Langdon at first believed William Dee was no great shakes on puggy or soft tracks, but as he does such a lot of his work at home on Langdon's sand track there were no alarms in the camp. "The rain came just at the right time. He was just starting to feel his feet a bit, and this made a bit of a difference," he said.

William Dee now races without the gear he had when Langdon first started training him. "He had a hood with pacifiers, a noseflap, and a brush as well. It worried me a little about the dirt coming back but it hasn't bothered him," he said.

Now the winner of 17 races from 58 starts, William Dee will be kept on a busy detail, with racing coming up at Thames, Auckland, Cambridge and Melbourne Inter-Dominions. William Dee was bought by Kevin O'Gorman, one of four partners in the horse, as a 3-year-old on the recommendation of Murray Lawson. Mr O'Gorman, a stalwart of the Marist senior forward pack for 13 years, had been a dabbler for 20 years, his first attempt being Pamela Queen, a pacer by Winterlight he had with Ray Morris. "I had odds and sods after that, but nothing of note until Idle Pride and William Dee," he said.

William Dee had raced once, on the West Coast as a 3-year-old when Mr O'Gorman bought a half share, but early opinion about the prospects of the relation to former top trotting mare Harbour Light were not encouraging. He was sent to Mankind Lodge, where veterinary surgeon Merv Williamson operated on a leg and made a start on his preparation. "When Jack Carmichael didn't take him, I sent him back to Bevan Heron and he won six races with him. It was when Idle Pride looked like winning as many - and Bevan thought 'Pride' was better - that I decided to send William Dee up to John Langdon's. I consider he has been underrated. He hasn't had the limelight some of the others have had," he said.

Credit: Mike Grainger writing in HR Weekly


| | |
| --- | --- |
| | RACING HISTORY FEATURE RACE COMMENT |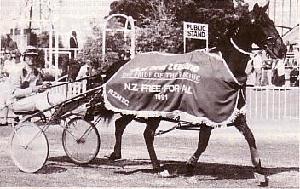 Christopher Vance parades after the win

1991 AIR NEW ZEALAND NZ FREE-FOR-ALL

Christopher Vance and Chokin gave Tony Herlihy further armchair drives as they followed up their NZ Cup and Sires' Stakes Final victories of three days earlier by accounting for the Air New Zealand Free-For-All and Coupland Bakeries Three-Year-Old Stakes with similar consummate ease.

Christopher Vance trailed The Bru Czar in the Free-For-All, Herlihy taking a calculated risk that the good Kumeu pacer would move out in the straight as he had noticed him doing in his races. It paid off. When The Bru Czar veered away from the hub rail in answering the game of the parked-out Surmo Way, Christopher Vance was quickly through on the inner and on to victory by a length in 2:26.8 for the mobile 2000m.

A 1:58.2 rate, this was nevertheless well outside Armalight's race and New Zealand mark of 2:23.5, established a decade ago. But, as with Chokin, Chrisopher Vance won with much in hand. It took his record to 41 starts, 20 wins, 10 seconds and 4 thirds for $843,720.

The Bru Czar held second by a nose from Surmo Way, with Clancy a strong finisher from the rear into fourth, a length and a quarter back.


Credit: Ron Bisman writing in HR Weekly


| | |
| --- | --- |
| | RACING HISTORY FEATURE RACE COMMENT |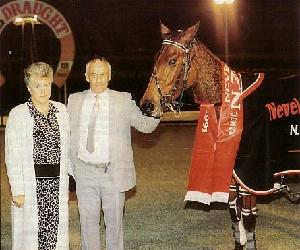 Irene & Ollie Haines with Smooth Performer.

1991 NEVELE R STUD NZ OAKS

Smooth Performer's front running win in the $45,000 Nevele R Stud New Zealand Oaks was good news for the Southland syndicate who bought her sire Top Performer for $32,000 at auction in March.

Top Performer (1:55.6US) is to stand at Henderson and Shelly Hunter's stud farm at Edendale next season. Top Performer stood in Canterbury last season after earlier being at the Kenwood Stud in Cambridge. Smooth Performer is from the first crop of the son of Niatross. She is owned by Harness Racing Conference executive member Ollie Haines and his wife Irene who bred her from Annie Smooth (3 wins)who had her race career cut short by injury.

In an action replay of the Great Northern Oaks finish, only with the placings reversed, Smooth Performer hung on to win by half a head from Smooth Gretna, who had trailed three back on the fence for Glen Wolfenden. The previous week she had got up to score by a short neck but David Butcher's strong drive on Smooth Performer got her home. He was able to dictate the pace with few
serious challengers and sprinted home in 57.8 with the overall time being 3:17.5, 1.6s outside Happy Hazel's national record.

The hot favourite, Seaswift Franco, was trapped three and four wide over the first lap and then sat parked, leaving Jack Smolenski cursing the outside barrier draw and the bad luck which has dogged him since Time's Up won 10 years ago. Her effort deserved a better fate and the rich DB Fillies Final might provide her connections with some compensation. The racing luck was with Smooth Performer in the Oaks, leaving her connections over the moon. Trainer John Butcher described her a natural from day one while Haines, the vice-president of the Cambridge Club, said it was easily his biggest thrill in racing. It was Smooth Performer's seventh win in 13 starts and took her earnings over $96,000.

The first three home were clear of their rivals although c2 horses Camara Vance, who trailed, and Silky Midas, running on well after being second last most of the journey, did well to run fourth and fifth ahead of Alamidas who battled in the run home after improving wide the last lap.


Credit: Gary Birkett writing in HR Weekly