| | |
| --- | --- |
| | INTERNATIONAL HISTORY |

Nelson Mandela is freed.

Lech Walesa becomes Polish President.

The Hubble space telescope is launched.


| | |
| --- | --- |
| | LOCAL HISTORY |

Fourteenth Commonwealth Games held in Auckland.

The United Services Hotel in the Sguare, Addington Railway Workshops and the Edmonds Factory in Ferry Road are demolished.

Richard Hadlee takes his 400th test wicket.

Christchurch North MP Mike Moore becomes Prime Minister.




| | |
| --- | --- |
| | RACING HISTORY BUILDINGS & FACILITIES |

STEWARDS & MEMBERS STAND

Addington Raceway's new Stewards' stand is finished. The stand was completed right on schedule - in time for this weekend's Easter Saturday meeting. The occasion will be marked by a short ceremony in the birdcage following race 2. Mr Jack Bennett, Chairman of the NZ Racing Authority, will offically open the complex.

"We have run on a bit of a wing and a prayer at the last minute with the hitches and little things left to do," says Addington's Chief Executive Officer, Mr Mike Godber. "But it's marvellous because the builders said they would be finished by Easter and they have," he said.

The stand was in use for the first two nights of the Easter Carnival last week, and Mr Godber says the general feedback has been tremendous. People have asked why we made each each floor so big and not divided it up. That's because we didn't want to make it into a rabbit warren; we can easily partition off separate areas if we need to," he said.

The new stand has stand $7.6m, which includes all inside furnishings and the building's exterior improvements. Over $250,000 worth of carpet (2500m²) is laid throughout throughout the building, which also contains 800 chairs, 120 settees, 140 tables and 26 coffee tables worth the same amount. Nearly 50 video monitors are dotted throughout the four levels of the complex, and nine bars accommodate the thirsty patron's needs.

At ground level there is the Stipendiary Stewards room and waiting area, fees room, secretary's office, first aid room, a driver's room as well as separate areas for interviews and light meals. "The new birdcage is a third bigger than the old one, which brings the horses closer to the public in the main stand. The public area next to the birdcage is terraced so more people can see what is going on," Mr Godber said.

Over 500 seats flank the Lindores (first) floor, which includes a separate area for trainers and drivers to watch the races. Mr Godber says that each level will accommodate up to 600 people, which means that at a major meeting like Cup Day, over 2000 people could be comfortably in the building at one time. The second floor - Silks - is also for members. The difference between these two floors is the completely glassed front on the latter.

On both nights of racing last week, people experienced difficulty with reflections of lights and the video monitors when looking out onto the track. "It's a fact of life that any glassed-in area will have reflections from inside the building. There is no glass that won't reflect under the circumstances," he said. The third floor houses the Presidents Room, as well as his guests, the stewards, their guests, and sponsors.

In regards to the "relatively unused" areas around the escalators, Mr Godber stated that they are intended to give people room to move. "On the administration floor, people tend to mill around and we had to make that area big enough to allow for that. We made the other floors just as big because it would have looked silly otherwise. But they are also areas where people can get out of the hustle and bustle for a quiet sit down. Depending on the public reaction we have the option of installing totalisator and monitors out there as well," he said.

Coinciding with the opening of the stand is a new indicator board inside the track, the technology for which was developed by the TAB. "It is 100% better. The numbers that appear are made up of metallic strips painted with flourescent paint; the whole unit cost around $80,000. The possibilty of us having another board displaying sectional times is in the pipeline. He added that there was a possibility of having a counter running on all the monitor screens, similar to that seen during sporting events on television.

Credit: John Robinson writing in HRWeekly 11Apr90


| | |
| --- | --- |
| | RACING HISTORY STARTERS & STARTING |

MURRAY COURT

Over the years not many months go by when harness racing does not lose a loyal and long serving enthusiast through retirement. Last Saturday night at Addington was no exception with the retirement of Murray Court, the mobile start driver.

It was in the vicinity of 1965 when Court first started working with the mobile gates and the late Ron Carter. Since then he has been the driver of mobile starts at Timaru, Ashburton, Greymouth, Rangiora, Kaikoura and Addington. There have been many changes over the years with the most notable being the improvement in vehicles, the gates and communication between the starter and driver.

In the days of the Carter-Court combination there were many moments to remember with one night at Addington standing out. Until the gates are past the starting point and timekeeper, the throttle is in the hands of the starter. After that point he then returns it to the driver. However, on this particular night after the start, Court noticed that it was still on full throttle with the gates wide open and he could not alter it. He kept yelling and banging on the roof to Carter who obviously could not hear him.

With the bend coming up and the 1956 Ford Customline heading towards it on full throttle with the gates open, things did not look good. With some quick thinking, the keys were turned off which allowed the vehicle to go into a glide, and when turned on again there was a loud bang which cleared the throttle and closed the gates.

When asked if there were any particular horses who seemed to be faster from the gate than others, Court has no hesitation in naming Lord Module. "I have seen us up to 35 odd m.p.h. and there he was, still up at the gate."

Whilst visiting the Inter-Dominions at Harold Park, Court was given permission to have a couple of rides with the mobile. He was surprised at their style and difference to New Zealand. The main difference being the quickness of the gate to leave the horses. Sometimes only half the field would be up to the gate and away it would go. Court was also given a few anxious moments at the end of their run when the mobile would go down a shute out of the way. Sometimes the gates would only just shut in time before they reached the narrow entrance. Three weeks after his visit, Court was to learn of the mobile going down the shute and the gates not closed and being ripped off.

Being able to help young horses or maidens gain experience by giving them practice has also given Court pleasure. On one trip to Greymouth he travelled 34 miles around the Victoria Park Raceway on a Saturday morning allowing the inexperienced to get used to the gate.

Not so happy memories are windy nights when the 15 yard wide gates are difficult to control, or when a horse in barrier 9 decides to get right up to the gate and push hard against it, or when they are on their way to the start and a horse doing it's preliminary the other way around, does not see them. On one particular night when a head on collision seemed imminent he had to turn his lights on full plus give a blast of the horn before the driver saw them.

All in all, it has been a happy period for Court and whilst he is looking forward to retirement and more time with his small team at Broadfield, he is going to miss Jack Mulcay calling out..."RIGHT".

Credit: HRWeekly 25Jul90


| | |
| --- | --- |
| | RACING HISTORY PEOPLE |

BOB TOWNLEY

Bob Townley, 'Doody' and Alec's older brother, died on Sunday at the Accolade Lodge, Rangiora. Aged 82, Bob was the eldest of 10 Townley children, two of whom are left alive.

Townley drove some of the great names in harness racing, notably Harold Logan, U Scott, Supertax and a good trotter in Jenny Guy. "I think he was 13 when I won the NZ Free-For-All with Harold Logan," recalled Townley last year. "But U Scott was the fastest I ever sat behind." That U Scott was to make a name for himself as a sire and then as a broodmare sire which was a paradox to Townley. "Gallant Knight was a good horse, a beauty, but at stud he left nothing," he said. "U Scott was a cranky, hard-pulling horse yet left a host of winners." According to Townley, U Scott was a two-minute pacer but never got the opportunity to try. "He would have run two minutes without any bother," he said. "U Scott was a hard-case but he could fly."

Townley trained at Winchester, Orari, Nightcaps, Papanui and for Dave Rogers, who had boxes at the Islington Hotel.

'Doody' recalls him winning the Methven Cup with Regal and many races for Henderson Hunter, including the 1940 Auckland Cup with Ned Worthy driven by the late Billy Doyle. Ned Worthy was raced by Southlander Henderson Hunter, father of the current trainer. He employed Townley to take care of his horses and it was his first job in trotting after starting off with his father, Bob senior, at Winchester. "Mr Hunter had a lot of good horses from the First Water family, and Ned Worthy won the first three-year-old race to be run in Southland in his year," Bob said after he had qualified Centre this time last year.


Credit: NZ HRWeekly 7Jun90


| | |
| --- | --- |
| | RACING HISTORY PEOPLE |

MAURICE VERMEULEN

Nearing the end of his one-sided fight with the cancer that claimed him last week at the age of 58, Maurice Vermeulen arranged to have the tune "My Way" played at the close of his funeral service. The Dutch-born immigrant savoured outstanding success as a breeder, owner and trainer - doing things his way.

In his standardbred breeding activities, Maurice thought big. He subscribed totally to the theory that breeding the best to the best gets the best. He sought out the best families and put his mares to what he considered were the best available stallions. It was a tribute to his judgement and courage that his best horse was from a well-bred young mare he despatched across the Tasman to blend her with what he considered was the best blood ever to come out of America to Australia.

Vermeulen came to New Zealand from Holland in 1952 as a 20-year-old. He had seen and enjoyed a little trotting in his home land and Denmark, but mechanical engineering was to be his game to begin with. After first working at Wellington and Lyttleton, he moved to set up a business in Southbrook, North Canterbury. By the late 1960s, Maurice could afford to begin getting himself involved in his first love - horses.

He struck up an affinity with the Brosnan family of Rangiora, who had a strong line of the highly-successful Moonbean family. They did deals with few outsiders but leased the 1965 foal of Morris Eden and Stowaway to Maurice's wife Margaret and Templeton trainer Jack Smolenski's wife, Marie. One of Stowaway's nine winners, she raced as Margaret Marie and won her namesakes four races as a three and four-year-old before returning to the Brosnans and becoming an excellent producer.

Maurice leased and eventually exercised a $3000 right of purchase on Stowaway's 1968 foal, Robin's Sister, and after this daughter of Johnny Globe had won him and Margaret five races he put her quickly to the stud. She left several winners including the brilliant Timely Robin, whose 10 NZ Victories for the Vermeulens included a heat of the 1979 Inter-Dominions at Addington. Borrowing Stowaway herself for one year, Maurice put her to Good Time Eden and bred Royal Cheval. She won the Vermeulens six races and was second in the NZ Derby, then left several winners including Regal Cheval (7 wins), who in turn became the dam of another top-class Vermeulen pacer Speedy Cheval.

In 1969, in partnership with Christchurch clothing manufacturer John Osborne, Vermeulen paid $2700 at the National Sale for the Thurber Frost filly from the famed Purple Patch family that was Royal Belmer. Trained by Smolenski she gained 12 wins and 14 placings from 42 lifetime starts and was NZ's fastest race mare of her time with a 1:58.8 placed mark. A shy breeder, Royal Belmer nevertheless produced NZ Derby winner Sovereign for Osborne and Royal Decision, winner of 12, for Vermeulen.

In the early 1970s, Lauriston trainer Alister Kerslake offered Osborne and Vermeulen the choice of some fillies and mares he intended to sell. On the advice of Templeton trainer Derek Jones (who became one of Vermeulen's closest friends) New Guest was purchased by Osborne for $5000. By premier sire Garrison Hanover from True Guest, and thus from the prolific Derby-winning family descending from champion Indianapolis' unraced sister Tondeleyo, New Guest was a sister to high class pacer Speedy Guest.

Going sore after winning at only her second start, she was retired in 1974 to the Rangiora Raceway Farms Ltd breeding operation that had just been set up by Vermeulen and Osborne. Vermeulen by now had sold the engineering business. Things were going well. New Guest was despatched to Bernie Ahern's B J Stud in Victoria, where outstanding American stallions Kentucky and Hilarious Way had been set up in service.

New Guest's first two foals - Risky Business (by Kentucky) and Oshawa (by Hilarious Way) were sold - eventually winning in 1:58.8 and 2:00.2 in America, where they were good winners. New Guest returned to NZ with a yearling filly by Kentucky and a filly at foot by Hilarious way. On the toss of a coin, Osborne took the Kentucy filly, who, as Dixie Royal, qualified only and at stud has proved a very shy breeder.

The Hilarious Way filly was Hilarious Guest who, raced and trained by Vermeulen, won him 12 races including the NZ Juvenile Championship, NZ Sapling Stakes, NZ Derby, NZ-NI Oaks double and NZ Messenger and was twice second (to Armalight and Royden Glen) in the Auckland Cup.

A hard case with a wonderful sense of humour and a heart of gold, Maurice Vermeulen confused many of those who knew him when three years back his spark faded and he became something of an introvert. What was not known at that time was that he was suffering the advanced stages of the tumour that was to cut his successful life short.

He will be remembered and loved, not only by Margaret, son Phillip and daughters Lsa and Karina, but also the many privileged to have known him.



Credit: Ron Bisman writing in HRWeekly 8Aug90


| | |
| --- | --- |
| | RACING HISTORY PEOPLE |

LAURIE WILLIAMS

Laurie Williams, who trained successfully for many years, firstly at New Brighton, and then at Greenpark, died recently. Aged 79, Williams held a licence for over 50 years, and took one horse to Cup class, and another to the verge of it.

His NZ Cup runner was Idaho, but he considered Goldina, who nearly made it, the best horse he trained. A motor body builder by trade, Williams trained his horses around the Estuary and along South Brighton. Goldina was one of his early ones, and although unsound, measured up to the best company.

Williams took him to Auckland in 1952, but with the waterfront strike on, he was forced to hire a little fishing boat in Picton to cross Cook Strait. It is a fact, say his family, that Goldina's tail was almost dragging in the water as the craft ploughed through the water. On reaching the North Island, Goldina was unloaded by crane into the surf at Plimmerton, where Williams caught the train and continued the trip.

Williams made a number of trips to Australia, where he made contacts and sold numerous horses. He was also a regular vendor at the national sales of yearlings.

Idaho, a son of U Scott and the Grattan Loyal mare Fleuret, raced in the 1965 NZ Cup, the Inter-Dominions in Melbourne, and ran third in the International Pace at Yonkers won by Cardigan Bay.

Other horses he raced were Piccolo, Regalia, Joyfree (Geraldine Cup), Crystalline, Lily Chase (5 wins) and Verona (5).

Credit: Mike Grainger writing in HRWeekly 3Oct90


| | |
| --- | --- |
| | RACING HISTORY PEOPLE |

MERV DEAN

Merv Dean, who died at his home in Auckland just before Christmas aged 67 after a long illness, will long be remembered as the man who bought the great Cardigan Bay from the Todd brothers of Mataura. But there was much more to Merv than just that.

Merv's parents ran tobacconists in Hamilton, and in his youth Merv assisted his uncle, Henry Lee, one of New Zealand's most notorious bookmakers. Lee operated a shoe shop at Frankton, but, it is said, sold no shoes. At one point in his colourful career he completely booked out the Duke of Marlborough Hotel at Russell and staged there an unofficial convention of New Zealand bookies.

Merv moved to Auckland, where he became a billards and snooker hall proprietor. Armed with a wide knowledge of racing and its ramifications, he also became a keen student of breeding, an ardent admirer of good horses and good racing, both standardbred and thoroughbred, and an aspiring owner. It could truthfully be said that he fashioned himself into possibly New Zealand's most successful professional punter. Those closest to him, considered Merv's judgement second to none when it came to horse racing.

Merv at times punted on a level to match the late Max Harvey, but, in direct contrast to that leviathon gambler, Merv shunned publicity and throughout his life maintained a very low profile. He never asked for a privilege to go on to a racecourse. He paid his way in, and never went onto a grandstand, preferring to go to the rail, as close as he could get to the horses that he loved to bet on. At Alexandra Park, scene of 11 of Cardigan Bay's 80 wins, including two Auckland Cups, Merv's favourite vantage point was on the rail at the two-mile start in the old Derby area, where he would buy a pie and rub sholders with the workers.

Merv with his Mother raced the good pacing mare Ruth Again in the mid-1950s. The daughter of Dillon Hall was trained for them for four wins as a four-year-old by Roy Purdon (then at Te Awamutu), and later in life won them a race from Morry Holmes' Riccarton stable and another when trained at Pukekohe by Colin Hadfield.

Rapt in the progeny of the imported American stallion Hal Tryax, Merv bought from the Todd brothers in 1961 a gelding by that sire named Motif. After this pacer had won at 40-to-1 at Claudelands in March 1961, he handed him to Peter Wolfenden, from whose Auckland stable Motif was to win four more races. Boosted by a good betting win, Merv soon after bought from the Todd brothers (for £2000 and two £250 contingencies) another Hal Tryax gelding, who, as Cardigan Bay, had won two of eight three-year-old starts and three of four starts at four.

Registered in the name of Merv's wife Audrey, Cardigan Bay under Wolfenden became a champion, his numerous wins including the Auckland Cups in 1961 and 1963, the NZ Cup in 1963 and the Inter-Dominion Grand Final in Adelaide the same year. Cardigan Bay went on to further fame and fortune in America, where under Stanley Dancer, he became, as a 12-year-old in 1968, the world's first pacer to win a million dollars.

One of Merv Dean's best thoroughbreds in New Zealand was Town Guard. At one stage of his career this good galloper was disappointing, and Merv's suggestion to his trainer was to jump him over hurdles in the centre of Pukekohe. His reasoning was that slipping and sliding on the heavy clover in the infield would teach the horse to run better on the flat. His theory was borne out when Town Guard immediately won the Stars Travel Gold Cup at Tauranga, beating Lampada. Merv then sent Town Guard to Victoria and successfully punted him to win a hurdle race in Melbourne. Brought back to Baggy Hillis' Takanini stable, Town Guard was one of the early favourites for a Great Northern Hurdles when he broke down on the eve of the race.

One of Merv's closest friends, current Auckland Trotting Club president Cliff Koefoed, labels him "the greatest judge of horseflesh I have known...He had something like 70 horses, and only one failed to win a race," he said. Koefoed added: "Very tough in business, he was generous to a fault to down-and-outers. When he learned that the guy who assisted him in the billard room at Onehunga had five kids and a Morris Minor, he and Audrey gave the guy an open cheque to buy a decent car for his family."

Koeford recalls accompanying Merv on whirlwind forays to Christchurch, Wellington and even Australia for assaults on the tote and bookmakers that were usually successful. "On a Trentham trip we put £200 on Mali Peter in the first leg of the double, and when he won we put the lot all-up on Golden Defoe," continued Koefoed. "They were £1 tickets, and had to be exchanged into five shilling units. They were still punching tickets for us after the second leg horse had won. We got £2500 each. We rang our wives, Irene and Audrey, and got them to book a table and meet us that night at the "Gourmet" in Auckland, I think it was the first time Merv had ever been into a top-class restaurant to have a meal."

Merv Dean is survived by Audrey.


Credit: HRWeekly 9Jan91


| | |
| --- | --- |
| | RACING HISTORY INTERDOMINIONS |

ADELAIDE - THORATE
Howard James, a 32 year old rookie teamed up with Thorate to win the 1990 edition of the Inter Dominions. Trained by Brian Hancock who won with Koala King in 1980, Thorate was one of two representatives from the stable in the Final with Brian electing to drive third placegetter Weona Chief. In winning, Thorate established a new track record at Globe Derby Park rating 2.00 minutes for the 2645 metre event. Tough Kiwi Gaelic Skipper split the pair.



| | |
| --- | --- |
| | RACING HISTORY FEATURE RACE COMMENT |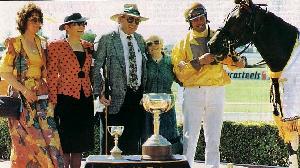 The Cup Winner & Connections

1990 DB DRAUGHT NZ TROTTING CUP

John Langdon recalled one of his first trips to Addington was on a Cup Cay he should have been at school. He 'bunked' the day in 1962 he saw Lordship win in the wet and stayed at the top of the straight in case he was spotted.

One of those who used to enjoy his company at those race meetings was Harry Webber, no relation of the owners who now race the wonderful young pacer, Neroship. And those old days of youthful escapades became fresh memories as Langdon brought Neroship home in the face of desperate late challenges at the end of Tuesday's DB Draught NZ Cup.

Langdon is no freshman when it comes to the big-time.

His past showcase of metropolitan victories include an Auckland Cup (Neroship), an Inter-Dominion Championship (Young Quinn), and Inter-Dominion Trotters' Championship (Castleton's Pride), a Rowe Cup (Landora's Pride) and a Dominion Handicap with the same mare. But he has trained only one previous winner on the track, and that was King Alba in 1984.

He thought it was to be another grim reminder of past hopes and failed chances when William Dee didn't do what he should have in the main trot, but when Letterkenny Lad pulled a big one out of the box to give him his second training success on the track. He was quite happy to fit No.13 on Neroship.

Langdon received a choice path through over the first half mile, setting him up for a nice run in touch with the pace. "I envisaged a run such as that happening," he said. "All those drawn in were good beginners and I could see myself getting through as long as my horse began well. I didn't really want the front, but when I got there I was entitled to be left alone. The problem I had was near the quarter when he picked up the steel. I thought I'd blown it near the end, because I really would have liked to have held him up a little longer."

But the tide was washing Langdon's way, and there was still comfort at the end, as Starship fell half a length shy at the end.

Langdon is 43. He was born in Christchurch went to Burnside High School, played football with the writer when it was popular to trail forever, and left school to work in the accounts office of the Ministry of Works. All along, he hoped for a job in a stable, and he pestered the late Ces Donald to find a place for him. He couldn't. "I went round just about every stable in Christchurch. Then I went back to Ces to see if he would take me on," he said. Donald did, and gave Langdon the opportunity he has taken so brilliantly.
With horses such as King Hal, Chief Command, Indecision, Chaman and Cairnbrae, Langdon soon got the feel for good horses. And then came the move that really set him apart from trainers and trainers who are a bit special.

He joined up with Charlie Hunter, whose influence on his career was priceless. "He helped me tremendously. When he went export, he gave me the horses to train. Everyone's got to have help at some stage," he said.

Young Quinn was his major success, notable because he was so young, but he rates the win by Neroship as something just as special. "The big thing is that we bought him out of the sale, watched him develop and then do the job," he said.

The earnings of Neroship are now just short of $800,000, the result of 56 starts, 17 wins and 20 seconds and thirds.

Credit: Mike Grainger writitng in HR Weekly


| | |
| --- | --- |
| | RACING HISTORY FEATURE RACE COMMENT |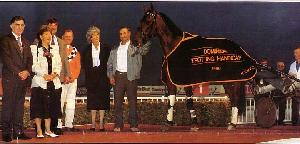 The presentation to the connections of Sundon

1990 TV3 NETWORK DOMINION TROTTING HANDICAP

Seldom has so much joy and merriment been punctured so suddenly than in the seconds of satisfaction following the Dominion Handicap. A large crowd, comforted by a warm pleasant night, had relished the return to form of Sundon in the Met's big trot. This was the very moment they had been waiting for ... the young champ back on his pedestal. Cheers laid dormant for months echoed around the course as the big bay put the cap on quality with a dashing front-running exhibition to beat southerner Game Paul and northerner William Dee. The clapping and calling started half-way down th straight when it was apparent this was Sundon's day. There was a great bubble of gaiety at the result until the siren blew it for six.

Cheers turned to out-cry of boos and confusion as word came out that the inquiry was into the winner. Clutching his notes, Metropolitan President Peter Andrews stood uncertainly in the birdcage wings as the drama unfolded. Driver Peter Jones headed for the stipes' room with the comment: "Do you know what this is about?" An emergency huddle of club officials made fresh plans for the presentation and sent Sundon off to the stalls. In the meantime, trainer Fred Fletcher stood in the shadows, bemused by the whole affair. Fay, his wife, wearing her lucky pearls, was more forthright in her opinion of the inquiry. Said Fletcher: "It's my luck lately ... and it's their right."

The inquiry was held into an incident about 350 metres from the start when Marcol's Pride and Gee Du Jour broke. The stipes went to consider whether Jones had crossed with Sundon too close and interfered with them. Tommy Knowles, the driver of Marcol's Pride, and Simon Adlam, who handled Gee Du Jour, gave evidence, the inquiry was dismissed, and Jones came out to say: "It was totally uncalled for. You usually know if you've done something. I was totally bewildered by this."

Jones paid Fletcher a tribute for the manner in which he had prepared the horse. "Fred's done a marvellous job with him. My main worry was getting him away from the second line, though Fred said it would suit him. He felt really strong all the way. I was pretty confident three from home when he pricked his ears," he said.

News of the dismissal met with instant approval and a revival of the cheers that the siren had snuffed out. Sundon was called back, decorated, and the crowd appeased, filed back to their seats. Fletcher has gone through some traumatic times with Sundon in recent months, the latest an accusation that he did not drive the horse on it's merits less than a fortnight back. Fletcher has since appealed against the suspension this charge brought, but he elected to sit the Dominion out. He engaged Jones, who has been driving members of his team with good success already this season. Fletcher had, in fact, suggested to Jones earlier this season that the Sundon drive was available if he wanted it, but a firm decision this was was not made until his recent bad news. "He's not the easiest horse to handle, but he drew what he wanted. He's got no problems and I see a lot of improvement in him yet. I don't think he's actually five until next year some time," said Fletcher.

Fletcher did not attach any extra significance to the Domininion, as he may have done for a stake of such an important race. "I said to Fay on the way in, it would be nice to win, but it is just another race." Sundon, who will now have a week off, is an easy horse to train. "He is the most placid horse I've ever had. He sleeps most of the time," said Fletcher.

Sundon won the race in 4:12.8, which was more than four seconds slower than it took Tobago - one of Saturday night's faders - to win the race last year. An excellent front runner, Sundon was in good hands. Jones took him through the first mile in 2:09.5, sharpened up near the end of that section when Tobago hurried forward to put himself in the call. It was a lonely trip and he sat parked and tired. Jones was able to back off from the mile to the half, which took 64 seconds. He was then in the choice position of being able to sprint at will from there which Sundon did with ease.

To the tune of cheers, siren, boos and cheers, the sun went down on another Dominion Handicap; one that started with drama and ended the same way.

Credit: Mike Grainger writing in HR Weekly


| | |
| --- | --- |
| | RACING HISTORY FEATURE RACE COMMENT |

Tight Connection easily wins the Air NZ FFA from Rebe Lord

1990 AIR NEW ZEALAND NZ FREE-FOR-ALL

Having proved his real class once again by trouncing high-class opposition in the $85,000 Air New Zealand NZ Free-For-All, Tight Connection is poised to write many more exciting chapters to his already memorable saga. Now foremost in the sights of the crack Auckland pacer are the $A300,000 Sydney Miracle Mile on November 30, the $300,000 Ansett New Zealand Auckland Cup on December 29 and the $500,000 Inter-Dominion Grand Final in Auckland next March.

Already, from only 26 starts - punctuated by a series of severe setbacks which he has shrugged off one by one - Tight Connection has bankrolled a remarkable $1,409,015 in stakemoney and bonuses. Thrilled with the Miracle Mile invitation, issued by New South Wales Harness Racing Club committeeman Tony McGrath after the Free-For-All win, trainers Roy and Barry Purdon have accepted and only misadventure will thwart the trip. The connections of Neroship informed McGrath before the Free-For-All that, win, lose or draw, they had decided not to accept a Miracle Mile invitation. Stablemate Reba Lord, Tight Connection's runner-up in the FFA after wrecking his Cup chances after an inordinately (even for him) bad start, remains in Christchurch for the Monsanto FFA (mobile 2600m).

Not in the clear until the New Zealand Cup was out of his grasp, Tight Connection showed what might have been with his end-to-end Free-For-All win in 2:26 for the mobile 2000m (a 1:57.5 mile rate), capped off with a sizzling 55.5 final 800m. "And he did it on his ear," said the chestnut's elated pilot Tony Herlihy. Reba Lord, cleverly handled by co-trainer Barry Purdon, had enough in the tank to get up for second two and a quarter lengths from Tight Connection, shading Bold Sharvid (who trailed the winner throughout) and Lord Magic (who battled gamely after being parked out for most of the last lap).

Tight Connection never left an oat after the win. "He's a nice horse, with such a lot of potential," enthused Roy Purdon. "He seems to be getting better and better. He's done no racing yet, really - not the miles of some of those other Cup horses. "He's had a lot of setbacks, and he's come through them all with flying colours. The wind operation he had seems to have been a hundred percent successful, which is great since they wouldn't guarantee it and gave him something like a 60-40 chance."

Raced these days by Ric Ellis and Ross Weavers (two of his original owners) with the Horseplayers Corporation Syndicate and the Club Connection Syndicate, Tight Connection, a five-year-old Soky's Atom entire, must also have excellent stud potential.


Credit: Ron Bisman writing in HR Weekly


| | |
| --- | --- |
| | RACING HISTORY FEATURE RACE COMMENT |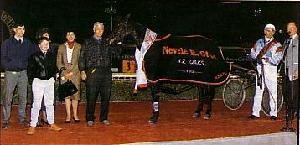 The Cleine family pose with Gypsy Winkle after the Oaks

1990 NEVELE R STUD NZ OAKS

Before a small crowd on a cold Saturday night, Gypsy Winkle lowered the colours of hot favourite Jiffy's Girl in the $50,000 Nevele R Stud New Zealand Oaks.

Going for win number 13, Jiffy's Girl ran too keenly for her own good, especially passing the 800 metres and again when slipping clear near the corner. In spite of that, the tiny rich bay daughter of Jiffy Boy looked quite strong beginning the run in and still a winning prospect 100 metres out. The complexion of the race then began to change with alarming suddeness and major worries for the followers of the favourite came seconds later as Gypsy Winkle emerged on a finish she had started with determination some way out.

She was handled with 'big-race' skill by Colin De Filippi, who displayed equal determination in getting the better of Jiffy's Girl. For no other reason than poor luck in the running, Gypsy Winkle had failed in her three previous starts, and because of that was at rather long odds. But a workout in the mud four carts out on the Westport track in 4:24 convinced trainer Colin Cleine she was as good as he could get her. "It's pretty difficult knowing just how well they are when you have got little to work them with. That is why she has to race, and we get a line on her that way," he said.

Gypsy Winkle is the second successive Oaks winner sired by the stud's ill-fated sire Nero's B B - Adina Bebe was last year's winner - and it provided breeders, the Alexandra Breeding Partnership, with a $100,000 breeder's bonus.

Cleine, a Westport dairy farmer, bought the filly from the Australian bred mare Gay Van Winkle (Gay Reveler-Thelma Lass, by Pacing Gift) at the National Yearling Sales for $4,000. She won her first two races last July, and the Southland Oaks, but couldn't make Friday night's DB Draught Fillies Final after attempting to do so in three heats. Colin, and his wife Yvonne, bought a Nero's B B-Nile Queen filly at PGG's Premier Sale earlier this year. They have three other young horses, including a Bo Scots Blue Chip half brother to Gypsy Winkle who is making encouraging progress.


Credit: Mike Grainger writing in HR Weekly


| | |
| --- | --- |
| | RACING HISTORY FEATURE RACE COMMENT |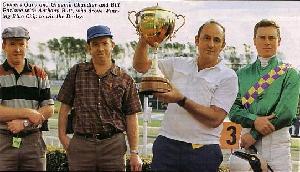 The connections of Winning Blue Chip

1990 JOHN BRANDON 30 NZ DERBY

After sitting alone at the back, unfancied Winning Blue Chip came through to win the $175,000 John Brandon 30 New Zealand Derby.

The chunky bay gelding picked off seven tiring rivals to cause the biggest Derby upset since Naval Officer won the classic in 1984 when only five finished. That was the second surprise. The first was the sinking of Honkin Vision, the raging favourite who was beaten, and badly beaten, with less than 200 metres to run. And the third surprise was the remarkable achievement of Winning Blue Chip to demolish Inky Lord's New Zealand age group record of 3:15.1 by pounding out 3:12.2 for a mobile 2600m.

It was a muted audience who saw the scene unfold, because Winning Blue Chip rated in none of the pre-race forecasts and in the Brandon preludes had done nothing to suggest he was in the same league as the favourites. Driver Anthony Butt said: "I always thought he was a bit below the best of them. The only show I had was if they went hard all the way. I knew I had to take all the short cuts. He was not good enough to go around them."

Henry Skinner took Honkin Vision to the front, as the draw said he would. Sweating freely in the warmer conditions, Honkin Vision made play at better than a 2:00 clip, making the pace hard on the others and harder on himself. Said Skinner: "I was starting to get pretty busy at the quarter." No wonder. The horse had cut out his 2400 metres in 2:57.9 and was starting to hang his head. The Unicorn took him easily. He soon came to the end of it, allowing Winning Blue Chip to pick him off 50 metres out and race clear to win by three-quarters of a length.

The winner is trained by Barrie Lilley, who is not a household name in New Zealand harness racing circles. Formerly a freezing worker, Lilley, aged 46, took out a professional trainer's licence two years ago on the death of his father. One of those he started training was a colt by second season sire Bo Scots Blue Chip from Winning Maid, a winning Willie Win mare formerly trained by Murray Rennie.

Bred by Doody Townley and FA and Mrs JM Stakes of Ashburton, Winning Maid was from Locksley Maid, by Young Charles from Jonell, by Garrison Hanover from Mighty Imp, by Dillon Hall. Winning Maid was raced by Bill Parlane and twin brothers Graeme and Gary Chandler, who bred her to Noodlum after winning one race. She produced Mighty Adios to this mating, returned to win another race, then went to Nevele R Stud to produce her classic winner. She is also the dam of a Nero's B B filly and this season was served by Paulsboro.

On times, Winning Blue Chip was no faint hope. He had recorded a best time of 3:17.5 for the distance, and only Seafield Inca had gone quicker. "But although we didn't expect anything like this, his blood has been out for the last couple of weeks and credit must go to the Halswell Clinic vets for the work they have done getting him right," said Parlane. "He just did not fire on the first two nights like I knew he could."


Credit: Mike Grainger writing in HR Weekly