| | |
| --- | --- |
| | INTERNATIONAL HISTORY |

Tiananmen Square massacre.

The East German government collapes and the Berlin Wall is torn down.

The Galileo space probe is launched.

Tim Berners-Lee of the CERN laboraties in Switzerland invents the World Wide Web.


| | |
| --- | --- |
| | LOCAL HISTORY |

July 1 - GST increased from 10% to 12.5%

October 14 - Vicki Buck, first woman and youngest to be elected, wins Christchurch Mayoralty.

November 1 - New Ch-Ch City Council established by amalgamation of the old City, Waimairi District, Riccarton Borough, Heathcote County and parts of Paparoa and Eyre Counties.

December 10 - Sunday trading begins in Ch-Ch.

Credit: Ch-Ch City Libraries


| | |
| --- | --- |
| | RACING HISTORY |

GEORGE CAMERON

The death occurred last Friday of former successful trainer George Cameron of Christchurch. He was 85.

Born in Scotland, Cameron came to NZ on his own when he was 17, hoping his family would follow. Cameron worked whereever he could on farms in the North Island, then had his first association with horses when he started with the late Lionel Denton, owner of the hotel in Kirwee, west of Christchurch, in 1925.

Shifting later to New Brighton, Cameron had major success in the harness racing game, training Margin to win the 1942 Dominion Handicap, and winning the 1966 and 1967 NZ Oaks with Stylos and Swift Princess respectively.

Mr Cameron is survived by his wife Norma, and his 10 sons and daughters.

Credit: HRWeekly 19Apr89


| | |
| --- | --- |
| | RACING HISTORY SECRETARIES & EXECUTIVE STAFF |

MIKE GODBER

Mr Mike Godber has been appointed Chief Executive Officer of Addington Raceway. He replaces Mr Trevor Davis, who retires from the position of Secretary-Manager in November.

Since 1983, Mr Godber has been Secretary and Chief Executive Officer for the NZ Racing Authority. Aged 36 Mr Godber is an honours graduate from Massey College - where his thesis was on the classification of racecourses. He then joined the Authority as Research Officer, became acting Secretary in 1982 and Secretary a year later.

Mr Godber will have the responsibility of maximising the economic position of Addington Raceway on ac national and regional basis. This policy started started in 1983 when the Raceway was restructured on a more commercial basis. "I know the main theme at Addington is racing, but there are other areas supplementary to it, such as a conference centre," he said.

Credit: Mike Grainger writing in HRWeekly 17May89


| | |
| --- | --- |
| | RACING HISTORY PEOPLE |

RONA LAING

The death occured last week of Rona Laing, aged 72. Born in Christchurch, Rona spent a lifetime in farming and harness racing communities.

Her Wairiri Lodge, at Ashburton, was the home of many imported stallions, starting years ago with the straight-out trotter Pilot Peter, by Peterwah. He was followed by Paraider, Smokey Hanover, Hi Lo's Forbes (sire of NZ Cup winner, James), Jerry Adios, Hodgen's Surprise (sir of No Response), King Creed (sire of Rauka Lad), and Keystone Provider (sire of Samson and Keystone Surprise).

She raced a number of good horses, perhaps the best of them being the Court Martial trotter Macamba, who won seven races, four of them in his 5-year-old season. Others included Melissa, Alvean, Alonzo (1:58), the smart Smokey Hanover trotter Martian, Manchu, Montford, and, more recently, Streak.

She is survived by a daughter Anita, and son, Graham.

Credit: HRWeekly 31May89


| | |
| --- | --- |
| | RACING HISTORY PEOPLE |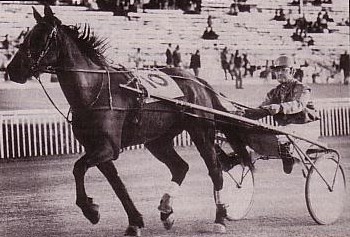 Mac Miller and the good trotter Westham

S M (Mac) MILLER

S M (Mac) Miller has driven one winner this season; Princess Armbro in a trot at Nelson in January. It was significant for two reasons. Miller now approaches the time of the permanent ballot. He has turned 65 and Princess Armbro might well have been his last winning drive before he retires. He does so on July 31 with the satisfaction of the second reason - driving 200 winners - starting in 1960 when he drove Irish Wit to beat Medium Blue (Bob Nyhan) and Our Comrade (Keith Powell).

Training from Methven and more recently in Blenheim, Miller was rarely without a good horse. He prepared a small team, and took them all to their best mark. His first top horse was Bonnieburn, who won eight races in the 1960s including the 1964 Ashburton Cup, but Wonthaggi was smart and won five in this era before she broke down. Third Chief won four, including the Nelson and Marlborough Cups, and other good winners in the 60s were Soldato, Nonevero, Terrace Dale and Jacquinot Bay, whose 10 wins included the Wellington Cup.

In three seasons, from 1973-4 to 1975-6, Miller drove 39 winners, most notable being seven with the fine trotter Jillinda, six behind Armbro Brent, five with Armbro Song and four with Martial Salute. Another fine horse he won 10 races with was Trevor Hodgen, who was a wonderful stayer on grass tracks. Other good winners were Truant Direct, Armbro Rhythm and trotters Melvander and Westham. Hobart Star, a son of Timely Knight and the Lordship mare Hobart Lady, won eight races and was rated by Miller as the best he's had. "He was a potential cup winner if ever there was one," he said. Hobart Star was sold to America.

"It is a strange feeling, having to give up. I've travelled and met some great people; people who were prepared to help. I remember Maurice Holmes would jog round and start talking and there would always be a moral to what he'd say. It was good to have people like that to work with," he said.


Credit: Mike Grainger writing in HRWeekly 14Jun89


| | |
| --- | --- |
| | RACING HISTORY PEOPLE |

JACK CROFTS

Retiring from driving on 31 July, 1989, one of the best moments Jack Crofts remembers during his career was winning the last saddle trot at Addington on Gentles. The best horse he bred was Moonfire, four wins.

He says the best horse he ever sat behind was the brilliant Highland Kilt. Crofts worked for the late George Noble for 13 years. He won twice on Highland Kilt, at Rangiora in February 1950 and at Wellington in May 1952.

Usually only training a small team, Croft says he now has more horses than he can handle, a list comprising seven yearlings and two 2-year-olds.

Credit: Mike Grainger writing in HRWeekly 14Jun89


| | |
| --- | --- |
| | RACING HISTORY PEOPLE |

ALBY JOHNSON

If ever there was an example of New Zealand's Mr Rugby, Racing and Beer, then Albert John Robert Johnson must have gone close. The rugby fanatic, harness racing trainer-driver, and hotelier passed away recently after a short illness at the age of 73.

Born at Rangiora, he showed an early interest in horses and this carried on for the rest of his life. He was also a natural sportsman shining in tennis, football and most other sports. During his early days of farming he spent a lot of time with Ces Devine who became a life long friend. "He loved driving horses and was as game as they come," recalls Ces.

Reg Curtin trained for Johnson and among his winners were Paul Bunyan, Night Boy, Regal Comet and Smokey Belle. Although Curtin trained his horses Johnson always did the driving. He also enjoyed taking his horses to the West Coast where he had his share of success. The best horse he had was Black Tulip who won seven races whilst trained by Reg Stockdale, and once again all the driving was done by Johnson.

No-one loved their rugby more than he did, and after playing for Country and Canterbury B he continued his interest by following most of the All Black games, including tours to South Africa and England. In the late 40s Johnson bought his first hotel at West Oxford followed by terms at the Marine in Sumner, Yaldhurst and Prebbleton. It was in the latter two hotels where he further developed his trotting interests both with horses and lasting friendships.

He is survived by two daughters and a son.

Credit: HRWeekly 28Feb89


| | |
| --- | --- |
| | RACING HISTORY PEOPLE |

NANCY EDWARDS

Nancy Edwards, who died in Auckland earlier this month aged 91, was a daughter of a great handler of trotters at the turn of the century, Bert Edwards.

The outstanding horseman of his era, Bert won races at the inaugural trotting meetings at Lancaster Park in Christchurch and Potter's Paddock (now Alexandra Park) in Auckland. He owned the first horse in New Zealand to get within American standard time of 2:30 for the mile - Yum Yum, who won by 15 lengths pulling up in 2:27½ at the Canterbury Park Trotting Club's meeting of May 24, 1894.

He owned the first pneumatic-tyred sulky produced in New Zealand, lowered NZ trotting records on five occasions, and held trainer's, driver's and rider's licences from the time they were first issued to the time of his death with a completely clean sheet.

In a stint of several years in Auckland in the early 1890s, Bert and his brother Manny made their mark in no uncertain terms, and, on returning to Canterbury, Bert capped his brilliant career winning the first NZ Cup at Addington in 1904 with the 14-year-old straightout trotter Monte Carlo.

Manny, who also enjoyed a very successful career as a trotting horseman, became the father of two fine harness exponents in Dil and Stan Edwards, while Stan's son Murray also became a proficient trainer-driver.

Nancy Edwards and her sister Marjorie made their mark in thoroughbred breeding, establishing in Otahuhu the plush "Mardella Stud," where they successfully stood such noted sires as Vaals, Dink, Treasure Hunt and Probation. The Edwards sisters all but became involved in standardbred breeding, changing their minds when they had the Italian-bred stallion Medoro on the water and selling him for 7000 guineas to their neighbour Noel Simpson.

Noel made the purchase as his first move in transforming his "Yendarra" property from a cattle farm to a standardbred breeding operation. Medoro became an immediate success as a sire of pacers and trotters in New Zealand, giving Simpson a fine start on his way to becoming Australasia's outstanding standardbred breeder.

Credit: Ron Bisman writing in HRWeekly 25Jan89


| | |
| --- | --- |
| | RACING HISTORY PEOPLE |

COLIN McLACHLAN

Six months after his age forced Colin McLachlan to retire from driving, the Templeton horseman has decided to sell his farm and business, move into town and almost make a clean break from harness racing.

Colin and his wife Sylvia have owned four shoe stores in and around Christchurch for nearly 40 years, with Colin also succeeding as an owner/trainer of standardbreds. But now the McLachlans have sold their stores, as well as their 16 hectare training establishment in Templeton. "Since my health hasn't been the best I've decided to sell up. I used to enjoy driving at the trials but I can't even do that now - that takes some of the interest away," Colin says regretfully.

Born in Dunsandel in 1923, Colin's first equine experience was working with Draught horses on the family's farm. He first handled standardbreds when his neighbour, the late O E ("Ossie") Hooper, took a small team with Ben Grice on the then popular Hawera circuit. Colin looked after the remainder of Hooper's team while he was away.

After Colin left school he spent six years in the Air Force before trying his hand at various jobs, including engineering. Colin stumbled across the shoe business when his wife Sylvia was employed at Eastmonds Shoe Store. One night when Colin went to pick her up, Sylvia's employer asked him how he spent his Friday nights. "I told him I never did anything in particular so he asked me if I wanted to work part-time on that night," Colin recalled. The occasional work soon turned into full-time employment and seven years later he was managing his own store in Armagh Street, directly across the road from the present-day store.

Colin and Sylvia's only son, Wayne managed the business in its latter years, but was tragically killed in a car accident three years ago. An avid rugby fan and long-time supporter of the Christchurch Club, Colin designed a light-weight football boot and wholesaled them throughout the country in the late 1960's. The 1967 All Blacks to Britain and the 1970 All Blacks that toured South Africa, wore the McLachlan-designed boots.

The first horse Colin owned was Status, who he raced in partnership with his friend Syd Rassie. The pair bought Status off Ben Grice. The Morano entire was trained by Peter Yeatman but he was still a maiden when he was sold to America. Colin and Syd then leased and later bought the Thurber Frost mare Miss Frost who won four races on the West Coast circuit, including the 1968 Greymouth Cup. "We were out celebrating after Miss Frost's Greymouth Cup win and a guy called Gordon Elley came up to me and said he had a horse at home that would lap my mare," he said. Caught in all the excitement and soaking up the famous West Coast hospitality, Colin shouted: "I'll buy him." The horse was General Demand, who went on to win seven races including the Winter Cup before also being sold to the States.

Before training his first horse, Lachlan Bay, Colin owned Flying Home, who won the Gore and Winton Cups as well as four other races. In his first training season, Colin won 20 races, and thought the game was easy, but he was brought back to earth the following term when successful only once. Other winners from the McLachlan team include: San Sebastian, Mighty Tuft, Scottish Chief, Flying Tempest, Way Lynne, Whata Cutie, Jack Shine, Golden Casanova, Tickle My Fancy, Lord Charles, Formal Fella, Big Brute and dual Derby winner Mighty Me.

Flying Tempest provided Colin with his first driving success at Addington, when the horseman was 47 years old. Jack Shine still holds the New Zealand record for a 3-year-old over a mile (stand). His 2:03.8 was set in June, 1982, on a wet Waterlea surface.

Formal Fella and Mighty Me were purchases from the 1981 National Yearling Sales at Addington, but if Colin had had anything to do with it, Formal Fella would've been the only yearling he took home from the sale. "While I was paying for Formal Fella, Sylvia bid for and bought Mighty Me," he said.

Colin says he owes a lot of his success to Christchurch reinsman Bob Cameron, who he ranks as world class.

Colin says he intends to auction his large band of broodmares, foals and racehorses in the near future. And although selling up and getting (almost) right out of the game, Colin just happened to have his finger up at the right time at the NZ Premier Yearling Sale last month. Knocked down to him for $9000 was a Talk About Class colt out of NZ Oaks winner Swift Princess. "I couldn't let the son of an Oaks winner go that cheap," Colin said. So even at a solemn stage of his career, Colin is still keen to play a minor part in harness racing.

Credit: Steve Wilson writing in HRWeekly 1Feb89


| | |
| --- | --- |
| | RACING HISTORY PEOPLE |

JACK BEHRNS

The much-respected and distinguished Chertsey horseman Jack Behrns died recently. Aged 84, Behrns had spent the last five years living at Rolleston with his son, Tom.

He had an interest in harness racing until he died, racing the trotter Evander Morn. "I told him, while he was in hospital that I would take Evander Morn to Blenheim, and I took him a wee radio so he could listen in. He died before then, but I carried on and raced the mare just as we had planned," Tom said.

Jack Behrns was in the elite of horsemen. He trained some of the great horses of the century, notably Indianapolis, Wrackler and Cardinal King, and some very good ones, such as Peggotty, Why Bill, Doctor Kyle, Space Cadet, Byebye Bill and Waitaki Elect.

Behrns was born in Rakaia, starting his working life in the Post Office before coming under the wing of 'Scotty' Bryce. From there he went to Durbar Lodge, and on the death of Don Warren became private trainer for H F Nicoll. He trained Indianapolis - later to win three successive New Zealand Cups - for his first win, and converted the 1930 NZ Cup winner Wrackler to win the 1932 Dominion Handicap from Huon Voyage and Olive Nelson. In April 1931, he won the NZ Derby with Ciro, and then on Nicoll's death, he started training for Reg Butterick, one horse being Peggotty, by Wrack from a Nelson Bingen mare Butterick had bought for just four guineas. Behrns trained her for seven successive races, and at 9 she won the 1941 Dominion Handicap.

He was private trainer for Percy Watson after that; Alladin and Inglewood were two good horses he trained in the 1950s, and Cardinal King was the stable star in the 60s. The trotter Doctor Kyle won 12, Space Cadet included the New Brighton Cup among his 9 wins; Why Bill won 12; Waitaki Elect won seven as a 3-year-old, including the two mile Hororata Cup from Dutch Courage, and Bye Bye Bill won five after standing at stud in Australia and joining Behrns when he was eight.

Jack is survived by two daughters and three sons, all trainers, Tom, Irvin and Robbie.


Credit: Mike Grainger writing in HRWeekly 14Feb89


| | |
| --- | --- |
| | RACING HISTORY PEOPLE |

ALLAN HOLMES

Allan Holmes, son of the legendary Free Holmes and brother of 'the Maestro' Maurice, died last Wednesday. He was 78.

Allan became the equal-youngest reinsman to drive a NZ Cup winner when at age 21 he partnered Harold Logan, then trained by Dick Humphreys, to win the Cup from 60 yards. He joined James Bryce jnr, who was the same age when he drove the 1923 NZ Cup winner Great Hope.

Mr Holmes, won his second NZ Cup with Gold Bar, who he bred and trained. Gold Bar, who became the first NZ-bred pacer to break 2:00 for a mile with a 1:59.6 time-tial at Addington in 1942, won the Cup at his fifth attempt. The Grattan Loyal entire netted 22 victories in all, and later became a successful sire.

Mr Holmes was joint leading reinsman in the 1945/46 season, during which he drove Great Northern Derby winner, Local Gold. He at one stage employed notable Templeton trainer Derek Jones.

Mr Holmes part-owned and trained NZ Derby winners Congo Song and Blue. Congo Song later won an Inter-Dominion heat; Blue was renowned for setting a world mile record for a yearling of 2:09.2, and ran fourth as a 3-year-old in an Auckland Cup. He also had shares in 1952 Dominion Handicap winner Precaution, and 1987 NZ Trotting Stakes victor, Kami. The last good horse he trained was Brase, who won eight including the Forbury 4-year-old Championship.

Credit: NZ HRWeekly 14Mar98


| | |
| --- | --- |
| | RACING HISTORY INTERDOMINIONS |

PERTH - JODIE'S BABE
The 1989 Perth Inter-Dominion had everything; drama, suspense, action, outrage and upsets. Victory went to a bonny mare named Jodie's Babe in the hands of Scott Stewart while Vin Knight, this time aboard stablemate of the winner Our Maestro finished second just a neck away after attempting to lead throughout. The Final in Perth carried a stake of $420,000. Kiwi Kylie's Hero was third.



| | |
| --- | --- |
| | RACING HISTORY HORSES |

TE PHYNO - Mystery Mare

Here was a mare who might have started life with a lurid name but who did not appear to have a breeding future bright enough to light a match. She did not race but that was the whole point with this family. In fact most of her female ancestors going back over a century hadn't either. However one or two had left useful enough horses along the way to ensure no armed men advanced on them at dusk for the long goodbye.

At first Te Phyno's career looked typical. Her first foal won once in 36 starts in Australia and that was in Hobart. The second never raced. Then a miracle occurred. Two of her next four foals were not only classic winners but of both sexes. Caps Off won the 2000 New Zealand Oaks by a head from hot favourite Tupelo Rose, driven by Colin DeFilippi and trained by Bruce Negus. The owner was Trevor Casey having his first classic success. That was a career highlight, though she took a 1:52.5 mile time in the US.

That might easily have been dismissed as one of those things but two foals later from her first visit to Badlands Hanover came Badlands Bute. For Lincoln and Tony Herlihy in the Great Northern Derby he beat keen rival Advance Attack by a neck with horses like Tribute and Bailey's Dream close behind. He was beaten a head in the Queensland Derby and in the days when Auckland was paying $20,000 stakes he assembled a healthy bank balance but never made the big time as an older horse.

Some subsequent foals were okay, especially when the mare could get back to Badlands Hanover, but nothing like classic material.

So how had this happened? After all only mares as great as Scuse Me are usually capable of leaving both Derby and Oaks winners over a period of four or five foals. Not unraced unknowns. Doesn't happen. It was probably because both Badlands Hanover, and Caps Off's sire, Caprock, were from the Oil Burner line. Te Phyno lifted her game when she struck 'oil', or so it seemed.

Credit: David McCarthy writing in Harnessed June2016


| | |
| --- | --- |
| | RACING HISTORY HORSES |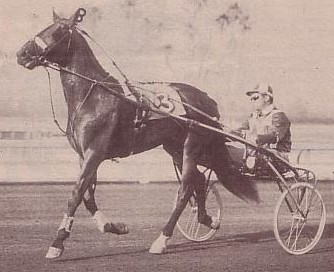 Lumber Dream in racing trim.

LUMBER DREAM

After 26 years at stud in New Zealand, the vastly-successful imported stallion Lumber Dream has been withdrawn from service. Although still in good health at 31, Lumber Dream is no longer fertile and will spend the rest of his days at North Canterbury's Stonegate Stud.

Lumber Dream, a son of Knight Dream, sired 39 who rated 2:00 or better. His star performer was the free-legged pacer Robalan (1:57.6) who won the NZ Cup; another was Preux Chevalier (1:54.3, Aust), now at stud. Other big winners sired by Lumber Dream were Westburn Vue, the good trotter Maudey, Dream Lustre, Guard Of Honour, Lucy Lumber, Tokorangi, Rocky Tryax, Dreamy Guy, Dreaming Neebray, Gentle Lumber (1:55.4,US), La Sharee (1:56.5,Aust), Brookfield (1:56.6,US), Josias and Best Dream.

Lumber Dream became leading broodmare sire in the 1984-85 season, with 34 winners of 79 races. This was the 4-year-old season of Roydon Glen, who supplied $235,865 of the $487,335 won by horses from Lumber Dream-sired mares. Others that season were Rollicking Dean, Maureen's Dream, Skipper Dale, Empire Lobell, Hondo's Dream, Free's Best and Fredrick.

Westburn Grant, Defoe, Cardinal Star, Lord Lenny, Yankee Loch, Khmer Jitsu, Lookahead, Tuapeka Knight, Paleface Bubble, Quite Famous, Steady Lady, Betty Adios, Cyllarus, Newt, Dictatorship, Sapling, Bronze Trail, Classic Fella and Scottish Loch are other top- liners from mares by Lumber Dream.

Credit: NZ HRWeekly 15Nov89


| | |
| --- | --- |
| | RACING HISTORY HORSES |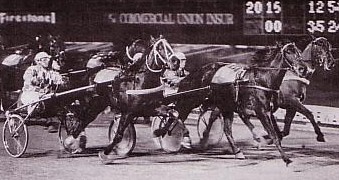 Jenner winning the 87 Ordeal Cup from Tyron Scottie and Simon Katz

JENNER

Grand trotter Jenner, hero of 33 wins from 185 starts over 10 seasons for $281,005, has been retired.

The 11-year-old Game Pride gelding will make his final track appearance leading out the field for the $125,000 FAI/Metlife Rowe Cup in Auckland on May 20. He will be kept in light work, training with the Kenwood Stud yearling band at Cambridge under the supervision of his breeder and master, Charlie Hunter.

Jenner has been a special favourite of Hunter's from the day he was foaled. This is not surprising, as his third dam, Royal Charge, raced and trained by his father, the late Jack Hunter of Lower Hutt, on lease from Christchurch breeder the late Clarry Rhodes, gave Charlie his initial winning drive. Permitted to breed a foal from Royal Charge, Jack Hunter put her to U Scott to produce Min Scott. Raced by Charlie's mother, Min Scott was guided by Charlie to win the 1963 Dominion Handicap at Addington, giving him his first important big-race victory.

His accomplishment of being a winner in 10 consecutive seasons is a record for a standardbred in NZ - approached only by pacers Lordship and Tactician (nine consequtive seasons), while among the trotters Fantom and Johnny Gee are next best with consecutive wins in eight seasons apiece.

Raced by Hunter's wife Annette and Jeanne Meale, wife of Kenwood co-director Brian Meale, Jenner was as honest as they come. Until jarring up on hard tracks late in his career, he had no hang-ups apart from a hind fetlock injury that kept him out of the 1985 Rowe Cup. He won 20 races at Alexandra Park, six at Cambridge, four at Addington and three at Claudelands.

He trotted a mile in 2:01.5 winning the Thames Rhodes Memorial as an 8-year-old, and was placed in 4:11.8 for 3200. Hunter drove him to 19 wins, John Langdon to six, Grant Payne to three, Gary Smith to two and Barry Anderson, Kerry O'Reilly and Jack Smolenski to one each.

Apart from Hunter, Jack Carmichael, Gary Smith and Peter Wolfenden trained him at different times. While Carmichael didn't drive him to a win, he trained him for victories in the Trotting Championship and Ordeal Cup.

Credit: Ron Bisman writing in HRWeekly 3May89


| | |
| --- | --- |
| | RACING HISTORY FEATURE RACE COMMENT |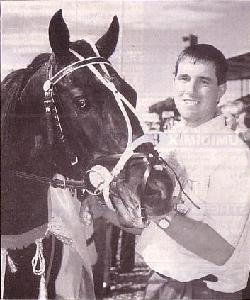 Stable Foreman Hamish Molloy with Inky Lord

1989 DB DRAUGHT NZ TROTTING CUP

A small handful of grit might have been the key to Inky Lord's dynamite performance to win the $400,000 DB Draught NZ Cup at Addington Raceway on Tuesday. Driver Ricky May arranged for a starters assistant to place the tiny stones in Inky Lord's mouth just before the start. He thought the grit would be a distraction while he was at the barrier and could make the difference between a good start and a poor one. "I've got Jimmy Curtin to thank for that wee secret," said May later.

It was national news on Friday that Inky Lord had failed to begin cleanly at the pre-cup trials on Thursday and any show Inky Lord had in the Cup depended on a safe start. This information was enough to put the breeze up the best of Inky Lord's admirers.

Curtin and May are good friends and as they walked around before the start of the first race on Cup Day, Curtin said to his mate: "Put some grit in his mouth just before the start. Nine out of ten have gone away when I've used it." May had tried the bribe on other horses, but had never before thought of using it with Inky Lord. "It gave him something to do at the barrier, but he was so settled and relaxed that I'm sure he would have begun well in any case. Brian spent about two hours with him on Saturday; he was just such a relaxed horse this time," he said.

May confessed that he was still in two minds after his Hannon Memorial success whether it was right to start such a young horse in the Cup, but he was also aware the horse was improving so much with each race.

At a "rough count", May puts his number of wins at 260. He has driven Inky Lord in every trial and every race - bar one, and that was in the Sapling Stakes when Kerry O'Reilly stood in during a term of suspension.

Had it not been for a dreadful check 450 metres from the finish, Inky Lord may not have won the Cup. Buried back in the pack, 12 lengths away from pacemaker Kylie's Hero, Inky Lord appeared to lose all chance when Debbie's Boy broke ahead of him after interference, and drifted back. Driver Ricky May saw the benefit of a brilliant beginning and a chance of winning the Cup fall apart. The situation appeared hopeless. "It just took me out of the race. I didn't have a dog's show when that happened," he said.

To Inky Lord's advantage, the gaps ahead had opened, but it was a matter of whether the little black grenade would have time to muster his usual explosive finish. Moving to the outside of the track, following the bold challenges being made by Bold Shavid and Dillon Dean, Inky Lord used speed and competitive spirit to join in the chase after Kylie's Hero.

By this stage, the second favourite was finding the last 50 metres uncomfortable, and Bold Sharvid passed him bravely. Dillon Dean, driven a treat by Colin De Filippi, then took over. But Inky Lord was still in full cry and five metres from the finish, the four-year-old had his head in front.

"When I started to catch Luxury Liner I thought there might be some of the money in it for us. And, then as we got closer to the finish I knew there was a chance we just might get up. It was a phenomenal sprint. I really thought Colin had it until those last 10 metres," said May.

Tony Herlihy, who drove the favourite Luxury Liner, said the backmarker went good and tried hard. "He just couldn't get a breather at any part."

"I thought to myself 'where'd the black fellow come from',"said James Stormont, who drove the third placegetter Bold Sharvid.

"I was confident he would see it out and he fought well. It was only in the last stride or two that he lost it, said Colin De Filippi, the driver of Dillon Dean. "I was pretty confident I had everything covered. I had forgotten about Inky Lord, because I knew he was behind me, and I didn't think anything would come from behind Dillon Dean and beat him."

Credit: Mike Grainger writing in HR Weekly


| | |
| --- | --- |
| | RACING HISTORY FEATURE RACE COMMENT |
Jon Gadsby, TV3, presents the trophy to the owners of Tobago

1989 TV3 NETWORK DOMINION TROTTING HANDICAP

Not since Dictation took nearly 10 seconds off the record for winning the Dominion Handicap has there been such a pronounced improvement in time as the one Tobago posted. In warm, near perfect weather conditions, and on a track tailored to meet such accomplishments, Tobago came through 3200m in 4:08.4. To do this, he was not alone at the end of the $150,000 TV3 Network Dominion Handicap.

Those who pressed him without mercy were Directorship, who was just a nose from taking $97,500 and old Troppo, the veteran of 117 starts, who looked in for the kill 50 metres from the finish. Tobago and Directorship had the best trips of all. Both were in midfield on the outer, and neither were used to the extent of Drott Moss and Idle Scott, who were baked before the turn after spending a great deal of energy making their runs in the middle stages. While the two northerners battled so hard to gain a toehold in the race, Troppo remained back and was still almost last at the 500 metres. By then the cracks had started to appear and first Tobago, then Directorship moved to open them up. Once the pair drew clear, the table seemed set, until Troppo began to thread his way after them, going at what seemed a winning rate. But he set his compass on the rail and the angle of this passage over the last 50 metres might have cost him a closer placing. As it was, he probably came up short just a few strides from the finish, but added to the chorus of an exciting end to a record race. The favourite Tyron Scottie ran 7th after leading at the 2000m and trailing at the 1400m. "He felt uncomfortable after a furlong," said driver Patrick O'Reilly jun.

When Dictation won the Dominion in 1950, he recorded 4:16.6. The previous best then was the 4:26.2 set by Wrackler in 1932. Before Tobago's 4:08.4, the record was Scotch Tar's 1978 4:11.6, which, when record changes are usually measured nowdays in 10ths, is quite a remarkable reduction. Of course, Tobago always had a time like this in him. Earlier this season, he became the first trotter in New Zealand to run a mile in less than 2:00, which he did at Ashburton in 1:59.3.

Tobago is a seven-year-old son of Game Pride and Ann's Globe, a mare by Johnny Globe. He is small but compact; a bay of good colour. His mother was raced by Harold and Joan Jenkins, the parents of Tobago's present owners, Ray Jenkins and his sister Diane Kean. The senior Jenkins raced Our Jimmy from Bob Young's stable when he finished fourth in the Dominion Handicap won by Min Scott in 1963. Ann's Globe was tried as a pacer by Les Norman, but it wasn't until she entered the stable of Arthur and Maurice Skinner and switched to trotting that she revealed ability. "I think they had only had her about six weeks when she won at Roxburgh for Henry Skinner," said Ray. Ann's Globe went on to win six races, including two in Canterbury when trained by Jack Carmichael. On retiring, the Jenkins gave the mare to Ray and Diane for breeding. "It's a real family thing with us. They are getting on, and they probably thought we are a bit more up with the breeding now," he said.

"The thing with Tobago is that he just didn't stop...he could just keep on going. I put that down to the Johnny Globe blood coming through...they've got the guts. With Tobago now, we'll go for it. He'll race at Auckland next and there's the $100,000 bonus if he wins either two of the Inter-Dominion Grand Final, the National Trot or the Rowe Cup this season," he said.

Ann's Globe is not in foal, and it is very unlikely the two partners will use her this season. "We are considering lending her out, but we can't say to just who at the moment," said Ray. Among the mares being sent to stud by the family this season are Montego (Sir Dalrae-Ann's Globe), Globe Pride, Blue Nun (dam of French Wine) and Beat The Freeze, the latter three all booked to Chiola Hanover.


Credit: Mike Grainger writing in HR Weekly


| | |
| --- | --- |
| | RACING HISTORY FEATURE RACE COMMENT |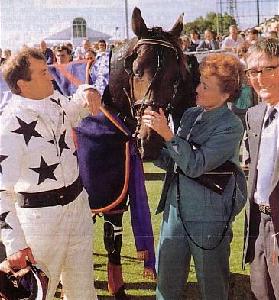 Westburn Grant and admirers

1989 JOHN BRANDON 30 NZ DERBY

Vic Frost said it all..."this horse is outstanding. It's unfair to compare your three-year-olds with him." Someone had asked Vic if he had been disappointed the New Zealand three-year-olds had not given Westburn Grant more of a run for it in the John Brandon 30 New Zealand Derby.

Captain Lee had just run his last 800 metres a little outside 56 to finish second. It was a gallant run from a c3 horse, yet he was nearly nine lengths from the winner at the end. Hammer clung to the rail and just lasted for third, Bardolino had it hard in the open, but he was there at the gong and Inky Lord, far back at the 500m and not the horse he was, got past tiring runners in the straight.

Vic made no disparaging remarks about the quality of the country's best three-year-olds. All he would say about the opposition Westburn Grant treated so arrogantly was: "I thought they might have stuck with me for a while." Westburn Grant left the barrier in a blur. Vic managed to ease him near the 2000m. The others caught their breath and waited for Vic's second attack. About to let loose near the 800m, Vic decided to hold back. He had Hammer, an unknown quantity, on his back. A bit further on, he put his foot to the floor. Within a few seconds, there was a lone horse and a bunch of nine. The lone horse was widening a gap and the others couldn't find the legs to draw him in.

The fact that Westburn Grant won by such a margin was no surprise; anything less would have been an anti-climax. Those who have maintained Westburn Grant is up to the best in Australia and New Zealand now have a following, but Vic will see he is looked after.


Credit: Mike Grainger writing in HR Weekly


| | |
| --- | --- |
| | RACING HISTORY FEATURE RACE COMMENT |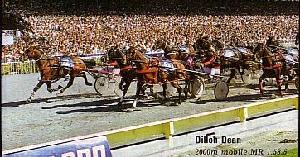 Dillon Dean outfinises Inky Lord to win the 1989 NZ FFA

1989 AIR NEW ZEALAND NZ FREE-FOR-ALL

Dillon Dean's win in the $100,000 Air New Zealand N Z Free-For-All could have been helped by trainer Don Dwyer standing closer to the winning post to watch the race. Well, at least Dwyer knew where his Shicker gelding had finished. "I got fooled in the Cup. I thought he had run third," Dwyer said, "but I didn't have any doubts today."

Dillon Dean's victory over Inky Lord was a total turn around from the DB Draught New Zealand Cup. Inky Lord had come from a 'mile' behind in the Cup, yet in the FFA the roles were reversed and Dillon Dean came off Inky Lord's back to win.

Dwyer now has a 100% record in the Free-For-All. His only other runner was Dillon Dean's half-brother Dillon Dale, who brilliantly won the coveted event in 1984. Ironically, Dillon Dale had run a placing in the Cup that year, running third to Camelot after losing a tonne of ground at the start.

Driver Colin De Filippi was full of admiration for the powerful pacer after the event. "He'd have to be the best horse I've driven," he said. "I was a little further back than I would have liked, but he just went when I asked him to," he said.


Credit: Harness Racing Weekly


| | |
| --- | --- |
| | RACING HISTORY FEATURE RACE COMMENT |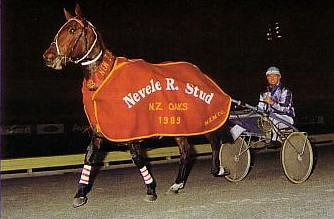 Adina Bebe (John Hay) parades after the Oaks win.

1989 NEVELE R STUD NZ OAKS

As far as the Nevele R Stud was concerned the scriptwriters couldn't have done it better. Locked in a desperate struggle at the end of the Nevele R-sponsored New Zealand Oaks were Adina Bebe and Looks The Part, both first crop daughters of the stud sire, Nero's B B.

But had Looks The Part closed the gap on first and second by a nose and a short neck the result would have been rewarding for one of the stud's key figures. Looks The Part is race by Wayne Francis, the principal with Bob McArdle in the Nevele R Stud. Being the breeder of the horse, he would have gained a $100,000 bonus payment; as it was the bonus went to Lloyd Ashby and his brother-in-law Brian O'Meara.

Adina Bebe was superbly driven in a marvellous race run in record time by John Hay. She was in the last handful approaching the 1000 metres but made good headway in the line following Happy Hazel; this included Joy's Girl and Adrenalin. Near the 500 metres, Adrenalin started to give way, drifted in, and Hay found Adina Bebe still well in the chase. Passing Joy's Girl, Adina Bebe soon had Happy Hazel in her sights. Happy Hazel, so gallant, had been in every attack, but was she ready for this? Before the post and after the post, Happy Hazel was in front; on the line, the nose belonged to Adina Bebe. Right alongside and only a short neck beck was Looks The Part, the veteran of only two starts who tracked Adina Bebe into the last 400 metres.

Lloyd Ashby, who races the filly in partnership with his wife Patricia, is a former All Black fullback. He bred Adina Bebe after her dam Gaelic Nurse (by Smooth Hanover from Nurse Lea, by Van Hanover) was advertised in the "Trotting Calendar" for $1300. "Brian picked her out for me. She apparently only had one start, but also finished second in a trial to Trusty Scott," said Lloyd. Bought off Robert Crooks, Gaelic Nurse went to Sholty Imp - leaving Sir Anlon, who Hay trained to win a race - then left Adina Bebe to Nero's B B. "It was a calculated gamble going to such an unproven sire," he said.

For a start, Adina Bebe was placed in a professional stable, but she became a problem horse and didn't make the progress Lloyd hoped she would. "It was one of those things. She's just a horse who needs a bit of time spent on her, and sometimes it's hard to give them that," he said. After making a winning debut and qualifying for the DB Fillies Final with a 1:58.4 placing at Ashburton, Adina Bebe went through patchy form. "You may think it's a bit odd me saying this, but I still think she is a race short. She had a little setback and a wee spell, but the funny thing was that nothing showed up in her blood," he said. Lloyd paid tribute to Brian O'Meara for the knowledge and advice as he fine-tuned Adina Bebe in the few weeks leading up to the Oaks.


Credit: Mike Grainger writing in HR Weekly