| | |
| --- | --- |
| | INTERNATIONAL HISTORY |

The nuclear power plant at Chernobyl north of Kiev leaks radiation over a wide area from a reactor that exploded .

The Challenger space shuttle explodes after take-off.


| | |
| --- | --- |
| | LOCAL HISTORY |

February 16: The Soviet cruise liner Mikhail Lermontov runs aground in the Marlborough Sounds.

July 7 - Heavy rain floods northern suburbs of city.

October 1 - GST introduced at rate of 10%

Octaber 2 - Slice Of Heaven, written by Dave Dobbyn for the movie Footrot Flats, toppeed the charts and stayed there for eight weeks.

November 22 - Visit by Pope John Paul II (the first head of the Catholic Church to visit NZ).

Hamish Hay begins fifth term as mayor.



Credit: Ch-Ch City Libraries


| | |
| --- | --- |
| | RACING HISTORY CANTERBURY PARK TROTTING CLUB |

The Canterbury Park Trotting Club traces its origins to the Plumpton Park Club, which raced on a 74 acre course at Sockburn centred on the present Air Force Museum. The early history of the club was fairly chequered and, for three seasons, it went into recess.

On Feb 2, 1884 the CANTERBURY TIMES advertised the "inaugural" meeting of the Plumpton Park Racing Club would be held on March 11, 1884.

Seven races were held including one Trot. The totalisator, operated by Hobbs and Goodwin, handled £1,300.

Club stewards for that first meeting were: B J Hall, E R Deacon, J B Hill, W Attwood, A McDonald, S Bailey, W H Porter, T H Ranger, T Acland & Captain Bell. The treasurer was W G Judge (also the chairman of the directors of the Coursing Club in 1886) and the Secretary was Mr E S B Bell.

The trot was won by the mare, Formosa, which was also owned by Mr E S B Bell, who is shown in the bookmakers' settling lists a few days later as being paid £28.

The trot also revealed a rather amateurish ring-in attempt. The CANTERBURY TIMES recorded thus:

"The handicapper having no knowledge of a brown mare called Kathleen, put her on 55 secs. But it became known that the mare resembled strongly a grey mare called Peggy, which had won the Dunedin Trot in 1882.
During the day the mare sweated and white patches on her tail became apparent. A steward ran his hand through her tail and it covered in a brown, sticky substance.
The horse was quickly removed from the course. She holds nominations at New Brighton and Lancaster Park meetings, but is unlikely to be seen again on a Canterbury racecourse."

The Club ran five meetings in the 1884-5 season, all with the same format. In 1886-87 there were four meetings and the following season Plumpton Park reverted to five meetings. At the February and April meetings the club ran two trots on the programme instead of the customary one. The last meeting of 1887-88 was held in July and in August the Canterbury Times reported there appeared to be a problem with successful owners not being paid out.

It transpired the meeting had been run solely by Mr E S B Bell who was now adjudged bankrupt. Quite a scandal erupted and investigations revealed that Mr Bell's licence to run the meeting under the name of Plumpton Park had been granted by the Canterbury Jockey Club which, for no apparent reason, had refused a similar request from a Mr M Taylor. Stewards of the Club in those days were liable for the payment of stake-money but Mr Bell was found to have advertised his meeting without including the names of the stewards or other officials on the day.

The owners and public had contributed some £160 to Mr Bell and there should have been enough to pay out the Stake-money and still leave some £40 over. Mr Bell appears to have dropped out of sight, but the scandal continued. On September 143, 1888, the Canterbury Times reported a court case involving Mr C Hood Williams, owner of Sultan, a winner at the meeting and to whom £28/10/- was due. Mr Williams sued a Mr P Campbell, who had been listed in the official race book as a steward and thus was culpable to pay the stake.

During the court case it was learned that Mr Bell, secretary also of the Plumpton Park Coursing Club and the Island Bay Racing Club in Wellington (it was in recess at the time) had approached Mr Campbell to act as a steward on the day. Others in that capacity were a Captain Bell, Mr E S B Bell and Mr George Cutts.

On September 20 Judge Beetham found against the owner, Mr Williams, and ordered him to pay costs of £6/7/-, saying he had no claim against Mr Campbell. "You entered into an agreement with Mr Bell, not Mr Campbell, and you did so with your eyes wide open," said Judge Beetham. The judge's decision aroused considerable controversy and the Canterbury Times was moved to comment: "It is a pity Judge Beetham was not better acquainted with the customs of the racing world in such matters."

The Plumpton Park Club then went into recess. It did not operate at all in the seasons of 1888-89,1889-90 or 1890-91.

Then, on July 9, 1891, the Canterbury Times carried an advertisement for a Plumpton Park Steeplechase meeting to be run on August 1. The club was granted a "conditional permit" by the Canterbury Jockey Club to run four steeplechase events and, at the time of advertising, still did not have a totalisator licence. Stewards for the club were given as: D O'Brien (also the judge), E W Roper, F Beverley, J A Holmes, C S Howell, J B Hill, T Quill, A S Clarkson (also hon. secretary), A Loughrey and R J Mason. It was known officially as the Metropolitan Plumpton Park Company.

The Canterbury Times commenting on the return of a Plumpton Park Club, recalled the debacle of 1888 and claimed there was "no known club racing at Plumpton Park." The steeplechase meeting was moderately successful. The Canterbury Times, on August 6, noted the club had now changed its name to the Plumpton Park Racing and Trotting Club and this is confirmed in a report from the New Zealand Trotting Association.

On October 8, 1891, the Canterbury Times advertised the "inaugural meeting" of the Plumpton Park Racing and Trotting Club to be held on November 12. It was to be the club's first full trotting meeting with eight races. Stewards were listed, the same as for the meeting on August 1, but the treasurer was Mr C S Howell, the secretary, J A Connell and the starter, H J Derrett. Nominations were taken at the Scotch Stores Hotel. The meeting was a great success, the totalisator handling £2,409, and the honour of winning the first race went to Mr J Gaskin's grey mare J M, which also won the last race.

Encouraged by that meeting the club held another on January 1, 1922, offering increased stakes of £220. On April 4, 1892, the first annual meeting of share-holders in the Plumpton Park company was held. T Quill was listed as chairman of directors and a profit of £62 was announced. Mr Quill noted that during the previous 12 months the Plumpton Park Racing and Trotting Club had operated as a separate body, having taken over the course and grandstands at cost price plus £25 per annum rental.

The Plumpton Park Club continued to operate successfully, mixing full gallop and trot meetings until 1896-97 when its two meetings that season were strictly for trotters. The meetings were split into four days and were known as the spring and autumn meetings.

In 1898-99, for the first time, the club was officially known as the Plumpton Park Trotting Club, having dropped the word "Racing" at its annual meeting. In 1898 Mr F Beverley was elected president. Until that time Mr C S Howell had been recognised as the chairman and he was voted president in 1899. In 1895-96 the club made a profit of £212 and listed its assets at £433/1/4. In 1896-97 it made a profit of £390/6/7 and listed assets of £2,625 which included the freeholding of the Plumpton Park course at £2,400.

Around this time it was decided to move the club's offices to the Duncan's Buildings, which were also the home of the Lancaster Park Trotting Club and the Canterbury Trotting Club.

The name of the club was changed to the Canterbury Park Trotting Club in October, 1909. The club continued to race successfully following the 1909 change of name, but this did not influence the 1920 Racing Commission chaired by Mr Fred Kent KC.

The Commission was ordered to make recommendations on the racing and trotting permits to be used after August 1, 1921, the total available to trotting being 78. In its report the Commission recommended that Canterbury Park be one of those clubs ordered to surrender its permits, another being the Otahuhu Trotting Club, whose permits were absorbed by the Auckland Trotting Club.
Canterbury Park officials used every means to apply pressure on politicians to gain their support for the retention of their permits and went as far as meeting with the Premier.

About that time the Metropolitan Club was making endeavours to develop its own racecourse in Riccarton and it purchased more than 90 acres in an area bounded by Riccarton Road, Blenheim Road and Wharenui Street. Eventually Canterbury Park won its right to retain its permits and this was immediately followed by an approach to purchase the buildings at Addington, take over the lease held by the Metropolitan Club and race on its own when the last-named club shifted.

The closure of Plumpton Park was widely criticised, particularly by trainers who ha properties close by. The club felt that it was unable to face the expenditure needed to upgrade the course, and this decided the issue. Canterbury Park paid £15,000 for the purchase of the lease and buildings and held its first meeting at Addington at New Year, 1923. The two-day meeting proved highly successful and the financial returns fully justified the decision of the committee to make the big change from Plumpton Park.

It was in 1928 that the Metropolitan Club decided that the development of its Riccarton property could not be proceeded with and in May of that year entered into an agreement with Canterbury Park to become a tenant of the course. The alliance between the two clubs continued, rather uneasily at times, with Canterbury Park being approached in 1936 by the Metropolitan Club to sell back its lease of Addington of to amalgamate. There is no record of this being developed further.

An approach by a deputation of the Metropolitan Club was made in December, 1943, to buy the course, but once more Canterbury Park applied the veto. Two years later the two clubs met to consider the formation of a holding company to run the course, but Canterbury Park came back with a suggestion that they should sell to the Metropolitan Club provided they could race permanently at Addington.

Discussions between the two clubs continued year after year, with accountants and solicitors closely involved. Finally, after the Valuation Department had valued Canterbury Park's interest in the course at £80,000, it was reported in August, 1951, that arrangements for the control of the grounds had been finalised, but general meetings of the clubs had to be called. It took until May, 1952 before the Memorandum and Articles of Association of Addington Trotting Course, Limited, were signed by the two clubs. The company is now known as Addington Raceway, Limited.

It was not long before the company became involved in a bitter argument with horsemen when oil was applied to parts of the clay track surface. Eventually an all-weather surface was laid down, again not without criticism from some quarters about the size of the material used. With improved screening methods these problems have been overcome today and now Addington Raceway has a surface equal to anywhere in the Southern Hemisphere.

The low running rail, too, had its critics when it was first used - but they were quickly overcome when persons and horses involved in accidents were tossed to the inside of the course, something which could not had occurred when the old, higher running rail was in place.

In the late 1950s the Canterbury Park Trotting Club introduced its policy of attempting to secure a better deal for trotters, in particular trying to introduce more racing for three-year-olds, and later began non-totalisator events for two-year-olds. This was done at a time when many were urging the Metropolitan Club to drop the New Zealand Trotting Stakes, then the only classic for three-year-old trotters, as the race more often not had developed into a procession and had frequently been a disaster as a betting medium.

The Canterbury Park club persevered with its encouragement for young trotters and on June 6 1981, it ran the first totalisator race restricted to first-season horses. This was the New Zealand Two-Year-Old Trotting Stakes won by the Westport filly, Game Countess, trained and driven by Wally Forsyth. The race is now recognised as the main race on the calendar for young trotters and it has been granted Group 2 status by the Trotting Conference.

In the past 25 years or so the club has provided racing for the top pacers and trotters and in 1973 it introduced the New Zealand Standardbreds Breeders Stakes, a mile race for mares and fillies. From a lowly start this race has grown rapidly in stature with most of their time competing. Bonnie's Chance gained fame when she won the race in three consecutive years from 1982, recording the race record time of 1:57.7 in her second success. This time was lowered to 1:57.3 by Hilarious Guest when she won in 1985.

After trying a series of races for four-year-old pacers at its October meetings, the club in 1983 introduced the Lion Brown Three-Year-Old Series, which was won by Logan Dryham, with Naval Officer being promoted to second upon the disqualification of Roydon Glen. This series has proved popular with the public, owners and trainers alike. Thanks to generous sponsorship the final this season carried a stake of $30,000, with a further boost to $50,000 planned for 1987-88.

The club has for some years now been in the top six in New Zealand as far as stakes paid and totalisator turnover are concerned. In 1985-86 the club paid out a record $444,260 in stakes, giving it an average of $63,465 at its seven meetings. On-course betting averaged a respectable $469,227, while the off-course average was $1,052,550. In 1986 the club was granted a permit for an on-course totalisator meeting and this was scheduled to have been run on December 11 of that year.

Credit: CPTC: Centennial History 1986


| | |
| --- | --- |
| | RACING HISTORY STARTERS & STARTING |

RON CARTER

Mr Ron Carter, one of the best known and respected trotting officials in Canterbury, died at his Prebbleton home on Wednesday. He was 73.

Mr Carter became an assistant to the starter, Mr Bert Hastings, in the late 1930s and he succeeded to the senior position in 1959. He was the starter at Addington Raceway for 21 years until his retirement in 1980 and also acted for clubs throughout Canterbury as well as in Otago, on the West Coast and at Hutt Park.

Before he shifted to Prebbleton about ten years ago Mr Carter operated a contracting business, founded by his father, from a property in Centaurus Road, much of his work being done in the Horotane Valley and on the slopes of the Cashmere Hills where his horse-drawn equipment was used to cultivate areas where motorised vehicles were unusable.

For years he broke-in and gaited standardbred horses and until fairly recent times he usually had up to six horses in his care in various stages of their early education. Mr Carter took great pride in the fact that Orbiter and Noodlum were among the many horses he handled which went on to show fine form on the race track.

He often recalled that in the cases of Orbiter and Noodlum they had much greater intelligence than the average horse. Right from the time he started handling them he found that he only had to show them what was required once or twice and they accepted the instruction, whereas with others many hours had to be spent achieving the same results.

Mr Carter is survived by his wife, Rose.

Credit: The Press 24 Oct 1986


| | |
| --- | --- |
| | RACING HISTORY PEOPLE |

JACK BROSNAN

In 1884 a proud young man from County Kerry in Ireland arrived in a South Canterbury district, later to be named Kerrytown. He brought with him a knowledge and love of horses, and the name of Timothy Brosnan became well respected in trotting circles. Today his son Jack, aged 81, still works with horses on the same family farm. His grandsons Richard and Tim continue the Brosnan tradition, and there's a younger generation growing up to take over the reins.

While Richard's achievements are public knowledge, it is not so well known that Jack Brosnan is the wise old man behind the success. He puts in a good eight to twelve hours a day, starting around 8am. His pace is slow and methodical, with many a pause to roll a cigarette, or lean on a shovel handle and take up a debate with a visitor. He has got firm views on many things, from stipendiary stewards to politics. He does all the tractor work on the farm, grows the oats and hay. He looks after the stables, the feeds and the odd jobs about the place. The whole complex, looking north to Mt Peel and Four Peaks, is sunny and about as spotless as hardworking stables can be. They're practical and efficient, no-nonsense sort of structures that well reflect the Brosnan philosophies.

Richard, 38, in his 21st year of full time training, acknowledges that his father is the biggest influence in his life. Two other men who were important to the developing horseman were Gladdy McKendry and Doug Watts. "I always ask Pop when things aren't going as well as they should," the father of three says. "He has an intuition about horses, especially early on with young ones. He has got a wealth of experience, and if there's a problem he will always come and have a look at it, and we can generally work things out." And he says, yes, sometimes he does have an older, wiser head on young sholders when he is out on the track because of that paternal influence.

Other people say Jack Brosnan has an exceptional ability to assess horses. He takes little notice of the stop watch, preferring instead to study stamina and class, and how a horse worked in a race. He is very firm with horses, but treats them all as individuals. Like many of his age, he is sceptical of modern methods and has a surgery of time-tested folk remedies at his fingertips.

He is firm too with owners. The Brosnan pride stands tall, and where an owner can't pay the price of trust he has been asked to take his horse away. There is more than a little of that famous Irish fighting spirit in this first generation New Zealander. He grew up with horses on the farm, taking control of a team of Clydesdales when he was 15. His father stood Man O' War (twice Auckland Cup winner) at stud and they raced horses as a hobby. He and a younger brother, worked in tandem. They also married sisters, Eileen and Winnie McGirr from Methven. Racing was well established in their family too.

Jack's father had a good mare in Golden Vale and the boys inherited her. She left them a legacy of luck with four winners. Battlefield won his first outing. Marsceres got to Cup class and made the cartoons of the day when he started five times in one week for four wins and a second. Battle Vale and War Field also won, so fuelled by those early successes, the Brosnans of the new generation were hungry for greater success. "It didn't matter what sort of horse we had - just as long as they were good," Jack says.

In this new age with public money in public companies, mechanical training aids, computer picks and laser machines, there are a diminishing number of characters like Jack Brosnan. Their love of racing goes deep into the cores of their souls. Their level of communication with horses goes beyond the materialistic. Their ability to draw the best out of the animals rests on an integrity earned by hard work and time.

He doesn't go to the races very often these days. Few of the familiar faces he has seen the decades out with are still there along the rails. The racing pages - and he bemoans the lack of racing news published in his local daily - and race commentaries are the substitutes. His life is busy. He's proud of his family, and lives with Richard and Juliya, their three children (Virginia, Richard and Soraya) and Tim. And just outside the house, there is the horses. Always the horses.



Credit: Christine Negus writing in HRWeekly 18Sep86


| | |
| --- | --- |
| | RACING HISTORY PEOPLE |

DAVE TODD

Dave Todd, the man who bred and developed Cardigan Bay, world harness racing's first millionaire, doesn't bother to go to the races nowdays. He is 83 and feels his eyesight has slipped too much to enjoy the spectacle. "I like to sit at home and listen to them on the radio though," he said recently when reflecting on his successful lifetime involvement with harness racing.

Dave relinquished his licence to train seven years ago and contents himself in his twilight years with gardening, sea fishing and overseeing the training operations of his grandsons small team at famed Chimes Lodge, Mataura. Stuart and Richard Scott, his two grandsons, share their grandfather's love of standardbreds. But they know only too well that the chances of getting another in the same class as Cardigan Bay are one in a million.

Dave loves nothing better than a bit of trout fishing. In his younger days, he and his mates frequented the productive waters of the Worsley, Upukarora and other peaceful high country rivers. "But I have had to give the trout a miss lately...a cobber dropped in one day and borrowed my rod and tackle and hasn't got round to returning it." Ken Johnson, a good Stewart Island mate, who is a commercial fisherman, has introduced Dave to sea fishing in recent years. That pastime has introduced a new and enjoyable dimension of the outdoors for Dave, a keen deerstalker in his prime and still the proud owner of an outstanding Virginian (white tail) deer head exhibited in his lounge.

Price, racing men often point out, never made a horse. Dave Todd is the first to acknowledge that adage, because Cardigan Bay cost nothing to breed and went on to win more than $1 million in four different countries over nine seasons of competition on the world's major raceways. The old warrior is now content in retirement at Sir Henry Kelliher's Pukututu Island Stud, Auckland.

Dave trained the champion's dam, Colwyn Bay, for Alex Jopp, who farmed at Hindon, 25 miles from Dunedin on the Central Otago branch line. Colwyn Bay won four races but would have graduated to Cup class if not inconvenienced by an injured fetlock and deep seated corns. Jopp didn't want to retire the mare on the Hindon type of country and Dave offered to buy her. Her owner, however, insisted that she be gifted to Dave. A man never looks a gift horse in the mouth and the mare had a new owner.

Dave and his late brother Sandy, who was six years his senior, were close colleagues of George Youngson of Gore, another true blue Scotsman and another of Southland's grand old gentlemen of trotting and a pioneer in breeding. "George and I never charged each other stud fees...we had a reciprocal business arrangement," Dave recalled. "George was keen for me to send a mare to Hal Tryax, who arrived after the stud season was well underway." Colwyn Bay duly conceived to Hal Tryax, the first 2:00 three-year-old imported to New Zealand from America. Cardigan Bay was the result. "So, there's another story - a horse who won a million cost nothing to breed."

Cardigan Bay 'told' Dave literally from the word go that he had a big heart. During an aborted roundup of mares and foals at Chimes Lodge (gates were left open), a couple of mares and foals careered about for a long time. The two mares and one of the foals were easily caught when they became exhausted. But the sturdy Hal Tryax colt further defied efforts to be caught and was as fresh as a daisy some time after. "I knew there and then that he had to have a big heart and the constitution good horses are made of," Dave said. Bill Pearson, the Todd brothers' Gore-based veterinary surgeon, could see no reason why colts should not be gelded before they were weaned. Cardigan Bay was gelded at five months of age when still running with his mother. In hindsight, Dave reckons that early move might have helped to contain and harness the colt's remarkable energy and vigour.

Cardigan Bay wasted no time showing that he had plenty of what it took to make a good horse. He could pace a furlong in 15 seconds and furlongs in 15 seconds by a yearling are not easily kept secret. A big, raw and immature type, he did not mature into a racehorse until a late three-year-old. He was not tried at two. It was simply a matter of 'waiting' on the big horse. In any case the stable had the more mature and precocious 2-year-old Blue Prince, also by Hal Tryax, to fly the flag. Dave and Sandy sold Cardigan Bay to Aucklanders Merv and Audrey Dean for $5,000 and a couple of contingencies after he had won seven races for them. The rest is now history. "Looking back, I wouldn't have sold him then if I had owned him outright, but Sandy, a real Scot, reckoned financial independence was a priceless asset and the money went into paying off the farm mortgage and other commitments.

Dave, born at Bothwell, seven miles from Glasgow, immigrated to NZ with his parents, Sandy and seven sisters when he was 12. He and Sandy rabbited about Central Otago in their teens. Alex McLellan of Invercargill trained their first winner - "a Sungod mare who wasn't much chop. Alex was a fine horseman and I learned so much listening to him, Jim McMurray and Barney Rushton...the younger fellows don't listen much to me, because they think I'm out of date with my thinking," Dave quipped. Dave and Sandy settled on a farmlet at Mataura in 1932. Over the years they bought small adjoining blocks when they came on the market. The farm grew to 180 acres and has since been handed over to the younger members of the family, Peggy and Ron Scott.

Sires they stood at Chimes Lodge included Grattan Loyal and Dillon Hall, "two of the best," Free Fight and Arion Axworthy, who was "no bloody good." Sandy devoted his time to the stud side of the operation and the books and accounts. Dave looked after the training side. Sandy seldom mated a broodmare until there was seed on the grass. Not long before his death 11 years ago, Sandy told the writer that too many stallions were abused by serving too many mares too soon in the colder southern breeding season. "It's the quickest way I know to ruin a sire," Sandy said. Dave and Sandy always claimed that every sire was condemned at some stage of other of his career. A lot of Southland breeders had written off Dillon Hall. That was until Acropolis, one of his sons, beat Plunder Bar in the 1943 NZ Sapling Stakes. "Then the phone just about rang off the bloody wall."

The Todd school was a tough one for horses. There was no holiday camp touch about it. An aspiring racehorse was guilty until it proved itself innocent. Looks and breeding counted for nothing if it could not run and show guts. Dave Todd was twice runner-up on the national premiership - once to Wes Butt and to Cecil Donald the second time. Had Dave not 'lost' a good horse to Jock Bain halfway through one season, he would have won the NZ Premiership. That was one dissappointment in a rewarding and fulfilling career. In the 1950s and 1960s in particular, Dave was ably served by Ken Balloch, a skilled and fearless reinsman who was part and parcel of the successful Chimes Lodge training operation. Fancywords and frills have never been evidenced about Todd and Balloch. Superlatives were not part of the combination's dictionary when it came to praising horses. Cardigan Bay, Blue Prince and Holy Hal were merely 'good' horses and not champions, terrific, great or anything like that.

When Jimmy Tryax won at Wyndham in November 1970, he became the 18th successive horse Todd had acquired from another stable to win first up for him. Dave reckons most of the secret lay in the fact that "half a kerosine tin full of worms" would be taken from a horse with a rigid worming programme, top feeding and a harder workload in training. So many responded immediately to the methods. There was no easy way out in the Todd and Balloch formula for success with horses. A horse had to line up and be counted and a poor one was not persevered with. It took about a fortnight to determine if a horse had a win in it.

When the Todd and Balloch judgement was on the line, the bacon was not always bought home. But it often was. Like the day Dave had a 'decent' bet on Colwyn Bay's nose at Wyndham. She duly obliged and the funds went up on stablemate Maestro, who came home at six to one later in the day. "I got a few hundred quid that day and it all went into the farm," Dave said. When the chips were down, Balloch had few, if any, peers in the south as a reinsman. Some of his contemporaries still like to recall the day at Winton when it was a 'money day' for the Todd runner Lassaloc. The mare was 'fair bolting' inside the last furlong and had nowhere to go. The situation was fast becoming desperate. Lassaloc had a wall of horses in front of her and Ken reckons the situation was getting 'bloody grim'. Then the front line drivers heard a threatening bellow from behind: "Get out of my bloody road or I will come right over the top." Lassaloc just made it and no more.

Dave Todd often regrets that he was before his time in trotting. Many horses are sold for big prices these days and breeding and training horses for sale was always part of the Todd operation. In 1945 he put down an all-weather track at Chimes Lodge. He and Jim Flynn were able to take Southland horses to Auckland in September and win. Twenty five years later, all-weather tracks took Southland harness racing by storm. Dave reckons no other innovation has played a bigger part in the development of Southland's multi million dollar harness racing industry.



Credit: Don Wright writing in NZ Trot Calendar 21Jan86


| | |
| --- | --- |
| | RACING HISTORY PEOPLE |

CLARRIE RHODES

Horsepower has dominated the life of Clarence Leslie (Clarrie) Rhodes. From as early as 1914, horses were introduced to his life. Not trotters or gallopers, but those animals used to pull the hansom cab operated by his father. The four-legged mode of transport was pushed to the back of Clarrie's mind in the early 1920s when he took over a Buick car agency in Ashburton.

The ability to sell 13 cars in nine weeks, a territory record for the vehicle in those years, and one which many car dealers today would envy, gave Clarrie the opporunity to visit America. Working for General Motors and living in an apartment at 99 Street and Third Avenue, Clarrie sold cars for $US600 each. For every vehicle sold he received $US28. Those years he spent in America were during the prohibition, the era of Al Capone, days when it was best to mind your own business if you knew what was good for you.

In 1926 Clarrie Rhodes returned to NZ. He came from America by boat and it was a trip that was to change his life. "I was feeling homesick," said Clarrie. "On the same boat was Free Holmes. He had been in America to buy a stallion, Grattan Loyal, and was returning to NZ."

Clarrie struck up a good relationship with Free Holmes and on their return to NZ he was a regular visitor to the Holmes' homstead. So regular that three years after returning from America he married Free Holmes' daughter, Daphne. Inseparable since, the couple have been married for 54 years. It was that meeting with Free Holmes and the marriage that rekindled the old feeling for horses. Not that cars were completely forgotten. The C L Rhodes Motors Company was formed, and, along with that and a rental car and truck business, it is still thriving some 50 year later. A momento that Clarrie cherishes, his drivers licence for petrol driven vehicles, is still in his wallet. The date of licensing - 1921.

Clarrie made an inauspicious start to the light-harness industry. His father-in-law gave him the Sonoma Hanover gelding Harvest Child in 1933. Then eight, Harvest Child had been extensively raced with a good deal of success. After gaining no return from the horse for some time, he leased him to Mr L A Maidens. Harvest Child went on to win three further races and this success stimulated Clarrie's interest. It is an interest that has not let up.

The first horse to race in Clarrie's name and colours was Worthy Need. A son of Frank Worthy and Necessity, Worthy Need was leased out in his early life. The horse was so small as a foal that he looked no bigger than a dog. However, under the guidance of J J Kennerley, Worthy Need developed into a promising two-year-old. Kennerley, who trained at Addington, had another promising juvenile in his stable, Southern Chief. Both horses were destined to have their first attempts on raceday in the Timaru Futurity Stakes in March of 1935. The two worked a mile in good time leading up to the race, but Worthy Need got out of his yard just before raceday and met with an accident that set him back more than a season. Southern Chief went on to score an easy two length win in the race. Raced on lease till the middle of his 5-year-old season, Worthy Need was taken over by Clarrie and placed with Free Holmes. The horse raced on till a 9-year-old and won seven races and gained 37 placings for stakes of £3126, good money in the late 30s and early 40s.

In the next ten years, Clarrie accumulated several horses, mares like Safety Pin, Bel Hamed, Escapade, Golden Pointer, Pauline Dillon, Ivy Peterson, Betty Ducrow, Suspense and Diversion. Diversion was the second foal of Escapade. She was secured by Clarrie towards the end of the 1939-40 season. When retired, Jack Litten, who had owned and trained her to win early in the 1939/40 season, joined Clarrie in a breeding arrangement with the mare. Diversion had the bloodlines to be a top class breeding proposition. Her dam Escapade was a half sister to Rustic Maid. She was the dam of Chamfer (NZ Cup and Great Northern Derby), Free Fight (NZ Derby), Slavonic (NZ Sapling Stakes), Scottish Lady (NZ Derby and dam of Scottish Brigade, Great Northern Derby) and Little Taff (dam of Student Prince, NZ Derby).

Diversion's first foal was the Grattan Loyal filly Sapience. She was unraced but left the Australian winners Pastime, Wise Leader, Wise Admiral and Crompton. An unregistered colt by Josedale Dictator followed in 1945. The mare was not served in 1942 and missed in 1943. His Majesty was the third foal produced. He won for Clarrie before being put to stud in Australia. In 1948 it was Jack Litten's turn to breed from Diversion. He had a sire selected to send the mare to but, after gentle prodding from Clarrie, elected to send the mare back to Light Brigade, the sire of His Majesty. The resultant foal was a colt named Fallacy.

Fallacy left his mark in no uncertain terms. As a 3-year-old he was a racing sensation. In his first six weeks he won five races, including the NZ Derby in NZ record time. Later the same season he won the NZ Champion Stakes and NZ Futurity Stakes. During his career on the racetrack, Fallacy won seven races. At stud he left a record that many sires will never repeat. False Step, winner of three successive NZ Cups, was Fallacy's first progeny to win. In all, Fallacy sired 240 individual winners.

The early 30s, when Clarrie started to build up his racing and breeding stock, saw him purchase the Rey de Oro mare Ivy Peterson. She was the second foal of a non-standardbred mare Lady Peterson and was bred by Peter Todd of Lincoln. Clarrie raced Ivy Peterson for four seasons and the mare won four races and gained seven placings for £572. Sent to stud in 1940, she founded the "Peterson" family which has won numerous races for the Rhodes family over the years. Ivy Peterson was the dam of ten foals. Nine raced and seven won. Lord Peterson was the first. By Grattan Loyal, he won four and was placed ten times for £1022/10/-. Sir Peterson followed with seven wins and over £2800. Admiral Peterson scored six wins and 19 placings worth £4095 while Jack Peterson (1949 NZ Futurity Stakes) won eight and was placed 13 times for £4866. Colonel Peterson and Princess Peterson were the poor relations of the first strain of Peterson blood. Neither won, Colonel Peterson managing four placings and Princess Peterson three. Overall, from the purchase of Ivy Peterson, Clarrie not only had the start of a very successful standardbred family, but a line that in its first generation won 41 races and £17,321, a great deal of money some 40 years ago. And money which was quickly put back into racing with the purchase of Peterson Lodge, a 150 acre farm at Templeton (formerly the late Roy Berry's training establishment).

Though success came in abundance in the early years, Clarrie also had many more horses than most owners during those years. Not all, though, were of great ability and many never saw a racetrack. Like all owners, Clarrie had to wait a good while before the glory of a classic winner came his way. It was 13 years after Harvest Child was given to him that On Approval scored a half head win over Darkie Grattan in the 1946 NZ Sapling Stakes. On Approval had been bought by Clarrie as a yearling from a Mrs Frost of Cust. He paid £50 for the colt and a similar contingency. But the glory of seeing the win was not there. Clarrie was tucked up in bed at home when the Sapling Stakes was run, recovering from a bout of pneumonia. However, he did hear the race. The Sapling Stakes was the first race to be broadcast in NZ and Clarrie had the added honour of owning the winner. He says that his doctor could not believe the remarkable recovery he made after the late Dave Clarkson confirmed On Approval as the winner. The day after, Clarrie was sitting up in bed like a new man.

The dream of all owners is to have your horse win a NZ Cup. That, too, was Clarrie's dream. In November of 1957 that dream came true. Lookaway, the only 4-year-old in the race, created NZ history when he became the first of his age to win the Cup in its 53 year history. Trained and driven by Maurice Holmes, Lookaway came right away from a talented field, that included False Step and Caduceus, to win by five lengths. Clarrie rates Lookaway's win in that Cup as his most prized of all. However, the Cup never came his way. At the presentation it was not a cup that was given as a trophy but a silver tray. Lookaway holds a special place in Clarrie's memory. Lookaway's dam, Raceaway, was bought from Mrs C E Hunt of Burwood. Raceaway won three races for Clarrie before being put to stud. Her first foal was Lookaway. Two starts as a 2-year-old brought little reward for Lookaway but as a three and four-year-old he notched 16 wins. Nine came at three, his first at Greymouth in October of 1956 with Leicester Roper driving. Lookaway's last win at three came in the NZ Futurity Stakes, winning by five lengths from Gentry. His nine wins that year were scored by margins ranging from one to nine lengths. At four Lookaway was the top earner for the season. His bankroll of £10,285 was £2000 more than his closest rival, Highland Air.

Wins in the National Handicap, NZ Cup and NZ Free-For-All were topped with what Clarrie thinks was the horse's best performance. In the first mobile mile on the grass at New Brighton, Lookaway came from lengths off the pacemakers, Caduceus and False Step, on the turn to win by two lengths in 2:01.6. Along with Caduceus and False Step, Don Hall, Light Nurse, Our Kentucky, Ricochet and Tactician were among the beaten runners. More wins followed. At five Lookaway won the Hannon Memorial. At six, when Clarrie was in Australia, he received a phone call from a close friend Cliff Irvine. Irvine said Lookaway was at his best and he wanted to take the horse to Auckland. Being thousands of miles away, Clarrie was uncertain about the trip. However, a suggestion by Irvine that he lease the horse for a month was accepted by Clarrie. The horse duly won and on his return from Australia, when the horse was back in his ownership, Lookaway won the Au Revoir Handicap at Auckland for him. Au Revoir was another top horse that Clarrie raced. He won 13 races for him with the National Handicap and consolation of Tactician's 1955 Auckland Inter-Dominion being his best wins. The following year Lookaway himself scored a win in a consolation of an Inter-Dominion. This was at Addington in 1961 when Massacre won the final and four races later Lookaway won one of the consolations. Lookaway won another race in his final season at eight. The Ollivier Handicap fell his way with a youthful Bobby Nyhan driving and Leicester Roper training. In seven seasons of racing, Lookaway won 21 races for Clarrie. Added to the wins were 13 placings for total stakes of £20,976.

It was around the time of Lookaway's retirement that Clarrie struck up a good relationship with Martin Tananbaum, president of Yonkers Raceway in New York. In 1956 the control and operation of Yonkers was placed in the hands of Tananbaum and two of his brothers, Alfred and Stanley. Four years after taking control at Yonkers, Martin Tananbaum made his initial trip to NZ and Australia in search of the best pacers from 'down under.' It was during this trip that Clarrie and Tananbaum met. This is how the International Pace, one of the richest challenge races between American, Canadian and Australasian horses came about.

NZ's first entrant in the event, back in 1960, was Caduceus, trained by Clarrie's life-long friend Jack Litten. Tananbaum and Clarrie Rhodes organised horses to represent NZ and Australia and exported them to America. They would race in their NZ interests (owners). The owner and wife, trainer and wife and driver would all travel to America free of charge. Caduceus was NZ's only entrant for the first series in 1960 and deadheated with Champ Volo in the first of the three-race series. However, bad luck struck when he was relagated to fourth. There were also teething troubles for Clarrie and Marty over transporting the horses to America. They were unable to gain rights to fly the horses direct to America. Instead they had to ship the horses by sea from either Bluff or Lyttleton to Sydney and then fly from there to America. It was a costly operation and one that went for several years. Orbiter, who was the Kiwi representative in the 1966 International series, was one of the last horses to be transported to America in this way. Orbiter was one of a 20-horse flight of NZ and Australian pacers to America in February of 1966. The flight, originating from Sydney, was hailed as the largest airlift in equine racing industry. This has since been bettered in the now modern age of air travel. Some time after this, air rights were given to Clarrie and Marty Tananbaum and direct flights started from NZ.

The purchase by Tananbaum of a 440-odd acre property at Rochester, some 400 miles from New York, sparked the start of an exodus of NZ horses to America by Clarrie and Marty. Called the White Devon Farm, the property was managed by Harry Moss. Clarrie and Marty would buy horses in NZ, mainly mares, transport them to America and race them. Once retired they would breed the mares to top American stallions then return the subsequent foals to NZ. This operation went smoothly. At the same time, Clarrie would send four of his staff at a time to White Devon Farm to help out Marty Tananbaum and for the lads to gain experience. Each of the staff members spent a maximum of two years in America.

The tragic death of Martin Tananbaum some years ago was a blow to Clarrie Rhodes. In one of the largest private sale transactions ever, Clarrie purchased the whole White Devon Stud contingent following the death of Martin. Among the contingent was a stallion named Lumber Dream, who had been imported to NZ in 1964. It seemed appropriate that the horse was now Clarrie's property as Lumber Dream's dam sire, Dominion Grattan, was a grandson of Grattan Royal, sire of Grattan Loyal, imported by his father-in-law so many years ago.

With the success of his operations in America, Clarrie's Australian business was also well in operation. Horses he has leased or owned outright have to this day won 198 races across the Tasman. Kiwi Peterson and Garrison started the ball rolling, Garrison winning 30 odd races before going to America and Kiwi Peterson taking a lifetime mark of 2:06.1 and winning over $68,000.

American stallions imported to Australia, like Truant Hanover and Typhoon Hanover have also found their way to NZ, along with Canny Scot and Emory Hanover. Another stallion that Clarrie has a place for in his heart is the Fallacy entire True Averil. True Averil gave Clarrie his second win in the NZ Cup 14 years to the month after Lookaway. Driven by Doody Townley, True Averil got home by a neck from Radiant Globe after being four wide for the last half. The winning drive by Townley was in some way compensation. Townley, the regular pilot of Stella Frost, had lost the services of the mare for the Cup after she had been taken to America to race in the International Pace. So in some way Clarrie Rhodes paid Townley back by giving him the drive on True Averil. True Averil stood in NZ for some time before being exported to Australia. Clarrie recently bought the horse back to NZ and he is to resume stud duties from this season.

With over 43 years of experience in the light-harness industry, Clarrie Rhodes has plenty to offer younger trainers by way of advice, but the now veteran of over 500 wins as a breeder and owner is not as outspoken as in his earlier years.

-o0o-

Article in NZ Trotting Calendar 24Jun86

When Clarrie Rhodes died last week at the age of 80, NZ lost one of her most successful breeder/owners of standardbreds. Clarrie died early last Thursday after several years of heart problems.

It is difficult to do justice to a gentleman, and he was in the true sense of the word, whose involvement with standardbreds spanned all of 50 years. Clarrie did not confine his interests to NZ, being represented by over 200 winners in Australia and also having close ties with harness racing in North America since 1960.

He had his first success as an owner almost 50 years ago when Bill Grattan won at the New Brighton Trotting Club's Spring meeting in September of 1937 for trainer/driver Free Holmes. Fittingly, Clarrie's last win in NZ came in great style, Free's Best accounting for the NZ Oaks in national record time last month. Best Dream, exported to California but still owned by Clarrie, was his last winner, scoring at Fairplex Park in Pomona a few weeks ago. There were well over 500 wins, mostly in Clarrie's familiar colours of a black jacket, red sleeves and cap, between Bill Grattan and Best Dream.

The highlights of Clarrie's involvement with standardbreds was undoubtedly Lookaway's runaway win in the 1957 NZ Cup. Trained and driven for him by his brother-in-law Maurice Holmes, Lookaway became the first 4-year-old to win NZ's most prestigious harness race when he crossed the line five lengths clear of Thunder, La Mignon and False Step. For most, winning a NZ Cup is just a dream, but Clarrie had the added thrill when he won the event again in 1971 with True Averil. Clarrie not only bred and owned the entire, but trained him as well. Doddy Townley was the driver.

There was also an added thrill when Clarrie won his first major classic race, On Approval narrowly winning the NZ Sapling Stakes at Ashburton in 1946. Clarrie did not see the youngster win by half a head, he was stuck in bed at home with a bout of pneumonia, but he heard Dave Clarkson's commentary in what was the first radio broadcast in NZ.

Horses, and horsepower, have always dominated Clarrie's life. Among his earliest memories is the cab operated by his father and the horses which pulled it. Clarrie made his name selling motor vehicles in the 1920s, initially in Ashburton and later in North America. He remained a motor vehicle dealer for most of his life. On his first trip home from North America in 1926, Clarrie struck up a friendship with the legendary horseman Free Holmes, who had just purchased what was to be an outstanding sire in Grattan Loyal. Clarrie and Holmes' daughter Daphne married a few years later.

Clarrie's first love over the years was always the breeding industry, and much of his success can be attributed to his knowledge. Clarrie owned dozens of stallions throughout Australasia notably Lumber Dream here and Hondo Hanover in Australia.

Lady luck was not always on Clarrie's side. In the late 1940s he entered into a breeding arrangement with a life long friend in Jack Litten over a mare called Diversion. Clarrie bred Diversion to Light Brigade and got a useful winner in His Majesty. The following year, Litten bred Diversion to the same sire and got Fallacy, a brilliant racehorse who later sired over 240 winners. Fallacy sired triple NZ Cup winner False Step from his first crop, while he later left True Averil for Clarrie.

Clarrie's other good winners included Jack Peterson (1949 NZ Futurity Stakes), Gerfalcon (1942 NZ Trotting Championship), Au Revoir (Cup class), Safe Return (1961 Kaikoura Cup), Best Bet (1977 NZ Trotting Stakes), Alec Peterson (1979 Methven Cup), Bel Hamed and, more recently, the likes of Hondo's Dream, Best Dream, Chataway and the trotters Armbro Almont, Bossy Boy and Quick March, the latter a top mare in New South Wales. No doubt, there were many stories behind every winner for Clarrie and many, many other stories he could have shared. Sadly, a part of trotting's heritage passed away with him.

Clarrie is survived by his wife Daphne, sons Alan, Freeman, Gerald and Peter, and daughter Mary.


Credit: Brian Carson writing in NZ Trotting Calendar 27Sep83


| | |
| --- | --- |
| | RACING HISTORY PEOPLE |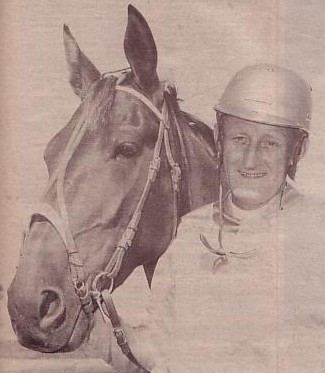 Bill Bagrie & Orbiter

BILL BAGRIE

During the 1950s the Ohoka amateur trainer/driver Bill Bagrie and his wife, Elaine were farming in Southland. But after Bill suffered a haemorrhage he was told by his doctor he should give up farming and find a less physically exhausting job. Both Bill and Elaine came from farming families so when an alternative lifestyle had to be chosen it was difficult to know where to look so they decided to head north for Christchurch to see what life there had to offer.

Bill had an interest in harness racing and he had decided to buy a broodmare and begin breeding racing stock. So one of the first things he did when the family arrived in Christchurch was to attend a dispersal sale where he outlaid the considerable sum (in those days) of 450 guineas for the Dillon Hall-Tondeleyo mare Margaret Hall, a fine racemare who had won six races and was already the dam of the outstanding racemare, Rowan Star (now better known as the dam of the Australian pacer and now successful sire, Garry Rowan), and another winner in Rosslyn Rowan. Margaret Hall was in foal to U Scott but the foal was born dead. She was sent back to U Scott, the sire of her earlier winners, and in 1958 she foaled a filly whom Bill and Elaine called Kinsella.

At this time parking was just becoming a marketable commodity in Christchurch and so soon after Bill and Elaine arrived in the city they bought a parking centre - one of the first in Christchurch - close to Cathedral Square in the central city. They ran the centre - now known as the Avon Parking and Service Station Ltd - for five or six years before buying another central city business, Bennetts Shoe Store.

When it came time to begin working Kinsella, Bill leased facilities from Alan McKenzie in Harewood Road. Kinsella was the first horse Bill ever trained or drove, but she proved an outstanding introduction to harness racing, winning seven races and Bill drove her in all of them. Kinsella had given the Bagrie family a taste of success in harness racing but Margaret Hall's next foal - her 1959 colt by U Scott called Orbiter - was to achieve even better things on the racetrack.

Orbiter won 17 races in NZ including the 1963 Kaikoura Cup, the 1964 New Brighton Cup, the 1964 Hannon Memorial, the 1965 Allan Matson Stakes, the 1965 M G Pezaro Memorial, the 1965 Champion Free-For-All and the Dunedin Festival Cup Final in 1966. He also recorded a best mile time of 1:58.8 when he won the Flying Mile Free-For-All by three and a half lengths at Cambridge in 1966. From only 52 race starts in this country he finished further back than fourth in only 11 races, an outstanding record of consistency, particularly when the many miles he travelled during campaigns outside Canterbury are considered. Although he won only two races in the 1964-65 season, as a 5-year-old, he recorded four important seconds that year, three of which were at the NZ Cup meeting. He ran second to Lordship in the National Handicap at Addington in August, second to Cairnbrae in the NZ Cup, second to Lordship again in the NZ Free-For-All, and again in the Allan Matson Stakes on the final night of the Cup meeting.

Because Orbiter was racing so well, it was only a matter of time before somebody made Bill and Elaine an offer they could not refuse for the gelding. Early in 1966 the inevitable happened and an offer of $US120,000 was made for Orbiter by Noel Simpson, on behalf of a small grup of Americans. The offer did prove irresistable and Orbiter had his last race in NZ at Forbury Park on February 5, 1966 when he won the Dunedin Festival Cup Final. His American buyers wanted the gelding to race in the rich International Series at Yonkers that year and he was to be trained by Del Insko.

The geldings new owners - keen to get the best out of their purchase - invited Bill to travel to the United States with Orbiter and Elaine joined him there later. They were given an all-expenses-paid holiday in New York to enable Bill to assist Del Insko to prepare Orbiter. But somehow things did not work out as planned. Insko had his own way of doing things and he did not appreciate advice from somebody else on how he should train his horses. To make matters worse, Orbiter contracted some sort of chill or virus soon after he arrived in New York and the morning of the big race he was in an oxygen tent - fluid streaming from his nose - and obviously a very sick horse. Elaine said that it had been "heart breaking" to see him in such a bad way and if he had been at home he would not have even been worked in such a condition let alone raced. But race he did and, needless to say, he was unable to show his true ability that day. However, a NZ bred pacer did win the $100,000 International that year. The Yonkers favourite Cardigan Bay proved much too good and won easily, five lengths clear at the finish in the near race record time of 3:04.4 for the mile. Bill and Elaine returned home to NZ dissappointed and disullusioned at the way things had gone on the trip.

Soon after their return, Bill decided that the rented facilities he was using to train from in Harewood Road were no longer sufficient for his needs, so he decided to invest some of his money from Orbiter's sale in land. He sold the shoe business and bought 133 acres on Smiths Road (now known as Bradleys Road), at Ohoka, near Rangiora. The property, which has since been increased to 260 acres in two blocks, was essentially a sheep and cropping farm but even 20 years ago it was considered to be only marginally financially feasible. So the first thing Bill did was diversify the property. A large chicken shed was built and a contract to supply chickens to General Foods was undertaken. This proved a great success and today the Bagrie family have a contract to supply 100,000 chickens annually.

About six years ago Bill decided to further diversify the farm and he bought 17 hinds in calf. They now run about 120 stags and 130 hinds on the property. The deer provide three sources of revenue - velvet, venison meat and live sales. Although all three can be lucrative, live sale had been the most profitable because of the demand and subsequent inflated prices. Farming the property has always been a family concern and never more so than now, for last April Bill suffered a brain haemorrhage from which he has still not fully recovered. While Bill is recuperating Elaine and their son Peter, have continued to run the farm. Their workload is simply an extension of what they were already doing before Bill's illness.

Bill had a small team of horses in work when he became ill and Peter, an amateur trainer/driver, has been able to work them for him in the meantime while Elaine has been taking care of the mares and foals. Peter has often driven his father's horses in the past and he enjoyed an outstanding run of success in 1978 with Bill's horse, Gentle George who died at stud in 1983. Gentle George, by Bachelor Hanover from the race-winning mare Orbette (a half sister by Hal Tryax to Kinsella and Orbiter), won eight races altogether but created a big impression when he won four races at the 1978 NZ Cup Meeting. The stallion won one race at each of the two day and two night meetings (a feat equalled by only two other horses, Cardigan Bay in 1963 and the trotter Tutira in 1969), surprising many people but nobody more than the Bagrie family. Cello Sydney Wilkes (1919) and Red Shadow (1933) also won four races each at the NZ Cup meeting but not one win on each day. "We thought he might run fourth on the first day," Elaine said. "Bill usually drove him but this time he told Peter he could." And so Peter ended up driving George in all four of the wins at the meeting.

Gentle George's win on Cup Day topped off what had already been an exciting day for the Bagrie family, for earlier on Trusty Scot had won the big prize, the NZ Cup. The stallion was trained, driven and part-owned by Bill and Elaine's son-in-law Henderson Hunter, who had only been training a short time and had prepared Trusty Scot for the Cup at his in-laws property at Ohoka. The run of luck continued for both Gentle George and Trusty Scot on the second day of the meeting when Gentle George won the Cashmere Handicap and Trusty Scot won the Benson and Hedges Free-For-All.

The Bagrie's are currently breeding from five broodmares - Kinsella, Kindalla, Patronette, Roshelle and Georgelle. Kinsella who is now 28 years old was bred with Niatrix last year but she did not get in foal. She was bred to him again this season and it is not known yet is she in foal but because of her age, hopes are not high. She has been a wonderful broodmare though and left a number of good winners including Morpheus, Dalestar, Halfield Star, Hallfield Dream and Trinity.

Peter said that while they were "farmers first and foremost," his interest in horses has taken him to the United States three times working for Charlie Hunter and Brian Meale. He worked in Califoria and Chicago - at Sportsman's Park and Hawthorne. His first trip to the States was in 1972. That was in the days when horses were shipped regularly by boat. "I went on the last boat load that went," Peter said. The idea of a relaxing cruise with only a few horses to look after had instant appeal. "They thought they were going to have a leisurely trip," Elaine said. But once the trip was underway, those thoughts were soon shattered.

The trip took 22 days and the weather was rough. "We were as sick as dogs," Peter explained. But their illness was not the main problem. The horses were stabled during the trip in lightweight boxes located up on the deck and one morning, during a particularly bad storm, the grooms were told that they were not able to go up on deck too feed the horses because it was too rough. The command could not have suited them better bcause they were feeling too ill to move anyway, but they were only spared a short time. Not long afterwards they were given an urgent call to get up on deck immediately. They had two horses loose. "A big wave had smashed the boxes and left the horses starting in a heap of kindling," Peter said. The First Mate made a quick alteration of course in an attempt to "level things out" so the frightened horses out on the deck were able to be caught and put into shared quarters with the other horses until the ship's carpenter had completed replacement boxes. "We were lucky we didn't lose any over the edge," Peter said. Fortunately the rest of the trip was less eventful and all arrived at their destination safe and sound.


Credit: Shelly Caldwell writing in NZ Trot Calendar 4Feb86


| | |
| --- | --- |
| | RACING HISTORY PEOPLE |

BILL LOCHHEAD

Bill Lochhead, a well-known breeder, owner-trainer in Mid-Canterbury, died in November, aged 83. After standing the American-bred horse Sonoma Harvester, who left some capable trotters, he had a partiality for the trotting horse and was recognised as an expert farrier.

Lochhead bred and developed the 1947 Dominion Handicap winner, Hidden Note from a mare by Sonoma Harvester, but it was the purchase of Cloudy Horizon as a 2-year-old filly in Southland that provided him with a host of winners over the years.

From Cloudy Horizon he bred, raced and trained Supervise (NZ Trotting Free-for-all winner), while other fine winners he bred and raced were Harvest Note, Lightning Note, Scottish Note, Betty Thorpe, Erin's Lad, Super View, Super Glow, Cloudy View, Dollarwise, Be Wise, Lord Zetland and his last winner, Wise Game, who won four.

His three sons, Noel, 'Kiwi' Keith, president of the New Brighton Club, and Ian, a committeeman of the Ashburton Trotting Club who has also enjoyed success as an owner-trainer of the Cloudy Horizon breed have all followed in their father's footsteps with interests in trotting.

Credit: NZ Trotting Calendar 1886


| | |
| --- | --- |
| | RACING HISTORY INTERDOMINIONS |

BRISBANE - VILLAGE KID
Like Preux Chevalier, bred in New Zealand, Village Kid equalled his feat of going unbeaten through all four nights of the 1986 Brisbane Inter Dominions. He was the eighth pacer to do this, while his 30-year-old pilot Chris Lewis became the fifth reinsman to win two pacing grand finals having reined Carclew to victory in 1976.



| | |
| --- | --- |
| | RACING HISTORY HORSES |

ATOMIC LASS - Mystery Mare

Nobody would have been ready to put the knock on Atomic Lass as her breeding career unfolded but it would have been a lot harder to predict she would produce a horse like Auckland Reactor.

Atomic Lass was then 18years old, had missed the two previous years and had already had 10 foals, some smart, some useful but none memorable. One of her early ones, Taupo Tiger, had won a couple for Mark Purdon but was moderate in Australia. Waitaki Warrior followed a similar path winning the Bankstown Guineas. Taihape Tickler was another who showed good form early on(6th Great Northern Derby) and ran in some good races in Australia though ending his days in claimers in Perth.

Matuki took a 1:53.2 time in the US which was pretty much run of the mill. A dose of Direct Scooter through Mach Three seemed to transform the situation and whatever the odds being against Atomic Lass she produced a $1.9m record smashing superstar.

Credit: David McCarthy writing in Harnessed June 2016


| | |
| --- | --- |
| | RACING HISTORY HORSES |

TUFT

Veteran sire Tuft, who made a tremendous impact on the NZ breeding scene during his 20 years at stud in this country, died recently at Weedons.

The top trotting sire in NZ on six consecutive occasions from 1974/75 to 1979/80, Tuft was 24 at the time of his death, which according to Karehana Stud proprietor Dennis Moore , occurred because of "old age".

By the outstanding trotter and sire of trotting sires, Star's Pride out of the Dean Hanover mare, Tassel Hanover, Tuft has sired 225 winners to date, including the top trotter Tuteena (1:59.8). In all, he sired 14 in 2:00, the other 13 being pacers and including the good dual gaited winner Hoquard (1:59.8), Miracle Mile winner The Scotsman (1:56), My Melody Queen (1:56.8), Memphis (1:54.8), Doctor Voss (1:58.2), Mighty Tuft (1:57.8)and Pinkafled (1:59). His broodmares have produced the 2:00 performers Alba Wings (1:58.6, Queensland Derby) and Stardell Lad (1:57.8).

But it was as a sire of trotters that Tuft really made his mark, and with some small crops tp represent him during his last ten years at stud. His best performer currently racing is the champion mare Tussle, winner of the 1985 Rowe Cup and with $184,000 in stakes the greatest stake winning trotting mare raced solely in New Zealand and Australia.

His other top winner include Rowe Cup winner Framalda, Trotting Stakes winners Black Miller and Edis Nova, Inter-Dominion Grand Final winner Castleton's Pride, Now, Spartan Prince, Ilsa Voss, Tough Girl, Mighty Lee, Mister Square and Marsha Donna.

Tuft was imported to NZ by Mr Dudley Moore of Templeton, who shared in the ownership of the great little champion pacer Caduceus.

Credit: NZ Trotting Calendar 22Apr86


| | |
| --- | --- |
| | RACING HISTORY FEATURE RACE COMMENT |

1986 JOHN BRANDON NZ DERBY

"He's a real racehorse. He let the other horse get to him, but there was no way he was going to get beaten," Morrinsville horseman Graeme Harris said. Harris had not long earlier reined his brilliant three-year-old Alba's Reign to a dramatic win in the $110,000 John Brandon New Zealand Derby, outstaying the Southland colt Trident in the final stages.

In a finish reminiscent of the spine tingling Hands Down - Delightful Lady New Zealand Cup on the track a few years ago, Alba's Reign came back from certain defeat within strides of the post, and furthered a remarkable record for trainer Harris, who races the gelding in partnership with his breeders Charlie and Dawn Elliott.

Already the leading two and three-year-old stake earner in Australasia before the event, Alba's Reign soared past $250,000 when he notched up win number 15 from 25 starts, and he still has the $150,000 Great Northern Derby to come. "He's a little bit better the other way round too," said Harris. "Down here he tends to lug in a bit," he added. Alba's Reign simply ran his rivals ragged for much of the mobile 2600 metre event and when an old foe in Trident attempted to have the last say, he found stamina and character which was not easily lost on the relatively small crowd on hand.

Happy Patron and Ricky May were the first to show out from barrier two, but Alba's Reign (four) was right with him through the first 200 metres in 13 seconds and soon after crossed over to lead. The first 400 was cut out in 27.7. Harris was able to back the pace off down the back straight to pass the first 800 in about even time, but soon after the challenges came from the back from Laser Lad and French Lord. With a lap to travel the field was racing in threes, but Harris had begun to let the hot favourite roll. Laser Lad got past Dream Lustre to sit outside the leader with 1200 metres to run, while French Lord then pressed on to apply the pressure starting the run down the back straight the last time. Alba's Reign obviously had the measure of French Lord and Laser Lad before the home turn, but coming into contention three wide was John Hay and Trident, who had been noticeably out of form on the first two nights of the meeting. Trident joined Alba's Reign quickly turning for home and seemed to have the better of him 150 metres out with his head in front. But Alba's Reign, wearing half winkers, wasn't letting him get away and drew level again about 50 metres from the post. It was only in the final few strides that Alba's Reign got his nose back in front, winning officially by half a head, going away.

"I had him beaten everywhere but the post," Hay lamented afterwards. Three and three-quarter lengths away was Happy Patron, who looked a big threat on the home turn but only battled in the straight. "He pulled the whole way and did well to finish where he did," Rick May said. "He's never done that before, maybe we were a bit easy on him during the week," he added. Happy Patron just held on to third ahead of Lea Vance and Sir Alba, who both paced fine races. Lea Vance, handled by Colin De Filippi, followed Trident throughout and, after losing a handy position with a lap to run, fought on well for his placing. Sir Alba, four back on the rails throughout and surrounded by horses 200 metres out, found racing room half way down the straight and finished fast when it was too late. Like Sir Alba, who drew the inside of the second row, French Lord (sixth) and Laser Lad (ninth) were victims of poor barrier draws.

But there was no denying that Alba's Reign was a deserving winner of the 72nd running of the New Zealand Derby. The gelding had to twice force the pace into the teeth of a bitterly cold southerly and in the end recorded a fine 3:17.8 for the distance, a time seldom bettered by three-year-olds on the track. After running the first mile in just under 2:03, Alba's Reign paced home in 59.5, the last 400 in 28.6. They were sectionals which made the tasks of Laser Lad and French Lord impossible, while Trident would have easily bettered 59 after giving the winner at least half a dozen lengths with 800 to run.

Alba's Reign, who won the $100,000 B&H NZ Two-Year-Old Championship at Alexandra Park last season, has now raced four times at Addington for two wins and two seconds. Back in November, Harris made a hit and run trip south for the $125,000 Fay, Richwhite NZ Sires' Stakes Final and went down in the last few strides to Sir Alba, who clocked a New Zealand record of 1:57.4 for a mobile mile. Harris went home pleased with his showing but disappointed he had been beaten. He never saw the other horse until it was all over that day," Harris recalled. Stabling Alba's Reign and Lea Vance with Colin De Filippi for the Easter meeting, Harris became the second consecutive northern trainer to carry off the NZ Derby.

By Alba Byrd from the 1985 Broodmare of the Year Vice Reign, Alba's Reign became the third successive male line descendant of the great Meadow Skipper to win the Derby, following on from Naval Officer and Placid Victor. Like Placid Victor, Alba's Reign is a grandson of Albatross.

Credit: Frank Marrion writing in NZ Trotting Calendar


| | |
| --- | --- |
| | RACING HISTORY FEATURE RACE COMMENT |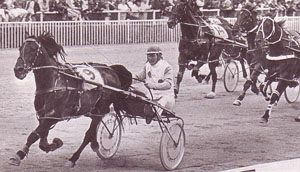 Master Mood scores easily in the FFA

1986 BENSON & HEDGES NZ FREE-FOR-ALL

Part-owner, trainer and driver Kevin Williams confirmed a start in the Miracle Mile at Harold Park after Master Moods dazzling New Zealand Free-For-All win. But before he crosses the Tasman, the "pocket battleship" from Prebbleton will attempt to become only the fifth pacer to capture the big three at the New Zealand Cup carnival - the New Zealand Cup, New Zealand Free-For-All and Travelodge (formerly Allan Matson) Free-For-All.

After his breath-taking Cup success, Addington fans sent Master Mood out a warm favourite for the Free-For-All, despite his tricky draw from the outside of the front line. Williams knew what he was going to do, and as the mobile sped away from the 2000 metre mark, the Christchurch milkman eased his nuggety entire to the tail of the field.

Luxury Liner sizzled past stablemate Comedy Lad to take the lead before the first turn. But entering the straight the first time, Luxury Liner shied at a discarded ticket lying on the track and galloped wildly, checking Borana, Skipper Dale and Our Mana. Rocketing past the 800m pole, Master Mood, after sidestepping the tangling Luxury Liner, surged up three wide to take over from Freightman, Comedy Lad and Our Mana, who sat three wide outside Placid Victor. Rounding the turn, Williams stoked "The Master's" bottomless boiler, and the little stallion scurried away to a winning break, leaving his 12 humbled rivals struggling behind. And no wonder, after scorching over the 2000m in 2:28.15, a mile rate of 1:59.2, his last mile in 1:57.6 and the last 800m in 57.7. Our Mana boxed on bravely for second, shading Borana, Comedy Lad and the fast-finishing Placid Victor.

After the race, Williams said, for once in his life, he was thankful of being three-wide early in the event. "The only reason Luxury Liner missed us was because we were three-wide at the time - it's the only time I've liked being three-wide," he said. Williams said the trip to Sydney for their premier mile shouldn't harm his minute masterpiece too much. "Fortunately he hasn't had too much racing, and a trip wouldn't do him too much harm," he said. "But it's a hard trip for a horse. Hopefully we'll be able to go over and get back and freshen for the Auckland Cup."

Beaten Northern drivers Tony Herlihy and Maurice McKendry were both pleased with their efforts for fourth and fifth. Herlihy said Comedy Lad lost his chance of finishing closer when he angled him off the rails at the top of the straight. "He just didn't feel as good this way round," he said. "When I hooked him off on the turn, he just did not want to go, but once he was balanced he came home quite well." McKendry said Placid Victor was a better horse than he showed on Cup Day, but the strong entire still paced roughly around the top bend. "That cost us vital lengths and you can't afford to do that," he said. "But having the speed on all the way today helped him."

Credit: Paul Biel writing in HR Weekly


| | |
| --- | --- |
| | RACING HISTORY FEATURE RACE COMMENT |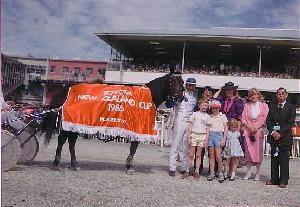 Master Mood, Frank & Stephen Wong & the Williams family.

1986 TOYOTA NZ TROTTING CUP

A chance meeting in a Dunedin fruit shop 12 years ago came to an unbelievable conclusion when Master Mood romped away with the $275,000 Toyota NZ Cup. For it was there the Wong family first met the Williams family and sparked an association which led to their partnership in the pocket battleship from Pebbleton.

After seizing the initiative with a courageous front-running drive and streeting his Cup rivals, part-owner and trainer Kevin Williams told the NZHRW about the random rendezvous back in 1974.

"Dad (former trainer Laurie Williams) was campaigning a mare called Lily Chase down in Dunedin, and went into a fruit shop to buy some carrots for her. He got talking to the guy behind the counter, who was keen on harness racing and wanted to find out what horse he had. He said he'd always wanted to race a horse of his own and it went from there." The man behind the counter was Frank Wong, and the merger between the two families was born.

From humble beginnings - Kevin Williams and Frank Wong won a race with a smart pacer called Avenge later that year before unsoundness claimed his promising career - the partnership blossomed into a deep friendship which has been crowned with their success with Master Mood.

They bought his dam, the Lordship mare Moods, for a paltry $3000 in the late 1970's, and a mating with the then unheralded colonial sire Noodlum produced Master Mood in 1981. And with Kevin's wife Bonnie and Frank's son Stephen in on the action with quarter shares, they've had some great times: the first juvenile to break 2:00 in a race in Australasia, the winner of nine straight races and the Horse of the Year title last season and now his prestigious NZ Cup success. "It's every owners dream to win a New Zealand Cup, but I honestly thought he'd be a race short," an overcome Stephen Wong said. Frank Wong spontaneously expressed his delight by hugging Kevin Williams upon his return to the birdcage.

The race was a personal triumph for Williams, who defended his horse after several ordinary performances in Cup preludes, and maintained throughout he had the horsepower to win the gruelling two-miler. "Although his preparation lacked racing, it was a good preparation, and I thought he was as good or better than anything in the race. He's a great little stayer, he just grinds and grinds, and he's a horse that races really well in front." So when Williams found himself challenging for the lead two laps from home, he didn't hesitate. "He's that sort of horse - he's a mug drivers' horse in that can't drive him pretty. He loves doing it tough in front, rather than trailing in behind."

The future months for the compact little stallion look exciting, and lucrative races here and in Australia will give him the opportunity to exceed $500,000 in stakes. Master Mood's four length Cup win hoisted his lifetime earnings to more than $350,000, and he'll have the chance to add to that later in the Addington spring carnival before possibly winging to Sydney for a crack at the $A140,000 Miracle Mile on December 5. "A guy rang me from Sydney three weeks ago and made a tentative approach, and there's a reasonable possibility he may go," Williams said.

Master Mood already has a dazzling mile time on Australian soil to his credit - a 1:56 Inter-Dominion heat win in Brisbane earlier this year.

In winning the Cup Master Mood went within a tick of matching Steel Jaws 3200m race and national record. Aggressively driven he thundered over the extreme distance in 4:05.56 - little outside Steel Jaw's mark of 4:05.3.

Williams didn't premeditate any tactics for the Cup, but once he had Master Mood pacing kindly in front with 2400m to travel, he was determined no horse would get past. So when fearless Southland stayer Malaz and his trainer-driver ranged up in search of the lead at the bell, they were out of luck. "Hamish tried to talk me into giving the front away, but I was having none of that," Williams said. "Master Mood races really well in front and I didn't want to get stuck on the fence. He's a horse that has to be in front rolling along and he loves doing it tough in front rather than trailing in behind. It's a funny thing, but the Cup is nearly always won by a horse that is cherry-ripe on the day, the horse that's peaking."

Few punters who saw Master Mood's impressive Cup trial last Thursday - he sat back before moving off the fence a lap from home to face the breeze and drew clear in the stretch - took heed and the 1986 Harness Horse of the Year went to the post a 16-1 chance.

Williams had no qualms about forcing such a strong clip in front, despite the calibre of some of his rivals. "I felt, whether he'd won it or not, it was a race run true and everybody had a shot." But most of Master Mood's opposition fired blanks when the speed cracked on at the 800m peg, after an opening mile in 2:04.4 and 2400m in 3:08.2.

Freightman, a determined stayer with a reputation for never flinching, couldn't keep up in the trail. Neither could favoured northerner Placid Victor, who enjoyed a perfect trip three back on the outer but couldn't sprint when the speed came. And any horse futher back than midfield faced an insurmountable deficit as Master Mood tore into a 57.4 last 800m.

"There was no way I could have beaten Master Mood when he ran a half like that," Skipper Dale's trainer-driver Patrick O'Reilly Jnr said. The Cup favourite, who led out then took a trail three back on the fence, slipped off the rails when Placid Victor began to pace roughly around the final turn. And Skipper Dale stretched out gamely in the straight, running home strongly for third, just a long head from runner-up Luxury Liner.

"At the 400m I thought he might win it, but the other horse was just too good," Luxury Liner's handler Brent Mangos said. "He went a great race and tried hard all the way down the straight." Luxury Liner followed Malaz one out in fourth spot from the 2400m pole, made all the right moves but couldn't cover Master Mood's explosive acceleration in the stretch.

Apart from the winner, the eye-catching performance came from Malaz, a typically gutsy effort which Hunter described simply and succinctly: "he's got awesome courage and stands up like a soldier." Malaz sat on the leader's wheel two laps from home, attempted tp forge past Master Mood at the winning post with a round left, and was still fighting proudly down the stretch. At the post Malaz was less than a half-length from second, and his raw courage was a talking point with the huge crowd afterwards.

Freightman battled hard for fifth, but didn't seem to enjoy the race, and Spry Joker defied his odds of 70-1 with a solid sixth after making up several lengths in the straight.

Leading reinsman Maurice McKendry didn't recognise the Placid Victor he sat behind during the $275,000 Cup. "He didn't feel himself today, and he had to pick today to do it. When they quickened up front he was battling to come home." The handsome son of Vance Hanover landed the worst marble in tomorrow's $75,000 Benson & Hedges Free-For-All (2000m mobile), and regardless of how he performs he'll fly back to Auckland on the weekend for the $50,000 BASF Franklin Cup (3200m) on Saturday week.

Master Mood drew the outside of the front line in the Free-For-All, but Williams expects the rugged little entire to emulate his Cup form. If he should complete a double for the meeting, Master Mood will join such top pacers as Robalan, Lord Module, Hands Down, Armalight and Bonnie's Chance, all of which bagged the two classics in the same year.


Credit: Matt Conway writing in HR Weekly


| | |
| --- | --- |
| | RACING HISTORY FEATURE RACE COMMENT |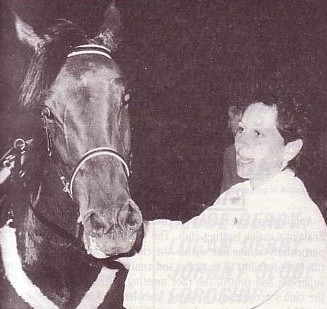 Tussle and her constant companion Sally Marks

1986 TAUBMANS DOMINION TROTTING HANDICAP

The theory of wind resistance played an important part in Tussle's courageous Dominion Handicap win. Moments before "Shorty" moved away from the shelter of the birdcage and into the uncompromising 14 knot easterly on the track, her owner-trainer Dr Cliff Irvine untied the dust sheet on the sulky and tucked it under his arm.

Irvine successfully tried the tactic at Addington 25 years ago when Light Mood took third in the President's Hadicap at long odds. "It was blowing a gale that day, and Doug Watts said to me in the birdcage 'why don't you pull the mud sheet off?'," Irvine recalled.
the 65-year-old Lincoln College veterinary professor "hasn't had occasion" to use the ploy in the last quarter of a century, but after consulting Tussle's driver Peter Jones, and his old cobber Derek Jones, he had no hesitation. "Derek told me he had done it when Soangetaha won one of his Auckland Cups, and Peter said he didn't mind getting gravel in his face, so we took it off as quickly as we could in the birdcage. On a very windy day it acts like a sail and it would have a retarding effect - it is tough enough for her with Peter in the cart, being a little horse, let alone having a spinnaker out there."

And Irvine's snap decision was vindicated when Tussle, after her familiar beginning to land in fourth place, was left straining into the wind with still 1800 of the 3200m heartbreaker left. By then comeback hero and 1984 Dominion winner Basil Dean had his rivals struggling to stay in touch with his eager front-running, which reminded some of his awesome 2600m world record two years ago. "When he was attacked by Admiral Soanai down the back he got fired up and on the bit, so I thought it best to let him bowl along," driver Kerry O'Reilly said. "I could see Basil Dean was serious," Jones said, "and she's just as good parked as anywhere else in the field...but she was struggling to keep up with him."

Sally Marks, Tussle's faithful companion and strapper, watched dejectedly as the pack bounced down the stretch with a lap to travel. "She's hanging badly - I think she's had enough," Marks said, pulling in another lungful of Pall Mall and walking aimlessly towards the outside rail. Tussle did look beaten as the 800m peg came and went, her trotting action unusually scratchy and her head bobbing from side to side.

With a fierce tail wind down the back straight for the final time, Basil Dean punched three lengths clear and the murmurings of the crowd sensed an emotional upset. "But he wasn't quite up to it," O'Reilly said. "I knew half-way down the back he was struggling. He's still got the speed, and he's sound, but he didn't quite have the race fitness." Basil Dean's ground-devouring stride began to shorten on the last bend, and tiny Tussle quickly gathered him in and scooted two lengths ahead. And as first the sturdy warrior Jenner, who had followed Tussle throughout, and handsome favourite Melvander (who had tracked Jenner) balanced themselves before attacking, she lowered her head, flattened her ears and cut through the wind to the post. With 100m left, both Jenner and Melvander seemed poised to gun down 'Shorty', but with her new found strength this season she determinedly held the pair outto score by a long neck.

Veteran Christchurch horseman Jack Carmichael could not quite cap his successful Cup carnival, settling for second and $20,000 with Jenner. "I thought half-way down the straight he might get to her, but she was just too good," he said. Melvander finished a further long neck behind after almost exploding into a gallop 50m off the line. "I was smiling around the corner, but then he started to trot roughly and I had to take hold of him," driver Jack Smolenski said. South Auckland mare Landora's Pride rattled into fourth ahead of Simon Katz, while the others struggled home victims of a punishing last 2400m of around 3.04. "She simply outstayed them all," Jones said of Tussle later. "She can really fight them off now, and had them covered all the way down the straight."

When asked if he considered removing Tussle's dust sheet made the vital difference between winning and losing, he replied: "It was blowing quite hard and I suppose it's got to make a difference. She was battling into the wind from the 1800m, she had the worst run of all the horses that figured in the finish, but she kept going right to the line."

Irvine described Tussle's Dominion Handicap win as one of her two greatest performances, the other being her dazzling 2:31.9 national record for a flying 2000m which she set fresh-up in September. "She always surprises me how well she goes and how she keeps on improving, even this year as a ten-year-old," he said.

There are few mountains now left for the champion daughter of Tuft to climb. She has captured the two most prized trotting crowns in New Zealand: the Dominion Handicap and the Rowe Cup (1985). Her 3200m time, despite the ravaging gale, was 4:13.81, which lowered Indette's national record for a trotting mare. And the $65,000 winner's cheque bumped Tussle's earnings to $268,055 in New Zealand, making her the greatest stakewinning trotter in history.


Credit: Matt Conway writing in HR Weekly


| | |
| --- | --- |
| | RACING HISTORY FEATURE RACE COMMENT |

1986 NEVELE R NZ OAKS

Free's Best caused one of the biggest upsets in the history of the time honoured New Zealand Oaks, but the least surprised person on the course afterwards was her West Melton trainer-driver Eddie Cowie. "For a long time I've thought this would be her race and she has been set for it," Cowie said soon after the shock win. "I have always thought she was a better filly than Time's Up," he added.

Time's Up was the horse that put Cowie on the map in the 1979-80 season, winning nine races for him as a juvenile. Taken over by Jack Smolenski for her three-year-old campaign, Time's Up recorded a rare New Zealand/ North Island Oaks double.

While her form on paper was nowhere near as impressive as the favourites for the $35,000 Nevele R Stud New Zealand Oaks, Free's Best has long been considered the most unlucky filly racing this season. "I have been meaning to count the number of second row draws she's had, and of course, she was wiped out last week," Eddie said. Free's Best was 'wiped out' in the DB Export Fillies' Final and her luck did not look like changing when she drew barrier 14 for the mobile 2600 metres Oaks. With Gina Rosa, Michele Bromac and Kiwi River drawing handily on the front row, Free's Best was a forgotten filly and at odds of 61 to 1 when she settled down at the start with only a couple behind her.

But over the first lap, the race played right into Cowie's hands. "She's good because she sticks so well. A fast run race was just what I was hoping for," Eddie said. While Koobecar was keeping Michele Bromac parked three wide with virtual 2:00 speed up front for all of 1300 metres, Cowie was biding his time, waiting for the right moment to make his move. Free's Best was the first to challenge three wide from the rear with a lap to run and just as Michele Bromac finally reached the lead, Cowie was beside her to maintain the seemingly suicidal pace. Free's Best surged past Michele Bromac on straightening and had a winning break as far as 150 metres out. Gina Rosa, after enjoying a good run three back on the inner and issuing a challenge at the top of the straight, finished powerfully but found Free's Best too strong, falling short by three quarters of a length. Michele Bromac was hardly disgraced when she finished three lengths away in third, four and a half lengths ahead of third favourite Kiwi River, who ran on late from back on the rails.

But it wasn't so much the win by Free's Best, but the manner in which she accomplished it. The daughter of Besta Fella simply wore her rivals into the ground, something her time of 3:17.3 bore ample testimony too.
It bettered Hilarious Guest's race and New Zealand record by 2.8 seconds, and compared more than favourably with Roydon Glen's three-year-old record of 3:15.7 and the all-age record of 3:14.6 shared by Malaz and Freightman. Free's Best became the third New Zealand record holder from the first crop of Besta Fella, whose only other representative in the Oaks was Michele Bromac. Besta Fella's progeny set records because they are tough. Obviously, it was a fine result for the race sponsor Nevele R Stud, which imported Besta Fella.

It was also a real tonic for Free's Best's veteran owner-breeder Clarrie Rhodes, who admits to being in poor health these days. Clarrie, now 81, has often had a 'turn' lately and last Thursday night, it seemed unlikely he would make the Oaks meeting. But he was there to see his first win in an Oaks event, and also his first 'big' win since True Averil won the 1971 New Zealand Cup.


Credit: Frank Marrion writing in NZ Trotting Caledar