| | |
| --- | --- |
| | INTERNATIONAL HISTORY |

'Live Aid'is performed simultaneously in London and Philadelphia on 13 July, edited together and broadcast worldwide. The concept was put together by Bob Geldof after seeing reports of the unfolding famine in Ethiopia. 'Live Aid' is believed to have raised more than £100 million and has done much to shape the idea of 'telethon' fundraising for many different worthy causes.


| | |
| --- | --- |
| | LOCAL HISTORY |

NZ refuses port entry to a US nuclear warship, breaking the ANZUS Pact and establishing NZ as the world's first Anti-Nuclear country.

Rainbow Warrior sunk in Auckland Harbour by French secret service agents. One crew members is killed in the blast.

David Lange brilliantly debates NZ nuclear-free policy with American Jerry Falwell at Oxford Union.

March - World and Olympic Ice Skating Champions Torville and Dean perform in Hagley Park.

May 3 - 6,000 people rally in Ch-Ch against the All Black tour of South Africa.



Credit: Ch-Ch City Libraries


| | |
| --- | --- |
| | RACING HISTORY |

1985 was a year of upsets and turmoil. Greenpeace's Rainbow Warrior was sunk at its moorings in Auckland Harbour, Lieutenant Colonel Rambuka led a military coup in Fiji, Auckland lifted the shield of Canterbury and from the racing viewpoint Borana won the Cup!

Borana's $76.65 winning dividend still stands as the highest for a Cup winner, as in most punters eyes, Borana would be well held in a field that included Preux Chevalier, Roydon Glen, Camelot, Entreprise, Comedy Lad & Our Mana. The race for the Toyota New Zealand Trotting Cup was billed the "Clash of the Century" between the West Australian Preux Chevalier which had finished no further back than second in his last 26 starts, and Roydon Glen who had 12 wins in a row and was undefeated the previous season. They finished 4th and 3rd respectively in the Cup.

These two champions shared the spoils later in the carnival with Preux Chevalier winning the Benson & Hedges Free-For-All on Show Day and Roydon Glen winning the Airport Travelodge Free-For-All on the final night, however on Cup Day both had to bow to the unfancied Borana.


Credit: Colin Steele


| | |
| --- | --- |
| | RACING HISTORY SECRETARIES & EXECUTIVE STAFF |

TREVOR DAVIES

Mr Trevor Davis, secretary-manager of the three Addington Raceway trotting clubs, is already planning for retirement. He has sold his Sumner home and bought a two-storeyed house on 5ha at West Melton. Here, next door to prominent trainer-driver Malcolm Gillum and over the road from Selwyn MP Ruth Richardson, Mr Davis will eventually pursue a style of life he's always wanted. "I've never raced or bred a horse. I'm saving that for my retirement. And I've always wanted some land. So these will be my interests when I retire in four years," he said.

Now 61, Mr Davis has been one of the senior administrators at Addington Raceway for 25 years. During this time, sharing the helm with Mr Des Parker and more recently with Mr Tony Lye, Mr Davis has been involved in many changes to the Addington Raceway complex and its organisation, and seen vast improvements in the trotting industry. "In 1960 our work was mainly tied to the actual race meeting, but it is more diverse now. We now have P Burke and Co (caterers) resident on course...the control of money is now of much greater importance...trials play a large part in our week, and as a consequence there is consistent work on the repair and maintenance of the track...and sponsorship and promotion is basically the name of the game," he said.

On the race track, he says, the changes have been just as significant. "Probably the major change has been the simplification of the handicapping system. For example, if a 4.44 horse won a two mile race, he came back 4sec to 4.40. But a horse was always in a handicapping situation, because placings brought you back to 4.43 or 4.42. This has led to the acceptance of mobile starting and the handicapping system has been tailored to that end," he said. "Another major step was the acquistion of Addington Raceway land in 1981 from the North Canterbury Hospital Board. It was held on lease till then and now we are looking at a final payment in March, 1987," he said.

Mr Davis heads a staff of 14; eight in the office and six caring for the track and grounds. One of them, newly appointed Metropolitan Trotting Club promotions officer Mr Barry Johnson, is engaged entirely on planning work for the 1987 Inter-Dominion Trotting Championships in February. With that in mind, Mr Davis will be part of the Met deputation to the 1986 Inter-Dominions, working hard to sell the carnival to all in sight. Mr Davis knows the ropes - he has been on hand at every Inter-Dominion since 1966 - six years after he left United Dairies Ltd and joined Mr Parker in the harness sport.

The youngest of four brothers and the son of a Riccarton poulterer, Mr Davis was educated at Fendalton Primary School and Christchurch Boy's High School. His academic studies between 1938 and 1941 ran a poor second to sport; playing cricket for the school second 11, and leading Bob Duff and other members from half-back in the second 15. He had a year at the freezing works before turning to the milk industry, and stayed with United Dairies for 18 years, in the end as chief clerk.

In 1967, he became racing secretary at Addington Raceway, then, on Mr Parker's retirement, was appointed secretary-manager in 1979. This involves the three trotting clubs - Metropolitan, New Brighton and Canterbury Park - and the Addington Raceway Company Ltd. Each of the clubs has three active committees, as well as a general committee, and this, he says makes it impossible to attend the lot. Mr Davis is also secretary of a new regional committee that controls the complete rostering of Jetbet staff in the area.

Thoughts of further extensions to Addington Raceway have been on a roller-coaster ride over the past five years or so. "The directors have various plans shelved some years ago because of the purchase of the property. Now we are presently having an investigation of internal finances to see just what amount the three clubs could service," he said.

Mr Davis married Betty Atkinson, whose father Tom raced Acropolis to win the Sapling Stakes and Great Northern Derby. Tom's father was a trainer and prepared his horses at Addington from a property in Durham Street. They have two children, Sandra and Bob, who is employed by the New Zealand Trotting Conference as keeper of the Stud Book, and five grandchildren.

Mr Davis used to be club captain of the High School Old Boys Football Club, and enjoys a bet as much as anyone...not that he's ever managed a coup, or even got close to one. The biggest win he recalls followed a conversation with Methven trainer Jim Nordqvist, who had been telling him how good his filly Bedlum was. He collected nearly $400 when he coupled her in a quinella with Lyndon Robert in the Timaru Nursery Stakes in 1982. Bedlum was the 10th favourite, and ran Lyndon Robert to a neck.


Credit: Mike Grainger writing in Ch-Ch Star 10 Dec 1985


| | |
| --- | --- |
| | RACING HISTORY PEOPLE |

W E (TED) LOWE

Ted Lowe, who died in Ashburton last week, was one of New Zealand's best known amatuer horsemen.

From his farm near Hinds in the Maronan district of Mid-Canterbury, Ted Lowe produced a string of top class pacers over the years, and numbered two NZ Cups to his credit. His first Cup victory came in 1964 with Cairnbrae, trained and driven by the late Ces Donald, but in 1968 Ted had his own moment of glory, as trainer-driver of Humphrey, who took out the premier staying event. Many Lowe horses were named after areas in the Mid-Canterbury district, and a drive along the back roads is like a roll call of many of his early winners - Lyndhurst, Lautiston, Mitcham, Barrhill etc.

Better known winners of recent times to race in the Lowe colours include the former New Zealand mile record holder Wag (1:57.2) who set his mark in winning the then Stars Travel Miracle Mile (now Pan Am Mile), Dundas, Atanui, Grouse, Corwar, Stortford Lodge, The Raider, Urrall, Pun, Wing Commander, West Street, Templar and Siouan to name a few.

Ted Lowe had been in ill health for a good number of years, largely caused by the long period he spent as a prisoner of war in Norway during the Second World War, being captured at El Alamein when serving with the 20th Battalion. Few major races escaped Lowe representatives, though he was never to produce a Derby winner. If sentiment were to rectify this state of affairs, Samson would have taken out the 1985 Great Northern Derby at Alexandra Park just two days before Ted's death. Samson was favourite for this event, on the strength of his brilliant lead-up form, but unfortunately went off-stride soon after the start and took no part in the race.

Ted also took a very active role in trotting administration, serving the Trotting Owners and Trainers Association in Mid-Canterbury, and the Ashburton Trotting Club. He joined the Ashburton Trotting Club committee in 1958 after several years as a steward, was President from 1977 to 1980, then was re-elected to the committee again in 1983 after three years as immediate past president.

Until his retirement from race driving at the age of 65, Ted did much of his own driving, but encouraged young reinsmen in his employ. George Adamson drove many winners in the Lowe colours, and in recent seasons Paul Young has proved a highly successful stable reinsman.

Ted Lowe is survived by his wife Lillian and six step-children. He was 71 at the time of his death.

Credit: 26 Mar 1965


| | |
| --- | --- |
| | RACING HISTORY PEOPLE |

H M S DAWSON

A man recognised for his role in guiding the Anglican Church, Christ's College, and the Metropolitan Trotting Club has died after a long illness.

Mr Hurren Martin Stanhope Dawson, 74, was educated at Christ's College and Canterbury University. He graduated with an LLB and remained in practice as a solicitor in Christchurch for the rest of his life.

A keen sportsman he played for the Canterbury B Rugby team and achieved two New Zealand University blues in shotput and the javelin. He later turned his hand to golf and bowls, with equal success.

He was appointed a steward of the New Zealand Metropolitan Trotting Club in 1963, became a committee man five years later and was made a life member in 1981.

He was a director of Addington Raceway Ltd from 1967-85 and made a life member of the other two contributing Clubs - the New Brighton and Canterbury Park Trotting Clubs - in 1980 and 1981.

Mr Dawson is survived by two sons and two daughters.

Credit: 30 Mar 1985


| | |
| --- | --- |
| | RACING HISTORY PEOPLE |

BARRY JOHNSON

Barry Johnson originally set out to work in the farming community. He was well on the way to completing his Bachelor of Agricultural Science degree at Lincoln College when a light purse forced him to quit the course and head into the city.

Now, after solid stints in banking and secretarial work, Mr Johnson has taken on a faster game - as promotions manager for the Metropolitan Trotting Club. One of the functions of this job is to arrange for the publicity of race meetings.

The strike by newspaper journalists last week, and mid-way through the New Zealand Cup carnival at Addington, dis not present Mr Johnson with the difficulties one may have thought. "We would have liked the newspapers with us, but we did a lot of radio advertising," he explained. "The two nights could have been better, but with Preux Chevalier and Roydon Glen, the Club was delighted with the meeting," he said.

Mr Johnson, 36, was born in Westport, where his parents had a grocery shop. When he was three, they moved to Christchurch after purchasing the Colombo Street grocery business of Leigh and Co. His schooling at West Spreydon Primary School and St Andrew's College led him to Lincoln College. "I just ran out of money when I was threequarters of the way through my degree. So I applied for five jobs, and got got them all. I started with the Bank of New Zealand, because they were the first to respond," he said.

Mr Johnson stayed with the bank for 10 years before taking the position as assistant secretary of the Canterbury Agricultural and Pastoral Association, secretary of the South Island Horticultural Trade Fair and secretary of the New Zealand Limousin Cattle Breeders' Society. Mr Johnson served these bodies for six years before joining the Met. "I've always wanted to work with horses. My father raced gallopers when I was a kid. He had Tulgar and Demijour and they both won three or four while Tommy Smith was training them," he said.

Right from his banking days, Mr Johnson has had strong links with trainers, jockeys, totalisator staff and most other aspects of the racing industry. "I've done most jobs at Addington over the years...paying drivers at country at country race meetings, jockey's fees at Riccarton...and I'm still doing that...work in the tote and banking," he said.

The two important parts of his new position require Mr Johnson to set up meetings with sponsors and plan for the 1987 Inter-Dominion Championships at Addington. "I'm just finding my way at present," he said. There are a lot of little things I do that escape the eye. My biggest responsibility at present is planning for the Inter-Dominions and for this we are currently producing a video film on trotting in New Zealand to show next year in Brisbane," he said.

Married with two children, Mr Johnson relaxes at the races, in the garden, with a camera and serving on the committee of the Fendalton Primary School PTA.

Credit: Mike Grainger writing in Star 26 Nov 1985


| | |
| --- | --- |
| | RACING HISTORY PEOPLE |

COLIN BERKETT

The former leading horseman Colin Reynold Berkett died at his Yaldhurst home last Thursday. He was 65.

A son of the late Leo Berkett, who trained the champion Highland Fling, Colin was the leading trainer in 1948 and 1949. He handled many top horses in those years, driving Highland Fling to win his first NZ Cup in 1947, while two years later he trained and drove Loyal Nurse to win the same event. Between them, Leo and Colin Berkett won three consecutive NZ Cup.

Colin Berkett established himself as one of NZ's leading horsemen after shifting from Richmond, near Nelson, to Yaldhurst in 1945 with his father. He set up a stable on his own account and won the trainers' premiership only a few years later. He was also the leading reinsman in the 1947/48 season.

Other notable performers from Colin's stable were Young Charles (second in the 1954 NZ Cup to Johnny Globe), Battle Cry (1953 NZ Trotting Stakes), King's Brigade (1949 NZ Trotting Stakes), Bellisima (1948 Rowe Cup), Great Credit (Dunedin Cup), Consistent (Golden Slipper Stakes), Tough Going (Rosso Antico), Smokey Range, Apollo Fifteen, Mighty Lee and There And Back, while he owned and trained the top trotting mare Tronso, who won the Dominion Handicap in 1966.

In the mid-1960s Colin took over the management of the Rolleston Hotel and maintained a small team, but ill-health in recent years saw his activities in trotting curtailed. In the late 1960s and early 70s, Colin also owned the top trotter Waterloo, who won 16 races in a vintage era of trotters. Many of Colin's horses were trained at the time by Leicester Tatterson, who trained at Yaldhurst before moving to his present Rangiora property, and Tatterson trained Waterloo for his first ten wins. When Tatterson shifted, Colin took over the training of Waterloo for the remainder of his career.

He was still a licensed trainer at the time of his death, 40 years after first gaining a professional horseman's licence. Colin drove regularly for about 20 years and was never suspended. On two occasions he was found £1/-/- for "looking around". Colin last had success as a part-owner of the useful trotter Be Game, who won three of his six starts from Derek Jones' stable last season.

Credit: Frank Marrion writing in NZ Trot Calendar 28May85


| | |
| --- | --- |
| | RACING HISTORY PEOPLE |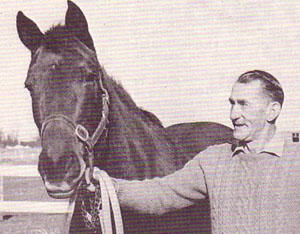 Mawson MacPherson & Castleton's Queen

MAWSON MACPHERSON

Mawson Stanley Macpherson, one of NZ's best known amatuer trainers, died suddenly at his home in Ashburton last week. He was 68.

Mr Macpherson was first granted a trainers licence in March 1975. He was a keen enthusiast of the straight-out trotter and was best known as the breeder-owner-trainer of the champion trotter Sir Castleton, who has been off the racing scene for some time recovering from injury. The gelding has been a great crowd pleaser and Mr Macpherson delighted in campaigning "Sir" both here and in Australia.

Mr Macpherson bred Sir Castleton from Castleton's Queen, the 1982/83 season Broodmare of the Year, whose first foal was Castleton's Pride, the 1975 Inter-Dominion Trotters' Grand Final winner for Mr Roy McKenzie. Castleton's Queen has left two other winners to date, the trotters Miss Castleton who won eight races and Lady Castleton who won three. Both mares were raced by Mr Macpherson and are now at stud.

Although the stable star Sir Castleton was off the racing scene for much of this season, Simba Lodge was kept in the limelight with five wins from the talented young trotter Boy Castleton, two wins from his close relative Lord Castleton and one win from the pacer Uncle Hoki, who was sold recently and will do his future racing in America.

Most of Mr Macpherson's success in harness racing was with trotters. Uncle Hoki is one of only a relatively small number of pacers he raced. The speedy Tarport Coulter horse King Canute and the stallion Pacing Simba, who won three races for Mr Macpherson were others.

Mr Macpherson is survived by his wife Margaret, their daughter Rosemary and son Alick.

Credit: Shelley Caldwell writing in NZ Trot Calendar 16Jul85


| | |
| --- | --- |
| | RACING HISTORY PEOPLE |

LESLIE SMART

Leslie Smart, a prominent administrator of harness racing in Canterbury since the early 1940s, died recently in Christchurch. He was 87. Mr Smart became a steward of the Canterbury Park Club in 1946, was appointed vice-president in 1958 and president in 1960.

Later on he served on the Addington Board of Directors. He was made chairman in 1963 and held that position until 1966. He was made a life member of the Canterbury Park Club in 1968 and an honorary steward in 1971.

Mr Smart was one of the directors who favoured introducing the hub rail at Addington in 1963, which was a controversial decision at he time. He was also instrumental in introducing mobile starts to Addington and his own club led the way when the used the mobile barrier for the first time in the South Island in May 1962.

Mr Smart was a member of a family of contractors who built many roads in and around Christchurch when draught horses were still being used as the main source of power. The Smart family used a big team of draught horses and Mr Smart's son, Lewis, who is the current president of the Canterbury Park Trotting Club, said that his father had been badly kicked by one of his favourite draught horses once when he was feeding them. The kick dislodged one of Mr Smart's teeth which ended up in his lungs, where it remained for 30 years before he eventually decided to have it removed. However, as it turned out, surgery was not necessary because, just prior to the operation, Mr Smart coughed up the troublesome tooth.

Mr Smart was an accomplished horseman. He kept a number of show horses, saddle horses and ponies and was a successful exhibitor and judge. He was also a prominent owner of standardbreds and raced a number of good horses - mostly trotters - including Ali Bey who was trained for him by the late George Noble, Lady Baffelan, Cappy Rowan, Supervise, Superway and Super Cloud, all of whom were trained for him by Wes Butt.

Mr Smart also breed the fine mare Smart Lass (by U Scott from Lady Baffelan), whose daughters, in particular Moods (dam of Master Mood among others) and Smart Doll (dam of Smarty Pants and others), are now making their mark as broodmares.

Mr Smart is survived by two daughters, Mrs Marie Spears and Mrs Julie Jamieson, and two sons, Lewis and Kevin.

Credit: Shelley Caldwell writing in NZ Trot Calendar 23Jul85


| | |
| --- | --- |
| | RACING HISTORY PEOPLE |

PAT VENNING

Travel has always been a big interest for Pat Venning, the senior Totalisator Agency Board manager for the northern region of the South Island (on-course division), and his retirement from the position this week will allow more time to do just that. Pat and his wife Judith plan to travel to the United States, United Kingdom and Europe next year, but recently purchased a camper-van for their more immediate travel plans in NZ.
A Londoner by birth, Pat came to NZ in March, 1949. "I had been travelling around during the war and afterwards I could not settle at home, so I thought I would come out here," he said.

He worked as a Post Office technician before the war and for a short time afterwards, but took a job farming when he first arrived in NZ. He worked on a sheep farm in Central Otago for a time but a strong interest in athletics took him to Auckland in 1950 for the Empire Games. A keen runner who favoured 880 yard and mile events, but also enjoyed cross country, Pat competed at club level in the United Kingdom and ran for St Paul's Harriers in Otago when he worked there. Although he attended the Empire games as a spectator, he did get to run against some of the athletes who had competed in the Games when they toured NZ after the Games. "I did reasonably well," Pat said, "but I didn't win."

After the Empire Games visit to Auckland, Pat returned to the South Island and took a job with the Post Office in Invercargill, but because of his "English experience" he was soon transferred back to Auckland where he continued to work for the Post Office for some time before accepting a position with Control Systems NZ, on-course totalisator operators, in November, 1951. That was the beginning of what has been a long career working within the racing industry in totalisator administration.

Before joining Control Systems, Pat had only a minor interest in racing. "It was the technical side of the job which appealed to me," he said. He had attended a few race meetings in England, but had not been in NZ. "I went to the Derby meeting which most people in London seem to go to. Everything more or less stops," he added.

Back in the early 1950s most NZ racecourses apart from some metropolitan tracks, used a manual ticket system. The tickets were pre-stamped but racehorse numbers were handwritten on as the bets were taken. However, automatic totalisators were operating on a larger scale in Australia at this time and it wasn't long before an Australian opportunist - Mr J A McKay - decided to bring the NZ racing industry into the age of automation. He formed his own company here, Control Systems NZ, which used the imported English manufactured Bell Punch electro-mechanical equipment. Control Systems NZ was later taken over by the English totalisator manfacturing firm Bell Punch, who renamed the company Bell Punch NZ. But Bell Punch were manufacturers of totalisator equipment rather than operators and in 1965 they sold out to Automatic Totalisators, a Sydney-based company who changed the name "Bell Punch NZ" to Automatic Totalisators Ltd.

ATL went through until 1981, by which time they were the main on-course totalisator operators in NZ. But by this time racing and trotting clubs had given an undertaking to participate in a new computerised on-course totalisator system. The expensive new technology involved in the venture was beyond any one on-course totalisator operating company and only a few of the large metropolitan clubs had the financial strength to face up to the expensive future. So the TAB was asked to develop and operate the new computerised system on behalf of the clubs. The takeover was in July, 1981, and most racing, trotting and greyhound clubs in NZ now use TAB facilities on-course. Since the takeover there has been a gradual conversion away from the old electro-mechanical equipment, on-course, to the new computerised equipment. Last year saw the final operation of the electro-mechanical system purchased by the TAB from ATL in 1981.

Pat was South Island manager for ATL and, later on, also for the TAB prior to the introduction of the on-course computer equipment. When the new computer equipment was introduced, the TAB split New Zealand into regions for servicing arrangements and Pat was then appointed senior manager - northern region - for the South Island. His new appointment covered racemeetings in the Nelson to Waitaki area. He saw his job, on raceday, as that of "a general overseer," managing staff, handling customers queries and making sure everthing ran smoothly. "Everthing is monitored through a control van," Pat said. "We manage the staff on the day and are responsible for their work, but we don't pay their wages," Pat said.

The TAB also trained operators to use the new computerised equipment, and every operator was given the chance to participate in the retraining programme. "There was no age bar," Pat said. "All operators were put through the training programme." Some had found the new equipment more difficult to adjust to than others, but at the end of the programme that was not a consideration. If they made it through the course they retained their job. The new technology had meant big changes for punters and operators but, from a managerial position, Pat said that he had not found the computerised system difficult to adjust to. "You are still dealing with the public just the same," he said. "Selling is different. Operators are on their machines all day." Before the introduction of the computerised equipment, operators had "closed down" between races and "cashed up" each time. This meant operators were able to talk to one another during races. But under the new system this did not happen. "They don't cash up until the end of the day," Pat said. He felt that much of the "friendly atmosphere" encouraged by the old system had been lost since the introduction of computerised equipment. The new equipment was "right up to world standards" and had given on-course punters a much more streamlined service. "It is a speedier operation which saves people queuing up. Now they can do everything at one window," he added.

About three years after joining Control Systems, in Auckland, Pat was transferred back to the South Island when Bell Punch, his English employers, sent him to Christchurch to set up a South Island base for their company. He has remained in Christchurch since then and during more than 23 years of work within the totalisator administration and control, Pat has seen many changes in both on and off-course betting. But, putting aside the introduction of computerised equipment, the subsequent arrival of Jetbet and the major impact that has had, perhaps the most obvious change has been the modernisation and acceptance of on and off-course betting. The often dingy, back-street betting shops hidden away from the public gaze have apparently gone for good, replaced by bright, modern main street offices designed to attract attention and encourage new customers. The new swept-up image was a result of a change in public attitudes, Pat felt. People are becoming more liberal in their thinking. Things that were not discussed several years ago were talked about today. "It is just a question of public acceptance," Pat said.

Considering his work, Pat said he had "No regrets. I have had a very interesting time over the years and met a lot of nice interesting people. All the totalisator staff have been a good crowd to work with and it has been like one big happy family over the years."

Credit: Shelley Caldwell writing in NZ Trot Calendar 23Apr85


| | |
| --- | --- |
| | RACING HISTORY PEOPLE |

DOUG WATTS

Douglas Charlton Watts, one of New Zealand's most talented and respected reinsmen, died suddenly in Christchurch recently. He was 79.

Doug was born in Morrinsville, the son of a lemonade manufacturer, and later began his career as a jockey, making his riding debut not in his homeland but across the Tasman in Australia at Randwick in 1923. He rode his first winner - a filly named Civility - the next year back home in NZ on New Year's Day at Marton. There were many more winning rides to come - about 100 in all and five in one day once - but at five foot six he was tall for a jockey and weight problems eventually forced Doug to abandon a race-riding career.

He turned to standardbreds and it soon became obvious that racing's loss was harness racing's gain. He was successful with his first ever race-ride on a standardbred when Item won a saddle trot at the South Wairarapa Trotting Club's annual meeting at Carterton on Boxing Day in 1929. And in March the next year Doug drove his first winner when Logan's Pride won the Manawatu Trotting Club Plate. The gelding won three more races. Doug drove him in all of them and his winning drives attracted the attention of the late W J (Bill) Tomkinson who helped to arrange a job for Doug with ther late Jock Henderson at Oamaru. Doug worked for Mr Henderson for ten years, during which time he became associated with an outstanding trotter in Todd Lonzia, who Doug judged "the best trotter I ever drove".

In 1939, Doug left Oamaru and went to live in Yalhurst near Christchurch, where he began working as a freelance driver. In 41 seasons of race-driving, Doug never won a premiership - second behind the late F J Smith during the 1944/45 season was the closest he got - but he drove more than 700 winners, which represented an outstanding achievement considering the relatively small number of race meetings held then compared with now. In his time he drove on almost every track in NZ. "The only track I haven't driven on is Hokitika," he said in an interview last year.

His success was far reaching and in 1963 he travelled to the United States to campaign Falsehood at Yonkers Raceway in New York. But unfortunately the gelding caught a virus soon after his arrival in the US and had only one start, but managed a fourth placing despite his illness.

There were few major races which Doug failed to win during his long and illustrious career as a reinsman. He won two NZ Cups (Integrity 1946 and Our Roger 1955), two Dominion Handicaps (Norma Bingen in 1936 and Hidden Note in 1947), an Auckland Cup with Unite in 1956, a NZ Free-For-All with Gold Bar in 1942, the NZ Oaks with Stylos in 1966, the Timaru Nursery Stakes in 1942 with Tam O'Shanter, the NZ Golden Slipper Stakes with Consistent in 1960 and also the Grand Final of the Inter-Dominion Pacing Championship with Massacre in 1961, to name just a few.

But for all his wins in the prestigious races on the harness racing calendar, Doug is probably best remembered for his outstanding driving feat at Reefton in February 1954. He drove seven winners that day from eight drives and that is a record which has stood the test of time. The current World Champion reinsman, Tony Herlihy, gave Doug's record a shake earlier this year when he drove six winners in one day at Hawera. But to date nobody has been able to better or even equal Doug's marvellous driving accomplishment that day in Reefton.

Although he was widely recognised as one of NZ's truly great reinsmen, Doug was always modest about his success and claimed it was largely due to his association with some great horsemen who gave him good horses to drive. He often used to drive work for many of his regular clients and claimed this gave him a better knowledge of his drives on raceday which he said was a big advantage. Doug put in a lot of hours driving work for trainers but he said (in an interview last year)that he had never had the inclination to train full time on his own behalf. Although he was granted a trainer's licence on a number of occasions during his career to take over short term training responsibilities for friends, notably for Allan Holmes (during the 1942/43 season) winning a race with Gold Bar while he was in charge.

However, Doug was a successful owner and won races with Historic and Valour during the 1950s. Both horses were trained for him by the late Vic Leeming at Prebbleton but driven by Doug in their races. Doug retired from race driving at the Canterbury Park Trotting Club's meeting in June 1971, the last meeting of that term. He proved that although the rules said he must retire he was still in top driving form by winning the Canterbury Park Winter Cup with Smokey Express.

Soon after his retirement he was appointed a patrol steward at Addington, a position he held for several years. He was also patrol steward at Ashburton up until quite recently. He maintained a keen interest in all facets of harness racing right up until his death last week and had attended the Methvem Trotting Club's meeting at Methven on Saturday December 7.

A true gentleman with a great talent, Doug will be missed by many people and his death is a sad loss to the harness racing industry of NZ.

-o0o-

Extract from NZ Trotting Calendar 10 Feb 54

D C Watts, well known Canterbury Reinsman, created what must constitute a record in the history of trotting in the Dominion when he drove seven consecutive winners at Reefton on Monday.

Watts won twice with Jacinta, Proximity and Air Raider, and was also first home in the Reefton Cup with Bourbon Lass. He also drove Bourbon Lass in the last race of the day in an attempt to win the whole programme, but she was unplaced. H Gaskill, who is still hale and hearty, drove six consecutive winners at Greymouth some years ago.

Before turning his attention to trotting, Watts was a very successful jockey. He served his apprenticeship with W H Dwyer, of Wanganui. He was second on the list of leading apprentice jockeys to W H Jones in the 1924-5 season with 31 1/2 wins, only one point behind Jones. At the Easter Meeting of the Feilding Jockey Club on April 11 and 13, 1925, Watts experienced one of those runs which jockeys dream about. His first day's efforts met with mixed fortune, his first mount being on Miss Hupana, who finished out of a place in the Onga Hack Handicap. In the following race he rode Alaric into second place, being beaten by half a length by Imperial Spark. The best Watts could do in the next race was to finish third on Lieutenant Bill. His run of minor placings came to an end in the next event, the Taonui Hack Handicap, which he won comfortably on Mr L G Paul's Attractive.

Watt's first ride on the second day of the meeting was on Miss Hupana, who finished second in the Rewa Hack Handicap. His next three rides that day were winning ones. In the Easter Handicap he rode Alaric, who beat Gaze, ridden by B H Morris, by a neck. Attractive was his next winning mount, and the runner-up Bonogne was ridden by B H Morris. Watts completed the 'hat-trick' in the next event when he rode Koodoo to win the Denbigh Handicap. In this event, Miss Hupana, the runner-up, was having her second start for the day. She had been beaten into second place earlier when ridden by Watts. After standing down for the next race, he was again seen in a winning light on Bonena in the Orona Hack Cup, making his total four winning rides for the day, and five for the meeting. In the last event, Watts was narrowly beaten into second place on Ihapotoa.

Increasing weight drove Watts out of the racing game, but in a comparatively short career he rode a big percentage of winners and numbered among his successes the Great Northern Guineas on Paleta, and the Marlborough Cup on Kalakaua.

Watts has been in the top flight of the Dominion's reinsmen for many years and has had his fair share of success in important events. Watts has owned Greenmantle and Valour, both useful winners and he has acted as first reinsman for V Leeming for a number of years.

Credit: NZ Trotting Calendar 17Dec85


| | |
| --- | --- |
| | RACING HISTORY INTERDOMINIONS |

MELBOURNE - PREUX CHEVALIER
Western Australian sensation Preux Chevalier who as a five year old had to miss the 1984 Adelaide Inter- Dominions because of a set-back, proved himself in a class of his own as he swept through the heats and Grand Final of the 1985 series at Melbourne's Moonee Valley. Scotch Notch avenged her defeat by Sir Castleton in 1984 to become the first two time trotting champion.



| | |
| --- | --- |
| | RACING HISTORY HORSES |

SIR CASTLETON

The open class trotting free-for-all at the New Brighton meeting on September 13 turned out just as we'd come to expect. Off level marks Sir Castleton was just about unbeatable and so it proved, but little did we know then that his 44th career win was also to be his last. A little over a month later, the news broke, the champion trotter had been retired more or less over night by Mrs Margaret Macpherson when he showed signs of lameness in work. X-rays showed arthritic deterioration in a joint in his near-hind leg.

Mrs Macpherson, who with her late husband, Mawson, had derived so much enjoyment from the electrifying performances their diminutive dynamo turned in over the years, decided this was the end of the road for the 9-year-old. "He needed a good six months spell if we were thinking of racing him again, but I've decided he's finished. He's been too good to us to have him breaking down completely," she said. There'll always be an apple for him here every night, she said of Sir Castleton, who bowed out as NZ's greatest stakes-winning trotter.

The son of Game Pride and the 1982-83 Broodmare of the Year, Castleton Queen, raced in NZ 96 times for 39 wins and 34 placings for earnings of $255,902. He earned an additional $46,250 in two campaigns in Australia giving him a cpmbined total of $302,152.

Sir Castleton soon hit the headlines when he stared racing as a 4-year-old back in the 1980-81 season winning nine of his twelve starts (seven in succession) and being the subject of some lucrative offers. He was the quickest trotting graduate to open class in living memory, taking his open ranking in just 10 starts. Four wins in eighteen starts, including his second Ordeal Cup at Addington, were the fruits of his 5-year-old campaign, in which he finished third in the Rowe Cup to Stormy Morn and Kenwood Song after being forced very wide on the home turn.

As a 6-year-old, Sir Castleton's great potential was realised. He won a further 10 from 24 starts, including the NZ Trotting Championship at the Addington Easter meeting in a national record equalling 3:21.3 for the mobile 2600m, then blitzed his rivals in the 1983 J Rowe Memorial Gold Cup, winning easily by six lengths from Basil Dean, Thriller Dee and Jenner.

Sir Castleton, after winning an Inter-dominion heat at Alexandra Park that season and running third to Scotch Notch and Jenner in the Grand Final, went to Adelaide as a 7-year-old and defeated the champion Australian mare on her own soil in the 1984 $30,000 Inter-Dominion Trotters Final, this being the highlight of his career. Driven by Paddy Timmins, Sir Castleton was locked up on the inner for much of the running, then produced a blistering turn of speed to flash past Scotch Notch in the closing stages to win by three metres.

Sir Castleton also evened the score between the two great trotters at two apiece. Scotch Notch had earlier in the season again trekked to NZ in November and after Sir Castleton had beaten the mare in the NZ Trotting Free-For-All, she came out on top in the Dominion Handicap in a cunning battle of tactics. "Those races against Scotch Notch were our favourite memories," said Mrs Macpherson shortly after Mawson's death last year.

Sir Castleton had earlier started his 7-year-old season by winning from 40m and 50m behind respectively on both days of the National meeting in August, while after coming home from the Inter-Dominions, chased Basil Dean home in that rival trotter's brilliant 3:15.3 clocking in his unbelievable NZ Trotting Championship success. Sir Castleton trotted the second fastest time for a trotter over that distance with his 3:16.2 for second.

The performances of the half-brother to 1975 Inter-Dominion Trotters Grand Final winner, Castleton's Pride, during 1983-84 were enough for him to share Horse of the Year honours with the NZ Cup winner Steel Jaw. Sir Castleton was only the second trotter to have such an award bestowed upon him, joining No Response as recipients of their gait to win the Horse of the Year title.

Prohibitive handicaps again made things tough for the 14 hands gelding as an 8-year-old. He won a further six in NZ from 20 appearances. Winning first-up from 35m behind at the National meeting at Addington in a national-record equalling 3:21.1 for the 2600m, Sir Castleton also scored from 35m behind at Alexandra Park in October in a national record of 3:31.7 for 2700m for a colt or gelding, but still outside Scotch Notch's best of 3:28.7 for mares.

Winning the NZ Trotting Free-For-All at NZ Cup time for a second time, Sir Castleton was again out of luck in the Dominion Handicap making a mistake early but being timed post-to-post in 4:10, his last mile in 2:01.2 to finish sixth. Sir Castleton created history on January 22 to become the only trotter in modern times to win from a handicap of 55m behind at Addington, getting up to win in 3:21.8.

Taken to Moonee Valley for a rematch with Scotch Notch at the Inter-Dominions, the Tinwald trotter won a further two heats (again beating Scotch Notch in one of them) but after having a slight strain in a leg before undertaking the trip, Sir Castleton suffered a fissure fracture of a cannon bone in the Grand Final when finishing second to Scotch Notch.

Fully recovered a couple of months later, Sir Castleton was being readied for his 9-year-old campaign when owner-trainer Mawson Macpherson, died. The training of the grand trotter for his last three races and wins, was then entrusted to stable employee, Wayne Smart. Sir Castleton produced a sprint that only he could produce to win on the opening night of the National meeting, then gained a rather fortuitious win on the second night when run down late by Mendelspride, only to be promoted when his rival was disqualified for galloping over the closing stages. Win No 44 for Sir Castleton was achieved with the minimum of effort, despite being parked in the open throughout.

Doody Townley, who drove Sir Castleton in nine of his wins in latter years, rated him the greatest trotter he had driven. "He was the best alright - he never knew he was beaten and had such terrific speed," said the successful horseman.

Credit: Jeff Scott writing in 1986 Trotting Annual


| | |
| --- | --- |
| | RACING HISTORY HORSES |

MIGHTY CHIEF

Mighty Chief, one of the best trotters to race in the 1960s, died recently at the ripe old age of 24.

A gelded son of My Chief and the grand producing mare Gala Girl, Mighty Chief was bred by Oamaru's Frank Oliver and was purcashed by Lester Clark of Greenpark for 190 guineas at the 1962 National Yearling Sales. Mr Clark never regretted the purchase. In his first season on the racetracks, Mighty Chief more than recouped his purchase price. The gelding made a sensational debut by winning at Timaru in February of 1964 at odds of £147/10/-. His first season of racing saw him race just seven times for five wins - two at Timaru and one each at Cheviot, Methven and Ashburton.

At four, Mighty Chief won two of his ten starts, both wins coming at Addington. It was his next season, as a five-year-old, that Mighty Chief made his presence felt in open trotting ranks. After being beaten a head by When in the Banks Peninsula Trotting Cup, Mighty Chief turned the tables on that mare and several other rivals by winning the 1965 Dominion Handicap in the hands of Doody Townley. Worth in total £2500 that year, the winner's share of the Dominion Handicap stake was £1625, a far cry from the $60,000 total stake of last year's contest.

Mighty Chief won a further two races at five, both also at Addington. He won a heat of the NZ Trotters Championship then added the final to his list of wins when beating Poupette and When. That season he was the leading stake-winning trotter in the country with £4025 in earnings.

Thirteen starts at six brought wins in the Ordeal Handicap at Addington, by nine lengths, and a heat of the NZ Trotters Championship (he was fourth in the final), while he also notched a brace of wins at Forbury Park. Victory in the grass track Banks Peninsula Cup again eluded him, this time being beaten by Tronso, the winning margin again being a head.

Addington was a happy hunting ground for the gelding by the time his seven-year-old season came round. He had won seven races on the track before the commencement of that season and added three further wins by the time the season finished. His successes came in the NZ Trotting Free-For-All, Canterbury Park Trotter's Cup and the Ordeal Handicap. His fourth win that season was recorded at Forbury Park. In all, 18 starts at seven brought in $10,295 in stakes from four wins and six placings.

Mighty Chief then experienced a lean trot as an eight and nine-year-old. Her raced only nine times those two seasons for no reward. While returning from a workout as a ten-year-old, Mighty Chief's racing career received a serious setback. He was frightened by a bird when returning to his stables and fell heavily on the asphalt road surface. The injuries he received were bad enough to make Lester Clark retire the gelding. However, Mighty Chief soon recovered and belied his age as he galloped around his paddock.

It was decided to return the gelding to work and a lease was signed by Springston dairy farmer Trevour Mounce, who took the veteran over. In his first start in over 20 months, Mighty Chief lined up against some of the best trotters the South Island could offer in the Winter Handicap at the National Meeting in 1971. Lacking form of any nature, Mighty Chief was neglected in the betting, being twelfth favourite in a field of as many runners. Home Mighty Chief rolled at odds of 83 to one in the hands of Bobby Nyhan to score his eleventh win at Addington. Mighty Chief struck again that season, winning the Victoria Park Free-For-All at Greymouth and he also ran second in the Ordeal Cup.

Two more seasons of racing, at 12 and 13 years, followed. In a total of 18 starts, the closest Mighty Chief came to winning was a nose defeat by Bambi at Greymouth as a 12-year-old after giving his younger rival a 12 yard start.

In all, Mighty Chief raced 105 times for 20 wins and 25 placings for stakes of over $36,000. He took a lifetime record of 2:02.4.

Credit: Brian Carson writing in NZ Trot Caledar 8Jan85


| | |
| --- | --- |
| | RACING HISTORY FEATURE RACE COMMENT |

1985 TAUBMANS DOMINION TROTTING HANDICAP

Jim McGill is not one to hog the limelight, not even when he's entitled to. When Admiral Soanai won the $70,000 Taubmans Dominion Handicap he was on-course but nowhere to be seen during the presentation ceremony. "He will be hiding somewhere down at the stables," Jim's son John said after Admiral Soanai's win, his second from three starts at the Cup meeting.

Admiral Soanai is owned and trained at Ohaupo by Jim, who brought the gelding south by road to Addington. The trip took three days and John said Admiral Soanai had lost 80lb in condition on the way. The gelding was stabled at Addington during his stay in Christchurch and once he had settled in had thrived. "The change in the climate really agreed with him," Jim said.

Admiral Soanai scored an all-the-way win in the NZ Trotting Free-For-All on Show Day after finishing seventh behind Melvander, Tussle, Simon Katz and company in the Quinns Fahions Handicap Trot on Cup Day. He was driven on Cup Day by Tony Herlihy but his regular driver, Brian Gleeson, travelled south from Hamilton to drive Admiral Soanai on Show Day and also drove the eight-year-old Game Pride-Cultured gelding in Saturday night's feature.

Brian, a professional trainer-driver, is also a drainlayer and was unable to get to Addington on Cup Day to drive Admiral Soanai because of business commitments. Brian is also a blacksmith and he shoes Admiral Soanai but not many other horses as he does not like the work much. Admiral Soanai was in the news earlier this year when he appeared on the racetrack wearing an unusual piece of equipment best described as a 'modified mesh visor'. The homemade apparatus was constructed by Jim using one of the wire mesh visors drivers use instead of goggles in wet weather. The visor fits over the gelding's eyes and is worn in conjunction with a more conventional fringe nose flap to help prevent flying grit off the track from worrying him. The apparatus was apparently just what was required, because Admiral Soanai won four races towards the end of last season after he began wearing it and he has continued on his winning way this season with three wins to date from only eight starts.

He was given a lovely run by Brian, who settled him in behind the pacemaker Loyal Step. There he stayed until near the 1300 metres when, with the first three runners racing in indian file, Brian was able to move Admiral Soanai out into the open to sit on the leader's wheel but clear to challenge when asked. He went up alongside Loyal Step near the 800 metres and drew clear soon after.

The favourite Jenner, who broke briefly at the start, adding to his ten metre handicap, settled back on the outer in behind Hard Cash, was sent on a big run forward three wide going down the back the last time. He was pushed four wide turning for home but ran on solidly to lead the chase after Admiral Soanai. He was a clear second but never looked like heading the winner.

Last season's Rowe Cup winner Tussle, who began brilliantly from the ten metre mark and raced in fourth place along the rail, was late getting clear but ran on well for third without threatening the first two. Simon Katz was three lengths behind her in fourth place with Loyal Step fifth.

Credit: Shelly Caldwell writing in the Trotting Calendar


| | |
| --- | --- |
| | RACING HISTORY FEATURE RACE COMMENT |

1985 NEVELE R STUD NZ OAKS

Southland filly Chipaluck looks to have a mortgage on the DB Export Flying Fillies Final at Alexandra Park after her runaway victory in the Nevele R Stud NZ Oaks.

Chipaluck was having her 15th start for the season and she has come through a campaign, which has seldom seen her enjoy an easy run, in peak condition. Driver Kerry O'Reilly took her to the front at the 1800 metres and from then on, she had her rivals well covered. Jack Smolenski took Adios Trick forward to sit in the open at the 1200 metres, pulling a punctured tire from there, but she was beaten soon after turning from home and finished ninth. Chipaluck established a winning break at that stage and maintained a three length advantage to the line, posting 3:21.1 for the mobile 2600 metres. It was left to Maddie to battle gamely into second nearly four lengths clear of Springfield Countess, conqueror of Chipaluck in the Southland Oaks.
Southland fillies have enjoyed a successful couple of seasons in the NZ Oaks, Josephine Bret running out an impressive winner last term.

Springfield Countess enjoyed a good run behind Passover early, improved on the home turn, and fought on well to take third b a length from Bonover, who also ran on well without threatening. Lunar Dawn, who lead early then trailed Chipaluck, had little left in the straight, finishing fifth, while Golden Rolex just battled into sixth ahead of Folie Bergere who did not get the best of runs.

Trained by Ron MacDonald at Myross Bush, and raced by him in partnership with his son Charles, Chipaluck is out of the unraced Majestic Chance mare Native Chance. She has earned $39,505, the result of five wins, three seconds and four thirds from her 15 races, all this season.

Credit: Tony Williams writing in NZ Trotting Calendar


| | |
| --- | --- |
| | RACING HISTORY FEATURE RACE COMMENT |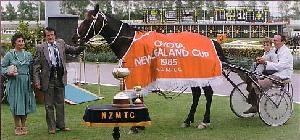 Owners Doreen & John Murray, Borana, Bobby Allen & a young Mark Jones

1985 TOYOTA NZ TROTTING CUP

Thirty-year-old Templeton horseman Peter Jones was shaking. His wife Lois was nearly in tears. The couple's daughter Philippa was completely overcome. And their young son Mark just wanted to give his hero a hug and pat the horse. Borana had just won the $225,000 Toyota NZ Cup at Addington with Peter Jones at the helm. The joy of the Jones family said it all.

Five years earlier - 1980 - Peter Jones had driven in his first NZ Cup and reined home Hands Down in a great tactical victory over North Island idol Delightful Lady.

That was a feat that Jones cherished. Last Tuesday, however, Jones not only drove the Cup winner but was also the trainer. With his first runner in the NZ Cup, Peter Jones, just over 12 months into his professional training career, completed something all New Zealand trainers dream about.

This year's NZ Cup had been won by Australian visitor Preux Chevalier before the race had been run, according to the pundits. The much vaunted West Australian pacer was backed down to very short odds. But, like most short priced Cup favourites, he was beaten.

Roydon Glen was to offer the Australian his toughest opposition. A noted Australian journalist was quoted in the local Christchurch morning daily that Preux Chevalier would win by a "street". Roydon Glen's trainer-driver Fred Fletcher was in something of a quandary before the race. "I'm still trying to figure out how far a street is," said Fletcher. "Just how much do I have to get beaten by?"

Borana's chances of beating the first and second favourites were not accorded much public support. At totalisator close, he was the rank outsider of the field. His chances indeed looked remote after being well beaten in atrocious conditions in the Kaikoura Cup then finishing out of a place in the Cup trials the previous Thursday.

Someone, however, forgot to tell Borana and Peter Jones of the situation. After giving all but an earlier breaker in Spry Joker a start with 1000 metres to run, Borana came with the last run to win going away by one and a quarter lengths, returning his backers over $76 to win, the biggest Cup upset of all time. Closest to him at the line was Our Mana. He was three quarters of a length clear of Roydon Glen with a short head back to Preux Chevalier. Comedy Lad, Camelot and the pacemaking Premiership were close up next. Borana returned to a great reception, although one section of the crowd gathered by the birdcage decided they had the right to spoil Jones' occasion with booing and cat-calls.

For Borana, a six-year-old stallion by Boyden Hanover out of the Out To Win mare Aoranam, the Cup victory was his 18th career win. The $135,000 winner's cheque doubled his stake earnings to $247,645, a total brought in from 95 starts.

"It's every owner's dream to win this race, and we did it today," said Borana's part-owner John Murray at the presentation. "We owe a lot to Peter (Jones) and his boys for the way they have prepared this horse," Mr Murray added, "this win is as much for them as it is for us." Mr Murray, an administrator with the IHC in Dunedin, races Borana in partnership with his wife Doreen. The couple acquired Borana when the horse was just seven months old. The then colt was advertised for sale in the NZ Trotting Calendar. Peter Shand, son of Washdyke trainer-driver George Shand noticed the advertisement and, because he knew the couple were looking for a horse, told John Murray, who purchased the colt soon after for $2,000.

Placed in the care of George Shand, Borana quickly showed ability and at two raced 12 times for six wins, including victories in the Rangiora Raceway Stakes, Forbury Juvenile Stakes and Oamaru Juvenile Stakes. A leg injury at two sidelined the colt for a while and he missed a chance of competing in the major juvenile events.

Back at three, Borana competed with the best. He raced 18 times, winning four and being placed in 12 other races, bringing in stakes of $28,185. Two of his wins were recorded in the NZ Championship Stakes and the Mercer Mile, the latter victoy in 2:00.7.

At four, Borana was second best pacer of his age behind Nostradamus. He raced 34 times, recording seven wins and 13 placings, returning his owners $45,095. Wins at this age came in the Te Awamutu Cup (2:00.1), Cambridge Classic, DB Superstars heat and a heat of the Messenger. Borana raced 24 times last season without success. His first eight appearances were from George Shand's stable, then the stallion changed quarters soon after the NZ Cup meeting last November and joined Peter Jones' team.

A successful junior driver, holding the record for the most wins as a junior until recently beaten by his nephew Anthony Butt, Jones decided to branch out into training and acquired a property that backed on to his father's establishment at Templeton.

Borana had his first outing in Jones' black and white colours at Alexandra Park on December 22. Not 12 months later, those colours were brought back at the head of the NZ Cup field. "I was lucky I suppose," said Jones. "Not many trainers get a horse with an open-class assessment to begin with." Lucky or not, Jones has quickly made his mark as a trainer, not only with Borana but with other horses including Laser Lad, likely favourite for the $125,000 Fay, Richwhite Sires'Stakes Final last Friday. "It was a thrill to win with Hands Down in 1980," said Jones, "but to win today and also train the winner, well, I can tell you it's an incredible feeling." Jones added that he felt for the Fred Fletchers and Barry Perkins of the world. "Those blokes had all the pressure on them, press, radio, television, everything. We had no pressure on us at all, no one even came out to get our autographs during the week leading up to the race. It was nice to be able to relax and take the race as it came."

Jones said he was slightly confident of success before the race. "As confident as you can get when there is opposition like Preux Chevalier and Roydon Glen," he said. "I knew this fellow was the best I had had him since he came here, and I knew he would go a top race. It was just a matter of getting a good run and staying out of trouble. Peter Jones has no set plans for the horse. "I will take them as they come." A trip to Brisbane for the Albion Park Inter-Dominions in April? "No, no thoughts on that at this stage."

Our Mana, so often the bridesmaid in big cup events, again had to play second fiddle, as he had done to Camelot in last year's event. Left in the open early Colin De Filippi gave the Schell Hanover gelding a beautiful run in the one-one from the 1800 metres after Preux Chevalier looped the field to sit without cover. De Filippi had Our Mana poised on the leader's wheels as they swung for home. He loomed up to Premiership 150 metres out and looked set to win. "We had every chance," said Colin De Filippi. "I thought we had a chance when we got to the front inside the 200 metres but I could hear Borana coming and knew he was going much too well for us." Some consolation for owner Jenny Barron was that the $45,000 second prize money boosted Our Mana's earnings over $200,000. The gelding has now won $240,720.

Second favourite Roydon Glen was third, and looked decidedly unlucky. Away well, he ended up five back on the fence early, then four back. He had a wall of horses both in front and beside him with 600 metres to run and had no pacing room at all. Clear late, Roydon Glen accelerated too quickly and paced roughly. Once balanced by Fred Fletcher, he roared home down the outside but it was too late, Borana had the race in safe keeping.

A short head away in fourth was Preux Chevalier. Slow then into a break in the first 50 metres, the West Australian settled several lengths off the leaders early. He had caught the bunch with 2400 metres to run, then driver Barry Perkins sent his charge on a sweeping run towards the lead. Instead of continuing on, Perkins elected to sit without cover. There they stayed until the home turn. Preux Chevalier issued a challenge and kept on fighting, but the expected winning margin of a "street" was nowhere to be found.

Comedy Lad was a length back fifth. Tony Herlihy had the gelding handy on the fence but try as he might in the straight the gaps did not come.

Camelot was sixth. The 1984 Cup winner was given a good run by Robin Butt. He improved three wide to be challenging on the turn and kept coming, though not suited by the slow pace.

Premiership was next in, a nose back. He set the pace, not the 3:59 pace many had expected, but a muddling pace. He looked to be going well on the turn and still had control as close as 150 metres out. He was dive-bombed only in the final few metres.


Credit: Brian Carson writing in NZ Trotting Calendar


| | |
| --- | --- |
| | RACING HISTORY FEATURE RACE COMMENT |

1985 JOHN BRANDON NZ DERBY

The John Brandon NZ Derby winner will be invited to contest the $50,000 Australian Derby at Gloucester Park, Perth in May. Along with Great Northern Derby winner Nardinski, Placid Victor will be invited to line up against the State Derby winners in Australia in the Australian Derby.

The son of current boom sire Vance Hanover clearly oustayed his ten rivals in the $80,000 NZ Derby and showed just how unlucky he was not to pick up the $102,500 bonus for winning all three races in the John Brandon Series at the meeting. He was just held out by Nardinski in the 2000 metre event on the middle night after winning on the first night.

Raced by Mrs Lyndy Wilson and trained for her by Sandy Purdon at Pukekohe, Placid Victor earned $52,000 for his win in the Derby, taking his earnings to $108,635, the result of seven wins, one second and four thirds from just 19 starts. Berima, the dam of Placid Victor, was purchased by Mrs Wilson's husband Ross for $600 from Waiuku studmaster Dave Jessop, and a mating with Jessop's highly successful sire Vance Hanover produced a colt of genuine staying ability. "He's getting better with age and he should be an even better horse next year," said driver Maurice McKendry after the Derby. "Today's run suited him - he got a good drag round and, being an out and out stayer, was suited by the fast pace." Placid Victor paced a race-record 3:16.4 in winning by a length and a quarter, only .7 of a second outside Roydon Glen's New Zealand record.

Maurice McKendry allowed Placid Victor to drop back in the early running and did not make a move until he latched onto the back of Chipaluck who started to move forward from the 1000 metres. Placid Victor sat three wide in the second line to the home turn, and McKendry didn't take off until he saw place favourite Nardinski bottled up on the rails and unlikely to get a run until late. That turned out to be the case and as Placid Victor strode to an easy length and a quarter win it was left to outsider Gold Sovereign to charge home late for second nearly three lengths clear of Loveridge.

Loveridge maintained his placed record in the series with his third, rushing up to sit in the open from the 800 metres and holding on well. Nardinski was two lengths back fourth and, though denied a run until the race was all but over, trainer-driver Jack Smolenski didn't think that altered the result much. "He didn't feel as sharp today and he wouldn't have beaten the winner anyway," Smolenski said. Placid Victor's stablemate Fredrick fought on well ahead of second favourite Samson, who, in spite of being pushed back on the home turn and running on for sixth, didn't really fire, according to driver Ricky May. Pacemaker Kevs Choice was at the head of the remainder.


Credit: Tony Williams writing in NZ Trotting Calendar


| | |
| --- | --- |
| | RACING HISTORY FEATURE RACE COMMENT |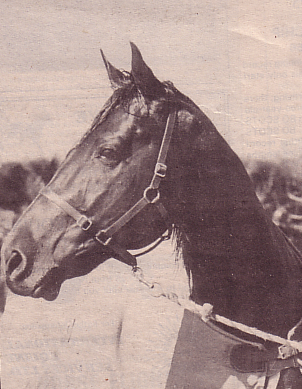 Preux Chevalier victor in the FFA

1985 BENSON & HEDGES NZ FREE-FOR-ALL

West Australian pacingstar Preux Chevalier atoned for his poor effort in the Cup when he easily took the Benson & Hedges NZ Free-For-All.

What was once again expected to be a clash between Preux Chevalier and Roydon Glen again failed to eventuate as Roydon Glen was found out in a killing first quarter in 26 seconds as he fought to wrest the lead off Diamond Moose.

With such a blistering pace on early, Brian Perkins was easily able to extricate Preux Chevalier from what could have been an awkward inside spot from the second line, and he was up to sit outside Roydon Glen at the 1200 metres. But the real fireworks started 200 metres further on, when Anthony Butt, far from being intimidated by the big reputations against him, shot Premiership forward to challenge for the lead. He blasted past the struggling Roydon Glen at the 800 metres, and still had control at the top of the straight.

Though Preux Chevalier easily asserted his superiority and strode away to win by four lengths, Camelot, finishing strongly, had to battle hard to edge past Premiership by a short neck at the line. Enterprise, trapped three wide most of the way, turned in a peak effort to take fourth half a length back, a nose in front of Cup winner Borana, who ran on well without looking like doing any better than a minor placing. Freightman and Comedy Lad shared sixth and were well beaten, while Roydon Glen wilted to eleventh.

Preux Chevalier's time of 2:25.7 was the second fastest in the exciting history of the Free-For-All, but even that was 2.2 seconds outside Armalight's amazing 2:23.5 set back in 1981.

A generous Addington crowd forgave Preux Chevalier his expensive failure in the Cup three days previously, and gave him a rousing reception as he returned to the birdcage.


Credit: NZ Trotting Calendar