| | |
| --- | --- |
| | INTERNATIONAL HISTORY |

The Internet and World Wide Web begin.


| | |
| --- | --- |
| | LOCAL HISTORY |

October 5 - Greg Mortimer of Ch-Ch climb Mt Everest without oxygen.

November 5 - The Ch-Ch Civic Trust Board buys the Mt Vernon property for a public park.

December 16 - John Walker becomes the first person to run a sub four minute mile in Canterbury. He broke the record at QE2 Park.

Credit: Ch-Ch City Libraries


| | |
| --- | --- |
| | RACING HISTORY PEOPLE |

ETIENNE LE LIEVRE

In 1836 a French whaling boat sailed in and around the bays of Banks Peninsula and dropped anchor at the sight which probably impressed those aboard most...Akaroa. The French whalers stayed for several months and one of them, Francois Le Lievre must have been particularly pleased with what he saw, because a year later he was among 63 passengers on board the Comp de Paris, the first settlers' boat from France.

Francois set about establishing the most successful farm on Banks Peninsula and marrying Rose de Malmanche, who had also arrived on the Comp de Paris. Francois and Rose raised several children, but it was Etienne who inherited his father's love of the land, and it's horses. Etienne, who was born in 1854, was brought up in the days when the horse was mainly the mode of transport. His family regularly travelled the miles to the flatter land of Little River, where at picnic gatherings each farmer would bring his fastest horses to race. Naturally, Etienne followed with interest the progress of trotting in town, Christchurch, which by the turn of the century was going ahead in leaps and bounds.

It was obvious at the time that the early importations from America, the likes of Berlin, Childe Harold, Irvington, Vancleve and Wildwood, and mares like Jeanie Tracey and Woodburn Maid were responsible for considerable improvement in the local breed.

Having inherited the largest and most successful sheep farm on Banks Peninsula some years earlier, Etienne had the resources and time to make some excursions in this field himself, and in 1904 he began the long trip to California in search of quality young horses. In the company of Robert McMillan, a highly respected young American horseman who had been living at Halswell in Christchurch, Etienne returned to New Zealand with a yearling colt by Sydney Dillon, a six-year-old entire called Wallace L and a five-year-old mare in Muriel Madison, while McMillan was credited with purchasing the stallion Mauritius and the mare Miss Youngley.

The colt by Sydney Dillon, the sire of the first 2:00 trotter Lou Dillon (1:58.5), was Harold Dillon, NZ's champion sire for five years between 1916-17 and 1920-21. Harold Dillon sired some 190 winners including the public idol Author Dillon (1918 NZ Cup), as well as Waitaki Girl, John Dillon, Oinako, Sungod and Adonis, all among the best pacers of the day. Well over 200 winners came from Harold Dillon mares including Pot Luck, Parisienne, Glenrossie and Dilworth. Wallace L was only moderately successful at stud while Muriel Madison founded a very successful family, to which over 160 winners trace,including No Response and Koala King. Mauritius was exported to Australia in 1907 and wound up leaving around 120 winners while Miss Youngley was the granddam of 1923 NZ Cup winner Great Hope and is the ancestress of close to 100 winners.

In 1913, Etienne went back to California and purchased a two-year-old colt by Bingen called Nelson Bingen and three young mares, one of which was Berthabell. Stinted almost entirely over the years to Nelson Bingen, the leading sire here for two seasons, Berthabell was to prove one of the most remarkable broodmares in the history of standardbred breeding in NZ, and the founder of one of our largest maternal families. Belita and Belle Bingen were the other mares. Belle Bingen had been bred fron Berthabell in America in 1913, being by Bingen, and had arrived with her dam in 1914. Belle Bingen was crippled on the journey to New Zealand, however, and was put in foal as a two-year-old.

Berthabell had been in foal to The Harvester during the trip but upon returning to Akaroa the resulting foal lived only a few days. Etienne's poor luck was to continue, as in 1916 Berthabell foaled dead twins by Nelson Bingen. Then, the following year, Berthabell produced a colt to Nelson Bingen, the first of eight consecutive foals by the son of Bingen and eight consecutive winners. Worthy Bingen was unsound and very lightly raced as a trotter, starting 13 times over 4 seasons for four wins. Lightly patronised at stud, he sired 33 winners, including the champion trotting mare, Worthy Queen.

Then came the champion Great Bingen. Raced by Sir John McKenzie and Dan Glanville, who bought him from Etienne as a two-year-old for £400, Great Bingen won £14,920, a stakes winning record for several years. In NZ he raced 73 times for 22 wins and 26 placings, while he also contested the Australian Championship, the forerunner to the Inter-Dominions, in Perth in 1926, recording four wins before being just beaten by Taraire in the final. While Great Bingen was the best pacer during the late 1920s, his younger brother Peter Bingen was also acquitting himself well in the tightest class. As a nine-year-old, starting from 48yds, Great Bingen was just beaten by Peter Bingen in the NZ Cup, the first of two wins in the event for Peter Bingen. Peter Bingen raced 87 times for 16 wins and 24 placings, for stakes worth £8629, a little more than half Great Bingen's earnings. Great Bingen later sired 46 winners, including Double Great (1935 NZ Derby) and Taxpayer (1932 Sapling Stakes, NZ Derby), while Peter Bingen sried 45, including top pacers Peter Smith, Double Peter and King's Play.

After them came the fillies Bessie Bingen and Bertha Bingen, who were lightly raced as pacers, each winning twice. Great Peter (eight wins, GN Derby), Baron Bingen (seven wins) and the trotter Great Nelson (five wins) completed the remarkable record of Nelson Bingen and Berthabell. Mated with Guy Parrish, Berthabell left the leading northern pacer Great Parrish, who won 14 races and £3317, taking the 1929 Great Northern Derby and 1932 Auckland Cup. He sired 41 winners. Sent back to Nelson Bingen in 1927, Berthabell left the filly Bell Nelson, who was unraced. The Guy Parrish filly Corona Bell followed, winning once as a trotter.

Travis Axworthy, whom Etienne had imported in 1924 along with Guy Parrish, was the sire of Berthabell's 1930 foal, the colt Ring True. Raced from age three until 11 in the north, Ring True won nine races and £2029, and later sired 46 winners. Ring True had his last start on February 14, 1942, 21 years and one week after the first of Berthabell's progeny, Worthy Bingen, made his debut, finishing third in the 1921 NZ Trotting Stakes at Forbury Park.

The 11 winning progeny of Berthabell had won 94 races and stakes worth £35,335, a figure by today's standards that would run well into the millions.



Credit: Frank Marrion writing in NZ Trot Calendar 11Sep84


| | |
| --- | --- |
| | RACING HISTORY PEOPLE |

P A WATSON

Percy Alison Watson, a prominent Mid-Canterbury owner-trainer and breeder, died in Ashburton last week.

Mr Watson bred some outstanding horses over the years with the Rey de Oro mare Purple Patch.

Purple Patch left top performers in Loyal Rey (ten wins), Countless and Ingle Belmer (nine wins).

Lady Belmer (13 wins, Easter Cup), Harvest Gold (NI Oaks), Royal Decision (ten wins), Royal Belmer (12 wins, 1:58.8, Kaikoura Cup), Patchwork (Easter Cup), Sovereign (NZ Derby), Rhinegolde (11 wins), Tarita (1:59.9)and Belmers Image (1:58.2) are other members of the Purple Patch side of the Papilla family.

Credit: NZ Trotting Calendar 10Jan84


| | |
| --- | --- |
| | RACING HISTORY PEOPLE |

ERNEST ALBERT LEE

Mr Ernest Albert Lee, a retired magistrate and one of two men who played a major part in getting the Totalisator Agency Board established in New Zealand, died in Christchurch last week at the age of 84.

Mr Lee acted as junior counsel to Mr Charles Thomas during the 1948 Royal Commission into horse racing, and it was these two who put forward proposals to introduce TAB betting in this country.

A former chairman and life member of the New Brighton Trotting Club, Mr Lee acted in an advisory capacity to the NZ Trotting Conference on his retirement as a magistrate, and few rule changes were framed without him giving his advice.

Appointed a senior magistrate in Christchurch in 1962 and a senior magistrate of NZ in 1967, the year he retired, Mr Lee was admitted as a solicitor in 1927 and a barrister in 1932. Born in Seafield, Mid-Canterbury, he practised with the Christchurch firm of Cifford Jones and Lee for 21 years until appointed a magistrate in 1948, serving in Timaru until 1958 when he was transferred to Christchurch. He was president of the Canterbury District Law Society in the 1940s, chaired the War Pensions Commission, and took a keen interest in youth rehabilitation throughout his lifetime.

Tennis and bowls were his other sporting interests, and he represented Canterbury in lower grade tennis and was a Canterbury and South Canterbury bowls representative. As a tennis administrator, he served as chairman of the Canterbury Lawn Tennis Association Management Committee, as Canterbury selector and as a delegate to the NZ Lawn Tennis Association.

Mr Lee is survived by a daughter and a son.

Credit: NZ Trotting Calendar 11Sep84


| | |
| --- | --- |
| | RACING HISTORY INTERDOMINIONS |

ADELAIDE - GAMMALITE
Victorian great Gammalite (a millionaire) joined Captain Sandy and Hondo Grattan as the third two time Inter Dominion Champion by powering his way to a clear cut victory in the 1984 Grand Final in Adelaide. New Zealand's diminutive campaigner Sir Castleton prevailed over Scotch Notch in the Trotters Final.



| | |
| --- | --- |
| | RACING HISTORY HORSES |

BONNIE'S CHANCE

Bonnie's Chance, who ranks as one of the greatest mares ever to complete in NZ, has gone into honourable retirement.

The champion Majestic Chance-Bonnie Countess mare had her last start at Addington on December 30, and went out on a high note when she took the NZ Standarbred Breeders' stakes for the third successive year. Locked up three back on the fence behind Hilarious Guest and Jilaire's Chance, it was late in the straight before the gap opened along the rails which enabled Bonnie's Chance to sneak through and claim a length victory over Hilarious Guest in 2:01.2.

Following that race, trainer-driver Richard Brosnan said he was tempted to have another tilt at the Auckland Cup in February, the only major race which has eluded her. But a week later, the decision was taken, after consultation with owners Mesdames Bonnie McGarry and Karen Grice, to retire her. "It was a hard decision to make, but for the good of the horse it was the right one," Richard Brosnan said last week.

Bonnie's Chance, who has been troubled with leg problems for some time now, retires with $357,000 in stakes, second only to another grand mare, Delightful Lady, on the list of stakes winners to race solely in NZ. She started 75 times for 32 wins and 20 placings, including the 1982 NZ Cup. Her victory over Hands Down in 1:56.2 for the mile at Washdyke makes her the equal fastest miler (with Lord Module) in a race in NZ, and she shares with Steel Jaw the record for a mobile 2600 metres at Addington - 3:15.4.

Bonnie's Chance has been served by Lordship and had gone 21 days at the time of her December 30 win at Addington. He dam, Bonnie Countess, recently foaled a colt to the Albatross stallion Sholty Imp, and is to be mated with Lordship.



Credit: NZ Trotting Calendar 10Jan84


| | |
| --- | --- |
| | RACING HISTORY HORSES |

BASIL DEAN

Yes, don't text, Basil Dean later won a Dominion Handicap and a lot of other races. But when his career is recalled, as it often is, it is because of only one race that amazing New Zealand Trotting Championship at Easter 1984, still a landmark in our trotting history.

Basil Dean, trained largely by Bob Jamison, was in the hands of Kerry O'Reilly and took charge of the race early on . What followed was so stunning all you could here in the Press Box was Star reporter Dave Cannan's strangled cries of disbelief calling out the fractions as the big trotter burned his rivals into the ground. When the clocks stopped it was at 3:15.3 for the 2600m, smashing his own national record by nearly five seconds having already eliminated Scotch Tar and Sir Castleton from the record books. No easy task in fractions never mind seconds.

To put this stunner into proper perspective Basil Dean's time was faster than the national pacing record held by Steel Jaw and Bonnies Chance. These days it is back to five seconds slower. Think of Monbet running around 3:55 in a Dominion. That is the measure of the impact on that sunny afternoon. Even though he had not won any of the most sought after races Basil Dean was voted Trotter of the Year on that one run and he held the title the following season when he won the Dominion.

But he never went anywhere near 3:15 again and who could be surprised? Even all these years later it is still hard to believe it the first time.

Credit: David McCarthy writing in Harnessed 2016


| | |
| --- | --- |
| | RACING HISTORY FEATURE RACE COMMENT |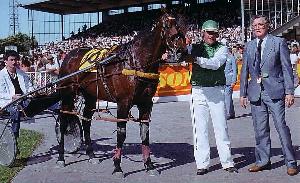 David Butt, Camelot, Robin Butt & the owner Harry Crofts

1984 NZ TROTTING CUP

"We'll start in everything how except waterjumps." So said a jubilant Dr Harry Crofts after Camelot ran out a three quarter length winner of the NZ Cup at Addington.

Camelot edged past the pacemaking Dillon Dale in the final 100 metres of the $125,000 feature to score a popular win. Dillon Dale lost second in the shadows of the post to Our Mana, while Hands Down headed the remainder some four lengths away.

While all the glory of the win went to Camelot, the Cup was marred to a great extent by a melee with a little under 700 metres to run in which the chances of seven horses were extinguished. George Shand, the driver of Borana, was suspended up to and including December 15 after being found guilty of causing interference to Diamond Moose at the 700 metres. Diamond Moose (Murray Butt) was brought down in the incident, while Double Cove (Jack Smolenski) fell, Enterprise (Peter Shand) fell, Supreme Ruler (Richard Brosnan) fell, Stampede (Gavin Hampton)lost his driver, as did Stortford Lodge (Paul Young). Also hampered badly in the incident was Norton. Peter Shand and Jack Smolenski both needed hospital treatment, Shand dislocating a shoulder while Smolenski broke an ankle. None of the remaining drivers were badly injured, mainly being shaken and bruised. Several horses had skin grazes but none were seriously injured.

Camelot settled back on the outer for Robin Butt. The pre-race and race-day favourite made his move with some 950 metres to run, improving three wide and being followed all the way by Our Mana. Camelot had just joined Diamond Moose at the 700 metres when the melee took place. Dillon Dale, who had broken at the start and lost up to 40 metres, looped the field on the back of Hands Down to lead at the 1500 metres. He still had control as the field swung for home and, despite his early mistake, fought back tenaciously when challenged by Camelot. Camelot edged ahead slowly but surely as the post loomed and had three quarters of a length over Our Mana at the line. The latter fought on well after trailing Camelot up from the 950 metres and coming off his back with 150 metres to run.

For 57-year-old Harry Crofts, the Cup win was a lifetime ambition fulfilled. After running second to Steel Jaw in his record run Cup 12 months previously and then winning the NZ Free-For-All, Camelot bounced back to form with a win from 29 metres in Mid-October. That return to form, plus his effort in the Cup a year earlier, brought Camelot to the forefront of discussions.

Said Harry Crofts at the presentation: "I would have cried if he'd lost...I can cry now that he's won."

Camelot will have further chances to demonstrate his ability before the season is completed. He will leave on November 20 for Sydney where he will contest the Australian Pacing Championship at Harold Park. After that he will be aimed at the Auckland Cup, followed by the Inter-Dominions at Moonee Valley in March. "After that it's off to the Meadowlands for the World Cup," said Harry Crofts. A tilt at that rich world class event will probably depend on his efforts during the next few months.

"I was never really worried," said Robin Butt after the race. "He was a bit slow early, but I gave him time to find his feet." Butt,41, has had Camelot in his care since being broken in by Alec Wright. The horse has had his share of problems in the last 12 months, a virus attack in Auckland last December and a lot of minor setbacks since have not helped the stallion. "He has kept right on improving this spring," said Robin Butt, "and peaked on the right day." While Camelot missed the melee at the 700 metres, he was involved in minor incident on the way to the course," said Harry Crofts. "He took a bit of skin off his rump. It was probably a good thing," he added. "I think it may have woken his ideas up a bit."

Camelot's victory in the Cup was only the third occaion on which Harry Crofts had seen his horse win. "I came over for the Cup meeting last year and saw him win the Free-For-All on Show Day," said Harry. He arrived back in New Zealand last March after spending two years stationed in Saudi Arabia. "I saw him win at the Canterbury Park meeting...and now today."

Harry Crofts has been involved in the trotting industry since 1950. "I bought my first horse when I was 23," he said. "I'd just qualified as a doctor and with my first wage bought a .22 rifle and the second a horse." Whether the gun was later used on other standardbred purchases Harry didn't say, but he added that he had raced "over 40 horses" since that time, "winning the odd race here and there", but that Camelot was by far the best he had had.

Harry Crofts bred Camelot from the Blue mare Blue Brook, a mare he purchased in 1971. "I was busy in my rooms the day Alan Holmes was having a sale and I asked Wayne Francis to buy a mare for me," said Mr Crofts. "I liked Blankets but knew she would fetch too much so I told Wayne to go up to $1500 to buy her three-quarter sister Blue Brook, who was in foal to Fallacy at the time. He only had to go to $1250 to get her then, after having a look at her blood, asked if he could go halves in the mare with me. We couldn't decide on who would take the first foal from her so agreed to let our wives have the first foal and then take alternative foals, with myself starting off." Apart from Camelot, Blue Brook has left minor winners in Timely Jubilee, Cover Story (US 2:02.4) and Brookby Blue. Camelot is the first Cup winner from the Norice family to which he belongs. Norice, herself a top mare, so many years ago, ran second in the 1904 NZ Cup.

While the honours were with Camelot, good runs came from the two other placegetters, Our Mana and Dillon Dale, especially the latter. A little slow early, Our Mana sat back behind Camelot all the way. Colin De Filippi didn't miss a beat when Camelot and Butt improved with 950 metres to run. Like Camelot, Our Mana was particularly lucky to miss any interference from the melee at the 700 metres. He followed Camelot until well into the straight, pulled off his back with 200 metres to run but couldn't bridge the gap. "Every chance," said Colin De Filippi after, "we were beaten by a better horse on the day."

The effort of Dillon Dale in finishing third was a feature of the race. The Takanini-trained seven-year-old galloped away and lost 40 metres before trainer-driver Don Dwyer could settle him into a pace. After catching the body of the field with 2400 metres to run, he improved three wide following Hands Down and took command with 1500 metres to run. With the winner running the 3200 metres in 4:06.4, one would have expected Dillon Dale to be struggling when the pressure was applied, but he fought back tenaciously all the way down the straight and lost second in the last few strides, being only half a neck away from Our Mana.

Fourth, four lengths away, was Hands Down. He began well from ten metres and Peter Jones improved him wide to lead with 1900 metres to run. He took a trail when Dillon Dale swept up and into the lead with 1500 metres to run but was under pressure to hold the trail at the 400 metres. He battled bravely to the wire.

Northern hope Te Puke Expects was fifth. He trailed early then settled back on the fence. He was under pressure a fair way from home and only battled. He comfortably beat Hilarious Guest, who lead from the 2400 metres to the 1900 before trailing. She dropped away from the 600 metres and was clear of the Australian champion Gammalite. He began well from 30 metres but was forced three wide from the 2400 metres. Bruce Clarke improved the gelding to sit without cover with a lap to run but Gammalite was obviously a beaten horse with 400 metres to run.

Only Norton and Borana of the remaining eight runners completed the course. Norton broke at the start and lost 20 metres before settling. He was making a move to follow Camelot and Our Mana round when badly checked in the accident at the 700 metres, his chances being extinguished.


Credit: Brian Carson writing in NZ Trotting Calendar


| | |
| --- | --- |
| | RACING HISTORY FEATURE RACE COMMENT |

1984 BENSON & HEDGES NZ FREE-FOR-ALL

If Dillon Dale's third in the NZ Cup was an outstanding effort, it paled in significance when measured against his success in the Benson and Hedges NZ Free-For-All.

The northerner credited his young Takanini trainer Don Dywer with his most satisfying success to date on his first campaign at Addington. Dwyer felt prior to the Cup Dillon Dale would distinguish himself, and he was right. The seven-year-old Gaines Minbar stallion lost 40 metres at the start, swept up to the lead in the middle stages and fought tenaciously to the wire when headed by Camelot and Our Mana even closer to the post. So the young trainer was out for revenge when he came up against Camelot and Our Mana again in the mobile 2000 metre Free-For-All, and revenge he got, albeit in the hardest possible manner.

When Cup winner Camelot and Te Puke Expects blasted out of the gate, Dillon Dale went off stride. He settled quickly, but was at the tail of the field and in trouble. Further disaster struck at the end of 300 metres when he broke again and his chances looked hopeless. But after a suicidal first quarter in 26.3, Camelot backed the pace off and Dwyer was quick to take advantage. With a round to go, he swept forward and was up outside Camelot at the 1000 metres. The pace quickened appreciably, but Camelot surrendered quickly at the 500 metres when Dillon Dale put his head in front. Under Dwyer's urgings, Dillon Dale opened up a winning break at the top of the straight, and was never seriously tested, winning by a length.

Enterprise, who lost his driver in the Cup, finished gamely after making a run wide on the turn and just took second by a neck from Cup runner-up Our Mana, who had every chance but just battled into third. He only just lasted for third by a nose from the solid finishing Stampede, another to lose his chance along with his driver in the Cup. Stortford Lodge ran on late for fifth clear of Gammalite, whose run was disappointing. He was struggling to stay in touch at the 800 metres and, though sixth home, was only a shadow of the horse who has thrilled New Zealanders on previous visits.

Just as disappointing was Camelot, who stopped badly to ninth. Trainer-driver Robin Butt attributed his defeat to "That first quarter - he's never gone that fast before in his life". Dillon Dale's time for the mobile 2000 metres was 2:28.1, a mile rate of 1:59.2.

Credit: Tony Williams writing in NZ Trotting Calendar


| | |
| --- | --- |
| | RACING HISTORY FEATURE RACE COMMENT |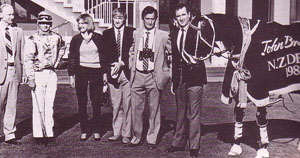 After race presentation

1984 JOHN BRANDON NZ DERBY

The 1984 John Brandon NZ Derby, which promised so much with one of the best fields of three-year-olds assembled for the event for some time, ended tragically for most at the end of only 200 metres when a spectacular smash eliminated all but five of the 14 horse field.

Horses, drivers and sulkies went in all directions as Liquid Lightning fell when second in the open, bringing down Tucker's Rule, Freightman, Ruthless, Logan Dryham, Kanturk and Roydon Glen, while Slugger had to be pulled to a dead stop and King Alba lost his driver after almost avoiding the melee. Three drivers, Charlie Hunter (Tucker's Rule), Barry Clark (Logan Dryham) and Colin De Filippi (Freightman) were taken to hospital after the event. Hunter, who crawled from under the wreckage of horses and sulkies, was the most seriously injured and was reported to be in a fair condition at Princess Margaret Hospital.

Liquid Lightning, who fell when he attempted to jump a shadow, became entangled with Roydon Glen, and these two horses lay on the track while the remaining five runners completed the course.

Victory went to the most loosely assessed horse in thr field, the Southland owned and bred Naval Officer, who joined Mike De Filippi's Broadfield stable prior to the Easter Meeting, and finished fifth in the first two legs of the John Brandon Triple Crown on the first two nights of the meeting.

The race started sensationally enough when one of the favourites, King Alba, broke in the run up and was many lengths behind at the start. After the smash, Josephine Bret, Lord Louie, Paleface Tryax, Naval Officer and Crowhurst were the only runners left in the contest at the end of 300 metres, with Naval Officer enjoying the run of the race on the outer from the 1600 metres. The field had to swing wide out on the track to miss the fallen runners with a round to go, when a loose dog on the track almost cause more problems.

Naval Officer finished best in the run home, winning by two lengths from the Southland filly Josephine Bret, who just held out Paleface Tryax by a neck. Crowhurst was nearly two lengths back fourth clear of Lord Louie. Naval Officer recorded a smart 3:22.5, a mile rate od 2:05.4, which was a good effort considering the field had to run very wide twice.

Owned by Brian O'Meara, Ray Taiaroa and Dave Edwards, Naval Officer is one of the first crop of the Meadow Skipper stallion Midshipman, who stood two seasons at Nevele R Stud in Christchurch, a season at John Butcher's in Cambridge and a season at Grant Sim's in Invercargill. He will stand at Colin Chandler's Matamata property for the 1984 stud season.

Naval Officer is out of the Smooth Hanover mare Smooth Robyn, from Robyn Lee, by Light Brigade from Night Sister, by U Scott. Runner up Josephine Bret is by Knowing Bret from the Young Charles mare Young Charlotte, While Paleface Tryax is another son of Midshipman from the Hal Tryax mare Brigitte Bardot.

Credit: Tony Williams writing in NZ Trotting Calender


| | |
| --- | --- |
| | RACING HISTORY FEATURE RACE COMMENT |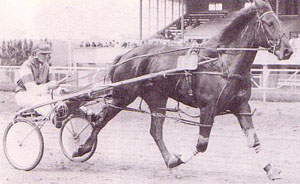 Josephine Bret and Allan Beck

1984 NZ OAKS

Winton filly Josephine Bret showed why she is regarded as the best of her sex in New Zealand with a decisive win in the $15,000 New Zealand Oaks.

Second in the New Zealand Derby in her last outing, Josephine Bret drew the second line in the Oaks and was kept well back in the field by John Hay until the last 400 metres. She mounted her challenge four and five wide turning from home and quickly put the issue beyond doubt, holding off a late bid by northern filly Lucy Lumber comfortably. Claire de Lune, having only her third start, tried to lead from the 1700 metres but held on for third, in a gap of three lengths, while Look Me Over and Cabernet both came from a long way back at the 400 metres for their placings.

DB Fillies' Final winner Blue Water sprinted had from the outside of the front line for Jack Smolenski to lead in the early stages, but, after trailing Claire de Lune, only battled into ninth place. North Island Oaks winner Precious Sally was back early and made a spirited bid to get near the leaders turning for home, but also dropped away to finish 12th.

For Josephine Bret it was her seventh win of the season and took her earnings to $42,270, second only to Blue Water's total of $55,875. By Knowing Bret from the Young Charles mare Young Charlotte, Josephine Bret is raced by breeder Jack Hamilton and his wife Winnie and is trained by Bob Beck, who has enjoyed his most successful season ever with 16 wins to date.

Credit: New Zealand Trotting Calendar


| | |
| --- | --- |
| | RACING HISTORY FEATURE RACE COMMENT |

1984 TAUBMANS DOMINION TROTTING HANDICAP

Six hundred metres after the start of the $60,000 Taubmans Dominion Trotting Handicap the race was as good as over. It was at that point that Basil Dean took control and the point at which the remaining 11 drivers appeared to settle for fighting out the minor placings.

At the finish of the 3200 metres Basil Dean was two and three-quarter lengths clear. His time for the distance, 4:12.9, was the second fastest recorded in the race - only Alias Armbro's 4:12.3 being faster but that being set on a fine sunny day. Cal Brydon, after being very late clearing a pocket, charged home to snatch second from a gallant Jenner in the shadows of the post, with Tussle close up fourth.

Basil Dean is owned by trainer Bob Jamison of Ashburton and Tim Newton. He has now won 22 of 54 starts and over $154,000 in stakes. Basil Dean opened up a warm favourite, eventually returning $1.60 for a win and even money for a place. After taking control, Kerry O'Reilly took hold of Basil Dean and set only a steady pace for the remainder of the first mile. After that O'Reilly quickened the tempo, sprinting sharply from the 1000 metres and giving those at the back little chance to make headway. The Great Evander gelding turned for home with a handy lead and O'Reilly didn't even have to flick the whip at the eight-year-old as he coasted over his last 800 metres in 59.4 and final 400 in 30.

The race was certainly not an exciting spectacle. The only real race was that for the minor placings. Cal Brydon, back four places on the inside for much of the way, managed to clear a pocket inside the 200 metres and Peter Wolfenden sent him out after the leaders. He came quickly, taking second from Jenner, but had no chance of overhauling Basil Dean. Jenner's run was eye catching. Driver Jack Carmichael was left parked on the outside when Basil Bean assumed control. He eased Jenner back to sit on the outside of the third line for the first 2200 metres of the race. He gradually moved Jenner up going down the back for the last time and the horse fought on exceptionally well for third. "A good run," said Carmichael after. "He was doing his best without the whip. It was a good run after being left in the open."

Second favourite Sir Castleton was sixth. He bounded away from the start and added 30 metres to his ten metre handicap before Doody Townley could settle him into a trot. After catching the field with half the race completed, Townley got on to the back of Adiantum going down the back, but this proved more of a hinderence than a help. Brought wide turning for home, it was clear that he had no chance of returning a dividend, but the Game Pride eight-year-old finished on resolutely to deadheat with a tiring Game Command for sixth place.

The only real disappointment in the race was Noble Advice. A proven stayer, the gelding was backed into fifth favouritism but only battled into eigth place after enjoying a trouble free run.

Credit: Brian Carson writing in NZ Trotting Calendar


| | |
| --- | --- |
| | RACING HISTORY FEATURE RACE COMMENT |

1984 PAN AM MILE

Norton showed that he will be a leading contender for honours in the Lion Brown Easter Cup in April when he overcame a rocky run to win the New Brighton Trotting Club's Pan Am Mile in style at Addington Raceway on Saturday evening.

He looked to have lost his chance when he broke badly early in the run-up and he had to sprint hard to work in behind the others at the starting point. Then, after about 200m, Trilobal broke and clipped a wheel of Norton's sulky without any disastrous effects.

It was late in proceedings that he looked a winning prospect. He was at least five lengths from the leader, Joy Boy, on straightening up, but when Kerry O'Reilly asked him for an effort, the response was dramatic. He surged up to the leaders in a few strides and did not have to be pushed over the final stages to win by a length and a half.

Hilarious Guest, after racing rather erratically early, improved to be on the outside of Agrinion and Dear Sir and just behind Diamond Moose and Joy Boy with 400m to run. She looked a possible winner when she charged past Joy Boy, but closer to home she was no match for Norton. Agrinion, which was in the first three throughout, battled on for a close third, ahead of Dear Sir and Kind Nature, with Jilaire's Chance, which appeared to meet trouble on the home turn, at the head of the others.

Norton, raced by Mr Maurice Anderson, of Gore, and his son, Lindsay, earned an open-class ranking as a result of his win. He will now go on to Washdyke for another free-for-all next Saturday. Trained at Highbank by Pat O'Reilly, Norton has been plagued by problems. He suffered a pedal bone injury and, after a long layoff, came back to racing about 14 months ago. Then, after finishing sixth in the Pan Am Mile 12 months ago, he went sore again, the problem recurring in the spring. Norton came back to racing on January 2 last and Saturday's race was only his second for the season. "He's some horse. He did it so easily it was amazing," commented his driver after the race.

The favourite, Joy Boy, after being challenged for the front by Diamond Moose, for much of the last 1200m, had nothing left on the run home and dropped out to seventh. The race was run in rain, giving added merit to Norton's 1min 58s for the mile. The opening half of the race was run in 58.6s, with the final 400m in 29.2s.

Credit: G K Yule writing in Ch-Ch Press 20 Feb 1984


| | |
| --- | --- |
| | RACING HISTORY FEATURE RACE COMMENT |

1984 FIRESTONE EUROSTEEL TROTTING CHAMPIONSHIP

The "scorched earth" policy adopted by the Lauriston horseman, Kerry O'Reilly, saw Basil Dean return the fastest time ever by a pacer or trotter for 2600m in the Firestone Eurosteel Trotting Championship at Addington Raceway on Saturday.

Basil Dean recorded 3min 15.3s for the mobile 2600m, well inside the previous best by a trotter, 3min 19.5s credited to Sir Castleton, runner-up in Saturday's race. It also bettered the national record of 3min 15.4 by a pacer, shared by Steel Jaw and Bonnie's Chance.

Basil Dean has now won 15 races and $75,210 for his Ashburton trainer, Bob Jamison, who races him in partnership with Tim Newton. "I thought I'd make the others work a bit and if they could catch us then they deserved to win," said Basil Dean's driver. "He pulled half a shoe off a hind foot in his preliminary and that might have been why he looked to be trotting a bit roughly behind.

Basil Dean began splendidly from wide out and he was quickly in front, with Sir Castleton handy enough all the way. O'Reilly did not have to drive Basil Dean out to win by a length and a half after being timed over his last 2400m in 3min 2.4s, the last 800m in 59.3s, and the final 400m in 29.6s.



Credit: G K Yule writing in Ch-Ch Press 23 April 1984


| | |
| --- | --- |
| | RACING HISTORY FEATURE RACE COMMENT |

1984 EASTER CUP

Kerry O'Reilly completed a notable double for the day when he drove Norton, trained by his father, to win the Easter Cup by a long head from the norther challenger, Ben. Then there was more than a length to Direct Kiwi, which held third by half a head from the favourite, Hands Down, which did not produce the dash which marked his win a week earlier.

Norton led for the last 2500m and paced his final 800m in 58.4s. He has now had 27 starts for 13 wins, 10 placings and $73,730 in stakes.

Delightful Lady was backed down the 3/5 favourite, but seventh was the best she could manage after receiving a perfect run. She looked a serious threat 200m out, but could not not carry her final sprint any further and Gary Hillier did not knock her about when it became obvious she could not get into the money.

Credit: G K Yule writing in Ch-Ch Press 23 Apr 1984


| | |
| --- | --- |
| | RACING HISTORY FEATURE RACE COMMENT |

1984 WELCOME STAKES

Samson gained his second win when he led throughout the Welcome Stakes, lasting it out by a nose from Nardinski, with three lengths back to the southlander, Malaz, which had his chance. Then there was an even longer break to Good To Win, which received a shocking run and was late working clear, and Loveridge.

The favourite, Master Mood, missed the start and was never a danger, finishing seventh.

Samson, trained at Hinds by Ted Lowe, who races him in partnership with Mr Brian Sampson, of Ashburton, will race next in the Sires Produce Stakes at Addington early next month, to be followed by the Sapling Stakes at Ashburton early in June.

Credit: G K Yule writing in Ch-Ch Press 23 Apr 1984