| | |
| --- | --- |
| | INTERNATIONAL HISTORY |

2 April - Argentinean troops invade the Falkland Islands claiming sovereignty over the the islands. Britian despatches a task force and by the 15 June and after the loss of over 1000 lives the Argentinean forces surrender and the islands are returned to British rule.

20 July - The Provisional IRA set off two bombs in Regents Park and Hyde Park, in central London. The casualties were 8 soldiers killed, 47 people wounded and seven horses were put down.


| | |
| --- | --- |
| | LOCAL HISTORY |

The CER (Closer Economic Relations) allowing free trade across the Tasman is signed by NZ and Australia.

February 15 - New Zealand beats England in a cricket test for the first time. Chasing 137 for victory in the first test at the Basin Reserve in Wellington, England are bowled out for a paltry 64, with Richard Hadlee capturing 6 for 26.

February 18 - Ngaio Marsh dies at her home in Cashmere. Marsh, regarded as one of 'Queens of Crime' in the 1920s and 1930s, passed away just weeks after submitting her 32nd detective novel, Light Thickens, to publishers. She was also known for her work as an artist, playwright, actor and director.

September 30 - Closure of gas works these were situated adjacent to Jade Stadium in the block bounded by the railway, Waltham Road, Moorhouse Ave and Lismore Street.

October 5 - Paraplegic archer Neroli Fairhall (in competition with able-bodied athletes) wins gold medal at Brisbane Commonwealth Games.

The new Public Library opens

Credit: Ch-Ch City Libraries


| | |
| --- | --- |
| | RACING HISTORY PEOPLE |

SNOW GILLESPIE

Snow Gillespie has never regretted the day he spent his last £200 on a horse. "It was all I had at the time. I must admit I looked twice at it before I handed it over." But those £200, looking back, were the best he's ever spent. Not quite twenty years ago, it was. And the horse? A 4-year-old Stormyway mare called Countess Ada.

Since that time she's won few races herself, but more importantly, has left some top racehorses. The latest is the Transport Chip filly Gliding Princess, the top 2-year-old of her sex in the South Island and one of the brighter hopes in the Sires' Produce final. Gillespie, who now trains at Pleasant Point, bought her off the estate of a friend of his. At the time he was working as private trainer and studmaster to Wally Wilmott at Levels, the home at that time of Whipster.

"I liked her breeding. Her dam Ada Scott was a great mare," Gillespie recalled last week after Gliding Princess had trounced the other fillies in their Sires' Produce heat. "She set many track records." Ada Scott won a heat of the 1951 Inter-Dominions at Addington in a more than useful career. She was by U Scott out of Princess Ada, by Jack Potts. Princess Ada herself left some good performers - Tom Gundy, Black Storm, West Australian Pacing Cup winner Defiance, Rosario (dam of King Anjou and Johnny Thunder, both good winners), Ada Grattan and Princess Hanover, the dam of Young Darran.

Under the terms of his contract with Wilmott, Gillespie was allowed to have a couple of his own horses with him at Levels. Wilmott, incidentally, bought another daughter of Ada Scott at the same time, Kelso Lady, the dam of Hal's Lady who's left current 3-year-old Lil Abner, a winner early this season. But she didn't make her mark like Countess Ada did. Gillespie won three or four races with his mare who was four at the time. "She was a very fast mare, but she pulled like billyo. She'd do a mile and a half at home in 3:15 with you hanging on to her."

Her first foal was Spark Whip. He won a 2-year-old heat and showed a lot of promise. But he never made it to the races proper. "He got kicked on the stifle and it was so bad we had to put him down. We'd turned down good money for him too," Gillespie said. A friend, Charlie Turnbull then bred De Kaye (a winner when trained by George Shand) from the mare before Gillespie and his partner, Mrs Violet Shortland, got another filly. Bonnie Countess was her name. She never raced either, after being hurt as a foal. "She was never ever broken in," Gillespie recalled. "She put her hip down and the veterinarian told us to shoot her. We wouldn't do that." Bonnie Countess was later sold to Mrs Bonnie McGarry of Timaru. And what a gem she's proved. She's only had three horses to the races so far - champion mare Bonnie's Chance, her little sister Steve's Chance, also a recent winner, and the promising Federal Skipper, placed early this season at Addington.

Countess Ada's fourth foal was Gliding Light, a top race-horse for Gillespie as a youngster. He lined up four times at two and won three, and the next season, won another five races. But he, too, suffered at the hands of ill-fate. "He hurt himself as a 3-year-old and had to be put out for twelve months. That was the finish of him." Gliding Light is now at stud in Australia and he has left winners. "Richard (Brosnan) saw him when he was in Australia a while back and according to him, the horse still looks in good shape," Gillespie said. Gliding Light provided a younger Brosnan with some of his early wins...and he's driven for Gillespie ever since. "In my book, he's the best driver in the country," Gillespie contends. "He never knocks a horse about."

The trotter Count Arben came next. He was raced by Gillespie's son Ron and his wife with some success. He too was hurt and had to be put down. "He didn't want to give him away to anyone." The next two foals were both winners...and both were 2:00 performers. Gillespie raced Gliding Guy before selling him to Roy Purdon. Gliding Star was also sold to the northern horseman before eventually racing in America. Gillespie wasn't as lucky with his next filly from his fine mare. Gliding Queen, she was, and she too cut her legs badly in a fence. "I had her in work and I'm sure she would have been a top filly. "She was in her paddock and quite okay when I went down to Temuka for a beer one night...and by the time I came back, she'd got into trouble. She went to the horse as a 2-year-old." Her foal was Gliding Chase who, according to all accounts, is going along well for Murray Butt.

Current 3-year-old Gliding King was broken in at Pleasant Point before he too was sold to Purdon. And he's looking the goods as well, after qualifying impressively recently. And then, the current little star, Gliding Princess. "You know, she's the only filly I have been able to race without her getting hurt," Gillespie said. And even that's not her fault, for in the early days, she'd get up to all sorts of ahtics. "Like all fillies, she could be a bit temperamental. She'd slam her boots into you before you knew what was happening. She never actually smashed a cart but she's kicked dust sheets to pieces. And she never wanted to pace. She would do everything she could to get out of it. She would fight you to the last. She must have a heart like a lion. There's a bit of fire in the breed. But you need that. She gave me a real run for my money."

If nothing else, Gillespie is sure Gliding Princess is a two minute filly. "She's all heart. What a wonderful motor she's got." She still keeps Gillespie on his toes. "I have to work her in the cart seven days a week. I've only got to give her Sunday off and I'm in trouble on Monday." Gillespie has to work the filly on her own. "She doesn't want the others with her." Which perhaps is why she is still a little green. "She's just starting to learn what racing is all about. She's improving all the time," her trainer reckons. He's been made some good offers to sell Gliding Princess, but Gillespie won't be tempted. "I turned down $50,000 for her the other day. But she's not for sale at any price. We sold the others to help pay the mortgage on this place (Gillespie has a forty acre property at Pleasant Point) so we decided we might as well have some fun ourselves with this one. "There's some good money to be won with 3-year-old fillies. She could easily pick up $50,000 if she stayed sound next season. "And then, of course, she'll be the next Gillespie broodmare."

Gillespie grows all his own feed on the property and "getting close to sixty," recently gave up a job with an aviation company based at Levels. He's been training for a good number of years, buying his first mare when he was a shearer and selling her progeny for £200 a time. "I'd always loved horses," he said last week. "I worked for a long time as a teamster, starting off at about ten shillings a week. "I used to enjoy that work." He picked up the horse training business by helping out local horsemen as he went along. "I picked it up pretty quickly. It didn't take too long to grasp it," he said.

Gillespie likes to drive now and then at trials but he's not fussed about the actual raceday business. "I drive if I have to, but I like to leave that to Richard. He is the best man for the job." He's adamant on that score. He's just as determined that he won't sell Gliding Princess. "I want to keep her and Gliding Queen as broodmares." He's got two more fillies from Countess Ada at home, Gliding Dawn, who's rising two, by Good Chase, and Gliding Countess, not yet one, by the same sire. "Gliding Dawn's extra good. She'll do 3:45 for a mile and a half without much trouble. They should both make good broodmares too. They must, with two strains of U Scott, Jack Potts, Light Brigade and Volomite in their blood."

Countess Ada is in foal to Keystone Provider and she'll return to Transport Chip in the future. Gliding Pricess saw to that by winning a free service to him when winning in Southland. "He's making a big impression that one. He seems to be the horse to go to if you want a top filly."

Meanwhile Gliding Princess is getting the run of the Gillespie place, running and bucking in her paddock as though she owns it. "She comes home after her races still full of fire. She thrives on it now." And she eats to match. Apparently she's a great doer. "I feed her heavy," Gillespie said last week. "I have to. She eats like a poor relation."

Credit: Graham Ingram writing in NZ Trotting Calendar 11May82


| | |
| --- | --- |
| | RACING HISTORY PEOPLE |

PETER COCKS

Perseverance is virtually a necessity if you wish to race horses. Peter Cocks needs little reminding of that. He's given up, given away and even shot more horses than he cares to remember. However, patience is a virtue that has been very rewarding over the past 12 months, and the future's looking even better.

Peter got off to a good start as an owner, his first horse Lady Estes winning a couple of races as a three-year-old about five years ago. However, a number of horses and years went by before success came his way again. But now it's something he is quite used to. In the past two seasons she's had five winners who've won 14 races and almost $34,000 in stakes.

The first of them was Timely Frost, who two seasons ago won four races and has been a regular placegetter since. This season he also won a race with Julie Harper before selling her to America. Last season Timely Frost's younger sister Nightania won another three, while the promising trotter Aggressive notched up four wins, including a deadheat, in a brief stint for Cocks. Timely Frost and Nightania have already been back in the money this season, while the latest winner, four-year-old trotter Ranger Globe, has shown considerable promise in winning two of his first four starts.

Apart from Timely Frost, Nightania, Ranger Globe and Aggressive, who all look in for a good season, Cocks has two other promising youngsters in Lumber Leon and Lady Jay to follow with anticipation as well. Lumber Leon, a two-year-old colt by Lumber Dream, is held in particularly high regard by part-owner and trainer Colin De Filippi and was a most impressive winner of a juvenile parade at Addington trials last week, while Lady Jay, a trhee-year-old filly by Some Evander from Lady Estes, was placed as a juvenile trotter at Addington last season.

Peter has always been interested in horses, but waited until he was well and truly on his feet before he began breeding his own. His father Doug was a close friend of Bob Mayne, the owner of Young Charles. Peter started out as a plumber and has for the last 20 years owned a hot water cylinder fitting firm. Vice-President and treasurer of the Canterbury OTB Association, he was caught in his regular role as timekeeper at the Addington trials last week.

He breeds from five or six mares a year, including the fine racemare Gay Tennessee, whom he bought from her breeder, the late Fred Smith, for a substantial sum. Gay Tennessee raced briefly but successfully in Australia before returning to New Zealand with a colt at foot by champion American pacer Adios Vic. Called Tennessee Waltz, a favourite tune of Smith's, he injured himself on a fence early on but has had a run at Sunday workouts this season. The three-year-old is still particularly green and Cocks doesn't expect him to really come into his own for another 12 months yet. "The breed has always been slow maturing," Peter said last week.

Gay Tennessee won eight races in New Zealand, including the mobile mile S J Moore Stakes at Addington, beating New Zealand Cup winner Trusty Scot in 1:59.8. By Fallacy from a good racemare in Gay Alabama, Gay Tennessee also has a yearling colt by Waratah. Peter said he took a fair amount of criticism for sending the mare to Waratah, but it was a gamble he's glad he made. "I always had a lot of time for Miss Pert, who was bred on the same cross, and the colt's a particularly nice one." Gay Tenessee is due to foal to El Patron, while she's got an engagement with Smooth Fella next year.

Peter is also breeding from Proudly, who has plenty to recommend her as well. The winner of six races, she had already produced winners in Majestic Pride (2.06.2), Proudlight, Mindoolah, Proud Hanover and Palface Princess before Cocks put her to Bye Bye Song to get Ranger Globe. By Johnny Globe, Proudly is one of five foals left by a top racemare in Gough's Pride, who was by New Zealand Cup winner Red Shadow from the Jack Potts mare Homelover.

Gough's Pride won eight races as a four and five-year-old, and then had eight starts as a six-year-old for six wins and two thirds. In the last of those wins she beat Chamfer in the £2750 Easter Handicap, fore-runner to the Easter Cup. Gough's Pride failed to produce the same form the following season and was soon bred from, but left nothing approaching her own class. Peter was rather surprised when Ranger Globe trotted, but hasn't really minded. "It's much easier to get starts for them," he said. Ranger Globe revealed considerable potential in beating promising four-year-olds Game Greg, Spangled Pride and Black Soil at Addington last month.

Aggressive is another trotter who has shown a lot of promise, but he too should have paced, being by Noodlum from a top pacing family. His dam Local Rani, is a half-sister to Canis Minor (1:57.4) and Sakuntala, dam of Abbe Princess, Brad Adios and Tuapeka Star. High hopes are also held for the five-year-oldwho has just returned from a spell.

Recently acquired is the trotting bred mare Single Event, who is in foal to Game Pride. By Tuft from the Court Martial mare Fair Court, Single Event is a sister to the Banks Peninsula Trotting Cup winner Tough Girl winner and is closely related to top trotters Fair Play, Merrin and Topeka. Cocks is also breeding from Lady Estes, whose first foal is Lady Jay, and Lady Leon, whose second foal is Lumber Leon. They are also from noteworthy families.

With such well bred mares, Peter Cocks has obviously always been on the right road to success and can look forward to another profitable season.

Credit: Frank Marrion 5 Oct 1982


| | |
| --- | --- |
| | RACING HISTORY PEOPLE |

KEVIN HOLMES

Cambridge trainer Kevin Holmes died at Waikato Hospital on Monday, October 12. Holmes had been there for treatment to severe facial gunshot wounds and it was felt by members of his family he had made tremendous progress, so naturally his death came as a great shock.

Holmes, 38, was a son of Yaldhurst trainer Allan Holmes, a nephew of 'The Maestro' Maurice Holmes and a grandson of the legendary 'Old' Free Holmes. Kevin, then aged 18, emulated his grand-father when he drove his first winner at Ashburton. In getting Implore home first in a division of the Tinwald Handicap on June 3, 1961, Kevin turned back the clock to 1884 when Free Holmes rode his first winner, a galloper named Our John, when just 13.

Kevin won a trot with Ahumai, later the same day as Implore while other winners in those early days were scored behind Hancove, Dame Margot and Gildirect. The latter gave him his first winning drive at Addington (April 14, 1962), winning the Williams Handicap and beating his uncle Maurice (Master Alan) and his boss Ces Donald (Dandy Briar)

While working for Donald, Kevin continued to rack up the winners. He took the Nelson Caltex Gold Cup in 1962 with Congo Boy, then began his association with the Jim Wilson-trained trotter Flaming Way. Behind this talented son of Stormyway, Kevin won the 1963 Canterbury Park Trotters Cup and a notable double at the 1964 New Zealand Cup meeting when he scored in the Worthy Queen and Dominion Handicaps.

In April, 1965, Holmes appeared as the trainer-driver of Rannack Song, who won at Addington. He next cropped up training and driving a two-year-old filly named Brilliant Rose at Alexandra Park in May the same year. Later he drove Captain Hal and Persistent for R J Kemble. In the 1970's Kevin trained in partnership at Cambridge with Colin Butler and, at the time of his death, was training with his brother Colin Holmes.

The pinnacle of his career came in 1978 when he won the World Drivers Championship contested in North America against high class opposition. The following year he defended his title in New Zealand and Australia, finishing second.

Apart from those already mentioned, Holmes was associated with some top horses during his career. Two of the best were speedy mare Ripper's Delight and the outstanding juvenile Testing Times. Ripper's Delight beat some classy colts in the 1975 Great Northern Derby and later added the North Island Oaks. She eventually reached New Zealand Cup class, providing Kevin with his only drive in that race when unplaced in 1976.

Testing Times was the top two-year-old of the 1976-77 season, posting a national juvenile race record of 2:01.6 and winning 14 races in New Zealand and Australia (unbeaten in four starts). Taken to America in July of 1977 for the $280,000 Woodrow Wilson Pace at The Meadowlands, Testing Times ran second for Holmes in a $20,000 heat to No No Yankee, clocking 1:58.4, but finishing 11th in the final to the same horse.

Tonton Macoute, the 1973 New Zealand Messenger winner, was another fine winner for Holmes. In the provincial Cups in the North Island Holmes fashioned a fine record, winning three Hawera Cups - Scottish Crusader (1972), General Gyrone (1973) and Waiata Nui (1975) - two Rotorua Cups - Marshall Hanover (1975) and Vanavara (1976) - a Taranaki Cup with Hanover Scottish (1979) and the Masterton Cup with Chet Hanover (1979). As well he won the McMillan Trotters Mile at Cambridge twice - Uteena (1970) and Flagon Wagon (1975) - and picked up the 1973 Cardigan Bay Stakes at Hutt Park with Lordy Boy.

Holmes, who also drove winners in America, Europe, Australia and Macau, won approximately 500 races in New Zealand and trained about 300.

Credit: 1982 DB Trotting Annual


| | |
| --- | --- |
| | RACING HISTORY PEOPLE |

NOEL BERKETT

If Noel Berkett stopped training and driving tomorrow, his name at least would be around for some time to come. For one thing, the Richmond trainer's son, also Noel Leo, is training a small team at Yaldhurst. Working on some promising material, too, according to his father. And for another, there's a youngster being educated in Richmond who, if he's as good as his older sister, should win a few races. The yearling belongs to Noel Berkett's wife Dawn. And his name? "Berkett" "She couldn't think of a name for him so she applied for that one...and got it," the trainer said last week.

Berkett, the horse, is a son of Scotch Abbe and Tui Winter and therefore a brother to Bonnie Lass, winner of three races so far and lots of times placed. Berkett, the trainer and driver, was in the news again the other day when he trained and drove Game Pride filly Chesapeake to take the top plum for 3-year-old trotters, the NZ Trotting Stakes at Addington. It's a race in which the Berkett family has had as much success as anybody over the years.

Noel's father Leo drove later Inter-Dominion trotting final winner Aerial Scott to take first prize in 1945 and, two years later, won with his own horse Temple Star. Brother Colin won the race with King's Brigade in 1949 and then again with Battle Cry in 1953. Chesapeake wasn't Noel's first taste of victory in the event. Back in 1963 he drove Bill Doyle's Asia Minor to win the race. A few years ago, eight it was, he had Chesapeake's dam Susquehanna in the Stakes but could finish only fourth that time. One of the horses Noel junior is training at Yaldhurst is a 2-year-old by Some Evander out of Susquehanna. "Noel was hoping she'd start in the 2-year-old trots but the filly, Graceland, went slightly sore. It'll just be a matter of time, but it is disappointing when that happens," the young trainer's father said last week. "Just so long as she's right for the next Trotting Stakes," he said.

Noel junior uses his grandfather's colours of navy and sky blue, the colours of the Nelson rugby team. Which is appropriate. The Berketts have had a long association with that area. The family farmed at Hope, about three miles down the road from Noel senior's present property. "Dad always had about ten or a dozen in work in conjunction with the farming," Noel said last week. "I've been interested in horses ever since I knew what a horse was." Two other brothers, Ivan and Earle, were more interested in farming than the horses on the place. Those same racehorses, though, also had their use around the farm. "One team would pull the plough or harrows or drill for half a day; then there would be a new team in the afternoon. Dad grew all his own feed and was the biggest pea grower and lamb producer in the district. The racehorses used to do all the work. It would do a lot of horses good today," is Noel's opinion. Training was completed with three fast workouts a week.

It was Noel's father who gave Noel his first horse. He turned out to be a good sort too. "Dad bought out a chap in Westport, horses and all his gear. The one he gave me was Bulldozer who won quite a few races for me and then did well for Vic Alborn who had him later. Noel worked for his father until he married Dawn and moved down to Canterbury to start training for himself, first at Weedons and then later at Yaldhurst on a property previously used by Roy Berry and later Morrie Holmes. Dawn came from a family which raced gallopers, her father winning both the Nelson and Marlborough Cups. She is still intensely interested in horses, driving work whenever she can.

They moved south 35 years ago. Noel remembers well his first winner. "I will never forget her," he said last week. "She was Anne Scott. She won the first start I gave her and paid £167 at Addington." About 'six or seven' when Noel got her, the mare had won several races when previously trained in the North Island. "She started from 36 behind that day in a field of 20 or more. Dad's horse Snowflake went out favourite in the same race." That big dividend pales into insignificance when compared with the price Leo Berkett got with the first horse he ever trained. Back in March, 1920 Wairoa Belle won at Nelson and paid £1033/5/- to win. That is still a record.

Since that first win, Noel Berkett has been associated with a lot of horses. Highland Fling was probably the best of them. Noel didn't train the champion, but drove him down at Forbury Park and won three times. "I just wish I had one like him now," he said last week. "He was a bit slow off the mark. If they'd had mobile starts for him, he would have been almost unbeatable." Then there was Real Light, "the gamest horse I've seen. He won ten or eleven races in a year including a Dunedin Cup and at Auckland. I had problems with him for a start, but after that he was a great horse to train." There were a few problems, too, getting Mobile Globe to go away, but once they were sorted out, he went on to win the NZ Cup in 1952. "He wasn't a brilliant horse but on his day he was pretty good. He beat a good field that day, the likes of Johnny Globe, Young Charles, Soangetaha, Tactician, Burns Night, Van Dieman..."I love driving, especially if the material in front of you's right. That win would be my biggest thrill in trotting."

Prince Polka won the Auckland Cup for Noel back in 1955 while Denbry was another top performer. Berkett took Scottish Light through to Cup class too. Back in 1962 he made his mark by beating Lordship and Falsehood in the Louisson at Addington and followed this up by winning the big sprint of the day, the Lightning Handicap, four races later. More recently, there have been horses like Doctor Voss, a big winner in America and the speedy but unsound No Truant keeping Berkett's name to the fore.

Berkett moved back to his home territory eleven or twelve years ago. The climate in Christchurch got to him. "I got sick of it. I decided I could train just as well in Nelson and enjoy a decent climate at the same time." At the moment he has only a few racing but about eight in work, mainly youngsters. As well, the Berketts are breeding from Susquehanna, of course, Husleen, a good racemare by Court Martial, and Tui Winter. Noel has high hopes next season for a 2-year-old by Game Pride out of Husleen, Ol Fella he's called. "He's a fine little pacer. He has been placed at the trials and I think he'll be right next year." Then too, there's Berkett.

Chesapeake, Red Peter and the speedy filly Lady Eastburn comprise the current racing team. Chesapeake, who qualified as a 2-year-old in 3.24 at Blenheim, has done everything right all through. "She's given me no problems at all." A 3-year-old filly by Timely Knight, Lady Eastburn has won three races out of six this term, the last two on end. She'll probably line up in the DB fillies' race at Timaru on Friday. In the meantime, Berkett is still thinking what he will do next with Chesapeake, who is raced by his daughter, Mrs Petina Gaugler. "The filly's having a few days off," he said last week, "even though she is still very fresh after her run. I'll just have to think about it." And he's still thinking about his win the other night. "It's always good to win, but to get one like that..."

-o0o-

Article in NZ HRWeekly 21Apr04

Harness racing lost one of its true ambassadors when Noel Berkett passed away on April 9 after a long illness. He was 82.

Berkett belonged to a family that left an indelible mark on the industry, because they won a remarkable four New Zealand Cups in the space of six years in the late 1940s and early 1950s. A son of Leo and brother of Earl, Colin and Doris, Noel was the last surviving member at the time of his passing.

Leo trained the legendary pacer Highland Fling, and drove the son of U Scott in the second of his back-to-back NZ Cup victories in 1947 & 1948. Colin partnered him in the first of those, and followed with another victory behind Loyal Nurse in 1949.

Noel was not to be left out either though, and his crowning moment of glory came in 1952 when he trained and drove Mobile Globe to power over a rain-soaked Addington surface and win the NZ Cup by four lengths. Noel also won the Auckland Cup with Prince Polka on the grass in 1955. His other notable achievements in the sport were being the leading driver of trotting winners in the 1953/4 season, with nine victories; winning the NZ Trotting Stakes in 1963 with Asia Minor, and then again in 1982 with Chesapeake, a fine Game Pride mare bred by him and his daughter Petina who ended up winning six races. Noel also broke-in and qualified the fine trotter Eastburn Grant as a 2-year-old.

Son-in-law Murray Pash says Berkett was a very family-orientated man, and he loved his grandchildren and great grandchildren. Berkett is survived by son Noel Jnr, daughters Cheryl Pash and Petina Gaugler, seven grandchildren and five great grandchildren.

Credit: Graham Ingram writing in NZ Trotting Calendar 14Apr82


| | |
| --- | --- |
| | RACING HISTORY PEOPLE |

BILL DOYLE

It was back in October 1948 or 1949, the year doesn't matter much. Bill Doyle had his trotting mare Passive down at Oamaru and was with her in the box before the race when a stranger stuck his head over the door. "Do you want to sell your horse?" was the visitor's opening gambit. "No." "Are you sure you don't want to sell her?" "Quite sure. I brought her down here to race, not to sell," was Bill Doyle's firm reply. The stranger left. The race over - she was either third of nowhere depending on the year - Passive was on her way back to her stall when they encountered the would-be buyer again. "You haven't changed your mind?" he asked. Hopefully. "No." "You know you've got the best bred mare in the country there, don't you? Seeing your not going to sell, you may as well have this."

And with that the stranger handed the visiting trainer a piece of paper and walked away. Now, more than thirty years later, Bill Doyle scrambles around a draw in the lounge in his spacious old home and produces that piece of paper. The ink-pen writing is still easily legible, even though the paper itself is almost coming apart through many foldings. "There it is," he says. "Passive's breeding right back. He must have spent countless hours, months, finding all this out and putting it down." And there it is too, Passive's pedigree all the way back to the pure-bred imported Arabian mare who was mated to Traducer in the 1860's sometime. Traducer, an English thoroughbred, was by The Libel and foaled in 1857.

Bill Doyle had never seen the would-be buyer before that day...and he hasn't seen him since. Didn't even find out his name. "But he must have been right," Doyle concedes. Passive's breeding record bears that out. Her record is better than just about any other in the Stud Book. At the end of her racing career - and she won a good number of races for Doyle - she produced foals to Ripcord twice, champion sire Light Brigade six times and Flying Song once. Eight of those were winners, six producing winners themselves, while even Passive's grand-daughters have kept the current chain going.

Currently keeping the Doyle name among the leading lights of trotting owners is About Now, a pet around his Leeston property and winner of 22 races as well. She's won four this term for stakes of more than $21,000 and, at this stage, must be a Rowe Cup prospect. But back to Passive.

Bill Doyle bred her himself out of Violet Wrack (by Wrack from Violet Wilkes), a mare he trained and raced for his friend Dan Robertson from Hakataramea. "I won a lot of races with her. When she finished I asked Dan if I could breed from her. 'Take the first foal,' he said, so I put her to U Scott to get Passive." The youngster couldn't have pleased her breeder more. "I'll tell you how good she was, I would have started her in the Sapling Stakes as a trotter if she hadn't broken a leg when she was two. She was a real flying machine," Doyle recalls with obvious pleasure. Later, when the leg mended, she showed a fair amount of ability. Still, it was some years after the accident she finally hit the track again. Doyle hadn't intended to race her but was persuaded by a friend from down south to at least try her again. "She trotted with a stiff leg, a real old peg-leg getting along, she was."

Her first foal was Reflective, by Ripcord. Reflective herself left winners in Jeepers Creepers (dam of Deep Hanover and Kenwood Song), Journey Home, All Alone, In Disguise and Let's Think. Chances Are (by Light Brigade) left five winners, Big Spender (dam of Ready Money and Lay Off), Rebel Statesman, Main Chance, Chichester and Smart Move. As well, her three other daughters Chance Again (Sly Chance), Hello Stranger (Espiritu) and Passive Lady (Leica Lady and Poker Night)have produced winners. Then came When.

"What a great mare she was." Doyle, relaxed in his lounge, surrounded by photographs of some of his winning horses, trophies galore, savours the memory. "She was the fastest of them all." When held the NZ mile record at 2:02.8 in 1963 when Doyle took her to America. "She was never right over there. The virus got to her but not as badly as it did some. They were dragging horses out of the barns only two or three days after we had got there. And it seems to hang on to them."

That trip, as Doyle assesses it, could have produced a sensation in NZ breeding circles. Ha almost bought a Russian mare to cross with the local blood. "What a horse. I can see her now as plain as day. The length of that lovely big chestnut...I fell in love with that mare." A pause in proceedings to search the myriads of photographs and cuttings from the time so the beauty of the beast can be shared. Apparently she'd been stabled in the box next to When. Both were down to contest the international trot series at Yonkers, an event conceived by raceway owner Martin Tananbaum. "I really took a fancy to her. I'd be into the box with her all the time. She was being looked after by a doctor and a professor and, while they couldn't speak English, I got on well with them through an interpreter." The Russians told Doyle she was for sale, along with another mare, a grey, they had brought over for the series. I told them I couldn't afford to pay too much but would talk to them again."

Off on a different tack for a moment to explain how the series was organised. The Americans would pay all expenses for owner and horses and then would share any winnings, fifty-fifty. "Tanabaum himsef was out here and he wanted When so much, he agreed to my terms in the end. The first race was mine...I'd play ball with the rest. We really sweated over that." That first race was for about $65,000, Doyle recalls. He was confident that after it he'd be able to buy the Russian mare. But it wasn't to be. When finished only second, beaten by an Italian 'gentleman' driver, a count, and his horse. He disorganised half the field at one stage and the stipes were waiting for him. They asked me to testify that the Italian had been to blame, but I wouldn't. I would not have liked to win the race that way."

Doyle produced a huge photograph of two smiling drivers, himself and the count, shaking hands after the event. "I really felt like kicking him. In the end, he bought both those Russian horses with his prize money. They would have provided a great cross for our blood. They belonged to the old Vladivostok line." (Incidentally, they finished at the rear of the field.)
Back home, When made a brief and successful reappearance on the racetrack before going into the broodmare paddock to produce winners in Now Charles, Time To Go, Now, Live Twice, Dining Out, Forget It and Now or Never.

So Rare, another by Ripcord, produced Perfect Answer, who qualified and a winner in Rarify. Asia Minor, winner of a host of races, was Passive's next foal by Light Brigade. At three the gelding - "I wouldn't have a colt on the place" - won the NZ Trotting Stakes for Doyle. Then came Remember When, a winner herself and dam of Boadicea, Anniversary Day and Now Then. Remember When, too, was by Light Brigade and was a sister to Wipe Out who developed into a Cup class pacer. "He was a big flat-footed horse who took a 65 to 67 inch hopple. He started off trotting but one day he just broke into a pace. We put the hopples on then ...and we never took them off." He was a good horse all through, but Bill Doyle especially remembers his double at the Auckland winter meeting in May, 1969. There, in the hands of Peter Wolfenden, he won the Mark Memorial on the first night and then the Adams Gold Cup on the second. Those trophies rest on the mantlepice today. Wipe Out made it three in a row when he returned home to Canterbury to take out the Louisson Handicap at Addington at his next start, early the following season.
Someday, a top trotter, was the next of Passive's progeny. As well as trotting a winning mile in 2:06, she also became the dam of About Now and Some Evander, an unraced colt who is now at stud. Snoopy, by Flying Song, was Passive's last foal and he was a good winner in America.

Passive, though, isn't the only broodmare to have given Bill Doyle a top-line family. He has just as much time for Within, a Wrack mare from Lady Swithin who raced in the 1930s and early 40s. For instance, she trotted an Australasian record 3:32.2 for the 13 furlongs of the Holmwood Handicap at Addington in 1941. "Often I'd line her up against the pacers...and we'd beat them too," he says, producing the photograph of the finish of her record breaking run. He'd bought her off her Auckland breeder, Jim Paul, "a great man with trotters."

Doyle was up there in the north with Bomber some years later to win a Dominion Trotting Handicap for his trainer. "Bomber had never raced before. He chased every seagull off the course that day at Alexandra Park and still won. He could trot." Bomber was by Quite Sure. And that win gave Bill Doyle something to laugh about to this day. Apparently Miss Julia Cuff, from Hinds, had promised a new suit to the trainer of the first Quite Sure winner in NZ. Eventually it went to the owners of that trotting machine Certissimus. "But Bomber's win came months before," Doyle contends. "After that I'd often remind her she owed me a new suit. I never did get it."

Among several talented trotters (With You and Encircle for instance), Within also left Circlette, herself a winner and dam of half a dozen more. Circlette (by U Scott) left Certain Smile, Caught Napping, Villa Caprina, Country John, Going and Mercury Montego. Certain Smile is the dam of Emme Smile and Mini Smile and the grandam of an up-and-coming young trotter, Mini's Pride. Villa Caprina is the dam of Villa Katrina and top-flighter Relinquish, and grandam of recent double winner The Stag. There are more to come. Going, of course, is the dam of Sid and Let's Go.

Pictures around the wall. Every one evokes a story. Some can be told, others shouldn't. Horses, top horses almost without exception. Horses like Gold Horizon, another by Quite Sure, and the top trotter of his era. Bill Doyle leased him as a 9-year-old. At that stage he had had six wins from 24 starts. Then he really started to blossom. Over four seasons he lined up 35 times for another 14 wins and 11 placings and stakes of more than £15,000. When he retired in the late 1950s, Gold Horizon had won £18,260, a record amount for a trotter in Australasia. He was second twice in the Dominion Handicap, the first time to Barrier Reef, and the second when he conceded the winner, Vodka, 60 yards. He also won a couple of NZ Trotting Free-For-Alls and an Ashburton Cup against some of the better pacers around.

There was Lament, too, original wearer in the 1930s of the white bridle the Doyle horses used for more than forty years. "I think it's probably still around here somwhere," Doyle, now 77, says. Lament won "just about every trotting free-for-all there was" for Doyle.

Top mare In The Mood provided one of the most sensational incidents of his racing life. She was by U Scott, out of Princess Napoleon, and was a yearling buy from J R McKenzie. "I should have won the NZ Cup with her but she got into trouble early, was last into the straight, only to finish fourth," he reckons. He then took In The Mood and War Form north "to win the Auckland Cup." About the time of the war, Doyle recalls, and there were only five or six starters that year. His horses finished a furlong last. An incredible result. And, if that wasn't bad enough, when they got home they hardly had any hair left. And neither had the attendant who had been with them all through the trip. Doyle shakes his head. It's not the heat, or the screeching of the tame guinea fowl outside, which give him cause to wonder. "They were got at," he said. "Good and proper." He did, though, have some luck in Auckland Cups. He drove the winners of two...Nedworthy in 1940 and Loyal Friend in 1943. Betty Boop also took the big Auckland prize in 1944. She won the NZ Futurity for Doyle. "I sold her lease the night before the Futurity, win lose or draw."

In The Mood, the winner of £12,000, left three colts, all to Light Brigade. The first was Showdown who won an Ashburton Cup in 1958, the second was Reason Why who went on to make his mark as a sire in Western Australia, and the other was Light Mood, one of the few horses Doyle has sold through the yearling sales. Light Mood won nine races, beating Robin Dundee by three lengths in his last victory.

-o0o-

Part two NZ Trotting Calendar 16Feb82

Bill Doyle has had a huge amount of success with his horses, pacers and trotters, over the years. He's bred his own and he's bought them. So what does he look for in a potentially good horse?

"First there's is the feet, then the legs, the body, and some character should show through the head," he says. "A good horse should have decent wide black feet. I feel your judgement's slipping a bit if you look at a foot with a lot of white in it. They can give you a lot of trouble."

His training methods, he reckons, are "pretty orthodox." Feeding and individual attention are essential for all horses. "If you can't feed them properly and get attached to them, you shouldn't have horses." And is Bill Doyle attached to all his horses? "I should say so. There's the occasional one you've got to square up, but once you've won that round, yes, then you get attached to them."

The Doyle horses lack nothing in attention. He spends hours every day getting the mud out of their feet and brushing hooves with tar and oil; interminable hours grooming the racehorses, a master practitioner of the dying art of 'dressing' a horse. He studies each one carefully and works out what they need to eat. Those ready for racing usually get their evening meal in two halves, rather than filling up all at once. And when the season's right, they can take their share of wind-blown pears which lie on the ground under the old tree in the yard. Even pick the ones which haven't fallen , if they like. He can call out to any of them - his youngsters, too - and they'll respond. Come to his hand.

He admits he's past doing his own shoeing these days and says there's no real secret to it - rather a method of trial and error until you come up with something that works. "I often get asked for advice. 'Try everything' I say." Variety in training is also essential, although the days of working around the roads are gone now. "There's too much traffic...and most of the drivers show no consideration to anyone with a horse on the road. It's out of the question." But there's plenty of room on Doyle's property for the horses in work to have a change of scenery nearly every other day. "They've got to have variety. They get sick of being bottled up in one place." Sometimes, by way of a change, the horses are sent to another Doyle property, where they're hacked around his cattle.

Bill Doyle is, in his own assessment, first and foremost a farmer, a cattle farmer with a hungry market to satisfy. "Cattle breeding and fattening is my priority always." He held a professional licence once but gave up public training a long time ago to put the farming first. Even these days, when he's gradually cutting down his cattle operation, his horses remain a hobby, a relaxation.

The Doyle family has always farmed in the area around Leeston...and it's always had horses. Bill's grandfather, J H Doyle, came out from Scotland in the 1860s and settled not far from Leeston in the area now known as 'Doyleston'. He, too, was a successful horseman. Bill Doyle provides the proof. Amongst racing books spanning almost a century, there's one with results from a Southbridge race meeting some time during 1875-76. There, winning a three mile saddle trot for the princely sum of five sovereigns, is one J H Doyle. "My grandfather." Bill's father, also W J, was also a farmer and worked with a lot of horses, quite apart from his racing team. He handled a lot of horses during World War I, mainly gun horses. And then, too, he supplied many of the local fishermen down at Lake Ellersmere with horses for their traps.

It was more than sixty years ago that the present Bill Doyle started with racehorses, riding in saddle races. He particularly remembers his first win, on a horse called Wirey trained by his father. "It was a one and a quarter mile saddle race at Greymouth. I remember Dad saying to me before the race 'if you don't come first in this , there won't be a home for you'." Doyle chuckles at the memory. "I won that race by ten lengths." And from that time the wins have come regularly. How many over the years? "I couldn't tell you within a hundred." He's even owned a Grand National Steeplechase winner, Thurina, who took out the country's premier jumping event in 1933. Bert Ellis rode the horse that day. The trainer was Bill's sister. Bill himself says he was always too heavy for the thoroughbreds.

Today, Bill Doyle regrets that trotting has grown to "too big a business. The sport's gone, the pleasure of being involved with a sport has been lost. There are so many horses around (and there's usually no more than a dozen on his property at once) it's become a liability to have one. More and more people are buying horses and breeding them, going into it thinking it's an easy game. But it's not. It's tough." You can't make it just by training a small team. You have to sell. "The American market keeps most going. They'd be shot without that." Rules and regulations now had taken most of the pleasure away. Which is why he is drifting away slowly. "I feel my hands are tied now." Those same rules and regulations had allowed the inexperienced to get licences, to allow people who might not have even seen a horse until a couple of years previously to drive. "In the early days you found that those with licences had worked with stock all the time. They had a big advantage."

"You only had to compare the attitudes of some of the less experienced drivers today with those of men like Maurie Holmes, Peter Wolfenden and Bob Cameron. The topliners think about their drives for days, during the preliminary all they're concentrating on is the job in front of them. You don't see them chatting away to other drivers during the preliminaries. And at the start, they're not waiting for the tape to go past them, they're watching the starter all the time.By the time the tape's gone, so too have the top men. They don't wait."

Doyle's also critical of drivers pushing and shoving during races. "Those old hands don't push and shove...but at the same time, they wouldn't give you an inch. They know where everyone else is, and once they get to where they want to be, they stay there. And they're entitled to. Generally you get only one chance in a race and you've got to take it when you can. Not barge your way through when it's too late. They're not plough horses these fellows are driving. They're sensitive racehorses and must be nursed through, otherwise they're ruined." Doyle fully agrees with stipendiary stewards taking a hard line for interference. "They must be given the message somehow," he contends.

He recalls with some feeling the days when he could drive himself. "I had my greatest fun then. You pitted yourself against some of the finest chaps in the world, men like Gladdy McKendry, Dil Edwards, Freeman Holmes, Ces Donald, Ossie Hooper, Maurice Holmes, Maurice McTigue...the list goes on. They asked for no quarter, you gave them none. They were good friends, and if you fell out, well you just started off again."

It's time to bring the horses in, to start to get them settled for the night. There are some hours of work left yet and the bookwork hasn't been done this afternoon. Bill Doyle calls out as he goes from paddock to paddock, talks to those in their separate yards. The ones he wants follow him into the barn where they'll get their feet seen to...a brush and a feed.They're all individuals with their own needs. You've got to see they get them. Good food and good shelter. That's the story.

You leave him oiling a hoof. Late afternoon. Bill Doyle will be out and about again at five the next morning. A bit tough when your 77? Not really. That is when his morning helper arrives. "And I probably take the record for going to bed early. That helps."



-o0o-

Article in HRWeekly 28Apr88

The death occurred on Monday of Bill Doyle. Regarded as someone special with the trotter, Bill was 82.

From Leeston, a farming area half an hour south of Christchurch, Bill Doyle became a legendary horseman right from the start of his career in harness racing.

At the age of 20, Bill took over a team of horses trained by his father. One of them was Prince Author, who soon after won the Reefton and Hokitika Cups. Like his father, Bill trained gallopers as well as trotters, and in 1933 prepared Thurlina to win the Grand National Steeplechase in the hands of his good friend Bert Ellis.

While his father had the store at Doyleston and ran his team from there, Bill bought a property at Leeston during the depression years. Prince Author was followed by the top trotter Mountain Mist, All Peters, Olson and the top racemare Violet Wrack, who left Passive. From nine foals, Passive produced eight winners - Reflective, Chances Are, When, So Rare, Asia Minor, Remember When, Wipeout, Someday and Snoopy.

In 1934, the stable was represented by the fine young pacer Subsidy, who finished second in the Sapling Stakes, then came out the next season to win the Great Northern Derby. Then came some outstanding trotters, notably the dashing Gold Horizon, When, Lament, Bomber, Going, About Now and Elite Rey.

Gold Horizon won the Worthy Queen Handicap, the Hambletonian Handicap (twice) and the NZ Trotting Free-For-All (twice). Lament won nine free-for-alls. Bomber won the Dominion Handicap in 1943 and When was invited to race in New York by Yonkers officials in the early 1960s.

Top pacers trained over the years included Betty Boop (winner of the 1944 Auckland Cup and the NZ Futurity Stakes). In The Mood (placed in the NZ Cup), Ned Worthy (winner of the Auckland Cup in 1940), Wipeout (10 wins), Showdown, Warform, Reason Why, Chances Are, Encircle, Now, Someday, All Alone and many others.

Until about 18 months ago, Bill was still training the young trotter Look. Quiet and modest. Bill Doyle was never one to dwell on the past.

Credit: Graham Ingram writing in NZ Trotting Calendar 9&16Feb82


| | |
| --- | --- |
| | RACING HISTORY PEOPLE |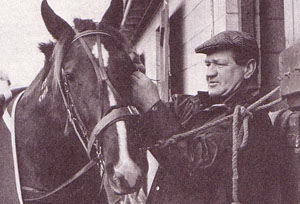 Gordon Middleton & Fancy Dick

GORDON MIDDLETON

It seems to be the way that when a driver reaches the compulsory retiring age of 65, he finishes in the money somewhere, wins as often as not, his final drive. Wes Butt won his last drive at Addington on Brow Raiser, Alec Purdon got Boneparte home first in what turned out to be his last effort in the race cart. Cecil Devine got done by a nose with Lord Brigade, Morrie Holmes ended his career with a win behind Transmitter Sound in Auckland...No doubt there are more examples, but those suffice to prove the point.

Not so with Mid-Canterbury horseman and farmer Gordon Middleton, though. Sixth was his lot with son Carl's Kenneth William at Addington last week. "He was slow away and never got a good run after that," Middleton, who was 65 back in February, said the other day.

It was about a year ago, when looking at his imminent departure from the driving ranks, that Gordon Middleton suggested this might be his best season ever, 1981/82 though, was far from his best. Winners were scarce. Non-existent even. There was a good reason for that, however. Over the year he's sold or given away to sons or daughter, those who could have put him in the winner's circle - and the others he's let pass by. Over the years there have been a good number of winners, almost every one bred and trained by himself. His best season was back in 1974/75. "I had nine or ten wins that year, seven of them with Fancy Fred," Middleton recalled. "That would have been my best."

Although having a life-long interest in horses, Gordon Middleton never really got into racing until about thirty years ago. "I drove a six horse team for two years when I left school. That taught me how to feed them properly, what a days work was for a horse...and how far you could go with them." He then spent about seven years blade shearing around Hanmer Springs before shearing in Central Otago until the war intervened. He served with the 19th Armoured Regiment in the Middle East and Italy "without getting a scratch" and returned to shearing once home, this time around Methven. After a couple of years he had sufficient put aside to buy a small farm at Three Springs, near Methven. He stayed on those 188 acres before applying for a "rehab" farm at Highbank and getting it. "I've been on it ever since - thirty-one years it is," Middleton said.

He had to have a hobby then. Horses provided it. "I still liked them so I used to help Gladdy McKendry with his horses a bit," he recalled. In fact, it was McKendry who provided him with a reference when Middleton applied for his amateur trainer and trials driving licence in the 1952/53 season. Six seasons later he received his professional trainer and open horseman's ticket.

Marawiti, a Lucky Jack mare, was his first horse. And, as well as winning several races for Middleton - and others - she became his foundation broodmare. "She cost me £100, and after she had put up some good performances, I sold her for eleven hundred," Middleton recalled. It's a story he's had to tell often. "Four years later, when she'd had a few trainers and hadn't been able to win, I bought her back for £75. She won a double at Waimate and then I leased her to George Todd in Auckland. "She won three races for him and at one stage ran eleven seconds on end."

Her racing over, Marawiti returned to Highbank and was put to Light Brigade. Open class trotter Laplander was the result. He won eight races, in the process providing Gordon's son Carl with his first winning drive. That was at Rangiora. A few foals later, Idle Fancy came along. And she's proved to be the source of most of Middleton's success in recent years. But back to her soon. Pompano folllowed and she was a good trotter, too. Carl has her and is breeding from her. With success. She then produced Runholder, "the first horse I sold overseas" who has been a winner in Australia for Vic Frost, Truant Jan and Lucky Truant. There have been others, but as yet they haven't made an impact.

Idle Fancy did, though. A winner herself, she left the winners Fancy Kate, Francy Fred, Fancy Dick and Fancy Matilda, all by Truant Hanover, a horse Carl stood for some seasons. Fancy Fred was undoubtedly the best of them. "Probably the best horse I've had," Gordon reckons. His record as a youngster was a formidible one. He won the Springtime Stakes at his debut, was second and third in the Festival Stakes at Addington and the Golden Slipper, won the New Year Stakes, was placed in his next three starts, won the Timaru Nursery by six and a half lengths, the Kindergaten Stakes, the Graduation Stakes and later the Welcome Stakes. In between those wins there were more minor placings, and later he ran fourth in the Sapling, before another win at Auckland in his last win for the season. Even now, Gordon considers he should have won the Sapling too. "I led till the 600 and then went to sleep and gave it away. We got carted back and then had to come again. If I had kept in front he'd have won easily. He was only jogging," is how he sees it now.

Fancy Matilda would win the Kindergaten a few seasons later before leaving a speedy sort herself in Matilda, now in Sydney. "I gave her to my son Ross and she's with Ernie Hargraves in Sydney." He's sent other horses to Sydney over the years, Bret's Command among them, while he's had winners in America too. Graham Brown is the latest there. By Assault out of Pam Hanover, who also traces to Marawiti, Graham Brown still holds the world mile record for a yearling at 2:05.9. Gordon has a lot of time for that horse, too. He's just sold a yearling filly, Fancy Nola (Honkin Andy-Idle Fancy) "for big money" to Perth and she'll be on her way there any day. "That's the only way to do it these days. You've got to get them going and then sell them. That's where the money is I reckon." Right from the start, Middleton has had only a small team in work at any one time - and he's only ever trained one outside horse. "The was Gay Gillian who won five races, I think," he said.

He has definite ideas on how to get youngsters going along well early - "they need their hopples tight" - and, even though he's on the point of selling his Highbank farm, he'll still have the opportunity to put his theories into practice. His farming days over, he intends buying a piece of land on the outskirts of Ashburton, near the racecourse, and will continue to breed and train a few there. When he moves, he will take half a dozen horses with him. There'll be three broodmares - Idle Fancy, who's in foal to Plat du Jour, Pam Hanover (Out To Win) and Ina, by Fancy Dick, who's in foal to Farm Timer.

"I'm in pretty good health so I'll be able to do them okay," Middleton said last week. "In any case, a bit of hard work never hurt anyone."

Credit: Graham Ingram writing in NZ Trotting Calendar 3Aug82


| | |
| --- | --- |
| | RACING HISTORY PEOPLE |

ANDY TODD

Andy Todd, the man they called "the flying sportsman", died suddenly in Christchurch last week. He was 87. While he hadn't raced a horse for some years, he had a string of fine pacers and trotters over a period of half a century, harking right back to the depression days.

It was about then he was given a young trotter. Todd Lonzia was the horse's name. He was to go on and win thirteen races, hold the NZ mile record twice and earn himself a chapter in Unhoppled Heroes, a book on our top trotters, soon to be published by Christchurch writer Dave Cannan. The young trotter wasn't Mr Todd's first racehorse. Working in Dunedin, where he was born, Andy Todd was offered a horse to race by a friend, Charles Hudson. However, that mare stumbled and fell heavily while competing at Balclutha and didn't race again. Mr Hudson, when told of the accident, immediately offered Todd Lonzia, already the winner of a couple of races for him, as a replacement.

Andy Todd could hardly refuse. Todd Lonzia over a long career won from long marks and several times - notably at Ashburton and at Washdyke - took on and beat the pacers. Probably the best of his own pacers was Drucus (by Jack Potts), the winner of nine races in NZ when trained first by Ces Donald and later by Derek Jones. Drucus was then sold to Australia. There were a lot of others, and most of them won a race or two. He raced the odd galloper and, back in the early days, was active in greyhound circles as well.

After working for some years in the hardware and builders' supply trade, Andy Todd bought the Bowling Green Hotel in Dunedin in 1939. Later, he took over the Caledonian, also in Dunedin. In 1945 he moved north to Christchurch where he had McKendry's Hotel (now the Cantabrian) for some years. Another move, this time to a hotel in Rakaia, before shifting to the Prebbleton Hotel. In 1965 he gave away the liquor trade and moved into the morning and afternoon tea business. Andy's Tearooms, in the bustling heart of Christchurch boomed. It was Andy Todd's constant delight to hand out sweets for the children in the shop, help mothers with their prams, carry trays for the older customers. That personal touch was his trademark. He retired from the business about five years ago.

It was back in the days at McKendry's when he and a friend, Les Ashworth, started organising air trips to race meetings all over the country for "the flying sportsmen." People queued to join the band. The group would fly, often in two aeroplanes, to Auckland, Manawatu, Tauranga, to Wyndham...or wherever. The pair organised many train trips, too, to the races at Forbury Park.

At one stage, Andy Todd was on the committee at Forbury Park, was patron at Hororata and was a life member of the Canterbury O.T.B. Association and the Kaikoura Trotting Club.

The trotter Final Donn was the last horse he raced on his own, while he was a partner with his nephew Brian Taylor of Christchurch for some years after that in Rere Hine, another trotter.

Credit: Graham Ingram writing in NZ Trotting Calendar 24Aug82


| | |
| --- | --- |
| | RACING HISTORY PEOPLE |

BEN GRICE

Ben Grice, one of trotting's best-known personalities, died in a training accident on his property on New Year's Day. He was 96. Mr Grice fell from the sulky while jogging a young horse on the track at his Prebbleton property. It was the second horse the veteran owner/trainer/breeder had worked that morning.

With his son Des, Mr Grice ran the well-known Kingcraft Farm, current home of World Skipper, Lopez Hanover and Keystone Mutiny. The stud has produced a host of classic winners over the years. Mr Grice has been active in trotting for more than sixty years, first in Mid-Canterbury and then, for the last thirty, at Prebbleton.

The most notable of the hundreds of winners the Grices have produced was the top racemre Haughty, winner of the NZ Cup two years in a row in 1942 and '43, the second time from 36 yards behind. Among the younger brigade, horses like Buccaneer, Jonboy Star, Glamour and Royal Lopez won the NZ Sapling Stakes, while Petro Star and Ruling Lobell made their mark by beating the fillies in the NZ Oaks for Mr Grice.

-o0o-

Report by Tony Williams writing in NZ Trotting Calendar 19Jan82

Last week, the NZ Trotting Calendar paid a brief tribute to the late Benjamin Thomas 'Grandad' Grice, whose death as a result of a training accident on New Year's Day brought to an end an era in NZ trotting.

But any lifetime spent in trotting as long as Ben's - he was 96 at the time of his death - can not be brushed over in a few paragraphs, particularly when the man in question has made a contribution to the industry which made him a legend in his own lifetime.

Possessed with a delightful sense of humour - particularly when it was sharpened with a few whiskies with his mates - Ben Grice had a host of stories to tell, especially about the early days. But a lot of those stories could never be repeated - they would turn a modern day administrator's hair white - and many of them died with Ben.

Raised in Ashburton, Ben's interest in trotting was stimulated by his father, and it was on his father's property at Willowby that Ben built his first set of loose boxes. Later, on his own property at Winslow, which was formerly part of the old Longbeach estate, Ben converted an old woolshed into boxes and a feed barn, and really set about making a name for himself.

An accomplished horseman who early in his career was not scared to invest a few bob on his horses, he quickly realised you could not train horses up to the stage where they were ready for a bet, then drive them yourself. So over the years some famous horsemen were to don the famous Grice colours, red with cream crossed sashes and cap. Men like Free Holmes, Albert Hendriksen, 'Drum' Withers, Ossie Hooper, Gladdy McKendry, Ron & Ces Donald, Maurice Holmes, Bob Young and, more lately, Jack Carmichael and Denis Nyhan. Ben always believed in employing the best available reinsmen, and that policy paid off as his stable sent forth a string of brilliant pacers.

One of the best of these was Kingcraft, by the little-known stallion Quincey from a fast racemare in Colene Pointer. Colene Pointer, a mare by Logan Pointer from Queen Cole, by King Cole out of the great Norice, was very unsound so Quincey, a locally-based stallion, was walked to the Grice property to serve her. The resulting foal, Kingcraft, was a top performer, and in his first season at three was unbeaten in two starts. The same season, his dam, Colene Pointer, had recovered sufficiently to resume her racing career and won four races, including the Timaru Cup.

Colene Pointer's dam, Queen Cole, was purchased by Ben from Mrs M Duncan of Coldstream Lodge, which stood on the present site of the Fendalton shopping centre in Christchurch. It was not until nearly 60 years later that Ben found out that his expensive mare nearly didn't make it to Ashburton. The late Dave Bennett was working for Mrs Duncan at the time and, along with a mate, was assigned the task of delivering Queen Cole to the shunting yards to be put on board the train to Ashburton. Unfortunately, the mare escaped in the shunting yards and Dave and his friend spent several anxious hours trying to catch the runaway mare. She was finally cornered, loaded aboard the train and delivered to Ben. But Dave Bennett kept the secret of that narrow escape for many years, and it wasn't until a couple of years before his own death that he confided what had happened to Ben.

Queen Cole, and a Prince Imperial mare of unknown history, were the two mares who paved the way for most of the Grice winners, many of them brilliant juveniles who measured up to the best in the two and three-year-old classics. Buccaneer, an outstanding 2-year-old who won three races at two and then went amiss, is rated probably the best of them by Ben's son Des, who, "Went to help dad for a year after the war and I'm still there."

The Grice stable transferred to Prebbleton in 1950 and, naturally enough, Ben Grice named the property Kingcraft Farm, in honour of his old champion. Kingcraft won a division of the 1929 NZ Cup but he was scratched from the final that year. He then finished unplaced in a division of the event in 1930, but in 1931 was beaten a length by Harold Logan in the final after finishing third in a heat on the first day.

A string of grand pacers, dual NZ Cup winner Haughty, her son Brahman who held the 2-year-old mile record for 25 years, Riviera, Petro Star, Tradition, Regal Voyage, Village Guy, Jonboy Star, Courtier, Smokey Lopez, Ruling Lobell, Don Lopez and Avalon (world yearling record holder with a 2:06.8 effort at Washdyke a few seasons back) are but a few of the more famous names associated with Ben Grice.

It was one of Ben Grice's deepest regrets that one of his horses never won the NZ Derby, a classic the veteran horseman dearly wanted to win. He lined up some brilliant pacers in the event, but bad luck always seemed to dog him. He did, however, win the NZ Oaks with Petro Star and Ruling Lobell, the NZ Sapling Stakes four times with Buccaneer, Jonboy Star, Glamour and Royal Lopez and numerous other classics and semi-classics. The Grice horses were always aimed at classic and semi-classic races and, right up until the time of his death, Ben was working with a handful of likely youngsters, one of whom could yet fulfil, even after his death, Ben Grice's greatest ambition - a victory in the NZ Derby.


Credit: NZ Trotting Calendar 12Jan82


| | |
| --- | --- |
| | RACING HISTORY PEOPLE |

DEREK DYNES

It was a lucky day for Derek Dynes that time back in 1958 when he ran across Southland owner and breeder Andy Wilson in the street in Wyndham. "You know, I wouldn't mind selling that mare of mine," Wilson happened to mention. He'd had some success with the mare's earlier foals and he had sold them previously. She had a filly foal at the time and was in foal to Hal Tryax.

Derek Dynes had just bought his first farm in the area so naturally there wasn't all that much spare money around. Especially for another horse. But he didn't hesitate on hearing Wilson's plans. "I'll have her," he said. A few days later the price was agreed and Derek Dynes had paid over his cheque for £800. With that, he owned the mare, and Andy and Mrs Wilson kept the filly. It was a move which did all parties a lot of good.

The mare was Tactics. The filly was Deft. The foal she dropped in the spring was Tactile. By Light Brigade from Nell Grattan from that breeding gem First Water, by Harold Rothschild, Tactics had left Adroit, who had won the Golden Slipper Stakes by that time, Guile, who also went on to be another good winner in Australia, and a filly, Astute.

Derek then sold a half share in the mare to his cousin Jim. The two raced a number of horses in partnership after Derek got a licence to train about 1956. Among them, Derek recalled last week, were such horses as Forest Hill and Glenoware, both by Bill B, and both winners of three races, and Agean who won "five or six". There were many others eventually, but none were as important as that 12-year-old mare Dynes bought off Andy Wilson. She and her daughters have left a string of winners as long as your arm and, assuredly, there will be many more from the line. The latest to bring the name into the winner's circle has been the fine 3-year-old filly Tact Boyden, Derek's representative in the DB Flying Fillies' final at Addington in a few days time after winning two of the four South Island heats.

Derek, farming then at Wyndham, but now just out of Ashburton, trained Deft for the Wilsons. She didn't show too much early, winning only a maiden race at Invercargill as a 3-year-old. "She was spelled when she didn't kick up, but she won three or four the following year," Dynes recalled. She raced eventually against the best in the country, finishing second in Jacobite's Easter Cup at her second to last start. Then, in her last race, she beat Jay Ar and the brilliant mare Robin Dundee at Wellington. "She led all the way. The other two were off marks though."

Deft then went on to make her mark as a broodmare. She left Fool Proof, Eligo and Canny, all winners, before dropping Noodlum. There is no need to dwell on his exploits. Sufficient to say he was a champion racehorse in his own right (and if he had stayed sound he could have been even greater) and the list of winners he has sired since grows longer every day. Deft left two other winners, the speedy Olga Korbut and the Lordship horse Understudy, before her death several years ago.

But back to Tactics. Her next foal was Tactile, a colt who looked good right from the start. Derek trained him for himself and his cousin. "He was a great-mannered colt. He didn't have the speed of this filly (Tact Boyden). He had a paddly way of going but, goodness, he was a tough horse. He could do a quarter in 30...but not just one. He could run them one after another." According to Dynes, Tactile didn't 'kick' before the end of October. But when he lined up for his first race he was ready.

Driven by Kenny Balloch, he won the Golden Slipper in December by two and a half lengths, the Rangiora Raceway Stakes, when driven by Doody Townley, by four, the Geraldine Invitation, the Nursery Stakes, the Kindergarten Stakes and the Welcome Stakes all in a row. He finished second then in the Oamaru Juvenile Stakes before being just beaten by outsider First Battle in the Sapling after almost falling. He started the 3-year-old season with a second and a third before winning the NZ Derby, the Champion Stakes and, by seven and a half lengths, the Great Northern Derby. "He won the Derby in a bit over 3:10. The fillies beat that now," Dynes observed. "But he just plugged away in the trail behind Vanderford and, when the others were stopping, he just kept going."

That was the last NZ fans saw of him that season. Soon after Auckland he was shipped out of Bluff to take on the best of his age in Australia. Jim Bond was looking after him on that trip. He won the South Australian Derby - "Minuteman had it won until he broke at the top of the straight" - the New South Wales Derby after Doody Townley managed to get him around a skirmish, and then the Victorian Derby.

As a 4-year-old he ran second to the mighty Cardigan Bay in the Auckland Cup before heading across the Tasman once more for the Inter-Dominion series in Melbourne. Driven by Robert Cameron himself a near neighbour now of Dynes on the Ashburton-Methven road, Tactile won a heat and then finished third behind Minuteman, who led all the way, and the fine mare Angelique. "He was a top horse that Minuteman. He went all the way at a great rate." Derek was not in Melbourne at the time, Cousin Jim was. A friend, Bob Norman, with whom he had stayed in Adelaide, persuaded him to take Tactile back to South Australia for a couple of races. They went, but the horse broke a pedal bone and was out for the rest of the season.

The following year he won a heat of the Inter-Dominion at the Forbury Park Inter-Dominions and again, at six, a heat in the Sydney series. Tactile went to America soon after and took his lifetime earnings close to the $200,000 mark. He won a lot of races and ran second to Bret Hanover the time that champion took his world mark. The Dynes sold Tactile to the States on condition that he would return to NZ at the end of his racing career. But, before coming home, he stood at Martin Tananbaum's White Devon stables for several seasons. "He left a swag of winners in America, but many of them were minor winners who couldn't get a race here."

Back home, he left some good horses - he has six 2:00 performers, among them good juveniles Ryal Pont and Wickliffe - but, in Derek's own words, some were not much good. An old horse now, Tactile is still alive and spending his days at Jim Dynes' son Ross' place at Ryal Bush. "He was a very fertile horse but he went off overnight. We don't know why. Perhaps it was hereditary. His old sire did the same."

The Dynes put Tactics first to Garrison Hanover and then again to Hal Tryax. Tactus was the Garrison Hanover colt. He won five races and has since made a successful sire in New South Wales. Tacwyn was the sister to Tactile. But did she turn out to be a champion? Far from it. "She was a dirty thing. She would kick the shafts to pieces. We found out later she had a cystic ovary, so I suppose she had an excuse," Derek said last week. She was put to stud as a young horse and produced Exmoot to Hi Lo's Forbes. That first foal has left several winners, Elderberry being the most recent. Put then to Hundred Proof, she left US winner Tactual and then Tacten, the dam of the current stable star.

Tacten, too, gave Derek Dynes more than his share of troubles. "She was a headstrong thing. She was absolutely hopeless from a stand. But she did win one race as a 3-year-old...by twenty lengths or so at Winton." She never did more on the track. But she's continued the family tradition at stud. Back to that soon.

Tactics meanwhile, went back to Garrison Hanover to produce Tactena, Greek March to Caduceus, Tactess to Flying Song, Five Score and Master Proof to Hundred Proof and then Tacmae by Yankee Express. Tactena, Greek March, Master Proof and Tacmae were winners themselves, Tactena, Tactess and Five Score producing their share of winners. Tactena, who won three races, left Tactless, Tact Lady (dam of a 1:58.2 winner in Tact Henery), Tact Command (1:59.6US) and another American winner in Scottish Tact. Tactess left Tactful, a winner now being bred from, Ryal Ann and Ryal Tar, both winners.

It was when the Dynes' partnership dissolved 'about ten or twelve' years ago that the cousins split the mares between them. One of the ones Jim got was Tactwyn and she produced two more winners for him, Ryal Mood and Ryal Lady. Derek got Tacten and Five Score. They have produced winner after winner. To Tacten first. Tact Del was her 1973 foal. She ran second to Ruling Lobell in the Leonard Memorial and is now at stud herself. Tact Knight, her next filly, won two races here and then went to West Australia where she won seven or eight. Tact Hanover was sold as a youngster and later died. At that stage, Derek, by now established at Ashburton, decided to send the mare to Australia to be mated with Overtrick. Very smart filly Tact Over was the result. Back home in NZ, she won a couple of races before she, too, went to stud last season. "She had plenty of ability, but she used to be a hard drive. She pulled like anything," Dynes said. "Robert used to think she was extra good, but I think he thinks Tact Boyden's better now. But then, she's always been a nice horse." Tact Over has a foal by Valerian and is in foal to Lordship. Tact Boyden is Tacten's first foal since coming back from Australia.

And if Derek is delighted with the way things have worked out with that mare, and there's no doubt that he is, then the exploits of Five Score have given equal satisfaction. Fourth herself in Rossini's Golden Slipper, her first foal was Yankee Score who won the Leonard Memorial in 1973 for Dynes. Later she left the winner One Score, herself now at stud. Then came Bachelor Score who, while she didn't race, is already proving a useful broodmare. Her first foal was Ryal Scott, bred by Ross Dynes, and he won in America.Then came Nibble Score, also a winner before going amiss. Bachelor Score's current 2-year-old is Patron Score, a promising young horse who damaged a tendon. "He looks extremely smart but once he was injured we decided to put him out for at least six months. It wasn't that bad, but that time off will be an 'insurance'.

High Score, a colt by Tarport Coulter, was Five Score's third foal. "Hell, I put the time into him, the useless brute. He took ages to catch on. By the time he was five he had been everywhere, to a lot of trainers in Australia. And the next thing, here he is running 1:57 and a bit at the Meadowlands." Timely Score was Five Score's next racehorse. He won three here as a 2-year-old, including the NZ Sires' Produce Stakes final by four and a half lengths from Hanover Don, Beaufort, Lord Module, Montini Bromac, Roydon Scott and company. "Soon after that, he popped a tendon so we gave him 12 months off," Dynes recalled. The horse then went, like many of the breed, across to Roy Annear in West Australia who swam him and got him going again to be one of the best horses in the state. He's won dozens of races and his earnings are getting up towards the $100,000 mark.

Scottish Score, by Scottish Command, didn't race but was put to HT Luca, a stallion Dynes himself imported to NZ, two seasons in a row. Her second foal was Two Score who ran second to brilliant filly Time's Up at Addington in his first start. He is now in America. Sent to Australia several seasons ago, Scottish Score has an Overtrick filly at foot and is in foal to Adios Vic. Meanwhile, the last of Five Score's progeny to get to the races, Nevele Score, by another Dynes import Nevele Bigshot, is also racing in Australia where, as well as a number of wins, she ran third in last year's West Australian Oaks. This year, Nevele Score is proving a sensation on the track. Just recently she broke Paleface Adios' Australian record for a mobile 2500 metres, rating 2:01.8, in her seventh or eighth win in row. Right now, Five Score has a rising 2-year-old by Nat Lobell and a colt by Boyden Hanover. Whichever way you look at it, those two mares and their progeny have given Derek Dynes a huge amount of success.

Now 51, he farms his border-dyked 200 acres at Ashburton and, assisted by his daughter Elaine, works his horses as well. He moved to Ashburton because "it's handier to the races - and the stallions." He has got a fine half-mile track which can be used winter and summer, is in the process of increasing his boxes to twenty and is just finishing a new wash and gear complex. His racehorses, and those mares and weanlings, which aren't either in Southland or Australia have all the green grass they want in his irrigated paddocks.

Derek Dynes enjoys both aspects of his life, the farming and the horses. "It's good when one can give the other a boost," he said last week. These past few weeks, there has been a lot of effort going into getting Tact Boyden right for Friday night's assignment. It is her toughest yet. After that, Dynes has nothing mapped out. "I might even send her across to Australia to be mated with Adios Vic," he said. "He was a top racehorse and he's left a lot of winners." It's a pattern Dynes has followed with some success before. He won't be keen to change a winning formula.



Credit: Graham Ingram writing in NZ Trotting Calendar 4May82


| | |
| --- | --- |
| | RACING HISTORY PEOPLE |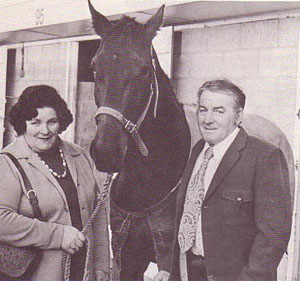 Max & June Thompson with Wee Win

MAX THOMPSON

Popular trainer Max Thompson died in Christchurch last week. The holder of an amateur trainer's licence for the last 21 years, he was probably best known for his association with the tough open-class performer Wee Win, now at stud. Wee Win won nineteen races and was placed 26 times for stakes of over $110,000 for Thompson. Included in his wins were an Easter Cup and three heats of the 1979 Inter-Dominions at Addington.

Thompson a bushman and then a self-employed contractor in his early years as a licence holder, bred the horses he raced himself. Most of them stem from the fine trotting mare Foam from whom Thompson bred such winners as Foaming Lass, Pacific Star, Coral View, Gourmet's Pride and Foaming Waters. He bred from Foaming Lass with a lot of success. As well as Wee Win, she left speedy mare Winning Lass, and Winning Queen and Jaymax, both $25,000 yearlings bought at the national sale by Sydney owner Jack Honan. This season Thompson raced the successful Wee Junior (by Wee Win) who was trained by his son Gavin.

Max Thompson, who had been in poor health for some time, was 62 when he died. He is survived by his wife June, sons Gavin, Dennis and Mark and daughter Merilyn.



Credit: NZ Trotting Calendar 22Jun82


| | |
| --- | --- |
| | RACING HISTORY PEOPLE |

LES WHEELER

A £25 investment thirteen years ago is still paying dividends for Springston dairy farmer Les Wheeler.

Back in 1968 he and a friend went halves in a £50 broodmare, Wavering Downs, deciding to take alternative foals from her. Les Wheeler's first foal was a filly, Edis Nova. She developed into a top trotter. Then, ten days ago, Novander, Edis Nova's first foal, made it two starts for two wins when she took out the 4-year-old trot at Addington. She had, earlier last month, won her debut at Oamaru after several impressive trial runs.

Wheeler, an amateur licenceholder, trains the mare and races her in partnership with his son Jeff, himself licenced to drive at matinees and trials. There is nothing much of Novander but she showed she has got a big heart when she slugged it out with Bloxett all the way down the Addington straight after getting a long way back early in the race, then improving to sit in the open. The race didn't take too much out of her. And out at Springston last week the owners suggested she could have gone another round after winning at Oamaru.

Peter Jones has driven her both times. "She can be a bit tricky at the start, you have got to watch her over that first bit," Jeff, who does a lot of the work with the horse, said last week. "Peter knows her though. We have taken her over the Derek's place a couple of times so he could get to know her. The other night they got back because Peter didn't want to hurry her early, but once on the way she's as good as gold." Novander has many of the traits displayed by her mother. She is a lazy worker and generally has to be pushed along. Edis Nova, too, was a great doer, "just like this wee thing here," said Jeff, patting the latest stable star on the flank. The Wheelers, already pleased with the way she's gone so far, will be ecstatic if Novander turns out half as good as her mother.

Edis Nova won about a dozen races and racked up more than thirty placings in her career. Les Wheeler bred her himself, his first venture into the harness game. A fellow member of the Metropolitan Milk Board, Lester Moore, had bought Wavering Downs for £50 and offered Les a half-share. He took it. "Lester wanted to toss a coin to see who would have the first foal; But I reckoned that seeing it was his mare to start with, he should have the first," Les recalled last week. She produced a colt, Arthur's Pass by Password. The next season, Wheeler sent Wavering Downs to Tuft. "I didn't know much, but I thought I would like to breed a trotter. Dudley Moore had Tuft near my run-off property down the road, so I decided on him. "He was one of the first really trotting-bred horses here, wasn't he? Even that's no guarantee you will get a trotter."

The mating couldn't have worked out much better. Little Edis Nova was a good horse almost from the day she arrived. As a 2-year-old, she won three non-tote trots at Addington in a row, the first of then by an official fifty lengths. The filly was raced in partnership by Wheeler and Freeman Holmes who trained her until Les was granted a licence himself in 1975. All told, she won close to $31,000 before being sent to stud. She was placed in both the Rowe Cup and the Dominion Handicap.

"When I was contracting I'd had a bit to do with Leo Berkett and Dave Bennett and a few other trotting people...but I had never owned a racehorse before Edis Nova, probably because I couldn't afford it. There was no way I expected my first one to turn out like that." Edis Nova was retired because she was starting to make hard work of her races. She was meeting the likes of Easton Light and company. "She probably had another win or two in her, but she had been so good to us, we didn't want to break the old girl's heart," Wheeler said.

Over the following years, Lester Moore bred Pacific Wave, Star Wave (both by Pacific Hanover), The Power Game and promising maiden trotter Proud To Be (both by Game Pride) from Wavering Downs, a half sister to 1964 Rowe Cup winner Dreaming. Proud To Be showed her ability when she bolted in in the trotter's sweepstake event at the latest Canterbury OTB trials at Addington.

Meanwhile the Wheelers, since Edis Nova, have bred their share of winners from Wavering Downs. Lord Nova was their second foal. By Lordship, he won two races for them before being sold. He was a disappointment then, until he was sent to America, where he went 1:59.8 and won more than $100,000. "We were disappointed with the way he went here. We were sure he would win a lot more," Les Wheeler said. The next foal was Nicki Nova (by Tuft). She won one race pacing before leaving the speedy young pacer Nova Light (by Winterlight). So far, then, there hadn't been many to fulfill Wheeler's hopes of breeding trotters. But Wavering Downs' ninth foal, to Gerry Mir, was the fine young trotter Gerry Nova. Trained by Les' older son Ross, then a professional trainer, Gerry Nova ran third to Thriller Dee in the NZ Trotting Stakes at his first start. Two starts later he was second again to Thriller Dee in the Rosso Antico Stakes at Auckland before winning a maiden trot at Timaru in 3:31.7, a time seldom, if ever, bettered by a novice trotter on the track. He was then sold to America for good money while, soon after, Ross moved to the Waikato where he's been share-milking for the past three years. Wavering Downs has since left Star Nova, a Crockett 4-year-old who is close to qualifying. Unfortunately, she died the day after foaling Bad News, now a 3-year-old, by Evening News, for Lester Moore.

Her racing days over, Edis Nova was left in the north where, after missing to Crockett, she produced three foals to Great Evander. Novander is the first of them. She was floated back to the South Island as a weanling and was taken along very quietly. She showed hardly any inclination to trot at all in the beginning. "As a 2 and 3-year-old she appeared a natural pacer. We worked her quietly free-legged but then, gradually, the trotting side of her came through. "She almost got to the stage where she might have qualified pacing," Jeff, who's 19, said last week. "But now she trots cleanly with no weights and only very light shoes."

Jeff drove Novander when she qualified...twice. "She went 3:38.2 when winning at Addington but she couldn't qualify because she hadn't been inspected. We went back the next time and, even though we didn't go quite as quickly, she qualified again," Jeff said. Jeff gained most of his experience through helping Ross when he trained at Springston. These days when he's not helping with the cows on the family's three blocks, he spends all his time with the horses. They have already put some time into Edis Nova's other two foals by Great Evander, the 3-year-old Nancy Nova and Ricky Nova. Nancy Nova has been turned out for a good spell while her younger brother is also out for a while. "He's pacing at the moment but I think given time, he will probably trot," Jeff said. The only other in the stable right now is a 2-year-old filly by Lumber Dream out of Nicki Nova. She's trotting. "I think she'll be okay, too," Les said. "She's not being rushed."

With all the Wheeler family riding ponies and show jumping with some success when younger, the racehorses often get a saddle put across them. The latest in the team are no exception. "They should be handled a lot when young...and riding them provides a bit of variation and gives them a bit of strength in the back," Jeff contends. "Most of all, it takes time and patience." That, it seems, is sure to pay off with Novander.

In the meantime, Edis Nova is in foal to Scottish Hanover, a champion sire who's left very few trotters. "We decided on him when we saw her other foals paced a bit," Les said. "We thought, if she wants a pacer, we'll give her a chance." But, even then, it's not certain her next foal will pace. And that's what the Wheelers find fascinating about breeding their own horese...the uncertainty of it all.

Credit: Graham Ingram writing in NZ Trotting Calendar 9Jun82


| | |
| --- | --- |
| | RACING HISTORY INTERDOMINIONS |

PERTH - RHETT'S LAW
Unable to win an Inter Dominion Grand Final with his champion Pure Steel and such fine performers as James Eden and Local Product, Western Australian bookie and the State's best known trotting owner, Russell Roberts, struck the jackpot in the 1982 series in Perth with the little known Rhett's Law. Rhett's Law took out the biggest purse to date of $160,000 in just 3.22.7 for the 2625 metre standing start event.



| | |
| --- | --- |
| | RACING HISTORY HORSES |

ROBIN DUNDEE

'Stopwatch' writing in NZ Trotting Calendar 4Feb70.

NZ's greatest race mare Robin Dundee, winner of $250,000 in stakes, has been retired from racing. Word has been received that she has returned a positive test to former champion Adios Butler (1:54 3/5). Now a twelve-year-old, Robin Dundee has been in America for the last two years, being sold by her owner, Mr J W Hewitt for $100,000. Mr Hewitt, however, retained a breeding interest in the Hal Tryax mare. Robin Dundee is at American trainer E Cobb's Fair Chance stud where Adios Butler stands.

Robin Dundee travelled a long way since she won at her first start - the Southern Stakes for 3-year-olds at Invercargill on October 29,1961. She outdistanced her 14 rivals on that occasion winning pulling up by 16 lengths, and at her next start went on to win the NZ Oaks.

Robin Dundee was a pacing midget if ever there was one. She was little more than a pony pacer, 14.2½ hands, but developed into a dour stayer and determined sprinter. She travelled far and wide; had several trips to Australia where she raced against the strongest opposition in both countries. She won the Miracle Mile at Harold Park (Sydney) in 1:59, the fastest mile ever recorded by a mare in either Australia of NZ under race conditions.

She contested four Inter-Dominion championship series. At he first attempt at Melbourne in 1965, she broke a pedal bone which put her out of action for several months. The next year she dead-heated for first in the $20,800 grand final when the championships were held at Forbury Park; a year later she finished second to Chamfer's Star in the $30,000 grand final in Sydney and fourth in the 1967 grand final at Perth. She went to America shortly after.

In NZ Robin Dundee took a mile record of 1:59 2/5 and on three occasions finished second in the NZ Cup - to Cardigan Bay, Garry Dillon and Lordship. She won 25 races and was 50 times placed for $80,540 in stakes in NZ and in Australia won 10 races and was 10 times placed for almost $30,000 in stakes, giving her a NZ and Australian total of $110,540. Among her NZ successes was the 1965 Auckland Cup.

Robin Dundee did not regain her top form in America and was sidelined for some months because of unsoundness. The extensive travelling she did and increasing years were no doubt against her. But as an 11-year-old she won five races and $58,275 in the States, bringing her lifetime score to just on the $250,000 mark.

By Hal Tryax, she was out of the Dillon Hall mare Cherry Blossom, dam also of Dundee and Donald Dundee, both of whom also went to America. Robin Dundee, who had two mile figures of 4:12 2/5 to her credit was also a great public idol - her duminutive stature, sheer courage and consistent record all going to make her a raceday favourite.

She was trained throughout her NZ career by Gore trainer J Walsh, who also campaigned her in Australia and in America for a short time.

-o0o-

Twenty-six years ago when he was given the opportunity of breeding a foal from a Dillon Hall mare in return for providing her with a good home, little did then Mataura Island farmer Mr Jack Hewitt think a notable chapter was unfolding in the story which later produced one of NZ's greatest racemares who was also to become the dam of the world's fastest aged pacer.

Now semi-retired with his wife Joan on a 14 acre Myross Bush farmlet on the outskirts of Invercargill, Jack Hewitt last week recalled the chain of events leading up to the arrival in the world of Robin Dundee and the breeding in America of her son Genghis Khan (1:52.8).

In the spring of 1956, Mrs Hewitt's uncle, the late Bob Ritchie, a brother to the late Hugh Ritchie, a well known Invercargill identity, sold his farm at Willowbank in Northern Southland, an area steeped in light harness history, to his son Keith. Not particularly interested in horses, Keith got his father to try and find a good home for Cherry Blossom, a daughter of Dillon Hall, who was owned by his parents and was nine at the time. Jack Hewitt was approached by Bob Ritchie, then the Gore-based manager of Southland Farmers Co-op, who was particularly fond of the mare and was anxious to see her well cared for.

Jack was given the chance to breed a foal from her after he agreed to look after her on his Mataura Island farm. Taking the advice of Mr Ritchie, he mated her with Hal Tryax, the first 2:00 3-year-old pacer imported to NZ and standing at the late Hugh Gamble's Edendale property at the time. Cherry Blossom was technically owned by Mr Ritchie's wife Myra, now living in Gore. The Ritchies decided to dispose of their other horses, but Cherry Blossom was one that they treasured and did not want to fully part with.

The resulting foal from the mating to Hal Tryax was born at Derek Dynes' Wyndham property, not far from the Wyndham Showgrounds, where she was visiting the court of the Light Brigade horse Fallacy. A small chestnut who grew to only 14.2 hands at maturity, she was named Robin Dundee and was to carry on to woo light harness fans the world over. Mr Hewitt was breeding foal about from Cherry Blossom with Mrs Ritchie. To Fallacy she produced Adamae (dam of Ian). She then missed to Hal Tryax in 1959, but produced a filly, Blossom Song, by Flying Song, for Mrs Ritchie. To the same sire she produced the good winner Donald Dundee a year later. Cherry Blossom then developed shy breeding tendencies, missing to Hal O'Matic and Van Hanover among others. She ended her days with Mr C J Coll of Cave, Canterbury, producing Lord Dundee after running with First Lord in 1968.

Under the late Jack Walsh's guidance at Gore, Robin Dundee developed into NZ's champion racemare of her time for Mr Hewitt who, at the end of her NZ racing career, declined tempting American overtures and offers from the late Martin Tananbaum and decided to lease her for racing purposes to noted New York trainer-driver Eddie Cobb, William Schlesinger and Leon Machiz. For the partners, Robin Dundee won $62,000 on American racetracks before a breeding arrangement was entered into whereby Mr Hewitt was to get three foals and his partners one each. That contract has now expired and Messrs Hewitt and Machiz breed foal about from Robin Dundee, now hale and hearty at the grand old age of 24.

Robin Dundee's chapter of setbacks as a matron has been something of a heartbreak. In fact, until Genghis Khan arrived she appeared doomed to leave horses later solely destined to become injured, break-down or die. Her first foal, Dundee Adios, an Adios Butler colt, broke a bone in his leg which was later pinned in an involved operation at Pennsylvania University. Mr Hewitt bred Dundee Adios and brought him back to NZ to stand at Des Baynes' newly-established Highway Farm, Edendale. Dundee Adios, like his dam a small horse, now stands at Mr Roddy McFarlane's Winton Stud and has compiled a respectable record as a sire. Mr Hewitt suffered more bad luck with Robin Dundee's third foal, Dundee Butler (by Adios Butler) who was badly injured and now stands at stud in Victoria.

Before producing Dundee Butler, Robin Dundee foaled Miss Robin Dundee for Mr Schlesinger. A daughter of Tar Heel, she produced two fillies and a colt by Most Happy Fella at stud. She was found dead in her paddock with a ruptured stomach at Hanover Shoe Farms in September, 1979, when in foal to Albatross. Miss Robin Dundee was not insured and her owner had declined a $100,000 offer for her. Earlier in her career, Miss Robin Dundee took a mile record of 2:00.4 in a light racing career.

Robin Dundee's fourth foal, a 1975 Meadow Skipper colt, had a malformed foot and had to be destroyed as a yearling. Ghenghis Khan, her fifth foal, was not over precocious at two and three, but has emerged as one of North America's stars this season, taking a 1:52.8 mile record to make him the fastest aged pacer in the world with earnings of $750,000 for Eddie Cobb, the Nevacal Stable, New Jersey and the Jet Star Farms, Clarksbury, New Jersey. Robin Dundee's sixth foal, a filly by the Tar Heel horse Nansemond, who downed Albatross in the Little Brown Jug, was brought home to NZ by Mr Hewitt and is a member of his prized broodmare band at Myross Bush. Mr Hewitt maintains she was spoilt during her six month trip home and showed little interest in training after being broken in by his son Robert. Rather, she preferred to take more interest in human company. Standing only 14 hands, she has produced a Pass With Care filly, now a weanling, and is in foal again to the same sire, a son of Meadow Skipper, the sire of Ghenghis Khan.

Robin Dundee's seventh foal, Oily Bird, an Oil Burner colt, was sold by Mr Hewitt to Mr Machiz, but was injured and has developed slight arthritis in a leg. In 1980, Robin Dundee foaled a filly to Mr Machiz's crack racehorse Say Hello, a Bye Bye Byrd horse who clocked 1:55.4 as a 2-year-old.

Jack Hewitt has not seen Robin Dundee since she went to America 16 years ago and he has ruled out much possiblity of ever doing so again. The memories he cherishes of her, however, have been rekindled by the sensational deeds of her son Genghis Khan, and he derives great pleasure from successes by the progeny of her other son, Dundee Adios, in Southland.


Credit: Don Wright writing in NZ Trotting Calendar 20Jul82


| | |
| --- | --- |
| | RACING HISTORY HORSES |
Hal Tryax & Bob Buchanan

HAL TRYAX

Article by 'Stopwatch' in NZ Trotting Calendar 23Sep70

From the lush 'blue grass' pastures of Tennessee, in the United States, to the remote bush-surrounded clearings of Chaslands, South Otago, represents as big a change as any horse could experience. But 23-year-old Hal Tryax, who wrote a notable niche into standardbred breeding records in this country, seems to have taken the transition in his stride.

While his most illustrious son, Cardigan Bay, has recently made a triumphant tour of this country after becoming the world's first million dollar winner, his sire is inconspicuously living out his days in happiness on the Chasland's property of Mr Bob Buchanan. "He's spending his days with me as nature intended - nobody to worry him, plenty of grass and no forced fodder," Mr Buchanan said as he looked up a steep slope, recently cleared of bush, on which the celebrated progenitor was grazing, oblivious of any visitors approaching.

His final home is a far call from the Spring Hill Farm in Tennessee, where Mr Allen Campbell bred him. Long left behind are the days when he fashioned a notable racing record on the major American raceways. Still fresh in the minds of many trotting men is his stud career at Mr George Youngson's Gore Stud, and later at the late Mr Hugh Gamble's Edendale Stud. After sweeping all before him as a sire in NZ, the Tryax horse was struck down by infertility and withdrawn from public service in 1964, when at the pinnacle of his career. Standardbred breeding suffered one of it's stiffest blows in NZ as a result of this tragedy.

This career of extremes was very much in the minds of an Invercargill party to Mr Buchanan's Chaslands property as the visitors tramped the steep slopes and waded creeks in miserable coastal weather to view the 'forgotten horse.' What would he look like? Would his appearance capture and aggravate the tragic disappointment felt at his premature stud retirement? While crossing a gully to where Hal Tryax was sheltering, one wondered if such a humble final home was befitting such a horse, who had made such a dynamic impact, not only on the race track, but also on NZ breeding.

On closer inspection however, these reflections quickly vanished. The old horse, looking 'as fat as a seal' carried his 23 years remarkably well and pranced sprightly along the fence when aroused by the party. It had been a year since Mr Buchanan had last handled him, and, understandably, Hal Tryax was in no great hurry to be fondled by his veteran owner. It was not long, however, before the old horse 'came round' and man and horse showed the strangers the affection they have developed for each other over the last six years. Nobody need fear that Hal Tryax is being neglected in his twilight. He has the 6-year-old Brahman stallion, Lachlan, and a few head of shorthorn beef cattle for grazing companions and his veteran owner to look him up every day, to see that all is still well. His gross condition, alone, is ample testimony to the kind of treatment he is receiving.

Bob Buchanan has spent a lifetime among horses and dogs. Reluctant to divulge his age any further "than well past 70" he has spent most of his life as a drover, stockman and farmer. Born in Ireland, he came to NZ when a boy. After working as a drover on the Mt Ross station in Central Otago, he later worked in and around Gore, before shifting to Tokanui. He has spent the last 31 years on his present Chaslands property. It was while working on the Mt Ross Station that he met the late Hugh Gamble. He was a close friend of Mr Gamble until his death in 1964 and took on the responsibility to look after Hal Tryax.

Bob clearly remembers the bush picnic race meetings which were held at Pine Bush, Waikawa and Tokanui. "Any fellow who had a hack had a go in the races," he recalls. "We raced for stakes the equivalent of about $10 today and had to obtain a permit, even though it cost us nothing." A trot and a gallop race was held at each of these picnics and the events were invariably the highlight of the gatherings. "Those were the days of the saw-mills, when there were many more people in Chaslands than there are today," he said.

Bob Buchanan has always had the odd horse. One of his most successful racehorses was Lady Voison, a useful mare, who won the Invercargill Trotting Cup. "Tautuku was about the only other winner of much account I have raced," he added. Tautuku was named after the Tautuku beach, one of the country's most picturesque beaches, not far from Bob's farm. Probably the most interesting feature of his career with horses was his association with Stella Frost, NZ's star race mare. "I bought her dam, Stella Grattan for $20 off Mr R D Butterick, of Christchurch, in 1954," he recalls. "I bred an Andy Derby colt from her and loaned her to a cobber, who bred a Whipster colt, but as neither of them were any good at all, I practically gave her away to Les Tilson." Having to more or less discard her was a disappointment for Bob, as he liked the breed very much, but was disheartened by the mediocrity of the Andy Derby and Whipster colts. Stella Grattan is also the dam of the Van Hanover 4-year-old, Willsher Bay, a winner late last term.

Bob Buchanan has become a personality of the Chaslands. The remoteness of his home might suggest he is a lonely man, but this is far from the case. Opossum hunters, forestry workers, neighbouring farmers and numerous other friends look him up frequently. He has become known as a friend to all those developing the remote, bush-clad area in one way or another and takes time off to assist at a near-by youth camp when the occasion arises. His energy is remarkable for a man of his age. He was still shearing most of his sheep up until two years ago and walks around his property with ease. He possesses an encouraging philosophy to life. "You're never finished until you stop, so you just have to keep active at my age," he claims.

Bob has four broodmares on his Chaslands property and recently brought the Brahman 6-year-old Lachlan, to mate with them. Lachlan is out of the Light Brigade mare, Pibroch, a close relative of champion pacers Highland Fling and Caduceus. "If only that old fellow up the hill could serve them, I'd be right wouldn't I?" he remarked with a touch of regret. But Hal Tryax will never leave another mare in foal. He has failed to respond to treatment and after several operations all hope has been lost, and he has been left to live out his days in peace.

While driving back to Invercargill over the picturesque Chaslands road, one's thoughts could not help but linger with an old horse in a bush fringed paddock and an old man with a remarkable zest for life.

-o0o-

Hal Tryax, the sire of Cardigan Bay and the maternal sire of Young Quinn, died recently in the remote Chaslands area at the grand old age of 35. It was an occasion which passed largely unnoticed in the New Zealand trotting world, in which he had such a great influence.

The death of the champion sire was confirmed by Mr Ken McKenzie, who had cared for him for the past few years, and a spokesman for the trustees of the estate of the late Mr Hugh Gamble, his last owner. Hal Tryax died peacefully of old age and had maintained physical condition which belied his advancing years. Mr McKenzie had devoted much care towards him after taking him over from the late Bob Buchanan, who cared for him for several years after the death of Mr Gamble.

The American import's career was one of extremes as a sire in NZ. After sweeping all before him, topping the NZ sires' list in the 1963-64 season, his rapidly-waning fertility had written him off as a progenitor. He was soon after pensioned off to the rugged coastal Chaslands area and some attempts were made to restore his fertility. But it was to no avail and he was left to live out his days in contentment

Breeding in this country, and especially in Southland, where he stood for his entire stud career, suffered an irreparable blow. Hal Tryax took over from Dillon Hall in keeping Southland to the fore as one of the country's premier breeding nurseries. His remarkable affinity with southern mares, many of whom were rich in the blood of Peter The Great, soon saw the unfashionably-bred Axworthy line horse make an immediate impact. And there seemed no stopping him. That was, until his tragic impotence had written him off.

Hal Tryax and his stock continued to break records for a while, but it was inevitable that as his quickly-diminishing band of representatives fell by the wayside, he would assume less significance. His influence has been sustained by the deeds of his few daughters at the stud and three of his star sons, Holy Hal, Jurist and Tactile, furthered his male line at the stud in Southland. Other sons in Dale Axworthy, Congruent, Kudos, Blue Prince and Student Prince have sired winners throughout Australasia. In America, his star daughter Robin Dundee is the dam of the crack Meadow Skipper horse Genghis Khan (1:54 3/5).

Cardigan Bay, of course, was his star son, winning more than $1 million and becomming the first standardbred to achieve that feat. There were also pacers of the calibre of Robin Dundee (1:59 and $228,312), Tactile (1:59.6 and $189,415 and the only standardbred in the world to win five Derby classics), Holy Hal (2:00.8 and undisputed champion colt pacer of his time), New Zealand Derby winners in Student Prince and Bass Strait, Two Great Northern Derby winners in King Tryax and Tutta Tryax, and a host of others including Blue Prince (2:04.8).

Hal Tyax's premature impotence has also been reflected in the limited number of daughters he has at the stud. But they have made a real impact. They have produced horses of the calibre of Young Quinn, Bachelor Blue (eight wins), Fait Accompli (seven wins), Young Cardigan (nine wins), Happy Hal (2:01.2), Tuapeka's Garry (2:03.4 at 2 years in Australia), Courtier (2:05.8 at 2 years), Marcus John and Newport Tryax.

In America stock of Hal Tryax won $1,456,660 in stakes. He first topped the NZ sires' list in the 1963-64 season. Two years later, he again headed the list, at a time when NZ's greatest-ever sires, U Scott and Light Brigade, were formidible rivals. During the 11 seasons his stock raced in NZ, they won nearly 460 races and gained almost 1300 placings for close to $600,000 in stakes. Taking into account the earnings of his American runners, his stock won just in excess of $2 million.

As one leading trotting scribe termed it, his career "was a studmaster's dream that ended in a nightmare." That aptly summed up the career of the Tryax horse who was foaled at Mr Allen Campbell's Spring Hill Farm, Tennessee, 1947, and later took a sub-2:00 mile record for Alabama-based horseman Sanders Russell. Hal Tryax was launched on his siring career in NZ by George Youngson of Gore, who later sold him to the late Mr Gamble.

Credit: Don Wright writing in NZ Trotting Calendar 2Mar82


| | |
| --- | --- |
| | RACING HISTORY HORSES |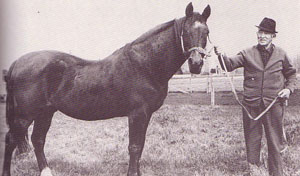 Court Martial and owner Joe Hampton

COURT MARTIAL

Edna Hampton lost another of her 'family' the other day. Jerry died on August 2, the day after his 35th birthday. "It broke my heart," Mrs Hampton said a few days ago. "I'm still getting over it. I look out the window to his paddock and keep thinking he might reappear..." But Jerry won't. He was put down just as all the effort of trying to keep going a little bit longer was starting to become a bit painful for him.

Jerry was just his pet name. He was officially Court Martial. He had been part of the Hampton household since the day he was born. Mrs Hampton, at 76 now no longer as agile as she was, remembers that day. The Hampton's mare Suda Bay, served by that old gentleman Light Brigade, was due to foal. The night before she had been a bit unhappy and Joe Hampton "knew she'd foal in the morning. He went across the road at four in the morning to check on her but he was back in a few minutes. The foal was there but he was a whopper. Joe said it was the biggest foal he'd ever seen. He couldn't get up to stand to suckle. But that, really, was only a momentary problem. We wrapped him up, put him on a barrow and wheeled him under the old mare to suckle. He was a lot stronger after that first meal. Right there and then, Joe reckoned he'd keep the horse as a stallion. He was so impressed with him." And, after winning three or four races and then breaking down when involved in a skirmish at Wellington, Court Martial was indeed sent to stud.

No-one has to be told how successful he was. He's still making his mark. His mares can't help leaving winners. All told, Court Martial left close to 480 foals...for 149 winners, a grand performance. There were some champions among them, too. And Jerry has also left 128 winner-producing mares, another top effort. He hadn't served any mares over the last few years, Joe Hampton took him out of public service abour six years ago when he considered they both weren't as fit as they had been. Mr Hampton himself died almost two years ago.

From the time he was retired, Court Martial had his own little paddock with a road frontage in one of the outer suburbs of Christchurch. He'd walk backwards and forwards, just checking, and then, when children on bikes or ponies rode past, he'd be away to investigate. "His ears would prick up and he would whinny away to them. He was a real darling," Mrs Hampton said. "Everyone round here knew him and would talk to him." And at meal-times. "You had to be right on the dot otherwise he'd come up and lean over the fence and look at you as if to say, "I'm here, where's my tea? If he didn't get his food then, he'd stalk off in a huff." It was when Mrs Hampton went out to feed her old pet the other morning that she realised somthing was wrong. Jerry used to sleep in the hay barn..."there was plenty of straw there for him to lie down on." But this morning, instead of the usual whinny of greeting from the barn, there was only silence. "I thought it was a bit strange. He always used to call out when he saw me going to the feed shed. I went into the barn and he was still lying down. I told him to get up and he gave a couple of kicks but he couldn't or wouldn't get up. There was still food left from the meal before so I thought he wasn't hungry (he was always well fed). Then when he tried again, I thought perhaps his cover might be hindering him. I'm not strong enough to try to unfasten a cover with a horse on the ground, so I rang Gavin (her son who trains at Weedons) to come over and see what was wrong."

Gavin thought "the poor old chap had had it and called the vet. The kindest thing to do, the vet said, would be to put the old horse down. He could have got him up, but he would be in pain. It was hard, but it was the best thing." Court Martial was given an injection that afternoon. He's now buried in a plot alongside his brother, another fine trotter in Signal Light, and Bonny, Mrs Hampton's Queenland Blue Heeler who was run over. "I'm not keen on going into that paddock. It's as though all my family's there in the one plot. While Court Martial was known affectionately by all and sundry as Jerry, Signal Light, who won the Trotting Stakes at his first start, was known as Barney. "People used to reckon we had a couple of Irishmen on the place," Mrs Hampton said.

The Hamptons bought their dam, Suda Bay, when she was two for 60 guineas as part of an estate sale. She and her daughters bred on well for Joe and Edna Hampton. Court Martial's half-sister by U Scott, Heather Dew, left several good winners including the Cup horse Rhyl. And another half-sister, Landgirl, left Pipitre, the dam of champion trotter Nigel Graig.

The list of the open class trotters sired by Court Martial goes on and on... Reprimand, world record holder Moon Boy, Aquit, Seven Nights, Logan Count, Marshella, Rannach Lad, Jason McCord, Aronmot, Fair Play, Merrin, Sure Mart, Macamba (who provided Maurice Holmes with win number 1000), Slane and latest Australasian Championship winner Courting Appeal. Among his pacers have been the likes of Hoover, a huge winner in America, and Martial Salute (US1:59.8). He also sired the dams of horses like Trafalgar, Royal Armour, Dingle Bay, Ambleside, Wee Win, Classic Touch, Stevie Prestige, Logan Lea, Dryden Lobell, Tough Girl, Local Product, Cyclone Lad, Mister Square, etc, etc, etc.

Around the place, Court Martial was always a pet. "He was a real Light Brigade. He didn't have a single vice. Even in his younger days when he was serving mares, he was the gentlest horse you would ever meet. A kid could lead him along on a loose rope; or they could sit up on his back without any fear. He was just one of those lovable old horses. I still miss him. I think I always will..."





Credit: Graham Ingram writing in NZ Trotting Calendar 24Aug82


| | |
| --- | --- |
| | RACING HISTORY FEATURE RACE COMMENT |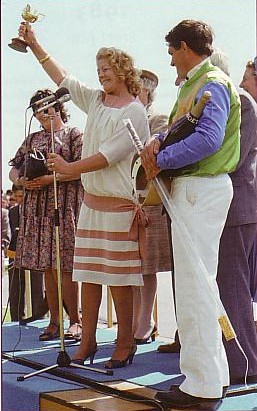 Owners Bonnie McGarry (with cup) and Karen Grice with Richard Brosnan

1982 NZ TROTTING CUP

Bonnie's Chance, who so often had to be content with the runner-up spot in the big ones last season, savoured the sweet taste of victory when she romped away with the NZ Cup at Addington last Tuesday.

While she had proved no match for Armalight last year, this time it was Bonnie's Chance who made it a one horse race to the line. Ironically, in the 1981 contest Bonnie's Chance was favoured but Armalight surprised everyone. Last Tuesday, Armalight was all the rage and a shadow had hung over Bonnie's Chance.

There is little doubt about the class of either mare, but this year the Cup belonged to "Katy". It didn't look that way on paper though. Armalight and Hands Down, the only horses handicapped after previous wins in the event, were disputing favouritism the minute the tote opened. However, it was not their day. Armalight didn't produce the fantastic final 800 metre sprint that thrilled the 1981 crowd and Hands Down was knocked silly by Ben, who broke for no reason with only 1100 metres of the race completed. Peter Jones was noticeably disappointed afterwards.

Armalight made a brilliant beginning at the start and was soon in touch with the leaders, while Hands Down, after bobbling for a few strides, tacked on to the end of the bunch before too long. Bonnie's Chance was the early leader, but down the straight the first time Cyllarus wasn't to be denied and took up the running. As expected, Hilarious Guest was also in search of the lead though and she took over 400 metres later. It was about this stage that Hands Down disappeared out the back, losing any chance. Ben was later disqualified from fourth place for causing the incident, but his driver, Graham Reaks, was found not guilty of any offence as he made every endeavour to avoid the incident.

The running was the same for the remainder of the race. Hilarious Guest from Armalight in the open, Cyllarus and Quiet Win trailing, Glen Moria the rails and Bonnie's Chance the outer, and El Regale and Ben completing the bunch. Champion trotter Scotch Tar got in touch with the field during the middle stages but dropped away again when the pressure went on after missing away at the start.

As the field headed down the back straight, everyone half expected Armalight and Bob Negus to wave goodbye again, but it wasn't to be. In fact, before the home turn, it was obvious Bonnie's Chance was going to have the last say, although the way she asserted her superiority caught many by surprise. Up four wide around Quiet Win on the turn, Bonnie's Chance just careered away. Her winning margin was seven lengths.

"We went a bit sooner than I wanted to go, but it was a case of now or never," Brosnan admitted afterwards. Bonnie's Chance had been flushed out by Ben, but it hardly mattered. Armalight was game in defeat, holding on to beat Quiet Win by a length and a half, while Ben was two lengths away, shading Cyllarus and El Regale.

Bonnie's Chance recorded a respectable 4:09 for thw 3200 metre journey, but the event was never the gruelling two-miler it was expected to be.

Richard Brosnan took over the training of Bonnie's Chance almost exactly two years ago when she was on the verge of cup class. For him, she's lined up 31 times for 15 wins and 11 placings. The $60,000 stake and $1100 cup elevated her earnings to almost $250,000 for owners Bonnie McGarry and Karen Grice.

Credit: Frank Marrion writing in the NZ Trotting Calendar


| | |
| --- | --- |
| | RACING HISTORY FEATURE RACE COMMENT |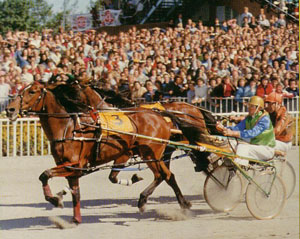 Bonnie's Chance holds out Armalight

1982 BENSON & HEDGES NZ FREE-FOR-ALL

Bonnie's Chance became the 20th horse, and the fifth in succession, to take out the NZ Cup - NZ Free-For-All double when she took out the 1982 Free-For-All. The Kerrytown queen's victory came after a hard-fought tussle with two previous double winners - Armalight and Hands Down - and was without question one of the most courageous efforts posted by the mare.

One of the first out, Bonnie's Chance became awkwardly placed as positions changed in the first 1200 metres, at which point trainer-driver Richard Brosnan had to push out three wide and set off after Hands Down, who was on a forward run up towards the pacemaker Zabadak. Hands Down was sitting on Zabadak's wheel from the 900 metres, leaving Bonnie's Chance parked three wide, but she dashed past Hands Down soon after straightening up.

Once clear, Bonnie's Chance had to find more reserves to hold of the rapidly improving Armalight, who had threaded her way forward from a second line draw to be in behind the leaders on the home turn. Armalight tried to overhaul Bonnie's Chance, but was forced wider on the track as the Cup winner drifted out in the run home, and was half a length back at the finish. Hands Down, who was left struggling when Bonnie's Chance dashed to the lead at the top of the straight, rallied again to get within three quarters of a length of Armalight, then there was a big gap to Remote, who lost her position with a round to go and had to battle on gamely from the back. Tarlad did best of the others.

Bonnie's Chance clocked an outstanding 2:28.5 for the mobile 2000 metres, a mile rate of 1:59.6. Considering the runners had to contend with a strong head wind twice down the Addington straight, it was a particularly meritorious performance.

Credit: Tony Williams writing in NZ Trotting Calendar


| | |
| --- | --- |
| | RACING HISTORY FEATURE RACE COMMENT |

1982 DOMINION TROTTING HANDICAP

The strength of the open class trotters in the north was further demonstrated when Cal Brydon downed Thriller Dee in a memorable Dominion Handicap.

Following on from wins by Jenner and Thriller Dee on the first two days of the meeting, Cal Brydon took the Dominion Handicap back to a northern stable for the second year in a row. Owned by Gordon and Brian Newberry and trained by Gordon at Clevedon, Cal Brydon was clearly the best horse on the night and none of the beaten drivers could offer any excuses.

Cal Brydon lost a good position in midfield over the first round, but was out to track Stormy Morn from the 2000 metre mark and strode to the front, entering the straight with a lap left. "I was a little worried about being in front that early," said Gordon Newberry afterwards but it didn't matter. The six-year-old was trotting a treat and skipped clear turning for home. Sir Castleton and Triller Dee lodged determined challenges but never looked like pegging the winner back.

The event was a race of constantly changing fortunes. Sir Castleton, the south's only real hope of stemming the northern tide, was first out and led Jenner and About Now, while Thriller Dee and Stormy Morn were well back early. Charlie Hunter took Jenner off the rail to lead passing the winning post for the first time then Sir Castleton moved out to get cover as Stevie Prestige moved around to sit in the open. About Now wound up in the trail. As the field travelled down the back with 2000 metres to go, Stormy Morn made his bid four wide around McShane, but was being tracked by Cal Brydon.

With a round to go it was Cal Brydon from Stormy Morn, Jenner and McShane trailing and Brother James three wide, followed by Sir Castleton. Thriller Dee was four back on the outer at this point. Stormy Morn was being niggled at down the back and Sir Castleton was off four wide as they passed the 500 metre peg. As they turned for home, Jenner, Sir Castleton and Thriller Dee lodged their claims but they were all struggling and Cal Brydon went to the line half a length up on the fast closing Thriller Dee and Sir Castleton, who finished within a head of each other.

Thriller Dee, driven by her young part-owner John Dickie, went a fine race, considering she was checked by the breaking Kimrock with a round to go. About Now "fought on in typical style" according to driver Kevin Townley to finish fourth, three and a half lengths away. Jenner wilted to fifth and Commander Crockett, who ran on well from a bad position on the rails, was next. The rest were a tired lot, headed six lengths away by McShane.

Cal Bryon trotted his last 800 metres in little worse than even time on his way to recording a smart 4:14.6 for the 3200 metres, three seconds outside Scotch Tar's race and New Zealand record. Cal Brydon must now be considered the top trotter in the country with a record of 62 starts, 17 wins and 23 placings for $101,225, $26,275 of which was earned from five wins and five placings from 19 starts in Australia.

Credit: Frank Marrion writing in NZ Trotting Calendar


| | |
| --- | --- |
| | RACING HISTORY FEATURE RACE COMMENT |
Hilarious Guest (inner) fights off Portfolio

1982 NZ DERBY

As far as Peter Jones was concerned, there was only one horse he had to worry about in the $50,000 New Zealand Derby. That was the Noodlum colt Portfolio, trained by his father at Templeton and driven by the older Jones in the big race.

And so it proved at the end of the 2600 metres. Peter and Hilarious Guest got to the line first alright, but they had just a head to spare over Portfolio. They had been one-two all the way. Peter Jones had Maurice Vermeulen's filly away well - she did put in a few skips but, as Jones said later, "that's probably the best beginning she's ever made" - and rushed her straight to the lead. There she stayed, pressing on relentlessly and making it almost impossible for the others to catch her. And she wasn't dawdling at any stage. She went to the line in 3:20.9, a tenth of a second inside Noodlum's eight-year-old 3:21 record for the age group and inside Motu Prince's 3:21.1 race mark.

"When I still had Portfolio on my back turning for home, I didn't think there was any way I could beat him. There is really nothing between them. There are great stayers," Jones said afterwards. She had to be a good stayer. Even with the pace on throughout, she came her last mile in close to even time.

The deeds of Hilarious Guest are well known. She's raced and won over all distances and after winning the New Zealand Juvenile Championship - among her seven wins as a baby - was voted last season's top of her age. The Derby win was the Hilarious Way-New Guest filly's twelfth and it took her stake tally to well over the $80,000 mark.

Portfolio had put up a tremendous performance to take out a 3200 event on the grass at Ashburton a few days before the Derby. He proved then he had everything needed to turn in a top run in the big race, especially after having lost a lot of ground soon after the start, and powering home in the straight. Even in the Derby itself, Derek Jones thought he was on a winner, for a while anyway. "I thought I could get to her at one point but she was too good. We were just outstayed."

Mel's Boy and the favourite Enterprise finished almost two lengths and a neck behind the first two home. Jack Smolenski said later that Mel's Boy's little break at the start had put paid to his chances. Normally a good beginner from the stand, Mel's Boy was unsettled when the tape went and, once under way, had to be content to sit five and later four places back on the fence in a small field. He was running on at the end. "He ran a good race," Smolenski said. "But you can't give away any start when they're going at that pace."

Peter Shand, driver of Enterprise, had no excuses to offer. "The only problem was they went too quick. You can't come from behind and beat them when they keep up that speed. Still, it was a good run. He kept on going, anyway." Fifth home Guest of Honour made up a ton of ground in the straight after being tucked away at the rear all the way and his was an eye-catching run. But for the others there could be no excuses. They were well beaten by that big filly flying in front.

Hilarious Guest was the only filly in the race and there was no way she was going to be outshone by the boys. It had been a long time since the last time a filly had won - 1963 when Bellijily took the honours.


Credit: Graham Ingram writing in NZ Trotting Calendar


| | |
| --- | --- |
| | RACING HISTORY FEATURE RACE COMMENT |

1982 NZ OAKS

Hilarious Guest took the honours in the $15,000 NZ Oaks with a brilliant display of front running, clocking a NZ record 3:20.1 for a filly over the mobile 2600 metres.

After taking the lead off northern visitor Rain Girl after 500 metres, she was never extended, beating Rain Girl comfortably with Steady Lady finishing fast to take third off Capri, Ansett and Tact Boyden.

The big Hilarious Way filly showed all the ability which has carried her through to open company this season for Rangiora owner-trainer Maurice Vermeulen. In the hands of Peter Jones, she dictated terms so commandingly that rival drivers were thinking a long way from home about the battle for the minor money. Robert Mitchell thought he had just an outside chance when he was on Hilarious Guest's back turning for home, but it was a momentary hope only and he had to be content with second.

These two were well clear approaching the home turn and it was left to Steady Lady to lodge an impressive bid for third after being held up behind Capri and Tact Boyden when the others dashed clear.


Credit: Tony Williams writing in NZ Trotting Calendar