| | |
| --- | --- |
| | INTERNATIONAL HISTORY |

The first case of AIDS in known in the US, but the virus is believed to have originated in Africa.

12 Aug - The IBM Personal Computer is released.


| | |
| --- | --- |
| | LOCAL HISTORY |

Passports are introduced for travel between Australia and New Zealand.

The film 'Goodbye Pork Pie' by Geoff Murphy attracts huge NZ audiences and grosses $1.2m locally.

February 1 - Trevor Chappell bowls underarm. Trans-Tasman sporting relations reached breaking point at the Melbourne Cricket Ground when Australian captain Greg Chappell ordered his brother Trevor to bowl underarm for the final delivery of a limited-overs cricket international against New Zealand

May 4 - New southern arterial (Brougham Street to Curletts Road) opens.

August - The Springbok rugby tour goes ahead, despite much protest. Riots break out all over the country, and the nation is divided. Described as the worst 56 days in NZ's history.


| | |
| --- | --- |
| | RACING HISTORY |

1981 BENSON & HEDGES NZ FREE-FOR-ALL

"I reckon someone must have pinched the motor out of my car and put it into that horse... and I've got a big car." With those few words John Noble probably summed up the feelings of the other drivers who, like him, had finished away down the track in Armalight's world-shattering Free-For-All last Friday.

There was something slightly unreal about the NZ Cup winner's performance in the $25,000 Benson and Hedges event. In winning in 2:23.5 she smashed the mighty Robalan's world record time for the mobile 2000 metres by 3.1 seconds. And yet all the way she just looked as though she was cruising.

Everyone remembers that day back in November 1974 when Robalan crushed a top field in the Free-For-All to set the new standard - and the effort Lord Module had to put up to get within a tick of that time a couple of years ago. But visualise those three running their times in an imaginary simultaneous race...and then think again about Brent Smith's champion mare out in front at the line, 16 lengths to the good of Robalan on his day. That's some feat of imagination. But that's how it would have been.

In actual fact on Friday, she had a 'mere' three lengths on Bonnie's Chance and Superior Chance. But the victory was as complete as her seven length win in the NZ Cup only three days before. "Yes, we were under a bit more pressure out there today. We only won by three lengths," driver Bob Negus commented as he came off the track.

But the pressure, in reality, was on the other thirteen starters right from the time the mobile gate took off. Negus hunted Armalight into the lead after a hundred metres and set about demoralising the others with a 1:54.2 first mile. She bowled along in front of Superior Chance on the rails, northerner John Tudor on his outer and Richard Brosnan and Bonnie's Chance in the perfect possie one out and one back. Trio, El Regale, Cyllarus and Gammalite, three wide, were next, their drivers probably wondering when Negus was going to relent a little and let off the pressure. In fact, he gave the mare a bit of a spell into the backstraight the last time...only a little breather, mind, but it was sufficient to enable them to sprint the last bit home in around 57 seconds with Negus using only the reins to tell her she was in a race.

Bonnie's Chance had to go around John Tudor soon after turning for home but, in spite of a big run, could get no closer than three lengths, with a half head to Superior Chance, who stuck to his hopeless task well. Daylight was next. Gammalite, all the way from Melbourne to meet a horse who must be unbeatable in her current form, battled away resolutely for fourth just ahead of Hands Down, winner of the event last year.

The first four all finished inside Robalan's record by at least a second, providing a spectacle not one of the 20,000 plus crowd at Addington will forget for a long time. The official mile rate for the event was a withering 1:55.6, sufficiently fast to just about win any of the major American races on the big mile tracks, and not much slower than Lord Module's 1:54.9 mile time trial. Staggering!

According to Negus, the track was perfect for the race. "It was lightning fast." And besides, "the race was only once round. I couldn't really make any mistakes, could I?" he joked, savouring the euphoria of the moment.

Richard Brosnan had no excuse for coming only second, in spite of driving a near perfect race. "How could you take anything away from the winner? You couldn't," he said. He never at any stage thought he could have caught Armalight with his mare. "We were flat all the way." Bill Denton was quietly chuffed with the way Superior Chance had gone. "His was a good honest race. He's always good from the gate, but it was a bit of a change to get a good run." Gammalite's driver Bruce Clark could only shake his head at the performance of the winner but confirmed the tough visitor had battled on well. Peter Jones, in the spotlight with Hands Down after their Cup - Free-For-All double last season, was pleased enough with the run of his horse. He'd stayed back until just after the 800 metres and "was still making ground at the end. But you haven't got a show when they go that quick up front," was his slightly understated assessment.

Lord Module was the other horse in the race to have taken out the feature double...two years ago when he himself was unbeatable. But on Friday, yet again, he gave his backers no hope of getting any sort of return by refusing absolutely to move off with the others. The stipendary stewards later advised a worried Cecil Devine his horse would have to trial twice before being allowed to start next in a mobile event. Those trials took place satisfactorily yesterday and he will probably line up in the Allan Matson on Saturday night when he will have Armalight to contend with again. If she does line up, she'll be after win number 15 from just 21 starts.



Credit: Graham Ingram writing in the NZ Trotting Calendar


| | |
| --- | --- |
| | RACING HISTORY PEOPLE |

DAN GLANVILLE

A trotting enthusiast who saw 66 NZ Cups, undoubtedly more than anyone else, died in Christchurch a few days ago. Dan Glanville, a long time member of the NZ Metropolitan Trotting Club committee, was 94 when he died.

Born in South Canterbury, he later had a chemist shop in High Street, opposite one of J R McKenzie's chain stores, a situation which led to both men becoming life-long friends and racing partners. A top provincial tennis player in his day, Dan Glanville was in Akaroa for a tournament when he was persuaded by local breeder Etienne Le Lievre to part with £400 for a colt by Nelson Bingen out of Bertha Belle. While having some misgivings at the time, he later had little cause to regret his purchase. The horse was Great Bingen who would eventually retire having won more than £14,000, a record that stood for many years.

Initially he had the horse registered in J R McKenzie's name to avoid his mother finding out he had a horse. She apparently was dead against any form of gambling. Later he sold a half-share in the future champion to Mr McKenzie. After Great Bingen had won his first race, Dan Glanville told his mother about it and she later became one of the horse's more avid fans.

The winner of at least half a dozen free-for-alls, Great Bingen was a decidedly unlucky horse when it came to the NZ Cup. He was second to Ahuriri in 1925, fourth after being badly interfered with in 1927 and the next year was beaten into second by his brother Peter Bingen in that now famous controversial whisker-close finish. By running 4:19.4 from 108 yards behind at Epsom, he became the first horse outside America to better 4:20 for two miles. At the end of his racing career he stood at stud and, while not wildly successful, he did sire two NZ Derby winners.

Mr Glanville joined the Metropolitan Club in 1926, and became a steward in 1934. He was a member of the committee from 1935 till 1963 when he was elected a life member of the Club. He served for a long time on the club's programme committee and was its chairman for many years. He is survived by his wife.

Credit: Graham Ingram writing in NZ Trotting Calendar 6Oct81


| | |
| --- | --- |
| | RACING HISTORY PEOPLE |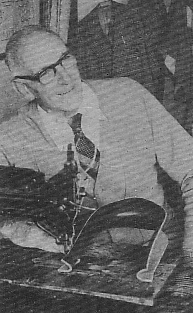 Ernie Trist at one of his machines

TRIST & SMALL

Even before the turn of the century, E Trist & Co., the well known 'saddlers etc' were begging to announce that they had the 'Largest Stock of Trotting, Racing and Polo Boots to select from in the Colony and every description of Trotting Boots are manufactured on the premises...' And now, eighty years afterwards, those at Trist & Small reckon they're the only saddlers in the country dealing in and manufacturing only trotting goods.

"Some of the boots, of course, can be used by other horses, but they're the exception - and then only by coincidence," one of the present principals in the company, Laurie Trist, explains. The other partner is Chris Owen, with Trist & Small since leaving school more than eleven years ago. There is not a Small in the place. There was once. But that was a long time ago, even before Laurie's dad Ernie can remember. And he's been taking notice of what went on in the firm since he was a youngster old enough to be taken into town by his mother and later to work there after school.

Ernie's grandfather, John Trist, started it all off. More than 100 years ago, 109 would be closer to the mark. "He was a tent and sailmaker by trade. I never knew him, never spoke to him...only ever say photos of him," the current senior Trist said when the Calendar visited the saddlery last week. That John Trist's business was eventually taken over by Ernie Trist's father John ('known as Bill') and uncle Ernest. Again they were into tents and sails as well as holding the 'largest stock of Trotting...' and so on. "They must have made good equipment. Only a year ago we had some harness in here to repair and it still had the 'E Trist' label on it. It must have been made last century.

Ernie Trist doesn't know when it was exactly that his father left the original family business and set up with a certain George Small. "It must have been round the turn of the century because they took a Gold Medal award at the 1906 NZ Exhibition," he explained. There's a faded, yet still impressive, framed certificate on the workshop wall to prove it. And an invoice sent out to a client in 1905 for work done on various pieces of leatherware. Working almost solely with leather has been the hallmark of the Trist & Small business almost from the beginning. Ernie Trist began a 5-year apprenticeship making racing and trotting equipment from leather in 1928. "And everything was done almost exactly the same way then as it is now. One of the few differences is that all the leather then was hand-stitched; today machines play a bigger part."

The firm had a name change for a couple years before Ernie Trist started work. For a while it as known as Trist, Smith and Jarden. Smith and Jarden were well-known names in trotting circles in those days. Robert Smith was an American who had a great influence on trotting here, being the man responsible for the importation of sires like Jack Potts to NZ. Jarden was a well-known trotting writer of the time as well as a handicapper and judge. But the partnership did not last all that long. Trist bought the others out after a couple of years and shanged the the name back to Trist & Small.

From the time the business was established until just after the war, it was located next door to Tattersalls Horse Bazaar, in Cashel Street in the heart of Christchurch. Regular sales took place there every Friday as well as the more spectacular events like the annual yearling sales. The bazaar was run by the Matson family, a name which has very strong links with the industry in NZ. Allan Matson was one of its leaders in the 1950s, president when the NZ Trotting Association and Conference combined. Trist & Small's had Tattersall's Hotel, itself gone now, on the other side. "We used to reckon all we had to do was knock a hole in the wall whenever we wanted a beer," Ernie Trist recalled with a smile. He also has a wealth of tales about the fun and games which often took place on sale day, the day when dozens of horses and gigs would be lined up after bringing prospective buyers and interested onlookers to the auction.

Horses weren't the only animals to be put under the hammer at the bazaar. Occasionally bulls took everyone's attention. "The bull sale at show time seemed to be of interest to the whole town. Crowds thronged to it." Perhaps it was excitement the people wanted , the minor chaos created when occasionally a recalcitrant bull would put his hoof down and refuse to go into the ring. Ernie Trist remembers one particularly wild specimen actually getting away from the bazaar and careering through the streets of downtown Christchurch before being caught. But all this was in pre-World War II days.

During the war Ernie Trist seved in the Pacific before coming home and being pressed into service under the 'manpower' regulations. Essential industries got the manpower they needed to meet wartime requirements, industries like mining and butter and cheese. Ernie Trist, leather worker, put in for the latter only to be told by the Labour Department that there were no vacancies there and he'd have to go into the coal mines. "There was no way I was going down into the mines and I told them so; I eventually ended up in building industry working for my brother until the restrictions were lifted."

Still, he used to work at the old firm on Saturday morning keeping his hand in. His father had operated the business throughout the war. And even then he was hard pressed at times to keep up with the orders. "I remember getting one letter while I was overseas which said he had 21 sets of hopples on order and six set of harness. The difficulty in those days was getting materials, especially English leather. We have always imported a certain percentage of leather from England, especially for overchecks, reins and tie downs. Trade and Industries have tried to convince us we don't need to but we have proved to them otherwise. When it comes to races, you have got to do everything you can to alleviate breakages which could have disastrous consequences."

When Ernie Trist started with the firm again it had orders for thirty sets of harness and a hundred sets of hopples. There was a waiting list of a year sometimes. Even now clients sometimes have to wait. It takes one man at least 45 hours to make a set of leather harness. "And even then you can never get a whole day devoted completely to the one job," Laurie Trist, 26, explains. It took one man the same amount of time years ago. The harness man worked on the 'black bench'. Chris Owens worked on that exclusively for three of four years when he first joined Trist & Small. He remembers it well. Remembers getting his hands pretty dirty. Ernie Trist, too, remembers what it was like in the early days. "We were the popular jokers in the dance hall. Funny how that stuff is hell of a hard to wipe off your hands and yet it got so easily onto the girls dresses.

The gear's the same now as it was fifty or sixty years ago. There haven't been many radical changes. Only hopple shorteners. And the price, of course. Ernie Trist recalled easily the times when a set of best leather race harness could be bought for £13/10/- or a couple of pounds cheaper for a lesser set. Hopples wer five quineas or £4/15/-, depending on the quality. That was round about the end of the war. Today leather race harness costs close enough to $700, hopples $250. "You could get a good class stock saddle for £13/10/-, a reasonable one for £8/7/6. Now they're hundreds of dollars, too." Trist & Small these days don't make or sell saddles but they did in the old days. And this highlights, perhaps, one way the trade has changed over the years.

Now, any one of the three men at Trist & Small can make a set of harness - or all three can work on the one set to get a rush order through. Back then, the saddler made all the straps and things. No saddles though. The saddlehand made those. The collar makers made the collars. It seems there must have been a bit of a class system in operation then. "The collar makers had the toughest time. He would freeze in winter, have sweat poring off him in summer. His was really hard yakka. I think there is only one alive in the country today, but I don't think he's working," Ernie said. "We on the racing side of things were regarded as 'refined' gentlemen of the trade."

Plastics have revolutionised the industrybut the Trists are convinced that nothing will ever replacereal leather for it's wearing qualities, among other things. Ernie Trist brings up about that recent repair job on harness that must have been well over eighty years old and still going strong. "Plastic is cheaper and it's easier to keep clean. But leather is the best." And while leather might be the best, the three tradesmen working away at their benches agree, too, that the quality of tools they have to work with has deteriorated over the years. Laurie Trist thinks he knows why. "In those old times, makers knew exactly what the tools were going to be used for. Saddlers were big business then. Now there's a small demand for specialist equipment so sometimes it is not as good."

The business is no longer near what used to be Tattersalls Bazaar. That was sold after the war and Trist & Small moved around the corner into Mancester Street and widened its scope to deal also in fancy leather goods, suitcases and the likes. Ernie's father retired from the business in 1956. Renie took over. Ten years later, another move, this time to their present home, upstairs premises in the industrial section of St Asaph Street on the outskirts of the city centre. With the move came a parting of the ways from the fancy goods side of the business. That remained with new owners in Mancester Street. The Trists wanted to concentrate solely on trotting goods. It was also Ernie Trist's intention to concentrate on manufacturing and selling wholesale. "There was such a phenomenal demand for out stuff then; there were no plastics to compete with. We wanted to get away from the mainstream retail trade, but before very long customers approached us directly. And we couldn't turn down old customers so we have remained retailers."

Chris joined the company straight from school in 1969 and five years ago bought into the business. Laurie started during school holidays when he was about 13 but went psychiatric nursing for two and a half years on leaving school. He then worked as a builder's labourer, getting his ticket later as a drainlayer before getting into the business, too, in 1976. "Too cold in winter" was his reason for getting out of the drains. Noe the senior Trist regards himself as "just the boy about the place. I'm convinced now that lives go in a complete circle." He doesn't have to get the lunches but he is the official tea-maker. "Mainly because he makes the best brew," the others agree. The others are three. Besides the two younger men there is Sadie Scott in the office. That's the total staff. At times there have been more. But for the next few months, things begin to slaken off a little and the present lot will be able to cope.

The company has a regular spot around the stables at Addington every racenight where they keep a range of their wares. The deal also in all facets of trotting goods and, for instance, are the only manufacturers of toe weights in Australasia. "We don't see as many races as we would like to, but we do have time for the odd bet. None of them owns a horse although Ernie's father owned a pretty useful trotter in Duke Bingen who raced uccessfully in the 1920s. The old chap was also a president at one time of the Canterbury OTB.

The workshop syndicate can't rate itself as one of the most successful around, but then it probably doesn't follow a system workers down in the Cashel Street establishment followed, especially on Cup Day. "For years, we would put out money on the horse whose owner bought new gear from us for the big race. It worked year after year. Indianapolis had new harness for his first two wins and again for his third. They probably didn't need that but they weren't going to take the risk," Ernest Trist, now 64, explained. "There were horses like Red Shadow, Lucky Jack...and more recently Lord Module." The system did come unstuck once though. Therewere four in the race with new gear. "And that confused us. We didn't know which way to go."


Credit: Graham Ingram writing in NZ Trotting Calendar 10Mar81


| | |
| --- | --- |
| | RACING HISTORY PEOPLE |

WES BUTT

Wes Butt didn't get an awful lot of pay when he first went to work in a stable. Nor did he get paid very much for training his first outside horse. In fact, he got nothing at all. The veteran trainer, "the last of the old brigade" as he puts it, recalled last week how he'd worked for Dick Humphreys at Templeton for six months before he plucked up enough courage to ask for wages.

And then, a few years later when he was on his own, he trained a horse called Walter Wrack for nothing. "His owner would bring all the feed over and pay me something when he won." Walter Wrack did win, luckily. And, significantly, he was the first horse Butt ever drove in a race. Now, having driven in his last race, at Addington at the weekend, he recalled it was nigh on impossible for a youngster to get drives back in the thirties. That is, unless he had his own horses. "I worked for Dick Humphreys for more than three years and in all that time never drove in a race. That was left to the older men, the top drivers who drove race after race. "The owners always went for the experienced men and the punters would never bet on a horse driven by a youngster."

Wesley Richard Butt turned 65 last Christmas but he's had no misgivings as his turn to retire has come closer. After those tough initial years, trotting, he readily admits, has been good to him. Very good. He regrets nothing. Horses have been part of Wes Butt's life as long as he can remember. Raised in Blenheim where his father had a farm, he used to ride five miles to school every morning and home again at night. It would have been around 1928 when Wes' father sold the farm and the family moved down to Hororata where he was engineer and county clerk. It was school for Wes until he finished standard six and went to work on a farm - "I always liked the land" - and then as a "carpenter's boy."

Once again the family moved, this time to Templeton, a few miles down the road from where Butt is now well established. Jobs at that time were diffucult to come by. Certainly, there was nothing around he wanted in the building line. "I went down with Dad to see Mr Humphreys but we didn't hear anything for a long time. Dad went down again. Mr Humphreys told him this time to send me down for a while to see how I liked it." That was all the encouragement Wes Butt needed. He rode his bike to the stables every day for the week, with only Saturday afternoon off. And got nothing in his pay packet each week. "I had been there six months before I said to him one day 'do you think I'm worth anything to you Mr Humphreys?' 'Yes,' he said, 'ten shillings a week.' which wasn't too bad at that time."

Wes wasn't too much worried about the money at the time anyway. He was sticking to his father's advice. "Never mind the pay: just work hard and learn all you can so that you can get out on your own." He stayed at Humphreys for three years without any rise in pay. "I remember when I said I was leaving he told me I was just getting useful...and then offered me fifteen shillings a week to stay. "And that still wasn't too bad considering you could go to a good dance or the pictures for anything from sixpence to one and six." But the extra five bob wasn't enough to entice him to stay on permanently although he did go back from time to time just to help Humphreys out.

It was a pretty significant piece of trotting country that he was leaving behind. Those twenty-two acres Humphreys had were, in Butt's words: "one of the greatest spots in the country for trotting." Well known tainer Albert Hendriksen had the property and Dick Humphreys worked for him before taking over himself. Humphreys later trained the mighty Harold Logan on the place. Butt recalled his first fast drive, behind the top trotter Huon Voyage who later won a Dominion Handicap. Jim Dalgety owned the property at one time while Snow Upton, Derek Jones, Doug Watts and Jack Pringle were among other top names Butt associated with the stable.

Once away from Humphreys, the young Butt took up a job at the local pipe works, working mainly in the pumice factory and carting concrete pipes. "It was a tough place to work, but it was work which left me time to do the horses," Butt recalled. By this time it was 1936 and Walter Wrack was in his care. Forty-five years ago, so it's understandable if Butt's recollection of the time is perhaps a little hazy. By his calculations he lined the trotter up at Greymouth to finish second - "Humphreys beat me, too" - in the first race before winning later in the day. In fact: the records show Walter Wrack finished third both times that day: but came out the second day of the meeting to win his first race and beat good mare Violet Wrack, driven by Dick Humphreys, into second place. Since then Wes Butt has driven 760 more winners and trained another 704. Violet Wrack later went on to win a number of races for top trotting trainer Bill Doyle. Walter Wrack returned to Greymouth a couple of months later to score again.

The West Coast has always been a happy hunting ground for Butt, especially in those earlier days. Having succeeded with Walter Wrack (he eventually finished up with Roy Berry), Butt concentrated on horses he could race himself. His policy was to lease them and then get them going for a Coast campaign. "It was often the way that if they could finish round about fourth or fifth in Canterbury, they were always good enough to win on the Coast." Native Ruler and Wee Pal were this first of his own he ventured away with, in December 1938. A trotter, Native Ruler won at Reefton ("I think that was his only win.") while Wee Pal really provided the goods at Hokitika. "I think she came second in her first race and then dead-heated for first later in the afternoon. She won again the next day." Which wasn't exactly how it happened. Wee Pal, in fact, dead-heated for first first time out and then won later. She finished second the next day. But what Wes does remember to this day is coming home with "a terrible lot of money." Wee Pal's wins contributed a large part of the £174/10/- she won that term and Native Ruler, with a fair number of placings before the win earned more than £200 for the season. The first thing Butt did on his return from Hokitika, though, was to buy himself a new sulky. "It was a brand new Bryant and it cost me £32/10/-." That sulky is still in use although there's not much of the original left in it.

Butt still savours the memories of those trips away with the horses. No floats in those days, it was trains all the way...or on foot. "It's seventeen miles from here to New Brighton but everyone used to jog their horses in, give them a couple of races and jog them home again." Getting the 50 or 100 miles to Ashburton or Timaru, too, was a bit of an event. A train would come out from Christchurch on the Friday, dropping off boxes all the way down the line with instructions to have the horses loaded by a certain time the next morning. Templeton was one of the main muster points. "We would leave here at four or five in the morning, stopping to pick up more horses along the way. We'd get to Timaru just before the following passenger train. After the races it was the same in reverse. The passenger train would set off first, the horses following to arrive home near midnight. Once back we'd unload the horses and jog home in the pitch dark carrying all out gear on our knees. Even if it rained we didn't worry about it. It was just something that had to be done."

Getting across to the Coast especially to the Wesport meetings, was something more of an event. That train would leave Christchurch early in the evening, arriving finally at Inangahua about eleven the following morning. In between there would be a stopover at Reefton where the local club "would put on a huge spread for nothing. They were great trips," Butt recalled. "The men would play cards all the way, drink, tell yarns, skite...a really good time." Then, once through to Inangahua, the work would start. The horses would have to be unloaded and then jogged through the Buller Gorge to Westport where they'd arrive round about tea-time. The Club would send trucks out to cart all the feed and gear back through for the visiting horsemen. "Most trainers took a team over for the circuit in those days. It wouldn't have been worth while with just one or two horses."

The circuit provided a lot of races in just a few weeks. After the two days at Westport, there was a trek back through the gorge for the Reefton meeting, The on for two days at Greymouth, four races then at the gallops at Omoto, two days at Hokitika, one at Kumara and the two day galloping meeting at Reefton on the way home. If the racing wasn't exactly memorable for everyone, there were good times to compensate. And the occasional buying and selling.

Wes Butt remembered he and a friend buying a horse called Plentiful in Canterbury for £25 and being able to get it going along reasonably well before taking it over the hill. "It wasn't much good but it did run two thirds at Hokitika and then a second and a win at Kumara. I sold it that night for £10...and saved myself the £4/10/- fare home for it," Butt recalled. He must have bet a few bob on it to be pleased with that deal? No, he had been pleased enough to get the stake money which was close enough to £100 in all. Besides, he'd given up betting even at that early stage. "I had more to do with my money than to lose it. Yes, I had a few good bets early on...and missed. I learned early after several misses. Even now I'm not interested. Wouldn't even know how to put a bet on."

Wes Butt has another reason to think kindly about the Coast. For it was a soft drink manufacturer from Greymouth, one Andy Grogan, who really put him on to the road to success. He was the owner of Mankind, the first of two horses Butt was to train with that name and the one he named his property 'Mankind Lodge' after. Mankind, the winner of a couple of races earlier, was trained at the time by E J Smith "just down the road." Grogan asked Butt to get him a horse and Wes thought Mankind was the one. The £250 asking price wasn't too much, even though it was a fair price at the time, so Mankind changed hands. He was five at the time and a gelding. "From the time he came here, he just got better and better," Butt recalled. "He was a great beginner but you just couldn't touch his mouth. And this is where others had gone wrong." There was the day at Addington when Cyril Yeatman rode Mankind for Butt in the last race of the day, a mile saddle event. "I had told him to leave the horse's head and just hang on to his mane. He shot away to a big lead and as they hit the straight Cyril looked around to see where the others were. They were miles away but as he turned he must have pulled on the inside rein. His front foot hit the slippery clay, the horse slipped and dropped his rider."

But even though he lost that one, Mankind was to win a lot of races for Mr Grogan and Butt, more than £4,000 between 1940 and 1944. He was "a lovely horse around the place" who went through to the top classes. 1941 was an especially good year for the team. Mankind won the August Free-For-All, leaving the champion Gold Bar down the track at Addington. Three days later he finished second and third in successive races, the first over a mile and a half with Wes in the sulky, the next time over a mile from 24 yards behind with Jack Carmichael in the saddle. In November, again with Carnichael in the saddle, Mankind ran second to Gold Bar when Allan Holmes' champion ran a world record 2:03.6 for a mile from a stand. This was on the same day as Gold Bar set his world race record of 3:27 for thirteen furlongs at Addington.

Jack Carmichael did most of the riding for Wes Butt in those days and, when Wes was in the army, looked after the small war-years team. Wes remembered the day in September '41 that they took the two horses in the stable - Mankind and Brigadier - to New Brighton and won with them both. Mankind beat Gold Bar over a mile and a half that day, too. Jack had been working for some years with Butt. Originally he had come down from Wanganui for a holiday and he'd never gone back north. He was a cousin of the future Mrs Butt, Beryl Bennett. Wes, a neighbour, used to train on Mr Bennett's track in those early days, and that's how he became 'tangled up' with his wife. Mrs Butt recalled how Jack had lived with them for about thirteen years until he had branched out on his own. Wes was in the army at this time, stationed at Burnham. He was able to get home on Sundays to let Jack know what to do and occasionally at other times as well. "I was in pretty good with the lieutenant-colonel so I was able to get away now and again," he said. He remembered winning a race in 1940 with Mankind at Addington on the Saturdayand then being shipped up to Fiji for service in the Pacific on the Monday. The win was a good farewell present.

Butt used Mankind to illustrate how little young drivers were tolerated by the betting public in those days. Mankind wasn't at the top then but he was on the way up. It was on the old New Brighton track. He started in a mile saddle trot early in the day with Doug Watts aboard. Even from 24 yards behind, the combination won with ease in 2:10. Mankind was hot favourite. Later in the day he lined up in the last race and downed a top field of sprinters, beating the well-regarded Huguenot by a neck. Wes himself was in the cart. "I was just learning to drive then, but I still couldn't believe it. We were eleventh favourites and paid more than £36 to win. The public wouldn't tolerate any young drivers, no matter how good the horse was." Wes hardly ever got into the saddle himself. "I didn't like it. I just wasn't much good at it, I suppose," is his explanation.

But what he did like was a block of land adjacent to the blacksmith's shop further down the road from here he lived at Templeton. He'd had his eye on it for years. "There were 25 acres and it always appealed to me. But there was no way I could afford it at the time it was available." But Andy Grogan was at hand. "I asked him when I came out of the army if he would buy the place for me and I'd train for him until I had paid it off. He agreed straight away. It was he who got me started here." Those original acres have been increased to forty and there's the big covered barn and yards, five furlong track and house to complete the set up.

In the earlier days most trainers in the area worked their teams around the roads. "They were lovely roads then. Cars and trucks were no bother. Most of them belonged to horse people anyway so they did their best to make things easier for you. "Now, a lot of drivers see how close they can get to you," Butt said.

Wes and Beryl were married in July, 1942 and it was inevitable the Butt children would be interested in horses. The boys, Robin and Murray, have already made their mark on NZ trotting themselves as trainers, while the two girls, Christine and Margaret, are winning owners, having raced Right As Rain, a daughter of For Certain with whom Wes won the NZ Oaks. Wes remembered that Robin was especially keen, even helping out with the fast work while still going to primary school. It's Robin and Murray who'll carry on driving members of Wes' team in the seasons to come... and probably so will his seventeen-year-old grandson, Robin's son David, who will have a probationary licence in the new term. That's if he continues with his intent to knock off smoking. "I told him I wouldn't have any boy driving for me if he smoked; he said to me the other day he'd given up, so I'll have to let him drive, too," Wes said.

Wes has had a few men working for him over the years, and some of them have stayed a good long time. "We had the same gang for years and years," Mrs Butt said, while Wes recalled Jack Carmichael, Jim and Bill Smith, Snow Wright, 'Button' White - "he was with us for about 20 years" - Ralph Bonnington and Barry Hamilton. In the early days the team had built up slowly but once the wins started to come, Butt got more and more horses, up to thirty or so in the busier seasons. "We had to work pretty hard in the mornings but everyone was off the place by five. We had breakfast at seven and then got stuck in. He had his biggest teams in the period from the early fifties through to the mid-sixties. It was during this time he took six of his seven trainers premierships. The season immediately after the war gave him his first title with 36 winners. Butt took the crown again in 1952/3 (38 winners), '54/55(33), '55/56(46, his best season ever), '57/58(30), '58/59(23) and '61/62(33). He was also the country's leading reinsman twice, in 1945/46 when he tied with Fred Smith and Alan Holmes (28 wins each) and again in '52/53 when he drove 29 winners over the season.

Over the years Wes Butt has driven the winners of some of the most important events on the country's racing calendar, the Champion Stakes with Golden Oriole ( owned by Murray), three Sapling Stakes with Golden Oriole, Wildwood Chief and Spry Guy, two Rowe Cups with Battle Cry and more recently Even Speed, a Great Northern Derby, again with Golden Oriole, a Dominion Handicap with Johnny Gee, four NZ Trotting Stakes with Johnny Gee, Even Speed, Signal Light and Black Miller, a New Brighton Cup with Bright Highland, a NZ Oaks with For Certain, Timaru Nursery Stakes (Seafield Lad), a Wellington Cup with Anarca Direct, an Easter Cup with Wee Win and an Ashburton Cup with Van Rebeck. He also drove those last two to win heats of Inter-Dominion series.

Of course, he regards Johnny Gee one of the best of all the horses he's had anything to do with in recent years. He won the most money about $60,000, including $20,000 in place money. He won a dozen free-for-alls and went 2:01. He was a top horse. Wes Butt will always remember the 1970 Dominion Handicap when he trained both Johnny Gee, the winner, and Tony Bear (driven by Robin) who took second only half a neck back. These two made a formidable bracket in the big trots around that time, one which the punters could not often resist. The bracket was strengthened now and again with the addition of yet a third top trotter in the stable, Briganelli. Johnny Gee won a lot of races for Butt, including four races at Manawatu from his only four starts on the track.

Golden Oriole was "a nice mare" and Van Rebeck "a good old horse." And then the names of the top liners start running freely...Campbell King, Lucky Law, Jimmy Scott, Liberty Bond, Axis, Admit, Benghazi, Moss Hall, Courageous, Margaret Hall, Captain Sandy - "although he was just about finished here then" - and, about ten years ago, Partisan, who won nine of his seventeen starts for Butt. "If he hadn't been unsound, he could have been the best I ever had," Butt surmises. Easter Cup winner Wee Win would have been one of the toughest horses Butt ever drove, even though he didn't have a sprint, while Even Speed was a good horse, too.

Butt won races on most of the South Island tracks and on many of the northern ones too, even at Trentham. He won a race with good mare Zona Grattan by half the length of the straight there once. The same horse started from 96 yards behind at Forbury soon after the war and beat a top quality field into the bargain. White Angel was another mare he still has a lot of time for. "She gave me my only real chance to win the NZ Cup, but her chances were ruined by a wet track. She did win the Hannon Memorial in 1953." Earlier on, in the 1951 Cup Carnival, Butt started her three times and won each day. There's an asphalt tennis court alongside the Butt home now. It used to be White Angel's yard. The Butt children used to pay her a lot of attention and she'd be as gentle as a lamb with them. Put her around other horses, though, and "she could be a sour old thing." Wes remembers the day she provided the second leg of an £8,000 double at Ashburton. Piccolo, the rank outsider paying something like £96, won the first leg. And White Angel, about eighth favourite, won the second from 12 yards behind. "And she had to go around 39 others to do it."

And that's not the only long price he's been associated with. Two races after he had won the 1964 Sapling Stakes with Golden Oriole he came out and drove Mrs Butt's own horse Stormy Lad to victory. He paid £101/-/6 to win and more than £22 for the place. The next year at Hutt Park he drove Super Glow to win and pay more than £73. Back in April, 1947, for instance, there were two races for trotters on each day of the Nelson Trotting Club's meeting and Wes scooped the pool with Tu Rangi and Statesman. A few years later, he won four of the eight races at Canterbury Park, coming out on the second day to win two more.

So what makes a good driver? Wes Butt has his own ideas on that..."For a start he must be able to get his horse away and then he must be patient. He shouldn't burn a horse out by trying to rush around the world. A top horseman will always have his horse for another day." As for race tactics,"you can only go the way the horse goes best. Some need nursing until well into the straight, so you sit on the fence and take your chances as they come. And then there are the other types, like Wee Win, who like the pace to be on all the way. Then you get out there and battle and make it tough for the rest to keep up." Butt has no preference for either pacers or trotters. "I don't mind what they are if they are good. But I do get a lot of satisfaction from a good trotter."

He also thinks the younger drivers have an easier time these days than they did when he started. Probationary driver's races and series had helped a lot and many of the up and comers were getting a lot of experience even though they are young. "By the time they come out of their time, many are top men." The trend today was for owners to give the drives to the younger men, exactly the opposite situation as Butt encountered early on in his career. "It's not unusual these days to see Doody Townley, Derek Jones or Felix Newfield, all top men, left in the stands race after race."

He regards himself and Cecil Devine, who had to retire at the end of last season as "the last of the old-timers. We're probably the last to have raced against Jimmy Bryce and Free Holmes, for instance. They're a new lot now." Butt couldn't sort out the best he drove against but he had to mention Maurice Holmes, Doody Townley, Derek Jones, Bob Young and Doug Watts..."tough, hard-headed drivers." Himself, he had always done his best and "you can't do better than that." And now that his driving career is over, he had no regrets he'd had a great time all through.

He was just thankful he had come this far relatively unscathed. "I think you're pretty lucky if you can go till your 65 and still be okay. "It wasn't so bad in the old days when tracks were soft. These days the tracks are like shingle roads. If you hit them at 30 miles an hour and get dragged along, you feel it if you are getting on. It's nothing to the youngsters though. They're tough. He had been in hospital a couple of times and still had a little bother with an old injury to his back. But, he had been lucky.

Wes Butt can still remember, however, an aching arm after winning a race at Methven some thirty years ago. It was with the trotter Ascot, a good sort owned by Frank Woolley. Ascot was a 'highly strung' horse who, while a pacer, looked as though he could trot when Butt got him. And so it proved. He could trot very well as long as nothing else came up beside him. And then came the Methven race, September 27, 1952. Ascot started off 36 yards behind, sufficiently far back to avoid a mix-up soon after the tape went up. "We passed that okay and were going forward when Super Claim charged up to us without a driver and started to go round us. I remember thinking to myself 'this is lovely, he'll break my horse up if he comes any closer' so I grabbed him and held him in behind us. Old Ascot kept trotting and we hit the front with a round to go and stayed there. My arm was aching so much when we hit the post I had to let him go. The only reason I held on was to keep him away from my horse. He would have broken for sure." The feat of fine horsemanship was well written up at the time and the Methven Club itself recognised it for what it was with a fine trophy. It was another to add to the many which decorate the Butt home today, momentoes of those good days and some good horses.

So what will Wes Butt do now? Make more use of the tennis court? He has the cups to prove his prowess in that field too. No, Probably not. He will perhaps spend a little more time in the garden. And get his scrap-books and photographs up to date. But really, the horses will remain a seven day-a-week job. No, retirement won't mean much slowing down for Wes Butt. If any.

-o0o-

Article appearing in HRWeekly 15Sep99

The name Butt has flourished since Wes made his start in harness racing more than 60 years ago. After a career as a trainer and driver that few could match and fewer could beat, Wes keenly followed the fortunes of the succeeding Butt generations. Robin, Murray, David, Anthony, Tim and Roddy kept the founding father with continuing interest in racing. News of his daughter Chris's ill health nine months ago took the edge off him, according to his eldest son, Robin. He slipped quickly, and died on Tuesday, aged 83.

He was champion trainer seven times and champion driver twice.

Although he did not win a NZ Cup in 14 attempts, there weren't many other races of note that he failed to account for. He finished third with Wee Win and fifth with Mayneen, who strung together seven successive wins, but he always said his best show was with White Angel. "She struck a wet track the year Mobile Globe won. She was no good in that. She had won three out of three at the Cup meeting the previous year," he recalled.

In more recent times, the trotting triumvirate of Johnny Gee, Tony Bear and Briganelli were his notable colour bearers. They had a field day at the 1970 NZ Cup carnival when open class trots were held on all four days. Johnny Gee won the Dominion Handicap on Show Day. He finished second on the other days to Light View in the Worthy Queen, Inferno in the Free-For-All, and Tony Bear in the Greyhound. Johnny Gee and Tony Bear won 36 races between them.

The first job Wes got was working for trainer Dick Humphreys - no pay for the first six months, then six shillings a week - and his first winner was Walter Wrack at Greymouth in 1936. As a young fellow making his way against some hard heads, Wes developed his own style as a driver. "I would drive on the fence a lot; if you didn't get a go, there was always another day. The boys tell me if they used my style they wouldn't win a race today. We would be embarrassed to sit three wide in my day. I liked to sit and sprint," he said later.

Wes was good at it. He drove 762 winners including his very last drive behind Brow Raiser. He recalled getting lucky that night, hoping onto the back of a horse being driven up three wide by his son Robin, and Brow Raiser brought off a happy ending.

Another moment he cherished was competing in the Wes Butt Trotting Stakes at Addington in 1981 against his sons Robin and Murray and Robin's son David, who was having his first raceday drive.

He recalled jogging a horse from Templeton to the Port Hills, walking it over the Bridal Path, catching the ferry to Wellington, and then jogging the horse to Hutt Park. Wes had the same accommodation as the horse, a bed on the straw in the box next door.

And he would tell the story when times were tough, of racing Margaret Hall and Acropolis in an event at Auckland. Acropolis was the only threat to Margaret Hall, and Wes was driving him. Making his way from the back and chasing Margaret Hall, Acropolis was gradually taken off the track by a rival as he was closing in. The driver apologised to Wes and said he couldn't keep the horse straight. "I sort of believed him," Wes said. "Much later I found out that he had been paid to make sure Acropolis didn't beat Margaret Hall."

His major wins as a included the Louisson Handicap (Golden Oriole), National Handicap (Wee Win, Te Koi), Champion Stakes (Golden Oriole), Wellington Cup (Mayneen, Anarca Direct), New Brighton (Bright Highland), NZ Trotting Stakes (Signal Light, Johnny Gee, Black Miller, Even Speed), Easter Cup (Wee Win), NZ Oaks (For Certain), Sapling Stakes (Golden Oriole, Wildwood Chief, Spry Guy), Great Northern Derby (Golden Oriole), Rowe Cup (Battle Cry, Even Speed), Inter-Dominion heats (Wee Win (three) Van Rebeck, Johnny Gem).

He trained 710 winners, the best of them being Johnny Gee, Tony Bear, Mankind, Jimmy Scott, Stadium chief, Golden Oriole, Partisan, Te Koi, Liberty Bond, Axis, Margaret Hall, Trade Fair, Van Rebeck and Benghazi


Credit: Graham Ingram writing in NZ Trotting Calendar 21Jul81


| | |
| --- | --- |
| | RACING HISTORY PEOPLE |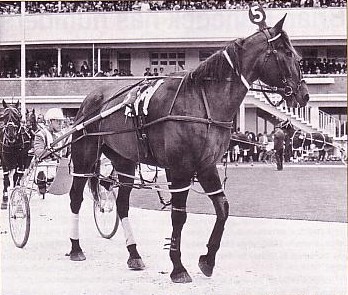 Jack Grant & Diarac parade at Addington

JACK GRANT

Show Day at Addington 1939...Jack Grant recalls it vividly. "I peeped over the fence and saw a wee cream horse. I suppose I took an interest in horses from that day." The horse was Icevus and he'd just won the free-for-all. But for Jack Grant, the side-shows on his side of the fence were more interesting at the time.

However, that 'wee cream horse' must have started something. About a year later, the same lad stuck his head through one of the local horse trainer's fences. Someone passed him a broom and told him to start cleaning. "I got a shilling that day and I've had a broom in my hand since," Grant, now 50, said last week. It was hard for a young man in the racing game in those days, but Grant 'stuck with it'. It wasn't too long before he was working with men like Bob Young and Maurice McTigue and horses like Aerial Scott, Victory Globe, Plunder Bar and Tactician.

In the 50s he started working for Derek Jones and through the sixties they formed one of the best training partnerships in the country. They parted company after 22 years in 1973 after 'never having a real argument' in all that time. Marriage and a nice, small property down the road from Jones was the inducment to leave. Breaking in and gaiting horses have been his living since. It wasn't bad going right from the start. Such was his reputation that a lot of Canterbury trainers were quick to make use of his services. "Jack Smolenski was especially good. He sent a lot of horses to me, horses like Columnist, Gina Marie, Lord Fernando." But just recently Grant returned to the training fray.

Chancalot's win at the recent Rangiora meeting saw him once again figure as a winning trainer. It had been eight years since he last saw his colours first past the post. The 14 odd horses around the Grant stables these days are a far cry from those he's been used to. Through the fifties and sixties he was associated, in one way or another, with just about every top horse in the country. The Grant story is a long one and full of good horses.

Born in Christchurch and raised near Addington, the headquarters of NZ trotting in those early years, it is not surprising that Grant took an interest in horses. So many top horses and horsemen were 'just down the road'. But it was far from easy for a young man just starting out. After all those menial little tasks around the stables, "it was a privilege to do fast work." But those early years gave him a solid grounding and it stood to him.

Grant first worked for Jim Young, learning to ride horses before heading off to school. There were about 18 yards waiting to be cleaned when he got home. "There were so many professionals in those days. It was so hard for a young fellow to get a go on raceday," Grant recalled. After the war Grant found himself in the stable of Bob Young and sitting behind horses like Auckland Cup winner Victory Globe and top class trotters like Aerial Scott and Gay Belwin. He then worked for Maurice McTigue, handling 'a lot of good horses," including Tactician. Maurice was a very astute horseman. I learned a lot off him. We used to do a lot of travelling in those days, quite often taking teams to Auckland," said Grant.

It was in those early years he achieved what he considers his first milestone. Driving Trueco at Forbury Park, Grant was suspended after guiding him to win by the length of the straight. I was the first probationer to be put out, you know. I only pushed a horse out, but they didn't see it quite the same way," he said.

A friendship with a youthful Derek Jones - "we'd both done a bit of boxing" - had begun by then and in the early fifties Grant started work with the Templeton horseman. It was a highly successful association. In 1965 the pair went into partnership. During the sixties Jones and Grant prepared numerous winners and they headed the trainers' premiership in the 1965-66 and 1969-70 seasons. "We took about nine horses through to Cup class," Grant recalled. He reeled them off easily - Trueco, Smokeaway, Doctor Dan, Disband, Lochgair, Snowline, Leading Light, Diarac and Boy Louw. There were also the fine trotters Our Own and Light View. Diarac, who won the last race at the Amberley track before it closed down, was one of Grant's own horses. He also won the first race on Timaru's clay track with Kimbell Duke.

If you ask Jack Grant about the best horse he ever sat behind, he'll probably say Cardigan Bay. "I paraded him at Chertsey one day. Even had his colours on." If you ask him about the best horse he's ever seen, he'll probably say Cardigan Bay again, or perhaps Highland Fling. "They were freaks." But the whole games different now. "Horses lasted longer in the old days. The public got to know them and they idolised them," said Grant who has seen every NZ Cup since 1944. "Every horse has his day and nothing's going to beat them on that day. I haven't seen a horse who could have beaten Lord Module the day he won his Cup."

Grant's seen a lot of good horsemen in his time as well. "There were no better trainer-drivers than men like Jack Pringle and Ces Donald. They were real professionals. Derek's a good horseman for that matter. He has a nice easy way of working horses and gets on with any type." And then he remembered another prominent horseman who had given him some advice he had never forgotten: "Always take time to talk to people around you when you are going up - that way you'll have someone to talk to in those times you're going down again."

The big stables and the travelling are all behind Grant now. Breaking in and gaiting and playing around with his own horses on his 11 acre property in Prebbleton is enough. He is breeding from the Hi Lo's Forbes mare Hi Madam, a half sister to the useful Crow Bar, and has a 2-year-old filly by Armbro Del out of her. A yearling by Honest Master from her is another going through his paces at present. Most of the others in the team are just being broken in. Chancalot is the only one sporting his colours on the track these days. "He has been a bit of a handful and he still has a bit to learn," said Grant of the Armbro Hurricane 5-year-old.

The horse is going to have to be a bit more than just a handful to get the better of him and his experience though. Jack Grant is still one of the most respected men in his business.

-o0o-

Article by Mike Grainger writing in HRWeekly 10Mar04

Jack Grant, who died last week at the age of 73, formed a successful training partnership at Templeton with Derek Jones. They headed the trainers' premiership twice - in 1965/66 with 37 wins and in 1969/70 with 38 wins.

Grant's best horse was Diarac, a rangy son of Morano and Concerto who won 12 races over four seasons, though he was sparingly raced. Grant drove him often, and won the Ashburton Flying Stakes from Selwyn Hanover and Stella Frost and four other races. Jones drove him to beat Meadow Bank and Holy Hal in the Hannon Memorial, and handled him when he beat Curragh Dan and Seafield Countess when he was on the verge of Cup class. Doug Watts drove him in his one NZ Cup start. Grant also won four races with Kimbell Duke, a nuggety son of Hancove bred by Jack McDonald, and drove Ardleigh to win a 2:14 trot at Alexandra Park.

In recent years, he trained on a small scale at Prebbleton, winning races with Besse Scott, Sheer Distinction - his latest winner - and OK Skippi, and he bred regularly from the Hi Lo's Forbes mare Hi Madam, who was a half-sister to the partnership's big winner, Crow Bar.

Grant's love for horses and racing began when he was at Addington Primary School. It meant an early start for he 7-year-old, cooling out Jim 'Pop' Young's horses before school started, and helping feed-up on the way home. He stayed with Young until they had a row. His great friend Maurice Flaws recalls that Grant was sacked after he broke a yard broom over 'Pop's' head. "What happened," said Maurice, "was that Jack was sitting down doing up a wheel. Kevin Murray, who was also working there, was poking the borax at Jack, and then Kevin threw a punch. Jack lifted a wheel and Kevin put his fist though the spokes, hurt his hand, and then ran off to tell 'Pop'. Somehow Jack hit him on the head. He got sacked over that."

Jim's son Bob, a legendary horseman, was sad to see him go. "Bob always insisted that Jack went away with the horses on the long trips," recalled Maurice. "He cared for horses like Aerial Scott, Victory Globe, Single Task and Gay Belwin, and you knew he would be totally dedicated to them. He was also strapper for Croughton when he won the NZ Derby," he said.

His other passion at this age was boxing, and he was good at it. Jones says he had 80 fights and fought the best of them in the light and welter-weight divisions, and was runner-up in a bout for a NZ title. "He won Canterbury titles," said Maurice. "He was not quite tall enough, but won when he could get in close. Wally Ireland said he could never recall Jack taking a step backwards, and that was Jack in life - he took everthing on the chin."

From Young's, Grant went to work for Maurice McTigue, when the team included Tactician, Ghenghis Khan and Kubla Khan. They had a great association, and in later years Grant trained a horse for McTigue, obviously forgiven when told to leave after throwing one of the McTigue kids into the family swimmimng pool. Grant then joined Derek Jones, and later became a training partner. "He was with me for twenty-two years and was a good servant. He helped make horses like Disband, Powerful Light, Smokeaway and Doctor Dan," he said.

Erin Crawford, a member of the HRNZ Executive, considers Grant gave him a thorough grounding in the industry during his time working for the partners. "He was very dedicated, and he was a traditionalist. He loved talking about history and the old timers. Old 'Donald' did this and old 'so and so' did that. He never took a day off, and he was mad keen on rugby and gangsters and he enjoyed a big fat cigar. The wild west was another favourite, and a Colt 45 hung on a wall in his home."

From the money he got selling Diarac, Grant purchased a property in Prebbleton, and later on trained a small team, and with Andy Tilson did some breaking in and gaiting. His last horse was Sheer Distinction, who won a race on the first day at Waterlea in January, and followed that up by running a shocker on the second. "I know what was wrong with him," he told Maurice..."they expected too much of him."

"That was the knowledge the man had," said Maurice.

Grant was given a private funeral at his home last week.



Credit: Frank Marrion writing in NZ Trotting Calendar 9June81


| | |
| --- | --- |
| | RACING HISTORY PEOPLE |

JIM DALGETY

Among the host of mares cropping the lush grass out at Lantana Lodge there's one Jim Dalgety can hardly wait to see foal. She is Jovial Jeanie, a spectacular mare when going through the grades a few seasons ago, and now a month overdue.

Jim Dalgety, though, shows no concern. "That's not unusual for a maiden mare." She's due to foal to Colonel Kenton, who Dalgety stands at his West Melton stad at a considerably more modest fee than the one he had to pay to get this fine mare. And the expenses didn't stop with the $12,500 fee for champion American stallion Most Happy Fella. Jovial Jeanie is out of Bellajily, a Van Dieman mare who won the NZ Derby before being sent to America to race.

Dalgety noticed her name in a race card while on a trip to the States about ten years ago. Not for her, then, the town hall company of her Derby and Oaks contemporaries. Instead, her American performances impaired by a throat infection, she was restricted to lowly claimers. "I got an American friend to claim her for me; she was mine for $2600," Dalgety explained last week. No more racing for her. Dalgety sent her to Blue Chip Farms to be mated with Gene Abbe. "You had to pay the fee for a live foal. Ours caught a virus and died after three weeks. Ten or twelve thousand down the drain for a start." Bellajily stayed at Blue Chip and produced Jovial Jeanie before coming home. "We had to pay $12 a day for more than two years, plus expenses of $100 a month, to keep her at the farm in those days. Mind you, it's a lot more now with Most Happy Fella's fee around $40,000 I think," Dalgety said.

Now both mother and daughter are among the sparkling band of mares roaming the Dalgety acres. Inquisitive creatures, mistaking the Calendar vehicle for a block of blue salt lick while 'Jeanie' gets her photo taken. Dalgety insists there must be performance as well as breeding on both sides of a family. Without those two ingredients it is unlikely any progeny will have the heart or ambition to win, so essential in these cost-torn days. Jovial Jeanie's mate was unraced, but Colonel Kenton, by Local Light out of Petulus (thus a brother to top filly Golden Oriole), was, according to Dalgety, as fast as any horse he's had. "I worked him for a while and he had a ton of speed. Good gaited, too." He's served a lot of the Dalgety mares and a few well-bred outsiders as well - mares like Robyn, the dam of Game Lad and Game Two, Effie Wave, a half-sister to Sapling winner Glide Time and Laura Blue, a sister to Bachelor Blue.

When Dalgety is looking for a mare, it must come from a strong family of good winners. And over the years the policy has paid off. He and his wife Faye are recognised as one of the more successful breeders in the business. "In this industry, the racing is as important as the breeding ...and the breeding is the most fascinating," Dalgety said. He recalled how he bred and sold Module, the dam of Lord Module, for $100; how he once leased champion broodmare Desilu before sending her back to Dave Anderson ("that Delightful Lady must be one of the best mares in the world - certainly the best we have seen"); Double Agent, Gallant Guy ("they never stop winning") and Milford Mary, the three of them big successes in Australia.

He has had dozens of success stories here: Bolton Byrd (now at stud himself) and current rising star Melton Monarch, both from his Bachelor Hanover mare Nikellora, among them. But he claims a lot less success with the other side of the racing business, the thoroughbreds.

At the moment he's working a 2-year-old filly - one of about a dozen horses he has in work - and "she goes really well." She's by Main Adios from an Out To Win mare out of a Goodland mare, out of a Bachelor Hanover mare out of Karen. Basically, she's a product of stallions Dalgety has stood at Lantana Lodge. He imported Bachelor Hanover ("he really got me started here") and Out To Win, and stood Goodland on lease. Bachelor Hanover died in 1975 and he is buried with a commemorative headstone at the main gate of Dalgety's 450 acre property.

Jim Dalgety, himself, got started in the horse business at 17 when he left his parents' farm south of Oamaru (his father stood Jack Chance) to work for Cecil Devine, moving later to Maurice Holmes. "It was tough going to start with but learning the business was more important than the money. They were both great teachers, really two giants in their field." While working with those two, Dalgety was in close contact with two of the best horses he ever saw. Lookaway winner of the NZ Cup as a 4-year-old was a "brilliant" animal ("I took him to Auckland once"), while "there wouldn't have been another horse anywhere who could do a last quarter with Van Dieman. He was phenomenal." Dalgety also rates Mister Chips, who beat horses like Lordship and Robin Dundee before going to America where he just couldn't adapt to changes in conditions, as one of the best he had anything to do with.

Dalgety, now 48, himself has worked in America. He accompanied a shipment of horses to the States in 1967 and stayed on to work with Stanley Dancer for five months. It was then he first met Vernon Dancer - "one of the nicest men in the business in America" - and his wife Caroline. The Dancers owned Out To Win and his latest stallion purchase, the Race Time horse Farm Timer. "Vernon used to train Scottish Hanover and was sure he would make a good sire. He told me that years ago. He said the same thing about Out To Win and he was also quite sure with this fellow. "I didn't particularly want a Race Time horse but I really liked the look of him; he was a good performer and he comes from a great old family which seems to be getting better all the time." Fan Hanover, top 3-year-old filly in America at the moment, is closely related to Farm Timer. "He should leave them with early speed."

Back in 1967 Dalgety couldn't help but notice how everyone wanted a horse who could go quickly early. "It was high pressure stuff," he said. "No one waits in America. There is no bringing a horse in and turning him out for six months to strengthen. They either make it or they don't. If a horse is not ready, it's too bad. The situation is the same today. With so much money available for youngsters, the pressure is on to get horses racing. In New York alone, there are millions available for horses bred in the state, and other states are not too far behind with their own sires' stakes programmes. Such a scheme "would be a hell of a thing for the business here. But it would have to be backed by the Government," is Dalgety's assessment. "They would get the money back eventually anyway. As well a sires' stakes programme would boost sales, would get new owners in, would boost betting...I'm sure it's the only way trotting in the future is going to bloom - that is for the Government to put some back. The smaller clubs are under a lot of pressure. And it's not their fault they're being screwed down by the tax they have to pay the Government. Businesses and individuals like Max Harvey and Bob Owens can only keep sponsoring races for so long. There must be some move by the Government." At the moment, stakes were not keeping pace with inflation and there were too many horses in the looser classes. "We've reached saturation point with the maidens. And if somethings not done soon, a lot of good owners are going to drop out through being disillusioned by not getting starts."

Another problem contributing to the excess of horses was the breeding of too many horses from second-rate mares from the poorer families. "People are quick to breed from a mare who has failed on the track but it doesn't work. The Ashburton sale proved that. Mares from good families got the money; the others couldn't be given away. Racing must be the only industry in which people insist on breeding failures."

There is no way anyone could say Jim Dalgety himself has been a failure. But, success that he is, he's never forgotten what Cecil Devine said to him when he first started out more than thirty years ago; "You're now in the toughest profession in the world." "And he was right. He also told me you'd never get far up the tree if you didn't have the help of a few solid mates. I have been lucky. Don and Doris Nyhan have never stopped helping me from the time I first started out, and people like Wes Butt and Derek Jones used to help me along by sending me some of their young horses to educate. Maurice Holmes and Clarrie Rhodes, too, have done a lot for me both with horses and in the business sense."

There had never been a time when it was so important for those in the industry to work together. It was under a lot of pressure right now, Dalgety said. "It's a hard life but you can't neglect anything, otherwise you don't get the results on raceday." And you need more than a little luck, too. Dalgety is not usually upset whe one of his horses gets a rough passage like, say, Melton Monarch did in the Methven Cup the other week, meeting check after check and being pushed almost off the course. "You can't get worried about things like that. That's all part of racing. If you don't have luck on your side, you just don't get paid.

Credit: Graham Ingram writing in NZ Trotting Calendar 6Oct81


| | |
| --- | --- |
| | RACING HISTORY INTERDOMINIONS |

HOBART - SAN SIMEON
Brilliant Western Australian 4yo San Simeon was the shining star of the 1981 Inter Dominions, the first held in Hobart. Before an estimated crowd of 23,000 San Simeon who drew one, broke the tape causing a false start while the field was reorganised. Trainer Lou Austin conceded later that the incident wasn't altogether accidental but retaliation against those drivers attempting to upset the Champ.



| | |
| --- | --- |
| | RACING HISTORY HORSES |

YOUNG CHARLES

Young Charles, who died a few days ago at the grand age of 35, did much to underline the hard wearing qualities of the U Scott line.

"His death was sad, but easy to accept," his owner-breeder Bob Mayne said last week. "He ate up normally, did everything else as usual and quietly walked away and died," said Mr Mayne, a retired Christchurch cartage contractor.

As a racehorse and as a sire Young Charles was every inch an individual, being bred on the stout U Scott - Jack Potts cross. U Scott and Jack Potts both headed the NZ sires' list on nine occasions and Young Charles topped the list in 1975, the year of Young Quinn.

Foaled on October 25, 1946, Young Charles revealed immediate ability for trainer Colin Berkett, being champion 2-year-old and 3-year-old of his year. In all, he won 11 races and had 26 placings from 56 starts for $24,435, racing against the likes of Van Dieman, Johnny Globe, Vedette, Caduceus, Burns Night and Soangetaha. Hampered by tendon trouble once he attained Cup class rating, his courage won the hearts of many. Canterbury trotting men to this day maintain that his second to Johnny Globe in the 1954 NZ Cup 'on three legs' was one of the most memorable contests ever at Addington. Johnny Globe set a world two mile time of 4:07.6 in that race and Young Charles on a restricted preparation, recorded 4:10.8.

"My greatest thrills were his wins in the NZ Futurity Stakes and All-Aged Stakes at the Ashburton June meeting," Mr Mayne recalled. "Colin Berkett was a great feeder, and, as Young Charles had a wonderful constitution, he had to be worked really hard to give his best on the track," Mr Mayne said.

Young Charles' battle for recognition as a sire was certainly an uphill one. When retired to Mr Mayne's Yaldhurst property he received only eight mares and 11 the following season. He then had a season in Auckland before moving to Southland. Restricted as his early opportunities were, Young Charles slowly but surely acquired the respect of breeders, siring the likes of Danny's Pal (10 wins and 14 placings), Jacobite (12 wins and 9 placings), Valcador (10 wins and 12 placings), Lonesome Valley (9 wins and 12 placings) and Top Copy (9 wins and 21 placings).

Even better, however, was to come when he stood at Colin Baynes' Ferndale and Otama nurseries. Notable pacers conceived at those studs before he finished his Southland career at Des Baynes' Highway Farm, Edendale included Young Quinn (1:55), Sapling (1978-79 Pacer of the Year), Sassenach (1:58.6), Peter Onedin (1:56.8), Gurkha (1:58.2) and Ghandi ($225,000).

Young Charles has so far been credited with siring 165 winners and 20 in 2:00, from around 470 live foals an excellent percentage of 35. Only Local Light (23) and Lordship (22) have been more successful NZ-bred sires of 2:00 performers. "I always wanted him to make the top as a sire more than anything else in the world. When Young Quinn won the 1975 Inter-Dominion final in Auckland, that really put the icing on the cake for me," Mr Mayne said.

As a broodmare sire, Young Charles has now emerged as a real force. He has sired the dams of 122 winners (to July 31, 1981) and at least eight in 2:00 including Armbro Star (1:59.6), Testing Times (1:59.2), Loyal Drift (NZ Oaks), Smooth Charles (1:58.8) and Saucy Jack (Methven Cup).

One way or another, Young Charles has been a good horse to many trotting people all over NZ and many are grateful for the care he received right up until his death. Bob Mayne went to a lot of trouble to bury Young Charles in a special grave on his property last week. The influence of his old favourite promises to be felt as long as there is light harness racing in NZ. Sapling, his best performed entire son, has been heavily booked for his initial season at the Hokonui Stud, where he was conceived nine years ago and where Young Charles made his name as a sire.

Credit: Don Wright writing in NZ Trotting Calendar 22Sep81


| | |
| --- | --- |
| | RACING HISTORY HORSES |

ROYDON SCOTT

Roydon Scott, one of NZ's best pacers of the last decade, had to be put down at Roydon Lodge Stud last week.

The decision to put the grand pacer, who suffered very badly from arthritis, down, was taken by trainer Fred Fletcher after consultation with owner Roy McKenzie. "He was suffering a lot more than people realised," said Fletcher last week.

Roydon Scott still holds two NZ records and broke 2:00 on four occasions, taking his lifetime mark of 1:58.9 as a 3-year-old. In all, Roydon Scott raced only 49 times for 18 wins, five seconds, four thirds, three fourths and three fifths for stakes totalling $79,792.50.

During his career, he raced against and beat the best horses in the country, even when sorely troubled by arthritis late in his career. He missed several major events because of injury. Roydon Scott had his last race in the 1980 NZ Cup at Addington, finishing down the track, but brilliantly won his two lead-up races.

He was buried at Roydon Lodge.

Credit: NZ TrottingCalendar 20oct81


| | |
| --- | --- |
| | RACING HISTORY HORSES |

GARRISON HANOVER

A trotting identity, who will long be remembered for the contribution he made to the industry - Garrison Hanover - had to be put down at Bill Denton's property at Tai Tapu last week. Garrison Hanover, who was 34, complied a memorable record as a stallion and, even as recently as last month, was represented by a yearling at the National Selected Sale.

Garrison Hanover was described by Bill Denton as "just like one of the family - he was older than any of our own children by quite a bit." He sired 984 foals in NZ and was represented in this country by 459 winners, for an average of 46.6%. Some of the top pacers he left included Cardinal Garrison (Auckland Cup, Great Northern and NSW Derby), Game Adios (NZ Derby), New Law (NZ Derby), Speedy Guest (G N Derby & NZ Messenger), Waitaki Hanover (G N Derby, Auckland Cup), Main Adios (NZ Derby), Apres Ski (1:56.2 the fastest of his 16 2:00 performers), Helen of Tara, Royal Count, Whispering Campaign and many more. Garrison Hanover was leading sire for three successive seasons form 1966-67 to 1968-69 and has proved a great success as a broodmare sire.

Garrison Hanover was imported to NZ in 1955 after being selected by Bill's father and Jack Shaw and apart from two seasons at Clem Scott's in Southland, stood all his life at Russley Lodge Stud, first at Templeton then at Tai Tapu. "He just got to the end of the road - his old machine gave out." Bill said last week when describing how Garrison Hanover suffered the heart attack which led to him being put down. "I knew he wouldn't come out of it and we wouldn't prolong his life any longer."

But Garrison Hanover has not left Russley Lodge. "I've got a nice spot organised for him here and will erect something a bit decent to mark his grave. It's the least I can do - everything I've got I owe to him," Bill said. Harness racing in NZ also owes a lot to Gerrison Hanover.

Credit: Tony Williams writing in NZ Trotting Calendar 17Mar81


| | |
| --- | --- |
| | RACING HISTORY HORSES |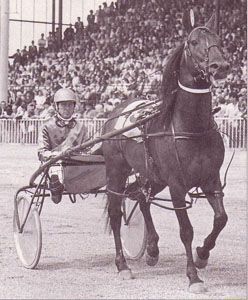 Trusty Scott & Henderson Hunter

TRUSTY SCOTT

The 1978 NZ Cup winner Trusty Scot, one of Southland's best pacers, has a cracked pastern in his off hind leg, and has run his last race. "He had me worried for a while," part owner and trainer Henderson Hunter said, referring to the serious nature of the injury. Trusty Scot suffered the cracked pastern after competing at the NZ Cup meeting at Addington in the week leading up to the Young Quinn flying mile at Wyndham at the end of November.

After racing his way through to Cup class in his 3 and 4-year-old years, Trusty Scot had a bone chip removed from a sesamoid in his near hind leg as an early 5-year-old and missed racing for most of that season. Hunter, who raced Trusty Scot with his father Adam Hunter, said he thought the extra pressure on his off-hind leg due to that first injury contributed to his breaking down in his other hind leg. Trusty Scot will be unable to serve mares this season but the 8-year-old Scottish Command entire from the Flying Song mare Fledgeling will commence stud duties at Edendale next spring. "We'll keep him down here and give Southlanders a chance to breed to him," Hunter said.

Trusty Scot retires with stake earnings of $128,545, the result of 96 starts for 21 wins and 29 placings, including a win at the Inter-Dominion Championships in Brisbane as a 4-year-old. Placed once in five starts at two, he gained prominence in his 3-year-old racing in a busy campaign, starting 25 times for five wins and 12 placings, and taking a 1:59.9 record when he won the Stan Andrews Stakes from Smokey Lopez and Bolton Byrd at Addington.

At four, he ran 21 times for seven wins, including the Ascot Park Flying Mile at Invercargill in 2:00.3, beating the star-studded field of Balgove, Sole Command, In Or Out, Forto Prontezza and Lunar Chance. He also won a heat of the NZ Messenger Championship and was runner-up to Stanley Rio in the final, won a heat of the Brisbane Inter-Dominion, and lowered his mile record to 1:57.6.

After missing his 5-year-old season because of injury, Trusty Scot came back better than ever at six, winning the Ashburton Flying Stakes first up, and the Kaikoura Cup before his most important successes, the 1978 NZ Cup from Sapling, the NZ Free-For-All three days later in 2:29.1 for the mobile 2000 metres, a mile rate of 2:00.1. Naturally, Hunter rates these wins as his best because he beat the top pacers, Sapling, Lord Module and company, when they were all going strong. Hunter also rates his performances in Australia at the Inter-Diminions, when he made a remarkable recovery to run third in a heat after losing a big stretch of ground early, and later at Perth the same season as he won the Cup, among the best in a fine career.

Trusty Scot contested the Inter-Dominion Championships at Christchurch as a late 6-year-old and wound up a strong-finishing fifth in the final after racing back in mid-field. His 7-year-old season was not a happy one. He struck difficulties racing off back marks, but he managed a good sixth in the NZ Cup after an early break, and won twice. This season, he led from end to end in the Quadroon Invitation Stakes at Gore, his last win, and was a strong finisher from the rear for fifth in the NZ Cup.

A genuine racehorse, with a clean gait, Trusty Scot is one of the best performed sons of Scottish Command.

Credit: Jeffery Scott writing in NZ Trotting Calendar 20Jan81


| | |
| --- | --- |
| | RACING HISTORY FEATURE RACE COMMENT |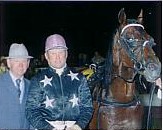 Ces Devine, Jack Smolenski & Lord Module

GREAT RACES: LORD MODULE 1981 ALLAN MATSON FFA

Now that we have entered the realms of our 'living memory', the very first occasion that always springs to mind as a 'greatest event' is Lord Module's 1981 Allan Matson. It was a great race featuring a number of great horses like a lot of others, but it was a spectacle combined with the recent history and the emotions which flowed which made it all the more special.

I was a rising 21-year-old cadet with the then 'NZ Trotting Calendar' in November, 1981, having been brought on board the HRW's predecessor a year or two earlier by editor Tony Williams, based solely on unabashed enthusiasm - couldn't even type let alone write a story. Reading up the old Calendars at the time to refresh the memory, it is obvious by the time the 1981 Cup Meeting came round that my main responsibilities each week had still only evolved into banging out the weekend's race results all day Monday on our trusty old portable typewriter, sorting out the NZ-bred winners in America and being 'trusted' with the intro, and 'working' at the Addington races, where my primary objective was to ensure I made the stretch to the old tote 10 times a night and in time to get Tony's investments placed, which was all very exciting given each one was more than my weekly wage. The memory banks recede with time, but I will never, ever forget the night of November 21, 1981.

Sitting in the open Press Box in the old Member's Stand and on an angle to the public grandstand, which in those days was pretty full for events such as the last night of the Cup Meeting, the sight of the stand moving like a slow moving landside was unbelievable. The people were coming to greet, cheer and clap their idol, and they crammed around the birdcage for the nearest and best possible vantage point. It was enough to make grown men cry, and some did.

To appreciate and understand what led to this night of unbridled enthusiasm and passion and an unforgettably magic moment in time, one had to live through the career of Lord Module, one which for the most part seemed like one sensational hair-raising performance or controversial abject failure after another.

In 1976, the racing days of Canterbury's favourite (standardbred) son Robalan were over, and the people needed a new champion. Lord Module wasn't long in coming, displaying exceptional talent and potential as a 2-year-old for a by now veteran and semi-retired but legendary horseman in Ces Devine, a man who did not suffer fools lightly let alone owners and slow horses. He suffered Lord Module though, even when more often than not that season he would run the favourite and do a stretch at the start, mobiles being still a rarity at Addington, rather than the norm. But his class was well and truly confirmed when he romped away in record time with the NZ Juvenile Championship at Alexandra Park at season's end, accounting for the boom northern youngster Testing Times (10 wins from 12 starts going in) and other top colts in Glide Time, Redcraze, Main Star and Motu Prince.

He was back bigger and bolder at three, but no better behaved, and waywardness would cost him dearly in both the New Zealand and Great Northern Derbys. Devine was not afraid to start him against tough and older intermediate grade pacers if it suited the schedule though, and his eight wins that season included a 'c5-c6' mobile at Addington over the good mares Ruling River and Bronze Queen and the 'c7-c9' Barton Memorial at Forbury Park, where he started favourite against pretty much an open class field and bolted in by six lengths over stable-mate Sun Seeker (handled by son-in-law Kevin Williams) and Miss Pert.

Not much changed at four either, a season he began in open class. Lord Module started favourite in each of his first eight races that year - except for the NZ Cup where he blew the start - and failed to win any of them for one reason or another. He started to get his act together in the second half of the season with three straight wins and a game third from 30m behind in the Forbury 4YO Championship to frontmarker Graikos, giving cause for a rise in optimism going into the 1979 Inter-Dominions at Addington.

That optimism crashed to Ground Zero on the first night though when he was up to his old tricks again and tailed the field home bar one even more tardy Australian in Gemini Boy. Faced with a 'must win' situation on the second night, Lord Module again conceded ground and settled well behind favourite Markovina (15m), but the 3200m helped and after tracking the NZ-bred entire up and into line six-wide, and as many lengths from the leaders, Lord Module scorched the outside fence and got up to down Belmer's Image in the last stride. A sound second to the unbeaten heat winner Wee Win on the third night had him comfortably into the Final, but Lord Module had had enough of the heroics for now and in an Inter-Dominion which was supposed to serve as redemption for the 'one that got away' with False Step, Devine's thoughts instead turned to what would be his last NZ Cup drive that year.

Lord Module would be overshadowed in the spring by a redhot Roydon Scott - on the comeback trail after going amiss the previous January - and was also the centre of much mirth at the National Meeting in August. Roydon Scott had beaten him fairly and squarely in the Louisson, but when the field emerged from a blanket of fog less than 100 metres from the finish in the National Handicap, Lord Module had Roydon Scott in a box as Sunseeker won uncontested to qualify for the Cup. Roydon Scott had gone amiss again by the time Lord Module was runner-up at Ashburton to Bad Luck and Oamaru to Watbro, but Devine was just foxing and fine-tuning his V8 to have it ready to explode at the Cup Meeting.

And explode it did, at least at the start in the minds of punters, who sent him out a $3.55 favourite. While only winning once at Forbury Park in his seven lead-up races, Lord Module had been second or third in the other six and had been rewarded for his good behaviour by being taken off the unruly list. This however resulted in him drawing the awkward barrier one in the Cup, and as if to signal that Lord Module figured big occasions equated to failure and disappointment, he stood motionless as he tape flew and watched the rest of the field disembark. He had however made up his lost 50 metres by the time Bad Luck reached the winning post the first time and Devine immediately latched onto Sapling's back for an early cart into the race.

What happened soon after would become the stuff of folklore. Sapling took over the 'death seat' occupied by Sun Seeker, and Lord Module managed to slot into the one-one in an incident which forced his stablemate down onto Greg Robinson, who galloped and put Rondel out of the race. Pushed back from the half by the three-wide train as Sapling also tired and came back on him, Lord Module showed up at the furlong and careered away for a brilliant and magnificent four-and-a-half-length win in a truly-run 4:09.

Gavan Hamilton, who was a 22-year-old participant in all this and had a good view behind his father Ron's horse, the third-placed Trevira, wrote to vote for this race as one of the greatest, and offered his thoughts on what transpired. "I was talking to Henry (Skinner with Sapling) later and he said 'I looked around and saw Lord Module coming and I thought this was good. Then I looked around again to see where he'd got to and he was on my back, and I thought how the hell did that happen.' Soon after we had finished, Max (Robinson with Greg Robinson) drove over to Ces and screamed 'you are going to lose that' and so on. Max was normally a very placid sort of fellow and Wolfie was none to happy either. Then I was called into the room about getting cut off (by Lord Module) at the furlong. I had taken hold for a stride but that's all, I didn't think it had cost me second. But if I had been second, it would have been tempting to say 'what about the earlier incident'."

There was an enquiry into the infamous incident about 2100 metre from home, but after receiving conflicting evidence and viewing an inconclusive video, the announcement that the placings would stand came about 20 minutes later much to the delight of all and sundry. Fair to say, the Stipes knew they stood to be lynched by an angry mob at best if they had taken the race off Lord Module, or more to the point, Devine.

Hamilton, these days working for a fertilisator company while keeping his hand in with the odd horse, was as much in awe of Lord Module that day as anyone. "I was four-wide coming to the turn outside Del's Dream and Lord Module was inside me, fair bolting and climbing all over Denis Nyhan (Del's Dream). Denis turned to me and said 'who is that' and I said it's 'Tassie'. He said keep him there as long as you can and you might win. Being just a lad with a chance to win the Cup, I thought I would go for it and put a winning break on him. Well no sooner had I done that and he was out and around me and gone in two strides, and I thought, my God what a horse, and I didn't even know he had done a stretch at the start."

Three days later, Lord Module jogged the opening mile of the Free-For-All in 1:57.4 and won easing down by four lengths over Trevira, missing Robalan's world record by .1 of a second, and the Allan Matson was likewise a walk in the park. The Pan Am Mile and the NZ record for a race of 1:56.2 soon followed - where he loafed home in 30.2 with nobody to push him - as he did in the New Year Mile over speedster Locarno and new Auckland sensation Delightful Lady.

The 1:55 barrier then fell in an epic time-trial at Addington in far from even good conditions. The event had been postponed a week due to the weather, and from 8.30pm until after the last race following day-long rain, but over 6000 ardent admirers braved the bitter conditions and Lord Module didn't disappoint in powering home in 1:54.9 when most figured 1:57 would be tough.

Turning back an offer of $600,000 from Del Miller which would have resulted in the resurrection of the International Series in New York with a flat "not for sale at any price - I'm having too much fun," Devine next headed off for a tilt at th Auckland Cup, and Lord Module headed for the downward spiral to his career which would land him on the night of the 1981 Allan Matson, with only one further win behind him - a mile at Washdyke over light-weights Philippa Frost and The Raider the previous February from 14 races in his 6-year-old season.

He had developed a reputation as a complete rogue, and it mattered little that the painful quarter cracks which had troubled him on and off for much of his career had reduced his mental capacity to that of an errant 3-year-old with a tooth ache. He had been stood down from even starting in the spring and failed special trials which would have allowed him to take his place in the Cup. Yet another sullen display had seen him fail to participate at all in the NZ Free-For-All, in a week when the spotlight shone brightly on Armalight, Lord Module had been reduced to the butt of cruel jibes and jokes by all but his most fanatical followers.

Come the Allan Matson, and the 'bully' was that if Lord Module produced another act of petulance and Devine didn't then retire him, the Stipes would. Enough was enough - the end was nigh.

It was therefore hearts in mouths stuff as the mobile began to move away, and heads in hands when Lord Module pig-rooted and momentarily it seemed 'here we go again'- the end had come with another inglorious display. But out of desperation, Jack Smolenski went for the whip, and Lord Module lept into action and was almost unbelievably in his rightful place as the start was reached, and the crowd roared for the first time. Settling handy only to be pushed back in the running, Lord Module was last on the fence with a lap to go as Armalight and Gammalite - under the bat but unable to cross - took them along at break-neck speed, closely attende by Bonnie's Chance and Hands Down.

All the while the crowd rumbled with feverish excitement. Still last at the 300m, Lord Module began to make his move and when he showed up six-wide at the furlong, Reon Murtha screamed "and here's Lord Module, and oh, he is just mowing them down!" And the crowd erupted. There was a secondary eruption when a new world record was announced, and a third when Lord Module finally arrived back at the birdcage after some delay - he had kept going at high speed some way past the finish and Smolenski had only been able to bring him to a standstill and turn around in the backstraight.

Even Devine was visibly shaken, and down at the track the incessant and frenetic reaction that swept along everyone meant that it was impossible to hear someone only a few feet away. Lord Module returned to a hero's welcome and old-timers agreed that the only receptions to compare were the aftermath of Johnny Globe's NZ Cup almost half a century earlier, and the retirement of the immortal Harold Logan in the late 30s. All else was forgotten in the delerium and ecstasy - no abuse this time, just admiration and awe.

Not known that night was that it would in fact be Lord Module's last race. The quarter cracks would deteriorate beyond repair in the ensuing months, and Devine announced his retirement to stud a few months later. That would not be the start of another fairytale story, but as the end to a spectacular racing career, what a way to go!


Credit: Frank Marrion writing in HRWeekly 5Jul06


| | |
| --- | --- |
| | RACING HISTORY FEATURE RACE COMMENT |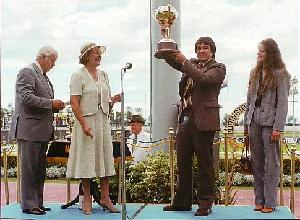 A jubilant Brent Smith and his wife Carol with Met President Murray Taylor and his wife Rana

1981 NZ TROTTING CUP

A few weeks ago, Brent Smith confessed he had one ambition: to win the New Zealand Cup with Armalight to prove he owned the best horse in the country. No, he wasn't worried that she might be up against the likes of Delightful Lady or Bonnie's Chance or, at that stage, Hands Down. His mare would match any of them. And so, last Tuesday, it proved. Delightful Lady wasn't there but the others were.... and they weren't just beaten. They were thrashed.

Armalight won the $100,000 New Zealand Cup by an ever widening seven lengths after siting in the open outside the pacemaker for all the journey. Apart, that is, from the last 800 metres when Bob Negus sprinted her into the lead and sailed home to greet the judge in a 57 second last section, a phenomenal effort.

"That just proves it," the young Christchurch owner-trainer said as he waited for his mare to come back to scale. "She's a real champion." You couldn't really argue with that. To win the country's most presitious two mile test on only a three-race build-up, and to be a mare in season at the same time, takes a talent a little out of the ordinary.

Nineteen starts now she's had, counting the Cup, and she's won thirteen and been placed in five for stakes of close to $140,000. She was a champion three-year-old...and now at five, it looks as though she'll further cement her claim to the "champion" tag.

Armalight, by Timely Knight out of a Sapling Stakes and Oaks winner in Ar Miss, was off the racing scene from May 1980 until only a few weeks ago. She was badly frightened after training one day, took off and was lucky to escape injuries serious enough to permanently end her career on the track. It's been a long road back. But the patience and perseverence have paid off. She's been in work again since March for Smith - she's the only horse he trains - and she's been to the trials probably half a dozen times this season. Not a racing build-up, one would have thought, to fit a horse to become the first mare since Loyal Nurse away back in 1949. But Smith, an amateur trainer when he is not working in the load-out dock at the City Abattoir, obviously knew what he was doing.

He said after the event he knew she "would go a big race. But you can't be too confident in the New Zealand Cup, especially after seeing what Hands Down did to us from 25 metres behind at Kaikoura," he confessed.

A few minutes later he held the shimmering gold trophy aloft to the cheers of the 19,000 Addington crowd and told them his pride and joy had come into season only the day before. "I could have sent her to the stud tomorrow," he said. That probably depended on whether she'd won or lost. Instead, though, he'd line her up on the later days of the meeting.

With Smith on the victory platform was his wife Carol who a few minutes earlier had, in spite of the tension and joy of her moment of victory, told reporters "she's a great mare. She always tries." That Armalight tries all the time was substantiated by Bob Negus, probably as happy a man as there was on course. Now fifty, Negus has been driving horses for 27 years and never before has he taken part in the Cup. "I've been waiting for a drive in the Cup, but it's been a case of having to wait," he said. And then the wry confession: "I couldn't have driven the horse worse, parked out like that. Being in front wouldn't have been much better but I couldn't get there. Alec Milne wouldn't let me. Still, she's a top mare and she takes her racing and training very seriously...like a good pupil at school. You've got to hand it to Brent. He's made a great job of her. He's done everything he can to make sure everything's right."

It was Negus who drove Armalight to her first win two seasons ago at Westport, and he's driven her in most of her races since. He, too, came in for his share of the public praise from Smith for all his help in making Armalight the champion she is. "I'm just an amateur in all ways," he said. "I've got to thank Bob for all he's done to help me."

It's raceday history now that Armalight won the Cup with a superb 4:08.7 run, a mile rate of just a tick over 2:05. And it's history, too, that Bonnie's Chance and odds-on favourite Hands Down were her closest rivals, a neck apart, at the line. Their drivers, Richard Brosnan and Peter Jones, had no excuses. Bonnie's Chance was in the trail behind Watbro only to be pushed back to last when that horse packed it in at the 400 metres. With the other nine in front of him, and Armalight lengths clear, Brosnan had to take his mare way out to the middle of the track to get a run, but it was all too late. "Another round and we might have caught her," he said. "Still, second is better than third ... and a lot better than sixth. Maybe next year ..." Brosnan said Bonnie's Chance had begun well to settle in the trail. He thought Watbro might have stuck on a little longer but instead he just plodded on while the others improved round him.

Hands Down, on the other hand, was, as usual, content to sit at the back on the outer of the bunch until the 1200 metres. Jones took him forward from there with a big run to be three wide outside Glen Moria with 400 metres to go. They headed the chase after Armalight in the straight but "just wasn't good enough on the day" to make it two Cups in a row. "Kaikoura proved he was fit enough, but today Armalight was too good," Jones said.

Idolmite, three back on the outer most of the way, stuck on for fourth ahead of the Aussie, Gammalite. The winner of 40 of his 71 starts before crossing the Tasmen for the Cup meeting, Gammalite didn't get much of a chance to show his true worth. He and northern hope John Tudor broke at the start, "and I just can't explain that at all," driver Bruce Clarke said later. "He's always reliable from a stand." And then, when he went to improve from the back with 1100 metres to go, the gap wasn't there between El Regale and John Tudor and he momentarily locked wheels with John Noble's drive. Once clear he too was up wide for the rest of the trip and battled away to collect the $3,000 fifth stake. "It was a good run. I'm not complaining," Clarke said. The other five were well beaten. There could have been no excuses.

On the day, it was Armalight all the way. It was her day.

Credit: Graham Ingram writing in NZ Trotting Calendar


| | |
| --- | --- |
| | RACING HISTORY FEATURE RACE COMMENT |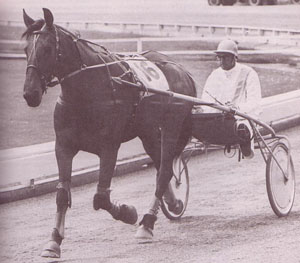 Stormy Morn & Tony Perucich

1981 DOMINION TROTTING HANDICAP

From a $150 riding hack to the greatest stake winning trotter to race down this end of the world...that is Stormy Morn, winner of the Dominion. The $26,000 cheque he took home for owner Peter Moore after New Zealand's top trot took his earnings to over the $140,000 exceeding the winnings of the other leaders, Scotch Tar, Easton Light and No Response. Only Petite Evander has won more than Stormy Morn and she did a lot of her racing in the Northern Hemisphere.

Stormy Morn had demonstrated his toughness earlier in the carnival when he won the NZ Trotting Free-For-All after being wide all the way. On Saturday night trainer-driver Tony Perucich had the Westland King gelding right back in the field to the 2000 metres when he pressed on to tackle and pass pacemaking Game Way, dragging About Now up with him. With 1600 metres to go, he was still in the lead, About Now trailing ahead of Brother James and Regal Flyer on the outer, and Game Way still down there on the rails. Once into the straight, it was all on with challenges coming thick and fast. But hang on in typical fashion Stormy Morn did while Game Way, About Now, McShane and Jenner fought out the minors close up behind him.

The winning margin to Game Way was just half a head with a similar distance back to About Now. It was enough to make Stormy Morn the top stake winning trotter in the country.

Christchurch plumber Peter Moore originally bought Stormy Morn for $150 as a riding hack for his daughter Dianne. The Westland King gelding had been tried as a two-year-old but hadn't shown anything. And when tried again some years later he immediately showed up as a trotter destined for the top with a seemingly never ending string of placings. He fulfilled that promise earlier this year when he took the Australasian Trotting Championship and crowned everything with victory in the Dominion.

The win was also Perucich's biggest and most prestigious win. He'd previously hit the headlines by winning the New Zealand Juvenile Championship and the Welcome Stakes when Trio was a two-year-old. He had that horse down with him for the Cup carnival too, but it raced without much success. Perucich was based in Christchurch but moved north to Pukekohe a little over two years ago. "There was more racing up there, more mobiles and more money," he said. "But I miss Canterbury and would like to come back one day." He put the win down to the seven-year-old's great staying ability. "He's as tough as they come. He trotted around to the lead when the pace slackened off."

The run of Game Way to run second was another top performance. It was only his second run since breaking down in the Dominion last season. He won on the first day of the meeting with a genuine gutsy performance. "We're really lucky to be here," trainer Alec Purdon said. "He's had no work since that win...only some light jogging." Game Way is still plagued with unsoundness but the stallion "won't give up. We'll keep hoping...he'll probably start at Ashburton in the invitation trot there," he said.

Doody Townley was delighted with the run of About Now. "She stuck on well but wasn't good enough to get there. It was a good one." McShane battled on for his placing after being back on the outer to the 600 metres when he moved up to be closer, but wide, with fine northerner Jenner following him all the way.

Credit: Graham Ingram writing in NZ Trotting Calendar


| | |
| --- | --- |
| | RACING HISTORY FEATURE RACE COMMENT |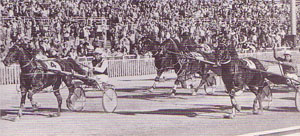 Time's Up races away from Up Tempo

1981 NZ OAKS

RNZAF pilot Bill Lamb could be at Addington, he was tied up with flying exercises somewhere over the North Island. But no matter how high in the sky he might have been, he wouldn't have been on the same plane his mother Dora and sister Mrs Judy Taylor were on after the running of the New Zealand Oaks. They were on "cloud nine".

For they had just seen their brilliant filly Time's Up run away with the classic from some of the best in the country. And in record time too. The daughter of Don Baker and See You Later scampered over the 2600 metres in 3:22.1, well inside the 3:23.9 Armalight ran in the race last year and beating the national time for a filly of 3:23.1. that time is the second national record Time's Up has set now. Four starts back she ran 4:19 for 3200 metres when winning at Rangiora, a top performance. But winning is nothing new for this filly. the Oaks victory was her eleventh in a career that has netted her connections near enough to $40,000.

So it wasn't wishful thinking on the part of Mrs Lamb when earlier in the season she told Jack Smolenski: "We are going to win the Oaks this time." While Smolenski, who drove the filly, didn't reject the idea out of hand, he did apparently sound a note of caution. After all, he pointed out, he had never won an Oaks before although, as he recalled he'd got horses like Gina Marie and Royal Belmer into the money over the years. But Mrs Lamb was still confident. Time's Up had been top of her age and sex at the end of her initial season. There was no reason why she shouldn't carry on.

The wins haven't come as frequently this term as they did last time. The Oaks was only her second in nine starts for the season although she has been in the money every other time. The previous time out she was just beaten by Yvette Bromac in the final of the DB Flying Fillies' series at Alexandra Park. The margin then was only half a head. In that race, Smolenski said, he might have gone to the lead a little early and Time's Up could have run out of steam. In the Oaks, however, she took off rounding the final turn and "sprinted home well" to leave the others well behind at the line.

After galloping off the mark, but settling quickly, Time's Up soon got a cover on the outer with Smolenski content enough to take advantage of the "lucky" run. Patsy Marie shot into the lead from the outset and set a strong pace with Up Tempo nicely in the trail for Jim Curtin, hot favourite Take Care in the open and Twilight Mist behind her. Smolenski kept Time's Up behind Twilight Mist until just the right moment. Once into the straight the last time, Patsy Marie veered quite markedly away from the fence and Curtin was quick to take advantage of the gap. Up Tempo shot to the lead but couldn't hold off the strong challenge Smolenski and his filly lodged in the run home.

Time's Up finished a length and a half in front of the runner-up with Southland filly Risdon Lea running on well for third after sitting out the race four and five back on the fence. Patsy Marie put in another gutsy performance to hang on to fourth ahead of Verona, outsider Jody Kowhai and the favourite Take Care who was wide early and then kept in the open.

The Oaks win gave Smolenski a sparkling driving treble for the season: earlier he won the New Zealand Derby with South Canterbury colt Amaze and the NZ Welcome Stakes with Mel's Boy.

Credit: NZ Trotting Calendar