| | |
| --- | --- |
| | INTERNATIONAL HISTORY |

The Iran-Irag War begins.


| | |
| --- | --- |
| | LOCAL HISTORY |

Sunday trading is legalised.

April 1 - Canterbury Regional Planning Authority merges with Canterbury United Council.

October 26 - City Council gives land at Cuthberts Green to the trustees of new Nga Hau E Wha National Marae.

Credit: Ch-Ch City Libraries


| | |
| --- | --- |
| | RACING HISTORY LEASEHOLD OR FREEHOLD |

CLUBS PURCHASE ADDINGTON RACEWAY

The three clubs racing at Addington have negotiated to buy the 87 acres of the raceway for $1.1 million.

The clubs, combined under the wing of Addington Raceway Ltd, have leased the land from it's owners, the North Canterbury and Ashburton Hospital Boards, since 1947, when they signed a hundred year agreement. Announcing the proposed sale, the Hospital Boards said the final agreement was subject to Ministerial approval. The land has a government valuation of $750,000.

Under the terms of the lease, all the improvements on the land belonged to Addington Raceway but all the buildings would revert to the owners when it expired. The Board said the sale of the land was in the best interests of all concerned. It felt the return on its investment through the lease, about 2 or 3 per cent, was too low for the substantial investment involved. And the racing clubs, without security of tenure, would have no incentive to improve facilities on the Raceway, especially nearer the end of the lease.

At the end of the lease, the Hospital Boards would have the unenviable decision of asking the trotting clubs to relocate their activities, or renegotiate another lease with probably an unsatisfactory return.

At the special Pam Am Mile draw last week, Addington Raceway chairman of directors Bruce Woods said the move would remove any inhibiting factors in the future development of the Raceway.

Credit: Graham Ingram writing in NZ Trotting Calendar 2Dec80


| | |
| --- | --- |
| | RACING HISTORY STARTERS & STARTING |

RON CARTER

When Ron Carter steps down off his starter's pedestal for the last time at the end of the season, he could very well be setting off on another facet of his racing career...as a trainer and an owner. "I don't know whether I'd get a trainer's licence...they might think I'm too bloody old," is his wry assessment of his chances in that department.

But on a more realistic note, Ron Carter at a mere 67 would have a good few years in front of him as a trainer. Already he has forgotten more of the good horses who have passed through his hands for their initial breaking and education than he remembers. Among those he remembers easily are Arapaho, Orbiter, Noodlum and naturally, this season's 3-year-old filly sensation Armalight. Armalight's young owner-trainer Brent Smith is on record as saying he sent the filly to Ron Carter to be broken because he wanted to do "everything right."

That's the way it has been for many others over the years Ron Carter has been associated with horses. Owners and trainers have sent horses to him to break to give them a decent start to their racing careers. And once they make it onto the track, it has been Ron Carter's duty to make sure they get a decent start in any race in which they might line up. Officially he has been in charge of that department for trotting meetings in Canterbury and Marlborough, on the Coast and in North Otago for the last 22 or 23 years. He gained his open starter's licence in 1957 and he won't renew it after the New Brighton Trotting Club's winter meeting at Addington on July 19.

Ron Carter's association with horses has been a lifelong one. Receiving his formal education in Christchurch he "cleared out from school" when he was 13 because, as he puts it now, "I didn't like it for one thing". His father had for years run a horse-drawn transport business so young Ron drove a team of Clydesdales, contracting all over the Port Hills and around the city. A lot of the business came through carting bricks and pipes from the recently demolished Murphy's brickworks nestled at the base of the hills. In fact, the Carter headquarters were centred on the stables sited next door to the kiln. Ron continued in the business after his father died but finally gave it away when he was granted his full licence. "We were probably the last around here with a team," he recalled. A lot of the work in those later days involved carting pipes and bricks from the adjacent works to the railway.

The young Ron Carter's interest in horses didn't end with the working variety. Even as a lad of 14 he was travelling 'here and there' with the late A J (Bert) Hastings, a well-known starter of the times. "I used to go to time trials and race meetings all over the place, even if it meant I had to save up for the boat fare to get to the North Island," he said. It wasn't the betting or the gambling that appealed. It was just the horses and the chance to be near them. I've never had a bet, not even before I was a starter. Even when I retire from this and am allowed to, I won't be worried about betting. I used most of my early money to go with Mr Hastings everywhere I could."

It was round the early 30s that Ron Carter started getting paid for his interest in racing. With his father he had been getting "about 7/6 a week", as a starter's assistant, about 15/- a day. Later this was raised to 30/- a day "and it stayed that way for years and years". Now, of course, a starter gets much more than that and with more meetings and more trials there's a lot more involved. But because he couldn't exist solely as a starter, Ron Carter broke in horses as well and gave them their early education before they went on to professional trainers. "I've broken in so many, it isn't funny how many I've forgotten. Some have gone on to be good horses and others have gone away almost as soon as they've been broken. But I've just had to be with horses."

Ron Carter remembers well the first time he took to the stand officially, even if he doesn't remember the date. Mr Hastings had been in Wellington at the time and Ron Carter had been granted a temporary licence to start the races at Rangiora. "There must have been about thirty horses in the field, packed in like sardines they were. But they all got away. Like ever job, you have your good days and your bad. That was a good one. I think though, all the drivers were more alert than usual. I suppose they were watching out for the new chap on the stand."

Alertness was one of the keynotes of the job. Even an assistant had to be equally alert and completely aware of what the actual starter was about to do at any particular time. A large part of Ron Carter's scheme to keep on the ball relies on taking advantage of the time early in the day. "I have always reckoned an hour in the morning is worth two at night; besides when you've got feeding out and the like to do before work you've got to be up early and then be alert all day."

A few days before the races, and then again quickly the night before, he reads through the fields just to see what horses are there and what problems, if any, they're likely to present. In years passed, the starter was usually in the secretary's office when the draw for barrier positions was made just to make sure he had everything right.

So far, just about everything has gone right for Ron Carter. He can't recall ever sending a horse away from the wrong mark and he has great difficulty remembering any day that might be called 'disastrous'. There was one day at Ashburton, though, when it took three goes to get a trotter's race away. The first time, when he said "go" the front barrier strand didn't release, even though it had been thoroughly tested before the races (one of the crucial tasks). "We tested it again on the spot and it worked okay. The field lined up again and once more the thing didn't release. We had three shots at it and as a last resort replaced a bracket before it worked perfectly." There have also been instances of the barrier strand catching across the backs of the sulkies of particularly long horses or flicking around horses legs, but generally all goes well.

But something which hasn't always worked that way, Ron Carter said, was the mobile barrier. It was introduced to Addington during Mr Hasting's time. The first, designed by well known Taranaki racing identity Alec Corrigan, was attached to a Land Rover. Another like it was built in Christchurch with all the controls in the cab with the driver. "I didn't approve of that in any way," Ron Carter recalls with just a little vehemence. "I finally got control over the closing of the arms but more importantly it was the accelerator I wanted. That first start from the mobile did a lot of harm. It put a lot of people off it immediately. But now the starter has control of everthing except the steering; and contact with everyone, even the secretary." Ron Carter sees having both mobile and standing starts as difficult for a number of horses. "Some are either very good away from a stand or from a mobile but chopping and changing upsets the majority of them."

If there is a problem with starting these days, Ron Carter puts it down to failing to close the totalisator right on time. "I would like to see the day when the starter closed the tote. That way we would avoid a situation that happens so often now with horses still being walked around some minutes after they should have been racing. There's nothing worse than to have them walking around and around waiting for the tote. If the starter had control there, too, he could start bringing them in with just enough time to get them all lined up and then away at the same time betting stopped." Those last few minutes were vital for both horse and horseman and any dely just made it harder for them. "I know just how they feel. I know exactly what they're going through. Still, they're a pretty good bunch of drivers these days and I'm going to miss them all when I stand down. I get on pretty well with them all. It's pretty easy to pick someone who is not co-operating...and it is vital they all play ball." A quiet talking to the person in question was usually enough to avoid a repetition. And only if a man-to-man talk didn't work was there a need to take things further. But come the end of the season, there will be a new man in the hot seat. Ron Carter tips Jack Mulcay, his assistant for the last six years, as his successor

And in retirement, it'll still be horses taking up most of Ron Carter's time. "They will keep me too busy to think about anything else. They always have." Yes, he and his wife will go to the races and with a 'bit of luck' Ron will be able to race one himself. Most of the luck involves getting a horse good enough to race and win with. "I've always thought that would be a real thrill. But you never know how they're going to turn out, do you?

He's currently working on a 3-year-old Good Chase gelding on his Prebbleton property "I think he will be all right. We will just have to wait and see." And then, with the interview over, Ron Carter's back to putting a filly through her first paces. Like he said, it's a never ending game with him. "There is no way you can ever say you'll be cleaned up and ready by dinner time.



Credit: Graham Ingram writing in NZ Trotting Calendar 17Jun80


| | |
| --- | --- |
| | RACING HISTORY PEOPLE |

FRED FLETCHER

If he were a public trainer, Fred Fletcher reckons he would have very few people bringing horses to him. He wouldn't get anyone wanting a quick return anyway. His theory about training - and it is one which seems to have worked to perfection this season - involves taking a lot of time getting a horse to the races. And preferably not racing them as 2-year-olds. These days, with rapidly rising costs everywhere, there are not too many owners willing, or in a position to wait long for a return on their investment.

However, the success Fred Fletcher has had this term - it's only his fourth since getting his licence in July, 1976 - might make some see the wisdom of patience. The Templeton studmaster has only had nine horses to the races this season. Between them they have had 104 starts for 21 wins and 43 placings. Of the nine, only Wejover Star has not won. He had just one start for Fletcher before being sold to America where he has since won his first three starts with a best time of only a fraction of a second outside two minutes.

Stable star over the past two seasons, undoubtedly, has been Roydon Scott. And there is nothing surer he will be racing in America, too, before next season is through. Winner of the Wellington Cup last year, the big Scottish Hanover horse has been plagued by misfortune since missing the Inter-Dominions at Addington and the NZ Cup, through injury both times. But he proved he was right again by running a slashing second to Trevira in the Easter Cup and in the process unofficially breaking Young Quinn's 4:06.7 for the 3200 metres. "He'll probably go to the States about halfway through the season," Fletcher said last week. "He's being handicapped on back marks for invitation races, and apart from them there are only free-for-alls and the big cup for him. Even in the Easter Cup he was off 15 metres...and that was only the second time he's run 3200 metres. He would be good in the States. He's tremendous away from the mobile gate and he'll go some good miles."

Roydon Scott, winner of three races this season, has a best time of 1:58.9 set as a 3-year-old. That's more than a second slower than the other stable star, the game little mare Philippa Frost, who finished third in the Easter Cup and clocked 1:57.7 when running second in the Pan Am Mile Consolation. Fletcher has trained her to win six races this season, a major contributor to his tally of 41 since getting his open driving licence in May, 1977.

Others on his winners' list this term are fine young trotter Game Captian, Who's won four from five starts, Reuben James (also four), Chantilly Belle, Game Mander, Spangled Partner and Star Blazer. The latter, a winner at Rangiora recently, is the first horse Fletcher has raced on his own account. His wife, Fay, races Reuben James herself and has leased Chantily Belle to "the boss", owner of Roydon Lodge, Roy McKenzie. And while the training of racehorses has been a successful sideline for Fletcher, it's the running of Roydon Lodge that is his main occupation. "The racing's only part time. The stud's what we're here for."

Fred Fletcher, now 41, started at Roydon Lodge when the McKenzie establishment was divided into racing stables and the stud 11 years ago. Now it comprises about 300 acres, in two properties. One provided grazing and feed crops for the stud and stables. Fred was there when the present Roydon Lodge property was set up. With a couple of helpers, he "built everything" up from scratch to establish the stud with Scottish Hanover and Armbro Hurricane the stud sires. He went to the stud after seven years working for George Noble at Yaldhurst when Noble was in charge of the McKenzie horses. There he was involved mainly in stud work, a job which didn't seem to appeal to many people. "There is usually too much work involved," Fletcher said. "When people want to get involved with horses, a racing stable is much more attractive. There is more glamour and the chance of a drive is always there." The problem today, even in racing stables, was to find the right person with the right dedication to the job. Stable work was a tough life but a lot of those who applied for jobs seemed to want to drive fast work within a few days. "They all want to be Morrie Holmes," Fletcher said.

He himself had only just started a job in a bakehouse when he had seen the Nobles advertising for an assistant at the stud. He applied. The job was his when a prviously successful applicant had considered the house which went with the job too small for his family. It didn't deter Fred, Fay and their two daughters, Wendy and Fiona. "People said we were mad when we sold our own home in Burwood and moved out to Yaldhurst. But it was a good move." It was a good move if only for the reason that Fred was able, in between stud work, to observe a fine trainer of racehorses in action. "George believed in a long slow build-up. I suppose I got my initial ideas for my own methods from working with the Nobles," Fred said.

Fred had always wanted to work with horses, even when he was a youngster living in Blackball, where his father was a bushman. The only boy in a family of four, Fred had big ideas about being a jockey 'until I grew a bit big'. He got his interest in horses from his father, an avid racegoer. "He loved horses, gallopers and trotters. And even though he wasn't a big bettor, he followed them all over the Coast, around Nelson, across to Canterbury. I used to go with him." It is with a little sadness the Fletchers recall Fred's father's death. "He died just when Fred was getting going," Fay said. "We often think what a thrill it would have been for him to have seen Fred winning." At 13, Fred and his family had moved to Christchurch. Two years later he left Shirley Intermediate to start a job with the logging gang working the Burwood Plantation. "I didn't go to high school. I thought I knew enough at 15," Fred joked. The choice on leaving school was between working in a grocery shop, signing on as an apperentice jockey at Riccarton, or the plantation. The bush won, mainly because it meant Fred was constantly working with horses, a team of five draught horses, nibbing logs from the plantation. And he didn't have to worry about weight. The job lasted nine years. And when Fred left, the tractor had gradually superseded the horse. "The timber was just about finished and there was just one horse. Not really enough to keep me on for." So it was on to the bakehouse, Yaldhurst and then, 11 years ago, to Roydon Lodge.

"For a start we used to break in the young horses here and give thm an early education before sending them on to Mr McKenzie's other trainers. But once the Yaldhurst property was sold, he had no trainer in the South Island. He had the idea that it would be a good thing, seeing the horses were born here and were broken in here, if we could take them further. It was only a matter of more staff, and getting a licence." Fletcher was granted his professional trainer's licence in July, 1976 and a licence to drive only in matinees and trials a month later. He wasn't granted a full driving licence until a year later than that. "I think I was a bit hot at the time about having to wait but I think it was a good idea. The trials gave me the chance to show them I could drive. It was a good experience."

Roydon Scott was the first of his ten winners that first season and it was the same horse who's given him his biggest driving thrill...the 1979 Wellington Cup. "The boss was really keen to win that one," Fred recalled. "We wanted everything to go right." How hardly anything went right for Roydon Scott that night is now part of trotting history. But then, so is the fact that Fletcher and his charge looped a wall of horses at the top of the Hutt Park straight, collared Van James short of the line and won by one and a half lengths.

Now Fred takes each race as it comes. "They're all a battle of wits but it's easier if you do your homework. It's usually the last thing I do at night, checking the fields to see what the opposition is and what the others are likely to do. You can plan, but there's no way you can know what is going to happen in the actual race. That's why I like to see the horses running along in front at home. And if you can do that at the races, you're out of trouble."

Fred's a bit critical of the interference that goes on in a lot of our racing, especially in the lower classes. The big fields didn't help; and strangely enough, neither did the bigger tracks. "The bigger the track, the longer everyone seems to sit in the pack, just waiting for everyone to spread out in the run home." Fast-run races are always the cleanest. "With the pace on, there are few problems." Fred said he drove to win every race he could. And it was just as big a thrill winning somewhere out in the country as it was on the metropolitan tracks. He was always pleased to win a lower class or maiden race. "They're harder to win than the big ones. There are an awful lot of average horses around and in the top races, not so many to beat."

Training was a lot easier than the stud work. "That is daylight to dark. You are handling horses all the time and you get some pretty rough ones at times." With a staff of five counting Fred - Fay 'does the books' - the stud has an average of 300 mares a year. With numbers like that "we're almost neighing at the end of the season," Fred said. "Taking a horse away to the races, even if it is just for a couple of days, is almost like a holiday for us." The mares are handled on average every second day at least; and then there was the work with the yearlings, weaning, breaking in and all the other work involved with young horses. It was work no-one would do unless they liked it. The only part he didn't like was a bad foaling. "If you have got any trouble at all, then it is usually big trouble. And you don't like to loose a horse," Fred said.

It was work which meant you had to be on the place most of the time. And this made it difficult to take holidays. And to give the staff a break at the best times of the year. Still, he had good staff all through and this has made it possible for the Fletchers to make a couple of visits to the States. Fred, on one visit, had worked on such notable establishments as Lana Lobell, White Devon and Hanover Shoe Farms. And while that had been a tremendous experience, it was equally good to learn that here in NZ we were really just as advanced in just about all our stud work.

Of the four stallions at Roydon Lodge, American-bred Scottish Hanover was probably the Fletchers' favourite. "He has been around the longest and you tend to get more attached to them as they get older," Fred said. But now at 20, it will be a little easier for him in th coming seasons. "We will probably cut him back to about 50 mares this year," Fletcher said.


Credit: Graham Ingram writing in NZ Trotting Calendar 15Apr80


| | |
| --- | --- |
| | RACING HISTORY PEOPLE |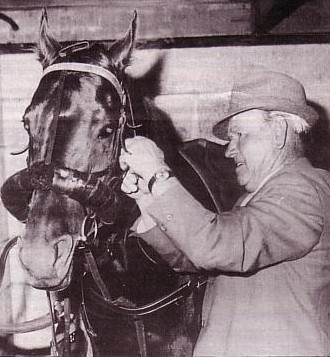 Cecil Devine adjusts Lord Module's headgear

C C DEVINE

"You know, I should have made it 1917, not 1915," says a somewhat rueful Cecil Devine. No doubt he is thinking of the date of birth on his licence application, the date which decreed that as from August 1 he was no longer able to drive a standardbred racehorse in either NZ or Australia. And no doubt, too, he is thinking that those two extra years might mean he would be able to continue driving his pride and joy, champion Lord Module, until he went to stud at the end of his racing career.

But rules are rules. In the trotting world as well as anywhere else. Cecil Charles Devine, born March 23, 1915, is openly critical of Rule of Trotting 90: "A professional horseman's licence shall not be granted to any person who, though not disqualified under Rule 84 hereof (a) is under the age of 16 years; or (b) is 65 years of age or over; or..." and so on. That's the bit that got at Cecil. "I have always been against the retiring rule. I firmly believe a driver should have to give up on a strictly medical basis; It wouldn't be so bad if a man could continue driving his own horses after reaching the age of 65 as long as he was fit."

Yes, it is an argument that has cropped up previously. Just about every time that one of the more prominent drivers has turned 65. Cecil presses home the point. "Morrie Holmes, Doug Watts, 'Gladdy' McKendry, Bob Young, Maurice McTigue, they all could have kept on driving long after they had to go. They were pushed out miles before their time. They were all fit men and trotting was the loser in more ways than one when they retired. "Their expertise was lost for a start; and name drivers encourage betting. Certainly, there is no lack of drivers today and there are some top young drivers, the likes of Peter Jones and the De Filippis. But there are others who could benefit through watching a top man. When I first got into trotting, I had to get out and drive against the top men."

And when did Cecil Devine first get into trotting? Back in the days of the depression. If it weren't for the depression who knows where he might have been now? He might even have been still practising at the bar. Legal men don't have to retire at 65. "I had the idea I might like to be a lawyer when I was at school. But after two and a half years at high school the depression hit and I had to give that idea away." It was just as tough in Cecil's native Tasmania (his father was a farmer at Collinsville, "up in the hills near Hobart") as it was anywhere else. Finding work was just about impossible. Cecil couldn't get a job. A lot of others managed to exist by "chipping the grass in the domain". And it was about this time Cecil first developed an interest in horses. He got a job with his older brother Eric, a prominent trotting trainer in Hobart at the time. He's still successful with horses, but has more recently had some top gallopers through his hands.

It was only because Eric could not afford to take the time off to bring a small team over for a month at NZ Cup time that Cecil ever came to NZ. "The horses belonged to a fellow named Rudd who bred a successful family of pacers, 13 of them in fact, from a mare called Milky Way. Among them were Evicus (he topped the points list at the 1936 Inter-Dominions at Perth), open class performer Cevius and Icevus (also placed at Inter-Dominion level and later stood here at stud). They were all good horses," Cecil recalls.

"I suppose I was about 20 at the time; I took on the job and was supposed to go back when the horses returned. But Wellington looked so good - they had a beautiful six furlong grass track at Hutt Park in those days - I decided to stay on to see if the rest of the country lived up to that early promise." Live up to it's promise NZ must have done; Cecil Devine is still here even though he does return regularly to his former homeland and is known as "Tas" by closer associates.

It wasn't long before he was offered a job with Vic Leeming who was training just out of Christchurch. Colonel Grattan was his top horse about that time; E C McDermott his number one driver. Cecil had driven a winner or two in Tasmania (he'd driven close to 400 when he had to retire) but can't recall with any certainty his first winner here. "Tonioro I think it was, probably at Omoto," is his initial recollection. But a check through the records of the time show that on December 31, 1938 Tonioro, driven by C C Devine , was beaten into second by a neck.

Still Cecil is more certain about the horse that got him started on the path that led him to his current situation. "It would have to be Teddy Gregg, a Quite Sure horse I leased and named after an Australian naval officer." Cecil had also leased a 20 acre property at Prebbleton some time earlier (the stables are still there, the track is gone) and spent most of his time breaking in horses for others, as well as doing a little training. Teddy Gregg was plagued with unsoundness and when tried as a pacer he couldn't stay. "I converted him to trotting and from then on he never looked back. He was in the money about 19 times from 21 starts. And he won four or five. I'd have to say he got me started. He must have won close on £2000. And about the time of the war, that was a fortune. Cecil never went to the war - "I was unfit they said" - but gradually gathered a small but useful team about him. "I got the odd good one or two and just went on and on from there."

Cecil has never had a large team to train. "I think the most I've ever had is twelve." But right from those early days there has been a good horse in the Devine team. Cecil screws up his face in the afternoon sun and starts to remember them. Great Wonder "she was a pretty good sort" who beat Johnny Globe (on a protest); Shadow Maid who was third in Gold Bar's 1945 NZ Cup; Bronze Eagle who had won the 1944 NZ Cup before coming to Cecil's where he died of tetanus; General Sandy "a top horse who beat Caduceus" and then one day dropped dead of a heart attack in training...the names roll forth. He didn't train them all when they came to their peak. Often they came to him after a run of outs and he got them going again.

One he had from the start was the champion filly Vivanti, incidentally by Bronze Eagle. She was a top juvenile winning the 1950 Sapling Stakes, the Juvenile Handicap at Addington from 24 behind - "a phenomenal run", the Welcome Stakes, the Oamaru Juvenile and so on. She beat Johnny Globe in a lot of those races but he came out on top when they met later in the year in the NZ Derby. However, she did win the Oaks.

The next year there was Van Dieman, the horse who was to give Cecil the first of his six NZ Cups and thus the wherewithall to allow him to consider buying his own property. He had every intention of buying a place on the Main South Road, not far from his present place; and Cecil minces no words when he recalls how he lost out in the bidding to another. "I was determined to have that place but eventually had to pull out when I realised I was in too far. The other chap would have kept going all day. He knew what my limit was." That same day, however, while doing some shoeing back at Prebbleton, a friend mentioned to him that the owner of the land he now occupies might be interested in selling. Cecil made the approach. True enough. The land was for sale. One hundred and sixteen acres of bare land were Cecil's. "The best thing I ever did. I've never had to consider expanding. It's probably the time to shrink."

By this time Cecil was married with a child, Bonnie, the red-haired girl who was later to marry Kevin Williams, the man who will be behind Lord Module this season. Cecil had met his wife 'Vonnie' while at Prebbleton where she was organist at the local church for ten years previously. Marriage "was too time-consuming" to continue that. Together they designed their present home, built another on the place as well as the track, stables and men's quarters.

A lot of young men have worked for Cecil and have then gone on to make their own names in the trotting world. Men like Jack Smolenski, Leicester Tatterson, Peter Yeatman, Jim Dalgety, Faser Kirk, Paul Gallagher. He's got a reputation of being a tough boss. "If paying attention to detail is tough, then I am tough," he admits. "When you don't take outside drives or have a big team, you have the time to be particular. And if your not, there is not excuse." He laughs when you suggest he has probably been responsible for putting a lot of people on the right track in his time. And then he confesses, he has learned something from most of those who have worked for him. "You develop your own ideas over the years, but you have got to be prepared to learn off others. Anyone who is not prepared to listen to others is doing himself a disservice. I'm still learning. I learned something the other day from someone who's been in the game only three months. And then when Lord Module had those cracked hooves, I had no idea how to get them right, even though I thought I was a fair student of shoeing. The mushroom shoe we used to fix them was Delvin Miller's idea. You have got to try every avenue to solve problems."

Cecil Devine expects as much from his horses as he does from his men. His philosophy towards training a top horse: feed well, work hard and not always fast, pay particular attention to that detail again. You must respect a top horse who gives everything; any owner, trainer or driver has to." Cecil stops and laughs and, looking straight at Mrs Devine: "but I don't think you get to love them as much as some people think." Mrs Devine races Lord Brigade in partnership with Cecil and it's obvious she thinks he's a good horse, even though he was just pipped at the post in Cecil's last raceday drive. Strangely enough, Mrs Devine has never driven a racehorse - "and I don't ever want to," she laughs.

Those top horses who give everything. Cecil has raced more than his fair share of them. Van Dieman won the NZ Cup in 1951, Thunder in 1956, the mighty False Step in 1958-59-60, Lord Module just last year. "That's far too long a gap," he laughs. Then there were the likes of Terryman, Raft, Van Rush, Drum Major, Bass Strait, Star Beam, Good Review...the list goes on. He has had some great wins in trotting. He's won a fair proportion of the big ones over the years. He reels them off: "Four Dunedin Cups, two Easter Cups, three Rangiora Cups, a Nelson Cup, three New Brighton Cups, Invercargill Centennial Cup, two Timaru Nursery Stakes, two Sapling Stakes, three Flying Stakes, two NZ Derbies, a Champion Stakes, Juvenile Stakes several times at Oamaru, Canterbury Park, Geraldine, Waikouaiti, Rangiora and Timaru Challenge Stakes, a Timaru Cup, Hannon Memorial, a Royal Cup and the big International Paces at Yonkers and Roosevelt..." the list goes on.

He finds it hard to pinpoint any particular highlight over the years. False Step's win in the $50,000 National Championship Pace at Yonkers in 1961 would be one, winning the 1954 Royal Cup when Van Dieman came with a withering run to beat Thelma Globe and Zulu and then meeting the Queen is another. "That would have to be a highlight; most people would have cut off their arm to win that race. Of course in those days you didn't meet or see royalty very often. Now, with the ease of travel, royalty is almost commonplace." Cecil also remembers February 15, 1964 with particular enthusiasm. that day at Addington horses by Van Dieman filled the first three placings: Van Rush driven by Morrie Holmes, Raft (C C himself) and Young Dieman (Paul Gallagher). "They were the only three horses by him in the race; it would have to be a unique feat."

Two years ago he was loathe to compare any of those top horses against the other. But now, he doesn't hesitate to say that Lord Module is the best of all his champions. "It's hard to compare horses of different eras, but Lord Module has done so many good things. False Step didn't have as much speed as Lord Module, but he was a top racehorse, Van Dieman was probably faster but needed to be covered up; Lord Module can do it from anywhere over all distances.

Cecil has been asked time and again when and if he is taking Lord Module to America. Usually it's been accepted that he will before settling back to a life as a stud stallion. But Cecil has never sid yes or no definitely. But now he says Lord Module will go...provided he races up to last year's form. And provided "Mum lets me go". "You can go," Mrs Devine is quick to reply. There are, however, no definite plans. You get the impression Cecil would like to win another NZ Cup before heading away. The stud career is definite. Nothing is more certain. There have been offers already to stand the horse "with full books guaranteed". But there's time for that. "He's the living image of Globe Derby," Cecil says fossicking around for a photograph of "the greatest sire ever" to prove his point. "It's uncanny, even down to the one bit of white on one foot."

The Cup won't be beyond Lord Module again. If anything, says Cecil, the son of Lordship has come back bigger and better than last year. "He's matured, he's very strong. Personally I think he will be a lot better than last year. He feels good in the sulky." Which is where Cecil won't be on raceday, and that makes him just a little sad in another way too. He thinks that only by driving a horse in a race can you really tell what he needs. Still, son-in-law Kevin Williams has been handling the horse in work and at the trials without any bother so it's now up to them on raceday. No-one else has ever driven the horse before. Cecil's been told that when he takes the horse to America he "shouldn't drive the horse" himself. He should get "a good driver". "Well, what's he going to do with a good driver on him?" Cecil asks. "It would be interesting." It's hard to tell whether or not he's annoyed at having that advice given him. Still, as long as he is fit, he intends to drive himself in America. There's no rule to stop him there. And he is fit. He is up and about by 7 of 7.15 every morning, and works hard enough to keep himself fit. "You must stay pretty healthy working out in the fresh air all the time...even if it is a bit too fresh sometimes these mornings," he says.

If he weren't 65, Cecil Devine would do the same thing all over again. "It's given me a pretty good life; I started with nothing and don't need anything now. I've had a lot of luck and I've had a lot of good horses (he's figured in the finish of 11 NZ Cups with Shadow Maid and Blue Prince as well as those others) over the years. Yes, I'd do it all again."

Of his last season, he was disappointed he couldn't get anything to go right in Sydney ("Lord Module wasn't half the horse he was here") and that he was only second in the Auckland Cup. Still he has a lot of admiration for the horse that beat him on that day, Delightful Lady. "She's a good mare, of that there is no doubt. That day, she was well turned out and very well driven. No doubt about that either.

Cecil means it when he says that. He has got a reputation for straight-talking, even though he can be a bit cagey about revealing future plans. His forthrightness has often got him into trouble with officialdom on racedays but as he says: "I always call a spade a spade. And I don't believe in being run over. If your right, it pays to stick to your guns. I've always done that."

He prefers not to talk about the time he was suspended after a battle with Jack Litten down the straight at Addington, except to mention that he did lose a few good horses through his suspension. Enough said. He remembers just as well his last drive down the straightwith Lord Brigade. "It was close you know," he say a little wistfully. "I would like to have won. Still you can't win all the time. I think I've won my share."

-o0o-

Ron Bisman writing in HRWeekly 11Jul90

C C (Cecil) Devine, who died in Christchurch last week aged 75, was a battler who clawed his way from being a nonentity to fame an fortune in the hard school that is NZ harness racing.

Content to train a small team, even when big success did come his way, Devine neverthless compiled a record in the nation's most prestigious harness race - the NZ Trotting Cup - that is second to none. He won the great event six times, and, while this equalled the training feat earlier in the century of the great James Bryce, Cecil drove all his winners, whereas Bryce shared the driving honours with sons Andrew and James jnr.

Devine's record is likely to stand the test od time.

In his hey-day, with some of his owners not averse to having a punt (and embued with great confidence in the judgement of their trainer), some of NZ's best-known book-makers refused to accept wagers of any sizeable amount on horses from Devine's stable. Devine trained with a purpose. He was a man with very set ideas and, as (sometimes)officialdom and (always) those who crossed him came to learn, he stood up unflinchingly for what he thought was right. When the chips were down, he was a hard man to beat - not only on the track but anywhere. To those he liked, Devine was a generous and loyal friend; to those who got on the wrong side of him, there was almost invariably no reprieve.

Born in Tasmania in 1916, Devine was drawn into trotting through his elder brother Eric, who worked with and drove horses. Hopes to become a lawyer were dashed by lack of wherewithal and opportunity in depression times that saw Cecil, after three years at high school, leave to work in a horse stable. In 1936, when brother Eric was unable to assist trainer Fred Rudd with the good Tasmanian performers Evicus, Icevus an Emlilus on a visit to New Zealand, Cecil got the trip. He was to be here for a month, but stayed for good.

Impressed by the sport here, Devine was readily persuaded to join up with the late Vic Leeming, training at Prebbleton. But, as second-string driver in the stable to Eugene McDermott, opportunities were few and far between. In 1938, Devine went it alone on a little property at Prebbleton, from where his first success as a trainer came with Prince de Oro, whom he rode to win a saddle event at Westport on Boxing Day, 1939. It was two years before Devine won again - on the Coast with trotter Teddy Gregg; and a few weeks after that he won with the same horse a non-tote race at Addington.

It was 1945 before Devine made his first NZ Cup tilt, and this was with Shadow Maid, a good race mare who had been handed to him after losing all semblance of form. Under his guidance, she finished third to Gold Bar and Integrity in a memorable Cup race. Better horses began coming into Devine's stable, and around 1950 he was making his mark with good pacer Good Review and crack filly Vivanti. The latter, bred by Devine and sold to the late Bill Parkinson, won the Sapling Stakes and NZ Oaks and was second in the NZ Derby before Parkinson sold her to Australia.

A milestone in Devine's career came when he leased, with right of purchase for $1000, Van Dieman (U Scott-Reno) as a two-year-old colt from Brian Forest, of Kaiapoi. In an outstanding career for Devine, who eventually bought him outright, Van Dieman won the 1951 NZ Cup and Royal Cup at Addington in 1954. Devine became a national hero as he received the congratulations of the Queen and Prince Philip.

In 1953, Devine left the small Prebbleton stable for a 46-hectare property at Templeton that he transformed from a bare patch of land into a model training establishment. Apart from Van Dieman, one of the first stars from his new property was Thunder, who made a meteoric rise through the classes, culminating with success in the 1956 NZ Cup. A big, rangy son of Light Brigade and Jack Potts mare Busted Flush, Thunder's maiden winat Methven was memorable. He collided with a rival at the start, dislodging Devine, who ran behind, caught hold of the sulky and climbed back in. Making up 100 yards to catch the body of the field, Thunder continued on to win the race to rave reports praising both horse and driver.

Other good horses in Devine's stable at this stage included Starbeam, Great Wonder, Nancy Lee and General Sandy (who was on his way to the top when he dropped dead soon after downing Caduceus in the NZ Pacing Championship). Next came Invicta, who, after winning his way to a tight mark, was despatched to the stable of Steve Edge by Devine. Along with the late Jack Litten, Devine had been suspended from driving for six months for their memorable whip-fight at Addington in 1957. If he couldn't drive Invicta, Devine didn't want to train him. But for this, he would almost certainly have added another NZ Cup to his bag. Under Edge, Invicta, as an 11-year-old, sprang a boilover winning the 1961 NZ Cup.

By now Devine had taken over False Step, inheriting him from the Litten stable following an argument between Litten and owner Jim Smyth. Winner of 14 races including the NZ Derby under Litten, False Step carried on under Devine to win 19 more races in NZ, and in doing so joined Indianapolis as the only three-time winners of the NZ Cup. False Step's Cup wins were in 1958, '59 and '60. Devine then campaigned him in New York. After tragically being stood down from the first leg of the 1961 Yonkers International Series when a blacksmith drove a nail into the quick of a hoof, False Step finished unluckily second to Australian star Apmat in the second leg. And while Devine won the third and finasl leg with False Step, with Apmat fourth, the Australian was awarded the title on points. Shortly after, False Step (now sold for $115,000 to American polaroid tycoon Jack Dreyfus) was driven by Devine to win the Frontiers Pace at Yonkers, with America's champion pacer Adios Butler only fifth.

More vivid in the memory of current-day harness racing fans will be Devine's great exploits with Lord Module. Buying this son of Lordship and the Bachelor Hanover mare Module through the National Sale for a mere $3000, Devine developed Lord Module into one of the most capable pacers pacers produced to this time in New Zealand. Despite a recalcitrant streak which cost him dearly at the start of many of his races, Lord Module won 28 of 93 races ans was also 40 times placed.

Highlights of his career were his 1979 NZ Cup win and his 1:54.9 time trial in 1980 in weather conditions all against a fast time at Addington. In his final race in the 1981 Allan Matson Free-For-All at Addingtn, Lord Module came from last to first to win brilliantly in the hands of Jack Smolenski, one of several one-time employees of Devine who went on to make names for thenselvesin the game.

Devine was forced to retire from race driving at the end of the 1979/80 season. After Lord Module's retirement from racing and standing him at stud, Cecil pottered with a horse or two, but his heart never really appeared to be totally in it from that point. Though he didn't show it, Devine took great personal satisfaction from the success of his son-in-law Kevin Williams with his NZ and Auckland Cups winner Master Mood. Devine's final race win was with Cheeky Module, a son of Lord Module, driven by Smolenski to win a maiden race at Motukarara in January, 1988.

The great trainer is survived by his wife Avonnie and his daughters Bonnie (Williams) and Debbie (Carolan).

-o0o-

A PERSONAL TRIBUTE by Dave Cannan

He was, unquestionably, one of the old school of trotting, long before it became fashionable to call the sport harness racing. And he was proud to be a trotting man, proud sometimes to the brink of vanity and egotism.

But then Cecil Devine had a lot to be proud of and while he never, in my experience, actively sought public recognition for his numerous achievements he was not one to take the self-effacing approach when the media became interested in him or his horses. Why? I never asked him and, if the truth be known, I was probably too intimidated to risk such an impertinent question. My educated guess is that Cecil worked so hard, battling his way from anonymity to world-wide fame, that he wasn't about to give anyone else the credit. And who would deny him that?

Cecil Devine won the NZ Cup six times, training and driving False Step (three), Thunder, Van Dieman and Lord Module to win the country's greatest race. James Bryce also won six Cups but Cecil, rightfully, claimed the record outright as Bryce only drove four. Its possible, but highly unlikely, someone will eventually take that record from Cecil and if "Tassie" is looking down on Addington the day it happens I'll bet dark clouds will magically appear on a bright and sunny November day, and grumble ominously in discontent.

Cecil, who died in July, 1990, aged 75, didn't live long enough to see one of his proudest achievments wiped from the record books - Lord Module's 1:54.9 time trial mile - and while I mourned his premature passing as much as most people, in a way I'm glad Cecil was spared that. Not that I would detract an ounce from Starship's 1:54.5 effort on a hot sunny day at Richmond in 1992 but who of us present could forget the drama and excitement of that cold, wintry night at Addington in 1980 when Lord Module set his mark more than 13 years ago. Not Kevin Williams, who drove the galloping prompter with frozen fingers, not Cecil Devine, who wiped the dew from the sulky as Lord Module prepared for his epic dash, and not me or the thousands of others who stayed on after the races were over to cheer on their champion to such an astonishing time.

And 18 months later they were cheering again when Lord Module denied all odds for the last time to win the Matson Free-for-all, downing Gammalite and Armalight in a race that threatened to bring the Addington Grandstands down. Cecil, forced into unwanted retirement, had to watch like all the rest of us from the stands and before the race began he walked quietly into the press room and slipped some tickets into my pocket. Knowing I rarely risked a dollar on the tote, Cecil had backed up my wavering - and his unflinching - faith in the much-troubled Lord Module with his own cash.

But later, when I chose to spend the proceeds on a mounted action picture of Lord Module, which still (hopefully) adorns a wall in the Addington press room, Cecil was openly furious with me, pointing out the dividend could have - and should have - been spent on my wife or young children. "You always look after your own first...always," he chided me and as epitaphs go, I think it's one of several Cecil Devine would have found appropriate.

Credit: Graham Ingram writing in NZ Trotting Calendar 9Sep80


| | |
| --- | --- |
| | RACING HISTORY PEOPLE |

GEORGE YOUNGSON

Mr George Lindsay Youngson, who died in Gore last month at the age of 91, made an invaluable contribution to standardbred breeding in Southland and NZ with imported sires like Dillon Hall, Hal Tryax, Sandydale and others. Mr Youngson's death severs one of the last links for present day trotting men with the pioneer breeders of yesteryear, who did so much to lay the concrete foundations on which Southland's world-wide reputation as a standardbred nursery has been developed and capitalised on.

Mr Youngson was 22 when he came to NZ with his brother John, from Aberdeen, Scotland, where he was bought up. For several years he worked as a farm hand and ploughman in the Riversdale district of Northern Southland. In 1914, his brother John imported four Clydesdale stallions and the brothers, then based at Wendon, near Riversdale, travelled them around neighbouring faming communities as breeding stallions. Some years ago Mr Youngson stated that the work was particularly onerous and, more so, dangerous, taking into account the strength and sometimes vicious traits the powerful Clydesdale stallions could reveal. He mated many of the mares at district stockyards and hotels where broodmare owners and farmers often gathered.

In 1920, when he was 32, Mr Youngson bought the standardbred stallion Harold Direct from the Cody brothers of Riversdale, and travelled him about for stud purposes at a fee of only five quineas. Mr Youngson's next stud venture in 1928 was the fine Australian pacer Happy Voyage, when he was still domiciled in the Wendon district. Soon after, Mr Youngson met the late Sir John McKenzie's private trainer, Robert Plaxio, an American horseman, who did much to influence him to considering importing American sires. Plaxio, in fact, suggested Adioo Guy, whom he imported in 1929. At 19, Adioo Guy was four years older than Mr Youngson believed he was. Adioo Guy's departure for NZ was delayed a season. In that last season in America, Adioo Guy sired Adioo Volo, dam later of the immortal Adios. Adioo Guy, who died after four years with Mr Youngson, had a respectable percentage of success from the opportunities he received.

In the late 1920s Mr Youngson visited England to buy another Clydesdale stallion and, seeing the progeny of the American standardbred sire Wellington Direct soon after imported that horse. Frank Dewey, another American horse, followed in 1930. Mr Youngson's next importation was the Abbedale horse Sandydale, sire of General Sandy and Captain Sandy, and maternal sire of Johnny Globe. That successful stallion was soon passed on to noted Oamaru breeder Mr Johnny Johnson.

Dillon Hall was imported to NZ by Mr Youngson during World War 2. The son of The Laurel Hall and the great racemare Margaret Dillon was the first 2:00 pacer imported to NZ and topped the NZ sires' list in the 1948-49 season with the winners of 124 races and 275 placegetters. Dillon Hall carried on to top the NZ broodmare sires' list five times, which has recently been acclaimed as a remarkable feat for a sire who was only around for 15 years. Robin Dundee, Parlez Vous, Lunar Chance and Bay Foyle were only four top pacers out of mares by Dillon Hall, who also figures prominently in the pedigrees of Black Watch, Tobias, Lord Module and countless others.

Logan Derby, the sire of Johnny Globe, was Mr Youngson's next stud venture but better was to follow in the Tryax horse Hal Tryax, a horse he didn't really want but finally agreed to import relatively cheaply. Hal Tryax's career as a sire has been acclaimed as one of the most colourful and tragic in NZ breeding history. The first 2:00 3-year-old pacer imported to this country, Hal Tryax topped the NZ sires' list in the 1963-64 season with only three crops of racing age. His progeny included the first standardbred millionaire in the world, Cardigan Bay, champion racemare Robin Dundee and other top performers of the calibre of Tactile, Holy Hal, Blue Prince, Jurist, King Hal and so on. Although his daughters were relatively few in number, they made an outstanding contribution as matrons. One of the best performers from a daughter of Hal Tryax has been the champion Young Quinn. Tragically, Hal Tryax soon after became infertile and after topping the sires' list in the 1963-64 season he was pensioned off to The Chaslands, where he is still in retirement at the age of 33.

The noted broodmare Rustic Maid, whom Mr Youngson bought from the Canterbury horseman, the late Mr Bill Morland, was one of the most successful matrons in Southland breeding history, leaving Chamfer (1950 NZ Cup and later champion Australian sire), Free Fight (NZ Derby), Highland Scott (nine wins), Congruent (good sire in Aust), Slavonic (NZ Sapling Stakes) and others. One of her daughters, Scottish Lady, won the NZ Derby, and, in turn, left two Great Northern Derby winners, Scottish Brigade and Gentry, both later successful sires.

In earlier years Mr Youngson was involved in the importation and development of small grass seeds.

As long as there is trotting in Southland, George Youngson's influence, together with that of the stallions he imported and stood, will always be of marked significance. The light harness industry owes much to pioneer breeders of his foresight, enthusiasm and successful involvement.

Credit: Don Wright writing in NZ Trotting Calendar 9Apr80


| | |
| --- | --- |
| | RACING HISTORY PEOPLE |

FRANK OLIVER

Frank Oliver is concerned that the Trotting Conference has seen fit to permit stallions to serve an additional 25 mares each season.

The successful Hilderthorpe (14 kilometres north of Oamaru) owner-trainer and breeder of the past 36 years is adamant that stallions are serving too many mares (125 is now the maximum permitted). Weak foals not suitable for racing are the result. Oliver, 73, is opposed to artificial insemination on similar grounds. He argues that a large number of mares can be served from the one cover, with a resultant loss of vitality among the foals.

Oliver has a rising 2-year-old in work, Mighty Guy, whom he considers "as good as I have bred." The gelding was obtained from a natural service of Nardin's Byrd on Rain Cloud. Oliver is breeding from four other mares. Three of them, Clutha Gold, Strip and May West, are in foal to Nardin's Byrd. The other, Bindy, has been stinted to Huirapa (Bachelor Hanover-Atanui) who stands at Methven. Clutha Gold and May West are both unraced daughters of Rain Cloud and both are by Majestic Chance.

Their brother Kawarau Gold, won 10 races for Oliver, including the NZ Kindergarten and Oamaru Juvenile Stakes in the 1972-3 season. Kawarau Gold went on to win in the United States. His half-brother, Lumber Box, has also won there in 1:58.

Bindy, a Newport Chief mare, like Rain Cloud, claiming Elaine Travis as her grandam, has produced Bayi who has a best time of 1:59.6 set at Blue Bonnets in Montreal. Fab, a half-brother to Bindy, amassed $121,000 in stakes and has taken a record of 1:59.4. Fab, now 13, won at Rockingham Park late last year. Fab won 10 races for Oliver, including the 1973 National Handicap at Addington, before being sold to the United States. Fab (by Hundred Proof) and Bindy (by Newport Chief)are both out of Gala Girl, who also produced the speedy Boyfriend, Mighty Chief, the grand trotter, and the good pacing winner Selwyn Hanover. All were bred by Oliver.

Mighty Chief, who was sold for 190gns at the National Yearling Sale, amassed $36,445 in stakes from 20 wins and 25 placings. The My Chief gelding numbered the 1965 Dominion Handicap and the NZ Trotting Free-For-All among his wins. Selwyn Hanover, who was also sold as a youngster by Oliver, won nine races, including the 1968 Queen's Birthday Stakes at Ashburton on promotion. Maida Million, who was relegated to second for causing interference in the run home, later became the greatest stakes-winning mare bred in NZ, with $323,048. She is at stud in the United States. Bramble Hall, who finished third that day, amassed $215,809 and raced to an advanced age in America.

The Queen's Birthday Stakes was among seven races Boyfriend won when trained and driven by Oliver. Six of his wins were gained as a 3-year-old during the 1969-70 season when the Bachelor Hanover gelding set NZ records for one of his age of 2:49.8 (11 furlongs, mobile start), 3:10 (12 furlongs, standing start) and 3:25.2 (13 furlongs, stand). Boyfriend did not hit the high spots overseas, but advanced his earnings to $99,392. Oliver renewed his acquaintence with Boyfriend during a visit to the United States in 1973 when the gelding's form had slumped. Oliver suggested his hopples be lengthened and the horse won at his next start.

Gala Girl, who was named broodmare of the year in 1970, died a year later as a 17-year-old of complications while foaling in June to a clandestine mating with a seven-month-old colt. She had won the inaugural NZ Golden Slipper Stakes at Waimate in 1956. Gala Girl (by Red Emperor) was one of eight foals Oliver bred from Elaine Travis. The best of them was Pala Royal, who won 10 races in the 1950s. Pala Royal, a Dillon Hall gelding, was particularly adept in heavy footing at Forbury Park, the track them being clay. Two of Elaine Travis's foals died and one, Puzzled, was unraced. Another of her progeny was Band Queen, who won the Waikouaiti Cup in 1959. Oliver bought Elaine Travis for £100 in 1943, mainly for her breeding potential. A daughter of Travis Axworthy and Alice Grey, by Balboa the noted thoroughbred sire, she was an 8-year-old and her best effort in 22 starts over 4 seasons of racing was a second in a saddle event for pacers at Beaumont.

Oliver, then rabbitting at Patearoa, kept her in training, and he won first up with her at Wyndham on New Year's Day, 1944, when Frank was having his first race drive. Oliver shifted to Oamaru soon afterwards and Elaine Travis won him three more races, the last at the age of 10. The shift to Hilderthorpe, where he operates from a 110 acre property, was made later. Oliver has met success with other than his own horses. He took over Admire in the 1965-66 season for Gordon Aitcheson and Fred Ferris and got the gelding back to winning form after an absence of two years. Admire won the 1966 Kurow Cup at Oamaru and caused a boilover when he won the Hannon Memorial on the course the next year.

"It is always a game of luck. Try to breed from the best horses," said Oliver when asked what advice he would give prospective owners or breeders.

Credit: Taylor Strong writing in NZ Trotting Calendar 10Jun80


| | |
| --- | --- |
| | RACING HISTORY MESCELLANY |

INTRODUCTION OF CLAIMING RACES

The Waikato club championed the cause of claiming races, which made their NZ debut at the Claudelands track on November 12 after the usual hoo-haa which greets anything new in trotting. Toronui who ran second last behind Regal Classic, was bought by Kevin Holmes for $7500 and has since won races in North America. Manurewa was claimed for $6000 at the Waikato club's next claimer in December and went on to win at Alexandra Park in May. The December claimer was won by Soanai Chief, a massive gelding, who won the Waikato's third claimer in March. There was also a claimer at the Northland meeting in February but again no horses changed hands.

Addington's sole claimer was a fizzer, with no horses being sold, but there was plenty of publicity after the race, won by ofter controversial gelding Scholar on November 18, a mobile 2000m event worth $2500, penalty free (except for maidens) with no restrictions, attracted 14 starters with punters investing only $44,105 in win and place bets.

The favourite Flaxton, valued at $10,000 by his connections, ran ninth. Scholar (Bob Negus), valued at $10,000 but out of the money in four lead-up events, won effortlessly, paying $6.05, earning the wrath of the crowd which gave the gelding one of the worst receptions accorded any winner at Addington. Negus was most upset by the demonstration. He maintained Scholar, a c3 pacer looked a good thing on paper before the race as most of his opposition were maidens or c1 pacers. Whatever the reasons, Scholar's claimer was the last at head-quarters.

Credit: DB Trotting Annual 1981


| | |
| --- | --- |
| | RACING HISTORY INTERDOMINIONS |

SYDNEY - KOALA KING
Koala King won the 1980 Final in a cake walk over Kiwi star Locarno and Pure Steel for trainer-driver Brian Hancock. The four night carnival drew a total attendance of 84,581 and the turnover was a mammoth $12,645,645. Total turnover on the final night of $4,287,378 was claimed by the Club as the highest for a harness meeting in the world.



| | |
| --- | --- |
| | RACING HISTORY HORSES |

JOHNNY GEE

Former top trotter Johnny Gee was found dead in his paddock at Central Globe Lodge shortly before New Year. A veterinary examination showed he died of a heart attack. He was 19 years old.

In his racing career Johnny Gee won 28 races and gained 53 placings. His wins included the Dominion Handicap,The Canterbury Park, Banks Peninsula and Waimate Trotting Cups, and three Canterbury Park Stewards' Free-For-Alls, in one of which he set his record of 2:01.2

Johnny Gee was by the great Johnny Globe, four times leading sire, and was out of the Light Brigade mare Atone, who was Broodmare of the Year in 1971-72.

Johnny Gee's progeny are having a good year on the racetrack, led by the good trotter Cool Cat.

-o0o-

Ron Jenkins: Great Trotters

Johnny Gee retired in 1972 as NZ's greatest stakeswinning trotter - $64,690 - and as holder of the NZ mile race trotting record of 2:01 1/5. He was the winner of 27 of his 127 race starts. Among his successes were wins in the Canterbury Park Cup and the Dominion Handicap - the two prestige events for trotters in NZ.

He was the first foal of the champion broodmare Atone, a mare selected as the 1972 NZ Broodmare-of-the-Year. Sold as a yearling at the National Sales for 460 guineas, Johnny Gee was in turn leased to trainer Wes Butt who looked after the horse until his retirement. He was originally tried as a pacer, but was quickly switched to the trotting gait as he persistently crossfired.

During his career in NZ Johnny Gee won many races from difficult handicaps and was seldom beaten under free-for-all conditions. A number of his races were fought out against his stablemate, the Australian bred Tony Bear.

Credit: Ralph Kermode writing in NZ Trotting Calendar 8Jan80


| | |
| --- | --- |
| | RACING HISTORY HORSES |
Armalight (Bob Negus) parading after winning the 1981 NZ Cup

ARMALIGHT

Take a young filly, gifted from one brother to another, and a young man whose ambition is to own a bit of land where one day he can keep that filly and her foals, and the end result is Armalight and her owner, Brent Smith.

Armalight's rapid rise from 'just another maiden at Westport on Boxing Day' to he position as the best 3-year-old in the country is unusual in that her owner-trainer admits to "just learning about training as I go along." But the learning started a long time ago for 27-year-old Brent, back in the days when he helped his father, the late Howie Smith, with the training of Armalight's dam, Ar Miss.

Ar Miss, a daughter of Armbro Del and the Grattan Loyal mare Trixie Milne, proved an outstanding filly under Howie Smith's care, winning the NZ Sapling Stakes at only her second start when still a maiden, then going on to take the NZ Oaks later that same year. The Sapling-Oaks double was nothing new to Howie Smith at that time, for, nearly a quarter of a century before, he had trained Mr Andy Todd's outstanding filly Perpetua to win both classics.

Ar Miss was raced by Brent's older brother Vic, who was given her by his uncle, the late Ossie Smith. "Ossie gave her to Vic, and I guess he was sort of grateful at getting his start that way, so when Ar Miss started breeding, he promised me the first filly," Brent said when explaining how he came by Amalight. "The first foal by Nevele Romeo died, so we had this free return to Nevele R Stud. At that time Dad had a lot of time for Timely Knight. He really liked him, so Ar Miss was sent back there. I was just lucky that the resultant foal was a filly, her." he said.

That early experience gained with his father influenced young Brent to try his hand at training Armalight himself, a big gamble for a young man with a very valuable filly. "I sent her to Ron Carter to break in, thinking I had better do everything right, rather than risk mucking her up myself. Then after a couple of runs at the trials as a 2-year-old, there was the temptation to go for the Sapling Stakes. Eventually I decided no. Take it easy and do it right."

The experience he gained with his father has proved invaluable to Brent, even though he is the first to admit he still has a great deal to learn. "I always enjoyed the practical side of it with Dad, and I can only go by what I learned working with him. The rest I have just had to find out from others. Bob Negus (the man who drove Armalight in her early racing) and Jack Carmichael have been a great help. I suppose they must get sick of me asking all these questions, but all I can do is learn from them until they have had enough," Brent said.

Bob Negus came into the Armalight story at the same time she opened her racing career. "I had her entered for the Champion Stakes at Ashburton on Boxing Day and a maiden race at Westport the same day. I gave a bit of thought and decided the Champion Stakes might be a bit tough, so I had to find a driver for her at Westport. I knew Bob a little, I was best man for one of his sons, and he was going to Westport with Scholar. He agreed to drive her," Brent said.

That Armalight won her first event is now history, but her record since belies her modest start. Two seconds , both at Nelson - beaten narrowly by the talented Regal Guy and Treasurer respectively - at only her second and third outings, caught the eye of the trotting public and Armalight and her young owner were on their way. Immediately after her Nelson second came the offer for Armalight that Brent now has no regrets he could not accept. "At the time, it would have meant $50,000 in my hand," he recalled. That bit of land was in the back of Brent's mind as Armalight underwent the veterinary examination to confirm the sale. But her off-front hoof, which had been slightly deformed since birth, failed to stand up to the searching veterinary examination for such a big deal, and the sale fell through. You couldn't blame the vet for turning her down on it," said Brent. "The wall of the hoof grows forward instead of down and at that stage she had raced only three times and it was impossible to tell if it would worry her later. Now I'm not sorry she did not pass the examination. I have no regrets at all."

That's not surprising in view of Armalight's record since, six wins, including three heats of the DB Flying Fillies Series and the NZ Metropolitan Championship, and a nose defeat by Armbro Wings in the Great Northern Derby. Though she was beaten only a nose in the Great Northern Derby, Brent surprisingly describes the race as a non-event as far as he was concerned. "I was sitting in the trainers' stand, with Alec Milne actually, and at the 600 metres I knew she had no show from where she was. I thought she had finished fifth, then Alec (who had produced Armbro Wings to win) was shaking my hand saying 'I've done it, I've won'. I started to walk down to the birdcage and somebody came up and said I was fourth. Ten yards further on somebody said I was third, then in the birdcage somebody came up and said I was second, beaten a nose. I thought 'this is good, another ten yards and I'll have won it', but it wasn't really such a nervous time as I would have thought."

Nerves are something Brent has found out about in the past few months, and he admitted not sleeping very well sometimes. The pressure which goes with training such an outstanding filly is something he didn't really think about until he walked Armalight into the birdcage at Timaru for a DB Fillies' heat. "It wasn't until I heard an announcement over the course speaker that she was paying $1.60 to win and 60 cents for a place that it really hit me. I thought 'hello' and it was only then that I realised that there were more people than just myself involved." Until that time, Brent only had the worry of wondering whether he was doing everything possible for the filly, and doing it the right way. He still has that worry, plus the added burden of knowing that Armalight, and to a lesser extent himself, are public property.

Initially, Brent worried mainly about his own abilities. "All I could do, and really still can, is get her as fit as I can, then it's up to her and her driver." But the pressure builds up as each big race approaches, and it can't be an easy thing for a young man with his first horse to handle. The interview was conducted nine days prior to Armalight contesting last Friday's NZ Oaks, and since her win in the NZ Metropolitan 3-year-old Championship at Easter, Armalight had caused her young trainer more than average concern. "I didn't really think she could win that one. I honestly thought she wasn't in the race. I thought I hadn't made one of the payments, but when I got back from Auckland, there she was in the field. I had given her four days off after Auckland so I thought she would be a bit short of work for it." Short of work or not, Armalight proved her complete class by beating a strong field of colts and geldings in record time of 3:23.1 for the 2600 metres, and she did it without being pressured.

Then the trouble started. After she cooled out following that win, Brent discovered Armalight was lame in her near foreleg. "She was as lame as anything when I went to put her on the float and take her home. The next morning, thankfully, it proved to be a stone bruise coming out, nothing as serious as I first thought. I was going to give her four days off anyway, so it did not affect her preparation too much." But before the stone bruise came out, Brent's real worry was that the injury to her near foreleg was caused by her exerting too much pressure on it because of her problem off foreleg.

So far, thankfully, the off front hoof has not caused her any worries, other than making he walk with a peculiar 'roll'. Once travelling at speed, she shows no sign of it. Brent gives all the credit for overcoming her hoof problem to farrier Ron Gibbons. "He spent a lot of time with her and we tried a lot of ways of shoeing her before we got it right. She has a pad under the shoe to build her hoof up to the correct height on that side, and it's thanks to Ron she's had no problems." Ron Gibbons' patience with Armalight has, or will have it's reward though, in the form of a new pair of boots. "I promised Ron that if she won the Metropolitan Stakes I would buy him a new pair of boots. He is always complaining about his footwear, so I made the promise and now I'll have to go out and buy them."

Tom Ryder, who boards Armalight at his Wigram Road property, also comes in for a lot of thanks from Brent. "It's good of Tom to let me keep her there, and he has done a lot to help too," he said. Latest in the list of Brent's 'advisers' is Templeton horseman Jack Carmichael, who drove Armalight for the first time in the Metropolitan Stakes. Brent has been taking Armalight to Carmichael's for fast work in recent weeks. It was because of his association with Ar Miss that Carmichael was offered the drive on Armalight in the Oaks, Bob Negus having to turn down the drive because of having his own filly, Elfin, engaged. "Jack drove Ar miss to win the Oaks for Dad, so he seemed a suitable choice to drive her when Bob advised me to get somebody else," Brent said. Brent gives Bob the credit for Armalight's rapid improvement from the time she started racing. "Bob was really good, teaching her about racing at every start and not knocking her about. She was just another maiden at Westport, but thanks to him she has kept on improving at every start since."

To Brent and his wife Carol, Armalight is more than just a champion filly, of for that matter a ticket to a new house. Brent's affection for the filly has been there since he took possession of her "as a fluffy little thing only that high". Carol's liking for the filly is something that has grown. "Carol was scared of her even when she was only a little thing. Now, she's as proud of her as I am. She treats her like a pet. Carol's had a fair bit to put up with, living in a flat the five years we've been married. We could have been in our own home a while back, but that really took second place to Armalight." Now, thanks to Armalight, Brent and Carol are that much closer to having their home, plus the land Brent wants to keep Armalight and her foals on when he starts breeding from her. And how far away is that day? "I'll race her as a 4-year-old, provided she comes up well, then she'll go to stud. She is too valuable to risk over-racing her," Brent said.

Brent is not worried at the prospect of Armalight ending the season with an open company assessment if she happened to win her three remining engagements this season. "No, I'm not worried about that if it happens. I can't really see her winning all three races, but even if she did, she would only be aimed at 4-year-old events like the Messenger next season." At the time of this interview, Armalight's own personal 'triple crown' was the NZ Oaks, the Great Northern Oaks, and the final of the DB Flying Fillies' Stakes. "I would like her to win the Oaks. Her dam did, but the DB Flying Fillies' would also be a nice one to win. She's won three of the heats and to win the final would really be good."

Armalight proved unbeatable in each of the three DB heats she contested, winning the first at Addington comfortably in 2:03.4, the second at Timaru in 2:02, then becoming the first filly to pace the mile in under 2:00 when she won her Auckland heat by eight lengths in a brilliant 1:59.1 without being pushed. But even these brilliant efforts don't rate with Brent as her best. He names the Celebrity Stakes at Addington between her first two DB heats as her best effort. That night, Armalight outclassed a strong field of colts and geldings over a mile in 2:00.5.

Because of her ability on the racetrack, even Brent has to forgive her little foilbles at home. Her favourite trick, until they fashioned a special frame to stop her was to turn on the tap over the water trough. "Tom Ryder kept blaming me for leaving the tap on, until we found out it was her," Brent said. "Even after we put the frame round the tap, it only took her a month to figure out how to get round that, so we had to put a bar across the top. That stopped her, but now I can hardly get my hand in to turn the tap on." Armalight also has a habit of rubbing her mane against the fence rails, and not even sacks round the rails stops her. "This makes her mane ragged and annoys Carol, who likes to have her looking her best," Brent said.

But believe it or not, It's one of Armalight's little tricks that helps Brent know when she's fit. "If I tickle her under the tummy and she tries to kick the daylights out of me, then she's fit. If she doesn't kick, then it's time to start worrying."


Credit: Tony Williams writing in NZ Trotting Calendar 29Apr80


| | |
| --- | --- |
| | RACING HISTORY HORSES |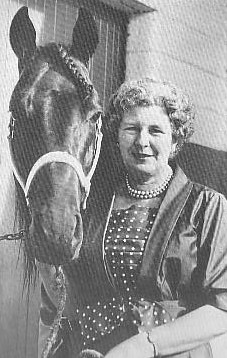 Doris Nyhan & Lordship in 1962

LORDSHIP

When Don and Doris Nyhan established their stables at Templeton 30 years ago they named it Globe Lodge as a tribute to the immortal sire, Globe Derby.

About this time they raced Johnny Globe, a grandson of Globe Derby, who wrote a colourful chapter into NZ light-harness history through his deeds on the track and as a sire. And now it is a son of former public idol Johnny Globe, Lordship, who is keeping the stud to the fore in a manner which promises to make his chapter longer and more memorable than that of his father.

Globe Lodge the Nyhan property might be, but Lordship is 'Lord of the Manor'. He is currently 'King of the Sires'. At this stage of the season, most trotting folk reflect on the season and look to the statisticians to tell them who is top of what. The sires' table is one of these categories, which has a certain amount of prestige. Lordship has not only headed it this season, he has set a record. And in doing so, he has shown complete contempt for his rival sires. This season his progeny have amassed around $350,000 on the track, which is over $150,000 more than the next sire on the list and well over $100,000 more than the previous record earnings for a season.

In the past, most sires have reached the head of the table through the deeds of one or two major contributors. When these horses' earnings have been subtracted from their sire's totals, the stallion has fallen below the number one spot. This is far from the case with Lordship. If there had never been a Lord Module, Lordship's main winner this season, he would still be a clear leader on the premiership table.

The Lordship story started a long time ago when Mrs Nyhan took pity on a scruffy looking foal and persuaded Don, much against his judgement, to spend the £50 they had caved to buy a fur coat to buy the colt. The colt was Johnny Globe. With his son Lordship, Johnny Globe returned over £200,000, the result of 79 wins, for the sacrificed £50. The Nyhans came upon Lordship almost as fortuitously as his dad. Mrs Nyhan, at the invitation of a friend, leased the mare Ladyship, who was bred in the purple but had shown very little on the track. She put Ladyship to Johnny Globe. The result? Lordship. Ladyship was by U Scott from a fine racemare in Lightning Lady, who was a sister to a brilliant pacer in his day in Emulous, one of a select few who could match strides with the mighty Highland Fling. Lightning Lady was by Jack Potts from Light Wings, a mare imported into this country by Sir John McKenzie.

It didn't take long for Lordship to reveal special talents. "We knew we had something different when he was a yearling. He could work half a mile free-legged in a minute without any difficulty," Don recalled last week. Lordship fulfilled that early promise in his first season. He won six of his nine starts as a 2-year-old, including the 1961 Sapling Stakes. Lordship's regular driver Denis Nyhan, Don's younger son, recalled how Lordship wasn't happy on wet tracks when a juvenile. In many cases it was his class that took him through.

Just a young man at that stage and working at the stables, Denis got the regular drive on Lordship with a stroke of luck. Denis Nyhan tells the story. "On the morning Lordship was due to start in the Welcome Stakes I was following Dad in a workout when his horse cracked a bone in one of his forelegs and fell. I piled over the top of him and Dad was quite badly hurt," Denis said. "I got the drive then and won the Welcome. I was lucky enough to win the following three races with him, so Mum decided to keep me on," Denis said.

Lordship returned the next season and won five races including the NZ Derby by six lengths. However it was later that season that he gave a true testimony to his class. After finishing an unlucky second to Waitaki Hanover in the Great Northern Derby, Lordship took on the open class horses. He finished out of the money in his first few attempts before running third in the 1962 Easter Cup to Patchwork and then winning the Winter Free-For-All at Addington. In that event he decisively beat horses of the calibre of Falehood, Samantha, Blue Prince, Diamond Hanover, Gildirect, King Hal, Master Alan and Queen Ngaio. No 3-year-old before or since has ever done this.

Lordship was quite superb as a 4-year-old winning eight races including the NZ Cup, only the second of his age to do so. But it could have been quite different. Lordship almost never started in the Cup. A torrential downpour on the day prompted the Nyhans to consider scratching him. But officials reminded Don of all those off-course investors who had bet on Lordship and persuaded him to start. Lordship eventually strolled to an easy win for Mrs Nyhan. Denis, in the cart again, was having his first Cup drive. The overseas offers were soon flowing in for the brilliant black. Mrs Nyhan was adamant. Her pride and joy would not go to America. Her decision was to have a profound effect on the record books later.

However, it was the following season, 1963-64, that Lordship developed splint trouble which required daily treatment. But even though handicapped by his legs and lengthy marks, Lordship continued to win many races including his second NZ Cup, and Auckland Cup and two Easter Cups. And so grew a deep affection with the public which saw him become an idol in the mould of his dad.

Don and Denis Nyhan agree that his Auckland Cup win in 1964 was his greatest victory. He had to beat unsoundness, some other top horses and his handicap. "He was sore only a month or so beforehand and was far from being trained for a searching two-mile test," Don recalled. However, he came through with flying colours from his 36 yard back mark, by shading Jay Ar, with Great Adios and Vanderford filling the minor placings. "They went 4:11.4 that night. I'm sure if they had gone faster up front, he would have beaten Johnny's record - 4:07.6 - he was travelling that well throughout," Denis said.

Lordship retired as a 10-year-old with a record unequalled by a horse raced solely in NZ. As the winner of 45 races, including 16 free-for-alls, and $120,660 in stakes, he had eclipsed Johnny Globe's previous records. If he had won the same races today, his stakes winnings would have been anything from $450,00 to half a millon dollars.

And so Lordship went into his stud career with many hoping he could leave somthing as good as himself and perhaps carry on the Globe Derby male line. He has done this in no uncertain terms in the form of Lord Module. However it wasn't an easy road to haul. Lordship's support early on was moderate to say the least and it was only his ability that finally won him full book support. Only now, as a 22-year-old, is he getting the support he deserved in the first place. Don can't explain or understand the attitude of NZ breeders. "It's the same with any NZ-bred horse; it's an uphill battle," Nyhan said. "It was the same with Johnny. He never had a full book in his entire stud career, even when he was four times leading sire. And a lot of his mares were hacks," he said when recalling the support for Johnny Globe, one of the most admired horses ever.

"A mare could go to Johnny Globe and a top-class horse would often result. But send the same mare to U Scott, Light Brigade, Garrison Hanover or any other top sire, and she'd leave nothing," Don said. "Take Raidette, for example. When put to Johnny she left Radiant Globe, who almost won a NZ Cup, but to half a dozen matings with other sires, she left very little," he said. Don was also critical of the many breeders who flock to patronise imported sires in preference to our own champion horses. "A real battler here, who no one would even consider sending a mare to, can go to America and run 1:56 or 1:57, but bring an American-bred stallion here who went 2:00 as a 3-year-old, and they queue up at the back door," Don said. But now, it seems, breeders are only too aware of Lordship's siring prowess.

In the last couple of seasons, about a decade after his first crop hit the tracks, Lordship's book has been practically full and next season he will be one of the few stallions in the country standing at a fee of $1500. His service fee for his first season was a minute $210. Like Johnny Globe, Lordship was a tough and game pacer and he is passing these attributes onto his progeny. Although his good racehorses are too numerous to mention, some of the really top ones include Noble Lord, Jason King (Australia), Micron, Tricky Dick, Regal Light, Relinquish, Lordable, Single Lord, Trio, Tay Bridge and, of course, Lord Module.

At this stage he has left 137 winners. And with the oldest of his progeny only 12, he has already left several mares who have left winners. In fact, the first mare he covered, Lady Moose, left the talented pacer Lord Moose. Other up-and-coming horses to come out of Lordship mares include Captain Knight (1:59), Glen Moria, Jazzman and Poker Night. He is currently fifth on the 2:00 list with 14, including the fastest horse bred outside America, Lord Module (1:54.9).

Although very quiet and reasonably placid now, Lordship had a tremendous amount of nervous energy when a youngster. "I remember how he used to kick at the start and how one day he broke part of the sulky," Denis recalled. "And he used to get so wound up that he would trot round in his box for ages, just because of his nervousness. However he is a very intelligent horse. Whenever he went away, whether it was Auckland or to Dunedin, and we turned off the main road onto ours, 'Lordy' used to throw his head out of the float and start clawing the floor," Denis said. "He knew exactly where home was."

A routine day at Globe Lodge for Lordy these days is a lazy one. "He will spend part of the morning in a yard, lunchtime in a paddock and then he will sleep for the rest of the day in his box," Don said. For a stallion, Lordship is surprisingly tolerant. "We've got 11 and 12-year-old kids around here that can do anything with him," Don said. However, there is no doubt that Lordship, still as black as ever, will be boss around the place for a while yet. His dislike for strangers will be around also. He took a lunge at me - the last of several during the interview - just before I left the stable. He missed out on a souvenir. "The Lord" is hail and hearty. He wears the sire's crown proudly.

-o0o-

Mike Grainger writing in HRWeekly 9Aug89

Lordship was put down at his Globe Lodge home yesterday afternoon. The decision came just a month after he was withdrawn from service as a sire.

"He was one of the family," said Barry Nyhan. "Thirty one years is a long time here, but he has been withering away and hasn't been eating the same. He has been getting skinnier and skinnier and in the last fortnight his kidneys have started to pack up," he said.

Prebbleton veterinarian John Shaw has been monitoring the old horse's health over the last fortnight and advised the Nyhan family that it would be "cruel in the long run" continuing his present existence. "He was still shuffling around, picking a bit of grass," said Barry.

Lordship was rare in that he was a champion racehorse, a champion sire and a champion brood-mare sire.

He won 45 races, including two NZ Cups. His siring career has kept the Globe Derby line at full steam, though there are no firm leads as to who his successor will be, or even if there will be one. Lordship has 82 on the 2:00 list, and three on the 1:55 list - First Mate 1:54.8, Lord Module 1:54.9 and Templar 1:55. A past champion sire, Lordship has twice been leading broodmare sire.

His contribution to the breeding industry in New Zealand and Australia will be effective for many generations to come.

Credit: Frank Marrion writing in NZ Trotting Calendar 22Jul80


| | |
| --- | --- |
| | RACING HISTORY FEATURE RACE COMMENT |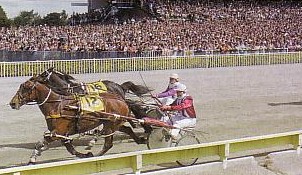 Hands Down & Delightful Lady

Great Races: 1980 NEW ZEALAND TROTTING CUP.

If the 1979 New Zealand Cup had been a spectacular sight, the 1980 edition promised even more, and it didn't disappoint in going right to the wire - literally. On paper there had never been a better field of protagonists, or since for that matter, and in a full field of 15 for the first Cup to carry a stake of $100,000, a good case could have been made for at least 10 of them.

By the time the big day rolled around though, the class, form and champion status of Delightful Lady, Lord Module and Roydon Scott had been well established and it seemed the winner would come from that trio. But also in contention were such fine stayers as Greg Robinson, Sapling, Trevira, Trusty Scot and Wee Win, and then there were the Hannon winner Idolmite and Kaikoura Cup winner Sun Seeker, along with a 'young' upstart in the form of 5-year-old Hands Down.

Delightful Lady was a 7-year-old and in career best form. She had downed Lord Module in the previous Auckland Cup and been much too good for her northern rivals in five straight races in the spring, only going down in her last lead-up event when beaten two heads by frontmarkers Trio and Dictatorship fron 25m in the Rondel Handicap on October 29. Against her was the 15m backmark and the record book though - a mare had not won the Cup since Loyal Nurse in 1949, let alone from a handicap.

Lord Module looked and seemed in great shape for a second Cup win when resuming with a strong finishing second to Wee Win in the Ashburton Flying Stakes, but then things began to turn to custard when starting a hot favourite in two races at Forbury Park in mid-October. Kevin Williams, son-in-law of owner-trainer Ces Devine, had been employed to drive Lord Module at the start of the season, but on the first night in Dunedin the stallion had swung sideways at the start and taken no part in what was the first sign of things to come. Devine then engaged Jack Smolenski, but on the second night Lord Module refused to move at all, and when he repeated that performance in the Cup Trial he was made unruly.

Devine had been reluctant to race Lord Module after Forbury, as a repeat mulish display would have resulted in him being stood down from racing and starting in the Cup, and also compounding his problems was the fact that Lord Module was now also suffering from quarter cracks in his hind hooves as well as the front. Then the week of the Cup Trial, Smolenski had also been suspended for an indiscretion at Kaikoura and an appeal had failed at the 11th hour, forcing Devine to turn to the experience of John Noble. It was hardly an ideal build up, but the Cup still loomed as and promised to be an epic battle between 'The Lord' and 'The Lady.'

Roydon Scott would actually run the favourite though, on the strength of two brilliant wins at Addington in September and the Cup Trial, and the fact he was a normally smart beginner and off the front. He resumed by breaking his own NZ standing start 2000m record in the Laing Free-For-All and was no less impressive with a last to first performance in the Hutchison FFA a fortnight later. Not known at the time though was that the Cup would be the last race for the injury-troubled Scottish Hanover gelding, and that he would be humanely put down inside of a year when arthritis took its toll.

Sapling was a 7-year-old entire and coming to the end of his sterling career, but had shown with a runaway win at Forbury Park that he was still a big threat in any race. Greg Robinson was the same age and while overshadowed by Delightful Lady his staying credentials were never in question either. Another 7-year-old in Trevira, third in the Cup a year earlier, had streeted his rival in the Easter Cup that year in a track record 4:06.9, and downed Sapling at Ascot Park in the spring in NZ record time, while the 8-year-old Wee Win had shown at Ashburton that he was far from finished too. The 1978 Cup winner Trusty Scot, also now eight, had downed Trevira and Sapling at Gore in late September, also adding to the form puzzle.

Almost forgotten and neglected while all this was going on was Hands Down, who had qualified for the Cup with an outstanding double in the Louisson and National Handicaps in August. A one-time rogue who had improved to be just a very wayward customer in the early part of his racing career, Hands Down had finally turned the corner for trainer Derek Jones in breaking maiden ranks the previous December. The National was his sixth straight win and 11th in less than eight months, a sequence which had included the Canterbuy Park Winter Cup in 4:09.3 after a great tussle with Bonnie's Chance. But he had not shown up in two further races - at Forbury Park he had been tripped up by the shifty track and been stood down for a month and until trialling satisfactorily, and at Kaikoura he had been checked and galloped - nor was he placed in the Cup Trial.

But a then 25-year-old Peter Jones was still quietly confident in what would be his first Cup drive. "At that point he was still fragile and easily tripped up at the best of times (referring to his Dunedin and Kaikoura failures), but in the Cup Trial I just kept him 'in behind' and he had been travelling as easy as any of them," recalled Jones last week. "I think he fell from favour mostly because he had got there (to Cup class) so quickly, and had become overlooked particularly given the quality and experience of the others. When it might have seemed the bubble had burst, his career was actually still in the ascendency when most of the others were in the descent," he added.

The start of the 1980 NZ Cup was almost as sensational as the finish. Lord Module played up and eventually just stood there, figuring 200 metres was about his correct handicap, while Roydon Scott also missed away badly and lost all chance along with Canis Minor and Trio. Hands Down was also tardily away and settled down well behind Delightful Lady, who had started from more like a 20m handicap with on tape behind the 10m line, and had been slow starting because of it. Delightful Lady was normally a very smart starter, but a flying tape was her signal to get into gear.

Mack Dougall took up the early running from Trevira in the open, but it wasn't long before the fireworks began - Wee Win and Bob Cameron were soon off and around them when the pace eased and led a mile from home. They had been tracked forward by Hands Down, and Delightful Lady had attempted to follow him, but was shoved four-wide a lap out by Lordable and Denis Nyhan.

Jones pressed on to join Wee Win at the 1100m and Delightful Lady camped three-wide outside them, until the 700m mark when Mike Stromont tuned up the wick and Hands Down and Delightful Lady went clear and set sail for the judge, going at it hammer and tongs. The great mare seemed to have the measure of Hands Down on the home turn and Stormont glanced to his right to see no other threats were coming. Half a length up at the furlong, Delightful Lady looked certain to have the Cup in the bag, but Jones was just foxing and when he finally went for Hands Down, the rugged gelding responded and gradually pegged the mare back, in the end drawing away by a neck right on the line.

The race had been a true test of stamina - Hands Down's 4:07.2 off the front broke Johnny Globe's equivalent race record and was the fastest 3200m recorded at Addington since the introduction of metrics - and the stretch duel was a truly stirring, strength sapping and memorable one. Delightful Lady was gallant in defeat, not giving an inch until the final strides after such a tough run, while Sapling finished on gamely for third four lengths away after being held up at a crucial time by the tiring Wee Win. Greg Robinson was fourth another three lengths as the rest of the field filed in at intervals, with a last ironic and sarcastic cheer being saved for Lord Module as he actually finished the race, a very long last, only to suffer the ignominy of being barred from standing starts.

Delightful Lady, who was credited with a placed time of 4:06.1 in the Cup, underlined her greatness when she trekked back to Auckland and won the Franklin Cup three days later in 4:05.8 from 55 metres. This gave her the record 'no ifs or buts' over Young Quinn's 4:06.7 recorded at the Auckland Inter-Dominions five years earlier - Young Quinn having bowed out from the spotlight by parading at Addington on Cup Day. Delightful Lady would win 12 races that season, careering away with a second Auckland Cup in another all-comers' national record and claiming the Horse of the Year title, and was no worse than third in 18 races that year.

But Hands Down's triumph from seemingly certain defeat in the NZ Cup was certainly no less a performance that day. "I would have been quite happy to sit outside Wee Win, but when Mike (Stormont) made his move down the back, he forced me to go. Hands Down never got tired and even when Delightful Lady got half a length on us, I knew we weren't going away - it was just a matter of whether she would come back to us and in the end she did. Hands Down couldn't go the Auckland way, but on his day at Addington, he was pretty much unbeatable." He had the last say over Lord Module in an equally exciting NZ Free-For-All after trotting speedster Scotch Tar had taken them through the first mile in 1:57.4, and the Allan Matson proved a mere formality.

Hands Down would start in five more Cups without success, being third a year later behind Armalight and fourth in 1983, and only Roi l'Or, Tactician and Master Musician would start in more Cups with seven unsuccessful bids. When retired with 31 wins, 23 had come at Addington to break Lordship's record of 21, and also included three Easter Cups and four Louissons.

For Derek Jones, his son had provided him with his first Cup winner after 21 drives himself, which included the likes of Auckland Cup winners Soangetaha ( for his solitary third place behind Adorian almost 30 years earlier) and Leading Light. When informed that Hands Down was his 13th individual starter in the race during his famous quick wit - "bugger, if I had known that - I would have backed him."

For breeder/owner Bill McAughtrie, a humble and semi-retired farmer from Omarama, Hands Down's overnight success was a reminder just how fickle the game can be. As he accepted the gleaming trophy from the Duchess of Kent, McAughtrie reflected that year earlier "I knew I had a horse with a tonne of ability, but I never thought he would ever win a race."

Hands Down, by the successful Tar Heel horse Armbro Del, belonged to the maternal line of previous Cup winners Cardigan Bay and Globe Bay and a host of other top performers. McAughtrie had been involved with the family for 20 years, when he leased the first foal in Slick Chick from Snow Jane, an unraced U Scott half-sister to the dam of Cardigan Bay. Slick Chick won a race with Jack Fraser jnr as the trainer, but when he gave the game away, McAughtrie gave the Brahman gelding to Jones and he won another six. McAughtrie then bought from Christchurch breeder Harry Kay his sister Snowline for $1000. She won three as a 3-year-old, but was then so badly injured in a fence that it seemed she was finished, and McAughtrie bred he to Fallacy to get the dam of Hands Down - Snow Chick.

Put back into work, Snowline won another nine races, including a 2:00 mile in the New Year FFA at Addington. In March 1971, Snowline won her last race at Greymouth, the same night that Snow Chick won a maiden race for Jones and then training partner Jack Grant, and both were soon retired.

Snowline's dam, Snow Jane was also the dam of 1976 Inter-Dominion Trotting Grand Final winner Bay Johnny, Snow Globe (10 NZ wins trotting), good Australian pacer Toliver Bay and the dam of a brilliant one in Apre Ski (Vic Marathon, US1:56).

Snowline had 10 in all with nine of them being fillies that amounted to little on the track, but the first colt from the first of them, Snow Chick, was Hands Down.

Credit: Frank Marrion writing in HRWeekly 12Jul06


| | |
| --- | --- |
| | RACING HISTORY FEATURE RACE COMMENT |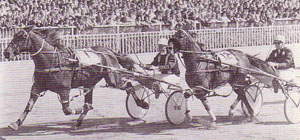 Hands Down catches Lord Module to win the FFA

1980 BENSON & HEDGES NZ FREE-FOR-ALL

Though he finally finished out of the money, champion trotter Scotch Tar was responsible for the spectacular contest which developed in the NZ Free-For-All.

Producing speed away from the gate which few thought even he could muster, Scotch Tar streaked to the lead to pull the field through the first quarter in 26.8. Maintaining amazing speed, Scotch Tar went through the first 800 metres in 58.6, then maintained the pressure as owner-trainer Slim Dykman attempted to burn off the opposition at the 800 metres. Scotch Tar reached the 1600 metres in an incredible 1:57.4, having left Be Sly struggling in his wake as the one trying to lead the chase after the trotter.

Scotch Tar was under pressure, not surprisingly, as he straightened up for the run home and Lord Module was the first to put his head in front. He took a clear lead, but then came NZ Cup winner Hands Down with a genuine stayer's finish from near the rear on the home turn to wear down Lord Module and go clear over the last 50 metres. Peter Jones said after the event that it was only his staying ability that saw Hands Down get up to beat Lord Module, a fact confirmed by trainer Derek Jones later. "That trotter made it for him. If it had turned into a sprint he wouldn't have had a chance," Derek said.

Lord Module's effort was much more encouraging, considering he had not really had a race for some weeks. He locked sulky stays with Trevira at the 400 metres as they both started to improve after Scotch Tar but driver Jack Smolenski did not think it affected his winning chances. "It was a much better race. He showed he wanted to race today," Smolenski said.

Philippa Frost showed once again just what a game little mare she is by finishing strongly for third after starting from the second line and following Lord Module round when he started to improve. Trevira wilted a shade to fourth after moving up to challenge on the home turn, then came Sun Seeker, Wee Win and Sapling.

Sapling's driver Doug Mangos and Sun Seeker's driver Richard Brosnan were both disappointed after the race. "I thought it was going to be a false start," said Mangos, who had his chances extinguished 200 metres from the start when Wee Win broke and ran out, checking Sapling badly. Sun Seeker was another to suffer and Brosnan, too, was far from satisfied with the start.

Credit: NZ Trotting Calendar


| | |
| --- | --- |
| | RACING HISTORY FEATURE RACE COMMENT |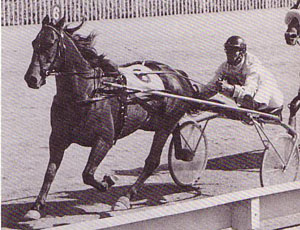 Scotch Tar & Slim Dykeman

1980 DOMINION TROTTING HANDICAP

Slim Dykman is rapidly becoming one of the great characters and favourites of those racing at Addington.
There was a time when any indiscretion in his driving tactics drew the ire of the stipes and the vocal wrath of the crowd. But these days Slim and his amazing little trotter Scotch Tar can do very little wrong. The Addington crowd loves them. Mind you, they have given fans a lot to talk about over the last couple of seasons. But never more so than over the recent Cup carnival.

Slim capped of a mighty couple of weeks with an effortless win in the country's premier trot, the Dominion Handicap, fulfilling a prophecy he made after winning the race two years ago when he told the multitude: "It occurs to me that we should do this again some time." If Slim's comments brought the house down then, his larconic sense of humour came to the fore again the other night to a similar reception. "The first thing that comes to mind," he said after accepting the trophy, "is the Telethon theme song Thank You Very Much For Your Kind Donation." And well the Club might have thought the Dominion was a formality for the brilliant son of Tarport Coulter and Scotch Penny and the $22,750 chegue Slim's for the writing.

In winning on the first day of the carnival he set a New Zealand record of 3:21.1 for 2600 metres; on Show Day he set a blazing pace to burn off some of the best pacers in the country to run the first mile of the New Zealand Free-For-All in an incredible 1:57.4; on the first night he failed by just a tenth of a second on his own to beat Nigel Craig's time trial time of 1:58.8. Slim Dykman was right on the ball when he told the crowd that Scotch Tar had been "racing something furious over the last weeks and we've got very little to show for it. Winning the best paying trotting race has made it all worthwhile," he said.

Called out a wag in the crowd: "The taxmans here Slim," referring to Mr Muldoon who was on hand to see his colt run in the two-year-old event. Called back Slim, as quick as a flash: "He's not getting any of that." Only minutes before another with a sense of humour among the crowd had called out to the P.M.: "You wanna get one like that Rob." Mr Muldoon could only agree.

Scotch Tar won the Dominion in the end by two and a half lengths from an improved Stormy Morn with Game Way and No Response deadheating for third. Scotch Tar began slowly from the ten metre mark but had soon overcome his handicap to sit in the open outside Game Way, content temporarily at least to let Trevor Thomas and Stormy Morn bowl along in the lead. The "champion" had made the front by the 1400 metres and from then on the result was never in doubt. Just as Scotch Tar made the lead, Stormy Morn tried to make it harder for him but there wasn't much use trying to pressure Scotch Tar out of it. Once in the lead he just trotted along comfortably; he might as well have been jogging around the track at home. He wasn't wasting any time over the last bit, however. His last half was cut out in less than a minute. His overall time was 4:16.6, a far cry from his record 4:11.6 of two years ago.

Thomas was well-pleased to get second money. "I tried to make it hard for the winner at one stage but there's no point in being a big man and burning yourself out and getting nothing either," he said. "We really had no show with Scotch Tar; I got a bit closer to him nearer home, but he was just having us on," Thomas said. Game Way ran an honest race for his placing while No Response ran on reasonably well to share third. Northern mare Thriller Dee broke at the start but recovered to get up for fifth ahead of Kate's Return and Hano Direct who moved up with a round to go.

Credit: NZ Trotting Calendar


| | |
| --- | --- |
| | RACING HISTORY FEATURE RACE COMMENT |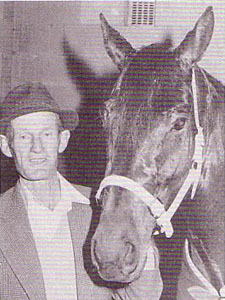 Amaze & trainer Scobie Harley

1980 NZ DERBY

"Who wants a tatty rug anyway...and what's $15,000 between friends?" Christchurch owner Brian Register joked after the New Zealand Derby. And well he might have asked. For from as far out as 800 metres from home, there was only one horse in it and it wasn't Mr Register's El Regale.

It was tough South Canterbury colt Amaze who recorded a phenominal performance to win the $35,000 Derby by three and a half lengths from El Regale and Young Pride third, just ahead of Vita Man. The winner's share of the purse was $22,750; the runner-up got more than $15,000 less. But from every angle, Amaze earned every cent for his owners, Mr and Mrs Jim Connolly and owner/ trainer Scobie Harley, all from South Canterbury.

Amaze, by Out To Win from an Easter Cup winner in Torrent, lost a lot of ground at the start and was still well back among the stragglers with a round to go. Driver Jack Smolenski took off with the tough colt soon after and, even though very wide at times, pressed on relentlessly. The pair cruised past pacemaker Lomondu Host halfway down the back straight and they set sail for the judge. On the home turn Smolenski had a couple of quick looks over his shoulder to see where the others were, but he had nothing to fear. He was on his own. He was slowing a little near the post, but that was hardly surprising. Even after all his trouble at the start and sight seeing on the way, he still cut out the 2600 metres in 3:21.7, the fastest since Motu Prince's record 3:21.1 in 1977.

Amaze was not originally down to contest the Derby but his connections thought sufficiently of his chances after two earlier good runs at the carnival to make the $1,500 late entry payment last week. It was money well spent. Smolenski was especially impressed with the run. "I didn't really give him a show early on but once he got going, he really went. I didn't want to go to the lead but he was pulling when Lomondu Host gave it away so I let him go." Smolenski said he knew the horse was a good one, especially after a run earlier in the season at Waikouaiti when he finished fifth after being checked at least three times.

Amaze, the win favourite, ran wide turning for home, "but I knew then I was well glear of the rest and out of trouble," Smolenski said. Second favourite Captain Padero, in the hands of northern reinsman Peter Wolfenden, cost his supporters dearly when he started to fade when perfectly placed 800 metres out and eventually finished last. Wolfenden could not explain the run. "And horses can't tell you what the trouble is, either, can they?" he said.

Runner-up El Regale came off the rails with about a mile to go but was then pushed wide. He came on well in the straight to take second, but had no chanc with the winner. Young Pride's was a good performance for third after breaking stride a couple of times in the running while Southern colt Vita Man put in a tremendous run for his fourth after getting a long way back earlier in the race. Melton Monarch made a strong run along th rails after being checked at the start to take fifth off the well-supported Lock Rae.

Credit: Graham Ingram writing in NZ Trotting Calendar


| | |
| --- | --- |
| | RACING HISTORY FEATURE RACE COMMENT |

1980 NZ OAKS

Armalight, daughter of 1971 NZ Oaks winner Ar Miss, followed in mum's footsteps when she won the 1980 renewal of the fillies' Classic, but not before she had to call on her vast reserves of courage.

The brilliant Timely Knight filly had caused young owner Brent Smith all sorts of problems in the ten days leading up to the Oaks, a cold, a low blood count and the odd leg problem thrown in to boot. But Armalight showed her tremendous heart by overcoming all these handicaps to capitalise on a perfect drive by Jack Carmichael and down the equally game Armbro Play by half a head.

Her time for the 2600 metres was 3:23.9, not quite as fast as her winning run in the NZ Metropolitan Three-Year-Old Stakes at Easter, but still a race record.

Armalight settled three back on the fence behind Regal Cheval and Armbro Play and it was only approaching the home turn that Jack Carmichael angled her out from behind Armbro Play. Regal Cheval was still in front turning for home in front of Armbro Play and Chantilly Belle, who had improved sharply on the turn, with Armalight in behind. Carmichael started to aim Armalight outside Chantilly Belle to make her bid, then switched direction back between her and Armbro Play. Armbro Play quickly dashed past Regal Cheval, then settled down to a dour battle with Armalight. With Carmichael flicking the whip at her, Armalight stuck her head down and kept coming at Armbro Play for a half-head victory.

These two were three and a half lengths clear of Royal Decision, who would have undoubtedly have finished closer, but for racing very greenly in the straight. Regal Cheval, Royal Decision's stablemate, wilted to fourth a length and a half back, with three lengths to the maiden Frosty Lopez, who made up a lot of ground. Another maiden, Royal Parade, paced a good race for sixth a further length back with Bonnie Lass, in contention on the turn, the next home ahead of the weakening Chantilly Belle.

Armalight is to contest the Fillies' Triple Crown, a race for which she will be an even more dominating favourite than she was in the Oaks. Then, it will be off north for the DB Flying Fillies' Stakes Final and the North Island Oaks. Victory in two of these events will give Armalight the singular honour of reaching open company in five months, a unique achievment for a three-year-old, and a particularly noteworthy one for a filly.

Credit: Tony Williams writing in NZ Trotting Calendar


| | |
| --- | --- |
| | RACING HISTORY FEATURE RACE COMMENT |

PETER JONES - HANDS DOWN 1960

Young drivers were unusual in the Cup in earlier decades but many produced their best drive in the race first time of asking. None did better than 25-year-old Peter Jones behind Hands Down in 1980. Peter had the faith of his selfless father Derek, who heavily promoted youth at his own expense but was an amazing natural talent.

Hands Down went into the Cup a much discussed enigma, ending up only 6th favourite. Slow as usual, Peter bowled him along until the 1600m. He lapped the field, burned off Wee Win in a fast quarter down the back and headed for home. Too Soon? Some thought so as Delightful Lady loomed at the turn. As if.

The mare got half a length lead. Mike Stormont took a quick peek to his right to check for any outside challengers. He looked the wrong way. The danger was the young man carved in stone inside him. Waiting, waiting, waiting... When the last question was asked close to the post the big horse responded, it was one of the most exciting of modern Cups.

Peter's two Cup wins were an unusual replica of Jack Kennerley's, his first was waiting in front and in his second, the bombshell of Borana in 1984, he was near last at the 700m and still got home. As great drivers do.

TRIVIA FACT: Trainer Derek Jones actually only drove Hands Down once in a race before the 1980 Cup. He ran fifth in a maiden at an on-course only meeting at Blenheim. Within 13 months he was to win a New Zealand Cup, possibly the most incredible progression of any pacer in modern times.

Credit: Davic McCarthy writing in Harnessed 2016


| | |
| --- | --- |
| | RACING HISTORY FEATURE RACE COMMENT |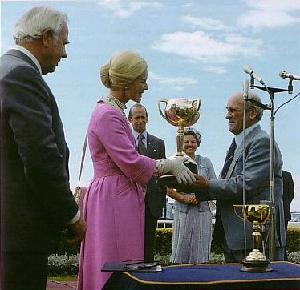 The Duchess of Kent presents the Cup to Hands Down's owner Bill McAughtrie

1980 NZ TROTTING CUP

It was only a year ago. Winning the 1980 New Zealand Cup was the furtherest thought in Bill McAughtrie's mind. "In fact," he confessed only minutes after his tough five-year-old gelding Hands Down had indeed won the Cup, "I had a horse I knew had a ton of ability, but I never thought he'd ever win a race. He was a wayward animal," Mr McAughtrie said before being hustled off to receive the gleaming trophy from the Duchess of Kent.

But in the last year, most of it in the hands of Templeton trainer Derek Jones, Hands Down has lost just about all those wayward tendencies and has won a dozen races in the meantime. From maiden to New Zealand Cup winner in a matter of months...a fairy tale of progress for Bill McAughtrie, a farmer from Omararama, and his wife.

And equally meteoric has been the rise of Hands Down's driver, twenty-five-year-old Peter Jones. Last Tuesday's was his first drive in the Cup. And in it he was able to achieve what father Derek, astute horseman that he is, has been unable to do in his twenty drives in New Zealand's premier race over the years. Peter was also able to credit his father with his first training success in the Cup after having many horses in the past who have made it to Cup class. Hands Down was Derek's thirteenth runner in the race, a point that prompted him, with usual quickness of wit, to suggest to the nearby reporters: "If I'd known that, I would have backed him."

Hands Down, though, has long been marked as a top Cup prospect. He won his first race at Timaru last December and then proceeded to win his next three as well. He missed a few times before winning a class four and five free-for-all at Addington in February, scored a third and then failed in three more races. Then again he lined up at Addington in April to begin an unbroken sequence of six unbeaten starts, four at the end of last term and two fine performances at the National meeting on the course in August.

The first of those August wins took him into the Cup and his win on the second night, a tough performance in anyone's language, marked him as the horse to watch if he lined up in New Zealand's premier staying race. A stayer Hands Down certainly is. He's taken five of his dozen victories over the exteme distance,more than any of his rivals last week.

He's big and strong and, according to Peter Jones, he's a lovely horse to work with at home. He's still relatively lightly raced (he hasn't had thirty races yet) and this, along with losing a lot of confidence after falling at the start of one of his early races at Forbury, contributes a little to his "greenness". The stipes weren't all that impressed with his Forbury performance and put him out for a month and made him trial to their satisfaction before they let him race again.

"Quietly confident" before last weeks event, Jones said he first knew the Armbro Del gelding was extra good when he missed away in a four-year-old race at Invercargill last December and yet still thrashed the likes of Lincmac, Historic Moment and Matai Dreamer.

It was no thrashing, though, Hands Down handed out to this year's star-studded Cup field. At the line, he had only a neck to spare from the brilliant northern mare Delightful Lady, whose run for her placing in an incredible 4:06.1 was a feature of the race. Hands Down's time of 4:07.2 was a record for the race. Delightful Lady, in turn, was four lengths to the good of old Sapling with another northerner in Greg Robinson three lengths further back.

Where Hands Down lost ground at the start, "The Lady" too was a little slow but soon made up her 15 metre handicap. She tagged onto the back of the main bunch, four lengths in front of the breakers Hands Down, Trio, Canis Minor, Roydon Scott - and the luckless Lord Module who let the others get 200 metres in front before moving off for John Noble. At the half-way stage Hands Down was tucked up behind the mare but soon after Jones took off in search of the lead with Wee Win, Mack Dougal and Trevira. He was outside Wee Win at the 1000 with Mike Stormont and Delightful Lady now back in the second line but three wide.

Hands Down mastered Wee Win at the 600 and at that moment Stormont started his charge. These two sorted themselves out and set sail for the judge some lengths clear of the rest. Delightful Lady actually got her head in front of Hands Down half-way down the straight but he fought back well to take the decision. Third-placed Sapling, in peak of condition, was, according to driver Doug Mangos, held up by a tiring Trevira at the 500 metres. "The leaders got away on me then and those three or four lengths I had to make up were just too much," he said. "Still, he ran on really well. It was a top run."

Greg Robinson, in the hands of Peter Wolfenden, pleased his owner Max Robinson with the way he stuck on after getting a good run mostly, even though a little wide down the back. And at the same time Robinson confessed, not without the inevitable smile however, to being a little disappointed after the race. "We thought we'd go home with the horse having won $100,000 in stakes." However his $6,000 for fourth took him to just on $96,000. "But we'll hit the target over the next few weeks once we get home," Robinson said. "They're easier up there." On his horse's performance last week, he wasn't being too optimistic. Greg Robinson was down to start in last Friday night's $20,000 Franklin Cup, a race Stormont was taking Delightful Lady back north for as well.

Stormont was a little critical of one aspect of last Tuesday's race, the lack of a tape on the 15 metre mark. "She was standing back when they went; we might have been 20 metres for all anyone knows. And then she was waiting for the tape. When it goes, she goes," he said explaining her slight tardiness at the start. He was returning home almost immediately because the stake at Franklin was better than for the Free-For-All and the northern opposition was weaker. "In the Free-For-All she'd have to go hard again and with the Addington track as hard as it is, her splints would make he a bit scratchy," he said. Besides, they'd be racing on their home track. however, he would return to Addington for another crack at the Breeders' Stakes, a race she won earlier this year.

The favourite, Roydon Scott, missed the start and really never had the chance to show the form that saw him unbeaten in his two other starts this season. Trainer-driver Fred Fletcher thought perhaps the big horse might have been "a bit fresh" in spite of some hard runs at the recent trials. "It's a long time since he's done that, and you can't do it in a race like this. It was a hopeless task trying to make up that ground".

If Roydon Scott's task was hopeless, Lord Module, well backed by the Addington crowd, set himself an impossible job by refusing to go again at the start. Last season's pacing sensation, starting from the unruly mark on 10 metres, didn't go for a long time and tailed the field by a long way all through. I was the final ignominy when he was later barred by the stipendary stewards from racing off standing starts. How quickly the mighty fall from grace. But amongst the jeers from a section of the 20,000 strong crowd, as Lord Module and John Noble went past on their own, there were more than a few murmurs of sympathy for a previously great performer. On looks alone on Tuesday, he should have won his second Cup.

But, realistacally, for the beaten lot there were no excuses. Hands Down and Delightful Lady trounced them well and truly.


Credit: Graham Ingram writing in NZ Trotting Calendar