| | |
| --- | --- |
| | INTERNATIONAL HISTORY |

Margaret Thatcher becomes Prime Minister of Britain.

November 28 - Air NZ DC 10 crashes into Mt Erebus in Antartica. Of the 257 people on board there are no survivors.


| | |
| --- | --- |
| | LOCAL HISTORY |

April 1 - Lyttelton road tunnel becomes toll free.

July 11 - First meeting of the Canterbury United Council.

July 30 - Carless days for motor vehicles were introduced to combat the second oil shock. They did little to reduce petrol consumption and were scrapped in May 1980.

October 30 - University of Canterbury gives old university to the Arts Centre Trust Board.

Credit: Ch-Ch City Libraries


| | |
| --- | --- |
| | RACING HISTORY |

LANCE HERON

The part-owner and trainer of champion Trotter Nigel Craig, Mr Lance Heron died last week. He was 79.

Mr Heron, who trained for many years in Rangiora, raced Nigel Craig, the holder of four NZ trotting records, with his son Bevan who currently trains at Amberley.

Mr Heron was also successful with other trotters, among them Van Cheetah and Seven Nights, before Nigel Craig, unquestionably out top trotter before being sold to America for $100,000 several seasons ago. In all, he scored 26 wins and 29 placings for stakes of almost $97,000. His best time of 1:58.8 was recorded at Addington in a time trial in 1977.

Credit: NZ Trotting Calendar 9Oct79


| | |
| --- | --- |
| | RACING HISTORY SECRETARIES & EXECUTIVE STAFF |

DES PARKER

Des Parker was born in Christchurch in 1913. September is as close as he'll define it to stop the inevitable "rush of presents if I tell you the day". He went to Christ's College, leaving at 16½ in the early days of the Depression. His step-father was his first boss. He was a company secretary, as well as being secretary of the Canterbury Society of Arts and the Nurse Maude District Nursing Association. "That was all pretty interesting because I met a lot of the artists around the time; and I met Nurse Maude herself. A tremendous person," Des said.

He eventually left his father and worked at two other jobs before taking one in an accountant's office. There he stayed for two or three years when he got the opportunity to move to join the Addington clubs as a clerk late in 1938. It wasn't an avid interest in horses or racing that made him take the job; rather it was the four guineas a week, almost twice his wage before. And the actual job itself had better prospects and held more interest.

At the time Des went to Addington the assistant secretary Harold Goggin was to become the tote manager on the course. A I Rattray was the secretary and had been since the Metropolitan club was founded in the middle 1880s. When Mr Rattray died in 1941, trotting lost one of it's real characters, in Des' eyes anyway. "The average person just can't comprehend the debt trotting in general, and especially Addington, owes to him. He even put his own money into the public stand. And he set standards for people like Goggin and myself to follow. "He was a stickler for the rules; no one got away with a late nomination or acceptance, and he was fiercely loyal to his staff. He even got to the point where he was going to throw in his job if the committee sacked a particular gateman they thought had been wrong. I can see him now...bun hat, immaculately trimmed beard, huge cigar, diamond tie pin, all those things current secretaries can't afford..."

Having worked under Rattray, he was next understudy to Mr Goggin when that gentleman became secretary in 1941. Des Parker became secretary himself in 1953 and he has seen a lot of changes in trotting since then. He finds it difficult to pinpoint any change, which, in his eyes, has been detrimental to trotting. Changes for the good have been the introduction of night trotting, more racing, new forms of betting and the TAB. And in spite of earlier reservations he had, Des Parker now sees the Racing Authority as well worthwhile. I wasn't very enthusiastic for a start for I saw the Authority taking more control away from the clubs and conference. But it has done a lot of good in ironing out problems between the two codes and it has been able to provide a better communication with the Government on racing matters. Night trotting over the years has been a boon to major clubs anyway, doing a tremendous amount to help improve stakes, for instance. Anything which hasn't worked or has had an adverse effect has usually been dropped reasonably quickly."

It is because he sees the importance for clubs to retain a certain amount of independence he sees problems at this stage in the centralisation of field selection, an idea that has been proposed from time to time. "I can see there would be certain advantages in centralisation but taking away individual rights of clubs might be a disadvantage to the industry. I mean there, that those committees that currently draw up programmes and select fields would then become merely 'social' committees and as such, could rapidly lose interest in the sport."

Falling attendances have been worrying both the trotting and racing codes and Des Parker can't see any immediate solution. The closure of petrol stations at weekends and the spiralling cost of fuel must have an adverse effect on racing, he says. "People will think twice before making a long day trip to a race meeting. Sure, the dyed-in-the-wool supporter will still go, but it's those people on the fringe, those that make the difference between six or eight thousand at an ordinary meeting and 20,000 at a Cup meeting that provide the icing for the cake. The cost of transport is going to be a very, very serious problem for the industry. It'll affect trainers, owners, drivers, patrons, headaches for everyone. Administrators are going to have to do all they can to use public transport to get to the races."

However, there could be a brighter side to this gloomy situation, for Auckland and especially Christchurch tracks at least. Getting to Addington, for instance, doesn't take too much effort or fuel, and a fair proportion of those horses which race there come from training establishments within easy reach of the city. "Clubs like Greymouth, Forbury and Wellington, where in comparison there are relatively few horses trained locally, could be hardest hit.

Figures released last week show that the clubs racing at Addington struggled a bit over the last season. Des Parker says that overall, attendances have been maintained, but with more dates, there have been fewer patrons on-course, meeting by meeting. People are becoming more selective and the weather doesn't have to be very bad for them to stay at home. They know that within a fortnight, or less, there'll be another meeting on the track anyway. (The three clubs at Addington have a total of 29 permits for the year, which is a little better than one meeting a fortnight). "Those fewer people are spending more...but that's an effect of inflation. There're are not too many permits here; rather it is a case of too many permits on unfavourable dates. The Christchurch climate is never the best for any form of outdoor entertainment at night in anything other than the summer months. And the success of outdoor entertainment is dependent on the weather every time."

In his time at Addington, Des Parker has had an active part in the organisation of four Inter-Dominion carnivals taking on the major role in 1961, 1971 and the latest series here in Christchurch. Although public interest was not reflected in attendance and the club a hefty $35,000 loss on the carnival, Des Parker reckons the organisation was as good as for any of those previously. "In spite of the financial aspects, all the committees involved were happy with the Inter-Dominion. We knew we had done a good job."

Could the disappointing attendances be blamed on the good live television coverage over the earlier three nights of the meeting? "As I told Jon Neilson when interviewed by TV on the final day, television is a wonderful medium for people who want to stay at home. But the amount we received in no way compensated for the lower gates. "But it is an imponderable. Who's to say whether or not those who stayed home with their tv, bet more on the TAB?"

Over the years at Addington Des Parker has worked with many presidents of the three clubs and many committees. "Most of them I came to regard as friends, rather than employers," Des said. "Of course we have had our occasional differences, but with most, they never lasted." He has nothing but praise for the casual staff at the Raceway who had helped make Addington tick. Of the characters among them, Des probably remembers best a vet for the club for many years, Colonal Stafford. "An army man, he was. Stafford did everything by the book."

If your in a job for more than forty years, it's inevitable you have good times and bad times. Des Parker has had two bad moments and both involved fires at the course. The first was on Show Day of 1954 soon after the last race had been run. Fanned by the usual Show Day nor'wester the outside public stand containing the best public seating and bar facilities was razed. Strangely enough, the second fire took place on Show Day again, this time in 1961 in almost identical conditions. However, the last race was still to be run when fire broke out in the main public stand. Race-goers were moved out quickly and many moved to the inside of the track to watch the last event and get a close view of the most spectacular blaze in the city for years. Des remembers he got some pretty good shots of the fire himself from various points around the steward's stand. "And that was the only time I ever took my camera to the races. With the odd exception, the public responded well and it was a tribute to the police, staff and firemen that no-one was injured in the blaze." (The last race, incidentally, was won by hot favourite Cardigan Bay and Smokeaway, well-backed on-course, finshed third.) Des's heart went into his mouth too, every time there was a smash or accident on the track. "Not that you can do much about it, but you don't like anything to go wrong at all."

Of course, measured against those bad times, there have been a lot of particularly amusing moments. Unfortunately, most of those can't be published without causing "some people a lot of embarrassment..." However, Des will always remember the trouble the Navy flag party had at the closing ceremony at the last Inter-Dominion. "That was a highlight of the carnival," he says chuckling at the thought. A similar happening took place at Melbourne last year. "They had trouble getting the flag down then and people were scurrying about looking for a pocket knife or something to cut the rope with." But Des wasn't so amused when he got a phone call from an owner a few minutes before midnight one New Years Eve. "He was after some tickets for the next day's meeting...what he thought I could do about it at that time I'll never know but that would be one of the rare occasions I consider I was plain rude to anyone." Fair enough, but that was perhaps an extreme example of how club secretaries are expected to be on deck at all hours. "You make a lot of sacrifices in the job, put in long hours sometimes, have to take calls at any time. But in spite of that, you get a really good feeling, when after months of planning, a Royal meeting or an Inter-Dominion championship goes without a hitch."

Des Parker leaves Addington in the care of his successor, former racing secretary Trevor Davis, with no regrets at all about having taken the job in the first place. "Look, it's been an interesting career all through, rewarding too, giving me all kinds of opportunities...unforgettable moments like meeting Royalty several times, attending Inter-Dominions on both sides of the Tasman." And now, only recently finished all the tidying up work on the Inter-Dominion, he has spent the last few weeks "settling into retirement".

He is playing golf regularly, spending more time in the garden. "Yes, I'll be going to the races from time to time. And I'm becoming fitter than I was, too, with a lot of walking about the city," he says pointing to a belt pulled in another notch to prove his point. "It's certain, I won't vegetate. There'll always be something for me to do." His wife Dorothy is seeing a lot more of him around their Riccarton home these days. "I don't know how she'll feel about it in two or three month's time, but at the moment, I think she enjoys having me around the place..."

-o0o-

David McCarthy writing in the Press 2004

The death of Des Parker in Christchurch last week, aged 91, removed from the racing scene a man regarded as one of the most able club secretaries in the history of the sport in NZ. He was the secretary of the Addington clubs for 26 years and associated with the administration of the NZ Metropolitan club for more than 40 years.

Born in Christchurch in 1913, Des Parker commenced his career at Addington in December 1938 as a clerk under the legendary A I Rattray, who had been the driving force behind the founding of Addington Raceway in 1899 and its subsequent development into one of the finest trotting tracks in the world.

Parker worked in the totalisator payout division during the 1938 Inter-Dominion Championships at Addington - the first held in NZ - and retired after organising the 1979 Inter-Dominion Championships on the course. It was the fifth Inter-Dominion carnival at Addington he had been involved with.

Parker was appointed assistant secretary on Rattray's death in 1941. He entered the Army in March 1942, serving with the Home Forces, during which time his salary was paid by the Addington clubs. Parker assisted Harold Goggin before succeeding him in 1953. His era coincided with the salad days of racing, but they also provided many administrative challenges.

Fire destroyed the outside public stand after the last race on Show Day 1954, a nor'westerly gale carrying the fire to the nearby Showgrounds where many horse stalls were lost. Seven years later the secretary watched in stunned disbelief as another gusty nor'wester destroyed the public grandstand during the running of the NZ Free-For-All. Parker organised the details on the momentous Royal visit to Addington in 1954, and helped host subsequent visits by the Queen Mother in 1966, and the second visit of the Queen and the Duke of Edinburgh in 1977, their first visit to a night race meeting.

Other innovations during his term of office included the inaugural night trotting meeting in November 1963 just a few weeks after the opening of the new public stand; modern infield indicators and closed-curcuit televising of dividends; converting the original incandescent track lighting to multi-vapour; the abandonment of the traditional wooden running rail which caused much controversy; the building of the present office block; and negotiations with the Ministry of Works over major alterations to the grounds to cater for the motorway. He also began the process for the buying of the lease of Addington Raceway for $1 million, one of the most astute deals the club has ever done.

When Des Parker retired in 1979 and was succeeded by his assistant of 19 years, Trevor Davies, he was made a life member of the NZ Metropolitan club as well as the Canterbury Park and New Brighton clubs - both of them racing at Addington.

Parker was an authoritarian figure and even the strongest club leaders paused before questioning his decisions. "Des was dedicated and highly efficient himself and expected others in the office to be the same. He was more interested in the administration than the racing, although he liked to have the occasional bet," recalls Tony Lye, the present racing manager at Addington who began his career there under Parker.

"We used to do huge on-course turnovers almost automatically in those pre-Trackside days without serious competition. If it dropped below $350,000, Des was quickly wanting to know why."

John Rowley, who worked under Parker for six years at Addington and later alongside him as chief executive of the NZ Trotting Conference, also remembers a blunt character who always looked after his staff. Several, such as Hazel Crosbie, were with him for many years. "I have to say that Des's blunt way of dealing with people on raceday was not what most of us believed was ideal at times," says Crosbie. "But there was no question of his loyalty to his staff."

Underneath what could be a gruff exterior, Parker had a deep affection for Addington and attended annual meetings and other functions long after his retirement. He was also a keen golfer and bridge player, taking up bowls in latter years. He was a regular at the Fendalton Probus Club meetings, but his work dominated his life.

When his last Metropolitan president, Eugene McDermott, died in 1998, Parker told the Press, "Mac was a straight shooter and you always knew where you were with him. He spoke his mind, but never held a grudge and was an outstanding administrator."

Those words rest just as easily alongside the memory of Desmond Charles Parker.

Credit: Graham Ingram writing in NZ Trotting Calendar 3Jul79


| | |
| --- | --- |
| | RACING HISTORY PEOPLE |

ARTHUR NICOLL

In 1908 a young lad watched his father's horse Durbar come home at the head of the NZ Cup Field at Addington. That was Arthur Nicoll's first recollection of a sport that dominated his life until his death in Ashburton last week. Mr Nicoll, in his 80th year, was an influential trotting owner, horseman and breeder and later was to head the NZ Trotting Conference for four years and be awarded an OBE for his services to trotting.

It was hardly surprising Arthur Nicoll pursued this career as his father, H F Nicoll, was one of the greats in the NZ harness world in this time. He initially ran the mighty Durbar Lodge Stud, from which some of the country's top horses hailed, among them Wrackler, Indianapolis and the champion trotter Ordeal. Arthur Nicolls always had a passion for speed. As a teen he would race at the local speedway under an assumed name because his parents did not approve of the sport. His liking for speed was channelled into horses and cars in later life and Arthur Nicoll, it's said, collected more speeding tickets that he cared to remember.

He worked for his father in the early years and bred a few horses which raced in his colours. He did some driving too, but with insufficient success to hit the top. He acquired his first broodmare, Nell Pointer, from his father in 1923 and she left his first winner, Nella Dillon, by Author Dillon. In 1926 he bred Grand Canyon, by Wrack, who he sold as a 2-year-old for 1200gns. In 1928 he bred Tempest who finished a length and a half behind the brilliant pony Silver De Oro in the 1931 Sapling Stakes.

In 1932 he purchased the famed Indianapolis from his father's dispersal sale and under his own colours Indianapolis won his first race at Ashburton and then went on to run second in the Sapling Stakes to Taxpayer. He sold Indianapolis to the late G J Burton, for whom he went on to win three NZ Cups.

In 1932 Arthur Nicoll and his brother Gerald went into partnership and formed Durbar Lodge Ltd. This combination raced with considerable success and among their winners were Wrackler (undoubtedly the country's greatest double gaited racehorse), Raclaim, Arethusa, Ciro, First Wrack, Flying Cloud, Bracken, Vanity Fair, Gerfalcon and others. The partnership was dissolved in 1937, when Arthur took over the operation by himself. In 1938 Arthur Nicoll finished second in the Sapling Stakes with Aldershot, the third time he had filled that position in the prestigious event. Aldershot was another product of Durbar Lodge, being by Wrack out of Trix Pointer. He was therefore a full brother to Wrackler, Raclaim and Arethusa. Aldershot went on to win the NZ Derby for Mr Nicoll but he was sold on the outbreak of war. He sold the Durbar Lodge property itself in 1960.

Arthur Nicoll had a distinguished career as a soldier. He was the commanding officer of the NZEF's Divisional Cavalry in the Middle East and held a Lieutenant Colonel ranking. He was to be awarded a rare Territorial honour, the ED for efficiency, in a long and loyal association with the Army. He later became a life member of the Returned Services Association and was president of that organisation from 1951 to 1955. But it was as an administrator of his favourite sport that most people will remember Arthur Nicoll.

He was first elected to the committee of the Ashburton Trotting Club in 1922 - a position he would hold until he stepped down 53 years later. In 1955 he was voted onto the executive of the NZ Trotting Conference. In the same year he was elected president of the Ashburton Trotting Club when his father passed away. His father had held that position for the previous 49 years. Arthur Nicoll was to be president for the next nine years. In January of 1965 Mr Nicoll was appointed South Island vice president of the NZ Trotting Conference and in May of that year he took over as president on the death of W E Desmond. He held that position until his retirement from the Conference in 1969. During that period Mr Nicoll served on the committee of the Totalisator Agency Board and had two twelve month periods as chairman. During this time TAB concession doubles and betting on overseas races were introduced. He was also prominent on the Inter-Dominion Trotting Council, a series his father helped to introduce.

Mr Nicoll always carried his stopwatch to the races and was renowned for his accuracy in this field. He had a vivid memory of horses and races and apart from those held during the war, had little difficulty in reeling of the winners of the NZ Cup back to 1920. His racing interest apart, Mr Nicoll was a keen amateur photographer, often judging in competitions.

Mr Nicoll, who lived all his life in Ashburton, is survived by his wife Christina and daughter Diana, Mrs Alan Wilks of Wellington.

Credit: Frank Marrion writing in NZ Trotting Calendar 18Sep79


| | |
| --- | --- |
| | RACING HISTORY PEOPLE |

STAN ANDREWS

A prominent official of the Canterbury Park TC for the past 21 years, Mr Stanley Andrews died in Christchurch last week. Mr Andrews, who was also a top hockey player in his day as well as being a prominent cricketer and useful golfer was 66 at the time of his death.

He was a life member of the Canterbury Park club after serving as president for three years (1973-76) and as a steward fron 1958. He was elected to the committee in 1963. Mr Andrews, who was a director of Addington Raceway for more than a year before his death, raced several horses in partnership with friends over the years.

He played hockey for Canterbury and made the NZ team to Australia in the 30s and played a handful of games for Canterbury over three cricket seasons in the same period.

Credit: NZ Trotting Calendar 9Oct79


| | |
| --- | --- |
| | RACING HISTORY PEOPLE |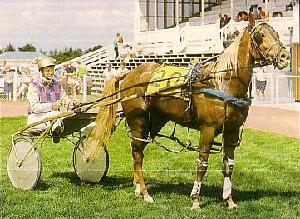 Lorraine Grant with Rainbow Patch

LORRAINE GRANT (formerly WATSON)

"Once I was in the cart I was as good as gold. Before then I knew that all eyes would be on me...if I made a mistake, everyone would see it." That was how Lorraine Watson summed up those minutes before her first race as a fully licenced driver at Methven last Tuesday. She needn't have worried, even though Lorraine and her charge Lord Burlington finished only ninth in the first leg of the double. She tried to get Lord Burlington out into the clear at the start but was forced to change her plans when Wanda Bye went into a gallop along side her. From then on she sat back on the rails with Lord Burlington running on "as well as expected" in the straight.

The most nerve-wracking part of the day was yet to come. Immediately after the race, amid the flurry of well wishers and friends, there were the inevitable television and radio interviews for the South Island's first woman to drive in a tote event. "That was worse than the race. I suppose I was a bit shy and was worried about what I was going to say. Thank goodness, it happens only once," she said later. She actually drove her other representative, Hydro Byrd, into the money in the final event on the day. Hydro Byrd began like a rocket from the outside of the second line, and avoiding a slight mix-up at the start, was soon in the lead. For a long time down the straight it looked as though Lorraine might do the trick for her hometown crowd but, sticking on well, fourth was the best she could manage. Still, she got some of the money to cap off her day. "I always get on well with Hydro Byrd," Lorraine said. "I've won a lot with her at work-outs and trials. In fact, I have few problems with either horse."

Lorraine has had a licence to drive at matinees and trials for about a year now. But she has been "totally involved" with trotting ever since her marriage to the late Murray Watson fifteen years ago. But she has always liked horses, spending all her holidays on a farm, before then riding the ponies at Caroline Bay, Timaru. She used to go with her parents to as many race meetings as she could, too.

An aunt, Rita Jackson was NZ's first woman professional galloping trainer, who made her mark in the North Island with several well-performed horses. Lorraine (I've always had a competitive streak) gets the same thrills out of driving she once got from running. She was a South Canterbury athletic champion twice, but gave that up at 16 so she could follow the horses more closely. "But driving a race is a wee bit like running. You've got to keep your wits about you and plan ahead," she said.

Lorraine helped Murray with a lot of the jogging and other work with the team he trained on their Methven property. So it was only natural she would want to carry on after he died in hospital after a race crash with Belmer Lady at Motukarara in October, 1971. "I felt I had to keep on, I didn't want to see all the work he'd done go to waste, or the horses go to someone else," she said. "And that's what he would have wanted."

Lorraine has 26 horses on the 75 acres - another 309 acres are leased out - she has now. Lord Burlington and Hydro Bryd are the only two racing, but she does have a couple of 3-year-olds coming along nicely. One is Misgiving, by Lordship out of Misleading (by Fallacy) and the other is Dotrice, by Sly Yankee out of Copperwork, a half sister by Bachelor Hanover to Misleading, both members of the renowned Purple Patch family. Misgiving has had one start at the trials but has been put aside until the spring and Dotrice is just beginning fast work.

Last Tuesday wasn't the first time Lorraine had driven in an actual race. While on holiday in Queensland a couple of years ago, she drove at a Queensland 'bush meeting'. "It was a tiny wee track that had you leaning out round the corners. The horse I drove had the trail all the way but was so slow I almost had to get out and push it to keep second," Lorraine recalled last week.

Lorraine was pleased by the reactions of her male counterparts on Tuesday. "Of course, there will always those against women drivers, but I was surprised by a lot of the others," she said. Many had wished her well before the race and had spoken to her after. "But really driving is all in the hands and feet, sex makes no difference," she said. There would be the exceptions of course, such as with a really strong puller who might take a lot of strength to control.

She said she would continue to drive her own horses at tote meetings. Unless, of course, she felt they would do better in the hands of sombody else. If she were offered other drives, she would probably accept them although at this stage she was feeling her way. She had really applied for an amateur licence so she could drive her own team. And her overall impression of her first day's racing:" A little like driving at the trials, although it's a lot more serious in the straight, isn't it!"

-o0o-

Extract from HR Weekly 21 Jan 98

Lorraine Grant (formerly Watson), one of the early pioneers to develop the role of women on the racetrack, died earlier this week. Based in Mid-Canterbury, Grant was 54 and had been in ill-health for the past year or so.

Grant was involved in all aspects of the Industry, breeding, owning, training, and more recently standing the stallion Happy Chatter II, and along with Dorothy Cutts and Anne Cooney, was the first to be granted a licence to drive against men.

Cutts was the first to succeed in this domain, winning with Kenworthy at the Matamata on-course only meeting in February, 1979. Grant, then Lorraine Watson, had her turn on 21 March the same year, winning at Methven, she repeated the dose on the first night (6 April) of the Met's Easter meeting winning, on both occasions with the Butler Byrd horse, Hydro Byrd.

A very capable and patient trainer, Grant had more success than most with sons of Lord Module. Flashing By and Burgundy were sons of the Lordship horse to win four races. Hydro Byrd won six, Jay Ardee seven, but the star of the stable was Rainbow Patch, a striking chestnut by Main Star who won 10 races.

Grant has the honour of being the only woman to drive in the NZ Cup, driving Rainbow Patch in Il Vicolo's Cup two years ago. Grant was a member of the Silks and Satin Club, a supporter of harness racing in the Mid-Canterbury district, and a polished entertainer in the Methven Choral Society. She is survived by her husband, John.


Credit: Graham Ingram writing in NZ Trotting Calendar 20Feb79


| | |
| --- | --- |
| | RACING HISTORY PEOPLE |

H S DONALDSON

Tinwald owner-trainer H S (Hughie) Donaldson collapsed during the running of the Ngaio Handicap (won by his horse Santoza) at Hutt Park last Friday night, and died later in Wellington hospital.

Mr Donaldson, who was aged 72, had a long association with trotting, taking out an amateur trainer-horseman's licence during the 1945-46 season and a professional licence eight years later.

Though he never had a large team in work at any time, he gained a lot of success, particularly with trotters which he preferred to train. During his career, he developed such good trotters as Lessaday, Ninety Days, Stormy Petrel and Copper Tone and more recently, Santoza, whose win last Monday night was the eigth of his career.

Early in his career, Mr Donaldson prepared the grey mare Quite Contrary to win several races, and she later made her mark as a broodmare, being the dam of Soft Magic, who in turn left Doctor Voss, Ilsa Voss and Ripper's Delight, all good winners. Indianna, the dam of the useful winner Individual, Pieta, Countess Ada, Scotty's Double, La Gloria, Highland Host, Sure Lass and Pylon were earlier good winners for Mr Donalson.

Credit: NZ Trotting Calendar 11Dec79


| | |
| --- | --- |
| | RACING HISTORY PEOPLE |

E G MITCHELL

A well-known Christchurch trotting administrator E G (Ted) Mitchell died suddenly at Christchurch last Thursday.

At the time of his death Mr Mitchell was junior vice-president and a life member of the Banks Peninsula TC. He had also been that Club's original secretary, a position he held for 15 years. Although golfing (he was a life member and long-time secretary of the Templeton Golf Club) and gardening took up a lot of his spare time, Mr Mitchell's main interest was in trotting. Late last year he resigned as secretary of the Canterbury Trotting Owners and Breeders Association, a position he had held since 1946. He also served a term as president of the national owners and breeders association.

Mr Mitchell was one of the original members of the NZ Racing Authority. He was serving his third term on that body at the time of his death. Before the formation of the Authority, Mr Mitchell, in business as a public accountant in Christchurch for well over thirty years, was responsible for preparing submissions to the Government on the scheme for tax relief for racing clubs. These submissions were also considered by the Royal Commission into the industry, set up by the Government in 1970.

As well as being actively engaged in the administration of trotting, Mr Mitchell also had an interest in racing and breeding horses over the years. Among them were Dillon Dale, a winner at Forbury, Bonny Strathair, and with Charlie Winter, a share in Fifth Brigade.

Mr Mitchell was also a past secretary of the Canterbury Rugby Union.

Credit: NZ Trotting Calendar 9Jan79


| | |
| --- | --- |
| | RACING HISTORY PEOPLE |

L O THOMAS

A well-known former trainer driver, Llewelyn Oliver Thomas, died in Christchurch recently.

Mr Thomas, 81, was the father of current successful horsemen, Trevor, who trains at Belfast, and Ivan who trains at Pukekohe. He himself prepared a team in the lower part of the North Island and later Addington.

Many of his horses reached the top company, among then Excelsa, County Antrim and Glenrossie. Excelsa was probably the best of them. She won 10 races, including the 1955 Easter Cup. County Antrim's two most important victories were a NZ Champion Stakes at Ashburton in 1946 and an All-Aged Stakes on the same course.

Earlier Mr Thomas had won the 1929 Derby Stakes with Purser, a Dominion Handicap with Huon Voyage in 1933 and a National Cup with Battle Colours. Glenrossie was a Consolation winner at the 1938 Inter-Dominions at Addington.

As well as his race-day activities, Mr Thomas was prominent as a committee member of the Canterbury Owners and Breeders Association for many years.



Credit: NZ Trotting Calendar 1May79


| | |
| --- | --- |
| | RACING HISTORY PEOPLE |

W A (BILL) CRADDOCK

Long-time trotting administrator Mr Bill Craddock died in Westport last Thursday night. Mr Craddock, aged 72, had not been in good health for some time.

Mr Craddock devoted many years of his life to the trotting sport and enjoyed success with many horses he raced. Amongst those he owned or raced were Rewa Scott (7 wins), Durban Chief (13 wins including the NZ Trotting Free-For-All), Our Own (11 wins), Craven (the dam of Boy Louw, Dupreez, Geffin and Protea), Miss Honour (3 wins), Life Member (4 wins) and Rosewood Garrison (3 wins).

His last success as an owner came at Addington last month when Rosewood Garrison won the Marine Handicap. Mr Craddock raced the mare in partnership with Mr Laurie Rutherford, a member of the executive of the Trotting Conference. Mr Craddock himself served as an executive member. He was appointed to fill a casual vacancy in September, 1965 and remained until July, 1976.

Mr Craddock did much for both racing and rugby on the West Coast. He served as honorary secretary with the Westport Trotting Club from 1930-1966. In 1966 he became president of the club, a position he held until 1977. He also served three three-year terms as mayor of Westport, the last ending two or three years ago. He was president and a life member of both the NZ and Buller Rugby Unions. He was president of the NZRFU in 1943. He was the longest ever serving councillor on the NZRFU and the only man to have ever served 50 years as treasurer for the Buller Rugby Union.

He was a well-known liaison officer for rugby teams touring the West Coast and was probably the greatest benefactor to any provincial rugby union in NZ. He managed two NZ touring rugby teams - the Maoris to Fiji and the 1957 All Blacks to Australia. Both were unbeaten on tour.

Credit: NZ Trotting Calendar 6Mar79


| | |
| --- | --- |
| | RACING HISTORY MESCELLANY |

RECORD PLACE DIVIDEND?

Divvies don't often come better than this, if ever...pictured is Royal Victory whom we believe paid a record place price away back in 1950.

Trained by F F Scott (seen here in the cart) who was granted the first trainer's licence in Nelson in 1916, and driven by K Purdon, Royal Victory was beaten half a head and three lengths at the Marlborough Trotting Club's meeting in January that year.

And the record price? A mere £112/19/6...that is $225.95 these days.

Credit: Graham Ingram writing in NZ Trotting Calendar 28Aug79


| | |
| --- | --- |
| | RACING HISTORY MESCELLANY |

DRIVING LICENCES FOR FEMALES

Three women have been licensed by the NZ Trotting Conference to drive in totalisator races in New Zealand.

Mrs Lorraine Watson, Miss Dorothy Cutts and Mrs Anne Cooney were granted licences to compete against the men at a meeting of the conference licensing committee in Auckland last week.

Miss Cutts, from Mangere, has been granted a professional driver's licence while Mrs Watson (Methven) was given an amateur driver's licence and Mrs Cooney, a professional probationary licence. Two licences were also issued for women to drive professionally at matinees and trials.

The criteria laid down by the Conference for the granting of licences to women is exactly the same as that which applies to the men.

Credit: NZ Trotting Calendar 13Feb79


| | |
| --- | --- |
| | RACING HISTORY MESCELLANY |

HEROES ON COURSE

Every boys dream...to meet a genuine war hero. And it is twice the pleasure for Gary Argyle, Simon Philip and Campbell Lochhead as they shake hands with two Victoria Cross winners, Charles Upham (VC and bar) and Jack Hinton, seen here with Mid-Canterbury trotting identity Colin McLaughlin (right) at the Ashburton races the other day. Mr Upham owns the broodmare Lansdowne, named after his Parnassus, North Canterbury property, and Mr Hinton, from Auckland, races Special Fella in partnership.

NOTE: The road that runs through the Addington property from Whiteleigh Avenue to Wrights Road is named "Jack Hinton Drive" in recognition of Mr Hinton.

Credit: NZ Trotting Calendar 9Oct79


| | |
| --- | --- |
| | RACING HISTORY INTERDOMINIONS |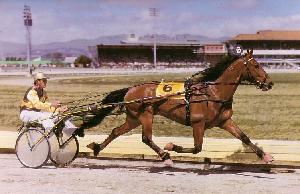 No Response

1979 INTERDOMION TROTTERS GRAND FINAL & NZ TROTTING CHAMPIONSHIP

For the standardbred purist there is no more aesthetically pleasing sight than a great trotter in full flight, and no doubt one could come up with 10 great trotting races just as easily as the pacers.

Time and space do not permit us to do the latter exercise this time round, but picking one seems to spring to mind for most everbody old enough to have seen it - No Response's exhilarating 'back from the dead' win in the 1979 Inter-Dominion at Addington.

In fact, that Championship is best remembered for the trotters and No Response in particular, even if the Pacers Series had been severely depleted by the defections of Australian champion Maori's Idol along with Pure Steel, Rip Van Winkle, Koala King and Royal Force. The defending pacing champion Markovina was there, but the loss of Maori's Idol hurt.

The previous year in Melbourne, Maori's Idol had equalled Lucky Creed's 1970 record of 24 consecutive wins in the heats, only to be inexplicably beaten into third in the Final. The 5-year-old entire then won two heats of the Sir Clive Uhr (Queensland) Championship in Brisbane, beating top pacers which included Koala King, Paleface Adios, Master Findlay, Roma Hanover and Sporting Son in the process, and give Rip Van Winkle a real race in the Final. Maori's Idol returned the next season to win four of five starts, including the Dullard Cup at Moonee Valley from 40 metres, but then went amiss and while nominated for Addington, he never made it to the end of the comeback trail.

Outside of the unbeaten run through the heats by the fine stayer Wee Win and a few sideshows from Lord Module, the Pacing Championship was actually all rather anti-climatic in the end, but there was enough class and depth to the trotters to make for some compelling racing. Even if in this pre-Internet and Trackside day, hardly anyone had ever heard of the Australian visitors Alby Logan, Hec's Hope, Hilton Adios, Mighty Miller and Silken, the latter a fine type of 11-year-old mare for Victorian horseman Kevin Murray. Only Hec's Hope and Mighty Miller would not make worthwhile contributions at some point during the Series, with Alby Logan and Silken making the Final and Hilton Adios winning the Consolation on the third night.

Even Speed and Spartan Prince were rising 5-year-old open class stars on the scene in 1979, and others of the same age who would prove more than capable on their day included First Prize, Miss Castleton and Pointer Hanover. About Now and Hano Direct were classy 4-year-old mares at the time, while Ilsa Voss and Our One were older mares who were also top class at times. Waipounamu was a 10-year-old and far from finished - in fact he was just getting warm - while Diogenes, Relinquish and Yankee Talent wer others commanding respect into the Championship.

But this was the time of a 7-year-old No Response and Scotch Tar, Slim Dykman's 5-year-old pacing-bred freak who trotted faster than the great majority of pacers. One just had to catch him in the right frame of mind, which was not always often. After winning five of eight races the previous season, Scotch Tar had gone through to open class in his 12th start with a double in Auckland in the spring, and then in his first race against the best around, had split No Response and favourite Framalda - the 1977 Rowe Cup winner who was unbeaten in four races at Alexandra Park that season for Roy & Barry Purdon - in the Challenge Stakes.

Come the Worthy Queen Handicap on NZ Cup Day, and No Response was a late scratching after becoming distressed after doing his preliminary, and Scotch Tar was a costly failure after doing a stretch. Winning that race was favourite Spartan Prince, the Doody Townley-trained and driven Tuft gelding who had been the top youngster of his year, and he would now go into the Dominion unbeaten in three races that season. Spartan Prince had been unbeaten in three starts at the Cup Meeting the previous year, but that season his career would be derailed by unsoundness and strangely enough, an ownership dispute.

The Dominion had merely served to underline the awesome potential of Scotch Tar however. In what was considered "one of the greatest exhibitions of trotting ever seen," not to mention a fine display of horsemanship by Bob Cameron to hold him together near the end as Spartan Prince made his challenge, Scotch Tar triumphed in race, track and New Zealand record time of 4:11.6, which bettered Easton Light's "great" record of 4:13.1 from the 1974 Dominion, and which would have won that week's NZ Cup by six or seven lengths. Scotch Tar had applied the blowtorch to Alias Armbro, Brian Gliddon's Banks Peninsula Cup winner that year who would win the Dominion the next season, from as far as two laps out and gone past him on straightening, and Spartan Prince could make no impression despite enjoying the run of the race.

By the Thorpe Hanover horse Tarport Coulter and from a mare by Scottish Command, who had sired the two previous NZ Cup winners in Trusty Scot and Sole Command, Scotch Tar had won that battle in No Response's absence. No Response, troubled on and off throughout his career by arthritis and various other ailments after making his debut as a 6-year-old, was back on song for three feature race wins in Auckland over Christmas as Scotch Tar went off the rails on that trip, and headed into the Inter-Dominions with six straight wins and eight wins from 10 starts for the term. Scotch Tar got back on track by winning a class two trot at Washdyke from 90 metres in late February, and the stage was set at Addington.

On the first night, Scotch Tar lost no friends apart from the punters who made him odds-on when he recovered for a close fifth after losing 100 metres at the start and racing three and four-wide from the 1000m in Hano Direct's heat win over Diogenes, Waipounamu and Silken, but No Response confirmed his Inter-Dom favouritism with a classy win over Even Speed, Our One and Hilton Adios in the second heat. He was even more impressive in putting away Silken and Alby Logan by four lengths from 15 metres over 3200m on the second, and Scotch Tar was at his brilliant best as well later in the night. Peter Wolfenden had been engaged for Scotch Tar for the Series, and after missing away from 15 metres, they looped the field to sit outside Hilton Adios and won easily by a couple of lengths over Hano Direct and Waipounamu.

THE RACES
With over 13,000 in attendance despite the hefty gate charges and many more watching live on television, the Inter-Dominion Final was like one sensation after another. Scotch Tar blew the start again and lost too much ground to make up, and as the race unfolded No Response seemed to become less and less of a chance back in the running. Alby Logan, a 9-year-old and the only "city class" trotter in NSW, had led them along at a merry clip from the start for Grahame Kirkwood, whose wife and owner/trainer Noleen was out to become the first woman to officially prepare an Inter-Dominion champion - 22 years before Lorraine Nolan succeeded.

Turning for home and No Response showing $1.60 to win, was in the immortal words of an Aussie reporter in the Press Box - "a hundred-to-one chance to win." And yet No Response unwound so quickly, dramatically and powerfully, while changing ground for the gaps three times in that scintillating run home, that in the end he won easily going away by over two lengths from Alby Logan, with Silken, Pointer Hanover and rank outsider Josephus almost in line for third another length and a half away. "If I went around them on the bend, I was going to hit the tree at the top of the straight, so I just had to wait and hope the gaps came," said his unflappable trainer/driver Richard Brosnan later.

If that had been a superlative individual performance and left any observer stunned, No Response and Scotch Tar would provide the match race that everyone had gone to see a week earlier, in the NZ Trotting Championship on the day of the Inter-Dominion Pacing Grand Final. In an all too rare race from a mobile for Scotch Tar, and in a 2600m event which underlined just how much better they were than any other top trotters around at the time, Scotch Tar and Wolfenden were around the field to take over a lap out, stalked all the way by No Response. When they drew clear passing the 400m, Brosnan was able to drop onto Scotch Tar's back momentarily, before coming out again in the straight and drawing level at the 100m. Neither flinched or gave an inch, but No Response gradually got a neck advantage close to the line, and the time of 3:21.9 broke another of Easton Light's long-standing NZ records. Miss Castleton was the best of the rest, 10 lengths away.

For No Response it was his 10th win on end and 12th for the season, and while he had bowed out for the season before Even Speed's Rowe Cup after also missing the Dominion, he was pretty much a unanimous choice for Horse of the Year and the first trotter to achieve that honour. He was a popular choice as well.

No Response was the first real step into the big time for his then 30-year-old unassuming and 'nerves of steel' trainer/driver Brosnan, while he was raced by 69-year-old Fred Black, a retired farmer at Pleasant Point who had bred him after being gifted his non-descipt grandam First Axworth at the age of 18. Black had been given the choice of two mares a quarter of a century earlier by small time Palmerston North trainer Dave Hansen, in return for Black's help around the stables over many years during his time as a meat inspector at Feilding.


Credit: Frank Marrion writing in HRWeekly 9Aug06


| | |
| --- | --- |
| | RACING HISTORY INTERDOMINIONS |

ADDINGTON PREPARATIONS

Des Parker was working at Addington Racecourse when the Inter-Dominions were held there in 1938. He will be there again this year, but in a vastly different capacity. Forty-one years ago he was working in the tote. Today as Secretary/Manager of the NZ Metropolitan TC, he and the club's racing secretary Trevor Davis are the key men in the organisation of this years series at Addington, from March 10-24.

It will be the third series they've been been involved in together. The two previous at Addington were in 1961 and in 1971. Parker was involved, too, in a more limited way when the 1951 Inter-Dominions were held at the course. At that time he was working in the office, before being appointed secretary a couple of years later. It's because of all this previous experience the organisation is running into very few problems this time, both Parker and Davis told me last week.

Club officers and stewards had formed a special committee (all have jobs on various sub-committees) to organise the championships as long ago as 1977. It's first meeting, in July that year, "was fairly informal" involving mainly planning discussion with quite a lot of reference back to what had happened in 1971. And since then, the major committees have had up to 25 meetings. The problems encountered so far have been only of a minor nature. "In the main we have based out planning on past experience," Parker said. The biggest problem this time - "keeping on top of things" - has resulted directly from the increased number of permits for racing at Addington. From October 1, 1970 up to the time of the '71 series, there were seven meetings at Addington. This time, there will be fourteen, with only a small increase in raceway staff.

Parker has been involved full-time since January 1 with the Inter-Dominions. And a lot of the duties around the office have been re-allocated to keep Trevor Davis as free as possible as well. "It has been a matter of organising the office around the Inter-Dominions, rather than any other way," Davis said. The organising committees' working brouchers had to be constantly up-dated. The special functions list had been up-dated at least half a dozen times so far; the overall plans "the secretary's bible" about ten times. The series had involved an "extraordinary amount" of coresspondence as well, Parker said.

There had been a minor hassle earlier when the original dates, from March 3 to 17 had to be changed after an objection from the Wellington Racing Club which is down to race it's Centennial meeting at Trentham on the 17th. The organisers copped a little backlash from Australian tour operators who had already booked accommodation in Christchurch for the original dates...and had been unable to find alternative beds at the new time. "Two tours - one from Western Australia and the other from Tasmania - of eighty people each had been cancelled. Another eighty strong party from Melbourne has been cut down to twenty," Parker said. Both men agree, apart from that, the clash of dates would not have done either club any good. "In fact it probably couldn't have been worse."

The series will almost certainly be the biggest Parker and Davis have organised. It will certainly carry the highest stake money. With the Grand Final worth $125,000, total stakes could be over $350,000 depending on the number of heats necessary. At the moment the programme caters for nine pacing heats, each worth $10,000. "But on nominations, it looks as though a fourth heat will be necessary each night, and another consolation on the last," Parker said. As well, there will be trophies worth not less than $250, donated by local business houses and trotting clubs in the area, for the winners of every trotting and pacing heat. Benson & Hedges who sponsored the 1979 series in Auckland, have once again come to the party with an arrangement which extends to the next two NZ Cup meetings as well; and Air New Zealand which will sponsor the big trotters' final. Max Harvey Furnishings, Mrs Rhona Donald, Wrightson Wine & Spirits are others who have contributed to ensure the success of the meeting.

The club is hoping for anything up to 20,000 patrons on each of the three nights and the final day...and is making sure it has the facilities geared to cope. The biggest number ever on the course was an estimated 30,000 who flocked to Addington to see, as Des Parkers recalls, the 1946 or '47 NZ Cup. "We couldn't get an accurate count as all soldiers in uniform were admitted free." About 18,500 attended the Cup last year, with up to 22,000 on Show Day. The club had some major problems with the tote during the 1977 cup meeting. "But we made immediate steps then, with last year's Cup and the Inter-Dominions in mind, to explore the possiblity of improving those facilities," Parker said. As a result, there has been a huge increase in selling outlets (as well as an intensive maintenance programme), most of them in the main public stand.

And these Inter-Dominions will see another innovation for Addington, the pre-selling of reserved seats in the stand. At the moment the club is selling season tickets only, at $100 a seat (the same seat each day and including admission) in the covered stand; $35 a seat in a temporary open stand the club will build at the top of the straight. "It is new for NZ...but it's always done in Australia," Davis said. Otherwise patrons will pay $2 a night entrance, $8 for he carnival.

Before they even get on the course, race-goers will notice a difference at Addington. At present, only a matter of weeks before the big event, there is an outline of planks laid out on the ashpalt near the existing members' entrance. By the time the Inter-Dominions get under way, the area will be taken up with a new turnstile complex, the only access to the course from the three car-parking areas. Architecturally designed, it'll be a permanent feature of the course and, according to Des Parker, will incorporate automatic turnstiles similar to the very successful system used at Moonee Valley. The new facility was to provide the maximum amount of space for parking, and make for better use of staff. The construction of the Southern Motorway across land previously used for car parking had forced the club into replanning parks and entrances. With the demolition of the old Derby Lodge, more land had been made available for parking as well.

Again this year, the club has paid particular attention to security around the raceway and stabling areas. The 24-hour arrangements which caused so much good comment in 1971 will be repeated, with, if it's at all possible, even more stringent precautions. "Really, you couldn't get them more tighter than then," Parker said, recalling that one visiting trainer was barred access to his own horse until he returned to his hotel to pick up his forgotten identity card. Only then could he put his horse to bed. The incident was widely reported, even in Australia; and other owners and trainers were thankful for the service. "just ten of those top horses could be worth up to a million dollars," Davis said. "Look at Pure Steel, for instance. What would happen to him if a gate were left open? The precautions are not only to keep unauthorised people out...but just to keep a general eye on things."

While the spotlight, of course, falls mainly on the horses at the Inter-Dominions, there are a number of social functions and off-course activities associated with the racing. And this aspect of the carnival has taken up a lot of the organising committee's time. After all, both Parker and Davis agree, they organise actual racing programmes every week. They are 'a piece of cake' now. The Inter-Dominions are certainly bigger...therefore just a little more complex. They only have to worry if anything goes wrong on raceday itself. But there was a considerable amont of extraordinary planning needed to take care of the needs of the overseas guests and visiting owners and trainers. The visitors won't just be coming from across the Tasman. There'll be at least two parties from America, too - officials from the U S Trotting Association and another group from Hollywood Park and the West Coast states.

Members of the public won't be left out during these championships. Away from actual racedays, they will be able to take part in such diverse activities as an ecumenical 'Trotting Mass' at the local Catholic church in Spencer Street on March 11, a cocktail party on March 13 and the Inter-Dominion Ball at the Town Hall on March 22. As well, trials at Rangiora on March 15 will feature four stakes races, there will be a big barbecue after the Sunday trials at Motukarara on the 18th, and for those who want even more racing, there is the Methven club's meeting on March 21. The additional printing involved for all aspects of the carnival was a huge task. And so was the job of organising 'essential supplies' for the various functions.

The stakes offered and the reputation of the NZMTC in Australia had meant that hardly a horse of any worth had not nominated for the series, Parker said. The club had advertised the programme in each state and had kept in constant touch with the bodies controlling the sport in Australia. At last year's event in Melbourne, club officials had organised a promotional function for journalists, owners, trainers and other Australian officials. By the entries, this move has obviously paid off. Trevor Davis and NZ Met. Vice-President Murray Taylor followed this up with a ten-day trip late in November when they saw the connections of most of the prominent horses there.

But now, all the hard work is about to begin. The plans have been made. "It's now up to the administration staff to bring the plans to fruition," Davis said. "You can do a ton of pre-planning, get everything geared to go...but it's only in the last few weeks you know exactly who and whats coming. Then the work starts. In the final fortnight last time, both men were putting in up to sixteen hours a day, seven days a week. Parker produced his diary for that time. It showed in actual fact one week they put in 81 3/4 hours. "You have got only a certain time in which to get things done. It is no use being a day late. There would never be any racing," Davis said.

Racing there will be for sure on March 10. But after March 24, not much more for Des Parker. For then he retires, after more than forty years with the club. "Yes, it'll be my swan-song," he said. "I just hope I go out with a bang."

Credit: Graham Ingram writing in NZ Trotting Calendar 23Jan79


| | |
| --- | --- |
| | RACING HISTORY INTERDOMINIONS |

CHRISTCHURCH - RONDEL
The 1979 Inter Dominion Championships staged at Addington will best be remembered for the phenomenal finishing burst that gave victory in the Trotters Grand Final to South Canterbury's No Response and Peter Wolfenden's masterful drive to take the Pacers Grand Final with the lightly fancied Auckland campaigner Rondel which edged out Sapling.



| | |
| --- | --- |
| | RACING HISTORY HORSES |

SCOTTISH HANOVER

The honour of being NZ's leading sire of stake-earners for the 1978-79 season falls again to Roydon Lodge's sire Scottish Hanover. And who better to be his best representative than Roydon Lodge's own star performer, Wellington Cup winner Roydon Scott.

Epitomising much that is typical of Scottish Hanover's stock - speed, size, great staying ability and durability, Roydon Scott did much to enhance the already growing stature of Scottish Hanover, who looks destined to go down in our record books as one of the most influential sires of the late seventies and early eighties. Scottish Hanover's siring career has been notable for his remarkable consistency in leaving quality fillies and colts each year, and all improving with age. Breeders, after a slow start, have now recognised these qualities and have ensured his book has been near full each season.

The decision of Mr Roy McKenzie, managing director of Roydon Lodge, to purchase Scottish Hanover in 1966 for stud duties in NZ was a fortunate one for our breeding and racing industry. With such an excellent record of having stood previous top sires like Light Brigade, U Scott, Captain Adios and Thurber Frost in past seasons, it was hardly surprising that Roy McKenzie chose such a worthy successor. To quote Roy McKenzie's reasons for purchasing him: "Apart from his good race record in his races, he always finished strongly and usually covered extra distance, as Saunders Russell's wife did not like him driving horses and was only happy about his doing so if he kept out of a packed field, which often meant he raced one out in the death seat!"

Allied to his obvious racing ability (he paced 1:59 as a 3-year-old and 1:57.2 as a 4-year-old) was the appeal of his pedigree, which had a double strain of Scotland blood so successful in NZ with U Scott and the mare Minnetonka, who was the second dam of Light Brigade. The Peter The Great line in NZ has enjoyed great success under our racing conditions, through siring sons like Wrack and grandsons like Dillon Hall. The greatest influence, however, has occurred with Volomite's siring descendants (Light Brigade, Out To Win, Local Light, Fallacy, Tuft etc.) and Scotland's (U Scott, Scottish Hanover, Young Charles, Scottish Command, etc.)

Scottish Hanover's bloodlines have crossed well with most, and his stream of winners now exceeds 132, with over 12 in 2:00, inclding horses of the calibre of ...

~ Roydon Roux, a champion filly whose nine wins included a NZ Golden Slipper stakes and Great Northern Derby.
~ Final Curtain p, 1:59.6 - the winner of 18 races and 24 places.
~ Palestine - whose list of notable wins includes a Wellington Cup.
~ Roydon Scott p, 1:58.9 - the brilliant winner of the 1979 Wellington Cup.
~ Hanover Don p, 1:58 - an excellent performer in USA.
~ La Roue and Kara Kara - excellent racemares.
~ Classiebawn - winner of NZ Standardbred Breeders Stakes.
~ Scottish Heath - a durable type who competed with distinction at this year's InterDominion.
~ Watbro - a leading Southland 4-year-old.
~ Gretna Hanover - a leading North Island 3-year-old filly.

If past records are anything to go on, it will be in the broodmare field that Scottish Hanover will make a new impact, and Roy McKenzie expects his mares to be excellent producers in the years ahead - a pattern followed incidentally, by his other leading sires, Light Brigade and U Scott.

For the future, it is pleasing to see some of Scottish Hanover's sons being retained with a view to stud duties. Palestine, one of his best pacing sons, is being given a chance at stud, while Roy McKenzie is considering Roydon Scott's full brother Dreamover for a possible stud career once his racing days are over. There would be nothing more tragic to our breeding industry that to have such an excellent sire's bloodlines lost to out racing and breeding scene.


Credit: Ron Bisman writing in DB Trotting Annual 1979


| | |
| --- | --- |
| | RACING HISTORY FEATURE RACE COMMENT |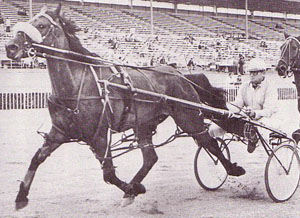 Game Adios (Robert Cameron) trialling at Addington

1979 NZ DERBY

"You could put a jersey bull to that mare and she'd still leave a winner," a friend once told Mid-Canterbury trainer Alister Kerslake. And after Game Adios won the NZ Derby Kerslake would almost have to agree. For out of a dozen foals to get to the races, Game Adios' dam Adio Star has left nine winners...among them four individual Derby winners.

Bachelor Star won the three-year-old feature in 1971 for the late Frank Woolley, Kerslake's father-in-law; Main Adios won it in 1975 for Kerslake, his wife Berry and his brother-in-law Francis Woolley; Main Star won the Great Northern Derby for the trio in 1978; and noe Game Adios is on the list. "And don't you worry," a jubilant Kerslake said after the Derby victory, "we'll be back again next year with this bloke's brother Bionic Adios, also by Garrison Hanover." A representative from the Kerslake stable won't be beyond the realms of possibility the year after either, for the champion broodmarehas just left a nice colt by Out To Win for the partners.

Driven again by Robert Cameron who has done so well with Kerslake-trained horses over the years, Game Adios got to the lead with half the 2600 metres gone. He held on to win with a minimum of trouble from El Guago and Cheltenham with the unlucky Dictatorship fourth. Cameron actually made his move at the 2000 metre mark with a big run from the back of the field. Once in the lead with 1300 metres to go, he just kept up the pressure andleft it to the others to get to him. The win in the $30,000 Derby was Game Adios' fifth this term and he is due to have a few days off this week. "That was the race we wanted to win," Kerslake said.

Hot favourite for the race Ryal Pont was in all sorts of strife right from the start when he was very slow to begin. And then, about the 2000 metre mark he caught the backwash of some interference to Dictatorship by Regal Guy (an incident that was later to earn Regal Guy's driver Kevin Townley a holiday). Settled again by Kevin Holmes, straight from his world driving series assignments in Perth the previous night, the tough Tactile gelding made a big move four wide from the 600 metres but all that earlier buffeting had taken its toll and he weakened out. He finished near the tail of the field with Wickliffe, another to suffer at the 2000.

El Guago's run was a good one. He was facing the breeze most of the way and still had something left for Jack Carmichael once into the straight. Cheltenham, in the hands of Doody Townley, had a brief spell in the lead and after, got a good trail behind Game Adios. He was hard-pressed for room going for home but gave nothing away. Fourth placed Dictatorship would have to be the unlucky runner in the field. He suffered at the hands of Regal Guy, settled again well for Garry Smith and was finishing better than anything in the straight. The others could offer no excuses. At the end they were well and truly beaten.

And getting back to that idea of putting Adio Star to the bull? "Well, with the cattle prices the way they are at the moment, that wouldn't be too bad an idea," Kerslake said.


Credit: Graham Ingram writing in NZ Trotting Calendar


| | |
| --- | --- |
| | RACING HISTORY FEATURE RACE COMMENT |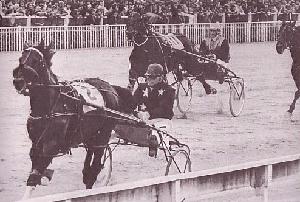 Lord Module wins from Trevira & Trusty Scot

1979 BENSON & HEDGES NZ FREE-FOR-ALL

Lord Module rubbed salt into the wounds of his NZ Cup victims when he ran them into the ground in the New Zealand Free-For-All.

The brilliant five-year-old gave what amounted to a solo performance when he cleared out from his rivals over the 2000 metres to win by four lengths in the brilliant time of 2:26.7 for the distance, only 0.1 of a second outside Robalan's world record set when winning the same race for the third successive time in 1974.

Lord Module rated 1:58.1 for the mobile event, and cut out the amazing sectional times of 27.5, 27.6, 1:27.9 and 1:57.8. There was no horse in the field capable of making a race of it with Lord Module as owner-trainer Ces Devine bounced him straight to the front. He had the others struggling to stay in sight rounding the home turn, and it was left to dogged stayer Trevira to battle past Trusty Scot and take second. Trusty Scot trailed Lord Module throughout, with Trevira on his back. They were three lengths clear of Matai Dreamer who came home strongly from near the rear without ever looking like posing a threat. Wee Win was a further three lengths back with two to Delightful Lady, who broke in the run up.

The others were a tired lot headed by Greg Robinson, who never got into contention. His driver Max Robinson, came in for some barracking from the crowd when he returned to the birdcage, after comments he made following the controversial NZ Cup.


Credit: Tony Williams writing in NZ Trotting Calendar


| | |
| --- | --- |
| | RACING HISTORY FEATURE RACE COMMENT |
Alias Armbro wins from Even Speed & About Now

1979 DOMINION TROTTING HANDICAP

Alias Armbro, fourth in last year's contest and largely responsible for the record-breaking win of Scotch Tar, recorded a game win in the $30,000 Dominion Handicap. Capably handled by Mike De Filippi, who was recording his first win in the event, and also his first win at Addington this season, Alias Armbro clearly outstayed the best trotters in the country.

Alias Armbo's win was a triumph for Burnham trainer Brian Gliddon, as last Christmas Alias Armbro looked to be finished as a racing proposition because of a hock injury. Because of this, he was set for stud duty this season and up until last week, he had covered 20 mares, including one the morning of the race. His victory is certain to lead to more enquiries for the son of Armbro Del and Charming Widow as a stud prospect. He is raced by Messrs Bryan Crofts and Graham Pilkington, who purchased him for the bargain price of $1800 at the National Yearling Sales. Now an eight-year-old, he has won around $55,000.

Mike De Filippi made use of Alias Armbro's speed and staying ability over the 3200 metre journey, taking him to the front with 2300 metres to run. As happened last year, Scotch Tar moved up wide to tackle Alias Armbro with a round to go, but this time was unable to head him off, and Alias Armbro had his measure a good way out. Scotch Tar had broken briefly at the start and again at the 1700 metres, but recovered quickly both times and made a big run round the field to be in the open at the 1200 metres.

In the end, it was left to last Tuesday's Worthy Queen Handicap winner Even Speed to lodge the most serious challenge. He was favoured with a good run all the way, getting a drag up behind Miss Castleton on the turn, and 30 metres out it looked as though he was going to peg Alias Armbro back. "He came to the end of it the last 20 metres and went to pieces," his driver Wes Butt said after the event. "His legs were going in all directions that last bit and he just battled."

Denis Nyhan, driver of third placed About Now, was certain he could have won had he secured a run earlier. "She did not get a gap at the right time. If she had, then I would have won it," Nyhan said. The game little mare improved to be three back on the rails turning for home after getting back a bit early from her outside barrier draw, but was held up at a vital stage and could only get within half a neck and a length and a half of the first two. She shaded Scotch Tar by half a head for third, with Stormy Morn finishing fast for fifth ahead of Waipounamu who was handy throughout.

Game Folly was the best of the northern challengers in seventh place after breaking at the start and then came Cool Cat and the favourite, No Response. No Response settled back and was last passing the 800 metres. He was checked when starting to improve at the 500 metres when he ran into the back of the tiring Pointer Hanover. He recovered quickly to start a rapid improvement wide round the field on the turn, but could only battle into ninth over the final stages.

Alias Armbro's time for the 3200 metres was a fast4:12.3, the second fastest in the metric history of the race and only .9 of a second slower than Scotch Tar's record run last year.

Credit: Tony Williams writing in NZ Trotting Calendar


| | |
| --- | --- |
| | RACING HISTORY FEATURE RACE COMMENT |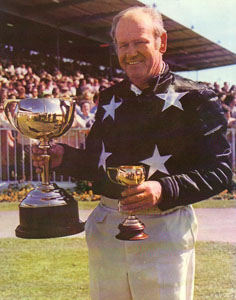 Cecil Devine with the Cup won by Lord Module

1979 NZ TROTTING CUP

There have been many vocal receptions for winners at Addington over the years. But its been a long, long time since anyone got the reception Lord Module and his veteran trainer Cecil Devine had to face after their thrilling NZ Cup win last Tuesday.

The cheers started as the brilliant racehorse bullocked his way out of the ruck at the top of the straight, took complete charge 150 metres out and left the others to it. They continued, with a fair bit of admiring applause thrown in, too, as an emotional Devine brought Lord Module back into the birdcage before the howl of the protest siren changed the tone of the hubub. But they started anew as a still-shaking Devine emerged back into the sunlight of the birdcage from the gloom of the stipes room and made his way across the lawn to be presented with what must have been his dream come true...the gleam of gold at the end of a driving career lasting 43 years.

Devine had previously trained and driven five New Zealand Cup winners (Van Dieman in 1952, Thunder 1956 and False Step 1858-59-60)but none would have been achieved in such tense circumstances, and with such spectacular ease or with such significance as last Tuesday's victory. It was especially significant for it was Cecil's last drive in the Cup. He has to give up at the end of the present season, having reached the compolsory retiring age of 65.

It was especially tense for, even having drawn 3 on the front, Lord Module stood on the mark and swung round, losing forty of fifty metres before hitting out fairly.
After 800 metres he had caught the field to be three wide at the rear. Soon after, though, he got a good run through to be perfectly placed one out and one back behind Sapling. However Sapling, not going like a horse who won more than $130,000 last season, started to feel the pinch about 800 metres from home and Lord Module lost his place. He was wide at the turn, appeared to put in a couple of rough ones, and then charged out of the ruck and set sail for the line and that $52,000 first prize.

It was thought later that Lord Module might have interfered with the chances of third placed Trevira at that moment. But according to Gavin Hamilton, driver of the southern visitor, he knew Lord Module was "bursting to go" behind him and there was no way he could have beaten the Lordship five-year-old. The astute Devine had Lord Mobule trained to the minute, if not the second, for the big race. In seven previous starts this season, the horse had scored a win, four seconds and two thirds. His time of 4:09 for the 3200 metres equalled the time of Robalan in 1974 and was just .4 of a second outside the time set by Lunar Chance and Arapaho. It was a good effort considering the windy conditions.

As well as setting a personal record for Devine, the race also produced another unique statistic. When Lord Module goes to stud, which he undoubtedly will do before too many more seasons are over he will be the third in a direct line of Cup winners. His sire Lordship won the Cup twice (in '62 and '66) and that great performer's own sire Johnny Globe took it in 1954 in a time that was never bettered, 4:07.6 for the two miles. Winner of the Cup in 1916, incidentally, Cathedral Chimes went on to sire Ahuriri ('25 and '26) and in the following year, Kohara.

Lord Module is out of Module, a Bachelor Hanover mare out of Volatile, by First Lord out of Belle Volo, by Lusty Volo out of Belle Pointer by the great Logan Pointer, himself the sire of a double New Zealand Cup winner in Harold Logan. The blood of Logan Pointer is also prominent in the blood of Lord Module's male line.

For the beaten lot in this year's Cup, though - and most of them were a thoroughly beaten lot - there could be few excuses. Runner-up, hardy little Rocky Tryax enjoyed a perfect trail for most of the trip and Lord Module went past him in the straight as if he was tied to the rail. Trevira was doing good work at the end and Bad Luck, in the possie he seems to like the best, making the pace, just hung on for his forth. Driver Robert Cameron said later he was waiting for something to have him on but the challenges just didn't come to push him.

Tough mare Del's Dream did the best of the northern contingent and driver Denis Nyhan thought he was in with a good show going down the back for the last time. "I was going well enough and I could see that most of the others were flat," he said. But the mare, too, had no answer to the power of Lord Module's withering burst. Last year's winner Trusty Scot was slow away and then had to come wide from the turn, Greg Robinson was checked and broke at the 2000 metres and must have finished closed but for this and Delightful Lady broke for no reason. Wee Win was well enough placed on the outer and it was unusual for him, after having been where he likes it, not to have pressed on. Majestic Charger had his chance while Sapling, after a hard run early, had little left at the end. Sun Seeker made a flier at the start but then in the incident when Greg Robinson met trouble, put paid to any chance he may have had and that of Rondel at the same time.

It was probably ironic that while Cecil Devine was winning at his nineteenth drive in the New Zealand Cup, his son-in-law Kevin Williams (Sun Seeker) was earning himself a week's holiday for that incident in just his first Cup drive.


Credit: Graham Ingram writing in NZ Trotting Calendar


| | |
| --- | --- |
| | RACING HISTORY FEATURE RACE COMMENT |

1979 NZ OAKS

Minilima from Invercargill, and Shona Way from Balclutha, combined to shatter some useful reputations in the $13,000 New Zealand Oaks.

Minilima went into the Oaks as one of the best-credentialled runners, with three wins and two placings this season, but Shona Way was less experienced, having started only twice, though she won at her previous start. These two dominated the finish, drawing clear 300 metres out, and though Minilima went on to win by three and a half lengths, it is unlikely the margin would have been that great but for Shona Way breaking 100 metres out. Minilima had just gained the upper hand when Shona Waybroke. Shona Way had followed Minilima forward three wide and hit the leadat the 1350 metres giving Minilima a good trail. Bob Cameron decided to press on with Shona Way, and the pair looked to have the others struggling turning for home.

But lack of race experience probably told against the Balclutha filly, as when Cameron went for the whip she broke. Fortunately, she settled quickly enough to hold second a length and a half clear of Miss Coquette, who like Minilima is by the Morrinsville-based sire Gaines Minbar whose stock have now completed a notable double. Gaines Minbar also sired Speedy Girl, winner of the North Island Oaks.

Minilima paced the 2600 metres in 3:26.4, a good effort considering the strong cold north-westerly wind the runners had to contend with. For Mataura farrier Charlie Franks, it was his second driving success in the New Zealand Oaks from only three drives. He drove champion mare Robin Dundee to win the 1960 Oaks for Mr Jack Hewitt. Franks, who has handled Minilima in all her wins for Invercargill owner-trainer Colin Swain, expressed some doubts that she would peg Shona Way at the top of the straight. "Bob had me tootling along down that back straight and I just thought, 'God, he's got to stop sometime'" Franks said.

Minilima has now won four races and gained three placings for $15,940, the $8450 she collected for the Oaks win more than doubling her previous winnings.

Shona Way, who races in the colours of her breeders, Mrs E E Townley and Mr D F Young, and her trainer Ossie Thorp delighted her connections with her effort. Mr Young said after the event that they debated whether to come to Addington for the Oaks, or race at Invercargill. "We thought, 'why not,' and came here. Her second was worth more than a winning stake and I was thrilled with her," Mr Young said. Miss Coquette was a battling third after racing handily throughout and she held out the favourite Philippa Frost by half a neck. Philippa Frost lost a little ground at the start but was handily placed starting the last 400 metres.

Credit: Tony Williams writing in NZ Trotting Calendar