| | |
| --- | --- |
| | INTERNATIONAL HISTORY |

The first Global Positioning System (GPS) is launched.


| | |
| --- | --- |
| | LOCAL HISTORY |

February 25 - New Brighton Mall opens.

October 28 - Pioneer Sports Stadium in Spreydon opens.

An Act of Parliament was passed protecting all marine mammals within 200 nautical miles of New Zealand.

Credit: Ch-Ch City Libraries


| | |
| --- | --- |
| | RACING HISTORY BUILDINGS & FACILITIES |

ELECTRONIC TIMING

In July 1978 Mr R G Kennard presented his method of electronic timing to the NZ Trotting Conference and in April 1979 experiments on electronic timing were completed and a request made to operate a system on a trial basis under race day conditions at the Inter Dominion Championships. The question of costs to be clarified with the NZ Trotting Conference. In September 1982 Race Finishes Services Ltd quoted $160 per race, excluding operators fees, for the provision of electronic timing in conjunction with photo finish equipment provided it was used 70 times a year. This was approved in principle by the Committee and a demonstration of the equipment was held at the Trials on the 8th December 1982.

In March 1983 it was reported that the reliability of one camera was not entirely satisfactory and it was decided that two timekeepers should continue to be employed until the system was proved to be satisfactory. In July Mr A F McDonald of the New Brighton Trotting Club advised that an alternative method of incorporating the electronic timing with the photo finish was being investigated by Mr Brian Nairn. In August the Secretary stated that the photo finish electronic timing equipment was in operation and apart from the need to rule in the finish line on the photograph the system was working satisfactorily. In May 1984 it was reported that Messrs Gavin and Rogers would be trying out their new coloured photofinish camera in combination with the electronic timing equipment in late May. In October of that year it was reported that due to a delay in completing the new system to be operated by the Judge it could not be installed it was hoped until just prior to the Cup Meeting.

Credit: NZMTC: Historical Notes Compiled by D C Parker


| | |
| --- | --- |
| | RACING HISTORY PRESIDENTS: NZMTC |

C E HOY

Well known trotting administrator Mr C E (Jack) Hoy died in Christchurch last week.

Mr Hoy was a real estate agent for nearly 50 years and spent almost 40 years as a trotting administrator. He became a principal of the Ford and Hadfield company in 1928 and continued to take a close interest in that company until shortly before his death.

Mr Hoy became a steward of the NZ Metropolitan TC in 1939 and was elected president in 1952, an office he held until 1956. This term as president included the first Royal visit to Addington, the Queen being present in 1954. He was elected a life member of the Club on his retirement as president. Mr Hoy also had a ten year term of office on the executive of the NZ Trotting Conference and served as treasurer from 1966 to 1971.

Mr Hoy raced many horses, the best of these being Intrepid, whom he raced in partnership with Murray Edwards. Intrepid won 16 races in NZ for $37,695 and later took a 1:57 mark in America. In more recent years, Mr Hoy raced Intrepid's half-sister, the smart mare Bronze Queen.

Credit: NZ Trotting Calendar 28Nov78


| | |
| --- | --- |
| | RACING HISTORY PEOPLE |

A A (ANDY) WILSON

Mr Andy Wilson, a well known figure to most NZ trotting followers, first as secretary of the Wyndham Trotting Club for many years, and then through his association with such outstanding racehorses as Tactics, Cannelle, Adroit, Noodlum and Olga Korbut, died in Christchurch, last week at the age of 75.

As secretary of the Wyndham Trotting Club from 1934 to 1965, Mr Wilson was responsible for several major innovations in trotting. Most noteworthy perhaps was the withdrawal system, used to this day, which Mr Wilson's Club sponsored at the 1938 Annual Conference in Hamilton. Mr Wilson served as the Wyndham TC's delegate to Conference on several occasions, and another notable remit he passed for his club was one calling for more extensive control by Stipeniary Stewards. This was passed at the 1946 Conference in Wellington.

Another remit initiated by his club was to introduce qualifying trials, but in spite of support from the Southland Trotting Owners, Trainers and Breeders Association, this remit failed at the time. When sponsored by th NZ Trotting Conference, a couple of years later, this remit was passed.

During his years as secretary of the Wyndham TC, Mr Wilson and the club gave considerable thought to using the mobile starting barrier, and he corresponded with the Smith-Stanley Gate Syndicate in America as far back as 1943. The Wyndham TC was to be the first to use the mobile barrier in Southland, on February 30, 1968. The Wyndham Club was also the first outside Canterbury to stage a regular 2-year-old event, the NZ Kindergarten Stakes. That race is still one of the major juvenile events on the trotting calendar.

Mr Wilson's interest in breeding began in 1945 when he bought the 14-year-old Grattan Loyal mare, Nell Grattan. Her second foal for Mr Wilson was Tactics, a highly performed Light Brigade mare. From her, he bred Adroit, Guile, Astute and Deft, who was to later leave one of NZ's all time great pacers in Noodlum, and the outstanding filly Olga Korbut. Mr Wilson, who bred standardbreds in partnership with his wife, Ann, was one of the most respected men in trotting, and his efforts on behalf of the sport were many.

He was also the secretary of the Wyndham Racing Club, and in his capacity as a company secretary and accountant, served in many other fields. He served a period as town clerk in Wyndham, where he was born, was secretary of four rabbit boards and four dairy factories and was deputy chairman of the Wyndham Town Council. Mr Wilson saw home service with the Air Force during the Second World War and was a member of the Masonic Lodge.

An active sportsman, he played rugby, bowls, cricket and golf and was president of the Burnside Bowling Club in Christchurch in 1969. He was a foundation member of the Southland Owners, Trainers and Breeders' Association and served as president on that body. He also served on the Executive of the Canterbury OTB Association following his move to Christchurch in 1965 following his retirement.

Credit: NZ Totting Calendar 19Sep78


| | |
| --- | --- |
| | RACING HISTORY PEOPLE |

GRAHAM HOLMES

The late Graham Holmes was a sad loss to NZ trotting when killed in December in a freak accident while clearing gorse by a fence near his Meadowlands Stud property in Templeton.

Graham who was never suspended in 32 years of race driving, drove over 220 winners, the first with Calando at Motukarara in October, 1947, and the last being Prince Nugent at Ashburton in October, 1978. He also trained over 120 winners. He was a son of Freeman G Holmes and a brother to Freeman L Holmes

Ron Bisman writing in DB Trotting Annual 1979

-o0o-

Templeton studmaster and trainer Graham Holmes died suddenly at his home last Friday night at the age of 50.

Graham, who gained his driver's licence in 1946 at the age of 18 when employed by his father, the late F G Holmes, trained successfully at Templeton for a number of years.

In recent times he has been more prominent as a studmaster, standing the very successful imported stallion Armbro Del. Armbro Del was imported to NZ in the 1960s and has been one of the country's top sires.

Over the past few years, Graham had reduced the size of his racing team to concentrate on his duties as a studmaster, but among the good horses he trained were Co Pilot, who competed successfully in open company, Lord Nugent, Lady Nugent, Charlotte Rose and Gigilo.

Graham is survived by his wife Maureen, son Peter, and two daughters, Robin and Sandra.

Credit: NZ Trotting Calendar 12Dec78


| | |
| --- | --- |
| | RACING HISTORY PEOPLE |

W E (TED) LOWE

There were more eyes on Adjo at the start of the Lance Heron Trotting Handicap on July 22 than normal for the ninth favourite in a trotter's race at Addington. For Adjo's engagement marked the end of the 32 year long race driving career of Ted Lowe, of Hinds, near Ashburton.

Ted turned 65 on June 21 and can not renew his horseman's licence due to the compulsory retirement rule. Adjo did not oblige and allow Ted to go out in a blaze of glory as some other retiring drivers have done, but it was obvious in the driver's room, and at a presentation in the president's room that Ted Lowe commanded much respect regardless of the result of his final drive.

Adjo actually displayed no sense of occasion, breaking badly after 150m and finishing 12th. "He has broken a bone in his leg and I think the track was a bit hard for him. I was restraining him when he broke but it might have been better if I had pushed him into it," Ted said as he changed out of his colours for the last time. His four other drives earlier in the day had produced a somewhat unlucky third (promoted to second) with Single Lord, fourths with Ganelon and Wing Commander, and tenth with Lord George. "If Wing Commander hadn't turned his head to the side just as they let the tape go, I don't think he would have been beaten," Ted said. As it was, Wing Commander battled hard for fourth after making a big run to sit outside the leader with a round to go.

Ted was sad, but philosophical about having to give up driving. "It's an inconvenience. I'll miss out on a lot of fun, but it's the law and there's no use growling about it. Others have had to do it and it's a pleasure to end at Addington on a fine day. But I will miss all my friends out on the track - they're terrific fellows, and there is a tremendous amount of unwritten law and self respect among them," he said.

Ted's major driving victories came in the 1968 NZ Cup and the 1968 New Brighton Cup (both with Humphrey) while he trained Wag to win the 1972 National Flying Pace and the 1973 Stars Travel Miracle Mile. He also owned Cairnbrae trained and driven by Ces Donald to win the 1964 NZ Cup.

Born into a trotting family on June 21, 1913, Walter Edward Lowe did not begin driving until after the Second World War, when he served in the 20th Battalion "with Charlie Upham and several other good trotting men." Ted was among those taken prisoner at El Alamein, on July 15, 1942, and spent most of his prison life in hospital. He was hospitalised for 23 months with pleurisy and pneumonia, which left him with a "bad chest".

In his first race drive, at a Kaikoura Trotting Club meeting at Rangiora on March 23, 1946, Ted finished fourth with Gloxania in the first division of the two-mile Parsons Handicap, won by Ben Adam. Owned by his father, Mr W T Lowe, trained at Hinds by Dave McGregor, Gloxania was the dam of Grouse, whose son Wheatson has taken a mark of 1:58.6 in the United States this year. Later in the 1945-46 season, Ted guided Gloxania to third twice in one day, in harness races on the Oamaru Jockey Club's programme on June 15, 1946. "The placings on Gloxania made me a B Grade driver," Ted recalls. Baadin, a Lucky Jack-Mistral 4-year-old he owned, provided Ted with his first winning drive - a deadheat with Supplement (Dillon Hall-Love Brigade) at the Waikouaiti Racing Club's meeting in January 1, 1948. "I was then an A Grade driver, but I didn't do much driving after that, until I took up training in the 1950's," he said.

Trotting records show Ted Lowe as retiring with 157 winning drives to his credit (not including any seasons when he had less than three wins) and 223 training successes. His best season was the 1962-63 term. He was leading owner with 28 wins and £16,940, eighth on the drivers' list with 21 wins and fourth highest trainer with 22 wins. Of the 28 races won by Lowe owned horses that season, Cairnbrae contributed eight, Grouse and Peel six each, and Urrall and Lyndhurst (Captain Adios-Gloxania) three each. Cairnbrae was trained by Lowe himself for his first three wins in 1962-3, then went to Ces Donald, who prepared him for another five victories, in succession.

"Humphrey was the best all round horse I drove - he could sprint and stay," Ted says of the horse which gave him his most notable driving success. "When I got hold of him the game was easy - good horses make good drivers. I was never any great shakes as a driver, but I could hold my own - with horses I knew."

Ted says the most noticeable change in racing over the years is the move towards shorter races nowdays. "Races are run in more of a rush. You used to be able to sit back and wait like you can still do to a certain extent on the bigger courses like Ashburton and Methven. I don't think the change has improved the horse," he said.

Ted now intends to put more driving opportunities to help the way of his stablehand Paul Young, while Doody Townley will continue to handle West Street "when it suits him."

-o0o-

Extract from NZ Trotting Calendar 26March85

Ted Lowe, who died in Ashburton last week, was one of NZ's best known amateur horsemen. From his farm near Hinds in the Maronan district of Mid-Canterbury, Ted Lowe produced a string of top class pacers over the years, and numbered two NZ Cups to his credit. His first Cup victory came in 1964 with Cairnbrae, trained and driven by the late Ces Donald, but in 1968 Ted had his own moment of glory as trainer-driver of Humphrey who took out the premier staying event.

Many Lowe horses were named after areas in the Mid-Canterbury district, and a drive along the back roads is like a roll call of many of his early winners - Lyndhurst, Lauriston, Mitcham, Barrhill etc.

Better known winners of recent times to race in the Lowe colours include the former NZ mile record holder Wag (1:57.2) who set his mark in winning the then Stars Travel Miracle Mile (now Pan Am Mile), Dundas, Atanui, Grouse, Corwar, Stortford Lodge, The Raider, Urrall, Pun, Wing Commander, West Street, Templar and Siouan to name a few.

Ted Lowe had been in ill health for a good number of years, largely caused by the long period he spent as a prisoner of war in Norway during the Second World War, being captured at El Alamein when serving with the 20th Battalion.

Few major races escaped Lowe representatives, though he was never to produce a Derby winner. If sentiment were to rectify this state of affairs, Samson would have taken out the 1985 Great Northern Derby at Alexandra Park just two days before Ted's death. Samson was favourite for the event, on the strength of his brilliant lead-up form, but unfortunately went off-stride soon after the start and took no part in the race.

Ted also took a very active role in trotting administration, serving the Trotting Owners' and Trainers' Association in Mid-Canterbury, and the Ashburton Trotting Club. He joined the Ashburton Trotting Club committee in 1958 after several years as a steward, was president from 1977 to 1980, then was re-elected to the committee again in 1983 after three years as immediate past president.

Until his retirement from race driving at the age of 65, Ted did much of his own driving, but encouraged young reinsmen in his employ. George Adamson drove many winners in the Lowe colours, and in recent seasons Paul Young has proved a highly successful stable reinsman.

Ted Lowe is survived by his wife Lillian and six step-children. He was 71 at the time of his death.

Credit: Rod Carr writing in NZ Trotting Calendar 1Aug78


| | |
| --- | --- |
| | RACING HISTORY PEOPLE |

O HUTCHINSON

Mr O (Orm) Hutchinson, who died in Christchurch recently at the age of 82, was well known to trotting followers throughout the country.

Mr Hutchinson was elected a member of the New Brighton Trotting Club in 1938, a steward in 1940, a member of the committee from 1940 to 1943 and again from 1947 to 1973, and a steward again from 1947 to 1960.

He was Vice-President of the Club from 1943 to 1945 and President from 1945 to 1947. He was elected a Life Member of the Club in 1966.

Mr Hutchinson was elected to the Executive of the NZ Trotting Conference in 1948 and was Treasurer from 1950 to 1965. He was South Island Vice-President from 1966 until his retirement in 1972. He served on the TAB Board from 1965 until 1971.


Credit: NZ Trotting Calendar 27Jun78


| | |
| --- | --- |
| | RACING HISTORY PEOPLE |

'GLADDY' McKENDRY

Mr Daniel Gladstone 'Gladdy' McKendry, a prominent trainer and reinsman for the better part of 45 years, celebrated his eightieth birthday in Christchurch last week.

Born in Lauriston in 1898, McKendry became involved in horses from an early age through his father who he describes as a 'great horseman'. Dennis, his father, had a 2000 acre farm at Lyndhurst and McKendry began working the horses when about 18 years old. It was just a hobby at that stage but about three years later he was persuaded by a friend, Bert McCormick, to take out a trainer's licence himself. "In those days about all you needed was a recommendation from a JP and this I acquired from Walter Good, a friend of the family who lived closeby," said McKendry last week.

A major problem for McKendry to begin with was finance but with a little help from friends he raised enough to take Epigram, an unsound horse he leased from Fred Jones, to Hutt Park for a saddle trot. With McKendry in the saddle Epigram duly won the event and hence started a long and successful career for him. Apart from his father, other members of the family had a great deal of success with trotters. His brother Dennis trained and drove many winners but the main help for McKendry came from a cousin, Frank.

Burns Night, which he owned himself, was undoubtedly the best horse he ever trained. McKendry's father had considered the Prince Imperial blood to be the best about and it was due to this assumption that McKendry came about buying Burns Night. Mr Norman Mason, from Rangiora, bought a mare named Festival at a dispersal sale of the late E C McDermott along with her colt foal Dunmore, by U Scott. Festival, who cost him £4 was by Sonoma Harvester from a mare by Prince Imperial. Dunmore had been passed around more than one trainer by the time McKendry decided to take him on, and it proved to be a worthwhile venture. "He (Dunmore) was very rough in the legs where he had kicked cart shafts and gone through sheep yards and I had to more or less break him in again. But once I got him going he won five or six races for me," he said.

Mr Mason bred two more foals from Festival by U Scott, Gay Piper and Burns Night. It was when McKendry had Gay Piper in work he decided to buy Burns Night. "I knew Gay Piper was ready to win so I offered Mason about £500 for Burns Night, when he was just a foal, thinking the price would go up if Gay Piper was successful." Burns Night developed into a top flight racehorse winning 16 races and £18,020 for McKendry, including the NZ Derby and NZ Champion Stakes, before fashioning a fine record at stud. Burns Night could possibly have downed Adorian in the 1953 NZ Cup, according to McKendry, if he had not broken down on the eve of the big event. "He had been slightly lame but I lined him up and under the circumstances he did remarkably well to finish fourth," he reflected.

Burns Night showed exceptional class at the NZ Metropolitan Easter meeting in 1953 when he broke two world records in one day. He won the Easter Handicap in 3:22 for the mile and five furlongs and three hours later won the Au Revoir Free-For-All over a mile in 2:02.6, then a world record from a standing start.
McKendry feels that it is very hard to make a comparison between the likes of Johnny Globe, Van Dieman and the other great horses of yesteryear to the present day champions. "Horses might be going faster now but tracks, especially Addington, are a great advantage. Generally the horses are very little, if any, better," he remarked.

McKendry feels that a lot of his training success can be attributed to the galloping pacemakers he used in work. "I'm sure the key to success is the use of a galloping pacemaker, making sure the horse pacing is always in front. This gives them a geat deal of confidence," he said. McKendry has a lot of derogatory remarks to make as regards trainers today. "In my opinion the average trainer today is damn poor and the majority of owners are getting a poor deal," he said. He made mention of the days when a trainer would have a horse ready to produce two top efforts on the one day. Now, he says, the owners are paying out for horses that aren't capable or ready for one honest run. He appreciates the problems for young trainers striving to make progress in the sport these days noting that only the discarded horses from 'name' trainers come their way. In McKendry's opinion Maurice Holmes was the best ever reinsman in NZ and went so far as to say that he was the best in the world. "Maurice would always be off a tight spot before the straight whereas today you see drivers waiting for an opening inside the last 100 metres," he said.

McKendry well remembers his last day on his home course of Methven when he produced No Trumps to win the first race and Pharoah to win the last. "I always lent a horse to the Clerk of the Course for the day and on this particular day he used Pharoah for half the day and then swapped to No Trumps while I got Pharoah ready for the last. Ever since he has gone round boasting about the two winners he rode in one day," McKendry said.

Credit: Rod Gardiner writing in NZ Trotting Calendar 1Aug78


| | |
| --- | --- |
| | RACING HISTORY INTERDOMINIONS |

MELBOURNE - MARKOVINA
Bred in New Zealand, owned in South Australia and trained in Victoria, 6yo entire Markovina became 1978 champion in the first all mobile series, the first staged at Moonee Valley and the first boasting a six figure Grand Final Purse. Markovina survived an inquiry into alleged interference, and his win represented a masterful training and driving feat on the part of Melbourne horseman Brian Gath.



| | |
| --- | --- |
| | RACING HISTORY FEATURE RACE COMMENT |

1978 BENSON & HEDGES NZ FREE-FOR-ALL

Trusty Scot added the Benson and Hedges NZ Free-For-All to his victory in the NZ Cup when he won a torrid and exciting contest.

The Free-For-All was a far better contest, with Palestine responsible for a cracking pace which saw Trusty Scot record 2:29.1 for the 2000 metres, a mile rate of 2:00.1. Once again, Trusty Scot secured a dream trail behind the pacemaker, and he dashed past Palestine to take a handy lead soon after turning for home.

He was under some pressure at the finish, but held out Belmer's Image and Lord Module by half a neck and half a neck. Belmer's Image made ground strongly, as did Lord Module, who was trapped three wide early, then had to move out sharply at the 300 metres to avoid the tiring In Or Out. Win favourite Sapling made ground strongly after losing a handy position on the outer in the middle stages.



Credit: NZ Trotting Calendar


| | |
| --- | --- |
| | RACING HISTORY FEATURE RACE COMMENT |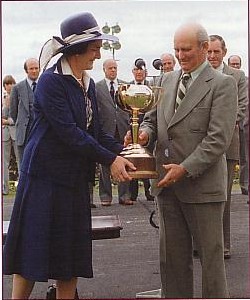 Adam Hunter receives the Cup from Colleen McDermott, wife of the Met President

1978 NZ TROTTING CUP

Last season's top sire, the now defunct Scottish Command, left his second successive New Zealand Cup winner when Trusty Scot bested the favourite Sapling at the end of a relatively tame contest.

Trusty Scot, only regarded as an outside Cup chance when he resumed racing in the Ashburton Fying Stakes in October, firmed as one of the best prospects for last Tuesday's big event when he won at Ashburton, then followed it up with a win in the final lead-up Cup race, the Kaikoura Cup nine days before the Addington feature.

Some notable 'judges' had expressed doubts as to the patience and temperament of Trusty Scot's young driver, Henderson Hunter, who at 26, was the youngest driver in last Tuesday's field. But Henderson drove with all the skill and aplomb of a reinsman of many more years experience in landing home the Southland-bred entire a half length winner over Sapling. Trusty Scot made a brilliant beginning and led by three lengths after 100 metres, but Henderson then eased him to trail as Sapling sped round the field to lead at the end of 600 metres.

Henry Skinner looked set to land his first Cup winner as he dictated the terms entirely to his own satisfaction, but Trusty Scot pulled out from the trail at the turn, ranged up alongside 150 metres out and outstayed the pacemaker by half a length. Henderson, who races Trusty Scot in partnership with his father Adam, moved to Ohoka last winter to train at the property of his father-in-law, Bill Bagrie, and dedicated his time towards preparing the talented pacer for the Cup.

The finish of the Cup proved a triumph for New Zealand-bred stallions, as the runner-up, Sapling, is by the veteran sire Young Charles and the only other runner by a New Zealand sire, Lord Module, finished fifth. He is by Lordship.

As a spectacle, the race was relatively tame, only developing into a true staying test over the last 1600 metres, the first 1600 taking 2:10.2. The last 1600 took 2:02.6 with the last 800 metres in a startling 57.7 and the final 400 metres in 29.2. With such a fast pace being set only over the last 1600 metres, those trying to improve from the back were left with little chance, and virtually the first four on the home turn filled those placings at the finish.

Rocky Tryax, who settled three back on the rails and was tracked throughout by Wee Win, filled third a length and a half behind Sapling, with Wee Win battling into fourth half a neck back, one place further back than he finished in last year's Cup. Lord Module, attempting to become only the fourth four-year-old in the 75 year history of the event to win the Cup, was far from disgraced in finishing fifth. He stood on the mark after becoming restless in the No.1 barrier position and was six back on the rails when the field settled into position. He worked his way through the traffic on the turn without really getting a clear run and did well under the circumstances.

Belmer's Image made ground for sixth ahead of the North Islanders Bronze Trail and Rondel. Bronze Trail made ground after a slow start but Rondel enjoyed the run of the race and faded from the home turn. Little could be said of the remainder who were well and truly beaten.

Credit: Editor NZ Trotting Calendar


| | |
| --- | --- |
| | RACING HISTORY FEATURE RACE COMMENT |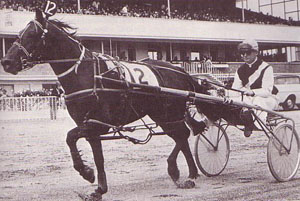 Sovereign & Jack Smolenski

1978 NZ DERBY STAKES

Sovereign and Ostrava, two of the least experienced horses in the field, provided an exciting finish to the $25,000 NZ Derby Stakes after rival drivers adopted a costly sit and wait policy.

Sovereign, a beautifully bred colt by Bachelor Hanover out of the top class mare Royal Belmer, was having only his sixth start of the season and his seventh in all, while Ostrava, who also lacks nothing in breeding being by Nevele Romeo from Bravine, was having only his fifth season and career start.

Robin Butt took Ostrava straight to the lead with Sovereign dropping in to trail. It looked ominous for the others when Matai Dreamer made a safe beginning, while the hot favourite Genesis also became well placed early. But the writing was on the wall for these two when Ostrava was allowed to set a leisurely pace over the first 1600 metres. It was obvious that the race was going to develop into a sprint home and there was no way that those sitting further back in the field could outsprint Ostrava and Sovereign.

Sovereign looked as though he was going to be denied a run in the straight when Jack Smolenski went for a rails opening early in the run home, but once switched to the outside of Ostrava, he finished generously and wore him down by a neck. His time for the Derby was 3:29.6, the slowest time for the race since the distance was extended to a mile and five furlongs in 1970, then to 2600 metres in 1973.

Wing Commander, though beaten into third a length and a half back, turned in an exceptional run for third after getting well back early after a slow start. He was three quarters of a length clear of Matai Dreamer, who tried hard to make up ground over the final 800 metres but found the leaders travelling too well. Augustus Rex battled on well for fifth after racing in the open all the way and he was clear of Genesis who could made no impression over the last 400 metres.

Sovereign is raced in partnership by Messrs J M G & M Osborne and Jack Smolenski, and it gave Smolenski his first success in the Derby. Sovereign only started his racing career last June when he made an auspicious debut when third to Genesis and Prince Rapide in the Sapling Stakes at Ashburton. This season, he has gained three wins, a third and a fourth.

Credit: Tony Williams writing in NZ Trotting Calendar


| | |
| --- | --- |
| | RACING HISTORY FEATURE RACE COMMENT |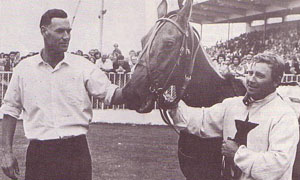 'Slim' Dykman, Scotch Tar & Robert Cameron

1978 DOMINION TROTTING HANDICAP

Scotch Tar, a rank failure in the Worthy Queen Handicap, earned forgiveness for all his previous sins when he turned in one of the greatest exhibitions of trotting ever seen in a Dominion Handicap.

The five-year-old Tarport Coulter-Scotch Penny gelding claimed three records in beating warm favourite Spartan Prince - the New Zealand 3200 metre record, the Addington track record, and the Dominion Handicap race record. Scotch Tar won in the brilliant time of 4:11.6 - time which would have seen him score a clear cut over the pacers in the NZ Cup.

It was obvious right from the start that Brian Gliddon, driver of Alias Armbro, was not going to stand for any loitering on the journey. Alias Armbro cut out the first 800 metres in 1:04.8, then when Scotch Tar moved up outside him, the pace stepped up again and the half way mark was reached in 2:06.8. The 2000 metres was reached in 2:39.8, then the fireworks really began. Bob Cameron sent Scotch Tar forward to try and wrest the lead from Alias Armbro, and they cut out the next quarter to the 2400 metres in 29.7. Alias Armbro fought off the first challenge by Scotch Tar, but they still reached the 2800 metres in 3:39.5, with that quarter taking 30.4.

Scotch Tar edged past Alias Armbro soon after turning for home, but looked as though he would be under pressure to hold out Spartan Prince, who had enjoyed the run of the race all the way, and had not been involved in the classic battle between Alias Armbro and Scotch Tar. But not even a trotter of Spartan Prince's calibre could do anything but nibble at Scotch Tar's lead in the run home, and the brilliant five-year-old was holding Spartan Prince by three quarters of a length at the finish.

Backmarker Framalda, who was feeling the pinch at the 300 metres and broke briefly, recovered to battle into third but she was four and a half lengths back and two lengths clear of the weakening pacemaker Alias Armbro. Waitaki Gamble led in a well and truly beaten remainder three lengths back, with eight lengths to Isla Voss who started to feel the pressure when the leaders fired in the 29.7 to the 2400 metres.

Scotch Tar's time of 4:11.6 was a full 1.5 seconds inside Easton Light's great record of 4:13.1, set in winning the 1974 Dominion Handicap.

Scotch Tar, owned and trained by Slim Dykman at Chertsey, gave last season's leading sire, the now defunct Scottish Command, a notable double. Scottsh Command is the sire of the NZ Cup-NZ FFA double winner Trust Scot, and also the sire of Scotch Penny, dam of Scotch Tar.

Credit: Tony Williams writing in NZ Trotting Calendar


| | |
| --- | --- |
| | RACING HISTORY FEATURE RACE COMMENT |

1978 NZ OAKS

Lady's Rule will go down in the record books as being the winner of the 1978 NZ Oaks, but those records will not tell the true story of the courageous performance turned in by the third placegetter Gina Marie.

Without trying to take anything away from Lady's Rule, who gave of her best and gained due reward, she may have only been second to her North Island Oaks conqueror had not Gina Marie gone down on her nose at the start. A hot favourite to complete the Oaks double, Gina Marie moved off well enough, but after a couple of strides took fright when she heard a rival driver yelling. She stumbled, went down and looked certain to hit the deck. A stride past the post she was second, and it was a performance which stamped Gina Marie as a class above the other fillies this season.

Lady's Rule's victory, favoured though it was by Gina Marie's misfortune, was still deserved as she has proved an honest and consistent performer for trainer-driver Robert Dunn and owner Mr Bert Penney, a Kaiapoi freezing worker. Acting on instructions from Mr Penney, Dunn purchased Lady's Rule as a yearling at the National Sales for $1200. It was a wise investment, as a filly has now won $11,450.

Credit: Editor of the NZ Trotting Calendar