| | |
| --- | --- |
| | INTERNATIONAL HISTORY |

NASA launches two Voyager spacecraft designed to fly-past the outer planets on the way to explore the inter-stellar regions beyond the Solar system.

Elvis Presley dies.


| | |
| --- | --- |
| | LOCAL HISTORY |

The Beehive, designed by British architect Sir Basil Spence, is officially opened, but is nor fully used until 1980.

Roger Hall's play 'Middle Age Spread' opens in Wellington; it later wins Comedy of the Year after a successful run in London's West End.

Bastion Point land protest.

The museum's Antartic wing opens

July 4 - Hundreds evacuated as serious flooding affects the city.

Credit: Ch-Ch City Libraries


| | |
| --- | --- |
| | RACING HISTORY BUILDINGS & FACILITIES |

TURNSTILES

A new type of automatic turnstile, new to NZ at least, may soon be in operation on trotting and racing tracks in this country.

First developed in Australia by Automatic Totalisators Ltd, the automatic turnstile is now in widespread use throughout Australia, not only on racing and trotting tracks but at other major sporting venues. The automatic turnstile does away with the need for clubs to employ large numbers of gate staff to collect entrance money, and the model pictured was tested by the NZ Metropolitan TC at its two night National meeting this month.

Available either as permanent fixtures or as portable turnstiles, they offer great scope for racing and trotting clubs to save on costs. The turnstiles can operate either by patrons placing the entrance money directly into the coin block, or where admittance charges vary, by the use of tokens which can be purchased on the way in. The token system is the most commonly used on Australian trotting tracks where many New Zealanders are already familiar with the system.

At a time when all NZ trotting clubs are looking at ways of cutting costs, this new turnstile seems to offer wide scope for achieving this aim, particularly if clubs in the same areas were to get together to obtain the equipment in partnership.

First developed in 1959, the equipment has proved most successful and beneficial to clubs in Australia and it does not seem it will be long before NZ clubs adopt the same system.

Credit: NZ Trotting Calendar 30Aug77


| | |
| --- | --- |
| | RACING HISTORY PEOPLE |

FELIX NEWFIELD

Part of the reason for Felix Newfield's consistent success in the trotting game is clear even before you reach his well laid out stables and yards. The gravel driveway is raked and neat, the facilities tidy and cared for. To quote the old saying there is a place for everything and everthing has it's place. While he doesn't actually say so it is obvious that he and his assistants place great emphasis on the finer points of running a racing stable. That attitude carried through to other areas probably explains why Felix has trained 315 winners in 25 years, making him one of the most enduringly successful horsemen of his generation. Newfield is a genial, sometimes controversial, personality but behind the quick quips there is another Felix Newfield; one who obviously puts a good deal of thought and planning into his establishment and the horses in his care.

Born in Lyttelton 49 years ago, Felix got involved with trotters when his family lived in Domain Terrace in Addington, close to the stables occupied by the late Jack Pringle. On leaving school Felix worked for Pringle for two years and when that trainer moved to Templeton the youngster joined Howie Smith in the same stable and stayed with him for eight years. His first driving experience was at the age of 16 in 1941, when he and Smith went to the Coast with Lord Brent and Blackdale. Newfield drove both without success and on his return the authorities took away his licence, there being a minor problem regarding age. Felix got his licence back when he reached 18 and his first success came shortly afterwards behind Grattan Bell at Greymouth. He won the next race, too with Sir Walter who was closely related to the Cup class pacer Cantata, the winning dividend being $288. At Westport he won three on end with Victory Boy.

Felix can tell stories about those early Coast trips which would appear almost bizarre to the modern stablehand. Jogging to the railway station in the afternoon to catch the train, clanking across to Greymouth or Reefton etc all night, jogging to the track for races, and then back to the train for another long ride home. The boys rode in the boxes with the horses with only a hurricane lamp to light up the card games or the stories of what had happened or what was going to. The trips to Dunedin, he recalls, were the worst. Sometimes the teams would be based on the Coast for weeks. Other times there would be just the day trips. Road transport in the war years was very difficult because of petrol restrictions which limited floats to being used in a 30 mile radius only. Newfield recalls on one occasion walking a team of horses with Addington trainer Joe Purdon (father of Alex) as far as Bankside where a float would be stategically placed to load the horses. You drove the thirty miles - further if you had the nerve - and then walked some more to the next float. Even meetings like Ashburton could be no cakewalk in those days.

In the early 50's Felix took up a private training position with Donald 'Sandy' Green at Methven. Success was almost immediate and in 22 months Felix trained 18 winners for Green, the mainstays being Gallant Satin, Fearless Peter, Quite Obvious (later a successful broodmare), Lothario and Robert Junior. In December 1952 at Waimate the young trainer won three races out of four for the owner with different horses. It was while at Methven that Felix got to know Colin McLaughlin and their association was to be mutually profitable for years to come.

A few months later Felix returned to Addington and set up on his own and on May 1, 1953, at the Reefton winter meeting came his first success on his own account. The horse was Marathon, owned by Mrs C Pateman, and he won an intermediate event by five lengths at odds of five to one. Not long afterwards Felix married Joan Harris fron Central Otago and moved to his present property at Templeton. It was a far cry from what it is now, having been used as a chicken farm. Felix built the stables and yards and milked cows as well to help him through the difficult early times of professional training.

His initial team was small. Main stake winners were Sedate, who was leased from Colin McLaughlin and who won four races before starting a breeding line which has proved highly successful including as it does Allakasam, Royal Ascot, Morsel and Flying Mile among its produce. Sedate was raced by Felix in partnership with Christchurch businessman Frank Kirkpatrick and Newfield's regard for his first stable patron is obvious. At the same time Frank raced Suzendy and she was a top mare winning 10 races and putting the stable well on the way to success. Frank Kirkpatrick still races horses from the stable and has remained a constant patron through the years - a trait of owners associated with Newfield.

By the end of the 1957 season Felix had reached sixth position on the trainers' table, Suzendy and Captain Free being the leading lights at that time. But it must have been hard work. With the assistance of Murray Hessey, now a trainer at Yaldhurst, Felix worked a big stable of horses and milked about 30 cows as well, which is a pretty daunting timetable even from this distance in time. His highest place on the table was third in 1962-3 when the stable produced 25 winners, only two behind the leading trainer that season, Ces Donald. Great Credit, that speedy but unruly horse was the leading stake winner. There have been any number of top horses through the stable. Johnny Guitar won a Wellington Cup and 10 other races. Queen Ngaio won 10 for the stable and ran fifth in the Cup, the closest Felix has been to achieving his great ambition of winning the big race. "There's not another race like the Cup is there?" he says, and one gets the feeling that nothing is going to be better fitted for the race than Nimble Yankee come November and all going well. Pancho Boy won nine including the Louisson Handicap and Queen Ngaio became dam of the outstanding but unsound pacer Waratah, raced by Joan Newfield and her father Jack Harris. Waratah won the Dunedin Cup and is now fashioning a creditable stud record against great odds in terms of attracting class mares.

There were other horses to recall from earlier days. Semloh was a Welcome Stakes winner, but unsound, and First Belle was a good winner for Felix which persuaded him to buy her first foal. Named John Craig, after the trainer's sons, he was sold to Australia where he was a champion three year old winning two Sires Produce Stakes and two Derbies, and he later did well in America. Earlier there had been Dilossa, Chiffon, Dacron, Seafield Hanover, Sirretta, Sirrah (Harris in reverse for the anagram pundits) and numerous others.

Felix had won his first Addington race in the late 40s with Elation, who splashed through the mud to score at long odds. Elation was later sold by his owner for two shillings and won two in a day for Colin Berkett at Addington, the first time paying a big dividend. Newfield has compiled a fine record in provincial Cup races, winning five at Greymouth for example and three Geraldine Cups, including American Chief's this season. He set some sort of record some years ago when lining five horses up in the New Brighton Cup, finishing first, second, fourth and fifth. He, of course, drove Royal Ascot in the dramatic Auckland Cup of 1973 and relates that he "didn't especially go looking for anyone" until it was announced the dividends were going to be paid out so that the Cup was safe following a controversial incident in the middle stages.

With Tronso he won a Dominion Handicap, and nearly brought off a unique finish to the Derby of 1973 when New Law beat Royal Ascot by a nose. Royal Ascot, driven by Alan Harrison, was called in first by the judge and Felix, with half shares in both horses, thought a dead-heat would have produced a most unusual Derby result.

This season has been another good one, the stable having 18 successes. Ambridge, now in the US won five and Warragamba, by Waratah from Laughlin's Lass who were both trained by Felix, won three, but the star has probably been Nimble Yankee who has risen from being a strong but unreliable pacer to a Cup prospect. American Chief has been another good winner.

Like all professional trainers, especially those who do well, Newfield no doubt has his critics. But a feature of his career has been the way his prominent owners have stuck with him through thick and thin. Frank Kirkpatrick and Colin McLaughlin have been mentioned. Another is Eugene McDermott who has been associated with the stable for more than 20 years through horses like Guinness, Black Label, Holmfield and now Americamn Chief and Gladarm. Few other trainers can match this sort of record over such a long period and it is one that Felix is rightly proud of. He doesn't expect to train so many winners in coming years as he has done in the past because things have changed in trotting. "Working them up and winning races and then selling them is the thing today and horses which might have won eight or nine in past years are now sold like Ambridge after four or five wins, or even earlier," he said.

He works about 20 to 25 now with help from Fraser Kirk, who has developed into an outstanding reinsman under Newfield, and his son Craig, who is 17 and with a good trials record behind him, is set for a probationary career next season. Bob Cole helps out in return for using Felix's track. Elder son John was more interested in machinery than horses but Felix's 15-year-old daughter Dianne is keeping the family name to the fore in pony circles. Most 15-year-old girls have their bedroom walls covered with pin-ups of pop stars. Dianne has so many show ribbons won on Bacardi Rum she doesn't have space for pop stars!

As Newfield shows you round the 36-acre complex you are soon aware that a lot of thought has gone into it's construction though there are some things he would now change. His basic training philosophy could be summed up as: "Keep them working, keep them warm and keep them well." He relates the horse's position to humans. How would you like to be shut up in one little room all day or get a cold shower in the middle of winter or run on concrete roads in steel boots? The answer is plenty of room for the horses during the day, warm water for hosing and plenty of attention to feeding and shoeing. Unlike a growing number of trainers Newfield still sets store by chaff which he uses constantly.

Newfield's training programmes have naturally been formed on what he observed as a young man. He names Ces Donald, F J Smith, Ces Devine and Jack Pringle as the best trainers he has seen. "I noticed that they always produced their horses on the big side," he says. "I try to do the same and this is partly why I race very few two year olds. They need time." He deplores the tendancy to drift away from 3200m races. "They made a lot of our horses because they didn't have to be worked up early. We could do with more of them."

Reinsmanship? Freeman and Maurice Holmes, Wes Butt, Jack Pringle and Bob Young are his tops and he also admires the driving of his good friend Jack Carmichael, who won a lot of races for the stable. "That was when Jack was younger of course," Felix adds with a grin. Newfield admits to being a collector of odds and ends. "We've three tractors on the property and never plough a paddock." He does however make a lot of his own hay, and fowls, ducks and peahens outnumber the horses on the property. His latest pride and joy are three peacocks brought from the North Island and there is the odd turkey as well.

Felix Newfield, as I said, has sometimes been a controversial figure but I found him candid answering the awkward questions. He will tell you what happened the day a Greymouth crowd gave him one of the noisiest receptions even that colourful area has witnessed. He says frankly that his own experience caused the public to miss seeing the best of Auditor, the finest horse he has ever trained. "He was phenomenal," Felix recalls, "and beat all the top horses of his day. But I was anxious to get him ready for the Cup and brought him back too soon after an attack of strangles. He was never the same again and had I known then what I know now he would have won a Cup." Auditor was owned by another long time patron in Jack Brosnan.

How does he react to the sometimes heard allegation that he is a tough cookie out on the track? "When Derek (Jones), Jack (Carmichael) and I started out years ago we were boys among men," he says, "and you had to quickly learn to look after yourself if you wanted to make it, because there were some great drivers about then. We did what we had to do and those days formed our driving patterns. These days it's easier and the old methods look worse than they are." He points out that young drivers have a much easier row to hoe today even though it is apparent that he feels the standards have slipped over the years. People in stands, he maintains, cannot properly read what is happening on a track particularly in a big race at Addington where you have to be in the race to experience what's going on. Newfield's ability in the cart was clearly evident in the Driving Championship held at Addington in March, which he won. Some of the horses he drove went a lot better that night than they had before and, in some cases, since.

He regards False Step as the finest horse he has seen and is adamant that today's horses would be hard put to match old time horses when it came to hardiness. "Jogging to the station, all night on a train, jogging to the track, having two races and jogging back to the train and so on was pretty testing," says Felix, "but they seemed to stand up to it." Returning to the topic of driving, he can recall the day he drove Swingalong in a race at Ashburton in which 40 horses started. Addington, by a mile, is the finest track he has driven on or seen.

Like I said at the start, Felix Newfield is a more complex character than he perhaps likes to appear. He has no doubt had his bouts of luck, good and bad, but there is also no doubt that he is a worker and the success he has had has not been lightly earned. Young men wanting to be top trainers should take careful note for it is consistently a hallmark of all top horsemen.



Credit: NZ Trotguide 6Jul77


| | |
| --- | --- |
| | RACING HISTORY PEOPLE |

A E LAING

Mr A E Laing, who died in Christchurch at the weekend, was a prominent figure in trotting administration for some 30 years.

He became a steward of the New Brighton Trotting Club in 1947, was on the committee of that club from 1953 to 1973 and served as president from 1961 to 1963.

He was also on the executive of the New Zealand Trotting Conference for several years, and served as honorary treasurer to the conference for a time.

Credit: Press 6July 1977


| | |
| --- | --- |
| | RACING HISTORY PEOPLE |

JOHN JOHNSTON

An unraced or lightly raced mare from a good producing family is the best prospect to leave a top racehorse, in the opinion of Mr John Johnston who has been breeding standarbreds in the Oamaru district for 50 years.

Cardinal King, who made a clean sweep of the Inter-Dominion series, ace sprinter Master Dean, and a score of winners sold at the National Yearling Sales, all bred by Mr Johnston support his claim.

Mr Johnston (73), now living with his sister at Pukeuri is currently maintaining his interest in trotting through Rustic Widow, a Bachelor Hanover-Rustic Lady mare whom he has leased to the 16-person Berts Syndicate.

Mr Johnston's father, Joseph, bred Clydesdales in England and NZ, and at one stage had 20 stallions. His grandfather, John, and great-grandfather, Wilson, bred Clydesdales and thoroughbreds in England.

Information, the dam of Cardinal King, had a throat affliction that caused her to choke when at speed. Lent to Mr Johnston by Bob Ludemann of Kauru Hill, she left Cardinal King to a mating with First Lord, one of several stallions Mr Johnston has stood at stud. Sold as a yearling for 150gns to the Wederell brothers, Stewart of Dunedin, and Fred, of Timaru, Cardinal King won 10 races, including the 1967 Olliver Handicap, before he was sold for $40,000 to patrons of Stanley Dancer's New York stable. Cardinal King immediately made an unequalled clean sweep of the International Series - International, Good Time and National Championship Paces - at Yonkers raceway in 1968.

Cardinal King's grandam, Waikaura, and third dam, Misty Morn, were like his dam, unraced. Waikaura, who produced the first two-time Inter-Dominion winner and dual Auckland Cup winner, Captain Sandy, was bought originally by Bob Ludemann as a hack. He gave up the idea when he found she had to be broken in each time she was left for a few days. Misty Morn was a twin of poor constitution and also used as a hack. Mr Johnston had a close association with Captain Sandy. He stood his sire, Sandydale, and he stayed overnight with the vicious Waikaura when Captain Sandy was born to ensure she allowed her foal to suckle.

In 1953 Mr Johnston recommended Captain Sandy to Adelaide trainer Dinny Nolan, who was looking for Inter-Dominion material. Captain Sandy, then 10, had been returned to his breeder, Mr Ludemann, after winning the Inter-Dominion in Melbourne two years earlier when held on lease by Jock Bain, the Oamaru trainer. Nolan bought the gelding for 525gns and won the 1953 Grand Final in Perth at the expense of the favourite, Ribands.

Master Dean is out of Gay Sheila, a Logan Derby mare who did not reach the race track, like her dam, Madam Gay. Mr Johnston bought her after she had left two foals, Flaunt and Smart Play, for Don Nyhan, of Templeton. She had been sent to stud as a 3-year-old. Rauka Lad (Easter Cup and Gore Invitation Stakes)has been another big winner from this family in the past decade.

Master Dean, winner of the NZ Free-For-All, Olliver Handicap, Miracle Mile, Benson & Hedges Flying Mile and Clarendon Free-For-All last season, has a best winning record of 1:57.5 and finished second in 1:57.3. He has seven wins from 10 starts over a mile in NZ. The Honest Master entire, who was foaled on February 3, was several months behind other yearlings when offered at the 1973 national sales. He was passed in at $1,100, and Mr Noel Bolase, of Christchurch, then obtained a lease option for $100. After further discussion when Master Dean was being broken in, Mr Borlase bought him for $400 with two $200 contingencies from his first two wins. Master Dean has won 16 races and $65,245. Mr Johnston sold Gay Sheila, the dam of Master Dean, to Mr Noel Dunston, of New South Wales, in 1975. She slipped the foal she was carrying by Lord Dale, and is in foal to Deep Adios, sire of Paleface Adios.

Mr Johnston sold Village Logan, the dam of three 2:00 pacers, for 170gns at the 1957 national sales. Village Logan (Logan Derby-Blue Banner) who had her racing restricted after she foundered, opened her account at the age of 10 when she won twice trotting at the Manawatu meeting. Her 2:00 progeny are Emory Wheel, Bell Logan and Logan Son. Her first foal, William Gunn sired a winner last season, Gunn Tartan. Village Logan is one of 26 individual winners Mr Johnston has sold through the national sales.

Another pacer he bred was Expensive, who won four races for Laurie Smillie, of Pleasant Point, during the 1946-47 season. Expensive was later bought by Noel Simpson and won a United Handicap at Auckland at odds of 70 to 1 after being off the winning list for three years.

The first stallion Mr Johnston stood was the Victorian-bred Four Chimes in the mid-1920s. Four Chimes sired the 1916 NZ Cup winner, Cathedral Chimes, who in turn stood at Mr Johnston's property. Cathedral Chimes got Ahuriri, the NZ Cup winner of 1925 and 1926, and Kohara, who was successful in the next year. Four Chimes figures as the grandsire of triple NZ Cup winner False Step.

Sandydale, the American importation, was bought by Mr Johnston in the 1940s from Mr George Youngson, of Gore. The son of Abbedale has had a significant influence on breeding. Besides Captain Sandy and the dam of Cardinal King, Sandydale sired the dam of Johnny Globe (unraced Sandfast), the great pacer and sire who left another champion in Lordship. Sandydale is the maternal grandsire of Stanley Rio, Horse of the Year last season,when he became the first horse to win the Inter-Dominion Grand Final and the NZ Cup in one season.

-o0o-

NZ Trotting Caledar 1985

John Johnston, who successfully bred standardbreds in the Oamaru district for 60 years, died recently at the age of 82.

Mr Johnston retired from breeding horses 12 months ago when he sold the broodmare Rustic Widow. He bred the big winners Cardinal King and Master Dean and stood several stallions including Sandydale.

Cardinal King made a clean sweep of the three race International Series at Yonkers Raceway, New York, in 1968. He was sold by Mr Johnston for 150 guineas as a yearling. Cardinal King was by First Lord, whom Mr Johnston stood. Master Dean won 16 races, including the 1976 NZ Free-For-All, after he had been sold by Johnston as a yearling for $400 and $200 contingencies from each of his first two wins.

Mr Johnston had a close association with Captain Sandy, the two-time Inter-Dominion champion. He stood his sire, Sandydale and stayed overnight with Captain Sandy's dam, Waikura, a vicious mare, to ensure her foal could suckle. Mr Johnston recommended Captain Sandy to Dinny Nolan in 1953 when the Adelaide trainer was on the lookout for Inter-Dominion material. Captain Sandy, then ten, had won the Inter-Dominion Final in Melbourne in 1950 for Oamaru trainer, Jock Bain who had him leased. He had subsequently been returned to his Kauru Hill breeder, Bob Ludemann. Nolan bought Captain Sandy for 525 guineas and won the 1953 Final in Perth.

Mr Johnston, who lived with his sister at Pukeuri in recent years, previously had stables at Waikaura. He began assisting his father, Joseph, who bred Clydesdale horses in England and NZ. His grand-father, John, and great-grand-father, Wilson, bred Clydesdales and thoughbreds in England.

The first stallion Mr Johnston stood was the Victorian-bred Four Chimes in the 1910s. Four Chimes sired the 1916 NZ Cup winner Cathedral Chimes, who in turn stood at Waikaura. Cathedral Chimes left Ahuriri, winner of the NZ Cup in 1925 and 1926, and Kohara, who won the next year.

Mr Johnston bought American-bred Sandydale from George Youngson of Gore in the 1940s. Besides siring Captain Sandy and the dam of Cardinal King, Sandydale sired the dam of Johnny Globe, who left the champion racehorse and sire Lordship. He is also the maternal grand-sire of Stanley Rio, winner of the NZ Cup and Inter-Dominion Final in Brisbane in the 1976-77 season.

Mr Johnston sold 26 yearlings through the National Yearling Sale which he supported from its inception in 1944. He sold Village Logan, dam of 2:00 pacers Emery Wheel, Bell Logan and Logan Son, for 175 guineas at the 1957 sale.

Credit: Taylor Strong writing in NZ Trotting Calendar 6Sep77


| | |
| --- | --- |
| | RACING HISTORY MESCELLANY |

HOPPLES - ONCE SOCIALLY UNACCEPTABLE

The pacer, who now reigns supreme on the light harness scene, was once considered the poor relation.

In the early days of the sport in America, it was considered 'The' thing to own and drive a trotter. Pacers, while accepted, were looked down upon by the 'Gentry' who would not have one in their barn. However, in the late 1880s this began to change, as the pacer proved it could fit it with the trotter, and even go faster.

When Star Pointer became the first standardbred to break 2:00 for the mile when he recorded 1:59¼ at Readville, Massachusetts, in 1897, it set the seal on the pacer's dominance over the trotter. It was not until 1903, on the same course, that Lou Dillon was to finally equal the 2:00 mark trotting, and later that year at Memphis, Tennessee, reduce her record again. Lou Dillon's 1:58½ restored the trotter to it's former glory, be it only briefly, but the writing was on the wall and never again was the trotter to prove as fast as the pacer.

Though he was not hailed so at the time, the man largely responsible for helping to establish the ascendancy of the pacer over the trotter was an Indianna railroad man, John Browning. Browning, like many in that stronghold of harness racing, Indianna, dabbled with a horse or two. But when landed with a pacer who kept going off-stride, Browning did not throw up his hands and get rid of the horse like the others of his time, he set out to rectify the problem.

It took Browning some time to come up with the answer, a set of leg harness which kept the errant equine on stride. A few other horsemen, plagued with the same problem as Browning, tried out his idea, and found it worked. But to the established trainers of the day like Pop Geers and Lon McDonald, the hopples were poison, and these men led the movement which finally led to the banning of hopples. But like most bans against progress, this one did not work, and trainers with problem horses just kept on using them.

The horse to dispel much of the prejudice against the hopples was an Iowa stallion, Strathberry, who took a record of 2:04½ wearing the 'Indianna Pants' as they were then known. Strathberry broke several records on mile and half-mile tracks in 1895. That same year, a pacer by the name of Frank Bogash came out of Iowa to race on the Grand Curcuit, and when he lowered his mark to 2:03¾, the 'Pants' were on their way.

Prince Albert became the first pacer to break 2:00 wearing 'Pants' when he broke the mark in 1902, and from then on, it became common place to see the hopples on most pacers racing throughout the country. The mighty Dan Patch, who set the world record of 1:59 in 1903 and by 1905 had reduced it to 1:55¼, was one of the exceptions. He paced free-legged, and it is rather unusual that Billy Direct, who in 1938 reduced Dan Patch's record to 1:55 at Lexington, Kentucky, did so without hopples.

Credit: NZ Trotting Calendar 13Dec77


| | |
| --- | --- |
| | RACING HISTORY INTERDOMINIONS |

BRISBANE - STANLEY RIO
1977 winner, Stanley Rio was bred in Tasmania, while his veteran trainer George Noble and his son John, who did the driving, moved from New South Wales to settle in New Zealand in 1941. They were able to secure shares in the brilliant pacer through Christchurch property developer Wayne Francis, who bought the colt as a 2yo on the advice of his Tasmanian born partner in Nevele R Stud, Bob McArdle.



| | |
| --- | --- |
| | RACING HISTORY HORSES |

NIGEL GRAIG'S MILE RECORD

The ghost of numerous champion trotters of past eras and their connections must have watched in satisfaction on Saturday night (19 February 1977) as the brilliant Nigel Craig scooted over a mile in 1:58.8 shattering his own outright mile record of 2:00.3 and embarrassing the previous time trial record of 2:02.4 held by Control.

Driven by part-owner Bevan Heron and assisted by a galloping pacemaker in Glenroy Lass driven by John Noble, Nigel Craig went his first quarter in a brilliant 29.9 and reached the half in 58.4. The large crowd sensed the long-awaited two-minute mark for a trotter in NZ was on as Heron steered his horse through the third-quarter pole in 1:27.5. Urged on over the final stages, Nigel Craig showed all his great staying ability to reach the post in a time which was probably faster than most expected.

The winner of nine races this season alone and nearly $30,000, Nigel Graig has all the credentials to be a fitting holder of our first home two-minute trotting mark (Ordeal broke two-minutes in America some years ago) and the time he set is going to make things difficult for the number of horses getting ready for similar time trials in various parts of NZ and Australia.

Turned out in tremendous condition by his trainer Lance Heron, Nigel Craig won $2,100 for his effort on Saturday as a result of various sponsorships. From the Addington clubs the horse owners received $500 for appearing, $100 for breaking two-minutes and $100 for each tenth of a second under two-minutes. The Canterbury Owners and Breeders gave $500 for the two-minute mark being beaten.

Although not the only trotter in the country capable of going two-minutes, Nigel Craig deserved the honour as the first to go under that mark, for he has held the race record for more than 12 months, lowering it twice in that period. He is not a horse who would win show ring ribbons for looks, but there is little doubt now that he is a great trotter, perhaps one of the five best the country has ever sent. He has had a busy season but you wouldn't know it by his latest run, and his continuing good form is a credit to his handlers.

Credit: David McCarthy writing in NZ Trotguide 23Feb77


| | |
| --- | --- |
| | RACING HISTORY HORSES |

SPRINGFIELD GLOBE

One of the more remarkable successes at stud in this country over the last 30 years was undoubtedly Springfield Globe, an Australian bred and owned track champion of the war years.

Though by the great Globe Derby, Springfield Globe had plenty of NZ blood in his veins being from the Logan Pointer mare Ayr, who traced to a thoroughbred taproot. Ayr was bred by Durbar Lodge and sold cheaply to Australia (less than $100) where she was a great breeding success. Springfield Globe was her best known son and won 15 races including the 1939 Inter-Dominions after his full-brother Our Globe had been sensationally disqualified for allegedly not trying in the third series of heats, after winning easily in the first two.

Early in the war years, Springfield Globe was leased to the Springston trainer Roy Berry. He won six races in NZ from a limited campaign, including the Autumn Free For All and the NZ Pacing Championship, the latter including Haughty and Gold Bar in the field. He was rated two minute material by his NZ handlers but acquired something of a reputation as a non-stayer, probably as a result of his abortative chase after Gold Bar in the 1943 NZ Cup. He was later to sire our first two-minute racehorse, but his stud career showed that his stock could match most in the staying field.

Springfield Globe had a rather remarkable stud career. He stood only six seasons in this country and was leading Colonial sire six times. He produced over 100 winners here and nearer 300 altogether. His best son was Tactician, the winner of 20 races and our first local two-minute racehorse, recording 1:59.8. Tactician was also rated by some experts as a non-stayer, but circumstances rather than an weakness, may have contributed to this belief. Tactician, of course, won an Inter-Dominion in 1955, in Auckland.

Thelma Globe was another outstanding racehorse, winning 17 races including an Auckland Cup. She took a national mark of 2:32.6 over 1¼ miles. Globe Direct, from one of the sire's earlier crops, was a fine racehorse too, winning 14 races and taking a 3:09.4 mark over 1½ miles on the grass. Springfield Globe sired two NZ Cup winners in Adorian (12 wins) and Mobile Globe, who defeated Tactician in 1952. His daughters produced two more Cup winners in Invicta and Cairnbrae.

Croughton, a fine juvenile racehorse before being claimed by unsoundness, classic winning mare Perpetua, Springbok, Victory Globe (Auckland Cup), Mighty Song, Lady Rowan, Super Globe, Fortuna, Gay Knight, Gay Heritage and Lady Joss (Australasian record holder) were some of Springfield Globe's stock to reach the top but by no means all. Au Revoir won 11 races and Ohio one fewer. Autumn Sky was successful on the track and was also a fine broodmare as was Safeguard. Prince Regent won a number of races as did Alouette, Chandelier, Agricola and First Globe.

The Globe Derby line has produced some disappointing broodmare sires, but Springfield Globe, probably as a result of the Logan Pointer blood, was not one. In NZ alone his daughters produced one hundred and eight winners. One of the best was Scottish Command who won 16 races and was rated by his connections as unlucky not to win the NZ Cup in 1959 when he was brought down on the turn. He of course has been a successful sire as well. Lochgair, Invicta, Dignus, Queen Ngaio and Cairnbrae were other top horses produced in this country by Springfield Globe mares, and there were many more in Australia including Thelma Globe's son Blazing Globe.

Dessonaire produced six winners in Australia. Modern Globe, winner herself of five, produced five winners including Student. Spring Lily was also the dam of five winners as was Mercias. All the stock of another Springfield Globe mare, Primeavel, went to the USA and six of them won races. Phyllis Globe produced Bob Again who won eight and Perpetua was the dam of top Australian pacer Dale Spring. Fairfield was the dam of seven winners and Heather Globe was the dam of four. The fertility of Springfield Globe mares was marked, another top matron being Silver Circle who was the dam of six winners. Fortuna was also successful at the stud.

Springfield Globe's sons did well in this country. Springbok was the sire of the top class pacer Oreti and a champion trotter in Durban Chief, both of whom distinguished themselves in the USA. Croughton, in his first season, sired a top mare in Beau Marie. Super Globe also did well as did Globe Direct. Henry of Navarre, from limited opportunities sired some good trotters, the best being Control who held the mile record for some years. Bastille, who died after a short stud term, was another Springfield Globe stallion to attract attention and Ayrland's Pride also sired a few winners. A number of his sons were exported to Australia. Harlequin Parade was sent across the Tasman after a very successful track career here and he was from the Springfield Globe mare Liliacae.

Two other sires by Springfield Globe have done well in this country. Prince Regent, a talented but unsound racehorse sired a number of winners and his daughter Princess Grace is the dam of Vanadium among others. Prince Charming, also a good racehorse, gained belated fame through the success of his sons Royal Ascot and Marawaru.

In Australia, Springfield Globe's sons have been most successful. Aachen, an outstanding racehorse who won his first 20 races in a row, has been a consistently outstanding sire across the Tasman and a number of his sons stand at stud there. Aachen has sired over 260 winners. Mineral Spring and the ill fated Sheffield Globe have done well there also and another son, Chief Spring has sired, among many winners, the champion Reichman.

It can be seen then, why some breeders are still anxious to have Springfield Globe blood in the veins of their mares. Whether it affects their staying ability is debatable, but there can be no doubt it is a great asset if you are trying to breed a winner.


Credit: David McCarthy writing in NZ Trotguide 18May77


| | |
| --- | --- |
| | RACING HISTORY HORSES |

LOCAL LIGHT

Local Light, one of the best NZ-bred stallions to stand at stud for many years, died at the age of 26 on Friday.

The sire of nine 2:00 performers, Local Light left such top performers as the Auckland Cup winners Leading Light (1:59.8) and Captain Harcourt (1:58.5), the NZ Derby winner Leroy (1:59.4), Intrepid (1:57), Lightsey (1:58.8), Game Lad (1:58.6), Local Product (1:59.7), the NZ Oaks winner Local Lie, Valencia, Golden Oriole, Partisan, Castle Derg, Goodlight, Costa Light (1:59), Local Rose, Dieppe and the champion Blue, the world yearling record holder (2:09.2) and undefeated at two.

Local Light had been in perfect health up until the time of his death from a cerebral haemorrhage. He died on the property of his owners, Geoff and Jackie Hill, of Ellesmere, and was buried there.

Local Light was represented by only one yearling at last week's National Standardbred Sale in Christchurch, but it was a measure of his standing as a stallion that the filly, Mia Mocca, a full-sister to Golden Oriole, was passed in at $14,000. Had she been sold, it would have been a record price for a filly at the sales.

Local Light, who won nine races and took a mark of 2:00.2, was by Light Brigade from Local Gold, herself the winner of nine races and the dam of eight individual winners, including Arania (1:57) and Golcourt. Local Gold was by Gold Bar out of Lottie Location, by Jack Potts from Location, by Rey De Oro from Locality.

Credit: Tony Williams writing in NZ Trotguide 16Feb77


| | |
| --- | --- |
| | RACING HISTORY HORSES |
Van Dieman (C C Devine) after the 1951 NZ Cup

VAN DIEMAN

Van Dieman, one of the best stayers to race in NZ, died at the Templeton property of his owner, Ces Devine, last week.

Van Dieman, who numbered the 1951 NZ Cup among his 18 victories, later became a successful sire and has been to the fore recently as a sire of broodmares. Van Dieman (U Scott-Reno) won eight races over two miles, and one of his most notable victories came in the Royal Metropolitan Cup.

The winner of more than $50,000 in stakes, Van Dieman was the top 4-year-old of his year and among the other notable races he won were the New Brighton Cup, Louisson Handicap, NZ Pacing Championship and the Ollivier Free-For-All.

At stud, Van Dieman left many good winners, among the most notable being the NZ Derby winner Bellajily, Van Rebeck (13 wins), Terryman, Van Rush, Raft, Vanadium, Van Glory, Florita, Vantage and Demure.

Credit: NZ Trotting Calendar 13Dec77


| | |
| --- | --- |
| | RACING HISTORY FEATURE RACE COMMENT |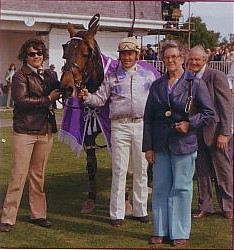 Connections with Sole Command

1977 NZ TROTTING CUP

New Zealand-bred stallions compiled an outstanding record on the first two days of the New Zealand Cup carnival at Addington last week, spearheaded by the dual New Zealand Cup winner, Lordship. Lordship sired four individual winners on the first two days including double-winner Lord Septimus, and New Zealand-bred stallions produced the winners of seven races on the first day and four on the second day. Among the winners sired by New Zealand stallions were $75,000 New Zealand Cup winner Sole Command and Dominion Trotting Hahdicap winner Nigel Craig.

Sole Command, one of only two New Zealand-bred runners in the event, outstayed four-year-old Greg Robinson by half a neck as the North Island challengers clearly outstayed their southern rivals. The artistry of top reinsman Peter Wolfenden behind the consistent Sole Command was largely responsible for the Scottish Command - Single Charm six-year-old's victory over Greg Robinson, who never stopped trying to overhaul the winner in the run home.

Raced by Mrs M I and Mr B J Walker and co-trainer Roy Purdon, Sole Command was fifth favourite in the 11 horse field dominated by Balgove. Balgove put the pressure on his rivals from the 800 metres and had a handy lead starting the home run, but he was done with soon after and Sole Command was the first to head him off. Sole Command went on to beat Greg Robinson by half a neck with Wee Win storming home late to cut Balgove out of third. Last year's winner Stanley Rio proved that the handicapped horses these days have very little chance of getting into a Cup finish as he battled into fifth but was well beaten. Palestine, tiring pacemaker In Or Out, and Captain Harcourt were next home.

Credit: New Zealand Trotting Calendar


| | |
| --- | --- |
| | RACING HISTORY FEATURE RACE COMMENT |

1977 DOMINION TROTTING HANDICAP

Nigel Craig, without doubt the best trotter racing in New Zealand today, gave further evidence of his class when he took out the Worthy Queen-Dominion Handicap double at the NZ Cup meeting. The Southern Hemisphere's first 2:00 trotter (1:58.8TT), Nigel Craig has encountered something of a big race 'hoodoo' in the past, and for a while it looked as though he might have to be second again.

Part-owner Bevan Heron took Nigel Craig to the front after 400 metres, giving northerner Best Bet the run of the race in the trail. Nigel Craig cut out the first 1600 metres in 2:06.6, a pace which ensured there would be no surprise attacks from the rear at a late stage in the race. After such a torrid pace, it was naturally left for Best Bet to lodge the only serious challenge, and momentarily, it looked as though the perfect trail he had enjoyed would prove the decisive factor in Best Bet's favour. But Nigel Craig showed outstanding fighting qualities, qualities of a true champion, to hold of Best Bet by three-quarters of a length.

Waipounamu ran on solidly for third nearly two lengths back, giving the first three placegetters in the Worthy Queen on the first day the major prizes again, though second and third placings were reversed in the Dominion.

There could not have been a more popular victory than Nigel Craig's and the reception given him on his return to the birdcage was one of the most generous at Addington for some time. It started again when the Governor General, Sir Keith Holyoake, presented the trophy to 73 year old Lance Heron and his 32 year old son, Bevan, who own and train the gelding at Amberley.

The rise to fame of Nigel Craig, in really just two seasons, has been well recorded, but his victory in the Dominion took his tally to 22 from 69 starts, in addition to 24 placings. His stake-winnings now stand at $75,365 in raceday earnings and a further $5100 as a result of earnings from a time trial and match race with Petite Evander.

Nigel Craig is 'still for sale' according to Bevan Heron, but perspective purchasers will have to come to light with better than the $80,000 offer which is the best to date. 'Six figures and he's for sale', said Bevan last week.

Credit: NZ Trotting Calendar


| | |
| --- | --- |
| | RACING HISTORY FEATURE RACE COMMENT |

1977 NZ DERBY STAKES

The mastery of Peter Wolfenden brought about defeat for Glide Time and victory for Motu Prince in the 1977 $25,000 NZ Derby. In a race dominated prior to the start by Lord Module and Glide Time, Motu Prince's victory came as something of an upset, but it was thoroughly deserved in spite of this.

In a race marred by several minor incidents which detracted from the race as a spectacle, Wolfenden gave the son of Armbro Del a perfect trip, and it was this that proved the decisive factor over the last 200 metres.

Bob Cameron made sure the pace was on all the way and when glide Time scorched to the front 700 metres from home, he never backed off the pace at all. Wolfenden sent Motu Prince after Glide Time at that stage and turning for home, these two were the only ones in it with a winning chance. Glide Time responded gamely to a hard drive, but Wolfenden, keeping Motu Prince perfectly balanced as he pulled him out to challenge, got the most out of Mr G F Timperley's colt who went on to win by two lengths. Motu Prince's time of 3:21.1 was a new Derby record for the 2600 metres, and only .1 of a second outside Noodlum's New Zealand three-year-old record for the distance.

Timely Robin, outsider but two in the capacity field, ran on strongly for third but was four lengths back, three-quarters of a length clear of the pacemaker Quick Barry. Jayex made ground for fifth three-quarters of a length back with a similar margin to Hanover Don and two lengths to Lord Module, the favourite.

Lord Module, racing in a special plate suggested to Ces Devine by visiting American Del Miller to protect a bad quarter crack, was in trouble right from the start. He missed away slightly and then Devine could not release one of Lord Module's hopple shorteners until the 1900 metres. Lord Module was running on well at the finish, and did remarkably well to finish so close in such a fast run race. Third favourite Montini Bromac broke at the start and never got in contention again while Roydon Scott, the fifth favourite, also missed away.

For Wolfenden, trainer Maurice Flaws and owner Mr G F Timperley, it was their first Derby success and in spite of the failure of the three favourites, one which nobody could begrudge them. For Wolfenden, it ended a notable New Zealand Cup carnival, giving him the NZ Cup-NZ Derby double.

Credit: The Editor, NZ Trotting Calendar


| | |
| --- | --- |
| | RACING HISTORY FEATURE RACE COMMENT |

1977 NZ OAKS

She beat one of the best Oaks fields in recent years by three and a half lengths with something in reserve: She ran the fastest 2600 metres of the night and took more than three seconds of the race record: And under previous handicapping systems she would have become the first filly ever to qualify for the NZ Cup, as the Oaks was her tenth win. This was the achievement which will certainly earn Ruling Lobell the title of top three-year-old of her sex for the season. She has returned a number of outstanding performances at Addington over the past 18 months but the consummate ease of her win in the Oaks in some ways eclipsed them all.

Back on the outer early she moved forward from the 1100m peg to be handy to the leaders. She went to the front soon after the turn and ran away with Blurt Oscar and Hanover Reine sharing the spoils at a respectful distance. There was no dawdling on the journey. The race was cut out in 3:24.1 with the last mile in 2:05 and the last half in 62. One watch had the field going the first mile in 2:03.

Now a c8 pacer, Ruling Lobell has actually won ten races and been eight times placed for stake earnings of $23,050. Denis Nyhan who has driven her in her last three successes said afterwards that he was never really worried except for a slight check at the 1800m. "The field bowled along at a good pace and that suited her," he reported, "she is a top filly this."

None of the other drivers had any real excuses, though it was a strangely run race in some ways with constant lead changes which saw those which were handy early end up out the back at the 800m. Blurt Oscar from Southland ran a magnificent race for second all the same. She lost a lot of ground at the start and at the 900m was still near the back of the field. She mounted a sustained run and her effort to get second was commendable one. Hanover Reine also was a shade slow and was in the open for a while but Sam Ballantyne in his matter-of-fact fashion said she was simply beaten by a better horse on the night.

Ever since she first appeared last season, Ruling Lobell has looked top material, though she has had her lean spells. This season has in some ways been a mixed one for her, for she appeared to lose her dash in the late spring and did not run well in the Derby. She gradually came back but received an unfortunate run in the Queen Elizabeth Cup and was checked at a critical stage in the Three-year-old Championship at Easter following two brilliant wins in February.

Already the holder of a national mark over 2000m it is doubtful if a filly has ever bettered her time in the Oaks. She gave the Grice family their third Oaks win and the second for her durable owner Ben Grice, who knows a thing or two about top juveniles.

A veteran Banks Peninsula mare Egyptian Queen would have taken special pride in the result of the Oaks. She is the dam of Hanover Reine and a daughter, Fallacy Queen is the dam of Blurt Oscar who is a half-sister to Facetious and Lynsallee.

Credit: NZ Trotguide


| | |
| --- | --- |
| | RACING HISTORY FEATURE RACE COMMENT |

1977 NZ FREE-FOR-ALL

Balgove made amends for his disappointing Cup run when he completely outclassed a similar field in the NZ Free-For-All.

Driver Bob Cameron dropped Balgove back early from a wide barrier draw, but sent him for the lead down the straight with a round to go. Balgove raced clear on the turn into the back straight and from then on was never in danger of defeat. He was coasting five lengths clear at the finish in 2:28.9, a mile rate of 1:59.9 for the 2000 metres. Considering he faced a still easterly wind through the straight twice, it was an outstanding effort by Balgove.

Greg Robinson once again had to be content with second, finishing strongly to edge out Stanley Rio out of second by half a neck with half a head to Wee Win and half a neck to Sole Command

Credit: NZ Trotting Calendar