| | |
| --- | --- |
| | INTERNATIONAL HISTORY |

The Soyuz - Apollo link-up in space.

The Khmer Rouge is formed in Cambodia.

Martina Natratilova defects to the West.


| | |
| --- | --- |
| | LOCAL HISTORY |

Dame Whina Cooper arrives at Parliament after a hugely supported march from Northland with a petition opposing the sale of any more Maori land

The Waitangi Tribunal is established.

May 1 - Canterbury University completes its move from city to Ilam campus.

September 13 - Fire (suspected arson) destroys Addington showgrounds grandstand.

Vicki Buck is elected to the Council, aged 19.

TV2 starts transmission

Credit: Ch-Ch City Libraries


| | |
| --- | --- |
| | RACING HISTORY |

BILL GALLAGHER

Bill Gallagher, who died in Timaru late last month, aged 79, was a blacksmith of long standing and a successful horseman.

Mr Gallagher served his time as a blacksmith, farrier and wheelwright with his father who operated large shops in Central Otago dating back to the gold-rush days. During that time Mr Gallagher trained gallopers and standardbreds, one of the most successful being Daphne Byrd, which he owned, trained and drove to win several races in Otago and Southland. He also stood the successful pacing stallion, Happy Voyage.

Moving to Washdyke in the 1930s, Mr Gallagher occupied a shop where the Washdyke store in now sited. He was official farrier to racing and trotting clubs in Otago, Southland and Canterbury for 20 years. He plated and shod horses for race meetings from Riverton to Trentham. It was the practice during this period to travel to each meeting a couple of days beforehand and plate the horses for racing on the spot. It was considered dangerous to travel horses with steel plates in which they were required to race. Today, horses are plated, mainly with aluminium plates, the day before a meeting and travel the next day.

Mr Gallagher's travelling was reduced with the formation of the Master Farriers' Association and the setting up of zones to be covered by each farrier. He was a foundation member of the Association.

While at Washdyke, Mr Gallagher met success with several horses from the stable of his brother, Peter. These included the good winner Joygiver, Paddy Ducrow and Final Glow.

Mr Gallagher was appointed the first plating inspector in the South Island after his retirement as a 'smithy' in 1954 and ensured plates were safe on raceday for about 15 years before ill health forced him out.

Credit: Taylor Strong writinh in NZ Trotguide 18Sep75


| | |
| --- | --- |
| | RACING HISTORY PEOPLE |

BERT TAYLOR

Part-owner of record breaking trotter Dianthus Girl, Mr Bertram William Taylor, died in Calvary Hospital, Christchurch, last week. He was 57. Mr Taylor owned Dianthus Girl in partnership with his mother, Mrs Elenor Taylor who is still living in Nelson aged 86.

Dianthus Girl broke the Australasian mile record for trotters at Addington Raceway in 1962 driven by Morris Holmes. The record had stood for 28 years. Dianthus Girl, still at stud here, has left well known trotters Framalda and Picotee and also Miss Dianthus, at present in training in Nelson but as yet unraced.

Mr Taylor trained and drove horses for his father, the late A D Taylor of Motueka, who later shifted to Christchurch. Before his death last week Bert Taylor had won with Tufty Boy and Lightning Beau at Nelson and Tufty Boy at the Gore meeting. Tufty Boy was nominated for the MZMTC Cup meeting but was withdrawn when Mr Taylor became ill.

Mrs Taylor convened the first meeting of the Nelson Owners' and Breeders' Association in 1952 and a few years ago was awaded the BEM for services to the community.

Mr Taylor in survived by two daughters, Eileen and Pauline, and a son, Raymond.

Credit: NZ Trotguide 20Nov75


| | |
| --- | --- |
| | RACING HISTORY PEOPLE |

JACK O'SHEA

Jack O'Shea, one of Australia's best known trotting identities died recently aged 92.

He was associated with some of the best horses of the day prior to night trotting at Harold Park, and he had the distinction of driving the great Lawn Derby, when that pacer became the first pacer outside America to break through the two minute barrier. Lawn Derby achieved this feat just prior to World War II, when he ran 1:59.6 at Addington.

When night trotting commenced in Sydney, Jack O'Shea was employed by the New South Wales Trotting Club as a stipendiary steward, and supervised many country meetings throughout NSW. He was also closely associated with the Bankstown club and was always available to assist the trotting industry in any way possible.

Credit: NZ Trotguide 13Mar75


| | |
| --- | --- |
| | RACING HISTORY INTERDOMINIONS |

AUCKLAND - YOUNG QUINN
Just when it appeared Australia had a stranglehold on the Inter Dominion Championships (having won the previous ten Pacer's Finals but conceded the 1971 contest to Stella Frost, following a positive swab), there emerged from Kiwiland Young Quinn, a real saviour for his homeland. Young Quinn, as a youngster had been nicknamed "Garbage" because of his habit of eating everything in sight, including his bed, won on each night and proved too good for Hi Foyle and Speedy Guest in the final.



| | |
| --- | --- |
| | RACING HISTORY HORSES |

FINAL DECISION

Many of the greatest 'one off' performances in racing are from 'chasers' horses which put up apparently impossible efforts after losing any realistic chance early. There have been a huge number of them over the years but not many to match that of Final Decision in the 1975 New Zealand Cup won in outstanding fashion by the Southland pacer, Lunar Chance.

It may well be the greatest non-winning performance in the history of the Cup, and that is saying something.

Final Decision was anything but ordinary. His sire Hi Blue was practically unknown, he was no oil printing and Derek Heckler had bought him for$600 from colourful Jim Donaldson. Then he had gone to America to race as a younger horse and thus became the first American raced pacer to start in a New Zealand Cup in modern times.

On Cup Day, driven by Robert Mitchell, Final Decision who had not won a race in 17 starts that year, began well and then went off stride after 200m. Mitchell, who was almost in tears after the race, could not explain why. But then Final Decision had always had a few quirks.

It was what happened next which astonished. Timed to be 9 seconds(about 100m)behind the leaders when he settled, Final Decision set off on an impossible mission. Around the 800m mark he caught the field and commenced to circle it. Nobody expected that to last long and he was twice checked on the way, yet rallied again in the straight to beat all but the winner.

Lunar Chance was rightly lauded for his gritty win because he didn't have all favours either, but nobody could believe what Final Decision had done. He had been timed by Dave Cannan to run his last 2400m in 2:58.8 when the national record was 3:03. And the Cup had hardly been a walk in the park at 4:08.6. "I had fought them off and then that horse came along. He was so wide I thought he had got me," Keith Lawlor said later.

Lunar Chance beat Final Decision on his merits in the Free-For-All before the northerner set a new national 2600m record of 3:16.6turning the tables in the Matson Free-For-All. He broke down in the Pan Am Mile and never featured in New Zealand again returning to race in mobiles in America.

Gone but never forgotten.

Credit: David McCarthy writing in Harnessed Feb 2016


| | |
| --- | --- |
| | RACING HISTORY HORSES |

STORMY MORN - Bargain Buy

Stormy Morn(1975) $120, 32 wins, $214,000

Here was a horse to remind you how life can be short for some stars in the memory bank. Stormy Morn was the first trotter to win the Dominion and the Rowe Cup in the same season smashing season stakes breaking records along the way.

He was also the first trotter on either side of the Tasman to win over $200,000 in stakes, supplanting No Response whom he beat in the Australian Trotting Championship in Melbourne. His NZ earnings of just under $140,000 beat Scotch Tar's and Easton Light's previous records. We are talking big names here yet as owner and sometime trainer, Peter Moore lamented, his 'Reg' never got the glamour treatment of some contemporaries or subsequent stars.

Peter correctly put it down to the fact that Reg was a 'no nonsense' sort of horse lacking the brilliance of some. Trevor Thomas used to reckon he never broke 29 for a quarter mile in his life and mostly not even 30. But he would go on reeling off those sectionals until his rivals got thoroughly sick of him.

Reg was languishing in a Kaiapoi paddock when Peter paid his brother Stan $120 for him as a hack for his daughter, Diane. Stan had inherited the horse from his father and had tried him with Brian Gliddon as a youngster without success. Reg disliked the lifeof a girl's hack even more than he did racing so he was given to Thomas for a second chance

Trevor Thomas was the trainer that 'made' him and Tony Perucich(initially in partnership with Brian Hughes) had the most success.

Credit: David McCarthy writing in Harnessed May 2016


| | |
| --- | --- |
| | RACING HISTORY HORSES |

SCOTTISH COMMAND

Scottish Command a successful racehorse and standardbred stallion has died at Yankee Lodge Matamata aged 22 years. In recent years Scottish Command has proved popular with northern breeders and studmaster Mr Peter McMillan reported 40 mares had been booked for the coming season.

Foaled in 1953 at Roydon Lodge, Scottish Command was by top sire U Scott from Mary Wootten by Springfield Globe - Parisienne. In a racing career spanning seven seasons in this country Scottish Command won 16 races and was placed 48 times, his wins included the 1957 Auckland Trotting Cup from 60 yards and a consolation race at the Inter-Dominion Championships in Christchurch, he was also third in Invicta's NZ Cup.

He raced in the interests of Mr Roy McKenzie and was trained by the late Jack Hunter whose sons Ian and Charlie handled Scottish Command in most of his races. However, when the entire scored his initial win at Hutt Park he was driven by his owner giving him his first success. Leased to America at eight years Scottish Command won only $13,000 there and he was also successful in Wales while undergoing a period of quarantine before returning to NZ. His lifetime winnings were $65,634.

From a small number of matings before his export Scottish Command had produced a promising crop which included the 1973 Great Northern Derby winner Scottish Laddie. In the years since he returned he has consistently taken a high ranking on the sire list, doing best when seventh in the 1971-2 term. In the past seven years sons and daughters of Scottish Command have won 177 races and been placed in a further 419 for stakes of $358,000 the amount of winnings from the USA lifts his total to over $½ million.

Among his best winners of recent times have been Command Performer (1:58.6), Black Watch, Scottish Charm, Bella's Command, Scottish Warrior, Paula Scott, Hundred Pipers, Sole Command, Scotty Grattan and Sway Boy.

At the request of Mr McKenzie Scottish Command was buried in his paddock at Yankee Lodge.

Credit: Richard Turnbull writing in NZ Trotguide 9Oct75


| | |
| --- | --- |
| | RACING HISTORY HORSES |

BACHELOR HANOVER

Lovers of champions were saddened last week by the news of the death of Bachelor Hanover at the age of 22 years. The magnificent racehorse and sire passed away at Jim Dalgety's Lantana Stud, West Melton, where he had stood since being imported in 1965.

Bred by the famous Pennsylvanian nursery Hanover Shoe Farms, Bachelor Hanover was a rich chestnut by Nibble Hanover (T5, 1:58¾ - a champion square-gaiter of the late thirties early forties and sire of four and the dams of thirty seven in two minutes) from one of the all time greatest matrons in The Old Maid, amongst whose progeny is included Dancer Hanover (P4, 1:56.8 - sire of twenty seven and the dam of one in two minutes namely the mighty Albatross P4, 1:54.6).

By Guy Abbey, The Old Maid Maid was from Spinster, dam also of the almost legendary Roydon Lodge import Light Brigade, grandam of Harold J sire of one of North America's top free-for-allers of the present in Nickawampus Leroy, and third dam of current Castleton Farm owned boom sire Tace Time, sire of thirty three in two minutes. A daughter of Spencer and Minnetonka, Spinster belonged to the famed Thompson sisters. This family now boasts sevety seven pacers and fourteen trotters with records of two minutes or better.

A racehorse campaigning from the Billy Houghton stables Bachelor Hanover installed himself as one of the top two and three-year-old pacers of all time. At those ages he earned $123,583, the greatest amount ever won by a standardbred in juvenile and sophomore seasons up to that time. His eleven wins at two included two of North America's most prestigious classics, namely the Fox Stakes and the Reading Futurity.

At three he again scored on eleven occasions including the inaugural running of the Little Brown Trial and a Junior Free-For-All while over the four following seasons he competed in the tough free-for-all circuit, meeting and defeating such champions as Adios Harry(P4, 1:55), Diamond Hal(P4,1:57.4), Gold Worthy(P5, 1:57.2) and Belle Acton(P3, 1:58.6), when he was retired as a seven-year-old his bankroll stood at $209,021 (and stakes were then far below today's level). He stood light stud duty at the North American Symphony Acres Stud Farm and was purchased by Jim Dalgety at that establishment's dispersal sale in 1964.

On his arrival in NZ at West Melton in October 1965 he was justifiably heralded as "the greatest classic winning pacer to do stud duty outside of America" and was in fact the biggest stake winner ever to be imported to that time. For his first NZ stud season, 1965-66 Bachelor Hanover covered 84 mares, the resulting 60 foals crediting him with a 71% fertility rate. Over the next seven stud seasons he preserved his extremely high fertility rate, never dropping below 72% and on two occasions peaking at 81%, during his first eight seasons he was mated with 673 mares for 504 resulting live foals.

He steadily climbed in 1970-1, second to Johnny Globe in 1971-2 and 1972-3 before topping the table for the 1973-4 season. He left the winners of 340 races worth $614,625 in NZ while his exported stock has performed with great credit in both Australia and North America. He was also leading sire of NZ 2-year-olds on three occasions.

His two most notable offspring are undoubtedly wonder colt Noodlum and mighty stayer Arapaho(P4, 1:59) the 1972 "Horse Of The Year", winner of the NZ and Auckland Cups in 1973 and now based in Canada. Others to have aided Bachelor Hanover's enormous contribution to this country's standardbred breeding industry have been Bachelor Star(the 1971 NZ Derby victor), Bachelor Tom(one of the nation's top trotters of the present era), First Batch(winner of the 1969 Great Northern Derby), Dwayne, Violetta, Walk Alone, Boy Friend, Double Cash and in Australia Royal Nibble. His daughters too are now beginning to feature as the dams of winners, this term's smart juveniles Bolton Byrd, Kiatina and in Australia the rich Victoria Breeders' Plate victor Valdis being three potential stars from 'Bachelor' mares.

Last November Bachelor Hanover endeared himself to many when he 'officiated' as guest of honour at a press conference called by the NZ Standardbred Breeders' Association at the Russley Hotel (Christchurch) to announce the commencement of 'standardbred 75' the promotion of last autumn's sales. Behaving with manners and dignity rarely displayed by humans, 'Bachelor' in his specially improvised stall in a corner of the conference room, seemed somehow to sense that he was the most important being present as he quietly dined from his feeder after being presented with a beautifully inscribed dress rug.

Bachelor Hanover has been buried near the main entrance of Lantana Stud and a headstone mounted in a scree garden is to be set above the plot. His male line is being carried on by Bashful Hanover who has already sired winners in Australia, Fernside Bachelor who stands at Keith Powell's Westport establishment and Adios Bachelor who is based at Alister Kerslake's Highbank property, while doubtlessly both Noodlum and Bachelor Star will be heavily patronised if and when they are made available to the nation's breeders.

The NZ standardbred breeding industry is deeply indebted to Jim Dalgety for importing and making available such a wonderful stallion as Bachelor Hanover, for to prosper harness racing needs crowd drawing news making champions and what more could 'Bachelor' do but give us Noodlum and Arapaho.

Credit: Peter Larkin writing in NZ Trotguide 24July75


| | |
| --- | --- |
| | RACING HISTORY HORSES |

HIGHLAND FLING

Highland Fling was Leo Berkett's finest hour; the U Scott flyer placed him under the world spotlight.

Many of us still regard Highland Fling as the mightiest pacer ever to blaze the light-harness tracks of the Dominion. And he was only six years old when, with 'the world' virtually at his feet, he broke a sesamoid bone in a foot and had to be retired to the stud. Small consolation that his racing career terminated in a blaze of glory, because here was the horse of the century, here was the horse who might have proved the best in the world. Highland Fling proved himself a champion 2-year-old - his mile race record of 2.10 still stands - and a top 3-year-old.

The following season Highland Fling entered on his busiest period, but in his first nine starts, when was returned only once a winner, he began to earn the reputation of being both brilliant and erratic. He was not only refusing to move away from the barrier in reasonably good style, but he was also showing a disinclination to face up to the tasks asked of him in the running. Various types of harness were tried on him without bringing any marked improvement in his race-day manners. Highland Fling was regarded by many as a 'problem child' - a pacer capable of measuring strides with the best, but one with definite ideas of his own.

It was at this critical stage of his career that Highland Fling was taken over by L F Berkett, and this marked the beginning of a new era in his life. Highland Fling was about to arrive. In his first race under the Templeton trainer he ran second behind Gold Peg in the New Brighton Handicap, run at Addington, and the same mare, a noted mud lark, again defeated him later on the same day over a mile and a quarter. Highland Fling still retained a good measure of his unreliableness, but his brilliancy and stamina were strikingly revealed in his third start under Berkett, when he won the Craven Handicap, a 4.32 class from 36 behind. Highland Fling broke early and was all of 100 yards behind the leaders when he settled down. Most people counted him out when he was still in a seemingly hopeless position at the mile. To cut a long story short, Highland Fling was separately timed to run the last mile and a half in 3.07 and he won with astounding ease. He proved that he was a champion here, and to emphasise that he was still far from infallible, he failed badly later on the same day in an event run over one mile and a quarter. Highland Fling then commenced his rapid rise to the best classes, his last 11 starts as a 4-year-old resulting in six wins and one minor placing, and he was now assessed in NZ Cup company.

As a 5-year-old Highland Fling went from success to success, registering amazingly brilliant performances over all distances, and often still displaying a tendency to leave the barrier indifferently. His wins at this period included the Winter Handicap and Lightning Free-for-all, run at Addington in August; the NZ Cup; the Wellington Cup; the A I Rattray Handicap and the Otago Pacing Free-for-all. His earnings in that season amounted to £15,835 - a record total for a horse of any gait in NZ.

Highland Fling made history in 1948 by winning his second NZ Cup in the then world's race record time of 4.10 3/5 for the two miles, and this, combined with his subsequent and successful attempts against time, gained him world-wide recognition. It was then claimed of him that he was the best horse in the world, and that description could not in any measure be regarded as an exaggeration. Highland Fling in action was superb.

Highland Fling, winner of the last race he contested, retired with an unequalled record. He not only held the world's two-mile record, but his 2.10 race record as a 2-year-old still stands; he bettered 2.00 on three occasions, his best being 1.57 4/5 (since bettered by Caduceus 1.57 3/5); and he held the world's grass track record of 2.00 for one mile. His total stake-winnings, at the time of his retirement, exceeded those of any horse raced solely in NZ.

A week after his second NZ Cup victory Highland Fling went the mile against time in 1.59 2/5, equalling Lawn Derby's long-standing mile record established in November 1938, also at Addington. The following Friday Highland Fling again went against the record and his sensational figures of 1.57 4/5 were a further triumph for the unconventional training and driving methods of L F Berkett. The usual procedure in trials against time is a strong warm-up and a galloping pacemaker. Berkett dispensed with both and shattered the previous record, by 1 3/5 secs. The spectacle of Highland Fling's lone role was a thrilling one - propably much more so than it would have been with a pace-maker, and the public appeal of the trial was emphasised by packed stands and enclosures although the starting time for the first race was still half an hour away.

Berkett rated Highland Fling to perfection: the first quarter in 29 secs, half-mile in 58 2/5 secs, six furlongs in 1.28 3/5, and full journey in 1.57 4/5. The last half-mile showed 59 2/5 secs and the last quarter 29 1/5 secs. A warm ovation awaited Highland Fling and Berkett when they returned to the birdcage, and Berkett's deep satisfaction with the greatest mile paced outside of America was betrayed by his permitting himself one of his isolated smiles. Six hours after breaking the mile record, Highland Fling was harnessed up for the NZ Premier Sprint Championship, which he won by a safe margin after being left flat-footed at the start. Berkett's coolness and unconcern at this initial setback was not lost upon the crowd, and also made a profound impression upon many of the sports oldest adherents.

In the NZ Pacing Free-For-All the following day, the extent to which Single Direct and Integrity were stopping at the close was revealed by the fact they took 1.09 2/5 to run the last half-mile and 36 secs for the last quarter. This is no distraction from the performance of either; Integrity's effort to slip the field - he was 40 yards clear of anything else with half a mile covered - and Single Direct's lion-hearted run to overhaul him, set Highland Fling the impossible. Losing 60 yards at the start, Highland Fling had drifted nearly half a furlong behind the leaders with a mile and a quarter to go. He came his last mile in 2.07 2/5 on the soft track and only a veritable pacing machine could have made up 100 yards of this leeway from that point and finish third.

Highland Fling a few weeks later went 1.58 against time on the five furlong Forbury Park track, which compares most favourably with anything done on the best American half-mile tracks.

The editor of the NZ Trotting Calendar was surprised one afternoon in March 1949, to receive advice from tolls that Mr Bernard Kearney, vice-president of the Western Harness Racing Association, Los Angeles, California, wished to talk to him about Highland Fling. The editor lost no time in inviting Mr Kemble and Berkett to the Calendar office. They were all 'on their toes' awaiting the call, but it did not come through - Mr Kearney later cabled as follows: "We have races of $65,000 for which Highland Fling is eligible, October 8 through November 26 (1949), Hollywood Park. If owner interested cable us immediately, and I will telephone details - Bernard Kearney, Western Harness Racing Association."

Highland Fling's connections, obviously flattered by the American cablegram, said they had already discussed the idea of taking Highland Fling to the States to race, but that October and November would not suit their plans. One of their main ambitions was to win a third NZ Cup with their champion. Mr Kemble authorised the editor of the Trotting Calendar to reply to Mr Kearny as follows: "Dates mentioned do not suit. Definitely interested later."

Hot on the heels of the cablegram came this letter from Mr Kearney to the editor of the Calendar: Dear Sir, We have been reading, with great interest, stories carried in the American Harness Magazine, 'Horseman and Fair World' about the phenomenal feats of that world champion pacer, Highland Fling. To say the least it has everyone hereabouts really thrilled and excited. First, we wish to offer out heartiest congratulations to the owner, as well as the trainer and driver of this great animal. We are sorry none of the stories we have read tell the owner's name. Thus we cabled you hoping you would relay our message to the proper party. The Western Harness Racing Association, with headquarters in Los Angeles, California, offers this year one of the greatest stake programmes for just such a horse, the $50,000 Golden West Pace, which attracts the best horses from all over the United States. This event will be raced at Hollywood Park, Inglewood, California, one of the finest and most beautiful racecourses in America, on Saturday, November 12, at a distance of one mile and a quarter. Aside from this race there are others in our condition book in which Highland Fling could qualify to win a total of $65,000 in purses during a 35-day meet, which starts October 8 and continues through November 26, 1949. These races are outlined in detail in the condition book enclosed in this letter. We are exceptionally interested in the possibilities of the owner shipping Highland Fling to the United States for this race meeting. If interested there is plenty of time to ship the horse by water, or perhaps the owner would be interested in flying the horse here. In either case we are prepared to offer and international publicity campaign and build Highland Fling into the greatest public favourite that has ever come from the country 'Down Under.' This campaign would include newspaper reports, photographs, newsreel motion pictures, magazine articles and other forms of media publicity. This publicity, if the owner is interested, would make it possible to sell the horse in this country at a nice profit. The latter possibility is brought out only should the owner wish to sell after the campaign in America. If you would contact the owner and deliver this message we would be very appreciative. Thanking you in advance for your interest in this matter, we wish to remain, Sincerely yours, Bernard Kearney."

Early in 1949 another American visitor to NZ, Mr C Richarson wrote to the American weekly magazine 'Horseman and Fair World," as follows:
"Attracted by the brilliant record of Highland Fling, the idol of NZ, I resolved to see this sensational hoppled pacing son of U Scott and Queen Ayesha. On arrival in Auckland, I found that although the residence of his owner A T Kemble is there, the object of my quest was in Christchurch, the centre of harness racing in the South Island. When I reached Christchurch I got in touch with C S Thomas, president of the NZ Metropolitan Trotting Club there. I had heard that Highland Fling had an injured leg, and was told that his trainer L F Berkett, was away, but Mr Thomas graciously took me to Berkett's place. Mr Kemble's son whom we found there, took us across the road to a pasture, in which was the horse I was most anxious to see.

Taking a halter lying by the gate he spoke to Highland Fling, who readily submitted to our inspection. He is a thoroughly relaxed horse. This 6-year-old wonder horse is about 16 hands high, rather on the lanky side, and is a dark bay with three white feet and a white spot on his forehead. He is a clean-cut individual and looked to be in splendid condition except for his lameness, the exact cause of which the younger Mr Kemble said he did not know.

Highland Fling's record is most interesting. Bred by Mrs K Bare, of Christchurch, his sire, as has been stated is the now 17-year-old U Scott, by Scotland. Highland Fling's dam, owned by Mrs K Bare, is Queen Ayesha, a bay pacing mare by Frank Worthy; dam Royal Empress by Logan Pointer. Both Frank Worthy and Logan Pointer were imported from the United States. Queen Ayesha is said to have shown early speed, but had no record, breaking down and subsequently being used as a broodmare. Mrs Bare sold Highland Fling as a yearling for a reported £100, and I imagine has regretted it ever since. As a 2-year-old he was surprisingly fast, pacing a mile in 2.10. As a 3-year-old he had an off year, not getting right until late in the season, and winning only twice. It was then that he was taken over by L F Berkett, a trainer who turned from farming to noteworthy success with harness horses.

Many stories are told of Berkett, one being that he puts his horses to the plough. He apparently never pampers a horse in the slightest, but either because of his rough and ready methods, or in spite of them, he has had remarkable results. Whether Highland Fling was used with a plough or not, his improvement was steady under Berkett's tutelage, and as a 4-year-old he won eight times and did two miles in 4.13 4/5. As a 5-year-old he won the NZ Cup and had nine wins. As a 6-year-old, besides winning the NZ Cup for the second time he made several records, including a mile in 1.57 4/5 and two miles in 4.10 3/5. He has been timed a quarter in 27 4/5 and a half in 57 4/5. The ordinary spectators are completely thrilled by his rousing finishes, and hail his victories with triumphant acclaim. Highland Fling's competitive spirit is tremendous and Berkett rarely has to put any pressure on him. His utter relaxation is shown by the fact that, while many horses won't eat right after a race, he eats like a plough horse. Highland Fling's racing career seems to be drawing to a close. He has beaten all his rivals; in fact there are only two or three that can give him any noticeable argument. The national appeal of Highland Fling is truly extraordinary. It was a distinct dissappointment to me that I did not see him race, because this darling of NZ sports lovers is, to all who have seen his amazing victories, a real superhorse."

That is what they thought of Highland Fling in the USA. They were prepared to build him into the 'greatest public favourite' ever to leave our shores, and what a worthy ambassador he must have been for us!


**Extract from an article on L F Berkett written by 'Ribbonwood' in NZ Trotting Calendar 17Apr63**

-o0o-

Once the idol of NZ trotting followers, Highland Fling died in relative obscurity in Australia earlier this month at the age of 33.

At the height of a brilliant racing career in this country he broke a sesamoid bone and had to be retired. He was taken to Australia and stood at stud, siring more than 180 individual winners and serving mares until last season.

Bought as a yearling for only $200, Highland Fling had 70 starts for 25 wins and 13 placings and won more than $66,000 for his Auckland owner Mr A T Kemble. He commenced racing as a 2-year-old when he won the Great Northern Trotting Stakes at Alexandra Park at his first appearance. Among the 'also-rans' was Single Direct, later to become one of Highland Fling's great racing rivals. In his final race at two he lost many lengths in the early stages and was beaten into second place by Sprayman yet still registered 2:10, a new mile record for one of his age. At three he was beaten by Local Gold in the Great Northern Derby, his only classic race of the season but he won two handicaps.

The following season Highland Fling had a busy campaign but time after time he ruined winning prospects by losing big stretches of ground when the barrier was released. It was at this stage he was taken over by Canterbury trainer L F Berkett and under the guidance of this astute Canterbury mentor he developed into a dual NZ Cup winner and world record holder. His second Trotting Cup in 1948 was run in world record time of 4:10.6 and he three times clocked under two minutes for the mile, the fastest 1:57.8.

It was the performances of Highland Fling to win so many races after inflicting additional self-imposed handicaps at the start that endeared him to the public of the time and ensured that there would be an increased attendance whenever he appeared.

The sensational efforts of the son of U Scott and Queen Ayesha did not go unnoticed in America and he was invited to race at Hollywood Park in October 1949 but this was turned down because his connections had their sights set on a third Trotting Cup.

Even though his race career was cut short by the leg injury most race followers of the era saw enough great performances by Highland Fling to ensure his name remains among the list of all time greats in NZ trotting history.

Credit: Richard Turnbull writing in NZ Trotguide 26Jun75


| | |
| --- | --- |
| | RACING HISTORY HORSES |

ABERCROMBIE (1975)

Silent Majority-Bergdorf-Duane Hanover

Male Descendants include Artsplace- Art Major- Sweet Lou- Sportswriter etc

You would not have thought a $US9,500 yearling originally broken in by a bus driver would have a lasting influence but Abercrombie was to become the Adios lines best chance of survival.

He certainly wasn't a cotton wool champion, having 20 starts at two (just seven wins) and 33 starts at three, winning 22. He set a world record at the Meadowlands of 1:53 and a one season stakes earning record ensured he was the Horse of the Year before being syndicated for $US3m. He died in 1975.

Abercrombie became the leading sire for several years and the leading broodmare sire for the first time in 2005. He sired Artsplace, sire of Art Major, Life Sign and Armbro Emerson, a Canadian Hall of Famer who just happens to be the damsire of Bettor's Delight.

Artsplace was brilliant at three but his owner-breeders decided to try him again at four. He won 16 of 16. He died unexpectedly from faster than usual effects of laminitis when 18 with several stud seasons left in him. The Adios sire line had a history of laminitis spoiling the breeding party. Mach Three was from an Abercrombie mare.

You wouldn't say the Abercrombie/ Adios line is exactly blooming - but it is hanging in there.

TRIVIA FACT - Abercrombie was not the only bargain in his family. His sire Silent Majority only made $9000 as a yearling when selected by Roger White, a young Canadian who died in an air crash the following year on his way to another sale.

Silent Majority was by Henry T Adios whose famous driver Del Insko marked him highly for his "speed out of the gate and speed to put them away." He was tough too and according to Del never had a needle while in a racing campaign. His other sons though, including the ones who came to NZ, didn't cut it.

Credit: David McCarthy writing in Harnessed April 2017


| | |
| --- | --- |
| | RACING HISTORY FEATURE RACE COMMENT |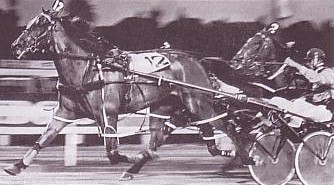 Young Quinn and John Langdon

GREAT RACE: YOUNG QUINN 1975 INTERDOM FINAL

As the 1975 Inter-Dominions in Auckland loomed, New Zealand's chances of repelling the formidable Australian assault and ending their almost complete domination of the Championship for a decade seemed to be on very shaky ground. Outside of Stella Frost's promoted win at Addington four years earlier, following the disqualification of Junior's Image, and Phil Coulson for seven years - later remitted to four years by the NZ Trotting Conference - after a caffeine positive, New Zealand had not looked even close to winning an Inter-Dominion since the 1965 series in Dunedin was shared by Jay Ar and Robin Dundee.

This included the previous Inter-Dominion at Alexandra Park in 1968, a series dominated by Tasmanian champion Halwes and following his shock withdrawal from the Final with a quarter crack less than a hour before attempting a clean sweep, ultimately won by NSW's First Lee. This was Australia's first Inter-Dominion win on New Zealand soil, which was not supposed to happen. And the Forbury Park success had hardly counted, what with Blazing Globe being the only Australian contender of any note. A son of Stormyway and the grand NZ mare Thelma Globe trained by Perc Hall at Penrith, Blazing Globe won a heat on the third night, but a couple of fourths in the heats was the best that could be managed by the combined efforts of Guiness (NSW), Palpitate (Vic) and Minton Hall and Pacing Lawn from WA, and their trip seemed mostly about taking in the scenery.

The 11-strong Australian challenge for the Pacing Championship in 1975 though was spearheaded by two-time winner Hondo Grattan and well established stars in Paleface Adios, Just Too Good, Tarcoola Frost and Royal Gaze, all but the latter from NSW. Hondo Grattan had won 44 races at that point, while Just Too Good had won 46 and Paleface Adios 43 and Royal Gaze had just won the Hunter Cup.

Then a week out from opening night came the devastating news that Robalan had been withdrawn after being troubled by an abscess on the chest. The 8-year-old free-legged champion had brilliantly won that season's NZ Cup and NZ Free-For-All, the latter for the third consecutive year and in world record time, where a 5-year-old Young Quinn had arrived in Christchurch off the back of eight straight wins and proved fallible.

A few months later, New Zealand's hopes of an Inter-Dominion win seemed to rest squarely on the shoulders of the Auckland and Wellington Cup winner Young Quinn. The likes of Hi Foyle, Speedy Guest, Vanadium, and the 4-year-olds Captain Harcourt, Master Dean and Kotare Legend were considered good class, but hardly capable of beating the Australian champions even with a head start in the handicaps. But this was Alexandra Park of course, and a whole new ball game, or direction, for the visitors. And they were about to run into a horse who by the end of the Championship, would be talked about as the best seen since Cardigan Bay.

Young Quinn, affectionately nicknamed 'Garbage' by his Edendale connections due to his habit of eating everything in sight as a youngster, including his bedding, would also by the end of his 5-year-old campaign earn the label of 'the Mighty Quinn' from none other than Peter Wolfenden, who since being spoiled by 'Cardy' had rarely been heard to utter a generous word for any other horse.

When the dust had settled on the season, Young Quinn had raced 22 times in New Zealand for 19 wins, two thirds and a seventh, and in Australia, three times for two wins and a fourth, the latter in a heat of the Lord Mayor's Cup at Harold Park from 25m not long after brilliantly downing Mitchell Victory, Royal Gaze, Hondo Grattan, Paleface Adios and Adios Victor in the Miracle Mile, and Hondo Grattan in the Hurricane Stakes. Robalan had set the record for wins in NZ in a season the previous year at 12, while Young Quinn's 10 consecutive wins to complete his campaign was also a record within a NZ season. He earned $149,961 when no other horse had topped $100,000 in a year and became the first horse in Australasia to top $200,000 in career winnings, at a point when the only other six-figure winners were Robalan ($164,020), Arapaho ($128,345) and Lordship ($113,790). In today's terms, it was easily a million dollar-plus winning season.

He set New Zealand race records for one mile (1:57 in the NZ Miracle Mile) and two miles (4:06.7) and his records for 2200m, 2600m and 2700m from a stand were faster than the records from mobiles.

Bud Baynes and his son Des had bred Young Quinn after the former had bought his out of form dam, the Hal Tryax mare Loyal Trick, for a few hundred dollars in what was just his second venture into standardbred ownership, having earlier won a race with a son of Hal Tryax in Hal Away. Convinced he could get the Southland 3yo Stakes winner back into form, Baynes soon discovered that Loyal Trick was too far gone with arthritis to be a racing prospect and bred her to Young Charles, who was standing at stud for his brother Colin at nearby Ferndale. The resulting filly in Judy Charles was sold as a yearling to Christchurch's Colin McLachlan and had three wins, losing one on a protest, while Loyal Trick's third foal and first colt, by Young Charles, died of tetanus. Des Baynes was 19 and working for Colin, who coincidentally then offered him a free service to Young Charles, and Bud loaned Loyal Trick on the understanding they would race the foal together.

A very precocious youngster, Young Quinn had won seven juvenile trials before making his debut in the Mercer Stakes at Addington in January, 1972, where Baynes had asked a polished former Southland horseman in Robert Cameron to drive. Cameron agreed, but during the float trip to Christchurch he said to Baynes "they're pretty good up at Addington; I think we'll be lucky if we finish about sixth." Young Quinn was 12th at the half but got up to impressively down smart sorts in Willie Win and Marc Bohan and by the end of the season had won eight races from 10 starts, equalling the juvenile record for races won by Sam Tryax, and taken out the prized double of the Sapling Stakes and Juvenile Championship.

An early knee injury cost him dearly as a 3-year-old, and attempting to win the NZ Derby in his season's debut when not ready set him back even further. But after being placed with Charlie Hunter at Cambridge for a failed Great Northern Derby tilt, Young Quinn began to fulfil his considerable earlier promise at four, a season he started in open class. He chased Arapaho home in the NZ and Auckland Cups and came up half a head short of Robalan in the Miracle Mile, won in 1:58, but his wins included the Allan Matson and Ollivier at the NZ Cup Meeting with Hunter at the helm.

His failures however included the Perth Inter-Dominions, where he made no impression after not travelling well and failing to settle at all in the heat. Returning home to romp away with free-for-all in Auckland in March, Young Quinn went for a well earned rest, and was soon back in the new season and sweeping all northern rivals aside with seven straight wins in the hands of Wolfenden heading into the NZ Cup carnival. Starting hot favourite in the Cup, he got hooked up in an early speed duel and pulled himself into the ground, and only class carried him into third as Robalan carried the day in his fourth attempt over Kotare Legend, while he recovered from last early to finish a distant third in the FFA.

Another Allan Matson from 25m in record time was a mere formality in Robalan's absence however and then came the Miracle Mile in Australasian record time of 1:57, where Robalan was favourite but went off stride challenging at the furlong. Freshened for the Auckland Cup carnival, Young Quinn led up and inexplicably faded to seventh in the National Flying Pace as arch-rival Robalan swept by brilliantly, but this would be the last time he would meet defeat in New Zealand.

Going into the Inter-Doms, Young Quinn had bolted away with the Auckland Cup by 10 lengths over Robalan (30m) in very wet and slushy conditions, as well as the Waikato Flying Mile by eight lengths and Wellington Cup by five from 35m. Hunter had taken back the reins after the NZ Cup Meeting and must have been on good terms with himself when Young Quinn proved much too good for pacemaker Just Too Good and Royal Gaze on the opening night of the Inters. Jack Smolenski won the other pacing heats with Speedy Guest and Vanadium, as Paleface Adios finished a bold second to the latter and Hondo Grattan ran into strife after Tony Turnbull left his shadow roll at home and had to borrow an unsuitable one. But on the second night, Hunter was brought back to earth with a thud - literally - when involved in a pile-up which wiped out half the field, and put both his arms in plaster. Three races later, up stepped Hunter's 27-year-old right-hand-man John Langdon to not only quide Young Quinn safely through the remaining heats, but win the Trotting Final with Castleton's Pride for Roy McKenzie and trainer Hunter.

Come the $61,000 Grand Final and over 30,000 were on-hand to cheer Young Quinn on from 15m, with only Hondo Grattan behind him on 25m. The rest of the country tuned in to watch on television, this being still very much a novelty reserved for major events. Young Quinn was favoured, but it would not be easy, and the Australian record in the Final was to be not only respected, but feared.

Previewing the big event for the Trotting Calendar, Ron Bisman wrote "Young Quinn starts on 15m in one of the best fields of pacers to assemble for a race in New Zealand. He came from a similar mark to win in record time at 3200m on Saturday night, but had to work hard to do it and has a shorter distance here. Grand Finals are usually go-stop-go affairs, and the one thing necessary for a backmarker to get around the field to challenge when he wants in such big-time races in the fastest turn of speed. Young Quinn has shown this time and again, and with John Langdon driving very confidently and adroitly, they just have to be first choice. Big bold challenges are expected to come from Victoria's Royal Gaze and NSW star Hondo Grattan after their fine third night form, but just the same the second choice in this quarter will be the brilliant free-legged pace Final Decision."

With Smolenski opting to handle Vanadium over Speedy Guest after returning to top form with wins on the first two nights, he was Bisman's third choice, but also accorded chances of threatening off the front were Hi Foyle, Kotare Legend, Master Dean and Why Bill along with the aforementioned. Just Too Good had lost form during the heats and started rank outsider from 10m for Keith Pike, while Colin Pike's 5-year-old Paleface Adios had lost it altogether and couldn't even make an impression in one of the Consolations.

Nursed away by Langdon to avoid any trouble, Young Quinn still copped several checks and settled all of 80 metres behind the tearaway pacemaker Master Dean and Bob Cameron. His chances of success looked remote with only a couple of stragglers in Bomber Bill and Why Bill behind him in a strung out field with a lap to go, and then Final Decision was checked, broke and came back on him with just 800m to go. But that was also the point where Young Quinn turned on the stuff Champions are made of. Gradually but inexorably moving into contention wide down the back and around th last bend, Langdon brought Young Quinn into line six-wide and he stomped down the centre of the track to in the end win quite comfortably. Hi Foyle found a gap late to come on for second for Henry Skinner and ironically, the first two home were the two horses lured to Perth the previous year by travel subsidies to 'make' that Inter-Dom Series, and performed so dismally.

By everyone was just playing bit parts in the Young Quinn Show. The accolades flowed for 'the Mighty Quinn' and so did the invites. On-hand for the Inter-Dominions was Dr Thomas Siciliano, who had been a partner in Cardigan Bay's US campaigning, but Hunter advised against any lease deals and $100,000 was not enough to buy him. Young Quinn would instead head to Sydney for the $50,000 Miracle Mile and so emphatically dispose of a truly great field there from the dreaded six alley, and while withdrawn from the Lord Mayor's Cup after being checked and hurt in his heat, he had recovered to bolt away with his farewell Down Under race at Alexandra Park in May.

Two days later he was winging his way to America to compete in the rich International Series at Yonkers in New York and Sportsman's Park in Chicago, but that of course is the start of another story.


Credit: Frank Marrion writing in HRWeekly 28Jun06


| | |
| --- | --- |
| | RACING HISTORY FEATURE RACE COMMENT |

1975 DOMINION TROTTING HANDICAP

Upstanding eight-year-old gelding Hal Good completed a brilliant double for his breeder-owner Arthur Chesmar and trainer-driver Denis Nyhan when he powered home to snatch a narrow victory over Easton Light in the 1975 Dominion Trotting Handicap the Nation's premier event for squaregaiters at Addington on Show Day. Back in early January he produced a similar paralysing burst to take the other annual trotting feature on the course the 1975 Canterbury Park Trotting Cup and again it was the northern champion Easton Light who filled second placing.

By the now deceased import Goodland (USA) sire of other squaregait standouts in Markalan, Good Admiral, Tunza Time and the brilliant juvenile and now successful Endeavour Lodge-based sire Westland King, Hal Good is from the untried mare Halswell's Pride by Kingcobra (Aust) from a star racemare of the forties for Arthur's late father George in Shadow Maid, who as well as winning the 1943 Auckland Cup ran third behind two champions Gold Bar and Interity in the NZ Cup of 1945. By brilliant chestnut pacer of the early thirties and winner of the 1933 NZ Cup Red Shadow (NZ), Shadow Maid was from Homelass. This line has been in the Chesmar family for half a century or so, the late George breeding Homelass back in 1927.

Although Hal Good presented him with his first Dominion Handicap victory, winning prestige events is no new experience for Denis Nyhan who trains his team at Templeton. Son of the Johnny Globe man Don Nyhan, Denis has, in a couple of decades of driving standardbreds been associated with more top horses of both codes than most reinsmen hope to sit behind in a lifetime.

Credit: David McCarthy writing in NZ Trotguide


| | |
| --- | --- |
| | RACING HISTORY FEATURE RACE COMMENT |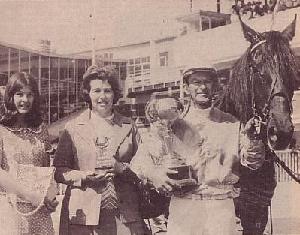 The Lawlor family and Lunar Chance

1975 NZ CUP

If Southland stayer Lunar Chance was feeling dehydrated three weeks ago it was nothing to the state he left the huge crowd in at Addington on Tuesday.

In a grandstand finish Lunar Chance held off a brilliant late dab from the desperately unlucky northern contender Final Decision to take the 1975 New Zealand Cup by a rapidly diminishing head. for Gore owner-trainer-driver Keith Lawlor, a farmer, it was justification for turning down a $100,000 offer after winning the New Brighton Cup last season.

By far the most lightly raced horse in the field Lunar Chance was having only his 26th start on Tuesday and has now won 14 races, has been second three times and third five times. His stake earnings, including the $700 trophy attached to the Cup, now stand at $60,160. He looks certain to top the $100,000 mark in the very near future.

Lunar Chance posed Lawlor all sorts of problems after failing in the Ashburton Flying Stakes on October 6 but he picked up condition in the few days before the Cup and won it like the true stayer he is. He lost 40 metres at the start when he galloped off the mark but passing the 1600 metres Lawlor sent him forward to take the lead off Speedy Guest at the 1200 metres. Micron gave him no rest in front when he rushed up to dispute the lead at the 700 metres but soon after turning for home Lunar Chance slipped clear and just held off the brilliant late run from Final Decision.

The northern pacer was desperately unlucky. He went away well but left his feet after 300 metres and was giving the leaders at least 80 metres when he settled down. He was still last at the 800 metres when he followed Micron forward and on the home turn was seven lenghts from Lunar Chance in sixth place. He was closing rapidly on Lunar Chance at the post but just failed by a head.

Last year's winner and favourite Robalan had every chance and though he battled on gamely he was only third a length back. He received a good run on the outside and was carried up to a perfect trail on the outer at the 1200 metres as the lead changed. He looked a big danger on the home turn but the effort told a Lunar Chance went on to win in 4:08.6.

Speedy Guest and Vanadium led in the rest a length and a quarter and a neck back. Speedy Guest enjoyed a good run after leading briefly in the middle stages but Vanadium never really got into the clear from the middle on the outer. Deeside was beaten off sixth, six lengths back.

Credit: Tony Williams writing in the NZ Trotguide


| | |
| --- | --- |
| | RACING HISTORY FEATURE RACE COMMENT |

1975 NZ OAKS

In Or Out, a shock failure in the Nevele R Stud Stakes 10 days previously staged a form reversal when she led all the way to win the NZ Oaks at Addington on Anzac Day.

In Or Out could only manage a distant eighth in the Nevele R Stakes, for which she was a warm favourite, after having a tough battle with Miss Honour for the lead in the early stages. This time, In Or Out bounced straight to the front on the sloppy track and was never in danger of defeat afterwards, winning by three lengths from Golden Nurse.

In Or Out came into calculations for the Oaks when she won the First Three-Year-Old Stakes at Addington at Easter, and followed this up with a third to Commissioner and Don Lopez in the Metropolitan Three-Year-Old Championship on Easter Saturday. Originally, she was entered for the North Island Oaks but was placed on the balloted list with right of re-entry by the Thames Trotting Club and did not make the trip.

In Or Out was bred by Mr H J Maw of Highbank, in whose colours she raced in the Oaks. She is trained at Methven by Alister Kerslake and has been regularly driven by Templeton horseman Derek Jones, who was recording his first win in the Oaks. In Or Out is a filly by Out To Win from the Arusa mare, Parusa. Parusa, out of the Grattan Royal mare Paramount, was bred by Mr W F Woolley of Christchurch, for whom Kerslake trained the 1971 NZ Derby winner Bachelor Star, and third placed Golden Guest.

Invercargill filly Golden Nurse, who made a brilliant beginning from the second line, trailed In Or Out to the 600 metres where she moved off the fence to take a challenging position. She looked a danger on the home turn but In Or Out drew clear without too much effort and won decisively. Lauraine Hanover, who followed Golden Nurse all the way, held on well for third two and a half lengths back with four lengths to Young Lass, who enjoyed a good run on the outer.

Ripper's Delight, trying to add the NZ Oaks to her Great Northern Oaks and Derby, lost her chance at the start but turned in a tremendous performance to get up for fifth three lengths back. Ripper's Delight added at least 80 metres to her task at the start but put in a big run from last at the 900 metres to just shade the favourite Jascoe, who was forced wide when improving but never really looked a winning proposition. Third favourite Helen Of Tara blundered badly at the start and was pulled up.

Credit: Tony Williams writing in NZ Trotguide


| | |
| --- | --- |
| | RACING HISTORY FEATURE RACE COMMENT |

NZ FREE-FOR-ALL SORTS OUT CHAMPIONS

While we are conditioned by history in New Zealand to regard handicap racing as the ultimate test in both racing and trotting, it is odds on that any American visitors to the Cup carnival are likely to show at least as much interest in Friday's big pace event, the NZ Free-For-All.

The odd average stayer has fluked victory in the Cup on the Tuesday through a combination of circumstances but it very rarely happens that anything other than a pacer right out of the top draw bowls the same field from even marks over the sprint distance on the Friday.

The Free-For-All was first run in 1914 probably to give some chance to the top horses who were often out of major handicaps due to the old 'clock' method of handicapping. In the 60 contests run to date all but a couple have been won by horses who were and are household names. In fact in many ways the FFA is a better indication to the historian on who our great pacers have been than the Cup is, though of course it does not carry the same 'mana' as the two mile classic.

There are plenty of FFA winners who could well have been among the Cup winners. Acron and Great Bingen were two from the 1920's who come to mind while in later years Single Direct, Vedette, Tactician, Caduceus, Robin Dundee and Stella Frost were the tops of their day with the last named of course being first past the post in the 1969 Cup before being disqualified.

Only four horses have thus far won the event three times and all were champions. Author Dillon in the second decade of the century, the wonderful Harold Logan in the 30's, and Caduceus and Lordship in more recent times. Possibly by the time you have read this Robalan will have joined this illustrious group for he has won in the last two years. His win last year in world record time was almost certainly the highlight of the Cup meeting even allowing for his thrilling Cup win four years earlier.

In the days when the event was a standing start Robalan shared the record with Johnny Globe who clocked 2:33.6 away back in 1954 when that little pacer was, at least for those first two days of the Cup meeting, as good a horse as any in the world. In an earlier era Gold Bar set a long standing record with his 2:35. In 1942 and allowing for the difference in track surfaces in those days this was a feat as remarkable as any since.

Back in the 1920's the race was run over a mile for several years. Among the winners being Acron in 2:03.6 (1924) and the tremendously fast but 'rattle headed' horse Native Chief. Several top trainers gave up trying to instil some raceday interest into Native Chief, but his great speed always suggested that he could have been two-minute material.

Robalan looks very likely to make it three in a row this year for though his powers may be on the wane as the years catch up with him he can still give a sharp sprinting lesson to many of his younger rivals as he has already shown this season. With Noodlum out and Lunar Chance at the time of writing being something of an unknown quantity there is nothing in the Young Quinn class to worry Robalan as there was last year. Final Decision might take a special liking to this sort of contest while Micron is a most respectable sprinter and could bob up from behind the mobile start.

History strongly suggests that you forget the 'roughies'in the Free-For-All, the last winner not in the champion class possibly being Chief Command at the extraordinary meeting of 1969. Most of the winning list of this race reads like a who's who of the New Zealand standardbred and it's odds on that traditions will not be broken in 1975.

Credit: David McCarthy writing in the NZ Trotguide 13/11/75


| | |
| --- | --- |
| | RACING HISTORY FEATURE RACE COMMENT |

1975 NZ FREE-FOR-ALL

After fighting out the finish of the Cup, Lunar Chance and Final Decision clashed again in the NZ Free-For-All and once again the brilliant northerner had to bow to Lunar Chance. The margin was as close as the Cup's had been but this time the running of the race showed the two horses adopting tactics which were almost a complete reversal of the Cup running.

On Tuesday Lunar Chance had gone to the front at the 1200m with Final Decision, having gone off stride for no apparent reason after 200m, still making up the ground he had lost. The northerner must have gone his last 2400m in close to three minutes and he just failed to catch the stubborn Southland pacer who must be one of the finest stayers we have seen for some time.

In the FFA the boot was rather on the other foot, Final Decision going to the front quickly after a good beginning from the difficult No.1 barrier draw while the wider drawn Lunar Chance settled well back. At the turn it looked Final Decision's race but the Southlander staged a brilliant late run to get the nod by a head. Why Bill caught the eye with a performance as impressive as his Cup run was disappointing for third. Speedy Guest, seemingly always the bridesmaid in the big ones, was fourth.

It has been a great week for Keith Lawlor and Lunar Chance and a victory in top races for amateur trainers and drivers is invariably popular, especially to those who remember the days when trotting relied almost exclusively on the "little man" to keep the sport going at a time when it threatened to loose it's appeal. The Lawlor family are typical of the type of trotting enthusiasts who have played such a large part in the development of the sport. Keith's father and grand-father were both associated with horses for many years in conjunction with farming interests in Gore and perhaps the one regret Keith had on Tuesday was that his father, who died some years ago, could not be present to see the triumph of the horse whose family Lawlor Senior had bred from for many years. Like many Southland horsemen it was his practice to sell horses to northern owners once they had won their way out of the local classes but there seems little danger of Lunar Chance leaving the southern province for some time yet.

The Majestic Chance gelding is the first Southland owned, trained and driven horse to win the Cup for 50 years and appropriately the last one, Winsoon, is an antecedent of this year's winner. It seemed for a time after his impressive visit to Addington in the early spring that Lunar Chance may be robbed of his opportunity to win the Cup by a loss of form brought on by dehydration. But he "came right" at precisely the right time and after a stiff workout last Monday his owner pronounced him back to the best. A photo in a Christchurch newspaper showing Lunar Chance doing his regular galloping work brought some comment and Keith himself quipped on Cup eve, "I don't know whether to run him tomorrow or wait for Riccarton on Wednesday."

His run in the FFA was timed at 2:28.8 - not as fast as Robalan's record breaking effort last year but very quick for 2000m by any standards. Final Decision must wonder what he has to do to win a big one at Addington. His run in the Cup was the most brilliant effort from a horse with an interrupted run since Manaroa in the late sixties. He confirmed that form with his courageous effort on Friday and the third clash between he and Lunar Chance should be worth going some way to see. They are both expected to line up in the Alan Matson.

The FFA lost some of it's "needle" through Robalan breaking hopelessly after 300m to the obvious gloom of his many supporters. That mistake cost him any chance of an unprecedented fourth win in the event while Micron and Tricky Dick took an instant dislike to the mobile and took no serious part.

It was still a memorable race but the week's honours must lie with Lunar Chance.


Credit: David McCarthy writing in NZ Trotguide


| | |
| --- | --- |
| | RACING HISTORY FEATURE RACE COMMENT |

Main Adios (Derek Jones) easily from Direct Magic

1975 NZ DERBY

If some purists thought that the fiftieth NZ Derby lacked the presence of a three-year-old of champion potential, even they must agree that the contest lost very little in comparison with its forerunners on the score of excitement. From the time the warm favourite Smokey Lopez received a bad check at the start it was all action in the premier classic with Main Adios gaining a convincing three-length win in a time very much above the average.

It might be argued in the weeks to come whether Smokey Lopez or Olga Korbut would have made the winner work much harder over the final stages but Main Adios ran his race out in most convincing fashion - and no horse can be expected to do more. Main Adios had drawn attention to his chances with an impressive win over 2000m on Cup day beating a promising field of handicappers fair and square. He ran that one from the front but in the Derby improved sharply from a wide position early to get a trail behind a fairly fierce pace set by Lord Moose.

The winner benefitted from some masterly driving from Derek Jones (having his first Derby win), Jones moving him out from the trail at the 400m rather than risk getting held up later and taking the lead shortly after turning for home. He put a break on the field at that time and Direct Magic and Smokey Lopez just could not pull him back over the final stages. Direct Magic ran on well for his second placing though he had a much better run than most of his nearest opponents. All the same he is showing signs of soon laying to rest the sometimes heard allegation that his will to win is not as strong as it might be.

Ben Grice must wonder why fate continues to conspire against him in the Derby. Smokey Lopez seemed set to succeed where others from the Grice stable had failed but a bad check at the start possibly cost him the race. He found it hard to improve with the strong pace being set and the effort of doing so told over the final stages. But he was far from disgraced and if there is any justice in the world he will get one of the remaining classics later in the season. Lord Moose struggled on for fourth after setting a torrid pace, with Stanley Rio four lengths away fifth followed by Lumber Box, who broke at the start and checked Smokey Lopez, with the others making up a fairly tired bunch.

Olga Korbut was unable to repeat her half brother's win of last year and she had a most unfortunate race. Away well she trailed early and was allowed to drift under the hot pace. At the 1200 when angling out from the fence she nudged Star Chance and broke with Star Chance having to be pulled up. The Lordship filly had no chance after this mishap and her eighth place in the circumstances had some merit. Freeman Holmes felt she was going extremely well at the time and there is little doubt she would have been in the finish with an uninterupted run.

Though one can particularly regret the checkered runs of the first two favourites there is still no doubt that Main Adios is a worthy Derby winner. The only problem he now faces is one of history. It is surprising the number of outstanding Derby winners who have never had the chance to show their full ability as older horses, usually due to unsoundness. On the other hand a number in this category have had successful stud careers so the Methven colt is likely to win out either way.


Credit: David McCarthy writing in NZ Trotguide