| | |
| --- | --- |
| | INTERNATIONAL HISTORY |

Greenpeace is established.

Idi Amin seizes power in Uganda.

London Bridge was dismantled stone by stone and re-erected in Arizona as a tourist attraction.


| | |
| --- | --- |
| | LOCAL HISTORY |

The Aluminium smelter at Bluff starts operating.

The Race Relations Act establishes the office of Race Relations Conciliator

April 30 - 6000 protesters march against the war in Veitnam.

The Court Theatre holds its first production.

October 25 - End of the line for steam railways.
The Christchurch-Dunedin overnight express, headed by a JA-class locomotive, ran the last scheduled steam-hauled service on New Zealand Railways, bringing to an end 108 years of regular steam rail operations in this country.




Credit: Ch-Ch City Libraries


| | |
| --- | --- |
| | RACING HISTORY STARTERS & STARTING |

FAMOUS FLYING MILE RACES

There have been fairly regular mile races from a flying start almost from the inception of trotting in the Dominion. The Wildwood v Prince Imperial, and Ribbonwood v Fritz matches long since became history to most living light-harness enthusiasts.

Not so the sensational Free-For-All at the NZ Cup meeting of 1924. In that flying start mile race Acron, in beating Realm by a length, with Logan Chief two lengths back, registered 2:03 3/5, which shattered the existing mile record against time of 2:04 1/5, held by Happy Voyage. In that free-for-all the minor placefillers clocked 2:03 4/5 and 2:04 2/5 respectively.

Another memorable flying mile, many years later, was the match between the champion mare Haughty, and the 'scorched earth' entire, Gold Bar, at an Addington matinee meeting in 1943 - the winner was Haughty, narrowly, in the brilliant time of 2:00 2/5 which stands as the match race record (between two horses) to this day.

Tactician became the first horse in the Southern Hemisphere to fracture two minutes in a race when he won the flying mile Rattary Stakes at the NZ Metropolitan Trotting Club's Easter meeting in 1957. His time was 1:59 4/5, which stood as the NZ race record for many a day. Only a nose separated Tactician and False Step, who went 2:00, third was Local Light in 2:00 1/5, and fourth Merval in 2:00 3/5. It was a wonderful contest.

Up till then the starts of these races were on a moving-up basis 'in the open' and one of the most capable officials in this capacity was Mr A J Hastings. The mobile barrier was still a long way off.

Lordship won a mobile mile race at a Northland TC meeting at Alexandra Park in 1967 in 1:58 2/5, which is the existing NZ record. He won by five lengths from Tobias(1:59 4/5) and Elegant Hanover(2:00). Another searing mobile mile at Addington of recent vintage was the New Year Free-For-All at the Canterbury Park meeting in January, 1970. The winner was True Averil, by four lengths, in 1:58 4/5. The second horse, Spry, registered 1:59 2/5, and Stella Frost third in 1:59 3/5.

The trotters too, have put up some excellent times in flying mile races. In 1969 Stylish Major won one of these events in 2:02 2/5, which was a new record for this type of contest; and the following year Johnny Gee lowered the record to 2:01 1/5 in winning the Stewards' Trotting Free-For-All at the Canterbury Park New Year meeting.

Credit: Óldtimer' writing in NZ Trotting Calendar 1Dec71


| | |
| --- | --- |
| | RACING HISTORY PEOPLE |

JACK WALSH

The death in Gore last week of Jack Walsh, aged 77, had me digging into the archives for a few words I penned on this gentleman in 1967. I hope you enjoy the reminiscience.

-o0o-

Walsh, who trained the champion mare, Robin Dundee, in the twilight of his career, was the leading Southland driver and trainer on numerous occasions. He rode or drove close on 400 winners and as a trainer, won more than 300 races.

Walsh was born in Nightcaps and his first job was in a grocer's shop there. He was quite content with the job, but, he recalled, "the owner asked me to manage the place, so I left." It was also at Nightcaps in 1917 that Walsh had his first introduction to trotting. A Nightcaps butcher, Mr J H Reed, asked Walsh to ride a pacer called Gladiola, whom he owned and trained. Although he had ridden in gentlemen riders' at galloping meetings, Walsh told him that he had no idea how to sit on a pacing horse in harness and he thought he would be certain to come down.

Mr Reed had greater faith in Walsh, and asked him to ride Gladiola in saddle events at the 1917 Forbury Park winter meeting. Walsh applied to Christchurch for his horseman's licence, but this had not arrived on the morning of the meeting. A hurried phone call to Christchurch confirmed that the licence had been granted and Walsh took the mount on Gladiola. Gladiola was beaten a head by Nihilist, but came out to on the second day to win the two-mile Dunedin Handicap. A 3-year-old filly, she gave away starts of 60 yards and won by two lengths.

From then on Walsh never looked back. He returned to Gore in 1926 and worked with trotting trainer J R McMurray for 12 months. Then as private trainer to Mr F Wallis, he prepared such good winners as Sea Hawk, Ding Dong Bell, Nelson Elwyn and Red Anthony. Later as a public trainer Walsh trained such winners as Kissing Cup, Heather Dillon, Pacemaker, Gildirect, Meg Mundy, Aspasia, Lauder Lady, Dame Sybil, Mooloo, Navigate, Cabra who won the Dominion Handicap, and Ley's Pride.

Walsh's best training tally was 18 wins in the 1956-7 season when he also drove 16 winners. Walsh's services as a horseman, were in keen demand and between 1930 and 1940 he rode or drove 121 winners. Walsh maintained the best horse he rode in saddle was Rocks Ahead, who holds the track record of 2:09 2-5 set at Forbury Park in 1936. Walsh developed Robin Dundee into the best pacing mare in Australia and NZ in the 1960s when she took a record of 1:59 at Harold Park and won more than $100,000.

Credit: Taylor Strong writing in NZ Trotting Calendar 4Aug71


| | |
| --- | --- |
| | RACING HISTORY PEOPLE |

DRIVERS COMPULSORY RETIREMENT

Harness marketing gurus would describe it now as the quaddie from hell. At the end of the 1970-71 season when Jack Litten, Doug Watts, Bob Young and Bll Doyle "four horsemen of the apocalypse" in their era were invited by the authorities to hand in their driving licences having reached 65 - an invitation it was impossible to decline. For many it was almost the harness equivalent of the Buddy Holly plane crash the "day the music died." Three years later when Maurice Holmes had to follow suit, it was.

-o0o-

JACK LITTEN -
was almost an "overnight sensation" for the times, having risen from relative obscurity just before the Second World War with horses like Suspanse and Firewater after having to sell his best star Royal Romance, to Vic Alborn just as she struck her best form. He was able to buy her back later to breed from. Within a decade the battler was a leader in his profession.

His famous training and breeding deeds, especially with young horses, was partly formed by his early association with Bella Button, then of Brooklyn Lodge in New Brighton, who while never officially licenced in either code won many races driving her trotters and produced outstanding gallopers at Riccarton in the late 19th and early 20th centuries.

Something of a phenomenon, Bella was especially skilled with young horses and the Little Rive'r-born Litten learned his lessons well.

Relative to scale, few have matched his achievements with youngsters in the generations since. But he was an all round champion producing Our Roger, a horse with a famously low heart score, to win a NZ Cup - though he would have dearly loved the "Mighty Atom", the champion Caduceus, to have shared that honour which he actually should have won that day.

On his retirement Jack rated Caduceus setting a 2000m record at Addington in 2:31.8 (it stood for a generation) as his biggest thrill though the 1956 Inter-Dominion Final when he took over the driving himself and won before a crowd we will never see at an ID final again must have been magic.

Royal Romance's daughter, Royal Triumph, would later produce Junior Royal. A granddaughter produced Royal Mile who set a 2-year-old Australasian trotting record for Litten at Addington in July of 1954 in a special time trial. A keen student of breeding "JD" also stood the thoroughbred stallion Aristoi, a brother to world champion Sir Ivor (sire of Sir Tristram).

The horse which established him in classic racing was Fallacy who was at 8/1 first up at three at Ashburton in the spring but paid £46 at his second start and then won the Riccarton Stakes and the NZ Derby. Only the 4-year-old Johnny Globe beat him at that Cup Meeting. His unexpected success at stud was notable. His granddam, Escapade had been an outstanding trotter in the 1920's and her dam (Country Belle) won the NZ Cup.

Like many of his era getting trapped in the field with the money on was a cardinal sin, Jack Litten was never a "pretty" driver (Cecil Devine, his nemesis, was much the same, as was Maurice McTigue) but when the pennies were down their horses could do that little bit more. No stylist, Jack used outside drivers more than most, further proof of his astute thinking. Once established "Litt" seemed to have a never ending string of genuinely outstanding horses.

-o0o-

BOB YOUNG -
was a quiet man who loved gardening; highly respected especially within the game but low key and he peferred it that way. He was especially a master with trotting horses. Unusually Young preceded his father Jimmy in emigrating from Scotland after Roydon Lodge trainer Bobby Dunn offered him a position in the late 1920's. His father arrived a few years later and set up first at Addington and then at the Spreydon terminus with a big team.

Jimmy Young was soon a leading trainer, famous for his colourful use of four letter words. Don Nyhan used to recall the string of well intentioned invective Young considered normal speech after Johnny Globe had gone close to two minutes on grass the message being the driver should have "tried harder".

Rather oddly Bob named Single Task as the best trotter he drove, one of his three Rowe Cup winners. He also drove the first two winners of the Inter-Dominion Trotting Championships. He had his first NZ Cup drive in 1932 and his last in 1967. He was largely a free lancer usually driving second stringers for big stables in major races or for owner-trainers who loved his "there is another day" style. He was hugely popular with punters because of his outstanding strike rate. Avante was the last big name pacer he trained.

-o0o-

DOUG WATTS-
came from South Canterbury where he went to school with Richard Brosnan's father, Jack. He was first a champion apprentice jockey in Wanganui also riding in Australia as a teenager in 1927.

After he won seven of the first eight saddle trots he competed in, Watts turned to harness driving with Jock Henderson at Oamaru. Few have been better at it. He won the NZ Cup with Our Roger(1955) and an Inter-Dominion final on Massacre(1961) both almost entirely due to the driver rather than the horse. He was largely with Vic Leeming at Prebbleton and rarely held a training licence though he raced fine pacers of his own like Valour and Historic.

Watts was a great "money" driver, cool under pressure and adept at finding the short way home. He is still famous for driving seven winners on an eight race card at Reefton in 1954, a feat never bettered. He recalled he only had one engagement when he arrived at the meeting. His longest dividend was over £4 and his shortest £2, three of his drives winning twice.

Doug was good at keeping his own counsel and once he and Leeming had to be escorted off Addington by the police well after the last when a loud demonstration by hundreds calling for their blood over a form reversal was only inflamed the longer Watts waited it out in the driver's room. Ironically, in later years Watts was an astute patrol steward at the course.

-o0o-

BILL DOYLE-
is generally regarded as the founder of a famous trotting dynasty but in fact he inherited much from his father, also W J Doyle who was a master of many trades. He stood thoroughbred, trotting and draught stallions at stud, played a major role in the founding of the Ellesmere Trotting Club; ran the Doyleston pub and a catering business, raced, trained and drove top horses and even gave musical recitals at local functions.

He died when his son was just 20 though both Bill Jnr who owned a Grand National Steeplechase winner, and his sister, Laurel, champion show rider and the first woman licenced to train gallopers in the South Island, retained the wider racing interests of their father. Laurel also trained a Melbourne Cup placegetter, Willie Win.

Bill Doyle's feats as a horseman - he was also one of Canterbury's leading stock dealers - and the success of the next generation as horsewomen are well known.

When, which descended from a borrowed foundation broodmare Violet Wrack who left When's dam Passive, was probably his favourite. He campaigned her with success in America and again on her return, rare in those days.
Gold Horizon, pound for pound, may have actually been his best trotter. He was amoung the pioneer patrons of European trotting stallions, a cause he was passionate about though the results were mixed to say the least.

For a part-time trainer Doyle had an enormous string of top horses, his pacers from earlier eras(Betty Boop, Reason Why, In The Mood, Wipe Out etc) often overlooked in favour of the many trotters which came later. He drove Pacing Power into third for trainer Roy Berry(who drove Springfield Globe his own horse) in the 1943 NZ Cup losing a winning chance when checked at the start.

-o0o-

Losing four driving names of that stature one July 31st was certainly a bad day in harness history.

Credit: David McCarthy writing in HRWeekly 24Jul2013


| | |
| --- | --- |
| | RACING HISTORY INTERDOMINIONS |

CHRISTCHURCH - STELLA FROST
The trotting world was stunned when five days after the 1971 Final at Addington it was announced that Western Australian Junior's Image had returned a positive swab. Trainer Phil Coulson was barred from trotting for seven years and ordered to pay $1,000 in costs. Stella Frost, runner up to Junior's Image, was promoted to first for a prize of $26,000 compared with $8,000 for second. Manaroa was promoted to second, with Last Flood third.




| | |
| --- | --- |
| | RACING HISTORY HORSES |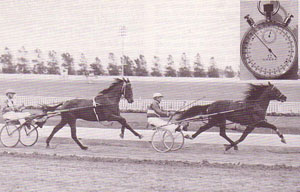 Mount Eden time trialling at Addington

MOUNT EDEN

After watching Mount Eden's time trial in 1:56 3/5 at Addington on Saturday afternoon, I have no hesitation in naming him the fastest pacer the world has seen.
Given perfect conditions and rated well on Lexington's Big Red Mile in Kentucky, Mount Eden, providing he holds his form, will surely topple Bret Hanover's world record of 1:53 3/5.

And, under mobile start conditions at Yonkers Raceway, with Peter Wolfenden driving him (he has accepted this assignment, offered to him by Mount Eden's trainer Jack Miles), it is hard to imagine his rivals in this year's $170,000 International series living with him.

The six-furlong Addington track throughout Saturday morning received a thorough drenching by driving rain. Mount Eden's trial, scheduled for noon, had to be postponed for more than five hours until after the last race. Throughout the day the racing was affected by the 'off' track, and the final event, run about 20 minutes before Mount Eden's mile attempt, was won by Radiant Globe in the fastest time of the day, 3:27 for the 13 furlongs - a 2:07 mile rate.

The track was then scraped, but still remained quite damp - especially on the turn out of the front straight which occupied most of the second quarter-mile section of the mile. Miles, who drove Mount Eden, later likened this part of the track to porridge. Miles said: "I had to nurse him all the way around that bend, as I didn't want the horse to slip or knuckle over at speed and leave me with no horse, and I reckon that cost me a full second.

"Down the back the galloper was no use to me. I kept yelling to Jim (Jim Dalgety, driver of the galloping prompter, thoroughbred Maxwelton) to keep him up, but he shouted back he couldn't." Before the time trial, experienced horsemen agreed that Mount Eden would be lucky to break 2:00. To accomplish a time only 2/5 sec outside Cardigan Bay's NZ and Australian record in such conditions was phenomenal. There seems not much doubt that in the Miracle Mile in Sydney on Friday week, when Mount Eden will meet Stella Frost and Manaroa among others over mobile start mile conditions, given good conditions the remarkable 4-year-old will have little difficulty in breaking Halwes' 1:57 3/5 Australian record, accomplished in the same race in 1968.

Miles and his co-owner Bernie Ogden have also agreed to produce Mount Eden in Melbourne before he leaves for the United States and his Yonkers International bid. On the three-furlong Melbourne Showgrounds track, Mount Eden, for a $5000 incentive will attack the track record of 2:00 3/5, which seems at his mercy.

On Saturday at Addington my sectional times for Mount Eden were: first quarter 30 2/5 sec; second quarter 29 sec; third quarter 28 4/5; fourth quarter 28 2/5. It was the fifth time in 18 days, since he astonished trackwatchers with a casual 1:58 1/5 mile in his first serious workout in NZ, that Mount Eden had penetrated well inside the two-minute barrier; and each time his clocking was faster. His mightiest race here, though he finished only sixth, was in the third round of heats, when, over 13 furlongs, he lost three-quarters of a furlong at the start and was reliably timed to come his last mile and a half in an unheard of 2:56 4/5, his final mile in 1:56 4/5.

Mount Eden's $2000 for breaking 2:00 in the time trial (virtually appearance money) pushed his earning to only $21,160. His racing record is 13 wins and two placings from 20 starts. In the next few weeks in Australia he should double his bankroll, while when he reaches America his earning rate should really rocket. Mr Ogden said on Saturday night that several attractive offers have been made for Mount Eden, and that some are still being considered, but no deals have been made at this stage. Mr Ogden does not expect to go to America with Miles and Mount Eden, but said he might fly from Perth to New York to see him contest the $100,000 International Pace on June 4.

Mount Eden may be a freak but he is no fluke of breeding. He is by the imported Adios horse Morris Eden (p, 2:01 1/5 and $88,000), a three-quarter brother to the crack American 3-year-old of last year, Columbia George (p,3, 1:56). Owned by Noel Simpson, Morris Eden, after a successful stint in NZ, is now standing in Victoria, Australia, under Ron Hutchins. His place at Jack Hughes' Glencoe Stud at Pukekohe, has been taken by Good Time Eden, a half-brother by Good Time to Morris Eden.

Blankets, the dam of Mount Eden, was unraced. She was by the Light Brigade (by Volomite) horse Aksarben, who won eight races and had a big reputation but was restricted in his race career by recurring leg trouble. Blue Revue, the dam of Aksarben, was a fine producer. She also left Blue (2:09 1/5, world's record for a yearling; eight wins including the NZ Sapling Stakes, NZ Derby and NSW Derby) and several other less important winners.

Shepherd's Brook, the dam of Blankets, was by the good racehorse and sire, Nelson Derby. She won three races and apart from Blankets left Midday (6 wins), Midnight (four), Wallacetown (four) and Forenoon (four, and dam of Selena, 7 wins). Shepherd's Brook's dam, the unraced Queen's Treasure, produced Hardy Oak (12 wins), Jack's Treasure (four), Buccaneer (three), Single Star (six), Mareeta (five) and Manoa (four). And Single Star became the dam of a champion NZ filly of her day, Riviera, as well as Petro Star (six wins and dam of six winners including the latest NZ Futurity winner, True Temper).

-o0o-

Ron Jenkins: Great Trotters

One of the most sensational pacers to race in Australia was the NZ-bred, WA-owned pacer Mount Eden who first gained attention as a 3-year-old in winning the WA Sires' Produce Stakes. In recording a mile rate of 2:04 in the mile and a half race from a standing start Mount Eden created a world record for a 3-year-old. In the following season he entered the world spotlight in harness racing. In little more than two months he recorded nine runs in less than two minutes for a timed flying mile.

Mount Eden contested the 1971 Inter-Dominion series at Addington, after recording 1:58 4/5 in a time trial before the series began. He failed to qualify for the final as he performed poorly at the start in each of his heats but was timed to run a flying mile in under two minutes in all three heats. Mount Eden's connections were later invited to run their pacer in a time trial on the day of the final and despite the damp conditions, he ran 1:56 3/5, just two-fifths of a second outside Cardigan Bay's Australasian record.

On his return to Australia, Mount Eden won the Craven Filter Miracle Mile by 15 yards in 1:58 4/5 after losing some six lengths at the start when he mixed his gait. He paced 1:56.7 in a time trial attempt at Harold Park, replacing Halwes' Australian record of 1:57.3. This was followed by runs of 1:59.8 in Melbourne and 1:57.8 at the Gloucester Park, WA, track in other time trials.

Mount Eden was sold to an American owner in April, 1971, for $268,000, making him the most expensive horse, galloper or trotter, to ever be sold in Australia. He left for America having won 14 races from 20 starts and $43,000 in prizemoney. After a time in which he was plagued with injury, Mount Eden was retired to the stud without contesting a race in America.

Credit: 'R B' writing in NZ Trotting Calendar 3Mar71


| | |
| --- | --- |
| | RACING HISTORY HORSES |

HAPPY GIFT - Mystery Mare

This mare from Timaru won a couple of races in several years of trying and was the only winner by her sire the uncommercial Johnny Kawa. Her dam was by Record Time, another 'household name' and the next sire in the pedigree was Colossal, probably best known for one of his daughter's foals who was able to be registered as Colossal Dick without any objection from officialdom!

Happy Gift maintained the family tradition of going to locally bred stallions when sent to Steven Stock, a top racehorse and underrated sire overwhelmed by the rush of imports in the 1980s. The result was a horse called Happy Sunrise who set the racing world on it's ear in the mid 1980s.

Happy Sunrise went to NZ Cup class in less than 12 months winning 10 of his first 14 starts. This was a record under modern handicapping until broken by Derby soon afterward. One of those wins was in the Ashburton Flying Stakes, beating the subsequent NZ Cup winner Master Mood less than 12 months after starting racing for trainer Brian Saunders and driver Ricky May.

The horse made a mess of the NZ Cup; was fifth in a blanket Free For All finish from the outside second row draw breaking 2:27; and was then off to Australia where he was an anti-climax from the word go never winning a stake over $4000. Part of the problem was temperament. Sometimes Happy Sunrise when getting back to the stables after a win had as much action for spectators than the race itself. But it was electric racing while it lasted.

The family soon returned to obscurity until Kevin Fairbairn obtained a mare from it, sent her to top trotting stallions and got Whatsundermykilt and Glenbogle.



Credit: David McCarthy writing in Harnessed June 2016


| | |
| --- | --- |
| | RACING HISTORY HORSES |

MANAROA

Dubbed the 'Ugly Duckling' because of his roach back and rat tail, Manaroa proved that appearances alone do not make a champion racehorse.

A winner of many top-class races, Manaroa would have had a more impressive record but for being unruly at the barrier in many of his races. In NZ Manaroa held a record of a 2:04 rating over 13 furlongs. He also won over two miles in 4:10 1/5 and was joint record holder with Caduceus for 1½ miles standing start in 3:04 2/5. His best NZ time for a mile was 1:59 2/5.

Manaroa won two heats of the 1971 Inter-Dominion at Addington, and finished a neck and a nose behind Junior's Image and Stella Frost in the final, subsequently being promoted to second placing upon the disqualification of Junior's Image. He brilliantly won his three heats of the 1972 Inter-Dominion in Brisbane and was backmarker off 24 yards in the final, but found the handicap, and being forced to race wide for a good portion of the event, too severe and finished fifth.

Manaroa was third behind Bay Foyle and Reichman in the Miracle Mile of 1972, and ran a similar placing in the same race in 1973 behind Reichman and Royal Ascot. From 24 yards in the 1973 Inter-Dominion in Sydney he was successful in one heat and second in another, but failed to qualify for the final because of a poor start in the other heat in which he finished last.

Manaroa was successful in other principal events in Australia. In winning the 1971 NSW Lord Mayor's Cup from 24 yards he defeated Welcome Advise and Lachamfer and rated 2:06 4/5. He ran 2:00 3/5 in winning the NSW Lightning Mile in September, 1972, by 25 yards and lowered the race record previously held by Macaree and Halwes at 2:01.

Against time in October, 1972, Manaroa paced 1:59 3/5 at Harold Park.



Credit: Ron Jenkins: Great Trotters


| | |
| --- | --- |
| | RACING HISTORY HORSES |
Precocious & Jack Carmichael

PRECOCIOUS

The Precocious story can be taken up at a point where prominent Auckland owner Andy Carmichael and Hawera trainer Doug Grantham in 1963 purchased from veteran Akaroa breeder Jack Ferguson a yearling filly by Johnny Globe from the successful Light Brigade trotting mare Dauphine. The filly was a full sister of Au Fait, who had won the 1961 Dominion Handicap for her Wellington breeder Jack McKay and was subsequently sold to America at a high price.

Mr Carmichael, successful in business through Broadway pies, and over the years a good winning owner with horses like Prince Polka and Chequer Board, decided that Grantham should train their acquistion. Grantham was only too pleased to oblige in this role, but when, as he built up the work schedule for the young filly, she kept putting on condition instead of shedding it, he was at a loss to understand her. A vet solved the problem. The then 2-year-old filly was in foal.

A hasty conference was called, and on checking back the filly's state was traced to a night when an Aksarben colt, appropriately named All Gallant, had got over a fence and in amongst several yearlings on Mr Ferguson's property. Mr Ferguson most apologetically offered to replace the in-foal filly with another, but Andy and Doug decided that whatever will be will be. They gave the filly time off to have her foal - most aptly named the young mother Precocious and the foal Over Fence; put Precocious back into work and produced her for her first racing a a 5-year-old in the 1967-8 season.

That she was as forward at coming forward on the racetrack as she was for Mother Nature, Precocious showed by winning four races and gaining two seconds, a third and three fourths in her first campaign - during which Mr Carmichael bought out Grantham's share (after three wins) and placed her with Bob Mitchell at Cambridge.

At six, Precocious had 10 starts for one win, two thirds and a fourth, and at seven two wins and seven minor placings from 18 attempts in NZ and one win in Melbourne on a brief Australian sojourn at Inter-Dominion time. A costly persistence to tangle early in her races led her connections to think either she was feeling the tracks of she was averse to racing right-handed as they do in many northern tracks.

Meantime, Mr Carmichael, who had paid $20,000 to secure the up-and-coming Chequer Board from Northland owner Dave Jessop, had placed him with successful results with Templeton trainer Jack Carmichael (no relation). The southern horseman, after driving Precocious to the second of her wins as a 7-year-old at Cambridge in January 1970, was invited to take her south to his stable to produce as an 8-year-old. By this time on the fringe of good class, Precocious still persisted with that costly tangle early in her races and her first 22 appearances as an 8-year-old resulted in four seconds, a third and two fourths.

Ironically, it was when Jack Carmichael brought her back to Auckland in May 1971, that Precocious broke through for her first win for his stable - bolting away with an impressive double in the St Andrews and Remuera Handicaps at the Auckland winter meeting. They were her last two starts for the 1970-71 season, and she carried on the good work in the season under review, winning three of her first seven starts before placing fourth in the Worthy Queen Handicap at Addington on NZ Cup day.

Then it was the big one, the $10,200 Dominion Trotting Handicap on Show Day at Addington, November 12 1971. Precocious, on the strength of her lastest good form, was sent out 1-2 in the order of betting. And she didn't let the army of fans she had now established down in any way. Jack Carmichael, bounced the 9-year-old mother out from the limit mark in good style, and with no sign of that earlier chink in her armour she settled in to trot solidly handy on the outer with a good cover. She was going so well that her trainer-driver let her forge through to the front crossing the top with two and a half furlongs to travel.

She was never in danger of defeat, coming in with two lengths and a half to spare from Merrin. Northerner Easton Light was a good third after covering much ground and Marius close up next, best of the others. The winning time of 4:18 2/5 was the seventh-fastest in the 70-year-old history of the race, the record for which is held at 4:15 4/5 by none other than Precocious' sister, Au Fait. But Precocious could obviously have gone a lot faster.

The win brought her earnings to near $25,000 and while she appeared to train off a shade after that she was back in the winners' circle in February, taking the Hagley Trotting Free-for-all at the Canterbury Park meeting at Addington. It was a good season for her, and, as it was only her fourth, there appeared to be no reason why, before she had another look at the matron's paddock, she should not add a lot more lustre to her race record.

Meanwhile Over Fence, who, though speedy and a fairly quick qualifier, proved erratic and was not persevered with as a racing proposition. Shortly after Precocious gained her most important win in the Dominion Handicap, Over Fence made her a grandmother by producing a foal to the imported Tartan Hanover.



Credit: Ron Bisman: DB Trotting Annual 1972


| | |
| --- | --- |
| | RACING HISTORY FEATURE RACE COMMENT |

1971 NZ DERBY STAKES

The voice crackled through the loudspeaker: "Would Mr R M Cameron please report to the Secretary's office." It was early last Wednesday evening, and Cameron, up from the southern township of Wyndham with his two-year-old, Great Twinkle, hurried the 200 paces to the top of the straight to honour the call. His mind was still was still at work on the cause of such a request when he entered the office where, standing to receive him were Highbank trainer Alister Kerslake and Templeton reinsman, Derek Jones.

A few minutes later Cameron left their company in high spirits, for not only had he been asked to handle Kerslake's promising three-year-old, Bachelor Star, that evening, but also in the New Zealand Derby the following Saturday. And after being thrilled with the colt's first night effort, Cameron rated the rich-ginger son of Bachelor Hanover perfectly to cuff stablemate Golden Guest a few yards short of the $7225 and then hit the wire with a fast-diminishing long neck advantage over the gamest of fillies in Van Glory.

Owned in the Christchurch suburb of Spreydon by Mr W F Woolley, who is now well into his eighties and still handling the distance admirably, Bachelor Star is out of the Captain Adios mare, Adio Star. Before leaving Bachelor Star, Adio Star had combined with Garrison Hanover to leave the top class but ill-fated pacer, Loyal Adios, and then to Goodland's cover left the consistent pacer, Colonel Adios, a 2:14 horse.

Bachelor Star's fourth dam was the imported mare, Estella Amos, who as well as establishing a winning family that is fast carving out a niche here and overseas, left the great Indianapolis, three times winner of the NZ Cup. Tondeleyo, a daughter of Estella Amos and Wrack, proved a great broodmare, being responsible for Margaret Hall and Loyal Guest, who between them left some top winners including Orbiter (1:58.8), Kinsella, Cappy Rowan, Late Frost, Orbette, Rowan Star, Snell, Rosslyn Rowan, True Guest, Grand March and Adio Star. As a racehorse, Tondeleyo had little in her favour, and after three chances, left the scene. Loyal Guest, by Grattan Loyal, and second dam of Bachelor Star, is also the granddam of Golden Guest, True Forbes, Worthy Guest, Special Dream, Overland and Goldstep, all of whom won races.

This was Bachelor Star's fifth win - he won two last season as a juvenile - and he won in a manner that pointed to staying potential; previously he had been recognised as a shorter-course specialist more than anything else. But after racing three back and one out, tracking Star Land three-wide passing the three furlong peg and then firing a dogged finishing thrust in the stretch, Bachelor Star looked the ideal racehorse in beating Van Glory by a long neck.

Van Glory tried hard to reach Bachelor Star, but this tough little filly gave him too much of a start from where she was lodged at the back of the field and had to be content with the $2225 cheque. A plain bay, Van Glory in a filly to be proud of; she certainly put her whole heart in the attempt of bettering the place filling roles in this same event of her parents, Van Dieman and Malabella. Golden Guest, who appeared to have the race won inside the furlong until she gave it away just short of the line, ran a mighty race, although she had a great deal more in her favour than the luckless Roydon Roux, who came fast and late to run fourth. Armbro Free, after a poor run early, battled on for fifth.

Bachelor Star is trained by Mr Woolley's son-in-law, Alister Kerslake, who gained experience in the stable of M B Edwards, before moving to a butcher shop in Methven. Then, feeling tired of the whole business one day about three years ago, he erected a sign in the window advising customers he wouldn't be back. Instead, he branched out into training, taking over Mr Woolley's string of trotters and soon experiencing success with a team of about 12 horses that was climaxed by the New Zealand Derby win of Bachelor Star. There is no chance of him donning the striped apron and wielding the carving knife again. As Cameron quipped after the race: "This meat you've got now would be a bit too good for the shop."

Credit: Mike Grainger writing in NZ trotting Calendar


| | |
| --- | --- |
| | RACING HISTORY FEATURE RACE COMMENT |
True Averil with Clarrie & Mrs Rhodes and driver Doody Townley

1971 NZ TROTTING CUP

Every horse, without exception, looked muscled up and bright for the $30,000 challenge and little time was lost once the 15 runners was in the starter's hands. Rain Again and James failed to begin cleanly, Manaroa was a shade slow but pacing just the same and the others all headed off without further ado.

Sam Tryax, driven by D G Jones, was out fast and took the field through the first quarter in 32.6 sec., from Western Ridge, Intrepid on the fence, Radiant Globe on the outside of Jacquinot Bay, Upper Class, Rauka Lad, Garcon Roux, Robalan, Rain Again, Valencia, True Averil in a gap, Bay Foyle, James and Manaroa.

Western Ridge headed Sam Tryax after half a mile reached in 64, but only briefly, for Upper Class then sought the lead, making the first six furlongs in 1:35.4 and the mile in 2:06.6. At that stage Western Ridge was under cover with Sam Tryax and Radiant Globe further along the fence, then Rauka Lad one out with Jacquinot Bay, Robalan, Garcon Roux, Rain Again and True Averil in close contact. Robalan moved fast racing into the six furlongs, tabbing the watches at 2:36.6 for the mile and a quarter, but soon had the company of Radiant Globe.

Radiant Globe looked to have the others in a spot of bother when he opened up a small gap on passing the half mile in 3:07.4. Even when Radiant Globe increased his lead passing the three furlong mark, it distinctly appeared as though his genial Blenheim owners, Bob White and Jack Hart, were in for the kill, because Townley, who at one stage had been four wide, had touched True Averil with his whip when asking him to race three wide past Robalan and Manaroa.

True Averil never looked likely to catch Radiant Globe outside the furlong; inside it was by no means cut and dried, and on the line, with both horses tuckered out after 4:11 of epic racing. True Averil had proved a better horse on the day by a neck. Intrepid, after being pushed back, ran an excellent third, being no more impressive than Bay Foyle, a solid finisher after being well off the pace. Manaroa battled on in dour style for his fifth without ever looking like winning, and then came Valencia, running on, Sam Tryax, Garcon Roux, Rauka Lad, James, Western Ridge, Upper Class, Rain Again and Jacquinot Bay.

Credit: Mike Grainger writing in NZ Trotting Calendar


| | |
| --- | --- |
| | RACING HISTORY FEATURE RACE COMMENT |

1971 NZ OAKS

Shalimar, a speedy Garrison Hanover filly whose racing this season has been plagued with the wrong sort of luck, received a reward for perseverance when she easily won the NZ Oaks from Gay Hal. This time much of the running was in her favour. The only time when she could have been in difficulty was with three furlongs to go when the leader, Tiawana, ran out under pressure and forced Shalimar three wide.

Trainer R W Stockdale then decided to press on and hope the filly was as good as her breeding may suggest. And although Gay Hal climbed out of the ruck and came fast from there, Shalimar was never really in bother of defeat over the concluding stages and won convincingly.

Shalimar is the first out of the speedy Morano mare, Fury River. She is raced by Mr A G Blank and the estate of Mr G J Francis, one of the principals here being Mr W J Francis, who as a birdcage steward of the New Brighton Trotting Club, was right in the thick of things.

Credit: mike Grainger writing in NZ Trotting Calendar