| | |
| --- | --- |
| | INTERNATIONAL HISTORY |

Americans Armstrong and Aldrin set foot on the Moon, on 21 July.

The jumbo jet makes its maiden flight.

7 Apr - The Internet's symbolic birth date


| | |
| --- | --- |
| | LOCAL HISTORY |

The Maui oil and gas field is discovered off the Taranaki coast.

First pair of one-way streets (Lichfield & St Asaph) in operation. With traffic signals eventually controlled by a computer, this was the beginning of NZ's first area traffic control scheme.

The Mona Vale estate in Fendalton is bought by the Council and opened to the public.

Credit: Ch-Ch City Libraries


| | |
| --- | --- |
| | RACING HISTORY |

22 March - Jackpot betting was introduced at Tauranga with a modest opening pool of $733. Over the next three years "jackpot fever" was to to bring sudden riches and bitter dissappointment without precedent in New Zealand racing. It culminated on 27 July 1972 with a mammoth pool of $831,564 on the final day at Te Awamutu. The biggest individual jackpot was Peter Moran's $482,687 at Matamata in July, 1970. This was an On-Course only promotion where the participants were required to select the winners of six races and as the funds were not invested on the totalisator, no deductions were made.


| | |
| --- | --- |
| | RACING HISTORY BUILDINGS & FACILITIES |

LIVE TELECASTS START

Live telecasts of races will be inaugurated at the NZ Metropolitan TC's day meeting on Saturday when the NZBC will film three races.

This purely experimental broadcast, which will be reviewed after the meeting will film races six, seven and eight (the National Handicap, the Canterbury Stakes and the Winter Handicap). It is expected that the film for each race will last approximately 15 minutes. As well as filming the actual race, other items of interest such as the work of a farrier, inside the bar, birdcage scenes and horses doing their preliminaries are likely to be taken.

Four future meetings at Addington and one at Auckland are programmed to be filmed live during the remainder of the season. However, a definite decision regarding this will depend on negotiations between the Trotting Conference and the NZBC which will take place after Saturday's meeting.

-o0o-

M W Grainger writing in NZ Trotting Calendar 27Aug69

Betting on-course rose by $14,684 to $220,810 at the NZ Metropolitan TC's meeting at Addington on Saturday, 23 August.

This rise on-course could primarily be attributed to the quest for the jackpot which undoubtedly attracted more on-course money. A side effect of this on-course money was reflected in the off-course betting which declined by $4043 down to $231,094. Generally the attandance seemed smaller than average, although the weather at least early in the day was miserable. It brightened considerably as the day wore on and by mid-afternoon the temperature was more than a shade warmer.

Another reason which may have limited the attendance was the initial telecast of three races which were filmed live early in the afternoon. From all accounts the filming seemed to be very popular and reports that have filtered back to me have left nothing but glowing praise for the innovation.

After a brief introduction by Ron Finlay, the cameras played on horses doing their preliminaries, birdcage scenes, a comprehensive film of the race called by Freeman Holmes and flashbacks, all of which seemed to be thoroughly appreciated by fireside viewers.

Obviously the live telecast of races at Addington last Saturday was not only a unique achievement in the Dominion but a successful one at that; to dispense with such a progression would be a retrograde step. It is to be hoped and furthermore expected that future talks between the NZBC and the Trotting Conference result in am amiable arrangement of terms suitable to both.

Credit: M W Grainger writing in NZ Trotting Calendar 20Aug69


| | |
| --- | --- |
| | RACING HISTORY PEOPLE |

Dr A S SANDSTON

Dr Authur Samuel Sandston, who died last week aged 89, was a well known dentist in Christchurch for many years. At the age of 75 he was the oldest practising dentist in the country.

A fine athlete in his youth, Dr Sandston maintained his interest in all kinds of sport but his specialty was trotting, and he raced a number of trotters from about 1910 onwards.

As a young man, he raced two outstanding horses, Don Caesar and Lord Roanchild, and in more recent times raced several in partnership with his son, Dr A C Sandston, including Thelma Globe, the champion racemare of her time. Thelma Globe left Thermal, Don Caesar, Belle Renarde and Financial.

Dr Sandston was a steward of the Canterbury Park Trotting Club, a member of all local trotting clubs and of the Canterbury Jockey Club. He was also a life member of the Canterbury Club.

Credit: NZ Trotting Calendar 28May69


| | |
| --- | --- |
| | RACING HISTORY PEOPLE |

E 'DOODY' TODD

One of NZ's most successful trainers, Mr E 'Doody' Todd died at Invercargill last week at the age of 75. One of the 'old school' of traiers, Mr Todd enjoyed a long association with trotting.

Mr Todd turned his attention to training horses after World War I, during which he worked in the Wyndham coal pits. He based his training operations at Wyndham, and later acquired land at Menzies Ferry, maintaining that a private property was vital in training.

Mr Todd was associated with many outstanding horses, the more notable ones including Blue Mist, Barrier Reef, Rocks Ahead, Nell Grattan, Tactics, Mandrake and Will Cary. Other winners to pass through Mr Todd's hands included Sungauge, Blue Mountain, Journey's End, Sure Harvest, Blue Blood, Lynwood, Carver Doone, Willowbank, All Sunshine, Scarlett O'Hara, Dan McGrew, Elation, Happy Night, Quick Trick, Morning Sun, Dame Rumour, Volo Bond and Icilma.

Blue Mist, a former world champion pacer over a mile and a half with her 3:03 1/4 against time on the Banbury track in Western Australia, set in April 1953, reached her greatest heights under the care of Addington trainer, C H Fairman, but much of the credit for developing her rested with Mr Todd. Barrier Reef(2:07 3/5) was one of the outstanding trotters of his time, and Nell Grattan and Tactics were both well performed members of the noted First Water family to which Rocks Ahead, who won 16 races and established one of it's best branches, belonged.

Mr Todd achieved the unique distinction of winning successive races at the Wyndham Totting Club's autumn meeting in April 1949, with Blue Mist. The races were the Edendale and the Final Handicaps. Mr Todd drove her in both wins. The Invercargill Trotting Club's meeting in 1935 was one which Mr Todd had good reason to look back on with fond memories. He achieved a feat probably unequalled in Southland trotting when he produced five successive winners. The winners were All Sunshine (Invercargill Trotting Club Handicap), Royal Drive(Crescent Handicap), Journey's End(Travis Memorial), Lynwood(Members' Handicap) and Rocks Ahead(Takitimu Handicap). Mr Todd drove four of those winners.

One of his sons, Ray, a former Southland Rugby representative, is farming at Wyndham. He has inherited his fathers' love of horses and has been a trainer for some years. Ray Todd was responsible for the education and early training of Le Chant and Stylish Major, both champion trotters.

Credit: NZ Trotting Calendar 19Nov69


| | |
| --- | --- |
| | RACING HISTORY PEOPLE |

MR JAMES WILSON

Mr James Wilson died last week. His death ended a long association with trotting in the Ashburton district.

Mr Wilson, a farmer raced and trained many horses, the best of whom was the trotter Dictation, who still holds the NZ record for a trotter of 3:10 4/5 for a mile and a half.

Others to have been raced by Mr Wilson included Alight, Highland Flame, Acclamation, Bon Chance, King Oscar, Quincey Thorpe, Ordinance, Calumella, Flame, Flaming Way, Flaming Glow, Flammula, Prestbury, Cleeve Hill and Gold Direct.

Credit: NZ Trotting Calendar 19Nov69


| | |
| --- | --- |
| | RACING HISTORY MESCELLANY |

FIRST TROTTING BROADCAST ON FRIDAY

A 15 minute programme on trotting will be broadcast from 3ZB starting this Friday at 8.45pm. This new innovation is sponsored by Addington Raceway, and will be conducted by Ron Finlay.

The programme which is entitled "Hoof Beats and Harness," will consist of interviews, reminders, flashbacks, news items and the history of clubs and trotting in Canterbury. The programme will cater mainly for clubs between Cheviot in the north and Kurow in the south. Clubs that fall in this domain are invited to submit news items and any other important topics that may be of interest on the programme.

This latest invention by Addington Raceway should prove to be of immense benefit for trainers, owners and officials involved in trotting. It will also provide the general public, trotting followers and avid radio listeners with the most up to date information including previews for meetings throughout the country on the Saturday.

Undoubtedly this scheme will not only be to the advantage of clubs within Canterbury, but it should stimulate interest of a more extensive scale in trotting throughout the Dominion.

Credit: M W Grainger writing in NZ Trotting Calendar 30Jul69


| | |
| --- | --- |
| | RACING HISTORY INTERDOMINIONS |

ADELAIDE - RICHMOND LASS
Richmond Lass, included in the final field following a special meeting of the Inter Dominion Council, carried off the major prize at Wayville, Adelaide, in 1965. Richmond Lass finished the heats on 5 points as did Golden Alley, Teeny Rena and Ascot King. With only three vacancies for the Final one horse had to miss out. Luckily, Richmond Lass was not that horse as the Grand Council decided to eliminate Teeny Rena. Bob Cameron finished third behind dual heat winner Twinkle Hanover.



| | |
| --- | --- |
| | RACING HISTORY HORSES |

USA TRIBUTE TO CARDIGAN BAY (From 'Hoof Beats')

A chartered cargo plane, which he had all to himself, deposited Cardigan Bay on American soil on the first day of spring, 1964. It was prophetic. For the next five years the great NZ pacing horse was destined to be the evergreen of harness racing, the hardy perennial which not even advancing old age could keep pruned for long. In the September of his years Cardigan Bay planted springtime in the hearts of millions of racing fans.

Cardigan Bay showed up in the United States with just $158,212 in his pockets. When he had cooled out for the last time beneath the blue and gold blanket of the Stanley Dancer Stable at Freehold Raceway on the late afternoon of September 14, 1968, he had accumulated earnings of $1,001,353 and so become the first millionaire horse in standardbred history.

A month later in a warm Saturday night bath of spotlights at Yonkers Raceway he was officially disarmed, relinquishing his racing shoes and equipment amidst pomp and ceremony and the Prime Minister of NZ. It had been, by formal proclamation, 'Cardigan Bay Day' in Yonkers, New York. The next evening Cardigan Bay walked down a long red carpet, which lead into the living rooms of 20-million viewers, on the Ed Sullivan television show. No immigrant had ever 'made it' any bigger any faster.

Cardigan Bay's path to greatness on the North American continent was not a charted one, nor was it paved with pushovers. In his very first race at Yonkers, he had to beat Royal Rick. He did. In his next few races he had to beat the likes of Overtrick, Irvin Paul, Henry T Adios, Country Don, Mighty Tide, Rusty Range and Cold Front. As often as not he did.

Fact is, the rest of the top free-for-allers had been waiting for him. Cardigan Bay had arrived in the United States in a cloud of press clippings. Everone knew the story. How Stanley Dancer had made the long trip to NZ expressly to see the big bay pacing machine, how he hadn't been able to swing the purchase until just 15 minutes before his plane was due to depart, and how it had still cost him $100,000 to buy an eight-year-old gelding.

Back in the United States the future enemy also quickly heard of the unbelievable training routine which Dancer witnessed the week he watched Cardigan Bay. Monday through Friday 15 to 20 miles of jogging each day, then five more jogging miles Saturday morning, a workout of one and a half miles in 3:30, then an afternoon race of a mile and a half, which he won with a 36-yard handicap. The newspapers also carried Dancer's reaction after Cardigan Bay's first workout at the farm in New Egypt, New York. "This is a million dollar horse," Dancer exclaimed as he hopped out of the cart. "I got him $900,000 cheap."

Yes, North America saw Cardigan Bay coming, but it couldn't stop him. Old Cardy, showing an elusive hip to a pursuing Father Time and straight arming one ailment after another, started in 87 races against the most choice of opposition, won 37 of them, finished second 16 times and third on an additional 19 occasions. Cardy left record performances behind him at big places like Yonkers Raceway and Hollywood Park, whipped Bret Hanover in the widely heralded 'Pace of the Century,' attracted tremendous crowds wherever he went, particularly in a series of thrilling 'challenge' and 'revenge' spectacles with Bret Hanover and Overtrick, and finally left the entire world of harness racing limp as he, at last, 'hobbled' past the historic $1-million in 2:01 for the mile.

Like a very good angel who has done so many nice things in a temporary world, Cardigan Bay's life must now go full circle, back to NZ. This clause was in the original contract which Stanley Dancer signed with Mrs Audrey Dean of Auckland. "Wherever he is, he will never really be far away," Stan Dancer said as he folded up Old Cardy's cooler for the last time and prepared to tuck it tenderly and carefully away. Stan was the spokeman for every racing devotee on this continent.

For every individual man who knew Cardigan Bay was coming, there are now 1000 who know he is leaving. Old Cardy could get to people real quick.

Credit: NZ Trotting Calendar 5Feb69


| | |
| --- | --- |
| | RACING HISTORY HORSES |

NIGEL CRAIG - BARGAIN BUY

NIGEL CRAIG(1969) $475 26 wins(ANZ) $91,000

Bevan Heron probably thought he had the inside running at the 1971 National Sales when he set his eye on the Protector-Pipetre colt who would become famous as Nigel Craig. Heron had been at some West Coast meetings and noticed the success of the stock of Protector, the star of Murchison breeding(admittedly not much of a contest) but hardly known anywhere else.

Bevan only had $500 to spend(the limit for his Dad Lance coming into a partnership) and breeder Dave Oxnam, the Murchison butcher, had a reserve of $1000. Fortunately the youngster never looked like making that rather ambitious sum. After being passed in, some smooth talking persuaded Dave $475 was a fair price.

It actually looked a very good price for a very long time but after being gelded as a late 3yo Nigel Craig suddenly shaped up as a racehorse and the rest, as they say, was history. He was the first trotter to break two minutes for the mile in New Zealand, going 1:58.8 at Addington in a time trial in February 1977. At that time he was being rated by knowing souls as having "serious claims to being our best trotter of all time." The Rowe Cup eluded him and undoubtedly Addington was his spiritual home, but even racing against class acts like Petite Evander, he was a standout performer.

The backstory was half the fun. Protector went to work at stud as a yearling and free ranged with Pipetre who came from a good family developed by Joe Hampton at Upper Riccarton, for no less than 12 successive seasons. Nigel Craig had to survive a fall into the flooded Murchison river in his younger days but it was all part of the fun. Protector was never commercial but he had a mighty strike rate. His stock had 455(total) starts. They won 42 in the days of the hit and miss 'come as you are' breeding business that was tops. And never forget, he had sired six of the eight winners as a Reefton meeting, a ratio even Bettor's Delight couldn't beat!

Credit: David McCarthy writing in Harnessed May 2016


| | |
| --- | --- |
| | RACING HISTORY HORSES |

HOLY HAL

Hopes of Holy Hal standing up to another preparation have been dashed, according to his Edendale part-owner, Mr D Keenan. "It looks a bit like curtains this time," he said recently. The Hal Tryax horse resumed light work about a month ago, but soreness recurred. Although he is back in light work again, little hope is held for him getting to the races.

Mr Keenan and the Mataura trainer, D Todd, have been fighting an uphill battle with Holy Hal since he went amiss on an Australian campaign two years ago. He underwent a concerted preparation for the Inter-Dominion Championship in Auckland last year, winning the Wellington Cup and running second to First Lee in the Grand Final. Holy Hal was quartered at Timaru after the championships, where he was given deep ray treatment in an attempt to liven the tissue surrounding the affected area of his off foreleg. He was then turned out to spell before a preparation designed for the NZ Cup last November.

However, he failed to stand up, and did a season at the stud. Included in his court of 33 mares were Colwyn Bay, dam of Cardigan Bay, and Cherry Blossom, who left Robin Dundee. "It looks as if a permanent stud career is the only thing for him now," Mr Keenan said. Ligament trouble in the off foreleg has, therefore, fininshed the career of one of NZ's most outstanding colt pacers of all time. It was remarkable that he was able to run second to First Lee in the 1968 Inter-Dominion Grand Final as at no stage in his training and racing in this campaign was he 100% sound.

Raced in partnership by Keenan and Mr J R Rodgers, of Christchurch, Holy Hal started 16 times in NZ for nine wins and three placings and $19,390 in stakes. He finished second in the first of two Australian starts as a three-year-old. Holy Hal was trained throughout his career by Todd, who drove him in this two-year-old successes. Later in his career, stable horseman K M Balloch handled him.

A son of Hal Tryax and the Sandydale mare, Sandra Kay, Holy Hal was unbeaten in five starts as a two-year-old, at which age he won the NZ Sapling Stakes, beating Cardinal King, who made a clean sweep of the last International series at Yonkers Raceway, New York. After a run at the Northern Southland non-totalisator meeting, he was untroubled to dispose of Killadar, Cardinal King, Fort Nelson, Miles Gentry and others in the NZ Derby, first up as a three-year-old.

Credit: 'Stopwatch' writing in NZ Trotting Calendar 21May69


| | |
| --- | --- |
| | RACING HISTORY FEATURE RACE COMMENT |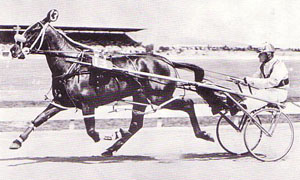 Spry promoted winner of the 69 Cup

1969 NZ TROTTING CUP

In a crawling, unexciting, melee-prone 1969 New Zealand Trotting Cup, in which a fall, a disqualification, and a general mess marred the entire race, Spry emerged the winner. But not until the programme had been set back a quarter of a hour after a prolonged inquiry had resulted in Stella Frost being axed from first place.

Stella Frost, trained by Doodie Townley at Tinwald, left for 'dead' the summer fashions - frilly mini skirts and bright summer hats - in the parade in the birdcage prior to the race. But she did not win the wreath of flowers after the event. Instead the honour was given to Spry, after Townley and Stella Frost were disqualified for interference to Garcon Roux. Garcon Roux fell with nearly two furlongs to run after being chopped off by Stella Frost. Others to suffer in the skirmish were Leading Light, Lords and Allakasam.

Generally the race fell a mile short of expectations. On paper before starting time, the pace appeared as if it would or could be a cracker from the start. It wasn't. In fact they lumbered over the first mile in 2:10.2, and then left the mile and a half behind on a fast pitch in 3:16.

All honours however rest with Spry. He was paraded in excellent order by his part-owner and trainer, Charlie Winter of Spencerville, and driven to perfection by Pat O'Reilly, who rated the horse second to none. Spry raced in the first half-dozen throughout the contest, and spurted clear of the rest running towards the two furlong peg when Diarac called it a day pretty suddenly. Spry had two lengths on the others starting the last furlong and a half, but although overtaken by Stella Frost, stuck to his guns well to fend off Holy Hal. Charlie Winter was as happy as a sand boy after the event. He remarked to me that it was a good go, and that was before the result of the inquiry was known. Winter will attempt to round off a Cup-Derby double when Berkleigh will parade for the classic.

Spry has now fashioned a record of 11 wins and 21 placings worth $28,335 for Mr & Mrs C A Winter, who bred him from Fifth Brigade. Spry was her second foal, her first being Bonny Strathair in Jack Carmichael's stable. Fifth Brigade, the dam of Spry, was bred in 1947 by Light Brigade out of Diamond Queen, a Gamble mare out of Phoebe's Chance, by Judge Hancock out of Mavis Bingen, by Huia Dillon. The breeder of Fifth Brigade was Mr W J Moir of Flaxton, a small settlement near Kaiapoi, and it was from this area that she was saved from a premature death by Winter and Mr E G Mitchell who had been asked by the local publican, Mr A G Faigan, to find his mare, Fifth Brigade, and shoot her. However, after it took them half a day to find her in her Kaiapoi hideout Messrs Winter and Mitchell decided to breed from her, taking alternate foals.

Stella Frost must be somewhat unlucky not to hold the race as she had a length on Spry at the finish and was doing her work 'on her ear.' Everything went well for the pair (Stella and Townley), and on the day they were too good. Holy Hal went a gallant race, finishing a length and a half behind Spry with Chequer Board finishing on from the back for third. His performance was commendable considering the ground he lost at the start, but the loitering allowed Jack Carmichael to join the tailgate without too much bother.

Spry gave Pat O'Reilly his first winning drive in the race, and Stella Frost paved the way for the second disqualification in the 64-year-old history of the event. Sherwood back in 1921 was relegated to second, and the race was given to the trotter, Reta Peter, also winner of the race in 1920.

After the starter waited for Chequer Board to behave, the field was despatched before over 18,000 pairs of eyes. No sooner had they hit out when Garcon Roux broke, Chequer Board doing likewise, while Holy Hal and Lords also made mistakes. Chief Command breezed out in front, being overtaken after half a mile by the towering Diarac. And so he led from there on, being stalked by Chief Command, Stella Frost, Spry, Co Pilot, Meadow Bank, Cuddle Doon, Garcon Roux, Leading Light and Wipe Out three wide. Coming into the last half mile no change could be noticed, although Wipe Out and Spry had moved forward and Stella Frost had been pushed back a place or two.

Then with nearly two to go, Stella Frost clipped Garcon Roux and down went the brave chestnut, interfering with Leading Light, Lords and Allakasam. At this stage, Pat O'Reilly had set sail for the post, and indeed to most observers, Spry had enough daylight on the rest to carry the day. But bearing down on him with over a furlong to run came the black cruiser, Stella Frost, with Doody Townley leaving the whole task up to the mare. And without so much as a flick of the stick, Stella Frost passed Spry, who in turn had a length to spare from Holy Hal, with Chequer Board coming home stoutly for third. Co Pilot finished fourth, Chief Command plugging into fifth, followed by Cuddle Doon, Meadow Bank, Wipe Out, Tobias and Diarac last. Stella Frost was disqualified, Garcon Roux fell, and pulled up were Lords, Leading Light and Allakasam.

Once Diarac reached the lead, the progress of the race slowed considerably. The first quarter was put away in 32.2, with the first half mile being put away in 64. Six furlongs took 1:39, with the first mile coming up in 2:10.2. The last mile they went through in 2:04.8, with Stella Frost bringing them home the last half mile in 59.8, which she can do at her leisure. Gross time was 4:15.

Credit: M W Grainger writing in NZ Trotting Calendar


| | |
| --- | --- |
| | RACING HISTORY FEATURE RACE COMMENT |

1969 NZ DERBY STAKES

If Bonnie Frost had not suffered from interference at the start (which must have cost her the best part of six lengths) she would have run Berkleigh to a closer margin than half a length in the NZ Derby. She ran a phenomenal race, and with an once of luck should have beaten Berkleigh. Young Cardigan ran third

Credit: M W Grainger writing in NZ Trotting Calendar


| | |
| --- | --- |
| | RACING HISTORY FEATURE RACE COMMENT |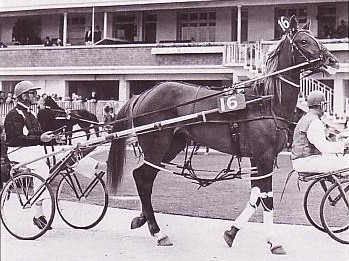 Bonnie Frost

1969 NZ OAKS

As generally expected, Bonnie Frost made an exhibition of the other three-year-olds in the New Zealand Oaks, winning in record time of 3:12.2. Without being extended, and without being touched by the cane, Bonnie Frost just toyed with the opposition easing up at the post seven lengths to the good of Bravine with another 'daylight' gap to Bonnie Frost's new stablemate, Valencia. This was Bonnie Frost's sixth win in New Zealand and her second for this season. She was handled perfectly by John Noble in the trail (two back) all the way, ranged alongside of Bravine at the furlong, and then left her as if stationary. Bonnie Frost's clash with brilliant northern filly Black Watch will be eagerly awaited.

Bonnie Frost, who took a two-year-old record of 2:02.4 when racing in Australia last season, has won the NZ Oaks and the North Island Oaks in her last two starts. Her latest successes are some consulation for G B Noble's stable as its top three-year-old of last season Garcon Roux, has had more than his share of bad luck in the classics, particularly in the NZ Sapling Stakes and the NZ Derby not to mention this year's NZ Cup.

Bonnie Frost is a filly by the Adios horse, Thurber Frost, and is the first foal from the useful race mare in Bonnie Widow (2:09), by U Scott from Widow Bingen, by Great Bingen (New Zealand champion of his time), from the American-bred mare Widow Volo, by Peter Volo. This family is probably more extensively represented in Australia today than it is in New Zealand. Clan McTavis and Noble Scott are two sons of Widow Bingen who have been most successful as sires in Australia where Noble Scott has sired more than 300 winners including the Inter-Dominion winner James Scott (1:59.2).

Credit: NZ Trotting Calendar