| | |
| --- | --- |
| | INTERNATIONAL HISTORY |

The first successful human heart transplant is performed in South Africa by Dr Christiaan Barnard.


| | |
| --- | --- |
| | LOCAL HISTORY |

February 10 - End of free school milk. The school milk scheme started in 1937 as part of the first Labour government's strategy to improve child health by providing half a pint of milk to each New Zealand child.

February 28- Canterbury cricket team defeats visiting Australians, the first time any NZ team has done so.

July 10 - Decimal Currency introduced.

October 9 - The "Six O'Clock Swill" was consigned to the pages of history with the introduction of 10pm closing of hotel bars. It was introduced as a temrary wartime measure in 1917.

Denny Hulme wins Formula 1 Drivers World Championship driving for the Brabham team.

George Manning retires as mayor after 34 years on the council.

Credit: Ch-Ch City Libraries


| | |
| --- | --- |
| | RACING HISTORY JUDGES |
R F McCoubrey (left) & R P Dalzeil

R F McCOUBREY

Mr R F McCoubrey has been appointed judge to the three Christchurch trotting clubs. He will start his new duties at the Canterbury Park TC's autumn meeting at Addington Raceway on Saturday.

Mr McCoubrey will take over from Mr H V Spicer, who has acted as judge since Mr M Mace resigned just before the NZ Cup meeting. Mr McCoubrey has been an assistant judge at both galloping and trotting meetings in Canterbury for some years.

Mr R P Dalzeil will be Mr McCoubrey's assistant at Addington.

Credit: NZ Trotting Calendar 8Feb67


| | |
| --- | --- |
| | RACING HISTORY PEOPLE |

O E HOOPER

Mr O E Hooper, who had a most successful association with trotting as a breeder, owner, trainer and driver extending over some 50 years, died suddenly in Christchurch last week. Mr Hooper retired from training and driving in October 1957, but since then he has raced an occasional horse, the most recent being Queensway.

Born near Waipiata, in Central Otago, Mr Hooper began to train as a mining engineer at Waikaia, but he went overseas early in the First World War. He was invalided home in 1915 and later secured a property between Rakaia and Methven. He sold the property about 1950 and then trained at Harewood.

Mr Hooper's first connection with trotting was as an amateur rider. He had his first win at a Canterbury Park meeting in June, 1917, riding Miss Chancellor. Mr Hooper enjoyed considerable success early in his career, one of his best winners at that time being Linden, who won a £1000 race at Auckland in 1923 and a number of other races.

Soon after this began an association with Mr D Spence, of Christcurch, which continued right up to Mr Hooper's retirement. Later Mr Hooper trained a number of top class horses for the late Mr W McDonald of Edendale. Satin King and King Pointer, whom Mr Hooper rated as one of the best horses he ever handled, were two horses to reach cup class for Mr McDonald. King Pointer won the 1930 NZ Free-For-All and the National Cup in 1930. Mr Hooper won many races with Willow Wave, including the 1937 Auckland Cup and the Dunedin Cup in 1937 and 1938.

As well as training a big team with great success, Mr Hooper was much in demand as a reinsman. He had a long association with Mr B Grice, who trained a big team at Tinwald. At a time when stakes were at a low level, Mr Hooper drove the winners of more than £20,000 for Mr Grice. They included the dual NZ Cup winner, Haughty, who took a mile record of 1:59 3/5, becoming the first mare outside the United States to achieve that feat. Knave of Diamonds, who won close to £20,000, Czardus, Radical, Privateer, Magellan, Mayenga, Starwise, On Approval (NZ Sapling Stakes), Lee Todd, Peter McKinney, Elvo's Pride, Consul, Titania, Demetrius (Oamaru Juvenile Stakes) and Peter Silk were among the many winners he trained.

Among the many winners he drove were Hardy Oak (All Aged Stakes), Master Roy (Canterbury Handicap), Milo Minto, Starwise, Panto, Kilrea (Greymouth Cup), King Pointer (National Cup), Little Nelson (Timaru Cup), Cruiser, Arietta and Fragment (Manawatu Cup).

Credit: NZ Trotting Calendar 31May67


| | |
| --- | --- |
| | RACING HISTORY PEOPLE |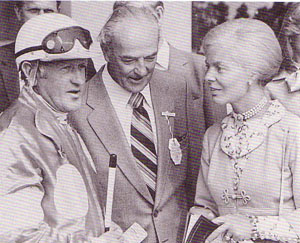 Dan McCormick chats with the Duchess of Kent and Peter Wolfenden

D A McCORMICK

Mr D A McCormick, who had a long association with the administration of the NZ Metropolitan TC, died last week in Christchurch.

Mr McCormick was elected a steward of the club in 1941 and to the committee a year later. He served for some years on the grounds committee and was one of the original directors of Addington Raceway Ltd. He acted as totalisator steward for the club from 1948.

Mr McCormick was a keen golfer and earlier he represented Canterbury at rugby. Mr McCormick was for some years the Christchurch representative of Hammond and McArthur, organisers of the Art Union, and more recently the Golden Kiwi lottery.

Credit: NZ Trotting Calendar 31May67


| | |
| --- | --- |
| | RACING HISTORY PEOPLE |

T W ALLSOPP

When Mr T W Allsopp, the senior racecourse inspector, retired on March 31 he had served the Racing and Trotting Conferences for 20 years to the day. Mr Allsopp took up his appointment with the NZ Racing Conference on April 1, 1947.

Mr Allsopp's distinguished record of service to the NZ public extends over 43 years. Twenty-three of those years were spent in the police force and if he had that time over again he would not settle for anything different.

Mr Allsopp was born in Stafford, England, in November, 1897. As a youth he assisted his father in the family butchery. At the outbreak of World War I he entered the Coldstream Guards, became a sergeant, and was awarded the Military Medal for his service in France. After leaving the army Mr Allsopp came to NZ. In 1924, four years after his arrival from England, he joined the police. His first posting was to Dunedin, in the uniform branch. Twelve months later he was transferred to the detective branch.

In 1928 Mr Allsopp was posted to Auckland, and it was there that he was assigned to a case which made history. It was the Lakey murder case in October, 1933 - better known to the public at the time as the 'Bayly Trial.' This double murder took many months of painstaking investigation, persevering research, precise observation and deduction, and magnificent team work by Mr Allsopp and Detective T Sneddon before William Bayly was arrested and brought to trial for his crime.

Several records in criminal history in NZ were established during the trial. Five weeks were occupied at the Auckland Supreme Court and the depositions filled 483 typewritten pages, representing about 200,000 words. Seventy-seven witnesses were called and 274 exhibits produced. The cost of the trial was estimated to be £4000. Mr Allsopp is said to hold the police record for the longest evidence ever given in a murder trial in NZ. His depositions consisted of 60 typewritten pages and he was in the witness box for more than two and a half days. As a result of their part in the investigations Detectives Allsopp and Sneddon were both awarded records of merit and increases in pay.

Mr Allsopp was transferred to Hawera in 1940 as detective in charge of the South Taranaki and Stratford districts. A little over a year after that transfer Mr Allsopp was again in the 'headline news' in another murder case. The victim was a Mr A H Parkinson, a 78-year-old store-keeper who was found murdered in his shop at Waitotara on August 5, 1941. The murderer, a Maori named Katene, was arrested at Patea less than two days after the murder. The accused was found guilty and sentenced to life imprisonment. Katene was the first murderer to be sentenced in NZ after the law was amended and capital punishment abolished. Once more Mr Allsopp received commendation from the trial judge for the manner in which the case had be investigated. A further tribute came from the counsel for the accused, who stated that the accused wished to refer to the scrupulous fairness and often kind treatment from Detective Allsopp and his associate Detective J Murray. Cousel said it was realised that both men had done their duty according to the highest traditions of the detective service.

When Mr A E S Ward, NZ's first chief racecourse inspector - he was appointed in 1921 - annonced in February, 1947, that he intended to retire, the Racing Conference did not have to look far for a successor with outstanding credentials.

Unlike many positions connected with racing - about which there is a certain aura of glamour - racecourse inspector is a 'behind the scenes' job. The public, in general, would hardly know such a person exists. The primary duty of racecourse inspectors is excluding or removing from racecourses during race meetings all undesirable persons. In a report to the conference, on behalf of the racecourse inspectors, of whom there were five, Mr Allsopp said that during last season 620 persons had been warned off the course and that since the 1960-1 season the total number of persons so dealt with had been 3171. It is also the duty of the inspectors to interview 'excluded' persons seeking relief. Their reports are submitted to the conference. Last season 113 persons were granted exemptions.

Other duties performed by the inspectors include inquiries and reports on applications for probationary engagements of lads beginning employment at racing establishments; applications for licences by trainers, jockeys and amateur riders; probationers and apprentices leaving their employment; misconduct at any time by licensed persons; alleged breaches of the rules of racing and trotting; investigations in connection with with suspicious ownership and changes of ownership of horses; investigations in connection with the drugging of race horses and trotting horses at meetings; any investigation requested by the Totalisator Agency Board; matters incidental to the various phases of racing and trotting administration; disputes at racing establishments; advice to licensed persons as to their well being in racing; annual visits to all racing establishments to prepare reports to the conference and district committees on all licenced persons, living conditions of employees and conditions of premises.

But an inspector's life is not all dreary routine. There is always the possibility of the unexpected happening. Mr Allsopp was involved in one such instance within a few months of his appointment. While on duty at the Nelson Trotting Club's meeting in April, 1947, he was informed that two pickpockets were working on the course. With the assistance of Senior Sergent H E Knight, who was in charge of the police party at the meeting, he apprehended both men. Mr Allsopp was a key witness at their subsequent trial in the Supreme Court at Nelson in July,1947. In his evidence he described the way the pickpockets had worked as they mingled with the crowd. The man actually picking the pockets of unsuspecting racegoers passed the stolen property to his confederate who stood close behind. The second man had an overcoat slung over one arm and his other arm down through a sleeve. This method ensured that the property, drawn back through the sleeve, never came into view. The pickpockets, both Australians, were found guilty and each sentenced to two years in prison.

For two years after his appointment as a racecourse inspector Mr Allsopp was stationed at Palmerston North. Since 1949, he has lived in Christchurch. Tom Allsopp will be missed by his colleagues in his own circle, by club officials, and by newspapermen who held him in the highest regard. He brought credit to his job, and to himself, wherever he went.

Credit: NZ Trotting Calendar 5Apr67


| | |
| --- | --- |
| | RACING HISTORY PEOPLE |

V W (VIC) ALBORN

Mr V W (Vic) Alborn, whose death has occurred, was one of the most successful and colourful trainers and drivers in the Dominion until the mid-1950s. Vic reached the retiring age of 65 for drivers in 1953. By 1956 he had completed half a century of life with the trotter and pacer.

Alborn was an infant when he arrived from Somerby, England. His father was a vehicle builder and set up business at Westport. Young Vic saw the old coaching days, and he was only about 16 when he had become a fine rider and driver. His first venture as an owner was his purchase for £10 of a pony trotter named Silver. He had a great run of wins with her. She was only a 'dot,' but often beat horses that could of carried her.

In a few more years Alborn had become an owner and trainer of some substance and he laid down a training track at Inangahua. One of his best known winners from there was Dixie Lee, with whom he won the Westport Cup of 1919. The same year he won the Greymouth Cup with Red Prince, and he had other winners round about that time in Fernleigh, Armature, Woodland Rose, Rose Alma, Invictus, Neverwell, Adroth and Repington. At one Westport fixture he won four races on end. With Ringleader and Fore he had a 'trot' at Nelson and Blenheim meetings and carried on to win good money with Fore at Forbury. A little later Alborn did well with three trotters named Merryjigs, Cannonball and Peter Eyre, and with the pacer Denver Wood he won five races in his first six starts.

Then arrived a bold pacer in Vesuvius, one of the greatest 'front-runners' we have ever seen in this country. Vesuvius was the Gold Bar of his day, a genuine racehorse who reached Cup class and was a close second in a heat of the premier event in 1931. He was a very popular horse with the public. Alborn, at the same period, had a great innings with a pacer named Linkman, a plain, heavy-boned pacer by the same sire as Vesuvius - Matchlight. He was a fine stayer, reaching NZ Cup class. Somerby kept the pot boiling for Alborn in the depression days. Somerby was a very capable sprinter, in saddle as well as harness.

A few years before this Alborn had transferred his team from the West Coast to Addington and he greatly strengthened the training ranks at headquarters. In track work Vic could always be relied upon for some fireworks and members of his team invariably put up some of the best trials. He had a successful training arrangement with the late Arthur Cox for some years. Honeymoon was a brilliant trotter trained and raced by Alborn in the 1930s. The best of Honeymoon was not seen on the racetracks. He was unsound. When he could be sent along at speed he was as fast as any trotter - and most pacers - then in training at Addington.

In 1938 Alborn paid £350 for Royal Romance. But she proved a rare investment, winning many races and finishing up in the top flight - her victory in the Dominion Handicap of 1939 put a seal on a splendid career. With Royal Suprise and Nationalist he won the Westport Cup, a race he took a sentimental pride in winning. Burt Scott, a decided moderate over a couple of seasons, and a positive 'ugly duckling' to look at, was purchased by Alborn at the close of his 4-year-old season for £300. Few greater bargains have been secured because Burt Scott, a novice in October of that season, 1941-2, won 10 races and was placed second in his other two starts in the very short space of six months, his final victory that season being in the Autumn Free-For-All at the NZ Metropolitan Easter meeting from a field of champions, including Nelson Eddy(second), Gold Bar(fourth), Bronze Eagle, Lightning Lady and Springfield Globe. Burt Scott carried on to win many more races for Alborn and was one of the biggest stake-winners of his time.

In the pacer Native Scott Alborn also worked a tremendous improvement. So poor had Native Scott's form been that Alborn bought him for £150. He promptly won three races at Greymouth and carried on for many important successes, including the Canterbury Park President's Handicap. Yet another 'derelict' Alborn set on the road to fame late in life was Bulldozer, who cost hin £100 as a 9-year-old and with whom he won thousands. Bulldozer won five races in less than two months and finished up beating some of the greatest stayers and sprinters then racing in the Dominion. He ended up in Cup Company.

Alborn's next star was Dundee Sandy, who had already won good races at Addington for his owner, Mr B Rushton, of Nightcaps, when Alborn was asked to train him. The combination was a lucrative one for five seasons and Dundee Sandy's final stakes total was £17,345. He was another Cup qualifier, his important wins including the NZ Metropolitan Ollivier Handicap and Auckland President's Handicap.

But perhaps his greatest chapter was with Maori Home. Veterans both at the time, Alborn and Maori Home proved an outstanding combination in the 1952-3 season, and for some seasons before that, too. Besides winning the Dunedin Cup a second time, they were successful in the Electric Stakes, the latter race bringing Maori Home's free-for-all to three in two successive seasons. Maori Home had won 17 races and £18,725 in stakes up till July, 1953, more than £10,000 of it after being operated on for a throat affliction. Following the second of these operations, Maori Home was turned out for a long spell - well over a year - and he did not return to racing until he was a 10-year-old. His recovery and eventual development of champion form was the more note-worthy for a horse at one time 'gone in the wind'.

A record Alborn made, and which may stand for all time, was that of winning three races in the one day with the one horse - Colonel Axworthy at the Reefton Trotting Club's meeting on December 11, 1937.

Alborn was the first owner to win a five-figure sum in stakes in the one season. He topped the list in 1945-6 with £10,015. He was also the leading owner in the 1941-2 season with £3,940. Alborn was his own farrier: he shod his own horses practically all the time he was a trainer.

-o0o-

NZ Trotting Calendar 7Dec49

GENEROUS ACTION OF CHRISTCHURCH TRAINER

Returning from the Reefton Trotting Club's Annual Meeting on Saturday, a party of four racegoers had the misfortune to have their car damaged at the summit of the Lewis Pass about 9.30pm. As not much traffic can be expected over the Pass at this hour, the party settled down, not too hopefully, to await assistance.

After about half an hour a welcome pair of headlights pierced the gloom of the mountainside and these proved to belong to V Alborn's car. Hopes of obtaining a lift however, were dashed when it was seen that Alborn's car had a full compliment of passengers. V Alborn, however, generously offered to tow the stranded vehicle with its four occupants back to Christchurch - a distance of about 112 miles over tortuous roads - and the offer was gratefully accepted.

One of the stranded party said that the unruffled and pleasant manner with which Alborn met all the irritating delays through breaks in the tow rope and so on, impressed upon him that here indeed, was 'courtesy of the road.' The driver of the damaged car added that he had the unique experience of 'getting the perfect trail' behind Alborn for 112 miles.



Credit: NZ Trotting Calendar 22Nov67


| | |
| --- | --- |
| | RACING HISTORY MESCELLANY |

ANZAC DAY GALA

The success of the Anzac Day Gala at Addington on Tuesday was outstanding and exceeded all early expectations.

A crowd of more than 12,000 people including 8100 paying adults converged on the Raceway which proved in no uncertain terms that people were kindly disposed towards the innovation.

The equalisator turnover was £10,000, and from the sale of racebooks, and an expected donation from the Christchurch Trotting Club, the gross profit from the day will be more than £2000. Of this 80% will go to the Returned Services' Association Sandilands Home for War Veterans and the remainder to other charities.

The gala day was conducted by the Canterbury Owners and Breeders Association in conjunction with the Loins Club of Christchurch and the Returned Services' Association, under the jurisdiction of the Christchurch Trotting Club.

Credit: NZ Trotting Calendar 26Apr67


| | |
| --- | --- |
| | RACING HISTORY INTERDOMINIONS |

PERTH - BINSHAW
Five year old Binshaw did his home state proud when he gained the easiest of wins seen in an Inter-Dominion Final when successful in Perth. The owners were not backward in helping the less fortunate. Immediately Binshaw's connections had collected the first prize of $21,000 plus a $1,000 gold cup, they announced a donation of $500 to the Tasmanian bush fire relief fund.



| | |
| --- | --- |
| | RACING HISTORY HORSES |

CAPTAIN SANDY WAS THE FIRST DOUBLE TITLE WINNER

If Markovina succeeds this year in becoming only the third horse to win two Inter-Dominion championships, it's doubtful whether his feat could cause many more ripples in the trotting world than Captain Sandy did in taking his second title back in 1953.

Captain Sandy was ten at the time...and had not won a race since taking the Inter-Dominion title nearly three years earlier. But win the '53 final he did, confirming yet again his earlier reputation as a dour old race horse.

By Mr John Johnston's Sandydale, Captain Sandy was out of a wayward mare Waikaura. She cost Mr Bob Ludemann, a neighbour of Johnston at Oamaru, only 13gns at auction in the 1930s. Ludemann had her for some years before sending her to Sandydale for the mating which produced a small bay colt, later to be named Captain Sandy. Being bad at almost everything else apparently, Waikaura was not a good mother either, and it was only after some time of constant coaxing and supervision that she would allow her new son to suckle.

Ludemann eventually sent the colt to trainer Jock Bain for his early education...but did not like the way the youngster was shaping. Bain, obviously a shrewd judge, saw some potential and offered to take Captian Sandy on a long-term lease. He wouldn't regret the move. He started Captain Sandy 16 times at four for a win (his first start) and five placings. The next season Captain Sandy earned more than £2000 for Bain, the result of three wins and seven placings. Bain must have realised about then that this was no mere plodder he had on his hands for he was soon to engage the services of one of the country's leading reinsmen, James Bryce Junior to do the driving.

In 1948 Captain Sandy and Bryce won nine races, including the Auckland Cup. The pair took the north's premier race the next year, too, this time from 36 yards behind. It was only natural that Bain should take the horse to Melbourne for the 1950 Inter-Dominion series. Unfortunately, Bryce was taking an enforced 'holiday' at the time so the winning combination was split. However, Freeman Holmes proved an able, if only temporary substitute for Bryce.

Captain Sandy finished fourth in the first heat in the fastest time and on the second night finished a creditable seventh after being almost put out during a bad skirmish during the running. In his third race, Captain Sandy took third and fastest time again but in doing so, Holmes was found guilty of breaking the rules. So he too was given a spell from driving. Sydney driver Jack Watts was more than pleased to take over the reins for the £10,000 Grand Final, a race which Captain Sandy had just scraped into through his fastest times. What happened next is history. Watts and Captain Sandy swooped on Morrie Holmes and Globe Direct near the end of the 14 furlong trip to get the decision by a head with another kiwi, Sprayman, third.

It's difficult to pinpoint the reasons but Captain Sandy never regained anything like that form on his return to NZ. Sure, he qualified for the final of the 1951 Inter-Dominion series in Christchurch with a fourth and a second in the heats, but off long marks, he could not win a race. Bain gave up his lease and Captain Sandy spent a time in the care of Wes Butt and George Benny for very little return. He was sent home again. Perhaps now, it was John Johnston who showed just how astute a judge of horseflesh he was. For it was Johnston, who in 1952, recommended to West Australian Dinny Nolan that he buy Captain Sandy to prepare for a tilt at the next year's big series in Perth. Nolan paid only 525 guineas and took Captain Sandy home.

The 10-year-old thrived and more than paid his way. In the Championship itself Captain Sandy scored a fourth and a second (driven by Freeman Holmes) in the early heats. Then with Bob Pollock in control (Holmes had to drive one of the favourites Blue Mist) Captain Sandy finished second again to the brilliant Ribands on the third night. That placing made Captain Sandy one of the top qualifiers for the Grand Final and Nolan was more than pleased to again give the drive to Pollock, one of the state's more promising young drivers.

Captain Sandy started from 24 yards behind but soon made up his handicap and wore down Ribands in the final few yards. History had been made in more ways than one. As well as being the first horse to win the title twice (Hondo Grattan would do so in 1973 and 74) Captain Sandy also became the greatest stake-winning standardbred in either NZ or Australia at the time with earnings of more than £40,000. And just to demonstrate his toughness he went a mile in 1:59 a couple of nights later followed by another mile of 1:57.5 against time on the half-mile track only days after that. The time, a world record, was not allowed though because the pacemaker had been allowed to head Captain Sandy during the trial.

The old chap made a final Inter-Dominion appearance at Adelaide. He scored points for fastest time (he finished ninth) in the first heat from 36 yards behind, and eventually made the final with six points. For the Grand Final, run on the giddy two and a half furlong Wayville Track, Captain Sandy was to be reunited with his old driver Jimmy Bryce, flown over from NZ just for the occasion. From 48 yards behind, he had virtually no show, but his performance to get up for fourth was one of the highlights of the series. With two rounds of the track left he was still at the back of the field, ten lengths from the leaders. He was forced to improve four and five wide and still had six in front of him at the turn. But fight he did, and Captain Sandy was once more in the money, winding up in fourth place only six yards from the winner, Tennessee Sky.

-o0o-

Captain Sandy, the only horse to win two Inter-Dominion Championships, died recently, according to a report in the Australian 'Trotguide.'

Captain Sandy was by the imported Sandydale from Waikaura. He was driven by J D Watts when he won the Final of the 1950 Inter-Dominion series on the Melbourne Showgrounds. Driven by L Pollock, he won his second Championship at Gloucester Park in 1953.

Driven by the late Claude Tupper, Captain Sandy started from 36 yards behind in the Easter Cup at Harold Park, Sydney, and defeated Avondale(scr) and Sparkling Max(12 yards). Captain Sandy also won the Victorian Easter Cup from 48 yards behind in 1953. In attempts against time in West Australia, Captain Sandy clocked 1:59 for a mile at Gloucester Park in March, 1953. He bettered this at Bunbury on March 4, 1953, when he covered the journey in 1:57½.

Captain Sandy was foaled in NZ in 1942. He was bred at Oamaru by Mr R Ludemann, who picked up Captain Sandy's dam, Waikaura, at auction for the hack price of £6 10s.

One of Captain Sandy's greatest performances in NZ was in the Flying Stakes at the Easter meeting at Addington when, in one of the most thrilling duels ever seen at headquarters, he ran the peerless Highland Fling to a head. The time was 2:35 3/5 for a mile and a quarter. In the 1949 NZ Cup Captain Sandy looked a shade unlucky when beaten into second place by a real surprise packet in Loyal Nurse, and he went on to win the Auckland Cup for the second year in a row.

Captain Sandy was raced and trained in NZ by J M Bain, Oamaru and driven in most of his races by J Bryce, Jnr.

Credit: NZ Trotting Calendar 18Oct67



Credit: Graham Ingram writing in NZ Trotting Calendar 6Mar79


| | |
| --- | --- |
| | RACING HISTORY HORSES |

MOST HAPPY FELLA (1967)

Meadow Skipper - Laughing Girl - Good Time

Male descendants include Smooth Fella - Oil Burner - Cam Fella - Western Ideal ( American Ideal, A Rocknroll Dance, Rocknroll Hanover, Bettor's Delight, Live Or Die, Presidential Ball, Badlands Hanover, Western Terror etc)

Though a Triple Crown winner for Stanley Dancer and the horse who "made" Meadow Skipper as a sire (he was from his first crop), Most Happy Fella was generally regarded as running against an inferior crop of horses. This was underlined when the Horse of the Year in his triumphant three-year-old season went to a Canadian-owned seven-year-old trotting mare, Fresh Yankee. He was not considered a match on the track for Albatross and at first, nor as a stallion. Within a decade it was a completely different story. Oddly, several of his best stud sons were also not necessarily dominant as three-year-old pacing colts, the usual path to instant success.

Most Happy Fella is the dominating Hal Dale line influence in modern racing. It is hard to find a leading stallion without his name in the pedigree somewhere. He was line-bred to Hal Dale and his dam was line bred to Hal Dale's sire, Abbedale but it made little difference. Even when one boom son, Oil Burner turned out a major disappointment at stud and ended his days in Australian obscurity, his line was saved by one big success.

That was No Nukes (from his first crop) a $21,000 yearling and no more than a very good racehorse. But sharp eyes rated him highly for his great action and strength and he was syndicated for US$55m. No Nukes delivered in spades, three times leading sire and establishing the Western Hanover dynasty as well as siring Jate Lobell and Die Laughing. Cam Fella's line through Bettor's Delight is the current industry leader here. Cam Fella was generally rated Most Happy Fella's greatest racing son, a one stage winning 28 in a row.

Most Happy Fella was smoother gaited than most of the Meadow Skipper - line horses, some of whom were not stylish in hopples. They wanted to be free-legged like Hal Dale but were too unreliable in the style. He made his name in the Cane Pace on a 1000m track. Besides his great colts he sired absolute superstars mares, Tarport Hap and Silk Stockings. His dominance of pacing lines is such now that mares from one descendant are regularly bred to sons of another descendant with great success. And the further success of his sons and daughters of Christian Cullen suggests his domination will continue for a long while yet.

TRIVIA FACT - Significantly, Most Happy Fella's remarkable achievements came in a shorter time frame than most of his rivals. He died at jus 16 at the peak of his stud career.


Credit: Dave McCarthy writing in Harnessed Apr 2017


| | |
| --- | --- |
| | RACING HISTORY HORSES |

MOON BOY

Moon Boy, one of the greatest trotters to race in NZ in the last 10 years, collapsed and died this week. Moon Boy had been used to pull a light cart at Paparoa Prison for the last few years and he was being harness for work when he collapsed.

Moon Boy started 72 times for Mr & Mrs H Morris and gained 14 wins and 26 placings worth $19,045. He still holds the NZ record of 3:23 4/5 for 13 furlongs, and for a time shared the record of 4:15 4/5 for two miles. He also recorded 3:12 for 12 furlongs at Ashburton.

Moon Boy, a 13-year-old gelding by Court Martial from Bardia, was trained for all his racing by T L Bennett at Weedons.



Credit: NZ Trotting Calendar 18Oct67


| | |
| --- | --- |
| | RACING HISTORY FEATURE RACE COMMENT |

1967 NZ DERBY STAKES

Good Chase proved a class above his rivals in the NZ Derby Stakes. He was well driven by the young reinsman D G Watson, who trailed Royal Walk (one out from the rails) till the home turn. Good Chase was taken fairly wide in the straight and mastered Cardinal Garrison after a short sharp struggle and went on to win going away by a length and a half from Cardinal Garrison, who was the only one to offer any serious opposition to Good Chase.

The race was one of the best contests for years and vindicated the Club's decision to restrict the field to 12. Good Chase paced the mile and a half in the smart time of 3:12.6. He looks headed for the heights.

Good Chase is a sturdy black colt of commanding proportions and looks every inch of what he is - a Derby horse. His sire, Light Brigade (imp) has now sired four New Zealand Derby winners - Free Fight (1946), Fallacy (1951), Bon Ton (1956) and Good Chase. Torlesse, the dam of Good Chase, is a member of a family bred from by the Watson family, of Annat, Canterbury, for many years. The foundation mare of the family was Mary Wood, by Wildwood Junior. Mary Wood produced Peggywood to Parkwood, and Peggywood mated with Gamble, produced Rosewood, who became the foundation of the Watson family's now famed Rosewood Stud. Torlesse, the dam of Good Chase, is by U Scott (imp) from Rosewood, the dam of eight winners herself, and ancestress of Avante, Red Chase, Rosy Morn, Twig, Garry Brigade, Suntrap, Light Patrol, Spring Chat, Zadios, Easydale, Adarato, Pampean, Rosedale, Wee Doll, Forlesse and others.

Rosewood was a full-sister to Lady Ngaio, a particularly good pacer bred and raced by Mr O J Watson who, with his sons, J O Watson and D G Watson, runs the Rosewood Stud. Lady Ngaio was a fine stayer and took a two-mile record of 4:17.4 about 20 years ago. Unfortunately, she died before she could be bred from. Gamble, sire of Lady Ngaio and Rosewood was a pacer of the highest class. He won the NZ Derby in 1934 and finished second to Lucky Jack in the NZ Cup of 1937. Gamble was a strikingly good-looking chestnut horse by Jack Potts (imp) from Princess Ann (imp) and was of all-American blood.

Credit: 'Irvington' writing in NZ Trotting Calendar


| | |
| --- | --- |
| | RACING HISTORY FEATURE RACE COMMENT |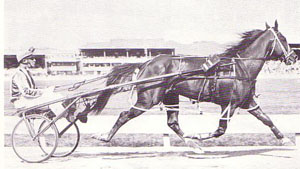 Great Adios & R P Norton

1967 NZ TROTTING CUP

The north's pacing champion Great Adios humbled is 15 opponents in Tuesday's NZ Trotting Cup. The best of the steeds from the south, Happy Ending among them, can at least be grateful that the three minor prizes will remain in the South Island. Great Adios indeed made them all look ordinary on Tuesday.

And this is no sudden turn of events, or swing of the pendulum, because Great Adios is the third North Island horse in the last five years to win the Dominion's premier light-harness event. In 1963 Cardigan Bay beat Robin Dundee, Master Alan and Oreti (all minor place-fillers were from South Island stables), and in 1965 Garry Dillon led home the three southerners Robin Dundee, Jacobite and Gay Robin. Before Cardigan Bay's turn, there had not been a North Island-trained winner for 21 years - that was Josedale Grattan in 1941.

So the inference to be drawn is that the balance of pacing power has shifted north with a vengeance. How else can we explain away the picking of our rich Canterbury plum by a ratio of three to two in the past five years? And the office boy has just put his head in the door to remind me that the North Island made a clean sweep at Riccarton last Saturday - all eight events on NZ Cup day were won by North Island stables.

Great Adios sailed serenely into the lead with a little more than three furlongs to go and thereafter nothing could offer him any sort of competition. He continued to draw away, and although he must have given his supporters a heart attack when he veered away from the rails on turning for home and made his run over the final furlong close to the outside fence, a measure of the decisiveness of his victory was that he still had five lengths to spare at the winning post.

Looking lighter in condition than possibly anything else in the field, Great Adios must still have been superbly fit; a light fleshed type with a ton of guts - he must be, to tramp the two miles in 4:10.4, his last mile in 2:03.4 and his last half mile in 60.4. It was the third fastest NZ Cup in history. Johnny Globe's world record of 4:07.6 in 1954, and False Step's 4:09 in 1960, are the only faster performances. The first half-mile on Tuesday took 64.2, six furlongs 1:36.8, mile 2:07, mile and a half 3:10 and mile and three quarters 3:40.2. So there was no dawdling; it was a terrific battle from flag-fall, and Lordship was asked to go 4:05.2 to win, which would have been 2.4 secs. inside the world record of his sire Johnny Globe. Little wonder Lordship was never a threat.

Great Adios is a light chestnut stallion by Captain Adios (imp), a top-class juvenile pacer in the United States, winner of the Fox Stake for two-year-olds, and who was imported to the Dominion by the late Sir John McKenzie for his Roydon Lodge at great expense. Captain Adios's stud career, unfortunately, was all too brief - he died as a result of an accident in March, 1960, after less than four years (only three years at stud) in the Dominion. His percentage of winners to foals dropped is exceptionally high. Great Adios is out of Gail Bingen, by Gaillard, a son of Rey de Oro (imp) and Bonny Logan, by Logan Pointer (imp) from Bonilene (imp), and Bonilene is ancestress of two previous NZ Cup winners, Adorian and Lookaway, on the distaff side. Gail Bingen's dam, Agnes Bingen was by Nelson Bingen (imp) sire of the dual NZ Cup winner Peter Bingen, among numerous other great horses of both gaits. Agnes Bingen's dam, Agnes Bell, was by a top-class pacer in Gold Bell, sire of the dual Auckland Cup winner Gold Jacket. Great Adios's half-brother, Great Reveller, was a good winner in New Zealand and later did well in America. Other winners from the latest Cup winner's dam include Village Lord, Milldoria and Chief Reveller.

The betting was even. The favourite both ways, Happy Ending, carried $6597 for a win and $9706 for a place. Great Adios carried $6200 and $7003, and Lordship $5939 and $8065. Great Adios, who is owned by Mrs P M Norton, an Albany hotel proprietor, and trained and driven by her son, R P Norton, is now eight years old and the winner of $45,820 in stakes and trophies. The Cup was his 18th win, and he has also gained 21 minor placings.

Except that Lordship put in a couple of skips and Chequer Board broke, the start was a good one. Happy Ending was a little slow, but soon recovered his ground. So keen were the drivers that the lead changed constantly - Bobbinette, first out, had not reigned for more than half a mile before Garry Dillon and Cuddle Doon were upon her. With nine furlongs to go these three were followed by Happy Ending, Doctor Barry, Rocky Star, Spry, Tobias, Allakasam, Great Adios, Viking Water, Co Pilot, Waitaki Hanover and Disband, while Lordship had run into a pocket. In full cry racing past the winning post with a round to go, Tobias reached the lead with five furlongs left, and was joined at the half-mile by Great Adios. Tobias soon wilted. In fact, they were all embarrassed for the want of speed once Great Adios's driver put his foot down; he was the only one who could hold top gear for the distance. Five lengths back, Happy Ending shaded Spry by half a neck. A length and a half further back came Allakasam, whose 4:12 is the second-fastest time for a mare the world over - the only better record is Thelma Globe's 4:11. Tobias was six lengths back fifth, followed in by Co Pilot, Cuddle Doon, Lordship, Garry Dillon, Rocky Star, Bobbinette, Waitaki Hanover, Chequer Board and Viking Water, with Doctor Barry last.

The on-course total on the Cup this year, $48,358, was down $4432 on last year's figures; the off-course total $70,292, was $5625 less than last year.

The day was gloriously fine, and the official attendance was approximately 18,500, compared with 18,250 last year. The on-course total for the day, $454,059, compares with $497,864 last year. Off-course betting reached $383,247 for the day, against $477,412 last year. The on-course figures were down $43,805 and the off-course total down $94,165. However, to this year's figures has to be added half of the total of $122,416 invested on the two NZ Cups double. This amount, $61,208 brings the grand total for NZ Cup day to $898,514, which is a decrease of $76,762, quite a good result considering the economic state of the Dominion. The sum harvest of all this is yet another feather in the cap of the Metropolitan's wide-awake president, Mr R W Saunders, who was the prime instigator of the legislation which lead to the "twelfth-hour" passage of doubles betting with the TAB on the two NZ Cups.

Credit: 'Ribbonwood' writing in NZ Trotting Calendar


| | |
| --- | --- |
| | RACING HISTORY FEATURE RACE COMMENT |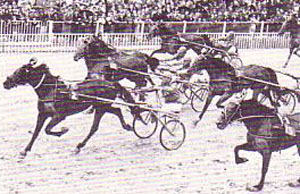 French Pass Wins from Scotleigh(rails) and Mountain Pride

1967 DOMINION TROTTING HANDICAP

French Pass gave North Island stables another major success when he won the Dominion Handicap in clear cut style. French Pass was always well placed in the race, which was run on a slushy track. Conditions were so bad that many of the reinsmen were driving "blind" for a good part of the race. French Pass was making his first appearance in a race since he took part in the Banks Peninsula Trotting Cup several weeks ago.

French Pass took over the running after two furlongs but later gave way to Mighty Chief. French Pass raced past Mighty Chief at the straight entrance and was not seriously tested in the run home. The outsider of the field, Scotleigh trotted a grand race for second from 42 yards. He was still at the rear of the field nearing the half mile. Mountain Pride did well to finish third. He had a buckled sulky wheel for the last two furlongs. Mountain Pride finished just ahead of Stylish Major, who was followed by bracketed mate, Le Chant, who met trouble near the three furlongs. She finished fast for fifth. Mighty Chief, who had every chance, was next, followed by Russell, Logan Count and Highland Flight. Break Through, Tronso and Russell broke at the start and Scotleigh drifted.

French Pass gave C S Hunter his second driving success in the race, he having driven Min Scott to win in 1963. Min Scott was trained by C S Hunter's father, J S Hunter, but C S Hunter trains French Pass. A six-year-old bay gelding by Stormyway, French Pass is out of the Gallant Knight mare, Officious, who also produced Highland Host, Captain Bob and Officious Piper. French Pass was bred by the well known stud-master and breeder, Mr J M Connolly, Geraldine.

Credit: 'Irvington' writing in NZ Trotting Calendar


| | |
| --- | --- |
| | RACING HISTORY FEATURE RACE COMMENT |

1967 NZ OAKS

The North Island filly Terraton fully justified the high opinion held of her in the north when she led from end to end in the NZ Oaks.

She set a sound pace and although her winning margin was only half a length, her success was clear cut and she was doing better than anything else at the finish. She received a good hand from the crowd on her return to the birdcage.

By Nephew Hal, Terraton is out of Magli, a daughter of Loreto and Mary Hall, who was got by Dillon Hall - St Helena, by Wrack from the imported mare, Bonilene. Magli is a half-sister to Denbry, Marylight, Mary Dillon, Sugar Pot, Smokey Maid, Gloria Mary and Joyeuse, so there is no shortage of winning blood in Terraton's pedigree.

Her time of 3:14.6 equals that of Lady Nugent (another North Island filly), who won in 1964. The record for the race is held by Glint, who paced the mile and a half in 1955 in 3:13.4.

Terraton was given little rest out in front and she had to be good to win.

Credit: 'Irvington' writing in NZ Trotting Calendar


| | |
| --- | --- |
| | RACING HISTORY FEATURE RACE COMMENT |

1967 NZ FREE-FOR-ALL

On the first wet show day in Christchurch for 21 years, a crowd of 14,337 braved the elements to watch the racing at Addington Raceway. Rain set in early in the day and as was only to be expected, the track became very sloppy as the day progressed.

On-course betting fell but not as heavily as seemed likely. The total was $333,126 compared with $407,111 last year. Off-course betting held up well in view of the scratching of Great Adios in the NZ Free-For-All. The Off-course total was $307,812.50 compared with $312,356 last year.

Lordship justified the heavy support to come for him when he won the NZ Free-For-All for the third time. He also proved himself one of the best "mudlarks" ever produced in the Dominion. The race was robbed of a great deal of interest through the scratching of Great Adios, who is reputed to be no good in such track conditions.

Lordship made a good beginning and was soon trailing Waitaki Hanover. With six furlongs to go, Happy Ending moved up on the outside of Lordship but he began to drop out two furlongs later. After passing the three furlongs, driver D G Nyhan moved Lordship out from the rails and he soon took the measure of Waitaki Hanover. Lordship made for home in his best style and it was late in the piece when Allakasam threw out her challenge. She was closing on Lordship, but by that time the race was virtually over and Lordship held Allakasam off by three-quarters of a length. Two lengths and a half further back came Indecision, who finished well over the last two furlongs, and then came Cuddle Doon and Disband, who were both tailed off in the early stages. Spry was the best of the rest who were a well beaten lot.

Friday's success took Lordship's stake winnings to $108,205, the result of 41 wins and 45 placings. Lordship received a great hand from the crowd, many of whom lined the birdcage fence to see him return. There is no doubting the black stallion's popularity with racegoers.

Credit: 'Irvington' writing in NZ Trotting Calendar