| | |
| --- | --- |
| | INTERNATIONAL HISTORY |

The Indo-Pakistan War begins when a Pakistani force crossed into Indian territory in an attempt to annex disputed Kashmir as a province of Pakistan.


| | |
| --- | --- |
| | LOCAL HISTORY |

April 1 - Tasman Empire Airways Limited (TEAL), New Zealand's international air operator, was renamed Air New Zealand Limited.

October - New Brighton Pier demolished.

November 9 - Opening of the city's first parking building on the corner of Manchester & Gloucester Streets.

Prime Minister Holyoake announces support fot the United States in Vietnam, and a small combat force is sent.

Canterbury cricketers defeat Australia.

The BNZ constructs a new building in the sguare.

The construction of the northern motorway is commenced.

Credit: Ch-Ch City Libraries


| | |
| --- | --- |
| | RACING HISTORY |

1965 saw the death of the inspirational British Prime Minister and Wartime leader Sir Winston Churchill. The space race between the USSR and the USA was in full swing, the Springboks narrowly beat the All Blacks at Lancaster Park, Fieldmaster won the NZ Cup at Riccarton and the North Islander Garry Dillon, driven by Peter Wolfenden, easily won the Trotting Cup.

Garry Dillon was also an outsider being 12/10 in the 16 horse field and paid £28/7/- ($56.70) for the win. Among the more favoured runners were Robin Dundee, Jacobite, Orbiter, Lordship & Tactile. Robin Dundee driven by Maurice Holmes improved on her second place in the Cup to win the Free-For-All, while Orbiter won the Allan Matson Stakes Stakes and the Ollivier Handicap respectively on the final two nights

Garry Dillon was raced on lease by E B S Grey and J H Shaw from his Southland breeder Mrs E M Kirk. In a post race interview his trainer, J P Baker of Morrinsville, related how the flight that Garry Dillon was booked to come down on was cancelled and the horse had to endure a trying 600 mile (960k) float trip which saw him arrive the Friday before the Cup.


Credit: Colin Steele


| | |
| --- | --- |
| | RACING HISTORY JUDGES |

F A JARRETT

Mr F A Jarrett, who died in Christchurch recently, was a well known racing and trotting official. Before World War II he was a radio commentator for racing and trotting, and one of his earliest broadcasts was Harold Logan's first NZ Cup in 1931. He later took up judging.

On his return from the war, in which he rose to the rank of Major and was awarded the MBE, Mr Jarrett resumed as a judge to a number of racing and trotting clubs, and later became a racing handicapper.

Mr Jarrett played senior cricket for West Christchurch. Until a short time ago he was a keen golfer and a member of the Christchurch Golf Club.

Credit: NZ Trotting Calendar 13Oct65


| | |
| --- | --- |
| | RACING HISTORY STARTERS & STARTING |

MOBILE START CONTROVERSY

It will be heartening news to advocates of the mobile barrier that the NZ Metropolitan TC has included two such events on it's Easter programme - and top class features to boot.

The primary objective of practical supporters of the mobile barrier in maintaining their enthusiasm for the moving start is a fear that the standing start (ie the standing start alone), is bogging down our progress and seperating us permanently from world speed standards. And they will certainly take heart from the Metropolitan's return to the mobile barrier, especially since our leading club has done so in the face of relentless and, at times, virulent criticism from some quarters.

The Metropolitan's two mobile races will be the Flying Mile on the first day - Saturday, April 3, and the Rothschild Stakes on the second day - Saturday, April 10. The Flying Mile, worth £1500, is for horses assessed at 2.11 or faster (free-for-all conditions), and an additional stake will be paid to the winning horse at the rate of £100 for every one-fifth of a second it records under 1.59, with a maximum of £500. The Rothschild Stakes, also a £1500 race, to be run over one mile and a quarter, is for 2.11 and faster horses under free-for-all conditions; and here an additional stake of £500 will be paid to the winning horse if it breaks the world record of 2.29 3-5 for the mile and a quarter at present held by the American pacer Irvin Paul.

No one expects that all races should be started from the mobile barrier - in the meantime, anyway! But let the critics be fair enough to concede that programmes will be none the poorer for a little variety; that there is no real evidence to support much of the criticism levelled at the Canterbury Park starting gate from time to time. Canterbury Park has persevered with the gate and has no intention of curtailing its use - neither it should have after the perfect start to its 2-year-old race last week. Never in this writer's experience has there been a better despatch to a juvenile race in this country than that effected by the mobile barrier in the January Stakes. It was a smooth bussinesslike start, and not one of the youngsters looked the slightest bit perturbed or looked like doing anything wrong.

Danger lurks in any kind of race, but the proposition that the mobile barrier is dangerous, with the underlying implication that the standing start is not so dangerous, is untenable, in fact preposterous. In passing, it is recalled that C C Devine, on his return from America, said he saw hundreds of races from the mobile barrier there, and not one accident. There has been no accident behind it here, either.

And what is the yardstick of public interest? If it is investments on the totalisator, the mobile barrier is more than holding it's own. For years the best betting races at Canterbury Park meetings have been mobile barrier events, and the Metropolitan Trotting Club had a similar experience when it last used the gate in 1962. The biggest on-course betting at the Metropolitan National Meeting, 1962 (both days), was on races from the mobile barrier. On the first day the £11,982 invested on the Lightning Free-for-all, and the £9815 on the Templeton Stakes, were the largest betting pools; and on the second day the £11,639 wagered on the Farewell Stakes was by far the biggest total. A reminder - all were mobile races.

The 1962 NZ Cup Meeting, with only the odd race or two from the starting gate: one of these, the NZ Free-For-All, drew the largest on and off-course betting on the second day. The investments on the NZ Trotting Free-For-All, on the third day, were not the highest, but they were relatively good; and in the only mobile race on the fourth day, the Smithson Free-for-all, a surprisingly good total was invested on a small field with an odds-on favourite in it - Cardigan Bay (Lordship was scratched).

The Metropolitan Trotting Club's return to the gate has at least arrested the imminent danger that the mobile barrier would founder on the opinions of much the same brand of grizzlers who could find nothing favourable to say about Addington's new hub rail; the mobile barrier has run the gauntlet of similar prejudice and half-baked "facts" - all overdue for a thorough examination.

Mr Keith Davidson, president of the NZ Metropolitan Trotting Club, went on record in 1962 as saying: "The Canterbury Park starting gate, built under the direction of the president of the Canterbury Park Trotting Club (Mr L S Smart) was an unqualified success when first used in May. There has been criticism of the gate, but surely from the point of view of the confidence of the betting public, that all starters have an equal opportunity of getting away, it cannot but help trotting in general." It is suspected that Mr Davidson had a battle on his hands persuading the programme committee to give the gate another trial. Some of us now feel confident our leading club is again headed in the right direction.

Credit: 'Ribbonwood' writing in NZ Trotting Calendar 3Feb65


| | |
| --- | --- |
| | RACING HISTORY PEOPLE |

B J McKENNA

Mr Bernard John McKenna, JP, a well-known St John Ambulance administrator and a trotting club enthusiast, died last week. He was 86.

Mr McKenna was a member of the New Brighton Trotting Club for more than 50 years. He served two terms as it's president and was elected a life member a few years ago.

Credit: NZ Trotting Calendar 7Apr65


| | |
| --- | --- |
| | RACING HISTORY PEOPLE |

MR B A JARDEN

Mr Benjamin Alexander Jarden a former outstanding trotting driver and rider, and the father of the former All Black, R A Jarden, has died at Lower Hutt. He was 71.

He trained and drove the 1918 NZ Cup winner, Author Dillon, whose earlier successes included the NZ Derby, and who won the Metropolitan Free-For-All three years in succession, 1918, 1919 & 1920. Author Dillon was the glamour horse of his era, a lion-hearted performer and record-breaker.

Marie Tempest, Haunui and Waitaki Girl were among capable performers he drove to success in the twenties.

Credit: NZ Trotting Calendar 27Oct65


| | |
| --- | --- |
| | RACING HISTORY PEOPLE |

C KING

The death occurred last week of Mr C King, one of the Dominion's leading reinsmen several years ago.

King was attached to C S Donald's establishment, first at Addington and later at Belfast. King was with Donald for a good number of years and rode and drove many winners from the stable. He won the Ashburton Cup and Easter Handicap with Lindbergh, and also won the Ashburton Cup in 1945 with Happy Man, a horse he was also successful with in the NZ Free-For-All. King also drove Sprayman to win the NZ Sapling Stakes, and Twenty Grand to win the Westport Cup.

After several years with Donald, King transferred to Santa Rosa Farm at Halswell, where he was also successful as a reinsman.

Credit: NZ Trotting Calendar 26May65


| | |
| --- | --- |
| | RACING HISTORY PEOPLE |

S A EDWARDS

Last week light harness racing lost one of it's most pleasing and engaging personalities with the death of S (Stan) A Edwards at the comparatively early age of 56 years.

Stan, "Young Stan" as he was known throughout his career, was something more than merely an exceptionally good horseman and trainer. He was a philosopher ever ready to give a helping hand, whether by deed or word, whenever or wherever his advice or assistance was required. What is more, he had a keen and delightful sense of quiet, kindly humour, winning himself a wide circle of friends in all walks of life.

It was natural that Stan would make trotting his life. A son of "Manny", an outstanding horseman at the turn of the century, and a brother to the late Dil, recognised as an expert trainer and driver, Stan came on the light harness scene at an early age. As a mere boy he quickly won recognition as a saddle horseman at a period when this type of racing was a regular feature of all meetings and the standard of horsemanship was of the highest. Stan was regarded as having few equals and no superiors in this field, also as a trainer.

He was associated with numerous horses of high quality. He and Ripcord, one of the greatest trotters ever seen, made a perfect combination, and he also handled Great Venture, a Dominion Handicap winner, in faultless style. He developed and drove Silver de Oro and Sir Julian to take major honours in the NZ Sapling Stakes, and he drove War Buoy in a number of his races. War Buoy, of course, still holds the record number of successive wins, scoring in each of his first 10 starts. That was a remarkable achievement because he started out as a 2-year-old by winning a handicap event against pacers of all ages, shapes and sizes and only bad luck brought about his first defeat in his eleventh appearance.

Other top-class horses Stan was associated with included Star Rosa (Champion Stakes), Hilda Scott (Greymouth Cup), Thunder (National Cup), Gamble, Blair Athol, Nell Grattan, Our Kentucky, Lady Belmer (Easter Cup), Black Douglas and Maori Queen, to mention a few.

Stan was keenly interested in the Horsemen's Association of which he was president for some years, and his passing left a big gap in all departments of light harness racing.

Credit: NZ Trotting Calendar 26May65


| | |
| --- | --- |
| | RACING HISTORY PEOPLE |

J MALLOCH

Mr J Malloch, who owned the pacing mare Blue Mist, a world record holder, died in Christchurch last week.

Mr Malloch, who, until a few years ago, farmed at Morton Mains, bred a number of good winners from the first mare he owned, Bell Drusus.

Blue Mist was by far his best winner. She was one of the top mares of her time in NZ and Australia, winning 19 races and £16,230 and taking a world record for a mile and a half of 3.03¼. She put up her record against time on the Bunbury track in Western Australia.

Blue Heaven, Sporting Edition, Blue Emperor, Medium Blue, Friendly Hall and the promising 3-year-old trotter, Misty Light, were other horses bred or owned by Mr Malloch

Credit: NZ Trotting Calendar 14Jul65


| | |
| --- | --- |
| | RACING HISTORY PEOPLE |

D A WITHERS

D A (Drum) Withers, who died in Christchurch recently, was one of the leading trainers and drivers of the Dominion in the 1920s. Throughout his long and distinguished career in the light-harness code, Drum had been a credit indeed, to the game.

From boyhood Drum's main idea was eventually to train light-harness horses, and as soon as he left school he went to work for the late B Edwards at Avonhead Road. One of his first charges was Monte Carlo, whom he looked after when that horse won the NZ Cup in 1904. It is interesting to recall that Monte Carlo beat the famous foundation mare in Norice that day and ran the two-mile journey in 4:44 3/5. The owner of Monte Carlo gave young Withers 10 shillings and he considered he was well treated. Times were hard then. Drum was also in charge of another horse called George L II who, about the same time, won two races.

After a period with Edwards, Withers took employment with the late R McMillan and then the late T Davidson. He won his first race while working for Davidson on a horse called T E C at the Canterbury Park meeting, which was held where Wigram aerodrome is now. The late Andy Pringle finished second to Drum and after the race he gave Drum a dressing down for what he considered undue use of the whip on T E C. Drum stated that in those days there were no riding or driving fees, only promises.

Withers then left the horses and drove a bakers cart for a Mr Vass. Mr E Woodham was the baker and owned a horse called Blackchild Boy in the days when three-mile races were quite common. Those races were optional, the horses could either be ridden or driven. Withers rode Blackchild Boy in one of those three-mile races at New Brighton, but he failed to gain a place. Later in th day he went out to do his preliminary for a mile and a half race and was going so well that he asked Mr Woodham, who was standing by the rails, to put £2 on for him. Time was running short, however, and Mr Woodham did not reach the totalisator in time. Blackchild Boy duly won and paid a dividend in the vicinity of £56. The next horse Withers trained was Disappear, whom he started only three times. Disappear won the mile saddle at Addington the day that Adelaide Direct won the NZ Cup, and ran third on the second day.

After a period of ill health Withers gradually drifted back into the light-harness game and some of his first clients were the late J Nixon, who owned Temple Peter, the late W B Clarkson (War Bond), the late J B Pearson (Coil), Mr E Thompson (Florence La Badie), the late Mr F Neale (Bill Brown) and Mr G Rutherford (Prince Athol). Drum said they were all fine men to train for.

In his earlier days Drum was a regular visitor to the West Coast meetings, where he had a great run in saddle races, a horse called Voter being a good winner under weight for him. He said that what seemed years later he was at the first Forbury Park Trotting Club's meeting and D Bennett advised him to ride Voter in a saddle race. Drum thought that the horse must have been old enough to vote, but when he had a look at him he still looked like a young horse, so he decided to ride him. Voter won, and his next engagement was in the Reefton Cup. His connections were not very keen in starting him in the Cup, as he was not thought very much of in harness. Voter surprised everyone by winning the Cup and his owner was so pleased that he took the horse home to his stable and gave him a good drink and a feed and returned to scratch Voter from a saddle race later in the day. The fields were not very large, and the stewards persuaded Mr Lochore, the owner of Voter, not to scratch his horse. Voter was brought back to the course, and despite being full of feed and water, he ran a great race to finish second. Drum said tha Voter was a great favourite of the Reefton people.

Withers had a lot of time for a horse called Little Pointer, owned by a Mr Grant of Nelson, who bought him from Mr B Grice. He won the Nelson Cup with Little Pointer and then sent him and Prince Athol up to Hawera. For the Hawera Cup Little Pointer was considered a certainty. Unfortunately, a car ran into him on the way to the races, breaking one of his legs. Prince Athol made some recompense for the ill-luck by winning his race. Withers later bought a full-brother to Little Pointer off Mr Grice for Mr Grant named Little Logan, a straight-out trotter. Little Logan was entered in the trotters' races at Palmerston North and, talking things over with Mr Grant before the first trot, Drum decided that the most difficult horse to beat would be Herbilwyn, trained by the late Skipper Price. While waiting to be called in to the barrier, Drum and Skipper decided to save a pound's worth of the dividend between them. The race duly started and Herbilwyn went away smartly and was soon bowling along extra well. At the straight entrance Drum noticed Skipper take a look around and thought to himself, "Skipper thinks no one is going to chase him." Drum shook Little Logan up and was two lengths past Herbilwyn before his rider was aware of any danger. Little Logan had the race in safe keeping before Skipper could get busy on his horse. Skipper was called before the stewards and given a holiday for 12 months for 'going to sleep.'

Another incident is worth relating, but for obvious reasons, no names will be mentioned. Drum was driving a horse in a big race and unbeknown to Drum the trainer had tightened up the horse's hopples, as he had his eyes on a bigger stake the next day and was far from keen to win this particular race. His only instructions to Drum were "do the best you can." Drum did and the horse won to the tune of a dividend of £48. The laugh was on the trainer, as Drum had £2 on his drive.

Wither's considered Logan Lou and Regal Voyage two of the best mares he ever had. Logan Lou won the August Handicap on the first day of the National meeting in 1925, finished second in the King George Handicap on the second day and won the National Cup on the third day. Logan Lou also won the National Cup the next year. Logan Lou was considered by Withers to be unlucky not to win a NZ Cup. Prior to the 1924 race Logan Lou was very well, but a short time before the meeting she met with an accident and could not take her place in the field.

Regal Voyage held a very high place in the opinion of Withers. She was the first mare to go better than 4:20 for two miles and was in the top flight amongst the Dominion's pacers. Regal Voyage began racing as a 4-year-old in the 1928-9 season, when she had four starts. She opened her winning account when she won the Teviotdale Handicap at Amberley. She was trained for that success by L Davidson and driven by D Withers. As a 5-year-old the next season Regal Voyage won four races. After her first success that term she was transferred to D Withers's stable. During the remainder of the season she won the Autumn Handicap at Ashburton, the Renown Handicap and the Southland Handicap at Forbury Park. The next season saw Regal Voyage win four races, her most-important success being in the Mid-summer Handicap at Addington.

Regal Voyage opened the 1931-2 season with a win in the August Handicap at Addington and then after several minor placings she won the Dunedin Cup. At the same meeting she won the Au Revoir Handicap, and this was to be her last winning effort on the race track. Following two unsuccessful seasons she was retired to the stud, and amongst her progeny was the grand race mare in Haughty, dual NZ Cup winner and dam of the 2-year-old mile record holder Brahman (2:02 1/5) and other winners

Withers recalled the time he won the Wellington Cup with Silk Thread. The day the acceptances closed Silk Thread was lame, so he was put out in a paddock and it was intended to withdraw him later. In those days acceptances did not close till eight o'clock at night, and when Withers returned later in the afternoon, E Schofield, who was looking after the horse said that he had been galloping about all afternoon, so it was decided to take him to Hutt Park. He duly won the Gold Cup, beating Logan Park, driven by the late W J Tomkinson.

Another good winner for Withers was a pacer called Little Nelson, owned by Mr B Grice. He was entered for the Cheviot Cup, a race Mr Grice was very keen to win as a handsome trophy went with the stake. Grice thought before the race that they could not be lucky enough to win, but Drum said that Little Nelson would have to fall over to get beaten. That is just what happened. He was knocked down.

Drum had no hesitation in saying that Great Bingen was the best horse he ever trained. He was a "perfect gentleman" and always did his best in a race. He was the first horse to go two miles in 4:20 in the Dominion and won some of the most important races in the country, but there appeared to be a hoodoo on him as far as the Cup races were concerned. Great Bingen won over all distances, very often from seemingly impossible marks. In the opinion of Withers, his greatest sffort was when he won the York Handicap at Addington from 108 yards behind. Great Bingen finished second to Ahuriri in the 1925 NZ Cup and in 1927 he had to be content with fourth place behing Kahara, Cardinal Logan and Man O'War. In that contest Great Bingen met with interfrence when Imprint broke in front of him, but he came home with a whirlwind finish for his placing. The following year Great Bingen was narrowly beaten by his full-brother, Peter Bingen.

The Auckland Cup also eluded Great Bingen, in the 1926 race he was considered very unlucky by his trainer-driver. Great Bingen was in a good position in that race, trailling Acron, who was following the trotter, Peterwah. Peterwah broke and interfered with Acron, who can back on to Great Bingen, stopping him almost dead. Great Bingen recovered sufficiently to finish fourth. He ran fourth again the next year when conceding starts of up to 78 yards.

While on the subject of Great Bingen it is interesting to compare the stakes won by him at the Australian Championships at Perth in the 1925-6 season. He won the first heat, for which he received £100, and got a similar sum for winning the third heat. He also won the first final and the third final, which were worth £300 each. In all he amassed a total of £800 for winning four races. In the 1925-6 season Great Bingen was only twice out of a place in 13 starts.

Withers had a good deal of success with Kingcraft, a big gelding by Quincey from Colene Pointer. Kingcraft belonged to Mr B Grice and was inclined to waywardness, but he won many races when in the care of Withers. Kingcraft commenced racing as a 3-year-old and won at his only two starts that season. His successes were gained in the Juvenile Handicap at Addington and the Palmer Handicap at Wellington. Kincraft was a hardy type and raced with outstanding success for several seasons, counting amongst his wins for Mr Grice the Islington, Canterbury, Flying, President's and Farewell Handicaps at Addington. Kingcraft also won the first heat of the NZ Cup in 1929. Kingcraft failed to win a race in the 1933-4 and 1934-5 seasons, although he was placed several times. He was then presented to Withers by Mr Grice and went on to win three more races in the ownership of Withers. His wins were gained in the Electric Handicap at Oamaru, when driven by S A Edwards, the Advance Handicap at Addington, and the Bollard Memorial Handicap at Wellington. In the latter two races Kingcraft was driven by Withers.

Loganwood was another pacer who won races for Drum, and he was also trained successfully by G S (Swanny) Smith. Drum also had several driving successes behind that grand little pacer Roi L'Or. He finished second behind him in the Dunedin Cup and then won the big race on the second day. Drum said 'lady luck' was with him that day as Roi L'Or was on his toes at the start and was racing in a short sulky. When the barrier went Roi L'Or swung round and kicked quite a few spokes out of one wheel. The broken spokes made a terrible clatter and going down the back the last time the wheel started to buckle and was rubbing against the forks. Roi L'Or just got up to win by a neck and on his return to the birdcage the wheel collapsed altogether.

Withers was private trainer for the late Sir John McKenzie for nearly four years. During that time he trained a large number of winners, and included amongst the horses he had in his care were a select string including Great Bingen, Acron, Silk Thread, Peter Swift, Great Actress, Real The Great, Frisco Beau and Dolores.

Numbered amongst Drum's driving successes were the Reefton Cup with Lord Lytten and Voter, the Greymouth Cup with Anon; the Methven Cup with Colene Pointer; the Bollard Memorial Handicap with Kingcraft and Steel All; the Oamaru Handicap with Coil; the Dunedin Cup with Regal Voyage; the National Cup twice with Logan Lou; the Adams Memorial Cup with Silk Thread and the Wellington Gold Cup with Silk Thread.

His best season was in 1925-6, when he was the Dominion's leading trainer with 22 successes. He was leading driver in the 1925-6 and 1926-7 seasons with 29 and 31 winning drives respectively.

Prior to, and during World War II, Drum raced a galloper in Sandwich Man with a good deal of success. Trained for him by the late F Christmas, Sandwich Man won for Withers the County Hurdle Handicap at Ashburton, the Suburban Handicap at Riccarton, the Tinwald Handicap at Ashburton and the Presdent's Handicap at Oamaru. Amongst Sandwich Man's placed performances was a second to Defaulter in the Wellington Cup. Culverden, another galloper raced by Withers, won for him the Hack and Hunter's Steeplechase at Oamaru, when trained by his son, G H Withers.


Credit: 'Irvington'writing in NZ Trotting Calendar 15Sep65


| | |
| --- | --- |
| | RACING HISTORY PEOPLE |

J McLENNAN

Mr John McLennan, one of trotting's best known and most successful riders and drivers earlier this century, died last week. He was aged 82.

At the time of his retirement about 30 years ago, Mr McLennan held the record of having ridden the winners of 70 saddle races over one mile, and five of these were straight-out trotters. One of his most successful meetings was the 1920 NZ Cup meeting at Addington. On that occasion he and F (Free) Holmes, now in his nineties, each handled six winners, just half the programme between them.

McLennan was 16 when he trained and rode his first winner, at a Geraldine meeting. There were many good horses he drove and rode in this time but one of the best was Cello Sydney Wilkes. At the 1919 NZ Cup meeting he won four races with this Balclutha-owned stallion.

For many years Mr McLennan resided in Oamaru. While there he did all the riding and driving for the stables of J Henderson and R Logan, two highly successful trainers of that time.

Credit: NZ Trotting Calendar 22Sep65


| | |
| --- | --- |
| | RACING HISTORY INTERDOMINIONS |

DUNEDIN - ROBIN DUNDEE/JAY AR
"It is a dead heat between Jay Ar and Robin Dundee" came the shock announcement over the public address system - to the accompaniment of a roar from the crowd of 15,760. For Jay Ar had already been decorated as the winner and was parading alone on the track wearing the victory sash. Disband and Derek Jones were third.



| | |
| --- | --- |
| | RACING HISTORY HORSES |

VONNELL - Classic Winner Producing Mare

Vonnell (1965 Van Hanover-Dainty), Aus family of Lady Ajax; 2:13.4, $805; 1 win; 8 foals, 7 to race for 6 winners/1 qualifier. Breeders Ron & Mrs Maureen Hamilton. All foals bred by: Mrs Maureen Hamilton & Mrs Jill Marshall.

Sire Van Hanover is a descendant of Axworthy and his son Guy Axworthy (Van Hanover 4x4 to Guy Axworthy)appearing on his paternal side. His own sire Nibble Hanover, winner of 35 of 67 races, is the only stallion to have sired both a Hambletonian (Miss Tilly) and Little Brown Jug (Knight Dream) winner. Van Hanover topped the NZ Broodmare sires list (winners) for two and three year olds in 1977. He sired 109 winners in Australasia; damsire of 201 including Justin Hanover (WA Golden Nugget), Karloo Frost (NSWSS-3c) and Vonnell's foals Lirelle, Trevira, Tokorangi & Trilobal.

Vonnell's dam Dainty only had the one significant foal and that was Vonnell. Dainty was by the Springfield Globe stallion High Class from Luckylast, who was by Blaydon from Fortunate, by Wrack from Fortune Maid and back through Miss Fortune to Edith and Lady Ajax. Vonnell raced from two (unplaced), placed at three, with her only success being at Wyndham as a 4yo. She was unplaced at five before entering the broodmare barn.

Vonnell's male progeny included:

Trevira, classy and speedy open class pacer, winner of 16. Commencing as a 4yo, Trevira won eight of his thirteen starts including the Gore Cup, Trans Tours Discovery 4yo Stakes as well as wins at Forbury Park, Oamaru, Waikouaiti, Wyndham, Invercargill and Winton. A two-time winner at five in consecutive races (Ashburton Cup and the CPTC President's Stakes), Trevira finished fourth (promoted) in Sapling's AK Cup victory and in an ID Consolation at Addington.
Trevira managed 4 wins at six - Waikato Flying Mile at Cambridge, Whangarei Hotel Flying Mile (first sub-two-minute mile at Ruakaka, 1:59.6) beating Young Quinn who had just returned from north America, and consecutive starts at the Addington Easter meeting the Lion Lager Sprint and the Easter Cup). Notable placings included seconds in the NZFFA, Benson & Hedges Flying Mile, New Brighton Cup, Adams Memorial; thirds in NZ Cup (Lord Module), Thames Cup; fourths in the Pan Am Mile & the Pezaro Memorial.
His 2 wins at seven were at Winton and a second Waikato Flying Mile at Cambridge, part of 14 cheques from 16 seasonal starts. Significant placings were recorded with seconds in the Thames Cup, the Benson & Hedges Flying Mile, Wellington Cup; thirds in Hannon Memorial, Pezaro Memorial and fourths in the NZFFA and the Pan Am Mile. Trevira was sidelined for a season in January after the Wellington Cup second with a splint problem in his near foreleg. Trevira did not win at eight but finished second in the Ansett Flying Mile (Addington) with thirds in the Timaru Couplands Mile that Bonnies Chance won in 1:56.2 and the Easter Cup. He headed for North America after the Easter Cup (2:00.2US).

Trilobal, nine race winner. Unplaced in his sole 2yo start, Trilobal won five at three (Gore - Tanqueray & Eastern Southland 3yo Stakes; twice at Wyndham and Invercargill), he was second in the Southland Juvenile Championship and third in the Timaru Challenge Stakes.
At four, Trilobal won a further four at Oamaru, on Cup Day at Addington and the Timaru and New Brighton Cups. He was placed second in the Ashburton Cup and fifth behind Hands Down in the Easter Cup. Trilobal was a non-winner at five and six with just a solitary placing in the Wellington Cup (third).

Vonnell's fillies included:

Cambric, three wins (Wyndham, Addington & Timaru), dam of a winner Chequers (2 at Alexandra Park, 4 in Western Australia with 2 at Gloucester Park).

Lirelle, twice second and a third in the DB Fillies heats (fourth in the Final); 4th in the Southland Oaks at three before becoming the winner of four as a 4yo including the Invercargill Breeders Stakes and third in the Winton Equine Stakes. She was bred from but never managed to conceive.

Tokorangi was an eight-win Lumber Dream mare for Noel Taylor with six of her victories coming at three (Claudelands, Manawatu, Hutt Park and three at Alexandra Park). Taylor turned down an offer of $40,000 from North America for Tokorangi. At four she won twice at Alexandra Park (Franklin Cup) and placed twice including a second in the NI Breeders Stakes. A further 9 starts at five and six were unproductive before Tokorangi was retired for breeding. She was dam of Power and Glory, 1:53.4US (among first100 NZ bred Pacers in 1:55)

Tricotine, the winner of four, including 2 at Winton and fourth in the Ladyship Stakes, dam of:
. Just Royce, 9 wins, 2 at Addington, with significant placings including seconds in the NZ Cup to Il Vicolo, and the Thames Cup; thirds in the Superstars and NZ Championship at four; fourth in the NZFFA.
. Royceden, 12 wins (3 at Moonee Valley & Globe Derby)
. Tri Royce, dam of Riverboat Royce (Palmerstonian Classic).

Credit: Peter Craig writin in Harnessed Sept 2015


| | |
| --- | --- |
| | RACING HISTORY HORSES |

MANAROA - Enigma

Here is a sum up of how the roach backed "Ugly Duckling" frustrated punters. In the spring of 1970 he had seven unplaced starts and then he won the Kaikoura Cup. Then he produced the performance of a lifetime for third in the 1970 NZ Cup after losing 100m at the start. Some still regard it as the best non-winning run in the race.

He was privately timed to run from post to post in 4:03 and change which would have won every Cup for 20 years and he was only half a length away at the finish. But then he was typically unplaced in five of his next six starts before winning two heats at the 1971 InterDominions and ultimately being second in the final a neck behind Stella Frost at the post. He won well over $200,000 which was a lot of money in those days, held several records and was quick enough to break two minutes in a time trial at Harold Park.

Manaroa's determination to give all the others a start probably came from his sire Morano who was a bit of an enigma himself. Morano was a horse with electric speed but unruly manners. His brilliance was an asset to him at stud where he was influential but never reached his potential on the track.

Yet, strangely, Manaroa's defeats in Australia were more about bad luck than bad beginnings. At one stage he had won 12 from 17 there and after three brilliant heat wins in record times he would have won the 1972 InterDominion Final(crowd 33,000) had he not been checked badly early. Maybe that was because Neville Hargreaves, a friend of Colin McLaughlin, usually drove him there. He certainly seemed to have the secret to successful starts. The veteran owner handled Manaroa himself in his later NZ Cups after all else failed but it was no use.

Manaroa was no rogue in attitude. He won 38 races and was unlucky in a lot of others. But erratic? Yes sir.

Credit: David McCarthy in Harnessed July 2016


| | |
| --- | --- |
| | RACING HISTORY HORSES |

VANDERFORD

The news of the tragic death of Vanderford would come as a great shock to admirers of a good horse - or any horse for that matter

Vanderford may not have reached the heights of Cardigan Bay and the other champions in the Dominion, but he could always be relied on to give his followers a good run for their money, and his consistent record over recent seasons speaks for itself.

Vanderford was a most reliable pacer with no serious chinks in his armour. His reliability would have no doubt stood him in good stead in the United States and his career there was being looked forward to by light harness enthusiasts in the country of Vanderford's birth.

Vanderford made one of those meteoric rises to NZ Cup company that paralleled the careers of Lordship, Lookaway and Johnny Globe. Vanderford won eight of his nine starts - he finished fourth at his other appearance after having little in his favour - leading up to his appearance in the Dominion's premier two-miler. Brilliant finishing runs characterised all of his performances. To that stage of his career - and later - he did nothing wrong in his races.

When trained in the North by D N Hayes, Vanderford showed fine promise as a 3-year-old, and for that trainer he won two races and was placed seven times in 15 starts. One of Vanderford's best performances that season was his second placing to Tactile in the record-run NZ Derby Stakes. Tactile paced the journey in 3.10 2-5, a fresh NZ record for a 3-year-old. Vanderford recorded 3.10 2-5. Towards the end of that term, Vanderford was transferred to A J Bourne at Woolston, and under him Vanderford went from strength to strength, culminating in his grand slam of a quality field of sprinters at Oamaru.

According to Mr W D Barnes, in whose interest Vanderford raced, Vanderford gave him his greatest thrill when he won the Ashburton Flying Stakes, in which Robin Dundee and Cardigan Bay finished second and third respectively. It was a performance which capped seven wins in succession. Mr Barnes sold Vanderford to United International Stables in Toronto with an option to repurchase him in three years. He would not say how much he had been paid for Vanderford, but admitted it ran into five figures. "I was going to bring him back to NZ for stud services," he said. "That was part of the agreement." Mr Barnes leased Vanderford with an option to purchase him when he was 12 months old. He started racing as a 2-year-old in the 1961-62 season.

Vanderford had 15 wins and 39 placings for £15,910 in stakes. He was a 5-year-old bay horse by Great Evander from Milford Girl, who was got by Dillon Hall from Sister Polly, by Wrack-Our Nurse, by Wildwood Junior-Imperial Polly, by Prince Imperial.

Credit: NZ Trotting Calendar 12May65


| | |
| --- | --- |
| | RACING HISTORY HORSES |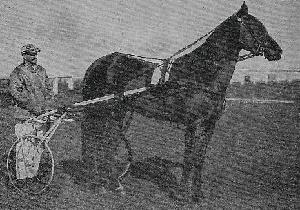 Reta Peter with Trainer-Driver A G Wilson

RETA PETER

She was only a slight little thing of 15.1 hands. She had found out a string of trainers before she pranced into a stall at Alf Wilson's New Brighton stable one fine day in the year 1919: but she earned a place among the square-gaited immortals by defeating fields of pacers two years in succession in the NZ Cup.

Do you have a youngster in your family who wants to know why we call our premier event the NZ Trotting Cup when trotters no longer appear in it; haven't for years, in fact? And are you, like us, sometimes left wondering what a marvel of trotting speed, solidity and staying power Reta Peter must have been?

To the moderns it sounds almost like a fairy tale; bewildering to the younger generation who now so rarely enjoy the exhilarating spectacle of a trotter competing successfully against any sort of pacers. Reta Peter won the NZ Cup in 1920 and 1921, and she is the only trotter with two NZ Cups to her credit.

The late A G Wilson trained and drove Reta Peter for both her successes in the premier event from his famous training establishment, 'Myosotis Lodge,' New Brighton. The story of Reta Peter is set down here in Alf's own words:

"I had just returned from World War I and was not keen on starting training horses again," said Wilson. "In fact I had decided to give it up. But it wasn't to be. Frank Robson came to me and begged me to take Reta Peter to train. I said I'd give her a trial. The first thing I did was to have a look at her feet; she had 8oz shoes in front and 4oz toe-weights and I realised her feet were just murdered by too much weight. I decided on 5oz bar shoes and threw her toe-weights out altogether. When the late Bernie Fanning first examined her feet for me he drew my attention to her weak heels, which opened right out. After I had got her shod to my liking I sent her a mile on the grass track at New Brighton and she went 2:14, real time in 1919, when she did it, and she did it on her own. I got her about 15 months before the 1920 Cup, and that trial decided me - I was still a trainer."

"And she stood to me like the beauty she was; she won three two-mile events against horses of her own gait the first season I raced her. She was six then and already a champion. I remember one day she was giving away 16 seconds - they were handicapped by the bell then - and she was in front at the end of half a mile. Jack McLennan was driving one of the front horses and when Reta Peter passed him so early he shouted out to me, 'Where the hell did you come from'?"

"I realised I had something phenomenal in Reta Peter. I felt confident I could beat the best of the pacers and we thereupon set our caps at the NZ Cup," continued Wilson. "Reta Peter continued to increase our confidence. She did everything I asked of her, and more, and as the big day drew nearer I told everybody I would win. But most of them laughed. They couldn't imagine a trotter, something of a cast-off before she came to my stable, beating the pacers in the Cup."

"It certainly looked a tall order with Author Dillon in the field, but I never had any doubts about the result. Now I will try to go over the race for you again. She was on 9 seconds (the limit under modern handicaps)and began well for a trotter. She was in the middle of the field early. The last time round she was about seventh. She moved up for me at the half, and at the quarter post she came round wide out and won without being knocked about by the best part of a length from General Link and Author Dillon. The backmarker was Author Dillon, and Reta Peter's 4:30 2/5, forced him to go 4:21 4/5, a record for many years. When Author Dillon passed me with half a mile to go his driver, Ben Jarden, turned his head and said: 'Goodbye, Alf.' I replied: 'I'll see you later,' and sure enough, I did," chuckled Alf.

"The following season Reta Peter had no opportunity of a race before the Cup. She had been pin-fired in the meantime and I had to go very carefully with her. For her second Cup - 1921 - the limit was 4:32 and she was on the same mark as Sherwood, 7 seconds. Others in the field included Man O' War, 2 seconds; Albert Cling, 3 seconds; General Link, 6 seconds; Trix Pointer 6 seconds and John Dillon, 7 seconds. There were two false starts and she was first out in both of these. Eventually she got away well. With a round to go she ran up behind the leaders, Vice Admiral and Gleaming. Dil Edwards om Vice Admiral turned round and said to Bill Warren on Gleaming: 'Go on, Bill, here comes the bloody trotter.' She had he skin taken off both her front legs in the last half-mile and after finishing second to Sherwood she was given the race after an inquiry into Sherwood crossing her. I want you to put it on record for the benefit of those who don't know the full story that I didn't enter a protest against Sherwood. The Stipendiary Steward, Mr Mabee, took it up himself. Mr Robson showed Mr Mabee the mare's bleeding legs, and it was the 'stipe' who took up the case," asserted Wilson.

The NZ Trotting Register has the following: "Sherwood finished two lengths in front of Reta Peter, with Vice Admiral two lengths away third and Willie Lincoln a length and a half further back fourth. Sherwood, 4:29, Reta Peter, 4:29 1/5, Vice Admiral, 4:31. A protest was lodged by the owner of Reta Peter (F H Robson) against Sherwood for crossing Reta Peter in the straight. After consideration the stewards upheld the protest, placing Reta Peter first and Sherwood second and fining F G Holmes, driver of Sherwood, £25." This incident is still hotly debated by people who saw the race.

It was about this time that the bell system of starting gave way to the yards system and the standing start. Reta Peter's two-mile mark in the August Handicap, of 1922, a 4:34 class, was 60 yards; or 4:29. A third Cup victory was considered within her powers by Wilson, who related how well she was going in her training until a few days beforehand. "She actually broke down four or five days before the Cup," said Wilson. "She went behind, and there was no chance of mending her again. One of the most relieved men was Nelson Price, trainer of Agathos. Not that he wished Reta Peter any harm; but he rang me up and said his chances had improved since Reta Peter had gone out. He added that Reta Peter was the only one he was afraid of. Agathos duly won and only had to go 4:33 2/5 on a good track, so it certainly looked as though Reta would have been hard to beat again," said Wilson.

Alf describes Reta Peter as "Just a little slight thing, 15.1 hands." He remarked that she did not put up phenomenal times because she did not have to. He claims she trotted her last quarter of her first NZ Cup in 29 seconds, and that under the present system of handicapping she would have won a great fortune and improved her record by several seconds. "She had a lovely temperament," he said. "My grand-daughter used to brush her hind legs and was never in the slightest danger. She was a perfect and a treat to do anything with. Some idea of her quality will be given by the fact that the night before her first Cup I was entertaining some of my friends, including A J McFlinn, the well-known steeplechase jockey. When I showed him Reta Peter he said: 'Put a saddle on her, Alf, and she would not be out of place in the galloping Cup field.' She certainly had great quality and refinement for a trotter." added Wilson.

"You don't see many American sulkies on the racetracks today," remarked Wilson. "Reta Peter raced in a real American sulky, which is pounds lighter than most of the so-called speed carts in use here today. I contend the American sulky, which sits feet closer to the horse than a speed cart, is seconds faster. To begin with, the weight of the driver is not a dead drag or dead weight as in the speed cart. The weight of the driver in the sulky actually pushes the the cart under the horse, so to speak. The speed cart has to be pulled all the way, but the centre of gravity with an American sulky is actually forward of the driver's seat. That's the best explanation of the difference between the sulky and the speed cart I can give you. I hope it's fairly clear, because I think it's most important. I've taken particular notice of many good horses racing in speed carts of recent years and I feel more and more convinced that these carts are a dead drag on the shoulder or mouth of a horse."

"I do think that our best horses would improve up to 2 seconds on their times if they were trained and driven in American sulkies," continued Alf. "At the same time, I'm well aware of why the sulky went out of favour - the sulky, being a forward-weighted vehicle with it's centre of balance in front of the driver, frequently went underneath a horse when the horses reared at the start. There was a lot of this with sulkies. Speed carts do not run under a horse so easily, which is probably one of the main reasons why they have almost pushed the American sulky off the racetrack. The standing start also had a lot to do with this change. Under the old clock system of starting, horses were constantly on the move, and there was little fear of a horse rearing and over-balancing. The standing start altered all that and made the speed cart a safer vehicle for horses having to line up at the barrier. For all that, I think our champions would be able to do a lot better in American sulkies."


Credit: 'Ribbonwood' writing in NZ Trotting Calendar 3Nov65


| | |
| --- | --- |
| | RACING HISTORY HORSES |

WILDWOOD

Mention of the influence of the Wildwood strain in the pedigree of the NZ Cup winner Cairnbrae - and the innumerable winning descendants of Tairene - has prompted a Calendar reader to draw our attention to an article by the late F C Thomas which appeared in a Christchurch weekly paper more than 40 years ago.

Here is Mr Thomas's article:

The writer well remembers his first introduction to Wildwood, soon after the black son of Good Gift arrived in Christchurch. Though still showing traces of his journey from San Francisco, he filled the eye as quite the best-looking young horse ever brought to these shores. He was then rising three, and after a few week's spell he was put into light work at William Kerr's New Brighton track.

It was not until two seasons later, however, that he first faced a racecourse crowd, and though of practically unknown quality, he was backed for the Record Reign Handicap at the Showgrounds as if the race was all over, bar shouting. Despite his opponents including much better-performed horses such as General Tracey, Albert Victor, Little Willie, Sam Slick and Viking, he was required to give them starts ranging from 4 to ten seconds in two miles. In the field also was a little-fancied candidate hailing from Ashburton, Prince Imperial, owned by Mr A G Holmes, and driven by Newton Price. After going a fine race Wildwood just failed to concede Prince Imperial the required four-second start, though he managed to account for all the others.

It was this race that led up to the famous match race between Wildwood and Prince Imperial at New Brighton, over which big sums of money changed hands. Dave Price drove Prince Imperial, and Willie Kerr, through the indisposition of his brother, Charlie, held the reins over the black trotter. Wildwood won in two straight heats. Subsequently he showed his worth in races at the Showgrounds, New Brighton and Plumpton Park.

On retiring to the stud Wildwood was not long in establishing his speed-begetting ability, as a sire of both pacers and trotters. One of the earliest to bring him fame was Ribbonwood, who defeated the Australian champion Fritz in the greatest match ever held in NZ. Another of Wildwood's sons, Wildwood Junior, must rank against the greatest racehorses of modern times. In their home trials there was little to choose between Wildwood Junior and his son Admiral Wood. Whereas the latter gained Blue Ribbon distinction, the "black demon," who did his racing before Derbies were instituted, won the NZ Trotting Cup in 1909 and 1910.

Before both these Cups Wildwood Junior had done everthing asked of him at his home track, one of his trials being two miles in 4.31, coming home the last mile in 2.10½. He was also a success at the stud, tieing for first place on the sires' list for the number of races won, with Logan Pointer, in the 1921-22 season.

Credit: NZ Trotting Calendar 13Jan65


| | |
| --- | --- |
| | RACING HISTORY FEATURE RACE COMMENT |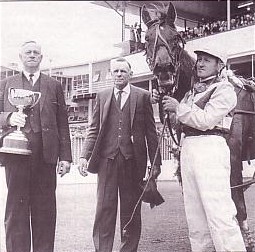 Lofty Shaw, Jack Baker, Garry Dillon & Peter Wolfenden

1965 NZ TROTTING CUP

Adroitly shepherded through a traffic hazard just after negotiating the home turn, Garry Dillon decisively outstayed the favourite Robin Dundee in the NZ Cup at Addington Raceway.

Crack northern reinsman Peter Wolfenden had the winner in front from barrier rise, he took the trail behind Danny's Pal with about seven furlongs covered, and thereafter he stayed on the fence in the path of the pilot until he got the green light in the run home - he actually edged his way to the outer and had gathered in Robin Dundee half-way down the running.

Garry Dillon had three lengths to spare as he passed the post, too decisive a result to warrant any reaching for the excuse book. However, there were the usual casualties. Gay Robin looked as unlucky as anything. He showed a torrent of speed to finish fourth after striking trouble and going into a prolonged break with only a furlong and a half covered - this lapse cost him about a dozen lengths and he was less than five lengths from the winner at the finish. Orbiter fared little better in the battle of tactics than he did a year ago (when he was second to Cairnbrae) but on this occasion his chance got completely extinguised when he got squeezed back with less than three furlongs to go. He was running a fairly close eighth at the time. Jacobite also made a remarkable recovery to come third, because he misfired as badly as anything at the start and still had at least a dozen of the field to mow down with half the race to run.

Lochgair, Avante and Gay Reel were others to tangle at the start, and Garry Dillon's early attendants were Idaho, Robin Dundee, Orbiter, Danny's Pal, Pancho Boy and Garcon D'Or. Garry Dillon was a clear leader with a mile and a quarter to go, but then Danny's Pal rushed up to take over, and with six furlongs left he had Garry Dillon, Idaho, Avante, Robin Dundee and Tactile as his nearest pursuers. Cairnbrae made a short-lived spurt wide out going along the back the last time, but the one who really 'got cracking' as the field crossed the top was Robin Dundee - she was in full cry on the home bend and soon had Danny's Pal and Idaho in trouble, but no sooner had she drawn clear than Garry Dillon made his sweep well out on the track and Robin Dundee had no answer to his perfectly timed onslaught.

Robin Dundee was a length and a half in front of Jacobite, who was a head better than Gay Robin, and Idaho was the same distance back fifth. Danny's Pal, Lordship, Van Rebeck, Orbiter, Tactile, Avante, Pancho Boy, Garcon D'Or, Lochgair, Gay Reel and Cairnbrae followed in the order named.

P T Wolfenden, interviewed after the race, said he thought he was the only one with a chance of beating Robin Dundee from the home turn if he could get clear, "and I managed to." D J Townley, driver of Jacobite, thought he was "a certainty beaten." He lost fully 36 yards at the start.

Garry Dillon is raced on lease by Messrs E B S Grey and J H Shaw from his Southland breeder, Mrs E M Kirk. A seven-year-old bay gelding by Garrison Hanover(imp), who is now close to the top of the sires' list for the current season. Garry Dillon is out of Regina Dillon, by Dillon Hall out of Regina Pointer, by Logan Sun out of Regina de Oro, by Copa de Oro from Regina, a famous foundation mare whose descendants include Native Chief, Logan Chief, Grand Mogul and a host of other class performers; but this was the first New Zealand Cup winner from the family.

Garry Dillon has now won 12 races and £11,042 5s, including Tuesday's £100 gold Cup. The cup was presented by the Minister of Internal Affairs (Mr D Seath). Robin Dundee's stake-winnings have reached £23,055, plus around £5000 in Australia.

Despite a showery, gloomy morning, the attendance was good, 17,482 compared with 18,000 last year. The weather cleared after the second race. The on-course betting on the Cup was £27,353, an increase of £4850 on last year; the off-course Cup total, £36,842, was £1829 up on last year. The totalisator, on-course, handled £230,015 (including £23,644 10s on the double) compared with £216,064 10s last year. The off-course total was £211,674 15s (including £104,503 5s on the double), compared with £196,592 10s last year.

On a sticky track the time was relatively slow - 4:22.4 for the winner. Sectional times were: Half-mile 64.8; Mile 2:12.8; Mile and a half 3:19.8.

J P Baker, who trains Garry Dillon at Morrinsville, Auckland, told of Garry Dillon's arrival at Addington as late as last Friday following a 600-mile trip by float after a flight from Auckland had to be cancelled. Baker would have driven Garry Dillon himself but for meeting with an accident in recent weeks which injured his ribs and broke his collar-bone. Baker gives unstinted credit to veteran Cambridge trainer C G Lee for his assistance in the training of Garry Dillon in recent weeks, and also his care of the horse on his trying float trip south.

P T Wolfenden was driving his second NZ Cup winner in the last three years - he drove Cardigan Bay in 1963 when, incidentally, Robin Dundee was also second to him.

Credit: 'Ribbonwood' writing in NZ Trotting Calendar


| | |
| --- | --- |
| | RACING HISTORY FEATURE RACE COMMENT |

1965 NZ FREE-FOR-ALL

Robin Dundee gained a runaway win in the NZ Free-For-All on Friday and her success was well received by the crowd. Robin Dundee enjoyed a grand run in behind the two leaders, Anarca Direct and Gay Robin. Peerswick sprinted up passing the two furlongs but once M Holmes pulled Robin Dundee out she soon had full control of the situation.

Her success was her 17th and she has also been placed 40 times for £24,355 in stakes in New Zealand and more than £5000 in Australia. Robin Dundee paced her last half mile in 59.8 sec, the full journey taking 2:37.

Fairly well back early, Orbiter put in some telling work over the concluding stages for third. A win for this capable pacer shortly would be popular. Lordship backed out as the barrier was released and was a clear last soon after the start. His fourth placing was not devoid of merit. Garry Dillon made one of his rare lapses at the start and was never really dangerous afterwards.

Credit: 'Irvington' writing in NZ Trotting Calendar


| | |
| --- | --- |
| | RACING HISTORY FEATURE RACE COMMENT |

1965 DOMINION TROTTING HANDICAP

Mighty Chief led for the greater part of the journey and then ran out a decisive winner of the Dominion Handicap. He was well rated by driver D J Townley and his success was all the more meritorious as Mighty Chief was having only his second start for the season. At his first appearance Mighty Chief was narrowly beaten by When at the Banks Peninsula meeting.

Mighty Chief took time to develop, but once he really got the hang of things he made a quick rise to the best classes. He won at his first race appearance as a three-year-old at Washdyke at long odds. When first tried, Mighty Chief "could neither pace or trot" and L R Clark must be given full marks for a grand job in developing Mighty Chief into the fine trotter he is today.

Mighty Chief was bred by F Oliver, Oamaru who sold him at a low figure at the yearling sales, and Mighty Chief was subsequently leased to Clark who, after trying him first as a pacer switched him to trotting. About 12 months ago Clark exercised a right of purchase clause in the lease.

By My Chief, Mighty Chief is a five-year-old bay gelding out of Gala Girl, winner of the first contest for the New Zealand Golden Slipper Stakes. Other good winners belonging to this family include Pala Royal, Pohutukawa and Grande Garrison. Alice Grey, the foundation mare of this family was got by the thoroughbred stallion, Balboa, and she was a noted show jumper.

D J Townley admitted he got a great thrill out of driving the winner, his first in the Dominion Handicap.

Acquit must be given full credit for an excellent effort for second. Early in the run home he looked as though he would be a danger to Mighty Chief but less than half a furlong out Acquit had come to the end of his run. Flying Maiden raced right up to her first day form - when she won the Worthy Queen Handicap - when she finished third in the Dominion. She received a good run all the way and stuck to her task in solid fashion in the run home. Flying Maiden is a much improved trotter who should experience little difficulty in continuing to pay her way.

Credit: 'Irvington' writing in NZ Trotting Calendar


| | |
| --- | --- |
| | RACING HISTORY FEATURE RACE COMMENT |

1965 NZ DERBY STAKES

Always well positioned in the NZ Derby Stakes, Bass Strait showed determination in wearing down Inky Boy in the race to the post. These two capable three-year-olds practically had the finish to themselves, the third horse, Scotch Cherie being three and a half lengths back.

Inky Boy was only just caught and beaten in the last stride or two. It was disclosed later that Inky Boy was inclined to run out in the straight and could not be driven to the best advantage. Inky Boy had been suffering from a cold before the meeting and at one stage he came close to being scratched. Phillmark failed to justify the solid support to come for her in the Derby but she could be excused to some extent. She had been suffering from a cold and she choked during the running. There was some merit in her fourth placing in the circumstances. From the second line, Courtier, a hot favourite carrying one-fifth of the total pool in the race, broke badly at the start and lost far too much ground to be a real threat. Maluka, Atanui, Athenian and Goldmount were others to break at the start.

Bass Strait, a bay gelding by Hal Tryax from Laura Ann showed fine promise last season as a two-year-old but he has taken time this season to return to his best. His win on Saturday night gave trainer C C Devine his second training success in the Derby and his first driving success. Devine trained Bellajily to win in 1963 when driven by D J Townley. Bass Strait is the third NZ Derby Stakes winner sired by Hal Tryax in the last six years, the other two being Student Prince and Tactile.

Credit: 'Irvington' writing in NZ Trotting Calendar


| | |
| --- | --- |
| | RACING HISTORY FEATURE RACE COMMENT |

1965 NZ OAKS

Have Care proved far too good for the rest in the New Zealand Oaks. She lost ground at the start but once balanced she raced into the lead effortlessly with five furlongs to go. About 100 yards out Scotch Cherie looked to have the measure of Have Care, but Scotch Cherie's effort was short-lived and shaken up, Have Care ran right away for the easiest of wins from Scotch Cherie. Belle Luronne tangled slightly at the start but soon caught her gait and was in front after about a furlong and a half.

The hot favourite, Phillmark, was slow away and broke badly after less than a furlong, a lapse that wrote finish to her chance, though she showed fine speed to finish seventh.

Credit: 'Irvington' writing in NZ Trotting Calendar


| | |
| --- | --- |
| | RACING HISTORY FEATURE RACE COMMENT |

PETER WOLFENDEN - GARRY DILLON 1965

'Wolfie' won four Cups, every one an immaculate drive, usually trailing or handy on the outer. So it was with the longshot 'who's he?' Garry Dillon, in 1965, our first and soon trailing. But Peter knew that his charge lacked the brilliance of many of his rivals and was still going to need all the help in the run home he could get.

So he worked him into the lead earlier than expected at the turn and headed wide to get the firmer footing on the outside of the damp track. PTW was the first to get out there. The horse sprinted clear to win easily and against names like Robin Dundee, Lordship, Orbiter, Tactile and previous winner Cairnbrae, it had to be the "outside lane". They should have put Wolfie's name on the Cup.

TRIVIA FACT: Wolfie's most dramatic trail/win at Addington was the 1979 Inter Dominion final with Rondel. He noted how pacemaker Sapling tended to run out on the bends so he risked being locked into the trail(no Passing lanes) confident he would eventually get a gap as Sapling came under pressure. He did, very late and won by half a neck. You had to be ice cool to do that in a $125,000 race then. What a great driver he was.

Credit: David McCarthy writing in Harnessed Oct 2016