| | |
| --- | --- |
| | INTERNATIONAL HISTORY |

The Vietnam War begins.

The Apollo space programme is launched.


| | |
| --- | --- |
| | LOCAL HISTORY |

February 16-17 - Visit by the Queen and Duke of Edinburgh. The New Brighton trotting course was bought by the city to be developed as a sports stadium and re-named Queen Elizabeth II Park in the Queen's honour.

July 3 - A NAC(National Airways Corporation) Dakota DC3 crashes into the Kaimai Ranges: all 23 passengers and crew were killed in what is still NZ's worst inland civil aviation accident

July 27 - Pioneer aviator George Bolt dies. Bolt was an outstanding figure in the development of commercial aviation in this country. He achieved a number of aviation firsts, taking New Zealand's first aerial photographs in 1912 and delivering its first official airmail in 1919

Jazz legend Louis Armstrong visits.

Credit: Ch-Ch City Libraries


| | |
| --- | --- |
| | RACING HISTORY NIGHT TROTTING |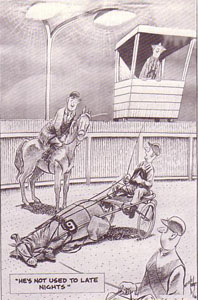 Nevile Lodge's view

Night trotting was first introduced to Addington on 20 November 1963, a date that was formerly the third day of the Cup Meeting. It was indeed an auspicious opening as, starting from a handicap of 54 yards, Cardigan Bay won the Allan Matson Hcp in what was then a world record time of 3:18.2 for the Mile and Five (2600m) journey. Some measure of the magnitude of this performance can be gained from the fact that the previous record of 3:21.6 was initially set by Ribands at Addington in November 1954 and later equalled by Caduceus again at Addington in November 1958.
Internationally the first night trotting meeting was held at Batavia Downs in Western New York State in 1940. Across the Tasman Perth, Adelaide, Melbourne and Sydney had all embraced the concept by the end of the 1940's but it was not until New Years Eve 1958 that night trotting at totalisator meetings was introduced to NZ by the Auckland TC at Alexandra Park.
The Hawera HRC held the first harness race under lights in NZ when they held an equalisator meeting at the Hawera Showgrounds on 24 November, 1958.
In 1961 Forbury Park pioneered night trotting in the South Island.



Credit: Colin Steele


| | |
| --- | --- |
| | RACING HISTORY NIGHT TROTTING |

ADDINGTON TRIAL MEETING

A crowd of approximately 5000 attended the first full scale trial for night trotting held at Addington last week. Although the three Addington Clubs had wisely announced through the Christchurch daily newspapers that no facilities would be available to members of the public; that the only seating accommodation would be that in the member's stand next to the Showground, and that the only parking available would be that bounded by Wrights Road and Lincoln Road, the attendance was more than double that anticipated by some club officials. This must be regarded as a heartening augury for night trotting at Christchurch.

Three races - one for maiden trotters and two for maiden pacers - were run at half-hour intervals, starting at 8pm. All race night officals were working and the photo-finish camera was in operation. Officials of the Canterbury Park, New Brighton and NZ Metropolitan Clubs each officiated over one race and became accustomed to night racing conditions.

The Raceway lighting proved as good as that on most other night trotting courses in New Zealand. Trainers and drivers were all agreed that the lighting of the track was most satisfactory, and members of the public were enthusiastic about the prospects of seeing top-classhorses racing under lights.

The first night totalisator meeting will be run on Wednesday, November 20.

Spectators with experience of night trotting both in New Zealand and Australia felt that the lighting of the carparks and other areas around the course was superior to that seen elsewhere. Some trainers felt that improved light was necessary in the float park, and many expressed the view that a lighter-coloured surface on the track would improve viewing especially when the track was watered. The present dull hue of the track appeared to absorb a tremendous amount of the very powerful lighting. The directors of Addington Trotting Course Ltd were investigating the possibility of spreading light-coloured material on the track. The problem can be placed in a 'growing pains' category. It is far from an insuperable difficulty; in fact, Addington Trotting Course Ltd is confident a solution will soon be found.

There will be more policemen at night trotting meetings at Addington than at daylight meetings. It is expected that 25,000 or more patrons will attend the first night meeting on November 20. No liquor will be sold on the course after 6pm. The bars at Addington will close at 6pm. The bars will be opened at 4.30pm and buffet meals and pies will be available from 5.30pm. The first race will be at 6.45pm and the last at 10.30pm., with intervals mostly of 30 minutes between races. The car parks at Addington are adequately lit. It is now an offence under the Police Offences Act to leave a bottle on the ground in a public place. The local trotting club and the police are determined to enforce the law in this respect to the letter. Public areas will be well patrolled.

The public will have the full use of seating and the ground floor amenities in the new public grandstand on NZ Cup day, Tuesday, November 12. The only amenities not definitely available on the first two days of the Cup meeting will be those on the mezzanine floor. Work on these is proceeding and it is possible they will be available on the first day. However, they will definitely be ready in time for the opening of night trotting on the course on Wednesday, November 20.

The shorter intervals between races at night meetings has resulted in the totalisator facilities being extended and decentralised. Selling windows for win and place betting have been increased by more that 30 to 110, the maximum number which can be handled by the master equipment. Pay-out windows have been greatly increased by about 55 to 135. There will also be extra doubles windows. The NZ Metropolitan Club has decided that the gates will be open at 4pm for its night meetings. There will be no presentations in the birdcage at night meetings, but these will be continued at day meetings where the intervals between races are greater. Any presentations at night meetings will be made in the presidents room.

The estimates of the largest crowd ever to attend the Addington course range between 27,000 and 32,000 - the latter figure is unofficial; it is believed to have occurred at the 1934 Metropolitan Easter Meeting when the Australian champion Walla Walla competed in Invitation Matches against the top New Zealand pacers Harold Logan, Red Shadow, Jewel Pointer, Roi l'Or and Lindberg.

Credit: 'Ribbonwood' writing in NZ Trotting Calendar 23/10/63


| | |
| --- | --- |
| | RACING HISTORY PEOPLE |

ARTHUR COX

Arthur Cox, one of the best known trotting trainers over a long period up till the middle 1930s, has died at the age of 93.

Arthur will perhaps be remembered most for his development, training and driving of the trotting colt Todd Lonzia, who established a NZ and Australian record of 2.22 2/5 for a 2-year-old trotter at Forbury Park in 1930, which stood for 19 years until first lowered by Highland Kilt.

Arthur Cox was a neat, fastidious man with horses, even tempered and of infinite patience, one of the refinements he observed being white driving gloves when he handled Todd Lonzia in his record run at Forbury. Todd Lonzia, a big, heavy-boned, gross youngster, required all the experience and care Arthur could give him, and he responded so well that, after setting the new main for juvenile trotters, he went on to become a champion of his gait in a period of great trotters.

Before he became interested in the training of trotters, Arthur Cox was a successful jockey. That was well over seventy years ago, and he rode successfully on the flat and in hurdle and steeplechase races. For many years he trained trotters and pacers for V Alborn at Addington, among the best turned out by the partnership being Vesuvius, a top-class pacer, and the trotter cannonball. Mr Cox was a foundation member of the Canterbury Owners and Breeders Association.

Credit: NZ Trotting Calendar 22May63


| | |
| --- | --- |
| | RACING HISTORY PEOPLE |

L F BERKETT

L F Berkett, best known as the trainer who persuaded Highland Fling to be reasonable when that champion pacer's racing career had arrived almost at a full-stop, was one of the most successful men - he was nothing if not original - associated with trotting over a lengthy period. He was the leading trainer and driver in the 1946-47 season. Leo Berkett's death occurred on Monday. He was 75.

Until he shifted from Nelson to Templeton in 1945, Berkett had been a farmer on an extensive scale, and with him trotting was not then the full-time occupation he later made it in Canterbury. Berkett made a sensational if unorthodox entry into the light-harness sport in the year 1920. Berkett's father before him farmed at Hope, but there was no strong racing affiliations in the family. In fact, until young Leo Berkett exchanged with a local clergyman a quiet hack for a grey mare, the latter ostensibly for farm work, he had never dreamed of becoming actively engaged in the trotting sport.

Up till that time Berkett had seldom been on a racecourse, but the grey mare known as Wairoa Belle changed all that. She at least had some good pacing blood on one side of her lopsided pedigree - she was by Dictator - and in skirmishes on the road with some fleet-footed harness horses in the district she acquitted herself with so much distinction that Berkett was persuaded to race her. A set of hopples was secured and Berkett went to work to train the "old grey mare" - she was aged by this time - for a race at Nelson. Minus a stopwatch and other appurtenances, Berkett trained tha mare from memory or instinct or something, but his system somehow worked wonders, because Wairoa Belle, after an unplaced performance on the first day, led all the way on the second day and paid the record NZ dividend of £1033 5s. Berkett did not participate in it.

After that Berkett soon rose to prominence. He will always rank as one of the keenest judges of horse-flesh ever associated with trotting. No doubt he had his share of luck, but he was successful too long and too often for luck to have been the mainspring of his success. Many of the horses he developed into winners were complete cast-offs. For instance, Nicoya, whom he bought at auction for 4½gns, and developed into a top class trotter; Douglas McElwyn who reached the free-for-all class among the trotters; Stop Press who cost him only a few pounds; and Karangi, who cost him £10. And there were others. An outstanding one was Nyallo Scott, who will be referred to at some length later.

A good horse that helped to put Berkett before the Addington public was Imprint, who won the National Cup in 1927 and reached Cup company.In Dilworth Bekett bought out a champion 3-year-old filly. Few better mares have raced in this country than the daughter of Travis Axworthy and Muriel Dillon. She won her way to NZ Cup company and at one time her 4.19 4/5 for two miles was a joint Dominion record for a mare.

Berkett took classic honours with the wonderful skewbald filly Snowflake, winner of the Great Northern Derby, and whose 4.18 for two miles at Addington at Easter, 1947, broke Indianapolis's long-standing 3-year-old record for the distance by five seconds. Berkett also won the NZ Trotting Stakes, for 3-year-olds, with Temple Star, whom he purchased as a 2-year-old at auction for 150gns; and the same race with Ariel Scott for Mr J Spiers. Berkett also owned and trained Toushay, who lowered the mile and a quarter trotting record for Australasia to 2.40 4/5 in 1948; and he trained and owned Keen Blade when that trotter for a period held the mile and five furlongs Australasian trotting record.

But Highland Fling was his finest hour; the U Scott flyer placed Berkett under the world spotlight.

Many of us still regard Highland Fling as the mightiest pacer ever to blaze the light-harness tracks of the Dominion. And he was only six years old when, with 'the world' virtually at his feet, he broke a sesamoid bone in a foot and had to be retired to the stud. Small consolation that his racing career terminated in a blaze of glory, because here was the horse of the century, here was the horse who might have proved the best in the world. Highland Fling proved himself a champion 2-year-old - his mile race record of 2.10 still stands - and a top 3-year-old.

The following season Highland Fling entered on his busiest period, but in his first nine starts, when was returned only once a winner, he began to earn the reputation of being both brilliant and erratic. He was not only refusing to move away from the barrier in reasonably good style, but he was also showing a disinclination to face up to the tasks asked of him in the running. Various types of harness were tried on him without bringing any marked improvement in his race-day manners. Highland Fling was regarded by many as a 'problem child' - a pacer capable of measuring strides with the best, but one with definite ideas of his own.

It was at this critical stage of his career that Highland Fling was taken over by L F Berkett, and this marked the beginning of a new era in his life. Highland Fling was about to arrive. In his first race under the Templeton trainer he ran second behind Gold Peg in the New Brighton Handicap, run at Addington, and the same mare, a noted mud lark, again defeated him later on the same day over a mile and a quarter. Highland Fling still retained a good measure of his unreliableness, but his brilliancy and stamina were strikingly revealed in his third start under Berkett, when he won the Craven Handicap, a 4.32 class from 36 behind. Highland Fling broke early and was all of 100 yards behind the leaders when he settled down. Most people counted him out when he was still in a seemingly hopeless position at the mile. To cut a long story short, Highland Fling was separately timed to run the last mile and a half in 3.07 and he won with astounding ease. He proved that he was a champion here, and to emphasise that he was still far from infallible, he failed badly later on the same day in an event run over one mile and a quarter. Highland Fling then commenced his rapid rise to the best classes, his last 11 starts as a 4-year-old resulting in six wins and one minor placing, and he was now assessed in NZ Cup company.

As a 5-year-old Highland Fling went from success to success, registering amazingly brilliant performances over all distances, and often still displaying a tendency to leave the barrier indifferently. His wins at this period included the Winter Handicap and Lightning Free-for-all, run at Addington in August; the NZ Cup; the Wellington Cup; the A I Rattray Handicap and the Otago Pacing Free-for-all. His earnings in that season amounted to £15,835 - a record total for a horse of any gait in NZ.

Highland Fling made history in 1948 by winning his second NZ Cup in the then world's race record time of 4.10 3/5 for the two miles, and this, combined with his subsequent and successful attempts against time, gained him world-wide recognition. It was then claimed of him that he was the best horse in the world, and that description could not in any measure be regarded as an exaggeration. Highland Fling in action was superb.

Highland Fling, winner of the last race he contested, retired with an unequalled record. He not only held the world's two-mile record, but his 2.10 race record as a 2-year-old still stands; he bettered 2.00 on three occasions, his best being 1.57 4/5 (since bettered by Caduceus 1.57 3/5); and he held the world's grass track record of 2.00 for one mile. His total stake-winnings, at the time of his retirement, exceeded those of any horse raced solely in NZ.

A week after his second NZ Cup victory Highland Fling went the mile against time in 1.59 2/5, equalling Lawn Derby's long-standing mile record established in November 1938, also at Addington. The following Friday Highland Fling again went against the record and his sensational figures of 1.57 4/5 were a further triumph for the unconventional training and driving methods of L F Berkett. The usual procedure in trials against time is a strong warm-up and a galloping pacemaker. Berkett dispensed with both and shattered the previous record, by 1 3/5 secs. The spectacle of Highland Fling's lone role was a thrilling one - propably much more so than it would have been with a pace-maker, and the public appeal of the trial was emphasised by packed stands and enclosures although the starting time for the first race was still half an hour away.

Berkett rated Highland Fling to perfection: the first quarter in 29 secs, half-mile in 58 2/5 secs, six furlongs in 1.28 3/5, and full journey in 1.57 4/5. The last half-mile showed 59 2/5 secs and the last quarter 29 1/5 secs. A warm ovation awaited Highland Fling and Berkett when they returned to the birdcage, and Berkett's deep satisfaction with the greatest mile paced outside of America was betrayed by his permitting himself one of his isolated smiles. Six hours after breaking the mile record, Highland Fling was harnessed up for the NZ Premier Sprint Championship, which he won by a safe margin after being left flat-footed at the start. Berkett's coolness and unconcern at this initial setback was not lost upon the crowd, and also made a profound impression upon many of the sports oldest adherents.

In the NZ Pacing Free-For-All the following day, the extent to which Single Direct and Integrity were stopping at the close was revealed by the fact they took 1.09 2/5 to run the last half-mile and 36 secs for the last quarter. This is no distraction from the performance of either; Integrity's effort to slip the field - he was 40 yards clear of anything else with half a mile covered - and Single Direct's lion-hearted run to overhaul him, set Highland Fling the impossible. Losing 60 yards at the start, Highland Fling had drifted nearly half a furlong behind the leaders with a mile and a quarter to go. He came his last mile in 2.07 2/5 on the soft track and only a veritable pacing machine could have made up 100 yards of this leeway from that point and finish third.

Highland Fling a few weeks later went 1.58 against time on the five furlong Forbury Park track, which compares most favourably with anything done on the best American half-mile tracks.

The editor of the NZ Trotting Calendar was surprised one afternoon in March 1949, to receive advice from tolls that Mr Bernard Kearney, vice-president of the Western Harness Racing Association, Los Angeles, California, wished to talk to him about Highland Fling. The editor lost no time in inviting Mr Kemble and Berkett to the Calendar office. They were all 'on their toes' awaiting the call, but it did not come through - Mr Kearney later cabled as follows: "We have races of $65,000 for which Highland Fling is eligible, October 8 through November 26 (1949), Hollywood Park. If owner interested cable us immediately, and I will telephone details - Bernard Kearney, Western Harness Racing Association."

Highland Fling's connections, obviously flattered by the American cablegram, said they had already discussed the idea of taking Highland Fling to the States to race, but that October and November would not suit their plans. One of their main ambitions was to win a third NZ Cup with their champion. Mr Kemble authorised the editor of the Trotting Calendar to reply to Mr Kearny as follows: "Dates mentioned do not suit. Definitely interested later."

Hot on the heels of the cablegram came this letter from Mr Kearney to the editor of the Calendar: Dear Sir, We have been reading, with great interest, stories carried in the American Harness Magazine, 'Horseman and Fair World' about the phenomenal feats of that world champion pacer, Highland Fling. To say the least it has everyone hereabouts really thrilled and excited. First, we wish to offer out heartiest congratulations to the owner, as well as the trainer and driver of this great animal. We are sorry none of the stories we have read tell the owner's name. Thus we cabled you hoping you would relay our message to the proper party. The Western Harness Racing Association, with headquarters in Los Angeles, California, offers this year one of the greatest stake programmes for just such a horse, the $50,000 Golden West Pace, which attracts the best horses from all over the United States. This event will be raced at Hollywood Park, Inglewood, California, one of the finest and most beautiful racecourses in America, on Saturday, November 12, at a distance of one mile and a quarter. Aside from this race there are others in our condition book in which Highland Fling could qualify to win a total of $65,000 in purses during a 35-day meet, which starts October 8 and continues through November 26, 1949. These races are outlined in detail in the condition book enclosed in this letter. We are exceptionally interested in the possibilities of the owner shipping Highland Fling to the United States for this race meeting. If interested there is plenty of time to ship the horse by water, or perhaps the owner would be interested in flying the horse here. In either case we are prepared to offer and international publicity campaign and build Highland Fling into the greatest public favourite that has ever come from the country 'Down Under.' This campaign would include newspaper reports, photographs, newsreel motion pictures, magazine articles and other forms of media publicity. This publicity, if the owner is interested, would make it possible to sell the horse in this country at a nice profit. The latter possibility is brought out only should the owner wish to sell after the campaign in America. If you would contact the owner and deliver this message we would be very appreciative. Thanking you in advance for your interest in this matter, we wish to remain, Sincerely yours, Bernard Kearney."

Early in 1949 another American visitor to NZ, Mr C Richarson wrote to the American weekly magazine 'Horseman and Fair World," as follows:
"Attracted by the brilliant record of Highland Fling, the idol of NZ, I resolved to see this sensational hoppled pacing son of U Scott and Queen Ayesha. On arrival in Auckland, I found that although the residence of his owner A T Kemble is there, the object of my quest was in Christchurch, the centre of harness racing in the South Island. When I reached Christchurch I got in touch with C S Thomas, president of the NZ Metropolitan Trotting Club there. I had heard that Highland Fling had an injured leg, and was told that his trainer L F Berkett, was away, but Mr Thomas graciously took me to Berkett's place. Mr Kemble's son whom we found there, took us across the road to a pasture, in which was the horse I was most anxious to see.

Taking a halter lying by the gate he spoke to Highland Fling, who readily submitted to our inspection. He is a thoroughly relaxed horse. This 6-year-old wonder horse is about 16 hands high, rather on the lanky side, and is a dark bay with three white feet and a white spot on his forehead. He is a clean-cut individual and looked to be in splendid condition except for his lameness, the exact cause of which the younger Mr Kemble said he did not know.

Highland Fling's record is most interesting. Bred by Mrs K Bare, of Christchurch, his sire, as has been stated is the now 17-year-old U Scott, by Scotland. Highland Fling's dam, owned by Mrs K Bare, is Queen Ayesha, a bay pacing mare by Frank Worthy; dam Royal Empress by Logan Pointer. Both Frank Worthy and Logan Pointer were imported from the United States. Queen Ayesha is said to have shown early speed, but had no record, breaking down and subsequently being used as a broodmare. Mrs Bare sold Highland Fling as a yearling for a reported £100, and I imagine has regretted it ever since. As a 2-year-old he was surprisingly fast, pacing a mile in 2.10. As a 3-year-old he had an off year, not getting right until late in the season, and winning only twice. It was then that he was taken over by L F Berkett, a trainer who turned from farming to noteworthy success with harness horses.

Many stories are told of Berkett, one being that he puts his horses to the plough. He apparently never pampers a horse in the slightest, but either because of his rough and ready methods, or in spite of them, he has had remarkable results. Whether Highland Fling was used with a plough or not, his improvement was steady under Berkett's tutelage, and as a 4-year-old he won eight times and did two miles in 4.13 4/5. As a 5-year-old he won the NZ Cup and had nine wins. As a 6-year-old, besides winning the NZ Cup for the second time he made several records, including a mile in 1.57 4/5 and two miles in 4.10 3/5. He has been timed a quarter in 27 4/5 and a half in 57 4/5. The ordinary spectators are completely thrilled by his rousing finishes, and hail his victories with triumphant acclaim. Highland Fling's competitive spirit is tremendous and Berkett rarely has to put any pressure on him. His utter relaxation is shown by the fact that, while many horses won't eat right after a race, he eats like a plough horse. Highland Fling's racing career seems to be drawing to a close. He has beaten all his rivals; in fact there are only two or three that can give him any noticeable argument. The national appeal of Highland Fling is truly extraordinary. It was a distinct dissappointment to me that I did not see him race, because this darling of NZ sports lovers is, to all who have seen his amazing victories, a real superhorse."

That is what they thought of Highland Fling in the USA. They were prepared to build him into the 'greatest public favourite' ever to leave our shores, and what a worthy ambassador he must have been for us!

Leo Berkett always had a warm spot for Westport meetings, because it was at the Buller coal-mining centre that he first got his footing in the light-harness sport. 'Bunter' Connolly, then on the staff of the old 'Westport News' and now the Westport representative of a number of newspapers was good enough to write an article for the Calendar in January 1953, just after Leo Berkett had returned to the annual Westport meeting following a long absence from his erst-while 'happy hunting ground'.

"On this occasion," wrote Bunter, "Leo Berkett travelled in comfort with his three horses on the special horse train from Christchurch, in striking contrast to the strenuous excursions of his initial racing days of the early 1920s. Then it was one of the events of the year at Westport when Berkett's rodeo pulled into town, completing the long journey from Hope of more than three days. The horses, usually large strings of up to 14 to cover the West Coast circuit, were railed to Glenhope and from there the three-day trek through the windy Buller Gorge commenced.

Covering about 30 miles each day, the Berketts and their horses (the father was usually accompanied by his sons Colin and Noel, now leading trainers in their own right), made Murchison on the first night, then Inangahua Junction, and the final stretch was to Westport. On occasions the expert horsewoman Doris Berkett (now Mrs Prince, of Christchurch) accompanied her father and brothers, and she worked as hard as any of them in the training schedules. There was little pampering of his string by Leo Berkett, who trained many of his horses in the plough or with other heavy work. On arrival at Westport they were quickly turned out into open paddocks without the luxury of clean, tidy boxes, and then, on the following morning, they would be given fast work on the old Mill Street track. Usually the Berkett team was the first to arrive at Westport for these annual meetings, and no horses arrtacted more attention from the rail-sitters than the hardy bunch from Hope.

For a long time Leo Berkett had to do all his own driving, but as his sons gained experience, they made up a formidible trio, seldom failing to win their share of races. Then the call to higher circles tempted the father, and he moved to Canterbury, with outstanding success as the trainer of the champion Highland Fling and other brilliant performers. Leo Berkett topped both the winning trainers' and horsemans' lists in the 1946-47 season, and two horses trained by him, Nyallo Scott £7730, and Highland Fling £6685, were at the head of the winning horses the same season.

The success of Pipe Dream and Excellenza, two of his trio, on the last excursion [1953] recalled to mind the splendid record of the Berkett family on the old clay track, facing Mill Street. There they raced such fine performers as Imprint, Douglas McElwyn, Mae Wynne, Nelsonian, Plain Pearl, Bronte, Wairoa Belle, Gunman, Bulldozer and Juliana. Some of these horses went on to the best class at Addington, and drew attention to the unorthodox training methods of Berkett Snr. Leo Berkett, looking at fit as ever, was happy to get back to Westport, and the club there was very happy to have him, as no person in it's long history has made a greater contribution to the club's progress," concluded Bunter Connolly's tribute of January, 1953.

Nyallo Scott, who met with an injury as a young horse, was leased by L F Berkett from Sir John McKenzie as a rising 6-year-old in 1944, and during the following three seasons the U Scott-Nyallo gelding won 16 races and £9917 in stakes. In the 1946-47 season he won 11 races and £7730 and was the leading stake-winner of the Dominion that term. Berkett finally trained Nyallo Scott to win the Ferguson Handicap at Auckland, when he put in a remarkable performance from the 96 yards mark to beat Lone Raider (scr)and Single Direct in 4.20. Among Nyallo Scott's other wins were the 1947 Dunedin Cup, and the August Pacing Free-for-all at the NZ Metropolitan National meeting the same year. In the latter race he put up a mighty performance to defeat two champions in Emulous and Haughty, and among the unplaced runners were his renowned stablemate Highland Fling besides Gold Bar and Loyal Nurse.



Credit: 'Ribbonwood'writing in NZ Trotting Calendar 17Apr63


| | |
| --- | --- |
| | RACING HISTORY PEOPLE |

G S ('Swanee') SMITH

He still rides his bike to and from the Addington course - an alert, wiry-looking old gentleman who would pass for years younger than he is, but who long since qualified as the Grand Old Man among head-quarters' personalities. G S ('Swanee')Smith was born at Naseby, Central Otago, in 1882. His father, the late J R Smith, owned a livery and coaching stable, and as a hobby raced and trained many good gallopers.

Young Smith was brought up with horses all around him or, as he puts it now: "was born on a horse." His family owned a large farm and used to run a coach service between Naseby and Ranfurly, although this was a small business compared with Cobb and Company's service from Ranfurly to the Lakes District.

At the age of nine, Smith was riding gallopers in work for his father, and he was 12 years old and weighed 4st 3lb when he won his first race, on his father's horse, The Last, in 1893. Another 'important' early win was on Jack The Flat, in the Naseby Cup (worth 40 sovs), the main event at the Maniototo Jockey Club's meeting in 1895. "Before I went to school, I remember my father putting me on a horse, and giving me a rap on the knuckles if I held the reins too high," Smith said. He recalled that in those days, the practice was to walk with the horses to all the meetings - distances of up to 150 miles on occasions. As well as Jack The Flat, Smith and his father were successfully associated with many other good winners around the Maniototo, Palmerston, Roxburgh, Naseby, Lawrence and Vincent districts. These winners included De Trop, Sebastapol and Emmason.

Smith began to put on weight, and around about 1900 left home to work on the railways in the Dunedin district. It was there, several year later, at Tahuna Park, that he saw that he saw the Australian trotting champion, Mr Buckland's Fritz, give an exhibition run. "I said to myself there and then: 'I'm gonna have one of them,' and although I remembered that my father had always told me that he would 'shoot' me if I had anything to do with trotters, I soon managed to get an amateur's licence," he said.

At the Forbury Park Trotting Club's spring meeting in 1911 - the fourth year of the club's existence - Smith produced Colleen Bawn, an aged black mare of unknown pedigree, owned by a Mr Lethaby, to win the Second Amateur Handicap. It was his first success in the game, but was a forerunner of many more. 'Swanee' recalls that he used to work Colleen Bawn in a sulky that stood higher than himself, and he had quite a job stepping up into the seat. Shortly after that success, Smith shifted to Southland, where he worked on the railways and trained in his spare time. There he won races with his own gelding, Papeete (by Sir Hector), and with a Sir Hector mare Flower o' Turi. In the saddle he won the 1919 Dunedin Handicap with a good performer in Dandy Chimes, and the same year he won the Gore Trotting Club Handicap with Barooga. Both Dandy Chimes and Barooga were by Four Chimes from an unnamed Kentucky mare. Dandy Chimes won his way out of the southern classes, and eventually entered J 'Scotty' Bryce's stable, where he was trained for several important wins in Canterbury. Other good winners trained in the far south by Smith were Harold Wallace, Last Vue, Queen's Lane, Siesa, St Mihiel and Ringway. The last two raced in his own interest.

About 1920 Smith shifted to Canterbury and set up in Buchanans Road, Sockburn. With him he brought Mr J Hamilton's good Bellman gelding, Bellfashion. In 1921-22 he produced Bellfashion to win races at Addington, Forbury Park and Washdyke. The day he won the Timaru Handicap at Washdyke, Smith was also successful with Mr T Newman's imported American stallion, Lee Norris, and Mr F Smith's Harold Dillon mare, Bundura. He also won two races at Forbury Park with Mr Newman's Petereta gelding, Peter King, while he drove Mr G W Dransfield's up-and-coming Logan Pointer gelding, Loganwood, on several occasions. In 1922-23, Smith, took over the training of Loganwood, and won the Midsummer Handicap at Addington and the Forbury Handicap with him. Another important success was in the Nelson President's Handicap with the Harold Rothschild gelding, Rothman, whom he raced in partnership with a Mr Lake.

The next season Lee Norris represented the stable successfully in the Avon Handicap at Addington, while he was beaten by a head by the late Mr M O'Brien's Pete Peter in the Addington Handicap. With Loganwood, Smith beat Bonny Logan and Pedro Pronto in the Selwyn Handicap and Locanda Mac and Whispering Willie in the Midsummer Handicap, both at Addington. Other successes came with Mr M Gorman's Jim Logan and Mr D Rodgers's Fireman. The latter paid a big dividend in the last event of the season, at Washdyke. Followers of the Smith stable enjoyed another big dividend when Mr Rodgers's Wildwood Jun. gelding, Pinevale, eighth favourite in a field of nine won the Oamaru Handicap. Bellfashion, now racing in Smith's interest, won the Railway and Linwood Handicaps at Addington. Actually, the late Sir John McKenzie's good mare, lightnin', beat Bellfashion by four lengths in the latter race, a saddle event, but Lightnin' lost the race, being declared ineligible.
Smith also produced Mr H G Hunt's Dusky Pointer to win the Nelson Cup and another event at Nelson, where his own Harold Dillon mare, Ivy Viking, won at Nelson and Wellington.

In 1925, Smith left Canterbury to return to farm in Central Otago. He was off the racing scene for 12 months, and he didn't work his way back into the picture until right at the end of the 1926-27 season, when he was successful at Ashburton with his own Denver Huon mare, 5-year-old Sadie Huon. At this time he was training at New Brighton. In 1927-28, Sadie Huon won at Geraldine and Timaru for Smith, and the following season he took over Mr F Smith's Rey de Oro gelding Agile, who was from Bundura. Agile won four races that term, after which Smith shifted to Spreydon, near the foot of the Cashmere Hills. Agile won three races including the Mace Memorial at New Brighton and the Flying Handicap (in 2.57 1/5 for the 11 furlongs) at Forbury Park, in 1934-35. Also in that term, Smith won two races with his own Rey de Oro 3-year-old Agility. Agile again won the Flying Handicap at Forbury Park in 1935-36, and this time he was seventh favourite in a field of eight. The following season, Agile, now racing in the trainer's interest, beat Todd Lonzia and Double Great in the Ashburton Boxing Day Handicap.

After winning a race with Agility the following season, Smith became associated with C S Donald, who was then at the top of the ladder and had a big staff of good horsemen helping him with his large team. Agility passed out of Smith's hands and later won the Taranaki Centennial Cup in A Holmes's interests. Donald's team at this time included Mr W L Parkinson's good Jack Potts gelding, Ferry Post. After winning a string of races early in his career, Ferry Post became tempamental, but Smith seemed to get on better with him than anyone else in the stable; and in 1940-41 he worked and drove him to win the Harper and Beach Handicaps at New Brighton. Ferry Post won another two races the following season, with Smith in the sulky again.

Smith broke a leg in a race smash on the Coast in the early 1940s and was off the scene for about two years, but he returned and joined up with the noted horseman, L A Maidens, at Addington. Maidens shifted to Australia, leaving Smith in charge of the team, which included the veteran Jack Potts gelding, Zingarrie, and the chestnut Turco. Smith promptly recovered his reputation for big dividends by piloting Zingarrie to win the Heathcote Handicap at the National meeting of that season. Zingarrie was 16-16 in a field of 18, and returned odds of better than 150 to 1. That was the last success of the gelding's career.

Turco was to be the makings of Smith as a successful trainer. Bred in 1936 by Mr J Dempster, of Nightcaps, he was by Rey de Oro from the Wrack mare, Wrackoda, who traced on the dam's side to the imported Vancleve. He was first trained by O J Dempster, and won his first race at Invercargill in 1839-40. He won several more races, and became unsound and was off the scene for two seasons before returning to race in the interests of Messrs A V Prendeville and J X Ferguson. Smith, who gained valuable knowledge from Maidens, the following season persuaded Turco to recover all of his former brilliance. After a string of placings, which included thirds to Emulous and Highland Scott and Emulous and Jack's Son at Epsom, and to Loyal Peter and Liberty Bond in the Summer Handicap at Hutt Park, he beat Liberty Bond and Loyal Nurse in the Dominion Handicap at Hutt Park and Gallant Maid and Navigate in the Harewood Handicap at Addington. One placing from his next four starts followed and then he ran out the season the winner of his last four starts. His successes were over Cameronian and Lucky Loyal in 4.21 at Addington, over Native Scott and Jack's Son in 4.18 at Addington, over Knave of Diamonds and Dundee Sandy in 2.37 4/5 at Addington, and over Countless, Dundee Sandy and Double Peter in the All-Aged Stakes at Ashburton. Smith considers Turco by far the best horse he has anything to do with. "He was a brilliant beginner, and if tucked in behind until the right moment, could out-finish the best of them," he said. Other winners prepared by Smith in 1945-46 were News Agent, Princess Maritza and D A Morland's Noble Reta (the dam of Bon Ton).

In 1946-47 Turco dead-heated with Haughty, ahead of Josedale Grattan and Countless, in the NZ Premier Sprint Championship, and then defeated Countless, Integrity and Double Peter in the Ollivier Handicap at Addington. He also gained six important placings, including a close second to Battle Colours in the Hannon Memorial. By this time Smith had taken under his wing a string of pacers and trotters, and those who he won races with in 1946-47 included Jackie Guy, Loyal Peter, Aberhall, Willie Winky, Fancy Goods, King's Messenger, Incredible, Mountmellick, Logan Ray and Convincer. Most of these horses were considered near the end of their tethers when Smith took them over, but he worked wonders with this team; such was his outstanding ability to train and drive.

The following season he took over the former southern mare, Mr R Wylie's Grattan Drive. A fine performer, she created an immediate impression under Smith by winnig over two miles at Addington in 4.17 2/5. She won two further races at Addington that term and also the Au Revoir Handicap at Forbury Park in the fast time of 2.55 for the 11 furlongs. It was during that season (1947-48)that Smith ventured to Auckland with a team to contest the InterDominion Championship series. With Loyal Peter he won a qualifing heat, but finished unplaced in the final, "through," he says, "an error of judgement." With Turco he won the Consolation Pacer's race in 3.12 2/5 and, with the Wrack trotting gelding, Willie Winkie, the outsider of a field of 10, he gained third placing in the Trotters' Grand Final. Jackie Guy, Mountmellick, King's Messenger and Mr C S Over's Red Ace were other winners from the stable that term.

Early the following season Smith trained and drove winners in Voco Power, Red Ace, Baby Grand and Grattan Drive, before piloting Jackie Guy to victory at Addington. Jackie Guy, however, was disqualified from that race, and Smith lost his driving licence on the grounds of interference. M Holmes, S A Edwards, R Young, W R Butt, D G Jones, J A Carnichael, R Stevens and others drove members of his team from them on. Later in the season, Jackie Guy won a double at Wellington and the stable was represented by other winners in Silent Knight, Trustee and Systematic. Trustee, a Quite Sure gelding and a member of the First Water family, won three races, including the Canterbury Handicap at Addington, for which he was the outsider of the field of 12 and recorded 4.15 1/5. Mr H Rattray's Grattan Loyal gelding, Systematic, was also at good odds for his two successes that term.

The next season Trustee won at Wellington when ninth favourite in a field of 12, while other winners included Systematic, Baby Grand, Jimmy Dillon, Right Royal, Dolly Fraser, Merry Man and Tiny Scott. Jimmy Dillon, an aged Quite Sure trotting gelding, raced in the interests of Mr Prendeville won three races including the NZ Trotting Free-For-All and the NZ Hambletonian Handicap. Right Royal, a speedy son of Jack Potts and Bingenique, raced by Mr W A Newton, won sprints at New Brighton and Forbury Park.

Smith won two races with the Dillon Hall gelding Popotai, in his own interests the following season, and four races with Mr C A Winter's 4-year-old Gamble horse, Gay Lyric. Other good winner produced from his stable that year were Systematic, Trustee, Tiny Scott, Dark Water and Scott Wrack. In 1951-52, he produced winners in Dark Water, the veteran Duncraig, Gay Lyric, Popotai, Systematic and Mrs A and Mrs J Darwell's Josedale Grattan gelding, Denbry, a temperamental customer at that stage of his career. The following season his major success was in the Johns Handicap at New Brighton with Denbry.

He long since gave up "pottering about with a horse or two" but his love of the game still draws like a magnet this remarkably agile octogenarian to training work and to race meetings at Addington and New Brighton. "It keeps me young," grinned Swanee.


Credit: 'Ribbonwood' writing in NZ Trotting Calendar 26Jun63


| | |
| --- | --- |
| | RACING HISTORY PEOPLE |

Mr J H WINTER

The death occurred in Christchurch of the Springston trainer, Mr J Winter, who spent much of his life in Southland.

Mr Winter was represented at Rangiora recently by his own horse, Anterior, who won the Hurunui Handicap. Anterior was trained in partnership with his son, J H Winter, jnr.

Mr Winter trained many winners when he was in Southland, probably the best of them being Stirling Castle, who later sired a number of winners. Mr Winter shifted to Springston several years ago and he produced a number of winners from a comparatively small team. Among the other useful winners he produced were Bonnie Castle, who won a NZ Oaks, Recent Choice and Super Nurse (both of which graduated to tight marks), Dark Wonder and Atlanta.

Credit: NZ Trotting Calendar 9Jan63


| | |
| --- | --- |
| | RACING HISTORY PEOPLE |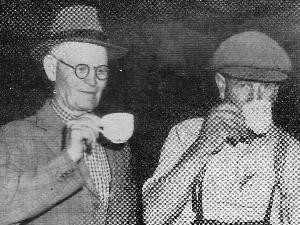 Sir John McKenzie (left) and Sandy Stewart

ALEXANDER STEWART

Mr Alexander (Sandy) Stewart has died in Christchurch at the age of 77. After service in the First Otago Regiment, 1st NZEF, Sandy Stewart, a native of Scotland, became a groom of Clydesdale horses.

He went to Roydon Lodge in 1943 and, put in charge of U Scott - a horse who could never be trifled with - he formed one of those strange and inexplicable affinities with his fiery charge that was to grow into an obsession. After he became U Scott's acknowledged 'keeper' no one else dared to lay a hand on the horse when Sandy was on the farm, and he was very rarely off it. In fact, it was only with the greatest difficulty that George Noble was able to persuade Sandy to take an isolated holiday - he invariably had to resort to the stratagem of personally buying Sandy's rail ticket and making certain the old gentleman was still on the train when it pulled out! Sandy was never happy when he was off the place, and he invented numerous excuses in order to keep his vacations down to a bare minimum.

Of course, from time immemorial men have loved horses, and Sandy doted on U Scott; and U Scott responded to his groom's mixture of firmness, kindness and cajolery in a way that was completely uncanny to the uninitiated. Sandy groomed the horse himself, he talked to him like a Dutch uncle, he would walk any distance, scythe in hand, to gather a special treat of succulent grass or clover or thistles for his pride and joy. In short, Sandy Stewart was dedicated to U Scott, as dedicated, probably, as humanly possible.

Sandy became a walking encyclopaedia on U Scott, U Scott's progeny and their performances - here and abroad - and of U Scott's siring sons and producing daughters. Nothing worth knowing about U Scott or written about him ever escaped Sandy Stewart's notice. For Sandy there was no horse like U Scott, or ever could be again.

Sandy also knew practically everbody who sent a mare to U Scott and visited the stud as a result, and he was well liked by all those same people, and by other owners and trainers, and by pressmen who marvelled at his innate horsesense - the man who succeeded in calming the boisterous spirits of the greatest sire in Dominion light-harness history, a horse who might not have scaled the heights he did as a progenitor if Sandy Stewart had not been constantly at his beck and call to curb his strong will.

Credit: NZ Trotting Calendar 25Sep63


| | |
| --- | --- |
| | RACING HISTORY MESCELLANY |

THE MILE RECORDS

This season the mile trotting record for NZ and Australia has been lowered to 2.02 4/5 by When; but the mile record for horses of both gaits has remained intact since Caduceus paced 1.57 3/5 against time at Addington in 1959. It does not apply with equal force today, but in early compilations of standardbred records for the two colonies, NZ and Australian pacers and trotters were thrown together from year to year.

In 1881-82, the late Mr Robert Wilkin, a wine and spirit merchant, established in Hereford Street, Christchurch, imported to his 'Holmwood' stables, Holmwood Road, Fendalton, two American stallions, Berlin and Vancleve. The latter he sent to Australia, to the stud of Andrew Towns, who then sold Vancleve to Mr John Arthur Buckland, a pioneer of the light-harness sport in Australia, and one whose activities had also an important bearing on the history of the sport in NZ. Berlin remained with Mr Wilkin to do stud duty, and one of the foals he produced Fraulein (from Woodburn Maid), was sold to Mr W Fraser Martin, of Sydney, who later passed her on to Mr Buckland.

Mr Buckland mated Vancleve with Fraulein for several successive seasons, but it was three years after their first mating that Vancleve, in an exhibition run at the Dubbo Show, in May, 1893, took a colonial mile record of 2.28, previously held by Mystery at 2.29½. Another Melbourne-owned trotter, Osterley, by the famous Childe Harold, after whom Harold Park was named, lowered Vancleve's record to 2.25 in 1895.

Two years after that, Fritz, the product of the first mating of Vancleve and Fraulein created a sensation on the Moonee Valley mile track by trotting 2.14 4/5 from a flying start.

In November of the same year (1897) at the Plumpton Park Club's meeting in Christchurch, Mr A Sefton's Blackwood Abdallah gelding, Little Willie, romped home in the one mile Final Handicap to record 2.26 1/5; and according to 'Honesty' in the 'NZ Referee', this was "the fastest mile in harness from a standing start that has yet been accomplished in NZ." The mile record was already regarded as the hallmark of standardbred speed, and trials against time at this distance were frequent and popular attractions in NZ and Australia.

Around the turn of the century, Mr Buckland's Fritz became the undisputed light-harness champion of Australasia. He trotted his way to success after success before being brought by his owner to NZ, in company of eight other first-class Australian horses in 1898. On that trip he established himself as a great favourite with the Canterbury public by beating Monte Carlo (who was later to win the first NZ Cup) in a free-for-all at the Canterbury Trotting Club's meeting, held on the old Show Grounds track. On June 2, 1898 Fritz made three attempts at the Riccarton racecourse to lower his 2.14 2/5. At his first attempt he trotted 2.18 2/5, and at his next two attempts he equalled 2.14 4/5. The track was reported to be very slow. Returning to Australia, Fritz lowered his record to 2.14 on the Brighton course, Sydney.

At that time, the Californian-bred Ha Ha (2.22¼ from a flying start) was the fastest horse in NZ and next to Fritz's his record was the next best south of the line. Next to Fritz and Ha Ha in NZ came the imported Wildwood, who had recorded 2.24 2/5 in a match race against Prince Imperial. In his prime, Wildwood was timed to trot a half-mile in 1.06 2/5 on Mr H Mace's track at New Brighton.

In the summer of 1898-99, Fritz again visited NZ, and it was on this trip that, for a purse of 100 sovereigns, he made an attempt to lower 2.15 against time. A totalisator was opened on the result, £35 being invested. Fritz was entrusted with £27 10s, and '2.15' with £7 10s. Without being really extended at any part of the journey, he trotted around the Show Grounds track in 2.13 - a new record. The dividend was microscopic!

Fritz made further trips to the Dominion, his last being in 1903, when he was brought from semi- retirement, in a typical sporting gesture by Mr Buckland, to meet the young Christchurch pacer, Ribbonwood, who had by this time become the idol of trotting followers in the Dominion. Advancing years and a very hurried preparation were mainly responsible for Fritz going under to the late Mr Dave Price's 'little black demon', but Ribbonwood proved that his victory in three straight heats was no fluke when, on the third day of that February meeting in 1903, held on the five-furlong Addington course, he recorded a new record of 2.09 for a mile against time from a flying start. Ribbonwood was by Wildwood from Dolly, by Young Irvington out of a thoroughbred mare. At the end of his great career in NZ he went to Australia and made history as a sire.

His mile record stood for eight years, until 1911, when it was reduced to 2.08 3/5, in a trial against time at Addington, by one of his sons, 7-year-old King Cole. The chestnut King Cole was the NZ champion of his day. He was raced by Mr R O Duncan and trained by the late Newton Price. His record-breaking mile run was watched by 300-odd votaries of light-harness racing, who gave him a great ovation. He was from Kola Nut, by Rothschild from Kola, by Harold Childe, a son of Childe Harold. King Cole was later sold to Australia, where he ended his race career.

A year earlier, in 1910, the Canterbury-bred Dan Patch, at that time owned by Victoria, on a visit to the Dominion, set an Australasian grass track record of 2.09 2/5 at Auckland. Also in 1910, Revenue, a son of Rothschild, and Mr J Manson's great-producing mare Georgina, trotted a mile in saddle in 2.11 4/5 on the Forbury Park track to displace Fritz as holder of the Australasian trotting record. In May, 1912, at Forbury Park, an Ashburton-bred Rothschld mare, Mr R McDonnell's 5-year-old, Emmeline, made an attempt at Forbury Park against Revenue's track record. She paced her mile in 2.08 3/5, and in doing so equalled King Cole's Australasian record. A month earlier at Addington, Emmeline had won a major event in the race record time of 2.10 4/5.

About that time, another fine mare was making a name for herself. She was Mr W J Morland's Country Belle (Wildmoor-Bonnie Belle). In 1915 Country Belle was nearing the end of her racing career, but before announcing her farewell performance Mr Morland decided to make an attempt to lower the 2.08 3/5 held by King Cole and Emmeline. The trial took place on the Metropolitan's grounds at about 6.30 on the morning of Thursday, December 16, 1915. Driven by her owner, Country Belle had the assistance as pacemaker of the well-known hurdler, Kingsway, ridden by Free Holmes. She paced her first half in 62secs and, to the delight of her admirers, the full journey in 2.07 1/5.

This record was to stand to 1917, when the Australian-bred Directway mare, Adelaide Direct, paraded in an attempt against it, for a purse of 100 sovereigns, on the second day of the Auckland Club's summer meeting. With the late, M Edwards behind her, she covered her first half in 64secs, and flashed home in 2.06 2/5 - a truly brilliant performance at that time.

In September, 1918, Mr A Fleming's speedy 8-year-old, Our Thorpe, whose career had been interrupted by mishaps, attacked Adelaide Direct's record at Addington. Driven by his owner-trainer, the Cheviot-bred OYM stallion clipped 1/5sec off the previous record; and he was to hold the honour for nearly five years.

It lasted until April 14, 1923, when, on the New Brighton Club's grass track, Happy Voyage, an Australian-bred Direct Voyage entire who had won his way almost to enforced retirement in the Dominion, was piloted over a mile against time in 2.04 1/5 by owner-trainer W J Tomkinson. This constituted a world record for a grass track. Later that year Happy Voyage equalled that time on the six-furlong Auckland track.

November 13 of the following year was the date of one of the most memorable mile contests in the Dominion's history. Five champions stepped out for the free-for-all on the second day of the Cup meeting at Addington. J J Kennerley paraded Logan Chief and Acron, W J Tomkinson Realm, J Messervy Onyx and J Bryce Taraire. In spite of the flying start, Taraire broke and was pulled up by Bryce. Realm made the pace to the half-mile in 60 3/5, and it was then obvious a new record was in the making. Logan Chief reached the lead at the tanks, with Acron alongside him and Realm dropping back to trail. Acron had Lagan Chief's measure at the furlong, but then Realm came at Acron to run the late Sir John McKenzie's champion to a neck. Acron's time - 2.03 3/5. By Logan Pointer from Millie C, who was a daughter of Wildmoor from a mare by Ha Ha, Acron was purchased by J R McKenzie for 2000gns after winning at his initial attempt. He was extremely temperamental, but when in the right mood there was no saying how fast he would go.

Acron's record was to stand for 10 years, but some very creditable miles were paced and trotted in the interim. The year 1925 saw Acron pace 2.04 3/5, Great Bingen 2.04 4/5, and the Australian Machine Brick 2.05 3/5, all at Addington. In 1928, Native Chief paced 2.04 1/5 to beat Great Bingen in a match race at Addington; and in May, 1930, Todd Lonzia marked his introduction to the public at Forbury Park by trotting eight furlongs in the Australasian 2-year-old record of 2.22 2/5. On the Forbury Park track in 1932, Todd Lonzia lowered Revenue's 22-year-old record of 2.11 3/5 by 3/5sec. This was reduced soon after by Olive Nelson, who trotted 2.11 at Westport. In the following year Todd Lonzia was again sent against time at Addington, and registered 2.09. However, he broke several times and it was not a good exhibition upon which to hang a record. Todd Lonzia was by the imported American horse, Lorene's Todd, from Daphne Dean, a daughter of Copa de Oro, sire in America of the successful importation, Rey de Oro.

The year of 1934 had an important bearing on the history of the mile record. This was the date of the visit from Australia of two champion pacers in Walla Walla and Auburn Lad. Walla Walla contested invitation match races against NZ's best at the Easter meeting of that year, winning the mile contest from Harold Logan in 2.04 1/5, a world race-winning record from a standing start. Walla Walla struck trouble in the second match race over a mile and a half, and finished out of a place.

On Tuesday, April 17, 1934, 2000 people gathered at Addington to watch Walla Walla, Auburn Lad and J S Shaw's brilliant NZ Trotting mare, Worthy Queen, race against the watches at a matinee meeting. Walla Walla was first to step out. A fairly stiff breeze was blowing, and after pacing his first half in 58 2/5, he tired considerably to record 2.03 4/5. He was suffering from a heavy cold. Worthy Queen (J S Shaw) then came out with Olax (galloped in sulky with Free Holmes) as pacemaker. At her first attempt she broke at the end of a furlong, but at her second try she never put a foot wrong. She trotted her first half in 60 4/5, and the full journey in the remarkable time of 2.03 3/5. Her record (against time) actually still stands to this day, because Dianthus Girl, 2.03 2/5, and When, 2.02 4/5, put up their times in special match races. Shortly before Worthy Queen's trial, Biddy Parrish had trotted a mile in 2.08 2/5 - a record which stood for but a few minutes.

Although not officially announced Auburn Lad next attacked the record. His pacemaker was no use to him, as he took charge of his driver, and was always about 100 yards in front. Driven by his owner, W McKay, Auburn Lad paced his first half in 60 2/5secs; but unlike Walla Walla, he did not tire so visibly in the final section. He time 2.02 2/5 was posted, and he became the fastest standardbred in Australasia.

Another champion had won his way up the ladder about this time. This was Mr G J Barton's Wrack stallion, Indianapolis. At the NZ Metropolitan Club's Royal meeting in 1935, without any special preparation, he paced an exhibition mile in 2.01 2/5, after covering his first mile in 61secs. Later in the day, he won the main sprint by six lengths. After winning his third NZ Cup in November, 1936, Indianapolis, in a trial against time, clipped a second from his fastest time, failing by 2/5sec to achieve the distinction of being the first 2.00 horse outside America. The same year he took a track record of 2.03 3/5 at Forbury Park against time.

The main mile of note in 1937 was the 2.04 recorded at Auckland by the Pedro Pronto gelding, Nervie's Last. The following year, Mr E Tatlow's Globe Derby horse Van Derby, paced a brilliant mile in the world grass track record time of 2.00 2/5 from a flying start at Auckland; but this grand effort took second place to a performance by his elder half-brother, Lawn Derby.

This was at Addington on Friday, November 11, 1938. Mr J F MacKenney's free-legged Australian champion paraded before a record crowd and, after being given a short warm-up by trainer-driver W J O'Shea, the Robert Derby horse raced past the mile post (with Golden Direct, in sulky driven by Mr Free Holmes, as a galloping pacemaker), and proceeded to 'burn up the clay'. He reached the half in 58 4/5, and stuck to his work in solid style right to the end. The posting of his 1.59 2/5 brought from the great crowd an appreciation befitting the momentous occasion. At last two minutes had been broken outside America; and Lawn Derby's time is still a free-legged record for this part of the world.

The year after, Lawn Derby recorded 2.04 4/5 in a race at the Auckland meeting, and 2.02 2/5 in an attempt aganst time on the six-furlong grass track at Claudelands. Also in 1939, Van Derby paced a mile against time at Epsom in 2.00 2/5. The best mile in 1940 was Lucky Jack's 2.01 1/5 against time at Addington, while in 1941 Gold Bar established a world record from a standing start when, ridden in saddle by M Holmes, he won the Clarkson Handicap from Mankind and Colonel Grattan in 2.03 3/5 on the second day of the Cup meeting. Nine months earlier, Smile Again had won in saddle over this distance at Addington in time only 2/5sec slower.

At Epsom in December, 1941, Josedale Grattan, the NZ Cup winner of that year, recorded 2.02 in a mile against time. A month later in a trial against time at Addington, Gold Bar became the second in the Southern Hemisphere to break 2.00, reeling off the distance in 1.59 3/5. Gold Bar was matched with R Grice's NZ Cup winner Haughty, in a special race at a patriotic meeting held at Addington on Match 27, 1943. B Grice's Nelson Derby-Regal Voyage mare (driven by O E Hooper) beat A Holmes's brilliant stallion (driven by Free Holmes) by two lengths, accomplishing a match-race record of 2.00 2/5. After missing out in her attempt to win her third NZ Cup the following year, Haughty was put against the watch on the second day of the November meeting, and recorded 1.59 3/5. She is still the only mare to have officially broken two minutes out side America.

In 1945 good judges sat up and blinked a little when a 2-year-old named Highland Fling recorded 2.10 for a mile, bettering by 4/5sec the Juvenile record, set at Timaru five years earlier by the young champion, Walter Moore. Highland Fling then became unruly and faded into obscurity for a time before being taken over by a master trainer in L F Berkett. Under Berkett he won his way into fortune and also into the hearts of all trotting enthusiasts over all distances and in all conditions.

And it was on May 1, 1948, that he was stepped out for what was to be the first of a series of phenominal performances against time. This was at Forbury Park where his mission was Indianapolis's track record of 2.03 3/5, established 12 years earlier. A strong southerly wind and a chilly atmosphere were obviously only minor difficulties, for the 'Fling' reeled of eight furlongs in 2.01, pacing his last half mile in 57. His victory, an hour earlier in the Otago Pacing Free-for-all, in which he covered his last mile in 2.03 3/5 had served as a convenient warm-up!

During the following season, Highland Fling made four more attempts against time over one mile. After winning his second NZ Cup in the world race-winning record time of 4.10 3/5 he delighted his admirers by lining up on the second day of the November meeting for a crack at Lawn Derby's long standing record of 1 59 2/5. The ease with which he equalled this record was remarkable. He appeared to be but coasting around, so deceptive was his smooth stride; and his appearance on his return to the birdcage gave the impression that he had not been extended. It was than announced that he would make another attempt to break the record on the third day of the meeting.

Berkett, unorthodox as always, dispensed with the usual strong work-out and galloping pacemaker, and Highland Fling streaked alone around the Addington track to record 1.57 4/5 and become the fastest standardbred outside America. The trainer-driver and Mr A T Kemble's champion were cheered to the echo. Six hours later he won the NZ Premier Sprint Championship in 2.37 2/5, after being left flat-footed at the start. The following January Highland Fling made another attempt against time at Forbury Park, and lowered his previous record for the track from 2.01 to 1.58 - only 1/5sec outside his Australasian record. It was another phenomenal effort. A fortnight later, at Hutt Park, Highland Fling paced his fourth two minute mile of the season, registering 2.00 flat to establish a world grass track record for the distance. The previous record was held by Van Derby, who recorded 2.00 2/5 at Epsom in 1938.

Highland Fling's performances that season overshadowed a very creditable performance by the Bill B gelding, Single Direct, who paced a mile against time at Claudelands. Also in February, 1949, Highland Kilt, a 2-year-old brother of Highland Fling in an attempt at Addington against Todd Lonzia's long-standing juvenile trotting record of 2.22 2/5, lowered those figures to 2.19 1/5, covering his last half in 68secs.

The year 1951 saw an attempt by the brilliant square-gaiter, Dictation, against Worthy Queen's 2.03 3/5. However, J Wilson's Josedale Dictator gelding, after trotting his fist half-mile brilliantly in 61secs, spoiled his display by tangling. He settled down again after losing valuable seconds and recorded only 2.07 2/5. The trial was at New Brighton. However, Dictation enjoyed his full share of other records.

Another sensation arrived on the scene in 1953, in the form of Brahman (Gold Bar, 1.59 3/5-Haughty, 1.59 3/5). He was paraded at Addington in June of that year in an attempt to lower Convivial's Australasian 2-year-old record of 2.08 4/5, established in Melbourne in 1951. Few before the attempt ever imagined that Brahman would do what he subsequently did - a mile in 2.02 1/5, after pacing the first half in 60 2/5. B Grice's mercurial juvenile raced at least one sulky-width out from the rail all the way and, although he did not nearly break the world record of 2.00 held then by Titan Hanover, USA, he amazed the critics.

In December of the 1953-54 season, Johnny Globe, the then idol of NZ enthuisiasts, added to his laurels a new world grass track record of 1.59 4/5 in an attempt against time at Epsom, a record which still stands. Other miles of note in 1953 were Burn's Night's 2.02 3/5 from a standing start to win the Au Revoir Free-for-all at the Easter meeting at Addington: Johnny Globe's improvement on this to 2.01 1/5 to win the Flying Sprint Free-for-all at the following Cup meeting; an exhibition mile by D G Nyhan's new champion in 2.00 1/5 at Kaikoura; and 6-year-old Highland Kilt's 2.04 3/5 in a trotting exhibition, also at Kaikoura.

In July of the same season J D Litten's Royal Mile (Fourth Brigade-Sure Romance), in a trial against time at Addington, lowered Highland Kilt's 2-year-old mile trotting record to 2.16 1/5. Later the same month a bay colt by Gold Change from Princess Yenot paced a mile against time at Epsom in 2.18 3/5 - an Australasian record for a yearling. This was sensationally lowered by Blue, who put up the world yearling record of 2.09 1/5 at Addington in 1957.

Perhaps the greatest mile race in Dominion harness history was that in which Tactician established the Australasian mile race record of 1.59 4/5. That was in 1957 at the NZ Metropolitan Trotting Club's Easter meeting in the Flying Stakes. From a moving start Tactician (M C McTigue) won by a nose from Caduceus, who went 2.00 for second. Local Light was three-quarters of a length away third in 2.00 1/5, and Merval was fourth in 2.00 3/5. There have been other stirring mile contests in recent years, but none in which such speed was attained as in the Flying Stakes.

Highland Fling's 1.57 4/5 stood safely out of reach for 11 years until finally lowered by the narrowest of margins by his full brother-in-blood, Caduceus, who went 1.57 3/5 against time at Addington in 1959. And there the mile record remains. Royal Mile's 2-year-old record was lowered to 2.13 1/5 by Au Fait in 1957, and stands to this day. Dianthus Girl, in 1962, in a special trotters match race at Addington, won in 2.03 2/5, thus lowering Worthy Queen's 1934 time of 2.03 3/5 by a fraction. And this season When has reduced the mile trotting main to 2.02 4/5, also in a match race.

Credit: 'Ribbonwood' writing in NZ Trotting Calendar 5Jun63


| | |
| --- | --- |
| | RACING HISTORY INTERDOMINIONS |

ADELAIDE - CARDIGAN BAY
Cardigan Bay became Inter-Dominion Champion in 1963 but not before overcoming what was a horrific training accident in 1962. So badly was Cardigan Bay injured that for a while it was touch and go for his life. He was in obvious pain and there were thoughts of putting him out of his misery. Cardigan Bay was nursed back to full fitness and the rest is history. What a great horse. Cardy started from 24 yards and won from Dusty Miller and Waitaki Hanover.



| | |
| --- | --- |
| | RACING HISTORY HORSES |

WHEN

When commenced racing as a 4-year-old in the 1959-60 season and quickly showed winning form, being successful in the Claremont Handicap at the autumn meeting of the Timaru Trotting Club on March 12, 1960. She was having her second race start, and won by a length and a half on a heavy track.

Three later starts produced two third placings, and then When won two races on end, her last appearances for that season. She won the Waikaura Handicap at Oamaru, and the Addington Handicap at the Canterbury Park Trotting Club's winter meeting, beating Mighty Ruston by half a length when giving that trotter 24 yards start.

As a 5-year-old, When started in 12 races for three wins and six placings. Her successes were gained in the Spring Handicap at New Brighton, the Stewards Handicap at the New Year meeting of the Canterbury Park Trotting Club, and the H F Nicoll Handicap on the fourth day of the Inter-Dominion Championship meeting at Addington. That day When trotted the two mile journey in 4.20 2/5 from 24 yards, and won by two lengths from Hindu, with Court Out and Chances Are third and fourth respectively.
By now it was becoming increasingly obvious that When was destined for dress-circle company among those of her gait. The patient policy adopted by her breeder-owner-trainer-driver, W J Doyle, a master with trotters, was bearing fruit.

At 6 years, When won six races and was placed twice in 13 starts for £4050 in stakes. When made her first appearance for that season in the Opening Handicap at Addington, but failed to gain a place. Improved by the race, When made no mistakes on the second day, winning the Winter Handicap by the comfortable margin of two lengths from Merry Nora. He time for the mile and five furlongs was 3.32 3/5, a 2.10 4/5 mile rate. In her next five starts, When gained only one fourth placing - in the NZ Trotting Free-For-All at Addington on the third day of the Cup meeting. That race was won by Reprimand, with Au Fait and Coronet Lass second and third.

However, When then regained winning form with a vengeance, winning five races and being placed second at her last six starts for the season. When won the Stewards' Handicap at the Canterbury Park New Year meeting (her second success in that event), the Hornby Handicap on the second day of the same meeting, the Autumn Handicap at New Brighton from 36 yards, the NZ Hambletonian Handicap at Addington, and the L S Smart Trotting Free-for-all at the Winter meeting of the Canterbury Park Trotting Club. Her second placing was gained in the Reta Peter Handicap at the NZ Metropolitan Easter meeting when she failed by only a nose to beat Moon Boy.

When has reached the pinnacle of her career this season, and has returned some superlative performances. She commenced the season by finishing third at her first start to Moon Boy and Spinster Scott in the Christchurch Handicap at the National meeting. This event was run under invitation conditions. At her next start on the second day of the meeting , When took her place in the Winter Free-for-all and won by a length and a half from Moon Boy. From behind the mobile starting gate When began well but met with a check at the end of the first furlong and was very lucky to escape serious trouble. She trotted the 12 furlongs and a half in 3.21, a little better than a 2.9 mile rate.

Two starts later When was beaten into third place in the Worthy Queen Handicap at the Cup meeting at Addington by Our Own and With You, and this defeat was followed by a second placing in the Dominion Handicap at the same meeting. In that event When was well back in the early stages, and although she improved over the last half mile and finished strongly, she failed by three-quarters of a length to reach Spinster Scott. When made amends at her next start at the meeting when she proved too good for her rivals in the NZ Trotting Free-For-All, winning by a length from Reprimand, with Moon Boy in third place. Two starts later, When gave starts up to 36 yards to her rivals in the Winslow Handicap at Ashburton and won comfortably by a length.

She carried on her winning way at the New Year meeting of the Canterbury Park Trotting Club when she won the Trotters' Flying Mile at that meeting. From behind the mobile starting gate When was quickly in front and set a solid pace. She beat Resistor by a length and trotted the mile in 2.02 4/5, a fresh NZ record for one of her gait. Taken to Hutt Park for the Royal meeting, When gave starts of up to 30 yards and a beating to the rest in the Duke of Edinburgh Handicap.

When's last race appearance in the Dominion was made at the Autumn meeting of the New Brighton Trotting Club, and her success, from 48 yards, in the Autumn Handicap, could be classed as one of the easiest in her career. When was still well back at the half mile and was seventh on the turn for home. From there on her class told, and she did not have to do her best to win by a length and a half. Her 2.38 3/5 for the mile and a quarter journey was great trotting by any standards, and a world grass track record to boot.

Earlier in her career, When appeared to experience difficulty in mustering her speed in the early part of her races, and was inclined to leave her feet if bustled. Patience, combined with experience and the expert knowledge of W J Doyle, remedied that failing, if it could be called such. In practically all her races over the last two seasons When has been as 'solid as the Rock of Gibraltar'.

A hardy chestnut in colour, When was by Light Brigade, a champion sire of trotters, and is the 1955 foal of the U Scott mare Passive, who took a record of 3.20 4/5 for a mile and a half as a trotter. Passive's dam, Violet Wrack, was a very good winner at the trotting gait for W J Doyle. Chances Are is a full sister to When, and Reflective is a half-sister, both being winners.

When has now started 43 times for 18 wins and 13 placings for £11,420 in stakes, including £250 received for lowering Dianthus Girl's NZ record for one mile of 2.03 2/5 to 2.02 4/5 when she won the Trotters' Flying Mile at the Canterbury Park meeting at New Year.



Credit: 'Irvington' writing in NZ Trotting Calendar 20Mar63


| | |
| --- | --- |
| | RACING HISTORY HORSES |

HAUGHTY

Haughty, who still ranks as the only mare to have broken two minutes in the Southern Hemisphere, and the first mare bred in this part of the world to enter this select circle, has died at the age of 27 years.

Haughty won two NZ Cups, was a free-for-all winner and held a number of records. She was an out-and-out champion, and among her notable deeds was the defeat of Gold Bar in a special match race over a mile at Addington in 2.00 2/5. That was in 1943. Haughty's 4.13 3/5 for two miles was a world pacing record for a mare when she retired in 1946, and she was also the biggest stake winning mare up to that time with £13,105 10s.

Haughty's second NZ Cup victory in 1943 was a magnificent feat of stamina. From the time Gold Bar hit the front the record crowd was at a high pitch of excitment, and when Haughty, almost exhausted, passed the post a winner, the crowd on the inside flocked onto the track to surround the mare and her driver and gave them a memorable ovation. But let us go back a mile and more and attempt to regain something of the atmosphere of that light-harness drama of November 6. Will they catch him? That was the question on the lips of thousands as Gold Bar held a commanding lead going into the back stretch the last time. When Springfield Globe wilted in his attempt to bridge the gap with three and a half furlongs to go, it momentarily looked as though Gold Bar's big moment had arrived. Then, from 'out of the blue' streaked Haughty and her skilled driver, O E Hooper. A terrific roar swept through the crowd as Haughty gradually drew up to the now exhausted pacemaker and came on to win by two lengths from Countless, with Pacing Power third and Gold Bar fourth.

It must have been one of the slowest last quarters ever recorded on a fast track at Addington - 36 sec - yet it was a magnificent climax and a glowing testament to the grit and determination of victor and vanquished alike. Gold Bar had run the first mile, from a standing start, in 2.03 4/5, and reached the mile and a quarter in 2.36 2/5.

Haughty's other important successes included the NZ Sprint Championship; her mile against time of 1.59 3/5, and a mile and a quarter placed record of 2.35 2/5, which was still a world race record for a mare when she retired.

In the pedigree of Haughty are tabulated the names of three mares who will always remain cornerstones of trotting history. Her sire, Nelson Derby, was by Nelson Bingen out of Norice, an American-bred mare who finished second to Monte Carlo in the first NZ Trotting Cup. On the dam's side of Haughty's pedigree is a close-up strain of Princess, easily the greatest pacing mare of just on 80 years ago. Princess started on her dazzling career back in the early 80s. One fine afternoon that astute horseman, the late Dave Price, noticed a pacing mare showing a turn of speed on the side of a road. He bought her then and there for £20 and a £20 contingency. She was said to be by Dexter, but there was some doubt about her breeding. However, she developed into an out-and-out champion, by far the greatest pacer seen in NZ up to her time, and she was much too good for the Exhibition Cup field at Dunedin.

Later Princess went to Australia, where she produced to Hambletonian Bell Boy that good horse Prince Imperial, who became the sire of a mare which never raced, but which produced, among other winners, Thixendale, Lady Willings, Lough Neagh, Denver City, Glimpse and Logan Princess. To Happy Voyage, 2.04 1/5, Logan Princess produced Regal Voyage. Princess was probably just as great a pacer of her time as Haughty was 60 years later.

The third great mare in the pedigree is Haughty's dam, Regal Voyage, who reached Cup class. The day she won the Mid-Summer Handicap at Addington in 1931 her time, 4.19 4/5, set a new two-mile record for a mare. In third place that day was the mighty Harold Logan who, from his long mark of 84 yards, was forced to go 4.13 2/5, then a world pacing record.

Haughty was mated with Gold Bar when first retired to the stud and produced Whiz, a brilliant pacer who went blind after winning a few races; then came Jaunty, by Josedale Grattan; then Brahman (by Gold Bar), who created the NZ and Australian 2-year-old record of 2.02 1/5 against time at Addington and won his way to NZ Cup class; followed by Tolerant (by Morano), Insolent (by U Scott) and others.

Haughty was bred, owned and trained by Mr B Grice, who has now been prominently associated with trotting for nearly half a century.

Credit: 'Ribbonwood' writing in NZ Trotting Calendar 10Apr63


| | |
| --- | --- |
| | RACING HISTORY HORSES |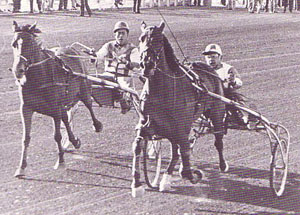 Arania Time Trialling in 1:57 at the Red Mile, Lexington

ARANIA

"My one regret is that, in my opinion, she went to America too soon, before she really had an opportunity to show her real worth in this country," said G B Noble, when speaking of Arania, who wrote such a glorious chapter in Dominion light-harness history by taking a mile record of 1.57 against time in America - the third fastest of all time for a mare, and only a bare fraction outside the joint world mare's record held by Rosalind(T) and Her Ladyship(P), 1.56 3/4.

Arania goes to the Roydon Lodge matron's paddock - she is to be mated with Thurber Frost - with the additional distinction that she has the fastest mile record of any horse bred outside America, and is also the fastest record horse ever to be imported to this country. The loss of her first foal (by Direct Rhythm, 1.56 1/5) cannot be reduced to terms of £ s d.

Not overlarge, but built on fleet lines, perfectly gaited, and thoroughly dependable to the very breaking point of her outstanding ability, Arania will perhaps be remembered most in her own country for her close and gallant third (as a 4-year-old) in the Grand Final of the Inter-Dominion Championship at Addington in 1961 - won by Massacre from False Step.

In a comparatively short race career in the United States (two seasons) Arania more than held her own against some of that countries best pacers. In 1961, Arania won four races, was second twice, third three times and fourth once for $28,000. The next year her record was two wins, two seconds, one third and two fourths, which netted her $17,400 in stakes. In her winning essays, Arania beat such pacers as Doc Hobbs, recording 2.00 2/5, Merrie Gesture, her time being 2.00 2/5, Milford Hanover, when she paced 2.02 1/5, and Sweet Singer, when she clocked the excellent time of 2.33 for one mile and a quarter. Arania was also second to such speedsters as Countess Adios, Betting Time and Vicki's Jet. The last named she forced to go 1.59 4/5 to beat her narrowly. Trainer-driver W Haughton, who handled Arania in several of he races, said that she was one of the nicest mares he had ever had anything to do with.

As a 2-year-old in the 1958/59 season, Arania raced consistently for one win and six placings in 10 starts. There is little doubt that if Sun Chief had not appeared on the 2-year-old scene, Arania would have been tops in this age group that term. At her first start Arania ran Sun Chief to a head in the NZ Golden Slipper Stakes at Waimate. She again had to be content with second place behind Sun Chief when they met in the Canterbury Park Juvenile Stakes. After finishing fourth in the Invitation Stakes at Geraldine, Arania followed Sun Chief and Blue Prince home in the Timaru Nursery Stakes. Her next placing that season - third - was to Hautapu and Prince Tangier in the Robert Mortlock Memorial Juvenile Stakes at Hawera. Taken to Hutt Park, Arania held off Velvet Drive by a neck in the Wellington Juvenile Stakes, a classic race for 2-year-old fillies. In the Oamaru Juvenile Stakes Sun Chief once again proved Arania's master, beating her by three-quarters of a length. Arania's stake earnings as a 2-year-old amounted to £905.

She opened her 3-year-old career on a promising note when she beat all but Sally Boy in the Canterbury Challenge Stakes at Addington. Sally Boy created a fresh race record when he paced the mile and a quarter in 2.38 4/5. Arania returned 2.39 2/5. At the Auckland Trotting Club's meeting in September that season, Arania downed a field of three and four-year-old pacers in the Grey Lynn Handicap and followed up that effort by finishing third in the Orakei Handicap on the second day. Arania's next appearance was in the Farewell Handicap at Oamaru on Labour Day. She drew the second line, but after a brilliant beginning was soon up in second place. In the run home she was never in serious danger of defeat, and won unextended by a length.

In the NZ Derby Stakes - run in then record time - Arania finished a close third to Stormont and Sun Chief, returning 3.12 1/5 for the mile and a half journey, which stood as a record for a filly for several years. Arania proved at her next start that she was head and shoulders above the rest of the fillies of her age when she outclassed the opposition in the NZ Oaks. In that event she started from the second line, but that did not stop her from winning with something in reserve by two lenghts.

On top of that success Arania downed a field of capable three and four-year-olds in the North Island Challenge Stakes at Epsom. A second to Sun Chief in the Great Northern Derby followed and then came a second to Lady Shona in the Festival Handicap at Forbury Park in January. At the same meeting Arania added the Royal Handicap to her imposing record. Three starts later Arania won the Eastbourne Handicap at Wellington. He next four starts for the season resulted in two third placings - in the Farewell Handicap at Wellington, and in the Queens Birthday Stakes at Ashburton.

As a two and three-year-old, Arania was unlucky in that she seldom drew a good barrier position. However, at three years she started 19 times for six wins and eight placings. She won £3650 that season and was the leading stake winner among the 3-year-olds, finishing fifth on the list of stakes winners for the whole of the Dominion.

Leading up to the Inter-Dominion Championship, as a 4-year-old, Arania had two successes and several placings to her credit. She won the Hornby Handicap at Addington earlier in the season and then carried off the Dunedin Cup in January. On the opening day of the Championship series, Arania failed dismally in her qualifying heat. After being one of the early leaders and then being 'left out in the open' she stopped badly and finished tenth. Her comfortable success in her heat on the second day was the signal for a rowdy demonstration. She followed up that win by succeeding in a two-mile heat on the third day, her winning margin being a length and a half.

Trainer-driver of False Step, C C Devine, made no secret of the fact that he considered Arania the big danger in the Grand Final. Arania paced a magnificent race in the Grand Final, and when she shot through an opening on the rails and hit the lead less than a furlong out, she was being hailed the winner until first False Step and then Massacre came on the scene.

Arania, a bay mare by U Scott from Local Gold, has been trained throughout her NZ career by G B Noble at Yaldhurst for Mr R A McKenzie. She gained nine wins and 21 minor placings for £8960 in stakes here, and her American winnings were $45,400.

Credit: 'Irvington' writing in NZ Trotting Clendar 18Sep63


| | |
| --- | --- |
| | RACING HISTORY HORSES |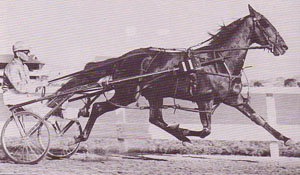 Vedette winner of the 1951 Inter-Dominion Grand Final

VEDETTE

Vedette winner of the Grand Final of the pacing section of the Inter-Dominion Championships at Addington in 1951, broke a leg recently at Tauherenikau and had to be destroyed. The former champion was enjoying a life of leisure since his retirement from racing in the 1958-59 season.

Vedette began racing as a 3-year-old in the 1948-49 season when he ran unplaced at his only start. He raced for nine seasons. Vedette received his early education and did his early racing in the hands of West Melton trainer, J D Litten. At his first start as a 4-year-old, Vedette beat all but Kublai Khan in the Winchester Handicap at the South Canterbury Jockey Club's meeting on October 8, 1949. This effort was follwed by another second, this time to Kelvin Lass in the second division of the Geraldine Handicap a week later.

He made amends for these defeats when taken to Oamaru shortly afterwards by beating Te Maru by three lengths in the Weston Handicap. After two more minor placings Vedette won the Dominion Challenge Stakes at Wellington from Springbok, a horse he beat on more than one occasion in the early part of his career. The North Island Challenge Stakes at Auckland was next added to Vedette's list and on this occasion he was driven by M Holmes but was still trained for this success by J D Litten. He also won the Epsom Stakes on the second day of the same meeting and from 24 yards behind he recorded 3.10 3/5 for the mile and a half journey. M Holmes was again his pilot.

Shortly after the Auckland meeting Vedette was transferred to M Holmes's team, and at his first start for his new trainer he won the Timaru Cup from Springbok by five lengths on a heavy track. The Autumn Stakes and the Plains Handicap, both at Addington, next fell easy prey to Vedette. During his 4-year-old season, Vedette started 18 times for seven wins and nine placings, his efforts netting £4915 in stakes. His first five starts as a 5-year-old resulted in five consecutive wins. They were gained in the Wilwood Handicap at Addington, the Johns Handicap at New Brighton (a race in which he defeated his stablemate Chamfer, who later won the NZ Cup), the Flying Handicap at Forbury Park, the Canterbury Centennial Handicap at Addington and the Mason Handicap also at Addington.

These brilliant successes brought Vedette right into calculations for Inter-Dominion Championship honours. Although beaten into second place by Commander Scott in the second qualifying heat on the first day and by Soangetaha on the second day, his admirers did not lose faith in this great pacer. He redeemed himself on the third day when he won his heat pointlessly, beating Maori Home by three lengths and pacing the two mile journey in 4.14 4/5.

Next came that never to be forgotten race, the Grand Final. The race went down in history as one of the greatest of all time. As late as two furlongs from the winning post Vedette appeared to have no earthly chance of finding an opening, although he was close enough to the leader, Zulu, lying about seventh. With less than a furlong to go and Soangetaha doing it nicely in front, Vedette got clear, but he had to move like greased lightning to bridge the gap and seal victory 80 yards short of the post.

Vedette raced for five more seasons following that success and he numbered amongst his wins the NZ Pacing Championship at Addington, the NZ Free-For-All at Addington, and the Electric Free-for-all ay Auckland. For the last named success he was trained by his part-owner, Mr C Johnston at Cambridge, and was driven by J Bryce Jnr.

Vedette was bred in Christchurch by Mr C Johnston, who raced him in partnership with Mr M Jenkins, and he was by Light Brigade from Queen Wrack. In all, Vedette won 19 races for £27,710 and was at the head of the winning horses' list in the 1950-51 season with the fine total of £14,260

Credit: 'Irvington' writing in NZ Trotting Calendar 13Feb63


| | |
| --- | --- |
| | RACING HISTORY HORSES |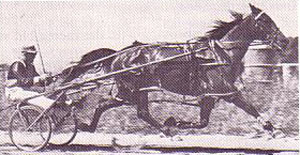 Falsehood & Ces Donald

FALSEHOOD

Falsehood began racing in the 1858-59 season as a 4-year-old, and had a fairly busy season. He started in 21 races for three wins and seven placings. For his first success, which was gained in the February Handicap on the first day of the summer meeting of the Westland Racing Club on Saturday, February 11, Falsehood was trained and driven by his owner, Mr J Steel. Falsehood won by five lengths that day, and repeated on the second day from 24 yards, again in the hands of his owner-trainer. On the first day Falsehood had also finished a creditable third from 48 yards at his second start.

Following his win on the second day of the Westland meeting, Falsehood gained only one fourth placing in four starts and he was then transferred to the Belfast stable of C S Donald, for whom he won the Ferry Handicap at the autumn meeting of the Wellington Trotting Club when making his first appearance for that trainer. Falsehood did not win again that term, but he gained five placings in his subsequent 10 starts. Recurring unsoundness was beginning to trouble him, and he made only three appearances as a 5-year-old for one second placing.

Falsehood made an auspicious start to his 6-year-old season when he won the Geraldine Cup by three lengths. A third and a fourth in his next three starts was the best he could manage before returning to the winning list in the Farewell Handicap on the third day of the Easter meeting at Hawera. Four more starts that season brought no result. At seven years Falsehood started 29 times for four wins and nine placings. His most important successes were in the Ashburton Cup, the Selwyn Handicap on the second day of the New Year meeting of the Canterbury Park Trotting Club and the Southland Handicap at Forbury Park in May.

The present season has seen Falsehood gain the highest marks for consistency. He has won eight races and been placed 10 times in a total of 21 starts. Falsehood was beaten into third place in the Louisson Handicap at the National meeting by Scottish Light and Lordship, at his first start for the season, and on the second day filled a similar position behind Lordship and Scottish Light in the National Handicap. Falsehood made his next appearance in the Johns Handicap at New Brighton, and once again success eluded him. He was narrowly beaten by Grouse.

Taken to Hutt Park, Falsehood was rewarded for consistency when he won the President's Handicap there, beating Smokeaway and Samantha. Two more minor placings followed, then Falsehood added the Metropolitan Handicap at Forbury Park to his record, beating Master Alan and King Hal. He next won the City Free-for-all at Forbury Park, King Hal and Lordship being in the minor placings. This success was followed by a win in the Hannon Memorial at Oamaru, which brought him right into calculations for the NZ Cup.

However, success in the big event was not for Falsehood. He was slow away that day, and although right in the picture after turning for home, he had no answer for the finishing run of Lordship, who beat Falsehood by three lengths. On the later days of the meeting, Falsehood found champion Cardigan Bay just too good for him in both the Alan Matson Handicap and the Smithson Free-for-all. Another second placing - the third on end - was Falsehood's lot in the Lightning Mile at the New Year meeting of the Canterbury Park Trooing Club. In that event Falsehood was beaten by Lordship, who paced the mile in 2.01 1/5, Falsehood recording 2.01 2/5.

Falsehood then struck a winning patch, and added the H H Wauchop Handicap at Canterbury Park, and the second and third qualifing races of the Dunedin Festival Cup to his record. From 24 yards in the final of the Dunedin Festival Cup, Falsehood was beaten into third place by Smokeaway and Master Alan. He made amends a little later at the Royal meeting at Hutt Park when he led over the last mile of the Queen Elizabeth Handicap to beat his rivals comfortably by two lengths. The manner in which Falsehood has held his form throughout a busy season is a credit to his trainer C S Donald, and full credit must also go to D C Watts, who has handled Falsehood in all his races this season.

Bred by his owner, Mr D Steel, of Greymouth, Falsehood is an 8-year-old brown gelding by Fallacy (who also sired False Step), from the Grattan Loyal mare Aloysius. In all in NZ, Falsehood has won £16,165 in stakes, the result of 18 wins and 29 placings in a total of 83 starts.

Credit: 'Irvington' writing in NZ Trotting Calendar 20Mar63


| | |
| --- | --- |
| | RACING HISTORY FEATURE RACE COMMENT |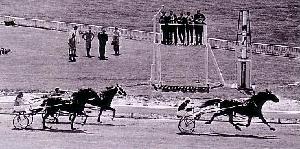 Cardigan Bay winning the 1963 Cup from 54yds

GREAT RACES: CARDY - ONE IN A MILLION

Picking the highlight of Cardigan Bay's career is like trying to pick the greatest cricket catch of all time - if there were 10 people on a judging panel one would no doubt get 10 different opinions.

But 1963 was the year of Cardigan Bay like no other before or after and the Auckland Cup was his crowning glory. Among other things he had won the Inter-Dominion in Wayville and the NZ Cup from 54 yards, when the entire field outside of Oreti (12yds), started from the front. To become the first horse to win an Inter-Dominion, New Zealand and Auckland Cup in the one calendar year,'Cardy'would be faced with a 78-yard handicap.

A few of the locals were let into the race off the front along with Jar Ar, but Cardigan Bay's presence had compressed most of the rest into the 12-yard handicap and they included a "young champion" in 4-year-old Tactile along with King Hal, Sun Chief, Urrall, Vandeford and the bonny, gallant wee mare Robin Dundee, who chased him home at Addington. Behind them were Robin Dundee's fine older half-brother Dundee on 18 yards and Gentry, still going strong as a 10-year-old, off 36 yards. The enormity of the task seemed over-whelming even for Cardigan Bay, and over 26,000 people packed Alexandra Park to cheer him on.

The 'Trotting Calendar' in previewing the event said..."Cardigan Bay's task of giving starts ranging up to 78 yards in this year's Auckland Cup would be a Herculean one by any yardstick of the past, but this pre-eminent pacer has so completely demolished all previous concepts of what the limit to pacing speed and stamina might be that he is assured of favouritism at Epsom on December 27. His superlative performances to win the New Zealand Cup from 54 yards; his world record of 3:18 1/5 for 13 furlongs in the Allan Matson Handicap; and his torrent of speed to outclass the free-for-all field have placed him on a public pedestal usually reserved for Olympic stars."

To set the scene further, Cardigan Bay had joined Peter Wolfenden as a late 4-year-old, having won three straight races and five in total for Mataura trainer Dave Todd and his brother Sandy. He had won twice at three, but failed to pay a dividend on five occasions - a good sale would have to wait until Todd and his driver Ken Balloch had knocked the edges off. This was achieved in the next season when Cardigan Bay was racing with a hefty price tag of £2500.

Prominent administrator Arthur Nicoll would have bought him but for an investment in Australia collapsing at the time, and Gentry's owner/trainer Bob Barry was more than interested but considered him too dear, and waited until he was beaten in the hope he could get him cheaper. However, Cardigan Bay so impressed in taking out the Renown Handicap at Forbury Park in April, 1961, that Auckland snooker hall proprietor and well established 'bookie' Merv Deans successfully bid £2000 with two £250 contingencies. Dean had been flush with success after purchasing from the Todds a Hal Tryax gelding named Motif, who had won for him at Claudelands at 40-to-one, and then when placed with a young horseman in Wolfenden, had won again at Stratford on April 15.

Placed in the name of Dean's wife Audrey, Cardigan Bay came into Wolfenden's life when he was 26 and at a time when the track was being remodelled. When the track became available again in the new season, Cardigan Bay "breezed" a half in 59 in work and led Wolfenden to declare "driving something else and then him is like stepping from a Morris Minor into a Jaguar."

A big and powerfully-built but ultimately plain bay, Cardigan Bay romped unbeaten through Auckland meetings in September and October and arrived at the 1961 NZ Cup Meeting unbeaten in seven races, easily accounting for the Final Handicap on Cup Day and Scottish Command and Smokeaway in the NZ Free-For-All, the day the granstand burned to the ground in the background. When he bolted away with the Auckland Cup by five lengths soon after, it was his 10th straight win, equalling a record established by War Buoy 40 years earlier.

Cardigan Bay had not actually travelled well to Addington and Wolfenden was then against taking him all the way to Perth for the Inter-Dominions, but Dean had other ideas and placed him under the guidance of NSW horseman Bill Wilkins. Handicapped on 12 yards with only the brilliant NSW horse James Scott behind him in the Championship, Cardigan Bay easily won on the first two nights as did James Scott, and a clash in the two-mile third round heat and the Final were eagerly anticipated. It was not to be though, as in a training mishap, Cardigan Bay crashed to the ground back at the stables and landed on a concrete curb, completely displacing his near-hind hip. About the same time, Audrey Dean went into hospital for an operation and received news of the death of a relative, and Wolfenden was kicked in the face by a horse, requiring surgery that put him on the sidelines for several months.

Negotiations had already been taking place to have Cardigan Bay competing in that year's Yonkers International Series, but it seemed his career could be over. Placed in a sling and lovingly cared for by Perth trainer Ted Greig, a month later Cardigan Bay was walking without pain, although with a noticable limp. Four months after the disaster he was shipped home, and in September at Alexandra Park he successfully resumed from 36 yards over 13 furlongs.

Unplaced when favourite from 24 yards in Lordship's 1962 NZ Cup, when the slushy conditions hindered his by now less-than-perfect pacing action, Cardigan Bay also had to take a backseat to the brilliant 4-year-old in the NZ Free-For-All, but won the Matson and Smithson FFAs. He then came up two lengths short of Ces Donald's speedy but erratic Dandy Briar in the Auckland Cup after giving him a 48-yard start, but added the Champion Handicap and another race in Auckland before heading to Adelaide and the Inter-Dominions.

The saucer-like two and a half furlong Wayville circuit did not suit Cardigan Bay's ambling action and there were incidents aplenty during the rounds of heats, one of which put Wolfenden on the deck during the third night. But ironically in the Final, Cardigan Bay had moved around the field from 24 yards and had a clear track starting the last lap when Idle Raider faltered and wiped out most of the field, and he went on to down Dusty Miller and Waitaki Hanover handsomely.

Marty Tananbaum was again on-hand to witness this, but could not persuade any of his fellow Americans to fork out the equivalent of $70,000 for a "7-year-old gelging with a suspect hip." Continuing his Australian campaign under Wilkins, Cardigan Bay won a race in Melbourne and four more a Harold Park, where he was also second from 48 yards to Waitaki Hanover in the Lord Mayor's Cup, before returning home to rest up for his 1963 NZ Cup Meeting assault and demolition.

First Cardigan Bay would be at Addington in August for the National Meeting, downing Samantha (12yds) and Lordship (18yds) in the mile and a quarter Lightning Handicap from 30 yards, and dead-heating for first with Junior Royal (Fr) in the National Handicap after starting from 42 yards. A week later at Hutt Park on the way home, Cardigan Bay easily won the Roydon Lodge FFA over Samantha and Junior Royal, and the Prsident's Handicap from 36 yards over Master Alan more easily by five lengths, and for good measure he time-trialled at Cambridge's new five-furlong track and equalled Caduceus' Australasian mile record of 1:57 3/5.

From 54 yards in the Cup, Cardigan Bay conceded favouritism to the Alf Bourne-trained and Maurice Holmes-driven 4-year-old Vanderford, a son of Great Evander, who had won seven of eight races that spring including the Ashburton Flying Stakes and Hannon. Holmes had Vanderford bowling along in front most of the way, but when Cardigan Bay received a good cart into the race by Oreti over he last lap, he pounced and won easily by a couple of lengths over Robin Dundee and Master Alan.

Another FFA proved a mere formality, and then to ceebrate the introduction of night racing at Addington a £500 bonus was offered if False Step's NZ record of 3:21 could be broken in the Allan Matson, which was worth half that of the Cup at £3500. In other words, £500 was serious money some 40 years ago. Fron 54 yards and with four others on 12 yards in the 15 horse field, Cardigan Bay romped home by almost four lengths in 3:18 1/5 - he was three-wide for practically the entire race and timed over the last two laps (mile and a half) in under three minutes - and added the Ollivier from 60 yards in 3:20 3/5 on the final night for good measure.

Realising what a drawcard Cardigan Bay would be, the Wellington TC offered £600 to break the mile record, and on a cold and blustery night Cardy scorched round the four and a half furlong track in 1:56 1/5. Wolfenden claimed that but for the windy conditions, Cardigan Bay would had threatened Adios Butler's world record of 1:54 3/5 set at The Red Mile on 1960.

On to the big night in Auckland, and time when the Handicapper has all but brought Cardigan Bay's Down Under career to a close - all but. While there may have been cause for optimism given his form, 78 yards was a monumental task when the best horses in the country are at least 66 yards ahead of you.

Cardigan Bay made his usual swift beginning though and bided his time at the tail of the big field until he commenced his run around the field from the 1200m - or about the point when the crescendo began. He forged to the lead in the backstraight, but he was being stalked by Tactile, handy all the way and now tracking Cardigan Bay into line. Tactile drew up, but Cardy would not be denied and went on to win by half a length like the champion he was.

It was heart-stoppingly spectacular stuff and C E Craig, writing for the 'Calendar' on the night, said "the thunderous ovation received has never been equalled at Epsom or probably on any other trotting course. All eyes were on him from start to finish, and when they accelerated at the three furlongs, racing around the field to be first in line for the judge it was just an uproar, and continued until they returned to the enclosure. "As President Mr Bridgens said in his Cup presentation: 'What can I say? You people have already said it for me'." The scenes would be repeated to some extent on the nights of the 1974 and 2005 Inter-Dominions in Auckland - just add about 50 metres to what was asked of Young Quinn and Elsu and double the crowd.

A few weeks later Cardigan Bay won his last New Zealand start, taking out the two-mile Pezaro Memorial from 60 yards by a length over frontmarker Jay Ar. On to the Inter-Dominions around the three-furlong Melbourne Showgrounds, and on-hand to see Cardigan Bay thread his way through 11 rivals from 36 yards to win on the first night was Tananbaum again, but this time with a special guest - Stanley Dancer. Needing no more prodding, Dancer offered US$100,000 (about £36,000) and agreed to return Cardigan Bay home at his own expense, while Tananbaum threw in a $30,000 specially chartered flight to New York.

Out of luck in the Inter-Dom Final won by Minuteman in all-the-way fashion, Cardigan Bay departed these shores having won 43 races with nine seconds from 67 starts - £36,477 in New Zealand and £24,940 in Australia.

Taking delivery of Cardigan Bay when he landed in New York in March, 1964, Dancer told reporters: "I got him cheap - $900,000 cheap. This one's worth a million." Just how prophetic was that comment?


Credit: Frank Marrion writing in HRWeekly 21Jun06


| | |
| --- | --- |
| | RACING HISTORY FEATURE RACE COMMENT |

1963 DOMINION TROTTING HANDICAP

Min Scott gained her most important success to date when she finished too well for Mighty Hanover in the Dominion Handicap. Winner of two races earlier this year, Min Scott was prominently placed throughout and her final sprint was reserved till into the straight. Her success was a most convincing affair.

Min Scott cannot boast a great deal in the way of size, but she is beautifully put together, and has a perfect action. By U Scott, she is a five-year-old black mare out of Royal Charge, a half-sister to a one-time most capable pacer in Prince.

Min Scott's success was a real family affair as she is owned by Mrs G N Hunter, whose husband J S Hunter trains Min Scott, who was driven by C S Hunter, a son of the trainer. Min Scott trotted the two mile journey in 4:18.8 from 12 yards - a very smart run.

Mighty Hanover was responsible for most of the pace in the race, and he was far from disgraced in going under to a trotter of the calibre of Min Scott. Front running is something unusual for the Lucky Hanover-Betty Maxegin trotter, but no other runner appeared anxious to take the lead off him. Mighty Hanover attempted to slip the field racing to the straight, but was run down in the race to the post.

Having his first start since being trained at Belfast by C S Donald, Front Line drew attention to his immediate prospects with a forward showing for third. A full-brother to Battle Cry, Front Line has been a difficult horse to keep sound, but the effort points to him yet living up to the fine promise he showed as a young horse. Our Jimmy pulled hard in behind his stablemate, Mighty Hanover for most of the way in the Dominion and he battled on for fourth. Moon Boy pulled a shoe during the running and finished last. He was showing signs of lameness on returning to the birdcage.

Credit: 'Irvington' writing in NZ Trotting Calendar20Nov63


| | |
| --- | --- |
| | RACING HISTORY FEATURE RACE COMMENT |

CARDIGAN BAY AT THE 1963 CUP CARNIVAL

Hind-sight, if you like but, in retrospect, it is doubtful if Cardigan Bay, even in his defeat of Bret Hanover, 1:58 3/5, in the Pace of the Century at Yonkers Raceway in 1966, was any better than he was at the NZ Cup Carnival in 1963. Over the four days he made a four-in-a-row clean sweep of the NZ Cup, the NZ Free-For-All, the Ollivier Handicap and the Alan Matson Handicap.

Here is what appeared in the Calendar dated November 27, 1963: CARDY COULD BREAK EVERY RECORD IN THE BOOK.

Cardigan Bay's fantastic time of 2:59 4/5 for the last mile and a half in the Allan Matson Handicap at the Addington Raceway on Wednesday night, November 20, is not only 3 3/5 seconds inside the world record (unofficial of course) for the distance jointly held by the American pacers Stephan Smith(1961) and Royal Rick(1962) - it is also the first time in world harness history that two-minute speed has been sustained by any horse beyond a mile and a quarter - and Cardigan Bay also ran his last mile in 2:00 flat. The mile and a quarter record is held by Irvin Paul, who bettered two-minute speed when he registered 2:29 3/5 in a race at Westbury, New York, last year.

Just what 'Cardy'(as the Auckland public have nicknamed him) would be capable of under trial conditions from a flying start with a galloping pacemaker defies the imagination - no matter what the distance. Nothing he met at Addington could give him any hint of competition - particularly when he paced his dazzling 3:18 1/5 for a mile and five furlongs and lowered False Step's world record by nearly 3 seconds. His nett time (4½ seconds deducted for his handicap of 54 yards) in a mile rating of 2:02 from a standing start (the world mile record from a standing start in Johnny Globe's 2:01 1/5).

The world record for a mile and a half still stands to the credit of Greyhound, the 'grey ghost' of tremendous stride who trotted 3:02½ as a 5-year-old at Indianapolis away back in 1937. No pacer of world class, to the writer's knowledge, has ever been sent against time for the distance, and there are also very few mile and a half races in the USA in any season except when 'international' events are staged. Other world records for main distances not alredy referred to in this article are Adios Bulter's mile in 1:54 3/5 (since lowered to 1:53 3/5 by Bret Hanover) and Greyhound's two miles in 4:06, both made against time.

Long since, the trotting scribes ran out of superlatives to fit Cardigan Bay's feats. Suffice it to say he is the greatest horse the Calendar writers have ever seen, that his Allan Matson Handicap performance was unbelievable when the time was first announced, ie, the most outstanding performance it has ever been our good fortune to see: that Cardigan Bay is the 'most' - that nothing in the world today, in our view, could match his incredible, searing brilliance and utterly dependable racing qualities. It is not altogether his record time and the unbelief that attended his post-to-post mile and a half figures that rocked us: it was the bewildering ease with which he shook off anything that resembled a challenge once he had zoomed past his fields as though they were tied to the hub-rail.

A tribute too, for Peter Wolfenden, Cardigan Bay's 28-year-old trainer-driver who is just as imperturbable and consistent and reliable as the prodigious steed he handles with such consummate skill and mastery. Here, then, is another affinity between man and beast that may well rank with the immortal horse lore of truth and legend of the past, the uncanny mutual understanding that has produced the incomparable combination that alone made the NZ Cup Carnival and Addington Raceway's inaugural night an unqualified sporting success. There were other good performances over the meeting, especially among the trotters, but all were mere ripples compared with the four-in-a-row clean sweep of the Pacing Powerhouse from Pakuranga and Peter the Phantom of the same address.


Credit: 'Ribbomwood' writing in NZ Trotting Calendar 25Sep68


| | |
| --- | --- |
| | RACING HISTORY FEATURE RACE COMMENT |

1963 NZ TROTTING CUP

"He will have to achieve the impossible to give Vanderford 54 yards start today," declared a seasoned racegoer after examining the track, the favourite, and the backmarker during the New Zealand Cup preliminary at Addington on Tuesday. And the totalisator investments affirmed that our seasoned racegoer was not alone in his dictum. But nothing tickles the palate of the dedicated racegoer - any brand or vintage of racegoer - more than the achievement of the 'impossible' and the warm ovation for Cardigan Bay had already broken out when he took command with two furlongs to go.

Cardigan Bay performed the 'impossible' in irreproachable style - he even exceeded all the highest estimates of his ability and duribility in the fourth fastest Cup in history - Johnny Globe 4:07.6, False Step 4:09, Highland Fling 4:10.6, Cardigan Bay 4:11.2. He reduced all his opponents of any consequence to a struggling, straggling band with surprising rapidity, even for him. This phase of his and Peter Wolfenden's strategy occurred suddenly and unexpectedly - with three furlongs to go. One moment Vanderford was still striding confidently out in front; the next was a complete metamorphosis, with Cardigan Bay taking every advantage of a trail behind the streaking Oreti on the outer, and Vanderford rapidly losing his grip of the situation down on the hub rail. The race was as good as won from that stage. Cardigan Bay, doing it the hard way, nearly three wide, got his head in front at the two furlongs, and his only effective challenger, Robin Dundee, came no closer than two lengths and a half to him in the race from the home turn.

Vanderford's first mile in 2:11.2 was not sensational, due to his slowing down the pace from a 2:07 clip to a 2:15 clip in the second half-mile. Neither was the time for the first mile and a half, 3:17, out of the way for horses of Cup class, and this no doubt was a life-saver for Cardigan Bay, already at least 24 yards closer to the leaders than at the outset. Cardigan Bay was privately timed from post to post in 4:09.6, his first half in 61, mile in 2:06.2, mile and a quarter in 2:38.8, and mile and a half in 3:10.6. So it will be readily gleaned that he tramped his last half mile in 59.6 secs and the last mile in 2.03.4.

A rather surprising third favourite, Sun Chief beat only two horses home - his youthful spring excellence has given way to autumn mediocrity. He is only a shadow of the horse who finished second in the NZ Cup of 1960. Robin Dundee was produced in rare fettle by veteran trainer J Walsh - nothing looked better - and she came home much more resolutely than any of the minor place-fillers. It was a brave showing on the part of this pocket-edition pacer.

Doctor Dan, Grouse, Oreti and King Hal were all a little slow away, and Dandy Briar broke. Vanderford tangled for a few strides but lost very little ground. Blue Prince was first to show out from Sun Chief, Urrall, Master Alan, Vanderford and Robin Dundee, with two lengths to King Hal, Doctor Dan, Oreti and Cardigan Bay last. At the end of two furlongs Vanderford had taken over, and he was followed past the stands by Blue Prince, Sun Chief, Urrall, Robin Dundee, Master Alan, King Hal, Doctor Dan, Oreti, Dandy Briar and Cardigan Bay, still at the rear. Most of the field were racing in pairs by now. There was little change till approached the three furlongs, where Oreti moved up to Vanderford, and Cardigan Bay was beginning to improve from the back in the direct path of Oreti.

Soon after, Vanderford gave way to Oreti, and Cardigan Bay, continuing his run, was in front at the two furlongs. He led into the straight and, shaken up, held his advantage to beat Robin Dundee by two lengths and a half. Robin Dundee finished strongly to beat Master Alan by a head. Two lengths back came Oreti, followed by Doctor Dan, the weakening Vanderford, King Hal, Urrall, Dandy Briar, Sun Chief, Blue Prince and Grouse last.

Cardigan Bay has now won 35 races and £48,447 in stakes and trophies. He shares with War Buoy the best winning sequence for a harness horse in the Dominion - 10. He is the first horse ever to win a New Zealand Cup and an Inter-Dominion Championship, a 'double' that eluded such greats as Highland Fling, Caduceus, Johnny Globe and False Step - one way or the other. He holds the New Zealand and Australian mile record, 1:57.6, jointly with Caduceus. He is one of the most perfect pacing 'machines' ever seen in this country - reliable, brilliant, and a renowned stayer or unflinching courage. Only two horses have won the Cup from longer marks than Cardigan Bay's 54 yards: Harold Logan and Highland Fling both won from 60 yards.

An odds-on favourite, Vanderford carried £3697 for a win on-course and £8976 off-course; for a place he carried £3580 10s on-course and £4003 off-course. Cardigan Bay, second favourite, earned £1488 10s for a win on-course and £3197 off-course; his place totals were £1666 10s on-course and £3681 off-course. The betting totals on the Cup were slightly down on last year: on-course total was £24,147 10s, compared with £24,828 10s last year; and the off-course figure was £35,930, against £36,176 last year. The on-course total for the day was £192,254, a substantial increase on the £183,633 10s handled last year; but the off-course figures showed a corresponding decrease - this year's total was £180,714 15s, against £188,535 last year. The attendance this year, 18,500, was almost the same as last year.

The result was a triumph for the Southland sire Hal Tryax (imp), who sired the first and second horses, Cardigan Bay and Robin Dundee. Colwyn Bay, the dam of Cardigan Bay, recently produced a filly foal, a full sister to the Cup winner, and there is also an older filly of the same breeding. Colwyn Bay was a brilliant pacer herself, but unsoundness cut short her racing career. She is by Josedale Dictator (imp) from Pleasure Bay, by Quite Sure (imp) from Helen's Bay, by Guy Parrish (imp) from Gold Patch, by Geo M Patchen.

Cardigan Bay was bred was developed by the Mataura trainer, D Todd. He was raced by D Todd's brother, Mr A Todd, of Mataura, who sold him to Mrs Deans. Mrs Deans related how she had decided to buy a pacer and that she and her husband had followed closely the newspaper comments made on the form and performances of Cardigan Bay. "We were quite certain that Cardigan Bay would be the horse we would buy - we had never seen him - and when we read there were some northern inquiries for him, we decided there and then to buy him before anyone else did," she said. The champion cost Mrs Dean £2500 after contingencies had been met.

Cardigan Bay's mixed fortune at the 1962 Inter-Dominion Championship in Perth is too widely known to require repetition here. His recovery will always rank as a miracle of racing. He made no mistakes about the 1963 series - his form was 'bang on' and he outclassed the opposition he met in Suoth Australia.

Describing the race as "one of the great Cups, and one of the best fields for many years" the president of the NZ Metropolitan Trotting Club, Mr J K Davidson, congratulated the owner and trainer-driver on a "magnificent performance in which the result was under control some distance from home." After Mrs Davidson decorated Cardigan Bay with a garland of flowers, Mrs Dean replied. She paid a warm tribute to P T Wolfenden for his "careful training and skilful driving" and also thanked "Noel Bennett, who has so capably looked after the horse.




Credit: 'Ribbonwood' writing in NZ Trotting Calendar


| | |
| --- | --- |
| | RACING HISTORY FEATURE RACE COMMENT |

1963 ALLAN MATSON HANDICAP

Cardigan Bay's fantastic time of 2:59.8 for the last mile and a half of the Allan Matson Handicap at the Addington Raceway on Wednesday night, November 20, is not only 3.6sec inside the world race record (unofficial of course) for the distance held jointly by the American pacers Stephan Smith (1961) and Royal Rick (1962) - it is also the first time in world harness history that two-minute speed has been sustained by any horse beyond a mile and a quarter - and Cardigan Bay also ran his last mile in 2:00 flat.

The mile and a quarter record is held by Irvin Paul, who bettered two-minute speed when he registered 2:29.6 in a race at Westbury, New York, last year. Just what 'Cardy' (as the Auckland public have nicknamed him) would be capable of under trial conditions from a flying start with a galloping pacemaker defies the imagination - no matter what the distance. Nothing he met at Addington could give him any hint of competition - particularly when he paced his dazzling 3:18.2 for a mile and five furlongs and lowered False Step's world record by nearly 3secs. His nett time (4.5secs deducted for his handicap of 54 yards) is a mile rating of 2:02 from a standing start (the world mile record from a standing start is Johnny Globe's 2:01.2).

The world record for a mile and a half still stands to the credit of Greyhound, the 'grey ghost' of tremendous stride who trotted 3:02.5 as a five-year-old at Indianapolis away back in 1937. No pacer of world class, to the writers knowledge, has ever been set against time for the distance, and there is also very few mile and a half races in the USA in any season except when 'international' events are staged. Other world records for main distances not already referred to in this article are Adios Butler's mile in 1:54.6 and Greyhound's two miles in 4:06, both made against time.

Long since the trotting scribes ran out of superlatives to fit Cardigan Bay's outstanding feats. Suffice it to say he is the greatest horse the Calendar writers have ever seen, that his Allan Matson Handicap performance was unbelievable when the time was first announced, i.e., THE most outstanding performance it has ever been our good fortune to see: that Cardigan Bay is the 'MOST' - that nothing in the world today, in our view, could match his incredible, searing brilliance and utterly dependable racing qualities. It was not altogether his record time and the unbeliefthat attended his post-to-post mile and a half time which rocked us: it was the bewildering ease with which he shook of anything that resembled a challenge once he had zoomed past his fields as though they were tied to the hub-rail.

A tribute, too, for Peter Wolfenden, Cardigan Bay's 28-year-old trainer-driver who is just as imperturbable and consistent and reliable as the prodigious steed he handles with such consumate skill and mastery. Here, then, is another affinity between man and beast that may well rank with the immortal horse lore of truth and legend of the past, the uncanny mutual understanding that had produced the incomparable combination that alone made the New Zealand Cup Carnival and Addington Raceway's Inaugural Night an unqualified sporting success. There were other good performances over the meeting, especially among the trotters, but all were mere ripples compared with the fout-in-a-row clean sweep of the Pacing Powerhouse from Pakuranga and Peter the Phantom of the same address.

Credit: NZ Trotting Calendar 27Nov63


| | |
| --- | --- |
| | RACING HISTORY FEATURE RACE COMMENT |

1963 NZ OAKS

Balcairn was responsible for a major upset in the NZ Oaks when she comfortably held off the short priced favourite, Bellajily.

Balcairn made most of the pace (not a particularly fast one), and shot clear turning for home and soon established a winning break. Bellajily became awkwardly placed on the rails, and the result was in safe keeping by the time she worked clear. Lin Dor raced up to her earlier form in running third, and the same could be said of Lady Luronne, fourth.

Bellajily was one of the quickest to begin and was taken to the front soon after the start. With nine furlongs and a half to go, Bellajily surrendered the lead to Balcairn, who made all her own rules from that stage. With a mile to run the order was Balcairn, Bellajily, Lady Luronne, Lin Dor, Bossa Nova, Surely Not, Boutique, Disband, Flying Step, Ulove, False Tax and Scottish Advance, most of the field racing in pairs.

Balcairn was still doing her work well at the straight entrance where Surely Not, Bossa Nova, Lady Luronne, Disband and Lin Dor were all showing up, and Bellajily was still securely pocketed down on the rails. In the run home, Balcairn did not look like being beaten, and Bellajily finished fast once in the clear. After Lady Luronne came Disband, Flying Step, Scottish Advance, False Tax, Surely Not and Orient Belle.

Balcairn is a fine type of filly by Light Brigade from the U Scott mare, Gold Cloud, whose dam was Gold Peg, a smart performer, especially in heavy going. Gold Peg had the distinction of beating Highland Fling twice on heavy tracks. Balcairn was bred by G S and H McL Benny, who race the filly in partnership. Balcairn is trained by G S Benny, and was driven on Saturday by N S Benny.

Balcairn paced the full journey in 3:19. The last half mile was run in 63.4 and the last quarter in 30.6secs.


Credit: 'Irvington' writing in NZ Trotting Calendar 11Dec63


| | |
| --- | --- |
| | RACING HISTORY FEATURE RACE COMMENT |

1963 NZ FREE-FOR-ALL

Club officials would have every reason to be jubilant when Cardigan Bay's name appeared among the acceptors for the Allan Matson Handicap, principal event on the inaugural night of night trotting at Addington Raceway. His task from 54 yards over a mile and five furlongs should not be beyond him: the main question exercising the minds of trotting enthusiasts is whether anything in front of Cardigan Bay is capable of making him go fast enough to lower the world record for a mile and five furlongs.

The stake of the race is £3500, but it will be possible for Cardigan Bay to win an additional £500. This amount will be paid to the horse finishing in the first four and breaking False Step's world record of 3:21 for a mile and five furlongs.

Cardigan Bay's time, 2:34.6, for a mile and a quarter in the NZ Free-For-All was little more than an 'exercise gallop' for the 'Pacing Powerhouse from Pukuranga'. It is many a day since a free-for-all field was reduced to such minus qualities as were Sun Chief, Vanderford and Co. from the word go last week. The further they went the more assured was Cardigan Bay's victory. Without any intention of detracting one iota from the champion's facile victory, the mountains of effort on the part of the rest of the field yielded only a mouse of competition. The alarming frailties of our free-for-all class - with one horse standing out from the remainder like Mount Everest among the Port Hills - is drawn in bold relief by the times of the minor place-getters: Sun Chief 2:35.2; Vanderford 2:35.8; King Hal 2:36.2. These are fast but not phenomenal times. Why, free-for-all horses were capable of better than that more than 29 years ago!

How poverty stricken is our top class going to be when Cardigan Bay returns north, thence back to Australia...Lordship can't return to the fray quick enough. The remainder of our top horses are very much at sixes and sevens, some of them on the down grade, some of them jaded, and only one or two with their futures in front of them. The top draw will assuredly fill up again, but it will take time. And there are so few left to hold the Cup fort...One consulation is that smart improving pacers such as Flying Blue, Admit, Kingsdowm Patch, Junior Royal, Rustic Lad, Jay Ar and Cairnbrae are among those on the brink of Cup company ...a gloomy picture could brighten overnight.

In the meantime, the Metropolitan Club may be fortunate in retaining Cardigan Bay - for its second night as well - as trotting's greatest drawcard. Not infrequently, some club officials become apprehensive about an 'invincible' champion cramping the betting. This complaint proved to have no substance in fact as far as the NZ Free-For-All last Friday was concerned - it was the largest betting pool of the day, with a combined on and off-course total of £35,231. That is big betting by any standards, and its own answer to the recurring fears of club officials that a 'certainty'in a free-for-all decimates the public's wagering. It has also to be kept constantly in mind that the champions are the horses which make the turnstiles click. 'Monopoly phobia' has invariably proved groundless.

A dominating favourite in the Free-For-All, Cardigan Bay just played with the opposition to gain the easiest of wins by three lengths. From number eight at the barrier he was in front before going 75 yards, and no other runner was prepared to challenge him for the role of pacemaker. At the three furlongs, trainer/driver P T Wolfenden asked his charge for a little more acceleration and he steaked away on his own, nothing else being capable of getting near him.

Cardigan Bay ran the mile and a quarter in 2:34.6, a 2:03.2 mile rate. He took 32.8sec for his first quarter, reached the first half mile in 63.2, clocked 1:35.8 for the first six furlongs and paced his first mile in 2:06.8. Cardigan Bay returned 58.4 for his final half mile, his last quarter being run in a sizzling 27.4sec. He received a rousing reception on his return to the birdcage. Cardigan Bay's success was his second in the race and he was second to Lordship 12 months ago.

As a result of Friday's win the Auckland pacer's stake winnings reached £49,747 15s, and he has won 36 races and been placed several times.

Sun Chief raced in third place most of the way and although no match for Cardigan Bay, he beat the others comfortably. It was his best performance for some time. Vanderford received a good run throughout, in a trailing position, one out, but could make no impression in the run to the post. He has done his share of racing for a four-year-old. King Hal did not get the best of runs and his fourth placing was a useful effort in the circumstances.

Credit: NZ Trotting Calendar 20Nov63


| | |
| --- | --- |
| | RACING HISTORY FEATURE RACE COMMENT |

1963 NZ DERBY STAKES

Bellajily brought a welcome change of luck to her Templeton trainer, C C Devine, and owner-breeder N Matyasevic, when she came out on top in a close finish to the New Zealand Derby Stakes on Wednesday night.

Bellajily's effort was full of merit, as she started from the outside of the front line, and was a good way from the lead in the middle stages. She ran three wide from the half-mile and was forced four out racing to the straight. Bellajily responded in the gamest fashion to urging on the part of driver D J Townley, who drove Rupee to win the race in 1952.

Bellajily is the first filly to win the race since Scottish Lady was successful in 1942, and the sixth since the race was first run at Addington in 1923. Bellajily had paced a good race for fourth in the NZ Metropolitan Challenge Stakes on the first day of the meeting, and she has proved by far the best filly of her age group. She paced the mile and a half journey in the smart time of 3:12.6. The leaders took 61.6 for the first half mile and 29.8 for the final quarter.

As a two-year-old last season, Bellajily drew attention to her future prospects when, making her first race appearance, she led practically all the way to win the Invitation Stake at Geraldine, beating Rocky Star and Lady Luronne. Later, Bellajily finished a good third to Peerswick and Meadowmac in the NZ Welcome Stakes at Addington, and she finished up the term with a useful fourth in the NZ Sapling Stakes.

Bellajily is a bay fillyby Van Dieman from Malabella (3:11.6), by Doral's Derby-Mala, by Red Shadow-Krina, by Jewel Chimes. Krina, who was a smart saddle mare with a 2:08 record, also produced Rerekohua, Ngarimu, Air Spray, Lady Spray, Sprayman, Son's Gift and Stronghold.

Wildwood Chief did well to get second, as he was not too well placed early, and he, too, had to race wide entering the straight. Peerswick made a game attempt to lead all the way, and he showed courage to hold third place. Lochgair was pushed back at the start, and his fourth placing was a capital performance. He appeals as a pacer of fine potential. Grande Garnison, who started from the second line, was securely pocketed most of the way, and did not get a run in the straight until the race was over. He was fifth to finish.

La Scala, Scottish Advance, Heriot and Lochgair lost ground at the start, and Peerswick was the first to show out from Lottery Song, Khraizon, Full Sovereign (three wide), Falstaff, Space Cadet, Wildwood Chief, Grande Garnison and Bellajily, with two lengths to Lochgair and Melanian. The order changed little until the half mile, where Bellajily was beginning to improve. At this stage Peerswick was still in command, and he led into the straight from Lottery Song, Khraizon, Full Sovereign and Bellajily. Lochgair and Wildwood Chief were showing up wide out, with Grande Garnison having no-where to go down on the inner. Bellajily was the first to challenge Peerswick, and then Wildwood Chief put in his claim, with Lochgair closing fast. All four place-getters were responsible for first class efforts, and Grande Garnison would lose little caste as a result of finishing no closer than fifth.

The record mile and a half time for a three-year-old filly is the 3:11.4 registered by Wendy Dawn when she finished fourth to Tactile, Vanderford and Garcon D'Or in last year's New Zealand Derby.

Credit: 'Irvington' writing in NZ Trotting Calendar


| | |
| --- | --- |
| | RACING HISTORY NEW BRIGHTON TROTTING CLUB |

FINAL MEETING AT NEW BRIGHTON

The New Brighton course would now become Queen Elizabeth II Park and in 20 years time or so it could develop into the Hagley Park of the seaside suburb, said the Deputy Mayor of Christchurch (Councillor H P Smith) who was speaking at the closing ceremony of the club at its final meeting on its own course on Saturday. Cr. Smith said the New Brighton Club's gesture in offering the property to the City Council at much below the sub-divisional value was a magnificent one. The 'City Fathers' would be 'just as jealous of every square yard of it' as they were of Hagley Park, he continued. People would be able to enjoy recreation on the new park "for time immemorial".

The crowd of nearly 10,000 which attended on Saturday far exceeded expectations, and the £104,625 handled by the totalisator on-course was £32,000 more than last year. The main event, the A E Laing Handicap, carried a £50 trophy presented by Mr Laing, a former president who has been in hospital for some weeks. Five other presidents are still active officers of the club and races were named after them on Saturday's programme. They are Messrs W E Desmond, O Hutchinson, A G Jamieson, A McDonald and S J Moore.

Mr W F Stark, the president, in introducing the Deputy Mayor, thanked the public for their generous support in the past and extended to all a warm welcome to the club's future meetings at Addington. Queen Elizabeth II Park would be "real value for posterity" he said , and he was thankful that sub-division of such a fine place had been avoided. Officers of the club gathered in the birdcage for the ceremony, at which 'Now Is The Hour' and 'Auld Lang Syne' were sung.

A long list of champions, notable among them Wildwood Junior, Reta Peter, Adelaide Direct, Willie Lincoln, Agathos, Onyx, Peter Bingen, Great Bingen, Harold Logan and Josedale Grattan, were trained, at one time or another, on the New Brighton track. Between 25 to 40 years ago New Brighton was one of the busiest training centres in NZ, and trackwork was covered by the Christchurch daily papers - particularly when there were two morning and two evening papers - just as fully and prominently as the training activities at Addington.

Back in the late 1920s J N (Jim) Clarke trained a large team from Brooklyn Lodge (now occupied by George Cameron), and Peter Bingen, Great Bingen and Willie Lincoln were among the horses who occupied stalls in his stable. Contemporaries of Jim Clarke who come readily to mind included A J (Alf) Wilson, who trained and drove Reta Peter, twice winner of the NZ Cup; W (Bill) Warren, N L (Nelson) Price, J D (Doug) Smith, H (Harry) Frost, H(Harry) Aker, G (George) Robinson, A E (Arthur) Bussell and E R (Ernie) Husband.

Much earlier, the brothers W (Bill) and C (Charlie) Kerr, won renown with Wildwood Junior, Admiral Wood and others; M (Manny) Edwards took Adelaide Direct to the top; C Channing's Agathos was among the top flight of pacers in the early 1920s and Onyx, trained by J (Jack) Messervy, was the champion mare of the Dominion about the same period. Much later Pot Luck, trained by his owner H (Bert) Stafford, was a headline pacer trained at New Brighton, and F J ('Wizard') Smith used to quarter his team there on his regular visits to Christchurch meetings - Josedale Grattan and Nell Volo were among his great ones who had their final trials ay Brighton before important wins at Addington. W ('Tiger') Barron, was a prominent seaside trainer of over 30 years ago with horses owned by Mr D Rodgers.

There were others, many of them: the Jardens, the younger Kerrs and Smiths and Messervys, R (Dick) Motz and his son Arnold, E F C (Ernie) Hinds, D (Dan) Mahoney, E (Ernie) Hawtin, T H (Tom) Gleeson, G L (George) Mitchell, L C (Lester) Frost, F R (Fred) May, L (Lester) Davidson; and coming right down to the present day G (George) Cameron and A (Alf) Rhodes are among those still holding the fort along with A Richards, A Kendall, G Tisch, A L Mugford, W Ireland and a few others.

New Brighton at one time was as fast as any track in the country - Happy Voyage's 2.04 1/5, which stood as the NZ and Australian mile record for a season, was established on the track in 1923. In 1925 the champion mare Onyx, a lovely piece of horseflesh, went 3.13 against time for a mile and a half, which stood as a NZ and Australian record for a number of years. And on more than one occasion the peerless Harold Logan broke records from long handicap marks there - his 2.36 3/5 in winning the mile and a quarter Avon Handicap from away back on 84 yards (then a 'world's winning race record') will live on in the writer's memory as one of the greatest displays of good manners, brilliance and courage ever seen anywhere.

According to the late F C Thomas, a well-informed trotting historian of the early days, New Brighton is one of the oldest courses in NZ used solely for trotting meetings, and it is now more than 90 years since the first trotting event was held in the district. The New Brighton Club did not exist in those early days and was not formed until about 1890. For some time before that the New Brighton Racing Club held trotting meetings and mixed galloping and trotting meetings on the course. The New Brighton Trotting Club did not hold it's first meeting until 1895, when £190 was paid in stakes and totalisator turnover amounted to £1648.

Anyone prepared to dispute this statement is referred to the NZ Turf Register, 1894-95, which details the "New Brighton TC Inaugural" meeting, Saturday, March 16, 1895, "weather fine, going rough". The first race was won by J Gallagher's Swinton by "300 yards" in 6.01 for two miles. The mile Dash Handicap and the two miles Avon Handicap went to T Walker's Mistake in 2.54 and 5.54 1/2 respectively. The New Brighton Handicap, run over two miles in saddle, was won by H Mace's FB in 5.34. Other winners were J P Martin's Toby II(two races) J Barrett's Lily, and W Kerr's Felix.

The property was at that time owned by Mr Henry Mace, who with the club's first president (Mr H McIlwraith) and secretary (Mr A I Rattray) first gained Government recognition of trotting through the old NZ Trotting Association, which had been formed in Christchurch in 1888. On the death of Mr Mace in 1902, the course became the property of Mr H Button, who had a stud and trained thoroughbreds from the Brooklyn Lodge stables. The club continued to prosper and bought about half the present block containing the track from Mr Button in 1909, the same year in which the club's first course superintendent (Mr R Davidson) was appointed. Mr Davidson's son, L Davidson, has trained horses on the New Brighton course until recent months.

The course was very rough in the early days, but it gradually improved under Mr Davidson's care until he retired in 1924. He was succeeded by Mr W Stevenson, whose son, Mr T Stevenson took over in 1936. Mr T Stevenson will complete 27 years as course superintendent on September 27, and will remain on the course when the Christchurch City Council takes over on October 1.

The club did not secure the remainder of the property until the early 1930s.

-o0o-

Vanderford had to be good to win the A E Laing Handicap. He made his usual fast beginning and was quickly up near the leaders. Vanderford followed Kingsdown Patch, one out, till rounding the turn into the straight. At that stage Kingsdown Patch could do no better, and it appeared as though Vanderford's driver, M Holmes, was forced to make a forward move earlier than he would have liked. Vanderford had to race very wide turning for home, but shaken up a little, he soon collared the leaders, and once he did the result was in safe keeping. Vanderford won going away by a length, to record his fifth success on end, and his fourth for the season. He now requires only one distance win to become eligible for the NZ Cup. Rustic Lad was second, Flying Blue third and Avante fourth.

-o0o-

To the consistent Master Alan went the honour of winning the last race on the New Brighton course, and his success was a popular one. Earlier in the season Master Alan had been runner-up to Cardigan Bay at Hutt Park and second to Doctor Dan at New Brighton a fortnight ago. Master Alan raced in about the middle of the field until the turn and joined the leaders about the furlong. Master Alan responded in grand style to record 2.08 4/5, the last half being run by the leaders in 1.02 4/5, the final quarter in 31 2/5 secs, on a track which was not fast. Junior Royal paced a little roughly early in the race and was doing his best work in the concluding stages. Robin Dundee paced a sound race and made up ground for third. Doctor Dan was next, followed by Lordship, who had every chance. He is obviouslt not at his best.


Credit: 'Ribbonwood' writing in NZ Trotting Calendar 25Sep63


| | |
| --- | --- |
| | RACING HISTORY NEW BRIGHTON TROTTING CLUB |

SALE OF NEW BRIGHTON TRACK

To commemorate the Royal visit to Christchurch the New Brighton Trotting course grounds and buildings will be bought by the Christchurch City Council, named Queen Elizabeth II Park, with the Royal assent, and provide a reserve second only to Hagley Park.

The purchase was announced by the Mayor (Mr G Manning) at the public welcome to the Queen and the Duke of Edinburgh at Lancaster Park on Saturday.

The President of the New Brighton Trotting Club (Mr A E Laing) said the price, £75,000, was well below the Government valuation of £90,000, but monetary considerations had not been the sole thought of the club's executive, which was deeply conscious of the fact that public patronage down through the years had been the main contributing factor in making the freeholding and maintenance of the property possible. Mr Laing added: "I'm sure all our members and followers of the New Brighton Trotting Club will be happy that this wonderful area of ground is going to be developed to cater for all sports."

The City Council will take possession of the property on October 1. Everyone would be delighted by the purchase, especially at such a reasonable price said the Deputy-Mayor(Cr H P Smith). The terms on which the purchase has been made would enable the city to pay for it without recourse to rates. Tree-planting and the laying out of athletic tracks would be involved in the development, he said, and while the final development would take some years, the reserve would emerge as a park second only to Hagley Park and with amenities for a number of sports. A great advantage would be that off-street parking would be possible at the new park, Cr Smith said.

The Chairman of the reserves committee (Cr P J Skellerup) said the decision to acquire the park was a momentous occasion, and future generations would look on it as an historic one. The possibilities offered were enormous, and would substantially increase Christchurch's chances of securing the Empire Games in 1970 or 1974, he said. Trees would be an important feature of the development, Cr Skellerup said. Possibilities for the park included playing fields for winter sports, cricket ovals, an all-weather athletic track, a lido swimming pool of Olympic standards and even a polo field.

The purchase was negotiated by a sub-committee consisting of himself, Cr Smith and Cr M R Carter, with the president of the Trotting Club (Mr A E Laing) and other executives, Cr Skellerup said, and the Club officials had shown great public spirit and co-operation throughout.

Credit: NZ Trotting Calendar 20Feb63