| | |
| --- | --- |
| | INTERNATIONAL HISTORY |

NASA is founded.

Pele's Brazil wins the world Cup.


| | |
| --- | --- |
| | LOCAL HISTORY |

Edmund Hillary reaches the South Pole, travelling overland.

March 8 - Ch-Ch athlete Marise Chamberlain breaks world record for 440 yards.

November 10 - Ch-Ch Museum centennial extensions open.

Credit: Ch-Ch City Libraries


| | |
| --- | --- |
| | RACING HISTORY PEOPLE |

A G WILSON

Mr Alfred George Wilson, one of the most successful trainers of trotters and pacers in the earlier days of the sport in Canterbury, died recently in Christchurch at the age of 82.

Mr Wilson had a life-long association with horses, both gallopers and trotters. As a youth he was apprenticed to Messrs R J Mason and G G Stead, for whom he rode many winners. 'Myosotis Lodge' as his training establishment at New Brighton was known, was one of the best-kept of the period. Mr Wilson was always a stickler for detail and this was reflected in the condition of his horses and their gear on racedays.

Mr Wilson is better known as the trainer-driver of the great trotting mare, Reta Peter, who beat the pacers twice to win the NZ Cup. Another grand trotter produced by Mr Wilson was Kawhaki, whom he regarded as being in the same class as Certissimus.

Born at South Brighton, Mr Wilson was the grandchild of the first white people to settle there. He went overseas to World War I, where he served in the Veterinary Corps. On his return, one of the first horses he trained was Reta Peter. For several years, Mr Wilson ran a popular riding school with 22 horses and 6 ponies.

On June 14 this year, Mr Wilson was a guest of the New Brighton Trotting Club and watched the running of the A G Wilson Handicap, a race named in his honour.

Mr Wilson is survived by a granddaughter, Mrs R M Skellerup.

Credit: NZ Trotting Calendar 20Aug58


| | |
| --- | --- |
| | RACING HISTORY PEOPLE |

J E W CROSS

The death occured in Christchurch last week of Mr J E W Cross, who for more than 40 years was a prominent official of the Canterbury Park Trotting Club. Mr Cross was well known as a wine and spirits merchant. He was aged 79.

Mr Cross became a member otf the Canterbury Park Trotting Club in 1908 and he was elected a steward in 1917. He became a member of the committee in 1933 and was president from 1938-40. He was elected a life member of the club in 1940.

Mr Cross was a member of the grounds committee at Addington from 1944 and he became a director of Addington Trotting Course, Ltd, from its inception until his retirement last year.

Mr Cross raced several horses some years ago, one of his best winners being Sir Joe.

Credit: NZ Trotting Calendar 25Jun58


| | |
| --- | --- |
| | RACING HISTORY INTERDOMINIONS |

ADELAIDE - FREE HALL
Free Hall, trained locally by Bill Shinn but owned in Western Australia by Bill Mack, wrote his name into the Inter-Dominion honours list when, after winning only one of the slowest heats of the qualifying rounds, he was driven to perfection by Shinn, to take the Grand Final by a head in a thrilling finish.



| | |
| --- | --- |
| | RACING HISTORY HORSES |

VODKA

Vodka, winner of 11 races in the United States and holder of the NZ winning record for one mile and five furlongs, had to be destroyed recently at Saratoga Springs, USA. In a race there, Vodka suffered a badly shattered pastern.

When first campaigned in America by owner-trainer J S Shaw, Vodka won eight races, finished second twice, third once and fourth once in 17 starts. On the return of Mr Shaw to NZ, Vodka was leased to Earl Nelson, who won three more races with the Logan Derby gelding. Mr Shaw stated to the calendar that Nelson, who had grown very attached to the horse, was very upset over the loss.

Prior to the accident, Vodka had been working exceptionally well and it was thought he would win. Including his NZ winnings, Vodka has won over $34,000. Before being put into training this season in the USA, Vodka was taken to Canada, where it was thought he might not encounter so many difficulties, as that country is under the British flag. However, his career there was stopped before it ever started, as the powers that be refused to register Vodka. The reason given was that Vodka was not a standardbred. No horse is a standardbred over there unless it is completely American-bred. Vodka was registered in America as non-standard-bred.

In one race at Saratoga in which Vodka finished fifth after losing a big stretch of ground at the start, he was timed to trot the last six furlongs on a half-mile track in 1.29 1/5sec.

Vodka was a champion of scintillating brilliance when raced in the Dominion, and he made history when he crossed the Pacific Ocean to race in America. It was a gigantic undertaking and Jack Shaw did not fully realise what he had taken on till he was well on the way. A rough passage on the ship was experienced to start with and on arrival there, Vodka took some time to settle down in the new climate and different surroundings. Change of feed was also no small hurdle to surmount. However, Vodka, in the skilled hands of Shaw, eventually won out, but it was not without a grim struggle. Dollars were short and Vodka and his owner-trainer-driver were almost on their own in a strange land. Jack Shaw had previously been to the States to buy two stallions for two well-known NZ breeders and he was well received on that trip.

Vodka had always been very fast. When he was winning races in the North Island for his first trainer, J K Hughes, he already had amazing speed. He beat horses of all ages as a 3-year-old, winning four races that season. Vodka started out as a pacer - he finished fourth in the Manawatu Futurity Stakes, for 2-year-olds, to Red Slipper, Johnny Globe and Ohio and had several more starts as a pacer that season. Then he took time off from the racetrack while Hughes converted him to the trotting gait. He was an apt pupil.

At his third start as a 3-year-old he was a winner, and he took two more winning tricks in a row. He finished up that season on a tight line for a 3-year-old trotter, line 11, or marks of 3:33 for a mile and a half, 3:52 for a mile and five furlongs and 4:47 for two miles.

He opened his 4-year-old career by winning at his first start and he won two more races for Hughes that season before being sent south to Shaw, in whose colours he has raced since. As a young trotter Vodka had an ungainly action. At the outset he used to hit himself behind. Later he trotted cleanly and he did not touch himself anywhere, as his exceptional speed showed. "It used to take really half a mile before he got trotting," Shaw said. "Due to his early experience as a pacer he got confused at the start of his races and was liable to go away on the pace."

Vodka gradually overcame those disabilities and in his record-breaking winning run at Addington before leaving for America he was at full speed within a furlong; for the next half mile he put up the astonishing time of 58 2/5sec - a 1.56 4/5 mile rate. The 'hop, step and jump' method of locomotion once employed by Vodka in the early part of his races had been practically ironed out of his system by patience and careful study of his feet and shoeing and the improvement in his speed after he conquered his tendency to 'put down three and carry one' was phenomenal. It seemed certain that, given the opportunity, Vodka would have been the first two-minute trotter in NZ.

Mr Hoskings received several substantial offers for Vodka as a 3-year-old, one of £1500, but he would not sell him. J S Shaw asked him one day: "What are you going to do with him?" "When he runs out of the North Island classes I'm going to give him to you and you'll have a trotter who will take Worthy Queen's place, because some day he will be fast enough to break her record and will be the best two-mile trotter in the country as well," declared Mr Hosking.

In one race at Addington Shaw timed him the last mile and a quarter in 2:34 3-5, the last half mile in 1:00 4-5. On several occasions, after breaking at the start, he trotted the last mile and a half in 3:06 4/5 and 3:09, and on one notable occasion a middle mile in 2.00 2/5.

It is of interest to note that Vodka's pedigree was predominantly pacing. Both his sire, Logan Derby, and dam Cyone Girl, were pacers, and so were all four of his grand-parents, Globe Derby and Belle Logan (sire and dam of Logan Derby), and Tsana and Cyone (sire and dam of Cyone Girl). All too, were winners of the pacing gait. Vodka carried no fewer than three strains of the blood of Logan Pointer, a famous American-bred pacing sire who left very few trotters, although one of those was a champion in Trampfast. Vodka was by Logan Derby, a champion pacer by Globe Derby from Belle Logan, by Logan Pointer, and Vodka's dam, Cyone Girl, was got by Tsana, a little-known sire by another famous pacing sire in Jack Potts (who left only one trotting winner, Implacable), from Abyssinia, by Logan Pointer. Cyone Girl's dam Cyone, was also by Logan Pointer.

Cyone was out of Mavis Bingen, by Huia Dillon (Harold Dillon, imp-Grattanette, imp) from Belle Bingen(imp) by Bingen (famous American sire), from Bertha Belle(imp), the dam of champion pacers Great Bingen and Peter Bingen, and several other good winners, including the trotter Worthy Bingen, the sire of Worthy Queen, whose mile trotting record of 2.03 3/5 has now stood since 1934. Shaw trained and drove Worthy Queen.

-o0o-

'Irvington' writing in the NZ Trotting Calendar 1956

Vodka returned one of the finest exhibitions of trotting ever seen at Addington when he won the Holmes Handicap from the long mark of 102 yards and set a new world's winning record for one mile and five furlongs, lowering his own record by one second. He trotted one of his half-miles in 58.4 secs, probably the fastest for a trotter ever recorded in the Dominion.

Vodka began safely, and it was apparent passing the stands with a round to go that he had more than an average chance of winning. The crowd was quick to recognise this fact and he was given a good hand as he approached the showgrounds bend. The Logan Derby trotter moved forward at the three furlongs, and when the field straightened up for the run to the post he soon gathered up the leaders to win by a length and a half. The merit of his performance was fully appreciated by the crowd, who gave him and his driver, J S Shaw, a wonderful ovation on their return to the birdcage.

This was Vodka's final race appearance in New Zealand before leaving for America.

Postscript:
Vodka and Jack Shaw made light-harness history when they left for the United States at the end of February 1956, for this was the first occasion that a standardbred had been taken fron New Zealand to be raced in America.

Dave Cannan, in his book Unhoppled Heroes, notes that "There were no overnight flights to the states in those days. For Vodka and Shaw it was a 4000-mile sea voyage which lasted nearly five weeks and proved very arduous for both horse and owner."

Credit: 'Irvington' writing in NZ Trotting Calendar 17Sep583


| | |
| --- | --- |
| | RACING HISTORY HORSES |

LEYAVA - Classic Winner Producing Mare

Leyava (1958 Garrison Hanover-Pollyapolis), Aus family of Lady Ajax; 2:09.6, $1,710; 2 wins; 11 foals, eight to race for seven winners and 1 qualifier. Breeder J S Sellars. All foals bred by A M Sellars.

Leyava raced briefly from four to seven winning at Roxburgh (4yo) and Winton (5yo). Placed at six and seven, she became a very successful broodmare.

Equal with Lordship for number of winners produced, Leyava's sire Garrison Hanover was imported to NZ in 1955 standing at stud for 28 years for Bill Denton having to be humanely destroyed in March 1981. His was a quality pedigree by Billy Direct from a Guy McKinney mare (Gloria Hanover) from Peter The Great mare Queenly McKinney. He was a good winner in the USA against the best horses of his day. He was sire of Garry Rowan, who sired Garry's Advice and Classic Garry who left Chandon in Australia. Leading sire for three consecutive years 1966-7 to 1968-9, Garrison Hanover was leading broodmare sire in 1982/3.

His 501 winners included Caledonian Garrison (GN Derby), Cardinal Garrison (GN & NSW Derbies, AK Cup), Dandy Briar (AK Cup), David Garrison (NZ 2yo Championship), Game Adios, Main Adios & New Law (NZ Derby), Garry Dillon (NZ Cup), Lady Nugent & Shalimar (NZ Oaks), Speedy Guest (GN Derby, Messenger), Waitaki Hanover (GN Derby, NZFFA, AK & Hunter Cups).

Garrison Hanover's broodmare sire credits included Albas Reign (NZ 2yo Championship, NZ Derby), Balcove (NZFFA, Easter Cup), Classiebawn (NZ Breeders Stakes), Harvest Gold (GN Oaks)& Hilarious Guest (refer Loyal Guest)

Dam Pollyapolis was by Indianapolis from Fortune's Favourite, a grand daughter of Miss Fortune, most prominent of Edith's foals. Pollyapolis was a six-race winner spread over four seasons (Invercargill, Wyndham, Ashburton twice, Addington & Forbury Park). Besides Leyava, Pollyapolis left Gore Cup winner Trigside; Va Vite, dam of Calton Hill (winner of the inaugural NZ 4yo Championship); granddam of Karalea (Roxburgh Cup), Glen Moira (Winton, Roxburgh & CPTC Winter Cups); third dam of Rapture (Southland Oaks), Kildonnan (Riverton, Yarra Valley & Warragul Cups)

The Australian family of Lady Ajax was founded in 1880's, the result of mating Ajax with Lady Fisher. Two of her offspring were sire Piccaninny (9 Sydney wins; sire of 46 winners; sire of the third dam of Lawn Derby) and Edith, who when exported to NZ began a very successful branch of this family through her filly Miss Fortune. Those tracing to this family include Free Hall (ID Pacing Final), Tobacco Road (NZ Derby), Radiant Fortune (WA Cup), Trevira (Easter Cup), Pacific (USA Breeders Crown), Yankee Loch (Rowe Cup, ID Trot Final), Flight South (AK Cup), Pullover Brown (VIC, NZ, & Aus Oaks, NZ Breeders Stakes), Moment In Time (AUS Oaks), Fleur De Lil (WA Oaks, Aus 3f Breeders Crown, 1:53.4AUS), Sovereignty (GN Trotting Derby, National Trot, T1:56.7) with the quickest being Montecito (1:49.2US).

Leyava's male progeny include:

Profiteer, winner of six races, the first 2 at four (Wyndham, Forbury Park). The Reefton Cup and 2 Addington wins followed plus second in the Hororata Cup at five with a final win at Addington as an 8yo. Profiteer sired five winners.

Ryal, a good Southland pacer for owner/trainer Jim Dynes, whose 9 wins were recorded from three to five. His single win at three was at Oamaru before finishing second in the Queens Birthday Stakes. At four, 7 wins with 3 at Invercargill, 1 at Wyndham and 3 at Addington (at Easter - Rattray & Plains Handicaps, NZ Autumn Stakes). His single win at five was at the NZ Cup carnival in the Canterbury Restricted FFA. Ryal was exported to North America.

Sassanach, a classy twelve-race winner before he was exported to North America. Sassenach recorded 4 wins at three. The major win was the NZ 3yo Championship at Addington. His outstanding season at 4 included the NZ Cup meeting wins in the Hayward & Churchill Hcps, CPTC Presidents Hcp before 2 heat wins at the 1971 Addington ID's (2nd in another heat but unplaced in the final). His Final 2 NZ wins were at Addington as a 5yo in the Le Lievre & Ollivier Hcps. Sassenach placed in each of the following three seasons - at 6, third in the Miracle Mile, fourth in the Ollivier Hcp; at seven, third in the Clarendon FFA and at eight, second in CPTC Presidents Hcp.

Shavande, winner of five races in Southland starting with 2 wins at three (Wyndham & Gore). Further 2 wins at Wyndham at four before his final win at five (Gore Cup). he raced for two further seasons without success before export to North America.

Stampede, winner of 11 races over four years reaching Cup class. He started with 6 wins as a 4yo (Winton, Invercargill, Hutt Park(2), Addington(2)) with a second in the Wyndham Cup and fourth in the NZ 4yo Championship. Stampede's 4 wins at five were at Forbury Park, Addington and Alexandra Park twice including ID Consolation as well as running third in the Easter Cup (Hands Down). A solitary win at six was recorded in the Ray Coupland Stakes (previously the Ollivier Hcp) during the Addington Cup carnival. At seven Stampede placed second in the Kaikoura Cup and fourth in NZFFA. The Young Charles stallion sired 51 winners (Defoe 1:53.00TT, Taylor Mile, 4yo Superstars, ID Heat; Lady Bonnie, Ashburton Cup; Stands To Reason NZSS 2c, Cardigan Bay Stakes at 2); damsire of 35 winners (Wingandaprayer, Riverton Cup; Les Lisle, Waimate, Amberley & Tuapeka Cups; Onedin Crusader, Kurow &Timaru Winter Cups; Onedin Lecacy, Invercargill Cup).

Zabadak, Stampede's half brother was an open class pacer who won on eleven occasions. A winner at three at Invercargill, where he also finished second in Futurity and third in Southland Challenge Stakes. t four, Zabadac won at Winton, Invercargill and twice at Wyndham (Wyndham Cup). At five, wins were recorded at Wyndham, Forbury Park and Addington (Pan Am Mile consolation) together with second in the Gore Cup and fourth in the Easter Cup. Zabadac's 3 wins at six included Forbury Park (beating Bonnies Chance) and a double at Addington (Firestone Junior FFA, Wee Win FFA). He finished second in the White Heron Travelodge FFA, third in ID heat and fifth in Auckland Cup. He Placed at seven and eight; second in the Winton Cup, third Pan Am Mile consolation.

Leyava's fillies included:

(My) Saligna, born in NZ, unraced dam of Silken Smooth (2 wins, 2:00.8, fastest progeny), exported to Australia, her 10 foals produced six winners from seven to race mostly for Solid Earth Pty Ltd, Queensland.

Socialite, unraced, dam of Lady Megan, granddam of Greek To Me, Tom and Grace; Susan Who, dam of Flashbang, 1:55.0, Menangle

Credit: Peter Craig writing in Harnessed Aug 2015


| | |
| --- | --- |
| | RACING HISTORY HORSES |

GLENROSSIE

Glenrossie, a great pacer over a lengthy period of years, died last week at the advanced age of 32 years. This Matchlight-Alice Dillon gelding was bred at Tai Tapu by the late Mr R M Morton, and was purchased as a 2-year-old by Mr J McDonald of Wellington for 80gns. He was trained throughout his career by L O Thomas, then located at Hutt Park.

Glenrossie had his first race as a 3-year-old, running unplaced, but he opened his winning account at his second attempt, scoring at Hutt Park in February of 1930. He was third in his next appearance and in his fourth and final as a juvenile he won the Wanganui Cup. The race immediately prior to the Wanganui Cup, the Eastbrook Handicap, was won by Harold Logan, then about really to commence his sensational climb to fame.

At four years Glenrossie made a rapid rise, winning six races and going into top-class company. In his final win at that age he was successful in the C F Mark Memorial at Epsom, Jewel Pointer and Mountain Dell filling the minor placings, with the also started division including Satin King, Reremai and The Abbey.

In his next season Glenrossoie maintained his form and in the main his opposition then and later included such great performers as Harold Logan, Roi L'or, Imprint, Satin King, Red Shadow, Indianapolis, Royal Silk, Dundas Boy, Pluto, Lindbergh, Logan Chief, Native Prince, Jewel Pointer and Mountain Dell - pacers who contributed richly to our light-harness history.

In the 1932 NZ Cup Glenrossie went under by two lengths to the mighty Harold Logan. Glenrossie raced for 11 seasons, retiring at 13 years. His last win was in the 1937-38 season, when as an 11-year-old he won the First Consolation Race at the Inter-Dominion championships at Addington.

A hardy performer, Glenrossie, in the words of his trainer, was "never sick, sore or sorry." He never won a race of greater value than £600 to the winner, but during his long period of racing he amassed a total of £6210 in stakes, the result of 15 wins and 27 minor placings from 132 races.

In retirement Glerossie had everything of the best and for the last 10 years he was in the care of Miss S Hutchinson of Christchurch. He was a great racehorse during a period rich in great performers.

Credit: 'Bystander' writing in NZ Trotting Calendar 29Jan58


| | |
| --- | --- |
| | RACING HISTORY HORSES |

TACTICIAN

The 12-year-old Tactician gave further evidence that he is a hard-wearing veteran when he scored his fourth win under free-for-all conditions in the Forbury Handicap on the opening day of the Forbury Park Club's summer meeting. Leading all the way, he was not asked to over-exert himself - he averaged a 2.09 mile rate - and he was not in serious danger in the run in. In spite of his years, Tactician continues to be produced in great heart by his owner-trainer, M C McTigue, and the manner in which he scored his latest success indicates that he will hold his own under free-for-all conditions for some time yet.

Tactician is one of the greatest winners to have raced in the Dominion, and has now won £25,765 in stakes, the result of 19 wins and 28 placings (including 14 seconds) in 93 starts in his nine seasons of racing. The Springfield Globe gelding had perhaps lacked the personality to become an idol of racegoers like some pacers, but he has proved a grand performer, and has beaten all the best pacers of his time - and decisively at times, too. He seems to have specialised in upsetting the champions when it was least expected. A late start in racing - he did not have his first race until well on in his 4-year-old season, in March 1950 - probably accounts for him being able to turn in winning efforts in free-for-alls at the age of 12.

Tactician scored his greatest triumph at Auckland three years ago when he won the £10,000 Inter-Dominion Grand Final. But he has not proved a really genuine two miler when the pace has been on all the way, and he had Lady Luck on his side when he won the Inter-Dominion, for Johnny Globe was badly checked by a breaking horse with five furlongs to run, and then came with a paralysing finishing run, failing by only a head to get up.
Tactician has contested 6 NZ Cups, his best effort being at his first attempt in 1952 when he finished second to Mobile Globe on a track which did not suit him. His best effort over two miles was at the Easter meeting at Addington four years ago, when he beat Maori Home in the Rattray Handicap in 4.14 3/5.

At the Easter meeting in 1954 he won the free-for-all Electric Stakes by two lengths from Johnny Globe and Soangetaha, and followed this up by beating Johnny Globe, to whom he conceded six yards, in the Au Revoir Handicap on the final day, running the mile and a quarter in the then NZ record time of 2.34 1/5. Early in the 1954-55 season Tactician egualled the NZ record of 2.52 1/4 for a mile and three furlongs in running second to Caduceus from the 60 yard mark in the All-aged Stakes at Ashburton. He also ran some grand races at the NZ Cup meeting a little later. He set the scorching pace which enabled Johnny Globe to hoist the new world figures of 4.07 3/5 in his NZ Cup win; he ran Rupee to half a length in the Ollivier Free-for-all recording 3.07 2/5 for the mile and a half; and finishing fourth to Ribands, Rupee and Johnny Globe in the NZ Pacing Championship. His time fot the mile and five furlongs was 3.23 2/5.

Three months later he won the Inter-Dominion Final at Auckland, first qualifing with a brilliant win over Laureldale and Caduceus in a mile and five furlong heat. He wound up a highly successful season by running Rupee to a neck in the free-for-all Electric Stakes at Addington in 2.36. His winnings of £8655 placed him second to Johnny Globe (£10,105) on the leading stakes winner's list for the season.

Tactician scored only one win in the 1955-56 season, and it came in typical style when he raced right away to beat Johnny Globe by four lengths over a mile and a quarter in the NZ Free-For-All on the second day of the Cup meeting at Addington. On the third he finished fourth in 3.06 to Caduceus, Rupee and Johnny Globe in the record-breaking Ollivier Free-for-all, and on the final day he ran third to Johnny Globe and Rupee in the NZ Pacing Championship in 3.25 1/5. He had only one other start at Easter at Addington that season, when Johnny Globe beat him under free-for-all conditions.

Tactician scored two brilliant wins next season, the first being at Oamaru in October when he beat Johnny Globe and Our Roger in the Hannon Memorial Handicap. He marked another highlight in his career at Addington at Easter when he downed False Step and Local Light in the Rattray Stakes, recording 1.59 4/5 for the mile from a flying start to become the first pacer outside America to break two minutes under race conditions. On the second day of the meeting he was runner-up to False Step in the Electric Stakes, a race in which he had recorded one win and three seconds in the past four years.

The veteran had not won this season before his success at Forbury Park, but he was runner-up to Lookaway in the NZ Free-For-All at the NZ Cup meeting, and finished third behind Caduceus and False Step in the NZ Pacing Championship. A glance at Tactician's time record over all distances gives some idea of his greatness - 1m, 1.59 4/5; 1¼m 2.34 1/5; 1m 3f, 2.52 1/5; 1½m, 3.06; 1m 5f, 3.23 2/5; 2m 4.14 3/5.

Tactician has been a great money-spinner for M C McTigue, who has had a long association with the light-harness sport. Not only does he own, train and drive the veteran Springfield Globe gelding, but he also bred his dam, Berengaria, who is the dam also of Impresario. Berengaria, who was foaled in 1938, was by Jack Potts from Waress, by Man O' War from Ivy Mac, by General Mac from the Wildwood mare, Manuka, a sister to Ribbonwood. Waress, who was also bred by McTigue, was a particularly smart 3-year-old, winning five races at that age. She also won four times as a 4-year-old. At the stud she proved a great success, leaving several winners, all by Jack Potts. Plunder Bar (winner of 12 races and £16,554, and twice runner-up in the NZ Cup), Indigo (winner of eight races and £6436 10s), Vimy Ridge (winner of five races and £2378) and West Point were four fully related to Berengaria which McTigue raced with notable success.

Credit: 'Stopwatch' writing in NZ Trotting Calendar 5Feb58


| | |
| --- | --- |
| | RACING HISTORY HORSES |

BURNS NIGHT

The death was reported recently of the 1949 NZ Derby Stakes winner, Burns Night. Burns Night died suddenly on the property of his owner, the Methven trainer, G McKendry.

Burns Night, a son of U Scott and Festival, was one of the best pacers of his era and won over all distances, being outstanding over a mile and five furlongs journey.

On the third day of the NZ Metropolitan Trotting Club's Easter meeting in 1953, Burns Night accomplished something unique in the annals of the light-harness sport when he created two world records in the one day. That day he won the Easter Handicap in 3.22 for the mile and five furlong journey and in the concluding event, the Au Revoir Free-for-all he paced the mile journey from a standing start in 2.02 3/5, both records. Those times have since been lowered, the first by Ribands and the second by Johnny Globe.

Burns Night was bought by McKendry for £500 when 10 days old and he won £18,020 in stakes. In all, Burns Night gained 16 wins and 25 placings, two of his wins being in free-for-alls. He may not have been an idol of the public such as Harold Logan, Highland Fling or Johnny Globe, but there is no doubting he was a grand pacer.

-o0o-

Two world's records were broken by Burns Night at Addington on Saturday, the concluding day of the NZ Metropolitan TC's Easter Meeting. He won the Easter Handicap in 3:22 for the mile and five furlongs lowering the previous record of 3:22 3-5 standing to the credit of Vedette since 1951.

Three hours later Burns Night made short work of a great field in the Au Revoir Free-For-All, his time for the mile being 2:02 3-5, a world's record from a standing start. The previous record in harness was Walla Walla's 2:04 1-5, put up in the first of the Invitation Match Races at Addington in 1934. In saddle, from a standing start, Gold Bar won in 2:03 3-5 on the same track in 1942.

Burns Night won the Easter Handicap to the accompaniment of a noisy demonstration from a section of the crowd. It appeared, however, that there was as much clapping and cheering as booing. An inquiry was held into Burns Night's previous unplaced performances at the meeting and it was decided to take no action. Burns Night was never near the fence over the last mile of the Easter Handicap, and it was a great effort on his part to come from sixth - very wide out - at the home turn and win going away by a daylight margin. Burns Night's time, 3:22, is a 2:04 2-5 mile rate, a phenominal run from an exacting handicap and over a good deal of extra ground.

The mile free-for-all was just as easy for him. Drawn in the second line, about 6 yards behind the front row, he overcame this disadvantage with a fast beginning and he was soon racing close up on the rails about the middle of the field. He had Petite Yvonne and Johnny Globe measured off at the distance, and although Vedette finished well, he had no chance with Burns Night, who won most convincingly. This time the whole crowd cheered wholeheartedly. Burns Night gave a superlative exhibition of pacing and the fact that he went at least 6 yards more than a mile adds to the merit of probably the greatest sprint race performance registered outside America - it is certainly the greatest ever recorded the world over from a standing start.

Now a 6-year-old, Burns Night was out in strong juvenile seasons; among his contemporaries at two and three years were Young Charles, Van Dieman, Soangetaha and Morano. Burns Night was the hard-luck horse of the 2-year-old classics in the 1948-49 season. He made only four appearances, being beaten by a length by Morano in the Timaru Nursery Stakes, going under by the same margin to Young Charles in the Welcome Stakes, coming second, six lengths behind Young Charles,in the Oamaru Juvenile Stakes, and trailing along a poor fourth behind Farlena, Young Charles and Van Dieman in the NZ Sapling Stakes.

But things brightened up considerably for him when he turned three. At his second start he brought off one of the big surprises of the NZ Cup carnival by defeating the hot favourite Young Charles, with Van Dieman third and Soangetaha fourth, in the NZ Derby. He gave that form some endorsement by running Morano to a neck, with Vedette third in the NZ Metropolitan Challenge Stakes a week later and decisively winning the NZ Champion Stakes at Ashburton, from Van Dieman at his next start. Van Dieman beat him narrowly in the Charles Cross Stakes at New Year, but that was no disgrace as things turned out: Van Dieman developed into a NZ Cup winner.

Burns Night, as a 4-year-old, opened the 1950-51 season with a flourish, winning at his first appearance, the Geraldine Cup. He looked a coming young stayer the day he won the Moorhouse Handicap at the Canterbury Park New Year Meeting, 1951, in the good time of 4:19 4-5 in this 4:40 class and, following a lapse of form for the next two months, he came into his own again with a slashing victory over a seasoned field in the Timaru Centennial Cup in March, 1951.

During the 1951-52 season Burns Night developed into one of the finest handicap horses in the land. He made a somewhat timid opening with his third placing behind Te Maru and Realm Again in the Heathcote Handicap at the Metropolitan August Meeting and a poor showing in hs following race at New Brighton, but at his next appearance he rang rings around Star Rosa and Palava in the Methven Cup. In successive starts at the 1951 NZ Cup Meeting he finished second to Laureldale in the Empire Handicap, won the Australasian Handicap from Adorian and Mundanity, and the Flying Mile from Adorian and Mighty Song in 2:05 2-5. His next three runs resulted in a meritorious third from 48 yards in the Boxing Day Handicap at Ashburton, in which he registered 3:10 3-5 for a mile and a half, and wins in the Canterbury Handicap and the Mason Handicap at New Year, 1952. In these latter two races he defeated such high class pacers as Van Dieman, Vedette and Parawa Derby.

Came the NZ Metropolitan TC's Easter Meeting, 1952, and Burns Night, after finishing third in the Rattray Handicap to Maori Home and Johnny Globe, proved much too good for Zulu and Maida Dillon in the Williams Handicap on the second day and, started in the Electric Stakes, of a mile and a quarter, later the same afternoon, he gained his first free-for-all success, the minor placegetters being Zulu, Vedette and Van Dieman.

This season Burns Night's form has not been easy to follow. He took some time to reach his best in the early part of the season. He had a profitable time at Forbury Park in January, finishing second in the Forbury Free-for-All to Soangetaha on the first day, and winning the principal event, the Irwin Handicap and finishing second to Johnny Globe in the Champion Free-for-All, on the second day.

He was one of five champion pacers to go to Timaru for an exhibition mile race last month, but he went very poorly indeed. Again on the first two days of the Metropolitan Easter Meeting his performances were abject in the extreme, and the public were scarcely prepared for his sharp recovery on the concluding day, hence the annoyance of some of the onlookers.

Burns Night was bought by G McKendry from his breeder, Mr N G Mason, before he raced. Burns Night has now won 15 races and £16,430 in stakes. He is a good type of brown entire by U Scott from Festival, a mare picked up on the bargain counter by Mr N G Mason, of Rangiora, who has bred Burns Night and Gay Piper from her. Mr Mason bought Festival at the late E C McDermott's dispersal sale in 1938 for a few pounds. Dunmore one of Festival's earlier foals bred by McDermott, was a good performer for McKendry as far as he went - in his first season on the racetrack his record was six wins, five thirds and three fourths in 16 starts.

Festival was a tidy stake-winner for McDermott in depression times when £100 to the winner was quite a pile of money. She began racing as a 3-year-old and won her first two starts, both at Nelson. At four she started ten times for the very creditable return of four wins and a second. She won two races and was once second in 15 starts as a 5-year-old. She was more than useful over all distances, and in training she could reel off a mile and a quarter in 2:41, which was well above average in the early 1930s. Festival was got by the American horse Sonoma Harvester, from a mare by Prince Imperial. It is one of the shortest pedigrees in the Stud Book, but the calibre of her progeny - all of her five foals that have raced have all been winners - indicates that there must have been a good deal more behind her than these meagre details suggest. She was certainly no nondescript herself, being a clean-gaited, level-headed pacer, and her two sons, Gay Piper and Burns Night, both show breeding.

Credit: NZ Trotting Calendar 12Nov58


| | |
| --- | --- |
| | RACING HISTORY HORSES |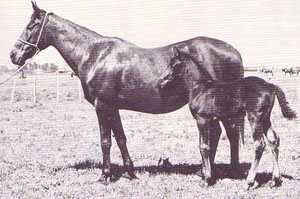 Airflow & her 1951 foal Highland Air, Auckland Cup winner

AIRFLOW

Airflow, one of the best trotters in the Dominion in her period, and an outstanding success as a broodmare, had to be destroyed recently at Roydon Lodge, Yaldhurst.

Airflow was imported from the United States by the late Sir John McKenzie and commenced racing in the 1934-35 season as a 3-year-old. She had her first start in the Improver's Handicap at the New Brighton Trotting Club's autumn meeting, a race in which she finished out of a place. Her next three starts resulted in three wins; the Allenton Handicap at Ashburton, the Bayfield Handicap at Forbury Park and the Waikoura Handicap at Oamaru. She was trained for those successes by R Dunn and driven by P P Gallagher. Airflow won one more race that season and that was against the pacers in the Washdyke Handicap at the South Canterbury Hunt Club's meeting in July, and her share of the stake was £49. In all that season for her four wins, Airflow earned £344 in stake money.

As a 4-year-old Airflow started 14 times for four wins and five placings. At her first start at that age she won the Introductory Handicap at the August meeting at Addington, trotting the mile and a half journey in 3.24 2/5, and beating Mataunga by two lengths. Her other successes were gained in the Hornby Handicap at the Canterbury Park New Year meeting, the Stewards' Handicap at Ashburton and the High Class Handicap at Addington.

Airflow won only one race as a 5-year-old but she was placed five times in her other seven starts. She beat the pacers again in the Stewards' Handicap at New Brighton, included in the field being Play On, Red Flyer and Navy Blue. That was her last season on the race track and in all she raced 31 times for 9 wins, 10 placings and £1509 in stakes in a period when prize-money was at its lowest.

Airflow produced her first foal in 1938, Scottish Air. She produced foals fairly regularly up to and including 1955 and besides the winner Scottish Air she left Carlow (by Great Bingen); Aerial Scott (by U Scott), a champion trotter, one time record holder and big stake winner; Risingholme (by Dillon Hall); Slipstream (by Spencer Volo or U Scott); Red Emperor (by Light Brigade); Air Command (by Light Brigade); Highland Air (by U Scott).

Airflow was got by Guy Day from Willina Chenault, by Peter Chenault-Willina H, by The Harvester-Sis Derectum, by Directum.

Credit: NZ Trotting Calendar 10Dec58


| | |
| --- | --- |
| | RACING HISTORY FEATURE RACE COMMENT |

1958 NZ TROTTING CUP

One of the early leaders, False Step dropped back into the middle of the field but came again with a strong run to be one of the leaders into the straight in the NZ Trotting Cup at Addington. After a stern tussle with his one-time stablemate Caduceus, False Step got the verdict in a photo-finish by a head to give his trainer-driver C C Devine, his third training and driving success in the Dominion's premier event. The Auckland pacer Gentry, was four lengths back third and Lady Belmer fourth.

The race was not devoid of interest and the time of 4:18 3-5 could perhaps have been several seconds better if the field had not been slowed up considerably when Caduceus took over in the middle stages. He was not allowed to make his own rules long however, and the field was soon racing again at a pace befitting New Zealand Cup candidates. False Step is not a big horse by any means but he is all horse and his stamina cannot be doubted. When he showed up about the three furlongs, it was obvious he had something in reserve. The first half mile was run in 67secs, the mile in 2:12, the mile and a quarter in 2:46 1-5, the mile and a half in 3:18 and the mile and three-quarters in 3:48.

Thunder was a little slow to begin and Roy Grattan broke shortly after the start. Trueco took over from False Step and these two were followed by Bartender, Gentry, Caduceus, La Mignon, Lookaway and Roy Grattan with the remainder in close attendance. With a mile and a half to run False Step was showing the way from Trueco, Bartender, Lady Belmer, Gentry, Caduceus, Tactician and Thunder with Lookaway close to Thunder. Caduceus dashed into the lead with nine and a half furlongs to run and he immediately attempted to slow down the field. He was not permitted to stay there long. When two more furlongs had been covered, Tactician took over and he was followed by Roy Grattan, Gentry, Lady Belmer, Thunder, Caduceus, Bartender, Lookaway, False Step, La Mignon and Trueco.

Gentry was the leader approaching the half mile and shortly after False Step came into the picture to race into the lead after rounding the turn. He appeared to be in for a clear-cut success until Caduceus came onto the scene, but False Step responded gamely to vigourous driving to win by a head. Gentry paced a sound race for third and Lady Balmer raced right up to her effort at the trials. Next to finish was Lookaway and he was followed in by La Mignon, Thunder, Trueco, Roy Grattan and Bartender.

The hot favourite Lookaway, was well enough placed for most of the way. He received a slight check in the middle stages but he could be regarded as having every chance. He did not really finish on as expected though.

The winner, False Step, was one of the greatest four-year-olds to race in the Dominion and at that age he won six races and gained five seconds in 15 starts for £5545 in stakes. His success on Tuesday brought his record to 14 wins and 23 placings for a total of £16,945. False Step was bred by his owner, Mr J Smyth, and is by the successful colonial sire Fallacy (by Light Brigade), from Dainty Direct, by Dan Direct-Queen Betty, by Four Chimes-Dot Robbins, by Frank Robbins. False Step is the 1952 foal of Dainty Direct, who also left other winners in Josedale Direct, Dainty Joe and Tyrone Queen.

Fallacy was an outstanding three-year-old, winning seven races and gaining two places at that age. Included among his successes were the NZ Champion Stakes, the NZ Futurity Stakes and the NZ Derby Stakes. Queen Betty, granddam of False Step, besides Dainty Direct, who did not win a race, was also the dam of the winners Dainty Lady, Queenie Direct and Robin's Pride. Dot Robbins left a string of winners, one of her best being the big Author Dillon pacer, Big Author. The others were, besides Queen Betty, Dick Swithin, Golden Thread, Slip Along and Awatea.

Mr Smyth acquired Dainty Direct very "cheaply;" he got her in exchange for a hayrake, and Tyrone Queen was the first foal he bred from her, False Step being the second. False Step was educated and developed for his early racing by the West Melton trainer, J D Litten, and it was only towards the end of last season that he joined Devine's stable.

The race created keen interest weeks before the event and although most people expected Lookaway to win the Cup for the second time, there were many who thought False Step would be the most difficult to beat and he was sent out a firm second choice on the win machine and favourite for a place. On-course investments on the race were down on those of last year but the off-course turnover showed an increase. This year the on-course figures were £21,199 compared with £25,395; off-course investments were £26,811 as against £24,137 last year.

Credit: 'Irvington' writing in NZ Trotting Calendar 12Nov58


| | |
| --- | --- |
| | RACING HISTORY FEATURE RACE COMMENT |

1958 DOMINION HANDICAP

Few easier wins have been seen at Addington for some time than that of Durban Chief in the Dominion Handicap. Over the final stages he literally played with the rest of the field and was unextended in the run home to win by nine lengths.

He drifted slightly in the early stages and had increased his handicap of 36 yards, but he had no trouble in racing up handy at the half mile. He became the first horse on Saturday to win the Dominion Handicap in successive years and his time of 4:17 3-5 for the two-mile journey could have been a lot better if there had been anything in the race capable of making him go. The record for the race is 4:16 2-5, held by Dictation. Durban Chief was privately timed from post to post in 4:15. The first half mile was run in 66 1-5secs, six furlongs 1:38, mile 2:08, mile and a quarter 2:39 1-5, mile and a half 3:11 1-5 and last quarter 31 4-5.

Durban Chief was produced in grand order by his trainer, J R Woodcock, and was capably driven by W P Walsh who has been associated with Durban Chief from the beginning. Durban Chief's win on Saturday brought his stake winnings to £8515.

Credit: 'Irvington' writing in NZ Trotting Calendar 26Nov58


| | |
| --- | --- |
| | RACING HISTORY FEATURE RACE COMMENT |

1958 NZ DERBY STAKES

Blue won his eighth race in nine starts when he easily accounted for the rest in the NZ Derby Stakes on Saturday.

He proved a class above his opposition and his effort was an outstanding one in view of the fact that he started from the second line and had to be steadied to work clear going out of the straight just after the start. His time of 3:12 2-5 was only 1-5 of a second slower than that returned by Fallacy in 1951, time which still stands as the race record and a record for three-year-olds. There is no doubt that Blue could have improved a good deal on his time if he had been asked to do so.

Blue worked clear at the end of three furlongs and a half and set a sound pace from the stage which he increased considerably from the half mile. The first quarter took 33 3-5secs, the pace increasing sharply as the leaders attempted to force Blue wide entering the back straight for the first time. The first half mile was run in 63 1-5secs, six furlongs in 1:37 2-5, mile in 2:09 3-5 and mile and a quarter in 2:40 3-5.

Blue was untroubled in the run home and won with consummate ease to bring his stake-winnings to £5070. Some Lad raced right up to his Riccarton Stakes form and he was closest to Blue for most of the journey. He finished on gamely in the straight without ever looking like troubling the winner. His 3:13 for the mile and a half journey represented a smart effort, one which should assure him of his fair share of success in the future. Adroit lost some ground at the start and he did not faulter in the run home but he failed to reach Some Lad by a length. Smokey Diamond finished a useful fourth, a length back, and he was half a length in front of Stormlea, with another half length to Cheam. Red Cavalier, Prince, Fair Loan, Awarua and Young Kim were among those who lost their chances at the start.

Credit: NZ Trotting Calendar 26Nov58


| | |
| --- | --- |
| | RACING HISTORY FEATURE RACE COMMENT |

1958 NZ FREE-FOR-ALL

Caduceus has had a busy career but he has never been better and he made amends for his defeat in the NZ Pacing Championship by a clear-cut success in the NZ Free-For-All. Caduceus soon took command and set a solid pace, winning with the greatest of ease in the very good time of 2:34 4-5, time which he could have bettered if he had been required to do so.The U Scott pacer has now won £24,819 in stakes in New Zealand, the result of 22 wins and 25 placings. He has also won 10 races and gained 10 placings in Australia for £14,800.

The Auckland pacer Gentry, added yet another placing to his fine record when he beat all but Caduceus in the NZ Free-For-All, and he was far from disgraced in going under to a pacer of the calibre of Caduceus. Veteran pacer Tactician, is still capable of contributing something towards his keep. He was in the thick of the battle all the way and it took two very capable pacers to beat him into third place.

After winning the NZ Pacing Championship earlier in the day, False Step took his place in the Free-For-All but over the shorter journey he was not able to command a prominent position early enough. However, he paced a fine race and he was put off balance to some extent when trying to get on the inside of Tactician at the three furlongs. His driver was forced to pull False Step back and attempt to go round Tactician, but by that time it was too late. False Step has now won 16 races and gained 25 placings for £18,175 in stakes.

Credit: 'Irvington' writing in NZ Trotting Calendar 3Dec58


| | |
| --- | --- |
| | RACING HISTORY FEATURE RACE COMMENT |

1958 NZ OAKS

Fair Loan had little to spare from Cheam at the finsh of the New Zealand Oaks but she returned a game performance nevertheless. She was always handy and when she raced past the leaders shortly after turning for home she looked in for an easy win until Cheam and Stormlea came on the scene.

Fair Loan had shown consistent form as a two-year-old and three-year-old and she is bred to go a good deal further. By U Scott, she is out of the good winner at the trotting gait in Bellisima, by Certissimus-Moerewa, by Man o' War.

If anything could be classed as unlucky in the race it could be Cheam. She was a little slow away and raced up to be handy with a round to go but she was pushed back approaching the half-mile, and she experienced some difficulty in getting clear in the straight. Her finishing run into second place was a feature of the race. She is a bay filly by the Gamble horse, Jack High from Happy Returns, by Springfield Globe-Adonoro, by Rey de Oro. She was driven on Saturday by C C Devine.

Stormlea finished well for her third placing and her effort suggests she will more than pay her way.

Credit: 'Irvington' writing in NZ Trotting Calendar 10Dec58


| | |
| --- | --- |
| | RACING HISTORY FEATURE RACE COMMENT |

GREAT RACES: 1958 CUP CARNIVAL

The 1950s was a vintage era for the light harness sport in New Zealand. Champion horsemen combining with champion sires to produce champion racehorses all conspired to result in drama, controversy, intrigue, excitement and spectacles like no other decade. So much so that it is difficult to single out any races as highlights - there were so many of them - but one race that does sum up the careers of two truly great horses and horsemen was the 1958 New Zealand Cup.

As a race in itself the Cup was far from one for the purists, being a roughly run, stop-start affair where not one runner escaped serious interference, but the result so encapsulated the stories of the protagonists so vividly that it can be reflected upon as a truly magical moment in time. It was the history either side of the event which made it special.

One could say the public which flocked to the big occasions in those times were spoiled for such events, and while caught up in the events unfolding before them on the day it was only with the benefit of hindsight many years later that the full magnitude of the occasion could be fully appreciated.

Caduceus was a champion 8-year-old and False Step a 6-year-old 'rising star,' and they were well established arch rivals at the start of the season. As a U Scott blood brother to Highland Fling, Caduceus represented the bluebloods of the day, but that didn't count for much the day he showed up from Southland at Jack Litten's as a hairy, scruffy, lame, pony-sized yearling colt. He also toed out so badly that Litten called him Charlie, and he took a nail out of a hind hoof and chucked him in a paddock with no promises for Denis and Dudley Moore to subsequently train their youngster.

Fast forward seven years and Caduceus had pretty much won everything, including the NZ Derby and the Auckland Cup as a 4-year-old, except for the NZ Cup. In 1958, he would be making his fourth attempt from 30 yards with only the veteran Tactician behind him. Litten had also won the 1951 NZ Derby brilliantly by 12 lengths and in record time with Fallacy, a son of Light Brigade he also bred and owned and who had first brought him to national prominence. Fallacy did not win beyond his 3-year-old season however, having been badly injured in a mishap at home when he piled over a fallen horse, at a time when Litten was in America. Litten tried in vain to patch up Fallacy, but eventually decided to stand him at stud himself at West Melton, and the first mare bred to him produced False Step.

Dainty Direct was a 20-year-old broodmare with little pedigree and produce to speak of when Jim Smyth, a stable client and regular visitor to Litten's Preston Farm, acquired her for a 'fiver' and a hay rake. Templeton's Jack Adams, who raced top pacer Acropolis and who was setting up a stud farm, had needed a hay rake and knew the Irish-born Smyth had one going unused. Smyth had actually persuaded Litten to have Dainty Direct served by Fallacy a few days after his Derby win.

False Step was top class from the time he won the Methven Juvenile Stakes, while he had emulated his sire in the NZ Derby and won six races at four, when he had beaten Tactician under FFA conditions and finished second, beaten a nose, by the same horse in the first 2:00 race mile run in NZ. As a 5-year-old, False Step was fourth in Lookaway's Cup and was often doing battle with his stablemate Caduceus while he was at the peak of his powers.

But their rivalry had nothing to compare with that of Devine and Litten by the time the 1958 NZ Cup rolled around. After unsuccessfully campaigning Caduceus and False Step at the Inter-Dominions around the saucer-like Wayville circuit in South Australia that year, Litten had returned home to have a very public falling out with Smyth over a driving engagement for False Step in Auckland. Never one to mince words, Litten told Smyth to take False Step away, and with no doubt spite in mind, Smyth gave him to Devine.

What was adding to the colour and controversy here was the fact that Devine and Litten had had their infamous whip slashing incident at the prior NZ Cup Meeting, and both had been given six months on the driving sidelines to cool their heels. A special mile feature, the NZ Flying Stakes, had been carded on the final day to mark the South Island debut of the new mobile gate. 'The Flash' was publishing turn-and-finish photos of all the main horse racing meetings, and the photographer on the home turn captured Devine and Litten going at it in full cry. That issue, carrying the graphic print, was a sell out.

Caduceus, driven by Tony Vassalo, had won that encounter easily in 2:00 as Litten (driving bracketmate False Step) and Devine (with Don Hall) engaged in a spectacular whip fight through the home stretch, watched in amazement by the huge crowd. They had pulled up second and third and both horsemen were obviously distressed. It was an unfortunate exacerbation of a bout of friendly ribbing among several of the top Canterbury horsemen of the era, which had expanded in this case to some race jostling before exploding into their whip slashing duel.

It ended a friendship between the two outstanding horsemen, who for the remainder of their lives refused to speak to each other. Litten had a stable full of top horses at the time and did not need owners telling him what to do. Earlier, and when yet to make any real name for himself in the game, Litten had 'made' Vedette and similarly told the owner to take the subsequent Addington Inter-Dominion winner away as a matter of principle. Litten would have Inter-Dominion success with Caduceus, but the closest he ever got to winning the NZ Cup was when 'Charlie' came up a desperately unlucky head short of False Step and Devine in 1858.

After winning the Hannon, the 1957 Cup winner Lookaway with Maurice Holmes at the helm from 24 yards were the favourites to repeat ahead of Ces Devine's bracket of False Step, off the front, and the 1956 Cup winner Thunder from 30 yards. Gentry (18yds) with his northern support and U Scott mare Lady Belmer (12yds) were next in the betting ahead of Caduceus, who by now had the record book and the handicapper very much against him. Caduceus had come off 54 yards to finish within half a length of Lookaway at Oamaru in track record time, but hardly raised a mention in 'Irvington's' Cup preview in the NZ Trotting Calendar.

Lookaway, who had of course become the first 4-year-old to win the Cup the previous season, had also impressed in the Cup Trial, whereas both False Step and Thunder had not according to Irvington. This was the point however where the unsound Lookaway's career began an out of control downward spiral, and the rise of False Step really began, although it should be noted he was "one of the greatest 4-year-olds ever" under Litten's tutelage.

Trueco and Derek Jones led early, but False Step was showing the way after half a mile before Caduceus dashed past down the back and Litten slammed on the brakes. The field then rushed up and around Caduceus, who went back on False Step and he tripped and almost fell passing the mile. False Step had only La Mignon and the tardy Thunder behind him starting the last lap when Tactician took them along from Roy Grattan and Gentry, who had skied to a clear lead starting the last half and seemed likely to win coming to the home turn.

False Step and Devine had been inching closer out wide all the time however and forged to a clear-cut lead early in the run home, looking set for an easy win, but Caduceus came flying out wide to almost bomb him on the line after himself being severely checked in the backstraight. Gentry and F J Smith jnr were four lengths away in third ahead of Lady Belmer and Lookaway, who "had every chance and did not really finish on as expected."

"Caduceus was pacing well when he met trouble near the three furlongs, and almost went down on his knees," said a crestfallen Litten, "by the time he got going again, he had lost his position."

"False Step is not a big horse by any means but he is all horse and his stamina cannot be doubted. When he showed up about the three furlongs, it was obvious he had something in reserve," wrote Irvington.

False Step had of course given Fallacy a very good start to his siring career, although he would still want for support as a 'colonial-bred' sire. Litten had bred him from Diversion, a Rey de Oro mare from the outstanding trotter Escapade, a daughter of Nelson Bingen and the 1915 NZ Cup winner Country Belle. In the end he produced around 250 winners, with NSW Derby winner Dignus coming from his second crop and 1971 NZ Cup winner True Averil was another in a long list of quality performers. Light Brigade himself had four starters in the Cup that year - Lookaway, La Mignon (6th), Thunder (7th) and Trueco (8th).

Caduceus would have his revenge by brilliantly winning the mile-and-five-furlong Ollivier Handicap from 48 yards on Show Day and the NZ Free-For-All on the fourth day, winning the latter for the second time. Earlier on the fourth day, False Step (30yds) had again beaten Caduceus (48yds) in the two-mile NZ Pacing Championship in a much more strongly run 4:11 1/5, as Lady Belmer and Gentry again chased them home.

It was still not uncommon at this time for the top horses to race twice a day more than once even at the four-day Cup Meeting held over 18 days, the fans feasting on double helpings so to speak. Not something to be even contemplated today of course.

Credit: Frank Marrion writing in 14Jun06