| | |
| --- | --- |
| | INTERNATIONAL HISTORY |

Sputnik 1 makes the first space flight.It was launched by Russia on 4 October 1957, it weighed 84kgs and burned up in space after 13 weeks.

The European Economic Community is established.

Sir Leslie Munro of New Zealand is elected President of the twelfth session of the United Nations General Assembly.

Leonard Bernstein produces West Side Story.


| | |
| --- | --- |
| | LOCAL HISTORY |

Blenheim Road and overbridge completed. Public protests had prevented the extension of the road through Hagley Park to St Asaph Street.

A Safe Air Bristol Freighter crashed on the Russley golf course near Christchurch airport, killing two people.

Credit: Ch-Ch City Libraries


| | |
| --- | --- |
| | RACING HISTORY |

R C FISKEN

A leading figure in NZ light-harness circles a quarter of a century back, Mr R C (Bob) Fisken, formerly of Gisborne, passed away at Rotorua last Saturday at the age of 75. During the 1920-30 period he was a giant in the sport, not only in the North Island, but at Addington. An owner, trainer, breeder and driver, Fisken's name was honoured and highly regarded in the trotting arena.

Like other stalwarts of his period, the late Mr I R Corrigan (Hawera), and Mr J Lloyd (Hastings) he was a staunch supporter of country clubs like Poverty Bay, Hawkes Bay, Wairarapa, Wanganui, Manawatu, Hawera and Taranaki and his colours were popular for many years at these meetings. Over several seasons the three men mentioned helped at the smaller clubs with their teams.

But it was at major meetings where Fisken made his mark and from the time he imported the American trotting horse Peterwah (Etawah-Jenova) the Gisborne man, already well known at Epsom and Addington through Wild Lad and Ena Bell, further hit the high spots. Peterwah, a great trotter, became a public idol, and he will go down in history as one of the greatest square-gaiters ever raced in this country.

Wild Lad (Wildmoor-Miss Vera) won the Dominion Trot at Addington in 1921 and the same day Ena Bell (Gold Bell-Princess Ena) won the pacing mile. Both these won good races at Auckland, driven by W A McFarquhar, still resident in Gisborne, who was attached to the Fisken stable.

Peterwah won the Dominion Trot in 1926 and was the first trotter to get to 4.30 for that two miles event. On the same course he later attracted further attention by beating a rare field of pacers in the August Handicap. It was against the hoppled brigade the Peterwah made more history as at Auckland the same year he won the Summer Cup and the next season from 36 yards he was second to Gold Jacket (limit) in the Mark Memorial, and to Dalmeny (limit) in the Prince of Wales Handicap.

With Enawah, a daughter of Peterwah and Ena Bell, Fisken has the distinction of winning the NZ Sapling Stakes (1927) with the only one in the long line of winners bred and trained in the North Island. When Parisenne won for Mrs D R Revell, of Auckland in 1936 she was trained by the late R B Berry. Sir Vivian, winner in 1947 for Mr P V Flexman, of Waiuku, was trained by R Young, and last year's winner, Tobacco Road was trained by M Holmes for Mr N Simpson.

Mr Fisken has passed on but his records will long remain green in trotting history of the land. Right to the end he was staunch to the sport he loved and almost his last wish expressed to his son, H C Fisken, Pukekohe trainer, was that he would survive until Labour Week-end to back Knighthood at the Auckland meeting.

Credit: NZ Trotting Calendar 16Oct57


| | |
| --- | --- |
| | RACING HISTORY STARTERS & STARTING |

Start of the New Brighton Flying Mile 7 Dec 57

FIRST MOBILE START AT NEW BRIGHTON

Nothing short of a sensational performance was returned by Lookaway to win the New Brighton Flying Mile.

At the half mile Caduceus had a substantial break on his nearest rival and Lookaway at this stage was at the rear, and was experiencing difficulty getting clear. His task of getting anywhere near Caduceus looked hopeless when his driver, M Holmes, pulled him back to get a run as the three furlong peg was reached.

Once clear Lookaway unwound a brilliant run and was rapidly closing on the flying leader, Caduceus, turning for home. Halfway down the straight it became apparent that he had the measure of Caduceus, and Lookaway actually won going away by two lengths. Lookaway's performance was even more remarkable when it is realised that the first half mile was run in 58secs.

A grand start was made behind the mobile barrier, the horses all being in perfect line. When the starting point was reached the gate was a trifle slow in moving away, and one or two horses near the outside appeared to be inconvenienced as they were all ready to move off at top. It appeared as though Lookaway had to be restrained a little with the result that he was slow to get going.

From the middle of the field, Caduceus made a brilliant beginning and he was in front leaving the straight. He was followed by Light Nurse, Ricochet, Our Kentucky and Don Hall with False Step next, then came Lookaway and Tactician. Racing to the six furlongs, Caduceus was two lengths clear of Ricochet with another length and a half to Light Nurse and a similar distance to False Step, with Our Kentucky, Tactician and Lookaway following. At the six furlongs Lookaway was experiencing anything but a happy run and Caduceus had increased his lead to five lengths. Once Lookaway worked clear he set out to bridge the gap, and the manner in which he did so brought unstinted praise from the crowd. He was given a fine ovation on his return to the birdcage.

Form worked out well as Caduceus, False Step and Don Hall, who finished in that order behind Lookaway were first, second and third in the New Zealand Flying Stakes at Addington. No excuses could be made for the beaten division but Caduceus was not disgraced in having to be content with second place. He set out to assure a solid pace and this told at the finish. Only a horse of the calibre of Lookaway could have beaten Caduceus on the day. False Step ran his usual honest race and the same could be said of Don Hall but the remainder were outclassed.

Credit: 'Irvington' writing in NZ Trotting Calendar 11Dec57


| | |
| --- | --- |
| | RACING HISTORY STARTERS & STARTING |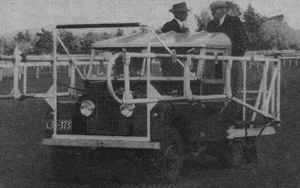 The original mobile barrier

MOBILE BARRIER FOR FLYING STAKES

A mobile barrier - the first to be used in the South Island - will be used to start the field of ten entered in the New Zealand Flying Stakes, one of the feature races on the final day of the New Zealand Metropolitan Trotting Club's Cup meeting at Addington on Saturday, November 23.

The apparatus, which is attached to a utility vehicle, arrived in Christchurch on Tuesday. It was brought south by Mr Ross Corrigan, who will drive it at Addington. A similar mobile barrier was used for the first time at Hawera last April and, according to northern reports, it was most satisfactory.

Some weeks before this, a flying start event was run at Addington, but no barrier was used and the start was far from successful. There were several reasons for the failure at Addington, the main one being the lack of instruction given drivers before the event. Another was the fact that the field was sent back only about 72 yards from the starting point and the horses had insufficient chance to get in line before reaching a fast pace.

Nothing will be left to chance for this month's race. There are a number of dufficulties to be overcome, the main one being the difference in the speeds of the horses on the inside and those on the outside at the starting point, which is in the middle of the bend into the straight. When the mobile barrier was used at Hawera, the horses had a straight run to the starting point. The barrier was travelling at about 30 miles an hour by the time it reached the starting point. It then drew away from the field.

It will be impossible for the barrier to travel at this speed at Addington. The track at the mile start is 70ft wide and it is expected that if the inside horse paces at a 2:10 gait the outside horse will have to race at nearly two-minute speed to keep in line. So that the driver of the barrier will know what speed to maintain it is intended to have a trial run with four motor-cars behind the barrier. The motor-cars will have synchronised speedometers and it is hoped to work out a satisfactory speed at which to drive the barrier. Once this is known the trainers and drivers of horses engaged in the race will have several opportunities to try their horses behind the barrier. These trials will probably take place on Tuesday and Thursday before the race but no definite decision had been made when this went to press.

The barrier will not stretch right across the track. The arms are each 23ft long, with a short rubber extension on the end in case it should hit anything. Fully extended the barrier will extend slightly more than 50ft, leaving about 10ft at each end. The club intends starting 10 horses, the maximum allowed at the mile start. It seems probable that the two inside and two outside horses will come up to the starting point without the aid of a barrier.

As well as the driver of the barrier, the vehicle will carry the official starter (Mr R Carter), a stipendiary steward, and one other person to advise the driver when to increase or decrease his speed. Mr A J Corrigan, of Hawera, who made arrangements for the gate to be brought south, or Mr C L Rhodes, of Christchurch, will carry out this latter duty.

The gate will probably remain in Canterbury after the meeting. It is to be used a fortnight later at New Brighton and again at Gore on December 26.

Credit: NZ Trotting Calendar 13Nov57


| | |
| --- | --- |
| | RACING HISTORY STARTERS & STARTING |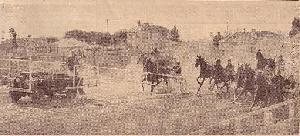 First Mobile Start at Addington

SENSATIONAL CLIMAX TO NZ FLYING STAKES

History has it that there are no holds barred in the chariot races during the time of the Romans, and similar tactics were adopted by two drivers - J D Litten and C C Devine - in the concluding stages of the New Zealand Flying Stakes at Addington last Saturday.

It is also on record that - especially in European countries - many years ago, the phrase "choose your weapons" was quite often used where one party had a difference with another. On Saturday the 'weapons' used were driving whips and the principal actors in this drama showed they knew how to use them.

The trouble started just after reaching the straight, the two drivers concerned slashing at one another. The incident took place in front of a large crowd on the mound as well as many others who came from the member's carpark to witness the race, and was clearly seen from all parts of the course. Litten, driving False Step, came into the straight on the inside of Don Hall, driven by C C Devine. They were several lengths behind the leader, Caduceus, and well clear of La Mignon. The two horses were close together and slightly off the fence before reaching the two furlong post.

It is understood that Devine and Litten slashed at each other outside the furlong post. Inside the furlong Litten turned and hit both Don Hall and Devine. As the horses were brought back to the birdcage Litten was seen 'nursing' the left side of his face and Devine was rubbing his wrists. Litten's left eye was closed when he dismounted from the sulky. A large crowd waited on both sides of the birdcage, and both drivers were greeted with boos and cat-calls as they returned. As a result of this exhibition - which was nothing short of disgraceful - both drivers have been deprived of their driving licences for a period of six months.

Despite severe criticism from some quarters, the start of the race and the race itself proved a success. Many people - especially Mr A J Corrigan - put in a lot of time with the mobile barrier prior to the event and the New Zealand Metropolitan Trotting Club and all those who helped, deserved a much better climax to what was hoped would at least prove one of the highlights of a very successful meeting. Apart from the unexpected whip incident, it did.

Considering that the mile start at Addington is right on a bend the start was an excellent one. Most of the field behaved very well and were moving at top when the mile post was reached, all in a reasonably good line, except for Dresden Lady, Adorian and Wayward Peter, who all gave some trouble at the start. False Step immediately strode into the lead from Don Hall with Caduceus making a brilliant beginning from near the middle of the field, and racing on the outside of Don Hall. At the end of the first quarter, False Step was leading Caduceus and Don Hall with La Mignon and Worthy Chief next ahead of Adorian and Dresden Lady with two lengths back to Black Douglas and Wayward Peter, and six lengths to Ricochet.

At the half mile, Caduceus moved up to have a slight advantage over False Step and a further furlong on he had increased his lead to two lengths over False Step, who was on the outside of Don Hall, these two were followed two lengths away by La Mignon. It became obvious at this stage that these four were the only ones with a chance.

Caduceus continued his brilliant run to turn for home a clear leader and once inside the furlong he ran right away. False Step battled on gamely and Don Hall must be given full marks for a very fine performance under the circumstances. La Mignon was half a length back fourth with the rest beaten off.

Caduceus just failed to break even time but there is little doubt if there had been a horse in the field capable of extending him, he could have done so. The first quarter was run in 28 4-5secs, half mile in 58 4-5secs, six furlongs in 1:29 3-5 and the full journey in 2:00 mins.

Credit: 'Irvington' writing in NZ Trotting Calendar 27Nov57


| | |
| --- | --- |
| | RACING HISTORY PEOPLE |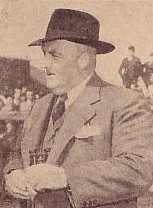 Mr Allan L Matson

MR A L MATSON

A former president of the New Zealand Trotting Conference, and one of the best-known stock auctioneers in the country, Mr Allan L Matson died in Christchurch last Sunday. He was 54 years of age.

Mr Matson who was a son of Mr Leicester Matson, was born in Christchurch, and was educated at Christ's College from 1916 to 1919, playing for the college first fifteen in his last year. He then joined the stock and station agency firm of H Matson and Company, and from 1930, after the death of his father, conducted the business with his brothers, Messrs Jack T Matson and L W Matson. In March of that year the business was merged with the New Zealand National Mortgage and Agency Company, Ltd., but the identity of the Matson firm was not lost, clients continuing to deal with the firm under the old name, and Mr Matson remained in the business. The firm of H Matson and Company was built on the personality of the founder and his family successors, and Mr Allan Matson carried on the tradition. A cheerful man he had friends in all walks of life.

Probably every farmer in North Canterbury in the last 38 years knew Mr Matson, and he was a familiar figure at Christchurch wool sales for 25 years. He was no less well known on the trotting courses. For 28 years he was connected with trotting, first as an enthusiast and then as the youngest member to be elected to the committee of the New Zealand Metropolitan Trotting Club - that was 20 years ago, after being a steward for eight years - and from then on rising to the club's presidency and the presidency of the New Zealand Trotting Conference. He was also an owner, the last horses he raced being Scholarship (in partnership with C S Thomas, now president of the Trotting Conference) and Midday (in partnership with Mr Allan Holmes).

In 1940, Mr Matson became president of the Metropolitan Trotting Club and was appointed the club's delegate to the Trotting Conference. He was club president for six years, and on relinquishing this position he was appointed treasurer, a position he held for seven years. In July, 1947, Mr Matson, who had been treasurer, was elected president of the Trotting Conference in succession to Mr H F Nicoll, who had held office for 25 years. During his eight years as president many innovations were made for which Mr Matson was wholly or in part responsible.

Always a keen student of bloodstock, Mr Matson introduced the national sales of trotting and pacing bred yearlings in 1944, and throughout his association with the sport he was a keen advocate of more races and better stakes for straight-out trotters. He had a remarkable memory for trotting pedigrees, and was also an excellent judge of all classes of livestock. He was a past-president of the Canterbury Owners' and Breeders' Association. Mr Matson's reputation in the sport extended to Australia, for at one time he was president of the Inter-Dominion Trotting Conference and made many trips to Australia.

For the establishment of the Totalisator Agency Board, Mr Matson worked strenuously. He was appointed to the first Board, and sat on it continuously until the time of his death, being alternating chairman while president of the Trotting Conference.

He had many ideas on what he considered necessary for the progress of the sport, and with his drive and ability he succeeded in having them carried out. His work for trotting was recognised in his election to life-membership of the Metropolitan, Canterbury Park, New Brighton and Methven Trotting Clubs. He was also a member of the Canterbury and Midland Clubs.

Men like Mr Matson are hard to come by and his loss to trotting in no small one.

Mr Matson is survived by his wife, a son, Mr Donald Matson, and a daughter, Mrs Martyn Wellwood, of Christchurch.

Credit: NZ Trotting Calendar 20Dec57


| | |
| --- | --- |
| | RACING HISTORY PEOPLE |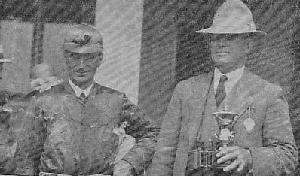 J Bryce & R Morten after the 1925 NZ Cup

JAMES BRYCE

One of the greatest trainers of light-harness horses the Dominion has ever known, James Bryce has been retired from active participation in the profession in which he was such an outstanding success, for several years now; but his interest in the sport remains high and he still possesses a keen eye for a good horse.

Trainers of the calibre of James Bryce do not come along every day.

James Bryce is the head of a family of horsemen who have written their names, large and bold, on the pages of 40 years of the Dominion's light-harness history. Bryce trained the winners of six NZ Trotting Cups, an all-time record for the race, and twice as many as any other trainer before him or since.

The story was told in Glasgow that Bryce's father had a peculiar genius for a horse. James relates that even among Scottish horse-dealers his father was known as a 'hard man.' In all his long experience he has never seen his father's equal in doctoring up a horse. He would pick up a steed that looked as though it was ready for the 'boneyard' and after treating it for a couple of months or so, he would have it in condition that would make it unrecognisable by its original owner. He usually got four or five times what he paid for these horses, which were mostly draughts.

James Bryce rode his first winner in Glasgow when he was 18. By the time he was 20 he was established as a trainer in a modest way at Govan, just outside Glasgow. "In those days," he said with a reflective smile, "they used to start trotting races with a pistol, and I was getting left. So I made a study of the starter and the way he raised the pistol and fired it. In the end I got to know his ways so well that I could tell to a fraction of a second when the report was due. After that, I never got left," grinned Bryce.

Bryce was soon training some of the best horses in Scotland and England. Like NZ horses the ones in the Old Country were nearly all American-bred on one or both sides. Trotting did not make the progress Bryce had hoped for, however, and one day, after reading about trotting in NZ in 'The Referee,' and seeing some pictures of Addington in the 'Weekly Press,' he decided Maoriland was the place for him. And it was thus that the neat little man with the raw Gaelic accent came to be standing on the Wellington wharf on a dull, cheerless morning in 1913...friendless? Well, not quite. Gathered around him were his wife, his belongings and five children...A stranger approached. "Are you Mr Bryce?" - "Yes." "Well, I have some bad news for you. Your two horses have been shipwrecked, and are still in England." The day seemed even bleaker to the little man from Caledonia. Not a promising start in a new land. When he reached NZ after paying passages for himself and his family and freight for two horses, Bryce had £300 left. He did not know a soul in NZ.

He was waiting on the wharf, pondering the future, when he was told that the two mares, Our Aggie and Jenny Lind, both of whom he had seen safely shipped on the Westmeath, an old troop transport, a fortnight before he left England, were still in the Old Country. The vessel had gone aground in the Mersey, and had to put back to port, but they had been transhipped to the Nairnshire, and after a rough passage to the Dominion they arrived - strapped to the deck, after the mate had suggested putting them overboard.

Our Aggie and Jenny Lind arrived two months after the Bryce family, who had decided to go to Christchurch. When they arrived at Lyttleton and saw the hills there, 'Scotty's' first question to himself was: "Where could you race trotters?" The family was taken to a boarding-house in the city but left after his wife had discovered that the woman of the house drank 'phonic' which is the Gaelic for methylated spirits.

Bryce's first home in NZ was Woolston, where he received a horse called Little Arthur, owned by Mr Wm Hayward, to train. Bryce relates that Little Arthur was a poor, dejected animal, and that he turned over in his mind that if this was a fair sample of the horses he was going to get, the future looked pretty bleak. "But I misjudged him," he continued. "I discovered he was asthmatical. I then included in his feed cod-liver oil, beaten-up eggs and sweet milk, and this helped his lungs. He did well and won at the Met. He was my first winner in this country."

A few months after arriving in the Dominion, Our Aggie struck form and won several races. Years later she became the dam of Red Shadow, considered by 'Scotty' to be the best-performed horse he ever drove. Red Shadow won the Great Northern Derby in 1930, and the NZ Cup and Metropolitan Free-For-All in 1933, taking all four principal races at the Cup meeting. Red Shadow sired Golden Shadow, winner of the Great Northern Derby Stakes in 1943, and Shadow Maid who won the Auckland Cup in the same year.

After a short time at 'Coldstream Lodge,' Fendalton, Bryce shifted to 'Oakhampton Lodge,' Hornby, then an 'unkept, dirty place.' Hard work promptly put that right, and soon the stables - 20 stalls to begin with - were built. The amenities included hot and cold water, a swimming pool for the horses, shelter sheds, railed yards, etc; so grew up the most modern trotting establishment seen up to that time in this country. And from this faithfully-harnessed source came an ever- swelling stream of fast pacers and trotters. Out of 'Oakhampton's' stalls were led superbly-conditioned horses that put Bryce at the head of his field only two short years after his arrival from Scotland. For seven consecutive seasons, from 1915-16 until 1921-22 and again in 1923-24, Bryce was leading trainer - eight times in all. He was also leading horseman in the 1915-16, 1918-19, 1921-22, 1922-23 and 1923-24 seasons and his son James, Jnr headed the horseman's list in the 1935-36 season.

Bryce trained and drove the winner of almost every important handicap and classic event in NZ. His sons Andrew and James carried on the family traditions. Andrew drove the 1927 NZ Cup winner Kohara; in 1921 he drove Man o' War to victory in the Auckland Cup, and in 1928 and 1929 he won the same race with Gold Jacket. James, Jnr, has driven two NZ Derby winners in Double Great and Twos Loose, four Auckland Cup winners in Shadow Maid, Sea Born and Captain Sandy twice, a November Free-for-all winner in Plutus, a National Cup behind De Soto, a Dominion Handicap on Waikato Prince, two Timaru Nursery Stakes on Highland Scott and Shadow Maid, a NZ Champion Stakes and a Wellington Stakes on Gallant Chief, a Great Northern Stakes on Highland Scott, a Great Northern Derby on Golden Shadow, and hosts of other good races; he still brings home the odd winner.

Few very big dividends were paid by horses driven by 'Scotty' Bryce. That speaks for itself. "They soon tumbled to me," he explained naively. Way back in 1923, horses driven by the old master had earned more than £100,000 in stakes for their owners; his full total must be nearer £250,000. When verging on three score and ten he was still a skilled reinsman. Much of this skill was in Bryce's hands. Only as a last resort did the whip come into play on a good horse 'Scotty' was driving.

Bryce considers Cathedral Chimes the gamest horse he ever drove. Catherdal Chimes won the Auckland and NZ Cups in successive years. Taurekareka was the first horse in the Dominion to win the trotting (or pacing, as you will)'triple crown,' the NZ Sapling Stakes, NZ Derby and Great Northern Derby. Bryce still affirms that he was unlucky not win a second Cup with Great Hope and a third with Ahuriri. Ahuriri was interfered with by Padlock or, in Bryce's opinion he would have won instead of going down to Peter Bingen and Great Bingen in a blanket finish in 1928.

He also thinks Matchlight, with an ounce of luck, would have won the NZ Cup. "I had a lot of time for Matchlight," said Bryce. "He won the President's Handicap at Forbury Park giving Trix Pointer 60 yards start, and then won both the big handicaps at the Canterbury Park June meeting when that club raced at Sockburn. He won those three races on end. Author Dillon was a bit lucky to beat Matchlight in the NZ Cup," declared Bryce. "Hendriksen, who drove Matchlight for me that year - I broke a leg and was in hospital - admitted he made a mistake in the way he drove him. Next day Matchlight won the Courtenay Handicap easily from the backmark," said Bryce.

"I always feel I had two horses that could have beaten two minutes," continued Bryce. "Red Shadow, from a standing start went 2.04 4/5 for third. Ahuriri was the other. As a 2-year-old before the 1922 Sapling Stakes he worked a mile in 2.10, his last half in 62sec. That was good work for any 2-year-old," remarked Bryce, who went on to say that he did not like the idea of sending his horses against time because there was so little inducement to do so.

J Bryce's principal training successes were in the NZ Cup (Cathedral Chimes 1916; Great Hope 1923; Ahuriri 1925 and 1926; Kohara 1927 and Red Shadow 1933); Auckland Cup (Cathedral Chimes 1915; Admiral Wood 1916; Man o' War 1920 and 1921; Ahuriri 1927 and Shadow Maid 1943; NZ Sapling Stakes (Ahuriri 1922; Taurekereka 1923 and Kohara 1924); NZ Derby (Great Hope 1922; Taurekereka 1923 and Kohara 1925); Great Northern Derby (Chid 1916; Tuarekareka 1923, Red Shadow 1930 and Golden Shadow 1943); NZ Champion Stakes - Metropolitan (Queen Chimes 1918; Great Hope 1922; Taurekareka 1924 and Kohara 1925); Taranaki Futurity Stakes (Queen Chimes 1918; Lochnagar 1919 and Ratana 1922); NZ Trotting Stakes - Forbury Park (Katute 1926); November Free-For-All (Admiral Wood 1916; Cathedral Chimes 1917 and Red Shadow 1933); Dominion Trotting Handicap (Whispering Willie 1916; Whist 1919; Moneyspider 1928 and Waikato Prince 1937); National Handicap (Matchlight 1918; Man o' War 1921 and Alto Chimes 1923); Timaru Nursery Stakes (Shadow Son 1938; Shadow Maid, division 1940); New Brighton Challenge Stakes (Shadow Son 1938); NZ Trotting Gold Cup - Wellington (Taraire 1923); Canterbury Handicap (Cathedral Chimes 1918 and 1919); and Rowe Cup - Auckland (Bluewood 1919), a record unapproached by any other trainer, past or present.

James Bryce tells some good stories against himself. Can you imagine the worthy Scot trying to get over the fence at Addington? Bryce will tell you how he was caught in the act, and how he came to be on the outside looking in. Two days of the Addington Cup meeting had passed - this was in August, 1928 - and between the second and third days the Trotting Association fonally made a decision on Bryce's appeal against a term of suspension in connection with the much-fought Free Advice case. Bryce had to take his medicine. Thinking that all the suspension did was to prevent him from driving, he went on the third day with his team only to be told he was not allowed on the track according to the rules.

After being graciously allowed to pay his acceptance fees and to see that the stable boys knew how to gear the team, Bryce left. On an upturned bucket in Bill Tomkinson's yard, just across the road, 'Scotty' indulged in a little self-pity and sympathy for himself. "After a' the years a mon's been in the game, nae tae be alooed on the coorse," he soliloquised. Telling Claude Dunlevey, Tomkinson's head man, how anxious he was to see if Native Chief would stand on the mark for the umpteenth time, Claude told him that if he went through the motor paddock he could see the start over the gate. Away went Bryce, and before he reached the gate he saw a "mon wi' a bit o' timber" leaning against the tin fence having a free view, so Bryce joined him. But not for long. Soon appeared authority in the form of a gateman, who ordered the pair down, waxing sarcastic as he escorted Bryce through the motor paddock, at the same time delivering a homily about getting through the proper channels and paying his bob like a man. And once again Native Chief stood on the mark.

Bryce made a notable contribution towards placing training on a higher plane here. A fellow trainer of his pays him the compliment of saying that Bryce was years ahead of most NZ trainers in the conditioning and driving of horses in those days. "We must never lose sight of the fact," said this admirer of Bryce's methods, "that it took men like 'Scotty' to improve the spit and polish part of our training methods. He was as meticulous, clean and thorough as any trainer I've ever known. Detail was his second name. The horse had to be fit and healthy, inside and outside, and he was kind to his horses, was proud of the 'guid yins.' Those of us with any savy tried to copy him."

Bryce was a great believer in swimming exercise for his horses, especially unsound ones, and at "Oakhampton Lodge" he built a luxurious swimming pool, 18ft at its deep end, as part of his comprehensive training routine. Many a lame horse was kept fit or saved from early racing oblivion by this pool, which was availed of by other trainers in the district, men who continue to acknowledge the debt they owe to the many refinements of conditioning and gaiting, and to the profound horsesense that took James Bryce to the top of the ladder and kept him there year after year.


Credit: NZ Trotting Calendar 14Aug57


| | |
| --- | --- |
| | RACING HISTORY PEOPLE |

MR W L PARKINSON

Mr W L Parkinson, a well-known figure in the light-harness sport in Canterbury over a lengthy period, died in Christchurch last week after a long illness.

Mr Parkinson took an early interest in galloping but changed later in trotting, in which department he met with considerable success. One of the best pacers to carry his colours was Clockwork, who held the mile and a half record for several years. Another outstanding pacer raced by Mr Parkinson was Ferry Post, who was considered by many to be the best horse he owned, but unsoundness cut short Ferry Post's career. In more recent years, Mr Parkinson raced the champion 2-year-old, Vivanti, who took almost everything before her at that age, including the NZ Sapling Stakes. Other pacers and trotters to do good service for Mr Parkinson were Steel King, Good Review, Kapeen and Beehive. On his Kaiapoi property, Mr Parkinson also bred several pacers and trotters.

Apart from his interest in trotting, Mr Parkinson was one of the best known stock dealers in the South Island and started dealing at an early age. Born at Saltwater Creek, Mr Parkinson started buying and selling cattle as a boy. By the time he went to World War I, he was a familiar figure at the Addington Saleyards. He celebrated his eighteenth birthday in Egypt and on his return from overseas he resumed his dealing in stock.

Mr Parkinson was one of the most popular figures on racecourses around Canterbury especially, and his delightful sense of humour endeared him to all who new him. Mr Parkinson was 59 and is survived by his wife.

Credit: NZ Trotting Calendar 6Mar57


| | |
| --- | --- |
| | RACING HISTORY PEOPLE |

F J BEER

Mr F J Beer, Chief Stipendiary Steward to the NZ Trotting Conference, will retire from that position on July 31, the end of the present season. Mr Beer stated last week that after his 29 year's service as Chief Stipendiary Steward he felt he should tender his resignation.

In the 1920's prior to becoming Chief Stipendiary Steward, Mr Beer was the central figure in tracking dowm a number of 'ring-ins.' It was mainly through his untiring efforts that those people connected with these 'ringers' were brought to boot. "I never had any illusions about being a Sherlock Holmes," said Mr Beer. "I was just an ordinary, garden variety investigator put on to this job after another detective had no luck tracking down the people behind all these ringing-in cases."

Mr Beer was born in Christchurch in June, 1890. Soon after that his family moved to Wrights Road, which is on the southern boundary of the present Addington course. Mr Beer can remember seeing the whole of the present grounds being sown in wheat. Mr Beer's father was a flour-miller, but was keen to become a farmer. In 1896 he moved to Southbrook. When the Waikakahi estate was cut up at Morven, his father drew a section. Mr Beer finished his schooling at Morven and worked on his father's farm until 1910. In 1911 he went to Matamata and worked on a dairy farm.

Mr Beer joined the Police Force in 1913 and after three months in the training depot at Wellington, he was transferred to Dunedin, where he remained until 1928. For 13 years he was in plain clothes in the detective branch. Just before he resigned to take a position as a stipendiary steward with the NZ Trotting Conference, Mr Beer was transferred to Invercargill in charge of the detective office. One year after joining the Conference staff, Mr Beer was promoted to be Chief Stipendiary Steward.

On two occasions he was a member of special detective staffs which accompanied Royalty on NZ tours: the visit in 1920 of the Prince of Wales (later King Edward VIII and now the Duke of Windsor); and of the Duke of York (later King George VI) and the Duchess in 1927.

Credit: NZ Trotting Calendar 6Feb57


| | |
| --- | --- |
| | RACING HISTORY PEOPLE |

MRS E A BERRYMAN

The death occurred in Wellington last week of Mrs E A Berryman, who had a long association with trotting. For many years she had a number of horses in work with the Belfast trainer C S Donald, who won many important races for Mrs Berryman.

Included among the many good trotters and pacers raced by Mrs Berryman were Wahnooka, Captain Bolt, Great Way and Kempton, four of the best trotters racing at that time, and Red Hussar, Dundas Boy, Superior Rank, Top Hand and Lee Berry.

Mrs Berryman was always a lover of the trotter, and in more recent years she met with considerable success with Great Belwin, who won the trotter's section at the Inter-Dominion Championship series at Addington in 1951. Trained by the late J Young, Great Belwin won £9720 in stakes.

Mrs Berryman also owned a half share in a grand trotting mare in Mistydale, who is the dam of Highland Glen, winner of the NZ Trotting Stakes last season. Mrs Berryman raced Highland Glen, in partnership with Mr J Palmer, of Christchurch.

Credit: NZ Trotting Calendar 6Mar57


| | |
| --- | --- |
| | RACING HISTORY MESCELLANY |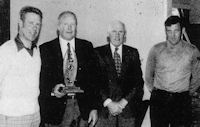 Les Purvis, Len Butterworth, George Kelly & Neill Escott

LEN BUTTERFIELD

The recent death of Len Butterfield, a highly-respected former Chief Stipendiary Steward, revived memories of the infamous whip slashing incident at Addington in 1957. Butterfield, who was appointed Chief Stipendiary Steward for the NZ Trotting Conference that year, suspended driver Cecil Devine and Jack Litten for six months over the affair.

Butterfield chaired the three-person panel - it also included another stipendiary steward and a club steward - which laid the charge, conducted the inquiry and imposed the penalty. Harness racing adopted the thoroughbred racing system of judicial control in 1997, with stipendiary stewards acting as prosecutor only and a Judicial Control Authority person and panel assessing the evidence and imposing penalties. One member of the JCA in now the norm for all except the major racemeetings, when two are appointed.

Devine and Litten struck at each other with their whips about 250m from the finish of the NZ Flying Stakes on the fourth day of the Cup Meeting. Devine was driving Don Hall with Litten (False Step) on his inner. The pair were fighting out second and third placings in a gap behind Caduceus, then a stablemate of False Step in the Litten stable. Caduceus, driven by Tony Vassallo, won the mobile start race by five lengths, posting his 29th win. False Step finished second with a length to Don Hall in third.

A Press Association report in the "Times" read:
"It is understood Devine and Litten slashed at each other outside the furlong post. Inside the furlong, Litten turned and hit at both Don Hall and Devine. As the horses were pulling up, half a furlong past the finishing point, Litten slumped in the sulky holding the left side of his face. He was still obviously in pain, with his left eye closed on returning to the birdcage, where he and Devine were greeted with boos and cat-calls from many hundreds of people both on the inside and outside enclosures. The payment of place dividends on False Step and Don Hall was delayed until proceedings concluded three hours after the race. The inquiry was adjourned to call additional witnesses."

False Step, who won the 1955 NZ Derby for Litten, and six races as a 4-year-old, did not win at five and was transferred to Devine in 1958. He won the NZ Cup that year, and again in the following two years. Butterfield and Devine had numerous clashes which developed into a feud.

Butterfield ordered the removal of a neck pricker from False Step on the second day of the Inter-Dominions at Addington in 1961. The gear, blunted tacks attached to the inside of the neck band to prevent a horse veering out at the start of a race was illegal. False Step had set a world record for 13 furlongs when he finished second to Diamond Hanover fron 48yds on the first day wearing the pricker. He ran outsider Massacre to a nose in the Final. Massacre who had won four races, scraped into the Final after placings in two heats.

Butterfield, who began work with the Trotting Conference in 1946, was Chief Stipendiary Steward for 21 years until he retired at 65 in 1978.

Hopple shorteners are now accepted gear for pacers but Butterfield disallowed their use briefly in 1968 at the Inter-Dominions, causing controversy. Trainer-driver Dick Benger was barred from using shorteners on the Australian pacer Lord Setay. The horse fell in the opening round of heats and the gear was permitted for the remainder of the series after representations from the Australasian Council of Kindred Associations to the Inter-Dominion Conference.


Credit: Taylor Strong writing in HRWeekly 1Sep99


| | |
| --- | --- |
| | RACING HISTORY MESCELLANY |

TRIPLE DEAD-HEAT

After an exasperating series of experiences in the last two years when bad weather almost ruined three days racing, the Westport Trotting Club achieved sudden and sensational fame right at the close of its meeting last week, which was postponed fron Thursday to Friday, 27th December, when three horses crossed the line together in the President's Handicap to proved the first triple deat-heat in NZ trotting history. The horses who could not be separated were the bracketed pair Night Owl (G Cameron) and Wimpy (J H Butterick), and Keff (M C Flaws).

With Glengallan, the trotter, they sorted themselves out about 60 yards from home. Glengallan only weakened to fourth in the last few strides to finish half a length away. It was anyone's pick when the other three returned to the birdcage, and it was some time before the judgw (Mr J P McEnaney) could give the clearance for his assistant (Mr P Colvin) to frame the top numbers.

When No.9 (Keff) appeared first in the frame there was a loud cheer from her supporters, and G Cameron, the driver of Night Owl, went to drive away only to see the two numbers 2 inserted in the frame. All three drivers were uncertain of the result. Cameron was not optimistic about his own chances. Flaws felt that he had been beaten by Night Owl, and Butterick thought that Wimpy had broken on the line and lost the advantage. The camera cleared up all other augument.

The result proved a windfall for the Westport Club, as Photo Finishes of Australia Ltd, the firm operating the camera, has offered £1000 to the first club in NZ which staged a triple dead-heat. The operator of the camera received a bonus of £20 from the firm.

Credit: NZ Trotting Calendar 1Jan58


| | |
| --- | --- |
| | RACING HISTORY INTERDOMINIONS |

PERTH - RADIANT VENTURE
Radiant Venture, a six year old black gelding from Port Pirie in South Australia, secured for £150 as a 2yo and trained in the evenings because his owner-trainer and his regular driver both ran milk rounds, was the hero of the 1957 Inter Dominions in Perth. Radiant Venture beat Robert Sheen, Precipitation and Caduceus.



| | |
| --- | --- |
| | RACING HISTORY HORSES |

ADIO STAR - Classic Winner Producing Mare

Adio Star (1957 Captain Adios-Loyal Guest) USA family of Brown Lancet, 2:10.6, $1,560; 3 wins; 15 foals, 13 to race for 10 winners and three qualifiers. Breeder: W F (Frank) Woolley. Foals bred by Alastair Kerslake (Loyal Adios); Francis Woolley (Colonel Adios, Adios Wren, Bachelor Star, Garrison Adios); Francis Woolley/Betty Kerslake (Adios Bachelor, Telstar, Main Adios, Supreme Adios, Main Star); Alastair/Betty Kerslake & Francis Woolley (Game Adios, Bionic Adios, Main Win, Star's Legacy).

Adio Star's sire Captain Adios was imported into NZ by Sir Roy McKenzie as a 4yo in 1956 having won the Fox Stakes and Review Stakes at two in USA. He was a son of Adios from the well-performed mare Shy Ann, dam of Adios Betty and fourth dam of Beach Towel. After three years at stud, he died prematurely suffering a broken thigh bone and a twisted bowel. Captain Adios left 49 winners, several successful sires and dams as well as four NZ Derby winners. His winners included Jay Ar, named after Sir Roy's father (ID Pacers Grand Final), Great Adios (NZ Cup, NZFFA, Easter Cup), Deft (dam of Champion juvenile and sire of Noodlum) and damsire of NZ Derby winners - Bachelor Star, Game Adios, Main Adios, Noodlum plus Main Star (GN Derby)[all except Noodlum were out of Adio Star], Leading Light (AK Cup), Olga Korbut (NZ Championship-2), Via Veneto (GN Oaks).

Dam Loyal Guest was a sibling of Margaret Hall, Paramount and GypsyBelle from grand producer Tondeleyo (Wrack-Estella Amos). Apart from Adio Star, Loyal Guest left True Guest (5 wins), dam of New Guest (dam of Hilarious Guest - Sapling, NZ Championship at 2, NZ Derby, NZ & GN Oaks, Messenger, NZ Breeders Stakes; Speedy Guest - GN Derby, Messenger). The Loyal Guest branch of Tondeleyo includes recent stand outs Village Hero, Champagne Princess, Lancome, Estella Rose, Fiery Falcon.

Adio Star was from the family of Brown Lancet who was discussed under Margaret Hall.

Adio Star's race career spanned three seasons hindered by unsoundness during which she recorded three wins (5yo - Timaru, Hororata; 6yo - Westport) before commencing her broodmare career. She was an immediate success being rewarded with the NZ Broodmare of the Year title (1978). Adio Star has the unique distinction of producing four Derby winners - Bachelor star, Game Adios, Main Adios and Main Star. All of her progeny were raced by Alastair and Betty Kerslake of Lauriston together with Frank (Alistair Kerslake's father in law) or Francis Woolley (brother-in-law), one time Hamilton motelier. Frank Woolley passed Adio Star onto his son Francis and daughter Betty in 1969 after breeding Garrison Adios.

Adio Star's male progeny included:

Adios Bachelor, placed at two before his only success at three (Waikouaiti Stakes at 3). He sired Bachelor Creed (Marlborough Winter Cup) among his 23 winners (28 as a broodmare sire).

Bachelor Star, nine-win horse with 2yo wins at ATC Scotchman and Thames Juvenile Stakes. His five wins at three included the New Brighton Stakes, NZ Derby (4th in GN Derby) and ATC Epsom Hcp-3/4. Placed at four, he won twice from three starts at five (Addington- Spring & Smithson Hcps). Bachelor Star retired following a solitary start at six, placing in New Brighton's A E Laing Hcp. At stud, he sired 44 winners including Dundas (Oamaru & Ashburton Cups; damsire of 53 winners (Lady Franco; Cambridge Gold Cup, Morrinsville Breeders; My Hanover Nugent: Bathurst City Cup).

Bionic Adios, winner of seven (Ashburton, Rangiora[2], Methven, Forbury Park [2], Waimate Cup); sire of eight winners including Aratika (Rangiora Winter Cup).

Colonel Adios, five race winner during three year career. Placed at three, before his first two wins at four (Methven, CPTC Cressey Stakes). At five, winner at Forbury Park, NBHRC Raceway Stakes and Masterton Cup.

Game Adios, won eight beginning with placings at two. His initial win came in the First Canterbury Stakes at Addington, the first of seven 3yo wins - Forbury Park, Addington -3 (Metropolitan Show Day Stakes and NZ Derby), Hutt Park (Cardigan Bay Stakes) and Alexandra Park. Game Adios finished second in the Champion (Ashburton) and Balance (Wanganui) Stakes at three. His final victory was in the Ribbonwood Hcp at Addington in August 1980 and never placed from a further 12 starts over the next four seasons.

Loyal Adios, 7 career wins with 4 at age 3 (CPTC Pioneer Stakes and two other 3yo CPTC wins). His lone 4yo victory was at Addington before two successes at five (Addington - Wildwood Hcp, Timaru - South Canterbury Hcp).

Main Adios, 9 wins over three starting with four juvenile age group wins at two (Hosking & Roydon Stakes at Wellington , Forbury Juvenile, New Brighton Festival Stakes), also placed second in the Golden Slipper Stakes. At three, Main Adios's 3 wins included the Flying Hcp on NZ Cup Day and $19,000 NZ Derby (same night Kerslake won the Spring Time Stakes with Watbro Trick and the Harold Logan Stakes with In Or Out - NZ Oaks & Breeders Stakes). He finished second in the Champion Stakes. Main Adios' final season at four, saw 2 Addington wins from 5 starts, Ribbonwood Stakes, ans appropriately the Final Hcp in his last start on the 4th day (Night) of the NZ Cup meeting. He sired 22 winners and was the damsire of 20 (Young Whiz - Raith Memorial).

Main Star, eight race winner starting with a win at Alexandra Park at two and placed third in Timaru Nursery Stakes and NZ Championship and fourth in Welcome Stakes. A seven-win 3yo career brought victory at Addington(4) - New Brighton 3yo, Cross & Air NZ Stakes, NZ Championship; Alexandra Park (GN Derby & Derby trial) and Hutt Park (Cardigan Bay Stakes), also placed third in the Champion and Timaru Challenge Stakes. His only placing of significance at four & five was second to Miss Pert in the New Brighton Cup. At Stud, Main Star sired 17 winners (Rainbow Patch - Hororata Cup); damsire of 12 (Twinkle John - Ashburton Flying Stakes & Kurow Cup).

Adio Star's fillies included:

Adios Wren, two unplaced runs at three in NZ before being exported to Australia, producing Wrengari, among first 100 2:00 pacers in Australia (Geelong 2:00TT, 1981).

Stars Legacy, winner of RM Cameron Stakes (Ashburton), dam of a winner.

Bionic Star, winner of 8 of 23 starts in a career impacted by unsoundness (tendon problems) starting with a sole 3yo win at Addington. A dual winner at Forbury, then Addington before winning the Waikouaiti Cup in four successive starts before a further win at Addington was the fifth of her 4yo career. Two further Addington wins at five completed her career successes. Bionic Star was the dam of 10 foals for seven winners led by the outstanding race mare Bionic Chance (NZSS at 2 against the boys, Leonard Memorial, Golden Slipper, Kindergarten & Timaru Challenge Stakes, Wellington Cup, NZ Breeders Stakes, Hannon Memorial, Premier Mares Championship. 2yo filly and 4 mare pacer of the year; died of a ruptured bowel, January 1993). The fastest of Bionic Star's progeny was Bionic Raider who posted 1:56.2 in the US.

Supreme Adios, unraced, dam of 16 foals, 7 winners including:
. Oh So Fair, WA breeders Stakes
. Supreme Dream, granddam of Ballindooley (Invercargill Summer Cup, NZ Championship)
. Supreme Holmes, granddam of Supreme Mach (Redcliffe Derby)
. Most Happy Star, WA triple Crown-2f; dam of:
1. Windshield Star (Leonard Memorial 2f; dam of U Legend (GN Breeders Stakes-4m, NZSS SI 4&5m), Top Of The Line (WA Gold Bracelet-2f); granddam of Antares (Morrinsville Juvenile, NZSS NI Graduate-2)
2. Classic Speed, dam of Motu Speedy Star (Waimate & Kurow Cups)
3. star Rider, dam of Double R (Hororata Cup)
. Smokey Tabella, Morrinsville Breeders, dam of;
1. Rocket Warrior, TAS Guineas
2. Willie Walker, Bendigo Guineas & Derby, Geelong Guineas
. Supreme Knight, unraced, dam of;
1. Supreme Award, Cheviot & Wellington Cups.
2. Supreme Chip, Triple Crown Classic-3f; granddam of Caesar Supreme, 36 wins in Australia to date.

Credit: Peter Craig writing in Harnessed Aug 2015


| | |
| --- | --- |
| | RACING HISTORY HORSES |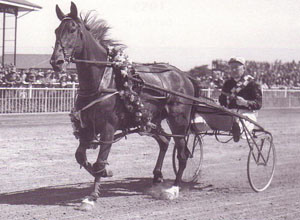 Our Roger & Doug Watts parade after the 1955 NZ Cup win

OUR ROGER

Our Roger, who was recently retired by his owner, Mr W A Newton, of Akaroa, had a meteoric rise to the best classes. Although he was not surrounded with the glamour of Johnny Globe, Highland Fling and Harold Logan, Our Roger was an honest and game pacer who gained his place amongst the best in the Dominion through sheer grit and determination.

Our Roger showed ability right from the start, but was considered a 'write-off' when he developed a wind affliction. He recovered quickly following an operation and soon showed his true calibre by going right through the classes to cap a fine career in November 1955 by giving a grand display to win the NZ Cup.

When the pedigree of Our Roger is studied it is not surprising that he reached dress-circle company, as he is directly descended from that grand producer, Berthabell(imp) who was imported to NZ by Mr Etienne Le Lievre in 1914. In the 1930's Mr Le Lievre gave Bertha Parrish, one of Berthabell's last foals to his son-in-law, Mr W A Newton. Mr Newton mated Bertha Parrish with Lusty Volo to produce Sea Gypsy. As a 6-year-old the unraced Sea Gypsy produced her first foal, Our Roger, to Dillon Hall.

J D Litten was entrusted with the developing and training of Our Roger and at his first start as a 3-year-old, he finished third in the Waiutu Handicap at the winter meeting of the Reefton Jockey Club in June 1951. He followed up this forward showing by winning the Lewis Pass Handicap on the second day by three lengths. That was his sole success as a 3-year-old.

As a 4-year-old in the 1951-52 season Our Roger won two races and was then put aside pending an operation for his wind. Following his operation he was spelled on his owner's property at Akaroa and on his return to racing the next season he quickly demonstrated that he had made a complete recovery by winning the Wainoni Handicap at the New Brighton Trotting Club's summer meeting in December, 1953, pacing the mile and a half journey in the smart time of 3.13 3/5. Four more successes came his way that season, including the Ritchie Handicap at Forbury Park.

Our Roger opened his winning account for the 1954-55 season when he won the President's Handicap at Forbury Park in October and he completed a nice double for the day when he was successful later in the Farewell Handicap. It was now apparent that Our Roger was headed for the best classes. He next won a qualifying heat of the Inter-Dominion Championships at Auckland in February, 1955, this being his final success for the season.

At the NZ Metropolitan Trotting Club's National meeting in 1955 Our Roger won the Louisson Handicap and immediately entered calculations for the next NZ Cup. His next four starts resulted in two minor placings but his fifth appearance proved him too good from the limit, for Caduceus, Johnny Globe and Rupee in the Ashburton Flying Stakes, when he beat his stablemate Caduceus, and Johnny Globe, by a length, these two dead-heating for second place.

His next and greatest triumph was in the NZ Cup of 1955 when he outstayed such horses as Rupee, Excelsa, Thelma Globe, Caduceus, Our Kentucky and Tactician over the final half mile of a truly-run race, registering 4.12 1/5 for the two-mile journey. His Cup success was his fifteenth of Our Roger's career and his last. He retires the winner of £15,224 10s in stakes.

Our Roger was trained throughout his career by the West Melton trainer, J D Litten, but was driven to win the Cup by D C Watts. On receiving the Cup Mr Newton said: "The credit must go to Mr Litten and his stable boys and to 'Roger's' driver, Mr Watts." Mr Newton later said that he had been trying since 1924 to breed a winner of the NZ Cup and Our Roger was only the second horse he had raced.

Credit: 'Irvington' writing in NZ Trotting Calendar 9Jan57


| | |
| --- | --- |
| | RACING HISTORY HORSES |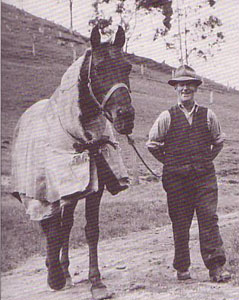 Sandydale with Johnny Johnson in the early 1950s

SANDYDALE

The imported stallion Sandydale, who recently met with an accident and had to be destroyed was imported to the Dominion by Mr H A Jarden in 1937 and was almost immediately passed on to Mr G Youngson.

Bred at Village Farm, Langhorne, in the United States, Sandydale was a black horse by Abbedale from Ioleen McKinney and before coming to NZ he won a number of races including the Champion Stallion Stakes and he took a record of 2.01 3/4 free-legged.

After his first season in Southland, Sandydale stood for about seven weeks in Canterbury in 1938 where he was mated with almost 30 mares. Included amongst his consorts were Slapfast, Tondeleyo, Arethusa, Tairene, Fantine and Midshipmaid. After several seasons in Southland in the ownership of Mr Youngson, Sandydale was transferred to Mr John Johnston at Oamaru in 1946 where he has done continuous service since.

Sire of almost 150 individual winners, Sandydale's greatest claims to fame as a sire are through the deeds of Captain Sandy as a racehorse and Sandfast as the dam of champion Johnny Globe. Captain Sandy was a brilliant racehorse and when considered a back number in NZ he was sold to Australia where he carried on to further successes, including the Grand Final of the Inter-Dominion Championships at Perth for the second time. Prior to that he had won two Auckland Cups and the Grand Final of the Championship series at Melbourne when still owned and trained by J Bain at Oamaru. Captain Sandy was an 'iron' horse and altogether he won 15 races and £43,712 in stakes which is the greatest total credited to a standardbred in Australia and NZ.

Apart from Captain Sandy, Navigate, Good Review (winner of the Dunedin Cup), Te Maru and General Sandy (winner of the NZ Pacing Championship at Addington last November), also graduated to Cup class. Other good winners sired by Sandydale include Heliopolis, Black Douglas, Victory Dale, Dillondale, Mistydale, Gay Dene, Rola Veyor and Invicta.

As well as siring the dam of Johnny Globe, Sandydale also sired the dams of Surfman, Lady Cook, Sandyshore and Highland Glen.



Credit: NZ Trotting Calendar 19Jun57


| | |
| --- | --- |
| | RACING HISTORY HORSES |

LOGAN DERBY

The death has been reported of Logan Derby, a champion racehorse and a highly successful sire. Logan Derby was for the last year or two located at Mr J M Connolly's Orari stud. Logan Derby was 26 years old.

He was one of the most widely travelled pacers raced in NZ and Australia. He raced in every state in Australia where there was trotting, and also in Tasmania and NZ. he made several trips to Perth at a time when the means of transport were much slower than they are today.

Logan Derby, sire of the two-mile world's champion pacer, Johnny Globe 4.07 3/5 and champion trotter Vodka (3.26, 13f), combined the prepotent strains of Globe Derby and Logan Pointer, both never waning influences for speed and stamina. Logan Derby was by Globe Derby from Bell Logan, by Logan Pointer(imp) from Curfew Bell, by Wildwood(imp) from Bonnie Bell, by Lincoln Yet from an Arab mare.

Logan Derby won more than 60 races and more than £10,000 is stakes prior to 1943 when prizemoney was less than half what it is today. Logan Derby proved both a brilliant sprinter and pronounced stayer and the smoothness of his gait made him at home on both big and small tracks. His consistency and eagerness for the fray earned for him the greatest popularity in all parts of Australia and NZ. He had a mile record of 2.04 against time, averaged under 2.08 in a race of 10 furlongs, 2.09 for 12 furlongs, 2.07 1/2 for two miles, and he was a foolproof racehorse.

In NZ Logan Derby started seven times for three wins and four places. He finished third in the NZ Cup in 4.19 2/5 and in a later event was second in a tick under 4.15 after giving the winner a start of 36 yards. In the November Free-For-All, from a barrier start, he bettered a 2.08 rate for 10 furlongs in beating a field of high-class performers, including Pot Luck, Parisienne, Supertax, Harold Logan, Grand Mogul, Lucky Jack, King's Warrior and Plutus. Following this fine performance, Logan Derby won twice over two miles in 4.22 1/5 and 4.18 1/5.

At the 1936 Championships at Perth Logan Derby went right through without a single defeat, and in another visit to Perth earned Championship honours with his aggregate of points. In a mile race he did 2.05 1/2 from a barrier start, and his 2.09 rate for one mile and a half broke the previous Western Australian race record.

In 'Globe Derby's Greatness,' a book dealing with the career of Australia's phenomenal producer - Logan Derby is referred to as possessing the endurance of a camel and the heart of a lion. He was a model of docility as was his world-famous son, Johnny Globe.

Logan Derby, as the sire of Johnny Globe, Vodka, Rellek and numerous other winners in the Dominion, made his fame as a sire fairly late in life. He was only a moderate stud success in Australia, and was 16 years old when the late F J Smith, of Village Farm, Auckland, bought him fron Mr J P Stratton, Perth, in 1946. Johnny Globe, Vodka and Rellek all came fron Logan Derby's first NZ crop. Logan Derby sired 44 individual winners during his stud career.

Credit: NZ Trotting Calendar 10Jul57


| | |
| --- | --- |
| | RACING HISTORY HORSES |

SEA GIFT

The death was reported recently of the grand trotting mare in Sea Gift.

Sea Gift was champion trotter of her era; she raced with conspicuous success for eight seasons and she took a record of 4.21 2/5 for two miles which was a record for some years. One of her greatest performances was at Forbury Park on November 28, 1936 when she downed a good field of pacers in the President's Handicap, the principal event. Sea Gift won by three lengths and returned the good time of 4.26 for the two miles. Included in the field were such pacers as Gunfire(2nd), Grace McElwyn(3rd), Iraq(4th), Pot Luck, Rocks Ahead and Bonny Azure.

Sea Gift was bred by the late H F Nicoll, Ashburton when the depression was at it's height; horses were a liability, even the good ones, and Sea Gift went under the hammer at a Durbar Lodge dispersal sale at the gift price of 6gns. Her purchaser was Mr D McNeill, but she made her first race appearance in the ownership of J Bryce, who also trained her. Foaled in 1929, Sea Gift was by Wrack (who sired innumerable high-class trotters), from an un-named mare by Paul Huon. This un-named mare was also out of an un-named mare by Franz and nothing more in known about the pedigree of Sea Gift.

Sea Gift commenced racing as a 3-year-old in the 1932-33 season and at her first start she finished third in the Longbeach Handicap at Ashburton on June 10, 1933, when trained by J Bryce and driven by A Bryce. She was unplaced at her next attempt but quickly made amends in the Foxhill Handicap on the second day of the Nelson meeting in June, the same season. This was Sea Gift's third and last start as a 3-year-old and she won by a length, beating Alf Parrish and Sister Mary.

At four years, Sea Gift started 15 times and gained four wins and three places. At her fifth start at that age - in the ownership of Mr T Smith - she won the Summer Handicap at Greymouth, beating Wahnooka by three lengths, Worthy Star being third. By this time Sea Gift was being trained by the late E J Smith, who drove her in the Summer Handicap. Sea Gift's other three successes that season were in the Peninsula Handicap at Forbury Park, the Winter Handicap at Wellington and the Progressive Handicap at Canterbury Park. These three wins were gained in succession and Sea Gift had passed into the ownership of the late Mr C M Archer and Mr D McFarlane, for whom she was still being trained by E J Smith. She was driven at Forbury Park by M Holmes, but E J Smith held the reins in her other two wins.

The 1934-5 season was a very succesful one for Sea Gift. In all, she won seven races and was placed once for £1049 in stakes, a small reward on today's standards. Her most important successes that season were in the Autumn Handicap at the Metropolitan Easter meeting and in the Elevation Handicap at Canterbury Park. In the later event, Sea Gift started from 72 yards and beat Explosion, who was on 60 yards, by a length, and ran the two-mile journey on a heavy track in 4.40 2/5. Teviot Downs, driven by J Fraser, Jnr was third and Standby was fourth.

As a 6-year-old in the 1935-6 season, Sea Gift won the Steward's Handicap on the first day of the NZ Metropolitan Trotting Club's August meeting and followed this success with a clear-cut win by two lengths in the Dominion Handicap. This event was then run over one mile and a half and Sea Gift, driven by her trainer, E J Smith, started from 36 yards and won by two lengths. Runner-up to Sea Gift was Stanley T(24 yards), who was driven by R Young. Lough Guy(Limit), driven by owner R Townley was third. Sea Gift was also placed on two occasions that season, finishing third to First Wrack in the Middleton Handicap, from 84 yards and third in the High Class Handicap on the second day of the Easter meeting at Addington.

Her first appearance in the 1936-7 season as a 7-year-old resulted in a win for Sea Gift. This was in the Steward's Handicap at the August meeting at Addington. She started from 84 yards behind and beat Teviot Downs by a short head, running the mile and a half journey in 3.37 on a holding track. Sea Gift was now forced to race from long marks against those of her gait and her chances were becoming fewer and fewer. At her third start for the 1936-7 season she was beaten into second by Wrackler in the Addington Handicap and she then took on the pacers in the James Buchanan Handicap at Forbury Park. This was her first attempt against the pacers and she was beaten into second place by a good pacer in Willow Wave, driven by O E Hooper.

Despite her good showing in this event, Sea Gift was allowed to go out 8-7 in the betting in the President's Handicap on the second day, which she won by three lengths. Her next two starts resulted in two third placings and in the latter she beat all but Lucky Jack and Village Guy in the Timaru Handicap, trotting the two miles in 4.29 3/5. Sea Gift's last success as a 7-year-old was in the Halswell Handicap at the Addington Easter meeting. A field of high-class pacers lined up for this event, including Morello, Rongomai, Pot Luck, Big Author and Rocks Ahead. Trotting in her best style, Sea Gift beat them all, having a neck to spare from Morello at the post with Rongomai in third place. She ran the two-mile journey in 4.27 3/5.

This gallant little mare had 17 starts as an 8-year-old and although she failed to win a race, she was placed four times. She finished third to King's Play and Nervie's Last in the Canterbury Handicap at Addington, third in the Burwood Handicap at New Brighton to Pot Luck and Isabel Derby, second to Parisienne in the Lyttleton Handicap at Addington and second to Isabel Derby in the Timaru Cup. It was no disgrace for Sea Gift to have to go under to pacers of the calibre of those who beat her that season.

Sea Gift was nine years old in the 1938-9 season and 'father time' combined with a busy career was beginning to catch up on her. She was not a spent force however. At her second start for that season, she took her place in the National Challenge Stakes, run on the second day of the August meeting at Addington. This was a special event for trotters and pacers and was run over two miles. The field comprised King's Warrior, Sea Gift, Wahnooka, Peggoty, Waikato Prince, Ginger Jack, Lucky Jack and War Buoy. The trotters in the field started from the limit and the pacers were handicapped on 72 yards. Sea Gift trotted a gallant race and led into the straight from Wahnooka, Peggoty and King's Warrior. In the run to the judge, King's Warrior, driven by the late F J Smith, proved too good and he beat Sea Gift by two lengths with Wahnooka in third place.

Two more minor placings came Sea Gift's way that season before she managed to run home a winner. She finished fourth to Logan Derby, Southern Smile and Morello in the President's Handicap at Forbury Park and fourth in the Forbury Handicap at the same meeting to Logan Derby, Morello and Renown's Best. Before the season closed, Sea Gift returned to winning form in the James Memorial Handicap at Forbury Park, a race in which she beat Marsceres and Marlene, in the smart time of 4.24.

Sea Gift started three times at the age of 10 years, but her only glimpse of form was her fourth placing behind Marsceres, Horsepower and Silver Guy in the Queen Mary Handicap at the Addigton August meeting.

Sea Gift's record against the pacers must rank as one of the best compiled by one of her gait. She met and beat high-class pacers on three occasions and was placed nine times when racing against them. In all, Sea Gift won 18 races and was placed 21 times for £3889 in stakes. Of course stake money was microscopic then compared with 1952.

Retired to stud, Sea Gift produced Trade Wind to Lusty Volo in 1940. Trade Wind failed to win a race but on being returned to Lusty Volo, Sea Gift produced Sea Glory, who took a record of 3.58 for one mile and five furlongs as a trotter. Volo's Gift, also by Lusty Volo, was the 1942 foal of Sea Gift. He was also a useful trotter who took a record of 4.45 1/5. In 1945, Sea Gift produced Sandan to U Scott. Sandan was a good winner as a pacer in NZ, having a record of 3.18 1/5 for one mile and a half, and she has been a good winner in Australia as a trotter, where she is a record holder.


Credit: 'Irvington' writing in NZ Trotting Calendar 17Apr57


| | |
| --- | --- |
| | RACING HISTORY FEATURE RACE COMMENT |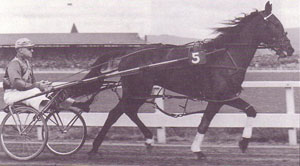 Lookaway, the first 4yo to win the Cup

1957 NZ TROTTING CUP

Records are made to be broken and Lookaway broke one last Tuesday when he romped home at the head of the field for the 1957 New Zealand Trotting Cup. He became the first four-year-old ever to win the race and a great horse and a great reinsman combined to achieve an outstanding performance.

Lookaway has had a meteoric rise to Cup company and on Tuesday he lived right up to the high opinion formed of him by his many admirers. Lookaway had gone from success to success, culminating in his clear cut win in the Dominion's premier two-mile race. His win gave M Holmes his third driving success in the race. He drove Wrackler to win in 1930 and trained and drove Chamfer to win in 1950.

The race was truly run from start to finish and the backmarkers were working hard from the time the barriers were released, and Holmes drove his own race. He waited for nobody, a habit Holmes has. The first half mile was run in 64 1-5secs, the mile in 2:08 4-5, the mile and a quarter in 2:41 2-5, the mile and a half in 3:12, the mile and five furlongs in 3:43 3-5 and the full journey in 4:14 4-5.

Once Lookaway became balanced he was taken up to sit in behind the pacemaker, General Sandy, and when that horse began to weaken just after passing the half mile, Lookaway streaked away into the lead and turned for home with a winning break on the rest. From that stage to the winning post it was only a matter of keeping him up to his work to win by the official margin of five lengths from last year's Cup winner Thunder. M Holmes must be given full credit for the manner in which he has developed Lookaway and he drove another masterly race on Tuesday.

Brahman was the only one to really break at the start but Thelma Globe was slow and Caduceus was also a little slow to get into his stride. Passing the stands for the first time, General Sandy was setting a solid pace from Roy Grattan with two lengths to La Mignon, Trueco and Lookaway, almost together. Then followed four lengths back, Worthy Chief, Tactician, Thunder, Laureldale, and Caduceus with a gap to Adorian. At the mile post Lookaway had moved up to trail General Sandy and M Holmes had settled down in his characteristic attitude. At this stage the two leaders were clear of Trueco, Highland Air, False Step, La Mignon, Thunder, Worthy Chief and Caduceus.

Passing the half mile Lookaway raced into the lead and reached the three furlongs with a handy break on Trueco who was closely followed by General Sandy, Highland Air and Thunder. Lookaway continued his fine run to reach the post a clear-cut winner from Thunder with La Mignon in third place and False Step fourth. Then came Caduceus, Highland Air, General Sandy, Worthy Chief, Trueco and Tactician, with the rest beaten off.

It is safe to say that there would be no more happy man on the course than Mr C L Rhodes, owner of the Cup winner. Mr Rhodes bred and did the early training of Lookaway and no owner is more deserving of success in the light-harness sport in the Dominion than Mr Rhodes. Lookaway is the first foal of Raceaway, who was a useful winner herself and took a record of 3:41 4-5 for one mile and five furlongs. Raceaway was got by U Scott from Loyal Bonny, by Grattan Loyal-Bon Rey, by Rey de Oro-Bonilene (imp) by the Bondsman. This is one of the most successful families in the NZ Trotting Stud Book.

For more than twenty years Mr Rhodes has raced pacers and trotters and he has won much more money with his horses than most people, and he has owned more horses than most people. They have not all been winners - some have not even got to the races - but this has never daunted Mr Rhodes. He has kept on pressing on regardless and no one would get a greater thrill out of Lookaway's fine win than his owner-breeder and one-time trainer.

Mr Rhodes made an inauspicious start in the light-harness game. His father-in-law, Mr Free Holmes, gave him a Sonoma Harvester gelding called Harvest Child in 1933. Harvest Child was then eight years old. He had been raced extensively, and with a good deal of success, before becoming the property of Mr Rhodes. Harvest Child made no return for some time and then Mr Rhodes leased him to L A Maidens who then trained at Winchmore. Maidens won three further races with Harvest Child and these successes stimulated Mr Rhodes's interest in the sport. He has never let up since.

Mr Rhodes has been in the limelight in recent years through the deeds of the 'Peterson' family. Mr Rhodes has put much of the money his horses have won back into his training establishment, 'Peterson Lodge' at Templeton. His 150 acre farm, and ideal training quarters and track (formerlythe late R B Berry's establishment) are praised by every visitor. Horses raced by Mr Rhodes have won over £60,000. Lookaway's latest success brought his record to 14 wins and £12,711 5s in stakes, a grand record for a four-year-old.

In presenting the Cup to Mr Rhodes, the Governor General, Lord Cobham, paid tribute to a fine horse and an expert driver and congratulated Mr Rhodes on his fine win. Mr Rhodes replied. Lord Cobham stated that he had seen trotting several years ago in Perth when he visited that city with the MCC cricket team.

This year's New Zealand Cup created widespread interest weeks before the big event, and there appeared to be a new spirit in the large crowd which turned up at Addington on Tuesday. The weather was threatening in the morning but had improved by the time the Cup came up for decision. The new spirit was reflected in the totalisator investments on the race which showed an increase over those of last year. The on course total on the race was £25,395 compared with £22,096 10s last year and the off course total was £24,137 as against £23,329 last year.

Attendances and totalisator figures for Cup Day showed a sharp increase over the figures for the previous year. The crowd was officially estimated at 21,000 compared with 18,000 twelve months ago. The crowd tested the capacity of the totalisator and many hundreds were shut out on the outside enclosure on several races. There was not the same congestion on the inside. On-course totalisator investments amounted to £191,118 5s, including £17,965 15s on the duoble, compared with £165,908 5s last year. Off-course investments also showed a substantial increase, amounting to £151,052, compared with £128,443 10s last year. The meeting was held in fine weather, but a cool southerly wind made conditions unpleasant early in the day. The track was in good order.

Credit: 'Irvington' writing in NZ Trotting Calendar 13Nov57


| | |
| --- | --- |
| | RACING HISTORY FEATURE RACE COMMENT |

1957 NZ WELCOME STAKES

With one win to his credit at his only start the boom two-year-old Tobacco Road did not remain in the north for the smaller races but went south to annex the New Zealand Welcome Stakes.

Transferred from A Bryce's stable to the care of M Holmes, he gave a sound pacing performance, and after being back in the early running finished boldly from the turn to score by two lengths. Guiseppe's younger brother, Diamond Hanover(D J Townley) rails, was a good second ahead of Gay Baron(W Tatterson) and outsider Whippy Dillon.

Tobacco Road has now established himself as a top class juvenile and confirmed the early impressions gained of his ability in pre-race trials. He could quite well remain unbeaten this season but it is expected that the handsome black Diamond Hanover could provide him with strong opposition.

Credit: NZ HoofBeats Apr 1957


| | |
| --- | --- |
| | RACING HISTORY FEATURE RACE COMMENT |

1957 RATTRAY STAKES

A New Zealand record was created in the Rattray Stakes when Tactician prevailed in a tight finish. His time for the flying mile was 1:59 4/5.

Driven by M C McTigue, Tactician was always well placed and he finished strongly on the outer to take the decision from False Step(J D Litten)2, whose time was 2:00. Local Light (T Webster) was almost in line in third place.

The Rattray Stakes, with its flying start and free-for-all conditions was a popular event with punters and owners alike and Tactician was given a fine reception when his time was announced.



Credit: NZ Hoof Beats Apr 1957


| | |
| --- | --- |
| | RACING HISTORY FEATURE RACE COMMENT |

1957 EASTER CUP

Amid pouring rain and on a track which was literally a sea of mud the third day of Addington's Easter fixture provided no pleasure for racegoers or drivers.

It took Danniel's Pride, a proven mudlark, 3 minutes 49 seconds to run the mile and five furlong Easter Cup after leading all the way.

With drivers' colours completely obscured the horses could only be identified by their numbers and here Danniel's Pride and driver D C Watts are seen on the inner taking a head victory over Light Nurse(C Berkett) outer. Super Royal(M Holmes) outer, is taking third place from Stadium Chief(rails) and Don Hall.

Credit: NZ Hoof Beats Apr 1957


| | |
| --- | --- |
| | RACING HISTORY FEATURE RACE COMMENT |

1957 NZ TROTTING FREE-FOR-ALL

In the NZ Trotting Free-For-All Recruit more tha atoned for his lapse in the Dominion Handicap by leading throughout to give trainer M Holmes an armchair drive and an easy victory. A hotly supported favourite, he downed Lenvin(D Jones) and Barravey(J Litten) with the greatest of ease. Six lengths back the remainder of the field was headed in by Battle Cry. Recruit ran the mile and five in 3.30 4/5.

Credit: NZ Hoof Beats Vol 7 No.11


| | |
| --- | --- |
| | RACING HISTORY FEATURE RACE COMMENT |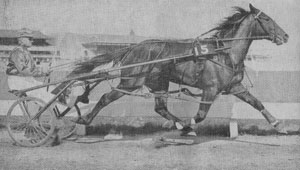 Tobacco Road

1957 NZ DERBY STAKES

Although his winning margin in the NZ Derby Stakes was only half a length, Tobacco Road's success was too clear cut to offer any excuses for the beaten division.

The pace was leisurely in the early part and Tobacco Road soon became buried down on the fence and his driver, M Holmes, had to pull him back to get a clear run with five furlongs to go. Tobacco Road ranged up wide out at the home turn, but once straightened up he soon gathered in the leaders. He ran in under pressure but his driver kept him off Gay Baron nearing the post and he won convincingly. Tobacco Road's success stamps him as a high class three-year-old and his win brought M Holmes's tally of winning drives in this event to 10.

Zany, Montague, Matairiki, and Vanover lost ground at the start and Seafield Lad led out from Whippy Dillon and Rosalinda with Tobacco Road on the outside of Diamond Hanover, Gay Baron and Sebabu. Seafield Lad paced the first quarter in 34secs and reached the half mile in 69secs. It was at this stage that Tobacco Road became buried down on the inside. With six furlongs to go, Montague raced round the field to be on terms with Seafield Lad at the half mile followed by Whippy Dillon, Rosalinda, Diamond Hanover (on the inside), Gay Baron, Sebabu and Tobacco Road. Gay Baron improved his position racing to the straight where he was handy to Seafield Lad. Whippy Dillon, Montague, Sebabu, Rosalinda, Tobacco Road and Diamond Hanover were next.

Gay Baron worked clear early in the run home, but Tobacco Road soon challenged and took the measure of Gay Baron to win by a half length, with Diamond Hanover in third place. Seafield Lad hung on for fourth place, then came Whippy Dillon and Sebabu. Montegue was eight lengths back next, followed by Rosalinda, with Zany and Matairiki beaten off, clear of Vanover.

It was a fine performance on the part of the winner as he had little in his favour in the early running. Gay Baron confirmed his winning run in the Riccarton Stakes and he finished on gamely under a hard drive. He is a reliable colt who possesses his share of ability but he struck one just too good on the day. He looks certain to develop into a more than useful winner for Mr A E Ison, and W K Tatterson produced him in good order for his most serious test to date this season. Diamond Hanover paced a gallant race into third place and was far from disgraced. He received a bad run approaching the straight for the run home and had to change his course from wide out to the rails to get a run. Seafield Lad did not finish on as expected and Rosalinda received a grand run throughout. Whippy Dillon and Sebabu had every chance and the rest were beaten off.

Credit: 'Irvington' writing in NZ Trotting Calandar 20Nov57


| | |
| --- | --- |
| | RACING HISTORY FEATURE RACE COMMENT |

1957 DOMINION HANDICAP

Only a five-year-old, Durban Chief returned a fine effort to win the Dominion Handicap, the premier event for trotters in New Zealand. His performance was marred to some extent however by two breaks during the running, but when balanced he showed his usual brilliance.

Bred at Westport by Mr W A Craddock, he is raced in partnership by Mrs M F Collins, Mr E Walsh and J R Woodcock, who trains him at Westport. Durban Chief was driven by W P Walsh, who has been associated with him in all his races.

One of the most brilliant displays of trotting seen at Addington for some time was returned by Recruit in the Dominion Handicap, and it was nothing short of a tragedy that he broke just short of the post when he had the race won. From 84yards Recruit began safely but soon became badly placed. He received a shocking run to the half mile and then had to race wide to make his run. His exhibition deserved a much better fate as he did not put a foot wrong until his lapse at the end.

PHOTO - There was an exciting finish to the Dominion Trotting Handicap when the brilliant Recruit(M Holmes) outer, came home in sensational style to cross the line narrowly ahead of Durban Chief(W Walsh) and Barravey(J Litten). Unfortunately for his supporters Recruit broke just short of the post and was relegated to third place for galloping across the line. This was one of the finest performances ever put up by Recruit and it was unfortunate that he lost the decision through breaking

Credit: 'Irvington' writing in NZ Trotting Calendar 20Nov57


| | |
| --- | --- |
| | RACING HISTORY FEATURE RACE COMMENT |

1957 NZ FREE-FOR-ALL

Lookaway added further to his already grand record when he beat a field of high class sprinters pointlessly in the NZ Free-For-All. He was slow in the early rush for positions and was eighth, a good way from the leader, Suzendy, at the end of a furlong. Racing to the five furlongs he was given his head and had little difficulty in reaching the lead. From that stage the result was never in doubt and he coasted home an easy winner by four lengths.

Lookaway has now won 15 races for £13,491 5s in stakes.

The surprise of the race was the fine showing made by Suzendy. She has always been regarded as a sprinter of more than average worth, and she raced right up to the opinion held of her in this department by her connections. She should not be difficult to place to further advantage in sprint and middle distances in the immediate future.

PHOTO - Lookaway followed up his brilliant NZ Trotting Cup victory with a fine win in the NZ Free-Fir-All over a mile and a quarter. Driven by trainer M Holmes Lookaway was slow away but quickly settled into his stride to draw out and win by four lengths from Tactician(M McTigue), Suzendy and the favourite Caduceus(middle of the track). Don Hall(inner) was fifth followed by Trueco and Adorian(outer). Caduceus broke at the start but made a good recovery.

Credit: 'Irvington' writing in NZ Trotting Calendar 20Nov57


| | |
| --- | --- |
| | RACING HISTORY FEATURE RACE COMMENT |

1957 NZ OAKS

A bold finishing run gave Zany a clear-cut success in the NZ Oaks. She was always in the leading division and held too many guns for the remainder in the run home. This was her second success for the season and she should not be diffucult to place to further advantage.

Raced in partnershipby Mrs A and A Purdon, who trains her at Prebbleton, Zany is by Light Brigade from the Grattan Loyal mare, Admiration, dam of Esteem and others. Purdon purchased the filly for a would-be client, who went cold on the deal, whereupon Alec raced Zany with his wife Jess.

Gold Hanover paced her best race to date this season to beat all but Zany. She followed the pacemaker, Anne Peterson, into the straight for the run home and had little difficulty heading off Anne Peterson for second place. By Lucky Hanover from Daisy Gold (a full sister to Daisy Bar and a half sister to Te Maru and Sandy Scott), Gold Hanover is bred to win her way to good company.

Anne Peterson attempted to lead over the last nine furlongs and her effort was a game one. This good-looking daughter of U Scott and Ivy Peterson has the ability to win good races if she can be persuaded to overcome her nervousness at the barrier. She made a good beginning on Saturday.

Credit: 'Irvington' writing in NZ Trotting Calendar 11Dec57