| | |
| --- | --- |
| | INTERNATIONAL HISTORY |

The Warsaw Pact is signed.


| | |
| --- | --- |
| | LOCAL HISTORY |

May 28 - First parking meters in Ch-Ch installed.

December 20 - First Antartic flights by USN Operation Deep Freeze from Harewood.

Credit: Ch-Ch City Libraries


| | |
| --- | --- |
| | RACING HISTORY PEOPLE |

J B PRINGLE

Ron Bisman writing in NZ Trotting Calendar 14Sep55

'Jack' Pringle loves horses; and horses love 'Jack' Pringle. A brief sojourn at 'Clifton Grange,' Templeton, recently was allthat was needed to impress that upon me. And surely, every visitor to J B Pringle's training quarters would leave with the same train of thought.

When I arrived at Pringle's I was amazed at the number of old and broken down horses roaming around the paddocks. I asked him about them. "That's Acropolis, and there's Parawa derby and Lahore," and there was so and so...and he named for me the various once-talked-about-now-forgotten standardbreds who ambled up to cast bedimmed eyes upon us. "The no-hopers, I call them," he said. "If nobody wants to take them away when they've finished racing, I feed them - give them a home for life." I remarked that Acropolis looked in good order. "Yes, Mr and Mrs Adams, who raced him, bring him carrots regularly," the trainer told me. I said I thought he had enough to look after, to which he replied with a smile: "You haven't seen anything yet. There are four cats, two dogs and a magpie around the place somewhere, and always on hand at feed time."

Pringle was 'born among horses'. His father the late Andy Pringle, was a famous horseman in his day, and was for many years private trainer to the late Mr H F Nicoll. He ranked as one of the finest reinsmen in the Dominion, and his success in saddle races for trotters was outstanding. He was the leading reinsman of the Dominion in the 1914-15, 1916-17 and 1917-18 seasons. Mr Nicoll once said of him: "Andy Pringle was probably the best all-round horseman of his day; it was rarely he took my horses to a meeting without winning one or more races. His integrity was an intrinsic part of his nature...Pringle was always in great demand by other owners to ride and drive horses, and for many years there was rarely a race run, when he was present, in which he was not engaged. The sport lost an admirable exponent when he retired. I have nothing by happy memories of my association with him."

When J B Pringle left school, it was decided that he should work in an office. He could not stay away from horses for long, however and, upon his own decision, he left his office job and took up employment at Yalhurst under the late M B Edwards, a very prominent trainer at the time. From there, Pringle transferred to Sir John McKenzie's establishment, where he worked under the American horseman, R B Plaxico, in the late 1920s. Good winners from that stable at the time were Acron and Silk Thread.

Pringle was acquiring valuable knowledge, and his next employer, L O Thomas, who then trained at Hutt Park, soon entrusted him to race driving. On December 26, 1930, on the first day of the South Wairarapa Trotting Club's annual meeting, Pringle brought home his first winner - Messrs Murray and Connelly's Ailsa Bingen. On the second day of the meeting, he won again with this mare, from 48 yards, over a mile and a quarter. Later that season, he drove Glenrossie, the star member of Thomas's team, to win over a mile and a quarter at Auckland. Glenrossie, a gelding by Matchlight from Alice Dillon, owned by Mr J McDonald, was an iron horse. In 11 seasons racing he won 15 races and was 27 times placed for £6210. His successes included a consolation race of an Inter-Dominion Championship series. Pringle learned much from Thomas's early handling of this high-class performer.

In the 1932-33 season, Pringle took up private training for the late Mr J R Corrigan at Hawera, and while there prepared and drove El Merit and Arabond with success. His next move was to Tamahere, where he set up as private trainer for Mr Wilfred Johnstone in 1934. That season he won races with Transworthy and Lady Fame, but in 1936 he returned to the South Island to act as head driver for the late R J Humphreys.

In his first season with Humphreys, Pringle quickly established himself as a skilful reinsman. He had few outside drives, but ended the season with a tally of 12 successes. His winners included Windsor Lass, Esplendor, Olive King, Violet Wrack, Sonoma King, Mystery Yet and Loyal Pat. The following season he shared the driving of the horses from Humphrey's stable with G Mouritz, and gained 10 wins, four of them with Cantata.

In 1938-39 Pringle really came into his own, and he topped the reinmen's list for the first time with 29 successes. That season, Humphreys finished third on the list of trainers with a tally of 28. Pringle's best winners were Windsor Lass(5 wins), Acuity(5), Blair Athol(4 including Wellington Gold Cup), Cantata(3), and Donald Dhu(3 including Timaru Cup).

During the following season Pringle began training on his own again, at Domain Terrace, Spreydon, on the property formerly used by the late J J Kennerley. That year his success as a reinsman totalled 21 and as a trainer 12. He trained and drove Stormtost for four wins, Windsor Lass for three, Loyal Pat for two, and Passport, Mortlake and Lady Milne for one each. With a similar team the following season, he won 15 races and was successful as a reinsman on five other occasions with outside drives. Channel Fleet and Special Edition, who each won three races that term were prepared by him, while Bronze Eagle, who he drove to win three races, was an 'outsider'. Ronald Logan, Knapdale Lass and Busted Flush were good winners trained and driven by Pringle in the 1941-42 season, when he finished fifth on both lists, with 15 and 13 successes respectively.

Watcher, Busted Flush and Frank Logan kept Pringle to the fore the following season, but after three successes as a trainer in 1943-44, he gave up training. His 13 wins as a reinsman that season, however, placed him third on that list. Five of those successes were with Gold Flight, and three, including the Methven and Gore Trotting Cups, were with Dianus.

During the following two seasons he was seen to advantage with such good horses as Casabianca, Caledonian Girl, Jack's Son, Galvena, Indian Clipper, Technique, Cabin Boy, Margaret Hall and Lady Scott; but late in the 1945-46 season he transferred to Wellington to train privately for Mr J Spiers. In his brief stay at Wellington he prepared the good trotter Ariel Scott for several important placings. Pringle returned south the following season, and set up training at Hornby. Late that term, Mrs N M Adams placed the Dillon Hall-Seaworthy gelding Acropolis with Pringle, and he immediately won five races in succession with him. Another good winner from Pringle's stable that year was A H Todd's Coral Princess. Driving members of S T Webster's team, Pringle won the Wishful and Dominion Handicaps and the New Brighton Trotting Free-for-all with Casabianca, and four races with Fairy Wings. He ended the term in fourth position on the drivers' list with 23 successes.

During the 1947-48 season, Mrs Adams took Acropolis away from Pringle because he had missed the nominations for the gelding for the Inter-Dominion Championship meeting at Auckland. A few days later, after the programme for the Dunedin Centennial Cup meeting had appeared, she returned the horse to Pringle, and told him that if he won the Centennial Cup it would "square things up". Acropolis had trained off, and Pringle's ability to condition horses for major races was well illustrated when the gelding scored a clear cut win over Highland Fling in the big event. That was a training triumph if ever there was one. Other good winners for Pringle that term were Fairy Wings, Pardon Me and Maudeen. In 1948-49 Maudeen, Fortuna and Lady Averil kept Pringle well in the limelight.

In 1949-50 he trained and drove the winners of 20 races, finishing fifth on the list of drivers and seventh on the list of trainers. Mr R Lewis's Lady Averil did not win a race that term, but her placings included a grand performance to finish a close third behind Loyal Nurse and Captain Sandy in the NZ Cup. With Mr L T Paget's good Dillon Hall gelding, Parawa Derby, Pringle won six races, and he gained three wins each with Mr G Lancaster's 2-year-old, Yankiwi, and Mr E Sheed's Winston Hall.

The 1950-51 term proved a 'boom season' for Pringle. He topped the drivers' list with a tally of 31 and the trainers' list with 27. The best of his team that season was Parawa Derby, who won six races and gained a meritorious third placing in the Inter-Dominion Championship Grand Final at Addington. Parawa Derby in 1951 established a NZ and Australian mile and a half record of 3.07 2/5 which stood until first lowered to 3.07 1/5 by Rupee in 1954. Both these were race efforts.

Drs A C and A S Sandston's Thelma Globe, in her first season under Pringle, won four races as did Messrs R J Marshall and V C Caldwell's 3-year-old colt Radiant Night, and Lahore whom Pringle raced in partnership with Mr E McMaster. Thelma Globe won another five races under Pringle in 1951-52. Radiant Night(4 wins) was the next best of the team, while Parawa Derby's lone success was in a free-for-all at Hutt Park. Altogether that term, Pringle gained 12 successes as a driver and 15 as a trainer.

His major success in the 1952-53 season was in the Autumn Stakes, in which he produced Mr R Porter's Kissing Cup to win at the expense of Johnny Globe. Kissing Cup also won the Timaru Handicap under Pringle, while Lahore(3 wins), Financial(2), Thelma Globe, Radiant Night, Amarant and Thelma's Advice were other winning members of the team. In 1953-54 Pringle won four races and £9240 with Thelma Globe, and she was the leading stakes-earner for the season. Her main success was the Auckland Cup, while she beat all but Van Dieman in the Royal Metropolitan Cup. Thelma Globe was developed by Pringle into one of the greatest mares ever raced in this country and her 4.11 for two miles is still a world record for a mare.

Pringle has been several years at the 'Clifton Grange' property, which was once used as hunting grounds. Some of the old stables stand still. Mrs Pringle, who is a sister to the trainers, D G and T C Nyhan, is keenly interested in the sport, and she knows the name and breeding of every horse on the property.

As I turned to leave 'Clifton Grange,' the trainer called me back. "If you are going to write anything about this place, I'd like you to say that I've got two good boys working for me - Dave McKinley and Ian Aitken," he said. I don't wonder that he is one of the most popular men in the game. Here are his distinctions: 307 successes as a reinsman, 178 successes as a trainer, and last, but not least - a heart of gold.

-o0o-

'Ribbonwood' writing in NZ Trotting Calendar 11Sep63

J B (Jack) Pringle's address these days is No 3 R D, Amberely. He has been successful in recent seasons with the pacer Estimation, and his name again appears among the licensed trainers and horsemen for the current season. Long may it continue to do so - Jack is one of the most talented men ever to hold the reins in the light-harness sport in this country. Few of his contemporaries would begrudge him this compliment.


Credit: Ron Bisman writing in NZ Trotting Calendar 14Sep55


| | |
| --- | --- |
| | RACING HISTORY PEOPLE |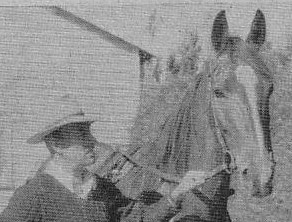 H Stafford & Mighty Fine

H STAFFORD

H Stafford's 'Santa Anita' training establishment at New Brighton is one of the most up-to-date of its kind in NZ. Everything is provided for the well-being of the horse, from balanced diet schedules to diothermy and infra-red lamp treatments. Many prominent trainers have taken advantage of the modern equipment this popular horseman has on hand, and none has been other than pleased with the results achieved. Stafford (Bert as he is known to his associates) has been connected with trotting for more than 35 years; and the story behind the owner-trainer-driver and his establishment is colourful, to say the least.

Starting as a youth, Stafford worked for the late Newton Price at Sockburn, and while there gained his first knowledge of light-harness horses. He gained further experience under the late R J Humphreys at Templeton, before starting out on his own. Establishing himself at Papanui, Stafford experienced hard times. He decided to finish with the sport and entered the hotel business. However the 'call of the wild' soon reached his ears again, and it was not long before he was buying horses, educating them in his spare time, and passing them on to full-time trainers to race for him.

While at the Carlton Hotel, Christchurch, Stafford made one of the most fortunate transactions in his career. He bought Pot Luck for £400 from the late Mr J D Smith, who bred the son of Jack Potts and Hope Dillon at New Brighton in 1934. Pot Luck changed hands after finishing second in the Riccarton Stakes for Mr Smith as a 3-year-old in the 1935-36 season. Stafford placed the gelding with M Holmes, and his first form for this combination was a second to Frisco Lady in the NZ Champion Stakes. From his last eight starts as a 3-year-old, he won six races, including the first contest for the All-Aged Stakes, and was once placed. His earnings for the season were £1072.

At four years Pot Luck started 28 times for six wins and eight minor placings, finishing third on the list of leading stake-earners with £1645. The following term he again finished third on the list with £2850, the result of three wins and seven minor placings. During that season he won the Grand Final of the 1938 Inter-Dominion Championship by two lengths from Parisienne. However, under the points system which was followed then, Parisienne was awarded the Championship.

Pot Luck won three further races, including the Wellington Gold Cup and was 16 times in the minor money, during his following four seasons on the tracks, and he ended his career as a 9-year-old, with 18 wins, 33 placings and £8092 in stakes to his credit. "The old boy is still alive and still my property," Stafford said during an interview. "He is spending his twilight years in the Ellesmere district."

The trotters, Flotsam and Isabel Patch, were other good winners trained by Holmes for Stafford during the 1930s. Stafford paid 100 guineas for Flotsam in an aution sale at Tattersalls in Christchurch on a Wednesday evening in August, 1935. At Addington the following Friday he won his first start for his new owner.

Transferring to Leeston, Stafford found more time for the preparing of horses, and while carrying on the business he trained eight or nine pacers and trotters. He had his track and horse float, and he won his way into the limelight with Flying Chips, Tokalon, Gold Finder, Swift Lady and others.

However, in 1947 he was involved in an accident in a race at Ashburton and suffered serious injuries. After spending three months in hospitals in NZ, he travelled to Australia for further treatment. Before crossing the Tasman he sold up his horses. Top price at his dispersal sale was 1200gns, paid by the late Mr R H Kennedy for the 2-year-old, Likely. This youngster, a half-sister to First Victory and Good Time, developed good winning form. Flying Chips, and Dryham Lee, a place-getter for Stafford, were both purchased by Mr J R Handerson, of Hamilton.

While in Australia Stafford was given Diothermy treatment, and this had a remarkable healing effect. He then returned to the Dominion, where the treament was continued. Stafford was greatly impressed by the curative powers of diothermy, and reading in an American magazine where similar treatment had been given in the United States to horses suffering with rheumatism and other ailments, he decided to buy the equipment and re-enter the world of trotting after a lapse of two years.

He bought the Palmers Road property whic was first owned by the late J Messervy (trainer of the fine mare Onyx) and gave it the name of 'Santa Anita.' Results came quickly. One of the first horses to have the treatment was Worthy Ace, who towards the end of his career was unsound and a difficult horse to train. "The treatment kept him on his feet with success for quite a time," said Stafford. Stafford derived much satisfaction from the successes of Worthy Ace. This Jack Potts gelding was a nervous type when first put into work, and to make matters worse, he tipped his driver out one day and bolted with the sulky. It took some time for him to regain his confidence, and in his first few races he was easily upset, especially in a large field. Patience and care, and later on, the diothermy treatment, all helped him to become a good winner.

The trotter Conceit won further distinctions for Stafford. This Desmond's Pride gelding was first educated by J J Brophy, Pleasant Point. He had shown great promise, and Brophy was so dissappointed at losing him that Stafford, on buying Conceit, told him that he would give him a horse to take the trotter's place. He gave him Bull's Eye, who had been prepared at 'Santa Anita' and was trotting at the time. Raced by Stafford in partnership with a brother, Mr C W Stafford, Conceit was trained practically throughout his career by M Holmes, and for the combination he won six races. Early in his career Bull's Eye changed hands again at what was reported to be a four-figure sum, and he eventually did well both as a pacer and trotter.

Over the years Stafford has added to his clinic with other modern equipment for treating horses with various ailments and stimulating health. Being handy to the beach he is also able to take advantage regularly of work under these valuable conditions. In recent seasons he has raced a handily-sized string of useful performers, training them himself, with his share of success.

The best-performed member of his present team is Mighty Fine, who beat the brilliant General Sandy in the last Wyndham Cup. Marshal Foi is another promising pacer, and these two, along with Dress Ring and a filly by Light Brigade from Sea Gift, who has good trotting ability, are being worked by their owner at the moment.

'Santa Anita' is ideally laid out. Ten loose-boxes, feed and harness rooms, a hay loft, a large tin-lined oats container, accommodation for the horse float and sulkies are all under one roof, and there is ample space in which to dress horses. "I don't work a big team...they must have ability for me to persevere with them," he said.

Stafford has been on the executive of the Canterbury Owners' and Breeders' Association for a good many years, and has been anything but an idle member. He has a wide knowledge of all aspects of the sport.

Credit: Ron Bisman writing in NZ Trotting Calendar 13July55


| | |
| --- | --- |
| | RACING HISTORY PEOPLE |

W J MORLAND

Gold Country, an outstanding pacer of the 1930s, died at Mr R A Boag's property, Kirwee, recently, his Christchurch owner, Mr A W Morland, told the Calendar this week. The passing of this 28-year-old gelding brings to mind one of the most colourful sagas in the history of the standardbred in NZ...that of the outstanding breeder-owner-trainer, the late Mr W J Morland, and his success with the family founded by the tap-root mare, Bonnie Bell.

In 1894, Mr H Richardson, of Taranaki, imported to the Dominion the stallions, Wildwood and Ha Ha, and the mare Alice Azmoor, and the trio was subsequently purchased by Messrs W and C Kerr. Ha Ha was not a success at stud, but Wildwood, after his racing career ended, founded a great line in the Dominion, producing some fine pacers and trotters. Alice Azmoor was mated with Wildwood and produced Alice Wood and Wildmoor.

About 90 years ago Sir Cracroft Wilson brought to NZ from India a purebred Arab stallion and several mares. From one of these horses descended a mare, which in 1895 was mated with the Young Irvington stallion, Lincoln Yet, by a Mr T Yarr. The result of this mating was Bonnie Bell, who was purchased by Mr Morland on the advice of Mr J Brake, snr, a well-known and successful sportsman in the very early days of trotting in Canterbury. Lincoln Yet, who at one time pulled a cab around Christchurch, was a grandson of Hambletonian 10, and it was through the agency of Mr Brake, that the stallion got a chance at stud.

At the stud for Mr Morland Bonnie Bell produced Curfew Bell to Wildwood, and later Country Belle to Wildmoor, a son of that stallion. Country Belle was foaled in 1908, and her owner explained many years later why he had bred Bonnie Bell to Wildmoor, who was unknown as a sire. He had previously mated Bonnie Bell with Wildwood, Curfew Bell being the result. The next two seasons the mare was mated with Prince Imperial, but her owner was not impressed with the progeny. As Curfew Bell had shown speed, he came to the conclusion that the Wildwood strain was best, but that stallion had died in the meantime, and, Wildmoor being the only Wildwood stallion about, he decided to mate Bonnie Bell with him. The judgement of Mr Morland proved correct, as he got an exceptional mare as the result.

Country Belle was a powerfully-built mare, well mannered and a great stayer, in addition to her speed. She was trained for all her races by Mr Morland (who had no superior in the Dominion as an educator) on his private track a few miles fron Rakaia township. She won nine races and was four times second and once third from 27 starts. She won the 1915 NZ Cup, after finishing second to Win Soon the previous year. Her other successes included the Auckland Trotting Club Handicap, the Forbury Cup and the New Brighton Cup Free-for-all.

She earned further distinctions by taking two NZ records within a few weeks. At Addington on December 15, 1915, she established a mile record of 2.07 1/5, beating the previous figures, 2.08 2/5 held by King Cole. A request from the Auckland Trotting Club, that the Cup winner and mile record holder should attend its meeting and attempt a two-mile record, was favourably considered by Mr Morland, and Country Belle, in charge of J Bryce, paced 4.22 4/5, smashing the previous record of 4 28 1/5.

Country Belle was then retired to stud, and in 1917 produced Good Gift to Logan Pointer, but he was not raced. The following year, to the same horse, came the brilliant but erratic Countryman, a pacer of moods and speed, who had a record of 2.10 2/5. Next season came Homestead, by Nelson Bingen. He was not a success, but the following year to the same sire, she produced the brilliant mare, Escapade, who after being worked as a pacer, was converted to the trotting gait and went 4.27 1/5, winning several races. Escapade has left a family of nine all good winners. Two years later, Country Belle produced Episode to Nelson Bingen, and, missing another year, she produced a filly by Rey de Oro in 1924, but after showing great promise she died. Another blank year followed, and to Rey de Oro she produced Gold Country.

Gold Country began racing as a 3-year-old in the 1929-30 season, and won his only start that term, over one mile and a half at Ashburton. He was then operated on for a wind affliction and 11 months later, he won at his only start as a 4-year-old, over the same distance at the same course. He brought his record to three successive wins at his first start as a 5-year-old, scoring in the Wellington Railway Handicap. Later the same day he suffered his first defeat, but at his next start he won the two-mile Gore Trotting Club Handicap. In the same season he won the Winton Trotting Club Handicap and the Express and Halswell Handicaps at Addington, all over two miles.

As a 6-year-old he won the Lincoln, Yaldhurst and Hornby Handicaps (Addington), the Mace Memorial Handicap (New Brighton), the Ashburton Cup and the Craven Handicap (Addington) in that order. The Craven Handicap was his last success, and it was a very notable one. Over one mile and a quarter, he beat Harold Logan by 10 lengths, with a similar distance back to Wrackler, and Free Advice fourth. He ended that season fourth on the list of stake-earners with £1450, this sum being £420 less than that won by Harold Logan, who topped the list. He raced again as a seven, eight and ten-year-old, but did not regain his best form. Gold Country last raced in the interest of Mr Morland's son, Mr A W Morland, and the gelding was at Kirwee since his race career ended.

Country Belle later produced another grand mare in Rustic Maid to Rey de Oro. Rustic Maid has left a long line of winners, including Scottish Lady, Free Fight, Slavonic and Chamfer.

Mr Morland's property in Ilam Road, Upper Riccarton, was one of the most select breeding establishments in NZ, and his keen study of successful bloodlines has proved of great value to trotting.

Credit: Ron Bisman writing in NZ Trooting Calendar 29Jun55


| | |
| --- | --- |
| | RACING HISTORY PEOPLE |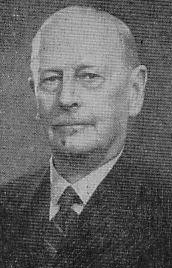 Harry Hicoll

H F NICOLL

Mr H F Nicoll, who died in Christchurch on Monday, retired from the presidency of the NZ Trotting Conference in 1947 after holding the office for an uninterrupted period of 25 years. He enjoyed the confidence of his Executive and the clubs and was responsible for many of the reforms that raised the administration of the sport to a high level. Mr Nicoll was in his 90th year.

An Englishman by birth, Mr Nicoll was for five years on the staff of the Bank of England before coming to NZ, where he joined the staff of the Bank of NZ in Christchurch. He was there until the early 80s, when he was promoted to the position of accountant in the Ashburton office. He was afterwards acting-manager for a term, and resigned to commence business as a frozen meat exporter, taking his two brothers Messrs E F and L A Nicoll into partnership, with headquarters in Ashburton.

During World War I Mr Nicoll was chairman of the Ashburton County Efficiency Board and Belgian Relief Fund. He was also chairman of the Ashburton County Wheatgrower's Board, chairman of the United Wheatgrowers' Association, a director of the Wheat Marketing Agency, and a member of the Wheat Committee. He was also a member of the Lyttelton Harbour Board, and chairman of their Finance Committee.

Mr Nicoll's interst and active participation in sport covered a wide range. He played on the wing for the Pilgrim's Association Football Club while employed in England, and was a member of the Bank of England Company of the Civil Service Volunteers. In the early days he was secretary of the Christchurch Regatta Club, and also captained the Canterbury Rowing Club until his departure from Christchurch. He rowed No.3 in the Canterbury Senior Four, which won the Christchurch Regatta in 1887 and 1888, and in Wellington in 1889. This team also won the four-oared championship at Wanganui in 1889. Mr Nicoll rowed No.3 in the first NZ four to visit Australia, which finished second to Victoria, with New South Wales third and Tasmania fourth.

For nearly 50 years Mr Nicoll was president of the Ashburton Trotting Club. He was for many years a member of the NZ Trotting Association, and for a term was vice-president. Mr Nicoll was the originator of the motion to secure more days' racing for trotting, which was taken up by the Massey Government, and passed by the House. He was also instrumental in carrying the rule through the NZ Trotting Conference which made the standing start compulsory in all races, and was mainly responsible for the institution of the present handicapping system, which was one of the greatest progressive moves in the history of the sport. Recently he was primarily responsible for the introduction of the control of trotting meetings by stipendiary stewards. His work in the classic field will always rank as one of his outstanding achievements. The Ashburton Club, which sponsored three of NZ's leading classic races, the NZ Sapling Stakes, NZ Champion Stakes and NZ Futurity Stakes besides the All-Aged Stakes and other feature events, has been an acknowledged leader in this sphere of racing.

Mr Nicoll was president of the Ashburton County Racing Club from 1926 to 1950. Mr Nicoll raced both gallopers and trotters. In later years he confined his attention to the light-harness horse, and from Durbar Lodge came some great pacers and trotters, among them classic winners in Childe Pointer, Latona, Nantwich, Wrackler, Arethusa, Lady Swithin, Manhattan and Ciro. At Durbar Lodge also were bred the champion Indianapolis, winner of three NZ Cups, and another classic winner in Tempest. Mr Nicoll's outstanding successes in a lengthy list were with Durbar in the NZ Cup of 1908 and with Wrackler in the same race in 1930. Mr Nicoll imported Wrack, who was leading sire of NZ for several seasons.

Mr Nicoll raced some fine gallopers, among them Cross Battery, who won many races, including a Great Easter Handicap and Ashburton Cup; Sea King, winner of some 20 races; Ascalaphus, a winner of the Invercargill and Gore Cups; and Idasa, winner of the Geraldine Cup and other races. Mr Nicoll took Cross Battery and Sea King to Australia in 1907. Sea King ran second in a highweight handicap at Randwick, and Cross Battery ran third in the Sydney Cup.

On his completion of 21 years service as president of the Conference, Mr Nicoll was the guest of the trotting clubs of NZ at a complimentary dinner in Christchurch on August 6, 1943. Among the glowing tributes paid to the guest was that of Mr A G Henderson, then editor of the 'Star-Sun' who wrote: "Mr Nicoll has been a wise, tactful and courageous leader. Perhaps during the evening some speaker will recall that amongst the men who laid so securely the foundations of the modern sport, there was one striking group of big men. All standing well over six feet - Prime Canterbury - who showed enterprise, faith and determination and who backed their belief that trotting could and should be as popular a sport as galloping. Canterbury owes it's leadership in trotting in no small measure to these men, Mr Nicoll himself, Mr Jim Williams, Mr Frank Graham, Mr C M Ollivier and Mr J C Clarkson. They and those associated with them, held that good prize money would bring good horses and that a rigid code of conduct and good management of race meetings would win the support of the public. I have watched the progress of the sport with a critical eye since 1896 and know how thoroughly Mr Nicoll has deserved the thanks and praise of all good and true lovers of trotting."

On his retirement in 1947 Mr Nicoll was again honoured by trotting clubs at a dinner in Christchurch. The chairman of the evening, Mr A L Matson, who succeeded Mr Nicoll as president of the Conference, said: "Mr Nicoll is one of the Dominion's outstanding personalities. As a chairman and president he always exhibited that spark of genius. I have often accepted his judgement even though I thought he was wrong; but he never erred. His control of meetings has shown him to be a master. He has a quick brain, and his control has been an inspiration." Mr Matson said 1947 was jubilee year of the Trotting Conference and for half of the time of the Conference's existence Mr Nicoll had been president. There had been five presidents before him. The energy, tact and manner in which he carried out his duties as president were an inspiration to all chairmen throughout the Dominion.

Reference to Mr Nicoll as the "Caesar of trotting in NZ" was made by Mr J B Thompson, president of the old NZ Trotting Association, who said that whenever Mr Nicoll had any ideas that would be of benefit to trotting, he always carried them through to their consummation.

Because of his unique position in trotting, some people thought that Mr Nicoll had invented the sport, said Mr C S Thomas, then president of the NZ Metropolitan Trotting Club. This was not so. Trotting was in progress 2000 years ago, and there was an account of a trotting race in Homer's Iliad.

Mr E A Lee, president of the New Brighton Trotting Club, and a member of the board of the NZ Trotting Association, said that too often we reserved all the nice things we had to say about people until they were not there to enjoy them. "We should not regret Mr Nicoll's retirement," he said. "Rather we should regard it as promotion. His work will stand as a monument for generations. His dominating thought has always been the welfare of trotting."

"Trotting has occupied a considerable portion of my life," said Mr Nicoll in reply. "This parting will leave a gap it will be impossible to fill. I have enjoyed many valued friendships, and I feel proud of the good feeling that exists in every part of the Dominion where trotting fourishes. It was in 1905 that I was first persuaded to become an administrator of trotting. I was elected president of the Ashburton Trotting Club at a time when the club was £80 in debt, when it had no assets, and just after its secretary had departed suddenly. I could see what great possibilities there were in trotting, and I am grateful to say my confidence in the sport has been bourne out with great abundance." Mr Nicoll referred to the trainers of his horses in past years, the late A Pringle and D Warren, and concluded by expressing his love for trotting and the pride he felt in its advancement.

Mr Nicoll was married in 1889 to Anna Julianna Case, the daughter of Julien Case, the American consul in Japan. They had two sons, Messrs A J Nicoll and G H Nicoll, both of Ashburton, and two daughters, Mrs D V Donaldson and Mrs Le Clerc Latter, both of Christchurch. His wife died in 1935. In 1937 he married Helen J T Riddiford, the widow of Mr F E Riddiford, of Masterton. He is survived by his wife and his two sons and two daughters.

-o0o-

'Ribbonwood' writing in NZ Trotting Calendar 20Apr55

Some years ago, in an interview with the Calendar, the late Mr H F Nicoll recalled how he had first become acquainted with Andy Pringle, who was later to become Mr Nicoll's private trainer and remain so for many years. Pringle according to old-timers who saw his many feats of horsemanship, will always rank as one of the finest reinsmen, particularly on a saddle trotter, ever seen in this country. Pringle was leading horseman of the Dominion in the 1914-5,1916-7 and 1917-8 seasons.

"When first I became interested in the trotting sport, about 1902, Pringle was training at Gore and I heard of his reputation as a very skilled horseman," said Mr Nicoll. "In 1904 my mare Dora was engaged at Geraldine and I asked Andy to ride her. She did not win but Andy's riding so impressed me that I made him an offer to train for me privately. When he accepted I laid out a track on my Mitcham Road farm at Ashburton and he came to live there.

"Andy at once made his value apparent, and never did I at any time have cause to other than value his services. The first meeting attended after his engagement by me was in 1905, when the NZ Metropolitan Trotting Club's August meeting was held on the Riccarton racecourse. He won three races: with Victor Huon over two miles in 5.19, with Verity over a mile and a half in 3.47, and with Durbar over two miles in 4.55.

"Pringle was probably the best all-round horseman of his day; it was rarely that he took my horses to a meeting without winning one or more races. His integrity was an intrinsic part of his nature. I remember one occasion at Addington in 1906. He was riding Dora and I said to him: 'What will win?' He replied 'Alliance, will you put a fiver on for me?' I said: 'Very well, but remember, I'm backing Dora.' In the straight Alliance and Dora came away from the field and in a ding-dong finish Pringle, by a brillant piece of riding, just managed to win with Dora, who paid £10 4s. Alliance paid 10s for second.

"Pringle was always in great demand by other owners to ride and drive their horses, and for many years there was rarely a race run, when he was present, in which he was not engaged. The sport lost an admirable exponent when he retired. I have nothing but happy memories of my association with him," concluded Mr Nicoll.



Credit: NZ Trotting Calendar 13Apr55


| | |
| --- | --- |
| | RACING HISTORY PEOPLE |

SIR JOHN McKENZIE

Sir John McKenzie, who died in London last Friday at the age of 79, will long be remembered in trotting cicles as a sportsman who assisted in no small measure the remarkable growth and progress of the standardbred sport in the Dominion. He was a leading owner, breeder and administrator, and his foresight in importing many American-bred standardbreds to this country over the last 25 years has proved, and will continue to prove, of great beneit to all concerned in the breeding of pacers and trotters.

Born in Victoria, Sir John McKenzie spent 52 years of his life in NZ. He swiftly became famous as a businessman, and it was in the early 1920's that he became actively interested in the breeding and racing of standardbreds, his entry into this field being ostensibly as a hobby - a means of escape from business pressure and worry.

In 1927 Sir John McKenzie established his Roydon Lodge stud, on the Yaldhurst property formerly occupied by Archdeacon Wilson, and then known as Broomfield. The Roydon Lodge stud quickly became established as one of the most important in the country. Sir John McKenzie made a number of trips to the United States, where he bought mares and stallions, many of whom belonged to the most successful winning families there.

The two greatest stallions he imported were U Scott and Light Brigade, both of whom are still at the stud. U Scott is NZ leading sire at the moment and one of the greatest sires ever to come to the Dominion. He has been at or near the top of the sires' list for many years now. Light Brigade has also been high on the sires' list for many years, and he has twice been the leading sire of straight-out trotters. Other sires imported by Sir John incude Gallant Knight, Silk Thread, Llewellyn, Spencer Volo, Peter Chenault, Winthrop, Worthy Belwin and Arion Axworthy.

Airflow, the dam of winner of about £40,000 was probably the most successful mare imported by Sir John. Her winners include Slipstream, Red Emperor, Flight Commander and Ariel Scott. Belle Keller, the grandam of Certissimus, Slapfast, the grandam of Johnny Globe, Fair Warning, Miss Worth, Flora Volo, Volo Maid, Real The Great, Widow Volo, New Fancy, Taka Chance, Spangled Maiden, Dolores and Addie Guy were other mares he imported from the United States.

Great Bingen was probably the greatest pacer ever owned by Sir John. Great Bingen won £14,120 in stakes, a record which stood for 17 years. He was the first pacer outside the United States to pace two miles in better than 4.20. Great Bingen finished second in two NZ Trotting Cups and won six free-for-alls. He was later a fairly successful sire.

Among the many important successes of horses owned by Sir John were: NZ Derby Stakes (Royal Minstrel, Acron, Taxpayer, Double Great), Ashburton Trotting Cup (Fantom), NZ Sapling Stakes (La Mignon, Taxpayer), NZ Champion Stakes (Gallant Chief), NZ Futurity Stakes (Scottish Emperor), Great Northern Stakes (Highland Scott), Great Northern Derby (Acron), Rowe Cup (Fantom - twice), Canterbury Park Juvenile Stakes (La Mignon), Dunedin Cup (Great Bingen, Nyallo Scott), NZ Free-For-All (Acron - twice, Great Bingen), National Cup (Commander Scott - twice), Dominion Trotting Handicap (Fantom), Timaru Nursery Stakes (Hightland Scott), Oamaru Juvenile Stakes (Scottish Emperor, Royal Minstrel). Other useful winners in recent years include Air Command, Ohio, Scotch Paree, Black Wings, Wha' Hae, Bobby Burns and Risingholme.

Noble Scott, who Sir John sold to a Victorian studmaster, has developed into one of the leading sires in Australia. Sir John also raced several gallopers, but met with only moderate success. The horses he owned in recent years included Flying Control, Rustler and Bowling Green.

A fine tribute to Sir John's work for trotting was paid by a writer for 'The Times,' London, who stated that "by importing first-class stallions and brood-mares Sir John McKenzie probably did more for trotting than any other man in NZ, and by his example of honesty and impartiality, kept the pastime clean and above board."

A motion of sympathy with Lady McKenzie and Mr R A McKenzie in the death of Sir John was passed at a meeting of the committee and stewards of the NZ Metropolitan trotting Club at Addington on Saturday. The meeting was held after the first race. Flags on the main stands were flown at half-mast as a mark of respect.

-o0o-

NZ Trotting Calendar 16Dec53

Through the reconstruction of certain trusts, further substantial sums are to be made available by Sir John and Lady McKenzie and their family for charitable, educational and benevolent purposes throughout NZ.

Discussions have been taking place for some time between Sir John McKenzie's legal representatives and the Government so that legislation can be introduced at an early date to give effect to the purposes chosen by the donors. It is anticipated that investments to be set aside will be valued at approximately £1,000,000.

"On behalf of the Government, and also as a Christchurch citizen, I wish to express publicly to Sir John McKenzie and Lady McKenzie and their family the thanks of the people of NZ for their extraordinarily generous action in making this gift to posterity," said the Prime Minister (Mr Holland). "Sir John McKenzie and his family have been generous benefactors to innumerable charitable and other bodies for many years, and this latest public-spirited action is the culmination of a long list of gifts, many of which have been made without publicity or a desire for it. Posterity will be grateful to Sir John McKenzie and Lady McKenzie and thousands of needy and deserving people will benefit from their generosity in creating this new trust."

Sir John said it gave him and his wife the greatest pleasure to be able to make this announcement in Coronation year, "and in particular that it should synchronise with the impending visit of our gracious Queen and the Duke of Edinburgh."

Founder and manager of a NZ-wide chain of department stores, Sir John is well known for his generous philanthropy and his wide interest in trotting. He was born in Victoria, and educated in Melbourne, where he started in business. He served in the South African War with the 3rd Victorian Bushmen's Contingent. Later he came to NZ to start the chain of stores which have become department stores. Sir John is the founder of the J R McKenzie Charitable Trust for the benefit of ailing children, NZ soldiers, sailors, airmen, and the Plunket Society, and is also founder of the well-known Rotary J R McKenzie Youth Education Fund. He also helped to establish the Risingholme Community Centre.

For many years Sir John has been a strong supporter of trotting in Canterbury. Some of NZ's best-known trotters and pacers have raced in his colours, and Roydon Lodge Stud is the leading light-harness nursery in the Dominion.

Before her marriage in 1914, Lady McKenzie was Miss A M Wrigley. Sir John and Lady McKenzie have one son, Roy. Their other son Don was lost while serving with the Royal New Zealand Air Force during the war.

Credit: NZ Trotting Calendar 31Aug55


| | |
| --- | --- |
| | RACING HISTORY INTERDOMINIONS |

AUCKLAND - TACTICIAN
Maurice McTigue was a 20 year old electrician in Ashburton when he decided to become involved in trotting. It was a move which launched him into success as an owner, breeder, trainer and driver. He was to sensationally beat Johnny Globe in the 1955 Grand Final with Tactician by a head.



| | |
| --- | --- |
| | RACING HISTORY HORSES |

QUEEN AYESHA

Wearing her 21 years well the famous broodmare Queen Ayesha poses with her latest foal, a colt by U Scott. This long legged fellow is a full brother to that great pair Highland Fling and Highland Kilt.

Whether he will emulate their deeds on the racetrack remains to be seen but suffice it is to say that his initial appearance, probably in more than two years time, will create much interest.

Queen Ayesha, bred in the purple, is by the imported Frank Worthy from a great-grand-daughter of the staying sire Wildwood junior, a double NZ Cup winner. This Wildwood stallion was a full brother to the unbeaten Willowwood, being from the great foundation mare Thelma.

Highland Fling was undoubtedly the best horse to come from the Thelma family which boasts a host of classic winners including Author Dillon, Onyx, Nelson Eddy, Pacing Power and Centennial Hall.

Credit: NZ Hoof Beats V10 No5


| | |
| --- | --- |
| | RACING HISTORY FEATURE RACE COMMENT |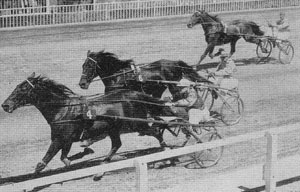 Recruit, from Slipstream. (Precaution outer finished 4th)

1955 DOMINION TROTTING HANDICAP

Recruit showed a greatly improved temperament in the Dominion Handicap, and proved what a good horse he is at his best, winning narrowly but decisively from Slipstream.

Recruit was in third place, 12 lengths from Ecosse at the end of a furlong. With six furlongs to travel, he was still third, but now only three lengths from the leader. Ecosse tired after passing the half-mile, and Recruit moved up on the outside to dispute the lead turning for home with Fingal's Cave. After easily shaking off Fingal's Cave, Recruit was not extended to hold off the solidly finishing Slipstream by a good half-length. Now that he has settled down again, Recruit is entitled to very solid support at his next outing.

By Light Brigade, Recruit is from the Wrack mare, Sister Polly, whose third dam was the famous ancestress, Polly, who, the Stud Book says, was "supposed to be a thoroughbred."


Credit: Ron Bisman writing in NZ Trotting Calendar


| | |
| --- | --- |
| | RACING HISTORY FEATURE RACE COMMENT |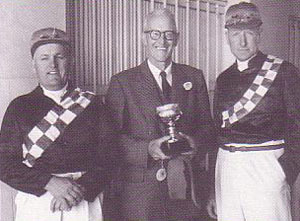 Doug Watts, Owner Bill Newton & Trainer Jack Litten

1955 NZ TROTTING CUP

In 1914 the late Mr Etienne Le Lievre imported to New Zealand the American mare, Berthabell, and installed her as the grand dame of his already select "Oinako" stud at Akaroa. Berthabell proved a prolific broodmare. In the 1930's Mr Le Lievre gave Bertha Parrish, one of Berthabell's last foals to his son-in-law, Mr W A Newton, now the mayor of Akaroa.

Mr Newton mated Bertha Parrish with the imported Lusty Volo to produce Sea Gypsy. As a six-year-old the unraced Sea Gypsy produced her first foal, Our Roger, to Dillon Hall. Our Roger showed ability right from the start, but early in his career was considered a "write-off" when he developed a wind afflection. He recovered completely following an operation, won his way to the best class, and at Addington produced a grand display of stamina and determination to wine the 1955 New Zealand Cup from Rupee, Excelsa and Thelma Globe. It was Our Roger's day, he took all the honours.

Third out of the barrier, Our Roger was always in the first half dozen, and he clung to the rails for most of the journey. D C Watts was content to keep him in this handy position until rounding the home turn, where he moved up to share second placing with his stablemate, Caduceus, just behind the joint leaders, Rupee and Excelsa. Our Roger was abreast with Rupee and Excelsa at the furlong, and it was obvious that all three were tired horses. First, Rupee took Excelsa's measure, and looked likely to win, but Our Roger, under a vigorous drive, was not to be denied, and he gradually wore down J. Grice's six-year-old to win going away by two lengths. He paced his two miles in 4:12.2 - time which had previously been bettered by only nine horses in the history of the sport in New Zealand. Our Roger enjoyed one of the best positions in the running, but D C Watts was not without his anxious moments. The gelding had difficulty in working clear, and actually clipped the wheel of Rupee's sulky on the home turn. With less luck, he could have met his undoing at that stage.

The only excuse that could be offered for Rupee is that he pulled a punctured tyre from the home turn; but it is most unlikely that that would have any bearing on the result. He began brilliantly from the limit, and in the first few strides was two lengths clear. When Exselsa took over with one mile and a half to run, he received a perfect trail, which he enjoyed to the home turn. Driver D J Townley said after the race that when he pulled Rupee clear in the straight he considered he had Excelsa well covered, but knew the one to beat was going to be Our Roger. "I still though that Rupee would outstay him; but on the day Our Roger was the better horse," he said. Rupee finished one and a half lengths clear of Excelsa, who was far from disgraced. She made her best beginning for a long time, and set a true pace for the mile and a half. She did not give in until well into the straight and battled on gamely to the end.

If there are to be any excuses made, they are perhaps deserved by the grand mare, Thelma Globe, who, in finishing fourth from 36 yards behind, recorded 4:11, a world record for one of her sex. Thelma Globe was well back in the field from the outset, and with six furlongs to travel, she had only Merval, Single Direct and Aladdin behind her. She was still well back at the half, but she then commenced a run which carried her around the outside up to the middle of the field on the top turn. She was behind the first six turning for home, and continued her run right to the post for her placing, one and a half lengths from Excelsa. Thelma Globe's trainer-driver, J B Pringle, said after the race that when he attempted to give the mare a reminder with the whip at the top of the straight, the lash got caught in the shaft, and he could not free it until the race was virtually over. All he could do was to shake the reins at his charge in the final stages. In the circumstances, her effort was brilliant.

Two lengths back, Caduceus toiled on for fifth placing. The breaks were not with him on the day, and he was not disgraced. He did not hit out as well as could be wished for, with the result that to get into a prominent position in the running he was forced to cover extra ground. He moved up on the outside to join Rupee in second place with six furlongs covered, and from that stage was without the benefit of a trail. J D Litten, West Melton trainer of Our Roger and Caduceus, said when he returned to the birdcage: "Of the two, I was sure Caduceus would do the better today; but I caught a lot of back-wash early, and was never in a happy position afterwards."

Tactican finished sixth, close by Caduceus. He was slow away from the 42-yard mark, and in improving his position in the middle stages was forced to travel three sulky-widths out. He was eigth with six furlongs to travel, but did not look any real danger over the final round. Our Kentucky finished a disappointing seventh. He enjoyed a good position in the running, one sulky-width out, and trailing Caduceus, but from the half-mile was always struggling. Soangetaha, who was awkwardly placed, finished next, just behind Our Kentucky. Next were Denbry, Merval, who broke at the start, and was third-last with six-furlongs to travel, followed in by Poranui. Then after a gap of three lengths came Laureldale, who was seventh or eigth in the running. Petite Yvonne, who was near Laureldale throughout, finished next, ahead of Au Revoir, who broke at the half-mile, when in tenth place. Single Direct was several lengths back, and Aladdin brought up the rear.

In presenting the gold cup to Mr Newton, the Governor General (Sir Willoughby Norrie) disclosed that he and Lady Norrie "recently spent a very pleasant day at Akaroa and were entertained by Our Roger's owner. Mr Newton said that his horse had a good show in the Cup, and advised me to back him...which I did," said Sir Willoughby. Mr Newton, on receiving the Cup, said: "The credit must go to Mr Litten and his stable boys, and to 'Roger's' driver, Mr Watts." Later Mr Newton said he had been trying since 1924 to breed a winner of the New Zealand Cup. "The first horse I raced was Right Royal, who was a good one but did not get to the best class. Our Roger is my second horse," he said.

His Cup win was the fifteenth success of Our Roger's career, and his stake-winnings are now £14,999/10/-.

Our Roger's sire, Dillon Hall, who died in Mid-October at the age of 23, was one of the most outstandingly successful sires ever to stand in New Zealand. He has topped the sires' list four times since 1948-49, and is at this stage of this season well clear of any other sire. His 335 individual winners have won approximately 1150 races for a total exceeding by many thousands the £500,000 mark. He was by The Laurel Hall, a famous son of Peter The Great, from the Dillon Axworthy mare, Margaret Dillon.

Berthabell was a daughter of Peter The Great and Corona Mac, by Wilkes Boy, who earned immortality by siring Grattan. From her third dam, Lady Thorne Junior, descended Lou Dillon, 1:58.5, the world's first two-minute trotter. To Nelson Bingen, Berthabell left Great Bingen, Worthy Bingen, Peter Bingen, Bessie Bingen, Bertha Bingen, Great Peter, Barron Bingen and Great Nelson, all good winners. To Guy Parrish she left Great Parrish and Corona Bell, and to Travis Axworthyshe left Ringtrue. Her Progeny won a total of £34,535. Great Bingen being the main contributor with £14,120.

Of the sons of Berthabell who stood at the stud, Worthy Bingen sired the grand trotting mare, Worthy Queen, 2:03.6, and 30 other winners; Peter Bingen's 32 winners included Peter Smith (2:36, 3:11.4 and 4:15.6) and Double Peter, who also reached Cup class; Great Bingen's 44 winners included the classic performers, Taxpayer, Double Great, Refund and Great News; Great Parrish sired 31 winners; and Ringtrue about 23. Winners on the distaff side of the Berthabell family number well over 50, and descendants of the famous old mare, who died at "Oinako" at the age of 23, are spread through the Dominion and Australia.

Our Roger's success gave Watts his second winning drive in the Cup. He piloted Integrity home in 1946. It was trainer J D Litten's first success in the event. As a youth, Litten was associated with Miss Bella Button, whose parents owned the New Brighton racecourse. The Buttons owned harness horses, show horses and ponies. With the experience he gained helping with those horses, Litten has carried on to be an outstandingly successful trainer, and a master at educating young horses. Litten was responsible for the early training of Congo Song, the best three-year-old of his year; Vedette, winner of the 1951 Inter-Dominion Pacer's Championship Final and 18 other races for £27,650; Fallacy, a champion two and three-year-old; and he has prepared Our Roger and Caduceus throughout their careers.

Credit: Ron Bisman writing in NZ Trotting Calendar


| | |
| --- | --- |
| | RACING HISTORY FEATURE RACE COMMENT |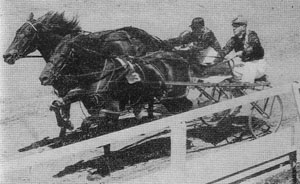 False Step (inner) outfinishes Glint

1955 NZ DERBY STAKES

In 1951 the West Melton trainer, J D Litten, paraded his own champion three-year-old colt, Fallacy, to win the NZ Derby Stakes by 12 lengths in the race record time of 3:12.2 for one mile and a half. Four years after that success Litten produced the first of Fallacy's get, Mr J Smyth's False Step, to win the coveted event narrowly, but gamely, in a time only .4 of a second slower. In the interim, Litten had won the 1953 contest with Caduceus.

There is a colourful background to this feat of sire and son winning the classic in the space of four years; and perhaps the most appropriate starting point to this background is the year 1932. That was when the late W J Morland, a master horseman and student of breeding, bred Diversion. Diversion was by Rey de Oro from the Nelson Bingen mare, Escapade, who left a long line of winners, both pacers and trotters, who will be well remembered by many light-harness enthusiasts. Diversion was sold as a youngster to Mr A Johnston, of Wellington. Mr Johnston, a businessman, had been in ill-health, and his doctor suggested he buy and race a horse as a diversion. That is how the mare became so named.

Diversion won one race and gained several minor placings for Mr Johnston, and in 1939 she was purchased cheaply by Litten, who raced her in the early part of the 1939-40 season, gaining one win and three minor placings. Her lone win under Litten gave him his first winning drive. That was in the Gothard Handicap at the Westport Club's annual meeting. Mr C L Rhodes made an offer for Diversion during that season, and Litten sold her on the condition that Mr Rhodes returned her when her racing career was over, for stud purposes. Mr Rhodes raced Diversion without much success, and when he returned her, Litten told him he would give him the alternate foals. Mr Rhodes got the first and third foals, Fallacy, by Light Brigade was the fourth.

In February 1951, Litten decided to sell Fallacy, who was then a two-year-old, and when at a Nelson meeting, mentioned his intention to the Addington trainer, V Alborn. Returning from Nelson, Alborn went out to Litten's stables at West Melton, but Litten had not returned and Alborn decided to let the matter rest for a few days. Alborn was then called away on business to the West Coast. When Litten arrived home, he carried on working Fallacy, who began to show marked ability in his training. Litten then decided against selling him, and it is now history how Fallacy developed into the champion three-year-old of the 1951-52 season, earning £3680 for his seven successes and two minor placings from 10 attempts. Apart from the Derby, he won the Riccarton Stakes, NZ Champion Stakes and the NZ Futurity Stakes. He beat all but the four-year-old, Johnny Globe, in both the NZ Metropolitan Stakes and All Aged Stakes. Fallacy trained off later and was given a long spell. Brought back into work again, he was giving promise of returning to his peak when misfortune intervened. In a work-out on Litten's track, a horse fell in front of Fallacy, and he was brought down, cracking his ribs. After that he was retired to the stud for good.

It was earlier in his career, in 1952, however that he served Dainty Direct, who produced False Step from that mating. Dainty Direct was bred by Messrs Newdick Bros., of Auckland, in 1931, a year in which her sire, the imported roan, Dan Direct, was still racing successfully in New Zealand. Her dam, Queen Betty, was by Four Chimes, from Dot Robbins, by the imported Frank Robbins, from an unnamed mare by George M Patchen. Dot Robbins, False Step's third dam, managed to win three races, but is better remembered as the dam of Big Author, an upstanding Author Dillon gelding, who, in the mid 1930's, gained 12 wins and one second placing from 50 starts, eight of those wins coming in his first 14 starts. Big Author was trained during most of his career by O E Hooper for Mr E F Saunders, of Alexandra. Dainty Direct did not race and False Step was her only real success at stud. In 1949 she changed hands. Mr Smyth secured her (in foal to Jack High)from Mr Adams in exchange for an old hay rake. In 1950 she produced Tyrone Queen, missed in 1951, but in 1952 produced False Step.

Litten produced False Step for the first start of his career in the Canterbury Park Juvenile Stakes. The colt began very slowly, but pleased by the manner in which he made up his self-imposed handicap to finish third to Pointer and Fiord. A mistake at the start put an end to his chance in the Geraldine Invitation Stakes, but he finished third to Phantasy and Siberia in the Timaru Nursery and filled a similar position behind Glint and Pointer in the New Zealand Welcome Stakes. At his fifth start he gained his first success, and his only one as a two-year-old, when he outstayed Glint in the Methven Two-year-old Stakes. Pointer proved his master in the Oamaru Juvenile Stakes, and at his last start last season, False Step had to be content with a second behind Lady Wexford in the New Zealand Sapling Stakes.

At his first start as a three-year-old, False Step outstayed the others of his age in the Canterbury Three-year-old Stakes in August, wearing down Pointer in the run in to score by two lengths. Then, in September, he again showed his staying ability by coming away determinedly to beat Glint by a length in the T S Harrison Stakes. In October, he had his first test against older horses; and he was far from disgraced. Starting from 12 yards over a mile and a quarter at Oamaru, he came with a brilliant late run for a creditable third. He next raced on the first day of the Cup meeting at Addington ruining what must have been a good winning chance in the Riccarton Stakes by breaking badly at the start. He made up a long stretch of ground to finish fourth. On the second day he finished on from an awkward position on the home turn to again finish fourth, this time in the New Zealand Metropolitan Challenge Stakes.

On the strength of his consistent record, he was made a hot favourite for the Derby. He made a much better beginning than on the first two days, and was sixth when the field settled down. Litten took him into the lead with just on seven furlongs to run, and set a fast pace from that stage. These tactics paid dividends, for most of his rivals were struggling from the half-mile on. He looked to have ended his run, however, when Glint moved up smartly to head him well inside the furlong; but when urged for extra effort he showed real courage to forge through on the inside again and gain the verdict by a head.

Glint was not disgraced as she had to improve several lengths from the home turn to issue the final challenge to False Step. Ricochet finished on for a creditable third, five lengths away, with the more seasoned Lady Wexford only a fair fourth, a neck back. Pointer after losing ground at the start and covering a lot of extra ground, tired badly from the three-furlong post to finish well back, eighth.

The honours were all with False Step on the day, and judging by his present form he may emulate the deeds of his sire, and perhaps even his brilliantly-performed stablemates, Our Roger and Caduceus.

Credit: Ron Bisman writing in NZ Trotting Calendar


| | |
| --- | --- |
| | RACING HISTORY FEATURE RACE COMMENT |

1955 NZ OAKS

Ingle Brigade and Kyle Nurse broke at the start of the NZ Oaks, Glint was slow to find her feet, losing about 12 yards, and Phantasy and Lucie Manette were also slow.

Lady Wexford was the first to show out, and she led from Dalene, Ladyship, Whitecaps, Spring Fleur, Glint, Phantasy, Suzendy and Goodwood Maid who broke in the early running. Passing the stand with a mile to travel, Phantasy moved up to dispute the lead with Dalene and Lady Wexford. Whitecaps was next, then came Ladyship, Glint, Suzendy and Spring Fleur with nine lengths to Lucia Manette, and a length to Goodwood Maid. Lady Wexford drew clear again approaching the half-mile, where Phantasy (outside), Dalene, Glint (outside) and Ladyship were next, just ahead of Suzendy, with five lengths to Whitecaps and six to Spring Fleur.

Lady Wexford maintained a fast pace to the straight entrance, where she was showing half a length clear of Phantasy, with Dalene next (under pressure), and Glint, Ladyship and Suzendy coming into the picture. Glint sprinted up to Lady Wexford outside the furlong, ran clear in a few strides, and did not have to do her best to pass the post seven lengths clear of Lady Wexford in 3:13.4, a grass track record for one of her age. Suzendy battled on eight lengths behind Lady Wexford for third placing, and there were gaps of five lengths to Ladyship, two to Dalene, and 15 to Phantasy, who did best of the beaten lot.

A very nicely-made filly by Whipster from Spangle, Glint has a particularly fine record, which reads: First in New Zealand Welcome Stakes, Riccarton Three-year-old Stakes and New Zealand Oaks; second in Methven two-year-old Stakes, New Brighton Cambridge Handicap, T S Harrison Three-year-old Stakes and New Zealand Derby; and third in the Geraldine Invitation Stakes and Canterbury Three-year-old Stakes. She should win many more races for her Springston owner-trainer, R H Negus, who deserves full credit for turning her out in such good order.

Credit: Ron Bisman writing in NZ Trotting Calendar


| | |
| --- | --- |
| | RACING HISTORY FEATURE RACE COMMENT |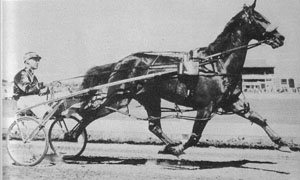 Tactician & Maurice McTigue

1955 NZ FREE-FOR-ALL

Tactician who was not disgraced in finishing sixth in the New Zealand Cup, after breaking at the start and covering a lot of extra ground, came into his own in the NZ Free-For-All.

After enjoying the run of the race, he came away in the straight to beat Johnny Globe by four lengths. Merval, Thelma Globe, Our Kentucky, Au Revoir, Caduceus, Rupee and Excelsa were all slow to move, and Johnny Globe took up the running. When the field settled down the order was Johnny Globe, Tactician, Denbry and Our Roger, Soangetaha and Laureldale, Petite Yvonne and Excelsa, Single Direct and Rupee, Au Revoir, Thelma Globe, Merval and Caduceus, and at the rear, Our Kentucky.

There was not much change in this order before reaching the top turn, and Johnny Globe straightened up for the run in clear of Excelsa, with Tactician awkwardly placed in the trailing position. Our Roger was following Tactician, and outside him were Denbry, Rupee, and Thelma Globe. Caduceus, Laureldale and Soangetaha were next, with Our Kentucky, Petite Yvonne and Merval following.

Tactician worked clear soon after straightening, and challenged Johnny Globe at the furlong. Johnny Globe fought back momentarily, but Tactician had far too much in reserve. Our Roger, who had also worked clear early in the run in, finished on down the outside, and was only a nose from Johnny Globe in third place. Laureldale made up a lot of ground along the rails for a close fourth, two lengths clear of Rupee, who was running on but well beaten. It was the first occasion on which Rupee has failed to earn some portion of a stake. Two lengths further back, Our Kentucky finished on for sixth, clear of Petite Yvonne, Excelsa, Thelma Globe, Caduceus, Soangetaha, Single Direct, Denbry, Au Revoir and last of all, Merval.

One of the fastest sprinters ever produced in the Dominion, 10-year-old Tactician has now won 16 races and gained 19 minor placings for £22,165. He is a credit to his Methven owner-trainer-driver, M C McTigue.

Credit: Ron Bisman writing in NZ Trotting Calendar


| | |
| --- | --- |
| | RACING HISTORY FEATURE RACE COMMENT |

1955 OLLIVIER FFA
Timed to a World Record Caduceus runs in an easy winner of the Ollivier Free-For-All to cover the mile and one half on 3.04 2/5 from a standing start. Rupee (outside) was second and Johnny Globe third ahead of Tactician (shadow blind).

The five-year-old after tangling at the start, which he did on preceding days and spoilt his chances, lost about 12 yards but quickly ran up to be in a handy position and then coasted home an easy winner to equal the world's record for the distance.

The record was held in America by the sensational Adios Harry but Caduceus went one better and actually his time for the distance is unequalled in the world from a standing start. The outlook is bright for this fellow and he is worth pasting in the hat for future reference.


Credit: Hoof Beats Dec 1955