| | |
| --- | --- |
| | INTERNATIONAL HISTORY |

The Salk vaccine against polio is developed.

Ho Chi Minh becomes President of North Vietnam.

Roger Bannister breaks the four-minute mile.


| | |
| --- | --- |
| | LOCAL HISTORY |

August 28 - Pauline Parker, aged 16, and Juliet Hulme, 15, were convicted of the murder of Pauline's mother Honora at Christchurch on 22 June. Their story was later the subject of Peter Jackson's film Heavenly Creatures

The last tram ends service. Until they are reintroduced to the central city as a tourist attraction in February 1995.


| | |
| --- | --- |
| | RACING HISTORY CARETAKERS |

R (Reuben) G COOPER

Mr R G Cooper, superintendent of Addington Trotting Course, Ltd., can look back on the New Zealand Trotting Cup carnival, 1954, with feelings of pride and satisfaction.

Never before, at the same meeting, has the Addington course produced so many world records. On the first day Johnny Globe put up the world's pacing record of 4:07 3-5 for two miles; on the second day he established the world's record of 2:33 3-5 for a mile and a quarter from a standing start; on the third day Rupee made the world's record figures of 3:07 1-5 for a mile and a half from a standing start; and on the fourth day Ribands set new world figures of 3:21 3-5 for a mile and five furlongs.

Mr Cooper has ever been meticulous in the study and preparation of Addington's famous six-furlong dirt track. He holds the diploma of the New Zealand Institute of Horticulture. He was Superintendent of Reserves at Greymouth for 20 years, and was on the staff of the Botanic Gardens in Christchurch for some time before he was appointed assistant to the late Mr J Highsted, caretaker of the Addington course, in 1944. On the death of Mr Highsted about a year later Mr Cooper succeeded him.

Years ago Mr Cooper held a trainer's and driver's licence and won races with Rose Guy, Ocean Whispers and Sedgemere.

Credit: NZ Trotting Calendar 1Dec54


| | |
| --- | --- |
| | RACING HISTORY PEOPLE |

MR J R D JOHNS

Mr James Robert Daniel Johns, one of Canterbury's leading dairy farmers, died last week, aged 79. Mr Johns was best known for establishing, with his brother, Mr A F Johns, and Mr E T Forbes, the town milk supply firm of Devondale Dairy, but he was also noted for his contribution to trotting in Christchurch.

Mr Johns was a member of the New Brighton Trotting Club for more than 30 years and was for a long time a steward and committeeman of the Club. He was president for two terms, 1939-40-41, during which period the club celebrated its jubilee. At New Brighton Mr Johns is mostly remembered for the tirless work he did in improving the club grounds. An executive of the club said that the track was perhaps the best track surface in New Zealand, and all credit for its condition was due to Mr Johns; also he was a member of the club's judicial committee.


Credit: NZ Trotting Calendar 1Dec54


| | |
| --- | --- |
| | RACING HISTORY PEOPLE |

A HENDRIKSEN

The death occurred in Christchurch on Friday of Mr Albert Hendriksen, who about 40 years ago was one of the leading drivers in NZ.

Mr Hendriksen came into prominence when he brought Albert H (which was named after him) from Blenheim for Mr M Mahar just before the 1912 NZ Cup, which he won. Mr Hendriksen then settled in Canterbury, and he drove many winners, including a number for the late Mr W J Morland.

His winners included Country Belle (NZ Cup), Cardinal Logan, winner of many races and second to Kohara in the Cup, Prince Akwood and Peter Mac (NZ Derby Stakes), Erin's King (National Cup), Sungod (Timaru Cup), Hal Junior (Canterbury Handicap), President Wilson and Nantwitch (Great Northern Derby Stakes), and Hustler (Gore Cup).

Mr Hendriksen was for a time studmaster at Santa Rosa Stud, Halswell, when Truman Direct and Real Guy were there.

Credit: NZ Trotting Calendar 9Jun54


| | |
| --- | --- |
| | RACING HISTORY MESCELLANY |

TROTTERS ELIGIBLE TO ENTER NZ CUP

For the first time since 1928, when the American stallion Peterwah was in the field, a trotter - or trotters - will have the opportunity, this year, of competing in the NZ Cup.

The race is for pacers on 4.23 and faster, and trotters on 4.30 and faster, and the only trotters who qualify at present are Dictation, Gold Horizon and Vodka. All are great stayers, and two of them, Dictation and Gold Horizon, are brilliant enough out of the barrier to be capable of adding a lot of interest to the race. If either of these great square-gaiters should go the early part of the race as fast as they have done in races among horses of their own gait, there will be little chance of any pacer slowing up the field and indulging in some of the leisurely first miles that have detracted from some of the leading handicap races of the past.

To this extent the presence of these class trotters will be welcomed; and they will also bring variety to the premier event.

In the meantime, no one will expect spectacular results from the Metropolitan Club's innovation - for an innovation it is under our present handicapping system - but old-timers will reflect nostalgically on the great performances in the past of trotters among the pacers and express a hope that this latest step may eventually bring to light a Reta Peter or a Monte Carlo both of whom won trotting Cups against fields of pacers; and, only in a slightly lesser degree, a Whispering Willie, a Hardy Wilkes, a Trampfast, Wrackler, Bellflower, Electrocute, Peterwah, Muricata, Submarine, or Moneyspider, all of whom defeated high-class fields of pacers at different periods. There were others.

The public, in the past, greatly enjoyed the exhilarating spectacle of a real trotter coming home at the head of a field of pacers. We have seen too little of this kind of sport of recent years, and the Metropolitan Club, we think, is deserving of bouquets and not brickbats, for its bold step in once again opening the gate to its top class races to the trotter; because, if the trotters play their part as well as many of us feel confident they will, their presence among the pacers in other races will naturally follow as a matter of course.

Credit: 'Ribbonwood' writing in NZ Trotting Calendar 22Sep54


| | |
| --- | --- |
| | RACING HISTORY INTERDOMINIONS |

ADELAIDE - TENNESSEE SKY
Victory in the 1954 Adelaide Grand Final went to the New South Wales bred Tennessee Sky, which was trained and driven by top horseman Frank Kersley. Tennessee Sky had barely scraped into the Final with only two points. There was confidence in his camp however, and he started at 8-1, beating Recovered by two yards.



| | |
| --- | --- |
| | RACING HISTORY HORSES |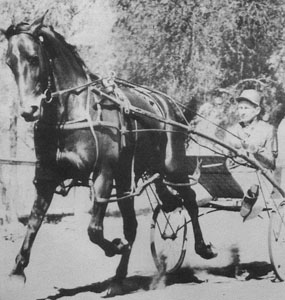 Ribands and P J Hall

RIBANDS

Ribands, in becoming the world's champion pacer over one mile and five furlongs with his record of 3.21 3/5 in winning by a wide margin the NZ Pacing Championship ar Addington on Saturday, paralysed his opposition and left struggling in his wake two other world's record holders in Rupee and Johnny Globe.

No excuses could be made for Rupee, who was skilfully driven by D Townley and went a brilliant and gallant race, and although Johnny Globe had obviously lost some of his fire and was checked in the early stages, he, too, might have met the same fate as Rupee if all things could have been equal. After all, it is no disparagement of any horse to give Ribands full credit for a performance that brought considerable weight to claims of Australian - and a sprinkling of NZ - admirers of Ribands that he is as fast as any pacer in the world today. And nothing but a world beater could reduce a field like Saturday's to minus quantities as Ribands did.

Ribands was allowed to stand at least a length back from the barrier at the start, which must have given him an advantage, because in his earlier races at the meeting he did not go away when required to line up on terms with other horses on his marks. Laureldale, from No 12 position at the barrier, raced across to take charge before a furlong had been covered, and at this stage he was closely attended by Zulu, Our Roger and Rupee, and Johnny Globe and Ribands were not far away.
Zulu broke with about two and a half furlongs covered, and Johnny Globe was among those checked. Ribands had to be swung out to escape serious trouble, and with a mile to go Laureldale was about three-quarters of a length clear of Rupee, with Our Roger and Petite Yvonne next, and Ribands moving up.

It was with half a mile to go that Ribands was sent around the outer with a burst of speed that had everything in difficulties within a furlong. It was not a case of catching anything unawares, either, because D Townley on Rupee obviously anticipated the onslaught of Ribands and was busy on his charge before Ribands actually passed him; but Rupee met more than his match on this occasion, and Ribands streaked clean away from him. Nothing ever looked like gaining on Ribands in the race home: Rupee could get no closer than four lengths to him, and Johnny Globe was three lengths behind Rupee, with Tactician a fair fourth. No more devastating run has ever been seen at Addington, and no victory could be more complete than Ribands's rout of some of the greatest pacers NZ has been able to breed.

There is no doubt that the presence of Ribands at the NZ Cup carnival made a big contribution to a very successful meeting - both sporting and financial - for the NZ Metropolitan Trotting Club. It was one of the Club's best meetings for some years, and it was a fitting climax that Mr and Mrs F P Kelloway should see their grand pacer's reputation so thoroughly vindicated, and their own confidence in their champion's ability to win in any company so roundly justified.

The Addington crowd gave Ribands a splendid reception. Cheering broke out long before Ribands reached the winning post, it increased in volume as the horse returned to the birdcage, and was renewed when the world's record was announced. It was obvious that losers and winners alike joined in the clapping and cheering, and Mr and Mrs Kelloway said they were very thrilled by the way the win had been received by the public, the officials of the club, and other trainers and drivers, in the race and out of it.

Occupying a pedestal in public acclaim in Australia to the same degree as Johnny Globe does in the Dominion, Ribands came to NZ Cup discussions when he paced the last half-mile of an exhibition run at Hutt Park a few days after his arrival from Sydney in 58 3/5sec. A very successful ex-trainer who saw that run declared without any reservations that Ribands was the fastest horse he had ever seen. Unfortunately Ribands broke badly at the start of the Cup, but he revealed a champion's calibre when he finished second in the NZ Free-For-All.

In the Cup and the second day Free-For-All Ribands was driven by J D Watts, who flew from Sydney to drive him. Watts had to return to Sydney before the third day, and M Holmes was Riband's driver in his next two races. Holmes needs no testimonials as a horseman: could there be a better one in any part of the world? Holmes certainly worked a revolutionary change in Ribands's starting manners in a couple of short weeks - there must have been some heavy homework between the pair of them between the pair of them between race days!

Mr and Mrs Kelloway and the horse's trainer, C J Muddle, all paid glowing tributes to Holmes's driving of Ribands. Mr Kelloway declared that Ribands made a better beginning on Saturday than ever before in his life, and Muddle acknowledged Holmes "is in world class as a driver." Muddle said Ribands was "really fit" on Saturday. in his previous races at Addington he had not been just right, and he had told Holmes before Saturday's race "not to be frightened to use him if he jumps away with the others - he is the equal of any of them." After the race Muddle, who took Ribands's success with remarkable nonchalance, struck a kindred spirit in Maurice Holmes. Muddle remarked to Holmes when the horse returned to the birdcage: "A pretty fair sort?" Holmes, who is renowned for a combination of wit and understatement, no matter how important the occasion, replied: "Might be alright!"

It is to be hoped that Ribands will be given the opportunity of attacking Highland Fling's mile record of 1.57 4/5 before his return to Australia. He should succeed, because he registered 1.58 7/10 on the half-mile Harold Park track at Sydney, and his connections are certain he has improved since then; and he is nearly a year older now - he is six, and may be just reaching his prime.

Present intentions are that Ribands will be eased in his training and perhaps race at Auckland at Christmas time - there may be some keen competition between the north and the south over this, because it would be a great attraction if the Canterbury Park Club could persuade Mr and Mrs Kelloway to send Ribands against the mile record at it's New Year Meeting. Ribands is no stranger to grass tracks. Mr Kelloway stated on Saturday that Ribands had raced only twice on grass tracks in Australia: his winning margin the first time was 12 lengths and the second time 15 lengths. So Ribands will be in his element at Epsom, whether he races there in December, whether he does not go there until the Championships come round in February, or undertakes both.

Mr and Mrs Kelloway bought Ribands as a young, unraced colt for £1000, and he has won more than £26,000 in stakes. He will win much more if he continues to begin as well as he did on Saturday. Muddle says that apart from his uncertainty at the barrier, due to nervousness, Ribands is "the perfect horse to train." Muddle took over the training of Ribands about a month before he came to NZ.

Ribands's breeding suggests that "you can't get too much of a good thing." He is by Lawn Derby (grandson of Globe Derby), from Marie Walla, by Walla Walla (by Globe Derby, and Marie Walla's dam was an unnamed Globe Derby mare. The Globe Derby tribe may yet be destined to dazzle other race crowds in the home of its ancestors - the United States, where Owyhee, grandsire of Globe Derby, was bred by John F Boyd, of Danville, California, in 1894, and imported to Werribee, Victoria, by D Taylor. Owyhee sired Mambrino Derby, the sire of Globe Derby, among whose innumerable distinctions are that his son, Robert Derby, sired Lawn Derby, 1.59 2/5, the first two-minute horse outside America; that Lawn Derby sired Avian Derby, 2.00, the first two-minute horse in Australia, and also Avian Derby's successor as the Australian mile record holder, Ribands, 1.58 7/10; that Lawn Derby is the only sire in NZ and Australia with more than one horse on the two-minute list; that four of the only seven horses in the two-minute list in the Antipodes are of the Globe Derby male line (the other not already mentioned is Johnny Globe, 1.59 4/5); and that two outright world's pacing records belong to the breed - Johnny Globe's 4.07 3/5 for two miles and Ribands's 3.21 3/5 for a mile and five furlongs, besides Johnny Globe's mile in 2.01 1/5, a world's record from a standing start, and the same horse's 2.33 3/5 for a mile and a quarter, also a world's record from a standing start.

And interest in America in the 'Globe' family - mares as well as sires - is already keen, and the prediction can safely be made that selected representatives of the breed will be going to the United States before very long. The Globe Derby saga of greatness began with himself. He was an out-and-out champion pacer on Australian tracks, and in training he could reel off half-miles in sensational time for his day. His grandson, Lawn Derby, made history in Australia and New Zealand; Globe Derby's son, Walla Walla, was an iron horse who came here late in life and paced an historic mile when he defeated the best horses NZ could muster in 1934 (Harold Logan, Red Shadow and Roi l'Or among them) in the first of an Invitation Match series at Addington, his time, 2.04 1/5, surviving as the world's record from a standing start for 19 years.

The rest of the serial is well known - we say serial advisedly, because there is no apparent end yet to the deeds of this line of succession of champions, of whom Ribands and Johnny Globe are the present incomparable banner-bearers.

Credit: 'Ribbonwood' writing in NZ Trotting Calendar 1Dec54


| | |
| --- | --- |
| | RACING HISTORY HORSES |

GREAT RACES: JOHNNY GLOBE

In 1954, Johnny Globe was a 7-year-old and making his fourth attempt at the New Zealand Cup. He had been a good and close second to Van Dieman as a 4-year-old; sensationally collapsed the following year when a hot favourite, and second from 60 yards to Adorian the year before.

He was off 48 yards this time, but such was the quality of the field before him, Johnny Globe was only given a sentimental chance of winning, particularly as Rupee was among those off the front. The record of first starters during the first half century of the Cup was overwhelming and Rupee was among those along with the tough and in-form Denbry and the Australian champion Ribands, who would be handled by Sydney's Jack Watts from 18 yards for trainer Charlie Muddle.

The stellar field also included previous winners Adorian and Mobile Globe and subsequent winner Our Roger along with Soangetaha, Tactician, Vedette and an evergreen and notoriously unsound 8-year-old Young Charles. But Rupee dominated the discussions and 'Ribbonwood' summed it up in the NZ Trotting Calendar a week earlier..."With the possible exception of Indianapolis and Highland Fling, no pacer has arrived in Cup class with more convincing credentials than those held by Rupee." A 5-year-old horse by the NZ Derby winner Gold Chief and bred from a line of unnamed mares by Ashburton's Jack Grice, Rupee had won 10 of 12 starts going into the Cup and been most unlucky to have been beaten in the other two.

His unbeaten run had been ended the previous Easter at Addington, going down by half a head to Excelsa after being three-wide without cover for the last mile and pushed four and five-wide on the home turn. At the traditional Cup lead-up meeting in August, Rupee had made his Cup class rivals "look like hacks" in the Louisson, although Johnny Globe gave him a 60-yard start and was third, beaten less than three lengths. In the National Handicap however, Ruree and Doody Townley ran into a "copper-fastened pocket" and didn't get clear until the race was over, finishing third to Denbry and Our Roger with Young Charles fourth from 24 yards. The New Zealand Cup would be his next race.

Wrote Ribbonwood..."Rupee is a perfect beginner, as smooth a mover in the thick of a race or anywhere else for that matter as we have seen, nothing upsets him, and with any sort of run his dazzling brilliance should carry him through."

Rupee was selected to beat Ribands, who came to New Zealand with a record of 1:58.7 at Harold Park, which was only a fraction outside the world record of 1:58 3/5 for a half-mile track set by Hi Lo's Forbes in America the previous year, and proven two-miler Denbry, a son of 1941 Cup winner Josedale Grattan and a close relation maternally to the 1953 winner, Adorian.

The pre-race hype was about the height of Rupee's career however. He was unsound and raced just once more that season, beating Tactician in the Electric Stakes at Addington over Easter, and while he won fresh-up in the next two seasons, that was about all.

Rupee had been the hottest favourite on record in the Cup, carrying £4719 to win on-course compared to £1783 for the public's second elect, but sentimental favourite Johnny Globe. But when the dust had settled, Johnny Globe's win had been the most popular ever witnessed at Addington, surpassing the scenes when the grand old trotter Monte Carlo won the first Cup in 1904. Roll upon roll of cheering broke out some time before he reached the winning post and continued as he returned to the birdcage. Hundreds of people swarmed over the rails from the inside of the track and massed along the bircage fence to pay homage to the most idolised horse in light-harness history.

Wrote Ribbonwood..."World's record pacing figures of 4:07 3/5 were returned by the indomitable dynamo of character and courage, Johnny Globe, in wrestling New Zealand Cup honours from Young Charles and Rupee after the most scorching and thrilling stayers' epic in harness racing the world over. And his trainer/driver, D G Nyhan, richly deserved all the compliments and congratulations showered upon him. Nyhan had come in for some trenchant criticism of his driving of Johnny Globe in some of his past races. Whether it was all merited is of no moment now. On Tuesday, Don's handling of 'Johnny' was in every sense a masterpiece: the perfect understanding and harmony between horse and driver was an inspiration."

To put Johnny Globe's performance in perspective, the world record had belonged to Highland Fling at 4:10 3/5, an adjusted time from 60 yards, meaning the pace off the front in 1948 had been around 4:16. That time bettered Haughty's race and world record of 4:13 2/5, achieved in 1943 from 36 yards. The gross time in 1954 was 4:11 3/5, from which four seconds was deducted for Johnny Globe's 48-yard handicap.

Johnny Globe actually took six seconds to make up his handicap and was timed post-to-post in the "incredible" time of 4:05 3/5 - the fastest two miles ever recorded at that time was Greyhound's time-trial of 4:06 at the Indianapolis 'speedway' in 1939, when two-mile races for pacers and trotters were not actually uncommon in North America. Johnny Globe's time of 4:07 3/5 would remain the New Zealand Cup record for 26 years, until Hands Down recorded 4:07.2 in 1980, and the national two-mile record until metrics were introduced and then Young Quinn paced 4:06.7 for 3200m during the 1975 Inter-Dominions in Auckland.

Denbry and Ribands broke badly at the start and were soon out of it, while Rupee also tangled away, but soon recovered and took up the running from Star Rosa after half a mile, followed by Tactician, Young Charles, Our Roger, Laureldale, Petite Yvonne, Soangetaha, Thelma Globe, Adorian, Au Revoir and Johnny Globe. Tactician then took over down the back to maintain the pace and positions remained the same until Johnny Globe commenced a three-wide run with a lap to go.

He was sixth and wide at the half and fourth into line as Tactician swung for home from Young Charles and Rupee on the fence. Tactician soon caved in and Young Charles took over and momentarily looked like winning, as Rupee was denied a gap and had to swing to the outside of Johnny Globe. It made no difference though - Johnny Globe would not be denied and won by half a length over the brave Young Charles, with Rupee finishing on for third a half a length away, perhaps a little unlucky but having had his chance all the same, with a space back to Our Roger and the rest filing in with some difficulty. All the honours were however with Johnny Globe, who was decorated with a garland of flowers and paraded down the straight before "hundreds of his enthusiastic admirers who flocked round him, clapping and cheering him on his way."

"Not even in the United States, the acknowledged home and stronghold of the harness racehorse, has there ever been a distance race to compare with the sizzling marathon so bravely sealed by the dapper little personality horse from Templeton," wrote Ribbonwood.

Johnny Globe was by little Logan Derby, a champion son of Globe Derby, and he was his third consecutive grandson to score, following Springfield Globe's sons Mobile Globe and Adorian. He was from Sandfast, by Sandydale from the American pacing mare Slapfast, a yearling record-holder imported by Sir John McKenzie. Slapfast had been sent up for auction at Tattersalls in 1935 and brought only 12gns. She was eventually passed on to F E Ward of Pahiatua, who bred Sandfast and Johnny Globe.

Nyhan bought Johnny Globe as a 10-month-old colt for £50, and the Cup was his 26th win and took his earnings to £32,395 and close to Highland Fling's record of £32,920. Johnny Globe was far from finished though of course. Three-days later he toyed with the same field in the NZ Free-For-All, racing clear of Ribands, Laureldale, Petite Yvonne and Au Revoir, who finished almost in line but some distance from Johnny Globe. His 2:33 3/5 for the mile and a half from a stand broke his own national record of 2:34 and was one of just six such records he held at that point in time.

Later that season, Johnny Globe was a desperately unlucky second in the Inter-Dominion in Auckland, beaten a head by Tactician from the back mark of 48 yards. A star 4-year-old in Caduceus and Doug Watts had taken the field through the first mile and a half in a pedestrian 3:20 3/5, and Tactician's time of 4:19 3/5 from 18 yards reflected what had merely been a sprint for home. Johnny Globe, back on the fence at the half and checked by the galloping Our Roger soon after, went very wide for a run on the home turn and almost overcame the herculean task before him.

Johnny Globe would retire as a 9-year-old as the winner of 34 races (including a record 15 Free-For-Alls) from 99 starts and £42,887, a record for a standardbred of thoroughbred raced solely in New Zealand and only exceeded marginally by Captain Sandy. And he would sire from his first crop for the Nyhans the two-time New Zealand Cup winner and champion, Lordship, who would be the horse to rewrite most of his achievements and records.


Credit: Frank Marrion writing in HRWeekly 8Jun06


| | |
| --- | --- |
| | RACING HISTORY FEATURE RACE COMMENT |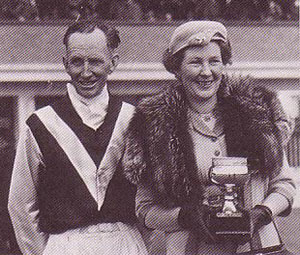 Don & Doris Nyhan hold the 1954 NZ Cup

1954 NZ TROTTING CUP

World's record pacing figures of 4:07 3-5 were returned by the indomitable dynamo of character and courage, Johnny Globe, in wresting New Zealand Cup honours from Young Charles and Rupee in the NZ Cup at Addington on Tuesday after the most scorching and thrilling stayer's epic in harness history the world over.

Not even in the United States, the acknowledged home and stronghold of the harness racehorse, has there ever been a distance race to compare with the sizzling marathon so bravely sealed by the dapper little personality horse from Templeton.

And his trainer-driver, D G Nyhan, richly deserved all the compliments and congratulations showered upon him. Nyhan had come in for some trenchant criticism of his driving of Johnny Globe in some of his past races. Whether it was all merited was of no moment now. On Tuesday Don's handling of Johnny was in every sense a masterpiece: the perfect understanding and harmony between horse and driver was an inspiration.

Johnny Globe took 6sec to do his 48yds handicap, so from post to post he put up the incredible time of 4:05 3-5, which was 2-5 of a second faster than Greyhound's 4:06, the world's harness record, put up against time from a flying start. Greyhound, the greatest trotter of all time, put up his record on a mile track in 1939. It is only fair to add that no champion American pacer has been sent against time over two miles for more than a quarter of a century; on the other side of the medal, there are now quite a number of two-mile races in America, but nothing to compare with Johnny Globe's performance has yet been recorded.

Official sectional times were: first quarter 32 2-5secs; half-mile 64 2-5secs; six furlongs 1:35; mile 2:04 4-5; mile and a quarter 2:37; mile and a half 3:10; mile and three-quarters 3:40 4-5; full journey 4:11 3-5 (gross). From this is deducted 4sec for Johnny Globe, making his official time 4:07 3-5secs. The previous record was Highland Fling's 4:10 3-5, put up in the New Zealand Cup of 1948. Johnny Globe, when only a four-year-old, ran a close second to Van Dieman in the 1951 NZ Cup. In the 1952 race he collapsed early. Last year he lost 60 yds at the start and finished second to Adorian.

Ribands and Denbry broke badly at the start and were soon in hopeless positions. Rupee also went away at a tangle, but lost little ground before correcting his gait. Star Rosa was the early leader, giving way to Rupee with a little less than half a mile covered, where Tactician was next, ahead of Young Charles, Our Roger, Laureldale, Petite Yvonne, Soangetaha, Thelma Globe, Adorian, Au Revoir and Johnny Globe, who was fairly handy, racing on the rails.

Tactician took over from Rupee going into the back, and with a mile covered he was being trailed by Rupee, with Petite Yvonne and Young Charles next. Tactician and Petite Yvonne were closely attended by Rupee and Young Charles with a round to go, and by this time Johnny Globe had commenced his run on the outer. He was sixth approaching the half-mile, and when Tactician swung for home attended by Young Charles and Rupee, Johnny Globe was next, travelling better than anything. Young Charles headed Tactician, and momentarily looked like winning. Then Johnny Globe challenged and soon had the upper hand to beat Young Charles by half a length, with Rupee travelling strongly on the outside the same margin back. Our Roger was fourth, Au Revoir fifth, then Vedette, with a gap to Laureldale, Tactician and Thelma Globe, another gap to Soangetaha, Petite Yvonne and Star Rosa, with Denbry and Ribands bringing up the rear.

Rupee received none of the breaks in the run home. He tried to make a run between Young Charles, on the rails, and Johnny Globe, further out, inside the distance, but there was insufficient room, and he had to change course and come to the outer at a very late stage. He ran a great race for third, because the difficulties he encountered in the final furlong must have set him back a couple of lengths.

Mr C E Hoy, president of the NZ Metropolitan Trotting Club, said this was the first visit of the Governor-General (Sir Willoughby Norrie) to the Addington course, and he extended His Excellency and Lady Norrie a warm welcome, expressing the hope that this would be the forerunner of many more visits. Sir Willoughby Norrie, in presenting the gold cup to D G Nyhan, congratulated the club on it's "extremely fine meeting and the particularly good field" for the Cup. "I hope one day to own a trotter myself," said His Excellency. He understood that, between them, the horses in the Cup race had won more than £200,000 in stakes. He recalled that he had the honour of presenting the trophy and a cheque for £10,000 to Mr Bruce Elliot when Single Direct won the Grand Final of the Inter-Dominion Championship at Adelaide.

His Excellency then congratulated D G Nyhan on his "most popular win with a wonderful horse," and Lady Norrie decorated Johnny Globe with a garland of flowers. Johnny Globe was paraded down the straight, and hundreds of his enthusiastic admirers flocked round him, clapping and cheering him on his way. Old-timers declared it was the most popular win ever seen at Addington, and one veteran has seen every Cup race since Monte Carlo won the first contest in 1904. Roll upon roll of cheering broke out some yards before he reached the post and continued as he returned to the birdcage. Hundreds of people swarmed over the rails from the inside of the track and massed along the birdcage fence to pay homage to the most idolised horse in light-harness history.

The on-course totalisator turnover for the race was £28,427, compared with £28,331 last year. The off-course figures were £29,826 10s, against £29,815 10s last year. This year the sum of £51,524 15s was invested on the double, of which £35,244 came from off-course investments and £16,280 15s on the course. The off-course double figures last year were £49,031, and the on-course figures £14,592 5s, a total of £63,623 5s, the record to date. This year's on-course total was £182,056 10s, compared with £179,170 15s last year. The off-course figures this year were £140,435 5s (a record for Cup day) against £134,707 last year.

For the third year in succession the winner was sired by a son of the immortal Australian sire Globe Derby. Mobile Globe (1952) and Adorian (1953) are both sons of Springfield Globe, and Johnny Globe is by Logan Derby, himself a champion. Johnny Globe is out of Sandfast, by Sandydale (imp) from the American pacing mare Slapfast, a yearling record-holder in the States in her day, and who was imported to the Dominion by Sir John McKenzie. Slapfast was sent up for auction at Tattersalls in 1935 and brought only 12gns. She was eventually passed on to the late Mr F E Ward, of Pahiatua, who bred Sandfast and Johnny Globe. Nyhan bought Johnny Globe as a 10-month-old foal for £50, and he has now won 26 races and £32,395 in stakes, which brings him very close to Highland Fling's Dominion record of £32,920.


Credit: 'Ribbonwood' writing in NZ Trotting Calendar 10Nov54


| | |
| --- | --- |
| | RACING HISTORY FEATURE RACE COMMENT |

1954 NZ FREE-FOR-ALL

Records are falling like cornstalks before Johnny Globe. On Friday he toyed with his opposition in the NZ Free-For-All to the tune of a fresh New Zealand and Australian record of 2:33 3-5 which is 2-5sec better than the previous record of 2:34 - also belonging to him.

Johnny Globe's new figures also displace Tactician's previous winning record of 2:34 1-5, and are a world record from a standing start. The world's pacing record, put up against time from a moving start, is Dr Stanton's 2:30 2-5, made in the United States in 1948.

Even after easing off towards the close of Friday's race, Johnny Globe paced his last mile in 2:01 3-5 and his last half in 60 1-5sec. He did not begin as fast as one or two others, but he was not long in reaching the lead, and thereafter the rest were confronted with a hopeless chase.

This was Johnny Globe's eighth free-for-all win - a record. On Friday his stakes-winnings reached £33,210, a record for a New Zealand harness horse or galloper - and passing the previous record of Highland Fling, who won £32,920 in the Dominion. Johnny Globe is compiling records galore - the world's pacing record for two miles 4:07 3-5; the world's race record for a mile from a standing start, 2:01 1-5; the world's grass-track record for a mile, 1:59 4-5, and the New Zealand three-year-old record for a mile and a quarter, 2:37, as well as well as the winning record, 2:37 3-5, are his other laurels.

Ribands, who lost fully 24yds at the start, proved himself a brilliant and remarkably game horse with a fine fighting spirit. He was forced to cover a good deal of extra ground, and he fought off strong challenges from Laureldale and Petite Yvonne, who were almost in line with him at the finishing post. In the circumstances, Ribands's time, 2:34 1-5, was the run of a champion. Petite Yvonne, too, earned fame with her 2:34 3-5, a world's record for a mare from a standing start, displacing her own record of 2:34 4-5 put up on the same course last Easter.

Credit: 'Ribbonwood' writing in NZ Trotting Calendar 17Nov54


| | |
| --- | --- |
| | RACING HISTORY FEATURE RACE COMMENT |

1954 DOMINION HANDICAP

Fair Isle was driven a patient race by M Holmes in the Dominion Handicap and she outstayed Slipstream and Vodka in a good finish in which the first four horses all gave fine displays.

It was a spectacular race, keenly contested throughout, and Gold Horizon, although beaten into fifth, put up time from post to post very close to Dictation's record of 4:15 4-5.

Slipstream, the early leader, allowed Red Valley to do the pacemaking in the middle stages, and there was no loitering at any part. At the mile Fair Isle was handy to Red Valley and Slipstream, with Precaution, Gold Horizon, Dictation and Vodka following. With a round to go Precaution, Dictation and Vodka put in their claims on the outside, but the only one of this trio to sustain his run was Vodka, who finished a good third. Fair Isle had too much in reserve for the home run for any of the others and won well.

Owned by Mr E J August and V Alborn, she is a nine-year-old bay mare by Light Brigade from a good winner at the pacing gait in Betty Wrack, the dam of Fortuna, a free-for-all winner, and other winners in Jill, Super Globe, Fillmore and Tui Scott. Fair Isle has now won 12 races and £9390 in stakes.

This was Alborn's second win in the Dominion Handicap - he owned, trained and drove the 1939 winner, Royal Romance.

Credit: 'Ribbonwood' writing in NZ Trotting Calendar 17Nov54


| | |
| --- | --- |
| | RACING HISTORY FEATURE RACE COMMENT |

1954 NZ OAKS

The Hawera filly, Earl Marie, confirmed her favouritism in the New Zealand Oaks when she responded gamely to vigourous driving in the straight to win by a length.

Lady Val and Phil's Jewel were slow to move, and Dresden Lady was first to show out, closely followed by Earl Marie and Malabella. At the end of three furlongs Light Nurse joined Dresden Lady in the lead, and this pair led Earl Marie, Mara Maru, Malabella and White Empress out of the straight for the first time. Racing down the back straight, Earl Marie moved out one sulky, and Malabella improved her position on the rails to be close in behind Dresden Lady.

At the straight entrance Dresden Lady and Light Nurse were still showing the way, with Earl Marie and Malabella in close attendance. Then came White Empress and Mara Maru, in front of Sierra Madre and Lady Val, who has shown speed to make up her lost ground. Inside the last furlong M Holmes pulled Earl Marie out, and she quickly took over and held off the strong late challenge of Malabella by a length. Sierra Madre finished fast for third place, but Light Nurse weakened slightly over the last furlong, being fourth to finish. Next to finish were Lady Val, White Empress and Dresden Lady at intervals.

The success of Earl Marie was a smart effort and her time of 3:16 4-5 is only 2-5sec slower than Perpetua's record for the race. Malabella may have made it more difficult for the winner had she been able to work clear sooner in the run home. She received a good run all the way. Sierra Madre was not well placed early and finished very fast to cut Light Nurse out of third money. Light Nurse had a good passage all the way but had had enough at the finish. Lady Val lost a big stretch of ground at the start and her effort to finish fifth was a smart one. She would only need to overcome her nervousness at the barrier to develop good winning form. After being resonsible for most of the pace, Dresden Lady tired badly after turning for home and was one of the last to finish.

Earl Marie is a chestnut filly by Robert Earl, a son of Wrack (imp), leading sire of the Dominion in the 1932-33, 1933-34 and 1934-35 seasons, and who left champions in both gaits, including the winners of five NZ Cups - Wrackler (1930), Indianapolis (1934, 35 & 36), and Bronze Eagle (1944). Robert Earl's dam, Ivy Pointer, was got by Logan Pointer (imp), fron Ivy Dean, by Wildwood (imp) from Wild Rose, by Childe Harold (imp). Logan Pointer, Wildwood and Childe Harold (Australia) were all leading sires in their day. Robert Earl sired a good winner of a few years ago in Stuart Earl, 2:37 1-5, who won 10 races. Among Robert Earl's other winners have been Robie, Direct Earl, Patrick Earl, Earl Pine, Baby Earl and Nero.

Nancy Potts, dam of Earl Marie, was a useful winner. She is by imported Jack Potts (leading sire for nine consecutive seasons up till 1945-46), from Tamahine, a good trotting winner by Nelson Bingen (imp), leading sire in the 1928-29 and 1929-30 seasons. Tamahine's dam Heketara, was a daughter of Perereta (imp), a leading sire of trotters over a long period up till the late 1920's, and Heketara was out of Muricata, a great trotter by Mauritius (imp) from Ocean Wave, another high-class trotter, and a daughter of Rothschild, leading sire of the Dominion for many seasons up till 1915-16. Ocean Wave was out of Ripple, by Fleur de Lis, a thoroughbred horse by Operator from Flora McIvor, ancestress of many famous gallopers - Trenton, Nightmarch, High Caste, Silver Ring, Silver Scorn, Chide and Beauford, to mention a few. Muricata became a great matron, her progeny including Ahuriri (twice winner of the New Zealand Trotting Cup), and Taraire, a Cup horse in New Zealand and later a champion in West Australia, where he won an Australasian championship.

Earl Marie was bred by her owner, Mr A J Corrigan, a member of the Executive of the New Zealand Trotting Conference.

Credit: 'Irvington' writing in NZ Trotting Calendar 8Dec54


| | |
| --- | --- |
| | RACING HISTORY FEATURE RACE COMMENT |

1954 NZ DERBY STAKES

For the first time in the history of the race, which dates back to 1914, the New Zealand Derby Stakes at Addington on Saturday resulted in a dead-heat: Royal Minstrel's spectacular dash through from a seemingly hopeless position with half a furlong to go saw him divide the honours with Single Medoro, who took over the lead from Malabella at the end of two furlongs and set all the pace.

Count Renaldo, Celestial, Eden Bridge, Don Hall and Light Nurse broke at the start. Single Medoro set a brisk pace, and the time, 3:15, against a strong wind, was very good indeed. He reached the quarter in 34sec, half mile in 65 2-5sec, mile in 2:14 3-5, and a mile and a quarter in 2:43 4-5.

M Holmes, driver of Royal Minstrel, has now driven nine Derby winners - he had his first success with Wrackler in 1928, in 1930 he drove Arethusa, and in 1931 Ciro. All three were owned by Mr H F Nicoll, who was for 25 years president of the NZ Trotting Conference. Holmes's next winning drive was on Aldershot in 1935. Aldershot was owned by Mr H F Nicoll's son, Mr A J Nicoll. Holmes's other winning drives were on Imperial Jade in 1939, Scottish Lady in 1942, Free Fight in 1946, Congo Song in 1947 and Royal Minstrel this year.

Sir John McKenzie, breeder and owner of Royal Minstrel, had previously won the Derby in 1923 with Acron, in 1932 with Taxpayer, and in 1935 with Double Great. Sir John said during the decoration of the winners in the birdcage by Mrs Hoy that Royal Minstrel's win had been a pleasant surprise: he had not given the horse much of a chance. He paid a tribute to M Holmes's ingenuity in getting Royal Minstrel out of a pocket when the race, as far as he was concerned, appeared to be practically over. He also acknowledged the good work done by his trainer, G B Noble, who was building a fine record in the preparation of classic winners.

Royal Minstrel is a brown gelding by the leading sire, U Scott, who is also building an imposing record in the Derby - Scottish Lady, the 1942 winner, Burns Night (1949), Caduceus (1953) and Royal Minstrel have won for him. Royal Minstrel is out of Virginia Song, 2:45 4-5, a useful pacer bred and raced by Sir John. She is by Gold Bar, 1:59 3-5, from Virginia Girl, by Great Bingen, 4:19 2-5, champion pacer of his day, and owned by Sir John. Virginia Girl was out of Nyallo, by Great Audubon from Millie C, the dam of Acron who, apart from his Derby successes, was an outstanding winner for Sir John, his victories including the November Free-For-All in 1924 and 1925, the first year in 2:03 3-5, which stood as the mile record for the Dominion and Australia for many years.

Single Medoro's win was a fine advertisment for the young Auckland sire Medoro, a richly-bred trotting stallion imported from Italy by Mr N Simpson. Medoro, who was a racehorse of the highest class, is of all-American blood lines, being by Prince Hall, 2:00 3-4, from Alma Lee, 2:04 3-4, dam of the world's champion trotting mare Rosalind, 1:56 3-4. Single Medoro, winner of a division of the Great Northern Stakes, for two-year-olds last season, is one of Medoro's first New Zealand crop, which includes several other very promising winners in New Zealand and Australia. Medoro seems certain to take high rank as a sire within the next few years.

The dam of Single Medoro is Mae Direct, a mare whose maternal ancestors have been owned by the Kennerley family for more than 30 years. R D Kennerley, trainer-driver of Single Medoro, is a son of the late J J Kennerley, who bought a mare named Rarebell Direct in New South Wales in the early 1920's and brought her to NZ in 1924. She was a winner for Kennerley here and on her retirement to the stud she produced, among other progeny, Loyal Direct (by Grattan Loyal), a useful winner, and who produced a champion in Single Direct, winner of a string of races for another of Kennerley's sons, E N Kennerley, including the Inter-Dominion Championship at Adelaide in 1949, the Auckland Cup, 1946, New Zealand Pacing Free-For-All, 1948, New Zealand Free-For-All, 1948, and the New Zealand Pacing Championship (free-for-all), 1948, besides finishing third in the NZ Cup on two occasions. Single Direct has won more than £30,000 in stakes in New Zealand and Australia, and although now into the veteran stage - he was foaled in 1942 - he is still in training and reported to be working well.

Loyal Direct, who was bred by J J Kennerley, passed to his daughter, Miss Maisie Kennerley on his death. Miss Kennerley married Mr G B Elliot, of Ohaupo, and they bred Single Direct (by Bill B), Mae Direct(by Peter Bingen), and Lawn Direct (by Master Lawn) from her. J J Kennerley declared shortly before his death that "if we can get a colt from Loyal Direct it should be good." His prophesy bore fruit in the performances of Single Direct and now Mae Direct has produced a high class colt in Single Medoro, who is raced in partnership by Mrs Elliot and a third son of J J Kennerley, Mr E J Kennerley. Mrs Elliot and her brother also own a two-year-old full-sister to Single Medoro, and Mae Direct has at foot a month-old colt by Smokey Hanover. Mae Direct has been returned to Medoro this season.

J J Kennerley, between 25 and 30 years ago, when located at Addington, was one of our leading trainers and drivers, and he set a high standard in the training and conditioning of his horses. In a comparatively short period he trained such outstanding performers as Great Bingen, Native Chief, Logan Chief, Acron, Peter Bingen, Pedro Pronto, Jackis Audubon, Peter Swift and Nelson's Victory, and for a short time he also had Roi l'Or in his stable. With Native Chief he won the first Derby run at Addington in 1925. Prior to that the race was run at New Brighton and decided in the Autumn; in 1925 it was taken over by the New Zealand Metropolitan Trotting Club and run in the spring, so there were two New Zealand Derbies in 1925.

Peter Bingen, sire of Single Medoro's dam, twice won the New Zealand Cup for Kennerley, and also the November Free-For-All in 1928, the year of his first NZ Cup victory. For some years the New Zealand and Australian records for two miles, 4:18 4-5, and mile and a quarter 2:38 4-5, were held by Peter Bingen.

E N Kennerley, who has been the most successful son of J J with the reins and as a trainer, has handled many other winners besides Single Direct, among them a notable youngster in Centennial Hall, holder of the New Zealand and Australian three-year-old record of 3:10 3-5, put up at Harold Park, Sydney, where he beat Ribands in the Sydney Derby.

R D Kennerley had much success with a good trotter named Bessie Parrish in the 1930's and he won an Ashburton Cup with Warplane. Douglas Derby is one of his recent winners.

Credit: 'Ribbonwood' writing in NZTrotting Calendar 24Nov54