| | |
| --- | --- |
| | INTERNATIONAL HISTORY |

The worlds first jet airliner, the De Havilland Comet 1 went into service. It more than halved international flight times but several tragic accidents led to it's grounding in 1954.


| | |
| --- | --- |
| | LOCAL HISTORY |

May - NZ's first television signals transmitted from experimental station ZL3XT at Canterbury University.

Yvette Williams becomes NZ's woman Olympic gold medal winner, with a long jump of 6.24 metres at the Helsinki Games.

NZ's population passes two million, bolstered by 20,000 immigrants during the year.

Credit: Ch-Ch City Libraries


| | |
| --- | --- |
| | RACING HISTORY SECRETARIES & EXECUTIVE STAFF |

H E GOGGIN

Mr Harold Edward Goggin, who died suddenly in Christchurch last week, was secretary for the three Christchurch Trotting Clubs - NZ Metropolitan, Canterbury Park and New Brighton. Mr Goggin was 62.

A long association with trotting for Mr Goggin began when, as a lad of 14, he joined the staff of the Canterbury, Lancaster Park and Heathcote Trotting Clubs. That was in 1904. Apart from three years overseas service in World War I, Mr Goggin has always been on the staff of the Christchurch trotting clubs. He was appointed secretary on the death of Mr A I Rattray in 1941. Just prior to that he had been totalisator manager for about two years.

The smooth running of Christchurch trotting meetings was no accident - Mr Goggin was recognised throughout the Dominion as a most able secretary and a master of detail. A few years ago he inaugurated a conference of trotting club secretaries and these conferences achieved their best results when held in Christchurch.

In his younger days Mr Goggin was a top-ranking player for the Linwood Tennis Club. In later years he played bowls and for a term was president of the Fendalton Bowling Club, of which he was a foundation member. He had previously served for a short time as secretary of the Christchurch Bowling Club. Mr Goggin was a keen supporter and good friend of the Metropolitan Light Harness Sports Club and took an active part in many of its activities.

Mr Goggin contributed a number of articles on trotting to different papers and publications, including the NZ Trotting Calendar, 'The NZ Turf,' an historical review on racing, trotting and breeding as an industry, compiled by E G Sutherland, of Auckland, and 'Pillars of Harness Horsedom,' for which he wrote an appreciation of his late chief, Mr A I Rattray. He was a Past Master of the St Augustine Masonic Lodge.

The funeral was a very large one and floral tributes, numbering more than 100, came from all parts of the Dominion. The service at the graveside was conducted by the Rev L A Barnes, and the Christchurch RSA paid tribute to "a good soldier and citizen and a fine sportsman." The pall-bearers were Messrs C E Hoy (NZ Metropolitan TC), C S Peate (Canterbury Park TC), A G Jamieson (New Brighton TC), and D C Parker (assistant-secretary to Mr Goggin), and Mr H Rennie and W Buckeridge (members of the Fendalton Bowling Club). Mr Goggin is survived by his widow and their daughter, Mrs G Devore, of Wellington.



Credit: NZ Trotting Calendar 17Dec52


| | |
| --- | --- |
| | RACING HISTORY PEOPLE |

FRED JOHNSTON

Mr Fred Johnston, who died in Christchurch last week, at the age of 86, shod horses for 54 years. He was one of the best known farriers in the Dominion and was the official farrier at Addington meetings for about 25 years.

Among the great horses he put shoes on were Author Dillon, Red Child, Kentucky, Thelma, Bellflower, Durbar, Marian, Aberfeldy, Dan Patch and Wildwood Junior.

Fred Johnston, who was still attending meetings at Addington and New Brighton up till the close of last season, saw all the champions from Fritz and Ribbonwood down to the present time, and he declared right up till the end that Wildwood Junior was the best horse he ever shod. Wildwood Junior won the NZ Cup twice, and Fred was convinced he would have won the race a third time if he had not broken down. Wildwood Junior was one of the finest specimens of the standard breed seen on Dominion tracks up to his day - and later. Fred Johnston, in an interview with the writer some years ago said of Wildwood Junior: "He was a treat to put shoes on. His four shoes weighed only 13ozs in all. We had made some progress even in those days, as you see," said Johnston.

Wildwood Junior, a pacer, won the NZ Cup in the years 1909 and 1910. "But," he continued, "what a headache the early trotters used to give us! They were nearly all speedy cutters, and the pacers were mostly cross-firers, and I used to lie awake at night trying to puzzle out ways and means of improving their gait. You see, in the early days the breed wasn't there. The farrier was expected to make trotters out of cart horses. Today, they are so well bred they are gaited, so to speak, as soon as they are foaled."

Johnston thought knee-knockers were at their worst about 40 years ago. In later years knee-knockers, in his view, were not worth going on with. It would always remain a hard defect to cure. He recalled that when Peter Riddle, a very successful Australian trainer, first came to NZ with a team of horses, he had had the pleasure of shoeing Riddle's horses. Riddle remarked to Johnston: "If you can't get a horse that doesn't knock its knees , don't have one at all." That is what Riddle thought of knee-knockers. Other authorities, Gus Milsom and Bob McMillan, were of the same opinion.

"But in the early days we had no option. There were few good-gaited horses about. Round about 1897 a man named Bob Day came to Sydenham with a team of horses, among them Gazelle, a trotter, and the first to break five minutes for two miles at Lancaster Park. I mention this mare in particular because she was easy to shoe, wearing only a 4oz shoe on each foot," said Johnston, who often referred to the axiom: "No foot, no horse!" "That's as true today as ever it was," he said. The foot was the one essential thing about a horse; a defect in any other part may not make it useless, but a bad foot could make it unsuitable for anything except breeding.

Fred Johnston's passing emphasises the acute depletion of the ranks of the Dominion's farriers. At the last meeting of the NZ Trotting Conference, in Christchurch, the Ashburton delegate, Mr A J McNicoll, drew the attention of delegates to the plight of the horse-shoeing trade. "Farriers are a dying race," he said. There is not a single farrier in Ashburton. The nearest one was in Tinwald, and he was an elderly man. He urged Conference to promote some scheme for the training of young men as farriers. "In a short time, if nothing is done about it, it will be practically impossible to get a horse shod," warned Mr Nicoll.

Mr W G Clark (Winton) said it was a very live question. There was little incentive for a 'young fellow' to become a farrier and the authorities were apparently apathetic to their interests. After Mr A L Matson (President) had spoken, Mr Nicoll agreed that the matter be left to the incoming Executive with a recommendation that everything possible should be done to encourage young men to become farriers.


Credit: 'Ribbonwood' writing in NZ Trotting Calendar 13Aug52


| | |
| --- | --- |
| | RACING HISTORY PEOPLE |

W E SIMES

Mr Walter Edwin Simes, who died in Christchurch last week, was aged 75. He had been a well-known estate agent and auctioneer since 1900.

Mr Simes had had a long association with trotting, as an owner, breeder and administrator. He was president of the Canterbury Owners' and Breeders' Association about 35 years ago; he was a member of the NZ Trotting Association; and was a steward of the NZ Metropolitan Trotting Club in 1940-41. Mr Simes was a member of the three Christchurch Trotting Clubs. He joined the Metropolitan Trotting Club in 1905.

Mr Simes was probably better known as a breeders of trotters. He bred a number of high-class performers, many of which he raced himself. He raced a number of horses under the name of M Clarice. The veteran trainer F Holmes, and his son, F G Holmes, prepared most of them. Mr Simes made several trips to the United States and imported Belle McKinney, who left a fine race mare in Muriel de Oro, and other winners in Shirley McKinney and Edna Worthy. She also left Tijuana, the dam of a brilliant pacer in Clockwork, who at one time held the NZ mile and a half winning record of 3.09 4/5.

Mr Simes also bred Masterpiece, a recent winner at Hutt Park. Other good horses he bred included Law Chimes, Jewel Pointer (a successful sire), and Lady Barrister. He also raced good winners in Mystic and Pax.

Credit: NZ Trotting Calendar 24Sep52


| | |
| --- | --- |
| | RACING HISTORY INTERDOMINIONS |

SYDNEY - AVIAN DERBY
Avian Derby won the 1952 Final. Standing only 15 hands, he was a lovely mannered horse. He had won 23 of his last 28 starts for trainer Syl Bray, his last 13 on end, when he took out the Championship. He won two further races before being retired to stud the same year, and became a big success as a sire with more than 50 winners to his credit.



| | |
| --- | --- |
| | RACING HISTORY HORSES |

MIGHTY BENNY

1952/53 Season

1952
Sat Nov 12 Invercargill – Innovation Hcp
Won by 16 lengths. Trained by D Todd, Mataura, Driven by K Balloch
Extract from NZ Trotting Calendar 12 November 1952
"It is a long time since such confident support has come for a three-year-old making his first appearance as was shown in Mighty Benny in the Innovation Handicap, which he finally won by 16 lengths. K Balloch handled the Blaydon three-year-old with kid gloves over the first furlong, but once into his stride he was soon sharing the lead with Belle Renarde, who was in trouble at the home turn. Mighty Benny did not look like being beaten over the last three furlongs, and it was certainly a clear-cut success.
He is a big colt and is raced by his breeder, Mr L L Abernethy, and trained by D Todd. Grey Hall, the dam of Mighty Benny, is a Dillon Hall mare from Grey Girl, a useful sprinter some seasons back. Grey Girl had little in the way of breeding, being by Charlie McKinney from a General Pet mare.
Mighty Benny promises to make matters awkward for Southland three-year-olds in the current season's juvenile events."

Sat Nov 29 Wyndham – Second Mercantile Hcp
3rd to Peace Pipe and Black Beauty( ½ length & Neck). Driven by K Balloch
Extract from NZ Trotting Calendar 3 December 1952
"The Blaydon three-year-old Mighty Benny gave a further taste of his worth in finishing third in the Mercantile Handicap No2 after losing a big stretch of ground at the start. He was credited with running his last mile in better than 2.12 and he finished the final furlong in genuine style. He is certainly a cut above the average."

Sat Dec 20 Gore – Longford Division of Improvers Hcp
2nd to Recent Choice (4 Lengths) Driven by K Balloch.

Fri Dec 26 Gore – Eastern Southland Three-Year-Old Hcp
Won off 12 yards by 6 lengths. Driven by K Balloch
Extract from NZ Trotting Calendar 31 December 1952
"Mighty Benny further established his claim to being the best juvenile pacer in Southland this season by the manner in which he won the Eastern Southland Three-Year-Old Handicap at Gore.
He ran to the front at the home turn and won pulling up in 3.20 3-5 for the mile and a half. His next appearance will be at Wyndham on New Year's Day, when the Blaydon colt will see a short price."

1953
Thu Jan 1 Wyndham R C – Victory Hcp
Unplaced off Scr behind Regal Gold, Eynsford Oak & Recent Choice
Extract from NZ Trotting Calendar 7 January 1953
"On the strength of his runaway win at Gore on Boxing Day, Mighty Benny was backed as unbeatable in the Victory Handicap at Wyndham. He had been suffering from a bruised foot and looked sore when he went out, but he was well placed in his field until three furlongs from home when he hung out badly and collided with Neon and unseated K Balloch.
The Blaydon colt is certainly a capable three-year-old, but he still acts greenly and is inclined to run about in his races."

Sat Mar 28 Winton – Stewards Hcp
Won off 12 yards by 1 length. Driven by K Balloch
Extract from NZ Trotting Calendar 1 April 1953
"Mighty Benny gave a taste of his worth when he beat a strong field over two miles in the Stewards Handicap. K Balloch had him tucked in behind the leaders until the last half-mile, where he took over. Although his stablemate, Peterhead, was on terms with him at the straight entrance, Mighty Benny always had the situation in hand. It was a sound staying effort on the part of the Blaydon three-year-old, as he completed his task with a minimum of effort and did not act as greenly as in some of his earlier races."

1953/54
Sat Oct 31 Invercargill – Southland Hcp
Won off 36 yards by 15 lengths. Driven by K Balloch
Extract from NZ Trotting Calendar 4 November 1953
"It is many a long day since a performance approaching that put up by Mighty Benny in winning the Southland Handicap on Saturday has been witnessed in Southland. The Blaydon stallion was making his first appearance as a four-year-old and, after being at the rear over the first mile, he moved round the outer racing to the final half and from then on he had the opposition completely routed. He won pulling up by 15 lengths, running the two-mile journey in 2.23 2-5, only 1 2-5 seconds outside the record for the track.
The merit of Mighty Benny's effort was the ease with which it was accomplished. He looked like being hemmed in on the rails with five furlongs to go, but K Balloch immediately eased him back to the rear, raced round the field and was in front inside a furlong. The first mile was run in 2.17 and the mile and a half in 3.22 2-5, Mighty Benny ran his last mile in 2.06 2-5, the last half in 1.04 pulling up, and the last half of the final mile in 1.02 2-5. It was a phenomenal effort on a grass track.
D Todd, the trainer, said afterwards that he thought he may have been a little easy, if anything, on him a week before the meeting. "But he is a bit of a freak and is liable to run anything," he remarked."

Sat Nov 7 Invercargill – President's Hcp
Won off 72 yards by 5 lengths. Driven by K Balloch
Extract from NZ Trotting Calendar 11 November 1953
"Although he did not win by the same wide margin, Mighty Benny's success in the President's Handicap was achieved in much the same manner as when he won the first day.
With little pace on over the first mile, he was allowed to join the rear of the field at the end of two furlongs, and K Balloch was content to wait there until five furlongs from home, when he set Mighty Benny after the leaders. The Blaydon horse had reached the front with about three furlongs to go, and from then on he had the opposition completely tied up, running his final mile in 2.07 and his last half in 60 2-5 secs.
Mighty Benny now goes back to a 4.35 two-mile mark, and his opportunities in Southland will be at an end. It is likely that he will appear on the third and fourth days of the New Zealand Cup meeting at Addington."

1954
Fri Jan 1 Canterbury Park – Islington Hcp
Unplaced off 12 yards behind Brava, Moss Hall & Trout Stream

Sat Jan 2 Canterbury Park – Selwyn Hcp
Unplaced off 12 yards behind Moss Hall, Venetian & Our Roger
Extract from NZ Trotting Calendar 6 January 1954
"The Southland pacer, Mighty Benny, was disappointing in both his appearances. A hot favourite in the Islington Handicap on the first day, he worked his way into a handy position with a mile to go and was prominent turning for home. He failed to run on in the straight and was fifth to finish. In the Selwyn Handicap on the second day he was always well placed, but could make little impression over the final stages.
This may not be his true form, but he will have to improve considerably to extend his record in Canterbury."

Sat Jan 30 Forbury Park – Summer Hcp
Unplaced off 12 yards behind Onward, Our Roger & Recent Choice

Sat Feb 6 Forbury Park – St Clair Hcp
Unplaced off 12 yards behind Our Roger, Midnight & Recent Choice

Sat Mar 13 Wyndham – Wyndham Hcp
Unplaced off 36 yards behind Chimera, Kaka Hall & Direct Power



| | |
| --- | --- |
| | RACING HISTORY HORSES |

FALLACY

There is no denying the Fallacy is entitled to rank as one of the greatest three-year-old pacers ever to appear on New Zealand. He has carried all before him in the classics this season, and at this stage of his career it is difficult to assess just how good this son of Light Brigade really is.

When it is remembered that Fallacy won the New Zealand Derby by seven lengths in the phenomenal time of 3.12 3/5 the reason for his high ranking can be realised. And on top of this his owner-trainer, Jack Litten, is of the opinion that he would have been as good a trotter as he is a pacer if he had been educated at the unhoppled gait.

Fallacy has only raced as a three-year-old, and his record this season is six firsts, one second and once unplaced. He is a truly remarkable young pacer and it would seem no feat is beyond his capabilities.

At the moment Fallacy is inclined to be a little 'tricky' at the start and on a couple of occasions this season he has added to his task by losing ground early. It speaks volumes for his ability that he has overcome this early setback and then won in pointless fashion.

Credit: NZ Hoof Beats Vol 2 No.11


| | |
| --- | --- |
| | RACING HISTORY HORSES |

MOBILE GLOBE

The New Zealand Cup of 1952 was all about the weather - the rain. A wet August affected some top horses at the National meeting and a wet spring meant their trainers were frustrated getting the work and racing into their charges right through until Cup time. It was still raining then. The four day Cup meeting was reduced to three through rain. But singing in it were Noel Berkett and Mobile Globe.

Berkett was already noted for his ability to work horses through the winter to peak at the August meetings. And he had recently taken over Mobile Globe - a good horse but a much better one in the wet. Mobile Globe had not won a race all of the previous season and only a handful in the one before that. He has been switched from the Laing stable at Eiffleton and won the Louisson and National Handicaps first and second up for Berkett.

Normally that would make any horse a warm Cup favourite but he was dismissed as a mudder who lacked class. Punters preferred eight others on the day. It was a testing track. Favourite Johnny Globe broke down. The next best, Tactician, had had only two starts due to weather. He went clear 500m out to try and steal it but the seasoned Mobile Globe came up on the inside of him and ran away by four lengths. It was almost bizarre. There had been only two slower Cups in 25 years. It was Berkett's first Cup runner but his magic with Mobile Globe was short-lived. The horse could not handle regular racing on hard tracks and never won again

Credit: David McCarthy writing in Harnessed Feb 2016


| | |
| --- | --- |
| | RACING HISTORY HORSES |

SNOW JANE - Classic Winner Producing Mare

Snow Jane (1952 U Scott/Pleasure Bay), NZ family of Trilby; unraced; 12 foals, 9 winners. Breeder: Harold B Kay, Christchurch. All NZ foals bred by Harold Kay except Bay Johnny (R Croghan). Mare then exported to Australian breeders (Jane Flex, Toliver Bay, Toljane, Big Flex, Battle Flex, Johnny Toliver).

Her sire U Scott is arguably the greatest stallion in the history of the breed in NZ and among the most influential in the Southern Hemisphere. As with Light Brigade, he was imported to NZ by Sir John McKenzie in 1935, racing as a trotter in USA before converting to the pace in NZ. Eleven wins from 30 starts included a hear of the 1938 Addington Inter Dominions.

U Scott was a son of Scotland, a Peter Scott grandson of Peter The Great and the great Roya McKinney. U Scott led the sires list on nine occasions, topped the broodmare sires list 10 times and leading Australian broodmare sire six times. U Scott and Light Brigade were the golden cross (either way) of their era and one of all time great crosses. U Scott sired 506 winners from 878 foals (72 trotters) for winners to foals percentage of 58%. He sired top performers including Aerial Scott (Rowe Cup, ID Trotters Grand Final), Arania (NZ Oaks, US1:57.0TT), Caduceus (ID Pacing Grand Final, NZ Derby, AK Cup, 3 NZFFA's), Fantom (Dominion Hcp, 2 Rowe Cups), Highland Fling (2 NZ Cups, NZFFA), Scotleigh (Rowe Cup), Scottish Command (AK Cup), Van Dieman (NZ Cup) and numerous group race winners.

U Scott's daughters sealed his great siring career, damsire of Argent, Bay Johnny, Cal Brydon, Cardinal Garrison, Delightful Lady, Don't Retreat, Durban Chief, Jay Ar, Koala King, Lookaway, Lordship, Ordeal, Rippers Delight, Robalan, True Averil to name a few.

Trilby, matriarch of this NZ family was by King Quail, a thoroughbred imported from New South Wales as a yearling. He won the Auckland Cup and the Easter Handicap in 1881. Trilby's most notable foal was Gold Patch who, to Guy Parrish, left trotter Helen's Bay, winner of seven races. To Quite Sure, she produced Pleasure Bay, dam of Snow Jane. Pleasure Bay was bred to trot but injured a stifle and was sent to stud. A great producer of fillies, the most famous was Colwyn Bay who won three of six starts as a pacer before succumbing to injury. Bred to Hal Tryax, she produced the immortal Cardigan Bay. Pleasure Bay left seven winners from nine foals: Dorstan, Scotch Girl (four wins, dam of nine Australian winners including Scotch Goose, nineteen wins, VIC Oaks), Scotch Pleasure, Scotch Pigeon (dam of Bangaroo Flex, 26 NSW & Qld wins), Morris, Lowry Bay, Toucher. Her filly Baylight left NZ Cup winner Globe Bay, Australian filly All Arranged (WA Triple Crown-3f), 4th dam of Franco Nelson (NZSS, Jewels Emerald-4), 5th dam of Chancellor Cullen. Pleasure Bay was inaugural NZ Broodmare of Year in 1969.

Snow Jane was an unraced U Scott half sister to the dam of Cardigan Bay. Her NZ progeny included:
1 Kapuni, one placing from three starts before he was exported to Australia. Managed his best MR of 2:11.6 in final season of racing (1966/7) at Bulli.
2 Slick Chick, seven-win gelding winning at Kurow JC at three; five wins at four (Westport Cup) and RA Armstrong Memorial at Hutt Park at five. He was raced on lease to Omarama farmer Bill McAughtrie (one time President of Kurow TC), who with his wife Fay, owned Hands Down.
3 Ski Girl, unraced she was exported to Australia where she became dam of Apre Ski, 1:56.0US, winner of 18 races in Australia (NSW Carousel, VIC Marathon, Melbourne Pacing & Warragul Cups) plus a good winner in North America; Summer Holiday (18 wins).
4 Snow Globe, high class ten-win trotting mare in NZ exported to North America (T2:08.4NZ, T2:02.3US). A winner at Methven and Oamaru at three preceded a third in the CPTC Trotting Stakes. Three wins at four (Forbury Park-2, Hutt Park), one at five (Addington) before a stellar season at six. She only won three races (two at Addington - Winter Hcp, Ordeal Trotting FFA - Hutt Park), and produced grand placed performances. These included fourth in Worthy Queen Hcp and at the 1965 Forbury Inter Dominions, second (to Australian champion Gramel) and third in her heats preceding a second placing to Poupette in the Trotters Grand Final. A win at Addington and third in a qualifying heat of NZ Trotting Championship were Snow Globe's final return before departure to North America.
5 Snowline, Slick Chick's full sister purchased by Bill McAughtrie from Harold Kay for $1,000. She won 12 races during a six-season racing career spread over eight years. Three wins at three included NZ Pacing Stakes and third in the Cross Stakes. One placing (third Geraldine Cup) at four, unraced at five (badly injured in a fence; foaled Snow Chick), was followed by Snowline's best season at six - five wins with four of them at Addington (Addington, Pioneer, o. Hutchinson & peninsula Stakes). Snowline's one win at seven was in the CPTC New Year FFA (2:00.0, amoung first 100 2:00 NZ pacers/ NZ bred) with second placing in the Canterbury FFA on Cup Day. Unraced at eight, her final three wins at nine were at Hutt Park, Alexandra Park (Patrons Hcp) and Greymouth's Victoria Park Raceway FFA (her daughter Snow Chick won her maiden race the same evening). Placed at ten, Snowline became the dam of nine fillies from 10 foals:
. Snow Chick, dam of Hands Down (NZ CUP & FFA, 3 Easter Cups, Kaikoura Cup, 4 Louisson Hcps, 3 Allan Matson FFA's, ID Consolation, winningest horse ever at Addington - 23 victories); granddam of Jim Dandy (Gore & Riverton Cups).
. Snow Rose, 3rd dam of Pegasus Aurora (NZSS SI $7% m).
. Snow Schell, 3rd dam of Critical Judge (Waimate & Timaru Winter Cups).
. Snow Sure, granddam of Lavros Skipper (Yarra Valley Pacers Cup).

Snow Jane's Australian-bred progeny included:
1 Bay Johnny, bred in NZ but undertook his racing career in Australia apart from 1975 Inter Dominions in Auckland. A top level trotter who won 25 races (24 Australia, 1 NZ) including an ID Trot Heat, Consolation and Final, all in different years. He won on 13 occasions at Harold Park (Invitation Stakes, Champion Trotters Invitational and Stakes, various FFA's) and finished third in the 1973 Inter Dominion Trotters Final at Sydney. As a 10yo his Trans-Tasman trip to the 1975 Auckland ID's yielded Bay Johnny success in the Trotter's Consolation. The 1975/6 season produced two wins as an 11yo, a heat (second in another heat) and Grand Final of the ID Trotters Championship held for the first time at Adelaide's Globe Derby Park. Bay Johnny ran second in the Jack Roberts FFA on pacers Grand Final night a week later. He continued to race at twelve (fourth placing) and thirteen (one unplaced start) before retirement.
2 Jane Flex, won five races in NSW (qualifying division of Ladyship Championship at Harold Park, 3rd in the final). She was the dam of:
~ Agincourt, dam of Dustndiesil (Geelong 4T Classic)
~ Jonnell Low, dam of Jonnells Son (Nyah, Mildura, Echuca, Horsham, Hamilton, TAS Easter, Wangaratta Cups & TAS Easter Plate)
~ Joanie Toliver, Dullard Cup, Aust Trot Championship heat, Shepparton trotters Cup, dam of:
~1 Jaguar Franco, dam of trotters Jacanti Franco, Jags Invasion T1:56.5), Jumanji Franco.
~2 Jo Franco, dam of trotters Jack the Capricorn, Keepyaguardup
~3 Joanie Franco, dam of Franco Jonquill (QLD Derby); granddam of The Gigolo (Nelson & Marlborough Cups), Fly the Flag (Akaroa & Kawatiri Cups)
~4 Toliver Twist, NZ 4yo Trotter of the Year
3 Toliver Bay won twelve races over four seasons. A 2yo winner at Fairfield, his six wins at three included Penrith Derby, NSW Southern Cross-3c at Harold Park while his five 4yo successes included Penrith 4yo Championship together with four at Harold Park. Toliver Bay was sire of 40 winners (34 as broodmare sire).
4 Toljane, unraced mare, was dam of Preferred Bay (NSW Spring Gift).
5 Minor Australian winners included Battle Flex who won once at Menangle and Johnny Toliver, winner of two races (Penrith & Manangle).

Credit: Peter Craig writing in Harnessed July 2015


| | |
| --- | --- |
| | RACING HISTORY FEATURE RACE COMMENT |

1952 NZ HAMBLETONIAN TROT

Gold Horizon(W J Doyle) notches his third important success of the season by winning the NZ Hambletonian Handicap from Single Cash(9) and Fair Isle(4). Signal Light was fourth.

By Quite Sure(2.01¾ - a record he set as a free-legged pacer), Gold Horizon is out of another pacer in Eyre(2.49). This marked his ninth win, his stakes earnings being £7285.

Single Task's effort was meritorious as she might have won but for being badly placed just inside the last half mile.



Credit: NZ Hoof Beats Vol 2 No.12


| | |
| --- | --- |
| | RACING HISTORY FEATURE RACE COMMENT |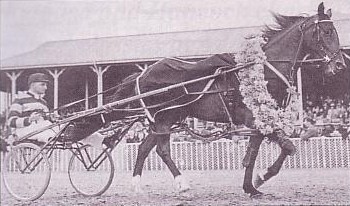 Mobile Globe parades after winning the 1952 Cup

1952 NEW ZEALAND TROTTING CUP

In a true staying test for the 1952 New Zealand Trotting Cup, Mobile Globe well earned the generous applause of the dense crowd that packed Addington to see him collar Tactician a furlong from home and go on for decisive victory.

A stayers' race it certainly was. With the track thoroughly saturated by heavy rain throughout the previous night and early morning, racing near the fence was out of the question, and although the track from the middle to the outside fence was drying out rapidly by the time the Cup was run, it was still not fast, and every candidate had to cover a good deal more than two miles.

Furthermore, there was no loitering at any stage and the sectional times show that the pace was faster early than later: the first half-mile in 1:06 1-5, mile in 2:12 4-5, mile and a half 3:19 4-5, and the full journey (gross by Mobile Globe, from 12yds)4:27 2-5. The final quarter took 33 3-5secs and the last half 1:07 3-5 or more than a second slower than the opening half-mile.

The sensational collapse of Johnny Globe, the hot on-course favourite, with half a mile still to run, took away a lot of the anticipated glamour from the race: he had tangled at the start and lost 24yds, something foreign to his make-up. He dropped right back to the rear when the pressure was on.

Morano broke up completely and took no real part in the race, and Young Charles made his usual poor beginning. Soangetaha soon strode away in front of Pleasant Smile, White Angel and Blue Mist. Before two and a half furlongs had been covered, Pleasant Smile was a clear leader from Soangetaha, White Angel, Tactician, Burns Night, Blue Mist, Mobile Globe, Johnny Globe, Te Maru, Maori Home and Van Dieman, with a gap of five lengths back to Young Charles and further daylight to Vedette, who was not at all happy in the patchy going.

With a mile covered Te Maru had run up to Pleasant Smile in the lead and half a dozen lengths would have covered all the field (with the sole exception of Morano) at the stage. Te Maru took charge with six furlongs to go, and positions changed rapidly from that point. Tactician was taken to the front with less than three furlongs to go and he opened up a lead of two to three lengths coming round the top, where Mobile Globe and Maori Home were next of a field now stringing out.

Mobile Globe, coming through on the inside, soon had Tactician in trouble and he beat him by four lengths. Van Dieman made a late run for third a good length away, Maori Home was fourth, then Burns Night, Young Charles, Te Maru, Pleasant Smile, Vedette, Soangetaha, White Angel, Blue Mist and the thoroughly exhausted Johnny Globe.

The Dominion-wide popularity of the Trotting Cup is revealed by the off-course total on Tuesday of £33,943 10s. The total on-course was £38,336. The record total on a New Zealand Trotting Cup (on-course only) is the £40,907 10s invested last year. It is interesting to recall that the total off-course receipts last year for the whole day's racing were only £4061 15s. This year's off-course investments for the day reached £86,475 15s.

Mobile Globe, an eight-year-old bay gelding, brought his total stake-winnings to £14,705. The Cup was his 13th win. He was bred by Mr N G Mason, Rangiora, who bought his dam, Helen Ann, for a few pounds. Mr Mason sold Mobile Globe as a yearling to Messrs Findlay and Orange, of Mosgiel, and Mr Orange sold his share to Mr C Smith, who races the horse in partnership Mr J Finglay, perhaps better known as an erstwhile star forward for the Otago Rugby Union game.

Mobile Globe won 10 of his races when trained by C M Laing, and in his only four starts for N L Berkett he has won three races - he had previously won the two principal handicap races at the Metropolitan August meeting this season.

The New Zealand Cup is becoming something of a family affair for the Berketts. L F Berkett trained Highland Fling to win in 1947 and 48, he drove that great champion in his second success in the race, his son, C R, being the driver in 1947. C R Berkett was the trainer and driver of the surprise 1949 winner, Loyal Nurse.

Mobile Globe is by Springfield Globe, who also sired Tactician, the second horse in the Cup. Springfield Globe's success in the Dominion this season is nothing short of phenomenal. With his youngest New Zealand progeny now five-year-olds, he has established a substantial lead over Light Brigade, U Scott, Dillon Hall and Grattan Loyal. It is doubtful if there has been a greater Colonial-bred sire than Springfield Globe since the mighty Rothschild, who headed the list for many seasons up till 1915-16. Springfield Globe returned to Australia about six years ago. He is by Globe Derby (Australia's greatest sire of all time with 309 individual winners), from the New Zealand bred Ayr, by Logan Pointer-Precision, by St Swithin from the thoroughbred mare Kildasa. Ayr was bred at Durbar Lodge, Ashburton, by H F Nicoll, and Springfield Globe was bred in Tasmania by Mr E Tatlow. Springfield Globe, a great racehorse, won an Inter-Dominion Championship in Tasmania and was a free-for-all winner at Addington.

Mobile Globe's dam, Helen Ann, is by Silk Thread, an American importation who was a good winner for Sir John McKenzie. Helen Ann is out of Helen, by Brent Locanda (imp) from Tui Russell, by imported Russell Patch (son of the champion Dan Patch, 1:55.25), from Elie de Beaumont, by Prince Imperial, a great name in New Zealand stayers' pedigrees.

Credit: 'Ribbonwood' writing in NZ Trotting Calendar 12Nov52


| | |
| --- | --- |
| | RACING HISTORY FEATURE RACE COMMENT |

1952 NEW ZEALAND FREE-FOR-ALL

Vedette justified his warm favouritism by winning the New Zealand Free-For-All at Addington most convincingly, if only by a length. When Mobile Globe ranged up on the outside of him and appeared to have the edge on him coming round the turn there must have been some anxious moments for his supporters but, once straightened up, Vedette immediately proceeded to put such fears at rest one after the other. He was in front soon after passing the furlong post and ran away from Mobile Globe and Maori Home from that point. The only one capable of keeping Vedette up to his work in the final piece was Soangetaha, and he had the best of runs.

It was a dawdling pace for nearly six furlongs, due to Maori Home slowing up the field after taking charge at the end of two and a half furlongs. This enabled Vedette to overcome a slow beginning without taking anything out of himself, and he was running a close third, in between Maori Home (rails) and Mobile Globe (outer) at the home turn. Maori Home was a fair third, a good effort for the veteran on top of his fourth in the NZ Cup. He is far from a waning light. Chamfer was a fair fourth, just in front of Mobile Globe, who fell away quickly in the last 100 yards. Young Charles and Van Dieman followed.

Vedette has now won four free-for-alls. His stakes-winnings have reached £24,375 and he is the largest stake-winner racing in the Dominion to-day.

Credit: 'Ribbonwood' writing in NZ Trotting Calendar 19Nov52


| | |
| --- | --- |
| | RACING HISTORY FEATURE RACE COMMENT |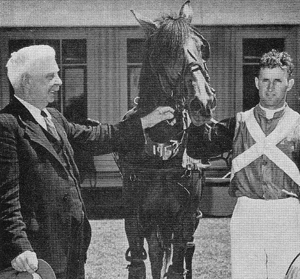 Mr P McCarthy, Swallow & P G O'Reilly

1952 NEW ZEALAND OAKS

Swallow, 12th favourite in a field of 13, nosed Qualified out of the decision in the last stride of the NZ Oaks after one of the finest possible contests. From the top of the straight the race between Fairlead, Loyal Mary and Qualified, with Swallow coming into the picture half-way down the running, was a thrilling one.

Qualified had Loyal Mary's measure just inside the furlong, but she was being hard driven to hold off Tasha, on the outer. No sooner had Qualified shaken off Tasha, than Swallow came through strongly on the inside of Qualified and the pair passed the post in line. The photo showed Swallow winning by the barest of margins. Tasha was the unlucky runner. She was in a tangle more than once and this cost her several lengths: she was back in eighth place with a mile to go.

Petite Louise broke badly at the start, and Tui Scott, Lady Supreme and Heritage lost ground. Swallow was first out and then dropped in behind Fairlead, who made all the pace to the home turn. Loyal Mary raced up to Fairlead at the end of half a mile and followed her into the straight. They were closely attended at that stage by Swallow, who delayed her final run until about 100 yards from the post.

Swallow is a bay filly by Colossal, a Jack Potts horse who has sired several winners in Southland. Swallow is out of Zeitha Hall, an unraced Dillon Hall mare from Jessie Martin, by Wellington Direct from an unnamed Rothschild mare from Topsy, dam of the NZ Cup winner in Winsoon. The Rothschild-Topsy mare was the top-priced filly at a Stevenson and McMath sale at Gore many years ago. Topsy founded a great line at the Stevenson and McMath stud. Of the 50 winners that can be traced to her, many have taken fast records as stayers. Zeitha Hall, with Swallow as a foal at foot, was sold at a dispersal sale at Wyndham in March, 1950, by the breeder, Mr A M Hunter, to Mr P McCarthy, Ashburton, for 80gns.

Credit: 'Ribbonwood' writing in NZ Trotting Calendar 10Dec52


| | |
| --- | --- |
| | RACING HISTORY FEATURE RACE COMMENT |

1952 DOMINION HANDICAP

Five horses were spread across the track towards the finish of the Dominion Handicap, which provided one of the most thrilling races of the season and ended in the fourth horse, and backmarker, Dictation, establishing a fresh Australasian trotting record for two miles of 4:15 4-5. The previous record was Fantom's 4:16 put up on the same track in 1949; and the winning record is Dictation's 4:16 2-5 also made at Addington, in 1950.

The winner of the Dominion Handicap, Precaution, strode through the middle of the leading bunch in the final 50 yards to beat last year's winner, Barrier Reef, by a long head in the final stride. Two lengths away was Single Task, with Dictation half a length away. Sure Charge, Fourth Brigade, Fair Isle and Gold Horizon were next to arrive.

The race was full of incident from start to finish and there was no slackening of the pace at any stage. In this connection the sectional times of Dictation are illuminating. From post to post he ran two miles in 4:13 2-5, although he was forced to travel two and three sulky-widths out from the rails for the greater part of the last mile. He did the first half-mile in 63 4-5, mile in 2:06 2-5, and the mile and a half in 3:09 1-5. This terrific speed was forced upon him by the solid pacemaking of the Auckland visitor Glen Star, who did not fold up until just inside the last half-mile.

Precaution's winning run was full of merit because he made a slow beginning and still had eight horses in front of him with half a mile to go. He excelled himself in outstaying such a powerful field, one of the greatest to contest the Dominion Handicap. Precaution is a triumph of training on the part of his part-owner, A Holmes, who races him in partnership with Mr J Shelly. Precaution has always had as much speed as most trotters in his class, but for a long time he was most erratic. However, he had time to have his 'giddy spell' without losing many opportunities because, at six years, he is still a mere lad as trotters go. He is now proving well worth the time and patience Holmes expended on him in his three previous seasons of racing.

Precaution is a compactly-built bay horse by Casanova, a pacing son of Wrack and Pearlchild who sired another great trotter in Casabianca. Precaution is out of Margin, herself winner of the Dominion Handicap in 1942. Margin was a champion trotter and was made of pretty stout material because, after foaling Precaution, she returned to training, was sold at auction for 100gns to Mr W T Lowe, and for him won the Century Trotting Free-For-All at Forbury Park in May, 1948, when 14 years old. Margin was a daughter of imported Maxegin and a Wildwood Junior mare.

Precaution, sent to the yearling sales in 1948 by his breeder, Mr W Fairbairn, of Christchurch, was knocked down to A Holmes at 400gns and he has raced from the start in the ownership of Holmes and Mr J Shelly. Precaution, who was twice placed third as a three-year-old in open company, later went to Australia that season and was an easy winner of the trotting section of the Victorian Derby. At four years he won three races - the New Brighton Welcome Handicap, Forbury Tahuna Handicap, and Auckland Green Lane Handicap, two miles. As a five-year-old last season he was successful in the NZ Metropolitan Addington Trotting Stakes and the Forbury Freyberg Handicap. His Dominion stake-winnings total £4275.

Barrier Reef was desperately unlucky not to win for the second year in succession. With seven furlongs to go he was making up ground fast when Pat Review broke in front of him and sent him right back - he was actually eleventh in the running as late as half a mile from the finish and he was only headed out of victory in the final stride. Signal Light broke when in front about half-way down the home stretch. Fourth Brigade ran head-long into the backwash when Glen Star retreated quickly at the three furlongs, and the race was practically over by the time he had worked clear. Gold Horizon could not go the early part of his handicap. Dictation, usually very cautious for the first furlong or so, was in full cry almost from barrier risein Friday's race and he rapidly drew away from his co-backmarker.

Credit: 'Ribbonwood' writing in NZ Trotting Calendar 19Nov52


| | |
| --- | --- |
| | RACING HISTORY FEATURE RACE COMMENT |

1952 NEW ZEALAND DERBY STAKES

Rupee, magnificent New Zealand Derby winner of 1952, is a son of Gold Chief, winner of the event in 1940 and whose dam Dusolina, was a daughter of Doraldina, winner of the 1920 Derby; and Doraldina was the dam of Daphne de Oro, the 1927 winner. It is a classic chain probably without parallel in Dominion light-harness history.

All the trouble that was going seemed to pile up against Rupee on Saturday: he drew No.12 marble and had to start from the second row; he went away in a tangle and was at least 36yds behind the leaders with a furlong covered. He had made some progress with the race half over but at that stage he nearly came to grief when Peter Again, the pacemaker, broke and came back through the field. Rupee had to change his course abruptly and must have missed a collision by the proverbial whisker.

From that point Rupee had to travel three and four out to get within striking range of the leaders at the home turn; but it made not a bit of difference to this superb colt. He came on in his effortless style - he has one of the most perfect actions seen in a Derby colt for many years - to win without the whip and with apparently something in reserve.

To say he outclassed his opposition is putting it mildly. He was timed the last mile and a quarter in 2:36 3-5, phenominal speed for a three-year-old when it is considered that the mile and a quarter Australasian record is Gold Bar's 2:35. Rupee is undefeated in his only four starts to date, all classics - the Timaru Nursery Stakes, the New Zealand Welcome Stakes and the New Zealand Sapling Stakes, all at two years, and the New Zealand Derby Stakes.

Jaunty, Distant Star, Black Douglas and Sandman broke at the start, and all were near the rear early. Jaunty made a smart move round the field to get near the pacemaker, Peter Again, with a little more than six furlongs to go but he could not sustain the run and was beaten out of sight. Magellan went away surprisingly well and the race was made to order for him. He came through with credit in getting as close as he did to Rupee. Heroism, third, was also prominent from the start. Moss Hall, the leader in the middle stages was a close fourth. Distant Star made up some ground after his poor beginning and was fifth.

Gold Chief, sire of Rupee, was a high-class pacer. At his first start he ran second to Walter Moore in a division of the Timary Nursery, 1940, then run over a mile, in 2:11. Walter Moore's time, 2:10 4-5, was a new two-year-old race record, and it still stands as the winning record - the only better time in a race is Highland Fling's 2:10 when he finished second from 24 yards to Sprayman, scr, in the Welcome Handicap at Addington in 1945. At three years Gold Chief raced consistently in the leading classics, finishing second in the Riccarton Stakes, NZ Champion Stakes and NZ Futurity Stakes, and winning the NZ Derby, besides two races over two miles. Gold Chief was the leading money-winning three-year-old of the 1940-41 season - a vintage year for three-year-olds.

For Gold Chief's class to be fully realised it has to be known that he met with an accident early in his racing career - another horse kicked him - and the injured leg never became sound again. He had to race on short, cautious preparations, and he was really a marvel to go as far as he did. His form was of a very high order indeed, and the gameness he showed to retire from the racetrack a winner of his last two starts was typical of the courageous breed he came from. "He did most of his racing on three legs," was the way his trainer, L Davidson, of New Brighton, put it.

Gold Chief's sire, Rey de Oro, left many great pacers, notably Roi l'Or, Parisienne, Silver de Oro, Morello, Turco, Graham Direct, Blair Athol, De Soto and Cantata and probably Daphne de Oro, who was by 'Rey de Oro or Logan Pointer.' Rey de Oro was leading sire in the 1931-32, 1935-36 and 1936-37 seasons and left 226 individual winners of nearly £220,000.

Gold Chief, on the dams side, belonged to the famous Jeanie Tracey (imp) family, one of the best sources of winners in the Dominion for close on 70 years. Jeanie Tracey was imported to NZ in 1882, when a five-year-old, by Mr Robert Wilkin who, after breeding three foals from her, including a champion trotter in Kentucky (sire of Thelma) sold her to Mr John Grigg, of Longbeach, who bred many more winners from over a long period by the late Mr J B Westerman, of New Brighton, produced Doraldina (NZ Sapling Stakes and NZ Derby), Daphne de Oro (NZ Derby and Great Northern Derby), Special Edition (NZ Futurity Stakes), Great News (Wellington Stakes) and Gold Chief (NZ Derby). From Jeanie Tracey also descended the champion trotters Waikaha and Gay Belwin, and high-class pacers in Oruarangi, Peter Pirate, Recess and others - altogether close on 70 winners in NZ alone. Gold Chief's dam, Dusolina, 2:08 1-5 was a good sprinter. She was by Drusus (imp) from Doraldina, by OYM from Dollar Princess, by Rothschild-The Manageress. An interesting link in this pedigree is OYM, who was a son of imported Owyhee, grandsire of the mighty Globe Derby, the greatest sire Australia has ever known. Gold Chief, on limited opportunities in the Dominion, sired a good percentage of winners, and it was a stroke of very bad luck when he died soon after arriving in Australia to take up stud duty there last year.

Rupee's anticedents on the dam's side are not nearly so distinguished as those of his sire. Canister, dam of Rupee, won two races and was several times placed. Canister was got by Jack Potts from a mare by Logan Pointer from a Kerwood mare which was out of a Prince Imperial mare. Apart from Rupee, there are no winners of distinction from this family. Canister's first two foals did not come to anything on the racecourse. According to Rupee's owner-breeder, Mr J Grice, the dam of Canister, the Logan Pointer mare, produced other winners. The sire's in Canister's pedigree, Jack Potts (imp), Logan Pointer (imp), Kerwood (through his sire, Wildwood (imp)) and Prince Imperial are all great names in Dominion breeding. Jack Potts and Logan Pointer were both leading sires for many years and the number of champions who carry the strains of Logan Pointer, Wildwood and Prince Imperial is remarkable. Just a few: Highland Fling, 1:57 4-5, carries the blood of Logan Pointer and Wildwood; Gold Bar, 1:59 3-5 (Prince Imperial and Logan Pointer); and Haughty 1:59 3-5 (Prince Imperial and Logan Pointer). These are our only Dominion-bred two-minute pacers.

Credit: 'Ribbonwood' writing in NZ Trotting Calendar 26Nov52


| | |
| --- | --- |
| | CLUB HISTORY ADDINGTON TROTTING COURSE LTD & ADDINGTON RACEWAY LTD |

Set out below is the composition of both the Addington Trotting Course Ltd and Addington Raceway Ltd. Until the 1963-64 season New Brighton was not incuded as it raced at it's own course in New Brighton.

ADDINGTON TROTTING COURSE LTD

NZMTC CPTC

1952-3 C E Hoy D McCormick J Palmer J E W Cross W Milne Shand H H Wauchop

53-54 C E Hoy D McCormick J Palmer J E W Cross W Milne Shand H H Wauchop

54-55 C E Hoy D McCormick J Palmer J E W Cross W Milne Shand H H Wauchop

55-56 C E Hoy D McCormick J Palmer J E W Cross C S Peate H H Wauchop

56-57 C E Hoy D McCormick J Palmer J E W Cross C S Peate H H Wauchop

57-58 C E Hoy D McCormick J Palmer H T Fuller C S Peate H H Wauchop

58-59 C E Hoy D McCormick J Palmer H T Fuller C S Peate H H auchop

59-60 C E Hoy D McCormick J K Davidson H T Fuller C S Peate H H Wauchop

60-61 C E Hoy D McCormick J K Davidson H T Fuller C S Peate H H Wauchop

61-62 C E Hoy D McCormick J K Davidson H T Fuller C S Peate H H Wauchop

62-63 C E Hoy D McCormick J K Davidson H T Fuller H F Butland L S Smart



NZMTC CPTC NBTC

1963-4 J K Davidson C E Hoy H F Butland L S Smart A G Jamieson A E Laing

64-65 J K Davidson C E Hoy H F Butland L S Smart A G Jamieson A E Laing

65-66 J K Davidson R W Saunders H F Butland L S Smart A G Jamieson A E Laing



ADDINGTON RACEWAY LTD



NZMTC CPTC NBTC

1966-7 J K Davidson R W Saunders H F Butland L S Smart A G Jamieson W F Stark

67-68 J K Davidson R W Saunders H F Butland L S Smart A G Jamieson W F Stark

68-69 J K Davidson H M S Dawson H F Butland L S Smart A G Jamieson W F Stark

69-70 J K Davidson H M S Dawson H F Butland L S Smart A G Jamieson W F Stark

70-71 J K Davidson H M S Dawson H F Butland T A Leitch A G Jamieson W F Stark

71-72 J K Davidson H M S Dawson H F Butland T A Leitch J R Hartley W F Stark

72-73 J K Davidson H M S Dawson H F Butland T A Leitch J R Hartley W F Stark

73-74 J K Davidson H M S Dawson S C Cordner T A Leitch J R Hartley B B Woods

74-75 J K Davidson H M S Dawson S C Cordner T A Leitch J R Hartley B B Woods

75-76 J K Davidson H M S Dawson S C Cordner T A Leitch J R Hartley B B Woods

76-77 G W Blaxall H M S Dawson S C Cordner T A Leitch J R Hartley B B Woods

77-78 G W Blaxall H M S Dawson S C Cordner T A Leitch J R Hartley B B Woods

78-79 G W Blaxall H M S Dawson S C Cordner S Andrews J R Hartley B B Woods

79-80 E T McDermott H M S Dawson S C Cordner S Andrews J R Hartley B B Woods

80-81 E T McDermott H M S Dawson S C Cordner W Cuningham J R Hartley B B Woods

81-82 E T McDermott H M S Dawson S C Cordner W Cuningham J R Hartley B B Woods

82-83 D R McCormick H M S Dawson S C Cordner W Cuningham J R Hartley B B Woods

83-84 D R McCormick H M S Dawson S C Cordner W Cuningham J R Hartley B B Woods

84-85 A R Corcoran H M S Dawson R H Duff W Cuningham J R Hartley B B Woods

85-86 A R Corcoran M L Taylor R H Duff W Cuningham J R Hartley B B Woods

86-87 A R Corcoran M L Taylor R H Duff W Cuningham J R Hartley B B Woods

87-88 A R Corcoran M L Taylor R H Duff W Cuningham J R Hartley A F McDonald

NBHRC

88-89 A R Corcoran M L Taylor R H Duff W Cuningham J R Hartley A F McDonald

89-90 A R Corcoran M L Taylor R H Duff W Cuningham J R Hartley A F McDonald

90-91 A R Corcoran M L Taylor R H Duff W Cuningham J R Hartley A F McDonald

91-92 A R Corcoran M L Taylor R H Duff B Hastings J R Hartley A F McDonald

92-93 A R Corcoran M L Taylor P L Doig J F Penney J R Hartley A F McDonald

93-94 A R Corcoran M L Taylor P L Doig J F Penney J R Hartley A F McDonald

94-95 A R Corcoran M L Taylor J L Hughes J F Penney J R Hartley A F McDonald

95-96 A R Corcoran M L Taylor J L Hughes J F Penney J R Hartley A F McDonald

96-97 A R Corcoran M L Taylor J L Hughes J F Penney J R Hartley A F McDonald

97-98 A R Corcoran M L Taylor J L Hughes J F Penney J R Hartley A F McDonald

After that time the functions of A R L were taken over by the Directors of NZMTC.





| | |
| --- | --- |
| | CLUB HISTORY FIRES & THEIR PREVENTION |

In August 1952 it was decided that a fire alarm call point with direct access to the Fire Brigade, should be installed on the grounds.

Credit: NZMTC: Historical Notes compiled by D C Parker