| | |
| --- | --- |
| | INTERNATIONAL HISTORY |

The Korean War (1950-53) begins. Troops from NZ serve with the UN forces.


| | |
| --- | --- |
| | LOCAL HISTORY |

The Legislative Council is abolished, voting itself out of existence.

A wool boom begins and causes such intense inflationary pressure that some income is frozen.

The death penalty for murder is reintroduced.

British Empire Games held in Auckland.

Canterbury celebrates its centennial

The Centinnial Pool is opened

December 16 - Harewood Airport becomes NZ's first International Airport - 100 years to the day from the arrival of the first Canterbury Association settlers.

The Kerrs Reach cutting in the Avon river is completed.



Credit: Ch-Ch City Libraries


| | |
| --- | --- |
| | RACING HISTORY |

NZ Trotting Conference formed in Ch-Ch, replacing NZ Trotting Assn.


| | |
| --- | --- |
| | RACING HISTORY THE BEGINNINGS |

NZ TROTTING ASSOCIATION

When in August the NZ Trotting Association is finally absorbed by the NZ Trotting Conference, it will have completed 50 years of service to the sport.

The late Mr C S Howell, an early administrator of trotting, worked with the late Mr A I Rattray and others toward the amalgamation of the North Island and South Island Trotting Associations, and thus, in 1899, came into being the NZ Trotting Association. Mr Howell also became chairman of the first NZ Trotting Conference.

Mr Rattray, who was largely responsible for the formation of the NZ Trotting Association, is still regarded by the people who knew him over a long period of years as the "father of trotting". He left behind him a record of service that time will not obliterate. Trotting will always be in the debt of this fine old pioneer, who, incidentally, was the first secretary of the NZ Trotting Conference.

The late Mr Phineas Selig, who was president of the Association from its inception until his retirement in 1925, was responsible for many reforms. Perhaps his outstanding contribution to the light-harness fabric was the fathering of the rule makng it obligatory for all clubs to include two events for trotters on an eight-race programme.

First elected to the board in 1916, the late Mr J H Williams became chairman in 1925 and remained in that position for 14 years, until shortly before his death. He was held in the highest regard by his colleagues and all who came in contact with him and he made a notable contribution to the administrative side of the sport.

The late Mr H W Kitchingham was a member of the board of the NZ Trotting Association for the record period of 35 years and was chairman from 1939 to 1945. He was primarily responsible in 1938 for a revised edition of the Rules of Trotting.

President of the Association from 1945 to 1947, the late Mr R B McCarthy, of Hawera, joined the board in 1943 and retired, through ill health, in 1947. A leading figure in the legal profession in Hawera, he was an outstanding member of the board, and earned respect throughout the Dominion for his impartiality and sound administrative qualities.

Mr J B Thomson, who succeeded Mr McCarthy as president, was a member of the board for 23 years. Mr Thomson has a profound knowledge of horses and the men who drive them. He has a keen sense of proportion and a lively sense of humour, attributes that have endeared him to all sections of trotting over a lengthy period.

Sir John McKenzie, treasurer to the NZ Trotting Association over a lengthy period, is offering himself for election as treasurer to the NZ Trotting Conference. Sir John was also chairman of the Licensing Committee for a number of years, and altogether served 25 years on the board.

Mr H F Nicoll, later to become president of the NZ Trotting Conference, a position he held with ever-mounting distinction for a quarter of a century, was a member of the board for a term.

The late Mr W Hayward, a vice-president for many years, the late Mr H C Harley, the late Mr S W Kelly and Mr J M Samson, were other members of the board of the last two decades who served for long periods.

Mr E A Lee, now a Stipendiary Magistrate, was a member of the Association from 1943 to 1948, and there was genuine regret among trotting people when his services as an administrator were lost. He was obviously marked out for high office in the trotting world.

With trotting in Auckland will always be associated the name of the late Mr C F Mark, who was a member of the board for many years. He was one of the dominating personalities of his day, and Sir John McKenzie remembers Mr Mark as one of the most able men on the board at the time he (Sir John) was first elected to it.

The late Mr R A Armstrong, of Wellington, although he did not take high office on the board, is remembered as a man of gifted oratory and sound judgement. He was recognised as a born organiser and he was actuated by a genuine desire to see trotting prosper.

Apart from Sir John McKenzie and Mr J B Thomson, the member of the board with the longest record of service was Mr W M Ollivier, an indefatigable worker for the sport.



Credit: 'Ribbonwood' writing in NZ Trotting Calendar 21Jun50


| | |
| --- | --- |
| | RACING HISTORY ADDINGTON TROTTING GROUNDS |

ADDINGTON FACILITIES circa 1950

Credit: NZ HRWeekly 26Jun91


| | |
| --- | --- |
| | RACING HISTORY BUILDINGS & FACILITIES |

1950 CUP DAY TOTAL A RECORD

The return of NZ Trotting Cup day to the traditional Tuesday of Carnival Week proved an unqualified success. All the forebodings of the timorous that mid-week racing would decimate the totalisator returns proved groundless, the total of the day, £211,977, being a new record for a days racing in the South Island and also a record for a trotting meeting. Of this sum, £15,278 was invested on the double.

Addington, recognised as the NZ headquarters of trotting, looked better on Tuesday than it has ever looked before. The scene was gayer than ever. Many thousands of people continue to make Cup day at Addington their 'day of the year.' The previous record attendance at any fixture, apart from international rugby tests at Lancaster Park, was recorded on Cup Day last year, October 29, a Saturday. The crowd was 34,000, and the then record total of £211,293 was established, £40,717/10/-being invested on the Cup alone. The year's Cup total was £40,203/10/-, a result far exceeding the expectations of even the most optimistic.

Many workers took the day, or part of it off, and in a number of factories employees requested time off and promised to make it up by working extended hours at ordinary rates. Before 1942, when the Cup was always run on a Tuesday, thousands journeyed to Addington for a two-hour lunch break to see the Cup and one other race, but this year the Cup was not run until 2:17pm. When the 1941 Cup attendance of 19,000 is compared with crowds of more than 30,000 this year and last year, the great strides in the popularity of trotting in Christchurch are measured. The trainers and drivers in trotting are public personalities, and the horses, their breeding, their performances, their best times, and their characteristics are as the A B C to all followers. With races being held on a six-furlong track, the horses are in view without the use of binoculars - except for those not endowed with height jammed in the crowd - and the intimacy of trotting at Addington is one of the causes of the phenomenal increase in popularity with the public.

Additional betting facilities were available on Tuesday, additional turnstiles have greatly reduced the length of queues, and a large marquee erected on the lawn enclosure behind the main stand has improved the catering appreciably. A scheme of tree-planting and attractive gardening displays give the whole scene a pleasant 'new look' and this part of the club's plan is only in its infancy.

To give all patrons a clearer hearing of the commentaries on the races by Mr D B Clarkson (now established as a notable contributor to the enjoyment of a day at Addington) all the loud speakers have been brought across the tracks to the outer fence and a new loud-speaker has been placed on a pole on the lawn inside the track to provide for the thousands who watch the races from there on Cup days. Men to open the gates and rake the track from the outside enclosure are always on duty at meetings at Addington, but the general public do not seem to realise that the inside of the course is always available to them. The inside enclosure is now one huge lawn, the section at the top end having been levelled and grassed.

The grey drabness of the concrete of the stands had largely disappeared under a spray of plastic paint. All the stands would have been painted by now had the supplies of the paint been available.

Another work of priority which could not be carried out before the Cup meeting was the building of semi-permanent seating on the mound in front of the tea kiosk, wittily called by patrons 'Coopers Knob,' after the course superintendent and the prominent landmark on the Port Hills. The open stand will seat about 2000.

"The people would see on Cup day the progress we are making to give them the best facilities." said the president of the NZ Metropolitan Trotting Club, Mr C S Thomas. "We are only beginning a long-term programme to make Addington the finest possible trotting course." As the administrative head of the Metropolitan Trotting Club, Mr H E Goggin is responsible for every detail. The totalisator manager (Mr Arthur Toon) had a staff of 423 on Tuesday, and the other workers on gates, stairs and cloakrooms number 180. In addition, 450 were working on catering.

Credit: NZ Trotting Calendar 8Nov50


| | |
| --- | --- |
| | RACING HISTORY JUDGES |

J A DICKSON

The death had occurred of Mr J Alfred Dickson, for half a century in Canterbury a racing journalist and for many years a judge at both racing and trotting meetings and a bowling administrator. Mr Dickson's final illness was brief.

Born in Milton, Mr Dickson was educated in Dunedin and began his newspaper career in the reading room of the 'Evening Star.' He later worked on the 'Bruce Herald' at Milton and the 'Taieri Advocate' at Mosgiel, the paper then being conducted by Mr W C F Carncross, who became speaker of the Legislative Council and was knighted. When reporting at Mosgiel Mr Dickson also acted as town clerk. When he was on holiday in Christchurch in 1900 he was offered a position on the staff of the 'Canterbury Times,' a weekly publication, as assistant to Mr T H Davey. In 1902 Mr Davey became a Member of Parliament and Mr Dickson succeeded him. He was later racing editor of the 'Lyttleton Times' and the 'Star,' and of the 'Star-Sun' from 1935 until his retirement from daily newspaper work in 1939.

After his retirement Mr Dickson regularly attended every racing and trotting meeting in North Canterbury until he had a serious illness about two years ago. He was racing correspondent for several newspapers, including the 'Otago Daily Times,' and he regularly contributed special articles on famous racing stables and personalities to the 'Star-Sun' until his death. He was also often a contributor to the racing columns of 'The Press.'

For 19 years - from 1924 to 1943 - Mr Dickson was judge for the Canterbury Jockey Club, and he was also judge for every other racing and trotting club in Canterbury. He was judge from 1919 for the NZ Metropolitan Trotting Club. He saw 50 NZ Cups run at Riccarton, where he declared two successive dead-heats and also the famous triple dead-heat in the Islington Handicap on August 10, 1939, the horses being Lowenberg, Tidewaiter and Settlement. Mr Dickson retired from judging with full honours by the clubs, and with a high reputation among race-goers. He acted later as a timekeeper for clubs.

Apart from racing, Mr Dickson's main sporting interest was bowls, and in 1945-6 he was president of the NZ Bowling Association, the Dominion tournament being held in Christchurch that year.

Mr Dickson is survived by his widow (a daughter of Mr Edward Cutts), one daughter, Jessie, and a son, Hamilton, a leading Wellington musician.



Credit: NZ Trotting Calendar 13Dec50


| | |
| --- | --- |
| | RACING HISTORY PEOPLE |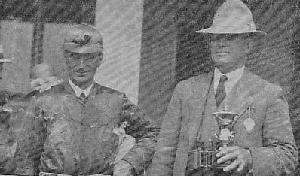 R Bryce &R W Morten after Ahuriri won the 1925 NZ Cup

R M MORTEN

Mr Richard May Morten, who died suddenly in Christchurch on Sunday morning in his seventy-fourth year had a long association with farming, local bodies, and business organisations in Canterbury.

Mr Morten was born in Christchurch, the son of Mr R M Morten, the owner of a property in Christchurch and the Ahuriri station in Tai Tapu. After being educated at Christchurch Boys High School, he gained pastoral experience with his father on the Ahuriri Station and in 1905 he took over the property, where he specialised in English Leicester sheep, crossed for fattening purposes, and Hereford cattle.

On Ahuriri he had trotters and pacers that were famous throughout NZ. Among these outstanding horses were Ahuriri, who won the NZ Cup in 1925 and 1926, and Kohara, who won the same race in 1928. Mr Morten established what is probably a NZ record by winning the NZ Sapling Stakes three years in succession - in 1922 with Ahuriri, in 1923 with Taurekareka, and in 1924 with Kohara.

Mr Morten was re-elected president of the Banks Peninsula Racing Club on Saturday evening.

Credit: NZ Trotting Calendar 28Jun50


| | |
| --- | --- |
| | RACING HISTORY PEOPLE |

LOUIS CAVALIER

Mr Louis Cavalier, well known in both trotting and racing circles in Canterbury has been left a fortune in Trieste, with one stipulation, that he has to go to Italy to collect it. Of French descent, Mr Cavalier came into the money on the death of his uncle, formerly a major-general in the French Army, who owned a factory and property and lived in Trieste.

Mr Cavalier earned a reputation as a horse breaker. He said: "I have broken in 1500 horses in my time, starting when I was 16, and am proud to retire undefeated. I have not had a horse under my care that I could not subdue, and now is the time to give up."

Born in Akaroa, Mr Cavalier began breaking horses in 1917. For 15 years he trained trotters and pacers at Addington, living in Division Street. For the past 10 years he has trained gallopers, and has his headquarters at 65 Buchanans Road, Sockburn. He has driven winners in both trotting and pacing races. "Lexia is the best galloper I have had under my care, and she has won more than £6000 in stakes."

It is for his ability to break in intractable horses that Mr Cavalier is best known in racing circles. He has been sent fiery horses from as far away as Wellington and Dunedin, and has always been successful with them. He believes in breaking in horses when they are yearlings and 2-year-olds.

Amongst the better-known pacers he has broken in are Loyal Nurse and Integrity, both NZ Cup winners.

Mr Cavalier leaves for Trieste, via Melbourne, in about two weeks.

Credit: NZ Trotting Calendar 15Feb50


| | |
| --- | --- |
| | RACING HISTORY PEOPLE |

JIMMY KING

Visting Canterbury, the Waikato and Auckland over the past fortnight on a sentimental journey home, Rockhampton trainer-driver Jimmy King is pictured at Alexandra Park with a piece of history he helped write.

The photo in the "Salute To Trotting" Jim is posing with is of the top-class pacer Worthy Gold on the day he drove the Gold Bar-Renown's Last gelding to win the Farewell Handicap at Addington in August 1950. King was 16 years old at the time. He was the first NZ Reinsman to drive a winner at so tender an age after the Rules of Trotting had been altered to drop the minimum age from 18 to 16.

It was a memorable victory for King, who at age 14, when indentured to the famous Riccarton trainer, the late Fred Jones, was a leading apprentice jockey.He recalls riding three winners in one day at Ashburton; Magical, Maryburn and Entrancing.

Leaving the galloping game, King joined up with his father, Clarry King, working for successful harness racing trainer Allan Holmes at Yaldhurst. "Worthy Gold had been a top horse before this," recalled Jimmy. "But on an Auckland trip he was doped, and his bones turned to chalk. Allan gave him to me when I was still a jockey, to ride around and hack about, and he hadn't raced for two years when I drove him at the 1950 National meeting. We gave him a pipe-opener on the first day, and he came out ninth favourite in a field of ten, beat Culture and Derek Jones by a nose in the Farewell Handicap. I had a few more starts, and I drove him to finish fifth in the 1951 NZ Cup in my only drive in that race. Soon after that he broke down and was finished," he said.

Jimmy King drove other good winners for the Allan Holmes stable, including Congo Song and the good trotter Precaution. "I won a race with Precaution at Forbury Park after he had kicked me out of the cart in the preliminary," he laughed.

Subsequently moving to work for Oamaru trainer Jock Bain (of Captain Sandy fame), Jimmy had another memorable day when at the Waimate Trotting Club's annual meeting in December 1954 he drove the winners of five races. He scored with the Bains-trained Captain King (twice), Gold Moana and Don Hall, and with Stavanger, trained by Jack Teahen.

At age 22 in 1956, Jim went off to try his fortune in Australia. His best horse ever was the one he took with him, Jimmy's Fortune. By the 1948 NZ Derby winner Croughton, Jimmy's Fortune won a Bathurst Cup, eight races at Harold Park and many others. King's next-best horse was Turf Diary, whom he trained in Brisbane and on one occasion took to Sydney and made a real killing.

King moved on to Rockhampton, where he married Helen and has remained for the past 16 years, still pottering with a small team and waiting for another good horse to come along. Jim King's summation after a look at harness racing back in his homeland for the first time in many years: "Why the hell did I ever leave! It's just marvellous here now."

Credit: Ron Bisman writing in HRWeekly 28Nov90


| | |
| --- | --- |
| | RACING HISTORY MESCELLANY |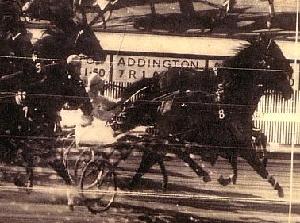 The photo-finish print.

MAIDA DILLON WINS THE HORNBY HANDICAP

There was a sensation to the finish of the mile and five furlong Hornby Handicap on Show Day of the 1950 Cup Meeting when Maida Dillon outfinished Fortuna and Gay Piper to win by a nose. The rank outsider of the field, she finished on too resolutely for her win to be declared a fluke.

When the dividends were posted the winner paid £257/12/6 for a win and £37/6/- for a place. Combined with Red Emperor winner of the first leg Hayward Handicap, Maida Dillon returned a Dominion record double dividend of £7948/9/-. She also won her next start, at New Brighton, paying £45, and two others.

A Dillon Hall mare, Maida Dillon was raced on lease by Ron Bainbridge, having won her way out of Southland class, and trained and driven for him by L Frost. Leicester Frost trained for many years at New Brighton and died in May 1989 at the age of 87. This was his most notable accomplishment in harness racing.

Maida Dillon originally came north with a big reputation, but she failed to find form in Canterbury until Frost discovered, by chance, that the best way to train her was galloping along the beach. Said Bainbridge: "It rained throughout May and all Leicester could do was gallop her along the beach. She ran an unlucky third on that preparation, but didn't do a thinh in the spring. Well said Leicester, there's nothing elseto do but to go back and gallop her, like we did in the winter. She didn't respond to hopples at all," recalled Bainbridge.

All told, Maida Dillon won seven races under Frost's care, and finished 12th on the list of stakes winners in the 1950-1 season.






| | |
| --- | --- |
| | RACING HISTORY INTERDOMINIONS |

MELBOURNE - CAPTAIN SANDY
Captain Sandy won the 1950 Final after he had been all but knocked over in one of the qualifying heats and blamed for knocking Australia's Champ Claude Derby over in another. He lost the services of two drivers through suspensions for the Final and, with J D Watts aboard, won in a close finish beating Globe Direct and Sprayman, who were both New Zealanders.



| | |
| --- | --- |
| | RACING HISTORY HORSES |

SPANGLED QUEEN - Classic Winner Producing Mare

Spangled Queen (1950 Light Brigade - Spangled Scott), USA family of Lady Cabot, unraced, 16 foals, 10 winners.
Breeder: Roydon Lodge Stud Ltd, Yaldhurst and breeder of all foals bred except Honey Bun (J.W.G.Irving; Garrison Hanover colt(1970 Mrs Rona Mackay).

Her sire Light Brigade was one of the greatest stallions in the history of the breed in the Southern Hemisphere. Imported to NZ by Sir John McKenzie from Walnut Hall Farm, Kentucky in 1940 at a cost of US$2,500, Light Brigade won five races. A son of Volomite from the great broodmare Spinster, who founded a top family led by daughter The Old Maid, Light Brigade led the sires list on four occasions, topped the broodmare sires list eight times, leading trotting sire on 15 occasions and leading Australian broodmare sire once (winners). Light Brigade sired 451 winners with top performers including Battle Cry (ID Trotters Grand Final, Rowe Cup), Lookaway (NZ Cup & FFA), Thunder (NZ Cup & Easter Cup twice), Soangetaha (GN Derby, @ Auck Cups), Ordeal (US1:58.3, Dominion Hcp, Rowe Cup), Vedette (ID Pacing Grand Final, NZFFA) and numerous group race winners.

Light Brigade's daughters sealed his great siring career, damsire of Au Fait, Berkleigh, Bonnie Frost, Dainty's Daughter, Easton Light, Garcon Roux, Globe Bay, Gramel, Humphrey, Johnny Gee, Miss Debra, Petite Evander, Precocious, Rondel, Roydon Roux, Speedy Guest, Spry, Tactile, Yamamoto to name a few.

Unraced granddam Spangled Maiden (Volomite/Margaret Spangler) arrived as a 2yo in 1939, another Sir John McKenzie purchase. She produced Spangled Scott in 1942 who left 14 foals including Jay Ar (ID Pacing Grand Final), Spangled Brigade (dam of Scottish Laddie (GN Derby); Scottish Warrior (Messenger); Julie Hanover, (10 wins) and Spangled Queen. Spangled Maiden's other fillies were Scottish Maiden (Argent-VIC/NSW Derbies & Oaks, 18 wins, dam of Gyro, NSW Derby, 20 wins, sire), Spangled Star (3rd dam of champion Australian trotter Court Jester - NSW/VIC/SA Trotters Derbies, Dullard Cup) and Great Star (dam of eight winners).

The Lady Cabot family influence in NZ comes from Spangled Maiden whose dam Margaret Spangler left outstanding North American performers Chief Counsel, Blackstone, Kings Counsel and Attorney. Australasian descendants include Vanderport, Table Card, Howard Bromac.

Spangled Queen, unraced, became a very productive mare primarily for Roydon Lodge. She died in 1977. Spangled Queen's male progeny included:
1 Adioson, won on five occasions during three seasons of racing. Winner of the Rangiora Raceway Stakes at two (NZR 2:39.9, 1¼m), placed second in the Timaru Nursery and third in the Golden Slipper & Kindergarten Stakes. Three wins at three came in 3/4yo events at Alexandra Park as did his final win at four.
2 Adioway, plagued by unsoundness was a smart performer winning nine races spaced over five seasons of racing from two to eleven. He did not race at three, five, six, eight or nine. At two, Adioway won the Canterbury Juvenile Stakes at his first start and was placed in his other start. Seen again at four, he won two of four starts at Stratford and Oamaru. His best season came at seven when successful on five occasions (Hutt Park, Alexandra Park-3 and Churchill Hcp, Addington, fourth day of Cup carnival), placed third in a Forbury ID heat (1965). Not seen again until aged 10, he won CPTC Flying Mile FFA (2:01.2), was second in the CPTC Winter Cup and unplaced as an eleven-year-old before siring a few winners.
3 Frosty Junior, a dual-gaited winner of 11 races in Australia during an eight-year career. Four of his wins were at Harold Park (NSW Summer Trotters Cup).
4 Meadowmac, won the Timaru Nursery- two races at his first start, placed second in the Welcome Stakes and third in the Oamaru Juvenile Stakes, Meadowmac was placed at three and four.
5 Roydon Prince, Trans Tasman winner commencing his career in NZ as a 2yo winning on three occasions (Addington, Hutt Park - Hosking Stakes, Alexandra Park). Placed at three, he was exported to Australia as a 4yo where he had 4 wins.

Spangled Queen's fillies included:
1 High Spangle, won three in Australia including her first start at Kapunda. She was the dam of:
. Rosso Cute, WA Champagne Classic-2.
. Tarport Spangle, granddam of Vero Prince (WA Golden Nugget & Romeo Hanover-4.
2 Honey Bun, successful in Australia (dam of Humouresque) and granddam of Heros Knight (WA Parliamentarians Cup, WA Championship-4&5), Holme And Away (Manawatu Cup).
3 Loch Katrine, two unplaced starts at three before producing:
. Brigadoon, dam of Brickcam (WA Narrogin & Harvey Cups), Hanover Lad (WA Spring Gift-3, WA Triple Crown-3c), Smooth Lord (USA Fireball series); granddam of Diwali (NSW Albury Pacers Cup).
. Spangled Mary, dam of Spangled Lord (Westport & Nelson Cups), Shirls Lord (Invercargill Breeders Stakes); granddam of Spangled Chance (Central Victoria Pacing Championship), French Lord (Southland Futurity, Timaru Cup); 3rd dam of Howard Bromac ($½m, Southern Supremacy-3, AK Cup, NZFFA, ID heat, Waikato Flying Mile).
. Spangled Time, granddam of Wendy The Witch (NZSSSI 4/5 mares)
. Spangled Win, dam of El Trafford (VIC Gurry Cup)
4 Spangled Derby, three unplaced starts as a 6yo before foaling:
. Sarah Derby, granddam of Joe Albert (Bathurst 2yo Classic)
. Spangled Reign, granddam of Red Check Raider (WA Central Wheatbelt 3yo Classic).
5 Spangled Key, a five win trotting mare. Four wins at four (Marlborough, Addington-2, Forbury) with final victory in the Dictation Hcp on the second night of the Cup carnival as a 5yo. Dam of:
. Game Key, dam of Toomuch To Do (Canterbury Park Trotting Cup, ID heat)
. Spangled Game, granddam of Rockolina (VIC Lightfoot Laurels; dam of Miracle- VIC Lombo 2T)
6 Minor winners: Spangled Princess, winner at Banks Peninsula and second day of 1961 Addington InterDominions (4yo Stakes), injured in a float accident and destroyed. Shortland, two wins at Kumeu equalisator meeting as a 4yo and Rotorua as an 8yo.

Credit: Peter Craig writing in Harnessed July 2015


| | |
| --- | --- |
| | RACING HISTORY HORSES |

BRAHMAN - Enigma

Here was a trotting fan's dream. He was by one world record holder at a mile and NZ Cup winner Gold Bar, from another world record holder and dual NZ Cup winner Haughty. They had once had a match race at a picnic meeting which Haughty just won...and here was their second foal setting a world record for a mile as an unraced two year old at Addington.

The world seemed to be his oyster. But there was a flaw in the brilliant Brahman's DNA and it was soon to emerge from the results of crossing the blood of the two Cup winners. However that is not to underrate his great time trial at Addington in June 1953. Brahman paced the mile in 2:02.2 in perfect conditions. Ok you say, hardly earth shattering. Well it was. It took SIX SECONDS off the Australasian record for a two year old. It was only 1.8 seconds outside the world pacing juvenile record of Knight Dream. Owner Ben Grice had hoped for 2:04. Allan Holmes, owner of Gold Bar who organised the trial worked him 800m in a minute a few days before also thought 2:04 was probable. But nearly two seconds quicker is a huge cut over a mile. At the time this trial caused high excitement.

Brahman was no failure. He made NZ Cup class, ran in a NZ Cup and won some nice races. Sent to Cecil Donald when Grice had run out of ideas early on he received the supreme compliment from the first trainer to have 1000 winners here. He said Brahman was the best horse he had trained. But the mental strength was never quite there. Brahman couldn't master the standing start and niggling injuries affected him. He didn't make classic company at three winning his second race at Hawera. He worked through the classes but broke hopelessly in the 1956 Cup, his only attempt at the race and finished last. Again. But he was sixth favourite because "if he went away..."

At least he was a lot more successful than his brother Whiz. Whiz was, to put it bluntly, as mad as a hatter. Holmes sent him on a West Coast circuit and he was a sensation winning his first three races easily. He featured in the newspapers as a horse who enjoyed a beer after his races. But he did not enjoy a long career and quickly disappeared from the racing scene as unmanageable. Two wise racing men, Grice and Holmes had worked out by then that foals by Gold Bar from Haughty might not be what they seemed on paper.

Haughty left a much more sensible horse in Jaunty to Josedale Grattan and he won a number of nice races starting with the Sapling Stakes. But he wasn't a match for Brahman whose brilliant performance as a 2yo still ranks right up there.

If only he could have begun.

Credit: David McCarthy writing in Harnessed July 2016


| | |
| --- | --- |
| | RACING HISTORY HORSES |

YOUNG IRVINGTON

It is scarcely credible these days that an unregistered horse could win several races and become one of the best pacers and sires of his time. Yet Young Irvington, who was something of a star in the very early days of trotting and who became the most successful broodmare sire of his day, could not be included among the Colonial-bred sires in Volume X of the Trotting Stud Book because there was no official record of his registration.

Young Irvington, by Irvington-Bess, was a handsome black horse, one of the best-loking stallions ever seen on a race-track in NZ up to his time. Among his get were the dams of such notables as Ribbonwood, Our Thorpe, Almont, Lord Althorpe, Ghoai, Fushia, Manuka, Silver Princess, Monica, Miss Florrie C, Mauretania, Weary, Woodthorpe Maid, Ianto, Roseberry, Bright, Lady Child, Inwood and Prince Akwood.

Young Irvington was a natural pacer, never wearing a hopple or boot.

Credit: 'Old Timer' writing in NZ Trotting Calendar 24May50


| | |
| --- | --- |
| | RACING HISTORY FEATURE RACE COMMENT |

MAURICE HOLMES - CHAMFER 1950

With great horsemen the fact nothing exceptional happened in a race they won might be the highest compliment you can pay.

so it was with Chamfer, one of the hottest favourites in the history of the Cup, and one of the more moderate winners. Heck, he wasn't even the best horse in the stable. But Maurice Holmes trained and drove him and that was enough for most.

Chamfer hopped into the trail, worked clear in the straight and won easily from what was a moderate lot. He was a good horse but had a sprint about as long as your arm. Being cuddled up for one run was not a clever driving plan. The punters just never doubted Morrie could do it.

A few months later the real stable star Vedette, won the Inter Dominion Final at Addington with a drive for the ages, probably the most famous in a fabulous career. But that is another story.

TRIVIA FACT: Maurice Holmes might have had a fourth Cup win with True Averil(1971) who, like Morrie's 1957 winner Lookaway, was raced by his brother-in-law, Clarrie Rhodes. However the story was, there had been a difference of opinion over the terms of the Lookaway win and as a result Maurice declined the True Averil drive in the big race.

Credit: David McCarthy writing in Harnessed Oct 2016


| | |
| --- | --- |
| | RACING HISTORY FEATURE RACE COMMENT |

1950 NEW ZEALAND DERBY STAKES

Johnny Globe, dogged by bad luck for most of the running in the NZ Derby Stakes, was good enough to overcome it all and get up with a brilliant last-furlong dash to shade Vivanti in a photo finish.

Drawn in the second row at the start, Johnny Globe became awkwardly placed from barrier rise. He appeared to reach clear running, racing to the three furlongs, but was immediately in a fix again and it was not until well into the straight that he was able to race clear and go in pursuit of Vivanti. If it had not been a winning run it would have been one of the real hard luck stories of the Derby, because if ever everything seemed to be loaded against a Derby horse it was in the case of Johnny Globe.

Johnny Globe had not won a classic race since he was an easy winner of the Timaru Nursery Stakes last season, but he had been a model of consistency in the interim, finishing fourth in the Welcome Stakes, second in the Manawatu Futurity Stakes, second in the Oamaru Juvenile Stakes and fourth in the Canterbury Park Juvenile Stakes, all at two years, and second in the Canterbury Three-Year-Old Stakes and third in the Riccarton Stakes, besides winning in open class at New Brighton before his Derby success on Friday.

Johnny Globe is the first New Zealand winner by a great little Australian champion in Logan Derby, who has been at stud in Auckland for some four years now. Logan Derby, by Globe Derby from the New Zealand bred mare Bell Logan, is closely related on the dam's side to the NZ Cup winner, Chamfer. Sandfast, dam of Johnny Globe, is by Sandydale (imp) from Slapfast, a mare imported from America by Sir John McKenzie as a two-year-old in 1926, and who held a yearling record of 2:22.25 in the States. Slapfast bred winners in Greatfast, Prince Roydon and Silk Lady for Sir John before being sent up for auction at Tattersalls, where she was knocked down at the gift price of 12gns and became the property of the late F E Ward, of Pahiatua.

To Rey de Oro Slapfast left a more than useful pacer in Gold Flight, who died just when he appeared on the verge of high-class form. Johnny Globe, who was bought as a yearling by D G Nyhan for £50, is Sandfast's first living foal.

Vivanti began like a rocket and led out of the straight. Going through the back the first time she dropped in behind Kapeen and was content to accept the trail until the home turn was reached, where she came through on the fence to displace Adorian, Kapeen and Irish Orator and establish what looked like a winning break until Johnny Globe got out of his predicament. Kapeen, third, was merely solid, and Irish Orator never looked like doing any better than a minor placing. Adorian failed to stay. First Victory, Dual Flight, and Regal Parade lost a lot of ground at the start, and Prince Charming reared up and took no part in the race.

The first quarter was run in 35 2-5sec, the mile in 2:13 3-5, and the full journey in the race record time of 3:15.

Credit: 'Ribbonwood' writing in NZ Trotting Calendar 15Nov50


| | |
| --- | --- |
| | RACING HISTORY FEATURE RACE COMMENT |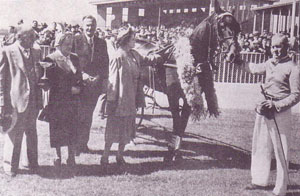 Mr & Mrs McFarlane, Lord & Lady Freyberg, Chamfer & Maurice Holmes

1950 NEW ZEALAND TROTTING CUP

Narrowly averting disaster when Checkmate broke in front of him with a little more than half a mile to go in the New Zealand Cup, Chamfer came on from fourth position at that stage to unwind a sizzling last-furlong dash and leave such seasoned campaigners as Plunder Bar and Single Direct literally standing.

Except for the one hazard referred to Chamfer had a charmed run from barrier rise - he was nursed as no Plunket nurse has ever handled any ailing infant, by the Sir Truby King of trotting drivers, M Holmes, and when the Dillon Hall horse was switched out smartly from behind Single Direct at the distance he promptly flashed past the tiring backmarker and drew away to a three-length's victory over Plunder Bar, who kept Single Direct at bay by a head.

Any fears that the race would develop into a half-mile sprint were put at rest by repeated replacements in the role of pacemaker. Congo Song bounded out of the barrier to put a break of two lengths on Gantree; but C King, Congo Song's driver, emphatically indicated his reluctance to maintain his role by lying out flat in the sulky and bringing Congo Song's head into his chest. Gantree obliged by going to the front but had no sooner done so when Globe Direct streaked round from his rear mark to draw almost level with Gantree, who was the definite leader again at the end of four furlongs. At this stage Checkmate had raced into third place and Plunder Bar was 'going for the doctor' round the field. He was up second with six and a half furlongs covered and ran through to a clear lead with little more than a mile to go.

Commencing the last round Plunder Bar was closely attended by Single Direct and Checkmate, with Gantree and Chamfer next and Gough's Pride showing up on the outer. Nothing else except Lady Averil and Attack ever looked a possibility after that and neither of these at any time looked like matching the final run of Chamfer. Gough's Pride, who looked more like a show-ring exhibit than a race-horse was the first beaten; she began to give ground with five furlongs to run and was down the track at the finish. Attack got into the backwash in the middle stages or he might have paid a dividend. He was fifth and was followed in by Gantree, Navigate, Congo Song, Dundee Sandy and Docter Ted. The last named broke early. That there was no loitering at any stage is revealed by the sectional times of 33 4-5 for the first quarter, 67 for the half, 1:39 for six furlongs, 2:09 2-5 for the mile, 2:44 2-5 for the mile and a quarter, 3:14 4-5 for the mile and a half, 3:46 3-5 for the mile and three quarters, and 4:17 1-5 for the full journey by Chamfer.

The crowd was little, if anything, smaller than last year's, and the total investments on the race were only a few hundred pounds short of last year's record total. The public lost no time in installing the Chamfer- Globe Direct bracket a scorching favourite and the combination finished up with £4920/10/- for a win and £4338 for a place. Second in favour was Gough's Pride with £2501 and £2875/10/-, then Attack, Checkmate and Single Direct.

Chamfer is Mr D McFarlane's first NZ Cup winner, he is the first of the progeny of Dillon Hall to win the race, and is also the first winner of thr premier event trained by M Holmes, who drove Wrackler to victory in 1930 when that pacer was trained by the late D Warren; and finally the first winner of the race bred by Mr G Youngson. Chamfer is held on lease by Mr McFarlane from his breeder, Mr G Youngson, of Gore, who imported the sire, Dillon Hall, 2:00, from America. Rustic Maid, the dam of Chamfer, was bred by the late W J Morland, and was bought at auction for 250gns by Mr Youngson when Mr Morland's horses were disposed of at auction in 1943. At that time Rustic Maid was in foal to Light Brigade and there duly arrived a colt foal that raced during a short career with distinction as Free Fight, among his wins being the NZ Derby Stakes, Canterbury Three-year-old Stakes and Metropolitan Autumn Stakes. Every foal out of Rustic Maid that has raced has been a winner - 10 in all. Rustic Maid was a daughter of Rey de Oro and Country Belle, winner of the NZ Cup in 1915, so Chamfer has proved a worthy grandson.

Chamfer's Cup stake of £5125 (including the £250 gold cup) brings his total since he began racing as a two-year-old to £16,175; at his first start he won the Timaru Nursery Stakes. At three his wins included the NZ Metropolitan Challenge Stakes and Great Northern Derby Stakes, and last season, as a four-year-old, he won five races including the Premier Handicap at Auckland in the smart time of 2:38 for the mile and a quarter and the G W C Smithson Handicap at Addington in 4:16 2-5. This season he had won two races before his NZ Cup victory, the National Handicap at Addington and the Campbell Handicap at Auckland.

Additional distinctions he enjoys are of being the last horse to qualify for this year's Cup and the youngest of the field, a five-year-old, thus joining a select group of horses of this age to win the premier event during the past 20 years - Wrackler, Indianapolis, Lucky Jack and Highland Fling.

Credit: 'Ribbonwood' writing in NZ Trotting Calendar 8Nov50


| | |
| --- | --- |
| | RACING HISTORY FEATURE RACE COMMENT |

1950 DOMINION HANDICAP

Dictation's winning run in the Dominion Handicap was momentous in every way. He not only spreadeagled the field in the Australasian winning record time for a trotter of 4:16 2-5, but also put up the phenomenal figures of 3:09 2-5 for the last mile and a half, time which compares with the performances of some of the greatest pacers that have raced in this country. The only time that Dictation's figures have been bettered by a trotter in this country was when Fantom was placed in 4:16 on the same track last year.

There were only three horses in the race at the finish, Dictation, Ripcord and Single Task, and Dictation was more than equal to the challenges of the other two from the home turn. On this occasion Dictation trotted solidly throughout, and his outstanding effort was not lost on the public, who gave him a warm ovation.

"The time may not be far distant," said Mr C S Thomas during his speech to the presentation of a trophy to the owner-trainer-driver of the winner, J Wilson, "when our best trotters are once again racing against our best pacers in the NZ Cup. There is no thrill," he declared, "like a race amongst the best trotters," and went on to pay tribute to the excellence of the performances of Highland Kilt and Dictation that day. He referred to the brilliance of Dictation's two records at the meeting, his mile and a quarter in 2:38 3-5 on the first day and his new winning record of 4:16 2-5 on Show Day. "This Club has pursued a policy of catering for the trotter and will continue to do so," said Mr Thomas, who then called upon Mrs Thomas to present the trophy to the owner.

Wilson bought Dictation as a yearling for £100. He picked him out of several in a paddock. Wilson remarked during his reply to the presentation of the trophy that for years "other people have been getting the cream" of his training of trotters. Wilson has certainly been one of our most successful trainers of trotters over a long period and richly deserves his fortune with Dictation, who was, in his own words, "a handful from the day I broke him in." He had never knocked the horse about, otherwise he could not have gone far. No horse which is doing its best deserves to be whipped," said Wilson.

Other good trotters Wilson raced were Quincey Thorpe and King Oscar back in the twenties, and later Ordinance and Calumella. He educated and first raced Acclaimation, and laid the foundation of her eventual champion's calibre.

Dictation is by Josedale Dictator (imp), from Seal Globe, by the Australian pacer New Derby from Thelma Axworthy, who traces back to Thelma.

Credit: 'Ribbonwood' writing in NZ Trotting Calendar 15Nov50


| | |
| --- | --- |
| | RACING HISTORY FEATURE RACE COMMENT |

1950 NEW ZEALAND FREE-FOR-ALL

Parawa Derby, who had won impressively on the first day of the meeting, was at surprisingly good odds when he won the NZ Free-For-All with a last-second dab that gave him a head victory over Congo Song. Parawa Derby received a lucky opening on the rails over the last 50yds or he could not have been in the money. It was a wonderful finish in which less than half a length would have covered the first four horses.

Parawa Derby's performance was outstanding, as he was drawn in the second line at the barrier and looked effectively snowed in when the leaders, Gantree, Gay Knight, Captain Sandy, Globe Direct, Single Direct, Nebula and Congo Song wheeled for home.

Parawa Derby, now on 4:22 for two miles, looks sure to become the early favourite for the £5000 Auckland Cup. Since he began racing as a four-year-old in the 1947-48 season, Parawa Derby has won 12 races and £9613 in stakes.

Parawa Derby was bred by his owner, Mr L T Padget, of Invercargill, and is by Dillon Hall from War Betty, a useful Southland winner by Man o' War from Betty Martin, by Prince Imperial from Peri, by Imperious (imp) from Fairy, whose descendants include such good ones as Todd Lonzia, Great Venture, Belmont Hall, Bulldozer and Talent.


Credit: 'Ribbonwood' writing in NZ Trotting Calendar 15Nov50


| | |
| --- | --- |
| | RACING HISTORY FEATURE RACE COMMENT |

1950 NEW ZEALAND OAKS

Vivanti had a close call in the NZ Oaks, and a photo-finish showed her winning by the proverbial whisker. She was one of the smartest to begin, but after two furlongs was content to surrender the lead to Spring Princess. She was never further back than fourth at any stage of the race, and when she took the lead with a furlong to go she looked in for a comfortable win.

Riviera, however, came again with a late run and very nearly brought about the defeat of the win favourite. Riviera, a daughter of U Scott and Single Star, has inherited all the family speed, as after losing nearly 60 yards at the start she took over the lead with more than a mile to go, a position she shared with Spring Princess for most of the journey. After appearing to be beaten in the run to the post, she came again with impressive tenacity.

Moreto, who was always well placed stayed on well to earn third money. Manoa, who lost ground at the start, finished a very creditable fourth. Spring Princess, who was prominent most of the way, should develop winning form eventually. By Springfield Globe, she is out of Princess Maritza, a mare who reached quite good class. Alouette, who was sixth to finish, is a neat type of filly who looks like improving. Heather Brigade, a good looking filly by Light Brigade from a Sapling Stakes winner in Frisco Lady, returned a useful effort. She was seventh to finish.

Credit: 'Irvington' writing in NZ Trotting Calendar 6Dec50