| | |
| --- | --- |
| | INTERNATIONAL HISTORY |

The Geneva Convention is signed.

NATO is founded.

Mao Zedong becomes Chinese leader as China becomes Communist. The ousted Nationalist fled to the island of Taiwan.


| | |
| --- | --- |
| | LOCAL HISTORY |

First Lady Wigram motor race. The Wigram course was NZ's first true motor racing track.

The Sign of the Takahe opens.

May 27 - NZ's first commercial ariel topdressing on Banks Peninsula.

Credit: Ch-Ch City Libraries


| | |
| --- | --- |
| | RACING HISTORY |

Doubles were permitted.


| | |
| --- | --- |
| | RACING HISTORY STARTERS & STARTING |

HARRY REYNOLDS

Mr Harry Reynolds of Redcliffs, a well-known breeder, trainer-driver and administrator of trotting in Christchurch died recently at the age of 86. He was connected with sport for more than 60 years, and he also invented one of the first automatic totalisators and produced the first pneumatically-tyred sulky. Starting barriers used by some clubs in Canterbury were also invented by Mr Reynolds.

Mr Reynolds was a watchmaker by trade. His health failed in 1893, and he was ordered to take up an outside occupation. He bought a mare for £12/5/- and renamed her Sapphire, and she turned out to be the greatest trotter of the day, at one stage winning nine races in succession.

Mr Reynolds was a member of the committee which formed the New Brighton Trotting Club. He was a life member of three racing clubs in Canterbury. In 1890 Mr Reynolds invented a starting clock and was appointed a starter. This prevented him from racing horse but he was one of the nine men invited by the late Mr H Mace to his home, Brooklyn Lodge, North Brighton where the New Brighton Trotting Club was formed. Mr Reynolds later resigned as starter and took up the position of timekeeper.

Credit: NZ Trotting Calendar 20Jul49


| | |
| --- | --- |
| | RACING HISTORY INTERDOMINIONS |

ADELAIDE - SINGLE DIRECT
Single Direct, winner in 1949 raced in "bloomers". These were added to his hopples to enable him to race around the tight Wayville circuit without chafing. They are commonly used to reduce the normal rubbing effect of hopples on a horse's legs. Single Direct won by 5 yards from Hatteras.



| | |
| --- | --- |
| | RACING HISTORY FEATURE RACE COMMENT |

1949 DOMINION HANDICAP

There was no speed on for the first mile of the Dominion Handicap, and Acclaimation won well from Jimmy Scott, who was possibly unlucky in that he lost ground at the start.

Acclaimation is a beautiful cut of a bay mare, as regally bred as they come, being by the lamented Certissimus from Raclaim, a good winner at the trotting gait herself, and ranking a full sister to Wrackler, winner of the NZ Cup, whose dam, Trix Pointer, also won the premier event.

Acclaimation was bred by Mr G H Nicholl, of Ashburton, and has been raced throughout her career by Messrs A M and R J Bruce, of Ashburton. Acclaimation was trained for her first two successes by J Wilson, also of Ashburton, and a very able developer of young trotters. She joined J Young's stable during her four-year-old career, and Young has now prepared her for seven wins.

Young has had many great trotters in his care, the most notable to come to mind readily being Stanley T and Ariel Scott. With Young has always been associated his son, R Young, who has a 'ton' of patience, such a vital commodity where trotters are concerned, and his success as a reinsman has been built upon profound study, hard work, and an innate skill of much the same brand as that exhibited by a famous fellow countryman of his in James Bryce.

Credit: 'Ribbonwood' writing in NZ Trotting Calendar 16Nov49


| | |
| --- | --- |
| | RACING HISTORY FEATURE RACE COMMENT |

1949 NZ OAKS

Petro Star had the NZ Oaks field at her mercy a long way from home. Taken to the lead at the entrance to the straight for the first time round, she never afterwards looked in danger of defeat. She won unextended by two lengths. A brown filly by U Scott-Single Star, she had previously exhibited nervousness at the barrier, but racing and experience have had a beneficial effect, and once settled to her work on Saturday she raced very solidly. Single Star was a good class pacer by Nelson Derby from Queens Treasure, a grand-daughter of Norice (imp).

Roschana who finished second to Single Star is a bay filly bu U Scott-Kohua and gives every indication of developing good winning form. Kohua is by Jack Potts from Grace Dillon.

Lady Joss showed some ability to finish in third place. A member of M W Dickie's team at Springston, she is by Springfield Globe from Sunburst, by Travis Axworthy from Morning Glow.



Credit: 'Ribbonwood' writing in NZ Trotting Calendar 14Dec49


| | |
| --- | --- |
| | RACING HISTORY FEATURE RACE COMMENT |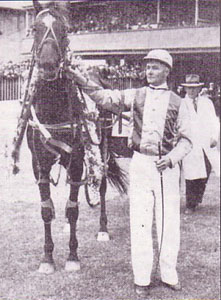 Loyal Nurse & trainer/driver Colin Berkett

1949 NEW ZEALAND TROTTING CUP

"That crabby old so-and-so..." "She only takes it into her head now and again to do her best" These are some of the uncharitable things we all used to say about Saturday's NZ Jubilee Cup winner, Loyal Nurse, during her patch-work racing career of past years.

One day at Ashburton she was the centre of a public demonstration that lasted for several minutes because she bolted in in a race after performing like a jaded Jezebel the day before. Official investigation confirmed what her connections told the stewards about her: she was something of an unpredictable flapper, she pleased herself whether she raced or not. All very true and confirmed time and again.

Which only goes to show that there must be something in heredity. Loyal Nurse's dam, War Maid, was as rattleheaded as they came. She could not be raced, and she drifted into the ownership of Mr T S Harrison something like this: he was on the look-out for a shepherd's hack for duty on his farm and one day in the Methven township he met Mr George Kelly, who promptly offered him War Maid for the paltry sum of £8.

To Logan Fraser, War Maid produced a useful winner in Trikkala, and her mating with Grattan Loyal resulted in Loyal Nurse, winner to date of £18,103, easily a record for a mare in New Zealand and Australia. Among her previous successes when trained by C V May, were the Ashburton All Aged Stakes, Auckland Cup, Auckland Champion Handicap, and she also performed with credit at the 1948 Inter-Dominion Championships at Auckland.

Loyal Nurse is just a plain black mare, nine years old; in a sale-ring she could scarcely aspire to be a top-priced lot on looks; but she is fleetly-built, light-fleshed, longer than most horses, constructed for speed rather than comfort, as evidence her last half-mile in a fraction better than 59secs on Saturday.

As we have already told you, Loyal Nurse was a bit of a character in some past seasons. Her inconsistency here and there earned for her the reputation of being moody, a 'sour old tart' on occasions. One day she just wouldn't or couldn't put her best foot forward; the following day she would put her long ewe neck in a different and more determined angle and win with lengths to spare.

On Saturday Loyal Nurse raced in mellow mood; age and a change of scenery up at Colin Berkett's stable coincided like a pair of rose-coloured glasses with Jubilee Cup day to such effect the Loyal Nurse lowered the existing world's race record for a mare, 4:13 3-5 (held jointly by Haughty and Loyal Nurse herself), by more than a second. Loyal Nurse's previous best two-mile figures, 4:13 3-5, were registered when she ran second to Emulous in the Grand Final of the Inter-Dominion Championship at Auckland in 1948.

Loyal Nurse was bred by her owner, Mr T S Harrison, a member of the executive of the NZ Trotting Conference and President of the Methven Trotting Club for many years. Until last season Loyal Nurse was held on lease and trained by C V May, of Methven, who won close on £13,000 in stakes with her. Last season Loyal Nurse started 16 times without getting in the money, but she had had only one race since going into C R Berkett's stable before her Cup success and she dead-heated for fourth place in that race, the Hannon Memorial Handicap at Oamaru just five days before the Cup. She certainly reached Addington on Saturday, October 29, rejuvenated and refreshed.

C R Berkett was having his second driving success in the NZ Cup; he drove Highland Fling in his first Cup success in 1947, as the year Highland Fling's trainer, L F Berkett, held Nyallo Scott on lease and had to Drive him in the Cup. Loyal Nurse's time, 4:12 1-5, is the second fastest in the long history of the race, only Highland Fling's world's race record of 4:10 3-5, put up last year bettering it. Loyal Nurse is the 10th mare to win the race, her predecessors among the 'weaker' sex having won 11 Cups between them as follows: Marian 1907, Lady Clare 1911, Winsoon 1914, Country Belle 1915, Adelaide Direct 1917, Trix Pointer 1919, Reta Peter, 1920 & 21, Marlene 1940 and Haughty, 1942 & 43.

Loyal Nurse is the second of the progeny of Grattan Loyal to take Cup honours, his previous representative being the all-in flyer Gold Bar, who disorganised the 1945 field from barrier rise. Grattan Loyal, who has passed his 29th birthday, is still a remarkably well-preserved stallion, and at the present time he has a good lead on the sires' list this season. One of our leading progenitors for many seasons, Grattan Loyal has yet to top the list for a complete season. He went very close in 1946-47, when U Scott headed him by only £404/10/-, and it would be a fitting climax to his stud life, a life that has greatly enriched breeding in this country, if he were to retain his present position on the list for the remainder of this season. Foals by him continue to arrive.

Captain Sandy, as gallant as ever in defeat, carried his total stake-winnings to £14,399, and when his great effort in the last Metropolitan free-for-all is recalled, he will be rated a first-class prospect for coming championship contests on later days of the Cup meeting. When Lady Averil dashed into the lead after the pacemaker, Dundee Sandy, wilted at the far turn, she did so with such a flourish that at one stage it looked as though she might not be caught. She put a daylight margin on her nearest attendant with a quarter to go and her third placing was a good deal better than anything she had done previously.

The favourite bracket, Globe Direct and Attack, were locked together next. Attack was securely pocketed for all but the last three fulongs and when he did get out he stood no earthly chance of giving the leaders several lengths when those leaders were travelling at well inside a two-minute clip. Attack did well enough allowing for the difficulties he encountered, because only an out-and-out champion could have won from his position at the distance. He may yet prove to be that calibre of horse, but not on Saturday's performance. Single Direct never got near the front and was ninth to finish. Commander Scott made a promising dash on the rails at the distance and drew almost up to the leaders, but he was only sixth to arrive. Knave of Diamonds was seventh, then Sprayman, Single Direct, Plunder Bar, Integrity (who lost ground at the start), Maudeen and Dundee Sandy.

Totalisator investments on the race were easily a record, the total topping the £40,000 mark for the first time. Saturday's figures were £40,717/10/- compared with the previous record of £39,283 put through in 1947.


Credit: 'Ribbonwood' writing in NZ Trotting Calendar 2Nov49


| | |
| --- | --- |
| | RACING HISTORY FEATURE RACE COMMENT |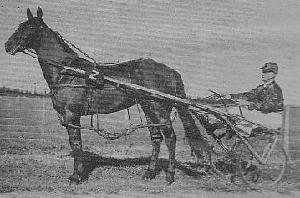 Gladdy McKendry & Burns Night

1949 NEW ZEALAND DERBY STAKES

Burns Night overwhelmed the unlucky favourite, Young Charles, in the last 50yds of the NZ Derby Stakes and brought off the first major upset in the blue ribbon event since Air Marshal won in 1944.

Until his Derby success Burns Night was a maiden, but last season he performed consistently in a number of the leading two-year-old classics, being runner-up to Morano in the Timaru Nursery Stakes; occupying the same position to Young Charles in both the Welcome Stakes and the Oamaru Juvenile Stakes; and finishing fourth to Farlena, Young Charles and Van Dieman in the NZ Sapling Stakes. These were Burns Night's only starts as a two-year-old and no horse of his age raced more consistently last season.

The reason he drifted to seventh favouritism in the Derby was no doubt due to his failure in the Riccarton Stakes a week earlier, when he did not get away well. Morano broke up badly at the start of the Derby, slewing across the track and stopping Young Charles who lost fully 50yds. Farlena lost more than that and Van Dieman and Te Maru were slow to settle down. Racing into the back Casacando was sent in pursuit of the leaders and he soon took over from Anitra and Soangetaha. Flight Commander was hemmed in on the rails, and he never looked like finding an opening, eventually going into a tangle in the run home when literally climbing over Casacando.

Young Charles set out in earnest after the leaders with half a mile to go, but he had no sooner got within range of Casacando than Soangetaha came out from the rails to meet the challenge, thus forcing Young Charles to race three out right round the far turn. It was a fine spectacle when Casacando, Soangetaha and Young Charles wheeled for home almost abreast. Casacando was the first to weaken, and Young Charles was under a hard drive to hold a small advantage from Soangetaha. Then Van Dieman joined in. Young Charles was doing a little better than these when Burns Night came from the clouds, right on the outside, to clinch victory by more than half a length.

Burns Night won a truly-run race (the mile was run in 2:13 2-5, the mile and a quarter in 2:42 3-5 and the full distance in 3:16 1-5, a little below Croughton's race record of 3:15 4-5) in decisive fashion, but on top of his early set-back, Young Charles was desperately unlucky. None of the breaks came his way during the running, either, and the manner in which he fought off all challenges except the winner's was recognised on all sides as the effort of a young champion.

The story is told that Mr N G Mason, breeder of Burns Night, did not deliberately set out to buy the Derby winner's dam, Festival. He just happened to be passing that way when Festival was put up for auction, and he only had to part with £7 to become her owner. He bred Gay Piper from her, and sold this good pacer to G McKendry for £500 as a yearling. Gay Piper turned out to be so good that McKendry paid another £500 for Burns Night when this colt was only a few days old. Gay Piper and Burns Night are both entires and may be given stud opportunities later on, as they are attractive individuals.

The Derby result was a distinct triumph for U Scott as a sire, the first three-fillers all being by him.


Credit: 'Ribbonwood' writing in NZ Trotting Calendar 9Nov49


| | |
| --- | --- |
| | CLUB HISTORY THE BEGINNINGS |

PROUD RECORD OF METROPOLITAN CLUB IN ITS JUBILEE YEAR

The NZ Metropolitan Trotting Club, which celebrates its jubilee on Saturday next, like most sporting institutions, developed from small beginnings. Strangely enough, it was started by a body of cricketers who were endeavouring to finance their new ground, Lancaster Park, and needed more 'grist for the mill.'

On May 29, 1886, the first meeting of the Lancaster Park Trotting Club was held. The meeting had been fixed for May 15, but was adjourned owing to the heavy floods in Christchurch City. The usually peaceful Avon had risen four feet and at several points had overflowed its banks. Three feet of water prevailed at the Railway Station, and Ferry Road, near Lancaster Park, was one sheet of water.

The officers of the club for the first meeting were: Mr Justice Johnston (Judge), C A Culvert (Starter), A M Ollivier (Clerk of Course), C J Penfold (Secretary), and the stewards comprised Dr H H Prins, F Cotton, A E G Rhodes, A C Wilson, F Jones and C Hood-Williams.

There were 1100 persons present, £38 was taken at the gates, and £1512 was invested on the totalisator run by Hobbs and Goodwin. Prize money totalled £125 for five races, the principal event being the Lancaster Park Time Trot of three miles in saddle. The first prize was £40 and the result was as follows:-

FIDGET, B Edwards's, 50secs (ridden by owner) 1

ERIN, D O'Brien's, 45secs (ridden by owner) 2

MALVENA, P Howard's, 50secs (ridden by A J Keith) 3
Time: 9 min Dividend: £12/3/-

The other races were the Maiden Trot of three miles, Time Handicap, Time Handicap Pony Trot and Handicap Time Trot, each of two miles. The course was a third of a mile in length, and consequently the horses were in view of the public all the way.

The Lancaster Park Trotting Club had rather a varied history. Started by members of the Cricket Company, assisted by a few trotting enthusiasts, it struggled along for a few years, and the directors, satisfied with the £40 rental per meeting, were quite ready for any change that would relieve them of managing the trotting club. In due course, the shareholders of the Cricket Company, as such, ceased to have any say in the management, and in 1890 the club was controlled entirely by trotting enthusiasts. In that year (1890)the principal officials of the club were stewards: D Barnes, C Louisson, V Harris, G McClatchie, J Perkins, and L Wilson; secretary: A I Rattray; starter, C O'Connor.

Trotting continued at Lancaster Park util 1899, during which time at least four meetings a year were held. Those thirteen years at Lancaster Park had laid the foundation for something better. The meetings had progressed to a satisfactory degree, and it was realised by the committee that if they were still to go ahead something must be done to obtain their own grounds with better facilities for all concerned.

For some years the Lancaster Park Club and the Canterbury Trotting Club which raced at the show grounds, had been accumulating funds, as a result of their meetings, for the purpose of jointly securing a property of their own, the idea being to form an up-to-date track, with buildings and general surroundings in keeping with the latest American style. To secure the object in view, a joint committee from the two clubs was set up, and a representative of the Canterbury Trotting Club was commissioned to secure a piece of land adjoining the show grounds. The trustees of the property, however, declined to sell for trotting purposes, but subsequently put it up for auction, and a lengthy lease was knocked down to the President of the Lancaster Park Trotting Club at a price below the amount to which the clubs were prepared to go.

But when the grounds had been secured the Canterbury Trotting Club refused to join ownership, their main grievance being that the land was not freehold. Nevertheless, the Lancaster Park Club lost no time in going ahead with the new grounds and in laying what were then paddocks, subdivided by straggling fences, into the finest trotting track in the Southern Hemisphere, with expansive grounds, beautiful gardens, lawns and drives and splendid grandstands.

On moving to the new grounds, the name of the club was changed to the NZ Metropolitan Trotting Club, and thus was originated the organisation we know today. The first meeting on the new grounds was held on November 6th and 10th, 1899, the stakes for the two days being £2,140 and the totalisator investments £10,695. trotting immediately caught on at the new grounds and the committee tried all sorts of attractions to encourage people to attend.

In 1900, under pressure from the Colonial Secretary, and after a number of conferences with the NZ Metropolitan Trotting Club, the Canterbury Trotting Club agreed to amalgamate, the arrangement being that each club was to have six of its number on the committee and six stewards. This move strengthened the club considerably besides providing further needed funds. The men who were in charge of affairs in those days were undoubtedly men of great vision. Their faith in the future of trotting was amazing and all their moves were actuated by this faith. With so many natural advantages in the way of flat country and excellent highways, Canterbury, from its infancy led the way in everything appertaining to the breeding and development of the trotting horse.

The NZ Metropolitan Trotting Club has been particularly fortunate in the men who have been at the head of affairs during the 50 years of its existence. It has had only six presidents, viz: V Harris, 1899 to 1903; G H McHaffie, 1903 to 1905; Hon C Louisson, 1906 to 1924; J H Williams, 1924 to 1940; A L Matson, 1940 to 1945, and C S Thomas, from 1945 to the present time.

Mr Victor Harris, the first president was a great enthusiast and worker for the club when the spadework was being done in transferring to Addington and forming the new grounds. He raced a number of horses which were trained by D J Price, and did a good deal to bring about and finance the Ribbonwood - Fritz match which did so much to place the club on a sound footing.

Mr G H McHaffie, the second president, was also a great enthusiast and one of the most far-seeing officials the club ever had. He was a wholesale merchant in Cashel Street, and bred trotting horses as a hobby, the most notable of his bred being the famous Ribbonwood.

The third president was the Hon Chas. Louisson who held office for 18 years. He was a steward of the Lancaster Park Club when it was taken over from the Cricket Company in 1890, so that he acted as an official of the club for 34 years. His term as president covered the period when great changes were made in erecting buildings and enlarging the Addington grounds and forming it into what we know it as today. One of his greatest services was to make a present of the Cup for the NZ Cup Handicap annually for many years. His name is perpetuated on the foundation stone of the inside public stand, which he laid.

On the death of the Hon C Louisson, Mr J H Williams was elected president and held office for 16 years, during that time he rendered yeoman service to the club. He was an able counsellor on all matters appertaining to the administration of the sport, and was president of the NZ Trotting Association for 14 years. He was also a member of the Racing Commission in 1921. He was one of nature's gentlemen and was held in high esteem by all. He did a lot of very useful work in a quiet unostentatious way and was a tower of strength during the dark days of the depression.

The fifth president was Mr Allan L Matson, who was elected in 1940. He brought to the office youth, energy, ability and enthusiasm, and put a tremendous amount of work into reorganising the club and bringing it to its present popular position. Probably no president has been so universally popular as Mr Matson.

Mr C S Thomas, who has been president since 1945, is a man of very high attainments in the legal profession. He brought outstanding ability, drive and dignity to the position and has done a great deal towards promoting the high reputation and position of the club. He was leading counsel for the trotting authorities before the Gaming Commission, and his work in this direction was freely acknowledged as a masterpiece.

Perhaps the outstanding personality throughout all the years of the club's history was the late Mr A I Rattray, who was secretary of the club from 1890 to 1941. His great experience in all branches of the sport made him an authority on all matters pertaining to it. At various times he acted as handicapper, starter and timekeeper, and he was also the first secretary of the NZ Trotting Association. He did great service in framing the Rules of Trotting and in obtaining Government recognition of the NZ Trotting Association. He was intensly loyal to his club and was always out to create such a standard for it in integrity and prestige that anything which did not measure up 100% in his opinion was scorned. He was an indefatiguable worker and put in long hours when it was required. During the 54 years he was associated with trotting as a secretary, he won great respect and was well known throughout NZ. Undoubtedly his foresight, resolution and faith in the sport placed his club and trotting in Canterbury in the strong position it is in today.


Credit: H E Goggin writing in NZ Trotting Calendar 26Oct49


| | |
| --- | --- |
| | CLUB HISTORY CANTERBURY PARK TROTTING CLUB |

POPULAR NEW YEAR MEETING AT ADDINGTON

The old-established Canterbury Park Trotting Club will be the first in Canterbury to use the doubles totalisator. The unit for this innovation at the club's summer meeting on 31 December and January 2 will be of 10/-.

The Canterbury Park Club's meeting at New Year has always been a most popular fixture, and some of the best horses of both gaits compete here annually. Last season Highland Fling gave the public some great thrills when he finished third in the principal event on the first day and, from his long mark of 96yds in the Mason Handicap, of a mile and five furlongs on the second day, he ran Plunder Bar, 24yds, to a length. Dundee Sandy, Loyal Nurse and Knave of Diamonds were other high class pacers competing at the club's meeting last New Year, and this year's classes, with liberal prize-money, are again expected to attract some of the best horses of both gaits.

A semi-classic race that has become a big draw card for the Canterbury Park Club is the Charles Cross Stakes, named after a former president of the club. The Charles Cross Stakes is for three and four-year-olds, and this mile and five furlongs event never fails to attract most of the best horses of their ages in the Dominion.

The Canterbury Park Club's origins go well back into last century. In 1888 its sponsors organised dog racing. Later it ran mixed programmes for gallopers and trotters and finally concentrated on trotting meetings. From the modest £255 given in stakes at the first meeting, the total has grown to £15,100. In 1894 a committee of several men who made their mark in racing and trotting circles was appointed to the management. Among them were Messrs R J Mason, F Beverley, J L Carl, J Cresswell, A S Clarkson, J A Holmes, A Loughrey, G McKay, E W Roper, and C S Howell, the latter being chairman. The following year the club sought the services of Mr A I Rattray as secretary, and this distinguished and far-sighted pioneer was one of the finest investments the Canterbury Park Club and the sport of trotting in general ever made.

The club was for many years known as the Plumpton Park Trotting Club, the name of the property on which it raced. In 1920 the club changed its name to Canterbury Park. Two years later when the NZ Metropolitan Trotting Club planned to move to a block of land it had purchased in Lower Riccarton (now an expansive state House settlement), the Canterbury Park Club purchased the plant and equipment at Addington for £15,000 and took over the lease of the Addington property. Eventually the NZ Metropolitan Trotting Club abandoned its Riccarton project and has been a tenant of the Canterbury Park Club ever since.

As the secretary of the three Christchurch Trotting Clubs, Mr H E Goggin remarked after the recent record NZ Cup meeting, "trotting is in the people's blood," and the Canterbury Park Club has reason to look forward to a share in this ever-widening public appeal over the New Year period.




Credit: NZ Trotting Calendar 14Dec49


| | |
| --- | --- |
| | CLUB HISTORY FIRES & THEIR PREVENTION |

A fire in the Members Stand at the Cup Meeting 1949 prompted the Committee of the NZMTC to ask the CPTC Committee to reconsider their decision not to proceed with the construction of a ramp from the top floor of the Members Stand. This Suggestion was fully investigated and plans prepared but the proposal was not proceeded with.

Credit: NZMTC: Historical Notes compiled by D C Parker